I've had many requests to share some of my recipes on the blog, so here is the first one. In my family, food is love. A few years ago my friend was moving away, and I wanted to make a meal for her family while they were finishing up packing those last few days. She told me I didn't have to do that, and I told her, "Food is love. Let me feed you before you go." In the last year my family has had to remove so many foods due to food allergies. I don't eat not delicious food. I just don't. I love food. I love to eat it, talk about it, talk about eating it, write about it, plan it, share it, create new combinations and recipes to eat.
When we travel, enjoying the food culture is as much a part of the experience as the sightseeing. We've raised our kids to be very cosmopolitan eaters. They love sushi, stinky cheeses, vegetables, seafood, pesto, and anything that kids aren't supposed to like. Losing food, losing the freedom to eat and create and share meant losing part of my identity. It has been very hard for me and for the kids to let go of our food exploits. We weren't mourning chicken dinos (gag) or gogurts (double gag), we wanted goat cheese and apple salad with walnuts with homemade balsamic vinaigrette and homemade naturally leavened French bread.
We started GAPS a year ago, and it is not an easy diet to follow. I'm not here to instruct anyone how to follow the GAPS diet, but I do want to share my recipes. I set out to make our GAPS journey a tasty one. You don't have to be on a restricted diet to enjoy this recipe, or any of my recipes, GAPS or otherwise. They are just delicious, and if I served you at my table without telling you that it was specifically tailored to meet special dietary needs, you wouldn't think twice about it. If you have food allergies, this could be what you are looking for to replace pizza. The only major allergen group in this recipe is nightshades, and there really isn't a way around that.
We did GAPS intro a year ago, and it went on longer than intended because our bodies weren't ready to move forward. I hadn't accounted for this delay and had thought we'd be on full GAPS by the time my brother and his wife and baby were due to visit. Alas, we were only on stage 4. They are also foodies, and I was too embarrassed to offer them my pizza soup. I made a stage 4 fish recipe that I had invented, which is also really delicious. After dinner they asked about the pot of soup on the stove. "Oh, that. That's just the soup for breakfast and lunches tomorrow for the kids and me. I will make something else for you," I reassured. Enticed by the smell, they asked if they could just try some really fast. I sheepishly handed each of them a small bowl of it to try. I was embarrassed by my low-brow offering. I mean, they live in L.A. They can, and do, get great food any night of the week. They loved it. They each ate a full bowl…or two, and asked if they could have it the next day with us, and asked for the recipe. When the kids saw that soup was on, they each got a bowl and ran to the table. They already knew they loved it, and they are bottomless pits.
We had a Friday night homemade pizza tradition we learned from my brother's wife. I LOVE pizza. I have always loved pizza. It could be my perfect food, and as favorites go, it ranks right up there with sushi. Pizza is so versatile and can be changed to fit any taste preference or mood. The options are endless. This soup really satisfies my pizza craving better than any of the gluten free/dairy free pizza options I had tried before GAPS, homemade or otherwise. It has all the flavors I'm looking for, and my kids absolutely love it. We took it to a family party with us where they were serving pizza to the grandkids, and my kids didn't complain about not eating pizza. They loved the soup.
This is a huge batch of soup, but we're a family of eight, all of whom are big eaters, so that's how we roll. It's easy enough to scale down. Feel free to alter the ingredients according to your favorite pizza toppings. Pepperoni isn't allowed on GAPS, but if it were, I'd put some under the broiler for a quick sec to crisp them up and put them on my bowl. If you love Italian sausage add some ground fennel seed. Pile on olives if you like. If you can tolerate cheese, sprinkle it on top. Mushrooms are excellent in this, but not appropriate if you are battling candida. They are easier to eat if you dice them. I happen to love banana peppers on my pizza, and naturally fermented banana peppers sprinkled on top would be a great way to get your probiotics in. You can make the base soup and have a toppings bar so everyone can personalize.
And now, for the piece de resistance. My favorite delivery pizza was Papa John's, mostly because I loved the garlic butter sauce. Add some ghee to your bowl, and just a little extra garlic, and it will take you back to those pizza delivery days, as well as give you more of the healing fats you need. If you are able to tolerate grass-fed butter, feel free to use that instead.
This freezes beautifully if you like to do batch cooking for freezer meals or if you are prepping before starting intro (which I highly recommend).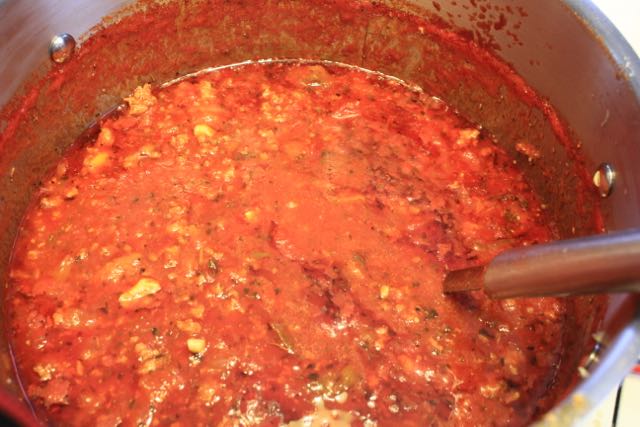 Pizza Soup
4 pounds ground beef or pork (ground pork is less expensive and is what Italian sausage is made from, so that is what we use)
4 cans organic tomato sauce
4 cans organic diced tomatoes
2 green peppers, diced
1 onion, diced
chopped garlic to taste (I use a lot because I love it, 8+ cloves)
¼ c dried basil
2 tbsp dried thyme
3 tbsp dried oregano
2 tbsp dried marjoram
2 tsp salt
1 tsp freshly ground pepper
1-2 beef soup bones or use beef broth instead of water
6 cups water
ghee
In an 8-quart Dutch oven, brown the ground beef and onions. When they are about halfway done, add the green peppers. Once the beef is cooked and the onions are starting to turn translucent, add the garlic, after about a minute add some of the water or broth to keep the garlic from burning. Add the tomato products and the rest of the water/broth to desired consistency. If using water instead of broth, add the beef soup bones, and let simmer for a few hours. This is my cheater way of making beef broth when I don't have any. Start with a teaspoon of each seasoning and adjust to taste. I listed the measurements according to how we like it, but you may like less or more. Allow to simmer to combine the flavors.
When the soup is done, take the fat and marrow from the soup bones and add to a blender with some of the tomato broth and blend. Add back to the soup to make it creamier, fattier, HEALTHIER, and more satisfying. For you non-GAPS-ers, don't say, "ew". You don't know. If I didn't tell you what I had done, all you would know is that it is SO GOOD, and you would wonder what my secret is. If you are still stuck in the low fat lie, this isn't the blog to resolve your concerns, but there are tons of others out there that will.
Here is how to adjust this recipe to make it appropriate for the various stages of GAPS intro:
Stage 1: It's not appropriate, but I will soon post a recipe that is similar and is great for stage 1. I know, stage 1 is HARD, but it ends!
Stage 2: Put the ground beef and just enough water/broth to cover and cook (boil) the ground beef while chopping the meat into bite-size pieces. If you add too much water at this point it is hard to chop the ground beef bc it floats, and it winds up being huge chunks. Once the ground beef is cooked, add everything else and simmer for a few hours.
Stage 3: You can start sweating the onions and garlic before adding the liquid. This allows them to retain their flavor instead of giving it to the liquid.
Stage 4: You can start browning the meat and sweating the onions and garlic together. This gives the meat a little better flavor and texture. The instructions above are for stage 4 and beyond.