Now that I'm exclusively breastfeeding, there is a whole lot of interest in my breasts. Daisy calls them my breast milks. She also has breast milks. So does Adam. So does anyone else she asks. One day she looked at me and said, "These are my breast milks, but don't touch them, because they HURT!" One time I answered the door to a delivery guy, and Daisy announced, "Those are my mommy's breastmilks, and you can't touch them!" Thanks Daisy. I'm sure he had no intention of trying.
Also, at separate times, she and Caisen came into my room while I was feeding Georgia and asked, "Hey, can I try that?" NO. No you cannot. You had your chance. Anyone with teeth and old enough to ask is not allowed.
Daisy always asks me why the baby is "chewing on it." I try to explain, but it hasn't seemed to stick. Georgia also tries to suck her finger while breastfeeding. I'm always having to pull that little finger out of her mouth. If I'm trying to read a book while I feed her, she kicks my book away as a friendly reminder to pay attention to her! The only trouble is, then she gets too interested in flirting and socializing and stops eating.
I also asked Daisy for a kiss, and instead she bit my cheek. When I asked her why, she said, "Because mommy, you so lishus!"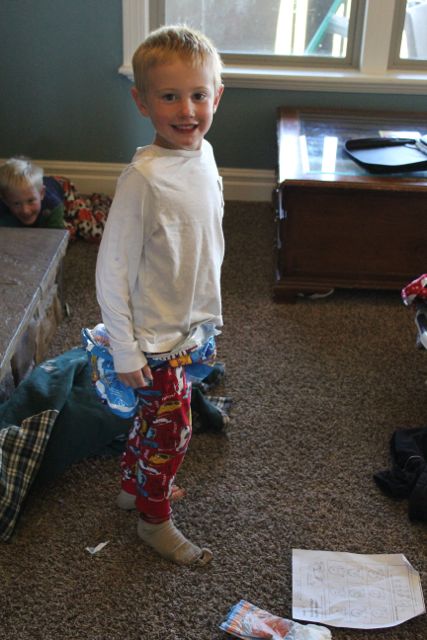 Caisen is such a funny, sweet boy.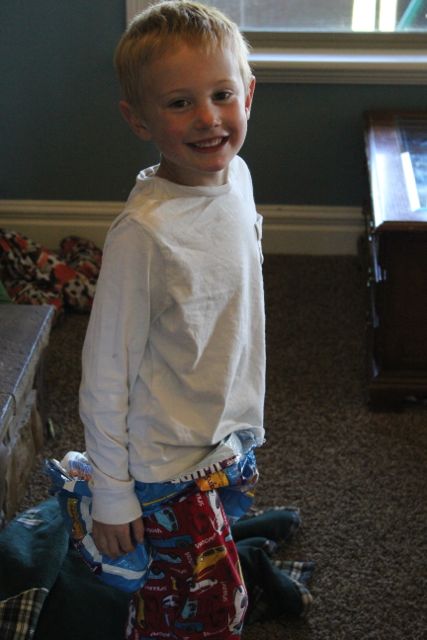 How sweet is this face?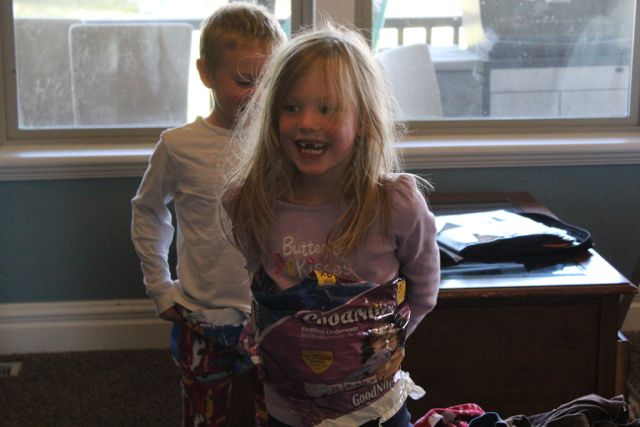 My kids get all kinds of creative with garbage.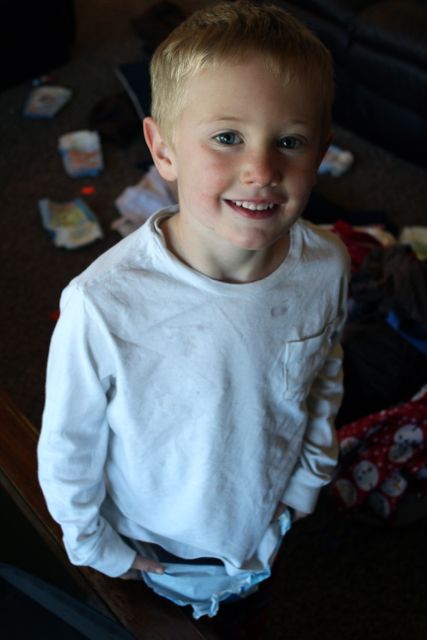 I just love him! He makes every day an adventure.

Daisy getting in on the action.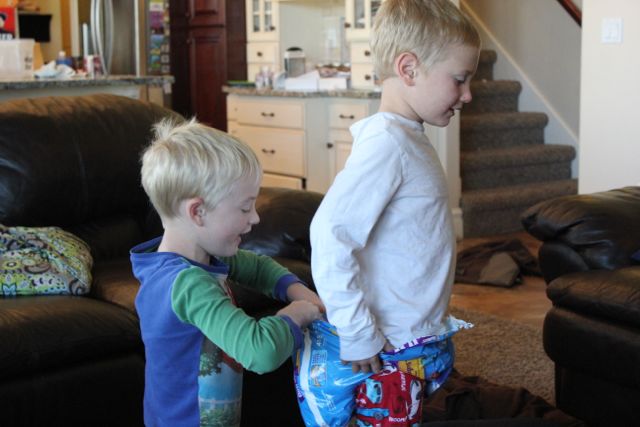 Sawyer helping Caisen stuff his pants more. Thanks.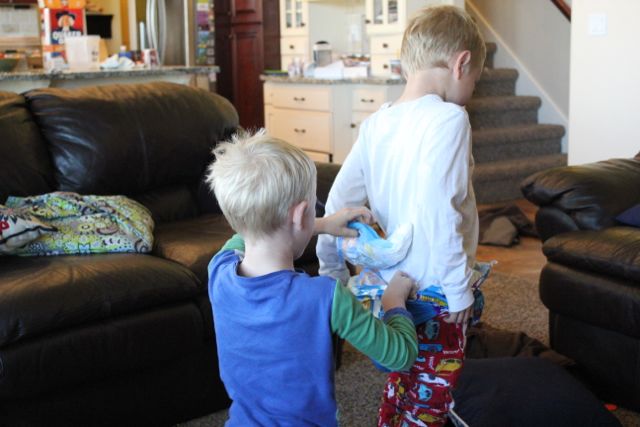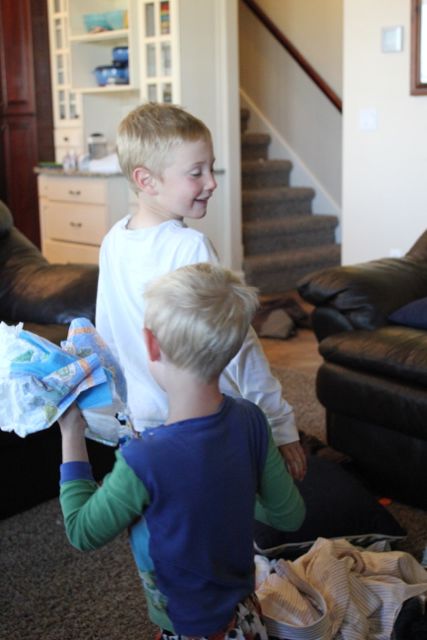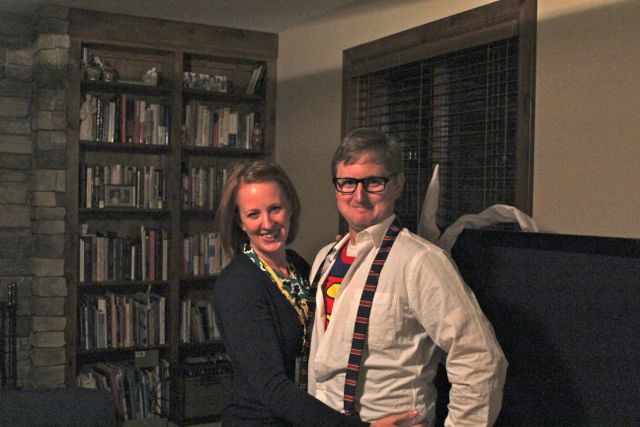 For Halloween Adam was Clark Kent, and I was Lois Lane.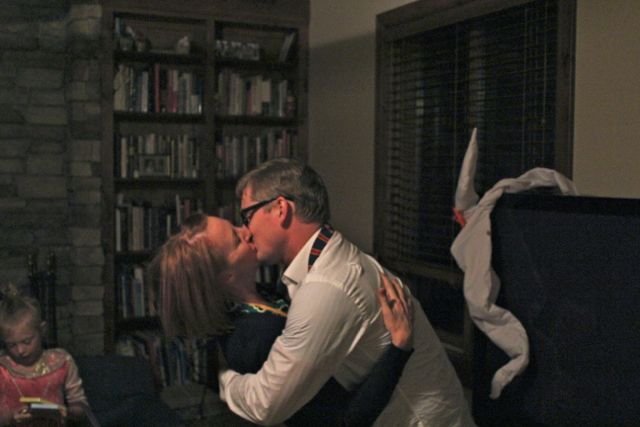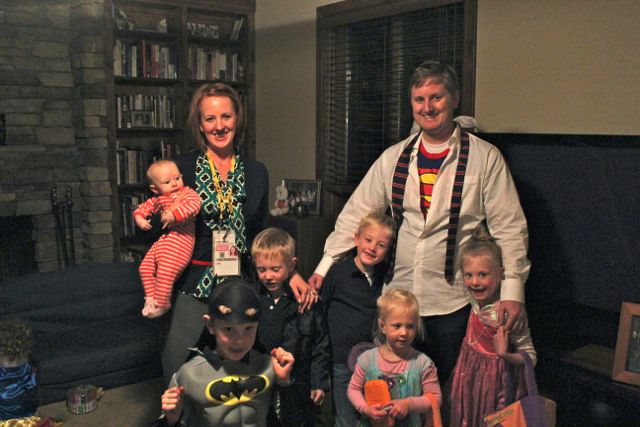 Brinlee's dance company started a new Fright Night performance this year for Halloween. It was cute, but there were four performances over one weekend! When the end of October is already insanely busy for our family, that wasn't a welcome addition for me, but she loved it. Her number was Itsy Bitsy Spider, and it was a blacklight performance, so the pictures are dark.