Friday Day One Savannah: We got to Savannah in the afternoon after a very easy drive down. The kids were really good. We went walking around the shops on River Street, watched the boats, ate ice cream and played on a little boat playground. There was a fire truck parked on the street, and Kimball kept saying, "I want to get in." So I said, if you ask that firefighter and he says yes, then you can get in. So he did and the man said yes. The kids climbed up for about two minutes when they got a call. We've never gotten them out of anything so fast. The kids were a little startled when we snatched them out and the truck zoomed away. We went back to the hotel, fed the kids and got them to bed. Caisen was over exhausted and in a strange place, so he started crying. Sawyer didn't appreciate that so he started crying back. They had a crying match for about 30 minutes before going to sleep. It was kind of funny and kind of sad. They were both so tired and both crying at the other. After they were asleep Gran offered her babysitting services, so Adam and I went out for dinner at Corleone's Italian restaurant. It was pretty good. We wanted somewhere we could walk to and not have to change clothes, and this worked out great. They actually had this fabulous fresh pesto that inspired me to come home and make my own. The jarred stuff just doesn't come close.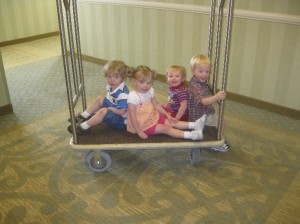 Here's our luggage headed for the room.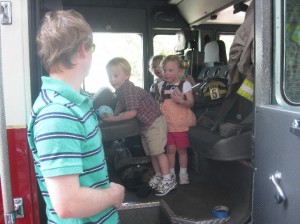 The shortest fire truck tour ever.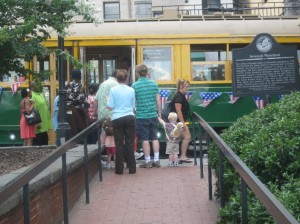 Getting on the trolley that runs down River Street. The picture of us inside the trolley is too dark bc we were backlit.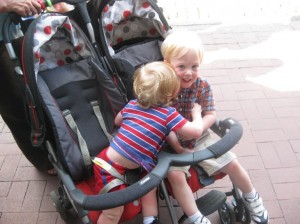 Caisen and Sawyer kept hugging and kissing. Caisen was saying, "Kees Sawyer!" But soon his kisses included too many teeth, and Sawyer wasn't interested anymore.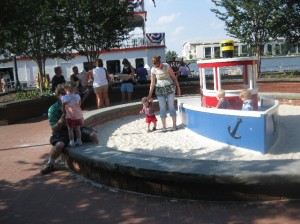 Playing in the little boat on River Street. There is sand in there, so Brinlee wasn't that interested.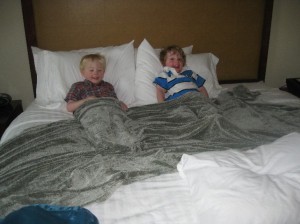 Kimball and Sawyer making themselves comfortable in our bed. We brought their Peapod tents for them to sleep in.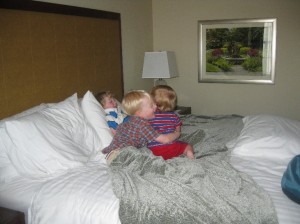 Playing king of the mountain, and Caisen lost.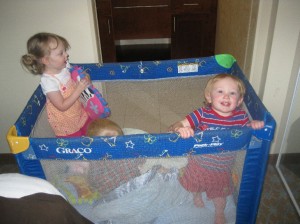 Since Mama and Papa Bear's bed was too big, they all decided to check out Baby Bear's bed, but it was too little.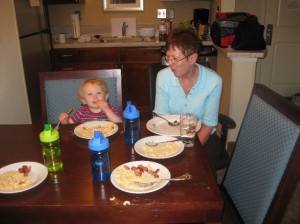 Gran and Caisen having some dinner.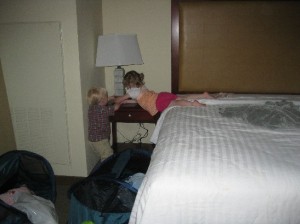 Brinlee fixing the light.
Saturday Day two in Savannah we got up and went to Fort Pulaski. Everyone was VERY TIRED. The night before, Caisen cried about once an hour for a minute or two, just enough to disrupt everyone's sleep. He is usually a sound sleeper, but he wasn't that night. We explored the fort waiting for the cannon to go off at noon. For days Adam had been talking to the kids about the big BOOM! they were going to hear at the fort. They love loud noises. This BOOM! was more like a snap crackle pop of a firecracker. The fort was interesting though and well preserved.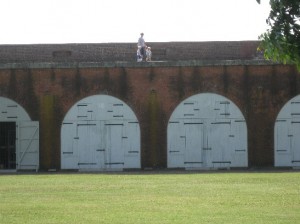 Daddy, Kimball and Sawyer up on the wall at Fort Pulaski.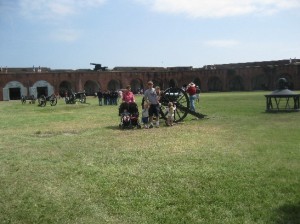 Standing in front of the little cannon that couldn't.
After the fort we drove over to Tybee Island to see what was there and get some lunch. Apparently the rest of Savannah was headed there too. The traffic was awful, there was nowhere to park, we couldn't find anywhere to eat, and we didn't see anything worth getting out of the car for anyway. We headed back toward Savannah in search of lunch and stopped at the first recognizable place we saw: Wendy's. The kids thoroughly enjoyed their chicken, fries and frosty, except for Caisen. He doesn't seem to like how cold ice cream is. I'm sure he'll outgrow that. At Wendy's we saw some of the people who dressed up as soldiers at the fort, and they were so excited about their cannon firing, telling us to come watch. We didn't have the heart to tell them we'd been there and barely heard that. It was late in the afternoon and the kids were getting sleepy, so we drove around the historic district looking at the beautiful homes. Finally we headed to Hilton Head to check in to our resort. We took the kids down to play in the pool, and they warmed up to it really fast, which was kind of surprising. We started out in the baby pool and quickly moved on to the big pool. After dinner the kids went down really easily and slept great the rest of the week, taking some marathon naps.
Sunday Day three we spent the morning at the beach. They weren't too sure what they thought of it all for a few minutes, but quickly realized the beach is fun! We got out the shovels and buckets and they went to town digging and filling. We had some shape molds like fish, starfish, seahorses. Gran and I were trying to create an aquarium and some castles, but Kimball and Sawyer demolished them as soon as they saw them. Sawyer the Destroyer lives up to his name. That afternoon we went back to the pool. They liked playing on the steps. They could stand on the last step and keep their heads above water, but not the floor of the pool. We showed them the end of the step and black line, but they decided to test us on it and each had at least one self-imposed dunking. Gran nearly had a stroke when I let them each fall off the last step (except Caisen. He was in someone's arms the whole time).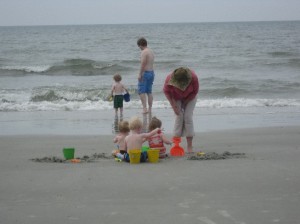 Kimball went right to the ocean with Adam. Everyone else stuck close to dry ground for a while.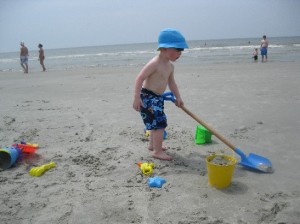 Sawyer digging in the sand. He kept his sunglasses over his eyebrows.

Gran shading King Caisen. That day he let her get by without fanning him and feeding him grapes.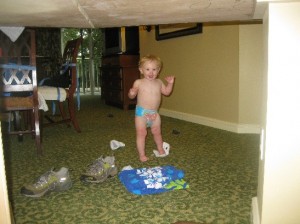 The counter in our condo's kitchen had a tunnel that Caisen thought was his own personal passage. He loved walking through it.
Day four we decided to go over to Harbour Town and walk around the shops, look at the big boats, climb the lighthouse and have some lunch. They have a cute playground that the kids loved. Brinlee, Kimball and Sawyer are now big enough to sit in the big kid swings all by themselves and be pushed. Brinlee wouldn't get off. She loved the swing. After lunch we climbed all 117 stairs of the lighthouse to get the view. The kids loved looking at everything and being "Tall!" Then we got to climb down all 117 steps. I had Caisen, Gran had Brinlee, and Adam had Kimball and Sawyer. The big boys were really slowing daddy down, so after Gran and I got to the bottom, she watched Caisen and Brinlee, while I climbed back up at least 80 stairs to assist daddy. After a very late nap and a snack, we went back down to the beach where the boys had fun jumping the waves. As a wave came in, Daddy and I got to lift them over it. At least I'm getting a little exercise, right?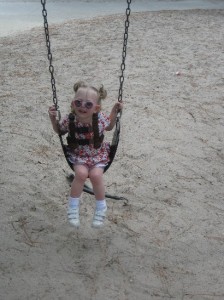 Brinlee with her glasses on, swinging by herself.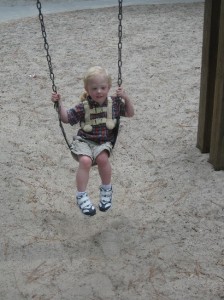 Sawyer loved swinging "by myself!"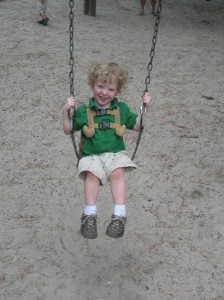 I see a swingset in our future.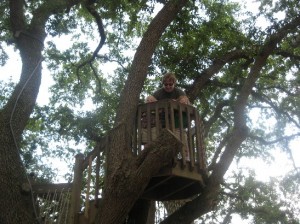 Daddy, Kimball and Sawyer climbed up the treehouse.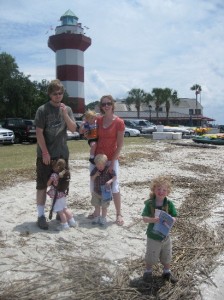 After we climbed the lighthouse, they were so tired and not in the mood for pictures.
Day five we spent another fun morning at the beach. We had great weather. Some days it was overcast, some it was sunny, but every day it was in the mid-80s. In July! It rained during their naps and cleared up enough to go back to the beach in the afternoon. The damp sand meant no flying sand as the wind picked up and the tide came in. Kimball and Sawyer are really brave around the water and sand, but surprisingly, our fearless Brinlee did not love the ocean. She runs from it saying, "Water not get you!" when the waves come. Part of the problem is the princess does not like to get dirty, especially her hands, and sand is the exact kind of thing she doesn't want to be soiled with. We expected Kimball and Sawyer to be more skittish, but they love it. In the pool Brinlee is very happy and the boys are a little less sure. Caisen is on the fence. I think he was more tolerant of the beach situation because he saw his brothers having so much fun, but at the same time he didn't love it until the last day. Once he got playing he was fine, but was also easily disrupted and annoyed. Brinlee and Caisen were constantly vying for a spot on someone's lap so they don't have to make contact with the sand.
Brinlee quickly realized the value of sunglasses. She is sensitive to light the way her daddy is, and once she figured out sunglasses reduced the glare, she was rarely seen without them. The boys weren't as impressed, but did seem to understand that hats offer protection too, and wore those some. As we sat and played on the beach, a bird flew overhead and dropped the fish it had just caught right next to us. Fearless Brinlee ran right over and grabbed it.
That night Adam and I decided to relax in one of the hot tubs. I felt something on my shoulder, and as I looked to see what it was, it jumped from me to Adam. It was a frog! Not a teeny tiny frog. It was probably as big as the palm of my hand. From Adam it jumped onto a teenage girl. She didn't even notice it until I pointed it out. I made a quick exit. At night we heard choruses of frogs all night long. No way was I getting back in. They were everywhere! Another day I was sitting on a bench and a lizard dropped out of the tree in front of me. That didn't bother me as much. For one thing, I had lizards in my houses the whole time I was in Brazil. For another, I HATE THINGS THAT JUMP. Lizards don't jump. And they're not slimy.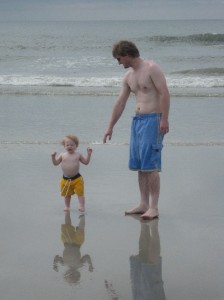 Daddy and Caisen walking the beach. Caisen was trolling for babes.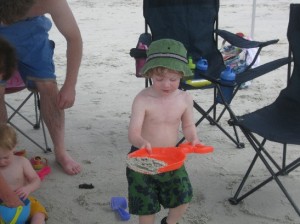 Kimball digging.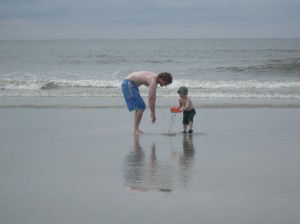 Daddy and Kimball getting water.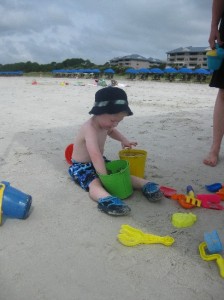 Sawyer filling his buckets with sand.

Brinlee trying her hardest not to get dirty. When it was time to go in that night, Brinlee had filled that yellow bucket with wet sand and wanted me to carry it in for her. I told her I wouldn't carry it for her, but I would walk with her while she carried it, or she could clean it out. She would carry it a few steps and ask again. Finally she asked me to carry her. Smart girl! But I'm smarter (for now). Finally she decided to dump it out and take it in empty.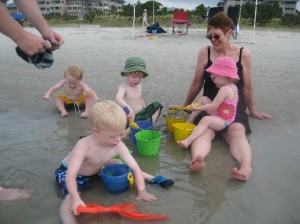 Gran playing with the grandkids. She is dutifully keeping Brinlee clean and dry. She spent most of her time hauling water or being a chair. What a nice Gran!
Wednesday day 6 Each of the kids got to go on a walk down the beach and into the water with daddy. Brinlee only went in to the water if daddy held her and she didn't have to technically touch the water. Brinlee and Caisen were in constant need of water refills for their buckets (so they could promptly dump them out, of course), and after not too many times, mommy and daddy told Brinlee she could get her own water, but Gran is nicer than we are and happily made trip after trip to refill their buckets. She was also able to convince Brinlee to sit in her lap at the water's edge. Again, she was not required to actually touch the water. That night Adam and I got to go out for a romantic dinner at a restaurant called The Studio. The food was very good, and the walls were decorated with paintings by local artists, one of whom was our hostess.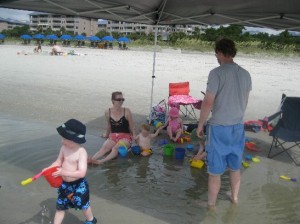 We moved our canopy over the little water so they could play in the shade. Talk about service!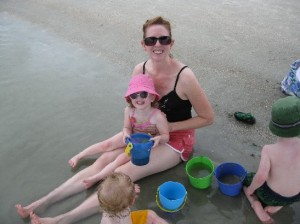 Mommy's turn to be Brinlee's chair!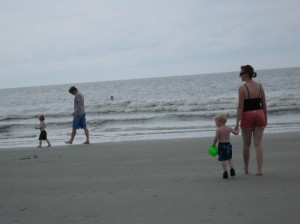 Mommy walking with Sawyer and Daddy walking with Kimball.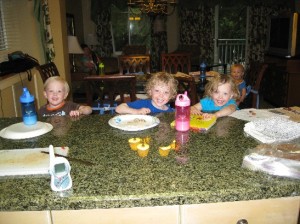 They wanted to eat their dinner at the bar. They are so happy to be so big!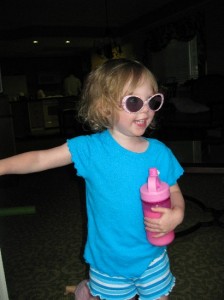 That girl always had her sunglasses on!
Thursday day 7 We spent the morning at Shelter Cove because it was raining. The kids each got to pick out a toy and a T-shirt. We had lunch at one of the restaurants before heading back for naps. The weather cleared while everyone slept, and we spent the rest our last day playing on the beach and having a great time. By this time Caisen was loving the water. There were some tide pools on the beach that the kids loved playing in. We called those the little water and the ocean was the big water. Kimball and Sawyer did fine with the big water, but Brinlee and Caisen weren't having it. Everyone loved the little water, though, and they played very happily there. Caisen kept bear crawling through at a fast and furious pace. When he was tired of that he'd walk through, falling every few steps. He wasn't at all bothered by getting water in his face.

Shopping is exhausting! Rookies!
Since we wanted to maximize our beach time that last day, we took their snack down to the beach that afternoon. The birds discovered us and happily came to clean up what we dropped. One clever bird realized there was more in the big plastic sack and kept trying to fly off with it. It was too heavy, and he was only able to drag it a little. Sawyer was not about to let a bird make off with his food, so he went to stand guard until the birds gave up and left. A man and young boy were fishing on the beach near us. Brinlee ran over and tried to grab the little fish the boy had caught and the big fish the man had caught. She got her hands on a few of them before Adam stopped her.

Caisen walking through the little water.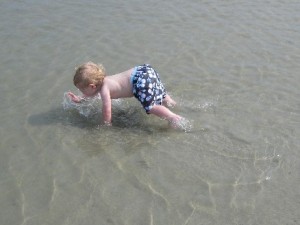 Caisen bear crawling through the little water. He had quite an audience. Everyone around us thought he was so cute and funny (which he is).

Brinlee strutting the beach.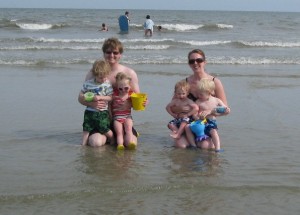 Family picture on the beach.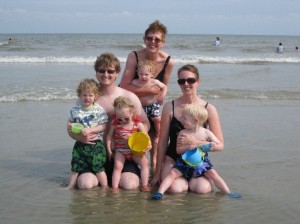 We had so much fun! Gran is so tan! At least next to the rest of us. We glow.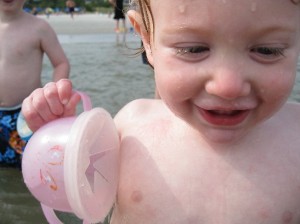 Caisen charged me while I was trying to take his picture. He's getting fast!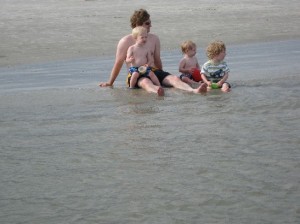 Daddy and the boys soaking up the last rays of the sun.
Friday day 8 We sadly said goodbye to Hilton Head and our beach fun and headed back to Savannah. After an adventurous morning trying to pack the car with four toddlers trying to unpack, we made it to Savannah in time for a quick lunch. We then took a 90-minute trolley tour of the historic district. The kids were ecstatic to ride the "trolley bus" and were perfect angels the whole trip. Caisen slept most of the time, and Brinlee fell asleep at the end. Kimball and Sawyer were too interested in what was going on to sleep. The trolley dropped us off near our next destination, the historic Green Meldrim house. It was really beautiful, but the docents were a positive snore. They knew nothing about the house and its occupants other than what the website says. Kimball and Sawyer were very restless from sitting on the trolley for so long and missing their naps, so after we saw the downstairs, Adam took them across the street to one of the many beautiful squares so they could burn off some energy while Caisen, Brinlee, Gran and I toured the rest of the house.

Standing in front of the trolley.
We had been promising the kids a boat ride all day, so we headed over to River Street to catch the ferry that goes between the Westin, Hyatt and Marriott. We had already missed the Savannah River Queen, and they wouldn't have tolerated a trip that long anyway. This was exactly the perfect ride. The kids got to see boats, ride out on the water, look at waves (the whole trip each wave was labeled big or small) and get off. The trolley shuttle took us back to the Railroad Museum where the Whistle Stop Café is inside a train car. It was dinner time, and the kids love trains, so we had dinner inside an old Georgia Central Railroad car. When I saw the standard café menu, I was expecting the typical gross tourist food, but I was pleasantly surprised to have the best Philly Cheesesteak sandwich of my life (no, I haven't had one in Philly, but until I do, this one has been the best).

Our ride is here!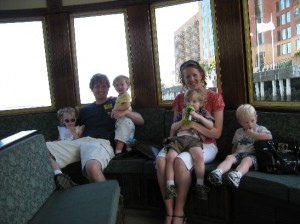 On the boat, watching waves.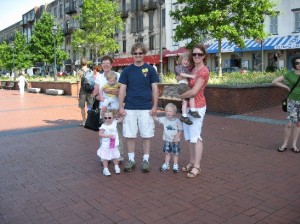 On River Street.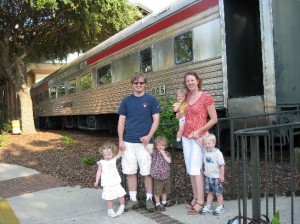 Here's where we had dinner.
After a satisfying dinner, we changed diapers and put on the kids' pajamas and headed home with grand hopes that everyone would quickly go to sleep, which they didn't. It was too bright. Kimball eventually nodded off at 8. Caisen maybe 8:30, and Sawyer around 9. Brinlee was wide awake. The head lights of passing cars were in her eyes. Around 9:45 Caisen started fussing and fussing. We figured it was the same thing that happens at home when he is overtired and he cries a little around 10:00. He eventually woke Sawyer and they screamed at each other the rest of the trip home, which lasted another hour. Brinlee finally fell asleep during the screaming match while Gran and I were trying to block the headlights. We thought that was what was bothering the boys. When we got home we realized Caisen was poopy and his bum was red and ouchie. Poor kid. We had no idea. Everyone went right to sleep once they were in their beds.

When we were trying to change into pajamas, the kids saw bananas in the car and wanted dessert. So they sat on the steps and ate more.

Brinlee watching her show. With sunglasses. I think she's going to love 3D.