Remember that Norman Rockwell perfect Christmas I wrote about 2 weeks before the official day? Well, it turns out that Norman Rockwell is like lightening, he doesn't strike the family twice in the same holiday season (or maybe ever). We went to visit my family for the week of Christmas. Everyone was there except my brother Mark and his family. We really missed them.
Going to Gran and Granddad's house is always a challenge because there are a lot more no-nos. Just about everywhere but our house has a lot more no-nos. We got to spend lots of time with cousins, aunts and uncles. The kids started asking for cousins everyday.
Christmas Eve everyone came over for dinner and a gift exchange. We had chili (to go with the cornbread mom made for the dressing). The adults all had a gift for their special person, and the cousins also had a gift for a special person. The cousins got to go first. We picked one of the kids to give to their special cousin, then that cousin gave their gift. Brinlee and Kimball got their gift at the very beginning, and Sawyer kept looking around saying, "Sawyer present? Sawyer present?" I think he was the last cousin to get a present. When he finally got his gift, he was really excited. The whole thing was really cute.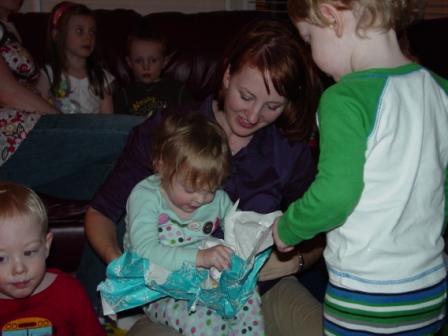 Brinlee opening her cousin gift.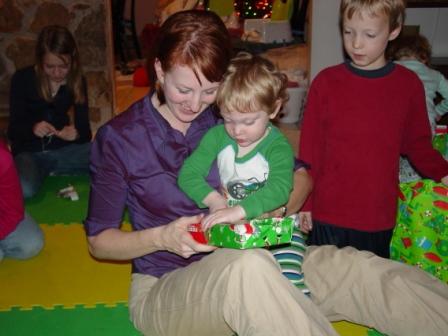 Kimball opening his cousin gift.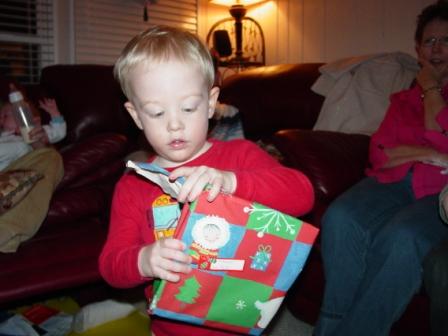 Sawyer finally gets a present too.
Christmas morning we had the cinnamon rolls again, but this time I didn't kill the yeast, and Adam didn't have to resurrect them. After breakfast we opened presents. The kids got lots of books, some dinosaurs, and they finally got their aprons (which they love!). The morning went well, but then the nap didn't go so well, and the rest of the day was downhill from there. Christmas dinner was delicious (or so I hear, Adam and I didn't get to eat much because we were wrestling some crabby kids).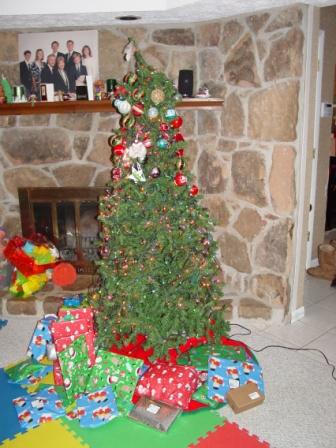 What's wrong with this tree? Four sets of curious hands means the ornaments have to stay on the top 25% of the tree.

Caisen and Granddad.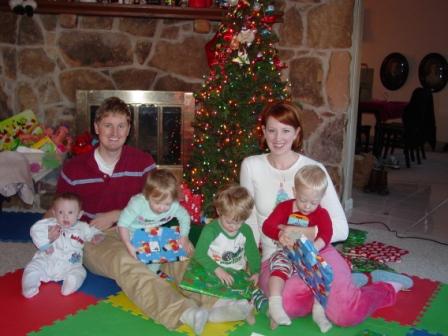 Christmas morning.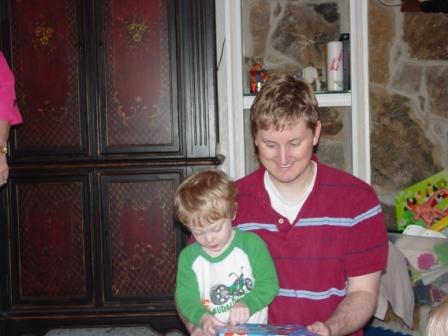 Daddy and Kimball.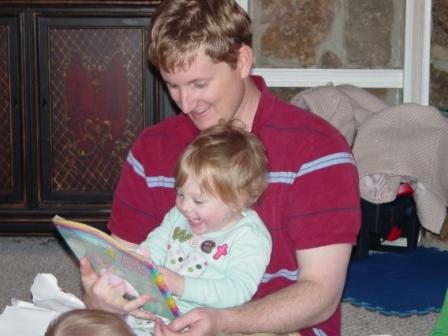 Daddy and Brinlee with her new Care Bears book.

These kids are pros at opening presents now. Daddy's just the audience/chair.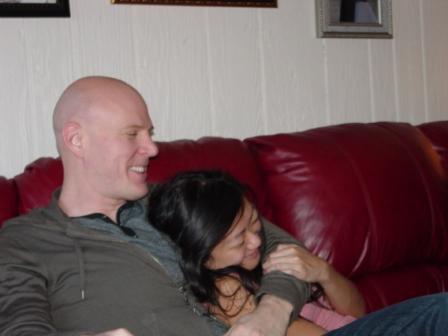 /
/Jonny and Vanessa. Aren't they cute?/
//
/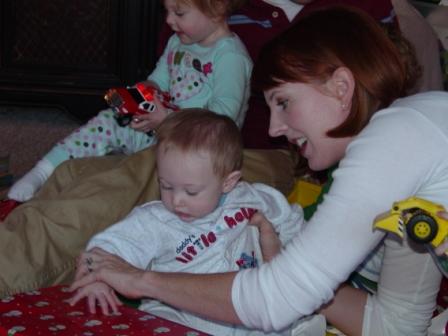 /
/Caisen is still working on his present opening skills./
//
/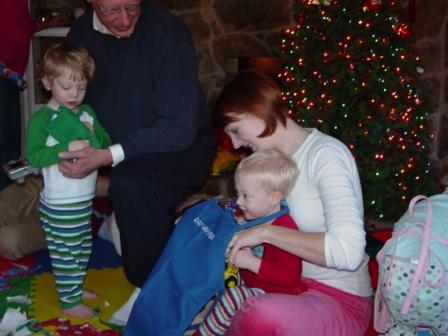 /
/Sawyer putting on his new apron./
//
/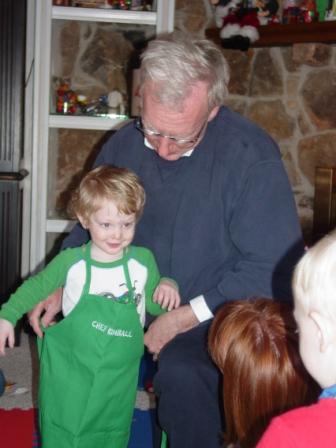 /
/Granddad helping Kimball put on his new apron./
//
/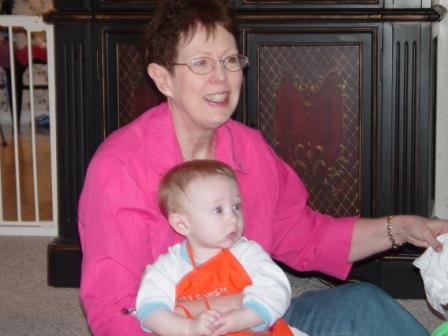 /
/Gran and Caisen with his new apron./
//
/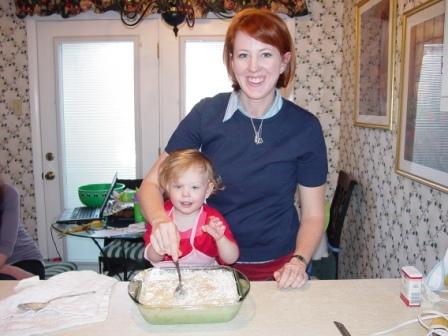 /
/Brinlee is putting her new apron to work and helping mommy make corn pudding./
//
/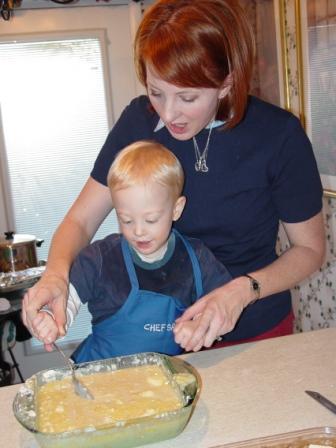 /
/Look at Sawyer stirring like a pro! It must be the apron./
//
/Of course, no Christmas visit would be complete without getting sick, but at least this year it was a cold and not the flu. We all started getting sick on Christmas Eve. The runny noses and coughing added to the crankiness. It also rained all week so we couldn't go to the park, or out in the yard, or anywhere else and play. On Christmas Day it was finally sunny so we went out to play in the yard. My parent's yard is very sloped, so when the kids went up the yard, they decided they needed to slide down, and they covered their backsides in mud. They managed to choose a really shaded spot that didn't have much grass, so they were filthy. /
//
/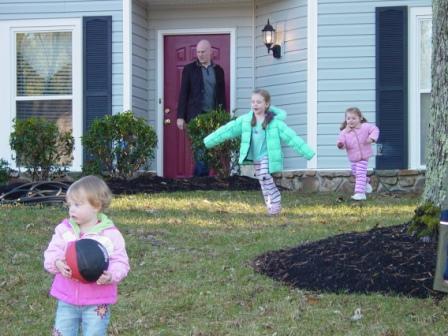 /
/Uncle Jonny releases the kids from their holding pen (the house)./
//
/
/
/Kimball is contemplating how to get the most mud onto his pants./
//
/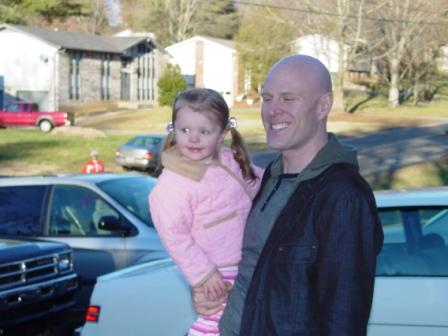 /
/Uncle Jonny and Bridget./
//
/
/
/Brinlee loves when daddy tosses her in the air. The higher the better./
//
/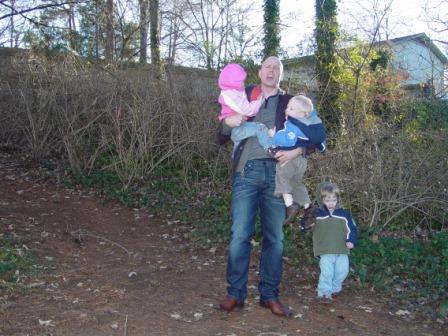 /
/Jonny is a kid magnet. They were all over him./
//
/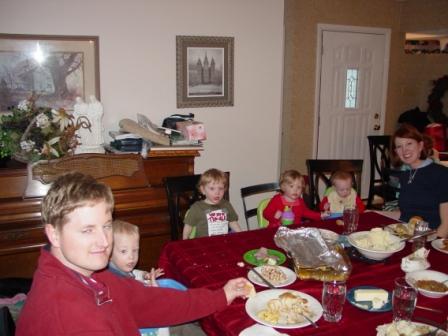 /
/What did our kids eat for Christmas dinner? Cinnamon roll. If that's what they want for a special dinner on a special day, I suppose that's fine./
//
/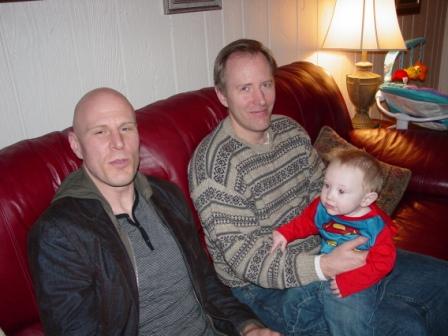 /
/Caisen easily charmed everyone. Eric and Jonny are under his spell./
//
/Christmas night my parents volunteered to babysit and let Adam and I go to a hotel and get some sleep (Caisen is a terrible roommate). We checked in to our room around nine and started to get settled when we heard a baby start crying. We could listen to that at home for free. We switched rooms and had blissful silence the rest of the night./
//
/Friday night we all went to Eric and Tristi's house for pizza night. I brought some kamut pizza dough that I had made at home and frozen. It was nice to spend time together and try out all the different toppings everyone brought. We forgot Caisen's bottle, but we had formula with us, so Tristi found a sippy cup and Caisen did great!/
//
/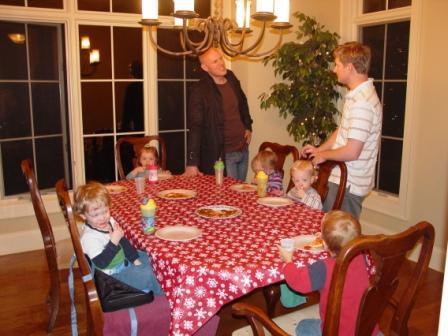 /
/Daddy and Jonny supervising the pizza party going on with the booster seat gang./
//
/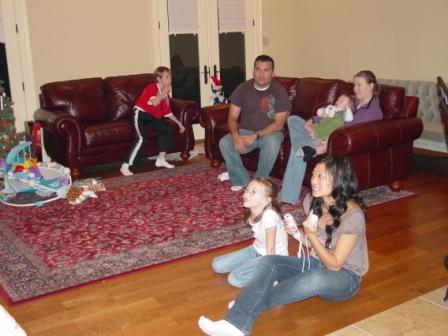 /
/Playing some Wii in between slices of pizza./
//
/
/
/Making, serving and eating pizzas./
//
/On Saturday we decided to take the kids to the mall to get out of the house. There is a play area that is walled in, and we let the kids run wild. They looked around at all the other kids there and asked, "Cousins?" Um sure, cousins. When it was time to eat we headed to the food court for the ever-popular french fries and chicken combo. After lunch we walked past this cute little carousel that had three cars, and they were in their special colors: blue, green and pink. How perfect was that? So they hop on, and as Kimball goes by me I say, "Kimball, use your steering wheel and push the little button!" He starts steering and pushing the little button, which flashes. He's laughing and having a big time. Brinlee goes by me and I say the same thing. She is laughing and steering and pushing her button. Around comes Sawyer and I say, "Sawyer use your steeri….." There is no steering wheel. So I say, "Grab the dog's ears!" That's lame. "Push the button Sawyer!" He pushes it and nothing happens. He looks at his car. He looks at Kimball's. He looks at Brinlee's car. He looks back at his car. He has the saddest look on his face. He has tears in his eyes as he looks around at the three cars, knowing that his doesn't do the cool stuff. So when the ride stops, Kimball and Sawyer switch cars, and now it is Kimball looking at the other two cars and back at his. He has tears in his eyes and looks so sad. We were out of $1 bills at this point, so we distracted them with some Dippin Dots ice cream./
//
/That evening all the siblings and spoused went out to dinner. We got to sit around and laugh and joke and tease each other. I really wish we all lived closer together./
//
/Saturday night Kimball coughed and cried a lot. That's also when I started to get sick. We ended up getting up at 6:15 (about 2 hours earlier than normal), and I started packing. We needed to go home, be in our own beds and get better. We left before 9, and before anyone but my parents were up. The kids were silent most of the way home. When we got home, the kids played quietly and happily all afternoon long. They were so happy to be home. They also went back to napping and sleeping well at night. We were sad to leave so unexpectedly, but the kids needed to get home./
//
/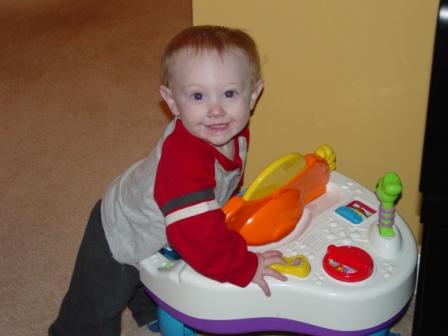 /
/Caisen was so excited to be home, he celebrated by pulling up to standing for the first time! Look at our big boy!/
//
/On the Tuesday after Christmas, we got the last day of Christmas at Stone Mountain. We went after naps. Since Liz was still visiting her family, our first helper, Kelly, came with us. The holiday lights were on, and since it was a cloudy day, we could already see them. We saw the 20-minute Polar Express 4-D movie. As soon as the train started careening out of control, Kimball lost it. He climbed up me and was holding as tightly as he could. He kept saying, "Train all done! Kimball all done!" He would occasionally lift his head out of my neck to see what was happening, and return to his hiding spot. Fortunately it was only 20 minutes. After the movie we ate disgusting hamburgers (the food there could definitely be better) and went on the train ride around the mountain and saw all the lights. The kids loved the lights. We walked around and saw more of the lights since it was finally dark, and then it was too cold and too late, so we went home. They fell asleep on the way home, and they didn't even wake up when we got them out of the car. That never happens! If they had been in their PJs, they wouldn't have woken at all. They barely opened their eyes when we changed them for bed. /
//
/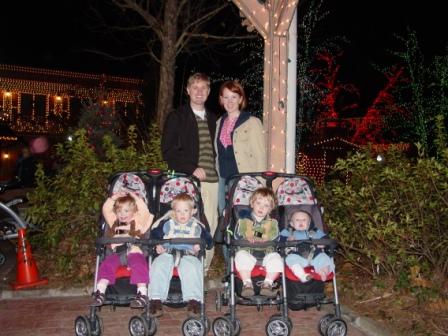 /
/A fun night at Stone Mountain./
//
/??????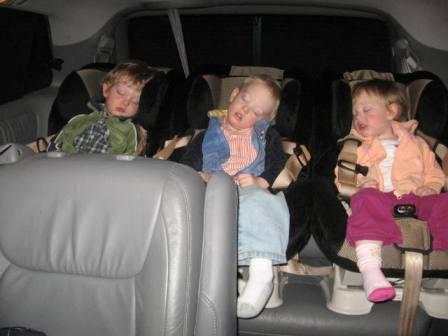 /
/Fun is exhausting!/
//
/Now that Christmas is over, the kids have an official complaint: Where are the lights? They thoroughly enjoyed seeing all Christmas lights as we drove around./
//
/Climbing out of cribs is a favorite new hobby. It is a hobby that makes mommy crazy because there is no sleeping happening. I found a solution. They have these sleep tents that we used at my parents' house, so I just put them in their cribs. They're suddenly napping again! We have been taking the tents out at bedtime and letting them climb out in the morning and play in their (very empty) room. But this morning they were out and playing at 6:15. That is waaaaayy too early, so they might have just earned themselves tents at night./
//
/We signed all four kids up for a swim class, and we went for the first time last Saturday. Things went pretty predictably. Caisen just went with the flow. Brinlee was ready to dive head-first into the water. Sawyer was a little timid at first, but once he got used to it, he was a wild man. Kimball was superglued to our chests, trying to climb higher and higher. He actually did fine at first, but he reached into the water to touch a step, and it was deeper than he expected, so he did a face plant in the water. It will be every week for 6 weeks. The whole point is to get them used to the water and some of the movements like kicking their legs, blowing bubbles, etc. It's something fun to do as a family./
//
/Caisen is getting so big so fast! Today he drank out of a straw cup. We have one that doesn't have any type of stop valve, so I've let him chew on it a few times, and today he got some water out more than once. I don't know if he's completely clued in to what he needs to do to get the water, but I don't think it will take long. Now for the strange part. Caisen hates fruit. He loves his peas and carrots and squash, hates all the fruits. He makes such a yucky face and after a few bites starts swatting our hands away. He gobbles up the veggies. I don't get it. I'm not complaining that he loves the veggies, but who doesn't love fruit?/
//
/Gran has started calling our kids the tribe. We have the triplets plus our bonus, Caisen. /
//
/The tribe love their kitchen (including Caisen). They play with it all day long. One of their favorite games is to get inside the various cabinets and shut the door and sit in there. I get it with Brinlee, she's swaddling herself. But the boys love it too. The sink comes out, so they like to get in that one and stand up through the hole. The oven and washing machine have windows they can look out of, but they also like to get in the refrigerator and dishwasher. We took out the metal plates so the doors don't latch to the magnet and they can open the door any time they want. Caisen likes to use the microwave as his own personal table. He puts his cars up on top or whatever toy he has. He likes to climb into the the cabinets too, but he doesn't get all the way in. His siblings are pretty good about watching out for his little fingers, though he does occasionally get his head bonked with a door./
//
/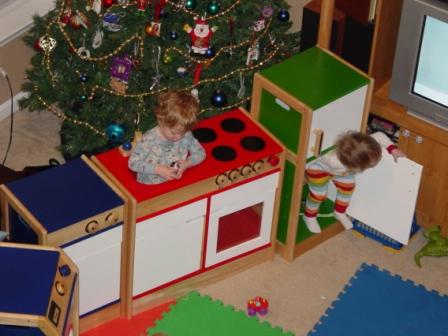 /
/Playing in the kitchen. Literally./
//
/
/
//
/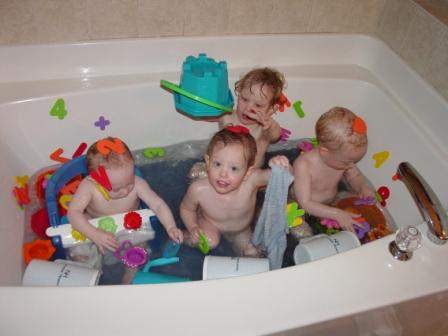 /
/Kimball is up to no good. He just dumped a bucket of water over Brinlee's head and has decorated Caisen with letters and numbers./
//
/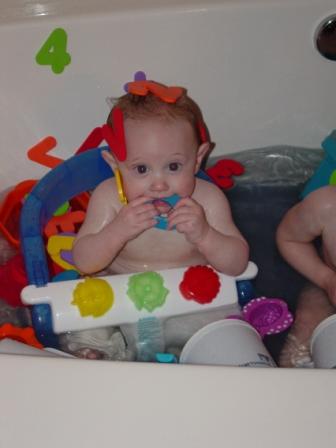 /
/Caisen is such a big boy he gets to be in the big kid bath. He loves it!/
//
/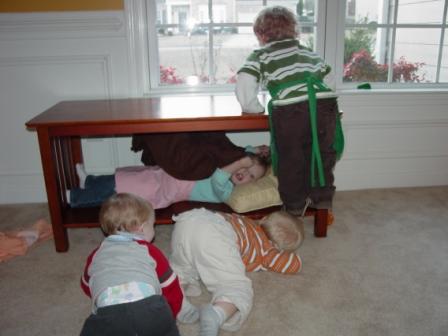 /
/The kids love this random coffee table in the dining room. They are all over it all the time./
//
/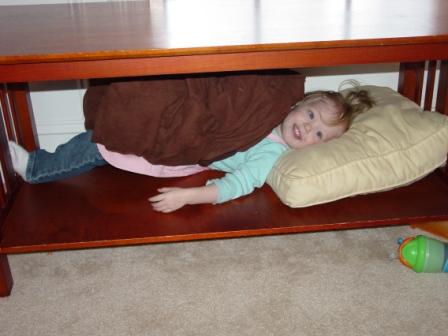 /
/Brinlee getting cozy under the coffee table./
//
/
/
/There's even room for two./
//
/
/
/Where do you suppose they learned that?/
//
/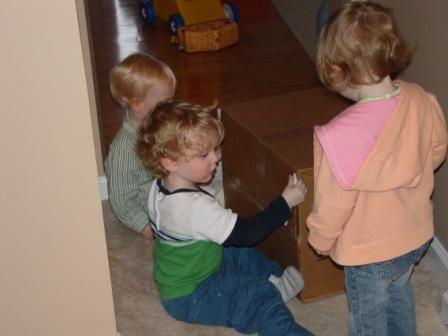 /
/Kimball has a comb and is trying to open this package./
//
/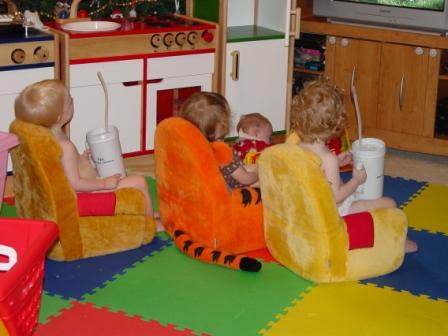 /
/They love to carry around those mugs I got at the hospital. They're empty. Well, there might be some toys in them./
//
/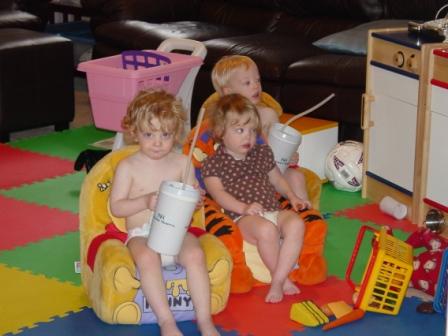 /
/No, our kids do not hang around the house in various stages of undress. We were in the middle of dressing/diaper changes. They were just watching a show in the meantime.