February 2012
When Jonny brought Vanessa to Tennessee to meet our family for the first time, they had only been dating a few months. We were a little surprised he would bring someone that soon, but we were even MORE surprised when he was already gushing about marrying her! Jonny had claimed not to be the marrying type. To make it even more awkward, they were coming from different cities, and his flight was delayed 24 hours, so she landed without him. She was a trooper, and so sweet and adorable that we could see how she had tamed the permanent bachelor.
So a few years later, off we went for the nuptials in Thailand! It was an incredible trip! Jonny and Vanessa put so much effort and thought into everything for their wedding guests. It was epic. Really. I can't imagine how they did it all. Planning a wedding is huge. Planning 2 weeks of entertainment for 50 people on top of that? Blows my mind.
Bangkok Day 1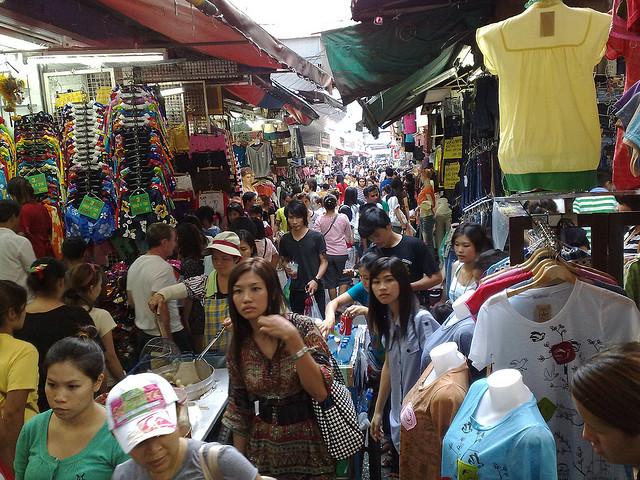 Naturally the first thing we did was go shopping since we were jet lagged and wanted to take it easy. We went shopping at the Pratunam Wholesale Market. Lots of narrow alleyways full of stalls full of … everything. I found a few shirts in one stall and tried to ask what size they were, because they weren't marked. We weren't communicating well, so I indicated I wanted to try the shirt on and started looking for a little or curtained area. Nothing, so I decided to put it on over the shirt I was wearing just to get an idea. That's when the lady starts screaming at me, "No try on! One size! One size!" No try on? How about just over my shirt like this? "NO TRY ON! NO TRY ON!!!!! One size!!!" OK. I'm getting the impression you do not want me to try it on. I'll take 3. At $2 each, I figured I could give them away if they were too small. They work just fine. It was so crowded and crazy there. On the way back we passed a regular shopping mall called Platinum where some of the vendors had set up a sidewalk sale, so the men gathered and talked and the girls shopped. We got a little crazy with accessories and a maxi dress or two, but they were so cute, cheap, pretty good quality, and NO ONE AT HOME HAD THESE. I love being unique.
Later we went to a very fancy shopping mall to visit the Jim Thompson silk store. It was fun to walk around a different part of town and see where the elite shop.
That night the family went out for dinner to have some private time with Jonny and Vanessa. They were so busy with planning the wedding and all the other guests that it was nice to have a time together just us. The food was amazing. Jonny and Vanessa ordered everything and it was so delicious.
We checked in at the Marriott Renaissance Bangkok Ratchaprasong. The service was great. Everyone bows with their hands in a prayer position and smiles so nicely. The rooms are compact, as many hotel rooms in large cities are, and to make the rooms feel larger, the wall between the room and the bathroom is clear glass like this: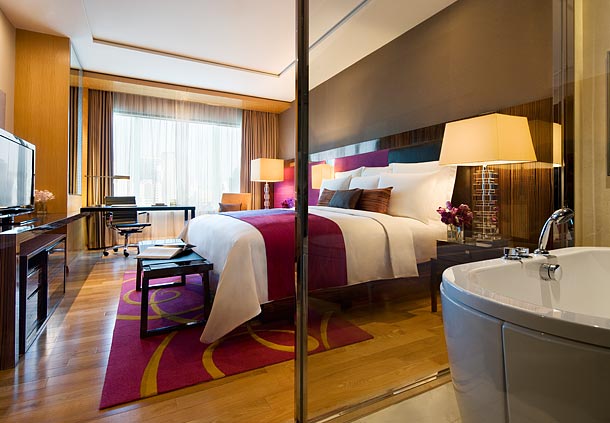 So with the 12-hour time change, the jet lag was brutal. I was awake at 3 am and got up to go to the bathroom. I couldn't find my way out. I couldn't find the opening in the glass, but it was even trickier bc I had closed the glass door, and it didn't have a handle to feel for. I was feeling for the small crack between the wall and the door. There were several small cracks where the glass panels made the walls, so I was looking for the right crack. There was no light switch in the bathroom since it is lit from the room around it. I was in a glass prison, slowly walking the walls in my delirious jet-lagged state, trying to find an escape. I didn't want to wake Adam because he was just as tired as I was. It felt like forever, but I finally made it out. I was about ready to start screaming. I'm claustrophobic, and I was starting to have a panic attack!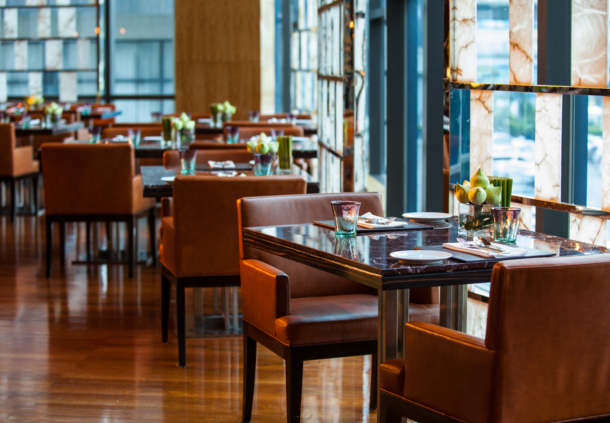 Fortunately in the morning there was a fantastic breakfast buffet to calm my troubled soul. So delicious. There was an omelet/egg station where they would make anything you wanted. I had some incredible eggs benedict and perfect omelets. They had a juicing station where you could choose any fruits and veggies you wanted them to freshly juice for you. There was breakfast representation from so many countries. I think it was the Irish station that had barbecue baked beans. For breakfast. It was so fun to try all the different things.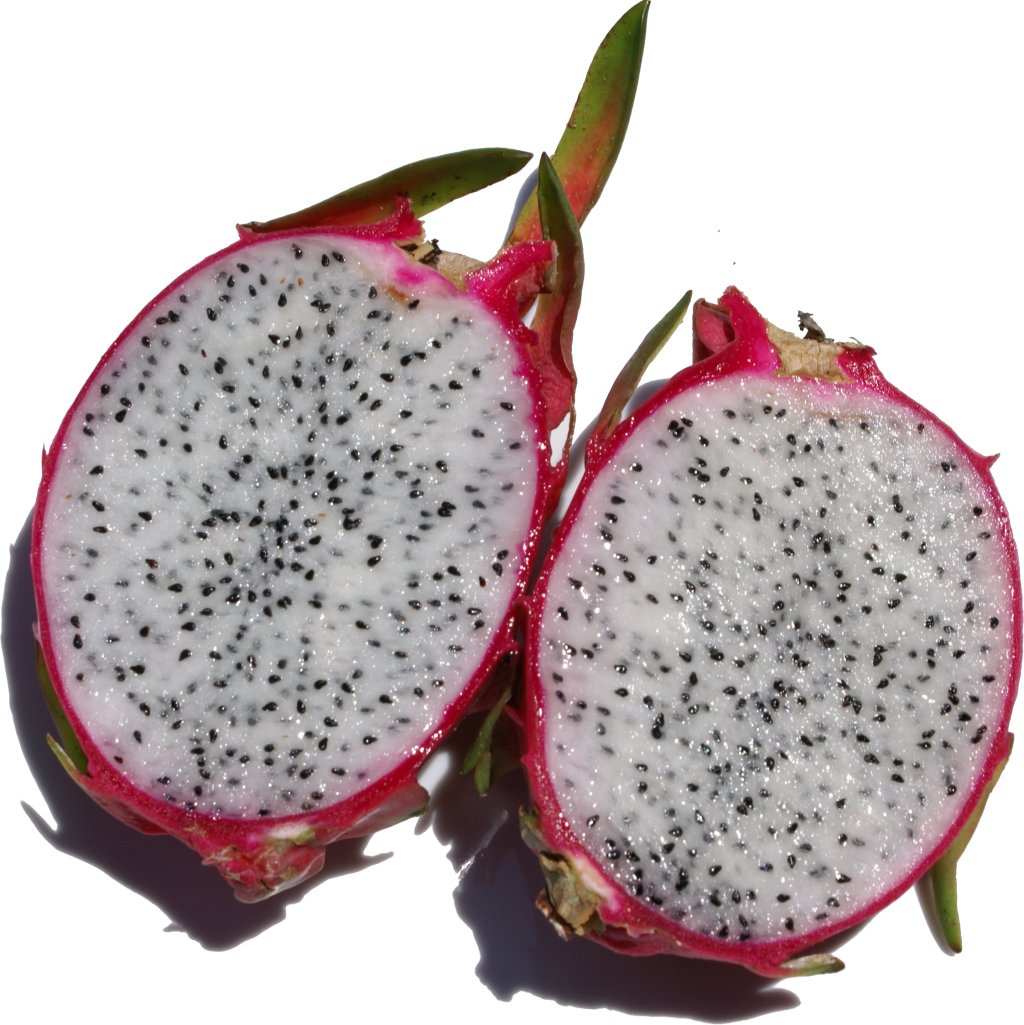 The only new fruit I tried was dragon fruit, but it didn't really taste like much. I know a lot of people love it, so maybe the one I got was underripe. I had mango everywhere we went because that is my favorite fruit, and fresh from the grower is the only way to eat it.
Bangkok Day 2
Our second day in Bangkok the group divided in two. Some went to the tiger sanctuary, and some went on a tour that included an elephant sanctuary and Ayutthayah, a sacred city that was formerly a capital of Siam, and the National Gem Gallery.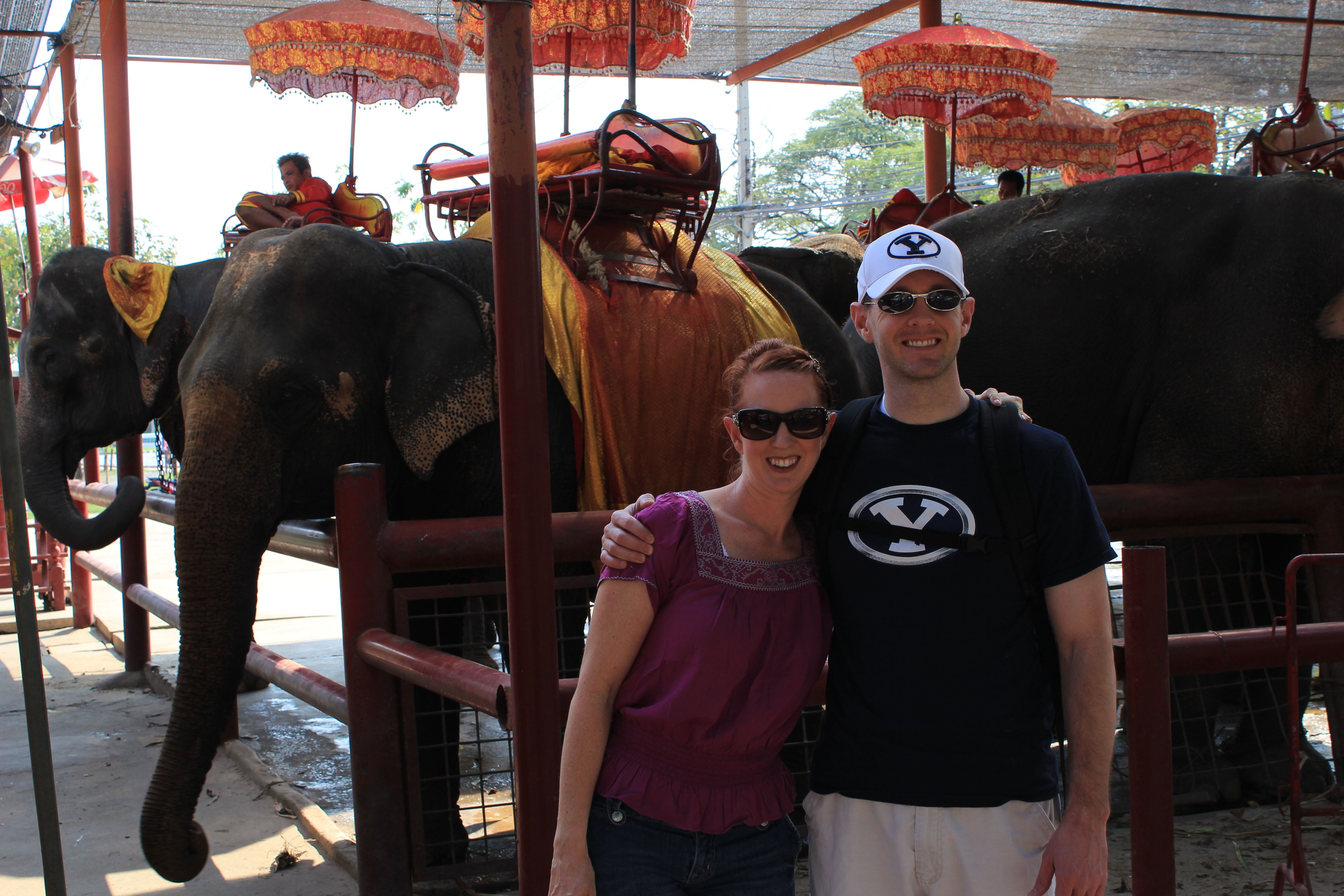 My brother Leo had to fly solo on this trip because they had a baby at home who needed her mama. So we took turns being his date. Here I am with my little brother and the elephants.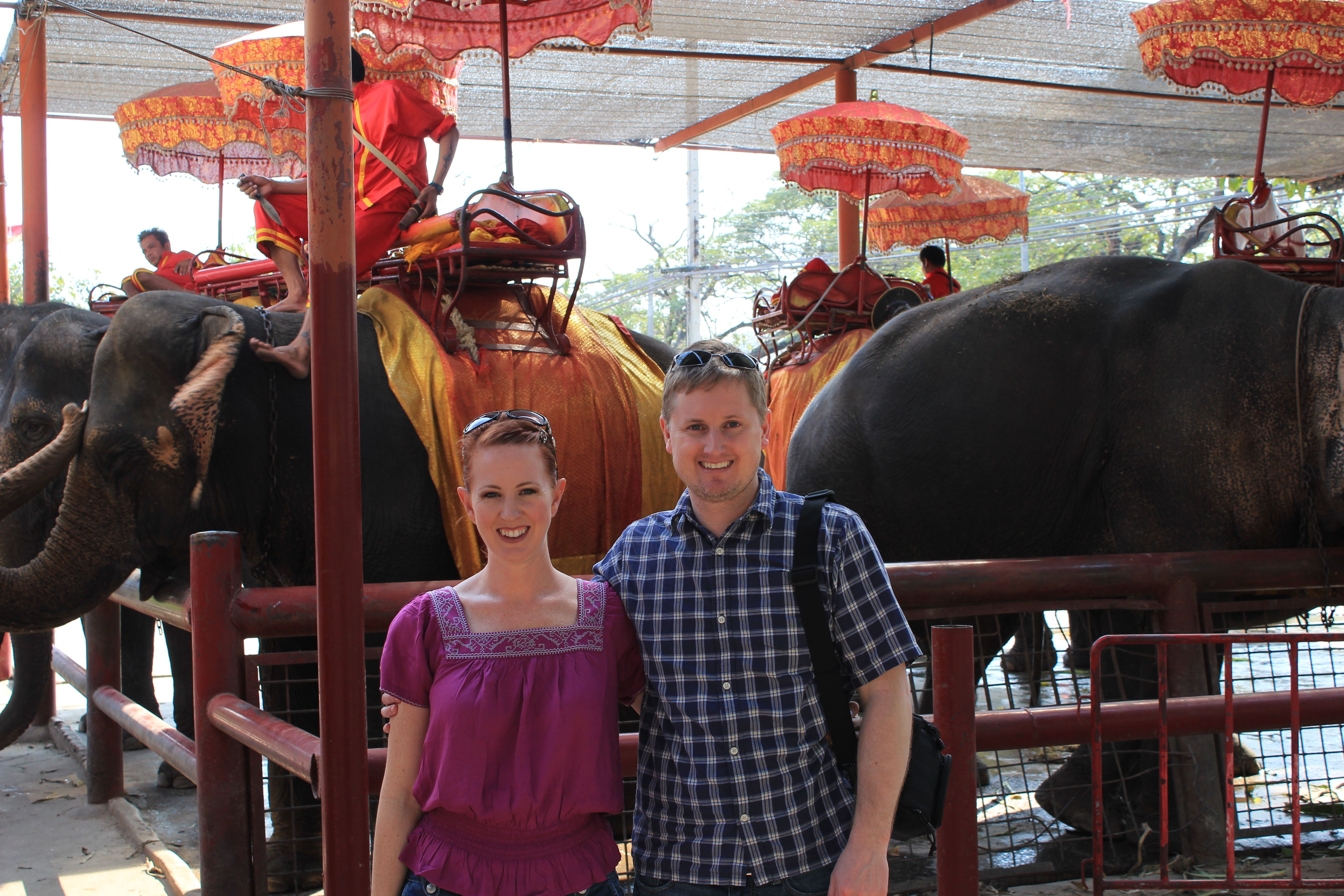 Adam and I waiting our turn to ride an elephant at Ayutthayah.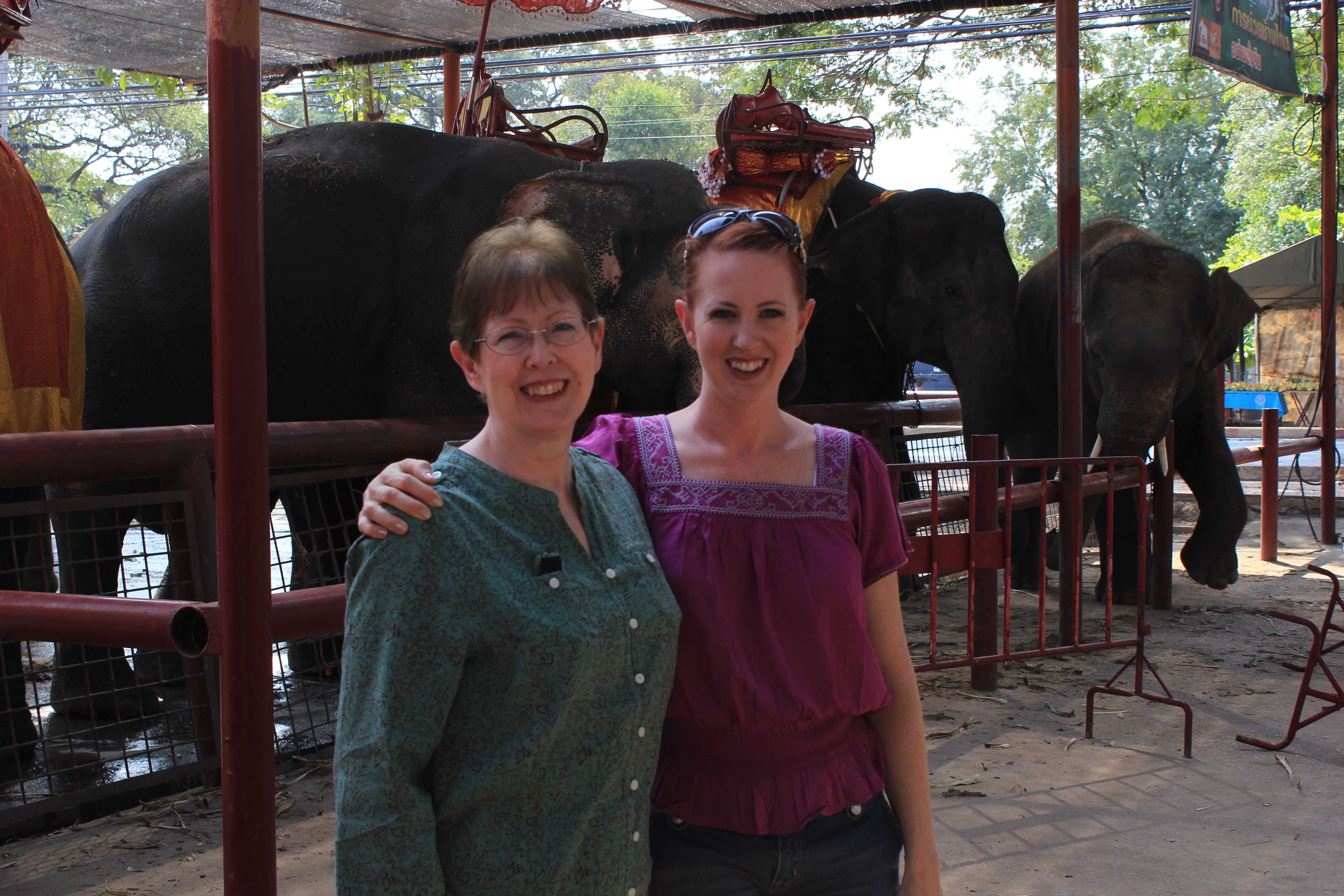 Gran came with us and granddad went to the tigers.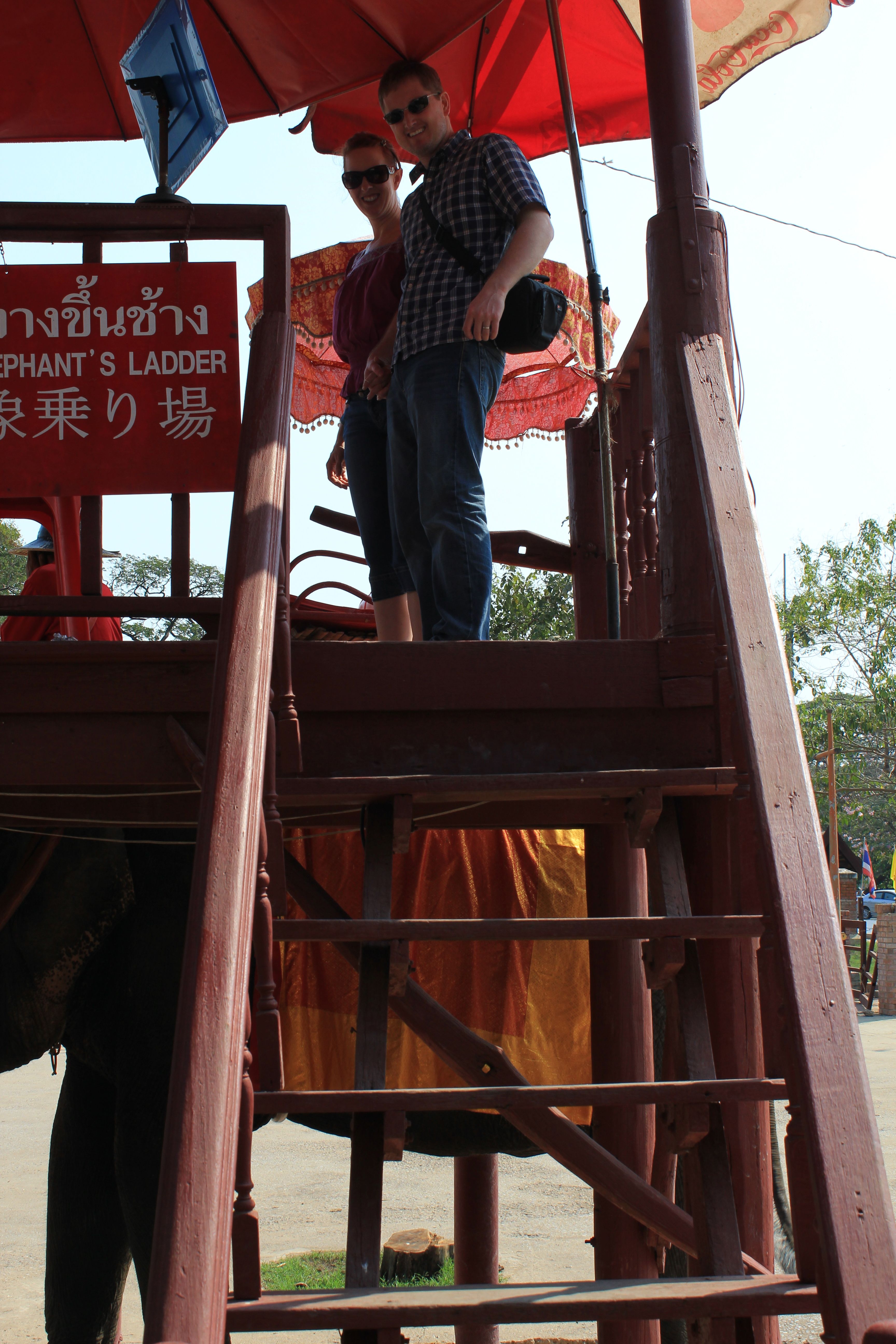 We had to climb this tall platform just to get on the elephants!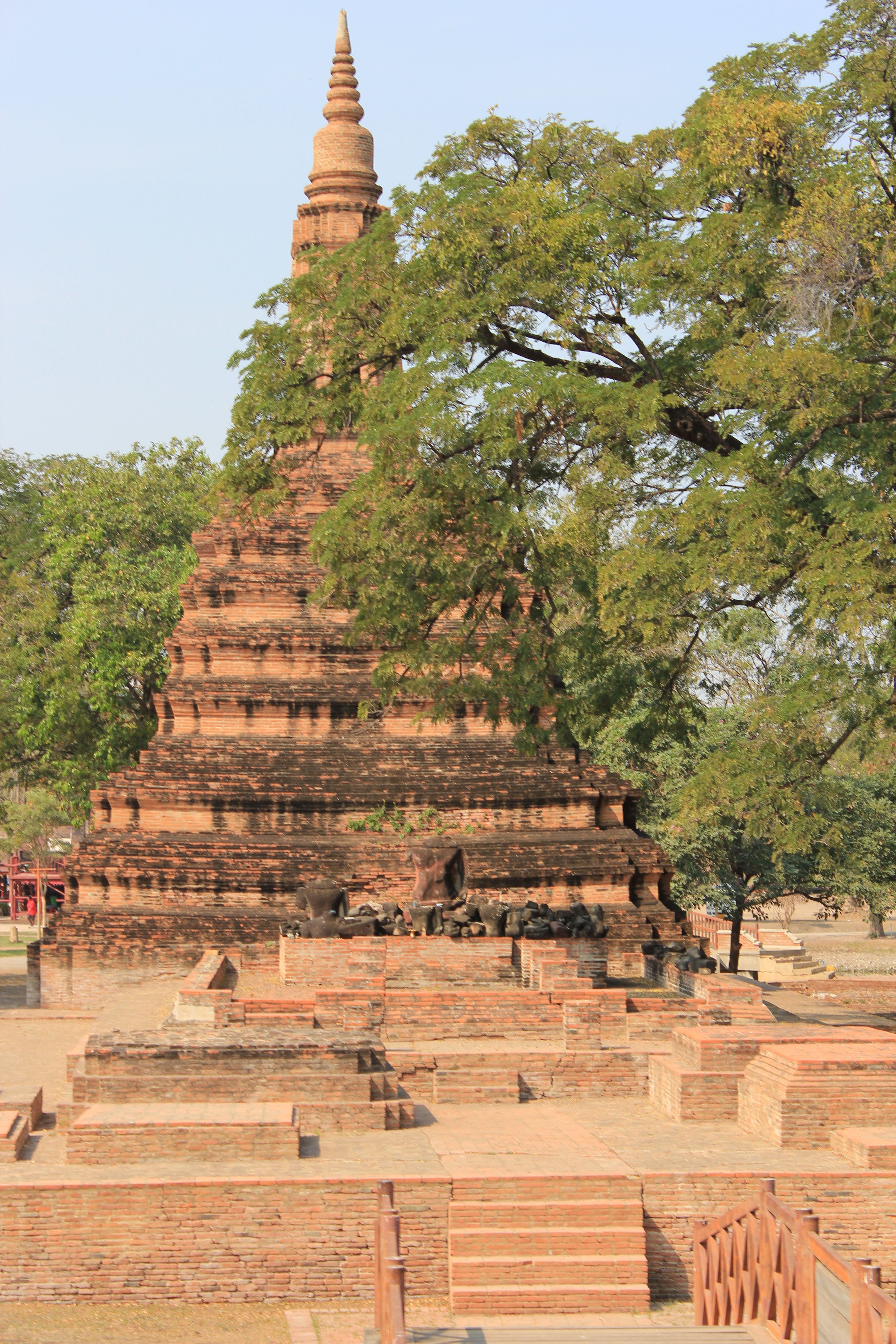 Ayutthaya was the capital city of the Siamese kingdom that existed from 1351 to 1767. In the sixteenth century, it was described by foreign traders as one of the biggest and wealthiest cities in the East.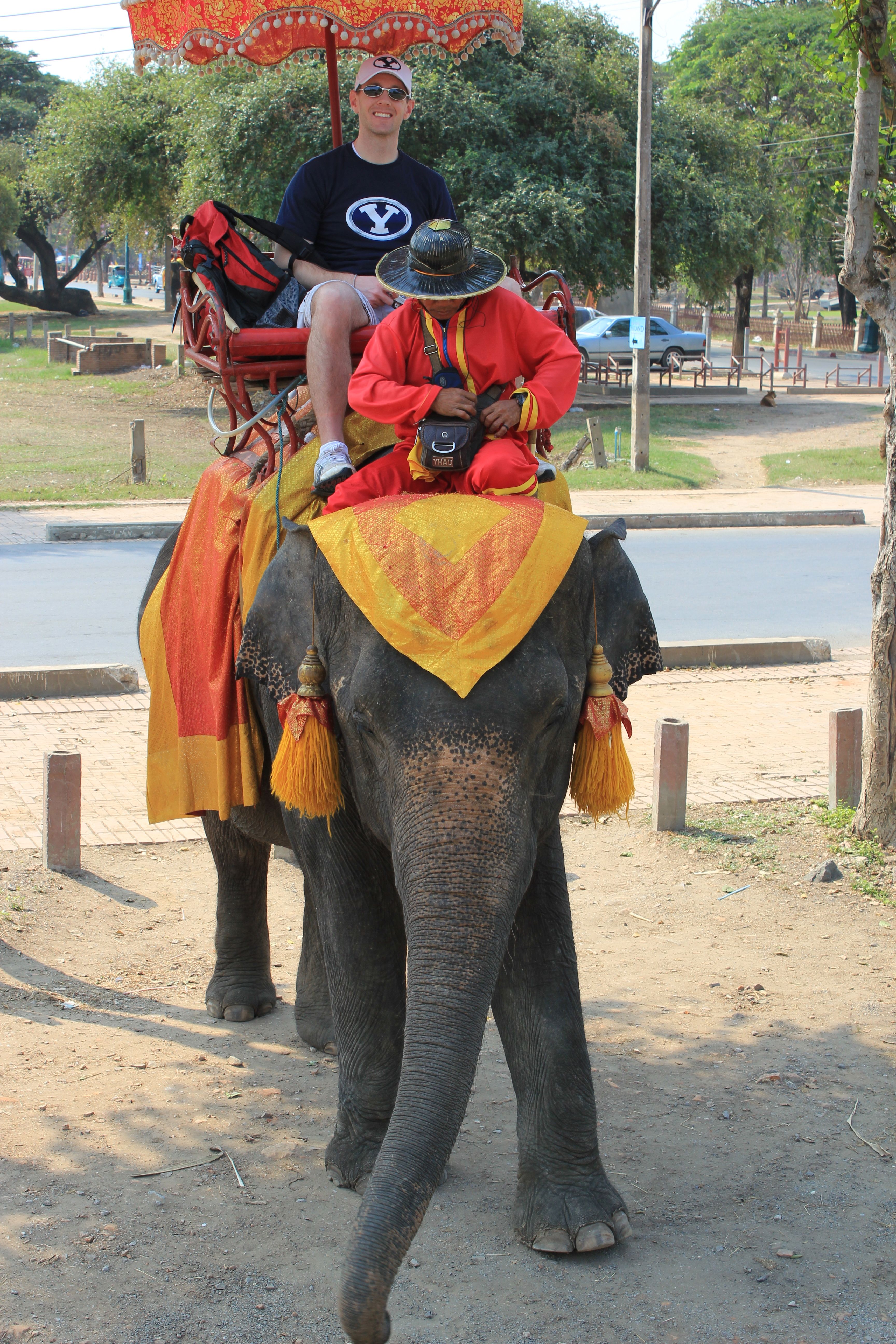 As we rode past each other we took pictures of us on our elephant rides. Leo looking in charge.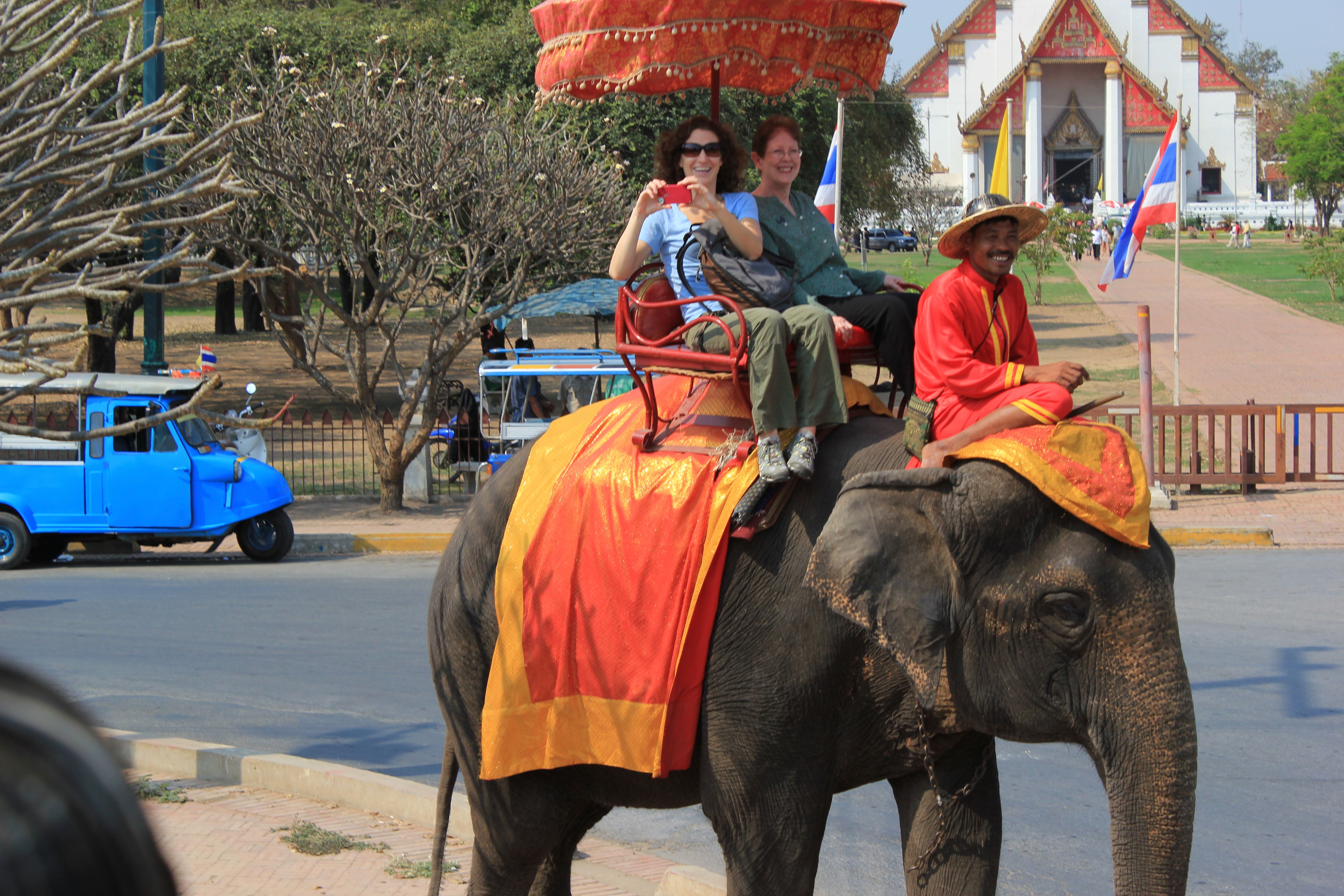 Mom and another wedding guest Giovanna, whom our family adopted. She was so sweet, especially to my mom.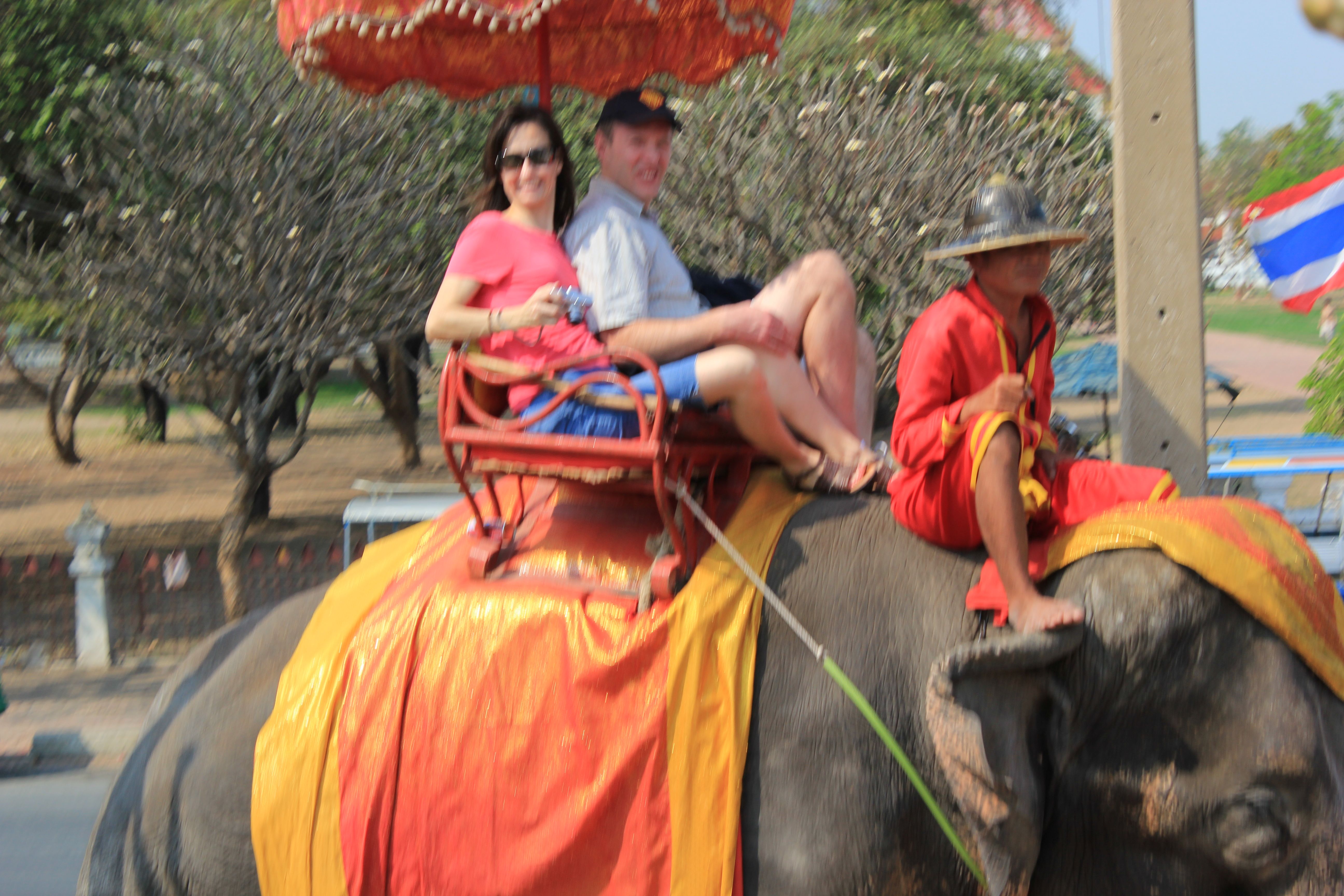 Eric and Tristi riding high.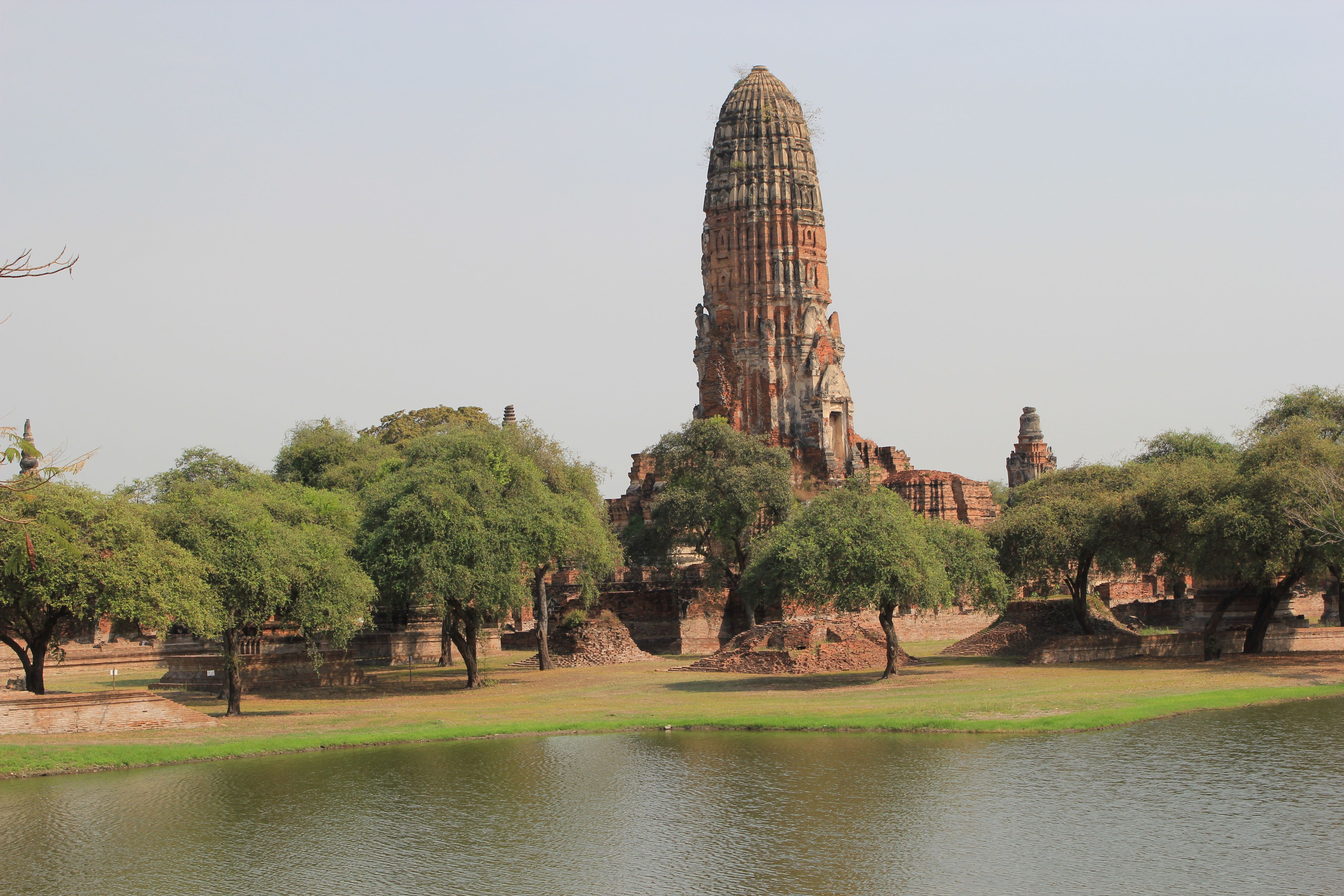 These wats (temples) were covered in gold at one time, but during a war with the Burmese (I think!), they burned them to melt the gold off and basically loot the sacred city.

After our elephant ride, we went to a local museum to see more artifacts and learn more history, though most of it was too delicate to take pictures of. We had to take our shoes off to go inside.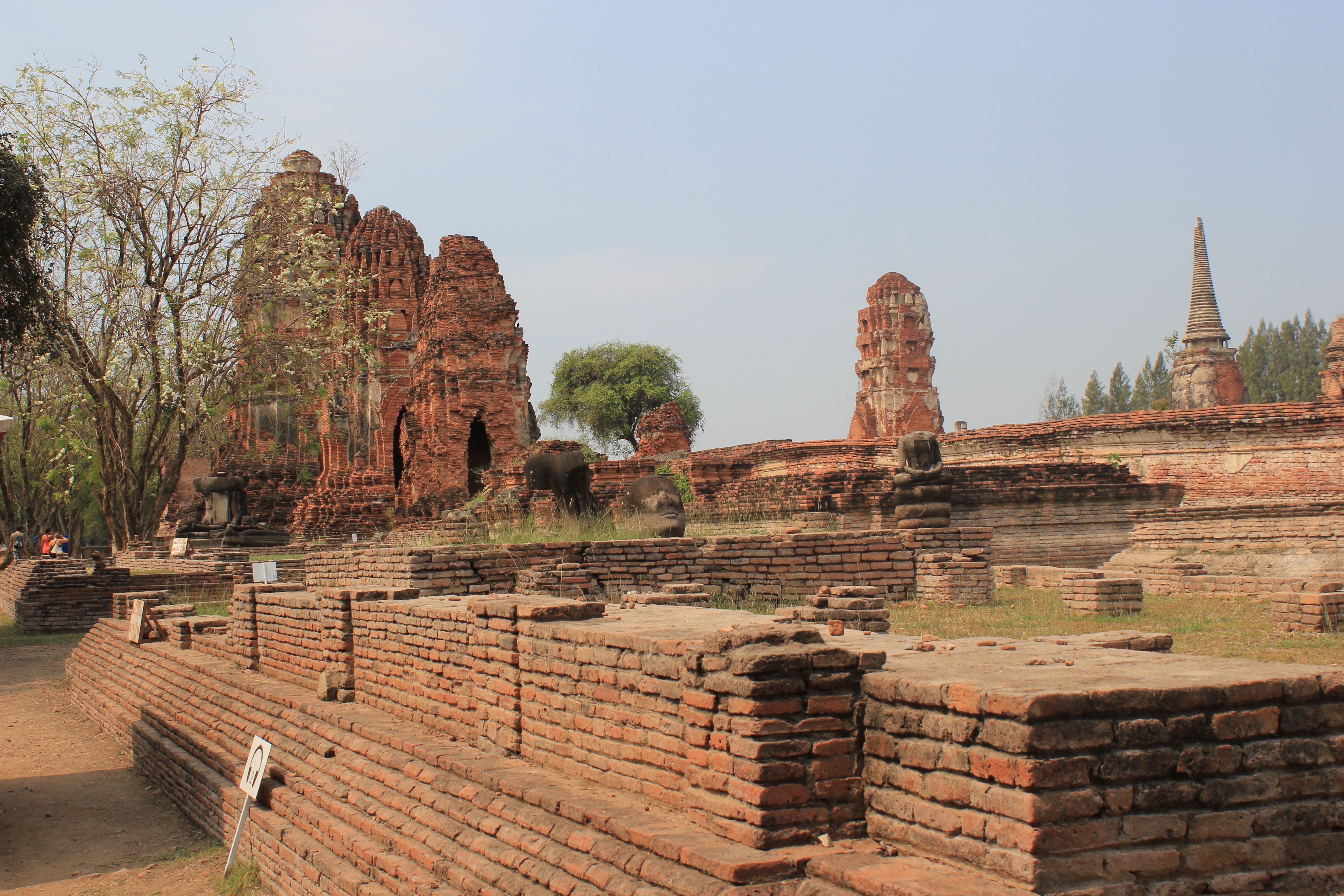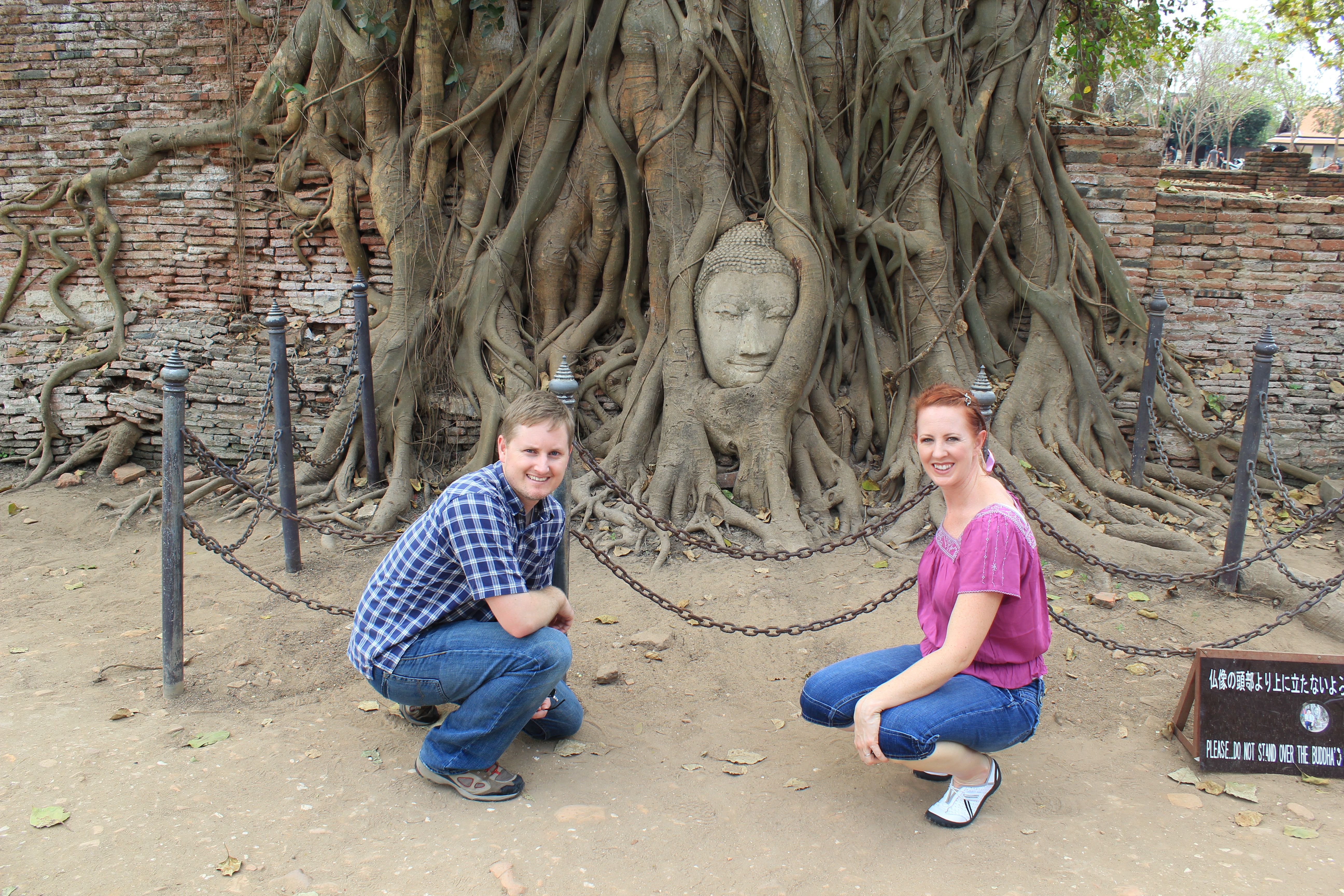 This is a gigantic fig tree that someone carved a face of Buddha (I think) into the exposed roots that cascade down a wall.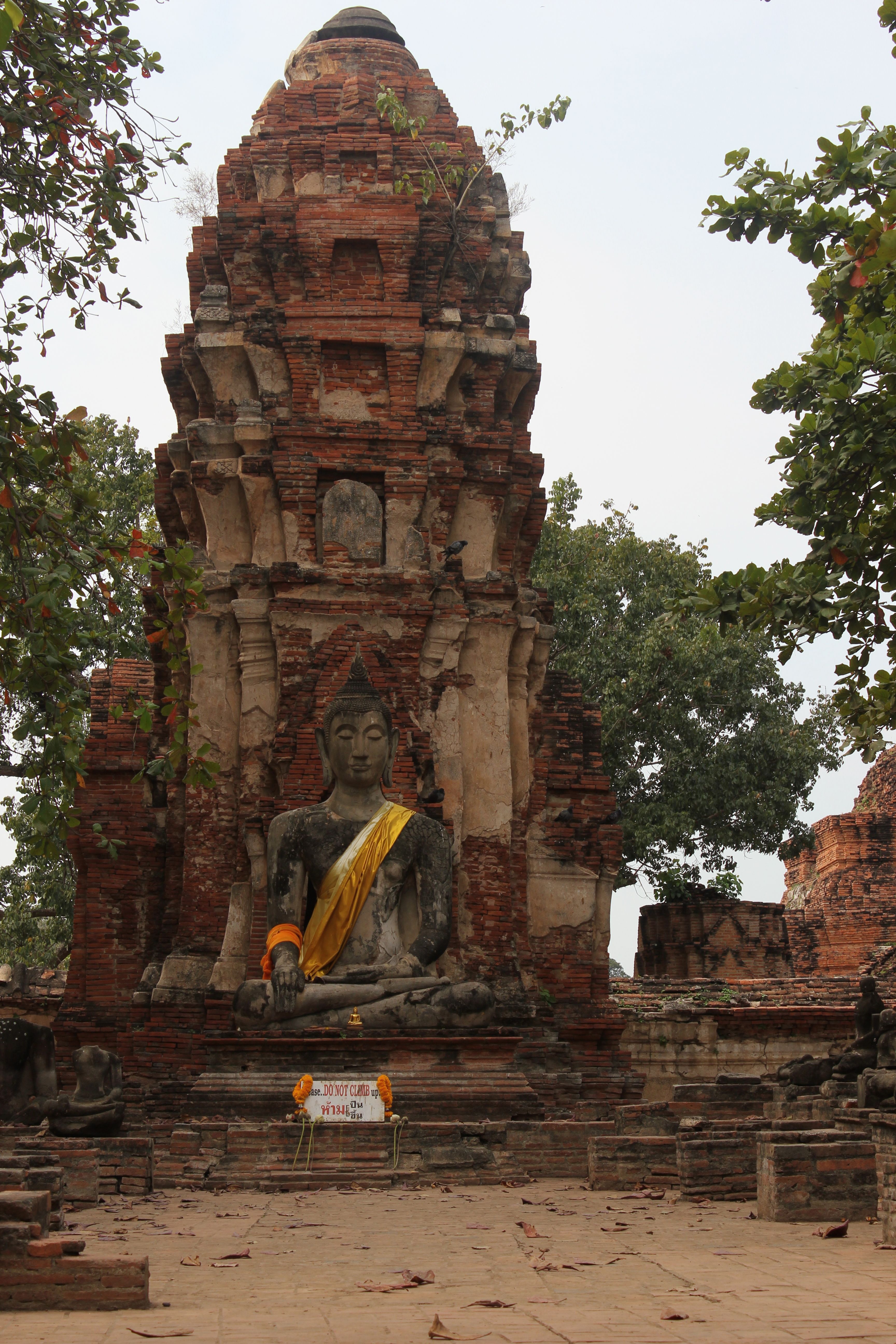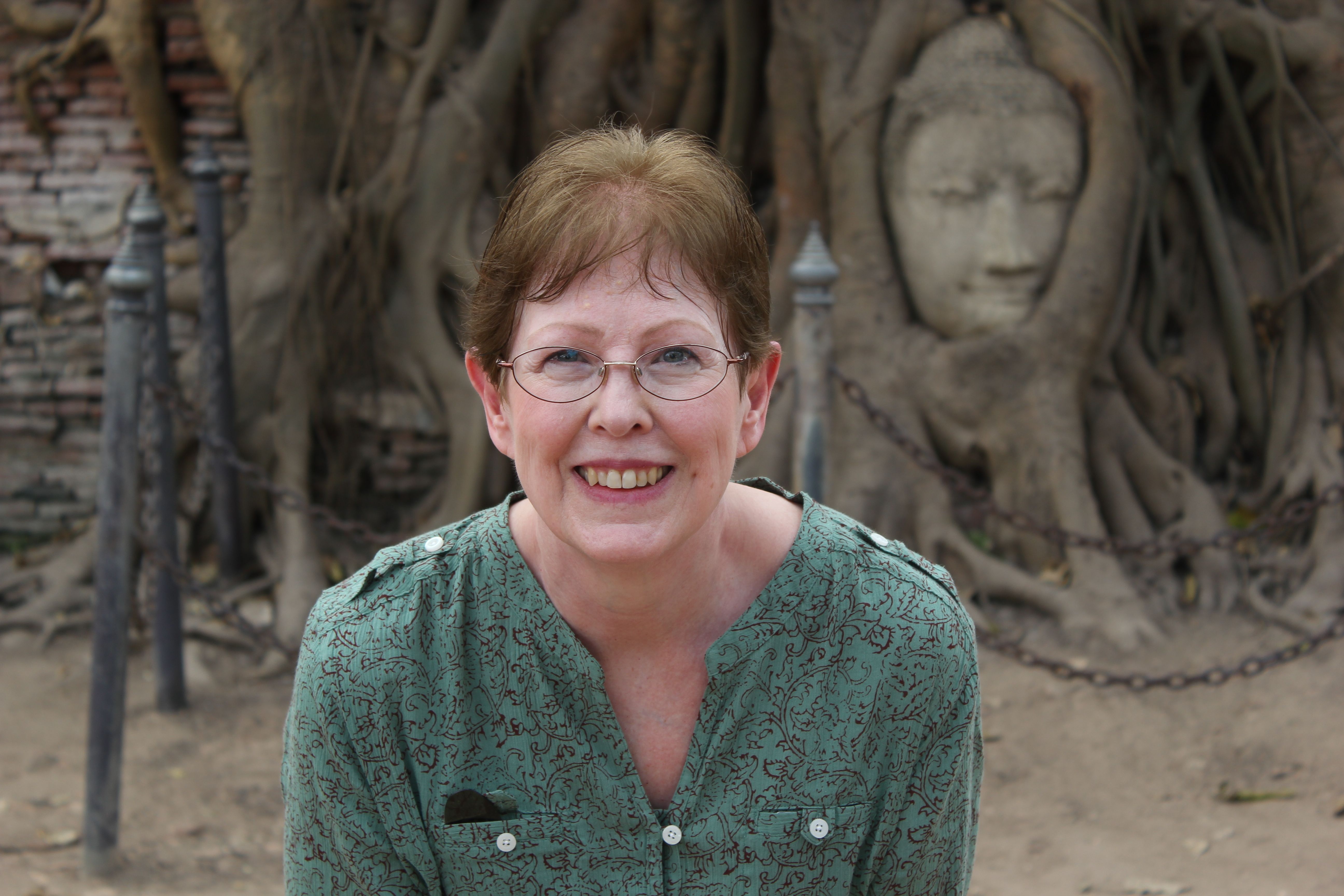 Doesn't Gran look so pretty in this picture? She was completely out of her comfort zone the whole time, but she had a great time.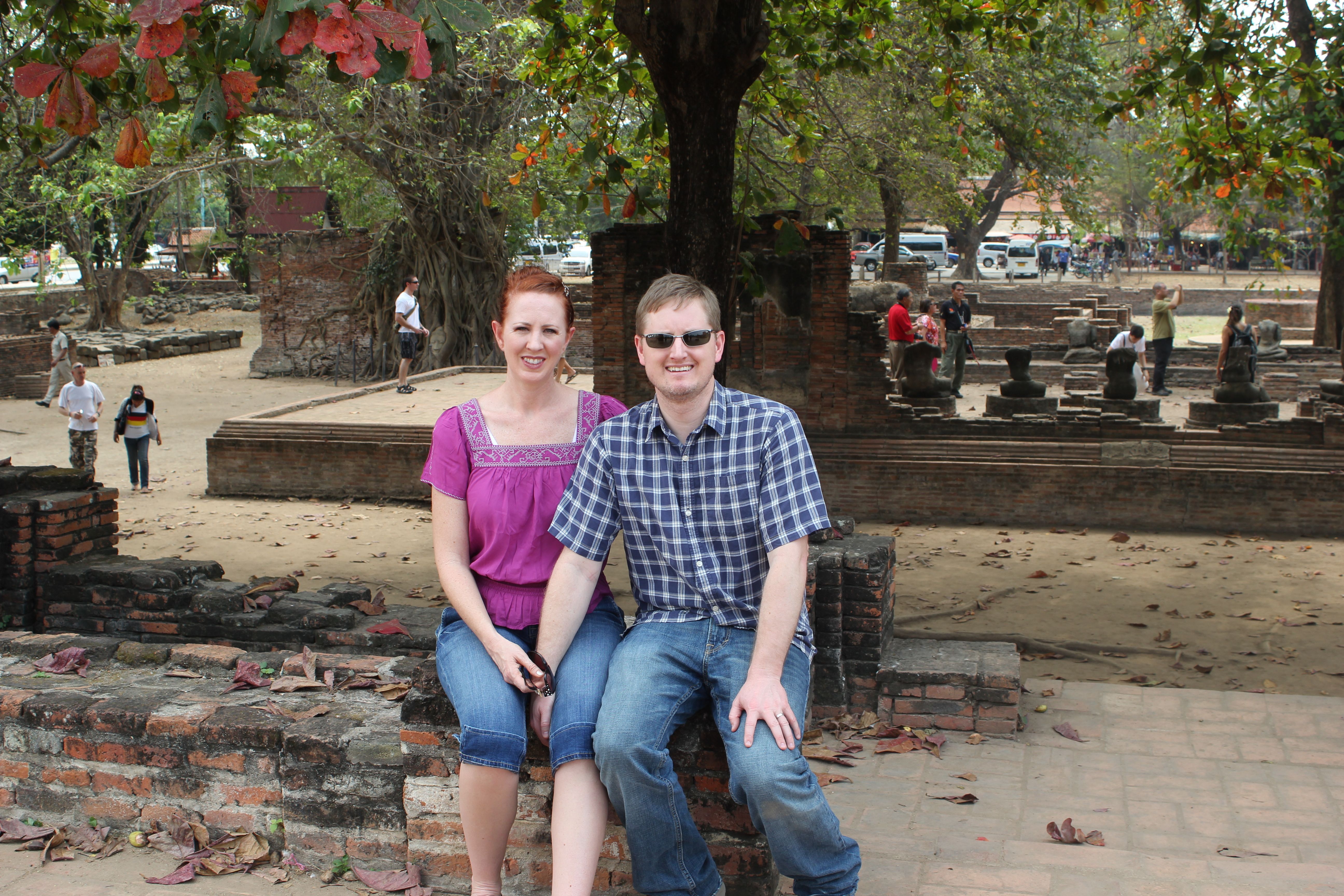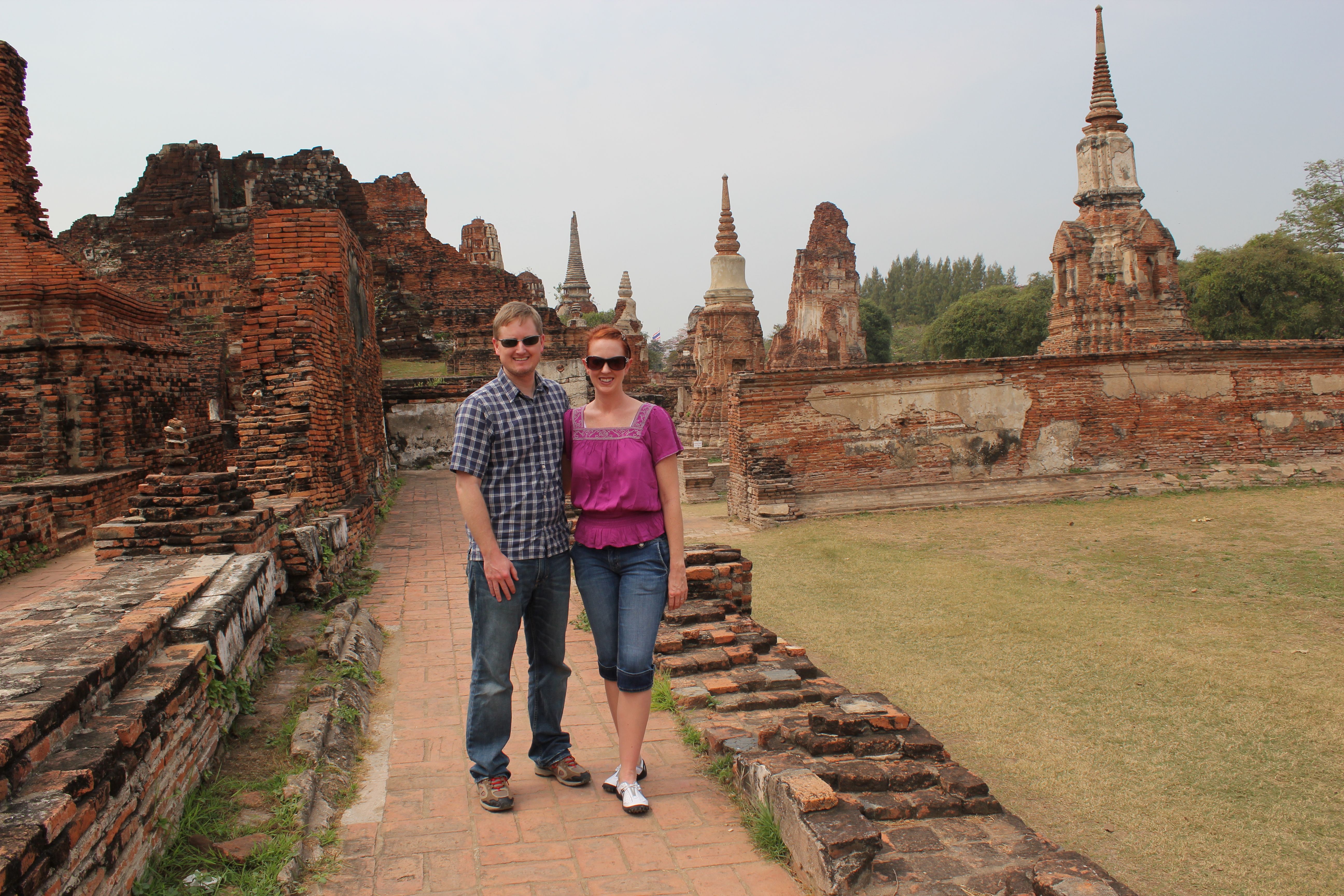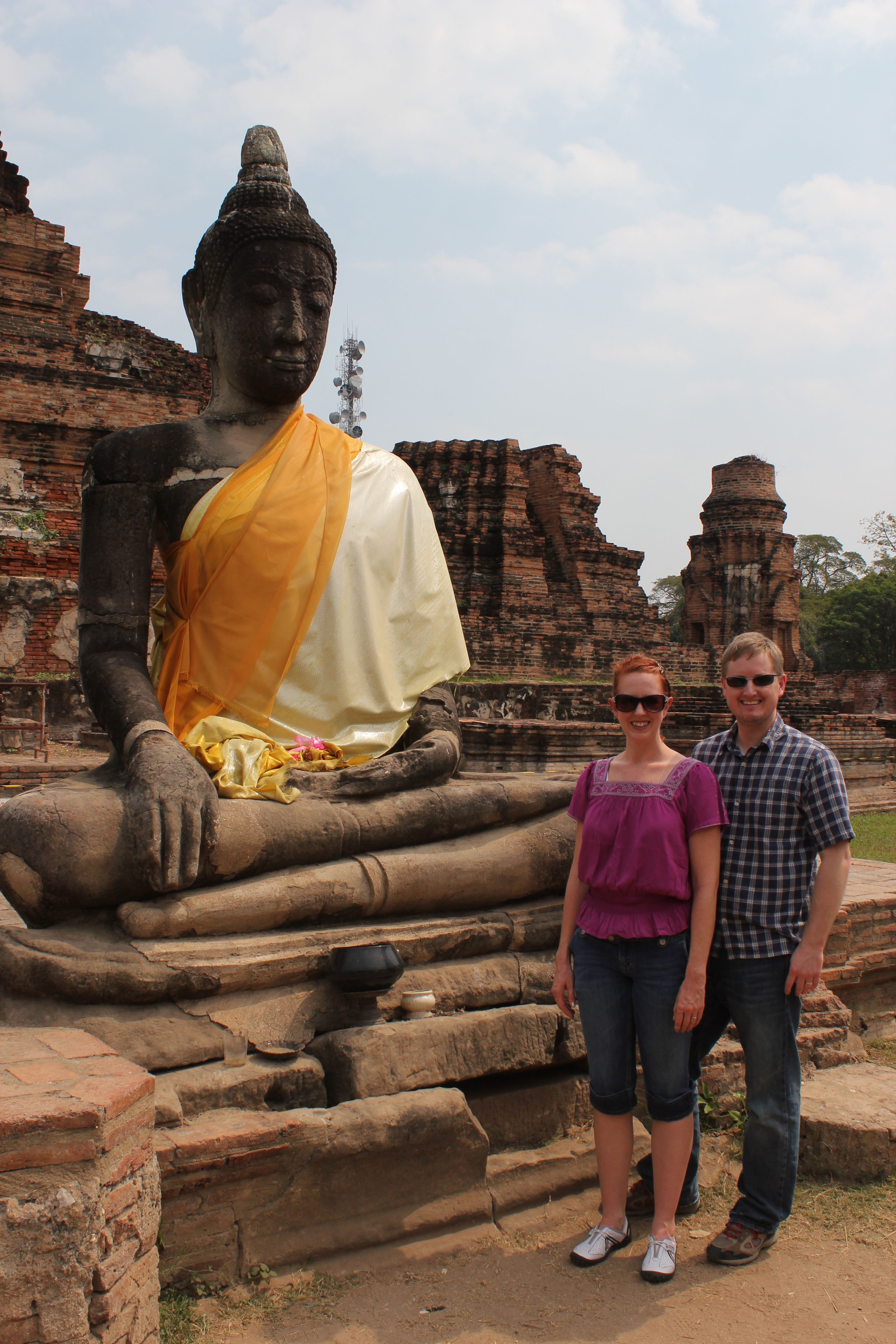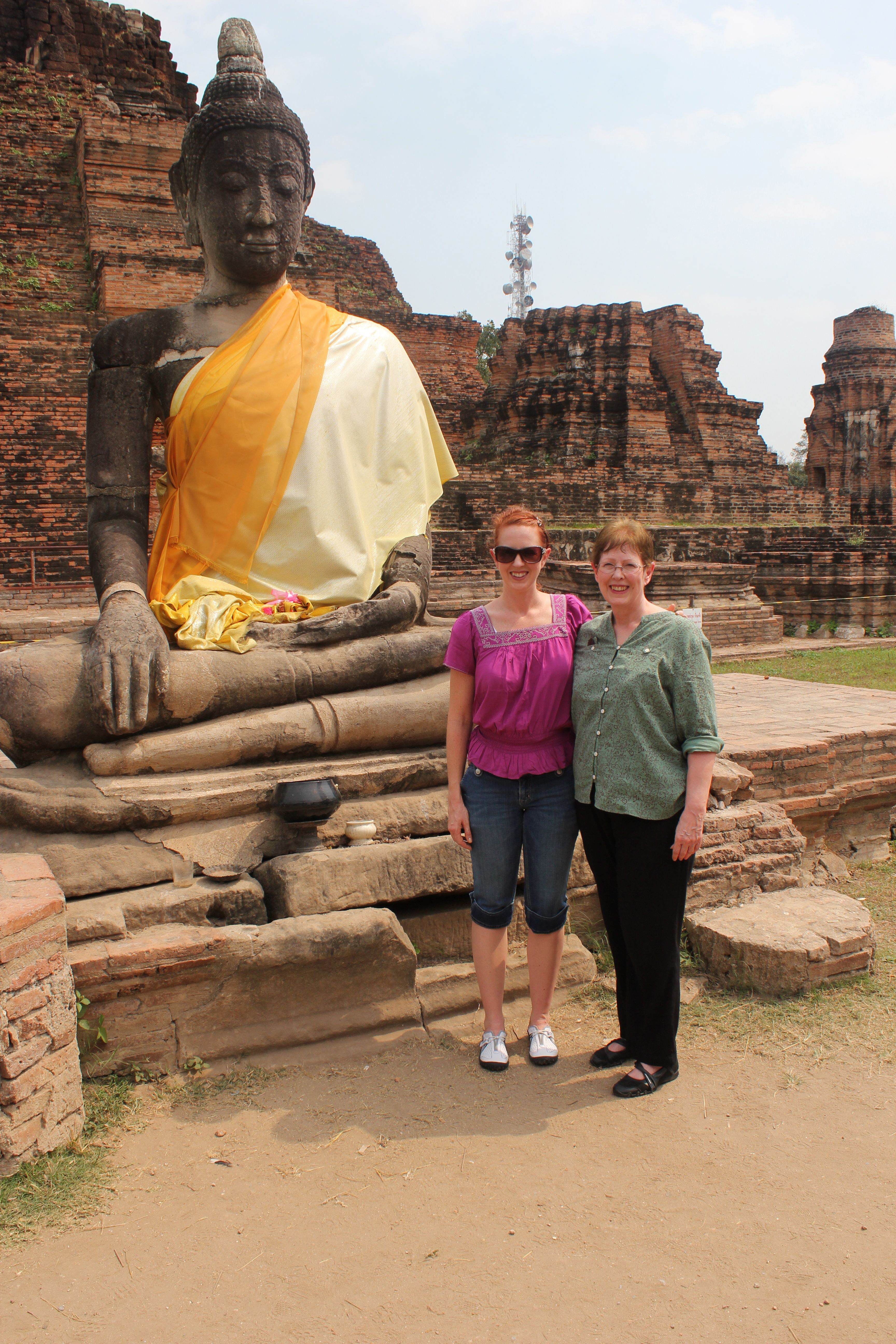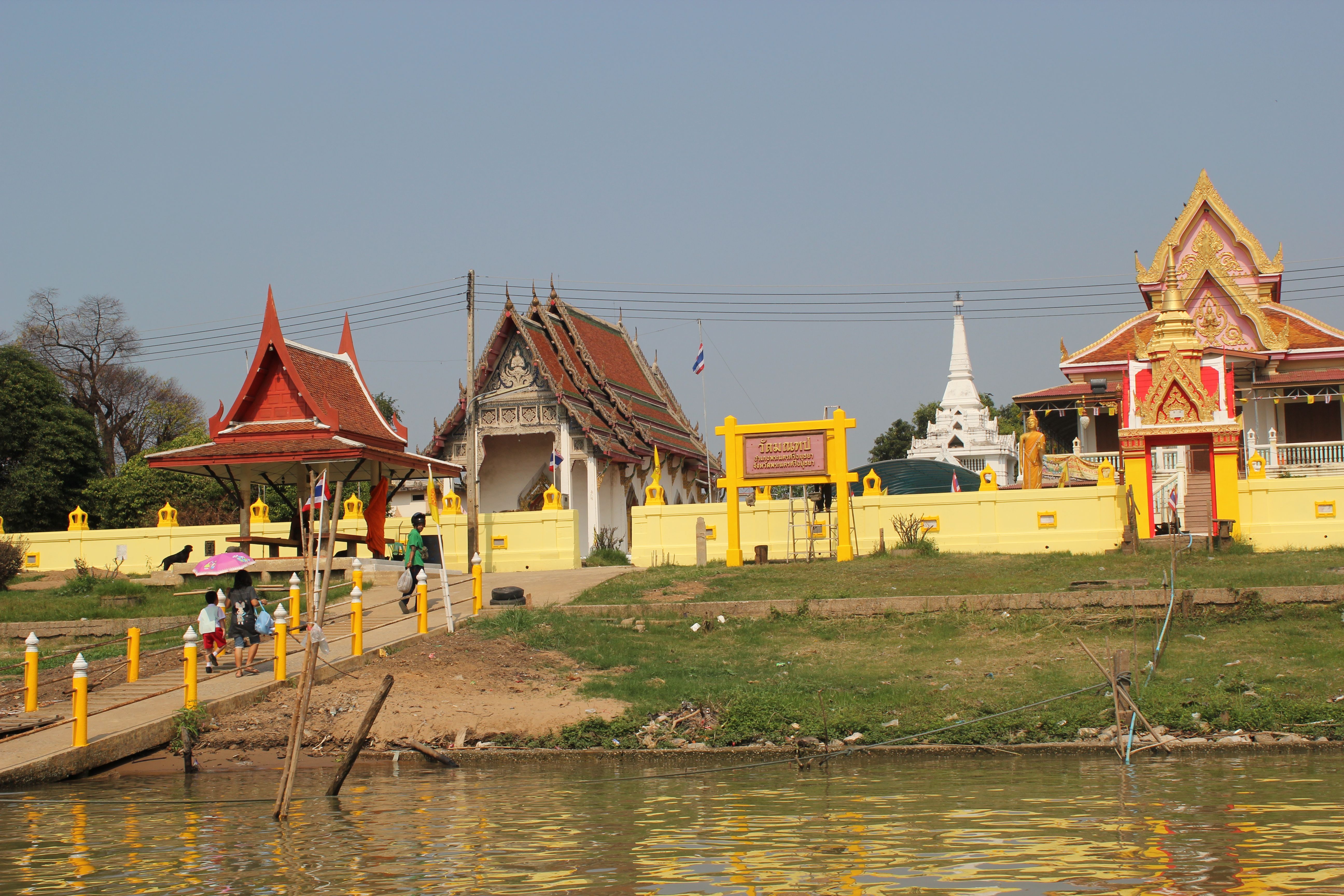 Then we took a riverboat ride to the elephant sanctuary.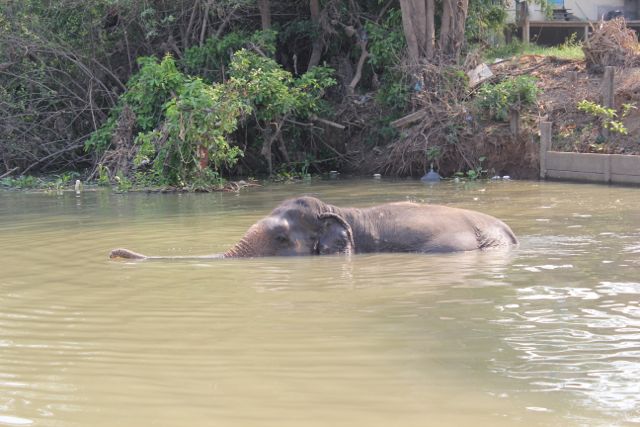 From the boat we watched an elephant go into the water and give herself a bath. She seemed to really enjoy playing in the water. It was more than just bathing, she was playing and having fun (or seemed to be).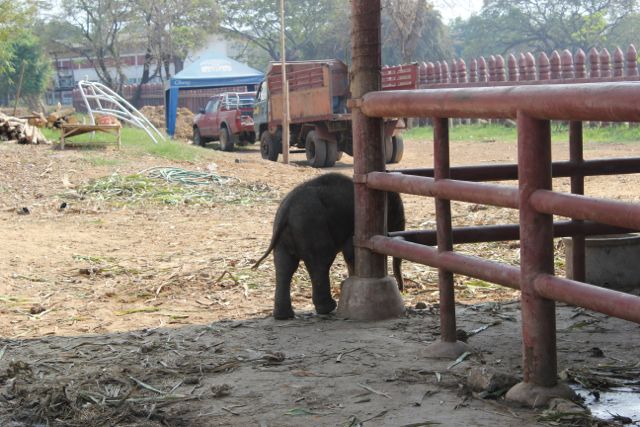 There was a cute little baby elephant that we got to feed (for a small fee 🙂 ) We bought cucumbers to feed her. She would charge anyone with food to hand out! So adorable. The kids would have loved it!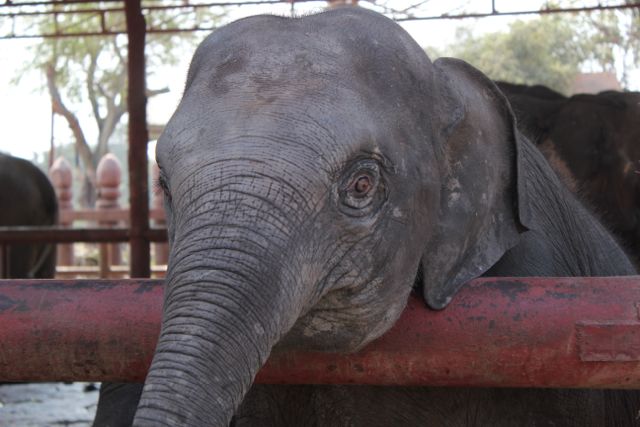 Don't you want to feed that face?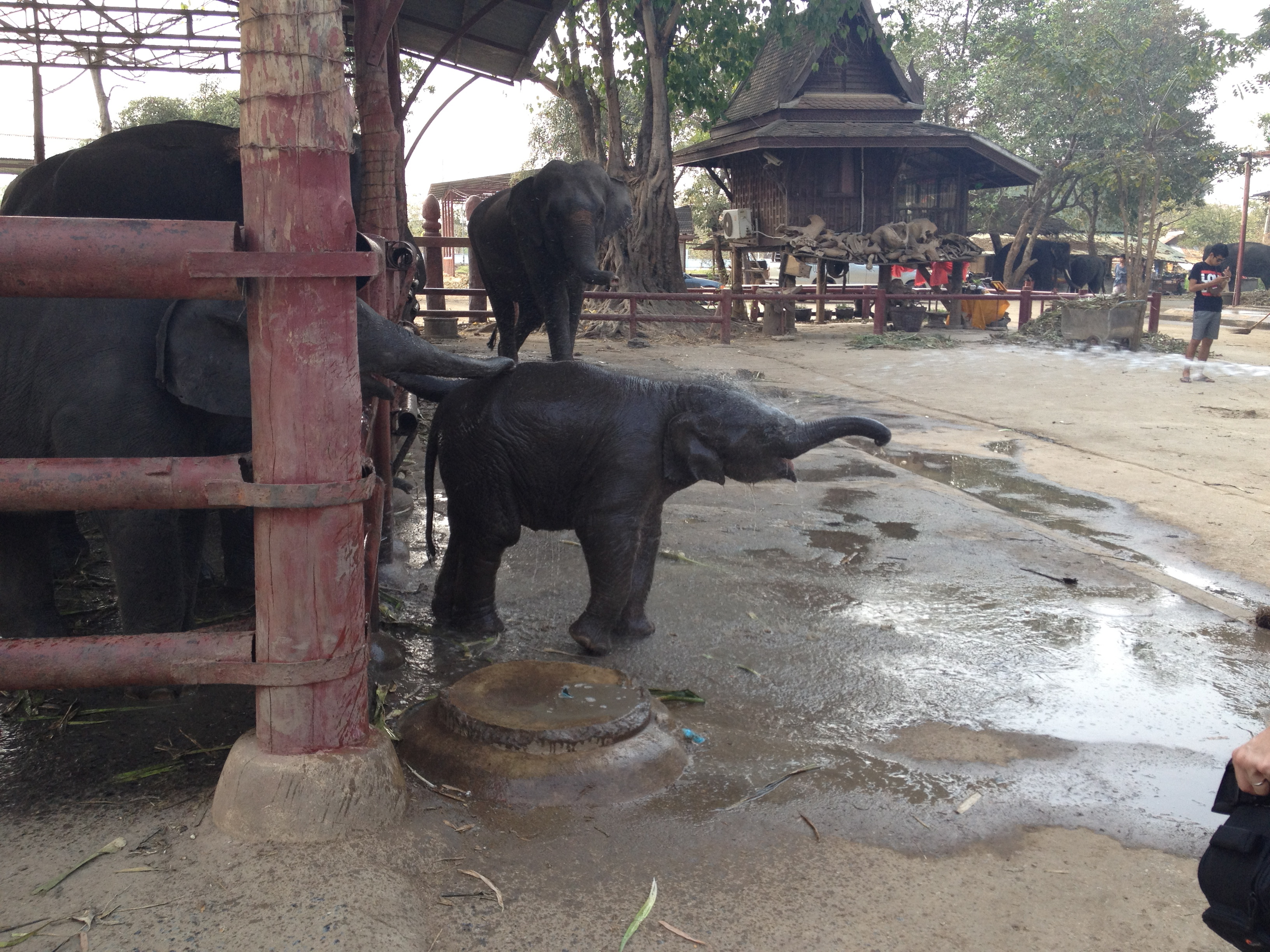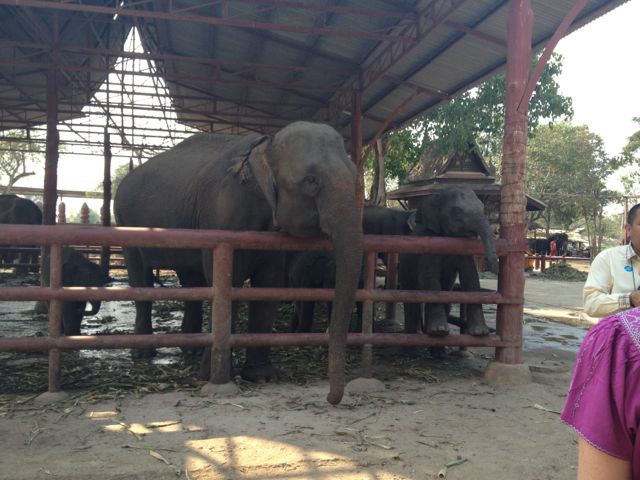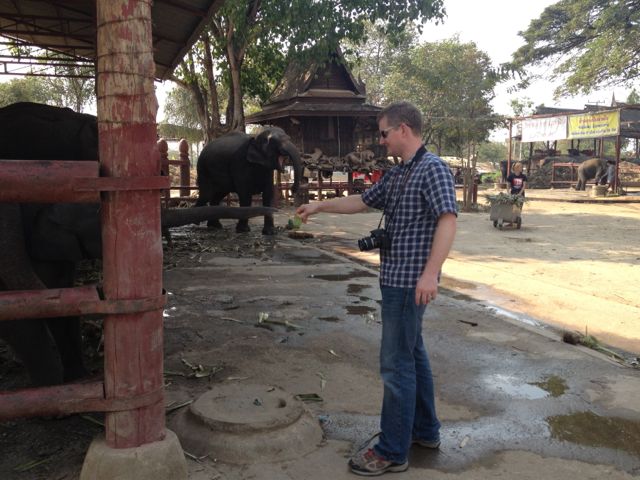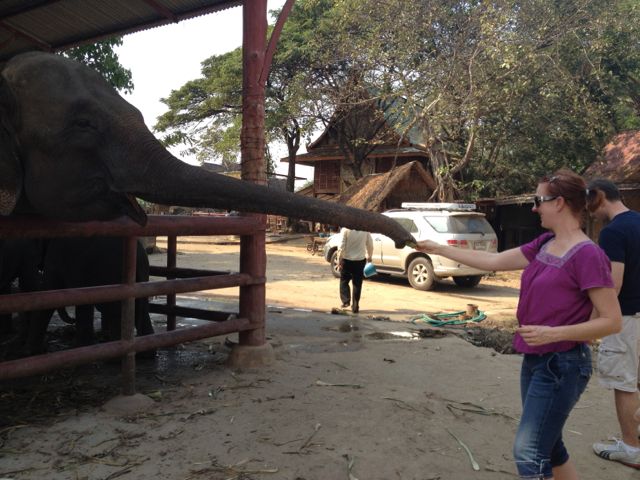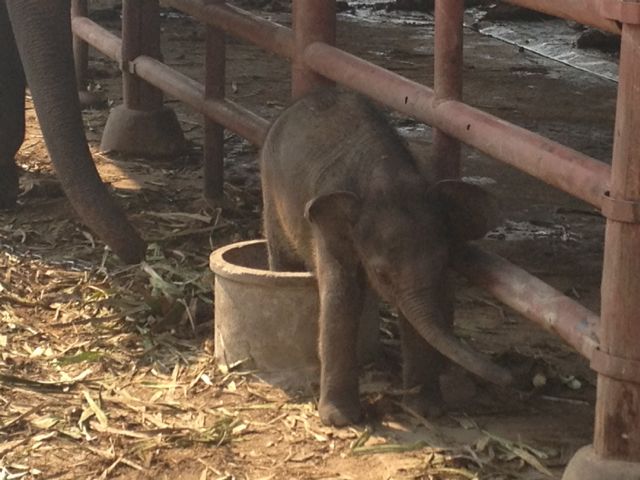 How cute is that baby?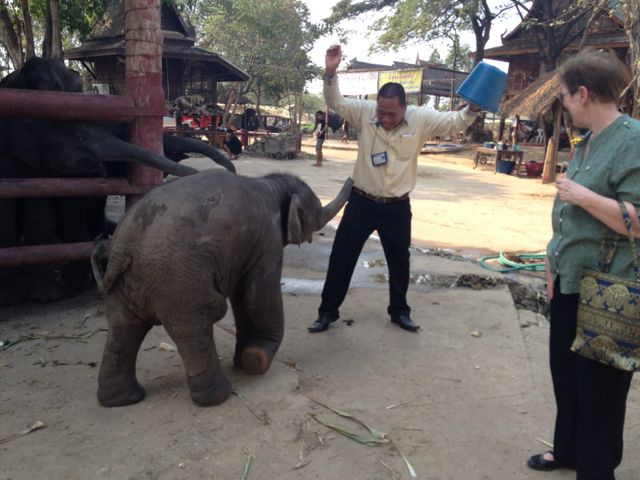 That was our tour guide Sam. She was still hungry and ready to check his pockets!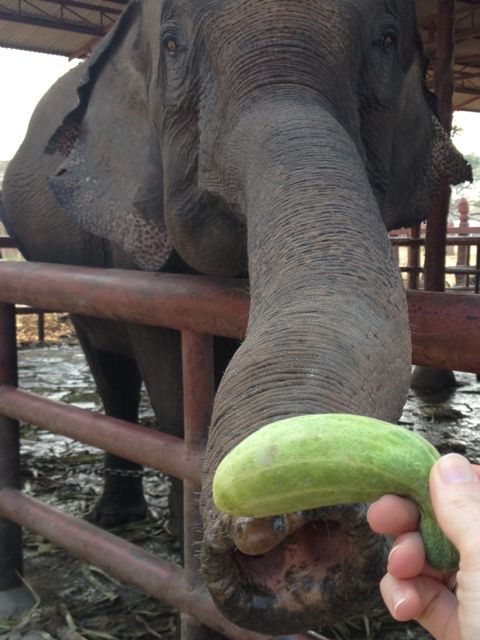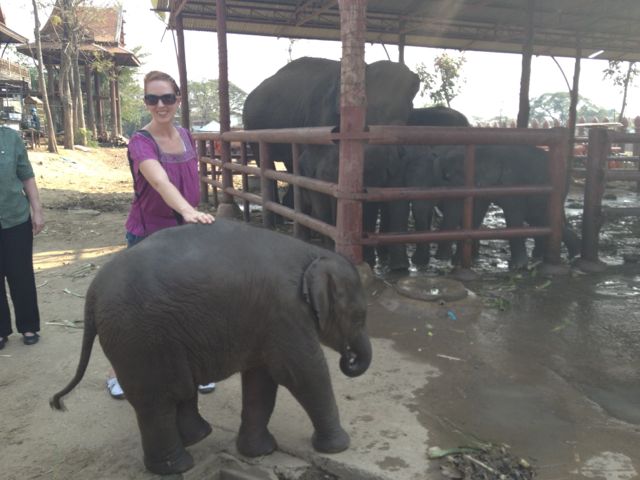 Gran does not love the elephant.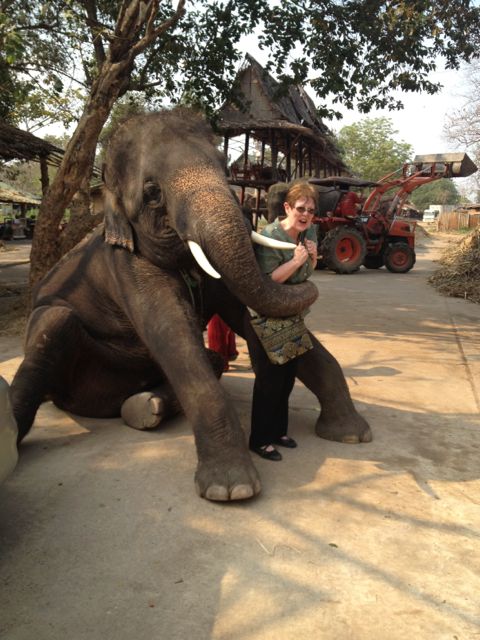 Adam getting a love.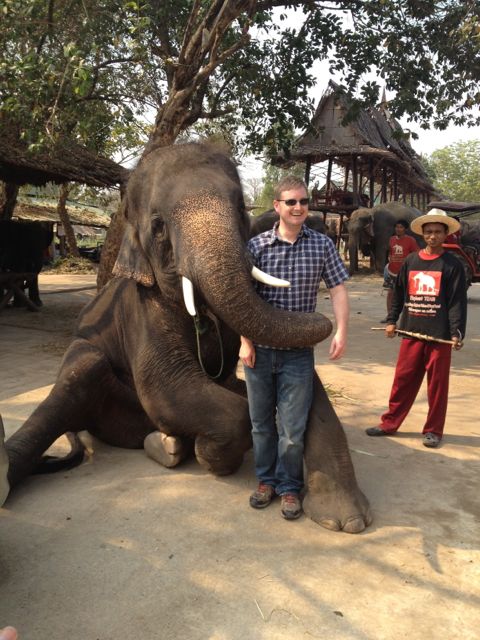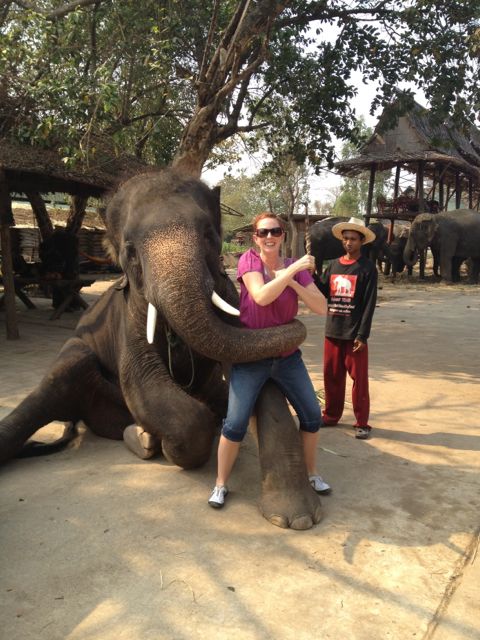 I admit that I screamed when the elephant hugged me. I was so shocked at how strong the trunk was. He could have picked me up and thrown me.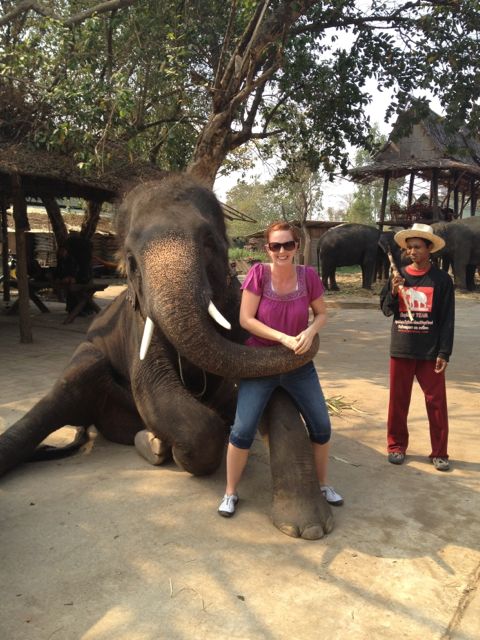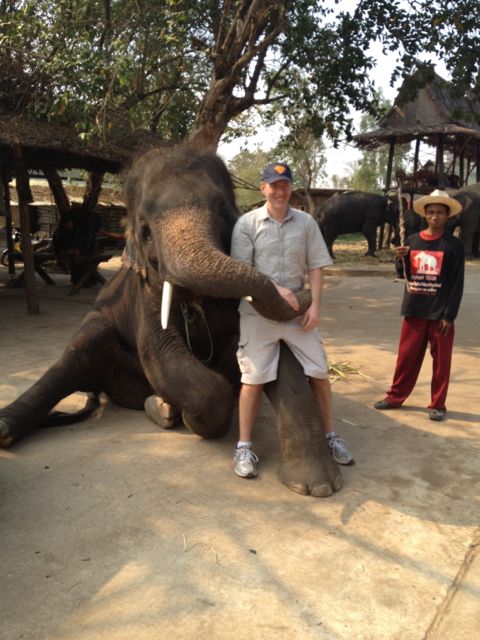 Eric getting a hug from our friend.
After the elephants we went to the National Gem Gallery. The government has a work training program where they train people to be goldsmiths. The artisans cut and polish stones, make jewelry, etc.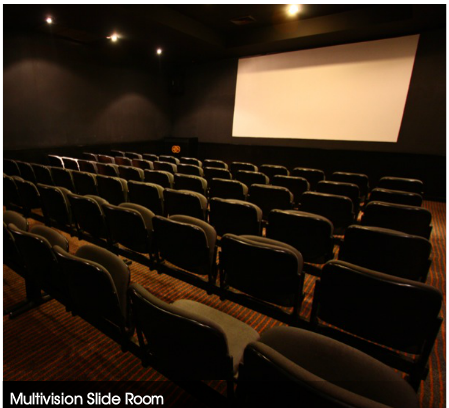 First we watched a video about the precious stones in Thailand and the trade school.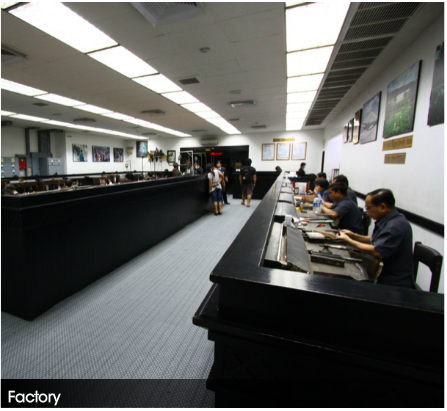 Then we got to walk through an area where the goldsmiths were working on pieces. It was really fascinating to watch them work.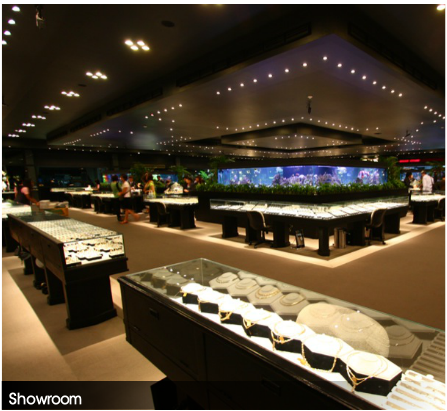 And THEN they open the doors to THE SHOWROOM. It is called the world's largest jewelry store. It is huge. And beautiful with large fish tanks. Each guest or couple is assigned to a personal escort/sales person who speaks your native language. I started to brush her off, but Adam wanted to look around for an anniversary gift, and he bought me a beautiful sapphire band to go with my engagement ring (which has sapphire baguettes). It was so sweet and unexpected! The stones are so clear and blue and gorgeous. I didn't take my ring with us on the trip, but when we got home, the stones on the two rings lined up PERFECTLY. And because of that I just had to get the rings soldered together so they ALWAYS line up. It's beautiful. When I took my rings to be soldered by the jeweler who made my engagement ring, I asked what he thought of the stones (he didn't know where I had gotten the ring). He said they were phenomenal stones and was very impressed.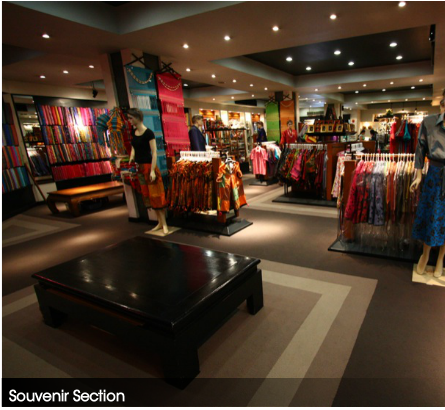 After you spend your money in the jewelry showroom, your personal escort/sales person shows you to the store where you can buy silk scarves, purses made from illegal animal skins (well, illegal in other countries, meaning they will confiscate it in customs as you re-enter your own country), costume jewelry, clothes and more. I bought a wallet, some scarves, costume jewelry and a few more things. It is a HUGE tourist trap, and we jumped right in head first. Of course our tour guide gets a cut of what we spent. He was a great guide, so it's fine. He was so great in fact, that we requested him for our tours the next day. The one annoying thing is the checkout process. They write up the receipt by hand and add it up with calculators. It takes forever.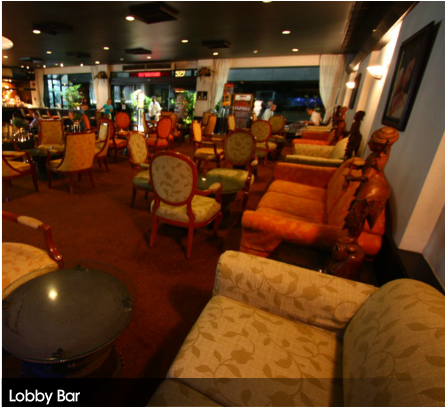 The final destination is the lounge where they give you complimentary beverages while you wait for the rest of the tour members to finish shopping. Don't want you getting antsy while your friends are still spending!
Bangkok Day 3
For our second tour we went to the Grand Palace, Temple of the Emerald Buddha (Wat Phra Kaew), Wat Pho and the Reclining Buddha and… The National Gem Gallery. Apparently ALL tours end with the National Gem Gallery, which we did not know. While we didn't buy anything else in the showroom, we did do more damage in the store.

The craftsmanship is phenomenal.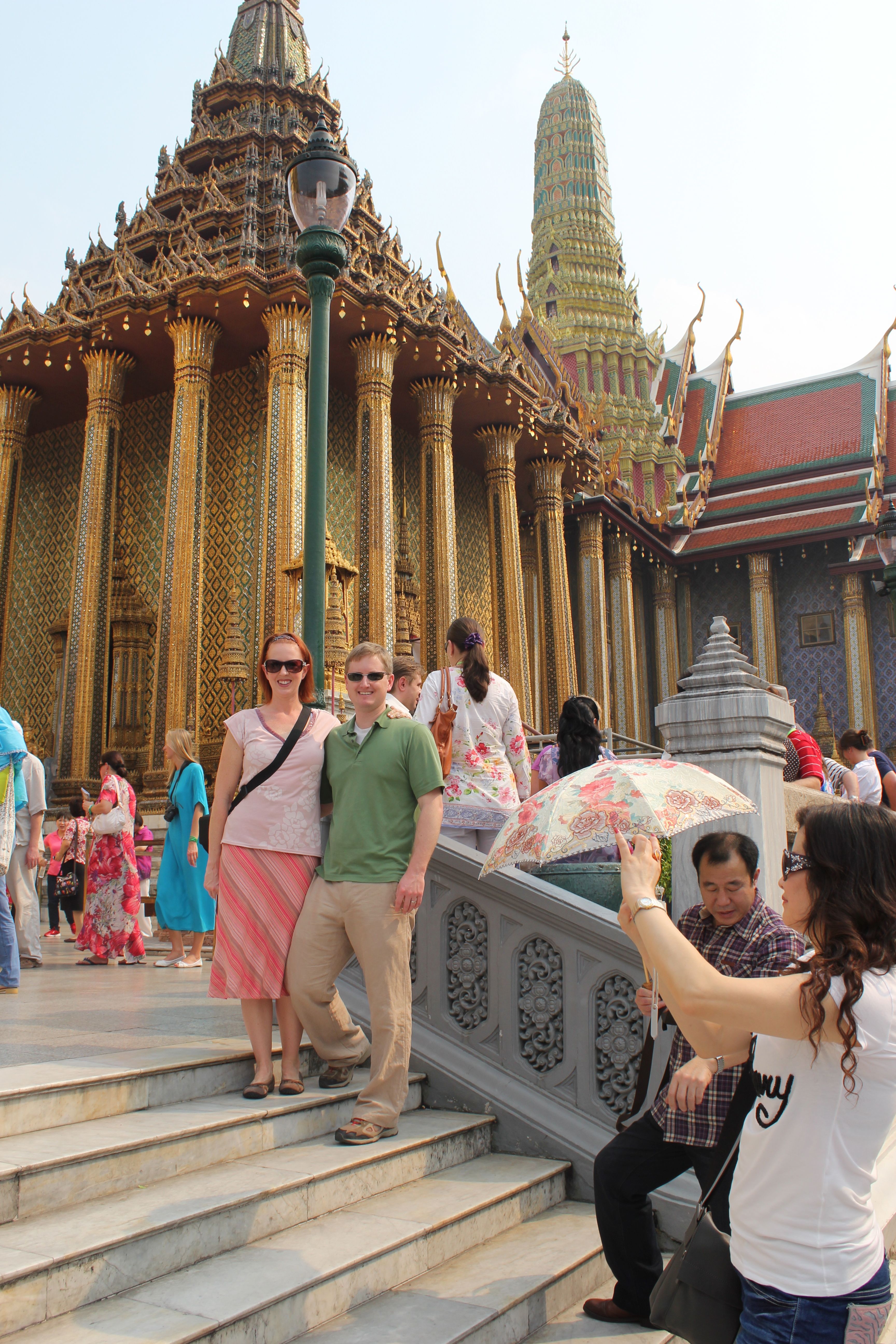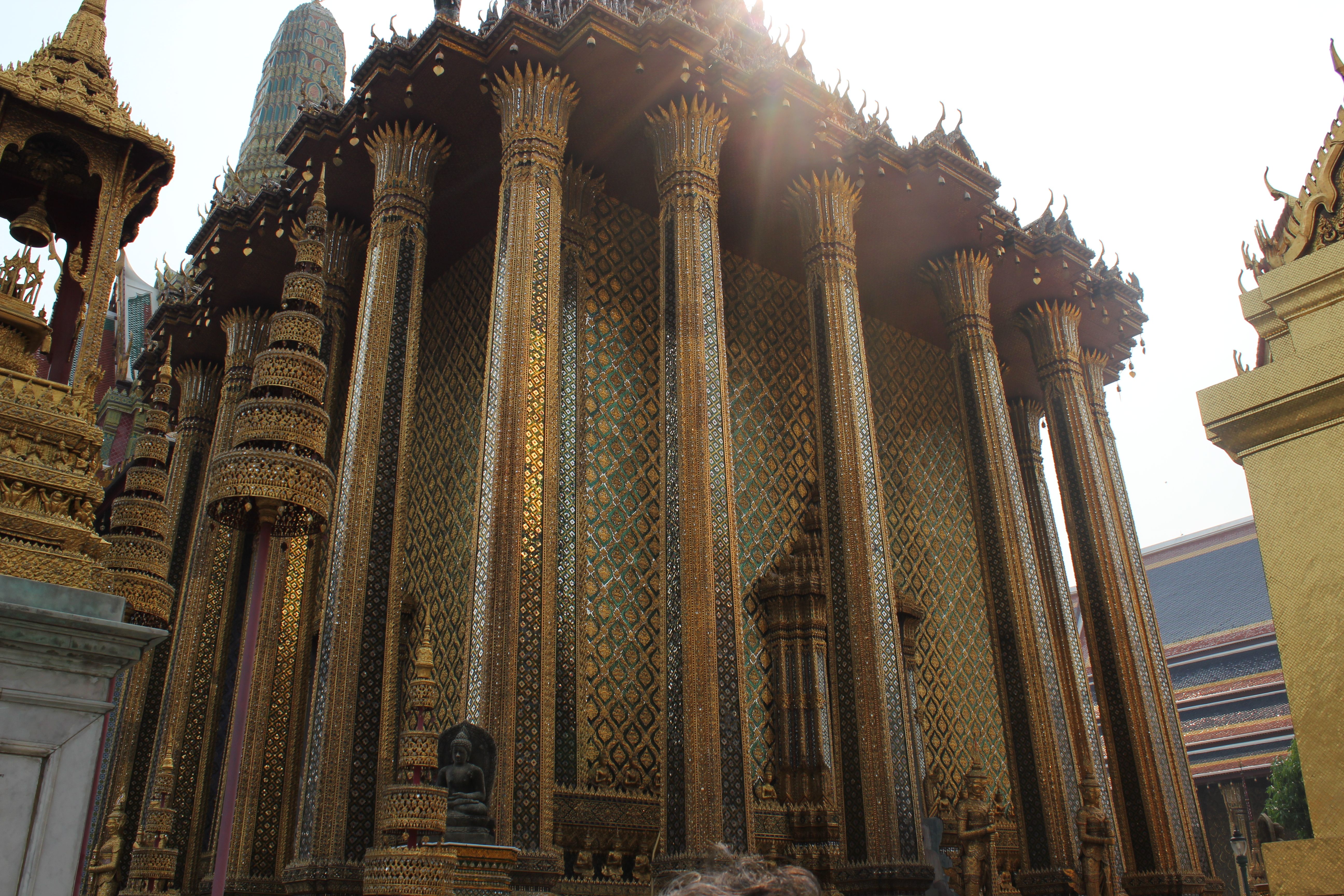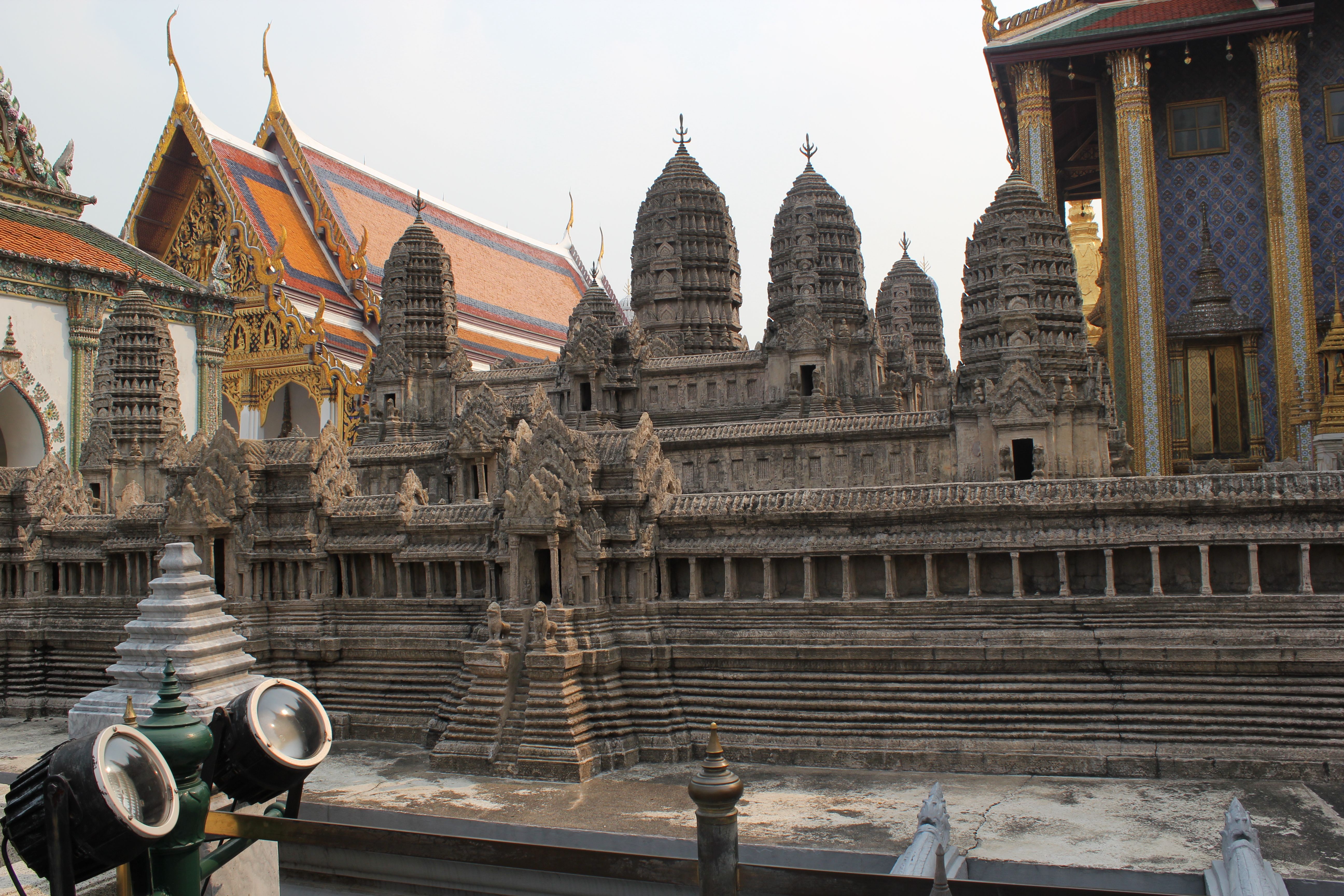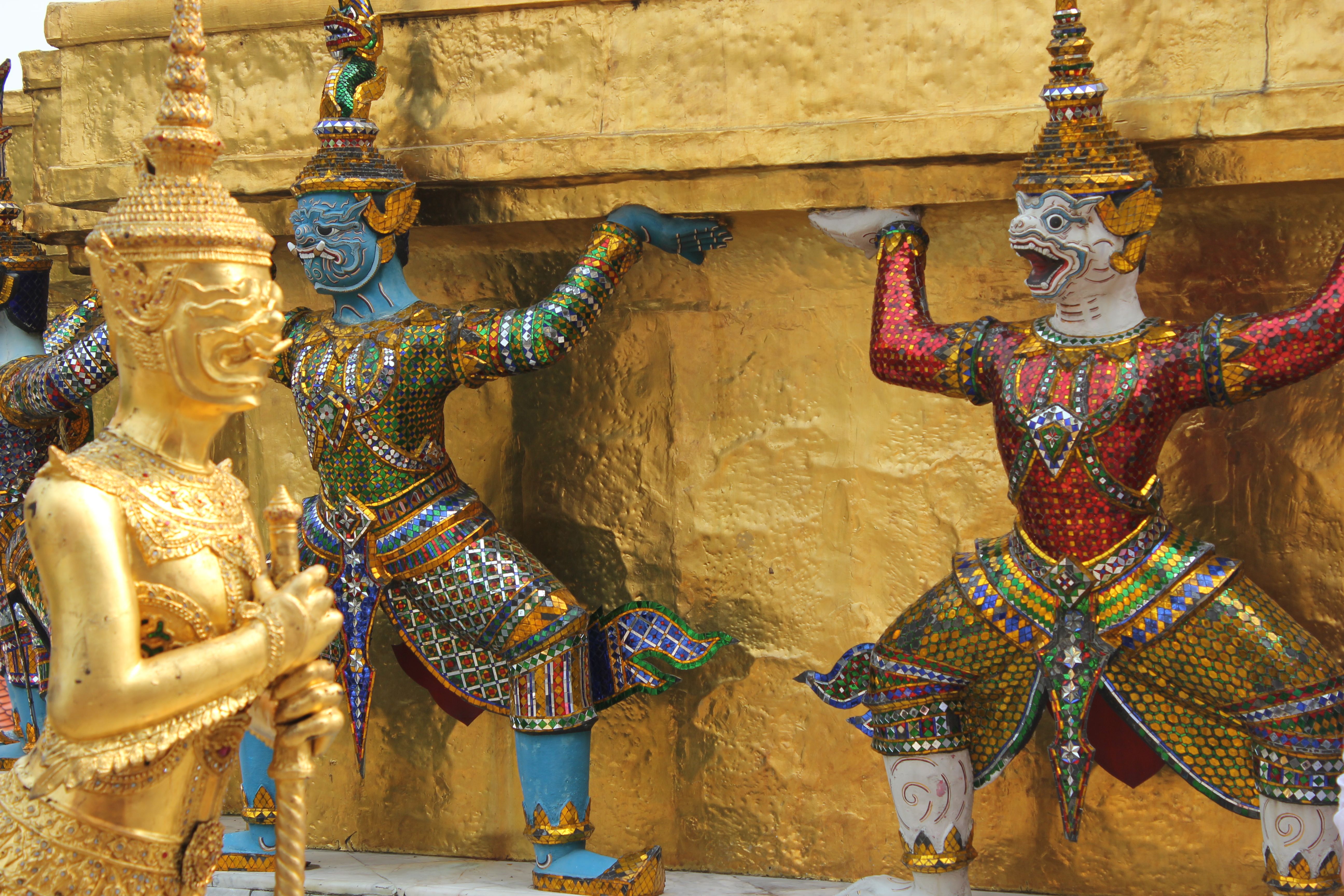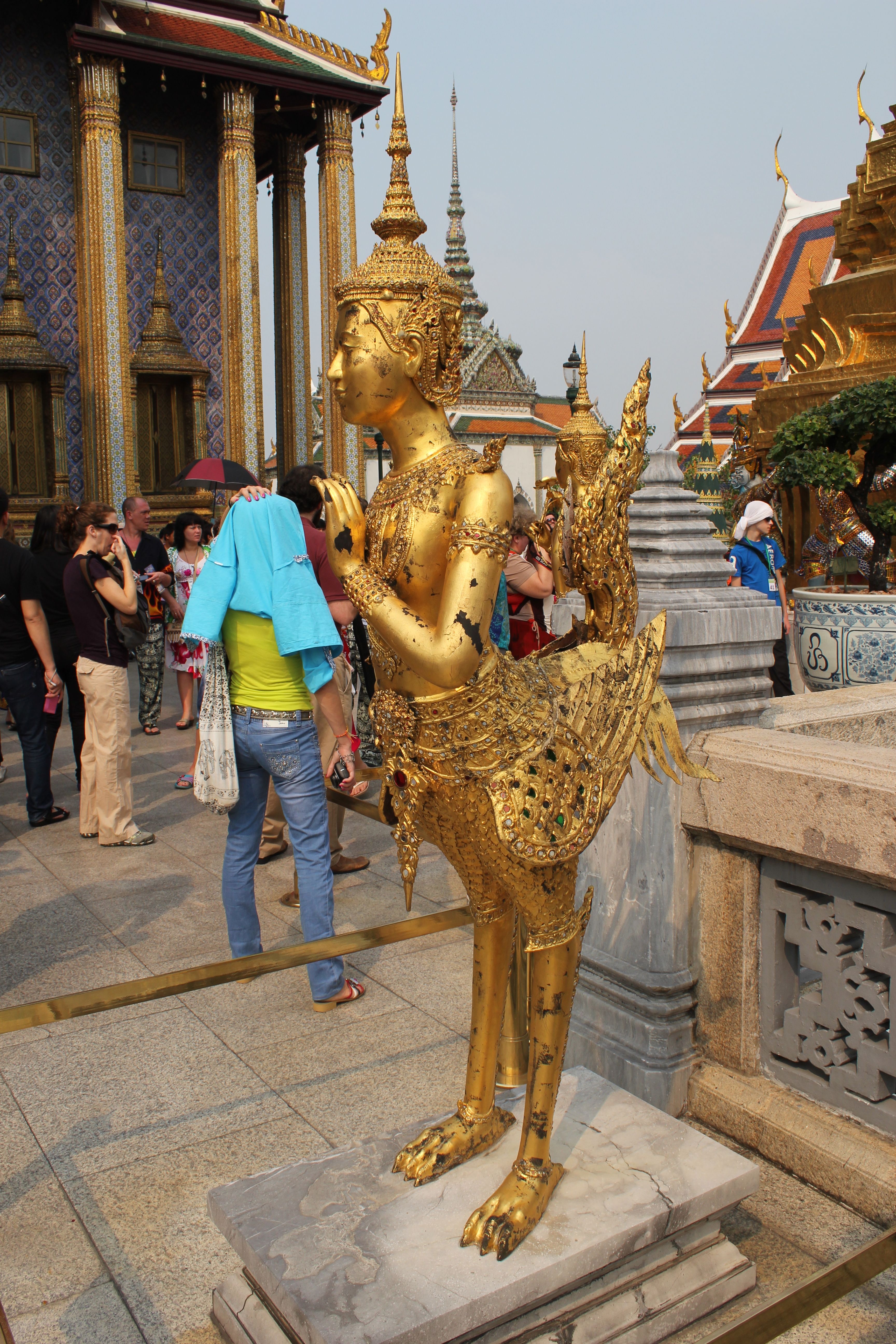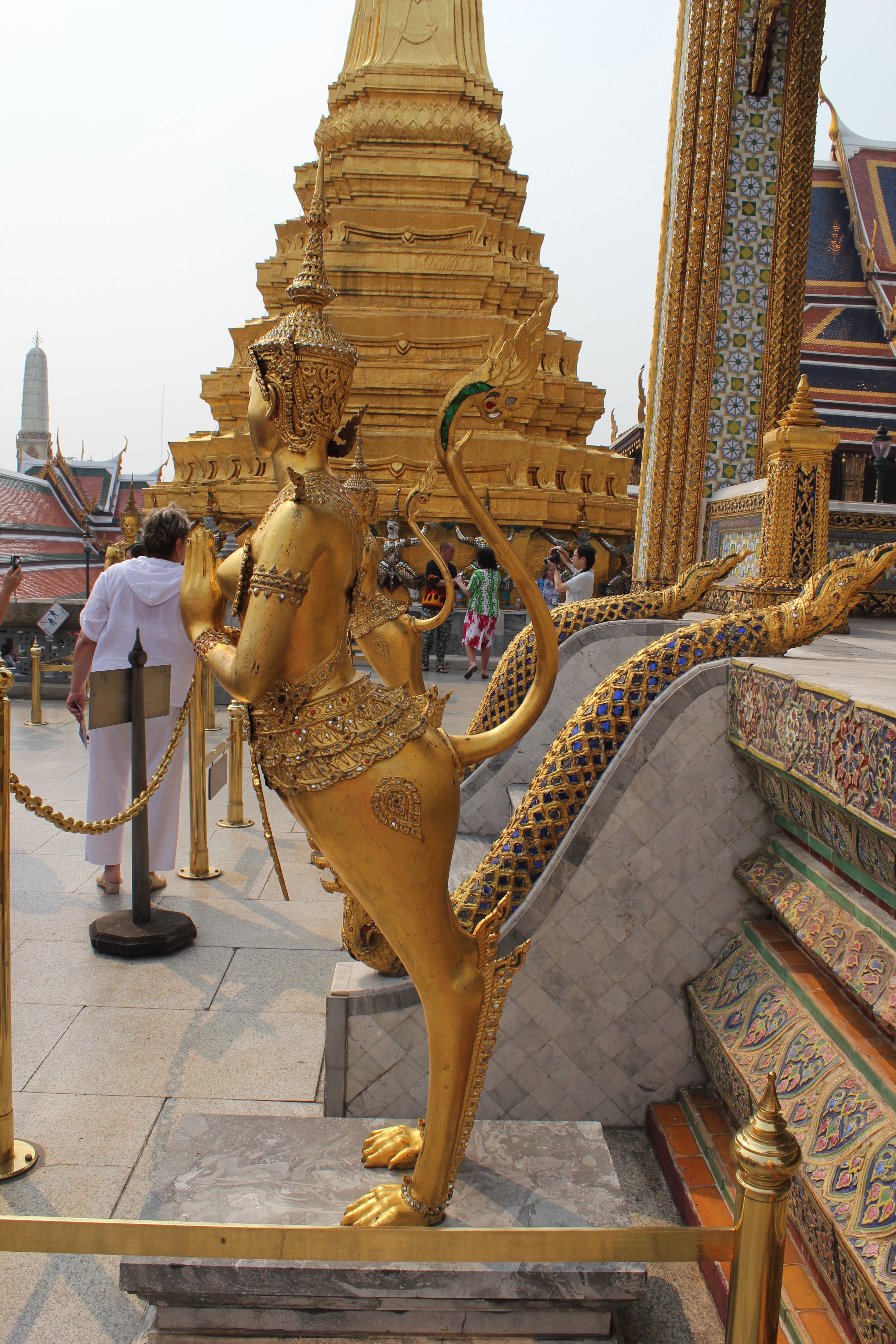 This gives a better idea of what the city of Ayutthayah looked like before it was burned. All the wats were golden like this.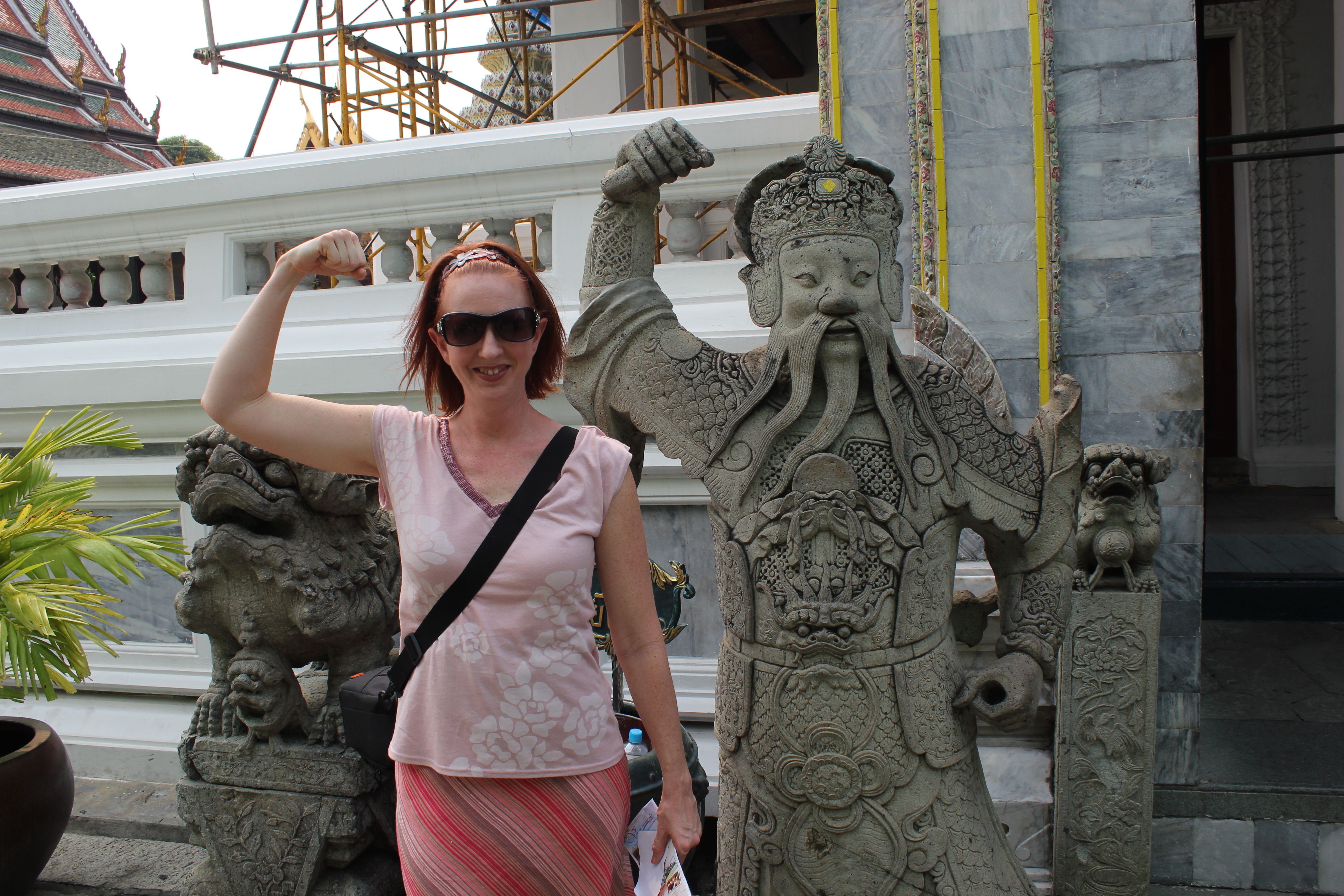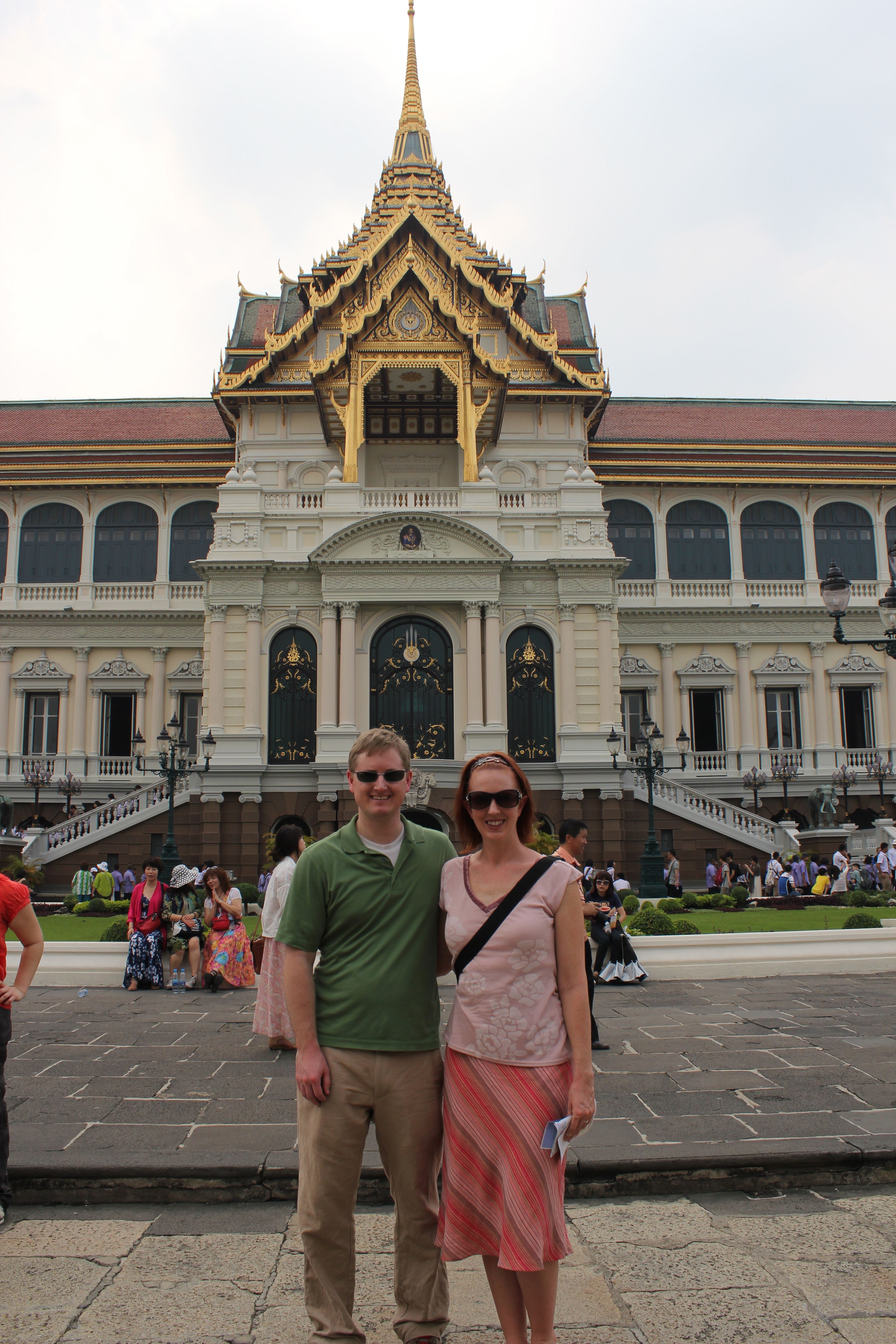 The Grand Palace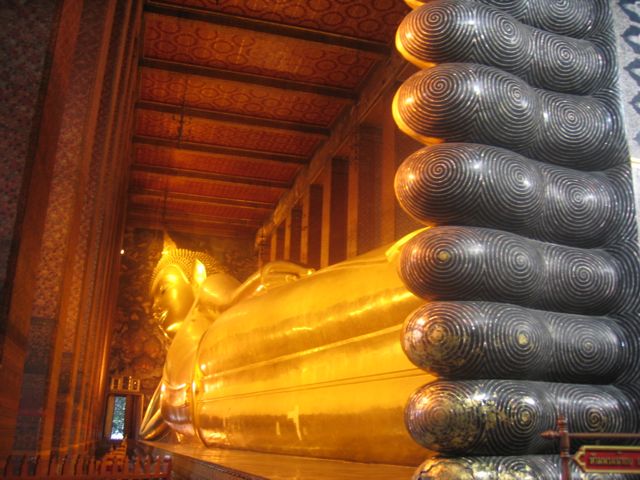 This is the reclining Buddha. It's 50 feet tall and 141 feet long.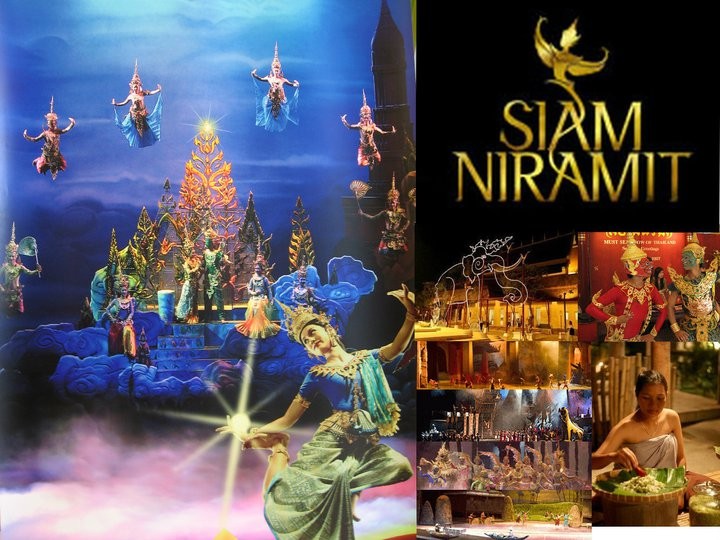 That night we went to the Siam Niramit Show. It's a musical dancing show with people flying on wires that takes you through the history of Siam. The costumes and scenery are beautiful and the show is just so well done. We really enjoyed it! It's kind of difficult to describe, but I highly recommend it to anyone. It is a great family activity if you have kids with you. Our kids would have loved it. Before the show there is a traditional Thai village that you can walk through, and there is a buffet dinner. The food was about what you would expect. The whole evening was so much fun.