We haven't seen Grandma and Grandpa in a year. It's hard to make it there, so when we go, we make it count. The flight out was more challenging than any of the others we've had. We made little bags of distractions for each one of them with a coloring book, crayons, notebook, stickers, dinosaur, crazy ball, books, things like that. It entertained them for about 20 seconds, and they were done. Only 3 hours, 59 minutes and 40 seconds left to keep them under control. Great.
We took it easy for the first few days we were there to recover and adjust. Saturday we went to the natural history museum at Thanksgiving point so they could spend some time with grandpa. They loved it. They ran all over. There is a part that has a dinosaur body and they can attach different body parts to make up different dinosaurs. They were putting on everything and laughing. Another little girl came in and was obviously annoyed they were doing it wrong. Oh well, you're out numbered sister, so get over it.
We decided to take the kids back to Thanksgiving Point and go through the children's garden. I knew there was a splash pad. I even packed their swim suits, swim diapers and water shoes in their suitcase. As we were leaving the house, I decided not to bother. As you saw in our trip to Knoxville and to the beach, our kids hate moving water. They stayed bone dry at the splash pad in Knoxville. When we got to the parking lot, the blowout kid decided to come out of retirement. We had nothing to dress him in but a clean diaper. We even had to use wet Kleenex to clean him up. Grandma and I took the kids into the garden while daddy went across the interstate to buy clothes for Caisen. fortunately, right when you walk in, there is the splash pad. But this splash pad is different; it's mostly standing water, and our kids make a run for the ice cold water on this not hot morning. they completely soaked their clothes, so we stripped them. Instead of one diaper-clad baby, we had four. Way to support your brother guys. Strip down with him! They had a blast in the water. They would run up and grab our legs with their ice-cold hands. I don't know how they could stand it, but they were having fun, so we let them go crazy. They spent the whole morning in the water, so we never saw any other parts of the garden. I guess we'll save that for next year.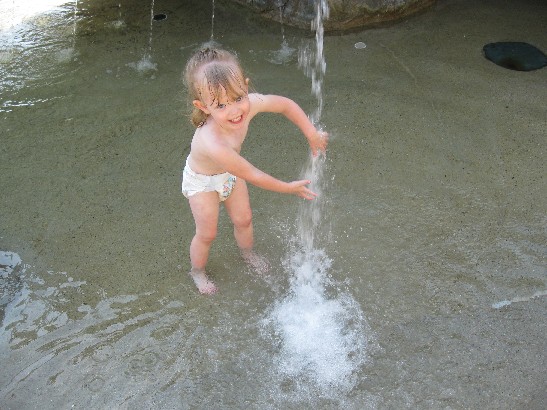 Look! I'm touching the moving water!
I touched that water!!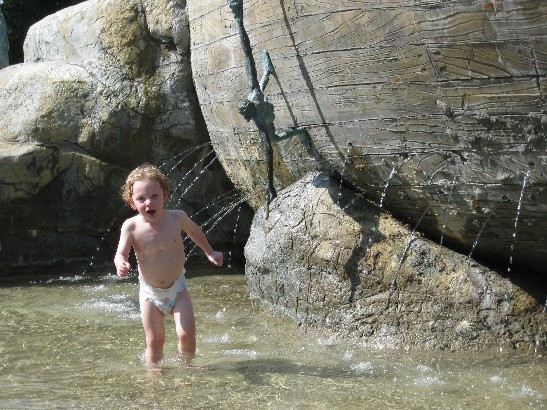 This is fun!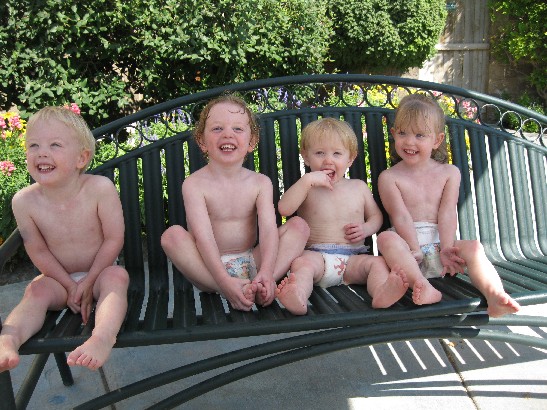 Supporting Caisen in his nakedness.

That turtle isn't real guys, but go ahead and pet it.
Brinlee, Kimball and Sawyer are obsessed with trains, so we decided to take them on a real train. Salt Lake has a commuter rail that goes to Ogden, and we raced out the door Friday morning to ride with grandma, grandpa, uncle Dave, Aunt Lisa, their baby Eli, Aunt Lisa S., Sierra and Alex. We were quite a large group. The kids all loved it and loved watching things out the window. When we got there, we walked four blocks to a really nice children's museum. Kimball actually ran the four blocks pushing Caisen in the stroller. Uncle Bob, Aunt Tricia, Parker and Garret met us there. There was a train table right when we walked in, and our kids made a bee-line for it. They didn't wan to stop playing with that and see the rest of the stuff, but we finally dragged them away and saw more of the museum. We could definitely have spent more time there, but it was lunch time and everyone was hungry.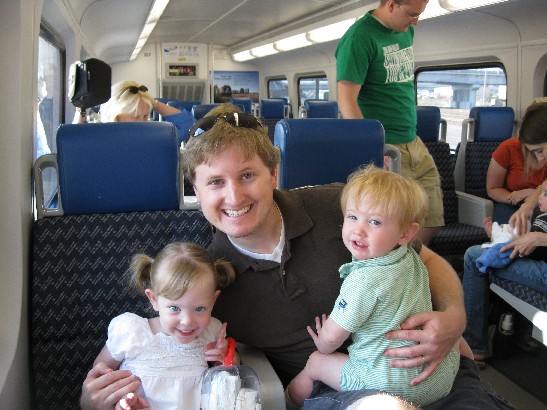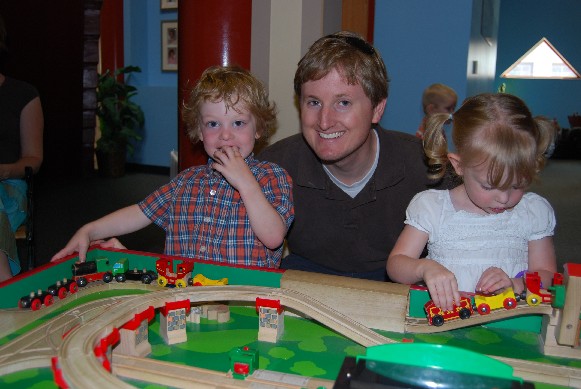 Brinlee and Kimball enthralled with the train set.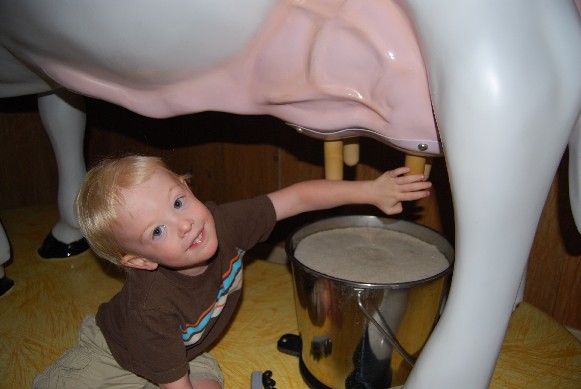 What's this?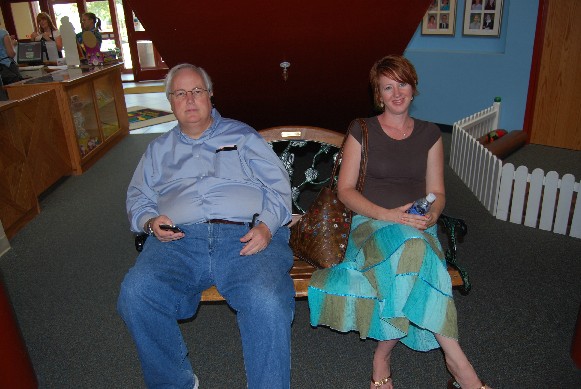 Grandpa and mommy working hard.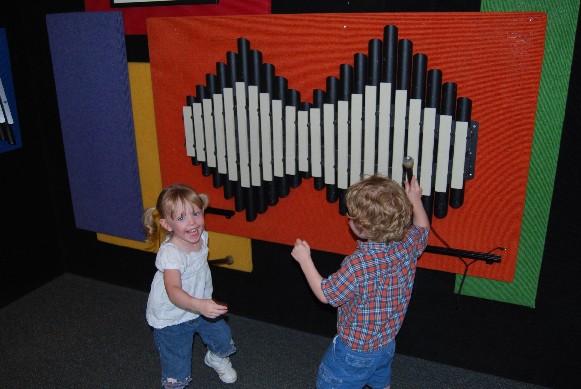 Brinlee and Kimball making music.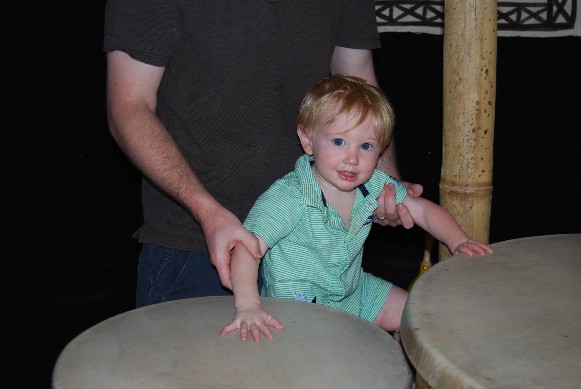 Caisen playing the drum.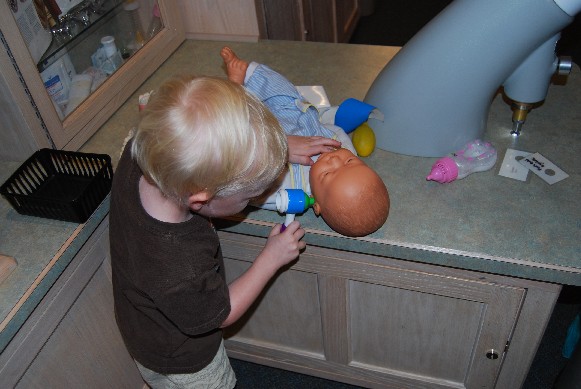 Dr. Sawyer is on the case. Let me check her ears.
After lunch we headed back to the train. By the time we got back to our car, it was 3:30. We drove around while the kids slept and headed toward Antelope Island, which is in the Great Salt Lake. There is nothing, but NOTHING on Antelope Island, but this particular night there was going to be a hot air balloon and kit festival. There were vendors galore selling every food that could kill you. The kids had a ball on the giant inflatable slide and bounce houses. Brinlee and Kimball climbed the ladder and slid down over and over. Sawyer climbed up and slid down once and got creamed at the bottom. That was his last time down the slide. Three and a half giant kites were flying. There was one that never got more than 10 feet of air, and it wasn't for long. After several delays, they announced the balloons were coming! Here they come! All…….four of them. Four. Total. Only four. Then the announcer says this is the most balloons they've ever had at this festival, and not only that, but this was the first year they actually launched on Friday night. There were years when they never launched. That's right, it was a record-breaking night, and we were there to witness it. One of the balloons was having trouble steering and was headed the wrong way. Overall we ate a bunch of bad for you food, got filthy dirty in the sand/dust, and had fun with family. Oh, and a couple of balloons flew overhead.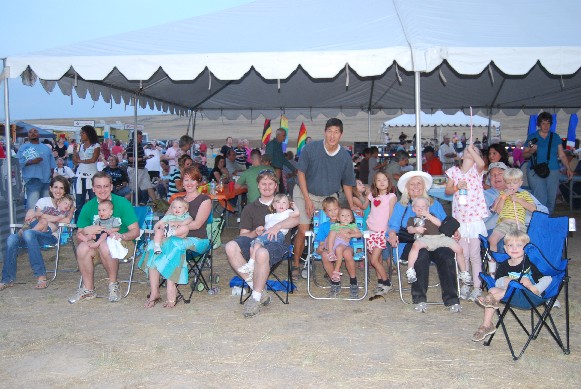 Here we are lined up in our lawn chairs, eating hot dogs, fry bread, giant pixie sticks, corn dogs and kettle corn. Could we be more white trash?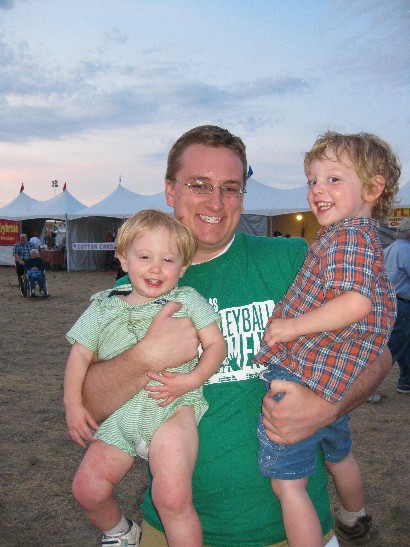 Uncle Dave with Kimball and Caisen
On Saturday we had a big group birthday party. We basically celebrated any birthday within three months of the day, so Brinlee, Kimball and Sawyer, Grandpa, Lisa, and probably more.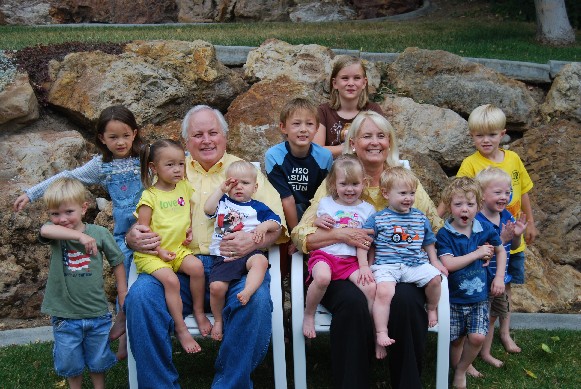 We took a group picture of the cousins in attendance with grandma and grandpa. Quite a rowdy group!
That afternoon Aunt Lisa and Uncle Karl got out their super duper mega water slide. By the time our kids got up from nap, the other cousins had gone, which is probably for the best since most of the cousins are older and love water. Our kids don't like moving water, and excited happy kids splash.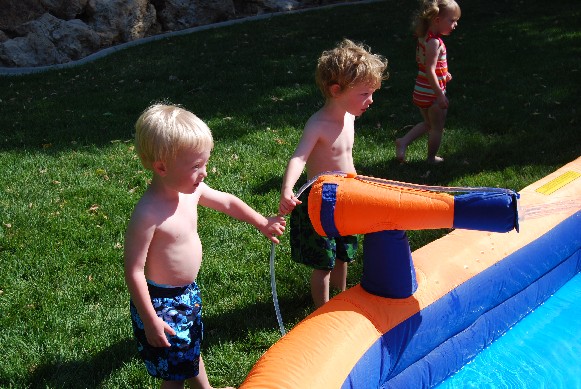 Sawyer and Kimball immediately decided to man the water guns.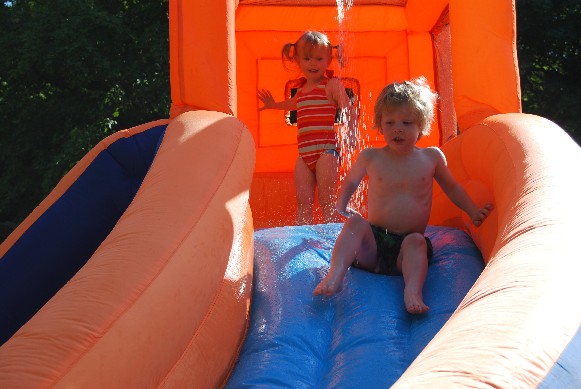 Kimball and Brinlee finally agreed to go down the slide once Adam moved the water sprinkler at the top.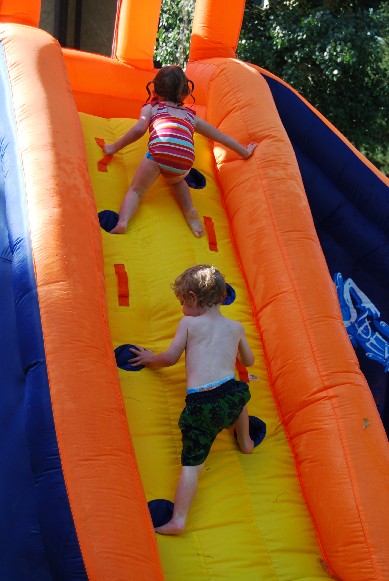 Brinlee and Kimball climbing up to go again.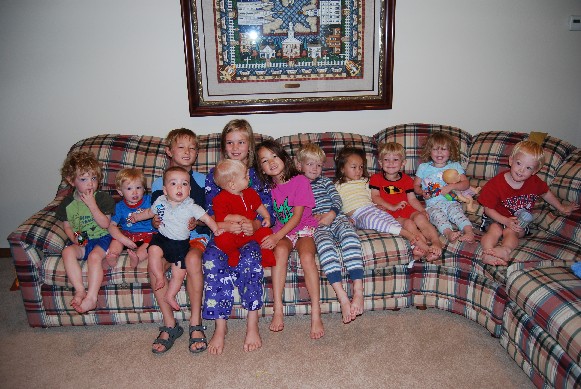 The morning Dave, Lisa and baby Eli were leaving, we threw all the kids on the couch before they had so much as a diaper change and took a picture. They look pretty!
One of the things I really wanted to do was go up the canyon and roast hot dogs and marshmallows with the kids. We invited our friends Ryan and Emily and their two cute kids.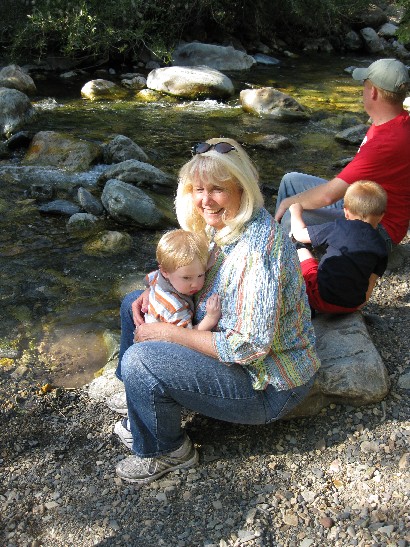 Grandma getting a love from Caisen.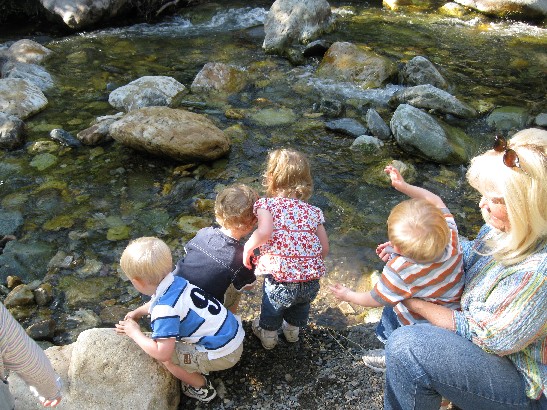 There was this little creek by our picnic site. We took the kids down there and let them throw stones into the water.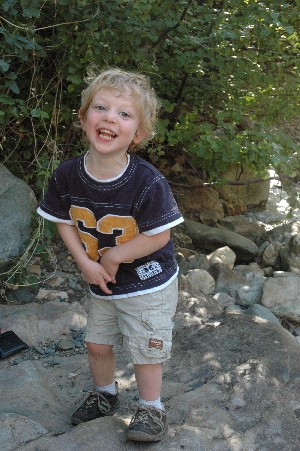 Kimball's got a good arm. He was having a great time throwing stones. He tried to move on to rocks. More like boulders.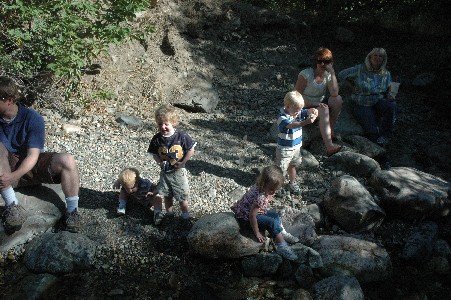 Looking for more to throw.

We moved on from throwing stones to roasting hot dogs.

Kimball showing daddy how to rotate that hot dog for perfectly even cooking.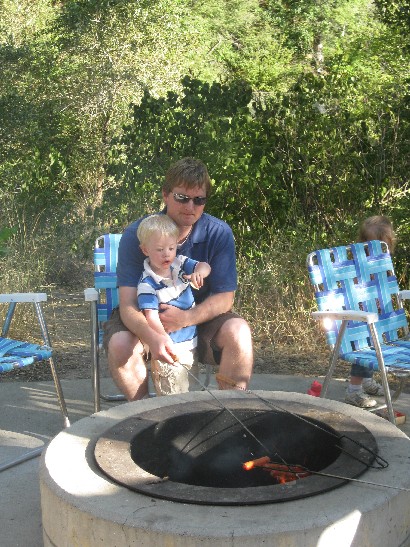 Sawyer wasn't convinced that Kimball taught hime well enough, so he decided to give daddy his own tutorial.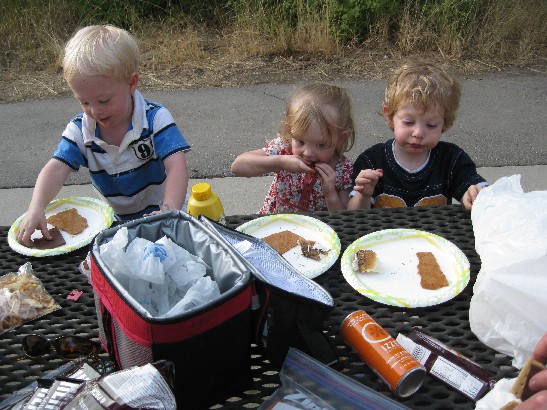 I made graham crackers so the kids could have their first smores. I think they liked them. I have been dying for smores, and I ate….a few.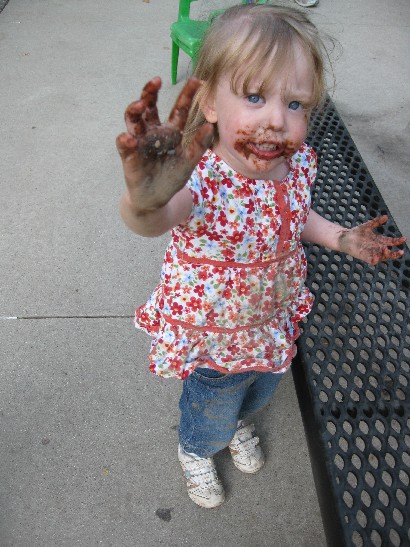 Our kids love chwakat (chocolate, in case you missed that). Brinlee does NOT like to get her hands dirty, so for her to get her hands dirty like this, you know she loved what she was eating.
We took the kids to walk around Temple Square. We got them to sit nicely on the edge of the pool for a picture. That's about the only nice moment they had.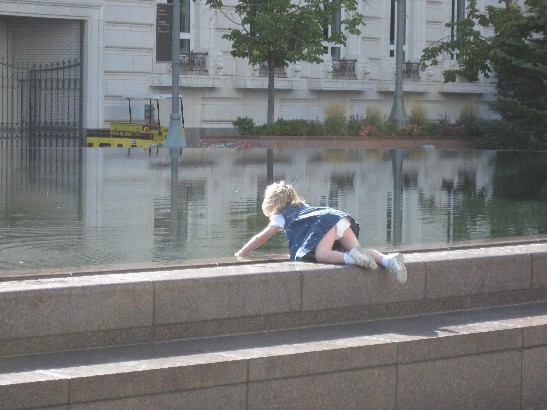 There goes fearless Brinlee, ready to fall headfirst into the water. Don't worry, while I was preserving this moment, Adam was racing toward her.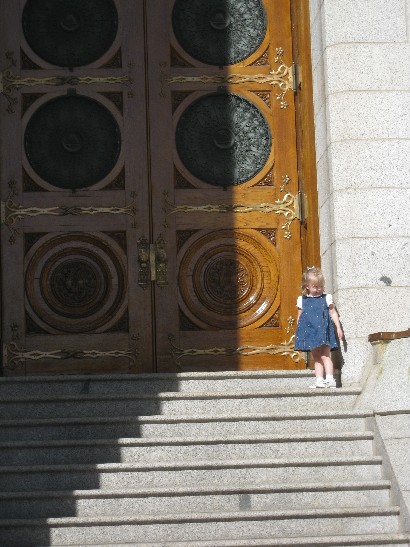 As we walked past the temple, Brinlee shot up the stairs to assume her bridal pose. She is practicing for her big day in 25 years. How did she know where to go? Maybe from our wedding pictures.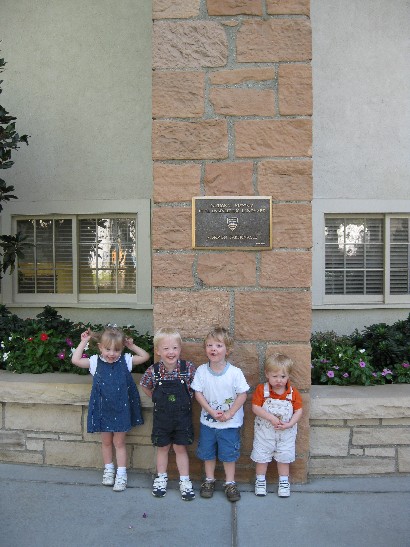 Their great great (I'm not sure how many greats. There might be one more in there) grandfather designed and built the extraordinary roof on the famous Mormon Tabernacle. Their great grandpa had it designated as a national historic civil engineering landmark. The kids are standing in front of the plaque.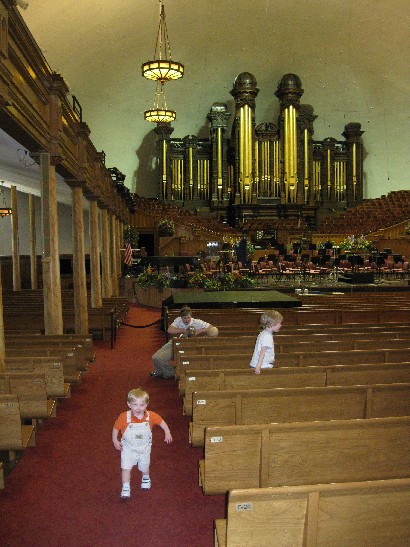 We took the kids inside the tabernacle, and they started running up and down the benches. You're out of here guys. Their tour lasted about 3 minutes. I'm sure it meant a lot to them.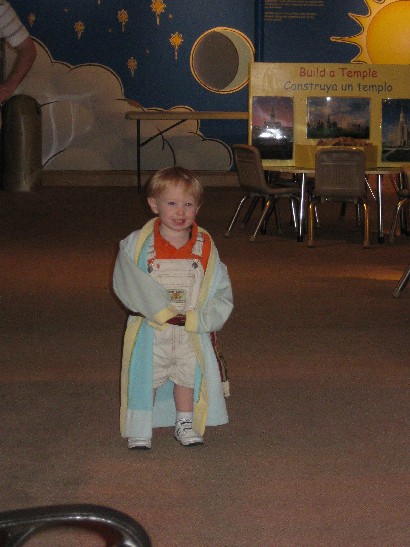 Since they were so full of energy, we took them to the church history museum where they have a children's area. They proceeded to dismantle the cute seating area, color on the table, pull outt he dress up clothes, and generally try to destroy the place. Here's Caisen in one of the costumes. He looks like baby Obi-wan.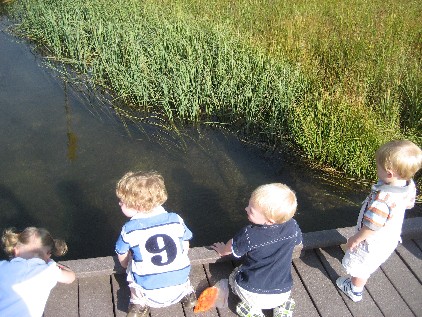 One beautiful morning Adam suggested we take the kids up to Silver Lake to walk around, and it was so much fun. There is a boardwalk across the wetlands to get to the lake. We showed the kids the fish in the water.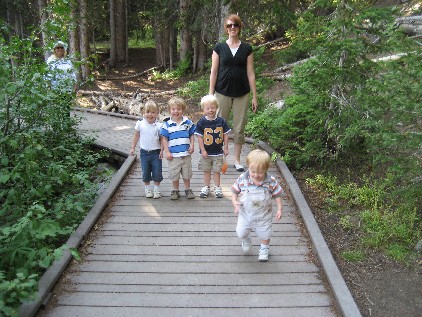 Caisen needs to learn to heel.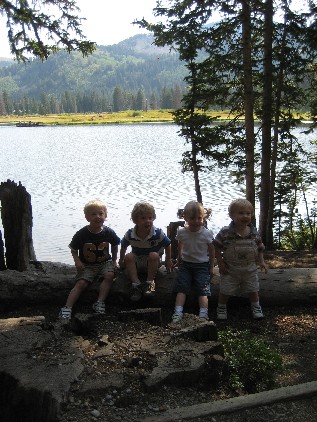 We convinced them all to sit on the log in front of the lake, they were even smiling, but the picture came out kind of dark.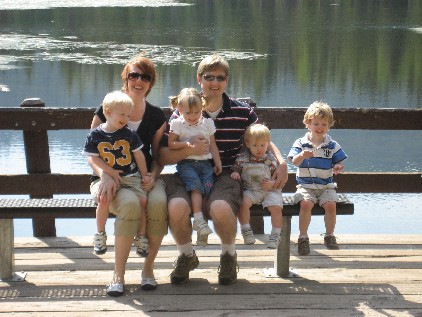 Sitting in front of beautiful Silver Lake.

What's in the bushes? Is that another duck? No, what appears to be a duck wing is actually a moose ear. This huge moose was sitting in the bushes about ten feet away, pretty well hidden. We evacuated the area very quickly. Moose aren't friendly and not afraid of humans.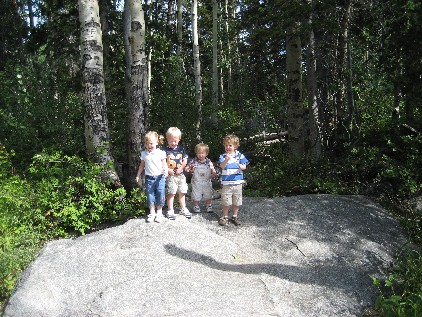 Walking around the lake path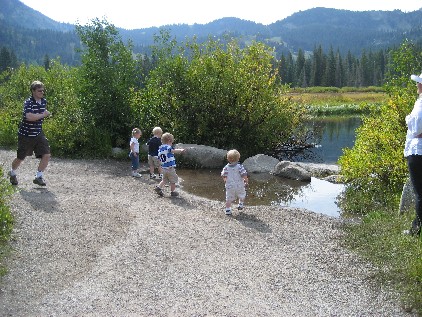 The kids ran straight into the water trying to catch the ducks we kept seeing.