Our newest bundle arrived a little early. At 38 weeks 3 days, the doctor suggested we invite little Daisy Charlotte to join us. She arrived healthy and perfect on Saturday at 6 pounds 14 oz and 19.5 inches long. Adam threatened to accidentally misspell her middle name as Daisy Chocolate, but I delivered sufficient threats that he decided not to try to name her after his favorite food.
Of course Daisy didn't arrive to a peaceful and serene home life, though I suppose she got a preview of all the ruckus around here from the womb.
Friday afternoon, a week before my scheduled c-section, I started having painful contractions. My friend, Sharon, was here helping me get some things done before Daisy arrived. The kids were playing at a friend's house (Alli is amazing to have my four plus her three for most of the day!). The doctor's office advised me to head to the hospital just in case. Because of my history, they didn't want me to go into labor. Adam was working 2 hours away, so I called him to meet me there. Sharon went to pick up the kids from Alli's house while I got my stuff together.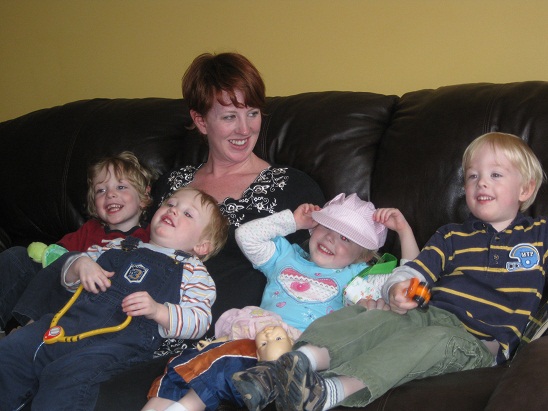 I really wanted to see Brinlee, Kimball, Sawyer and Caisen before I headed out just in case I ended up staying a few days and having a baby. I wanted to tell them where I was going and why, and get hugs and kisses. My other amazing friend, Kim, took a detour and came to pick me up to drive me to the hospital. BKSC are 100% in love with Sharon (but really, who isn't?), and I knew they would be very comforted to have her here when I left. We took a few false alarm pictures before Kim and I left. Turns out Adam could have picked me up on the way, because he beat us to the hospital by about 15 minutes. How awkward to show up at labor and delivery without the woman who is in labor….Poor Adam.
After monitoring me for a while, they decided I was on the edge of stay or go home. The doctor decided to monitor me overnight. As long as I lay perfectly still, my contractions stopped, but if I sat up or got up, they started up again. I got to the hospital right at dinner time, and they wouldn't let me eat, just in case they wanted to deliver me. When they finally decided it wouldn't be that night, my last meal request was a garden veggie pizza with pepperoni from Papa John's with garlic butter sauce. It was pure heaven. Seriously.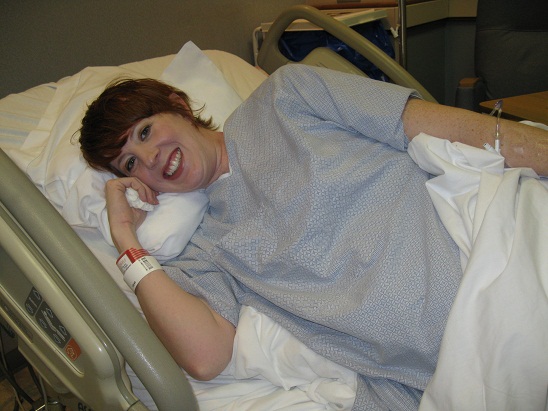 After much convincing, Adam finally went home to sleep and see the kids in the morning. There was no reason for him to sleep horribly in a chair when I wasn't going to have a baby that night. He has had to travel a lot lately, and I knew the kids would be thrilled to see him in the morning.
BKSC were ecstatic to see daddy that morning. I got no sleep thanks to the endless parade of nurses coming in and out of my room, and a baby stomping on my bladder all night. The hospital is one of the least restful places in the world. You better go home if you want to get some sleep. I think they do it so you will be glad when they discharge you.
My doctor was on her honeymoon (I know. Outrageous! I was heartbroken), so when one of her colleagues came in to talk to me about it, he recommended we deliver that day, unless I could go home and lie perfectly still on my side for the next week until my scheduled c-section. Otherwise, he was pretty sure I'd be back by that afternoon. I didn't really want to have a baby that particular day, but I also didn't want to get myself into a problem. We decided to reschedule for that afternoon. We called Gran and Granddad and they headed down to help with the kids.
Once I was in the OR, I heard them discussing my blood work. My liver enzymes were elevated. They weren't in the danger zone yet, but they were headed there. HELLP syndrome is why they had to deliver BKS so early. It can escalate quickly and lead to liver failure (which is the stage I was at when BKS were born), transplants and death. That reconfirmed for everyone that delivering that day was the right choice. I was still doing fine, and they didn't want me to head down that road again.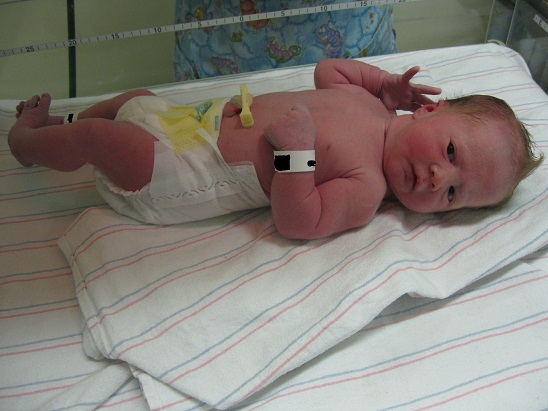 We had a beautiful, uneventful birth and Daisy Charlotte joined our family! She was beautiful, healthy, and mad! Just the way we like them. She was able to be in my room, and in many respects, we had a normal hospital stay. Glammin for the camera already.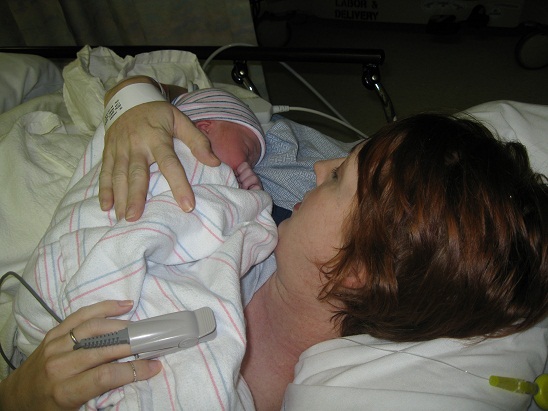 The first time I got to hold Daisy.
What wasn't so normal? Well, right about the time I was giving birth, Brinlee, Kimball and Caisen started vomiting. They were all very sick for about six hours with violent nausea. Right around dinner time, they threw up for the last time and got up to play. We had Gran and Granddad feed them the BRAT diet for the next couple of days, and they ate with ferocious appetites. Unfortunately, Sunday night Gran and Granddad got sick too, but they didn't bounce back as quickly. Gran had stayed to help until I came home from the hospital, and Granddad had headed home. They were pretty miserable.
It was hard to be away from our kids when they were having such a hard time. I ended up having the same virus for the first 36 hours after my c-section. It is really miserable to vomit when you've just had major abdominal surgery. The doctor did give me anti-nausea drugs, which did help some, but not with all of it. Because this virus is highly contagious, our pediatrician recommended that Adam not go home, or if he did, not come back to the hospital. We had planned for Adam to go home for dinner/bedtime each evening so the kids wouldn't feel so abandoned.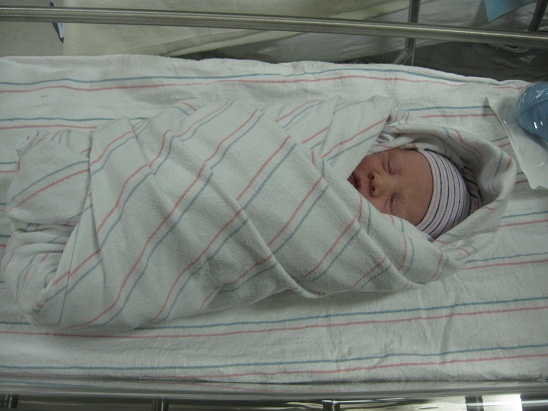 It was really hard for all of them not to see either of us for so long, and it was hard on us too. It finally occurred to me to use the webcam on my laptop to chat with the kids. That made a huge difference for them to be able to see us and Daisy. It gave them a lot of reassurance and relief, which I was grateful for. The OB suggested I stay the maximum number of days in the hospital to give the virus time to die. Ariell and Sharon stayed up until 1:00 am the night before we came home sanitizing all of the toys, counters, my room and bathroom (where my mom stayed while she was sick), and the kitchen. Talk about saints!
Leaving the hospital to be a family again.
When we came home Wednesday afternoon, we were greeted with shrieks, hugs and kisses. It was wonderful to see the munchkins and hold them again. Once they saw that Daisy was with us, they dropped us and ran for her. They were so excited to meet her. We were old news. She was new and sparkly! Everyone got a turn holding her, which they loved. I knew that sawyer would be very interested in her, because he loved Caisen from the moment he came home. I wasn't sure how excited everyone else would be. I was pleasantly surprised that Brinlee and Kimball have been just as excited about her, and it wasn't just for the first day. Caisen wasn't sure what he thought of her at first, but now he likes her, and wants to hold her for short periods of time.
Brinlee holding her sweet baby sister. Meet your new best friend, girls.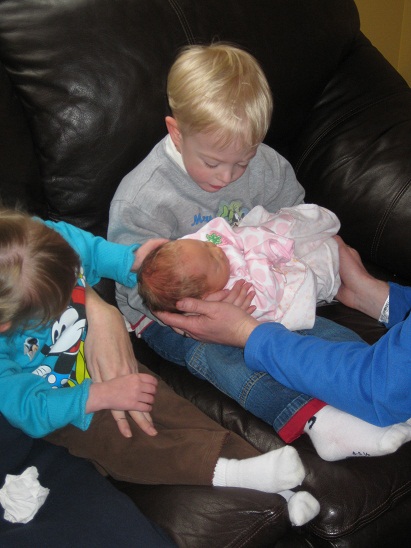 Sawyer loves baby Daisy. When I told them I needed to feed her, they all ran off to get their plastic play food for her to eat, and when they came back in the room and saw me breastfeeding her, Sawyer stopped in his tracks, completely horrified and said, "WHAT are you DOING?" That began the conversation about mommy milk.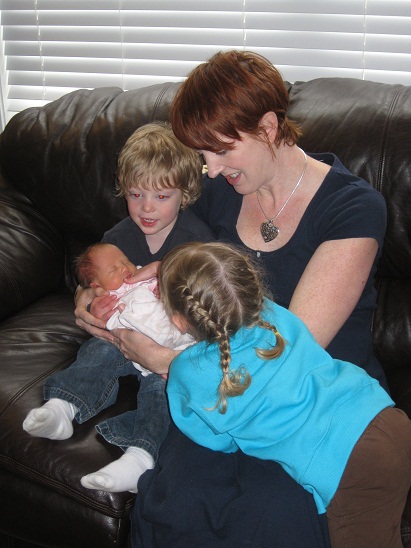 Kimball holding Daisy.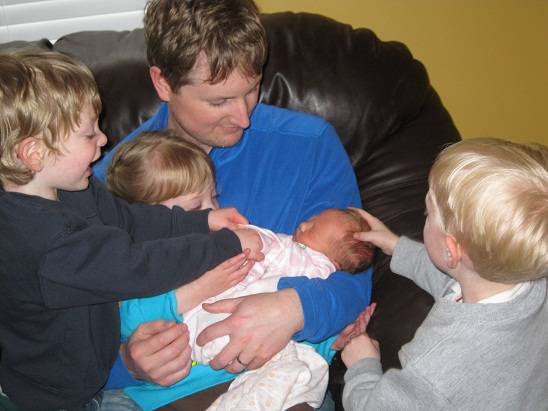 Daddy finally got a turn to hold her.
Real life. Daisy will get used to being smashed.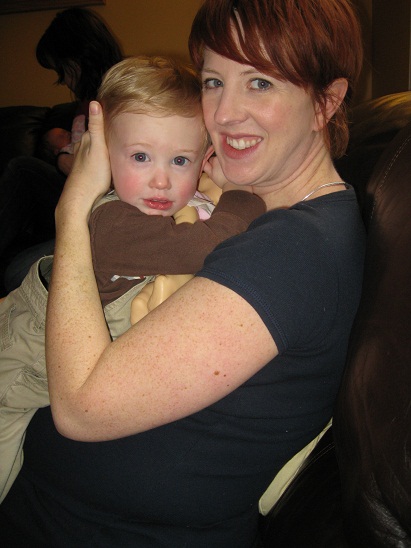 Mommy and Caisen reunited. He was still napping when we came home. He was the only one who was more excited to see me than Daisy. She was the star of the show.
About an hour after we got home, Adam took Brinlee and Caisen to the pediatrician because they had eye infections. The two weeks before Daisy's arrival, I'd had bronchitis and the kids had terrible colds with coughing and ear infections. It's been a rough month as far as health.
Daisy is still very sleepy, and we are working hard on getting her to gain weight and breast feed, so she spends most of her time upstairs, but I bring her down once a day so her siblings can love on her. They line up to hold her. I know they will all have a special relationship with each other, and Daisy was meant to be part of our family. She's already part of the gang (or soccer team, if you ask Adam). We love our little Daisy Doll!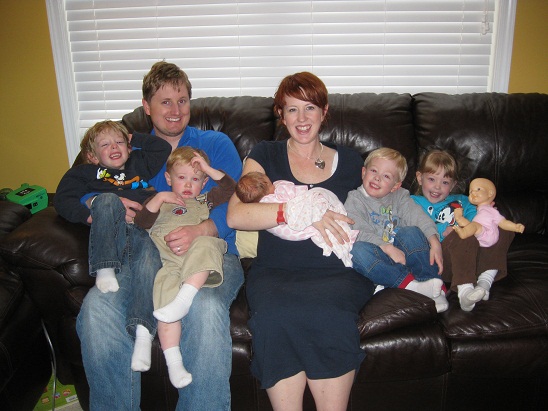 We are so excited to have our sweet baby girl join our family. She is such a wonderful blessing. We named her after my great grandmother Daisy, and her daughter Charlotte, who was my grandmother. Of course her name is even more appropriate as a spring baby. Our wedding flowers consisted of roses and gerbera daisies, which I think are so beautiful.
I've always thought is was a beautiful name and knew I would someday name a daughter Daisy. When we found out Brinlee was a girl, we both assumed we had our Daisy, but for some reason, it was never right. She was never a Daisy; she was a Brinlee. I knew our Daisy was still coming, and when I was pregnant with Caisen, I was CONVINCED he was a girl, but alas, he is all boy, and definitely a Caisen. Now we have our Daisy and are thrilled she is here. Welcome Daisy Charlotte! We love you!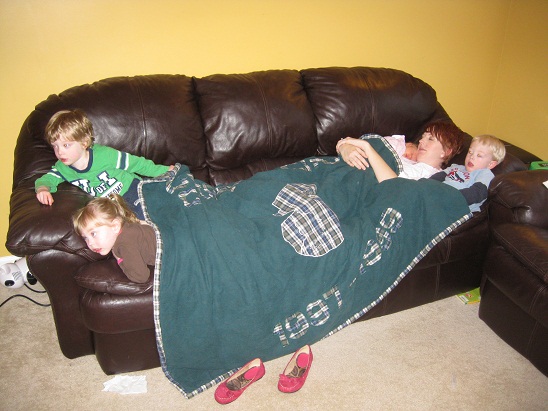 Mommy trying to spend some quality time with everyone.