July 2010 – What is crueler than cruel? Taking a woman who just had her 5th baby in 3 years to the beach 3 months after having a c-section! Seriously! The day I got my 6-week post-partum clearance, I began the 30-Day Shred because I was not going to be putting on a swim suit looking like that. I was so beat down, worn out, out of shape and shot that I thought I was going to die before finishing it the first day. And the next day I could barely walk. But it got better, and after the first week I moved to level two, and so on. I got stronger, more energetic and felt better. I had two months and then we headed to Hilton Head and had fun on the beach! My mom came with us again, and that was fun. We stopped in Savannah for a day on our way in.
This year at the beach was so much more fun than the last for one huge reason: the kids could swim. We enrolled them in Infant Swim Resource swim lessons (ISR). It was a big sacrifice to do it for 4 kids, but it was worth every dime and all of the hassle of swim lessons every day for 6 weeks. The kids learned a swim/float/swim sequence to be safe in the water and have fun. Last year I sat on the steps with them while Adam walked around the pool with them one or two at a time. *Yawn* This year they were jumping off the edge and swimming to us and then launching off our legs to swim back to the edge. It was so much more fun. They also had fun playing in the ocean waves when last year they wouldn't go near it. They just feel so much more comfortable in water now.
We also had a scary moment. There is a little canal that zigzags through the resort. We cross several little bridges to get anywhere. We are very diligent and watchful as we cross each one because parents are the first line of defense in water safety. As we were walking to the pool one day, Caisen just tripped and fell face first into the canal. I was only 5 feet from him, and what shocked me most was there was no sound. Not a splash. I expected a loud cannonball type splash, but there was nothing. If I hadn't seen him go in, I would not have known he had fallen in. Before I could even jump in after him, he was floating on his back, as calm as could be, just waiting to be fished out. I jumped in after him, picked him up, and he said, "I tripped! I fell in!" the same way he would say, "I found a rock." No big deal. And then he said, "This water is yucky." It was. We got out and he kept on walking to the pool. What could have been a disaster or a very scarring experience was just a little bump on his way to play in the pool. It turns my stomach to think what could have happened to my little munchkin, and I'm so grateful he had the tools to save himself until we could get him. I praised him up and down for what he did. I can only imagine what a confidence booster that was for him to know he took care of himself (not that I would want it to happen, but something good did come from it). So that is my ISR testimonial. If you have it in your area, I highly recommend it.
We went on the free ferry that goes from River Street to the Marriott to the Westin. It's perfect for kids. It's 20-ish minutes, and it's free. The others are a few hours, and not free. Hmm. Hard choice. We did it last year too, and they loved it.
Checking out the other boats.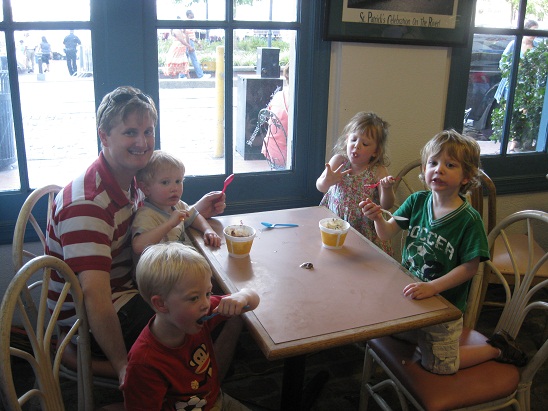 We stopped in for ice cream at the same shop. Are these pictures looking familiar…? Our clothes are different and we have an additional passenger. The amazing thing is, the weather was PERFECT. It was early July and 80 degrees that day. No kidding. Low humidity. Let us remember Savannah is a stone's throw from Florida. It's usually high 90s.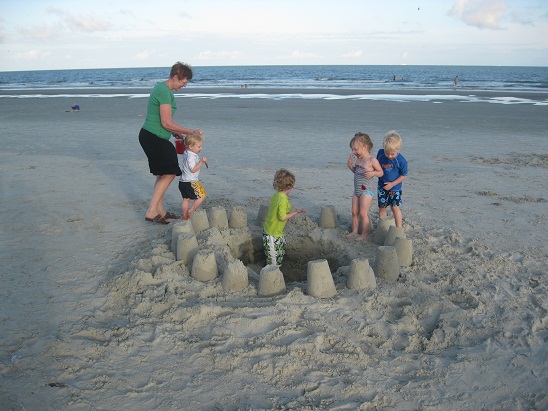 We did not build this castle, we invaded it. It's the best way, really.
There go my boys chasing Daddy down the beach. He's the tiny dot with his arms up at the horizon. The super tiny dot next to him is Brinlee.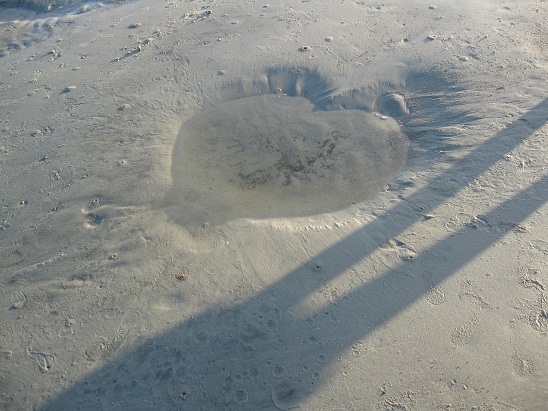 A naturally occurring tide pool shaped like a heart. Aaawwww.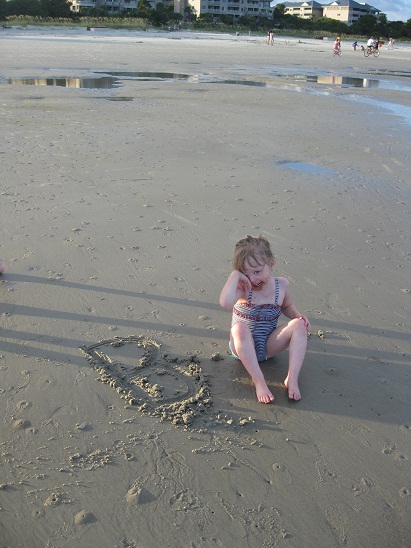 Brinlee next to her B.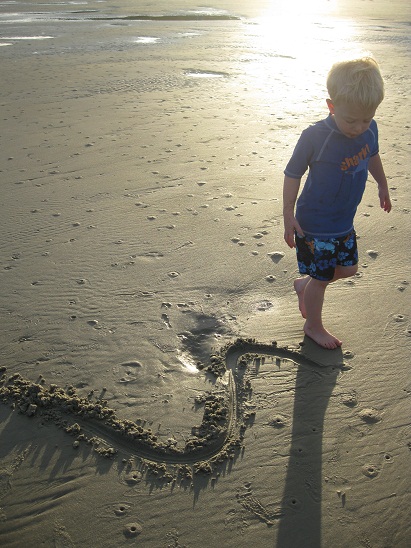 Sawyer with his S
Kimball pretending to take a picture of me while I was taking a picture of him next to his K.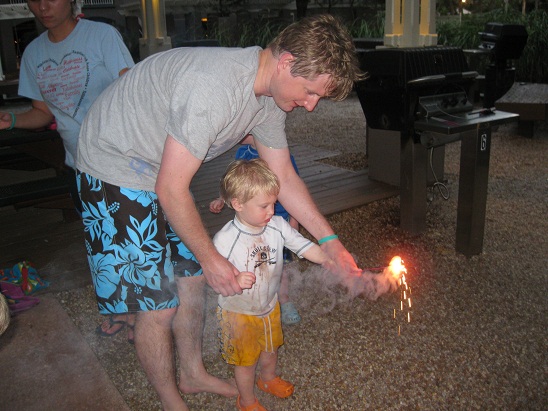 For the 4th of July we did sparklers.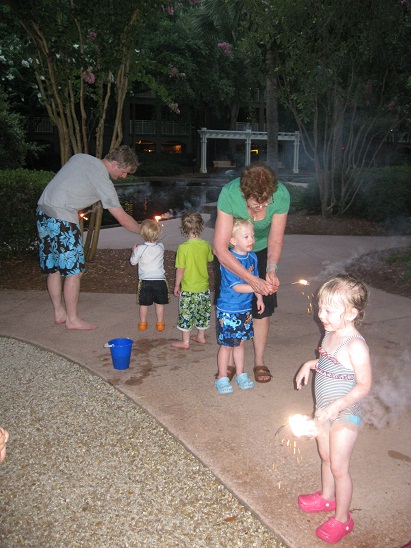 We did the sparklers in the grill area near our condo. I grilled a few meals (I am the grill master). I walked over with my kabobs, and these two men said, "Oh that grill isn't working. It won't light. Neither will this one." I said thanks and lit my grill, at which point they said, "Check out the brains on the redhead! Can you light ours?" And that's when I had to school them on lighting a gas grill. They were sufficiently embarrassed, but were man enough to laugh at themselves, which is good because I was already laughing at them.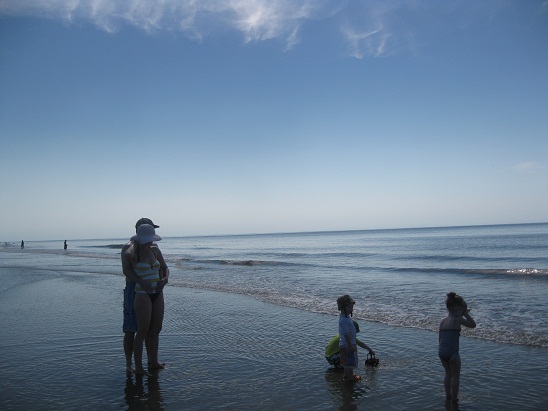 Just because we had a bazillion little kids running around our feet doesn't mean we can't have a little romance on the beach!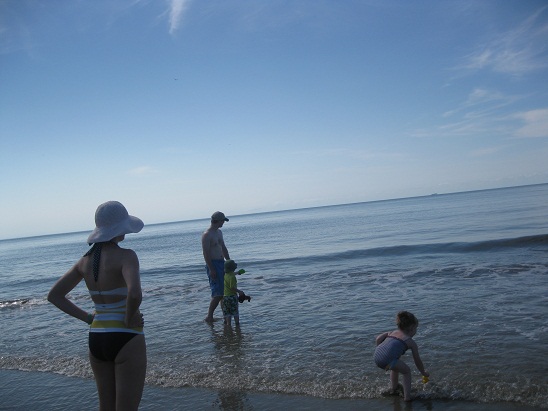 Watching the tide go out. The beach was enormous and perfect in the late afternoon and early evening.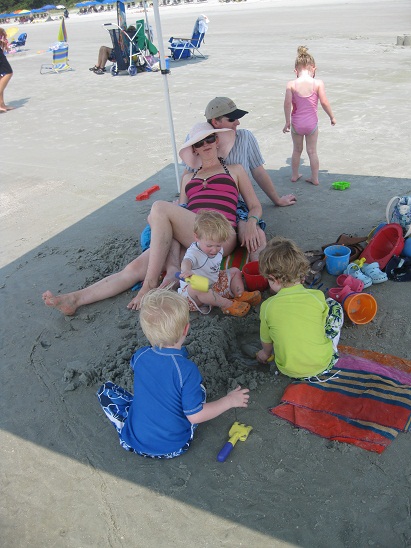 This is the life of luxury I was meant for. Lounging on the beach while my kids play happily.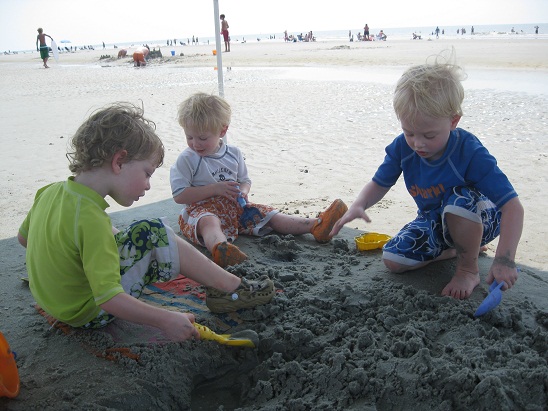 Digging. Lots of digging.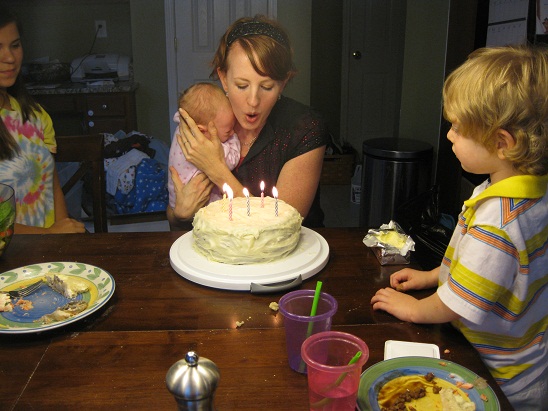 We celebrate my birthday in July since my real month is so crowded with other birthdays and our anniversary. So there I am getting another year older.
This child will not smile for the camera. EVER. She is so happy and smiley in real life. I promise.