When you get back from a long and somewhat traumatic trip that includes two cross-country drives, naturally the thing you want to do when you get back is jump in the car and go on a trip. Adam had missed us and we missed him and he needed a break from his intense time at work. There was this strange break in the weather down south. It was unseasonably cool and the weather was perfect: partly cloudy and in the 70s! Southern Utah, here we come!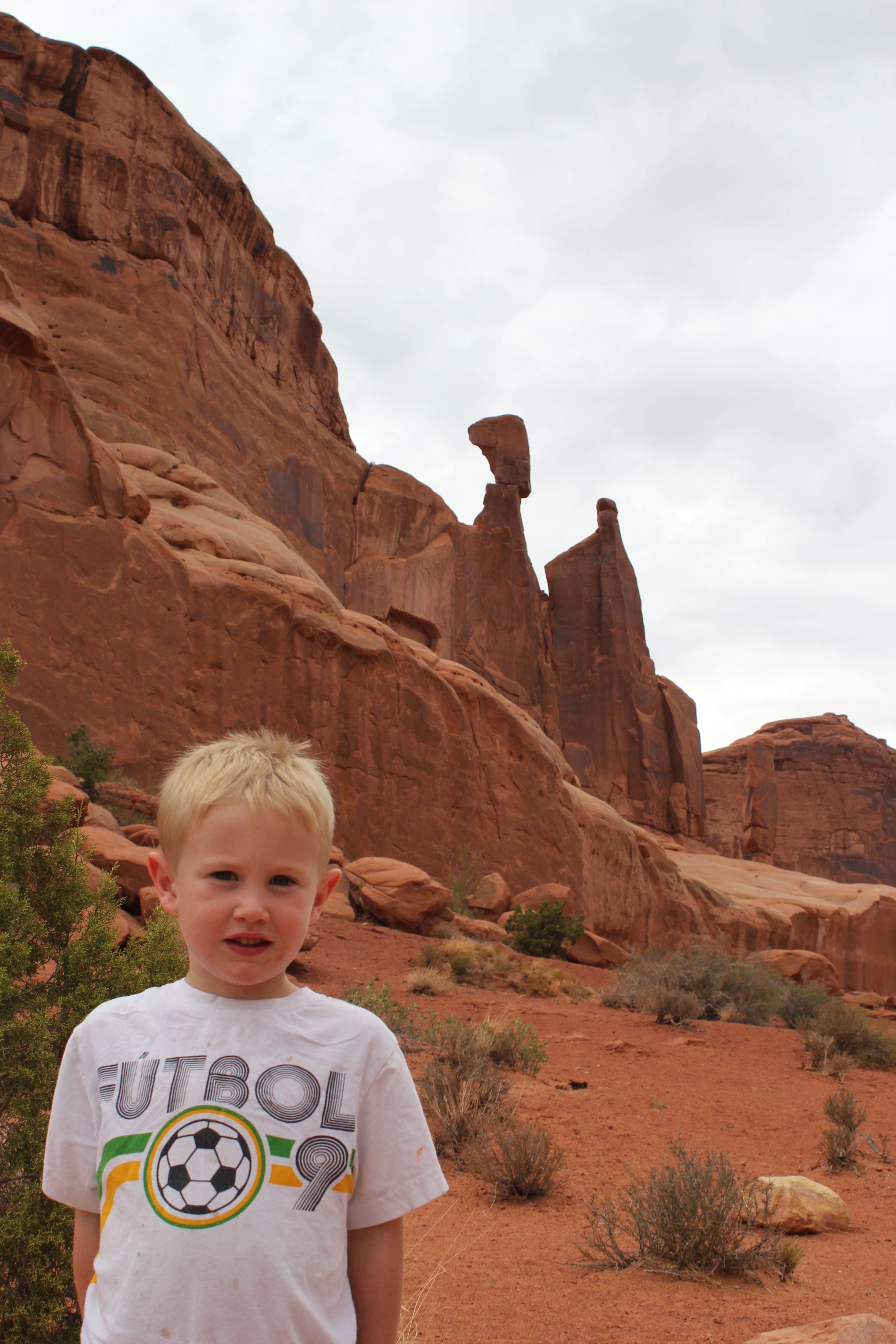 Caisen looking cheerful. And very blond.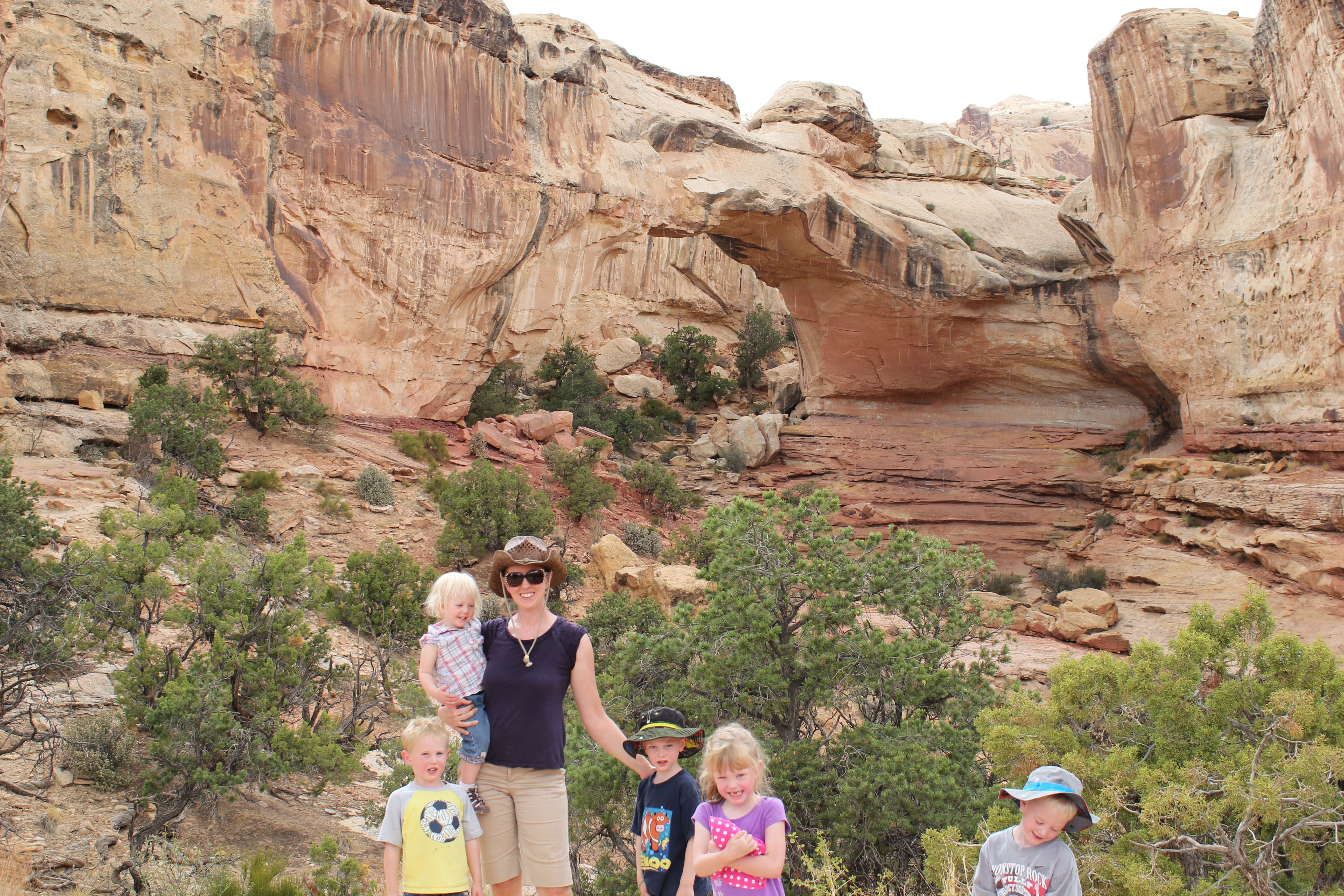 I picked this hat up at a gas station because I forgot mine. I couldn't decide if it was too Crocodile Dundee or too Britney Spears does spring break, but it was my best option and it served its purpose.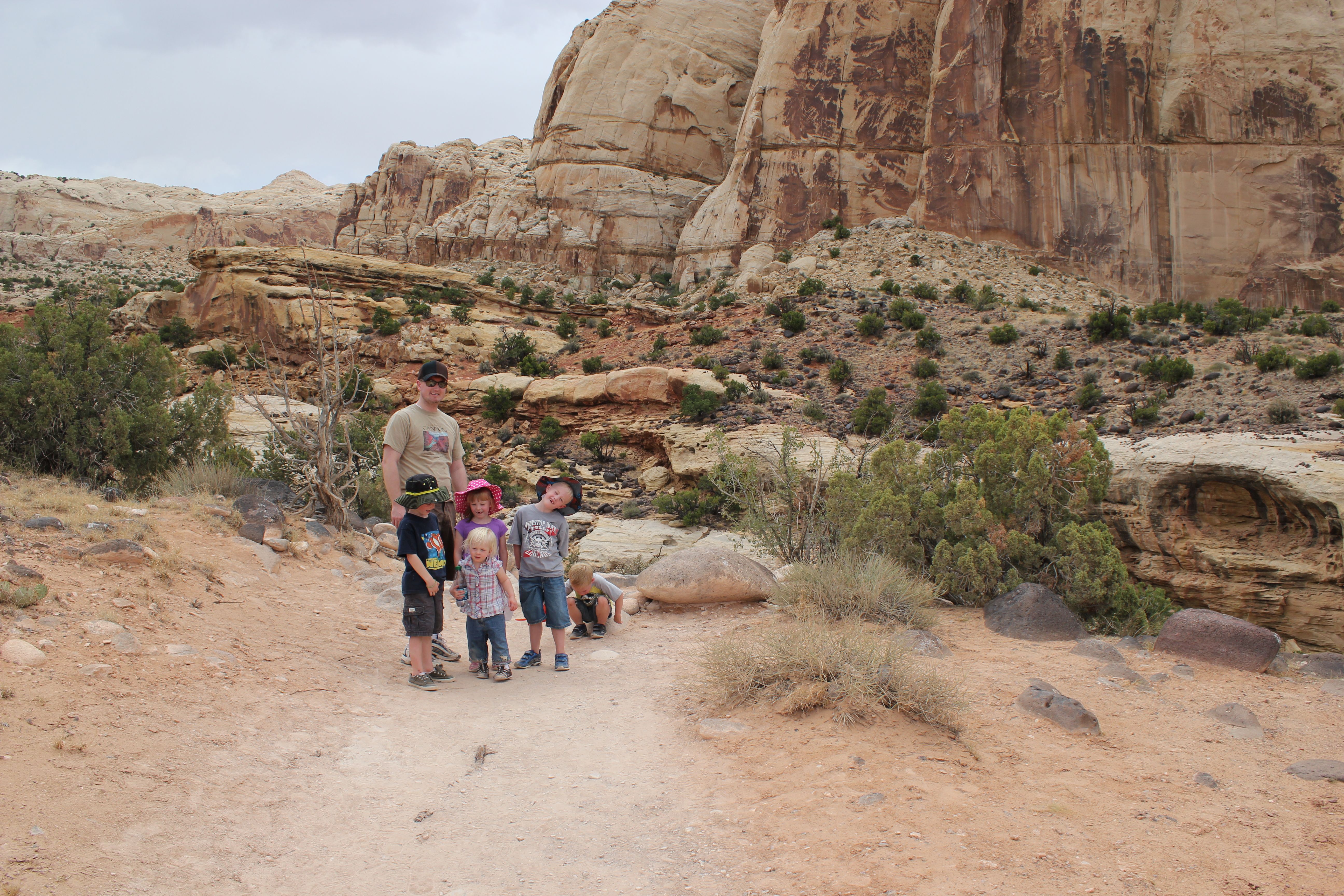 We went to several parks and did several hikes. We started on the northern side of Zions.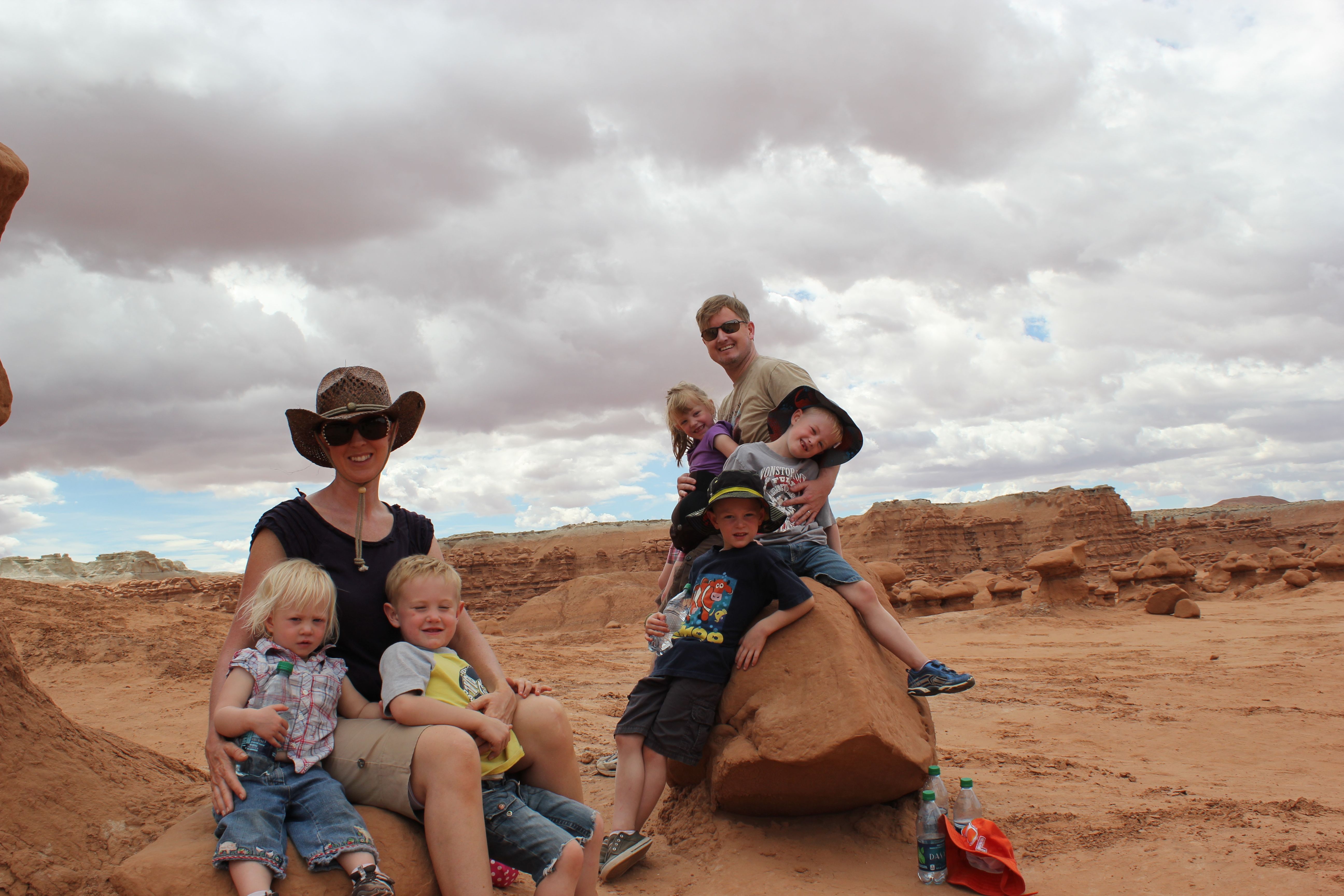 Then we went to Goblin Valley.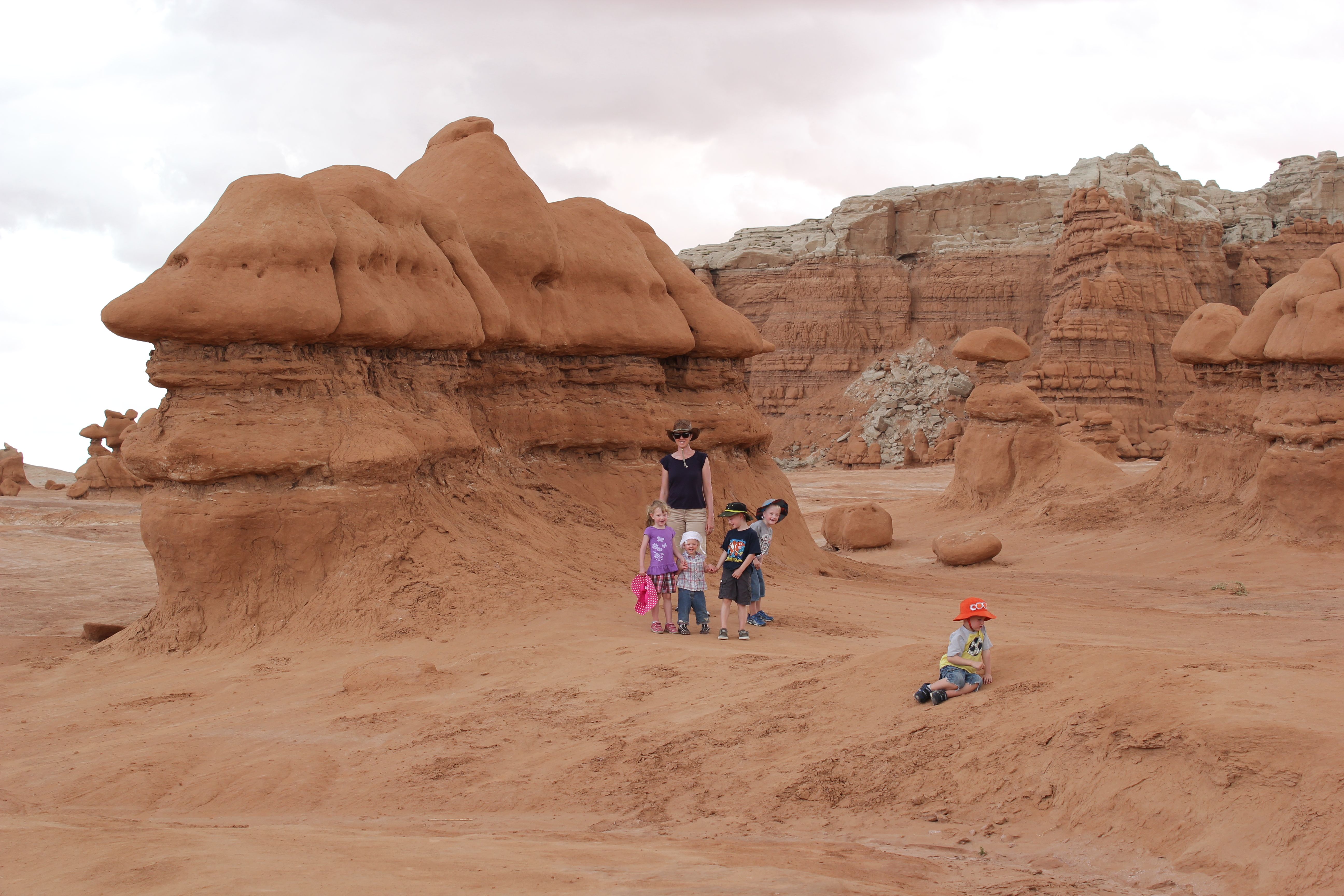 It was very cool, but it made me a nervous wreck because one turn and I couldn't see my kids. At one point Caisen got mad at me and made a turn where I couldn't see him. He refused to answer when I called to him. I had to climb up on top to see he was 20 feet away. Scared me to death! Adam's brother recommends giving each person a whistle, so if you can't see them or they can't see you, they blow the whistle. Except Caisen wasn't going to blow a whistle. Stinker.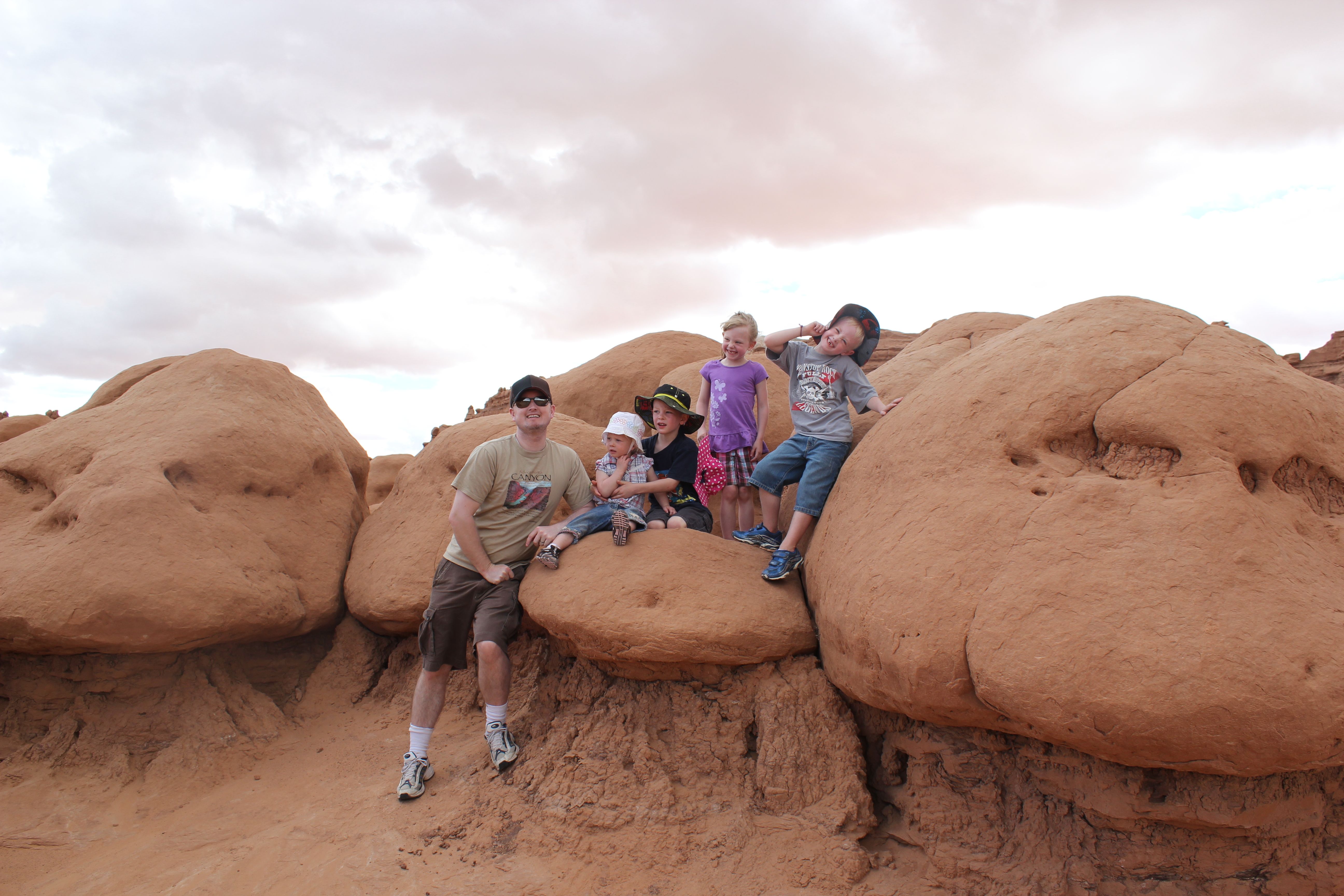 Sawyer started doing this weird head tilt thing for all the pictures.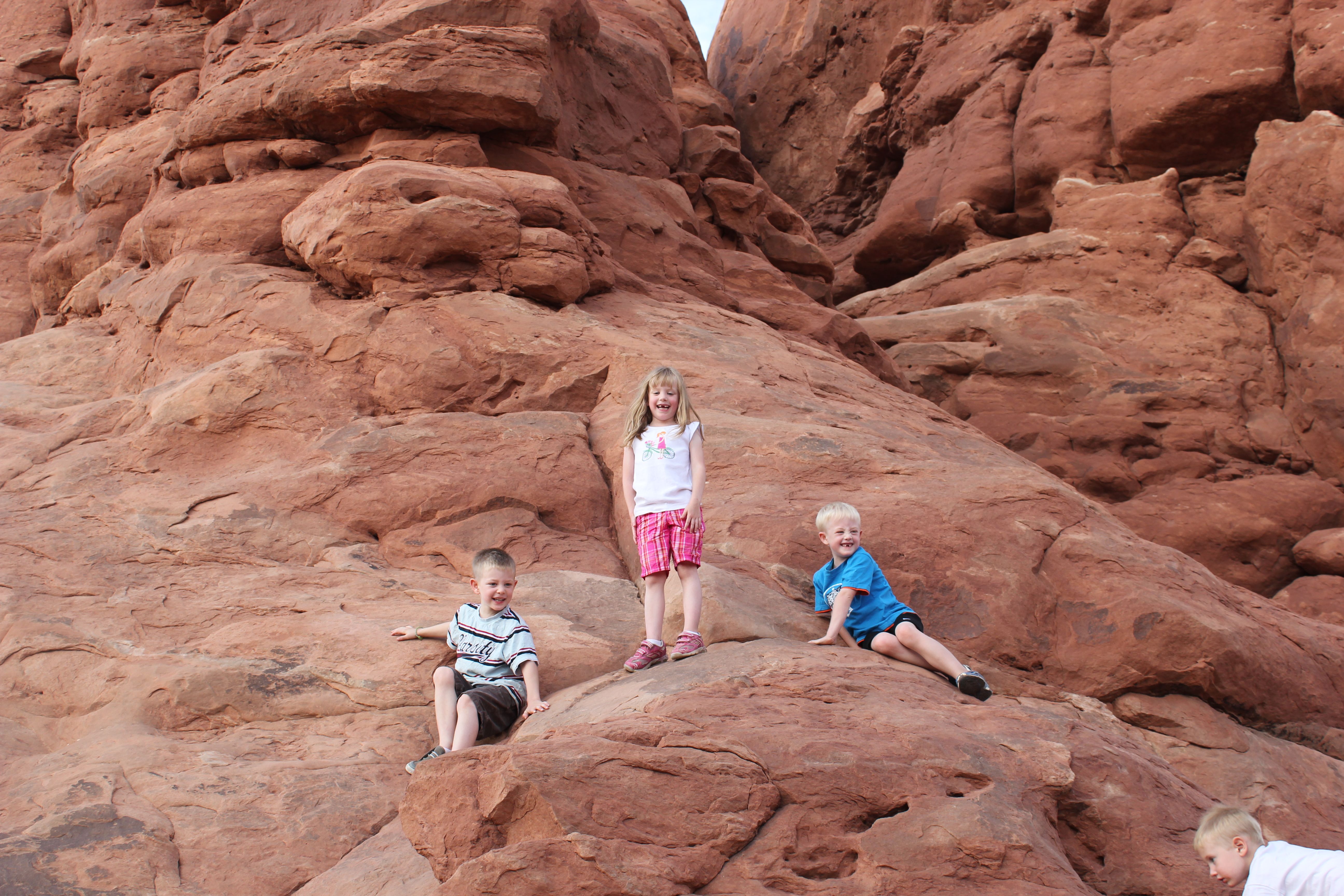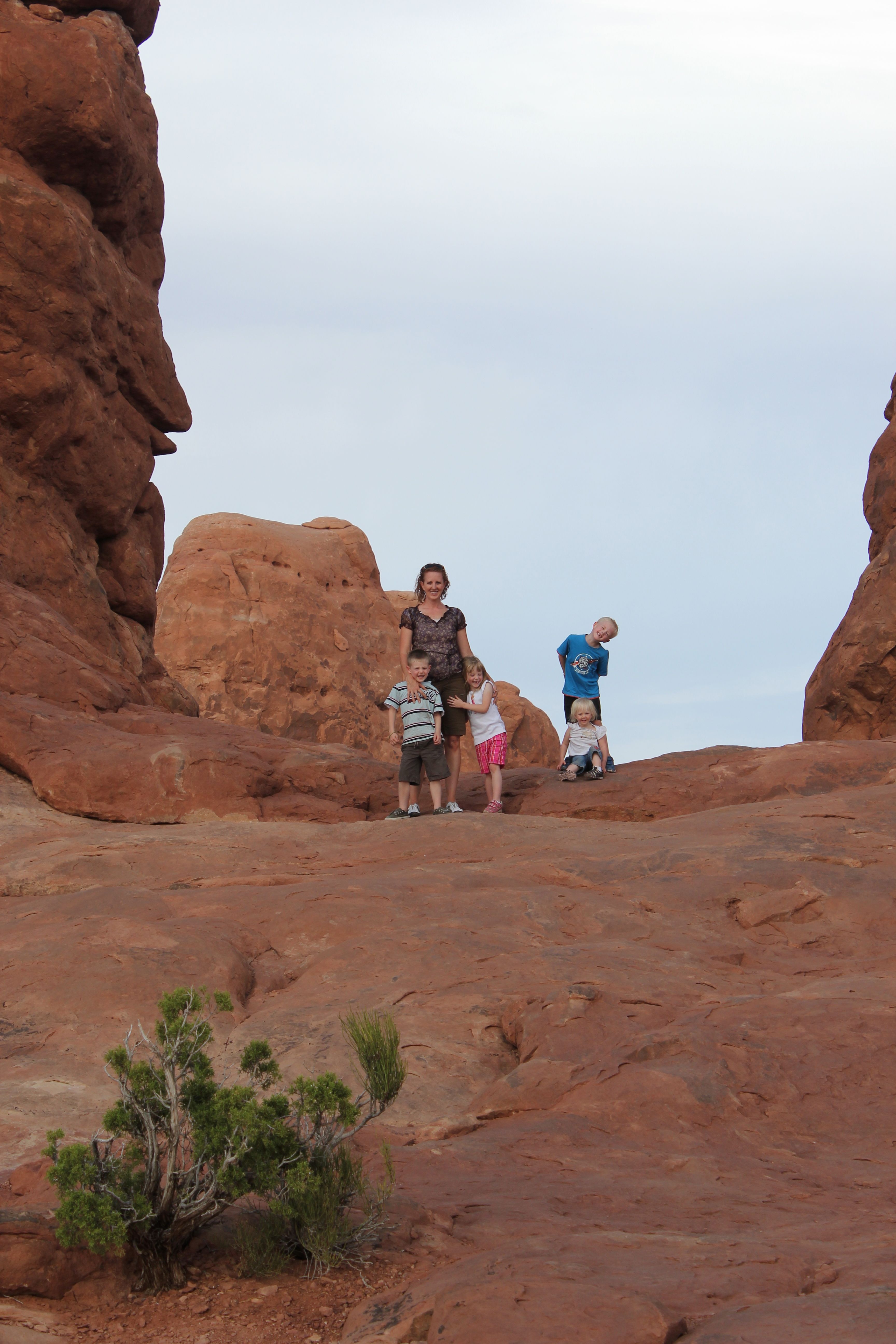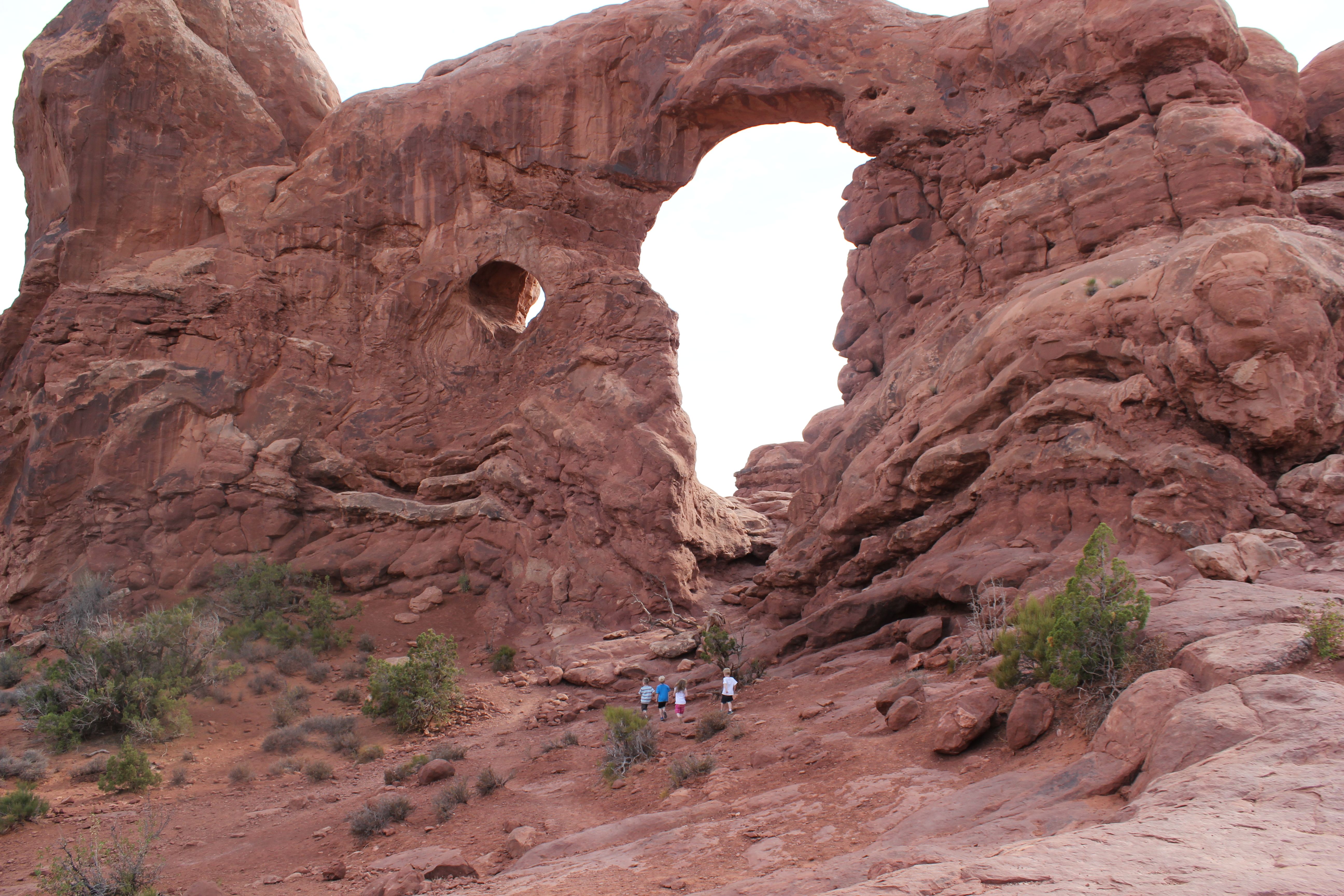 Then we moved on to Arches.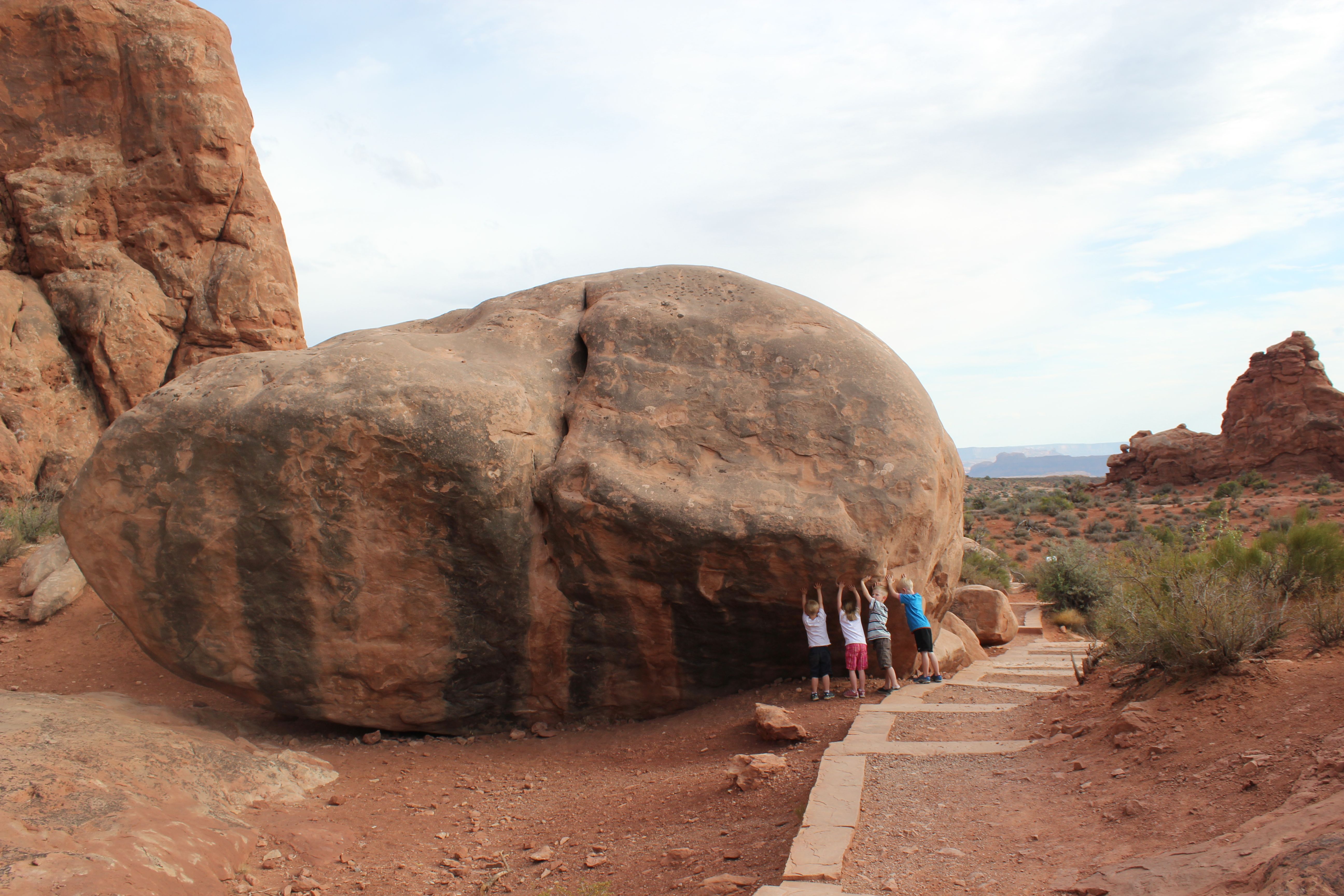 There is power in numbers. Keep recruiting guys. You need more.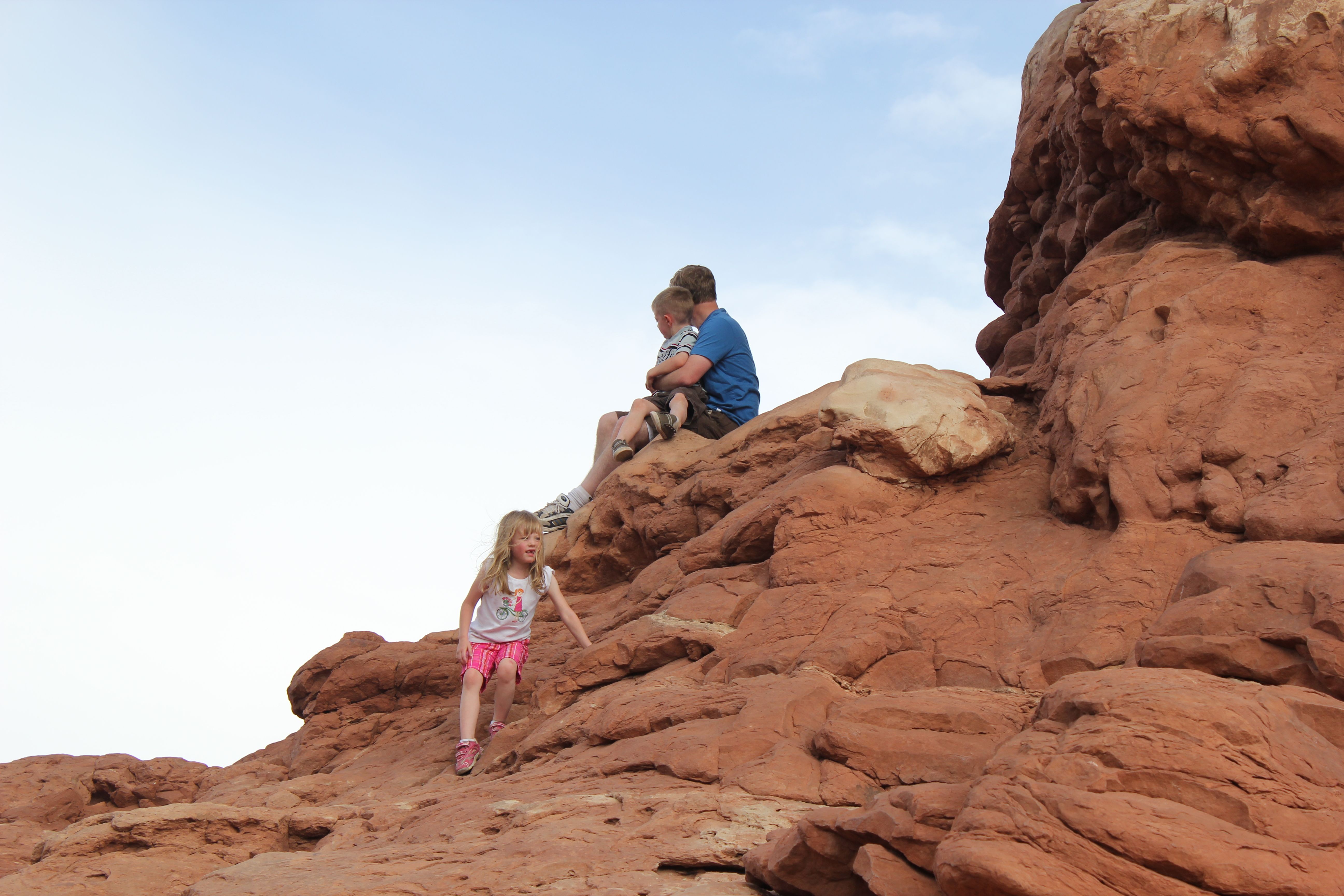 Lots of easy hikes with spectacular things to see.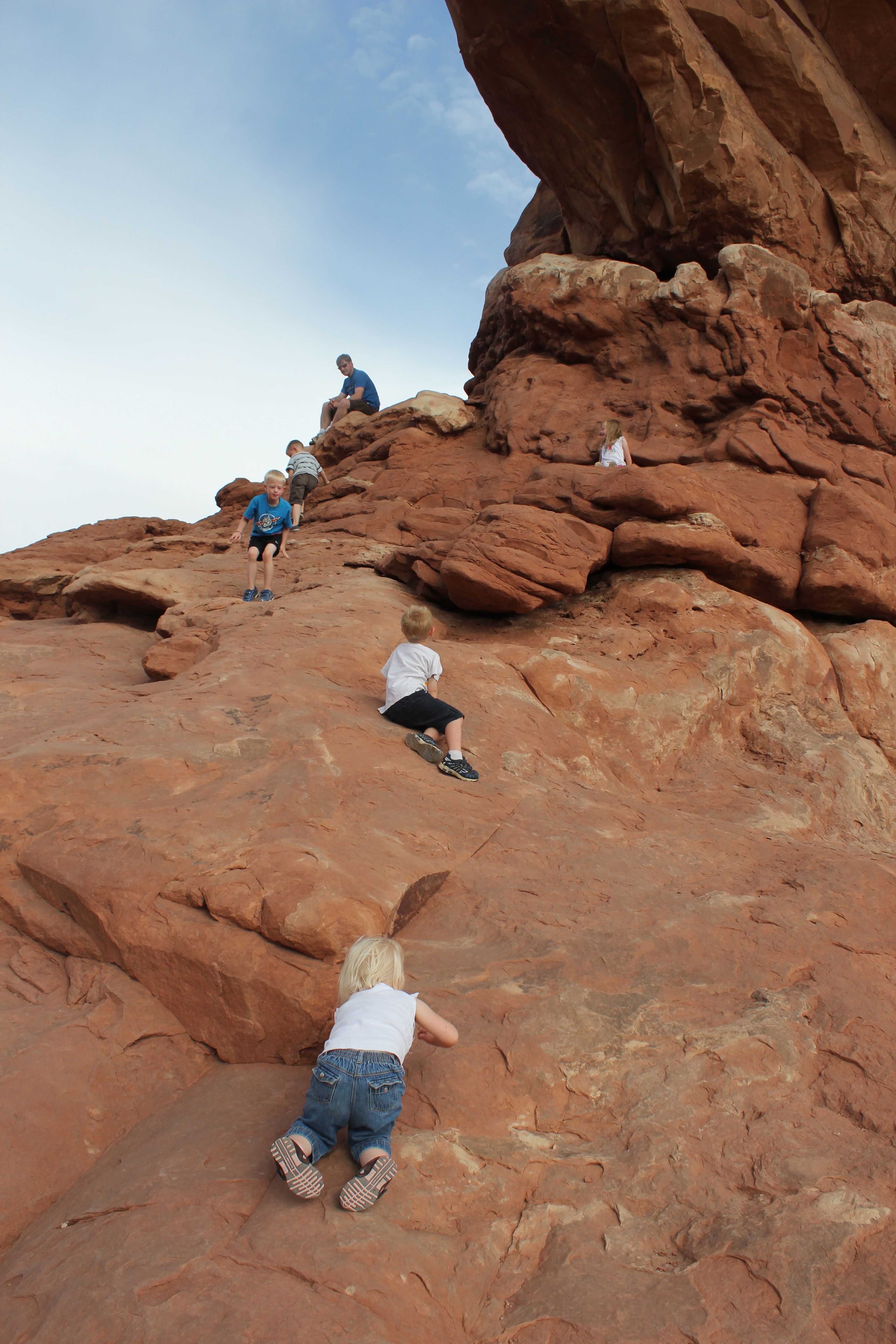 Daisy was determined to keep up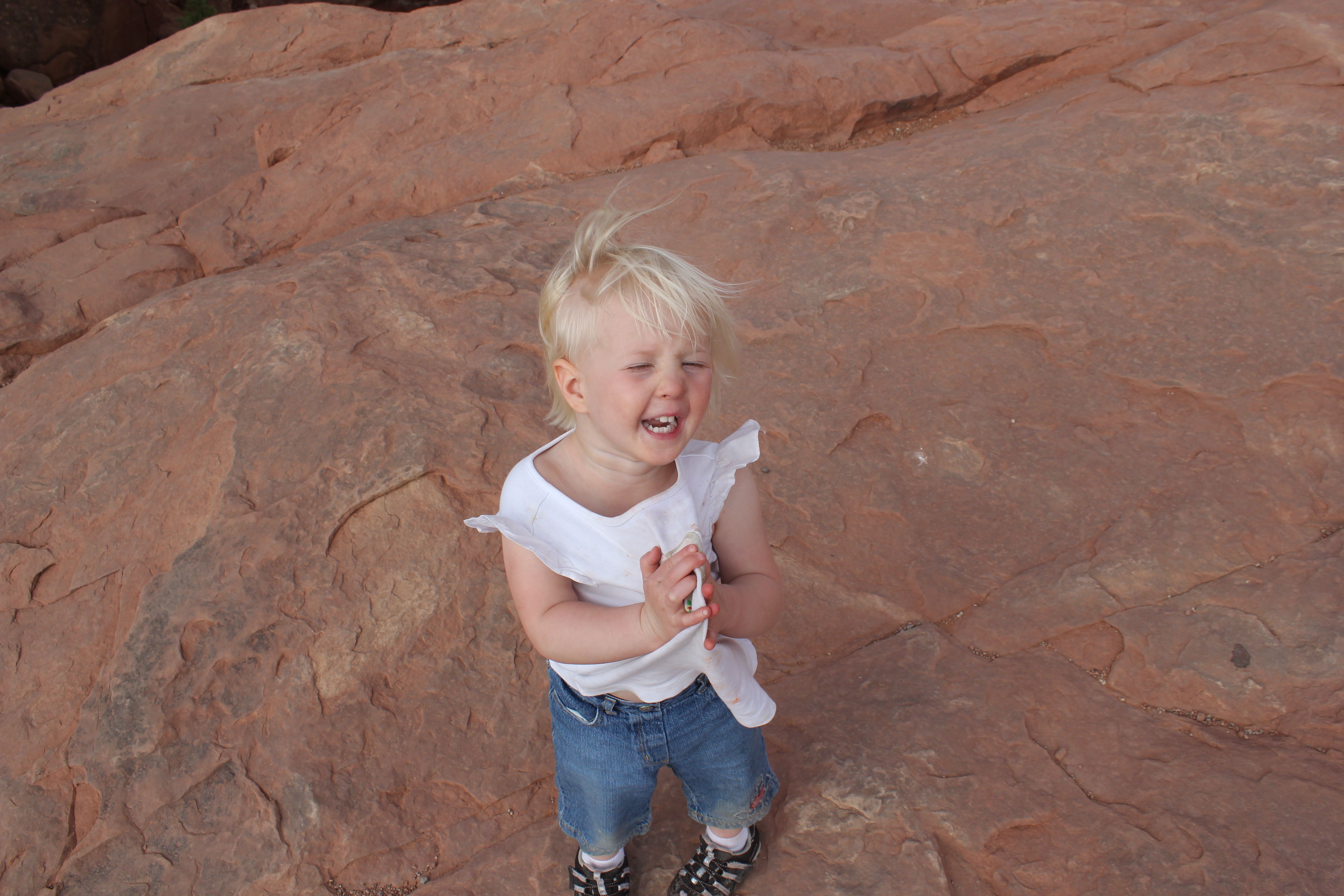 And she did!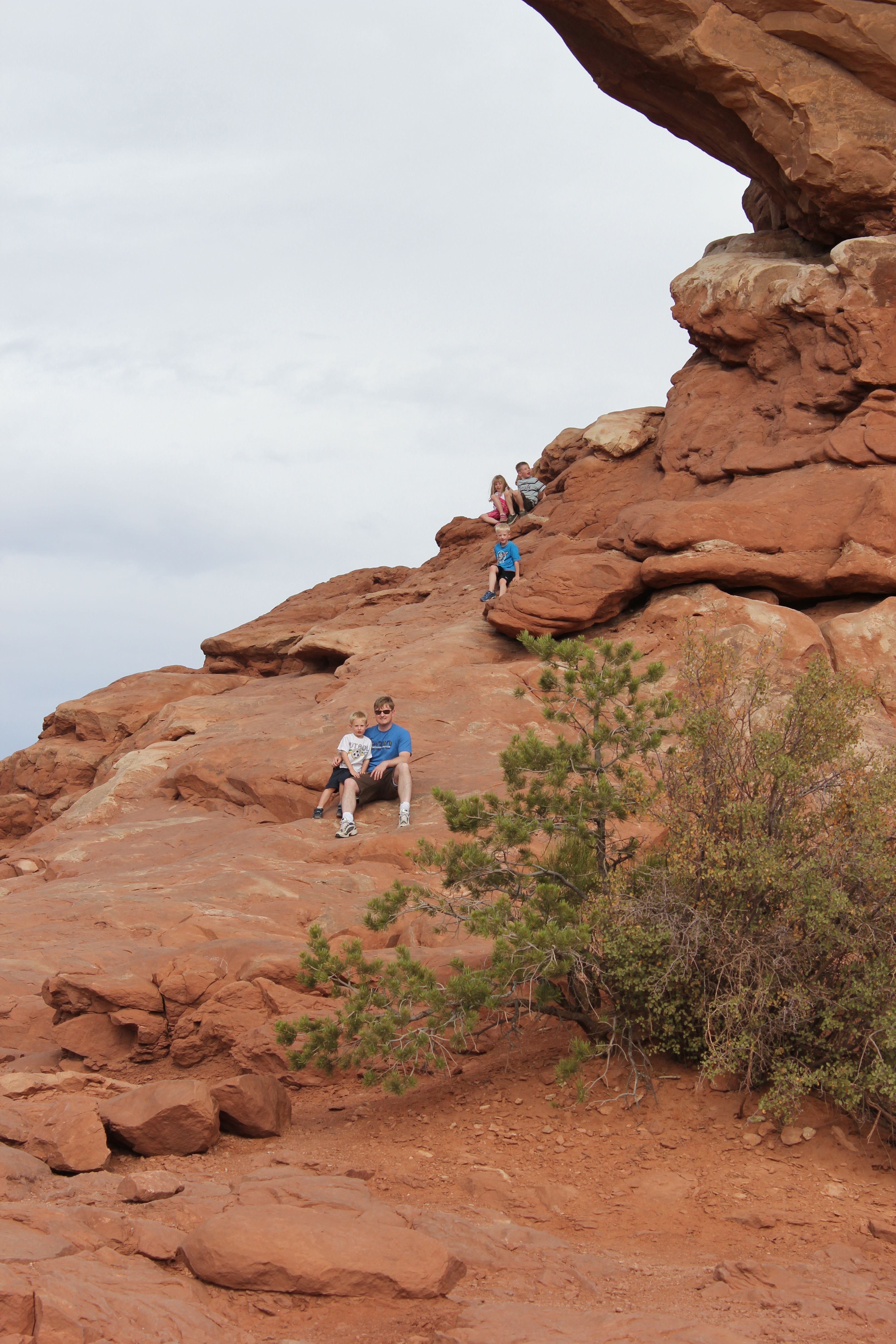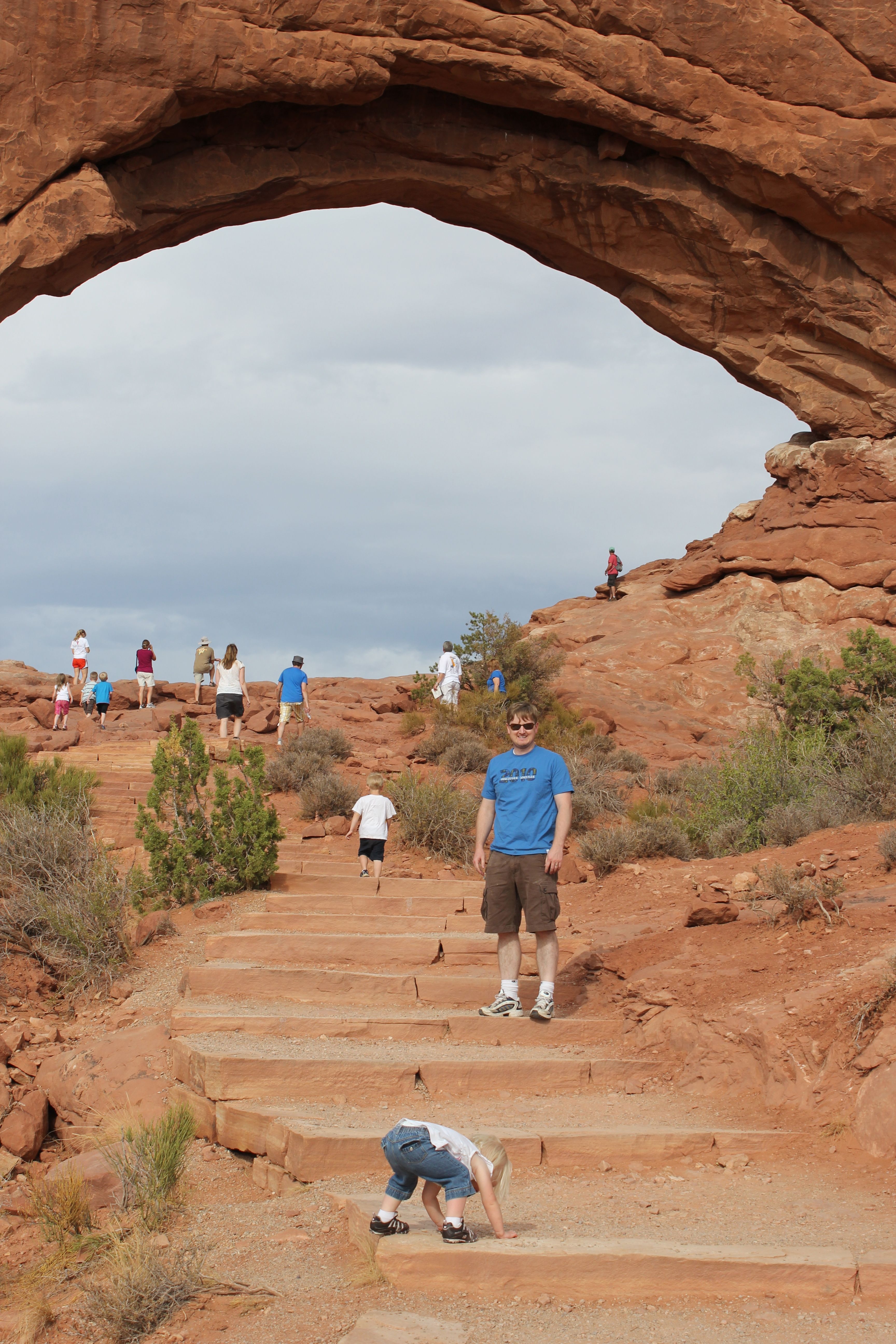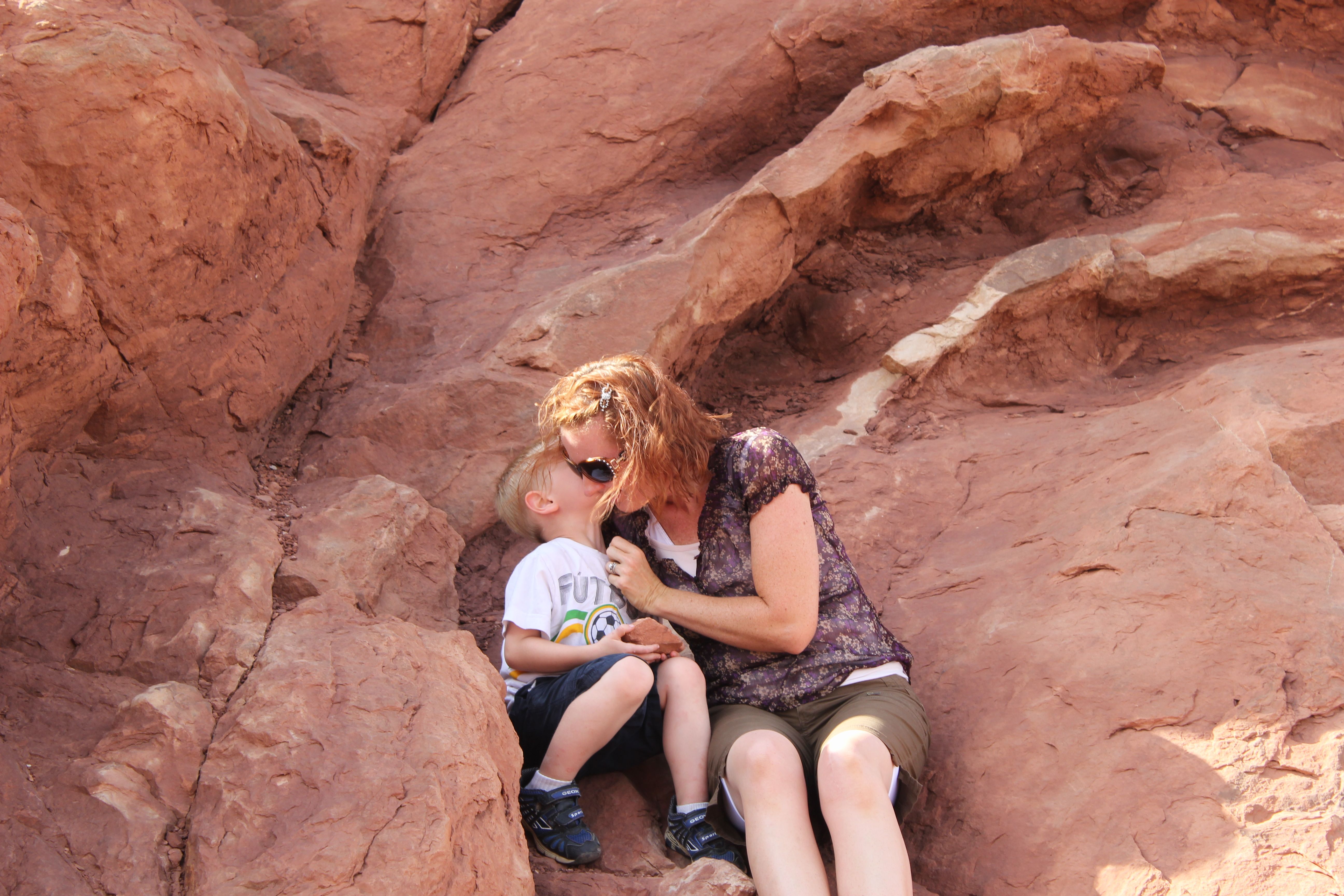 Kisses from my Caisen.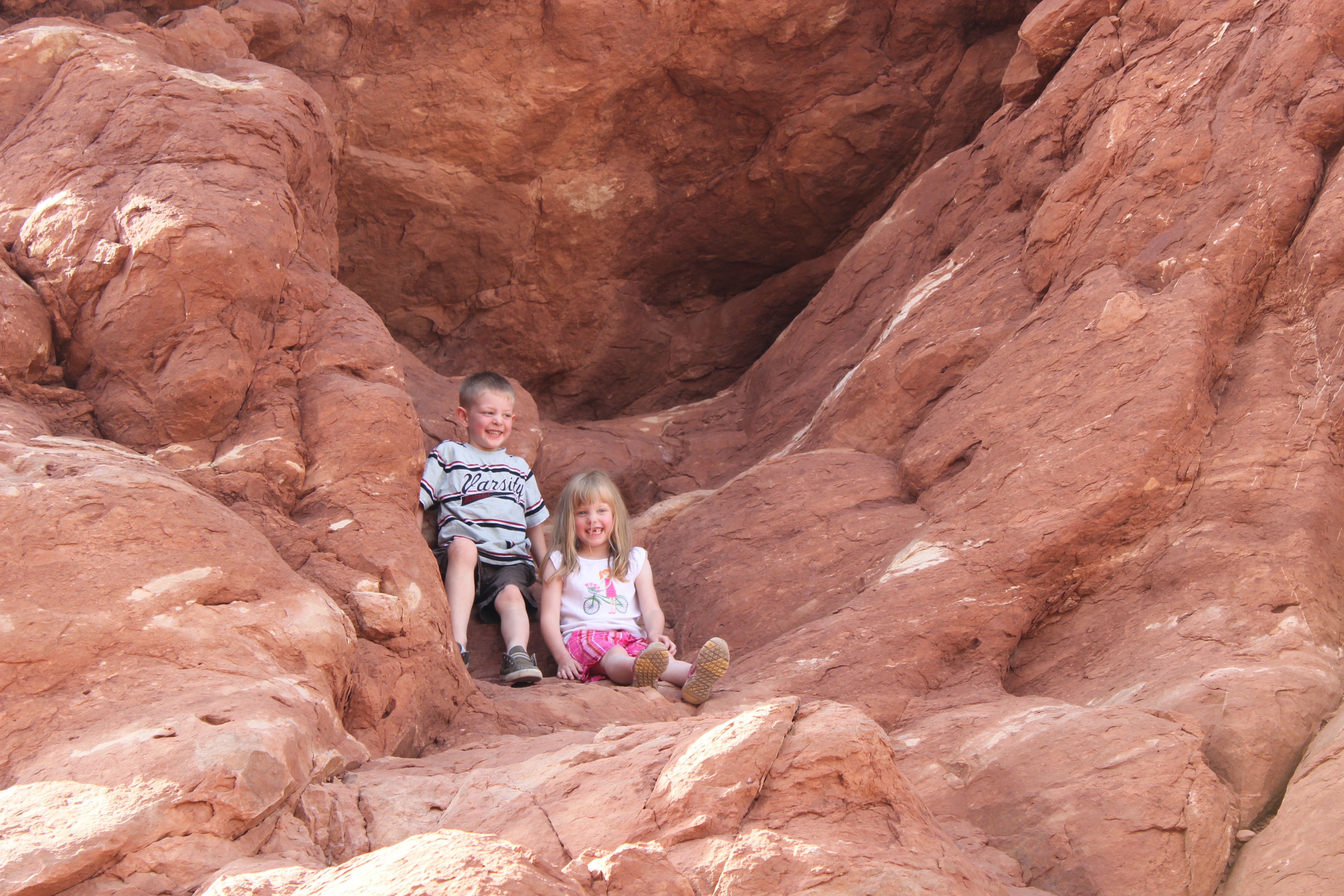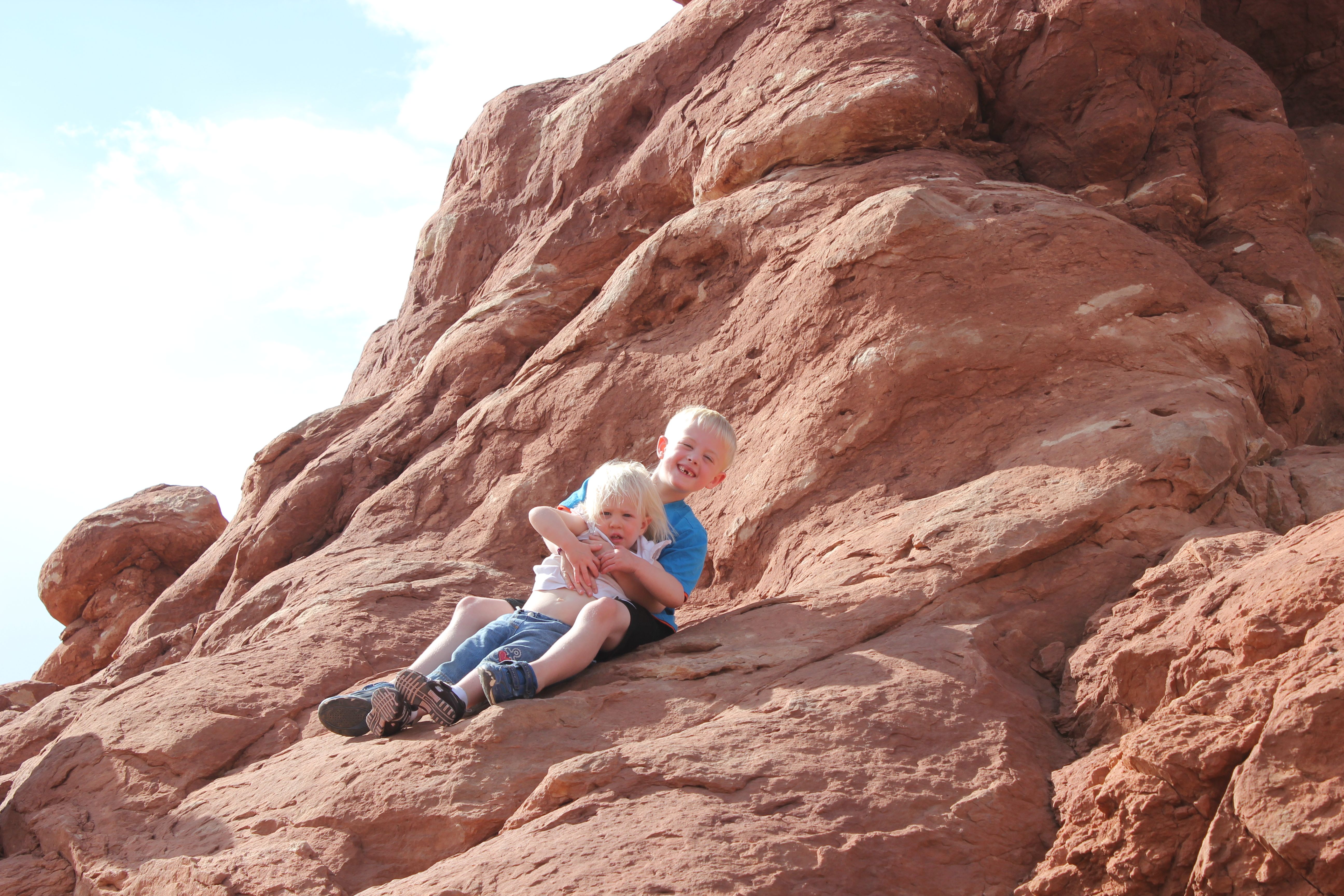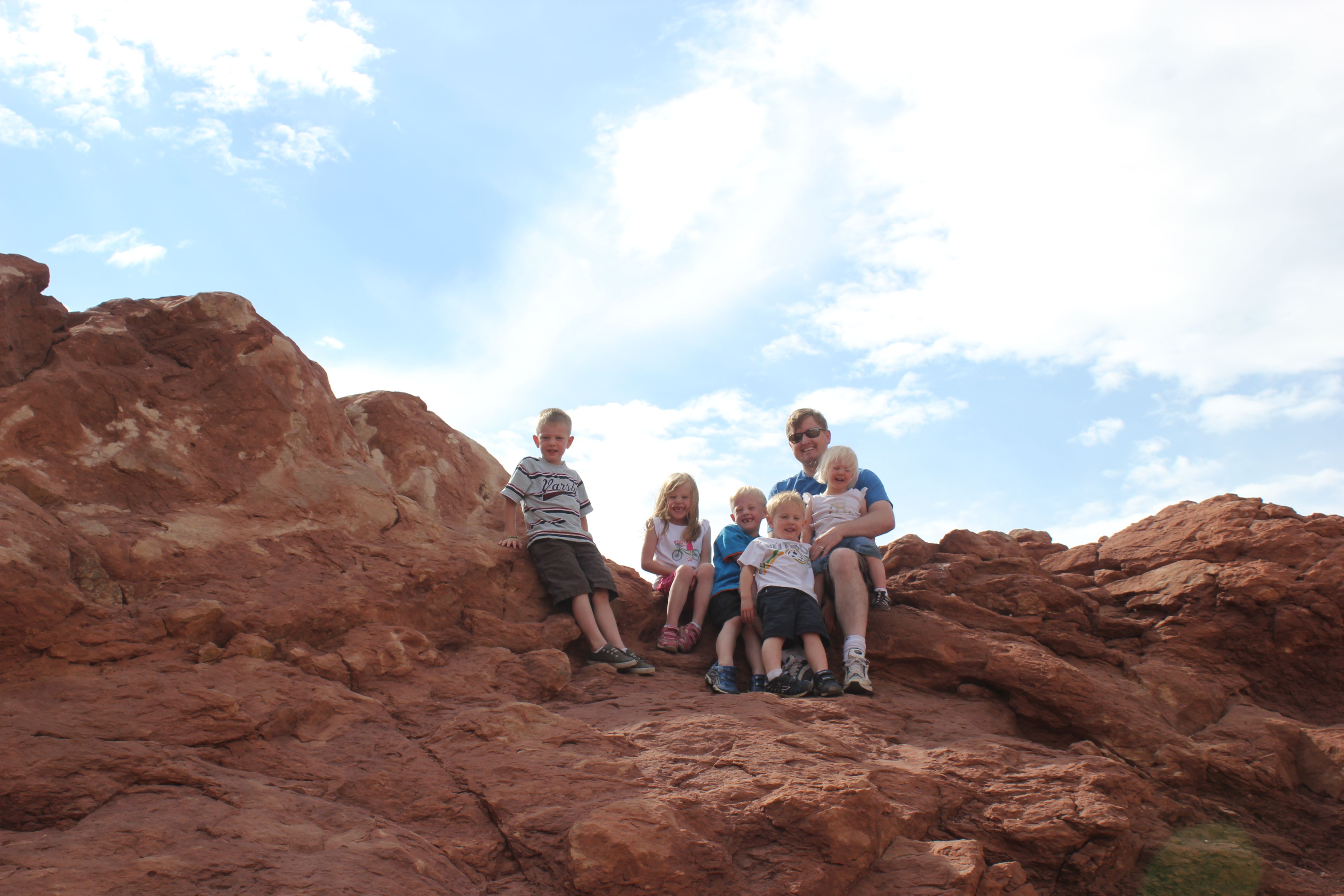 The second big event was the Henry Grow family reunion. Over 3,000 people attended. Adam's parents were the organizers. That was a job I was glad not to have.
In between sessions we all walked across temple square and a film crew stopped us to interview someone about the pioneers. They all shoved ME up front. Thanks guys. I spent about 10 minutes answering questions and ended up being in the documentary. My 30 seconds of fame, folks. That was plenty. Here is the link to the preview, and my clip happens to be in it.
http://www.destinationamerica.com/tv-shows/hidden-in-america/videos/mormon-empire/
And a little homestead news. Our eggs were disappearing, and there was a faint remnant of eau de skunk in the coop, so we knew what the culprit was. Tonight I caught the skunk who has been eating the eggs in my coop red handed! It was only 6:30, the brazen thing! Since we don't have a gun, I ran to my neighbor and her dad brought a .22 and shot it in the head. It was just a teenager, but it squirted a little when it died. So my yard stinks a little but that stinker is DEAD! If I thought it would do any good I'd hang it on a pole to warn other skunks that we shoot to kill!! Still can't figure out how it got in the fence I built around the coops. No gaps or holes dug anywhere. Between neighborhood dogs and skunks I've been without eggs!
Here are some pictures of the garden I built. 10,000 pounds of rocks that weigh 60-80 pounds each. I moved all of them 3 times to get it exactly the way I wanted it. The rocks are all beautiful granite in a variety of shades. I'm so proud of my garden. I love how it turned out.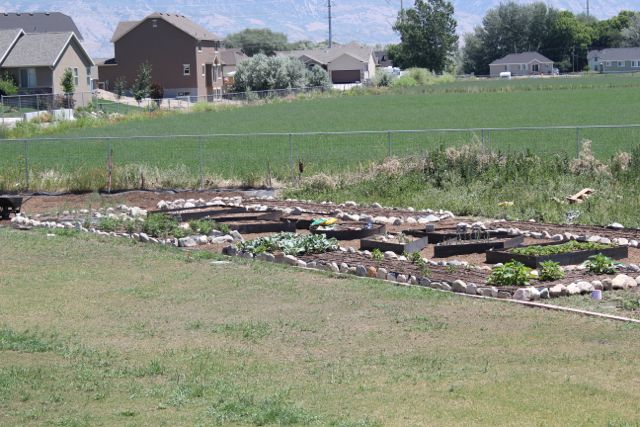 Ignore the fact that our grass isn't coming in. We are in discussions with our landscaper to resolve this issue.

Those tall weeds to the right are the lot next to us.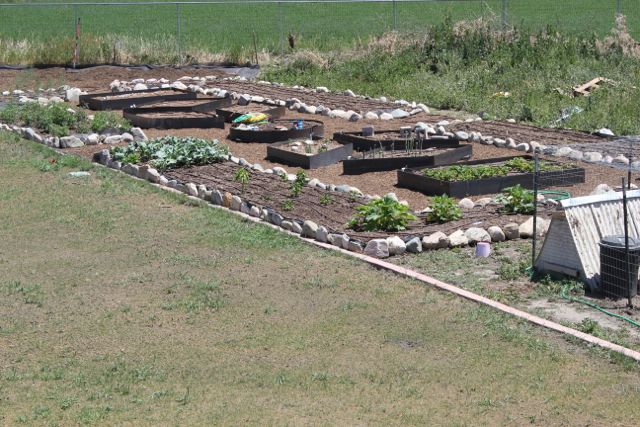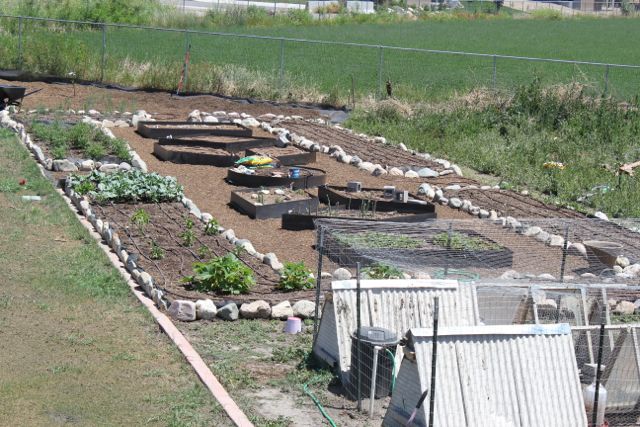 If you can see the wire over the chicken yard (that I also built), I put it there bc the chickens liked to roost on top of the coops (and poop) and then fly out. I was done chasing chickens, so I put in a roof. I win.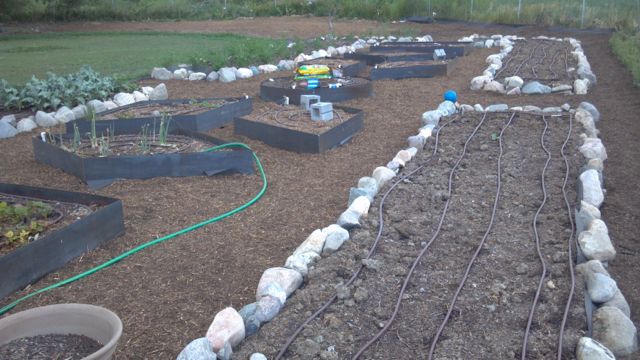 I also ran all that drip hose. That was a seriously huge job. It took me a few days and a lot of blisters. The area at the back is the orchard.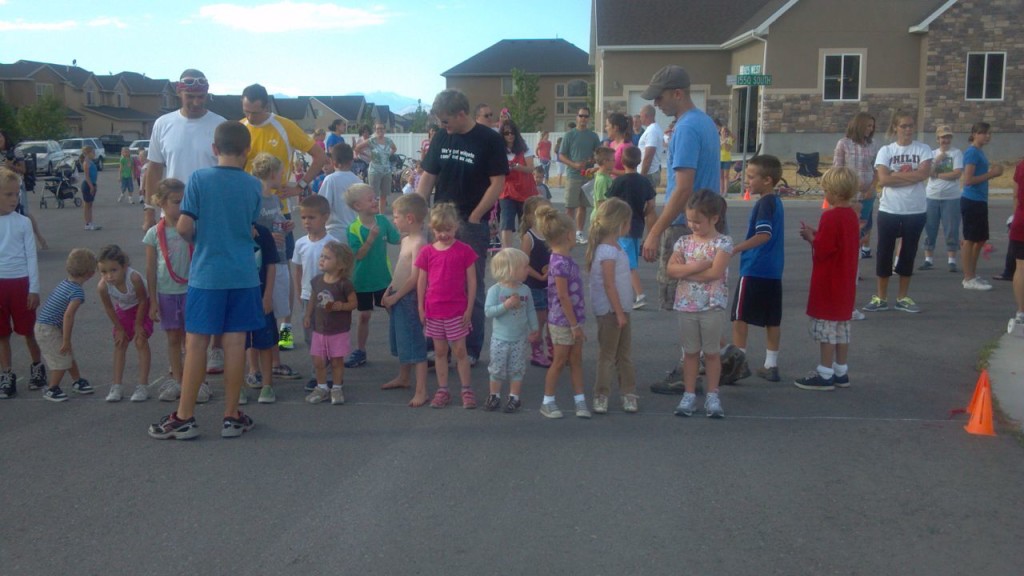 On the morning of July 24, which is a state holiday, our neighborhood has races. There are foot and bike races around the block. Each race is broken into age groups.

Our kids always want to go. Don't ask me where Kimball's shirt is because I don't know. He's also barefoot, which is normal.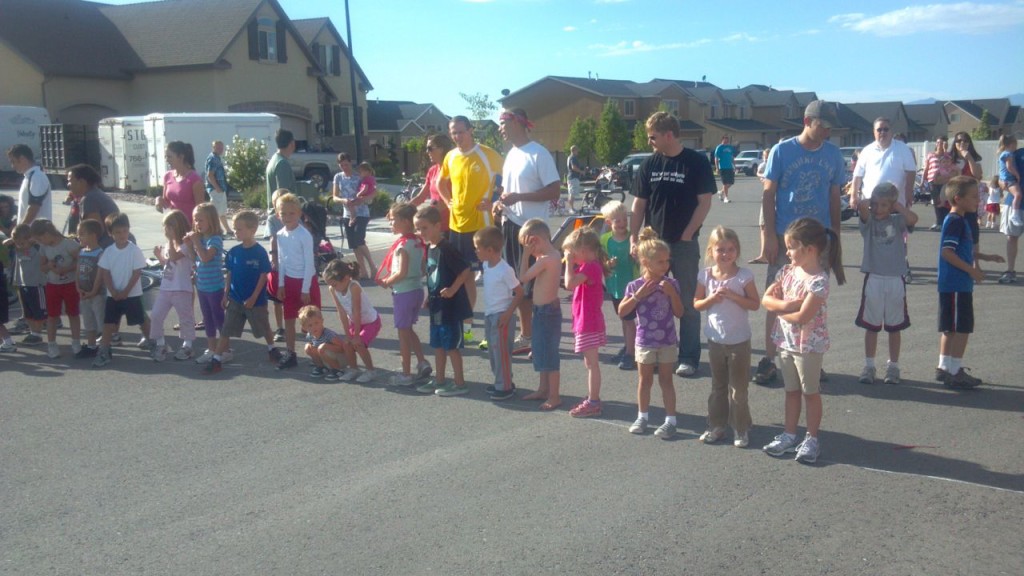 The girls are still in their pajamas.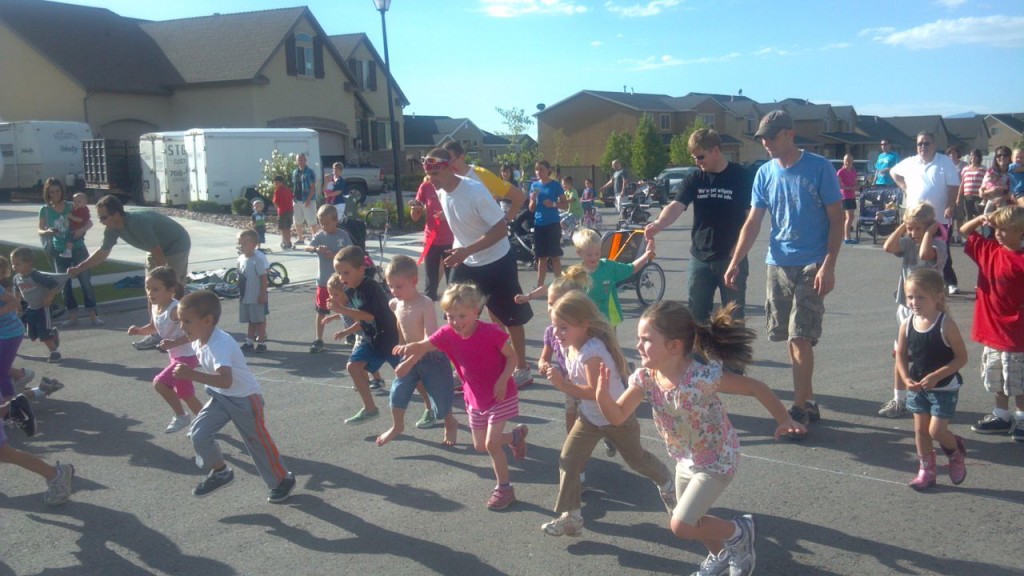 The kids took off running, but Brinlee didn't make it all the way around the block. After following the block backwards, we still didn't find her. She was at home. She'd run down the street, straight into our front door and onto the couch where she turned on the TV and watched some cartoons while she enjoyed some candy she found in the street.

I predict cross country and track are not in her future.
By the way, has anyone else noticed that dogs are the new kids, chickens are the new dogs and bees are the new chickens? Got the kids and chickens. Getting bees next year. I'll pass on the dog, though.