We left with a plan. Adam would drive us to Tennessee. We would leave on Saturday of Memorial Day weekend, arrive on Monday, and he would fly back to work on Wednesday. He would return 2.5 weeks later, spend 5 days with us and my family and drive us home. The plan FAILED. The only thing that went according to plan was we did leave on a Saturday. We decided to take the middle route on 70 because it would be scenic in Colorado. Wyoming is so ugly and Colorado is so majestic. At least the part of Wyoming that I-80 goes through. What Wyoming and Nebraska are to I-80, Kansas and Iowa are to I-70. Forever long and boring. And to top it all off, Kansas and Iowa always have highway construction and much lower speed limits. Wyoming has train spottings. Kansas has windmills. Both get tiresome FAST.
First fail was the new route. NEVER. AGAIN. Apparently there is about a 2,000,000 mile stretch of NO GAS STATIONS between Utah and Colorado. Full panic mode. We eventually coasted into a gas station, windows down, air off, no radio, trying to conserve fuel. At least we didn't run out of gas, but it was CLOSE. Fumes and angels got us there. A giant billboard that reads, "Last services until 20 miles into Colorado" would have been nice.
But it was worth it to see the majestic Rockies, right? Hey kids, did you enjoy that beautiful scenic drive through the Rockies? Oh, you were too busy throwing up because of car sickness? Oh. We did not know our kids got car sick, but we've also never been on a drive like that with them. The smell of vomit did take a little from the natural beauty of it all and make me wish for a car freshener shaped like a pine tree instead of all those real pine trees.
When we rolled into Denver at dinner time, we decided getting out of the car would be good for all of us, so we pulled in to Red Robin. Shortly after we ordered, there was more puking. Apparently they weren't over it. So we got our food to go and went outside to sit on the grass with fresh air. After that we went to a park to let them run around and maybe puke some more if they needed. One of the boys fell and scraped his knee pretty badly right as Adam got an urgent phone call from his boss, "Can you fly back RIGHT NOW?" Um, NO. So we priced out the cost of the kids and me flying to Tennessee and renting a large vehicle while there and buying luggage so we can get on the plane (because packing in garbage bags is very space efficient when you will be gone for a month and you don't have much cargo space, so that is what I do, but I don't think you can check garbage bags on airplanes). Turns out it was too much money for the company to cover. The car rental alone would have been between $4-5k. I told Adam if he could just get me to St. Louis, he could fly back from there. We were going to meet my family for a reunion of sorts in Illinois, and it would only be 2 hours from the airport. I'd driven between Atlanta and Knoxville by myself with the kids, and that was 3 hours. Two hours would be cake. Then my family could escort us the rest of the way. Finding a hotel room in Denver proved to be challenging on Memorial Day weekend. As in, we nearly had to sleep in the car, but after several hours on the phone I found us a room.
The next night we stopped in St. Louis, and finding a room there also proved to be extremely challenging. Nearly impossible. More hours on the phone later, we had a place to stay. When we went to the car the next morning, we discovered that the cooler had leaked and all of our clothes were wet and stinky. Great. Off to drop Adam at the airport and back on the road to meet my family in the middle of nowhere for a reunion at a cemetery with people I had never met.
About an hour into the drive (just long enough for us to get very far away from everything), one of my children (whom I will not identify by name or gender) had a diarrhea EXPLOSION of epic proportions. It was grass green and it was obvious this child was not in control of his/her bowels. I'm guessing food poisoning because no one else ever got it. So on the side of the road I try to clean up my very embarrassed child with a water bottle and wipes. I pulled out the clothes from the day before because those were the only dry things we had. This happened 2 more times in the next hour. Fortunately I have 4 kids of nearly the same age and size, and through mixing and matching was able to compile several outfits of varying degrees of cleanliness from the previous days' clothes. I explained to my crying darling that "it's not your fault. Your body has a bunch of bad germs and your body is trying to get them all out. If mommy or daddy had these germs we would not make it to the potty either. We don't know how long this will last so let's use diapers so you don't have to be embarrassed." And the child agreed three clothing changes later, which I'm so grateful for because I was near tears at this point and out of dry clothes. And fortunately s/he understood my explanation of why s/he couldn't make it to the bathroom. I will be honest, I have had that kind of food poisoning. If you have ever lived in South or Central America, you most likely have. It is called a "brown out" (or in this case a "green out"), and there is no grace period.
We finally arrived at the reunion, an hour late, at least. We ate, took pictures of gravestones, talked to a few people we didn't know and left.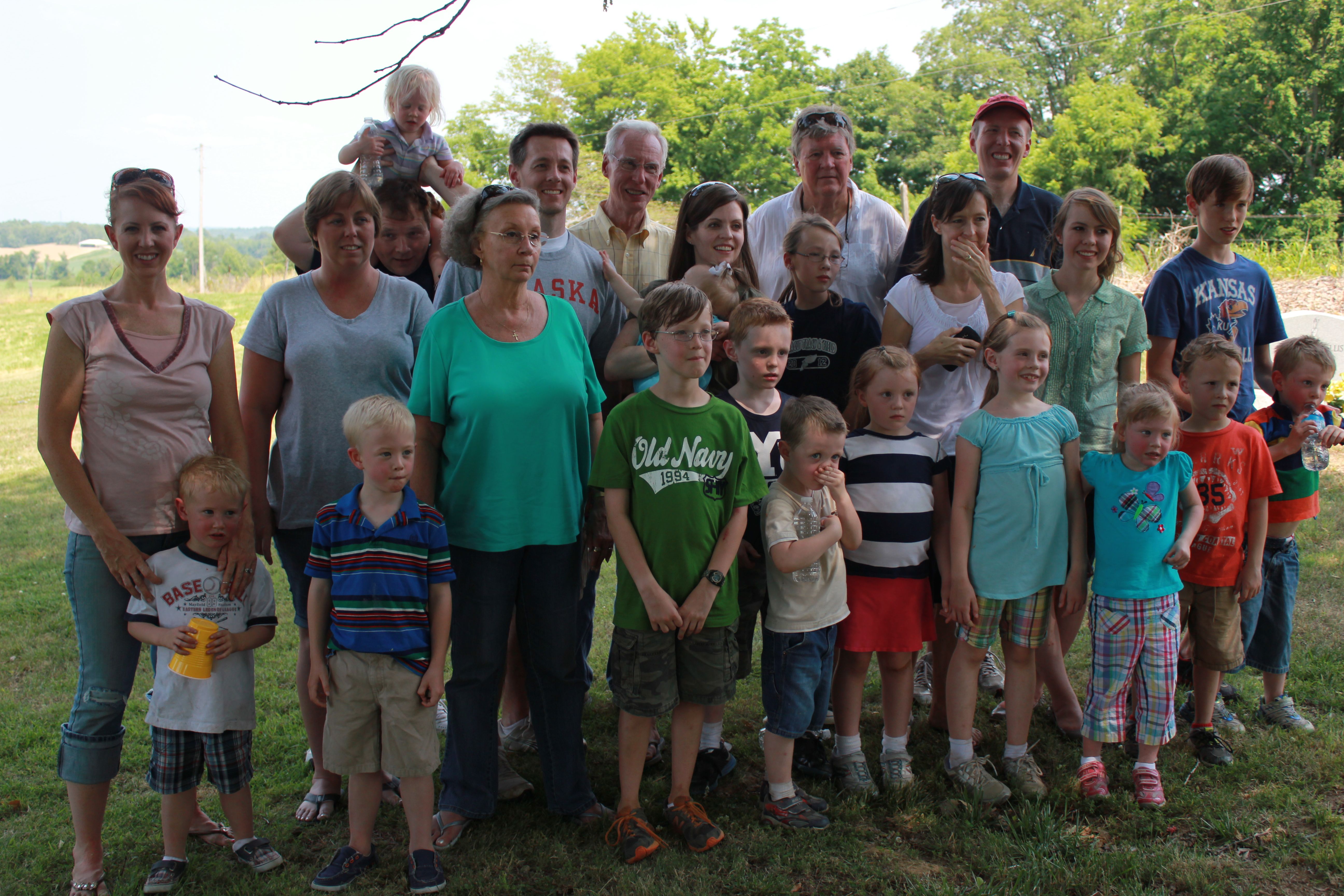 Here we are with the people we do know: my parents, some of my siblings and my aunt Cheryl and uncle David and cousin Farrah and her husband Brian (who has Daisy on his shoulders).
Tristi rode back in my car and we had a really nice conversation. It was fun to get to chat for the next 5 hours with few interruptions. I had to change several diapers for the child with the exploding pants, but by the next day, it was over. Sick child was nervous to give up the diapers, but it went ok after that.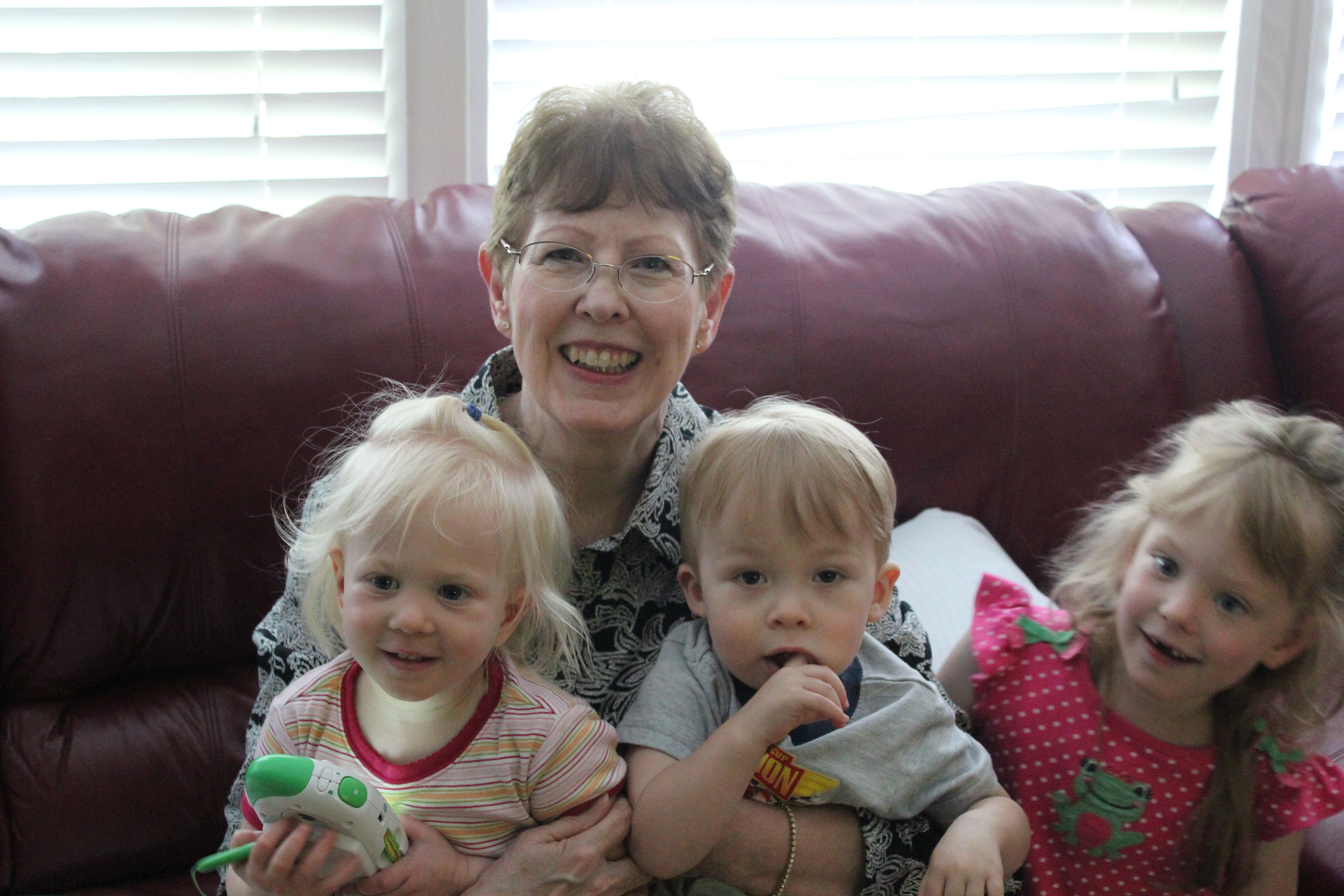 Gran with Daisy, Gabriel and Brinlee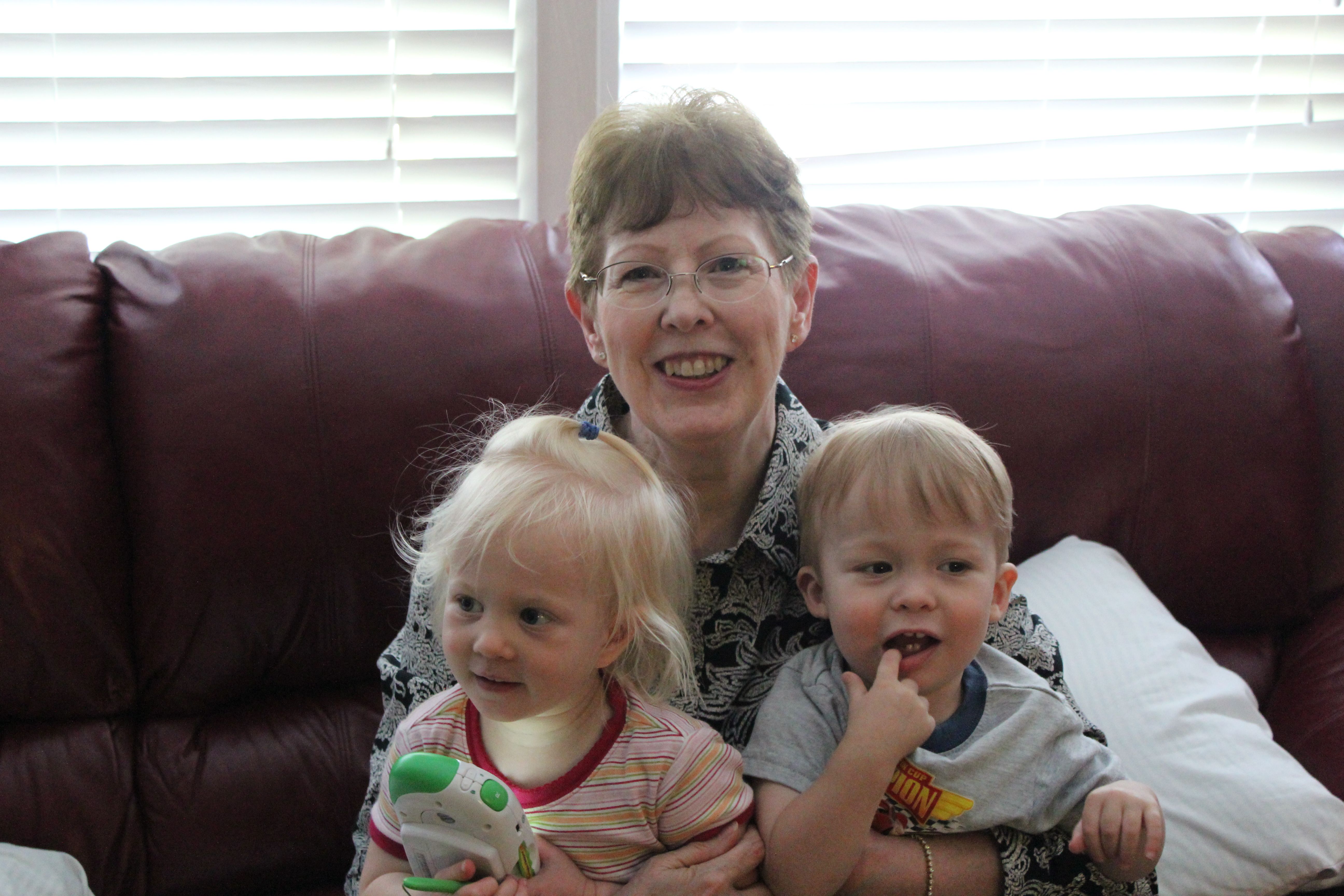 Daisy and Gabriel became enemies for that trip. Gabriel hit Daisy one time. Not really even hard, but for the rest of the trip Daisy would announce in her most indignant voice, "Gabwul HIT. ME." Daisy it was 5 days ago, let it go.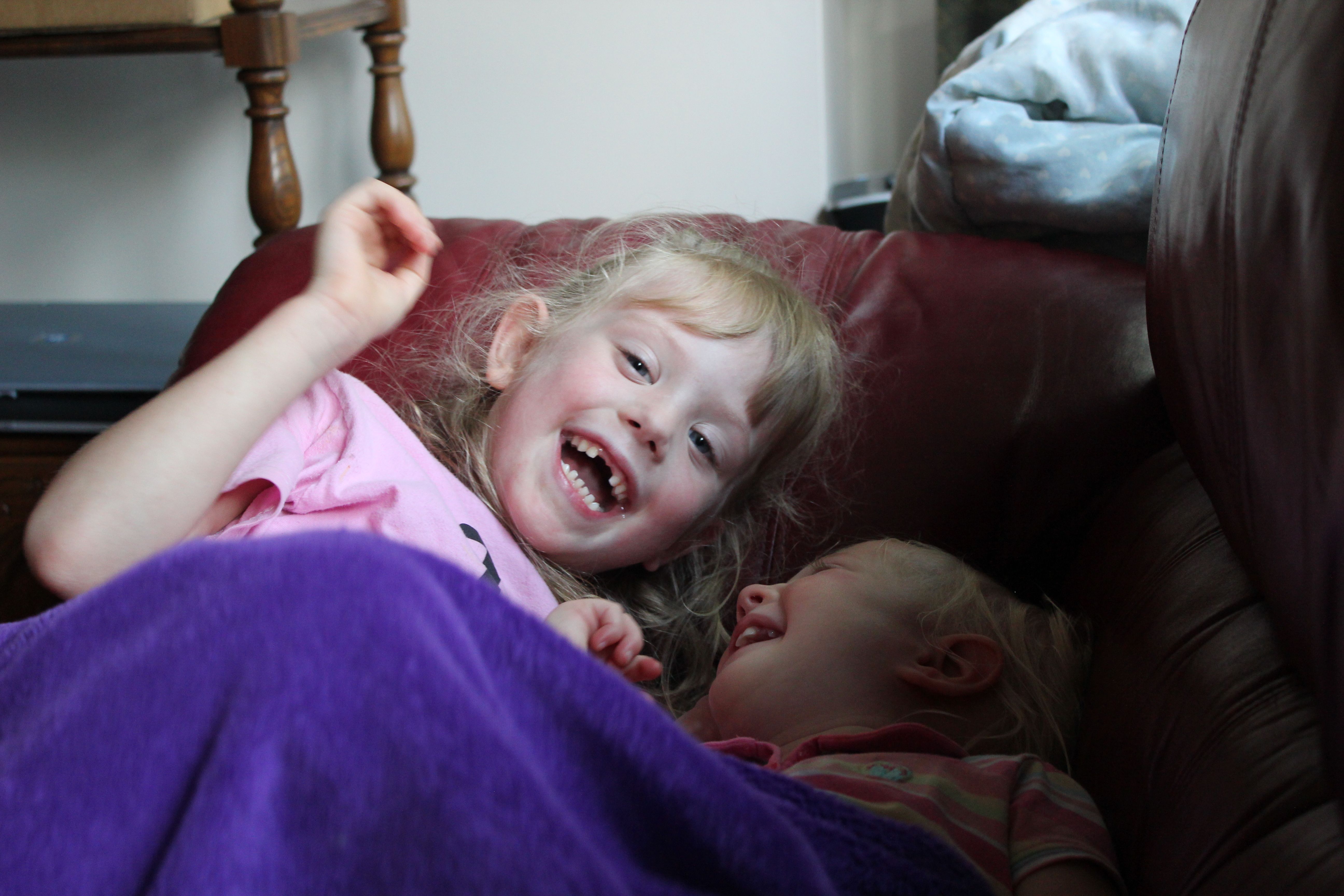 Brinlee and Daisy having fun together. These two are quickly becoming best friends.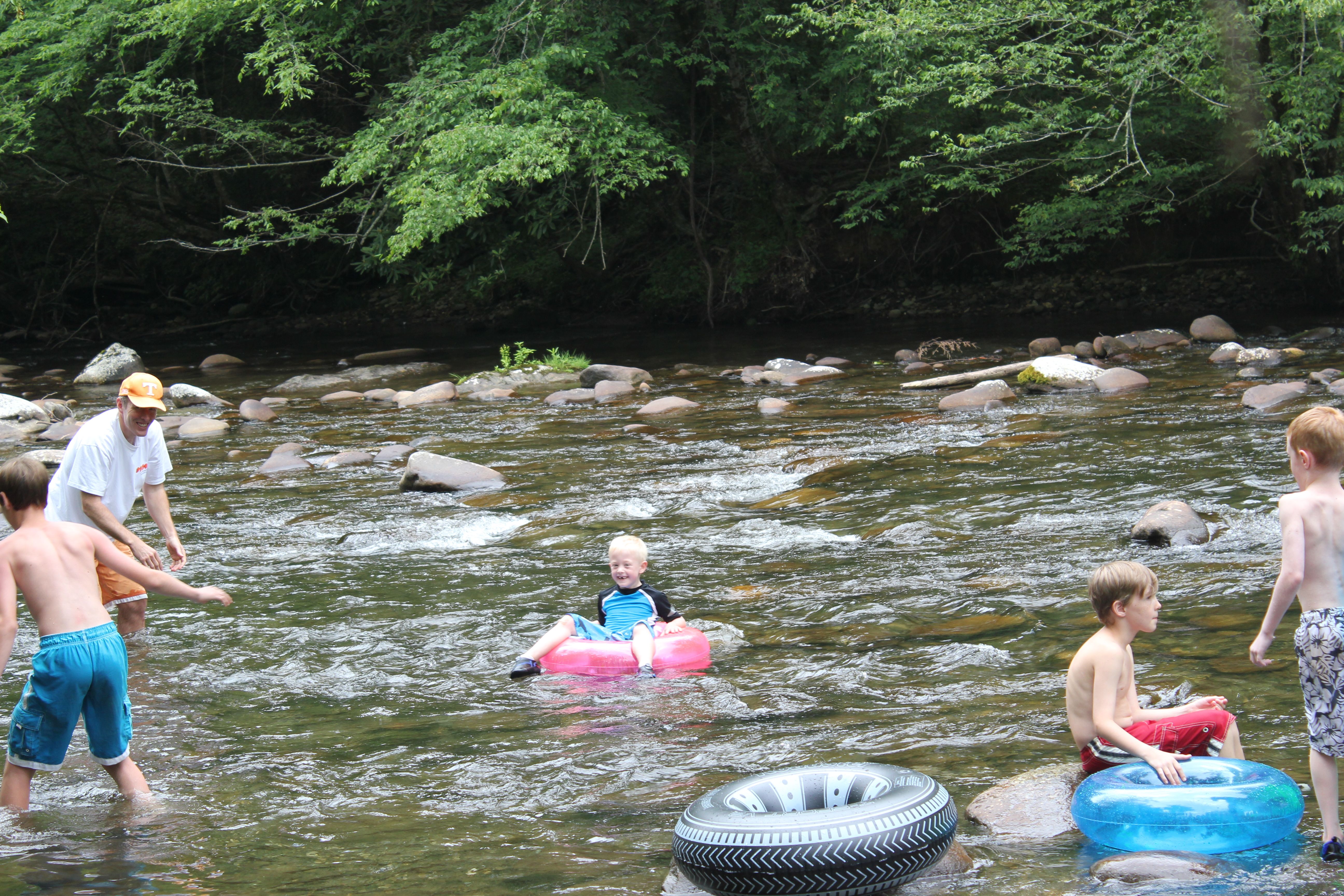 Fun at Metcalf Bottoms. This has become a fun tradition, thanks to aunt Tristi.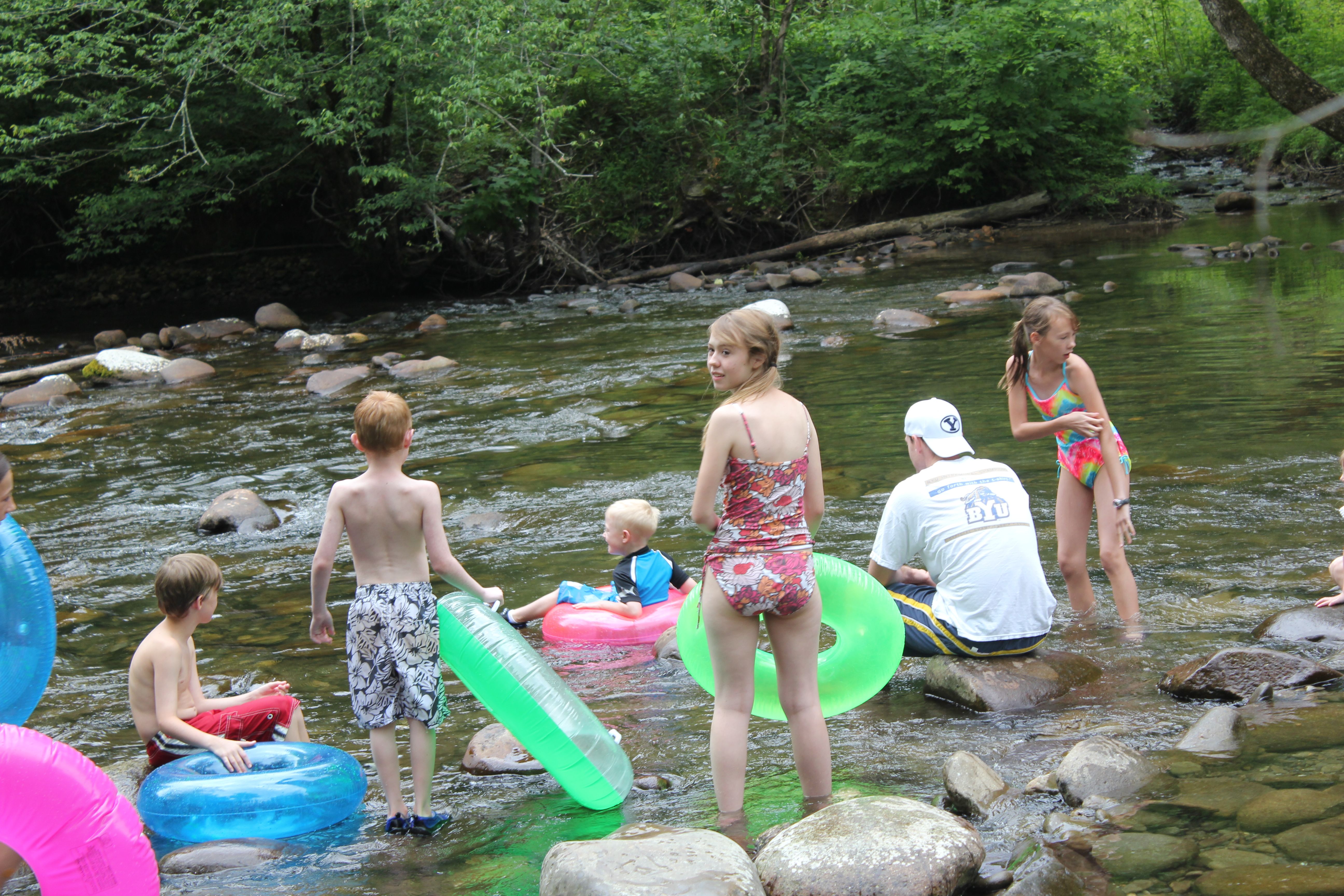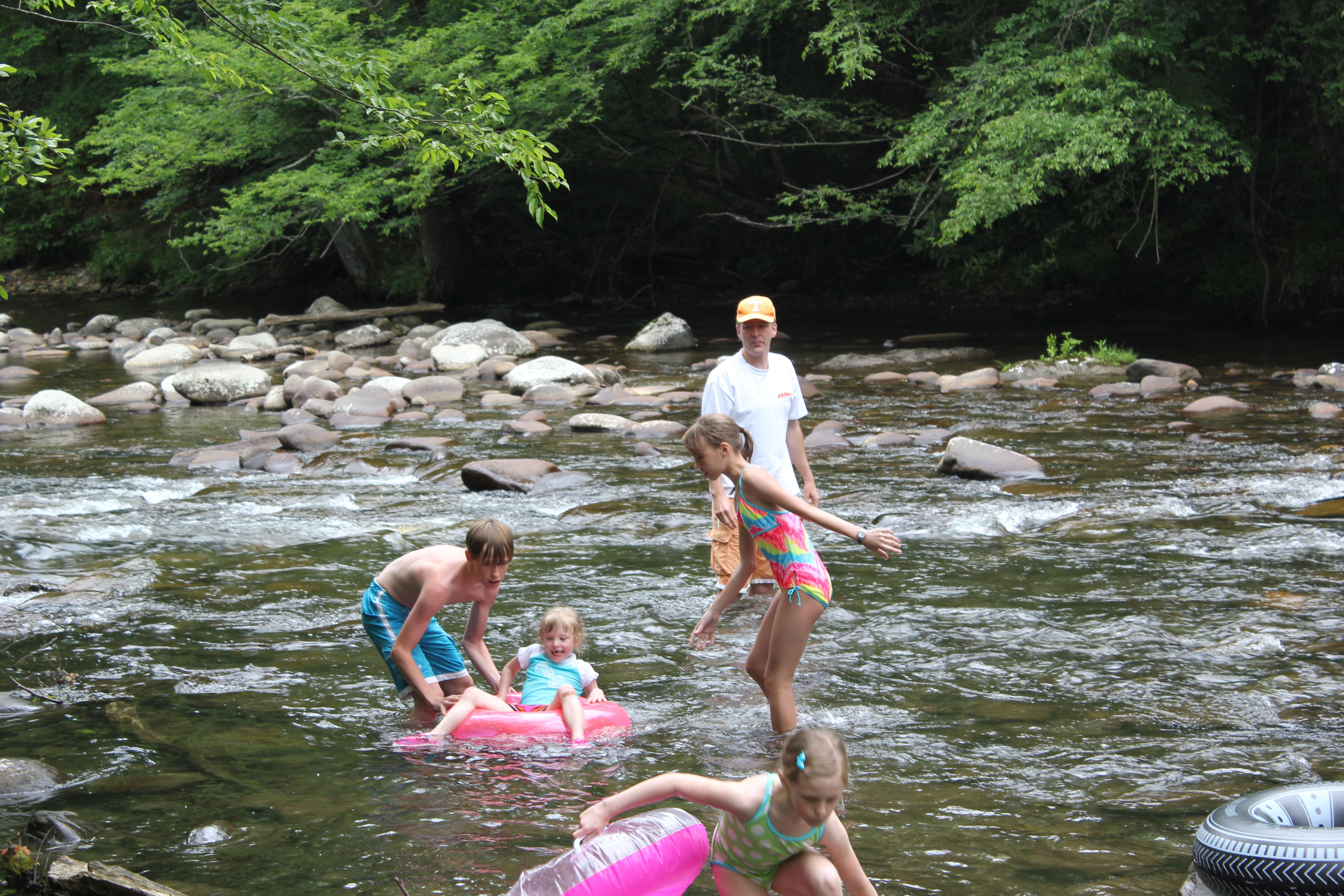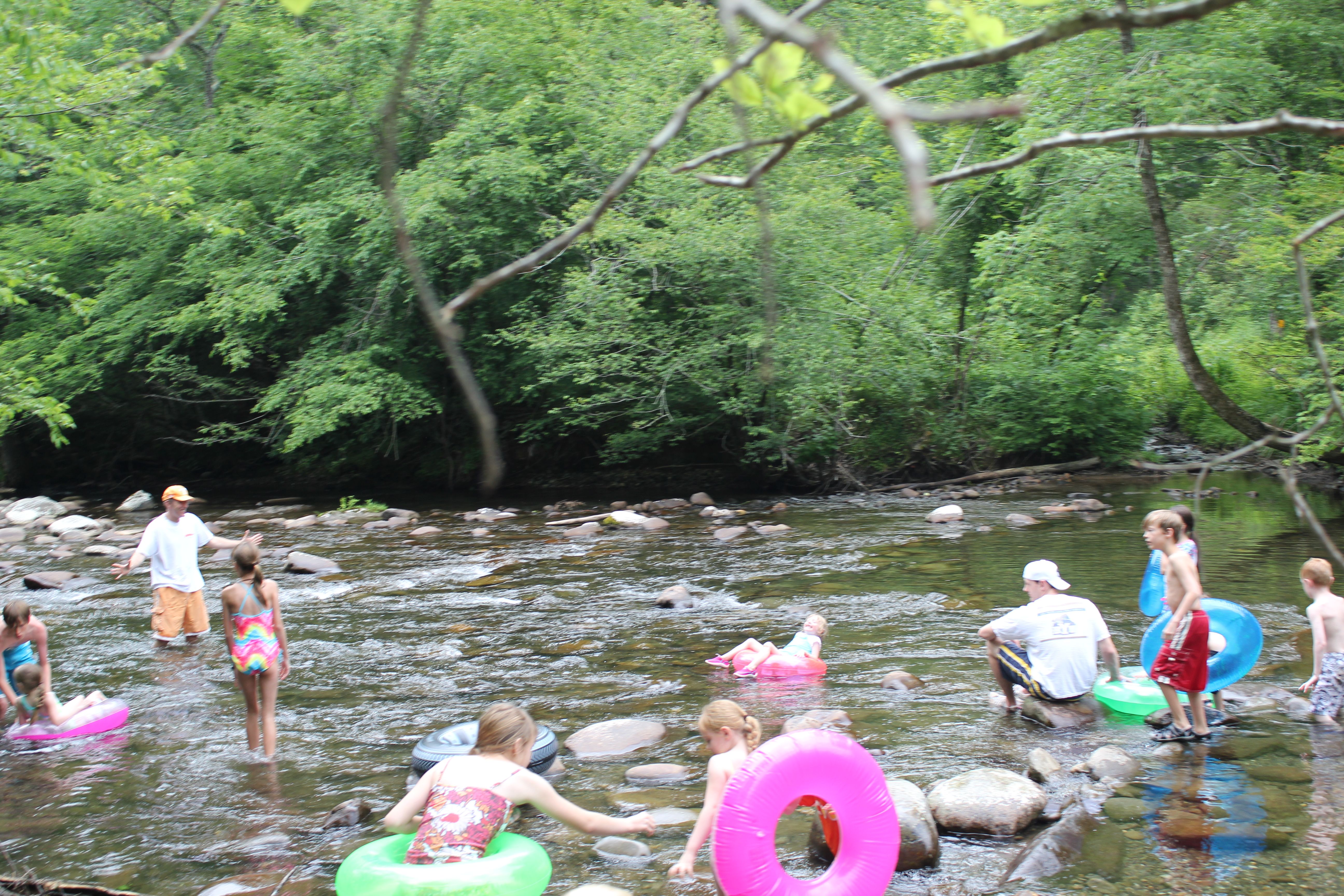 We went to Atlanta for 5 days to visit our Guinn family and Sharon and Sarah. It was so fun to be back and so hard at the same time to drive those roads and feel at home in a life I will never have again. I made the mistake of driving by our house. That made me cry. We stayed with Kim and the girls the whole time. For 5 days the two of us wrangled 6 5-year-olds, a four-year-old and a 2-year-old by ourselves. 8 kids ages 2-5. We worked it while we cooked, took care of kids, cleaned up, everything together during our visit, and had a ball! The kids played so well and we mostly chilled. No running around except for one outing to Phipp's Plaza for bra fittings at Intimacy. And that was interesting with our children in tow.
One morning at 6 am ATL time I got up to pee. I went down the hall to check on the kids. I went downstairs to send an early riser back to bed. When I came back Daisy was awake, had reached my phone from her crib, found Adam's number and called him! She is running on a mile a minute to poor Adam who is on mountain time. Let me do the math for you, that's 4 am. She was ecstatic to be on the phone with her one true love. Good daddy that he is, he was talking back to her. "I-talk-uh-daddy!" she announces when she sees me. I take the phone, apologize to my sleepy husband and send him back to sleep. Daisy was not pleased. "I-talk-uh-daddy! I-talk-uh-daddy! I-talk-uh-daddy! I-talk-uh-daddy!" in a quite different tone than the trimphant one she had used a moment before. I have no idea how she figured my phone out. I never let my kids play with my phone.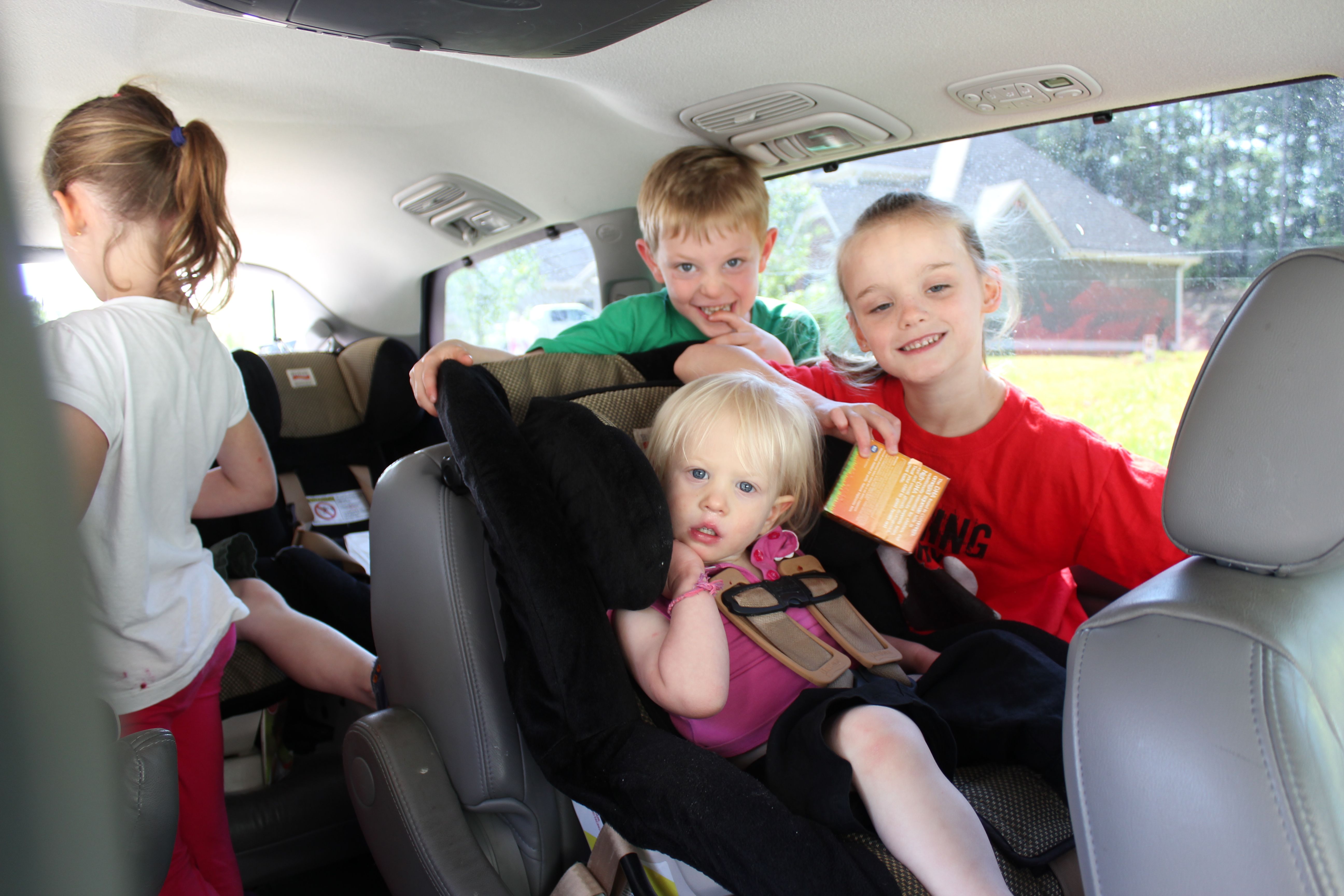 Saying goodbye is hard to do.

I thought we might be adopting three more girls.
Things were in such an uproar at work that Adam did not get to come spend those five days with us in Tennessee. I picked him up at the Nashville airport as he flew in to drive us home. The timing was perfect. I drove 3 hours, he walked off the plane, out to the curb, just as I pulled up and we drove away. That was the only thing that went right that trip. It was so hard to be without Adam for a month. I missed him. The kids missed him. It was hard to be on my own with the kids that long too. Gran and Granddad were both really sick the whole time we were there. Gran had diverticulitis, which is horrible enough, but then the antibiotics the doctor gave her were so strong they made her extremely sick. Granddad had bronchitis while we were there. So I didn't get any back up from them. They were in pretty bad shape themselves.
Nicki and I always time our trips together because it's the only time we get to see each other, and it does make for crowded sleeping arrangements, but such is life with a big family. We bunk together and go to sleep and wait in line by the bathroom door for a shower. We call it togetherness. And life with a big family.