June 2011
The little boy who lived next door to us was a year younger than BKS, but we would zip around on his bike like the devil. That inspired Kimball to kick off his training wheels and learn to ride on two wheels!
We had left Atlanta in October and went home to Tennessee for a visit the next June. We missed gran and granddad and all our cousins, aunts and uncles.
We had a fairly uneventful drive out except for this one stop in Nebraska. We stopped for dinner and decided to get drive-thru and go to the park across the street so the kids could run around. It was just grass and a couple of pine trees and a pond with ducks everywhere. When we get out the food, one kid announces the need to go potty, and we realize some of our food is missing. So Adam and child drive back across the busy highway to get our missing food and visit the restroom. When he has been gone for 30 seconds, another child says, "I have to poop! Now!" What? Where was this announcement 30 seconds ago? I had left my phone in the car so I couldn't summon him back. So I take the pooper (who shall remain anonymous) and back them as deep into the pine tree as possible and give the signal to let it go. I use the napkins on hand to clean the behind and we go back to the blanket picnic. TWO MINUTES LATER A WEDDING PARTY SHOWS UP FOR PICTURES. Are you kidding me? It's not THAT picturesque. I know it's a small town but there have to be better places to take pictures. A little family walks right up to that ugly tree to pose for a picture. The mom is standing no more than 6 inches away from the poop. I jump up and run over and volunteer to take the pictures for them so they can all be in it together. "Oh, scoot a little this way so the sun isn't glaring in the picture." Disaster averted. Those people have no clue how close they came to stepping into a steaming pile of fresh poo.
When we went to the parking lot to leave a truckful of drunk teenagers pulled up. One of the boys commences to pee on his tires. So I called him out. "My kids can see you. Please do that somewhere else." Adam shushes me because he doesn't want to get in a fight with a bunch of drunk boys. When the boys stagger off I tell the girls that they should call for a ride home because those boys aren't safe to ride with. Either they were too drunk or too stupid or too insecure to leave. I tried.
Mid-trip we decided to go to Nauvoo since it was kind of on the way. The kids had been so good the whole trip, so let's stop and do something fun. Turns out, Nauvoo isn't on the way to anywhere. It is off the path by A LOT. We thought we'd get there Sunday afternoon, do some things, stay the night, spend the next day there and leave late afternoon. Well, everything is closed on Sunday. I realize Mormons take their Sabbath seriously, but it's also a tourist destination full of missionaries. Temple Square is open on Sundays. We were lucky we found somewhere to eat dinner because even the restaurants were closed. The food was gross. You know those $.99 packets of flavored noodles that you lived on in college? We got those with some chicken(?) – that's what they called it – for $12 a person.
That night a serious thunderstorm rolled in and the temperatures dropped to the mid-50s. This was the third week of June. It's not supposed to be cold! So we shivered through a covered carriage ride wrapped in blankets, toured a couple of things in the rain and left before lunch. The kids had had enough, and rightly so. It was no fun. So much for that. We made it to Uncle David and Aunt Cheryl's house that evening where they fed and housed and loved on us. The next day we made it to Tennessee and some warmth! Finally!
Once we got there we had all kinds of fun at Metcalf Bottoms tubing in the river, thanks to aunt Tristi, who organizes the fun for us. It is a lot of work, and we appreciate it. It is one of our favorite parts of the trip.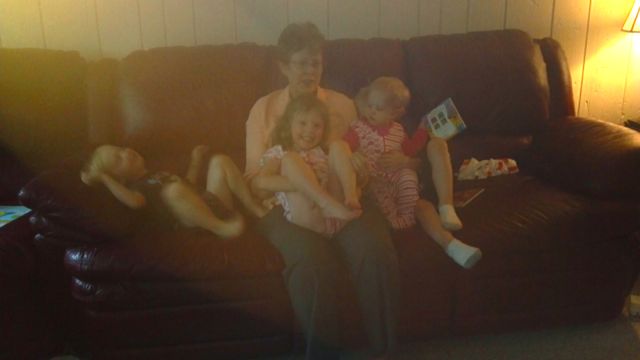 Gran reading with the kids. I don't know what went wrong with this picture, but I wish it were better. The kids love their Gran.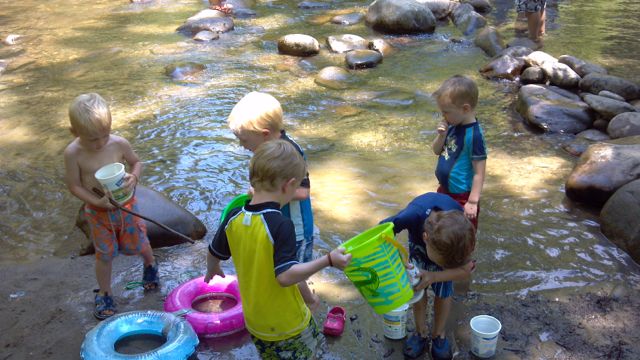 Catching little fish.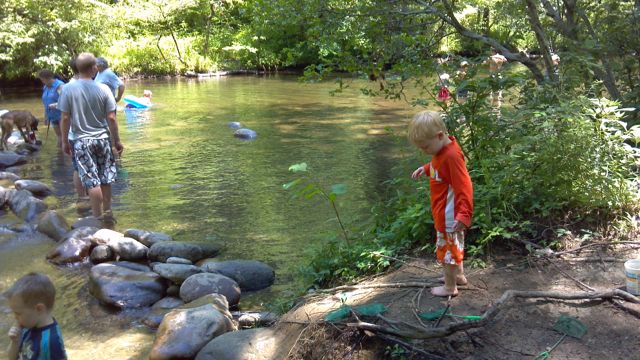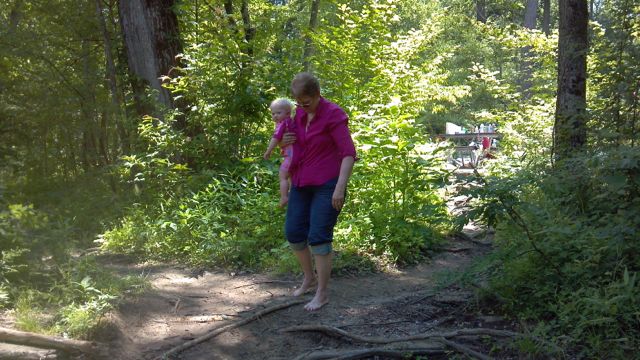 Gran and Daisy are ready for the water.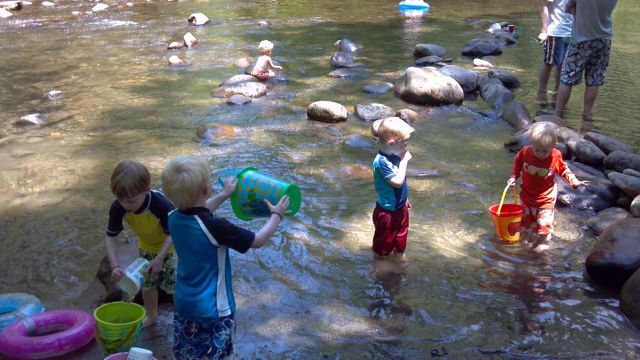 Actually dumping water in and out of buckets is just as much fun as catching fish.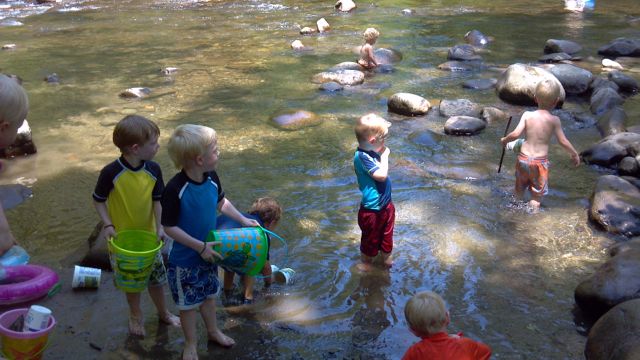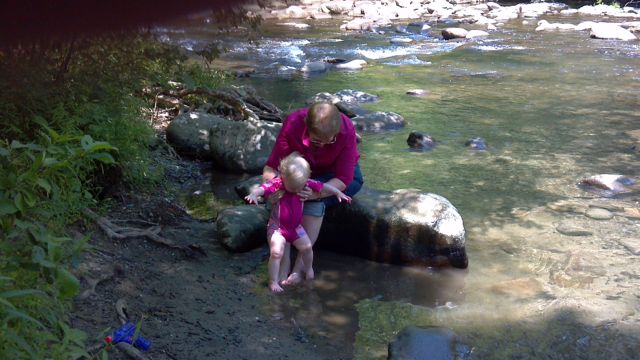 Daisy does not appreciate Gran's efforts to introduce her to water.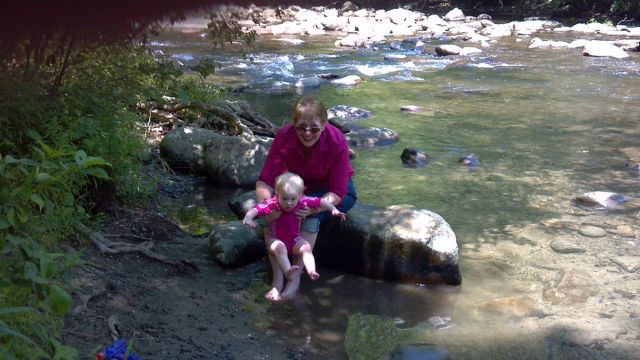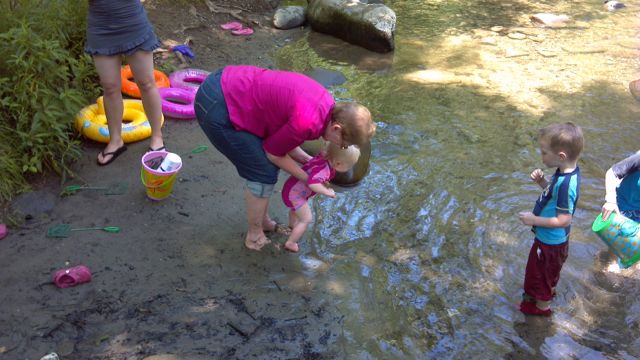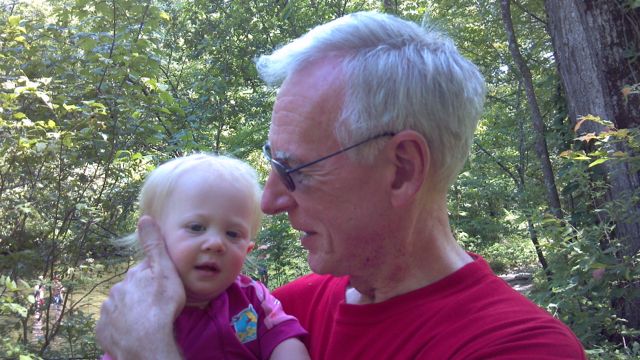 Once Daisy wore Gran out, she got loves from Granddad.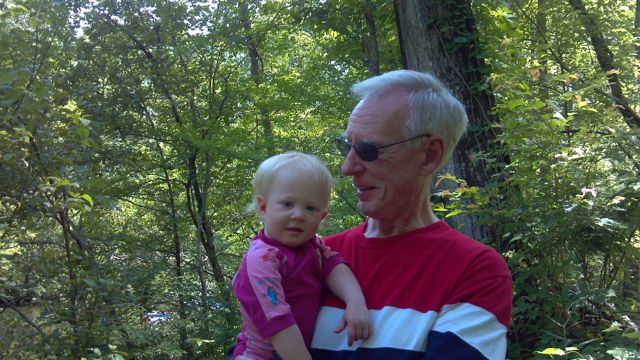 It must be hard to be so loved 🙂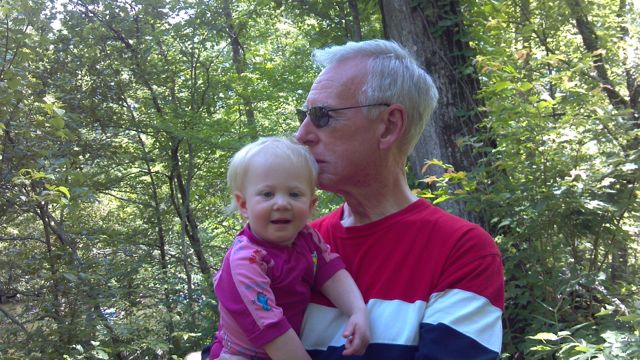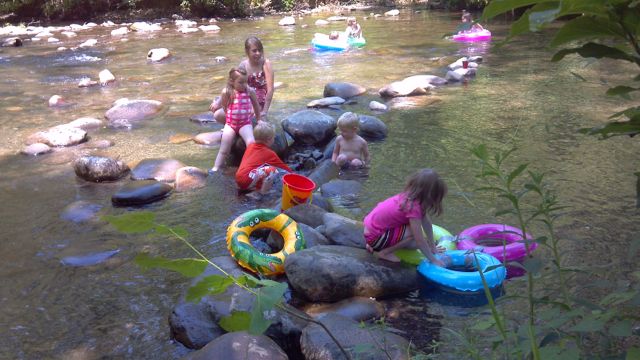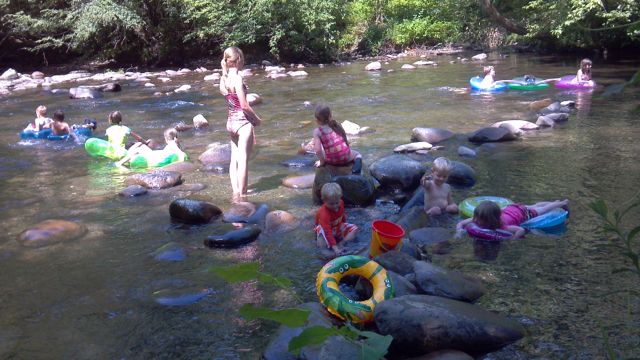 Another day we were invited to go swimming with a friend I've known since childhood, Julie. She and her husband are good friends with Leo and Amber

Uncle Mark and aunt Cheri and family.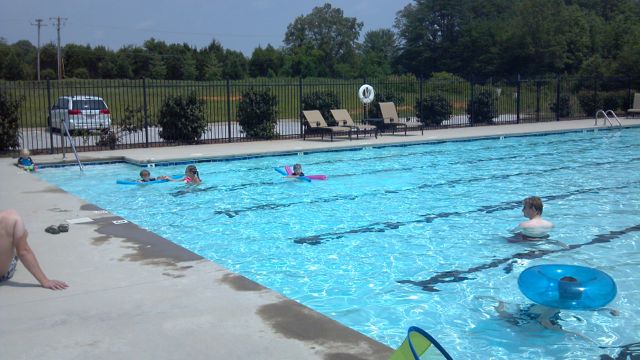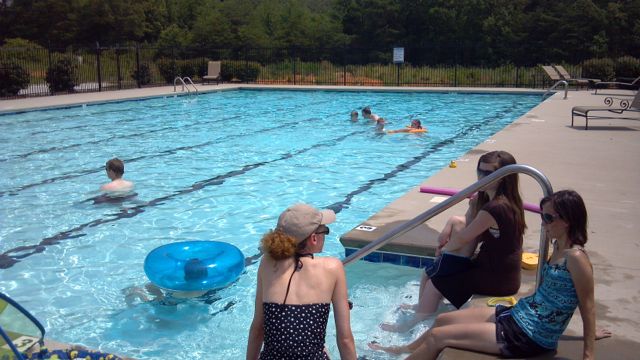 Has anyone else noticed that Adam is always the one feeding our kids sugar? No wonder they love him best 🙂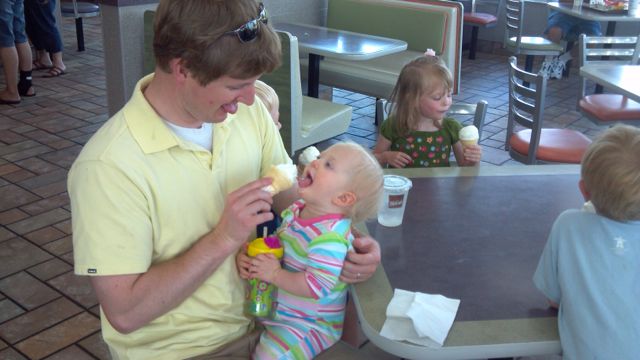 Clearly Daisy loves ice cream.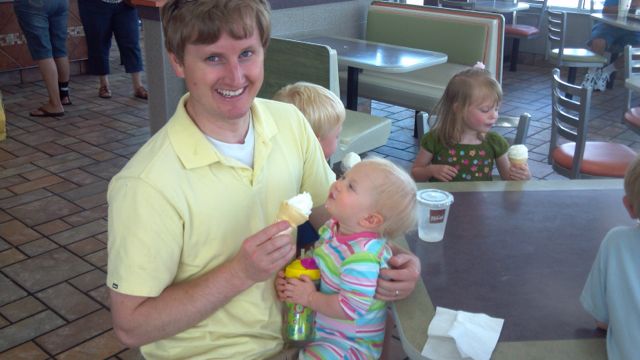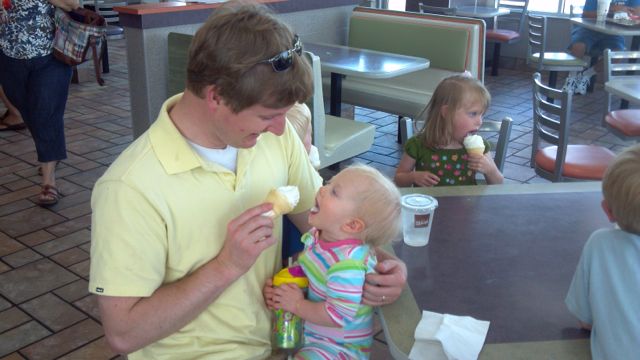 We went to the parks and splash pads with the cousins. There is a great one near Amber and Tristi's houses. One afternoon we were at the splash pad and a storm rolled in all of a sudden and there was a downpour the likes of which a Westerner will never understand. Sheets of rain and lightening cracking. We grabbed the kids and RAN for the cars, but we were soaked. It came out of nowhere. It was clear skies, and suddenly it was torrential.
We got to spend July 4th with everyone and have our traditional cookout with granddad's special hamburgers and gran's amazing potato salad and aunt Nicki's addictive salsa.