We did it. We went to Arkansas. On a plane. With our babies. And it was great! Seriously! They were so good the whole trip. Adam dropped me and the babies off at an airport entrance with less traffic and we waited while he and Kelly parked the cars (yes we had to take our minivan and our car to the airport to accommodate our 2 strollers and lots of luggage). The freak show was officially on the road. I was accosted by many strangers, but all of them polite, for the most part. I got a few fertility questions, but I gave my standard answer that we were blessed with triplets (code for none of your business).
They were good on the plane. We took flights at their scheduled feeding times so they would be sucking during the ascent (to help their ears). For the descent, we looked for DumDum suckers (suggested by my brother), but never found any, so we got other suckers. Brinlee and Sawyer were asleep so we didn't bother them, but Kimball did not like his grape sucker. For the return flight we used pacifiers, which they haven't had in about 6 weeks. They gave them up in favor of their hands. Sawyer was a little excited to be reunited with an old friend, but easily returned to the new favorite. Kimball's welcome home celebration was a poopy diaper, which he insisted had to be changed mid-flight. I apparently had misplaced the wipes somewhere between the airport bathroom and the plane, so Adam was forced to bum a solitary wipe from our sister-in-law (the last she had) to do the toxic clean up. What a trooper. Most of the family was on our flight back as they were connecting at our airport. It made getting to the airport easier.
It was wonderful to see Adam's family. We had a great time visiting with everyone and meeting new babies. Adam's 2 brave sisters travelled with babies only 6 and 8 weeks old. One also brought their 16-month old. We all actually went to hear Adam's brother, Matt, and their father speak at a conference. Those were about the only 2 parts I heard, but they were the best ones, so that's ok. We got to take pictures of the babies with lots of family members, including great grandpa, and they got to meet their young cousins. In 10 months there were 8 new grandchildren born on Adam's side of the family. The older cousins didn't come because they would have been so bored at the conference.  We spent a lot of it out in the lobby because the babies like to talk a lot, and we didn't want to make it hard for others to hear. The conference was also being recorded. Can you imagine if all they recorded was our choir of angels? That wouldn't be good. Our little freak show was well disguised because there were so many cousins and parents all hanging out together. It wasn't obvious that our 3 were triplets. Some people figured it out, but usually only because proud grandma and grandpa were introducing all the grandbabies.
The kids got about 1.5 hours of naps each day, instead of 5 hours, but no melt downs. Bed time was a little crankier than usual, but not terrible. We took their wedges with us, which was a packing feat, but I think it helped. First we didn't have to deal with reflux troubles, and second, they slept in their own beds, as far as they were concerned. We stayed at a hotel with a kitchen (for bottle making and washing purposes) and 2 rooms in our suite. Kelly had a room down the hall, though we sometimes threatened to swap with her and let her have the suite and the babies. We pulled out the sofa bed and lined up their wedges on that. Most of the luggage was baby stuff. Those wedges filled 1.5 suitcases. We have some seriously high maintenance kids. No idea where they get it from.
What really made the trip doable was that we took our helper, Kelly. Each baby had an adult at all times. Plus, on the airplane, you can only have one infant in arms per row because of the number of air masks, so we had to take someone. This also allowed us to go out to dinner with the family those nights to exotic places like Chili's and the Red Barn (the only place that could accommodate 20 people. It was as fancy as it sounds, but we got to all be together, so it was good). Kelly stayed in our bedroom and watched TV while the kids slept in the other room.
Friday morning most of us met at IHOP for breakfast. They basically cleared out a section of the restaurant for us (or the other patrons just left. Not sure). Anyway, there was a couple at one of the tables and the woman repeatedly asked Adam if she could hold Brinlee. So imagine my surprise when I turned around to see a stranger holding my child. Of course, I never doubt Adam's judgment, so I knew if he had let her, then he felt comfortable with it, and I let it go. She was a nice lady, but I was glad when she gave her back.
Friday afternoon we toured the historic downtown area. The kids stayed in the strollers a lot of the time, but we carried them a while too. Nothing like pushing a huge, empty stroller and carrying a baby. There were a lot of willing hands around, so we had plenty of volunteers to carry the load. Friday night was a banquet and time with family after. Saturday was the conference and dinner that night with the family. Sunday we met for a service at a cemetery where an ancestor is buried, then off to the airport.
The trip made me feel so brave. I was expecting and ready for a disaster, and it didn't happen. I thought we would never leave the city until the kids were 18 or so. Just the thought of traveling with them was intimidating, but now I know we can do it. We are mobile once again! We found ways to store and heat bottles, let them have naps and keep them happy. It feels nice to be free again. We can run errands and go visit family. I have a life again! Every time Adam suggested we take this trip (we've known about it for several months), I said, "You must be crazy! No way!" Then I realized how important it was to him and decided to do it, no matter how big a train wreck it was (and I thought it would be big). I finally figured out that I put a lot of effort into making life very comfortable for myself and my family, which is good, but in my fear of chaos, I have not let anything get off track for the babies. That was good for the first six months, but now they are old enough and we are doing well enough that off track is OK sometimes, because we can get back on track. I don't want to be so comfortable that I miss out on life. What's the point in that? We hope to fly out to visit Adam's parents this year (whenever most of the siblings will be around). Before this trip we really thought it would be a few years. Now I know we can do it. My parents and two of my brothers live a few hours away, and that seemed daunting. A cross-country flight seemed impossible. Nothing is off limits now. Our kids are officially road warriors now.
I know you're really here for pictures. I have good news and bad news. The bad news is we forgot our camera (but we remembered all the babies' stuff, and that is the most important thing). The good news is that other people remembered their cameras and took lots of pictures. I just have to collect those pictures. Since they are all busy people with their own important lives, that may take a little while, but it will happen. The other good news is I have a few pictures to post, but not tons. This will have to satisfy you until I get more.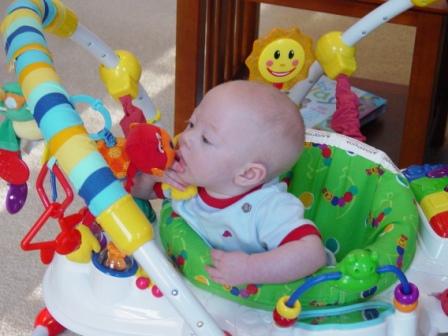 Sawyer was making out with the monkey big time!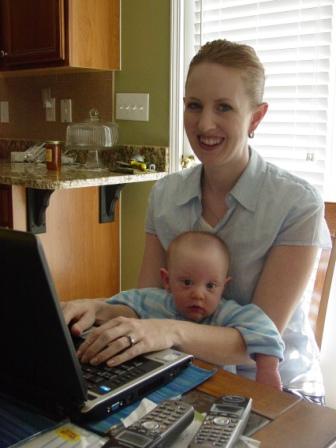 Kimball likes to help mommy do some important emailing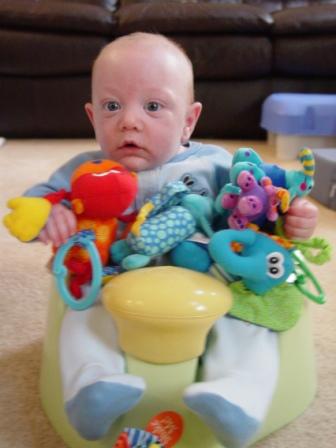 Kimball sometimes has a hard time sharing toys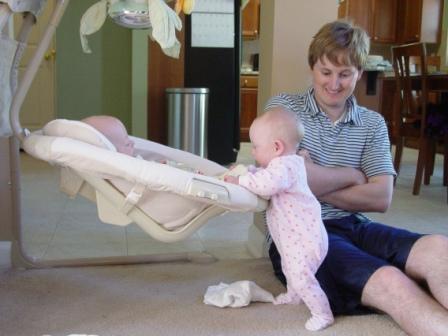 Adam likes to help the kids perform AMAZING TRICKS! (Didn't I tell you we have a freak show?) Brinlee is one of our stars.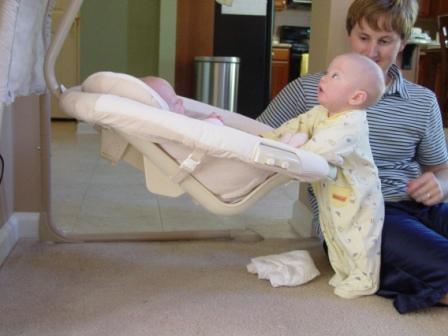 Now that Sawyer can do it too, I think we should increase the price of admission.