Of our family members only Adam and I and Jonny and Vanessa went on to Phuket. Everyone else went home. Phuket (Pooket) was amazing, and definitely a resort town.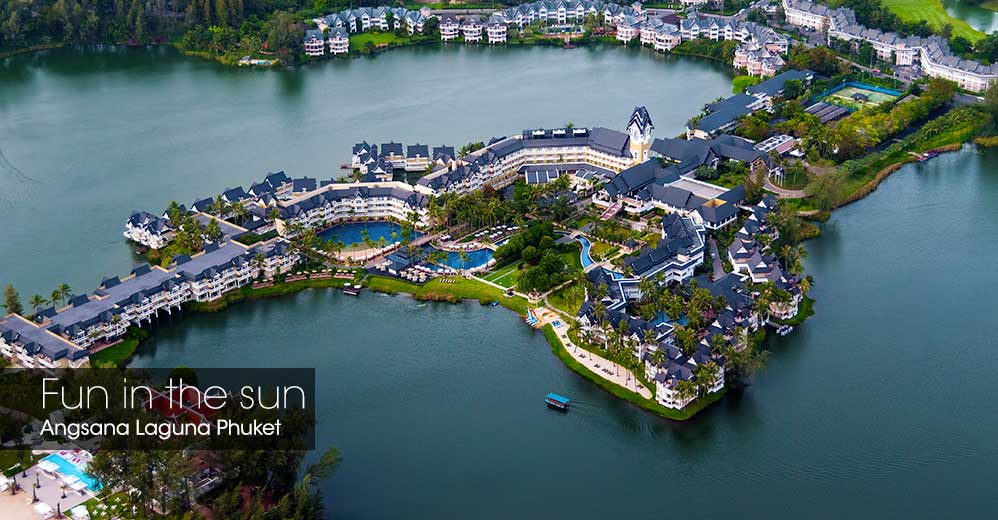 We stayed at the beautiful Angsana Laguna Resort. It was incredible. When we were there, it had only been three months since the renovation.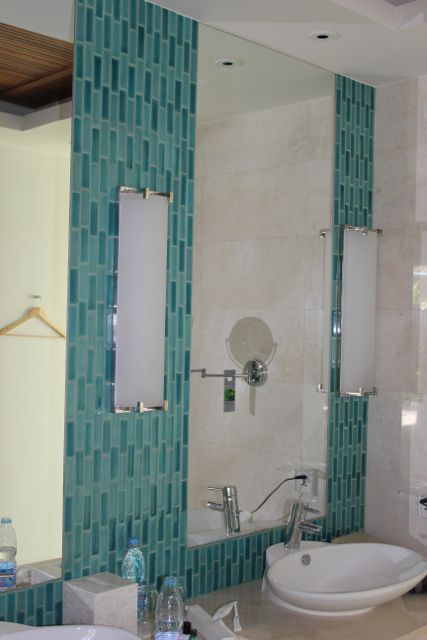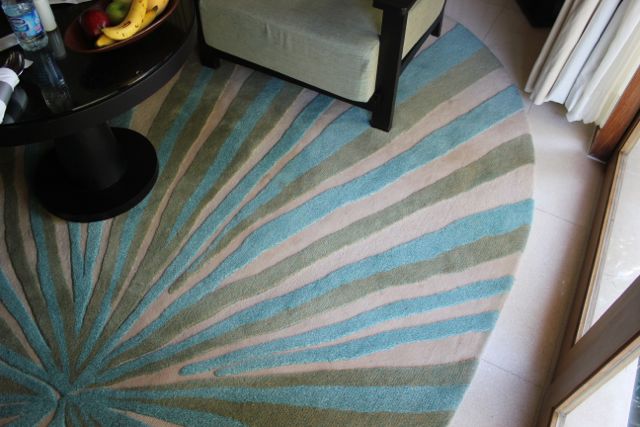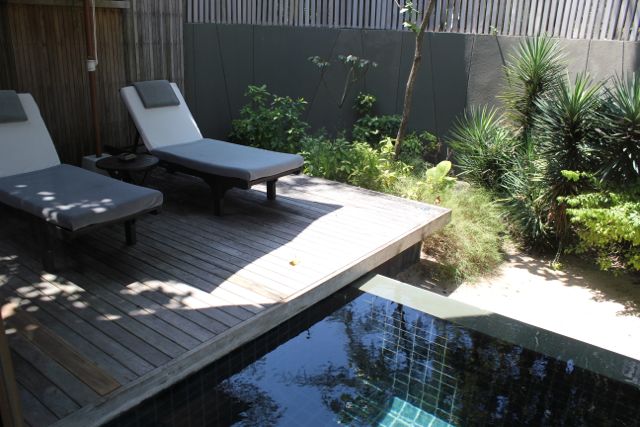 Our room had a private backyard with our own little plunge pool.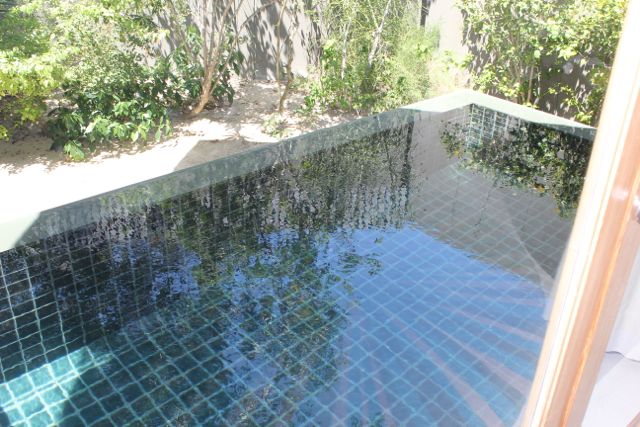 We went scuba diving again, and this time it was really nice. The dive shop and everything in Pattaya was pretty grungy. The dive company we went with in Phuket was very nice and had new equipment and a shop you could buy things in, like the rash guards you will see in the following pictures. And water shoes for Adam.
We did 3 dives this time, and I'm glad we did them last. The first two were good for more practice. I didn't want to waste any time on these dives.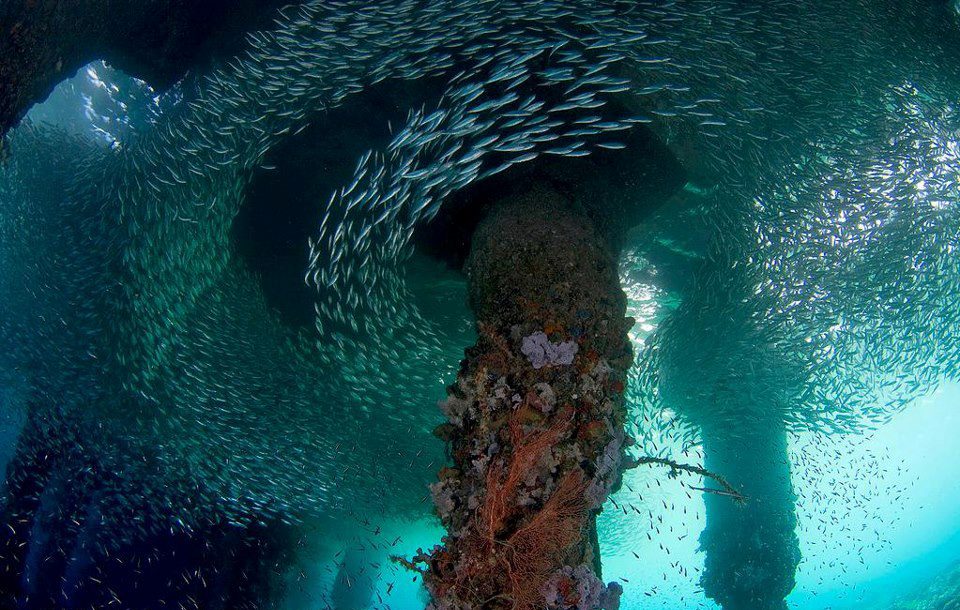 The first dive was the King Cruiser dive. I didn't think I wanted to do a shipwreck dive, but it was my favorite one! It is a car ferry that sank in 1997. There are theories that it was all intentional, whether for insurance fraud or the local dive companies paid the captain to do it because there were no wreck dives in the area. It now acts as an artificial reef 30 meters below the surface. The water was so clear and blue. Huge schools of fish were swimming in sync. We saw barracudas, lion fish, soft coral, scorpion fish, boxing fish, cleaner fish, porcupine fish and yellow back fusilier.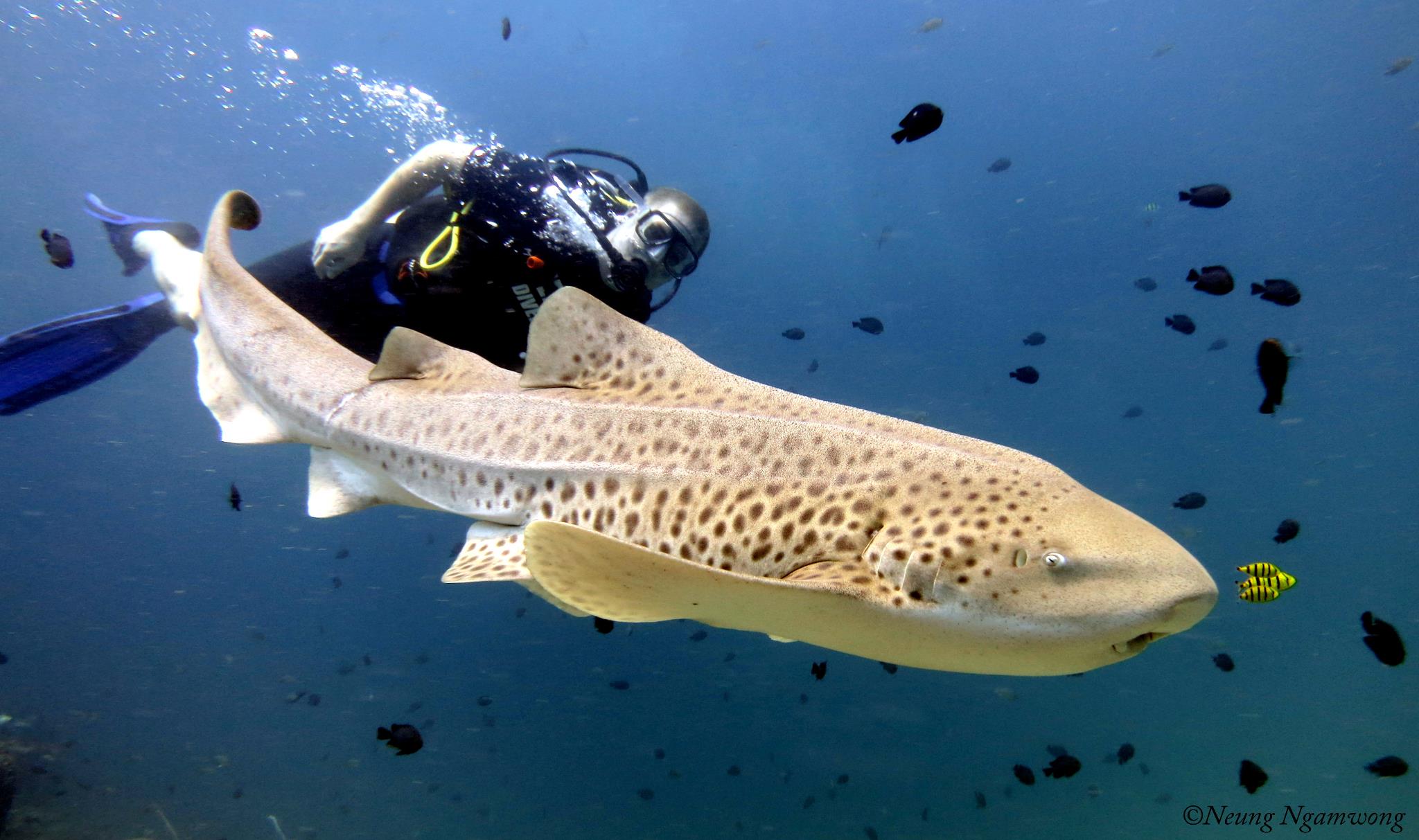 The second dive was Shark Point. (that is not our picture. Since we don't have an underwater camera, I found this one online to show you a "docile leopard shark"). Here is a description of the site:
Shark Point is part of a Marine Sanctuary and is justifiably the most popular of the local dive sites. Named after the docile Leopard Sharks that are often encountered resting on the sandy seafloor here. The official Thai name for this site is Hin Musang or 'Shark Rock'. Approaching from the sea Shark Point appears as a tiny rock outcropping of no particular interest but beneath the surface lies a vast multicolored reef teeming with marine life. The main attraction here, in addition to sharks and vast schools of tropical fish are the colorful soft corals and sea fans that decorate this huge limestone pinnacle. The reef can be broken into three main sections and most divers could spend several days at least exploring the many interesting facets of the site which is arguably the most popular of all the local day-diving sites. Currents can be brisk at this site but they tend run parallel to the reef sections and allow for an excellent drift dive back to the dive boat.
I was very against going to this one because, um, I didn't want to be in the water with any sharks! Not even docile leopard sharks. Really? Docile? Are they vegetarians? But we went. Because of the full moon there was an extremely strong current. I was so worried about being swept away or into the reef or eaten by a docile vegetarian shark. It was exhausting. The current also kicked up a lot of sand, so the water wasn't very clear. At the beginning a cleaner fish was all over me trying to clean me. I'm good thanks. I had a shower this morning. Very clean. I will not be requiring your services. We also saw trigger fish, clown fish, blue-lined grouper, blue sea star, yellow box fish and soft coral.
Our third dive was Koh Doc Mai. The current was not too bad on the west side of the island but it was too strong on the east side. We saw lots of fish. Soft coral, orange sea whip, delicate whip coral, giant gorgonian fan coral,white-eyed moray eel, golden damsel, brown marbled grouper, java rabbit fish, long fin banner fish. We were tired and cold by that point, but we had 3 good dives. Here is a description I found of the site:
This small, jungle topped island is located on the way to Shark Point from Phuket and is considered one of the best wall dives in the area. Doc Mai is a huge limestone rock that rises steeply out of the sea. On three sides the sheer walls occupied with a different creature in every nook and cranny drop straight down to the sea floor. The west side is a gently sloping hard coral reef with an abundance of colorful sea life decorating its underwater cliffs. This dive is noted for its variety of reef fish and an opportunity to view some of the resident Moray Eels. The east-side of the island is a virtual garden of yellow tube corals and you can explore some of the small caves along the base of the wall. This is a fairly short dive as you can easily swim around the entire island, and it is included on many on day-trips to Shark Point and Anemone Reef.
We had to wait quite a while to be picked up by the boat after this dive, so I got to practice floating.
Day 2 – Phi Phi Islands
Yes, you pronounce it Pee Pee islands. Go ahead and giggle. We went on a boat tour in a speed boat. It was amazing.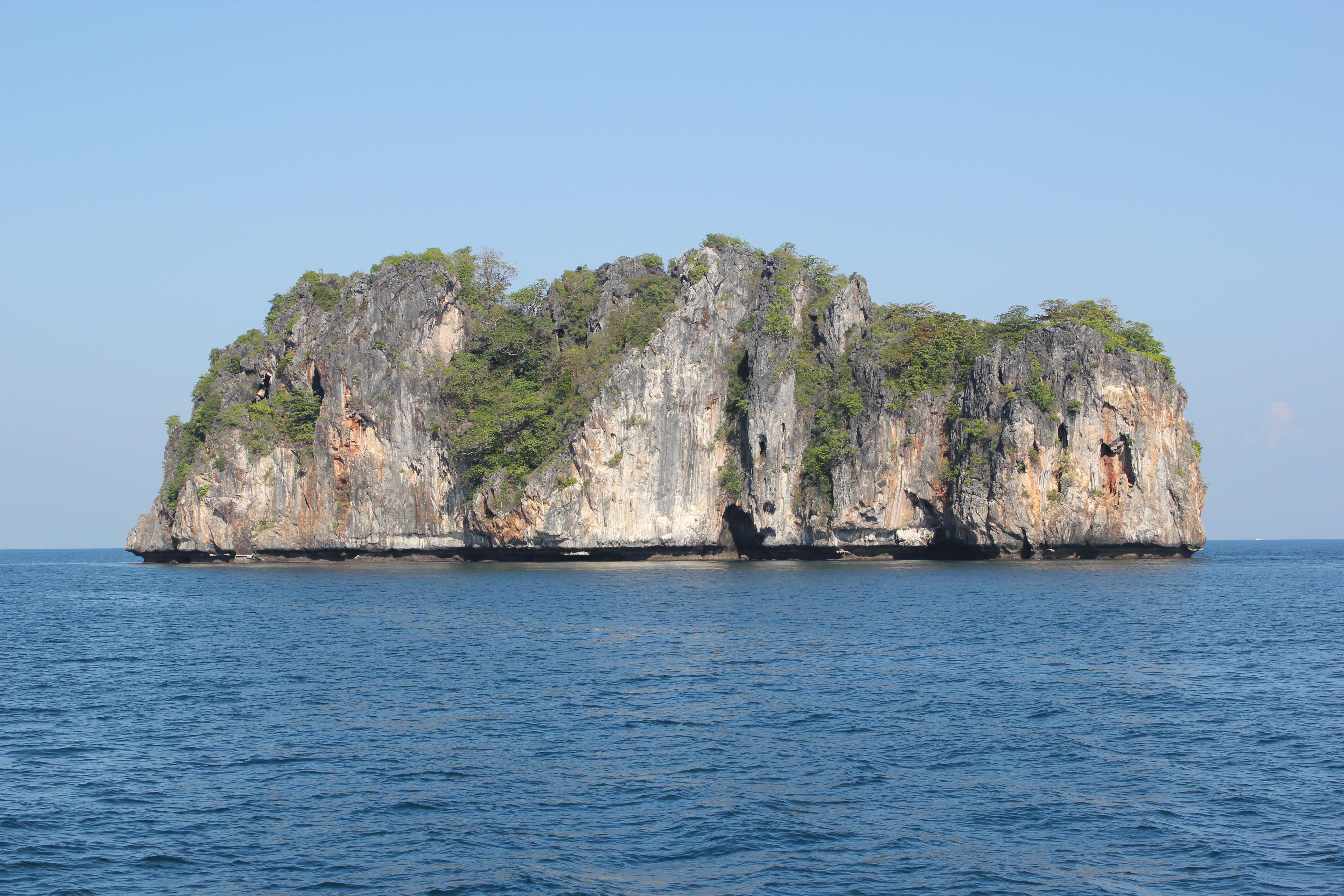 Everywhere we went there were giant rock cliffs just shooting up out of the water.

We went to James Bond island, named because the ninth James Bond movie, "The Man with the Golden Gun" was filmed there.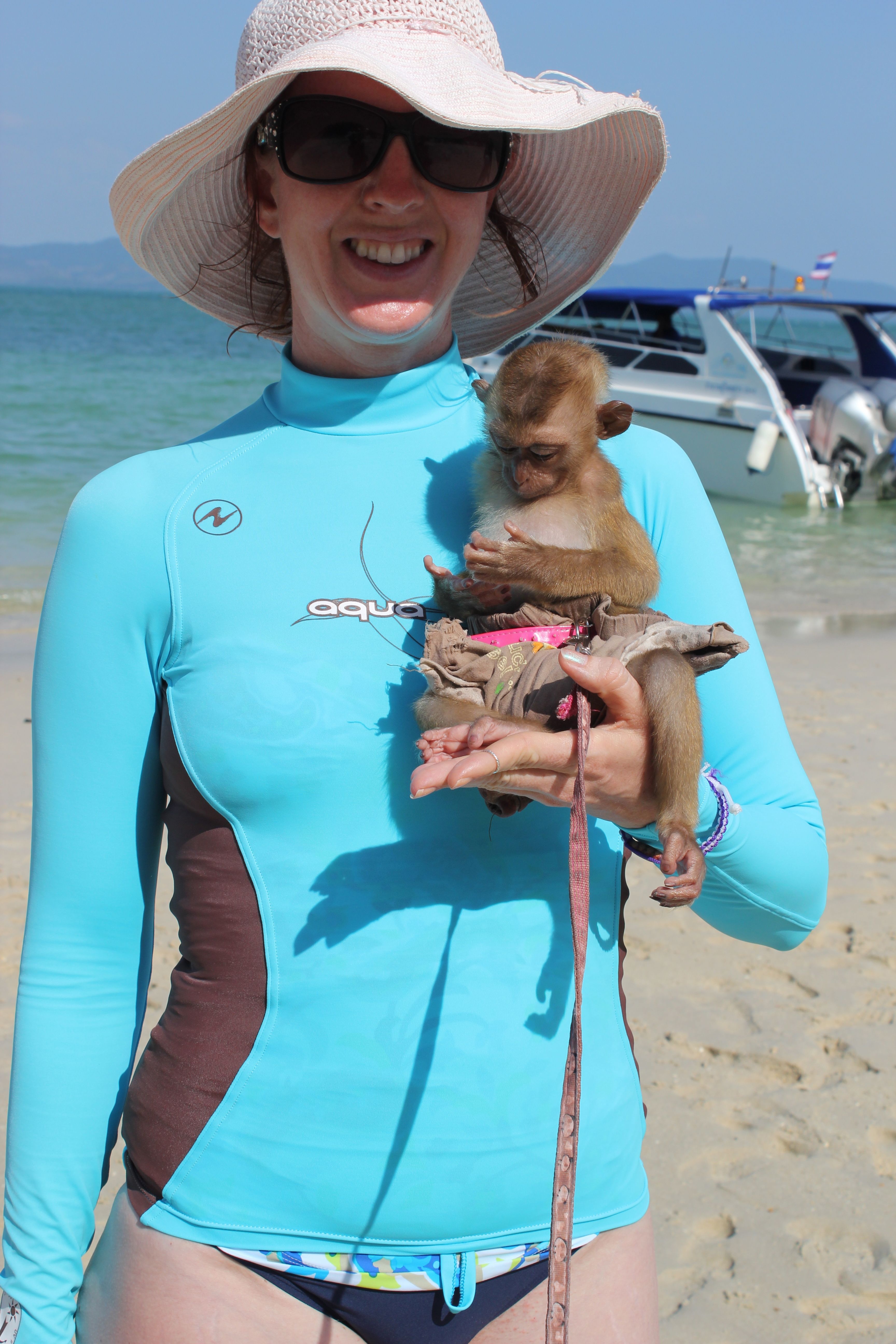 We stopped at one island, and I got to hold a monkey. For a fee. You pay extra if you want to take pictures with your own camera.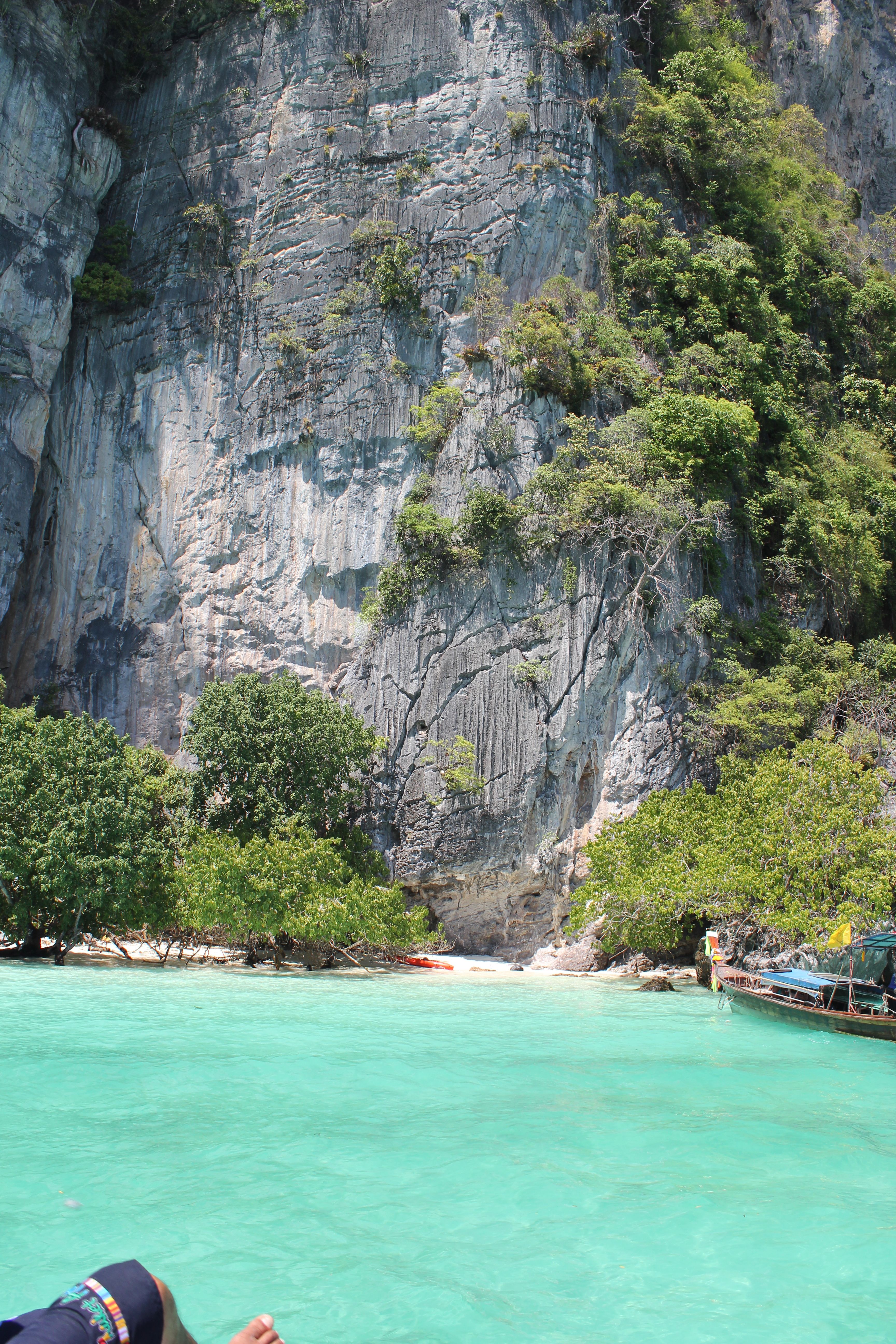 In this cove we got out and swam in the beautiful water. Got that on video. For a fee. But it's too big to put on the blog.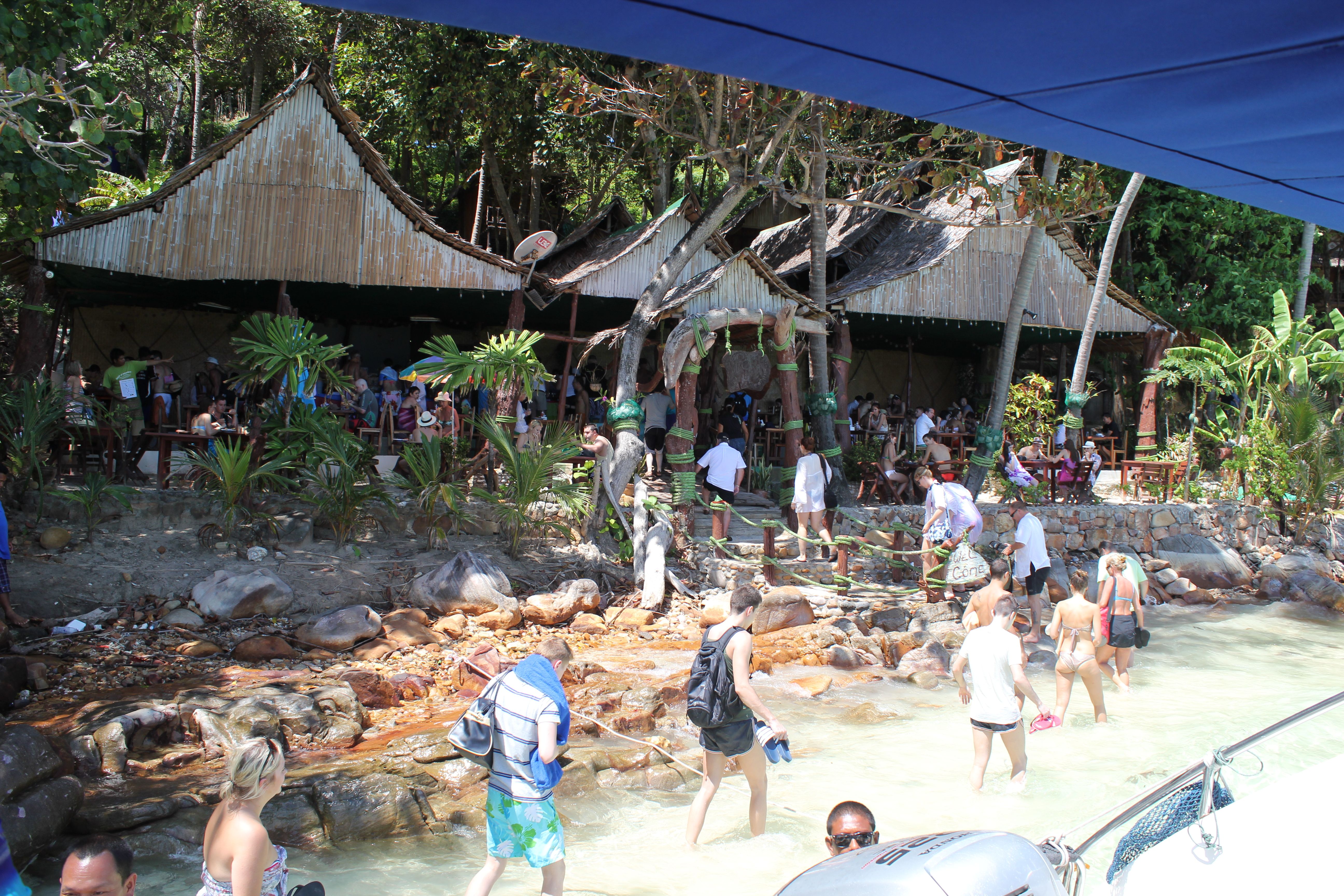 Then we stopped at another island for lunch. It was good, but mostly picturesque and we were hungry and it was food!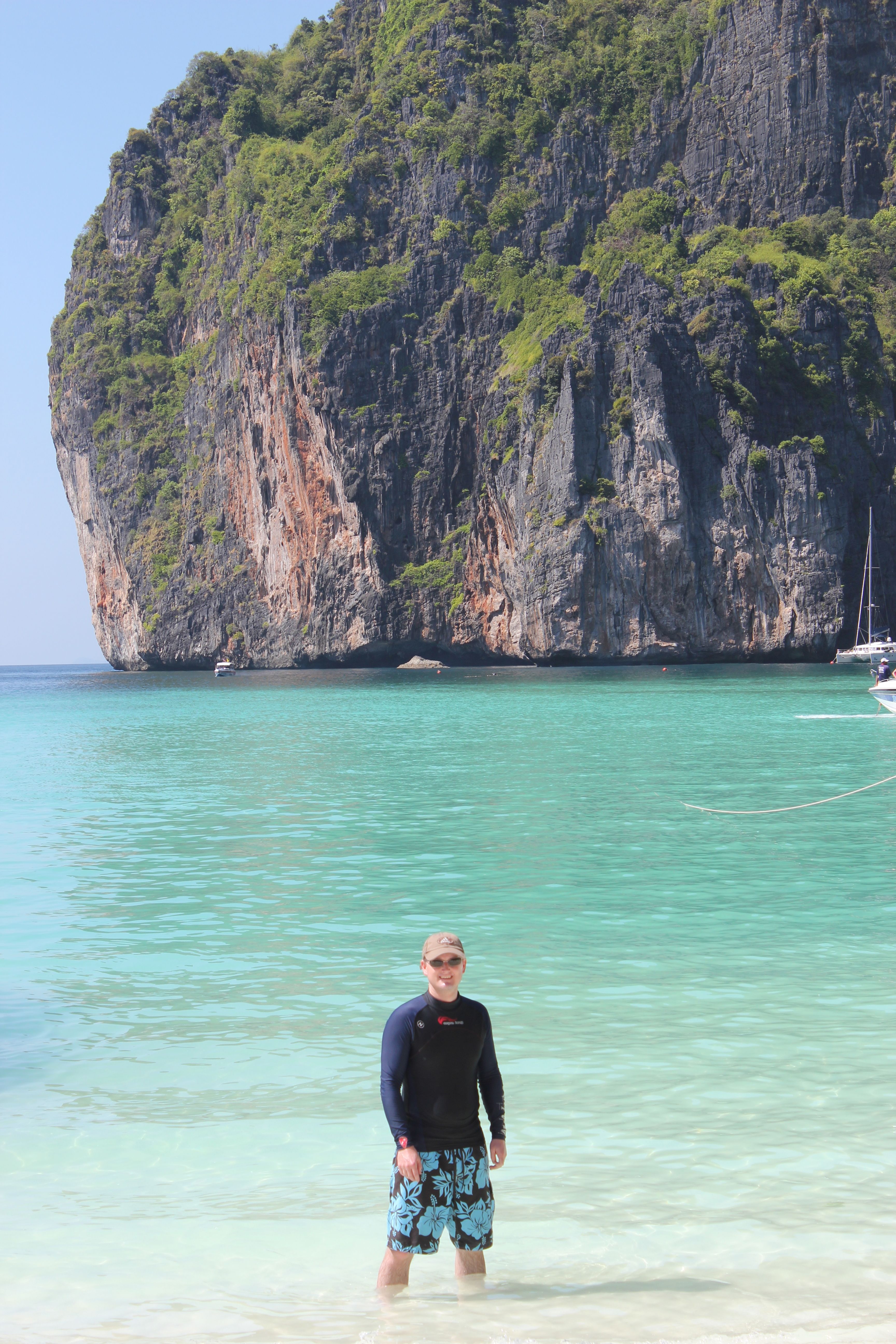 There's my handsome man!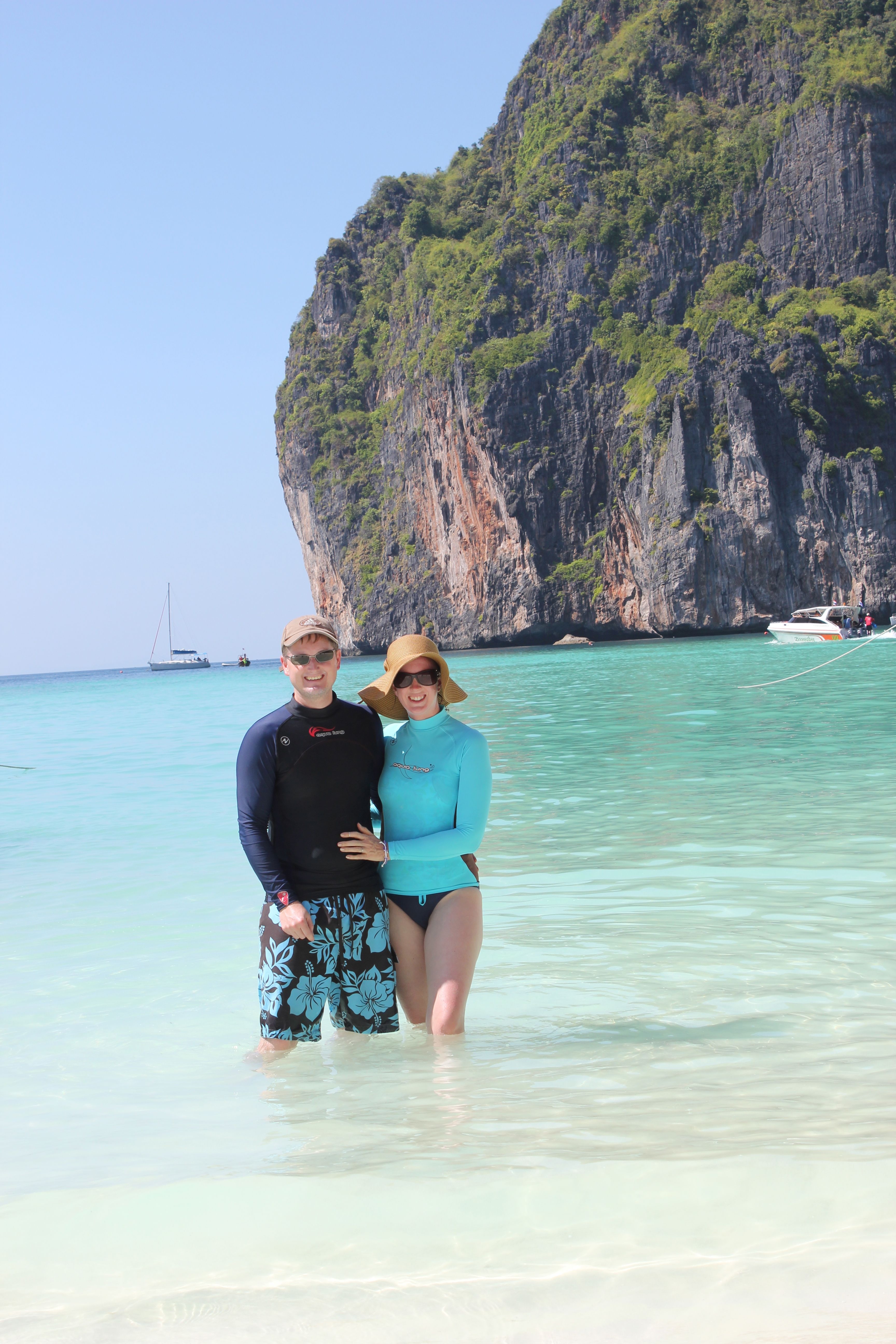 Together <3 and color coordinated 🙂

A few of the alcoves we pulled up in had monkeys, and we could throw food to them (for a fee), but not get out of the boat because they are aggressive.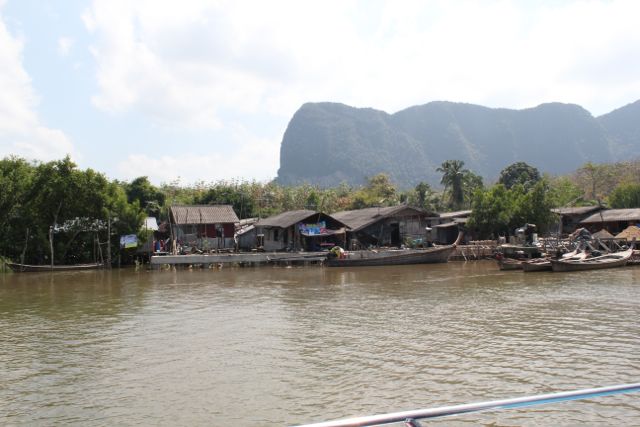 This is a floating fishing village. Behind it is a mango grove that is growing up out of the salt water.

James bond island has shopping!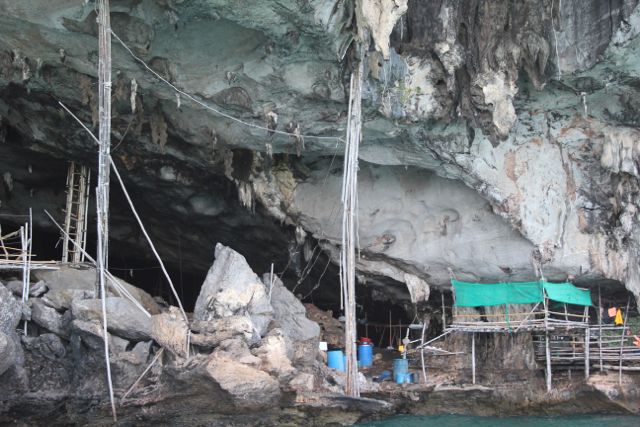 This cave is a business operation where they harvest guano, which is bat poop. Can you see the bats?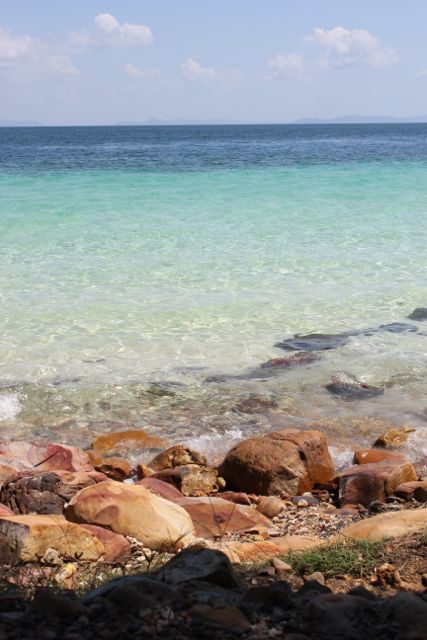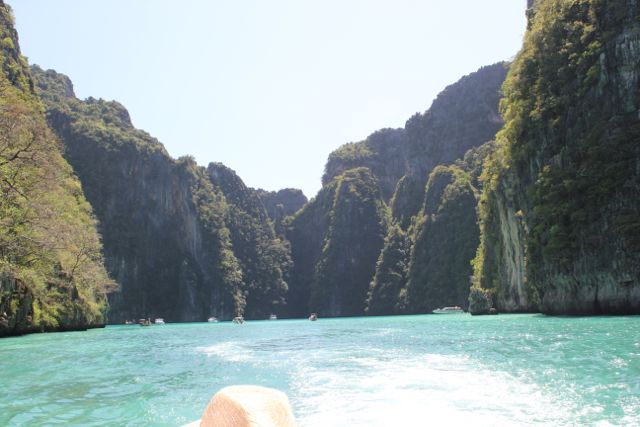 When we got back to the hotel, we were exhausted from all the fun we were having, so we got a couples massage. A traditional Thai massage is closer to having a beating than a luxurious experience, so I opted for gentle. Soft soothing music, low lights, aromatherapy. NO TALKING. Nothing is as irritating as a massage therapist who wants to talk your ear off. This one was fabulous.
That night we went out to the shopping area. There were actual stores, but also booths. I saw a necklace I had liked in Bangkok, but the price was much higher, so Adam made a low ball offer. Instead of countering with a higher price, as is the custom all over the world, this woman went berserk swearing (in English) and screaming at us. So is that a no?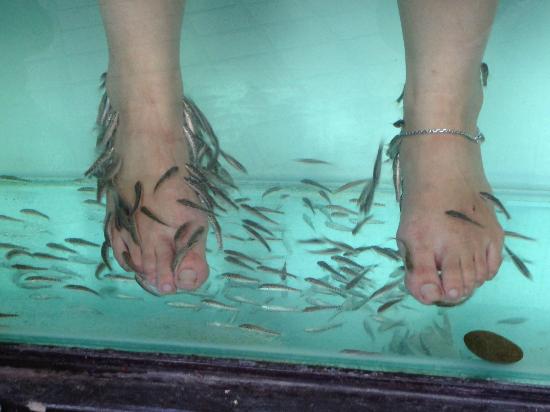 One of the touristy things to do there is sit on a bench with your feet in a tank of sucker fish who eat all the dead skin off your feet and shins. Or you can put in your hands. Or even your whole body. Or none of it! It's also supposed to be a massage. I'll pass. That just turned my stomach. It's called a fish spa. There are lots of great spa treatments. That's not one of them.
There were also lots of dance clubs full of hookers. They would stand outside and try to drag men in. I'm sorry, do you see me? The woman he is holding hands and walking with? Right. I'm his wife. We don't want to go inside.
We made our way into an art gallery, and we each bought a painting. I loved mine the moment I saw it, and knew exactly where it would go, over our bed. Adam bought one for the living room.
And the next morning we left Thailand and headed to Korea. It was an amazing trip.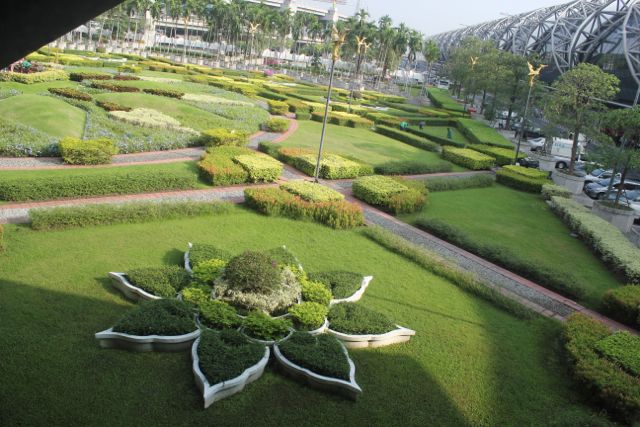 Even the Bangkok airport has amazing gardens