We managed to be healthy for Thanksgiving this year (which is a near miracle since BKS are in preschool now), so we headed to Knoxville to spend the holiday with my family. We got to spend time with lots of cousins. Kimball just loves running around with the big boys, and Brinlee loves running around with the girls. She's been the only girl her whole life (which will soon be remedied), so I guess she is drawn to the estrogen.
A few weeks before we left for Thanksgiving, the kids got their first swing set. They love it.
When did the rug grow legs?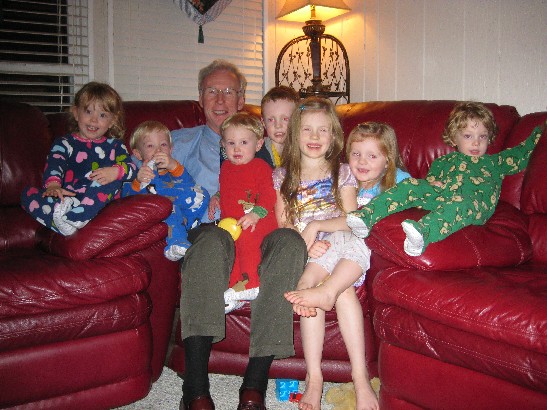 Granddad with part of his crew.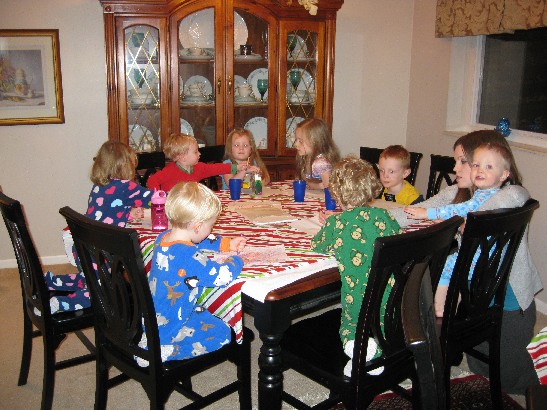 Aunt Amber supervising everyone with their crayons.
One morning, mid-diaper change/getting dressed, granddad brought out one of his most treasured possessions, the Lionel train set his parents bought his 60 YEARS AGO. Once they saw that, all progression toward getting them dressed ceased. They were mesmerized.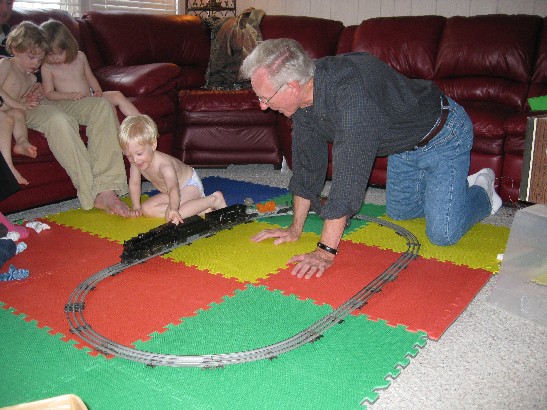 I confess that I thought he was crazy to bring it out, and even crazier to LET THEM TOUCH IT, but they did a great job being gentle. Look at that giddy Sawyer.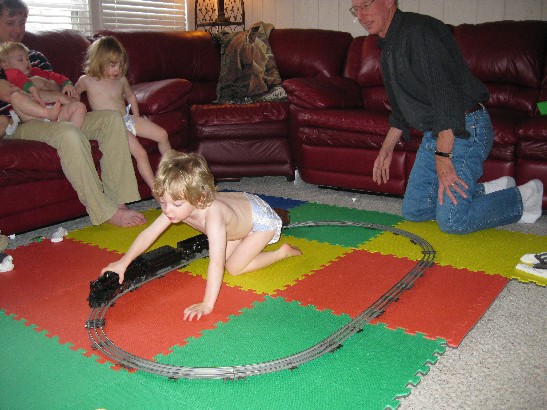 Kimball running the train all by his big self.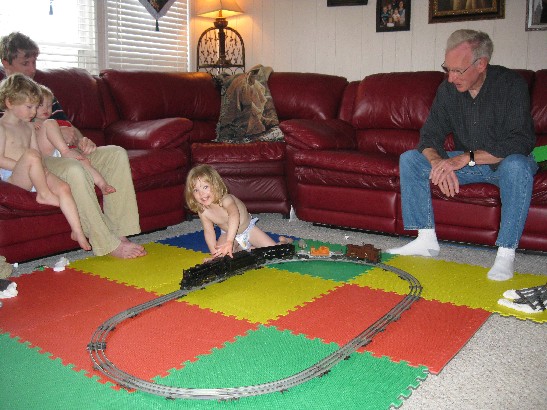 It doesn't matter that Brinlee is a girl, she is the biggest train fan in the family (except maybe Granddad).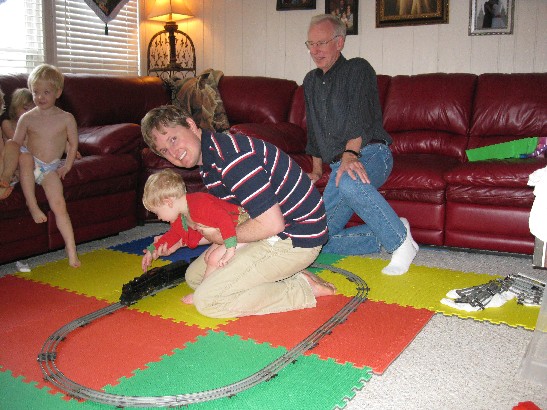 Caisen was not as interested in the trains or being gentle, but he is younger (even if he doesn't know it).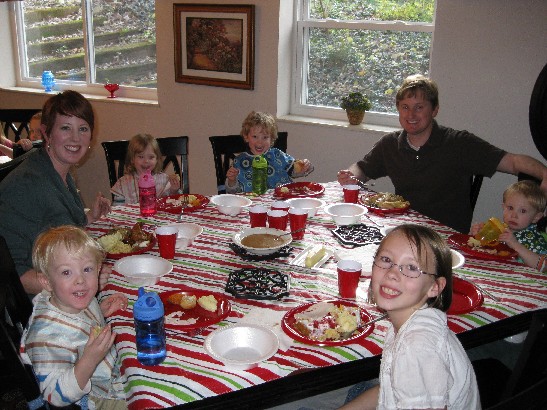 Gran broke up the mega table into three big tables so everyone could have a seat. Here's our table, and Madelin joined us.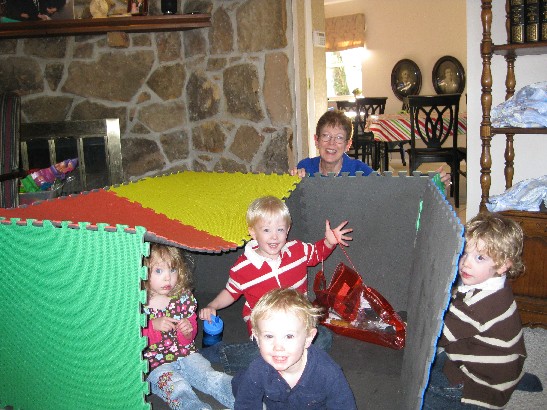 Gran and Granddad babysat one afternoon while Adam and I went out, and when the kids woke up from the nap, they built this fort, which BKSC LOVED.
They sat in their little fort playing contentedly for quite a while.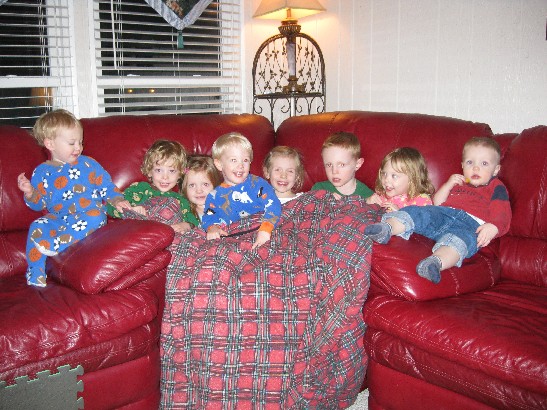 The cousins hanging out on the couch. Everyone loves that little corner on the couch.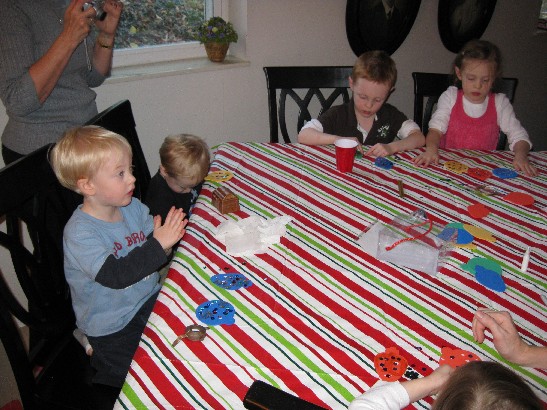 One afternoon we helped the kids make ornaments with this little kit we bought at Michael's.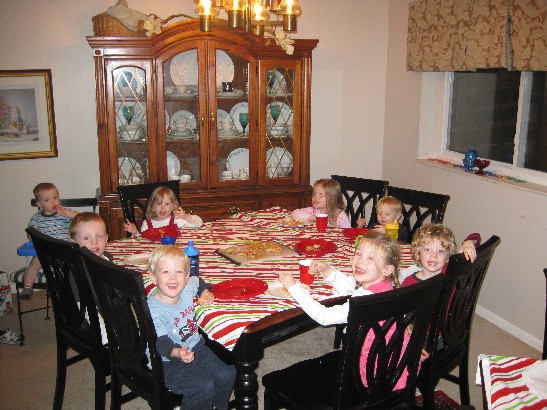 Having a snack together.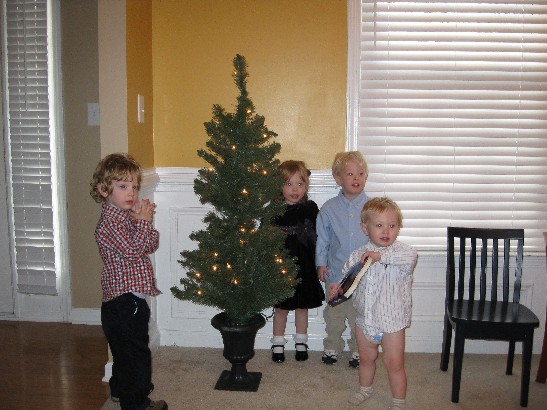 I had big concerns about my Christmas tree this year. I wanted to put it up, but I didn't want it destroyed. I got this big idea to buy the kids their own Christmas tree with non-breakable ornaments so they could explore and get it out of their systems. We bought them this little tree, and when we got home from our trip to Knoxville, we put it up and let them decorate it. Caisen stripped his pants off and did his best Tom Cruise/Risky Business impression. He spent the rest of the evening running around. Not so interested in decorating a tree. Very interesting in scattering ornaments.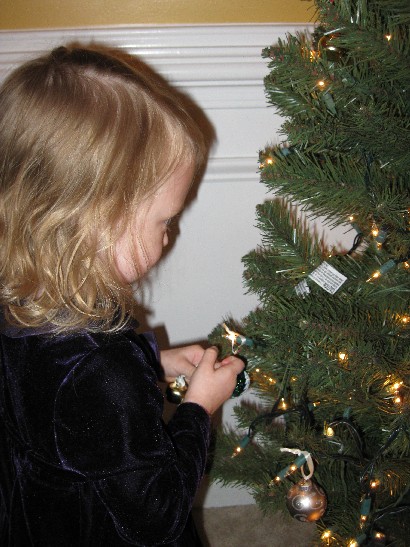 Brinlee putting an ornament on.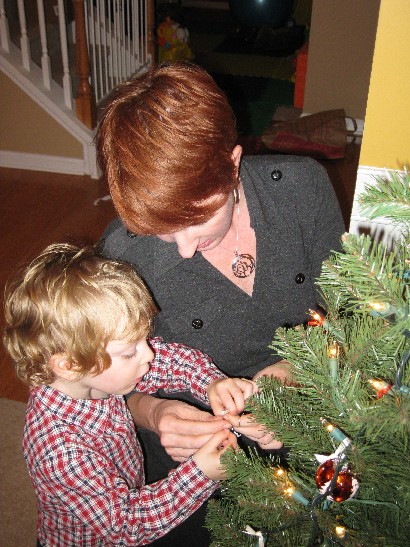 Mommy and Kimball trimming the tree.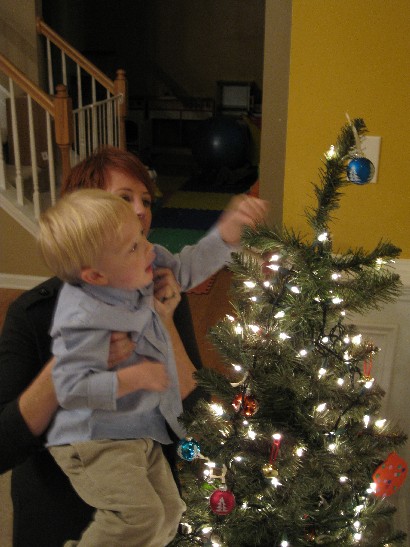 Sawyer wanted to put an ornament up top, of course, so I gave him a lift.
I have to say, the kids have mostly left the big Christmas tree alone, so I guess our plan worked.
We had a fun time with playing with the cousins. We went out to dinner with Eric and Tristi one night, which was fun. The night before we went to a movie with Leo and Amber. We partied, can't you tell?