From London we flew to Venice, Italy, from very distinctly fall weather to very distinctly clinging to summer. The weather was gorgeous.
We arrived in the morning and went straight to check in at our hotel and get out to see as much as possible.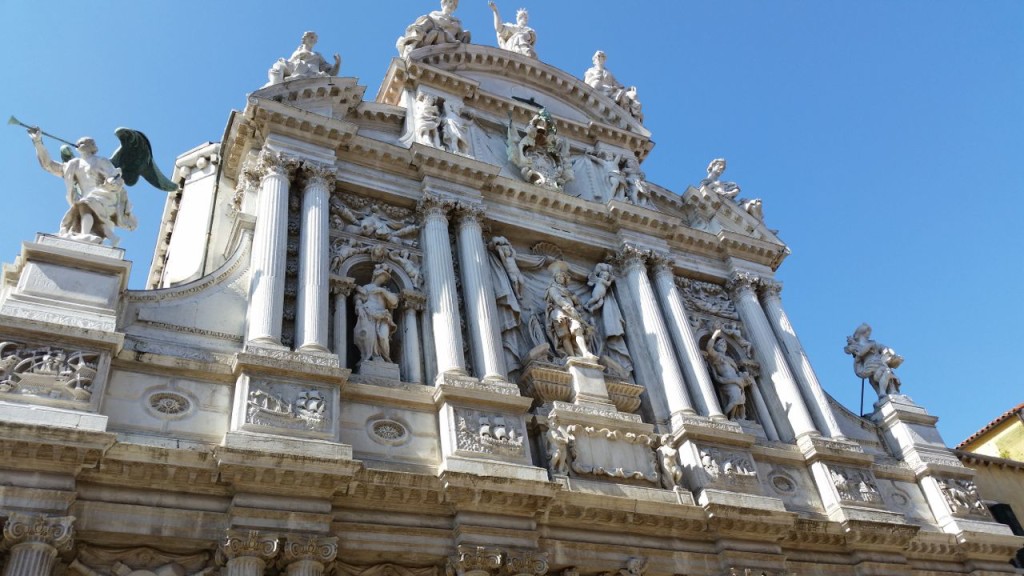 The city was incredible.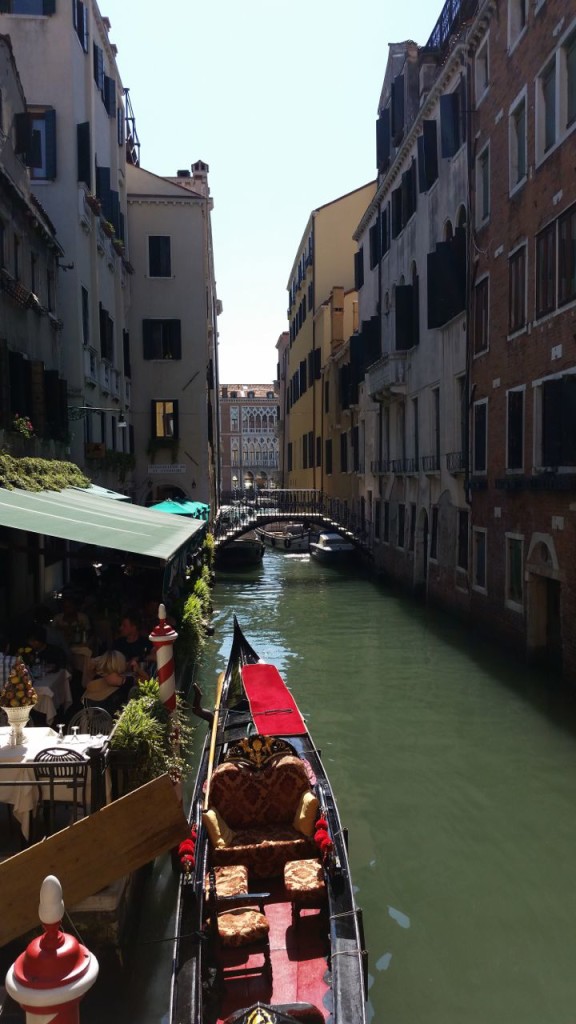 It was everything I imagined. There are bridges like this everywhere.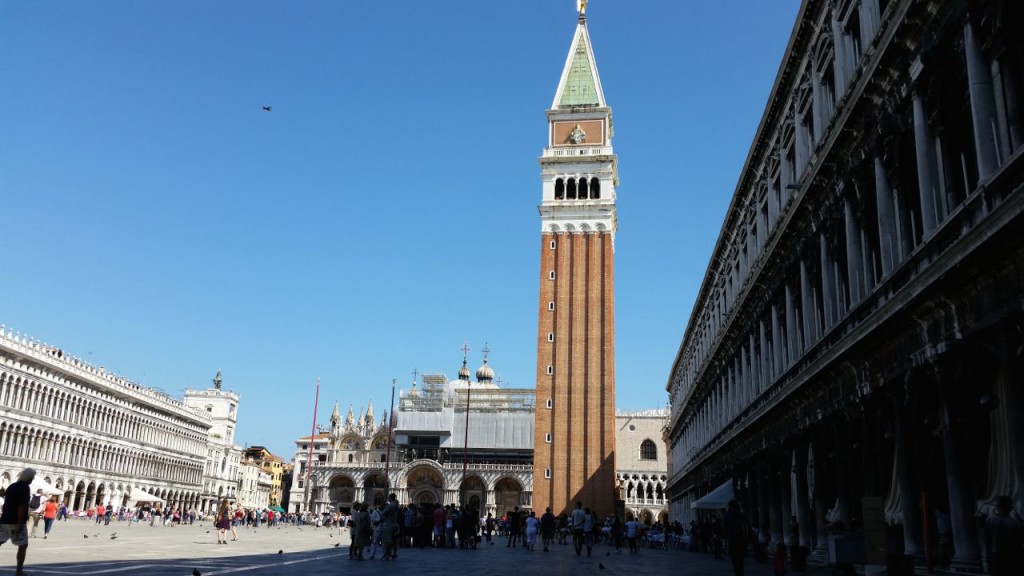 Campanile tower in San Marco's Square
We ate constantly. As we were walking across the square with yet another meal, a seagull swooped down and stole the very delicious sandwich wrap I had just started. Snatched the whole thing! I screamed because because it nearly took my thumb with the sandwich, and honestly, I thought I was being robbed. Pickpockets are a real problem in Venice. All 3,000 people in the square turned to stare at me being mugged by a bird.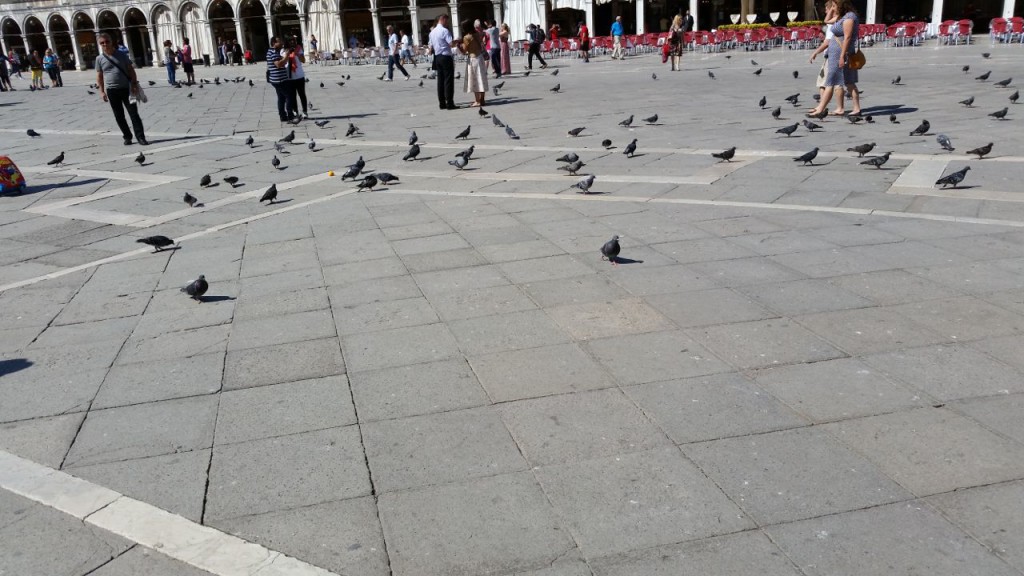 Another real danger was being pooped on by a pigeon. People would stand there and try to get those nasty, dirty birds to stand all over their arms and head. They often leave deposits. Clearly these people don't have chickens or they would know what happens when a bird sits. They poop.
We climbed the Campanile tower in San Marco's Square to get the view of the city. 414 steps up and 414 steps back down. We did the climb without stopping. We're hardcore.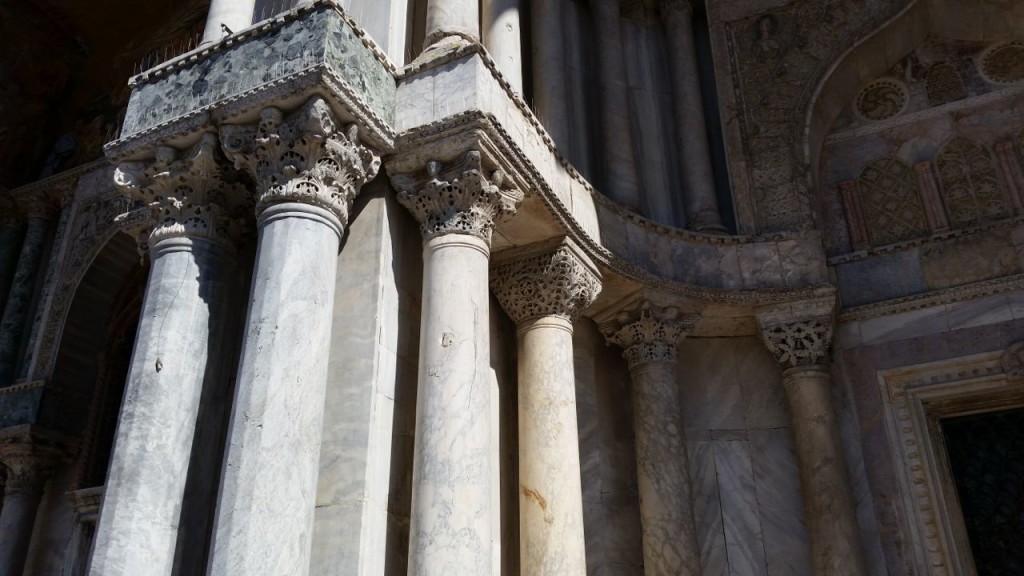 San Marco's Basilica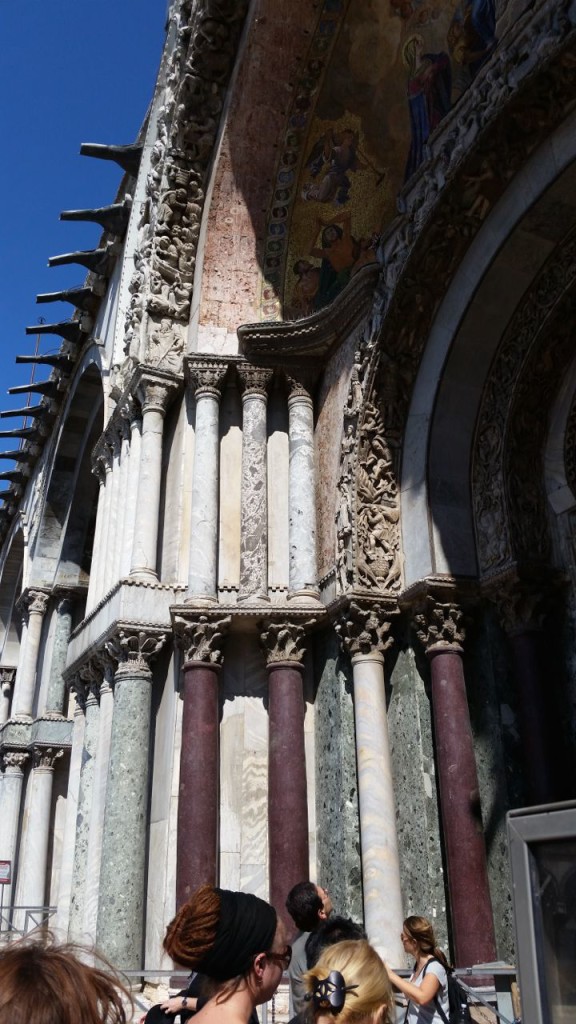 The first version of the building was built in AD 828.
It was originally the Doge's personal chapel
The food in Venice was the best of the whole trip. EVERYTHING was good. We snacked the whole time. My favorite flavor of gelato (and I tried them all) was dulce de leite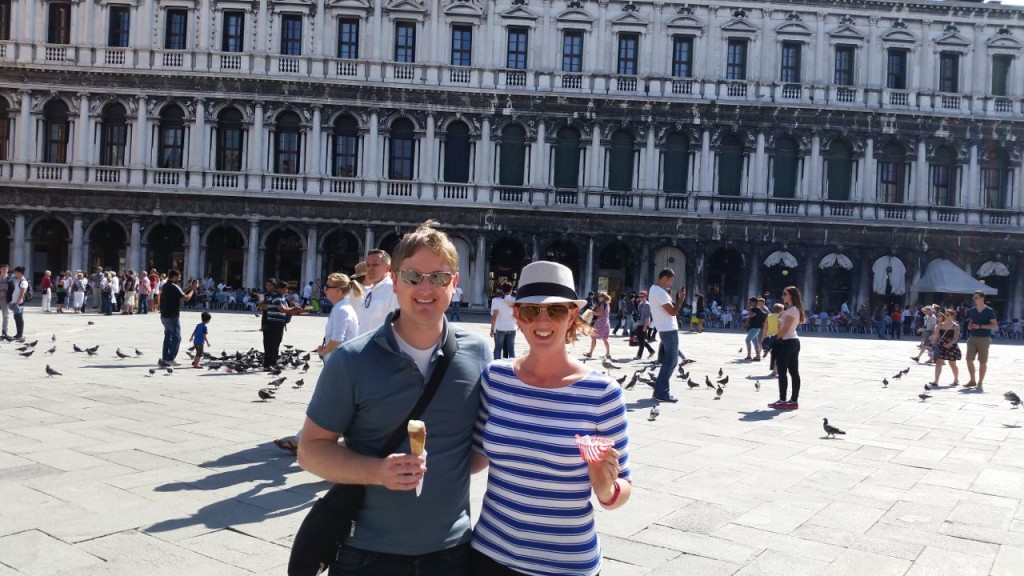 The rule in San Marco's Sqaure is no sitting. We parked ourselves on the steps to enjoy our gelato, and we were promptly shoo-ed away. So it's ok for the street vendors to aggressively harass people in the square with useless junk, but not sit and enjoy the ambience and a little gelato. The vendors were so obnoxious that I quickly stopped being polite and started plowing them over. You can't just say no to the rose or the selfie stick, that is when they get in your face and block your path. So I just kept walking and did a strong side sweep with my arm. One time I even took the rose and kept walking. He had to chase me down to get it back. I realize they are trying to make a living, but I also spent a lot of money to be here for this limited amount of time, and you are ruining it.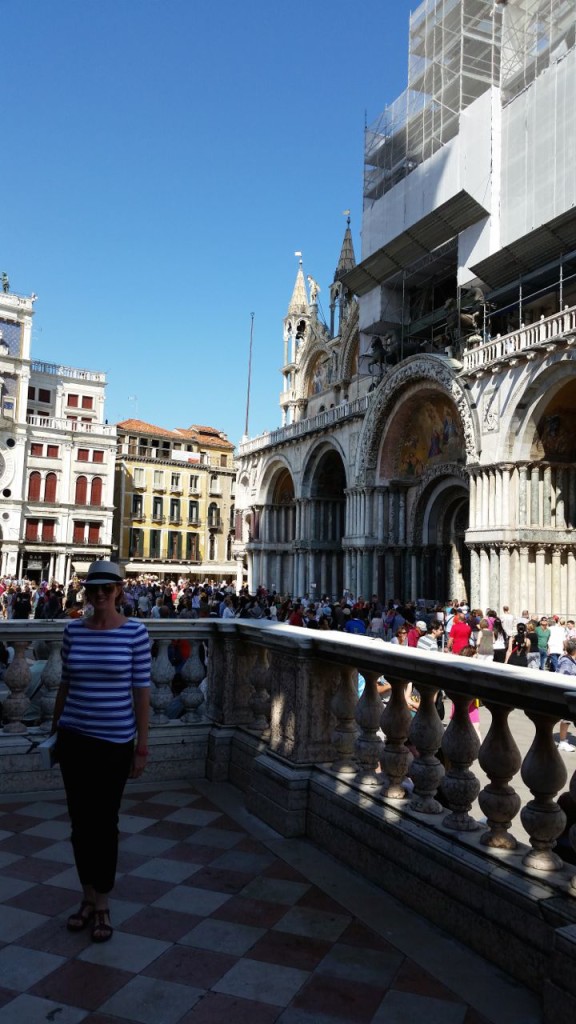 Why did I choose to dress like a gondolier in Venice? Couldn't I have saved this shirt for any other city on the trip? I bought this hat in Brighton. Love it.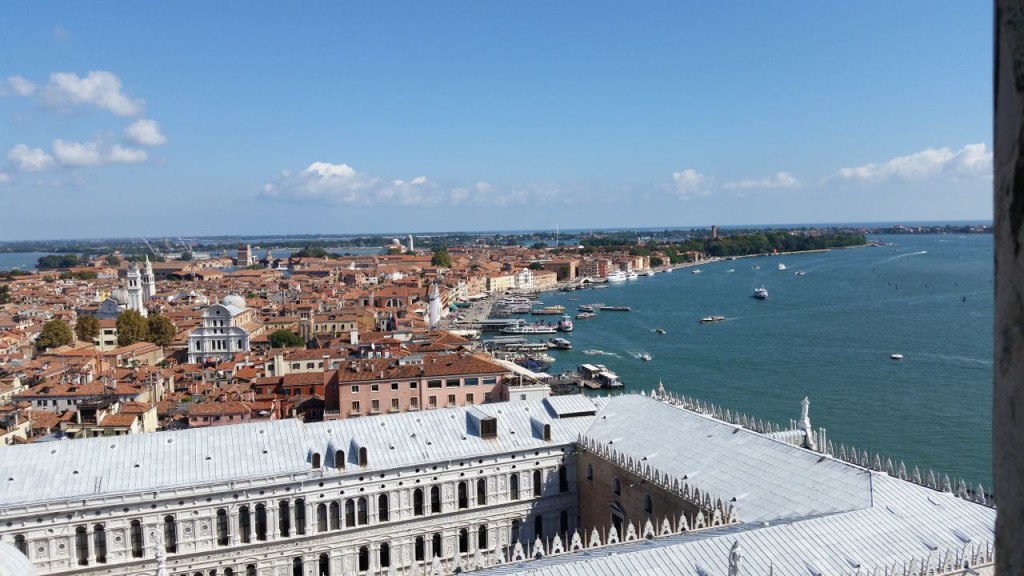 The view from the top of the tower.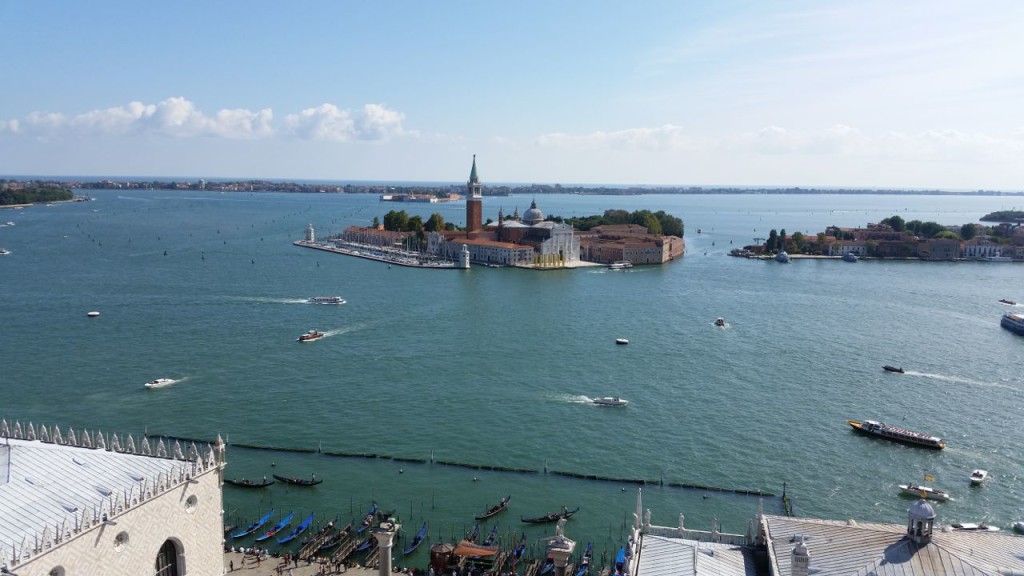 The view is worth all 828 steps.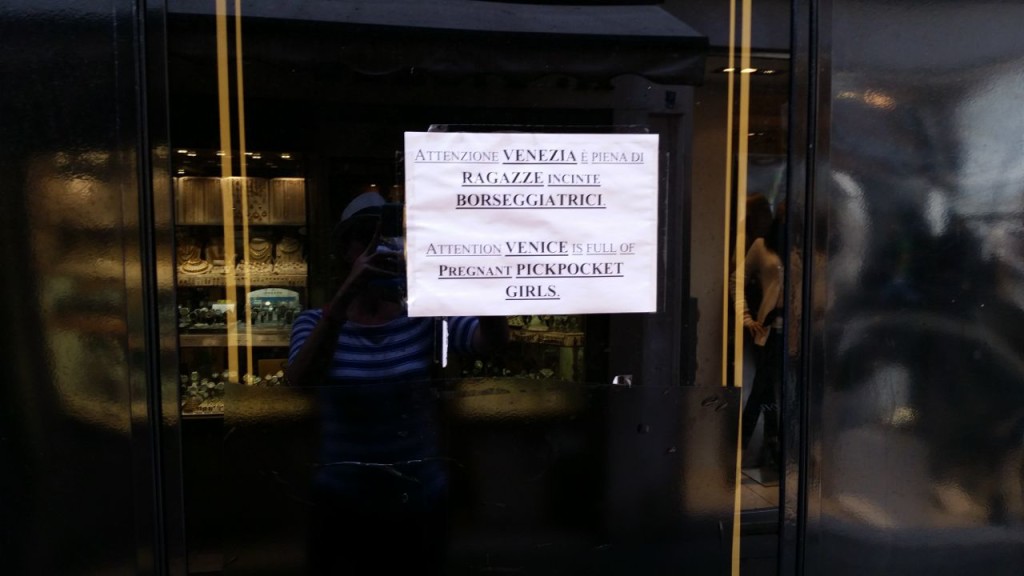 Now you know why I screamed when I thought I was being robbed. Every time I saw a pregnant woman after that I clutched my bag to me and gave them that knowing glare.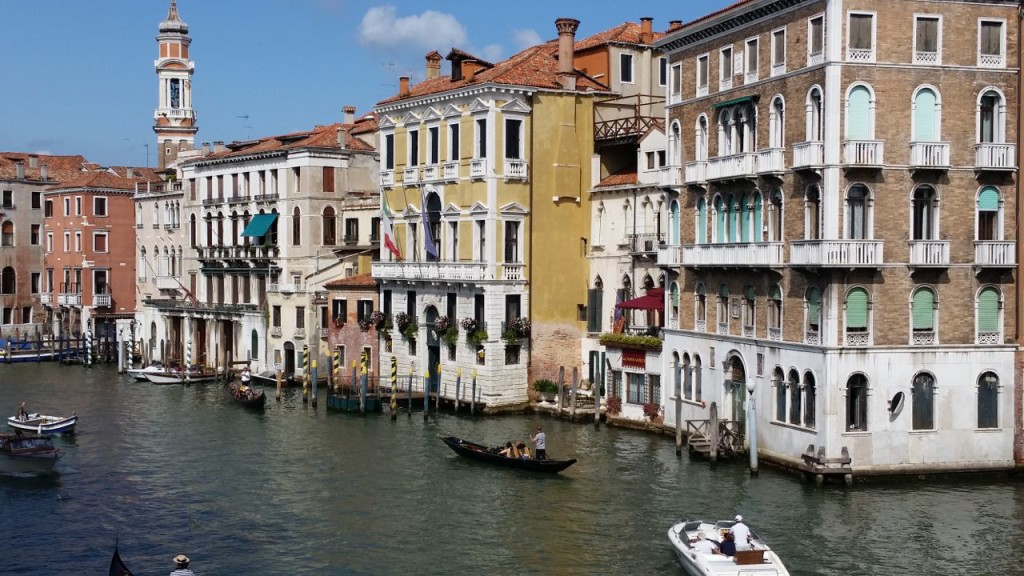 The Grand Canal. It's not the cleanest water, but it's not as dirty as it was in years past. My brother served a mission in Venice, and he said that back in the late 80s people threw garbage out their windows into the canals. It was wise to always be aware of what was going on above you.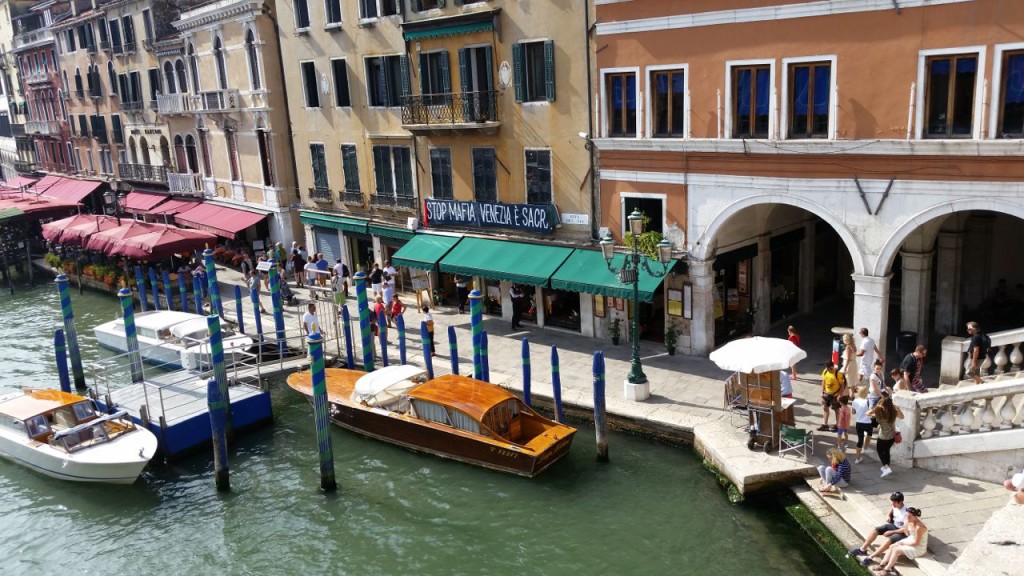 Apparently the Mafia is a big problem here.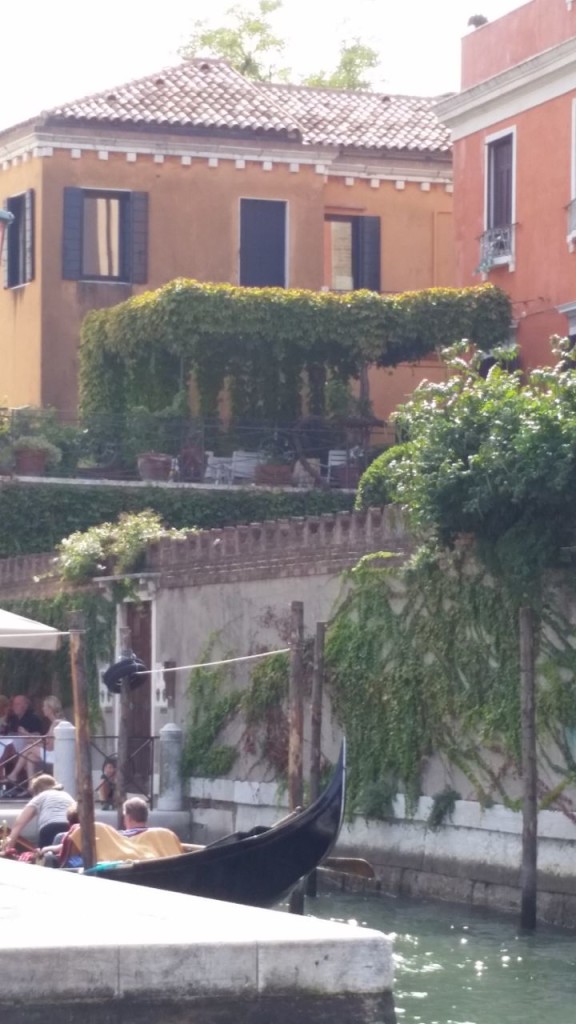 The weather couldn't have been more perfect.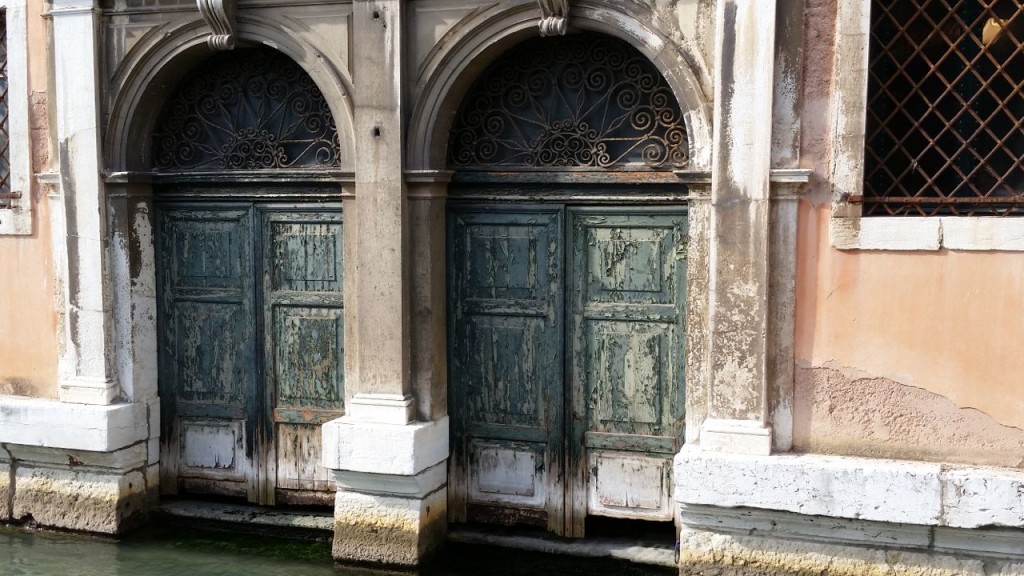 You can see the water level has been higher in the past. We used the water taxis quite a bit. Not only are they a great way to get around, but also a great way to see the buildings along the Grand Canal. There is no sidewalk, so you can't exactly stroll the waterfront.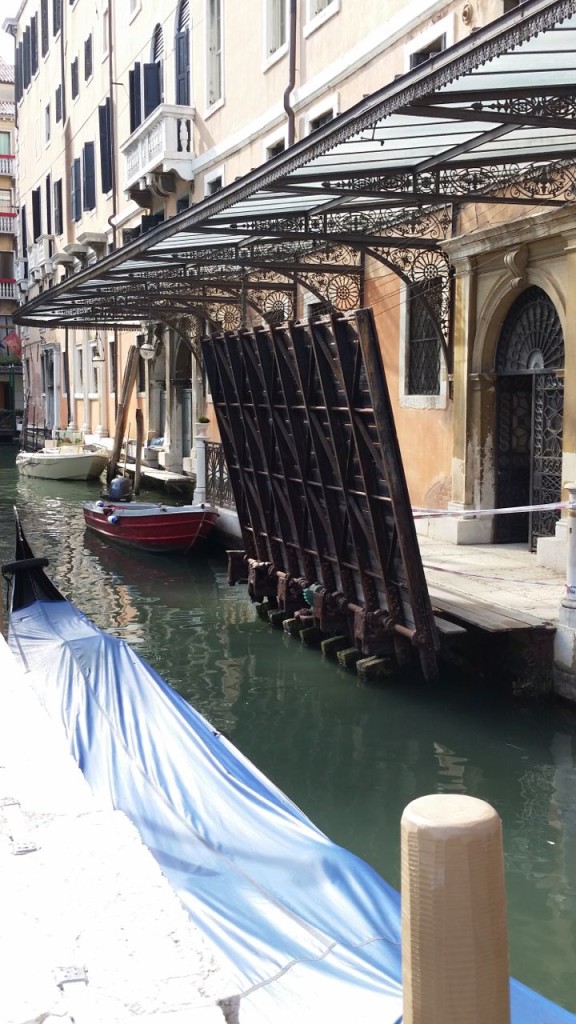 Can you imagine having a drawbridge as your driveway?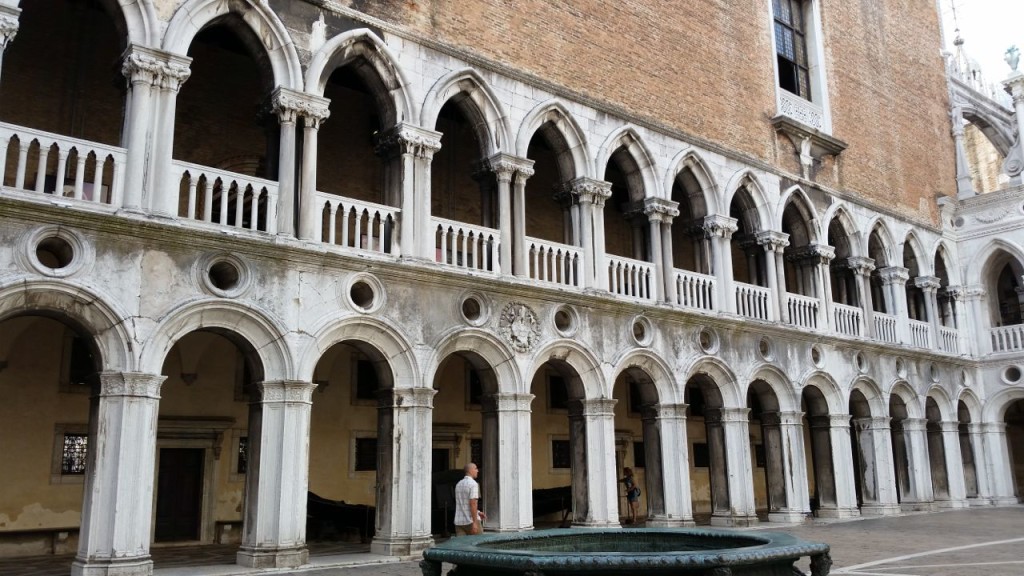 The Doge's (Duke's) Palace. Doges of Venice were elected for life by the city-state's aristocracy. Commonly the man selected as Doge was the shrewdest elder in the city. It wasn't like other countries where the title, etc. were inherited.
It is connected to St. Mark's Basilica, which was originally the Duke's private chapel.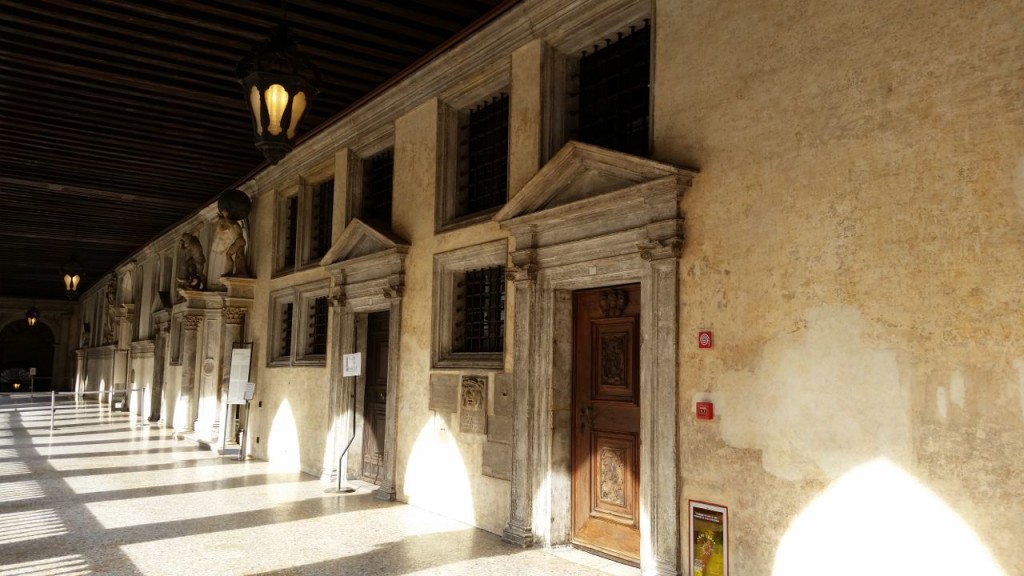 If you were appointed Doge of Venice, you were not allowed to leave the city without special permission. In Venice, doges normally ruled for life, although a few were forcibly removed from office. While doges had great temporal power at first, after 1268, the doge was constantly under strict surveillance: he had to wait for other officials to be present before opening dispatches from foreign powers; he was not allowed to possess any property in a foreign land. After a doge's death, a commission of inquisitori passed judgment upon his acts, and his estate was liable to be fined for any discovered malfeasance. The official income of the doge was never large, and from early times holders of the office remained engaged in trading ventures.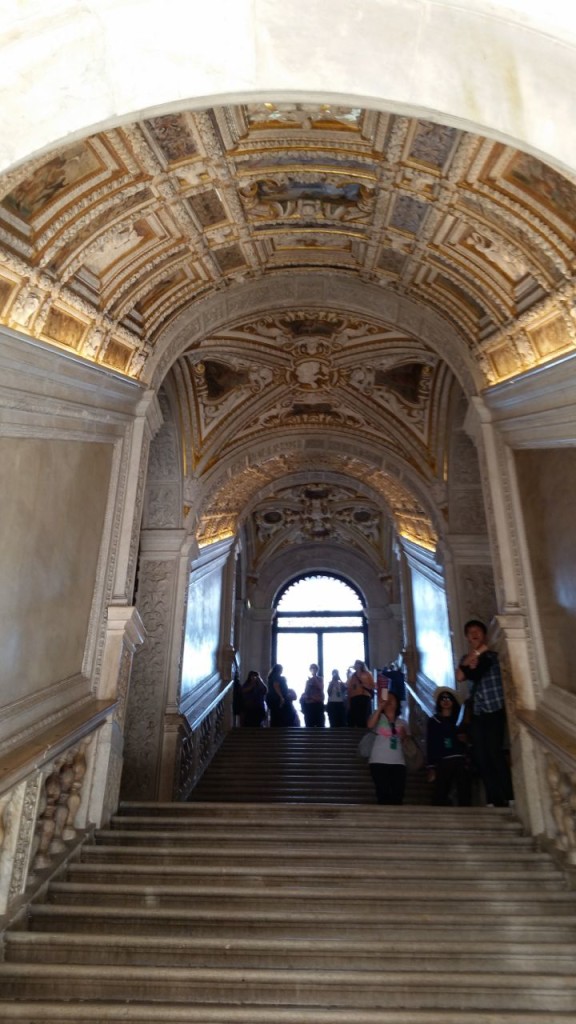 The Venetian empire existed between the years of 1206-1450 in all regions of Europe. At its height, it was the most powerful military and economic state in Europe, and the Second most powerful in the world. Venice was an important port city.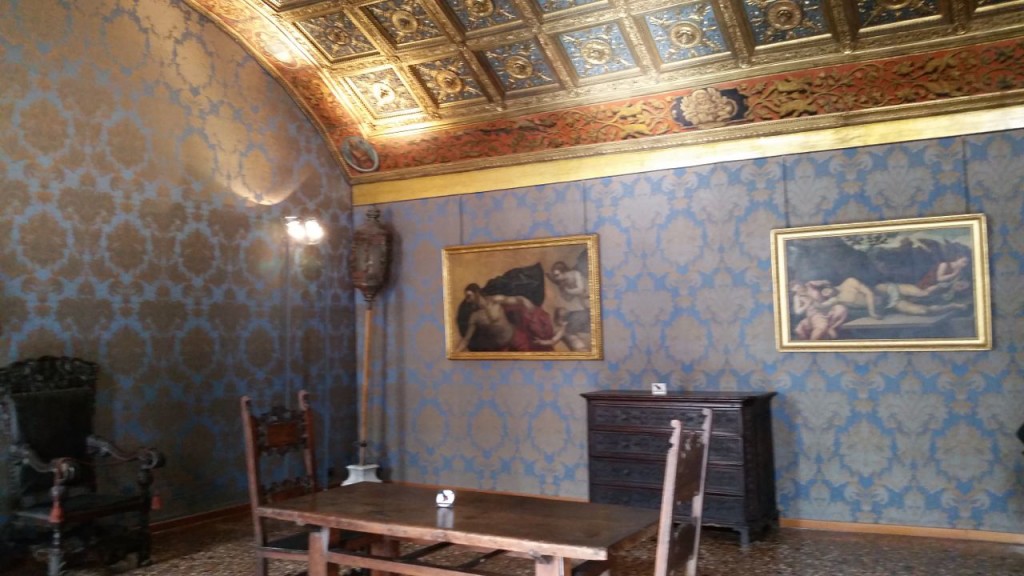 The whole palace is extremely ornate.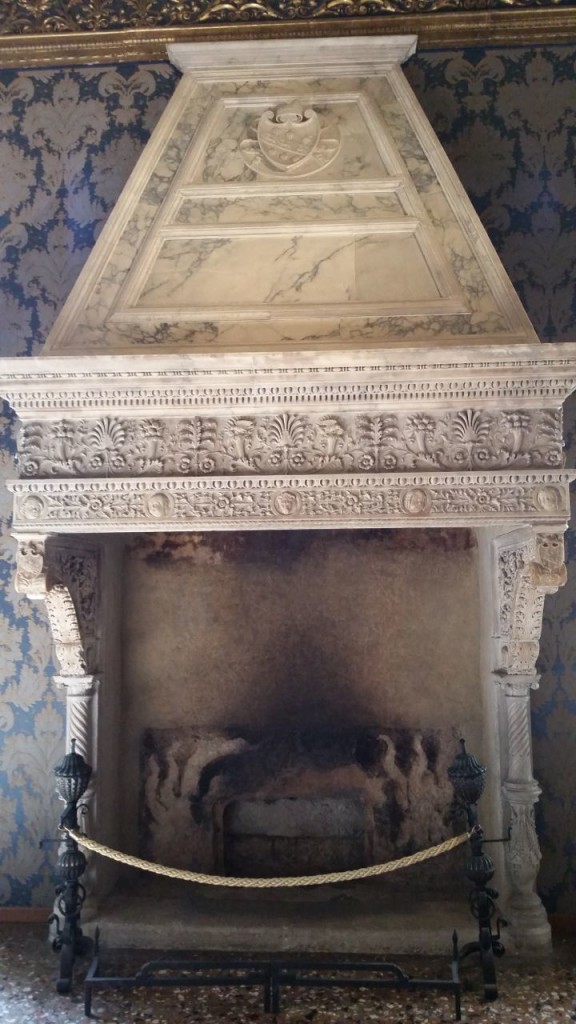 I would love to have this fireplace. They made everything beautiful.
I can't even imagine how hard it would be to make this ceiling, and to have to scale ladders or platforms set up on stairs. These artisans had none of the tools and things we have now to construct something like that. I admire modern artisans, but ancient artisans were even more amazing.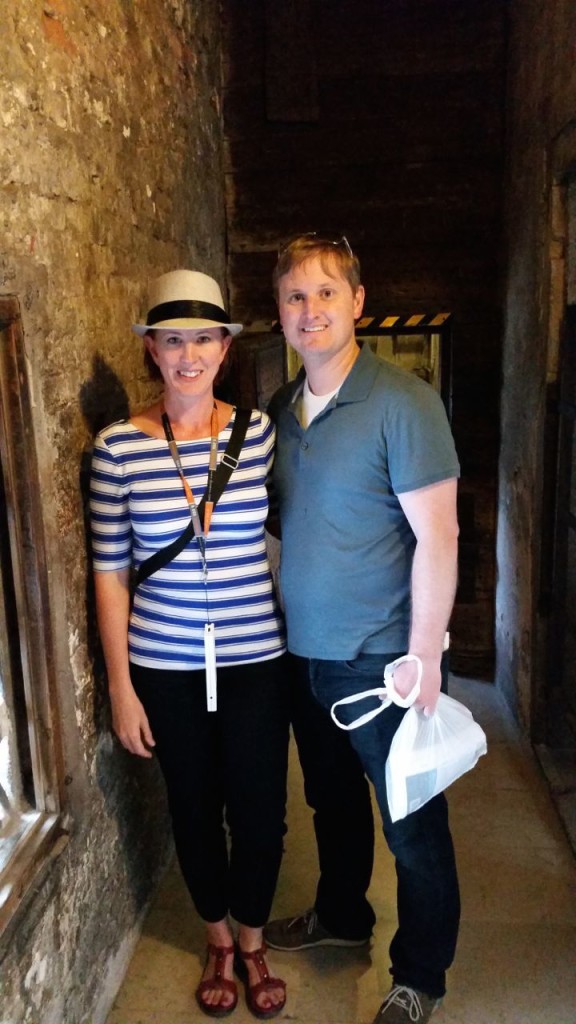 On the Bridge of Sighs. It connects the interrogation rooms in the Doge's Palace to the prison. It is said the prisoners would sigh as they took one last look through the windows on the bridge at beautiful Venice and freedom.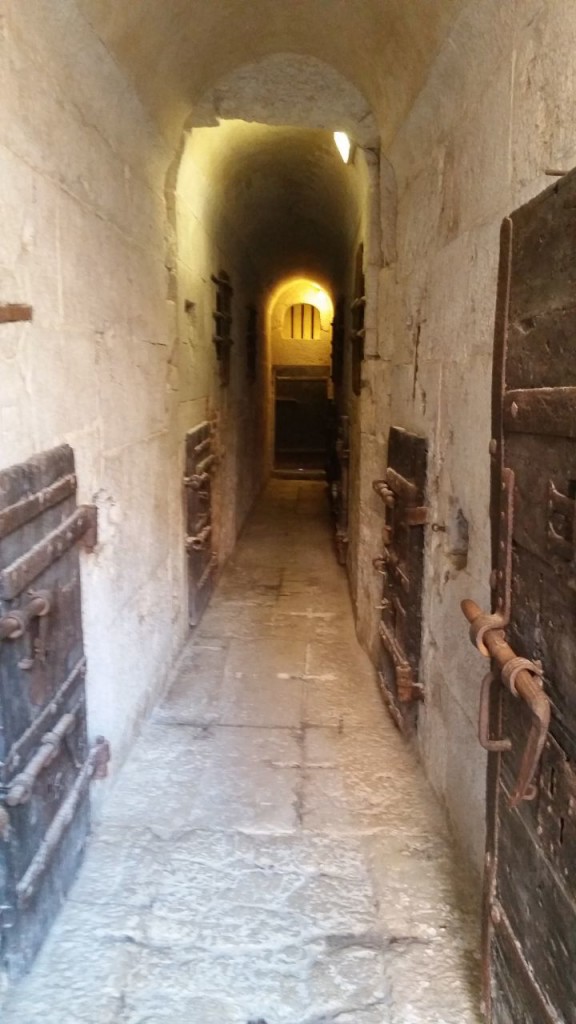 It leads to this prison.
The view that made them sigh.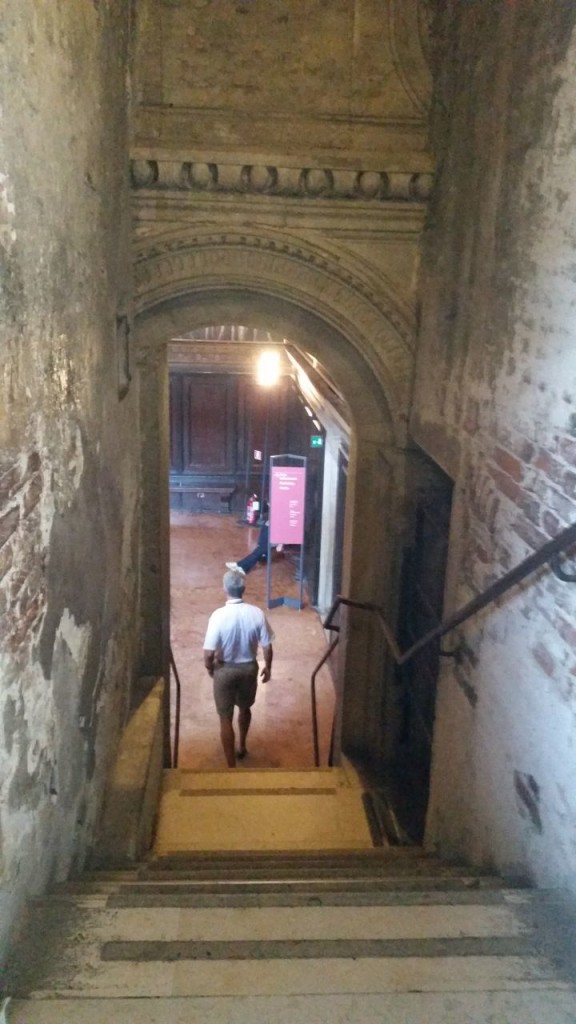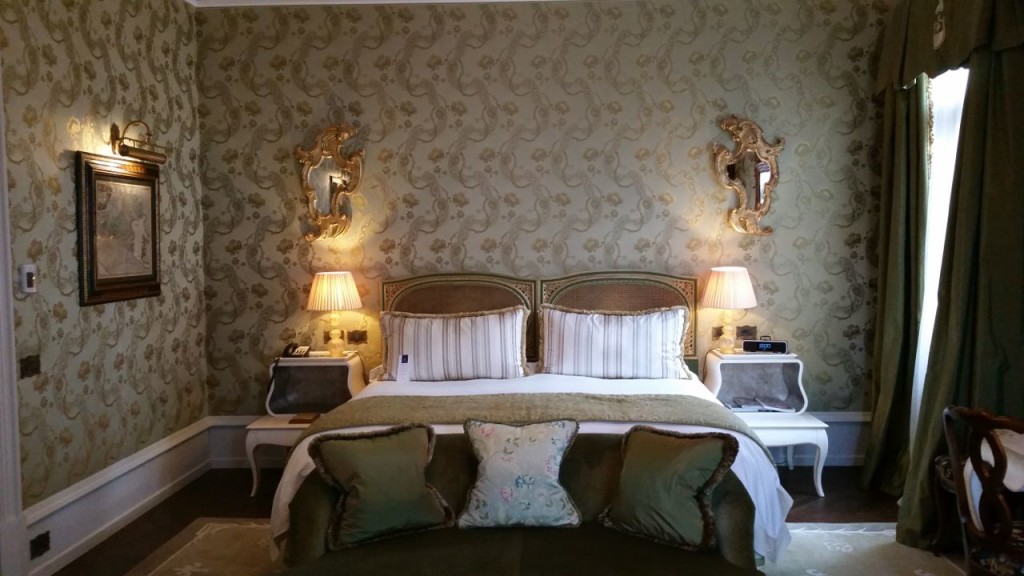 We stayed at the magnificent Gritti Palace right on the Grand Canal. Adam said he wanted to treat me like the queen I am.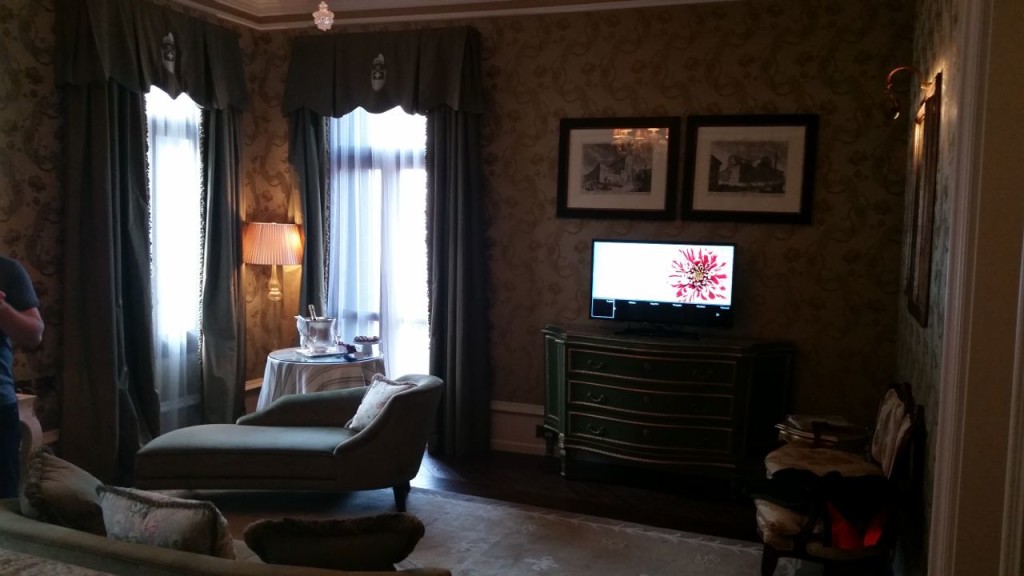 It was the Doge's private home in the 14th century before he was appointed.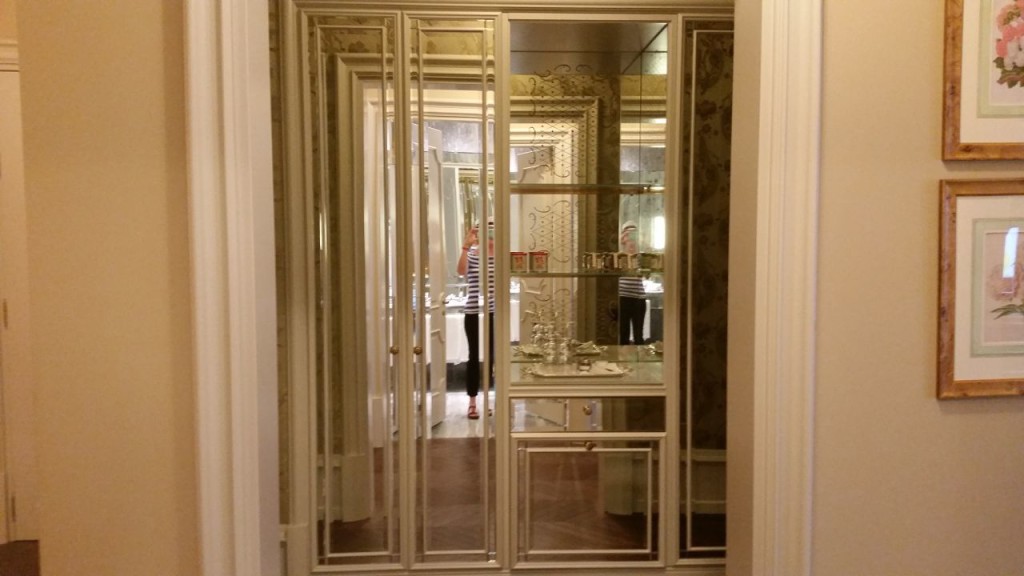 It was spectacular.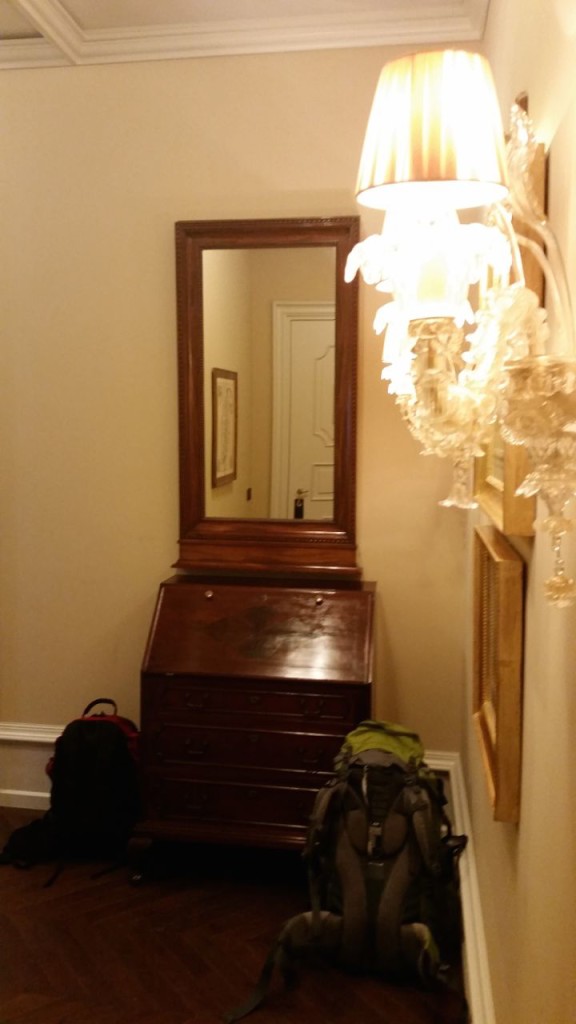 We had a foyer (foy-YAY).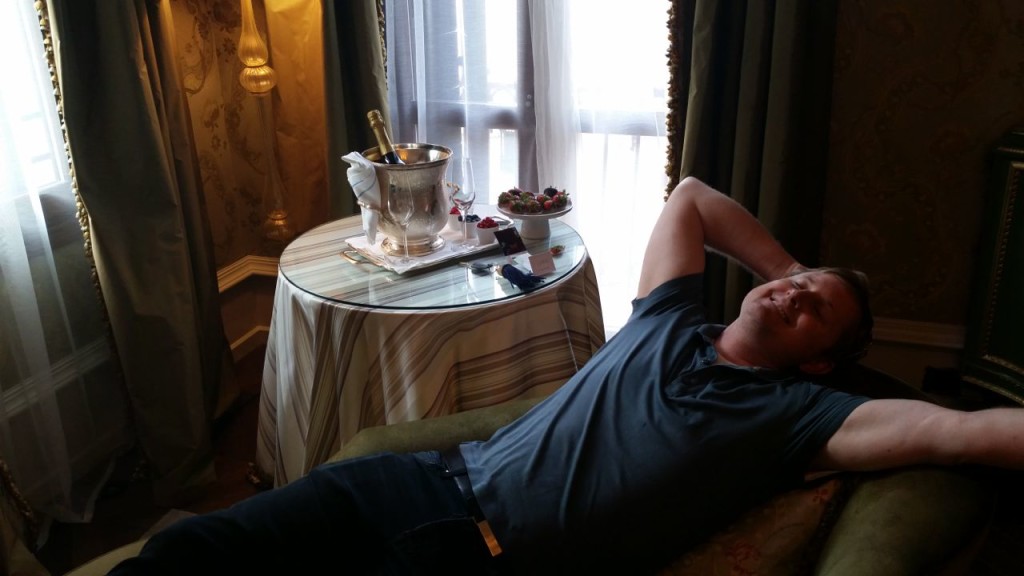 And a chaise. They had chocolate covered strawberries and champagne waiting for us, but since we don't drink, they sent up freshly squeezed orange juice instead. It was tasty but didn't quite go with the chocolate and strawberries.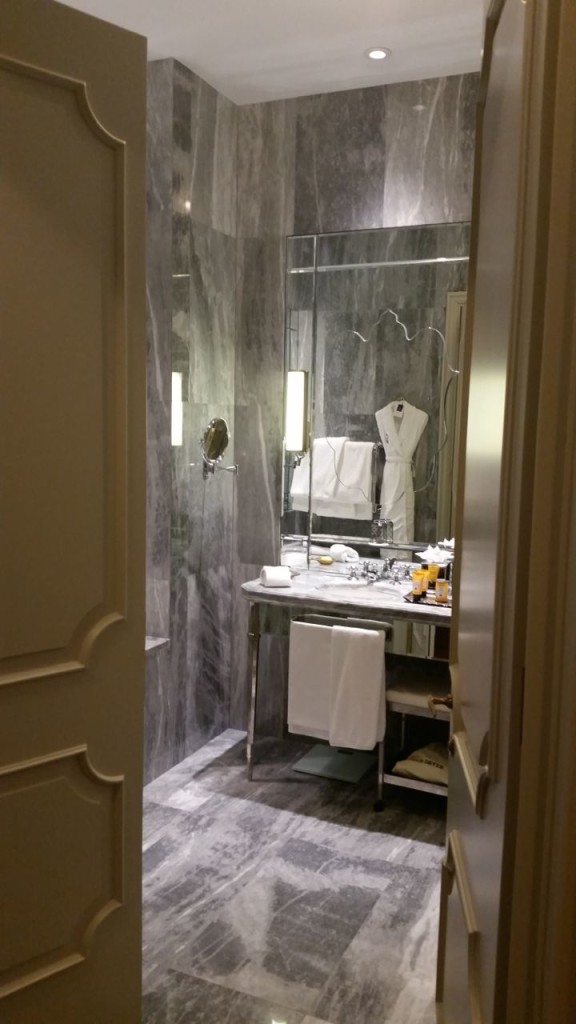 Our marble bathroom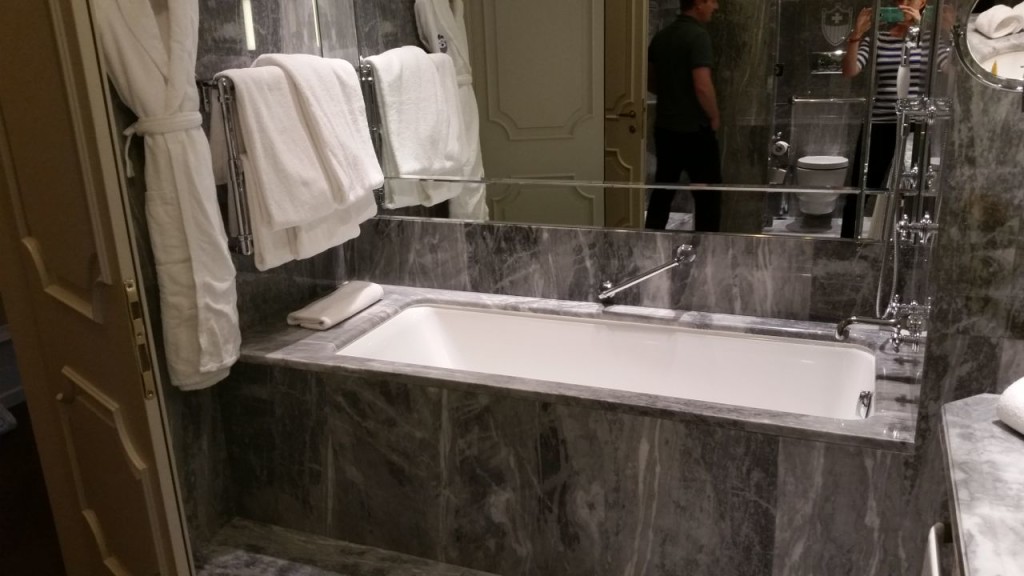 I wish I'd had time to soak in that tub.
Everything was so luxurious.
Even the water closet was luxurious. We had our choice of toilet or bidet.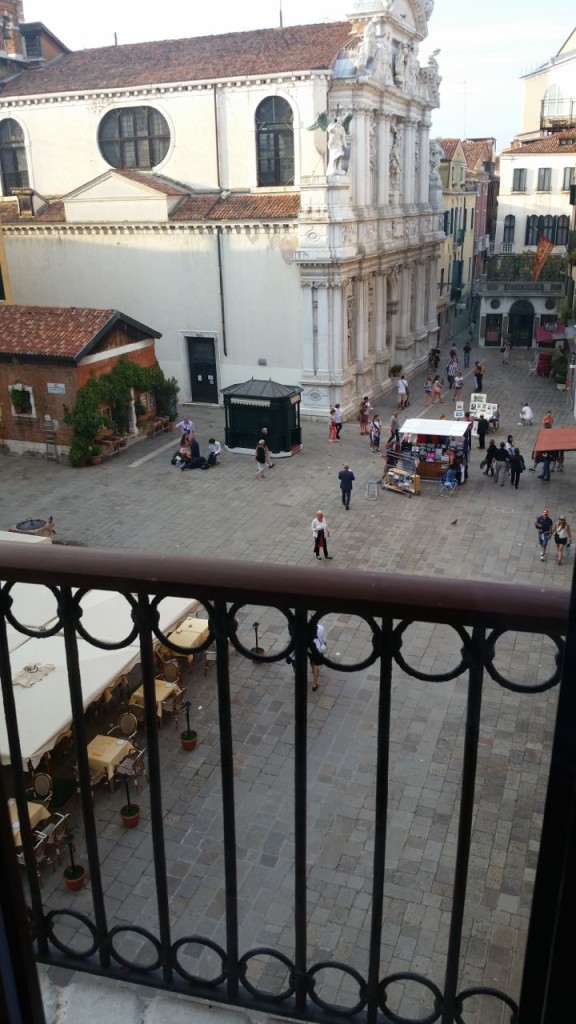 The view from the balcony in our room into the square below.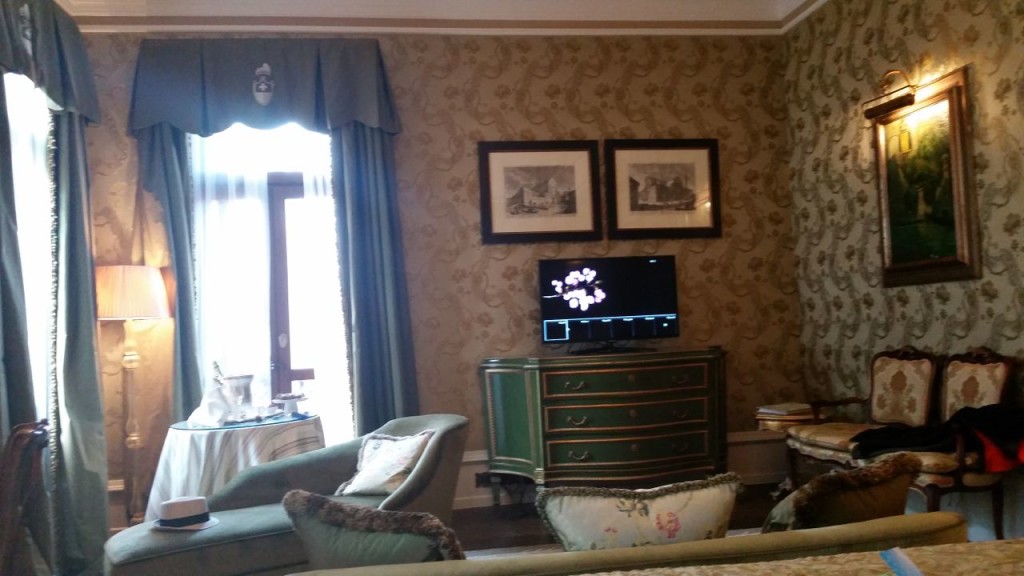 I'm spoiled. I admit it.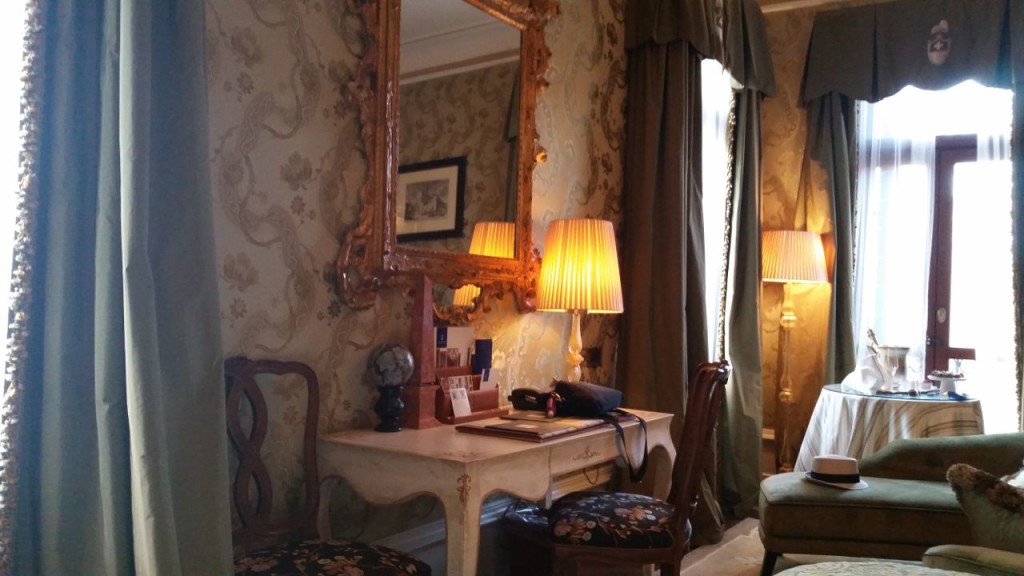 I wrote postcards to my kids from that desk. I sent them each a postcard from every city we stayed in.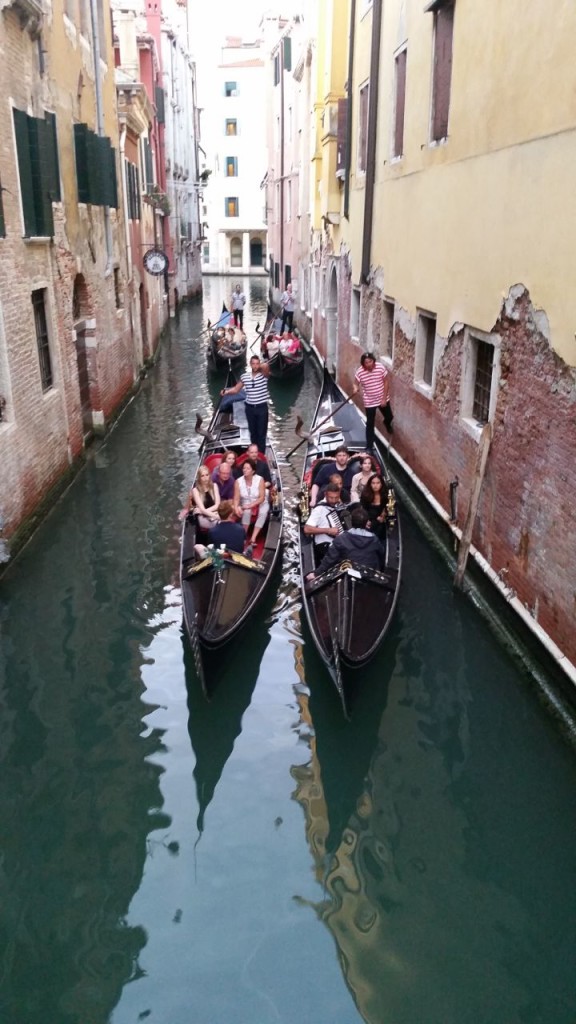 These gondoliers were ticked that I took their picture without tipping them, or because they think I'm a poser in my matching shirt or because I look better in the shirt than they do. He is making a colorful gesture at me.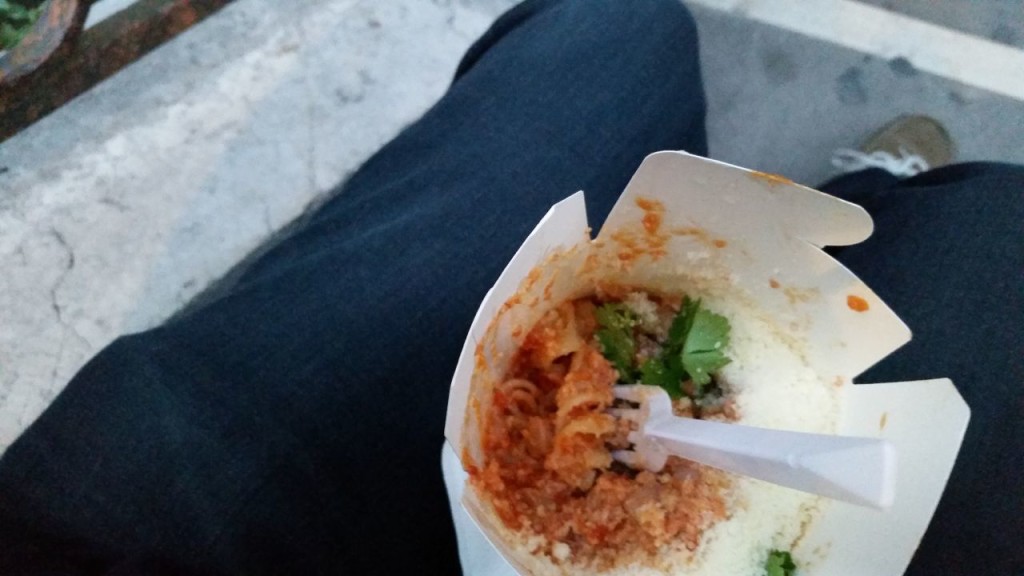 We went to this amazing pasta place where you choose your sauce, your fresh pasta, and a protein if you want it. It was incredible. It is only big enough to walk in, order, receive and leave. It's called Dal Moro's. I was amazed because the guy behind the counter knew what I wanted before I knew what I wanted. He suggested the perfect thing. How did he know I wanted pesto? He's no pasta nazi either. He seems to enjoy what he does.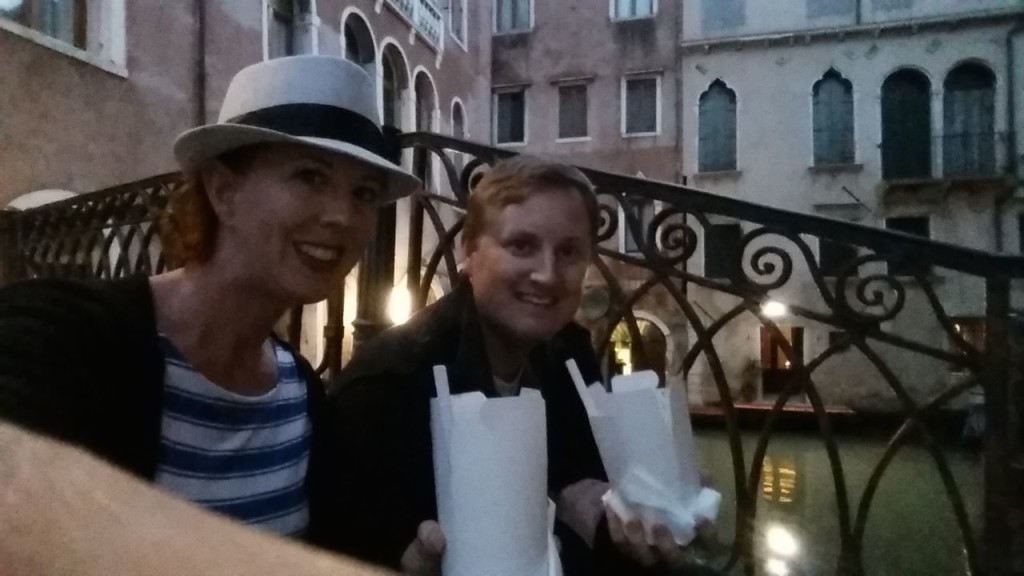 After getting your cup of deliciousness you huddle in the alley outside (not in the square, mind you), or find an obliging bridge to sit and eat it. I recommend the pesto. We were stuffed.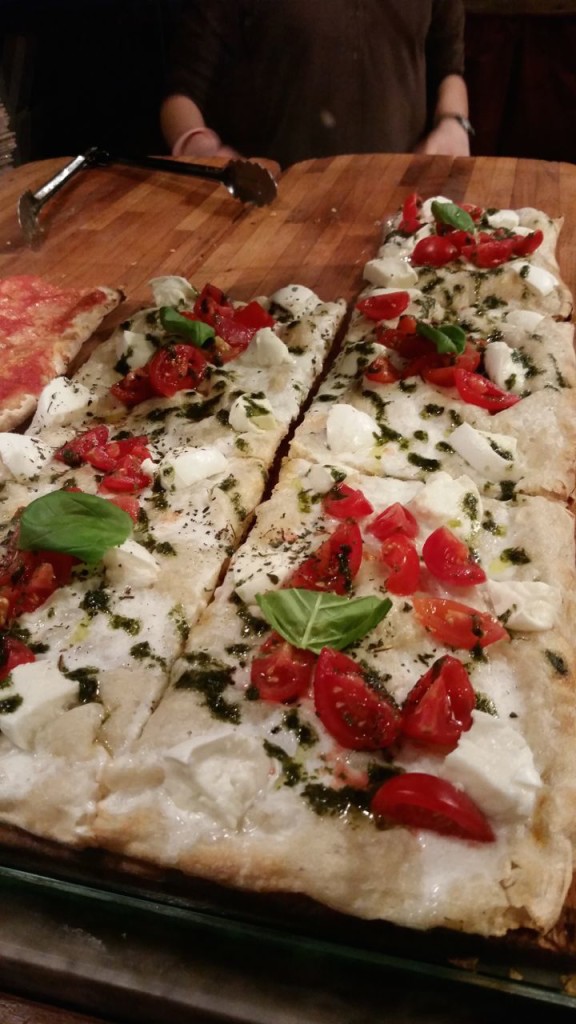 But not too stuffed to stop and eat a slice of this incredible pizza. We ate non-stop. This is possibly the best pizza I've ever had.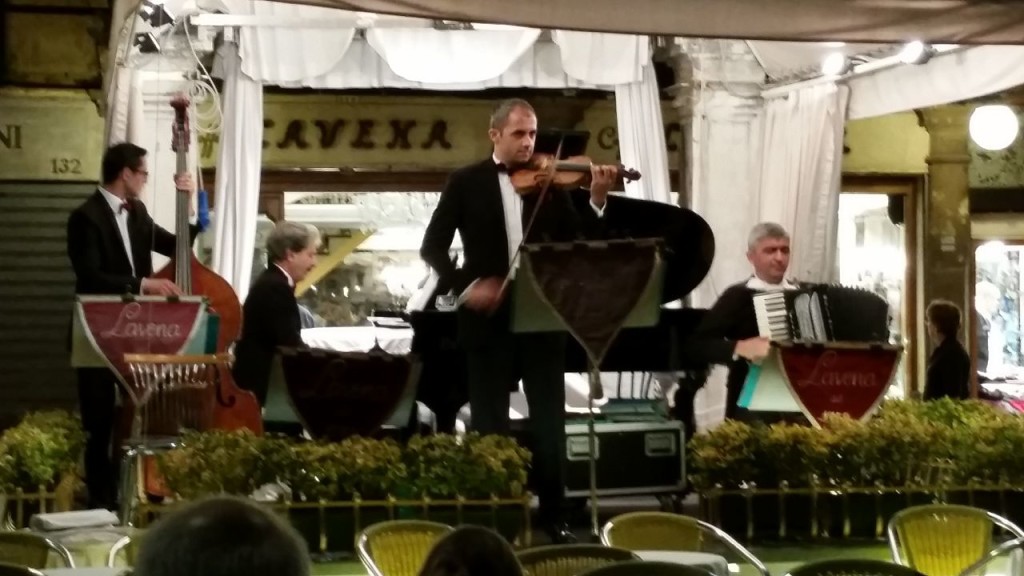 At night the various restaurants have dueling bands/orchestras. We walked from concert to concert with pizza (and then gelato, and then chocolates) in hand and enjoyed the music and the atmosphere of the square. It was very romantic.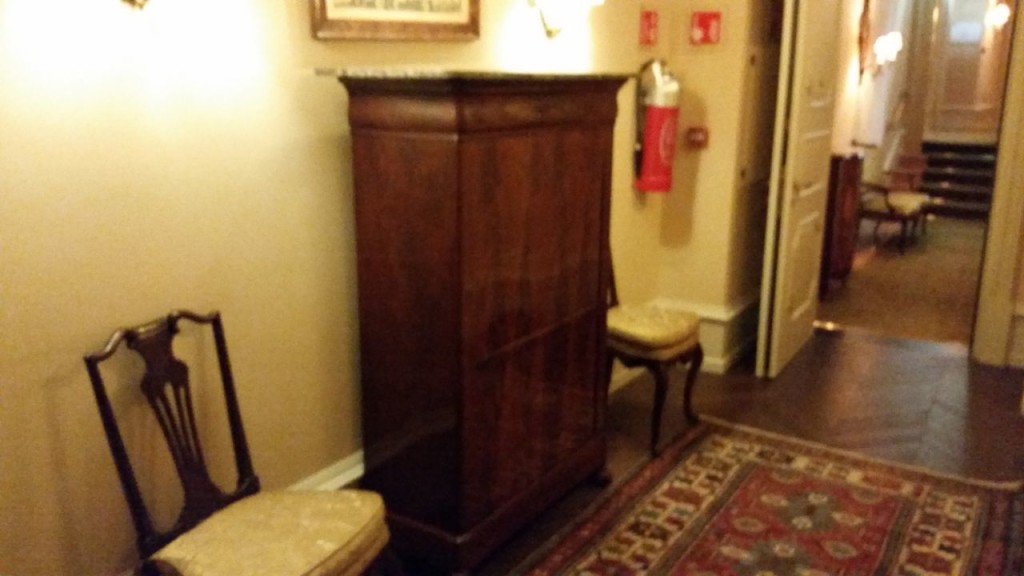 This is the hall to our room.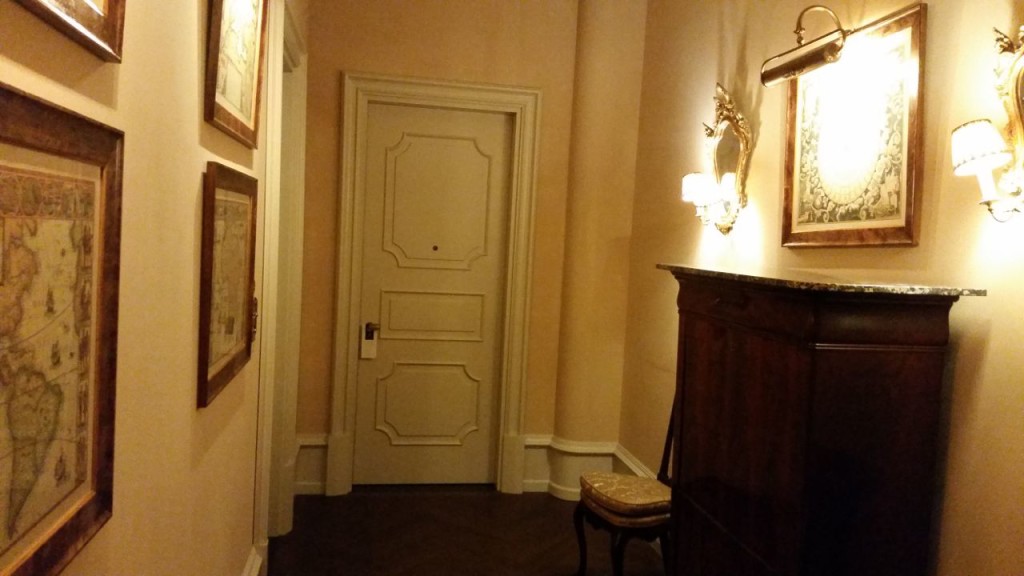 It can be closed off and locked to make our room and the room next to it a suite.
On day two we hit the streets once again.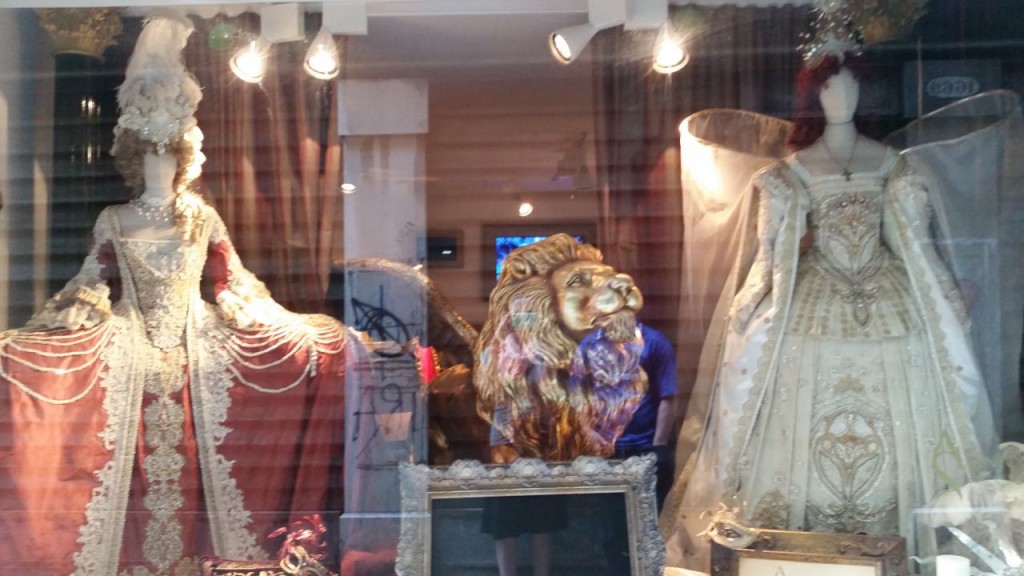 You can rent these incredible costumes for private events. Can you imagine? Some day I just might dress as a duchess…
One of my favorite parts was going to La Fenice, the opera house. It means The Pheonix. Named so because it has burned down several times.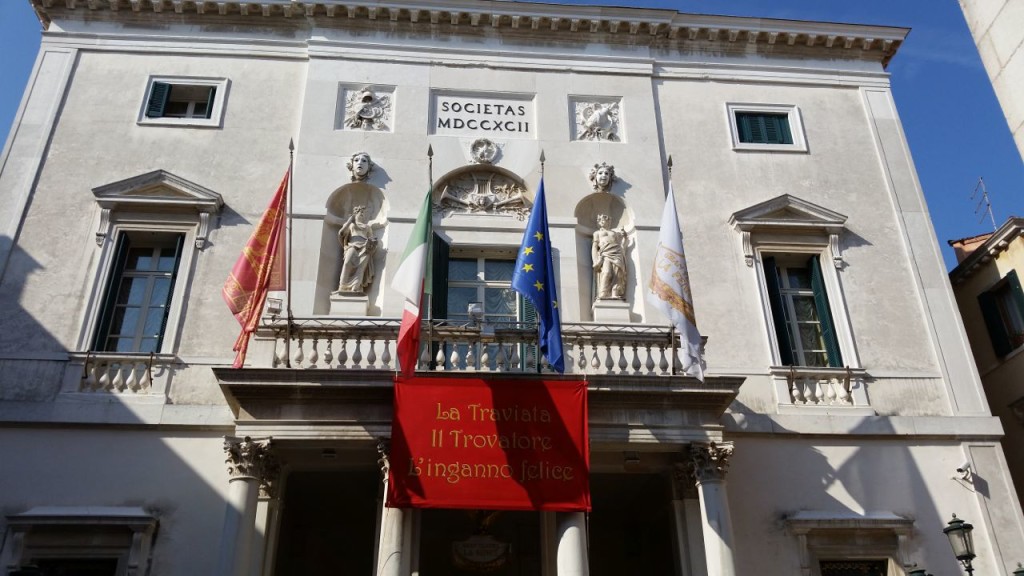 It wasn't on our original plan because we didn't know about it. If we had I would have gone to a performance the night before. They're only about two hours long. We already had dinner reservations right on the Grand Canal for this night, so we didn't go. It is my one regret from Venice. I would have loved to have gone. Dressed in one of those dresses!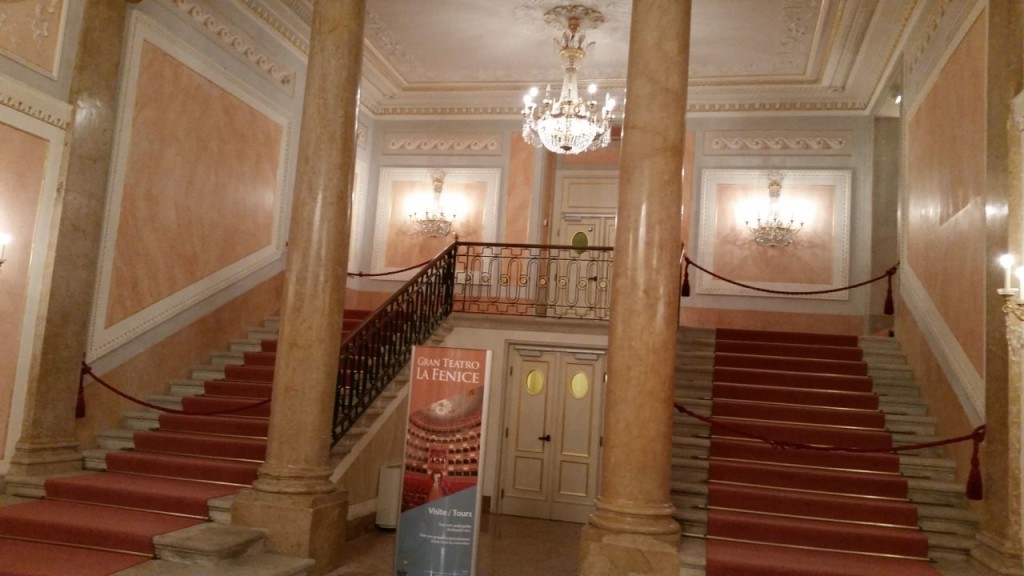 Every time it burned down, they rebuilt the opera house more opulently than the time before.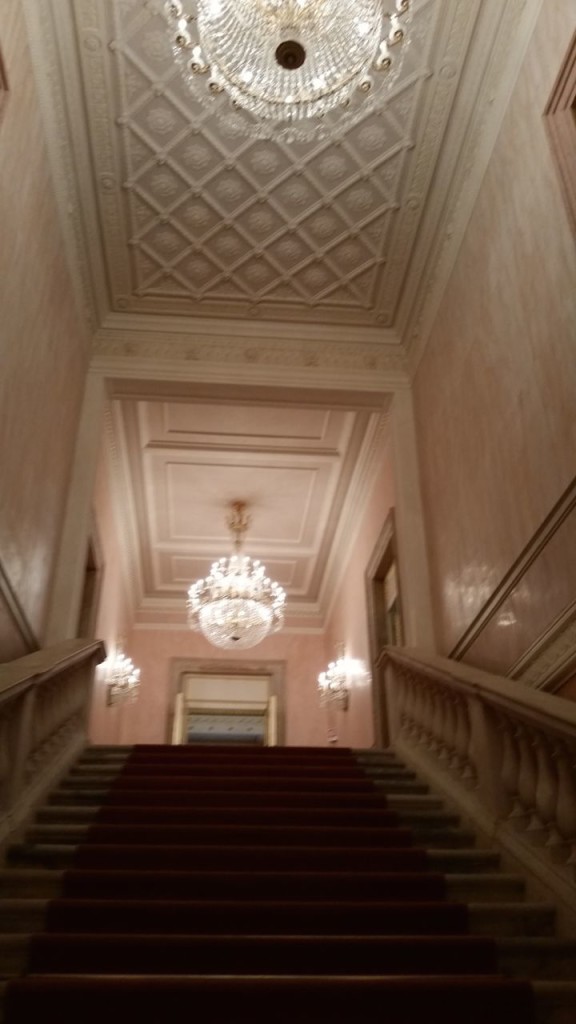 That is optimism, especially in a sinking city.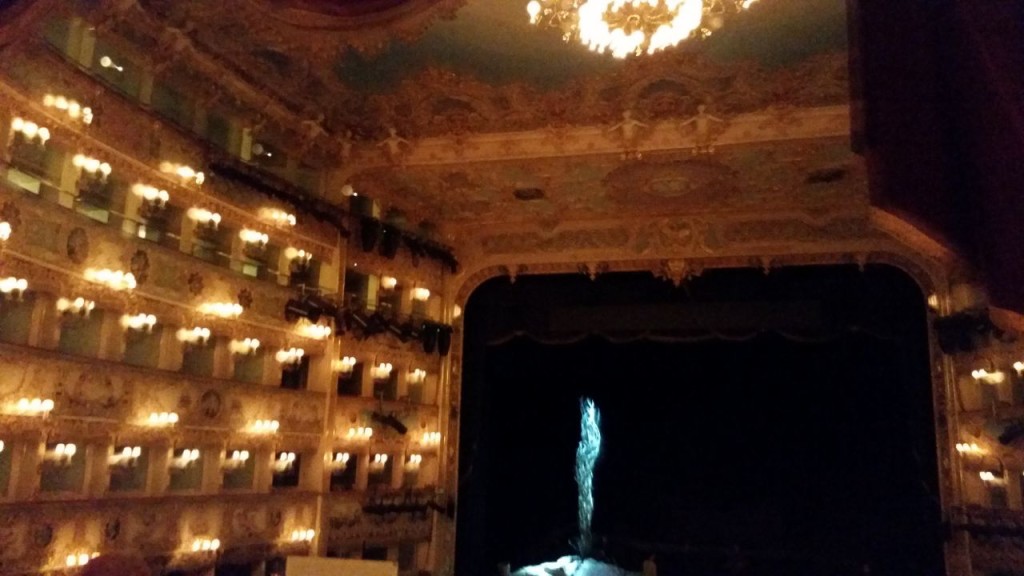 The lighting was really low, so the pictures are terrible, and don't do it justice.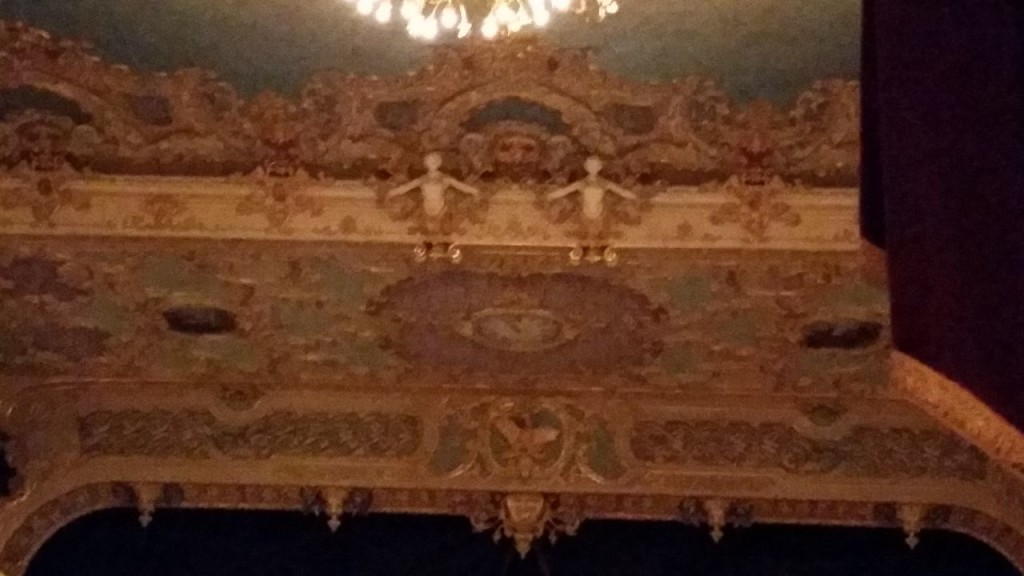 But the theater was amazing. It made me think of The Phantom of the Opera, and I can't wait to see the Opera Garnier in Paris!
Isn't this ballroom incredible?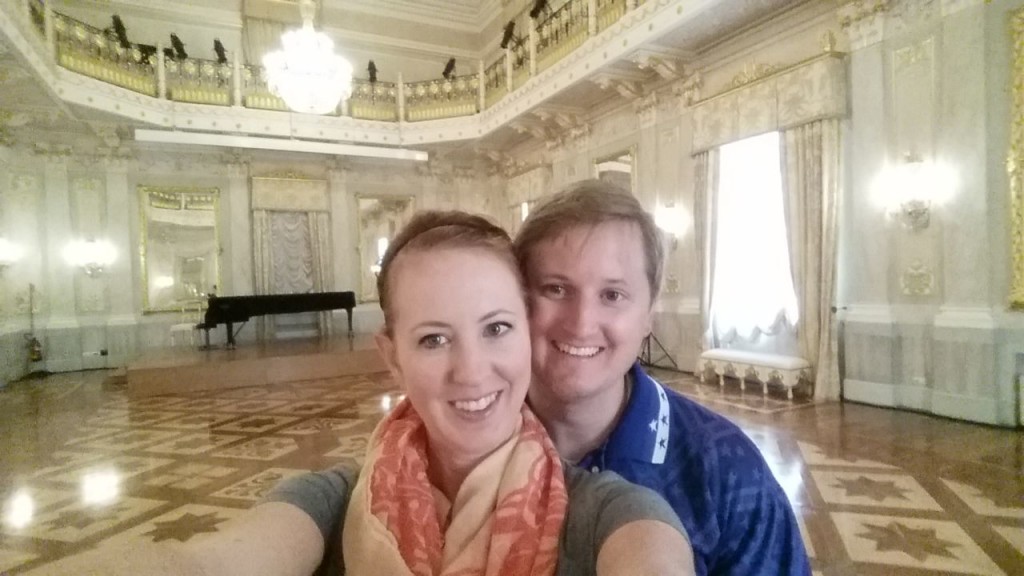 We should have bought a selfie stick from one of those obnoxious vendors in the square, but then I would have been tempted to whack them with it.
Venice is full of little alleyways.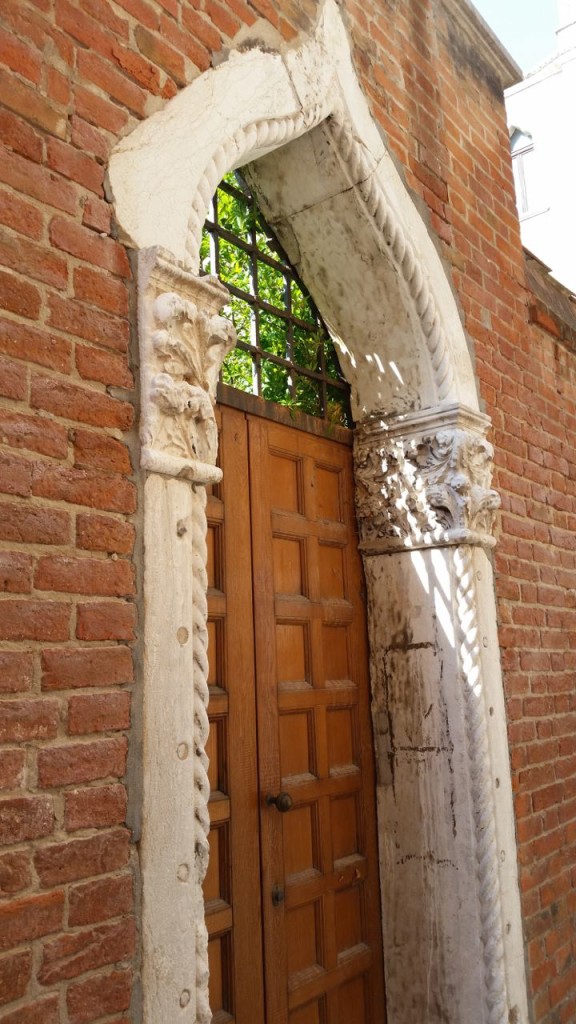 It was fun to explore the parts of Venice where real people live. We saw people carrying groceries, kids playing soccer, and these two little boys who tied their feet together with a jumprope and tried to stand up. That didn't work out for them. I wanted to take a picture because it was cute and funny, but it is creepy when people try to take pictures of my kids, so I refrained.
It is hard to actually FIND those parts of Venice though, and I'm sure the residents don't enjoy being observed in their natural habitat like a zoo exhibit. It would irritate me if I were them.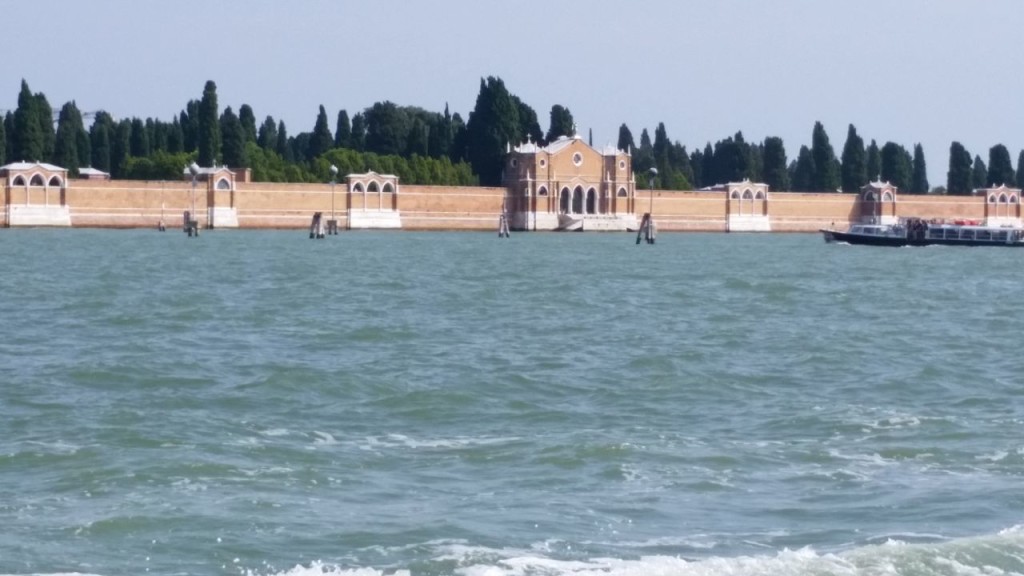 We took a boat ride to the islands of Murano and Burano.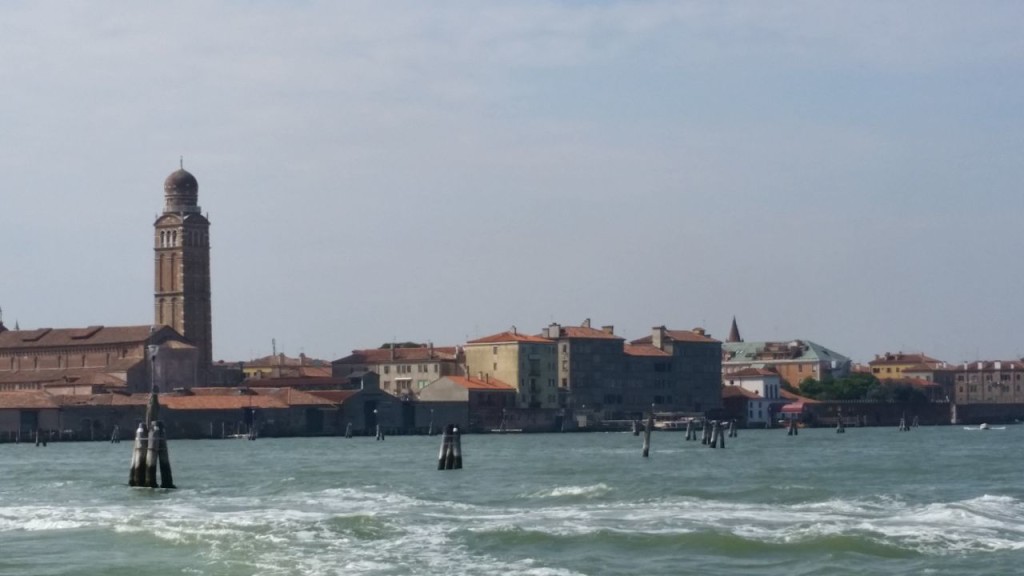 It was a really nice ride, and relaxing. The view was great.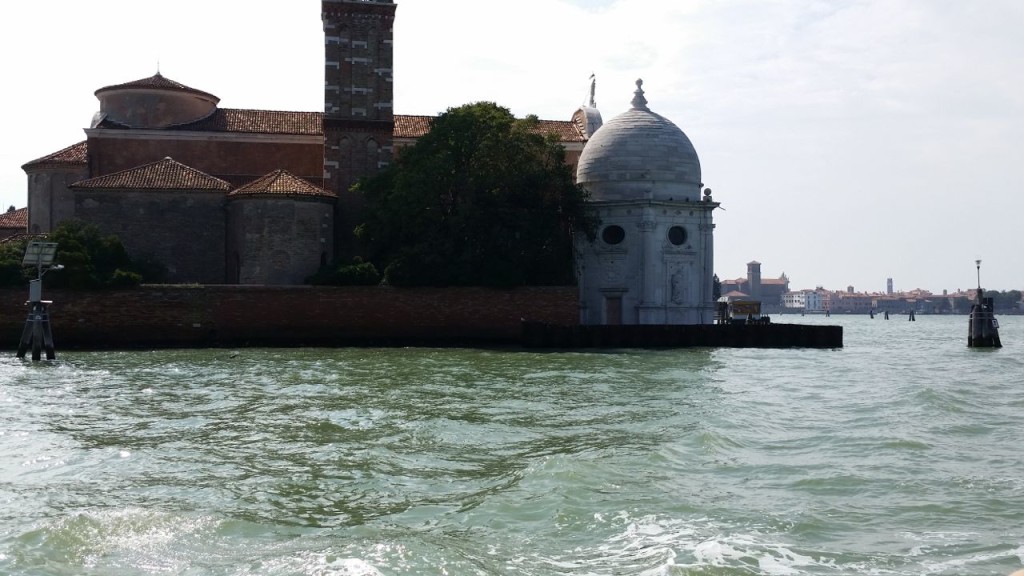 We got to see lots of smaller islands in between .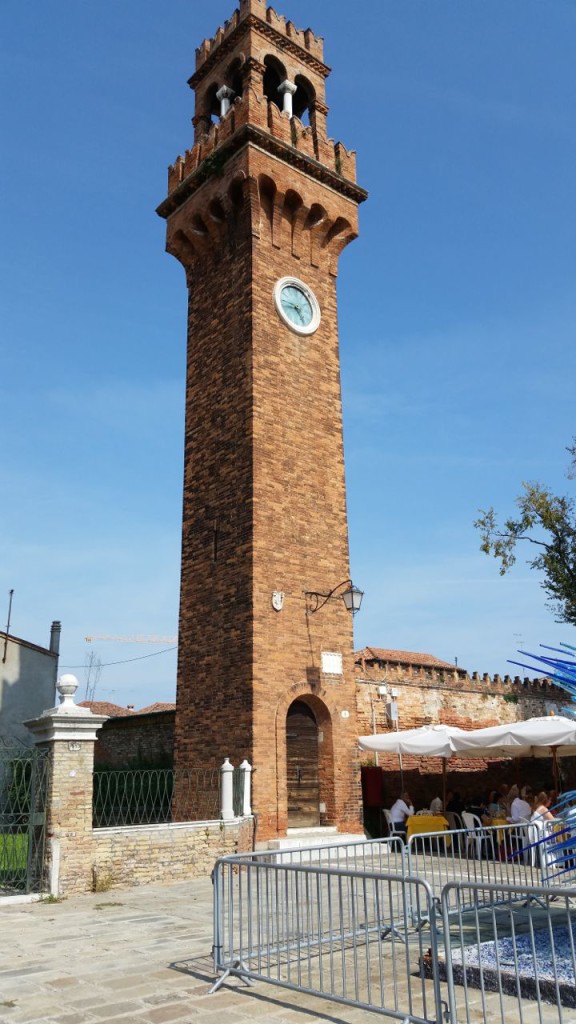 Clearly the island is a tourist trap, but worth the trip. Murano is where they make glass.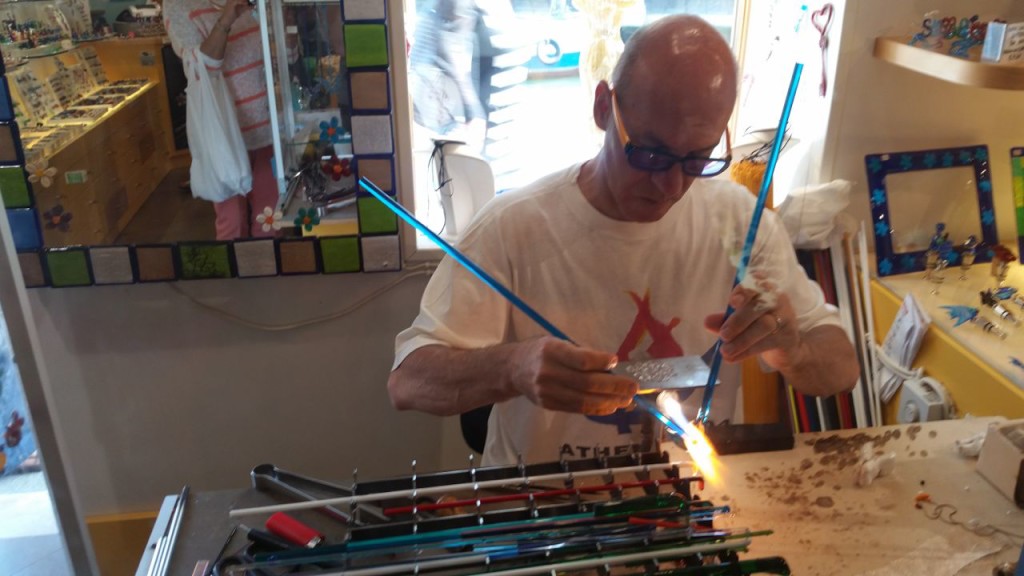 We got to watch a few glass demonstrations. They were very cool. I bought an ornament (like always) and a pair of Murano glass earrings, but as for the bigger things, they look just like the Murano glass I see at TJ Maxx (I know! I'm sorry, but Adam agreed), and not special enough to carry something that delicate and expensive around for the rest of the trip. Nothing really caught my eye.
Then we continued on our journey to the island of Burano.
Some of the islands in between are abandoned.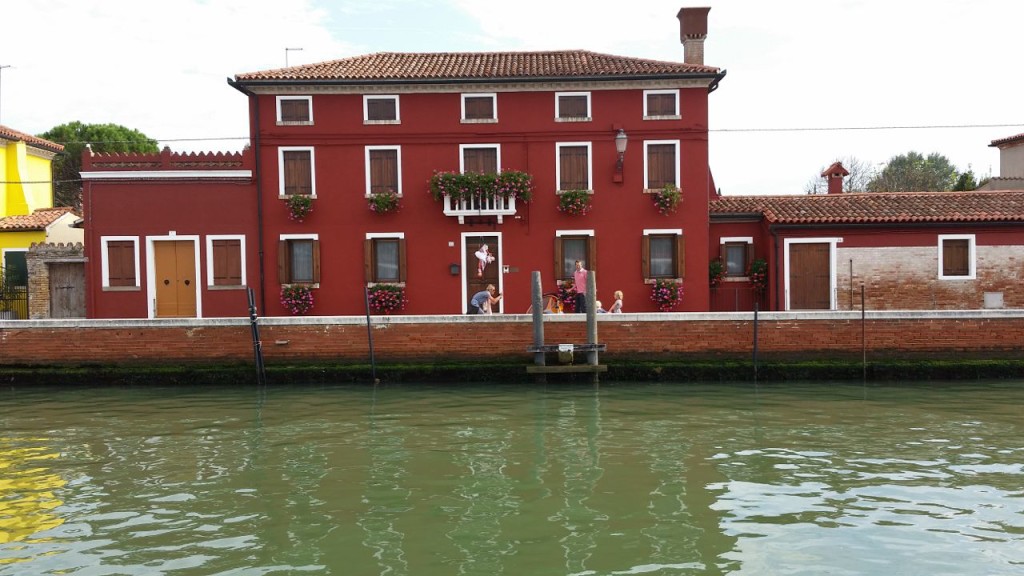 Burano is an island known for its lace. One shop we stopped at, the old lady there was so aggressive and went on and on in broken English about how it is all made by her and her daughter. She kept pulling things out to show me. Lady, I'm just admiring. Every time I tried to walk away, she would guide me over to something else. When I left and didn't buy, she swore at me.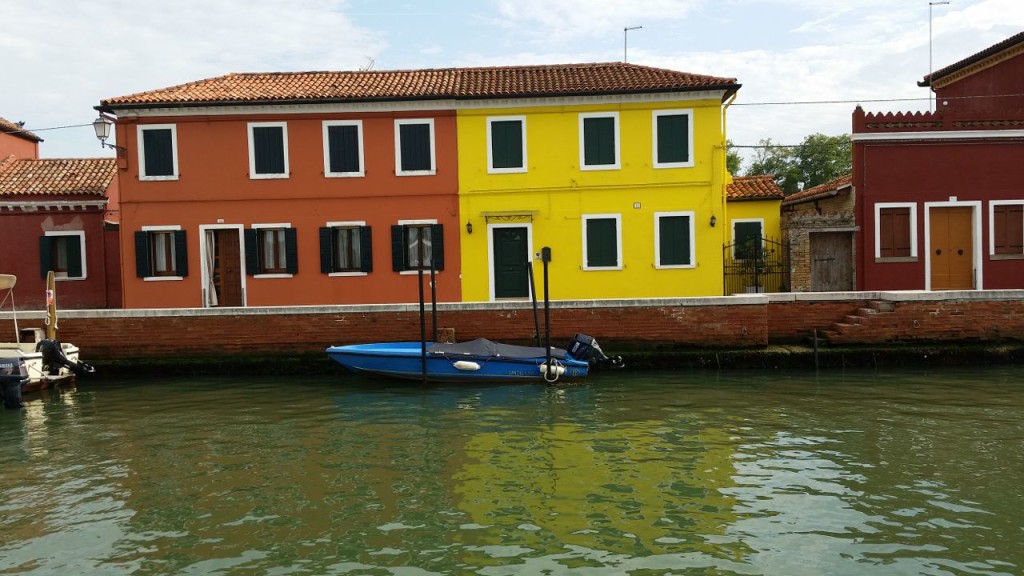 The island itself is very pretty and very colorful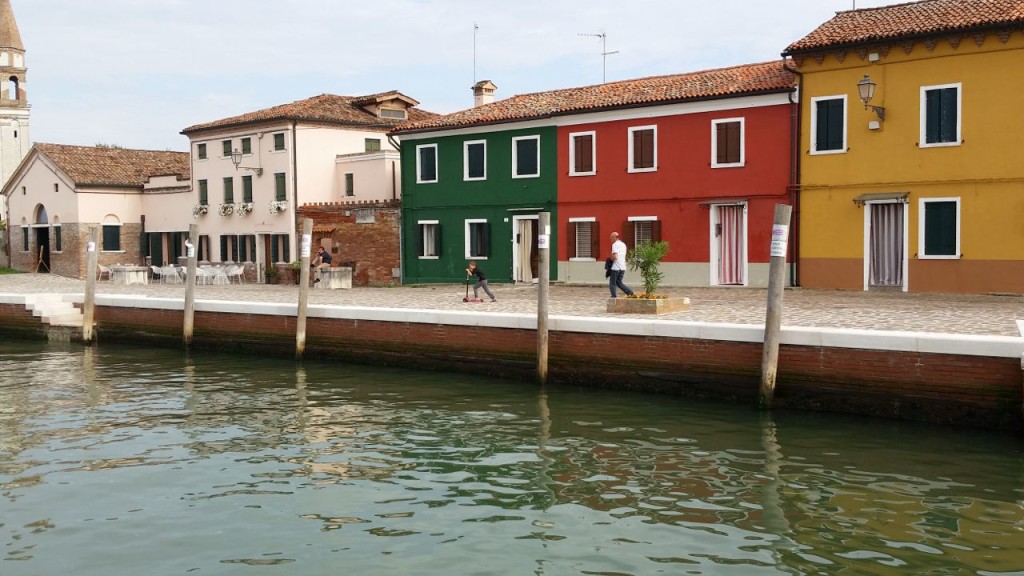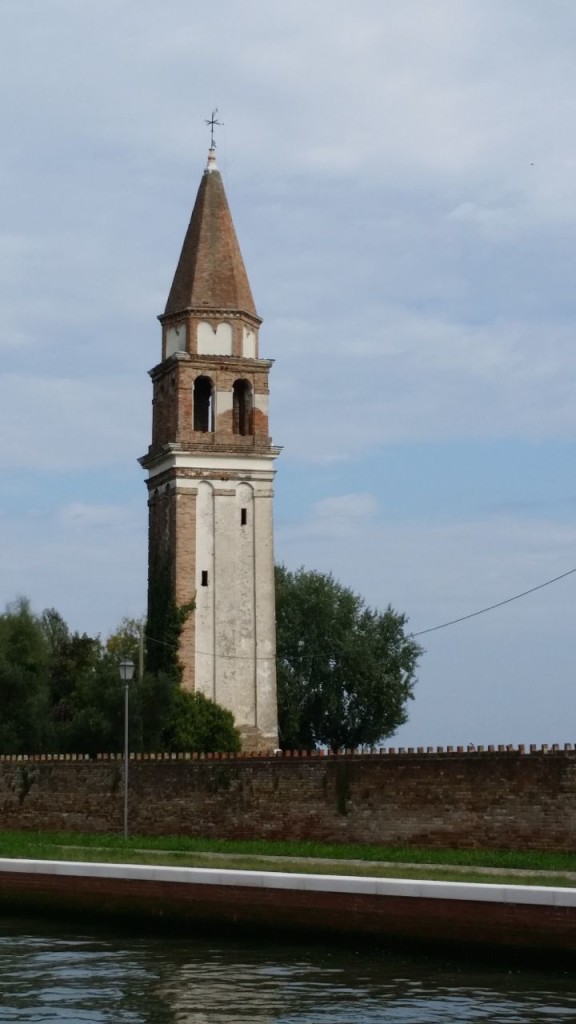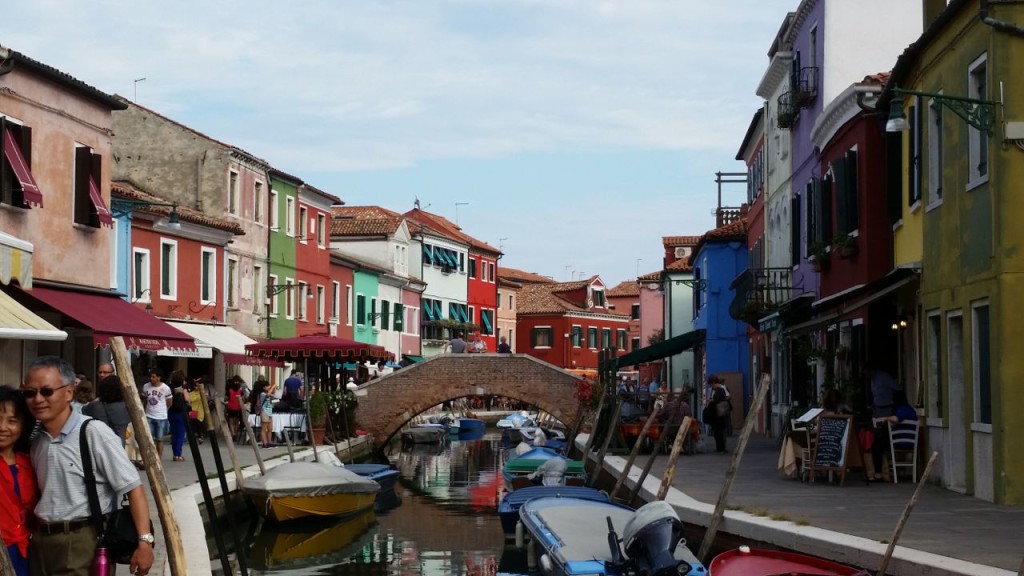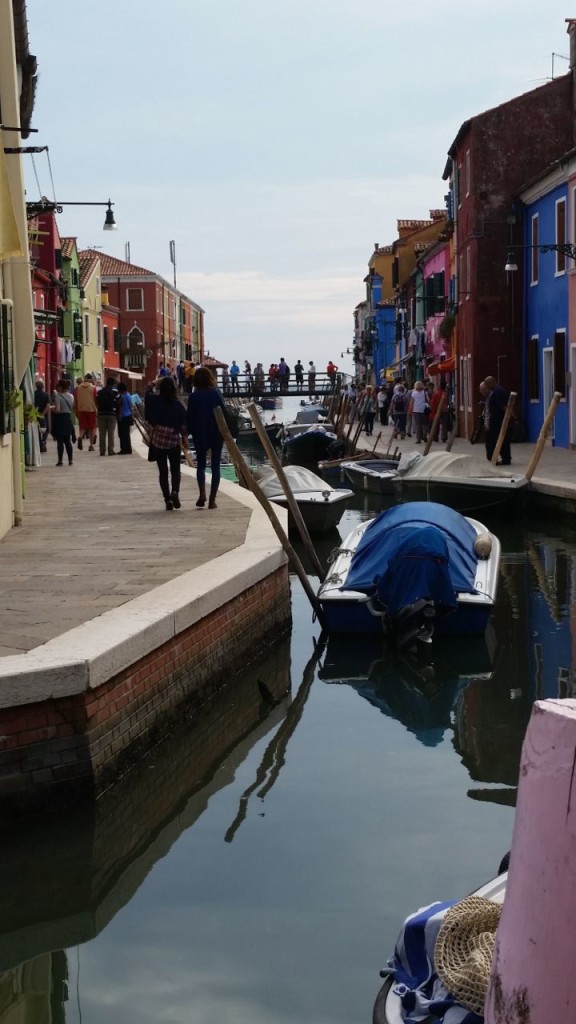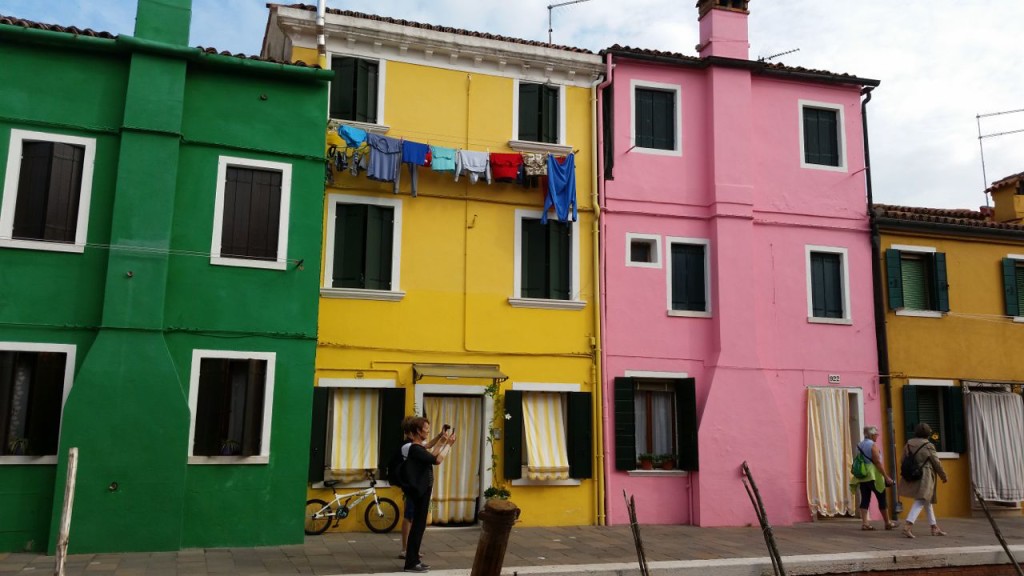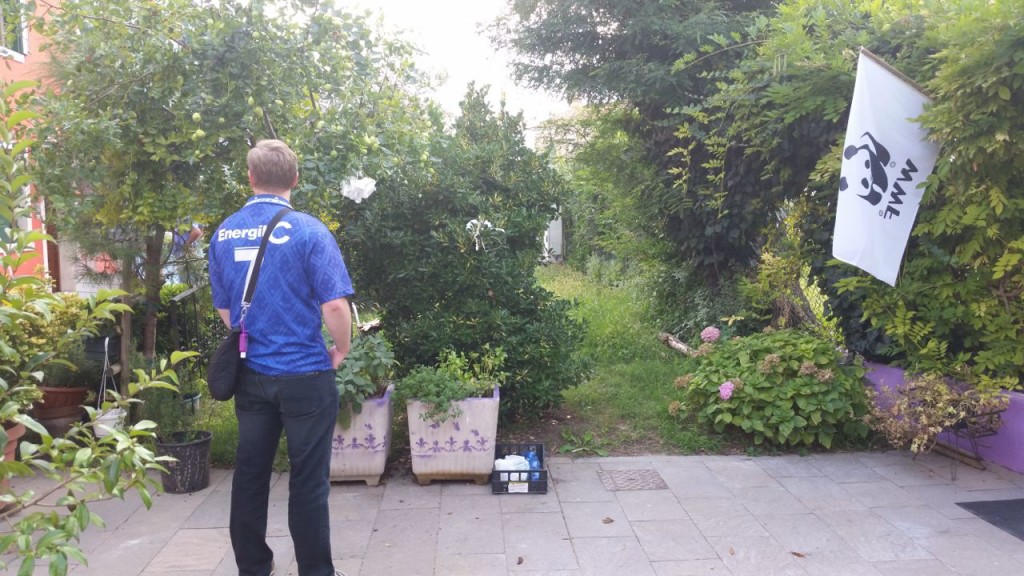 Someone's backyard.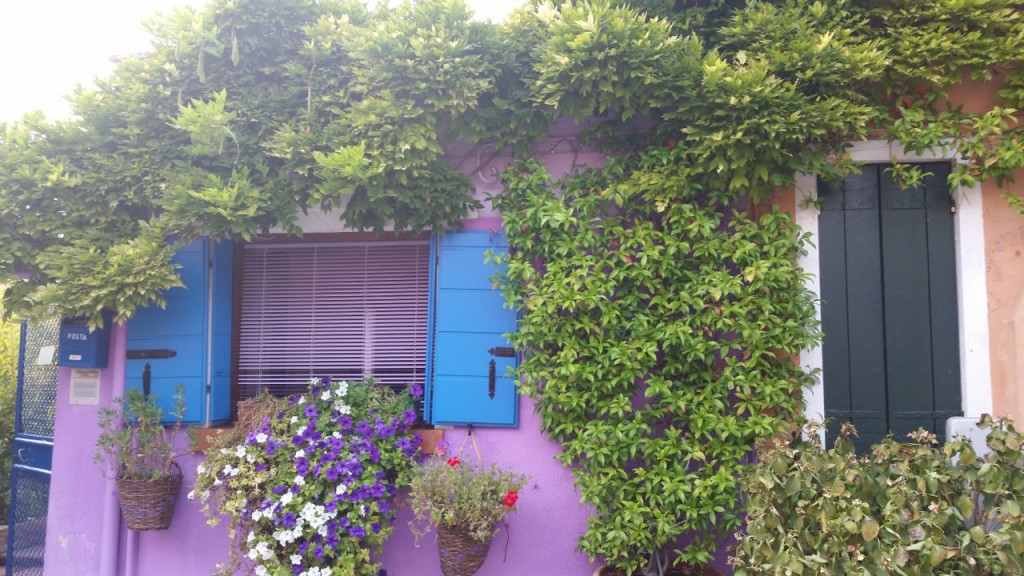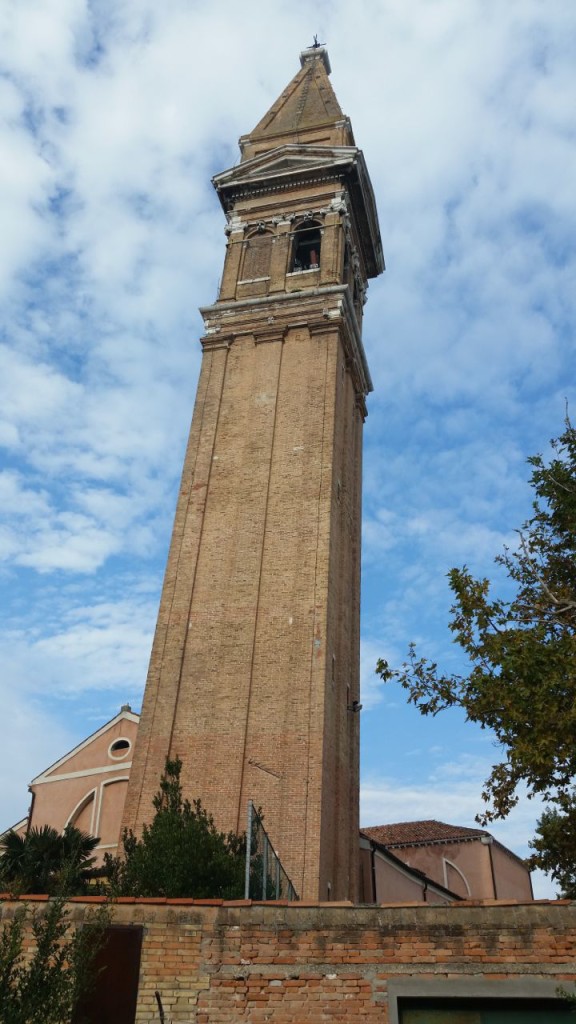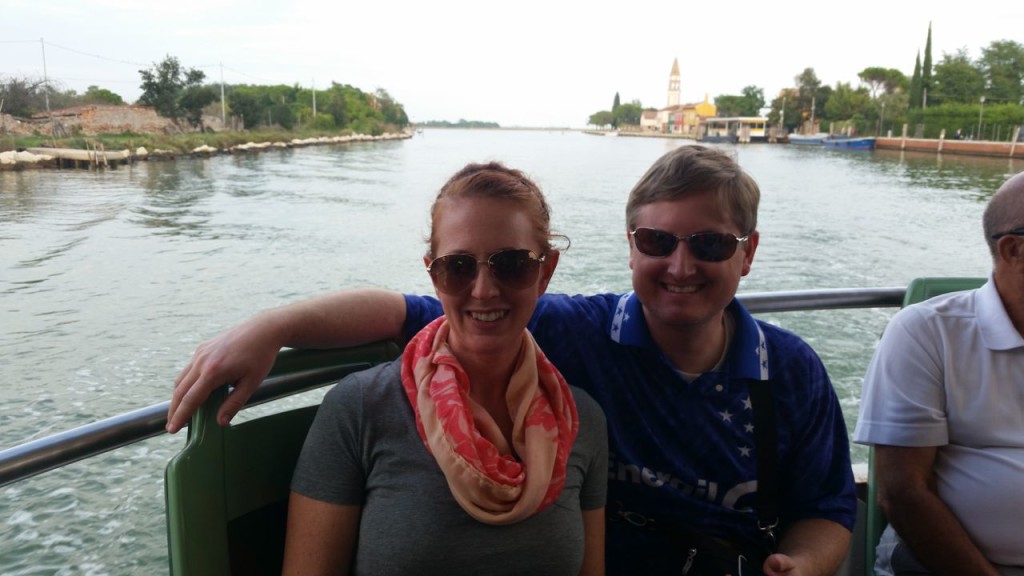 And back we went. When we got on the boat, these two older couples (think late 50s) got on right after us. Once they saw we were headed to the back of the boat (where the cool kids sit), the two men threw elbows and hauled to the back of the boat to grab four seats. Completely unnecessary as there are EIGHT seats back there. Room for all of us, gentlemen. It was kind of cute they were trying to be awesome husbands in the know, beat out the young fellow and get the best seats for their ladies. The women were all dressed up in their (impractical) vacation finest. Wedge sandals, floppy hats, island wear, excessive accessories and all. I hope that is us in 30 years, Adam still being my hero and doing what has to be done to get us the best seats on the boat, even if it means tripping the young guy next to him.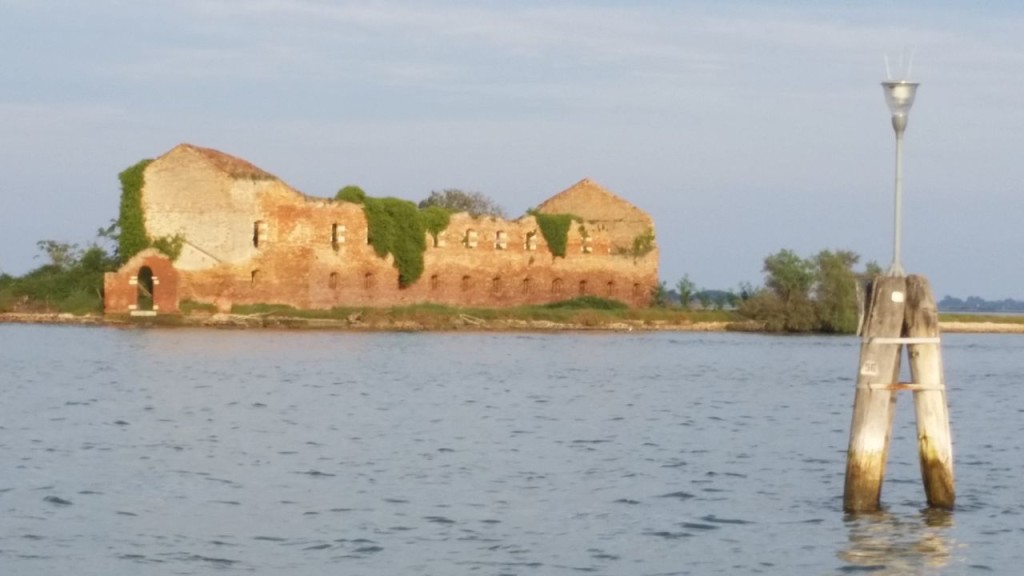 The two islands took us the better part of the afternoon.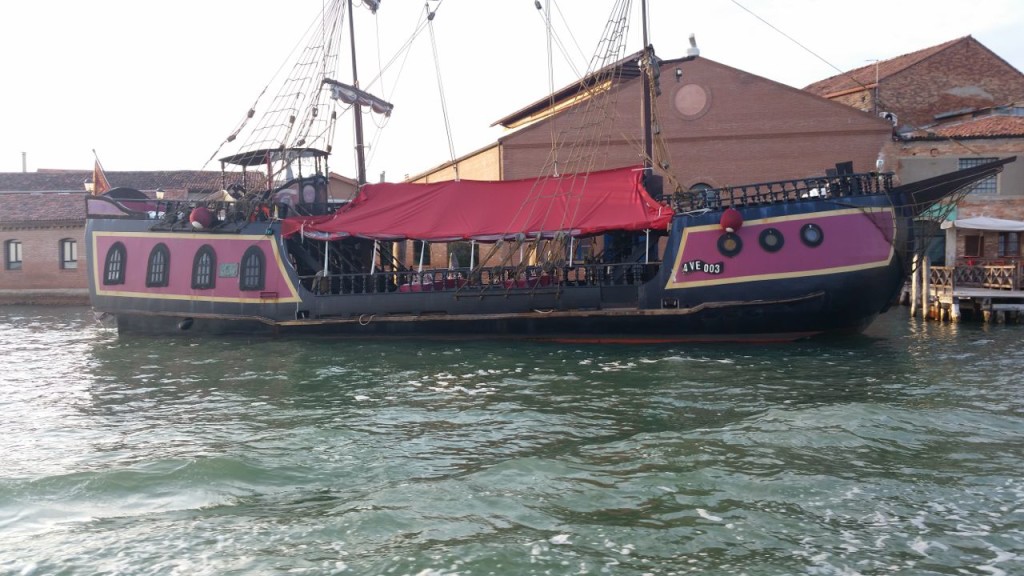 A pirate ship to show the kids. It looks like the Jolly Rogers.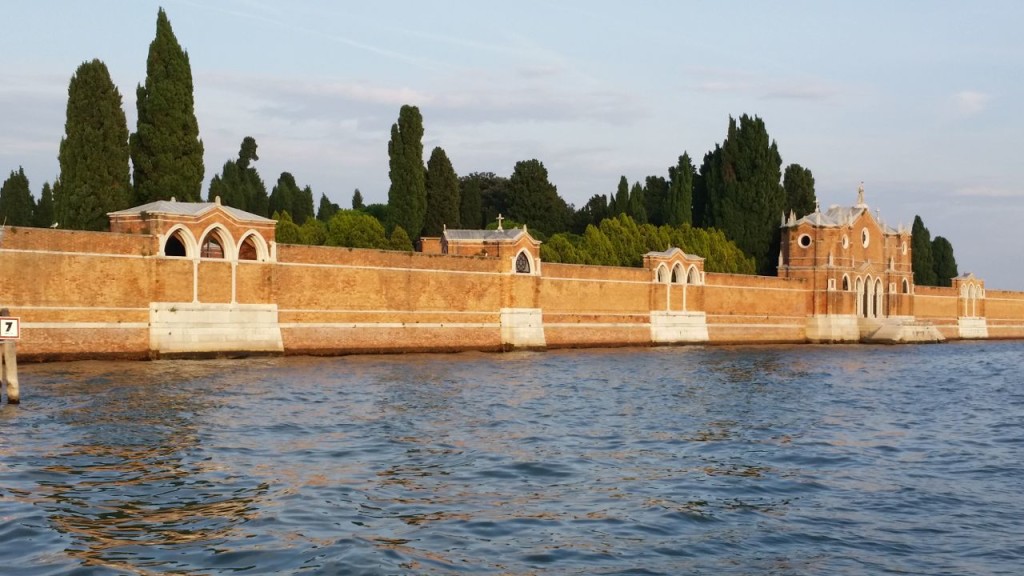 This island is a cemetery.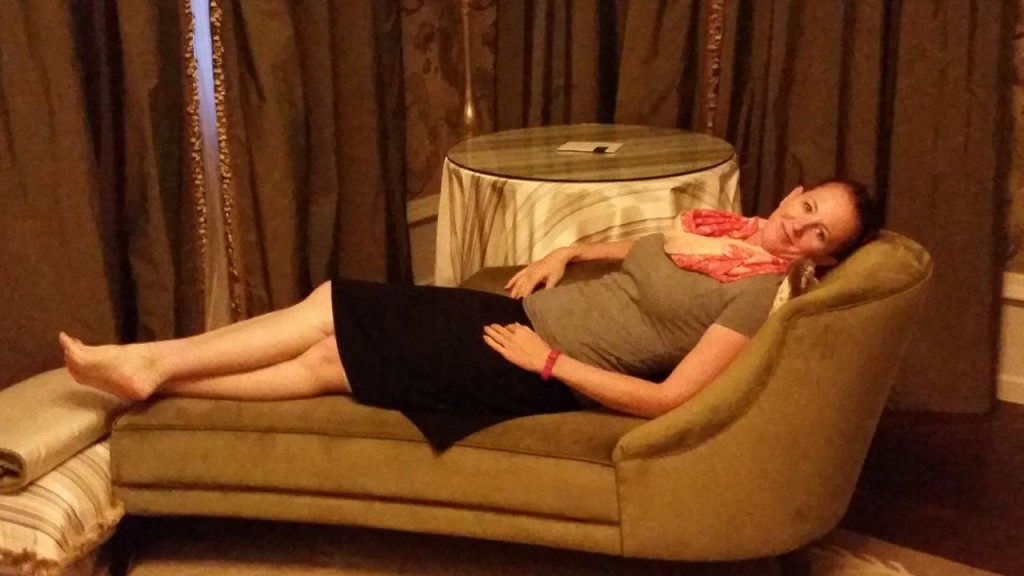 Sightseeing is exhausting. Good thing we have this chaise to relax on.
The Gritti Palace has a very nice restaurant right on the water.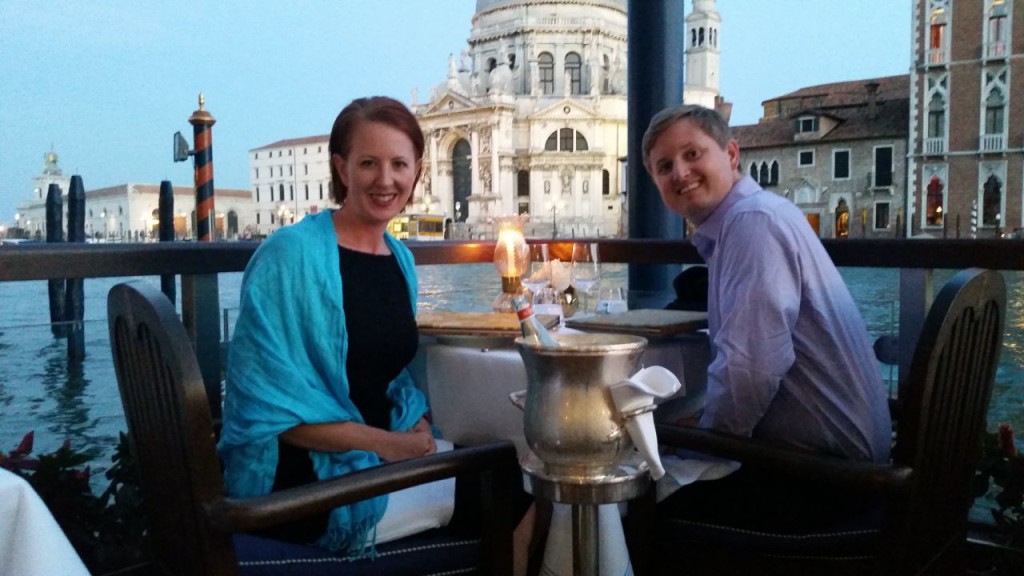 The view was incredible and very romantic.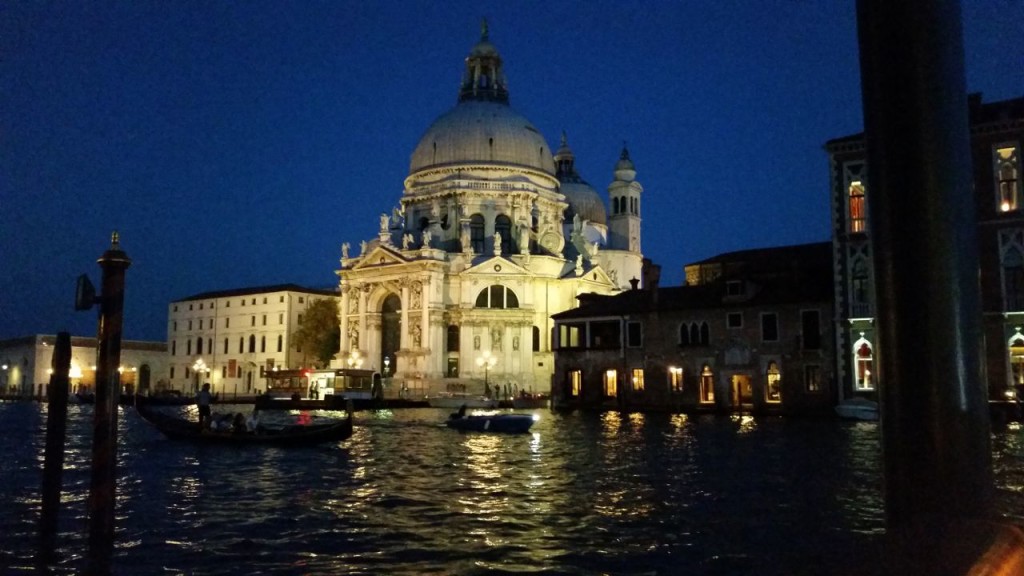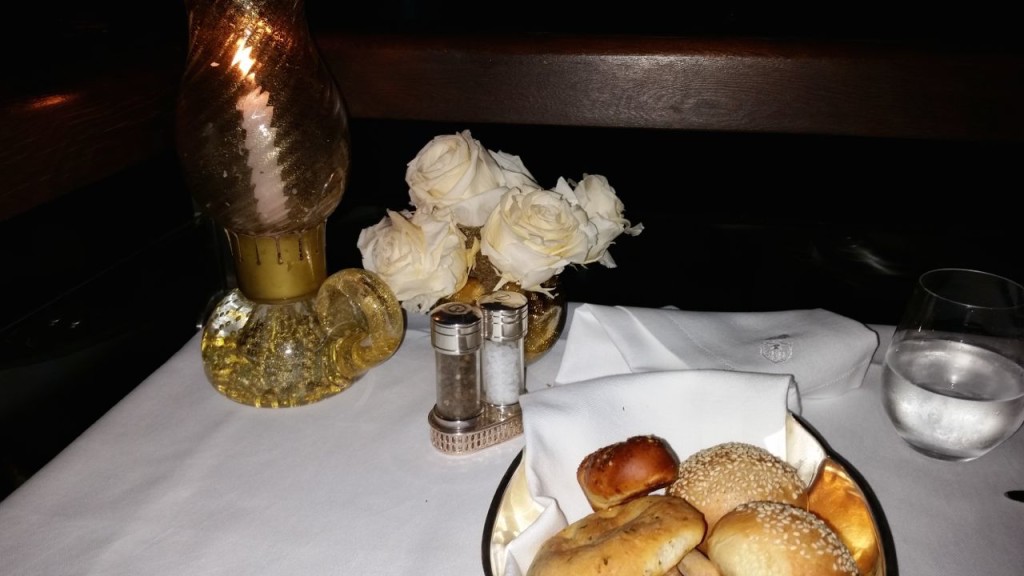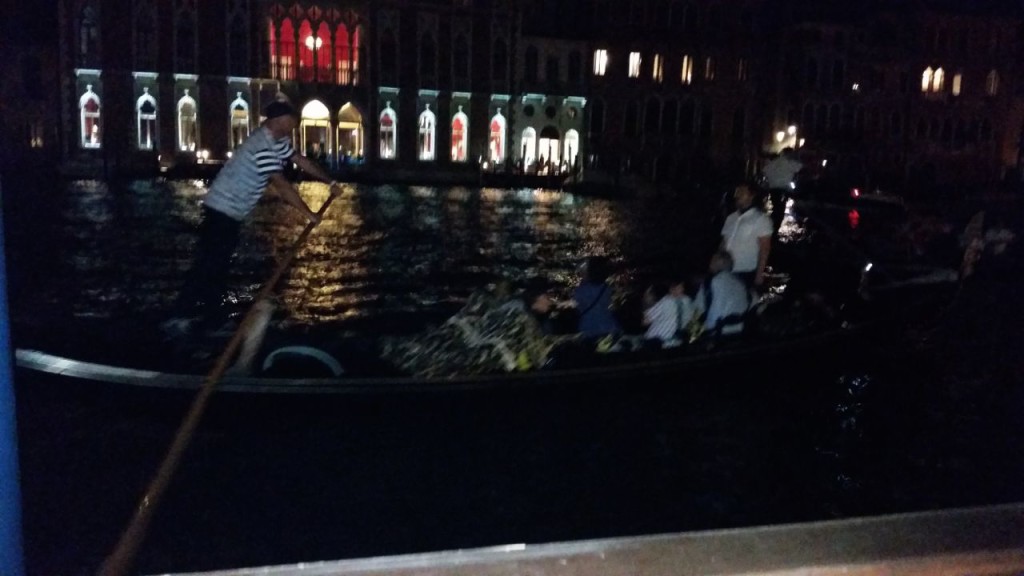 These people paid for the singing gondolier. Adam asked if I wanted to go on one of those rides, but I didn't. I don't remember my exact reason. It just didn't strike my fancy at the time. Too much other stuff to see and do. As they slowly went by us we got to enjoy his singing as well. It was very good.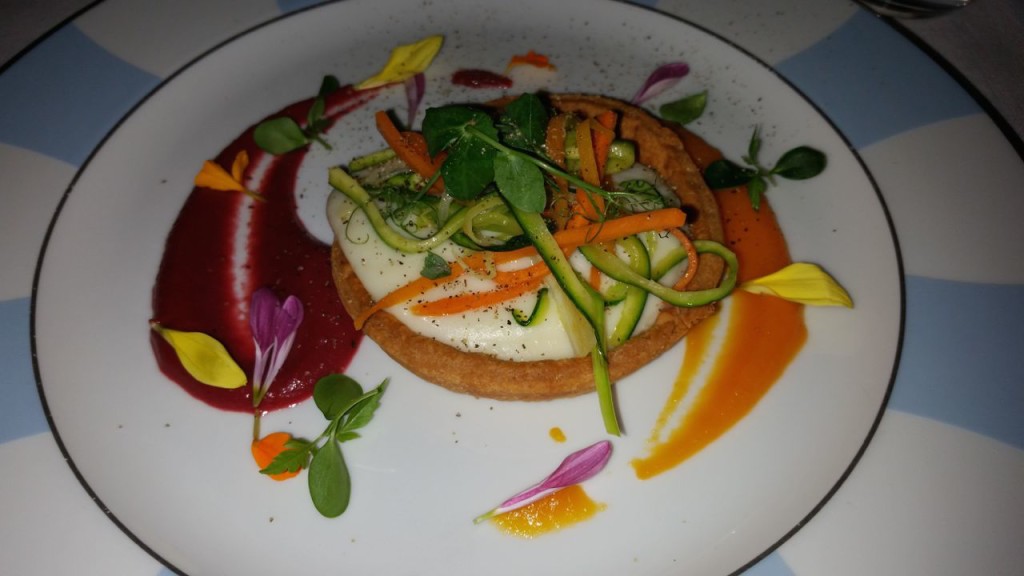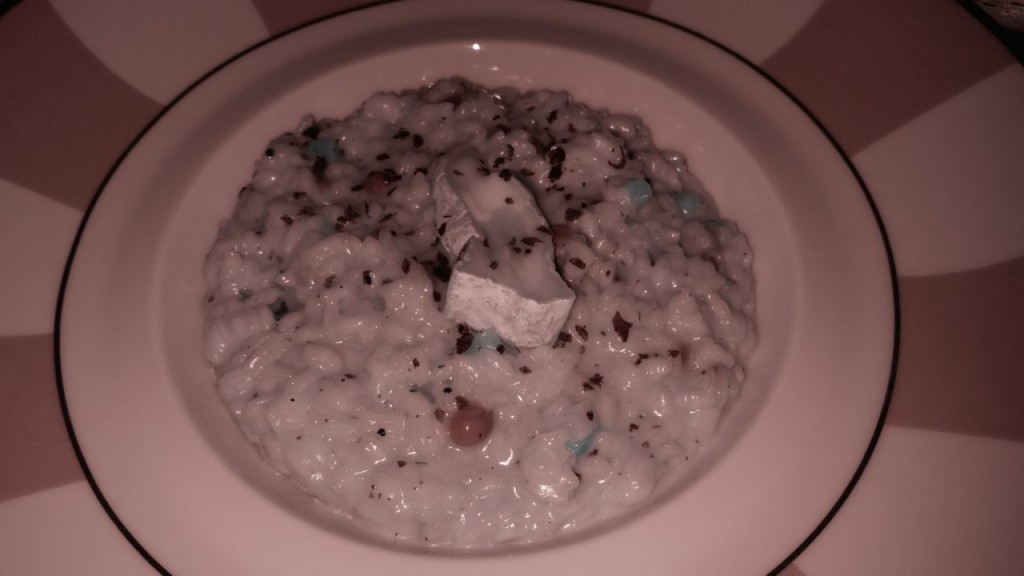 This is a 50 euro bowl of risotto. You could only order risotto for two people, but it was more like 4-6 servings. It was way, way, way too much risotto. We ate maybe 1/4 of it. The food was good, but not great. It was very expensive. Another case of paying for the view, but what a view it was!
We stayed in Venice about a day and a half, and that was just about right for sightseeing. We arrived about 11 am Wednesday, and after checking in to our hotel, went off sightseeing, so we got the better part of the day in, and then all day Thursday. Early Friday morning we caught a train to Cinque Terra.