On April 19, at 11:18 am we welcomed Caisen Adam to our family. He was delivered at exactly 38 weeks because I was having too many contractions. My doctor didn't want me to go into labor. He was seven pounds, one ounce and 20 1/4 inches long. this delivery was completely different from the last one. We calmly went to the hospital at the appropriate time after saying goodbye to the kids. I wasn't sick. I was completely coherent during the whole delivery, and best of all, it didn't hurt!
Ready to go to the hospital in a calm, orderly fashion. This is how big my belly was at 31 weeks with BKS. Big difference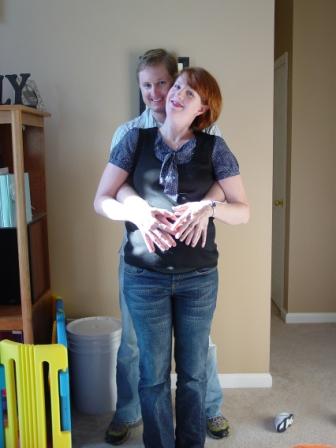 Ready to be parents. Again.
I got to see our sweet new son and hold him for a minute. I also got to hear the reassuring cries that let me know he was breathing. He has a head full of dark hair, and he fussed the whole time they messed with him. They did take him to the special care nursery because his oxygen levels dipped a few times when he was crying, and he is breathing a little faster than normal. They will watch him for a few hours. We are thrilled to have our little boy, and are so grateful that he is healthy and strong, and that I'm doing ok as well.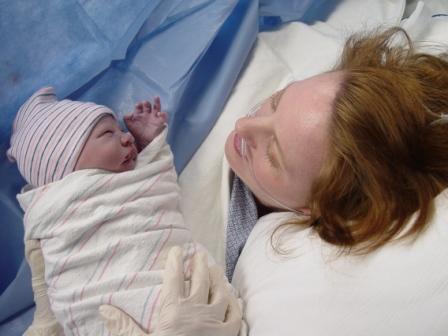 Mommy and Caisen meeting for the first time.
The name Caisen means protected. Whether it means protected by or protected from (his siblings) will remain to be seen.
Adam is positively giddy that karma is alive and well in the universe. Brinlee, Kimball and Sawyer were born the day before his birthday, and Caisen was born the day after mine. It's what he's been praying for all along. He thinks I should have to share my birthday too. I think he's been slipping me pitocin to help fulfill his wishes. Two years ago we found out I was pregnant with triplets on my birthday. I had no idea that two years later I would give birth to our fourth child the day after my birthday. It's a busy time! What better birthday presents could I ask for?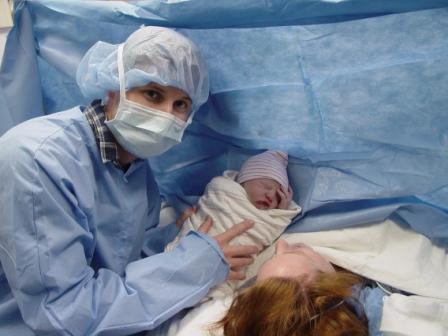 Mommy, Daddy and Caisen together for the first time.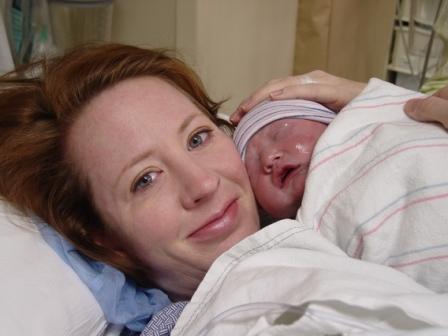 I actually got to hold my baby for a minute after delivery! It was so emotional. I was so happy, and even happier that I got to remember everything. After I saw Caisen in the recovery room, they took him to the special care nursery for observation. He was breathing very fast and gulping air. Because he was born by Cesarean, he still had fluid in his lungs (during a vaginal delivery that fluid is usually expelled from the pressure), which is not uncommon. The neonatologist decided to admit him for further observation.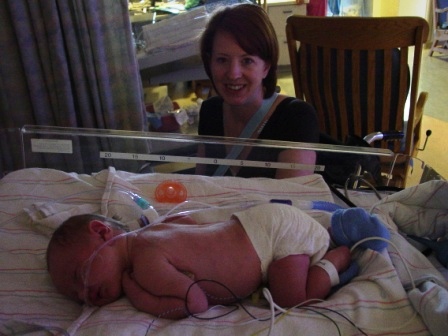 This morning we were told that Caisen was admitted to the NICU because the x-ray showed not only some fluid in the lungs, but also a pneumothorax which basically is air escaping from the lung into the chest cavity through a hole. They believe he was working so hard at breathing through the excess fluid some small avioli collapsed/broke. It appeared to be minor and no chest tube was necessary (Sawyer had a more severe case that did require a chest tube be inserted to relieve the air pressure).

Gran and Granddad visiting Caisen in the NICU. They came the weekend he was born to spend time with the kids, help us out, and meet Caisen. By afternoon, the x-rays were showing progression in the pneumothorax resolving itself and his breathing was less rapid/strained and he was much more relaxed. This has progressed throughout the day. We are praying that he will heal quickly. For now he is only taking tube feedings, and we really can't hold him because he gets very agitated. He needs as much rest as possible to heal quickly. It's hard, but everything is relative. We already have experience in the NICU, with pneumothorax, and much more difficult things. If we hadn't, we would certainly be freaking out right now. Caisen is getting the best care possible, and we know he'll be better soon.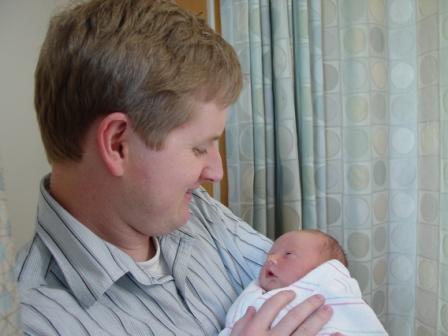 Daddy and the next addition to his home-grown soccer team.
I finally got to hold him! I so desperately wanted to experience the closest thing to a normal delivery because my first experience was anything but. I wanted to wear a real nightgown and a pretty robe and be able to have visitors and feel like I wasn't recovering from major abdominal surgery. It was really important to me, and I got my wish as far as the nightgown and robe, but the normal experience didn't happen. It was far less traumatic than the experience with Brinlee, Kimball and Sawyer, but still not the normal experience.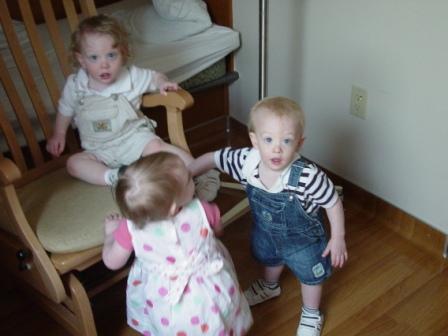 Brinlee, Kimball and Sawyer came to visit me in the hospital on Sunday.
They were far less interested in me than they were in my hospital room and all the rolling furniture.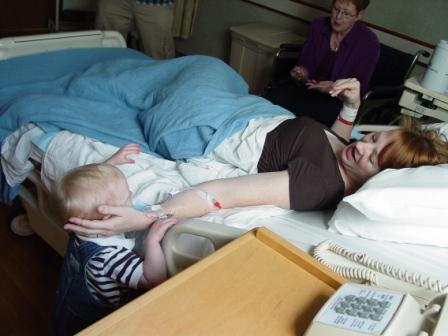 At least Sawyer came over to say hi to me.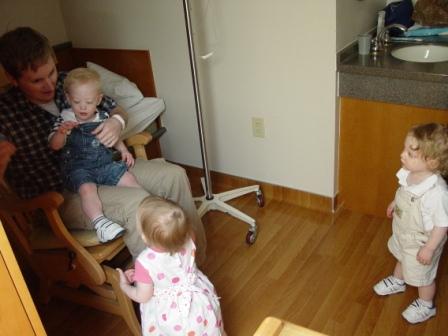 After wrecking my room visiting me, the kids went to McDonald's (there is actually a McDonald's in the hospital) and had their first McD's fries. Which they loved. Of course.
Since the pneumothorax was closing so quickly, and they anticipated it would be completely gone in 24 hours, the doctor said we could go home Monday evening! The last 24 hours he has taken all of his bottle feedings (I decided to hold off on breastfeeding during that time because he had to take in a certain amount of milk at each feeding, and the only way to measure that is to weigh him before and after, and that is imperfect and could have led to us staying longer). Caisen was discharged from the NICU to the regular nursery and was brought to my room around 1:30. I got to feed him and we took a mommy/son nap with his little bed right next to mine. Unfortunately, we weren't discharged on Monday.
Adam stayed in the hospital with me the first two nights. He went home everyday to be with the kids from 3-7 and help with dinner and bedtime and just make sure the kids got to be with him. It also provided back up for our helper, Naomi. She is amazing, but even she appreciated a cavalry. She provided a lot of stability and peace for the kids and us. The whole experience was so much easier because we knew the kids were being well cared for by someone they love and who loves them. Monday night we decided Adam should sleep at home. The kids were just so excited to see him Monday that we thought it would be best for him to be there when they woke up. It really helped them. It was so comforting to have Adam with me in the hospital all night, but at that point the kids really needed him.
There's our handsome boy!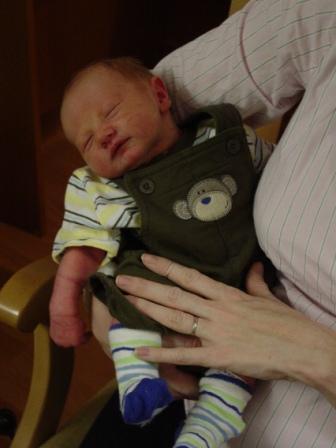 Caisen as we were held hostage waited patiently to be discharched. Don't you dig the socks? The whole discharge process was a disaster that I won't get into, but we finally left the hospital at almost 10 pm. The doctors had said that Caisen and I could stay in the hospital until Wednesday, but I really missed my kids and my home and my husband.