We checked into the W Paris Opera the evening we arrived. We walked across the street to the Galleries Lafayette, the most beautiful department store I have ever seen. I'll share pictures of that farther down the page because we went back later.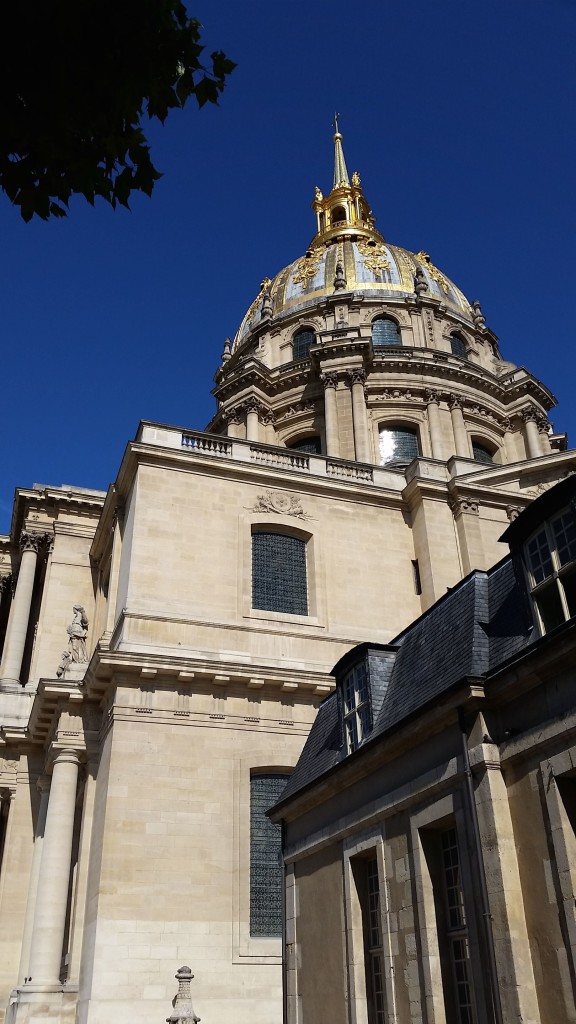 Our first stop was to Napolean's tomb, and to meet up with Brittany and David!!!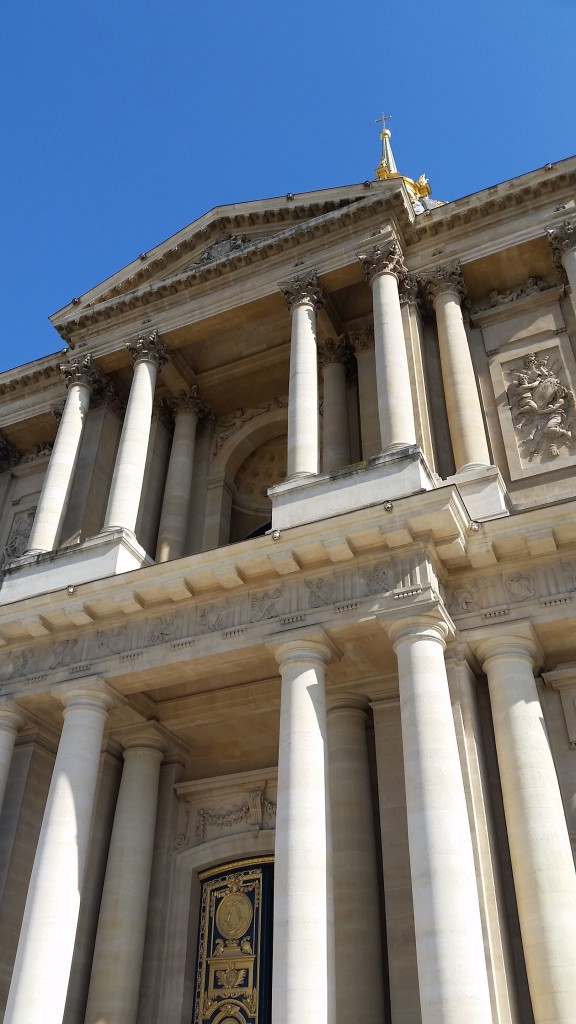 It used to be a church that Napoleon confiscated within which to have himself interred.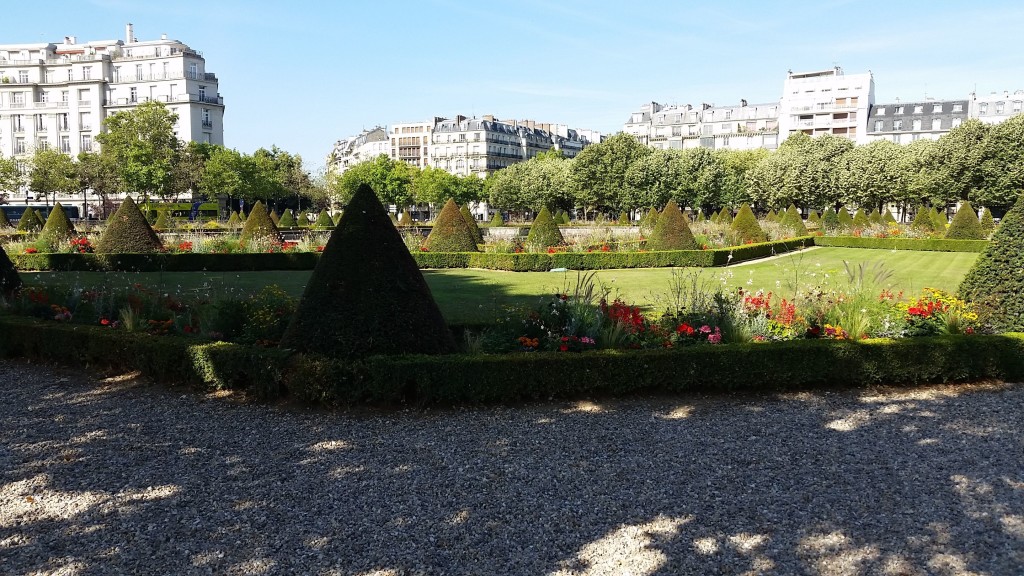 There are beautiful gardens out front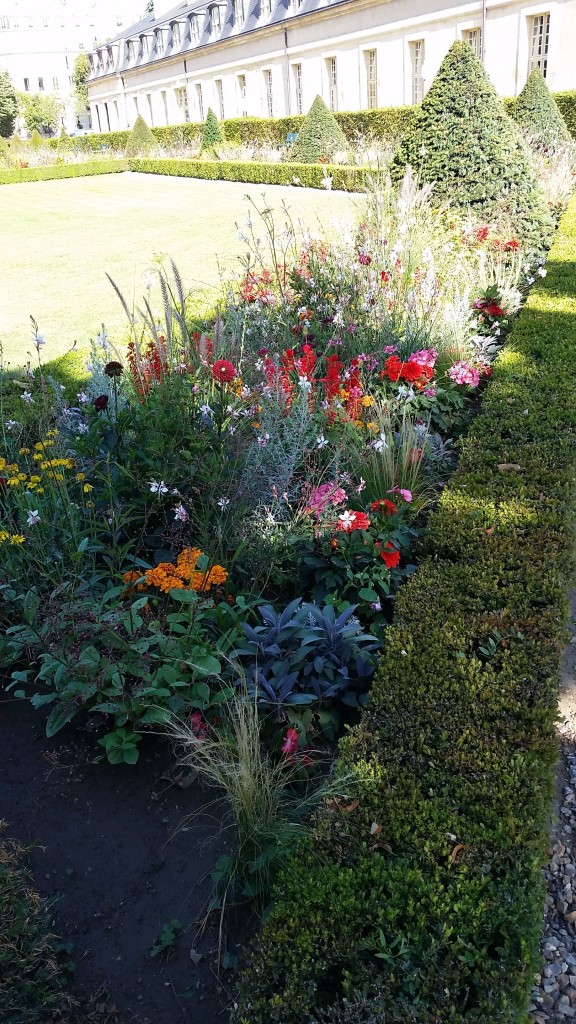 His tomb is in the Dome Church, and it is connected to Les Invalides, which used to be a military hospital. Now it is a war museum. This is not one of those things you need to buy tickets in advance for.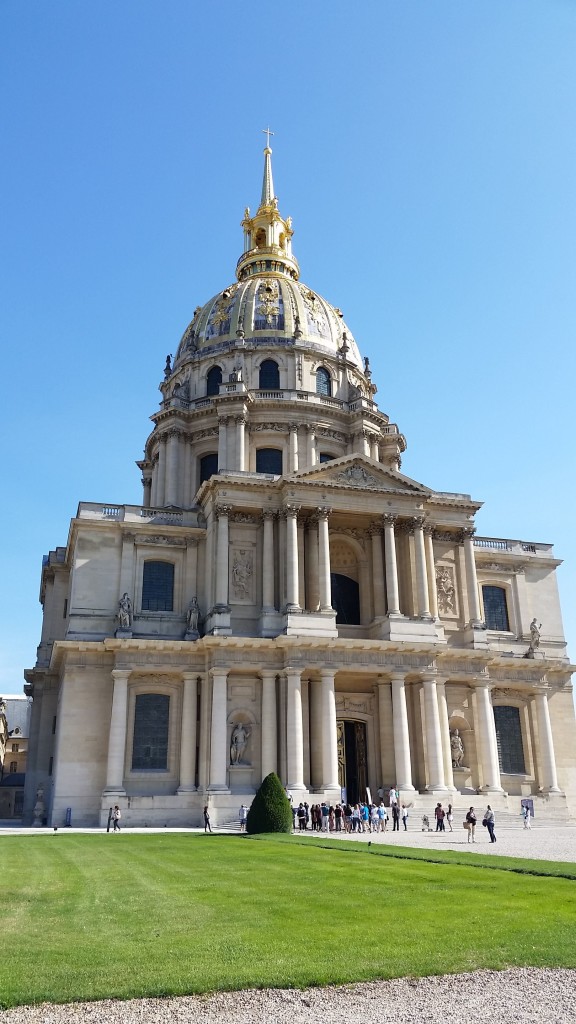 That is quite a tomb. If you don't know, Napoleon had a very high opinion of himself.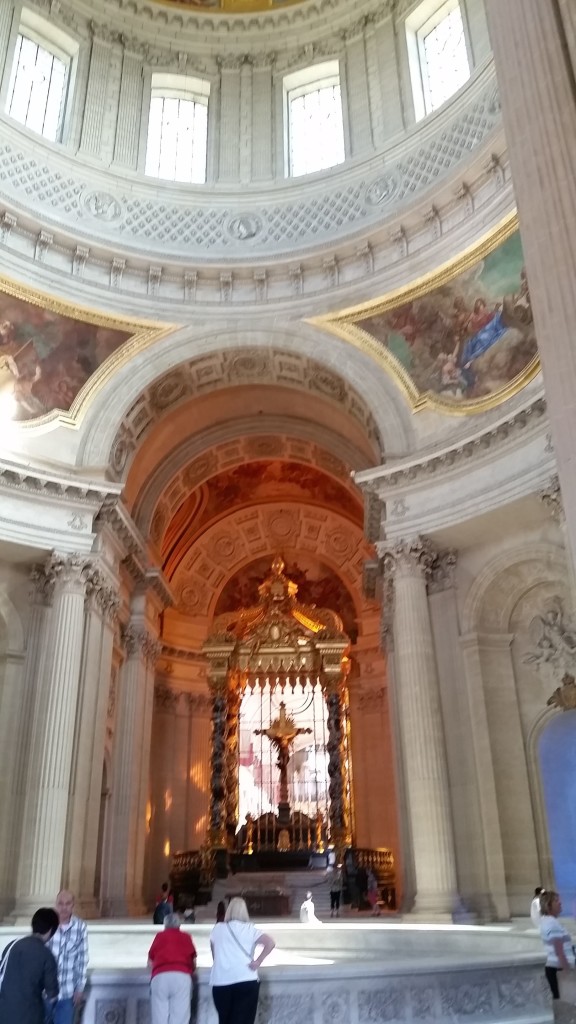 This is the ledge you have to lean over to see his casket. He did this intentionally so that people would have to bow to him to view his final resting place.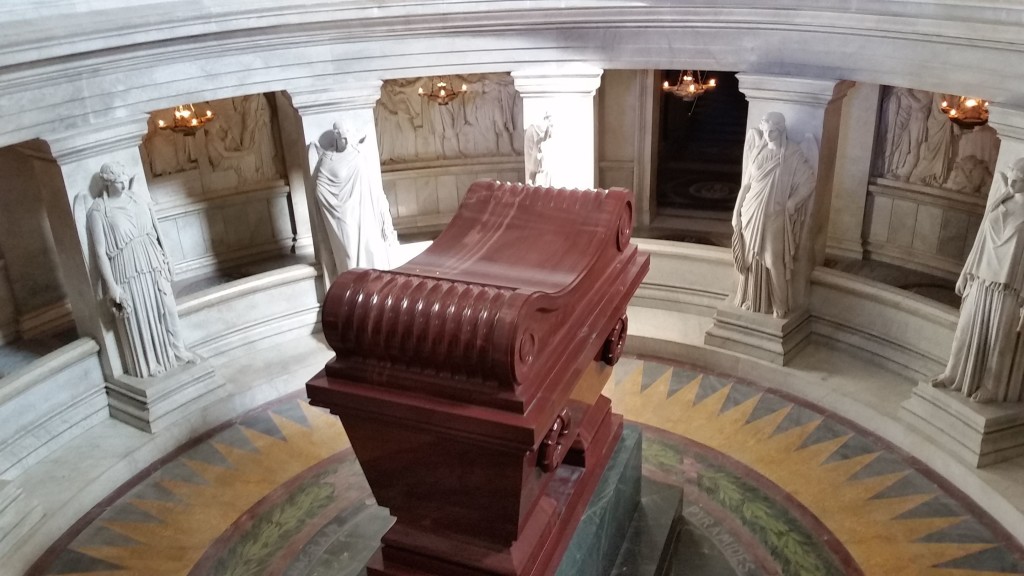 When Hitler came to Paris after taking the city, he wanted to visit the emprorer's tomb because he thought of them as equal military greats. HOWEVER, he refused to lean over the rail to see, because he was not bowing to Napoleon. He was not beneath Napoleon's greatness, so he had his people set up a mirror so he could see it without bowing. Why not just climb down a ladder?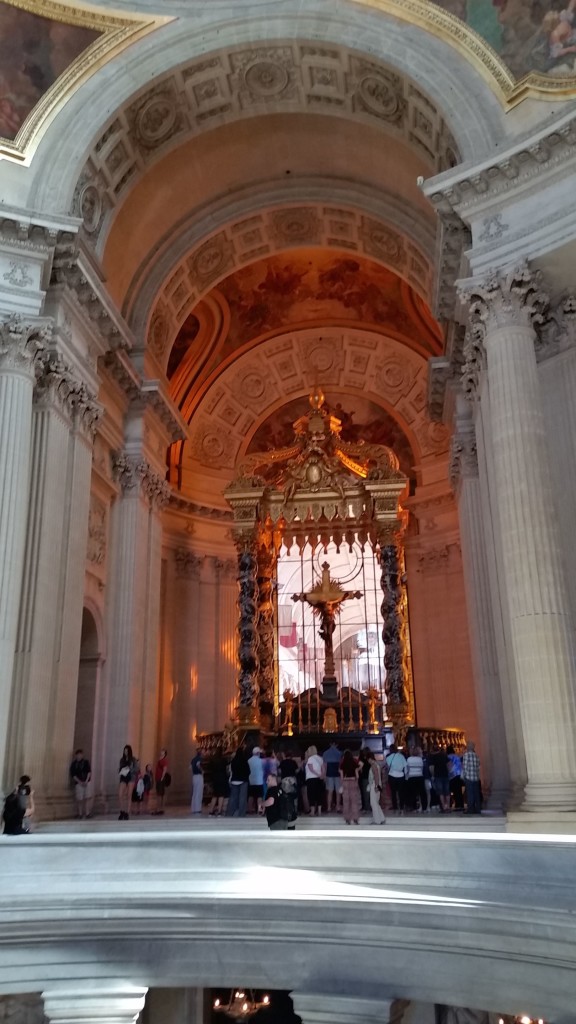 The Dome contains the graves of his son, l'Aiglon, the King of Rome, his brothers Joseph and Jérôme Bonaparte, the Generals Bertrand and Duroc, and the two famous marshals of the first half of the 20th century, Foch and Lyautey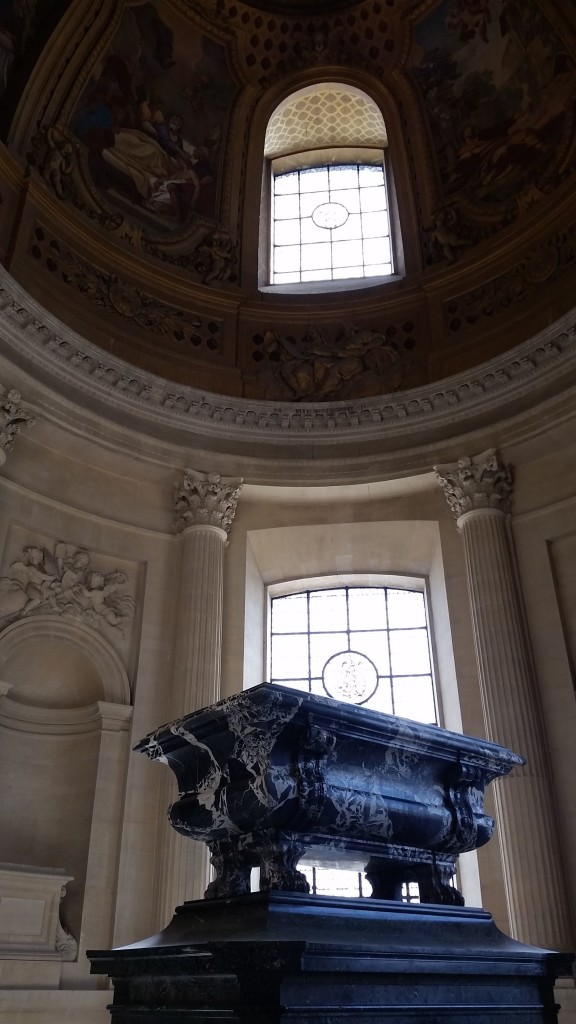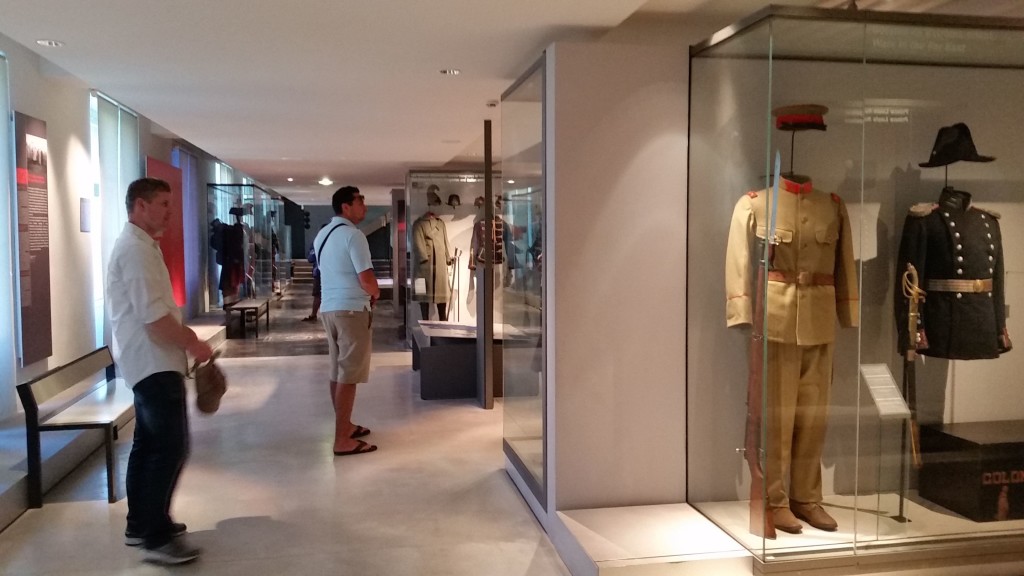 The men especially enjoyed the military museum part.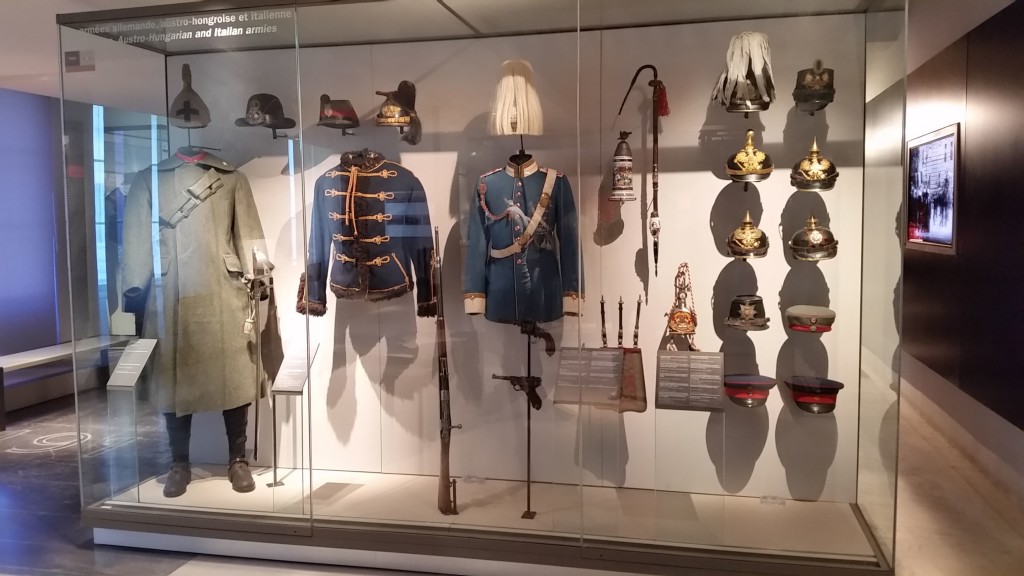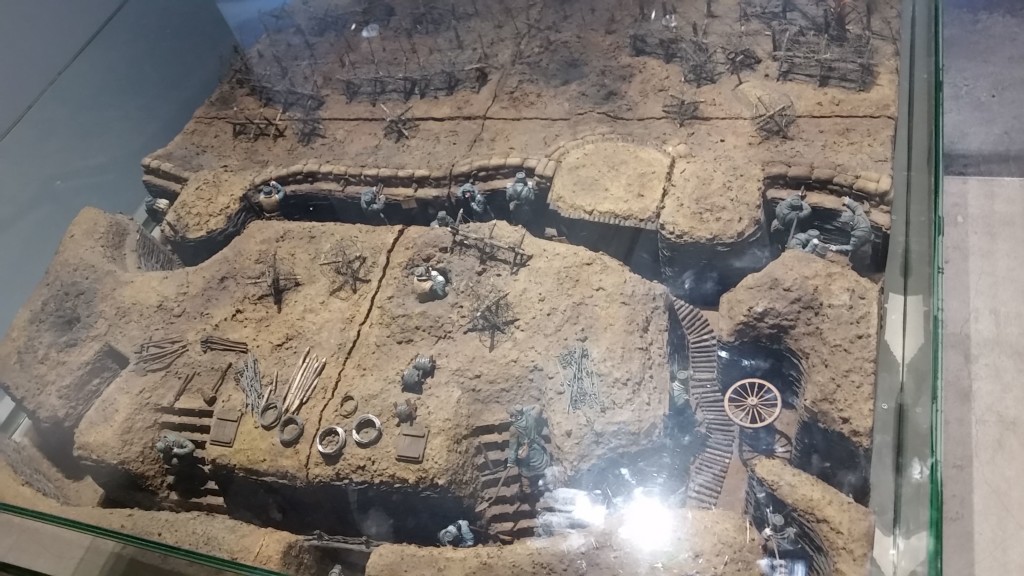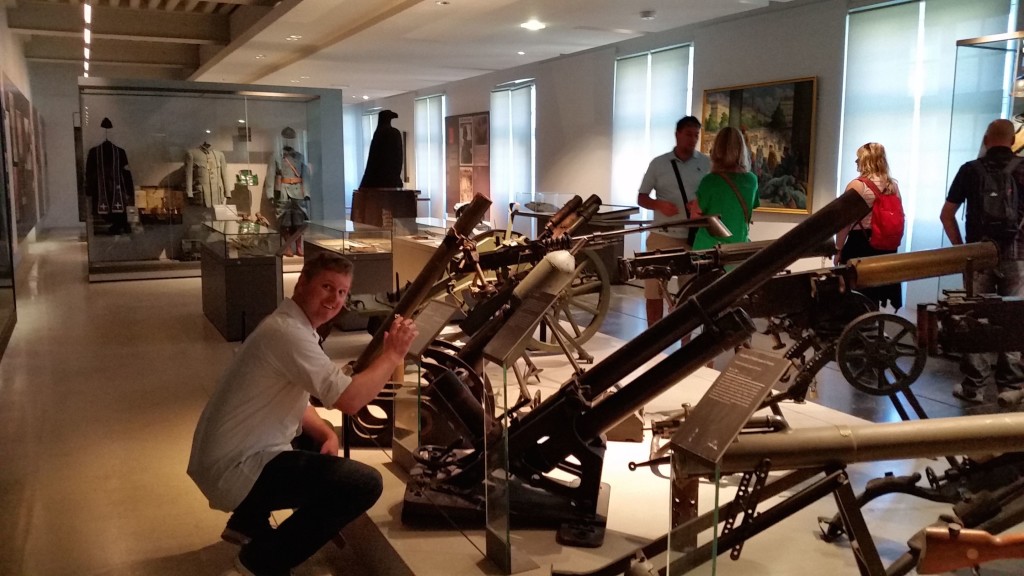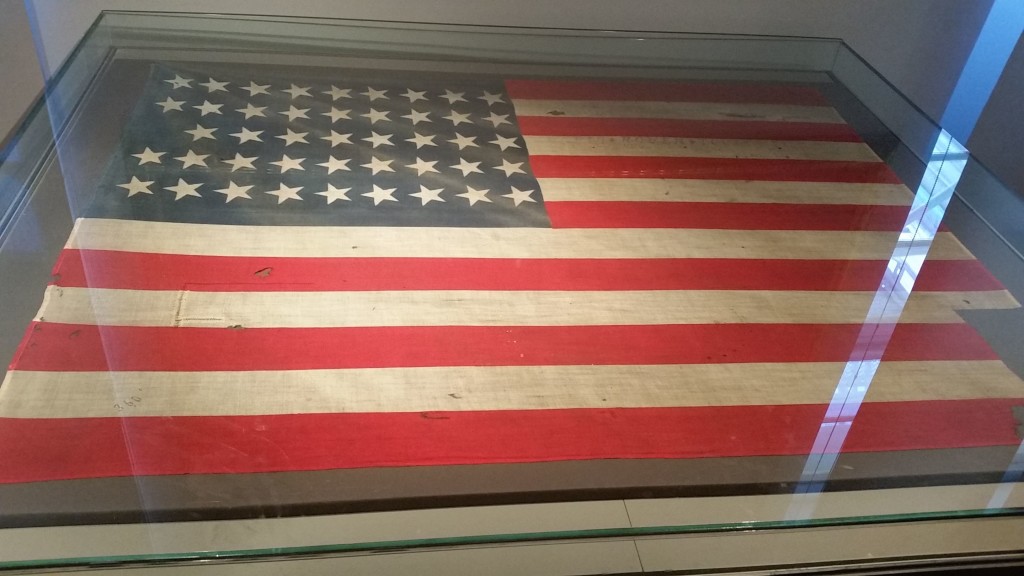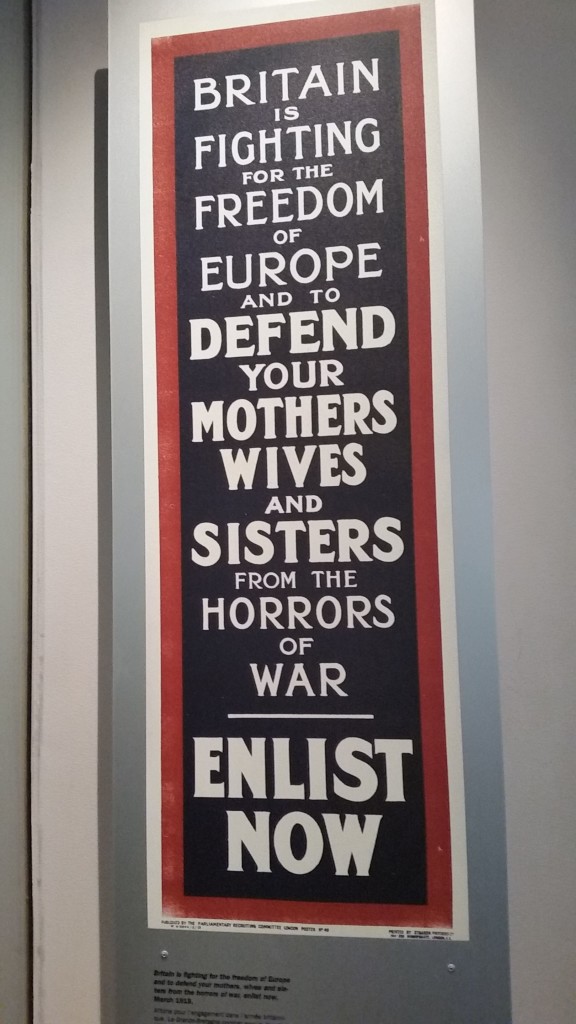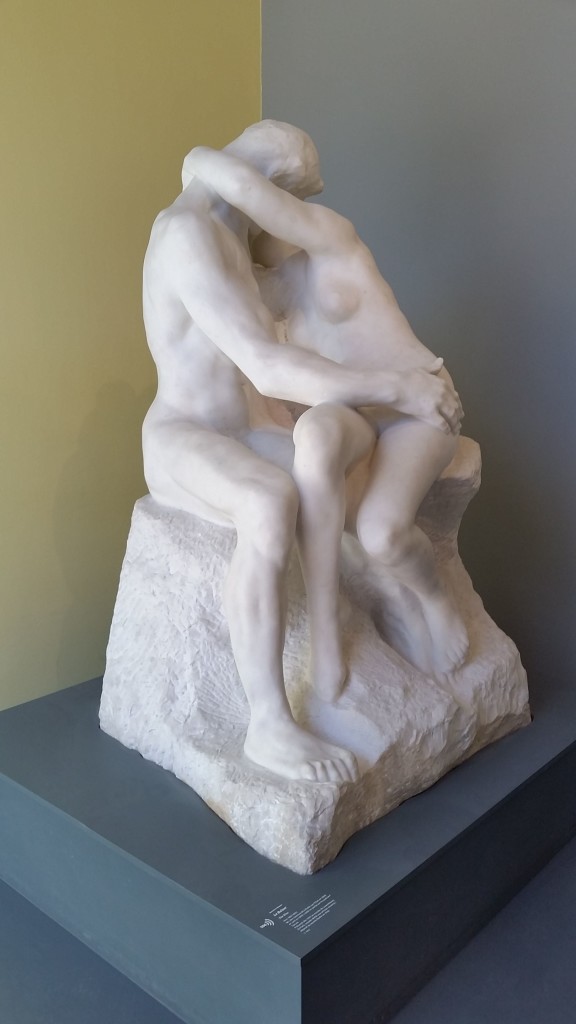 Then we headed to the Rodin museum. This is another location that you don't really need advance tickets for. The museum is under construction and renovation, so the admission price was reduced.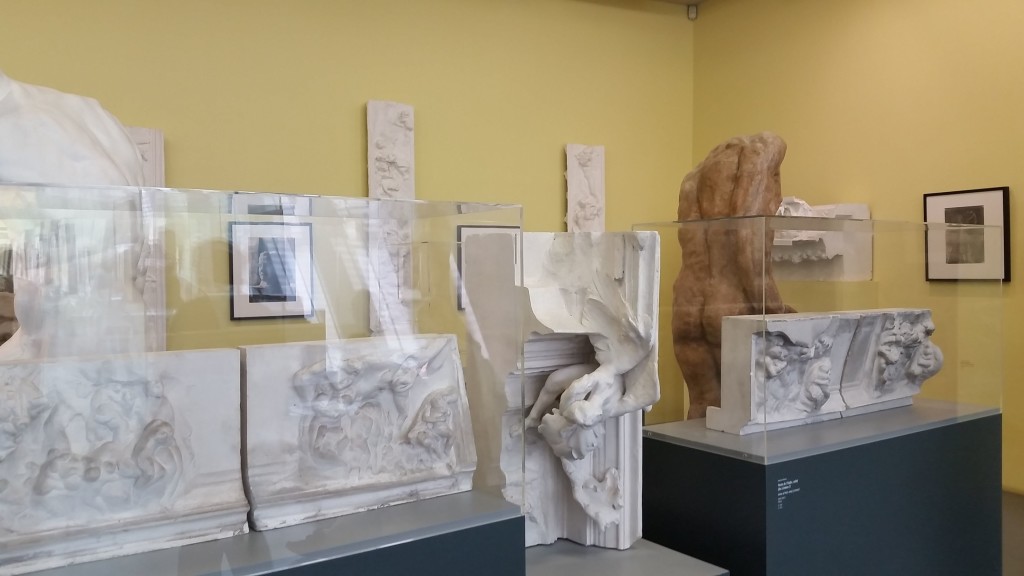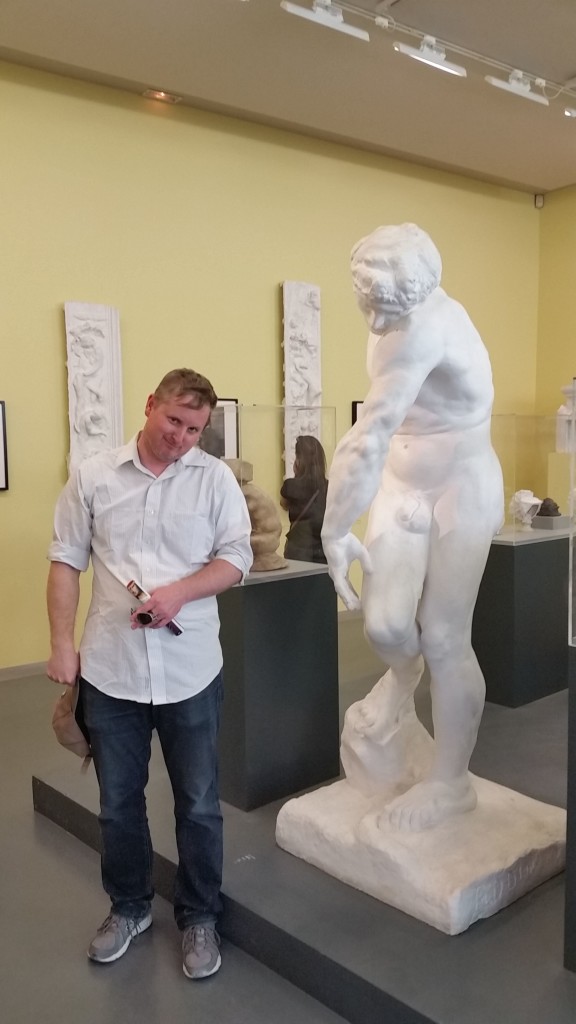 Adam's neck and arm still really hurt. This was the most comfortable position for him.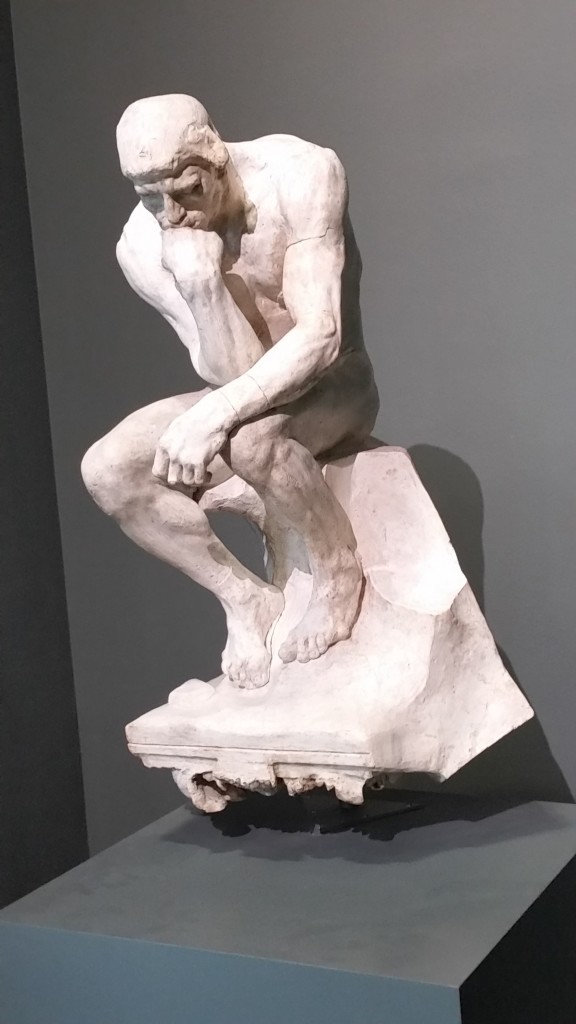 This is a sculpture of Victor Hugo, who never would pose for the artist, but Rodin has done several busts and sculptures of the author.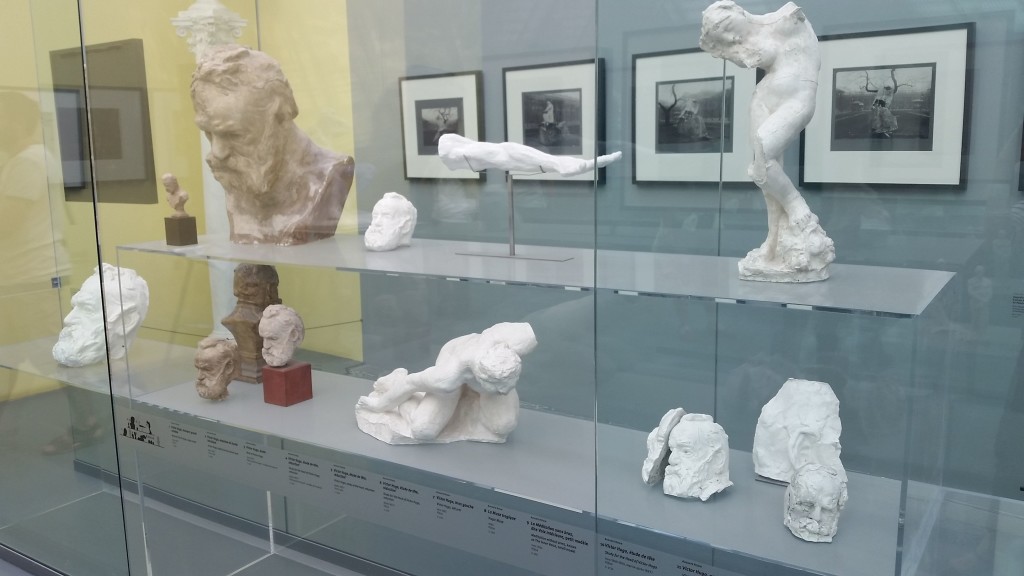 Everything in this case is of the author.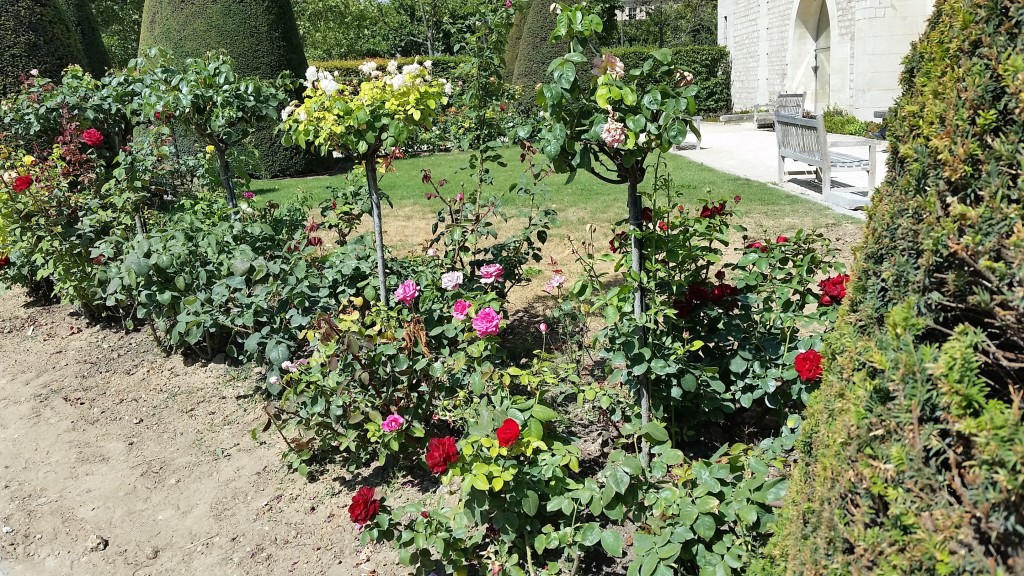 Out back is a beautiful rose garden.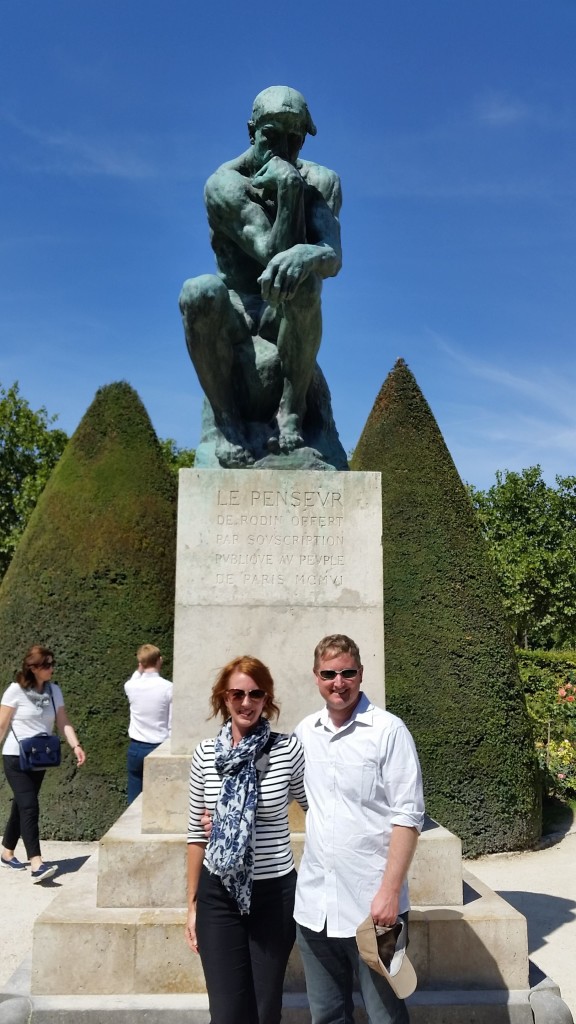 Le Penseur – The Thinker.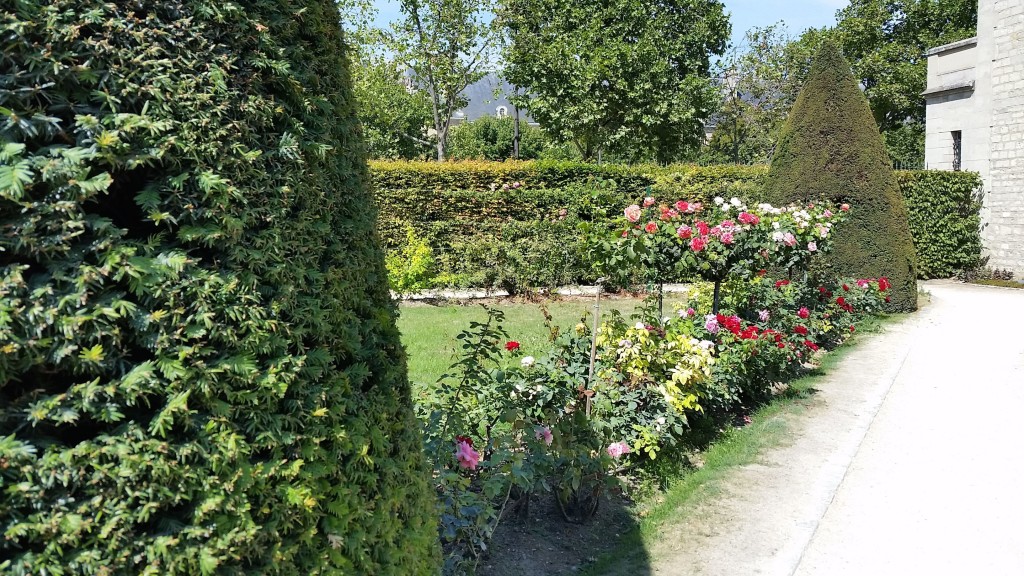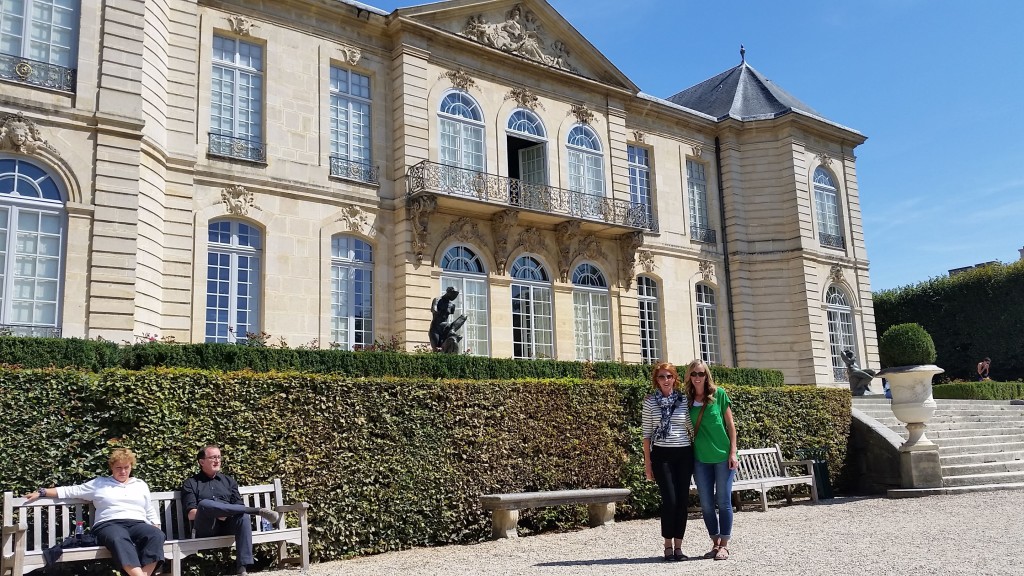 Here I am with Brittany! I was so excited to see her!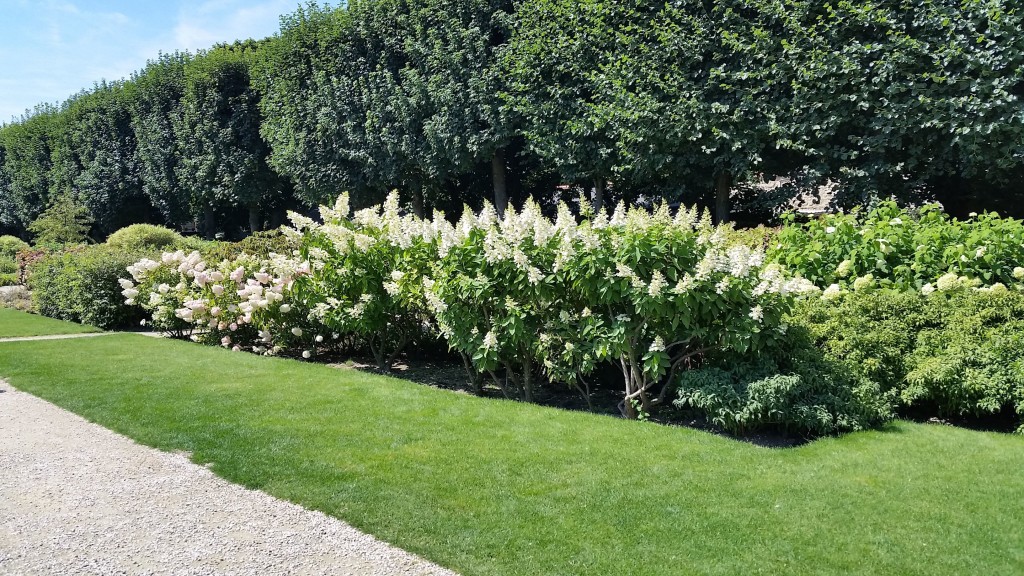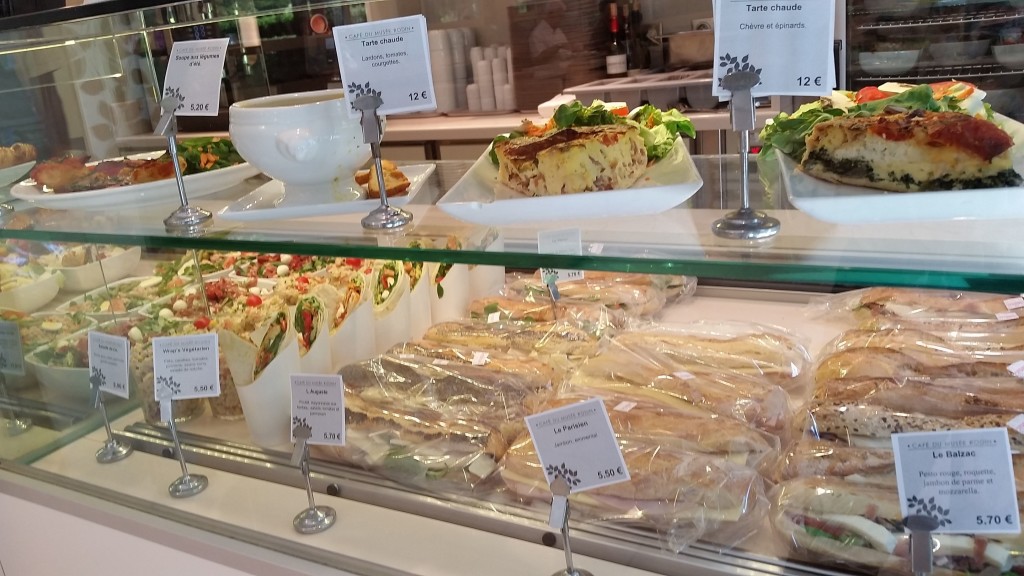 The cafe at the Rodin Museum was very tasty and inexpensive. It's a great lunch option.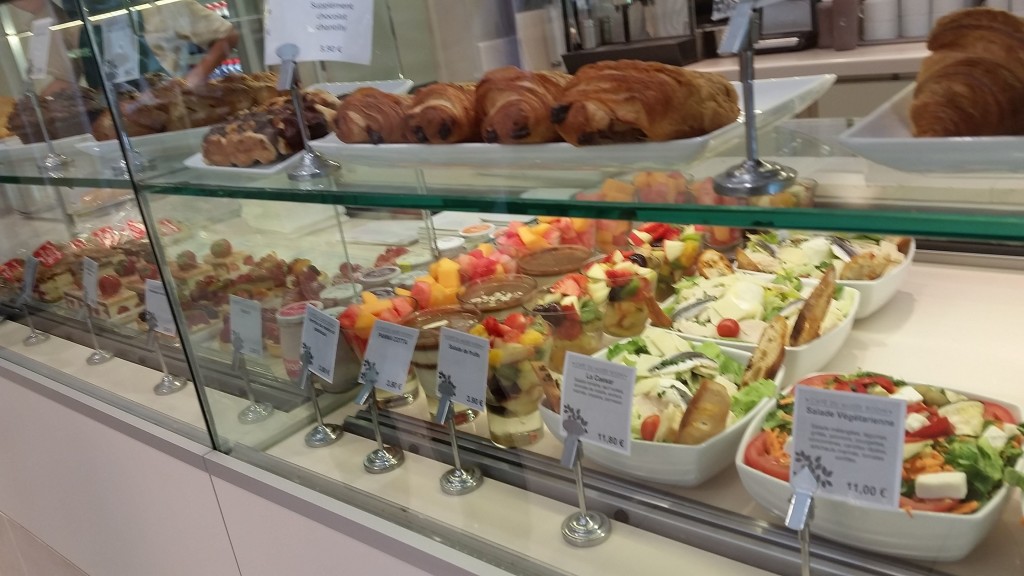 I highly recommend it as a lunch stop.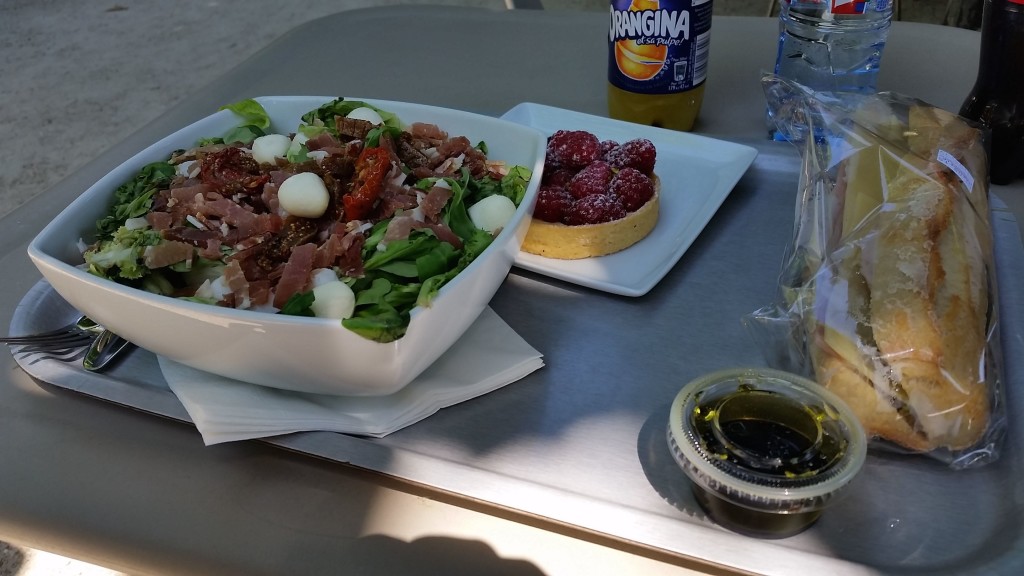 Travel Tip: As I planned our itinerary, in every area I looked up and found places that would be good to eat, so no matter where we were, I had a couple of recommended places that we could go to and not stand around trying to look up restaurants on Yelp or TripAdvisor.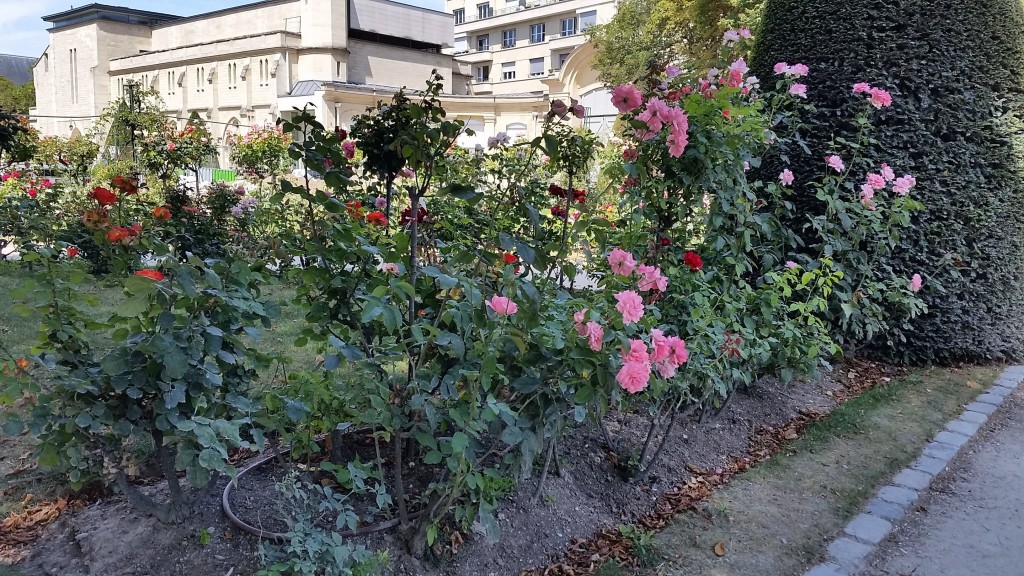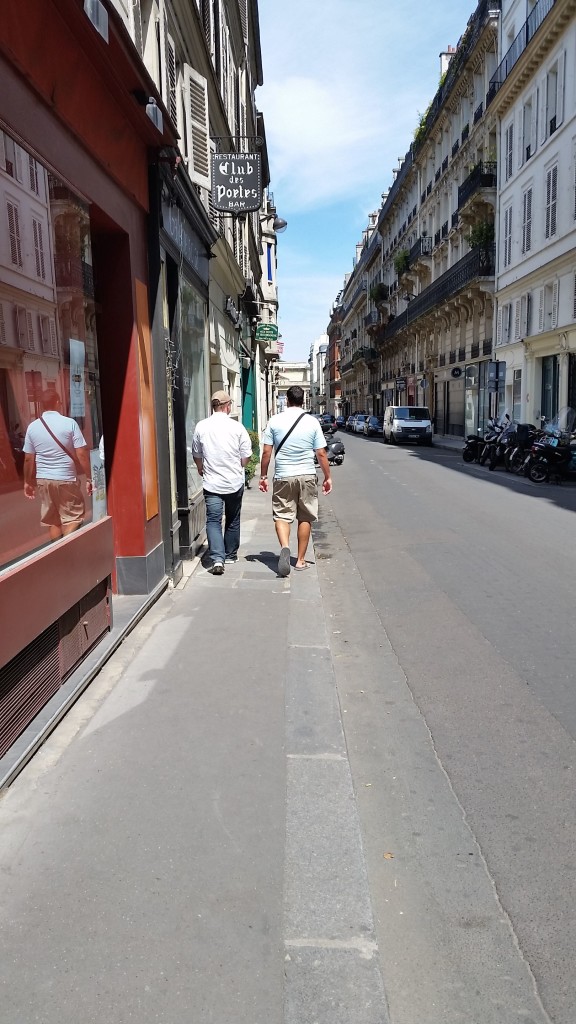 Adam and David having some dude time.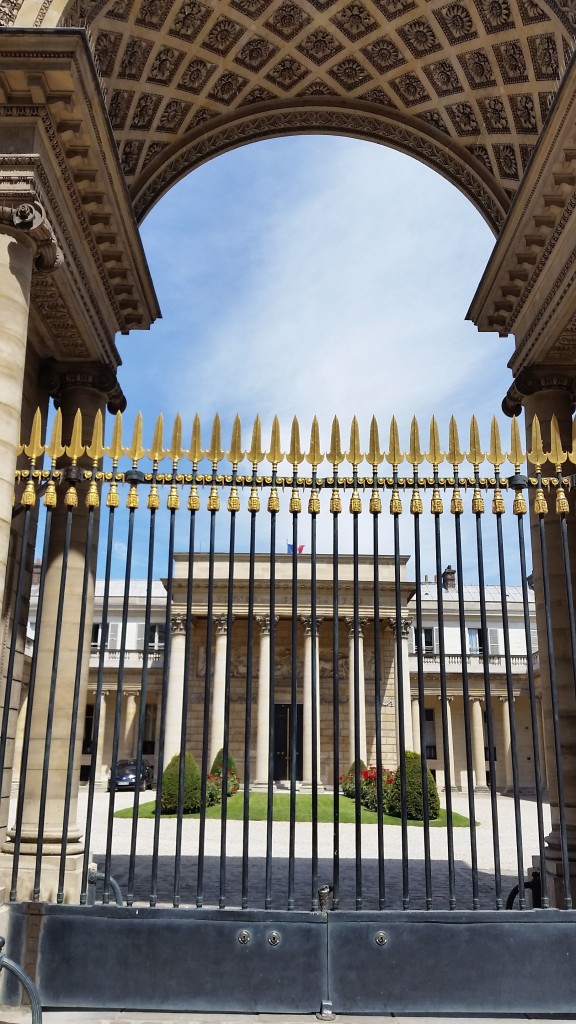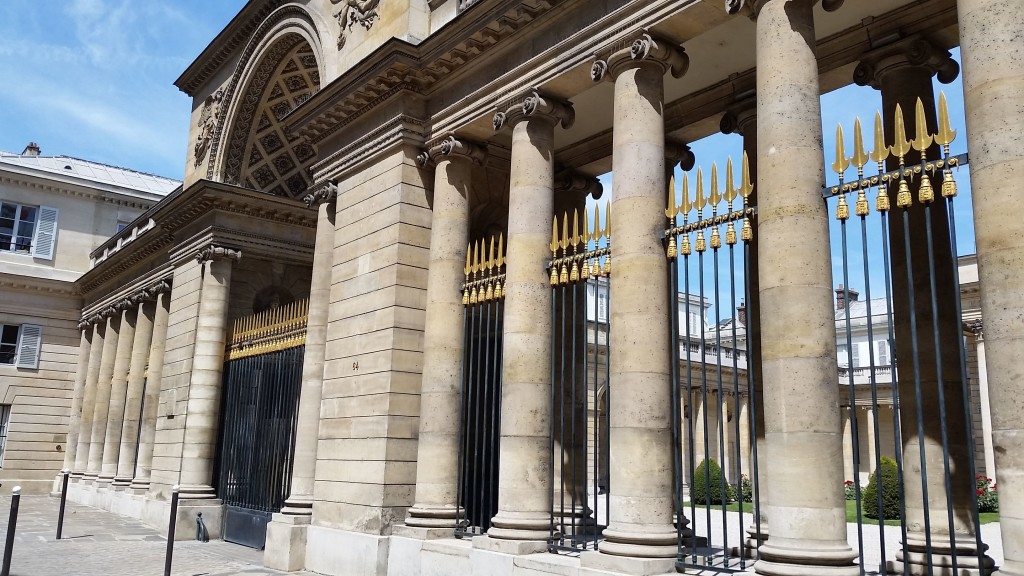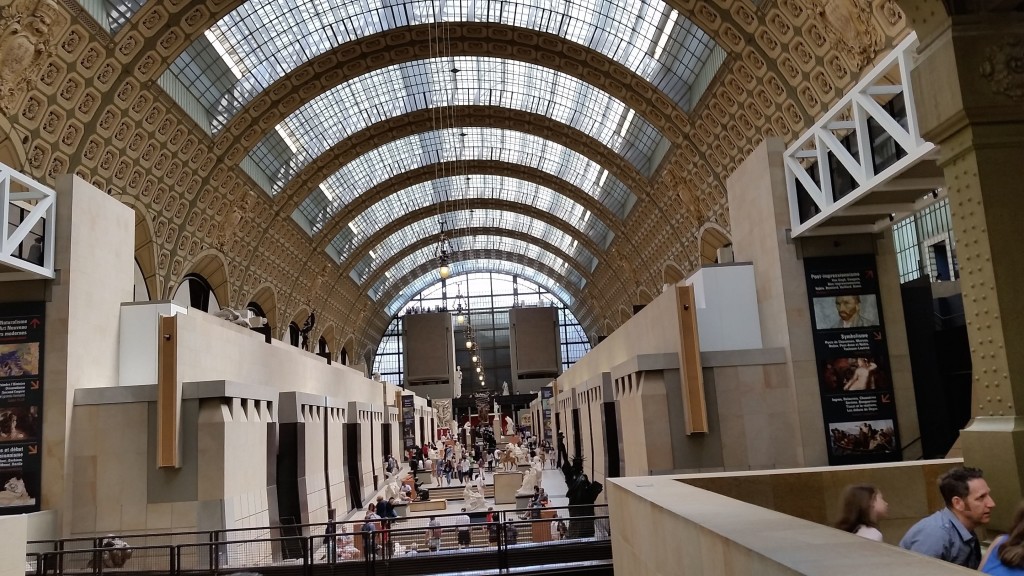 Next stop was the Musee D'Orsay. The building was a train station before and is really beautiful.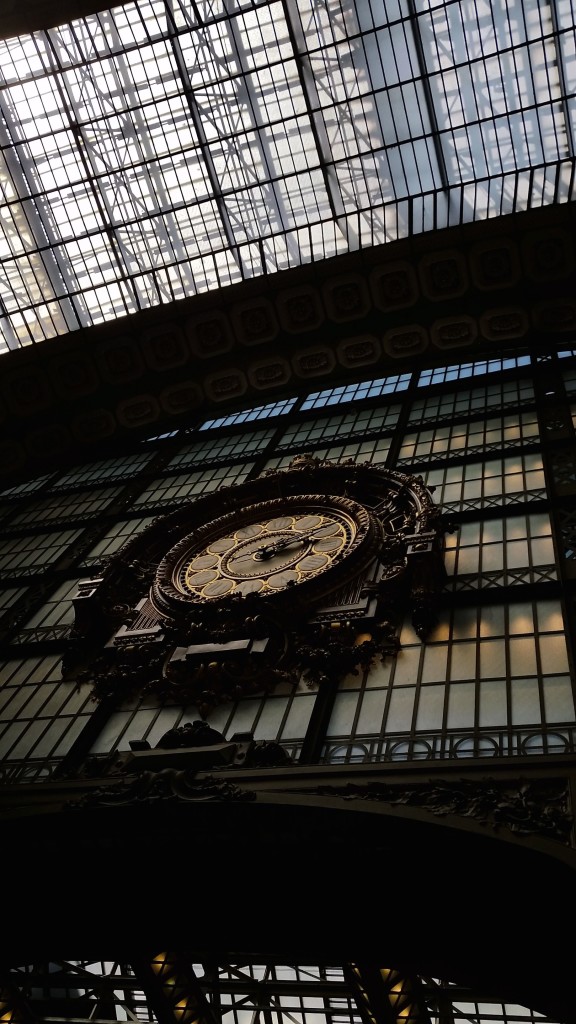 The skylights offer such beautiful natural light to view the artwork.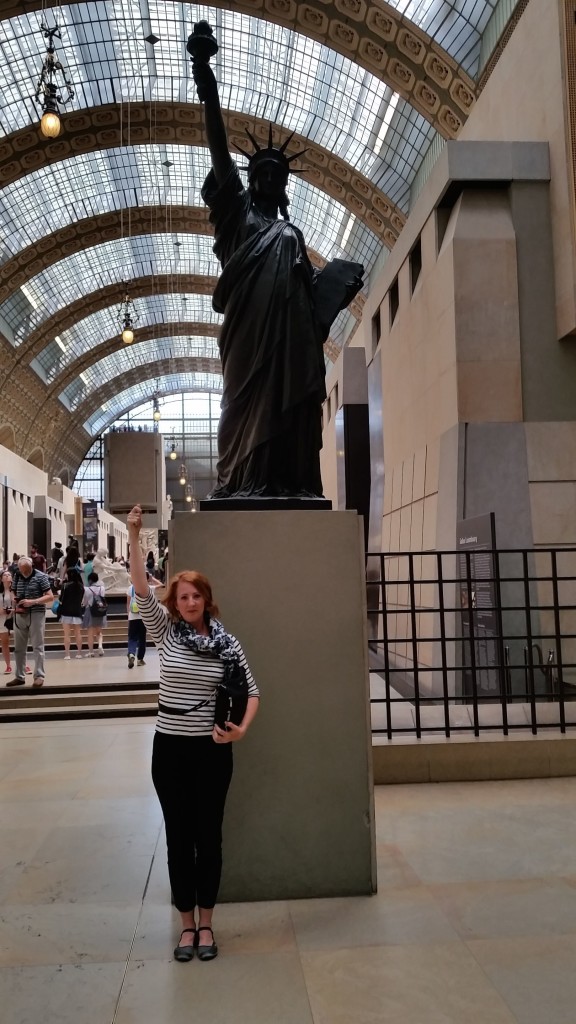 There are several statues of liberty in Paris, and it is fun to come across them.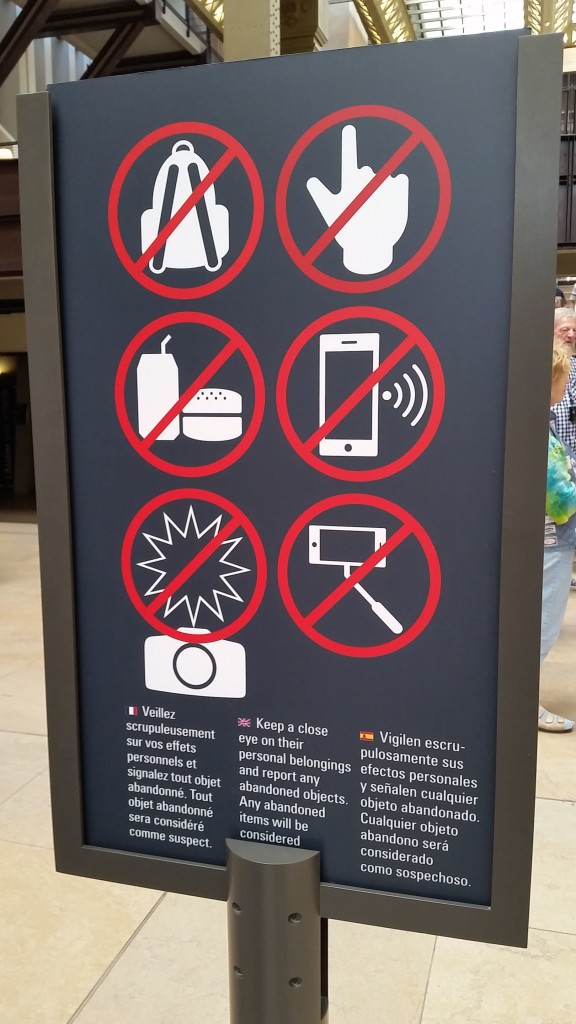 In the Musee D'Orsay, there are rules. NO backpacks (see my travel tip about bags here). NO pointing (OK, probably that means no touching, but keep your pointer fingers under control at all times, and you will be fine), NO burger and beverage, NO exploding cameras, and NO selfie sticks. That's right folks, you have to use your arms for that ever-necessary selfie.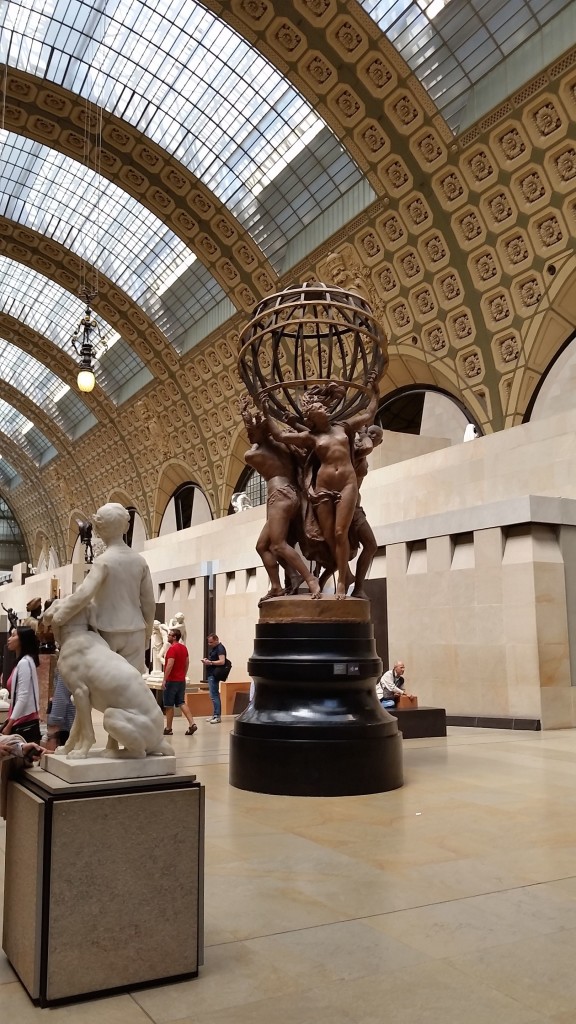 This is one of those museums that is worth the trip.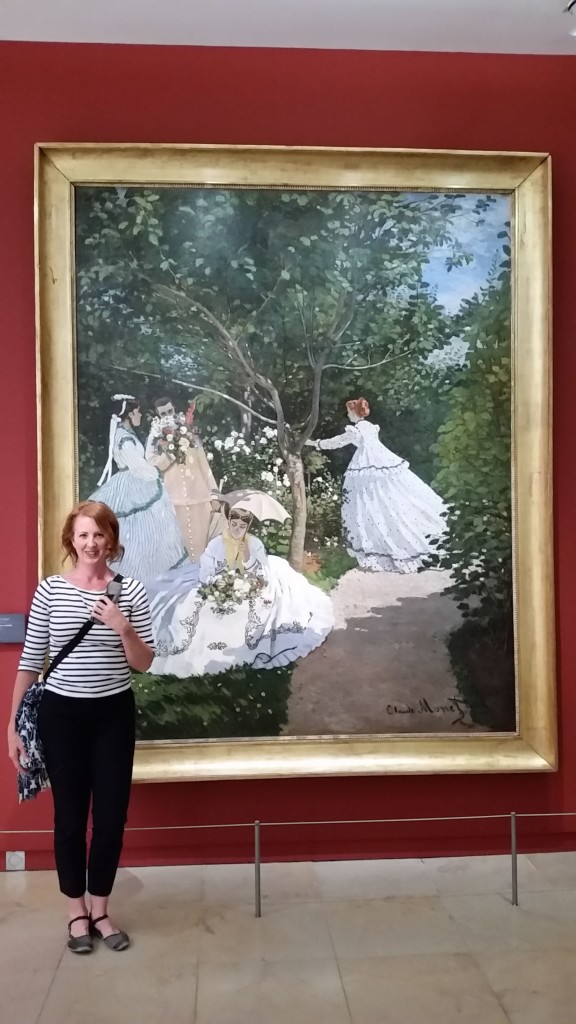 It has a large impressionist exhibit. Remember when I mentioned the painting Claude Monet did of the four women picnicking and they were all his wife Camille? This is the one.
Dante's 7th level of hell.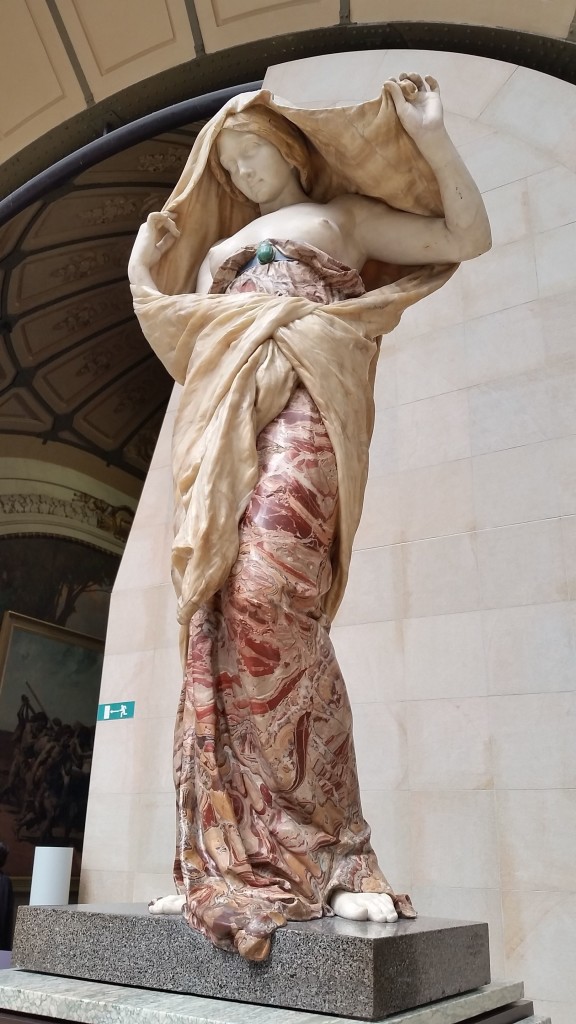 I couldn't tell you who did this sculpture, but the mixing of marbles here is incredible. The sculpture itself is magnificent, but the combination is just breathtaking. This was one of my favorite things here.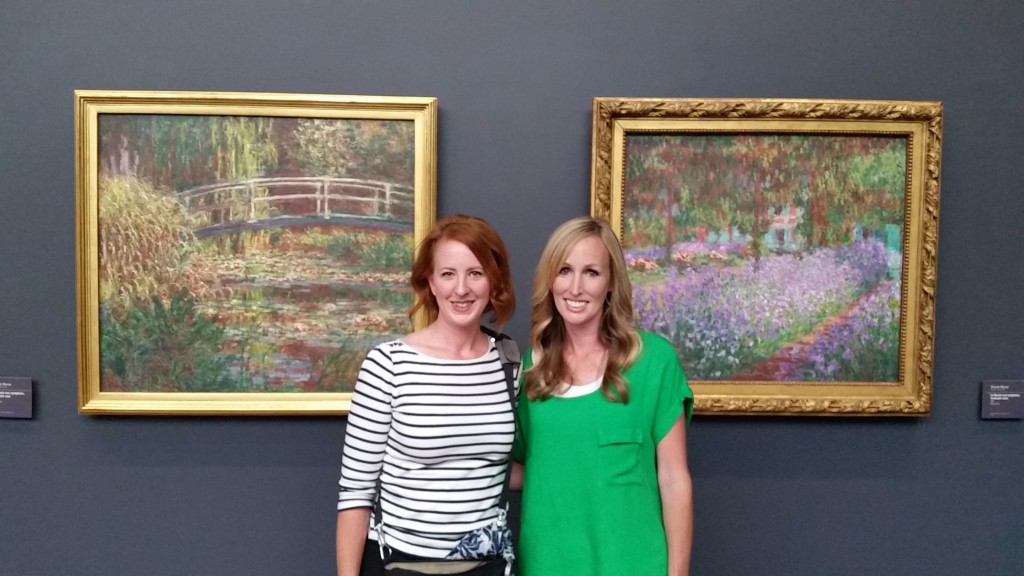 Brittany et moi in front of more Monet.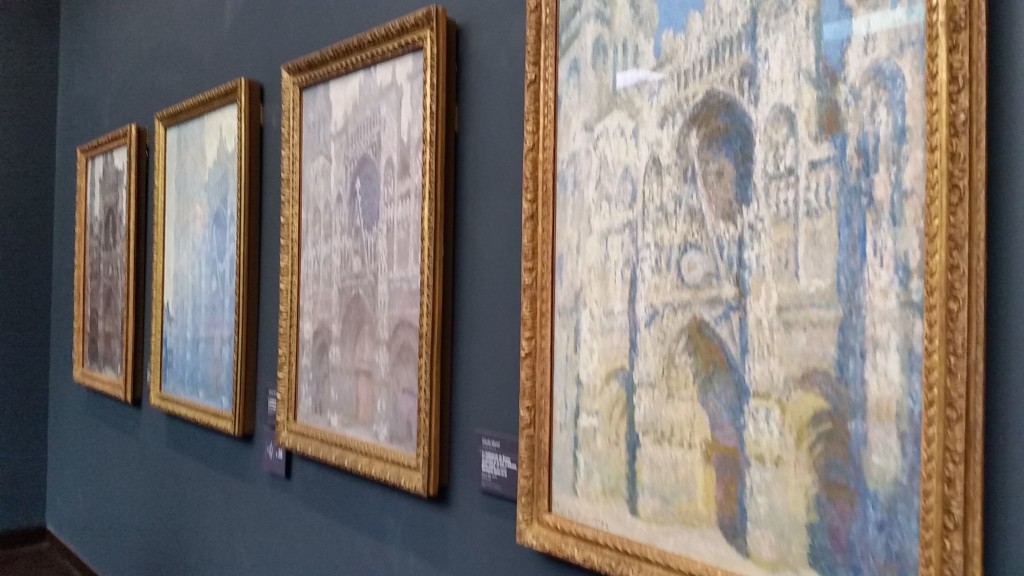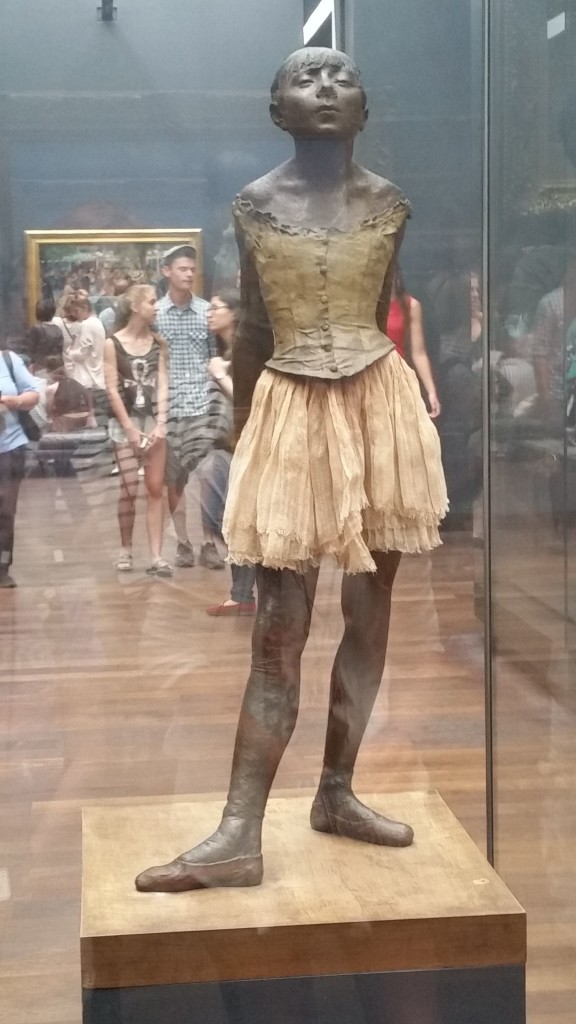 We also wanted to see Degas. This may be his most famous piece. His favorite subject was dancers. He has so many paintings of dancers, and you can see some on display here.
I love this clock window. There is a great view through it.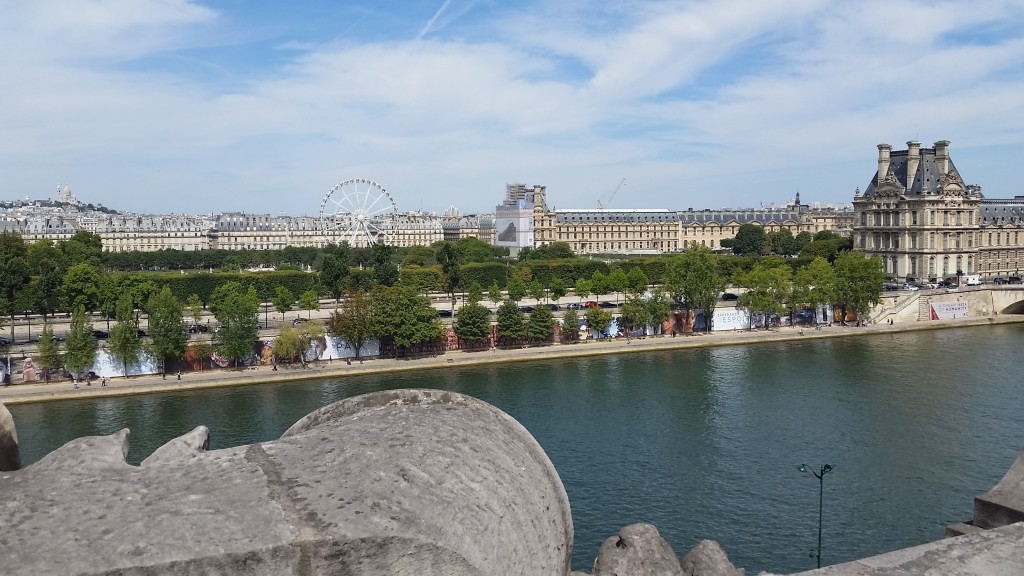 To the side of the clock you can go out onto a balcony and see Paris.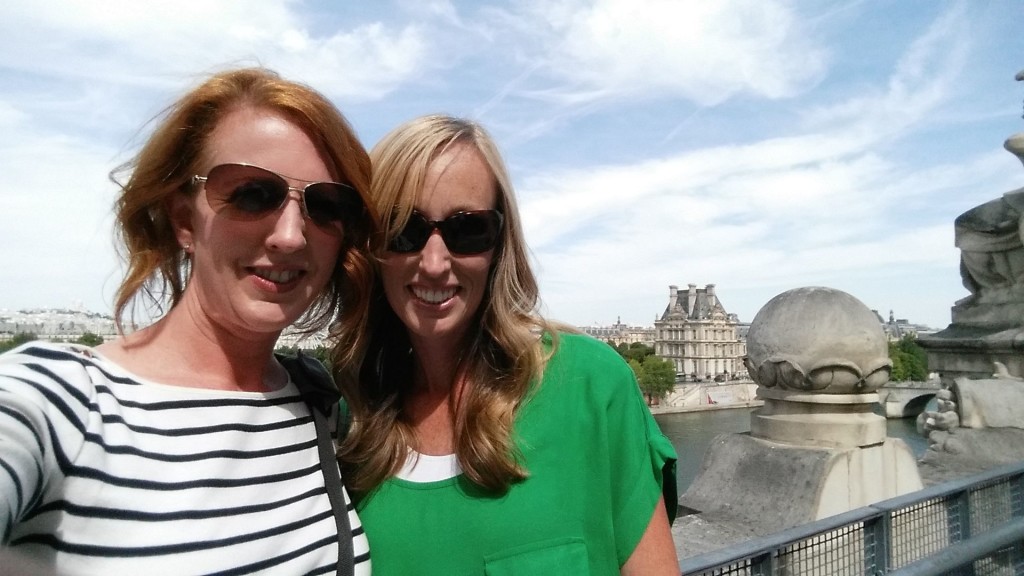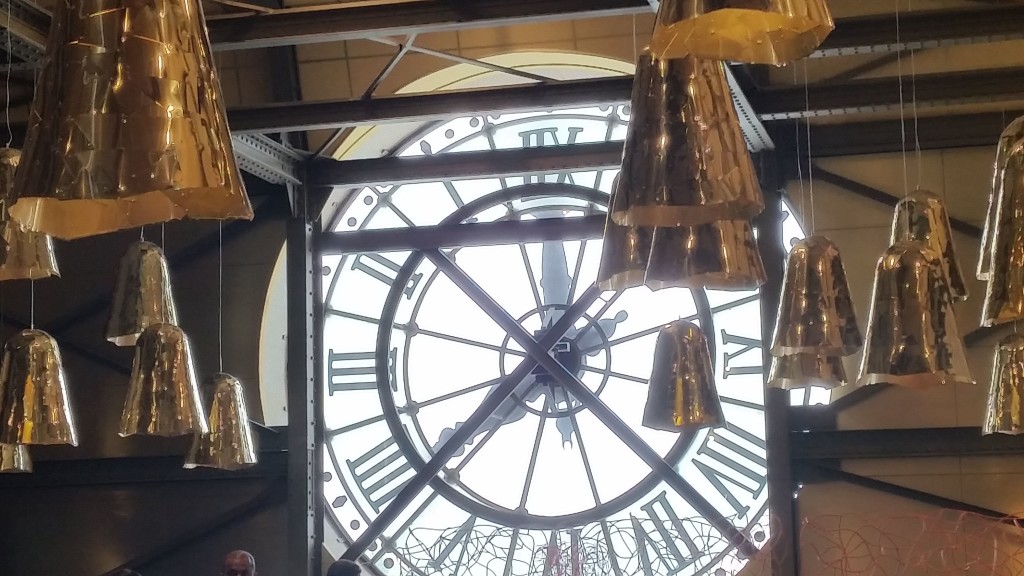 We walked a lot of places, but we also took the metro and Uber. Travel tip: Uber isn't just for the United States. It was cheaper and faster than taxis, and the cars and drivers are always nicer.
Every. Single. Item. in this store was this shade of blue or white. French blue was the couleur de l'année. It was everywhere.
.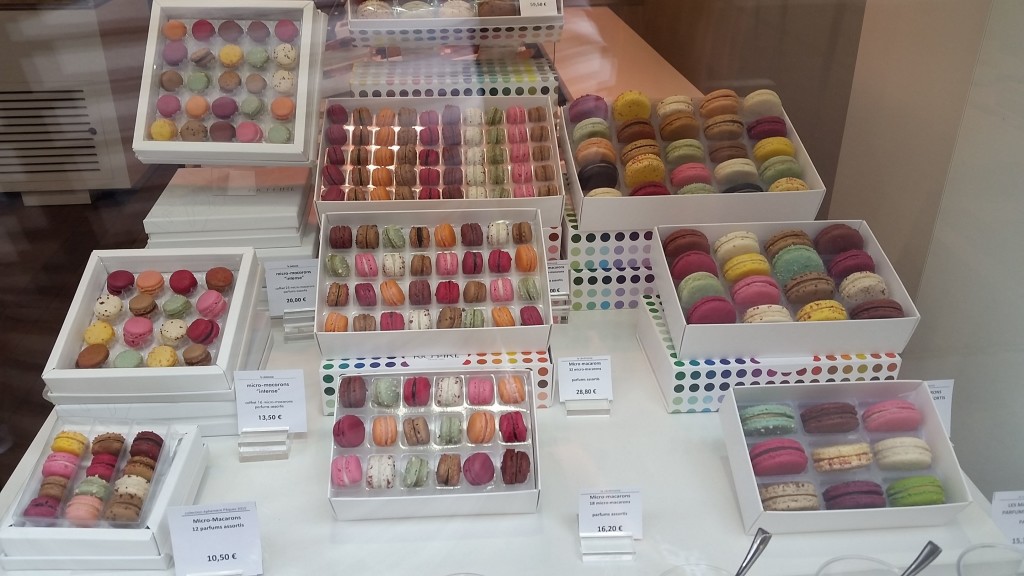 Window shopping macarons. Almost too pretty to eat.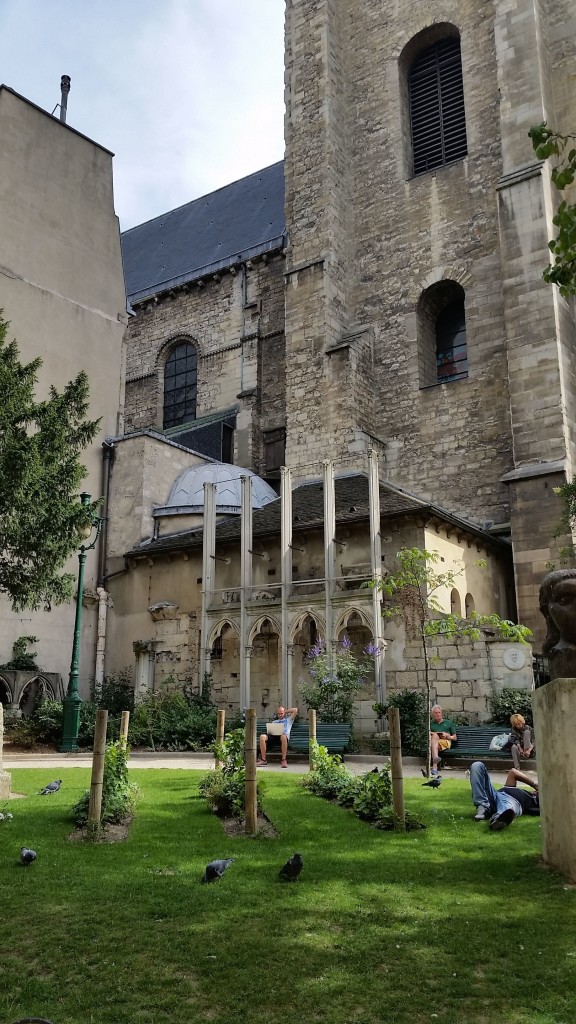 This garden is to remember the more than 11,000 children who were killed at Auschwitz.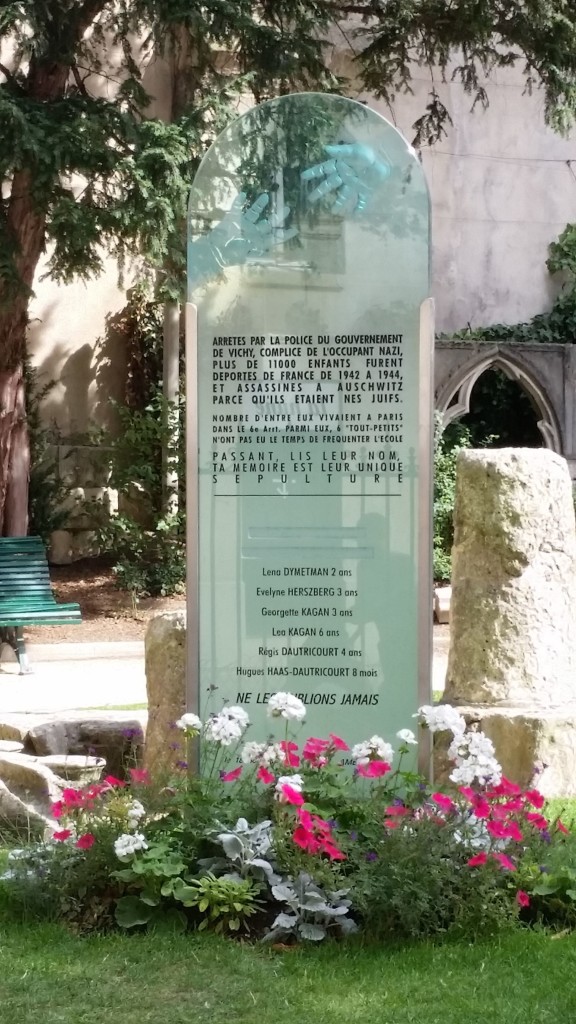 All over France there are reminders of the war and the horrors that happened. The French were very affected by it.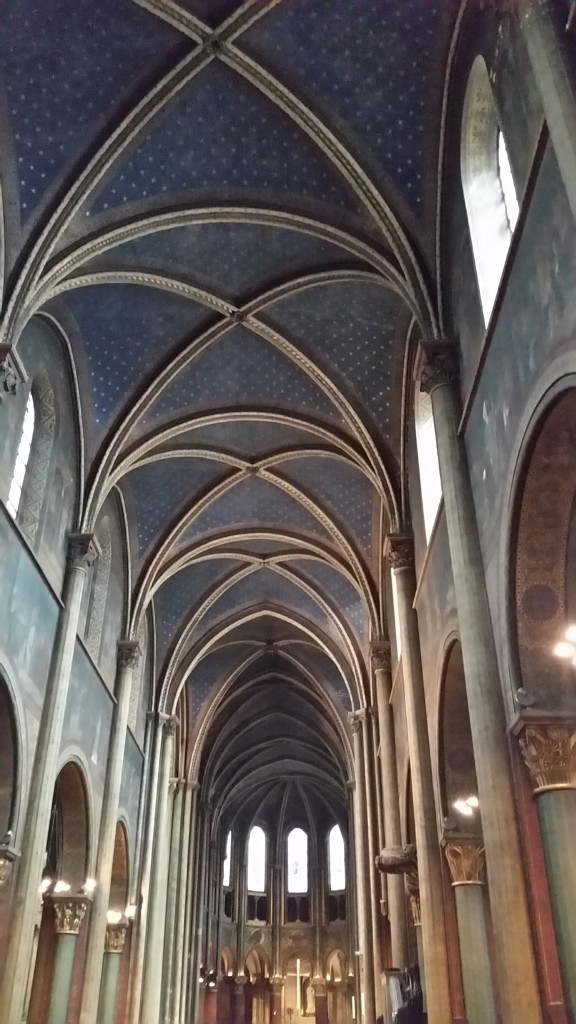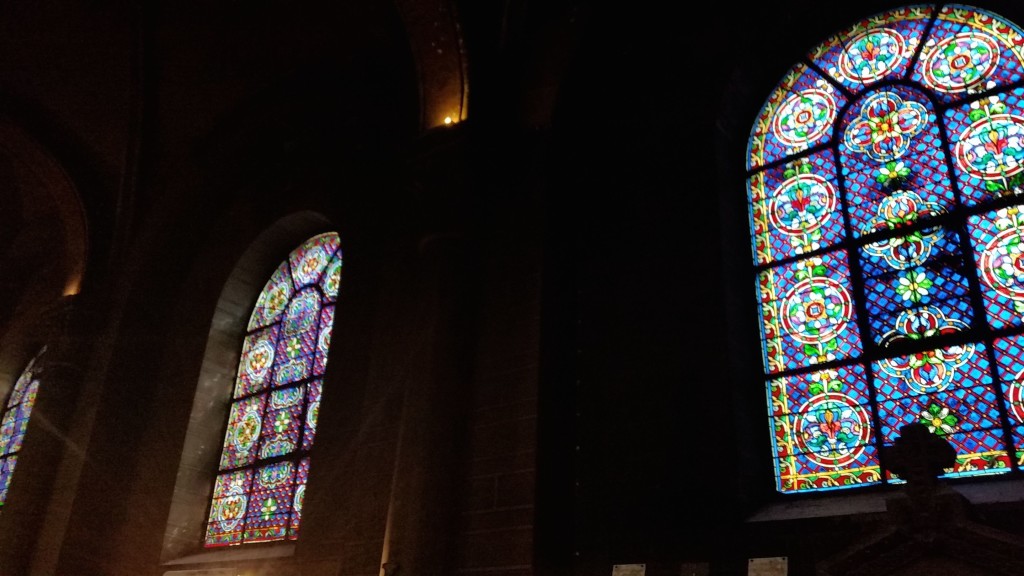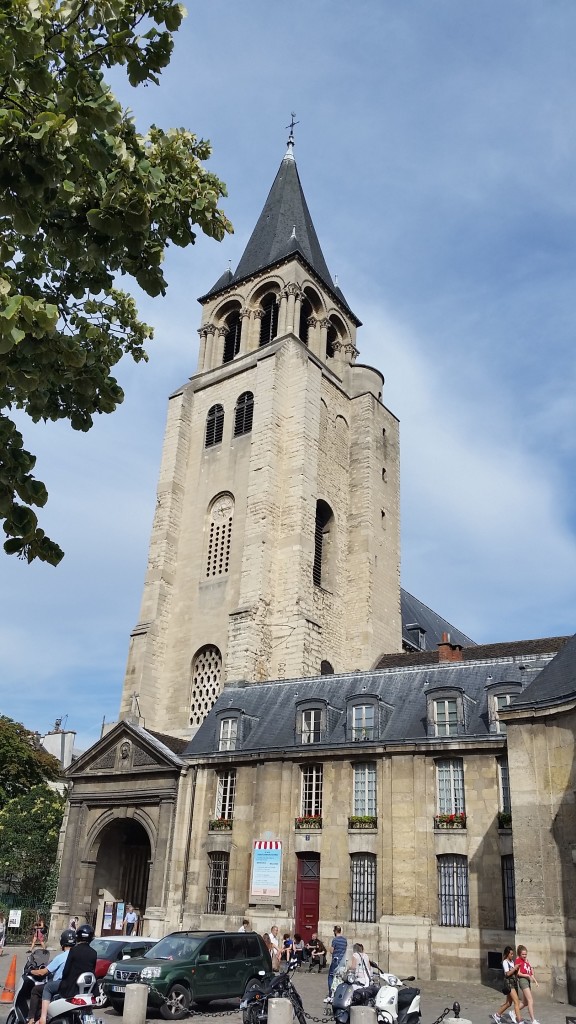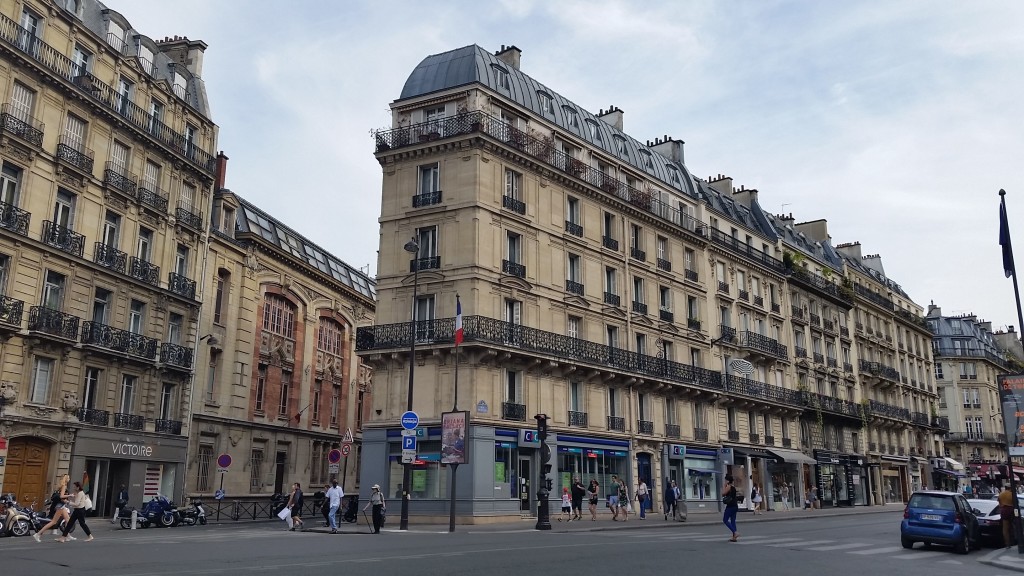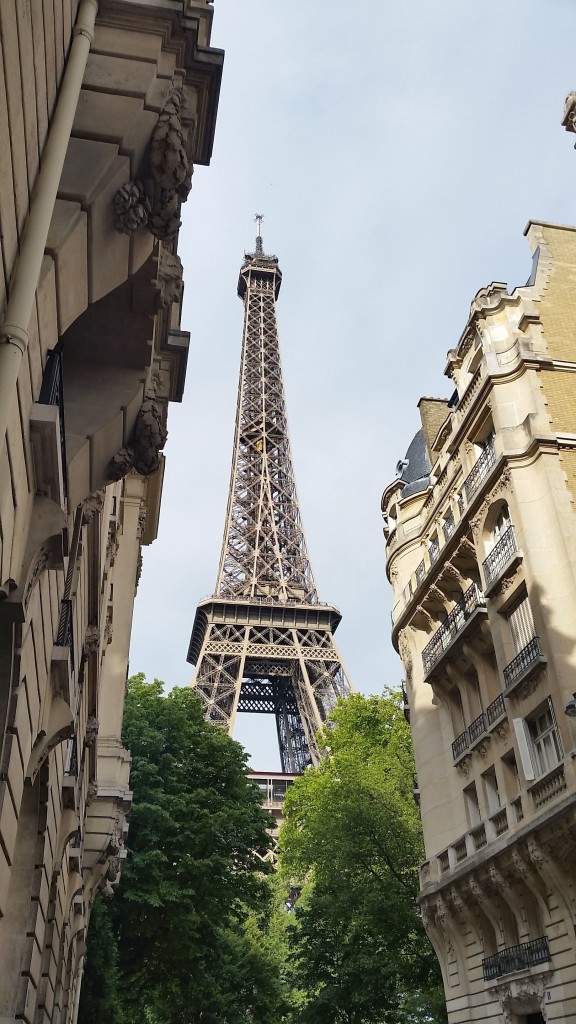 After walking around Paris a little, we headed for our sunset tour of the Eiffel Tower.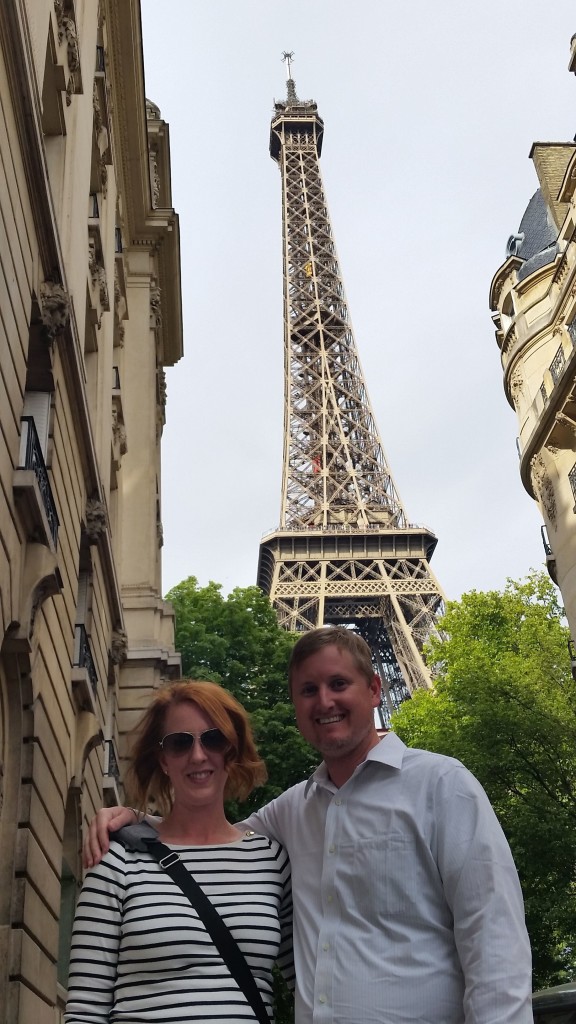 Eiffel Tower tickets are definitely something you should book in advance.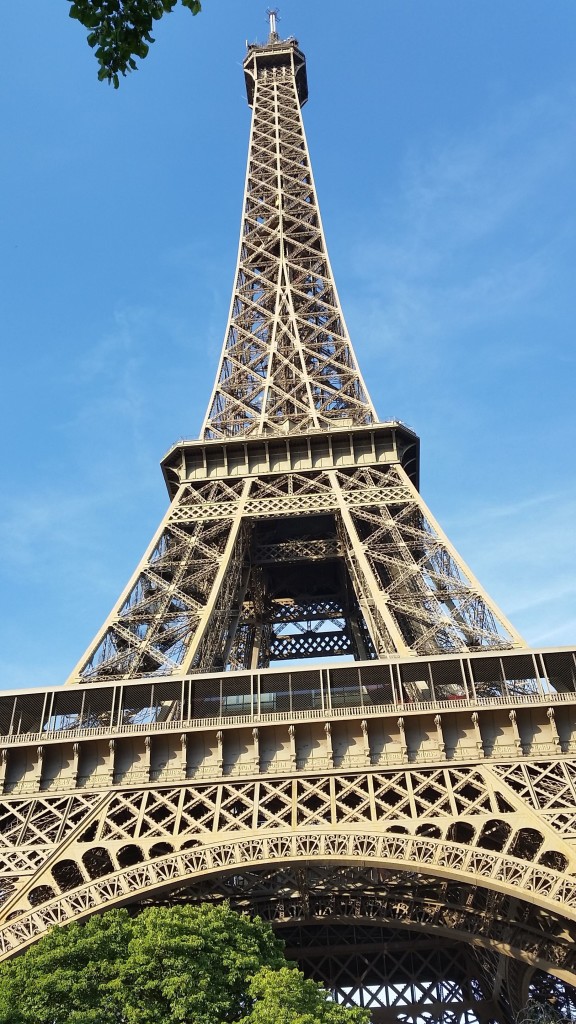 This tour allowed us to skip the line and be up there at sunset.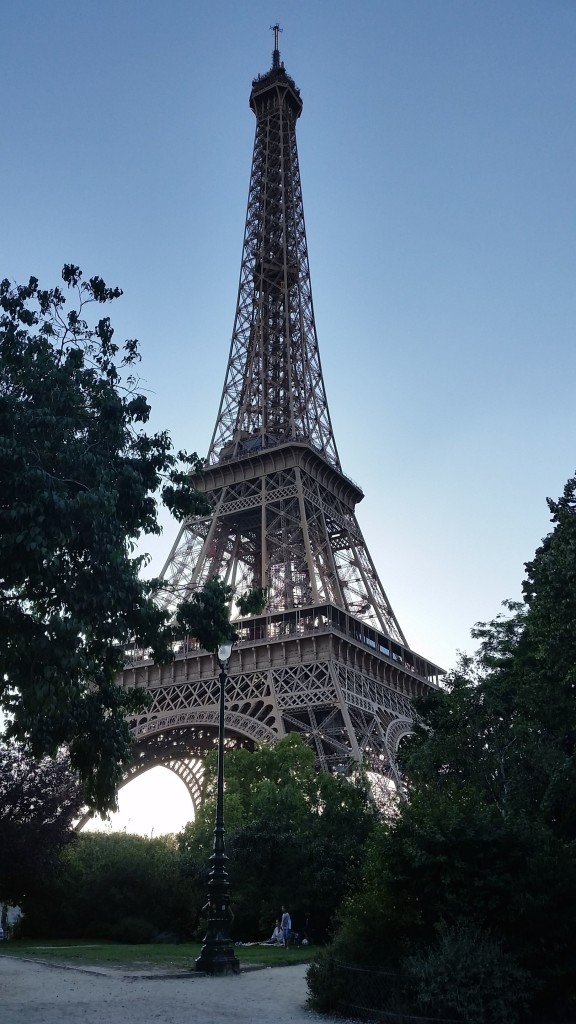 Our tour guide had a headset with a microphone, and we had earbuds so we could hear what he was saying without him yelling.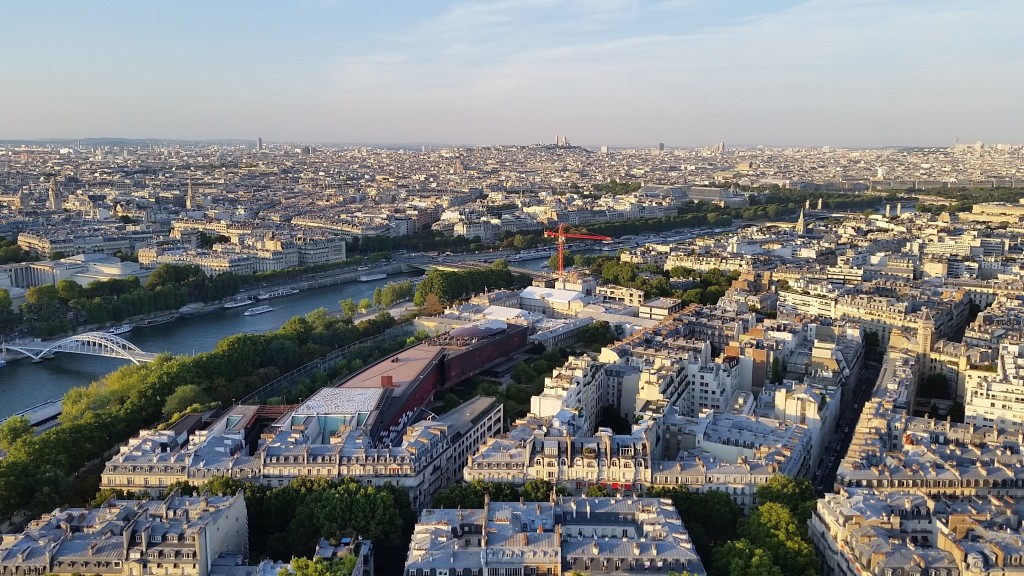 It was very interesting. The tower was built for the World Fair and was intended to stay for only 6 months, then be taken down. Several architects and engineers submitted designs.
Mr. Eiffel won. But there was a catch. The city would provide the land, but he had to pay to construct it. What? $30 million. They made a deal. He got a free lease for 20 years to make up his money by selling tickets to go up.
He made up the money in the 6 months of the fair. The next 20 years were pure profit. What was just going to be a point of interest became THE point of interest at the fair.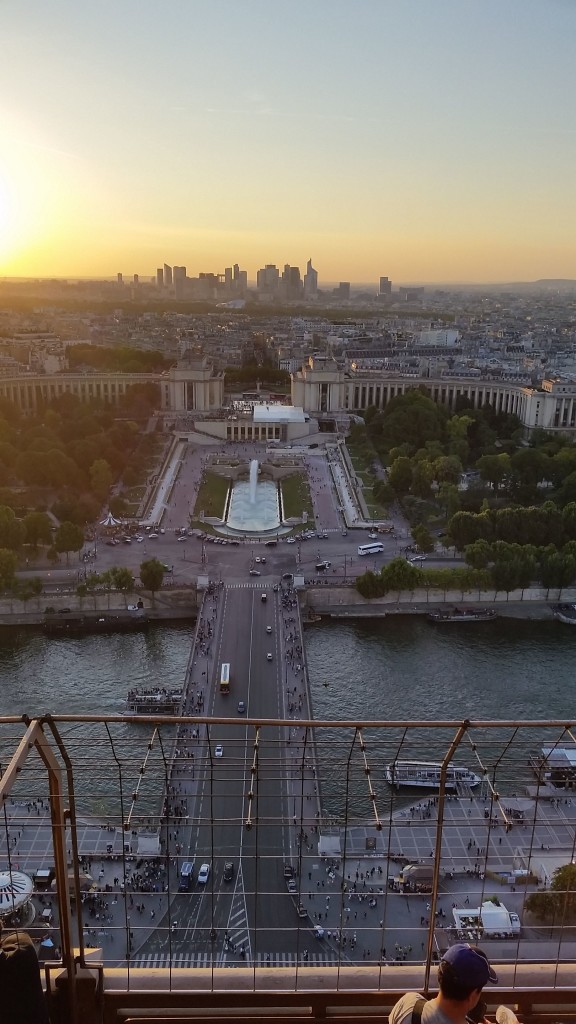 A view of the Trocadero from the tower.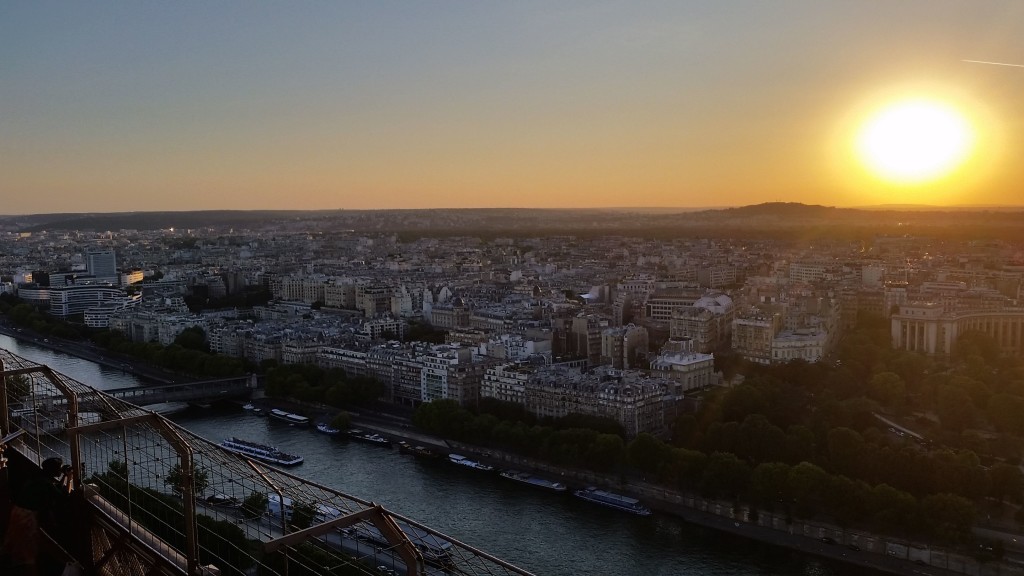 When the lease was up, the city was going to tear it down, but they realized it made a great antenna, so they kept it.
Ironically, at the top of this giant antenna, cell phone reception is nil.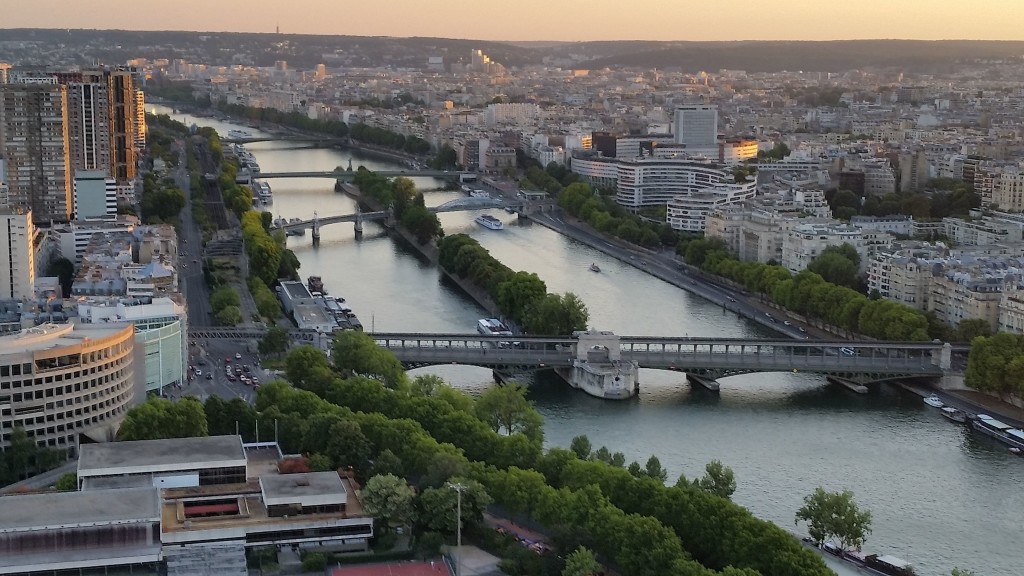 The same 24-hour visit Hitler made to Paris and wouldn't bow to Napoleon, he wanted to go up the Eiffel Tower and survey his domain. Someone cut the elevator cables. Naturally he demanded they fix it immediately, but the engineers insisted that the parts were very far away in the United States, and it would take 6 months to repair.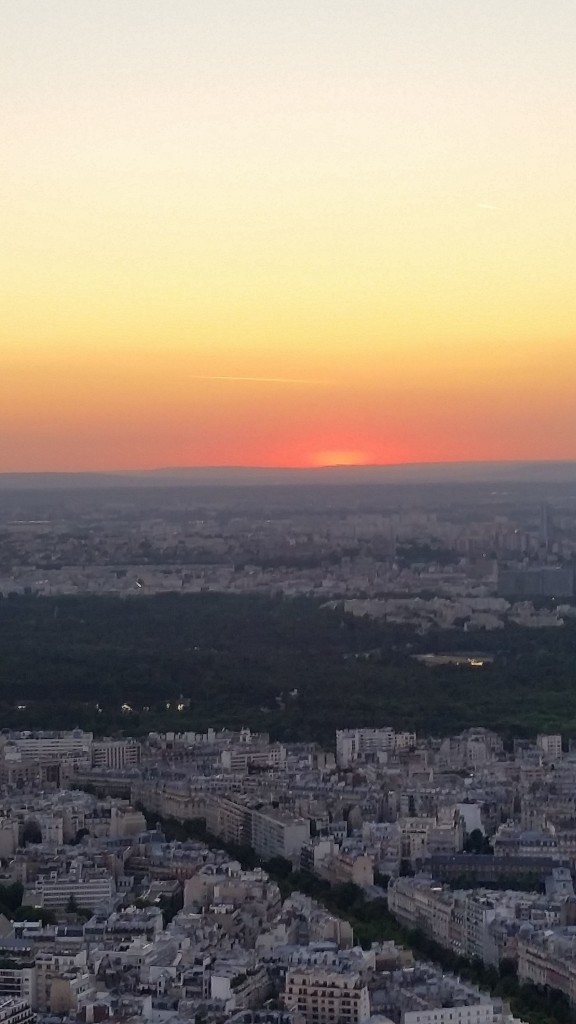 Once Paris was liberated from the Nazis, the repairs were made in a day.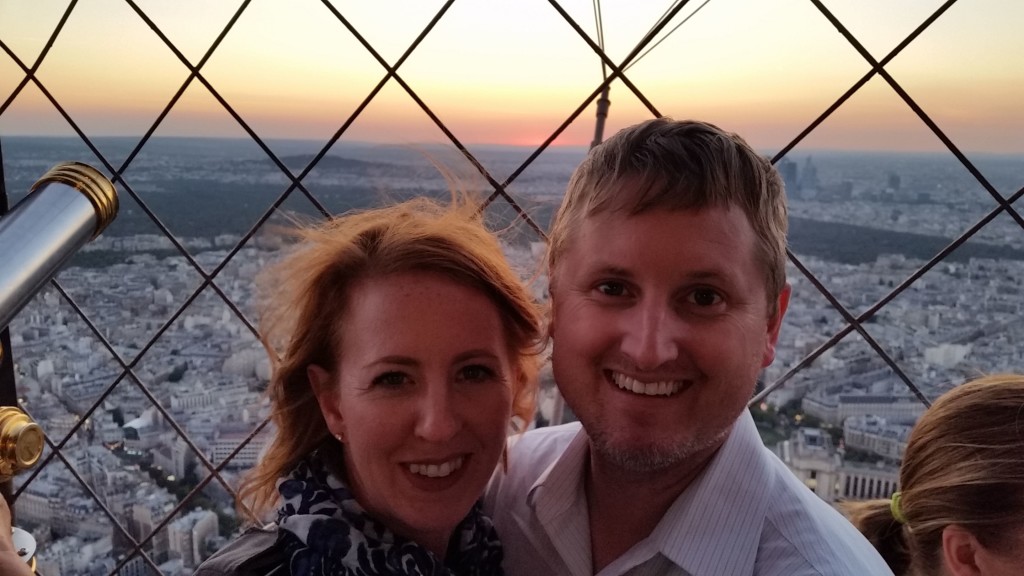 Lots of pushing and shoving happened to get this picture in this spot at this moment.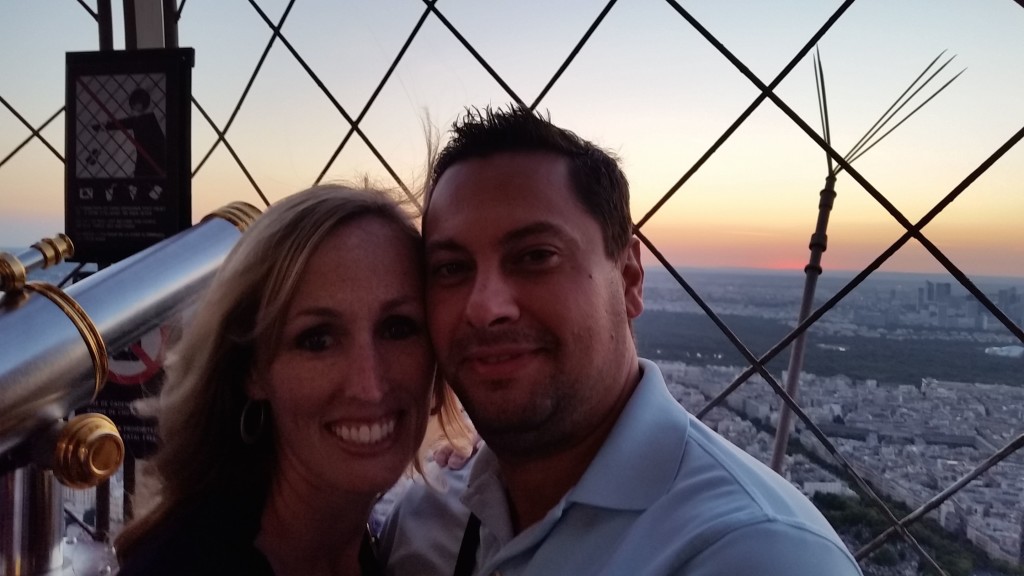 The other two lovebirds.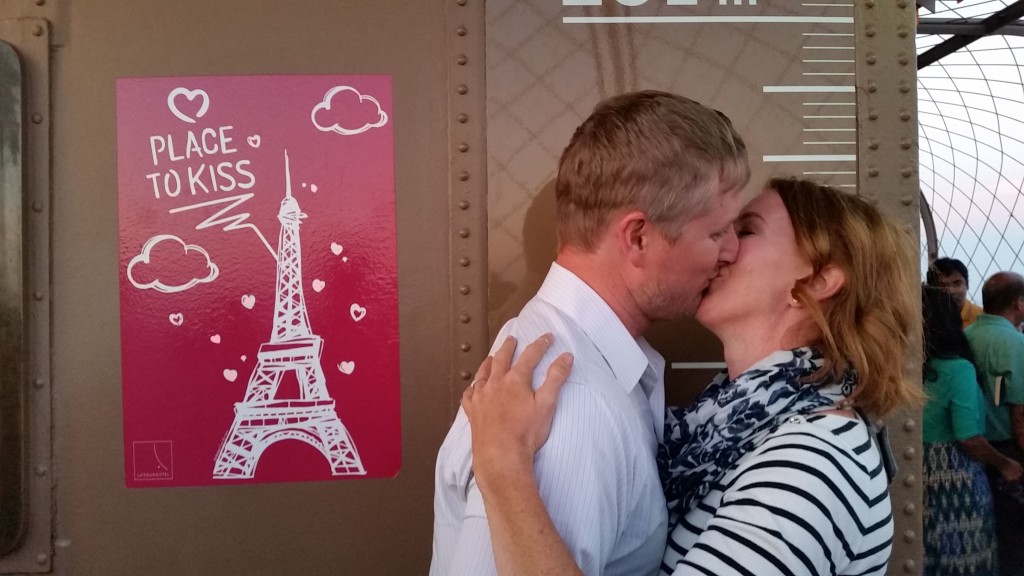 Other random facts: the Eiffel Tower has been a variety of colors, but is currently caca brown. When they asked thousands of people to vote for the next color, baby pink won out, so they just ignored that one. I think red could be nice.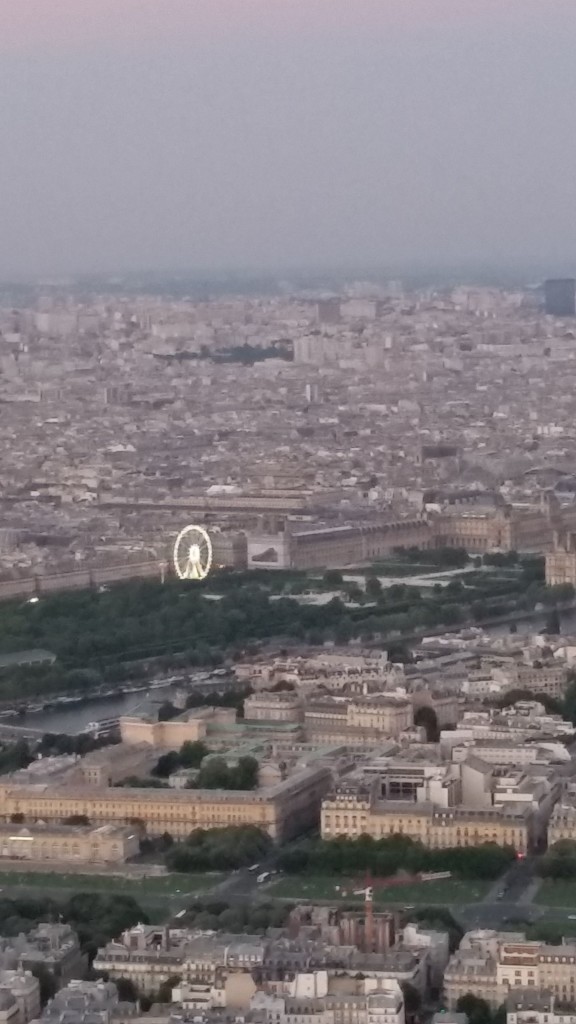 Next to the tower is a carousel.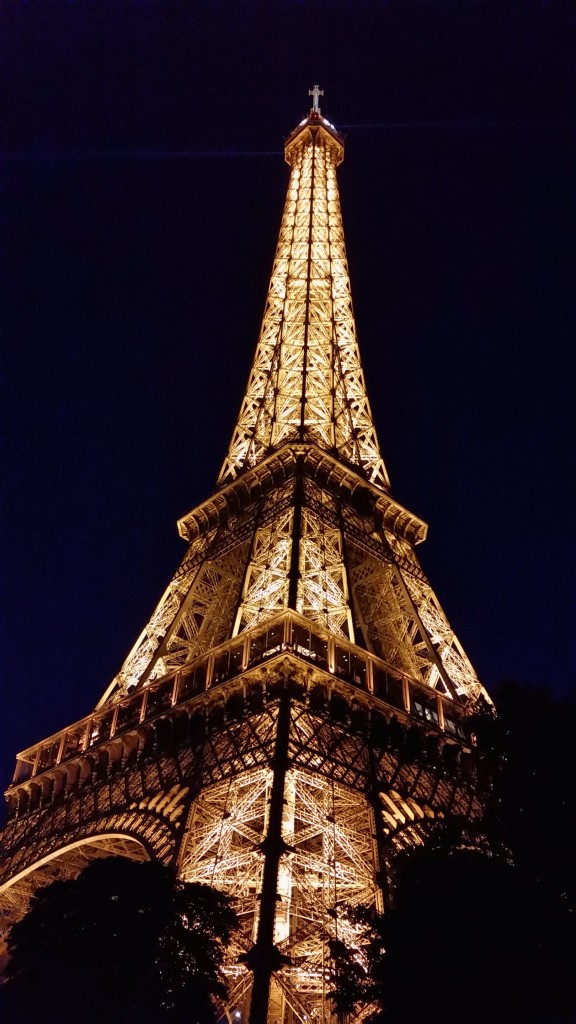 I think it is prettiest lit up at night.
We switched hotels that night and stayed in this little boutique period hotel, and we really liked it. The W is nice, but as I've mentioned in other posts, the modern decor and vibe can seem very out of sync when in a historical place. This one felt very much like an authentic aubergine, and that is what we wanted.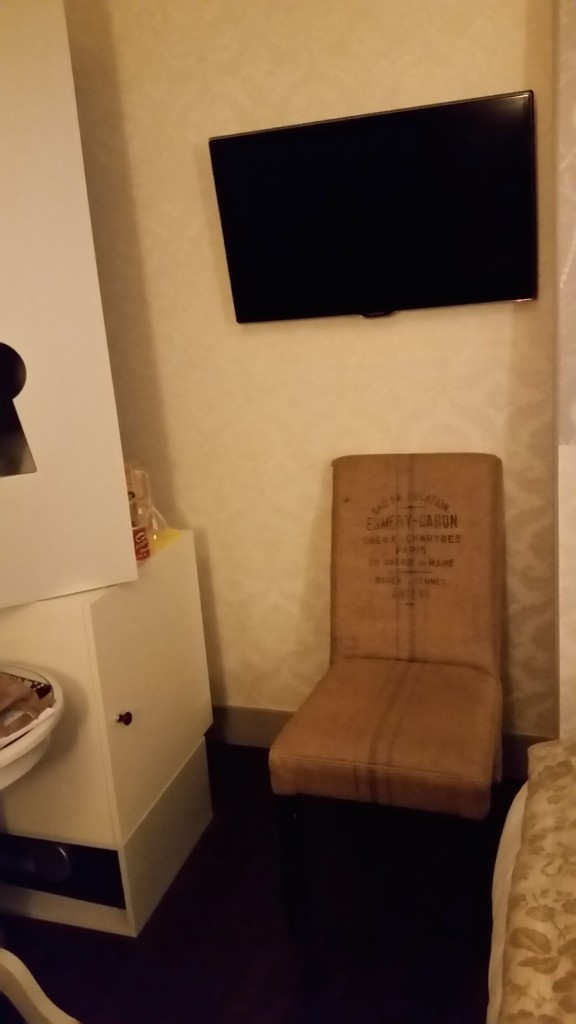 I really liked the rustic decor. The room was tiny, but we were just sleeping there, not entertaining people. Only 35 rooms in the whole place, 5 per floor. They were booked the whole time, but we never heard another soul. It was very quiet.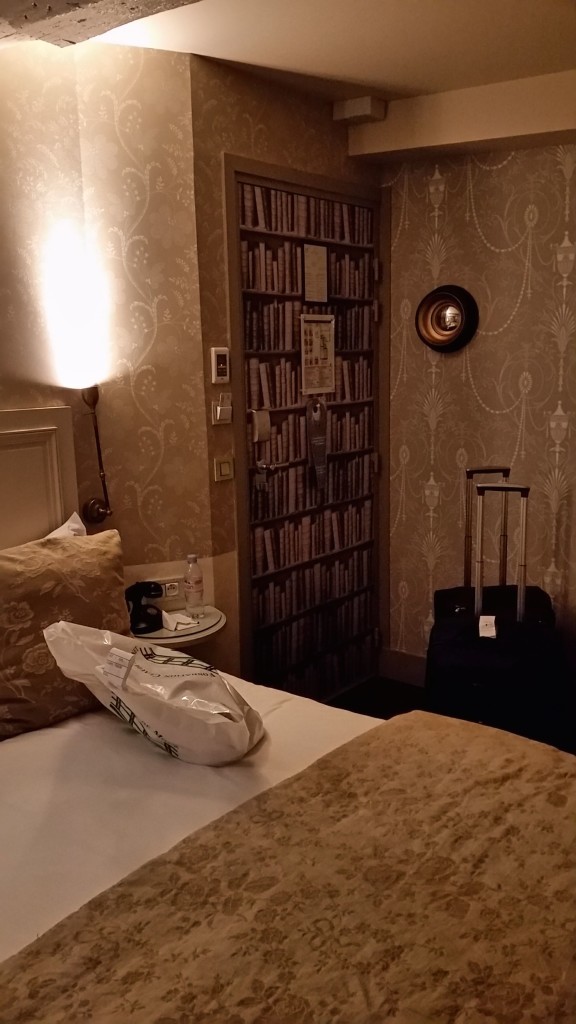 Travel tip: Do a little looking when booking a hotel. Sometimes you can find a steal on a hotel. We did the same with the hotel in Amsterdam, and it was quite nice, with a fantastic location, right on Dam Square. We only paid $100/per night for this hotel room. Seriously. In the 9th arrondisement. It has excellent reviews, it is a charming boutique hotel that is very period and gives you a more authentic experience, this particular one was very quiet, often they are small, so you get more personal attention. The desk attendants were always very helpful and friendly. The only two downsides were the location was about a 15-minute walk from any metro station and off the beaten path of free-ranging taxis, and while they did serve a lovely breakfast, there was no real room service to speak of. We were ok with those two things on this trip.
DAY 7: VERSAILLES
Sunday we did a bike tour of Versailles. It's an all day thing from 9-6.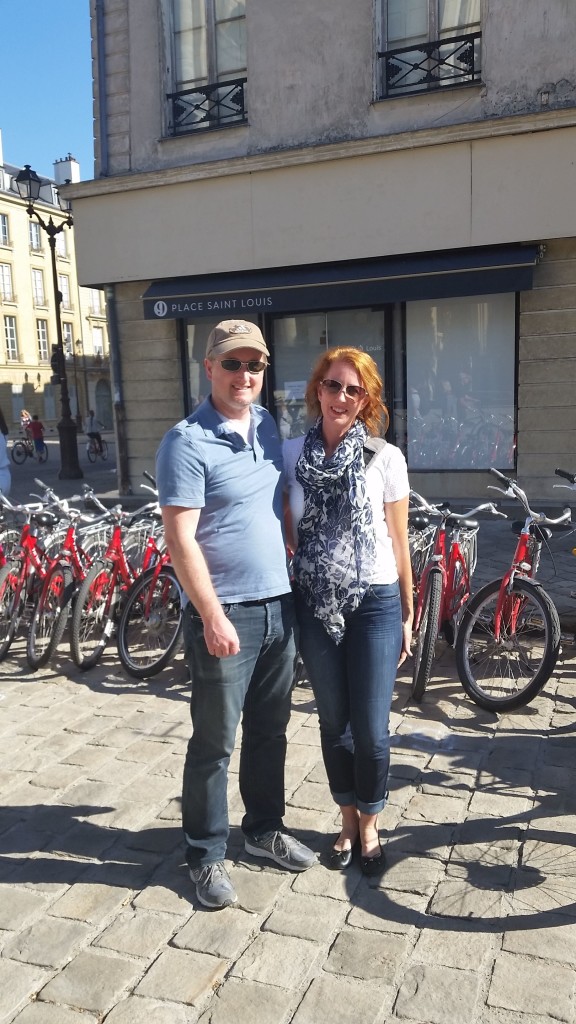 Adam doesn't really like riding bikes. That coupled with his injury made this maybe not his favorite, but he was a trooper. The rest of us loved it.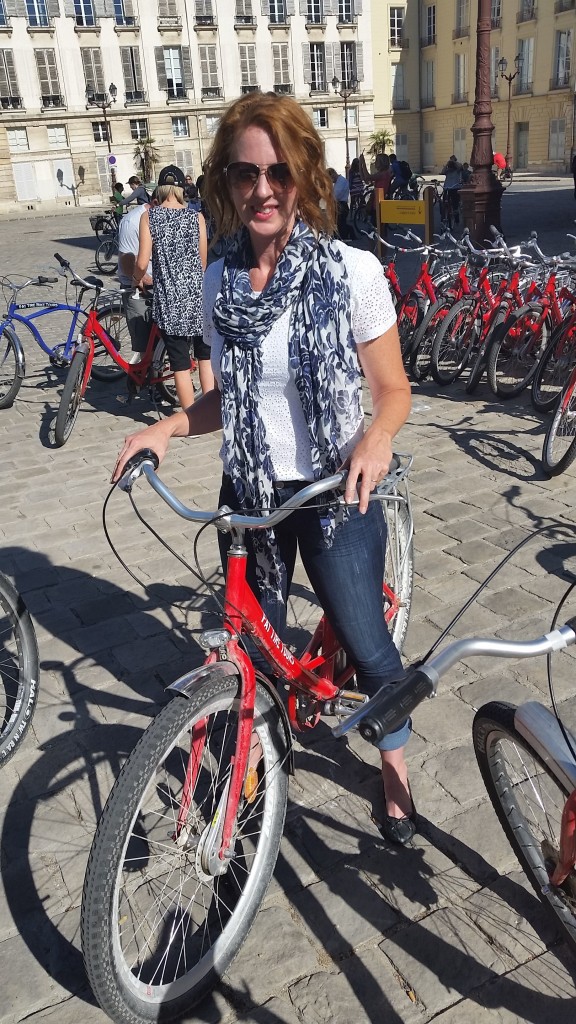 Travel tip: In this picture notice that I'm only wearing a plain wedding band, and not my engagement ring or anniversary band. When we travel abroad, even in Europe, I never, ever, wear more than that wedding band and maybe a small pair of earrings. Though we try to blend in to the local culture as much as possible, we are in major tourist destinations where almost everyone is a tourist, and I don't want to wear anything that would be desirable to a mugger. Also, a diamond ring is much more likely to identify me as an American. We don't wear anything flashy and expensive. We also don't walk around in Hawaiian shirts, white tennis shoes, big hats and cargo shorts. We basically try not to draw attention to ourselves. Of course, in places like South America where we very clearly aren't local (as our Mexican friend pointed out to us, "You are very, very white."), not carrying anything worth stealing is even more critical.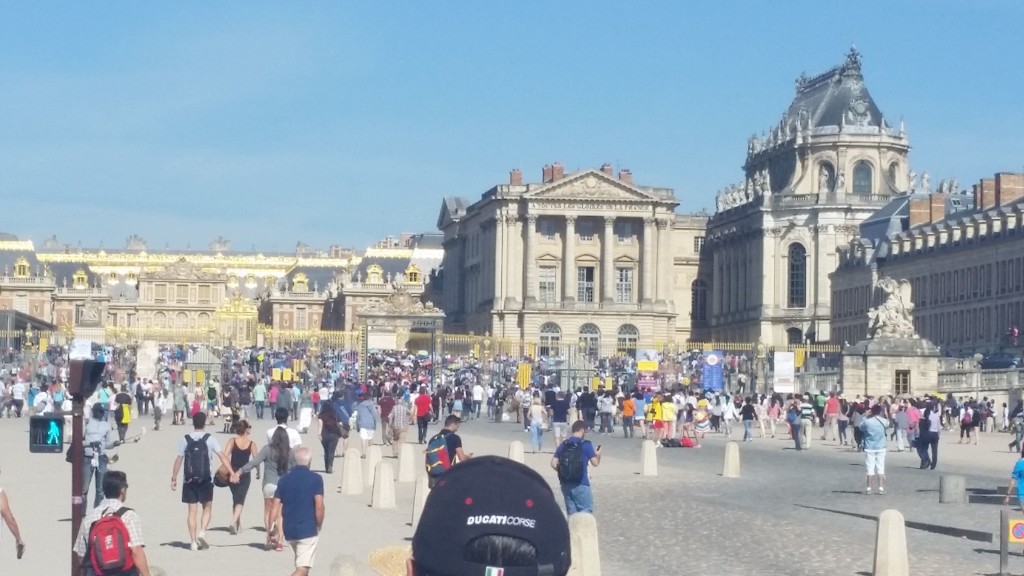 The sheer magnitude of the palace is incomprehensible. We met up at the tour company's office and then caught a 30-minute train ride to Versailles, which isn't just a palace, it's a town. We nearly missed the train because a large group of Asian tourists was blocking the door to get to the platforms trying to buy tickets.  We pushed through and RAN, all 15 of us, and barely got on.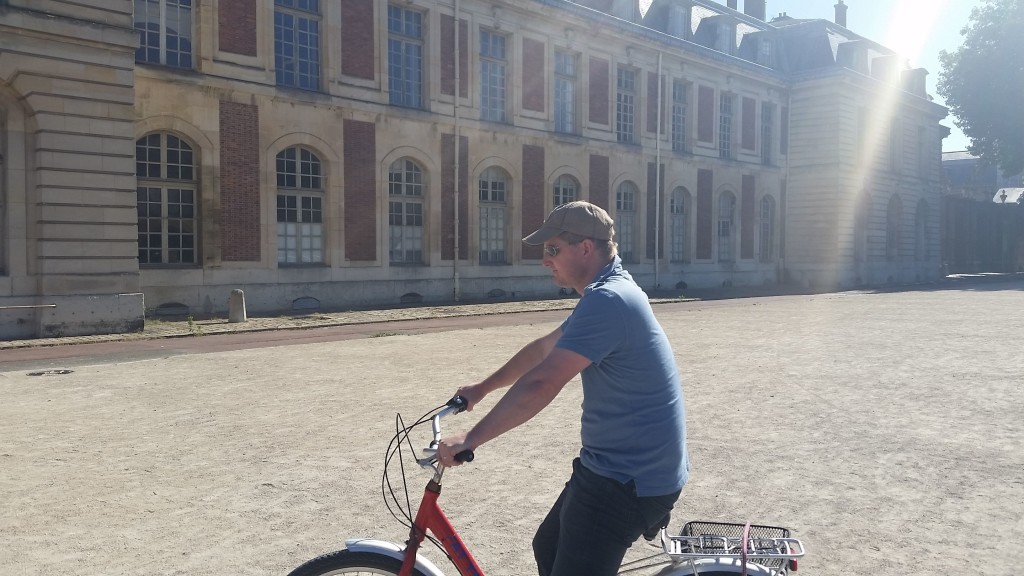 He looks happy, doesn't he? Once we got to the town we got our bikes.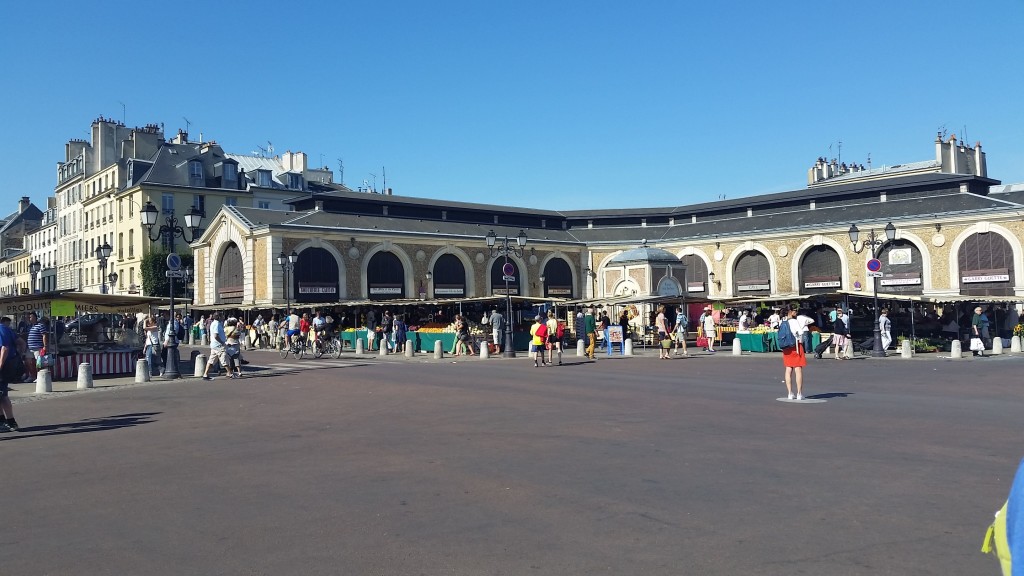 First stop is the farmer's market, which is one of the top 3 in all of France. Here we bought our picnic supplies. It was so fun to choose meats and cheeses and fruits and desserts.
Love these doors.
We got dessert first. The shop is just down the road, maybe a block from the market.
We'll have one of each, please. I don't remember the name of the store, but it has a blue awning and a line out the door.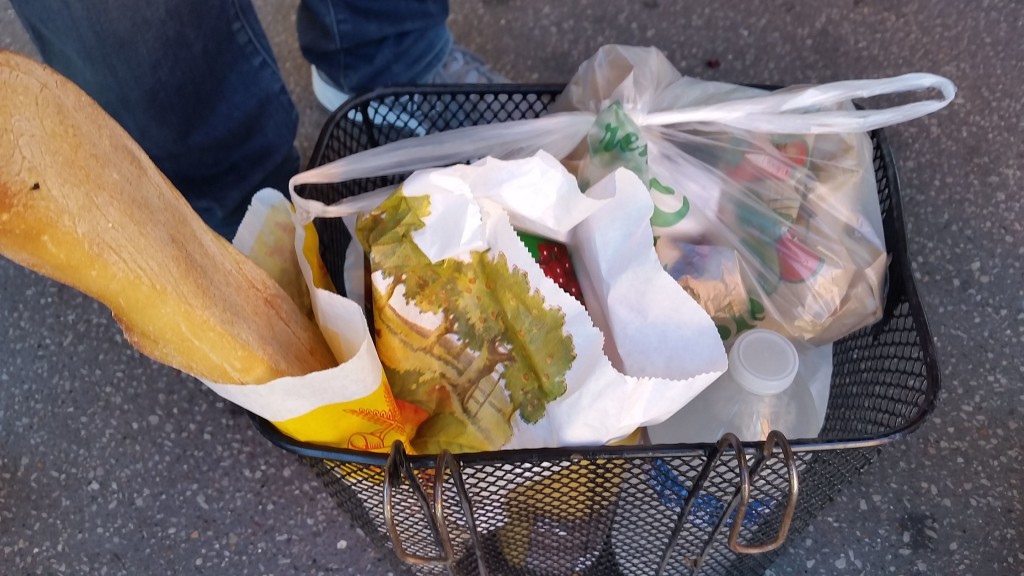 I had so much fun conversing en francaise with the merchants, and afterwards I would thank them for letting me practice their beautiful language with them.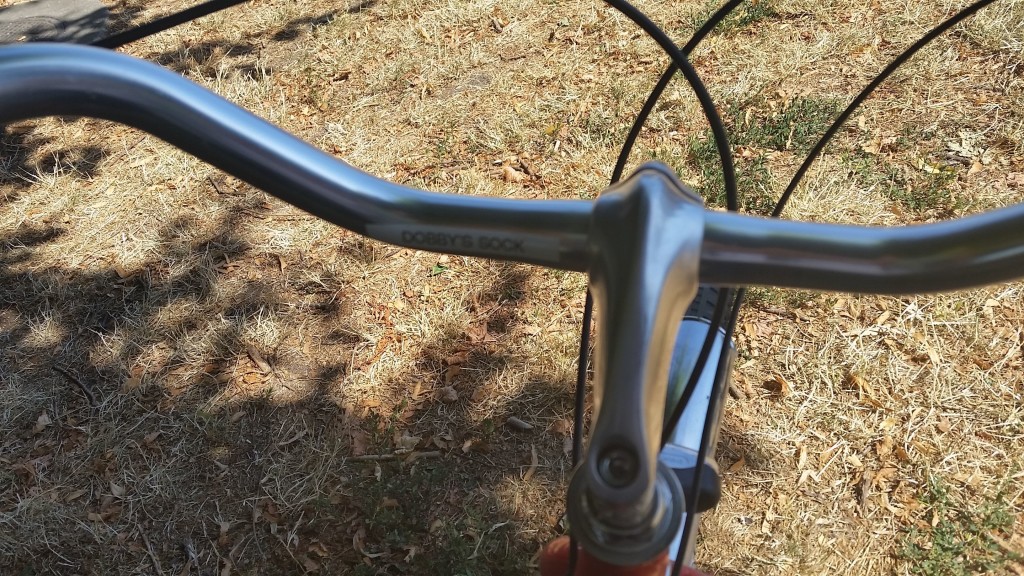 Each bike has a name. Mine was Dobby's Sock. I 
 that.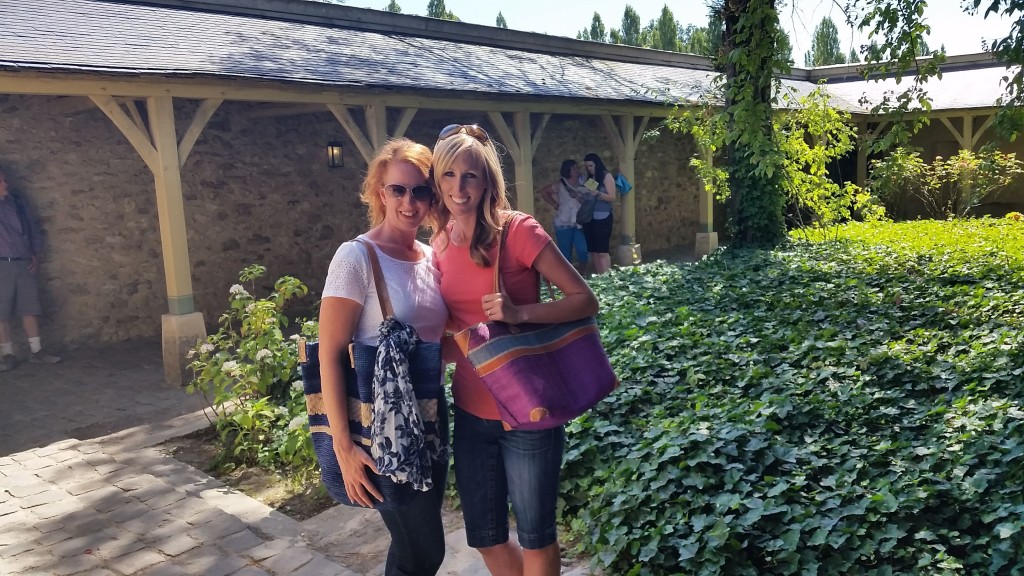 Along with food, Brittany and I each bought a market bag at the market. I 
 that too. I did some 30-second haggling and got us $10 off. I couldn't take it further because we had to go. Our group was leaving. The market bags are tres francais. The haggling was tres brasileiro. I learned the art of the haggle living in Brazil for 1.5 years.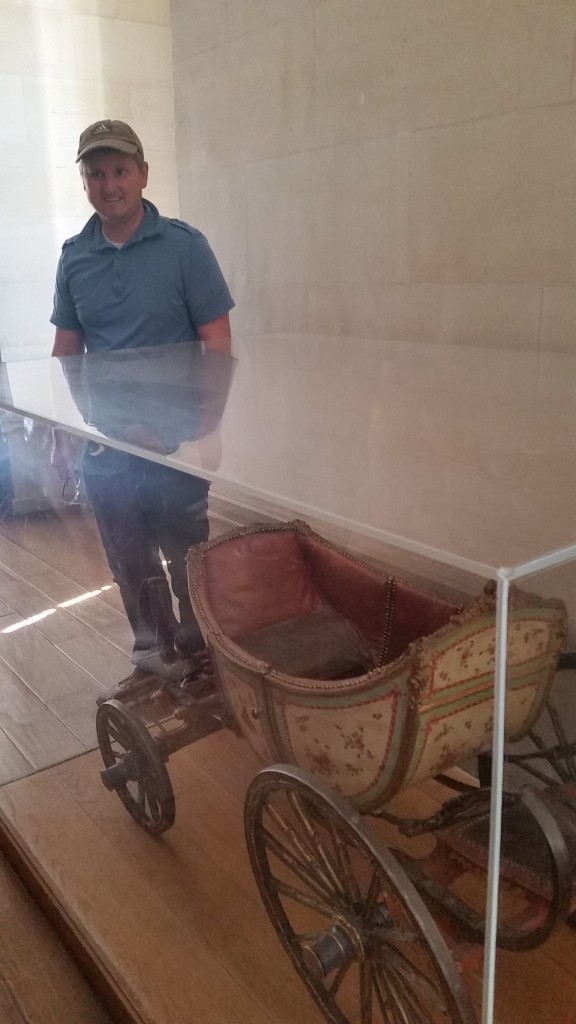 Our first stop on the bike ride was the Petit Trianon, which was Marie Antoinette's refuge from the highly public and invasive life at Versailles.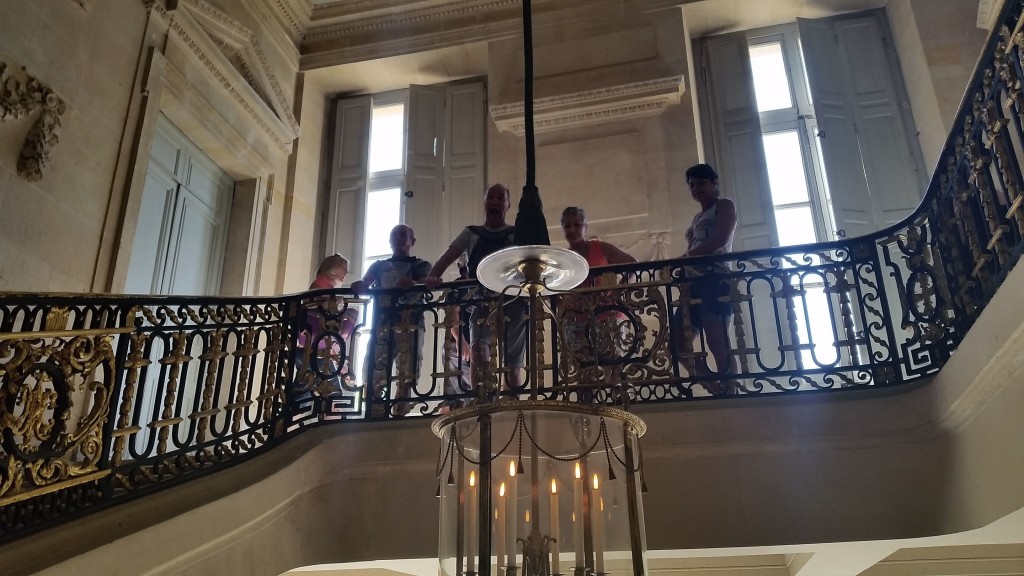 I read a really great trilogy about Marie Antoinette's life written by Juliet Grey. It made the excursion so much more interesting, and the trip made the books so much more interesting. I highly recommend them. Marie Antoinette was a much more complex person than is typically portrayed.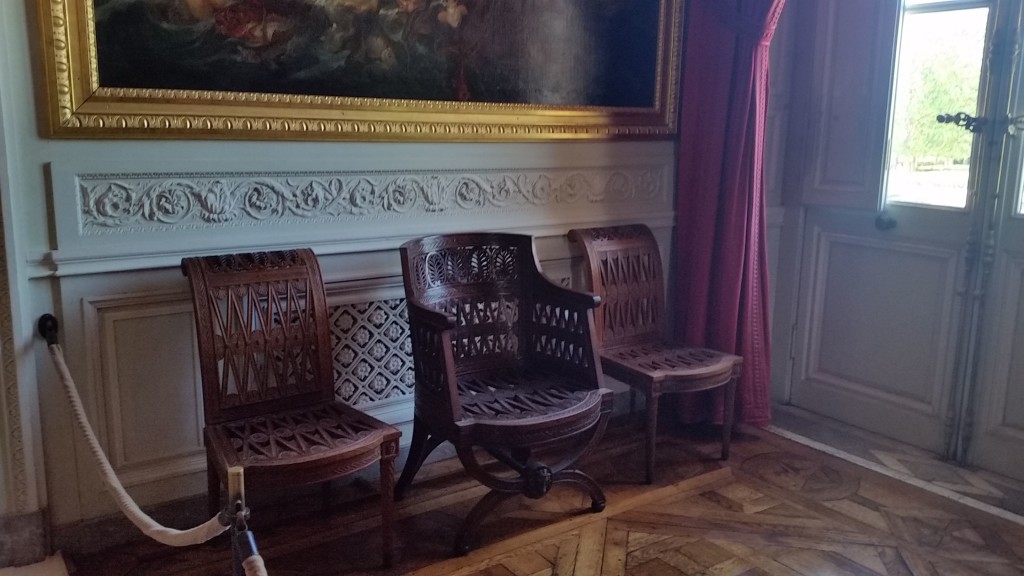 Every moment of her and King Louis the XVI's lives was public, starting with getting out of bed and getting dressed with the help of a crowd. That would make me crazy. No wonder she escaped to this villa whenever she could. She was highly criticized for it.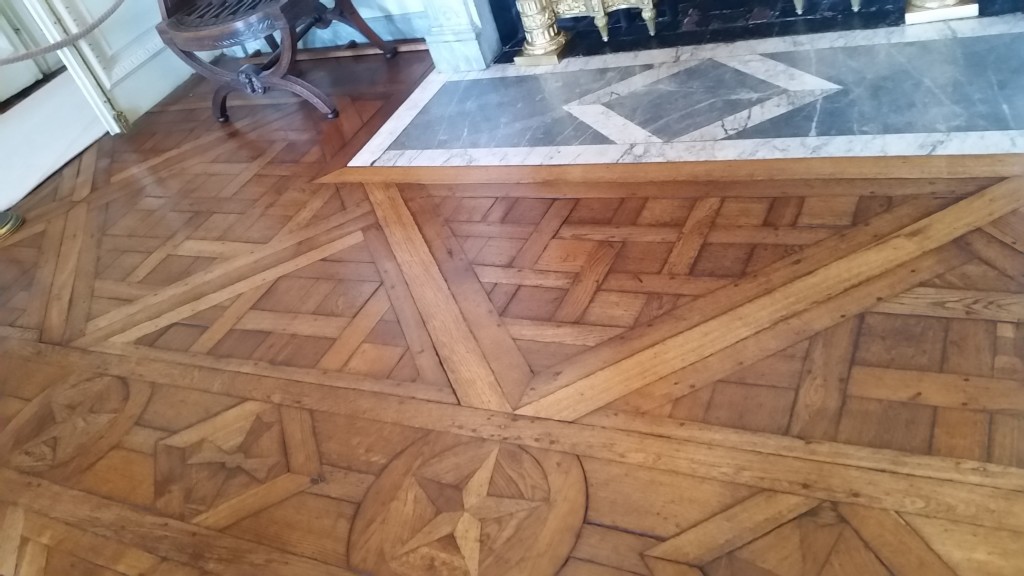 These floors!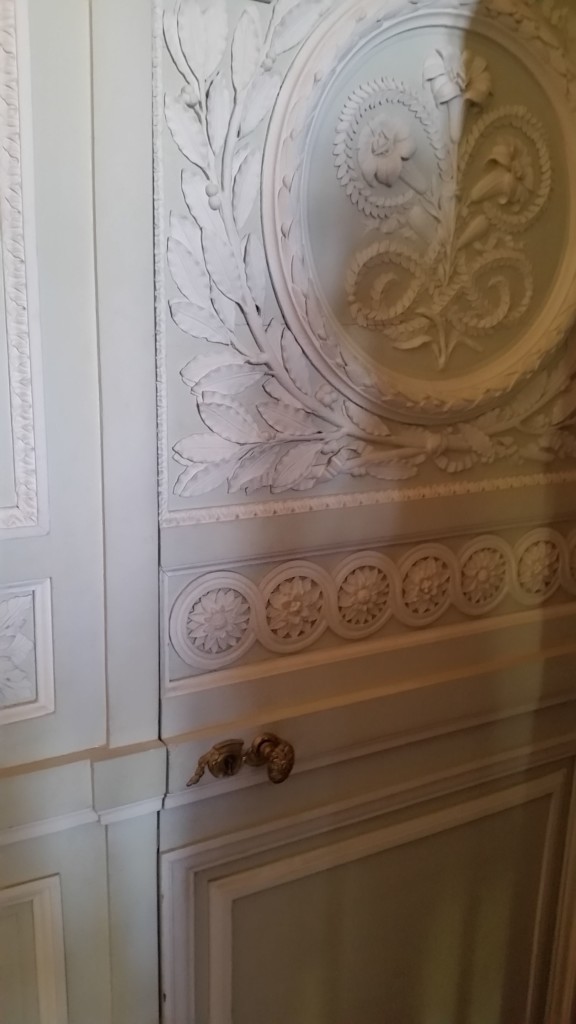 Lots of hidden doorways and hallways in the palace and the Petit Trianon.
Not that she was a saint. She was only 14 when she got married and 18 when her husband came to power. They were very young and immature and those who were guiding them didn't have the best intentions. Now experts say Louis XVI had Aspberger's.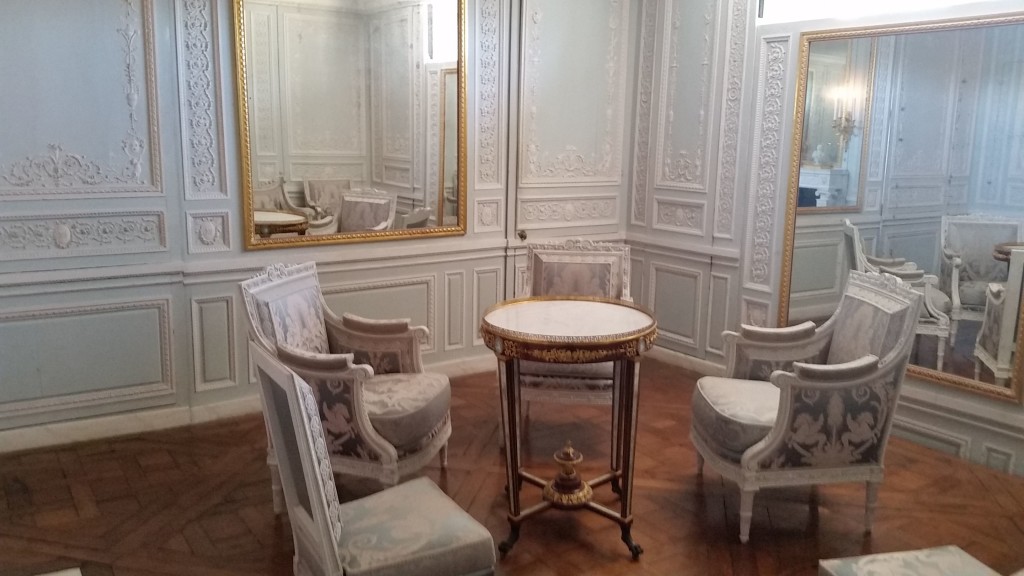 She spent money like it was nothing, while the people of France were starving.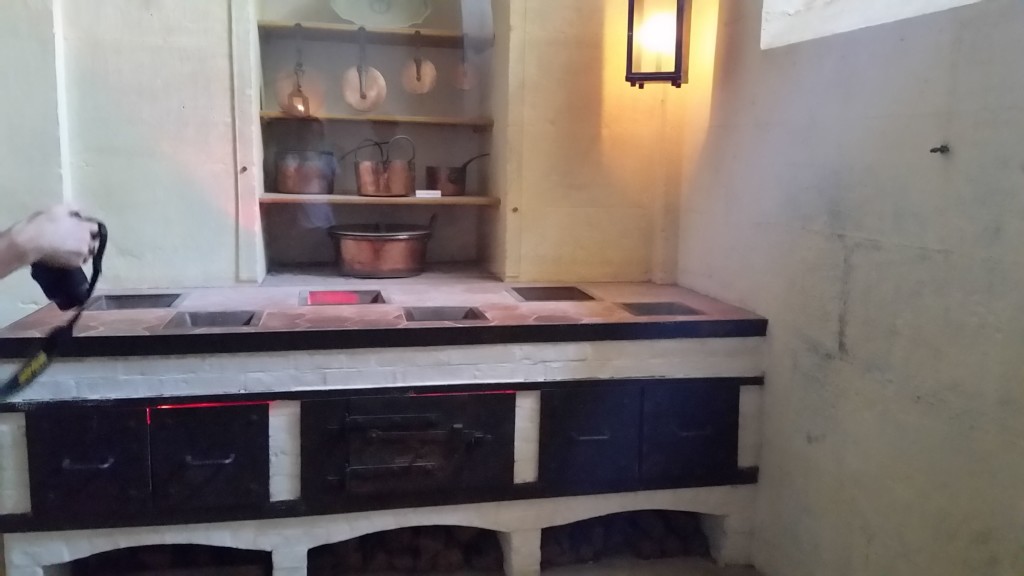 This was just a warming kitchen. All the meals were made at the palace, but then transported a couple of miles and needed to be reheated.
I need to take my market bag to the market.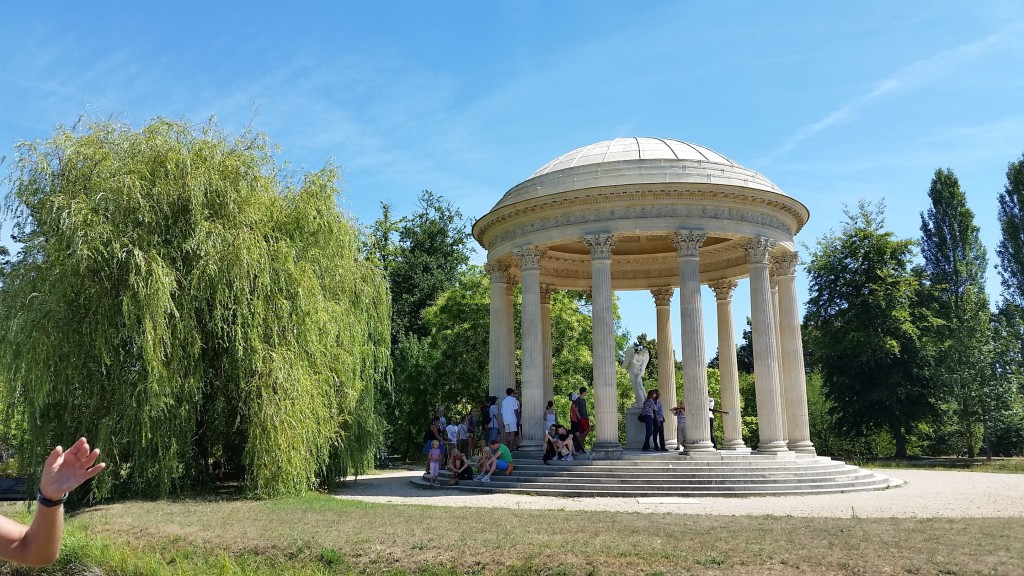 This is the temple of love, the one that Henri Le Sidaner used as inspiration for his smaller one.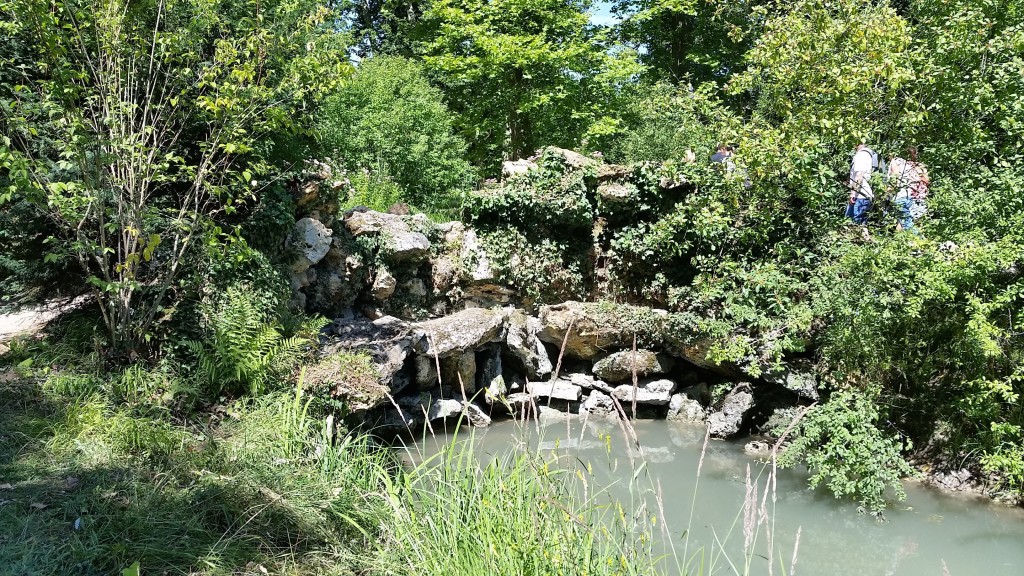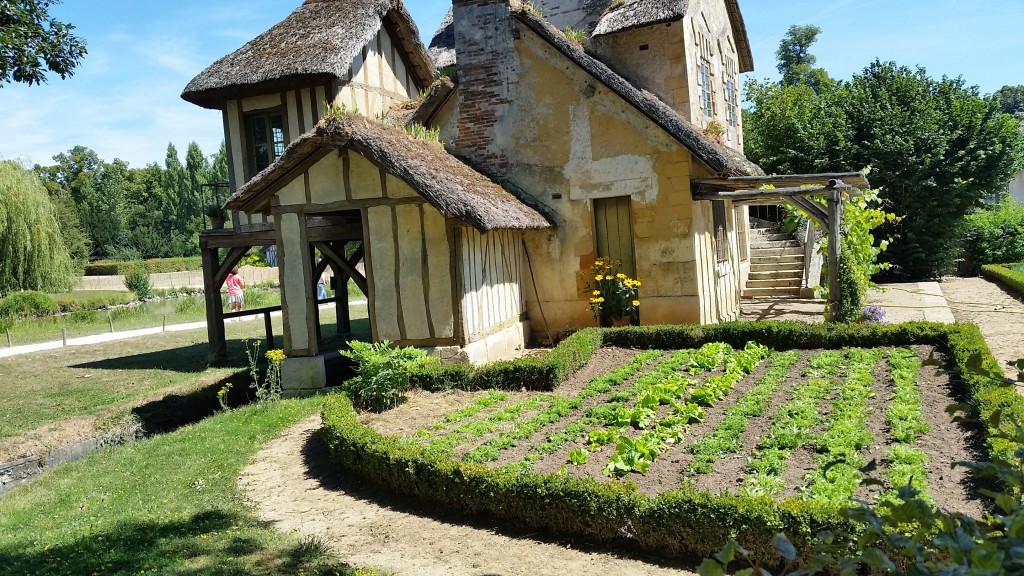 The Petit Hameau is another thing that Marie Antoinette was highly criticized for. She had this peasant village constructed to remind her of her family's vacation home in Austria.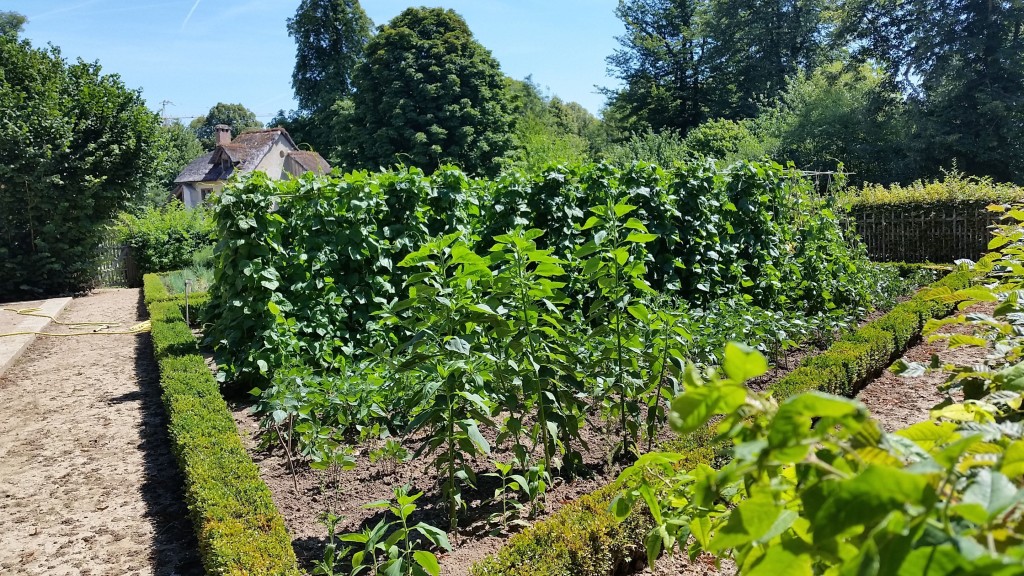 It was a real working village with peasant families she selected to come live there and run the place for her entertainment.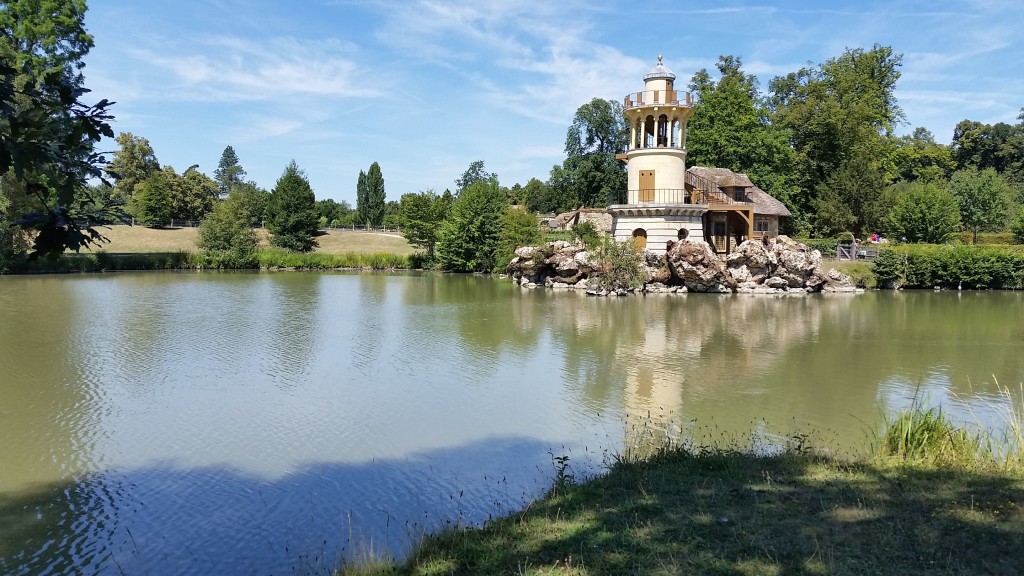 One of the benefits of doing the bike tour was we got to see this. It is too far from the palace for most people to go to on foot. Maybe a few miles, but many people wouldn't take the time. This was one of our favorite parts of Versailles. There aren't many people around, so you aren't throwing elbows to take a look.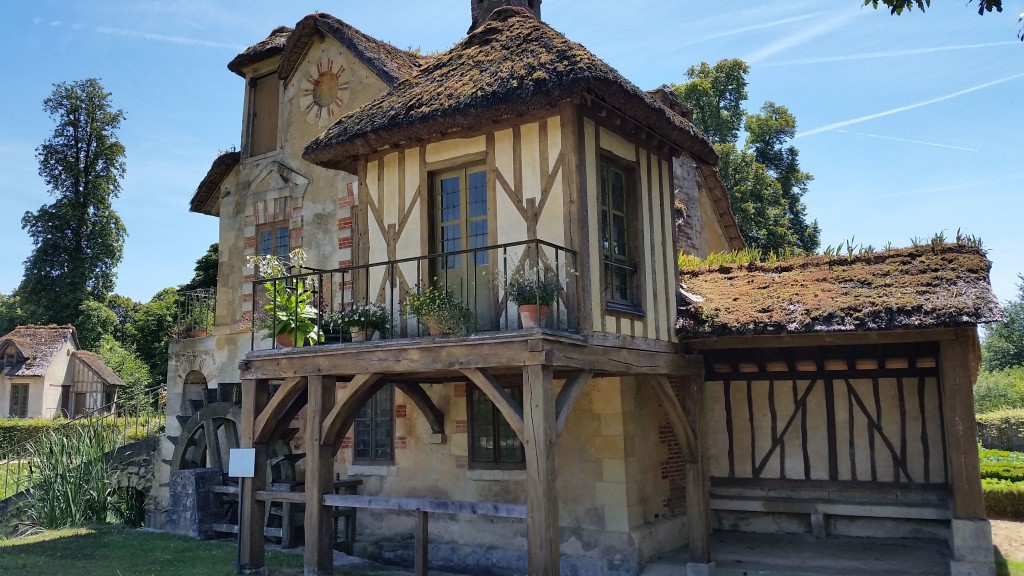 It was very expensive to build this hameau, and once again, she was criticized for spending obscene amounts of money when the French citizens were starving because of a drought that caused a wheat shortage. There were riots in Paris over bread, and she was building adorable villages to ease her homesickness. In her mind she gave homes and jobs to a few families, so it was charity.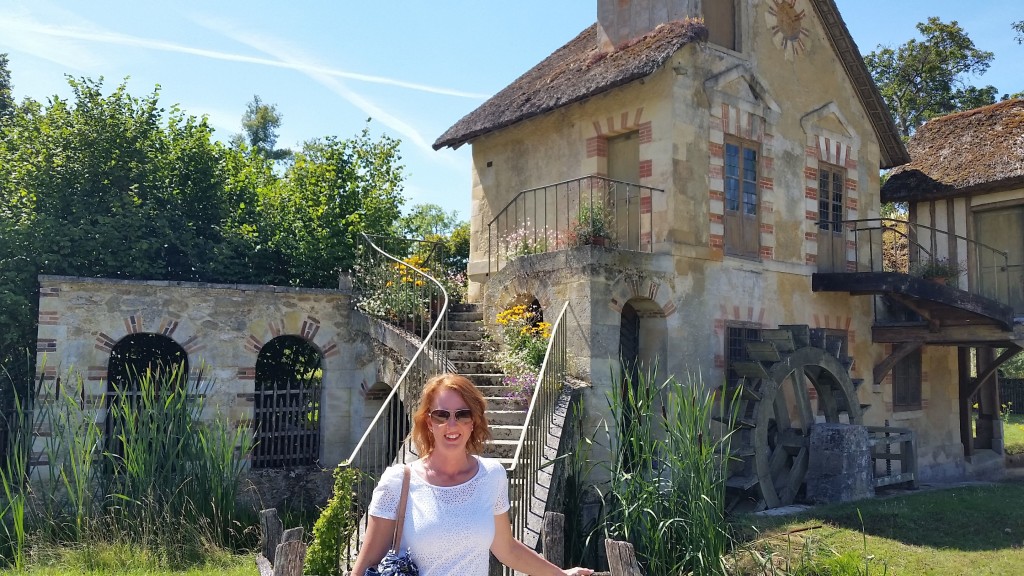 Personally, I would love to live here. I'd be happy to move right in!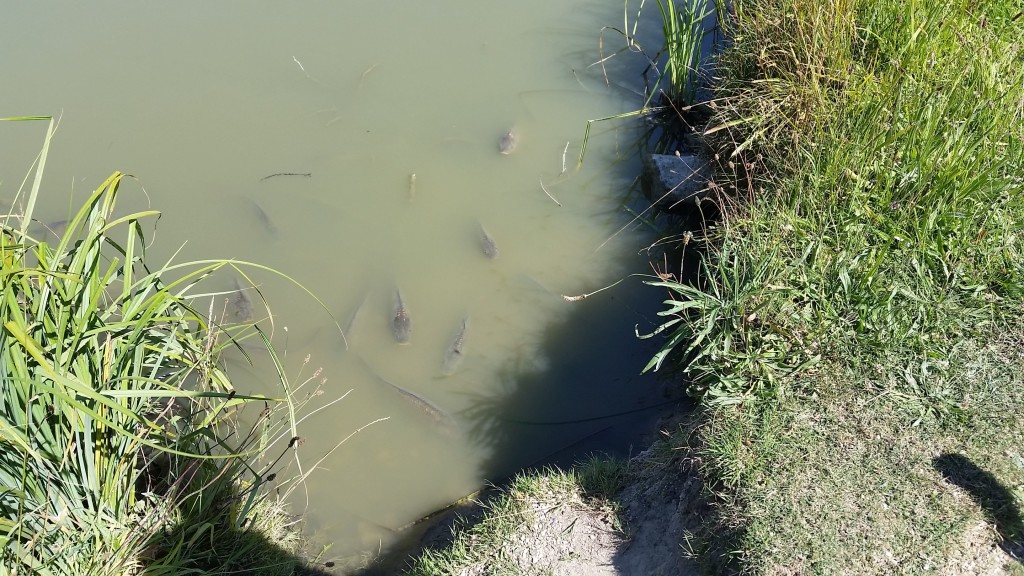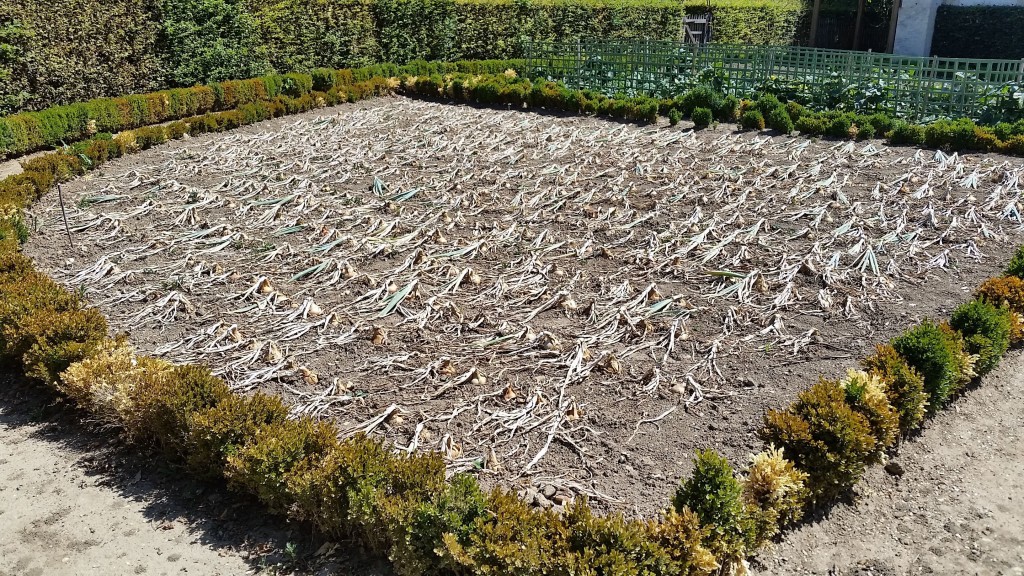 These onions are ready to harvest (here comes all the garden geekness).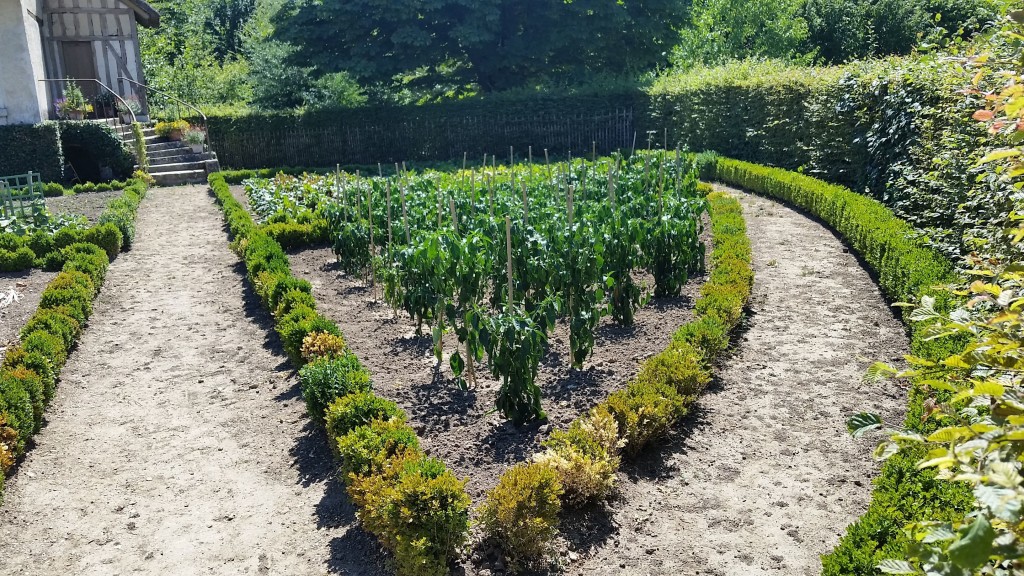 This is an excellent example of a potager, a beautiful kitchen garden that is meant to be pleasing to the eye as well as the stomach.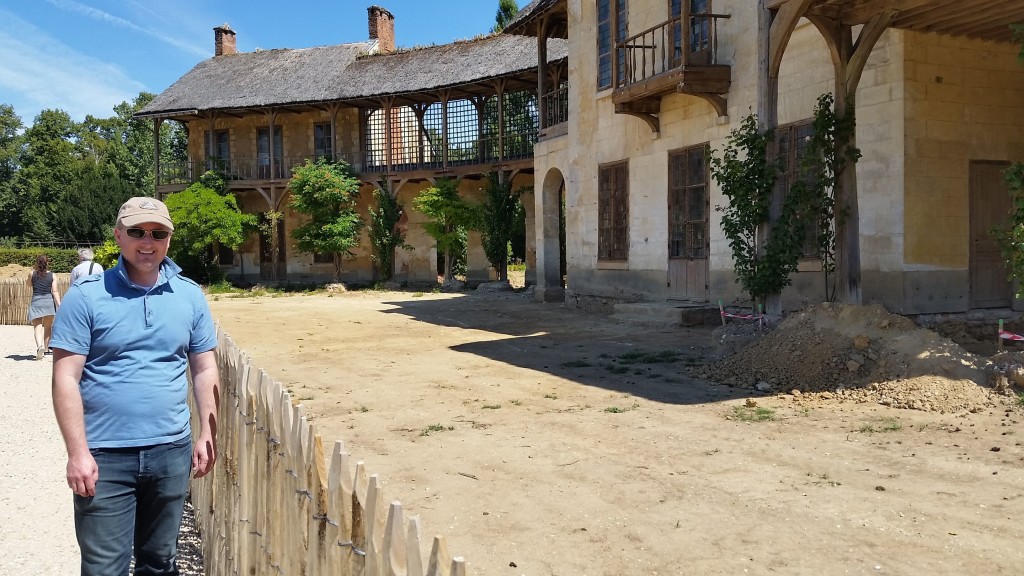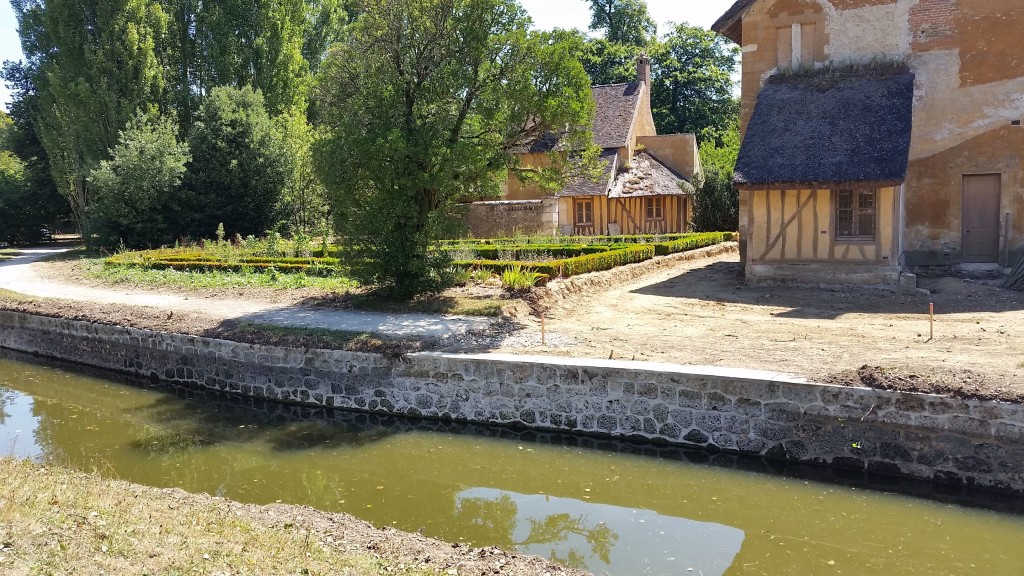 Espaliered fruit trees, cabbages, hedges, they all belong together.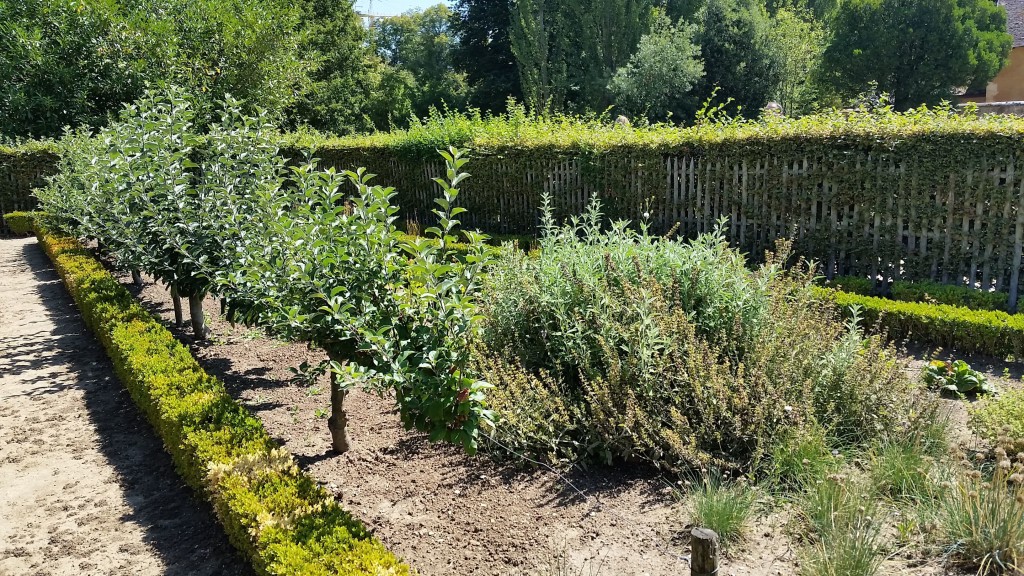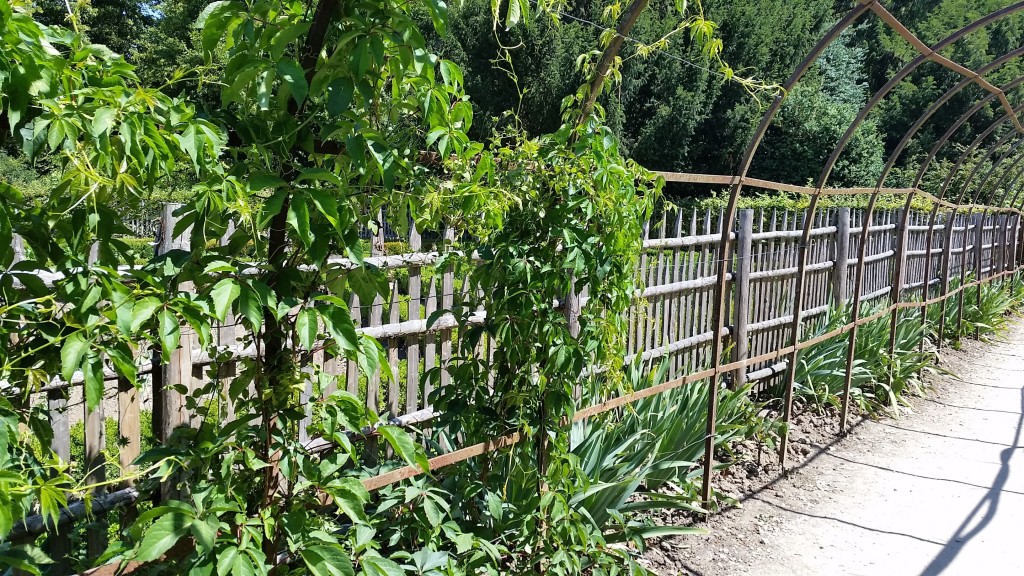 I'm growing a similar grape arch.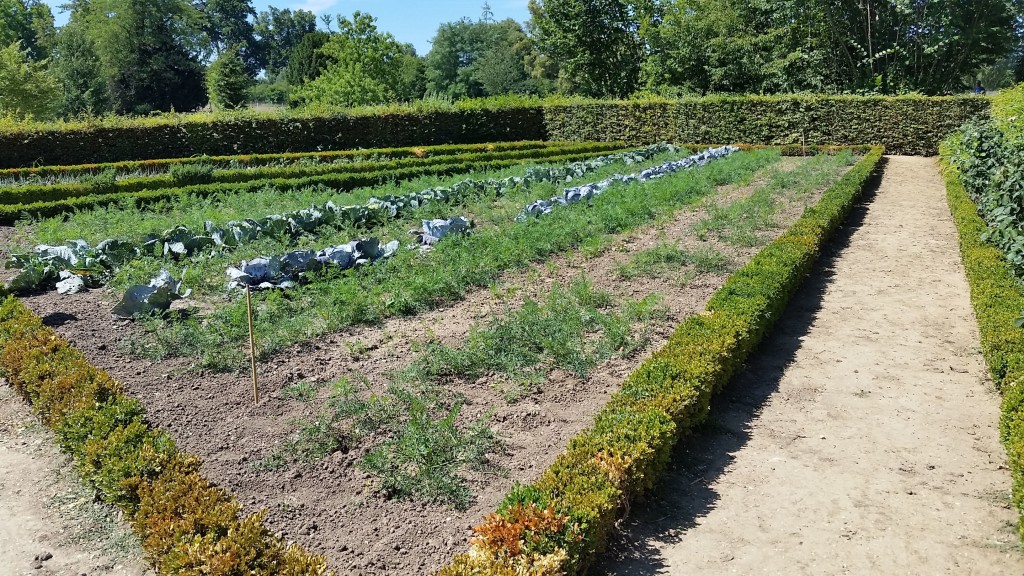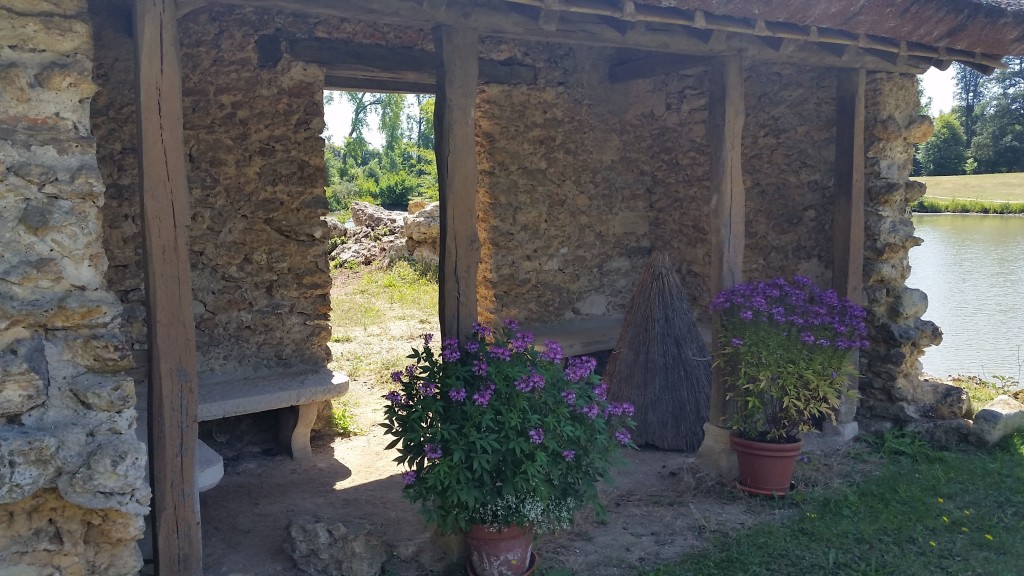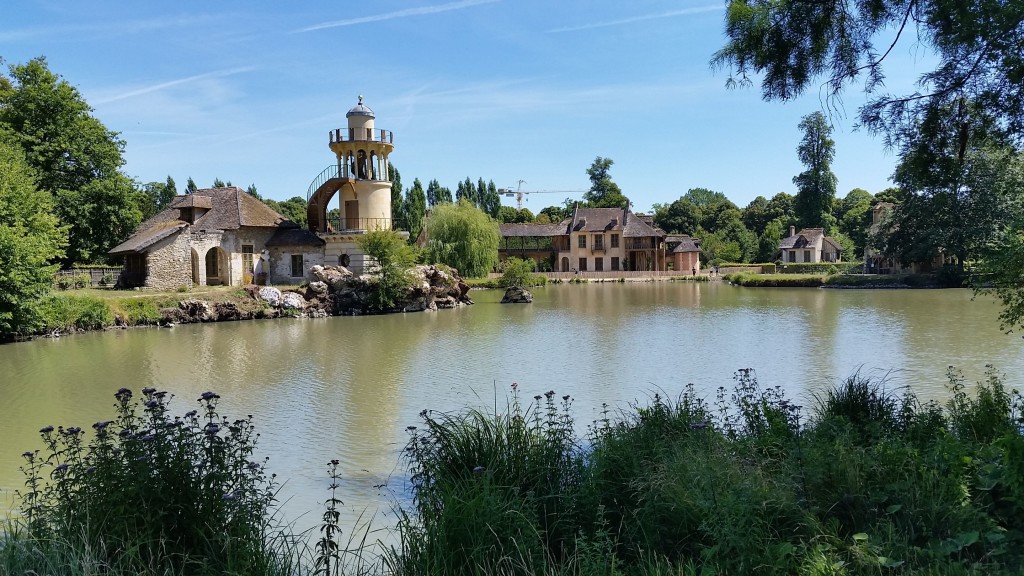 Marie and her friends liked to play peasant and go wander around the village, but not actually do any of the work, of course.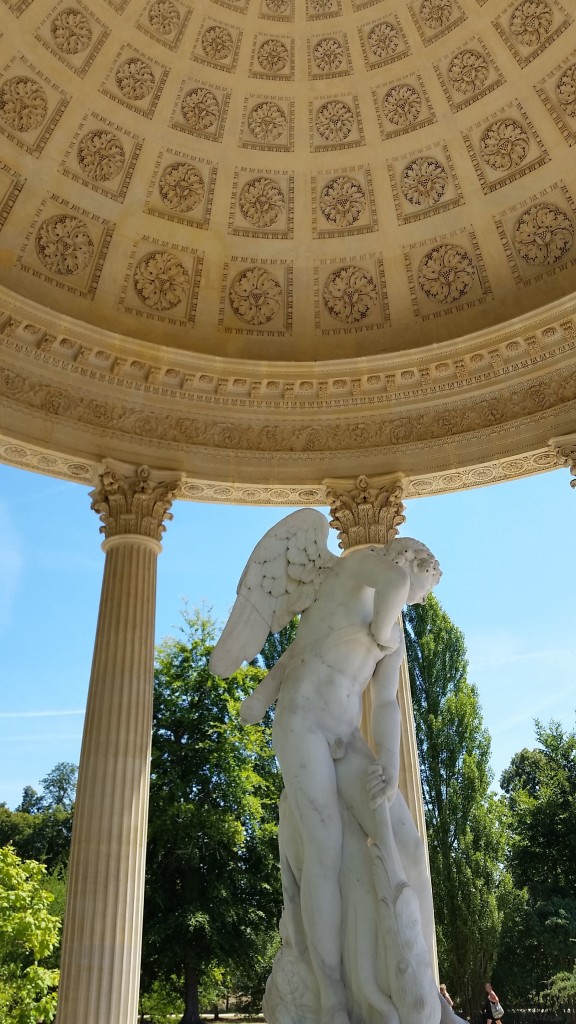 The temple of love was exquisite.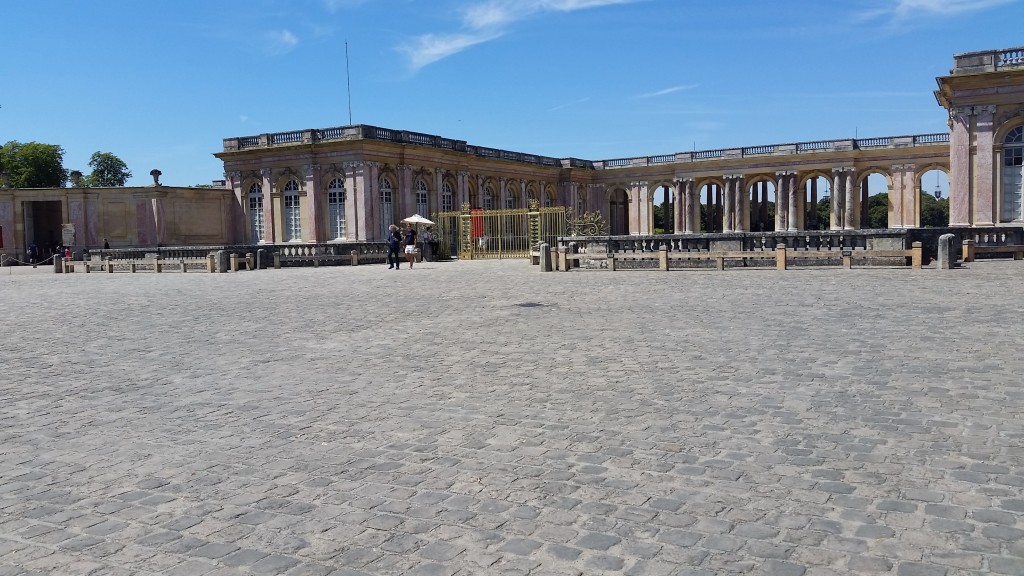 This is the Grand Trianon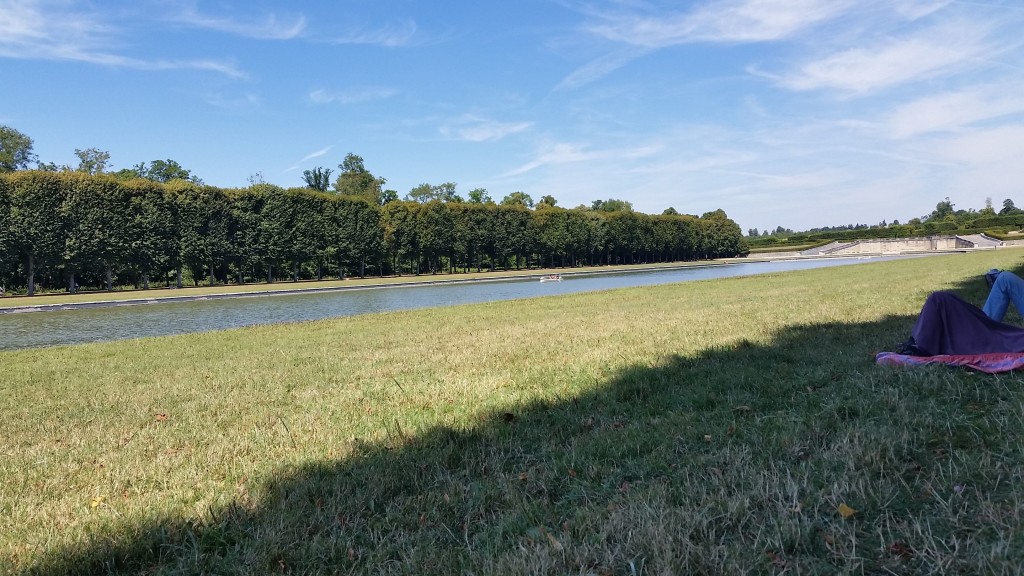 We stopped along the grand canal for our picnic. The royals used to boat up and down it.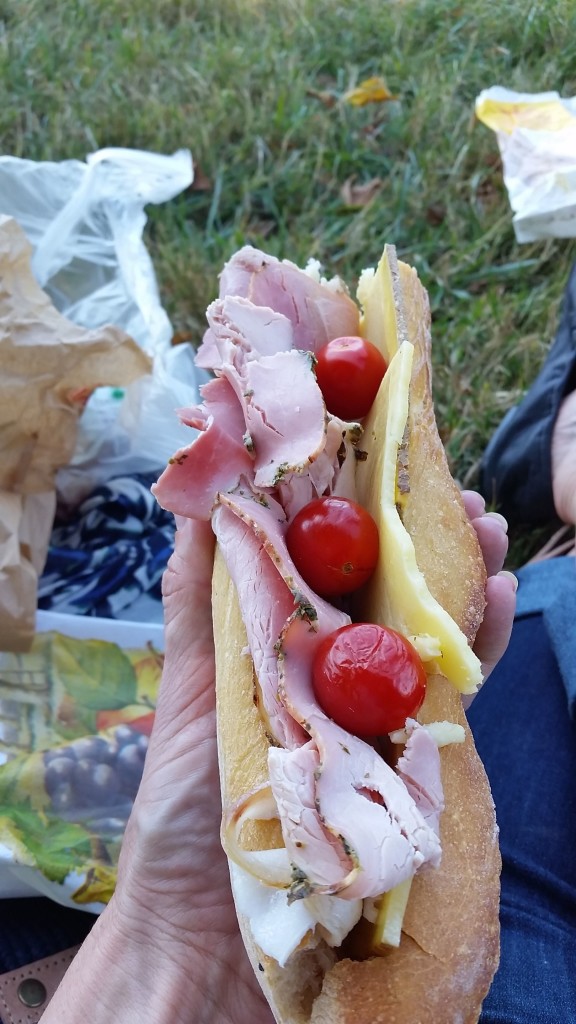 The only thing missing is mayonnaise. Delicious, homemade mayonnaise made from eggs from my chickens.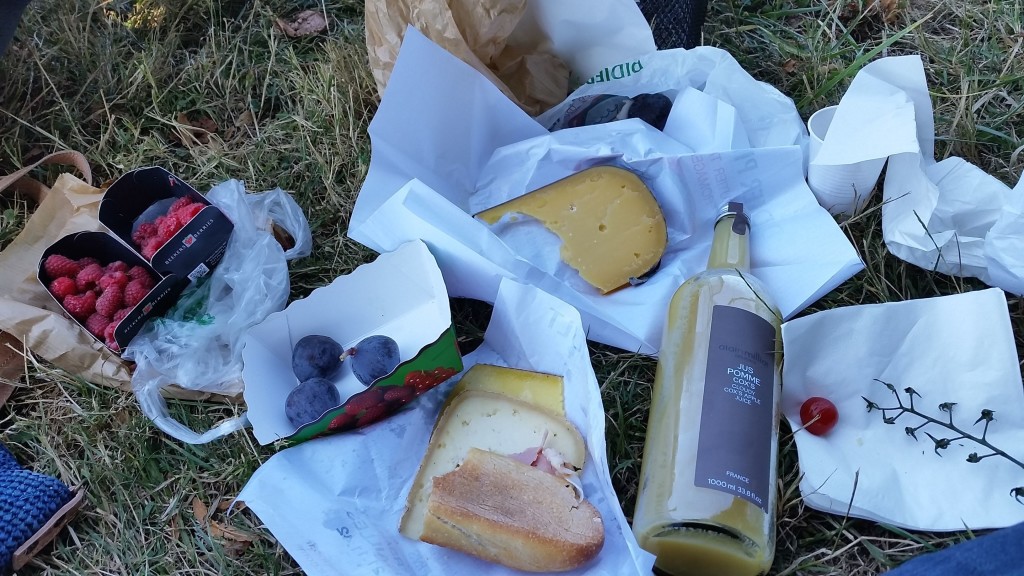 Meats, cheeses, fruits and cider. That's CIDER. Not hard cider, just plain old jus pomme, freshly pressed. The whole thing was delicious.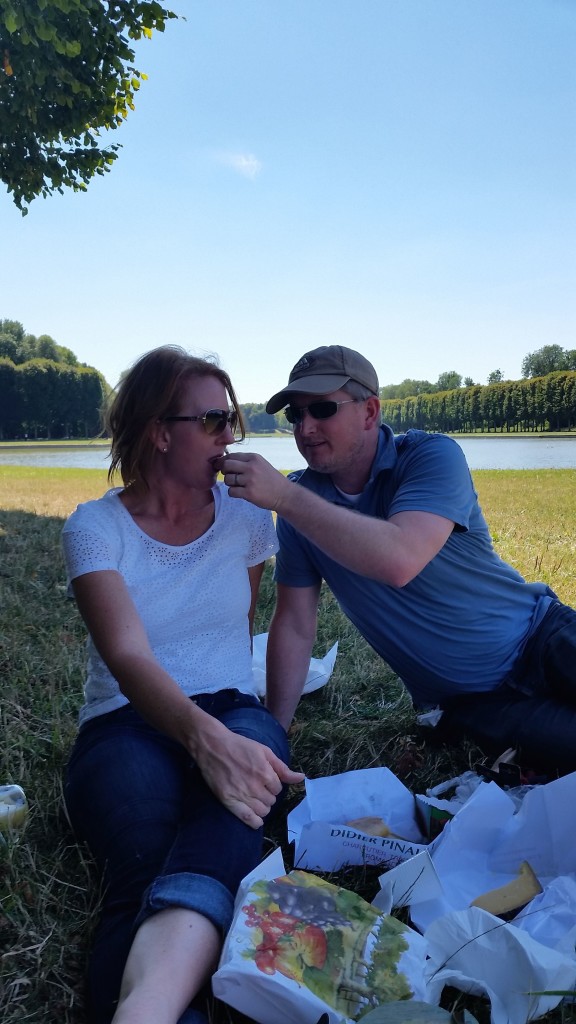 It tastes even better when the man of your dreams feeds it to you.
So romantic.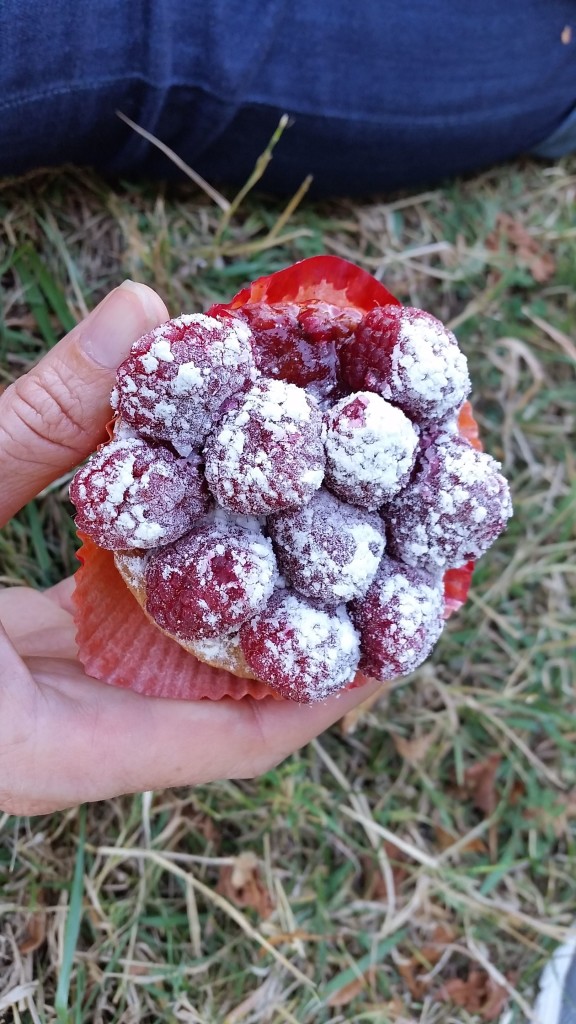 This tart was so heavenly.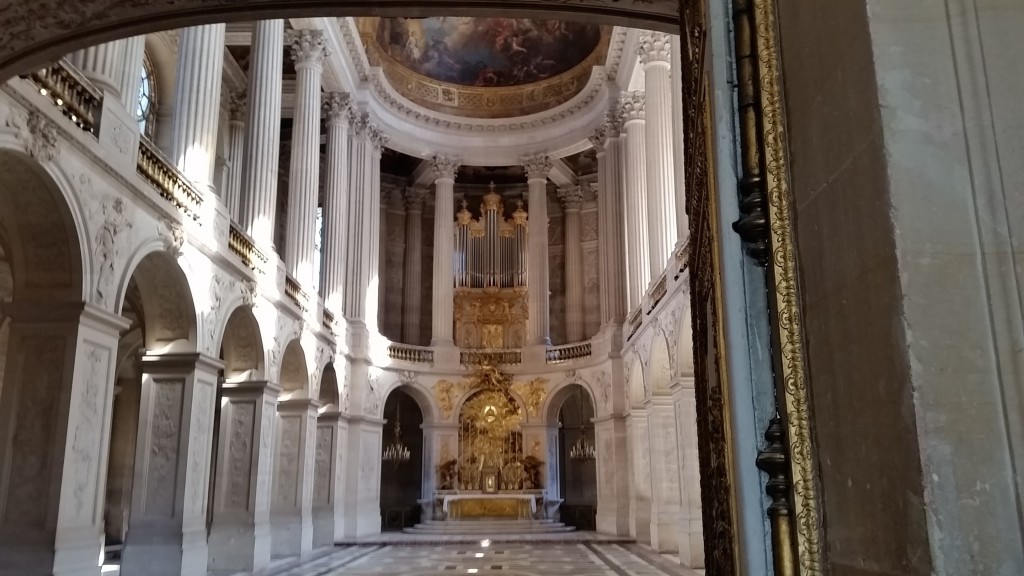 After our picnic we toured the palace. Another benefit of the tour was we had timed entry skip-the-line tickets, which is not something you can get on your own.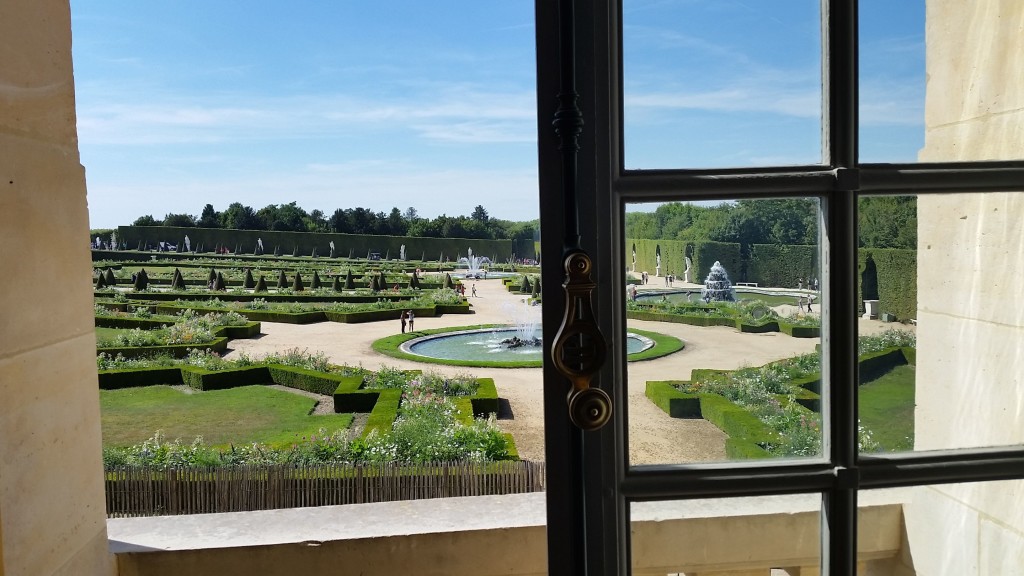 While others waited in line for HOURS in the hot sun waiting to get in, we were biking around the grounds, having picnics.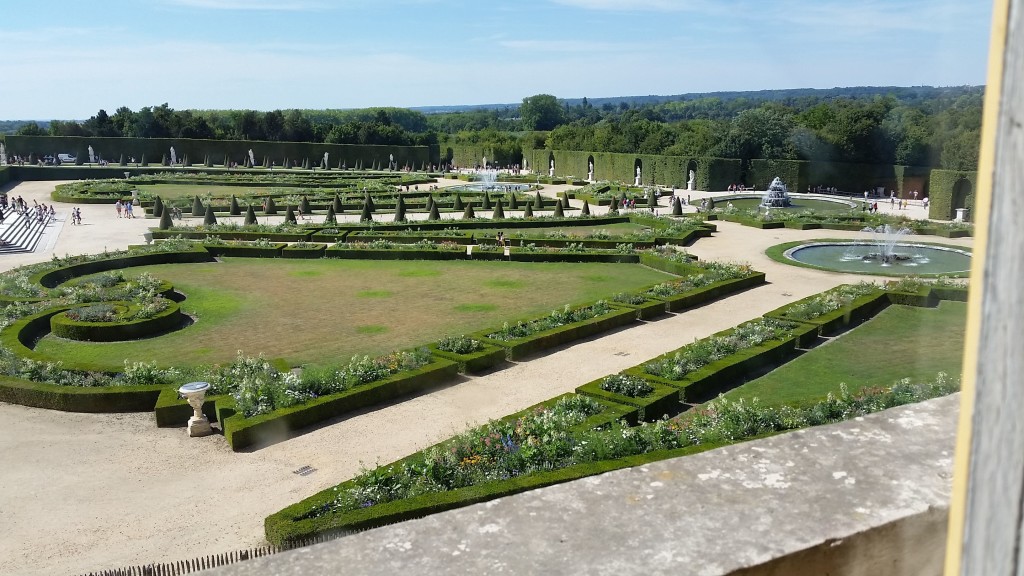 Let me tell you though, it is HOT and stifling inside, and you are surrounded by a crush of people.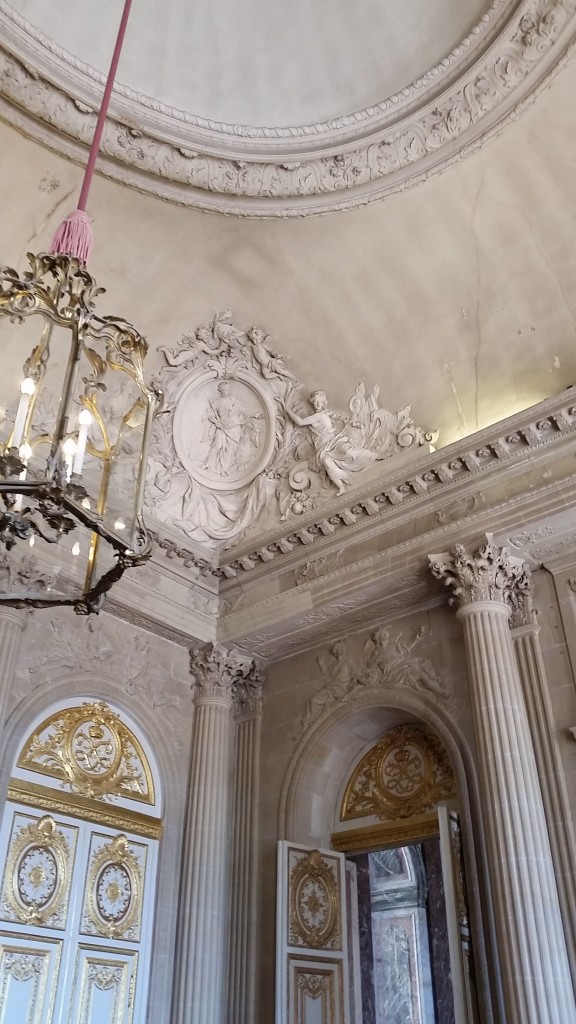 You are literally body to body in there. Hold your bag close and put nothing in your pockets. This is prime pickpocket conditions.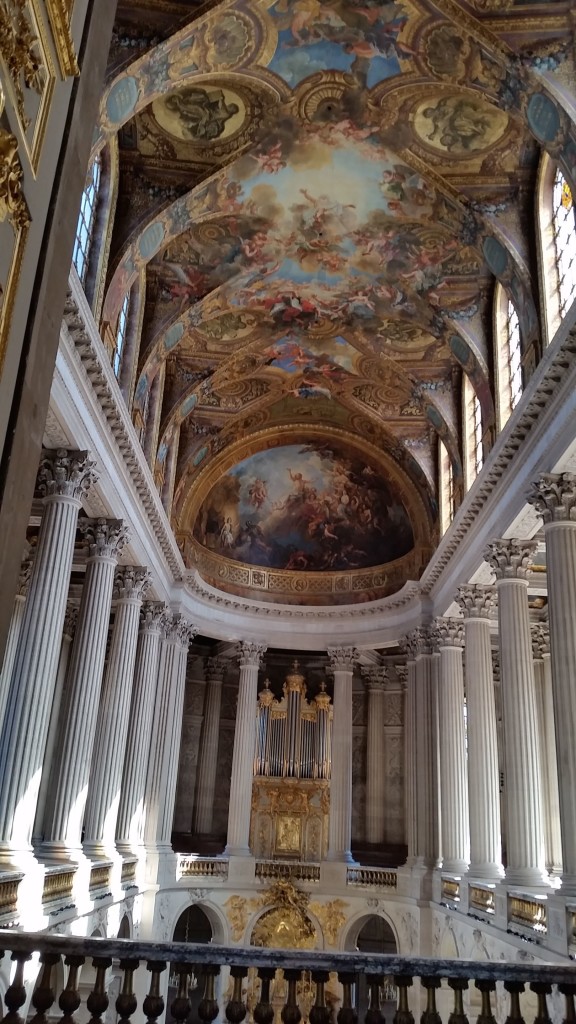 Travel tip: You know that habit of carrying your phone in your back pocket? Don't. Put it in the bag. It's not just cash they want. They are more than happy to sell your iPhone.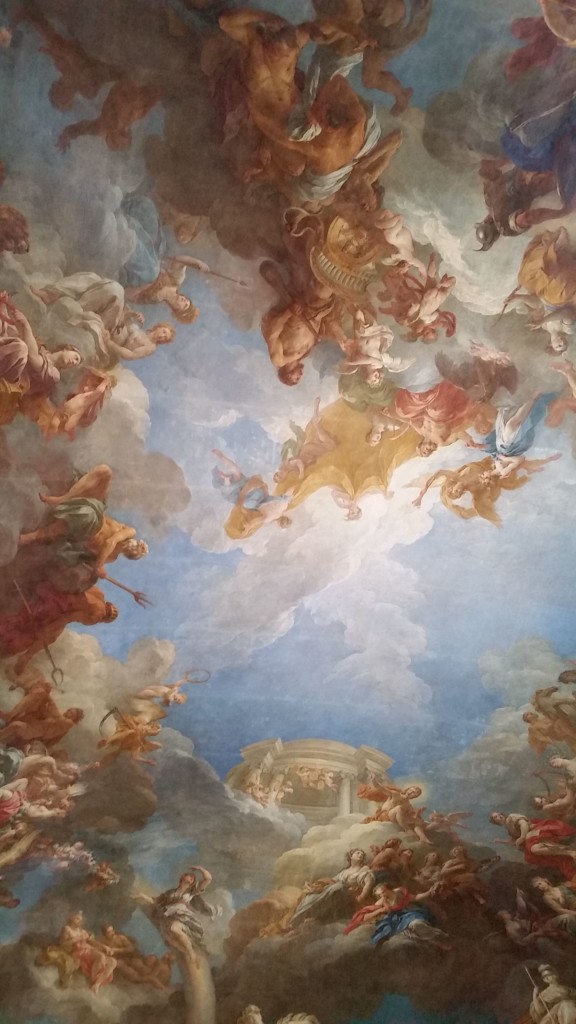 So amid the heat, the shoving and the sardine conditions, do look around and admire the extraordinary beauty of this palace.
Louis IVX moved the entire French court to Versailles because the sanitation conditions were so deplorable in Paris that the stench and disease were too much. He took everyone with him because he didn't want the other royals plotting against him in Paris. He wanted them close. Keep your friends close, keep your enemies closer.
The trouble was, they didn't provide for any better sanitation conditions at Versailles than in Paris, so soon it was just as disgusting as the place they left. Courtiers, the highest born of the whole realm, would just stop and pee on the stairs or in the hall. Or relieve themselves in an obliging plant or vase because there were no conveniently located chamber pots. How hard would that have been?
This is the famous hall of mirrors.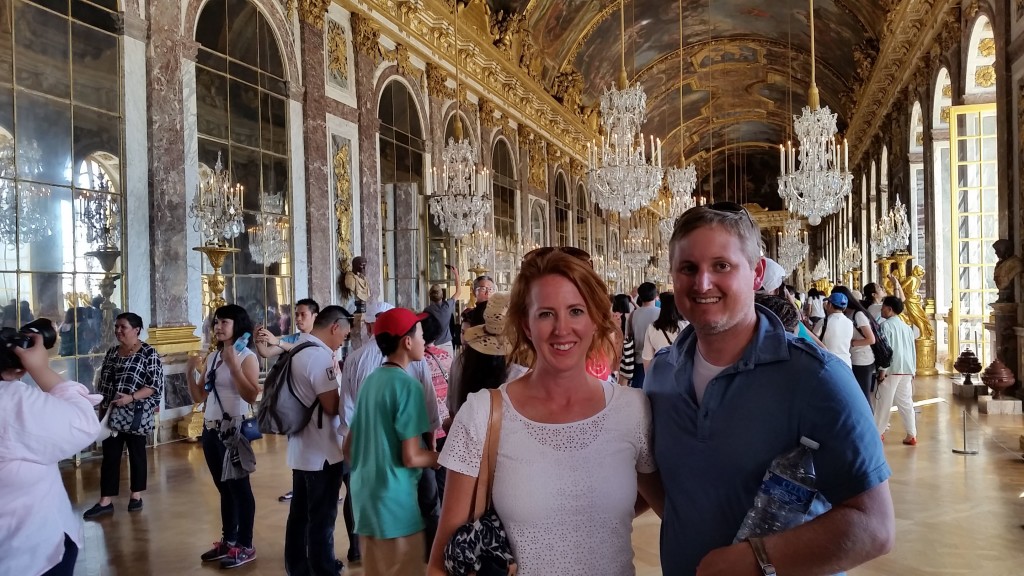 Versailles was different than other royal palaces because the public could come and go as they pleased. Anyone from a fishmonger to the guy who cleaned up after the horses in the street. Anyone could walk up and insult the queen, and they did. The French HATED Marie Antoinette.
10-15,000 people would come watch the royal family eat lunch every day. Can you imagine having a live audience watching you eat?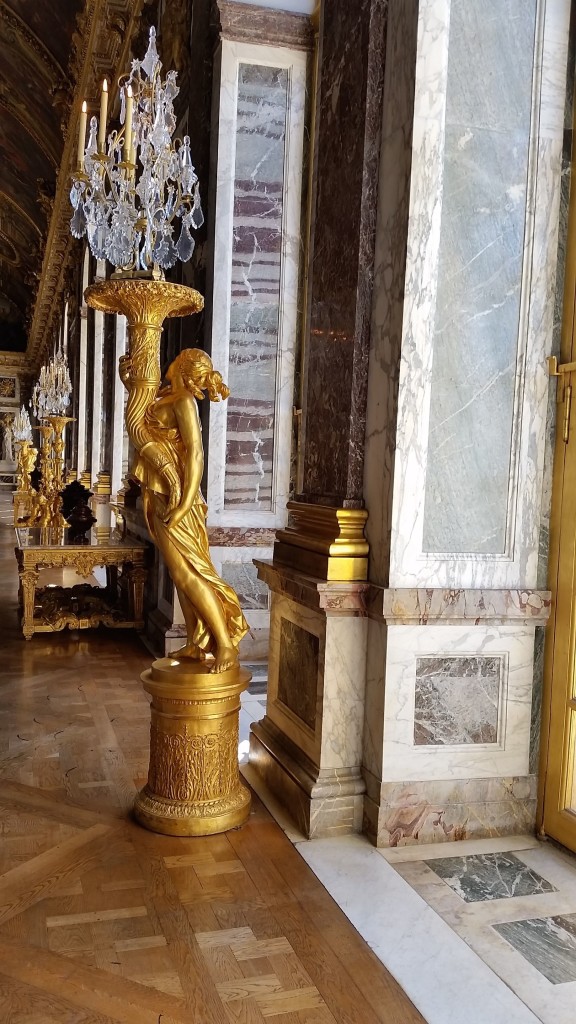 The guideline of "Is that real gold?" is this: If it is low enough for you to reach, it's not real.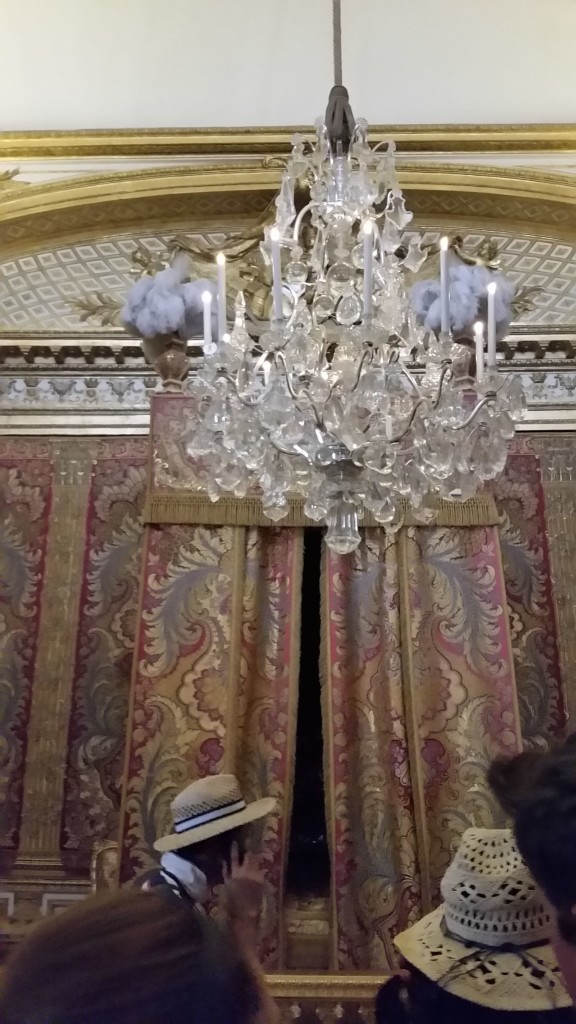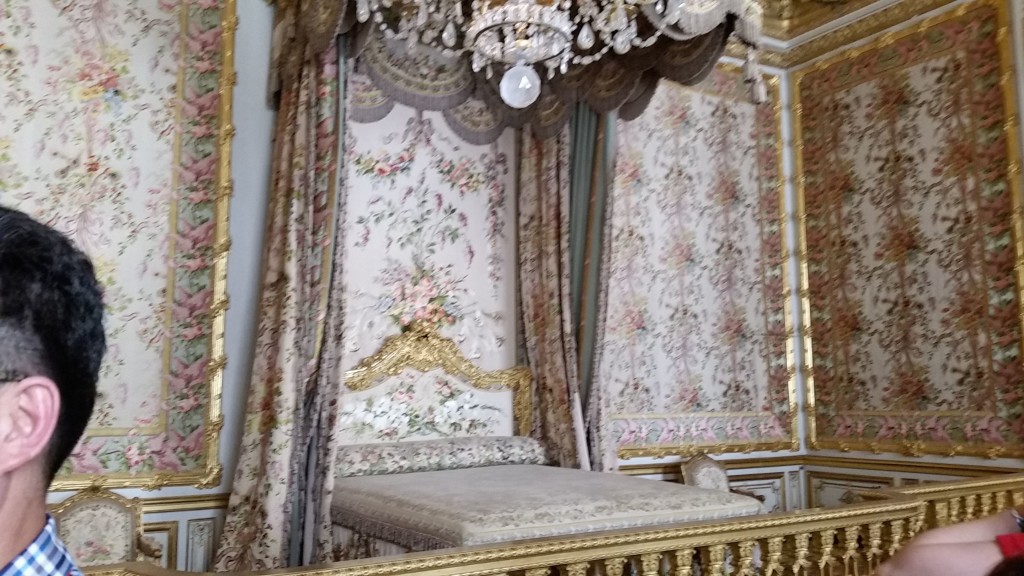 This is where the grand levee happened, the great getting up. A group of courtiers would come and undress the king and queen from their night clothes down to their NOTHINGS. Naked. In a room full of people. Then they would take turns handing a variety of clothing items and helping them dress. The one with the highest ranking got to do the most important jobs. I would die. A room full of people undressing and dressing me twice a day.
Hey David, will you take a picture for us?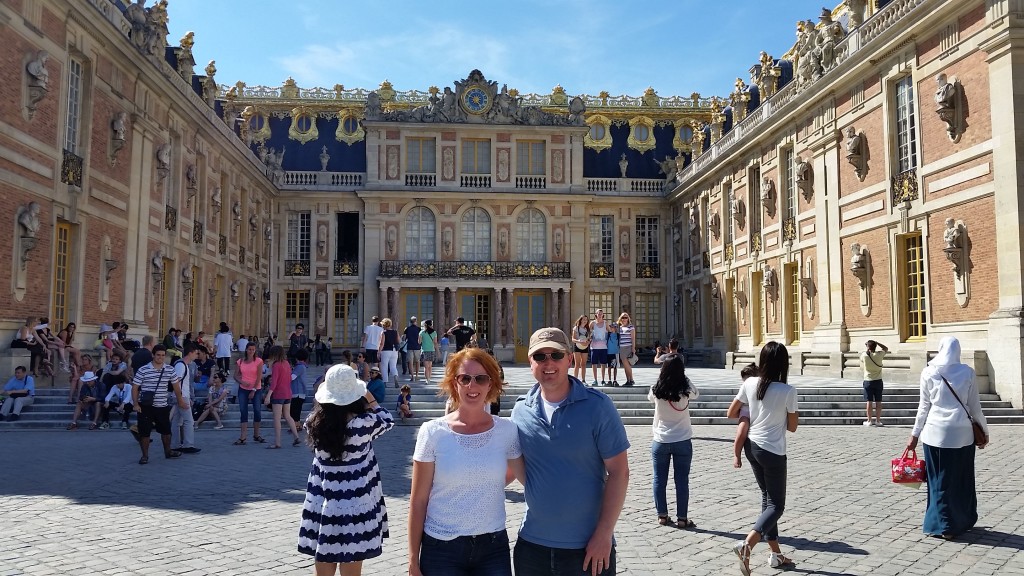 No, what I meant was will you take a picture of US? Thanks.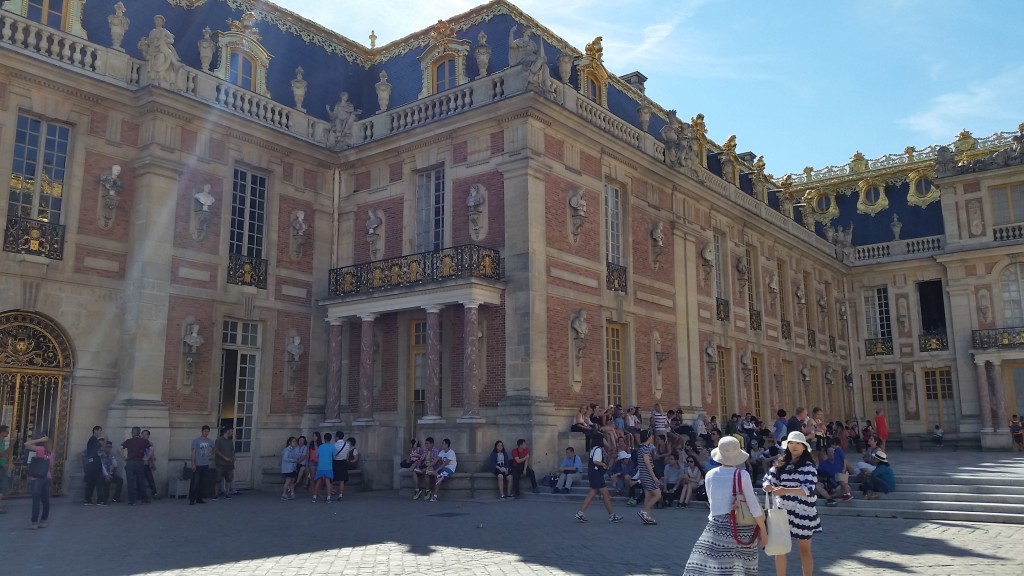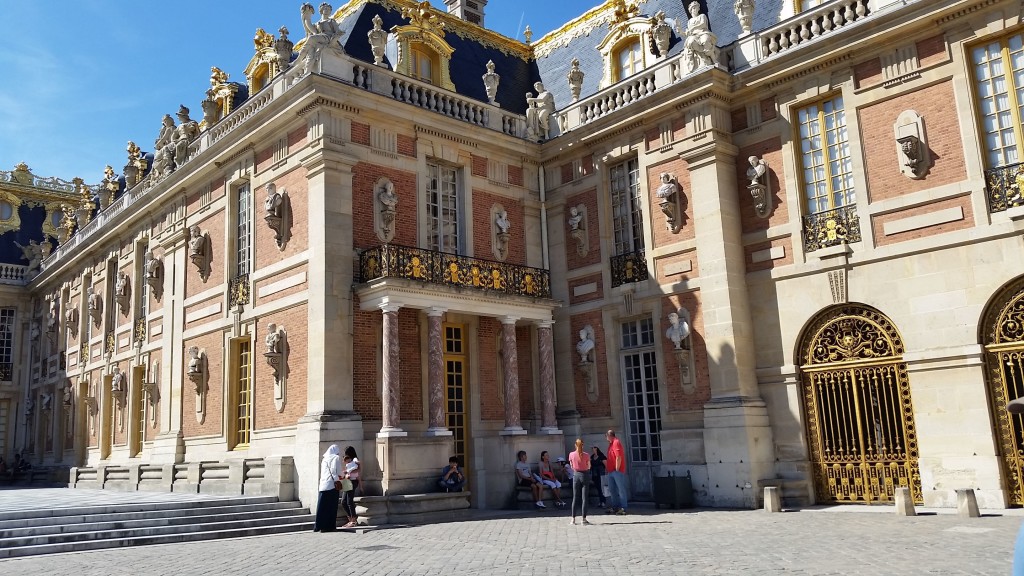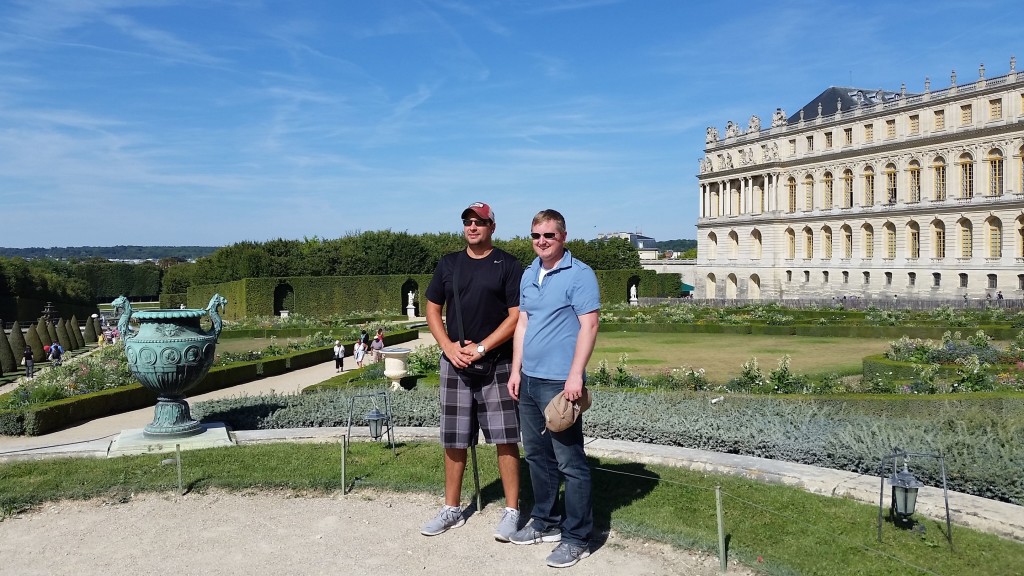 They are really enjoying the gardens. Can you tell?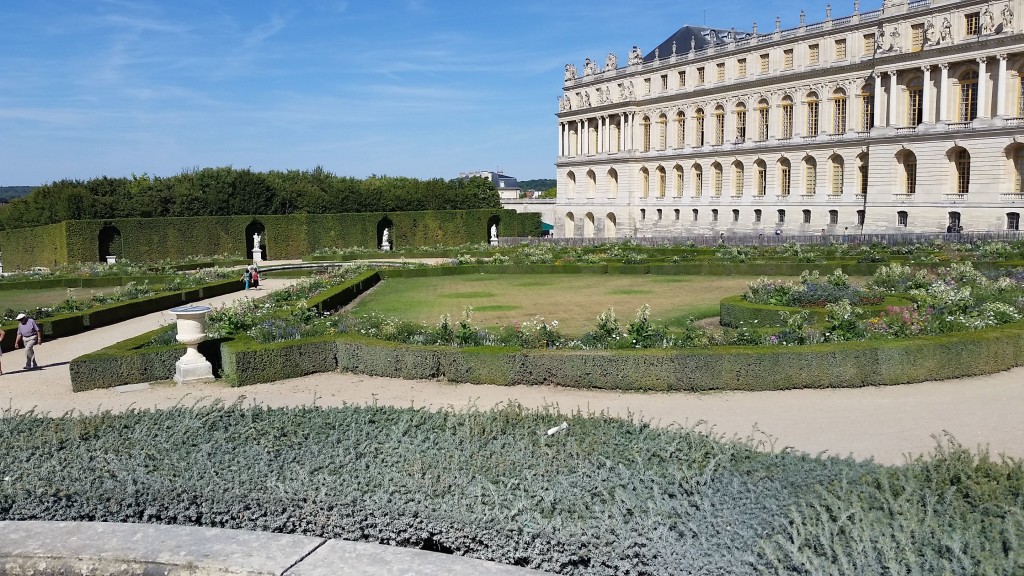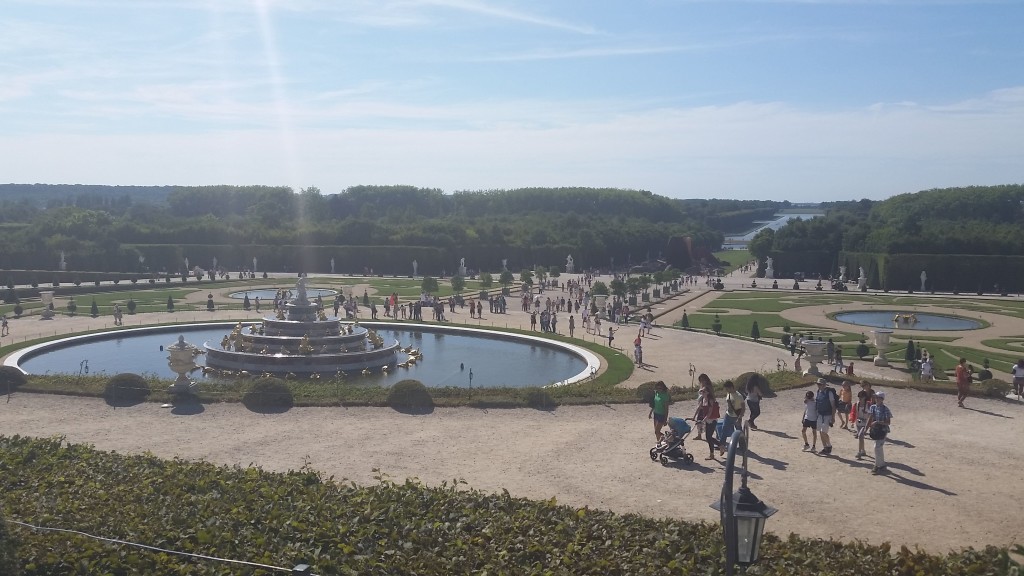 There is the grand canal in the distance. These fountains were supposed to make a water show synchronized to Bach on the hour, but they were canceled due to a water shortage.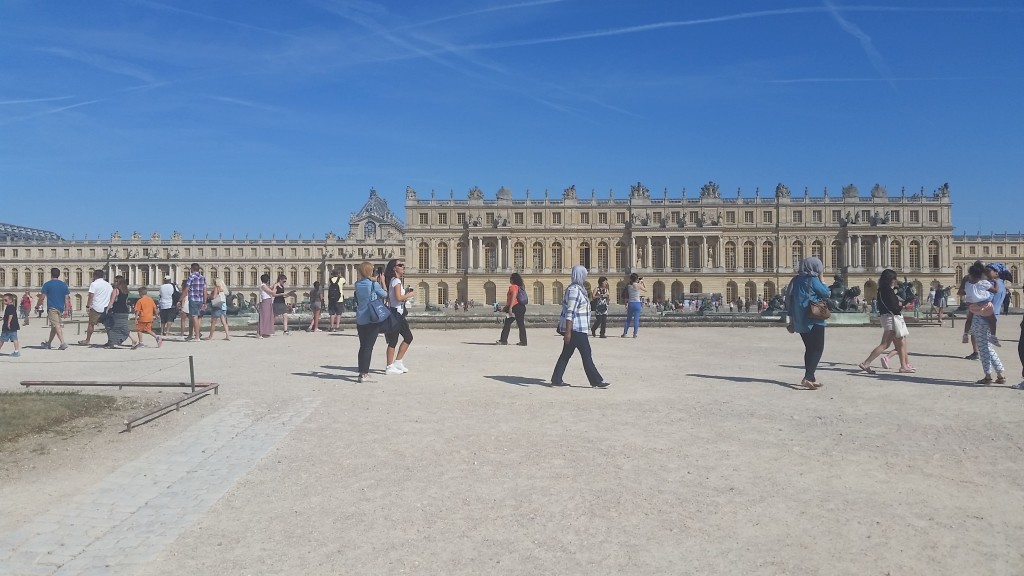 Look at how immense that is!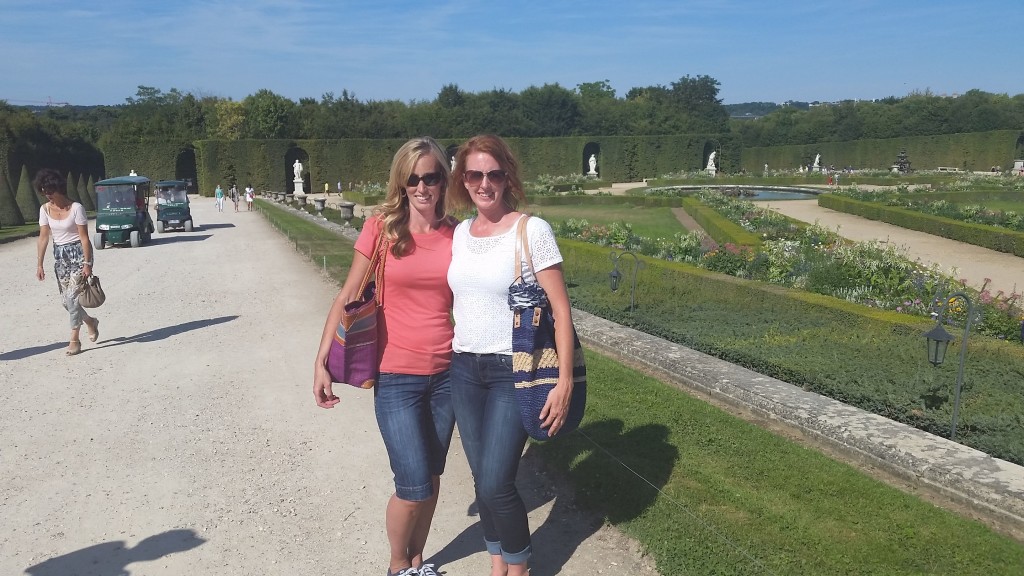 I love this girl.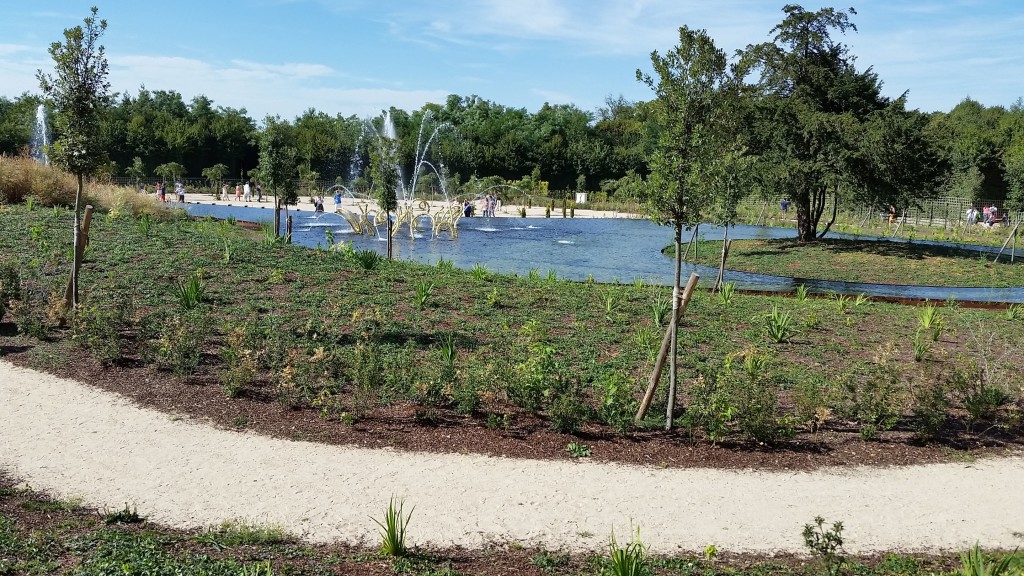 Louis XVI was basically blind, so they would only turn on one fountain at a time as he strolled by to economize water. The political propaganda claimed he was drunk because he stumbled and staggered so much, but the truth is he didn't drink. He was just blind.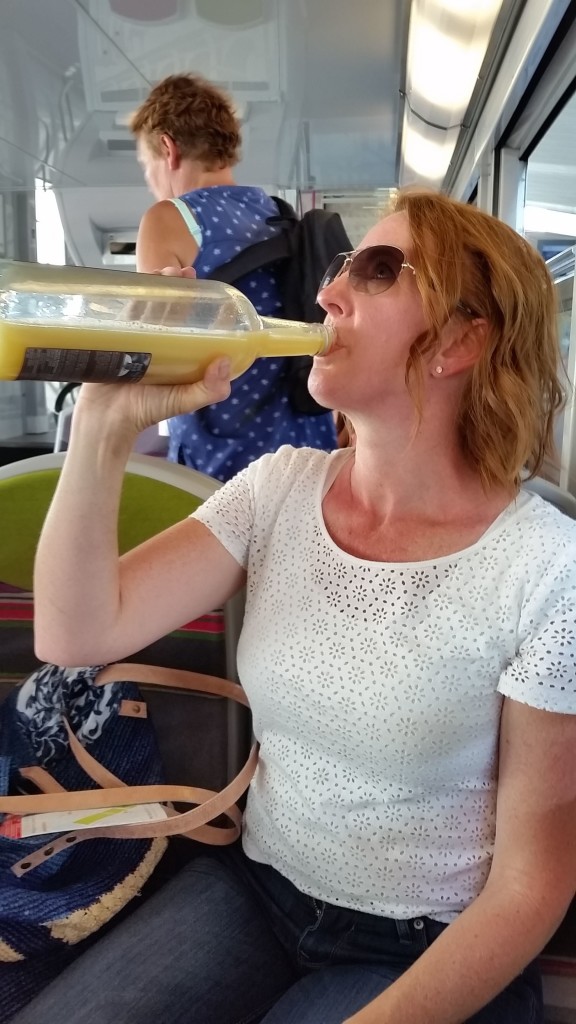 It was a long day.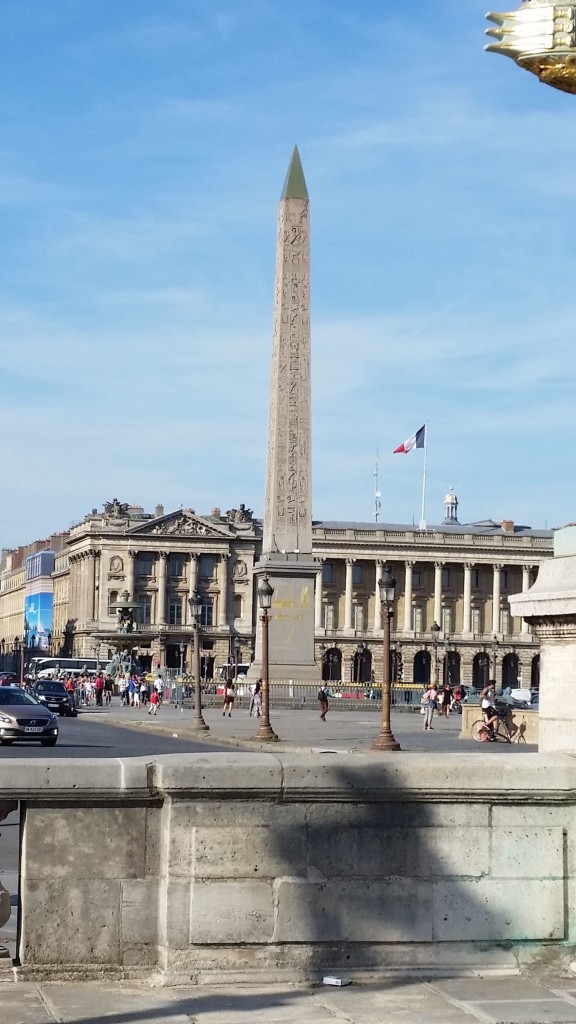 The obelisk was a gift to Napoleon from the Turks, who stole it from the Egyptians. It is the oldest structure in Paris at 3,000 years old. The Egyptians want it back.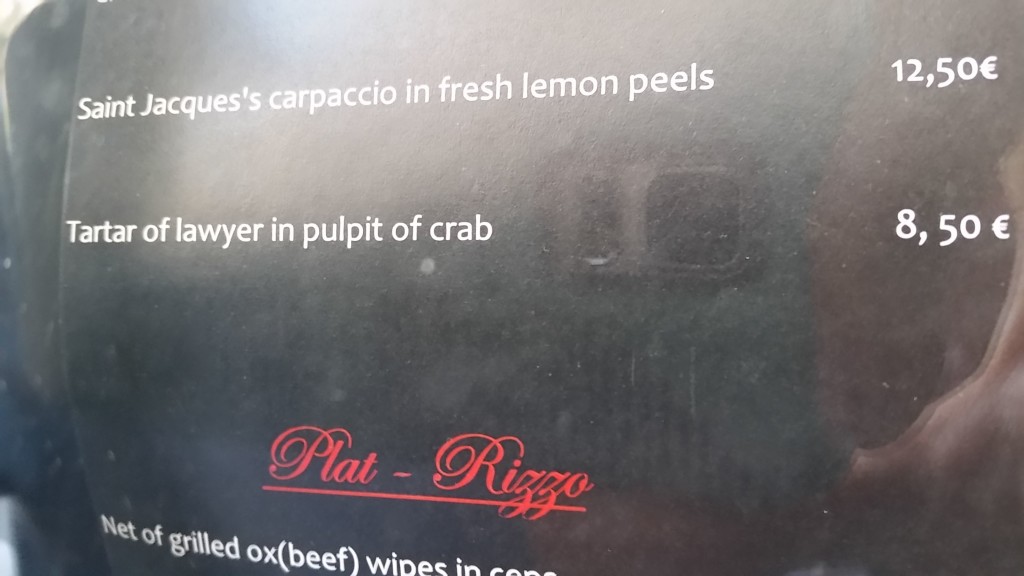 After that long day of bike riding and sight seeing, I was exhausted. We wanted dinner and bed. This restaurant was only serving cold plates because it was hot. Sounds good to me. A woman after my own heart. It is too dang hot to turn on the oven or stove.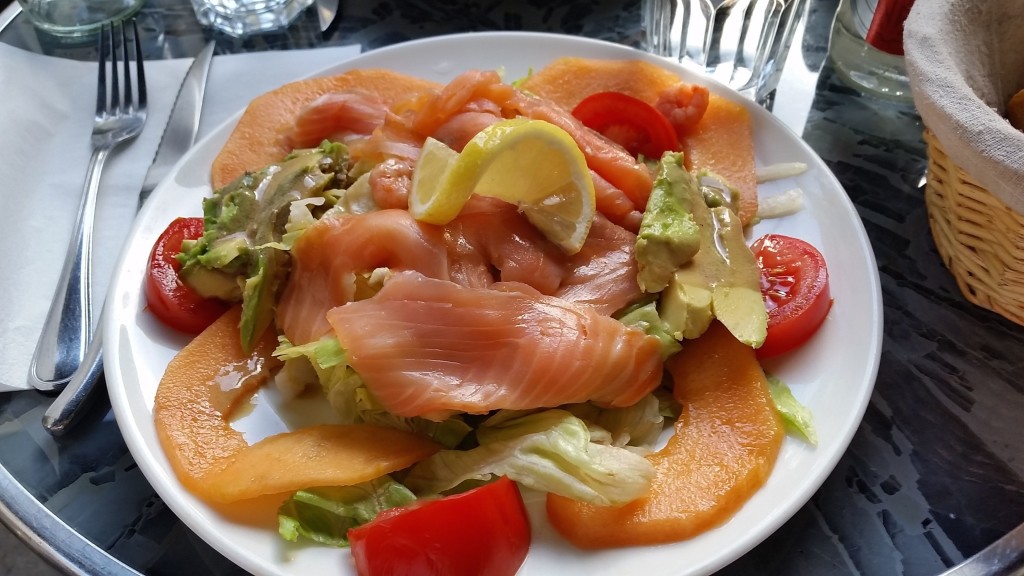 This salad was sort of an odd mixture, but tasty: cold smoked salmon, the best cantaloupe I've ever eaten, tomatoes, shrimp, avocado and a vinaigrette.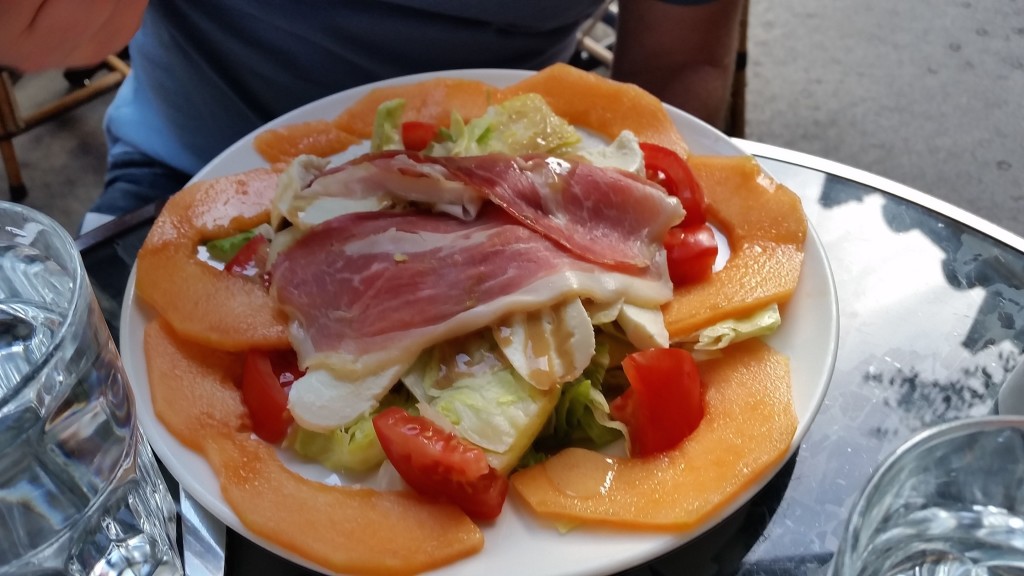 Adam's was prosciutto and fresh mozzarella.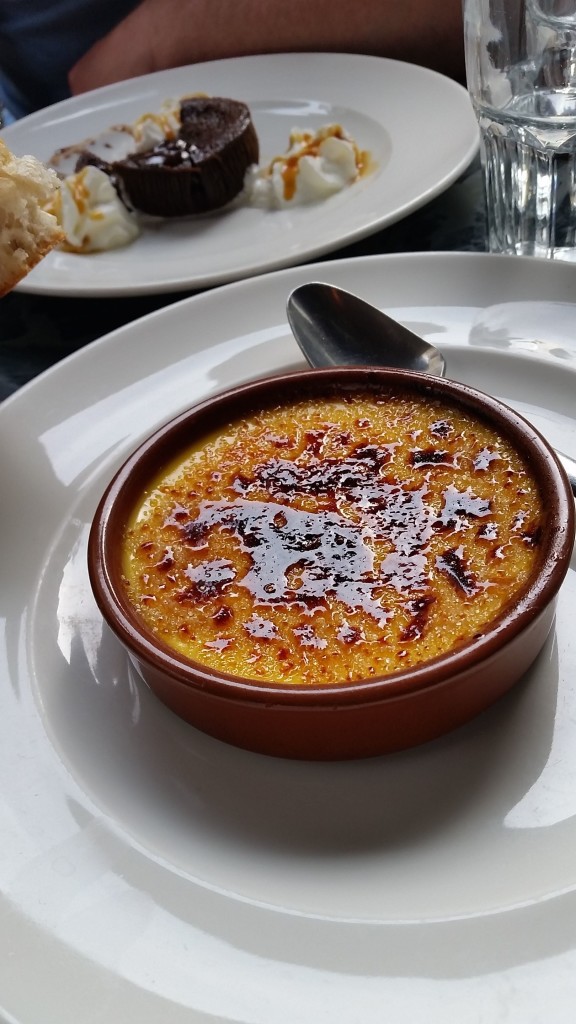 Aaaannnnndddd dessert was even cold.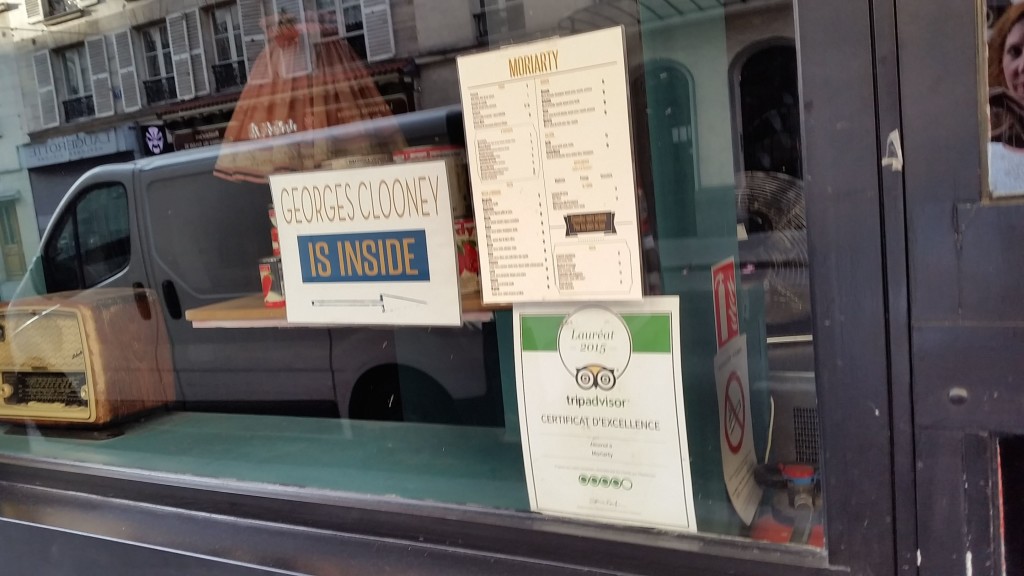 That's one way to drum up business.
DAY 9: Opera Garnier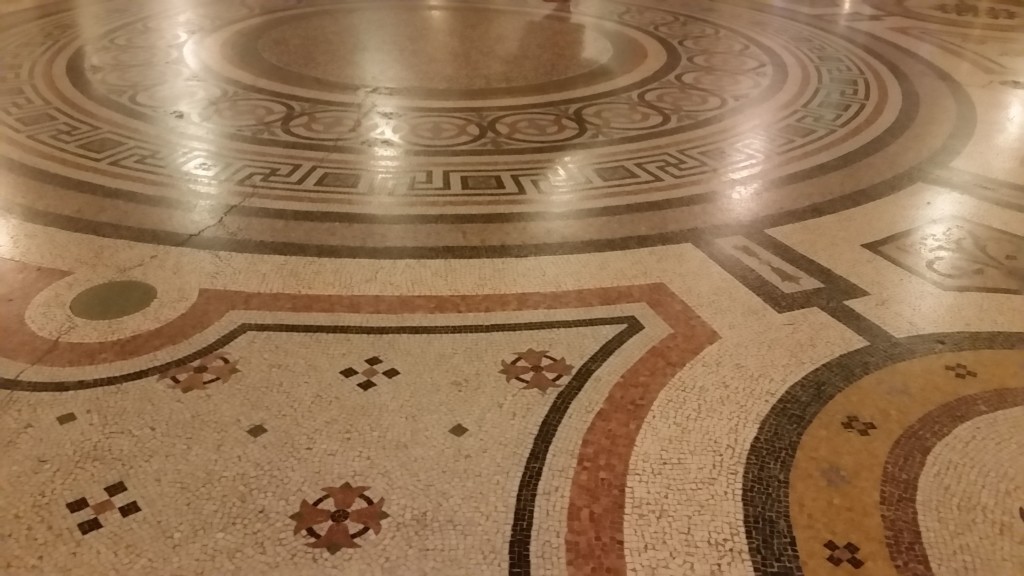 I am a HUGE HUGE HUGE Phantom of the Opera fan. It was my first discovery of Broadway musicals, and I memorized every word, every note, read the original novel, watched every movie made. I loved it. I get teary talking about the story. "Oh, Christine!" Tears!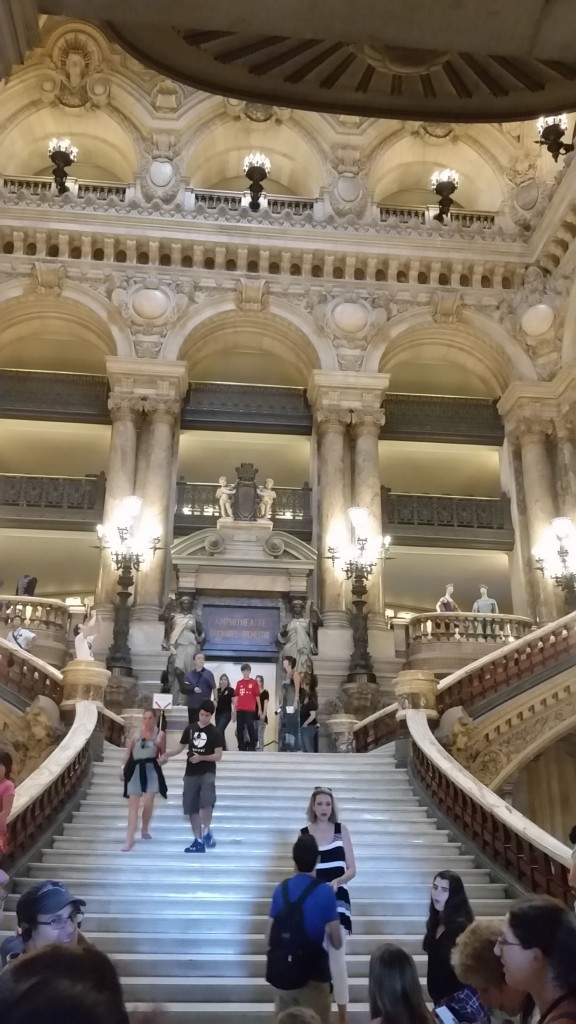 The Opera Garnier was the inspiration for the novel, so I was so excited to tour it.
To be honest I enjoyed it more than the actual Versailles Palace because it was far less crowded, better ventilated, and less rushed. I'm still glad we went to see Versailles, but I have wanted to see this since I was 13.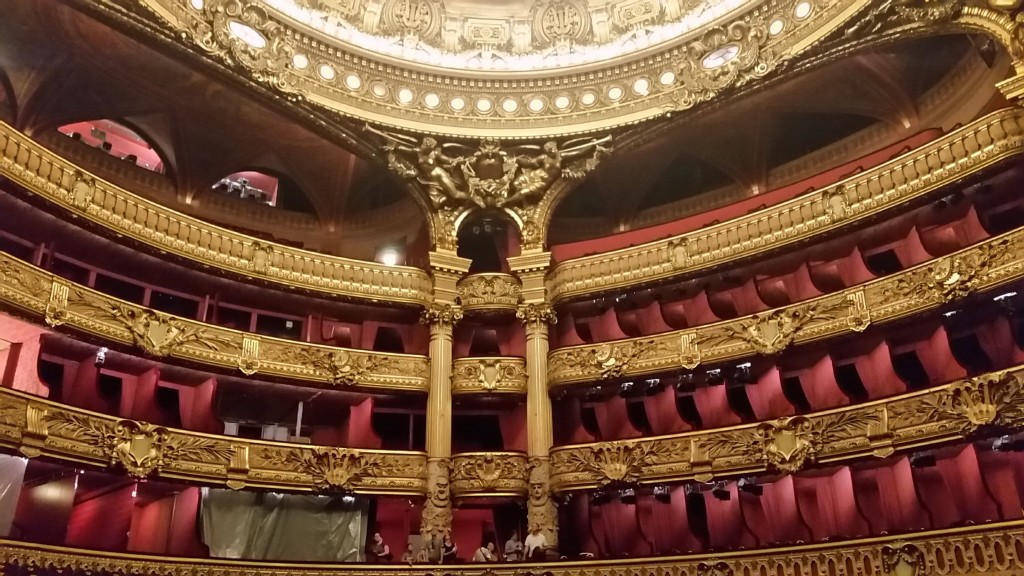 What I REALLY wanted was to see a show here (that, and the lake underneath the opera house), but one of the many problems with traveling to France, or anywhere in Europe, really, is that the whole continent is on vacation, and a lot of things are closed. There are no shows in August.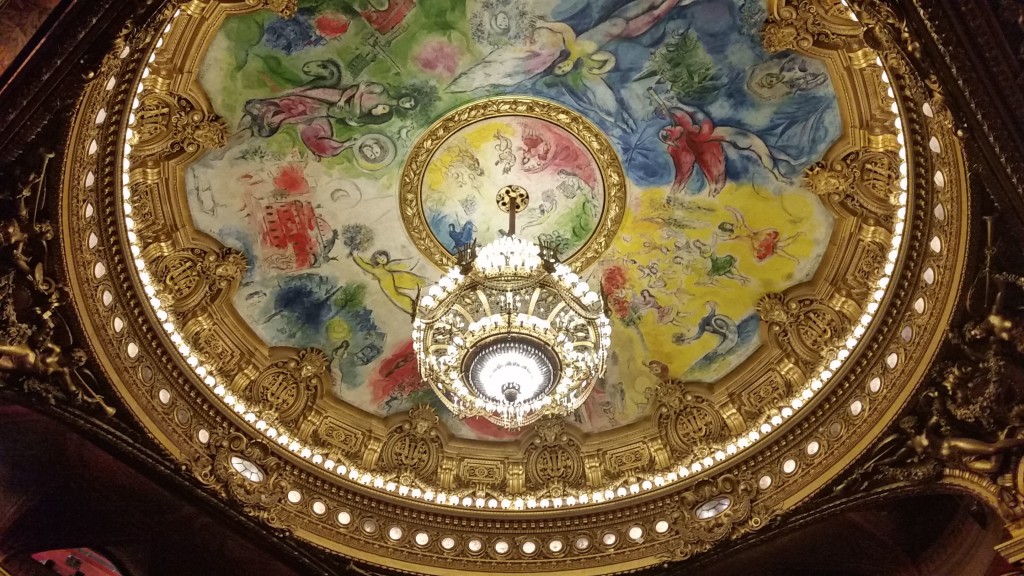 This painting is very controversial. The original matched the period and decor of the rest of the opera house, but due to the gas light chandelier, it was very damaged and needed to be replaced. They asked Chagall to do it, and he is a modern impressionist, so he did his thing. Some liked it, but most everyone else hated (hates) it. He didn't do it old school by lying on a platform and painting on his back for weeks on end. He painted several pieces that were attached to the ceiling afterward. It depicts scenes from 14 famous operas performed there.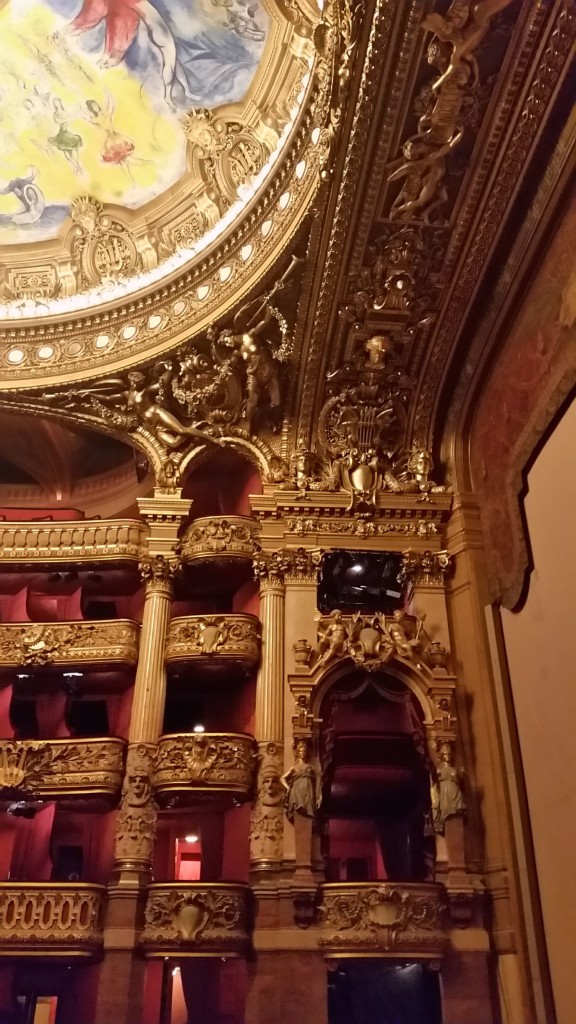 Box five is to be kept empty!!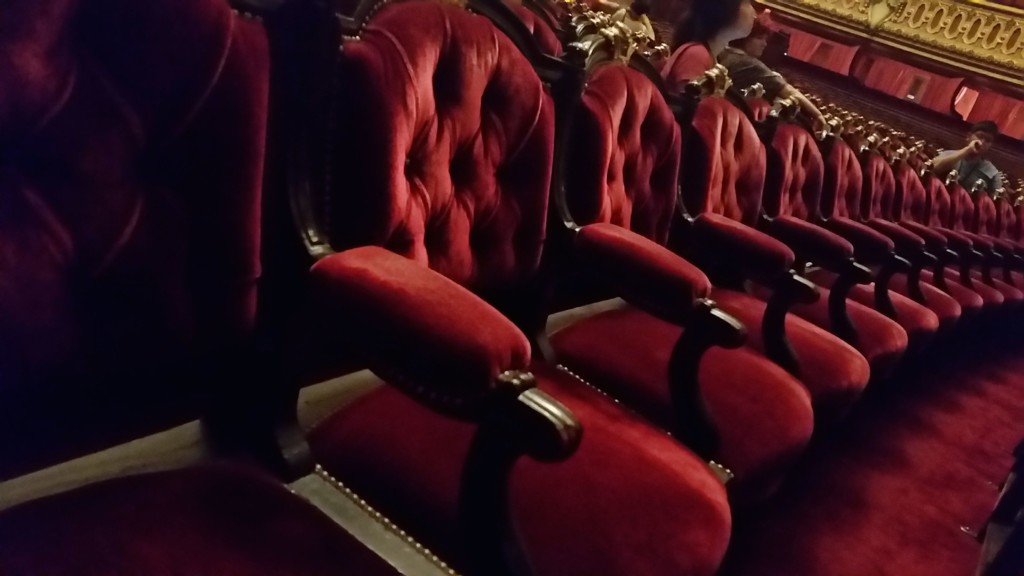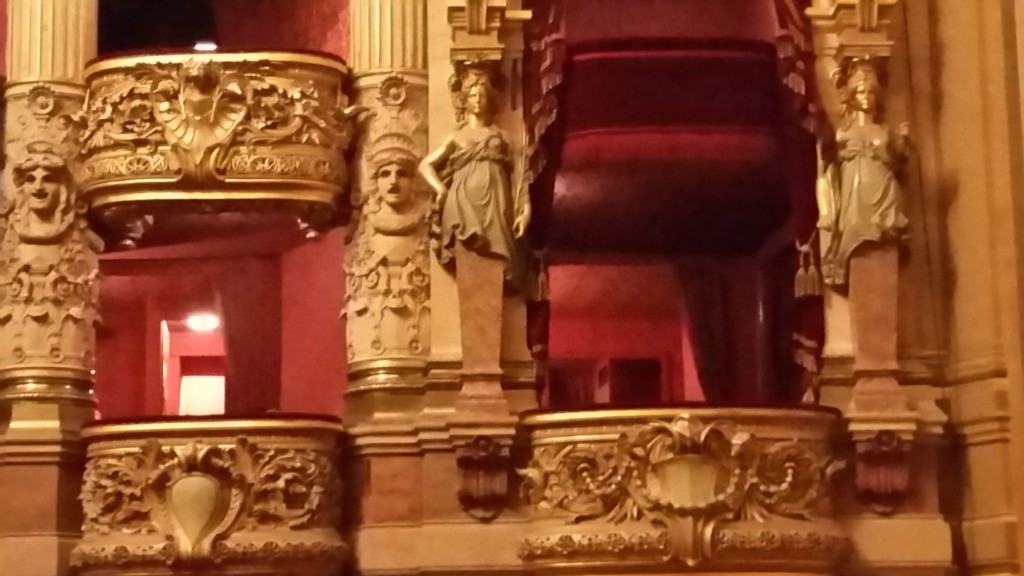 The large box was for the king and queen, although it is the worst seat in the house for seeing the show. It is best for being SEEN, and that was really the point.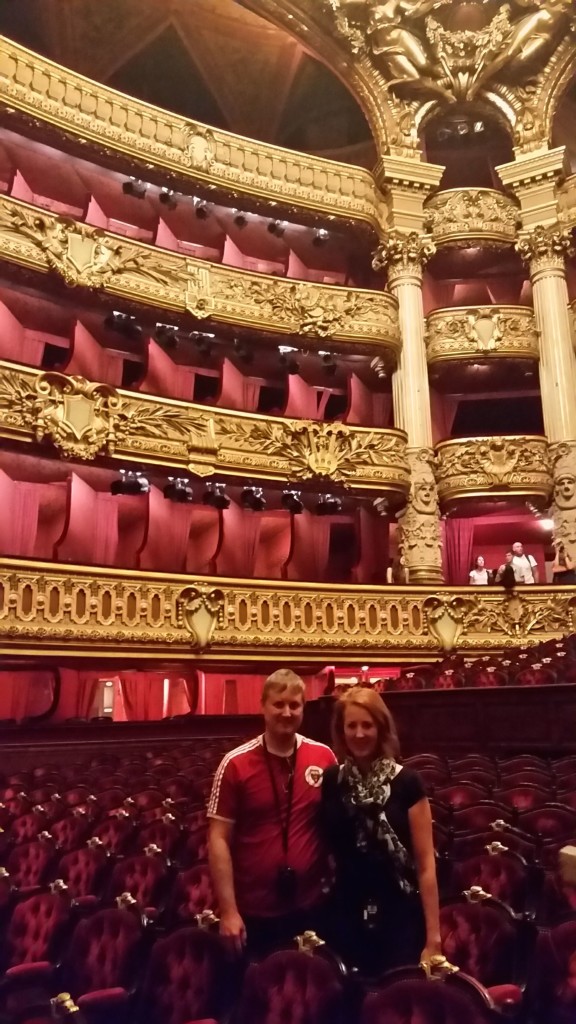 They have a library.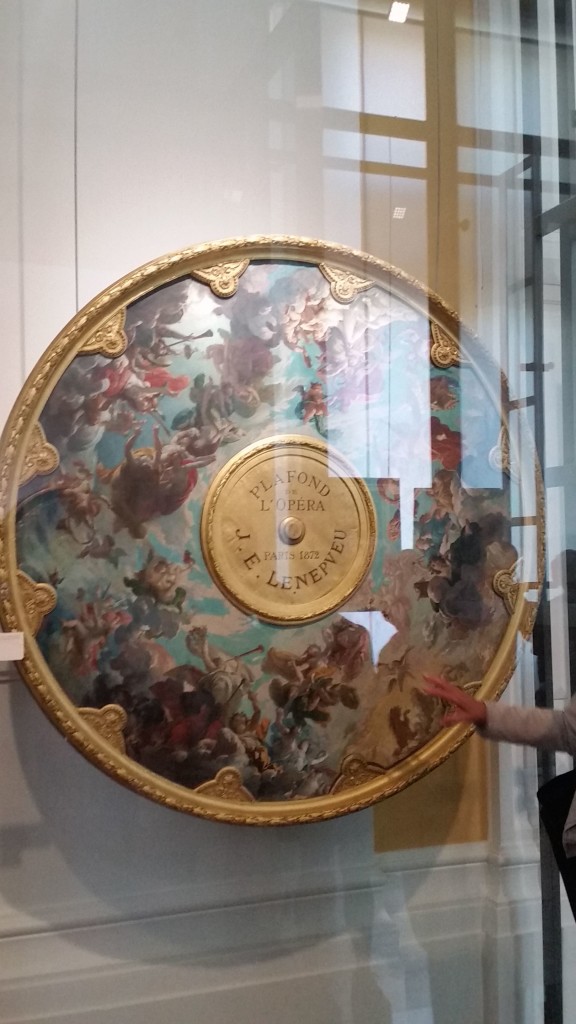 This is what the ceiling used to look like.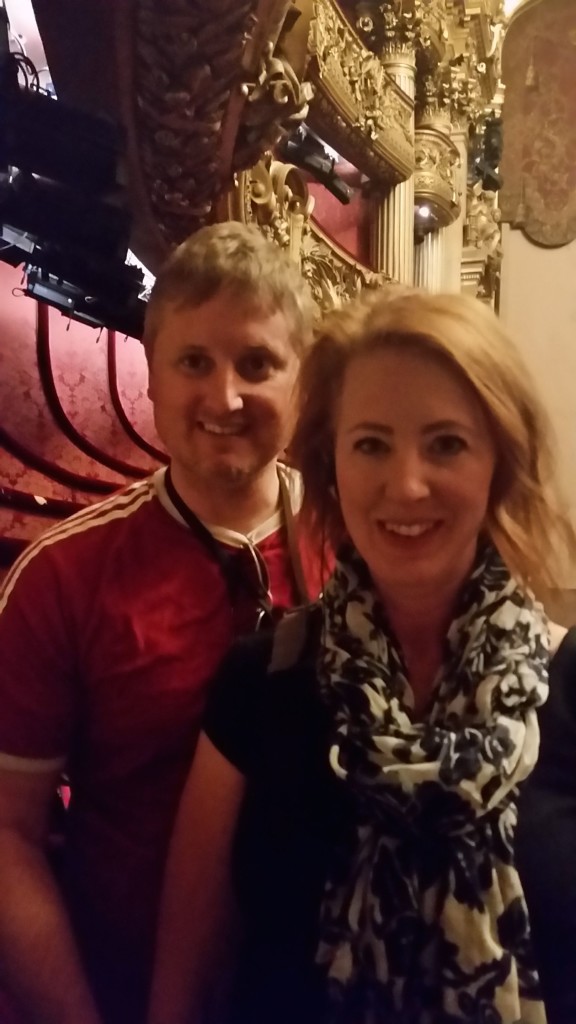 There really is a lake underground. The opera house was built on an aquifer, and in order to make it stable, they pushed the water aside, built the foundation, and then flooded the basement. The Paris fire department is responsible for maintaining it, and they do their rescue drills and swimming certifications down there once a year. I REALLY REALLY REALLY wanted to see it, mais non, it is forbidden.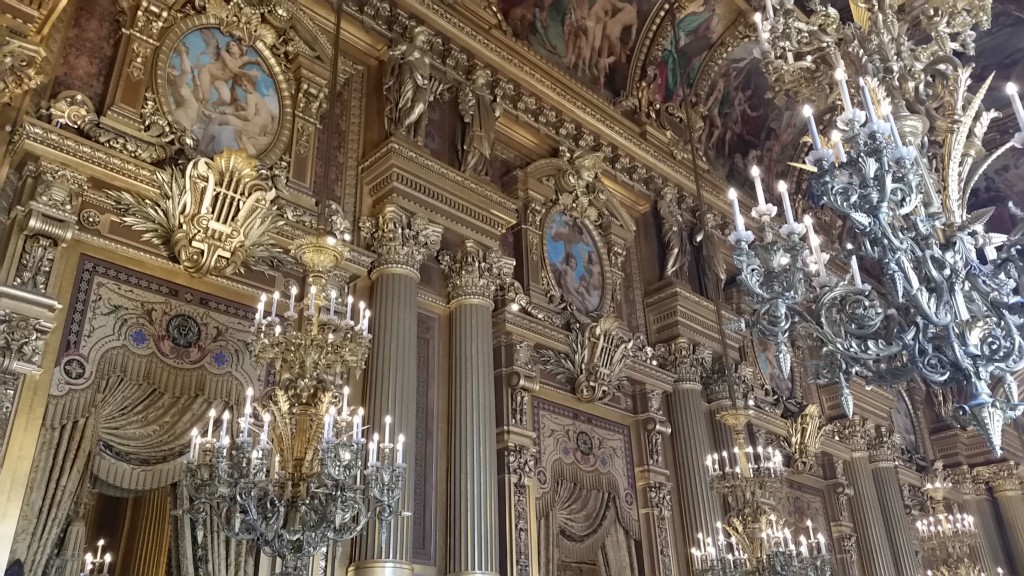 While maybe 1/1000 of the size, the opera house is every bit as opulent as the palace.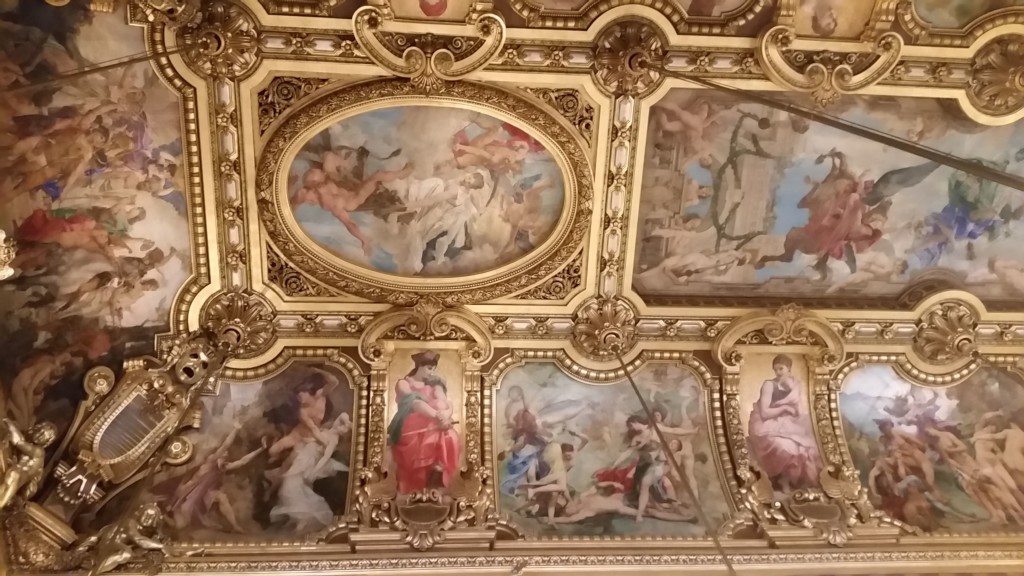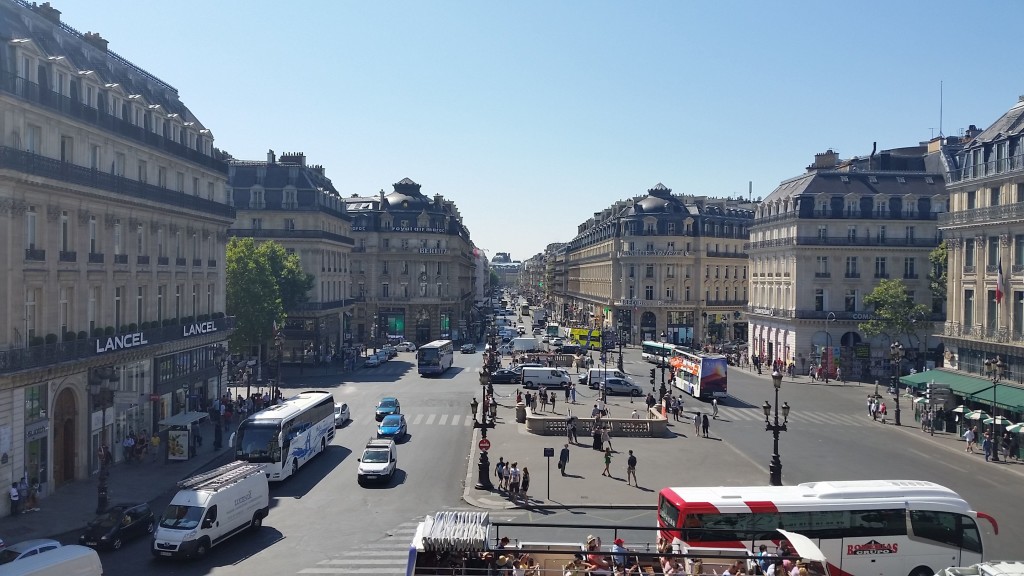 The view from one of the terraces.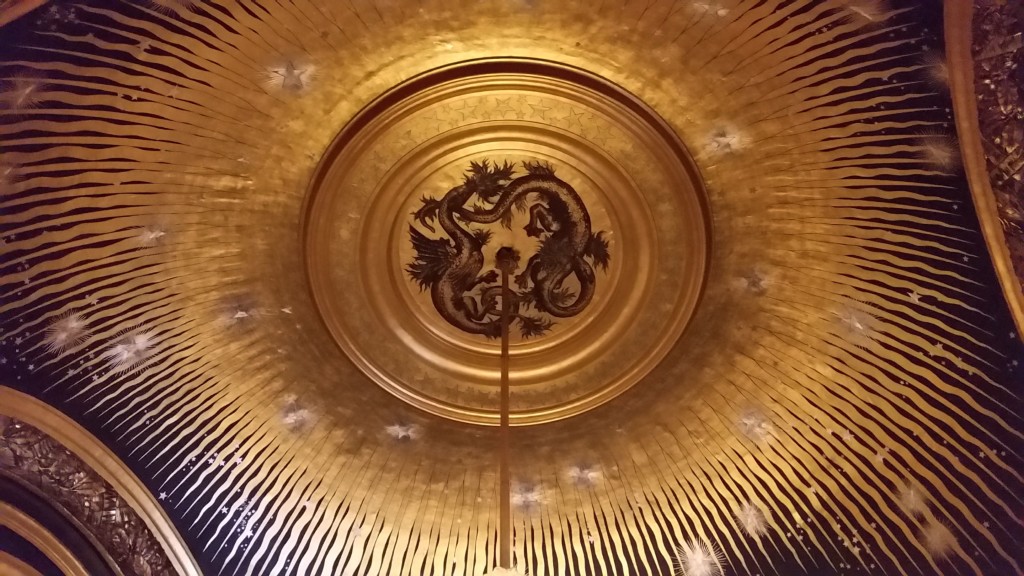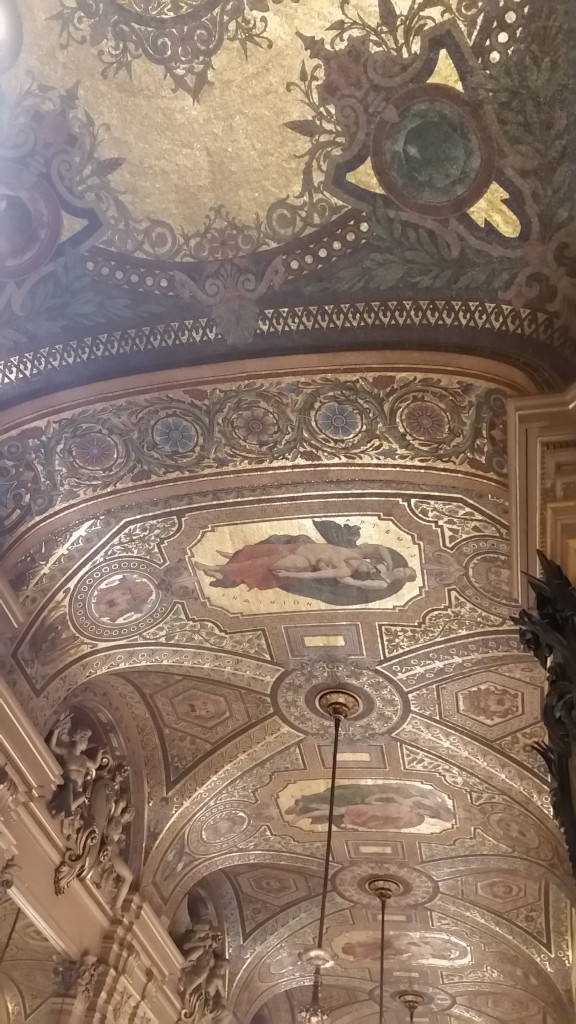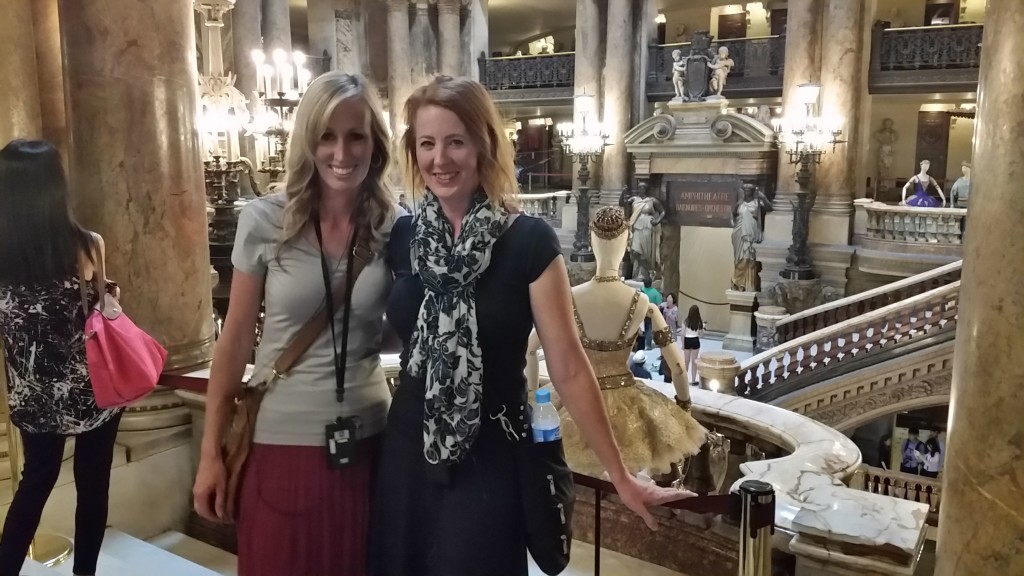 Doing their ballerina impression.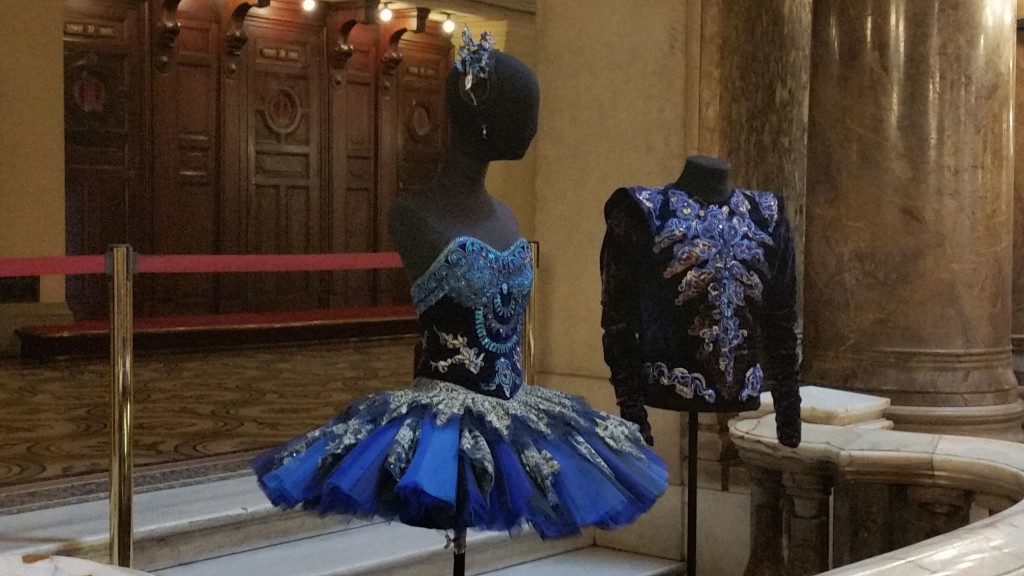 I wanted to try on a costume too. I miss dance.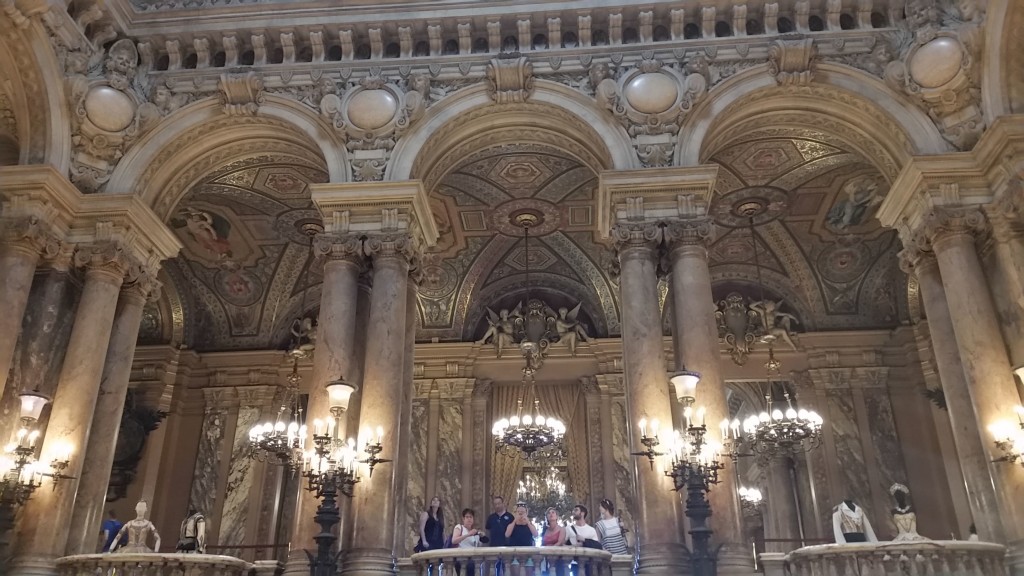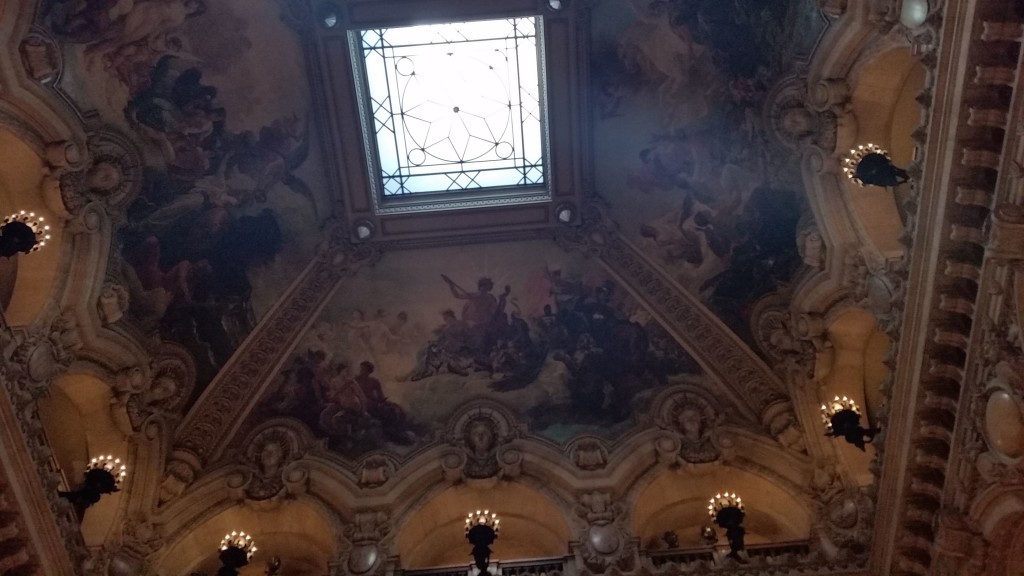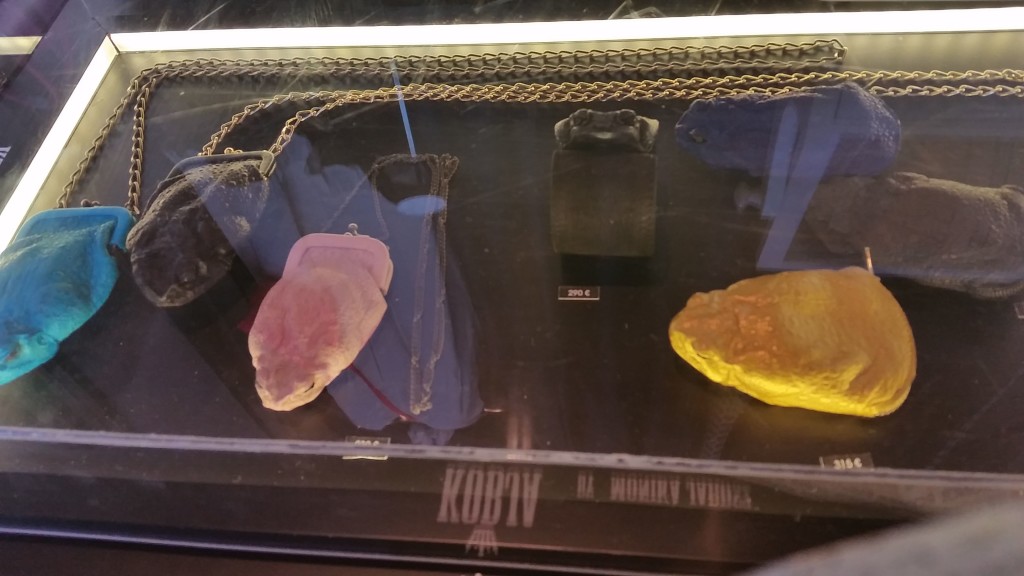 In the gift shop you can purchase these toad skin cigarette cases for 320 euros, just in case that is a dream of yours.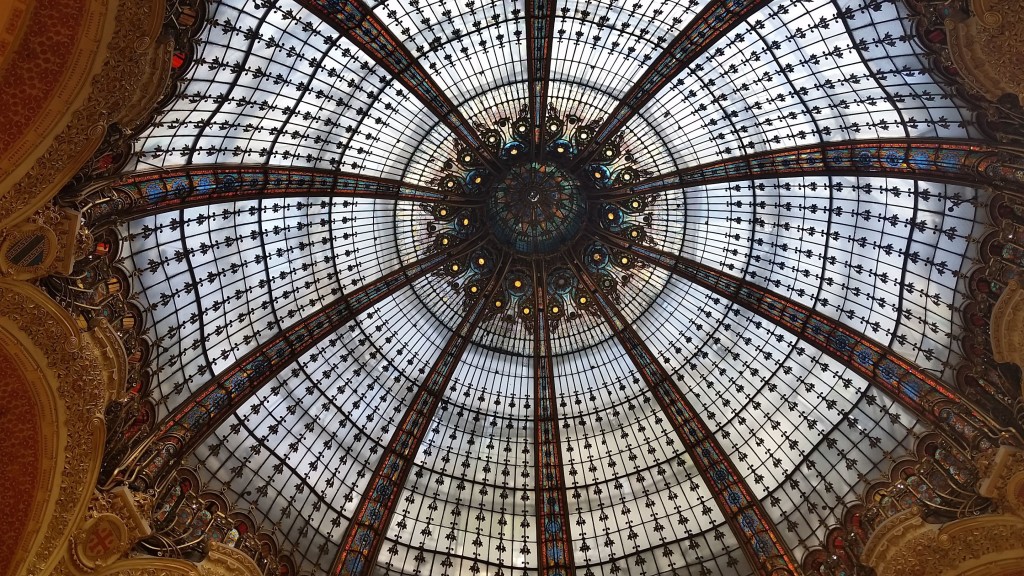 After our tour we went across the street to the Galleries Lafayette, the most beautiful department store ever.
We wandered around, and I bought a lipstick. Parisian women are wearing bright red lipstick these days with minimal makeup, and the one I love is MAC Ruby Woo.
Like Bloomingdales, various designers have boutiques inside. Anything you could want from Louis Vuitton to Prada is there.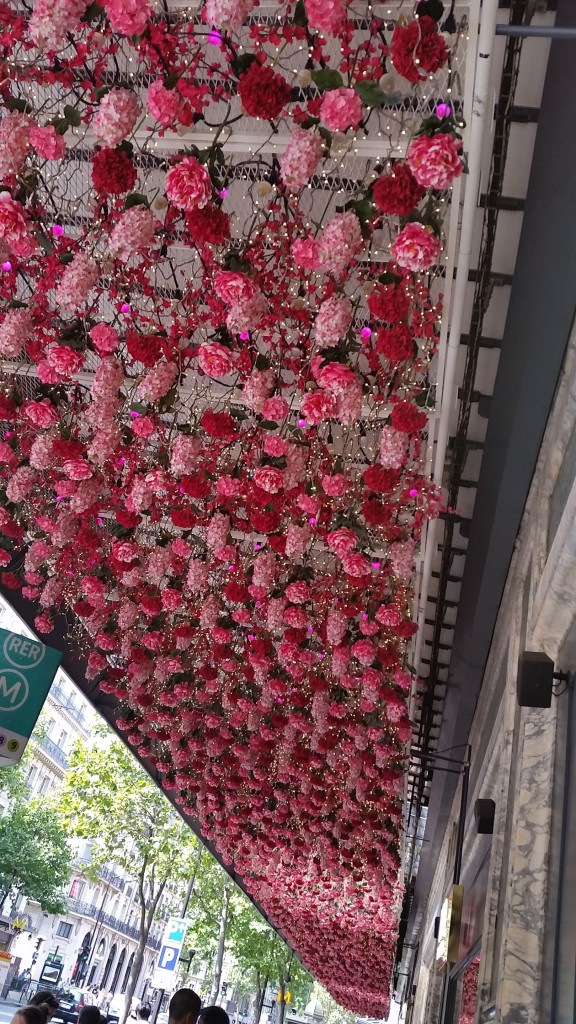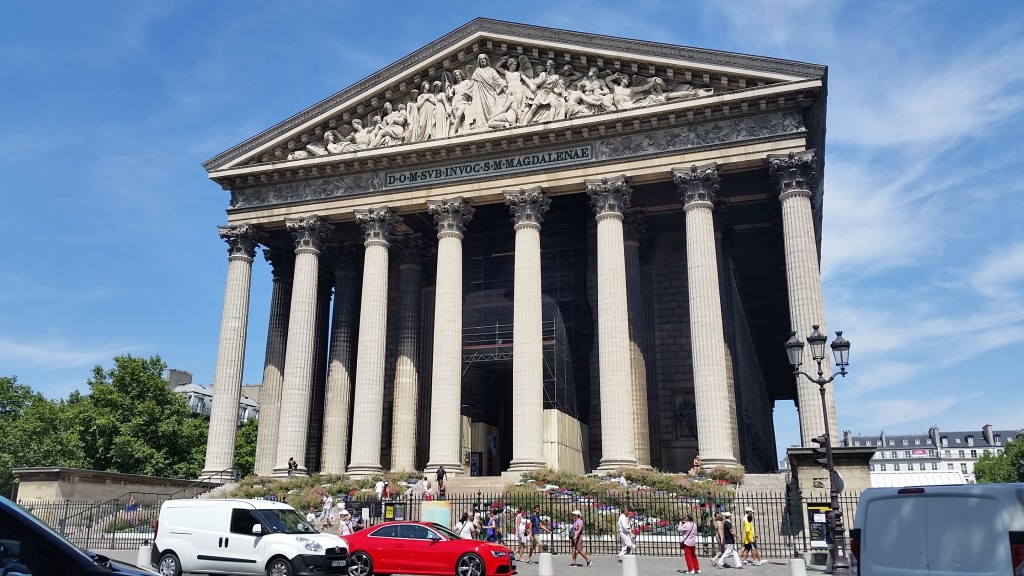 This is the Church of the Madeleine. It looks an awful lot like a Roman temple, doesn't it? Well, it's meant to. Napoleon had it built as a temple to honor his victories in war. The man was as narcissistic as they come. He wanted to build an Empire as great as the Roman Empire at its peak, and he admired their traditions and architecture. It is currently a Catholic church.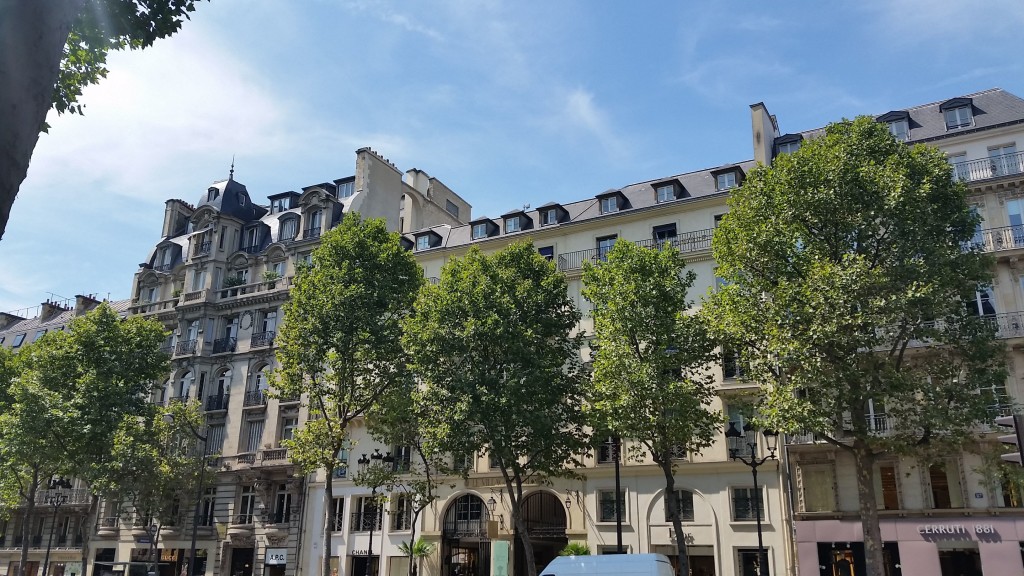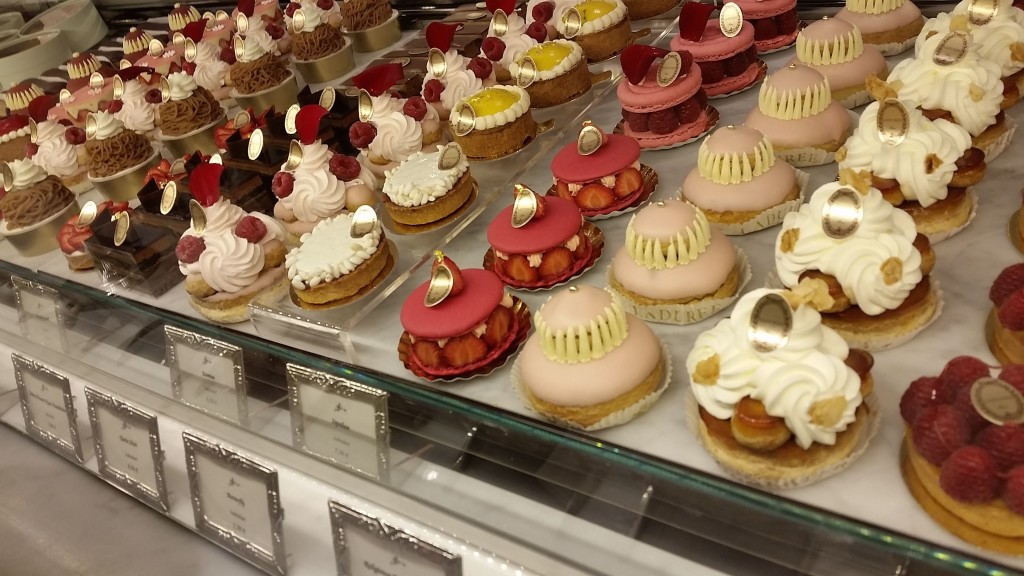 We stopped in at Laduree. I wanted to eat every single one of these. All of them. And I've never had much of a sweet tooth.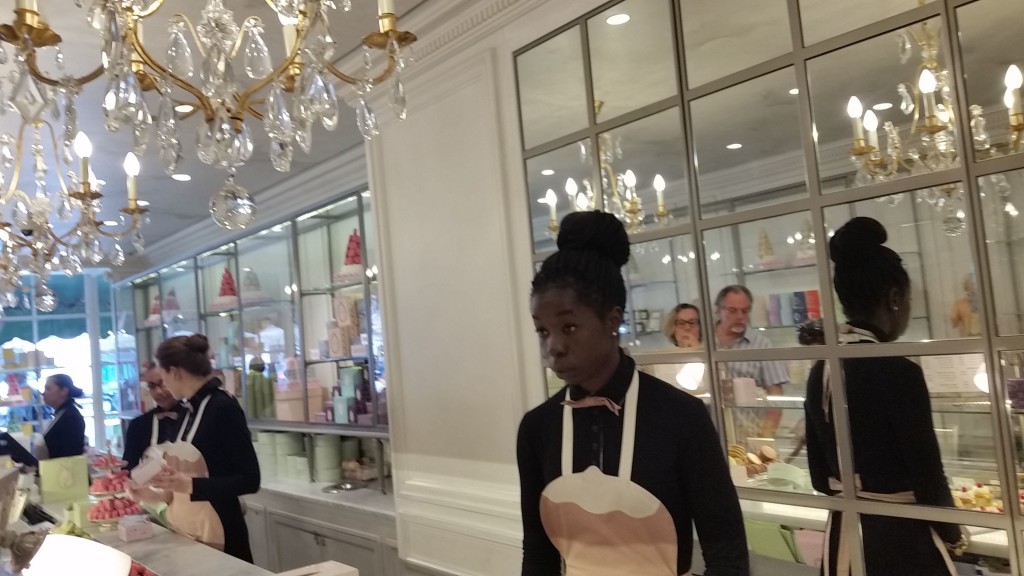 I love that all the shop girls wear these uniforms.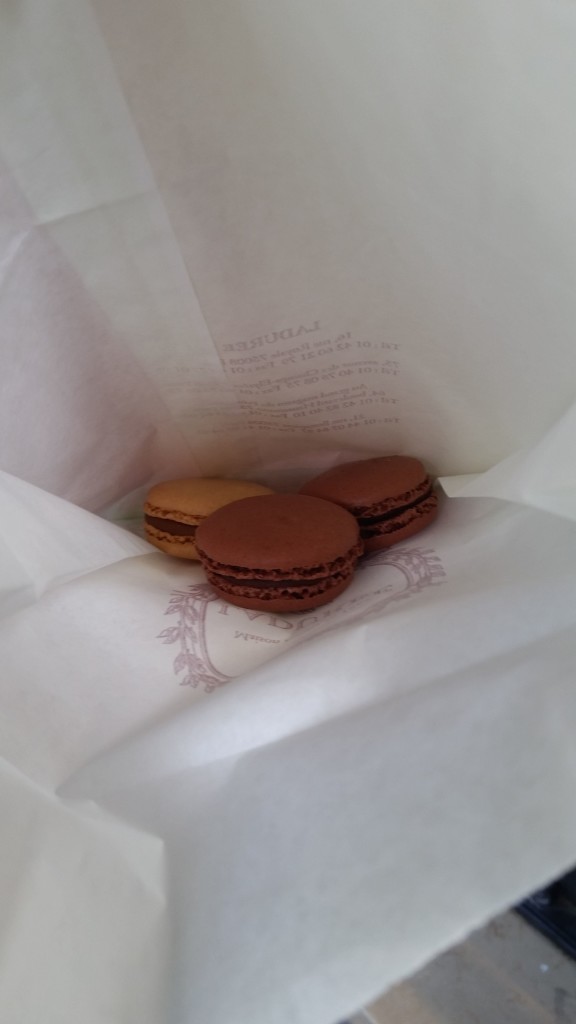 They are supposed to have the best macarons, so we bought a few to try.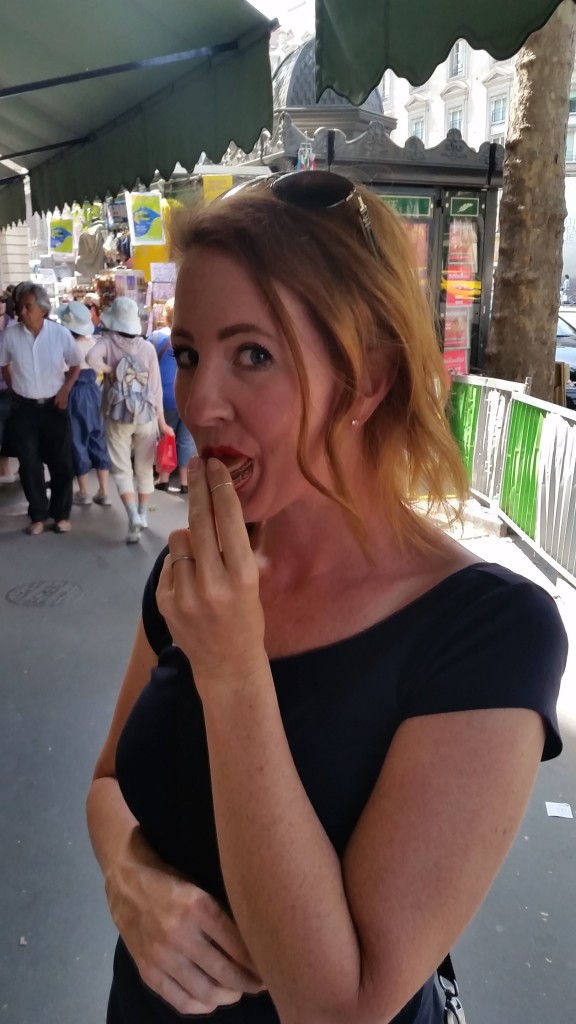 They are tasty.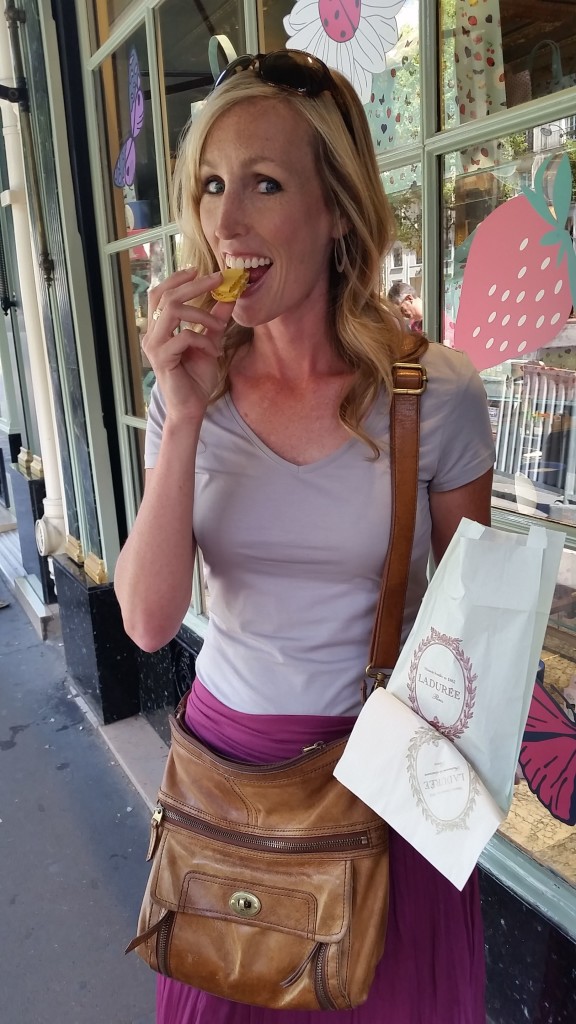 What do you think Brittany?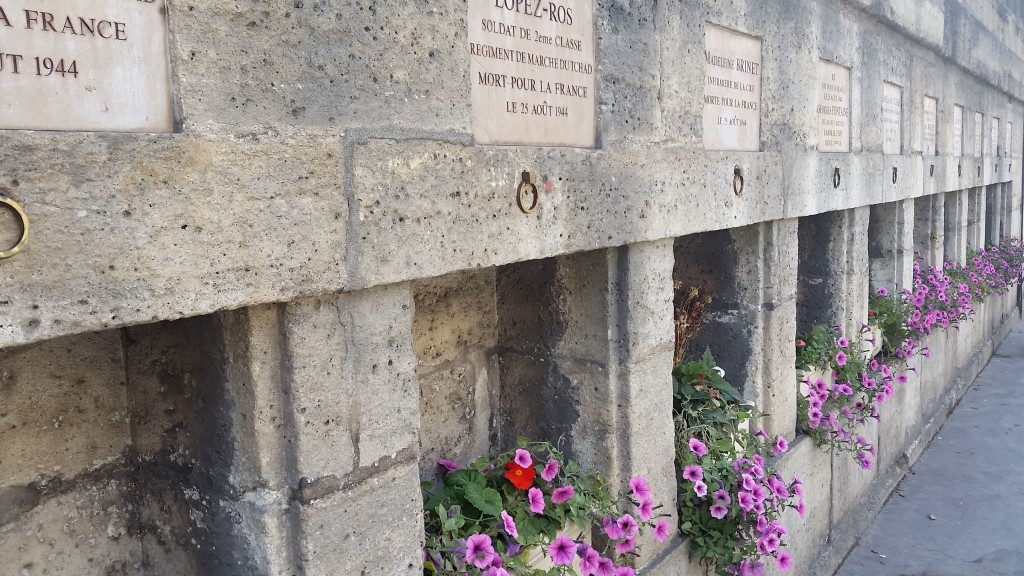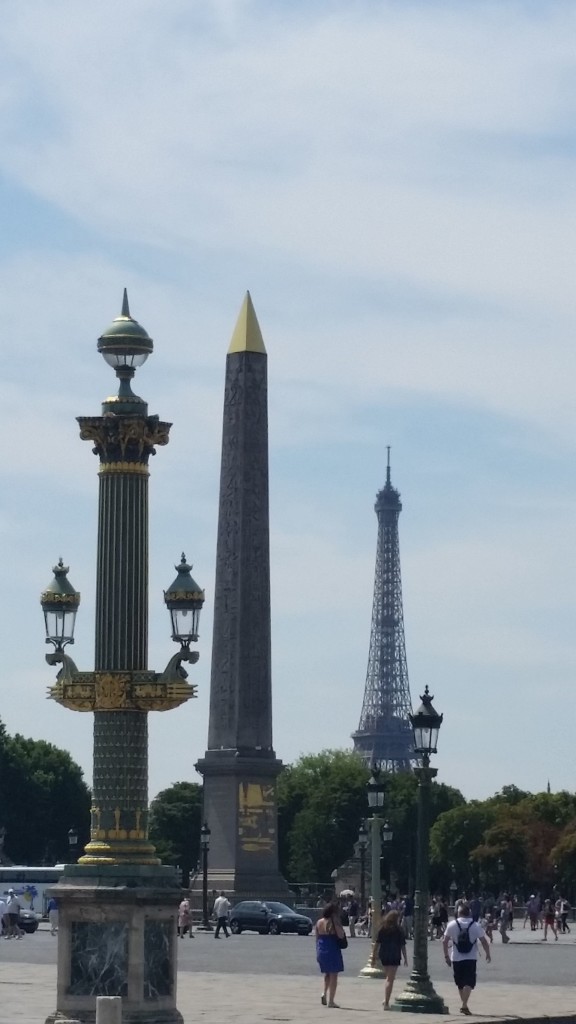 We passed the obelisk a lot. The square it's in is called Place de la Concorde
We walked over to the Jardin Tuilleries.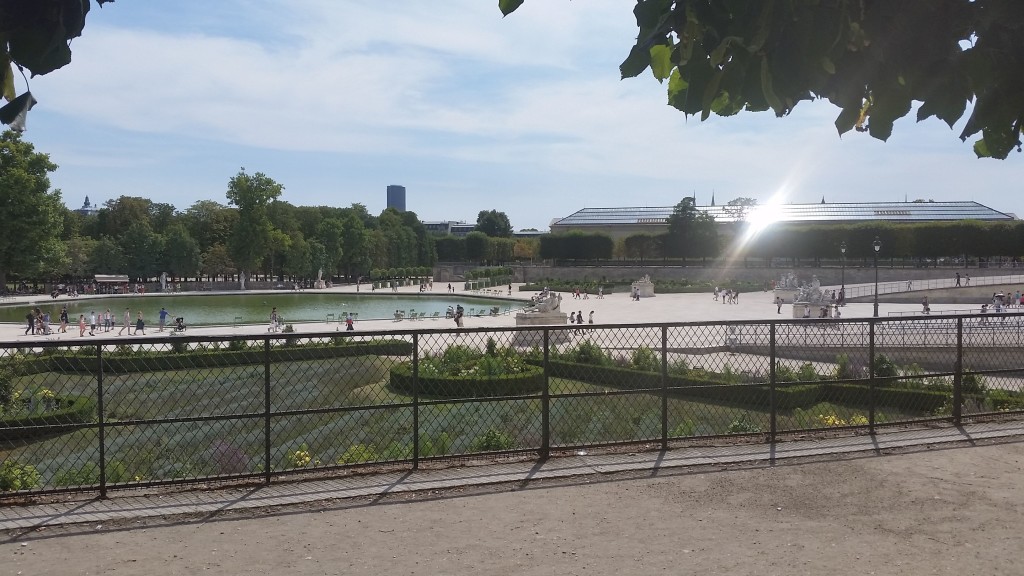 The locals like to come here and sit, relax, read, meet with friends.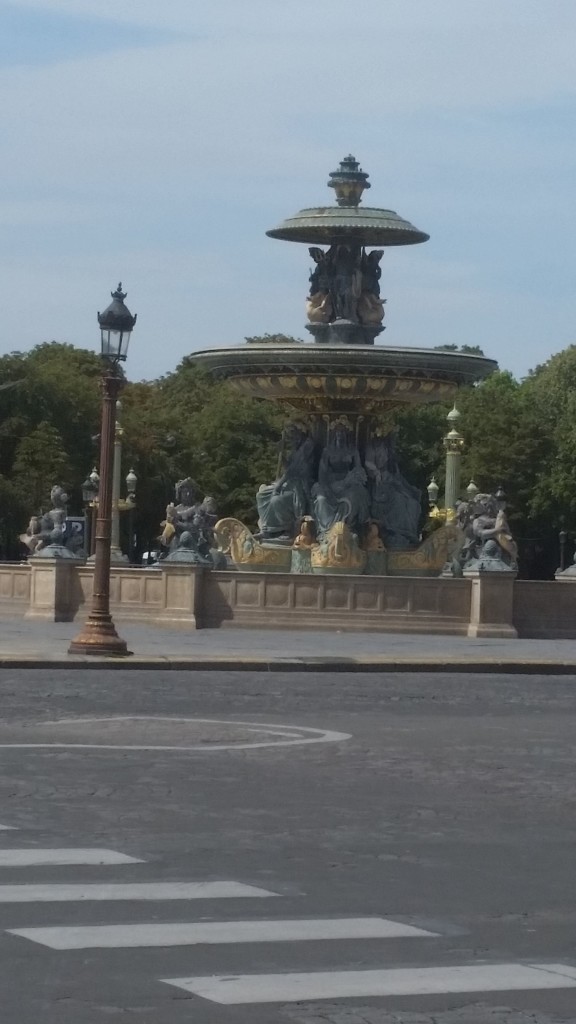 The Grand and Petit Palais used to be palaces, but now they are (Grand) an exhibition hall that is only open during exhibits and (Petit) a museum.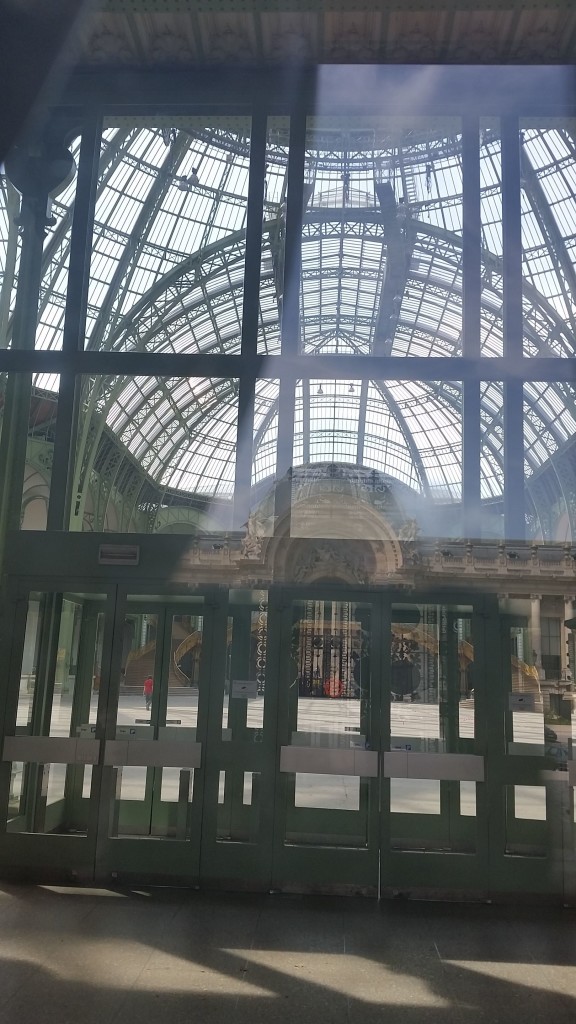 The Grand Palais roof is one gigantic skylight.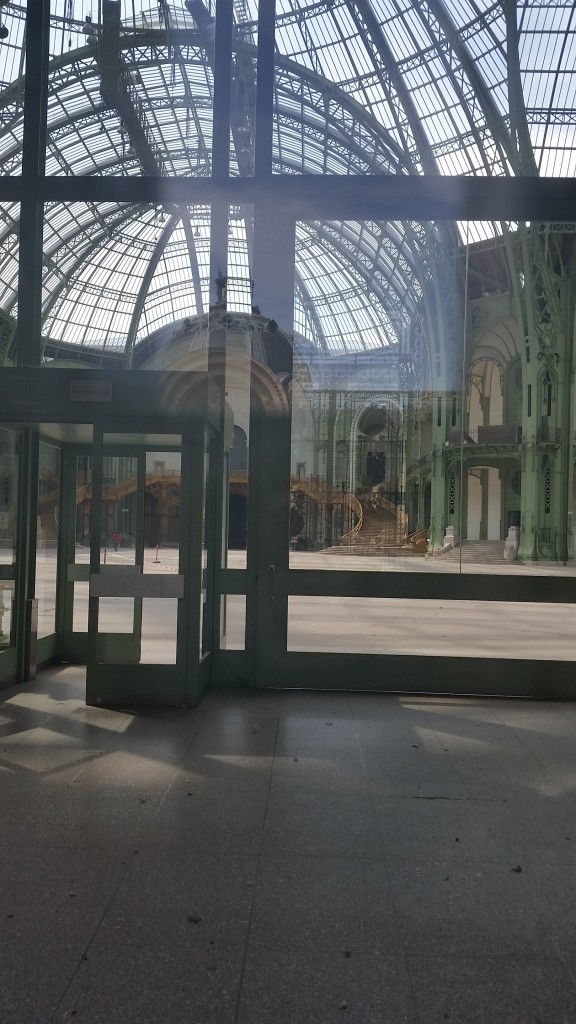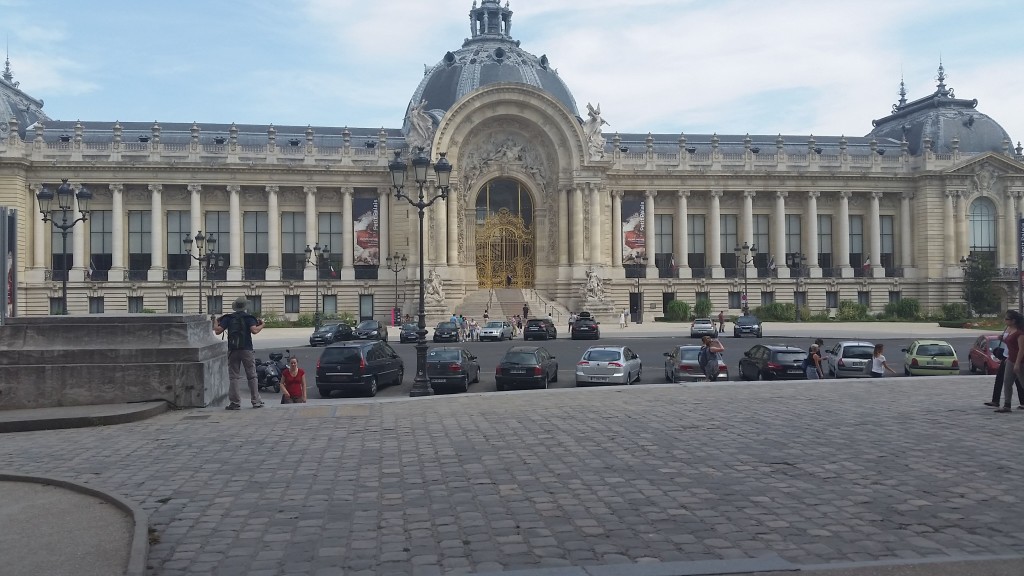 We decided not to go in the Petit Palais, but there it is.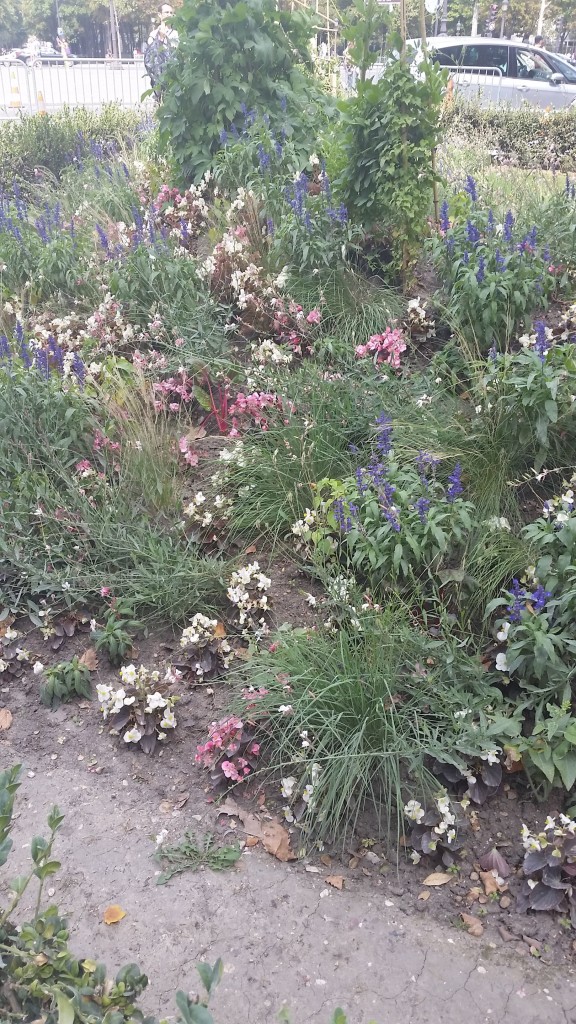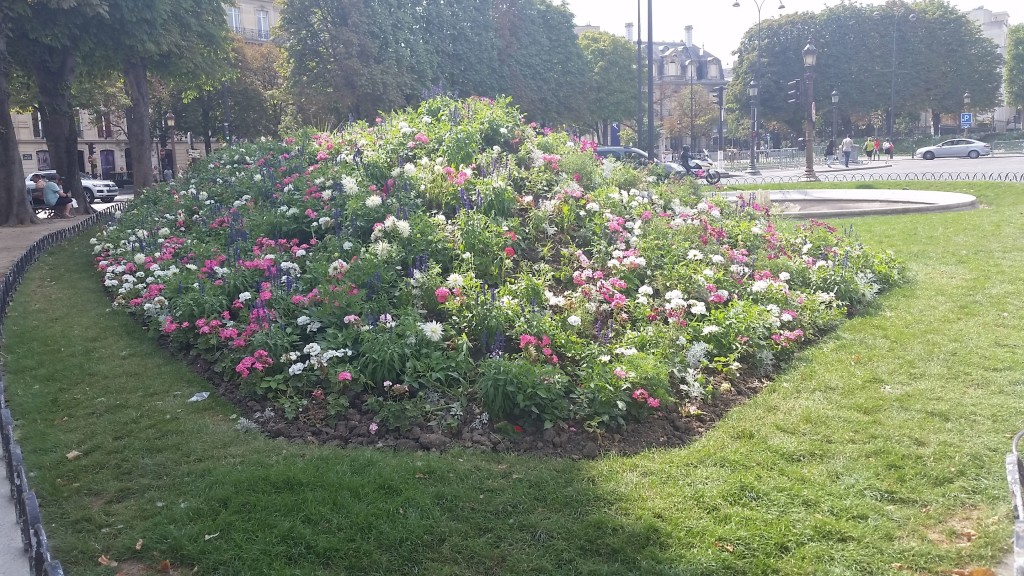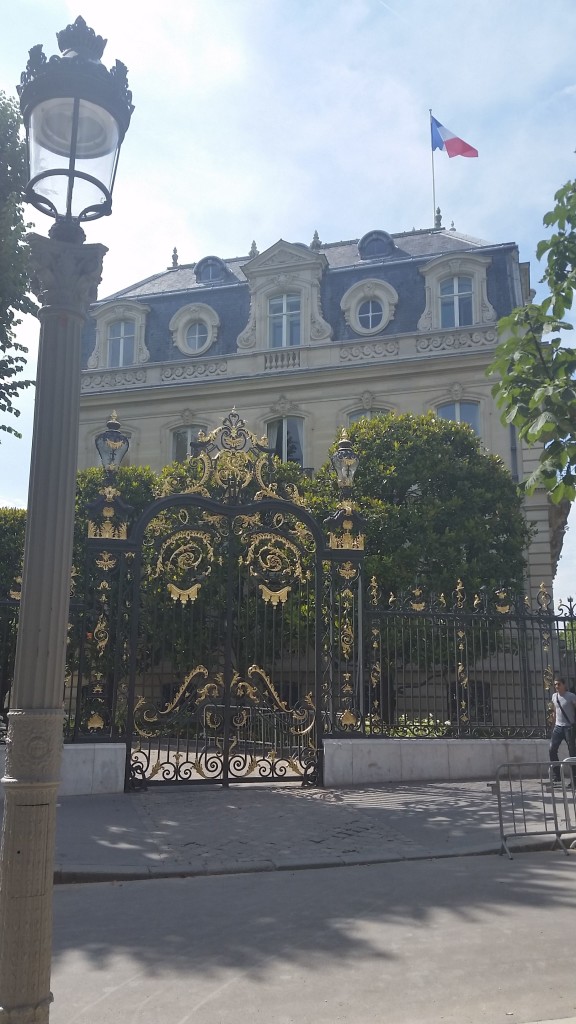 From there we went to the Champs Elysee, one of the most famous streets in the world.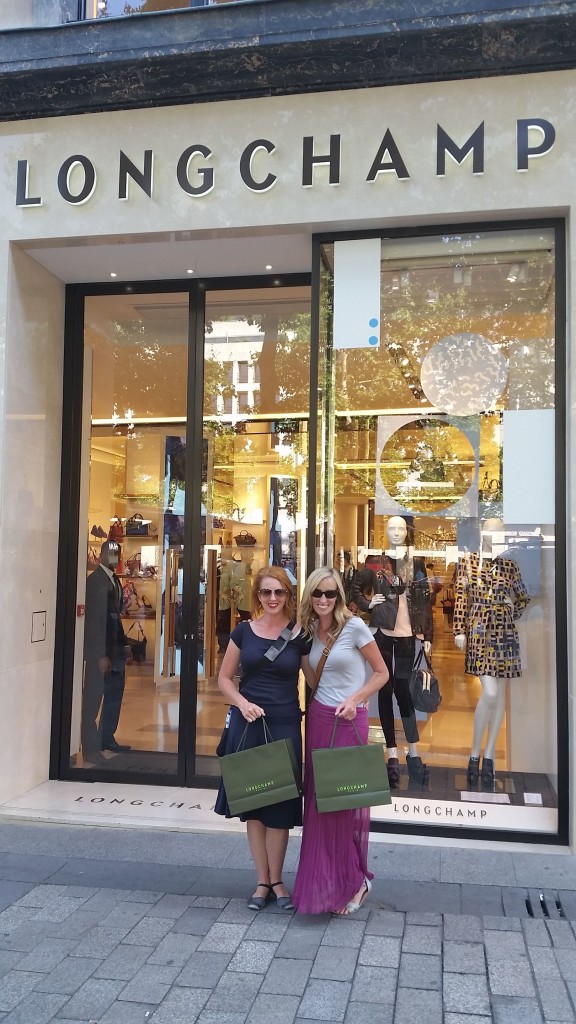 Brittany and I both made purchases in the Longchamp store. She had no idea she needed a Le Pliage tote until I showed them to her! They are the quintessential parisienne all purpose bag. Waterproof, iconic, practical, perfect. They are excellent travel bags as well, perfect for a weekend bag.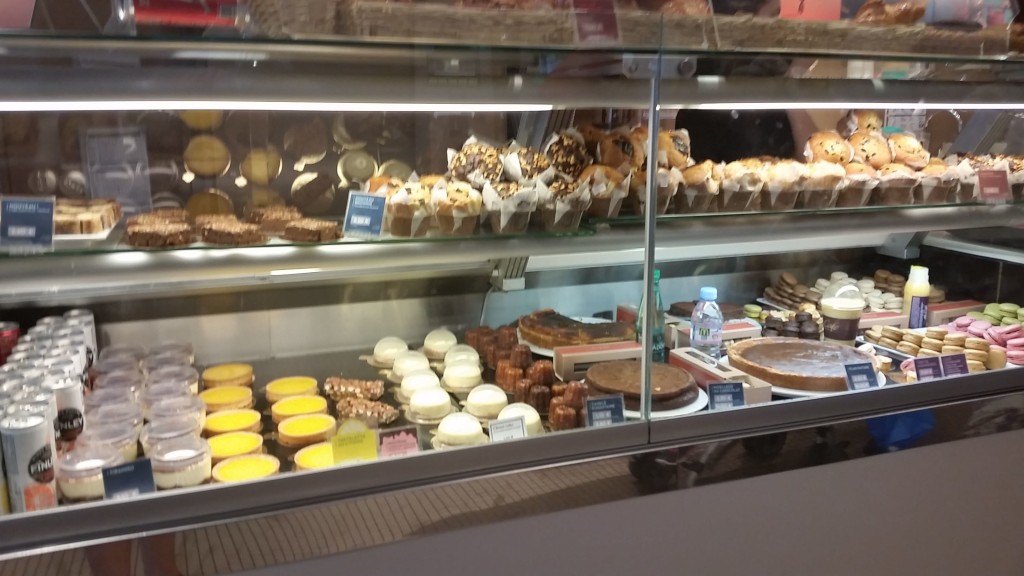 Even the McDonald's on Champs Elysee is fancy. Why can't they offer that kind of food here? Why can't they just offer food?
You can even order your food from the convenient kiosk.
Travel Tip: When traveling, especially abroad, bathrooms can be hard to find. My first recommendation is use the bathroom EVERY. SINGLE. TIME. you have the opportunity, whether you think you need to or not.  Always use the available facilities because you never know when your next opportunity will arise. My second recommendation is carry change, because a lot of the restrooms are pay toilets. You need 50 cent pieces. They won't make change for you. No 50 cent piece, no potty. My third recommendation is if you need to go, and nothing is looking promising, find a McDonald's. They never pay attention to who is in there for what reason. Other restaurants save their bathrooms for their patrons. There. That is the only nice thing you will every read about McDonald's on this blog. Other than that I think they are disgusting, and that is the nicest way I can say that.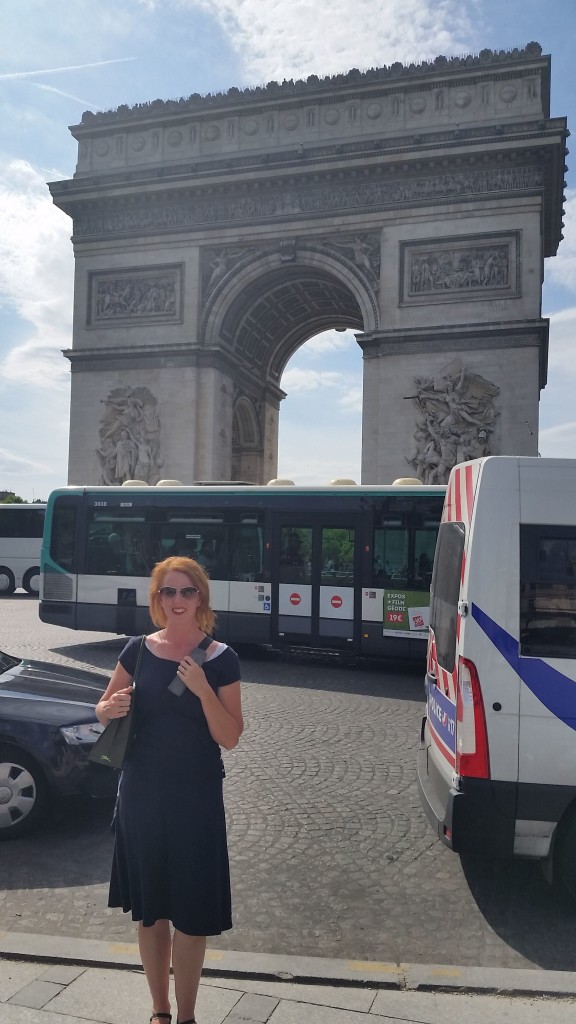 Our next stop was the Arc du Triomph. As Napoleon was marching back from a successful military campaign, he sent word that he wanted a magnificent arch built to memorialize this victories at war, just like the Roman emperors had. He wanted to march his army through it as they entered the center of the city, just like the Roman emperors did.. The response was c'est impossible! There wasn't enough time! So they built a small arch in time for his return, and built this larger one after.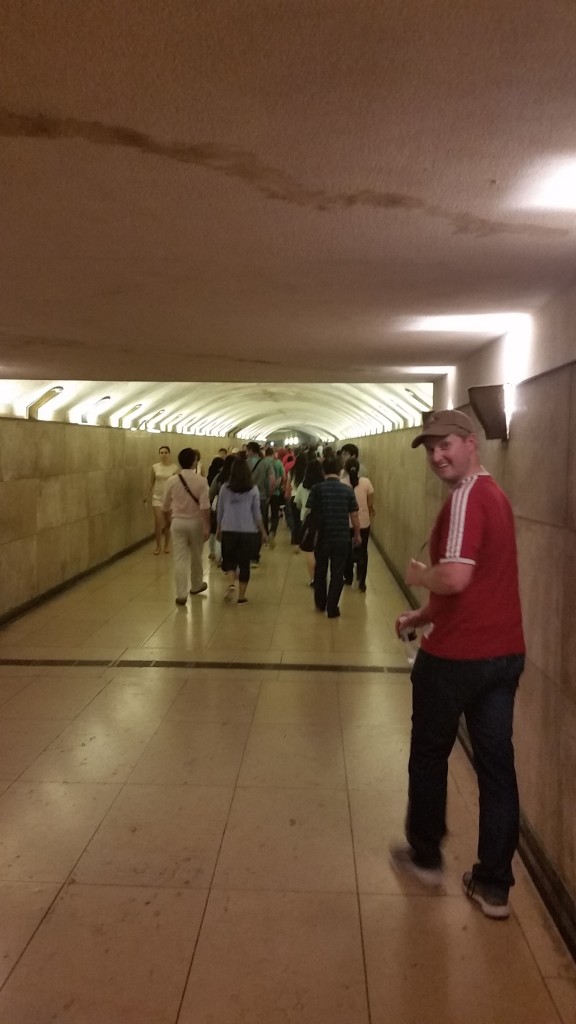 L'Arc is at the center of the most dangerous traffic circle in the world. The circle of death. DO. NOT. ATTEMPT. TO. CROSS. There is a tunnel that goes UNDER the circle of death. We weren't originally going to go up to the top, but the line was non-existent, so we cruised right on up.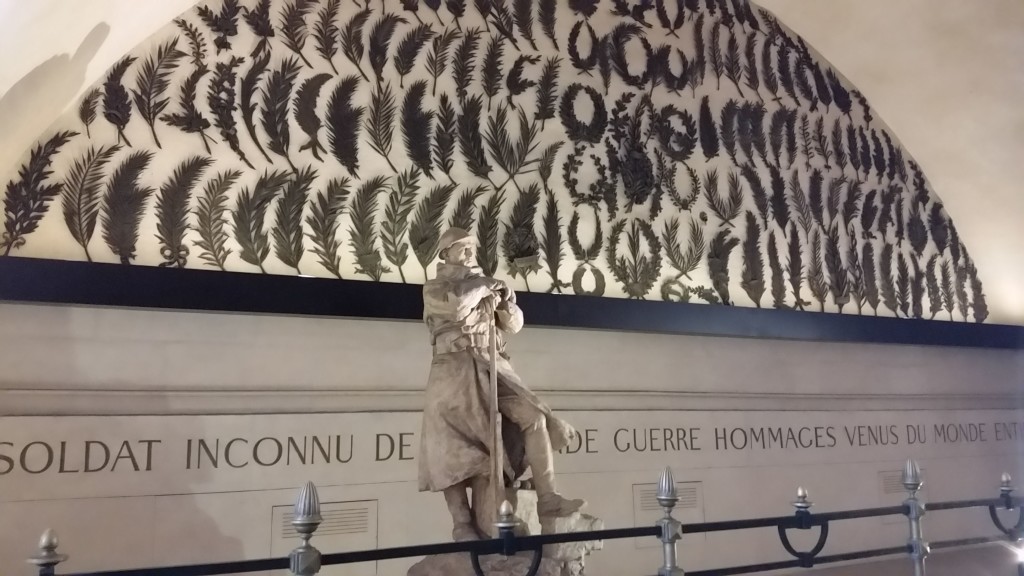 The memorial to the unknown soldier is also here.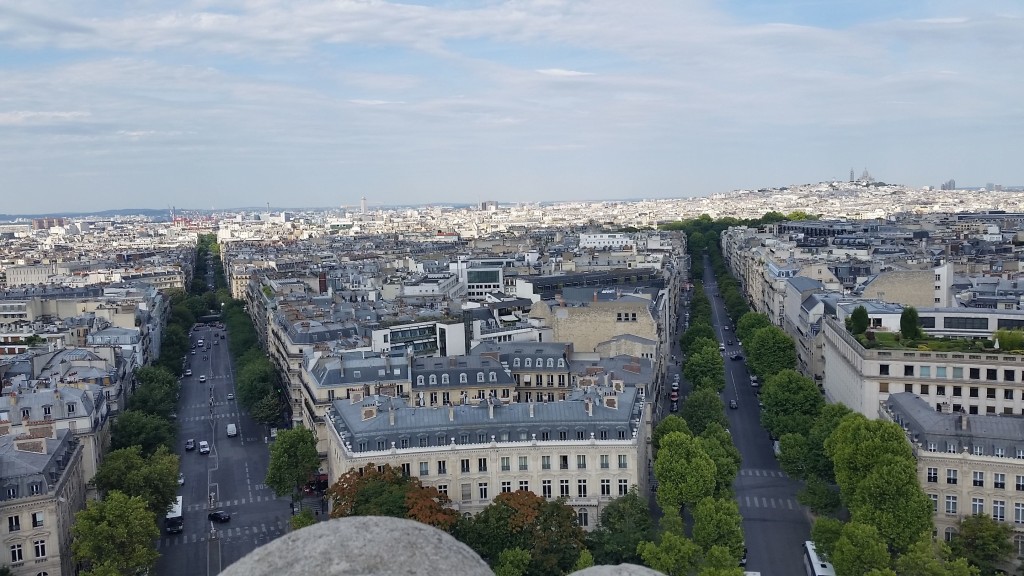 It seems like all roads in Paris lead to l'Arc.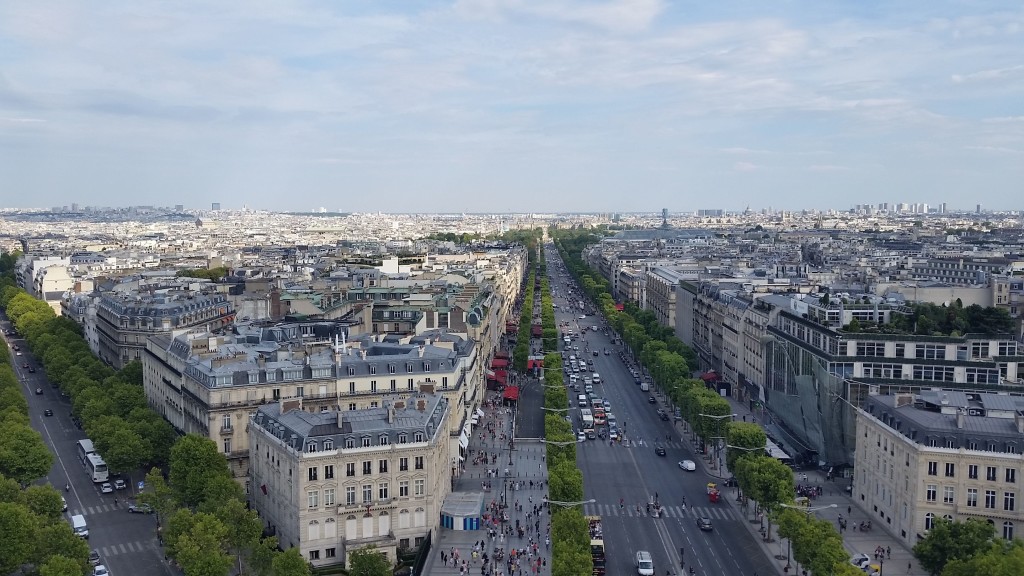 The truth is Napoleon planned it all this way. He wanted nice wide boulevards he could parade his troops down, both to show off and to control the crowds and rioting of the revolutionaries. It' hard to barricade a wide boulevard like this. I tried counting, and I think there are 12 roads off the circle.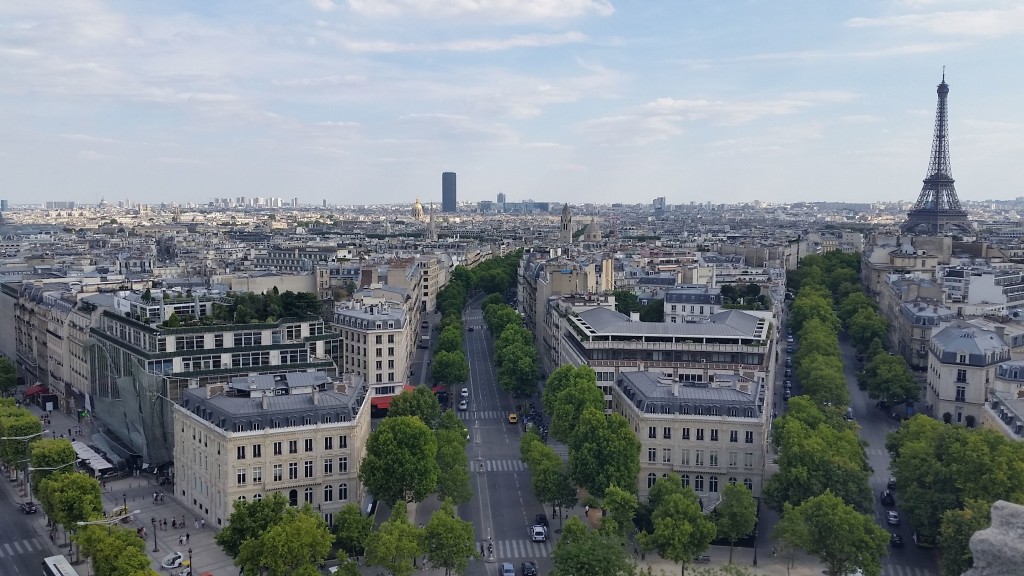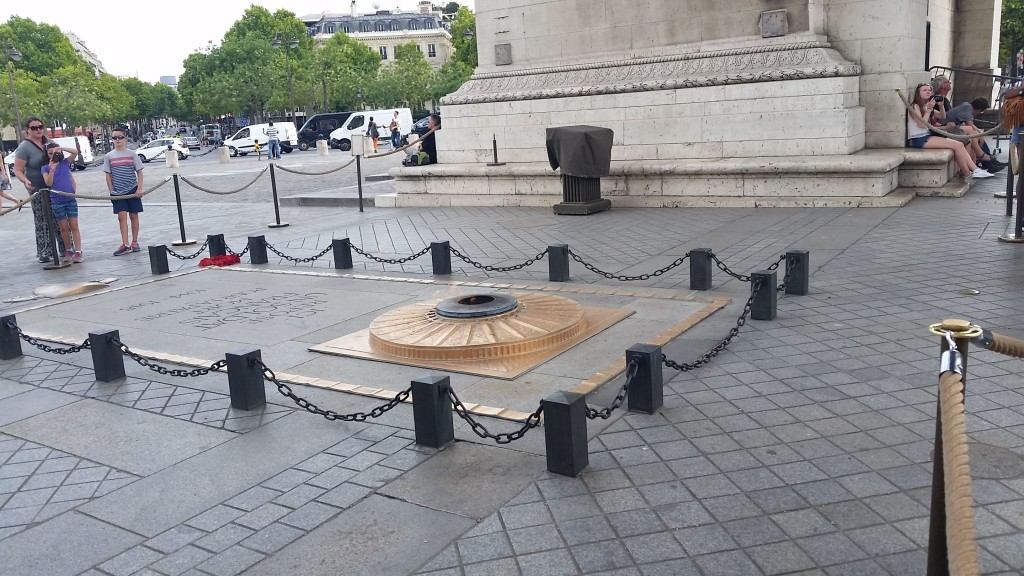 Tomb of the unknown solder at the base.
From there we got an Uber car to Sacre Coeur. Folks, Sacre Coeur is at the top of a very steep hill and lots and lots and lots of stairs. The car will take you right to the top of the steps of the entrance of the basilica. Unless you are in the Montmartre neighborhood kicking around already, just take a car. It's not expensive. And even if you plan to visit Montmartre, take a car to the basilica and walk DOWN the hill to see the neighborhood after the basilica.
We started by going downstairs underneath.
Here is another example of how dirty the facades get. Acid rain has been around as long as we've had fire. I learned about it when I went to Bath last year.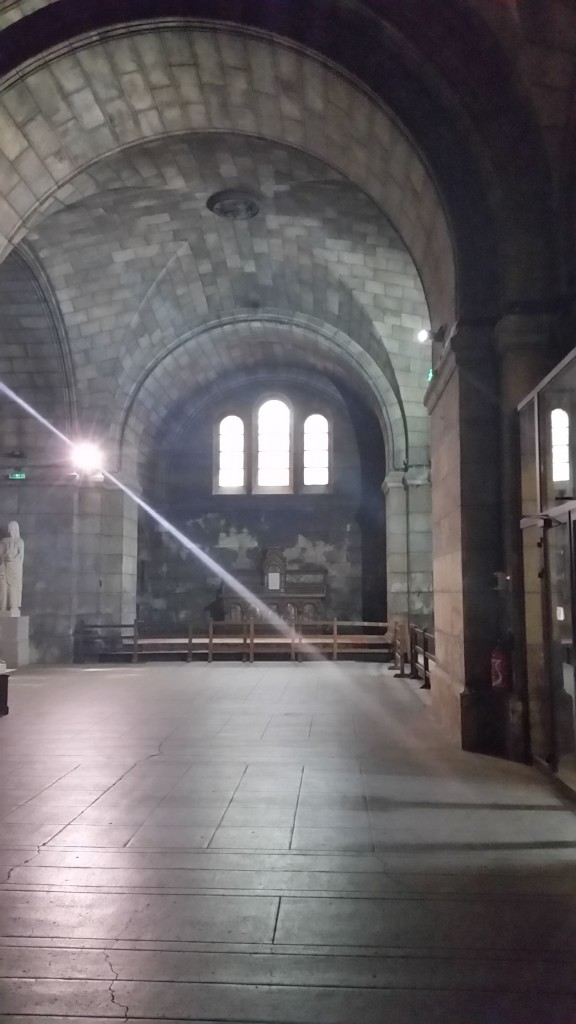 There were two things to see down there, we were the only ones who went down to the crypt. It's actually free, and most people don't go there.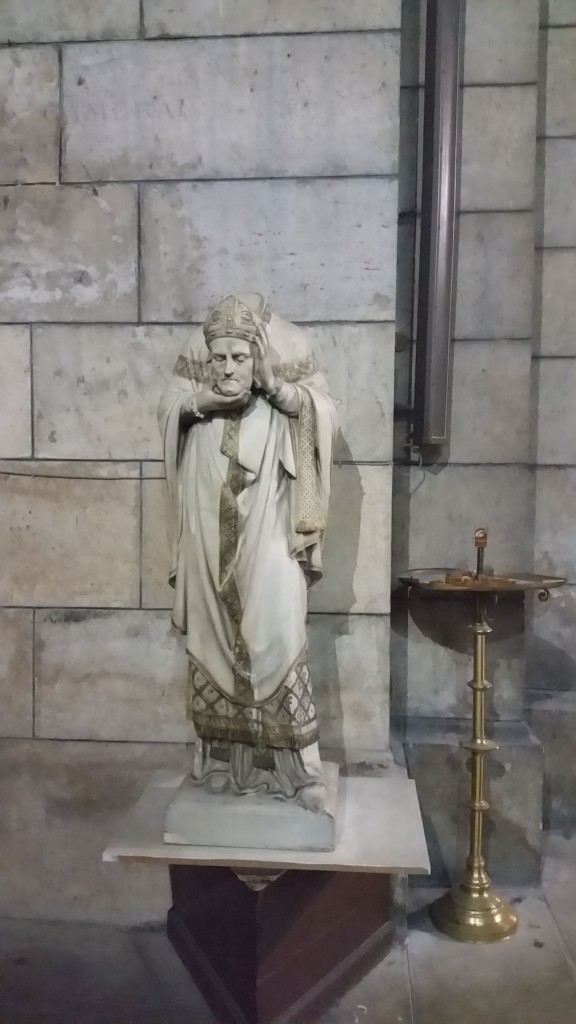 It makes a big loop
At one point the nuns and priests were singing in the little chapel. It was beautiful. We didn't take a picture because that seems disrespectful. We did move out of view and listen for a little bit.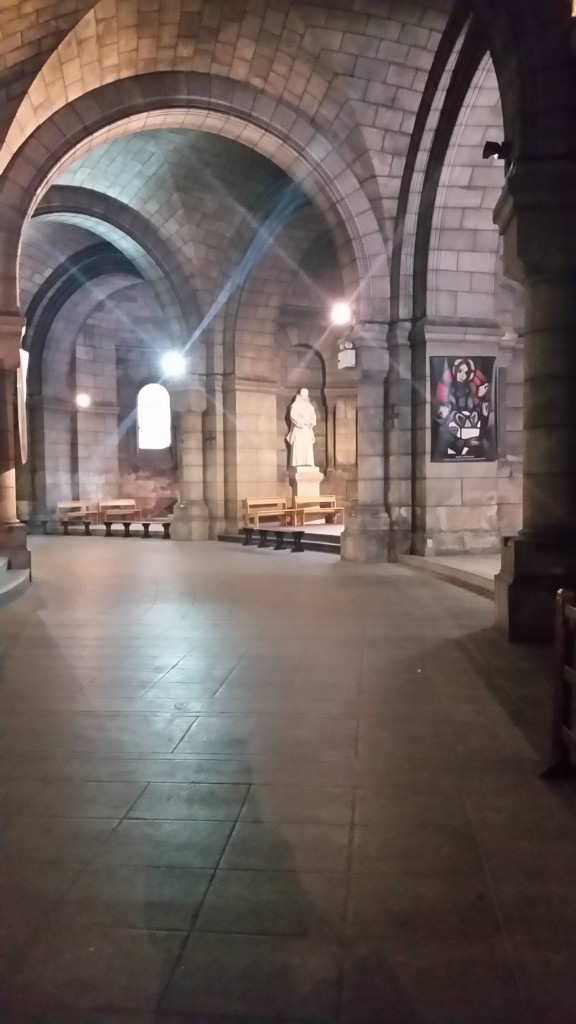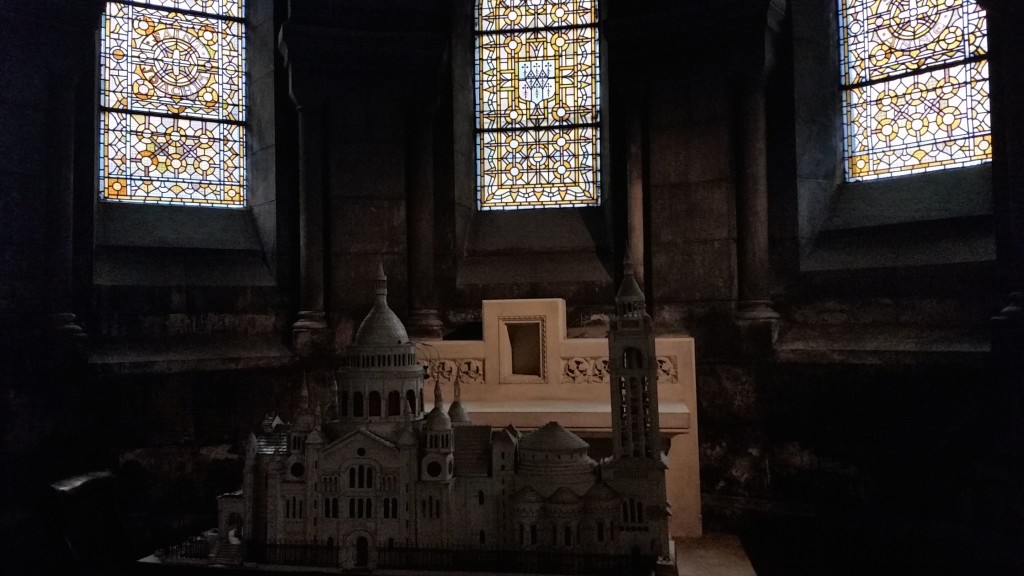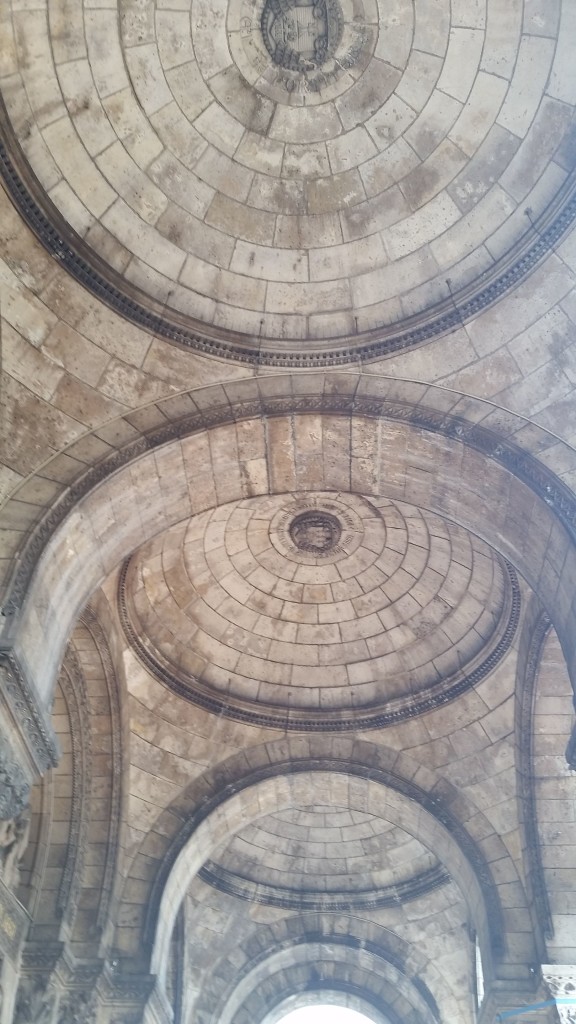 Inside the actual Basilica there are signs everywhere asking that you not take pictures, so I didn't, but most people did.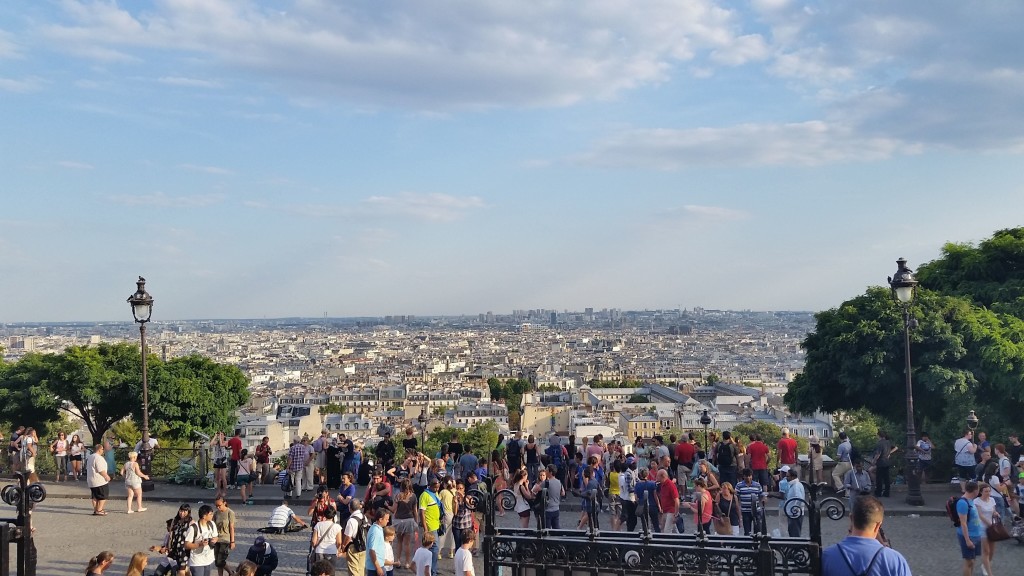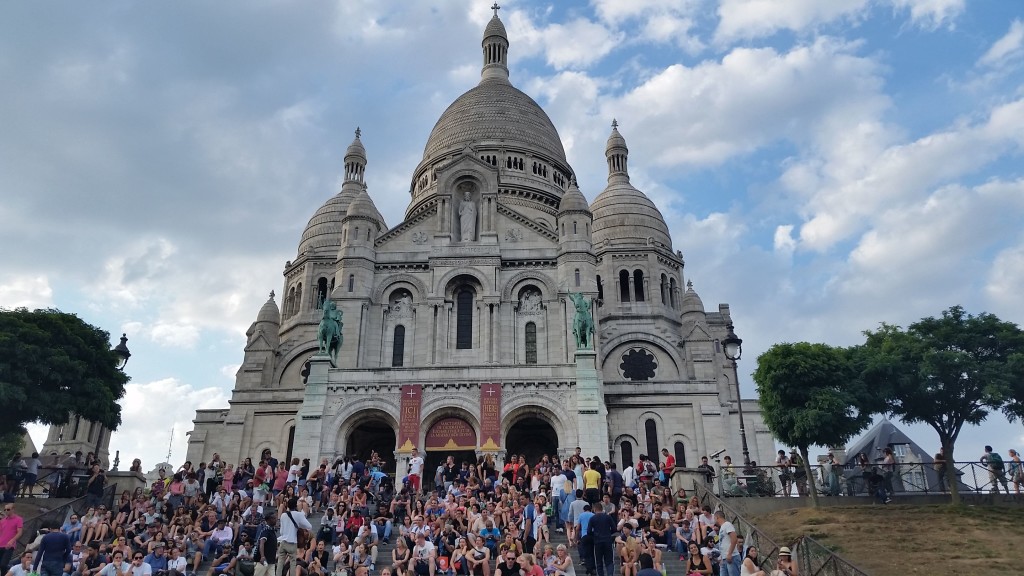 Down the stairs we go.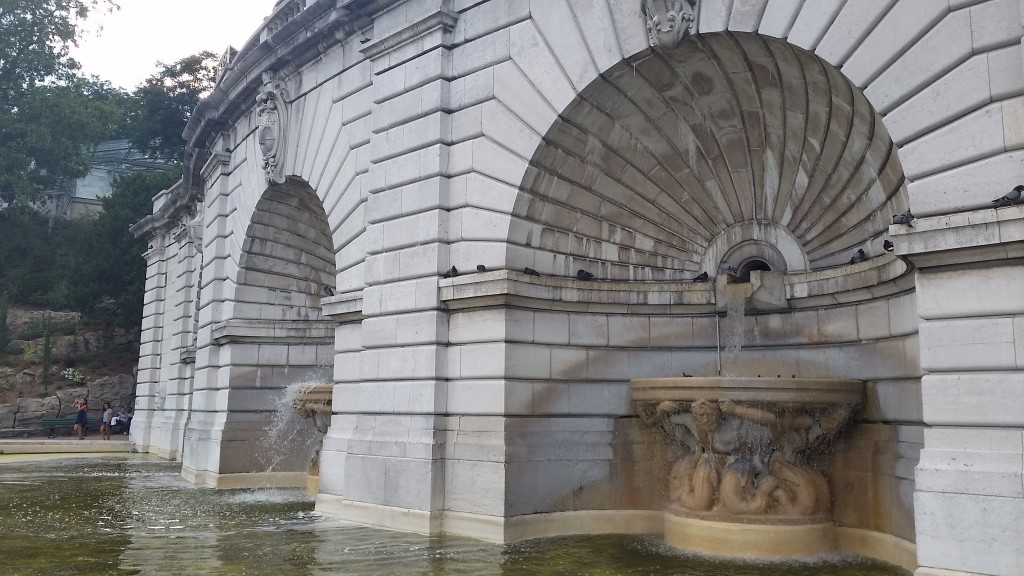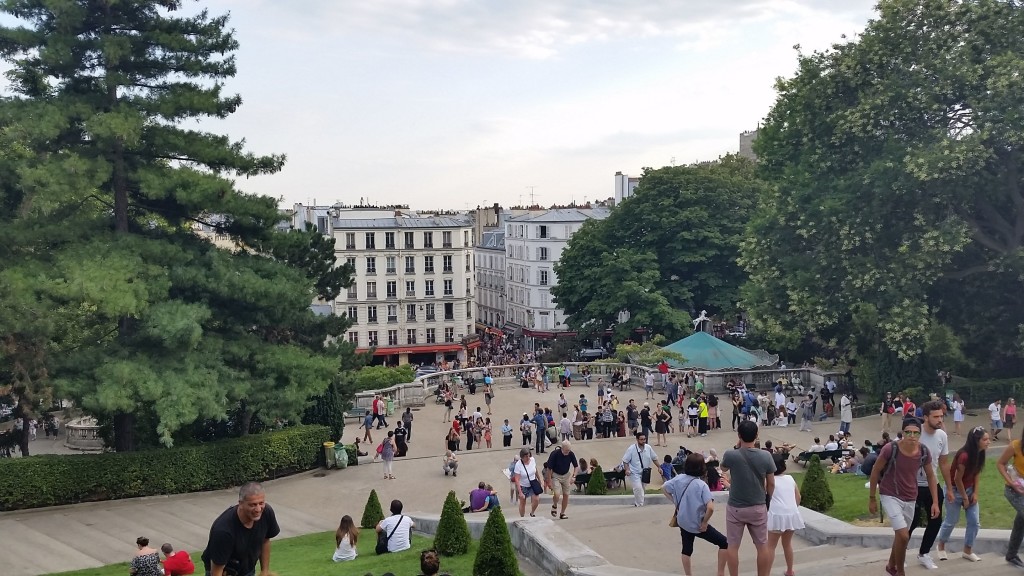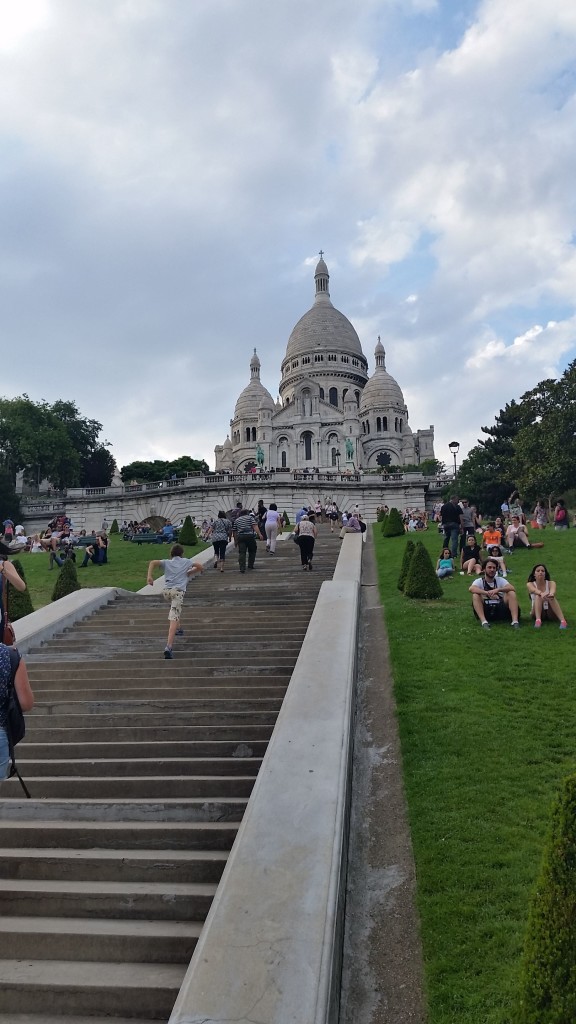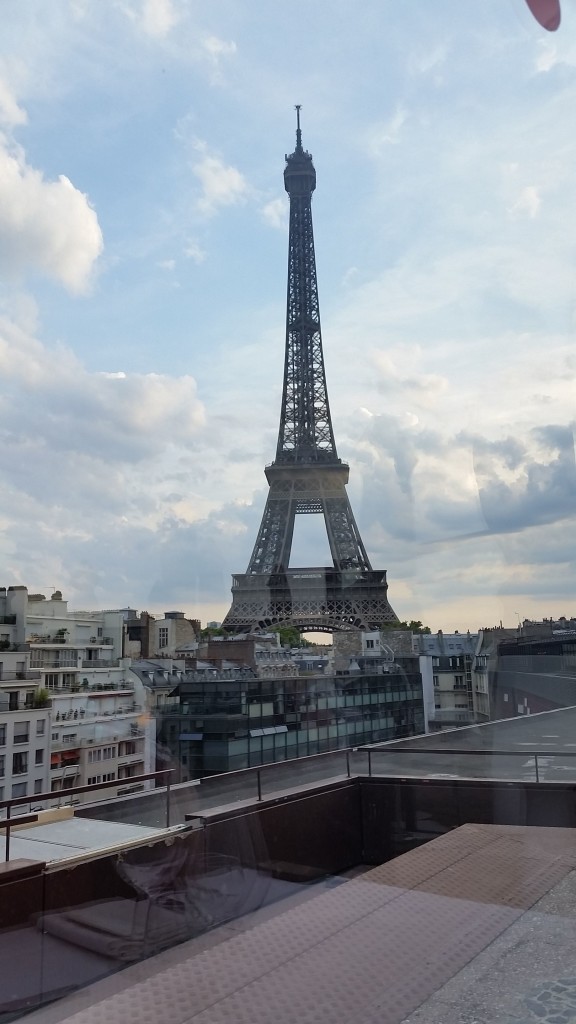 From Sacre Couer we went to dinner at Les Ombres.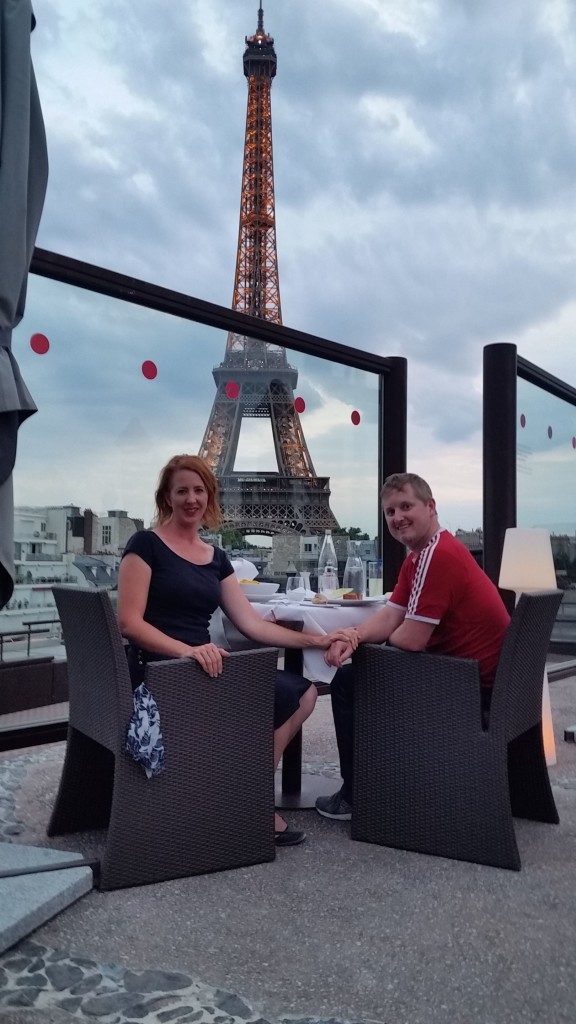 If you want the most amazing view of the Eiffel Tower during dinner, this is the place to go.
As we ate we got to see the Eiffel Tower light up.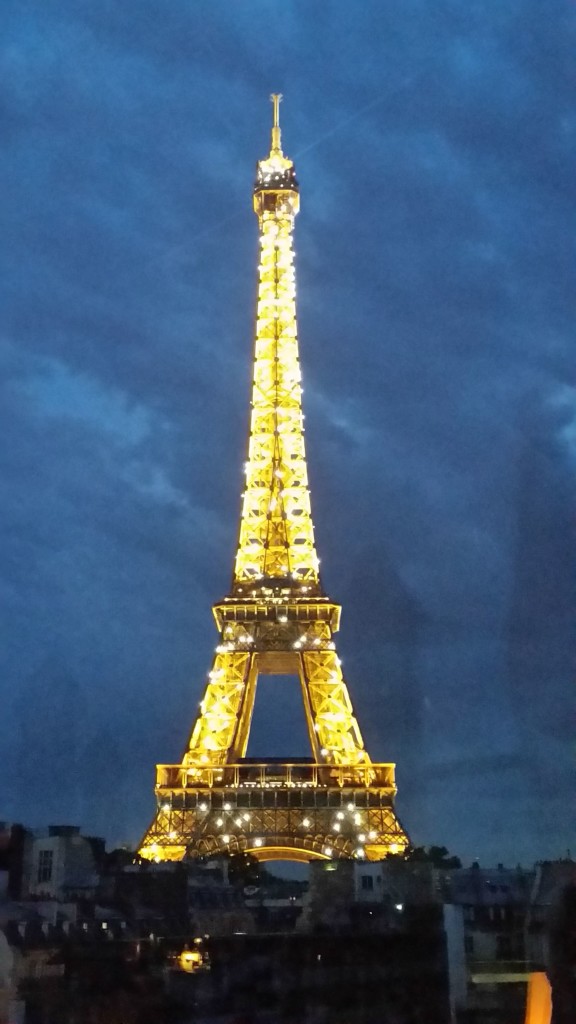 At 10 the tower sparkles.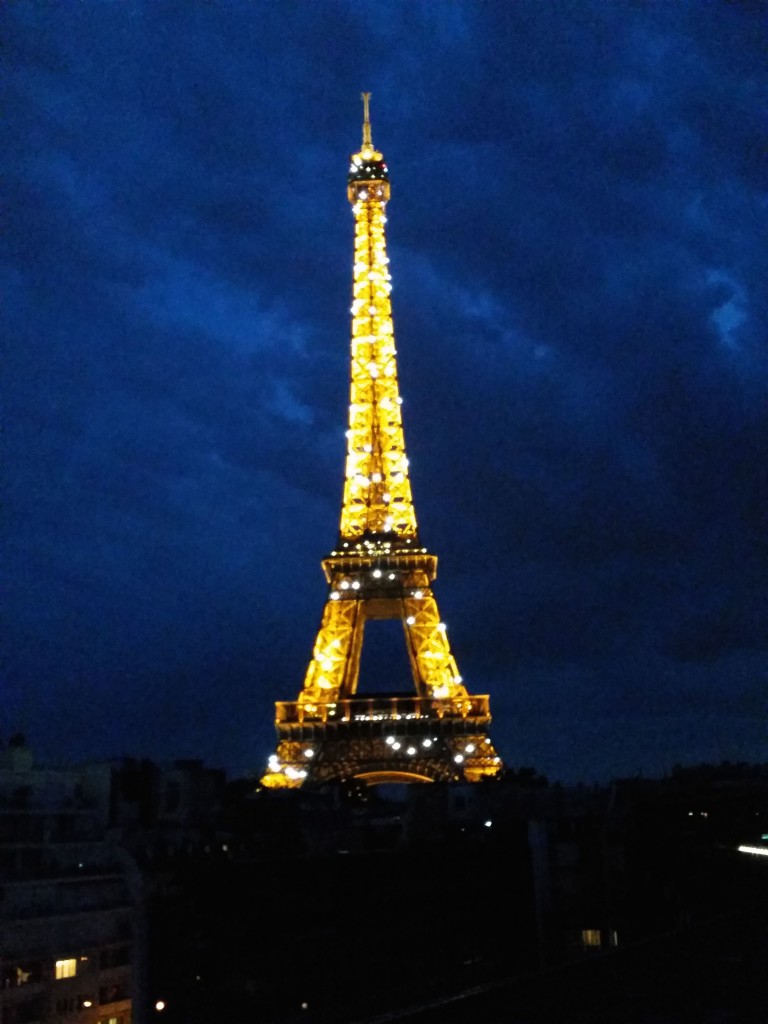 The food is fine, not spectacular. You are paying the for view and the experience.