From Brugge we caught a train to Amiens, France. It was so hard to choose which parts of France to see. Paris is obvious,  but there is so much more! There is Provence (next time, I promise), the Loire Valley, Normandy, the French Riviera, but I really wanted to see the countryside. Amiens was along our train route and had a few special things worth stopping for. We wanted to get there in the evening for one of them. We stayed at a bed and breakfast, which was a nice change. After we arrived and checked in, we had a lovely dinner at a restaurant right next to the church, Chez Lafleur.
AMIENS, FRANCE – DAY 4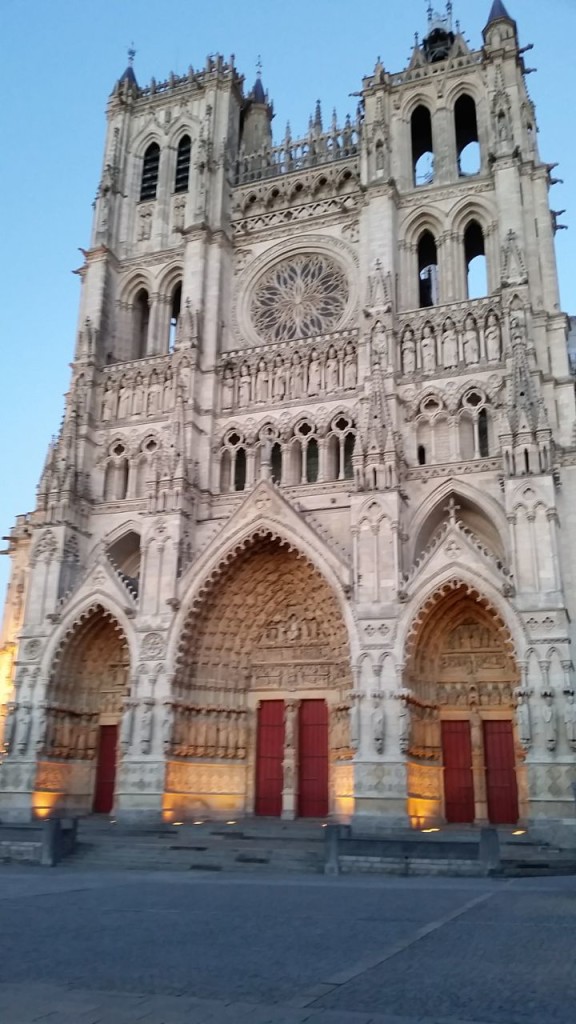 Amiens is known for two things. The first is the cathedral. When they were cleaning the exterior, they found paint remnants and realized that the front used to be painted.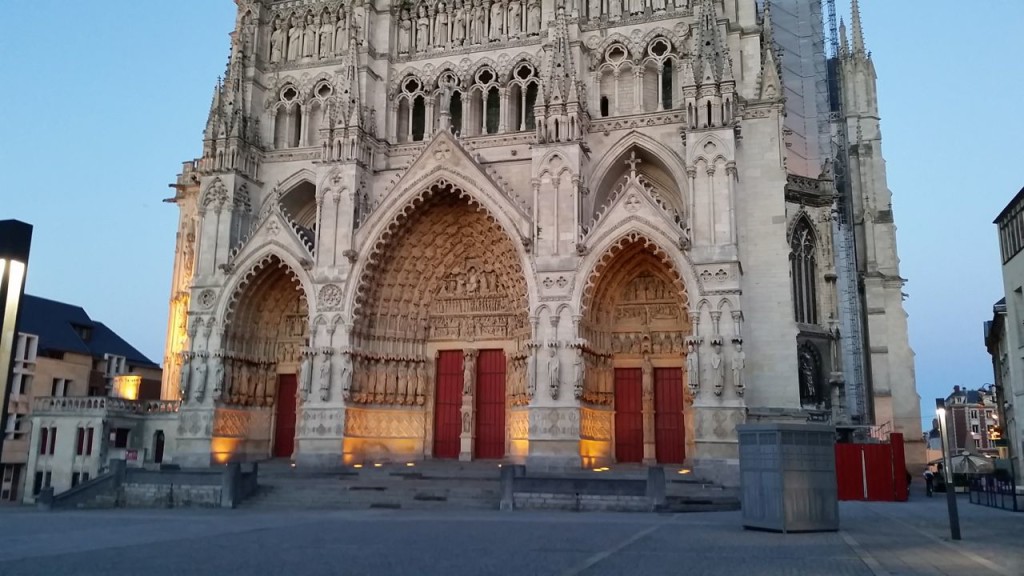 So in the summer months, and again at Christmas time, they have an evening light show where they project the colors onto the cathedral to show what it looked like. That gray box on the right is one of two projection machines. They are huge. We aren't talking little HP projectors your office uses. That box is at least 6 feet tall.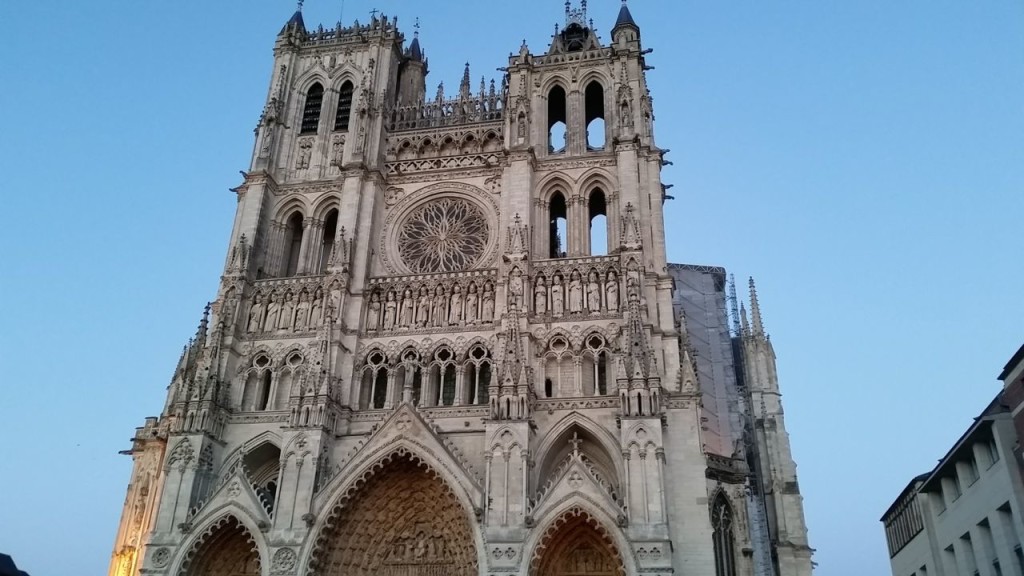 Along with the light show, there is also narration. There is one speaker that broadcasts in English, but you have to sit right next to it to understand it.
Since the show doesn't start until after dark, we walked around a bit.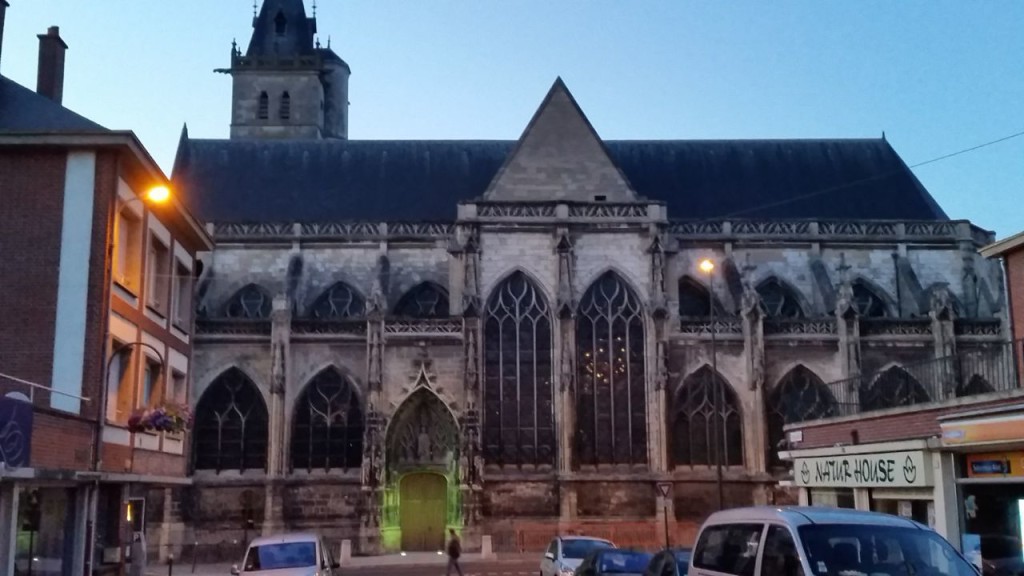 It got pretty chilly once the sun went down, so we went into a cafe and asked for some hot chocolate. Because I am so fancy, I decided to ask for it en francais. "Chocolat chaud, s'il vous plait. Deux."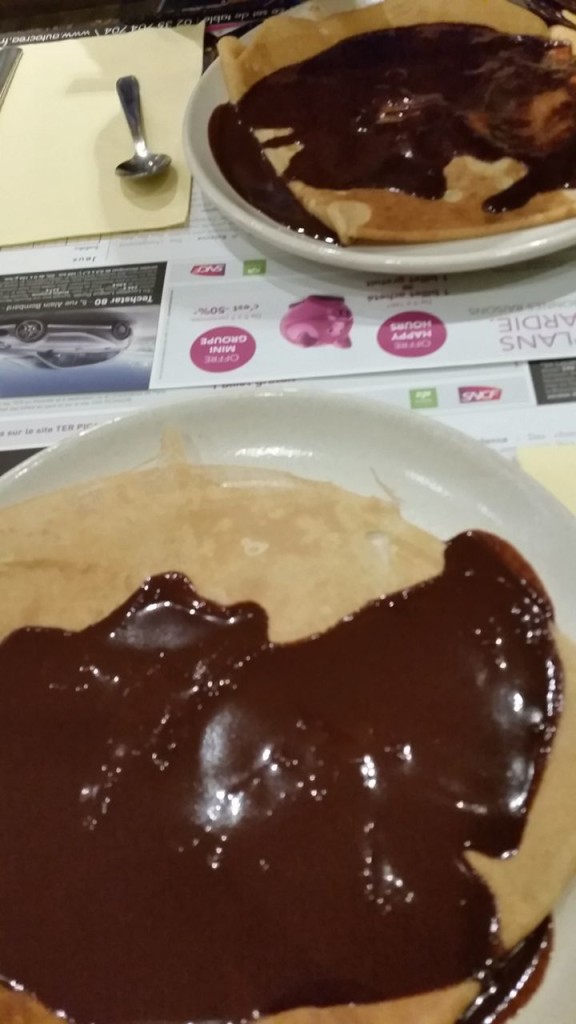 This is what they brought us. Two crepes smothered in melted chocolate. Adam and I were laughing so hard we were crying. The servers were so confused. In my mostly forgotten high school French excellent French I was finally able to communicate that we wanted beverages. Not crepes. Once they realized their faux pas, they were also laughing. Not ones to let perfectly good chocolate covered crepes go to waste, we ate what was offered and headed back to the cathedral. I might say we rolled to the cathedral because we were stuffed from dinner.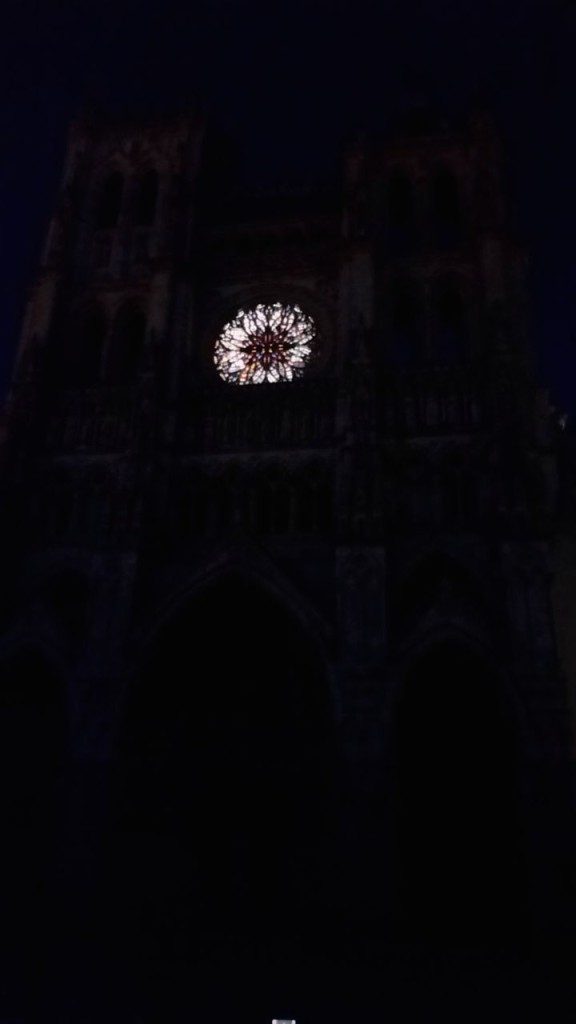 The light show starts with the rose stained glass window being lit up.
And continues on with the story in French that probably made so much sense with the lights and everything.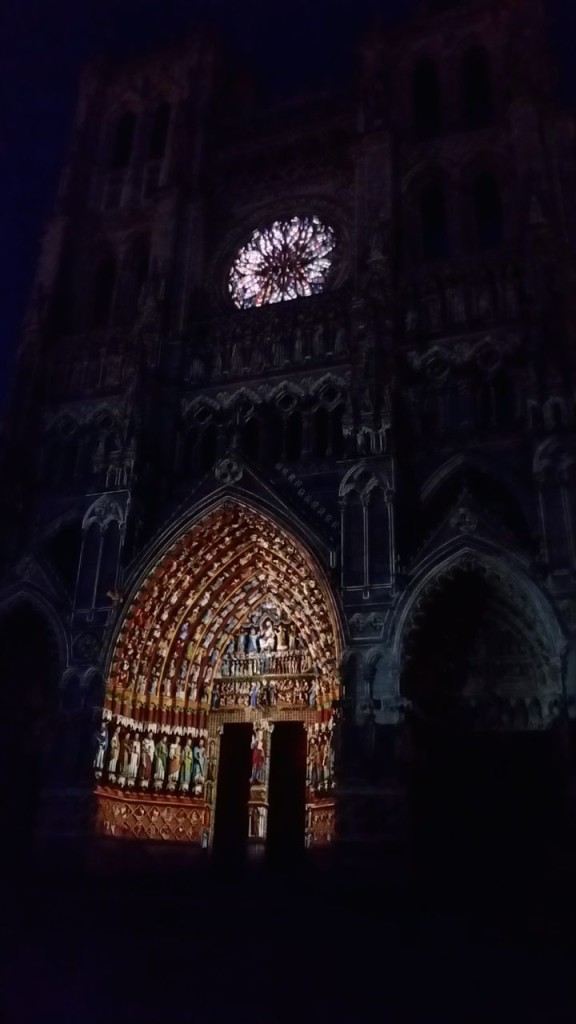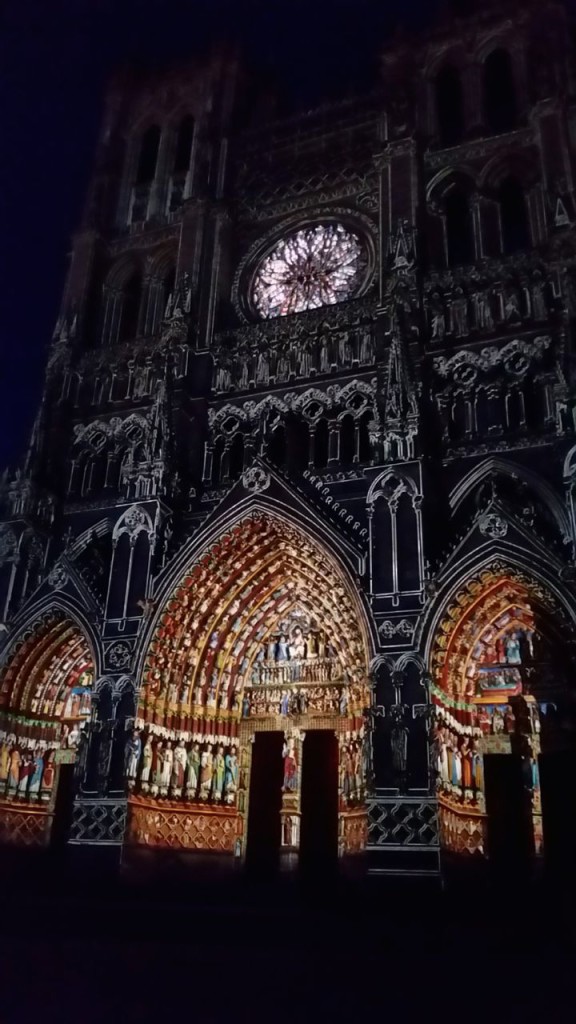 The precision was incredible. I like how the white lines were projected to outline the facets of the building, too.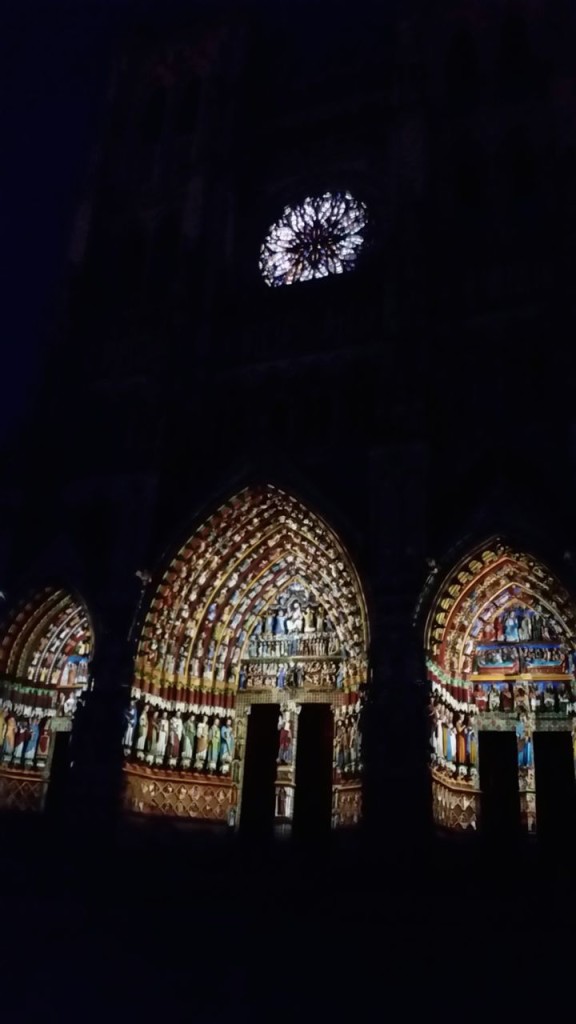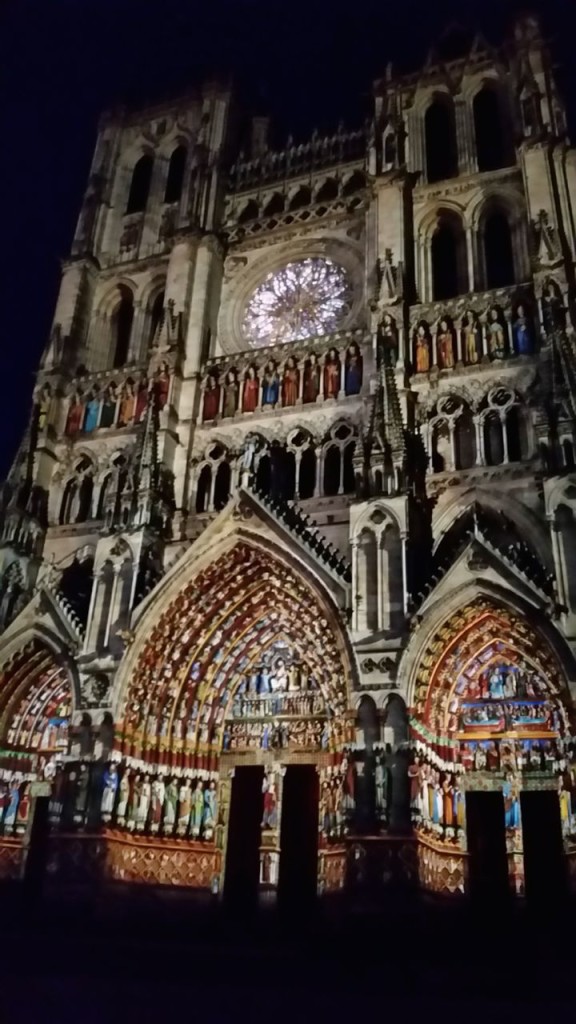 Ta-da!!!
There is even a part that calls for the night sky to be cast upon it. No idea why, but it looks cool.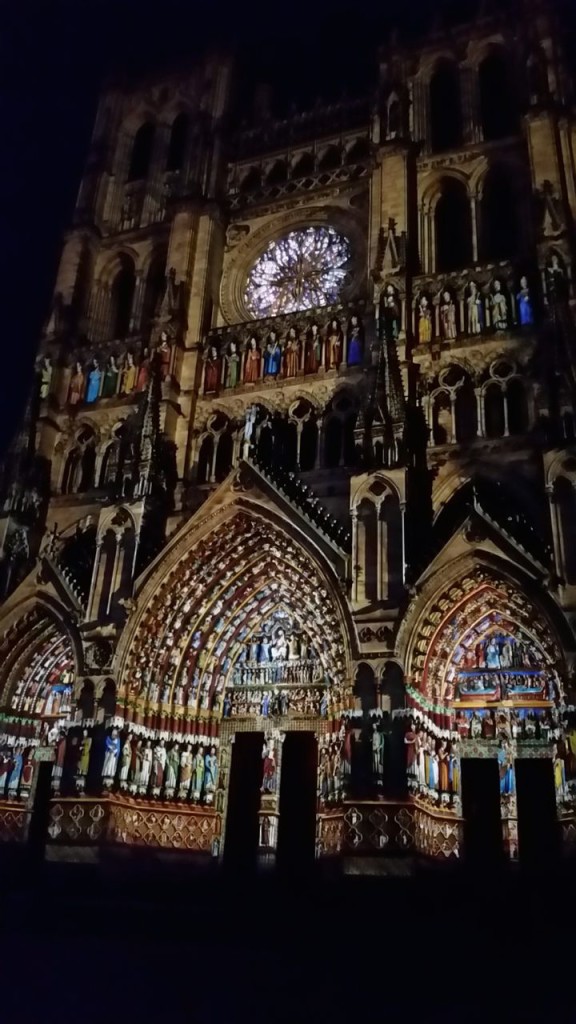 I feel like a 4-year-old narrating my own story to a picture book, but I think this story has gargoyles and maybe vampires in it.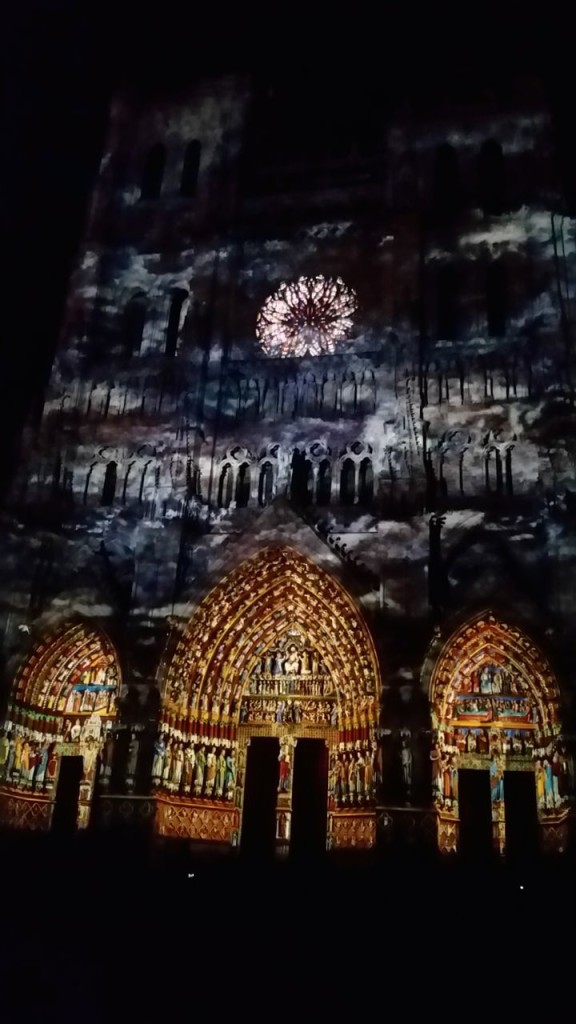 And maybe werewolves because the whole clouds hiding the full moon thing seems important.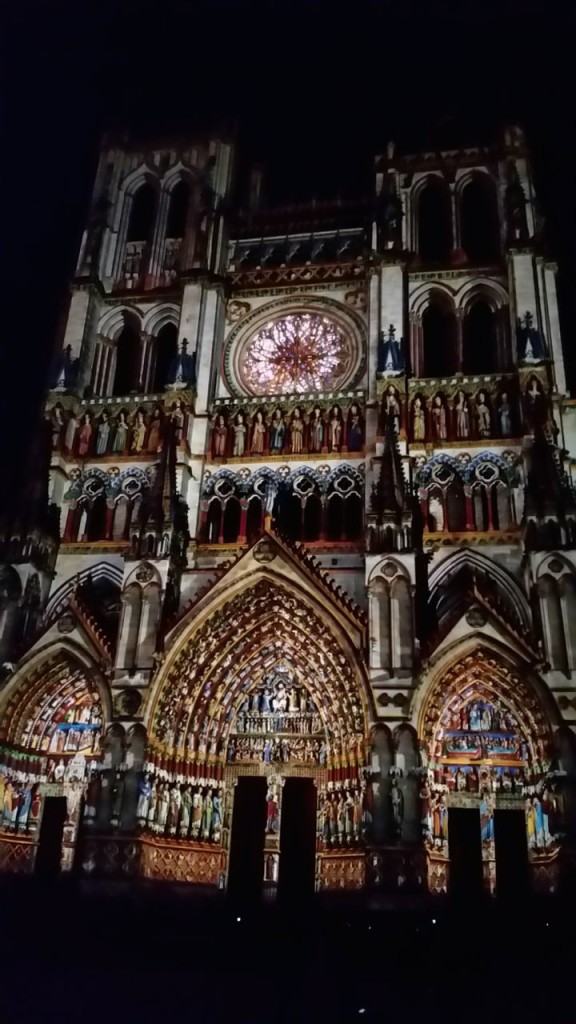 Even up close the whole thing looks intricately painted in such detail. It was incredible. You'd never guess that is just a projection.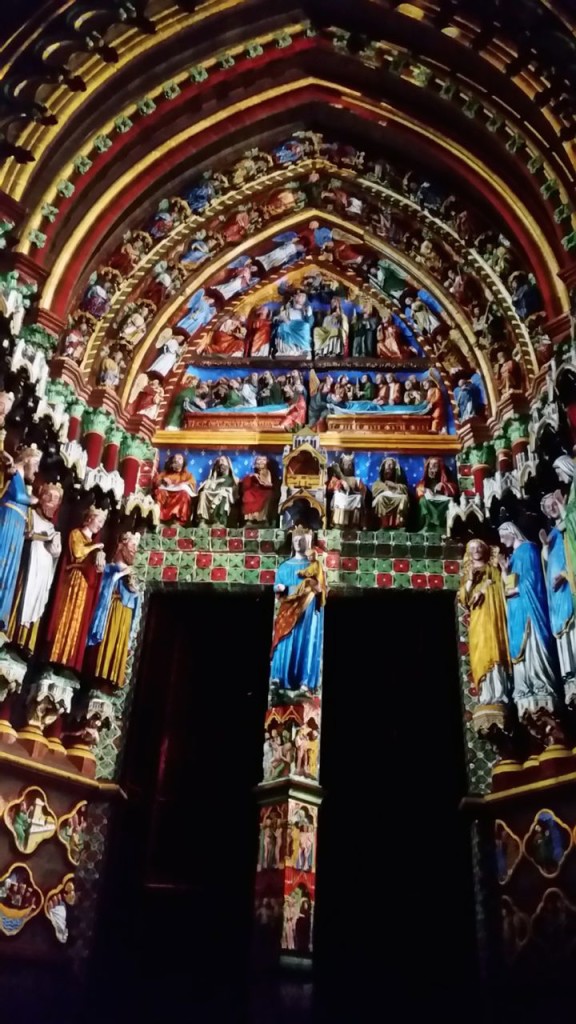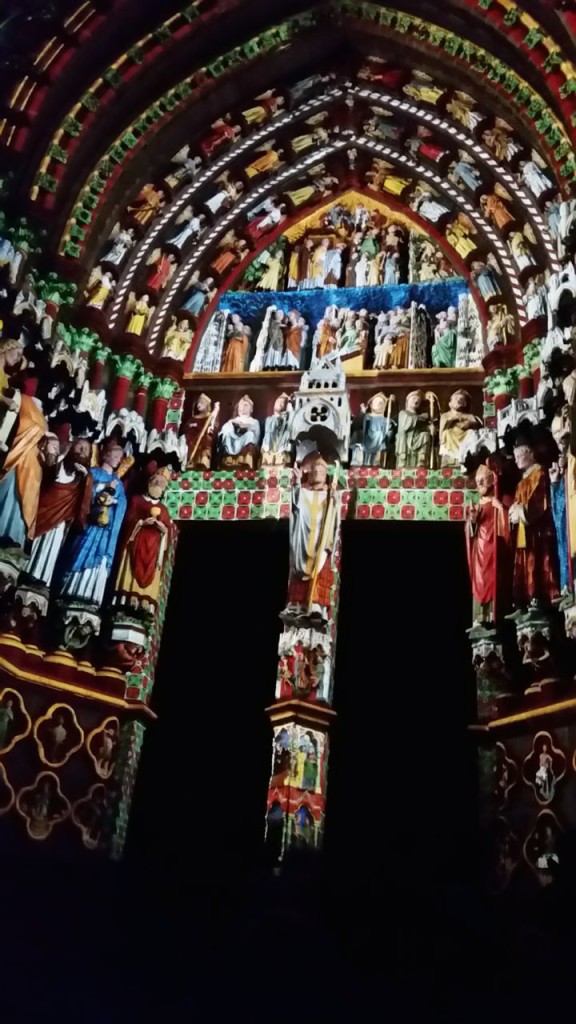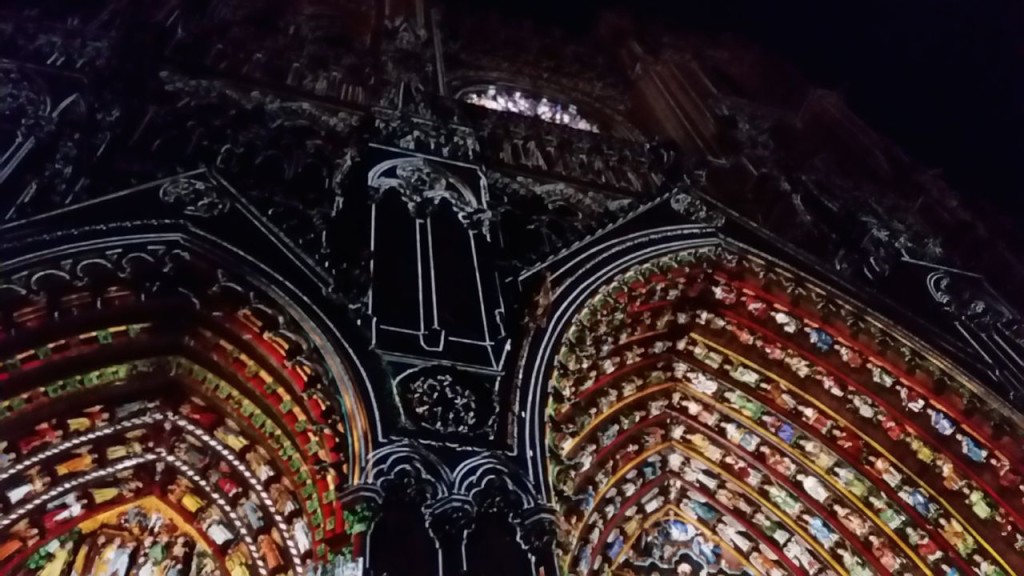 It was definitely worth the stop and overnight stay.
Not to be outdone, this fancy building is lit up too.
The cathedral was walking distance from the B&B.
Day 5 – Amiens, Gerberoy
When I woke up the next morning I got up to go use the restroom, and collapsed in a pile on the floor because both of my legs were 100% dead asleep. Adam thought I'd passed out or something. Nope. I just had to lay there and wait for the blood to flow again. That's never happened before.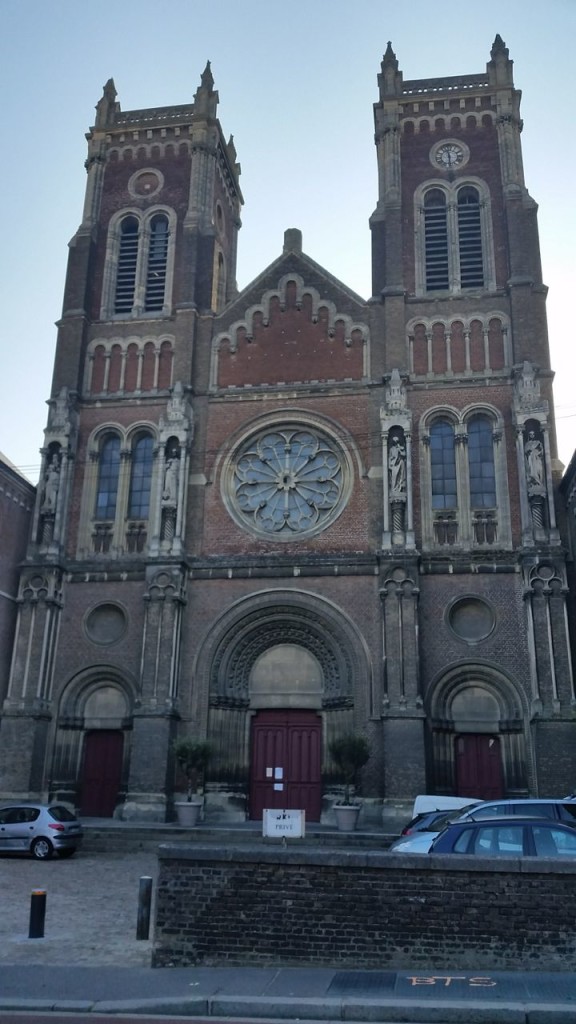 The next morning we headed out for the second reason Amiens is famous.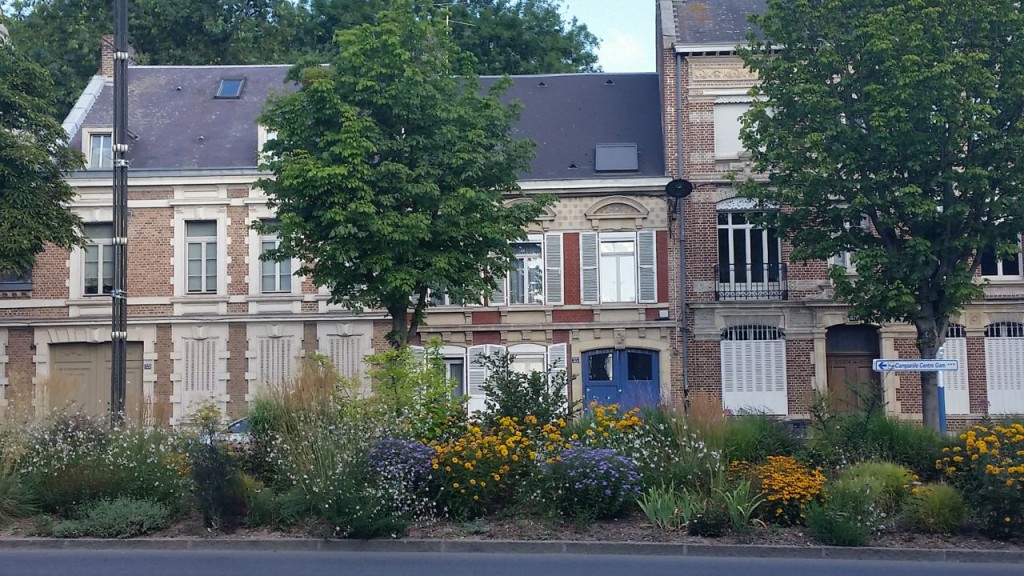 I love that even the median is beautifully landscaped.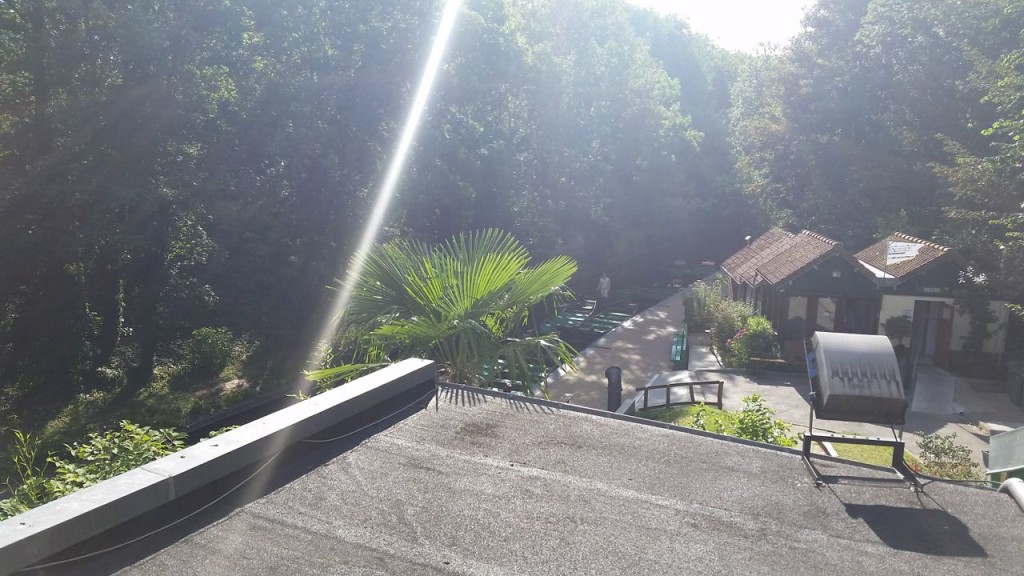 Amiens has a series of floating gardens that you can tour by boat. With a guided narration in French.
"Parlez-vous francais?"
"Non"
"Alors…" and off he went with his witty reparte.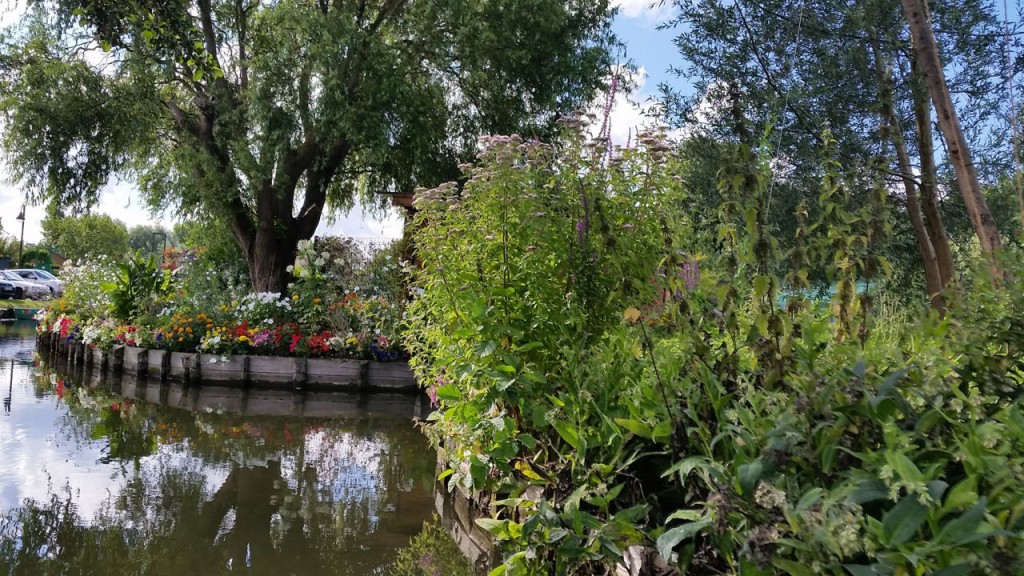 Lack of intelligible narration aside, it was very cool. These little parcels of land are little islands that people own and garden on.
There is no electricity (aside from generators, if desired) or running water, so people don't live on them.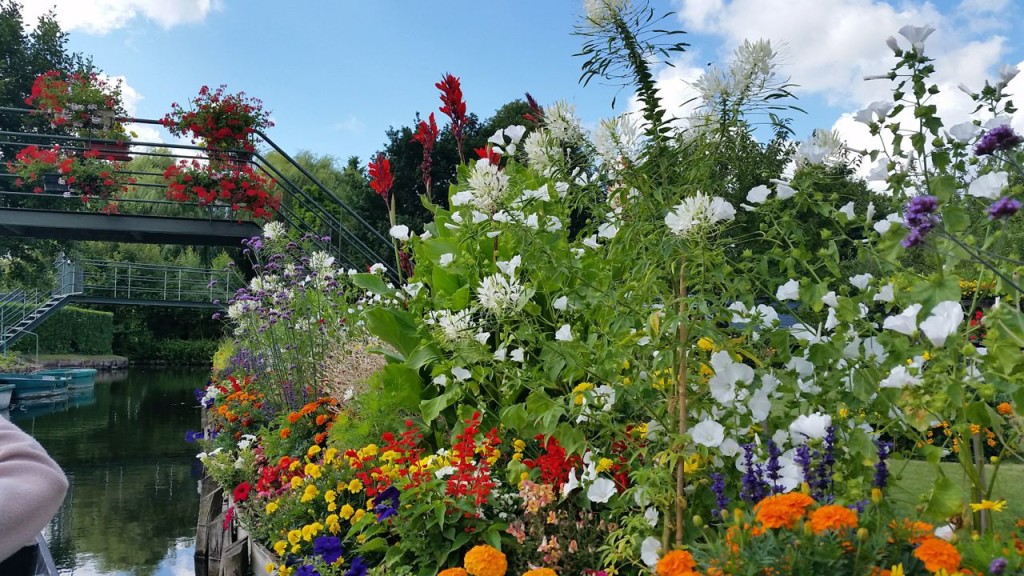 There are bridges from their backyards to the parcels. The only access is from your own backyard to your parcel, or by boat from a public dock.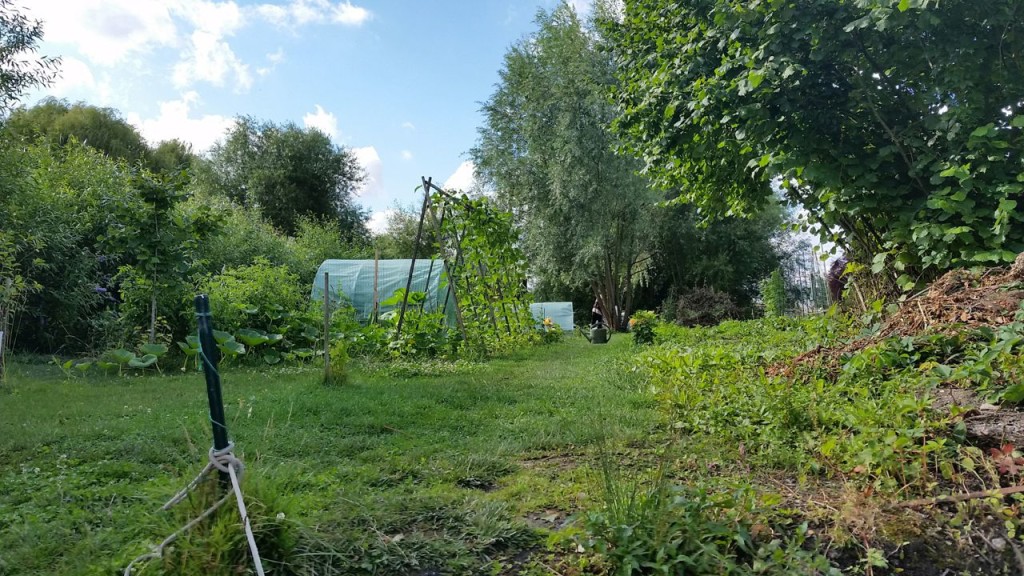 Some of them are mostly food raising.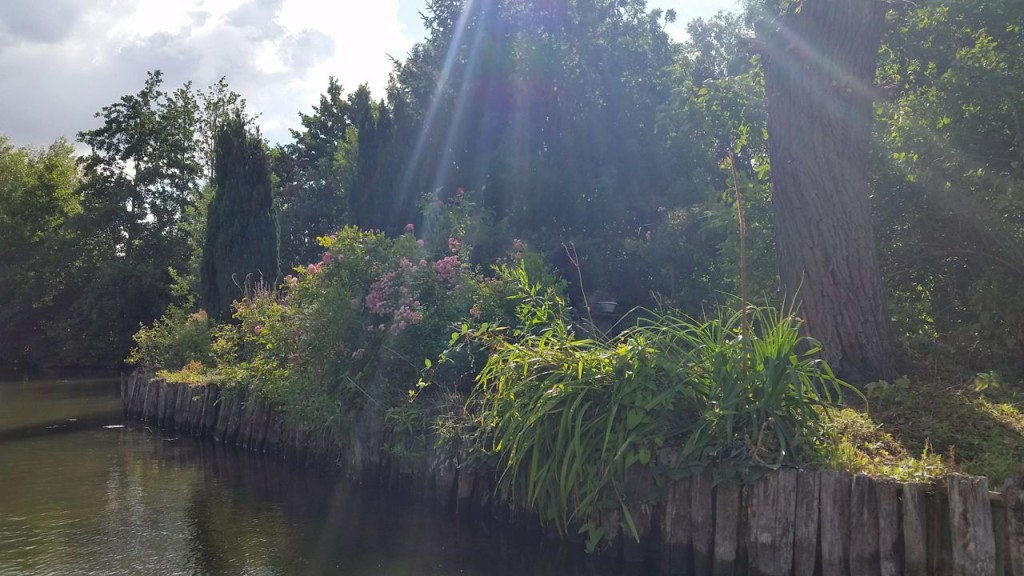 Others are for flowers and leisure.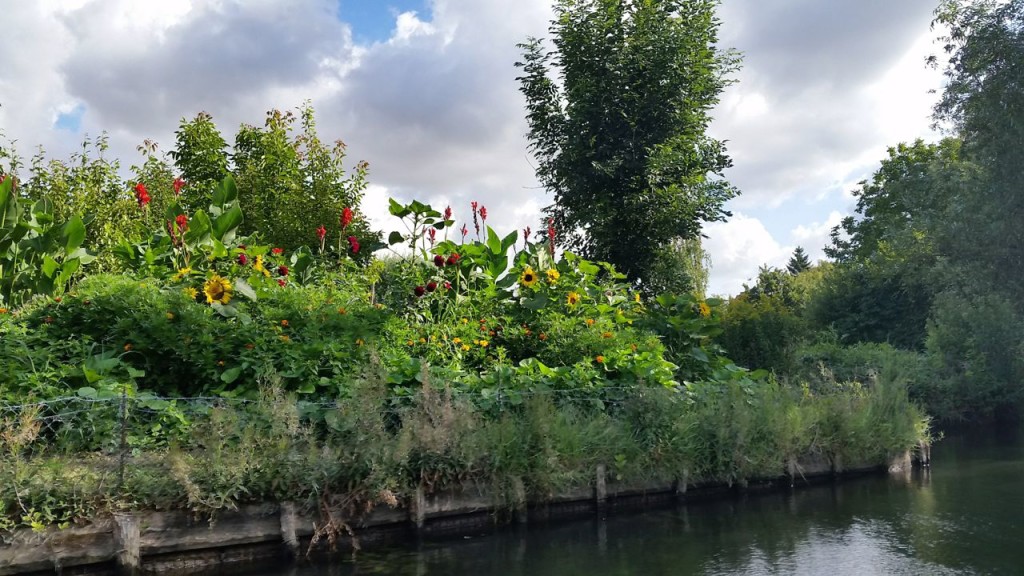 But most are a combination of both beauty and function, which is very much the French way.
There is no reason your vegetable garden shouldn't be beautiful, well laid out and full of flowers as well. In France this is called a potager (po ta jay).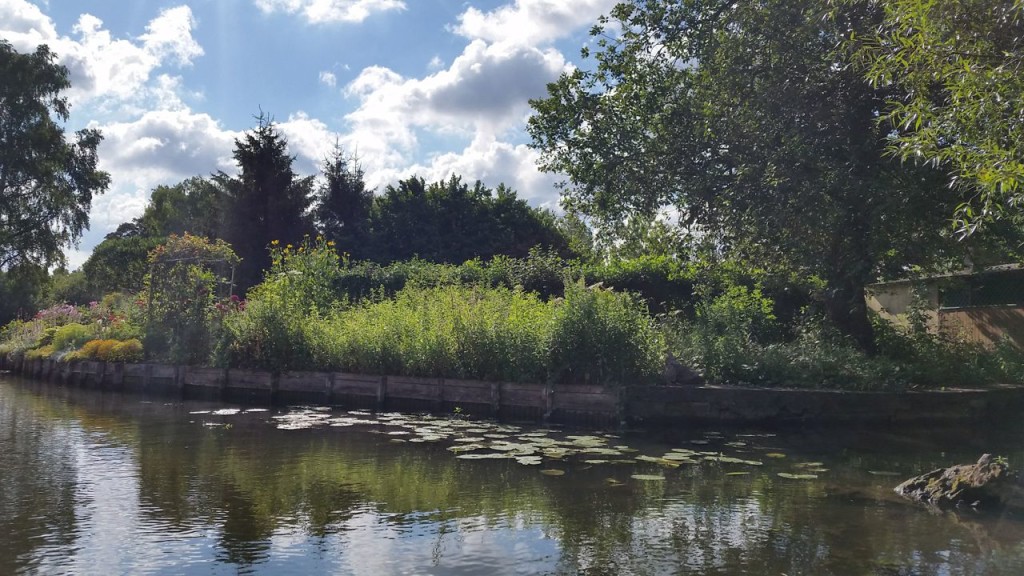 The boat ride lasts an hour. This isn't something you book tickets for in advance, but do go a little early so you get on the first boat available.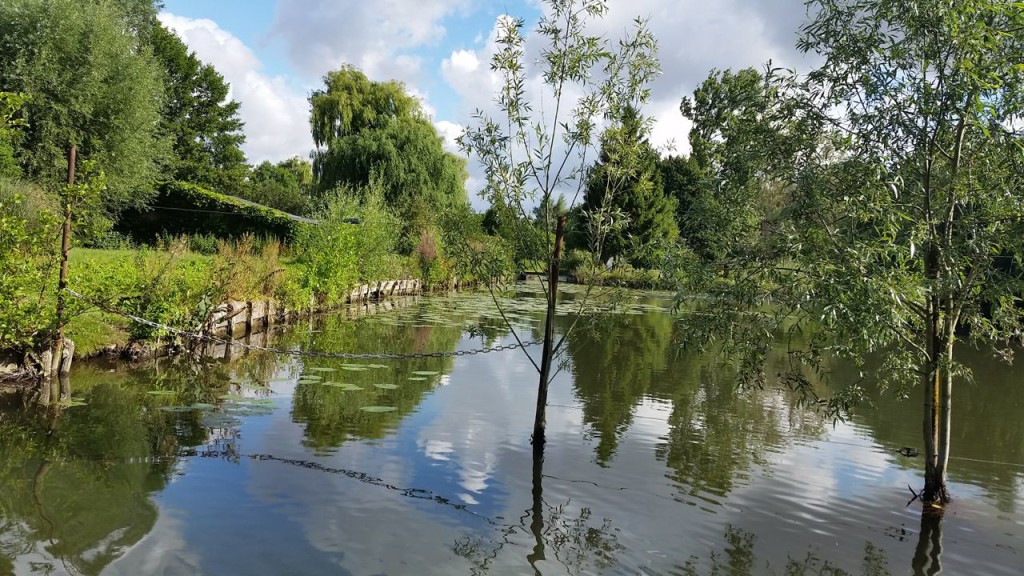 You wouldn't believe how many pictures I took, but I only posted a few.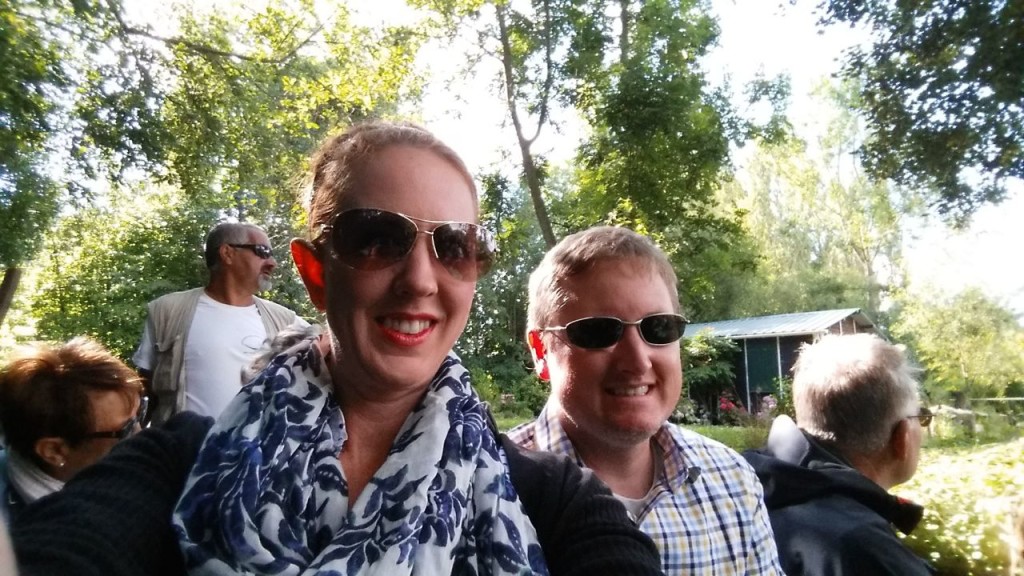 Adam loves it. You can tell.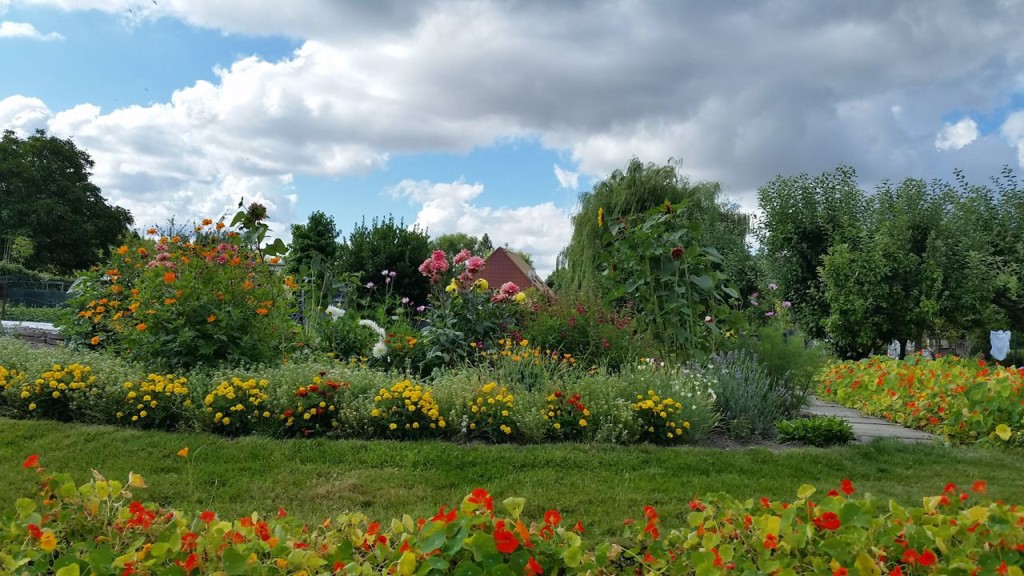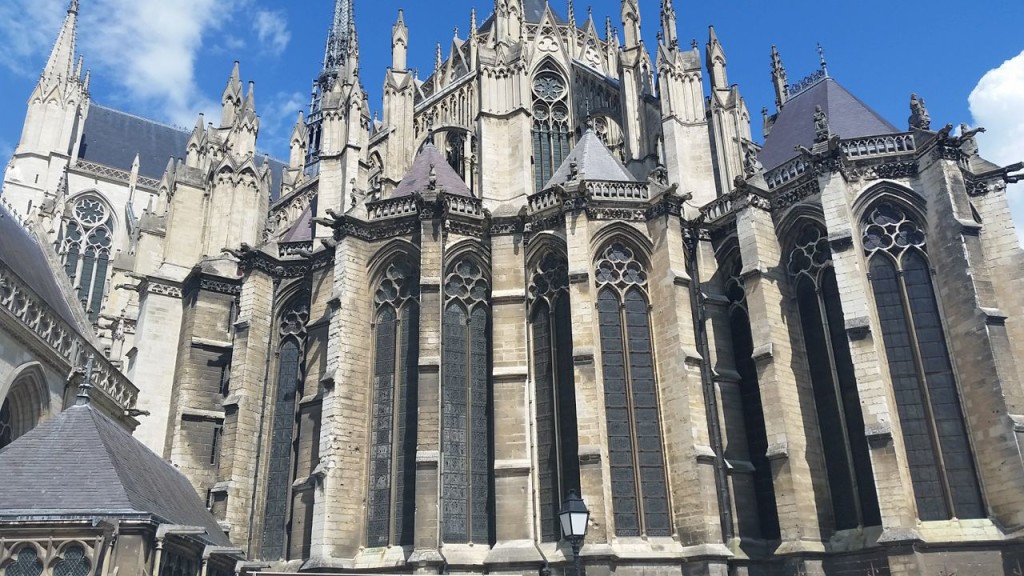 We went back to the cathedral in the daytime so we could see the interior. When we got there a homeless guy was acting the part of parking attendant and directing the (nonexistent) traffic. We gave him a euro anyway. At least he's making an effort.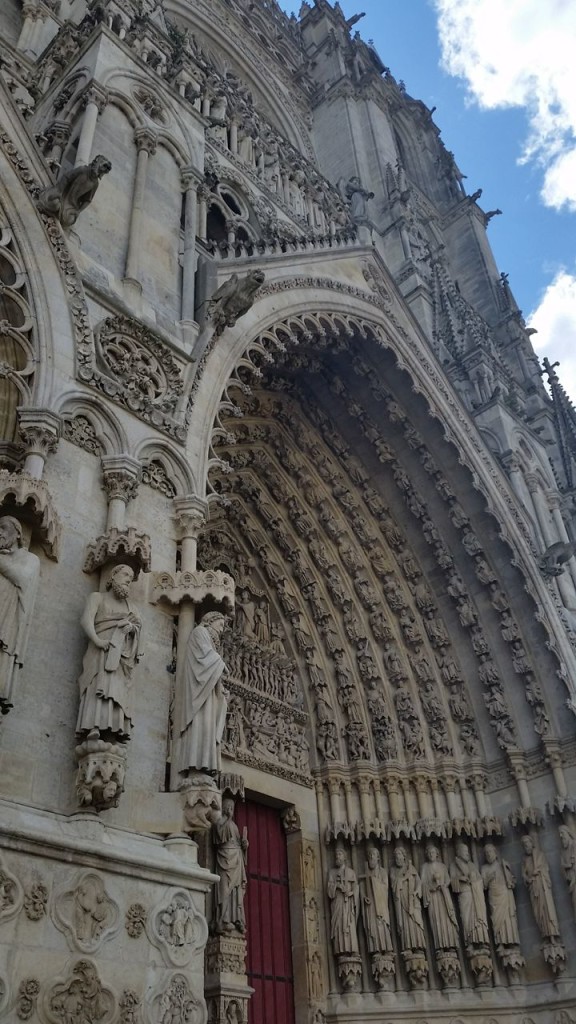 This is the tallest and largest cathedral in France.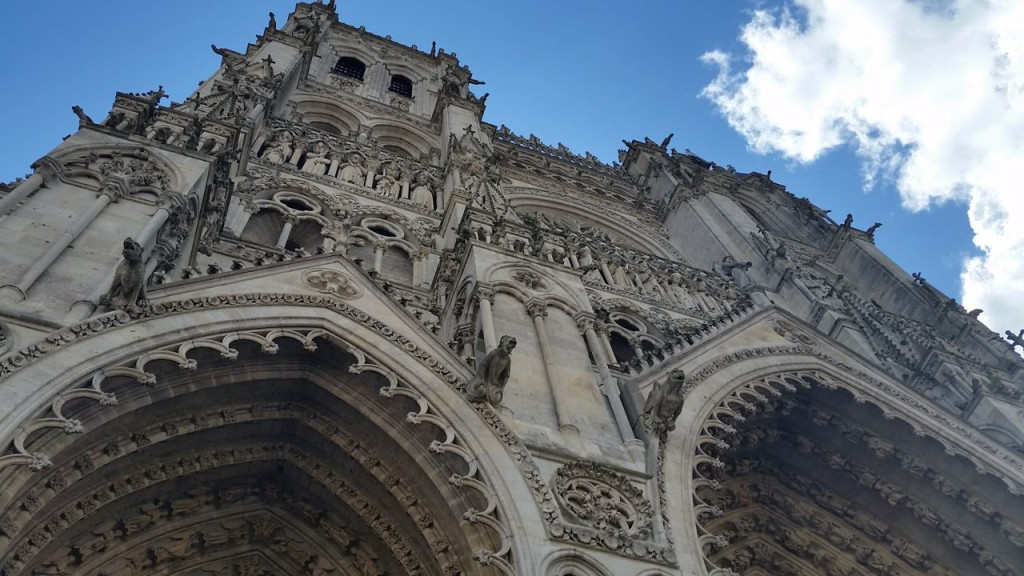 It was built in the 11th century in the Gothic style.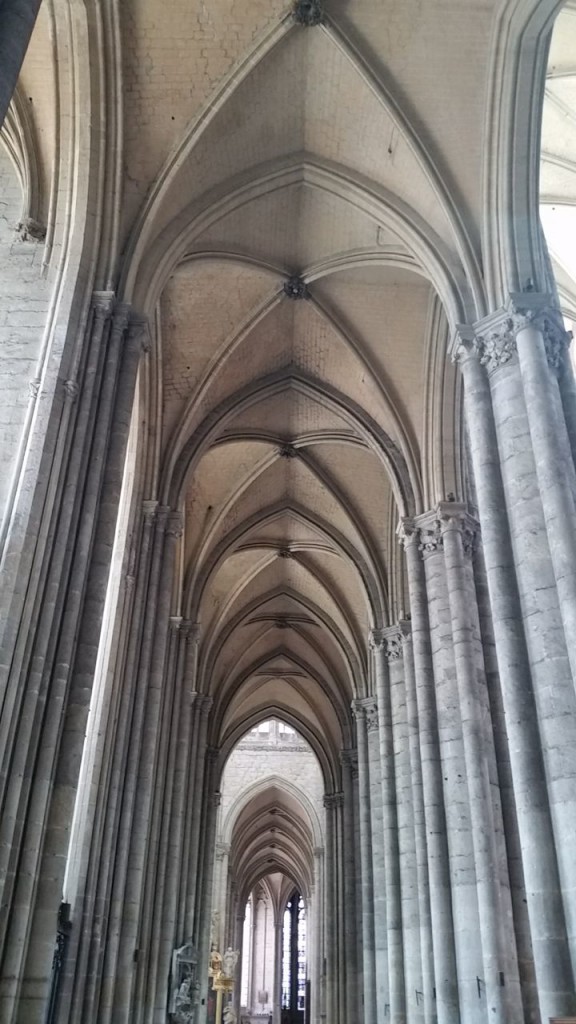 Most of its original stained glass was destroyed in WWII.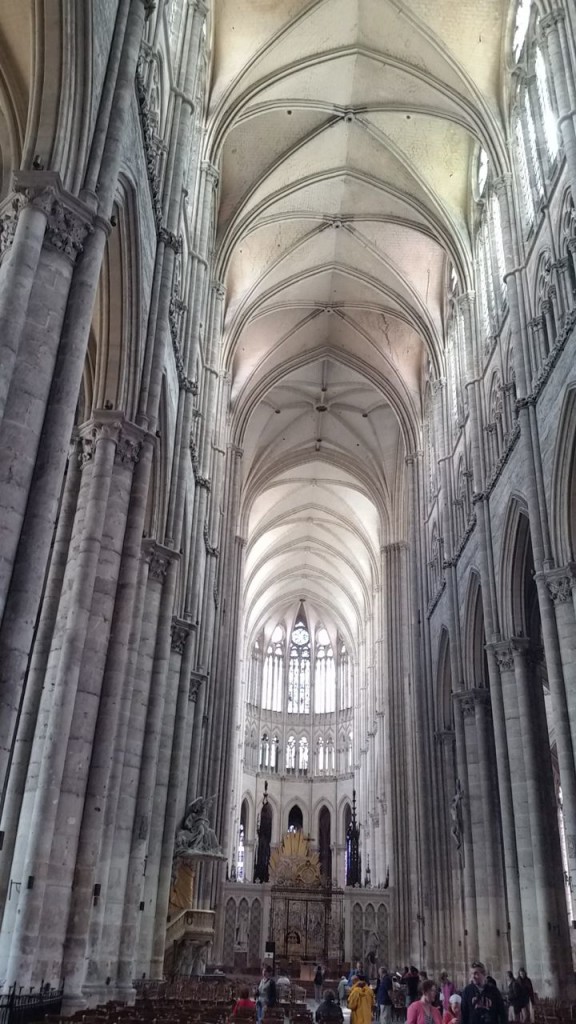 It was so beautiful.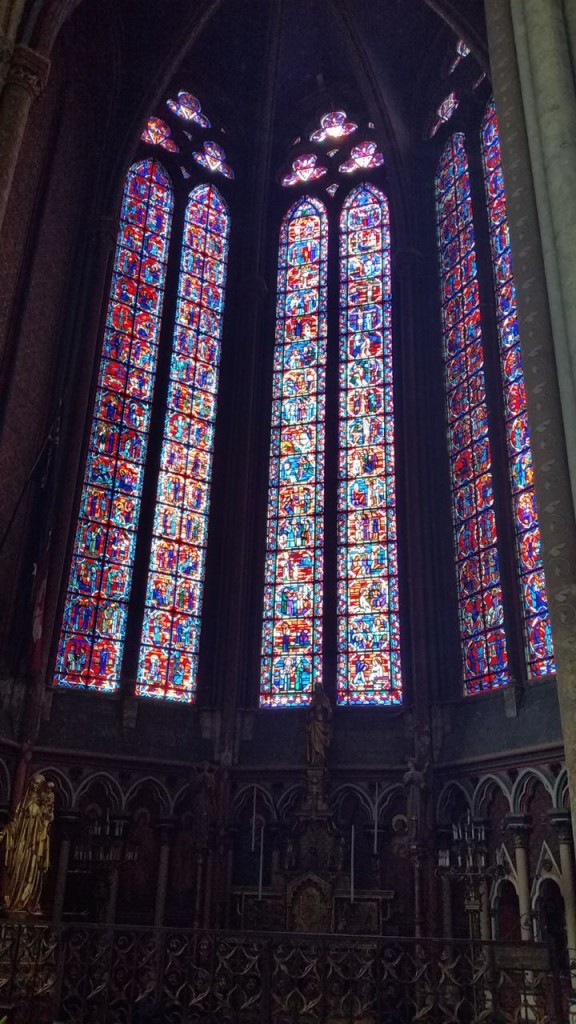 I love stained glass.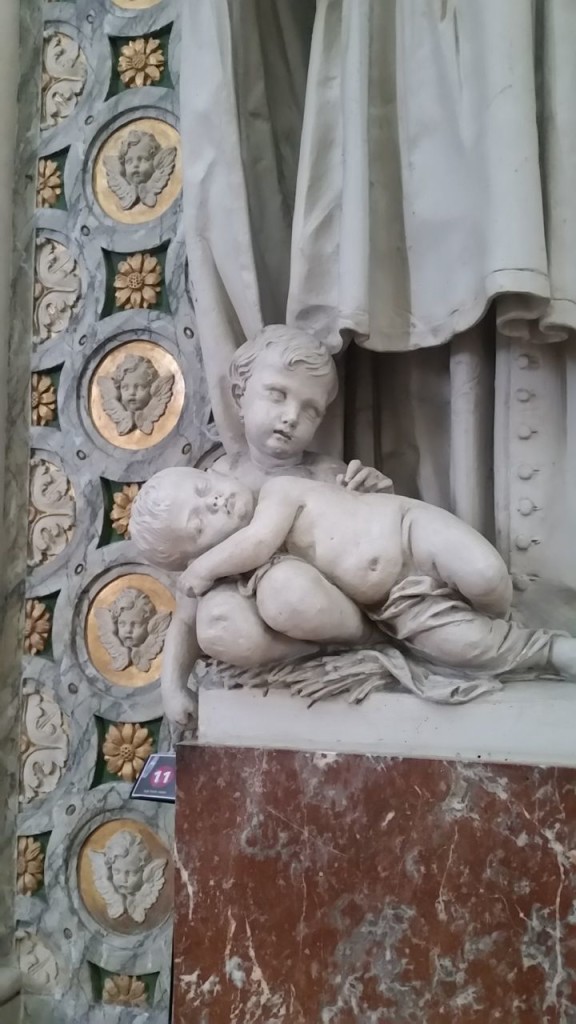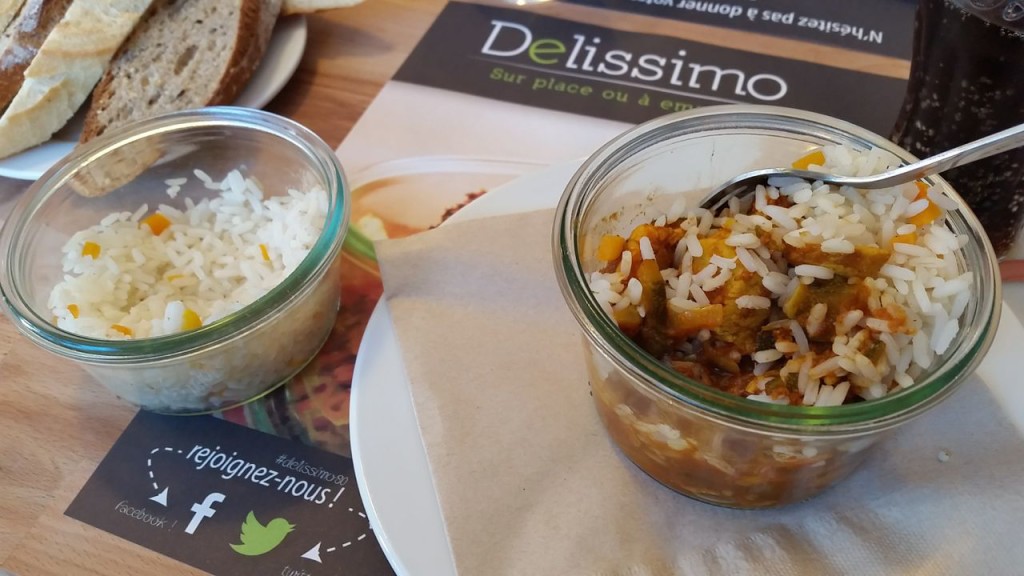 We had a quick lunch at a place called Delissimo. It was meh.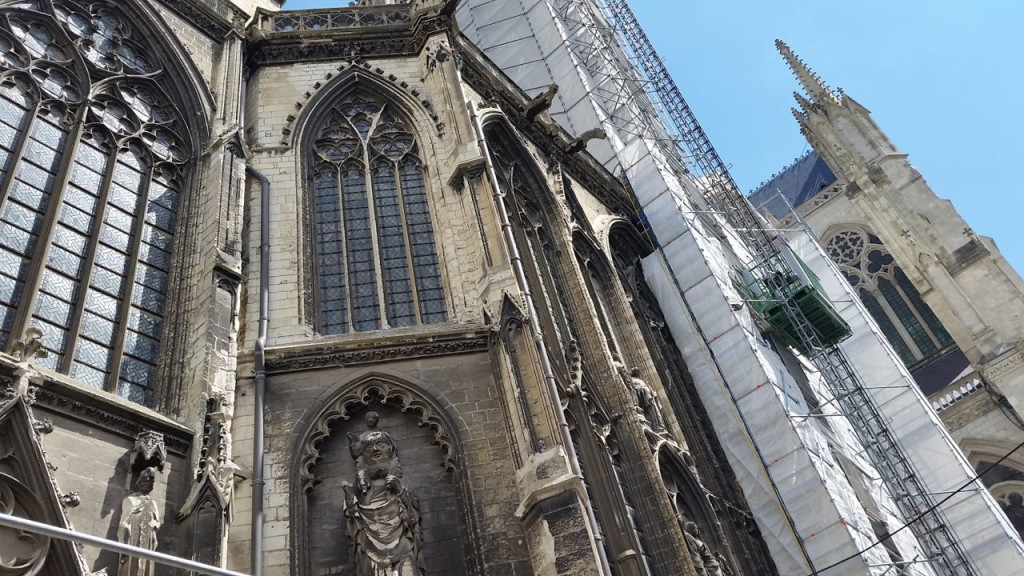 Here you can see how dirty the church was before the cleaning.
GERBEROY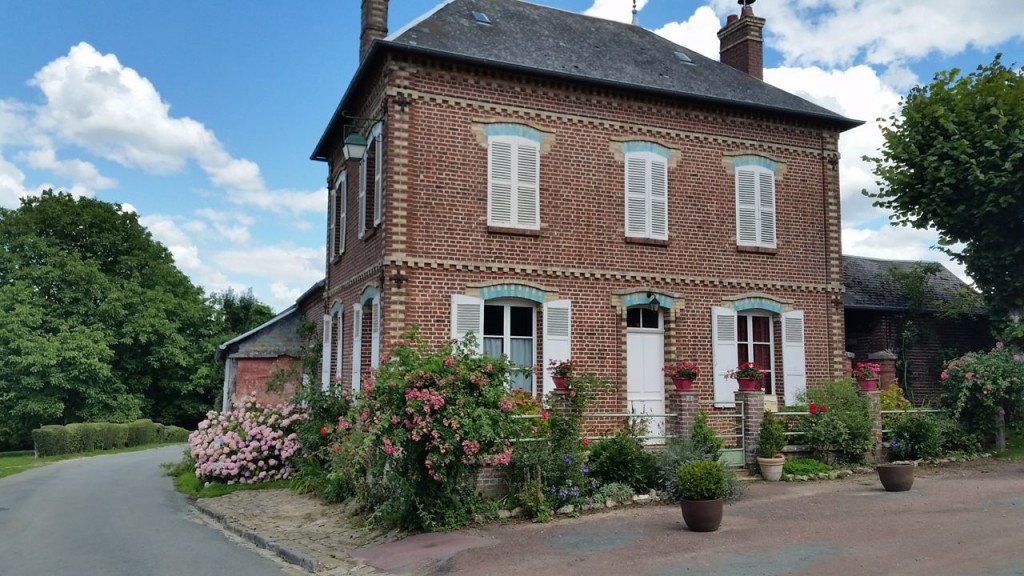 In Amiens we rented a car and began our tour de countryside. First stop was Gerberoy, one of the plus beaux villages de France. This is a designation given to about 100 French villages, and it does cost money and effort to earn, but in this case, well deserved.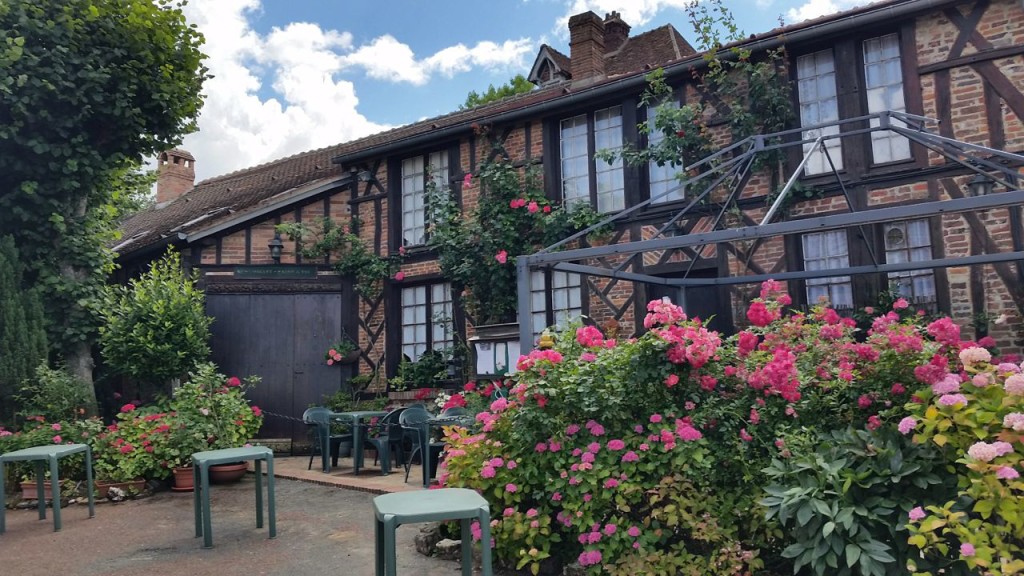 It. Was. Beautiful.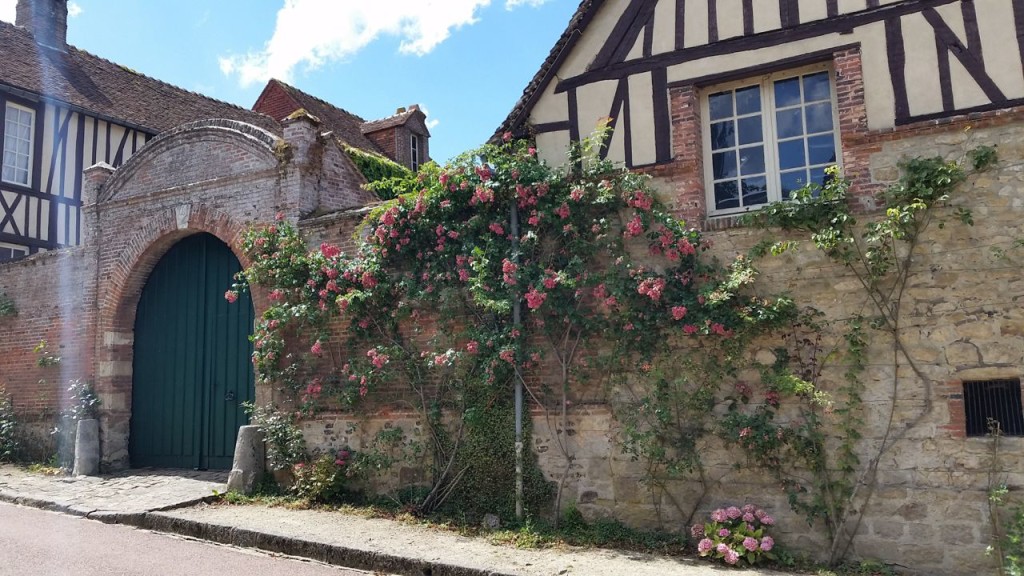 You know how sometimes you go places and you think, "Wow, they got just the right shot from just the right angle." This is not one of those places.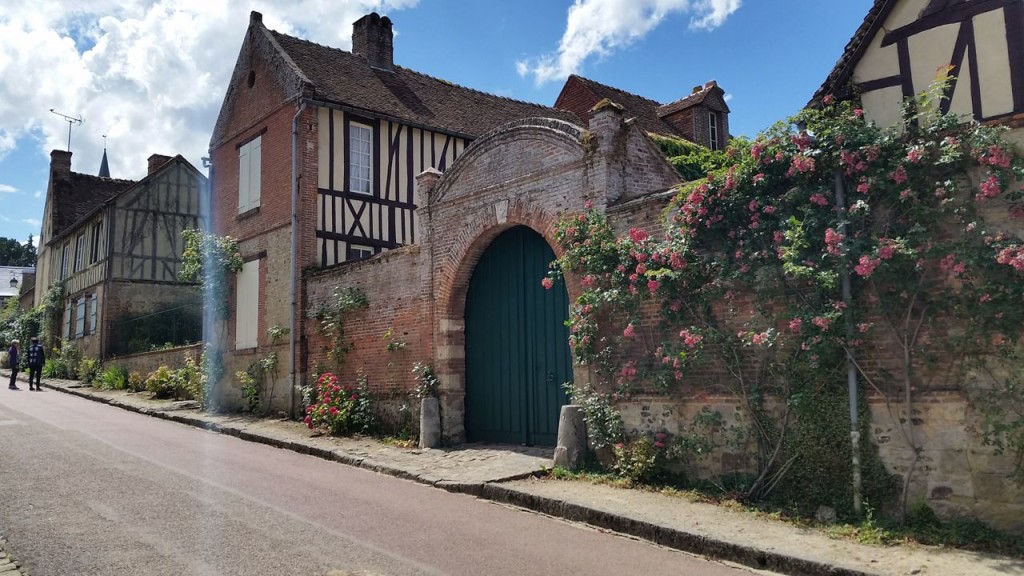 In the 1800s, Claude Monet encouraged his artist friend, Henri Le Sidaner, to find a village, make his home there and build a place that could be his inspiration to paint.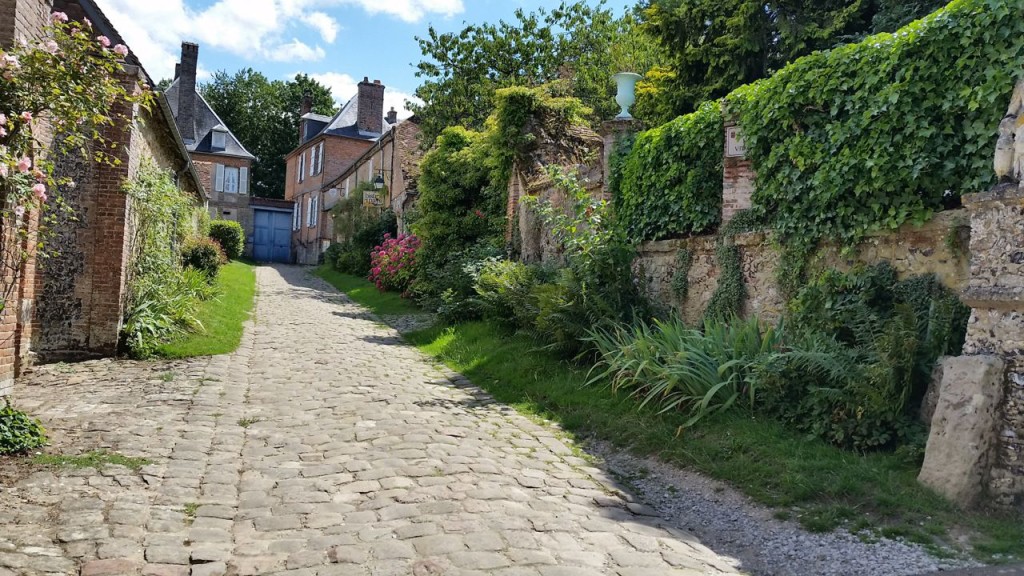 He began to plant roses and hydrangeas all over the village of Gerberoy, and the villagers loved the effect so much they began to plant more and help him create the beauty of this village.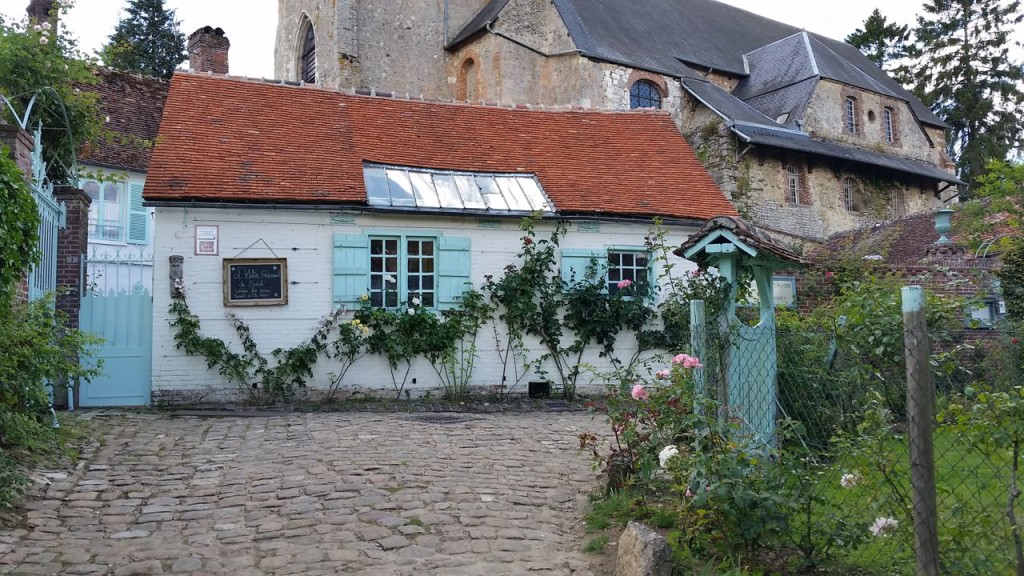 I just want to live there now. It didn't help that my absolute favorite color (that would be turquoise) was everywhere.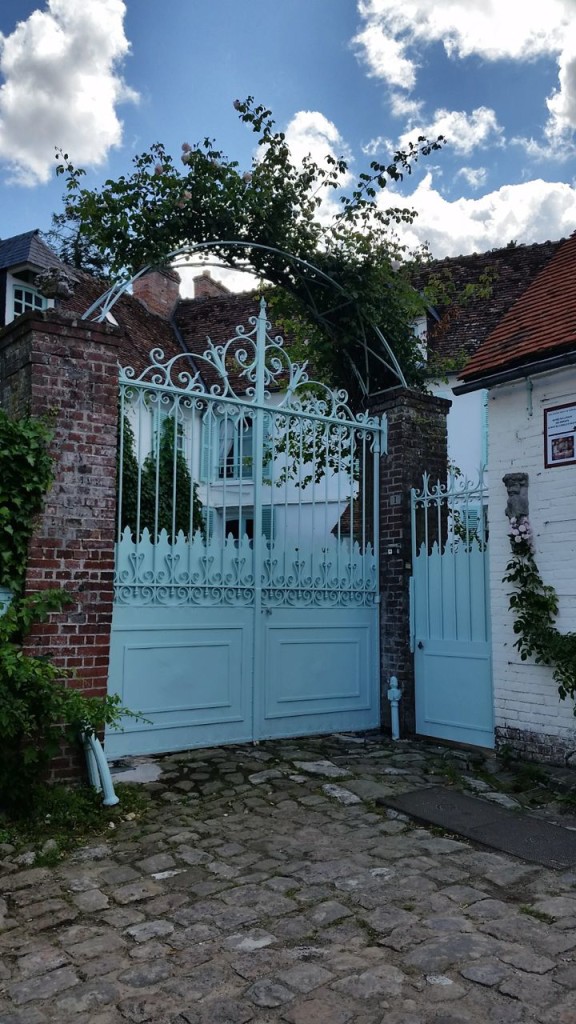 Don't you want to lock yourself behind those gates? They are B-E-A-U-T-F-U-L.
Around every corner was just more breathtaking than the last.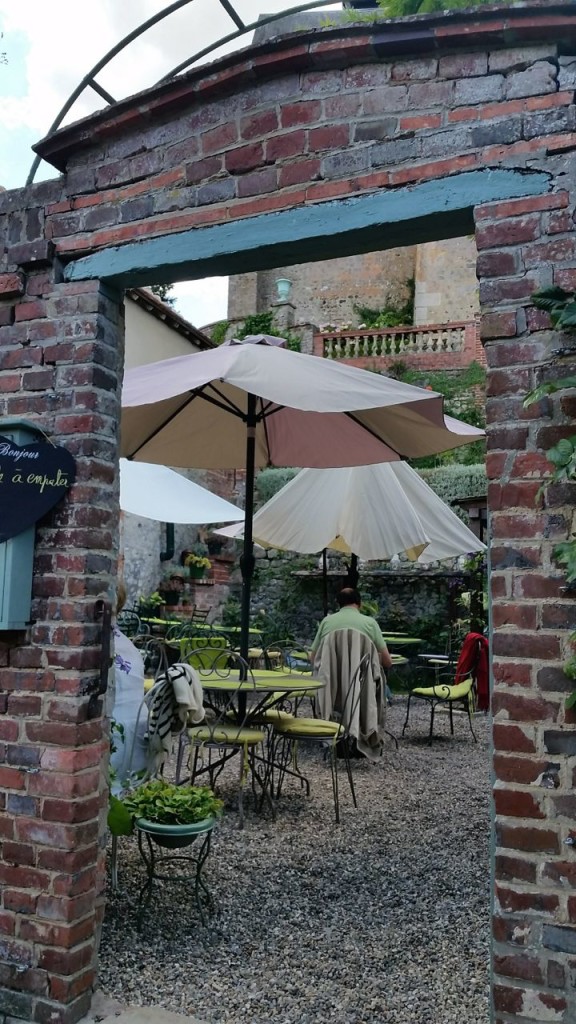 We stopped here for a delicious lunch (part deux because Delissimo just didn't do it for us). The owner has all these tortes, quiches, pies. They were fantastic, and the ambience was so lovely. There are a couple of places that offer lunch like this in the village, but there are no places to eat dinner unless you are staying at one of the few bed and breakfasts in the area. The village is in the middle of nowhere, so plan accordingly.The little cafes close around 4:00. We had tartes, salad with dijon dressing and tomatoes with mixed greens and dessert of fruit tartes with raspberry sorbet and chocolate cake with ice cream. Seriously, right? Why can't we eat like that in the US?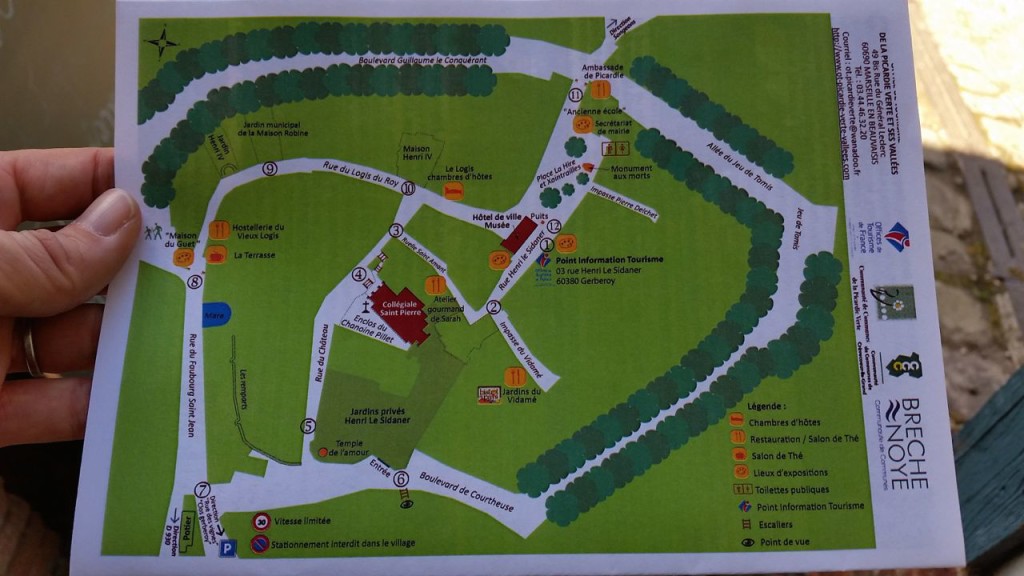 At lunch, I overheard these two French women discussing the area and trying to figure out how to get to the estate, and since I UNDERSTOOD THEIR WHOLE FRENCH CONVERSATION, I offered them my map and directions.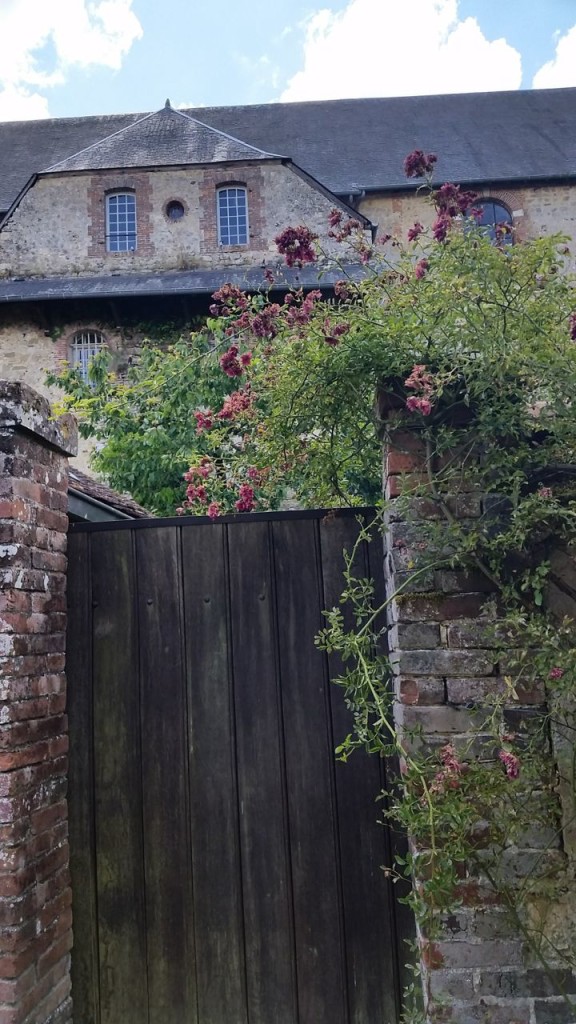 I imagined a door and wall just like this when I read The Secret Garden (all one thousand times). I wish I had something like this around my yard.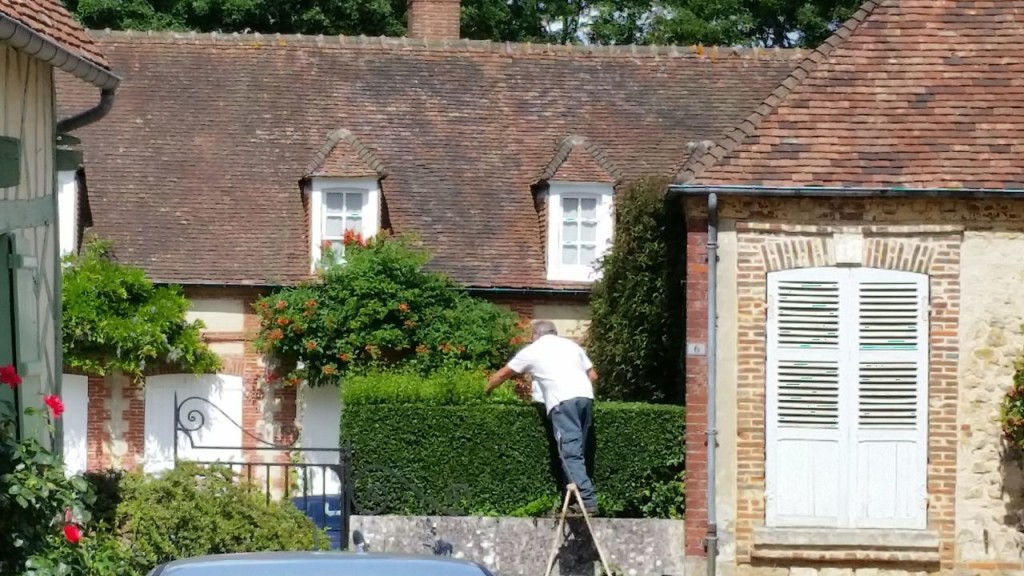 I took this picture because it is a reminder of reality that beautiful hedges don't just happen. Someone has to get up there and trim them. All of this beauty takes effort, but it's worth it.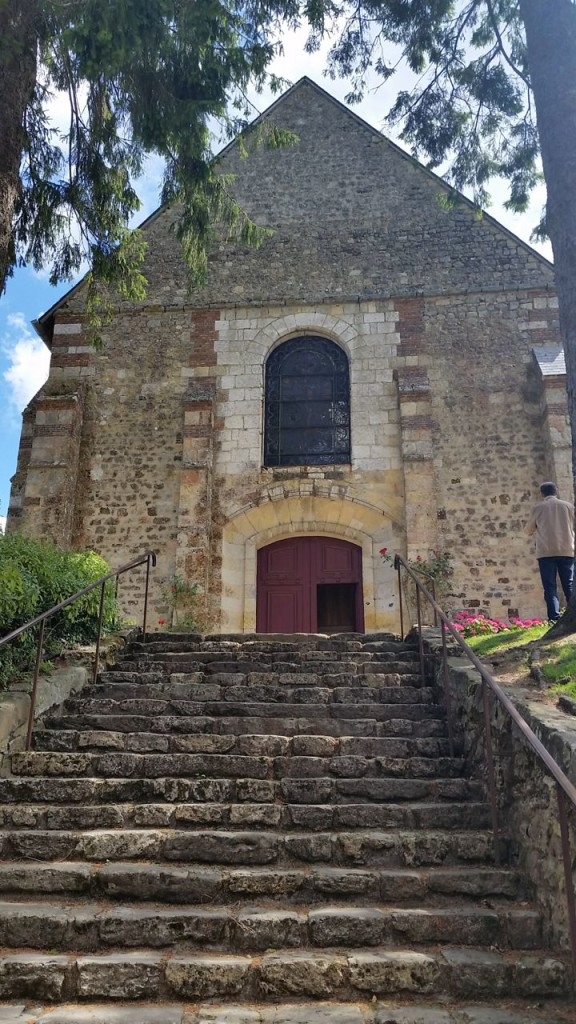 The courtyard of this school house is above the courtyard of the place we ate lunch.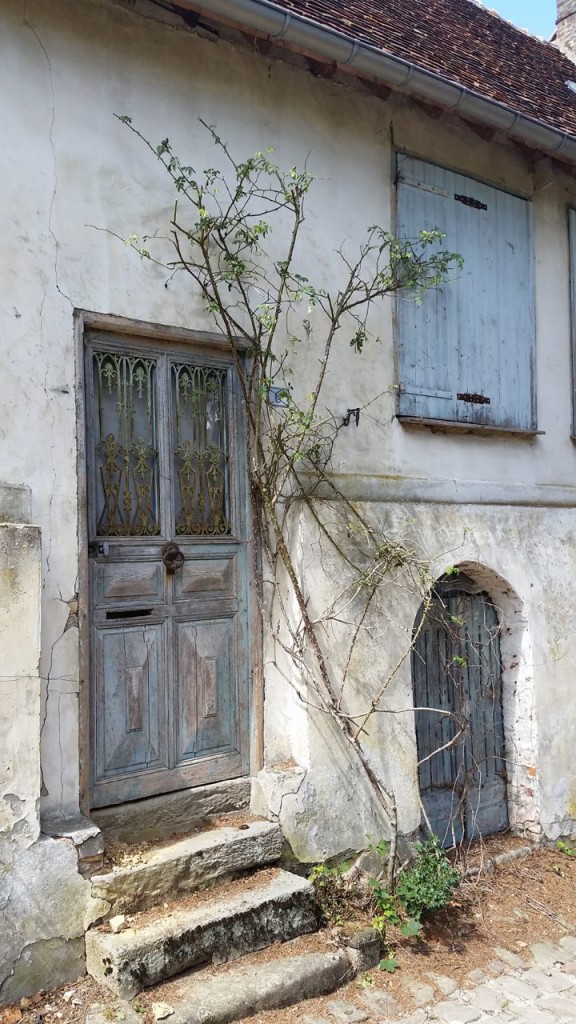 Don't you want to live behind these doors? I do.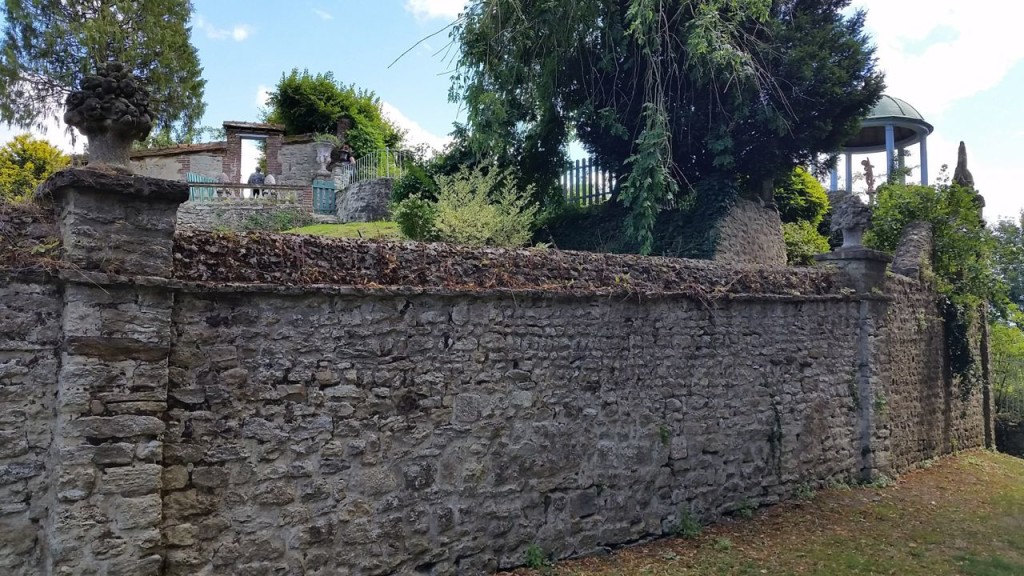 This is the entrance to the Le Sidaner's estate.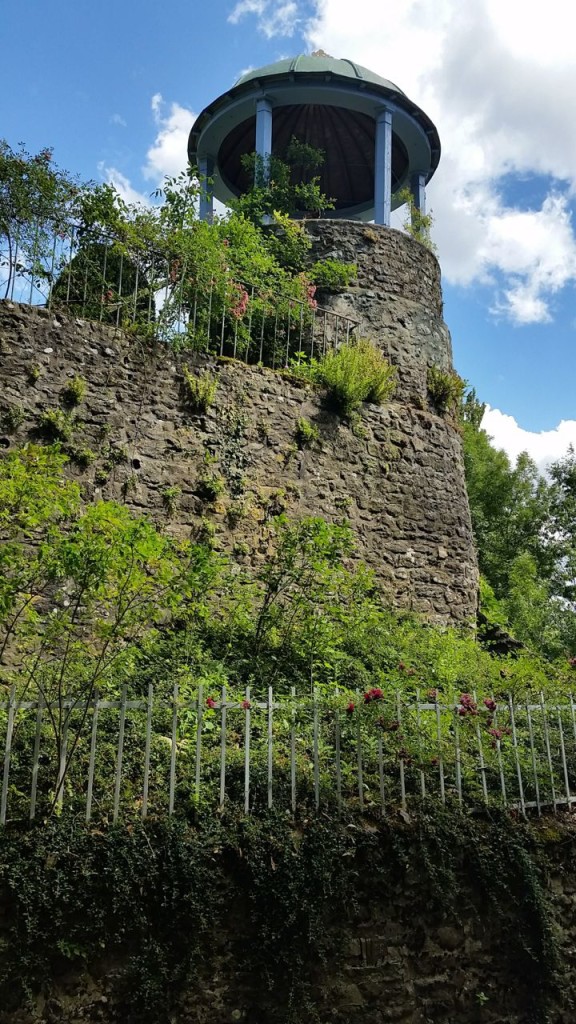 He built this temple of love based on the one at Versailles, although much smaller.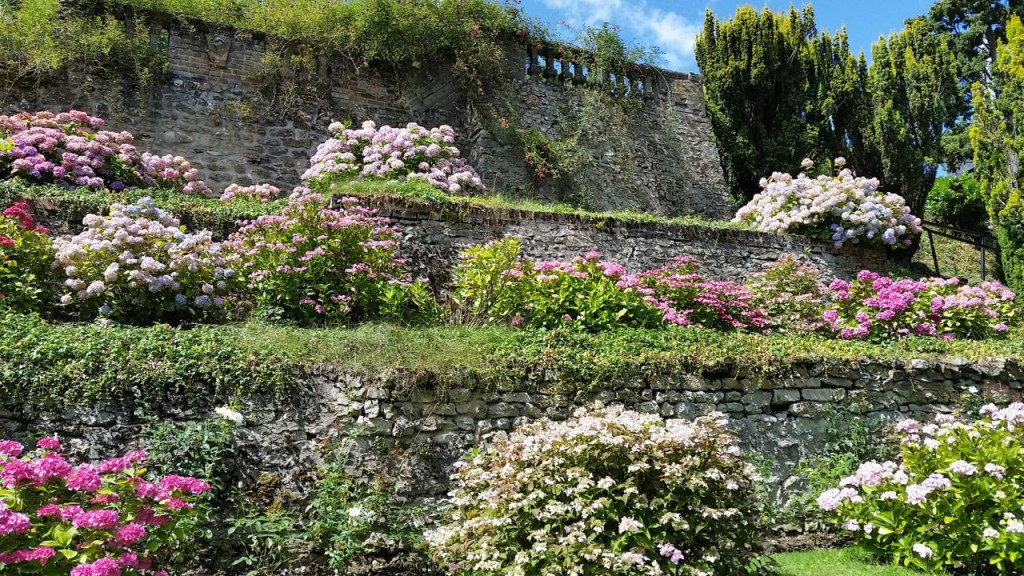 I love these terraced hydrangeas.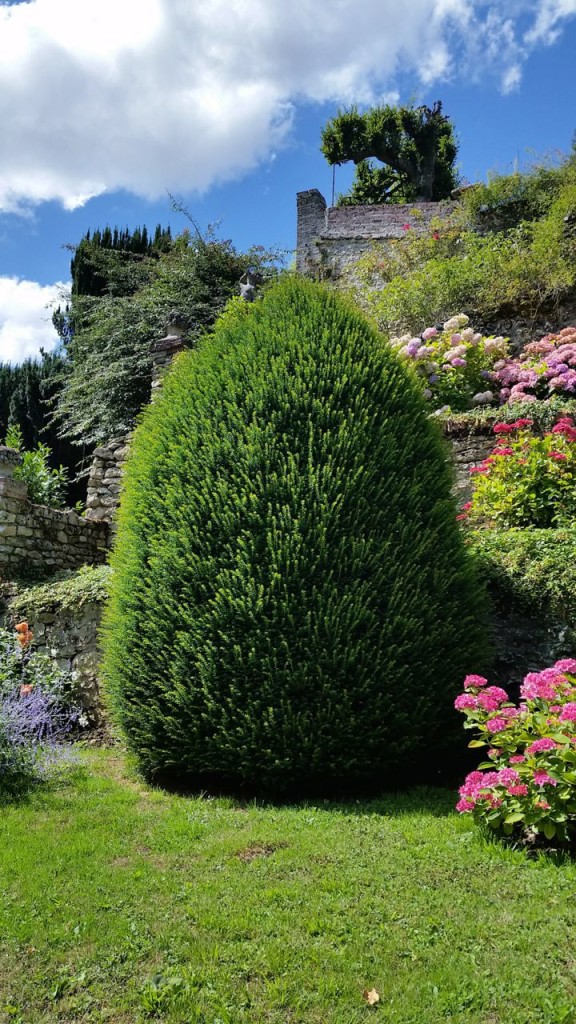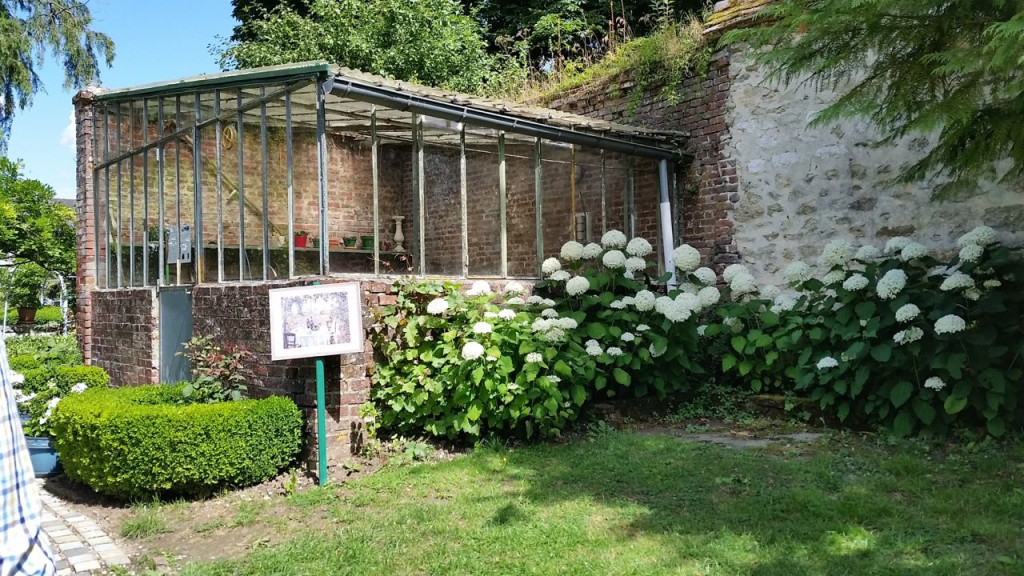 And this greenhouse!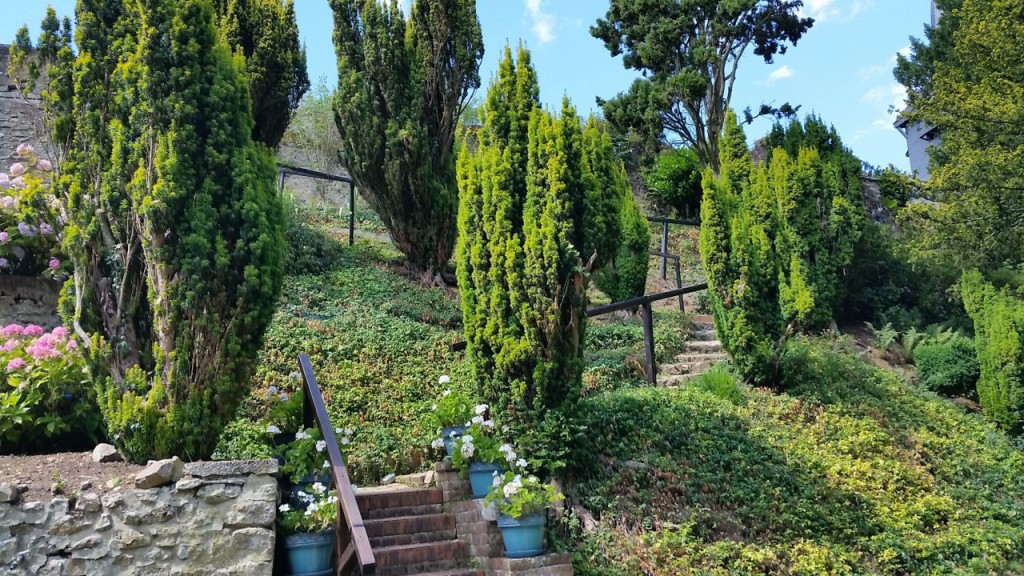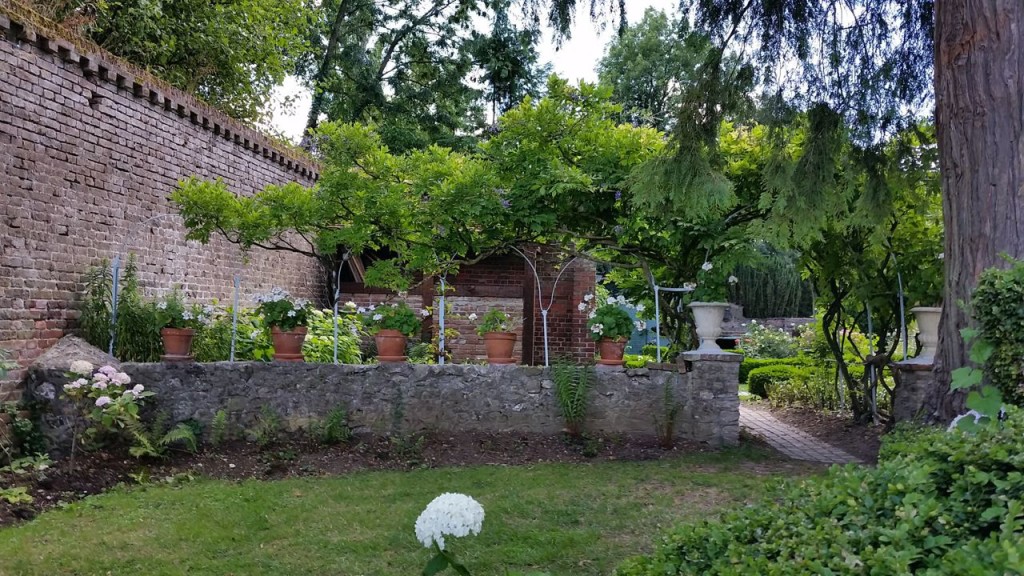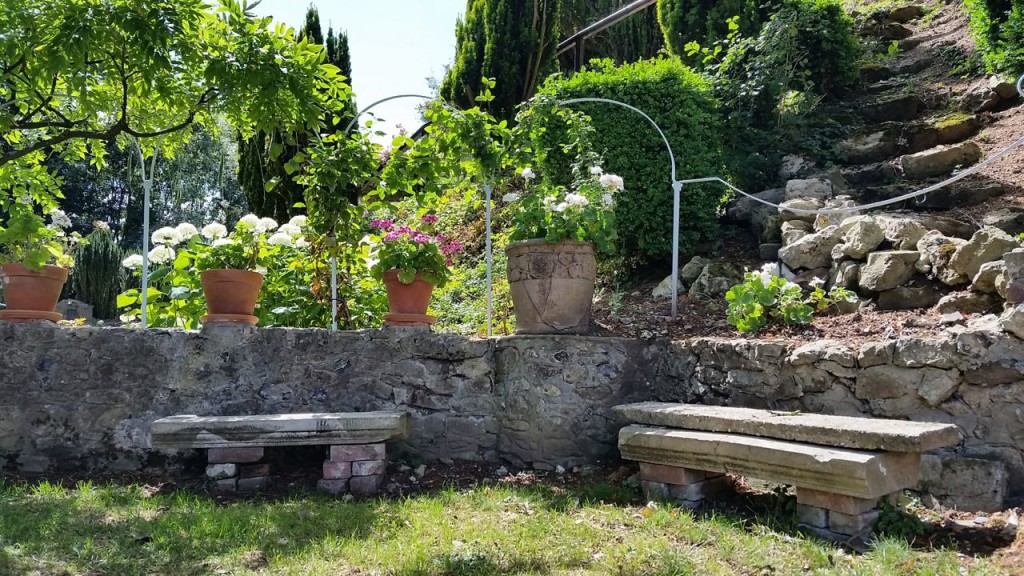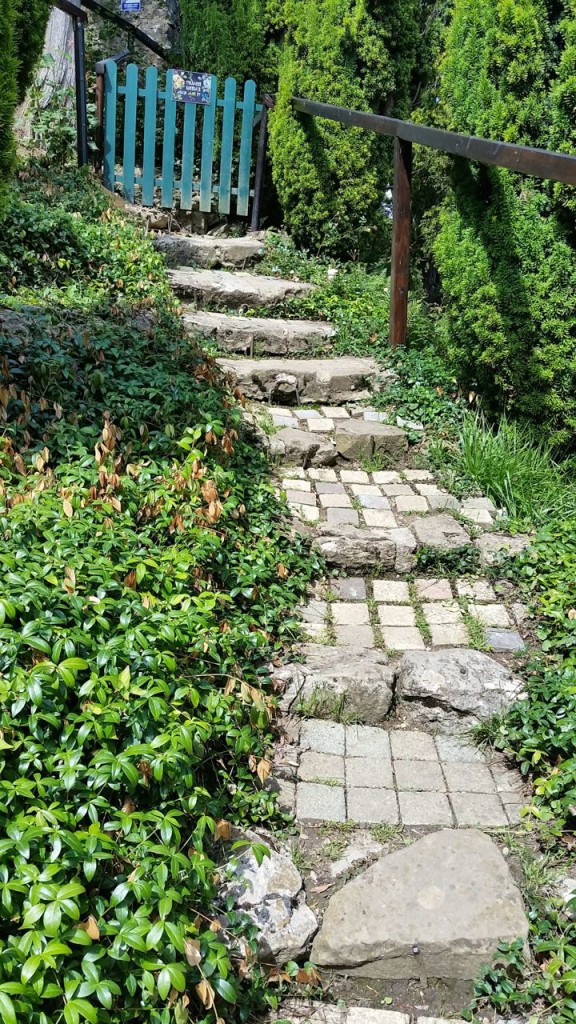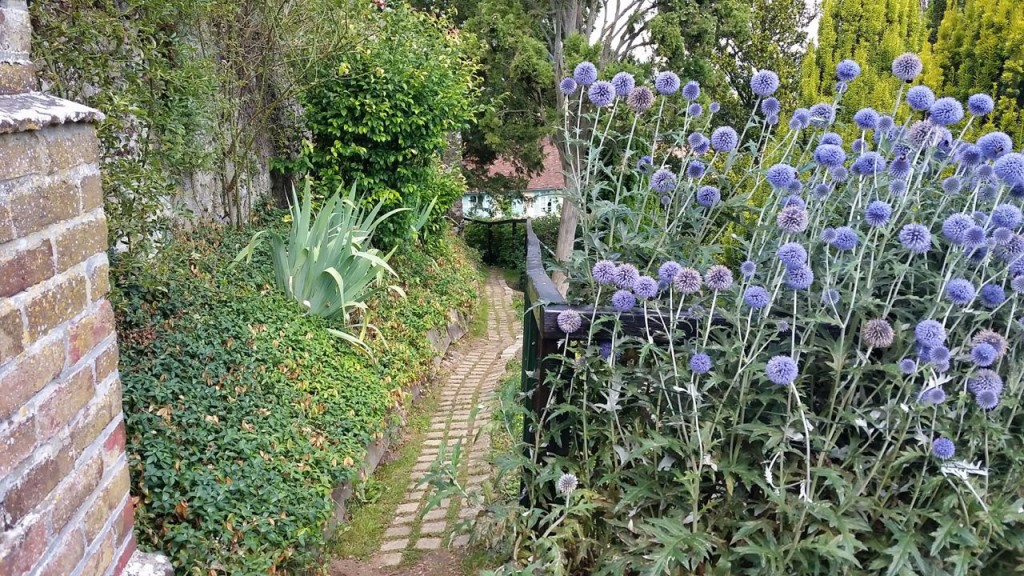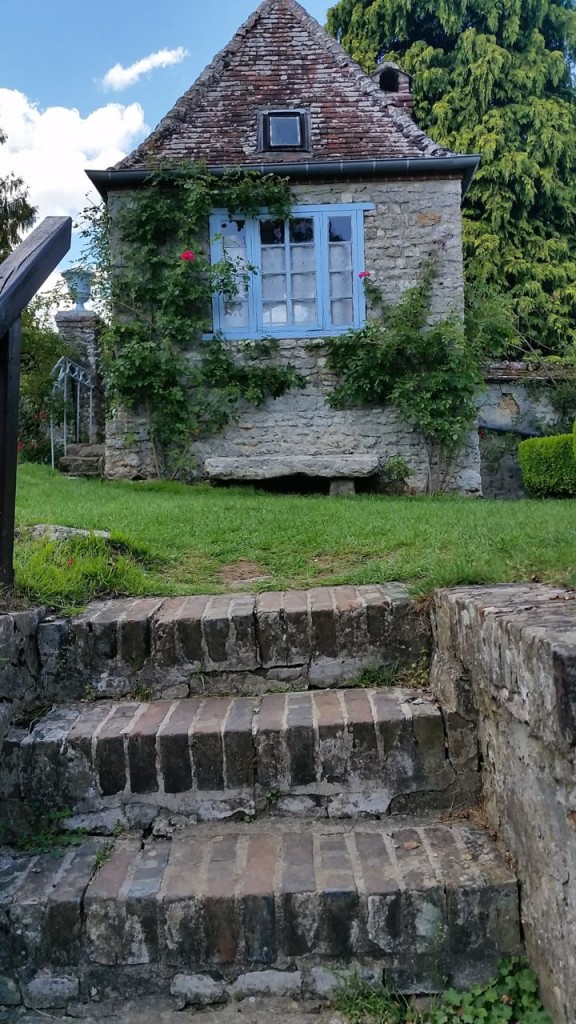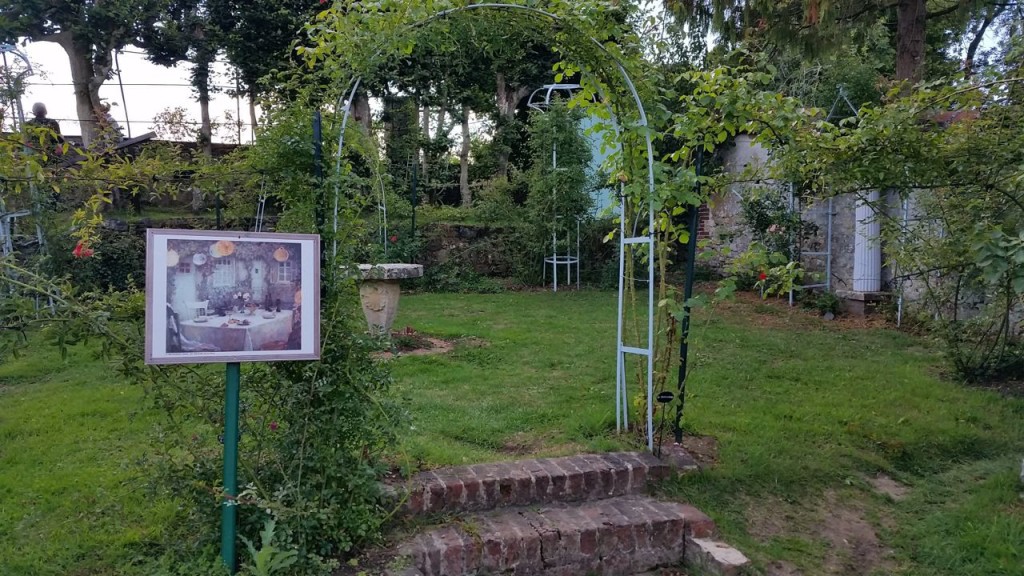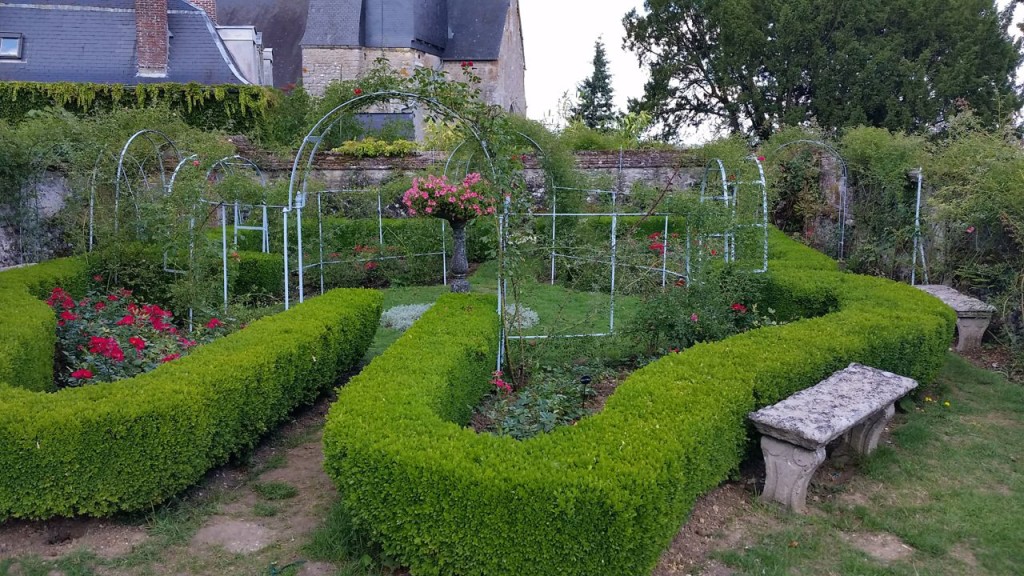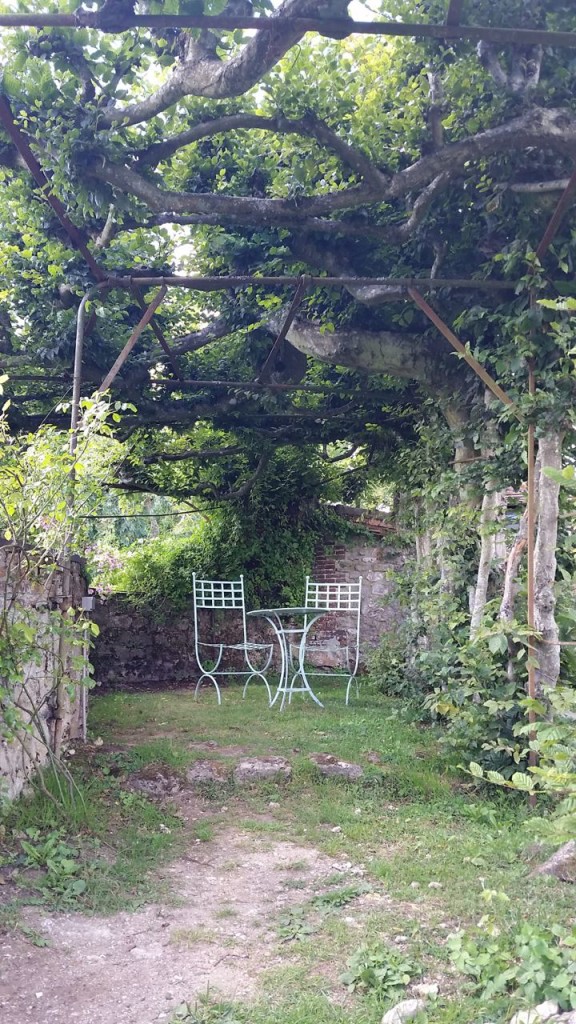 I could eat breakfast, lunch and dinner here every day.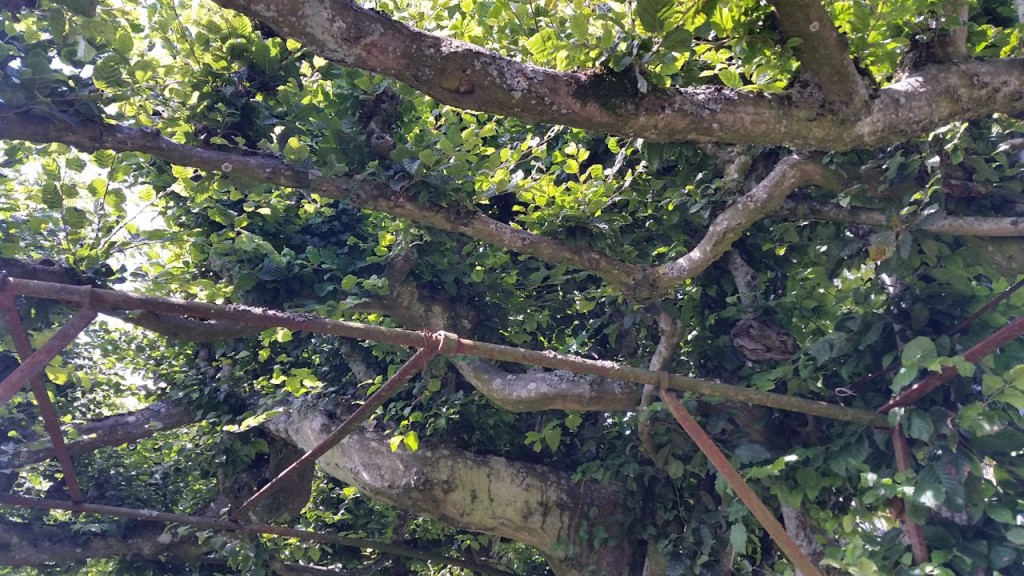 The canopy of trees was trained and supported by this metal scaffolding. Trees don't just grow like this.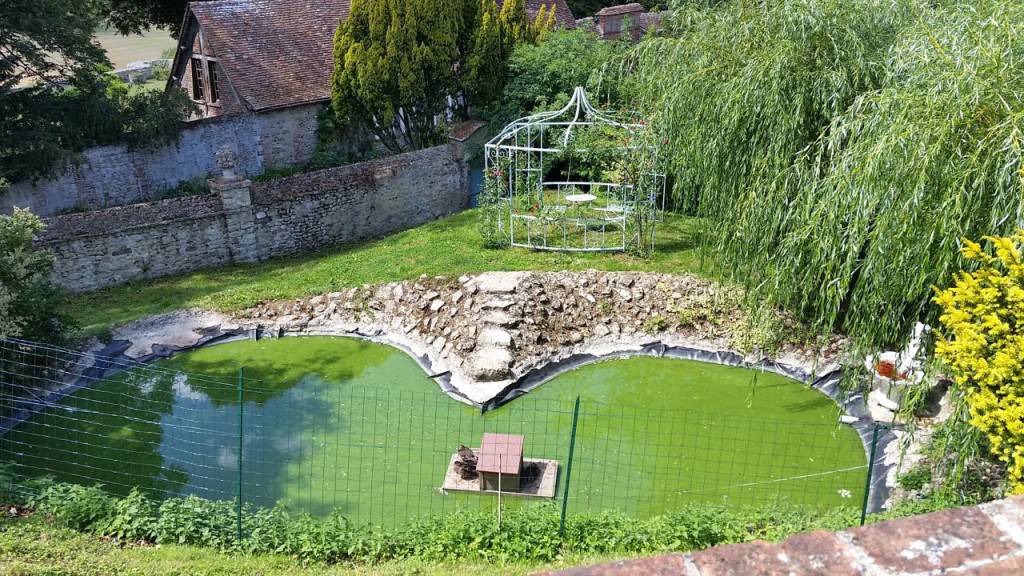 The heart-shaped pond is a little cheesy.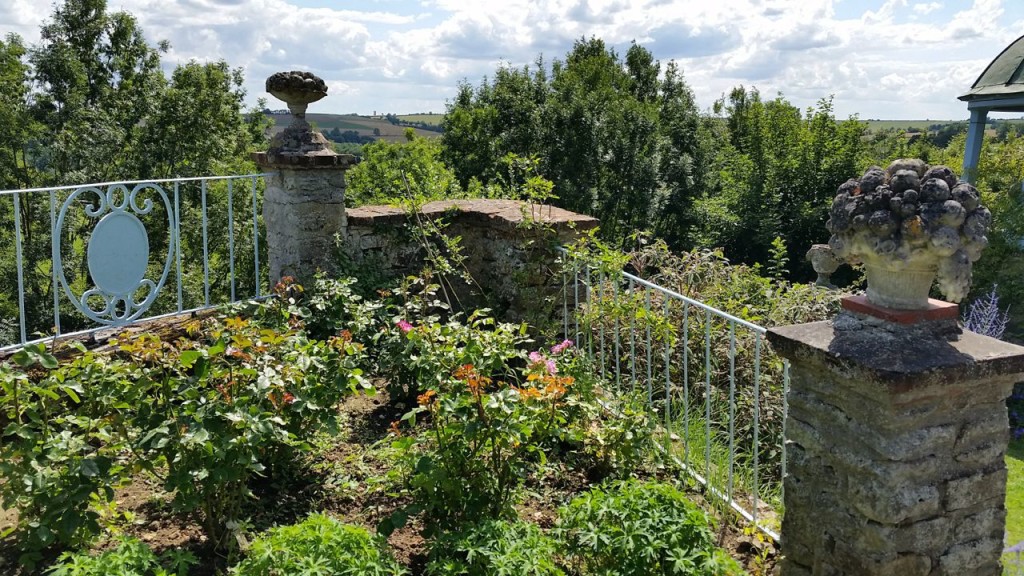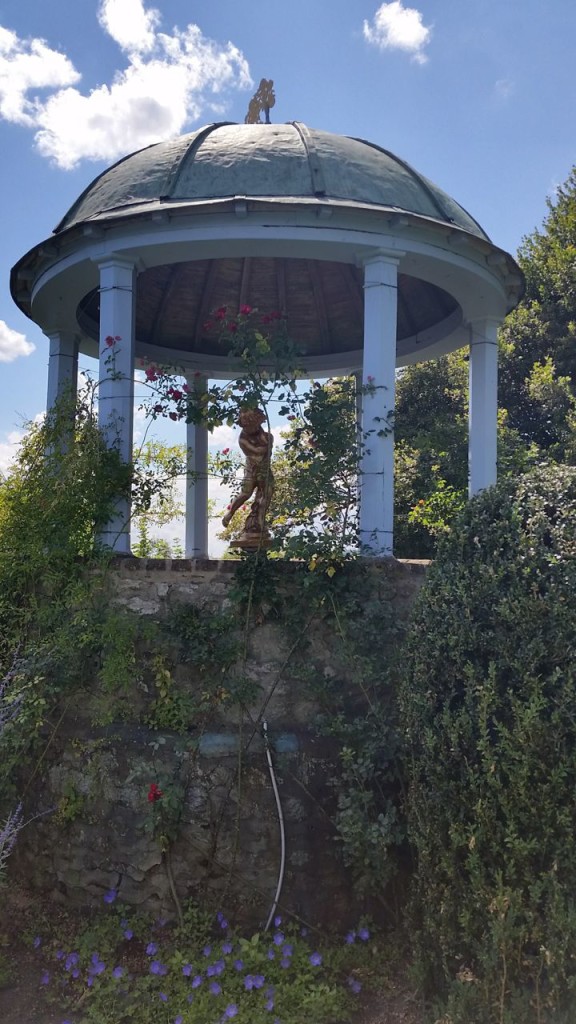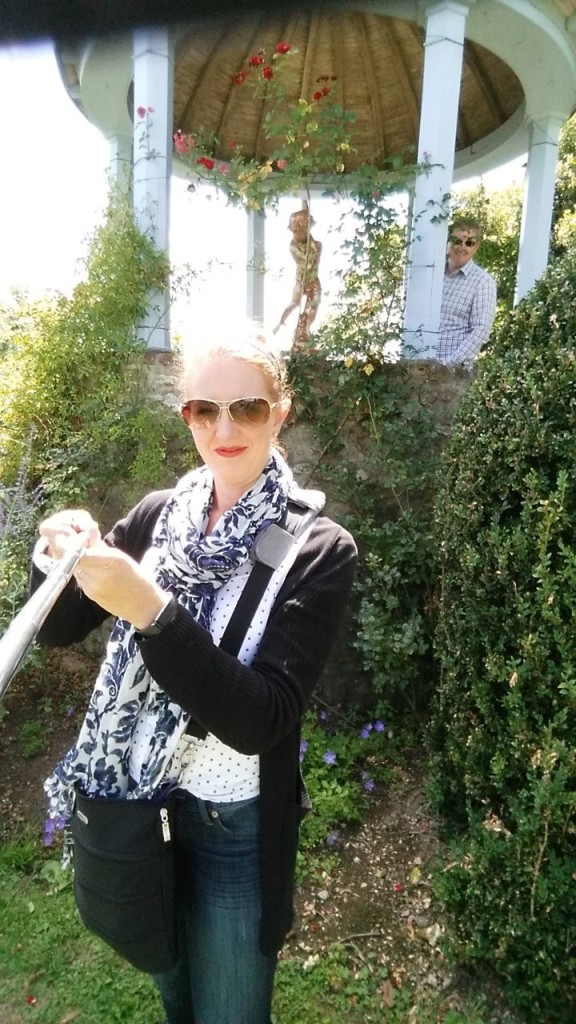 Adam loves to photobomb me.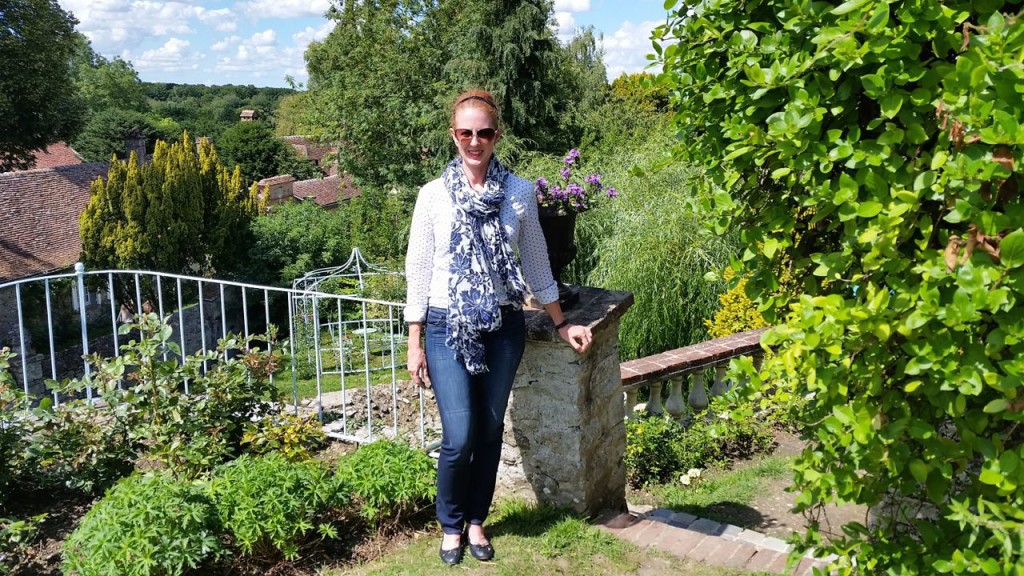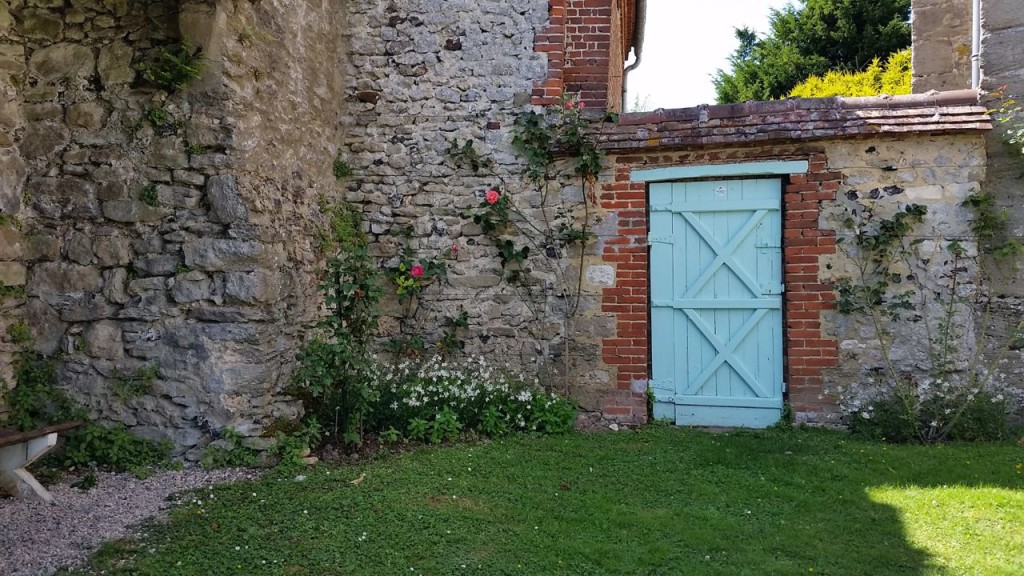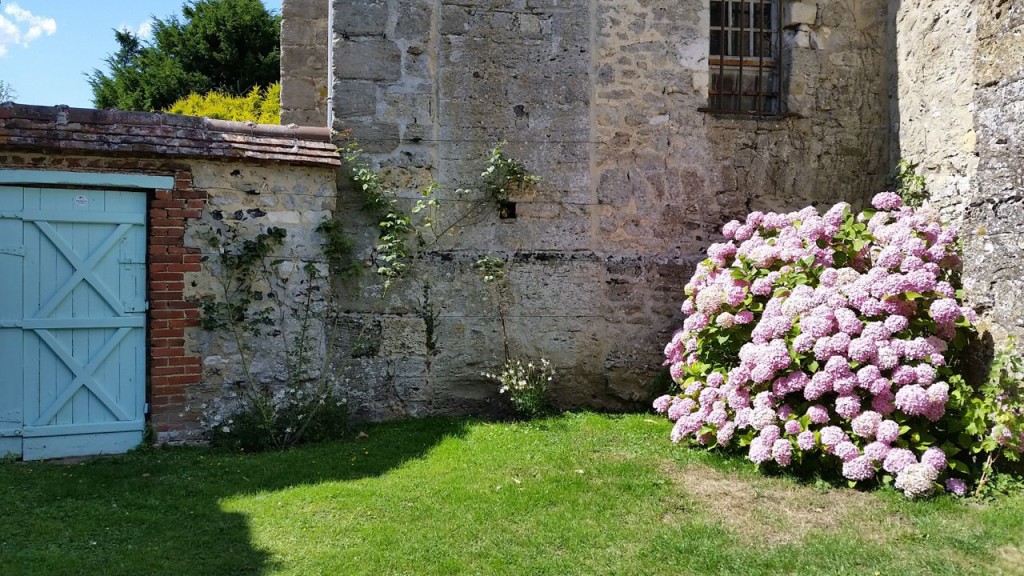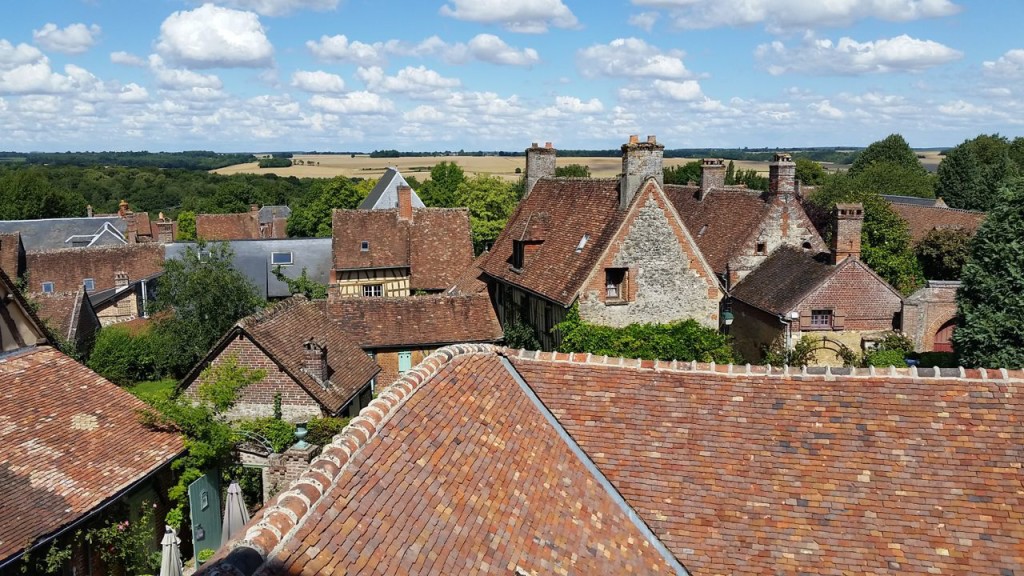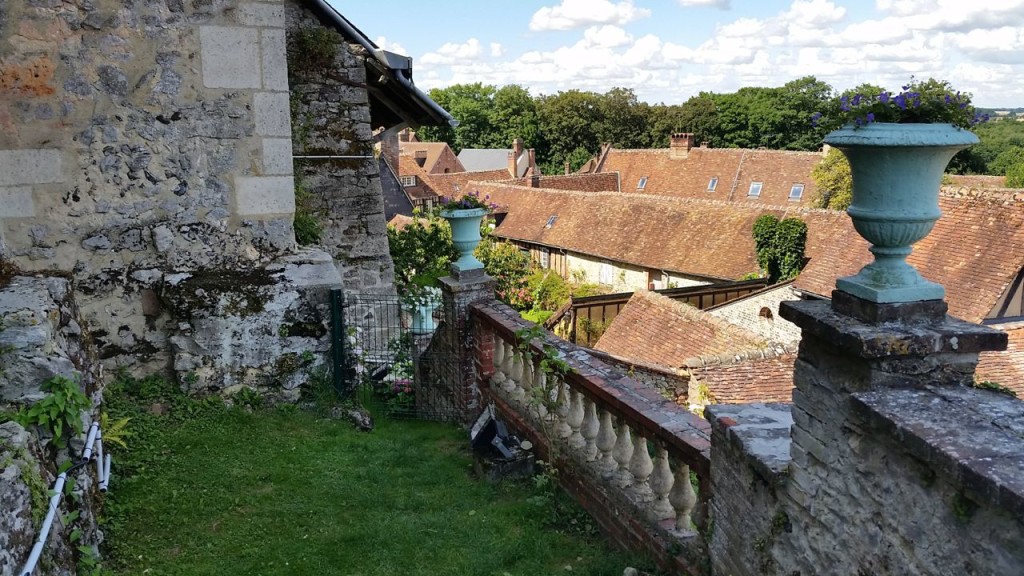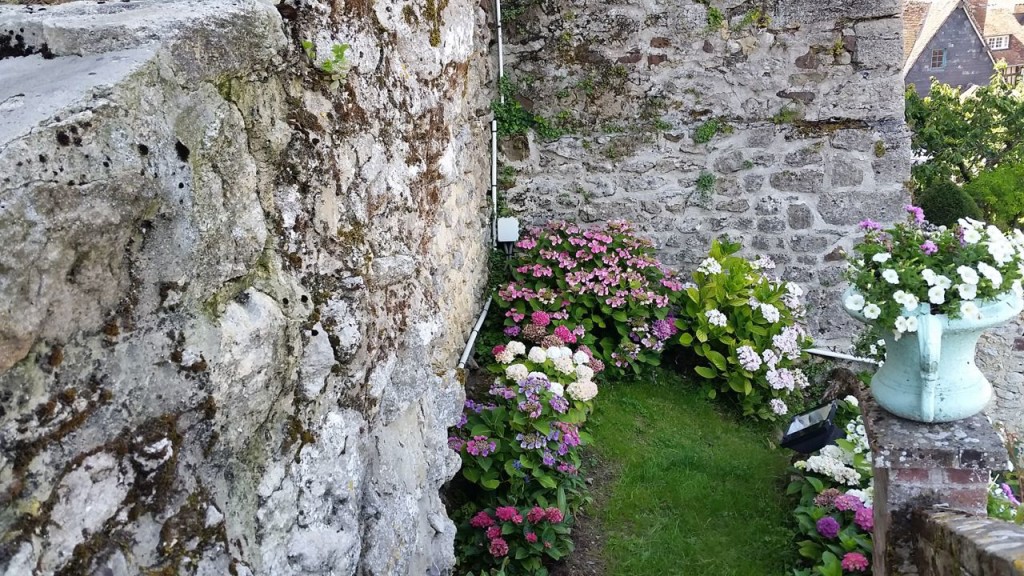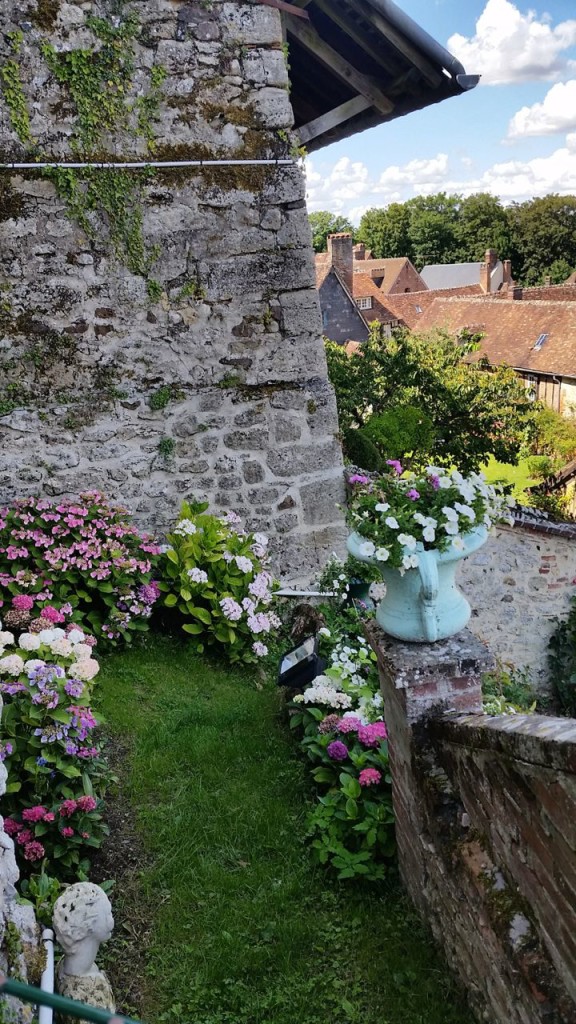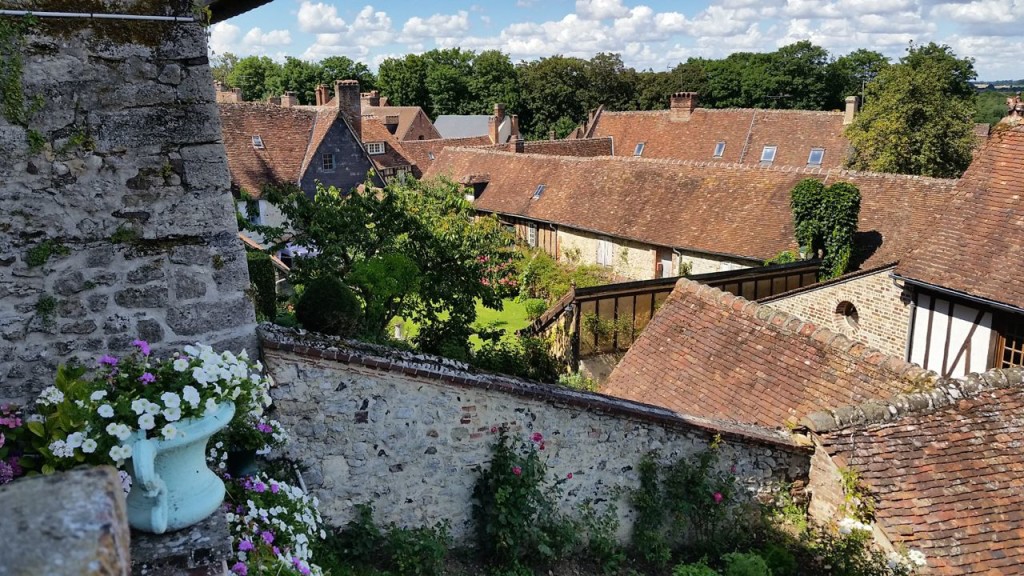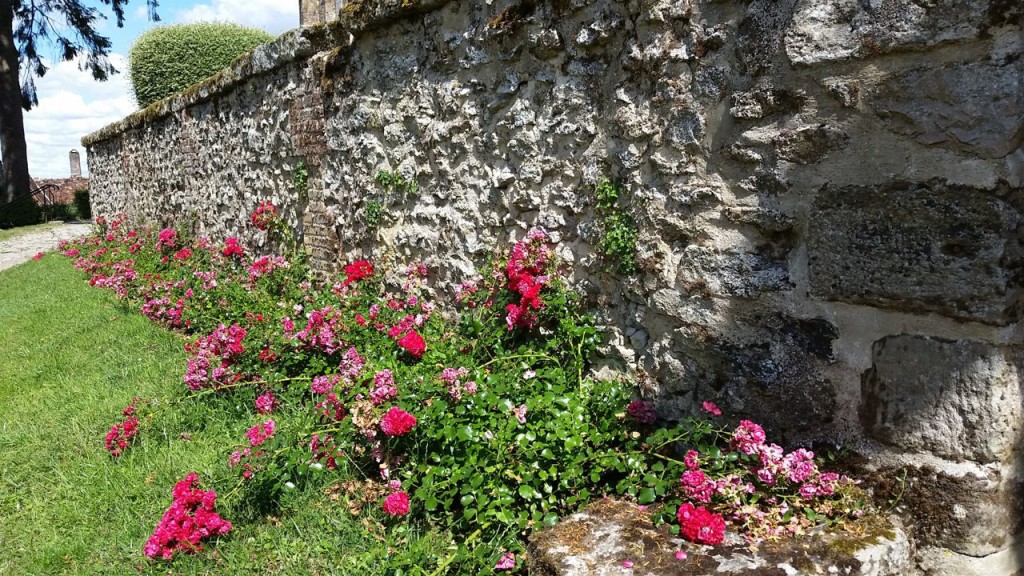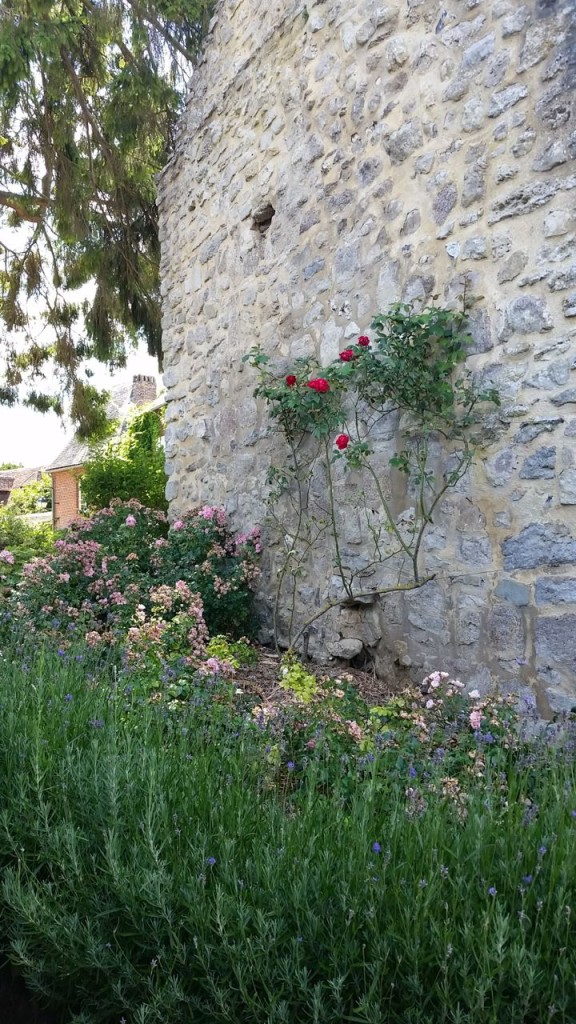 I know that was a ton of pictures, but it was SO BEAUTIFUL. Really. If you can go, you should go.
We left Gerberoy and headed to the chateau where we were staying near Giverny. We used Google Maps the whole time and it took us through so many charming, beautiful towns. None of them were tourist destinations. They were real villages where people worked, lived and loved. At one point in the middle of nowhere we lost our satellite connection. We stopped on a small road and a man came out of his house asking if we were lost. I said something about Giverny and he nearly passed out. "Mais Giverny is 2 hours away. 120 km! You are very lost!!" I finally communicated that we had been at Gerberoy and were on our way to Giverny. He told us how to get to the next village where the satellite is excellent.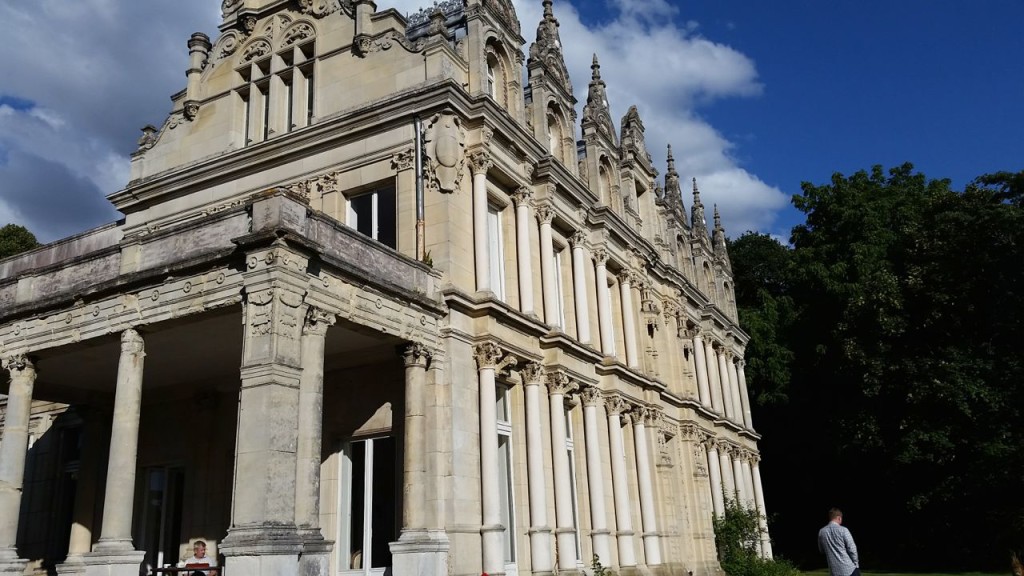 We drove on to the chateau where we were staying called the Chateau a la Madeleine. It was so charming and historic.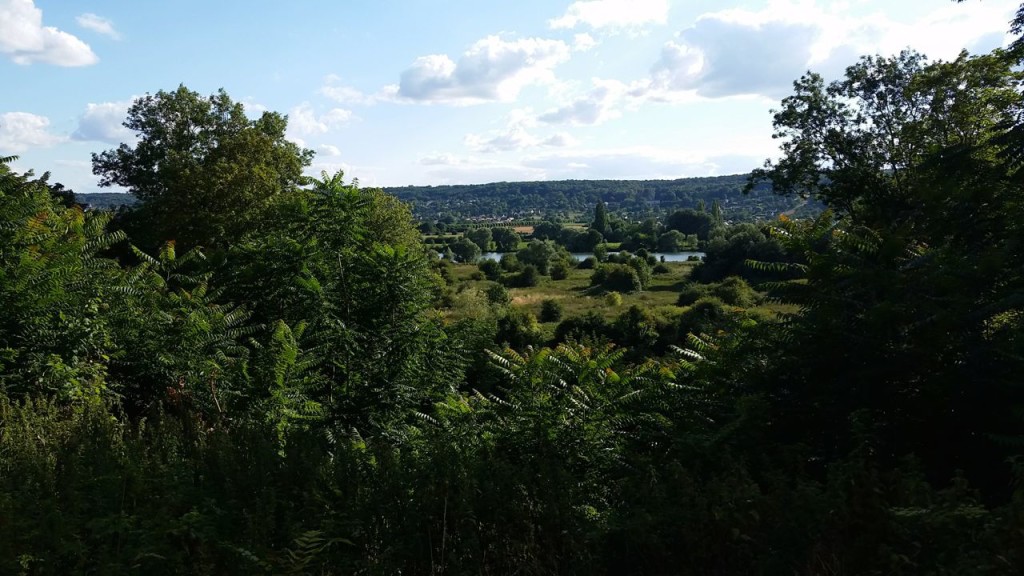 The view from the yard.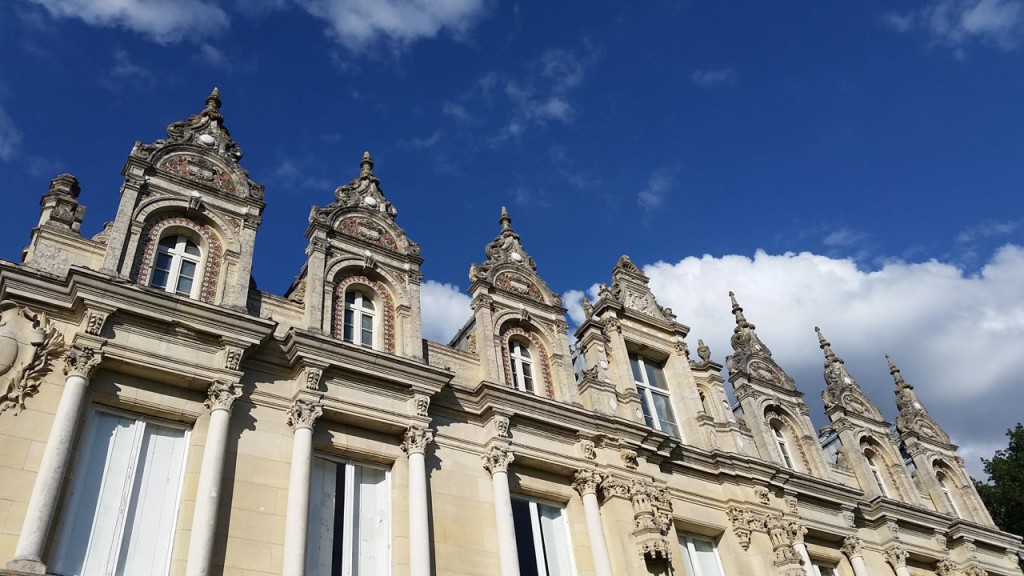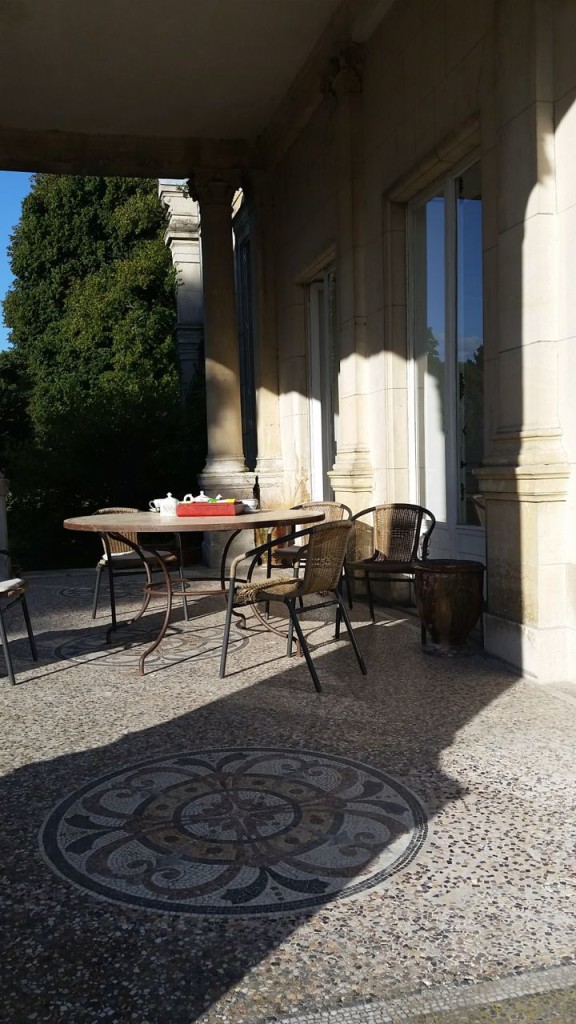 The front porch had this amazing mosaic tile.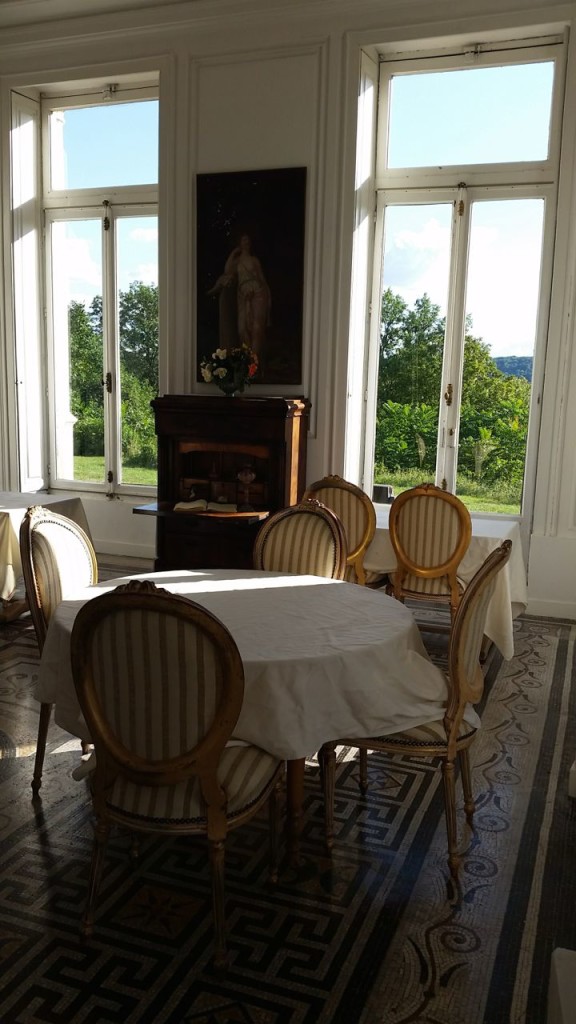 And it was repeated in the breakfast room.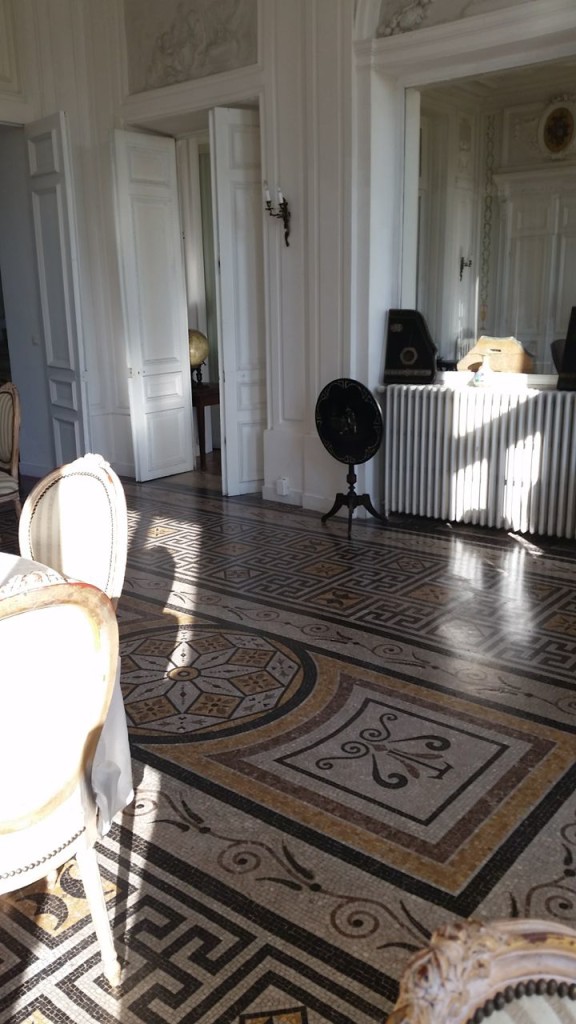 And check out the wood floors! Do you have any idea the work involved in creating them?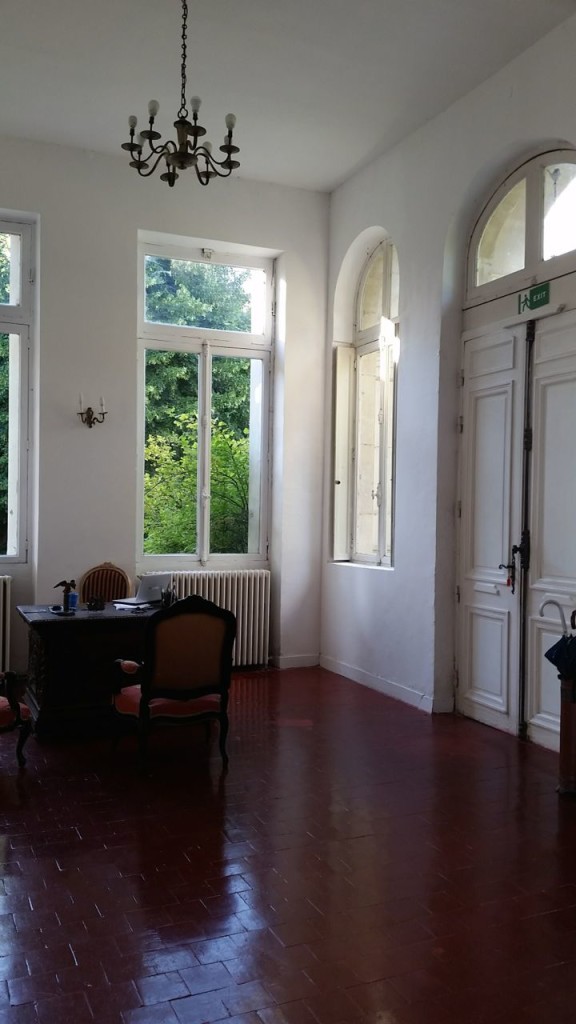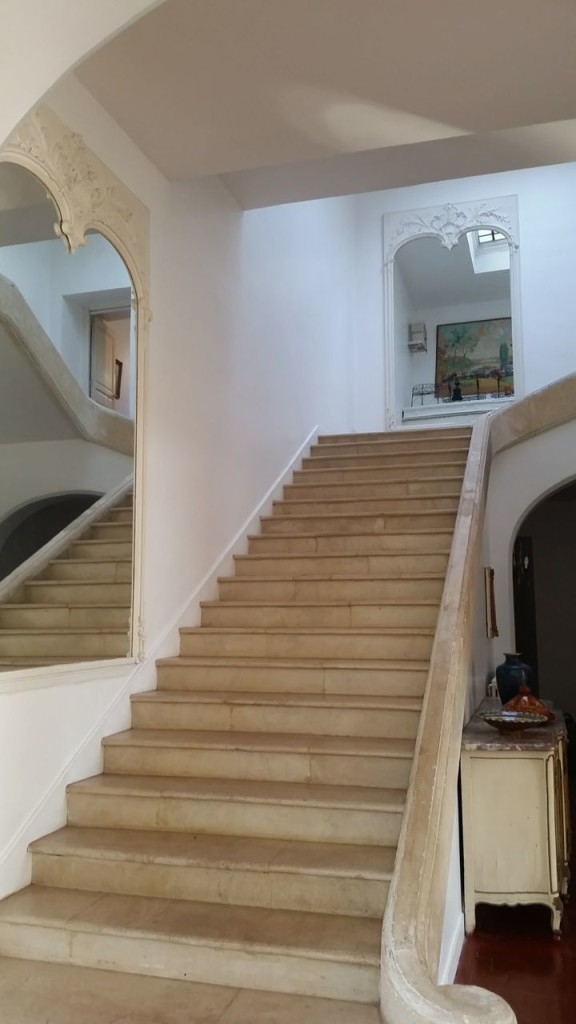 The couple who owns the house had a 1 year old who was walking, and I asked her how that was going with no banister on the stairs. It's a problem, but they didn't have the money yet to put one in.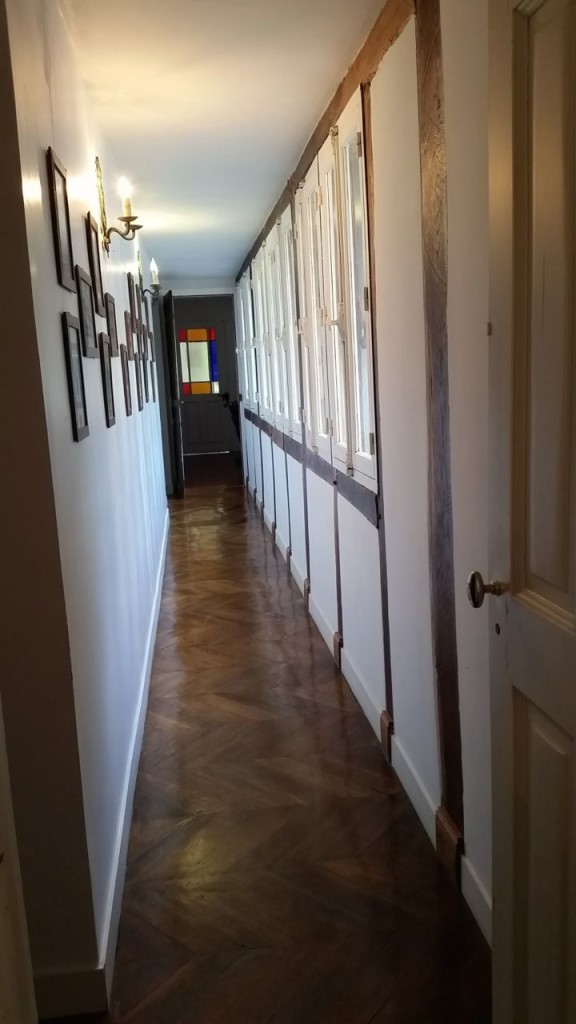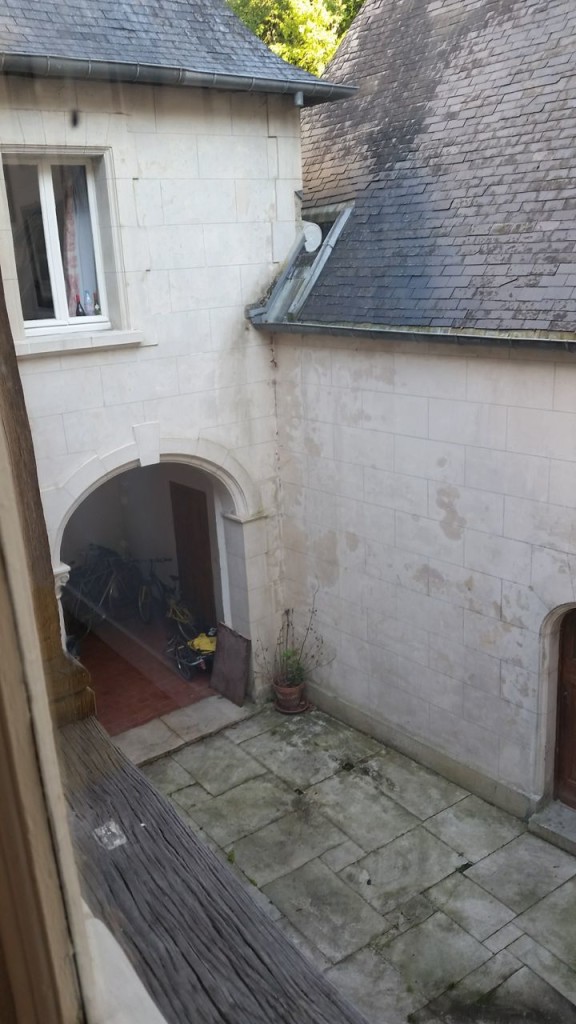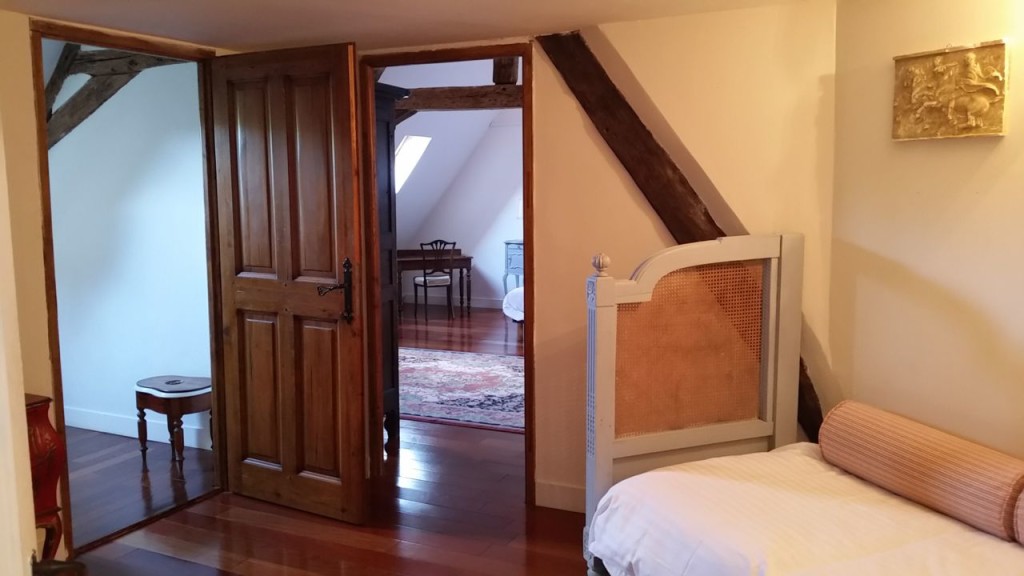 Our suite of rooms was on the top floor.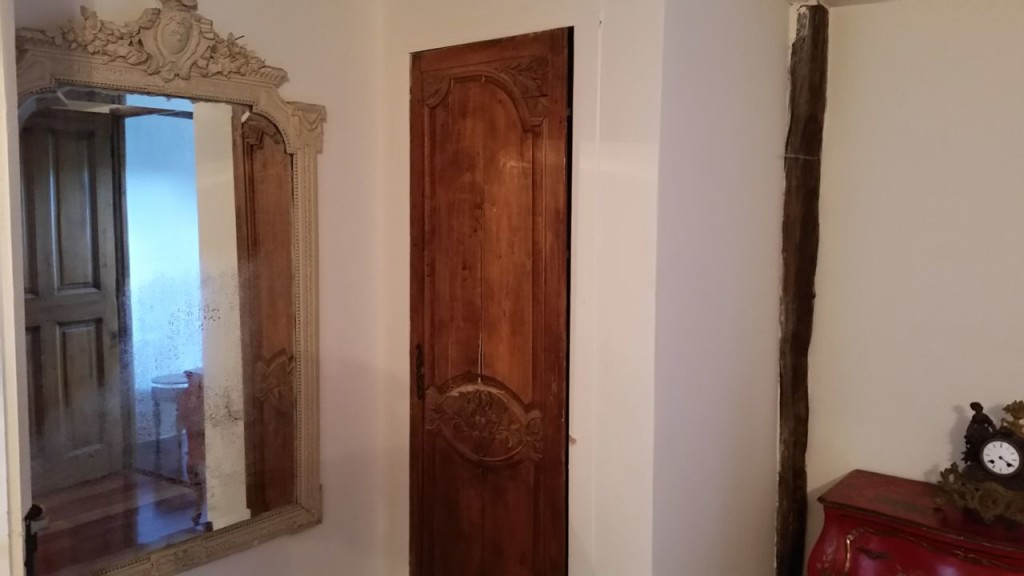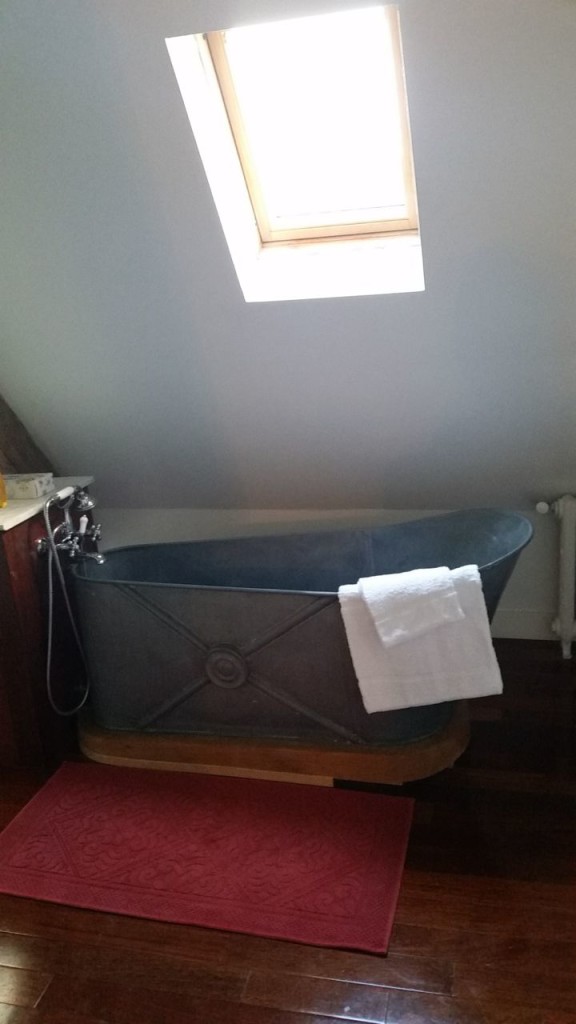 THIS TUB.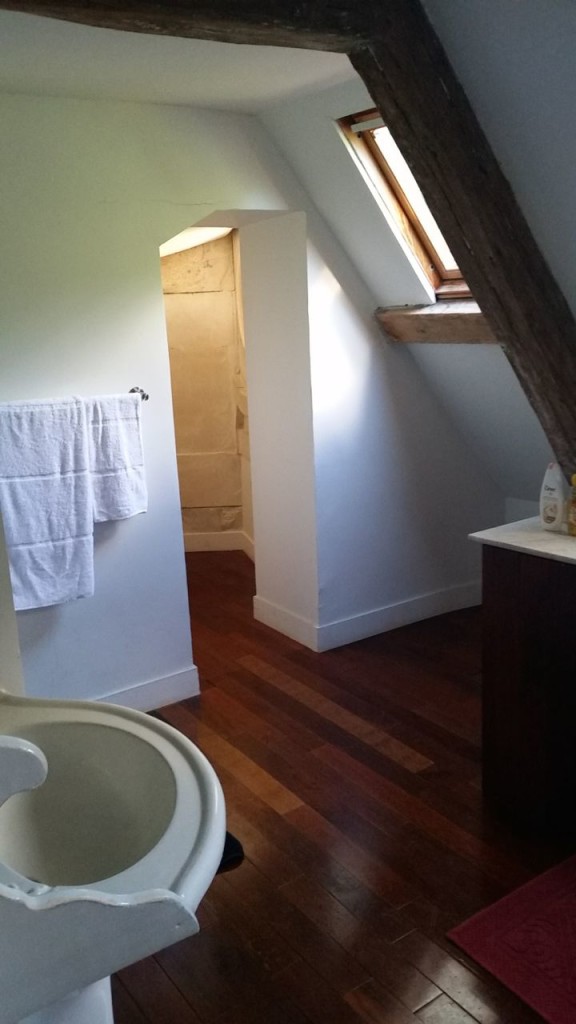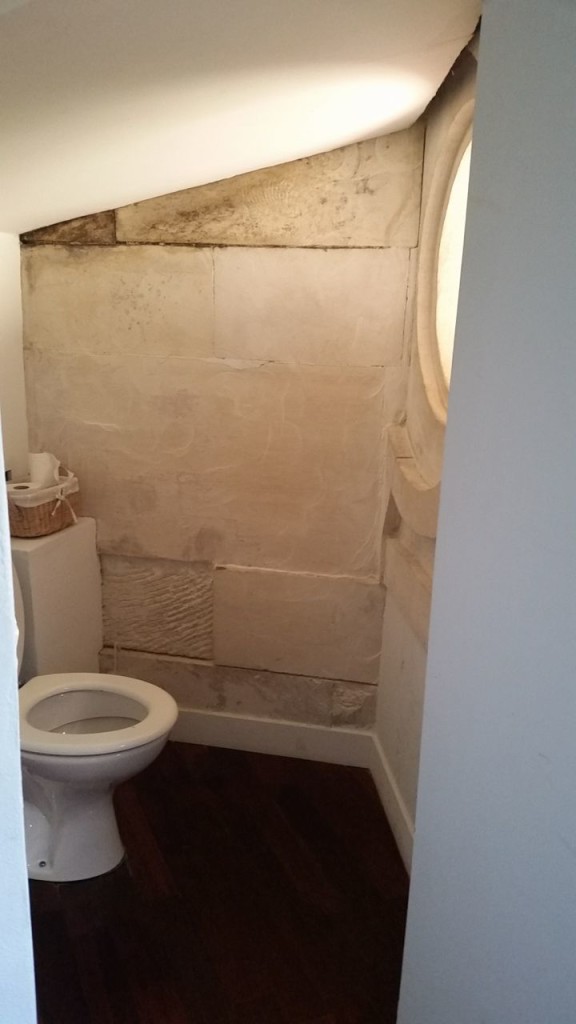 In the toilet room there is a window into a tower.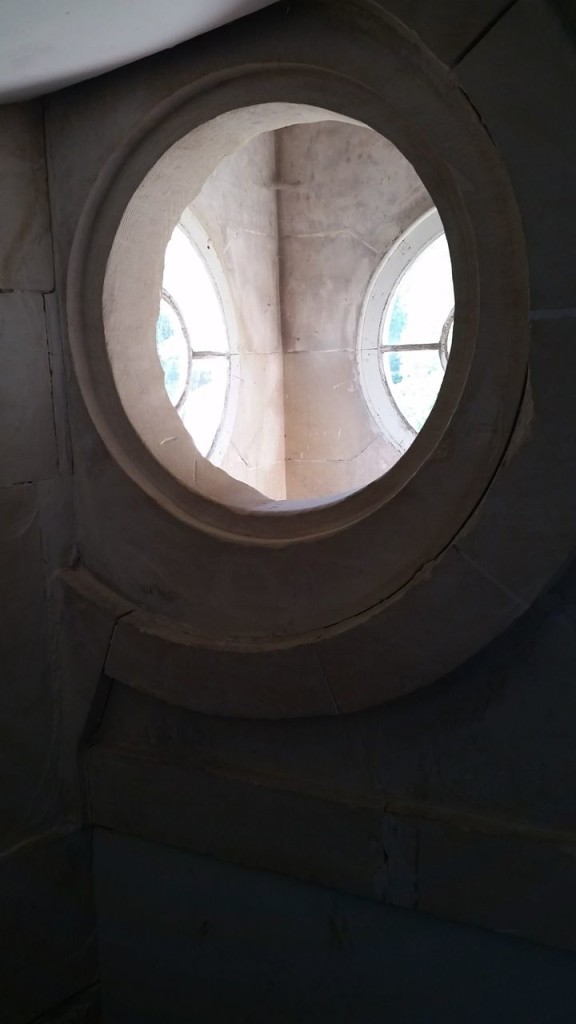 That's a little odd.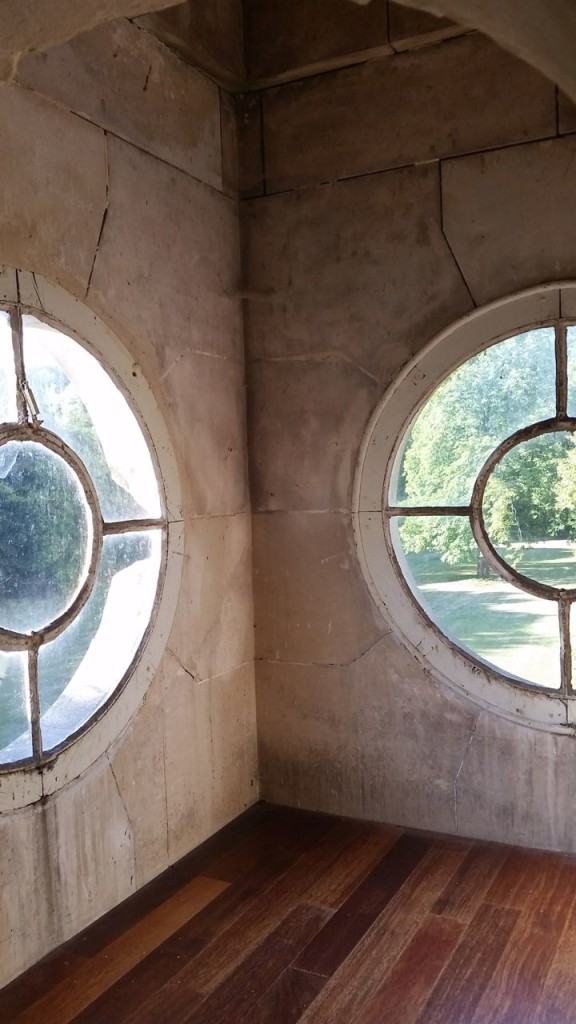 A really great hidey hole for someone?
The wooden beams are original.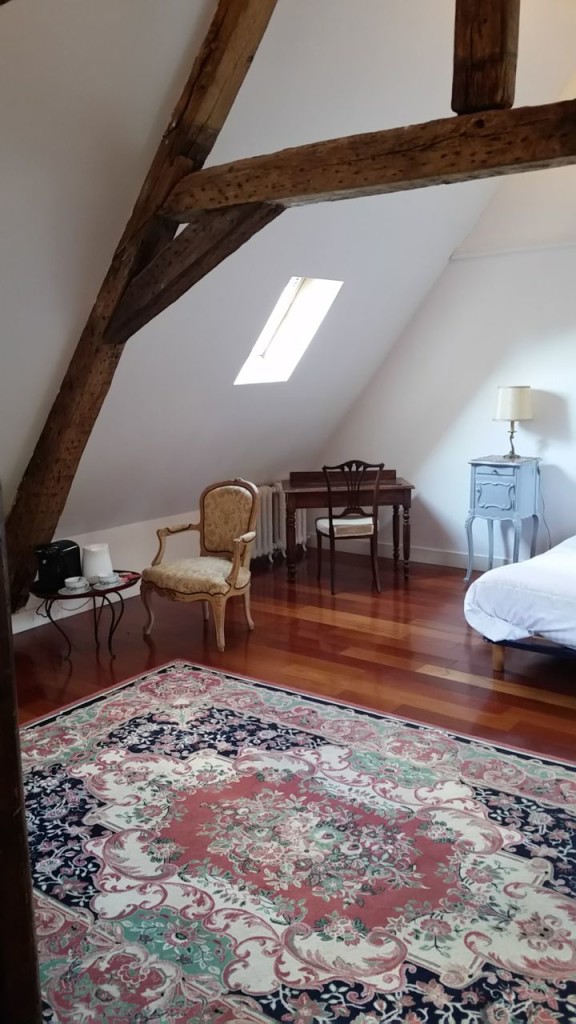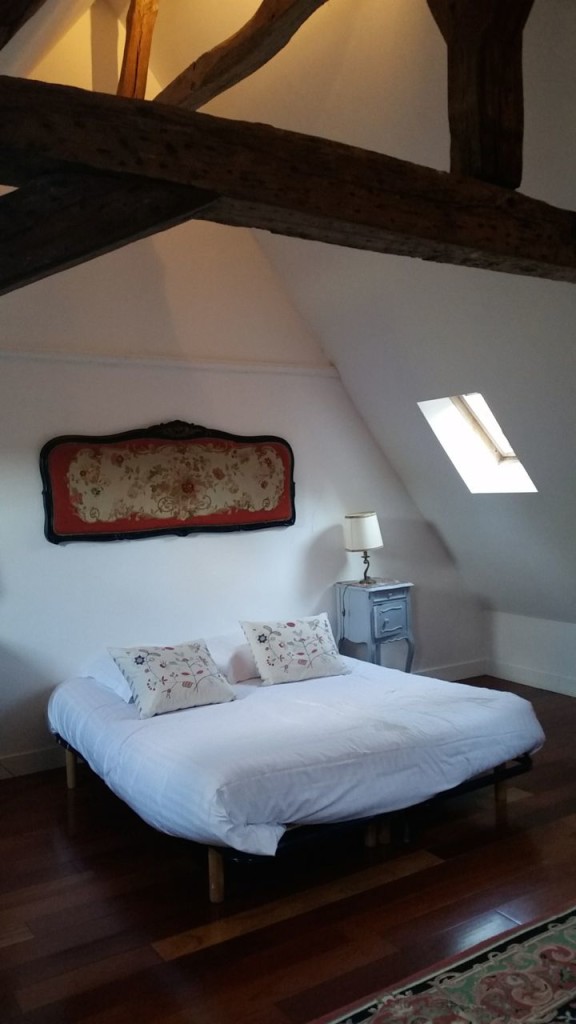 I loved staying at the two chateaux. They were so different from each other and made the experience so much more special and personal. If you can, I highly recommend booking. The families are so friendly and welcoming. They are eager to share the history of the home and make your stay pleasant and comfortable.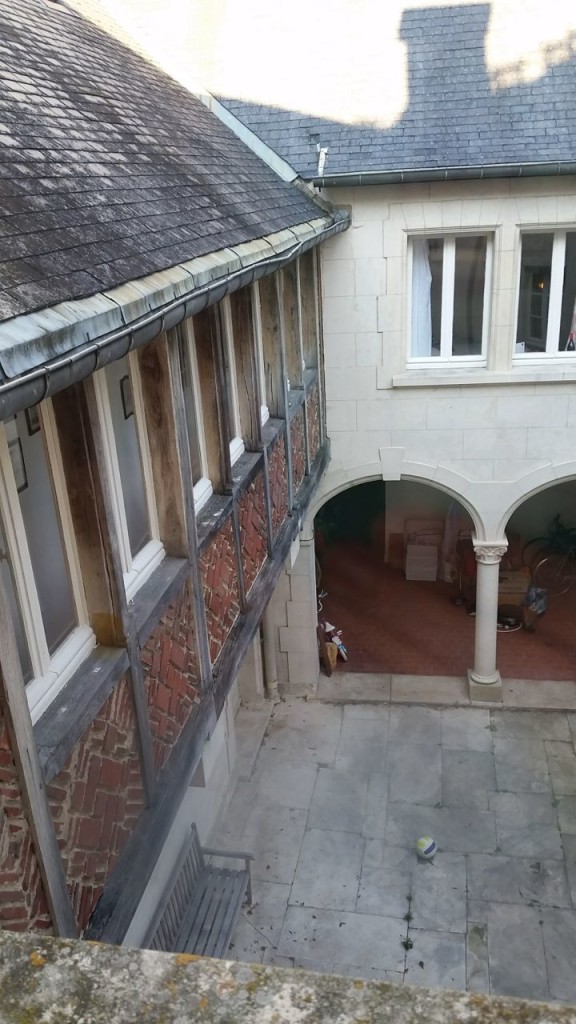 There are parts of the house that are off limits because it is the private rooms of the family, or they aren't renovated yet.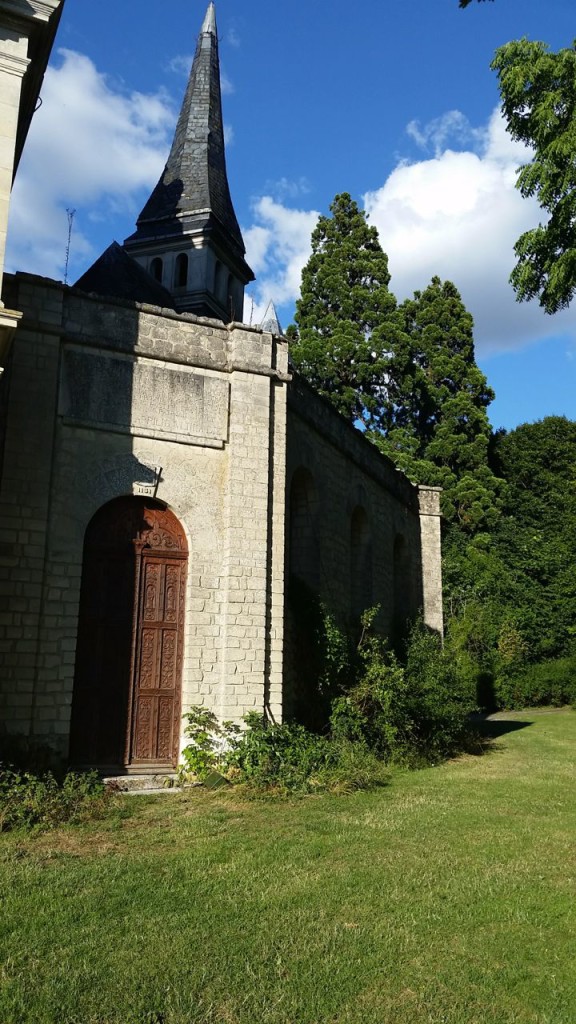 For dinner we went to a fantastic restaurant called L'auberge des pescheurs. Our hosts recommended it and called to make the reservation for us.. Even though my French is rudimentary at best EXCELLENT, we had trouble reading the French only menu. So our French waitress explained it to us in Spanish. She lived in Spain for a few years and spoke flawless Spanish. Adam speaks Spanish, I speak a little French, a LOT of Portuguese and some Spanish. So between four languages, we were able to order a wonderful meal.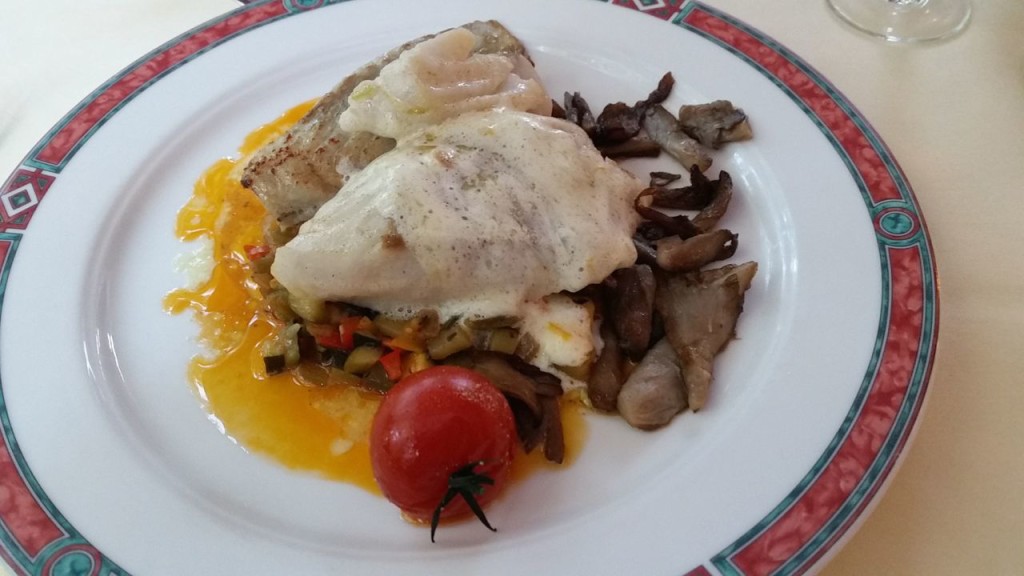 This may have been the best meal of the trip.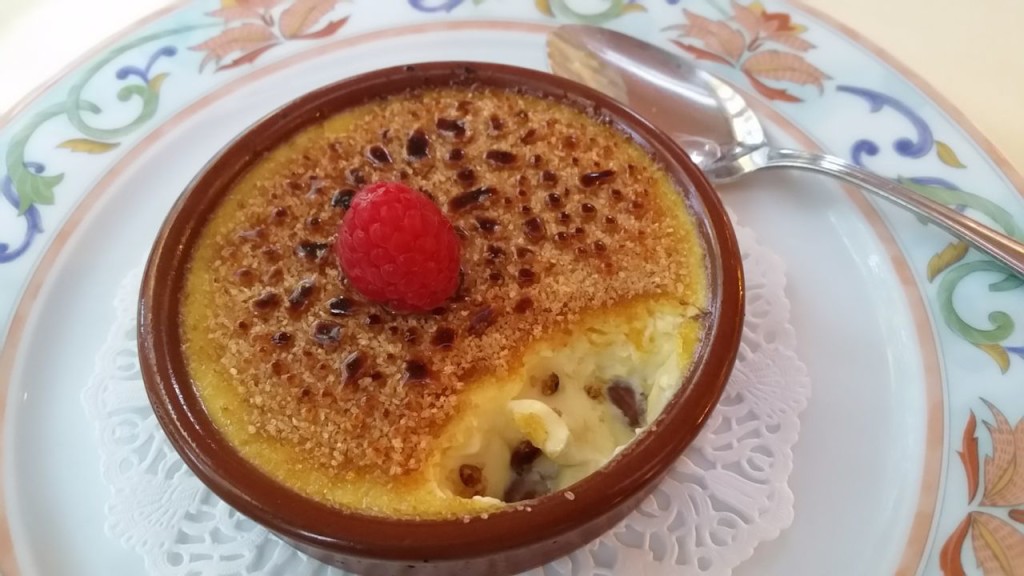 Day 6 – Giverny, Chateau Gaillard, La Roche-Guyon, Villarceaux Estate
And THIS is where we got to eat breakfast.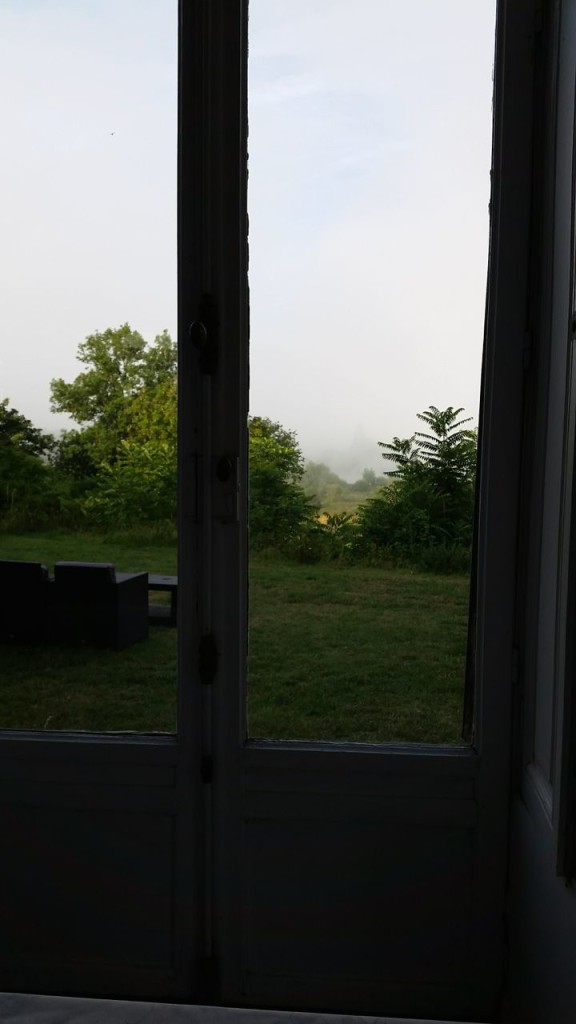 Looking out over that!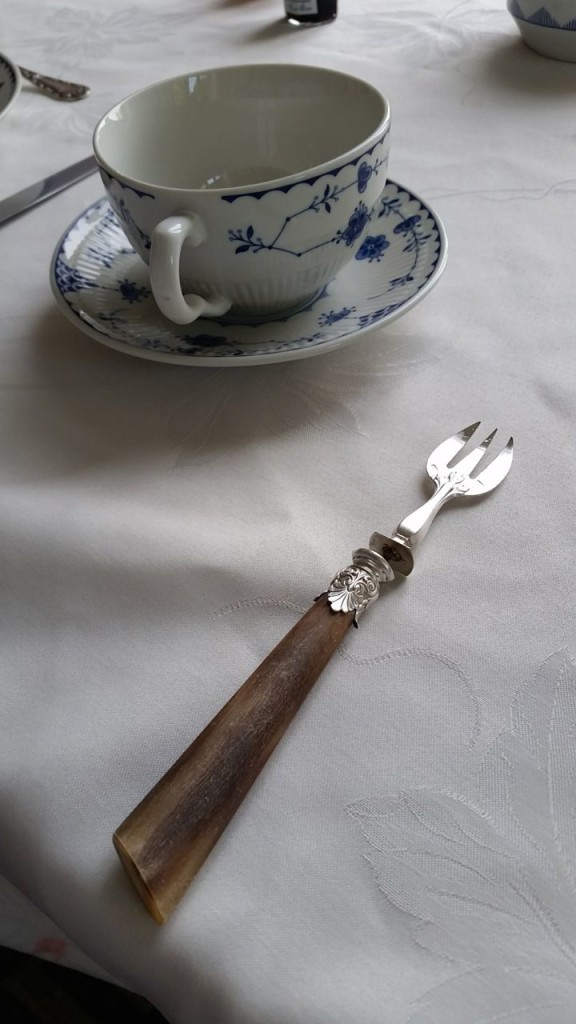 Using old china and utensils so beautiful I wanted to take them home.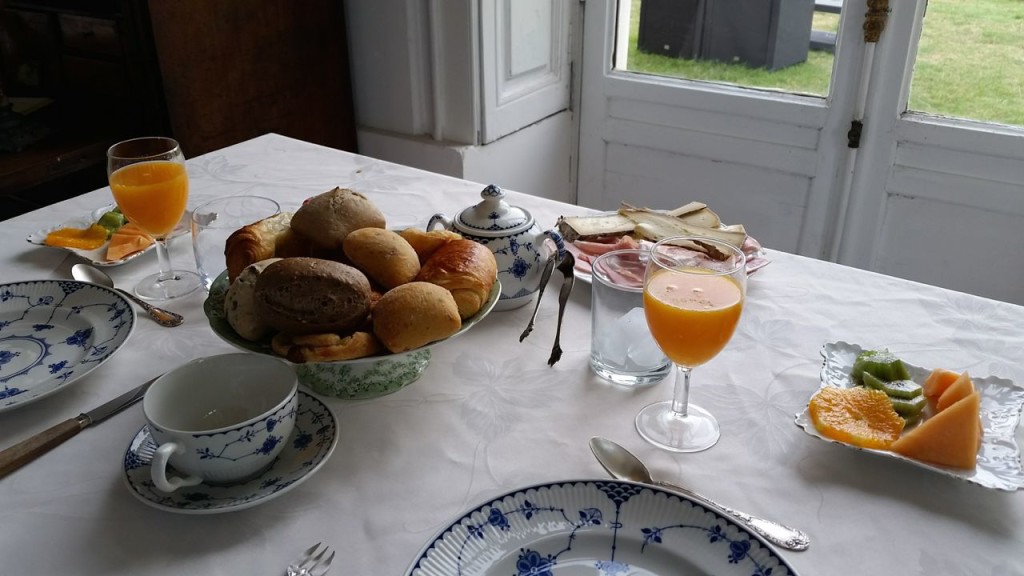 Meats, cheeses, fruit, bread and juice. It was so perfectly delicious and simple.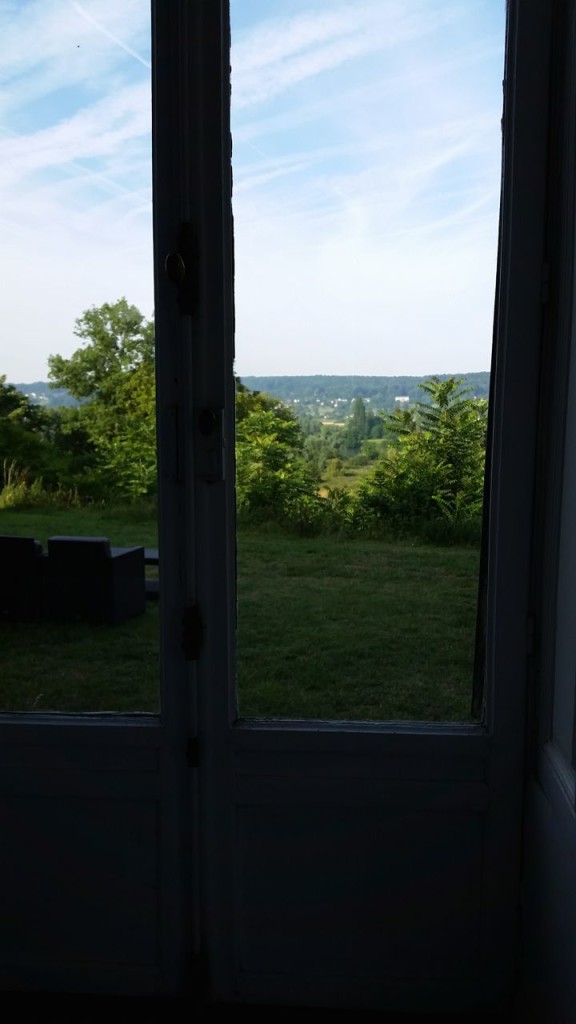 We checked out of our chateau and headed to Giverny where Monet's home and gardens are.
GIVERNY
Brace yourself for more pictures of flowers.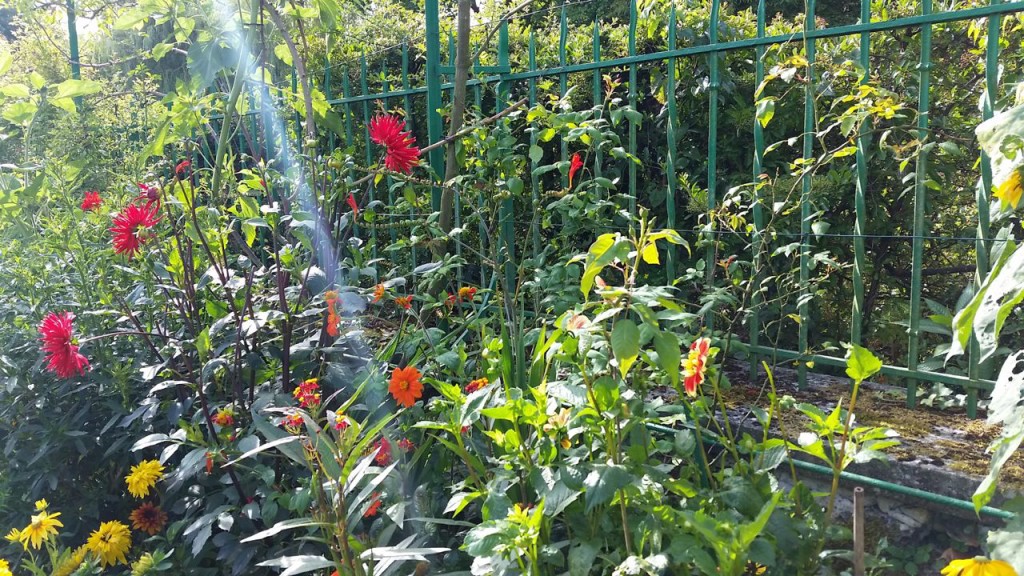 I didn't post even half of the pictures I took of the gardens.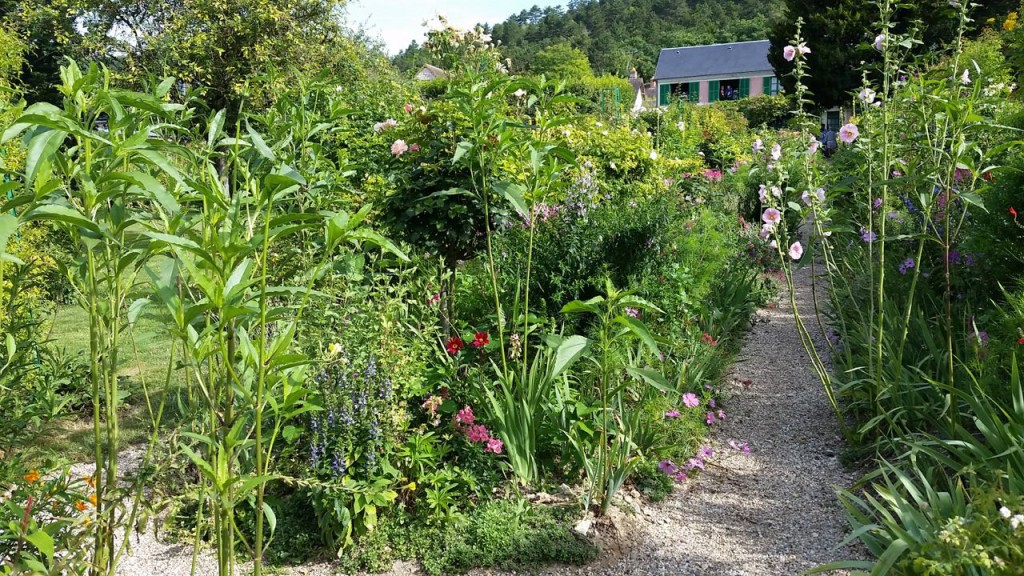 At first it was a little depressing to see this amazing garden and feel like I'm not the gardener I could or should be.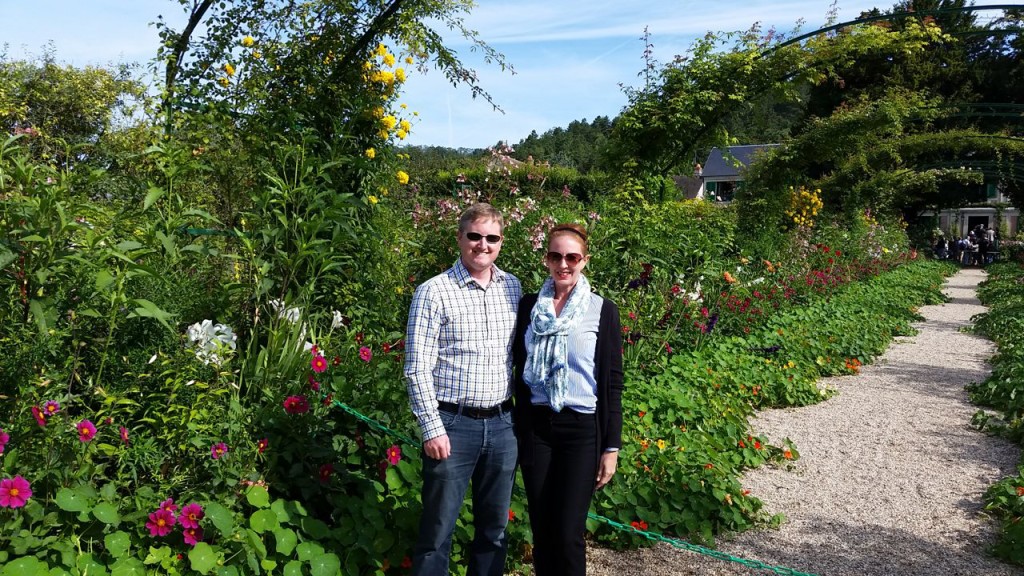 But then I found out Monet had a staff of 7 full-time gardeners taking care of this in his time.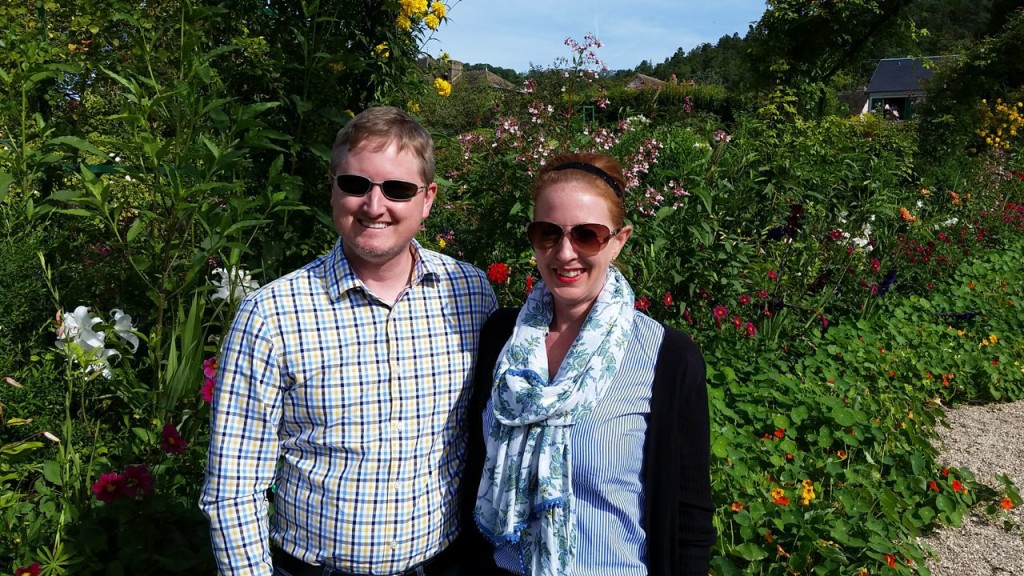 And there is an even larger full time gardening staff caring for it now. I am one woman with a full time job of taking care of our 6 kids, home, yard, chickens, gardens, and I'm doing a pretty great job. Even if it were my full-time job, one person can't do this.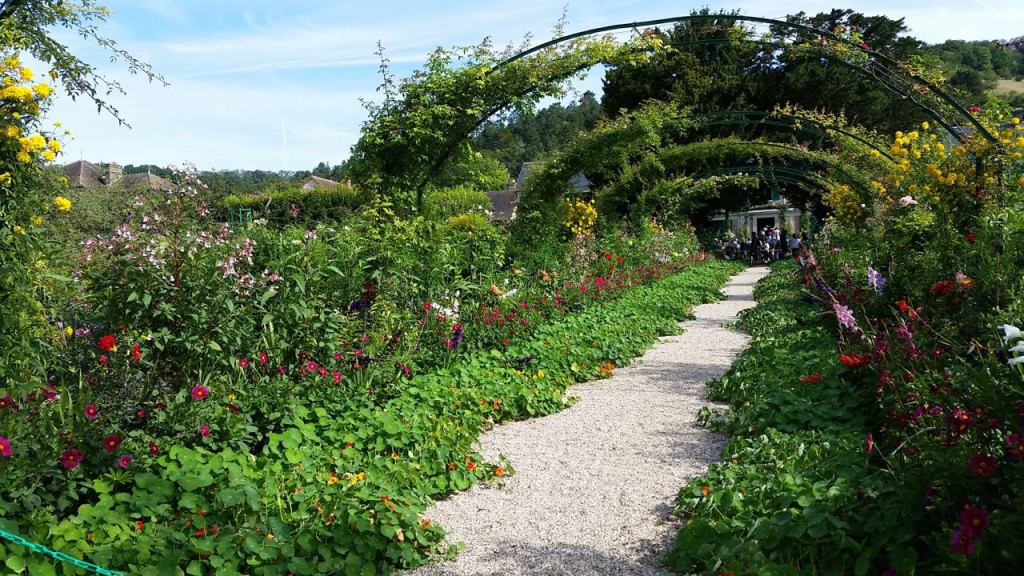 What an entrance though!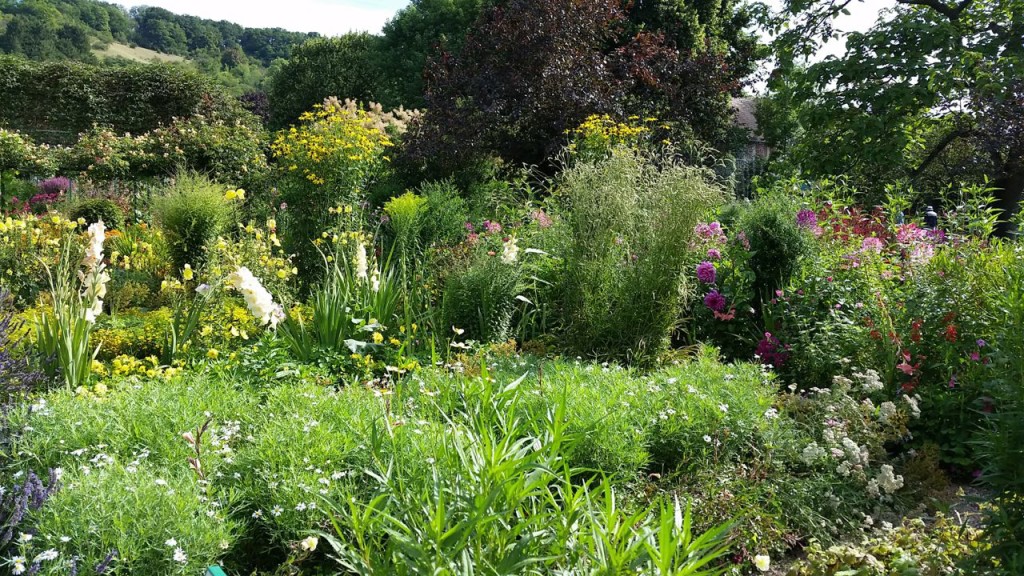 What I realized during all these garden tours is that I need more hollyhocks and hydrangeas to achieve my french cottage garden look. I already have beautiful climbing roses on my front porch. Those are the three types of flowers that are everywhere in this area.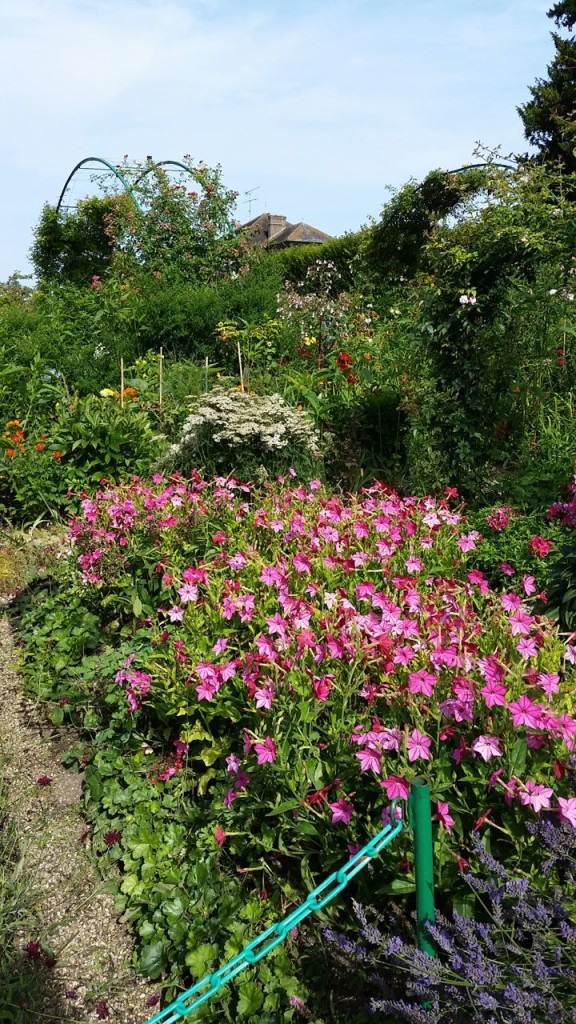 Of course in Monet's garden it is more like Noah's ark. He has at least one of everything.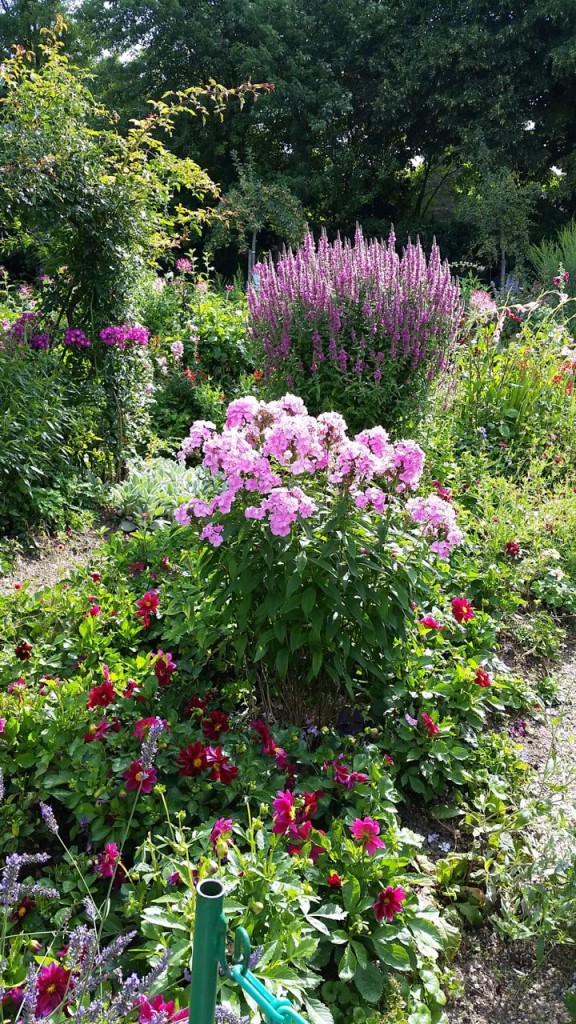 And it is all so beautiful.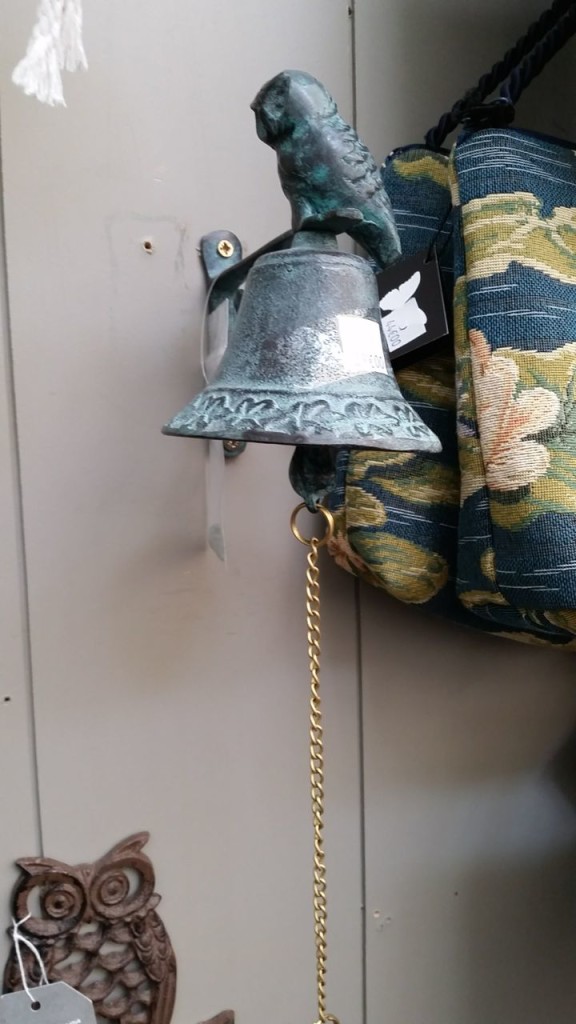 In the gift shop I saw this bell and wanted one, but only the display was out, so I took a picture and went to show it to the cashier. She brought me a thermometer. So I said no, pointed to the picture and said, "Ding ding ding ding ding!!" That is the universal word for bell (although if you must know, the French word for bell is cloche). So she brought me a bell with something else on top. I pointed to the picture again and said, "Whoo whoo whoo whoo." That is the universal word for owl (or hibou if you choose to master only one country's language). So she went back and came back with my cloche hibou. It is possible to communicate no matter the language barrier, and both of us were laughing.
Super awesome travel tip: When you find something you want to buy along the way during your travels, unless it is a truly unique item, check the internet to see if you can order it. The gift shop here had SEVERAL, and I mean tables and tables full, or books relating to Monet, his home and/or his gardens. None of them were out of print. I chose the ones I wanted, went on amazon.com and ordered them right then and there in the gift shop. I paid less for them, I didn't have to take up valuable real estate in my one carry on bag, and I didn't have to haul them around France the rest of the trip. Seriously, check. I've done it many times.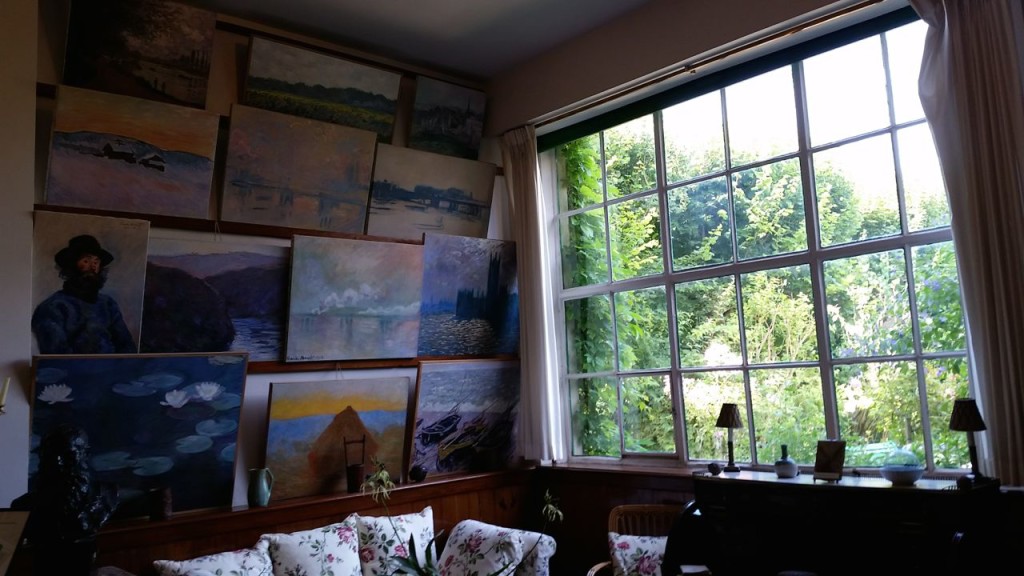 Inside the house, this is Monet's studio.
Here's another awesome travel tip: I love to read historical fiction before and after a trip about places we are going/have been. I read a book about Monet and his first wife called Claude and Camille.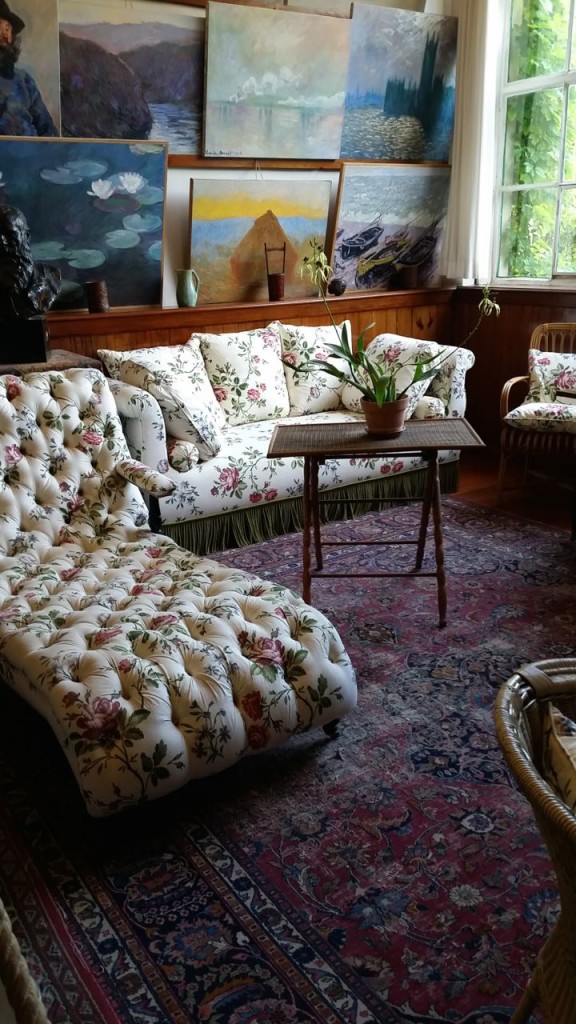 It makes places so much more interesting and personal. The whole story and place come alive for me.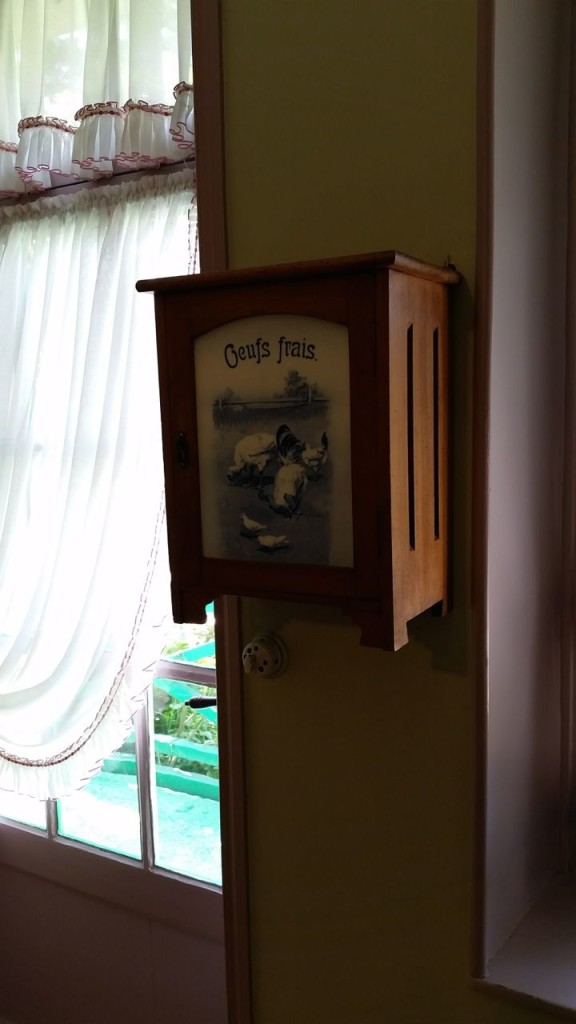 (That box says fresh eggs.). Claude painted Camille so many times. A portrait of her is the first painting that got him noticed and exhibited in the Salon in Paris.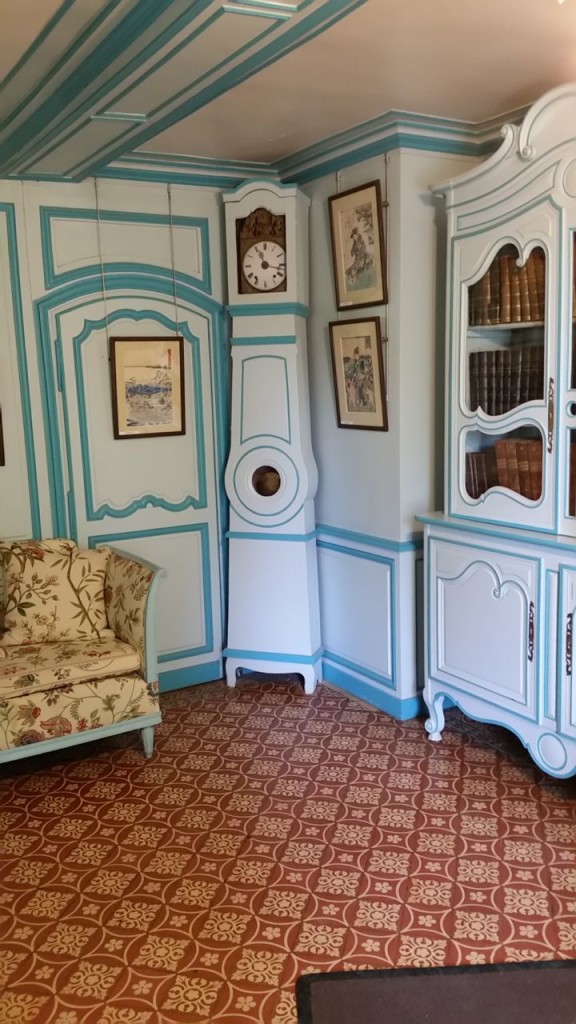 This room is very Alice in Wonderland to me.
The painting of the four women picnicking is all Camille. He painted her 4 times and just changed the color of the dress.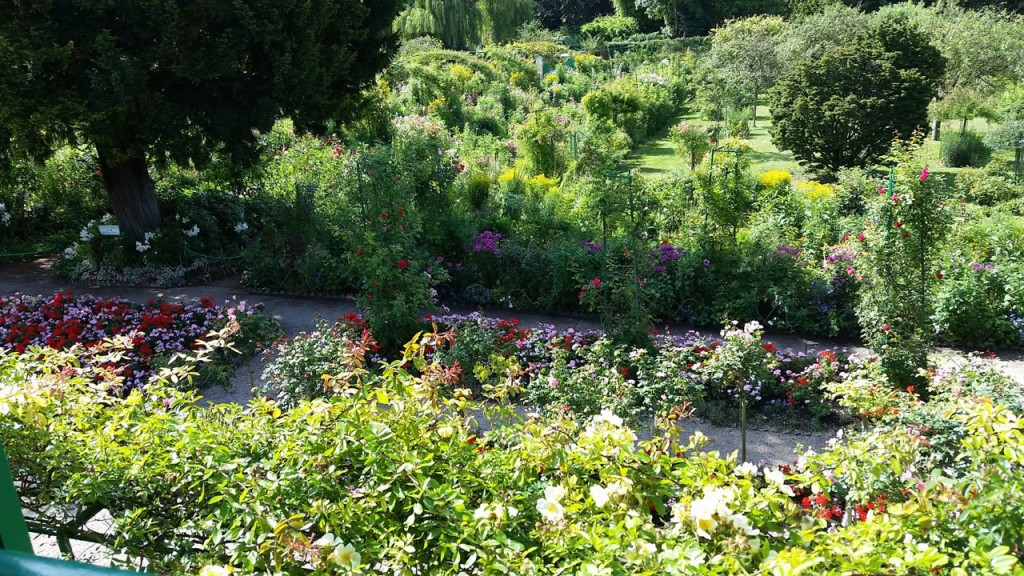 The view from his bedroom.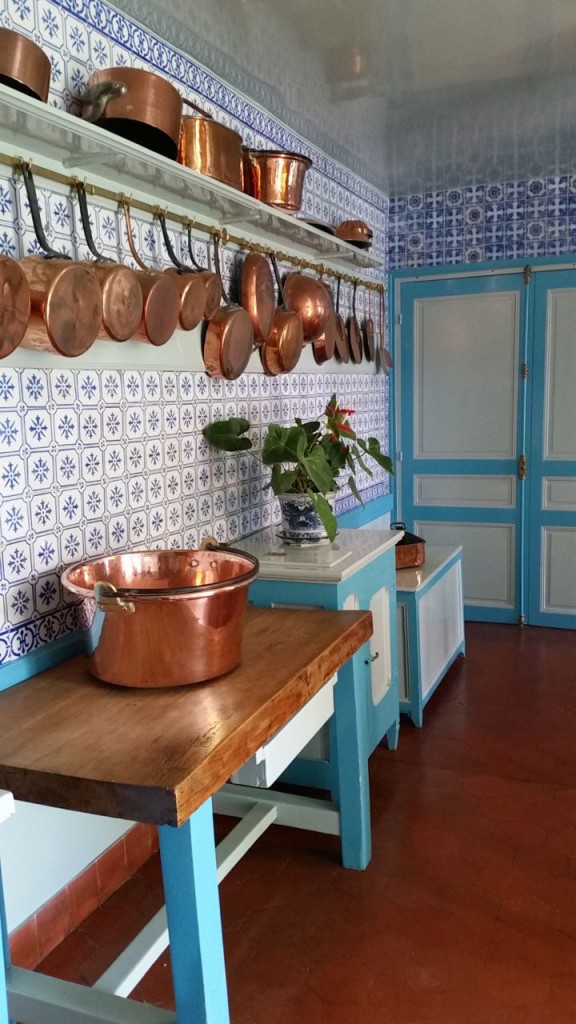 I love the blue tile and copper pots.
And that stove!!!
The pond with the water lilies is across a busy street from the gardens and house, but there is now a tunnel that goes under the road.
Water lillies aren't cold hardy, so each fall they are taken out of the water, lodged in the greenhouse over the winter and reinstalled in the late spring.
Monet built these gardens and pond to have life-long inspiration for painting. Landscapes were his first love.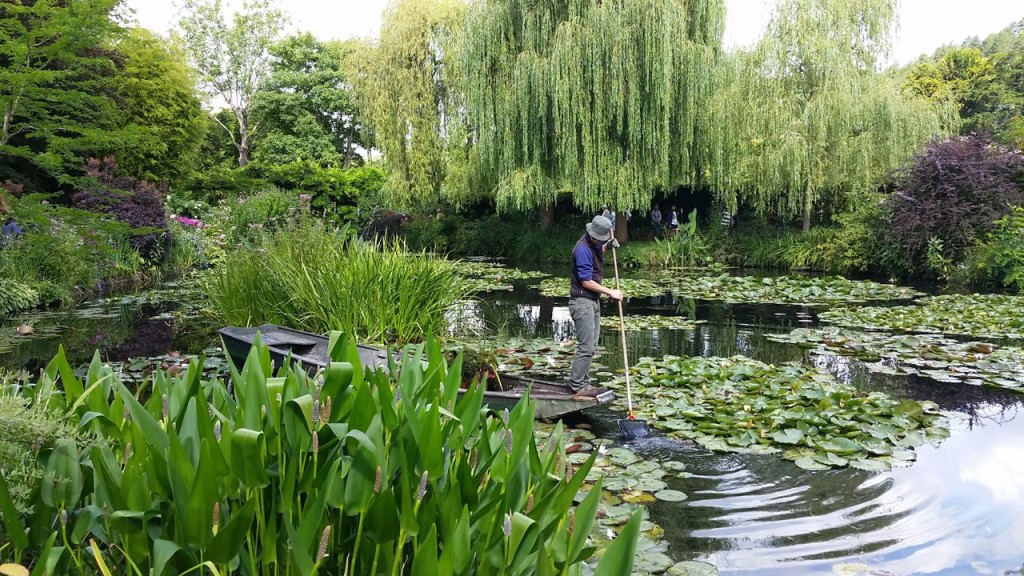 This man's full time job is clearing the scum off the pond. All day. All the days.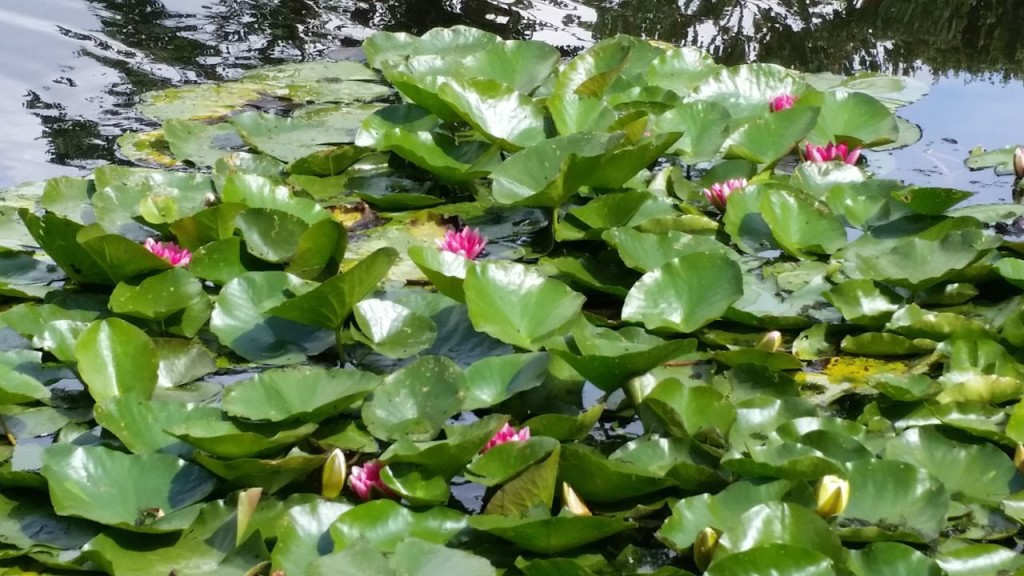 Monet and his contemporaries had a life-long fight to establish impressionism as a true form of art. People called it unfinished. Some still do. I love it.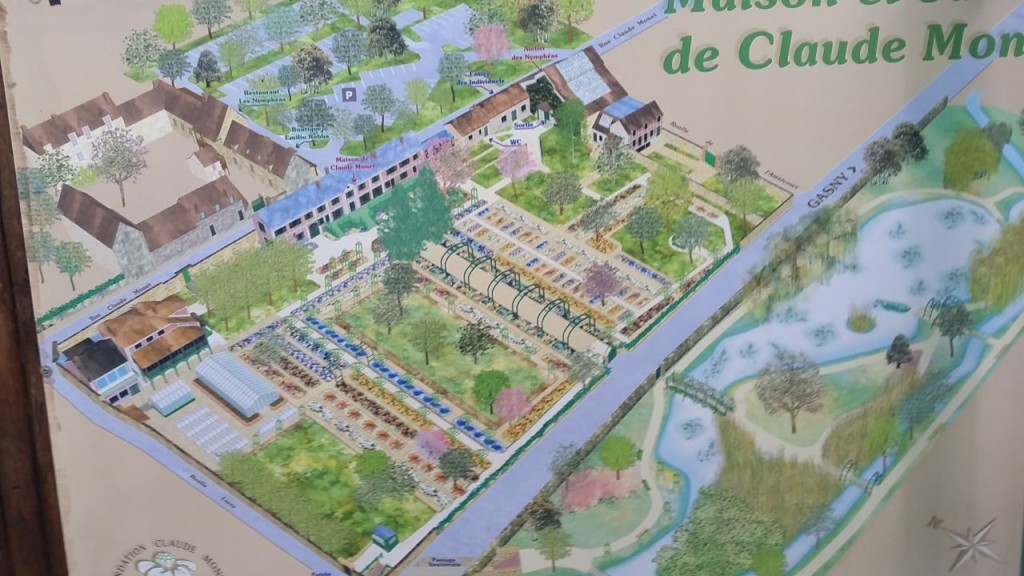 This shows the layout of this home, gardens and pond.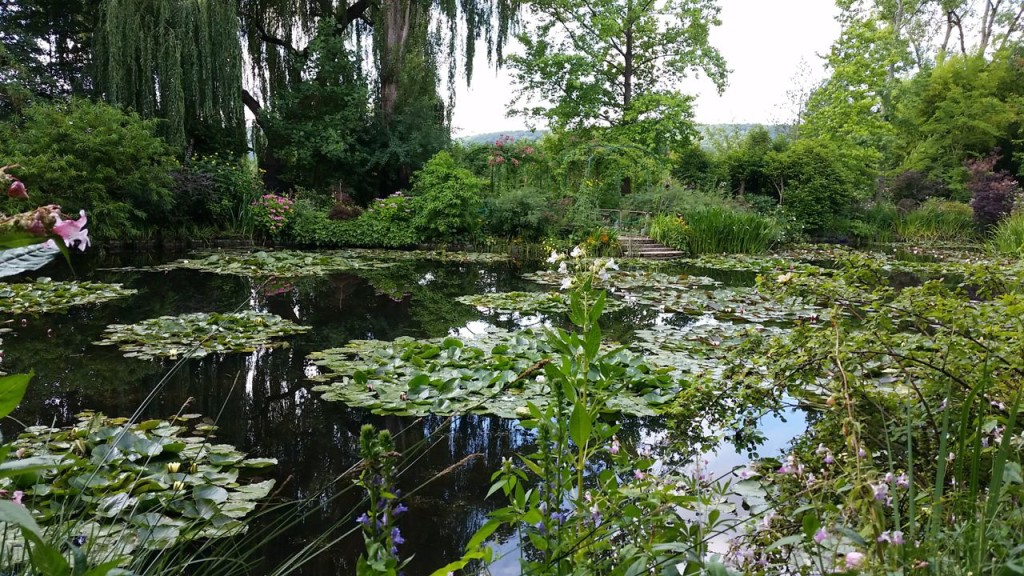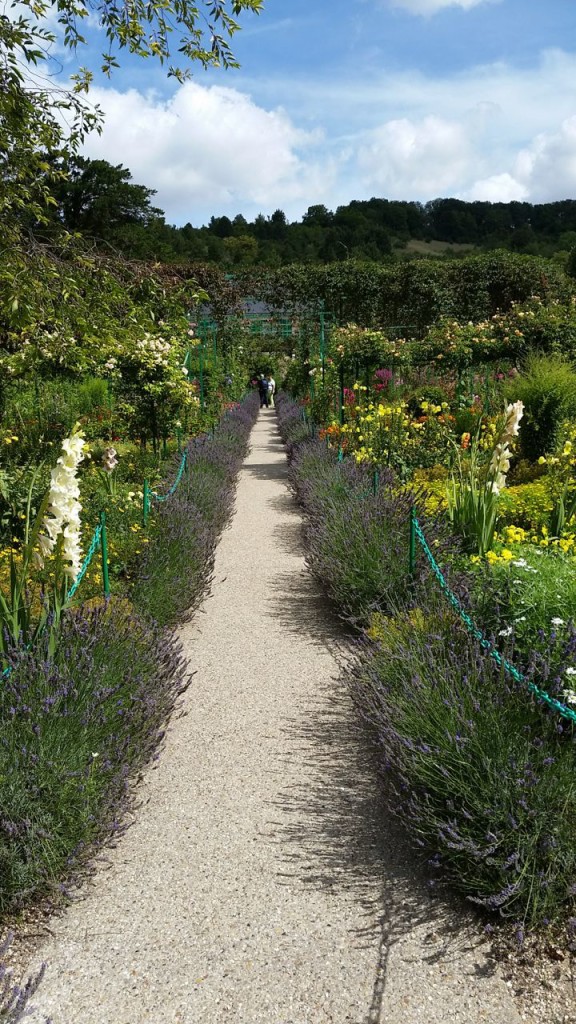 The whole thing is spectacular, and it is only 45 minutes outside of Paris. You can take a train to get there. I highly recommend it. Do buy the tickets in advance. It will save you time at the gate and the possibility of not getting in. Also go first thing in the morning when it opens at 9. It will just get busier and busier as the buses roll in. I wrote a lot more about the necessity of buying tickets online in advance here. It's worth reading. You will thank me later.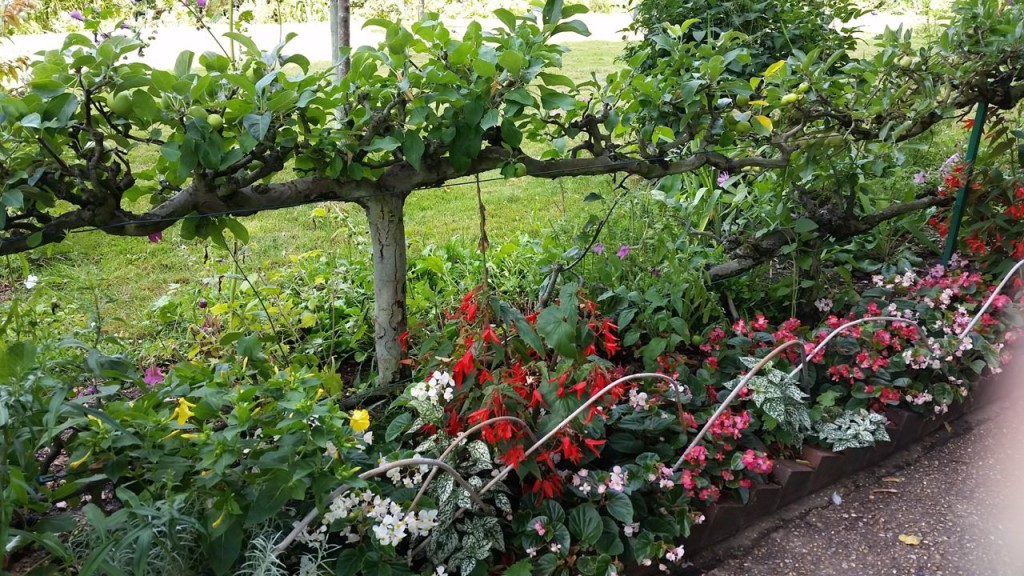 I love espaliered trees. I'm considering doing that in our yard somewhere.
CHATEAU GAILLARD
From Monet's home we went 20 minutes by car to Chateau Gaillard that overlooks the town of Les Andelys and the River Seine.
It was built in the late 10th century by Richard the Lionheart who was both king of England because of his father and Duke of Normandy because of his mother.
It was a strategic defensive spot of Normandy, which traded hands between England and France countless times.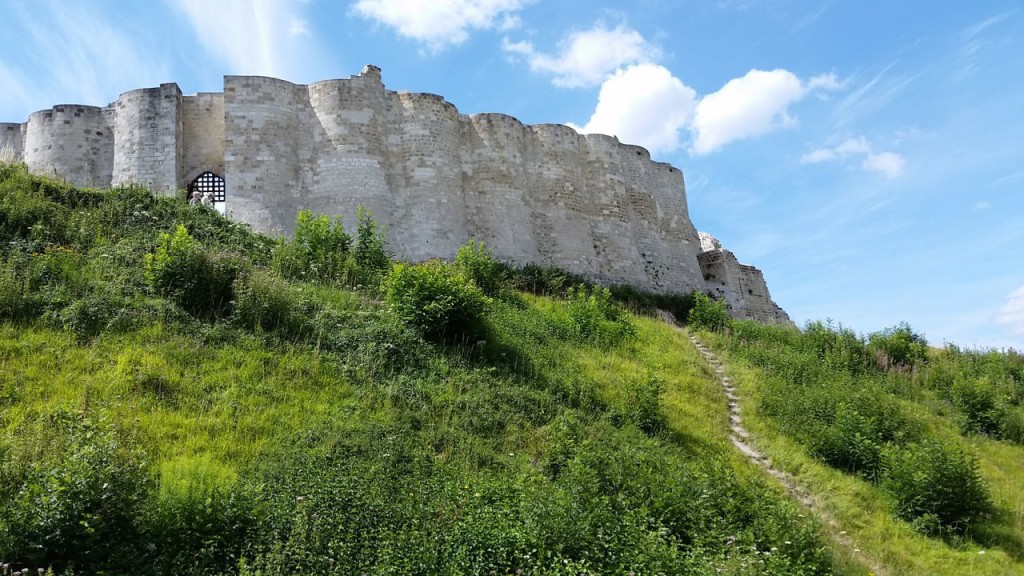 If you are interested in this time period, I highly highly recommend the books by Sharon Kay Penman. She writes excellent historical fiction in a series of books that track the British Monarchy starting with William the Bastard in the ninth century through the war of the roses. I love her books.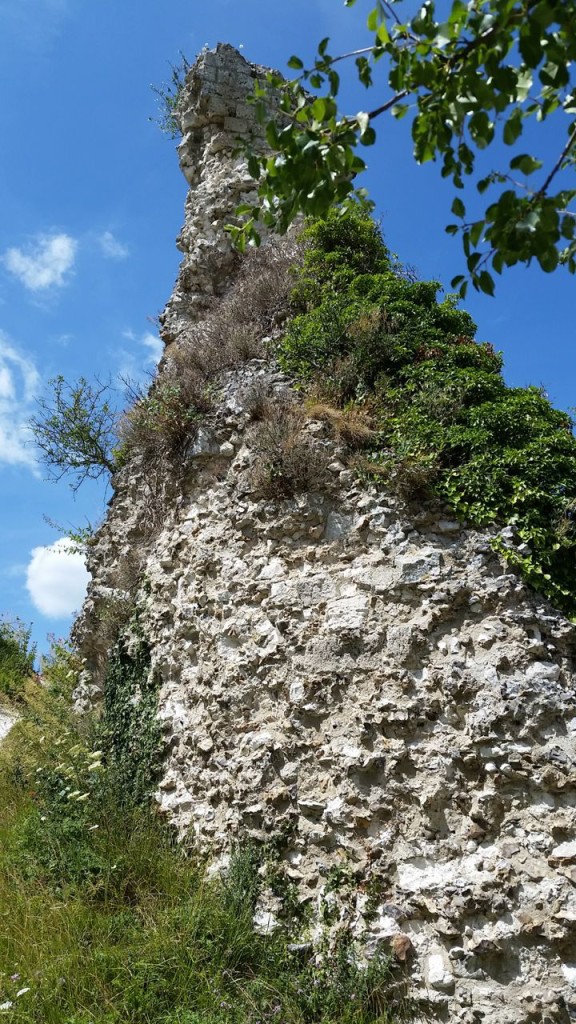 The fortress is now in pretty good condition, but the surrounding buildings are less so.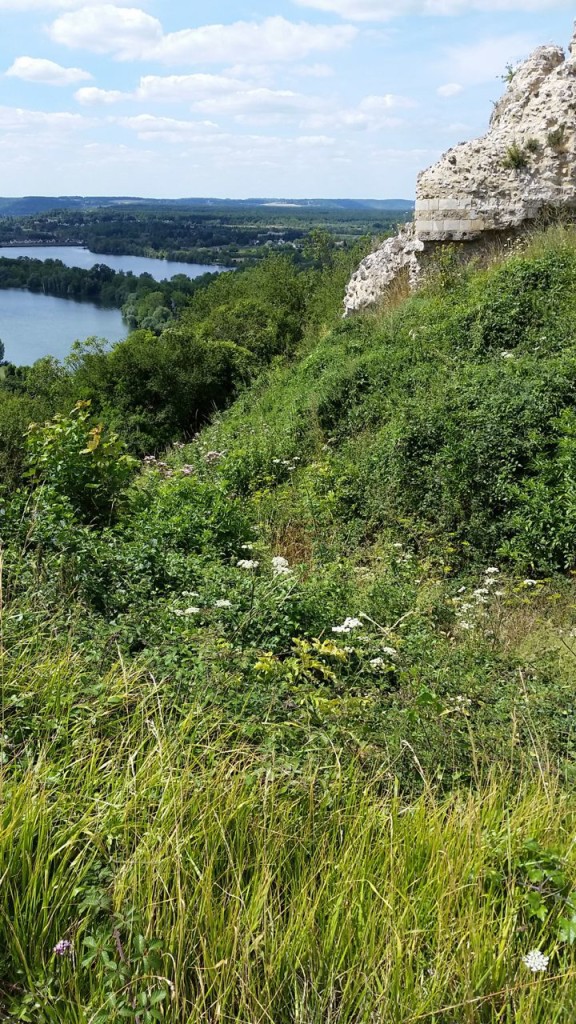 Even the weeds here are beautiful.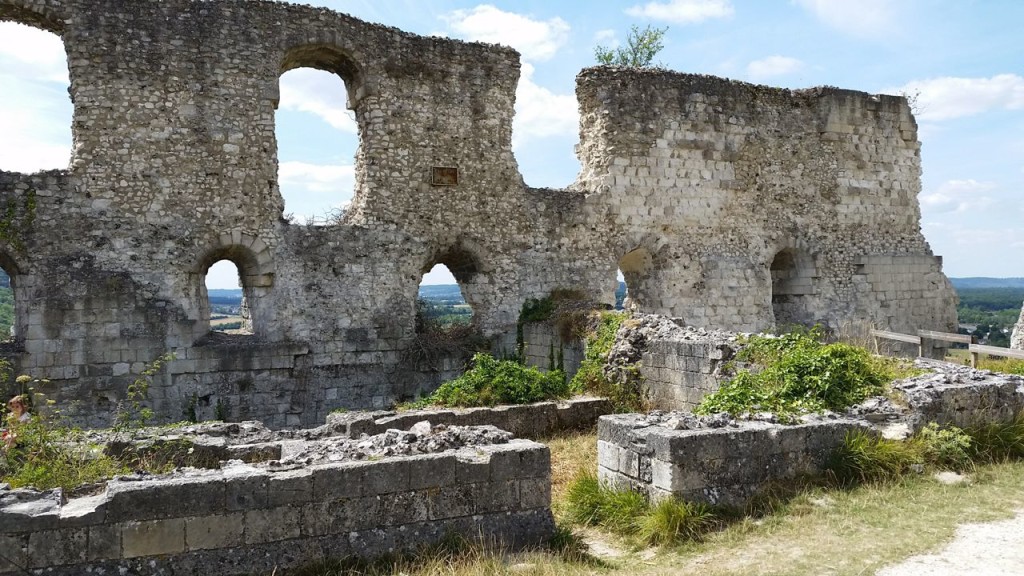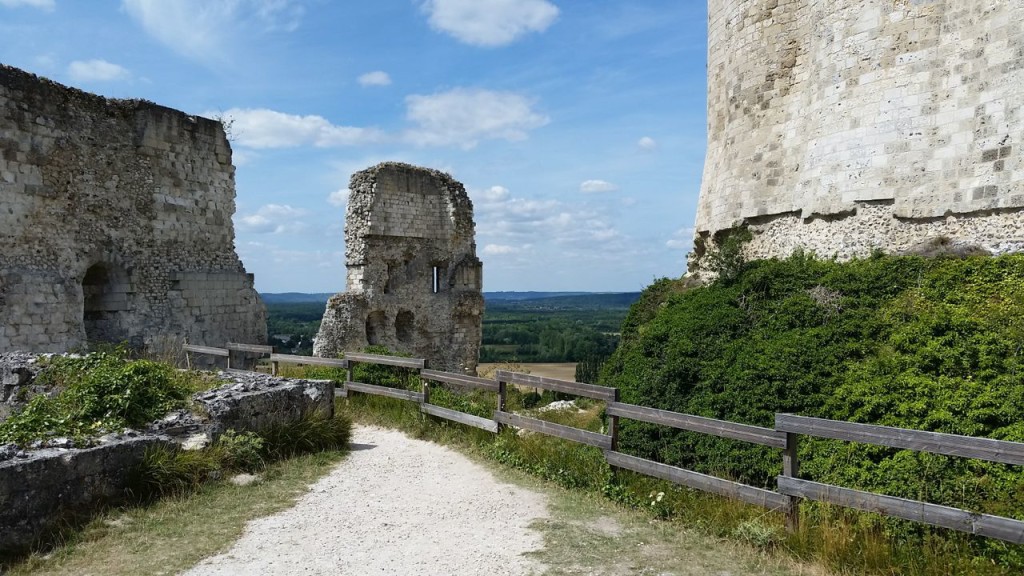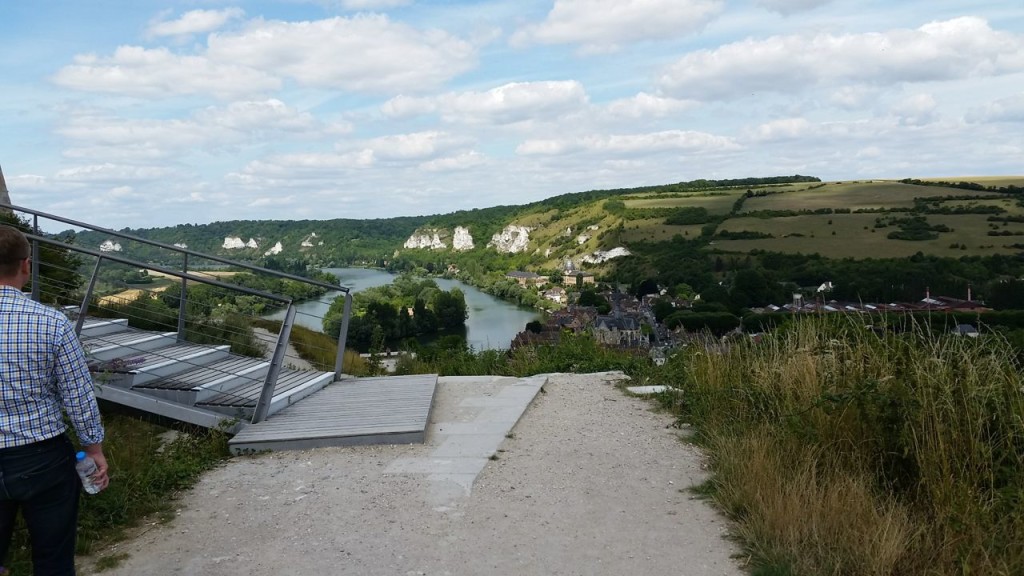 That is a view of the river and the village. The Seine was also a major transport route. From here you could cut off Paris and most of France if you controlled the river.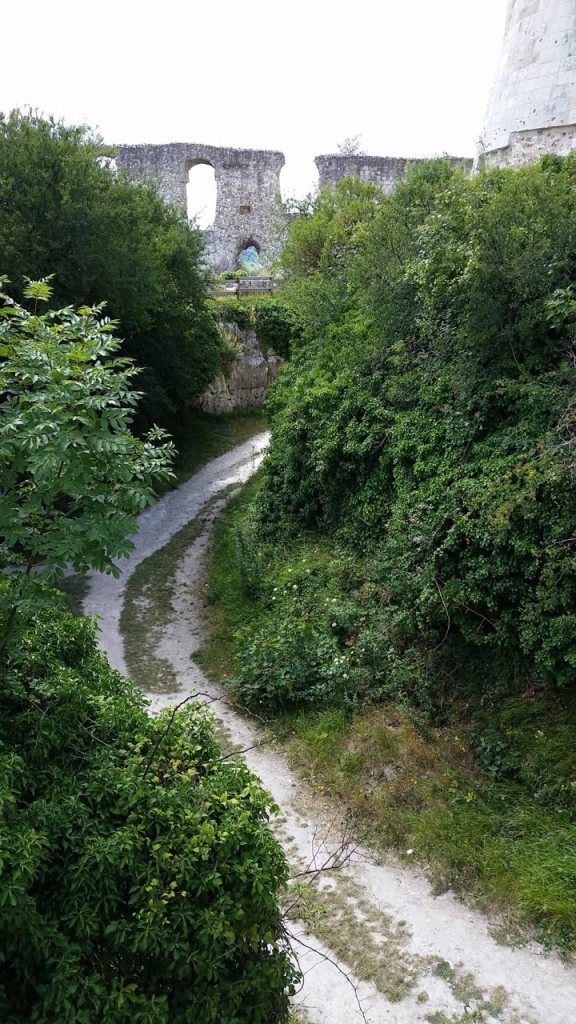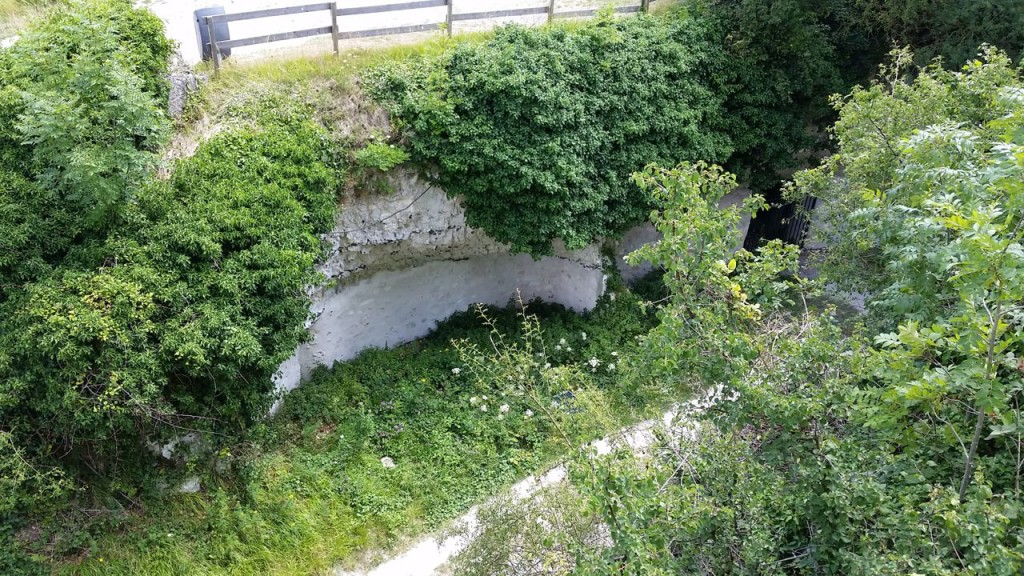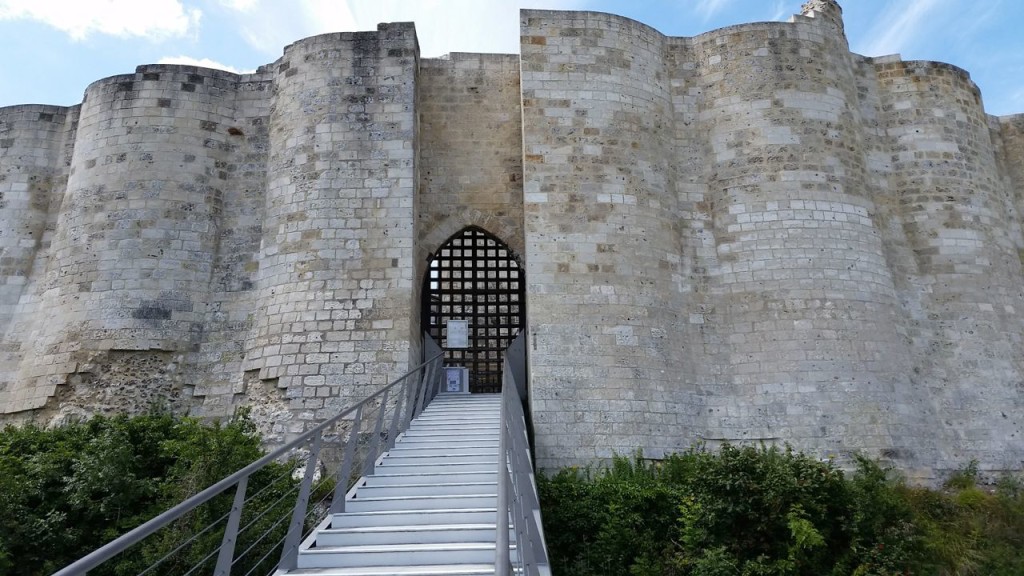 Conveniently they installed a set of stairs to replace the drawbridge.
This is what it used to look like.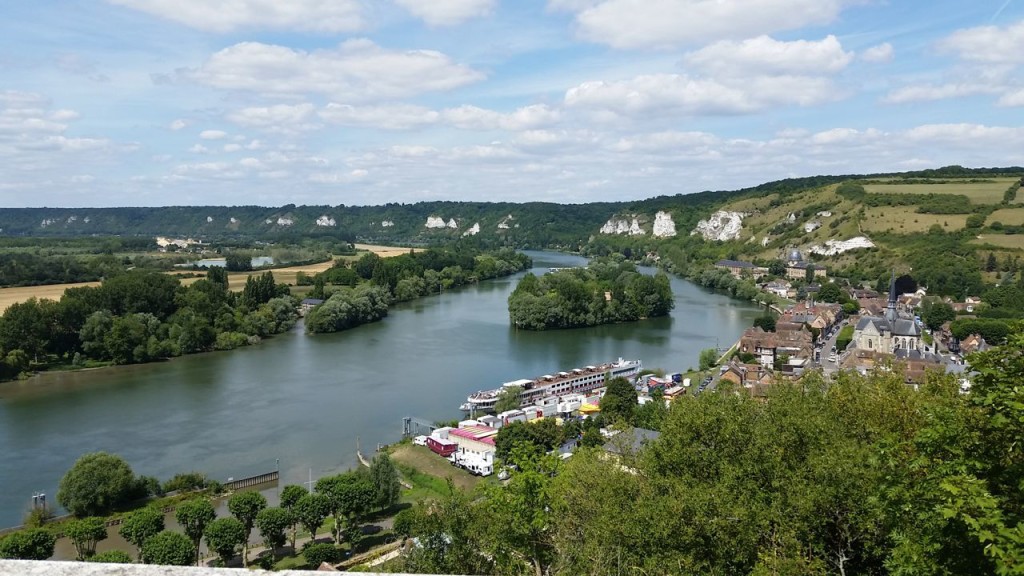 The Viking River Cruises stop here. We watched that ship do a u-turn around the little island to dock here. We were going to get lunch down there until we saw the ship pull in and decided against it.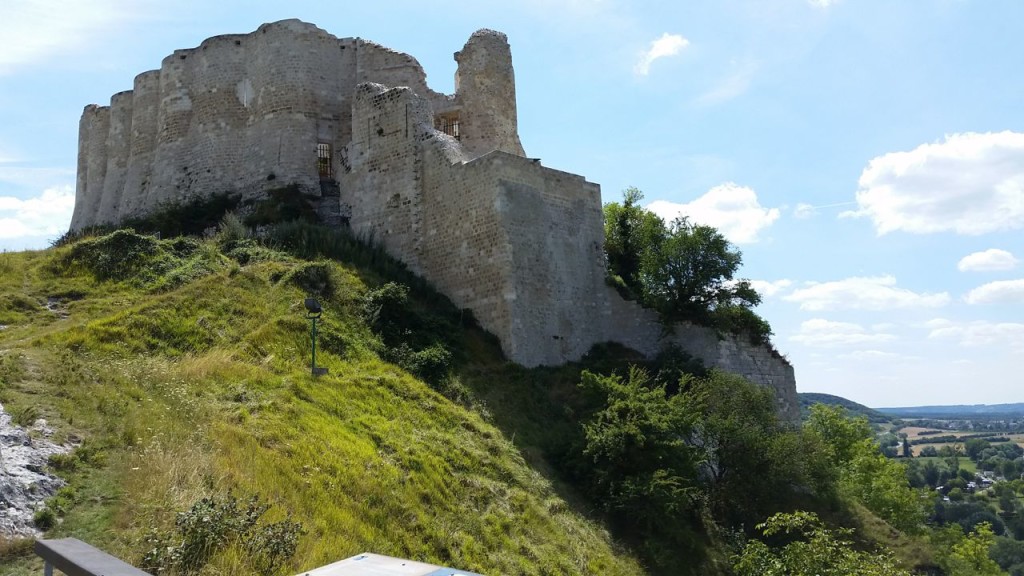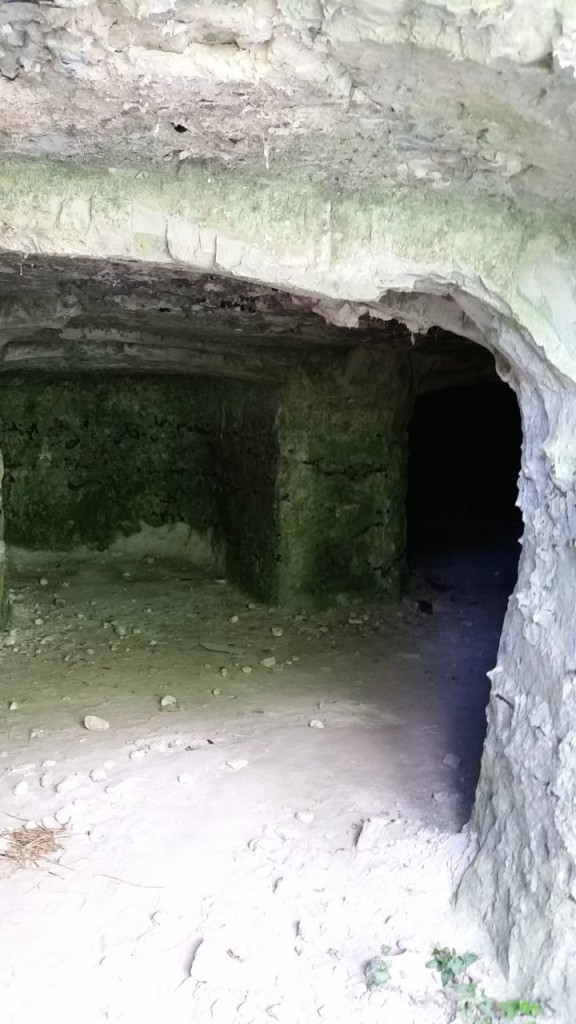 Dungeons under the keep.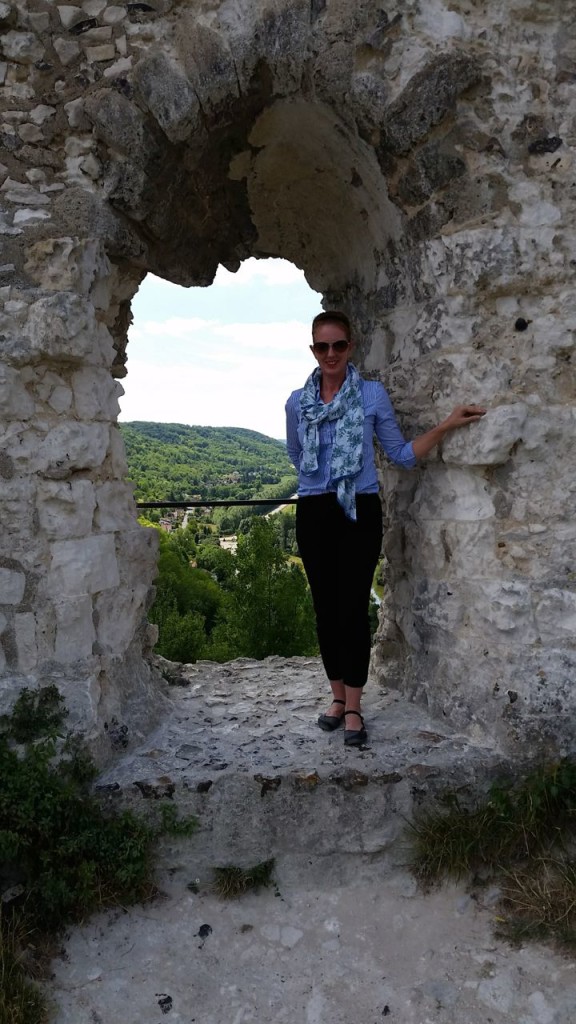 CHATEAU LA ROCHE-GUYON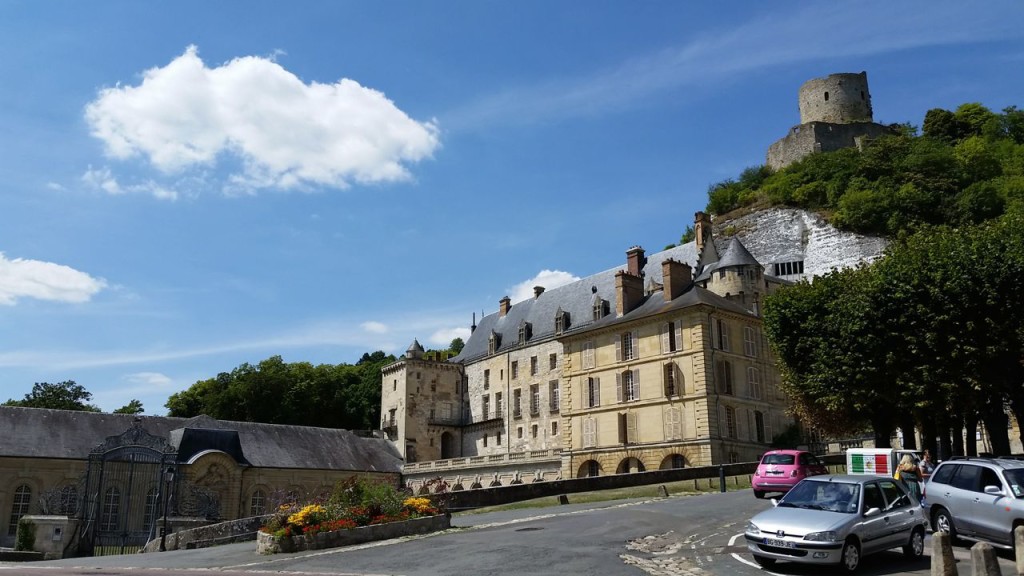 From Chateau Gaillard we drove 20 minutes back to Giverny and past it another 20 minutes to La Roche-Guyon.
First we stopped for lunch and saw this guy rollerblading around town with his fancy cart. That was pretty awesome. He was pulling that thing up hill no problem.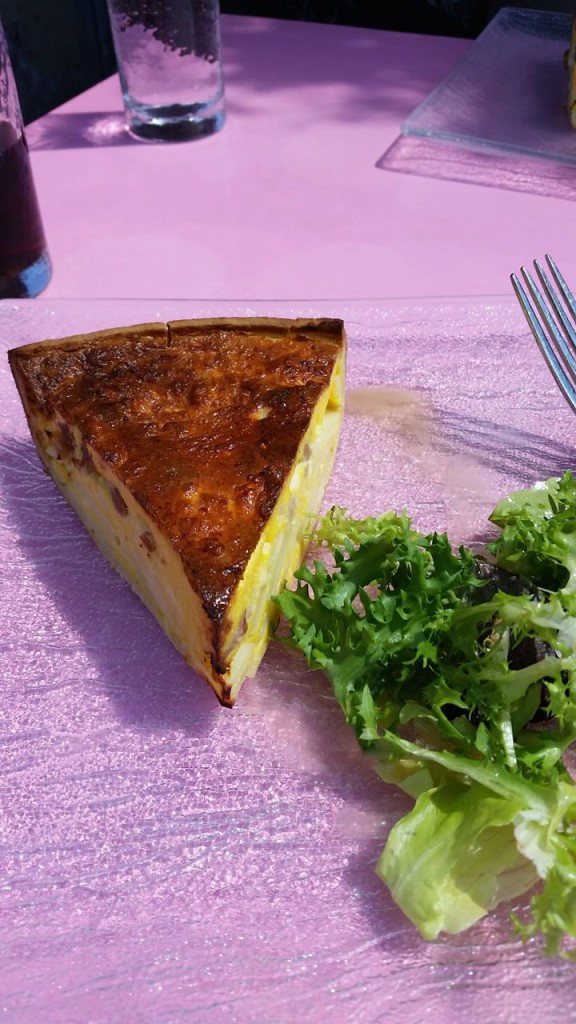 Right across the street from the chateau is the Salon de The where we had quiche for lunch.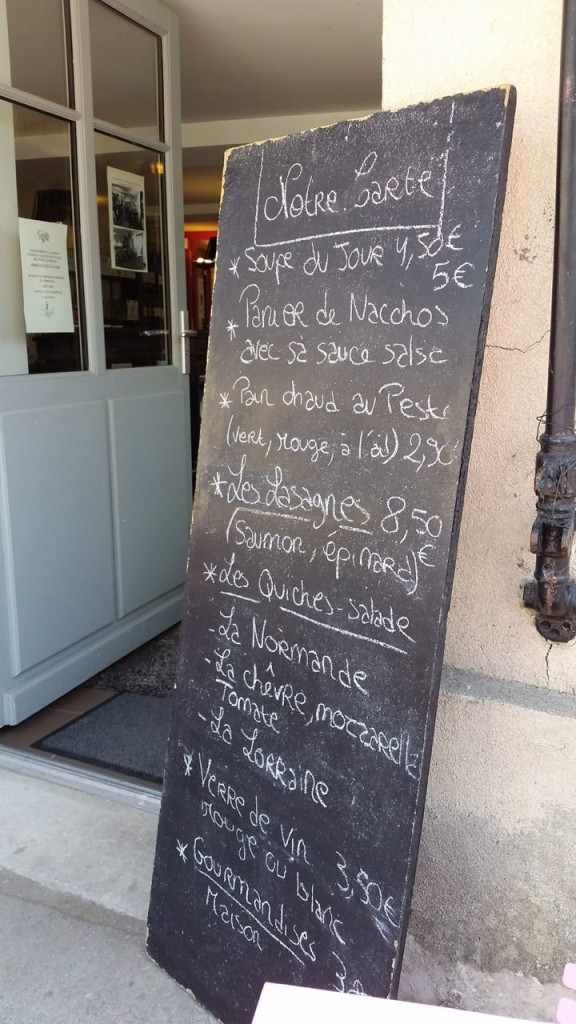 Limited selection on the menu, but tasty nonetheless.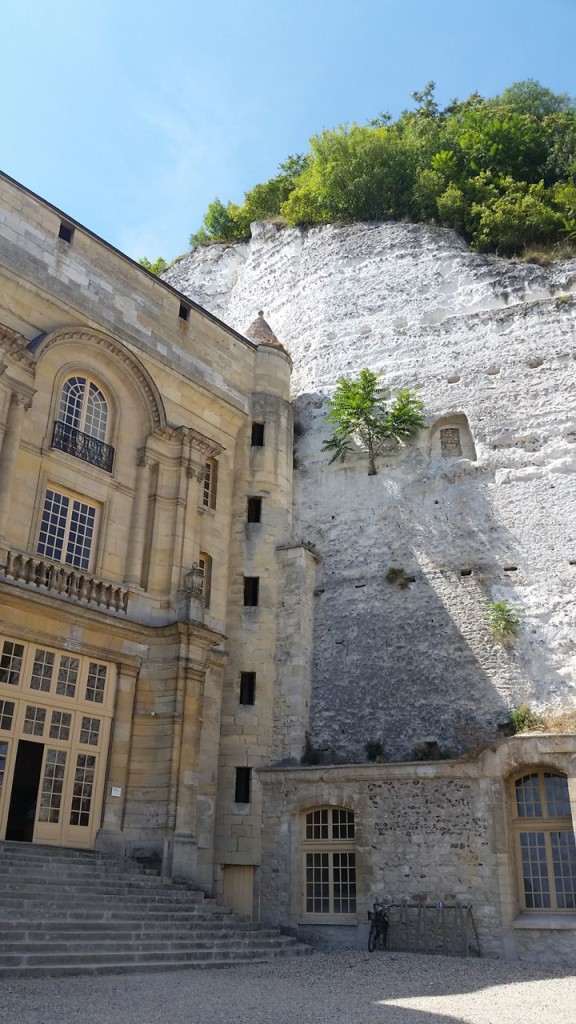 In the 11th century the fortress at the top of the cliff was built. It also looks over the Seine and was a defensive point.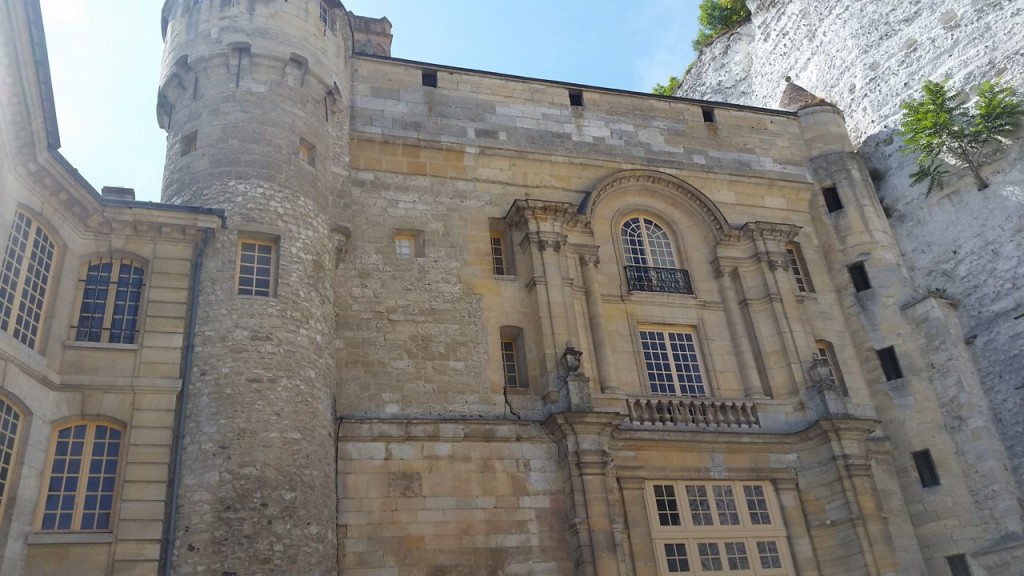 The chateau was built in the next century. It changed hands from various families at the whim of the kings. If you angered the king, he would take your duchy, lands, everything and give them to someone else. You would essentially be homeless and titleless. Sometimes they were also banished from the kingdom. You can read about this in Penman's book as well. It is so fascinating to come to these places after reading the history. I get so much more out of the visit and the books. I want to read them again after being here.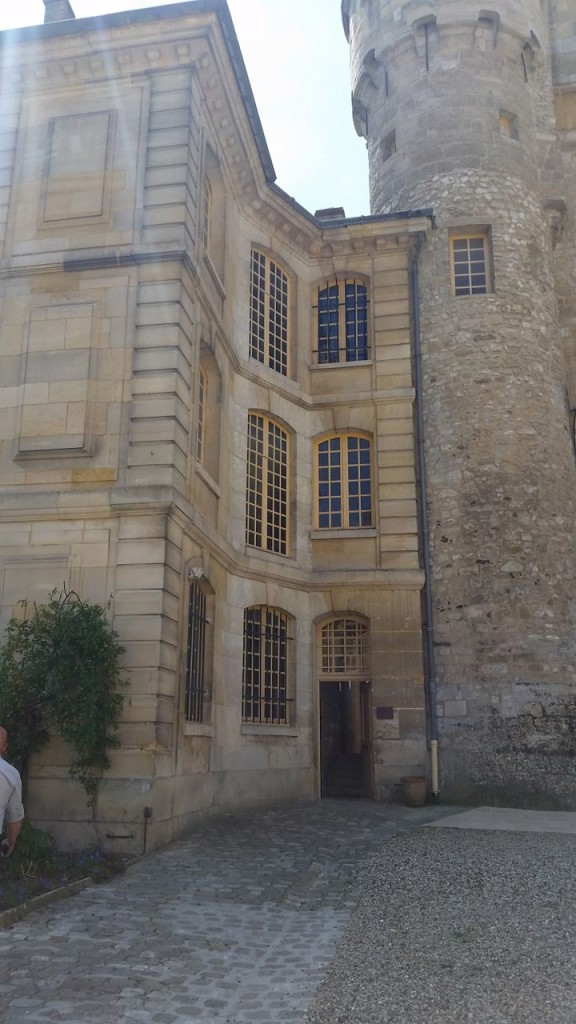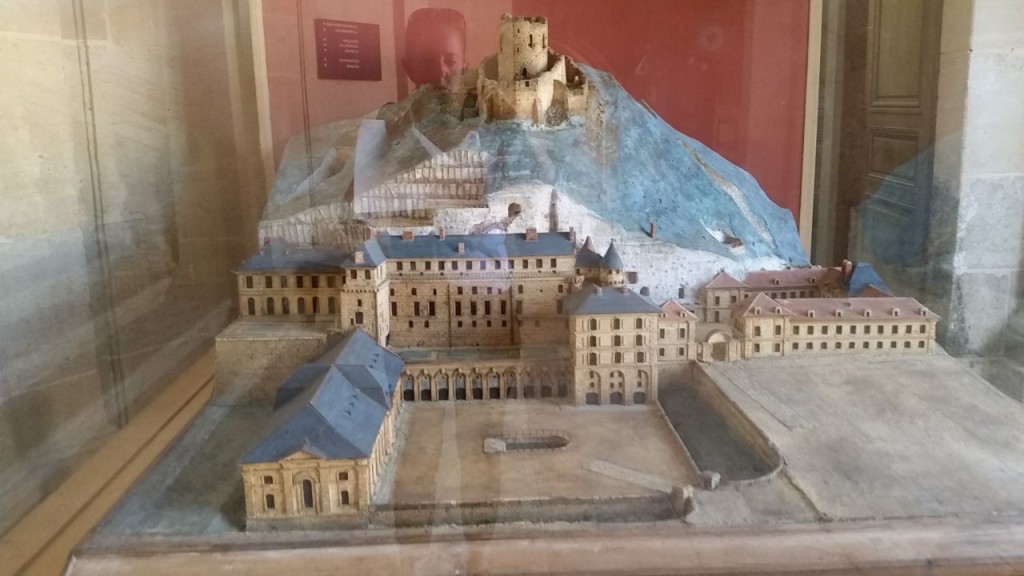 Since my camera can't take it all in, this model shows it.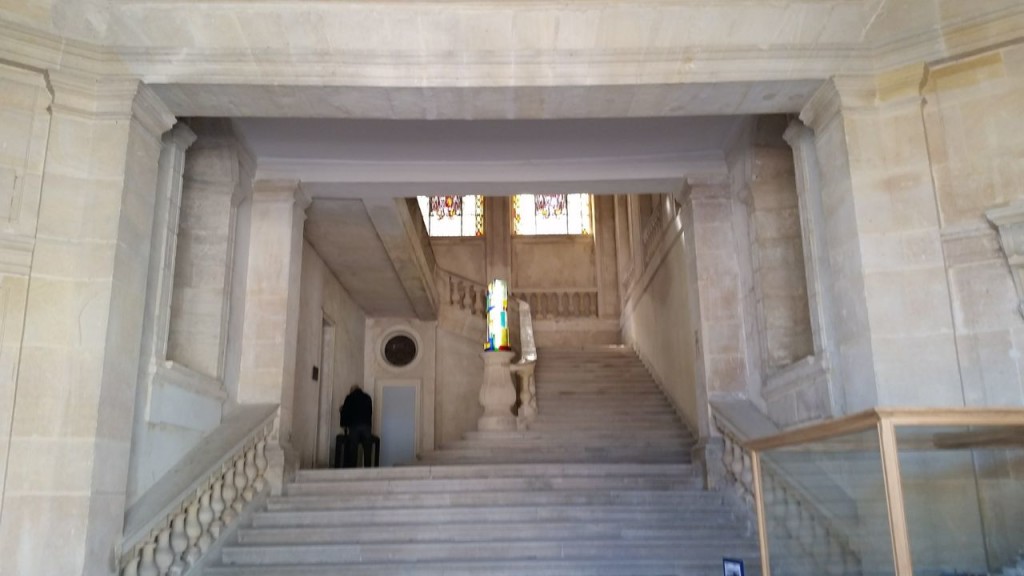 This is the entry hall. The chateau isn't really furnished, so while this is grand, I'm sure it was far grander when it was occupied.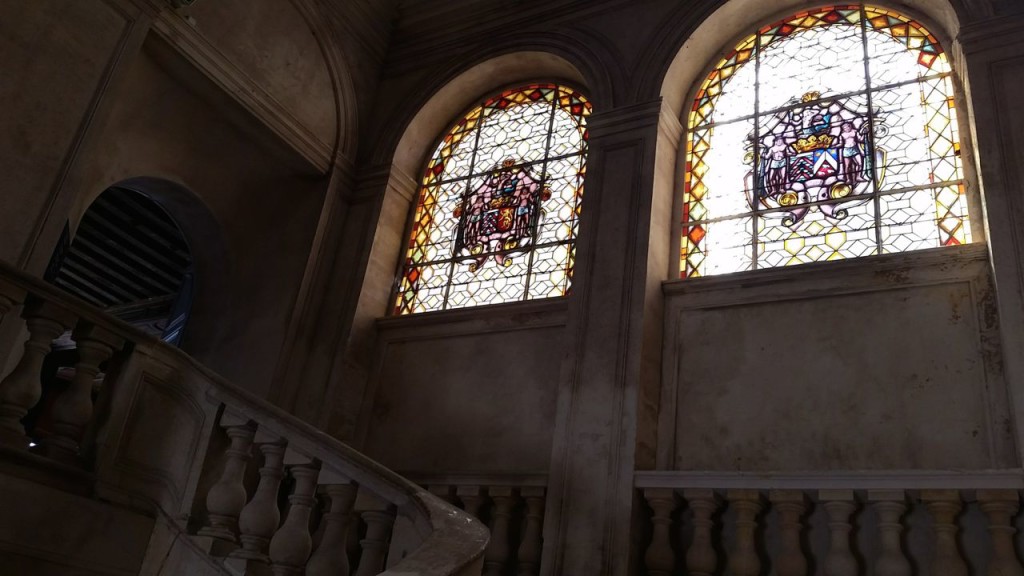 During World War II, the German general Rommel made the chateau his headquarters for defending Normandy from the Allies. He wouldn't allow the family to move out of the house. He made them continue to live there on the top floor.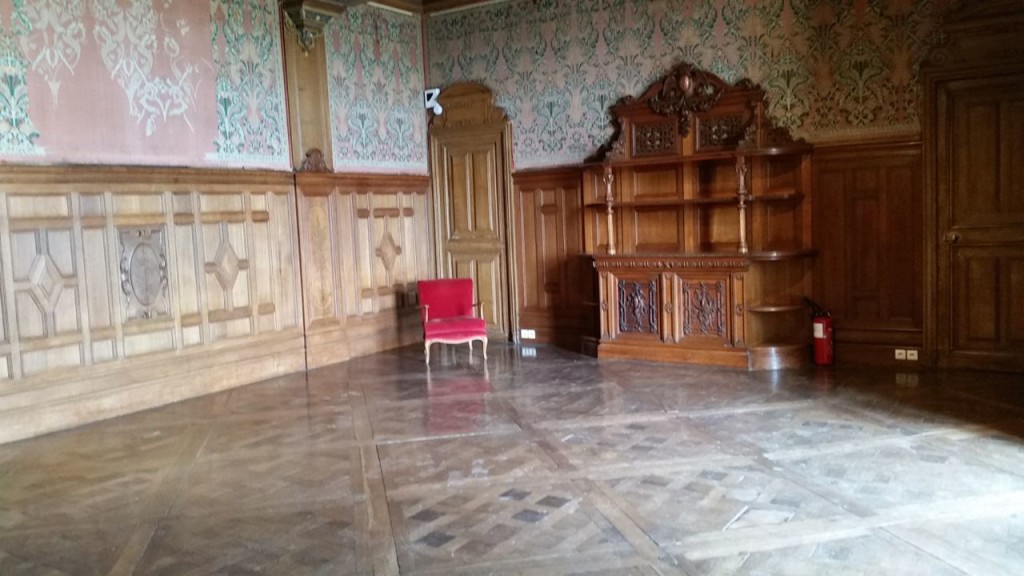 I'm sure that Steinway is original to the house.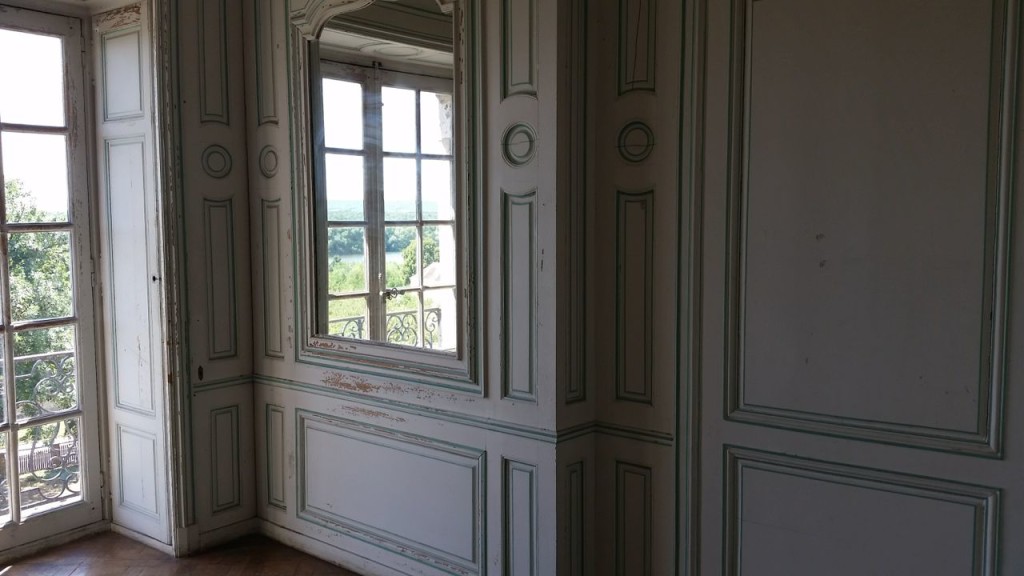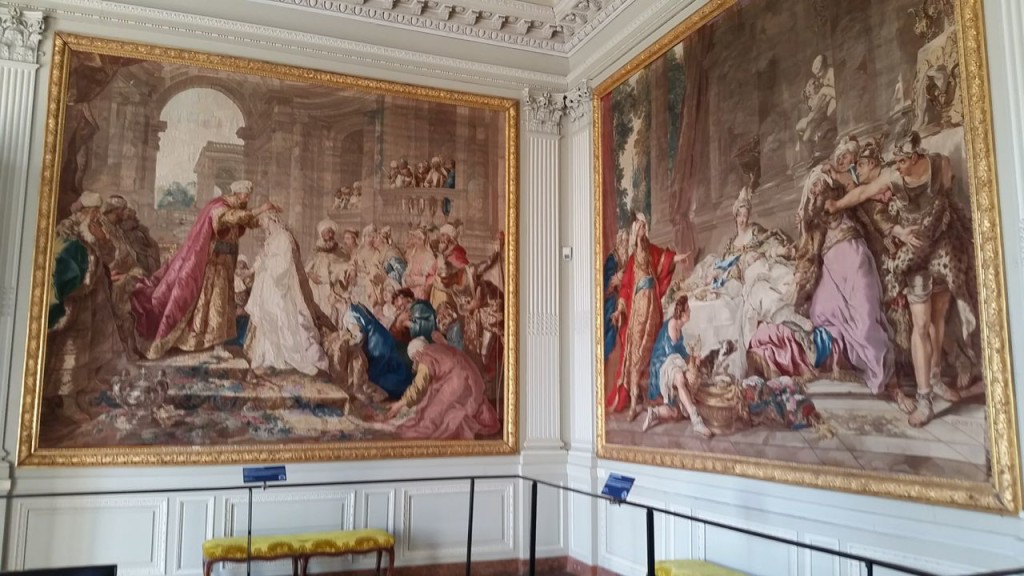 These tapestries depict the story of Esther from the bible. They were taken but then returned. They were made specifically for this room.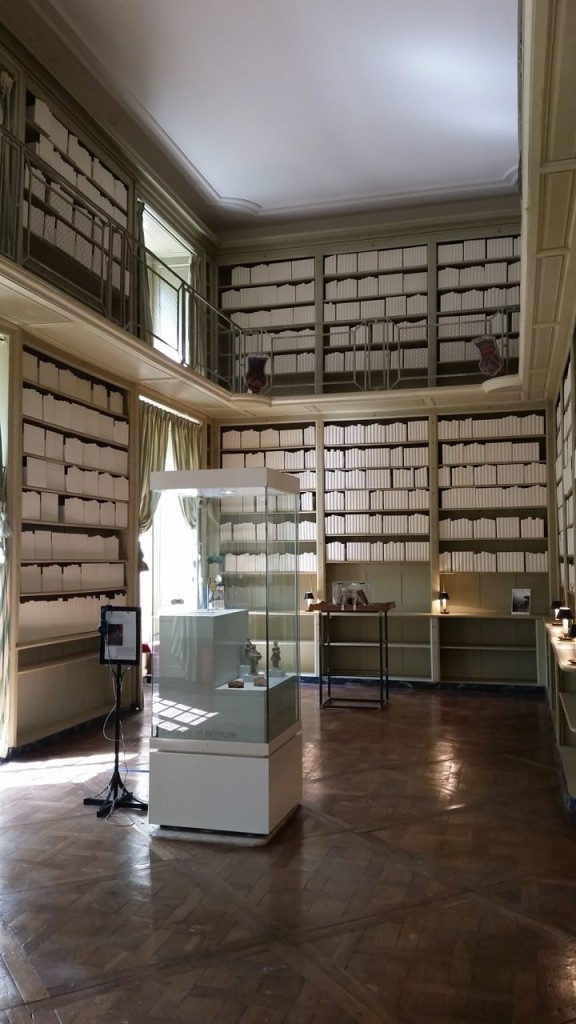 Lots of fake white books in the library. They could at least paint them black or brown like they are leather or something.
This is the room of curiosities. All those little trinkets are carved from bone.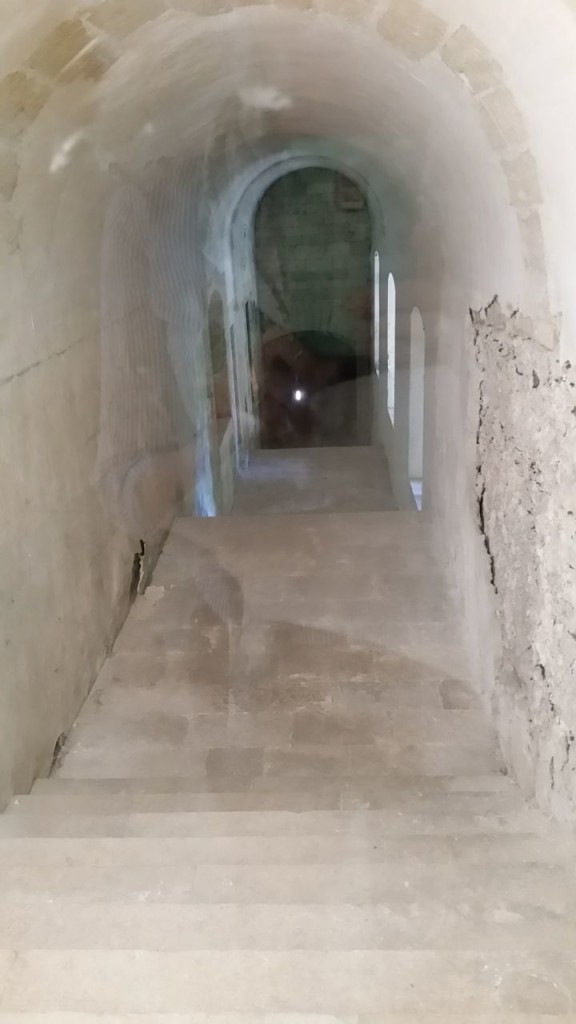 This staircase leads below ground where the theater is.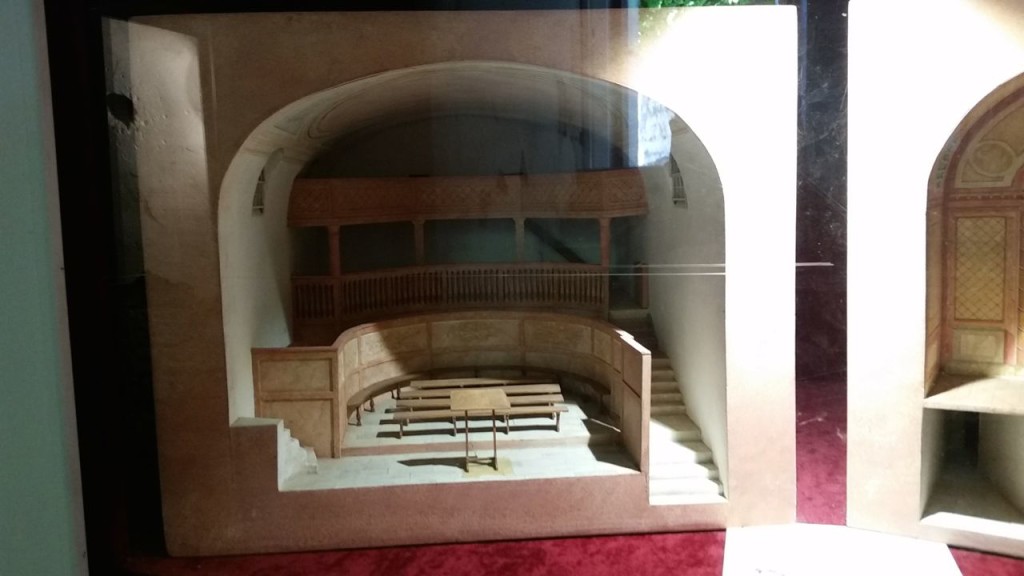 They are currently restoring it, so no access, but this is a model of what it looked like.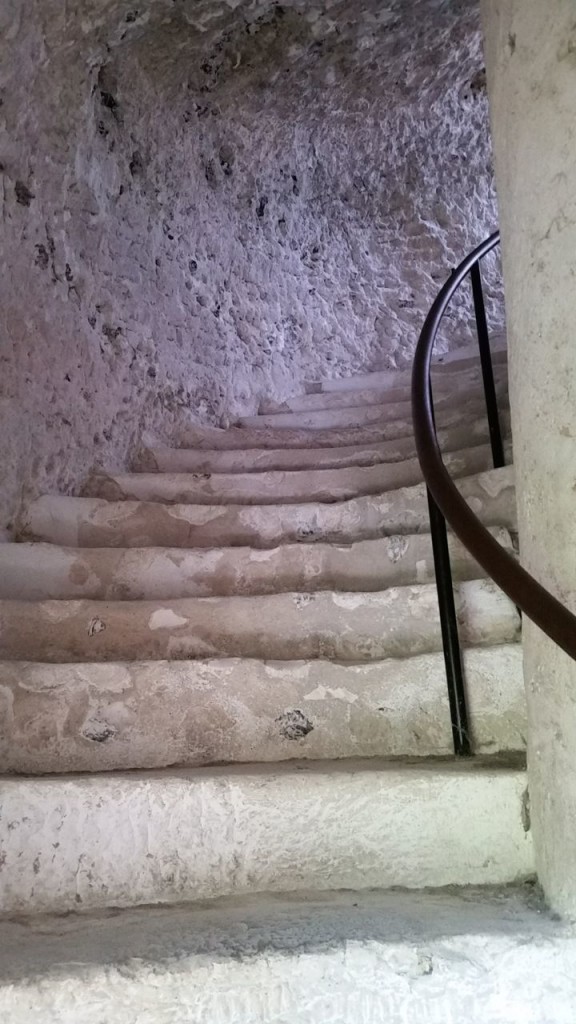 After viewing the chateau, you can climb 250 steps to the top of the fortress that is carved out of the mountain. No problem, we climbed over 500 at St. Peter's Basilica in Vatican City.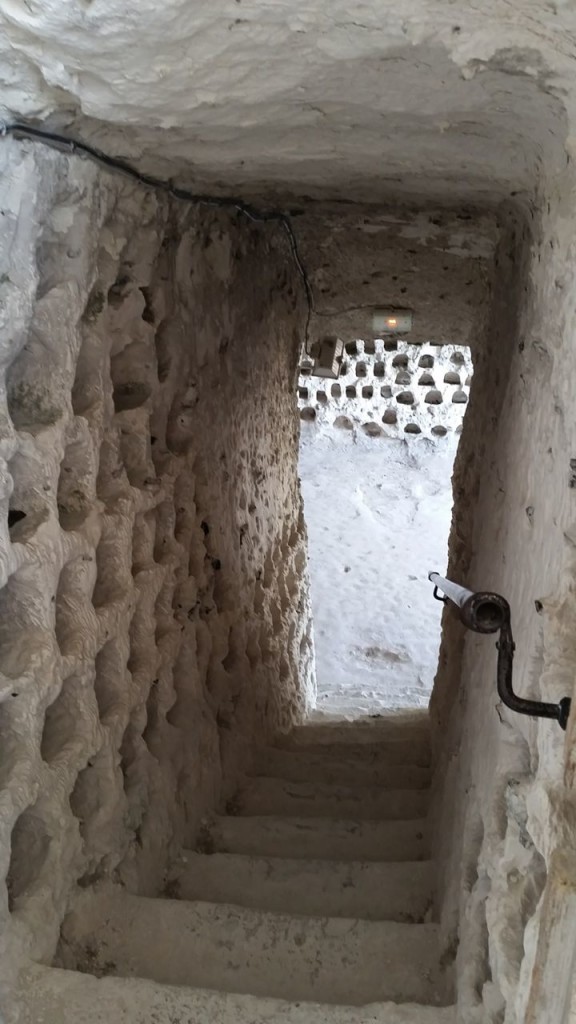 The holes in the walls were for keeping pigeons. This is called a dovecote. The pigeons had 4 purposes: communication, sport (shooting), food (after shooting) and their feces were used to fertilize the gardens.
Almost to the top, and can I tell you, we were DYING at this point.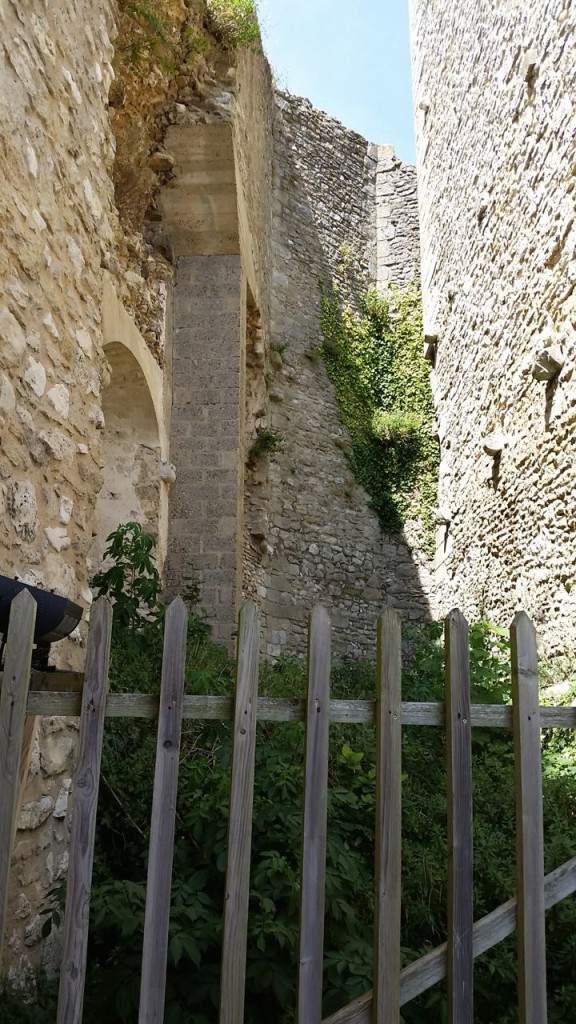 Those are not just 250 stairs.
Just a little further…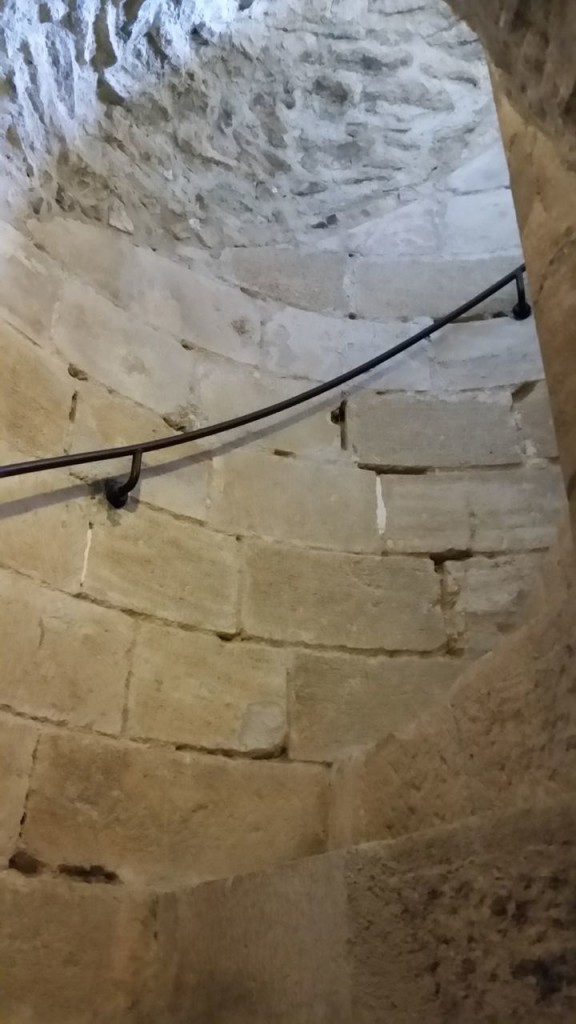 They were very tall, steep, uneven stairs.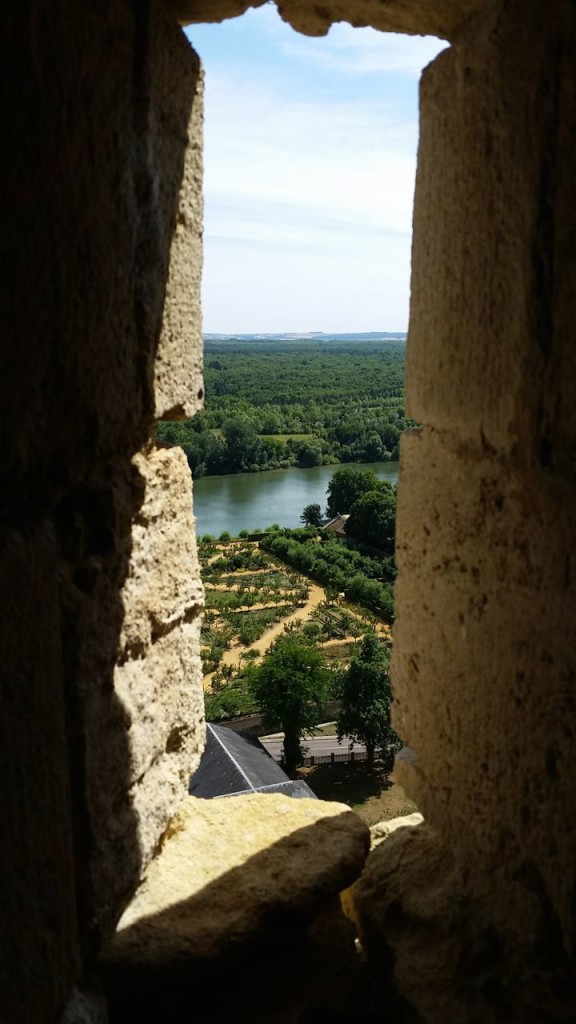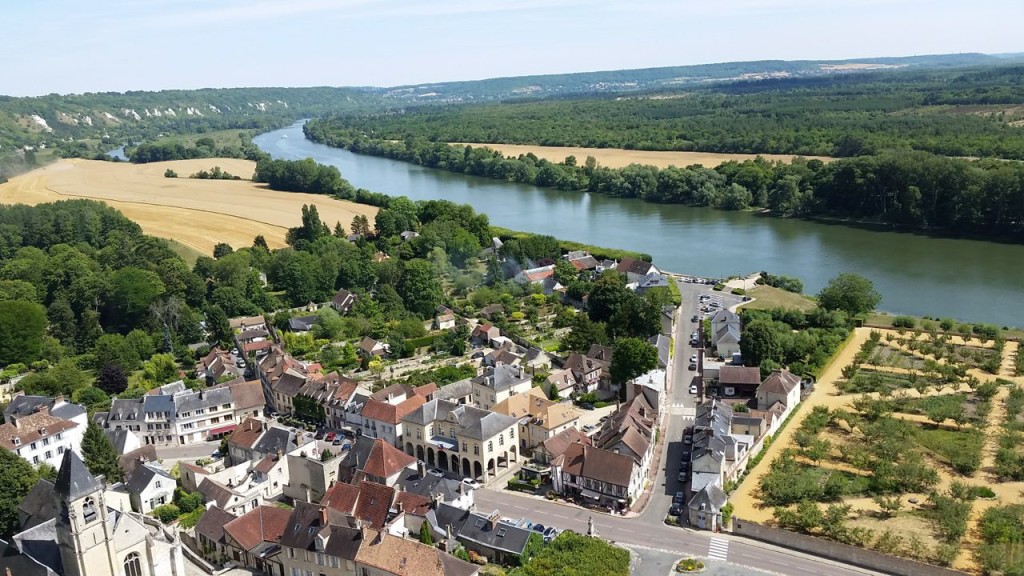 Oh my word we made it.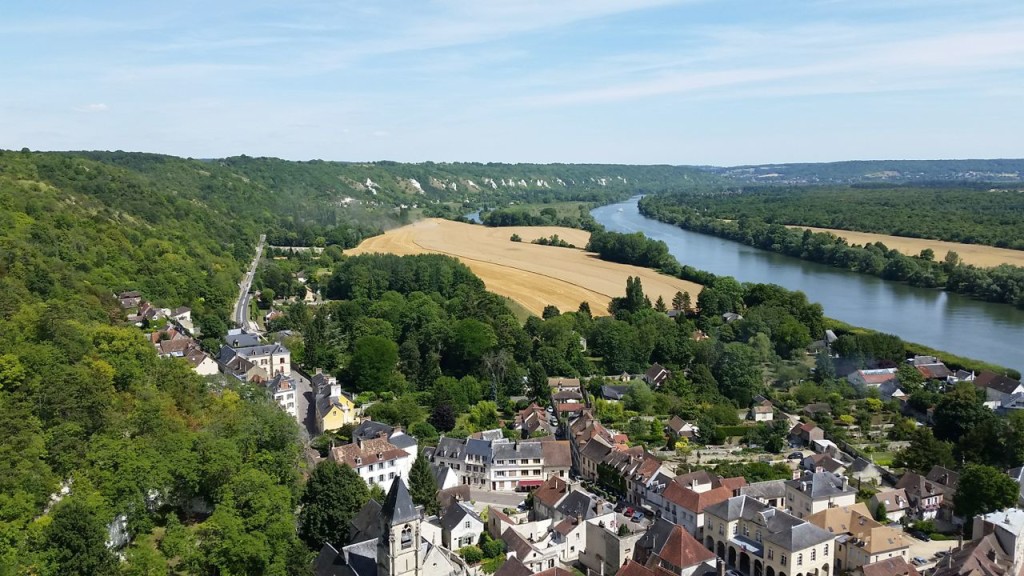 You can see why this was a strategic point on the river. You can see for miles. No one is sneaking up on you.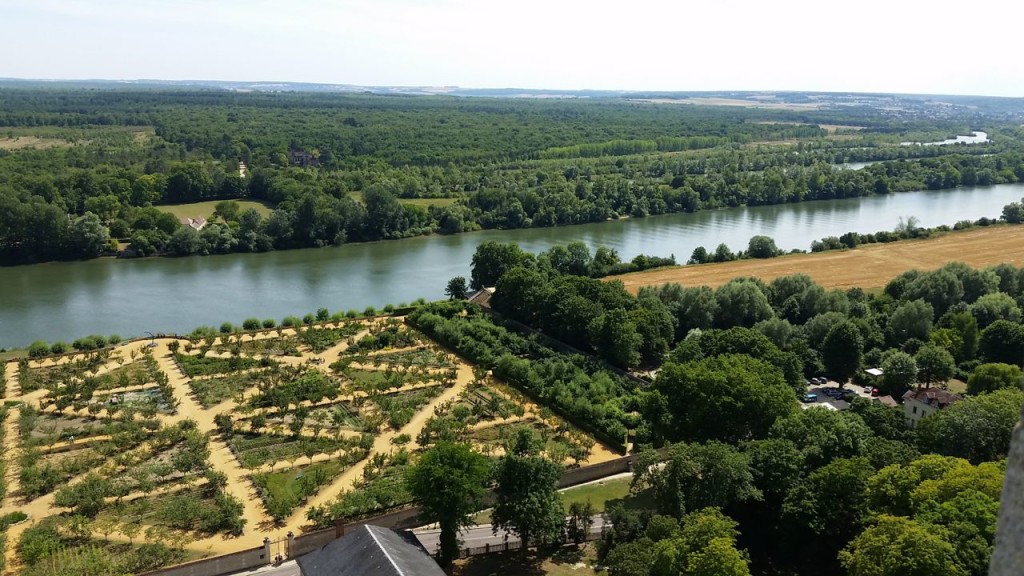 That is the kitchen garden that fed the household.
The climb was worth it, but not for the faint of heart. Or lungs. Or knees, hips and back. Or heights.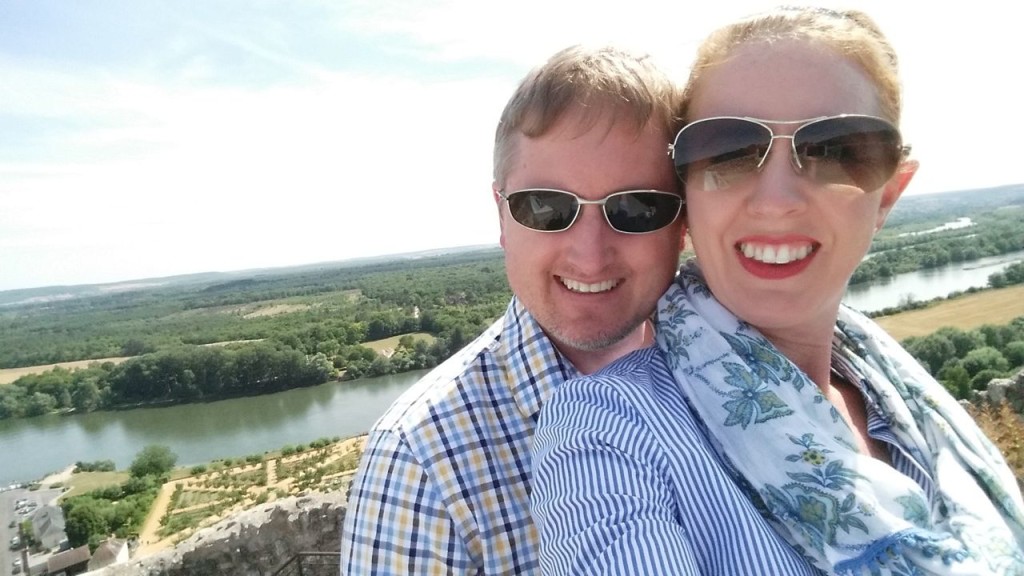 Victory and a chance to catch our breath. I would have accepted a zipline ride down at this point.
Each step was in the ballpark of 18 inches tall, but they were all different heights.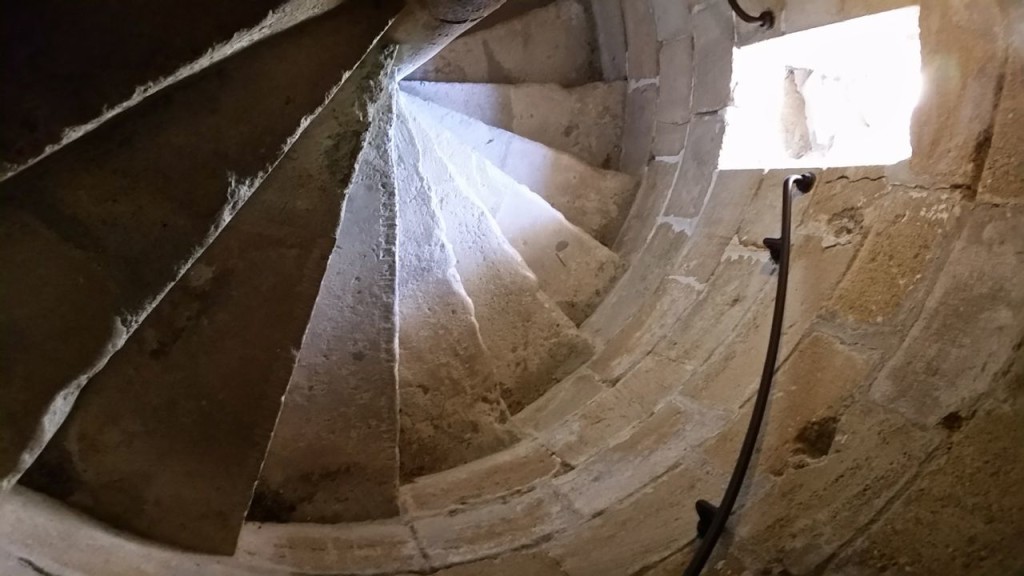 It felt like it went on forever.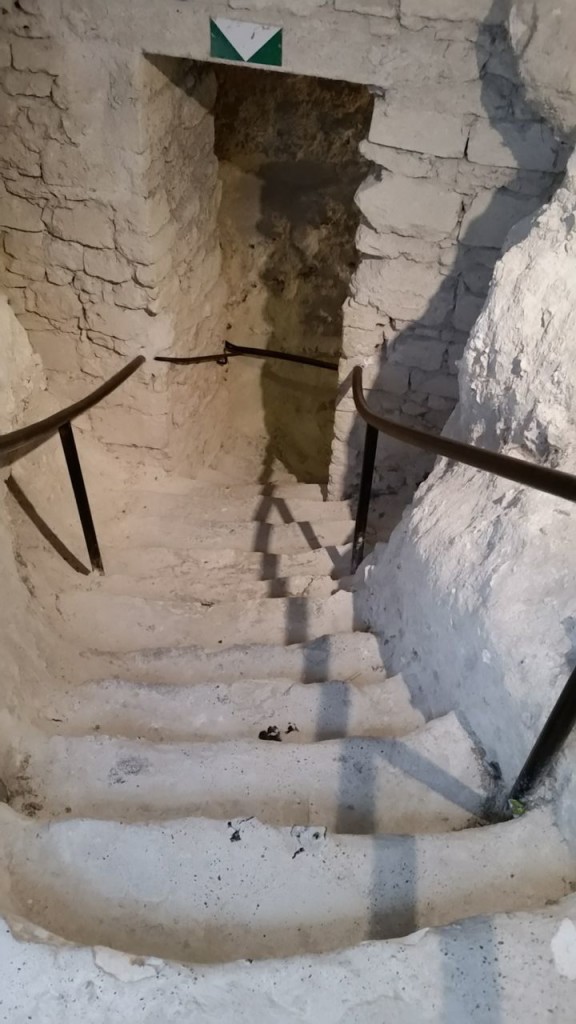 And every time you thought you were at the end,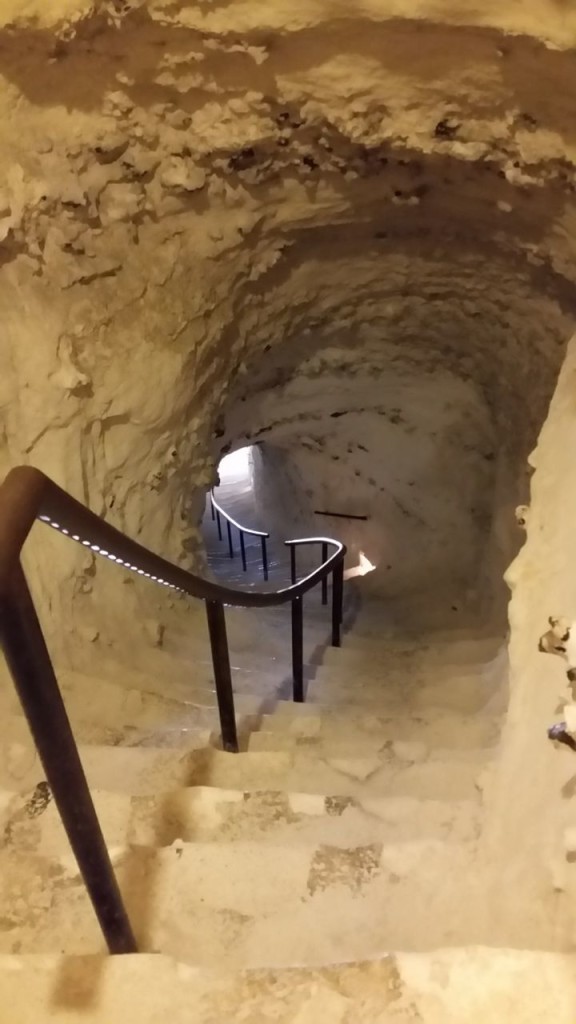 You were wrong. So wrong.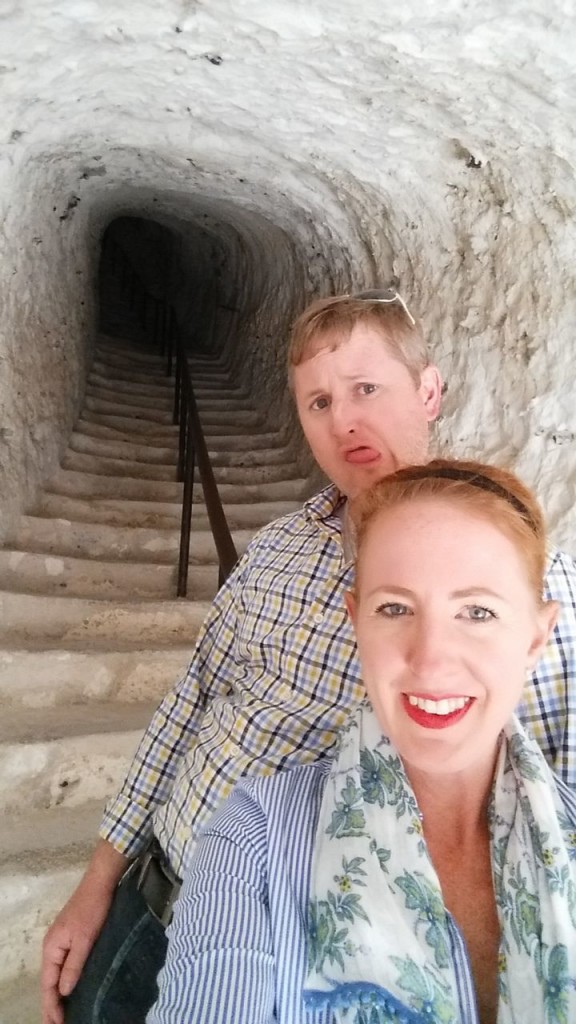 Looking up into the nothing. The stairs are very crude. They are carved into the mountain. Adam being as cooperative as ever with the pictures.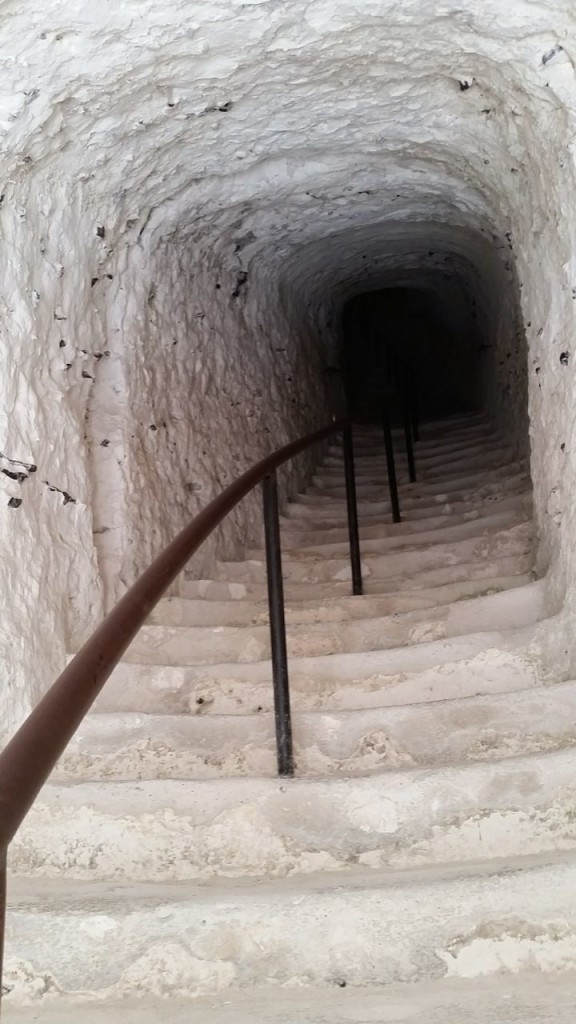 Still more stairs.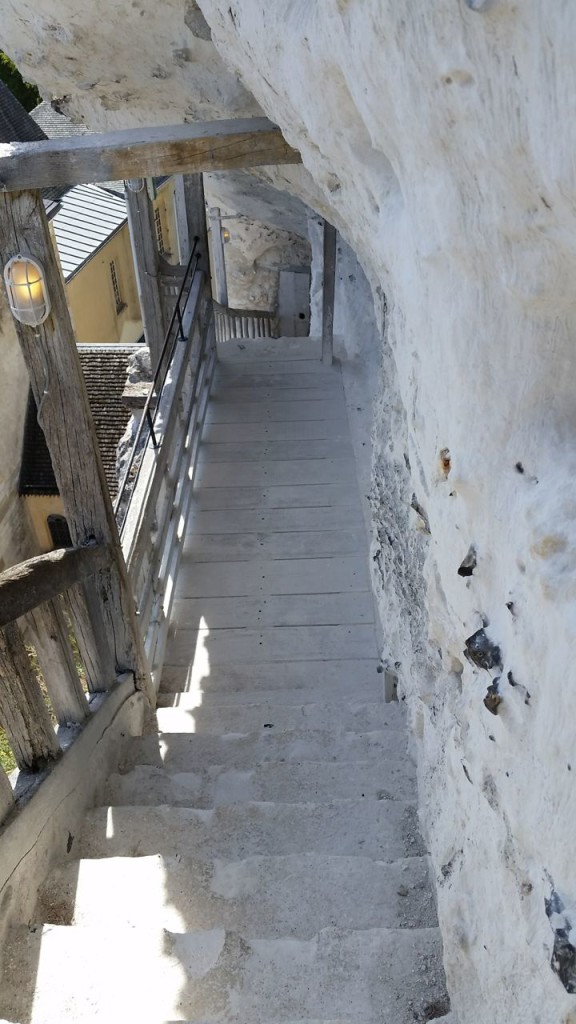 Are you tired yet? Going down is way easier than going up, but my knees clicked constantly both ways. They haven't done that in a long time.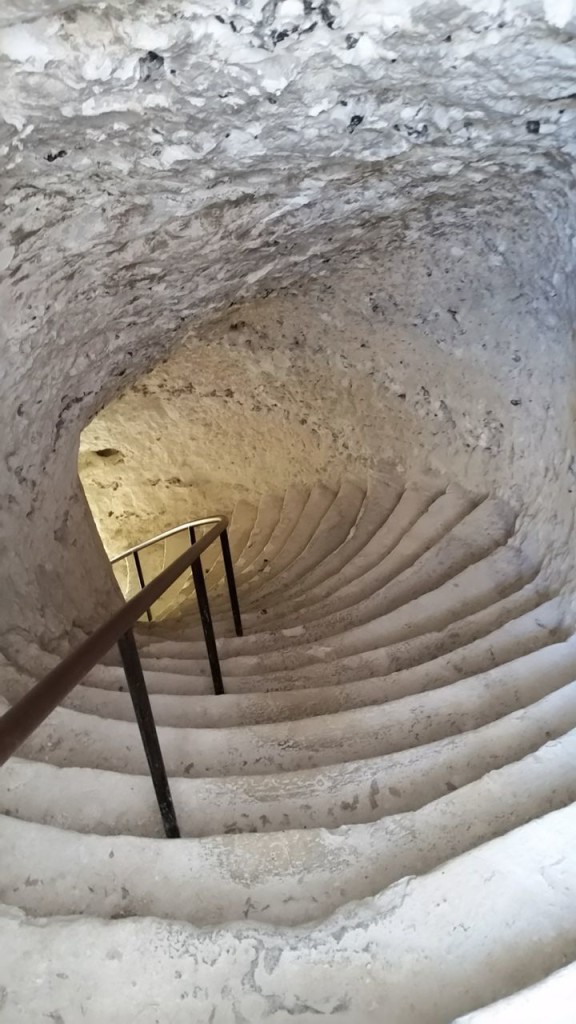 My knees and quads were sore for a few days.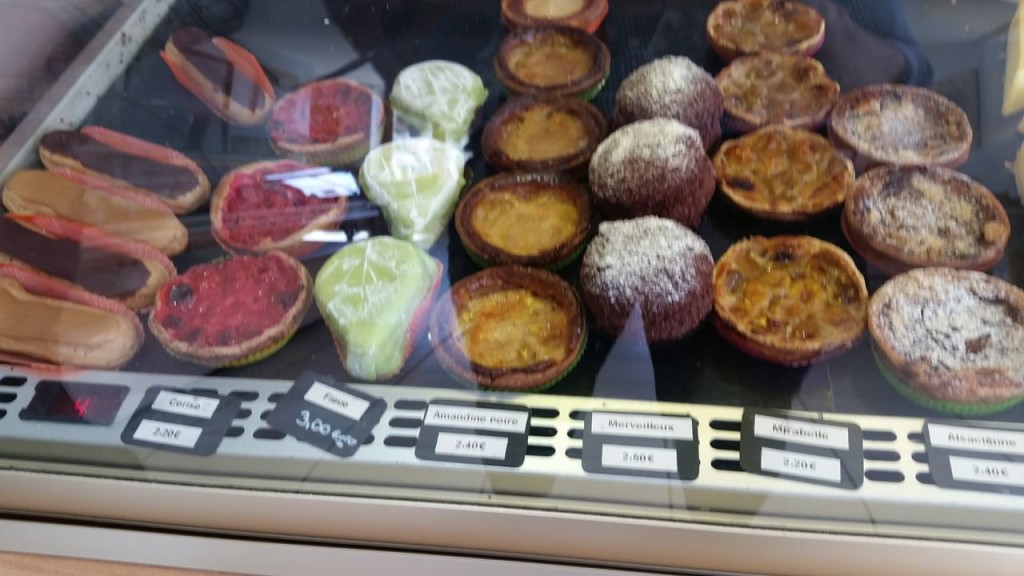 We celebrated our ascent and descent with a little pastry.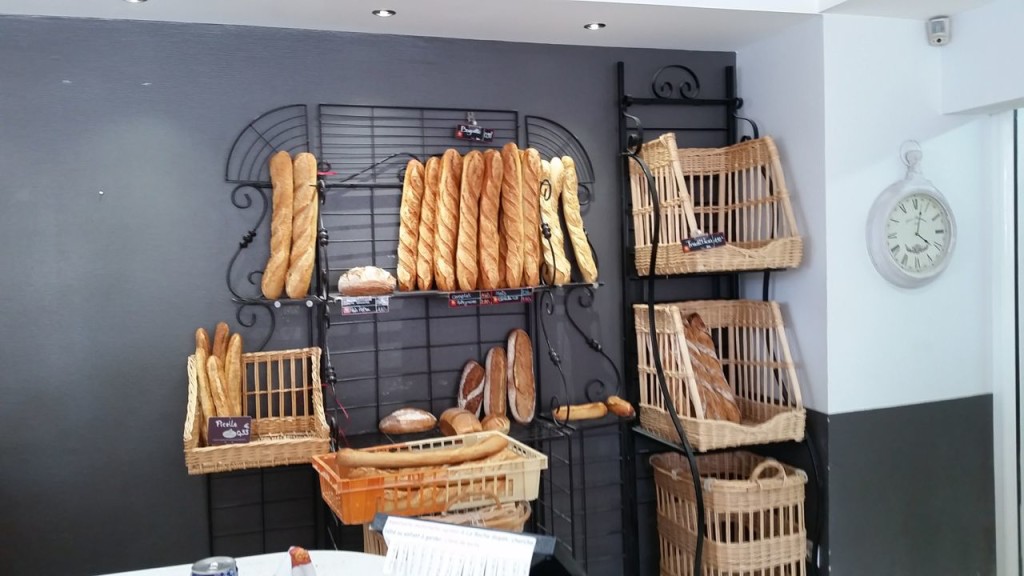 from the boulangerie just down the street.
VILLARCEAUX ESTATE
This was a jam-packed day. From the chateau we went to Villarceaux Estate.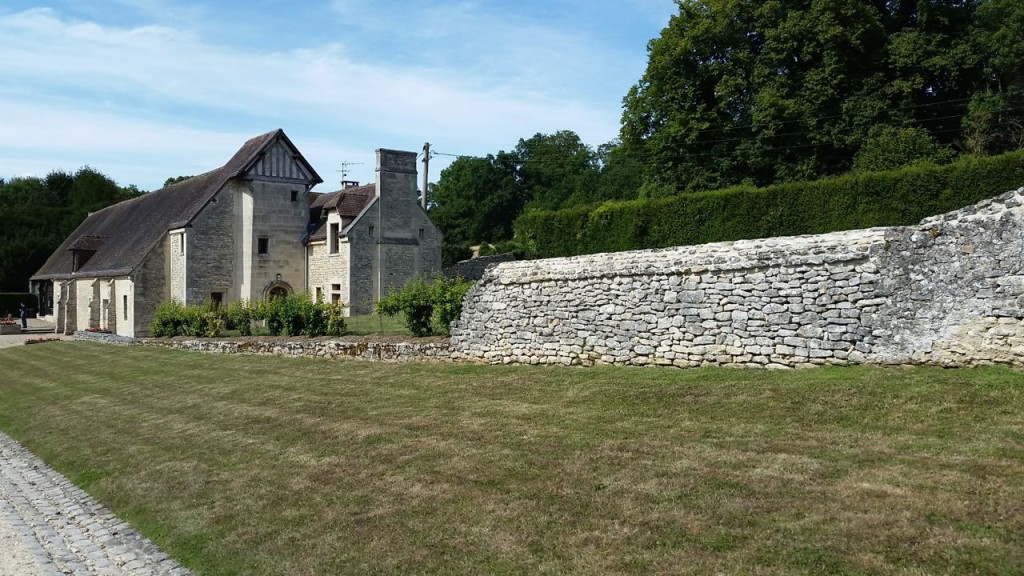 The Domaine of Villarceaux is a French château, water garden and park
The gardens are located on the site of a medieval castle from the 11th century, built to protect France from the British, who at that time occupied Normandy, the neighboring province. As I mentioned, Normandy changed hands from France to England and back again numerous times.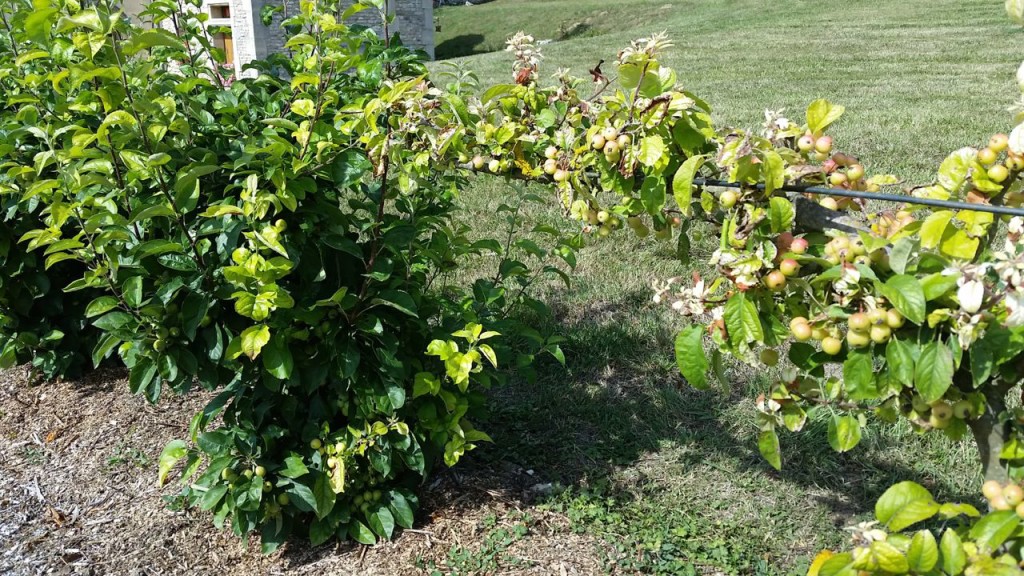 More espaliered trees.
Many vestiges of the medieval fortifications remain in the park.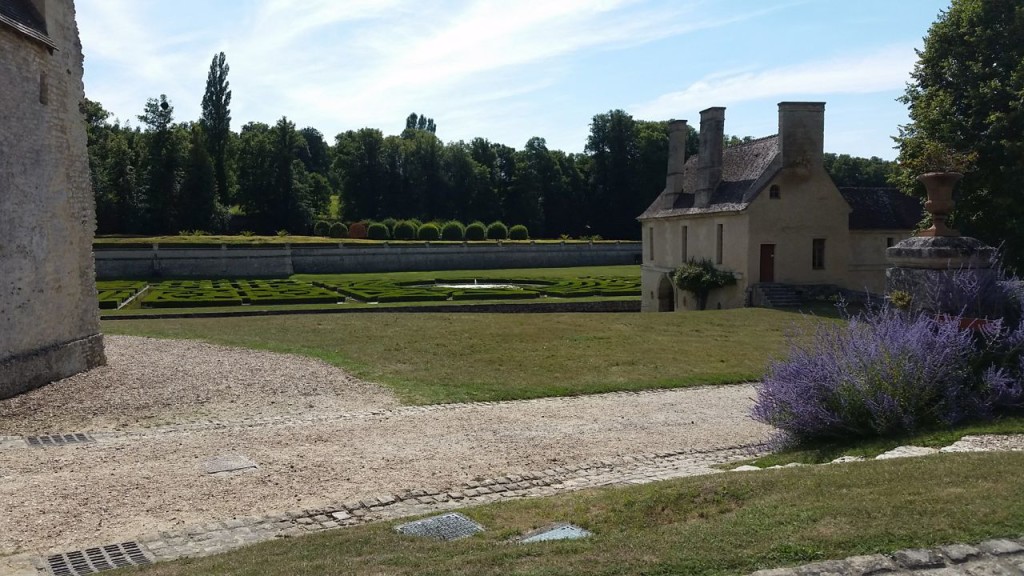 An interesting fact is that Norman French was considered the language or the nobility and was the official language or the English court as well. I doubt the citizens of Normandy thought much one way or the other who was occupying at the time. The uniforms changed, but the language didn't.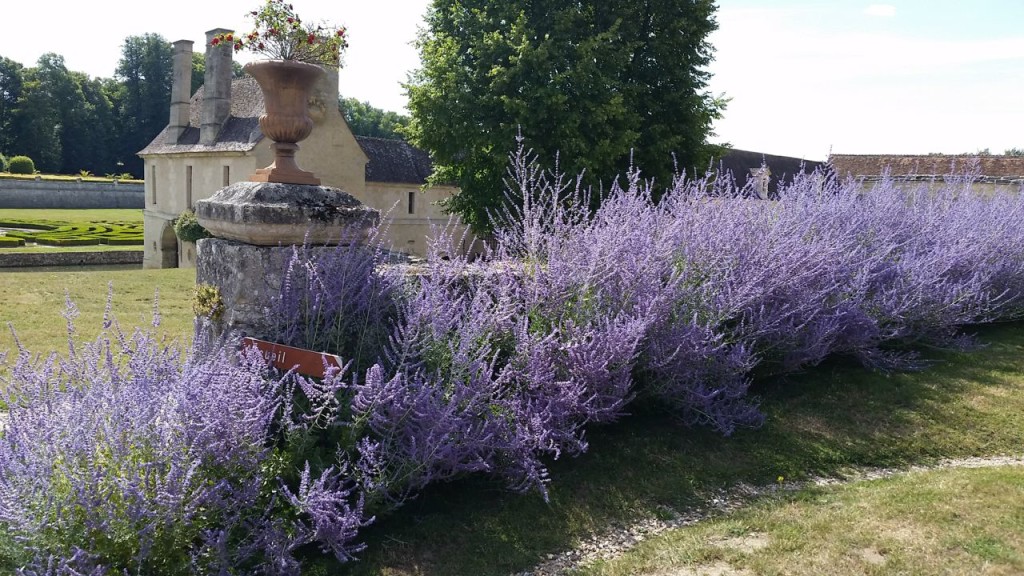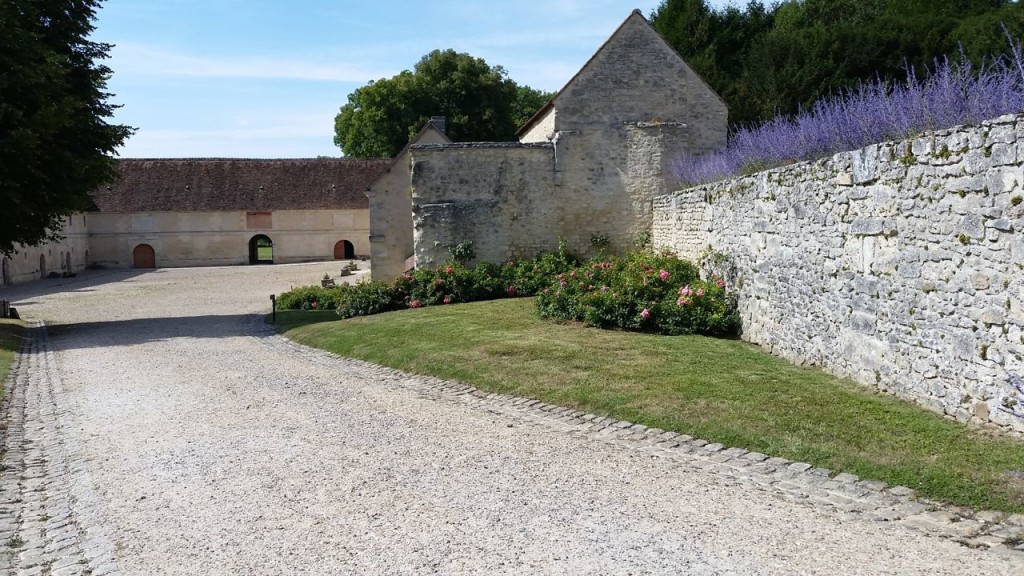 It's incredibly well-preserved. I was waiting for a page or a knight or a lady to come round the corner at any moment.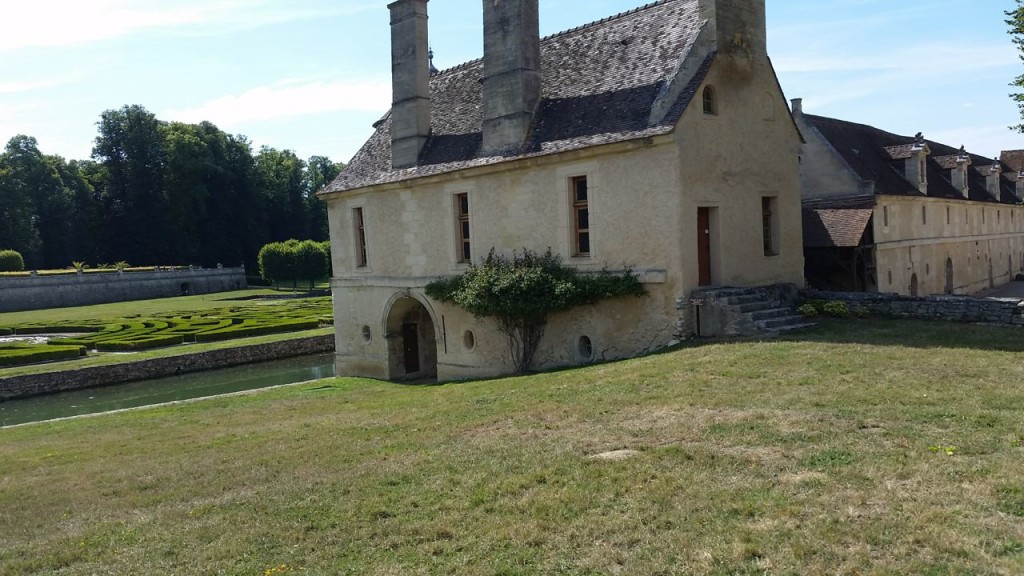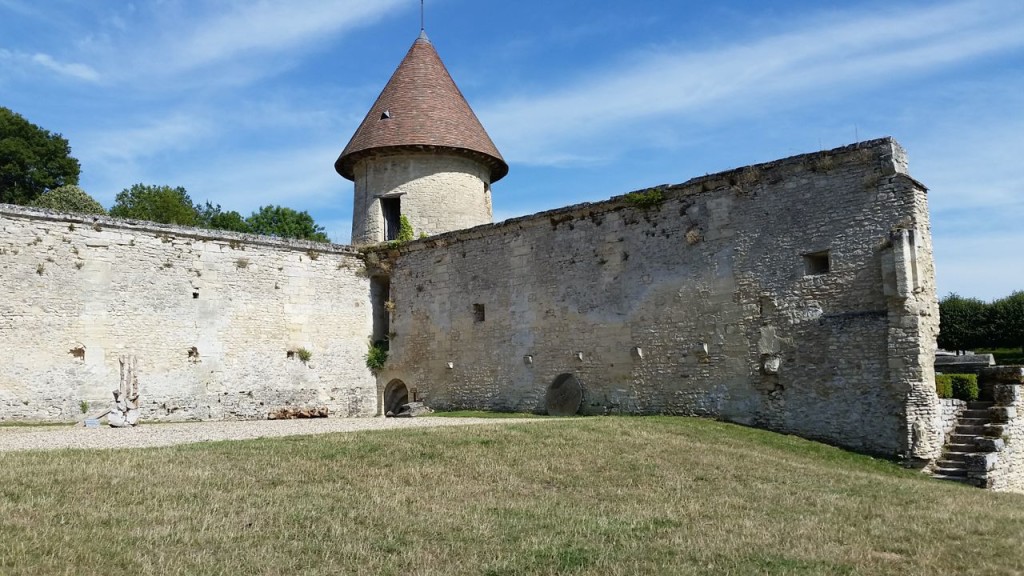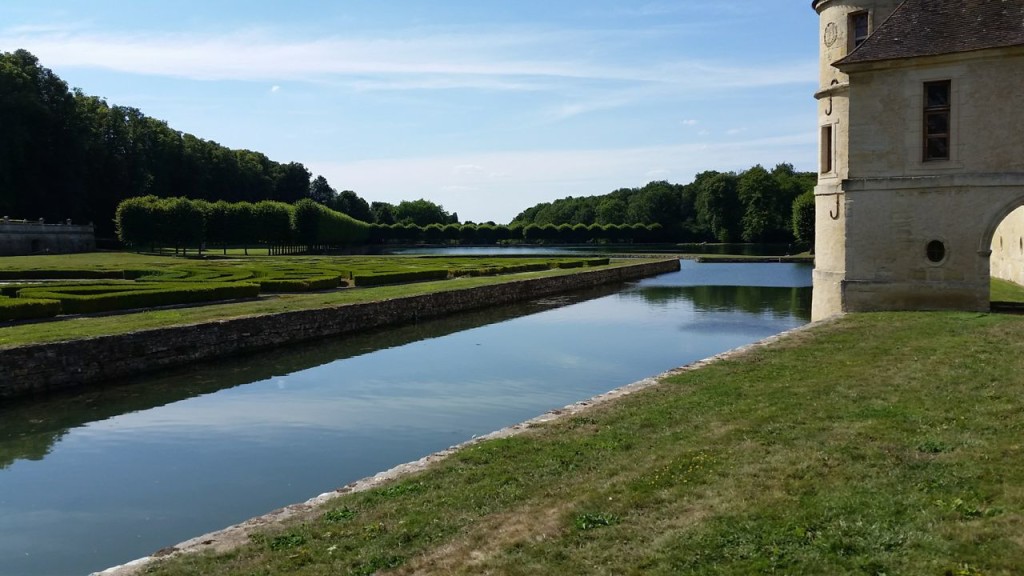 A manor house and French water garden was built there in the 17th century.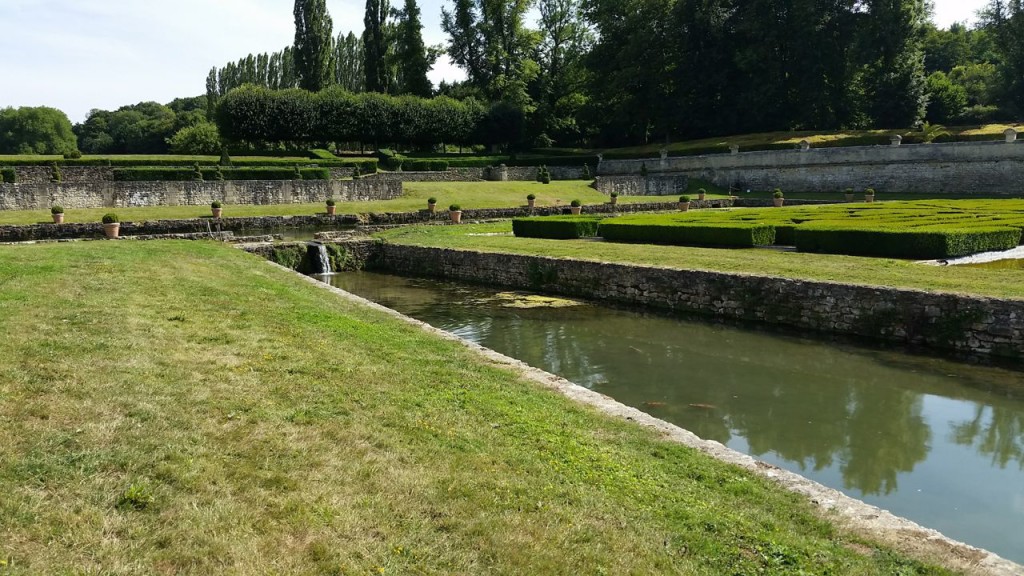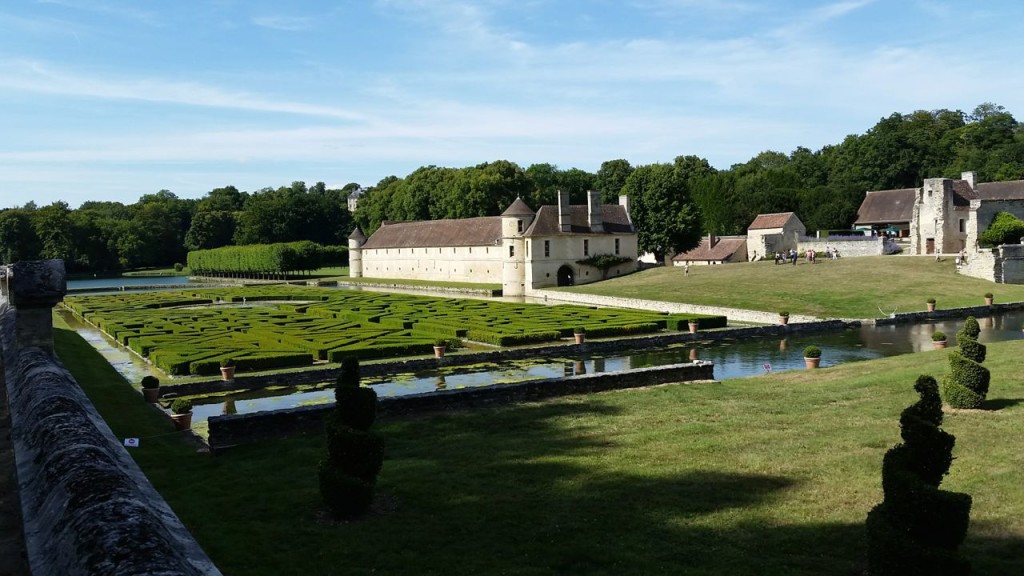 It is so stunning.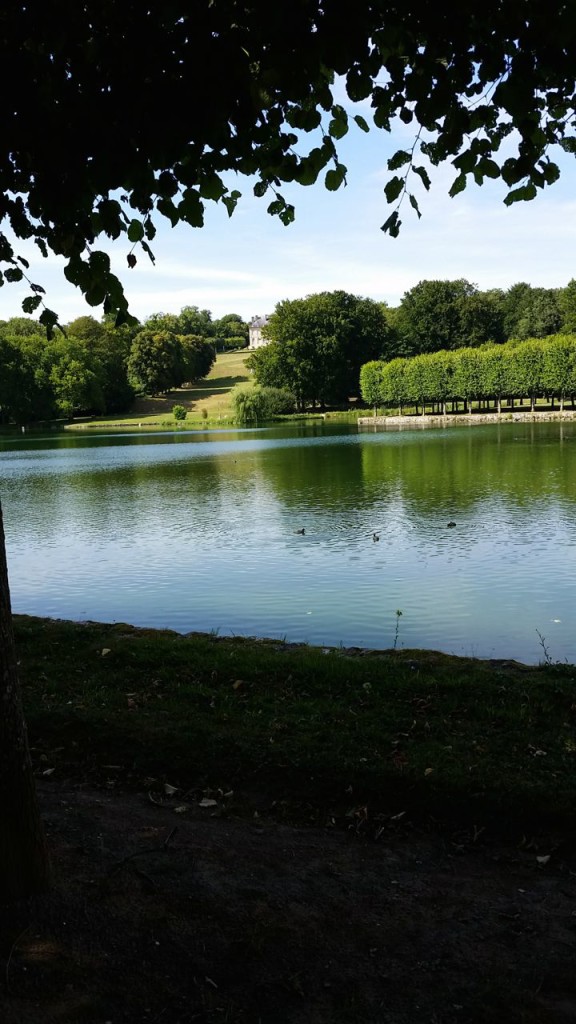 In the 18th century a château in the style of Louis XV was built on a rocky hill overlooking the water garden.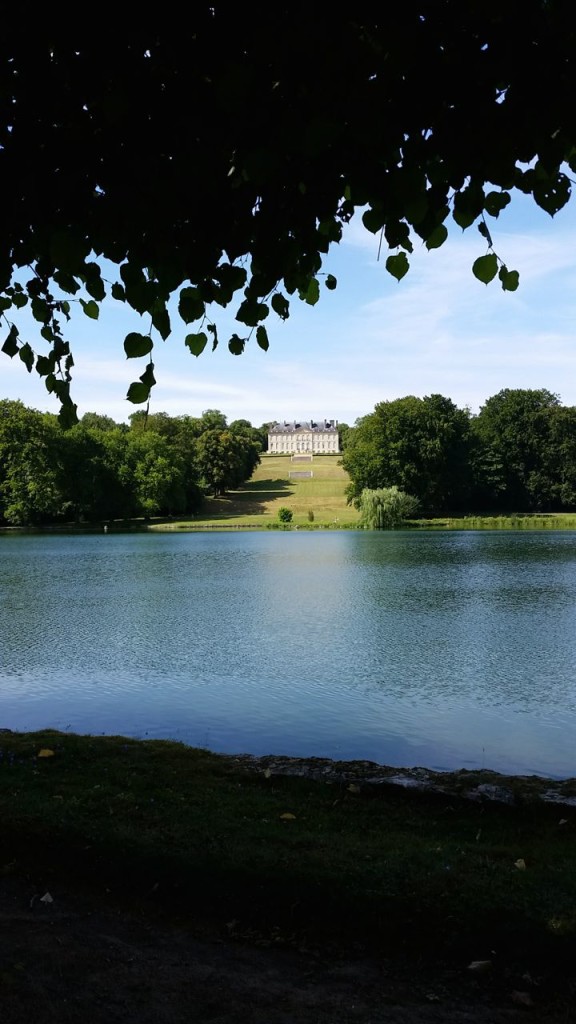 Straight out of Pride and Prejudice, right? Elizabeth Bennett and Mr. Darcy could live here.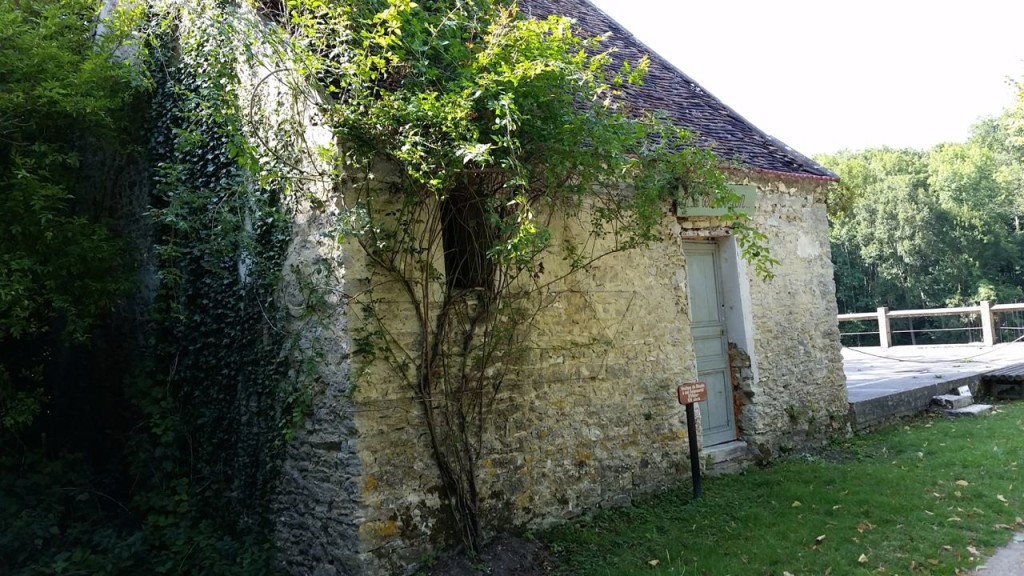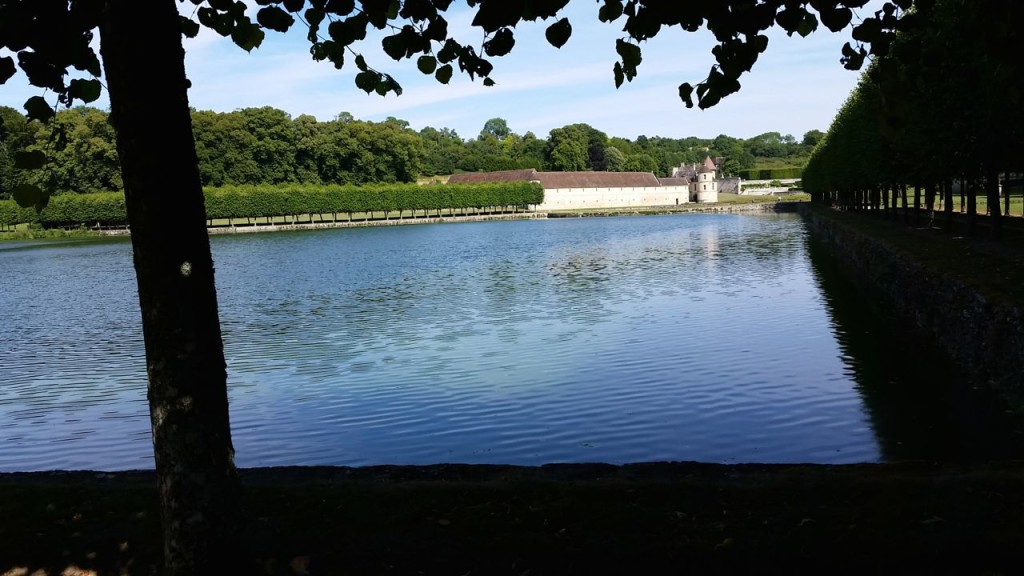 You cannot see the village from the house and vice versa.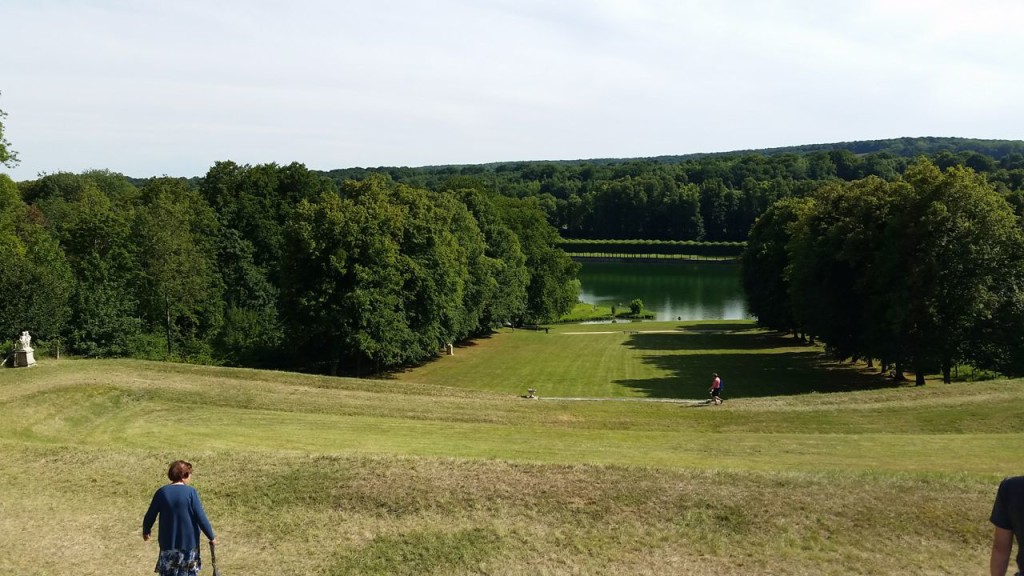 The gardens contain a rare 18th-century ornamental feature called a vertugadin, modeled after the hoop skirts of the 18th century, surrounded by statues brought from Italy. See how the terracing switchbacks back and forth? Certainly easier than a straight up climb.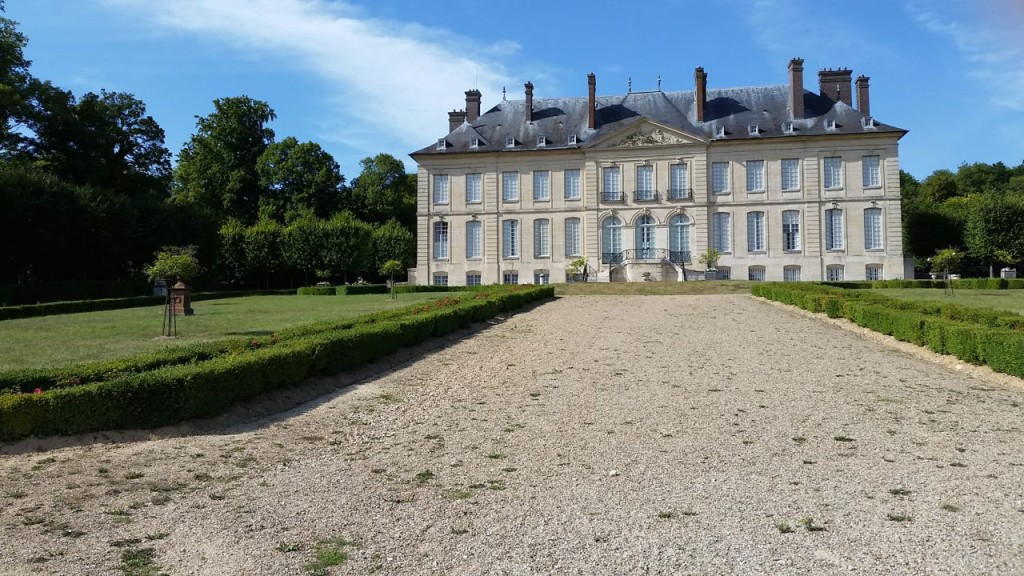 The house was built between 1755 and 1759.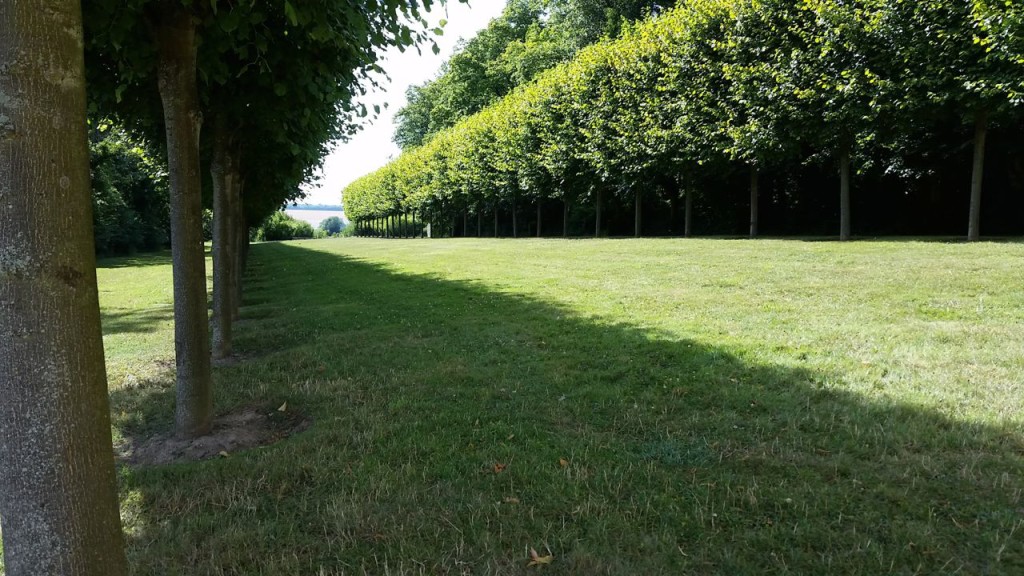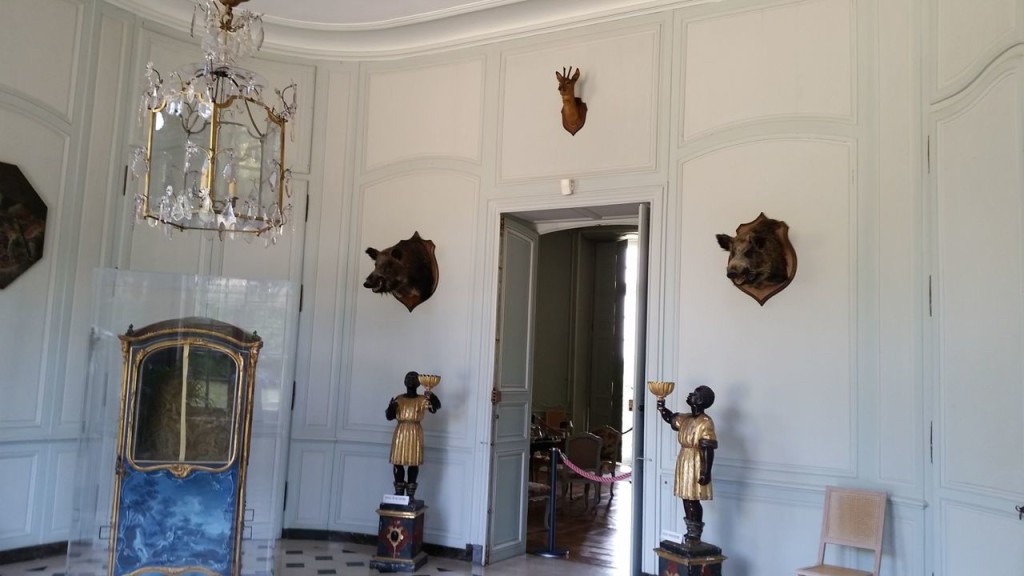 The manor is fully furnished, which really adds a lot of interest.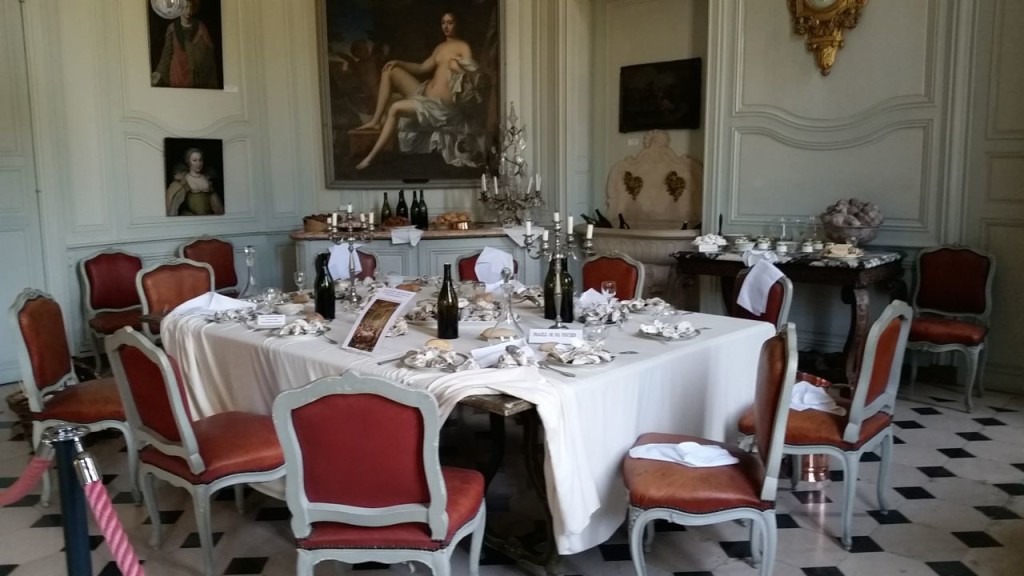 The table is even set as though a dinner party were happening.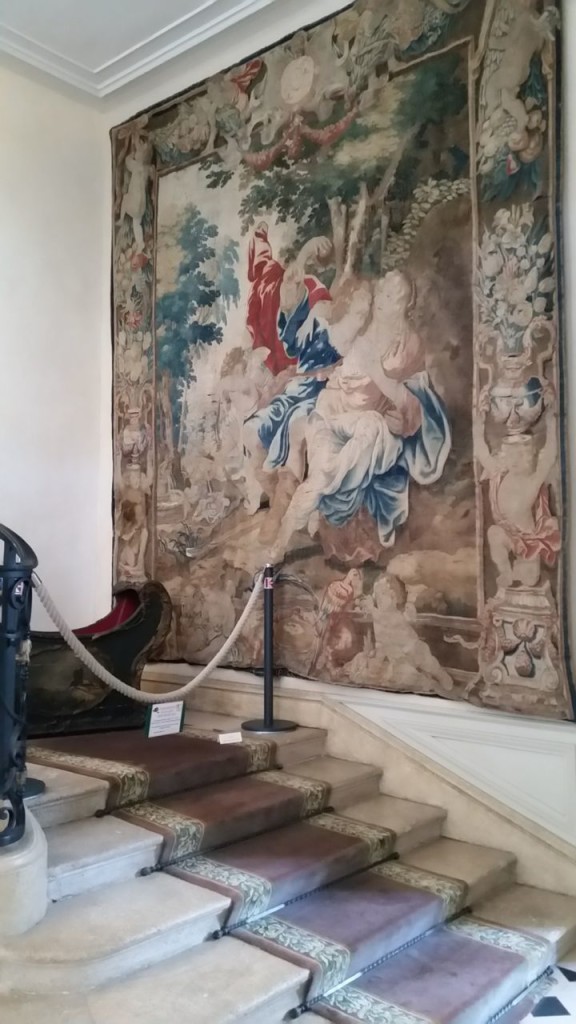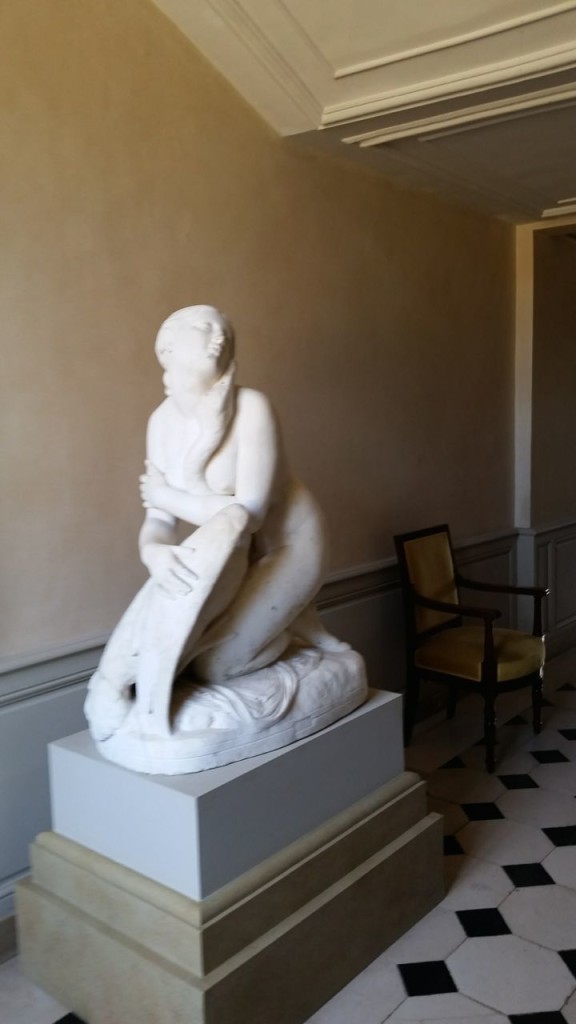 I had a lovely conversation filled with sound effects with the docent in the house.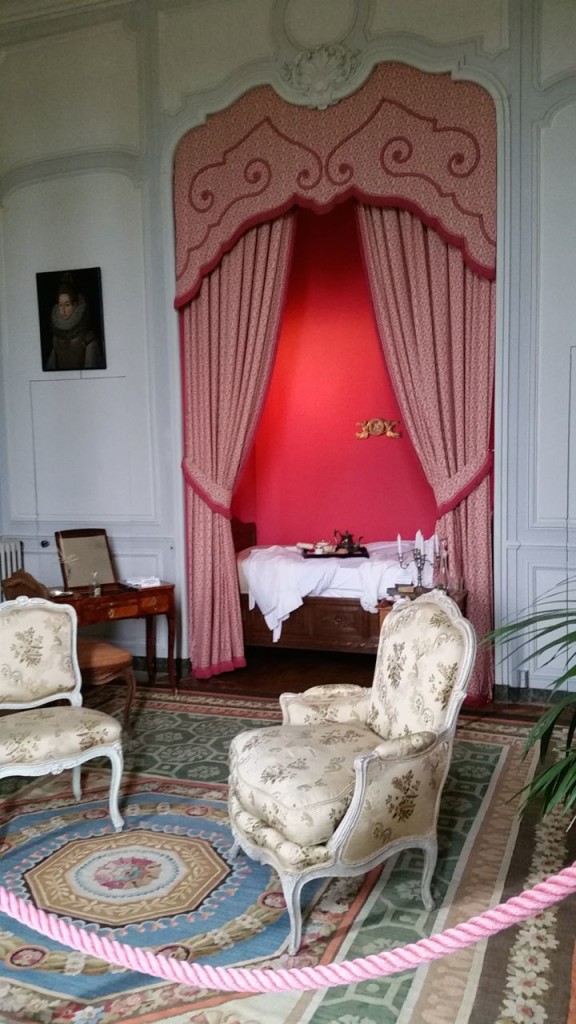 She told me that after going on a shoot, they didn't want to bring the birds through the house because they stink, so they built a tunnel that went straight from a spot in the yard to the kitchen in the basement.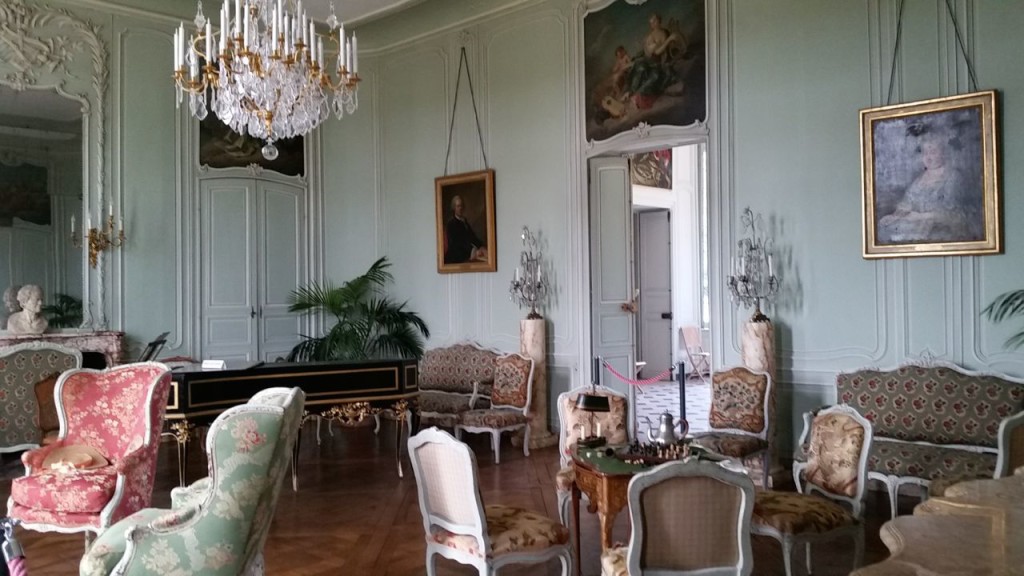 It turns out we both love cooking and kitchens. She told me that her sons remodeled her kitchen and it was her dream kitchen now.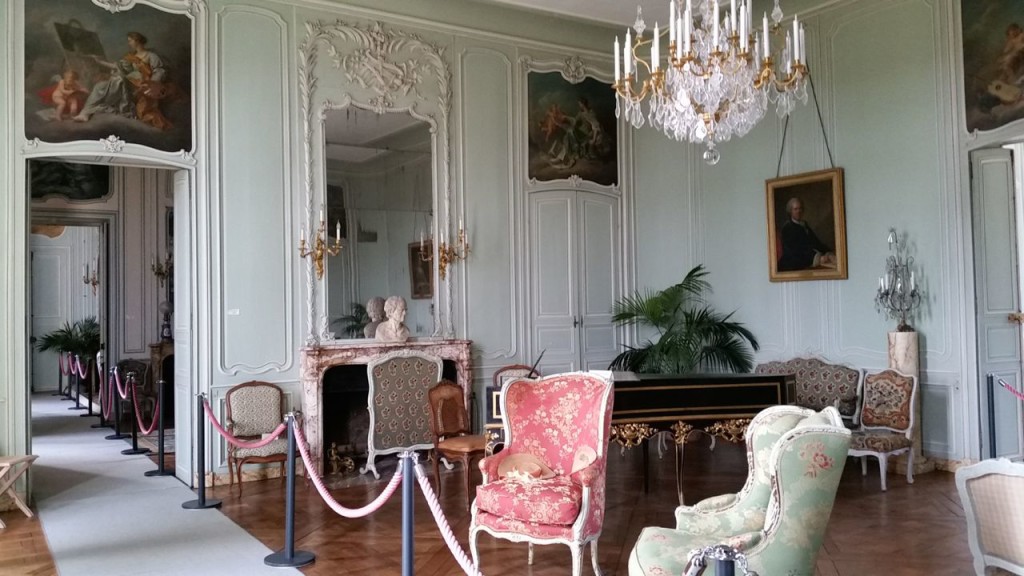 Sound effects included guns shooting for the bird story, and drills, saws and hammers for the kitchen remodel story.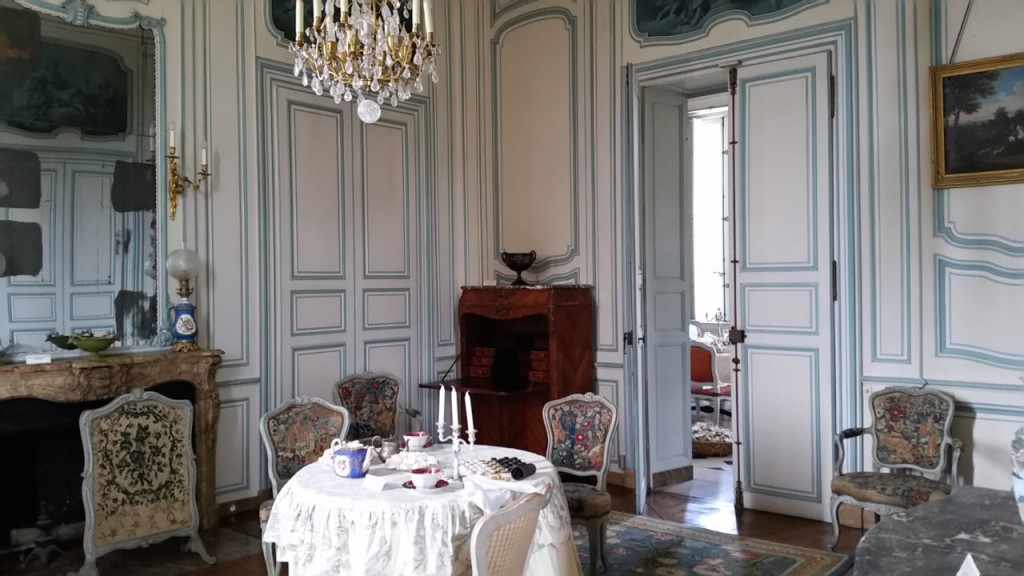 We both enjoyed the conversation immensely.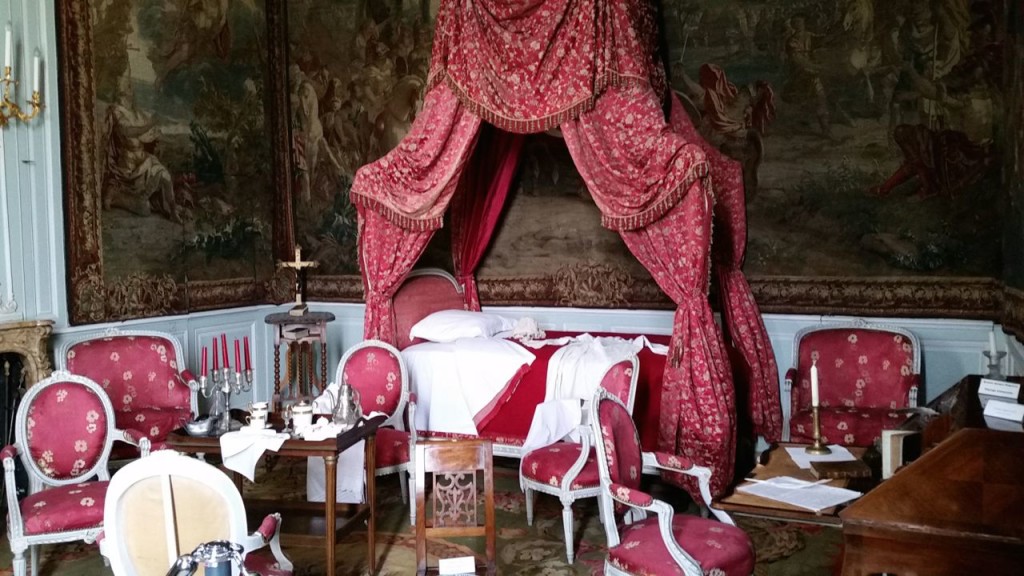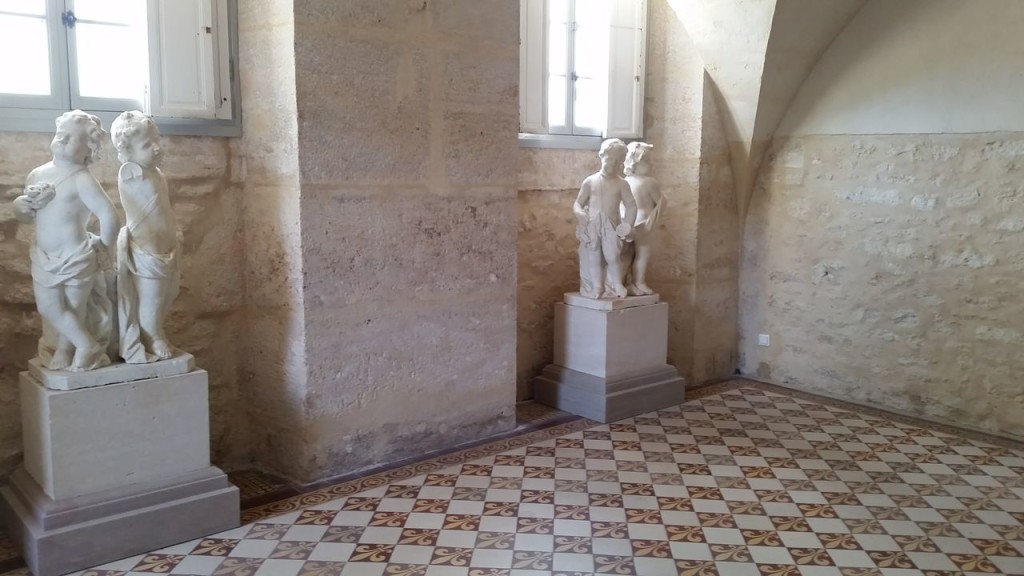 Part of the basement is open. You can see some sweet little statues, use the bathroom,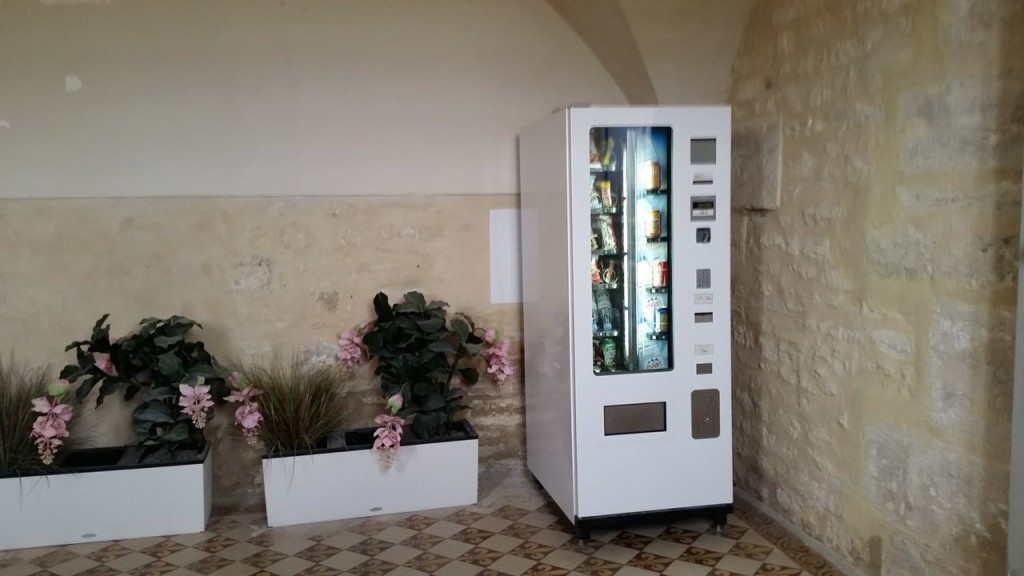 Or grab some lunch.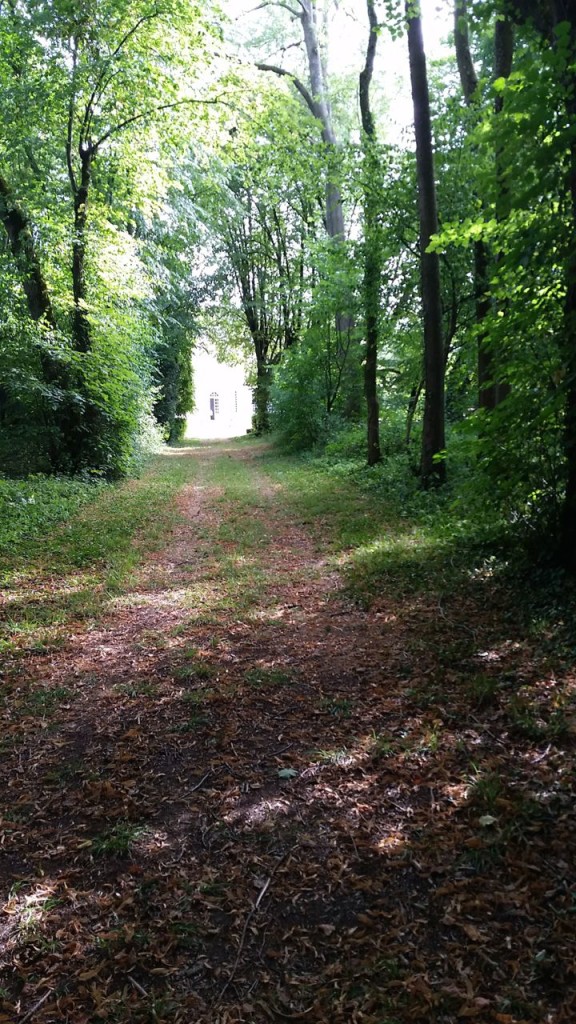 Behind the house was a wood.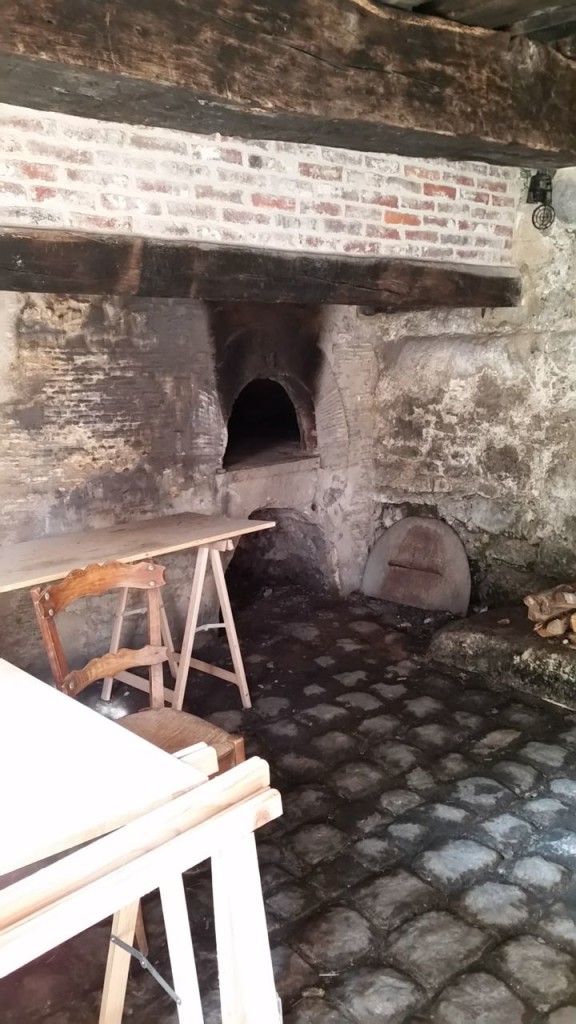 On our way back out of the village we stopped by the baker's cottage.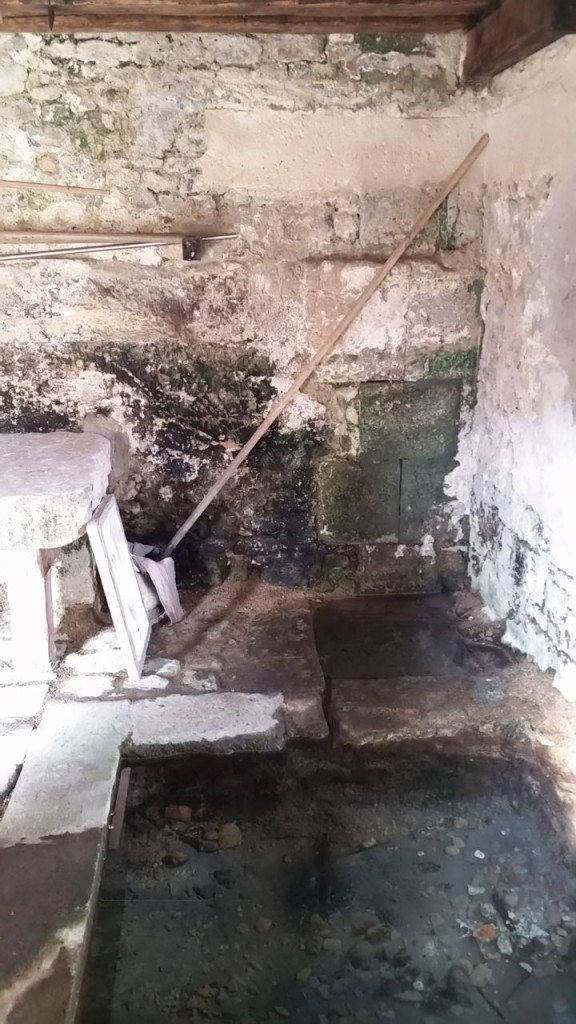 That is one serious bain marie (water bath used in baking to provide moisture in the oven to give additional lift to a yeast bread or keep a cheesecake moist and prevent cracking).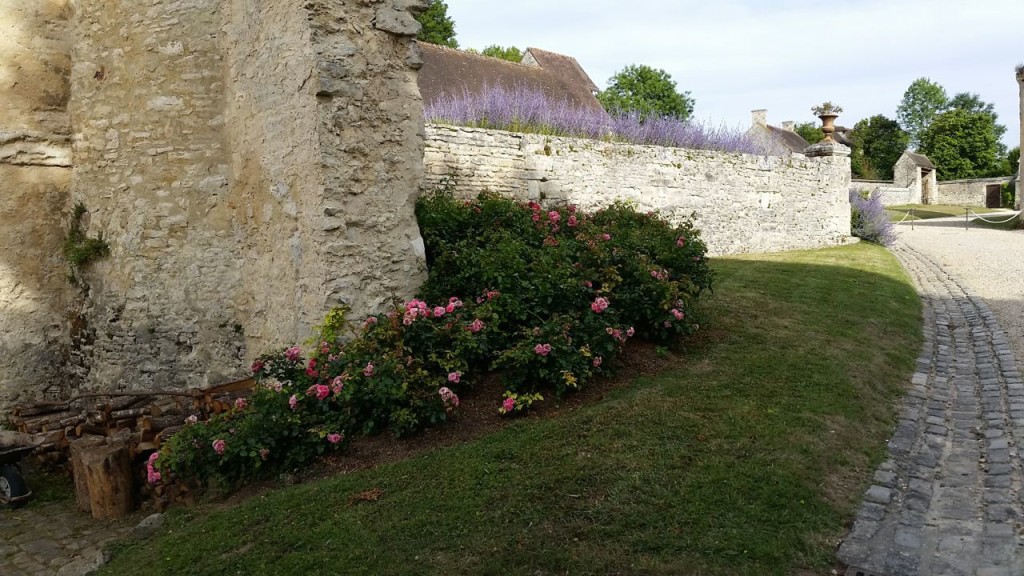 I would love a wall just like this around my yard. It will never happen. We have almost 1000 lineal feet to fence, but I can dream.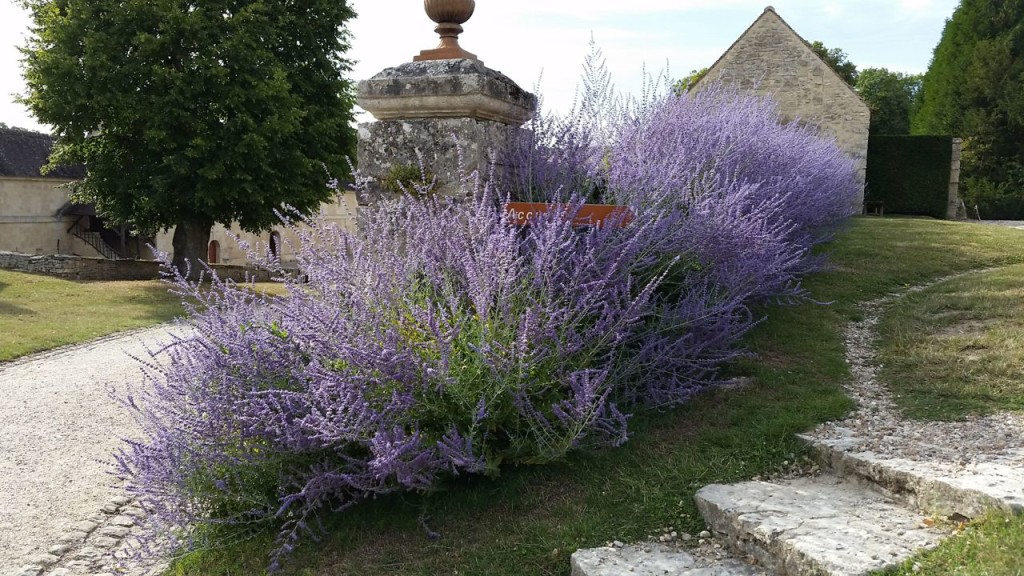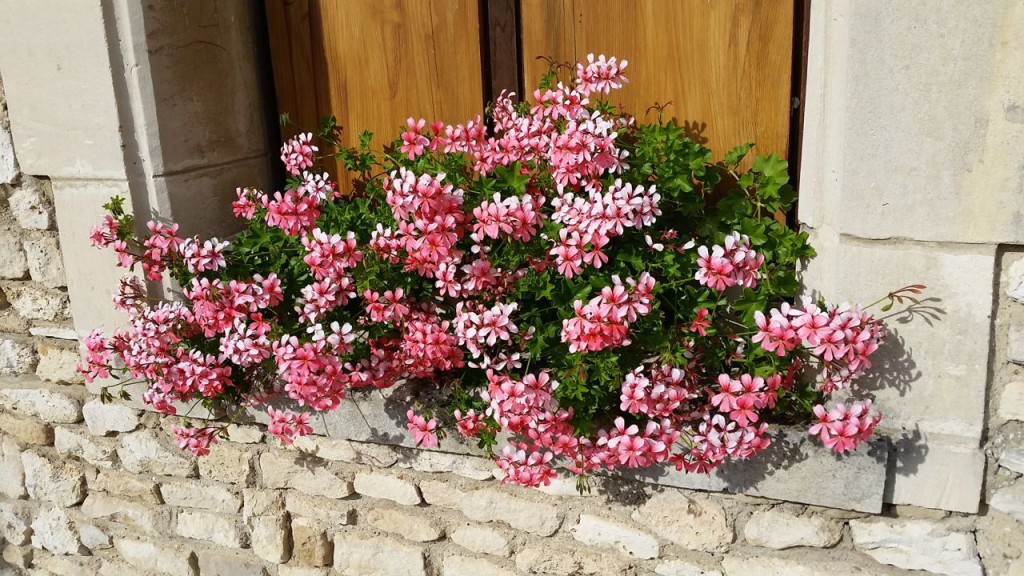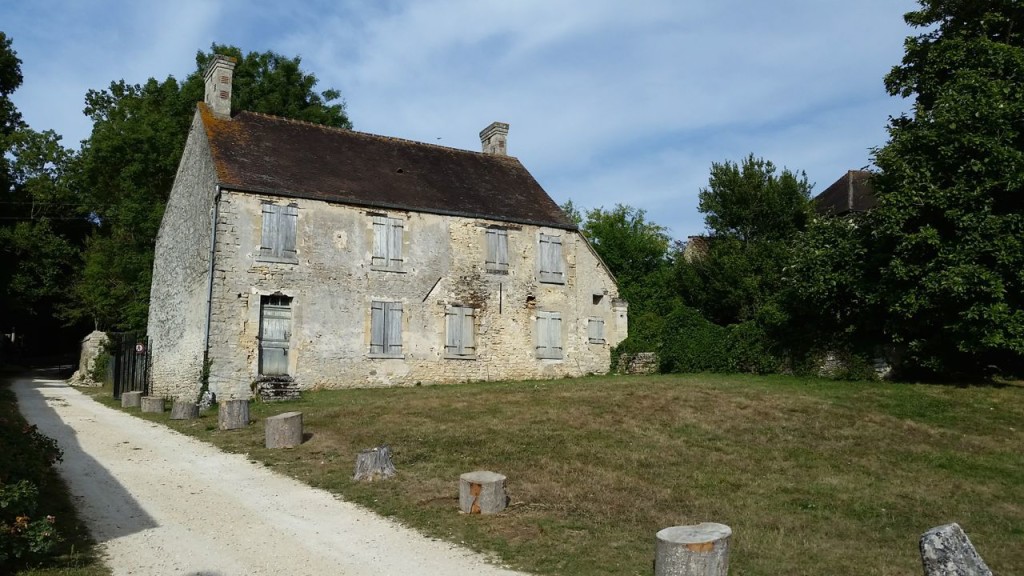 After a very, very full day, we drove to Paris to return the car and check in to our hotel.