This year we initially planned a trip to Belize to go scuba diving in the Big Blue Hole because this year was kind of Adam's choice. Last year the Italy trip was more my dream trip than his. When our good friends David and Brittany said they were going to Paris and moving away to California, and asked us to come to France, we said heck yes!!
The day we were supposed to leave started out with a bang. I woke up with the beginnings of a head cold. That's a problem. Adam woke up unable to use his left arm or turn his head. That's a bigger problem. I left to go pick up the babysitter, which was an hour and a half round trip, but he called and asked me to come back and get the kids because he felt like he needed to go to the ER. I went back, got the littles and actually headed 25 minutes out of my way to get some Onguard capsules from someone. It was a Sunday, so the DoTerra store was closed, and I wanted to knock this cold out before it got going. No way was I spending 2 weeks in France like that. (PS, it did the trick and was 100% worth the detour).
While we were picking up our sitter, Adam had an MRI done and found out he had a bulging disc in his neck that was pinching a nerve and causing all the pain in his arm. So fun, right? I suggested we cancel the trip, but he insisted we go. Since we usually pack in hiking packs, we had to stop at TJ Maxx and buy another rolling bag so Adam didn't hurt his neck even more. Carrying hiking packs is better than rolling cases when you are going to places like Cinque Terra where it is all cobblestone, uphill and few cars/taxis. We had to make a few alternative plans to accommodate our rolling bags, but it worked out fine.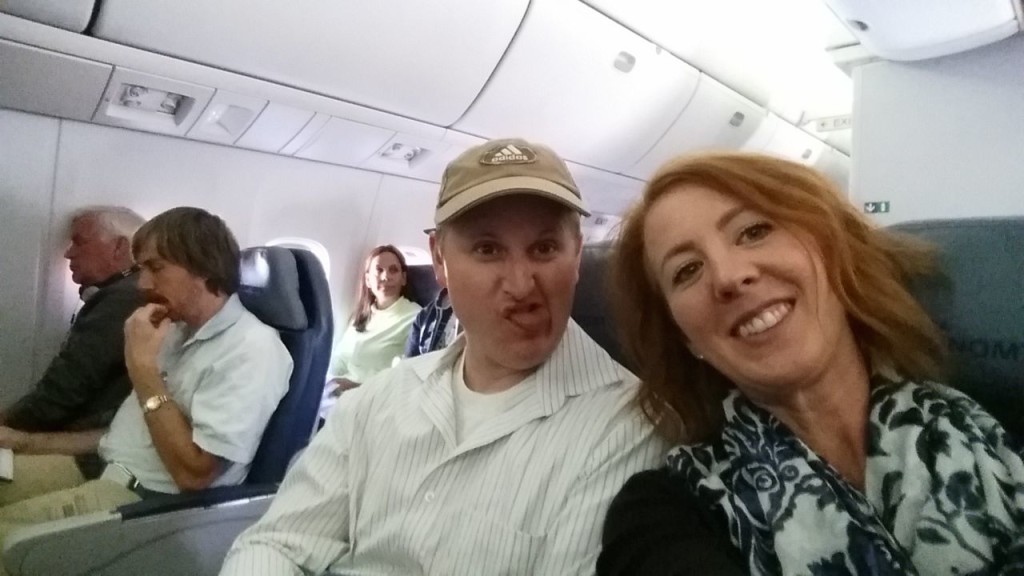 Lots of hugs and kisses goodbye later and we were on the plane.

The doctor recommended Adam get a neck brace at the pharmacy and a neck pillow. Good thing we stopped at RiteAid on the way to the airport for these invaluable items. You can seen he immediately put them to good use.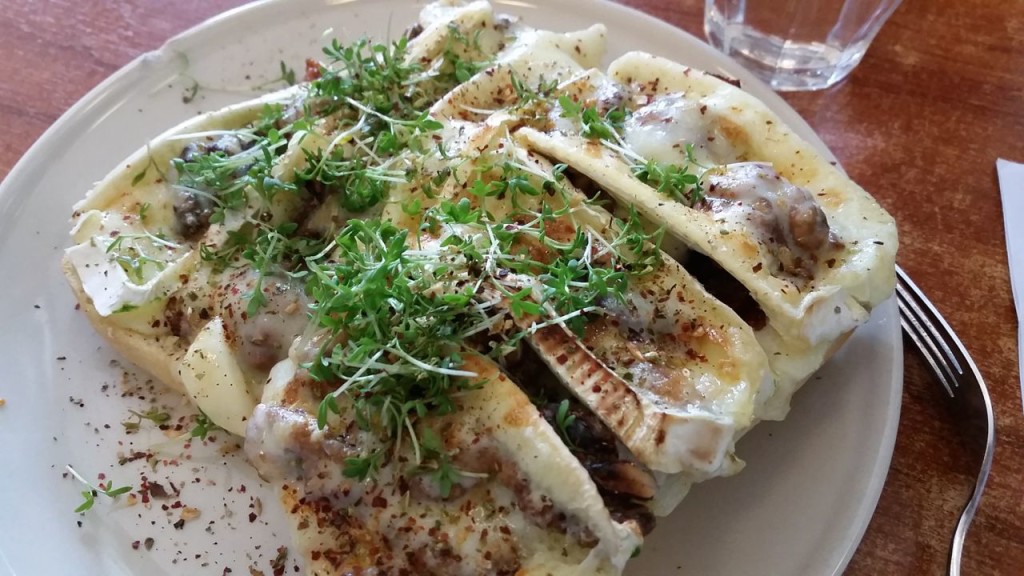 The flight to Amsterdam was fairly uneventful. We landed around 11:30. We wanted to have lunch at Gartine, but when we got there, it was closed for a family emergency. We went to Singel 404 for some awesome sandwiches. We stopped and had a quick bite of lunch and checked into our hotel. That gave us some time to walk around and see some of the city.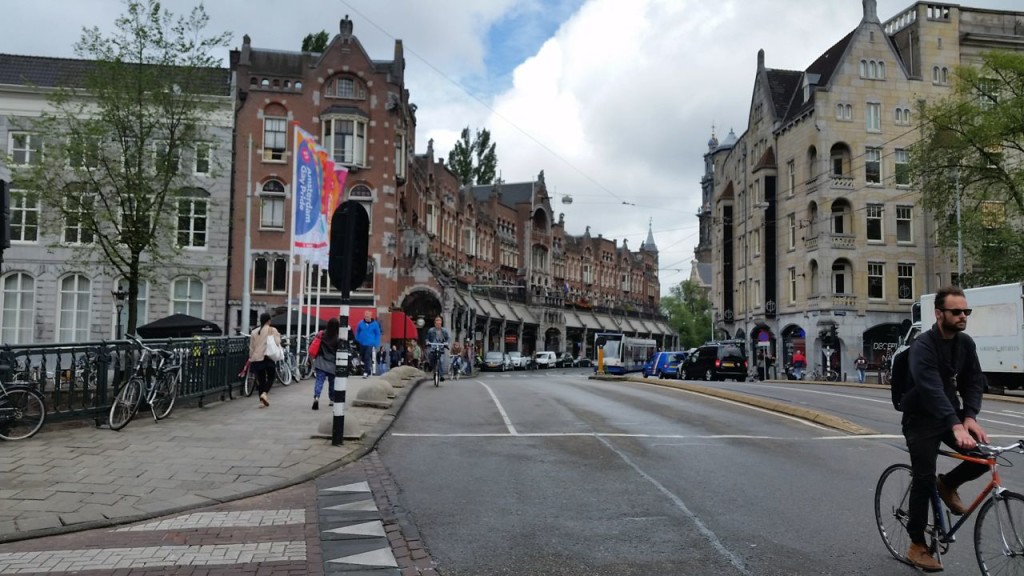 Every time we told people we were going to Amsterdam, they recoiled in horror as though we were suddenly contaminated. Then came the Red Light District and pot warnings. Why on Earth would we want to go to such an EVIL place when we are such nice, upstanding citizens who don't even drink, much less smoke or do drugs?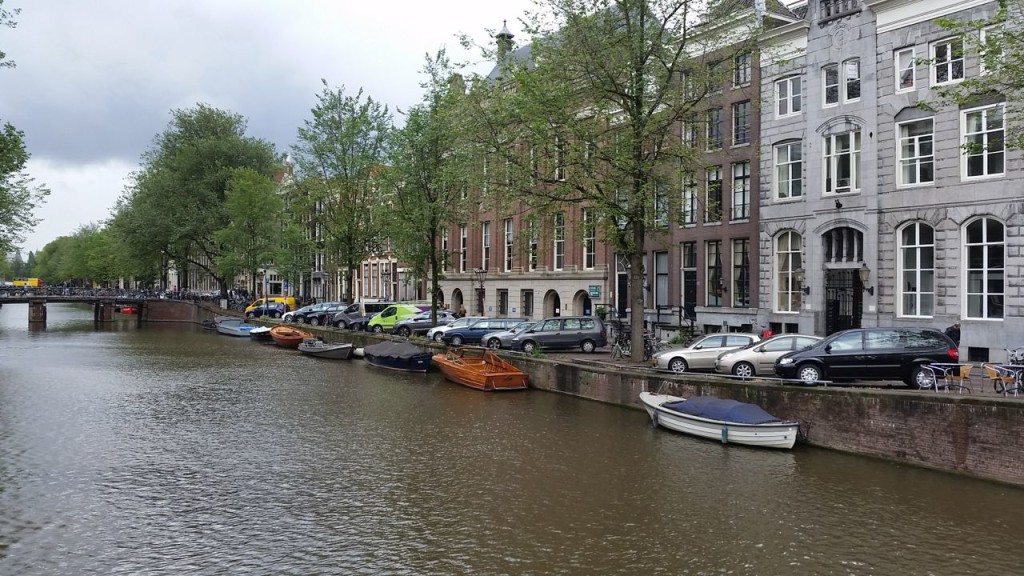 Well, I'll tell you. No matter where you go, you will find what you are looking for. Is there filth and legalized lechery in Amsterdam? There is. Did we see any of it? No we did not. We were there to see the beauty of a beautiful, historic, old European town that was once the financial capital of the world, and that is exactly what we found. It was charming and lovely. I'll show you.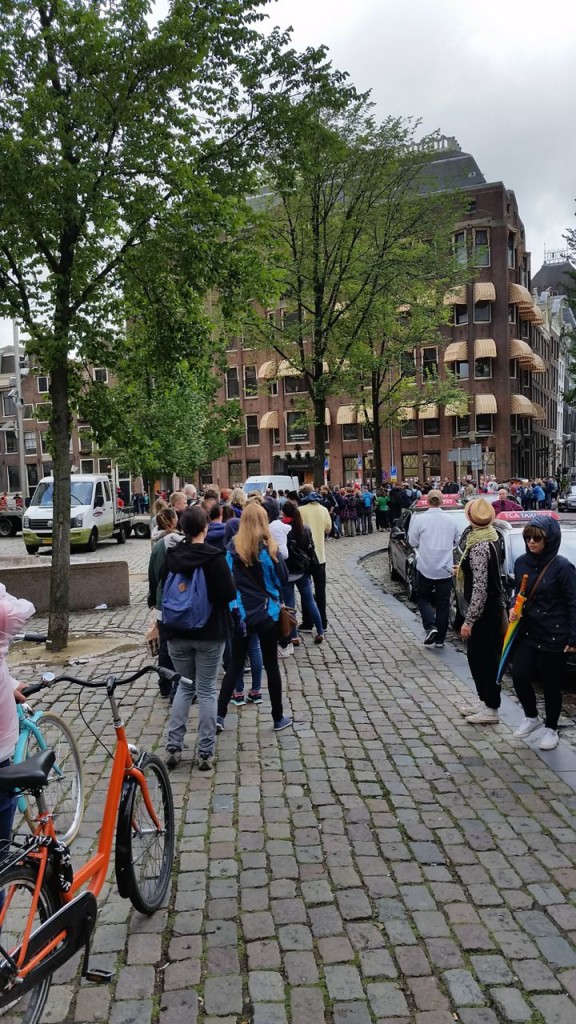 After lunch and wandering around admiring the beautiful architecture and charm, our next stop was the Anne Frank House. Here is your first HUGE travel tip. Most places now allow you to book timed entry tickets online. We had an appointment for a tour in English at 2:30. Here is the first part of the line of people who did not book advance tickets.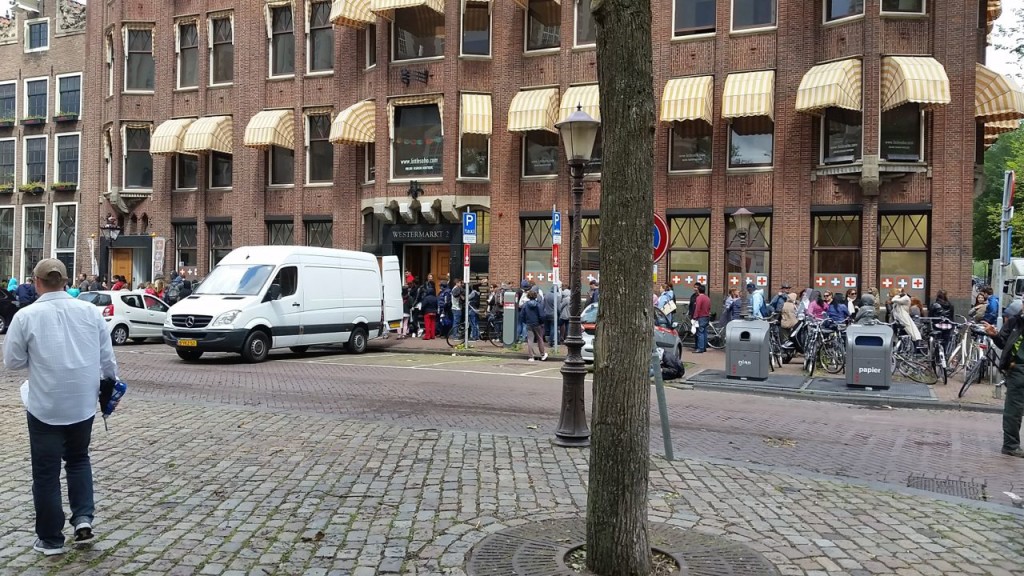 The line went on for blocks. These people waited for HOURS. In the cold, windy, rainy weather. I won't show all the pictures of the line, but walking up to the door and walking right in was great.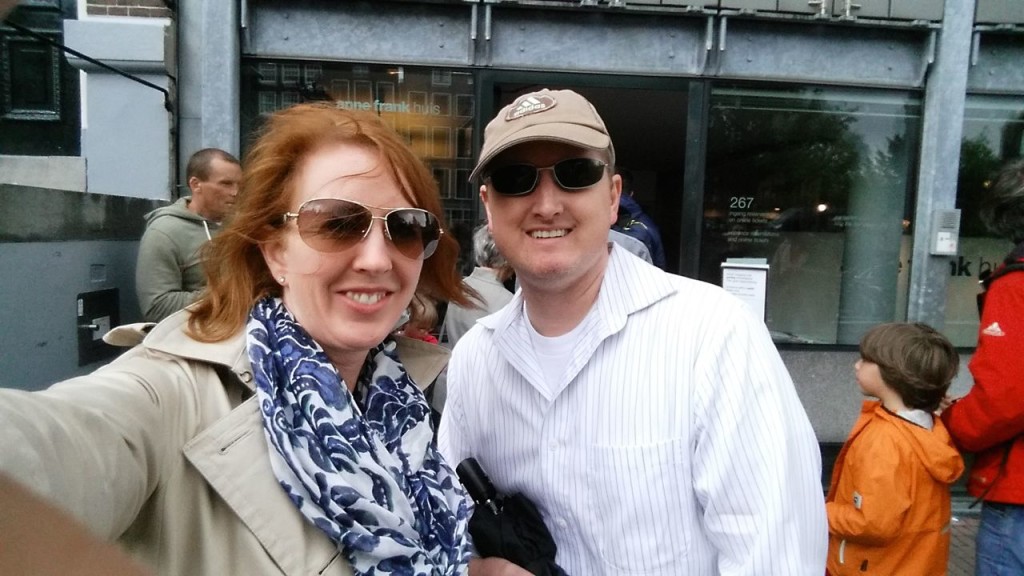 Due to the nature of the house and the events there, they ask that you be silent and not take pictures inside out of respect. Also, the house is stripped bare. Anne's father wanted it that way to show that everything was taken from them. It was extremely moving to watch the videos of interviews at various places in the house. It is definitely a must do in Amsterdam. It is another testament of the beauty of the self-sacrifice of some to save others.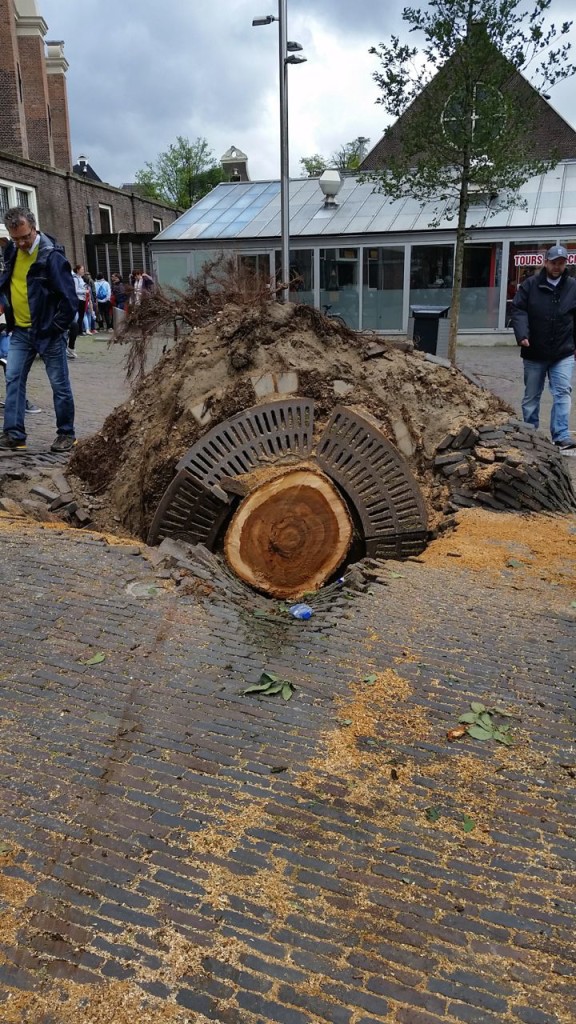 There was a big storm right before we came that downed a bunch of trees. These roots look super shallow, I'm assuming due to the high water table.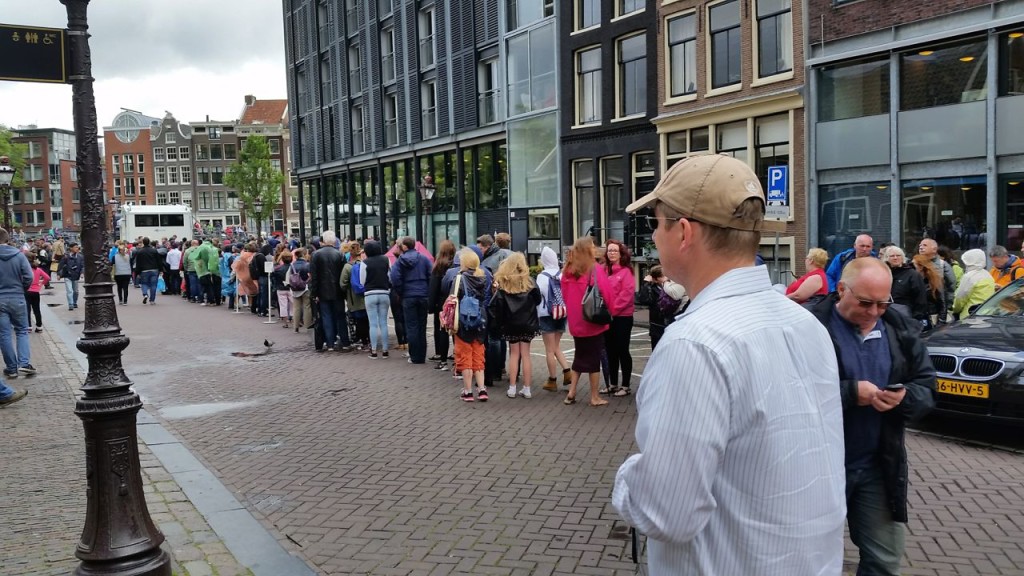 Next up was the Van Gogh Museum. As much as we've traveled, we've become extremely selective about the museums we go to. We've been to a lot of them around the world, but this one was on my list. I'm fascinated with impressionism. See this line? We didn't wait in it.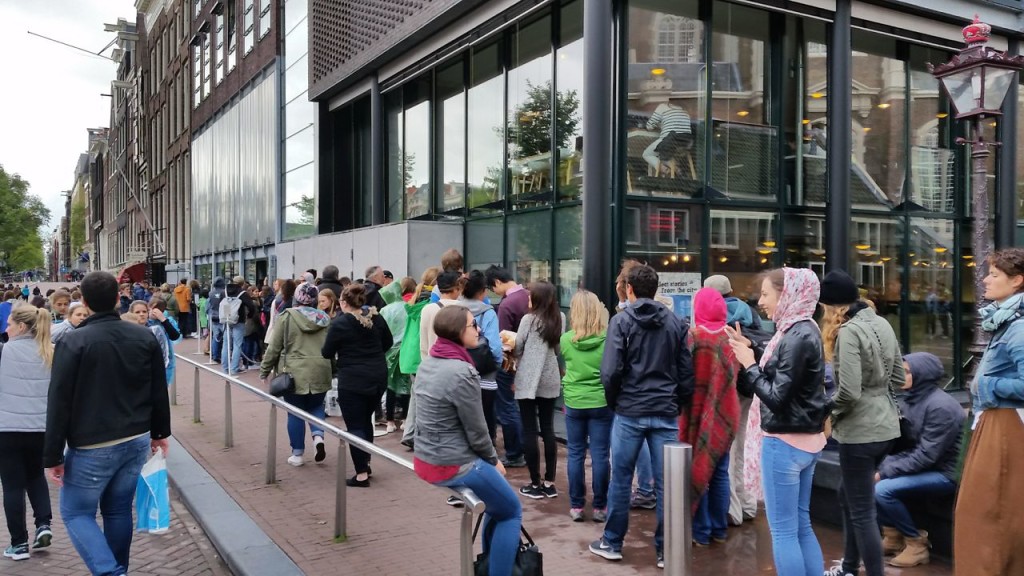 Here's more of the line we didn't wait in. Why? Because we bought timed-entry tickets online before our trip. Hours in the rain for them, but not for us.
See that girl giving me the stink eye? That's because she has been out here for several hours in the rain. She hates us. I'm ok with that.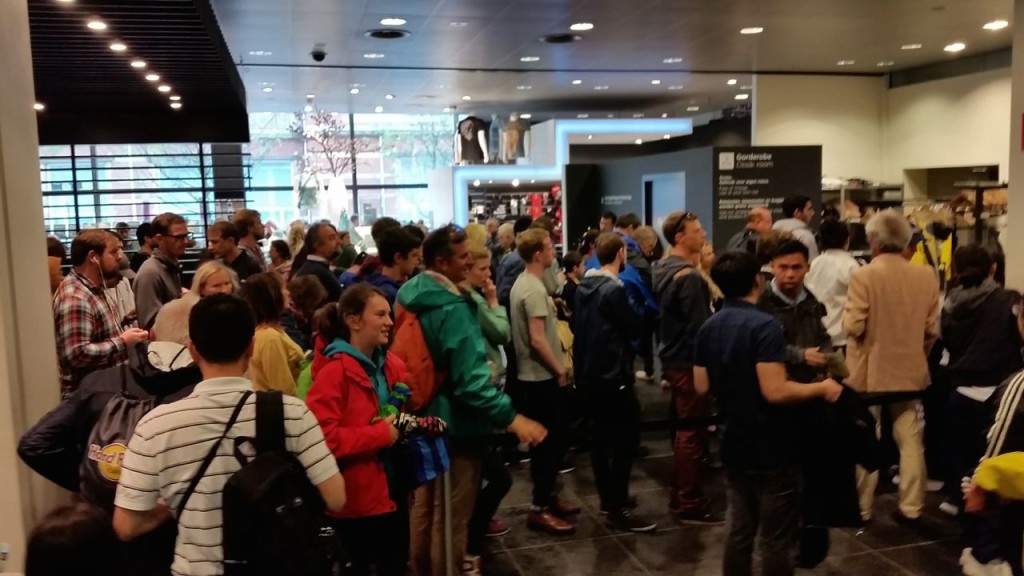 Awesome travel trip #2: Don't carry a big bag around town for lots of reasons, but in this particular case, because you will have to wait in this looong line to check your bag, and I didn't have to wait in it again to get it back.
I have a specific purse for when we travel. I carry this one by Bagalinni: http://www.amazon.com/Baggallini-Zipper-Travel-Crossbody-Black/dp/B00MRJ5BQ0/ref=sr_1_9?s=apparel&ie=UTF8&qid=1443743040&sr=1-9&nodeID=7141123011&keywords=bagalinni+bags
It is fantastic, holds plenty, secure, and small enough that I have never had to check it when we go to museums, etc. It is crossbody, easy to secure from pickpockets and keep close. It is big enough to carry what we need, and small enough that we don't overload it with unnecessary items that will be really heavy about an hour into the day. I have specific places I keep specific things, so I don't have to dig for my money or ID or room key. I even take it when we go to Disneyland, New York, LA, San Francisco. It is non-descript, doesn't draw attention to itself or me. I have the black one, so it also doesn't look necessarily like a tourist bag. It also is gender-neutral, and when I get tired of carrying it, Adam will carry it without feeling emasculated. When I travel, I'm not interested in making a fashion statement with my purse. I can do that at home. I need function, ease, comfort and security. This bag does it. The strap has clips to unhook it, so if I have another bag with a souvenir, I will hook it through my strap, keeping my hands free and removing the possibility of accidentally setting it down somewhere and forgetting it.
The Van Gogh museum was great. They ask you not to take pictures inside. I know other people do, but I didn't.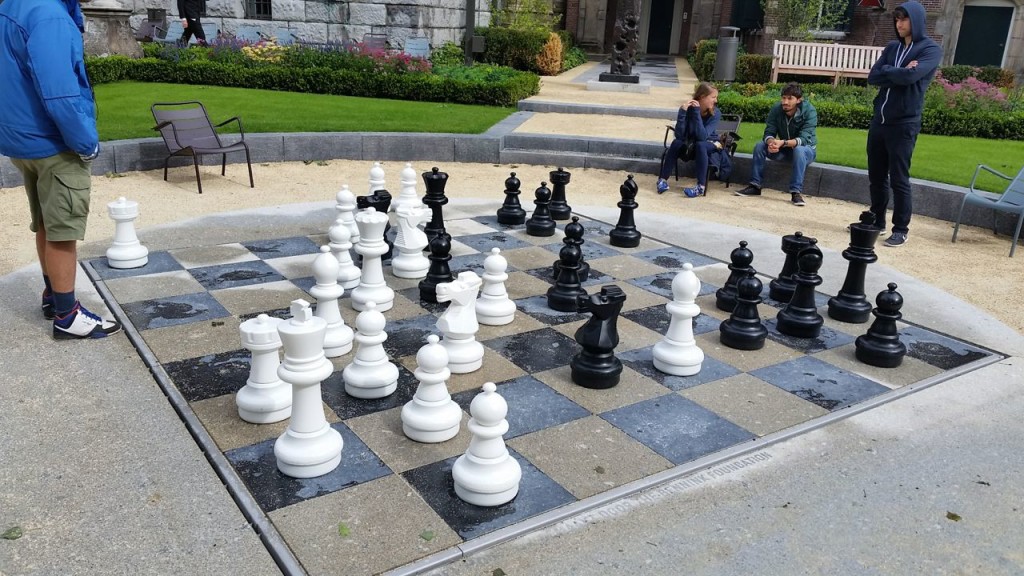 Outside was this awesome big chess set. My kids would have loved this.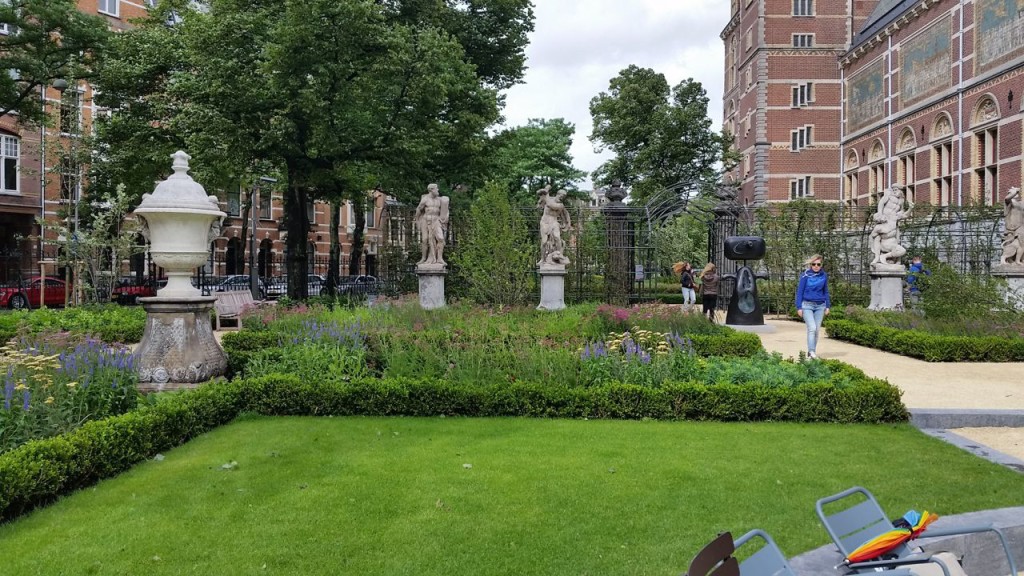 In this fantastic little park.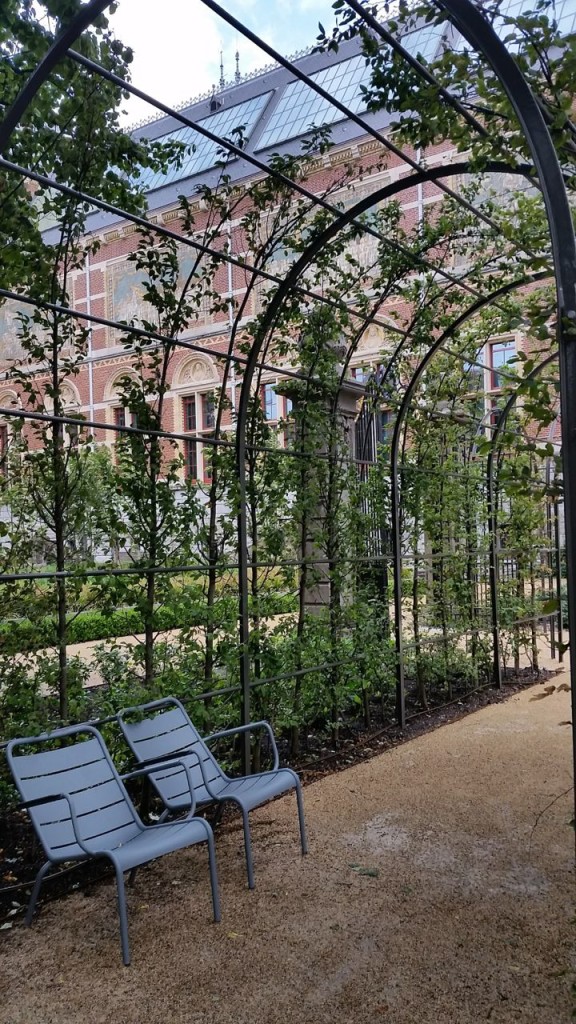 I am growing a similar arch with grapes in my backyard.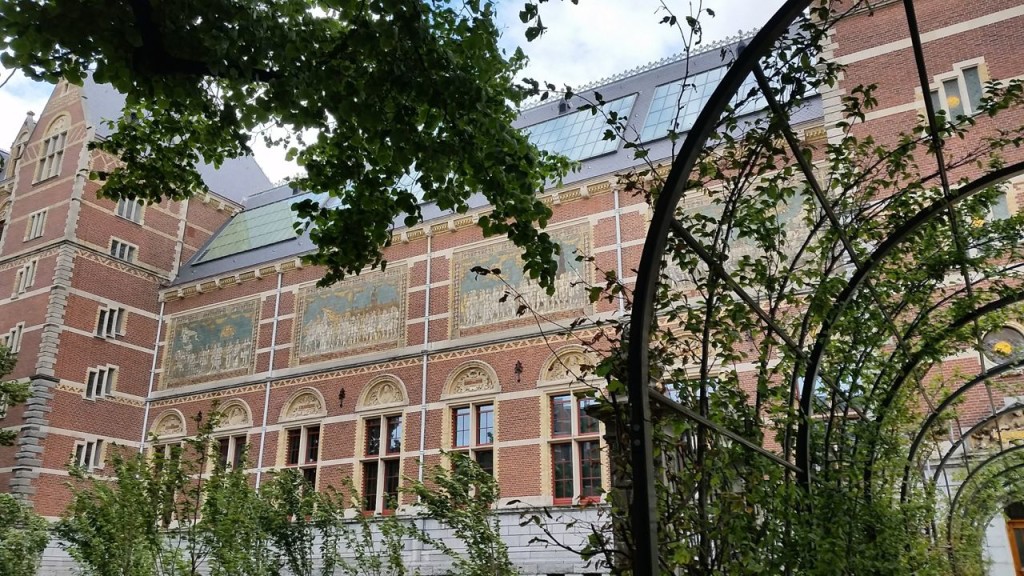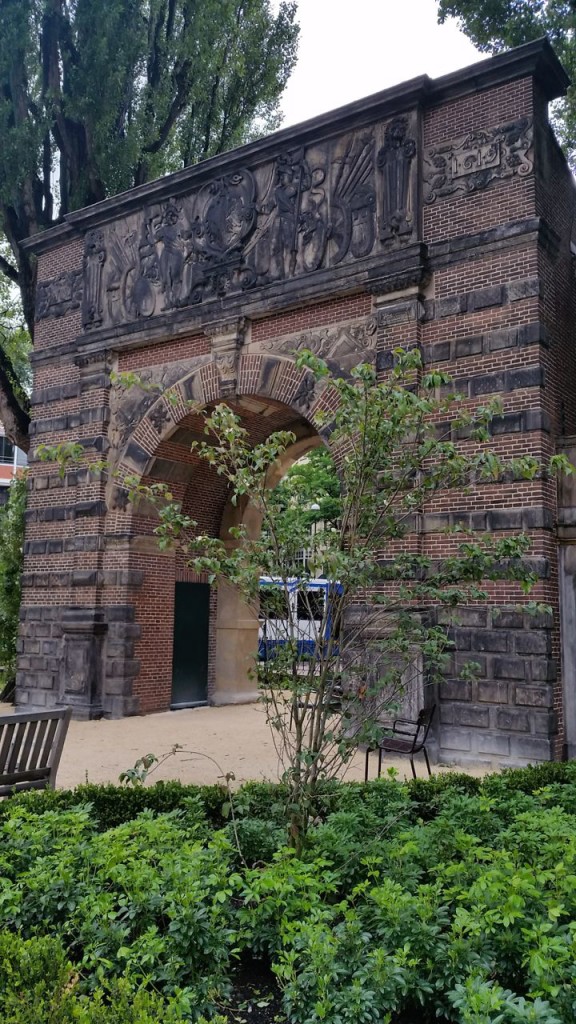 Clever, very clever. I see what you did there…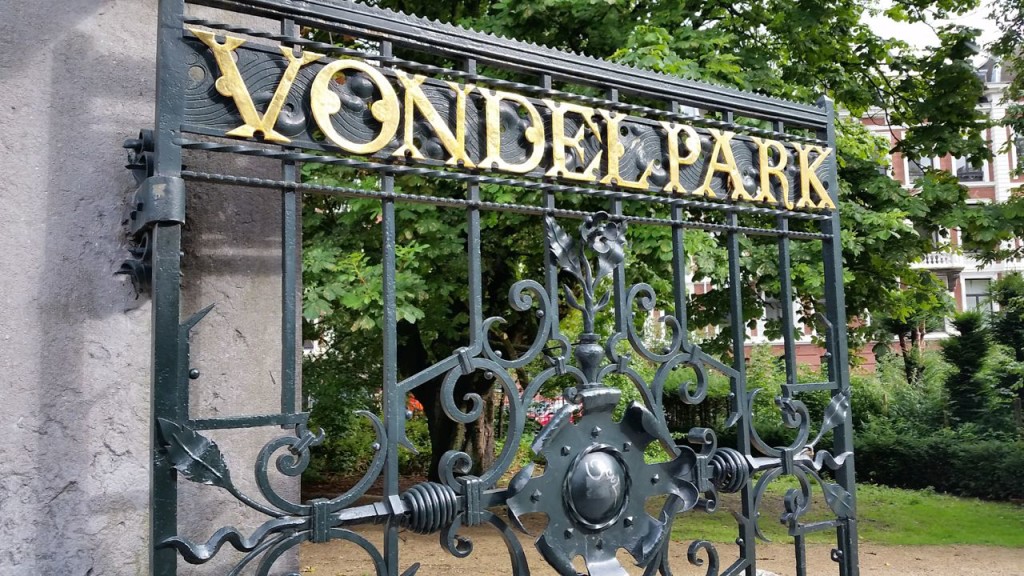 Another cute park. The whole city is so beautiful.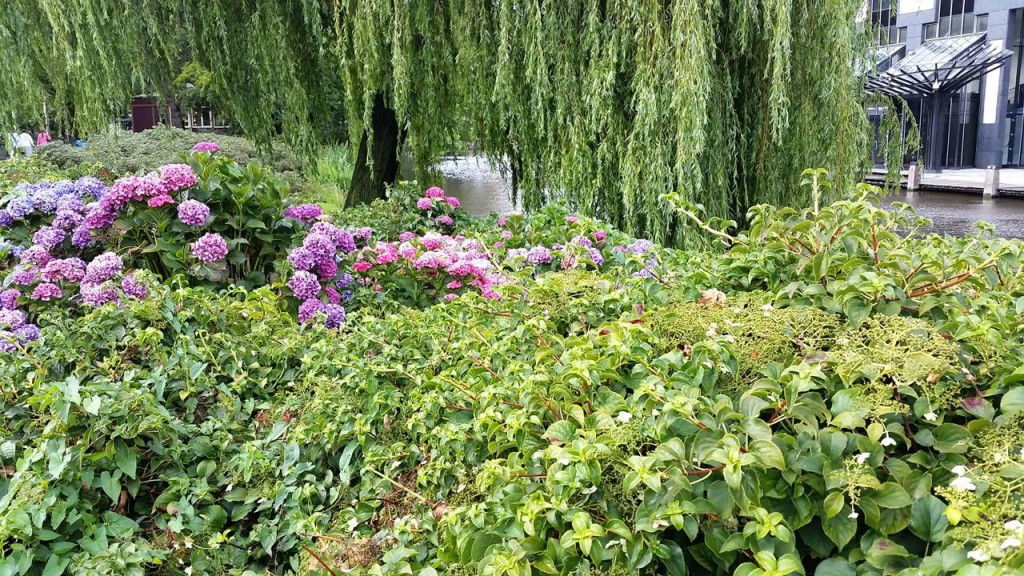 There were hydrangeas everywhere. I love them.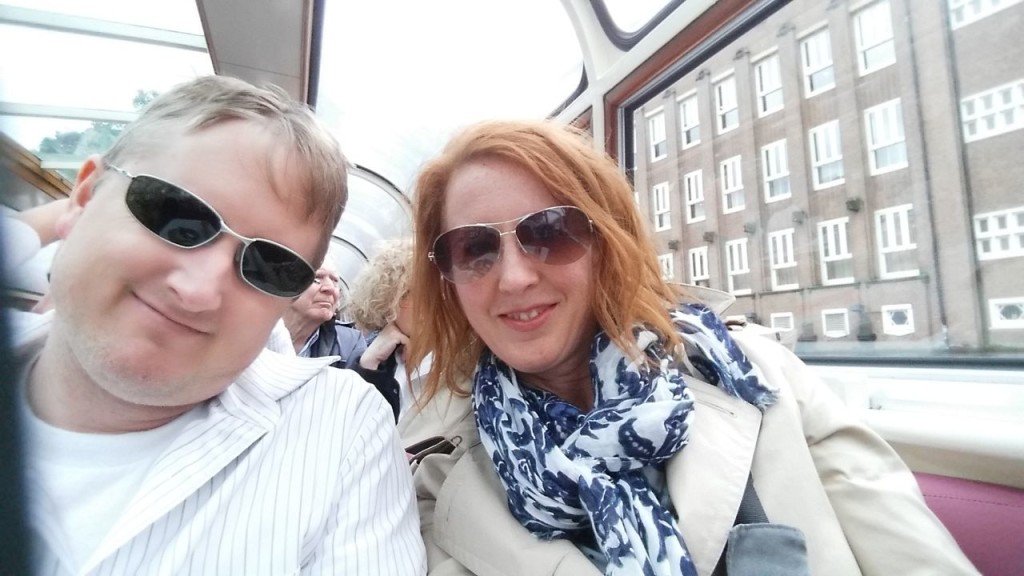 After Van Gogh we decided to take a boat tour. This is not something you need tickets for. They depart every 30 or so minutes, and you won't have to wait more than that. It was drizzly, windy and chilly, so it was a nice way to get out of the weather but still be able to enjoy the city. Naturally curly hair that has been straightened doesn't love the rain.
It was great to see the city from the water. The streets are so narrow you can't see as much as when you can get a little distance.
Everyone rides bikes here. There just aren't enough roads, so if you want transportation, you ride.
There are over 2,000 registered houseboats with canal addresses.
You know why we had time to take this lovely, relaxing tour? Because we didn't spend hours waiting in line at the other two places. In fact, without those tickets, the Anne Frank House is the only thing we would have been able to do this day.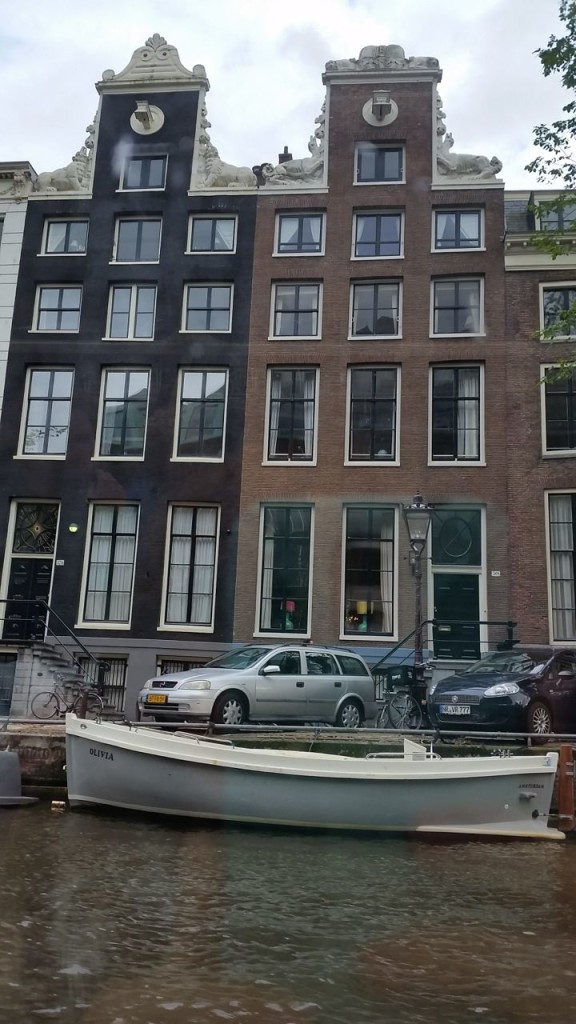 These buildings used to be warehouses. Those cranes at the top were for loading and unloading goods from the ships. Now they are used for bringing furniture in and out of the windows because the staircases are too narrow.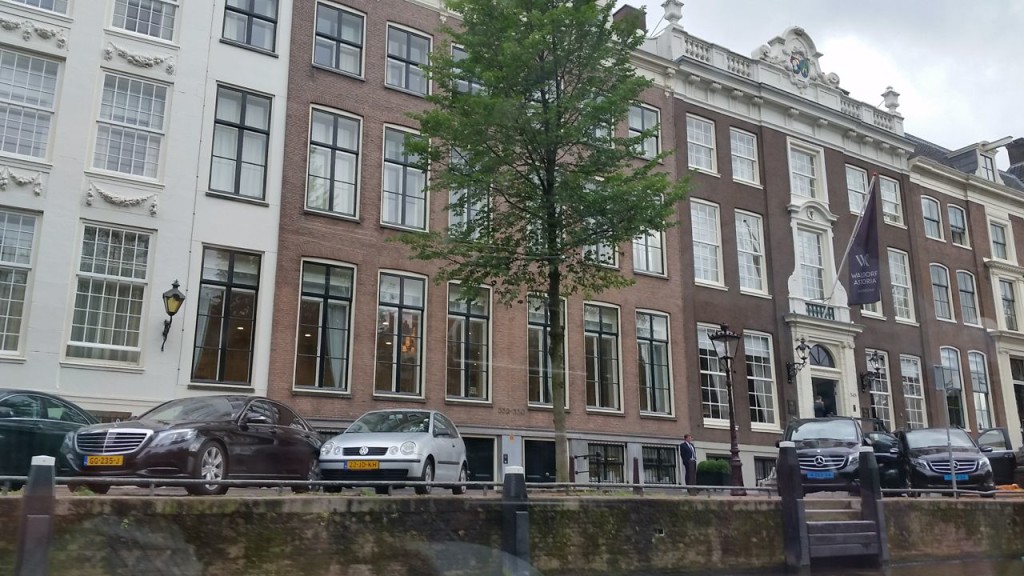 The medallion at the top of the building was used to identify what that warehouse had: fish, grains, etc. Pepper used to be more expensive than gold, and if something is very expensive, they still say it is peppery expensive. That warehouse still has bars on the windows from when it stored the most valuable commodity of its time.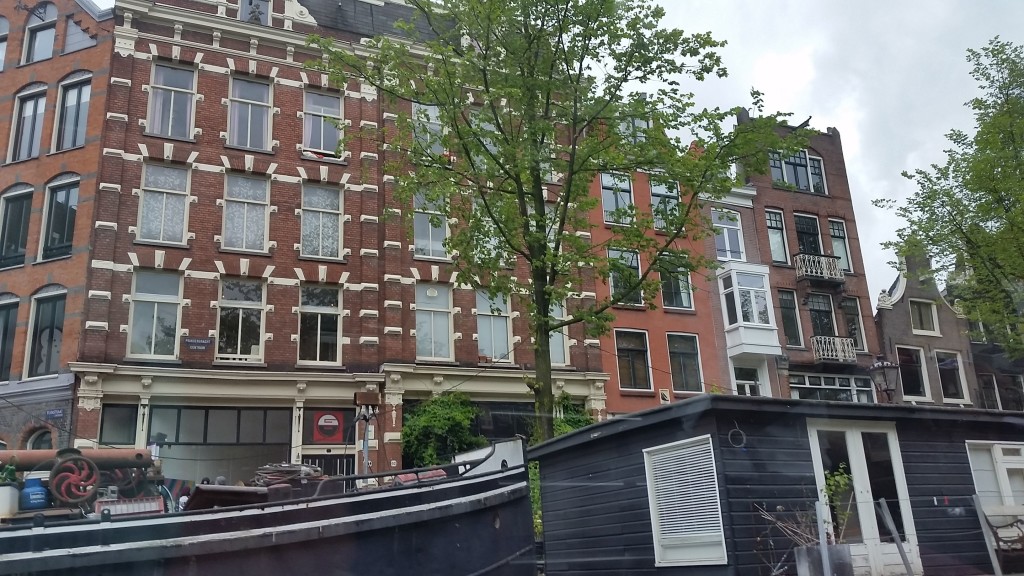 See that little white pop out window? That is the narrowest house in Amsterdam at 1 meter 36 centimeters. Homes here are narrow and deep because they were taxed on width, but not depth.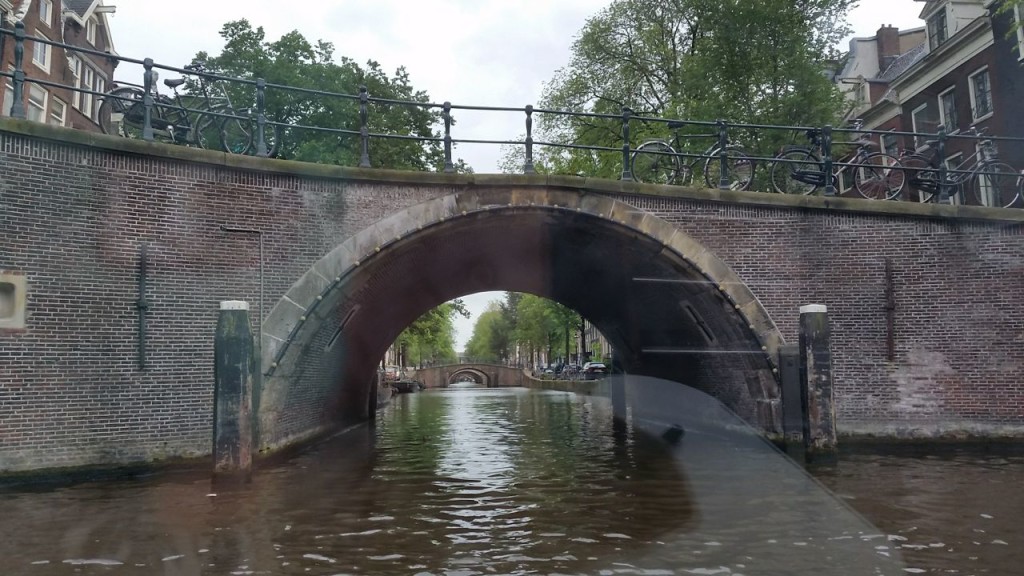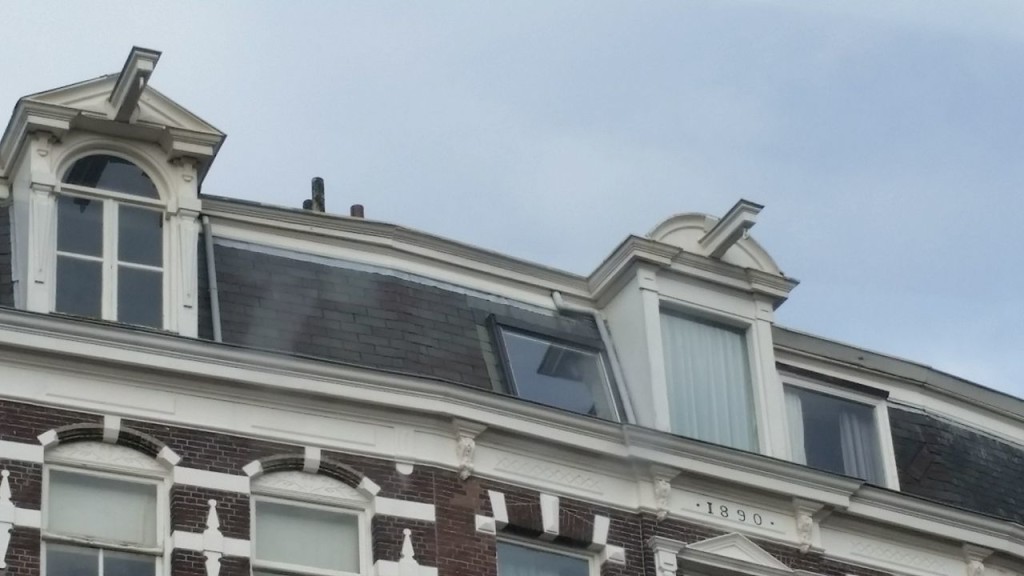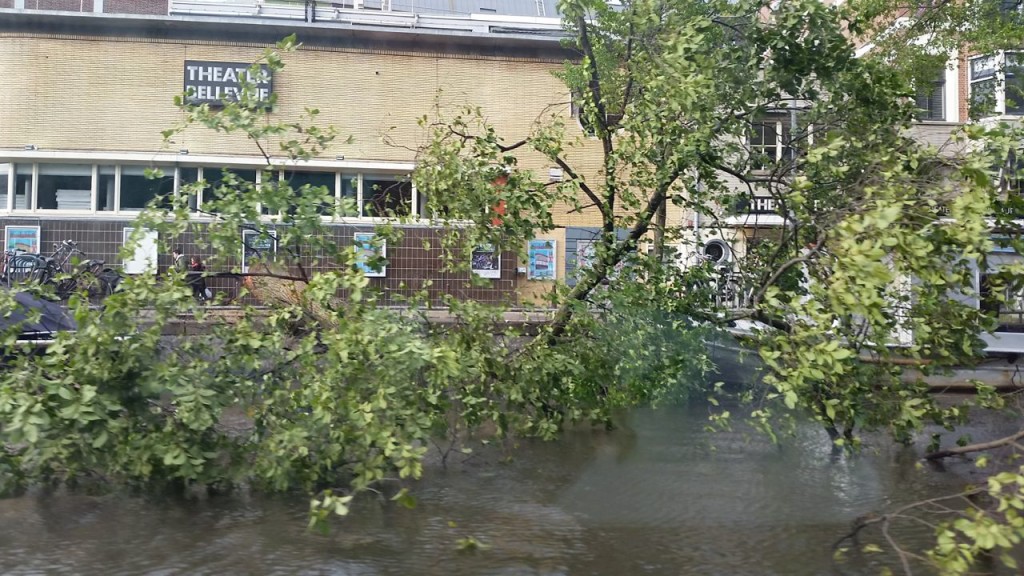 Another downed tree.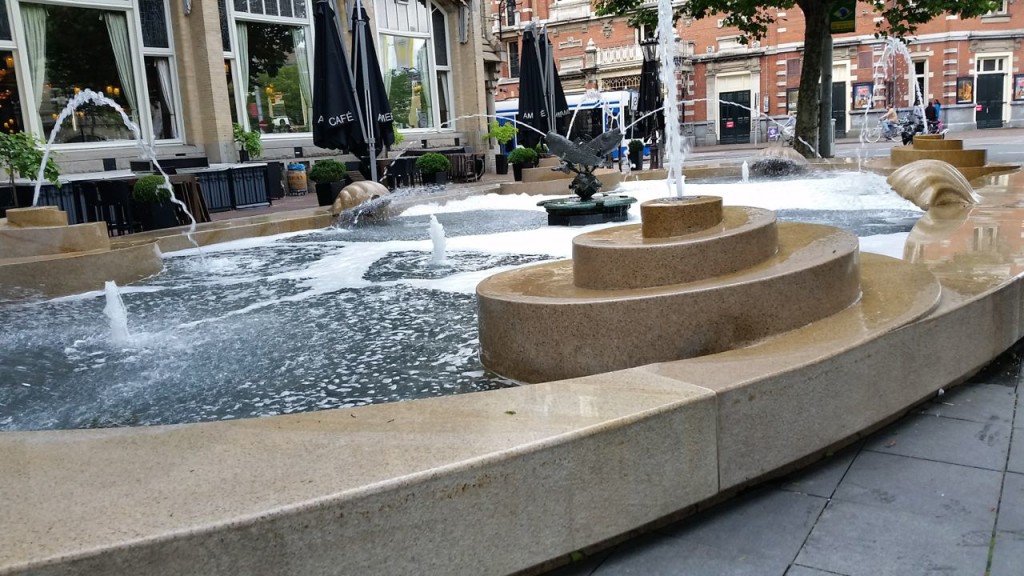 A beautiful fountain.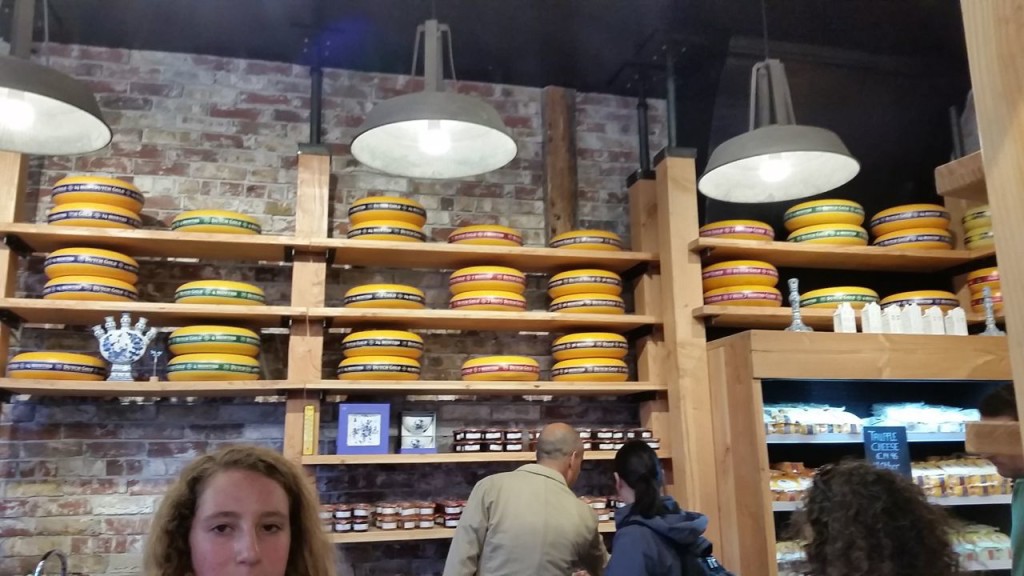 And a cheese shop. These are everywhere, and they all have SAMPLES. Lots and lots of samples. You will never be satisfied with American cheese brands again. There is just no comparison. Many of the cheeses can be stored at room temperature while still sealed, so feel free to buy a wheel or two and put it in your suitcase for home. Not to worry, if a wheel is too much, they come in much smaller slices. Each one of those babies weighs about 30 pounds. They do ship, though, if you need more after you get home.
This is the floating flower market from the back.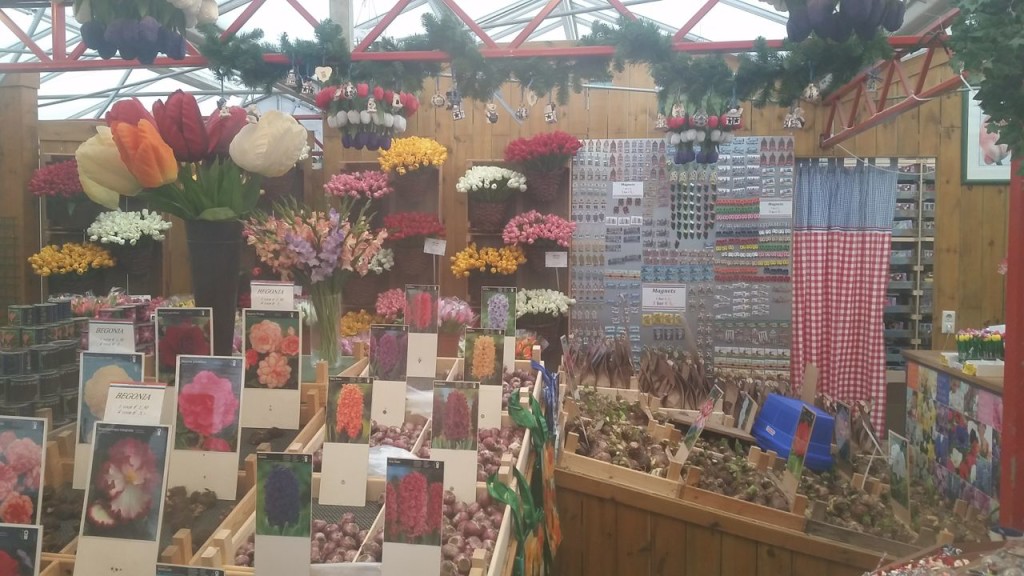 Inside those floating greenhouses you can buy bulbs and tourist junk authentic treasures. Be aware that many countries won't allow you to bring something like tulip bulbs or any plant matter into your country. I also read reviews of unhappy purchasers who got home and the bulbs they thought they bought were entirely different from what popped up the next spring. It's not like you're going to go back and complain or return them, right?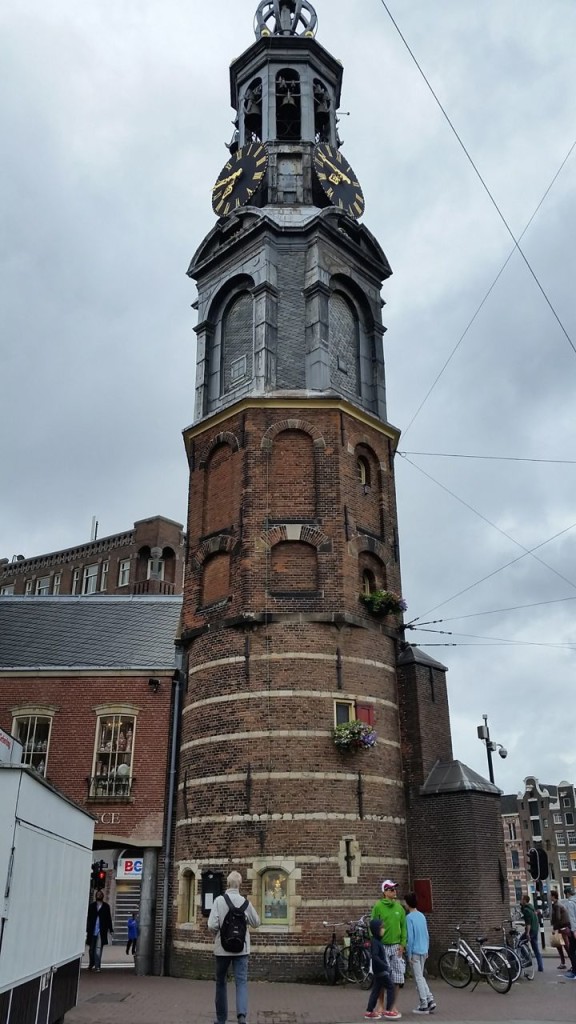 When we travel I like to buy a kitchen item that I can use and be reminded of my trips. I wanted a Delft pitcher. I know Delft isn't really made in Holland, but it's close-ish. I didn't want wooden shoes.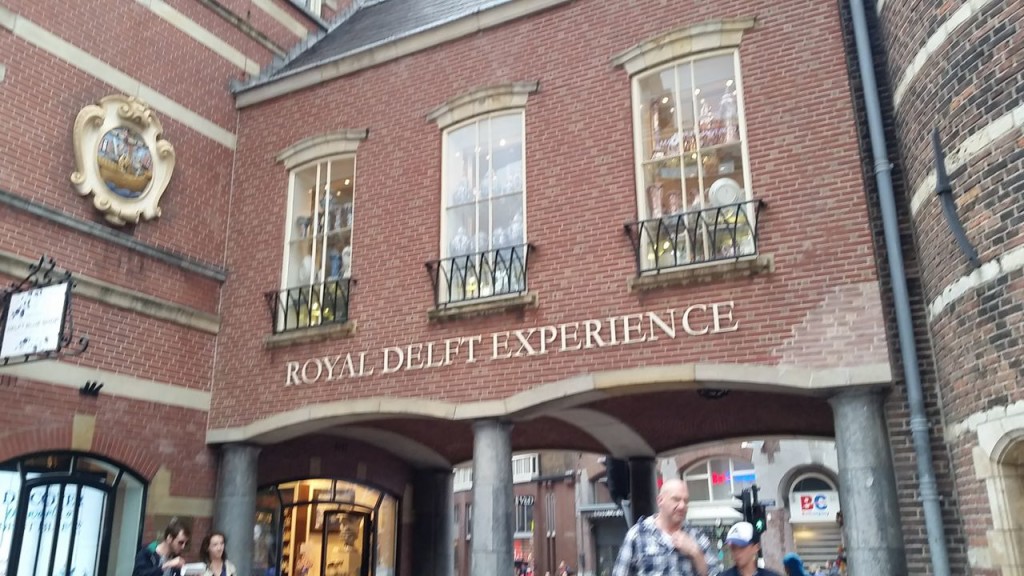 There is a Delft store here, but I didn't see what I was looking for. I have this problem where I want what I want. Adam calls me Sally, as in When Harry met Sally. I'm ok with being particular.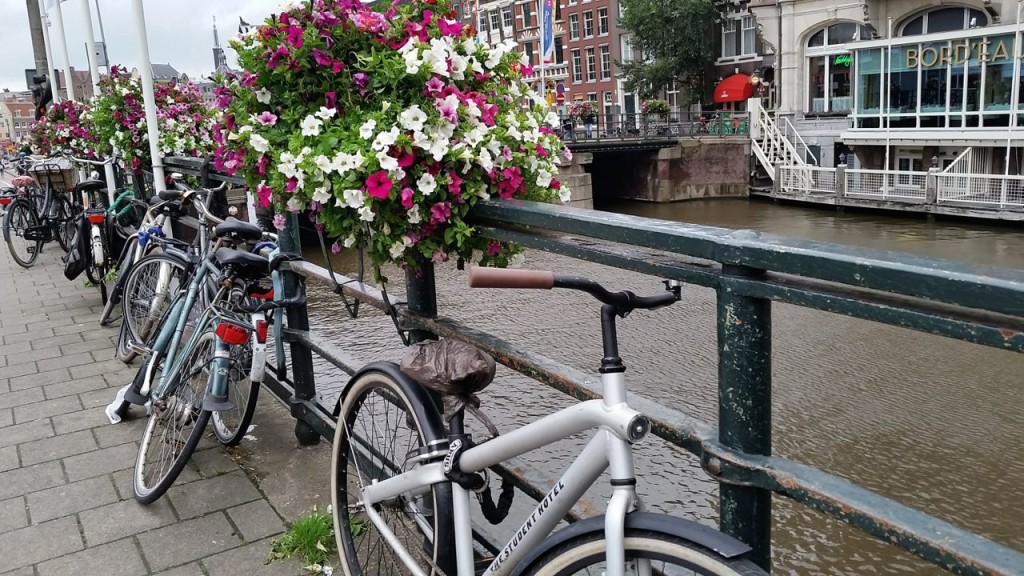 Like so many of the other European cities, there are hanging flower baskets everywhere, and I LOVE THEM. And I love the bikes everywhere.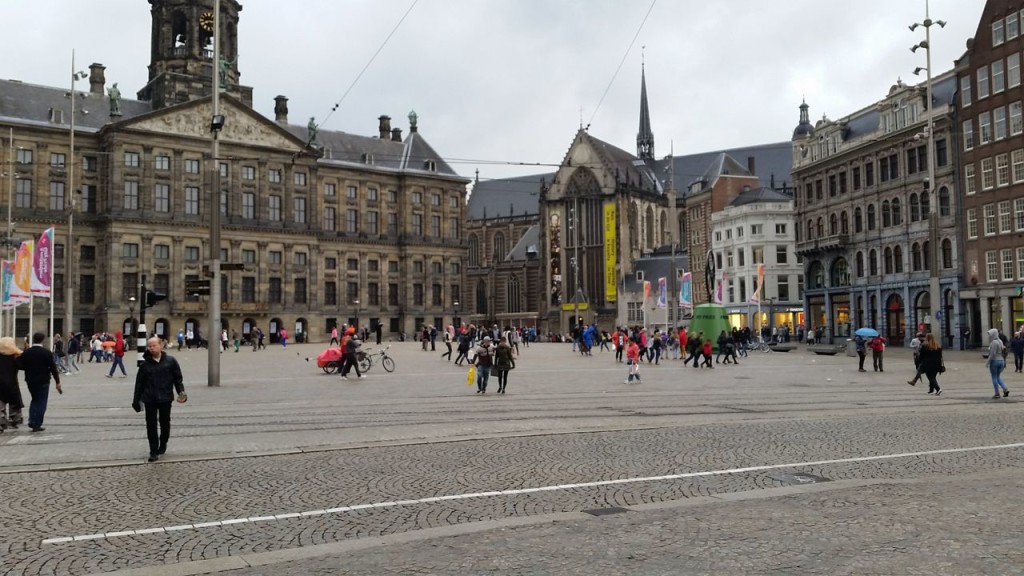 This is Dam Square, and our hotel was right one it.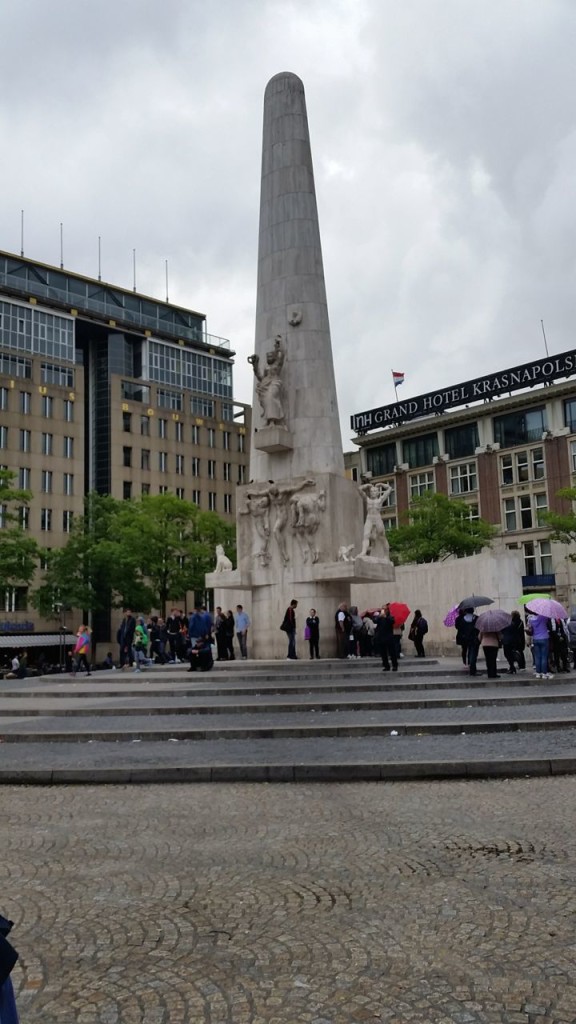 This is the National Monument, and that is our Hotel right behind it, The Grand Hotel Krasnapolsky. I would definitely recommend it. Great location, nice rooms. No complaints.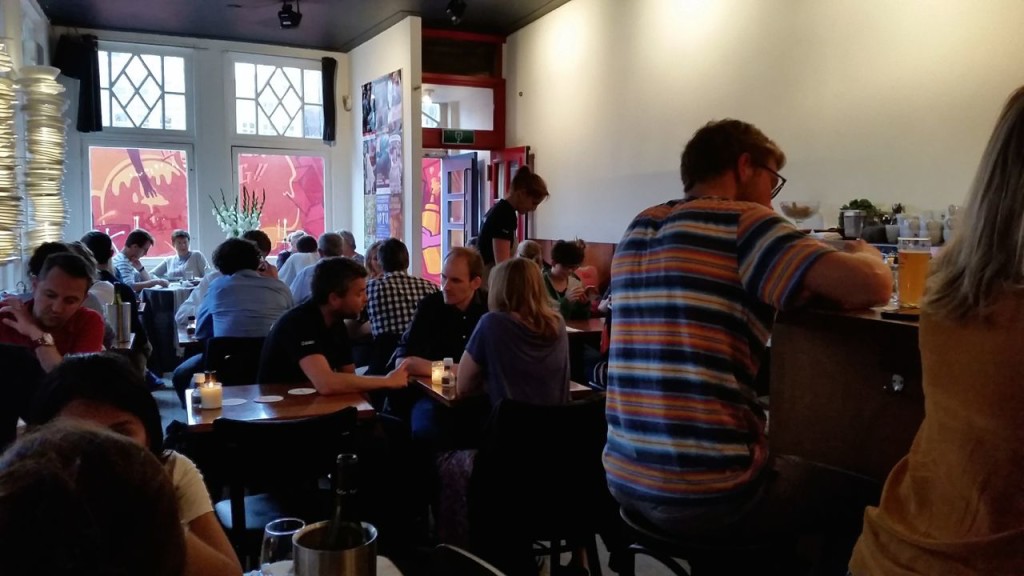 We went to dinner at Van Kerkwijk. It was so tasty and cozy and quaint and close to our hotel. We had smoked makerel on toast points, Stilton stuffed dates wrapped in bacon, filet mignon in strawberry sauce (the only thing we didn't like), and hake crusted in anchovies.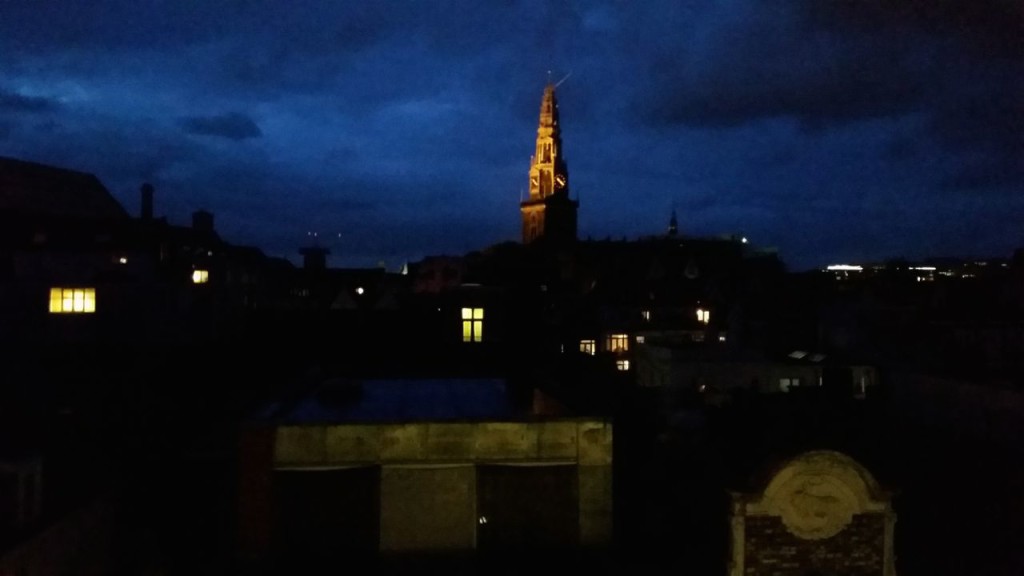 This was the view from our hotel.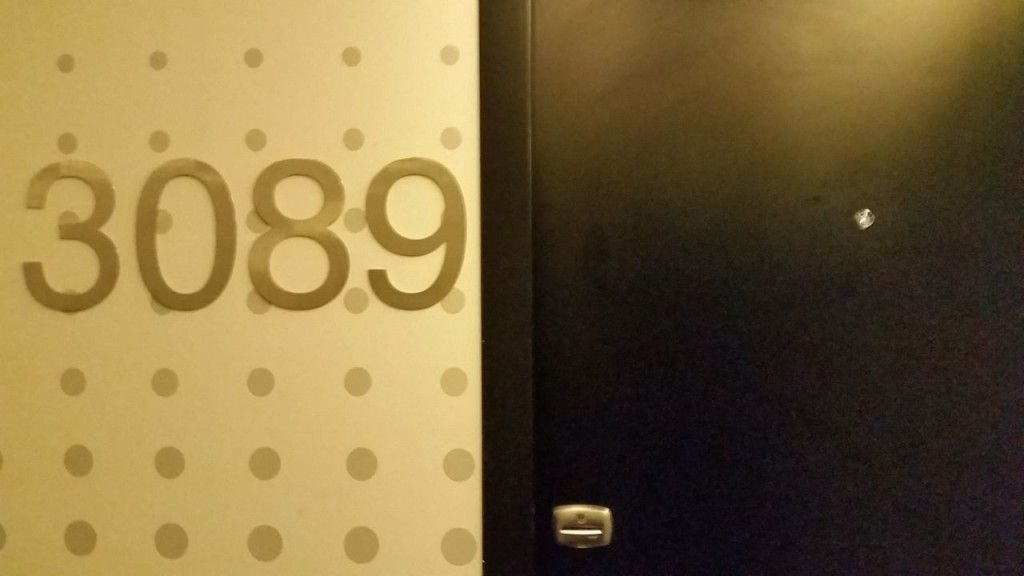 Can't miss the room numbers here…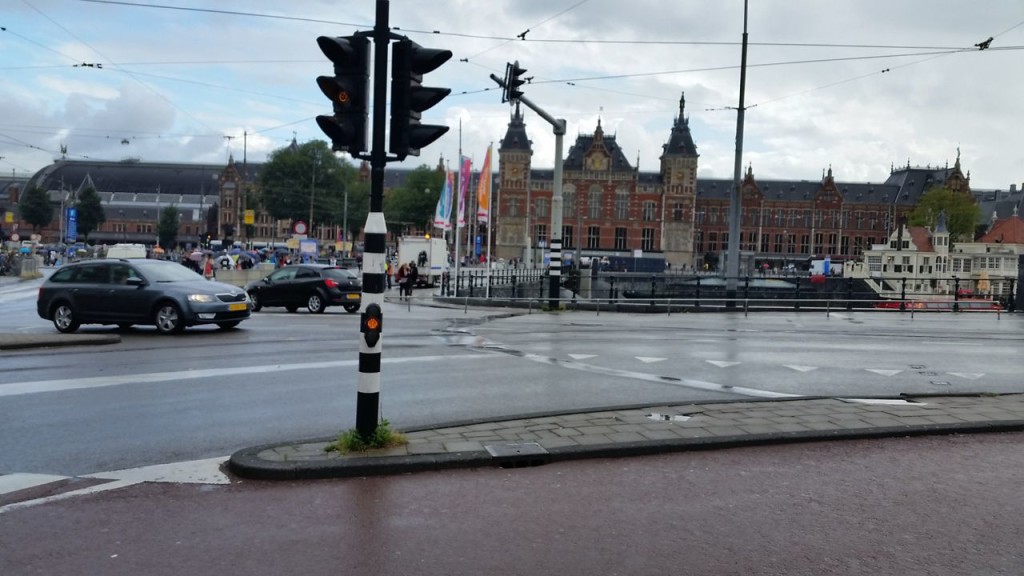 The next morning it was hard to get up, but such is jet lag, yes? We got up anyway and headed to the train station. Isn't it beautiful?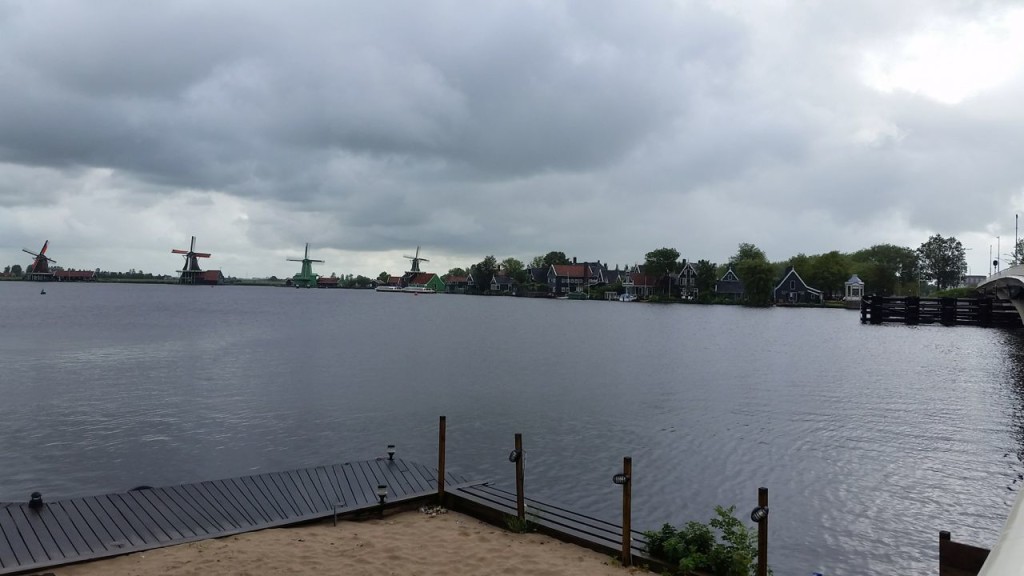 We wanted to see the Dutch countryside, so we chose the village of Zaanse Schans. It is about a 20-minute train ride out of Amsterdam, but it looks like it's a world away. This village is famous for its working windmills.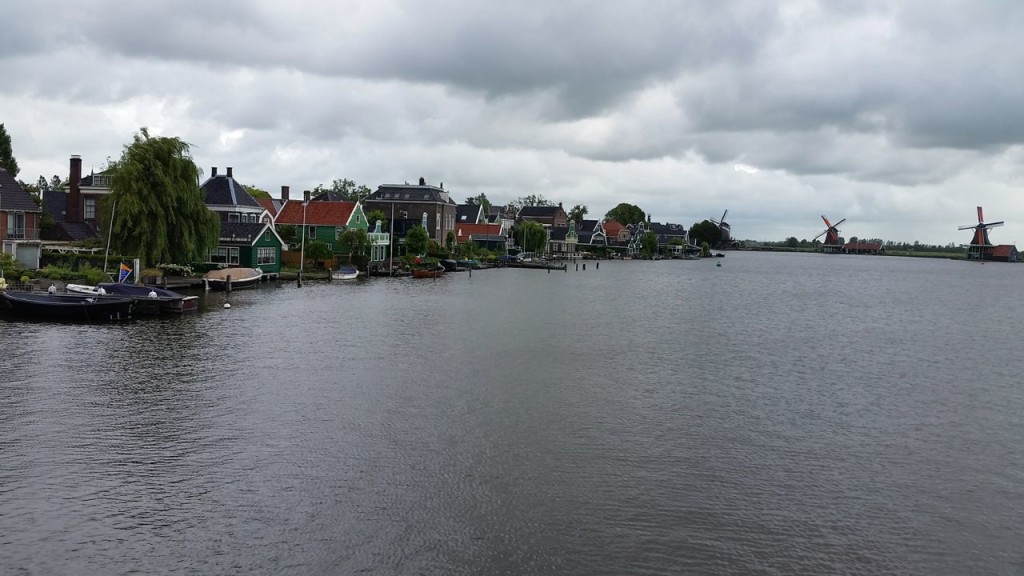 It is storybook picturesque.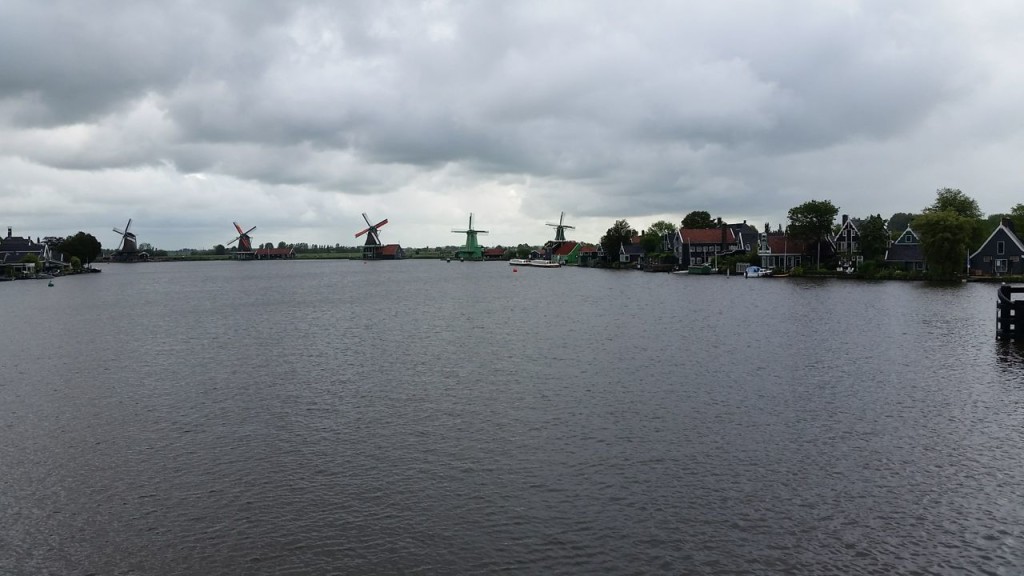 There are a few other villages we wanted to see, and there are tours that take you to three villages in 4 hours, but we chose to see one village to our hearts' content rather than be rushed from one to the next. Honestly there were quite a few places we would have liked to see in the countryside, but time didn't allow.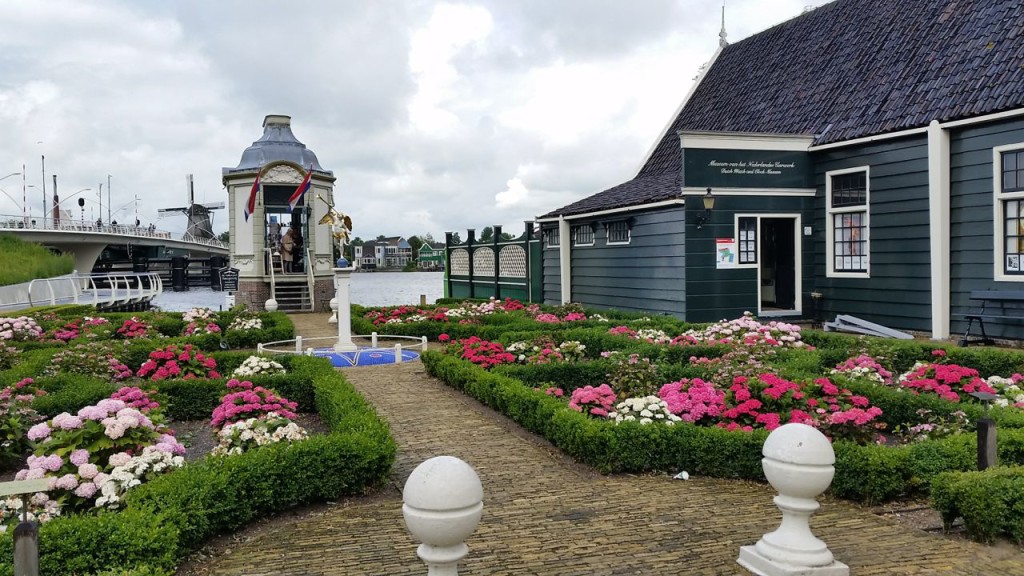 That little closet of a building is a pewter shop.
Everywhere we went was so beautiful and picture-worthy.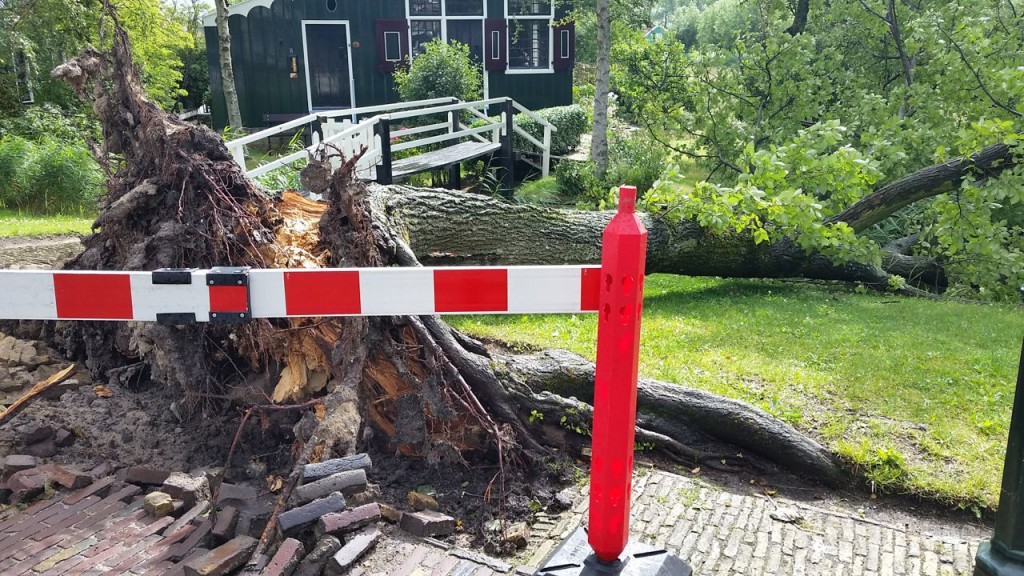 Another downed tree.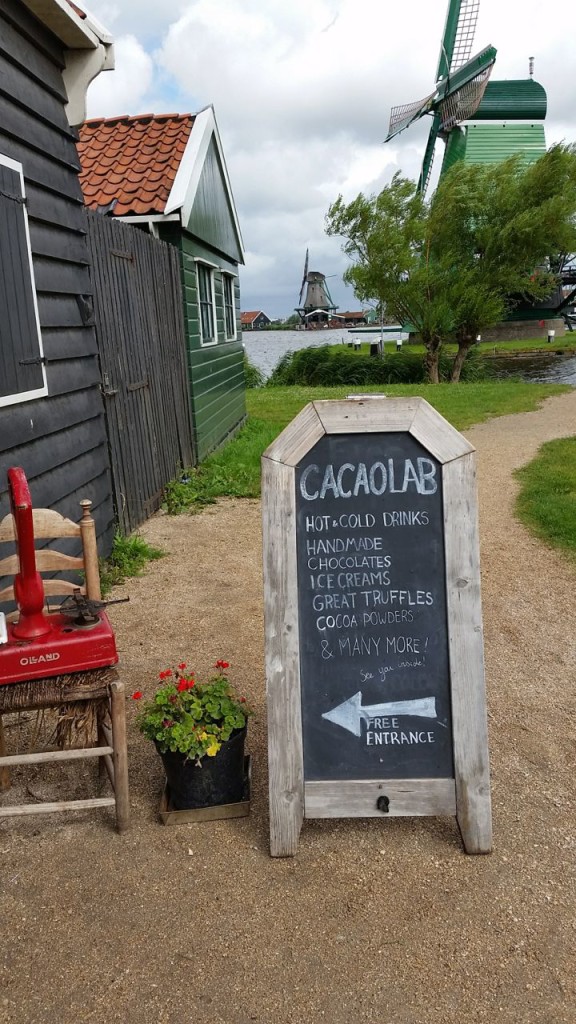 It happened to be a windy, rainy, blustery, chilly day, so it was perfect for making our own hot cocoa.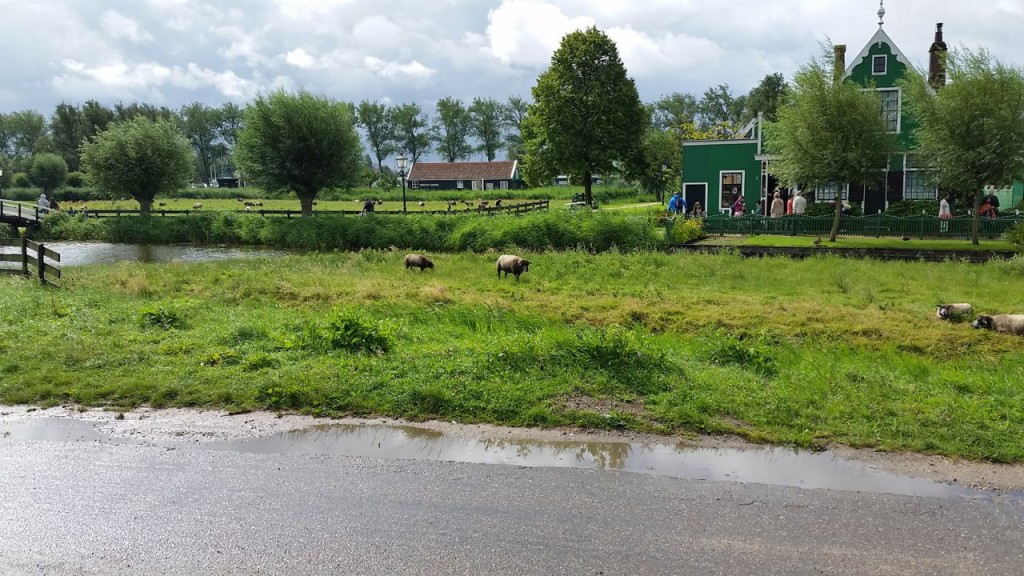 And to be honest, while that kind of weather isn't my most favorite, being cold-natured the way I am, it was perfect for where we were and what we were seeing that day.
As threatening as the clouds look, it never more than drizzled, and the sun broke through at times.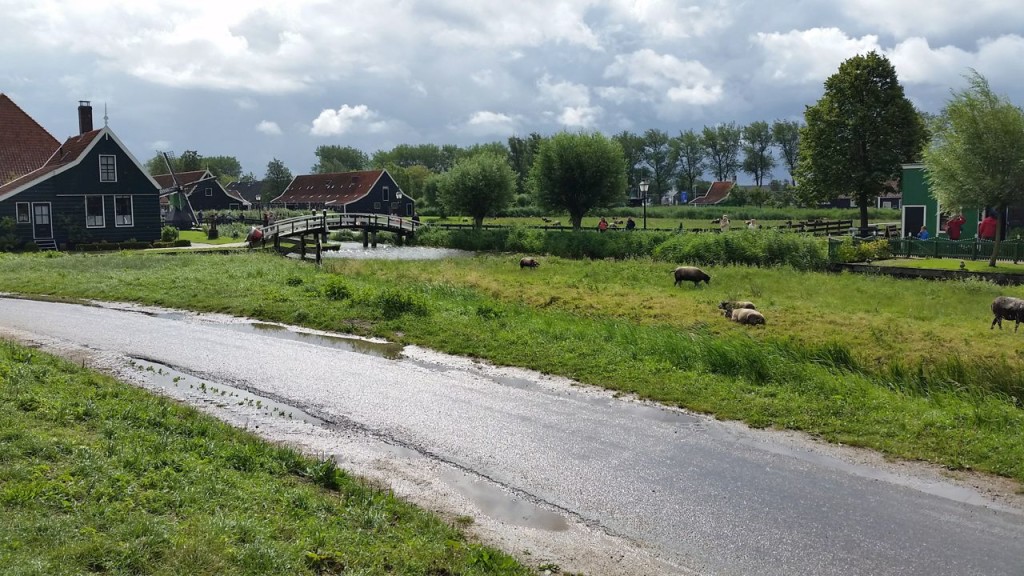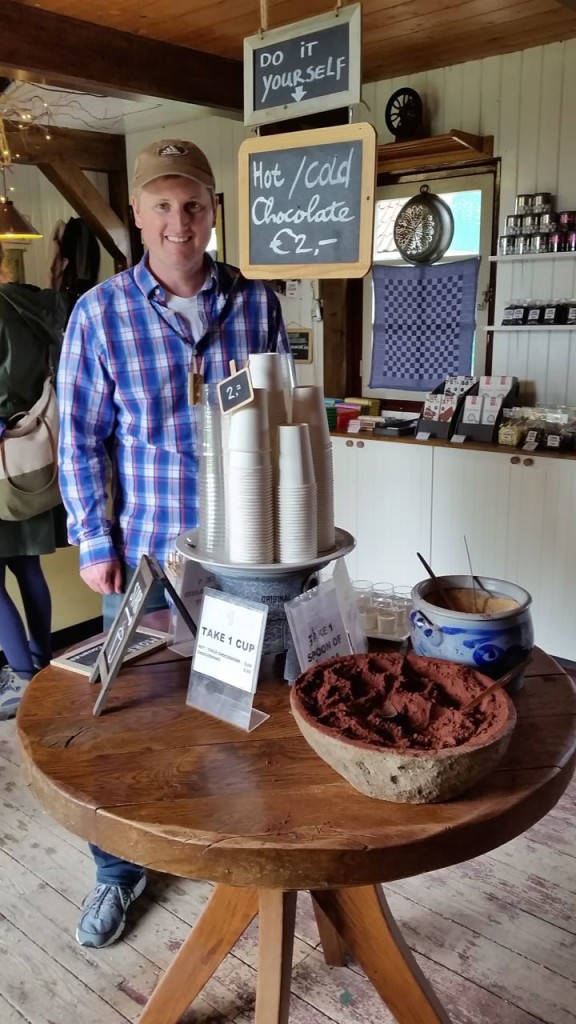 How very American of them. We do it ourselves in the States, why not abroad?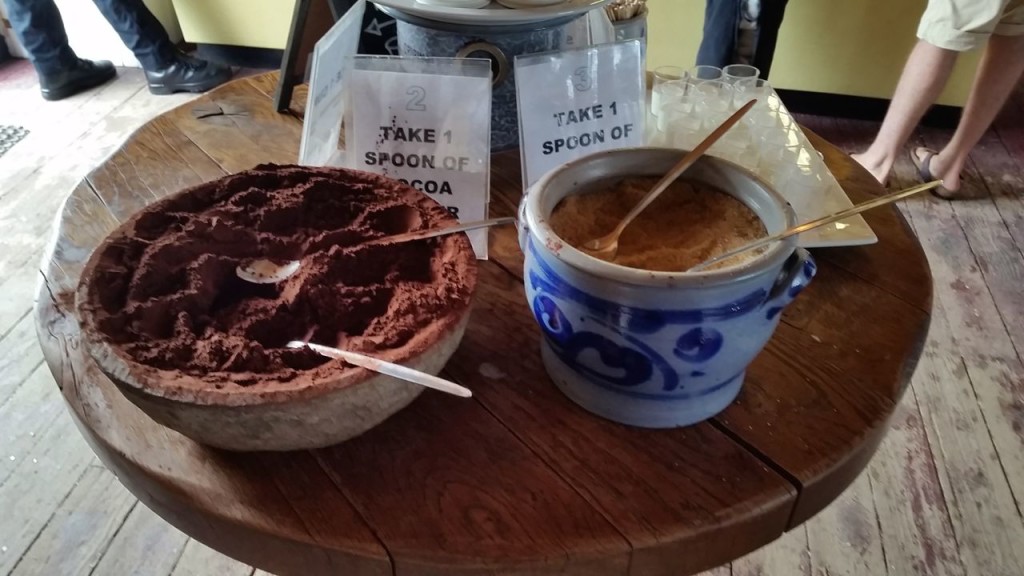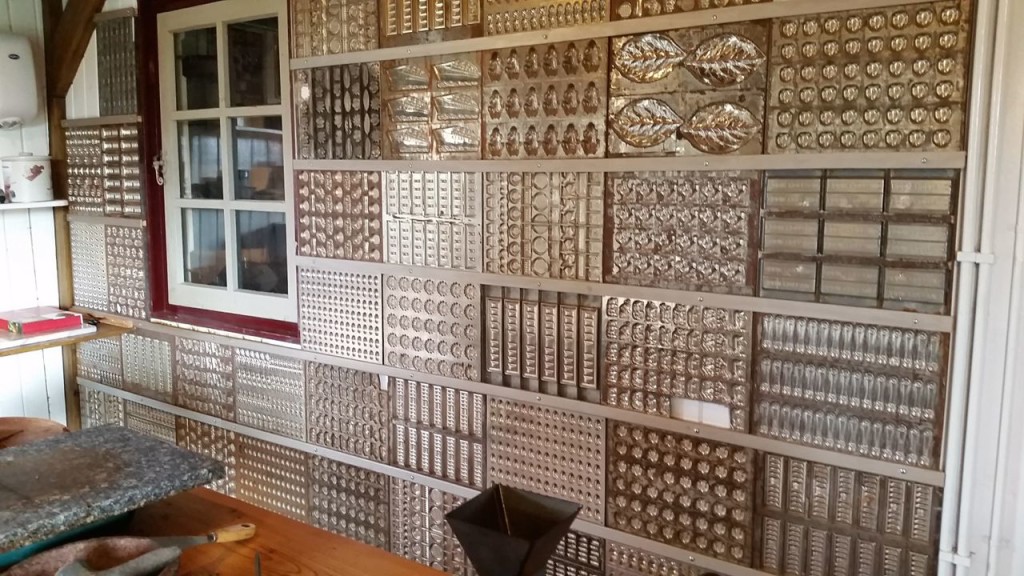 I've never been a lover of sweets, but I do love how beautiful all those candy molds are on the wall. What a gorgeous display!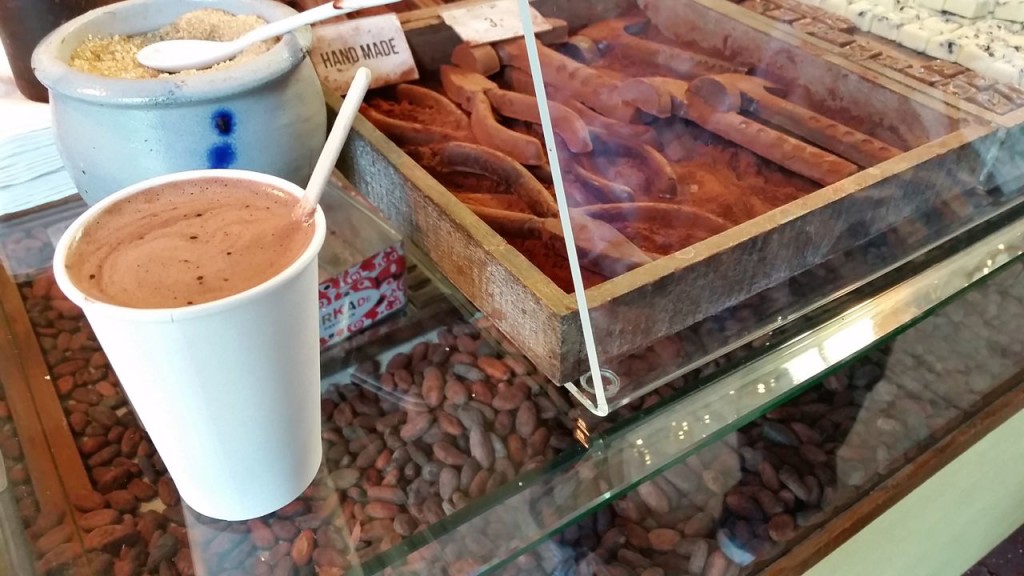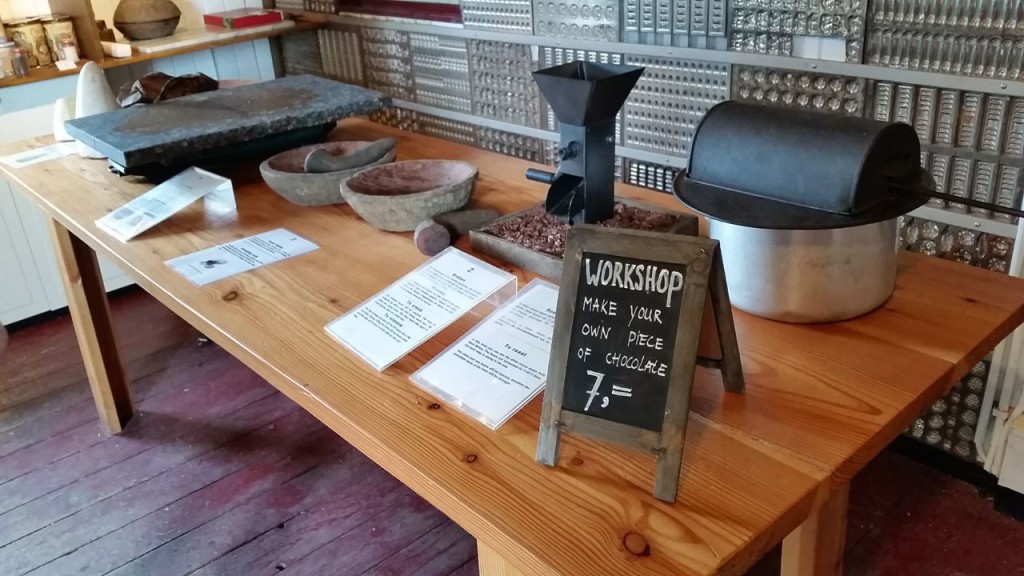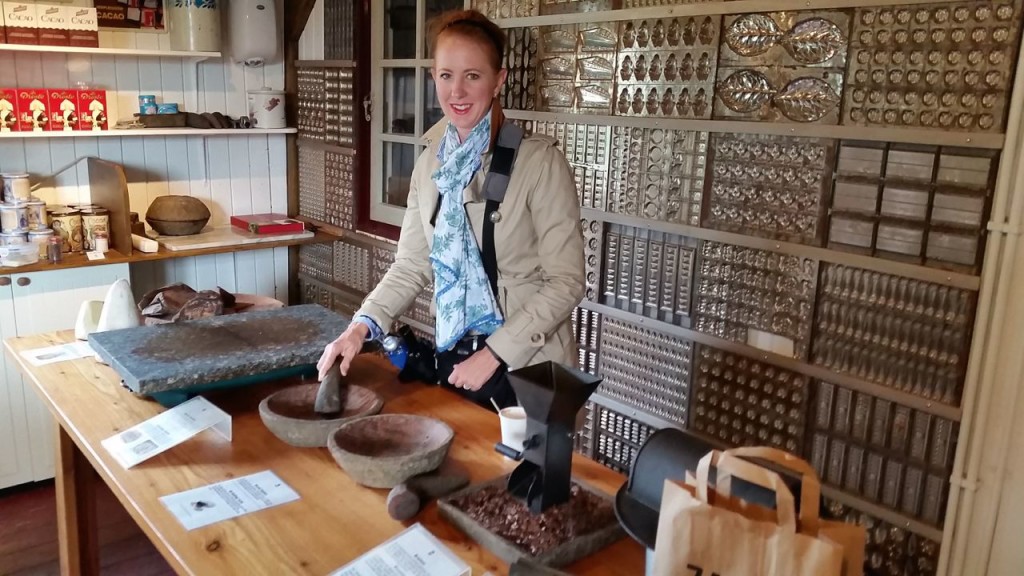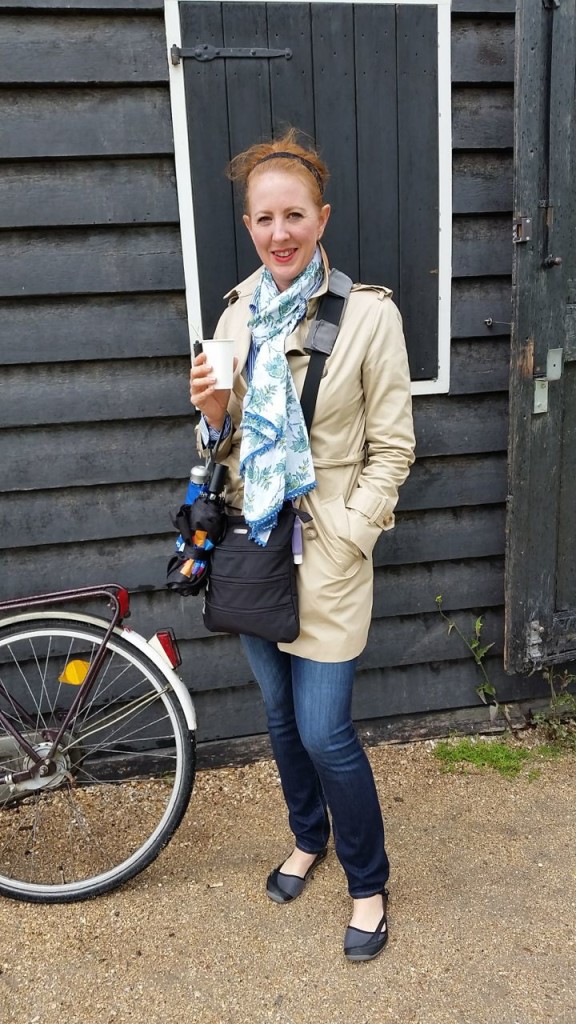 Besides, the weather was perfect for hot chocolate. Just what we needed.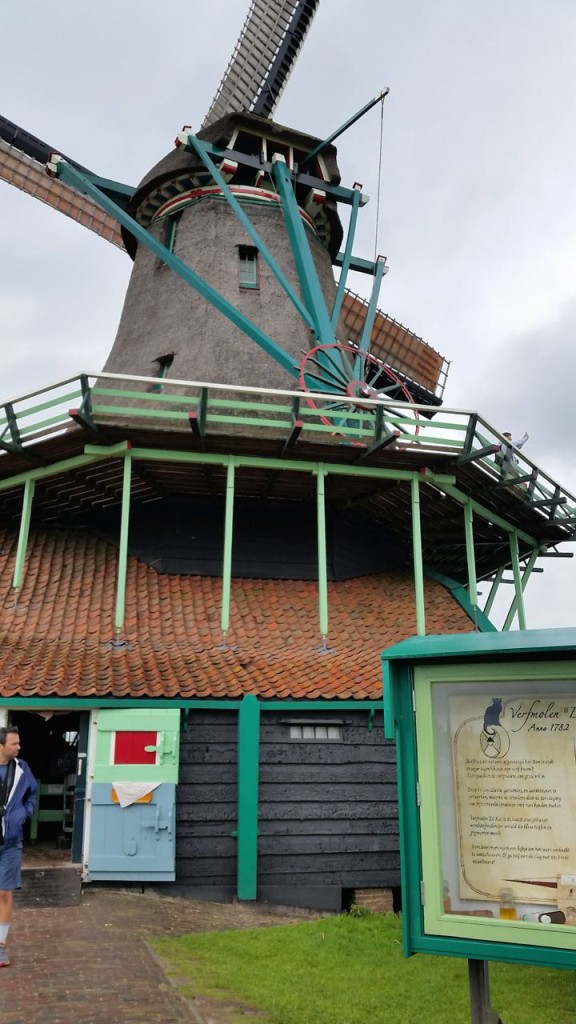 Next we hit up the main attraction, which is the working windmills. It was very cool to go inside and see the moving parts.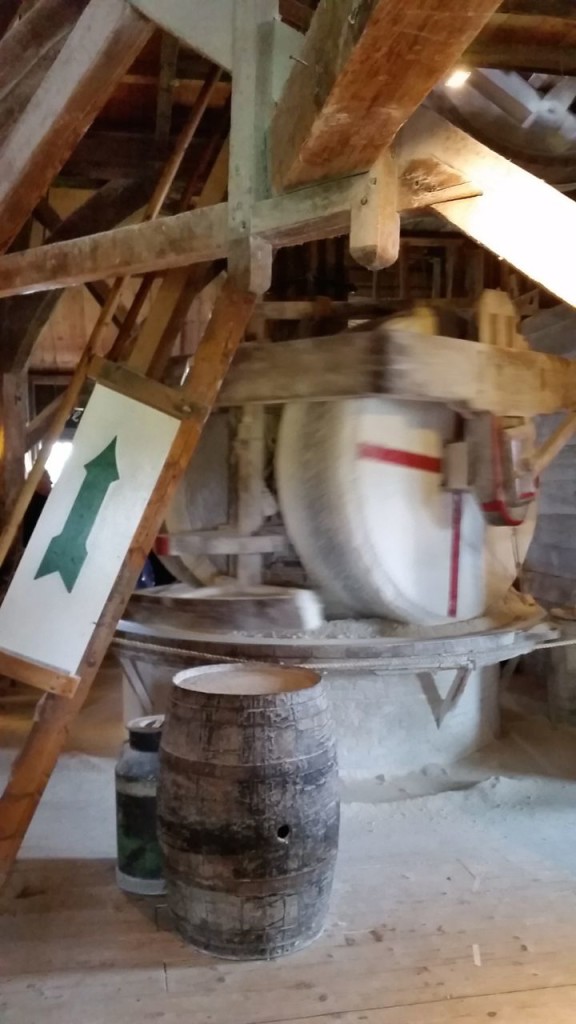 In this one they grind minerals to use as dyes.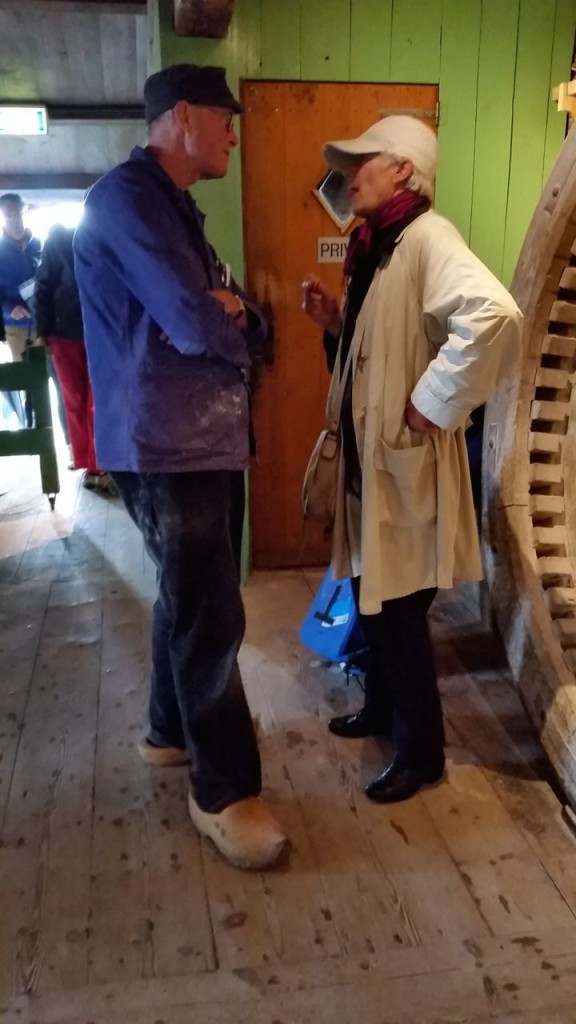 This guy is wearing his clogs.
Adam pretended to be ashamed of my selfie stick, but look at that grin! Being in the pictures together is the best!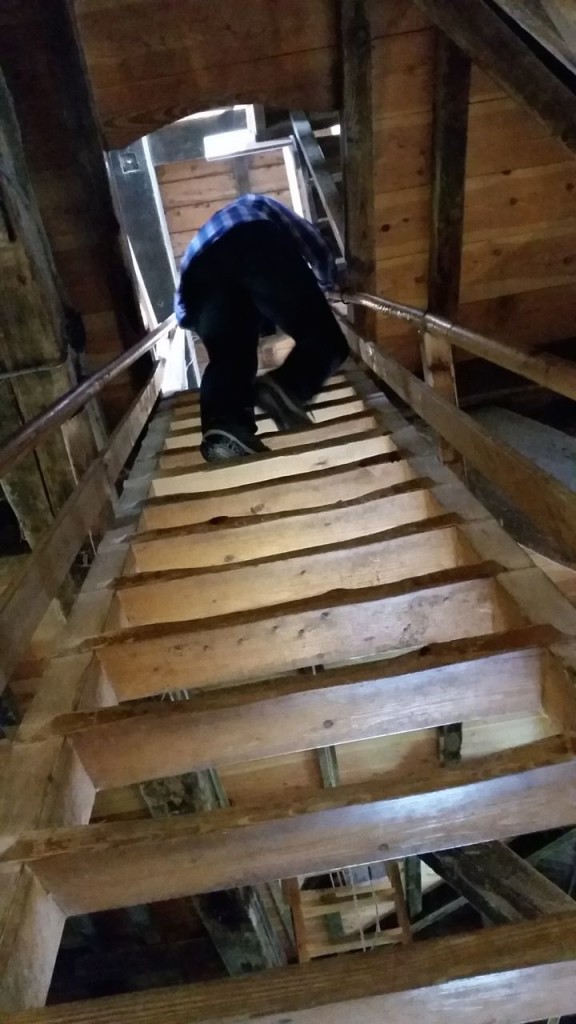 Not quite steep enough to be a ladder, but too steep to be stairs.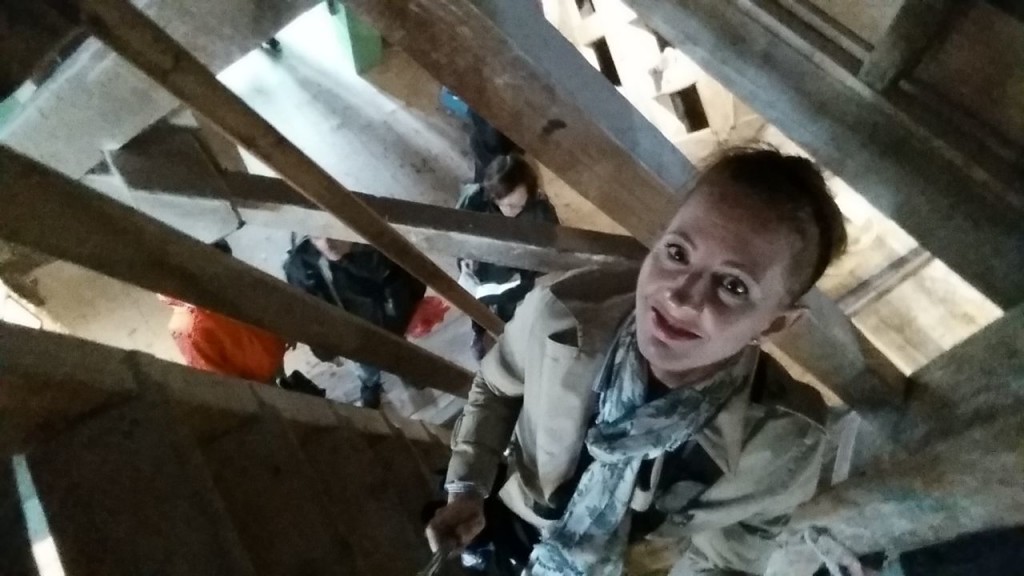 Because of the high wind speed that day, the windmill was flying, and so were all the cogs and wheels.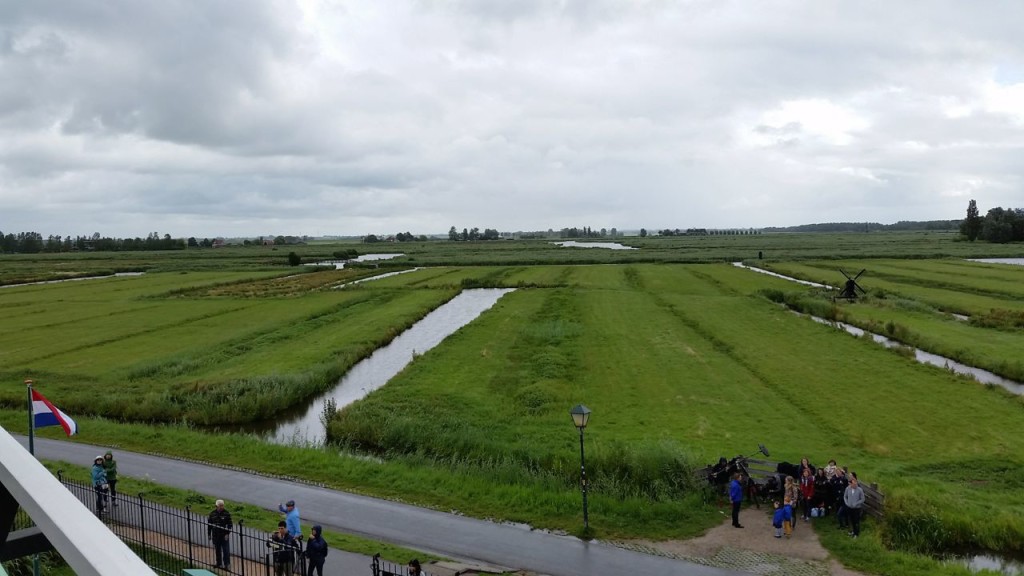 That little huddle of people is filming a children's program of some sort.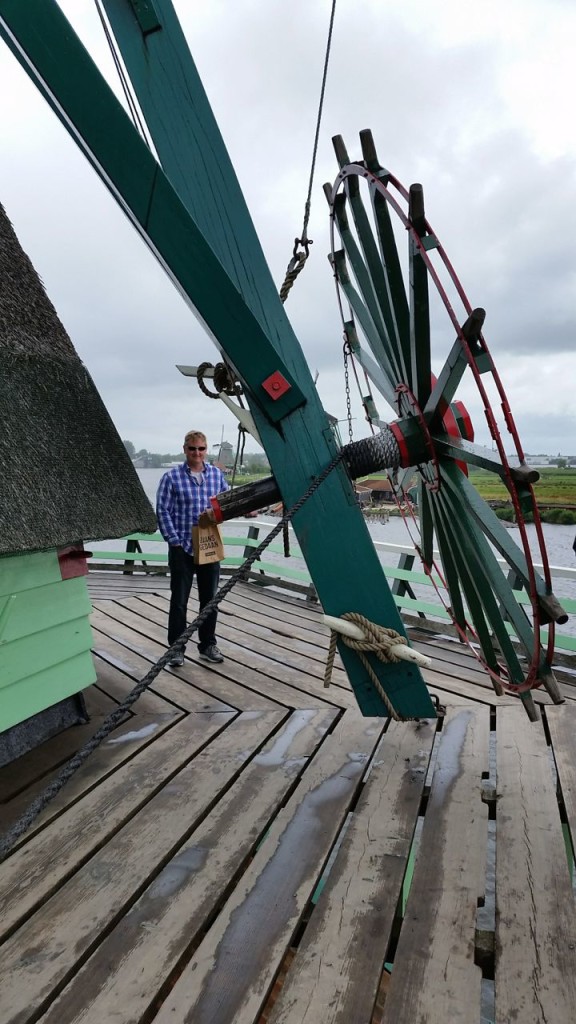 We even got to go up top to see the windmill spinning.
The landscape is right out of a storybook.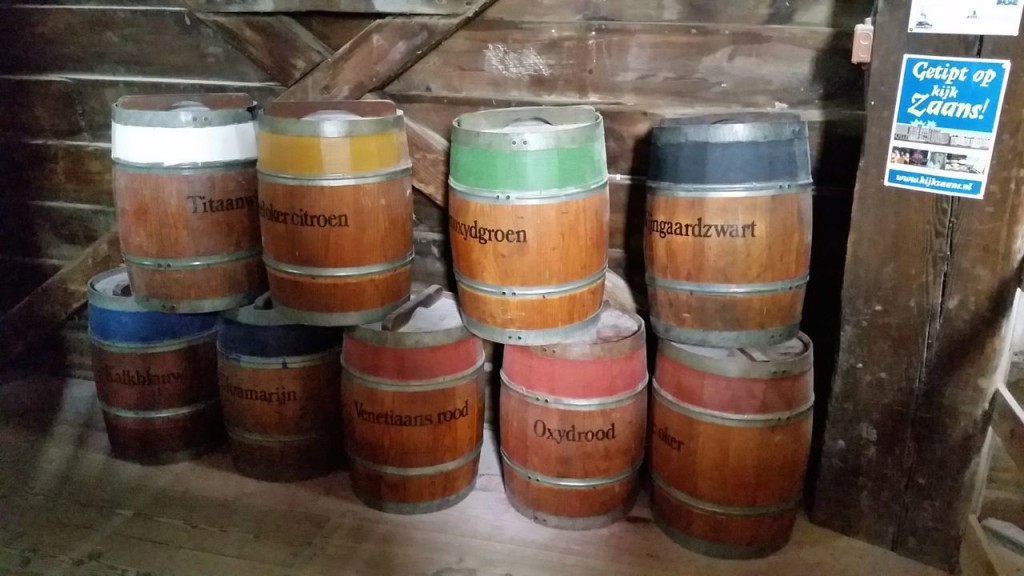 These are the various colors they make here.
Going down was a little scarier than going up.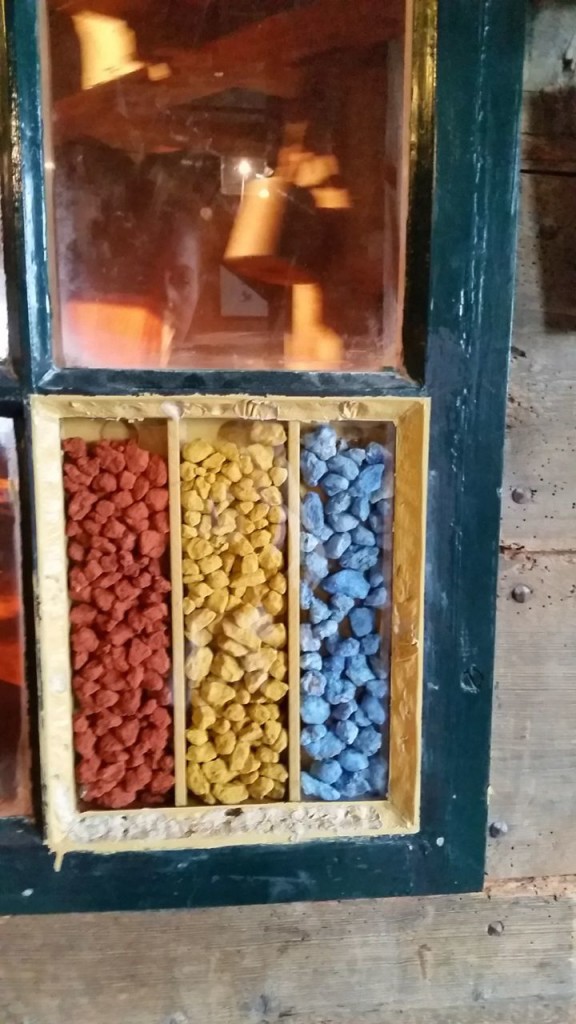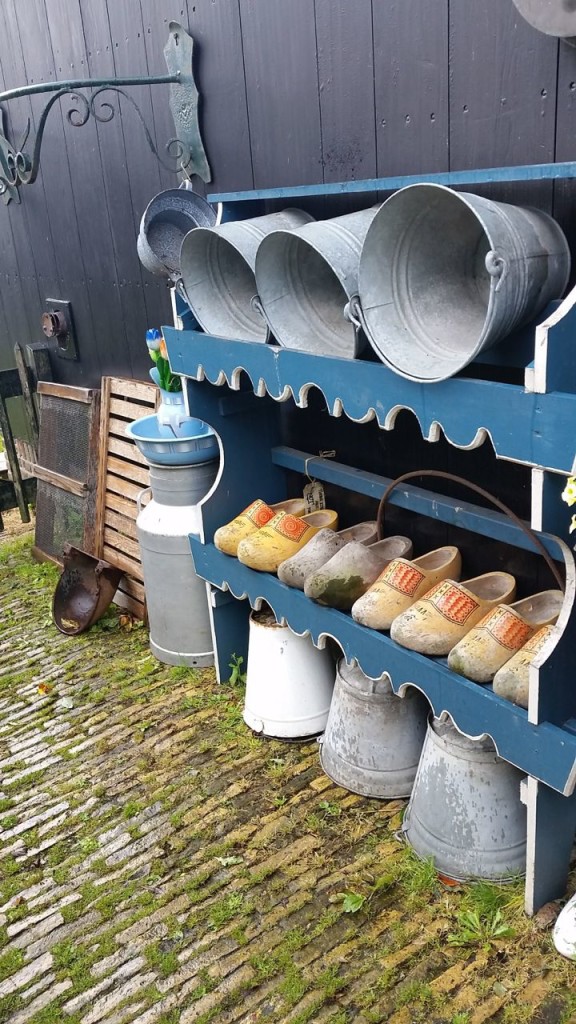 Wooden shoes are very practical in these parts, though not worn much. They were cheap, easy to make, kept feet dry, kept feet above the mud and muck. They could even have spikes on the bottom for better traction on icy surfaces. The most practical of practical shoes.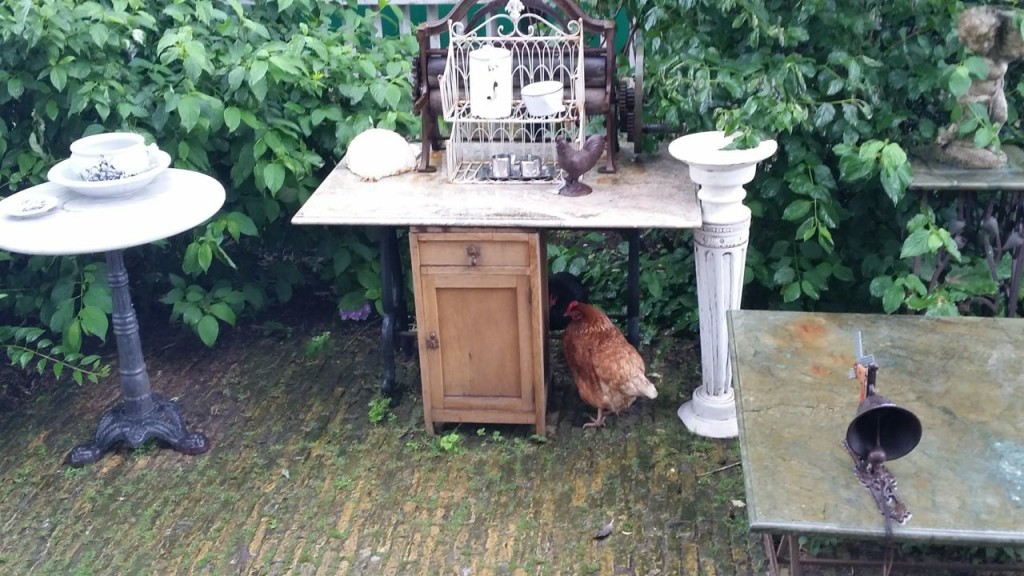 There were chickens everywhere, and I took pictures of them for our little chicken lovers at home.
At the baking museum/display they had all kind of tools and pans on display. This I can relate to more than the candy molds.
Of course the museum was attached to a bakery that had the most amazing waffles. They are sugar crusted, and you can choose a variety of toppings. I chose a young gouda, and it was A-M-A-Z-I-N-G. I would eat that a hundred times over if I could. It was the best one of my whole trip.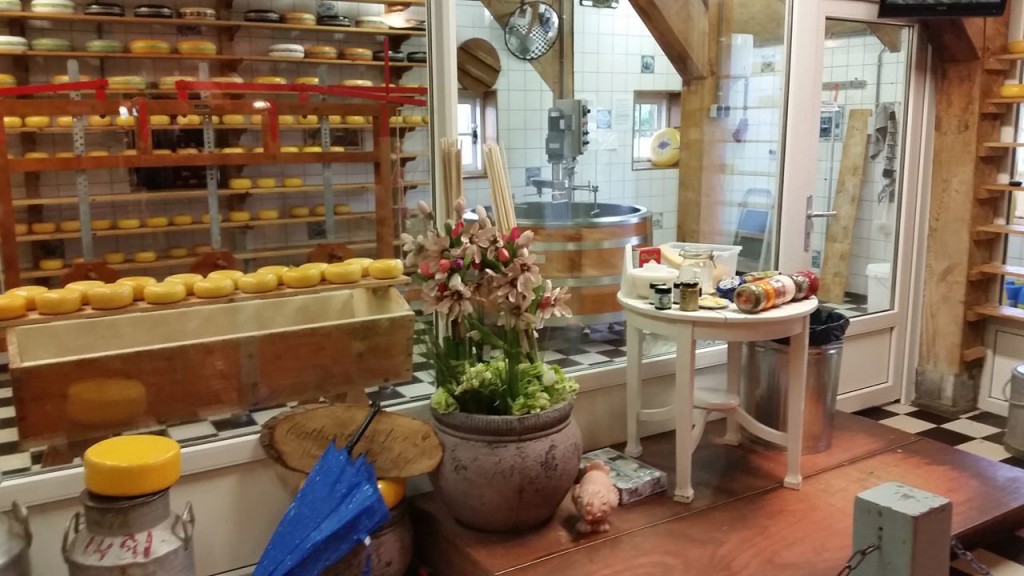 At the cheese store factory, there was a little demonstration through the glass window.
But more importantly there were samples GALORE. Oh my goodness the cheese there is divine. Eating it was well worth the symptoms of my dairy allergy that came with it.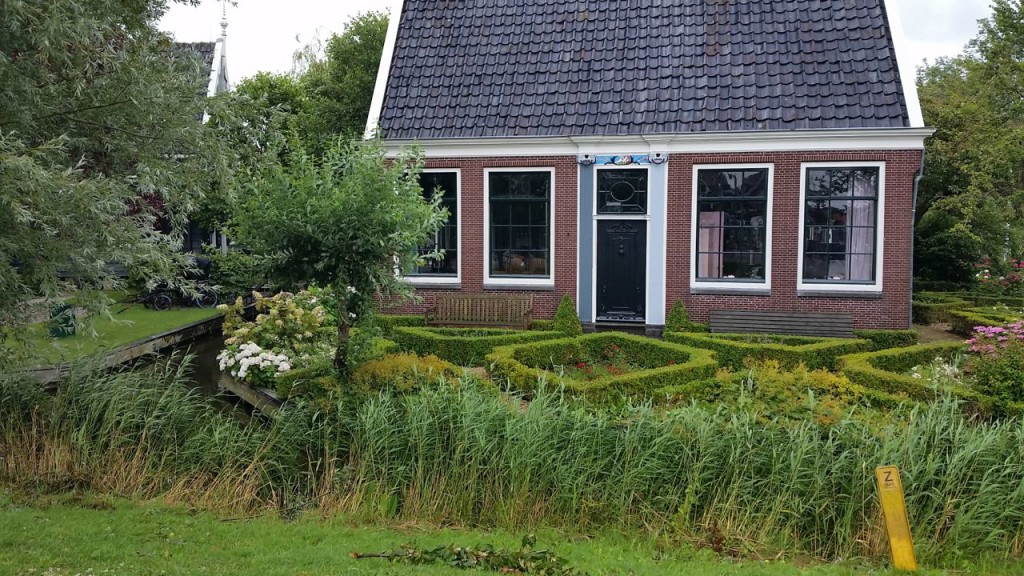 Another adorable home with fantastic gardens.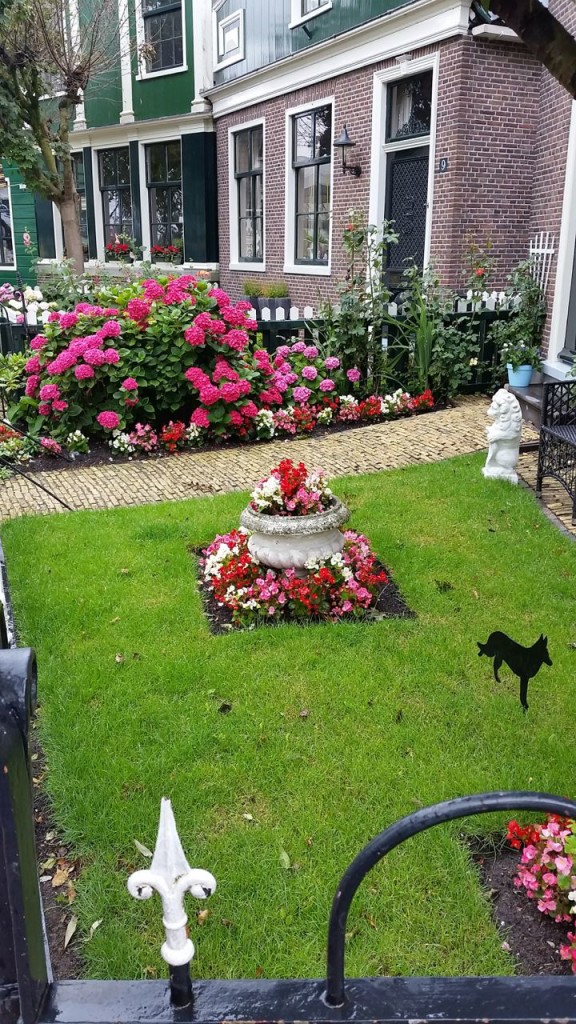 Every home had a beautiful garden. We enjoyed wandering around admiring all the homes and gardens.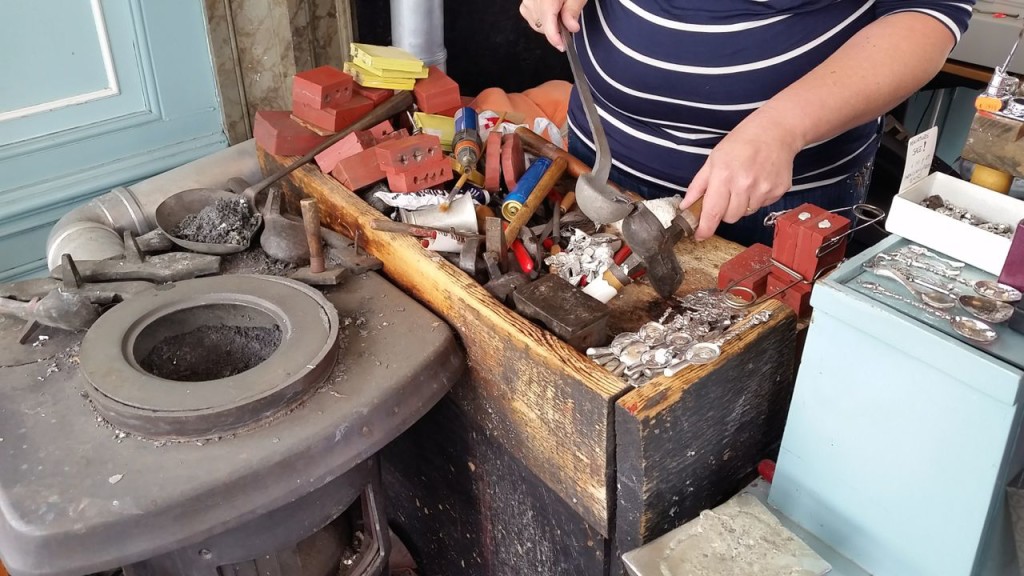 The pewter store also had a demonstration.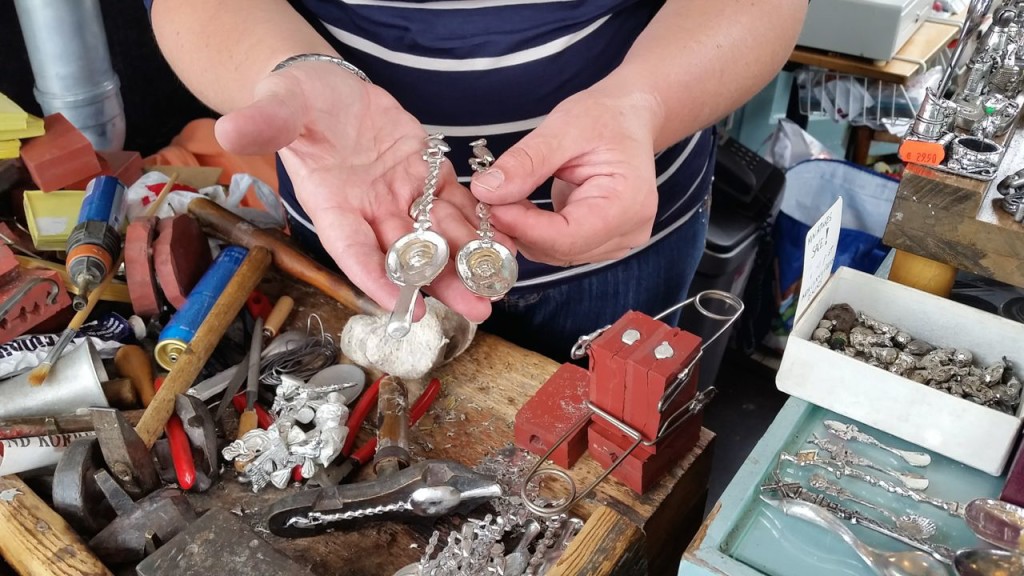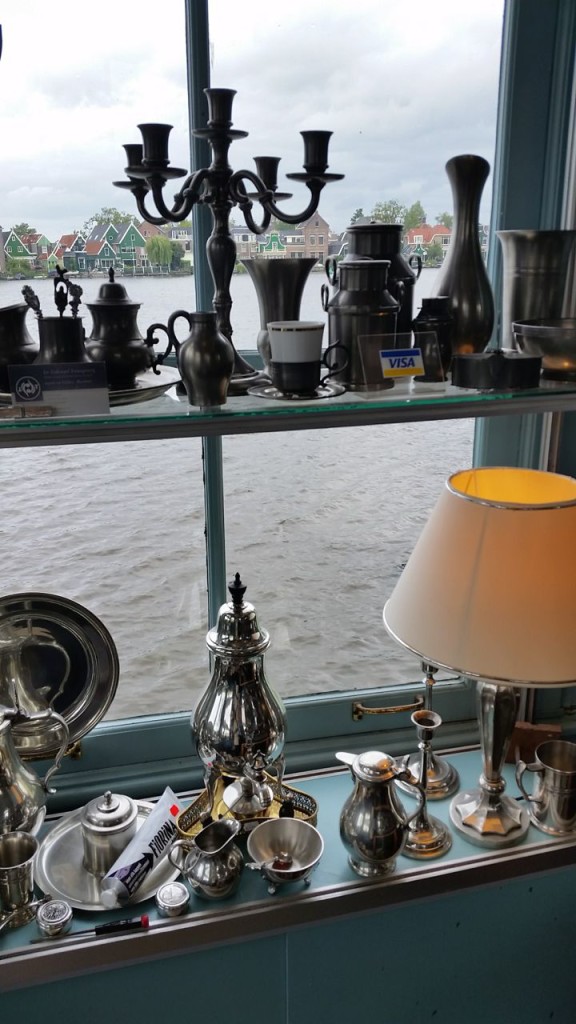 In order to get that aged, oxidized look, they dip the pieces in acid to speed up time 30 years.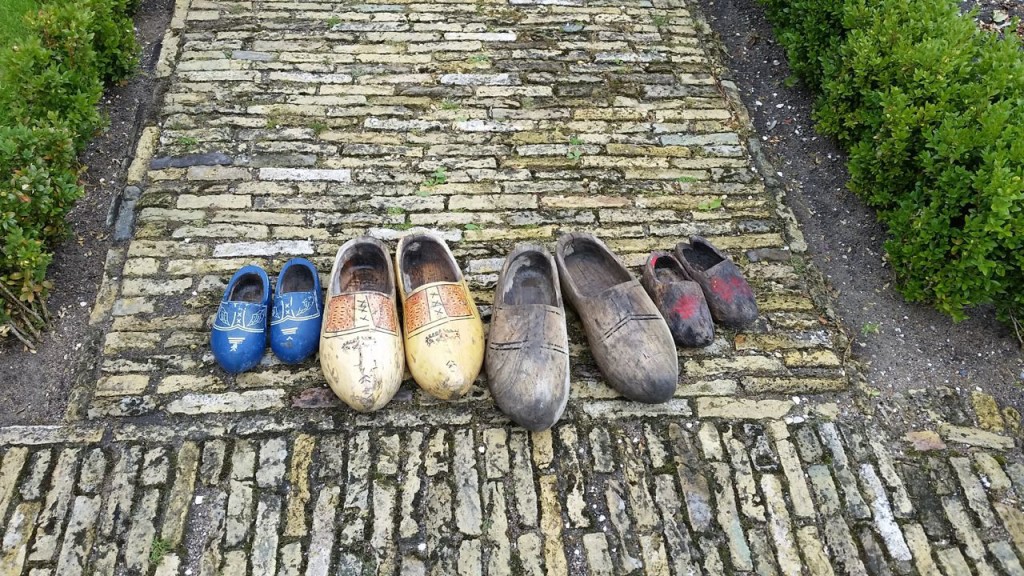 How cute are these shoes all lined up?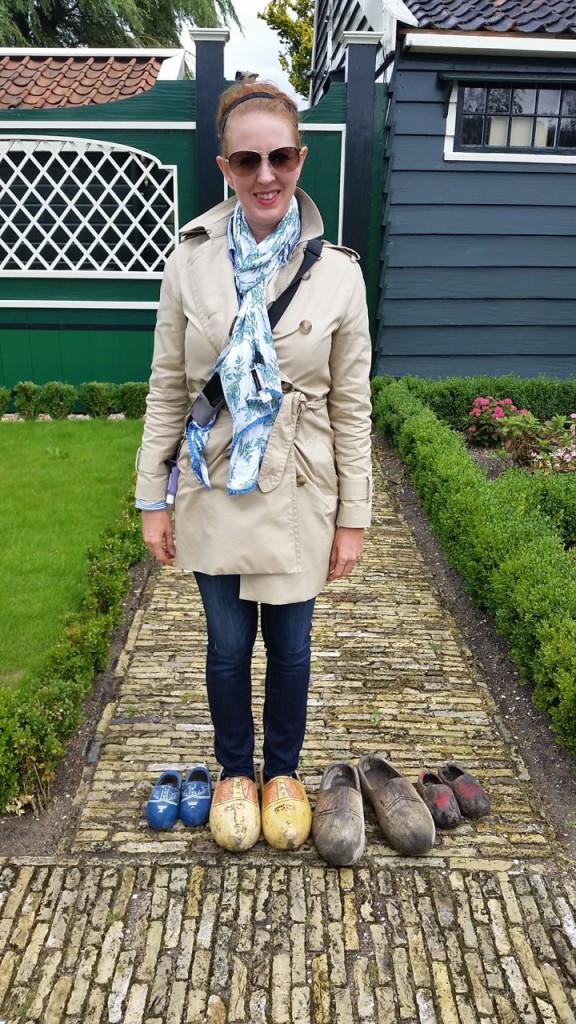 I just wanted to try a pair on…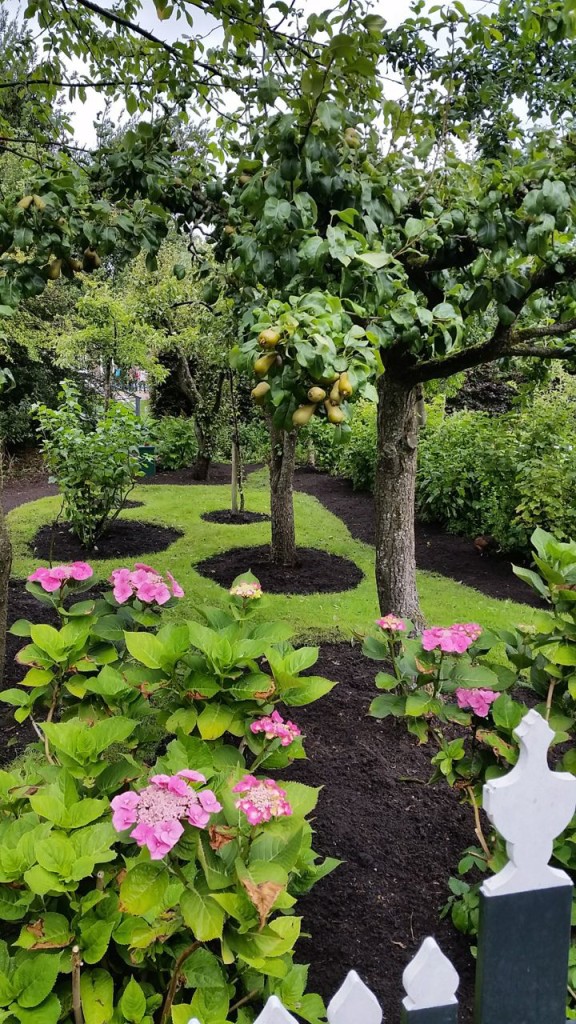 See how beautiful the orchard is?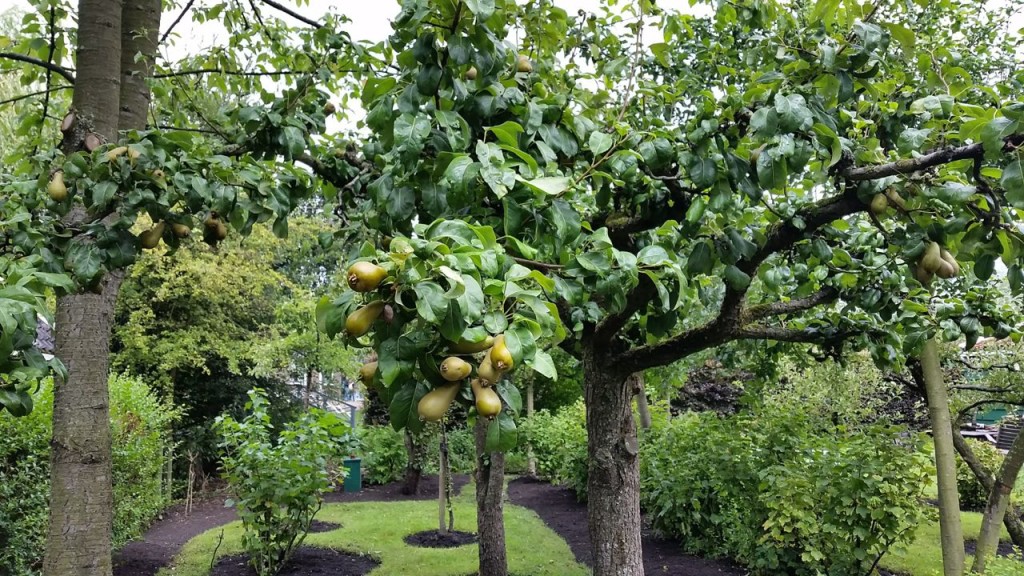 It makes the fruit look all the more tempting.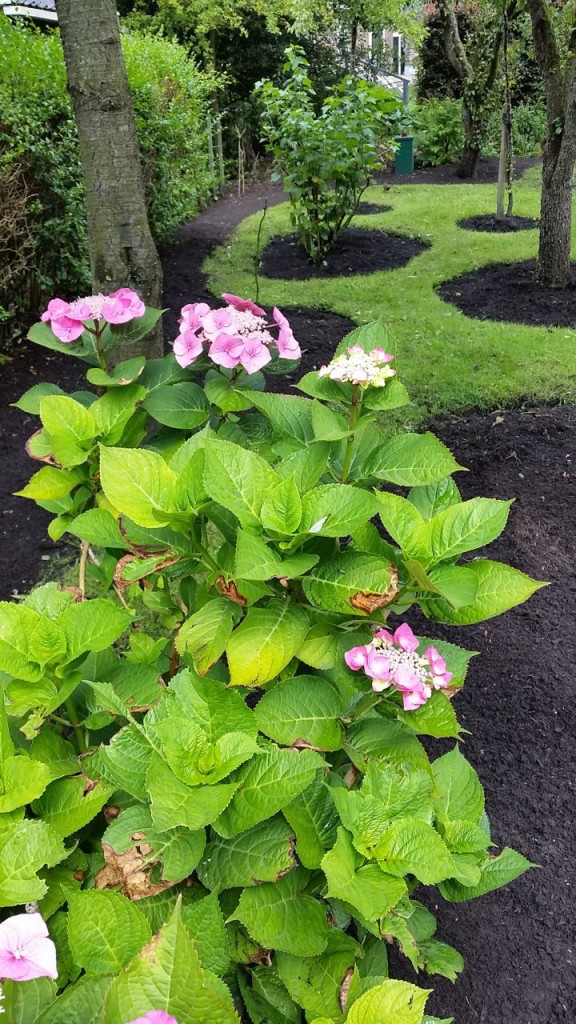 More lovely hydrangeas.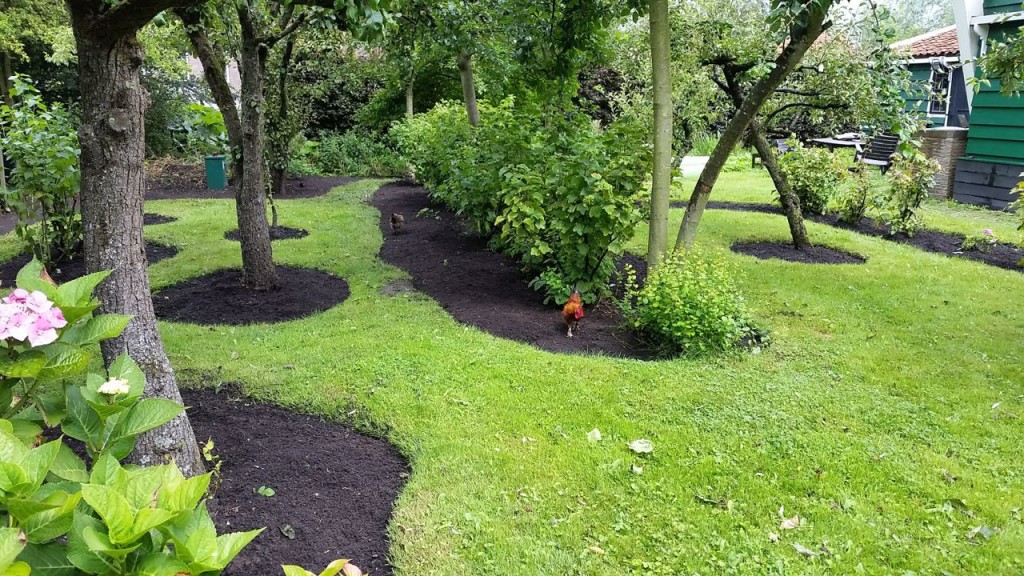 The one thing I'd like to know is how they keep the chickens from scratching up the mulch into the grass. That's what chickens love to do. It's the first thing my chickens do in my yard when the escape their yard.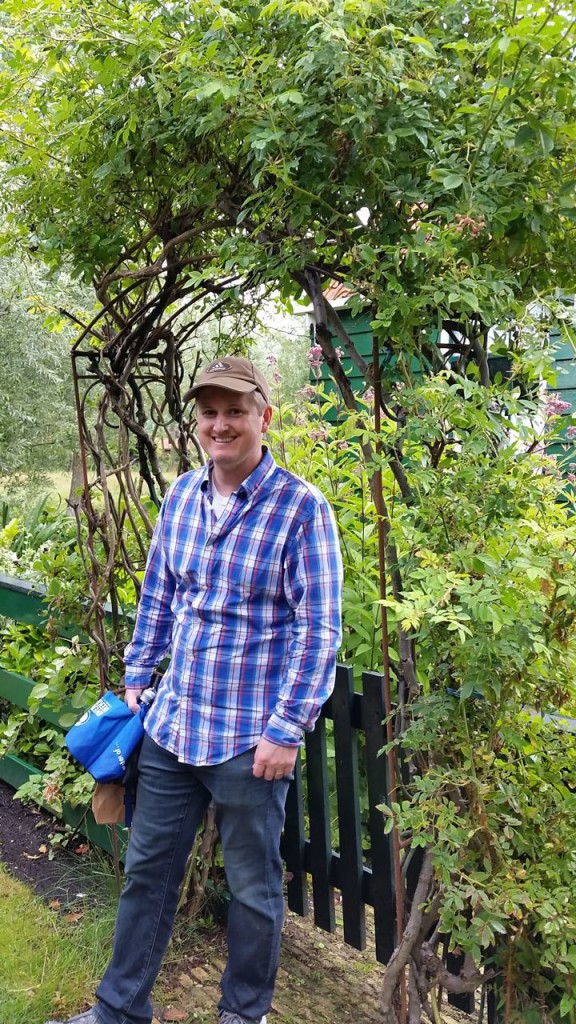 I plan to put a sweet little arbor like this somewhere in our yard.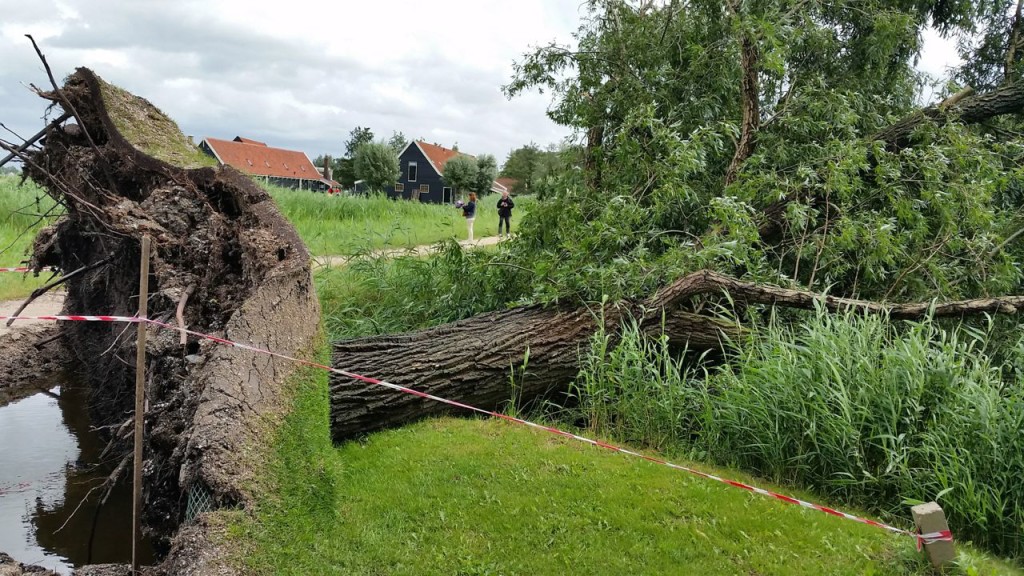 Another downed tree. So sad to see a mature tree down like that.
This beauty is outside the wooden shoe store factory.
Even though wooden shoes were invented for practicality, they can still be beautiful. These are bridal clogs. The tradition is for the groom to carve them for his brde.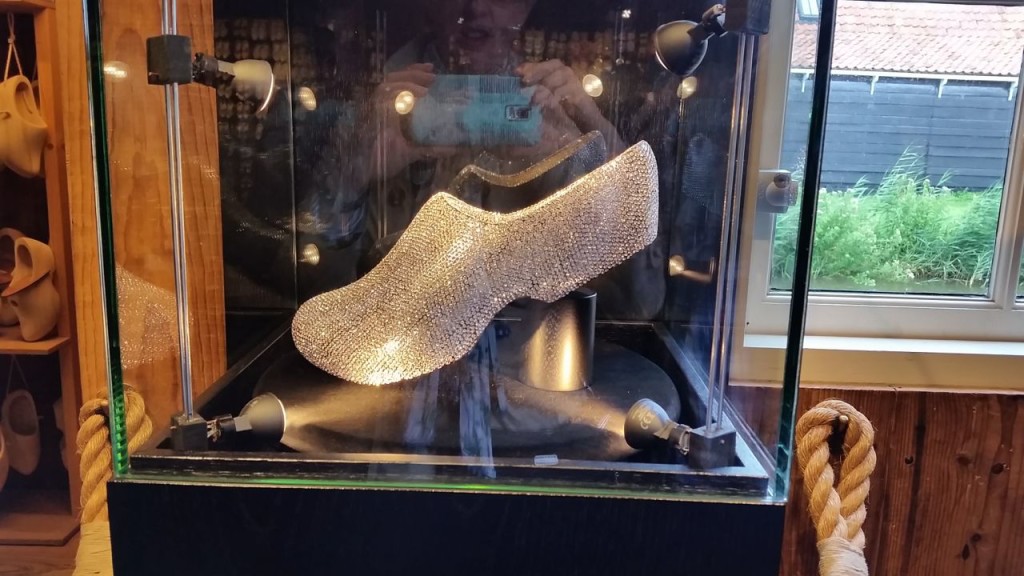 Of course the diamond clog would be the ultimate, right?
This is where the magic happens.
They sell these right and left. The only temptation I felt to buy a pair was for Georgia to see her stomping around in them with those chubby little legs. Oh the cuteness!!! If I could have been sure of her size, I would have done it.
They manage to make everything in this village beautiful. I love this display. And see, I got my clog fix without needing to take a pair home. Ok, I did take a pair home as a Christmas ornament, but they are very small and made to be an ornament, and ornaments are something I buy on all of our trips.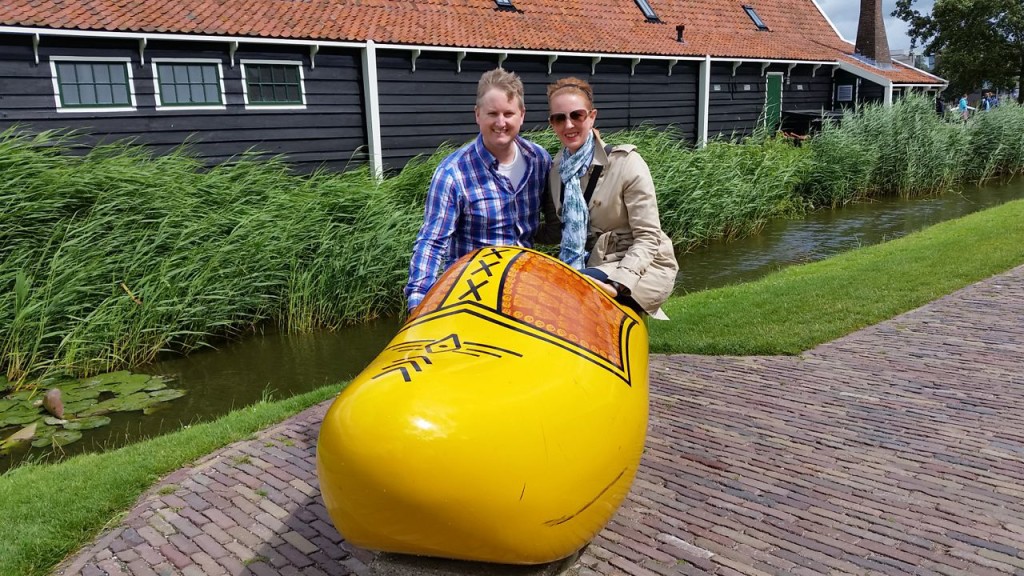 A shoe made for two.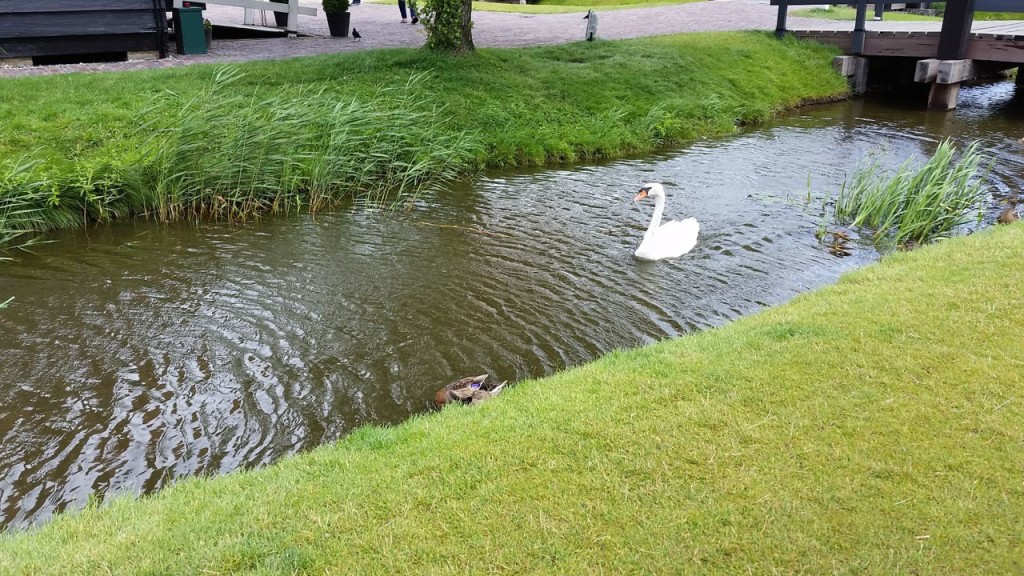 Along came some swans, and I thought maybe all fairytales were composed here.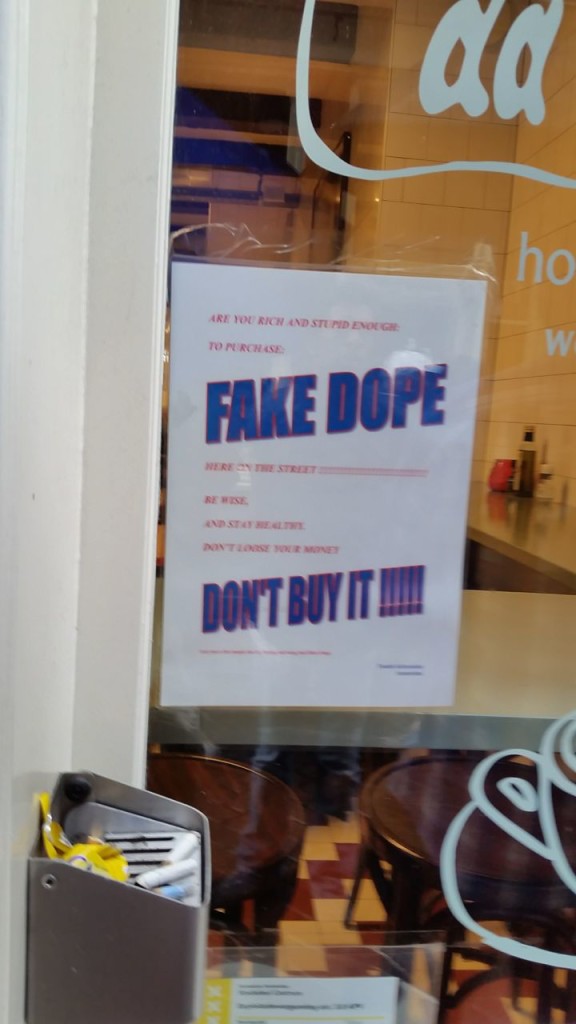 We headed back to Amsterdam to see a little more of the city before our train. Take note everyone, pot is legal and the government wants you to know you can get the real stuff in any coffee shop. No need to buy the street stuff. It's also a health product, apparently.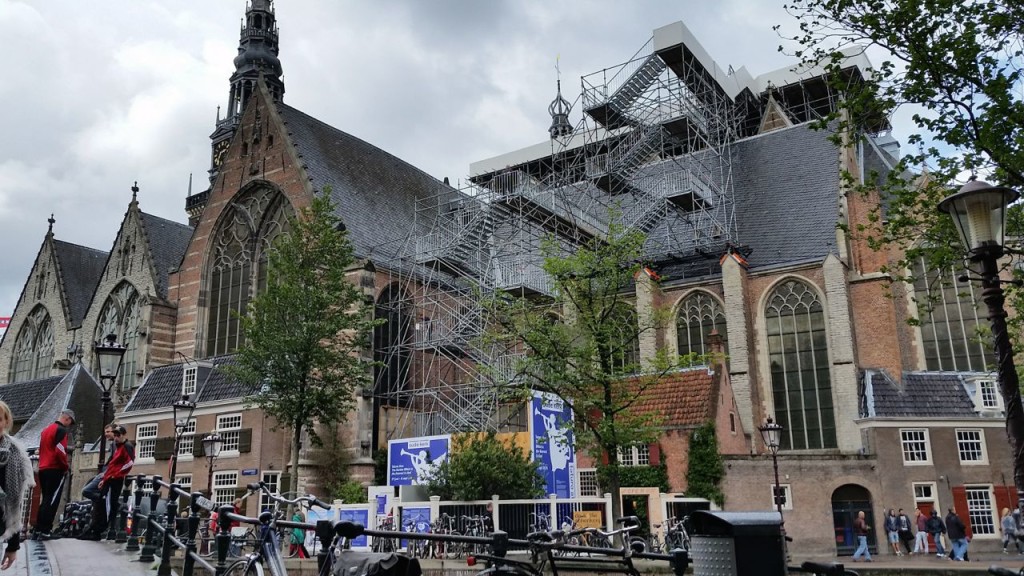 We got tickets (in advance) to see a temporary exhibit built on top of the Oude Kerk. Oude Kerk means old church, and it is the oldest structure in Amsterdam. It also happens to be in the heart of the red light district. What?? 
 We went to the red light district? We did. It has some of the most beautiful and oldest architecture in the city. We had no desire to have the traditional red light experience, but we did want to visit this church and see some buildings. So how did we do it without getting an eyeful? Go during the day, my friends. The earlier, the better. Those who prowl those streets at night for other reasons are sleeping/hung over during the day. Some of the windows were open, but in the daylight, you have to really want to see what's in them. There is light reflecting off of them from the sun, even on a cloudy day. So unless you get close and try to see in, you really won't see anything. We were there in the afternoon, and I bet that the windows aren't even open in the morning. When in doubt look up. From the second story upward, you won't see anything, and that is what you want to see anyway. We had a great walk through that neighborhood and got to see the things we wanted to see and missed the things we didn't. I would even take my kids there.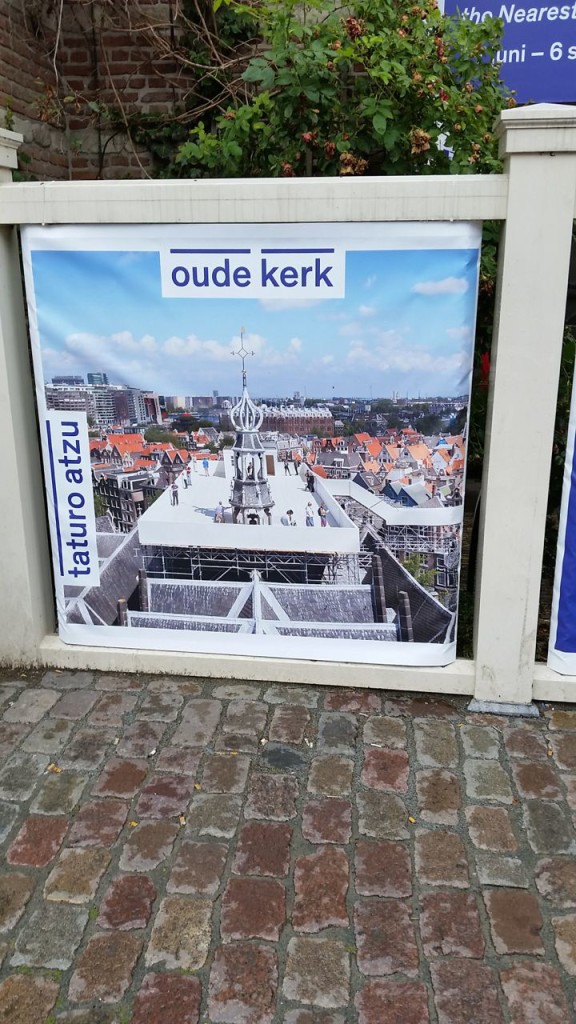 We went up to the exhibit first. The artist Taturo Atzu is Japanese and travels the world doing temporary exhibits. His name is also temporary, and he changes it with each new exhibit.
We climbed a metal scaffolding up to a big open platform on top of the church.
I will say the view is spectacular.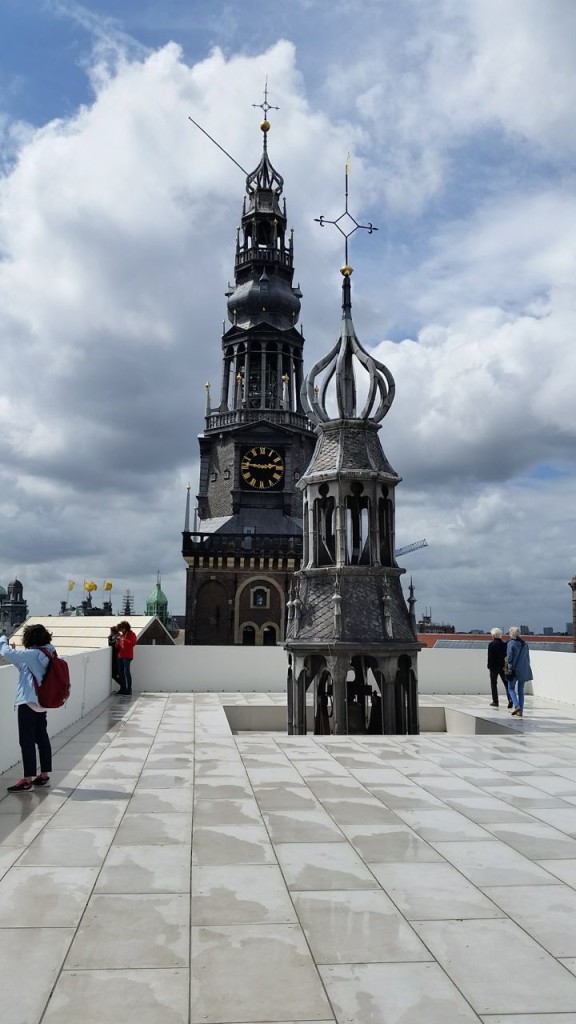 The rest of it was…this. It is called The Garden Which is the Nearest to God. And…yah. You go for the view. I think the combined entry to see the church and the exhibit was 15 euros, so it wasn't like we felt cheated. It was worth it.
Overall it was worth it to see the views of Amsterdam. I don't think there is anywhere else you can do this.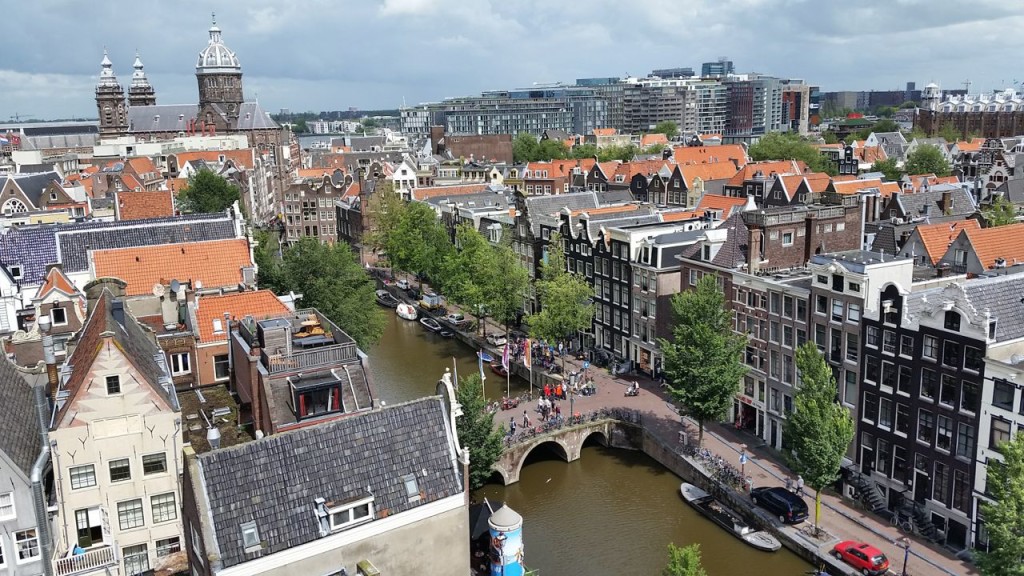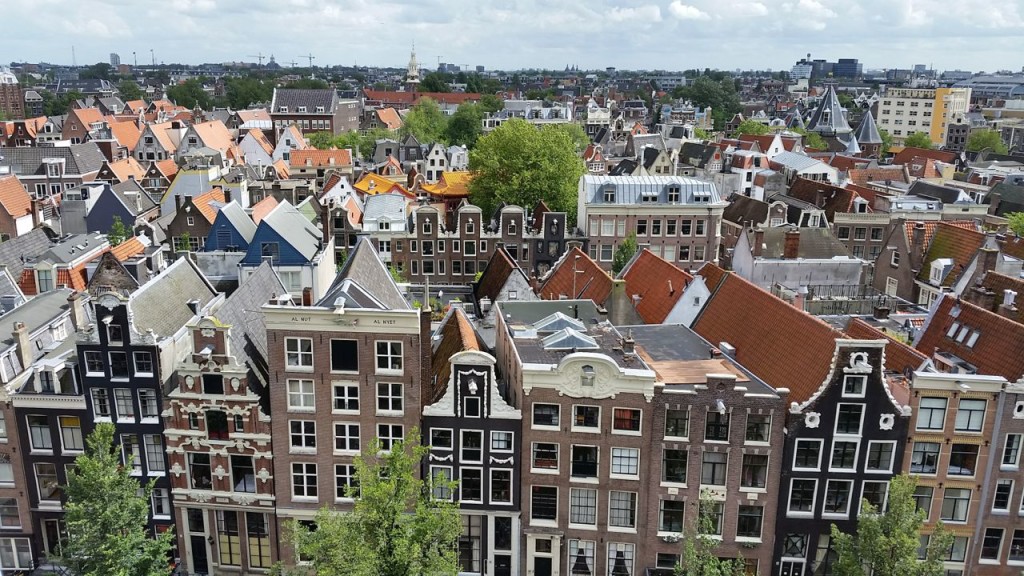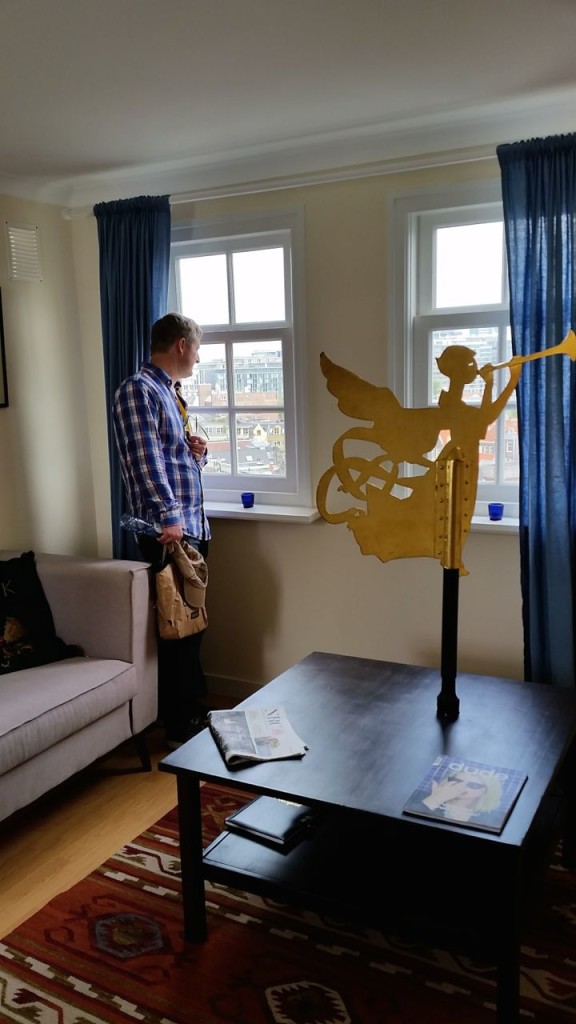 In the middle of the white platform is this little living room for…something.
Clearly I'm not cultured enough to appreciate this fine art.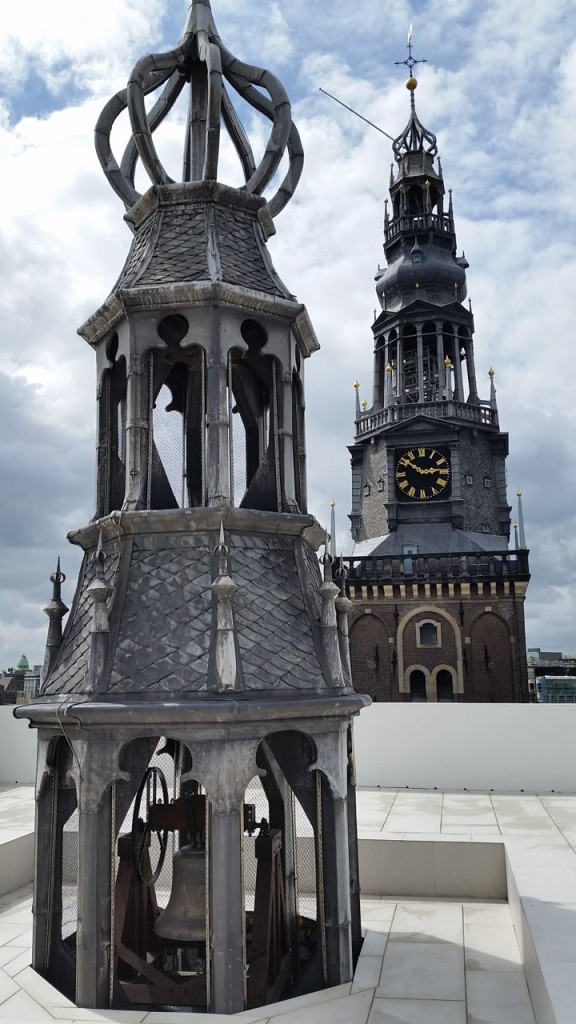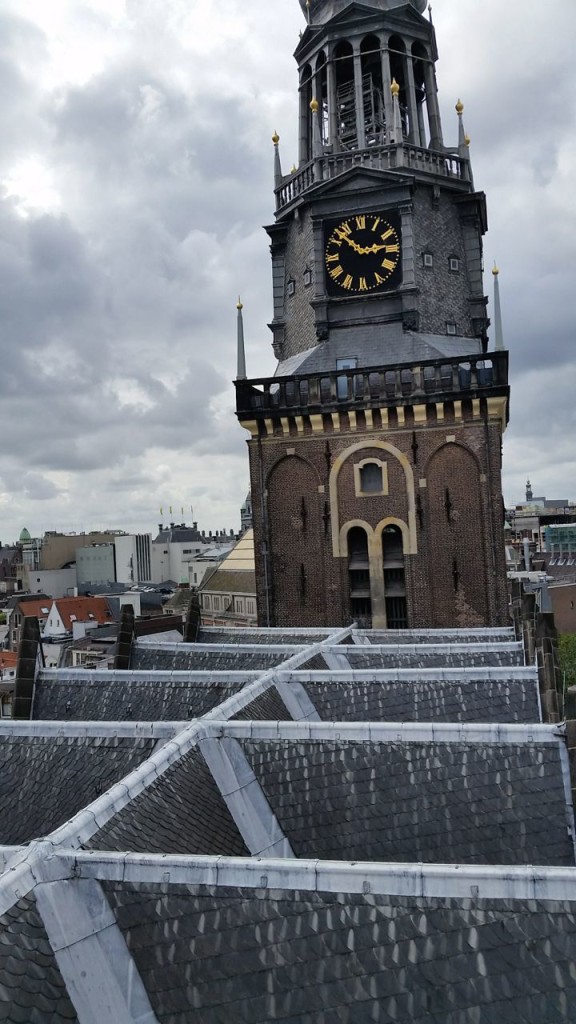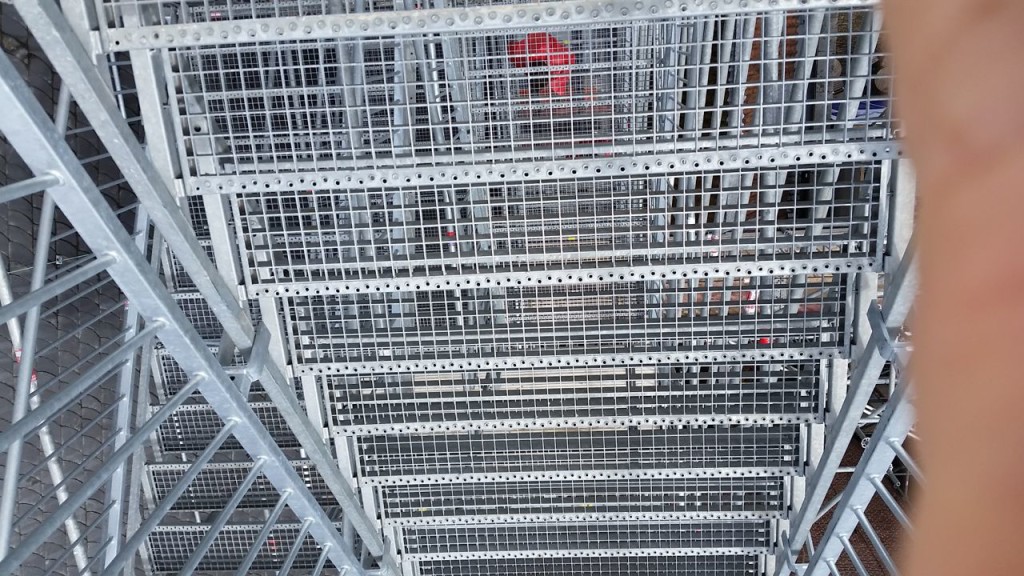 I was a little mesmerized and terrified by the scaffolding and stairs holding it up though.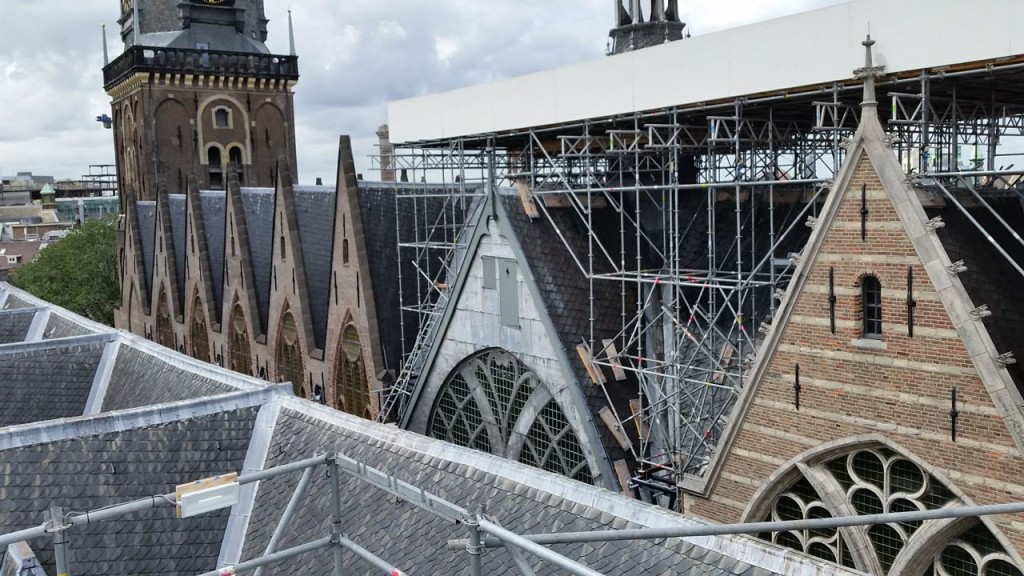 Inside the church was beautiful. It is very different than the cathedrals of England, Italy and France. It was very simple by comparison, but very beautiful.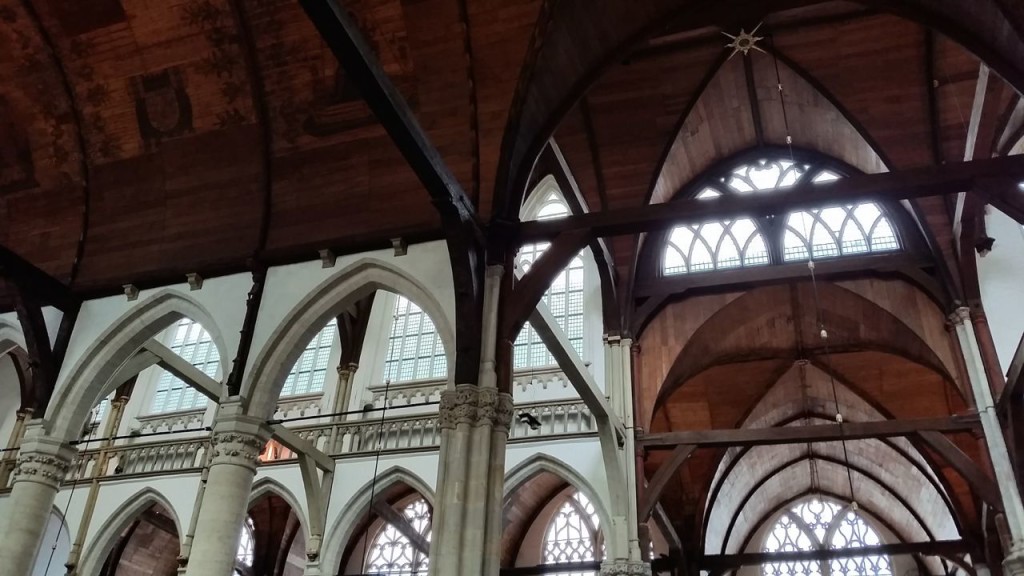 The ceiling reminded me of the hull of a ship.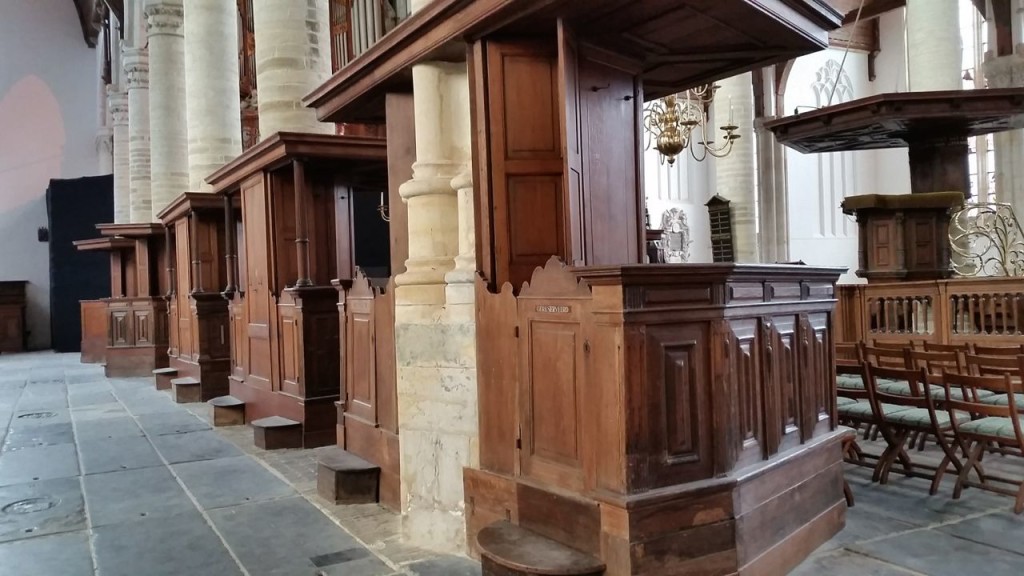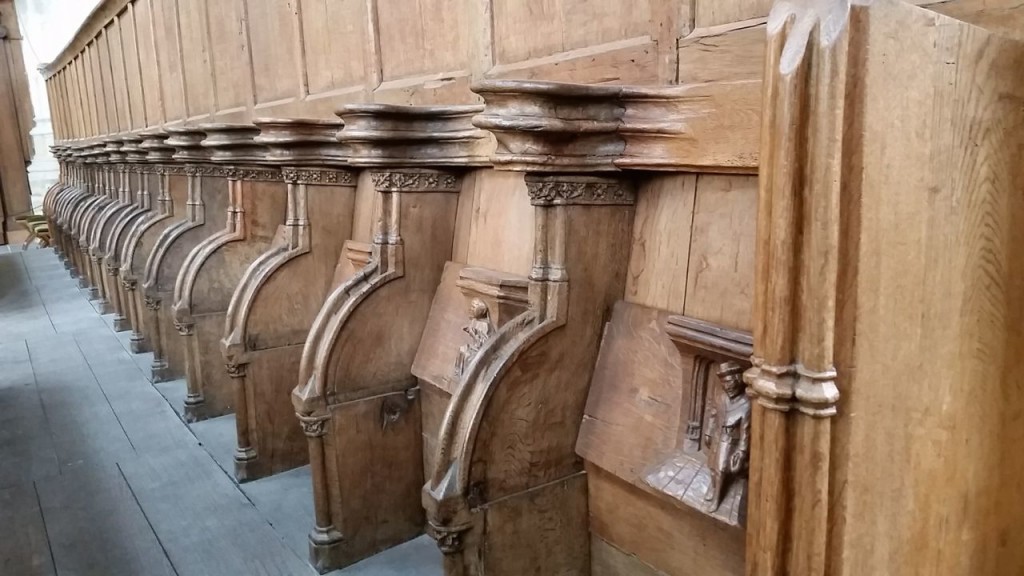 This is where the choir members stand, but it allows a little resting spot for their rears. They get to look like they are standing and take a load off at the same time.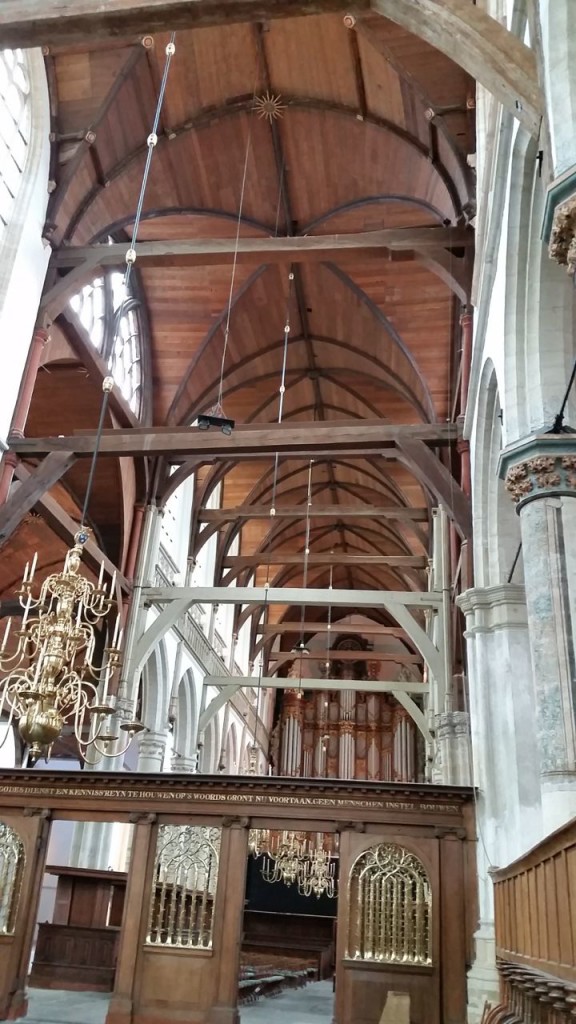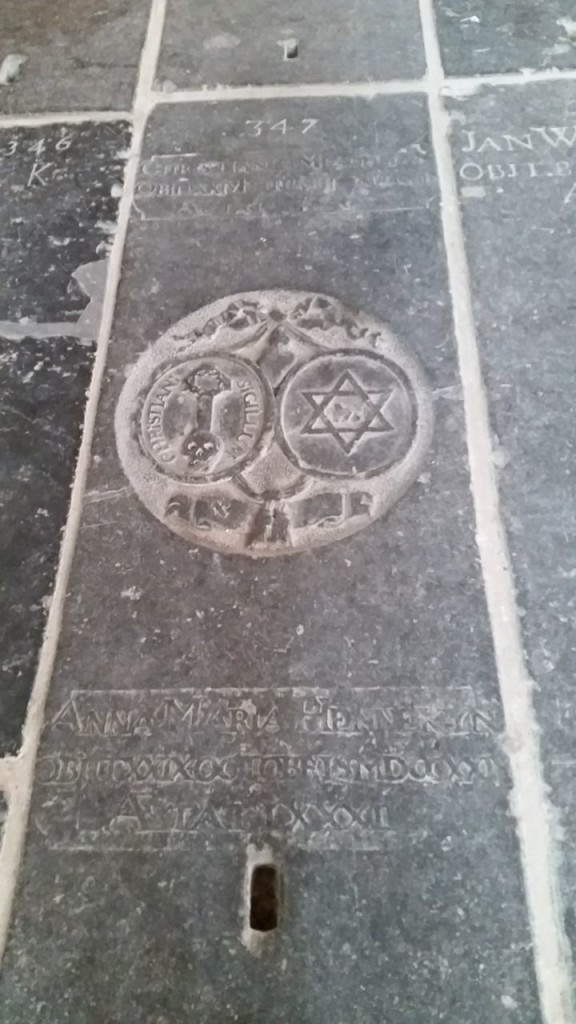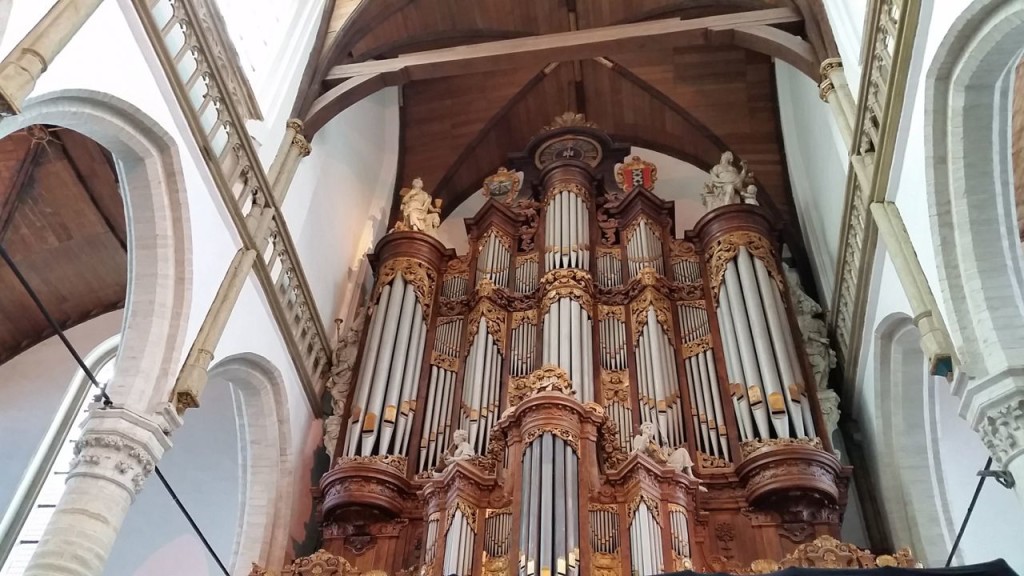 And this was our last piece of Amsterdam. We headed to the train station to head to Brugge. Here is another tip. Buy your train tickets in advance when possible. Like plane tickets, they get more expensive the closer you get to your departure. It does take a little of the spontaneity out of travel, but it will save you 30+ euros per ticket. Since we took 3 train rides between countries, the advanced ticket purchase saved us about 200 euros. That is not insignificant.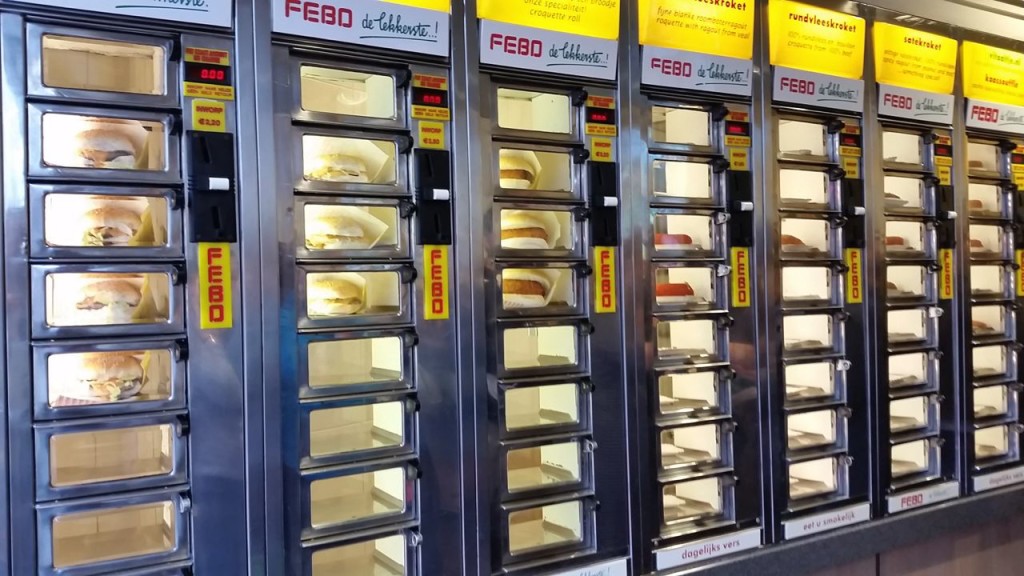 I was fascinated by this vending machine, but not even a little tempted to try one of whatever was in there.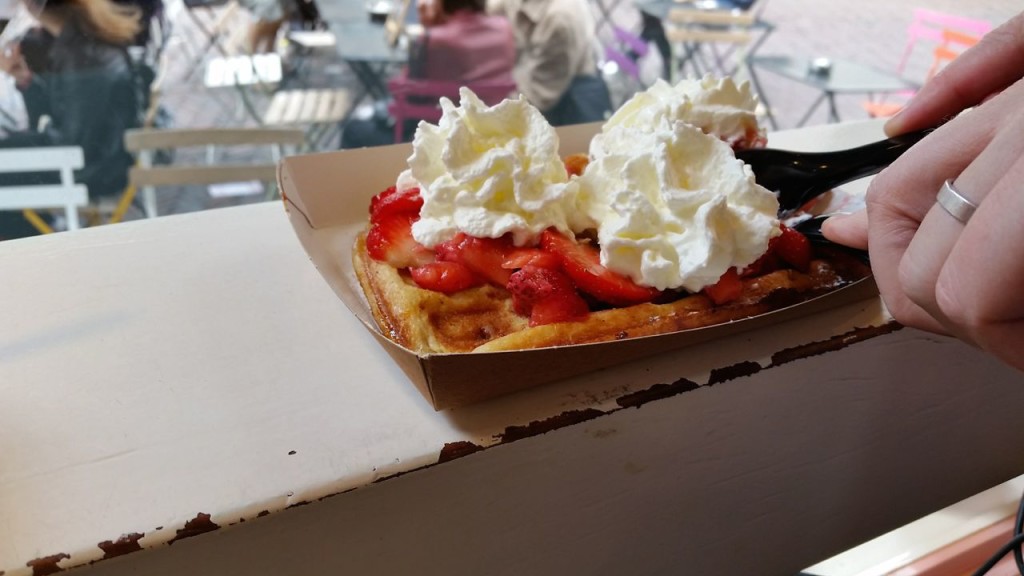 Another glorious waffle. The cheese one is my all time favorite, but this one was still delicious. I'm just more of a savory foods kind of girl.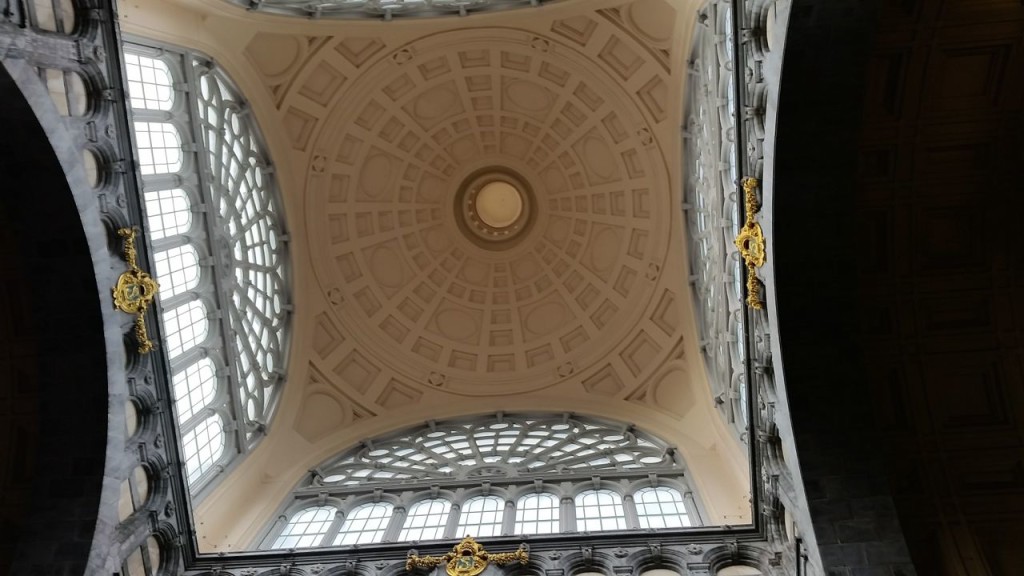 We intentionally chose a train that had a little longer layover in the Antwerp train station, meaning 45 minutes instead of 15, because we wanted to see the beautiful architecture.
The main hall is magnificent.
But we could have seen it all even with the 15-minute transfer. Walk in, admire, take a couple pictures, walk out. Two minutes, max.
All of this is just in the main hall. The rest of the train station is just a normal station.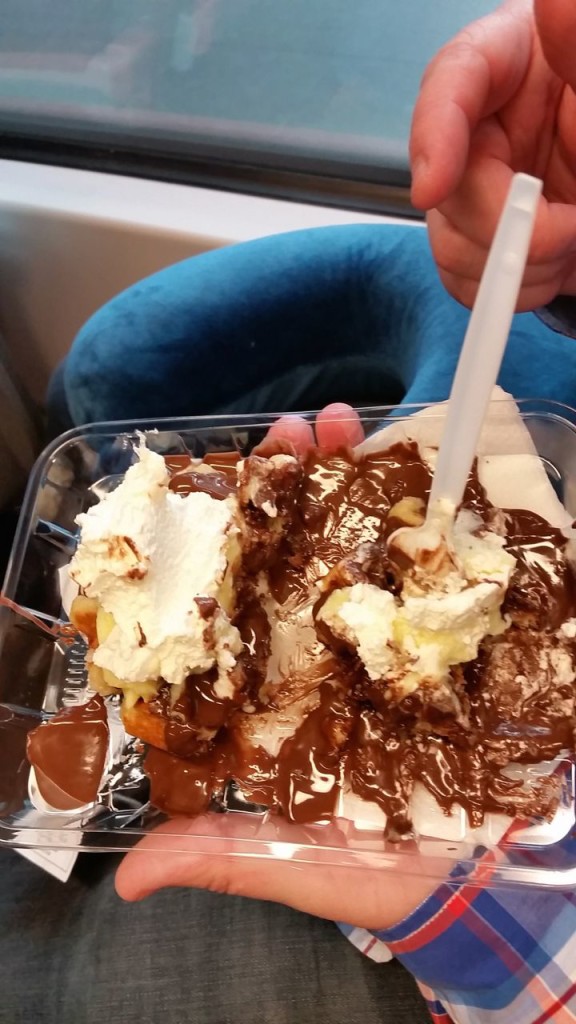 This was Adam's favorite waffle of the whole trip. It had Bavarian cream.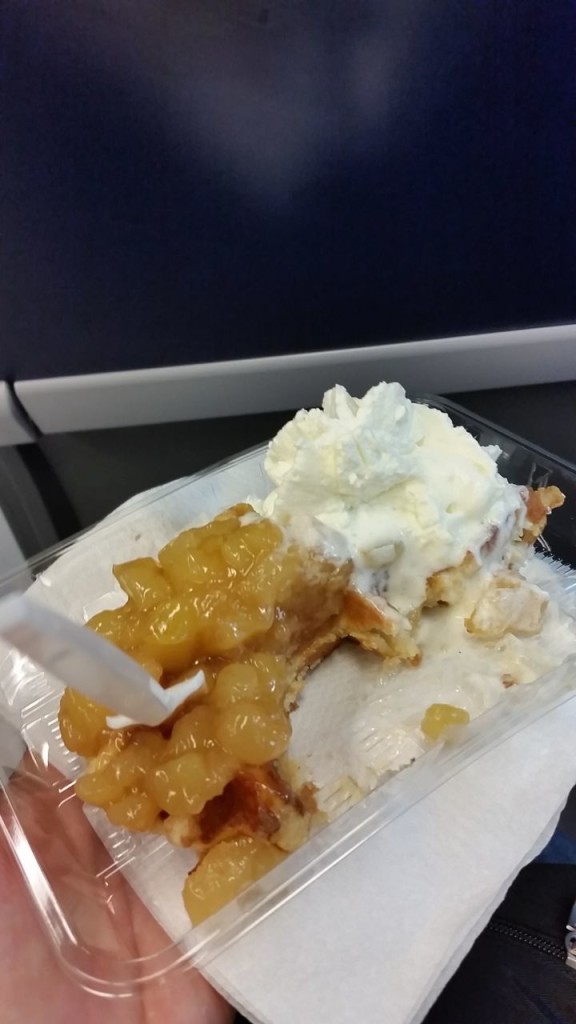 Mine was also excellent with apple pie filling. We got these in the train station, so that is another reason to stop in Antwerp.
BRUGGES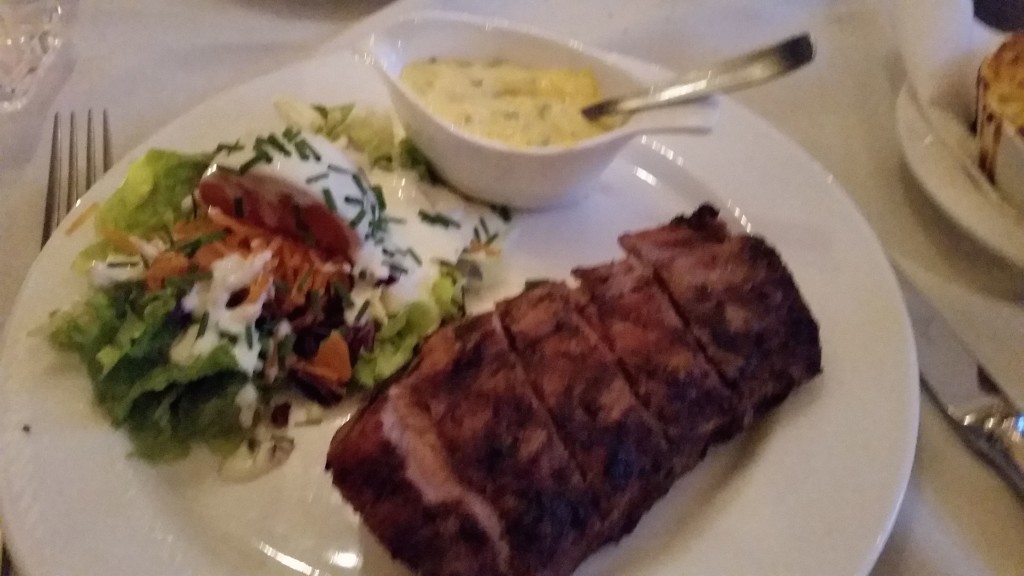 When we arrived in Brugge and got to our hotel, it was about 8:15. We asked for recommendations for dinner, and the concierge informed us we may not get dinner at all. All the restaurants close at 9:00. He had to call several places before he found one that would take us, Au Petit Grand. They only took us because the concierge is friends with the maitre d. It was a lovely restaurant, and we had a delicious meal, fortunately. If you don't know this about me, I DON'T MISS MEALS. I get angry when I'm hungry.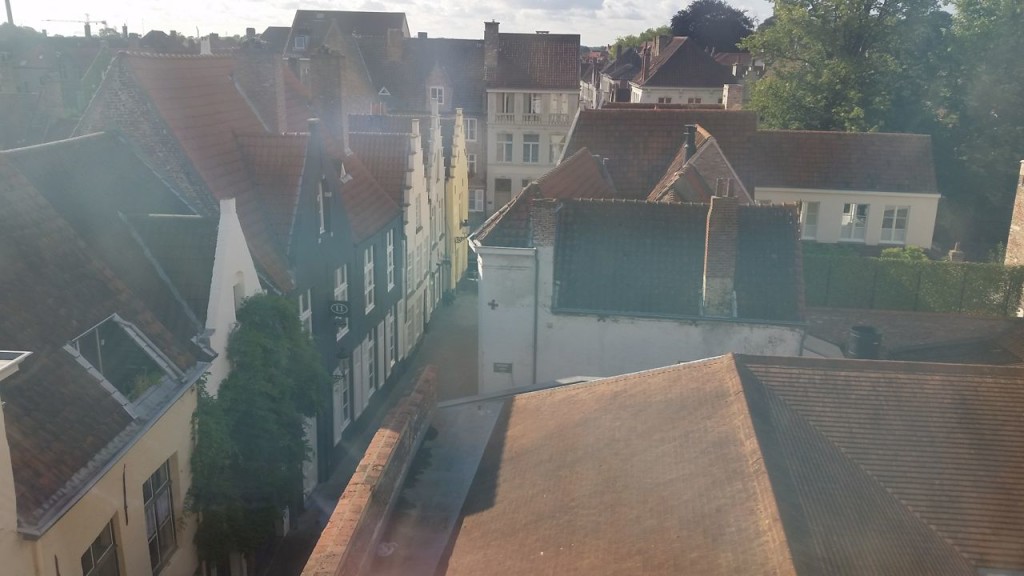 This was the beautiful view and weather from our room.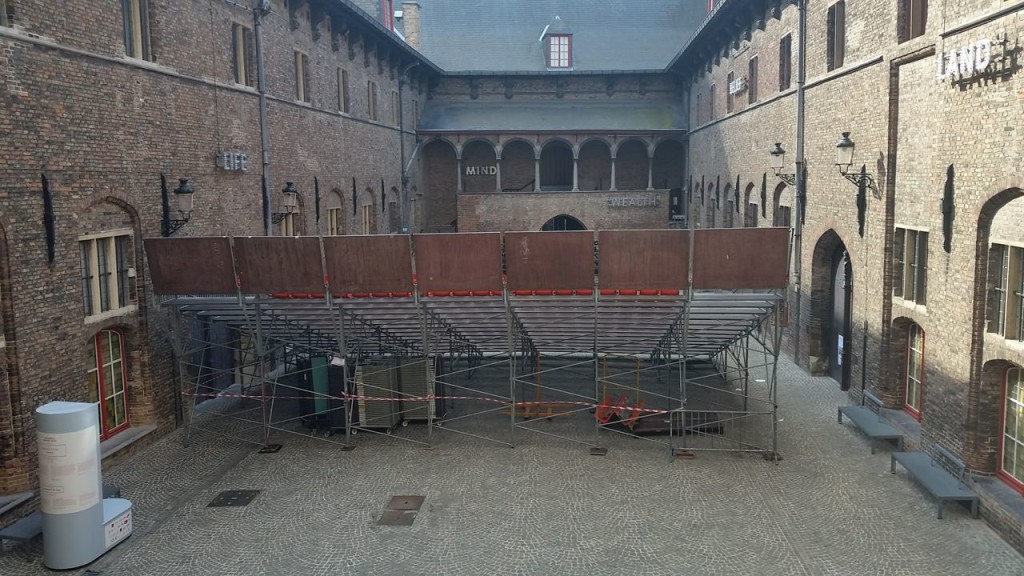 The first thing we did was head to the belfry to climb the tower. It opens at 9:00, and the line just gets longer and longer as the day goes on. I'd say we only waited 20 minutes.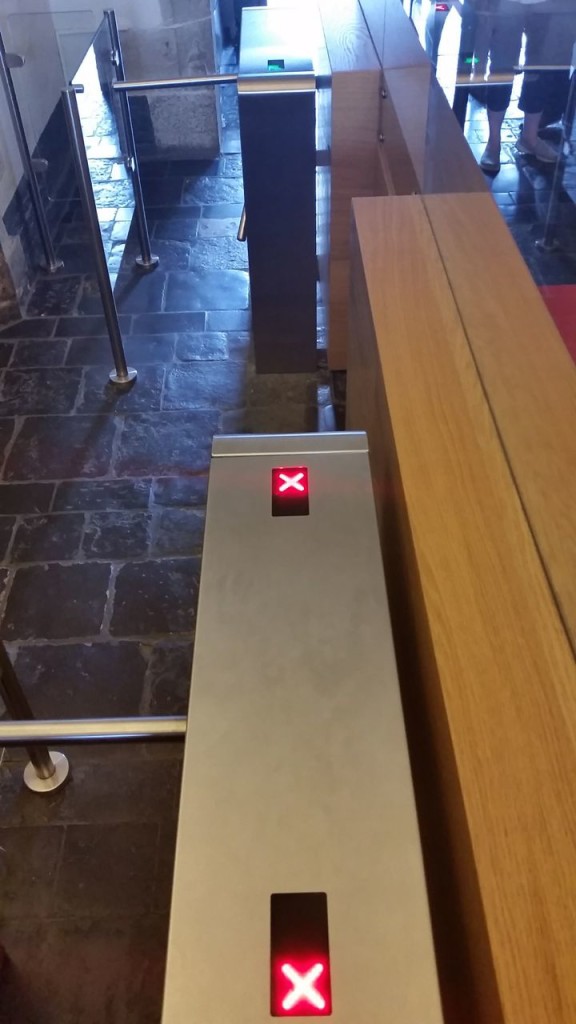 They have an ingenious little system. When one person goes out, the turnstile lets one person in.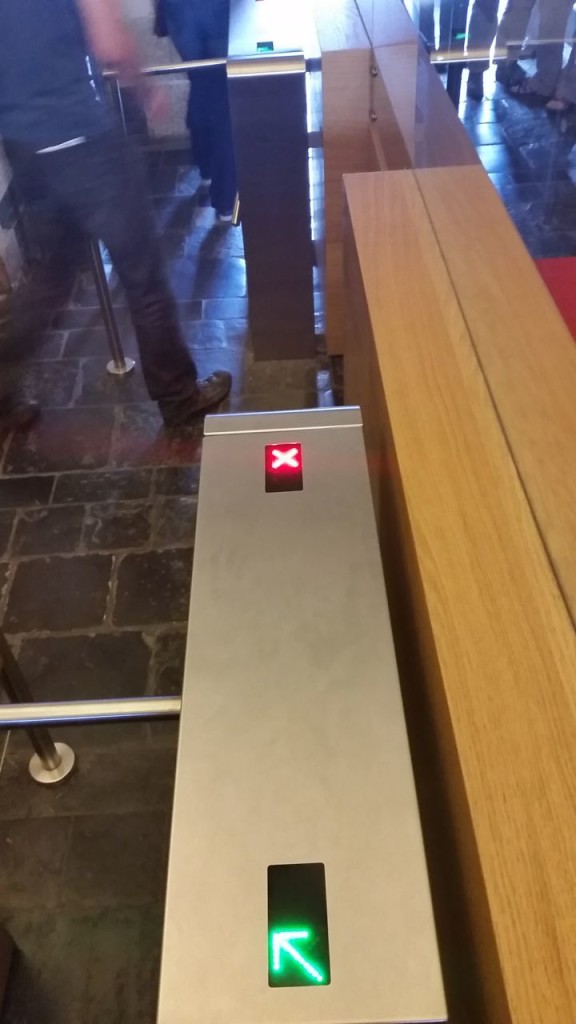 There were a few times that half of a couple had to wait in limbo until their significant other was allowed through.
A view of the courtyard part of the way up. Why do we climb all these towers? For the view of course. And the exercise. And the bragging rights. I take great pride in climbing 300+ steps without stopping or losing my breath.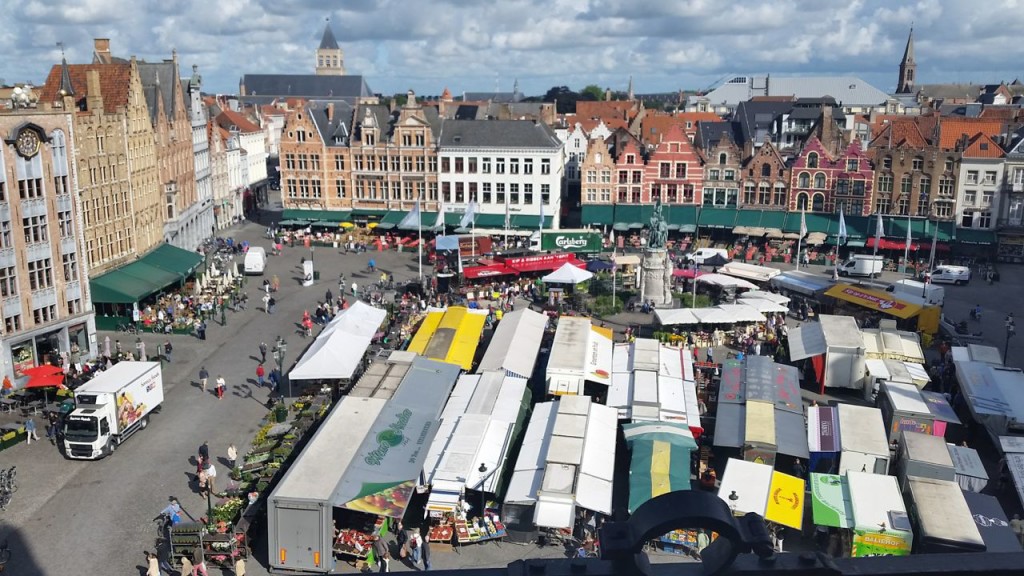 That is a farmer's market down below in the square.
This is the giant music box inside the belfry that plays tunes with the bells up top.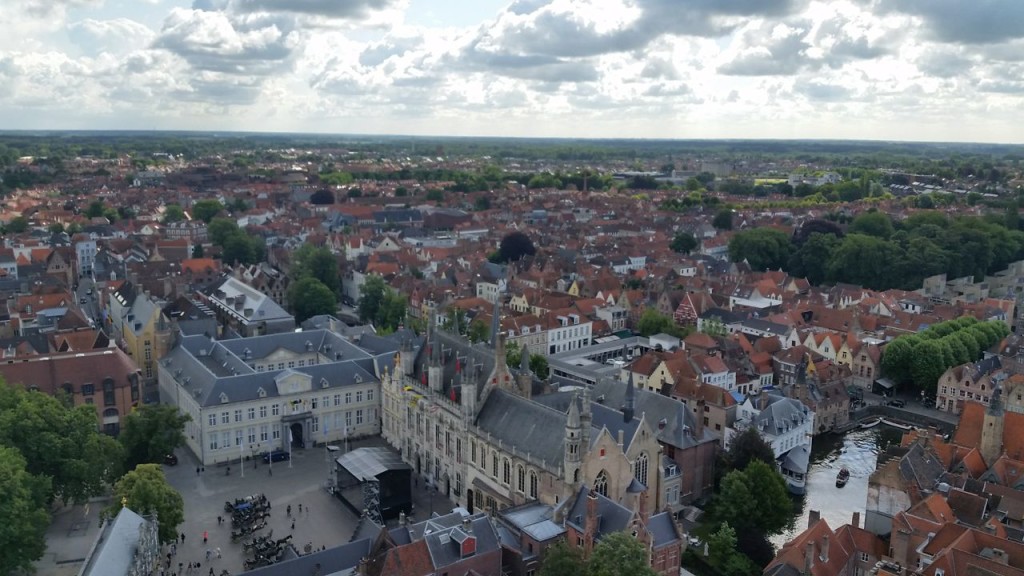 The view from the very top. Wasn't that worth it? Look at those beautiful buildings and the sky. It was so windy up there.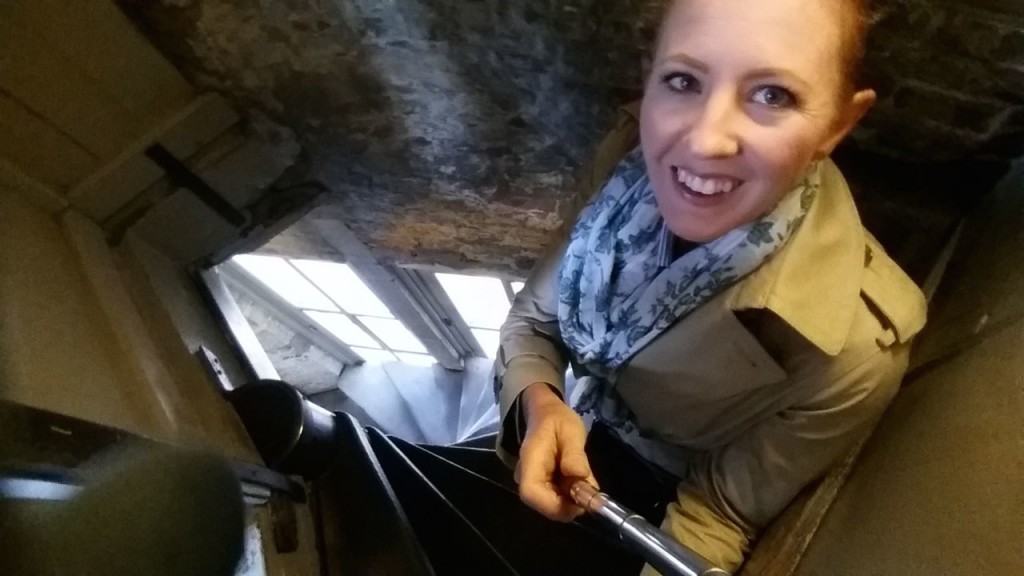 A little glimpse of the stairs on the way down.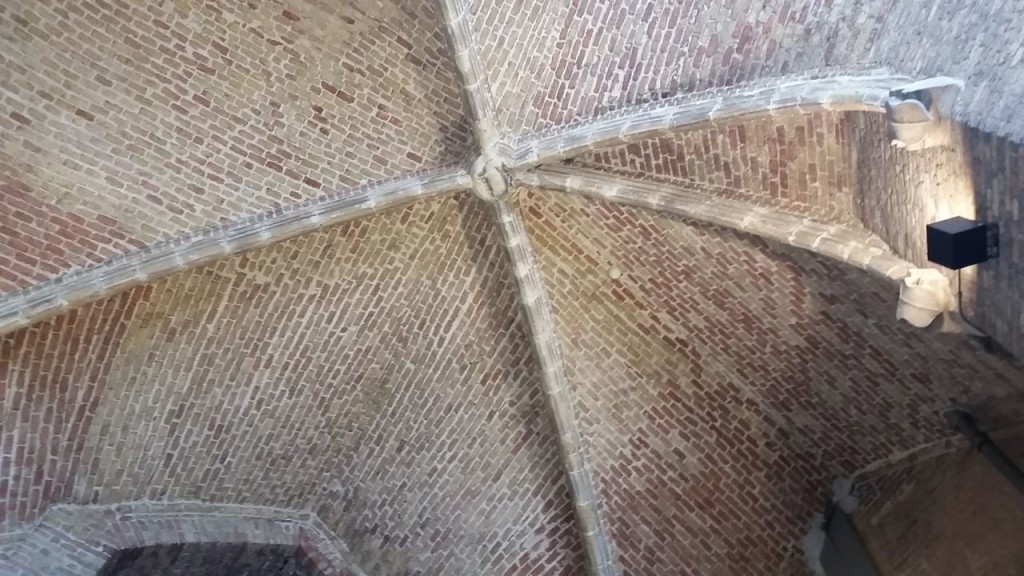 I love the ceiling here.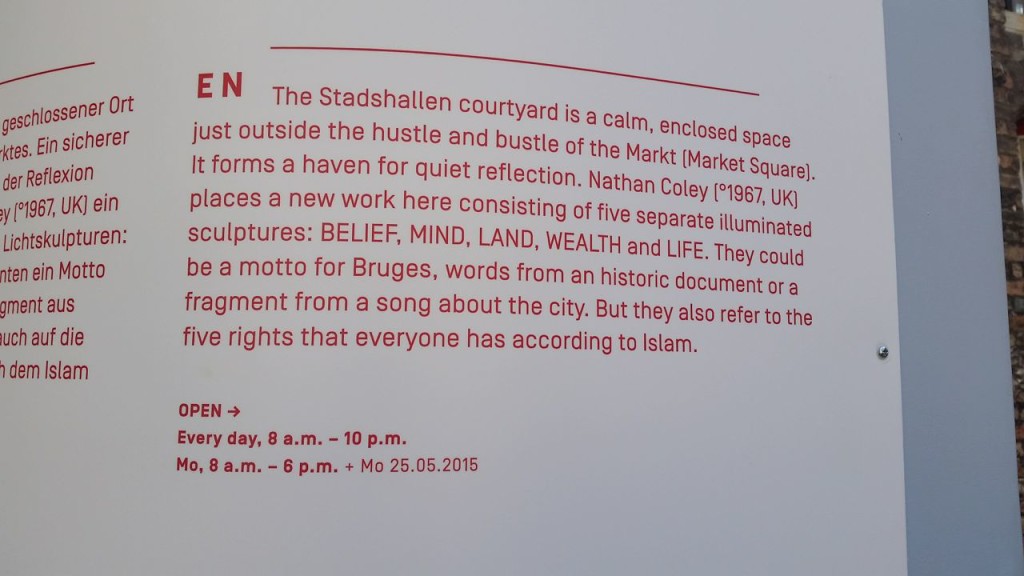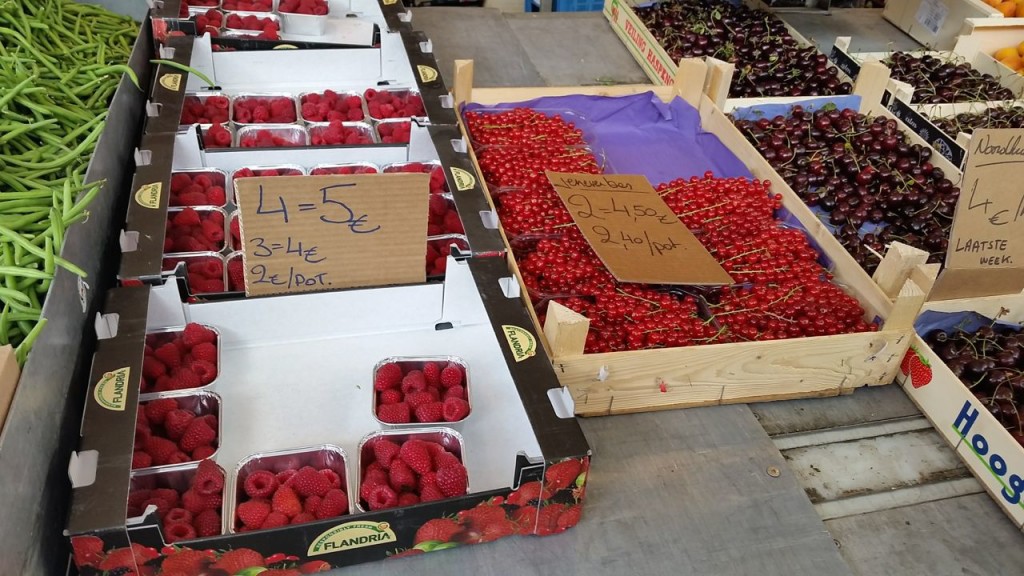 We decided to have second breakfast from the farmer's market. It was so very tasty.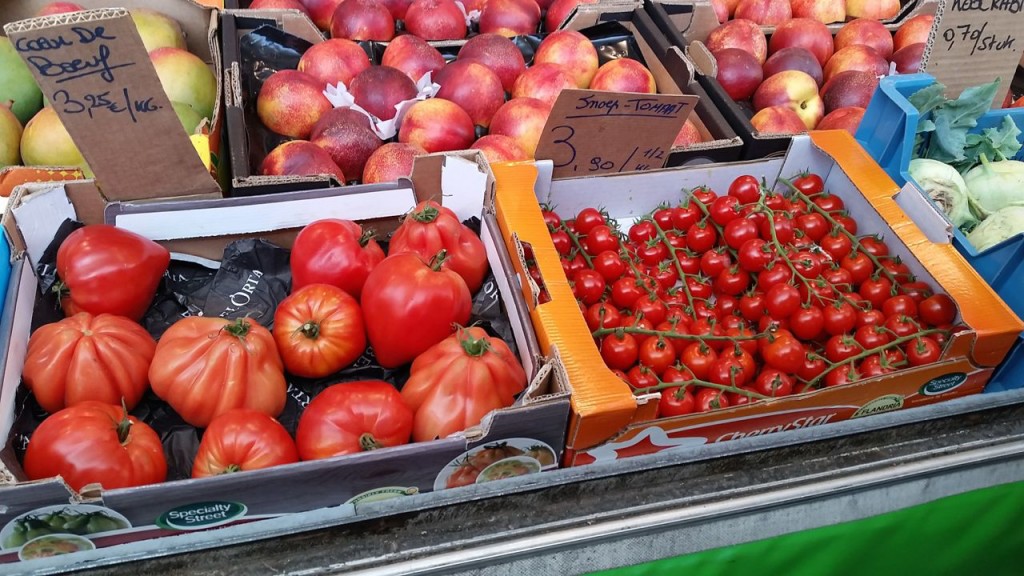 Look at how huge those raspberries are!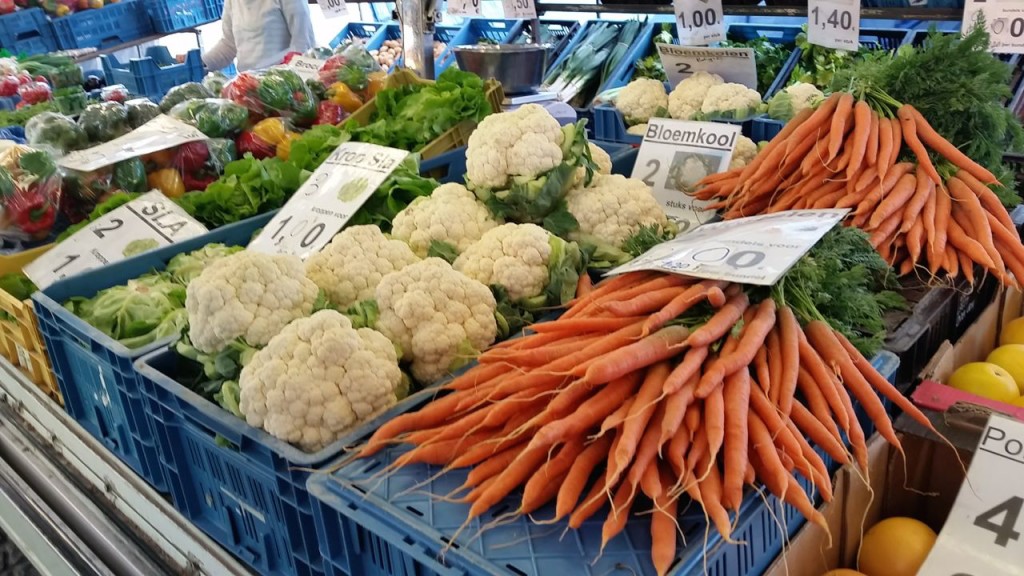 I love these markets even more because everything is so beautifully displayed. Have you ever wanted to eat a carrot more in your life?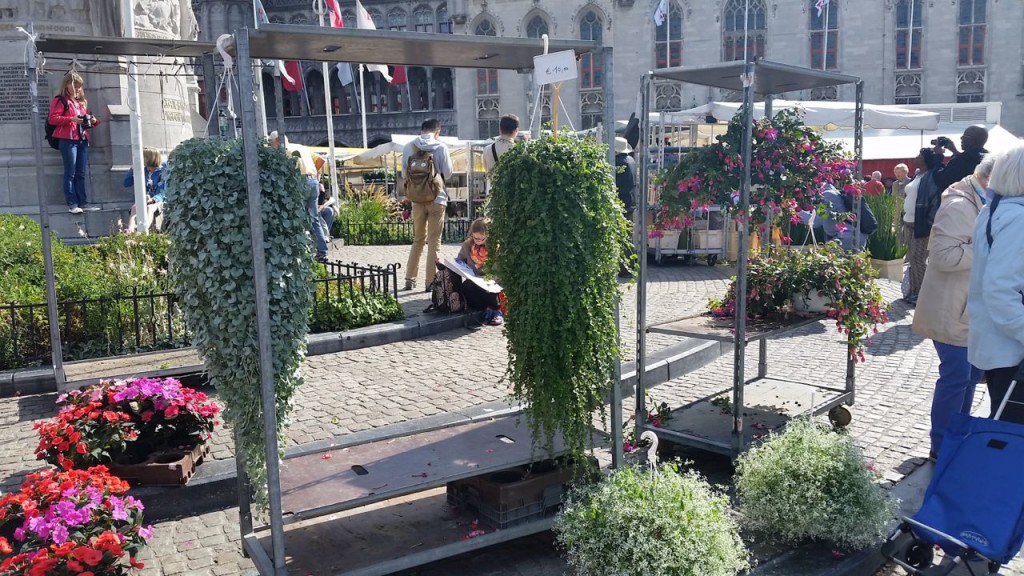 I really wanted to buy a bunch of these hanging baskets and take them home.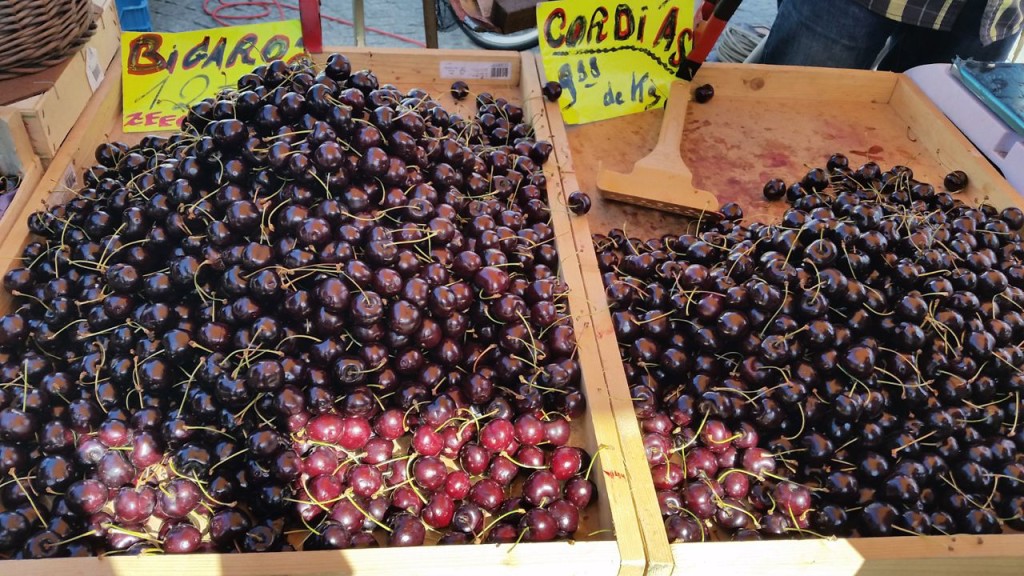 The tricky farmer selling these offers samples knowing that his cherries are so sweet and delicious that you will buy more. We did.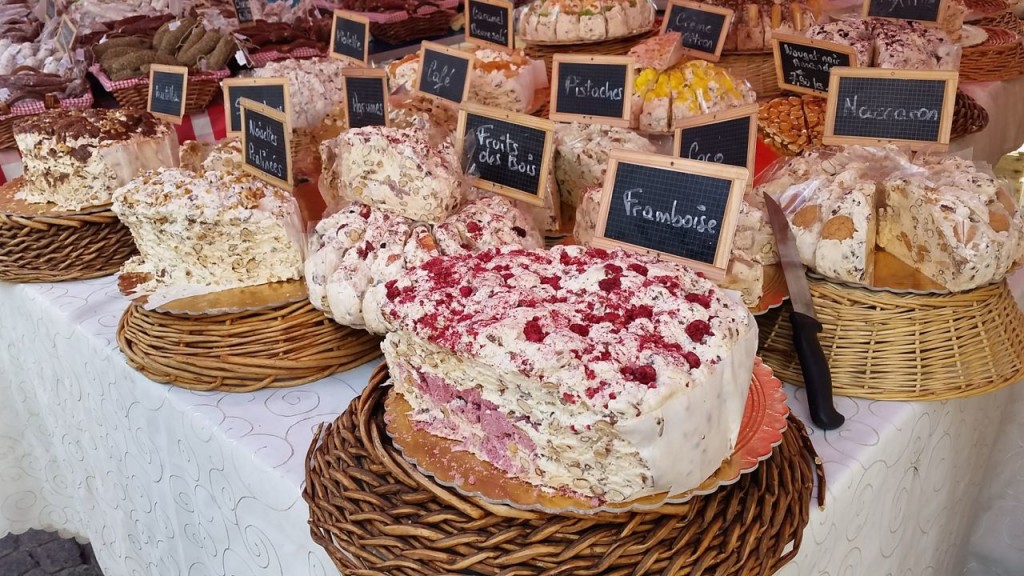 I didn't eat this cake, but isn't it gorgeous?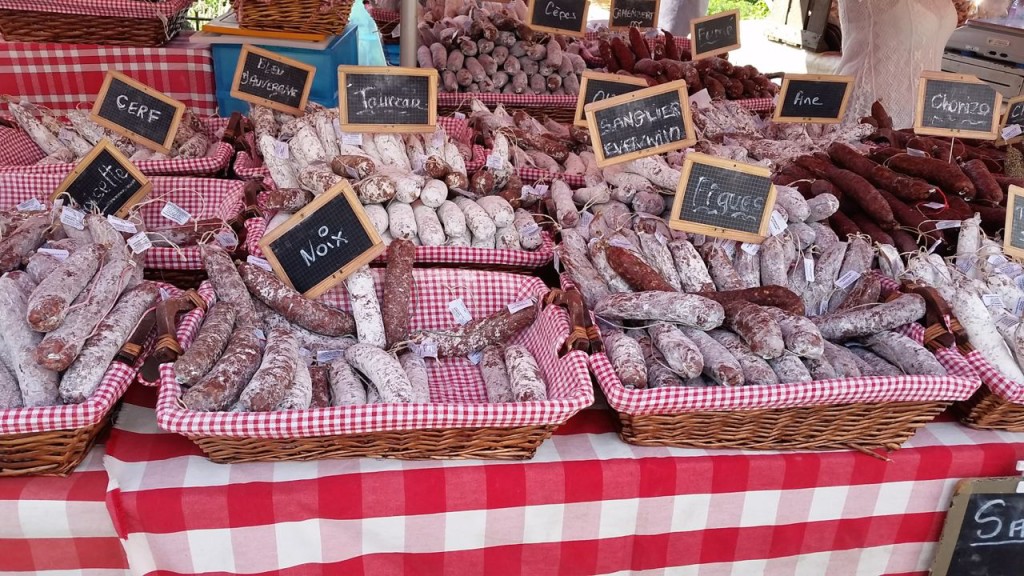 Even the sausages are beautiful. I love the baskets, the table cloths, the chalkboard signs. I don't think any of these people are on Pinterest gathering ideas for table staging, they just have a desire for displaying their wares beautifully and simply with a measure of practicality. The rest of us copy them.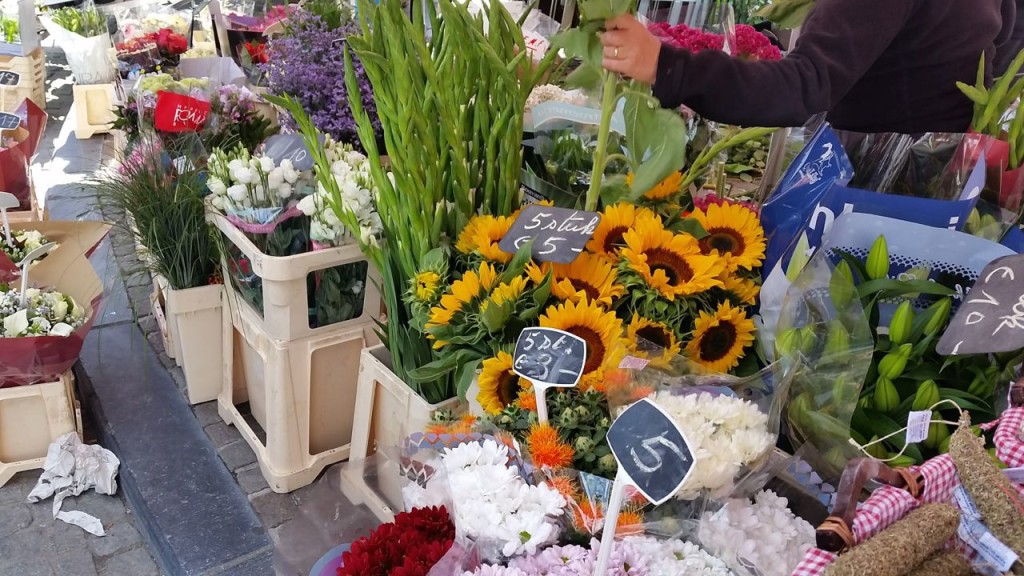 I was even more tempted to carry around a bouquet of flowers all day.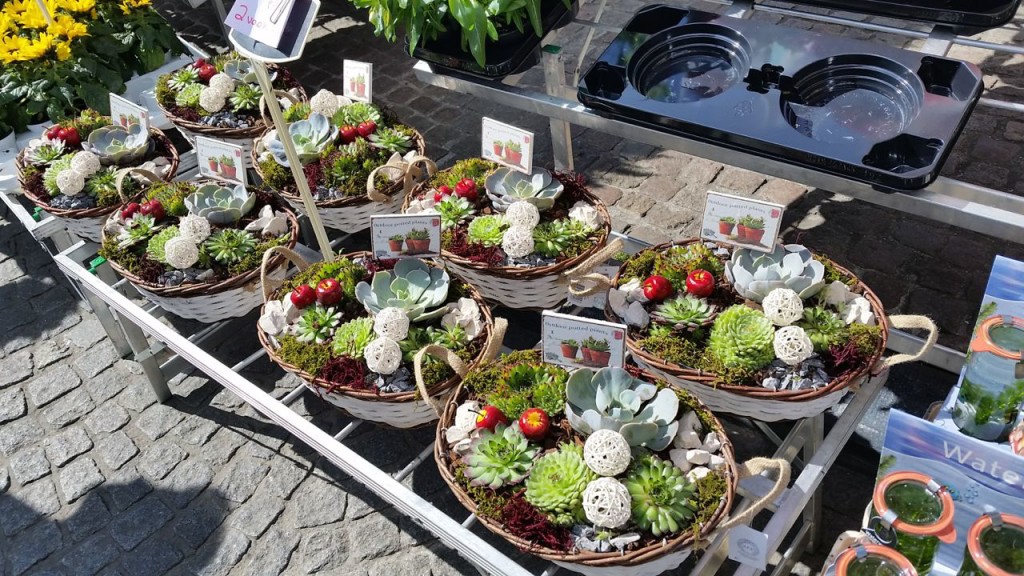 Or buy a basket of succulents to take home. I love succulents and would love a display just like that in my kitchen.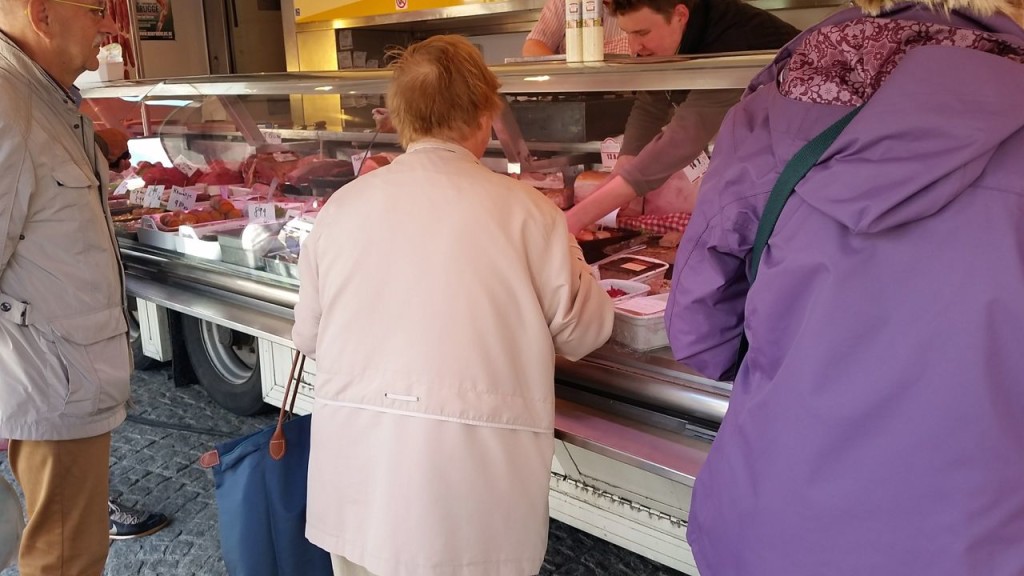 One of my favorite things was this traveling butcher shop. These refrigerated cases are mounted in a truck that drives away when the fair is over.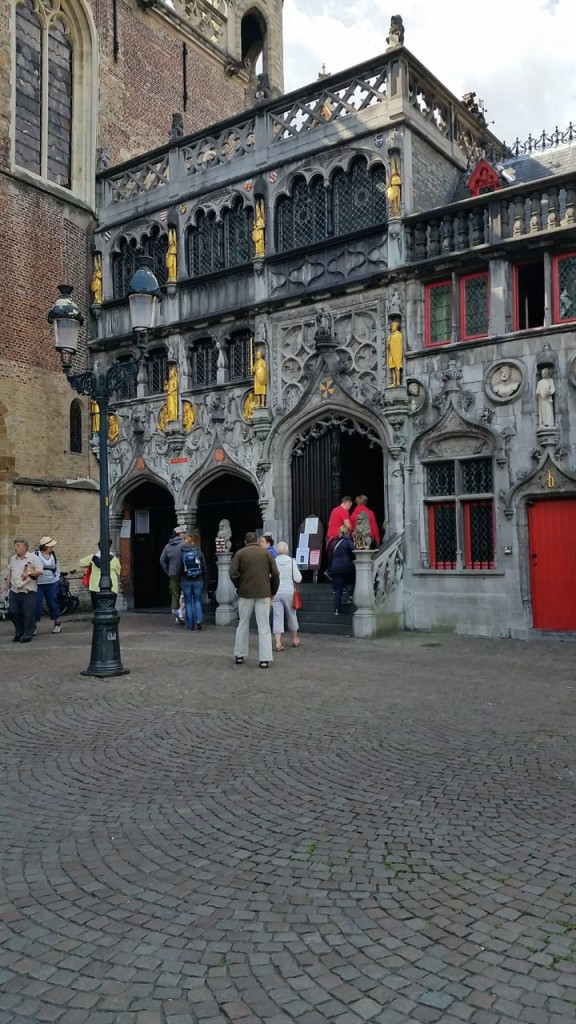 Our next stop was the Basilica of the Holy Blood. Their claim to fame is supposedly having possession of a vial of Christ's blood.
Everyone waits in this little chapel, and then the priest brings out the vial.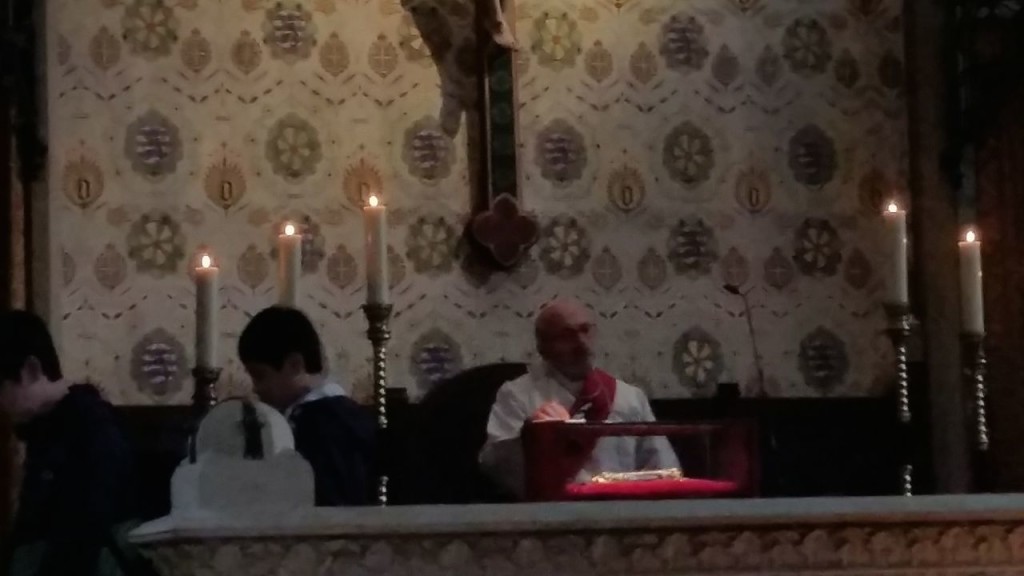 He says a prayer, and then people go up and pray over it or genuflect. While we are most definitely Christian, we aren't Catholic. We respect the fact that they believe that vial is genuine and in the ritual surrounding it, and we didn't want to be disrespectful and go up to the altar as curious tourists to see what all the fuss was about. We also weren't going to disrespect our own beliefs by going through the motions of the ceremony just to get a peek. We listened to the prayer, watched a few people go through the line, and then we left.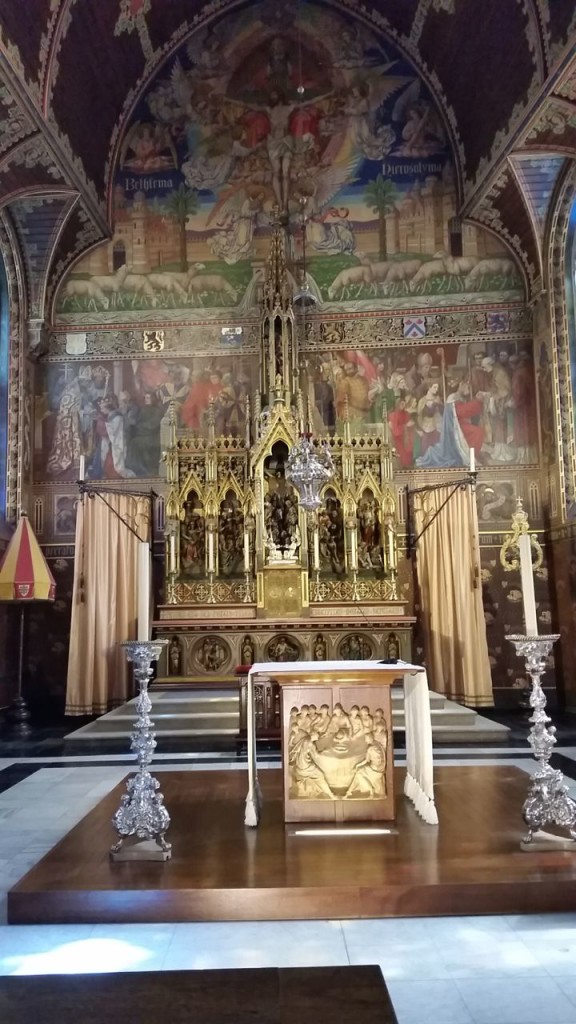 The rest of the basilica is also worth seeing. It is very ornate.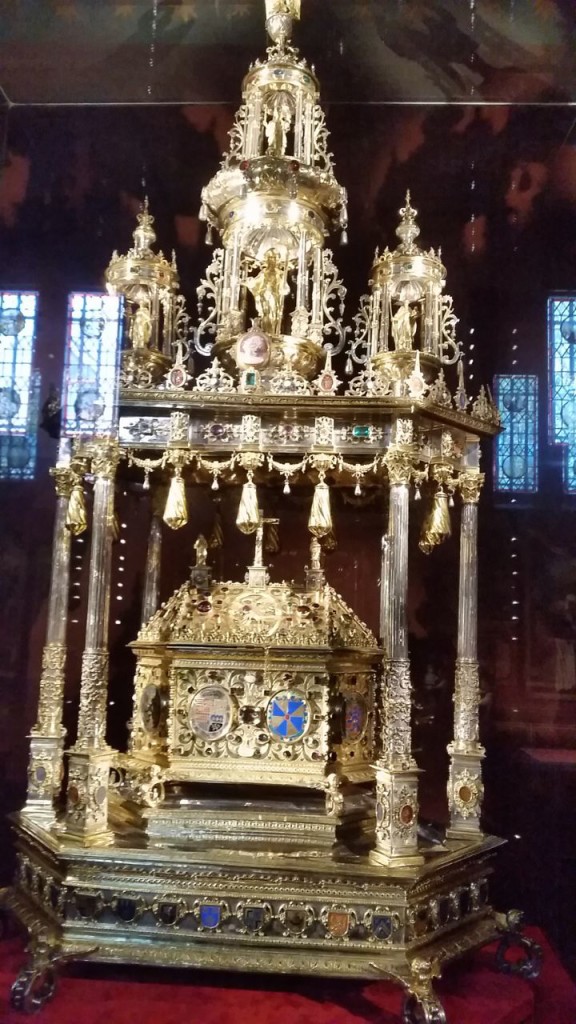 This is used to carry the vial through the town in a parade once a year.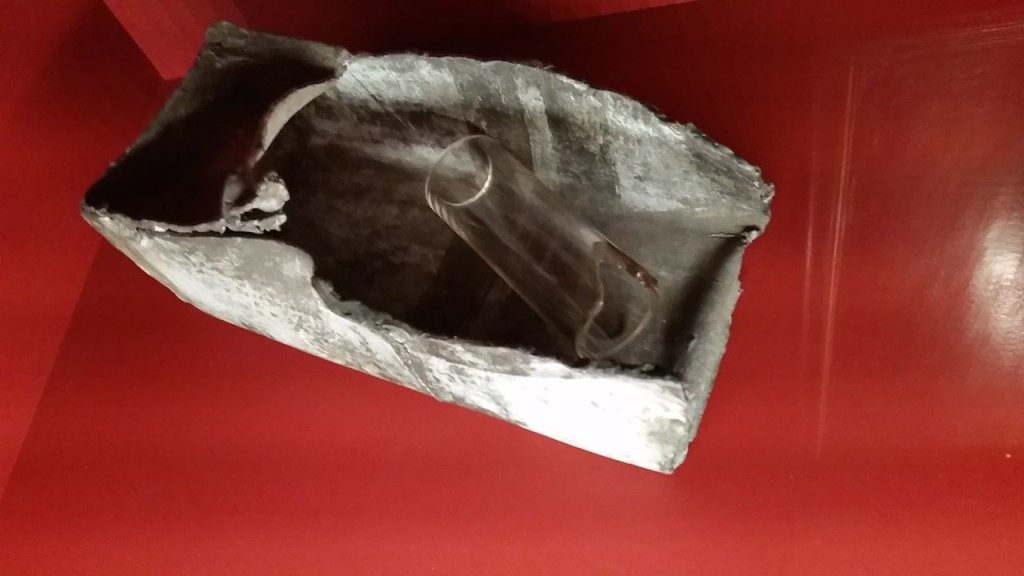 This is one of the original vials used to store the blood.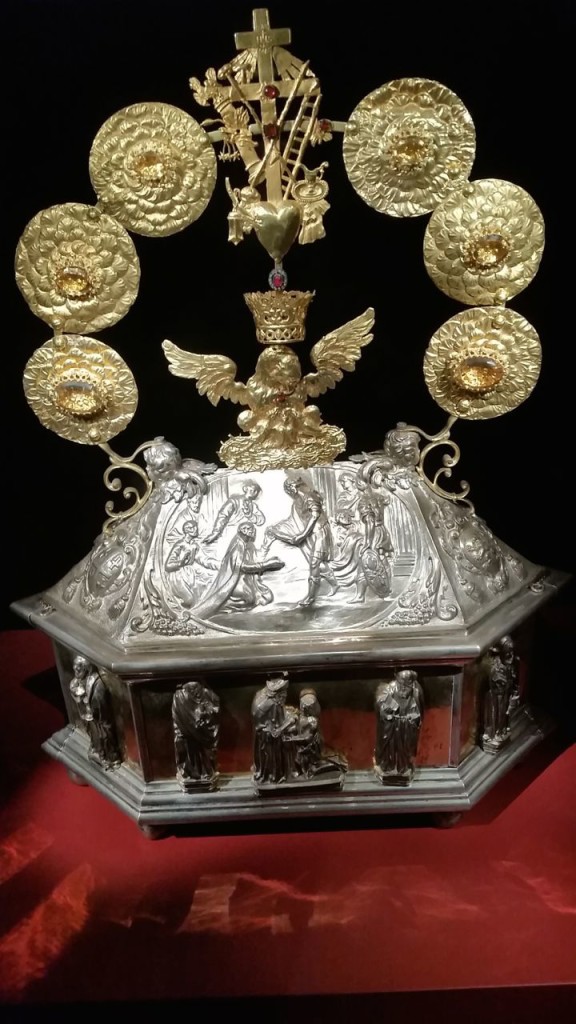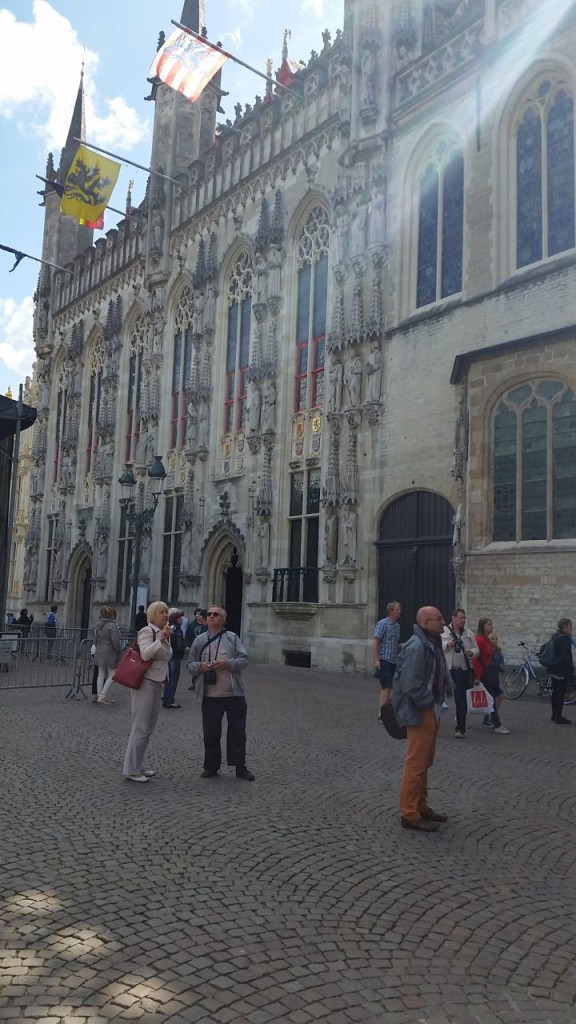 The church is quite small and just off the main square. If you go to the belfry, go here next. They are very close to one another.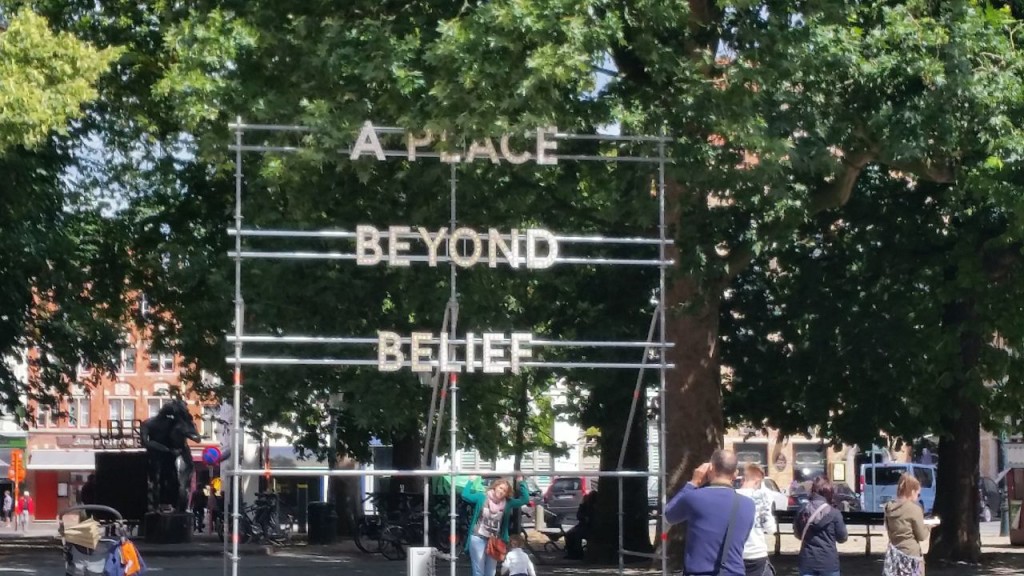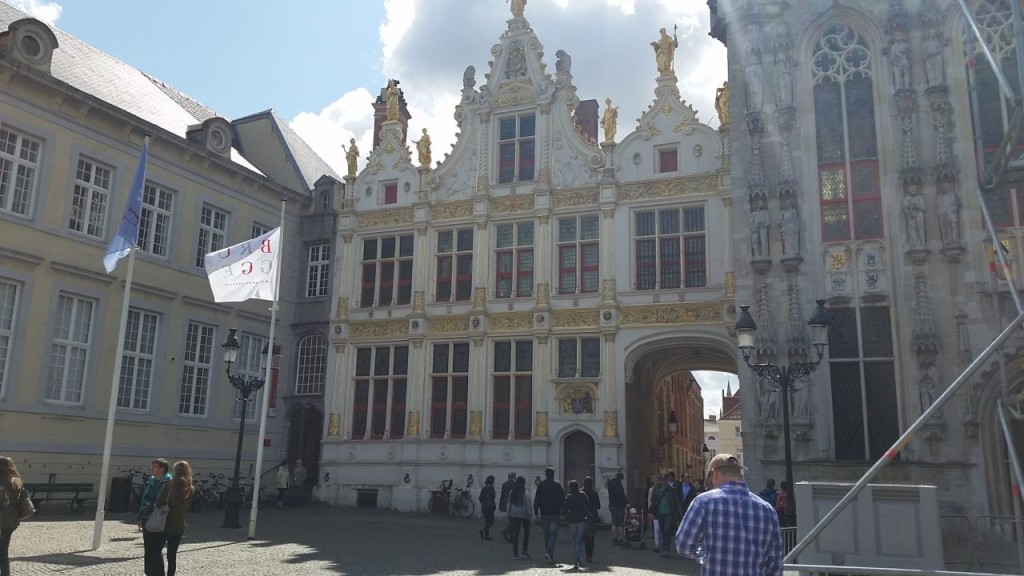 We decided to see Brugge from the water as well, so we took another boat ride.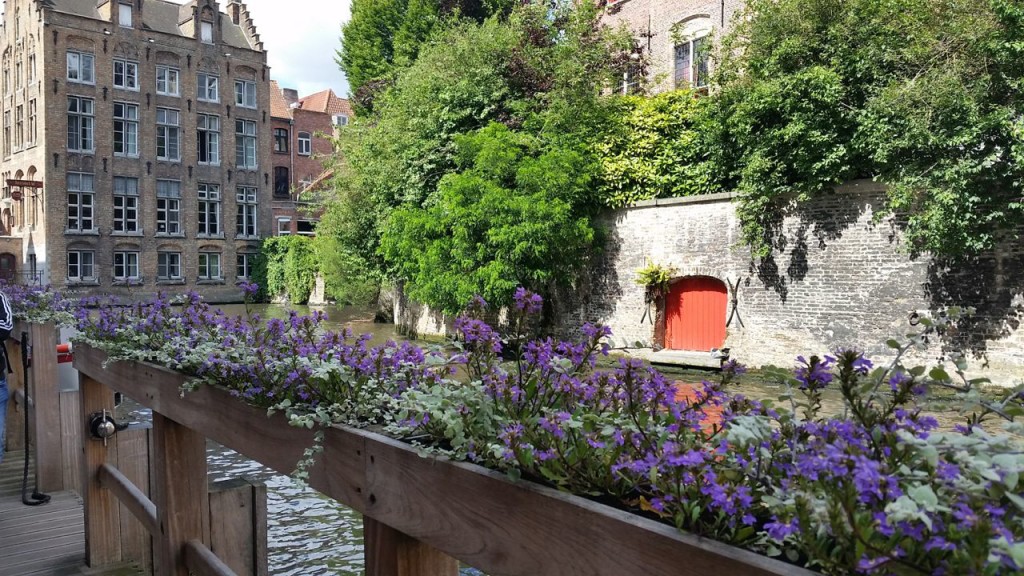 Even the dock where we waited was gorgeous.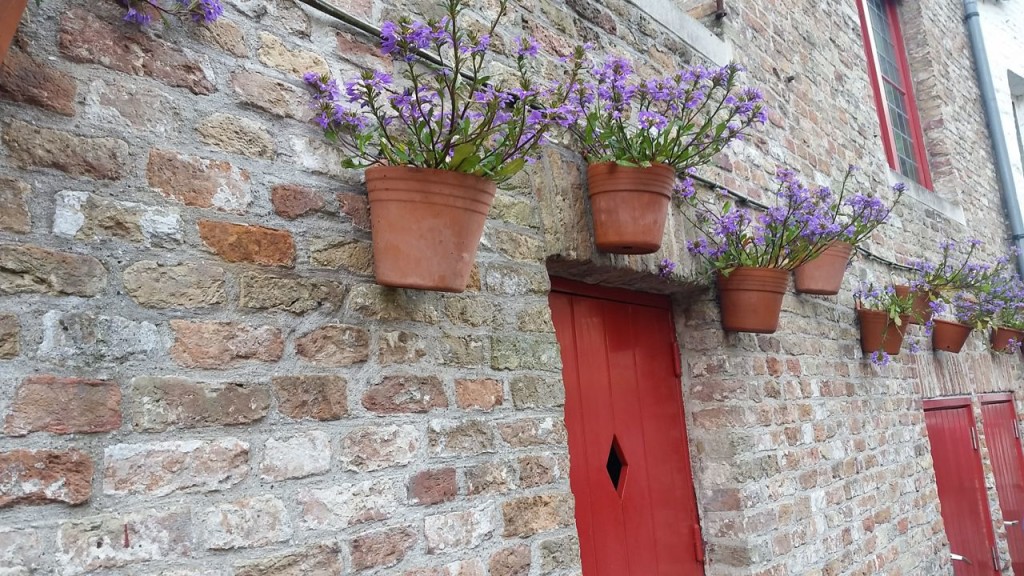 More swans. *Sigh*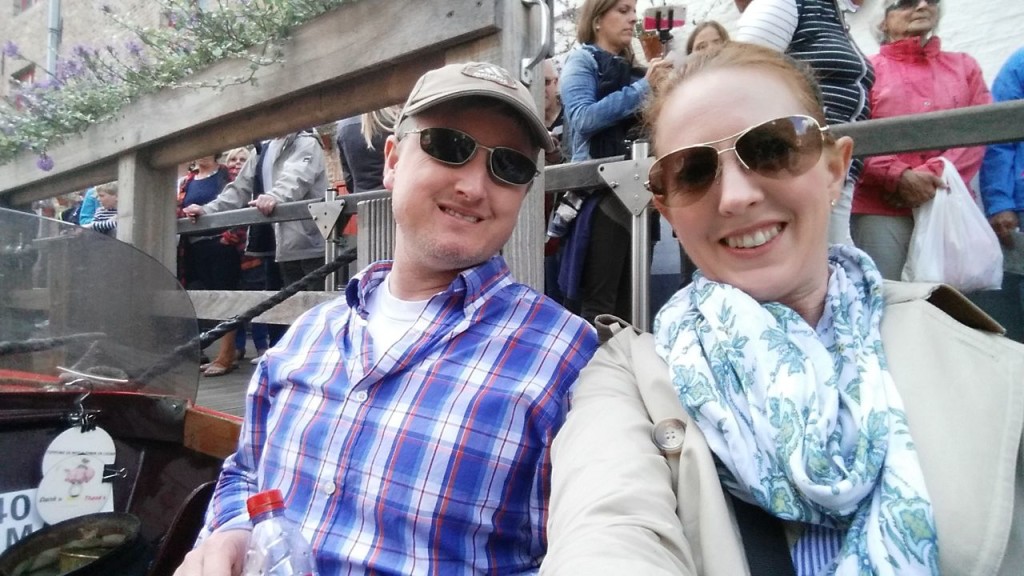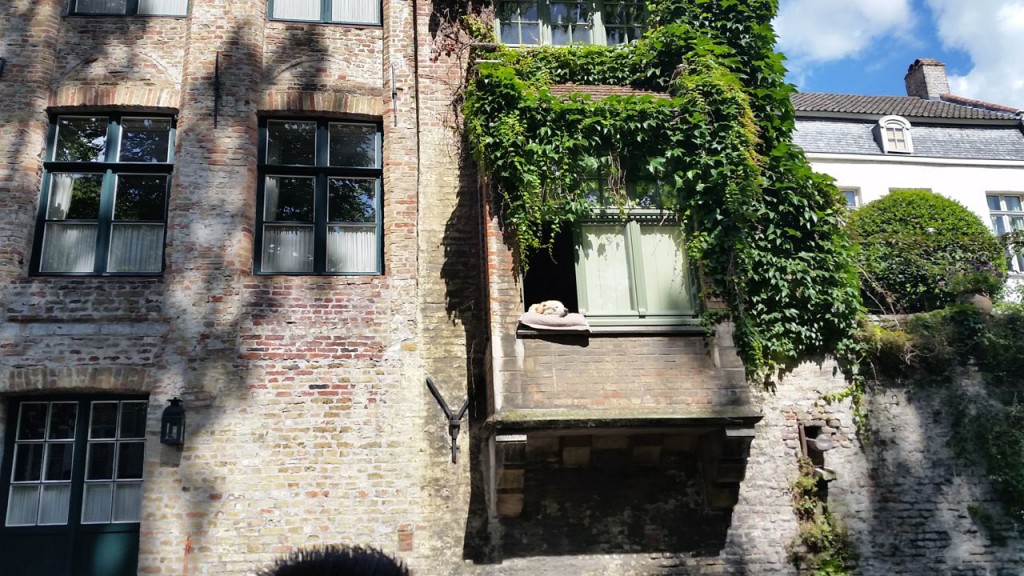 That dog is living the life!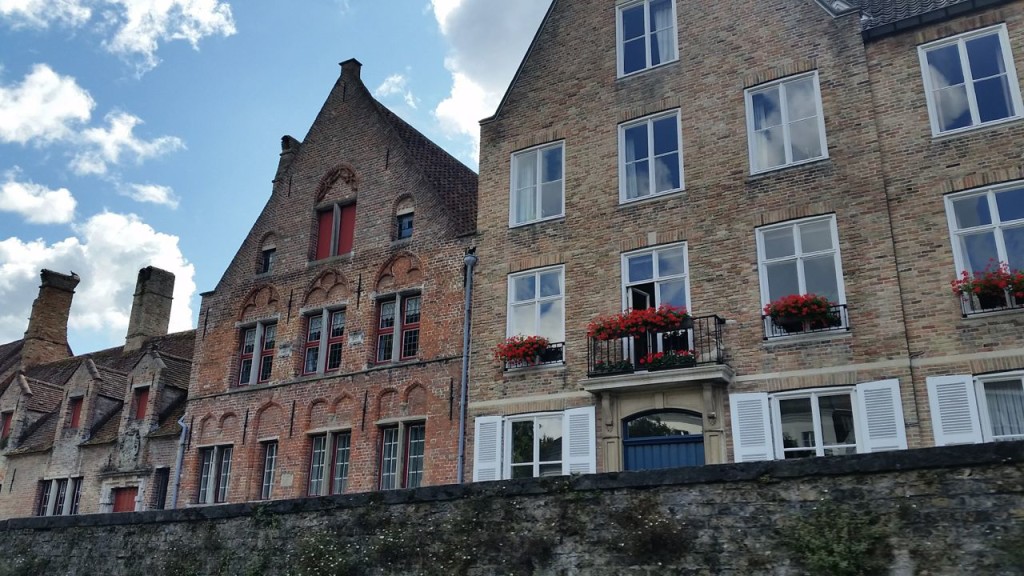 Why visit Brugge? It is one of the best preserved medieval towns in Europe. It is very beautiful, and a step back in time.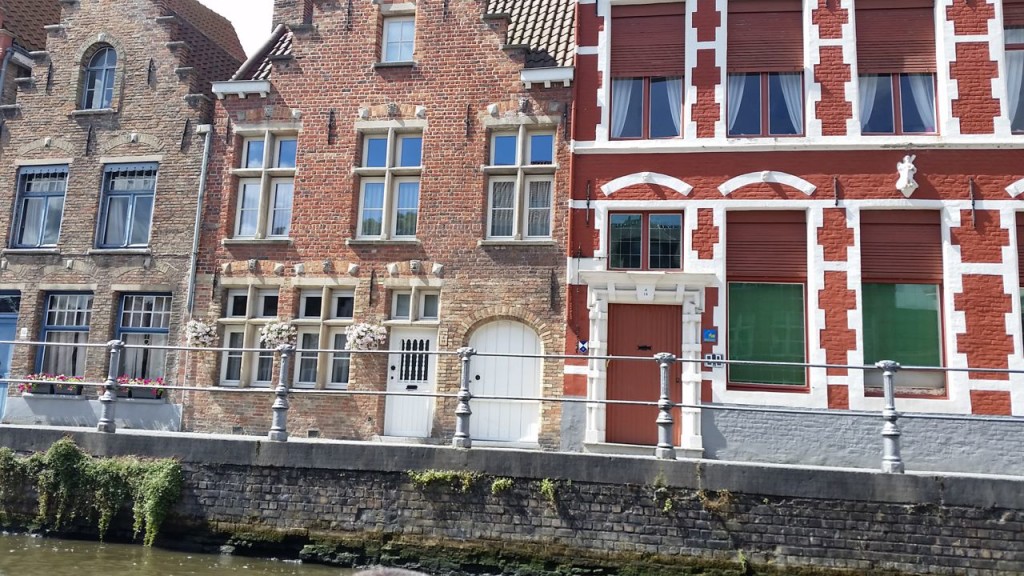 My recommendation is this: Get there around 5 or 6 pm, when the bus tours leave. Enjoy the calm, peaceful side of Brugge. Have a nice (early) dinner, walk the streets, imagine life as it was. Then get up early the next morning and wake up with the locals. Have some breakfast, walk the streets, then get in line for the belfry a little before 9. By 10 the buses start rolling in, and by noon it is practically any popular European destination and is PACKED. Not that you won't enjoy seeing things, but the magic and charm is in the off hours.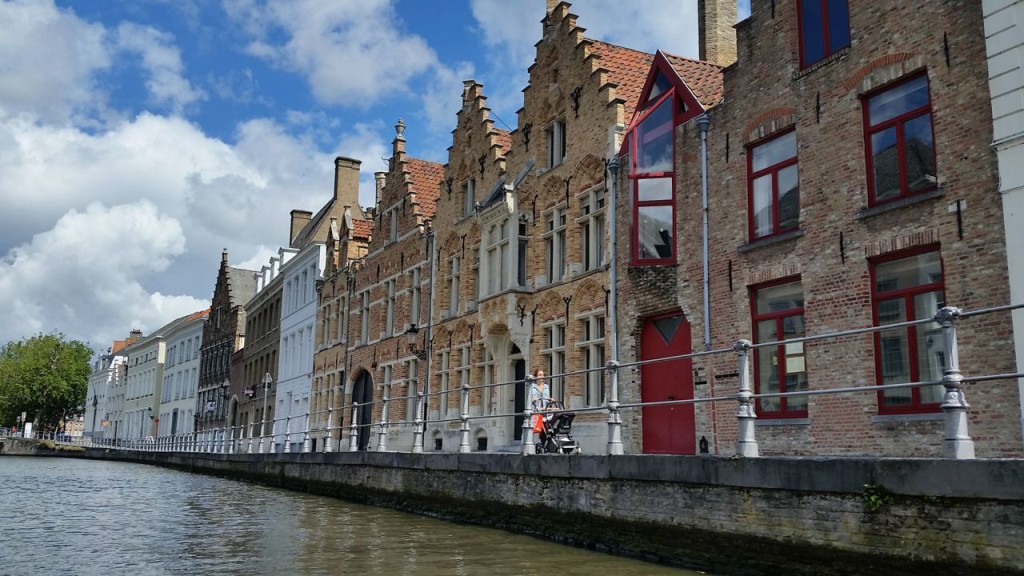 We chose to spend a little more time in Amsterdam and arrive a little later, but we still got a few of those quiet evening hours.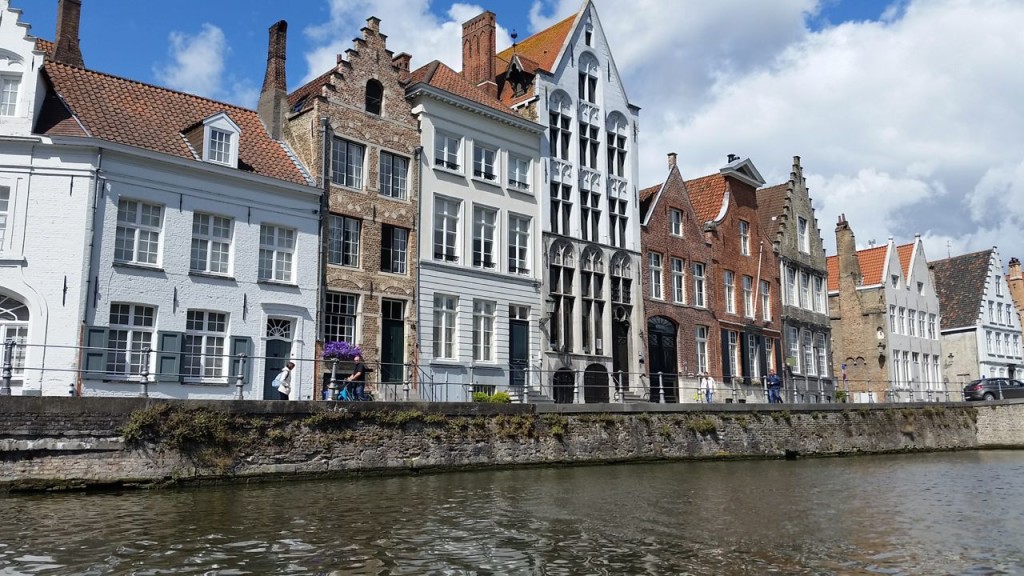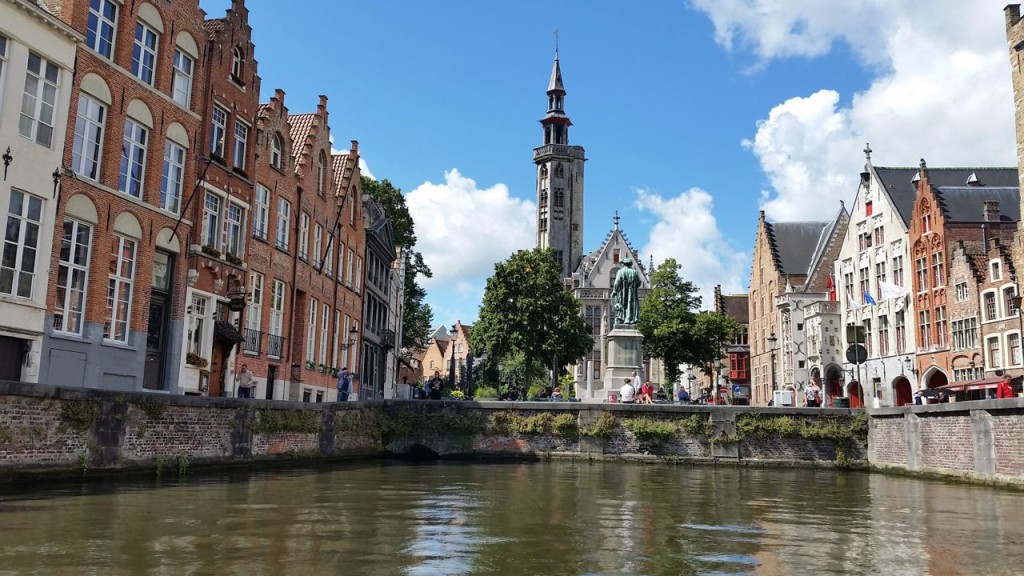 The whole town is so charming and picturesque. I keep saying that, I know. The town is full of canals. Some call it the Venice of the north.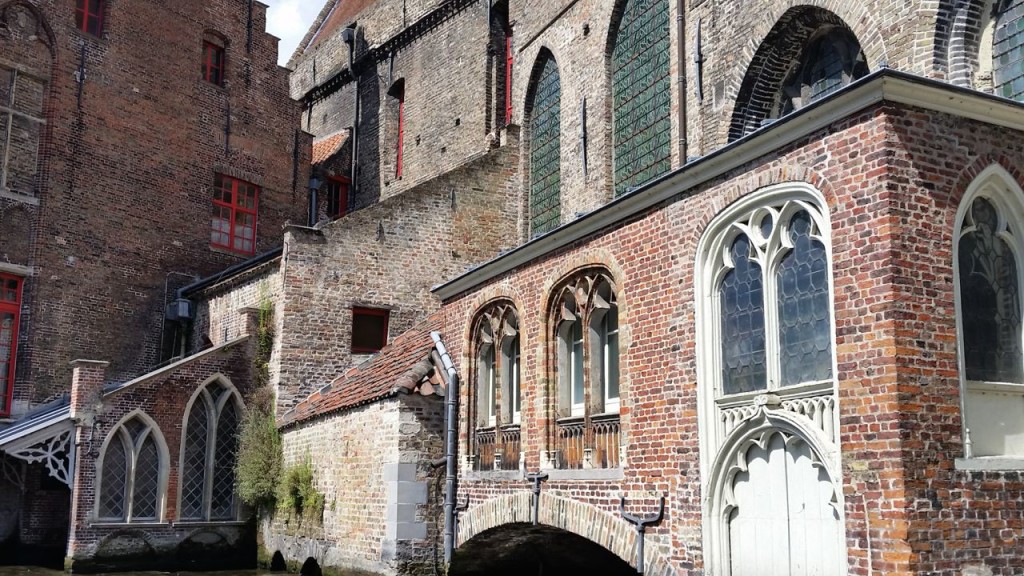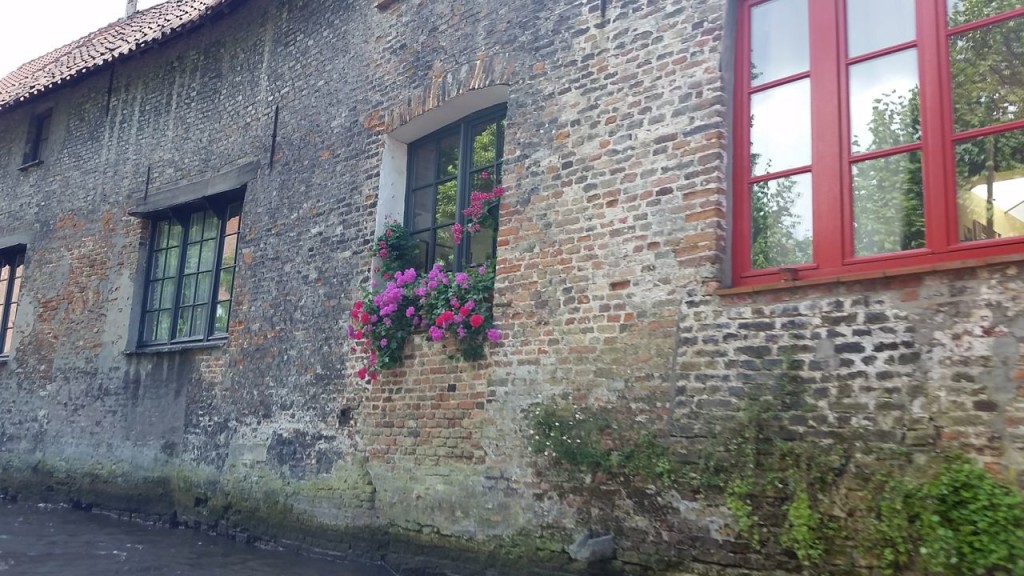 But just look at those flowers in the basket!! And the red window casings! Don't you just want to move in?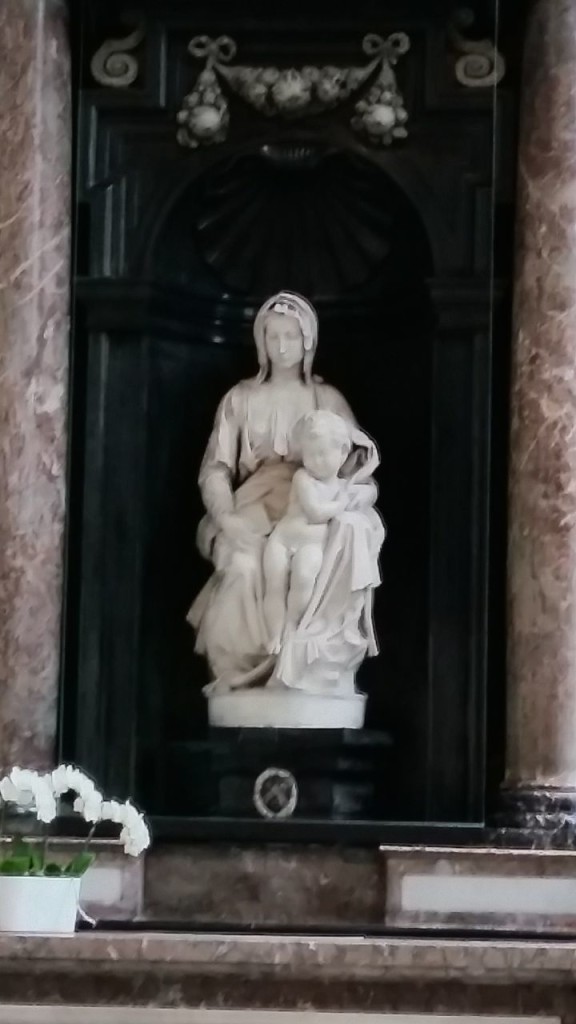 We stopped in at the Church of Our Lady to see Madonna of Bruges, 1501-1504. This is the only Michelangelo outside of Italy.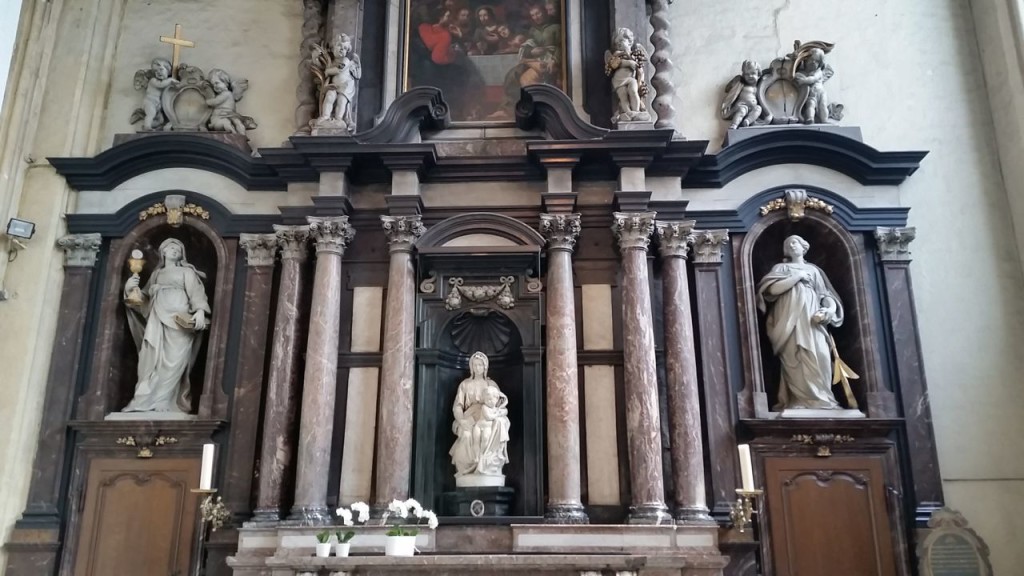 As well as this bust of Albus Dumbledore.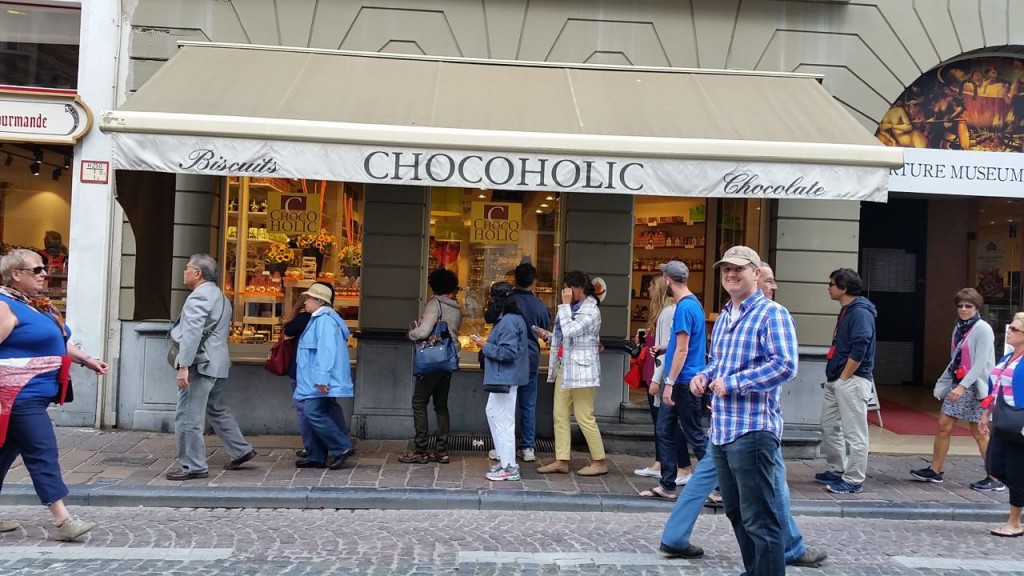 The main street is lined with shops and most of them are chocolate shops.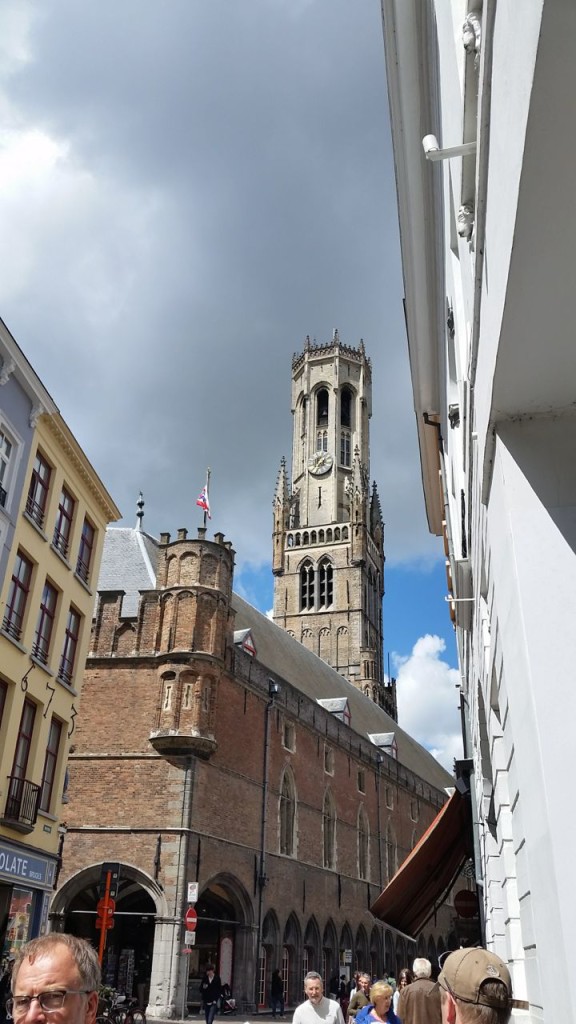 That is the belfry we climbed.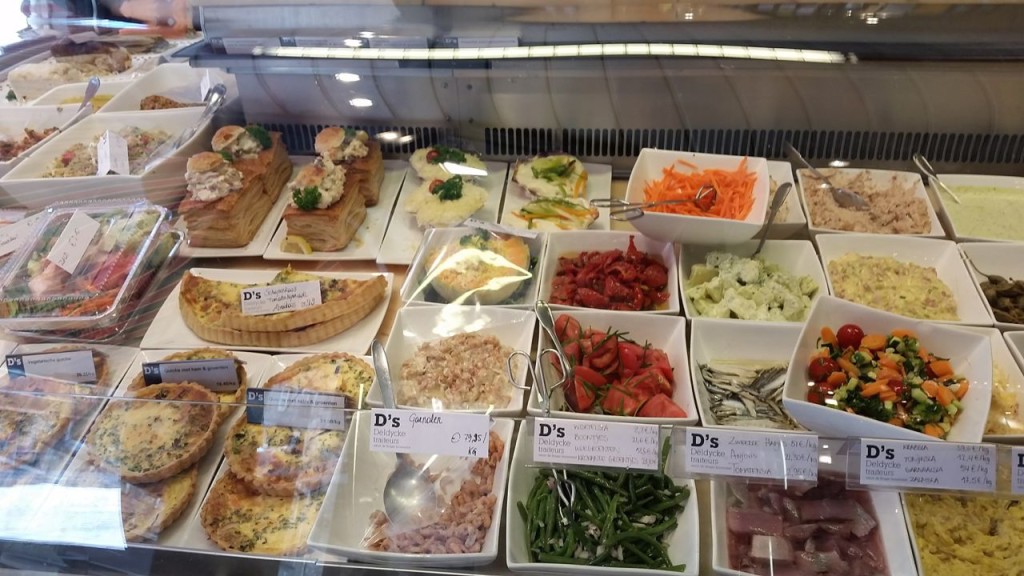 We stopped for lunch, and can I say that I love European fast food? American food corporations please take note. Our lunches on the go could look like this!!! A slice of real quiche is as portable as a burger or a (I'm so embarrassed to name it) a hot dog on a stick *shudder*. A marinated salad can be eaten in the passenger seat with no impediment.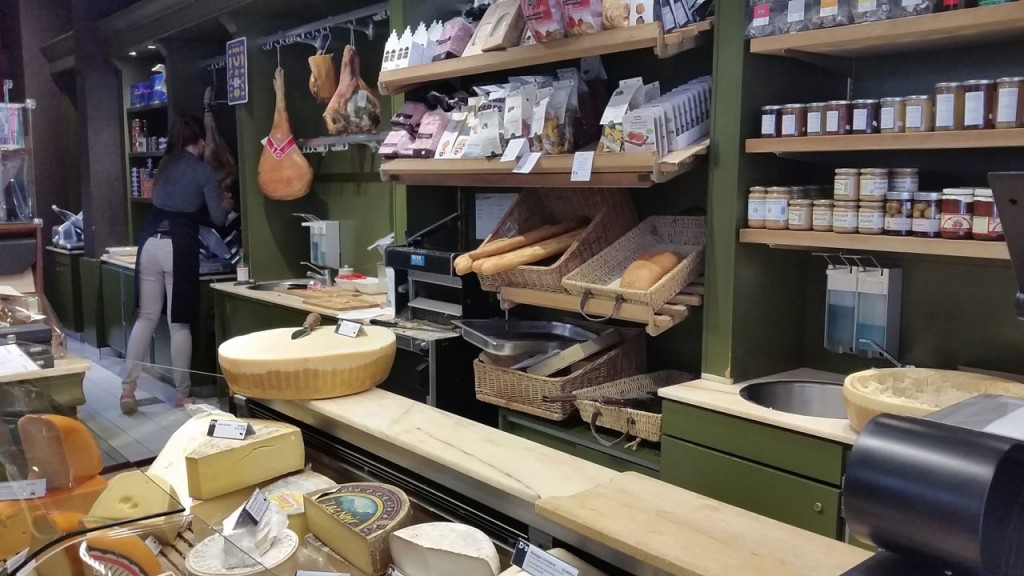 If it must be sandwiches, carve our ham and slice our cheese and baguettes that were made the real way. Ham should have very few ingredients, and none of them should come from a laboratory. Cheese should have one ingredient (aside from something like a pesto-flavored variety). Baguettes have 4 ingredients. Do this not only for our health, but our tastebuds! Have some mercy!
After lunch we walked the streets and a few shops, then headed to the train station.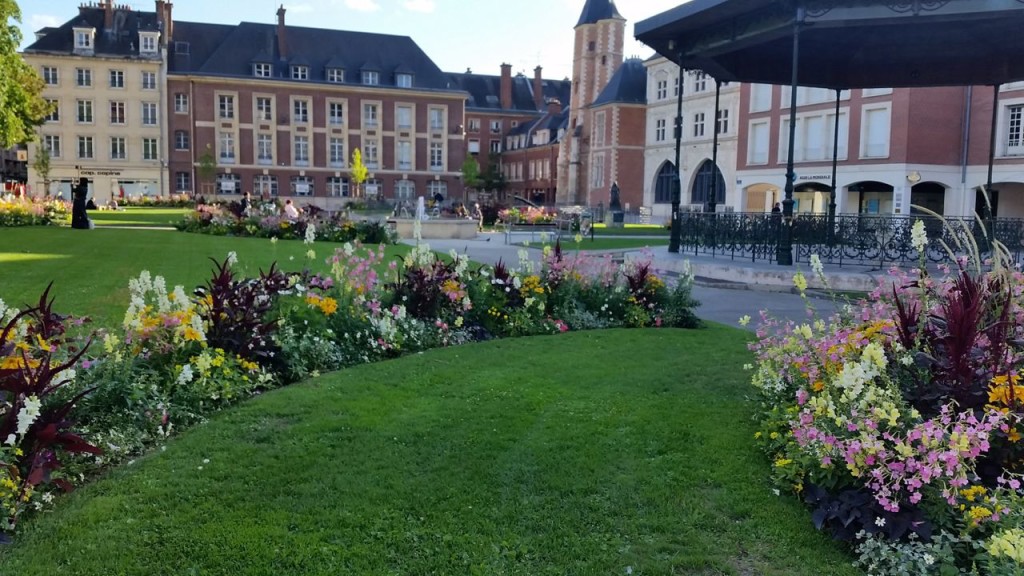 Even the train station has beautiful gardens!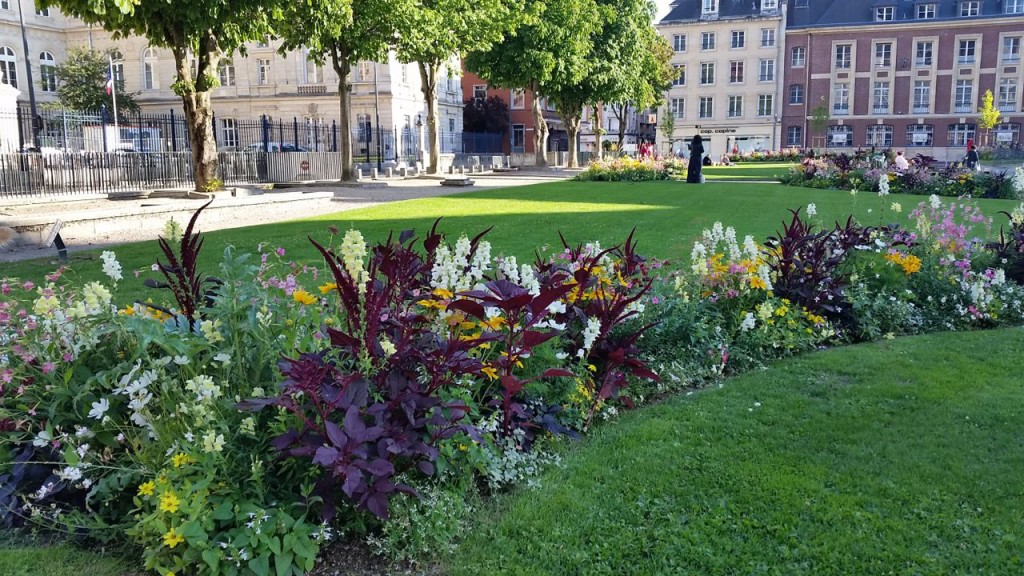 And next we are off to France!