July is always a fun month with the Fourth, cousins coming into town, the 24th, the heat, the watermelon, playing outside. Good times.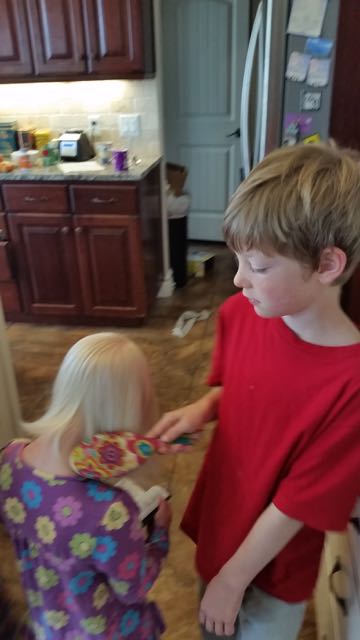 I love how much my kids love each other. Kimball was helping Daisy brush her hair, and that is no easy task. I know this from experience. Look at what a good job he did though!
I woke up one morning and said, "Hey Adam, let's have a July 4th party and invite all your family for a barbecue, and the kids and I will drive to Evanston to buy fireworks." There are so many things about that statement that are distinctly not me, but for some reason I did, so I loaded my six kids in the car, we drove 1.5 hours to Evanston, bought fireworks and drove 1.5 hours back. At one point Adam said, "You're not buying illegal fireworks are you?" OF COURSE I'm buying illegal fireworks. Why on earth would I drive 3 hours round trip with 6 kids 8 and younger? "I thought they must be cheaper." Well they are, but unless they were free, they couldn't be cheaper enough to make me do that. I drove there to bring home the bang, the boom and the wow. We ended up stopping halfway in Park City for lunch. All told this took just about all day. We left at 9 and got home around 3.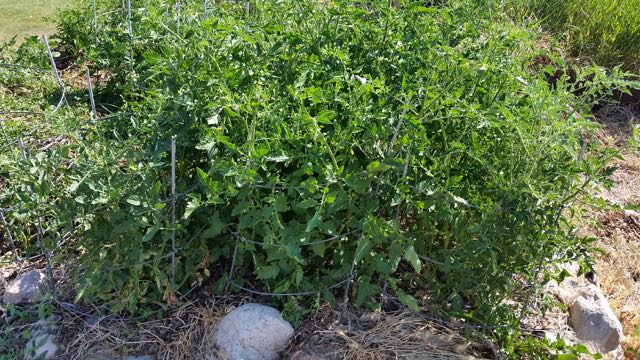 I had been keeping my tomatoes pruned to a single stem, but I neglected them for about a day, and this is what happened.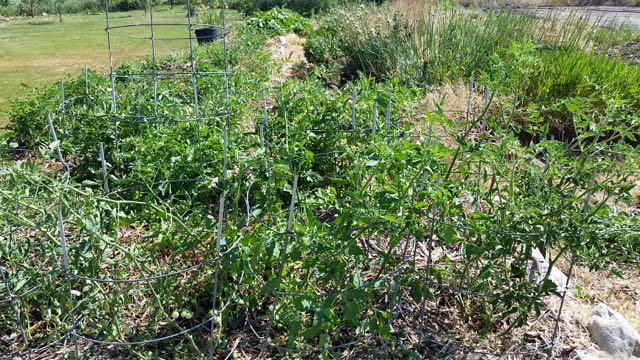 So I pruned them back to look like this. I love pruning. It's the gardening version of editing. I only started doing this last year, and I still make mistakes. I haven't killed a tomato plant yet, but I have unintentionally cut off an entire stem of just ripening tomatoes. Oops.
I also started taking back the garden. I've been so sick the last couple of years that the garden and walkways have been overtaken by grass. I gathered large cardboard boxes from the neighbors, put it down over the grass and shoveled wood chips on top. It took a week to finish the whole thing.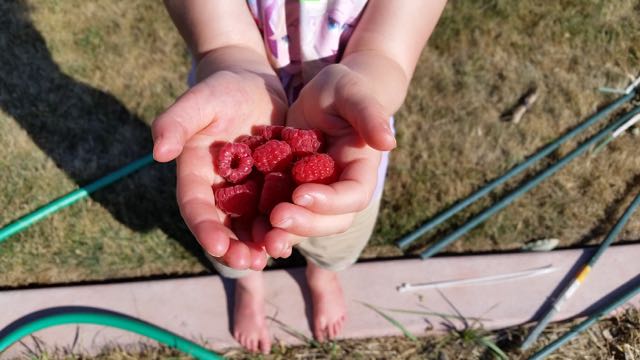 We also picked our first raspberries. I've never tasted sweeter or more delicious raspberries than we grow in our yard. They are even better than Bear Lake raspberries. I could be flogged for speaking such heresy, but I have others who will testify that I speak the truth. They are called Autumn Bliss, and if you are thinking of planting some, I highly recommend these. They start coming on slowly in early July and continue until the first hard freeze.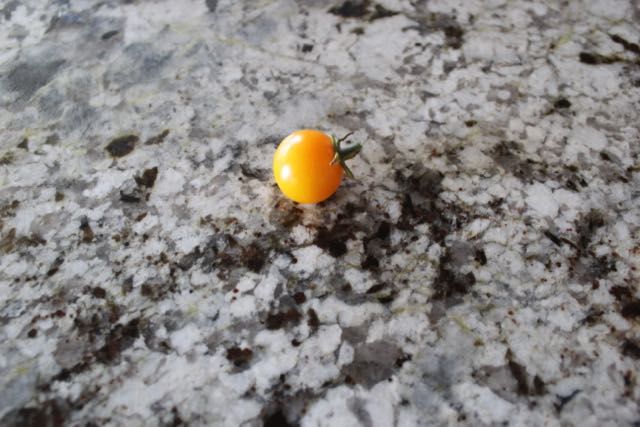 Here is my first tomato. It's always a happy, happy day when we get the first of these beauties.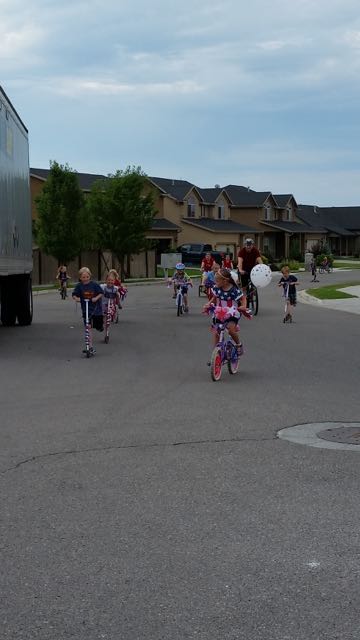 Our neighborhood has an annual tradition of a bike/scooter/wagon parade that ends at a neighbor's driveway where we have a pancake and scrambled egg breakfast. It's always a lot of fun. The kids all decorate their preferred mode of transportation.
Brinlee and Daisy carefully chose their festive outfits.
We were all decked out in red white and blue.
It's so fun to sit and picnic with the neighbors.
And eat ALL THE WATERMELON. Sorry neighbors. If it makes you feel better, they had the gastric side effects of such consumption as their punishment.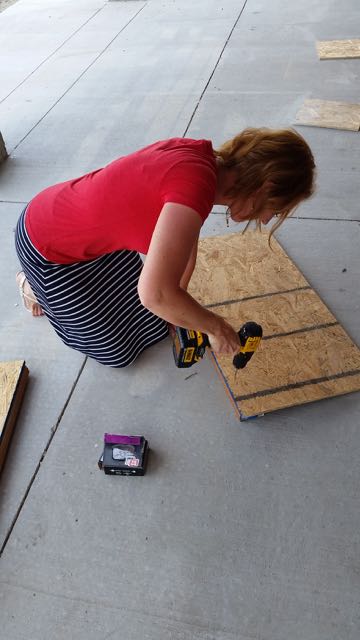 For our festivities that night, I decided to make a blast box to set the fireworks in and protect the crowd. You always hear horror stories about how one tips over and shoots the crowd.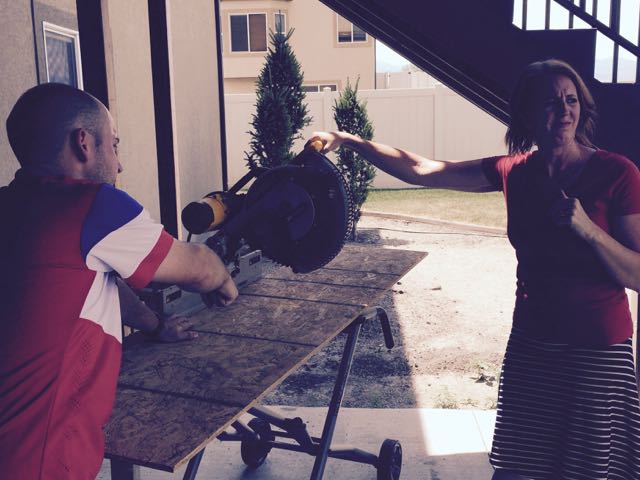 I enlisted the help of my super handy neighbor who has all the tools, like a power saw. Don't I look confident about keeping all of my fingers?
Well I did. I have them all still.
That night we had a barbeque. Adam and I made 60 hamburgers.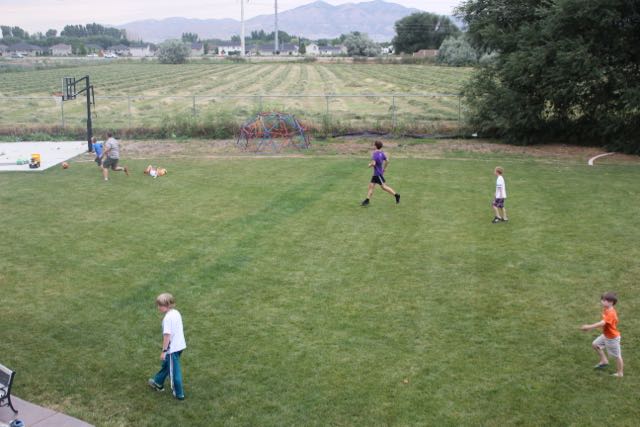 Everyone played soccer while dinner was on the grill.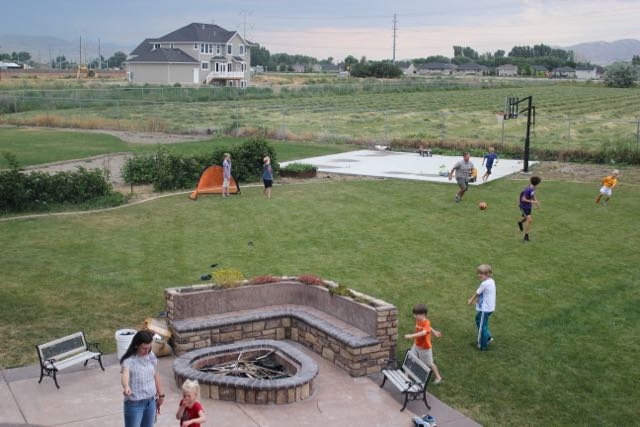 We love the large grassy area in our yard. We wanted the kids and their friends/family to be able to play and run around like this.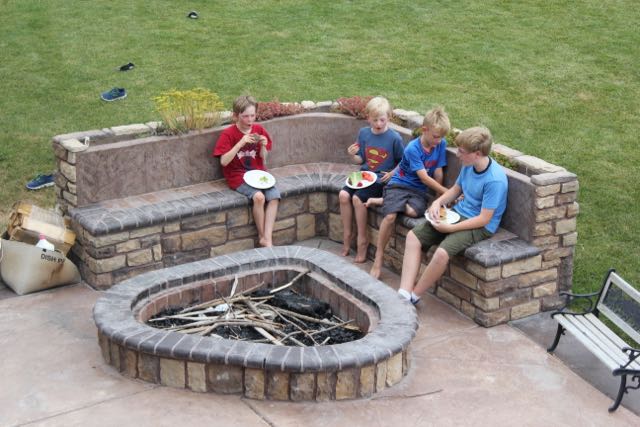 Group seating for the kids, who mostly ate first.
Dinner was a hit.
I love my huge island. LOVE IT. As big as it already was, expanding it by an extra food and adding an additional 5.5 sf of space was definitely the right thing to do.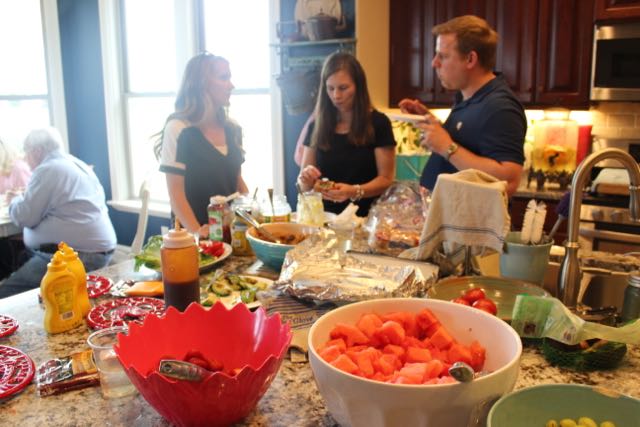 Serena and family were in town, which meant Adam's whole family came. It was really great to all be together.
We started out watching fireworks in the backyard. We can see the Thanksgiving Point display as well as all of the neighbors' fireworks from back there. People start surprisingly early.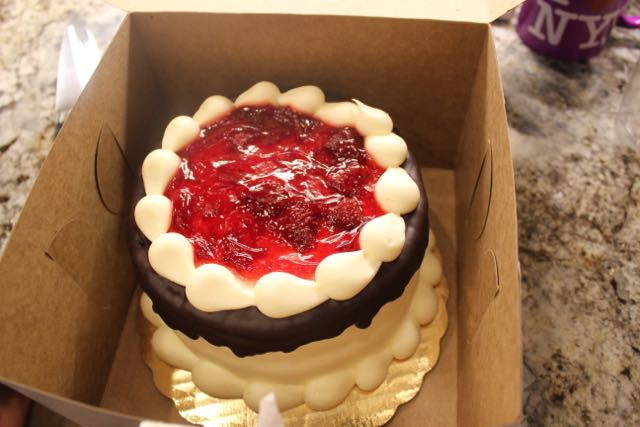 Adam made a special trip to downtown SLC to buy a delicious gluten free dairy free nut free cake from City Cakes for our family's dessert. It was tasty.
Georgia approves. We've bought a few of their cakes, and my favorite is the lemon raspberry.
Once it got dark I got out my lineup.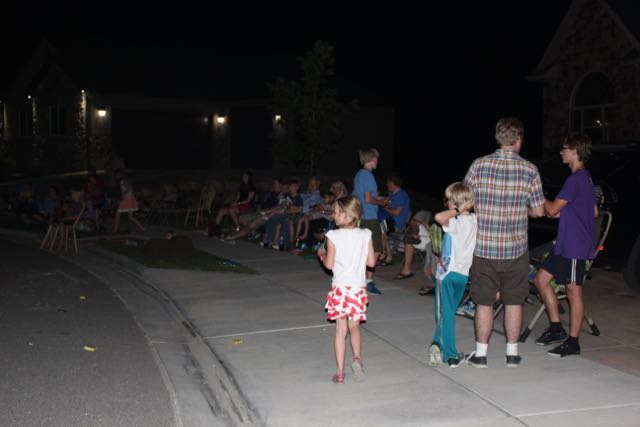 I created a playlist to go along with the fireworks, and let me tell you, it made everything so much more AWESOME.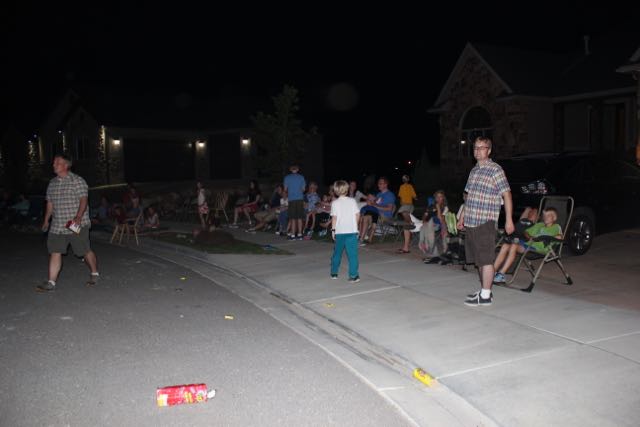 Our fabulous neighbors of the endless tool supply brought out their speakers and computer to run my playlist.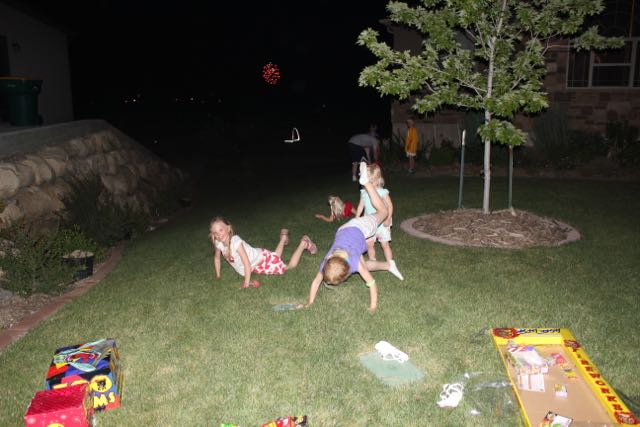 The kids were dancing and loving the fireworks.
This is the Fourth of July fireworks soundtrack I created. I'll be honest, I actually don't like some of these songs, but they go great with fireworks, and the music takes the whole experience to the next level. I'll continue to add to it as new music comes out:
Uprising – Muse
This is my fight song – Rachel Platten
I'm on top of the world – Imagine Dragons
Part of me – Katy Perry
Bright- Echosmith
Boom clap – Charli XCX
Singing in the Shower – Becky G
Party in the USA – Miley Cyrus
Song for someone – U2
Sparks Fly – Taylor Swift
Fireworks – Plain white tee
Birthday – Katy Perry
Sky full of stars – Coldplay
Forever – Chris brown
Burn –  Ellie Goulding
Dynamite – Taio Cruz clean edit
Call me maybe – Carly Rae Jepsen
Katy Perry – Firework
The blast box was a great idea because one of the large fireworks did tip over, but everyone was safe. We also stacked cinderblocks to give height to the fountains.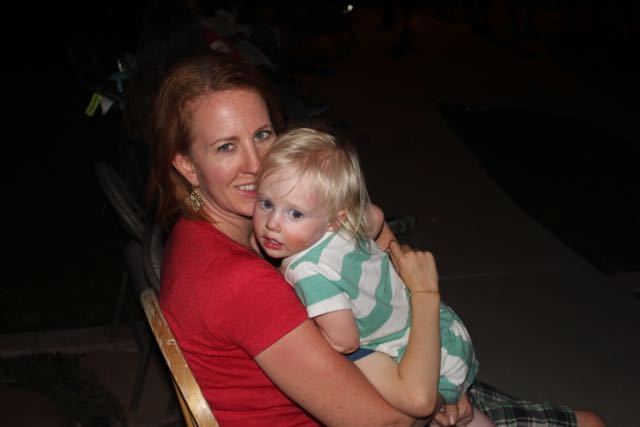 Poor tired baby G.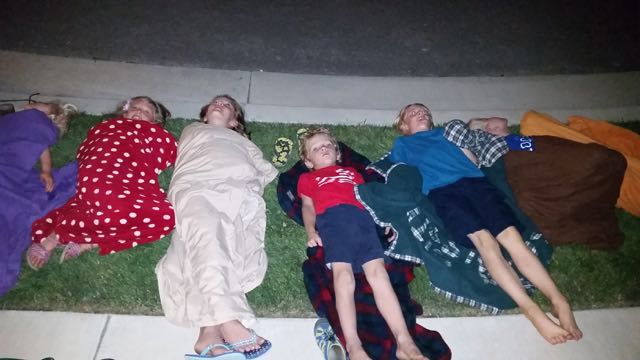 We had such a blast (see what I did there?) that we've decided to make it an annual tradition. It was really, really fun.
The boys got to go to Lego Camp for the first time where they built robotic Lego mobiles. They made a different one each day, though they didn't get to keep them. They had so much fun.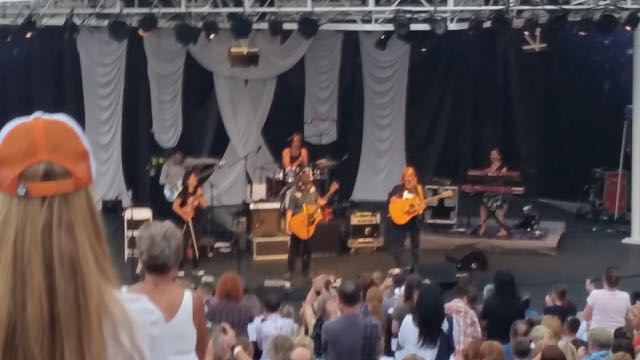 Adam took me to an Indigo Girls concert. They are my all time favorite group.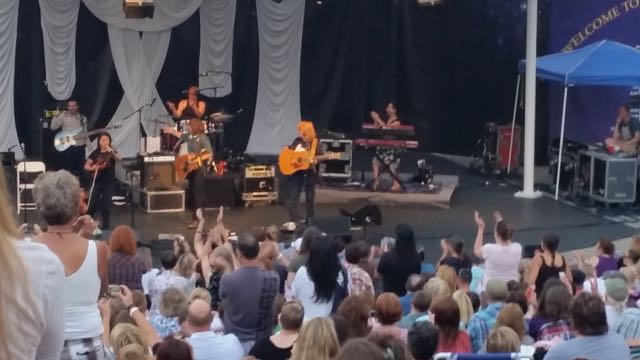 Technically we were supposed to be there with his sister and her husband, but their friends were late, blah, blah, blah, they sat somewhere else.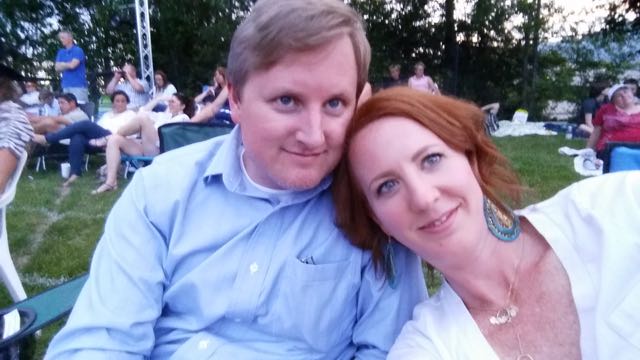 Such a romantic date. Unfortunately we sat next to an extremely rude group who not only didn't stand for the Star Spangled Banner and the Pledge of Allegiance, but they talked loudly through the whole thing. We were furious at their behavior.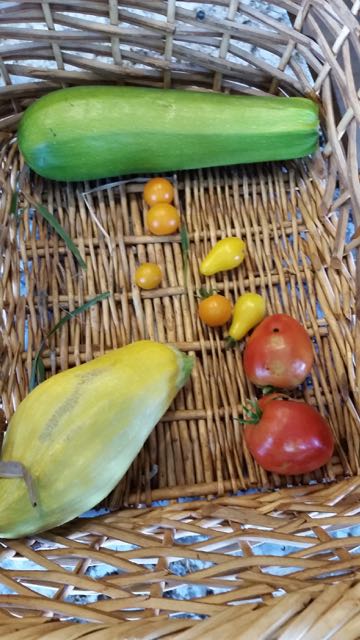 The produce started to roll in. The yellow squash cross pollinated with the spaghetti squash, which made it rock hard and inedible. I should have separated them more. Fortunately most of the zucchini grew true.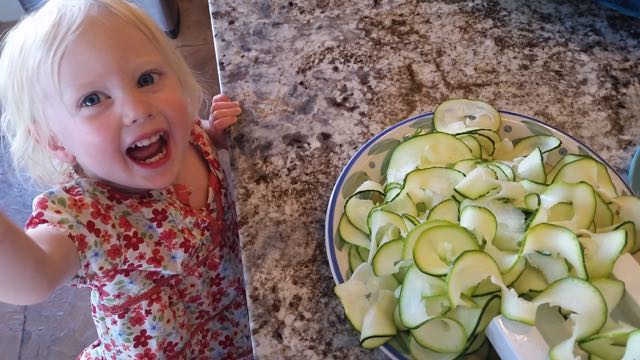 With the abundance of zucchini, we started to make zucchini noodles just about every night, which we all love. See how excited Georgia is?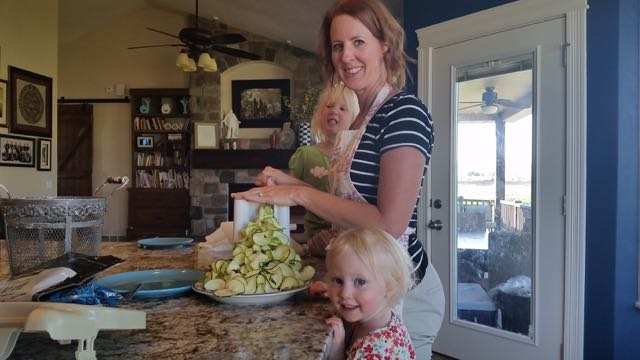 The kids love taking turns cranking the spiralizer. This isn't something I allow them to do on their own because the blades are definitely sharp enough to take off a finger, so I man the blades and they turn the handle.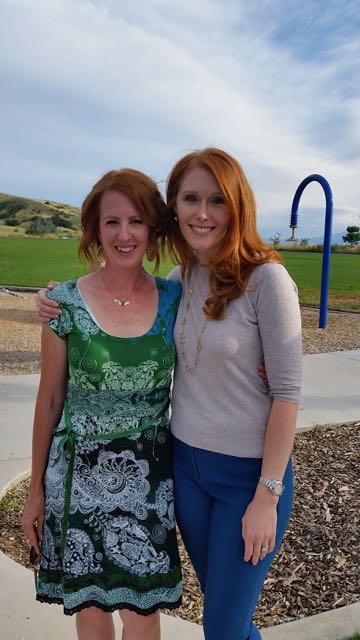 My best friend from college got married in June, and I went to wedding, and then she had a barbecue reception here, so I got to go to that too. We got there before her, and people kept congratulating me on my marriage. "You don't know me, but I was friends with your mother in high school. You and your husband are a lovely couple." Well thank you. "Congratulations on your wedding! You look beautiful. I'm your mother's cousin, but I haven't seen you since you were two! Haven't you grown up to be a beauty!" Is that right? Well thank you! If they had been handing out envelopes of money, I would have gone along with it. Our college professors did call us the evil twins for a reason.
Later, I was standing there when an older couple came up to Amanda and Matt (the real newlyweds) and said, "We know another couple who got married in their early thirties and had twins before their first anniversary." At this point my mouth opened without my permission (as it tends to do when I'm surprised) and said, "Is that supposed to be some kind of verbal birth control? Why on earth would you say such a thing to a newlywed couple?" They looked as stunned as they should have for saying such a ridiculous thing, turned around and walked away. At this point Amanda and Matt were laughing so hard, and Amanda said, "That is why I've always loved you. You always say best things, but you do it so politely and with a smile on your face and people don't know what to do with that." I try to help it, but I'm not always successful.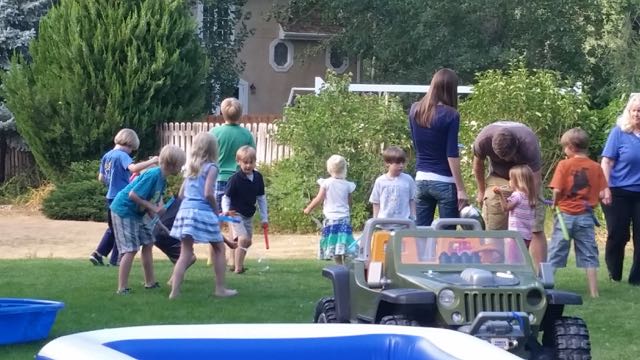 With Serena's family in town, we had another party at Grandma's house for some cousin fun.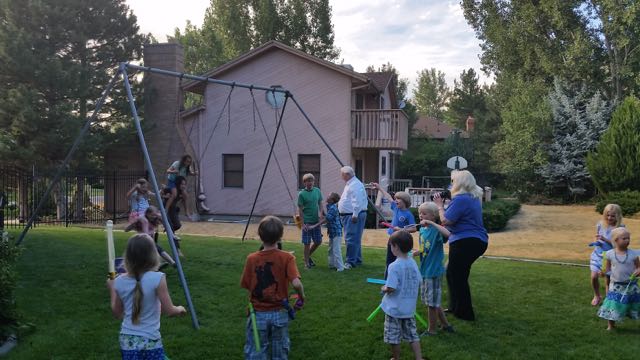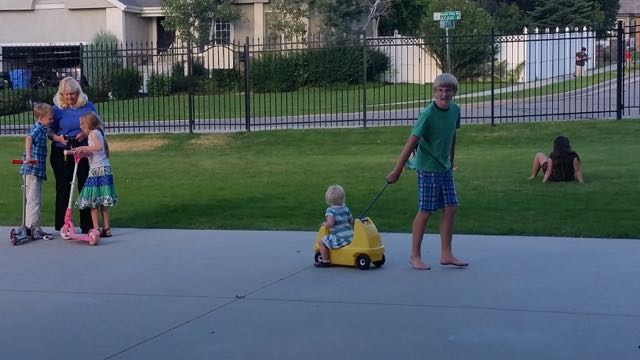 How sweet is it that Caleb, who is 13, was playing with Georgia and pulling her around? I've said it before, but Georgia doesn't make friends, she makes slaves. She's just so adorable! And Caleb is such a good kid.
I remember when we had this roller coaster. Seems like they never quite outgrow it.
It's even better as a group.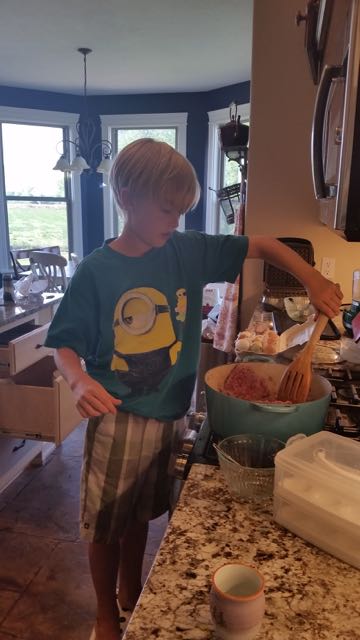 Sawyer learned how to make tacos. He is really enjoying learning to cook, and I'm enjoying teaching him. Brinlee and Kimball are also learning, but Sawyer is the most interested.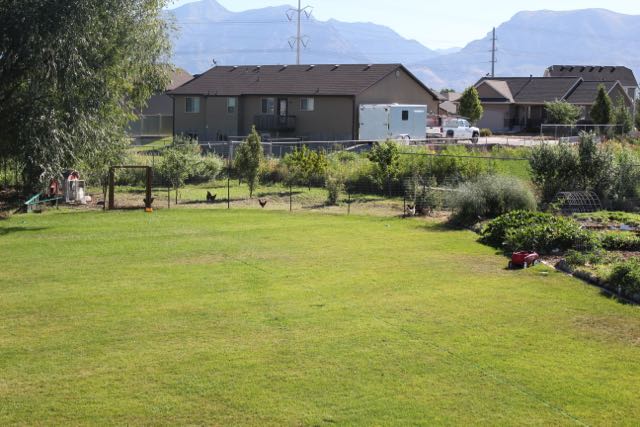 Adam and I took action on a plan I've been brewing for a year or so. We fenced in the orchard and put the chickens back there. While I built the old chicken yard myself, I needed help with this one because I bought a heavier gauge wire, and I literally could not unroll it without help, much less unroll, pull tight and secure. I pounded all the t-posts in advance and bought all the supplies. I love the new location. I love being able to see them out there.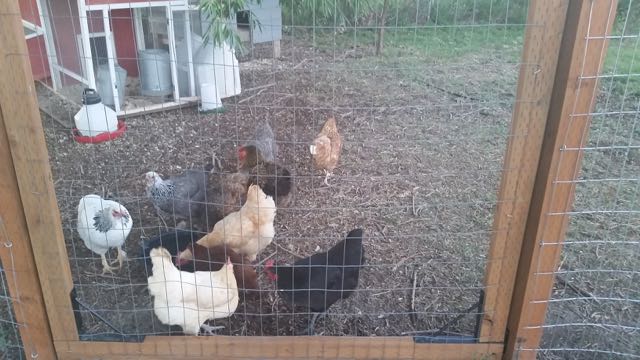 He also helped me build the gate, because that is not one of my skills, though it is something I want to learn. The whole purpose of moving them was so the chickens could be the gardeners. The orchard is full of thistles and bindweed, the two most hated plants for a gardener. There was also grass. Even though I had put down a bunch of landscape fabric and about 18 inches of wood chips, the weeds blow in from the farm fields around us. They weren't coming from underneath, they were growing on top. I wanted the chickens to eat the weeds and/or scratch them up. Also, the bugs that infest fruit trees overwinter and lay their eggs at the base of the trees, so they are also supposed to be my pest control, since I don't spray. No one has discovered an organic way to keep cherries worm free, but I'm hoping this is the answer. I won't know until next spring. Lastly I want them to fertilize and compost as they poop and scratch and dig. So far they are doing a killer job with the weeds. See this area? It looks newly mulched, when before it looked like a prickly lawn that we were weed whacking once a week to keep any of it from going to seed.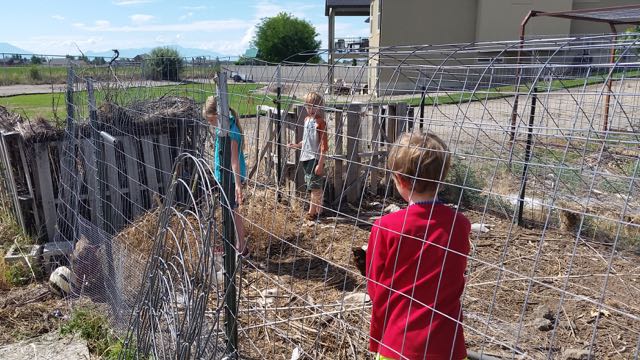 Once the fence was up, the kids and I had a little chicken rodeo to move them to their new place.
While we were at it we decided to clip their wings. Important tip, only clip the feathers on one wing because it keeps them lopsided. If you clip both sides, they can still fly some. Here you can see where the feathers are starting to grow back from the last time. And in the next picture where I have clipped them again.
Once they were clipped, the kids delivered them to their new place. More room, more bugs and plants, more fun. Brinlee is my number one chicken catcher. She can catch two at a time. The chickens were using that overhanging tree branch to get out, so any time we had escapees, I would get Brinlee, even if she was in bed. She loves catching chickens.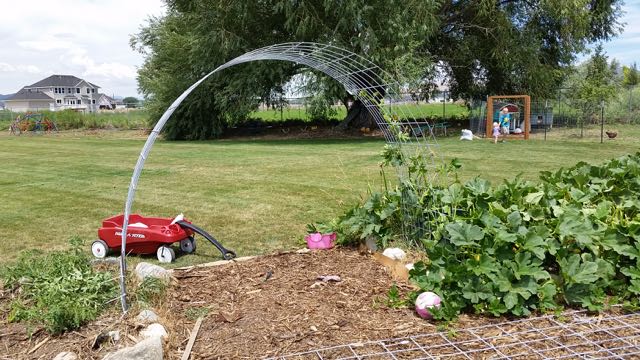 Since I was also on a garden renovation project of cleaning up the walkways, I decided to take care of another long-overdue project, installing these hog panels as arbors for the pumpkins, green beans, squash, cucumbers, any vining, climbing thing to climb.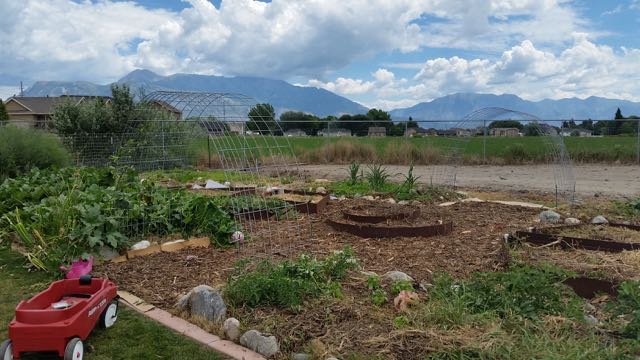 I added two with the entrances opening east/west so they wouldn't cast a shadow on the beds. The kids helped me do it. They are such good helpers.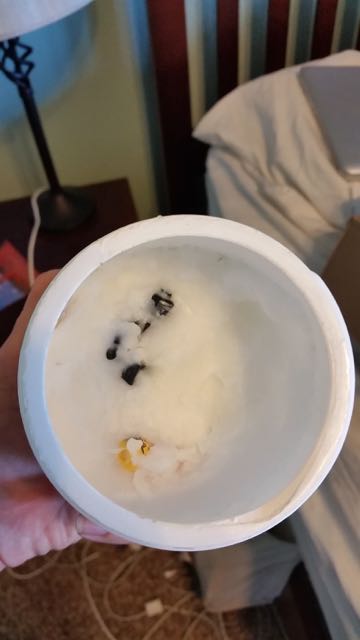 I keep this jar of coconut oil in my room for washing my face, oil pulling, etc., and one day I opened it up to find a couple of Lego men buried in there. I'm not sure what crime they committed to deserve such a sentence, but there they are.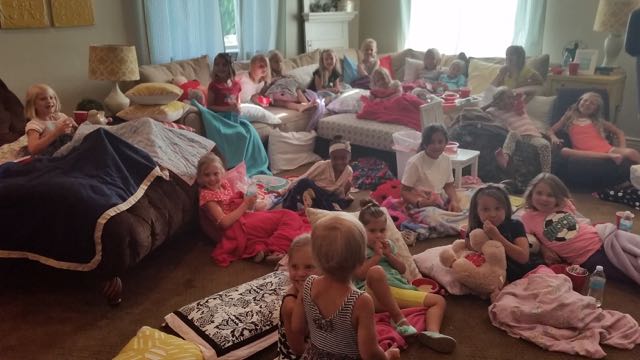 Brinlee was invited to a movie night for our neighbor's birthday. This is most of the girls in the neighborhood her age.
How sweet is this? Georgia and Sadie hugging, whether Sadie wants to or not. Georgia isn't usually much of a hugger, which makes this even sweeter! Georgia is exactly a year older, but they are nearly the same size. To be clear, Sadie is the normal sized one.
Since Leo's family was in town to visit his in-laws, we got together at my house for another party. I told you, July is all fun and parties. Daisy loves her Uncle Leo.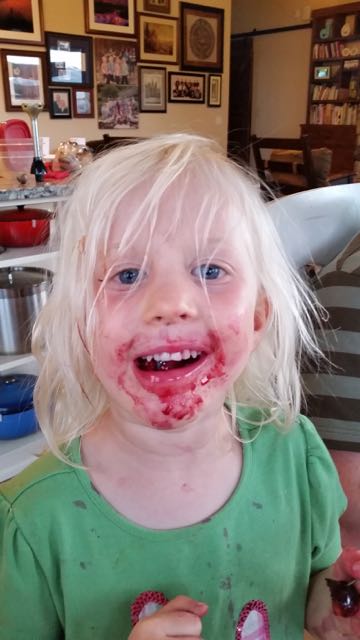 Clearly Daisy has been into the strawberry patch.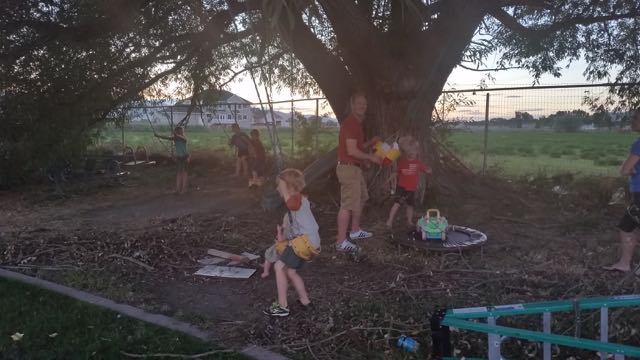 Mark and Cheri's family came too, and everyone had fun playing.
We even got a gorgeous rainbow that evening!
Uncle Leo was giving the boys some wrestling lessons, specifically Sawyer. He is the same height as Kimball, outweighs him by five pounds, but ever since they were crawling, Sawyer has had this mental block that Kimball can beat him every time. He has the physical advantage, and Leo was trying to teach him to use it. In true form, Kimball was cheering him on, "Come on Sawyer! You can pin me!"
I really miss my family. That has been the hardest part about living here, even five years later. We don't see much of Mark and Cheri, and with everyone else living so far away, it's hard to get any time together, so I really value these parties when Leo's family comes to town.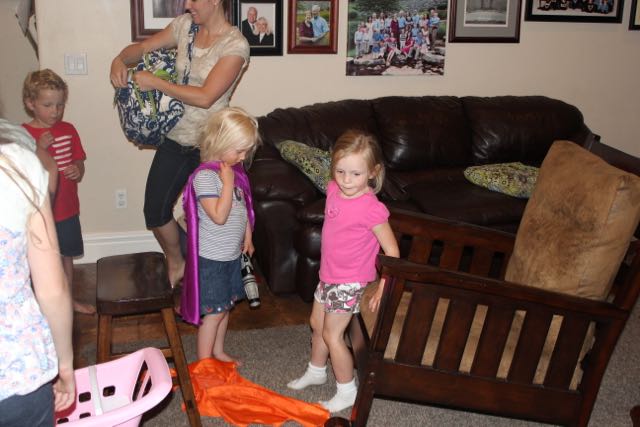 Daisy and Savannah discovered each other during our trip to Tennessee last month, so they had a lot of fun this time too.