I haven't been to New York City in four years. Adam is there all the time for work, but never does any of the fun stuff. He goes and comes back as fast as he can so he can be home with us. A month ago Adam asked if I wanted to go for a long weekend with our former neighbors/Adam's co-worker. When we bought this house, we had no idea Chad and Julie lived down the street. Chad and Adam worked together, and at the time, the company only had 11 employees. Crazy coincidence, right? We didn't live here too long before they transferred to San Francisco, where they are both from.
We flew in late Thursday night. At 11:30, you don't expect to sit outside the Queens tunnel not moving for two hours. We were so tired. Even when we got through the tunnel we never saw what the holdup was. Reminds me of Atlanta, in all the bad ways.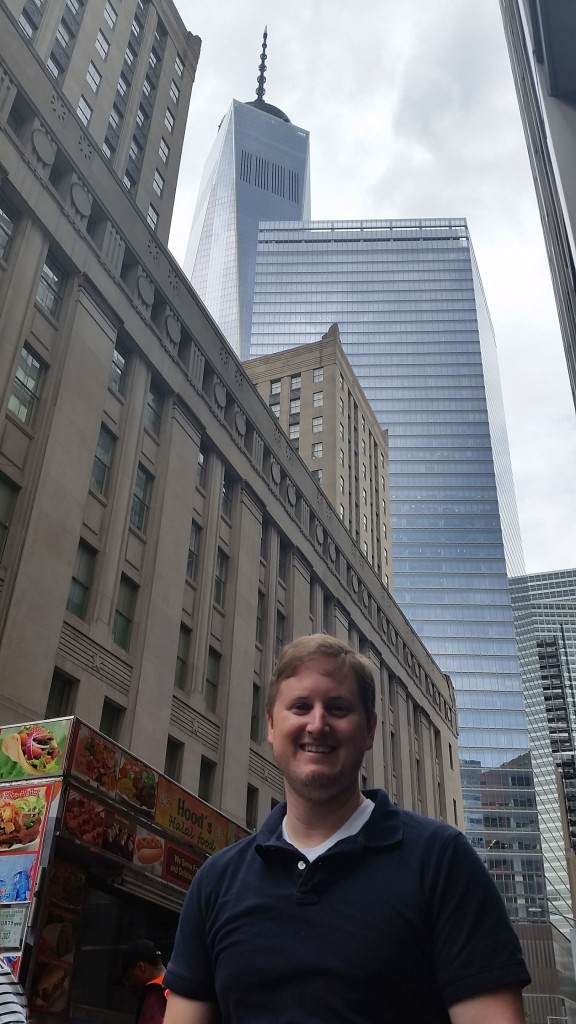 Friday morning our first stop was the Freedom Tower (well, a bagel with cream cheese, smoked salmon, tomatoes and onions was first) to go up to the new observation deck called the One World Observatory. It only opened a few weeks ago.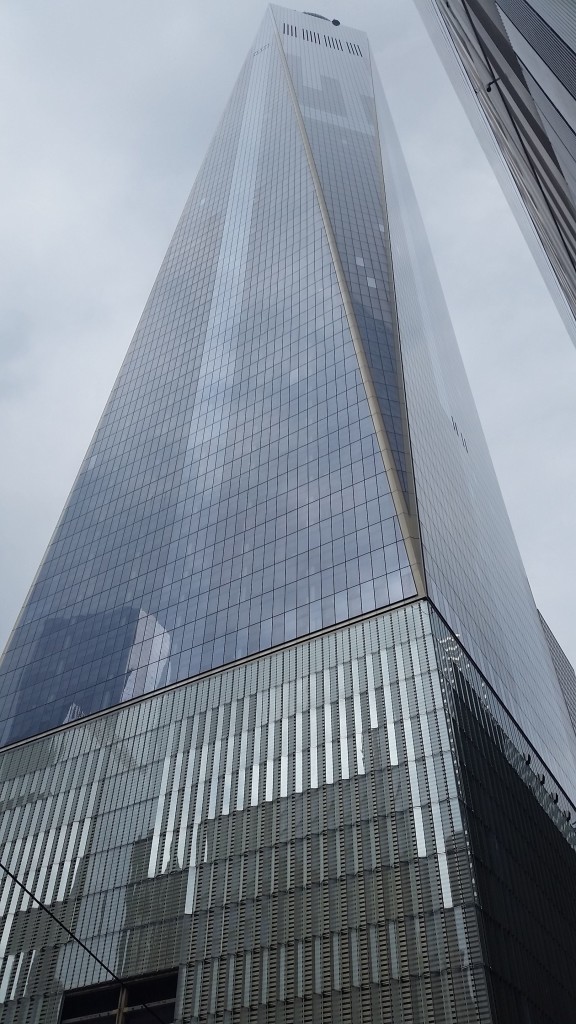 The ride up in the elevator was awesome because three walls were screens, and as you go up it shows a time lapse of Manhattan from when it was discovered by Europeans to now. I found this video of it on YouTube. We had no idea this was anything more than an ordinary elevator ride, and once it started I didn't want to peel my eyes away to pull out a camera.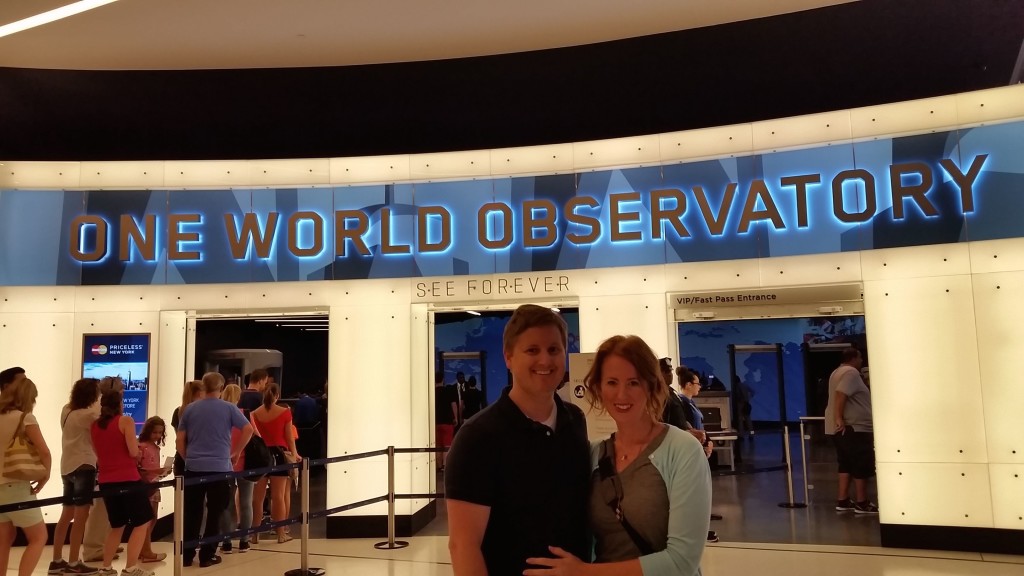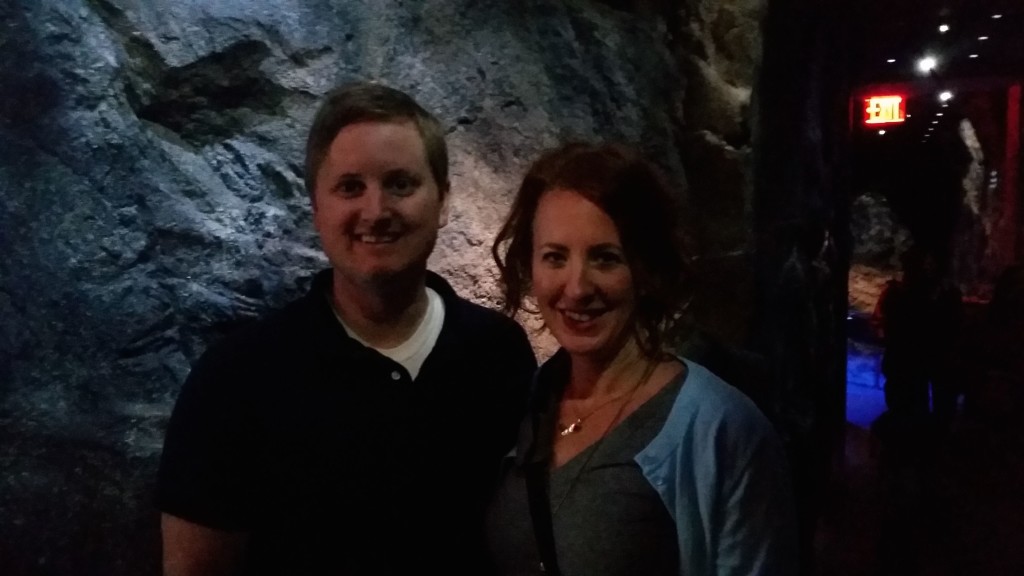 To go up, first you must go down to the very bottom where the building is built into the bedrock that forms much of Manhattan.
The view from the top is amazing.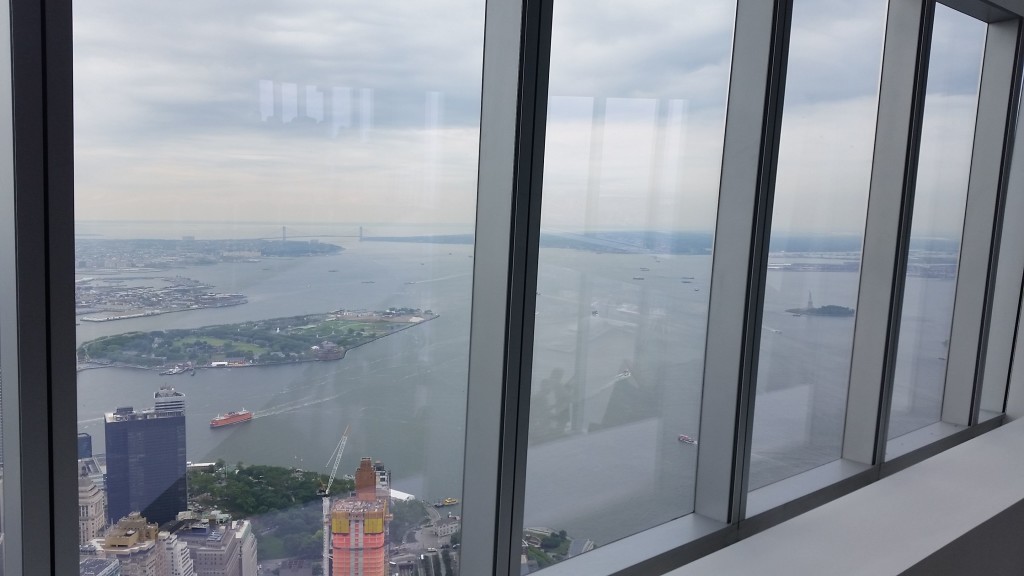 One thing made me uncomfortable, though. The videos and plaques everywhere kept talking about how strong this building is and that it was built to withstand so much. Let's not dare anyone, please. It is way too Titanic for my comfort. Everything is destructible, even Superman. It is an amazing building with the latest technology and everything, but I don't want to see its strength tested. Ever.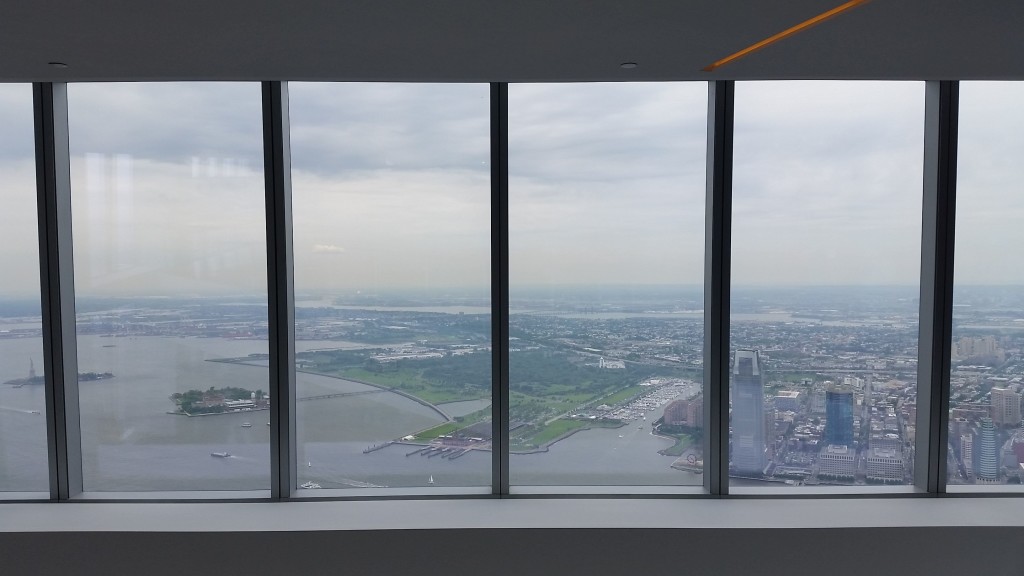 New York is such a beautiful city, and seeing this mass of modern environment built right up to the very edge of the untamable force of water is so striking.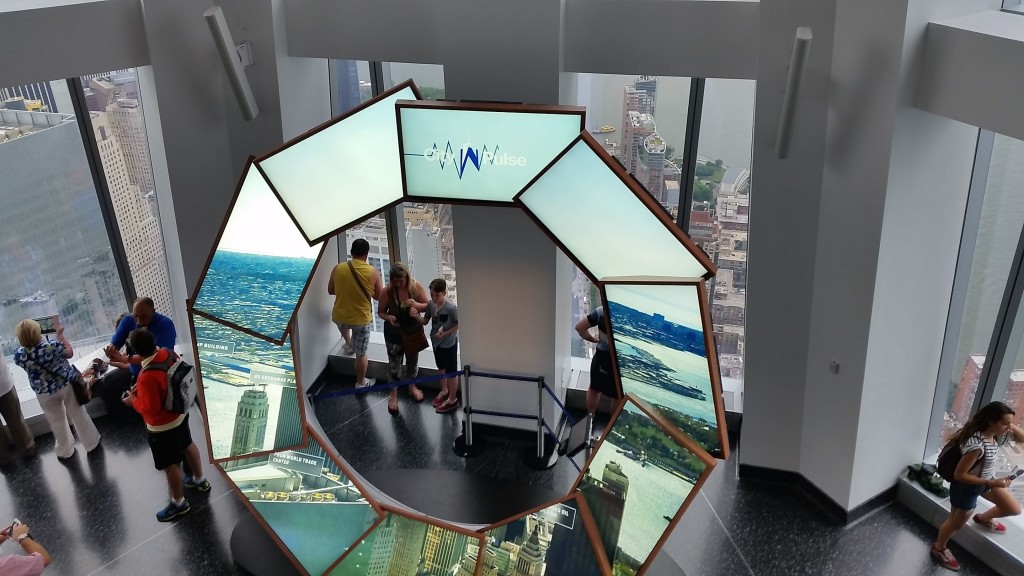 This screen rotates through many different sites of interest for tourists. There is one on the opposite side as well.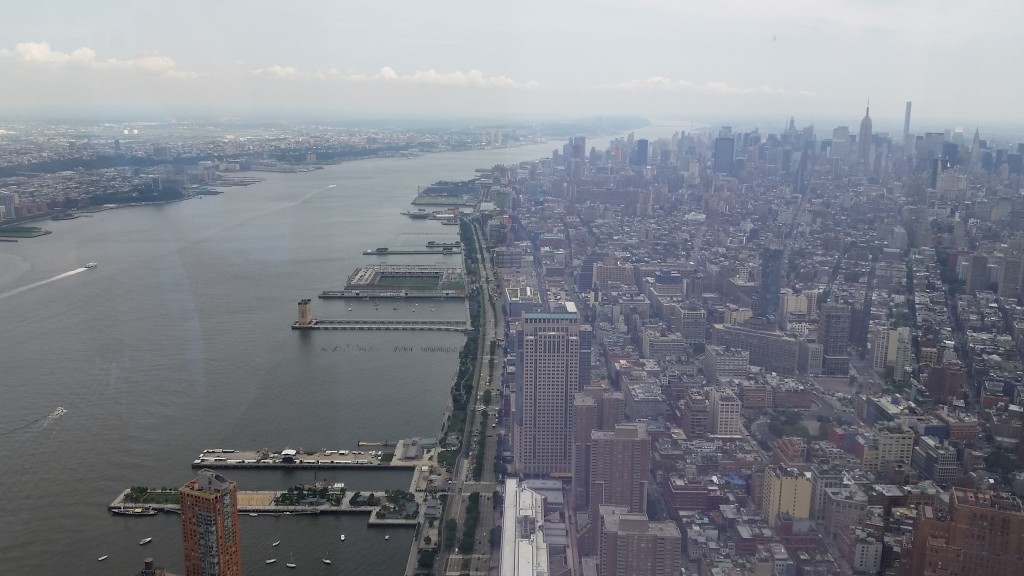 The observation deck is completely enclosed within the building, unlike the Rockefeller Center, so no matter the weather, you can enjoy the view cool and dry. No promises on what you will be able to see in various weather conditions, but no concerns about getting wet or wind whipped or freezing your tail off.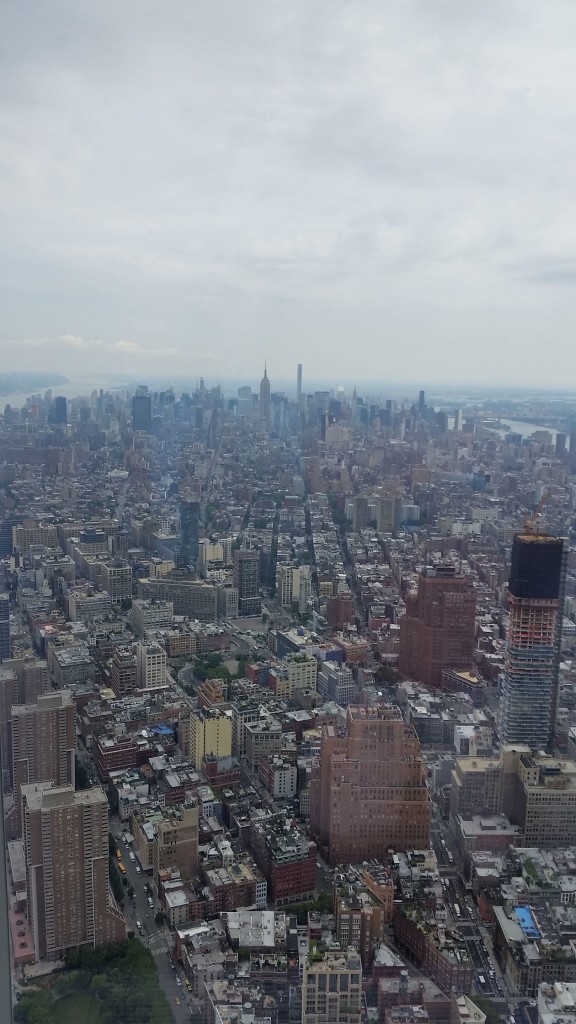 Lucky for us it was a beautiful day.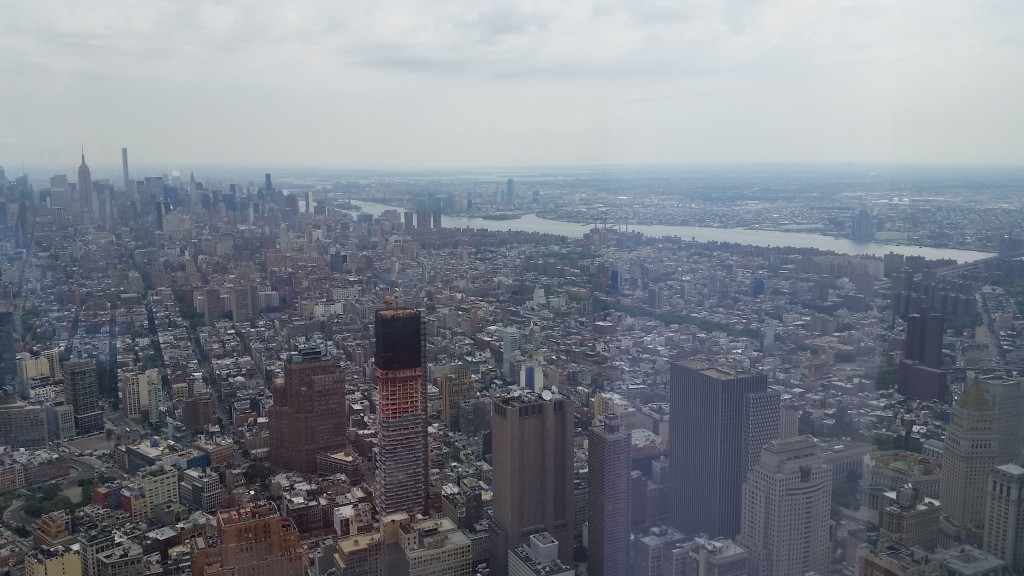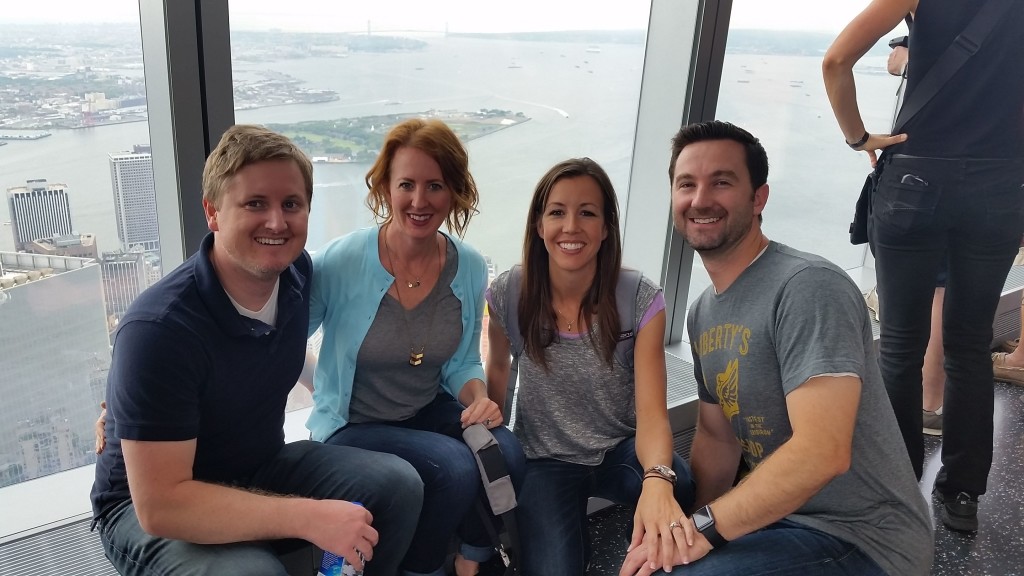 Here is the foursome for the weekend. I guess we all got the memo about wearing blue and gray.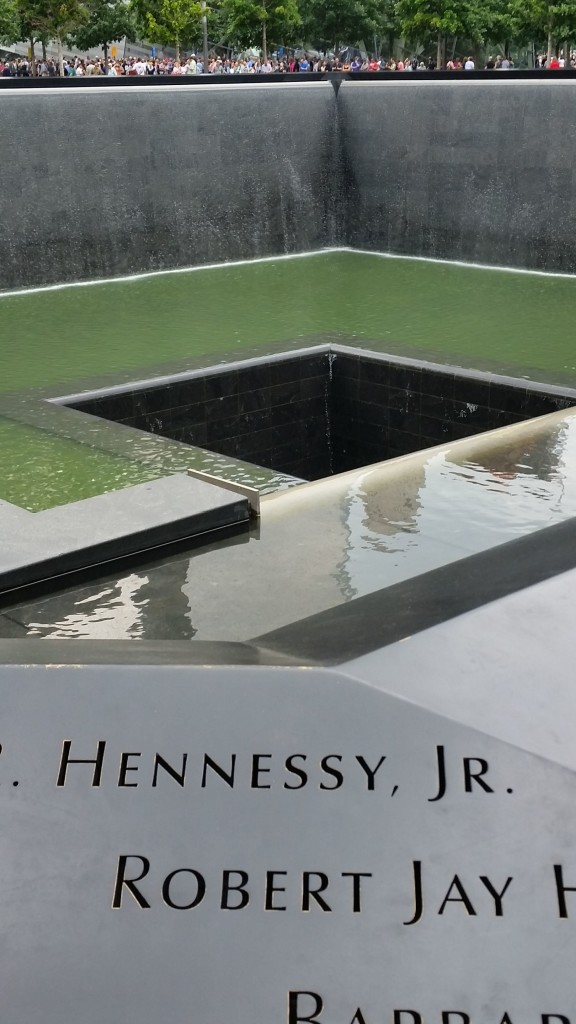 After the observatory we went down and walked around the 9/11 memorial.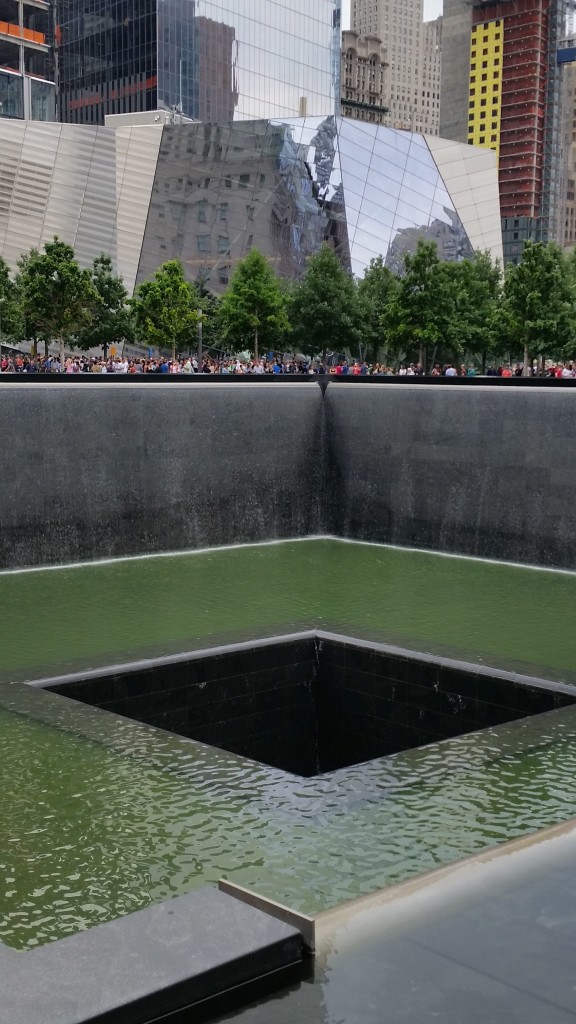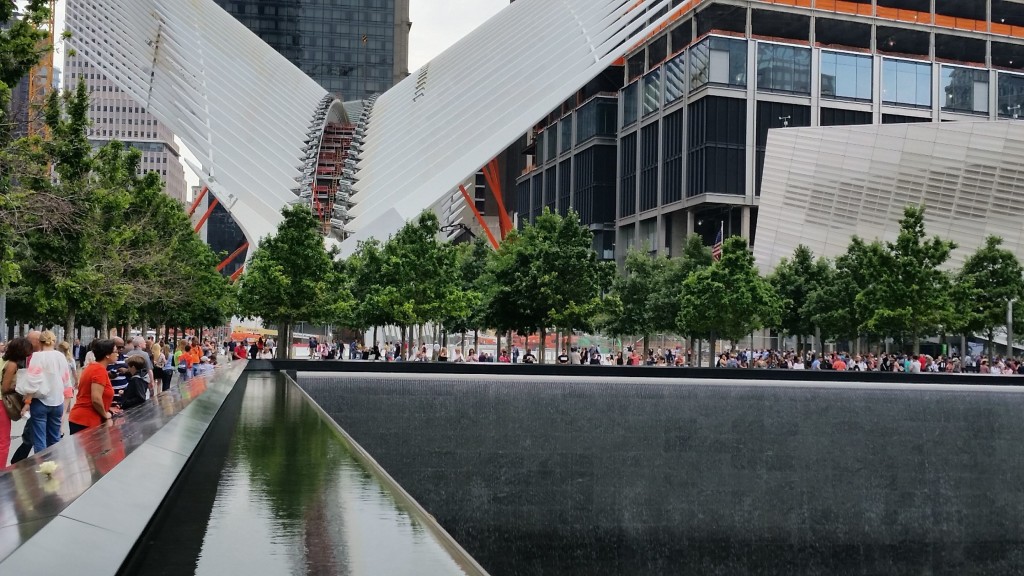 Not sure what that is (or the beginnings of?), but it looks like a dragon ready to take flight. My kids are influencing me, can you tell?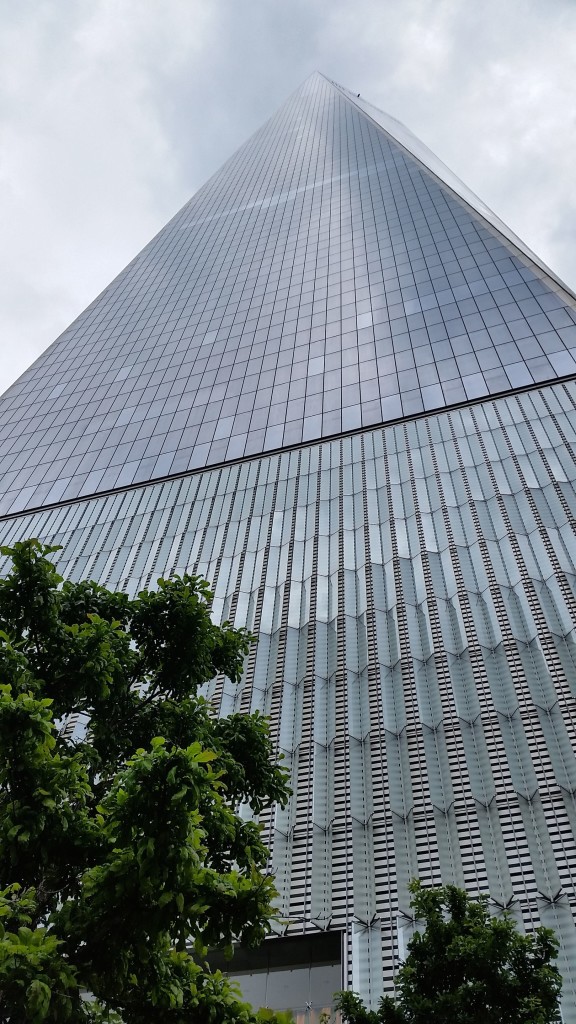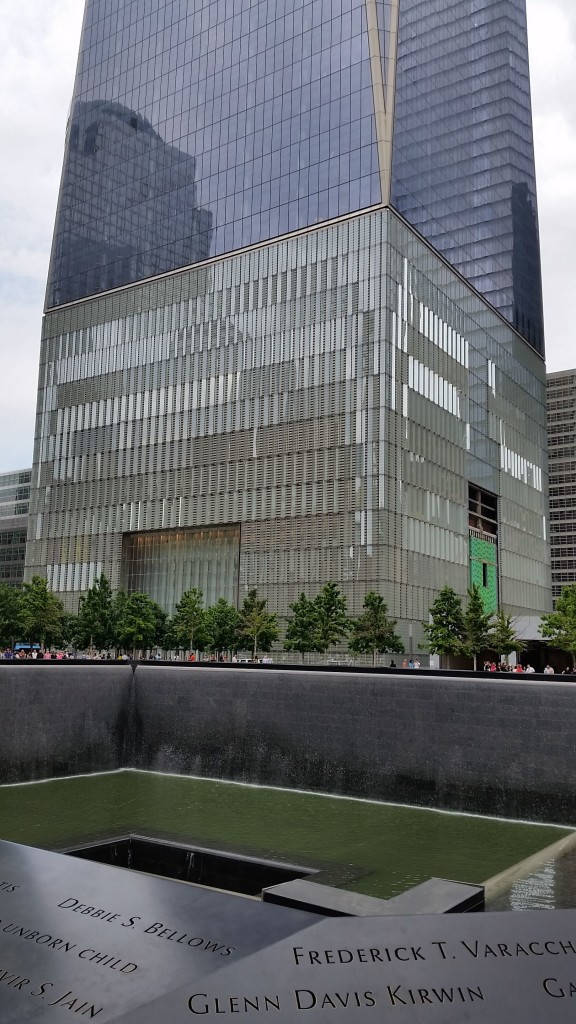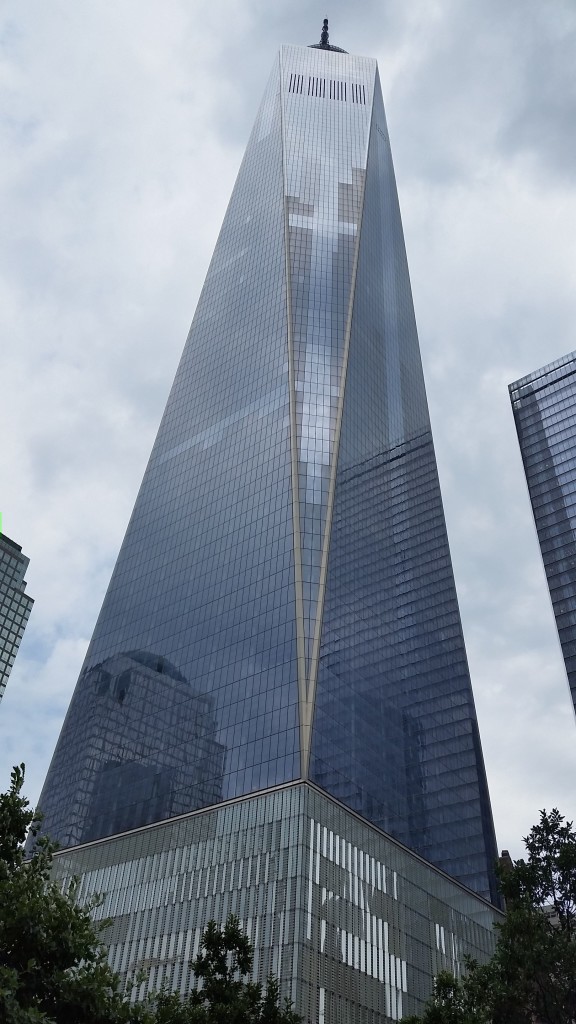 Next stop was the 9/11 Memorial Museum.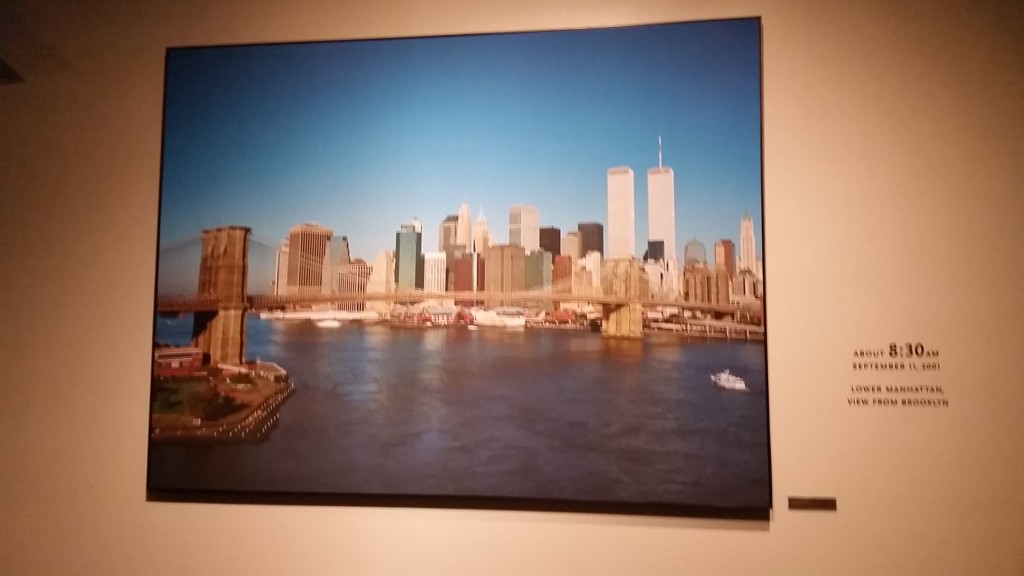 You have to be emotionally prepared to do this one. It's hard. That day was so tragic, the kind you will remember minute details of in crisp detail for the rest of your life.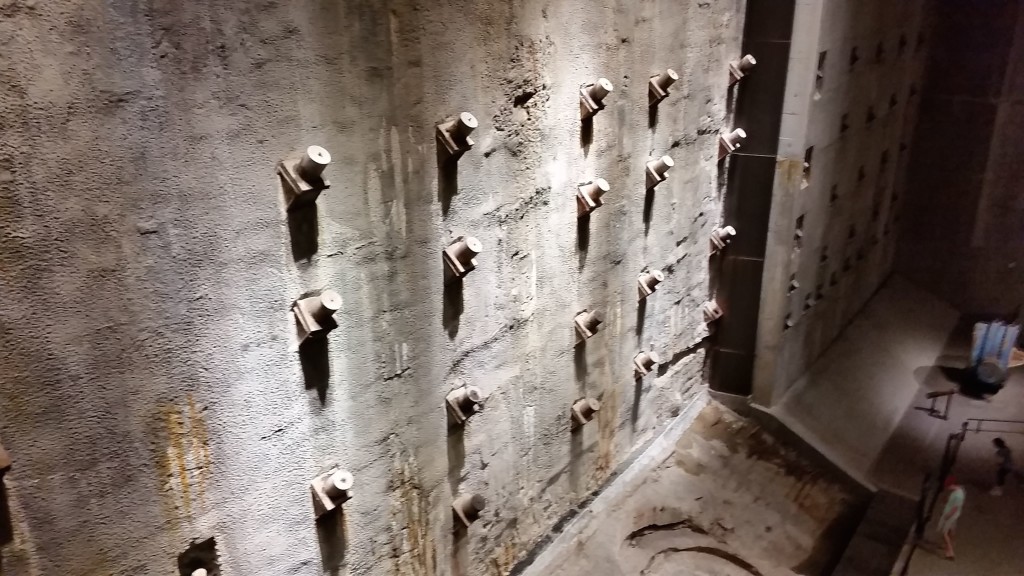 Where you were when you heard, what the weather was like, everything you did (or didn't do) that day.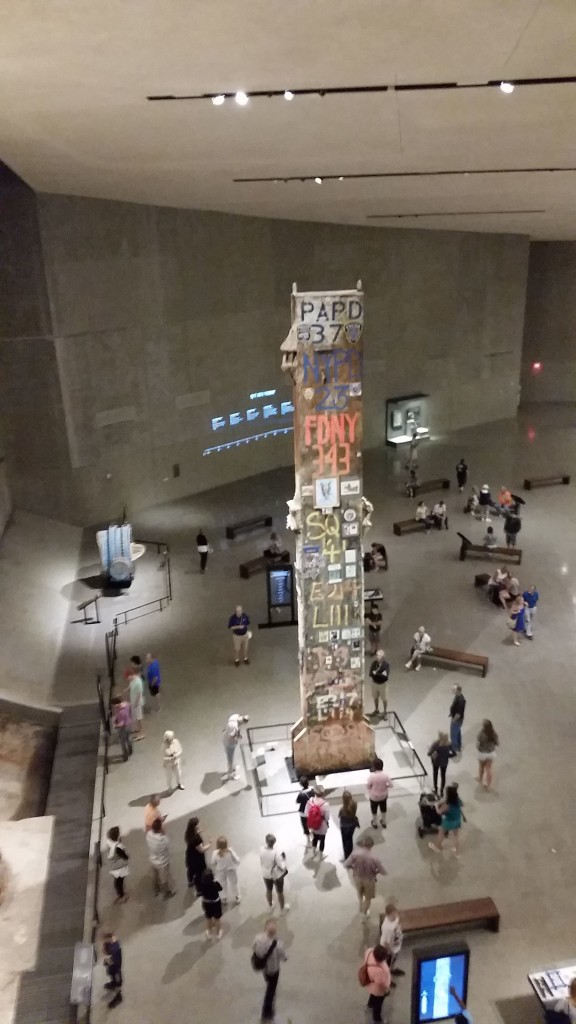 What the air felt like, how the day smelled, who you were with, who you were missing.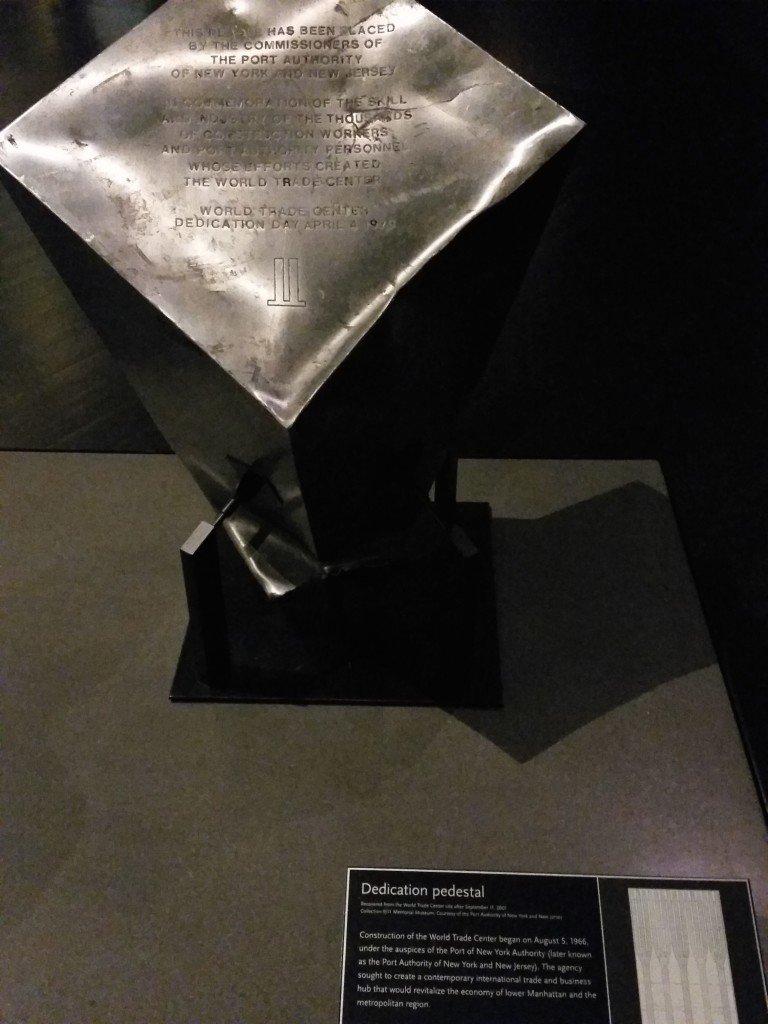 Reliving it is not easy, even though most of us only lived it through television the first time.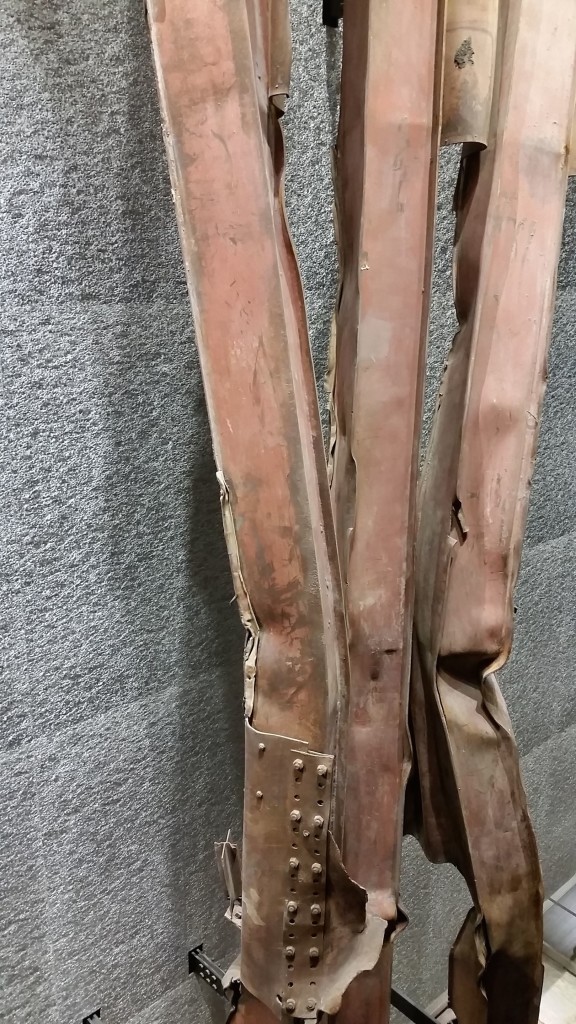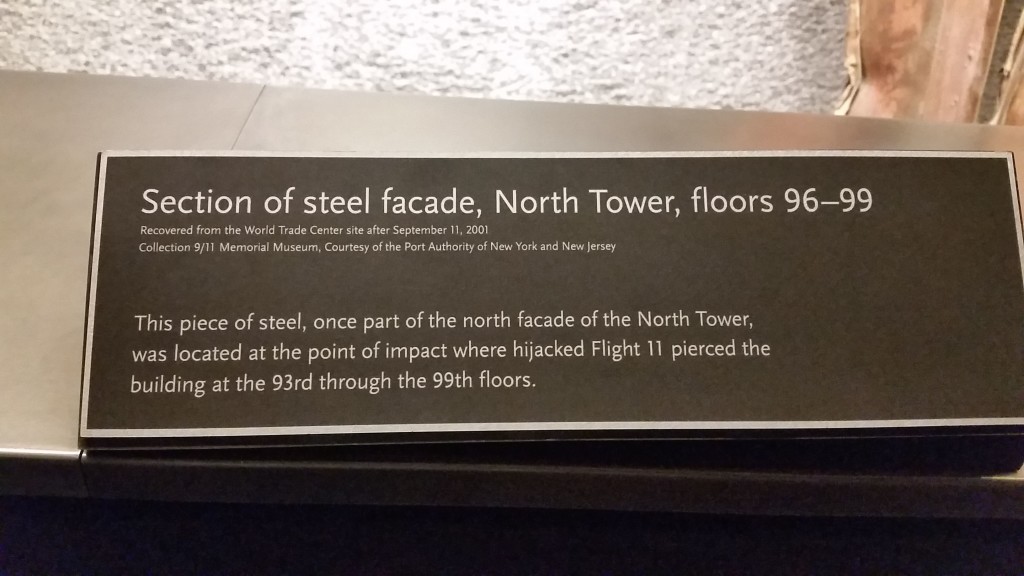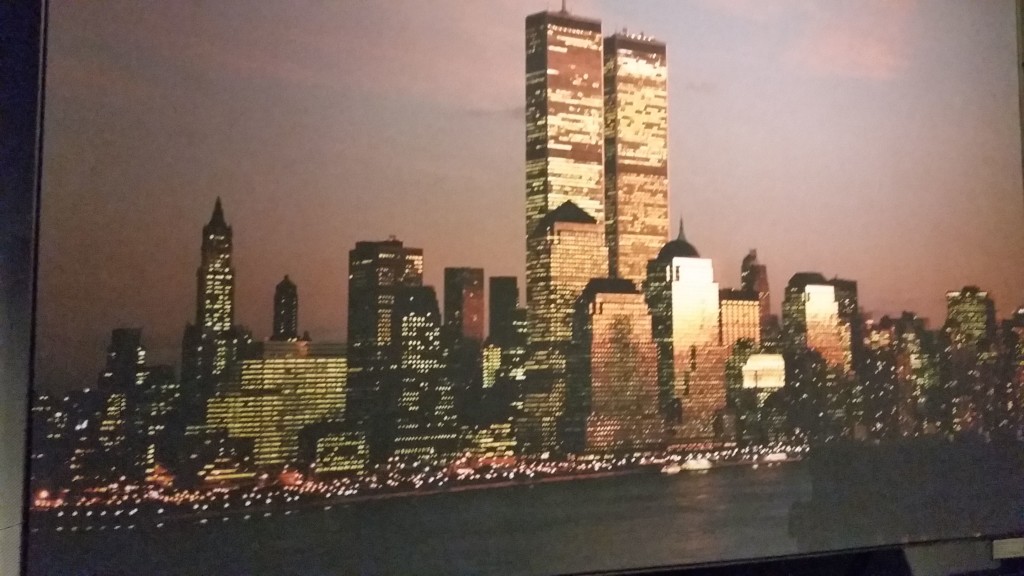 These two pictures are heart-wrenching.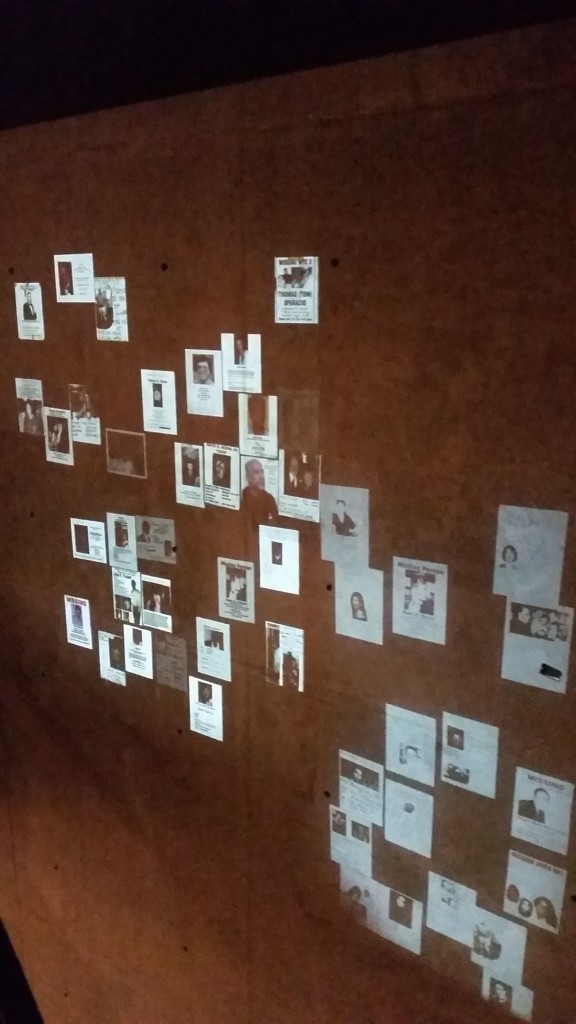 Of all the things we saw there, two things were the most grounding of the reality of what happened. This display of the missing persons posters that covered the city in the aftermath was the first. I couldn't hold back the tears with this one.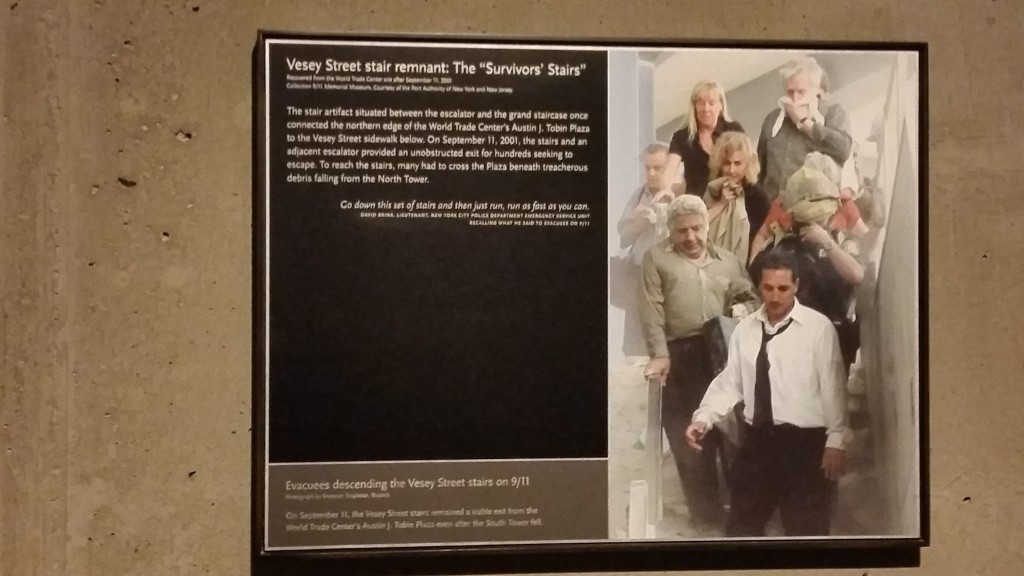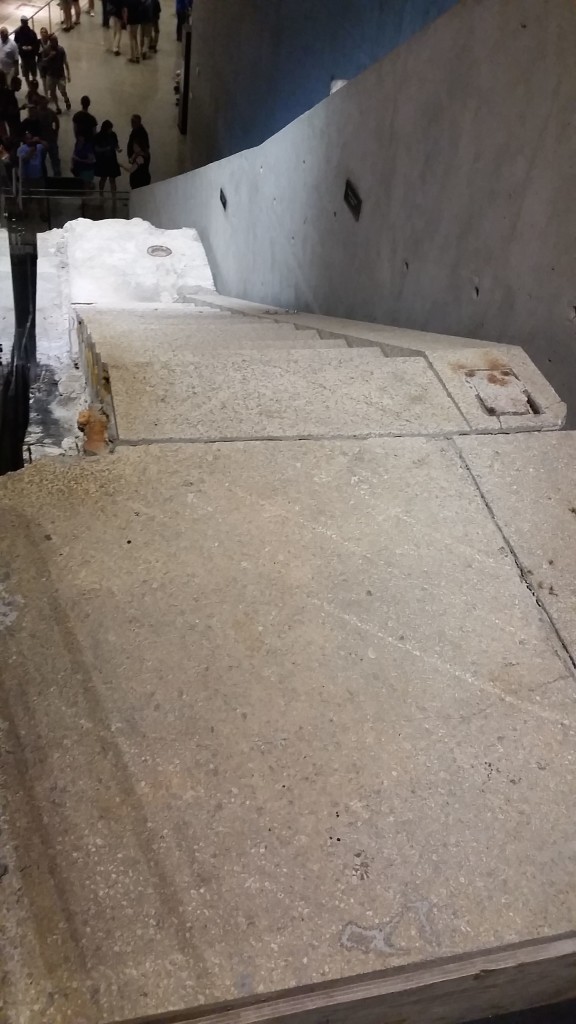 "Go down this set of stairs and then just run, run as fast as you can." – David Brink, Lieutenant New York City Police Department to evacuees on the Vesey Street Staircase.
This is a portion of the actual staircase they ran down. It was a clear escape path for those who could get to it. This was the second thing that really made me emotional.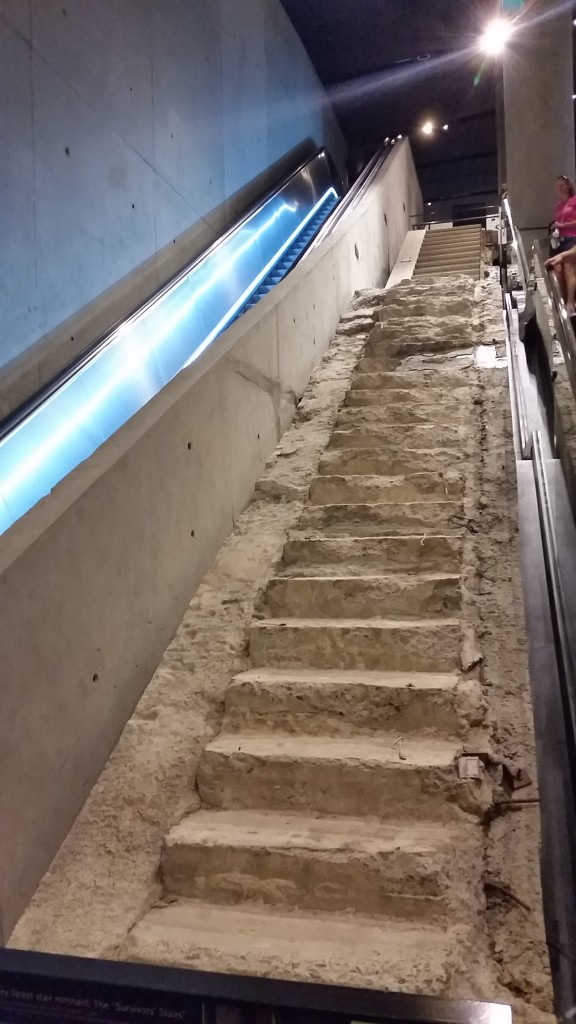 They're called the Survivor's Stairs.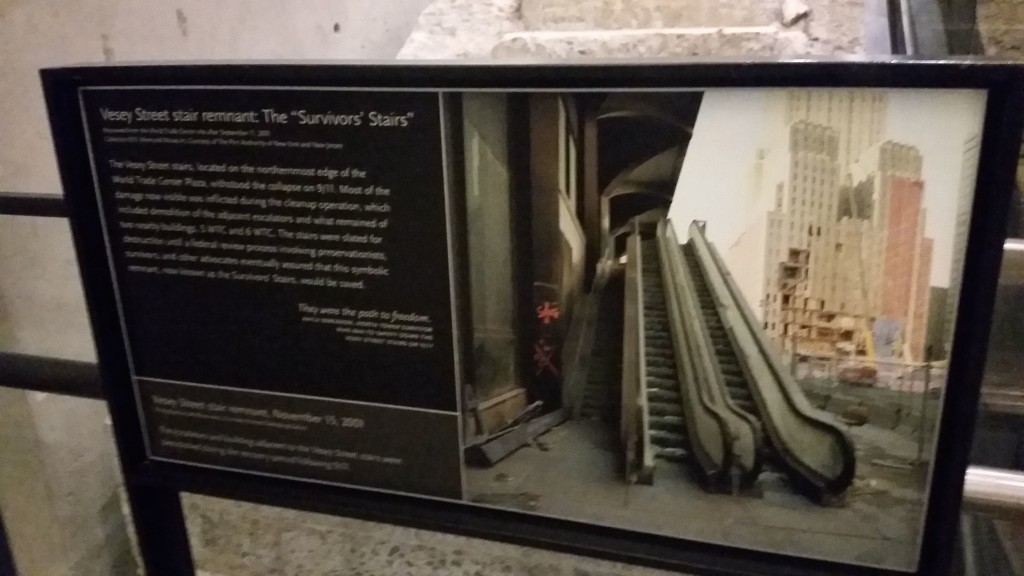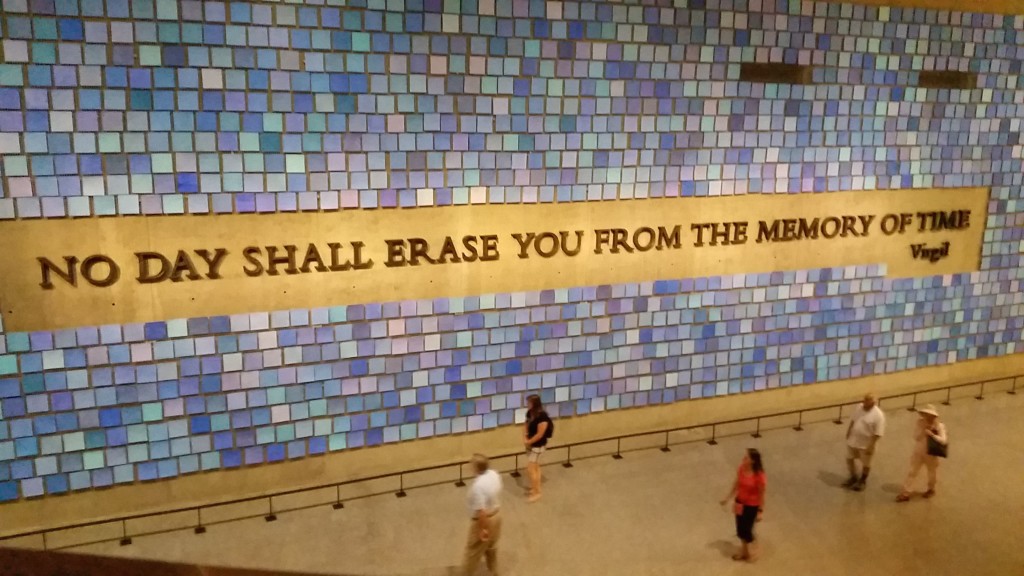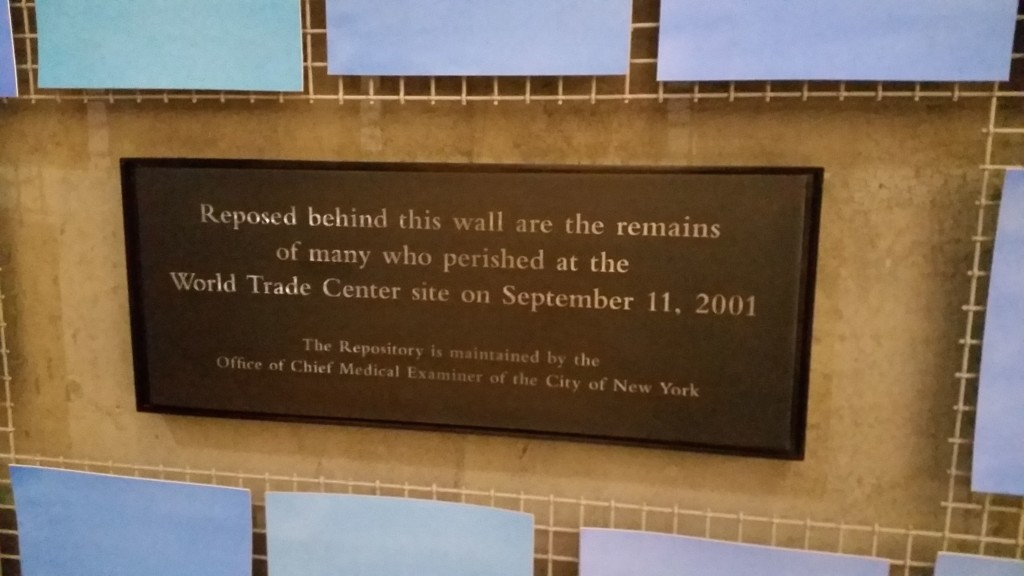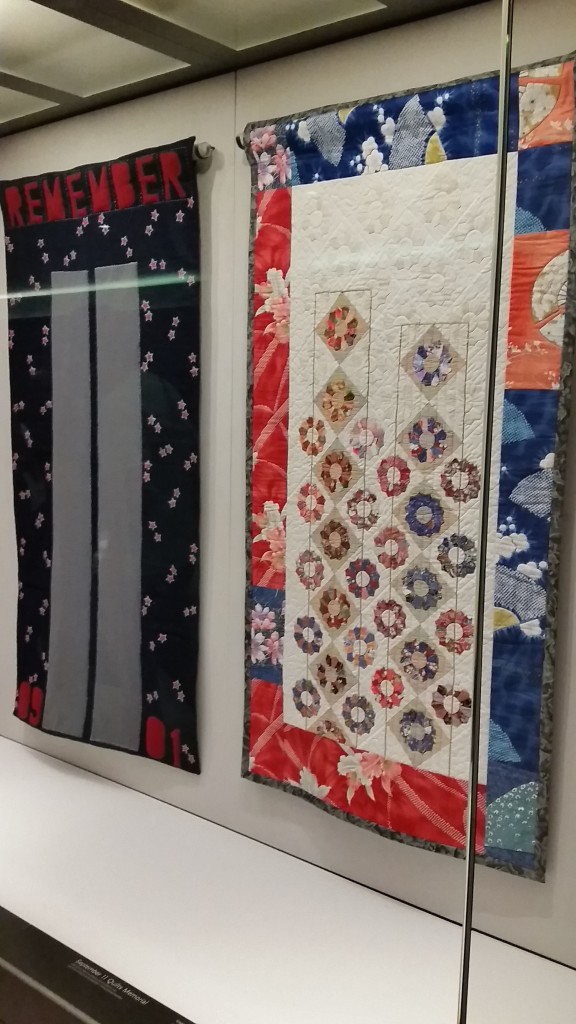 On display were various works of art from people inspired to bring forth beauty to honor an ugly day.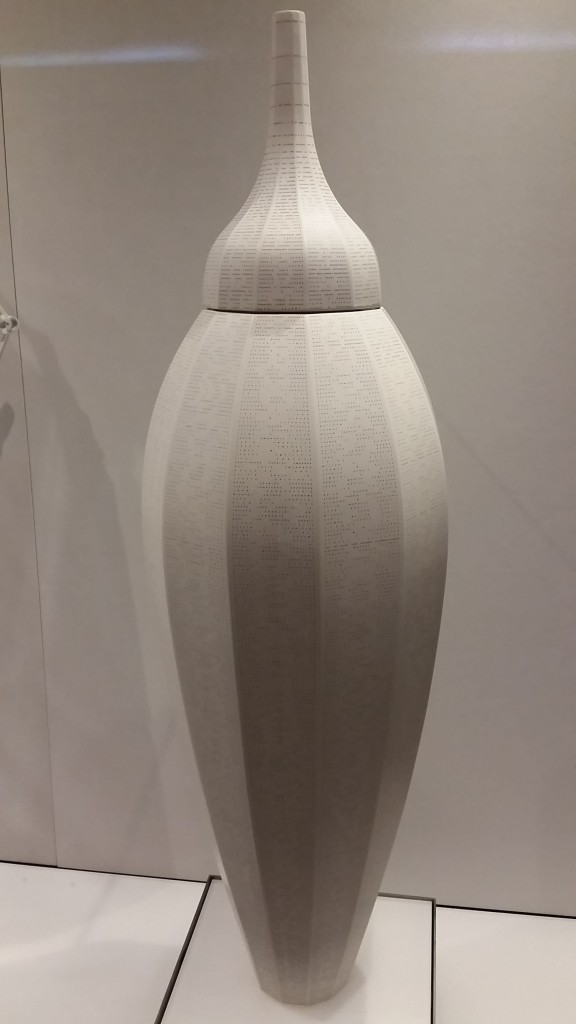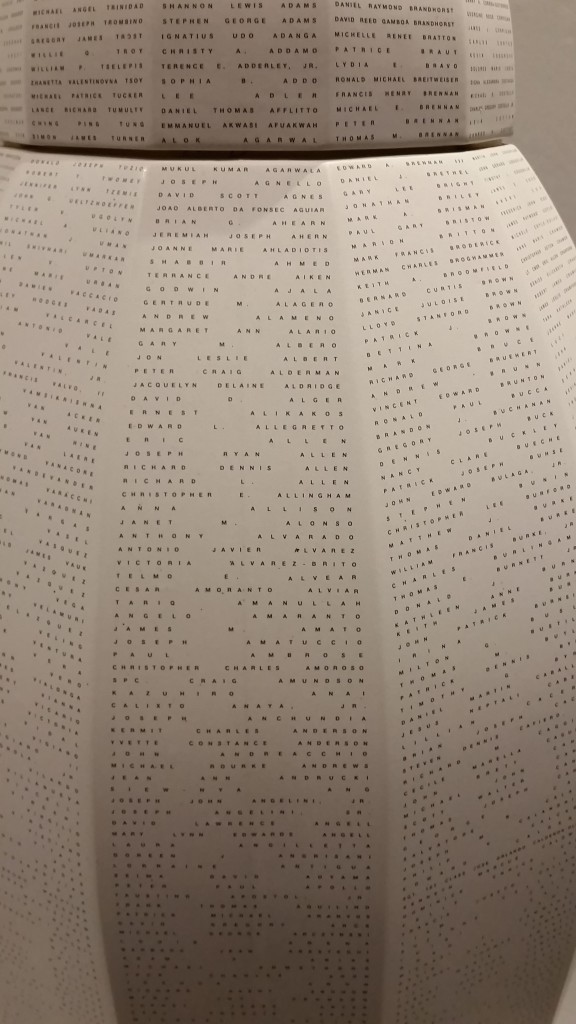 Those are the names of the victims. There is also a room with each victim's picture and name and an interactive computer you can click on each one to see more about them. No pictures allowed in that room, out of respect.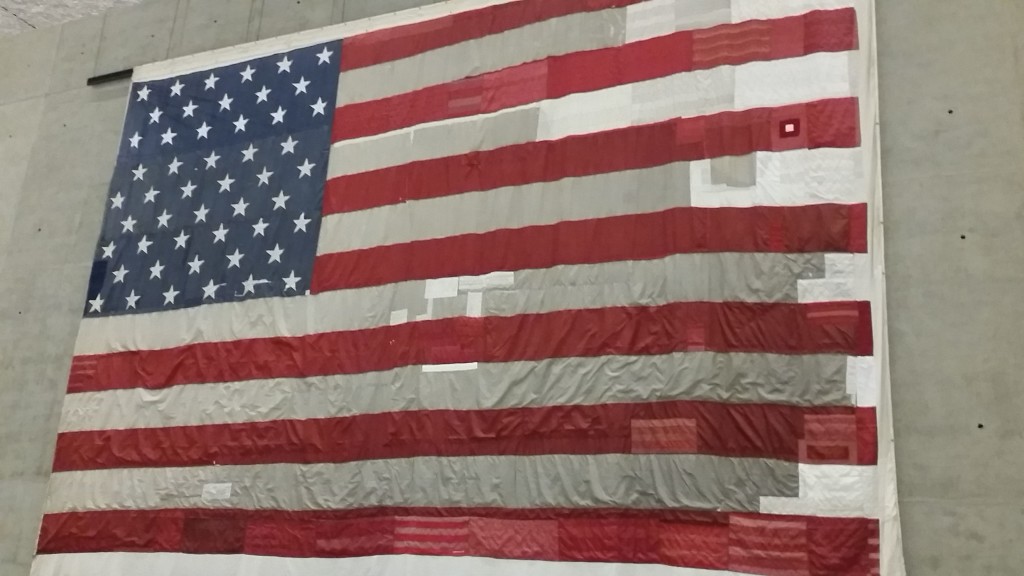 This flag was hanging across the street, but was so tattered they took it down. It traveled to all 50 states and was made whole again with remnants of other retired flags.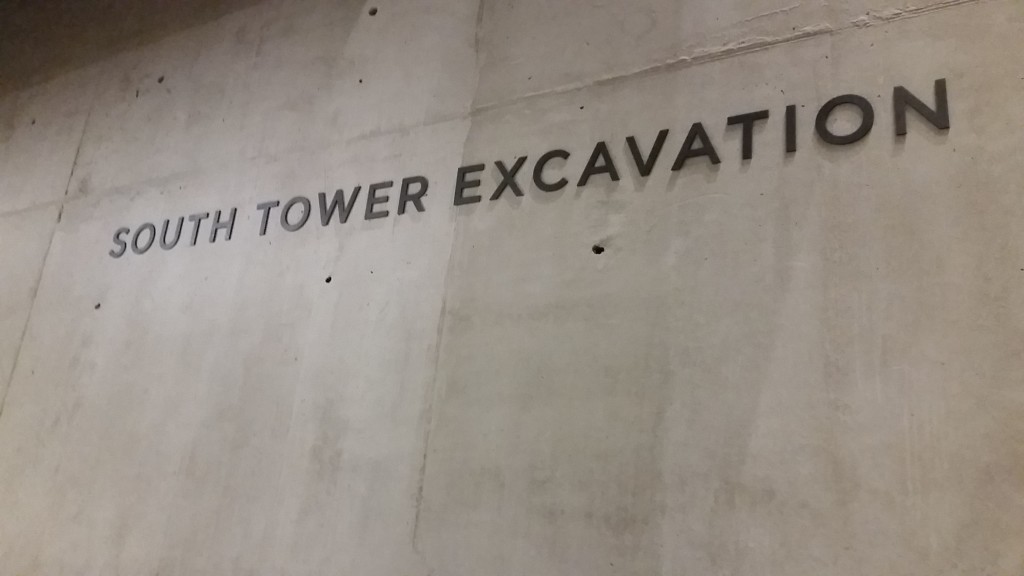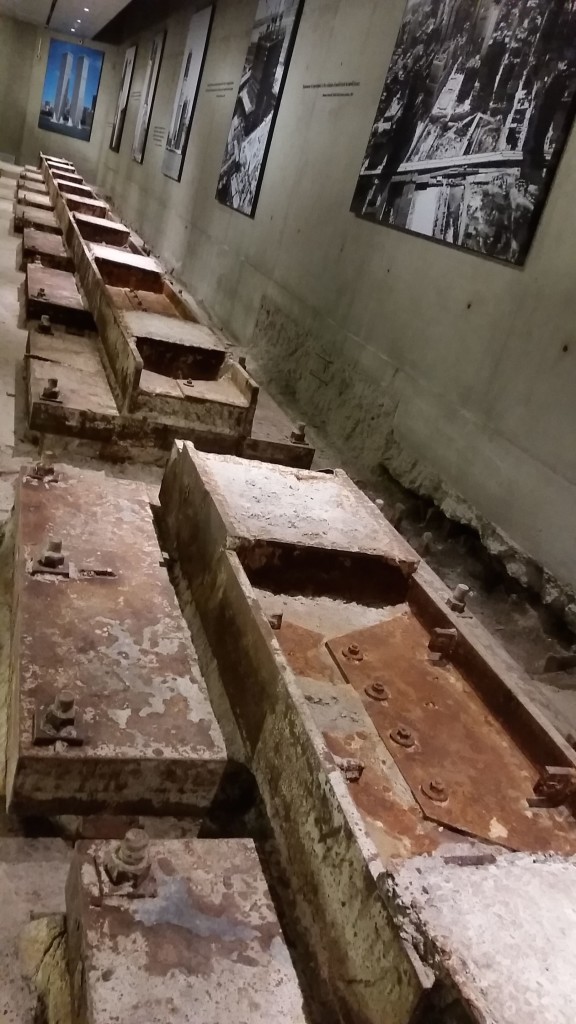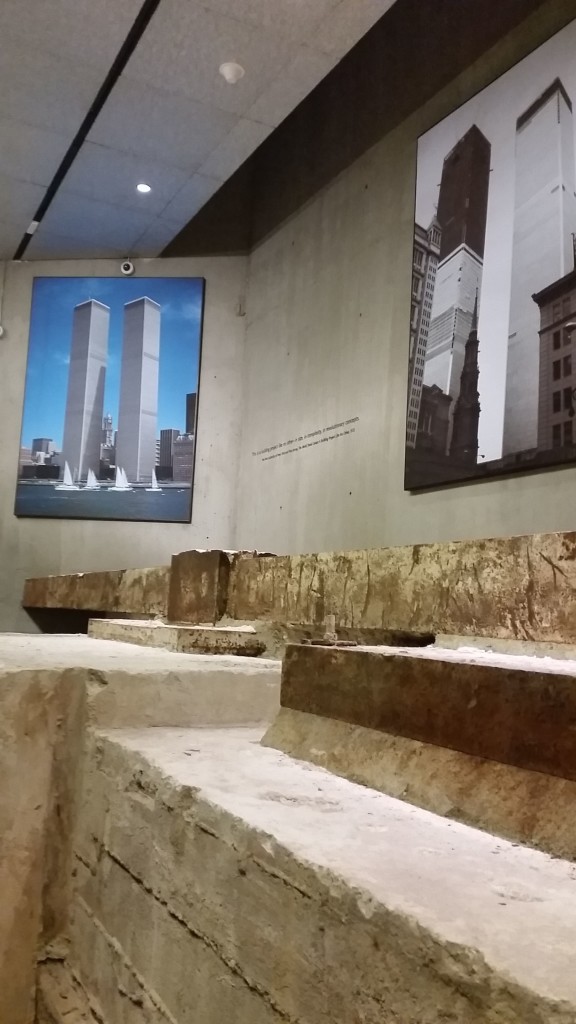 They did look like a box of staples, and I appreciated that they could add a little humor to an otherwise emotional memorial.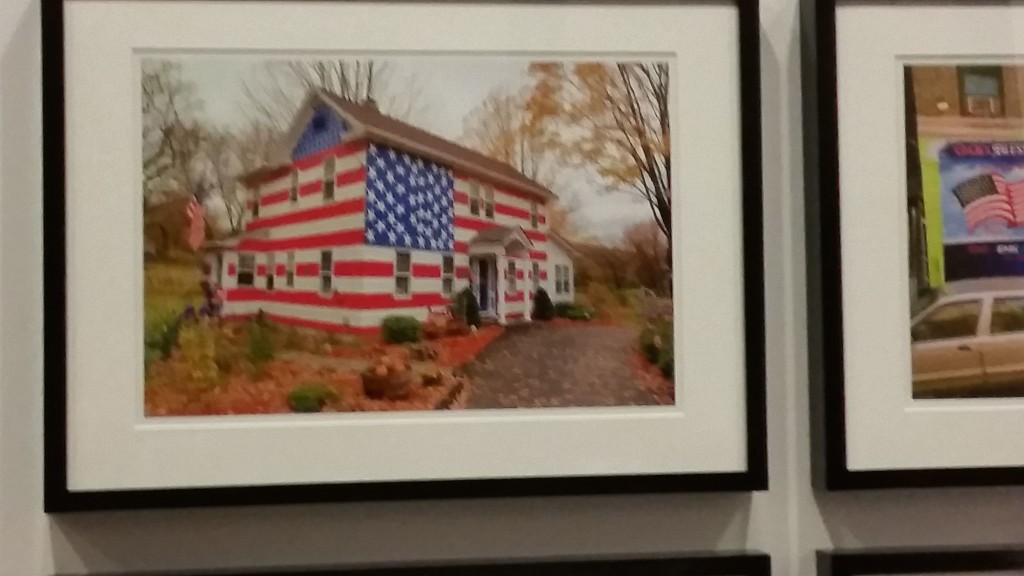 More tributes.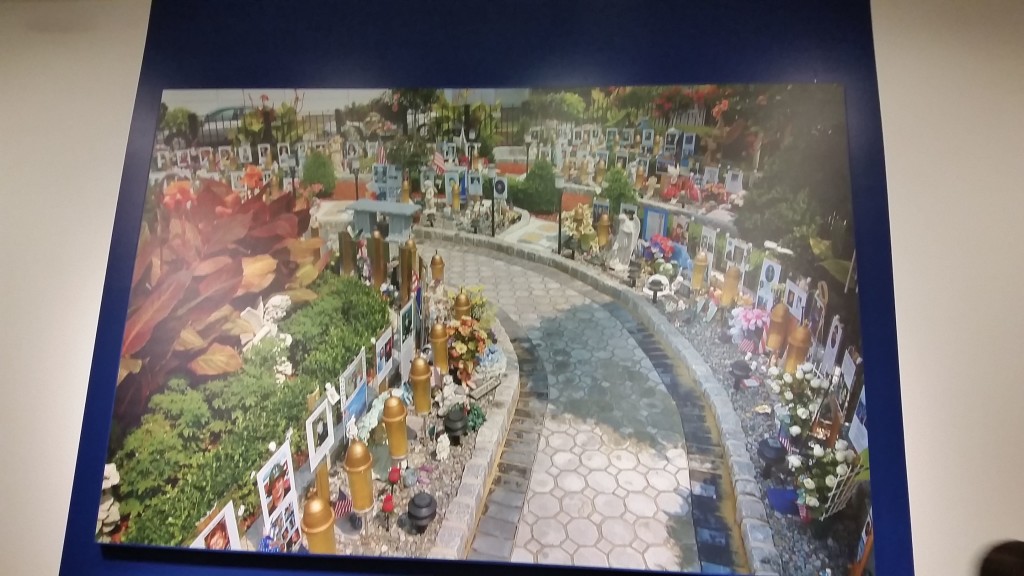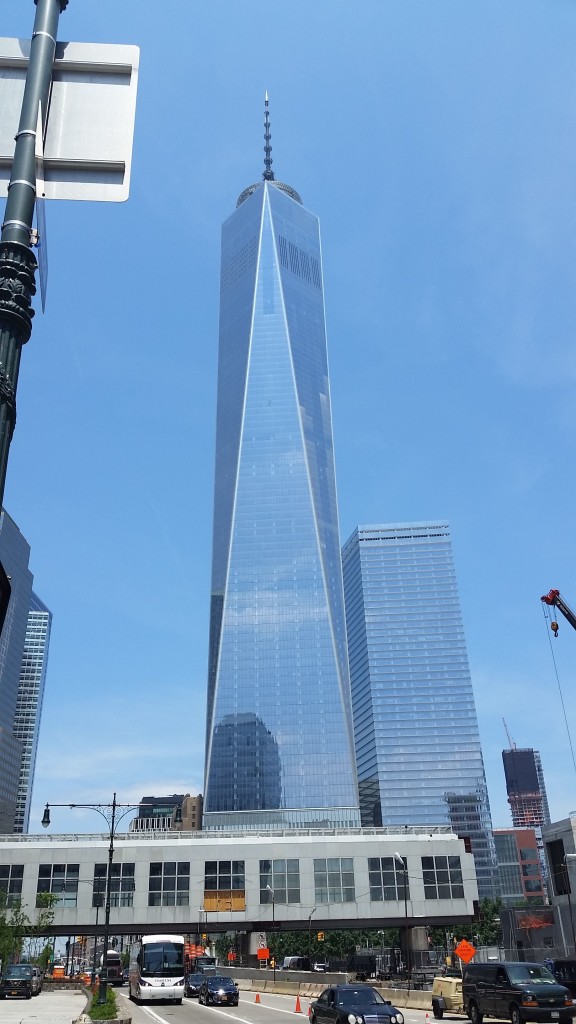 After all that we were famished, and headed to O'Hara's Pub, which was the headquarters of the NYFD during the rescue and recovery efforts.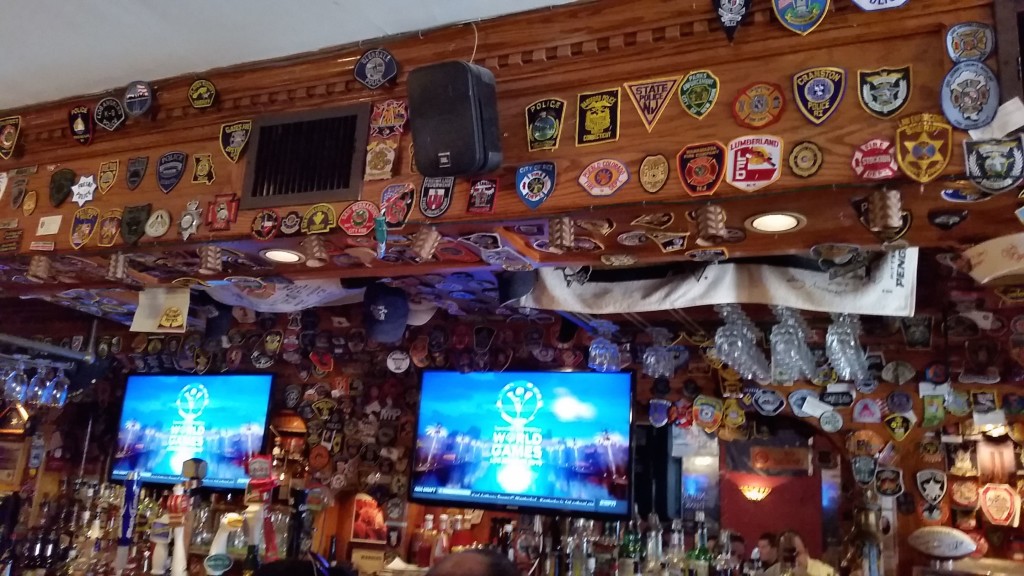 Now it is dedicated to those who came to the rescue.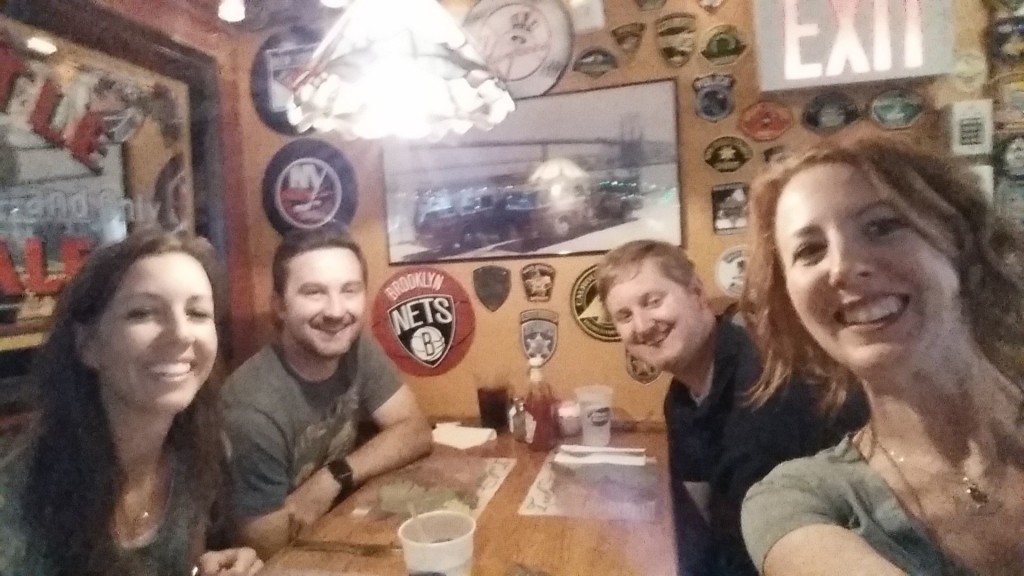 I seriously need a selfie stick. I'm going to just tattoo "Selfie Stick" on my arm.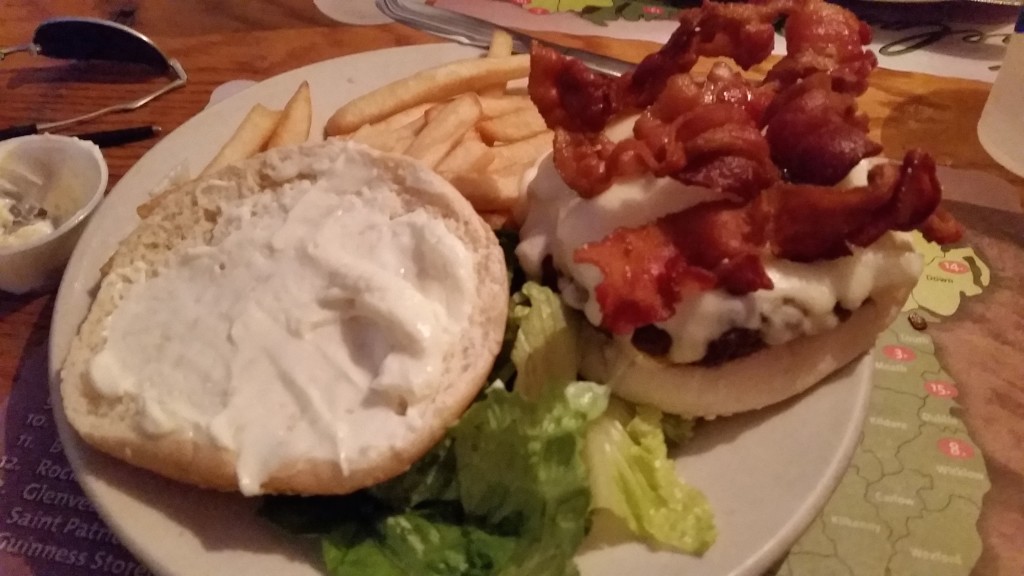 Aside from being another part of that memorial experience that day, they also make some seriously great burgers and fries, so it's a win/win to go eat there. It's just around the corner.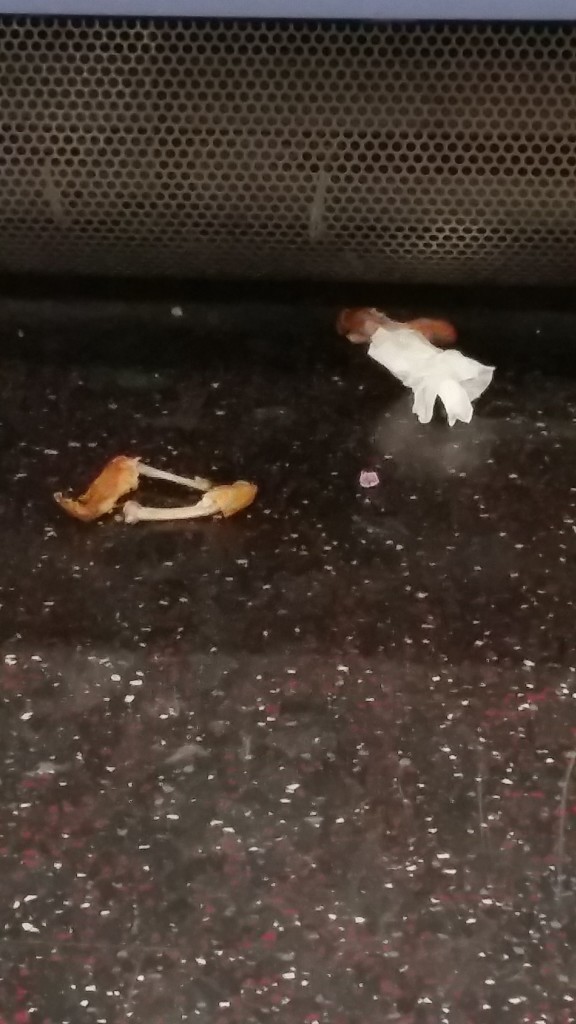 Too bad we had JUST eaten, or this fried chicken in our subway car could have hit the spot.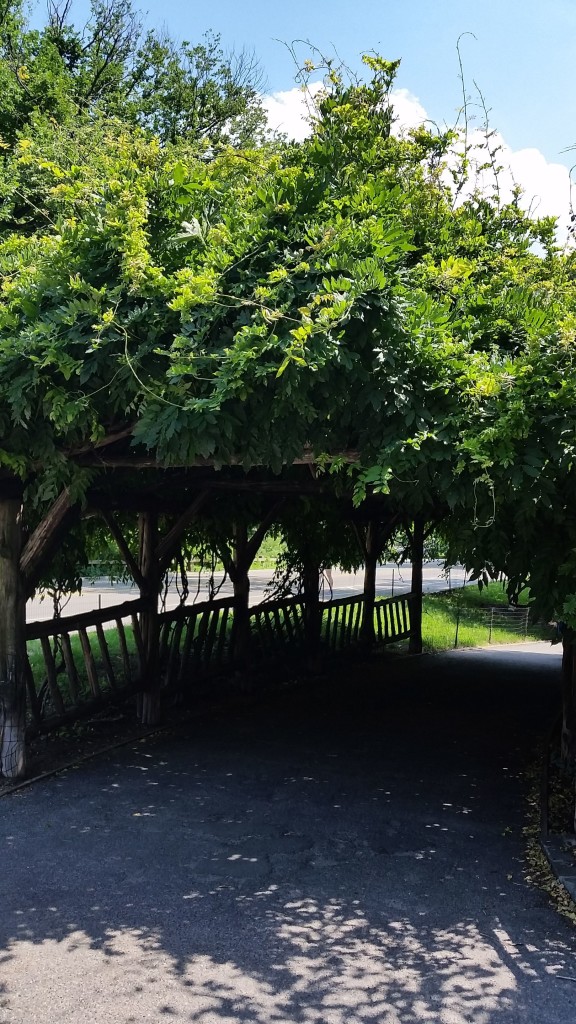 Next stop was Central Park. This was Julie's first time in New York, and she left the itinerary up to me (no pressure!). Even though Chad has been here many times for work, he hadn't ever really done the tourist thing.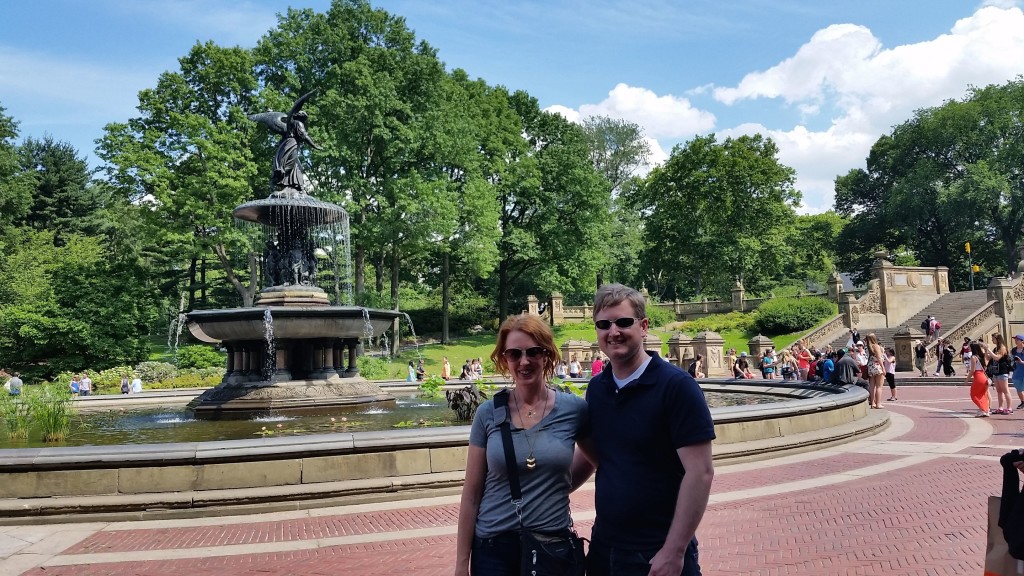 As parks go, this one is awesome.
First up on the list: we wanted to be rowed in a boat. Remember how much Adam loved that last time? He was just as excited this time. Maybe more! We did decide to have mercy on the men and let them row the same boat. Row together, take turns, we don't care.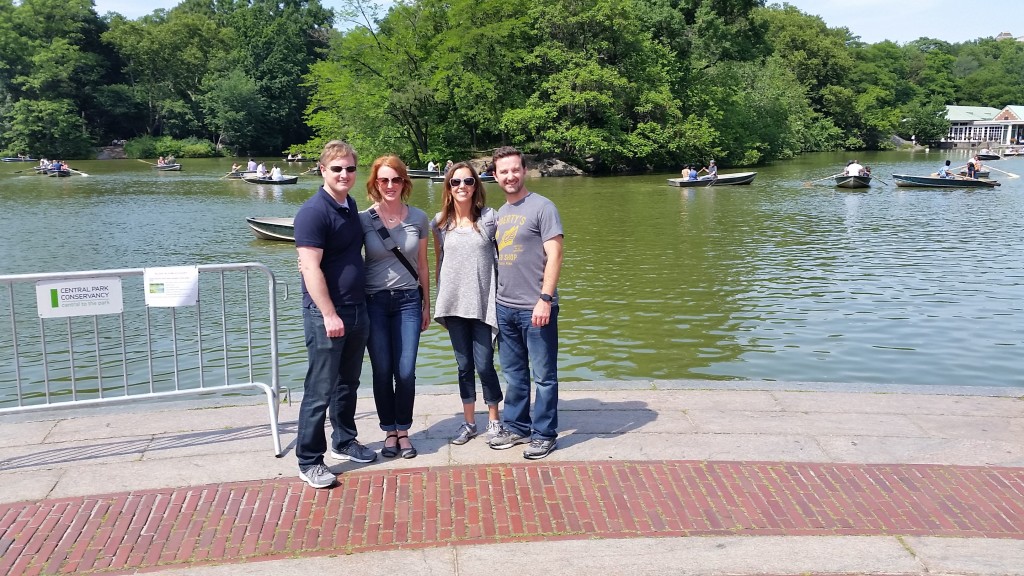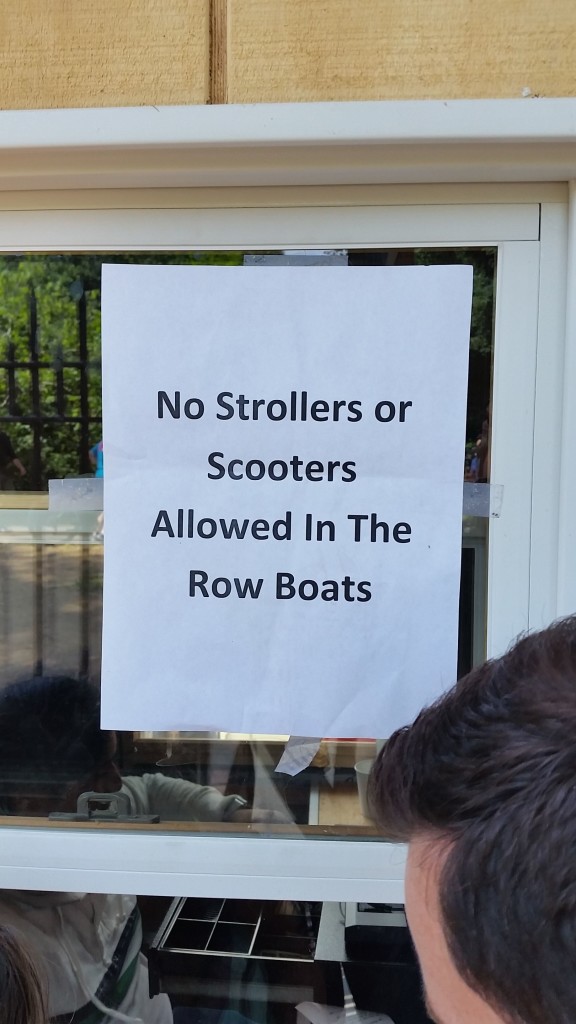 The fact that this even had to be said just makes me hurt.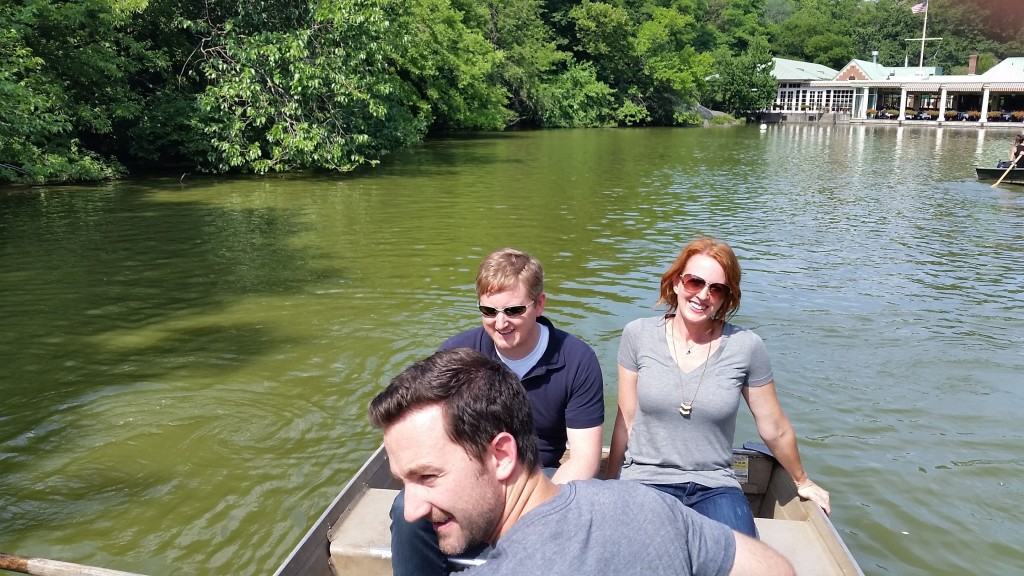 Chad went first.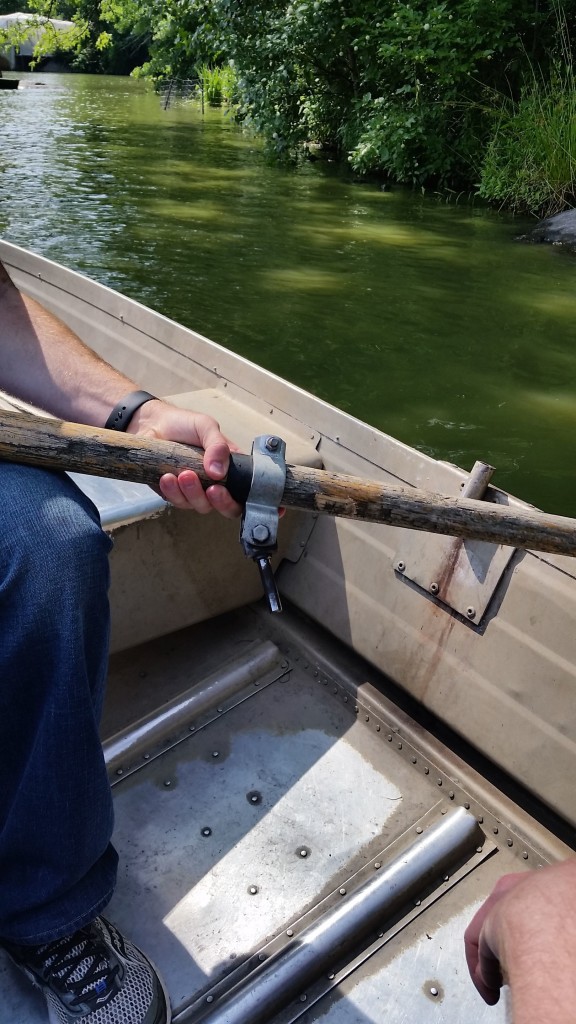 Until he broke the boat. It's ok, he fixed it.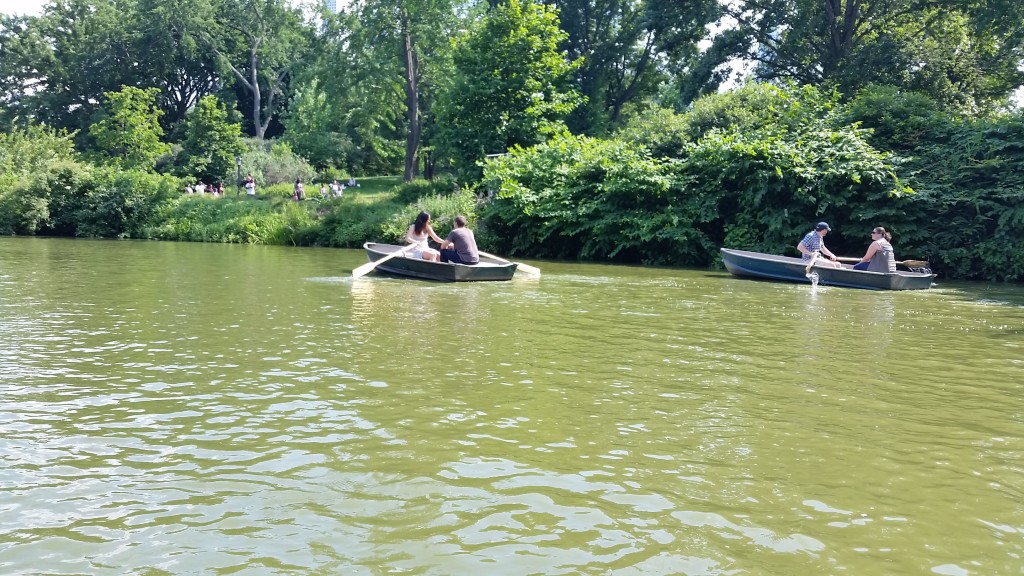 Why is that woman rowing that man? Not cool, dude.
I really need a bench like this.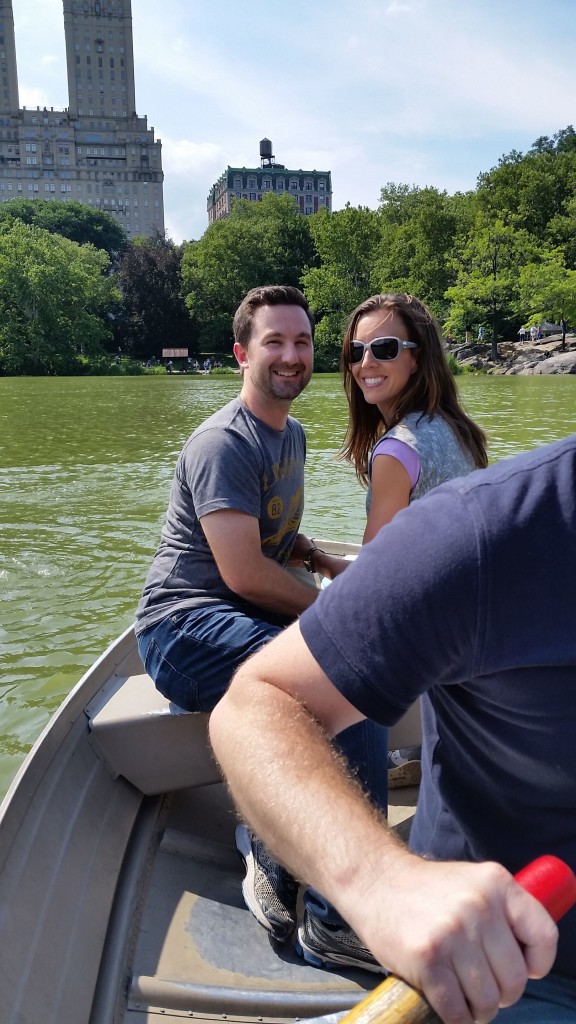 Then Adam took a turn, and those two lovebirds sat up front.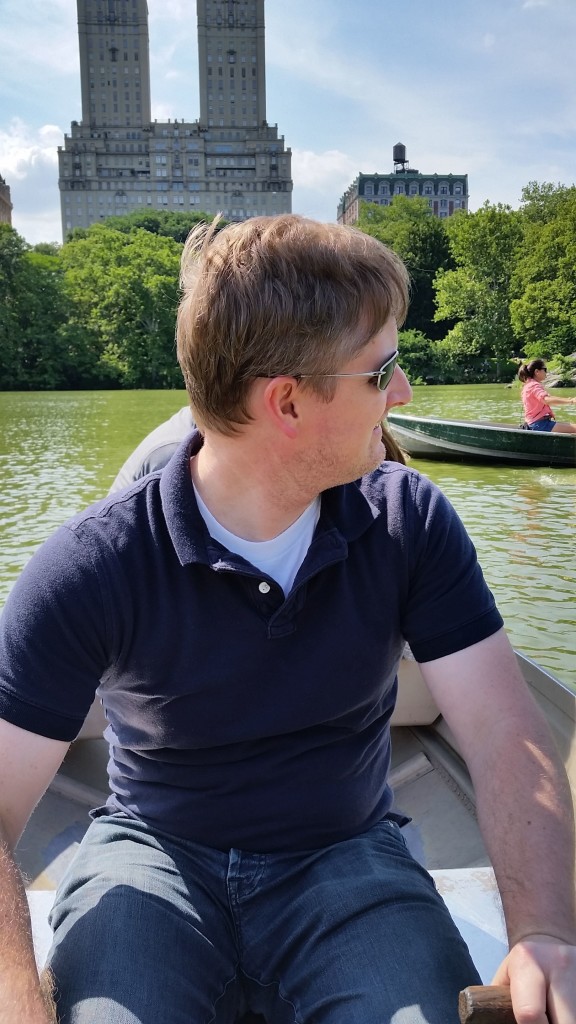 See how happy he is?
He's happy because I'm happy.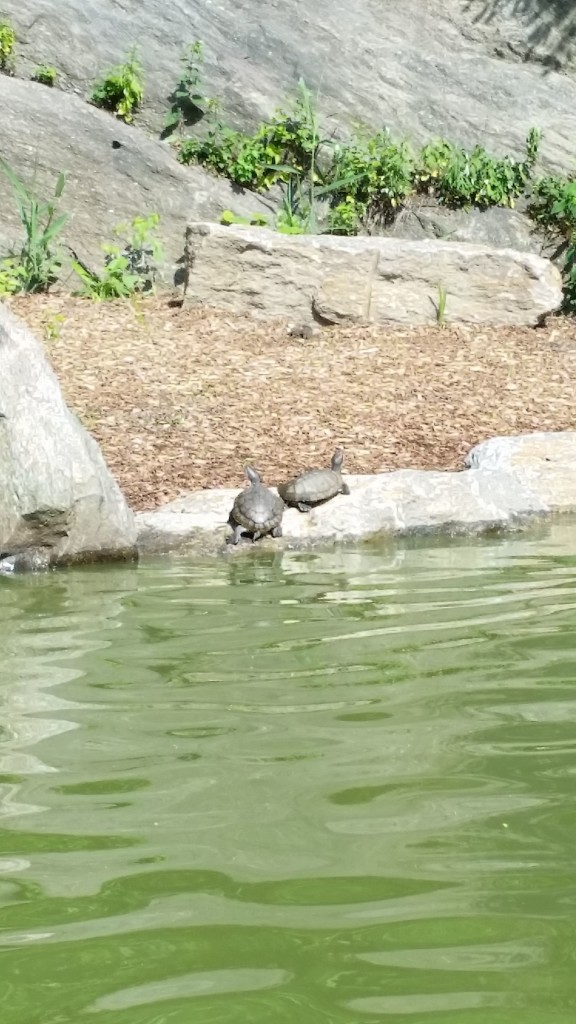 More love birds. Love turtles?
One benefit of traveling with friends is it's like having your own personal photographer, and we didn't have to take turns being in the picture or do the tragic selfie where the person holding the camera is the one who looks like the have an oversize face.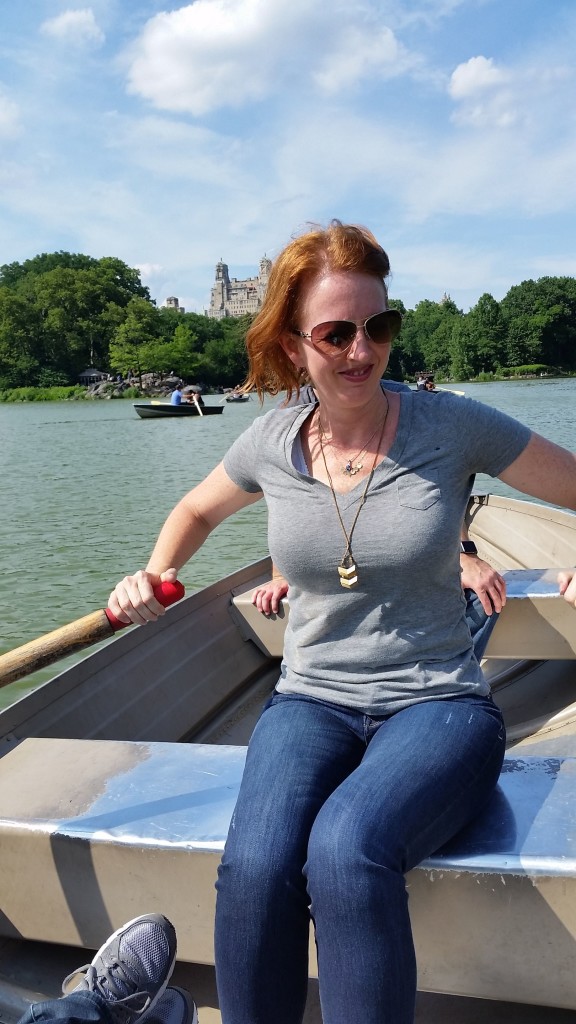 Julie and I are so generous we even took our turns rowing.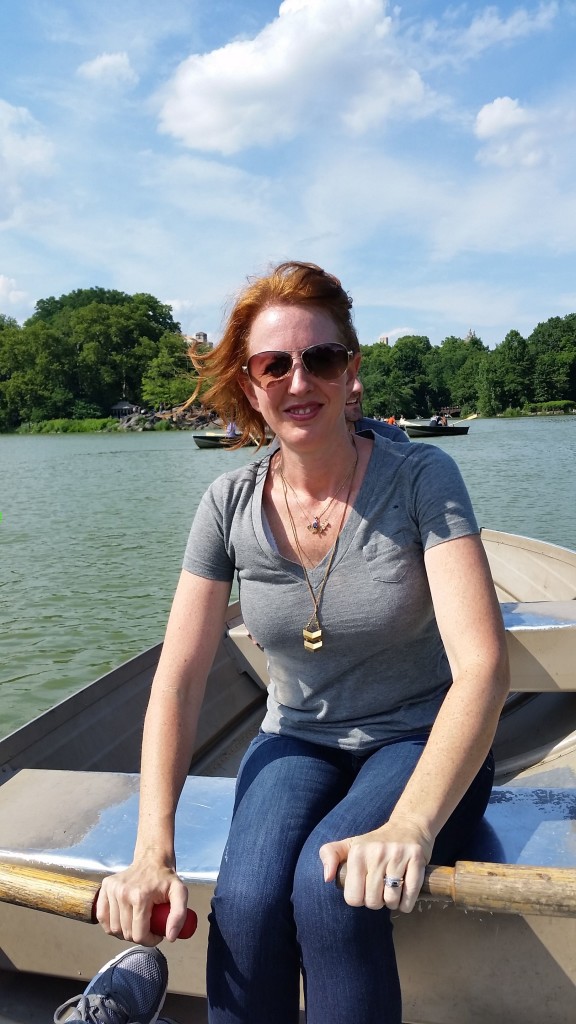 We're so strong! Ok the real truth is Julie is so strong. She said she could row the boat and did, so obviously I HAD to take a turn lest I be seen as weak. Adam kept telling me I was rowing backward, but actually I was rowing FORWARD. It makes no sense to me to row backward so you can't even see where you are going without craning your neck so badly you require chiropractic care to recover.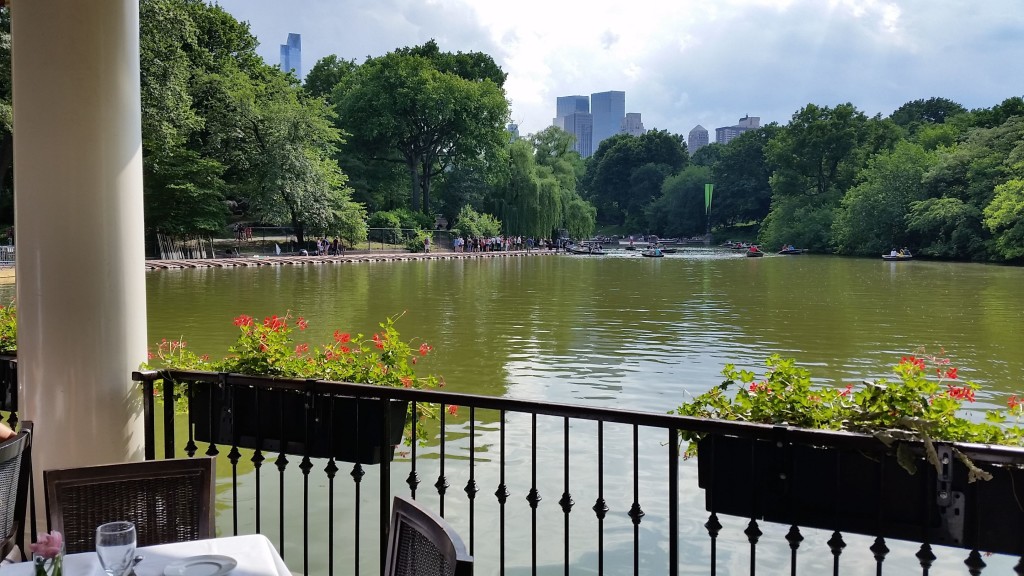 We stopped for a little refreshment at the Boat House.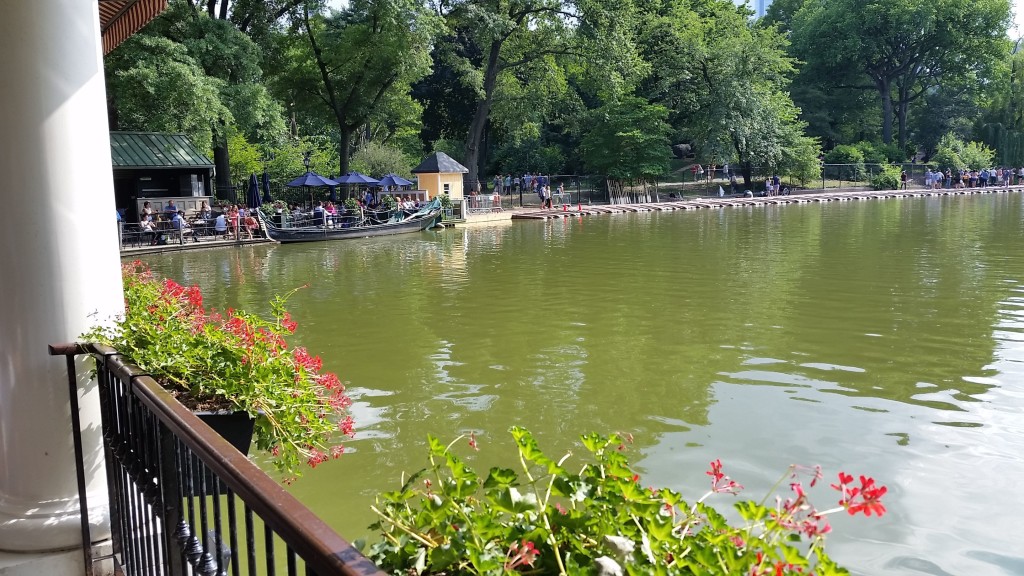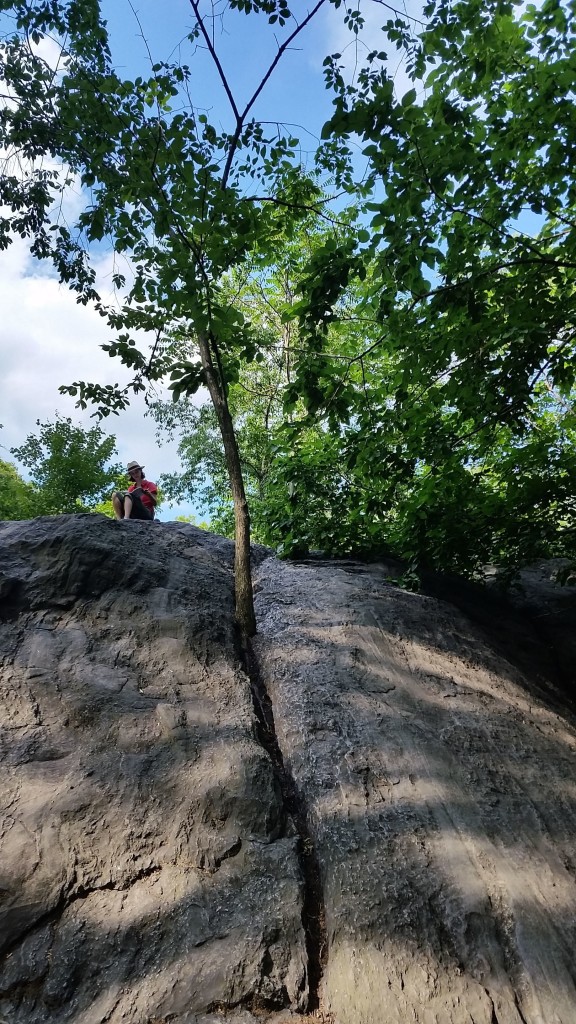 Then we walked around Central Park looking for the bike rentals because we wanted to bike the 6-mile loop. I love that this tree is growing out of the crack in his huge rock.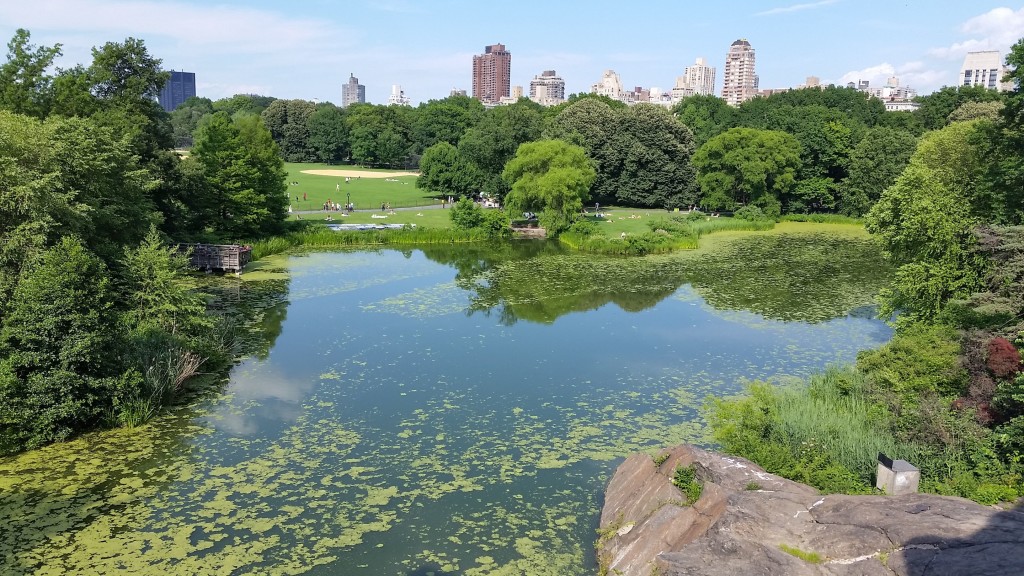 Unfortunately, we hadn't realized how late it had gotten, and they were going to close soon, so we wouldn't get our full 1-hour rental. Adam and Chad were cheering practically crying because they were so disappointed. It's the one thing Julie and I really wanted to do that we didn't get to do this weekend. There's always next time!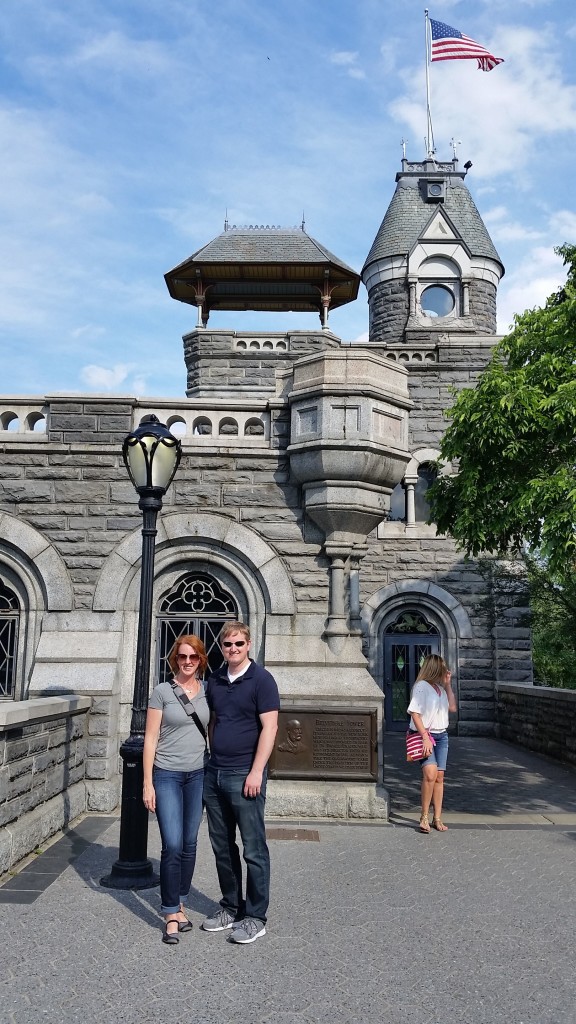 We took them to Belvedere Castle.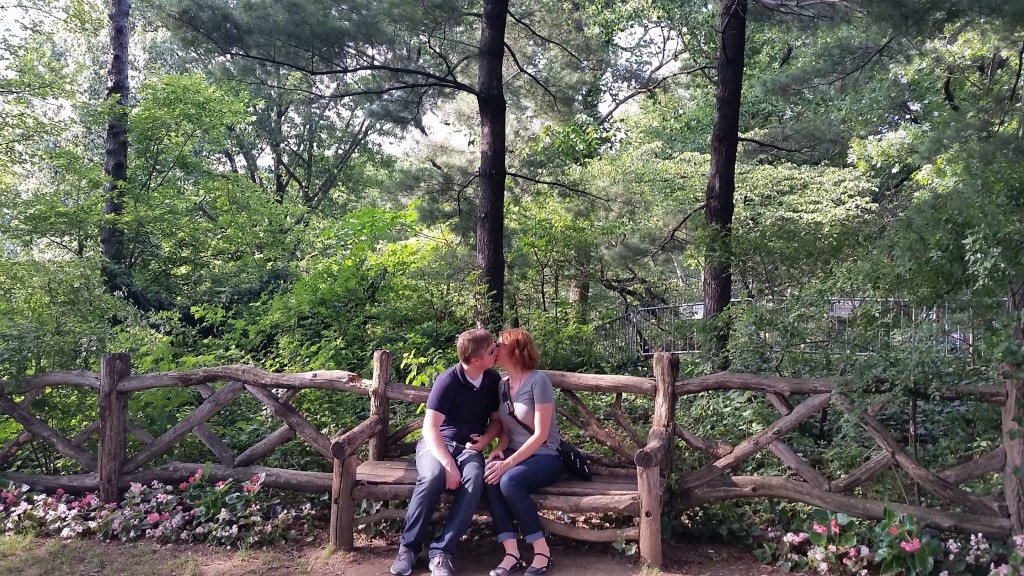 There are so many different and beautiful parts of the park. I would love something exactly like this in my yard. I have the perfect spot. That fence! That bench! The flowers!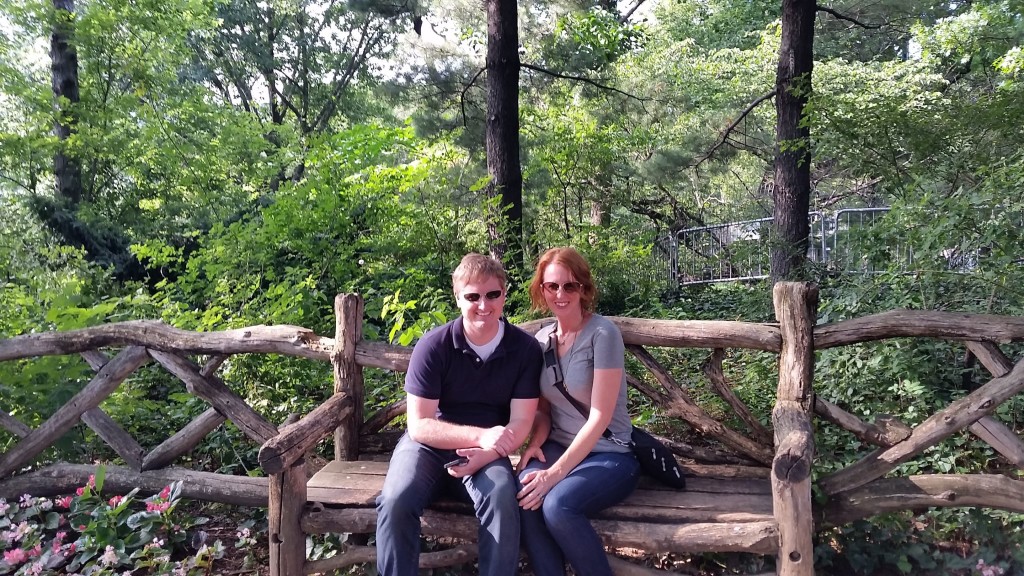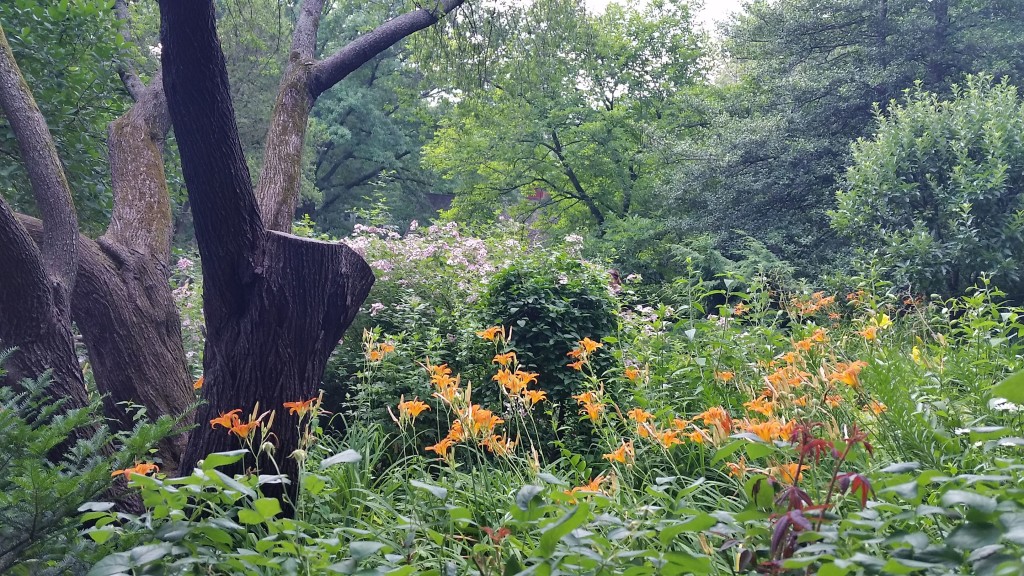 Naturally I took tons of pictures of flowers.
I love the cottage garden look, as I've mentioned a million times. It is still my favorite.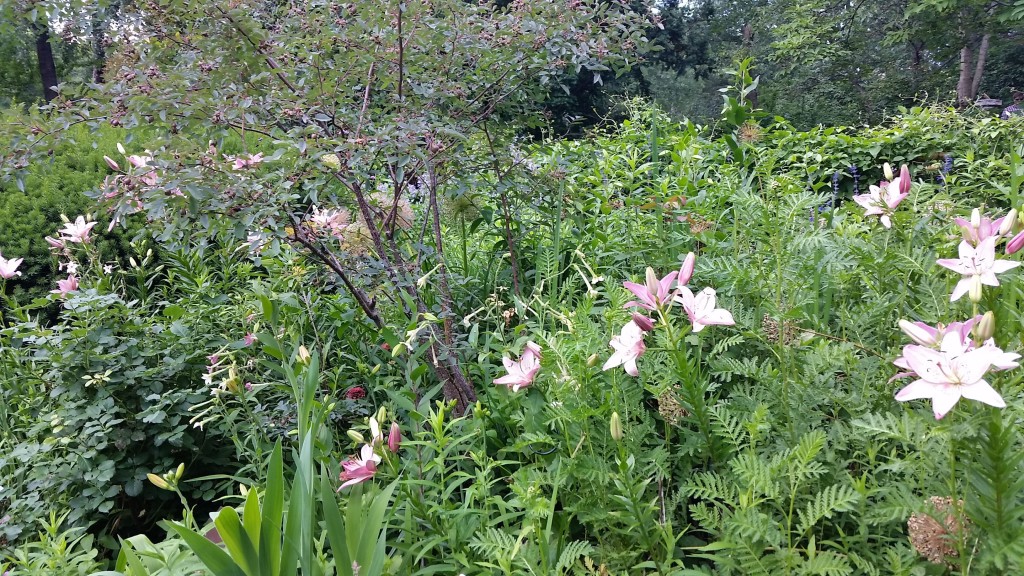 It looks so wild and natural, like it all just happened to come up here!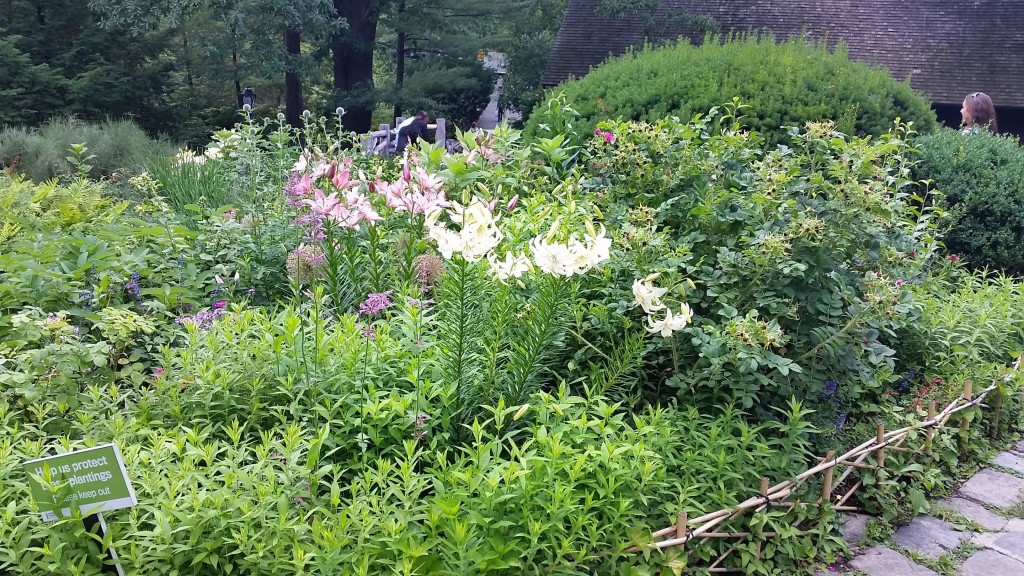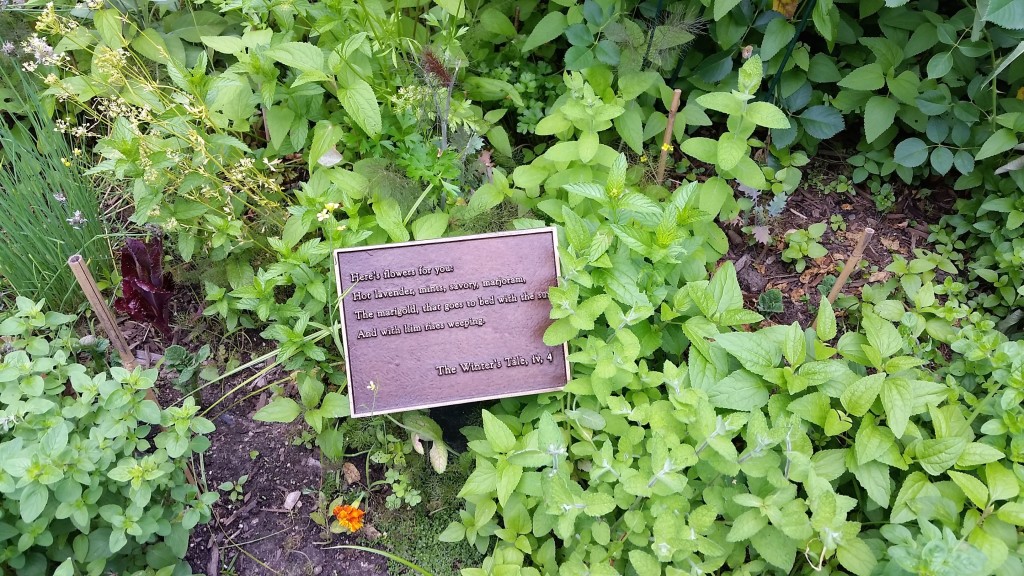 Here's flowers for you;
Hot lavenders, mint, savory and marjoram,
The marigold that goes to bed with the sun,
And with him rises weeping
– A Winter's Tale, iv, 4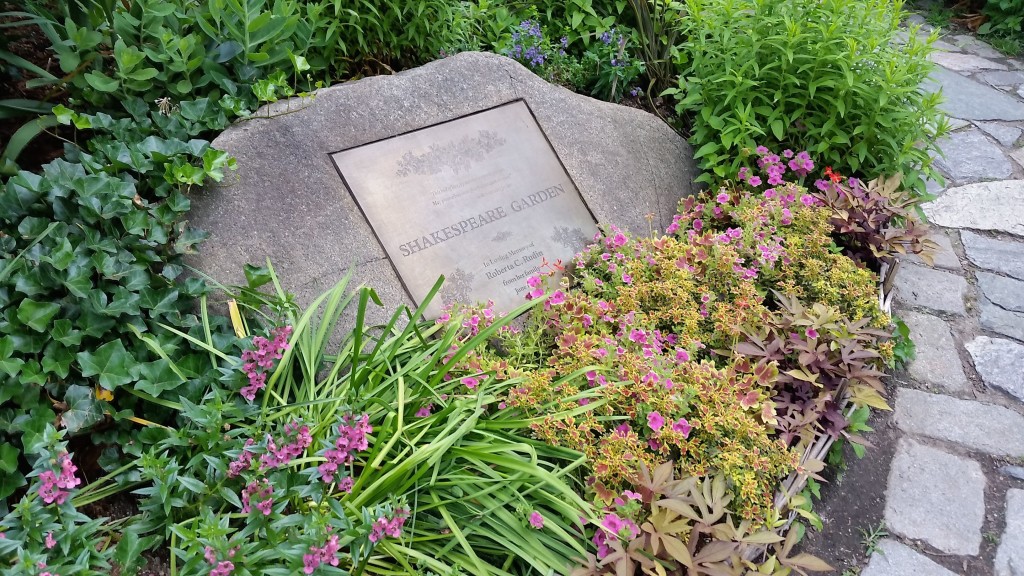 This is the Shakespeare Garden.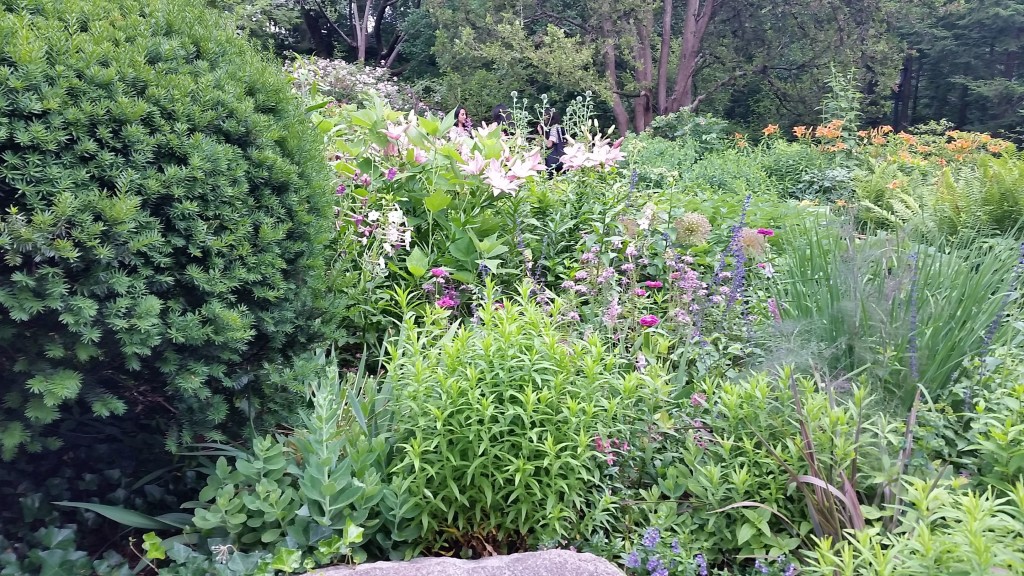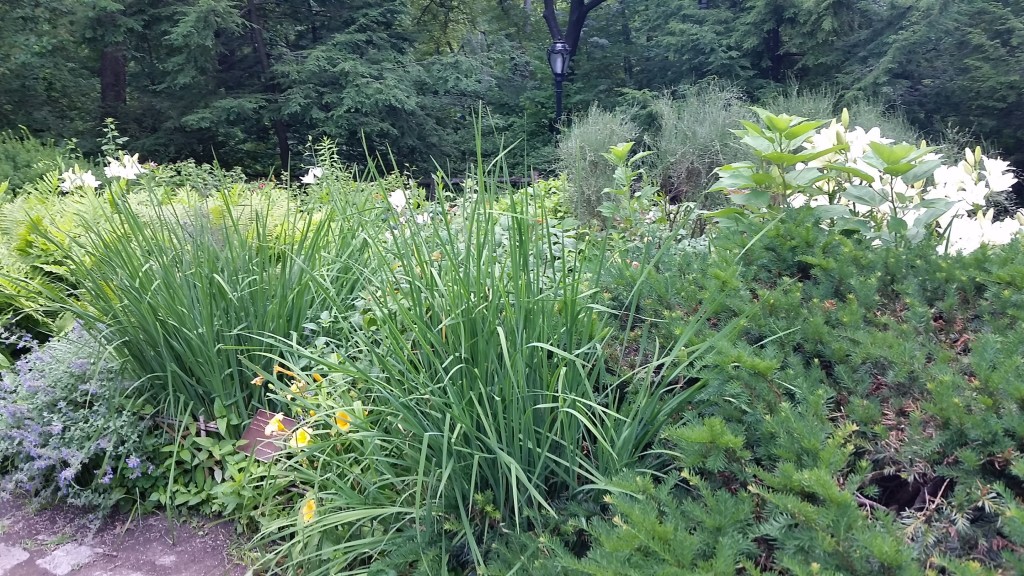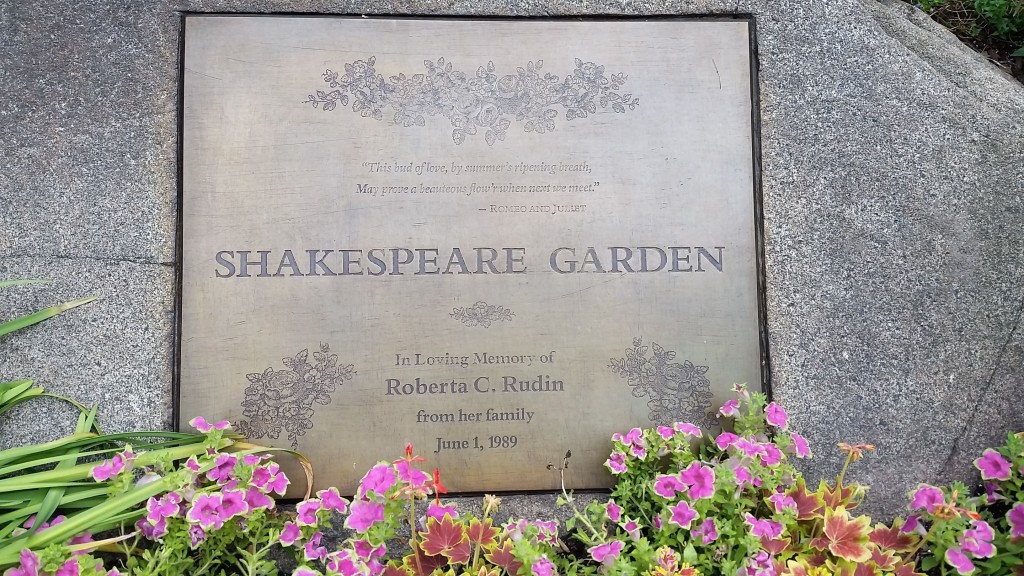 After seeing this I told Adam that if he ever felt so inclined to do something beautiful in loving memory of me, please do it while I'm alive so I can enjoy it. No need to wait for me to die.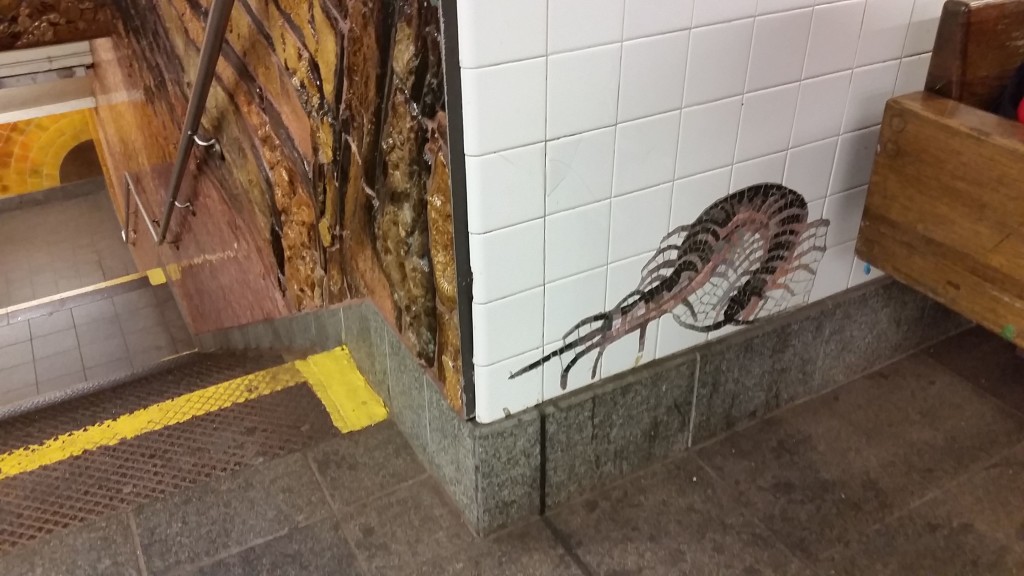 Why? Just…why? Subways aren't creepy and dirty enough? Now we have to immortalize scary alien bug parasite invaders? *Shiver*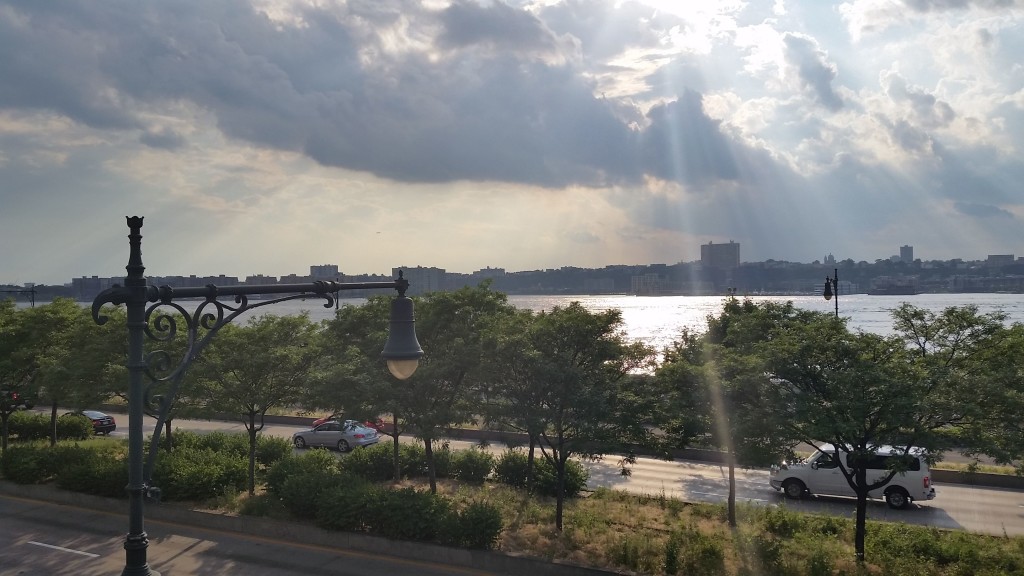 Since we couldn't ride bikes in Central Park, we went to the Highline. It is maybe my favorite thing in New York. The last time we were there it wasn't finished, and now it is. The final section runs along the Hudson. That view!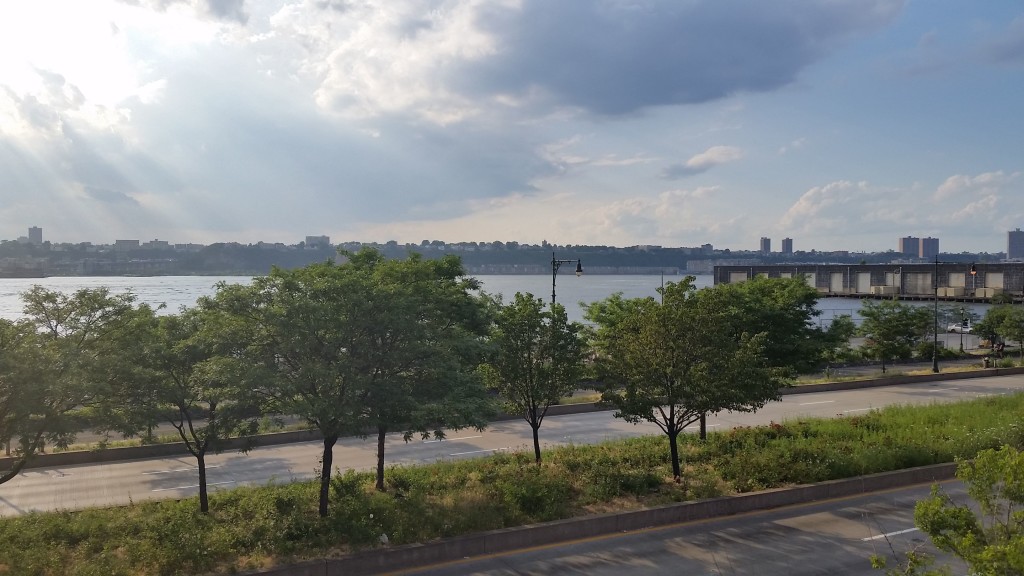 The view is the highlight, not plants, in this portion.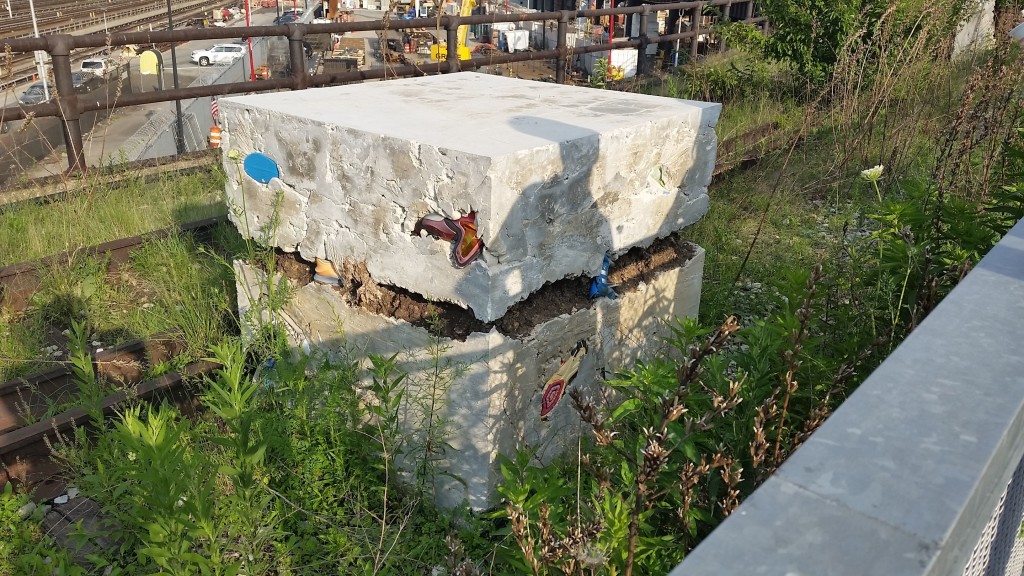 Some industrial art scattered along the way. Those are shoes being eaten up by the concrete.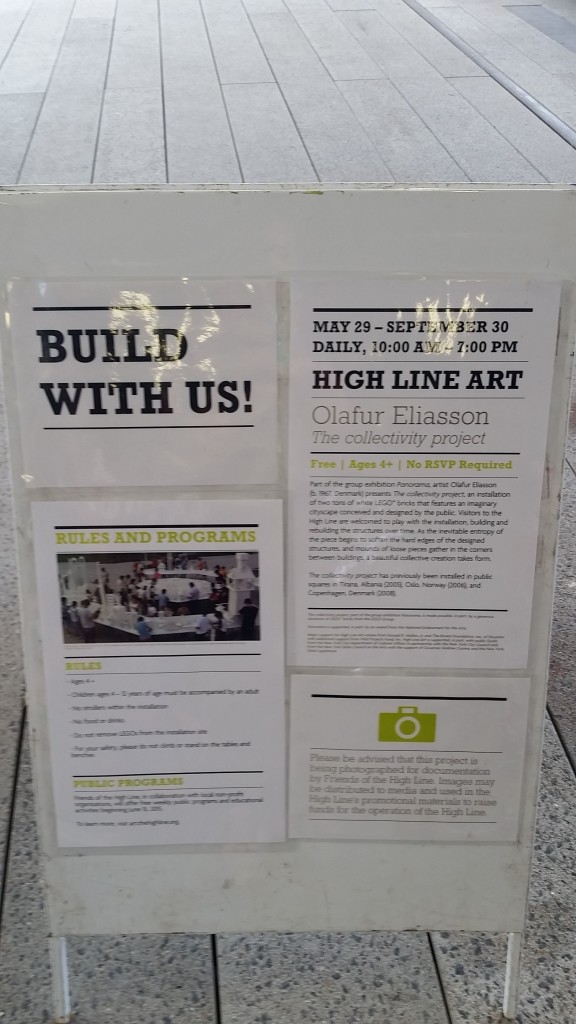 Another new thing is this giant LEGO project that anyone can participate in.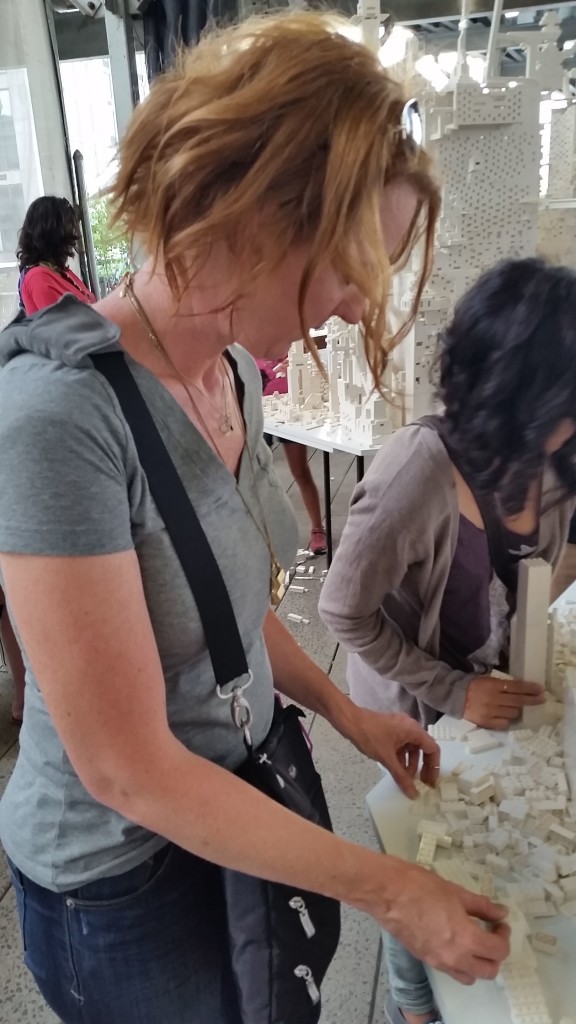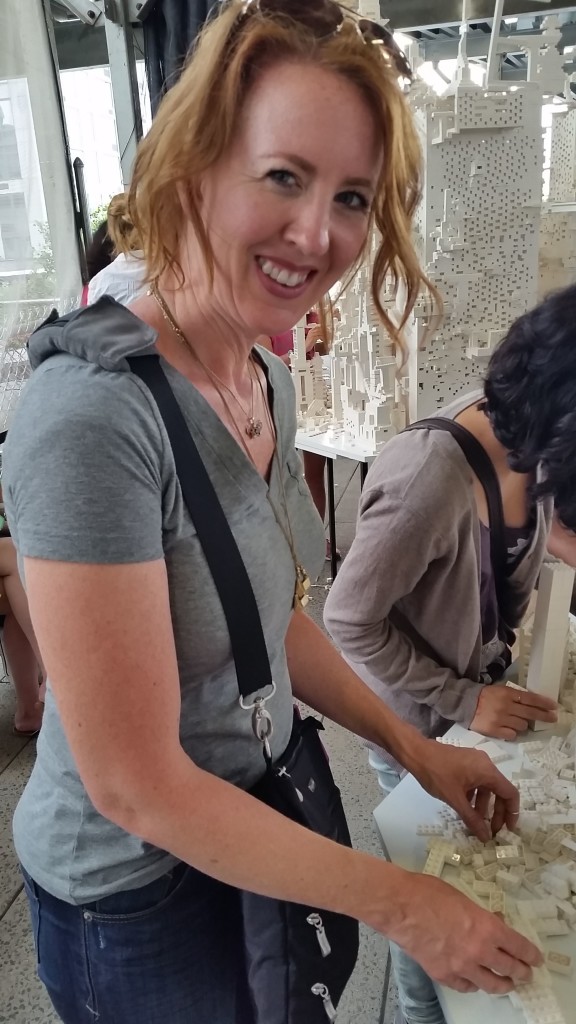 Of course we stopped to add something.
Not bad right?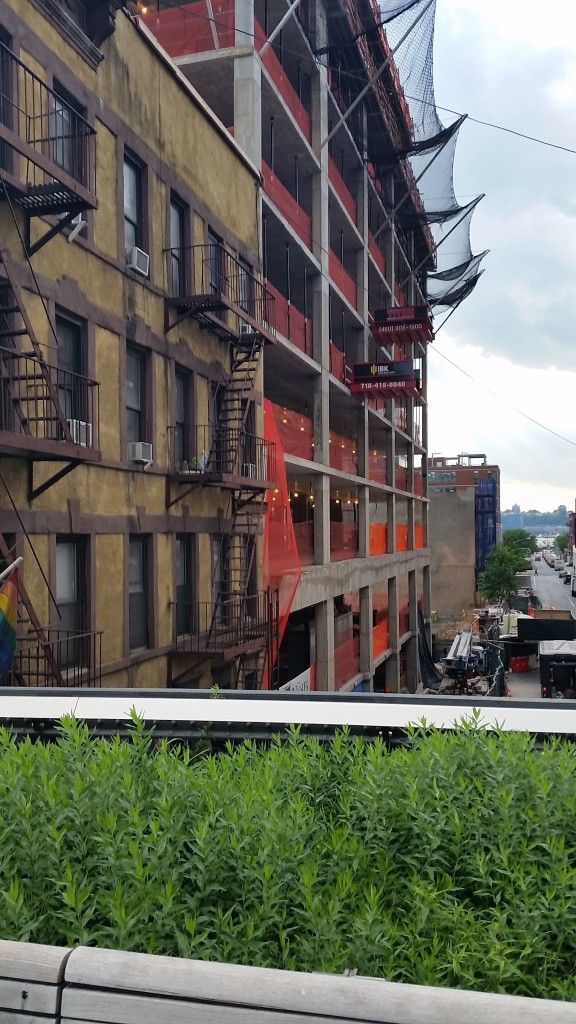 Love these fire escapes.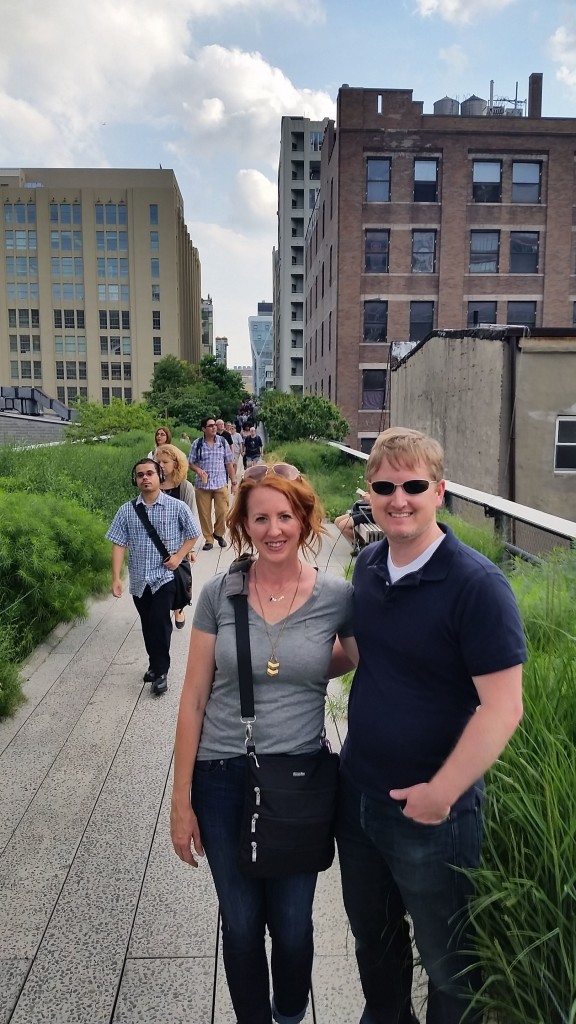 Love this guy.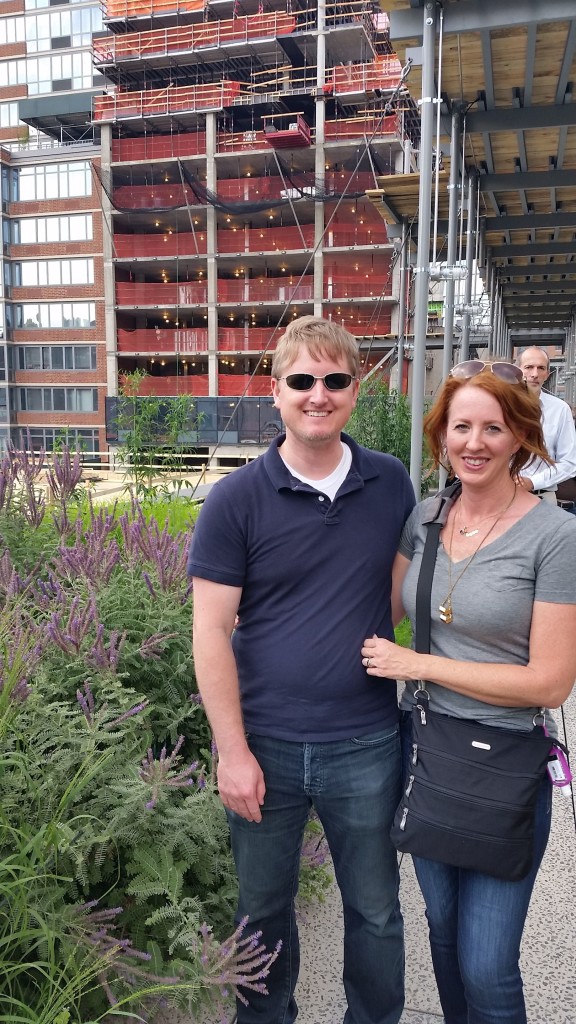 The weather was absolutely perfect.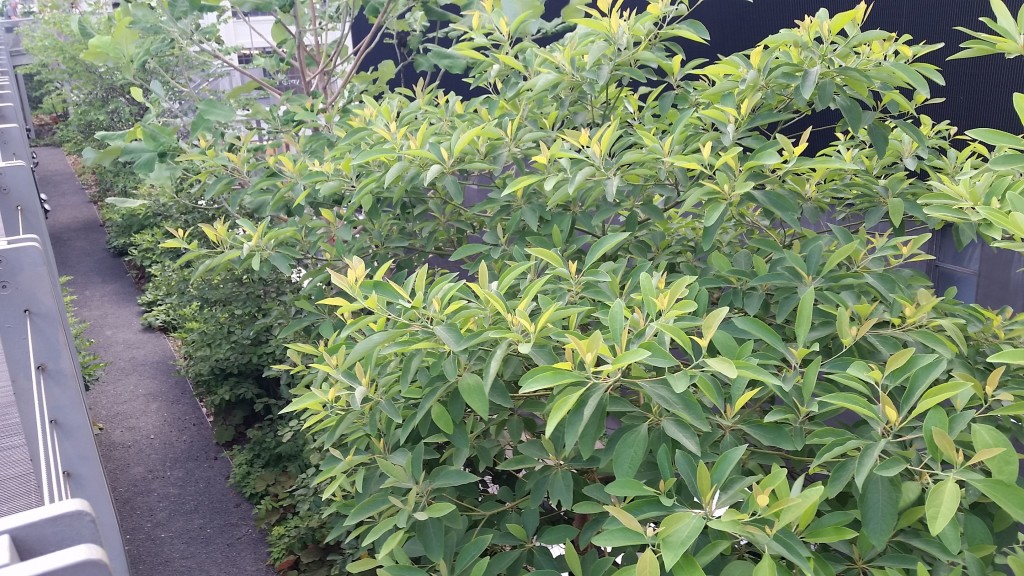 Down underneath is another path and more plants, but all the access points were closed. I wanted to go down there so badly. Why was it closed?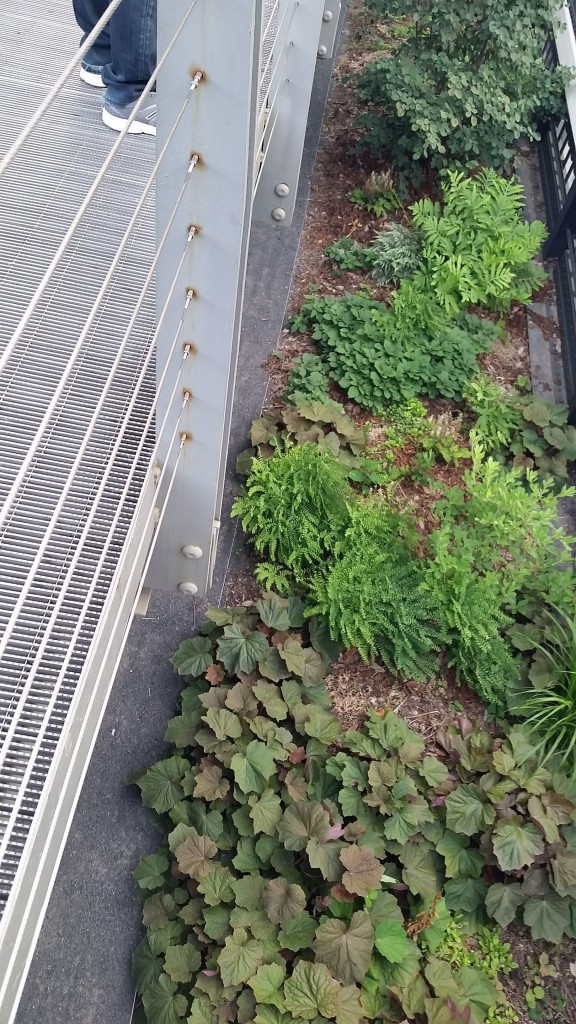 It's on the ground, so does that make it the Lowline? I shared this last time, but there is a children's book about the Highline called The Curious Garden. My kids love it, and it was fun to share it with them. We also got them a book called This is New York. We've given them ones about Rome, Venice, and London when we went on our other trips. Next we will get them the one about Paris for when we go on that trip.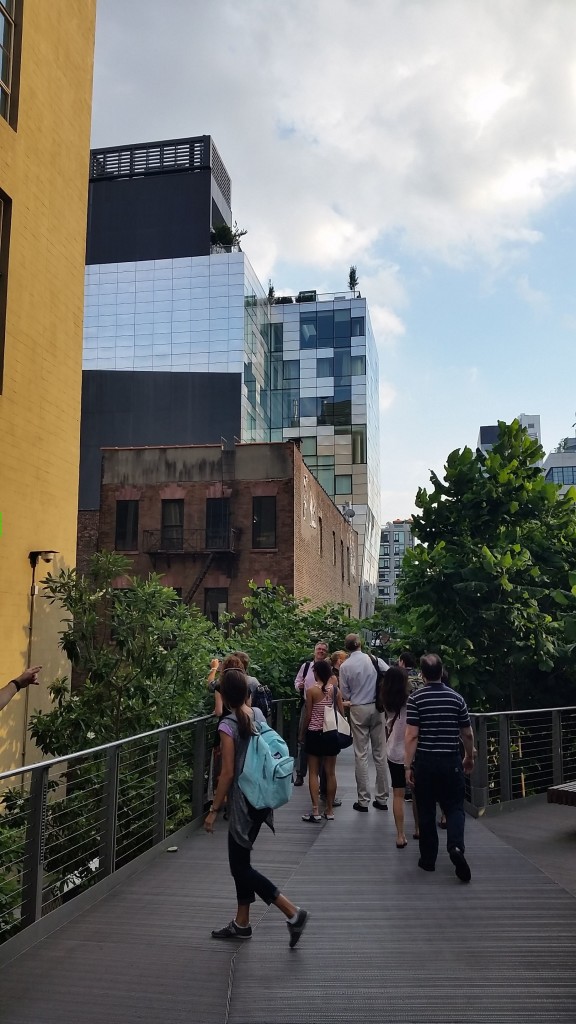 Everything had grown up so much in the four years since I'd been here.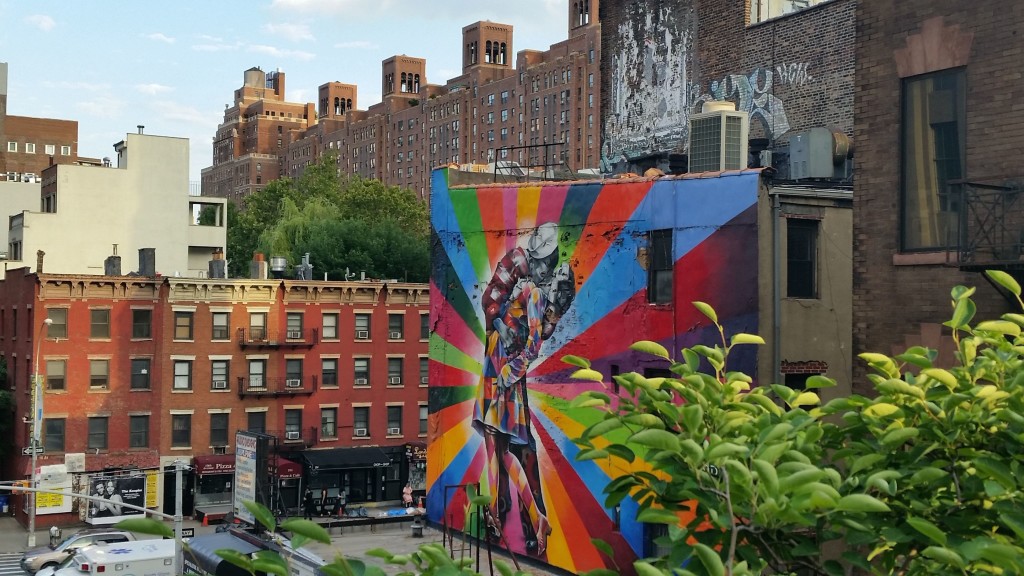 I love this street art.
This balcony is so close you could easily climb over. Doesn't this stick death trap just scream "Come visit!" As a very private person, this balcony would make me crazy. I might have put up something even less inviting. Either way, they can't enjoy their balcony. Sad.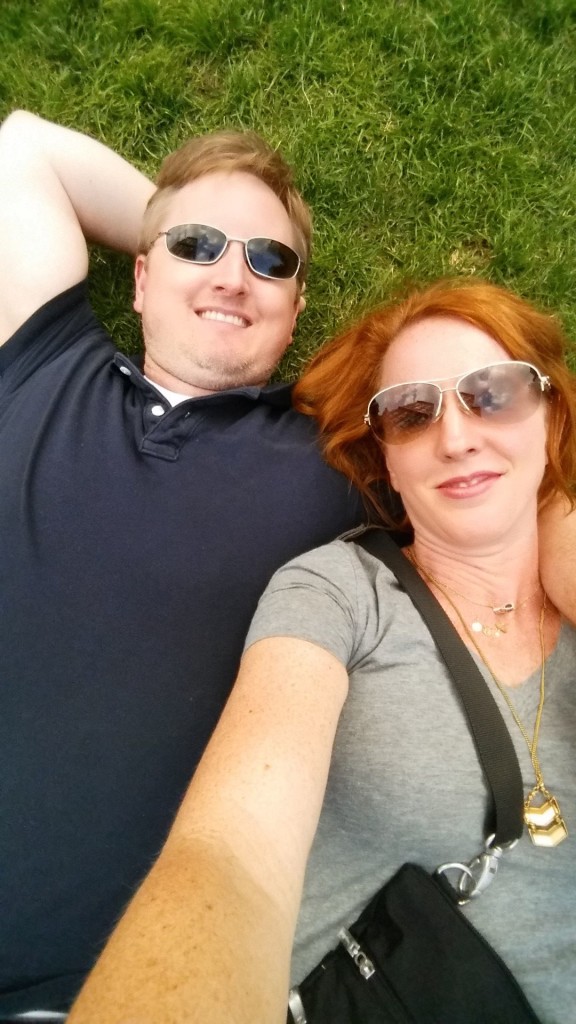 We took a few moments to just lie there and enjoy the grass and sun and weather and moment and peace.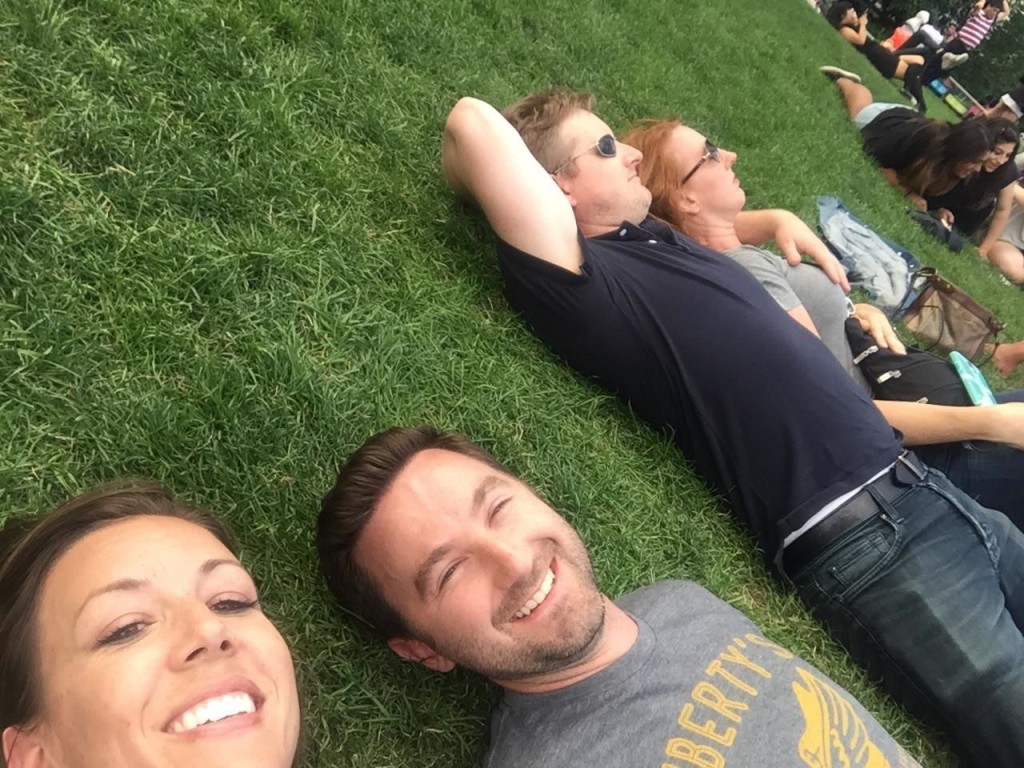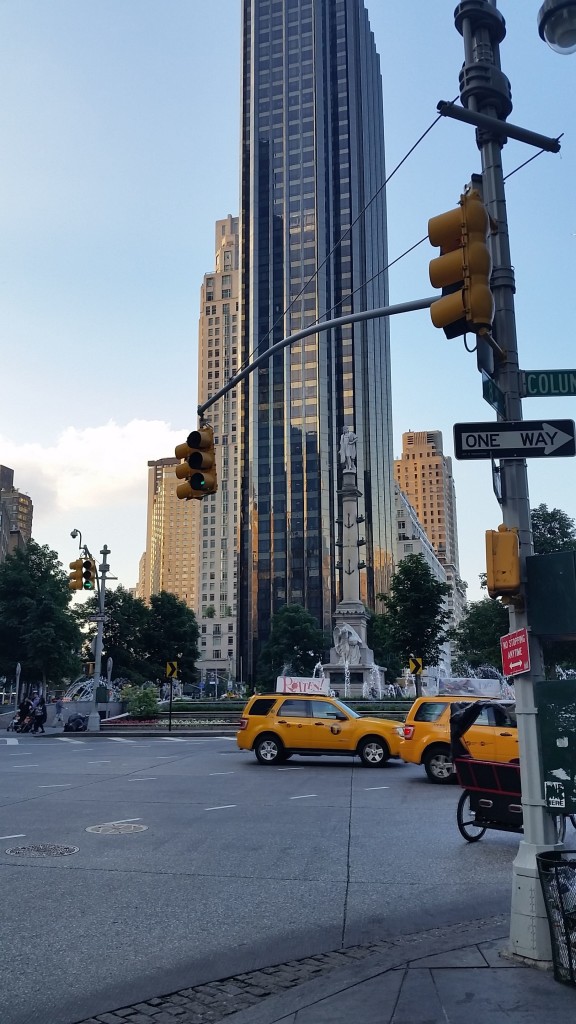 The restaurant we chose was near Columbus Circle, so we stopped there first because it's pretty.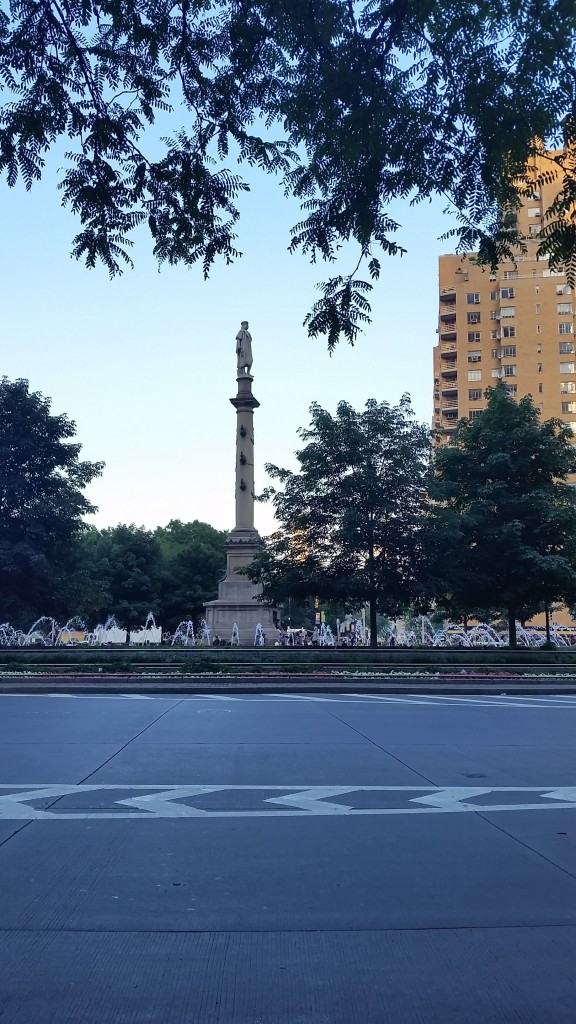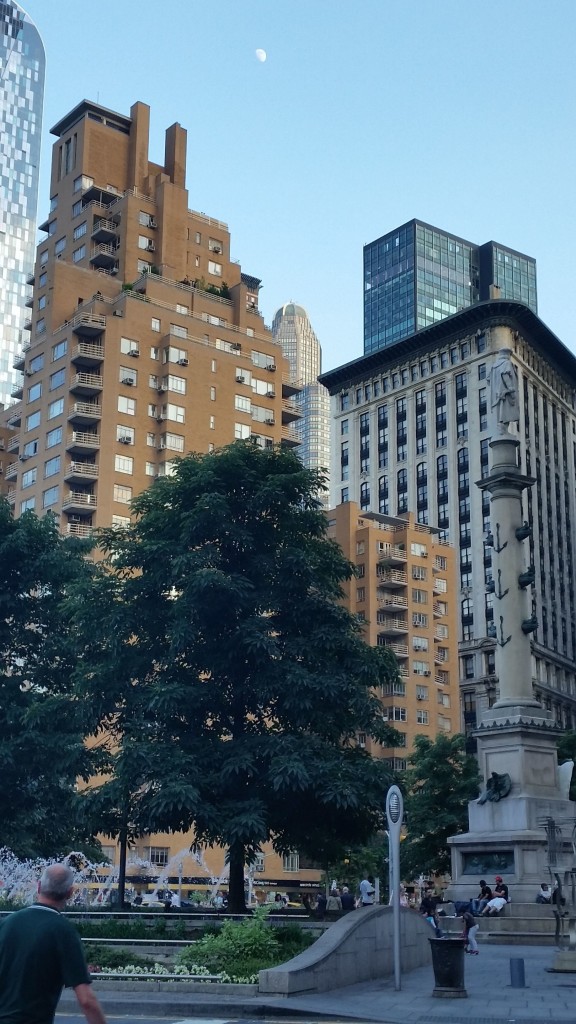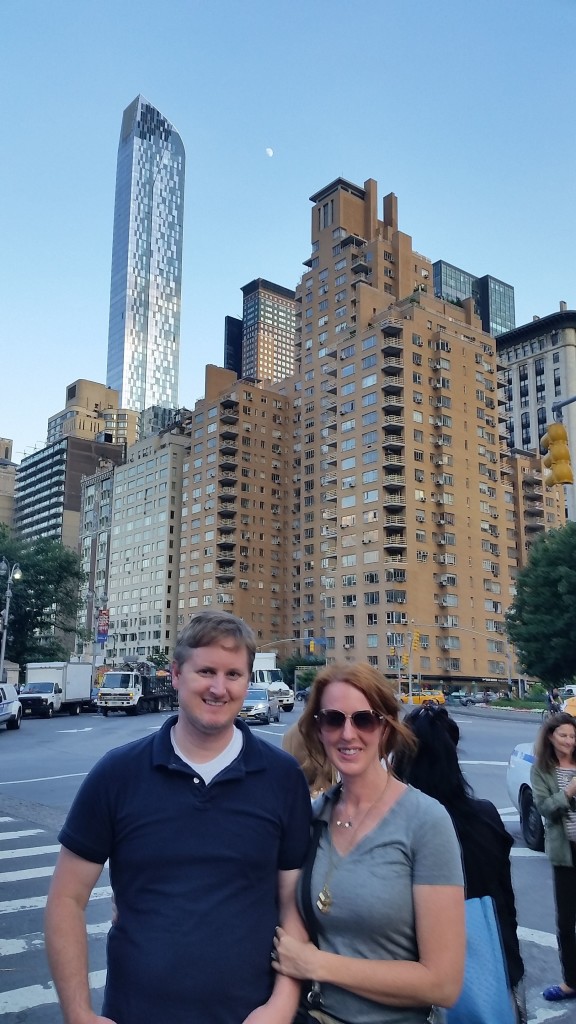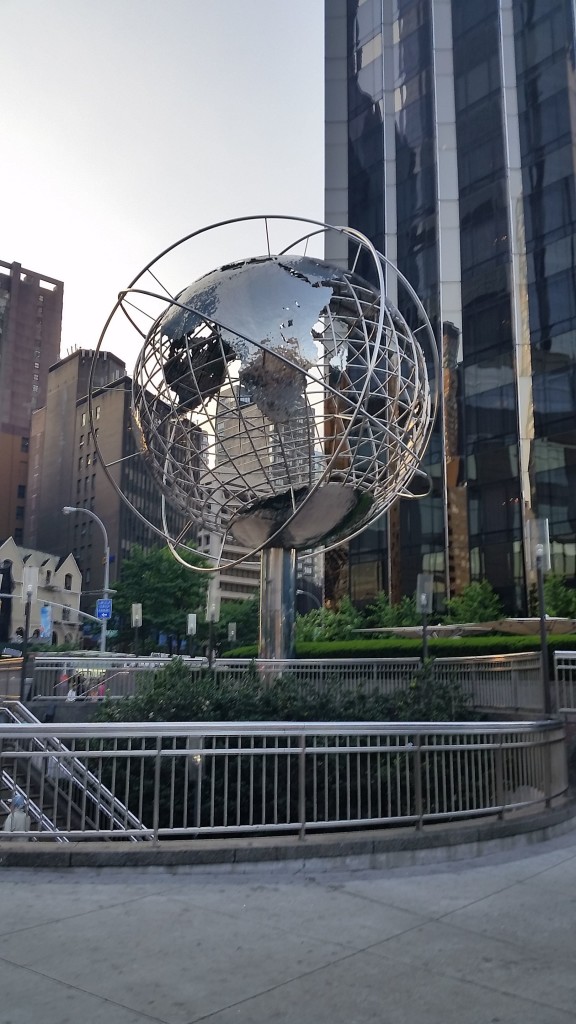 This guy was making awesome bubbles. I think I can figure out how to do it after watching him. My kids will go crazy if I figure it out.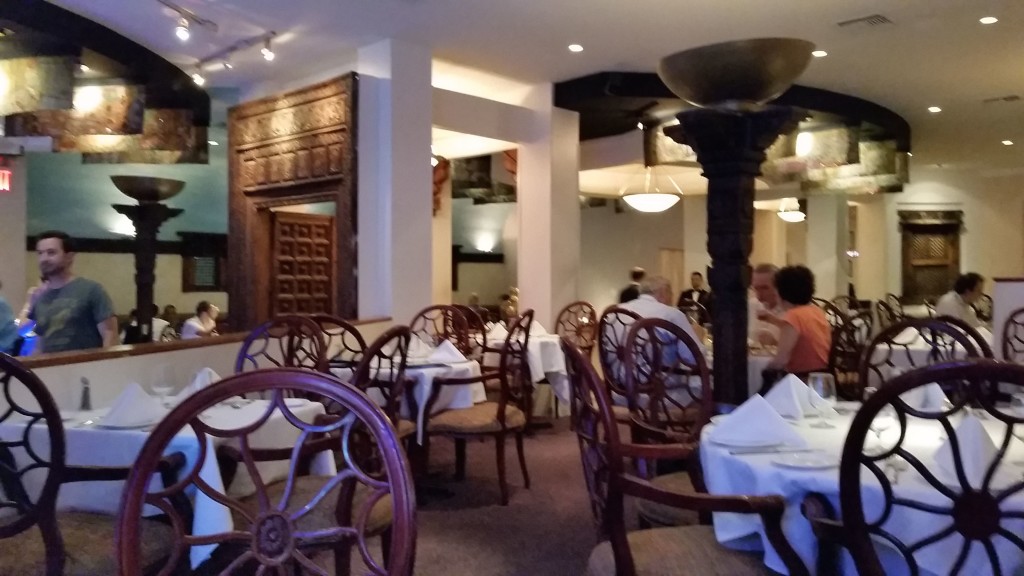 Dinner was at an Indian restaurant called Sapphire. It was good but not incredible.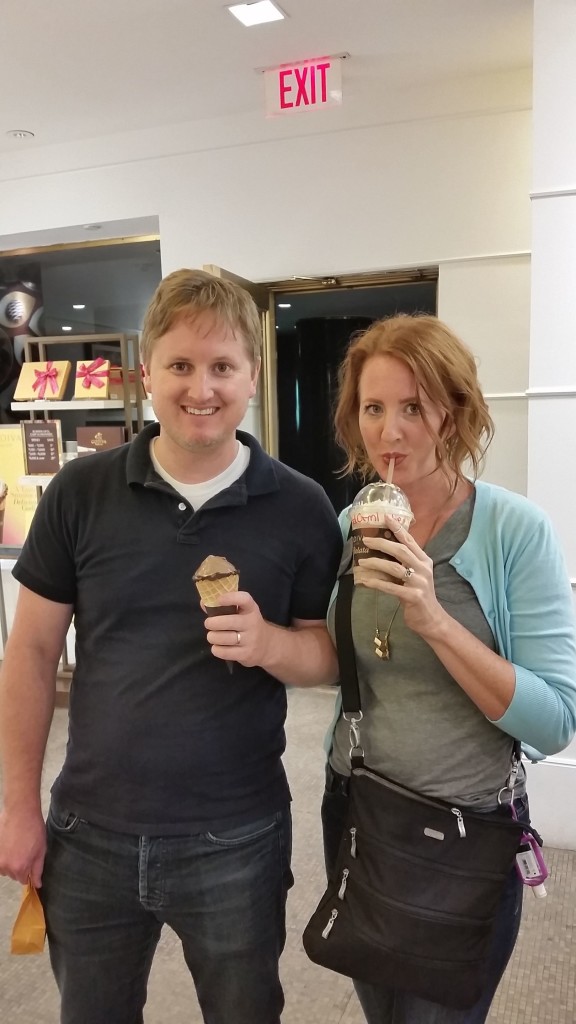 The Godiva store was calling our names, so we stopped there for dessert.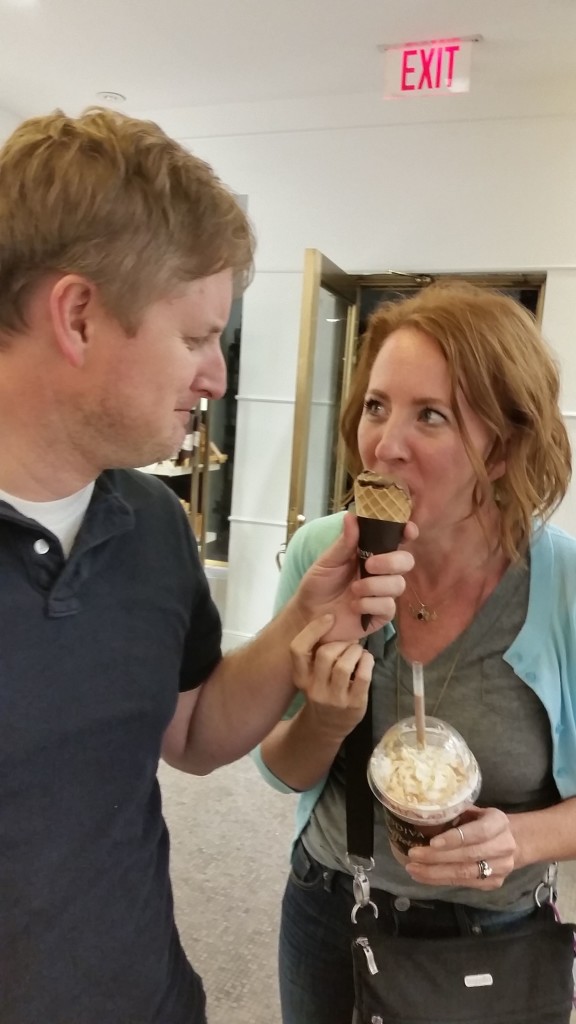 See how happy Adam is to share with me? He loves to share with me. In fact the deal we made (and always make) when we order is to get two different things and split. He didn't split! I got two bites.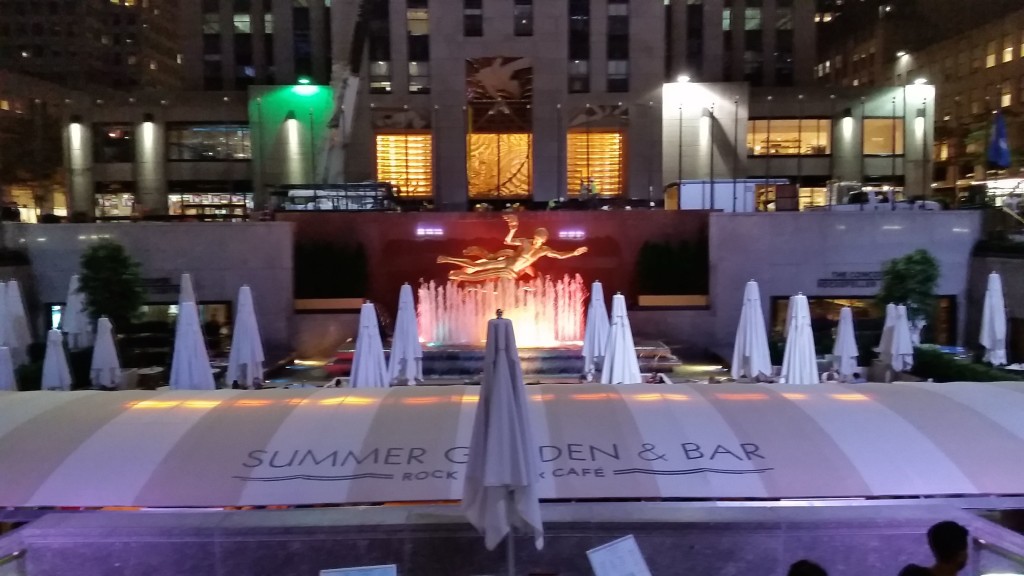 The Rockefeller Plaza is so pretty at night.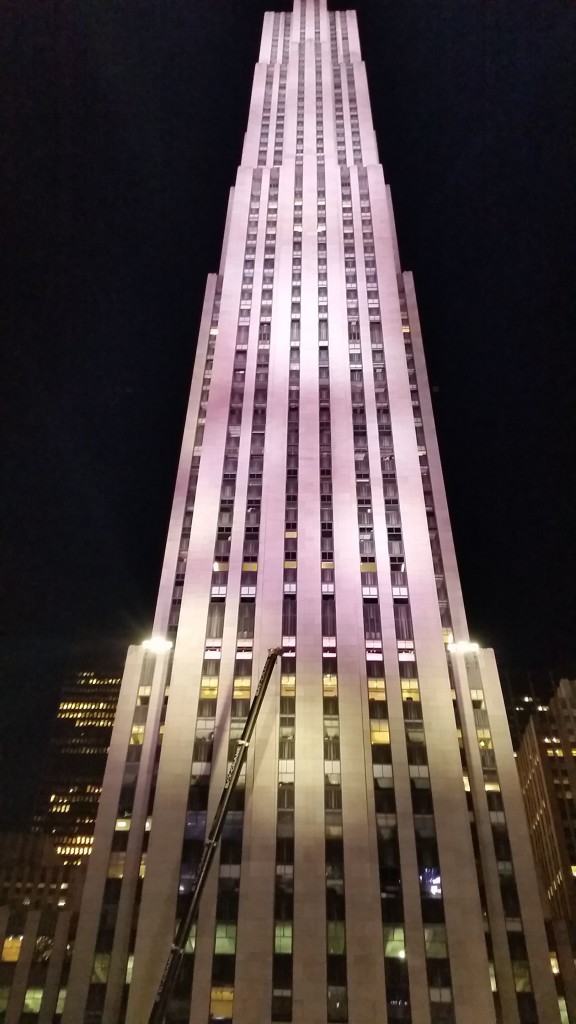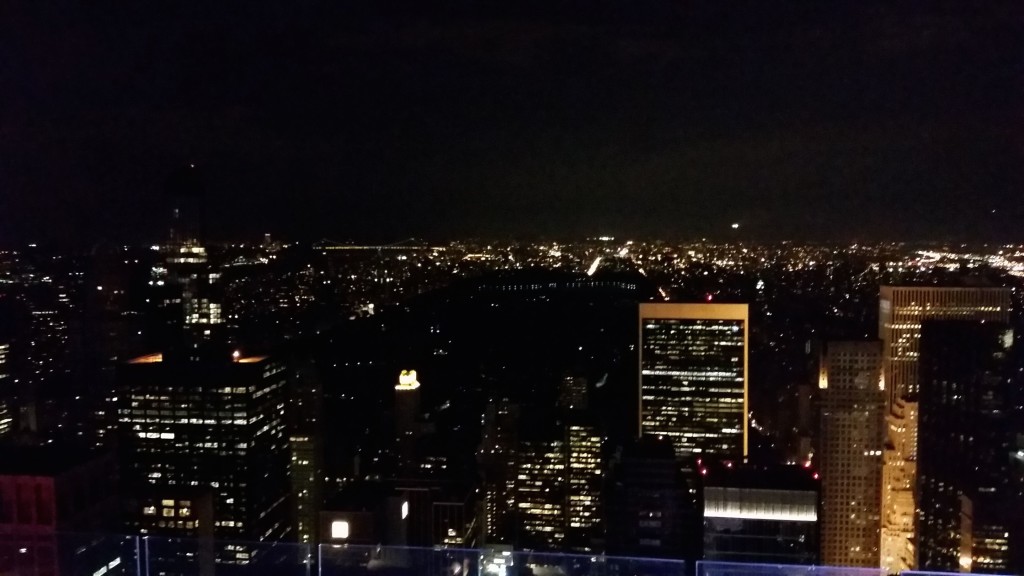 For the final activity of the day, we went to the Top of the Rock for the nighttime city view. We already saw the daytime view from the Freedom Tower.
It was so beautiful.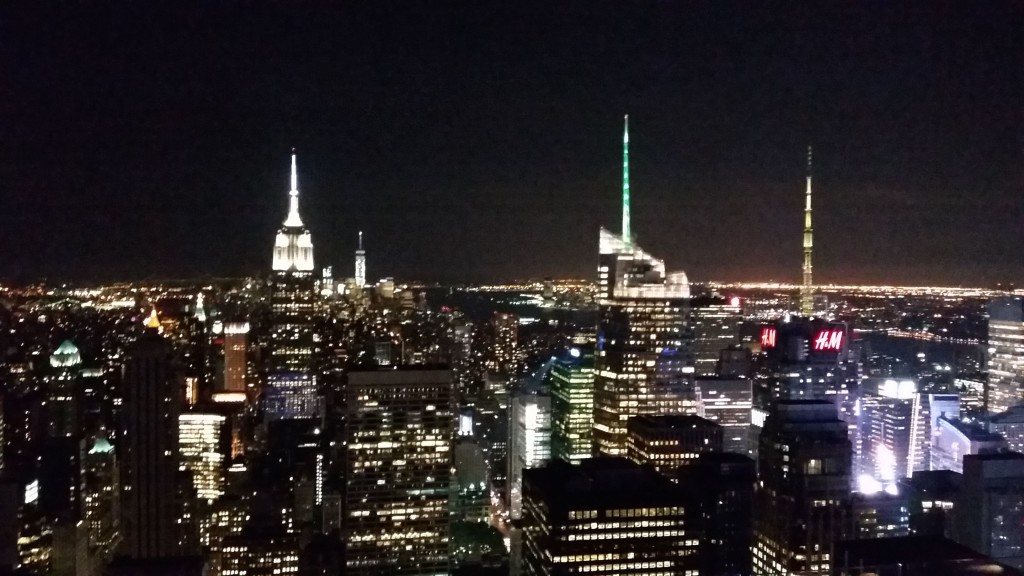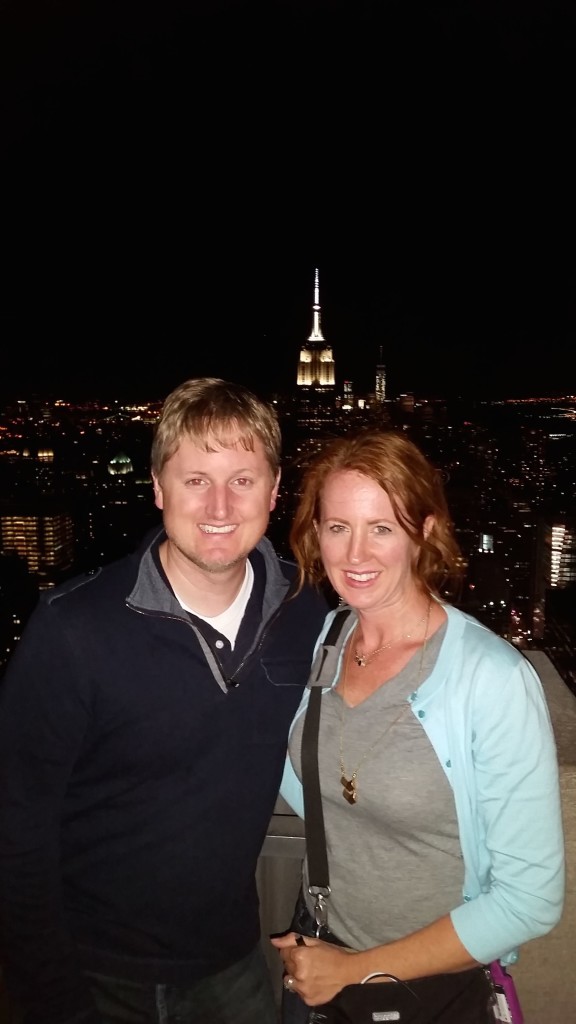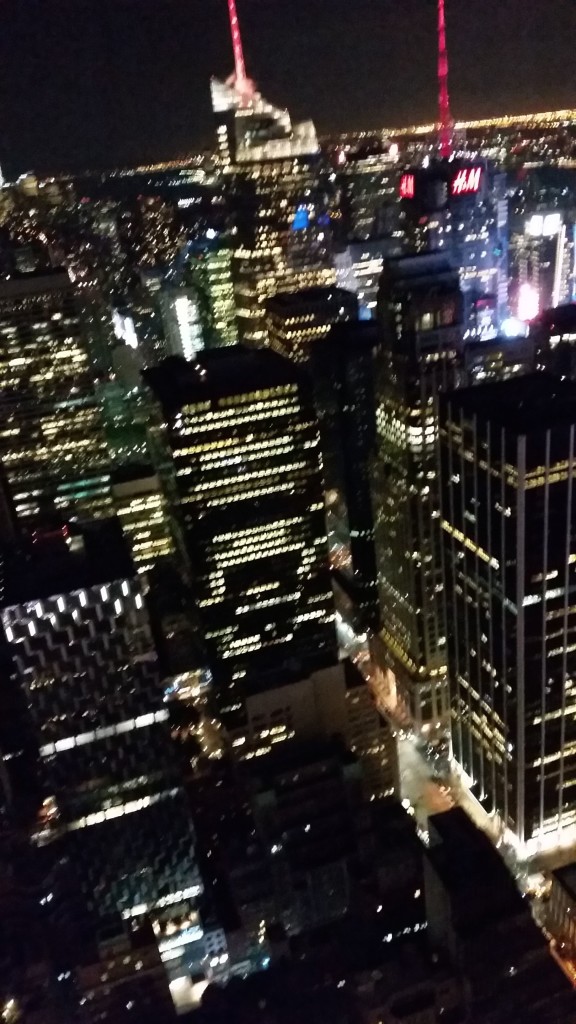 Way up high. That H&M sign is such an eyesore.
SATURDAY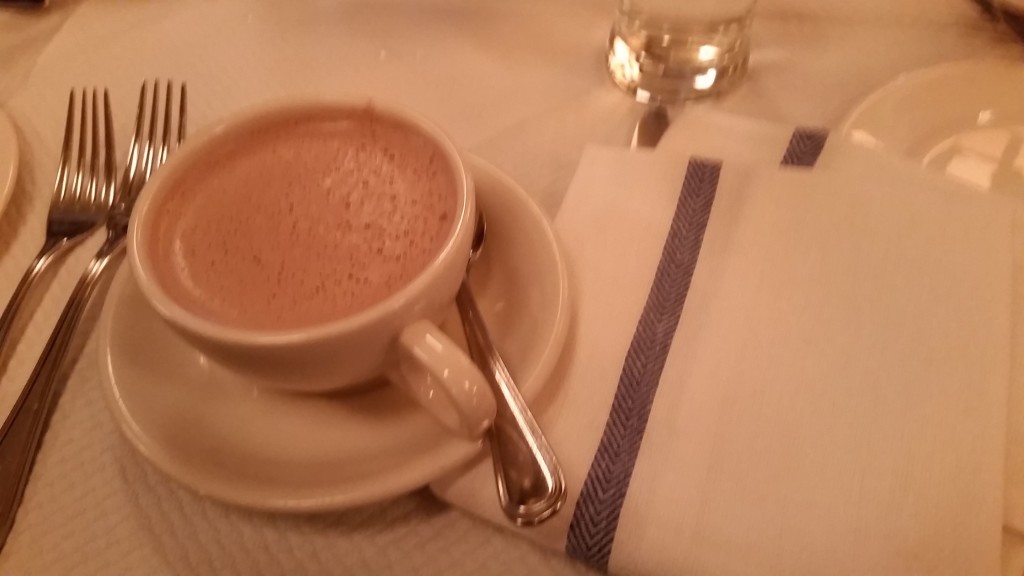 We woke up to rain and chilly weather in New York City at the end of June. We decided to console ourselves with hot chocolate and brunch at Balthazar's. My favorite. It's a mix of French and American, and it's perfect. If the weather had held out a bit we would have done our Central Park bike ride that morning, but it wasn't biking weather.
They made up this table just for us. It had a floral display on it when we got there.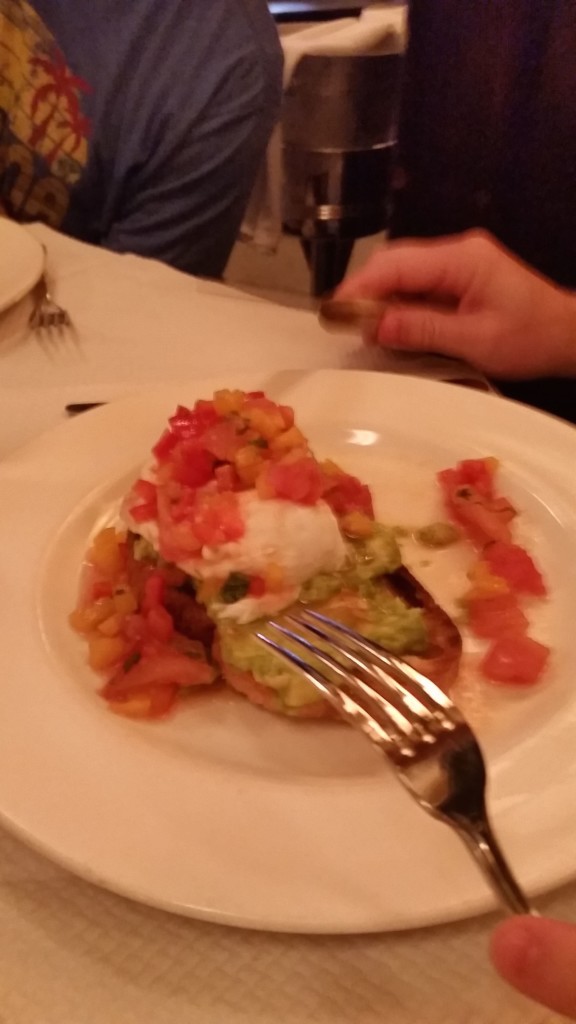 Poached eggs with tomato and avocado on toast.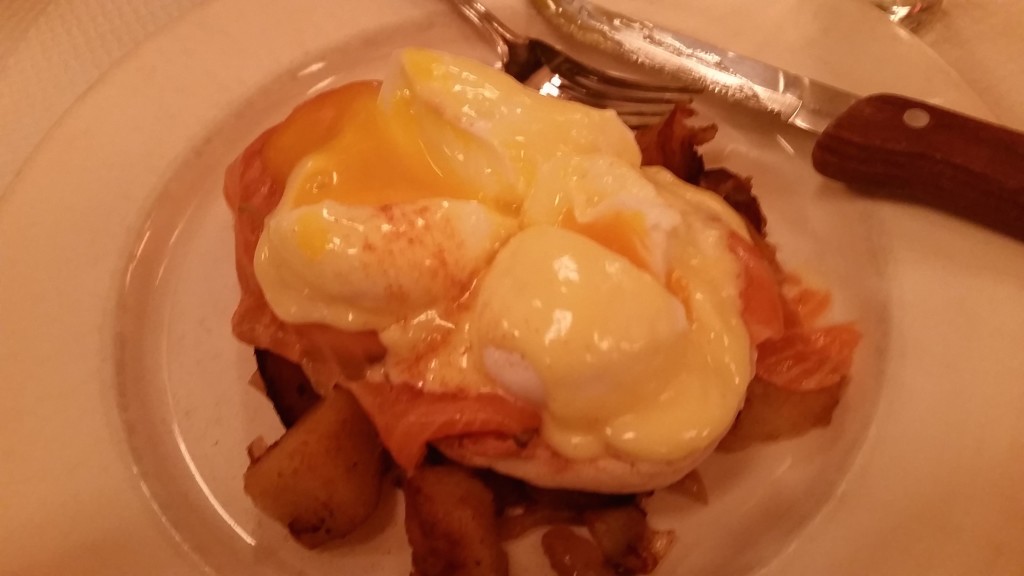 Smoked Salmon Benedict perfection.
Julie and I may have done a little shopping in SoHo and bought some jewelry. First up, matching necklaces.
Julie bought those earrings. Don't they make her face glow? I bought a second necklace that I love.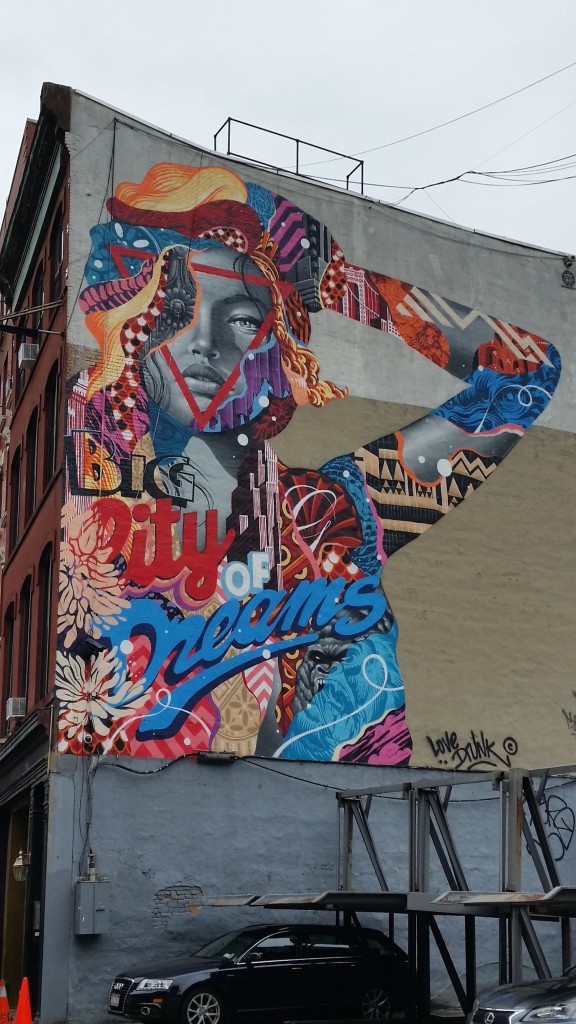 More of that amazing street art.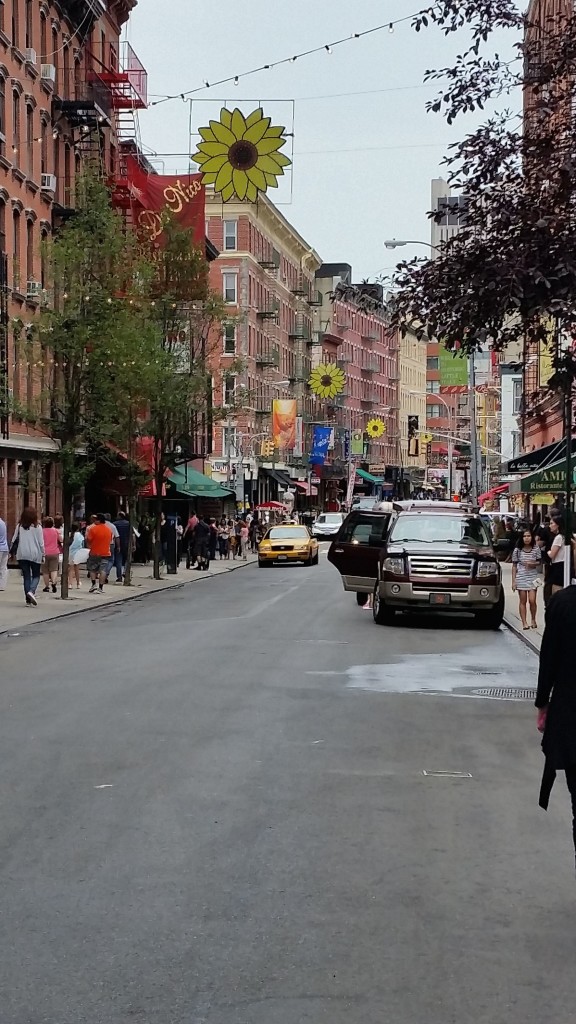 We briefly wandered through Little Italy.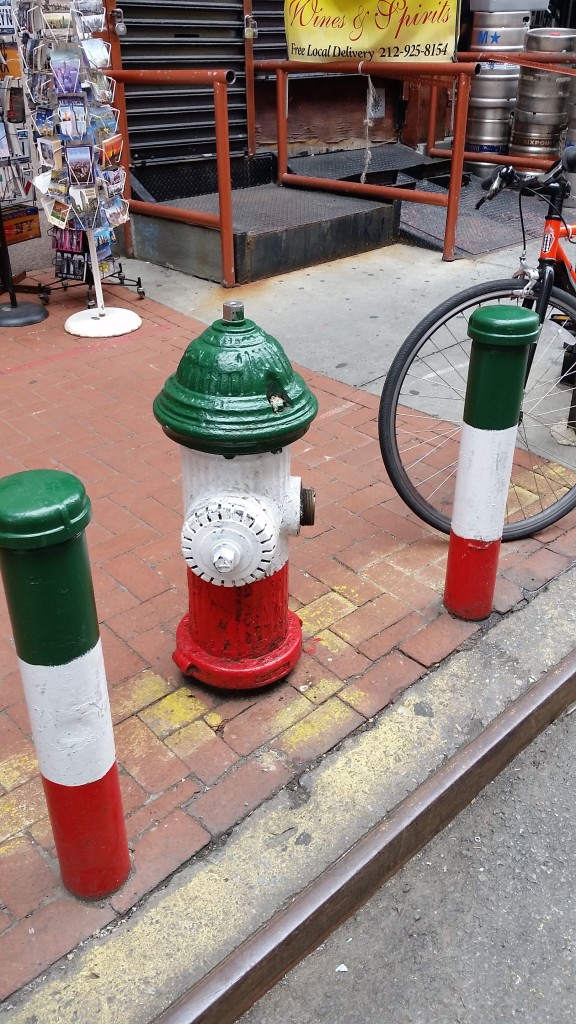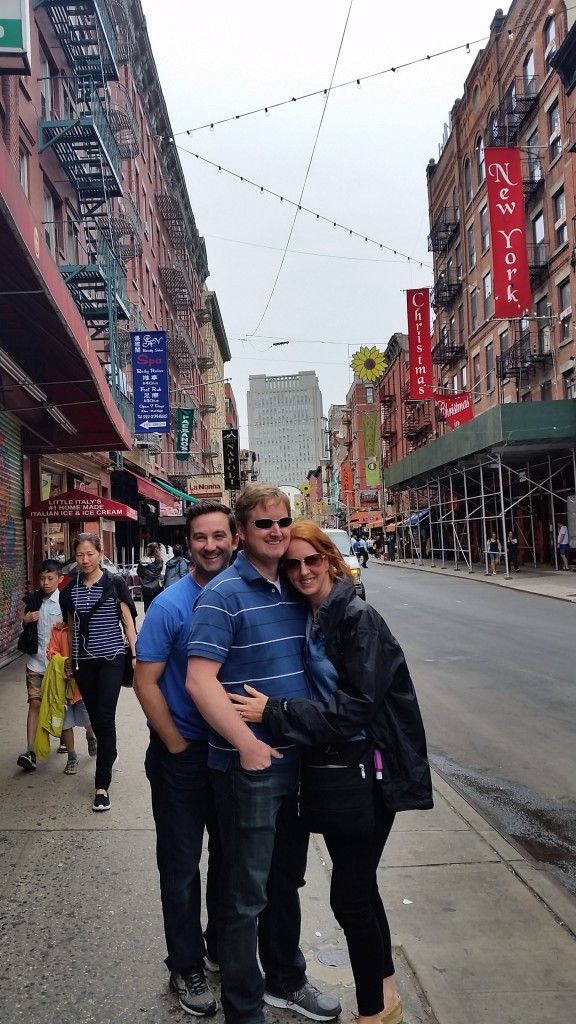 Best photobomb ever. Ok, truth. Chad is my other husband. Now you know. And I guess Saturday was blue shirt day. All four of us did it. Yesterday was gray shirt day.
I left my coat in the hotel room, so Adam let me wear his. Such a gentleman.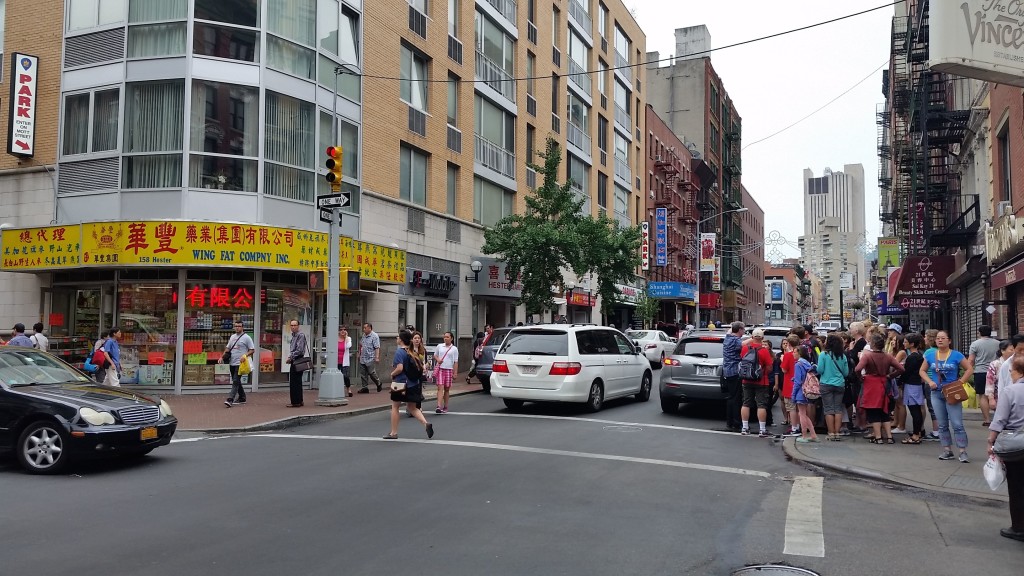 Then we cruised through Chinatown. It smells awful. The shops smell like the meat shops in Brazil with all that meat hanging out in the open. GAG. Chinatown in San Francisco is way cooler. I saw this 20/20 special on buying fake purses on Canal Street, so I wanted to see if that's really how it goes down. This guy asked me if I wanted a Louis Vuitton, so I say maybe (but really, no I didn't want a fake purse. I just wanted to see how it happens). He tells us to follow him. I thought he meant to the corner. No, he meant five blocks. Then he whips out the card to show me pictures. I look, I say no thanks, and he gets so mad! He starts yelling at me to not waste his time if I don't want to buy. He says wait five minutes they bring some to show me. No, I don't want one. I looked, I'm not interested. Adam got involved and drug me away before I got in a street fight. That's what shopping is dude! Looking is no commitment to buy. I had no intention of buying a purse. I just wanted to see what would happen if I said yes. Everywhere in New York everyone seems to be carrying a LV. I assume most of them are fake.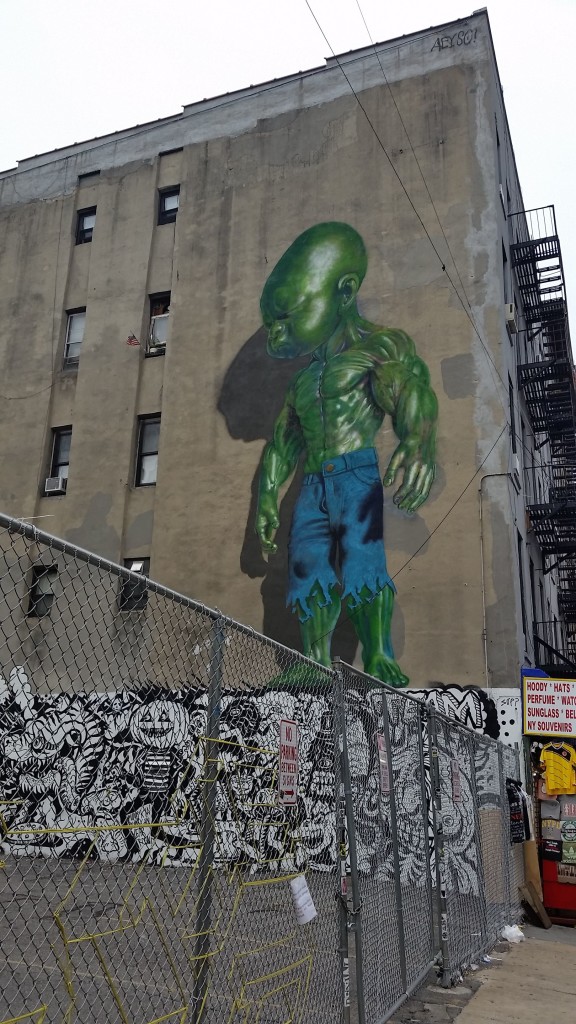 Not my favorite street art, but I can appreciate it for what it is.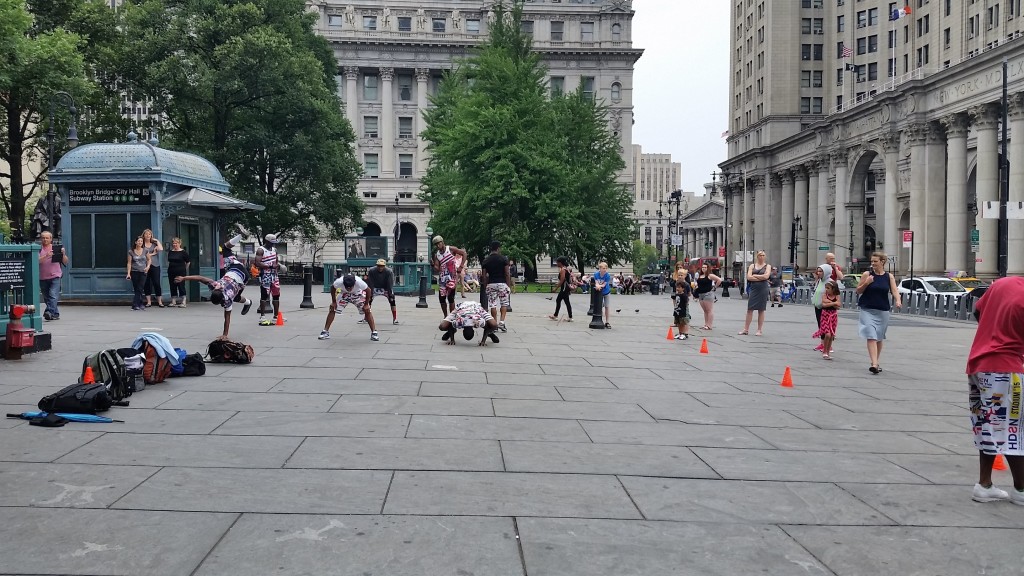 We head to the Brooklyn Bridge so we can walk across it. Across the street this dance group gets started up so we stop to watch and I video to show my boys.
They did some cool stuff, even jumping over this girl, but then they start rounding up volunteers to form a line for one of them to jump over. I got pulled in. Once they had us all lined up, we became victims of a public mugging. They tell the crowd they won't do their trick until people pay up. They go around the circle collecting money. Then they start shaking down the people in line who are going to be jumped over. that would be those of us risking injury. Those who paid most got to be in the front of the line. When they got to mean I turned out my pockets to show them they were empty. No money? Let us see. I got the pat down. Where's your boyfriend? No boyfriend? Then you must have a husband. Where is he? Then Adam gets the shakedown, but he only has $2 in his wallet. I already knew that before they went after him. So I yell out, "We have six kids! They have all our money!" So they gave him a dollar back and told him he needs it. After they had bled us all dry, I asked one of them if I get a cut. He laughed and said, "No. But I like that you asked." Then they started pulling people out of line to go back to the crowd. I was not one of the dismissed.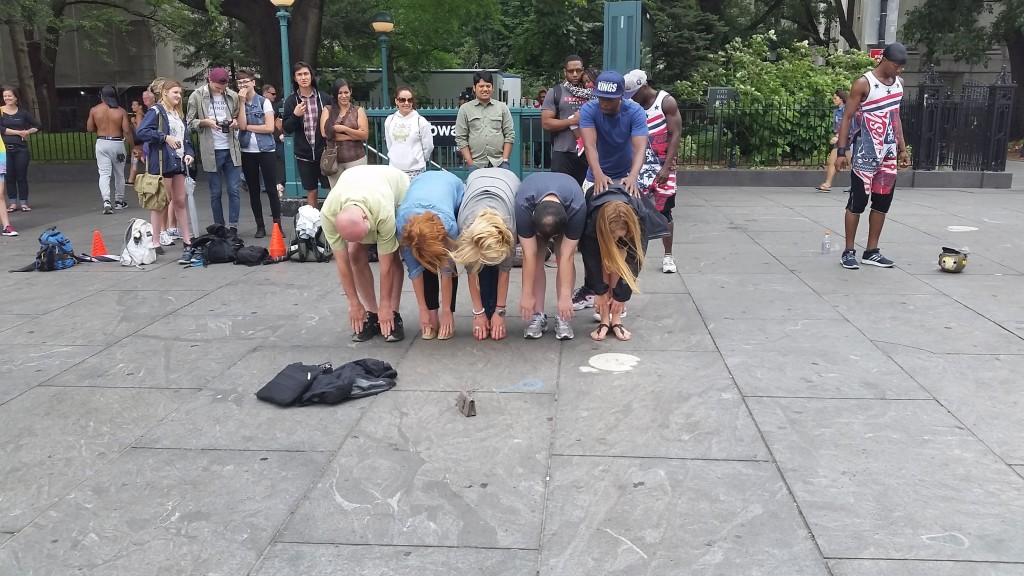 They lined us up and put us in place with strict instructions to NOT MOVE. And then….
Well that was a lot of excitement. Interesting thing is we saw this same group in Central Park four years ago doing the same act but left once they started demanding donations. It must be a winner if they are still doing it.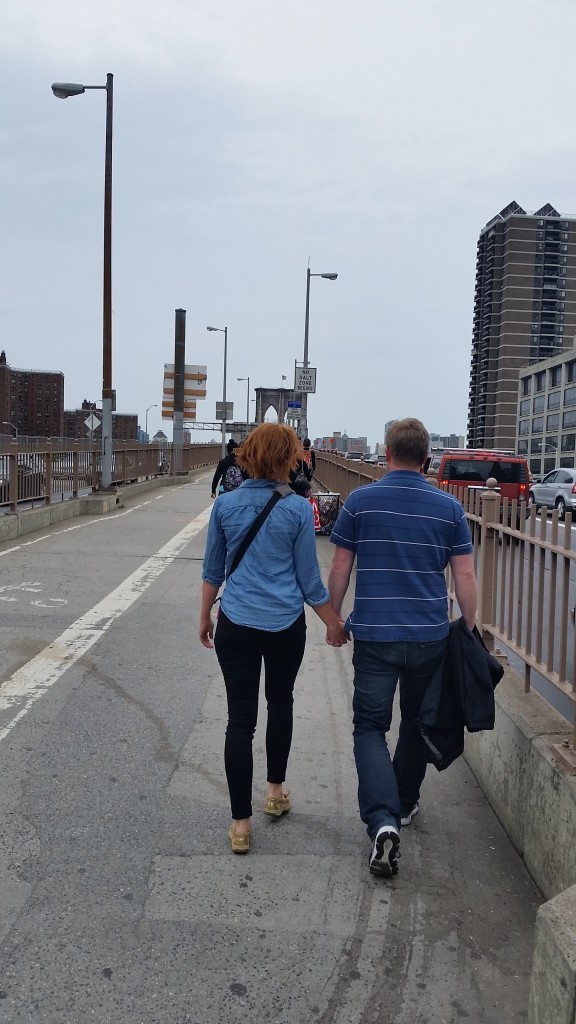 We continued on to our original destination, which was to walk the Brooklyn Bridge.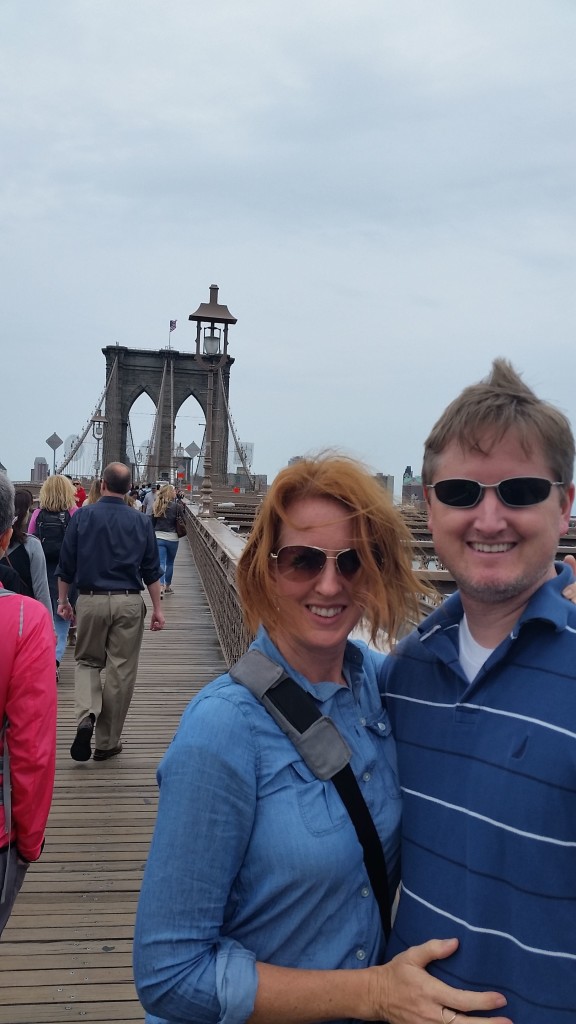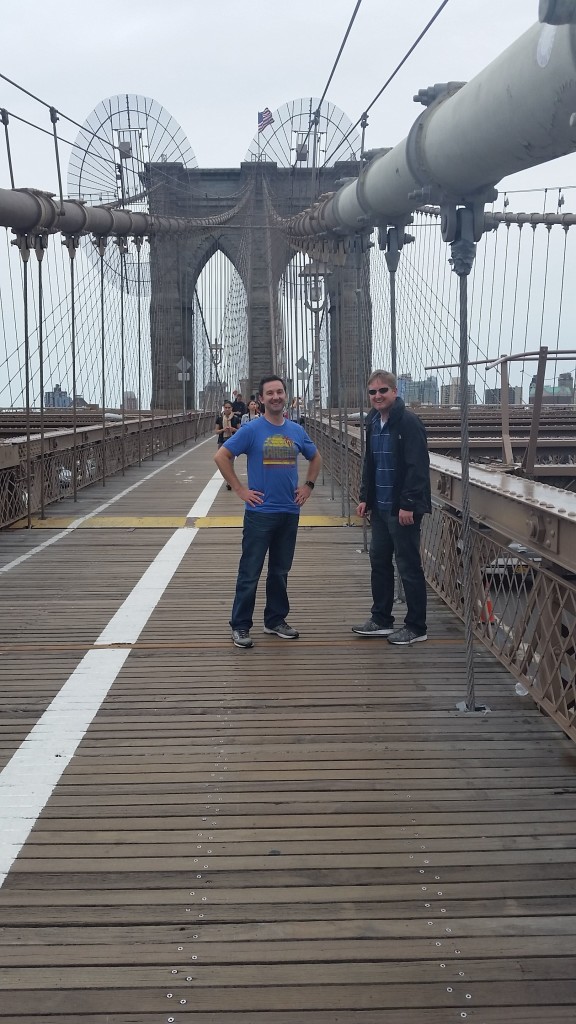 Chad and Adam kept leaving us.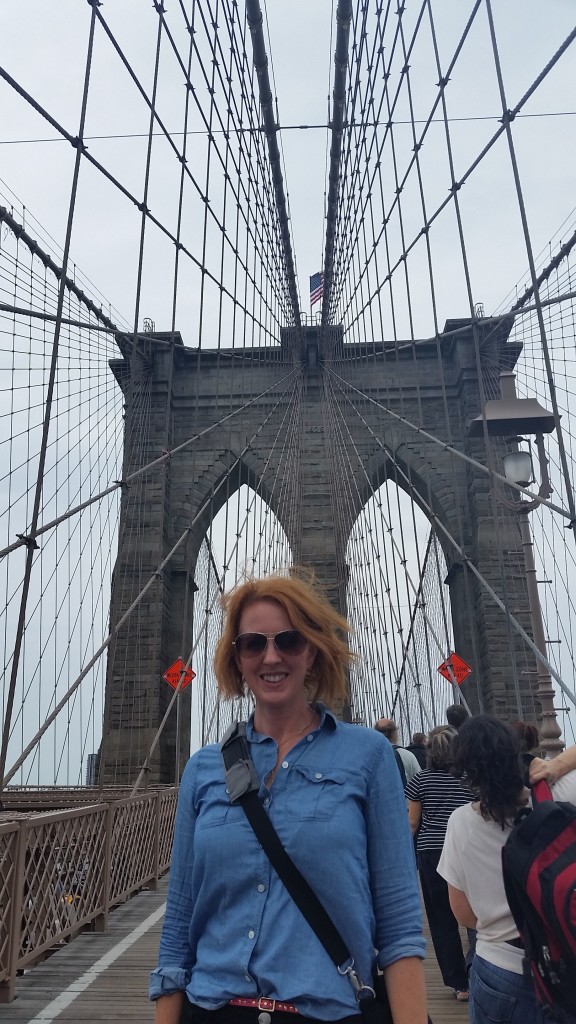 Halfway across everyone else was done and turned back. I would have liked to have gone on to Brooklyn Heights to walk around. The men kept complaining bragging that we had walked 10 miles the day before.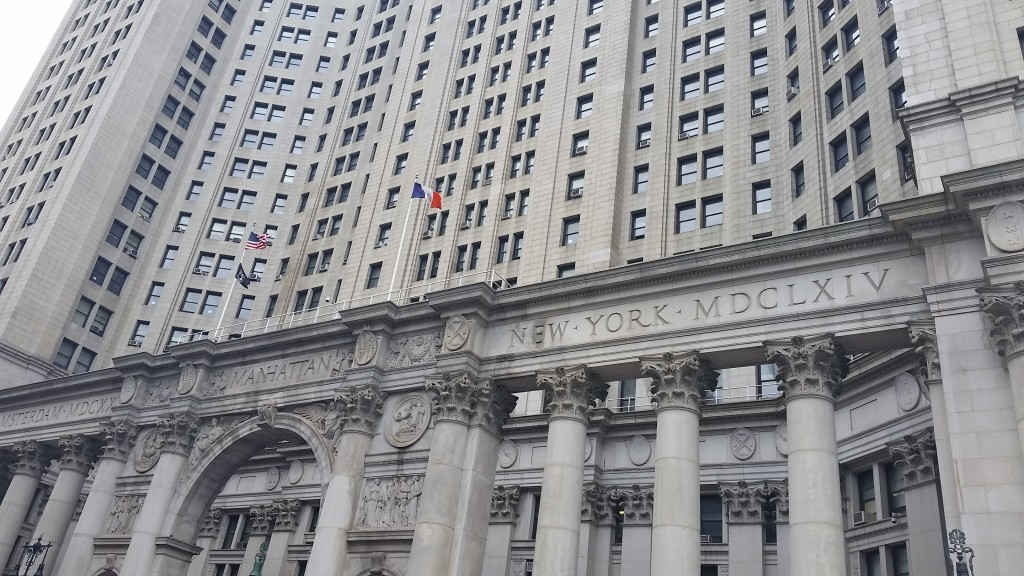 Manhattan Municipal Building. One of the largest governmental buildings in the world.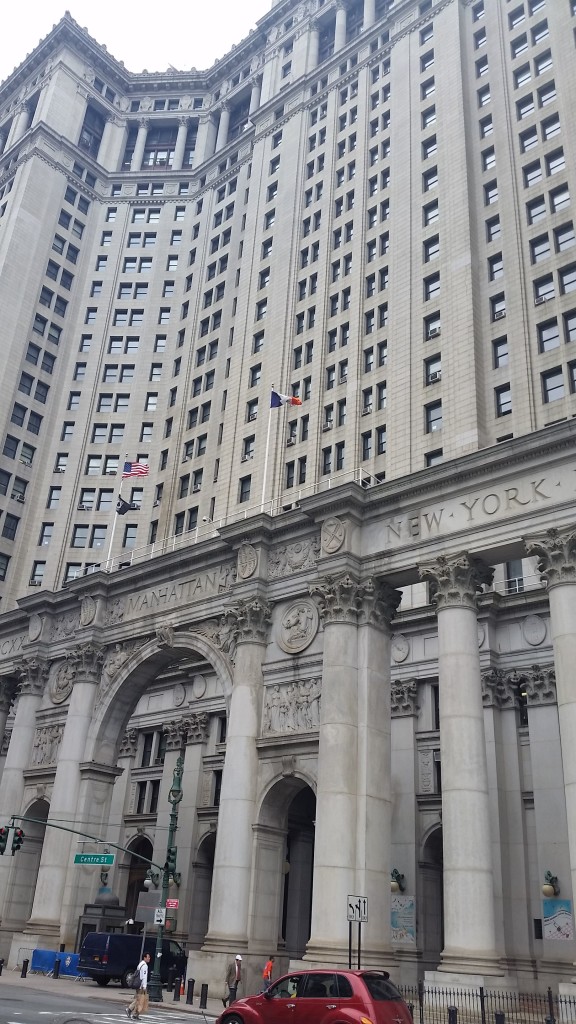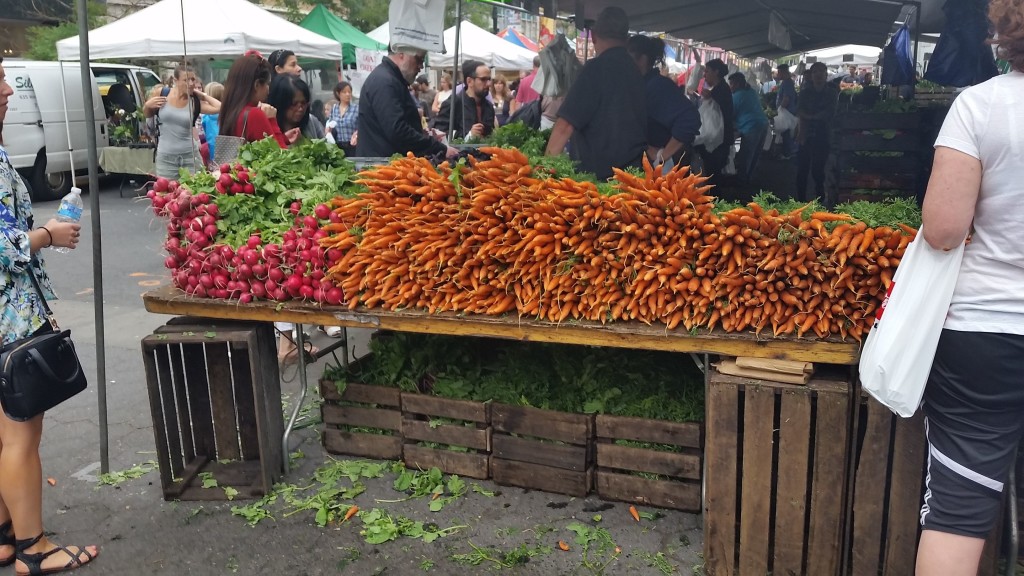 We went to check out the farmer's market at Union Square. I love those stacks of carrots.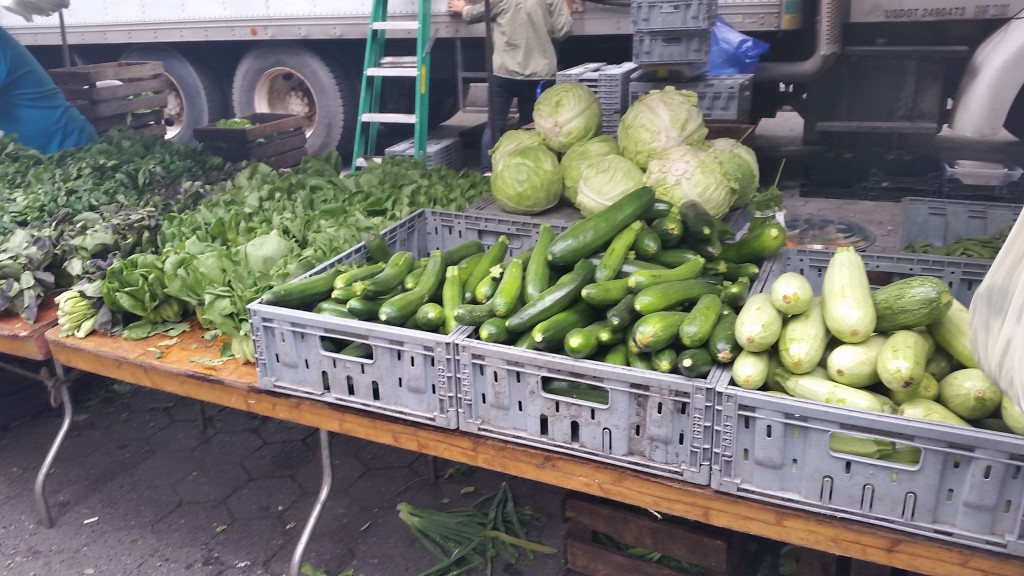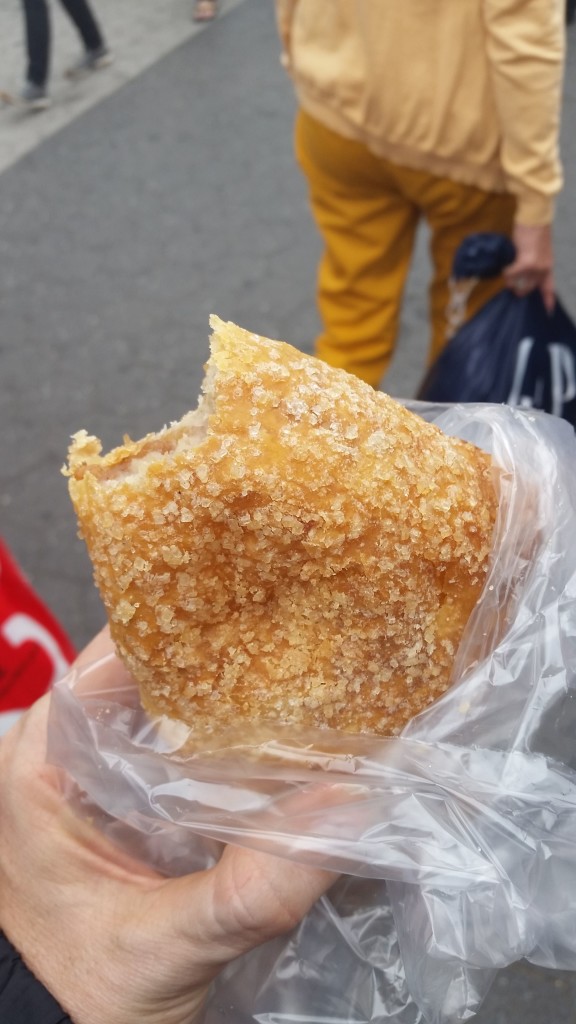 We got a few things to sample. I chose an apple turnover.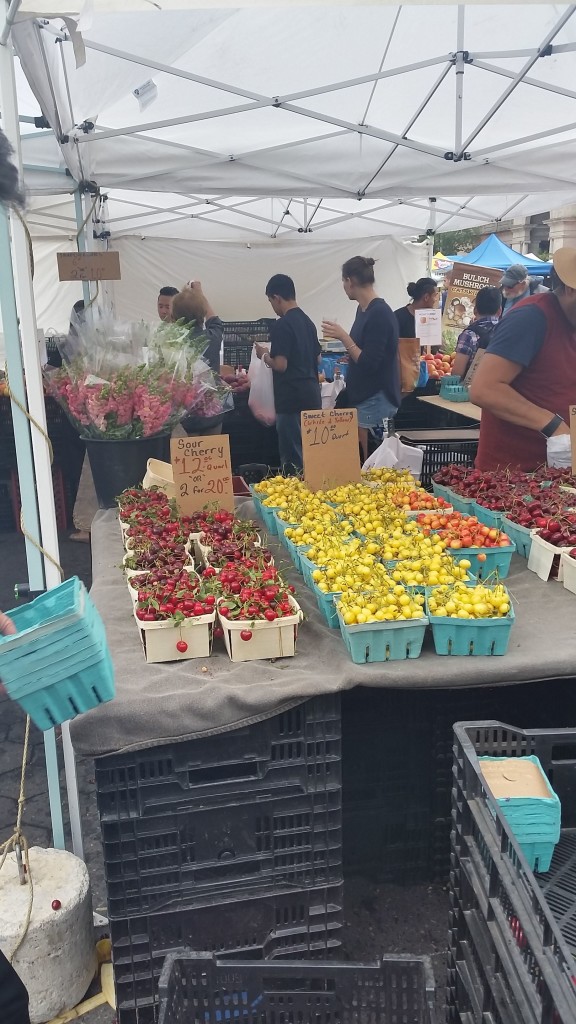 I would love to do my twice-weekly shopping here.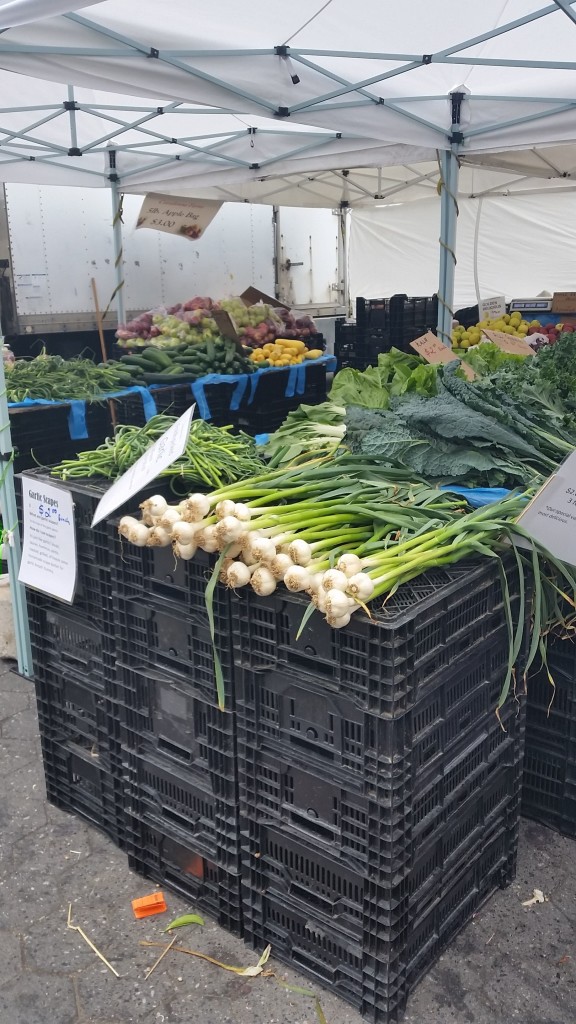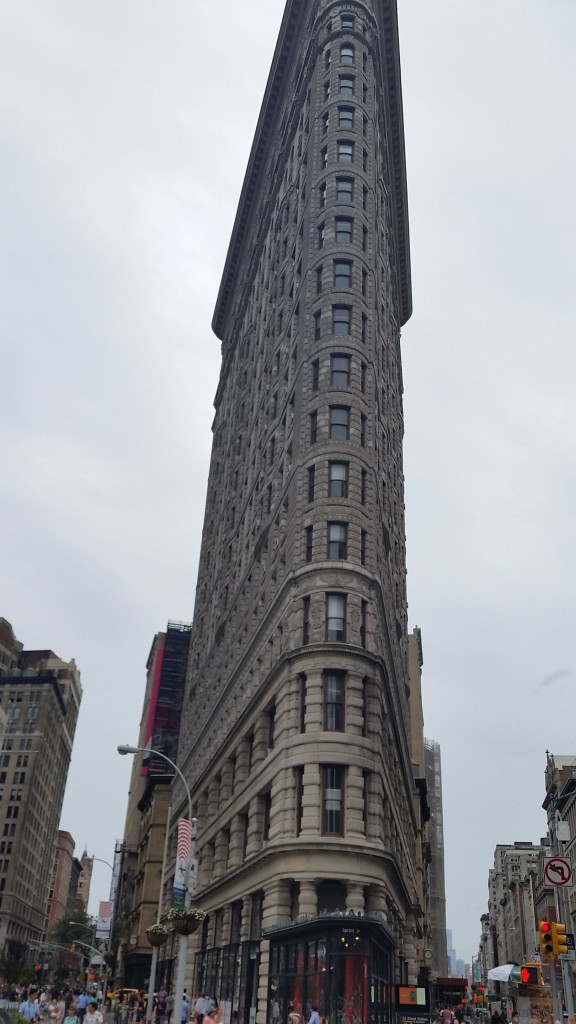 We were hungry for more than pie though, so we went to Madison Square Park to eat at the original Shake Shack. Even at 2:30 on a Saturday it was a long line.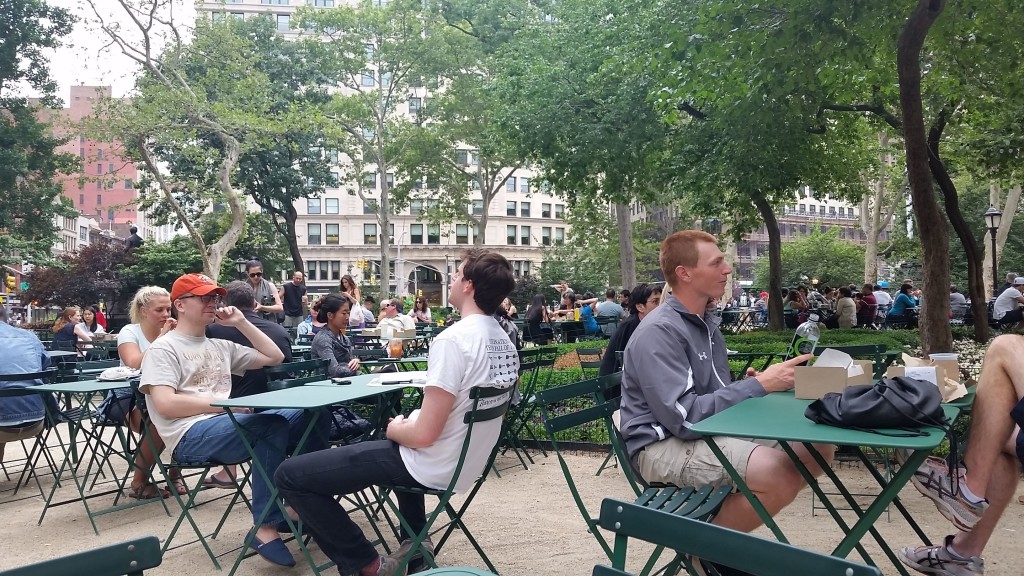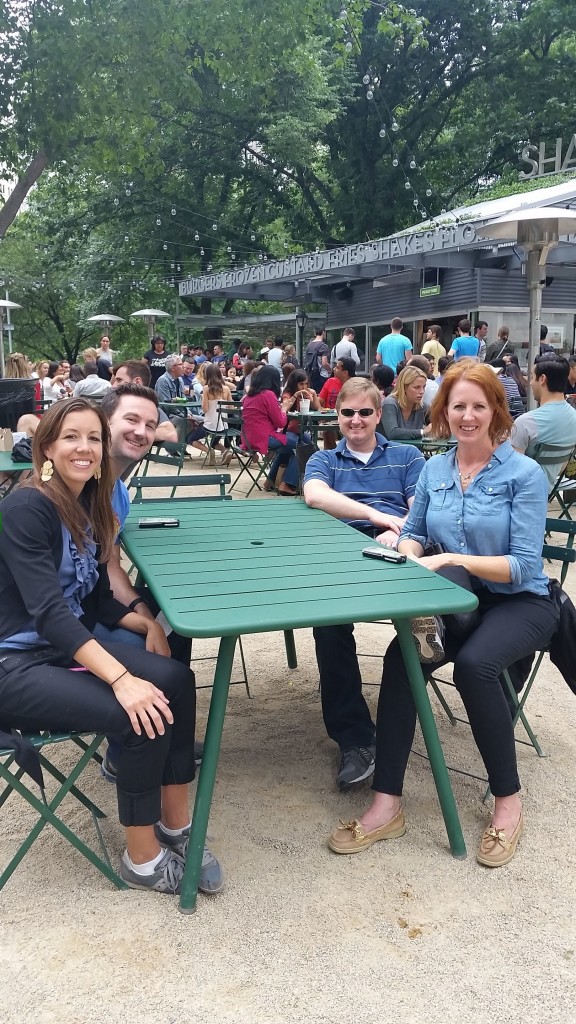 We didn't all just wear blue shirts. We all wore blue shirts and black pants.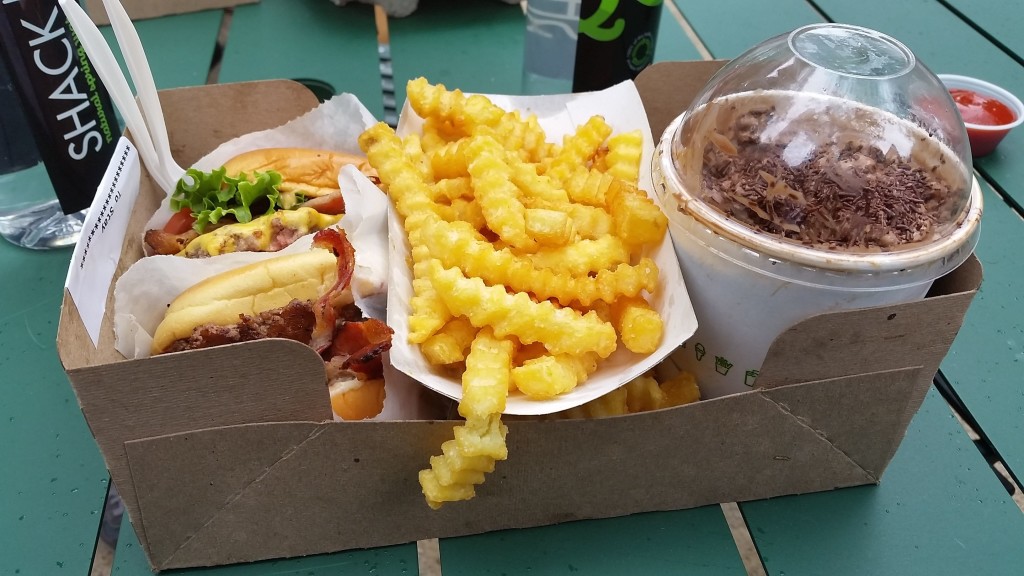 But worth the wait. It started really raining just as we finished lunch.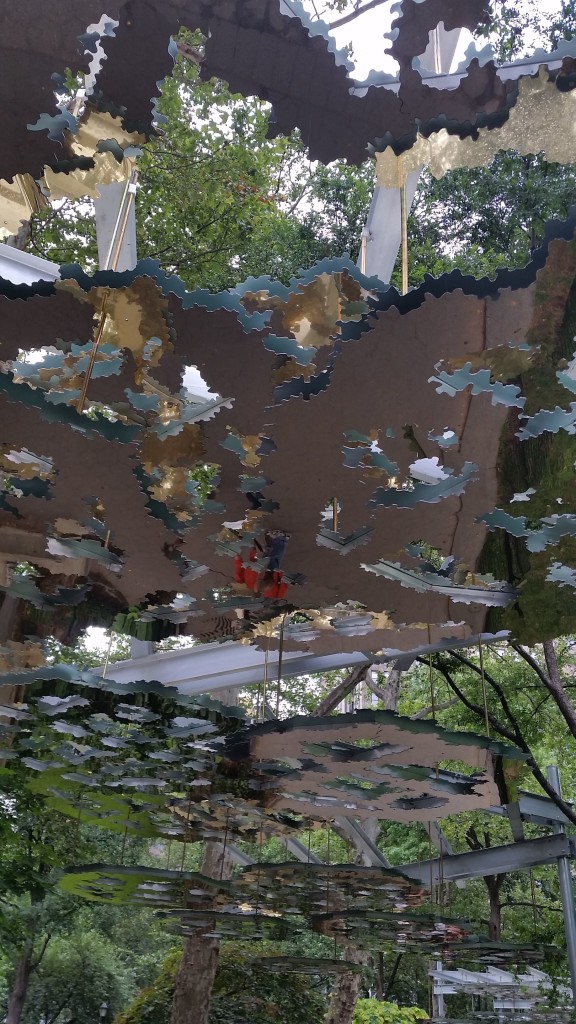 This art exhibit is hanging in the same park.
There is a math museum that everyone else wanted to go in. Math is my enemy.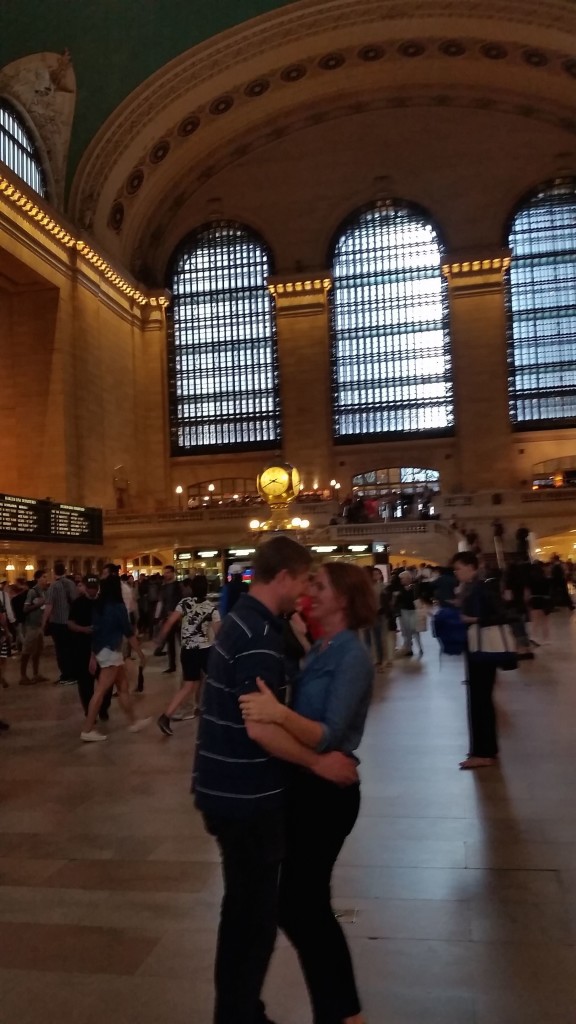 We wanted to show Julie Grand Central Station. There was a couple there being filmed doing a time warp, so we did one too.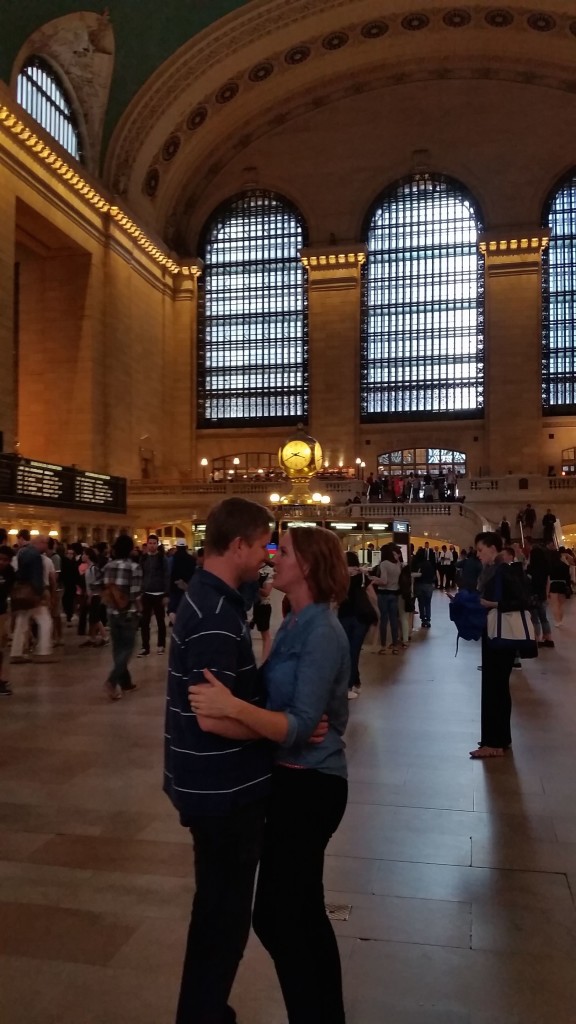 So romantic. I bet they were so annoyed we were copying them.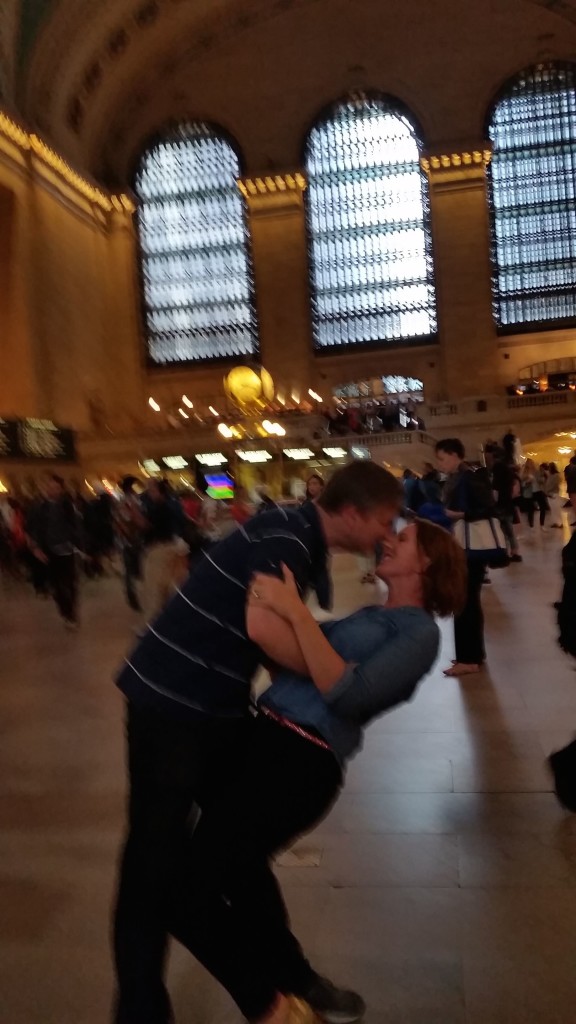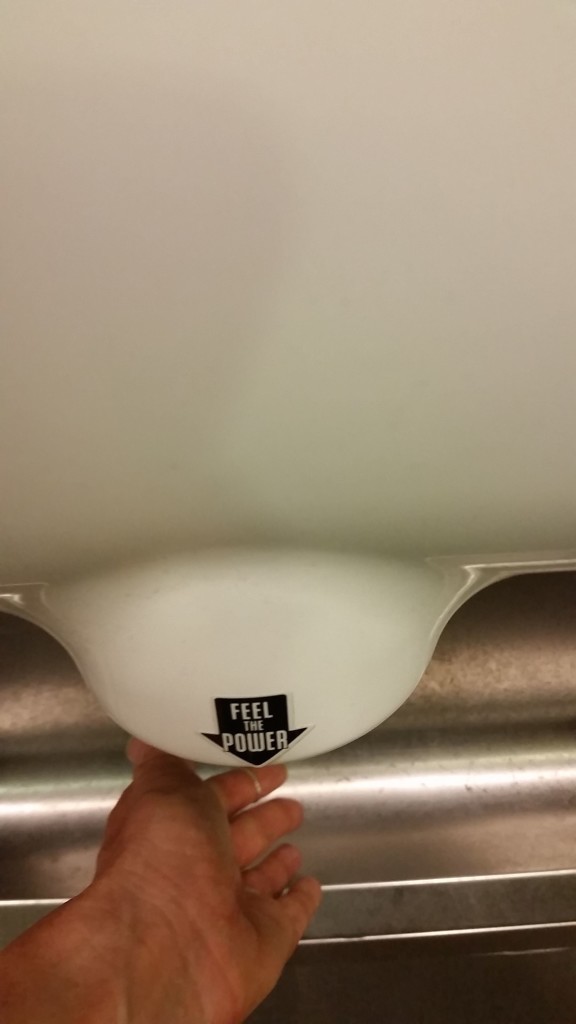 Just drying my hands, but I feel the power.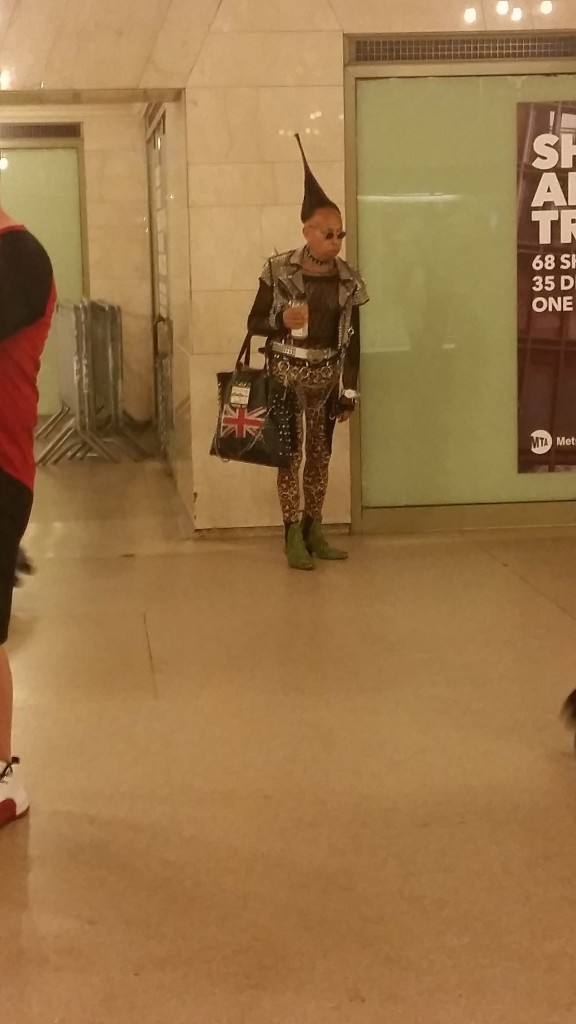 This guy was at least 80 years old. So, no, I guess sometimes you don't grow out of it.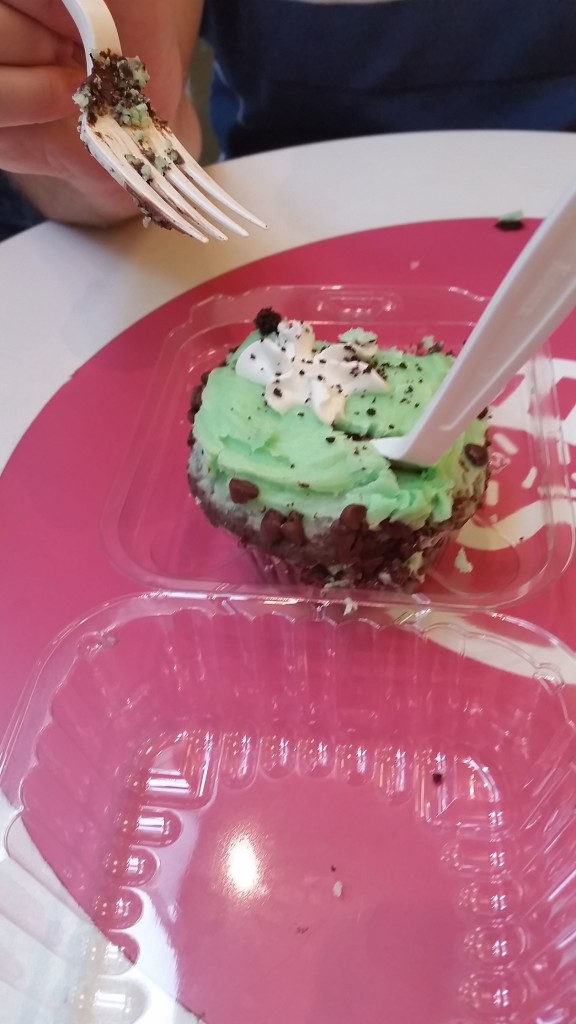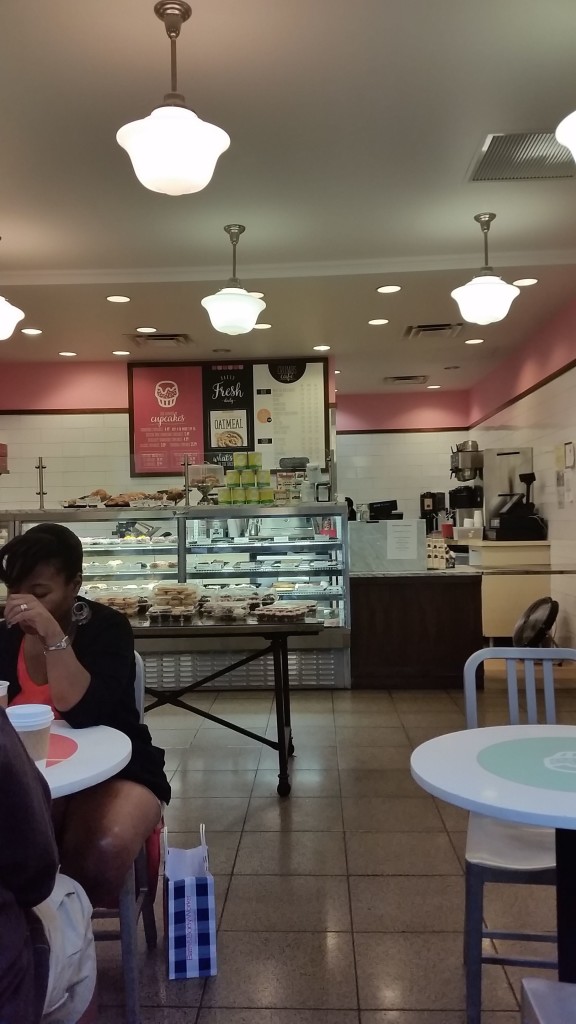 We stopped at Crumbs for a cupcake, and then we went to the hotel for a nap. We were exhausted, and a nap was so needed. Adam never naps, so he worked while I slept.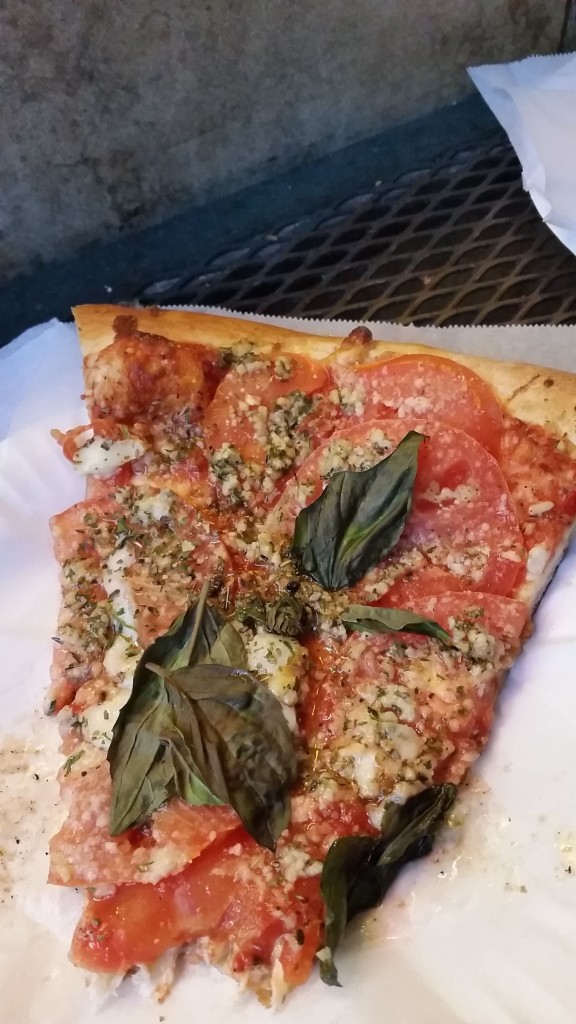 We got up in time to have a slice of pizza before we went to see Finding Neverland. My slice was really good, even if the guy at the counter was a jerk. Adam got plain cheese and didn't love his.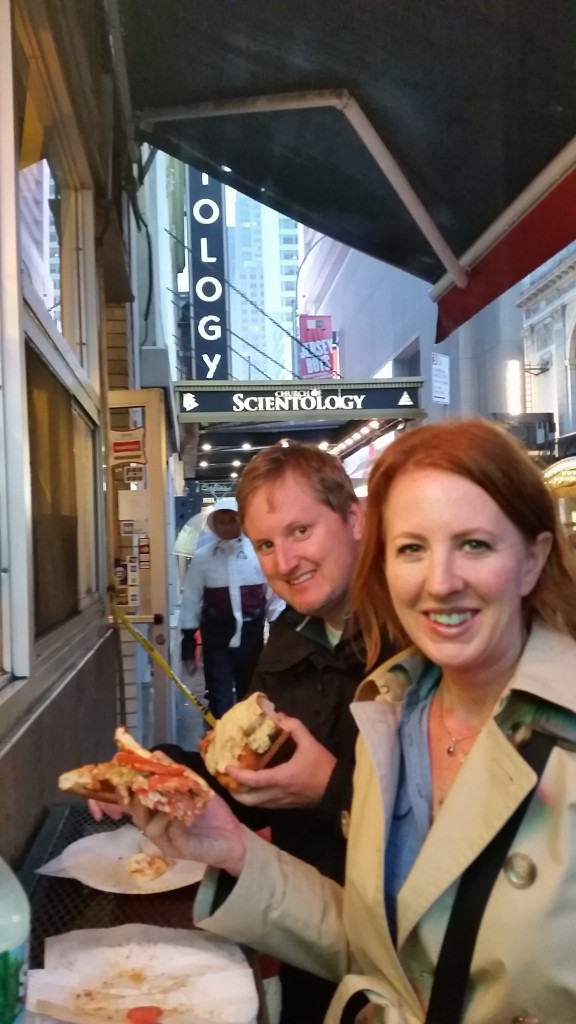 I was still half asleep.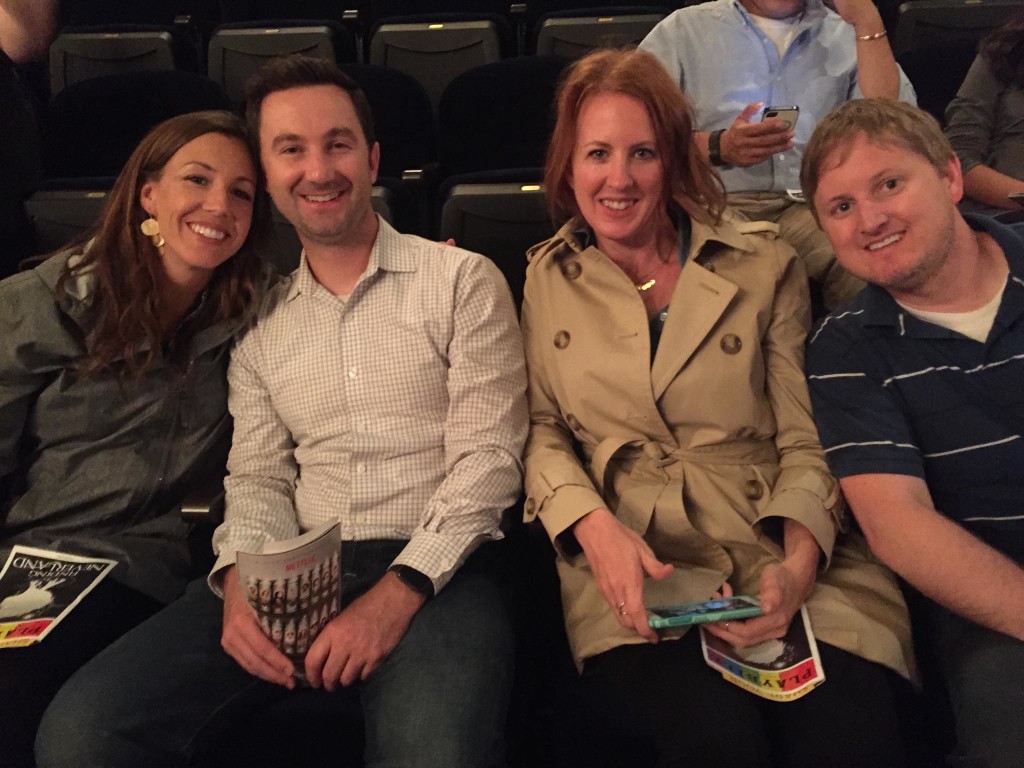 Finding Neverland was amazing. It was such a fantastic show, and so moving. The music was great, the performances were great. The critics laud Kelsey Grammar, and he really is wonderful. At the end I was bawling. We all loved the show. I can't wait to get the soundtrack. I hope to take the kids to see it some time. It was magical.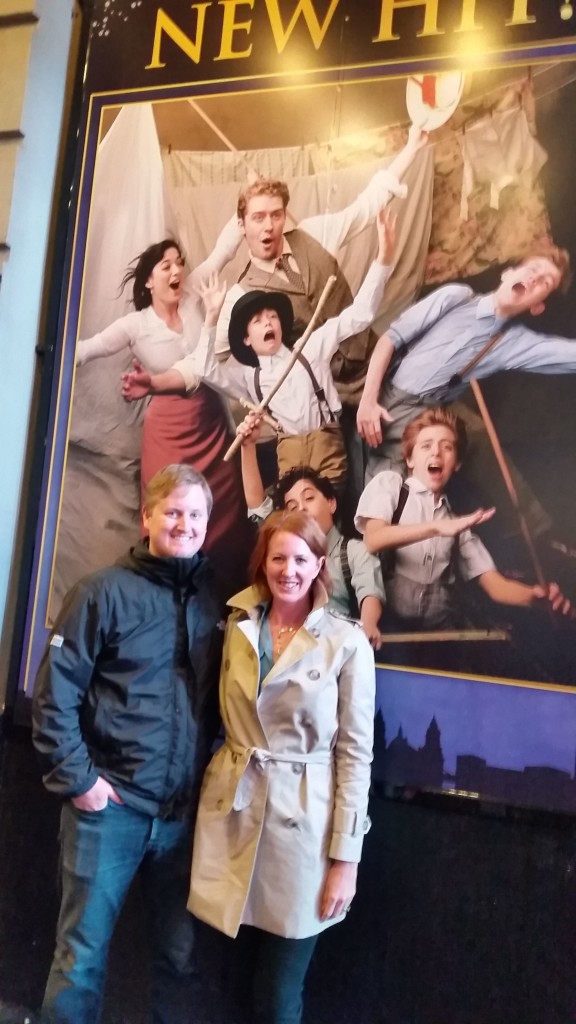 Times Square at night in the rain is actually prettier than Times Square when it is dry. All the lights reflect off the wet pavement.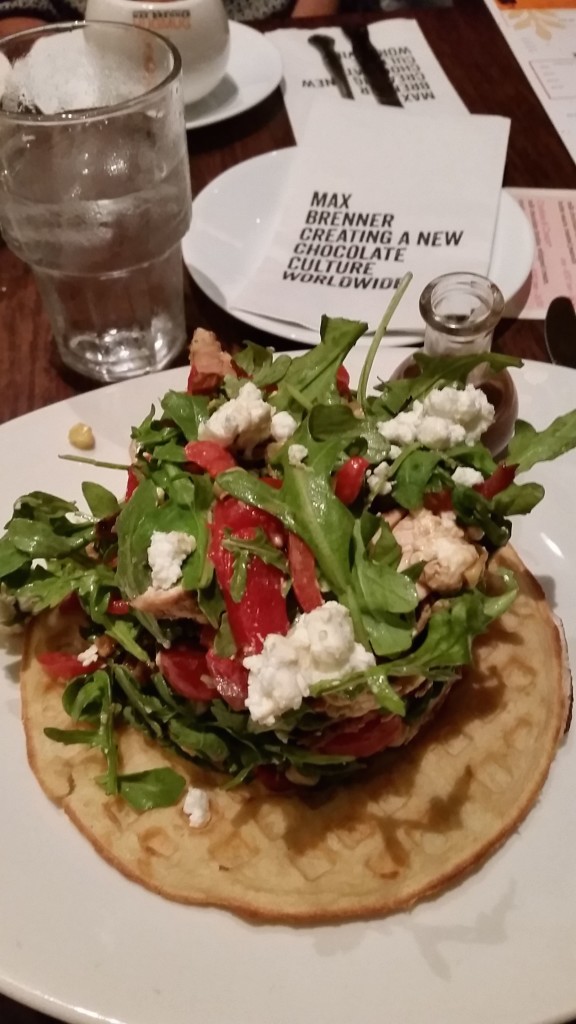 Of course we hadn't had real dinner, so we went to Max Brenner's for dinner and dessert. At 11:30 pm. And it was still a 45-minute wait. I had a chicken, tomato, goat cheese arugula salad on a cornbread waffle. It was good but I was falling asleep in my chair.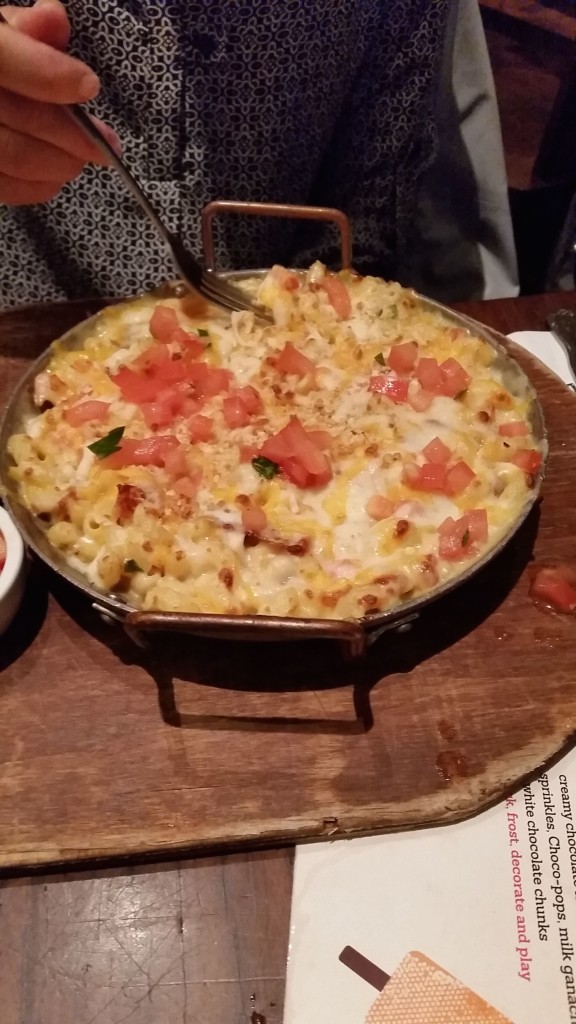 Julie and I split the mac and cheese, which is probably the best I've ever had.
I was so full I didn't even want dessert. I think I had one bite of Adam's. Adam bought about 80 pounds of Max Brenner chocolate bars for his drawer at work.
Our hotel room was so tiny the door opened out. It was also the handicap accessible room. The first room they put us in had a great view, but smelled awful, and this was the only room left. All I will say is we didn't choose the hotel.
SUNDAY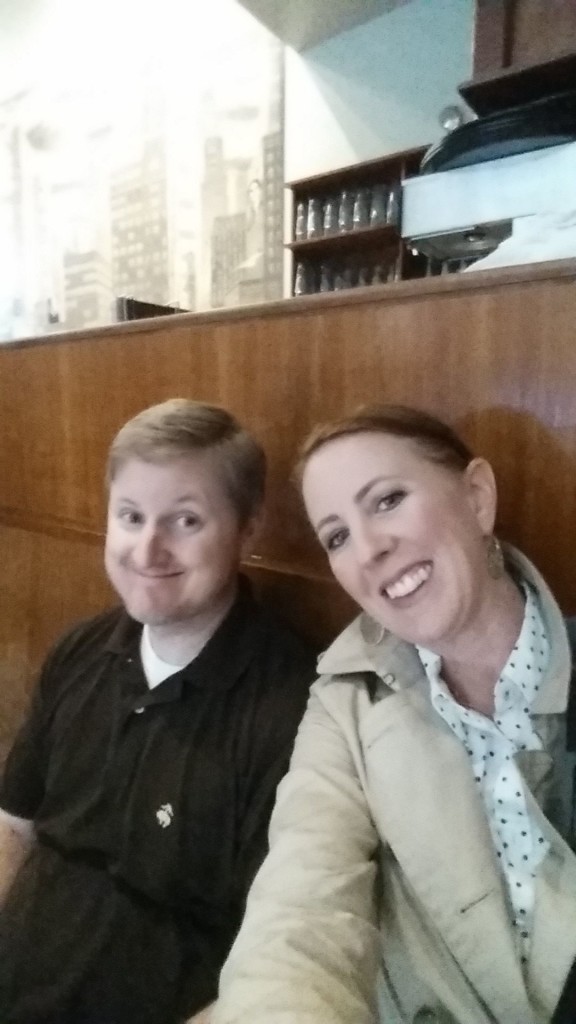 Sunday we slept in. Having fun is exhausting. Julie and Chad went to do their own thing since she had to leave by 1 to catch her flight home. I don't think we left the hotel until 11:30. We wanted to see what was available at the TKTS booth. My first choice was Matilda, but they only had 1 seat. Second choice was Jersey Boys. Got our tickets and went for lunch.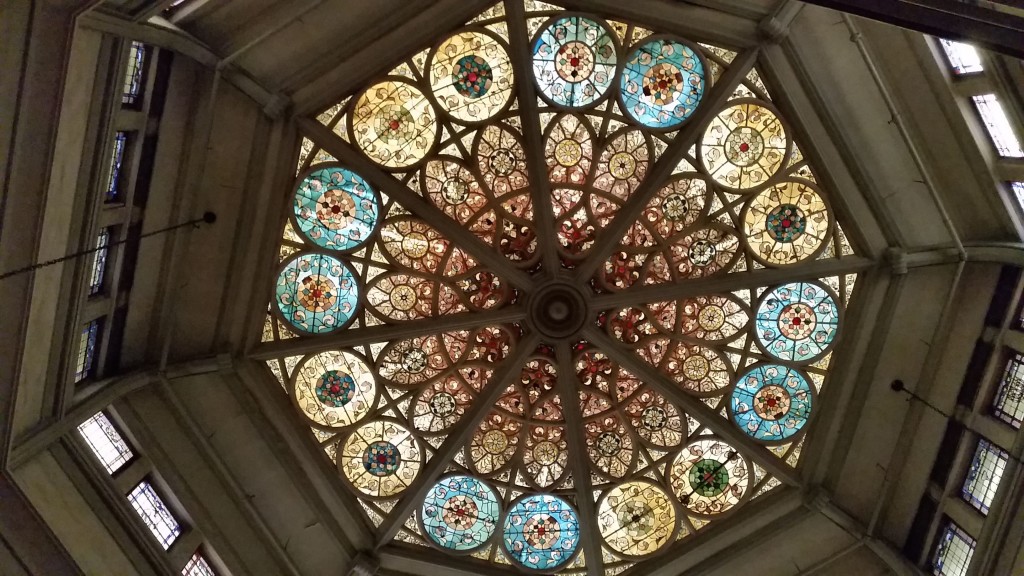 We wanted to stay in the vicinity of the theater/Times Square so we went to Johnny's pizza which is in a decommissioned church with a beautiful stained glass roof. The church had been abandoned before Times Square's renewal, back when it was drugs and hookers.
Very cool, unique atmosphere, although a little trippy. Surrounded by what was obviously a religious sanctuary, it seems weird to be listening to loud club music.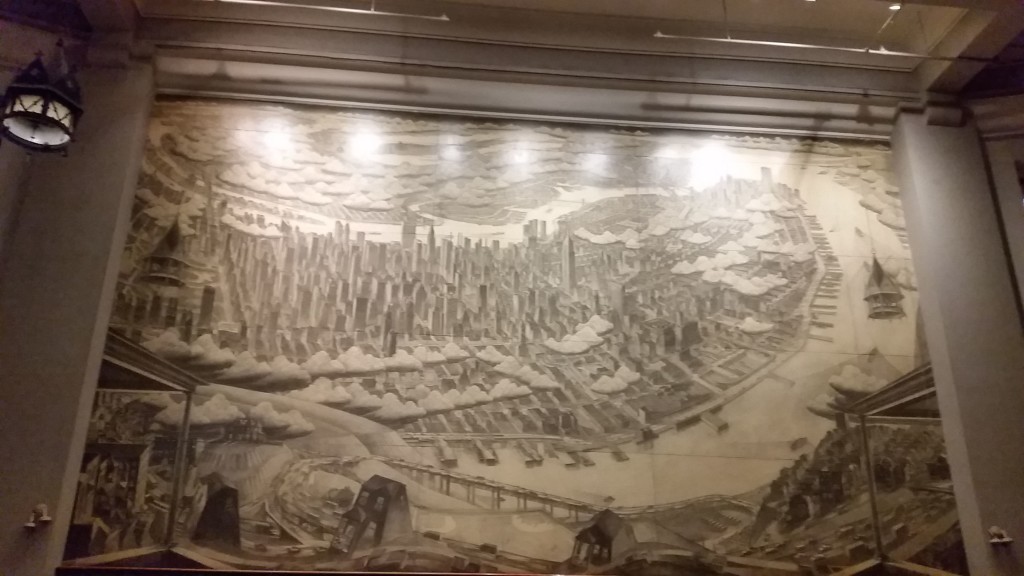 All of the stained glass is original.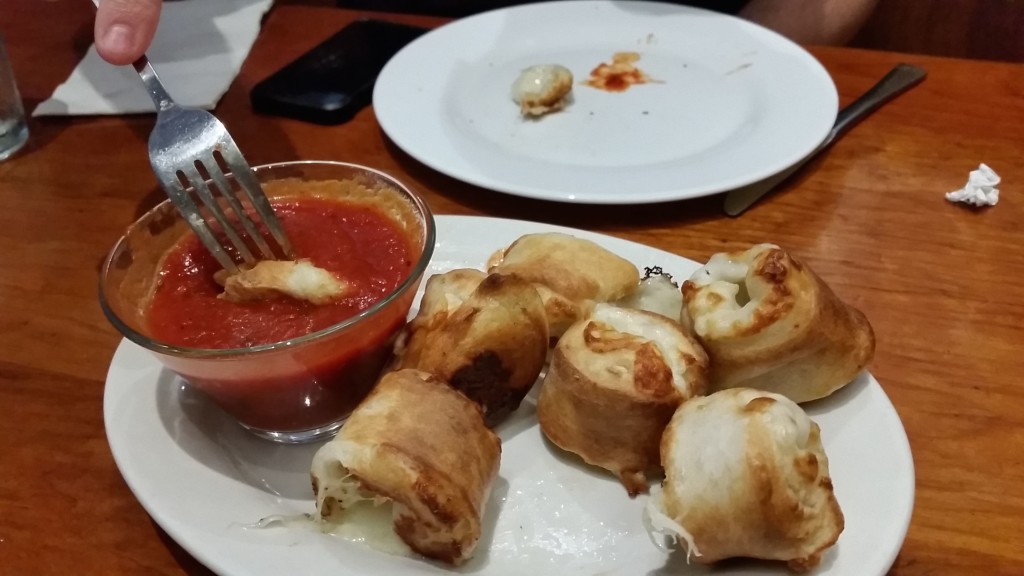 The garlic knots were awesome. Cheesy, garlicky goodness.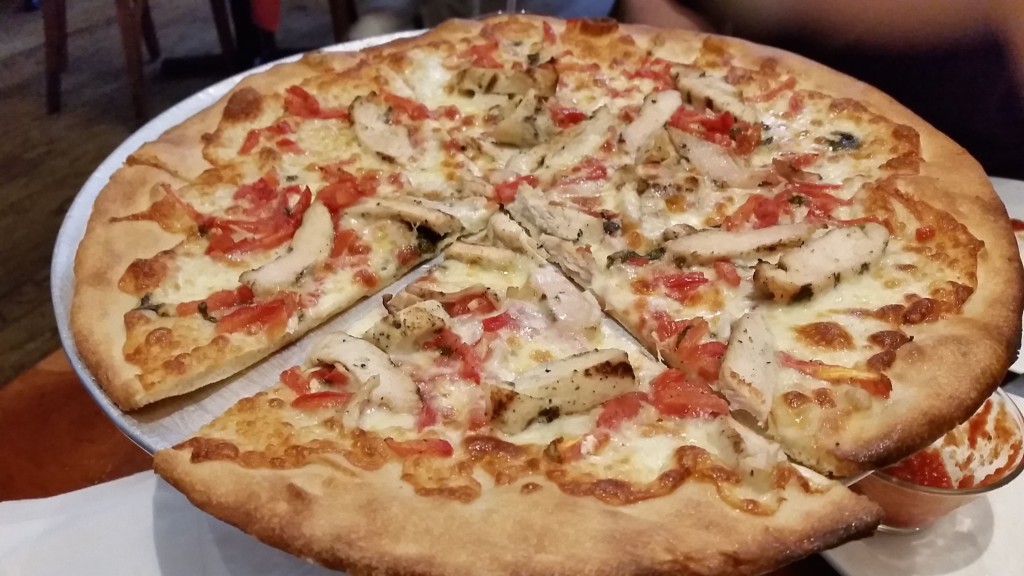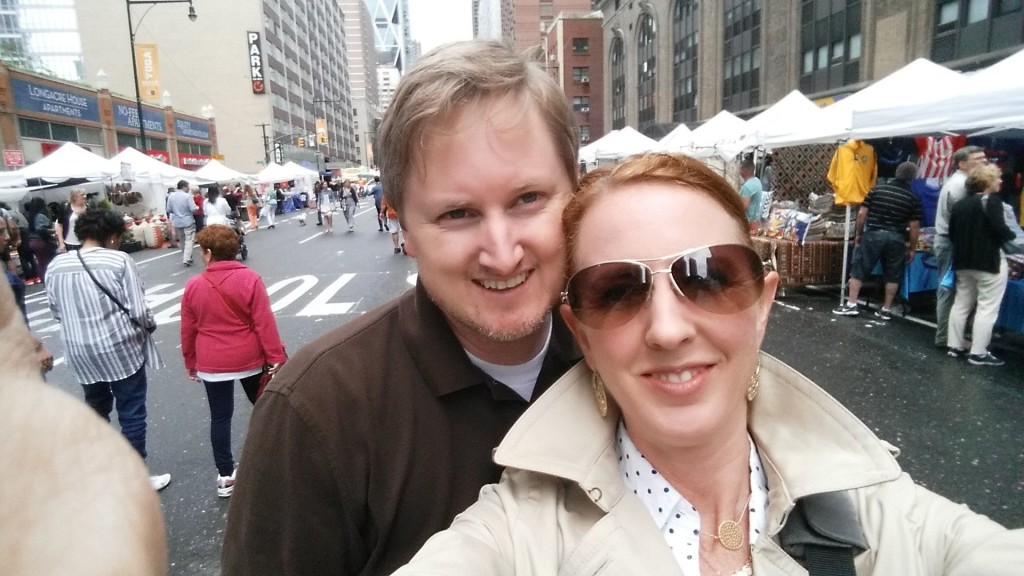 We had a little time to kill, and as we walked toward the theater there was a street fair. Nothing amazing but still fun to look in the different tents. There I go using my selfie stick arms.
How long do you think these older buildings will last before they get bulldozed and something big and shiny replaces them? Adam went around the corner to get in line at the theater and I walked a little more. And that is when I almost got in another street fight. Adam is getting to the point he won't let me walk down the street.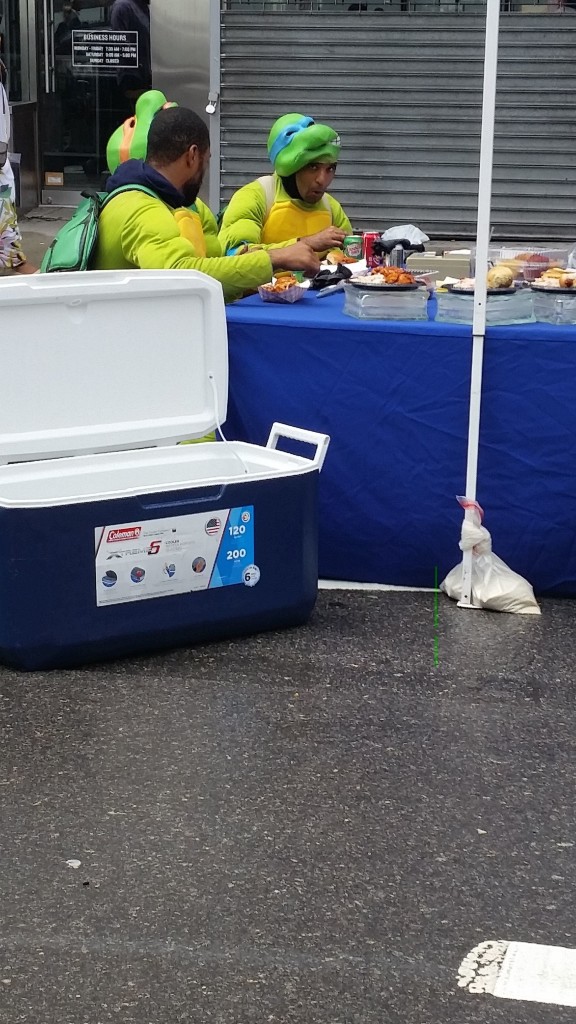 The Teenage Mutant Ninja Turtles were having lunch. Turtle's gotta eat. See that guy mad dogging me? He jumped up out of his chair and ran over and got in my face. "You just take a picture of us?" I show him my phone with its innocent LOCKED home screen. "Excuse me? I'm looking at my phone." "M'am did you just take a picture of us?" Sir, you are walking around wearing ninja turtle costumes. What did you think would happen? Get away from me.
Jersey Boys was good. It is the story of Frankie Valli and the Four Seasons. I had no idea they were such hoodlums. The music was great, the story was interesting. It was good. There is some strong language, as in they use the F word a fair amount, but to be honest, it's no more than I heard on the streets of NYC every day, and no more than I heard in high school. Jersey Boys wasn't GREAT the way Finding Neverland and Wicked and Les Mis and Phantom are GREAT. I was never emotionally drawn in. We were entertained, and on a rainy Sunday afternoon, it was a good option.
Sunday we switched hotels and had this fantastic view. Hello, Central Park.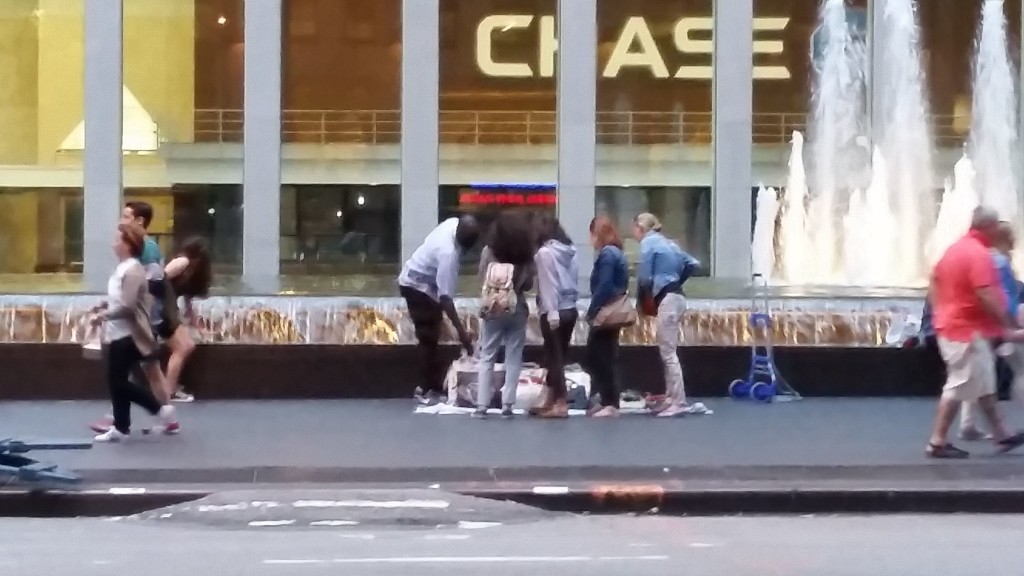 Just a guy with a bunch of purses on a sheet ready to show his wares or scoop and run in case the authorities show up.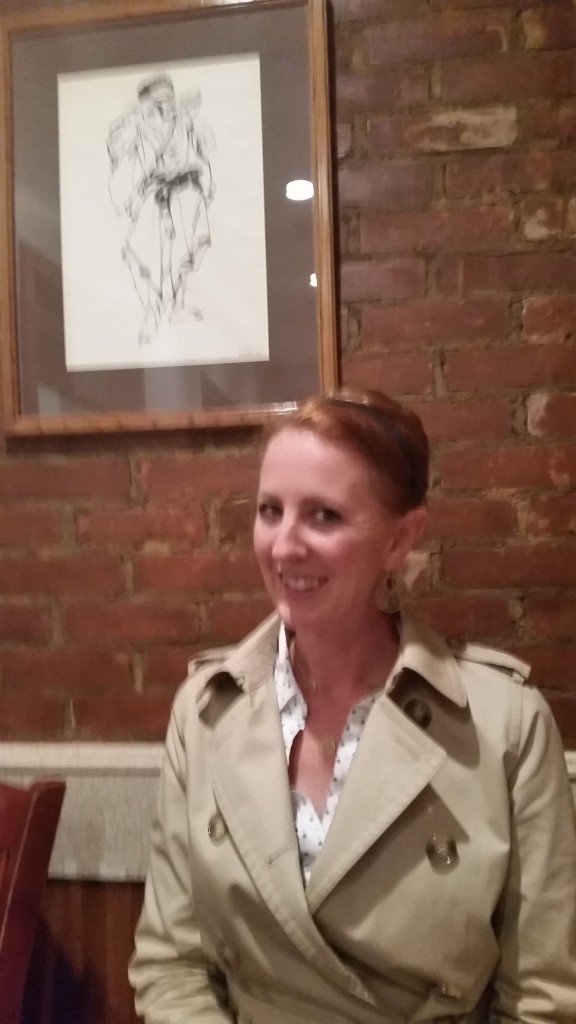 For dinner Adam decided to ruin me forever. We went to Sushi of Gari and did omakase (oh-muh-KAH-say), which is a chef's choice tasting menu. I love sushi, but the idea of this scared me because there are things I don't like, I just don't know what they are yet. What if I hated it? I decided to trust Adam and the chef and we went for it.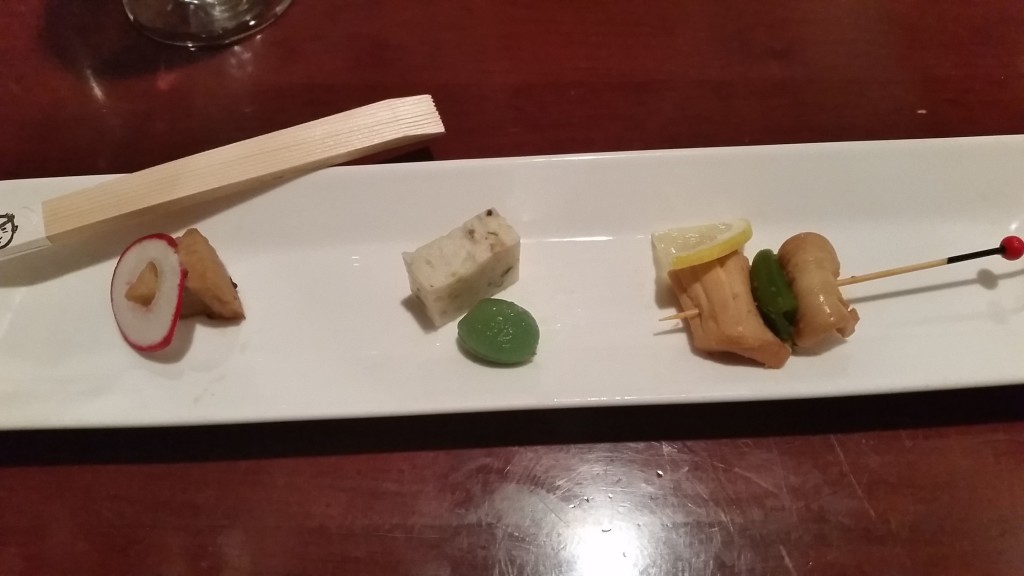 The appetizer was Grilled squid which was not my favorite. It was chewy. The white fish cake was ok. The lotus root with radish was not my favorite, but not awful.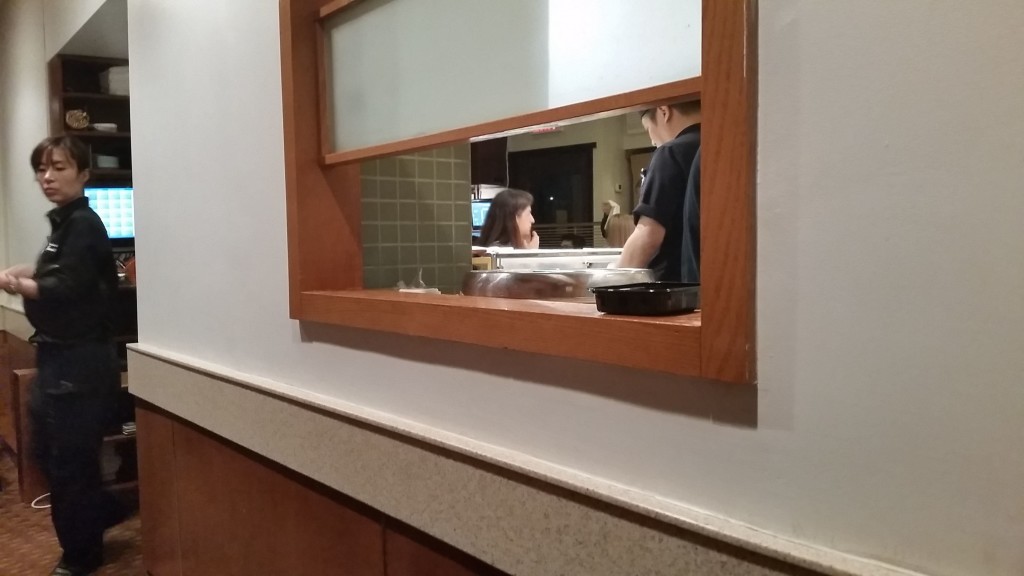 Making our food. The head chef here is renowned and other sushi chefs come to be trained by him. We were in good hands.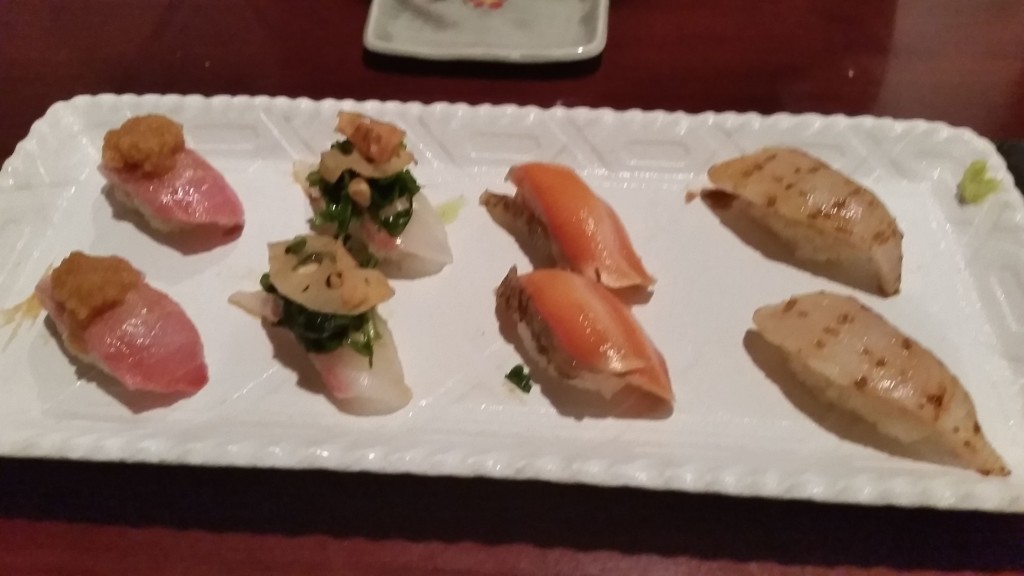 The basic omakase includes 12 pieces of sushi. The first was fatty tuna with grated Daikon radish. It just melted in my mouth and was so delicious. Next was red snapper with sautéed greens and lotus root. Also amazing. Third was seared salmon that was like butter. It was so tender and good. The last one was miso black cod, which is a fish I love and similar to the miso black cod we had at Nobu four years ago. The miso was so flavorful we had to cleanse our palates with pickled ginger (its true purpose on a sushi plate) before continuing. Everything melted in my mouth. The first and 4th were our favorites on this plate.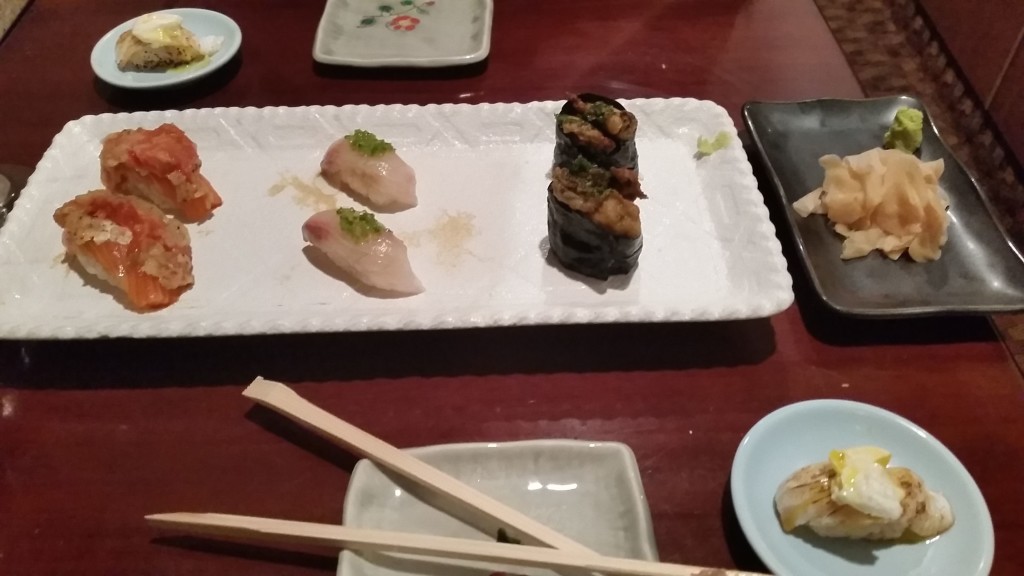 *Spoiler* the second plate was our favorite. On the little plate was Fluke with poached quail egg and white truffle sauce – my favorite, but it was hard to choose. First on the plate was Salmon with roasted tomato with onion jam, which was a super close second. Next was baby yellowtail with jalapeño sauce which was so fresh and vibrant, and last were Kalahari oysters fried and wrapped in seaweed. They were so delicate and not chewy or slimy. Oysters are hard to do right, so I never order them.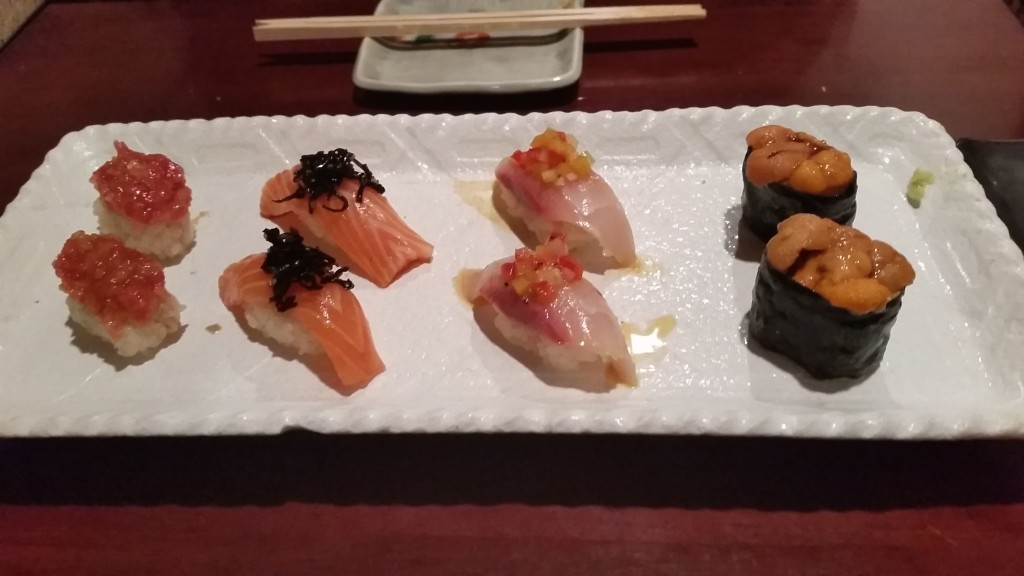 The last plate had fatty tuna with pickled daikon radish, salmon with pickled seaweed and sesame seeds, yellowtail with ceviche and uni. Uni is so horrible and slimy and the seaweed wrap is so tough and chewy. This was the only thing I didn't like. I didn't just not like it, I hated it. I was gagging trying to chew through the seaweed while choking on the slimy soft uni. I know it is a delicacy, but I hated it. It reminded me of jaca mole, soft jaca fruit and the way it suffocates you as it goes down.

We chose to repeat three of our pieces to finish off, and they were perfect.
Fluke with poached quail egg and white truffle sauce one more time.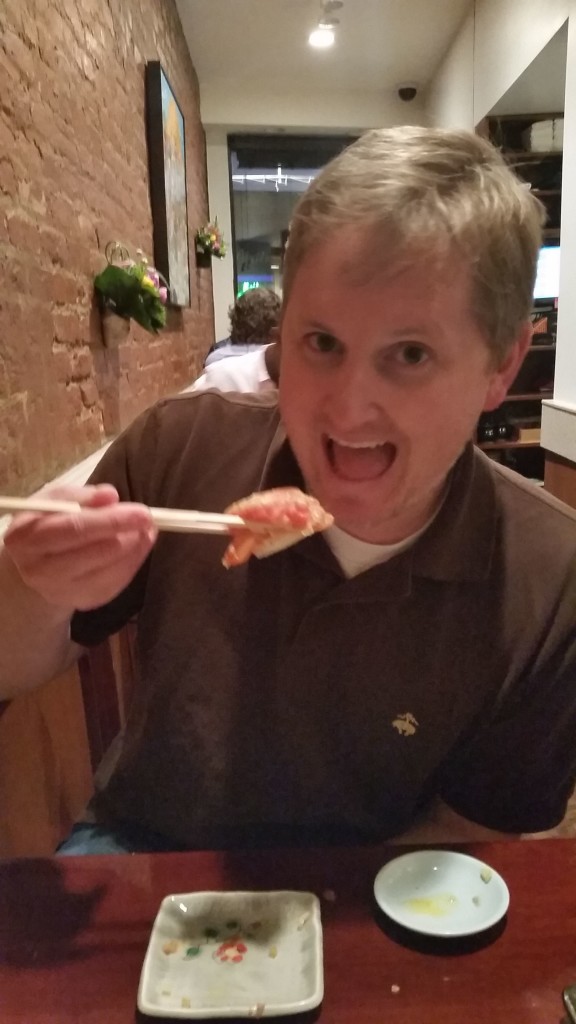 Salmon with roasted tomatoes and onion jam.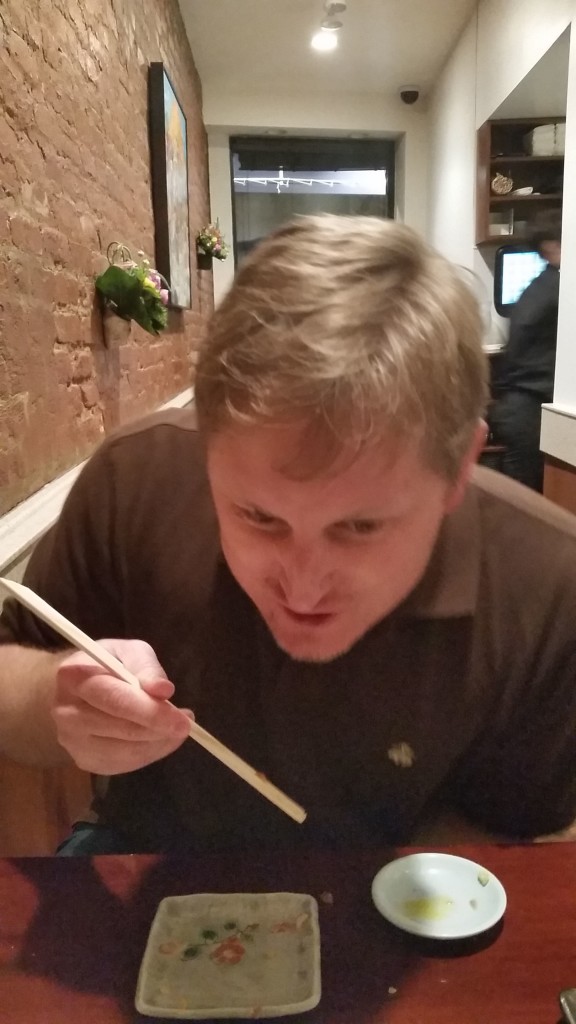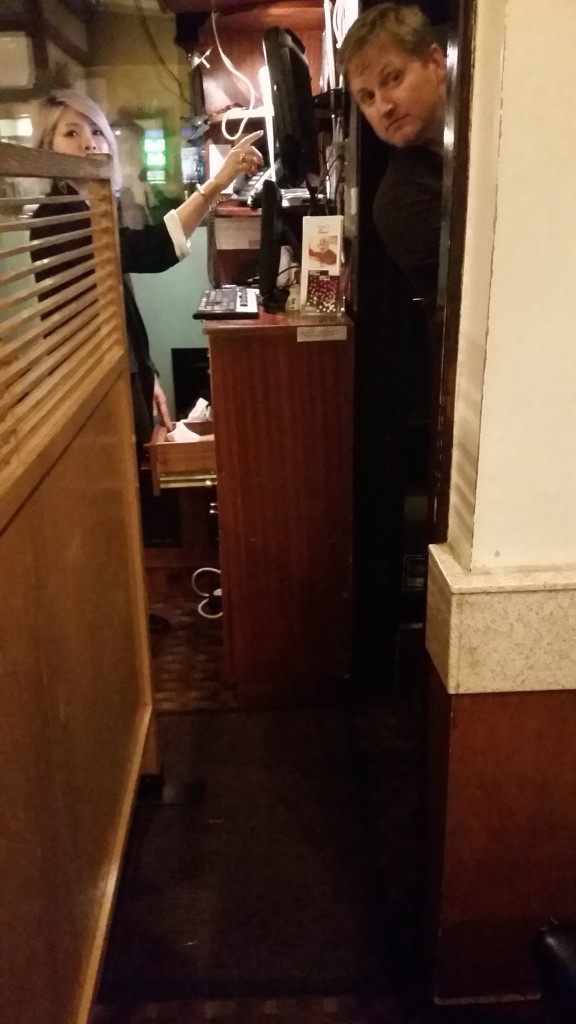 This is the entrance to the restaurant. You can barely squeeze in.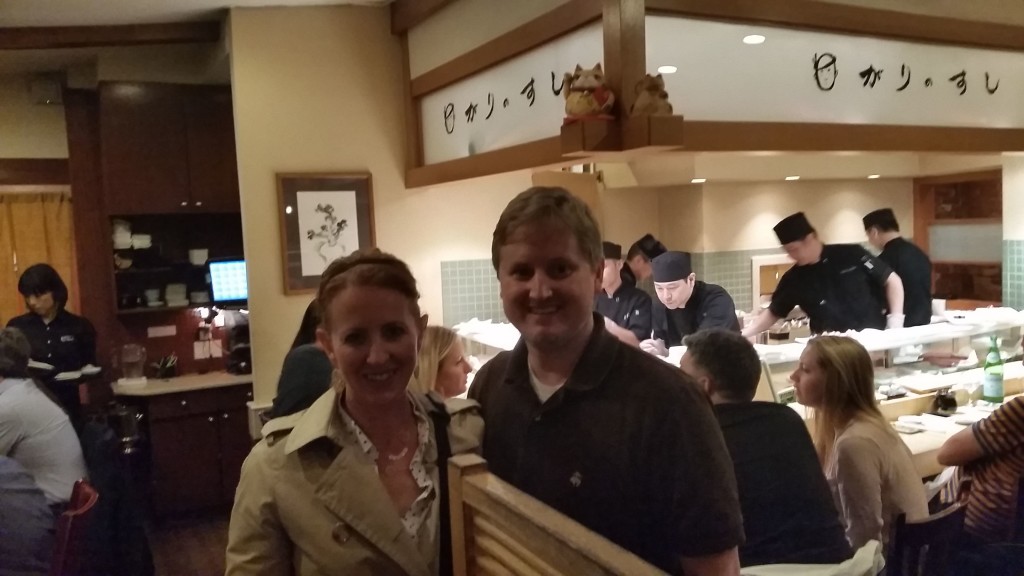 The view from the door. As tiny as this place is, it is bigger than most. It was so good, I may never be happy with other sushi again. I'm ruined. Forever.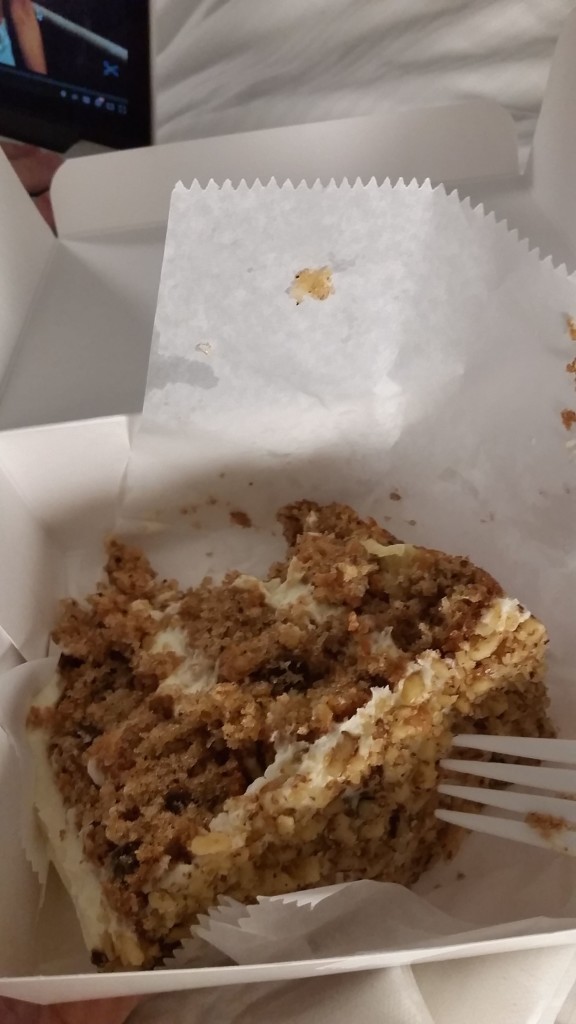 Japanese restaurants aren't known for their desserts, so we got something at Magnolia bakery. Best carrot cake I've ever had. The raisins were so plump and rehydrated.
MONDAY
Adam was here for work starting Monday morning, so while I slept a little later, he went to the office. I was on my own until 2:00 when I left for the airport.
The hotels are trying to reduce room service and provide these little cafeterias with sandwiches, salads, wraps, etc. I want room service people. Not a cafeteria.
It rained half of Saturday and all of Sunday, and I wanted a rain hat, and I looked in every shop and table along the way, annoying Adam to no end. Monday morning, when the sun was shining, I found a rain hat. They do sell them here!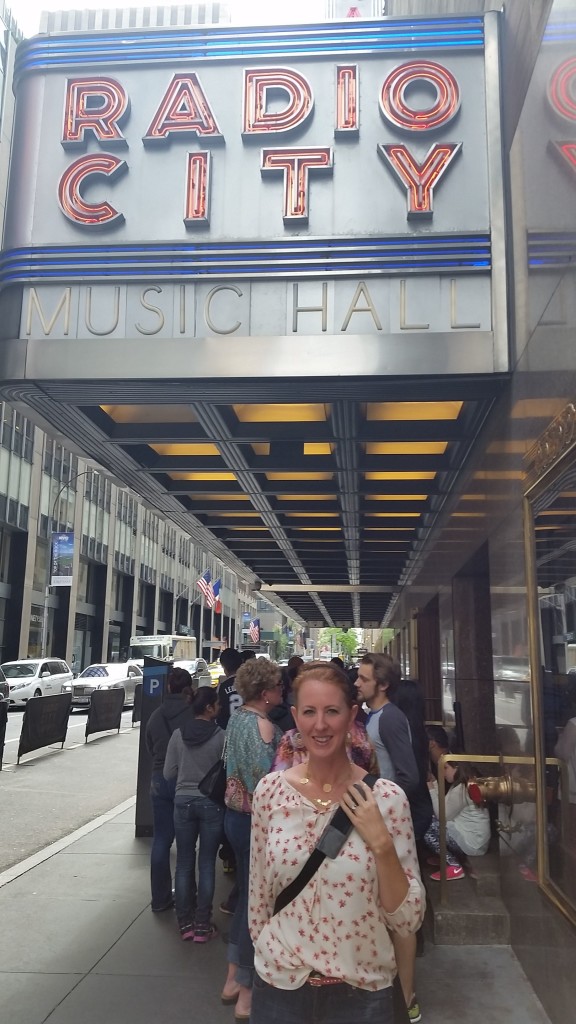 I went to tour Radio City Music Hall, which was conveniently located a block away from my hotel.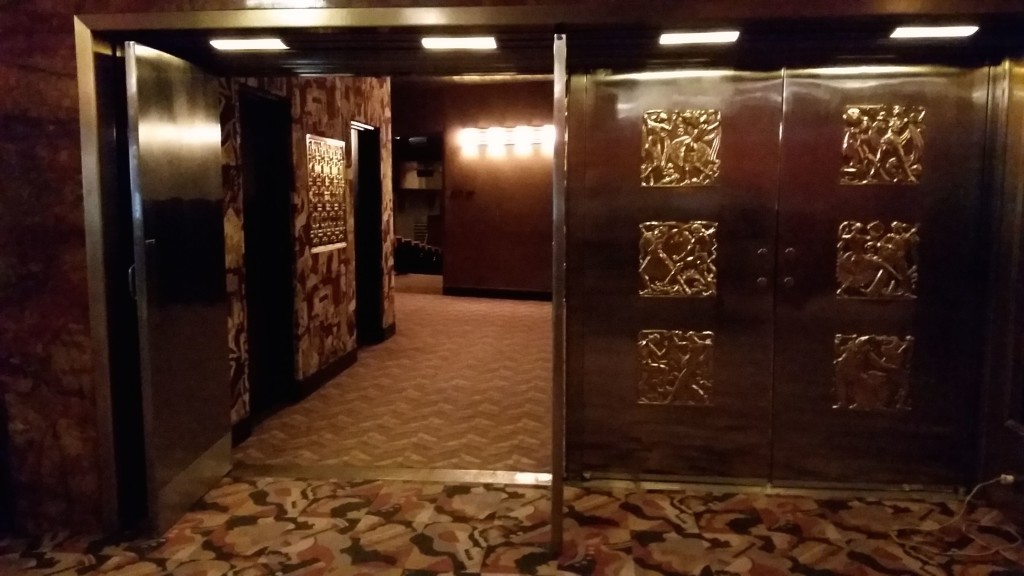 Stainless steel doors into the theater.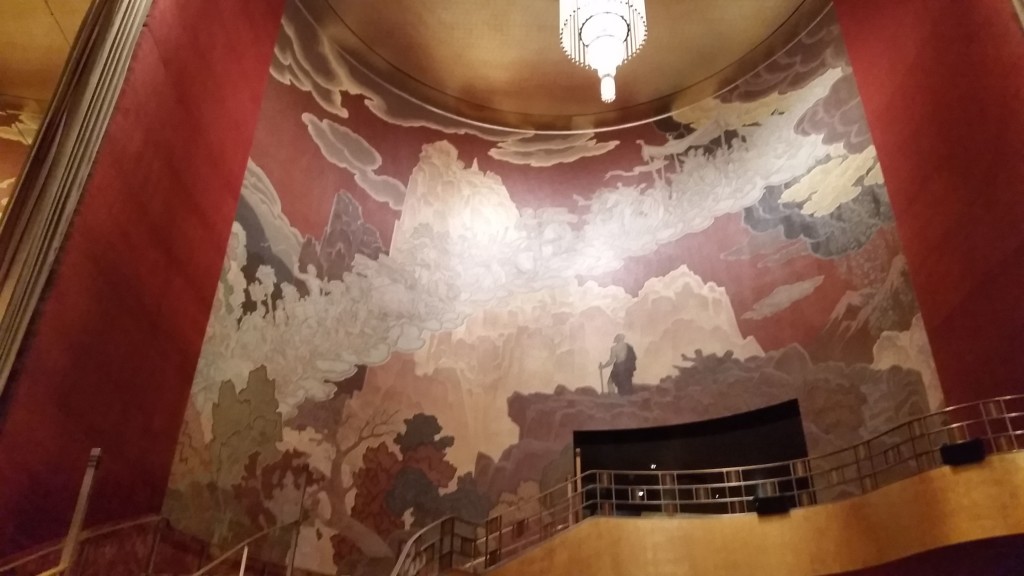 It has been declared a National Historic Landmark, so everything was restored to its original art deco glory. This painting is called the search for eternal life.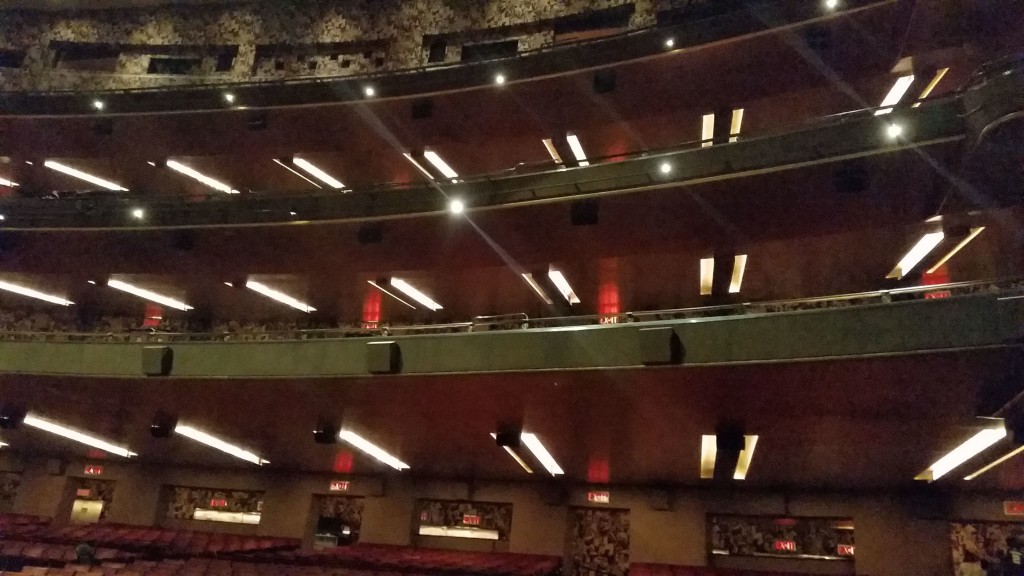 The theater seats 6,000 people.
Grand events like the Oscars, Grammys, Tonys, MTV Music Awards and others are held here. Cirque du Soleil performed here.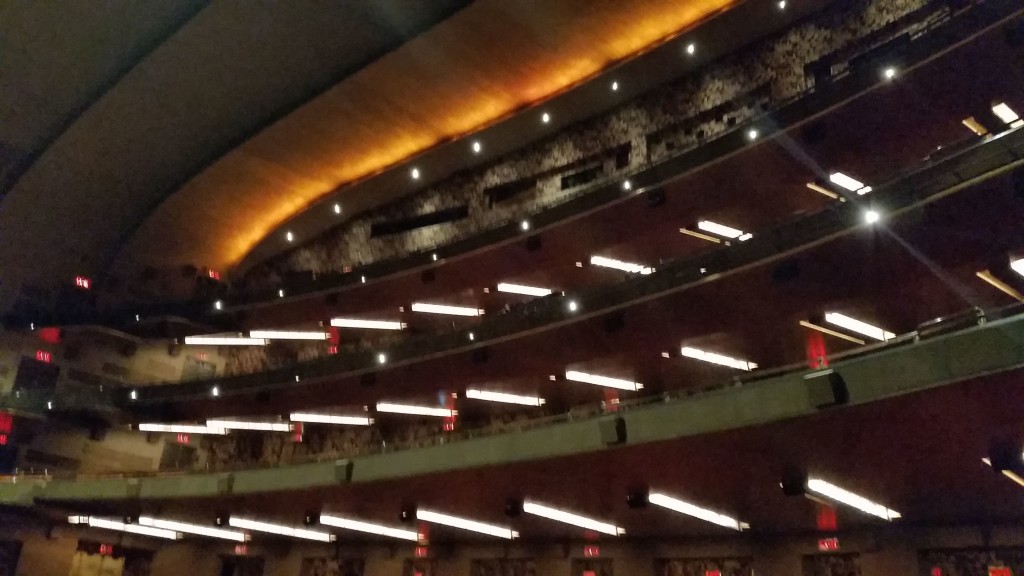 The orange lighting up there is to represent the sunrise. Or sunset. I can't remember. You get the idea.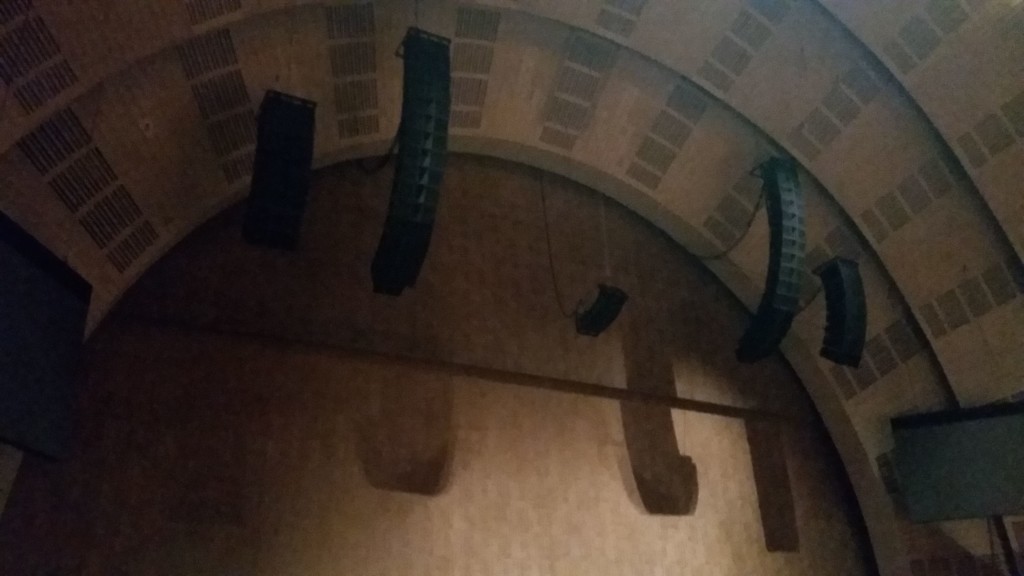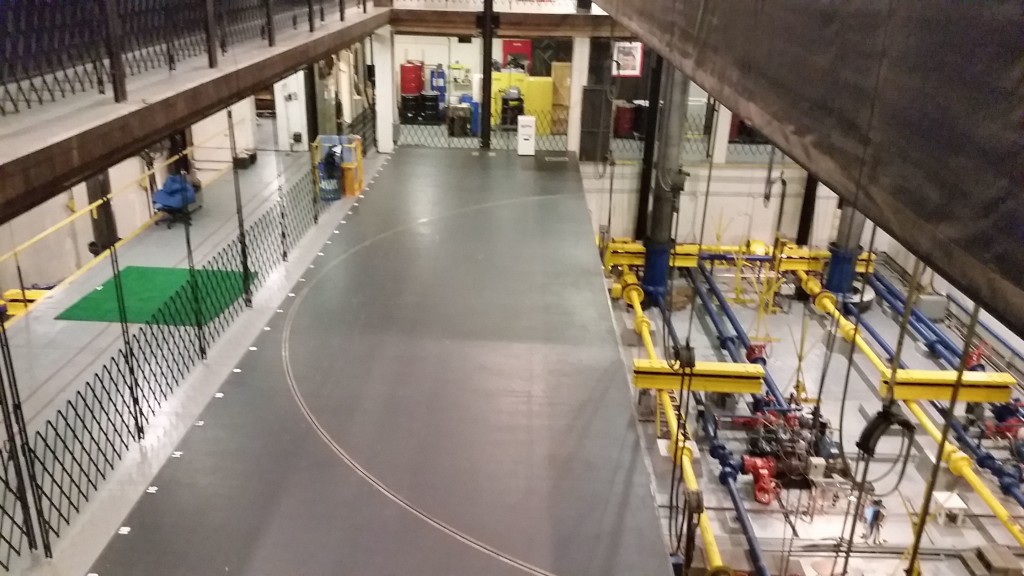 This is the hydraulic system that lifts and lowers the stage. Also original. An elevator company created it, and the military came in to study it, replicate it and used it in WWII. This system was declared top secret and guarded by the military for years. As in, actual guards stood watch so no one came to take pictures, make drawings or mentally memorize the system.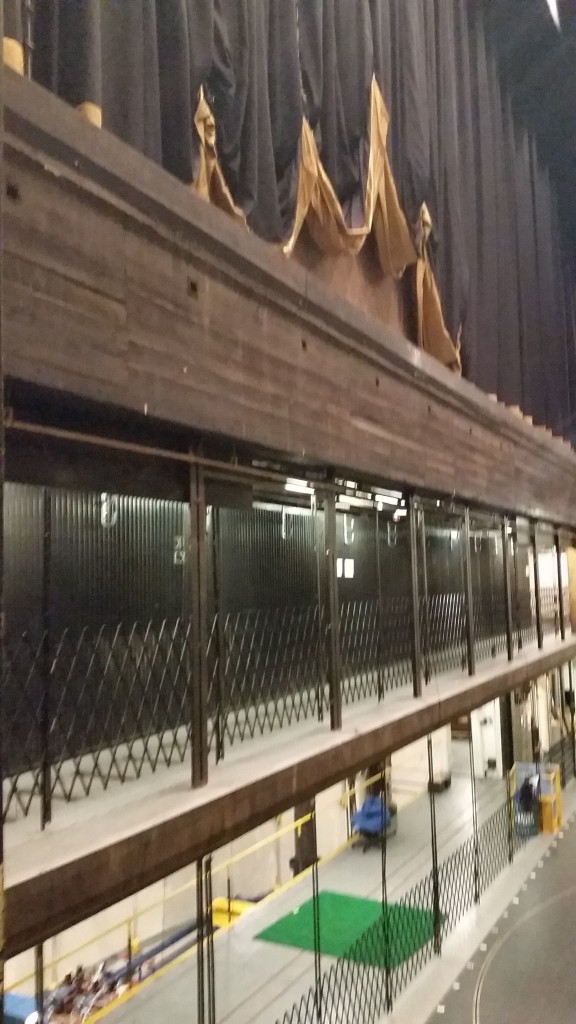 We were below stage.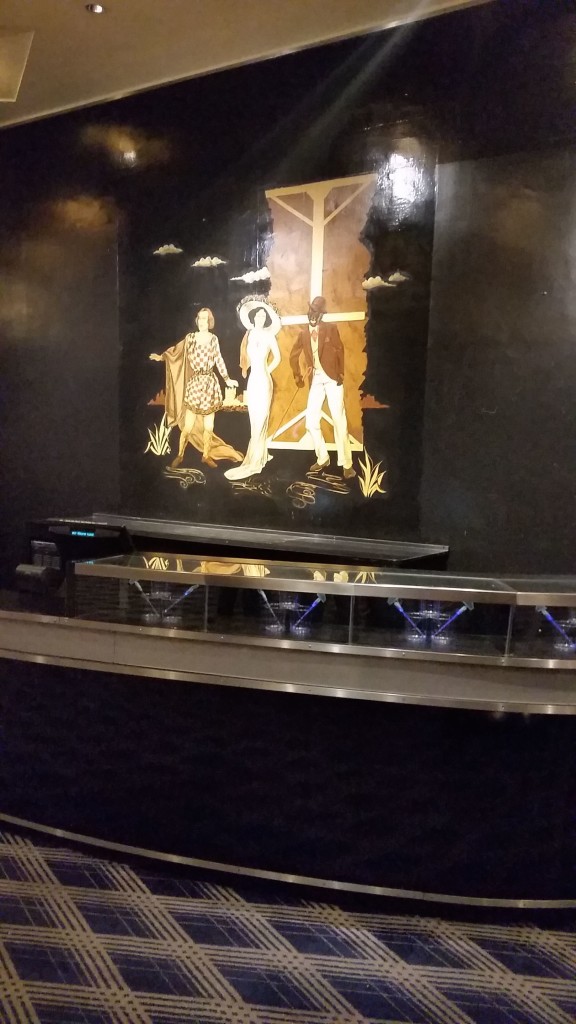 Downstairs in the lounge area everything is painted black and dark because researchers told the designers that dark colors were calming, as were diamonds, so the diamond shape is repeated everywhere, like the carpet and pillars. They wanted to keep the volume down during intermission.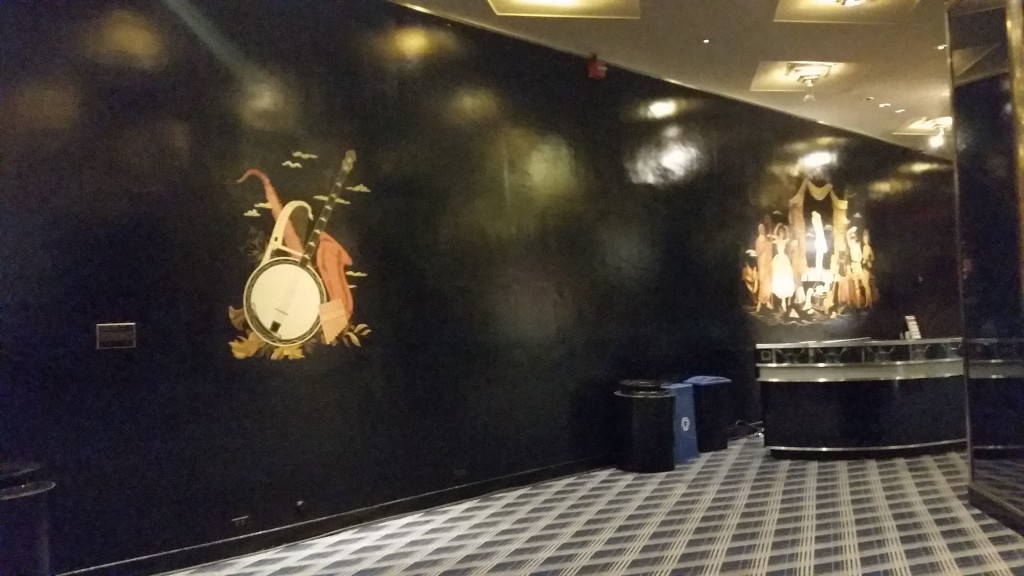 These scenes depict the history of theater.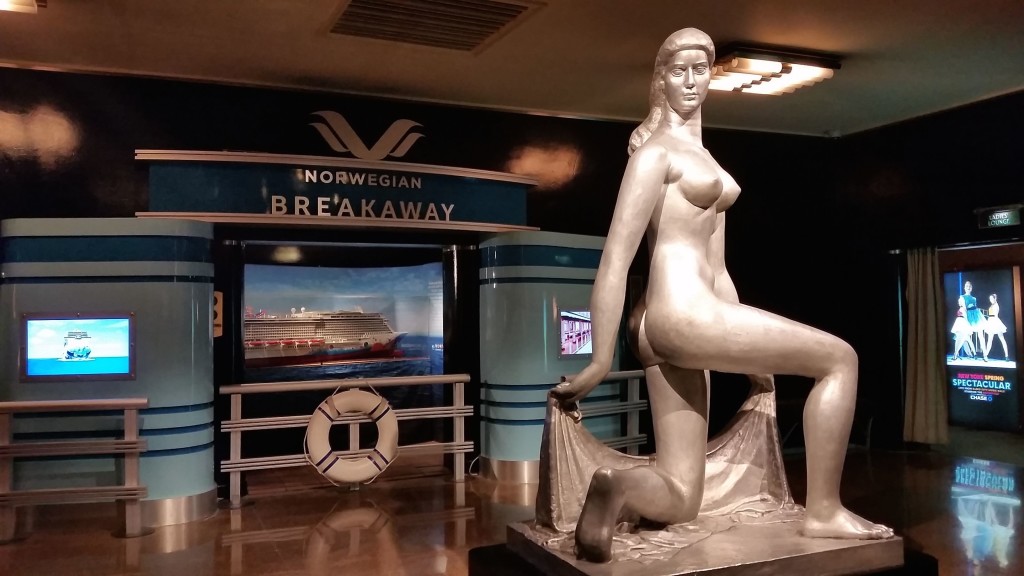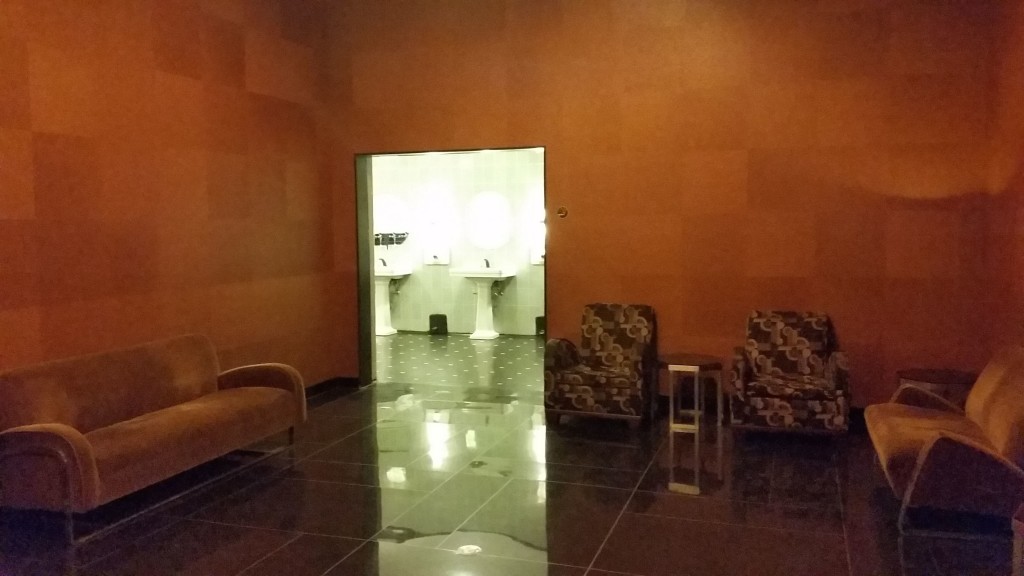 We even got tours of the men's and women's bathrooms. This is the men's lounge where they smoked. The walls are made of cork to absorb the smoke.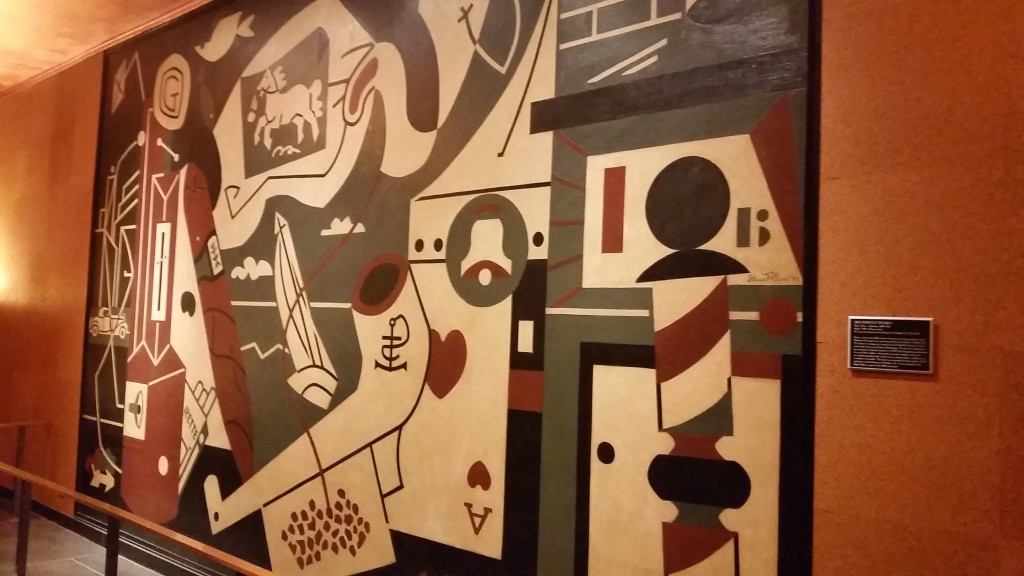 This painting is called Men Without Women.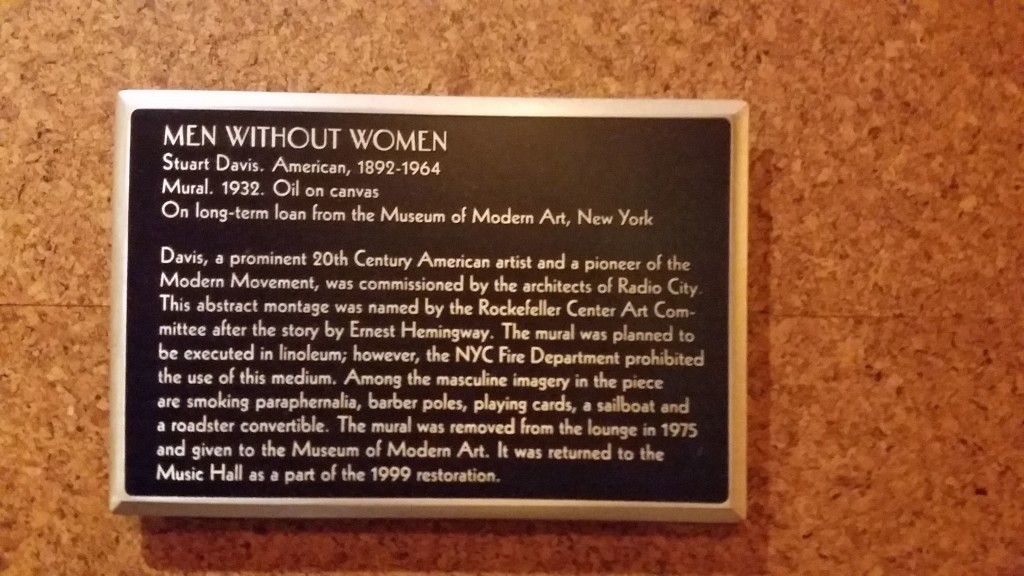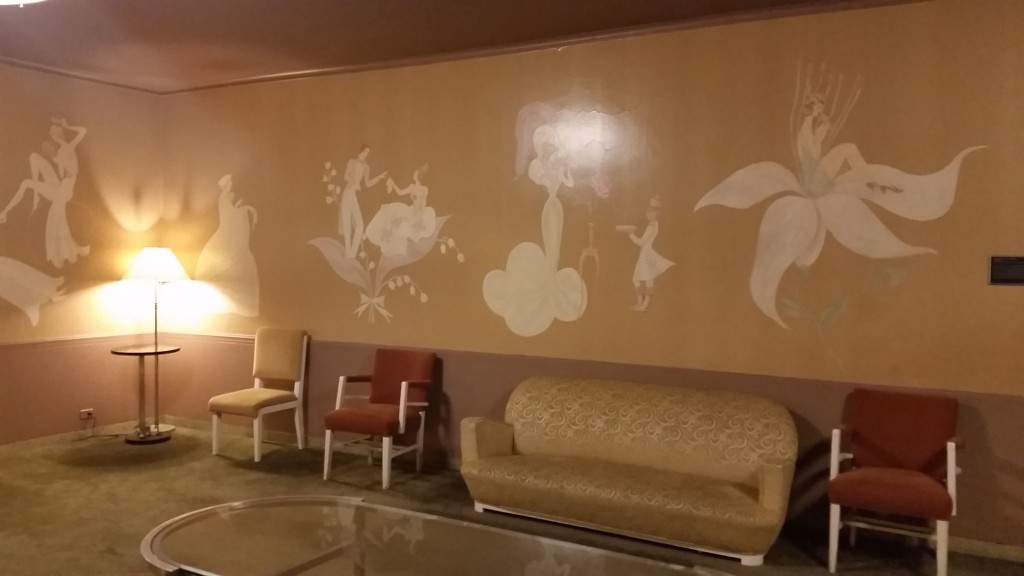 The women's lounge had the history of makeup depicted on the walls, starting with Egyptian times.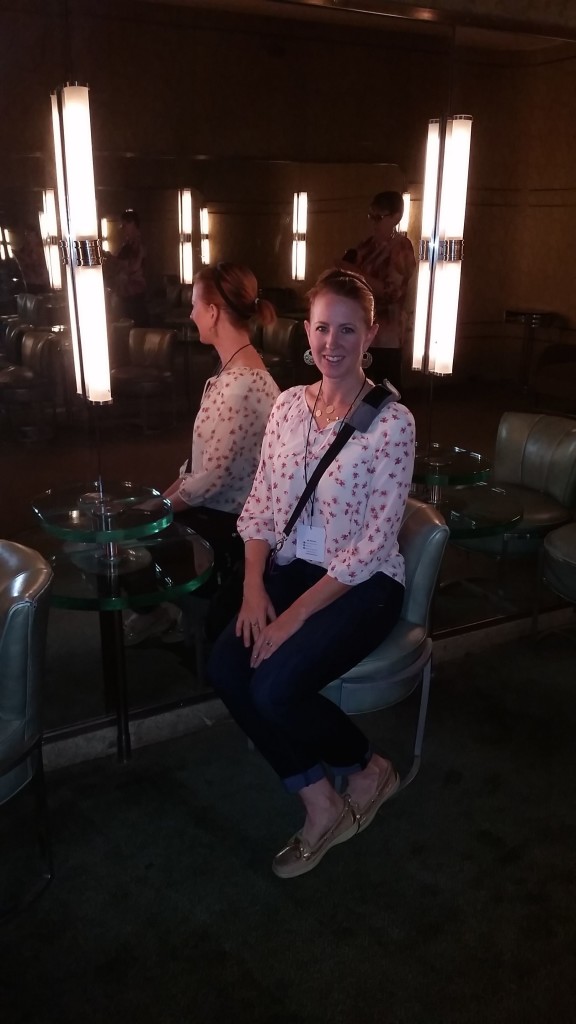 Instead of a smoking lounge (which the women did), they had rows of makeup vanities and seats. to freshen their faces.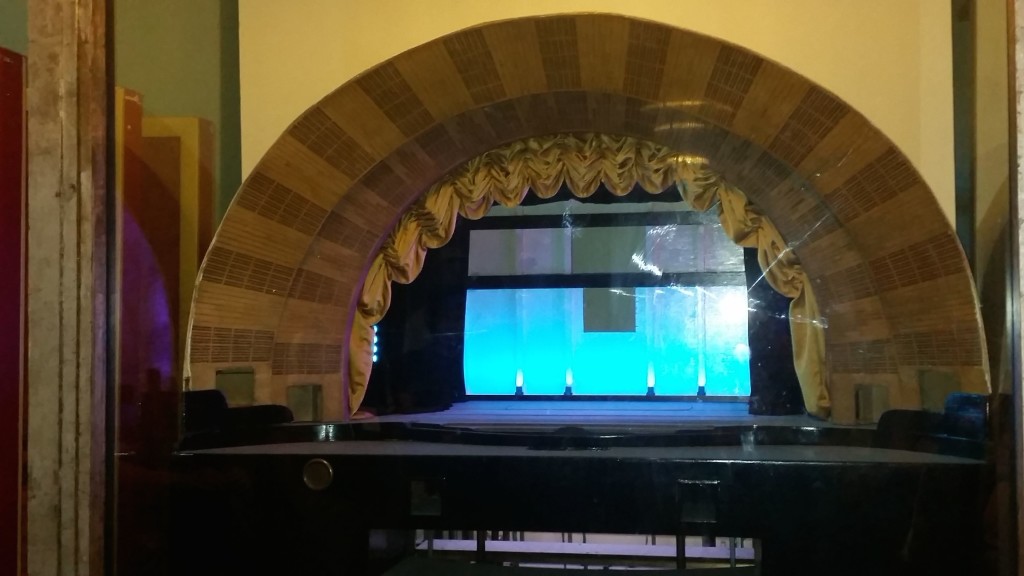 A model of the stage that convinced Rockefeller to build the theater.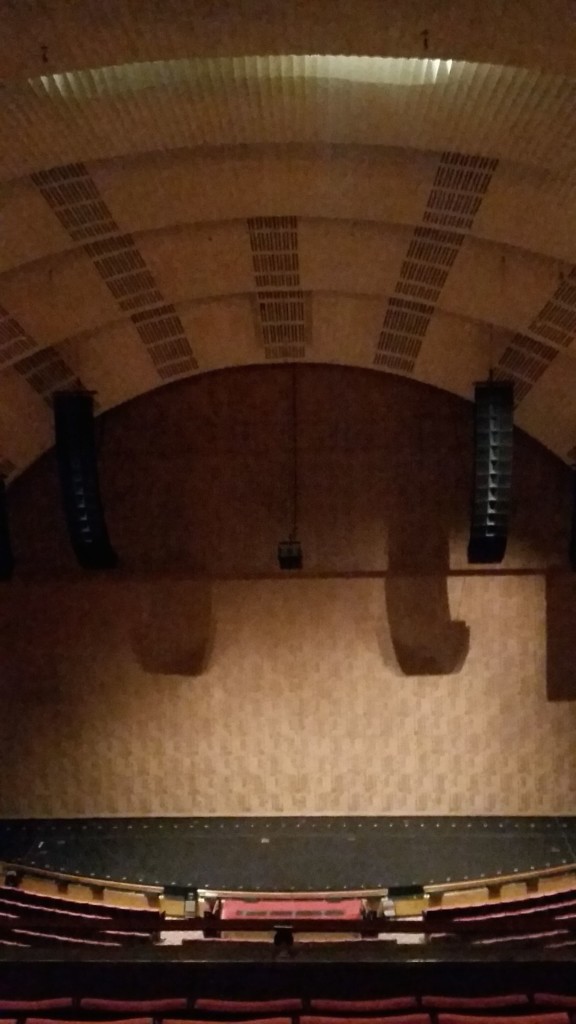 We got a view of the stage from the last row. Even the nosebleed section is a good seat.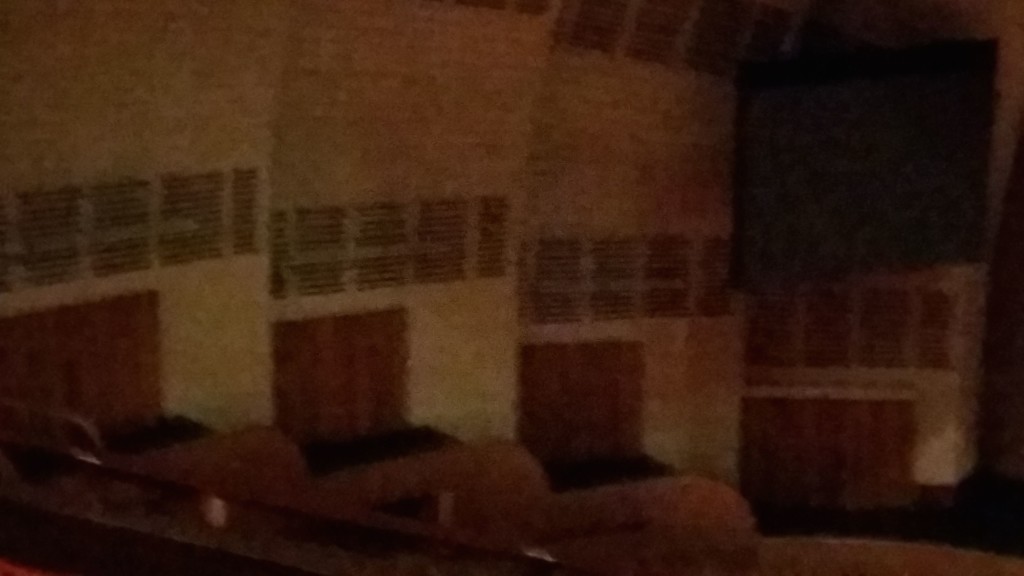 Instead of being box seats those are stages that performers can dance down.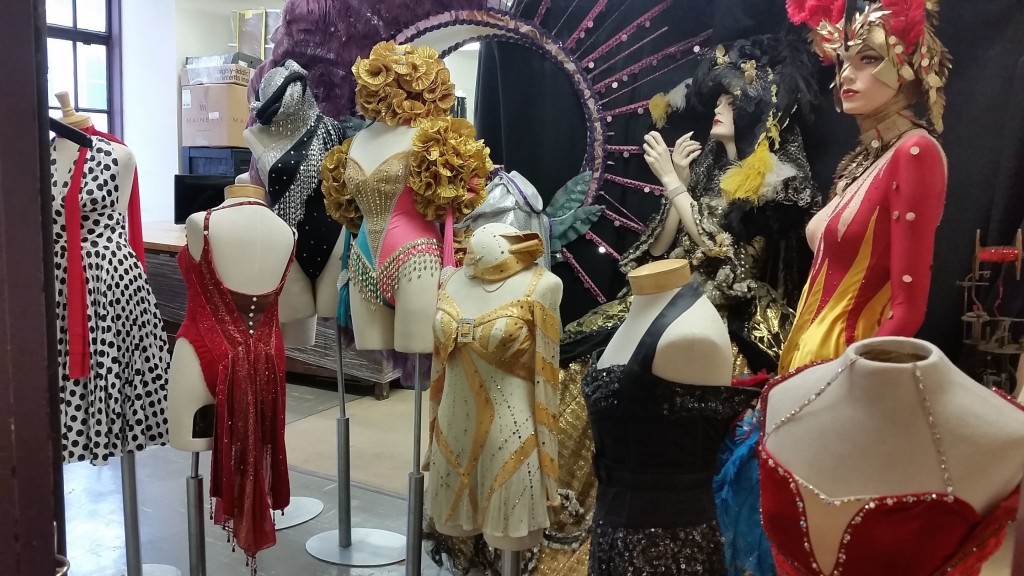 Some of the Rockette costumes.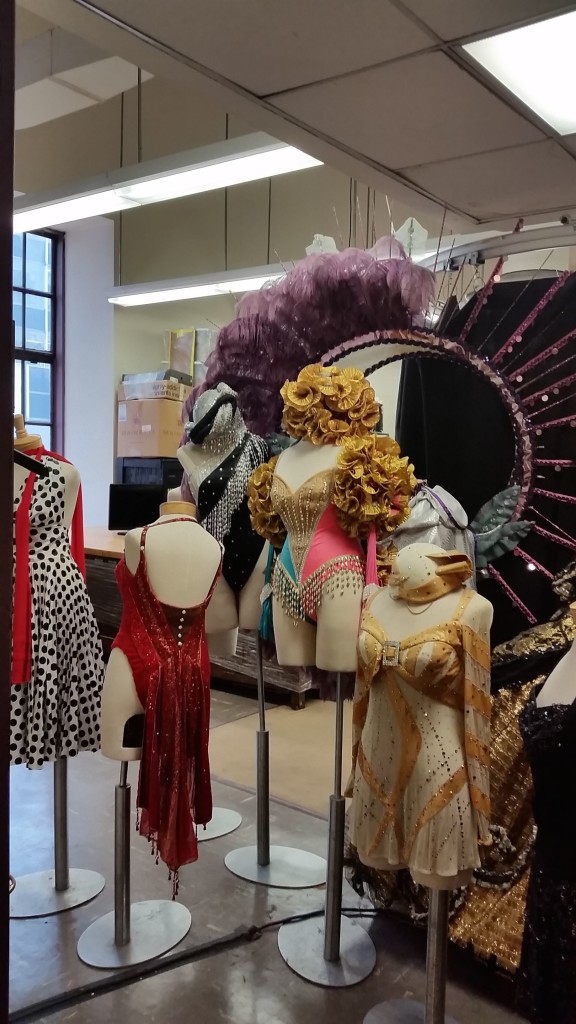 We got to meet a Rockette and have our picture taken with her, which is available for purchase for $20. I passed. If you want the 8×10, wallets and three magnets, it's $35. Wallets? What are these, prom pictures? I did enjoy my tour though.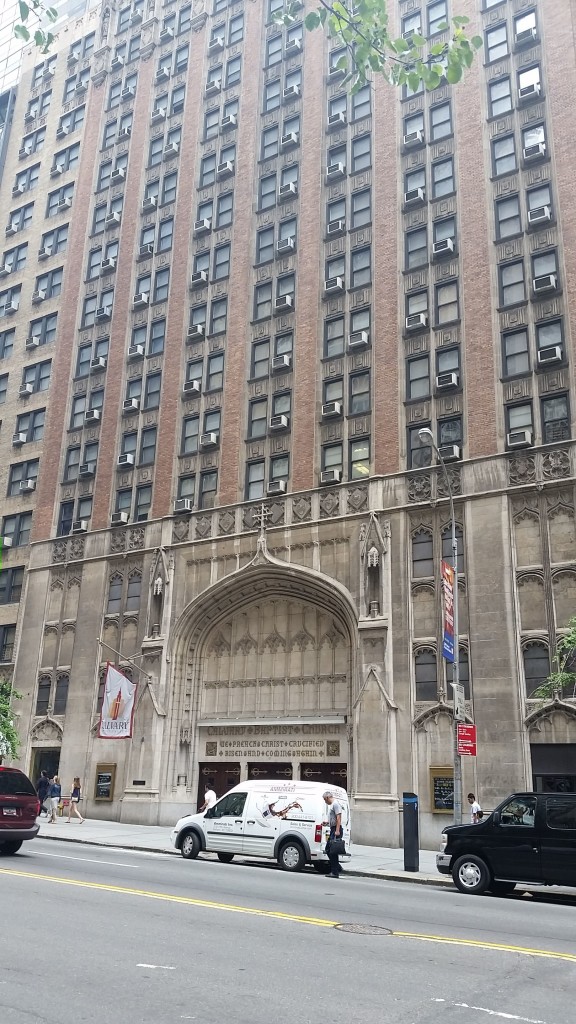 A little different church than the cathedrals of Europe. This building is an early example of an urban high-rise, or "skyscraper" church, a 16-story building which also includes the Hotel Salisbury, an apartment hotel. I had a quick lunch at Au Bon Pain, then met Adam at the hotel for a few minutes. He was there for a trade show and was waiting for someone he was meeting for lunch. I took a walk down to Carnegie Hall, but tours for that day were cancelled.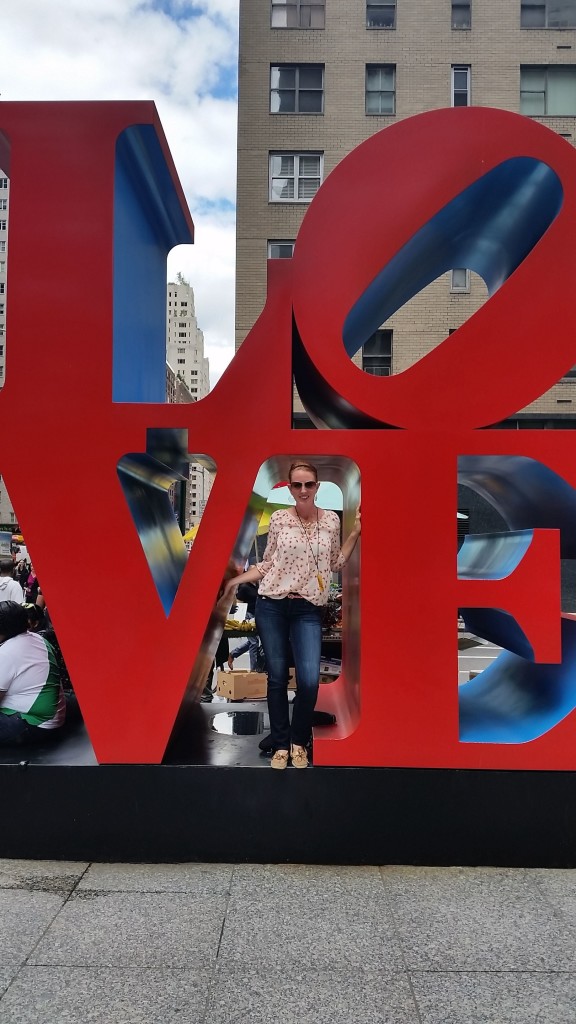 I wish Adam were in this picture with me. This was my last moment in New York. I grabbed my bag at the hotel, caught an Uber car and was off to JFK.
Going through the security line at the airport, I saw my bag go in, almost come out, then go back in. Then a tribunal was convened as they studied the contents of my bag on the x-ray machine. Finally I was called out to have my bag opened. I already knew what they were looking at. Adam had stuck his 80 pounds of chocolate in one large block in the middle of my suitcase. It probably looked like a car battery bomb or something. Not to mention how heavy it was. Thanks for almost getting me arrested sweetheart.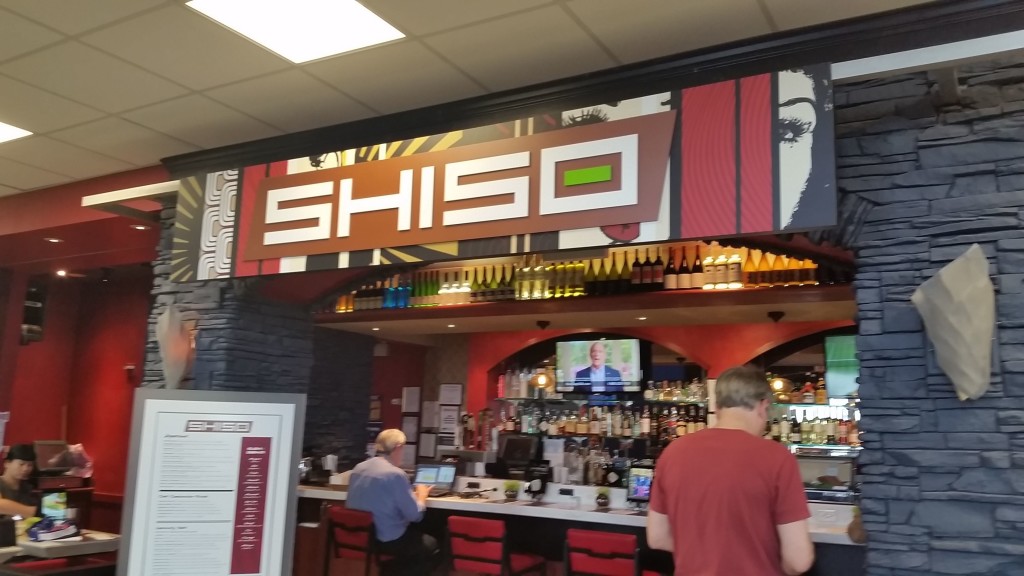 Where I had some sushi before my flight. It was good. I'm not ruined forever. Thank goodness.
On the flight home I ended up entertaining a 10-year-old Italian girl. Her mom was sitting way in the back. She kept trying to engage me in conversation. She was bored. I finally gave up reading, and between my Portuguese and Spanish and her Italian and English, we had a great chat. She was moving to Boise from Italy with her mom and sister. Her dad was already there. She loves horses and is getting a pony. She was adopted from Brazil as were her 3 sisters. The two older sisters were staying in Italy with friends. She loves Frozen, and Elsa is her favorite. I can't help it, even when I'm away from my kids I end up entertaining kids. She was a sweet girl.