And I've been away way too long, but I can't see this world unless I go outside my Southern Comfort zone. It is time for our annual trip home, to see my family, see my home, remind my children of our roots, experience some Southern hospitality and manners, eat some comfort food, and rehydrate. I lose 10 years on my face overnight when I get there because of the humidity. I love being able to feel the air. Last year we were there for six weeks, which was TOO LONG. This year we were there for 2 weeks, which wasn't quite long enough. We just couldn't stay longer this year, but we had lots of fun while we were there. We picked the kids up from school on the Friday before Memorial Day and drove away.
TRAVEL TIPS FOR THE ROAD
Because of our various food allergies, I packed all of our food for the trip, which makes stops go way faster, and we don't feel like disgusting slugs after two days of fast food. This year I grilled chicken, sliced it and portioned it into ziplocs. I made GAPS-friendly pancakes which we had for breakfast and as almond butter sandwiches and with deli meat for sandwiches. I made chicken salad and served it in plastic cups with plastic forks. I used plastic cups to distribute everything. I made breakfast bites (recipe to come soon), which they LOVE and they are very filling. I also brought apple slices, grapes, baby carrots, bananas and GAPS-friendly jerky. I hate the smell of jerky, but everyone else loves it, so it actually served as lunch one day along with some fruit.  Another breakfast was GAPs muffins. I was going to bring boiled eggs and all natural fruit leather, but we had enough. The perishable food only took up a small cooler, and the rest of the food went in a box.
This year I also packed minimally. We have a Thule box for the top of our car, and usually that is packed, as is the back of my Suburban and the floor under their feet. This year we didn't take the box, and the back was only packed up to the bottom of the window in the back so our view was unobstructed. What? Yes. Ever since our trip to England/Italy, I've been in love with minimalist packing. On that trip I packed for three weeks in two climates in one backpack.
Here's what I did this time. First of all, since our kids wear uniforms to school, all of their summer clothes were still put up, so I didn't have to dig through laundry to find clothes. I made eight outfits packs per kid, including a church outfit. Each pack had a shirt, shorts, underwear. I decided to do a sock-free summer by buying them the combo water sandal/sneaker shoes, but if they were going to have tennis shoes, each pack would have included socks. They each got four pajama packs. I put a diaper in all of Georgia's packs. All of their clothes fit in a large suitcase. Six kids in one suitcase. I could have fit my own things in there but chose not to. My clothes and toiletries went in a carry on suitcase with room to spare. I took three pairs of shoes (one pair of heels for church, Sperrys and sandals), four shorts, one pair jeans, and six tops. Everything matched everything and much of it could be layered.
For our drive I make two hotel backpacks, one for the kids, and one for the adults. I paired that down as well this year. In the backpack each kid had 2 pajama packs, toothbrushes, hair brush, elastics and detangling spray to tame the bed head, along with wipes and a few extra diapers and outfits for Georgia (and they were needed). When we made it to the hotel that night they all put on pajamas and clean underwear to go to bed. When we got up in the morning, we just had them stay in the pajamas. Very comfortable to travel in, and we weren't going anywhere except gas stations. For myself I take a pair of jeans (Express Stella jeans are the most flattering, most comfortable jeans on the planet, and I've tried all the designer brands), two shirts, a cardigan, sandals or Sperrys – something I can slip on and off easily, a pair of socks for cold feet in the car, a nightgown, underwear and toiletries for me. I freeze (thank you low thyroid for that), so I layer up in the car instead of suffocating everyone else.
Once we get the kids settled in the hotel, I take a quick shower. In the morning I can get ready in 15 minutes. Throw on my clothes, brush my hair, put on make up, brush teeth and I'm gone. I also have the kids pack up the clothes they just took off and put them in the backpacks so they bags are already packed in the morning. The kids each have a throw sized blanket they use in the car to regulate their own temperatures as needed, and they also take these into the hotel. No unloading the whole car to go in the hotel. No digging for clothes and underwear and having to repack the whole thing. We get in the car, I quickly distribute breakfast and we roll.
Not only does this make the car space used minimal, but it makes packing up so much easier. I usually dread packing for this trip, and this time it was no big deal.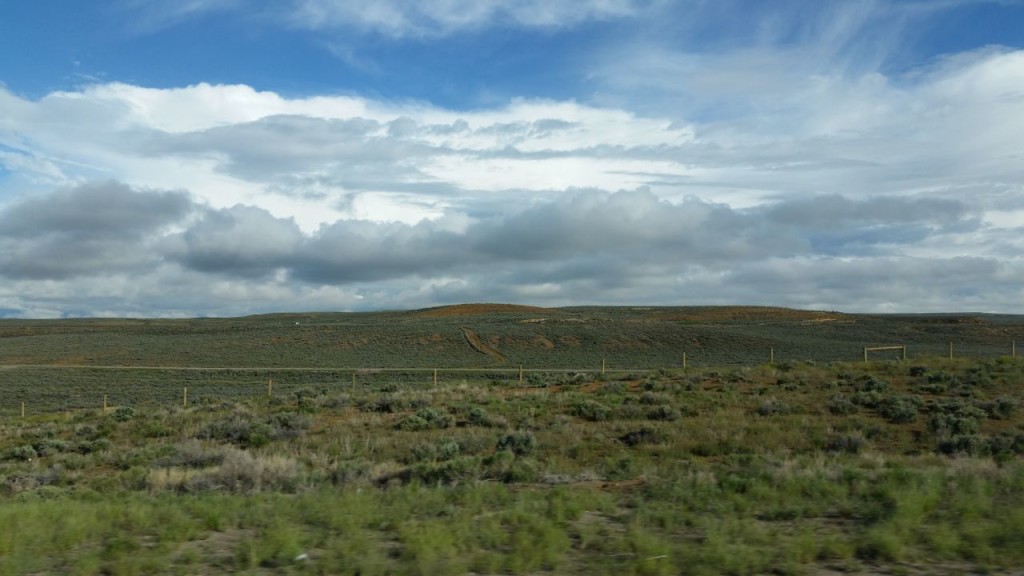 I've never seen Wyoming so green. It was almost attractive.
Adam got to spend Memorial Day with us and flew out for work. Eric and Tristi's family were at the beach for a last family vacation before Ashlee left on her mission, and Leo and Amber's family were in Nashville supporting their friend whose wife had just died. It was just us and Gran and Granddad and the barbecue. We missed everyone, but those were all big things.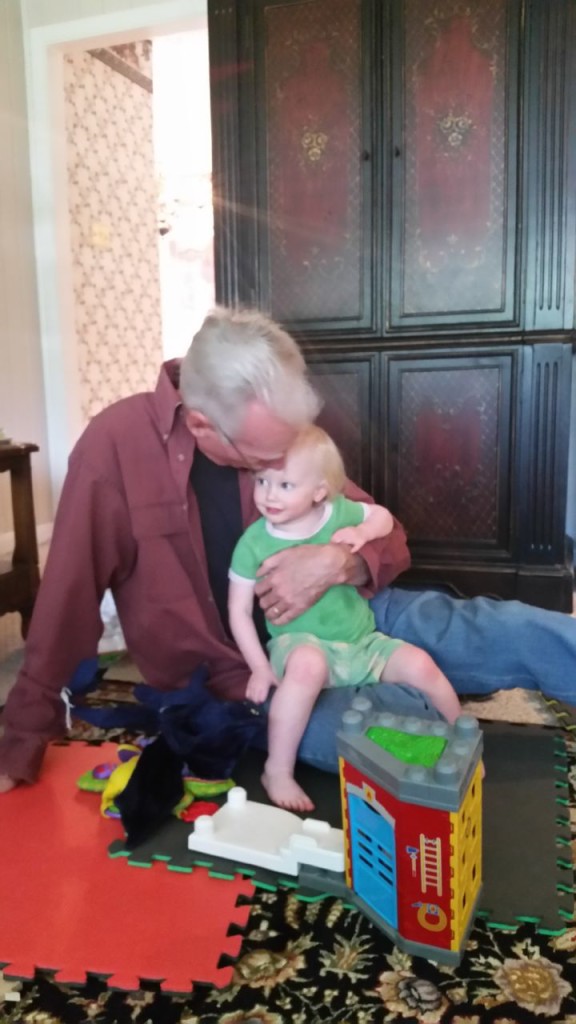 Granddad getting some Georgia sugars.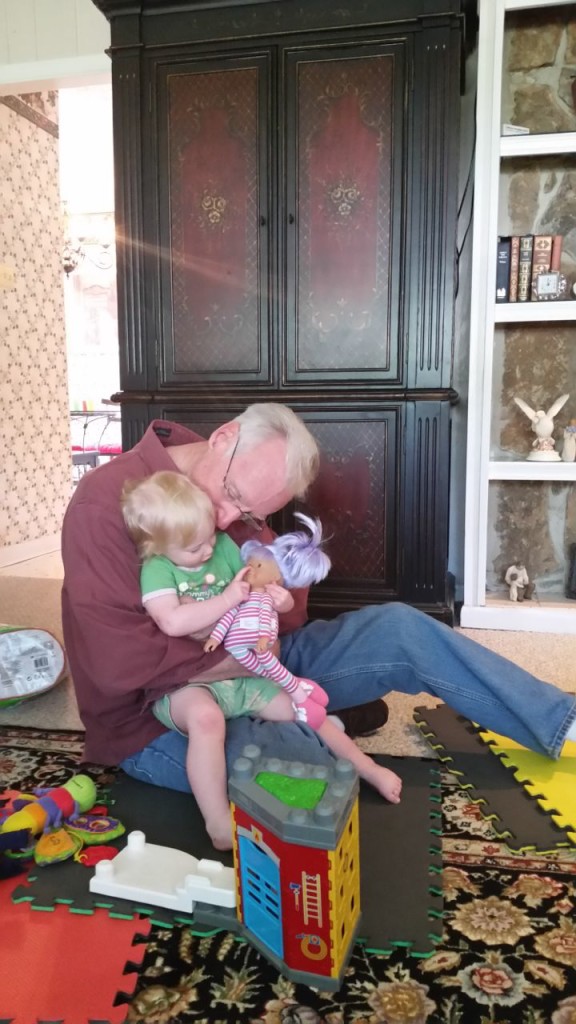 New to them toys. Not quite as great as LEGOS at their age, but they get creative just the same. We also got them a chess set and Battleship.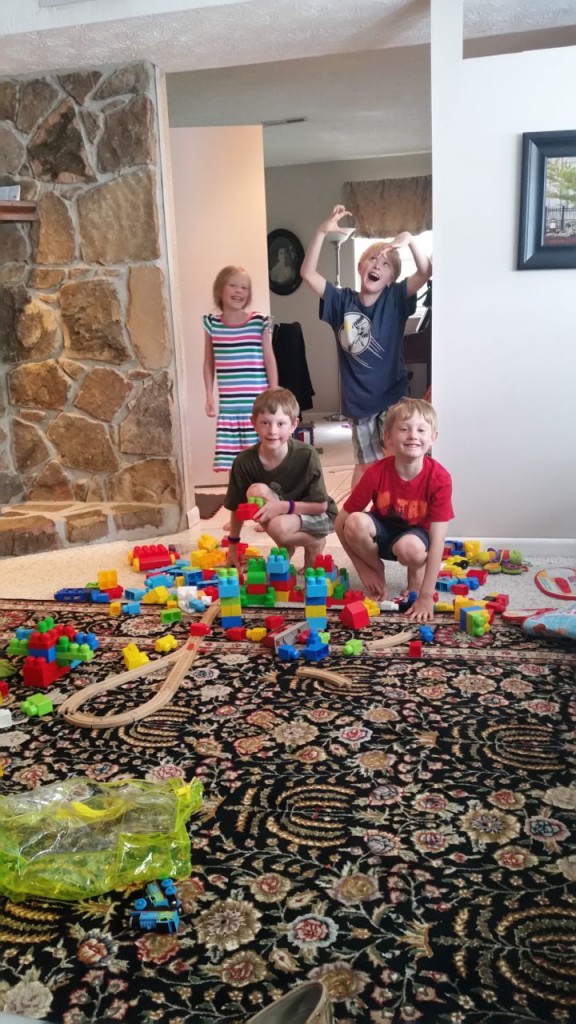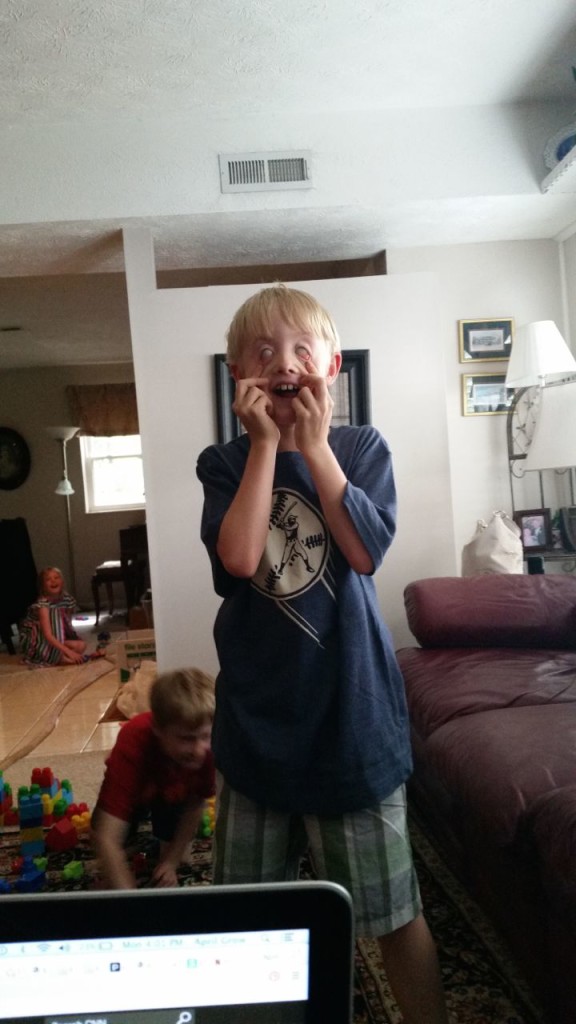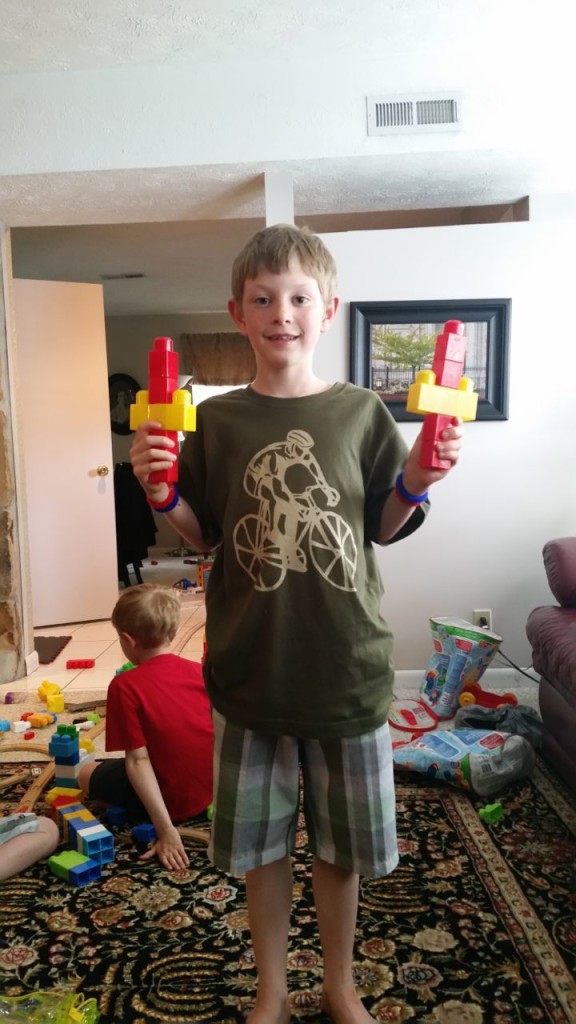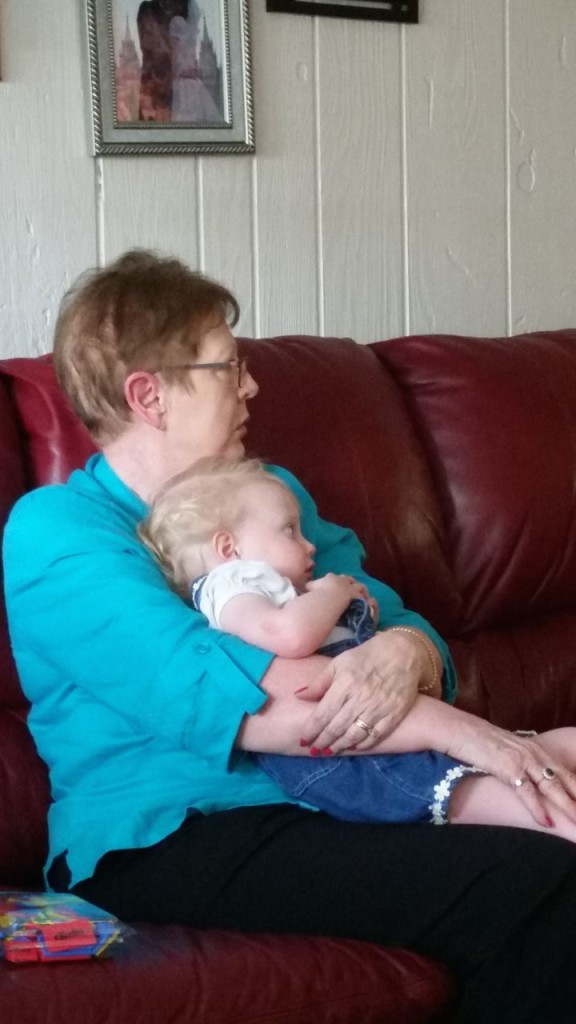 Gran getting Georgia loves.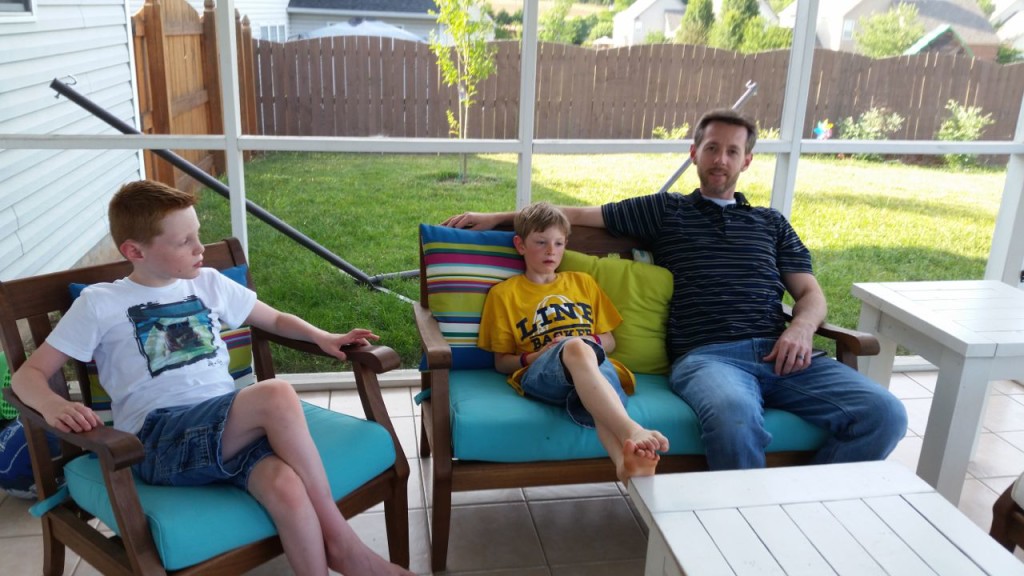 We spent a lot of time in the screened in porch at Leo and Amber's house. It was so nice.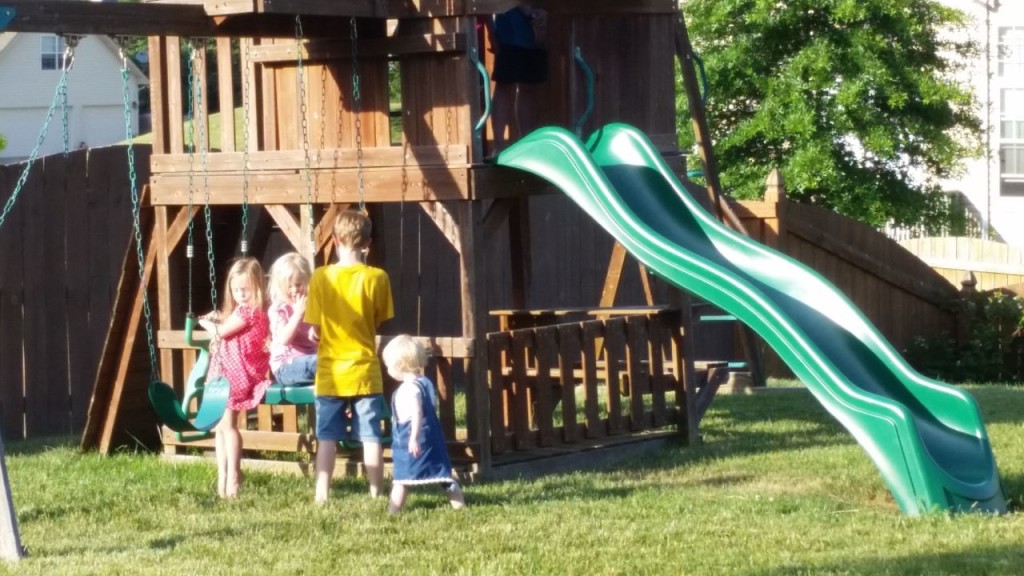 They have a nice big yard and toys for all the cousins to run around and play.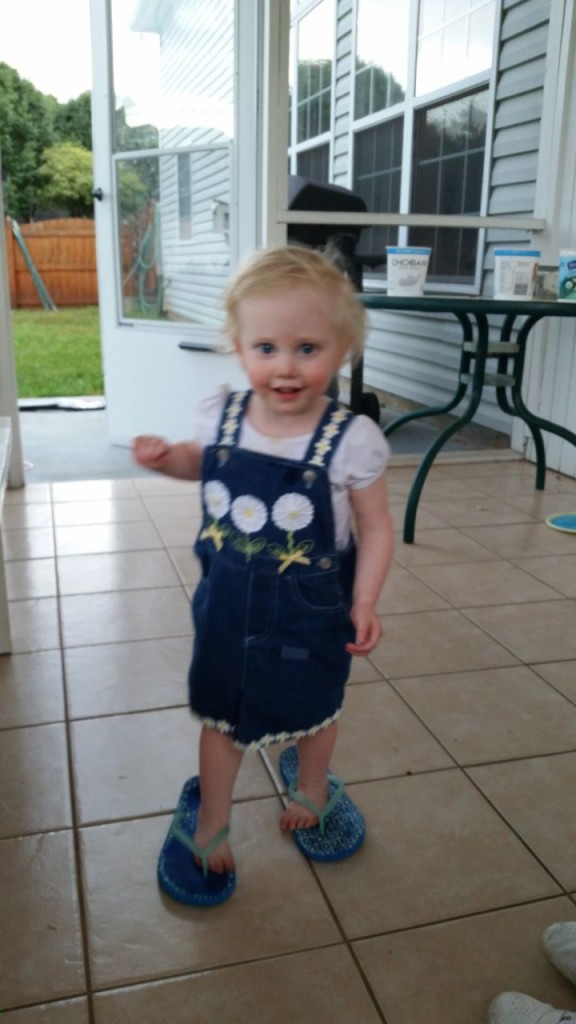 Georgia suddenly became fascinated with wearing any shoes she found.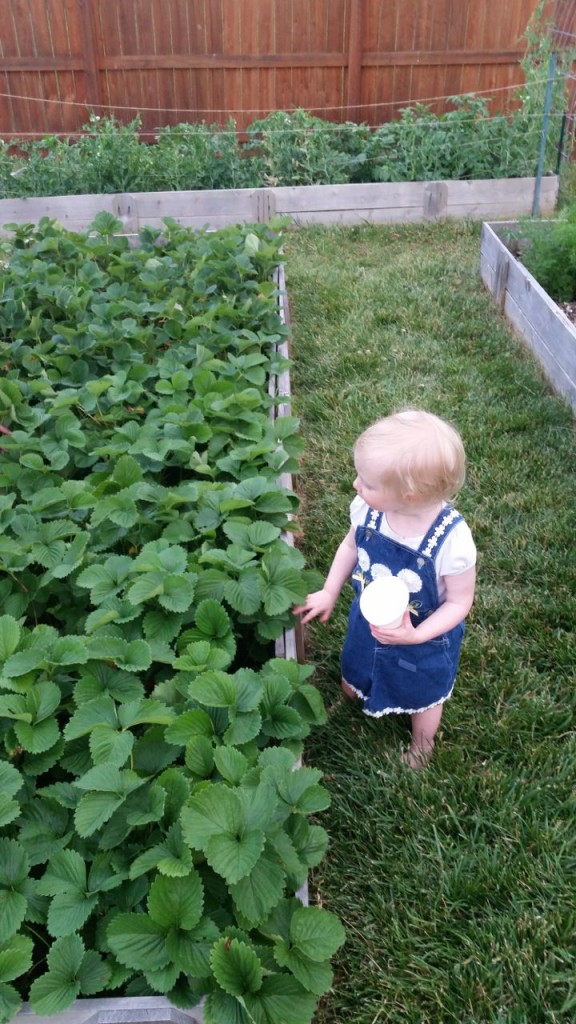 She also discovered uncle Leo's strawberry patch.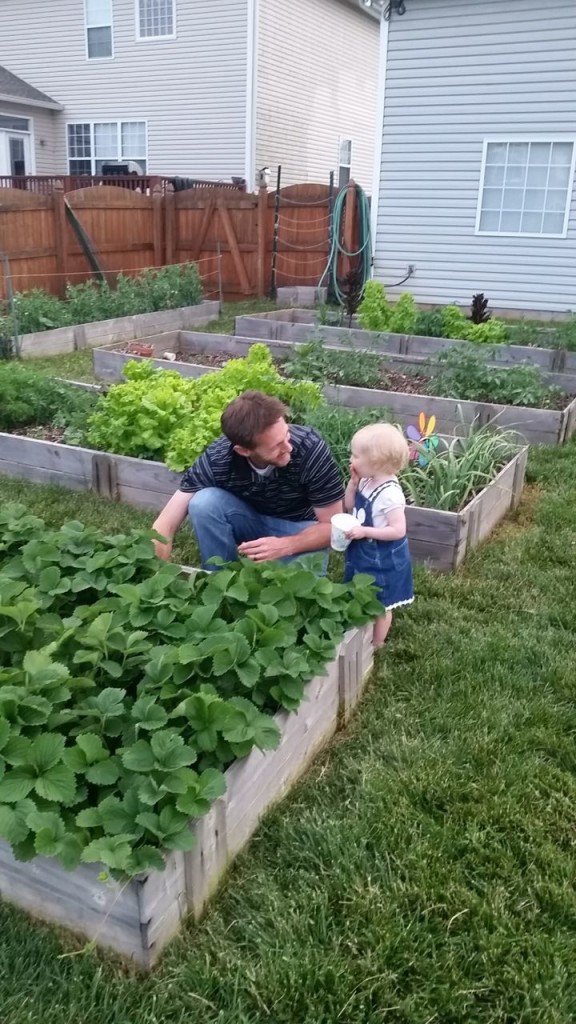 And uncle Leo's usefulness at picking strawberries.
And giving them to her.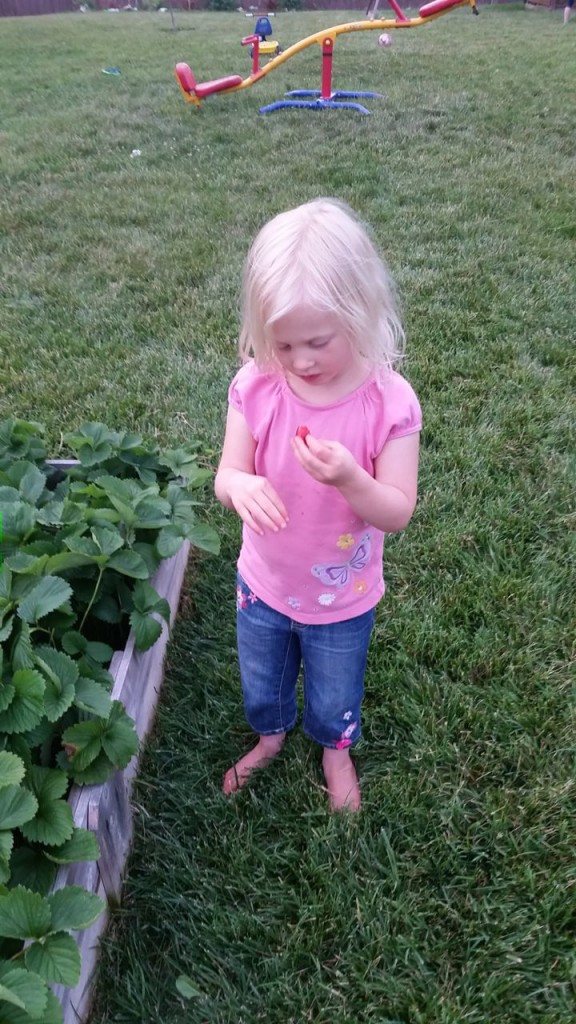 Daisy is a veteran strawberry picker from our patch, and she knows how to pick her own.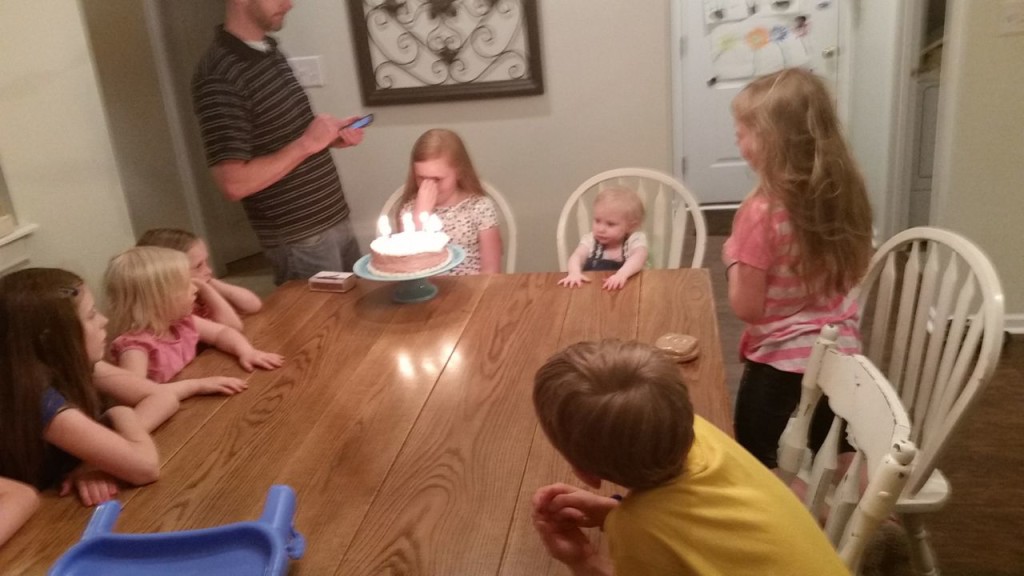 Georgia and Bridget share a birthday, so they had a birthday party. We had a real birthday party (meaning presents as well) for her at home after the trip so Adam could be part of it.
There is a great little gluten free bakery close by that had gluten and dairy free cupcakes. Very tasty.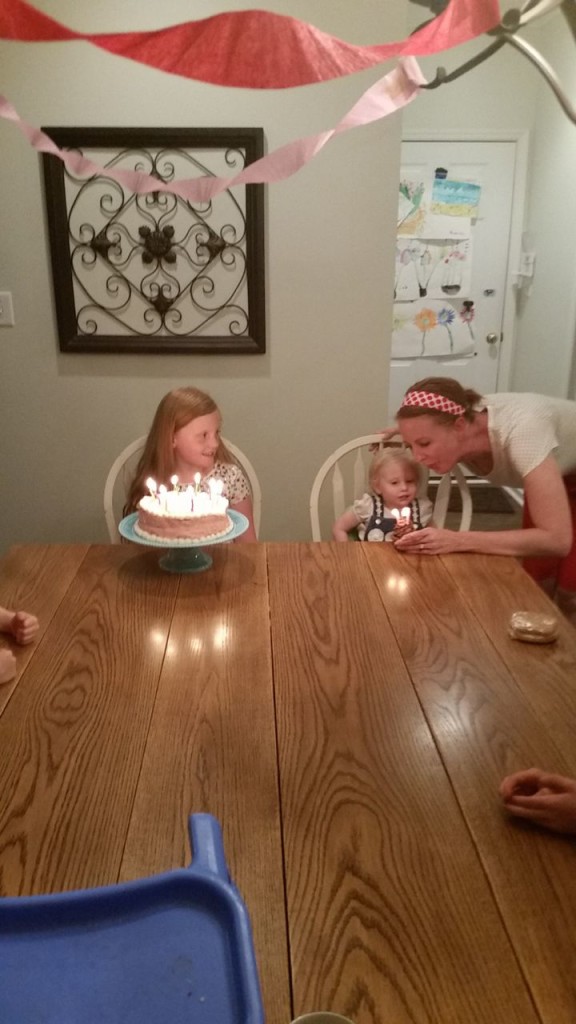 Happy second birthday Georgia! Happy 9th birthday Bridget!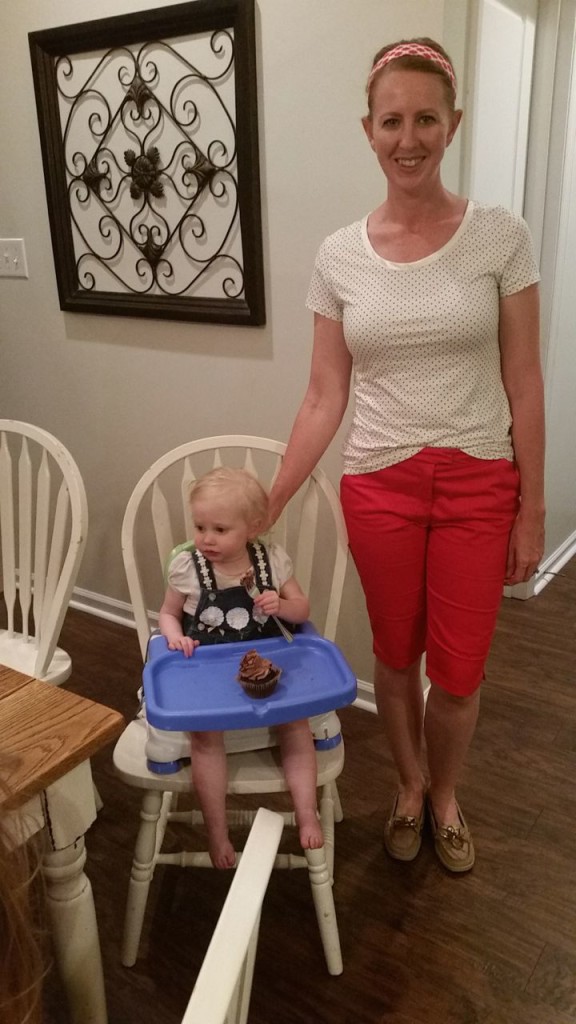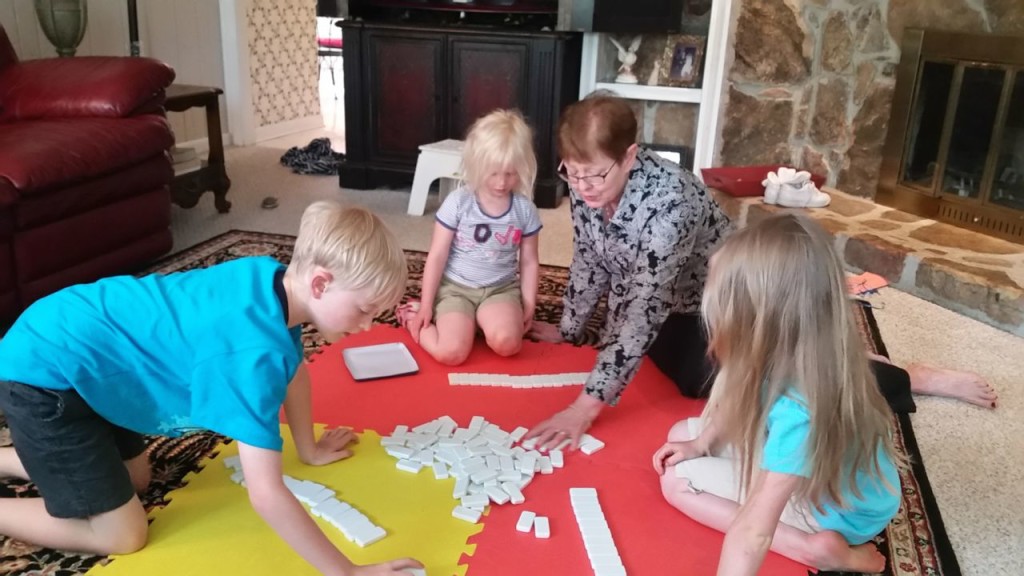 The best part is Gran is mostly retired now, so we got to spend every day with her this trip. For the most part we stayed at her house in the mornings and played with cousins in the afternoon/evening. We taught them how to play dominoes.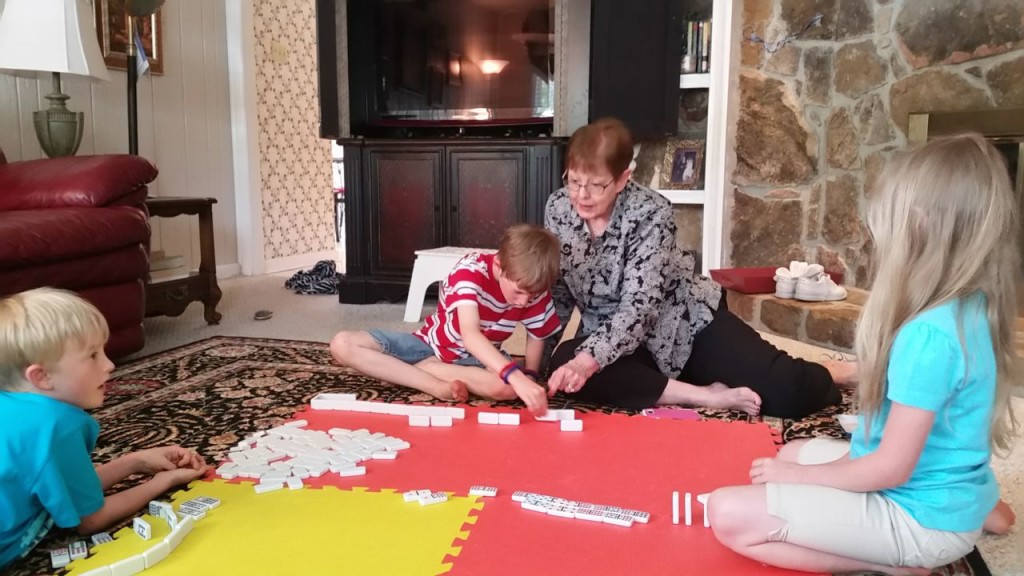 They picked up on it really fast. Not as challenging as chess, but still a fun game.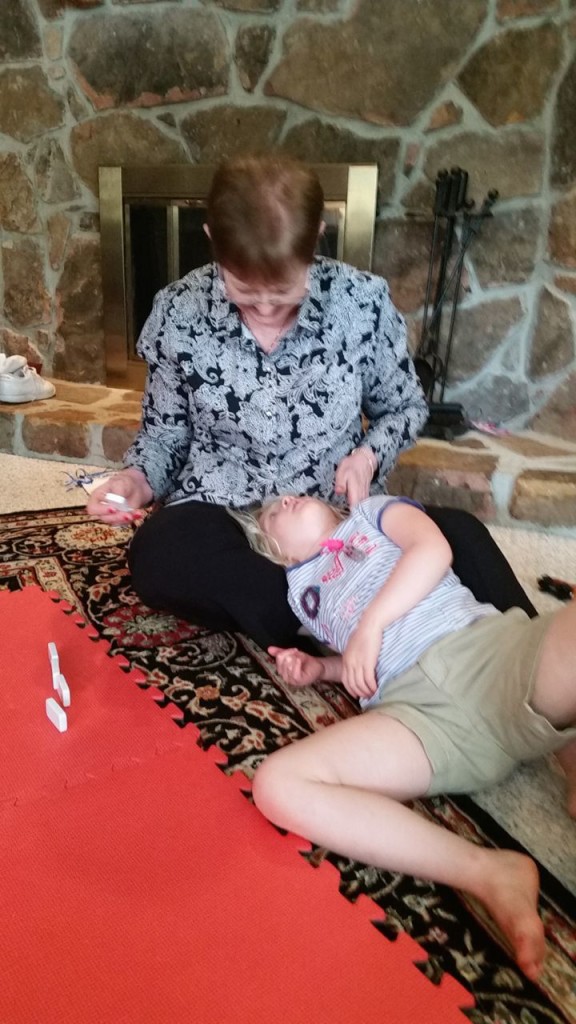 Daisy loves her Gran, and they both love things that *SPARKLE*.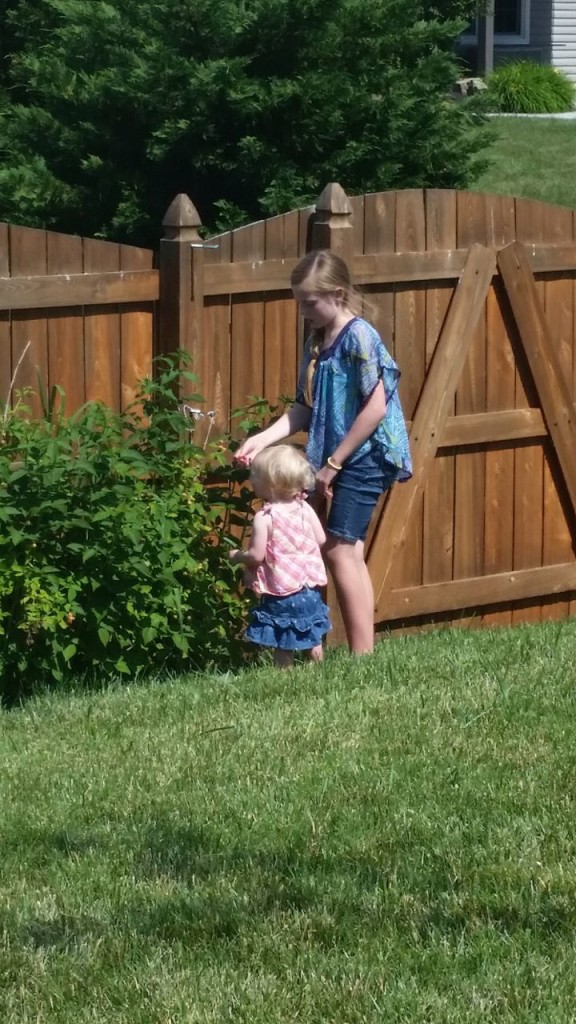 Georgia doesn't make friends, she makes slaves. She got Summar out there picking raspberries for her.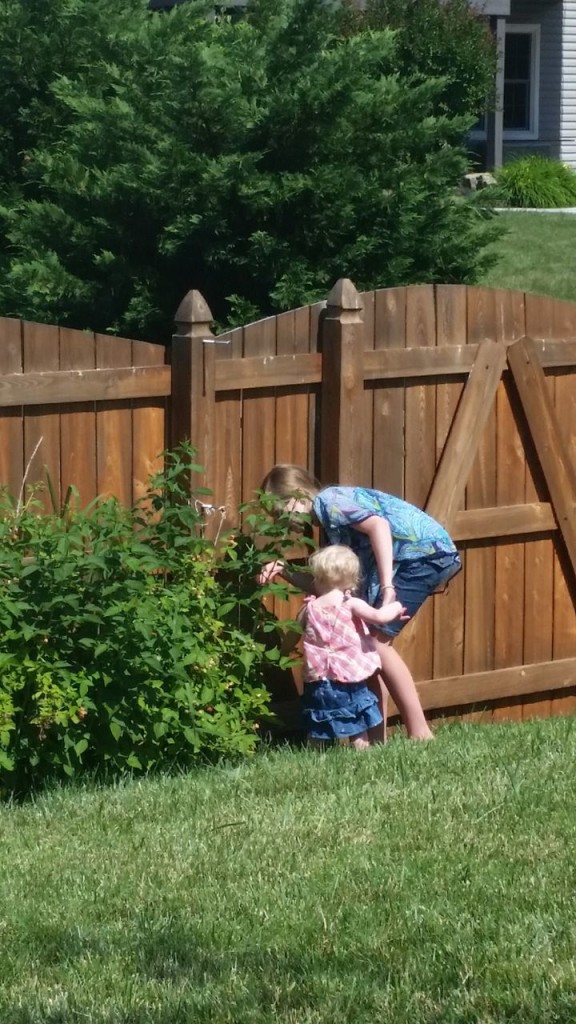 Summar is such a good cousin she did it. Every day.
Big girls need knives to cut their own chicken.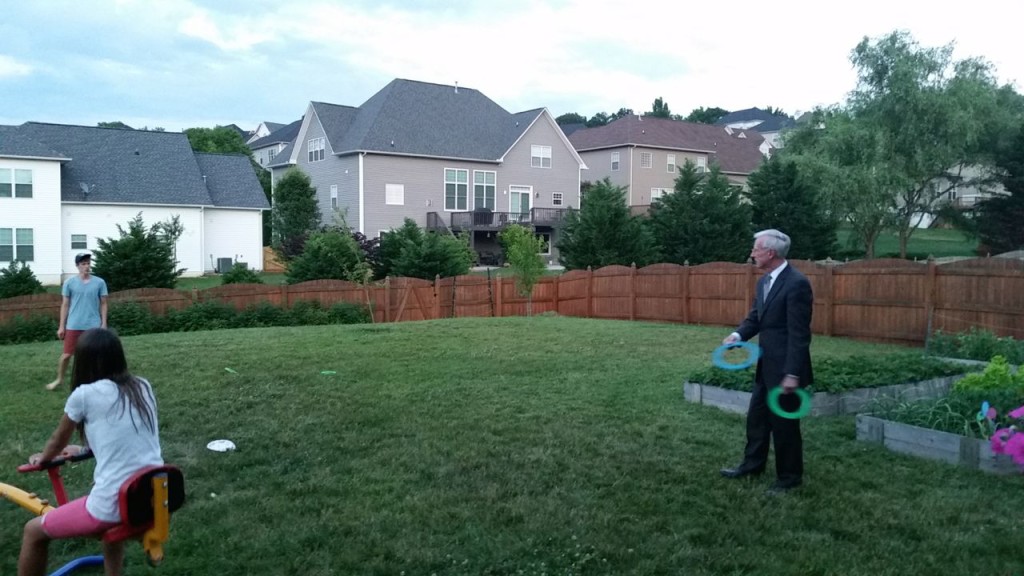 Granddad playing frisbee in a suit. Not the least bit surprising. He may have been born in a suit.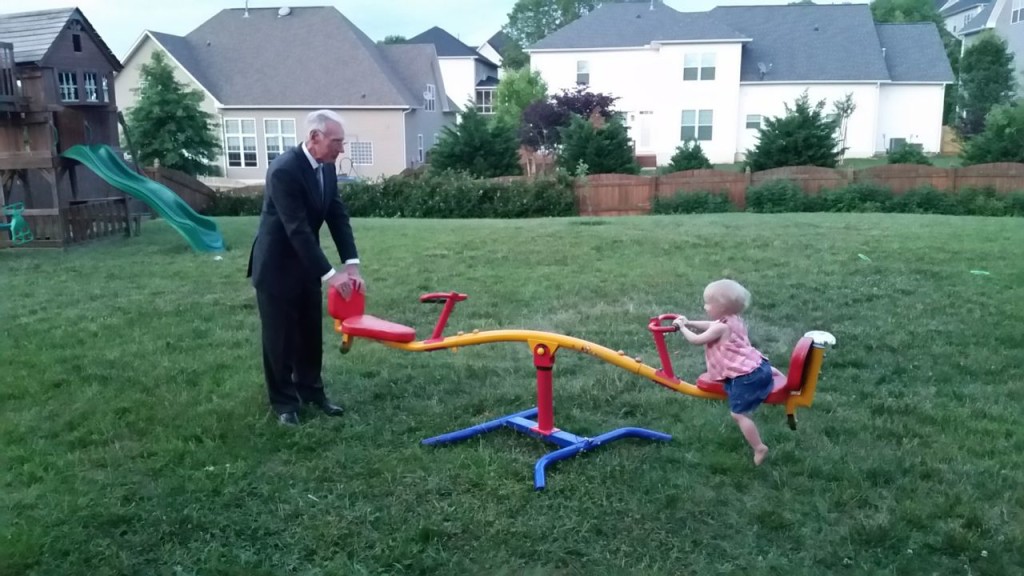 And teeter tottering Georgia.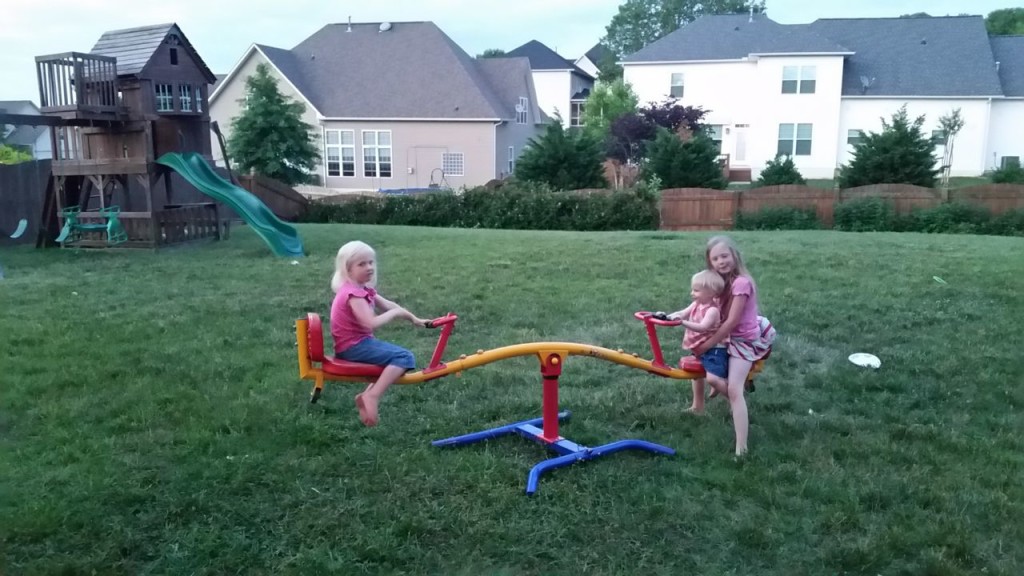 My girls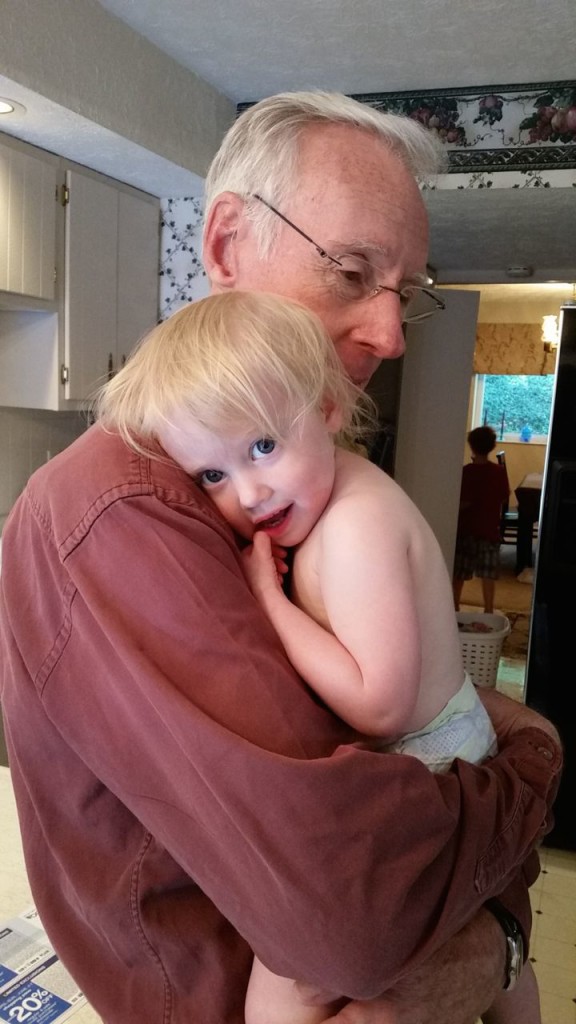 Georgia loves Granddad. She kept swatting me away when I tried to take her.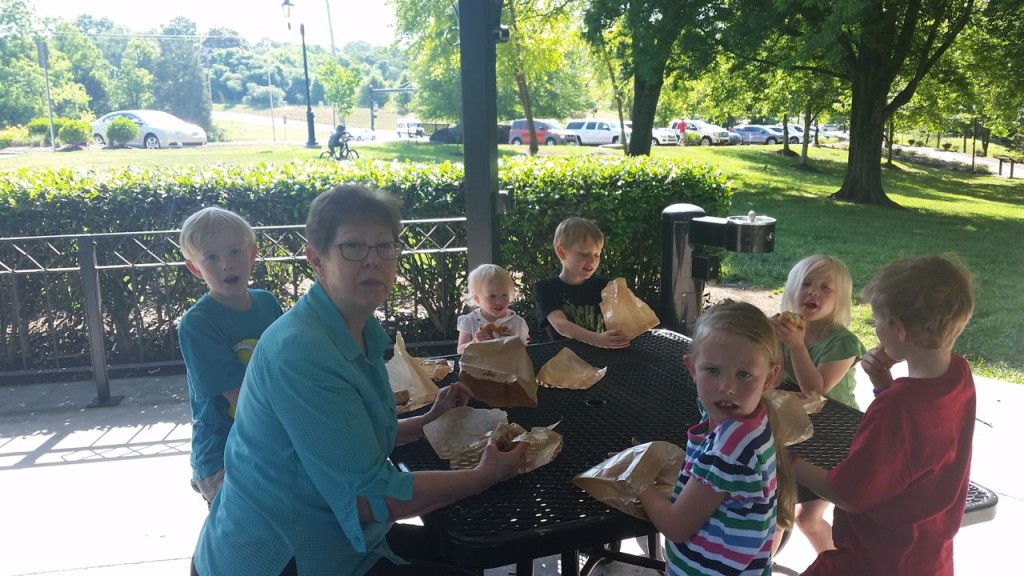 That bakery also makes gluten free dairy free donuts on Friday and Saturday mornings, so we went with Gran to get some and ate them at a park. They are a little denser than regular doughnuts, but still good when you can't have the real thing.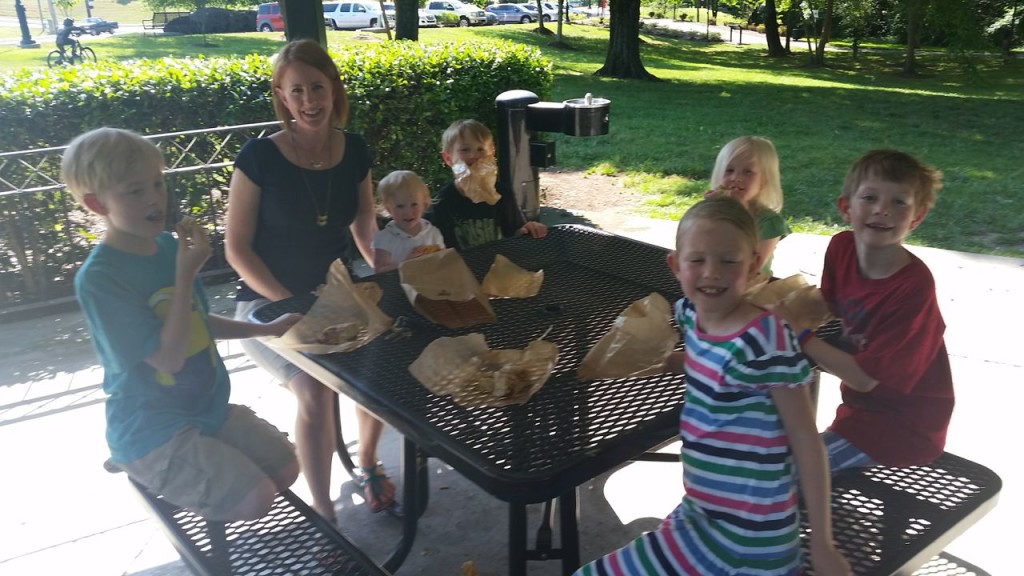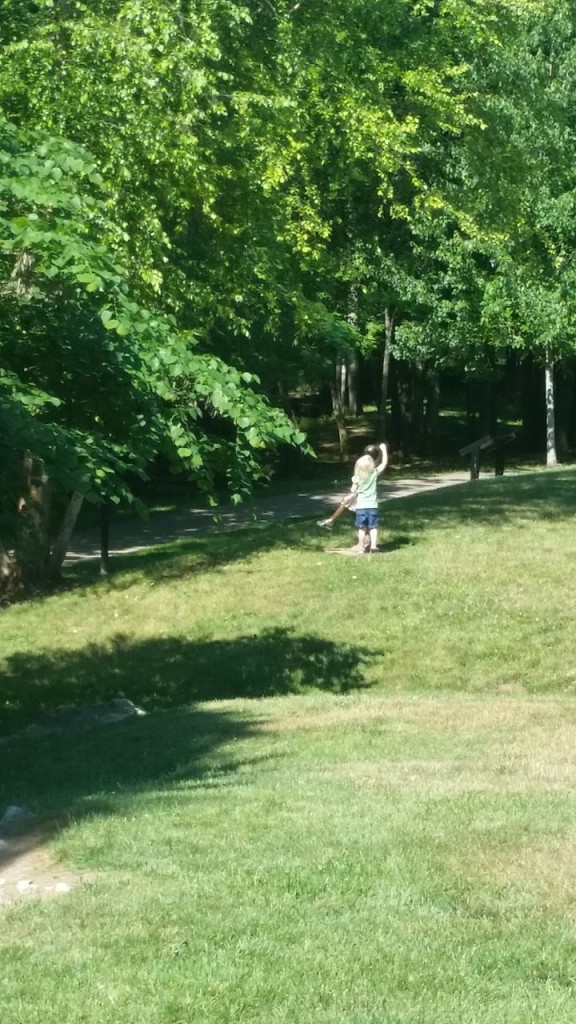 They got to run around a bit before we headed back home.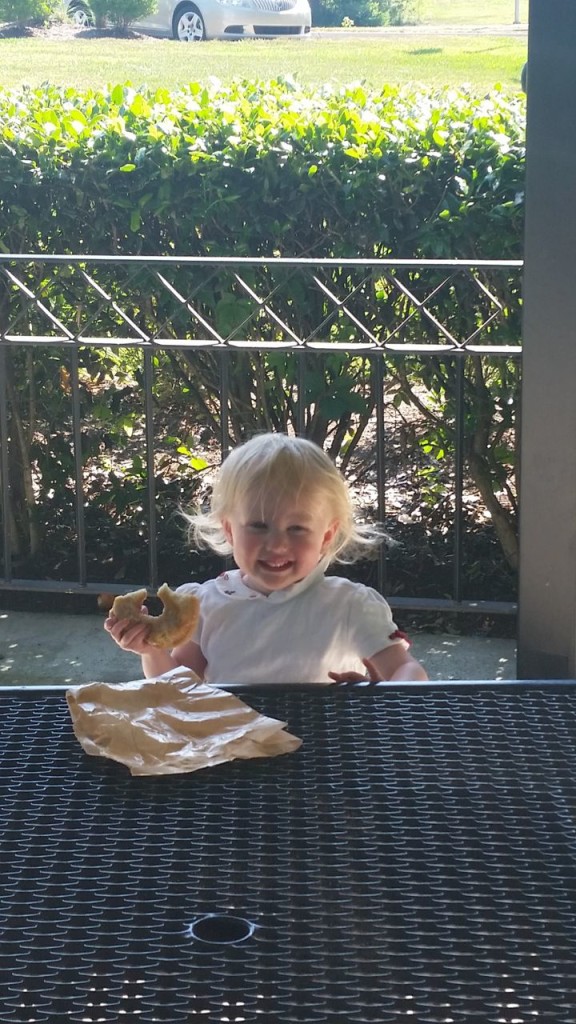 Georgia got big overnight. After her birthday, it was like someone flipped a switch, and she was big! Suddenly she wants to do anything big people do, like wear their shoes, put on clothes, sit at the big table.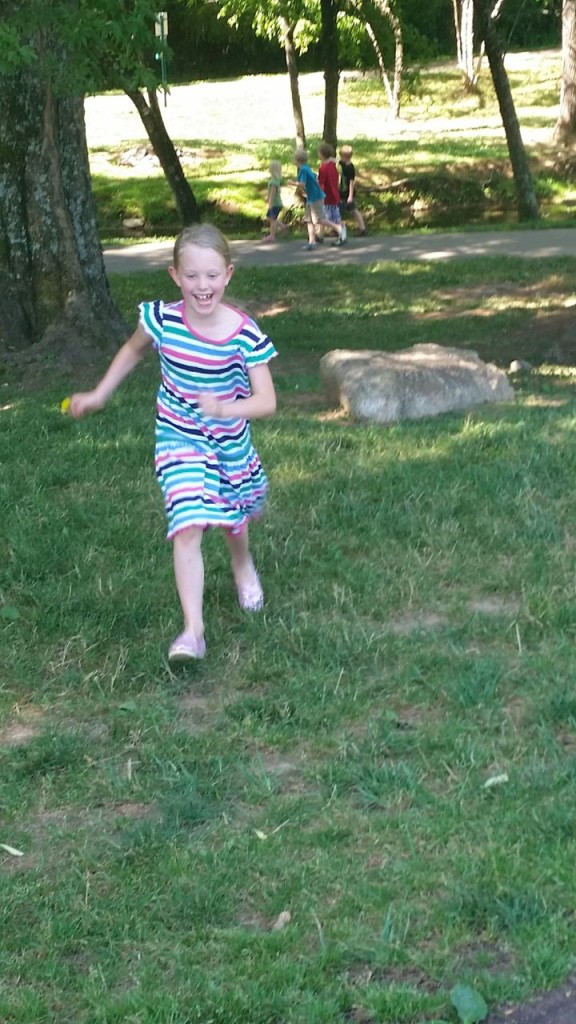 Brinlee running to give me a hug. Love Brinlee hugs.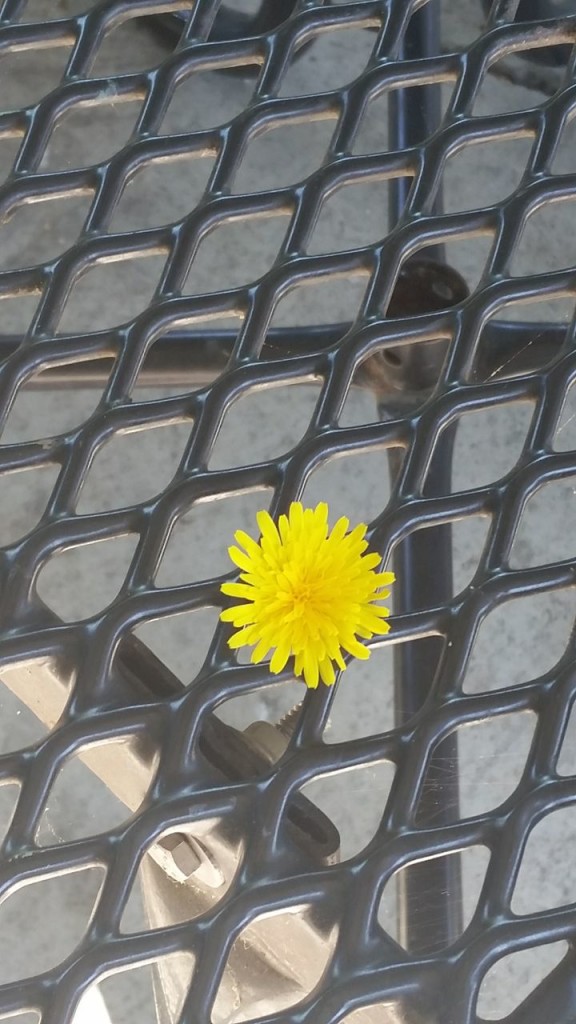 And to give me a flower. I told them years ago that dandelions are my favorite flower, and they can pick all they want. They make me bouquets all the time, and I love them.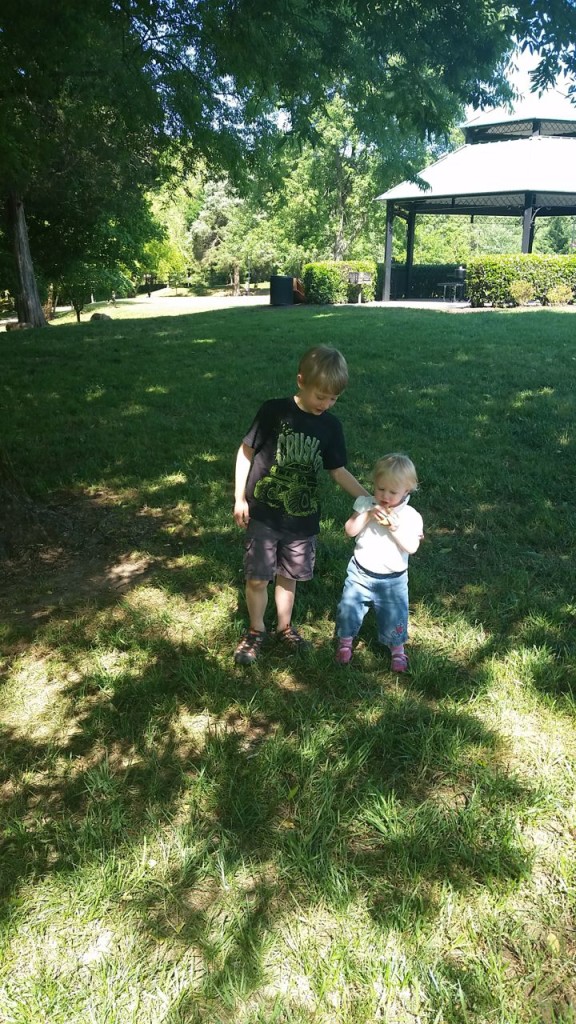 Caisen helping Georgia back to the car. Such a great big brother.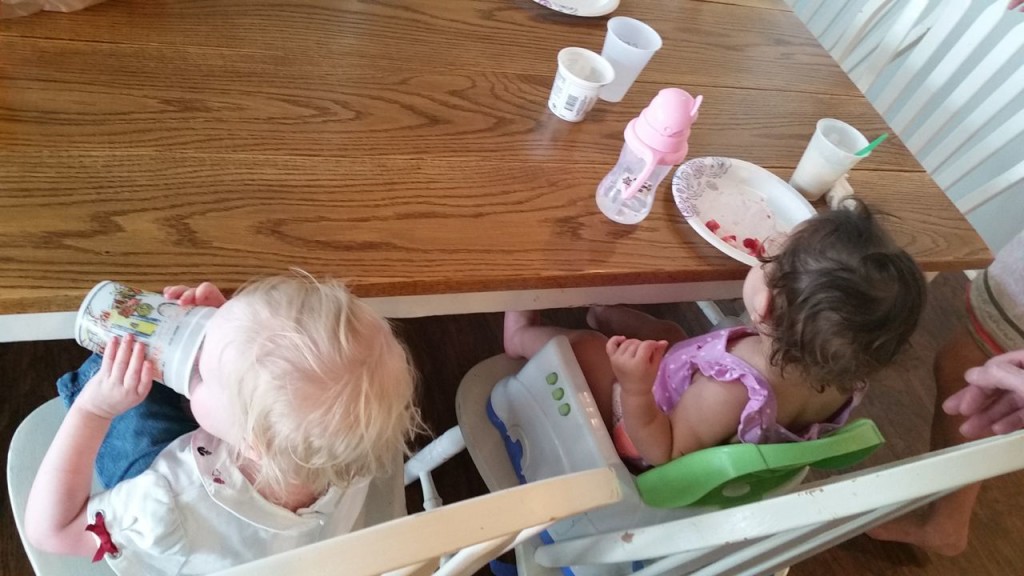 Then uncle Jonny, aunt Vanessa and cousin Avery came to stay!! We decided that Georgia and Avery had the same hair.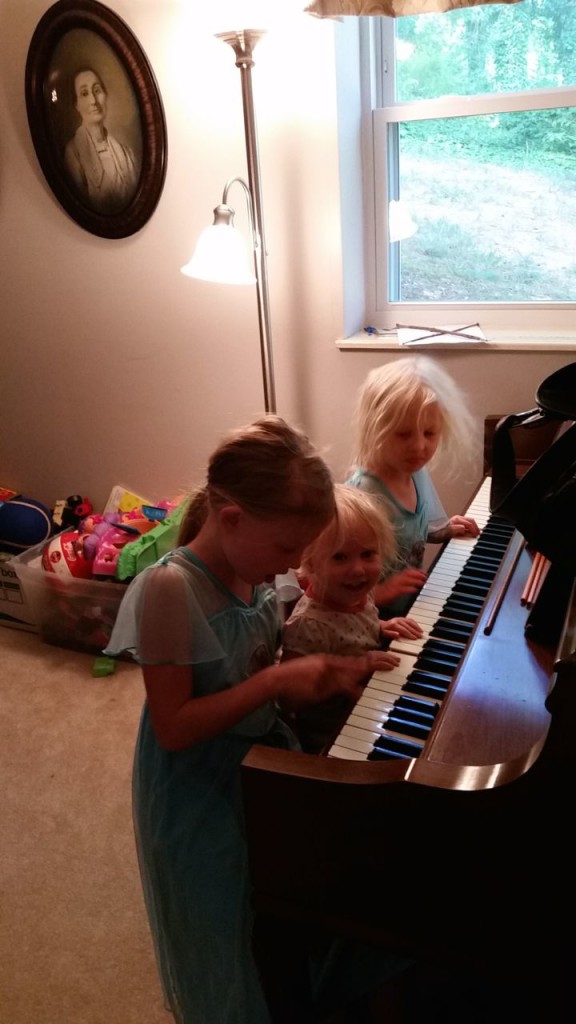 Playing Gran's piano.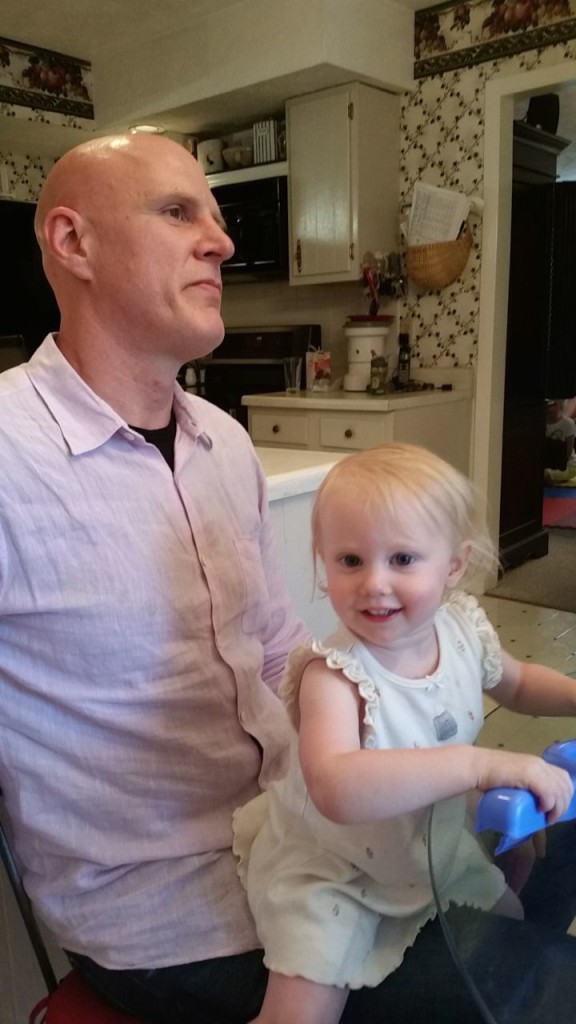 Georgia loves uncle Jonny.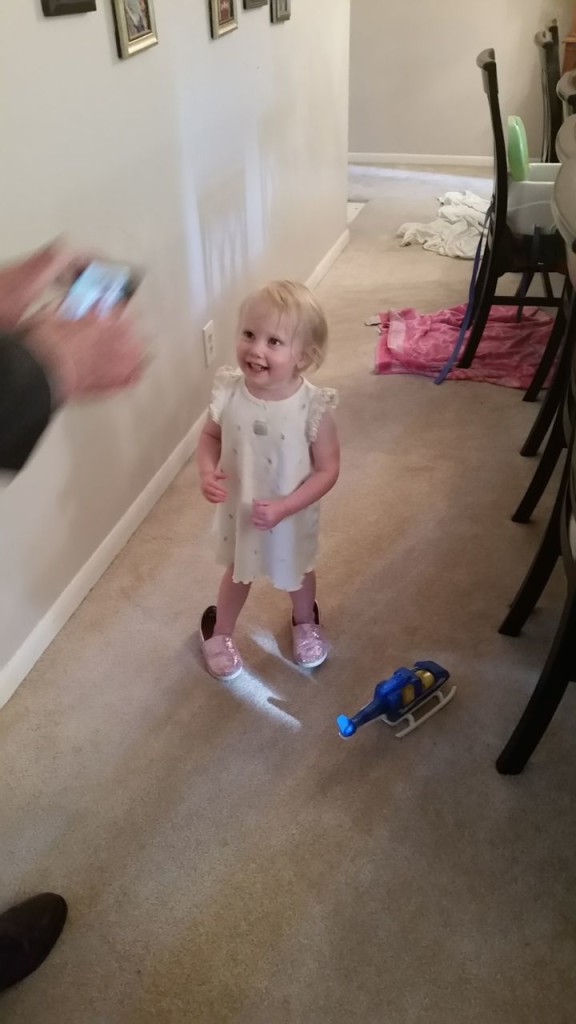 More shoes.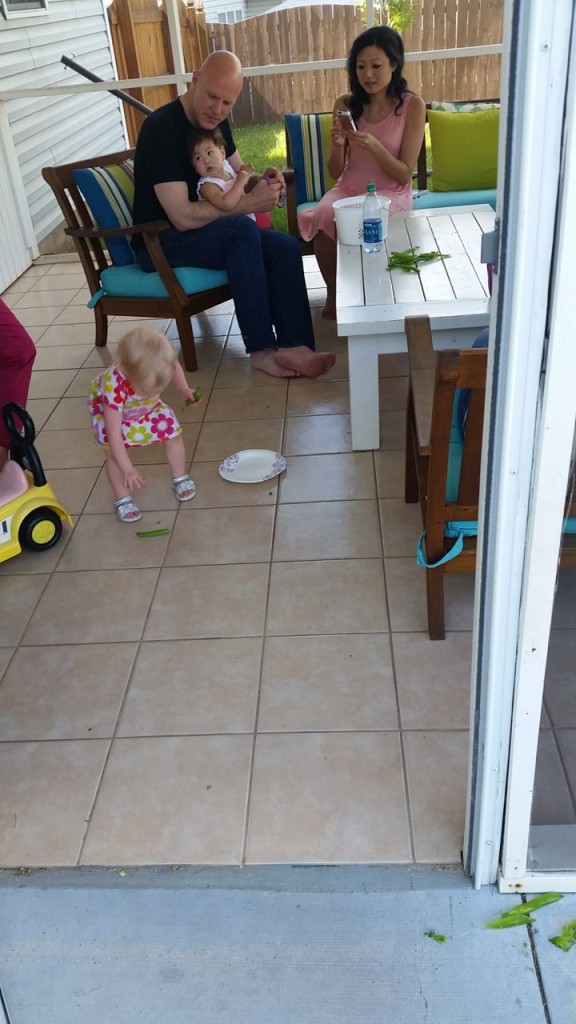 Georgia also discovered the snap peas. She liked to chew them up and spit them out. Notice the discards in the lower right.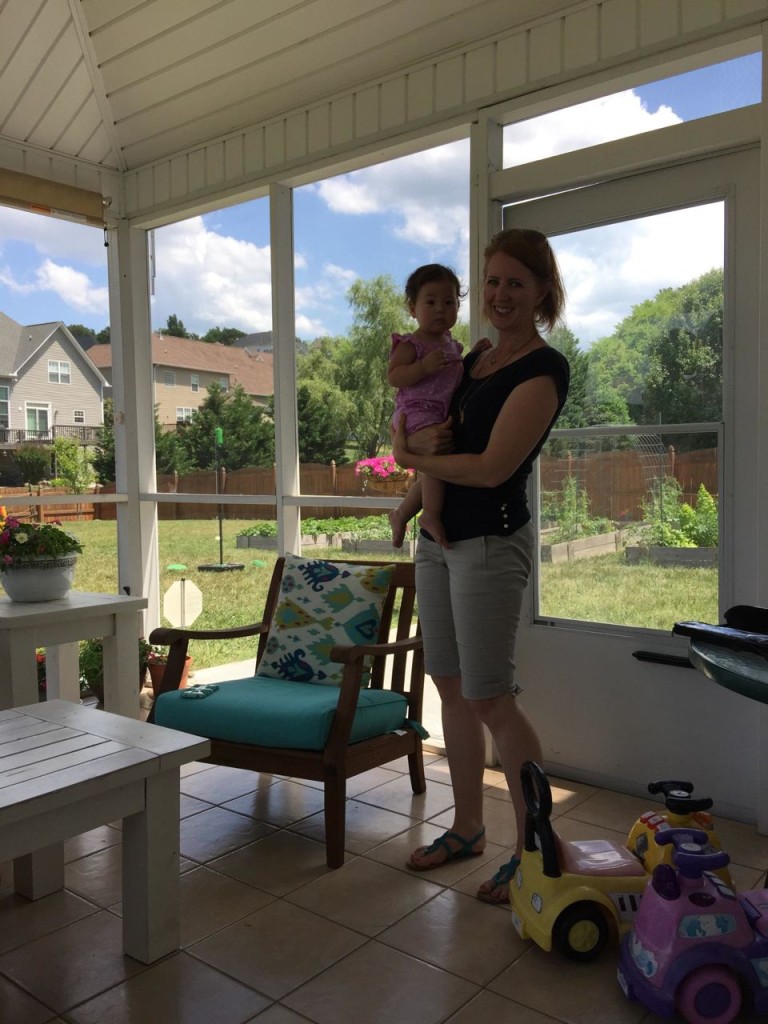 When I picked up Avery, Jonny and Vanessa were waiting for her to wail, but she loves auntie April. We played for 30 minutes. No crying. Lots of smiles.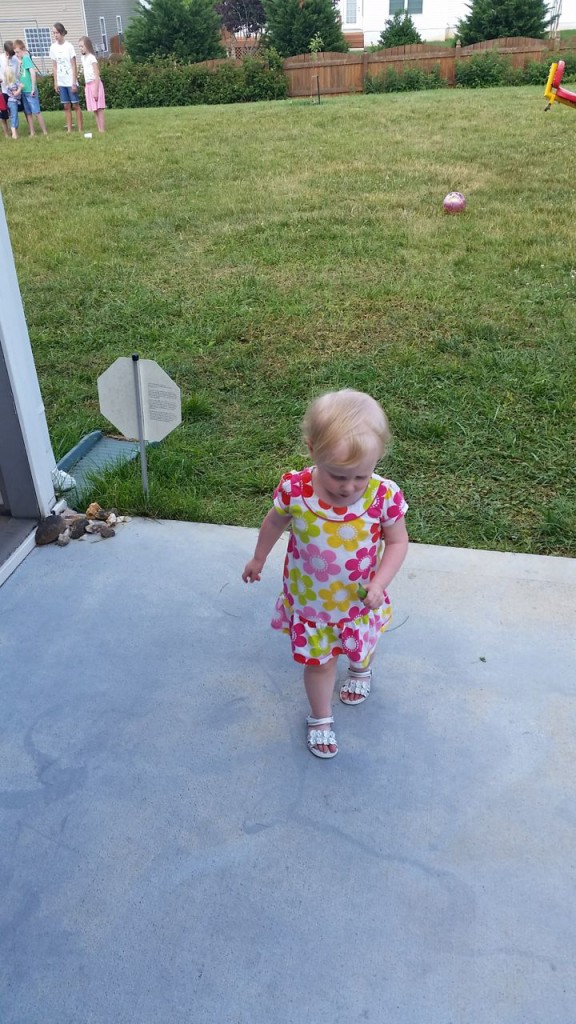 This time she's wearing her own shoes.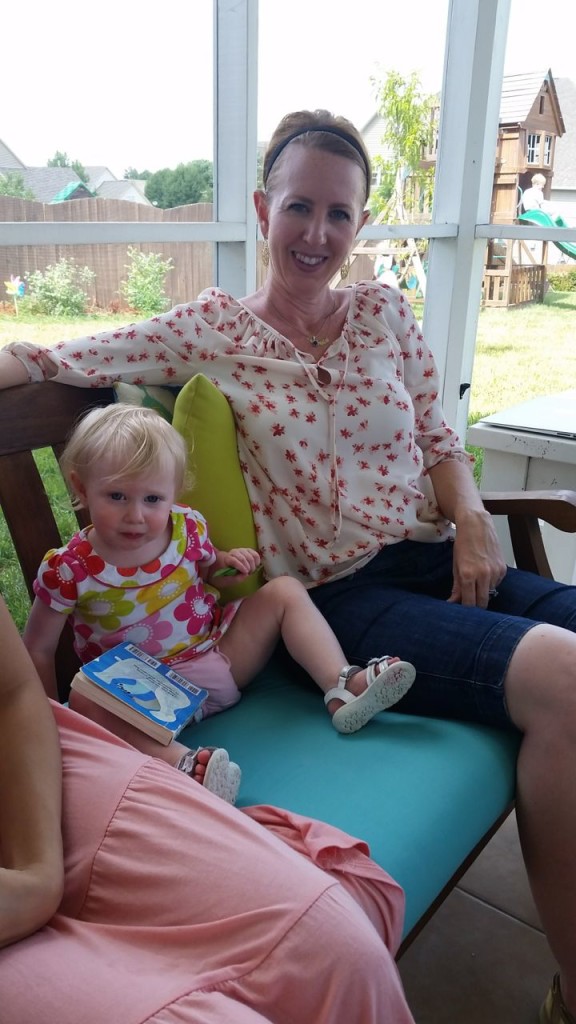 Mommy and Georgia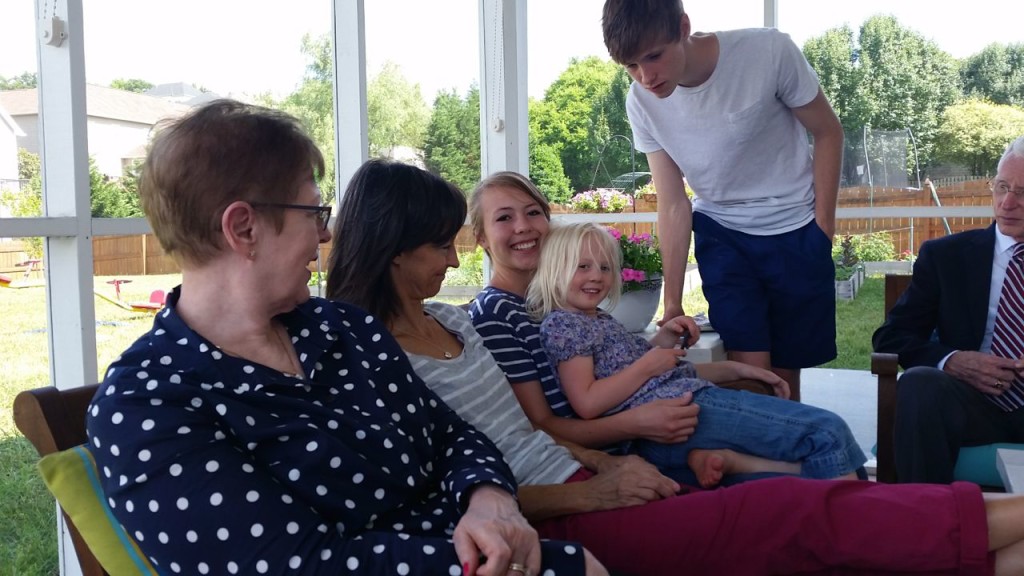 Daisy and Ashlee.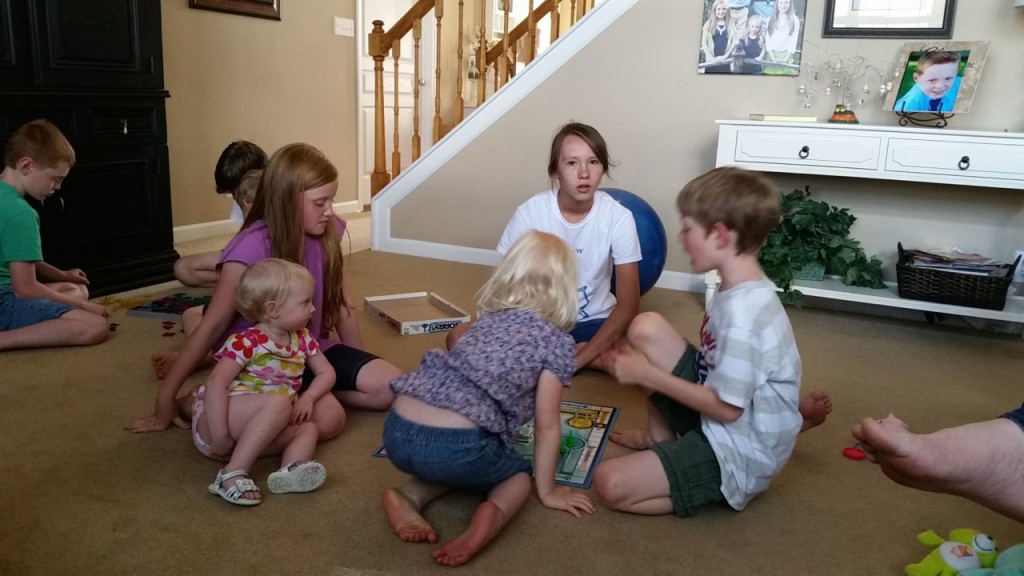 Cousin Madelin is so great at playing with all the cousins. They love her and talk about her all year. Georgia is sitting next to Bridget, who was also one of Georgia's slaves, and she was so sweet with her little cousin.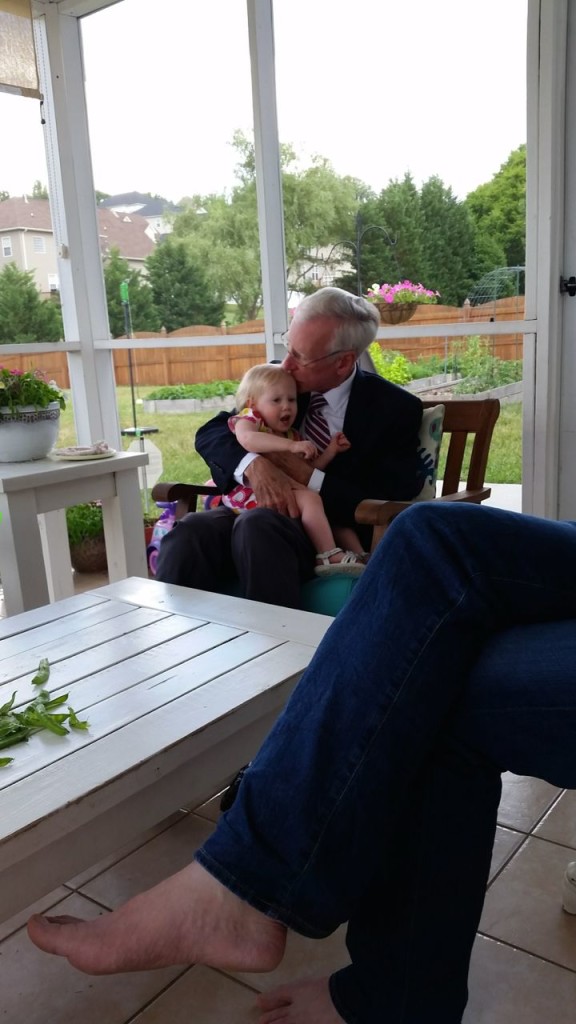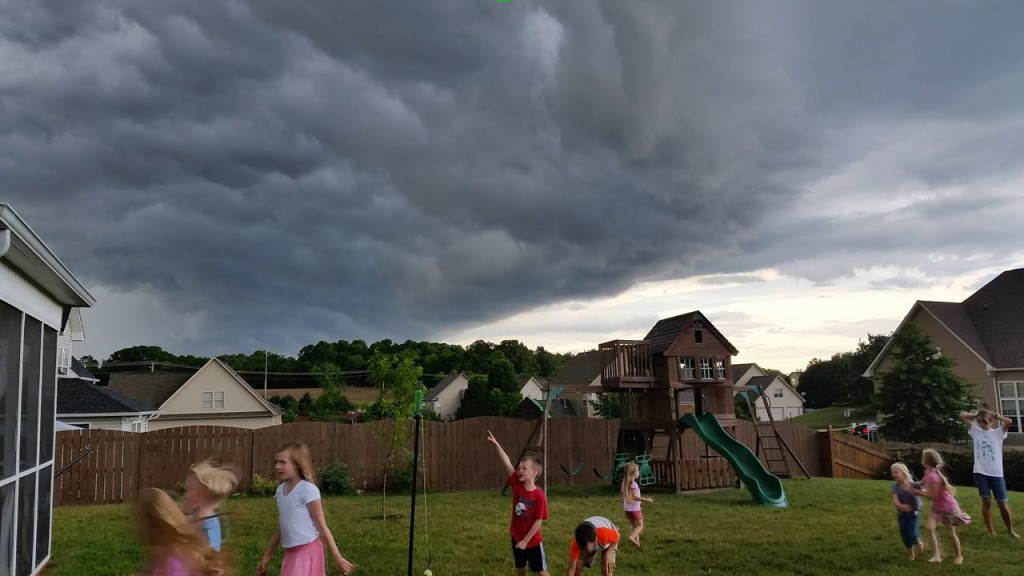 Then in true Tennessee fashion, a storm rolled in out of NOWHERE. Honestly, I miss those crazy storms.
Mamma and Georgia.
She tolerates me. I could kiss this baby all. day. long.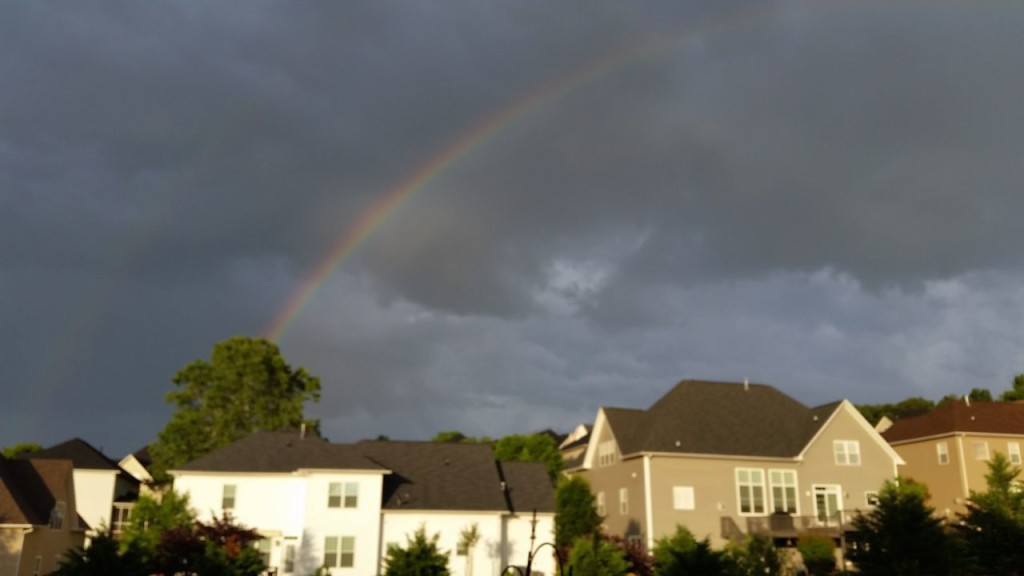 After the storm we were treated to a double rainbow.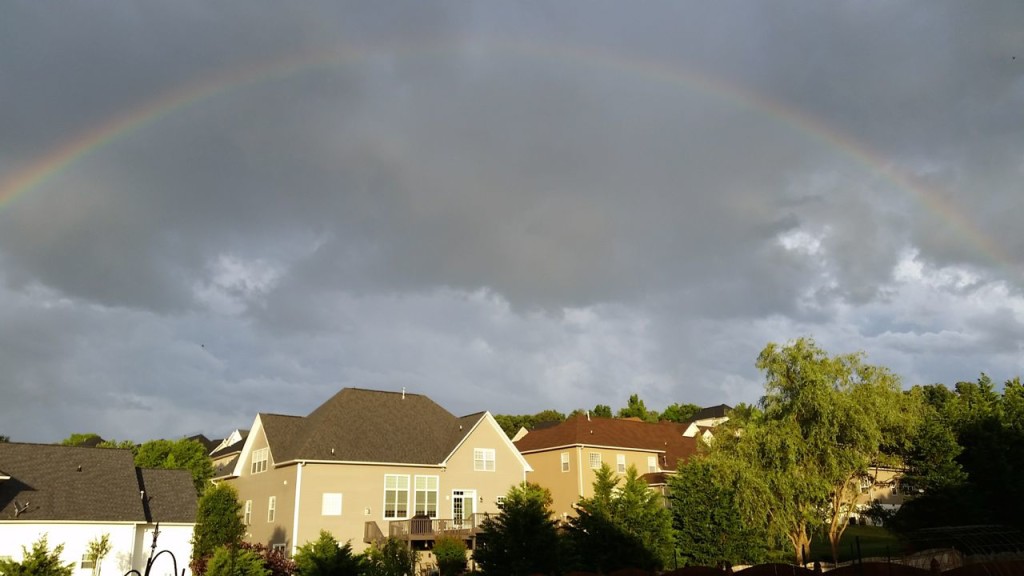 So gorgeous.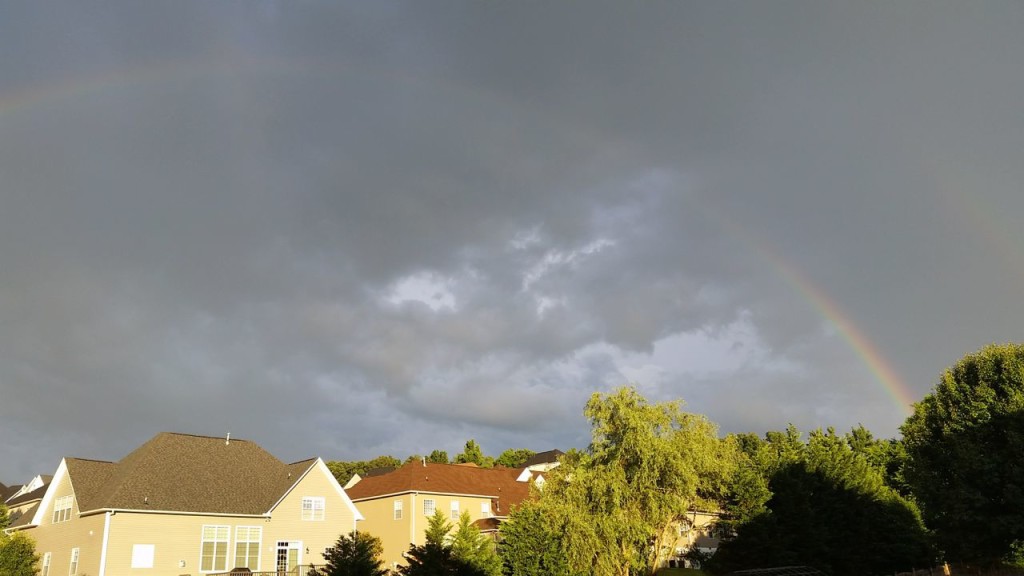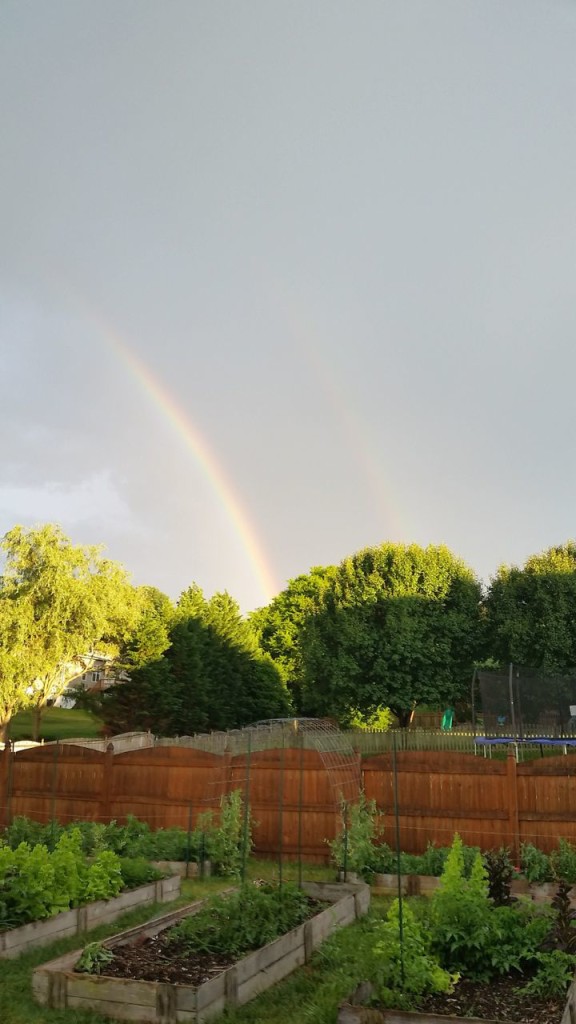 Check out Leo's garden. Lookin good bro.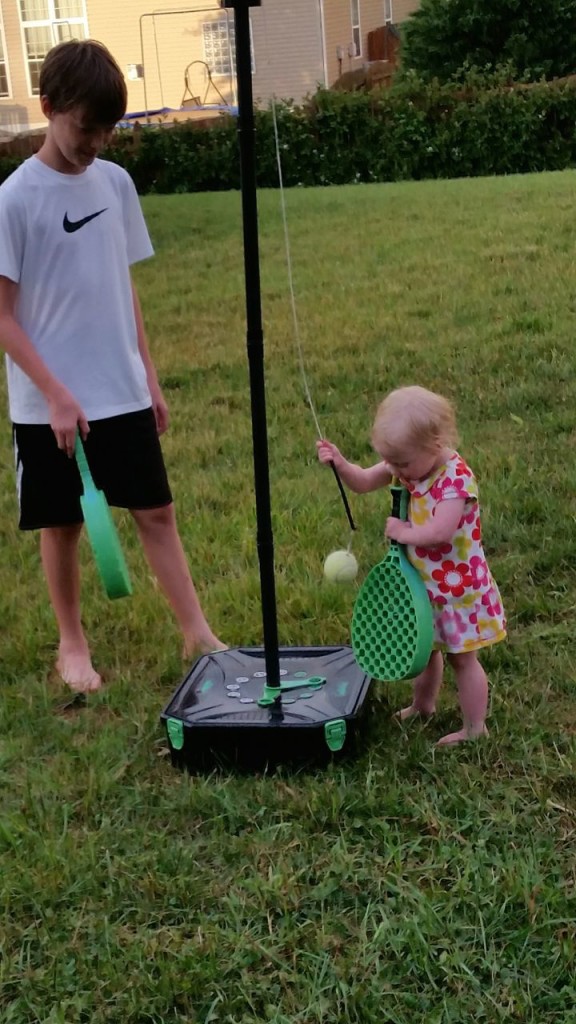 Joshua was the next to get caught in Georgia's snare. He let her cheat.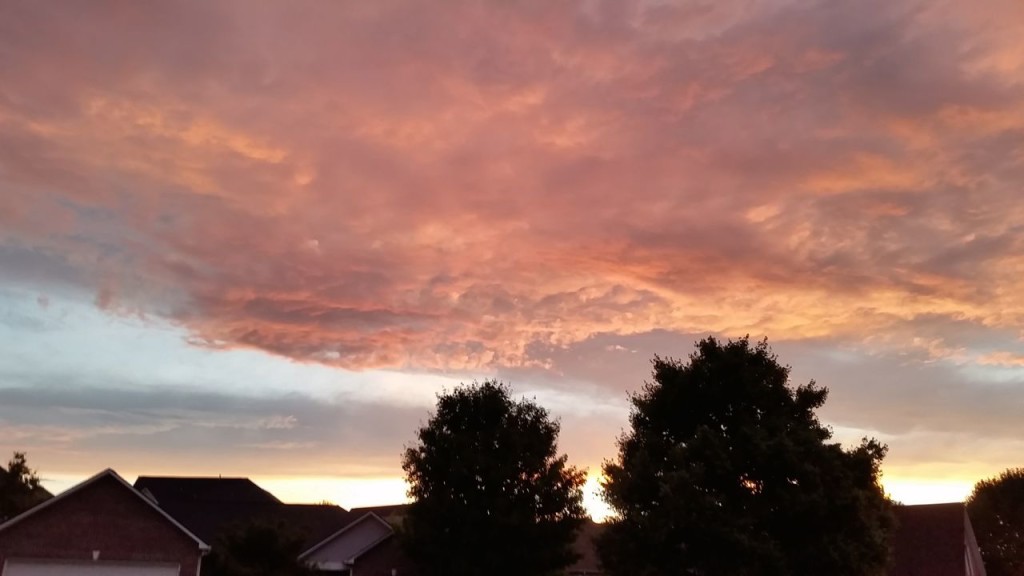 After the rainbow we had this gorgeous sunset!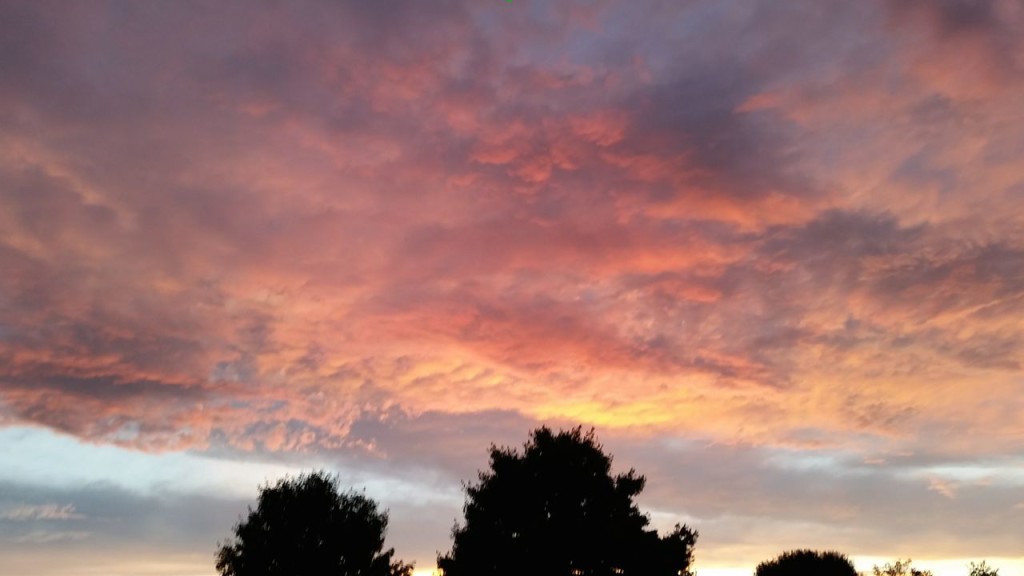 It was breathtaking.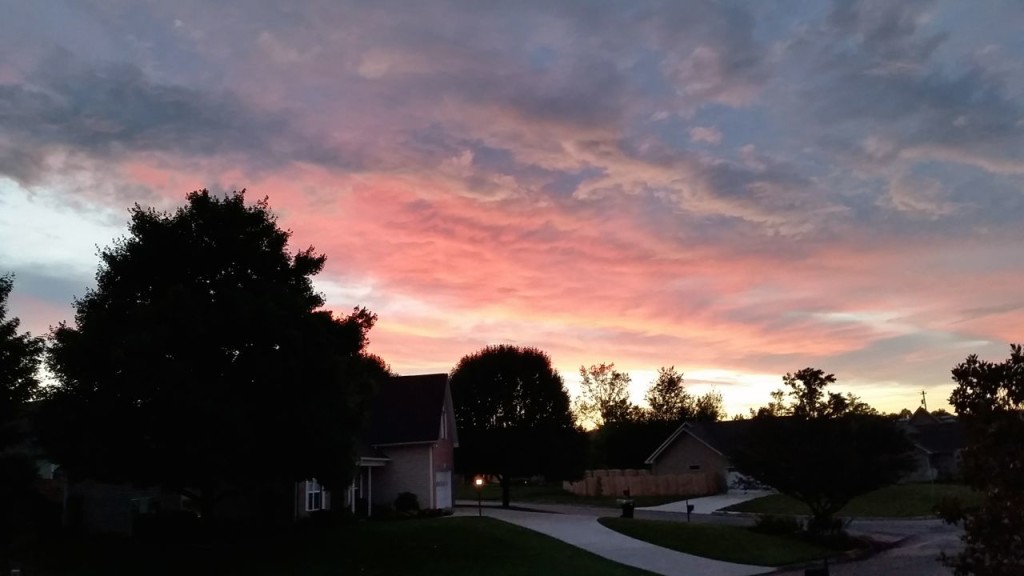 Three shows in one nights. How lucky for us!
The girls all got together for breakfast at a creperie that opened this year. We went partly as a farewell to Ashlee.
The crepes were SO GOOD. My favorite was the smoked salmon and cream cheese with red onions on a buckwheat crepe. Amazing.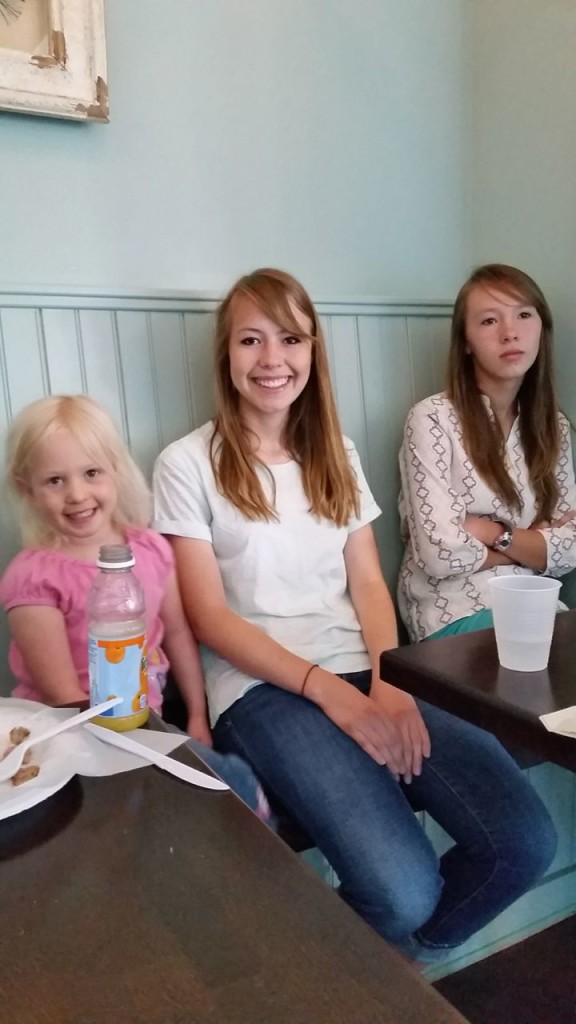 Ashlee was about to leave for her mission to Brazil the next day, so we were also there to see her off. Right after this they got a call that Ashlee was no longer going to Brazil. In a paperwork review they realized they had missed her severe tree nut allergy and reassigned her to Anaheim, California, Spanish speaking. At first it was a big shock and she was naturally very upset. She quickly adjusted and got really excited for her new destination. When I told my friend about the change she said, "Not only are you not going to Brazil, now you get to enjoy not going to Disneyland."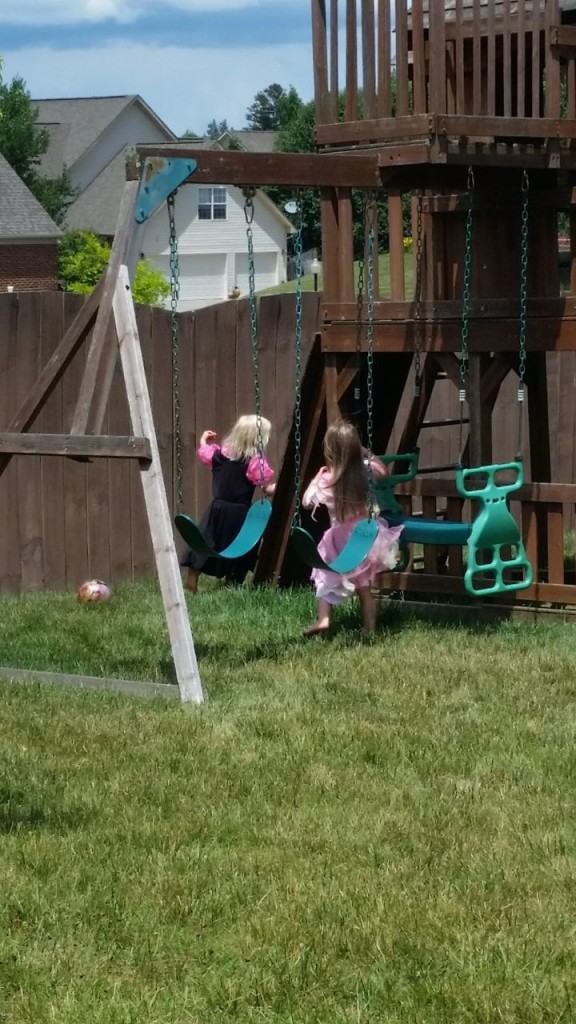 This was the trip that several of the cousins discovered each other. Daisy and Savannah seemed to have met for the first time.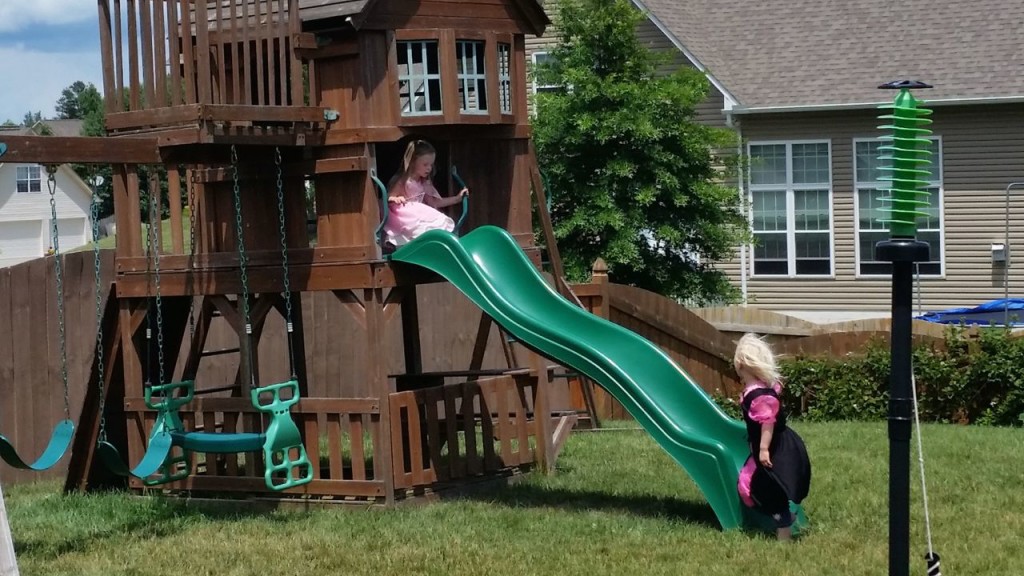 Suddenly they were inseparable.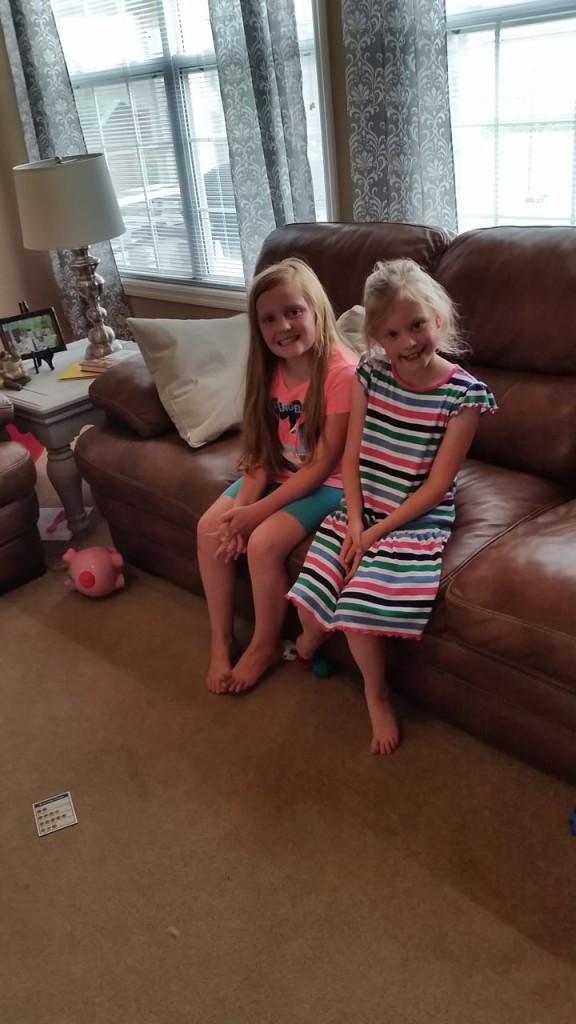 Brinlee and Bridget also took notice of each other for the first time. Bridget and Savannah are much shyer than my kids, who, let's face it, aren't shy AT ALL. So maybe this year the cousins were more open to it. It is hard to get used to people you only see once a year. My kids usually played with their older cousins.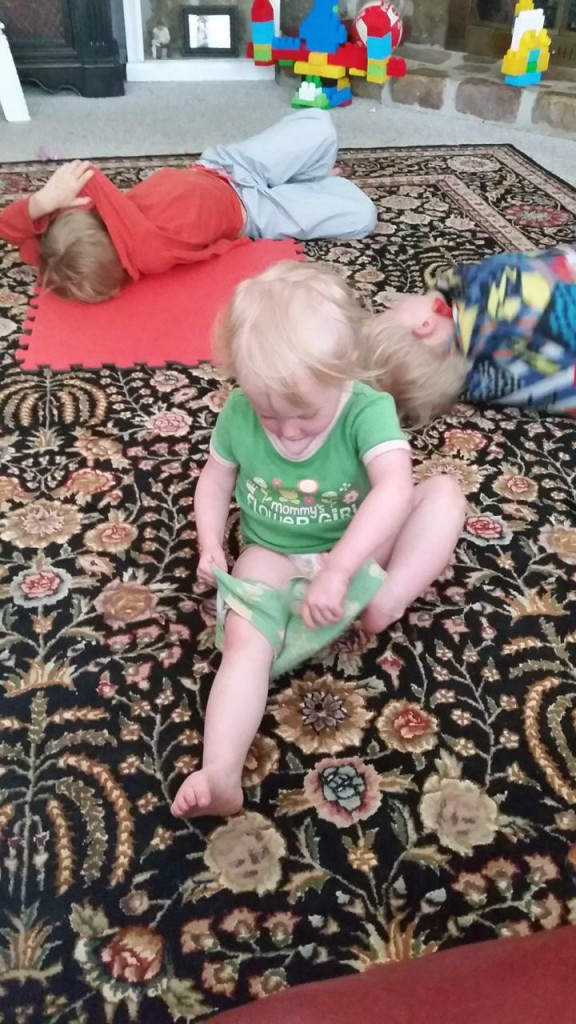 Suddenly Georgia wanted to dress herself.
Good job G.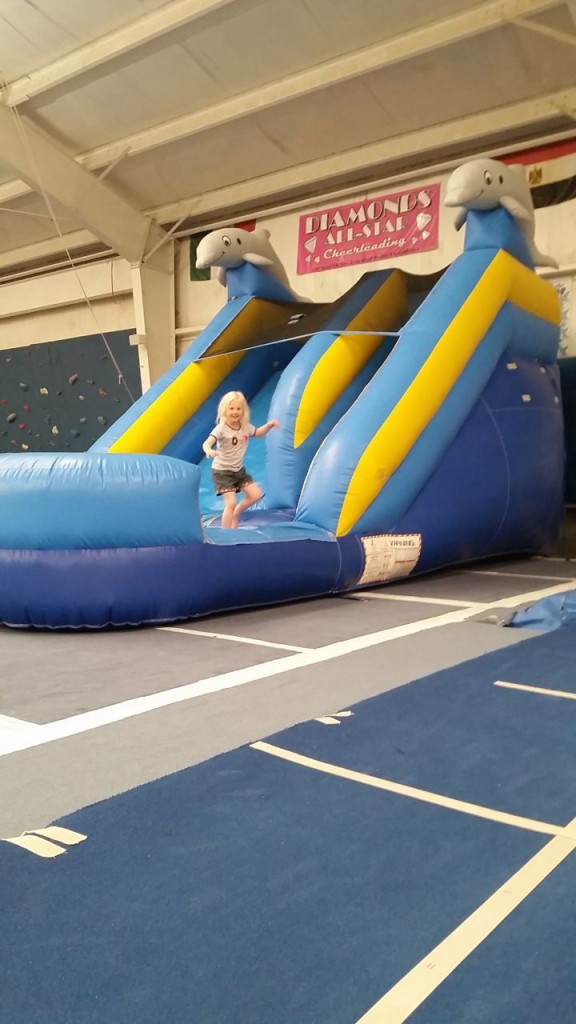 We met the cousins one afternoon at the local gymnastics place. This is a favorite activity for the kids. We go every year at least once. The longer we stay, the more often we go, especially on rainy or super hot days.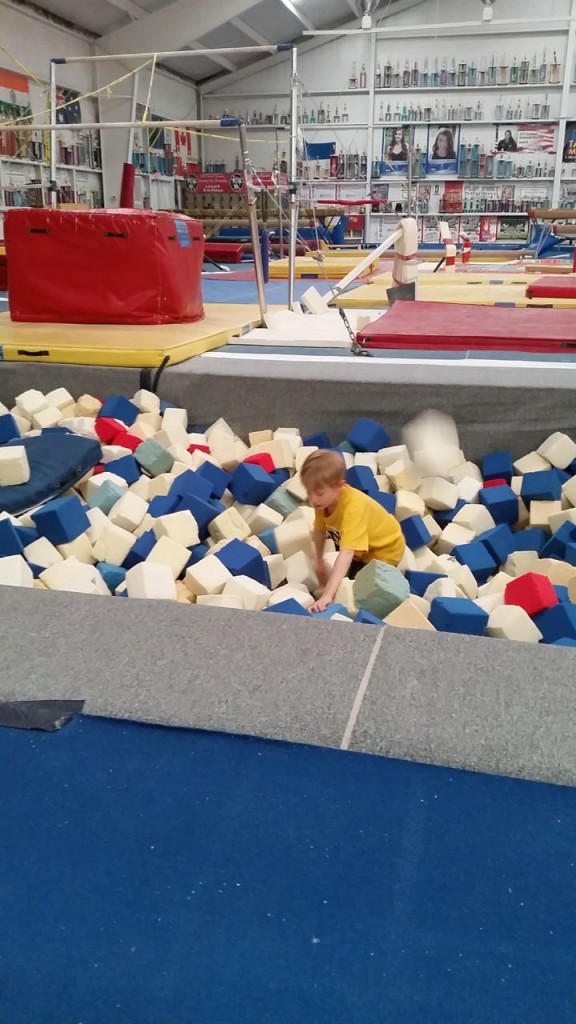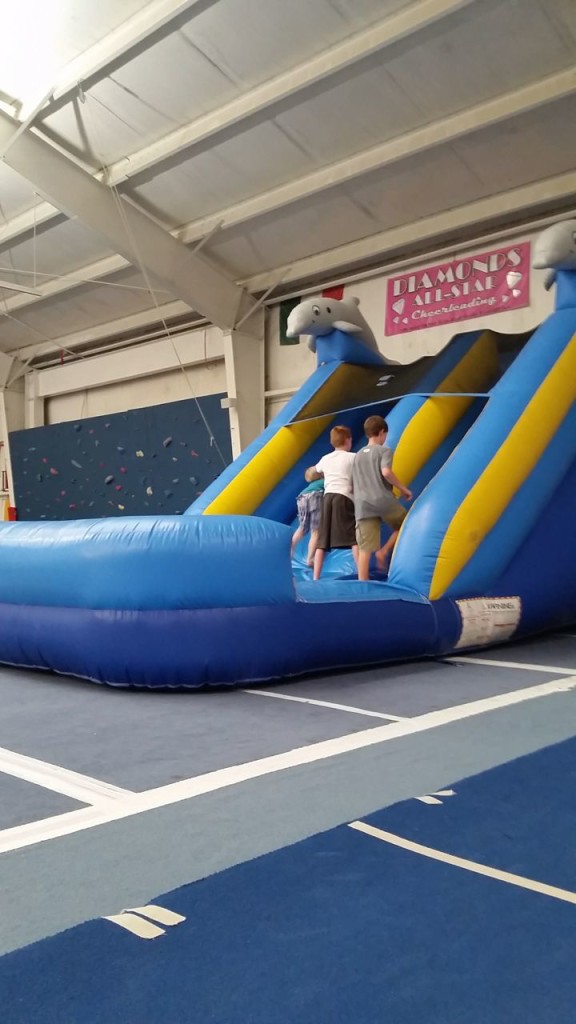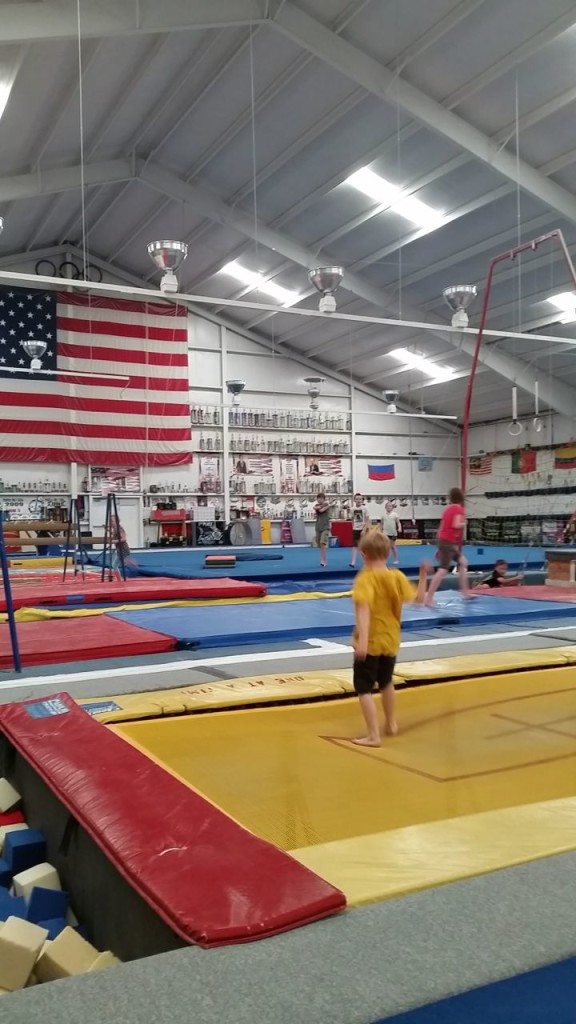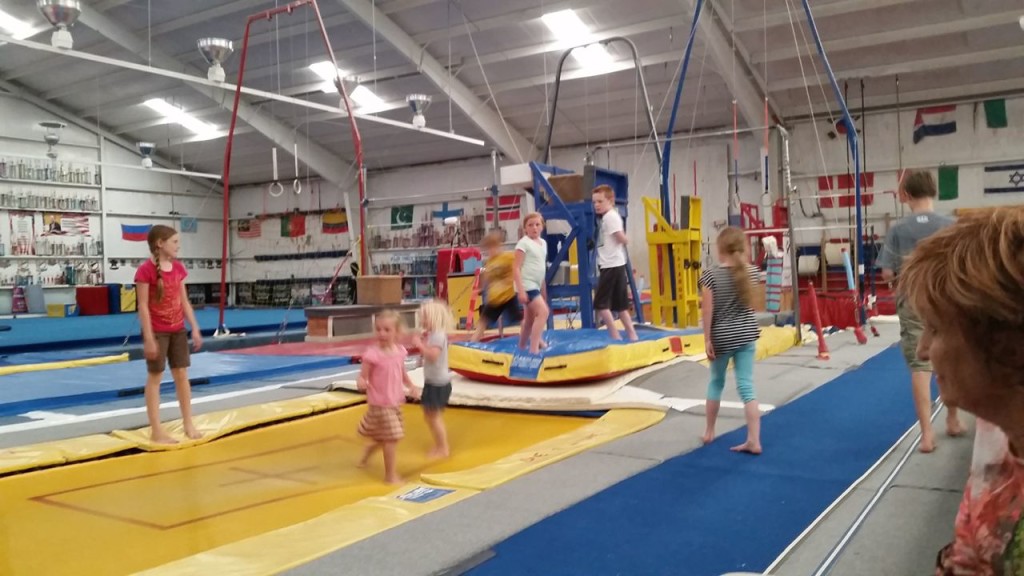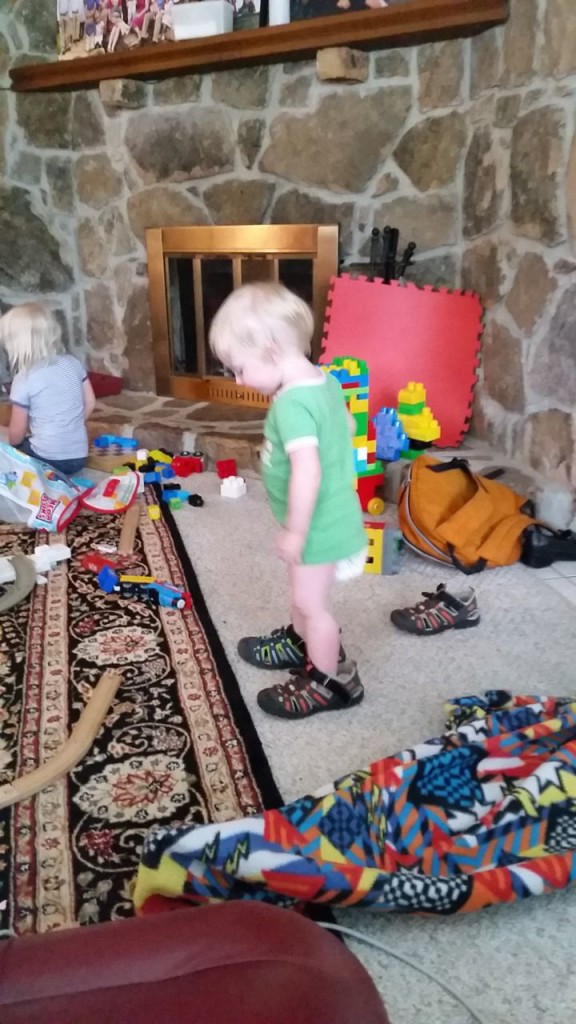 More shoes. This girl has become obsessed with shoes. She always likes to have her own shoes on her feet, but now she is branching out.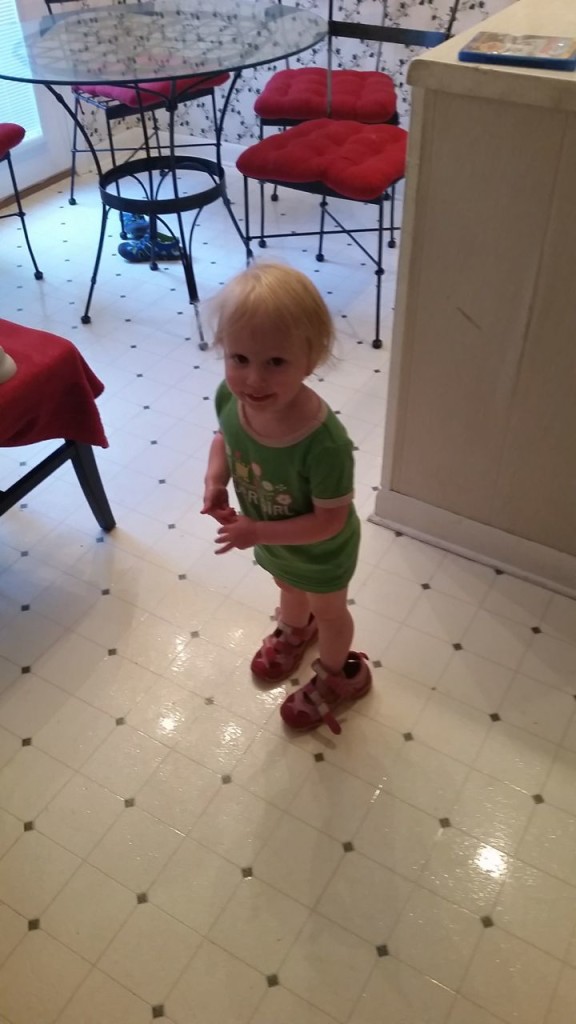 Any shoes will do.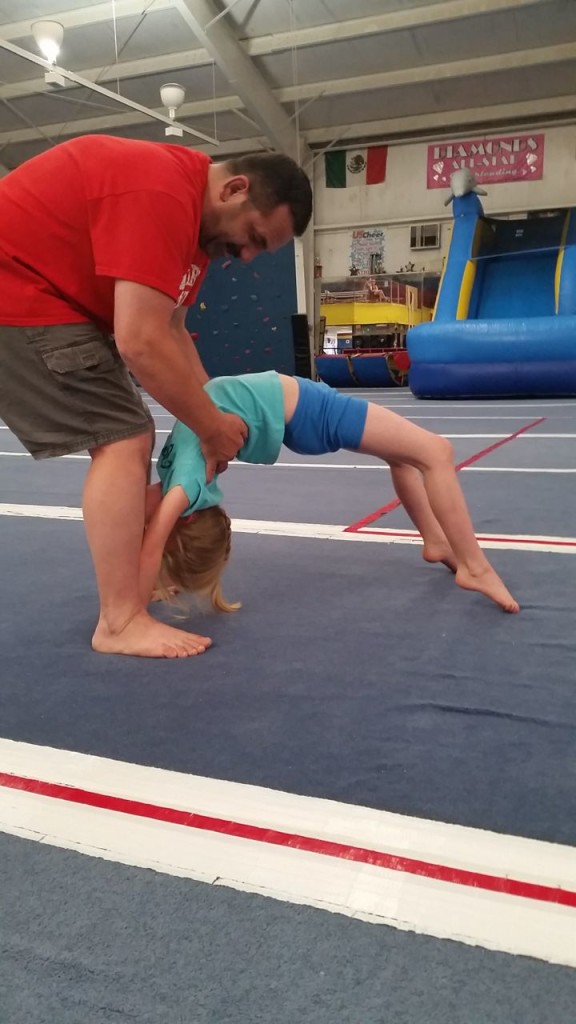 Brinlee had a couple private gymnastics lessons so she could work on her back walkovers, bridges and cartwheels for dance.
Granddad and the kids surprised me by washing my car for the trip home.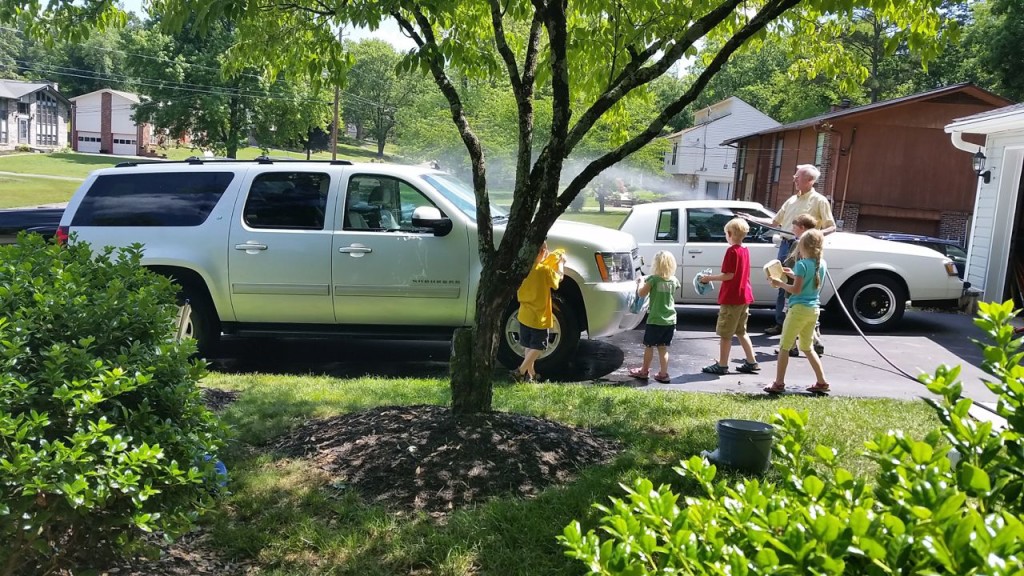 Also an activity they love. Anything with water, and if there is a hose they can aim at each other involved, all the better.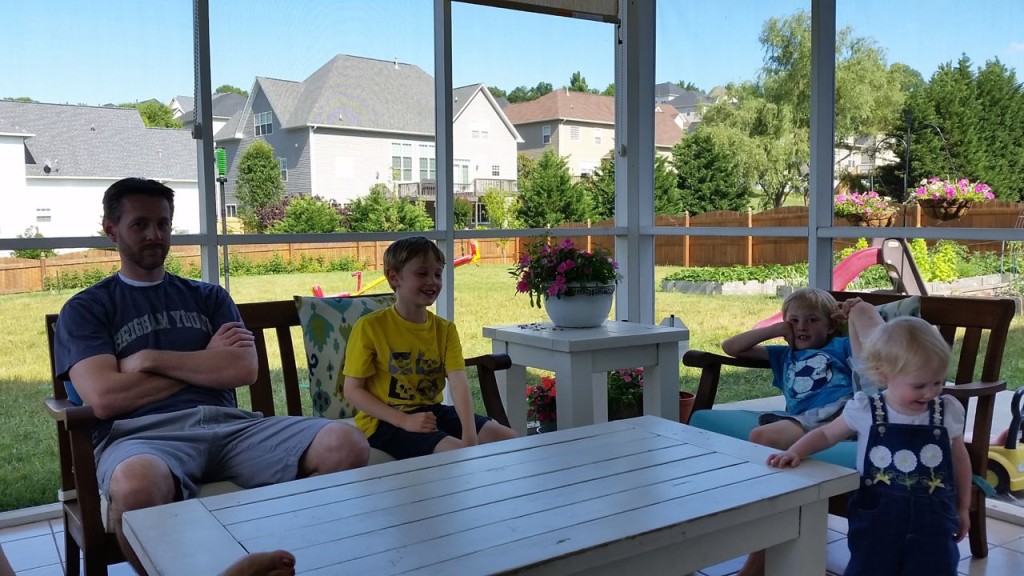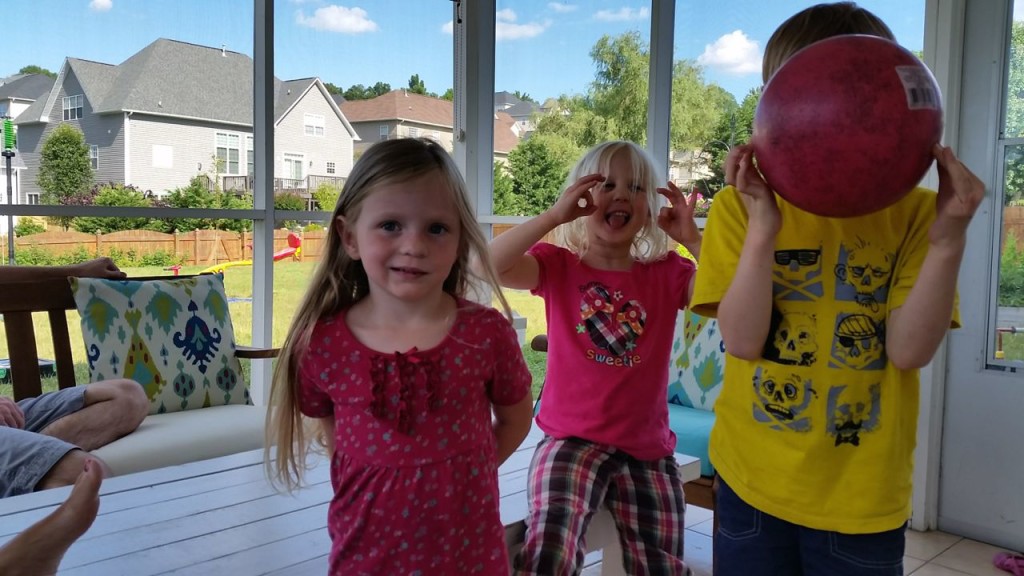 That night the boys got to have their special activity, which was a movie and dinner at Aunt Tristi's. The girls all hung out at aunt Amber's. No pictures of the boys because I wasn't there. Uncle Leo and Uncle Eric were in charge, and by the time I thought to ask one of them to take pictures, the evening was over.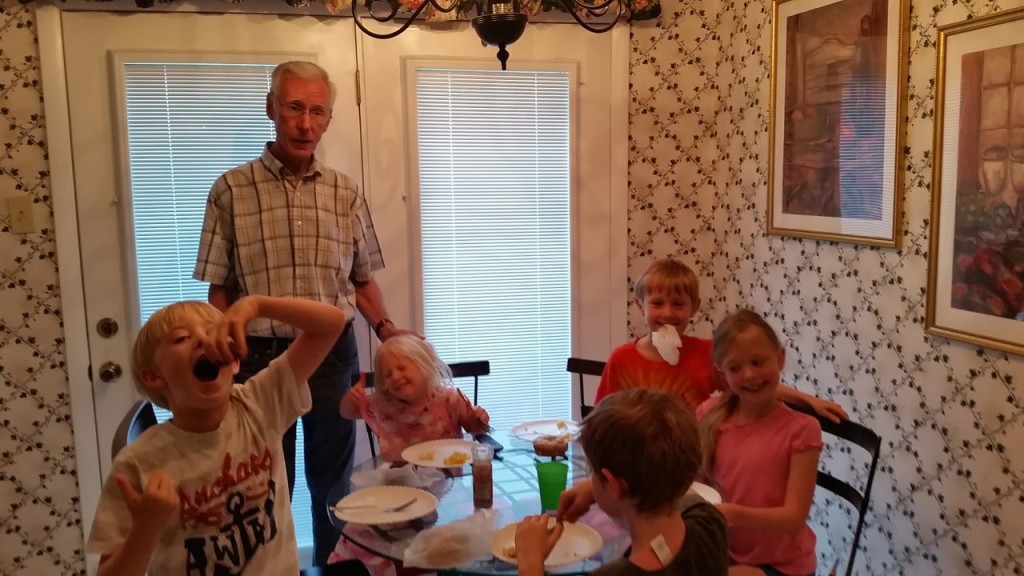 The next weekend Granddad went and got the doughnuts for them.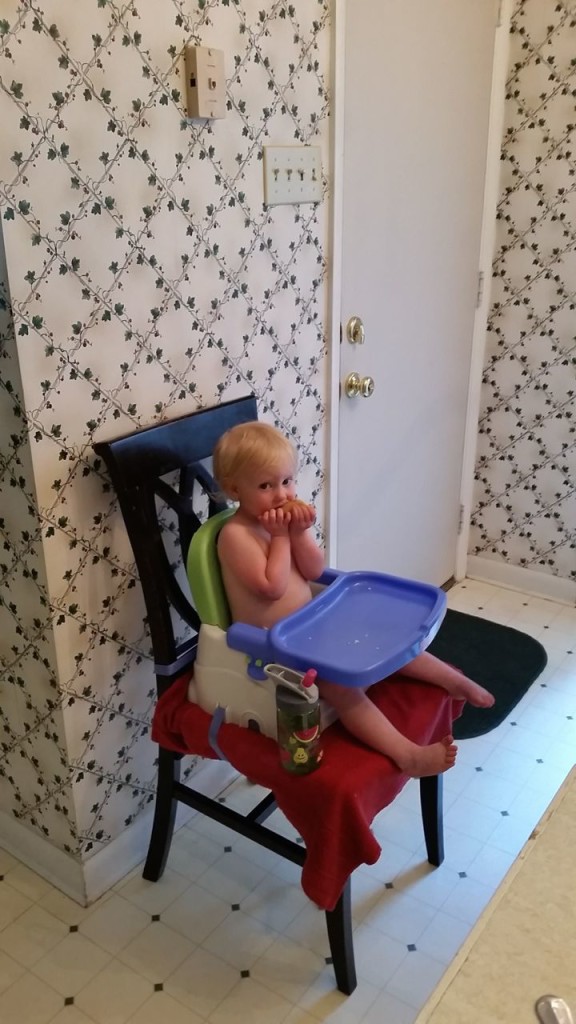 They were a hit.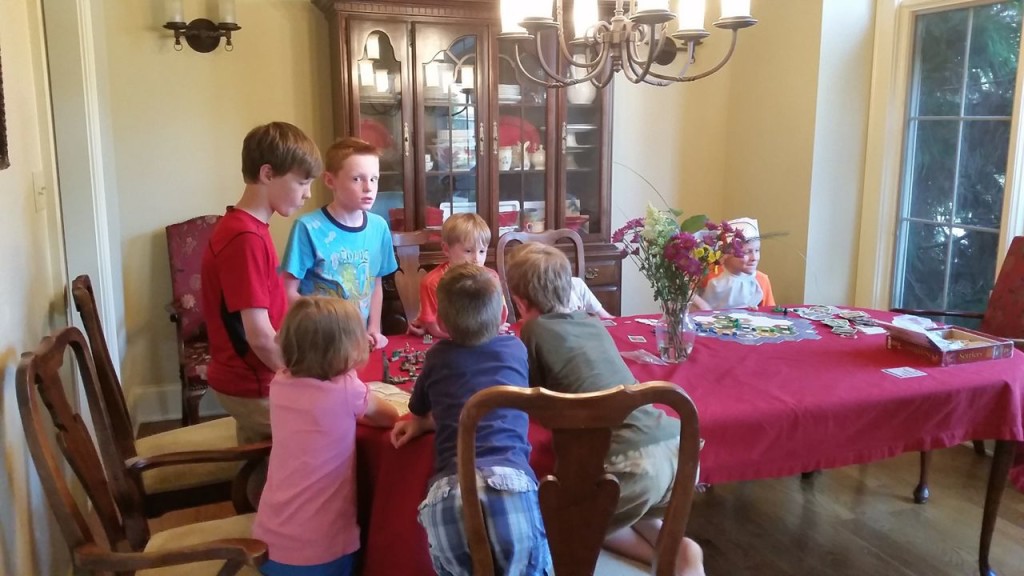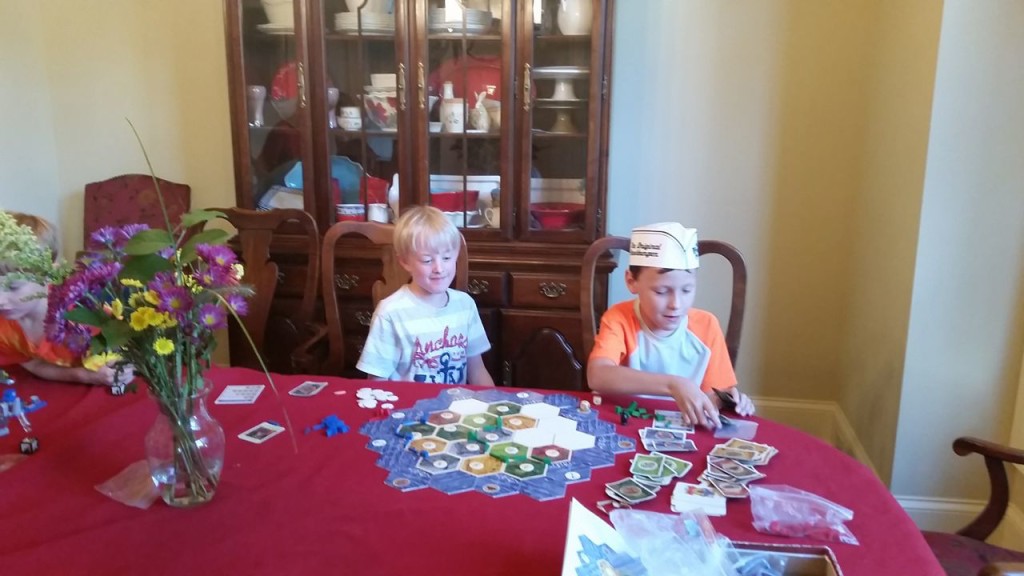 Sawyer and Braden also discovered each other this year. They were giggling nonstop. I'm not sure what was so funny, but I think maybe everything was.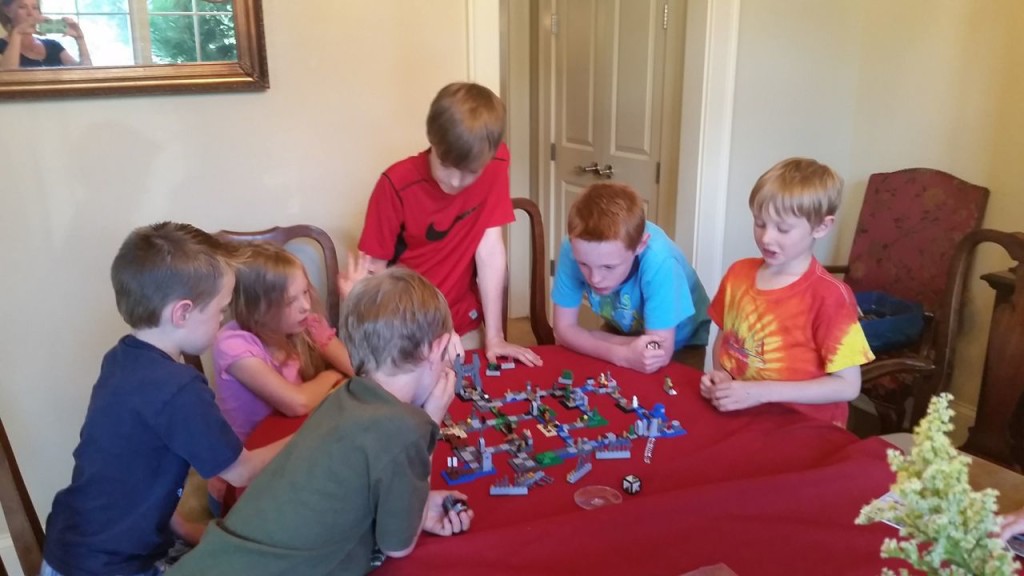 The boys playing a LEGO game of some sort.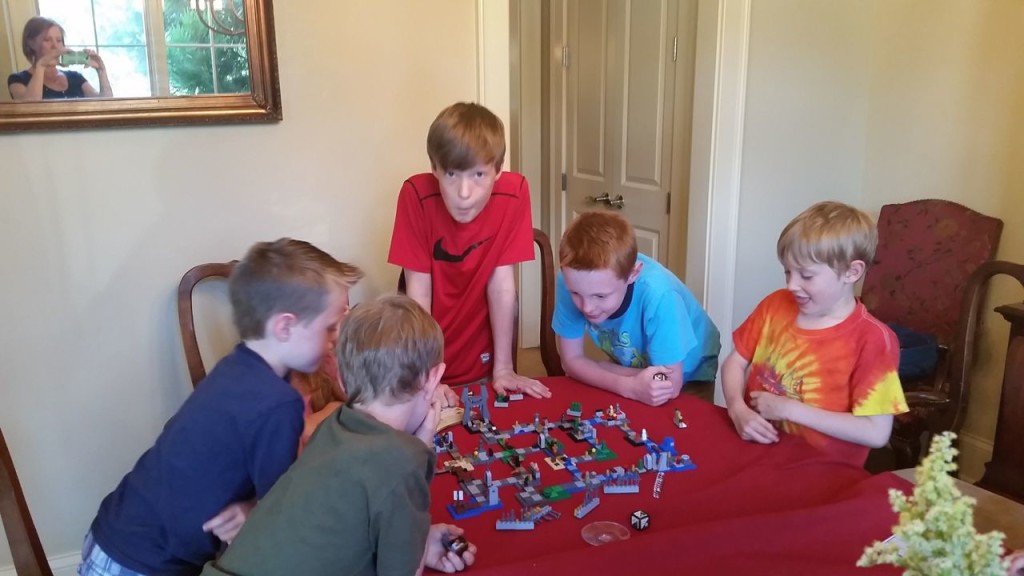 Right before we went to Eric and Tristi's house, a bird flew into Gran's house. I grabbed a button up shirt from the dirty laundry and spread it like a net and trapped it against a window. Adam was then able to put his hands around it from outside the shirt, and we got it outside. That bird didn't even thank me for saving its life!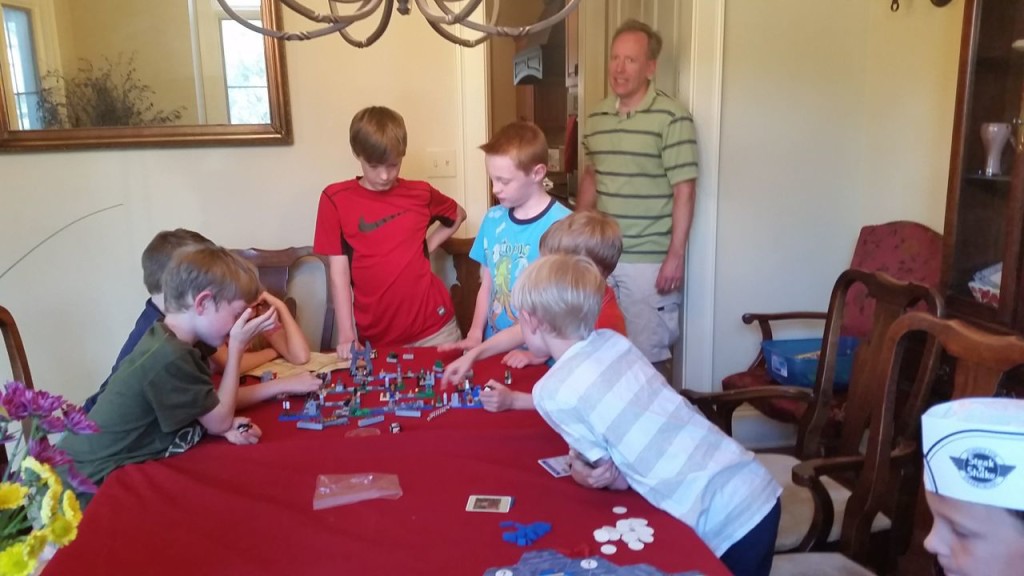 We had a barbecue at Eric and Tristi's house on our last night.
I think Brinlee and Summar look a lot alike.
The next morning we were up and gone.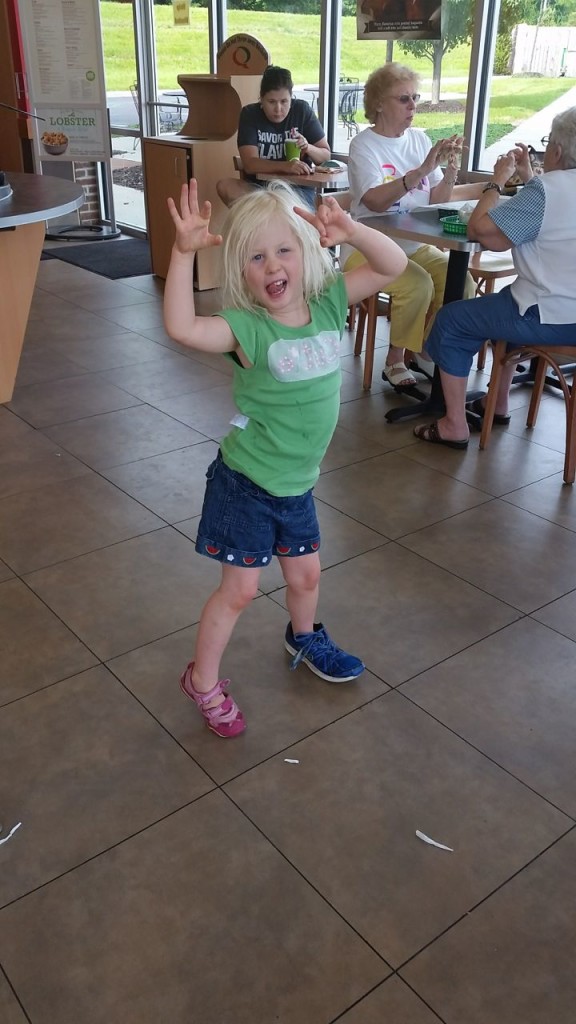 Getting Daisy to look presentable is just about impossible. She is wild and it shows. Not even wearing matching shoes on the road (actually, the blue one is Sawyer's). That's just how she rolls. She is very much a free spirit with lots of spunk and personality.
A quick stop in maybe St. Louis?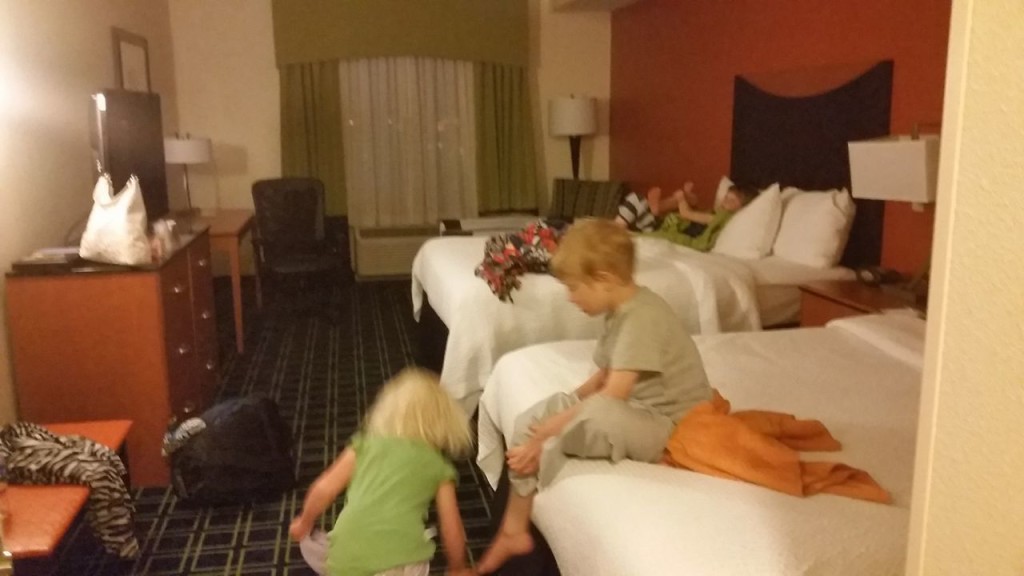 We made it to Grand Island, NE in one day, which is the goal. It is more than halfway. We prefer to do the longest day first.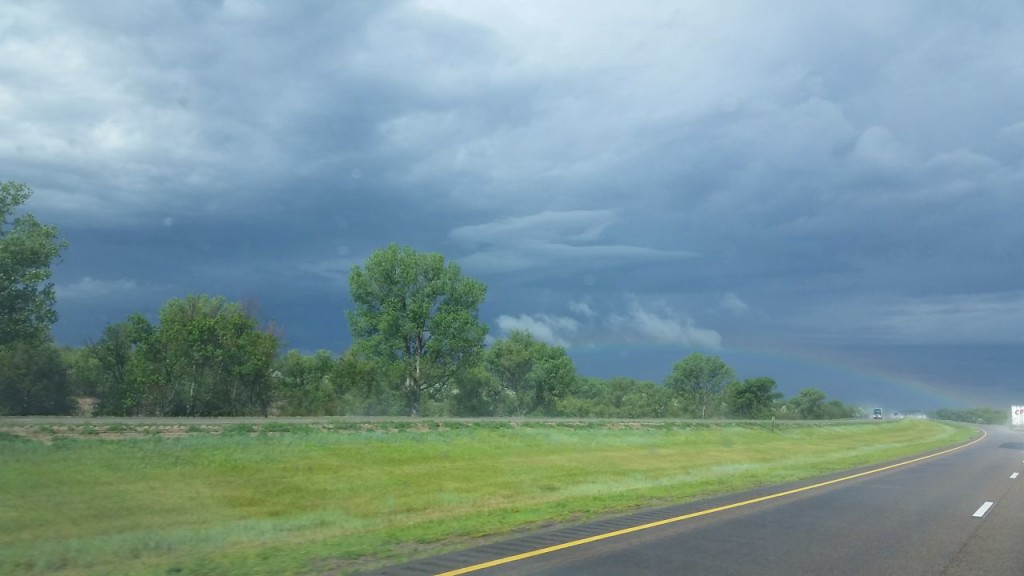 See the rainbow? It's low in the sky. At least there was something to look at besides corn in Nebraska.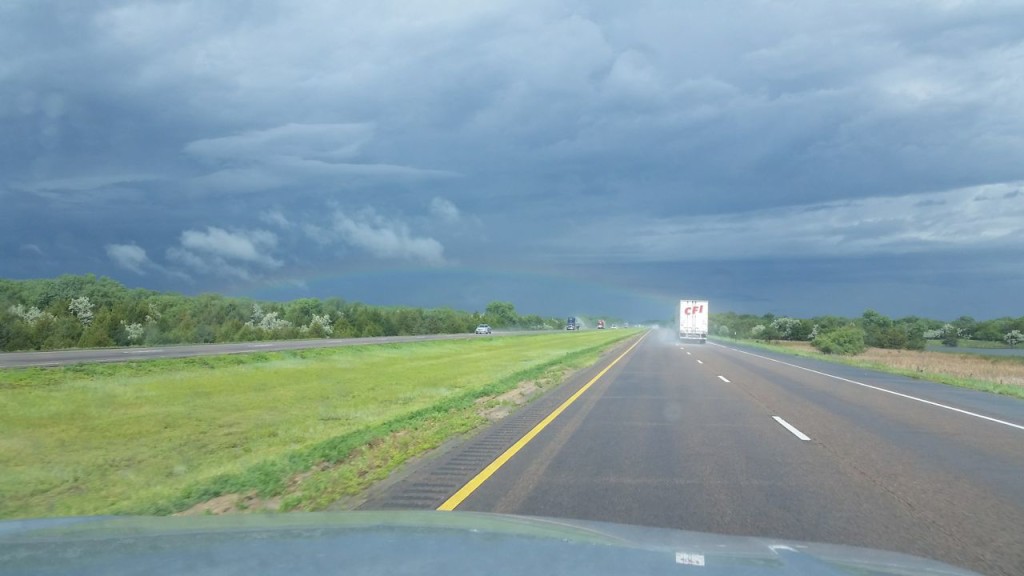 See it now?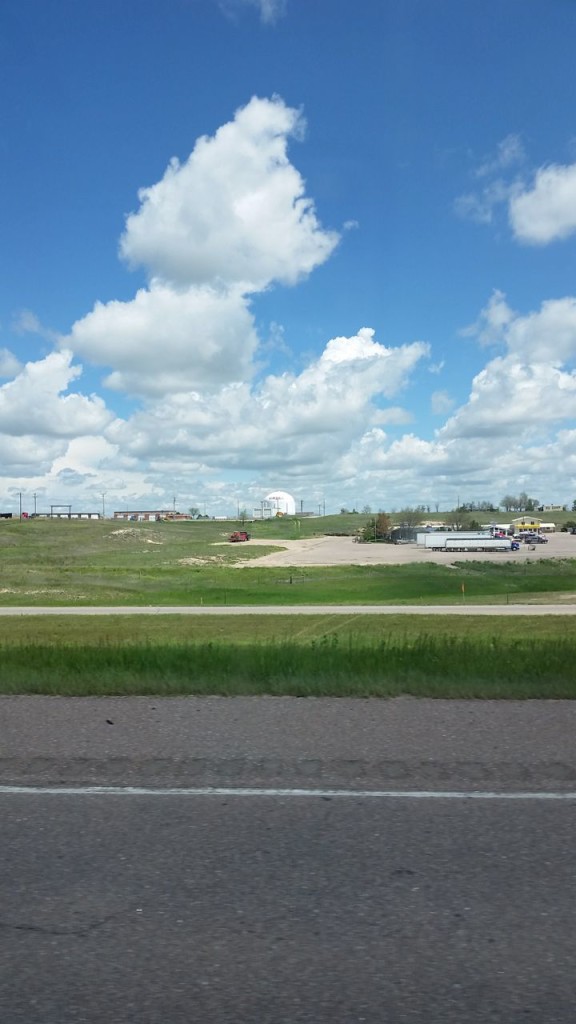 The elevation in Wyoming is so high that it makes the clouds look so low.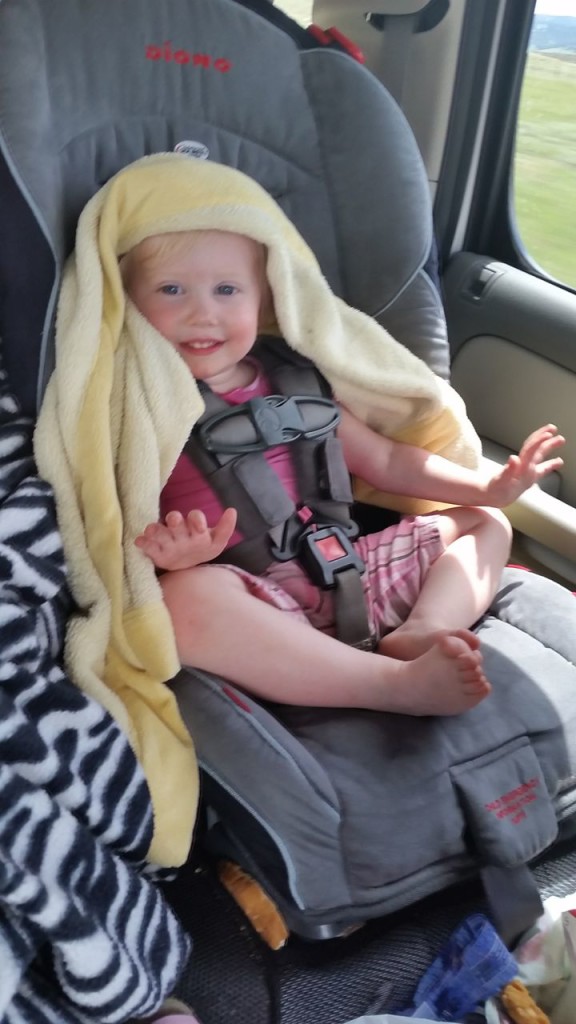 Georgia was covering her face with her blanket to try to go to sleep. She just doesn't sleep in the car.
Georgia has a little game she has played the last two trips to Tennessee (and every road trip we've taken this year). Whatever we give her, she throws it over next to the door where 1) we can't retrieve it and 2) it falls out everywhere when we stop and open the door. She thinks it is hilarious.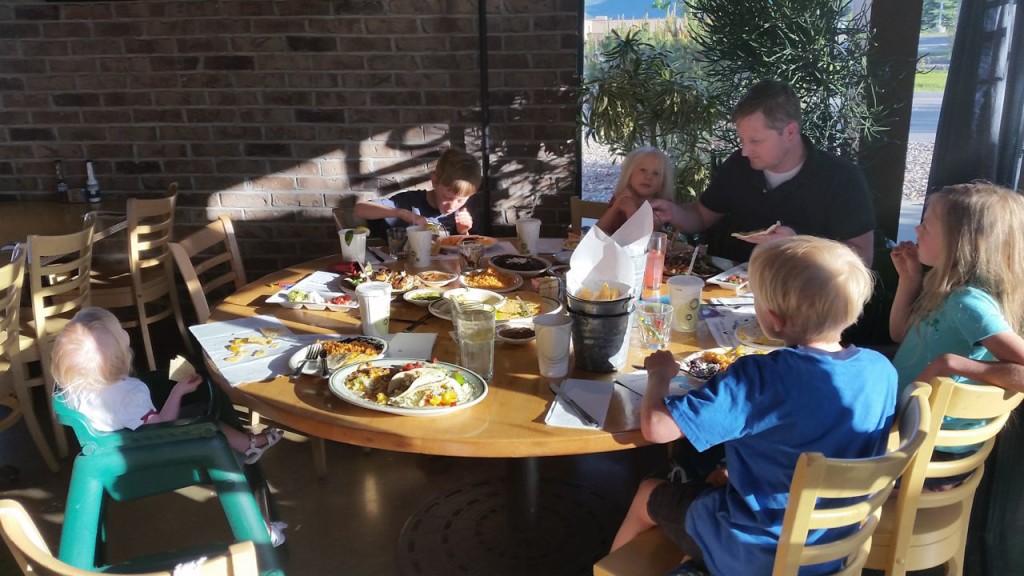 Since there was no food in the house and we had made such good time, we stopped for a sit down dinner in Park City and then home in our own beds. I didn't pack the food for the drive home because with such a short trip to Tennessee this year, I didn't want to spend a day cooking and shopping.