We got home from Italy and England on Monday, and dove head first into life. With six kids aged seven and under, there is no vacation to recover from the vacation. There is school pick up and laundry to do and dinner to make and groceries to buy and homework to help with and soccer games and practices and dance and I nearly collapsed.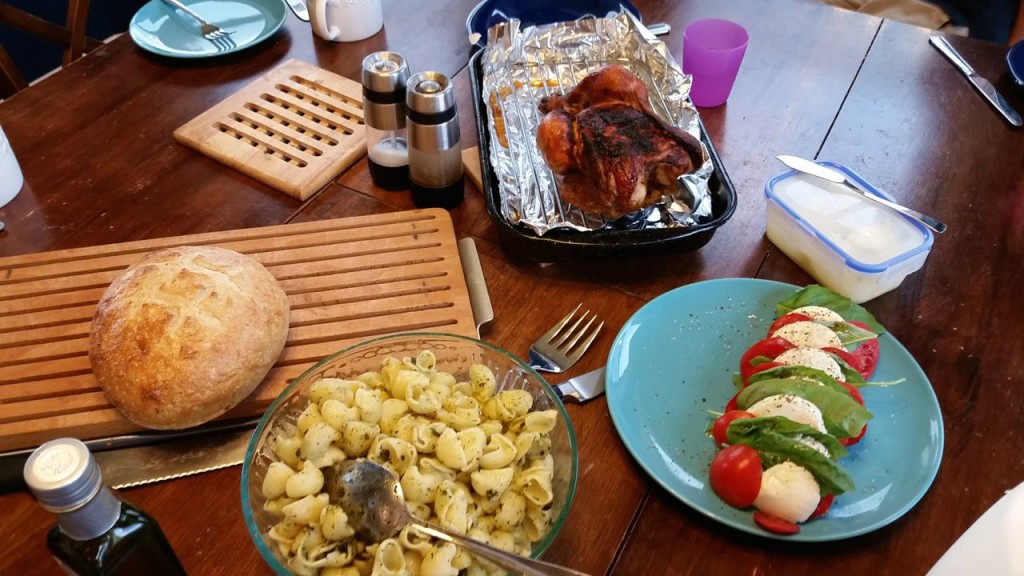 We ate so many delicious things on our trip, we decided to make the kids some meals from our trip as another way to help them feel part of it. I made pasta with homemade pesto, caprese salad with basil and tomatoes from my garden, roasted chicken and bread. Do you see those amazing tomatoes?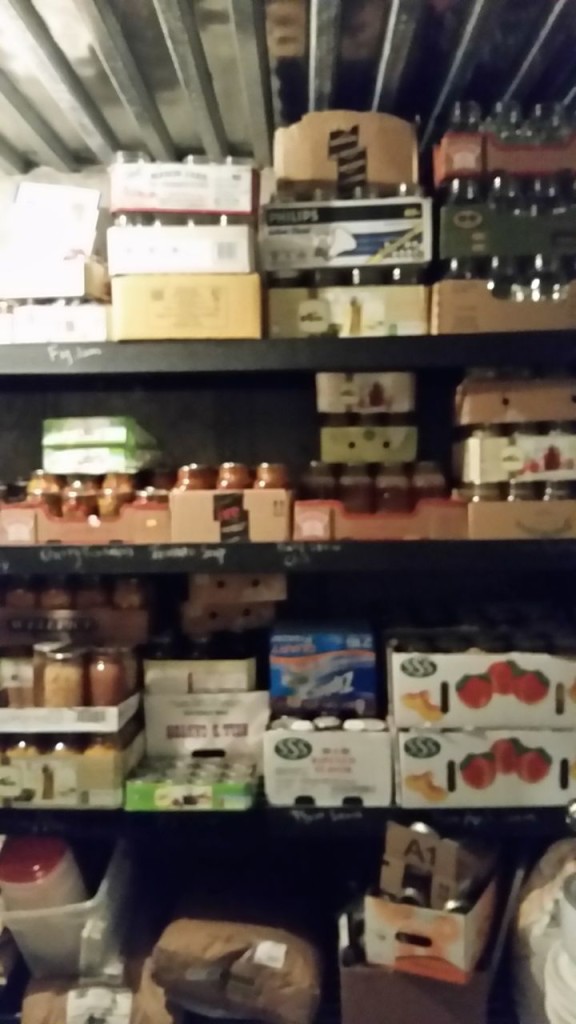 Before the trip I was canning like mad. I just couldn't be sure there wouldn't be a frost before we got back, so I was putting up everything I could. When I got home I cleaned out my food storage room so I could organize all that I had canned. I have to reorganize it every year because the kids always help unload and put away groceries, go retrieve things for me, etc., so things get jumbled and misplaced.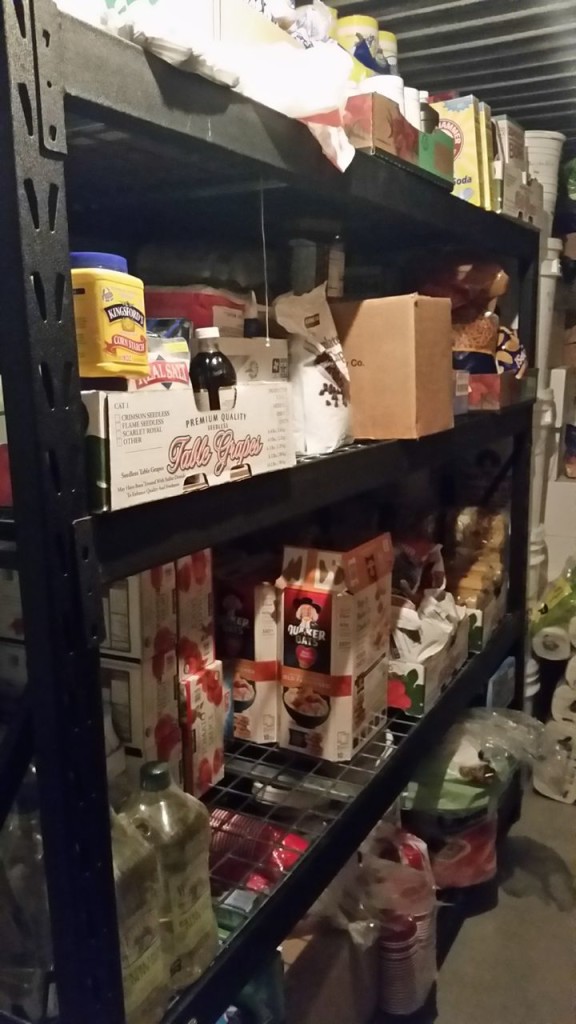 I was about to make a huge run to Costco to replenish our pantry and fridge, and I needed to see what we had so I knew what we needed. In addition to the canning before the trip, I cooked and froze 3 weeks worth of breakfast and dinner (we serve hot breakfast every morning, so we made pancakes, waffles, muffins, etc. ahead of time and she made the eggs fresh the day of, but those are easy). She had minimal food preparation to do.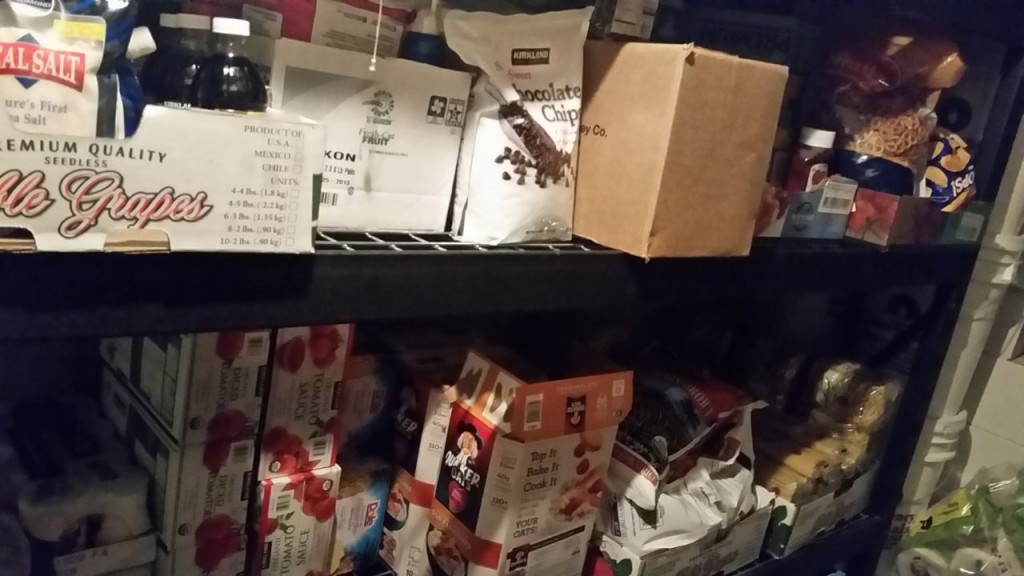 It was such a huge project that I felt it was worthy of pictures.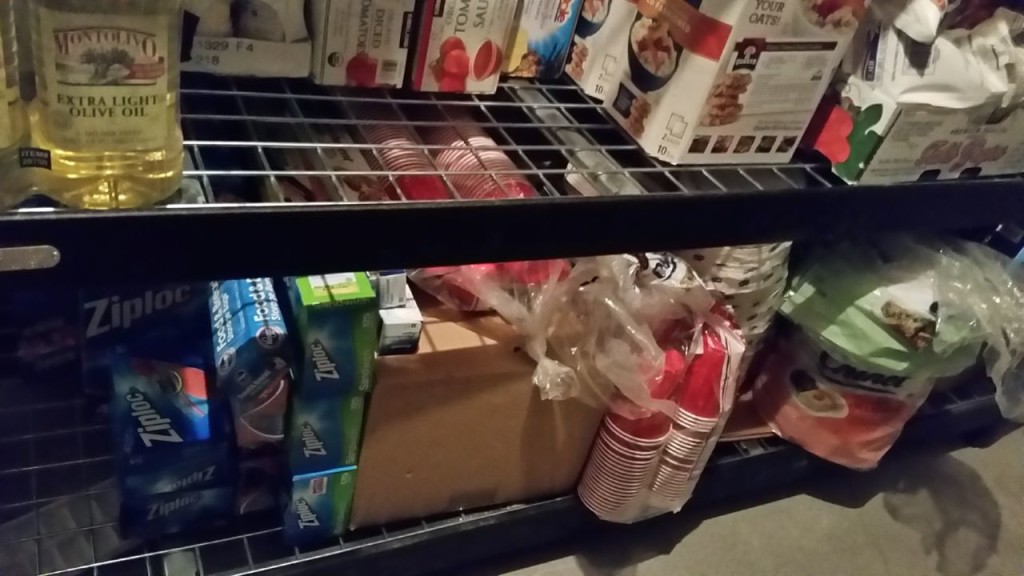 I spent an entire day doing this.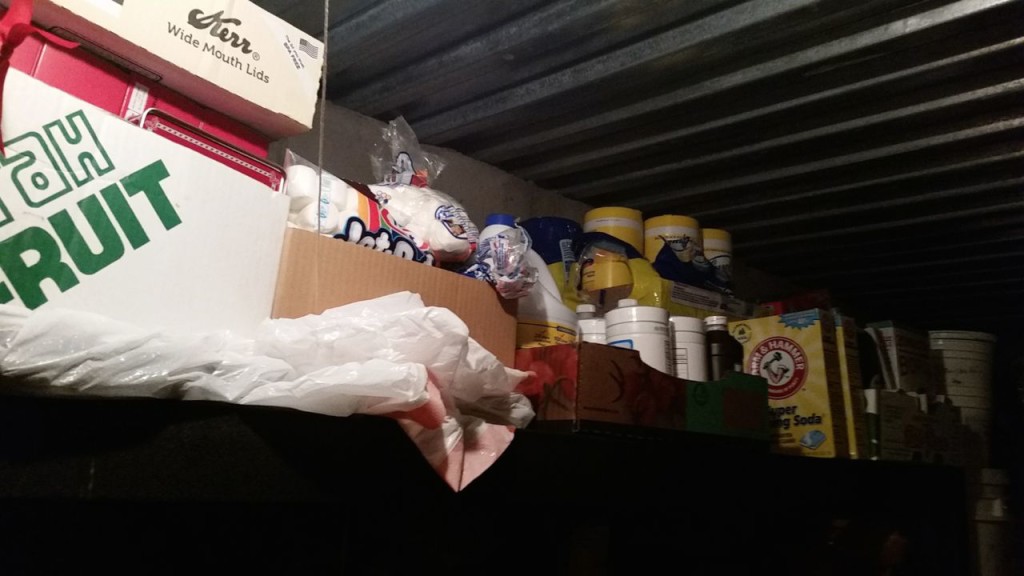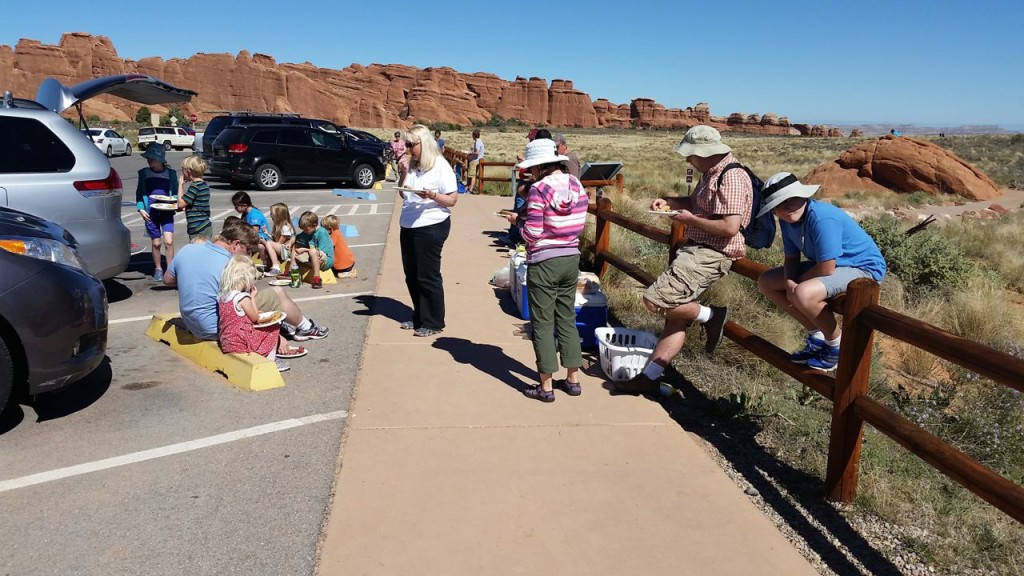 Friday (that would be 4 days after returning from a 3-week international trip. I know. Boohoo. Cry me a river), we left for Arches National Park for grandpa's 65th birthday celebration. Despite being born and raised here, he had never been. His birthday wish was for all of us to go. Careful what you wish for.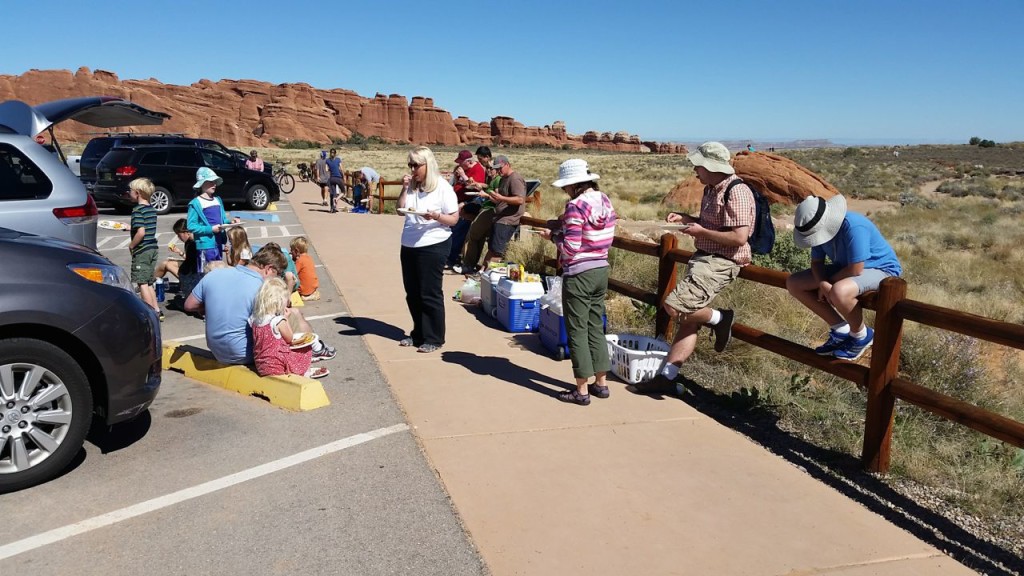 We stopped for a picnic in the parking lot.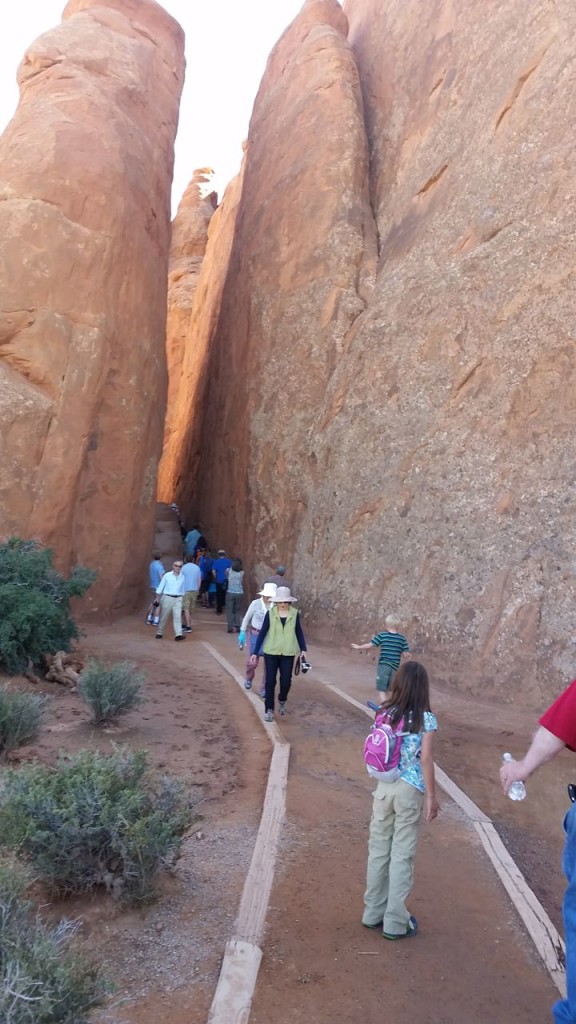 The weather was so beautiful this weekend.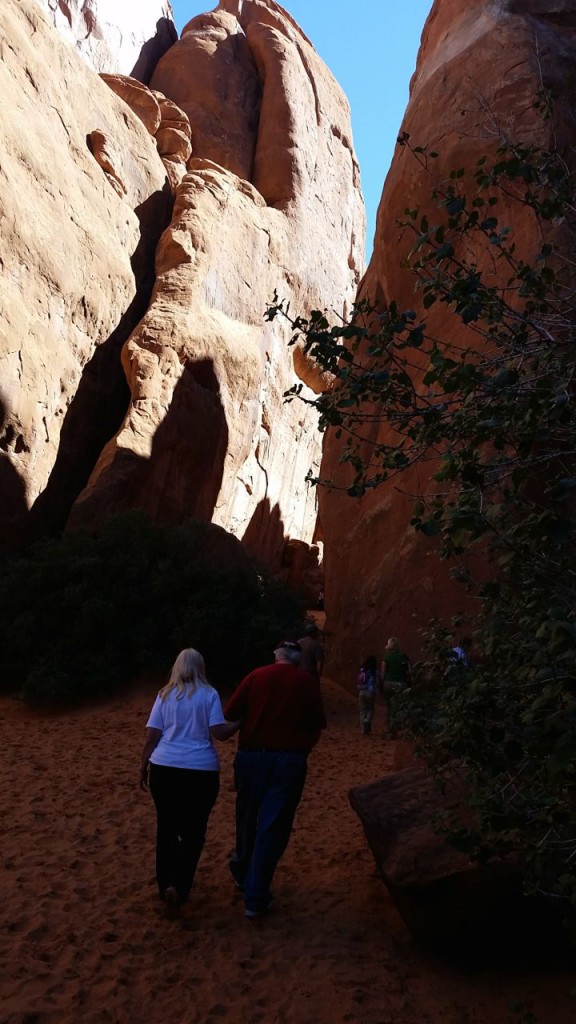 The happy couple strolling together.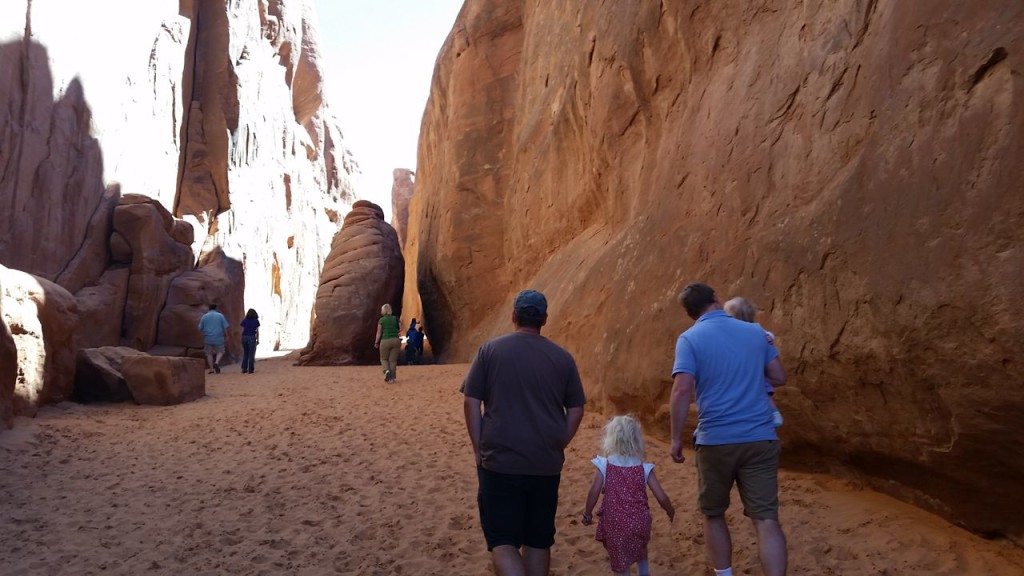 This was a super easy, short hike, but it was all sand.

Our final destination.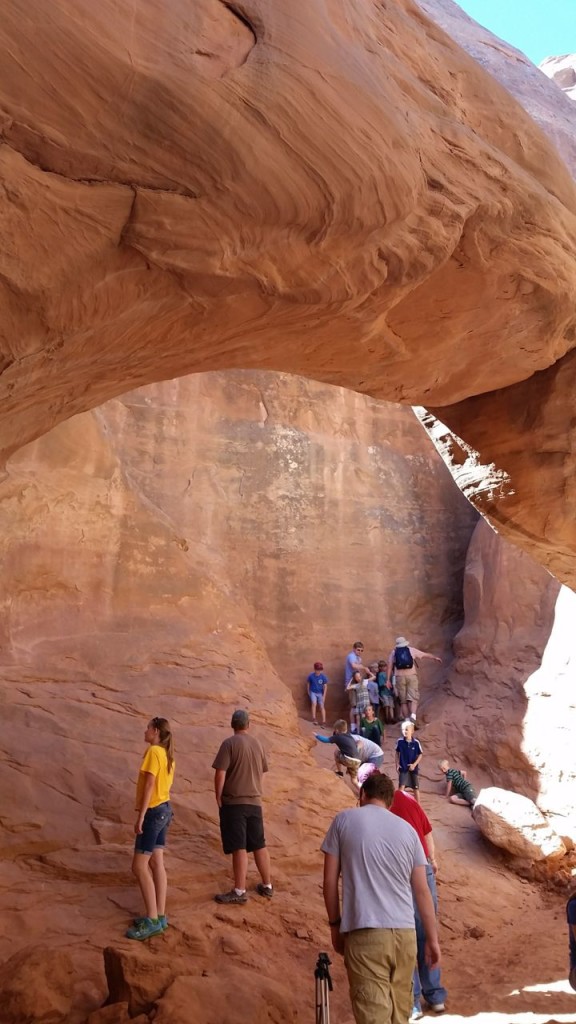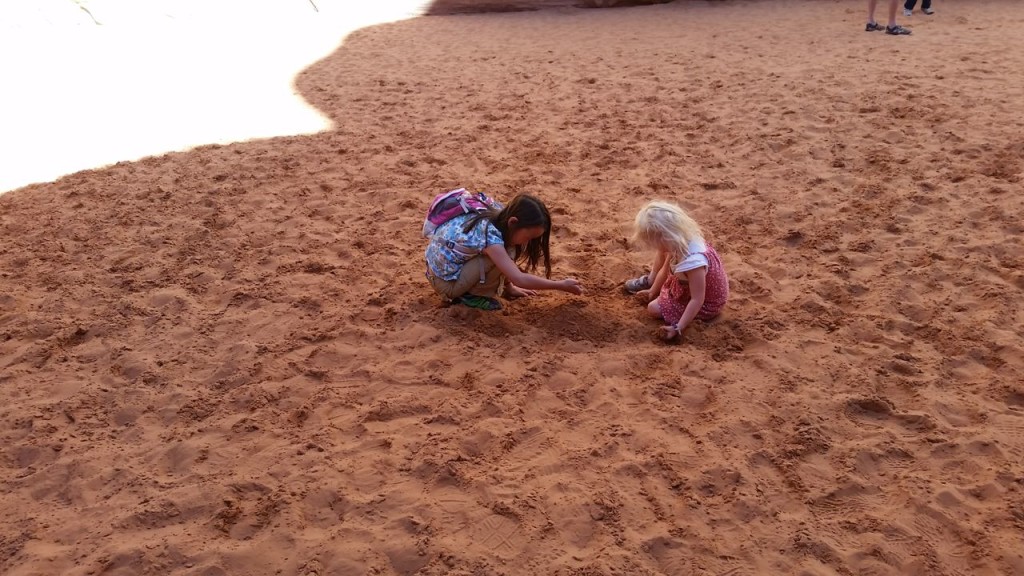 Daisy and Sierra playing in the sand.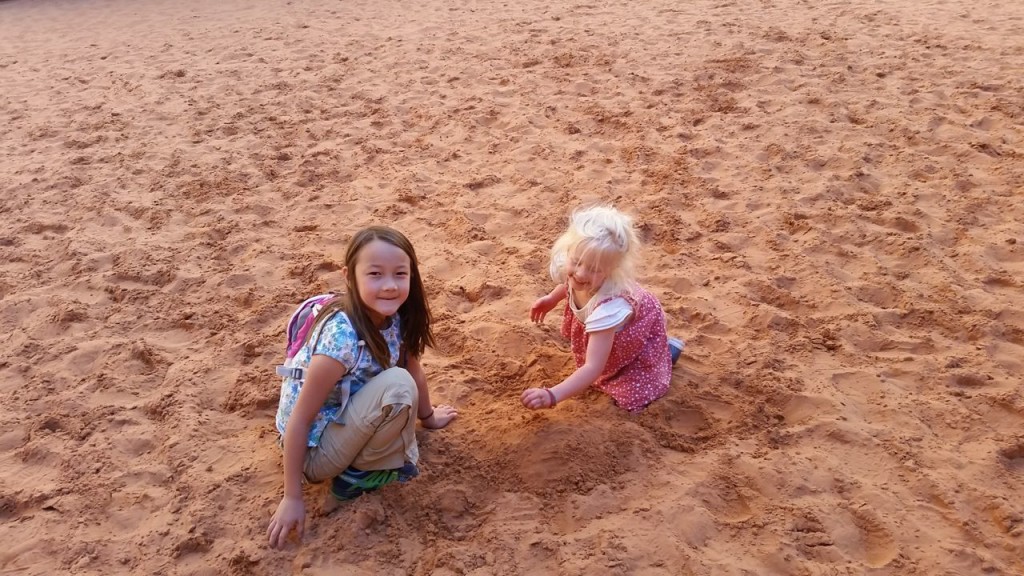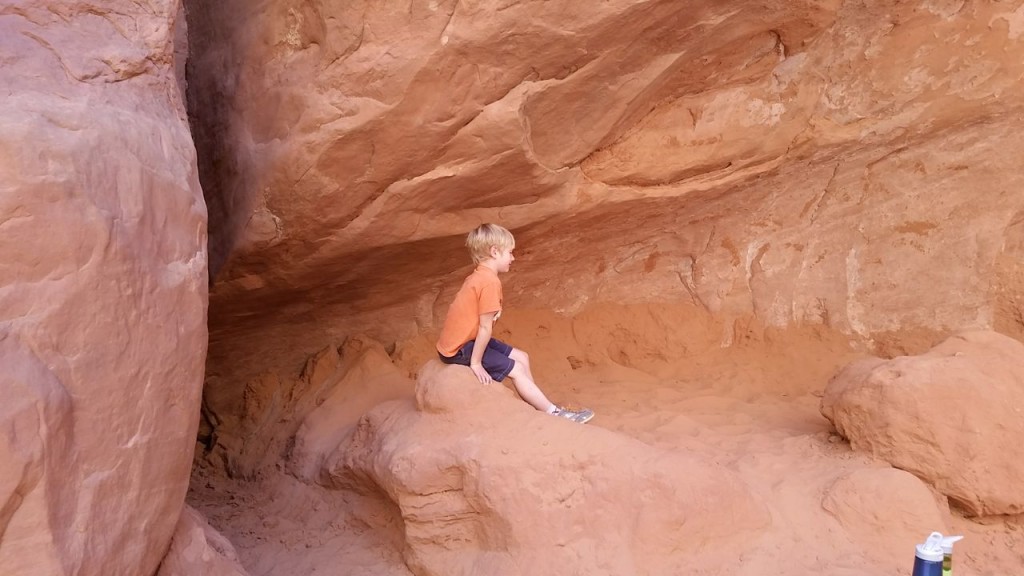 Caisen

Caisen showing me the rock he found.

Daisy our wild little nymph.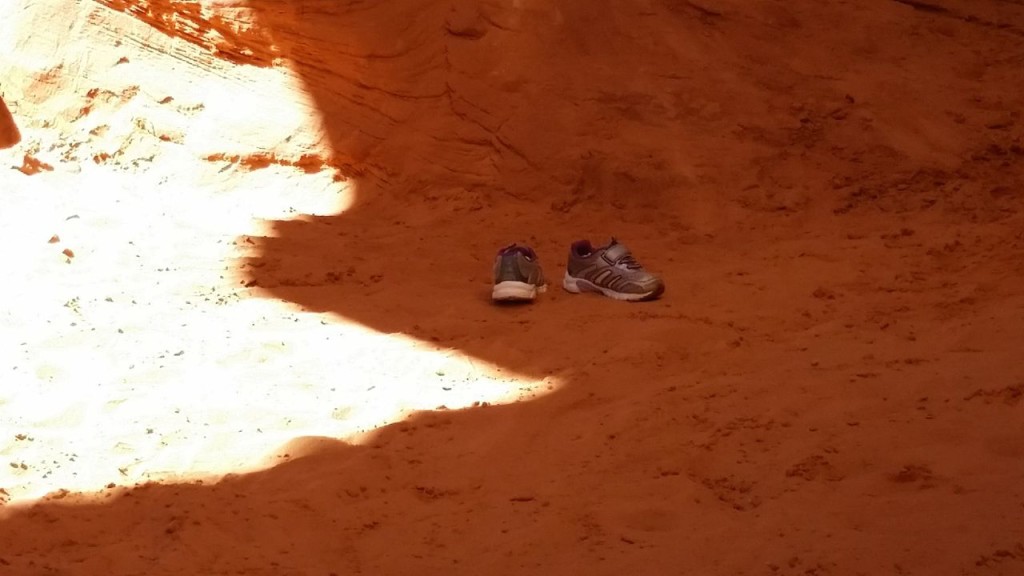 She leaves her shoes everywhere. She prefers to be barefoot. I can't get her to leave her shoes on for anything.

We got a group shot. That's a lot of kids and grandkids, and Serena's family was missing!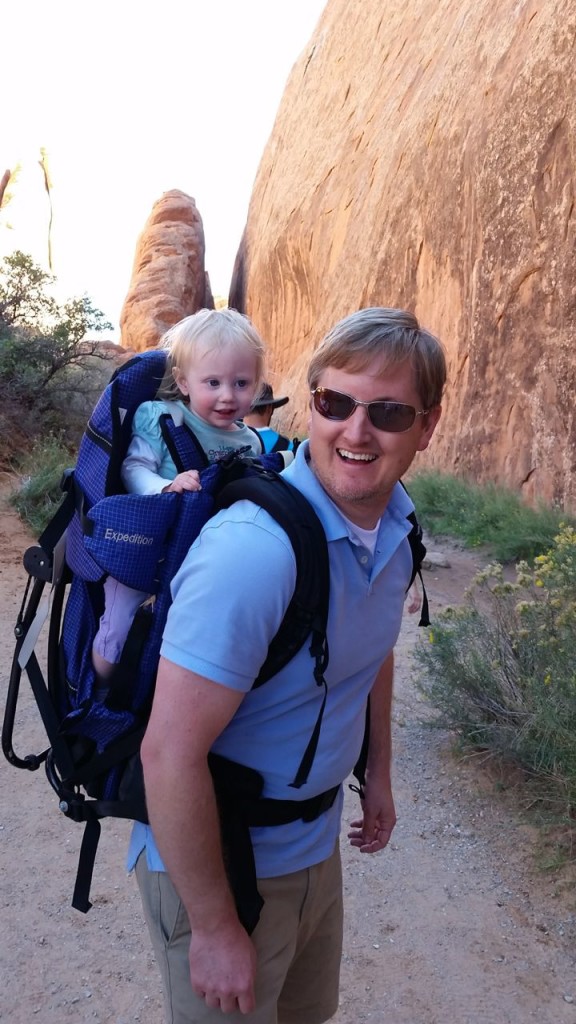 Georgia and her mega-me.

Off on the next trail.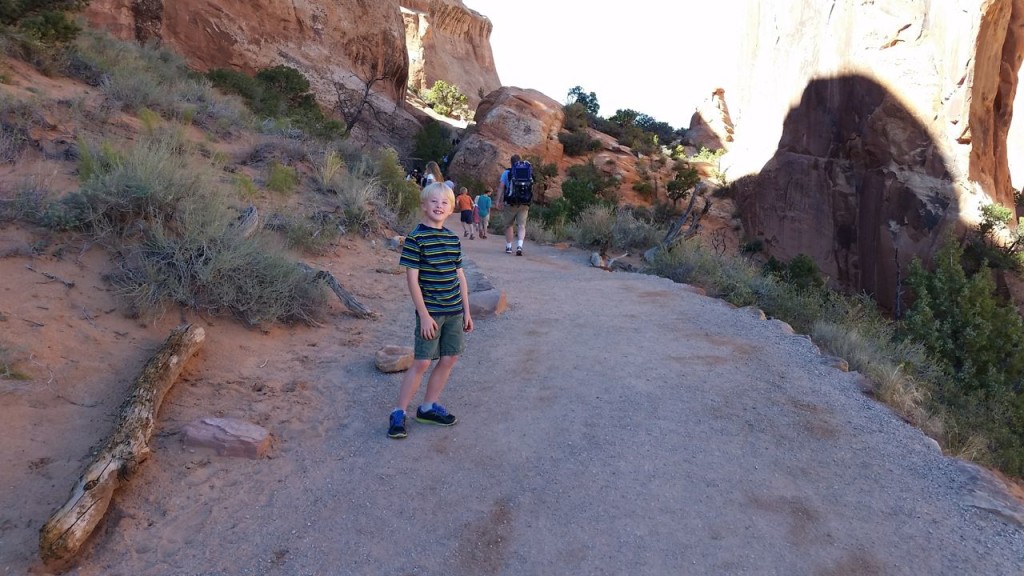 Sawyer the outdoorsman.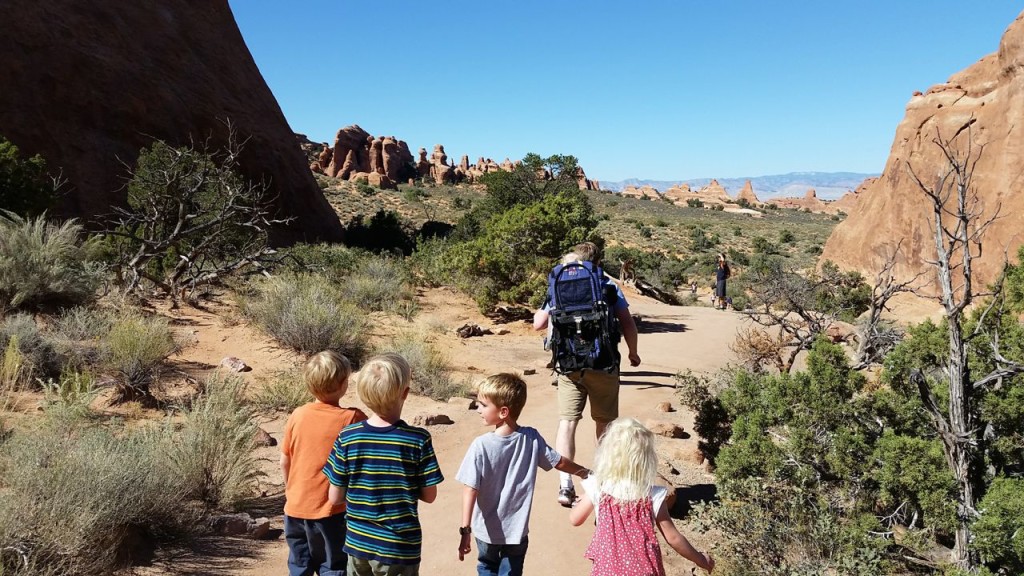 Daddy the handsome trail guide.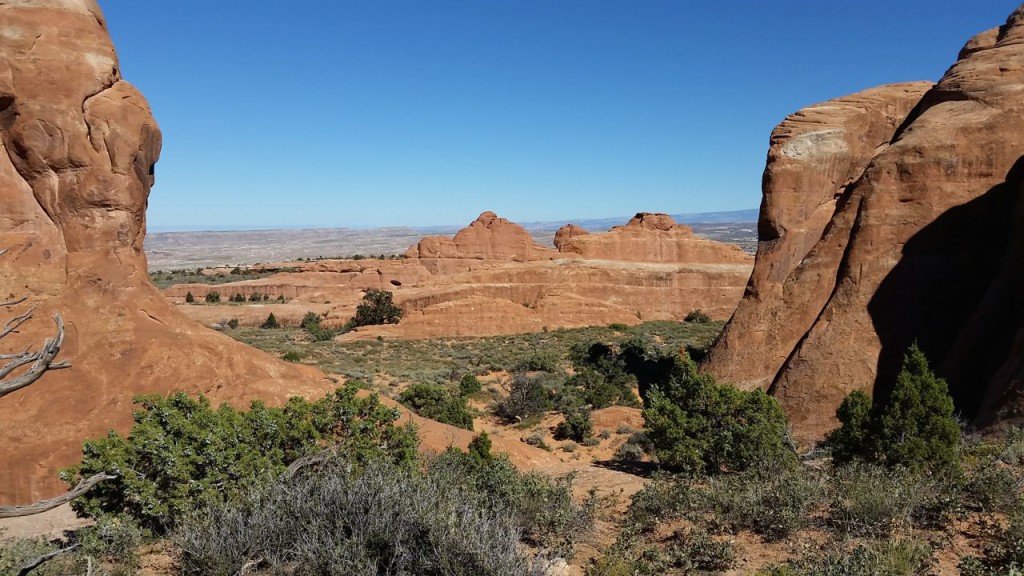 Gorgeous view from the trail.

My favorite people.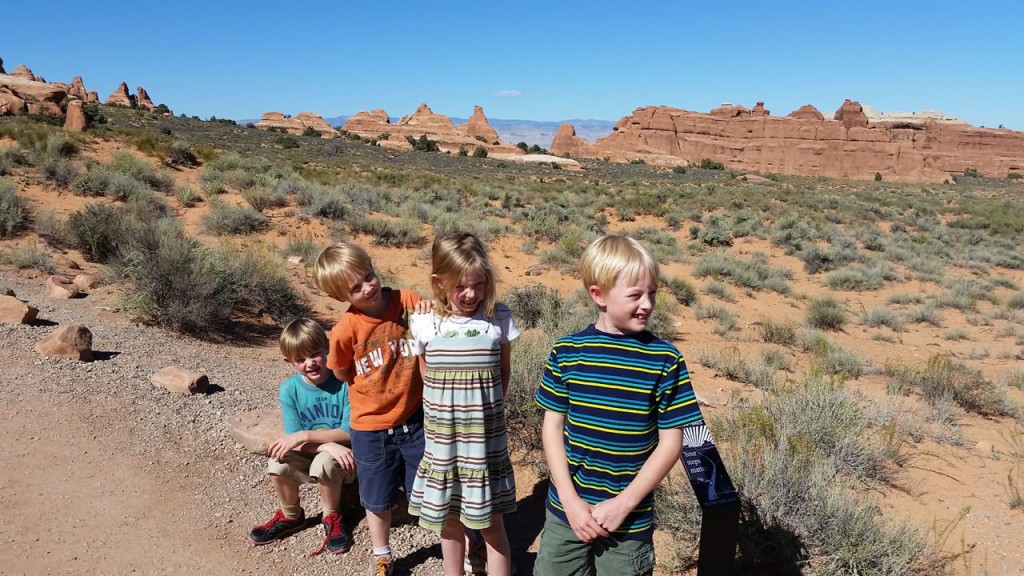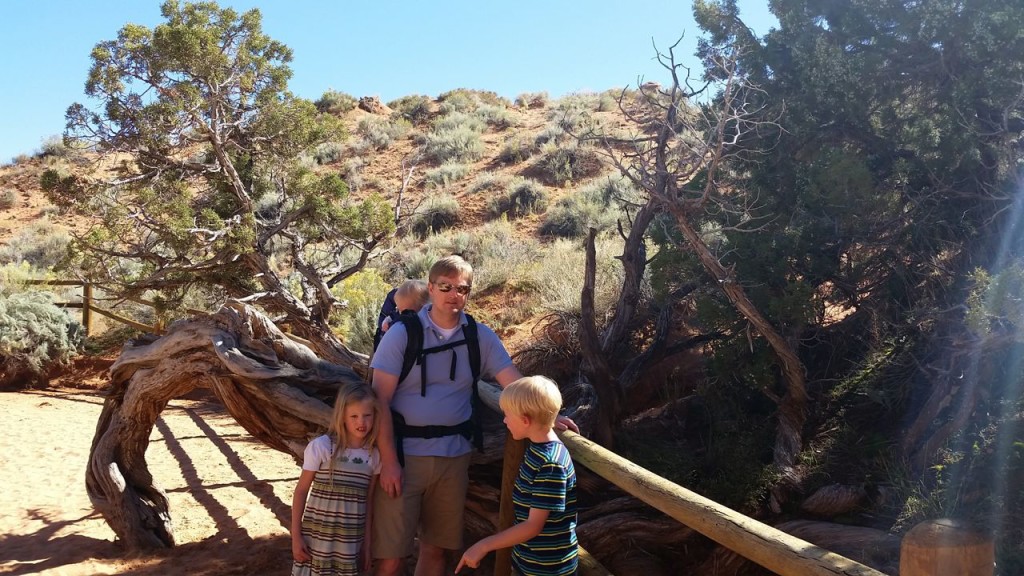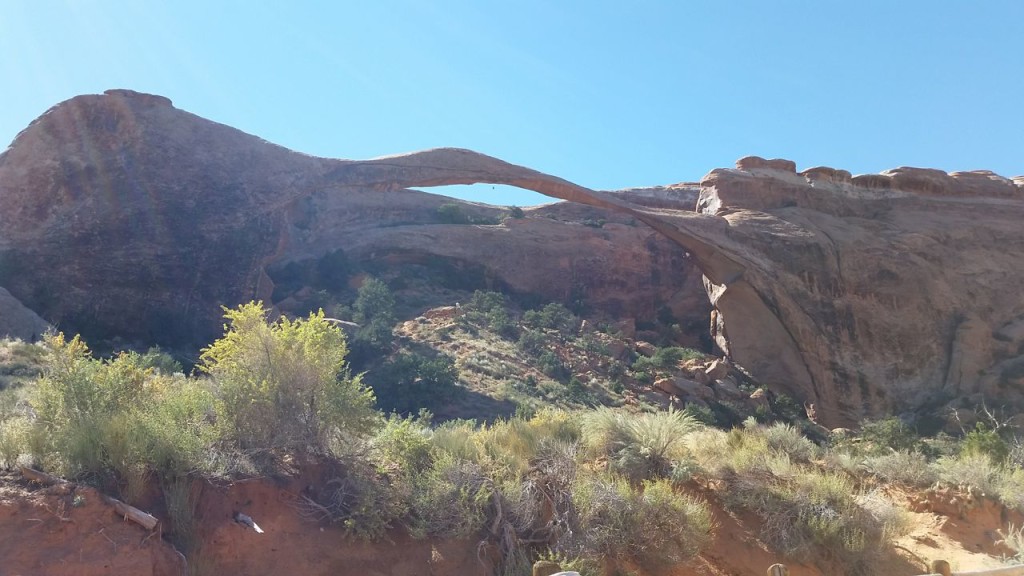 Several of the group stopped here.

Some of us are hardcore and pushed on (another 1/8 of a mile. So hardcore).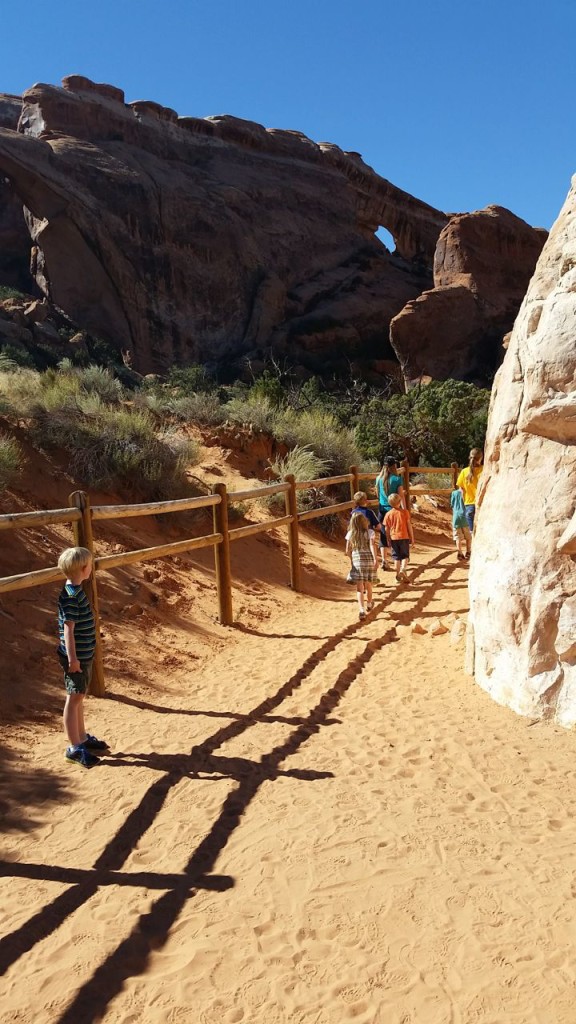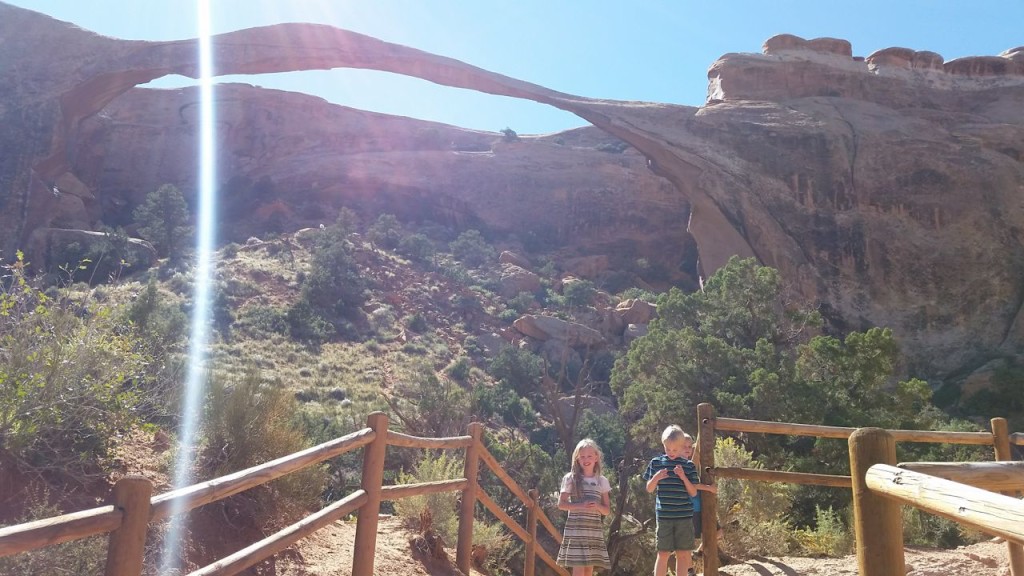 And this is the end of the trail!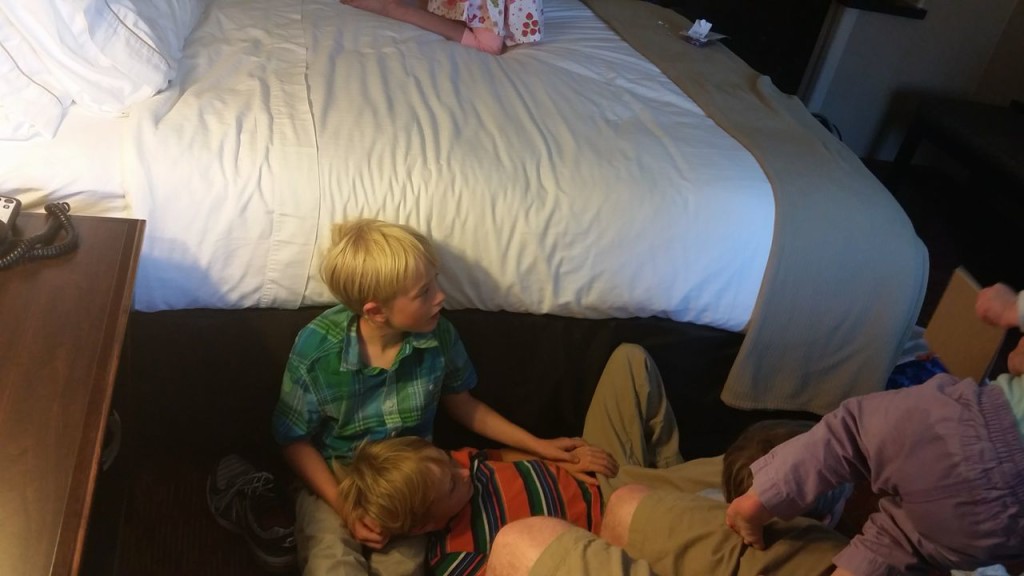 After an afternoon of fun, we went back to the hotel to change for the birthday dinner.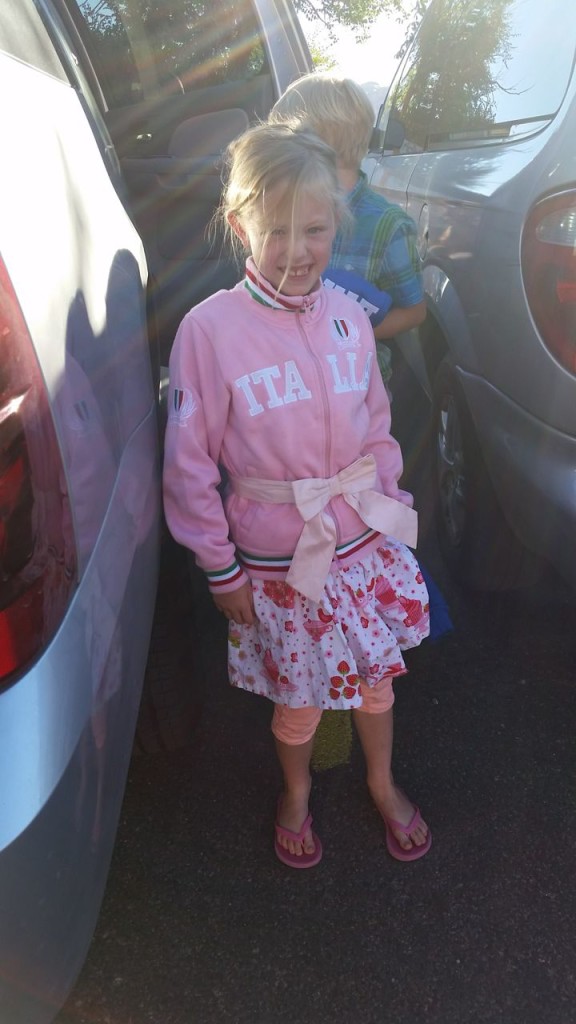 Brinlee chose this special ensemble for the occasion.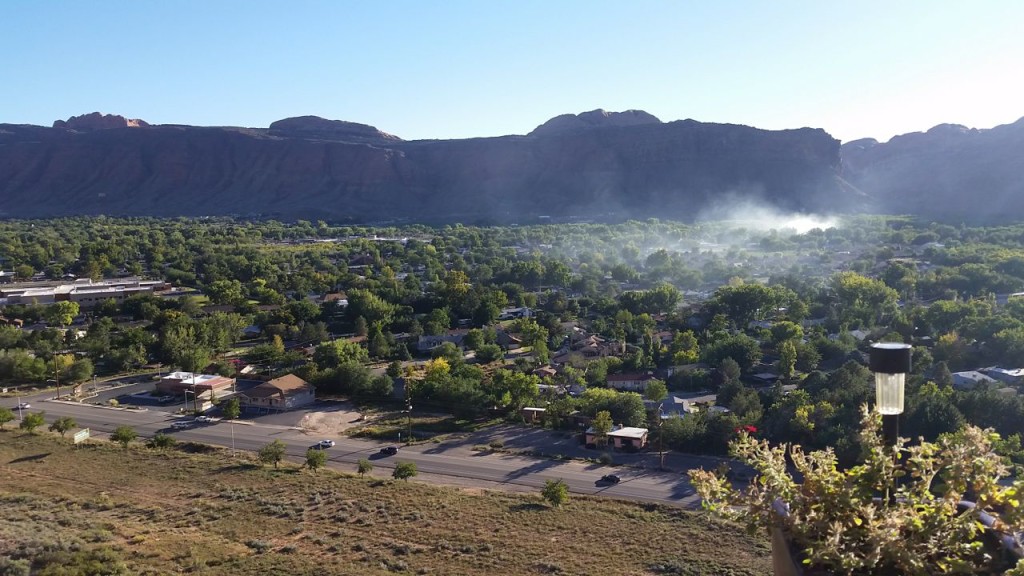 We ate on the terrace of the Sunset Grill in Moab.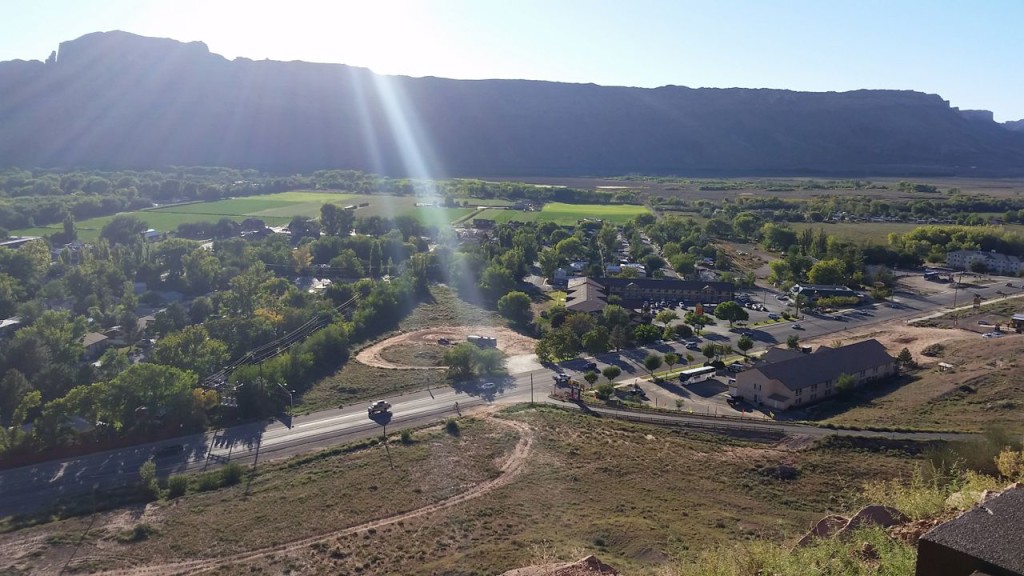 The view was incredible.

We enjoyed a relaxing dinner celebrating grandpa's birthday.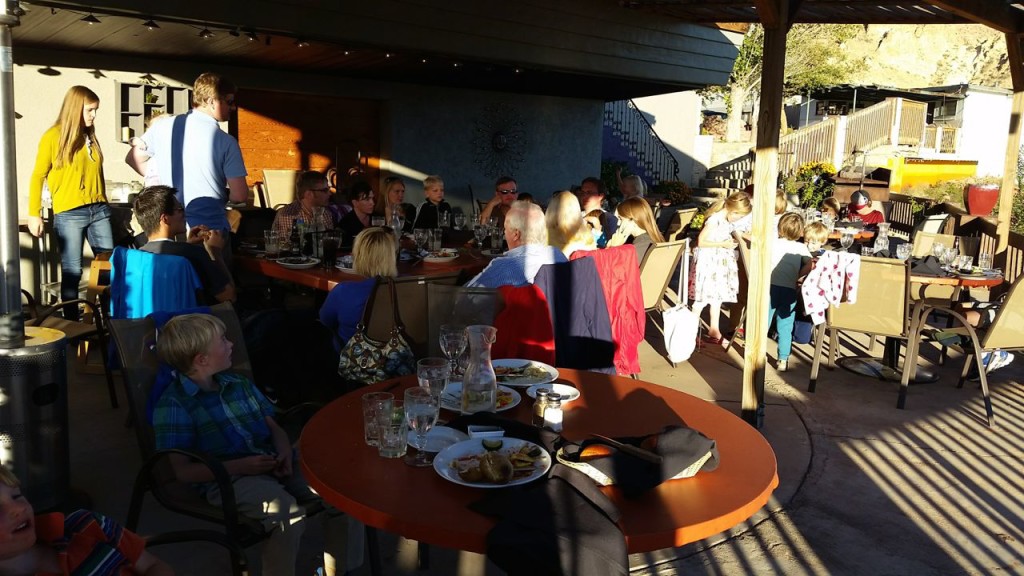 We basically had the whole deck. The kids loved being part of the celebration.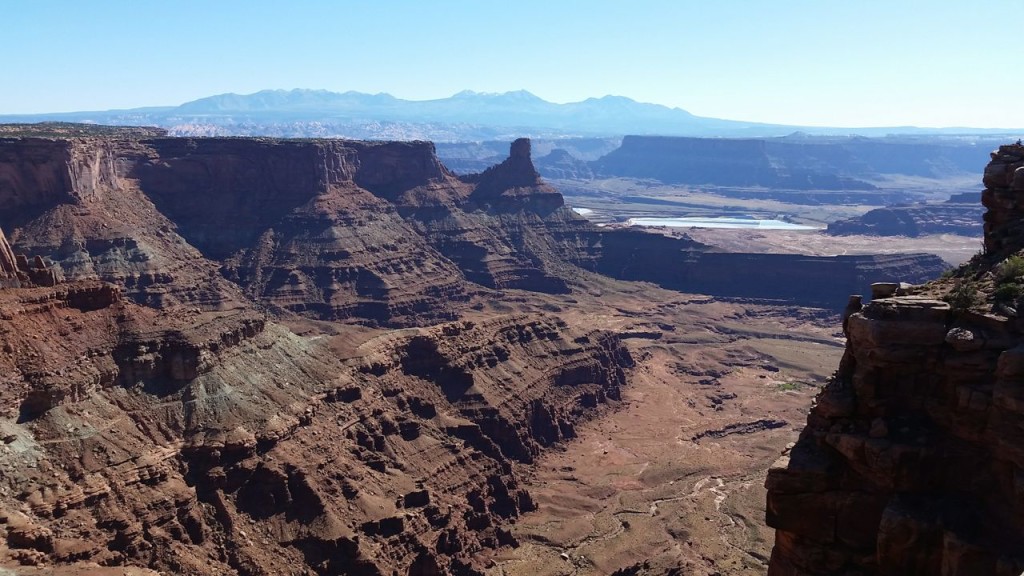 The next morning we went to Dead Horse Point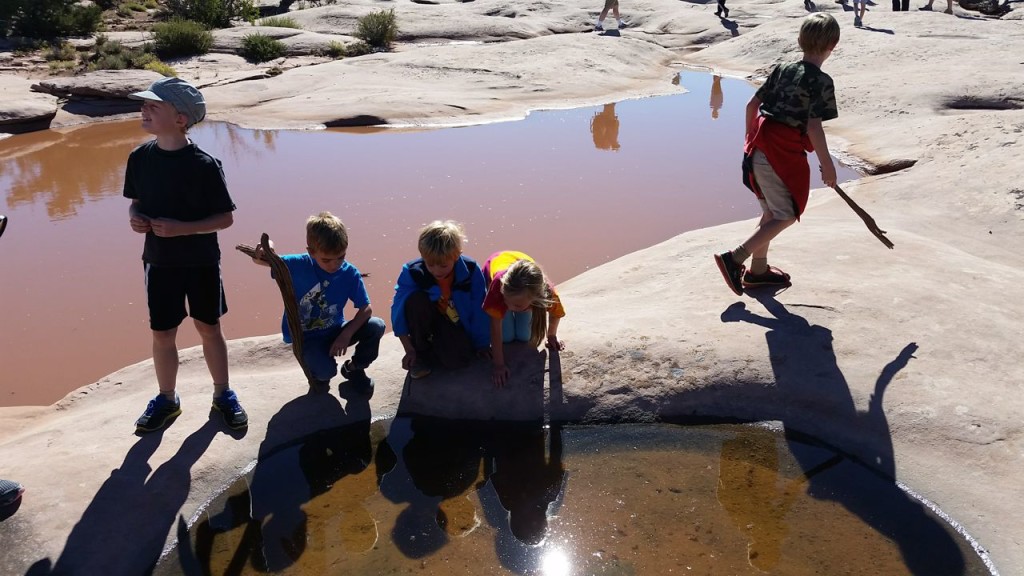 Up at the top there were these little pools that had tiny creatures living in them.

The kids had so much fun looking in each one to see what was in it.

See that edge over there? That was the EDGE, and there is no fence or railing and scared me to death.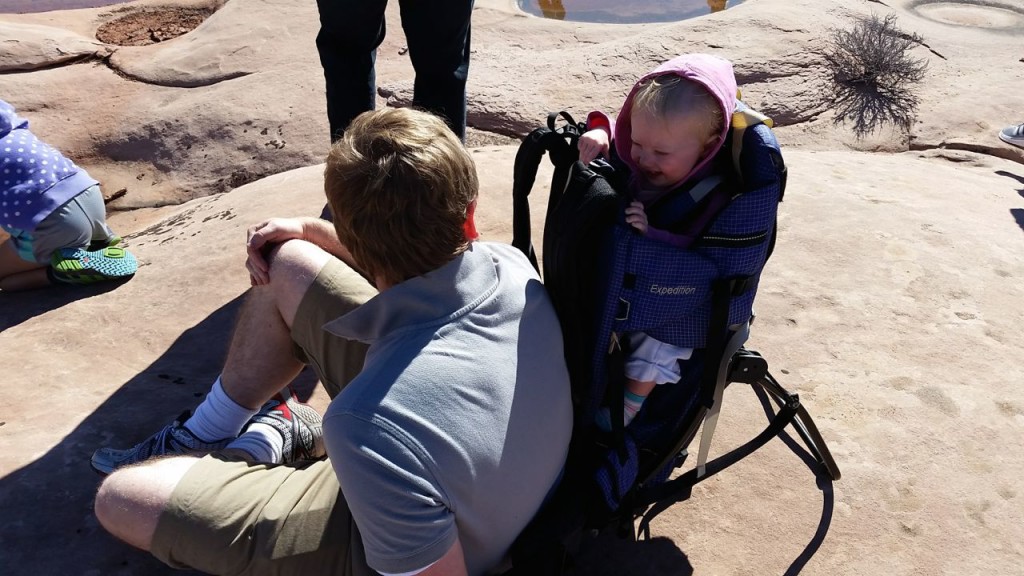 Daddy and his girl. He carried her the whole time because he is my hero.

The men formed a human fence line so none of the kids would go running off the edge.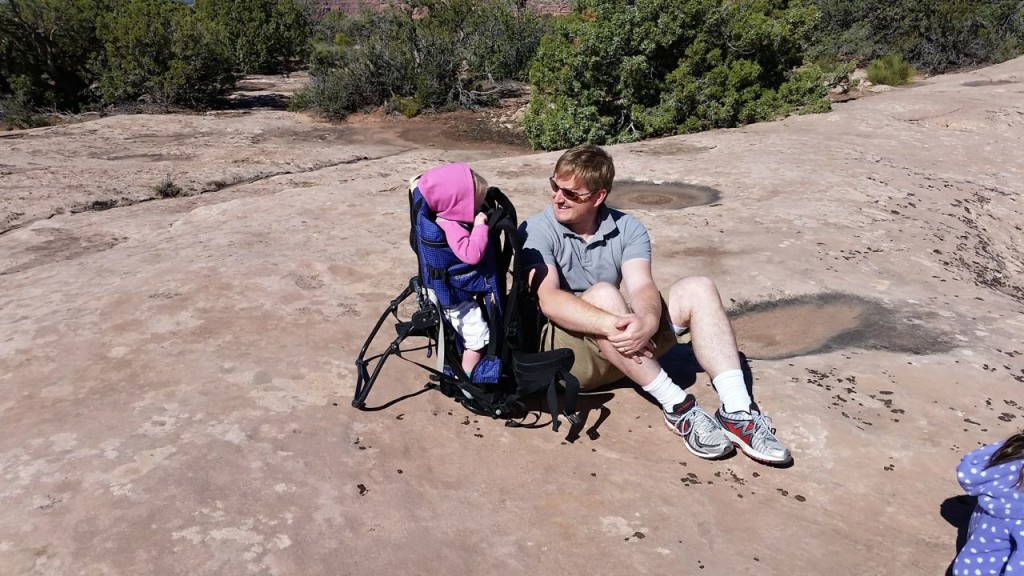 We spent quite a bit of time here because the kids were so fascinated with the water and what was living in it.

They would have been happy to spend the whole day here.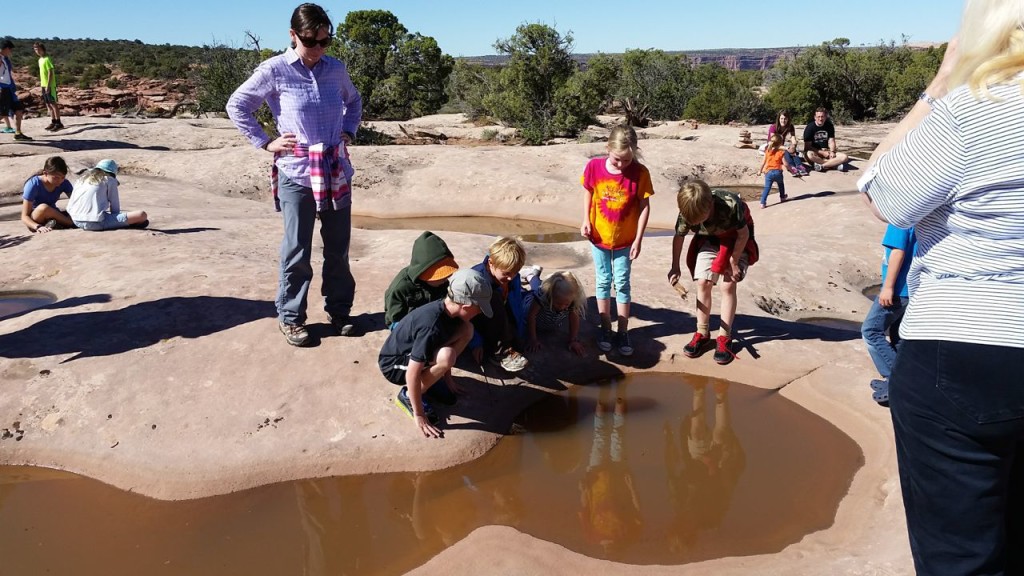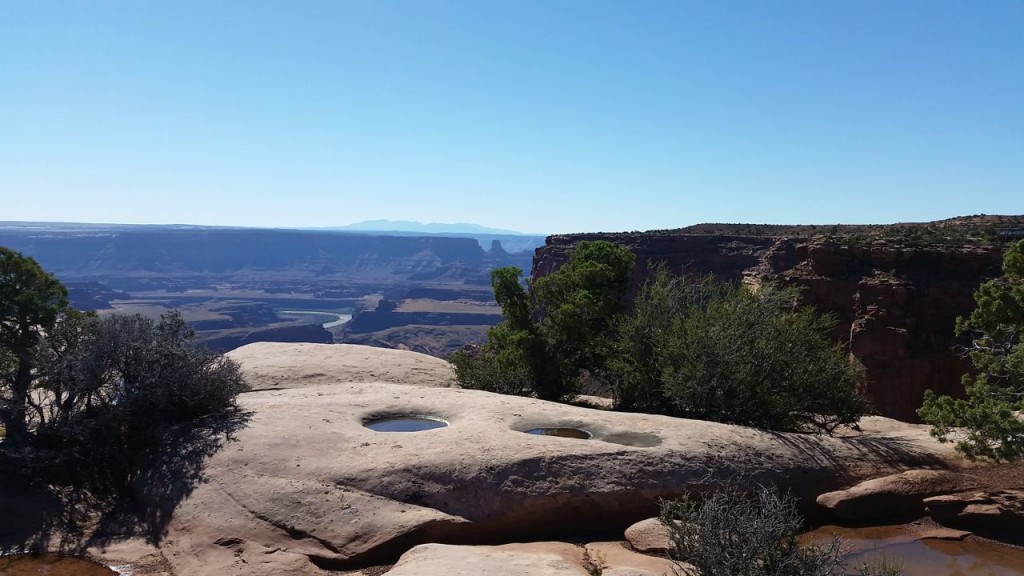 I'll give you a tour of the edge.

This is too close to the edge.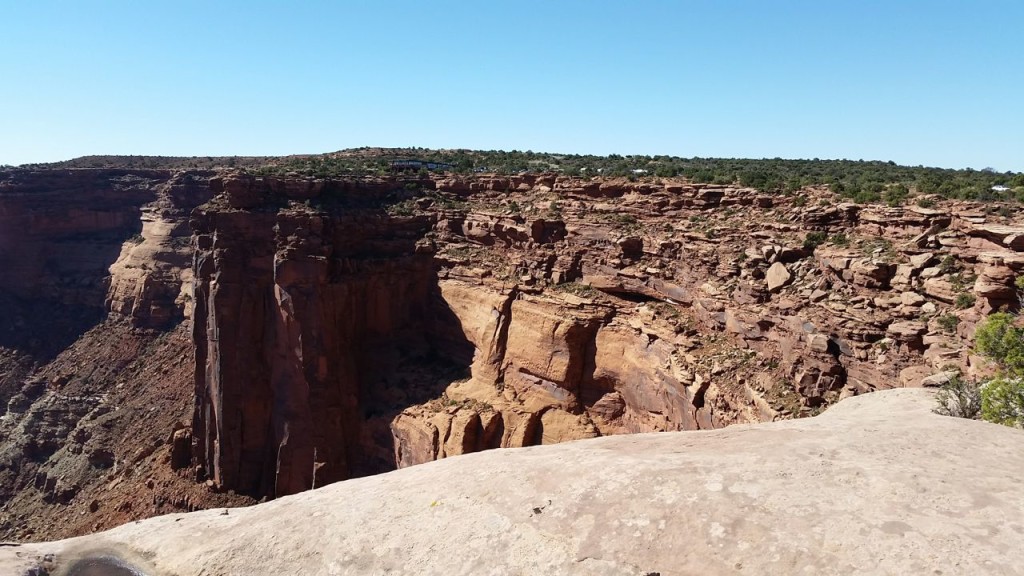 And this is full panic mode. I was not standing up.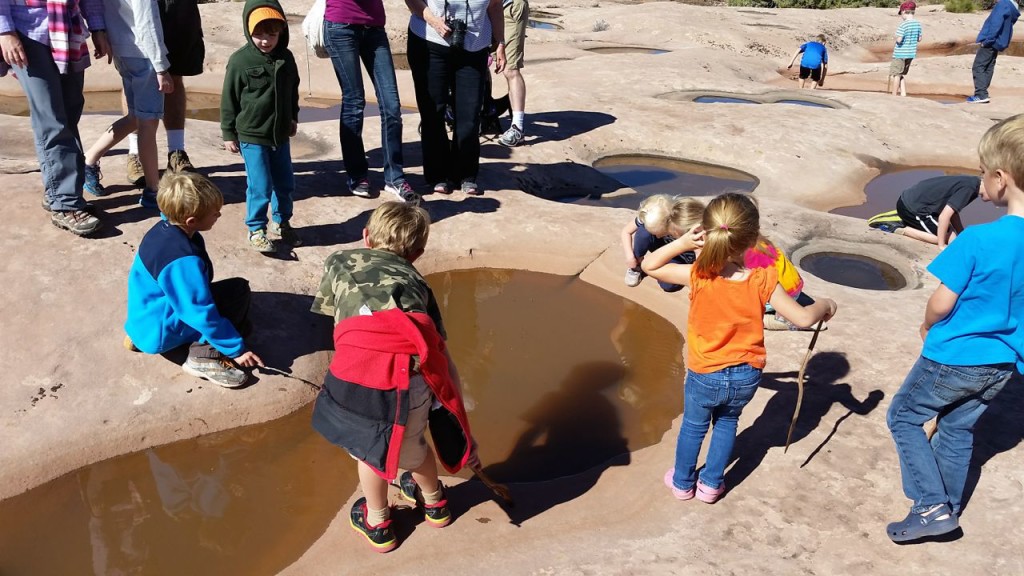 Georgia decided she'd had enough of being carried and wanted out.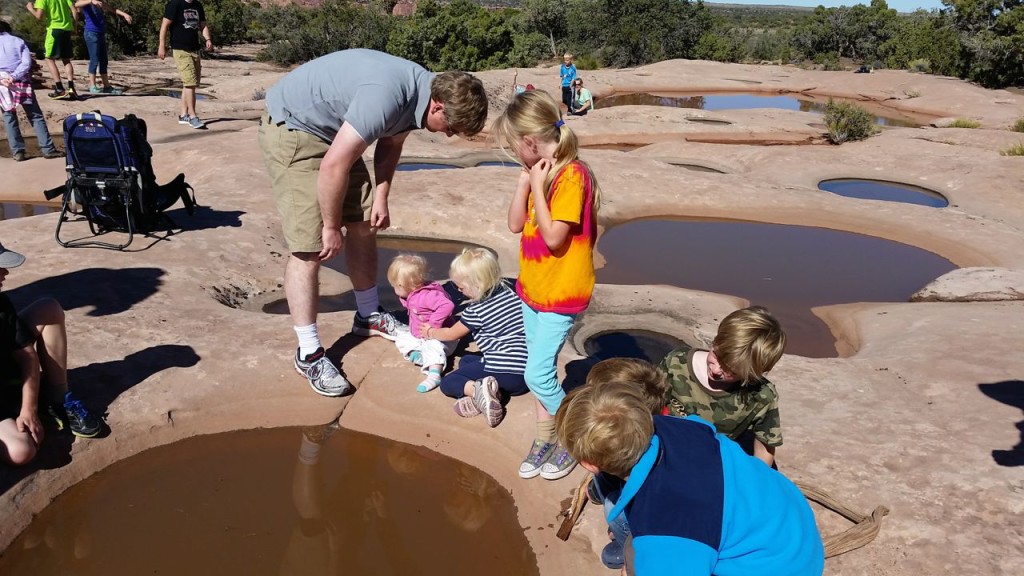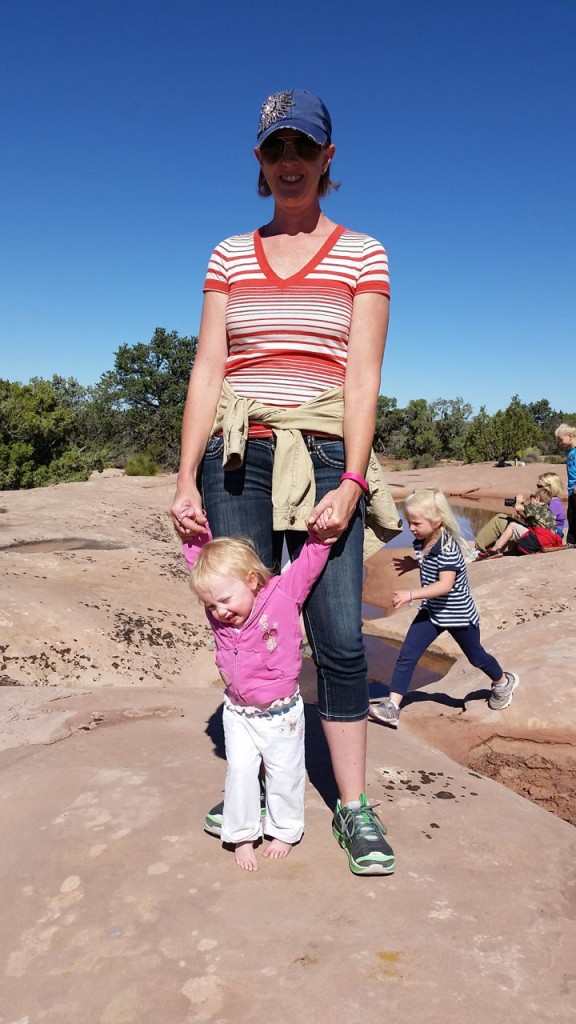 We lost her socks in the last 3 minutes.

Miraculously Daisy has her shoes on.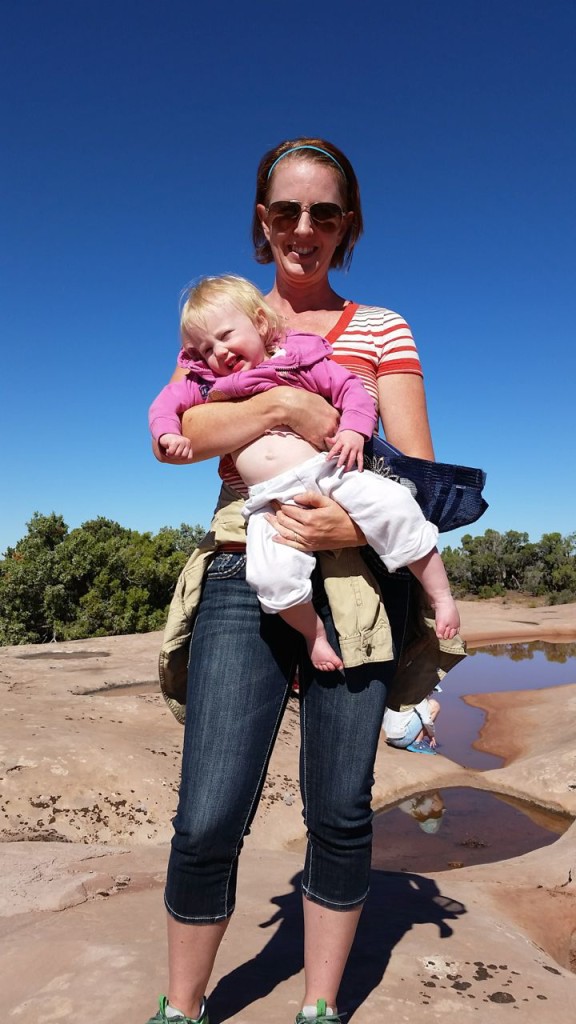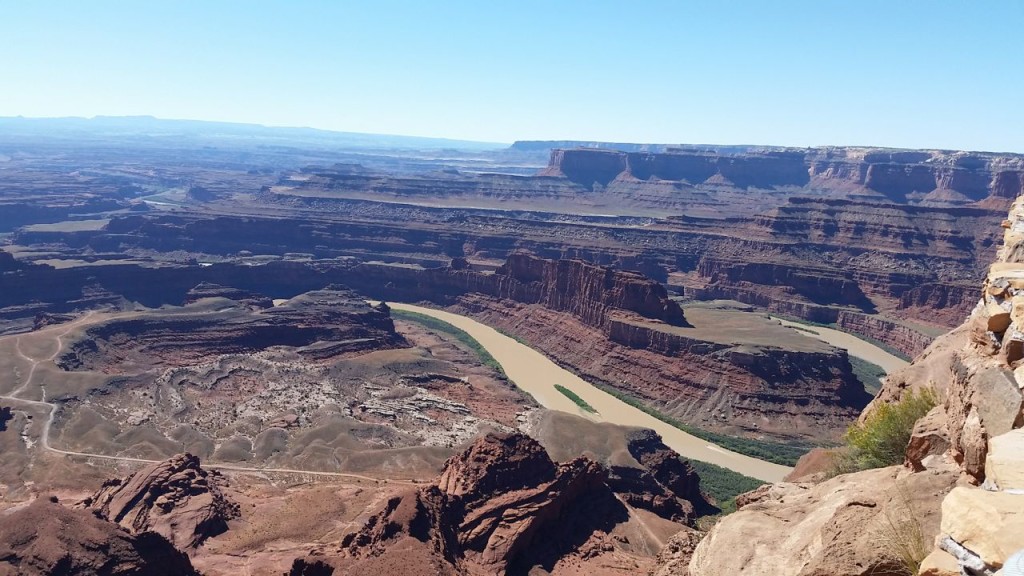 Then we moved on to the rest of Dead Horse Point.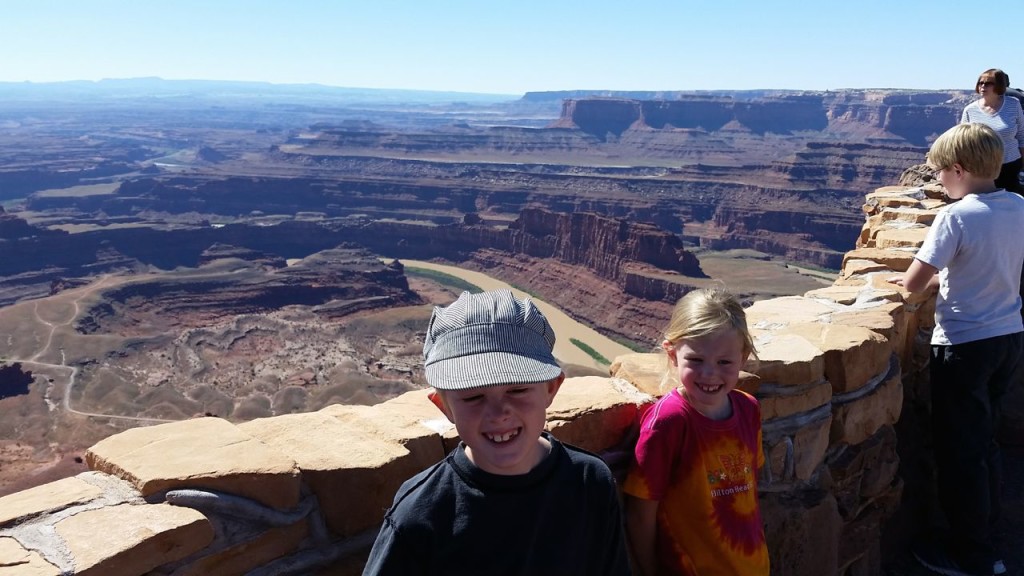 Where there are walls, and I can calm down.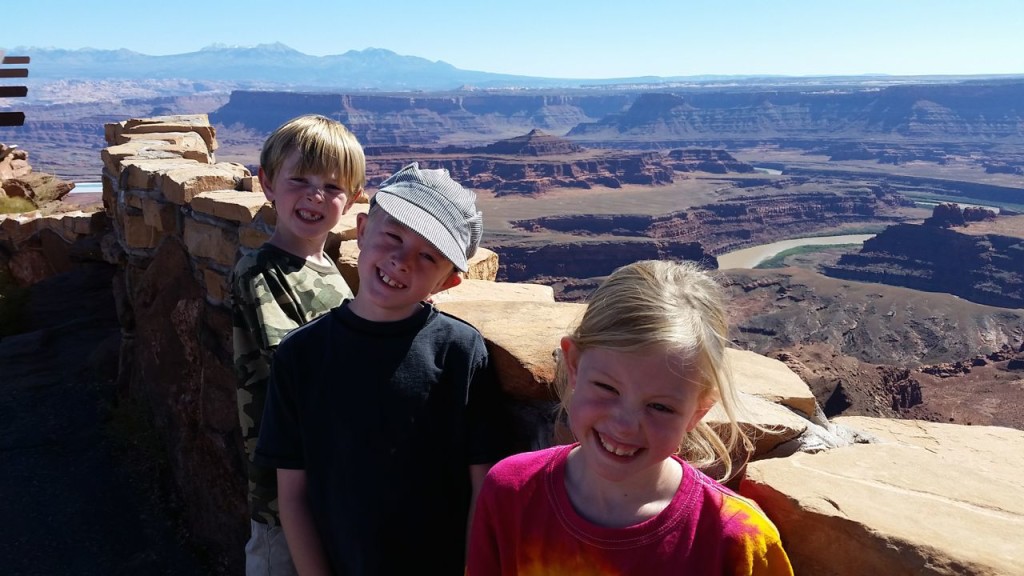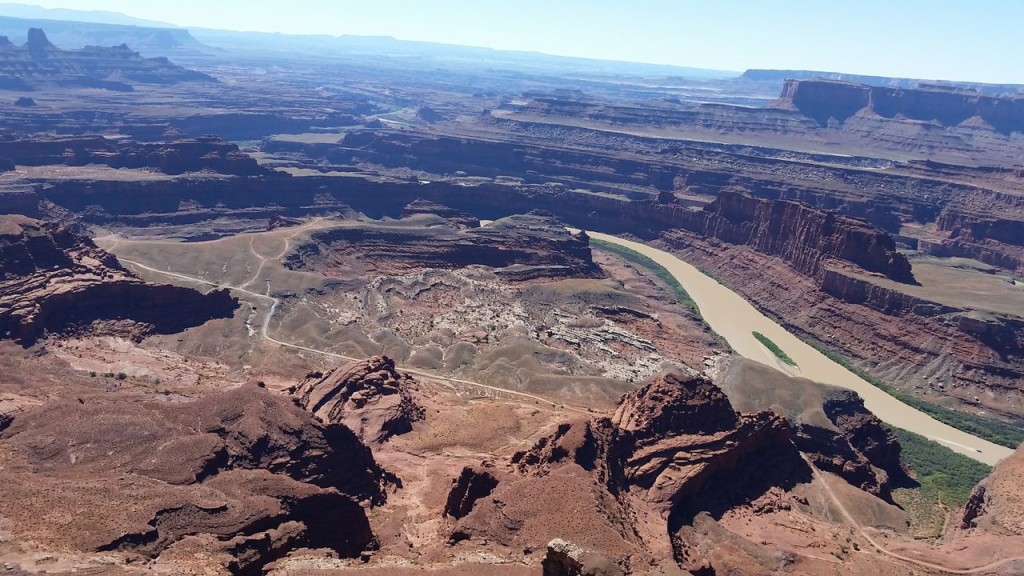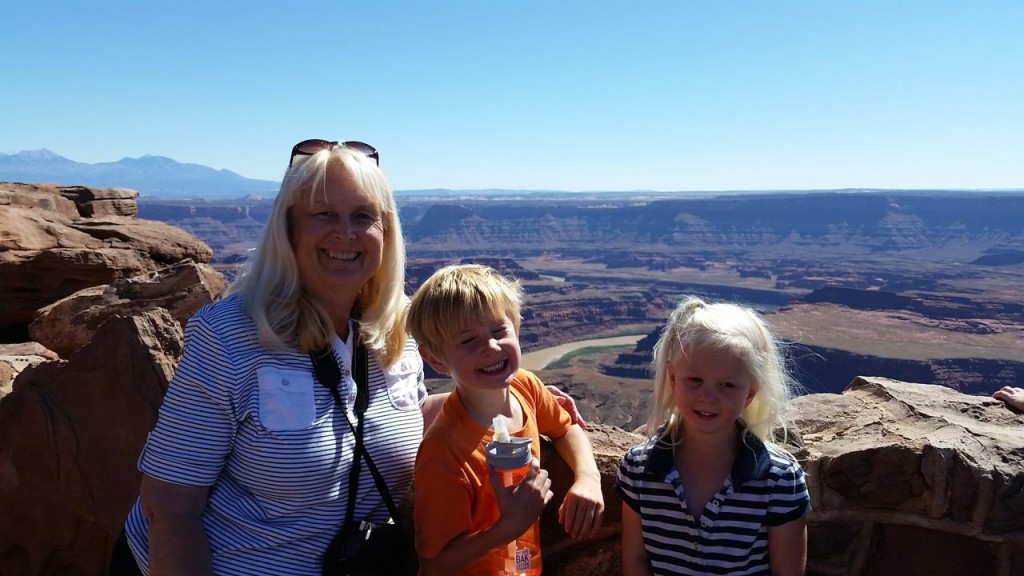 Grandma, Caisen and Daisy.

My favorite kids.

This fox was trying to join us for lunch.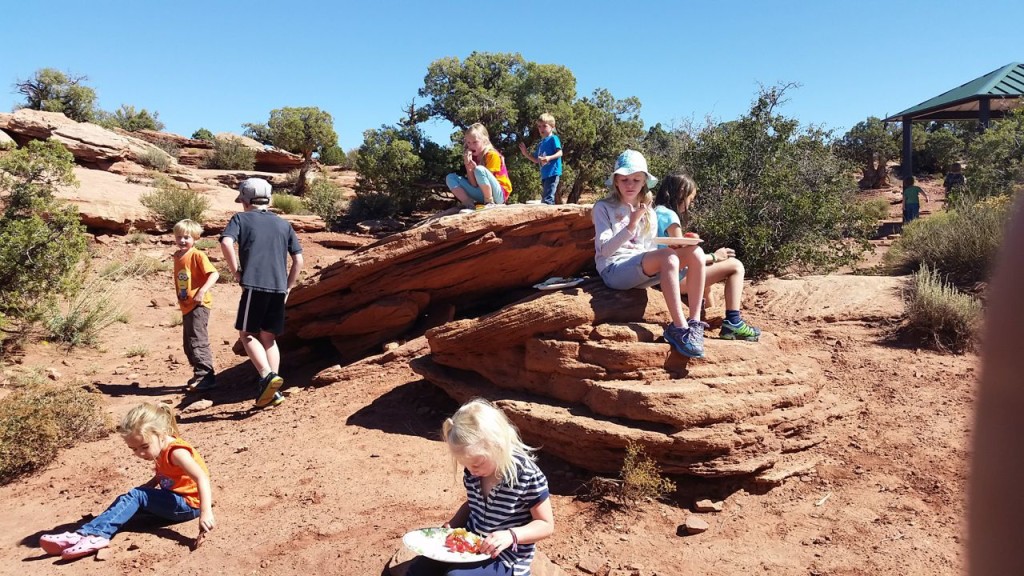 Picnic on the rocks.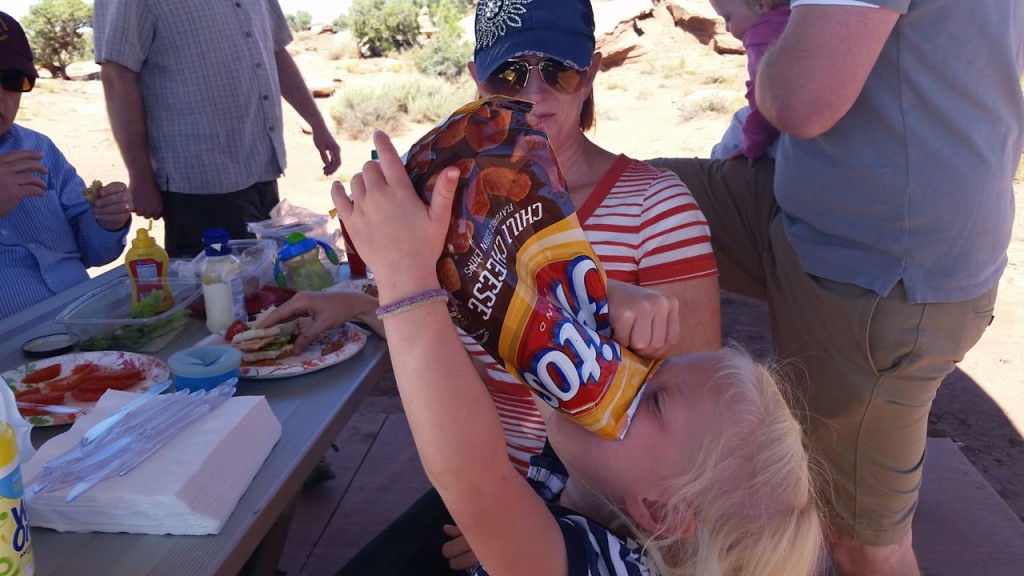 I can honestly say Daisy gets her love of corn chips from me.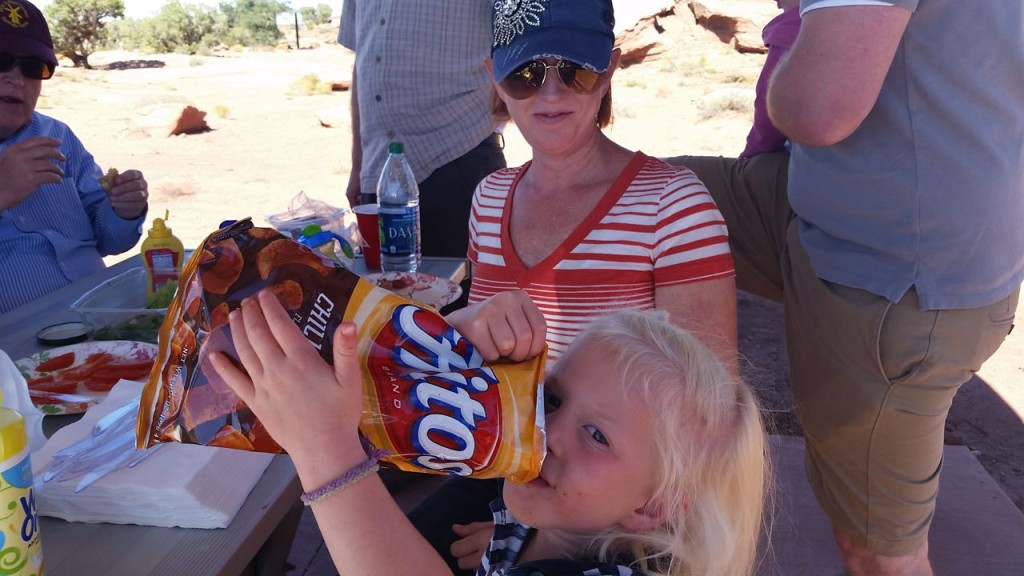 I can't put the bag down.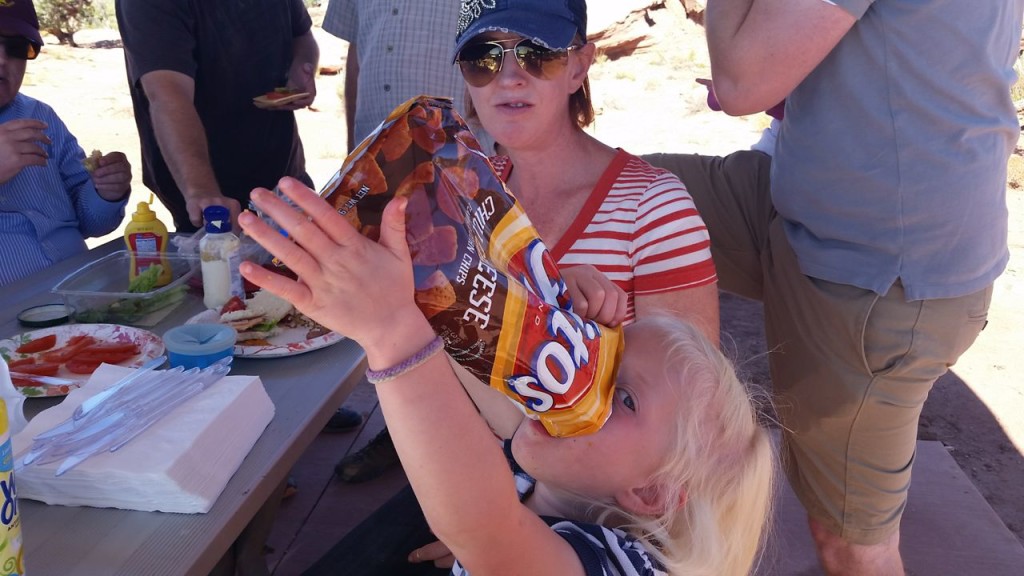 And neither can she.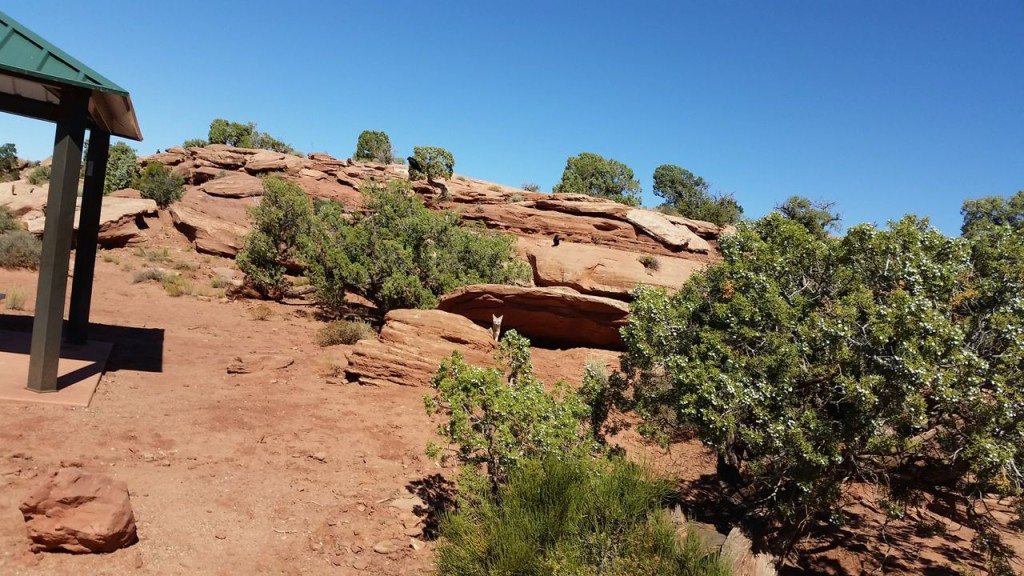 The fox was really hoping we'd drop some food. We cleaned up everything so we wouldn't leave anything behind. And then we went home.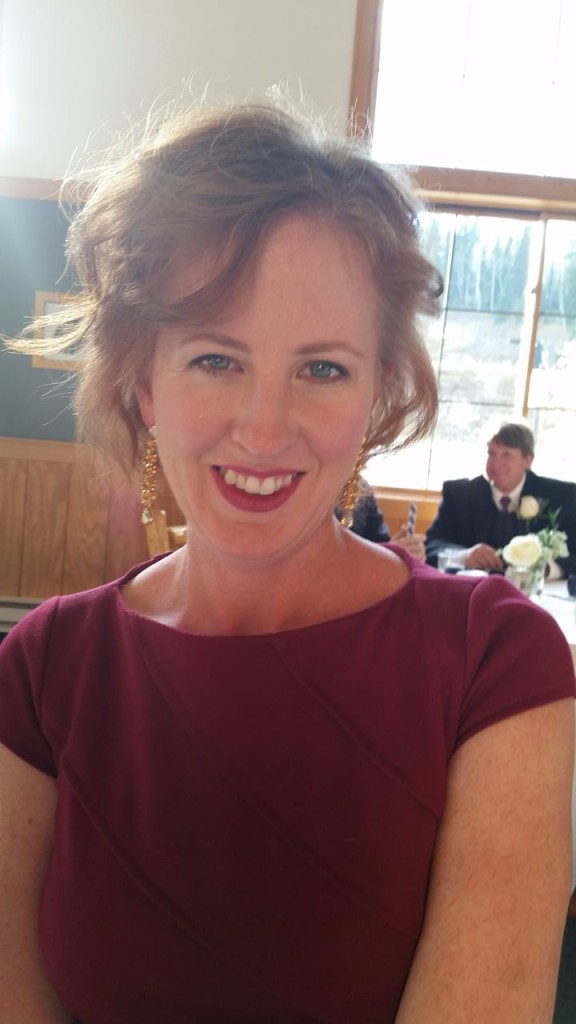 The next weekend we went to a wedding.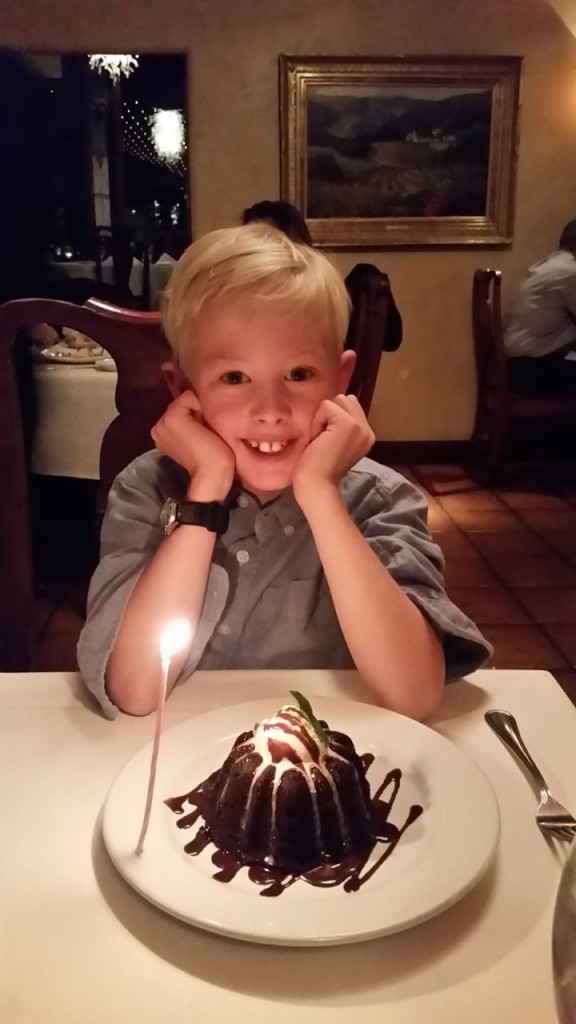 And we took Sawyer out for his birthday dinner.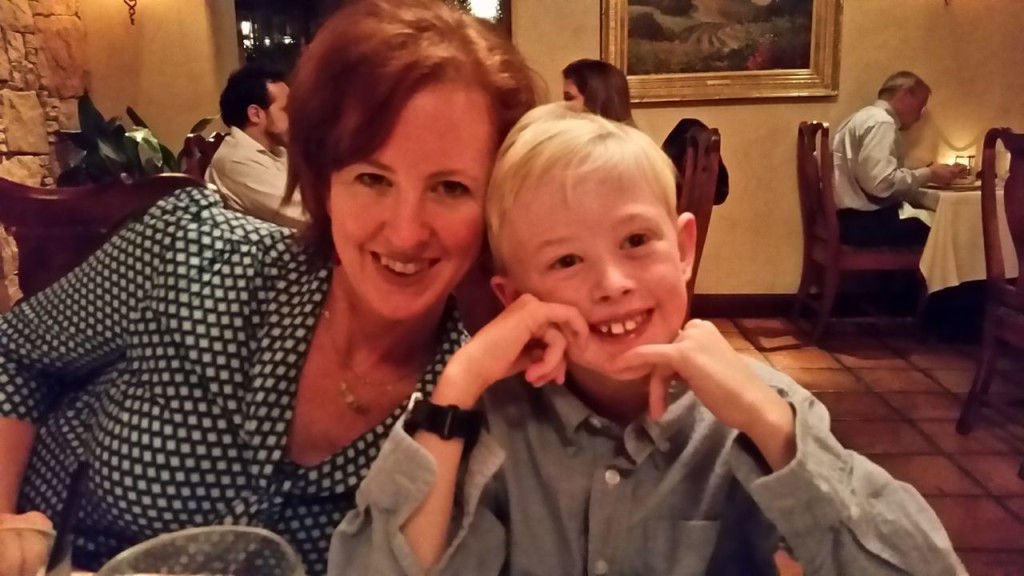 We take each child out to a nice dinner alone with mom and dad. He got to go to Tuscany.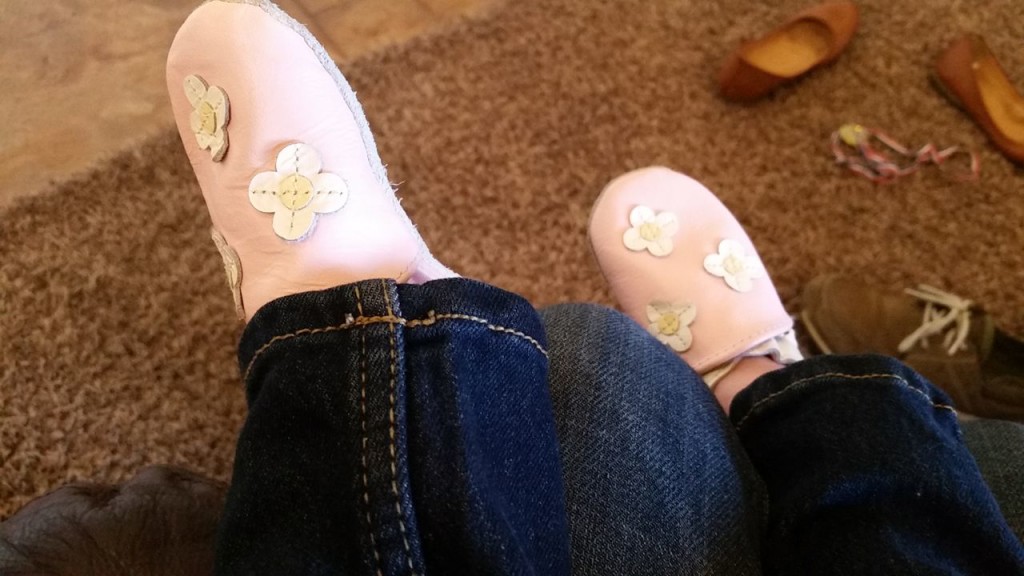 Georgia got her first shoes. Aren't they cute? Size 6-12 months even though she is 18 months. She comes by her tiny feet honestly. I wear a 5.5.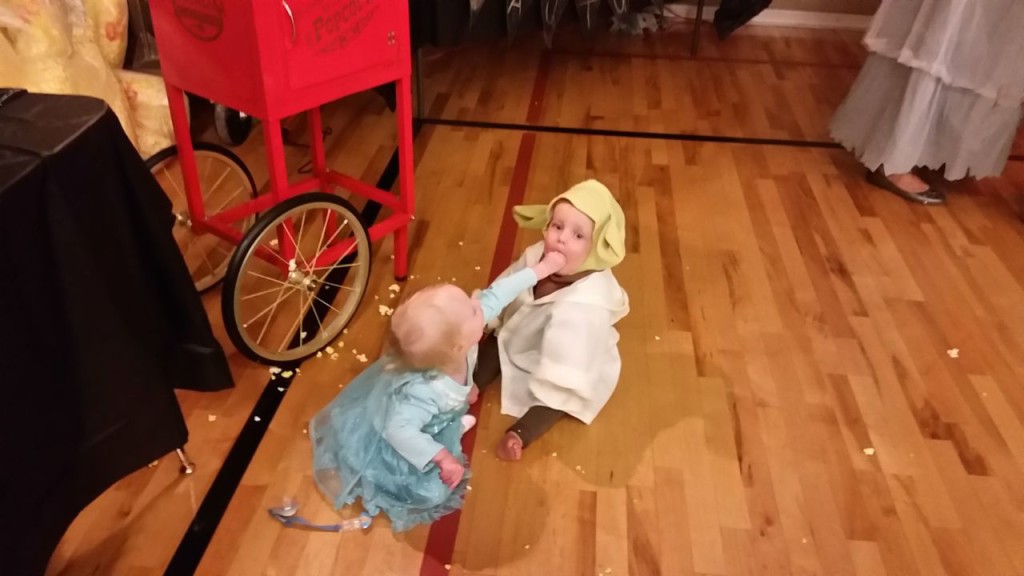 We went to a Halloween party at church, and after letting Georgia down on the floor, I found her force feeding this other baby popcorn off the floor.

Instead of intervening I took pictures.

EAT IT.

She managed to get her whole fist in his mouth.

Then Kimball got his birthday dinner at Texas de Brazil.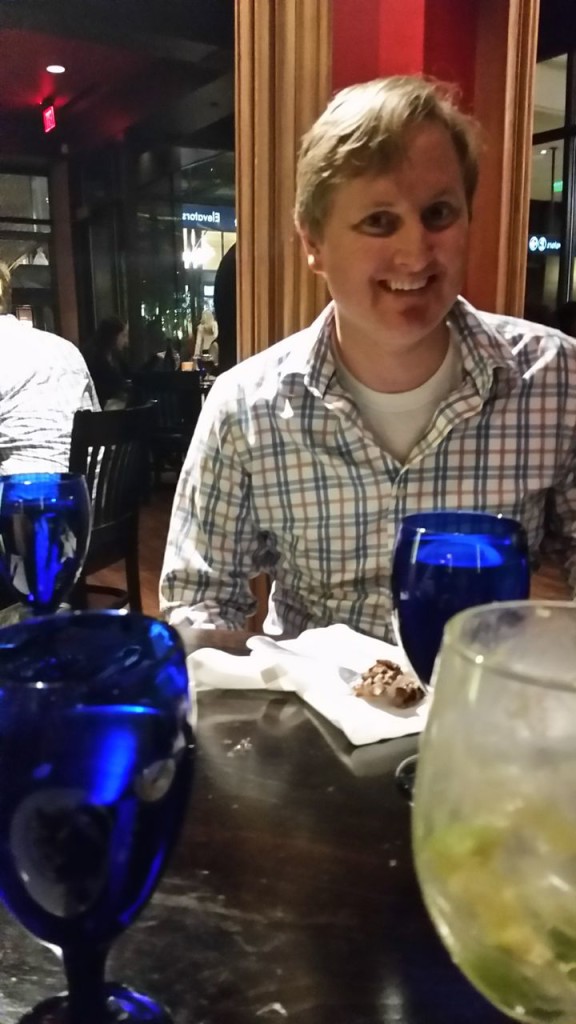 They look forward to their dinner.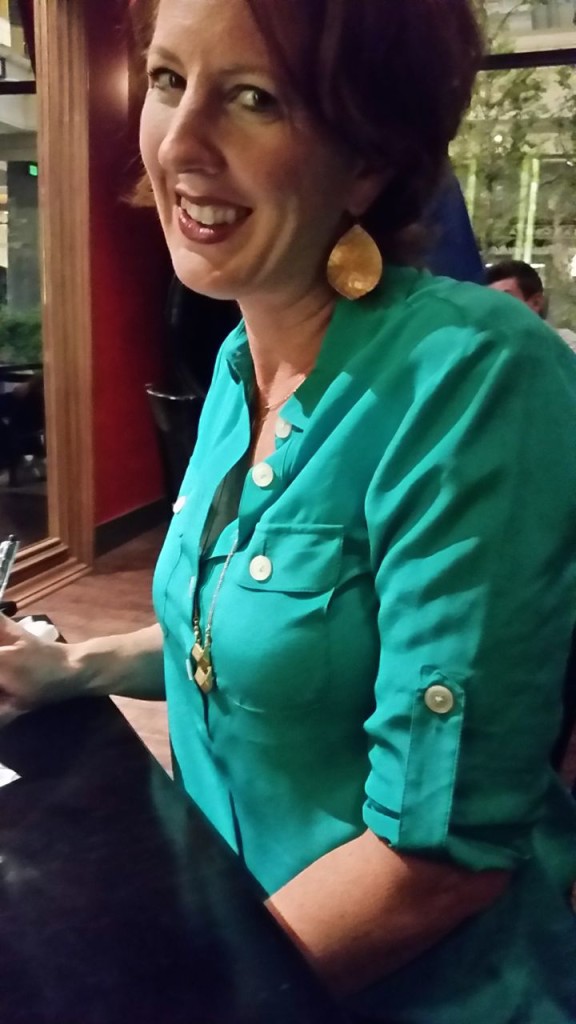 With six kids there isn't a lot of one on one time.

Caisen posing for me.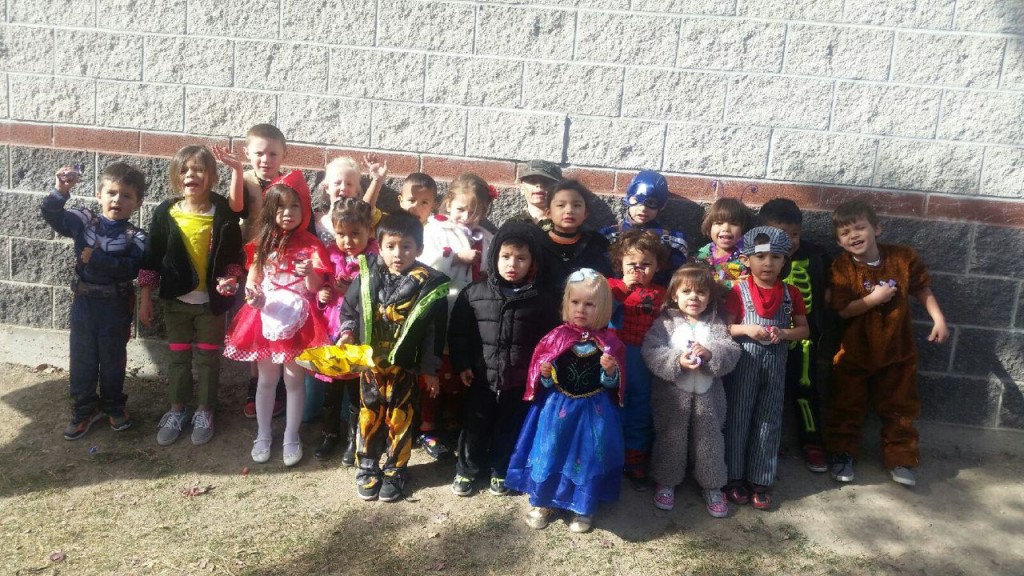 Daisy had a Halloween party at school.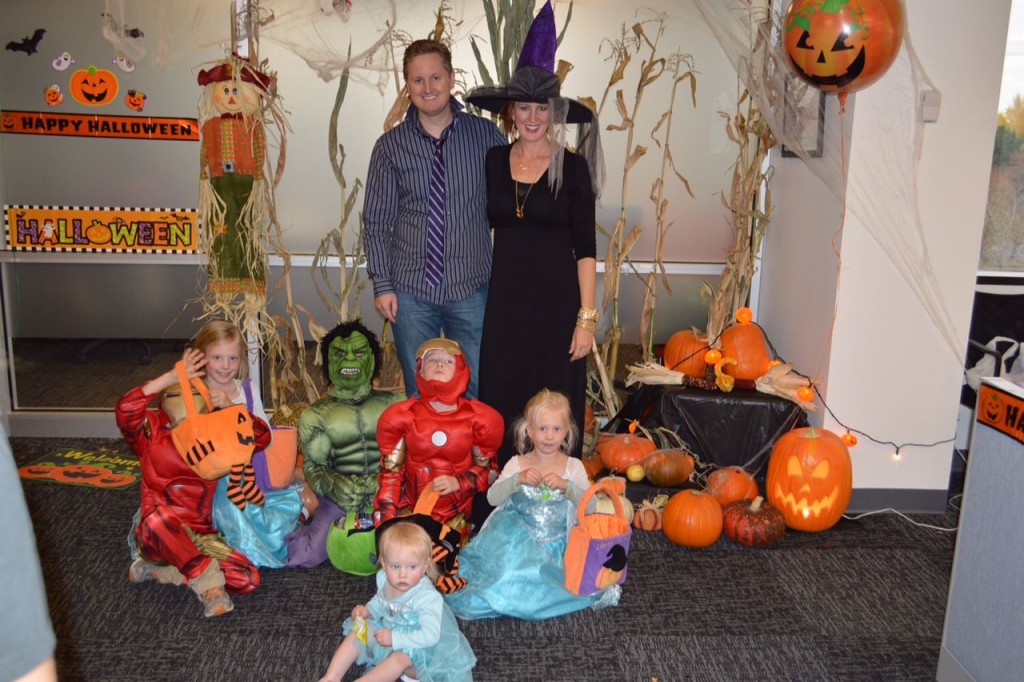 Then we went to a Halloween party at Adam's work. Three Elsas, two ironmen, a hulk, a witch and a hipster? I'm not really sure what Adam is dressed as, but everyone at work liked his hair bc he used gel.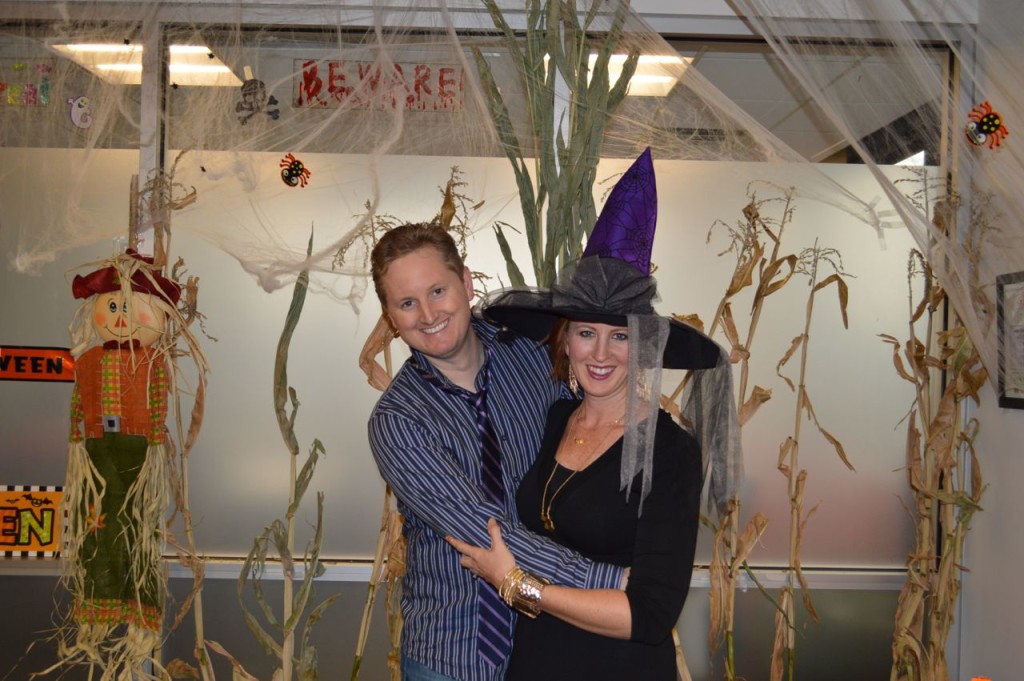 I told everyone that I wear a costume all year long, today I decided to go as myself.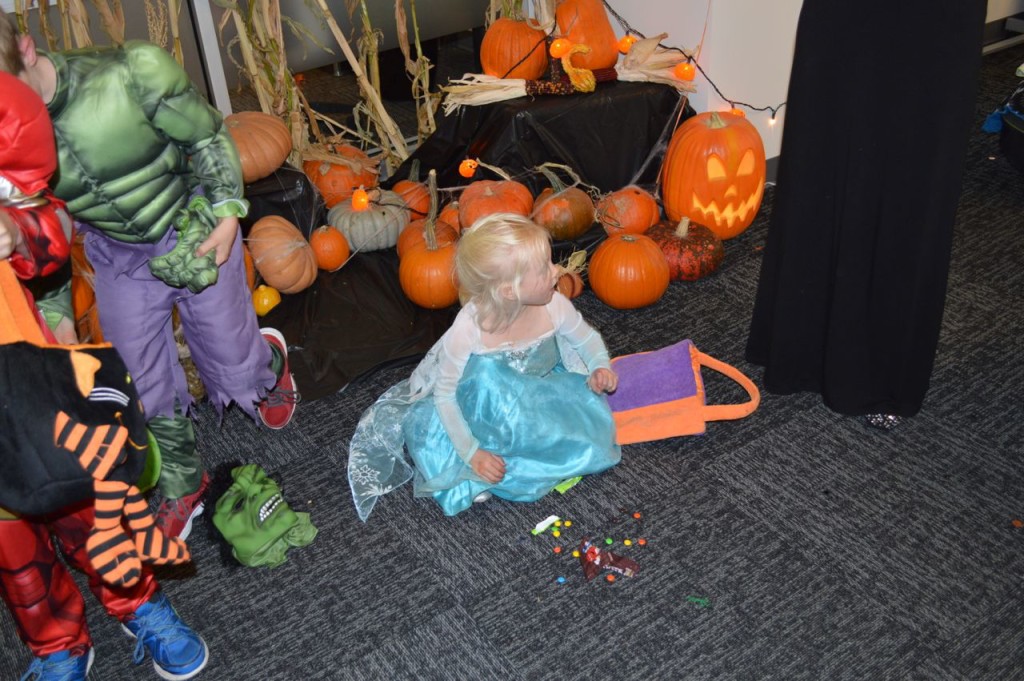 The story behind these Elsa dresses is traumatic. At about the age of 4.5, each of my kids is promised that they could choose any toy they wanted when they learned to buckle themselves in their carseats and do it for a whole week with no help. Daisy wanted an Elsa doll and immediately learned to do her buckle (oh the power of positive motivation). When the week was up I took her to the Disney store to get her doll when she spies THE DRESS. Sure, you can have the dress, I promised any toy. I knew Brinlee wanted to be Elsa for Halloween too, and the boys wanted to be super heroes, so I gathered up costumes and two pairs of Elsa shoes for Christmas and go to the register. Turns out, you can't buy more than one Elsa or Anna anything on the same day. I can't be the only person alive with two little girls who love Elsa. After much pleading, begging and even playing the triplet card, the answer was still no. They had just gotten this shipment in and there was only one of each size. No holds, either. So first thing the next morning, I go back with all six kids and some concocted lie about why we were there so I could buy this dress and shoes. And the next day we see that they left the anti-theft device on Sawyer's costume, so I had to go back AGAIN. I don't think I'd ever been to the Disney Store and got to make 3 trips in two days. Lucky me.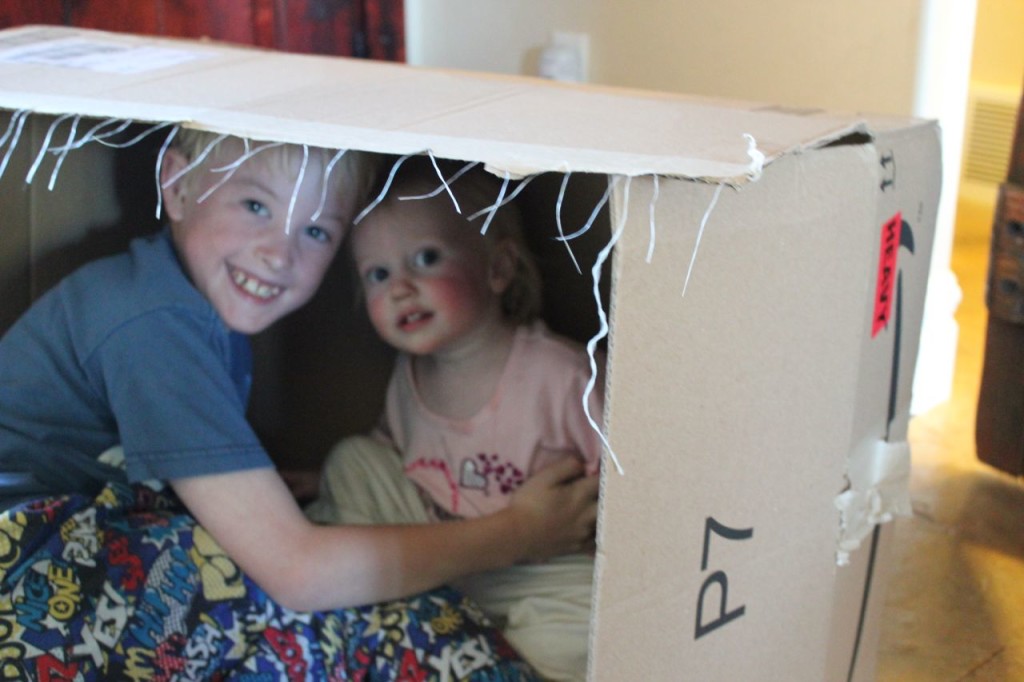 Sawyer is such a good brother, and Georgia just loves him.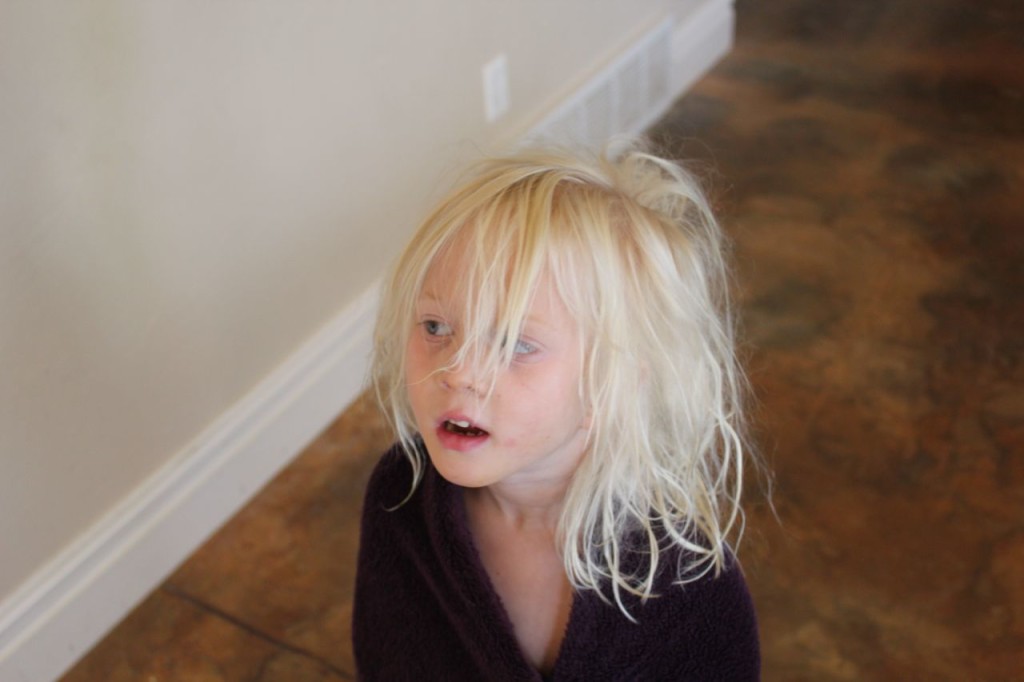 Daisy's hair is always a mess. Always.

It takes forever and conditioner and leave in conditioner and spray on conditioner to get through this every morning.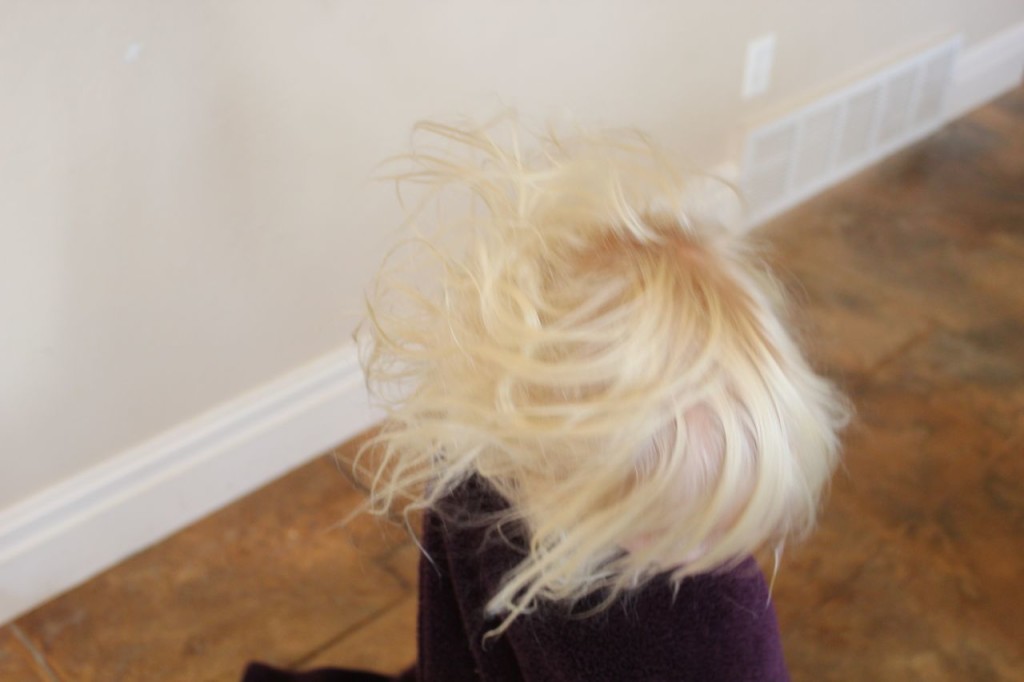 Someday I'm going to video her to see what she does all night long to accomplish this.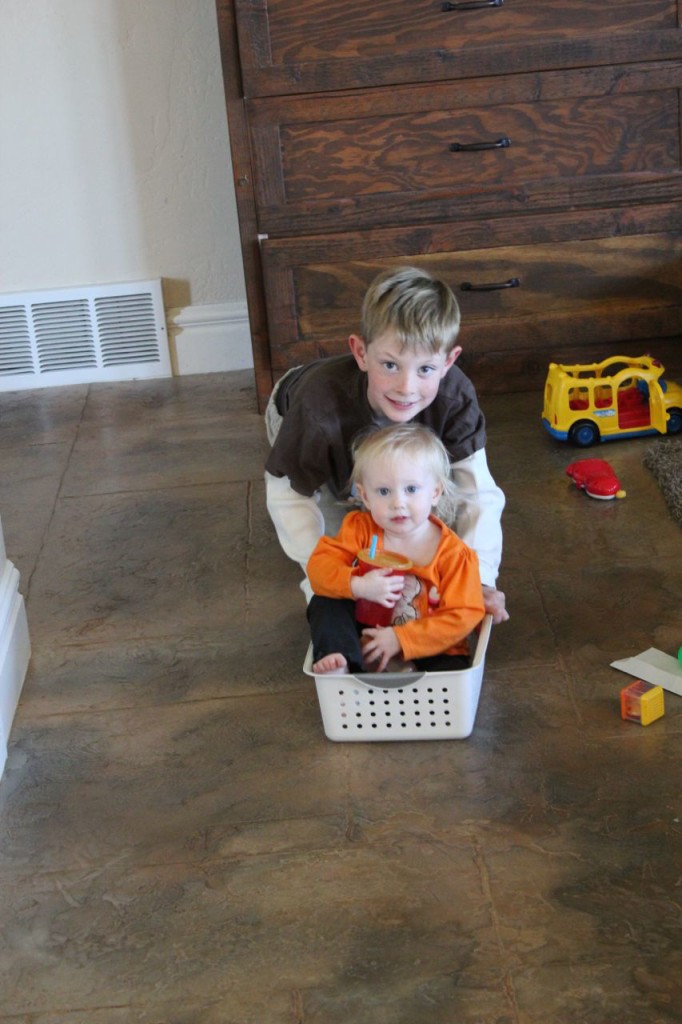 Kimball adores Georgia too. They all do. She is one loved baby.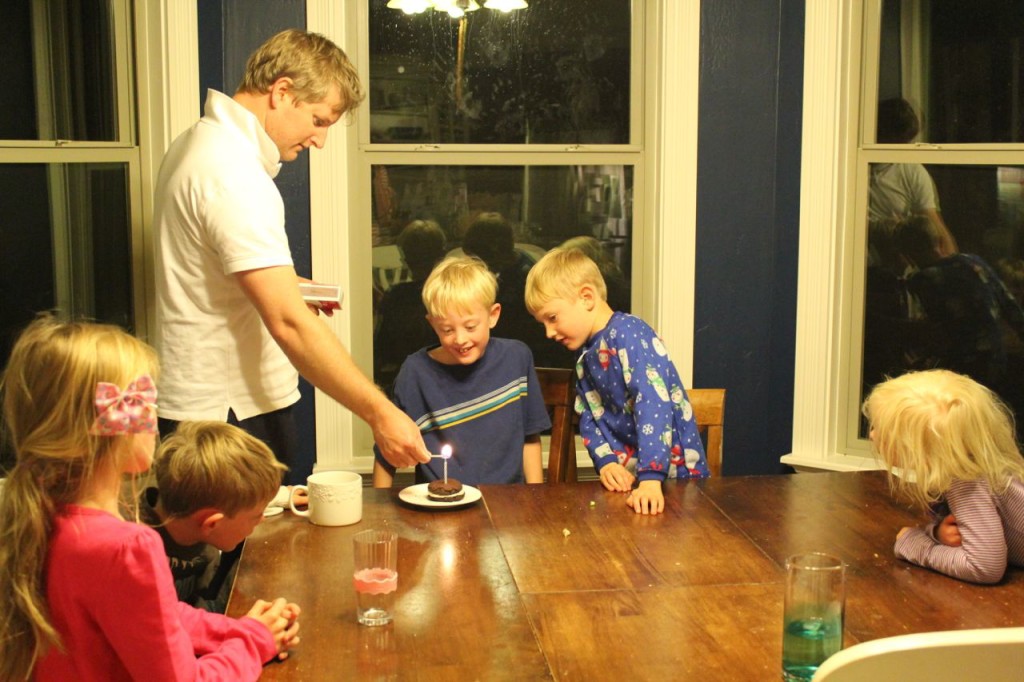 Another thing we do is each of them gets to pick out cupcakes and get sung to on their own night. We did presents all together because they were getting the same thing this year.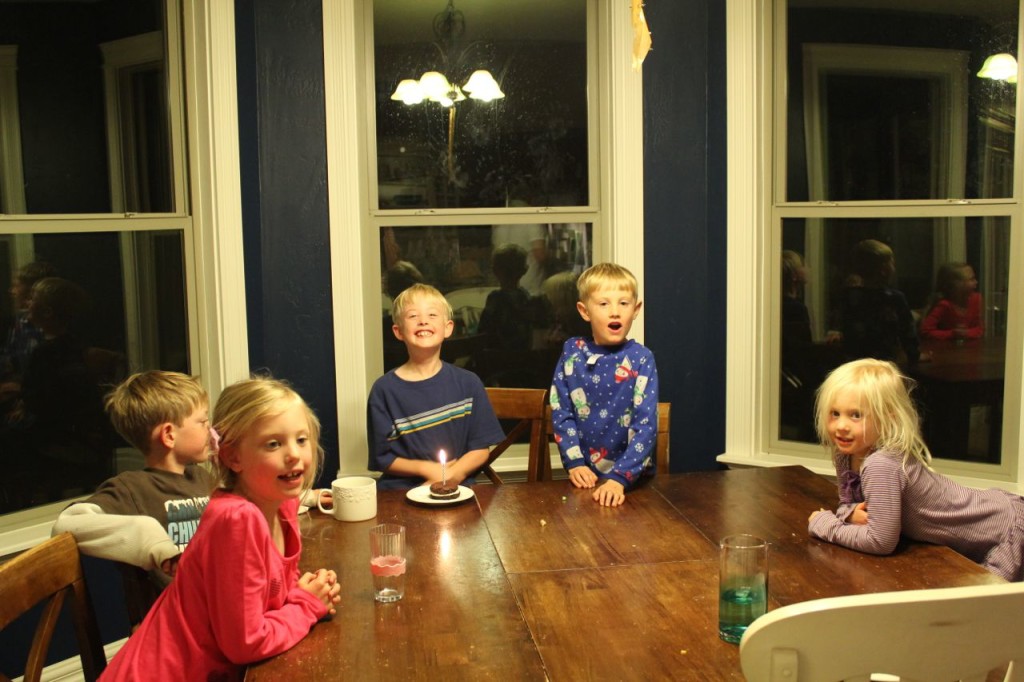 We rotate each year who gets to go in what order. This was Sawyer's year to go first.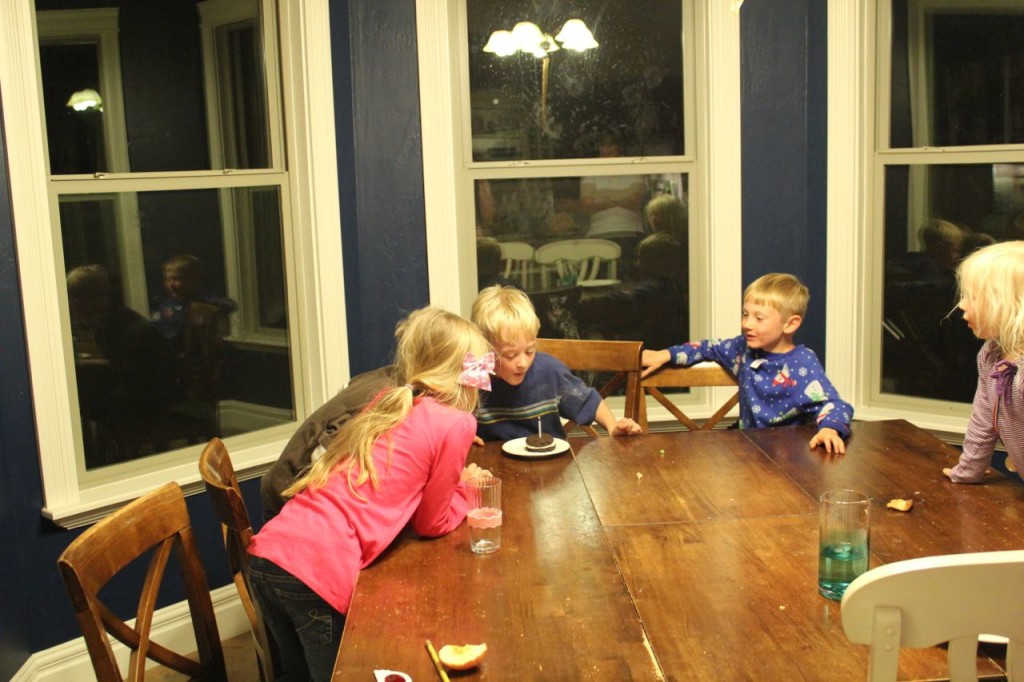 For their birthday, we decided to take them to Disneyland.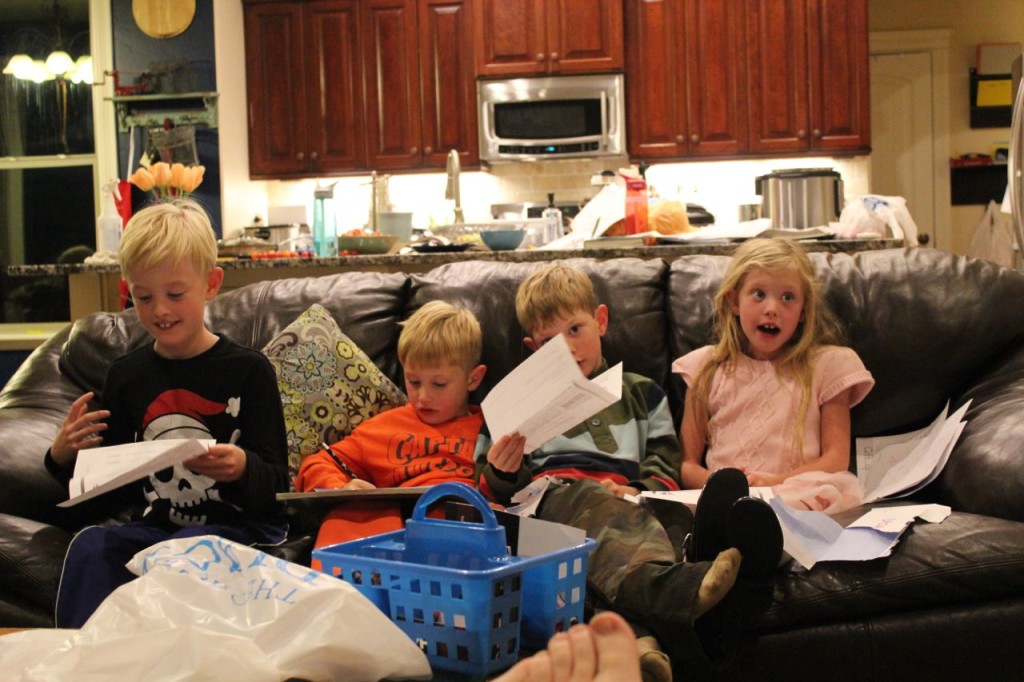 They each got a Mickey or Minnie shirt and a plane ticket. You know what that means? I had to go back to the Disney store AGAIN.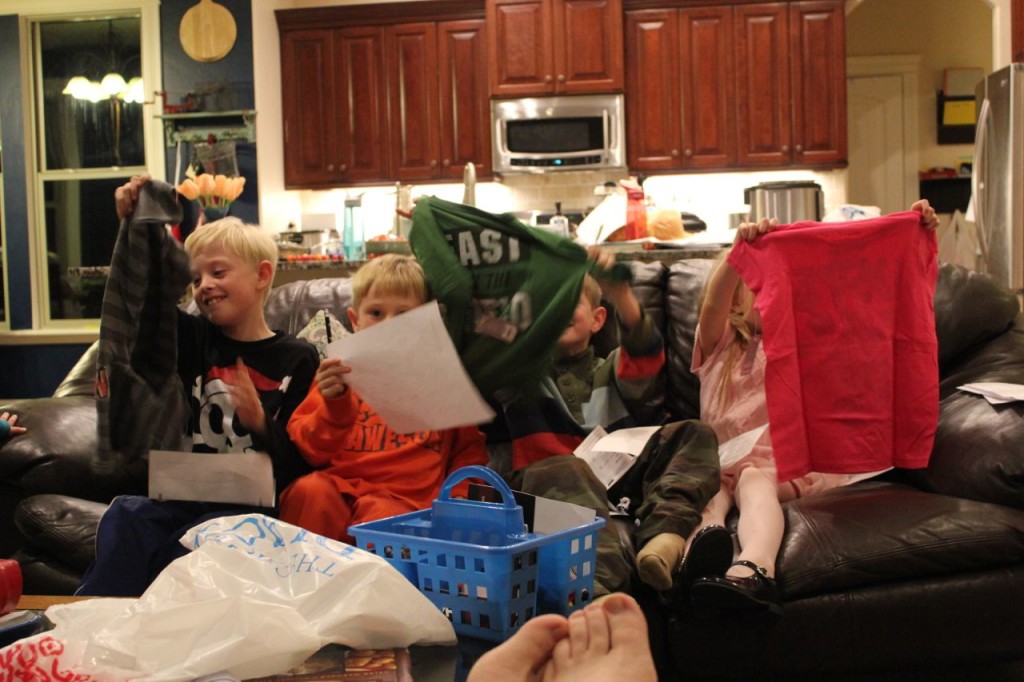 Brinlee's and Sawyer's faces are priceless. Kimball still hadn't clued in.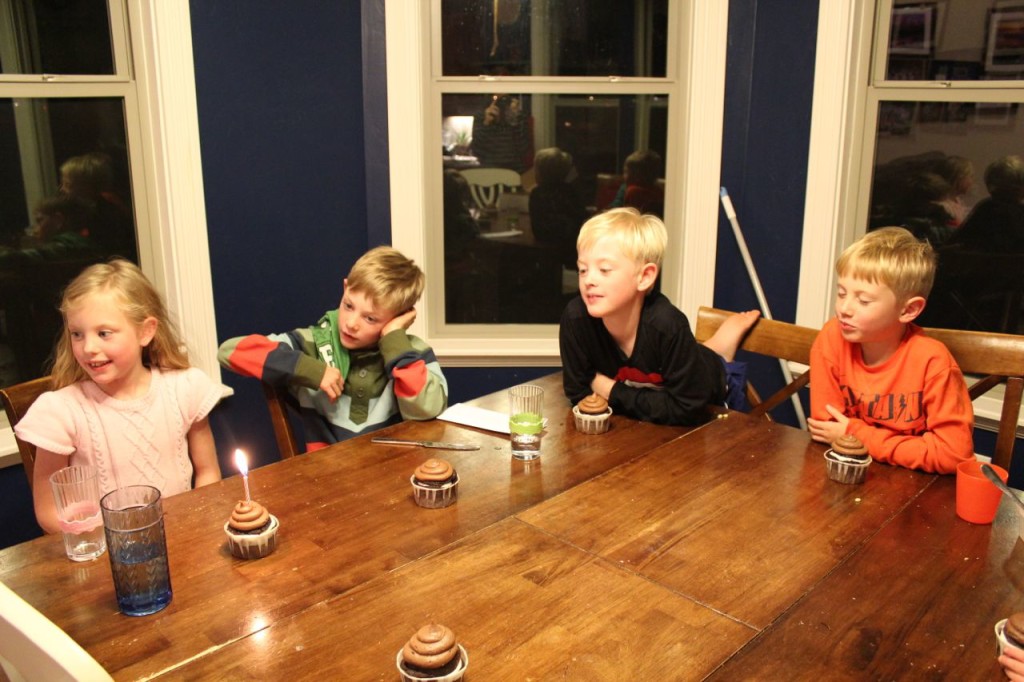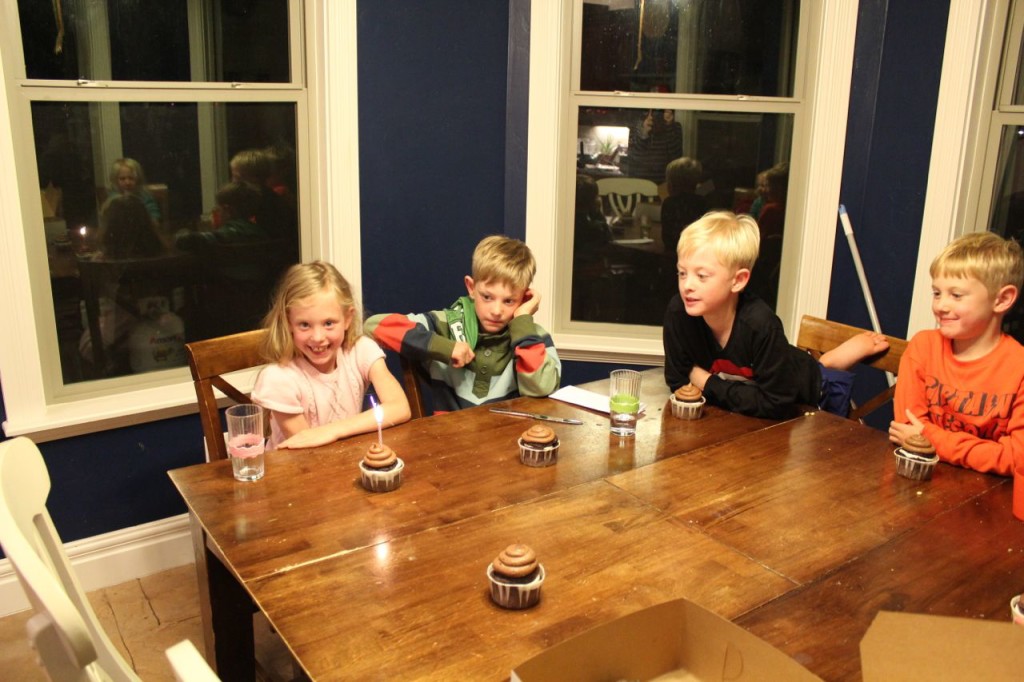 Happy Birthday Brinlee Boo!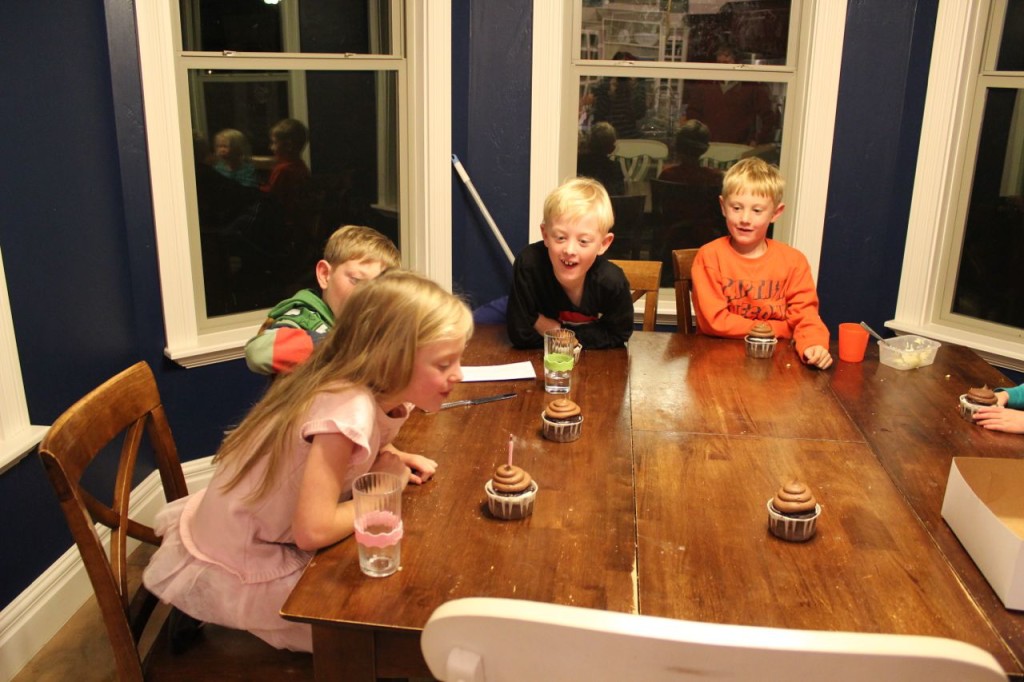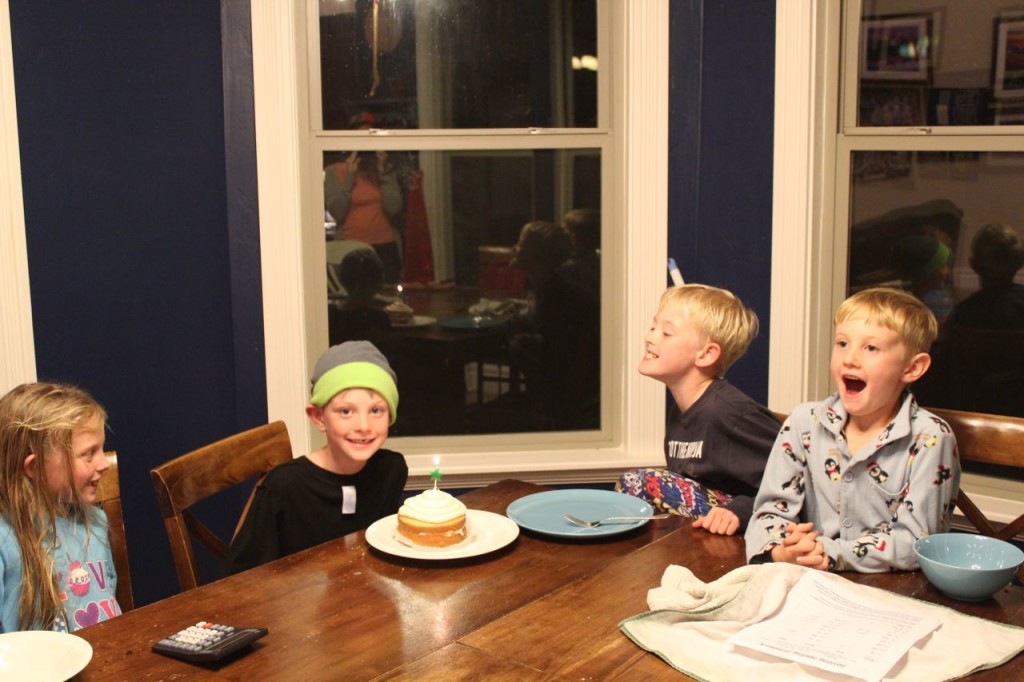 The next night was Kimball's night. the whole family got cupcakes three nights in a row. It's a delicious time of year!

Once again Kimball has dressed himself in something creative.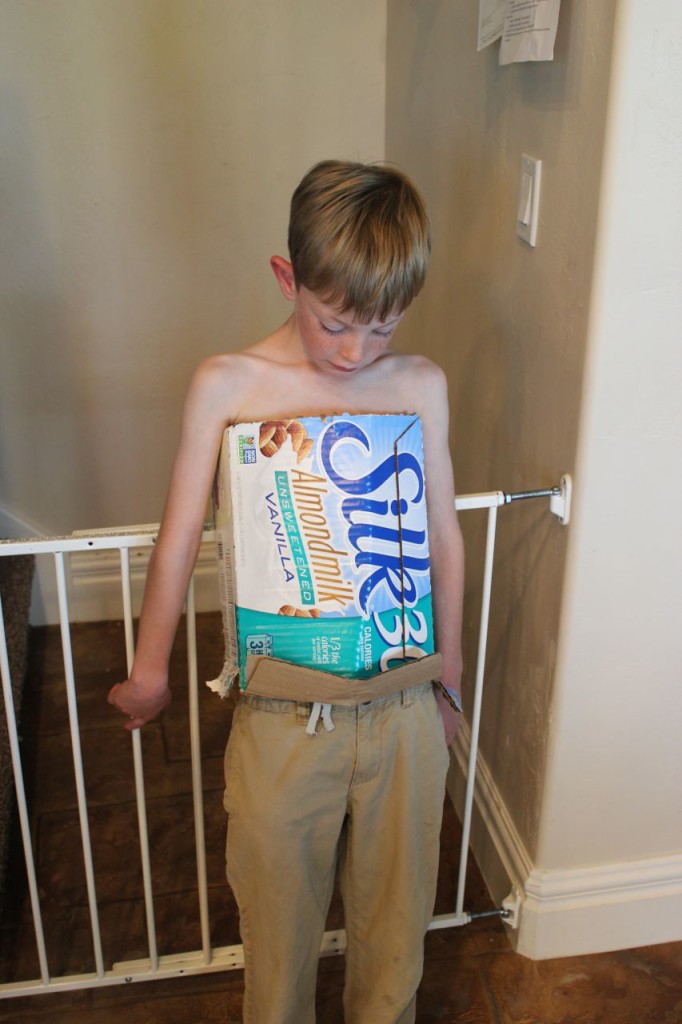 I don't remember why he was so sad, but it had nothing to do with his shirt. Or lack thereof.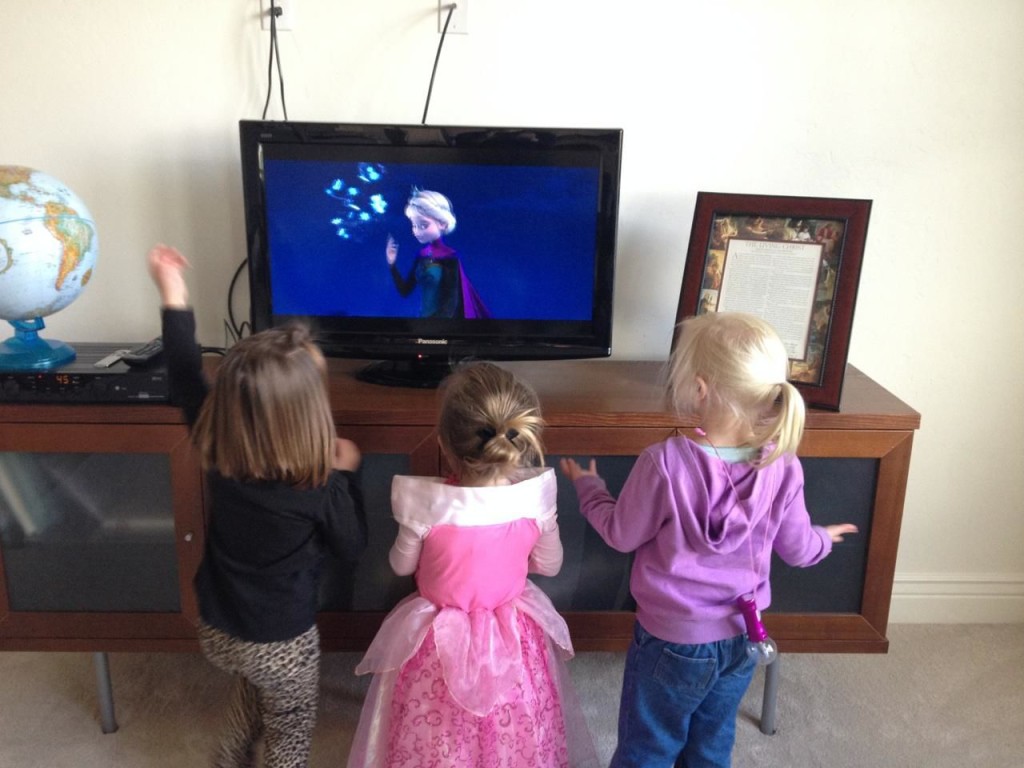 Daisy over at her friend's house having a Frozen sing-a-long.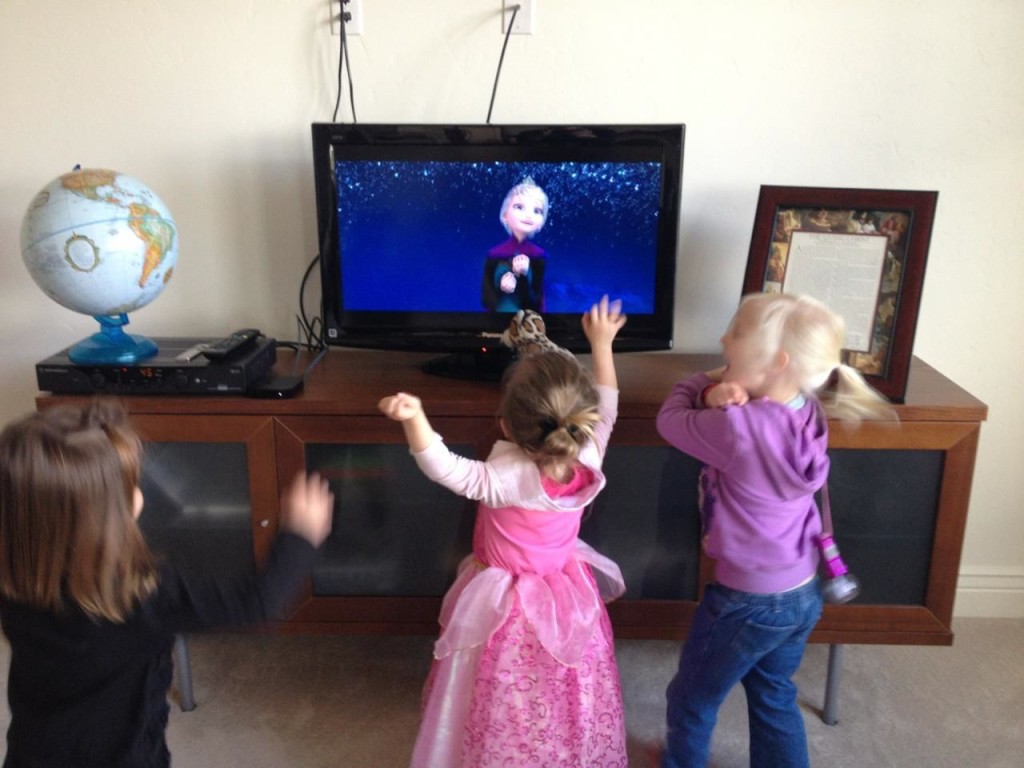 It was intense.