In mid-November, we took Brinlee, Sawyer and Kimball to Disneyland for the first time ever! I was also my first time ever. We flew out on Friday evening, just the five of us. Such a small group 🙂 . Saturday morning was magic morning, so we were in line bright and early with our park hopper passes. Sadly, a lot of the rides that are open for magic morning were down. Our very first ride was Matterhorn. That ride needs to be refurbished or burned down. It is like taking a beating. We all agreed never to go on it again.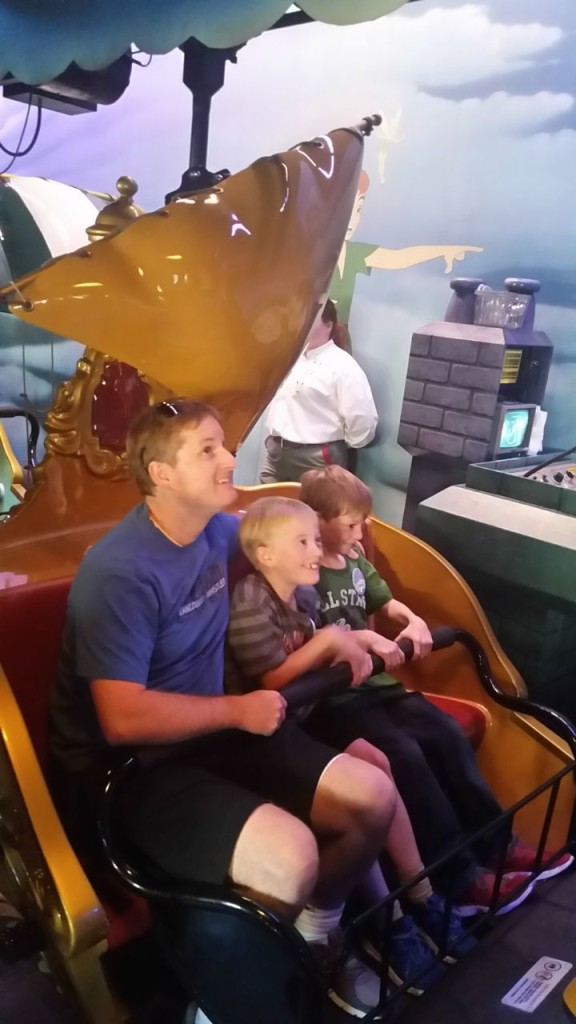 Peter Pan's flight was much nicer!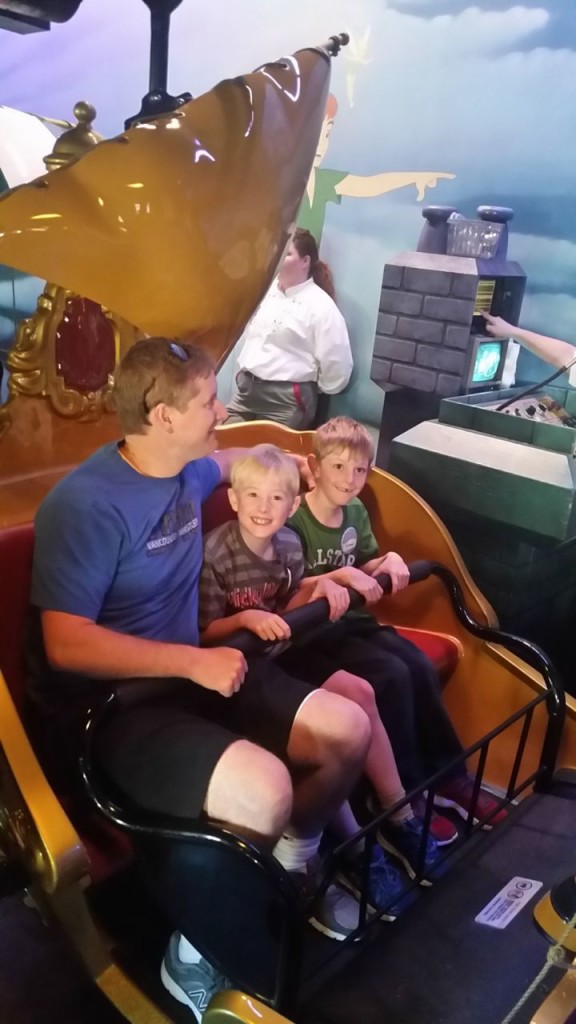 Kimball liked this ride. Turns out, Kimball hates roller coasters or anything exciting or fun. Sawyer LOVES them, and Brinlee can go either way, depending on the ride.
The race cars were ok as long as we didn't go too fast for Kimball. Sawyer couldn't go fast enough.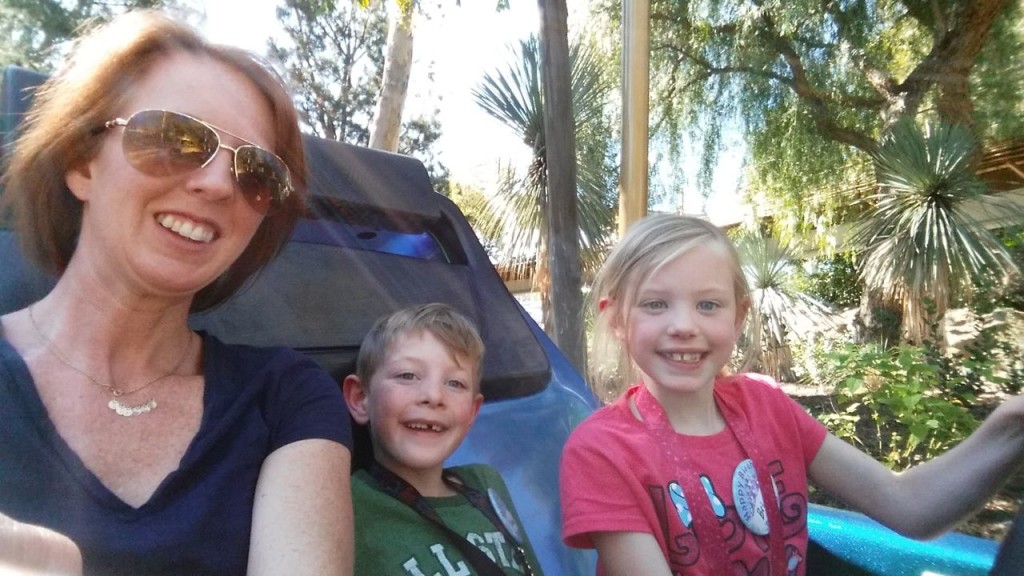 When we went on the Indiana Jones ride, Kimball nearly gave himself a stroke trying to get out because as our car moved forward a little, he wasn't buckled in and he thought he was going to die. Literally, he feared for his life.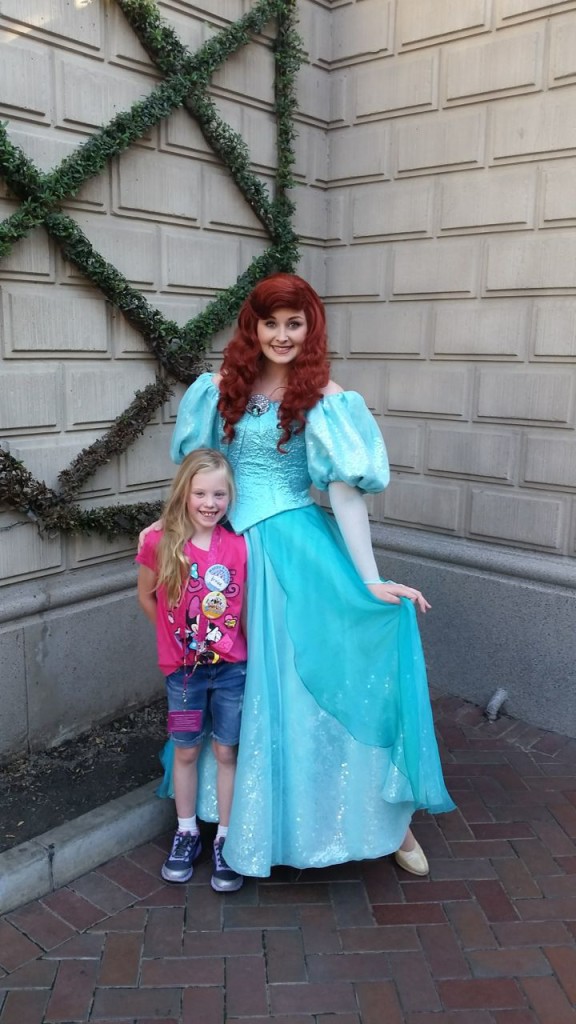 Brinlee was so excited to meet princesses. Her hair had started out in a braid, but for some reason she took it down. When she saw Ariel, she started combing her hair with her fingers and trying to make it look better. Being in the presence of a princess will do that to you.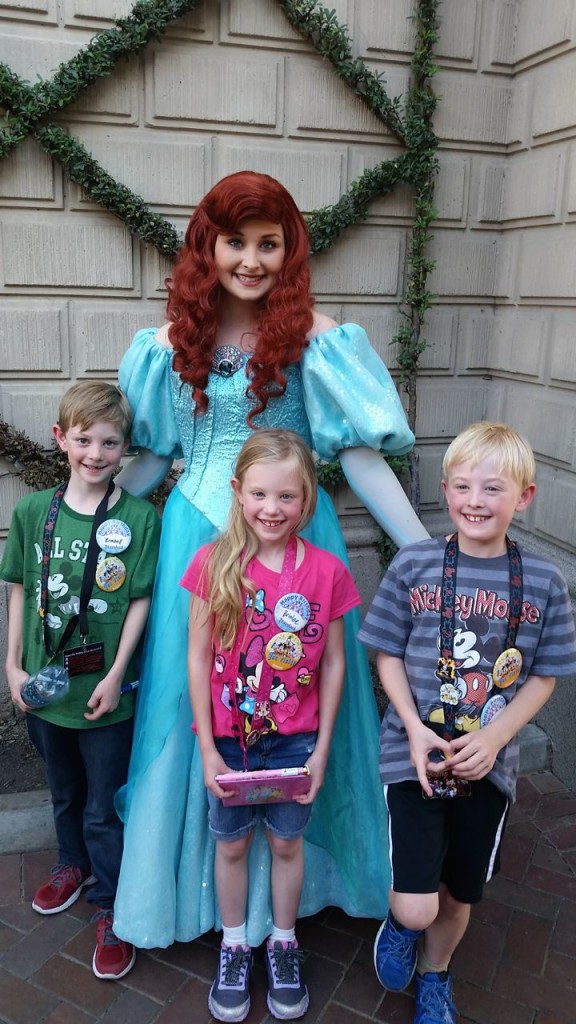 Any time we talked about princesses, the boys would groan and complain. These two were more star struck than their sister! Being in the presence of a pretty girl can do that to you. Get used to it boys. It's going to happen a lot in your lifetimes.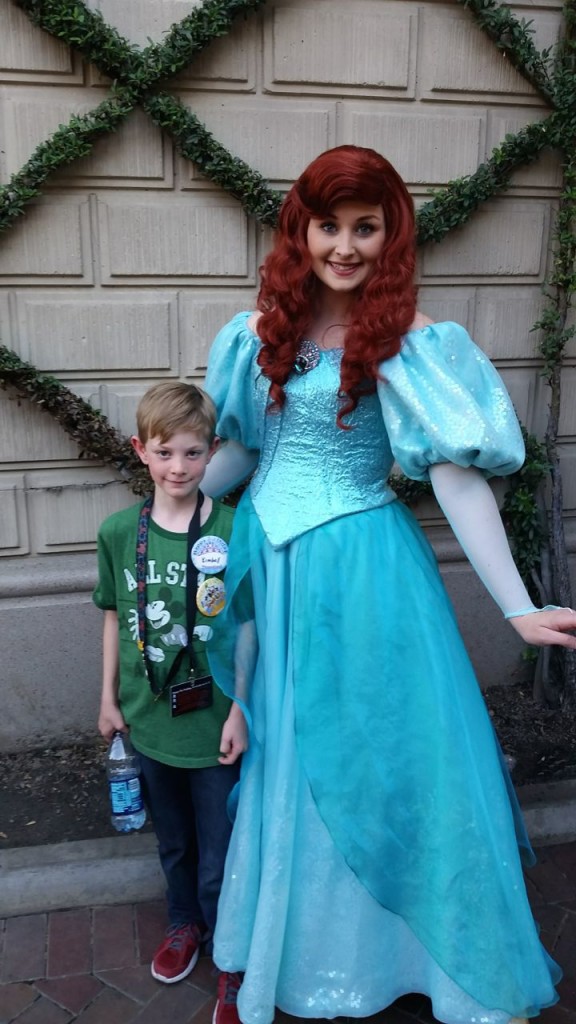 We had gorgeous weather all four days, even in mid-November. The mornings were cool (to me, but I'm always freezing), but it got up to about 90 during the day.
Our favorite roller coaster ride was the Thunder Mountain Railroad. Just enough thrills without the threat of possible death. Even Kimball liked it. We rode it the most.
We did have an odd experience with a guy while we were in line for Space Mountain, this odd man struck up an odd conversation. He clearly wasn't normal. He seemed nice enough and was there alone, and clearly looking to make friends. We hung back in line to let him go ahead. Since we were an odd number, he would have been riding with one of our kids or me. We didn't know him, and so a ride alone in the dark with any of us was out of the question. As much as I try to assume the best of people, when it comes to my kids, I don't. When we got off the ride, he was waiting for us. It was sad, but we had to ditch him. We didn't know him, and when it comes to our kids, we don't take chances. Sorry stranger. I hope you found some other friends.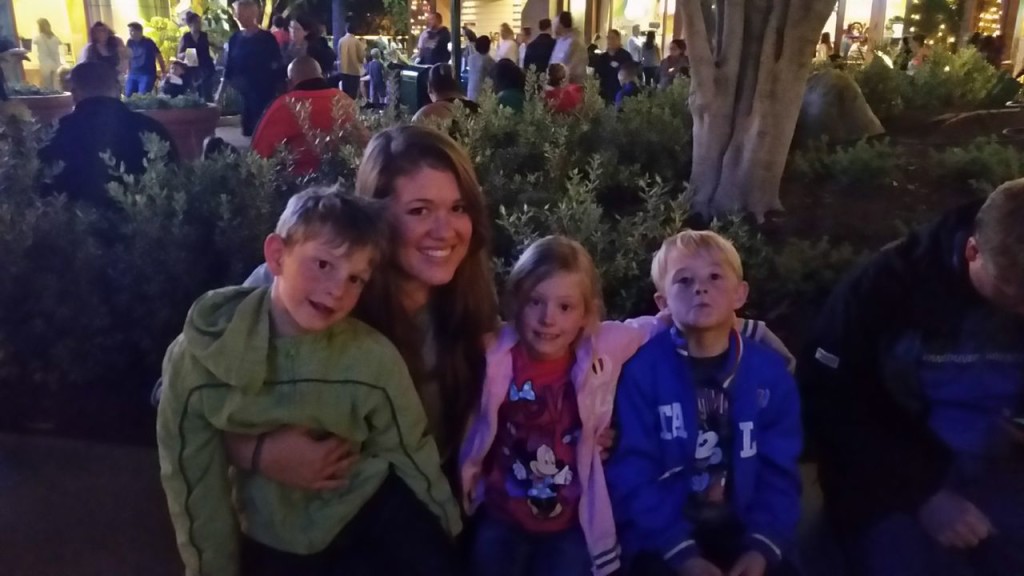 We went to Downtown Disney that night and to meet up with one of our old babysitters, Becca. We love her.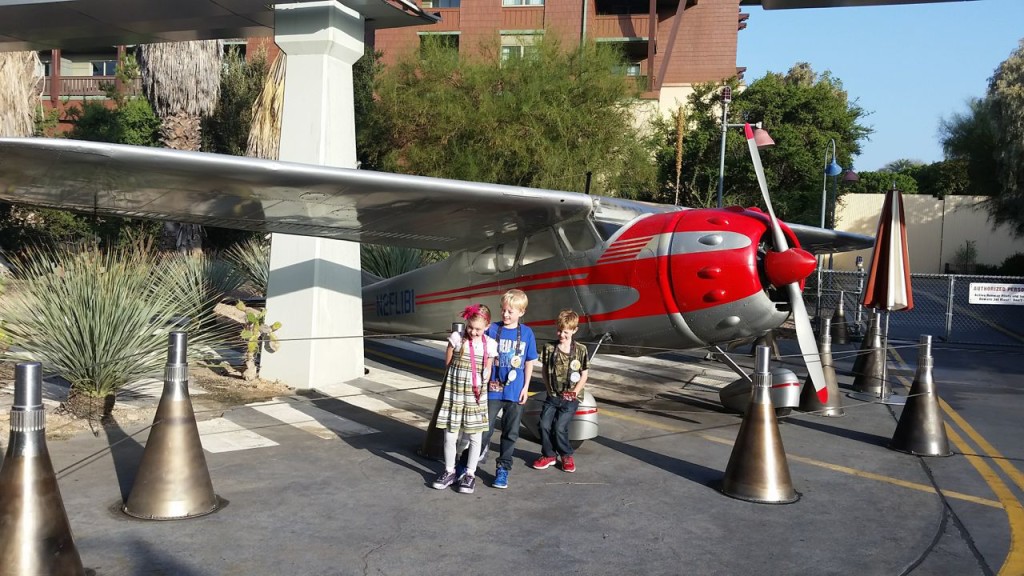 Sunday Morning we went to California Adventure.
This may have been one of our least favorite rides. It is floating air tire things. It is related to Cars.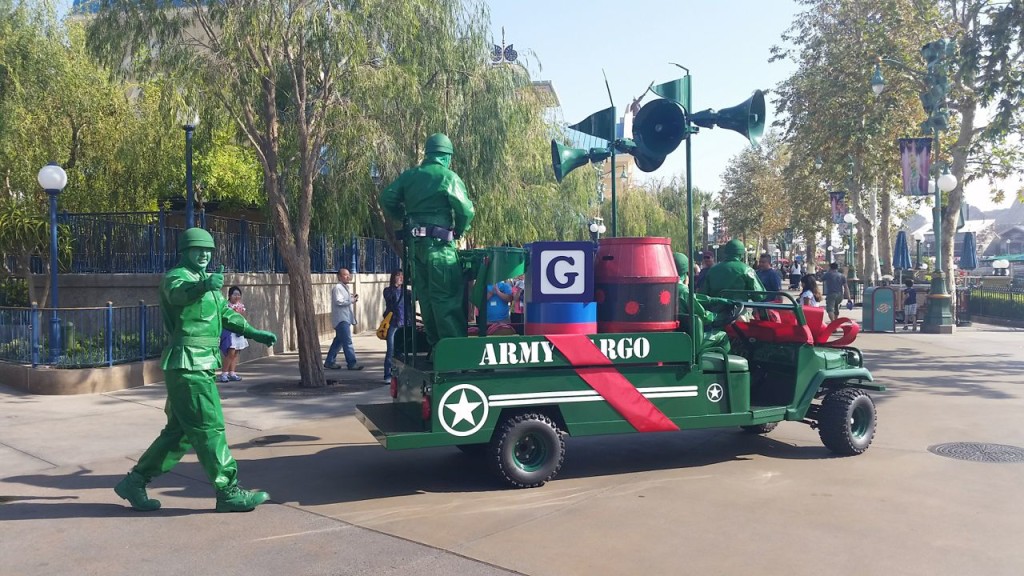 The army men from Toy Story came by.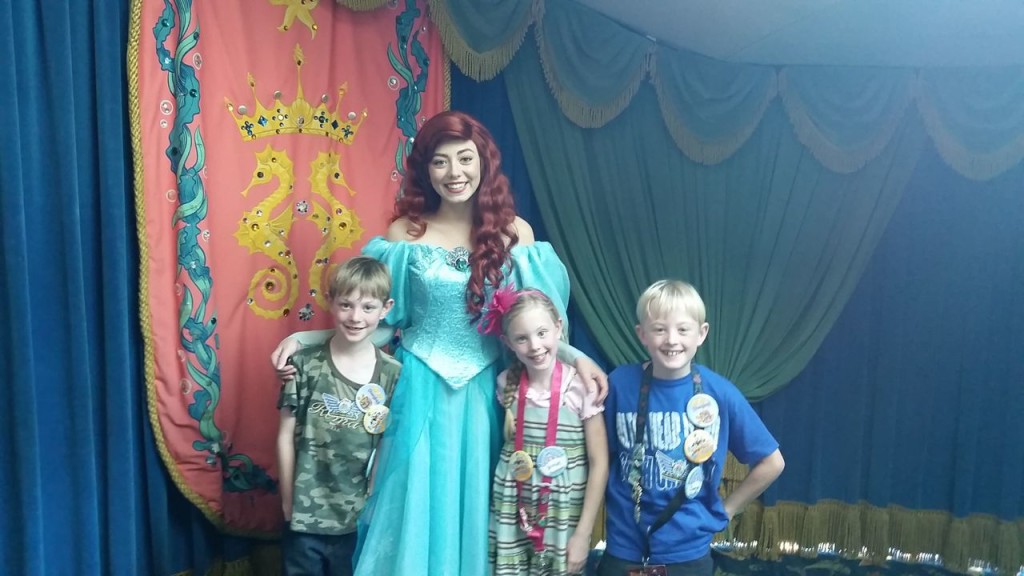 We went to Ariel's Grotto for the princess lunch experience. Once again the boys grumbled.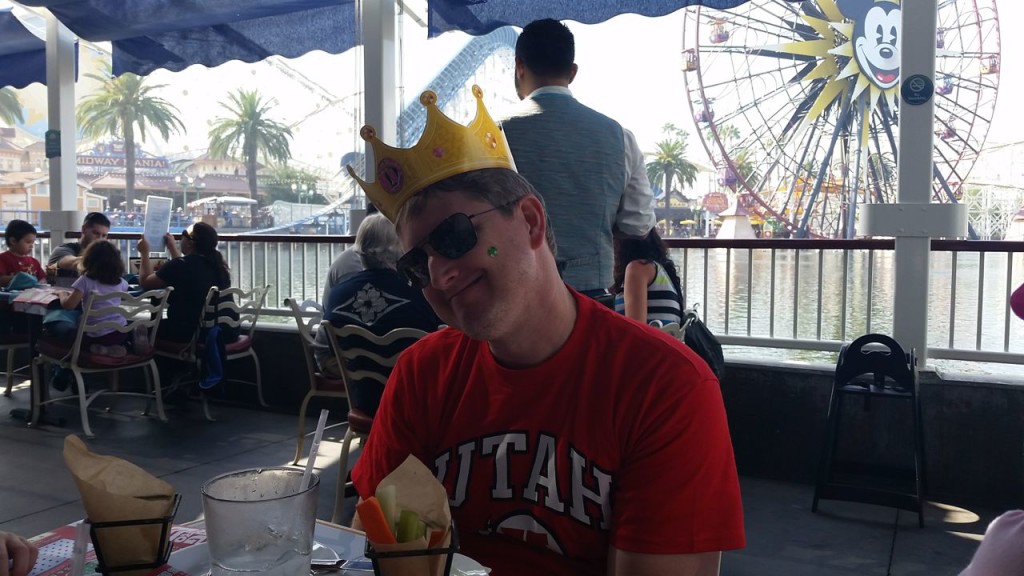 But Adam was a good sport.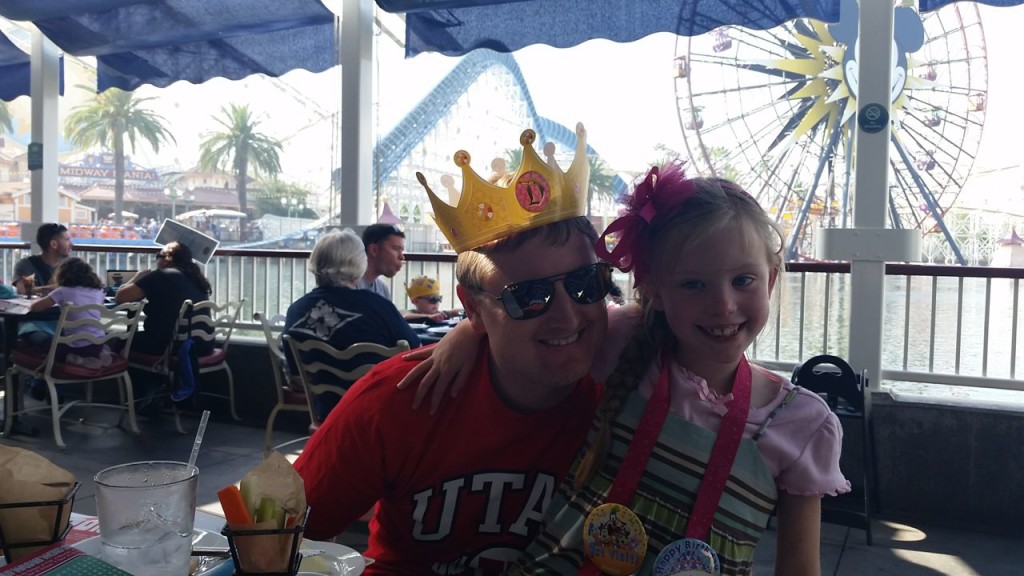 He's not ashamed of feeling pretty.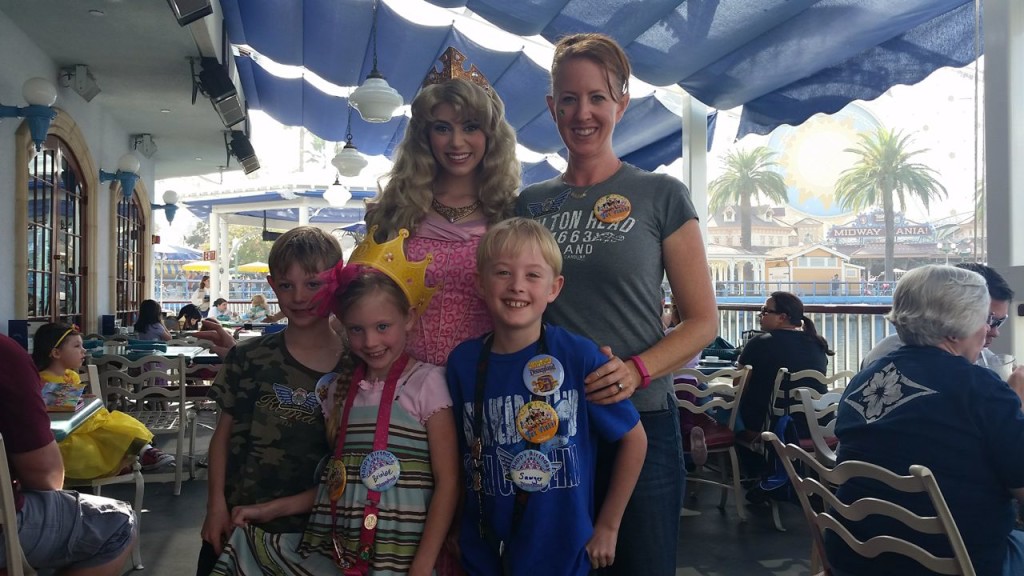 Once the princesses started appearing, it was a whole different story. Sleeping Beauty was a hit.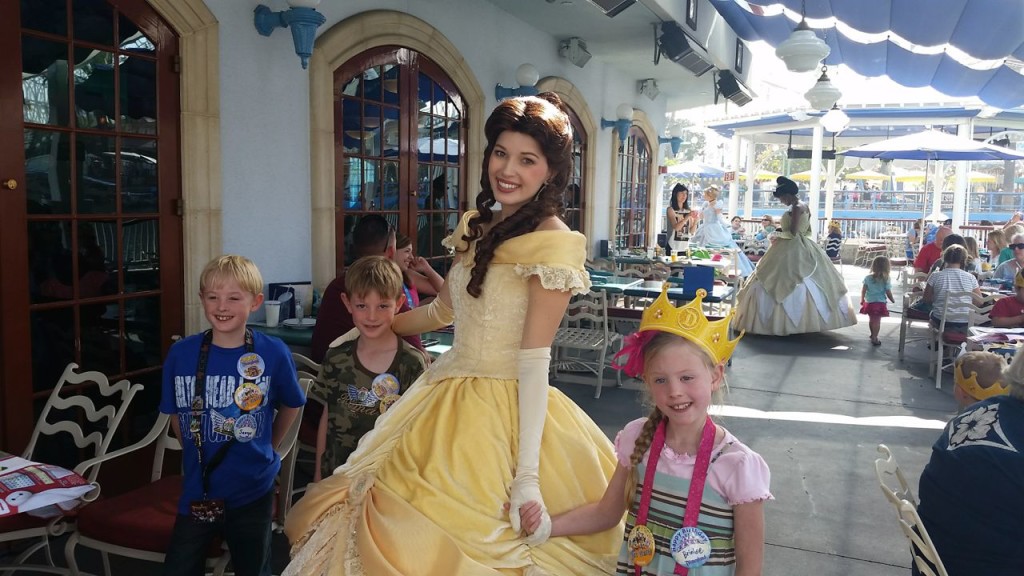 Our kids didn't know who half these princesses were. I don't think they've seen most of these movies. Poor Belle. She was a stranger to them.
They saw The Princess and the Frog once, but I thought it was too scary, and I didn't like the voodoo parts. When he gets drug into the pits of hell by the dark spirits, the kids got kind of scared and asked me what happened to him? I told them he went to time out. They were four at the time. So Tiana is also unknown to them.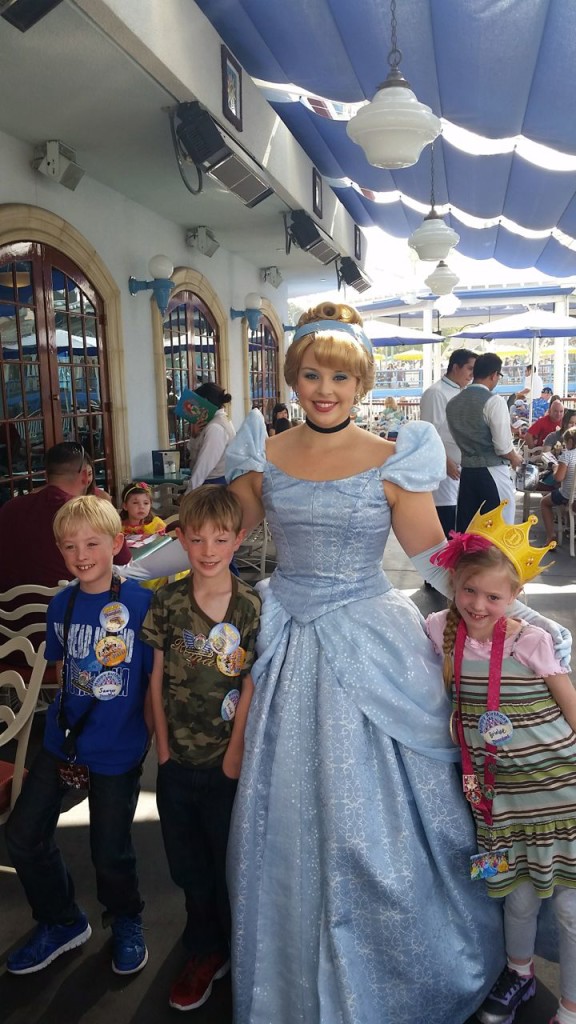 They know who Cinderella is from reading fairytale books, but they couldn't have identified her in a line up as Cinderella.
That afternoon we met up with Uncle Jonny, Aunt Vanessa and cousin Avery at Downtown Disney, though somehow I didn't get any pictures. Boo. They live about 15 minutes away.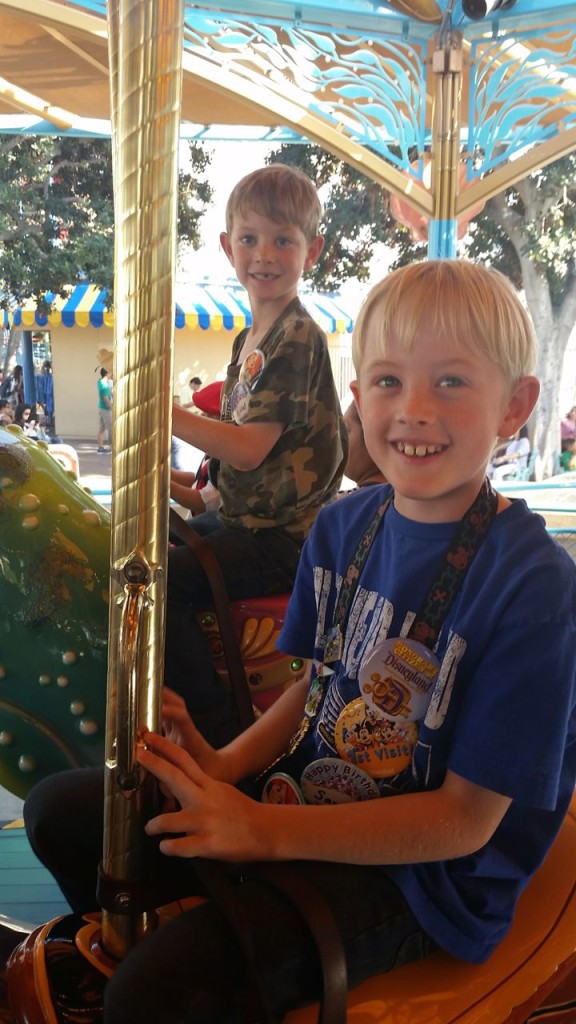 Kimball liked the carousel. Nice and slow.
Now THIS is my favorite ride. It's the first big ride I ever went on. I was three and my mom didn't know what it did, but I wanted to go on it. She was in a full panic on the ground watching her itty bitty girl flying through the air. She was sure I'd fly out of my seat. Kimball hated this one. HATED IT. He was screaming the entire time. He was convinced he was going to hit the building or something.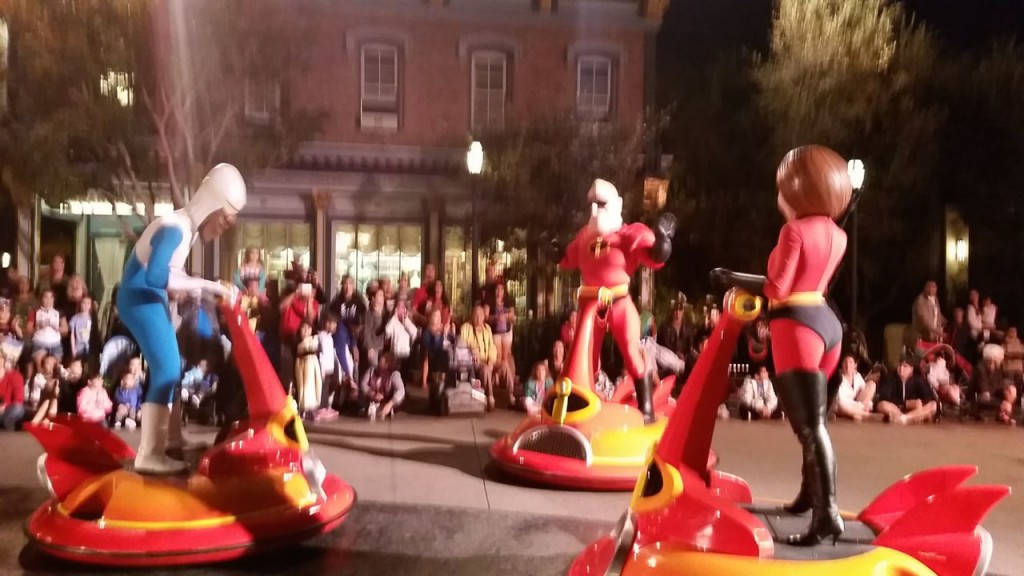 That night we saw a cool Pixar parade. My phone took super blurry pictures, so I only have a few that are even remotely passable. We love the Incredibles.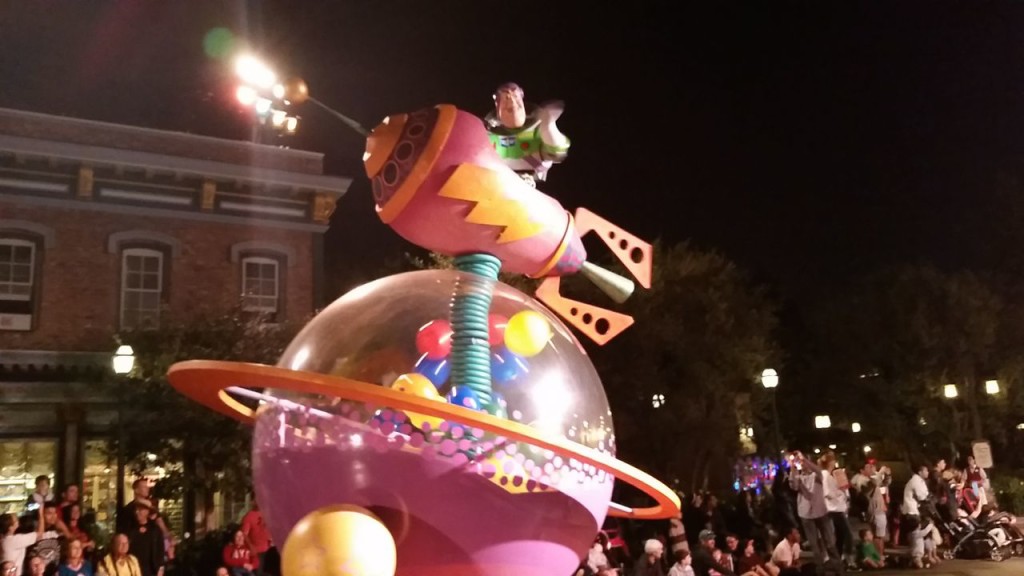 And Toy Story.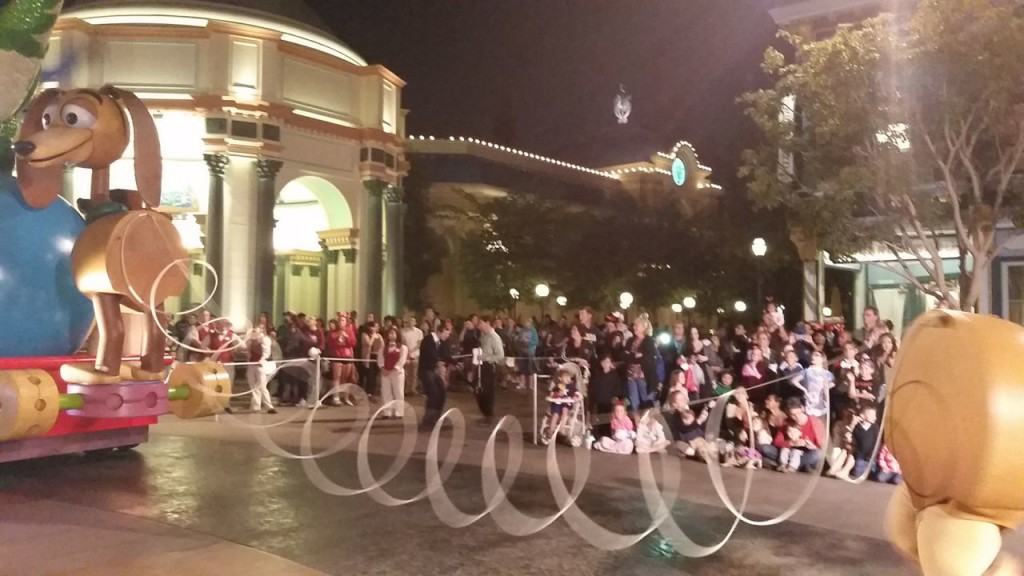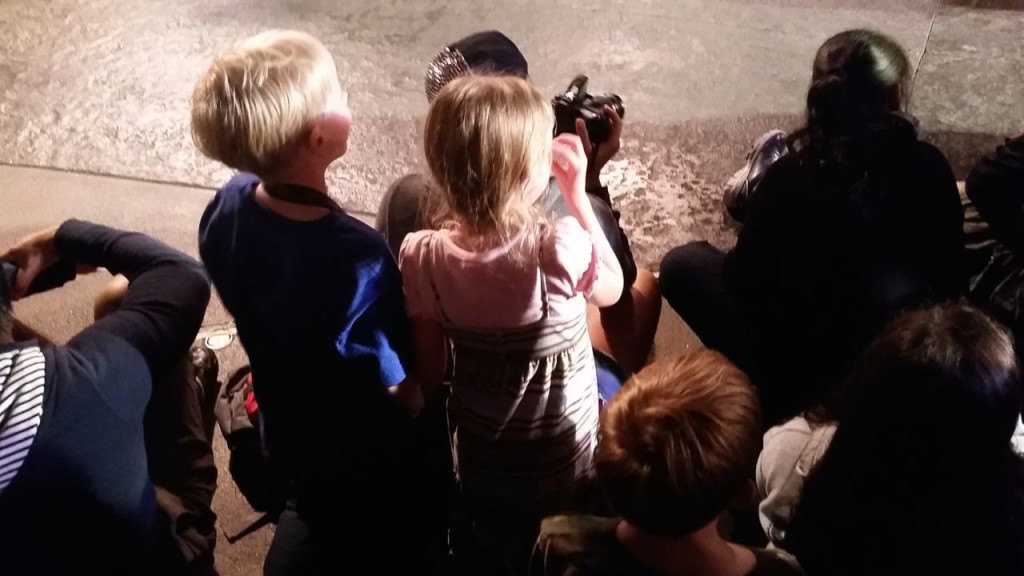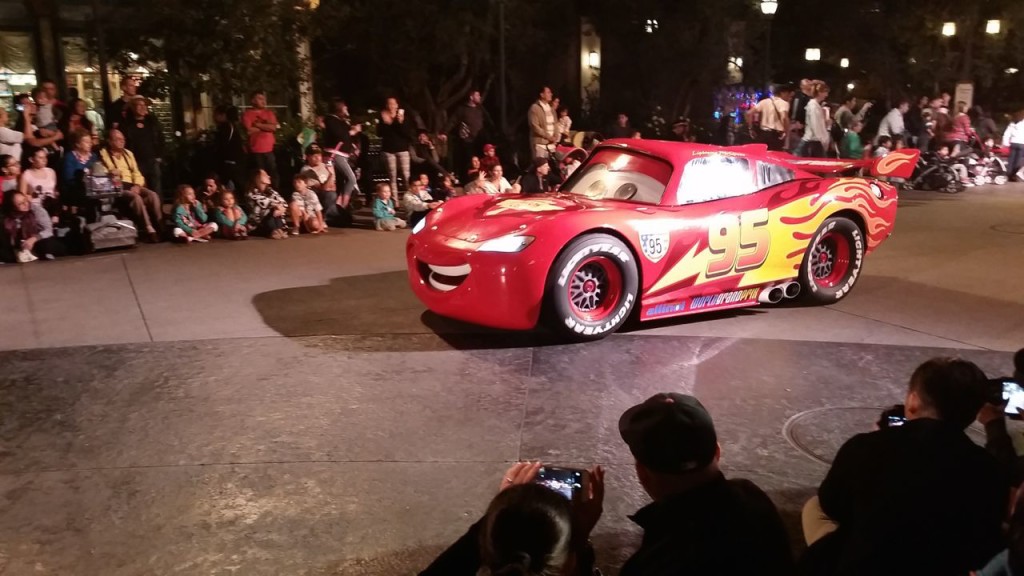 And Cars.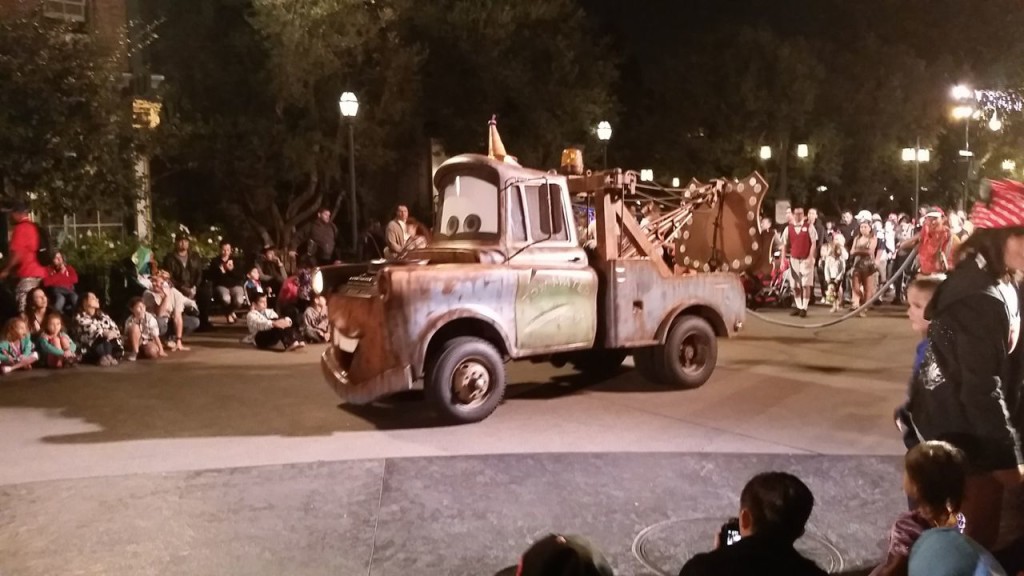 Our most favorite ride of both parks is the Cars ride at California Adventure. That was really fun. We went on it several times.
Monday Morning Brinlee decided to wear her Elsa dress.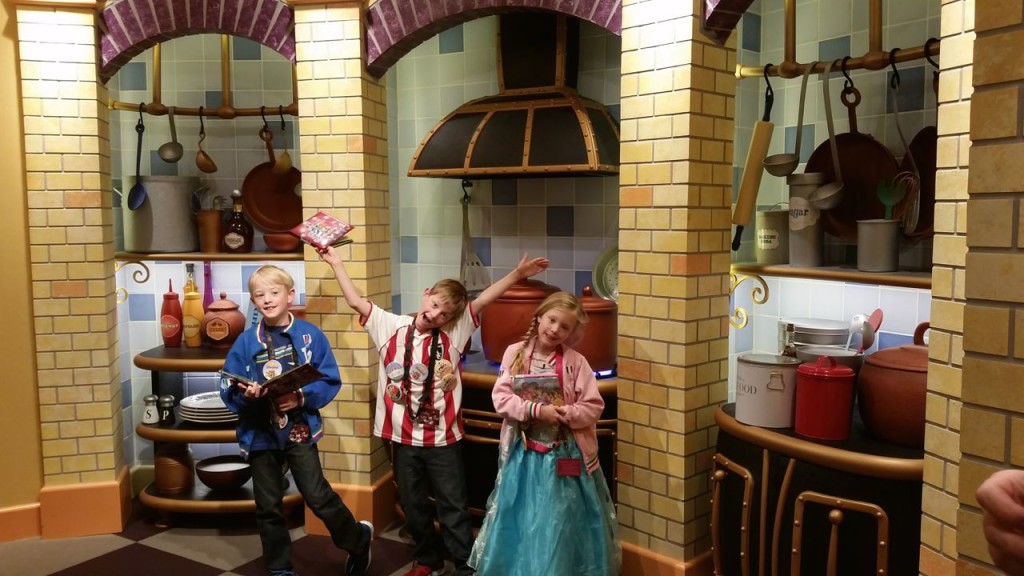 We had breakfast at Goofy's Kitchen.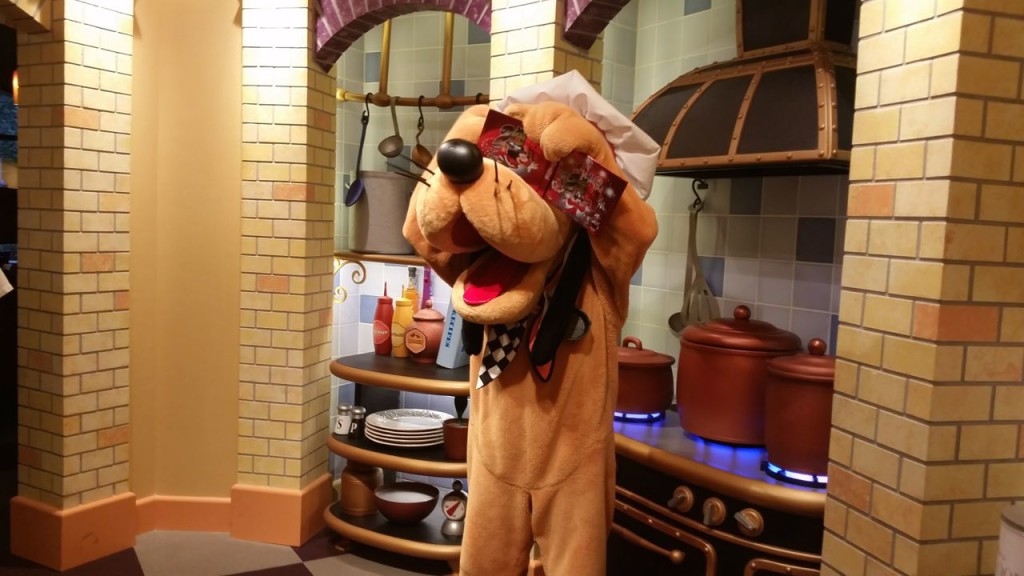 These poor characters are practically blind. Look at him trying to sign the books.
Pluto came out first.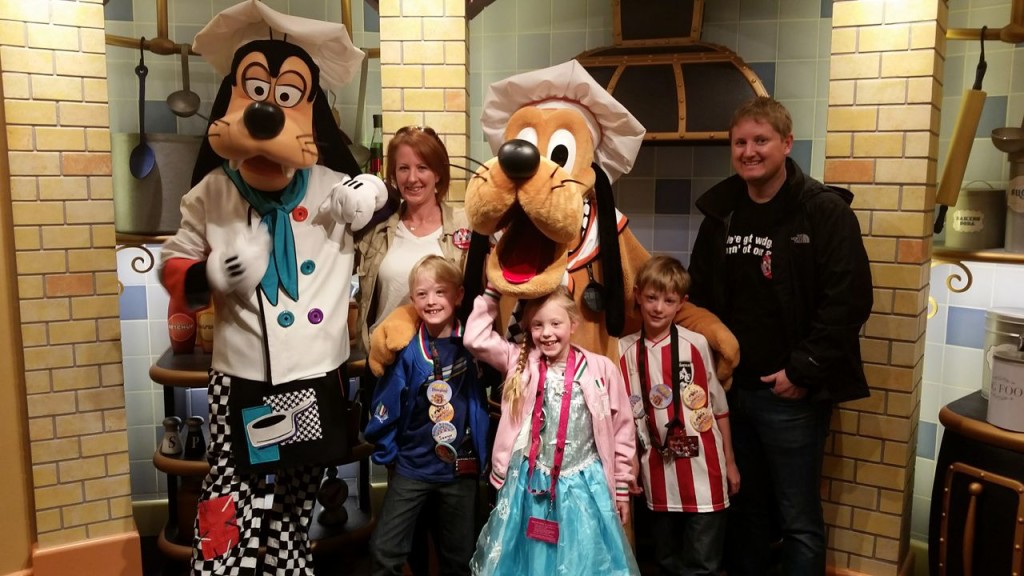 And then Goofy!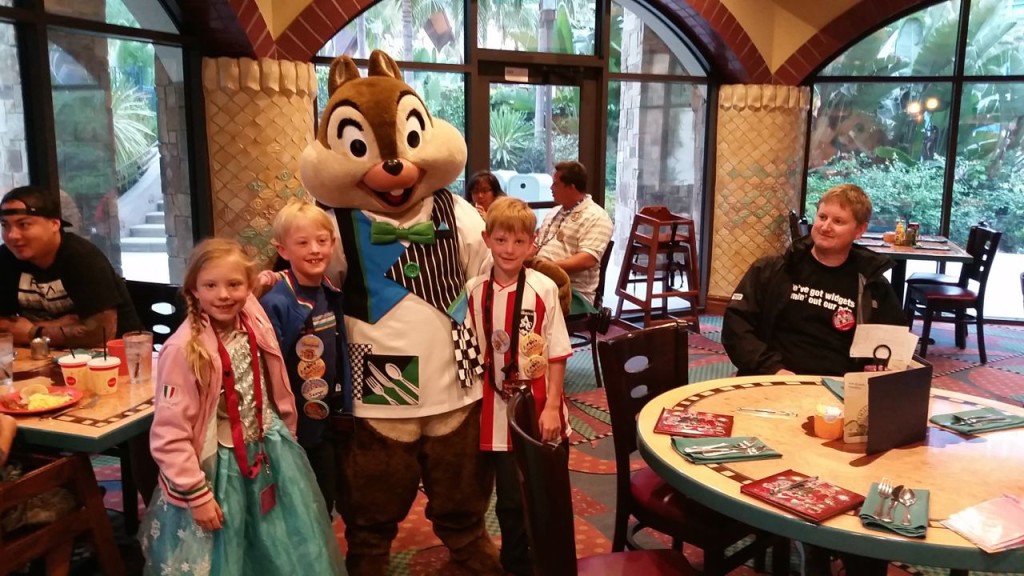 Chip made an appearance.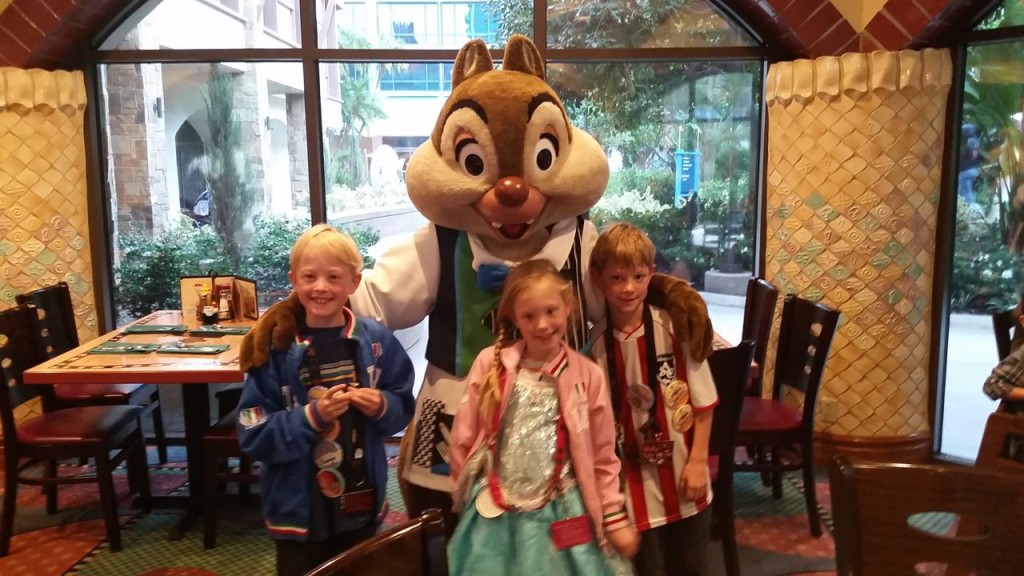 And Dale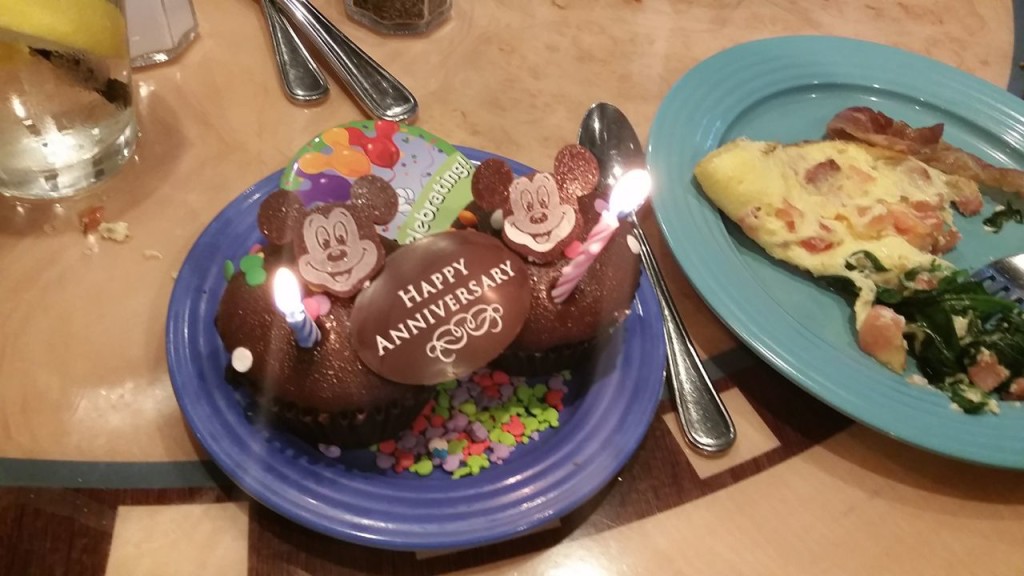 Adam and I didn't have enough buttons, and cake or something, so the server decided it should be our anniversary.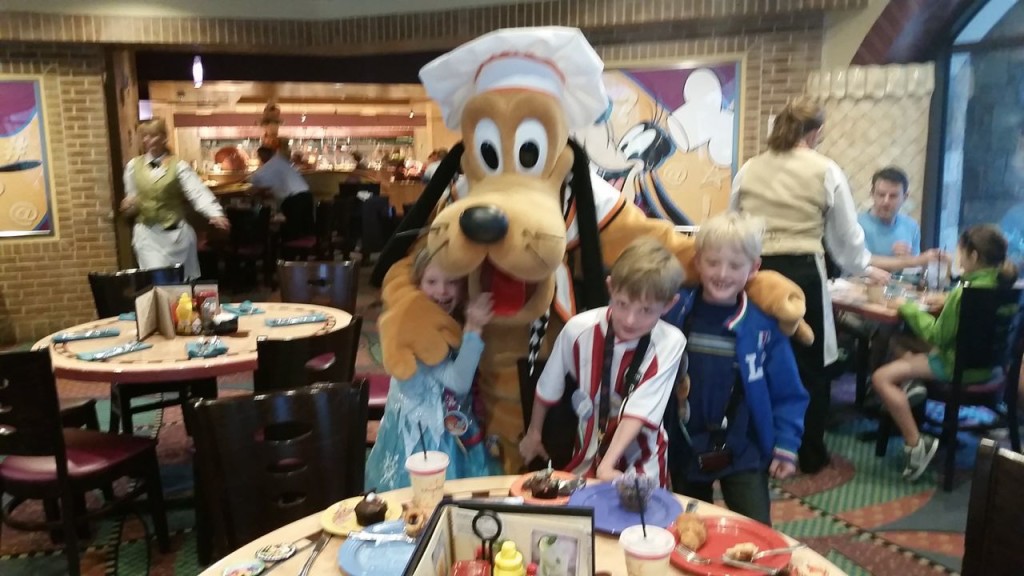 Breakfast at Goofy's kitchen is more like an all-you-can-eat sugar rush.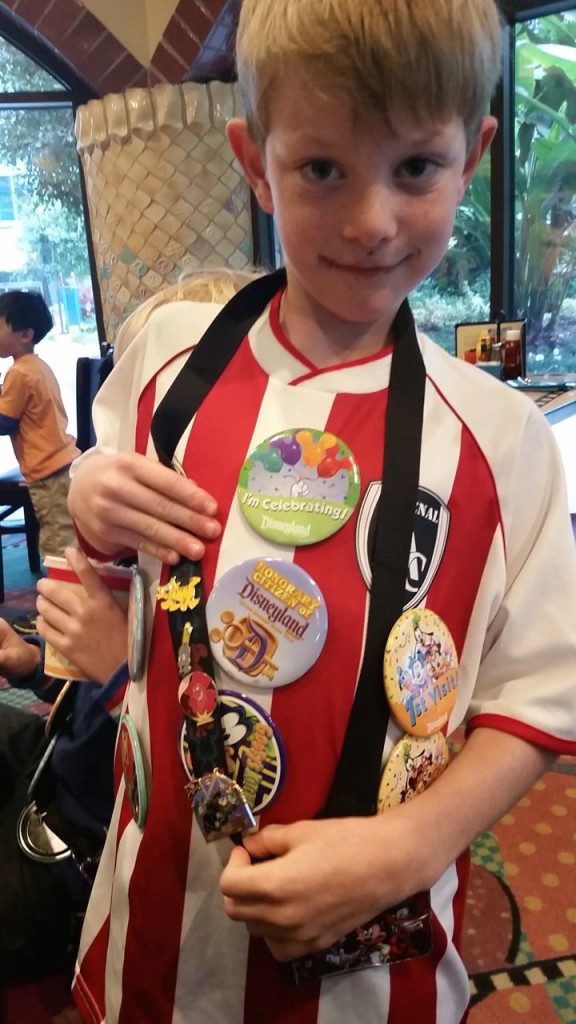 Candy, cupcakes, candy, cake, candy, frosting, candy, and sugar are on the buffet.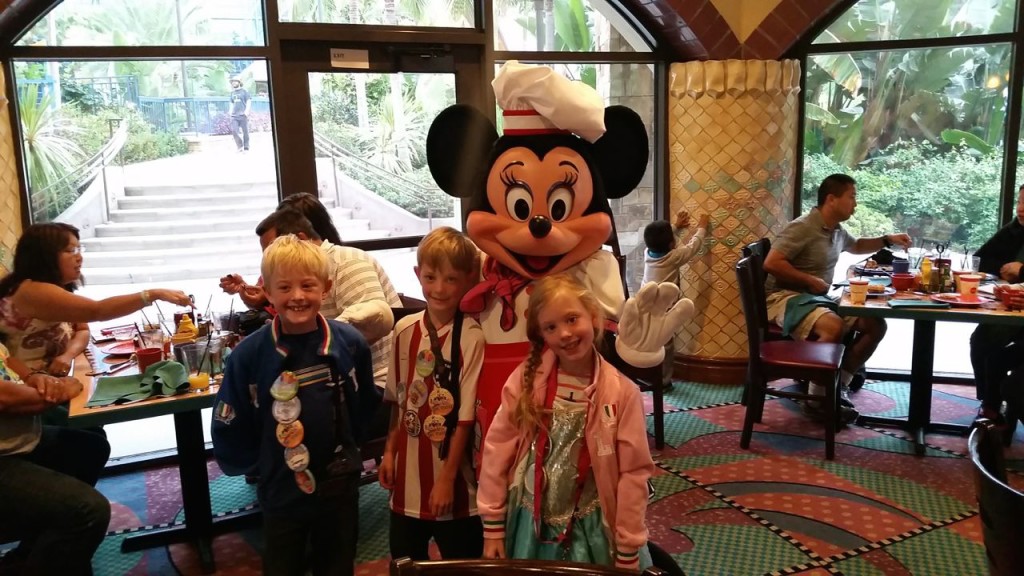 If you absolutely insist you can also get some pancakes.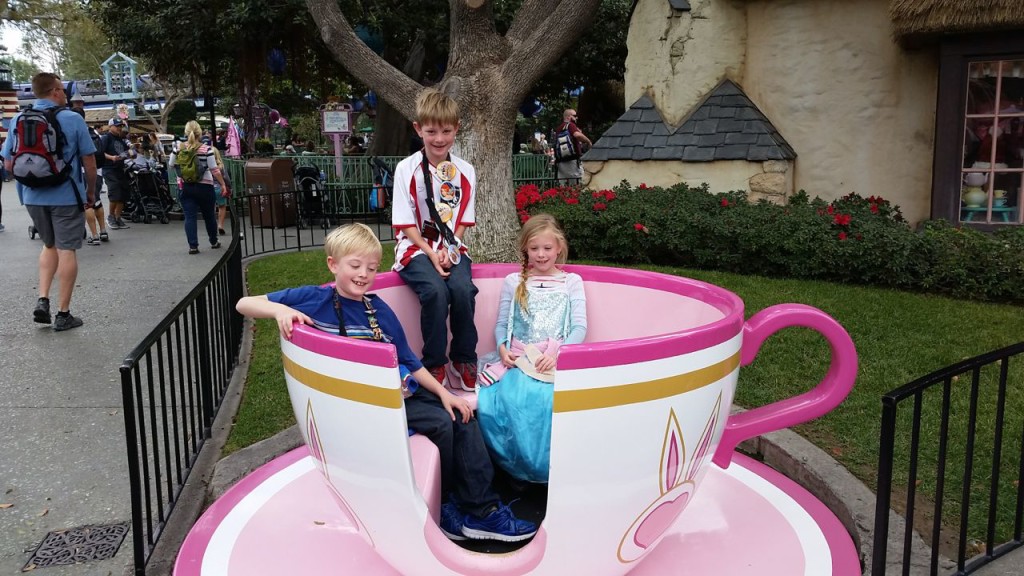 Remember that ginger candy tip from our Italy trip to help with motion sickness? That is the number one best Disneyland tip I can give you. Take your ginger candies so you don't get sick in the teacups. Take two if you are doing the Star Wars ride. Fill your pockets and suck on them as needed. It made the experience so much better.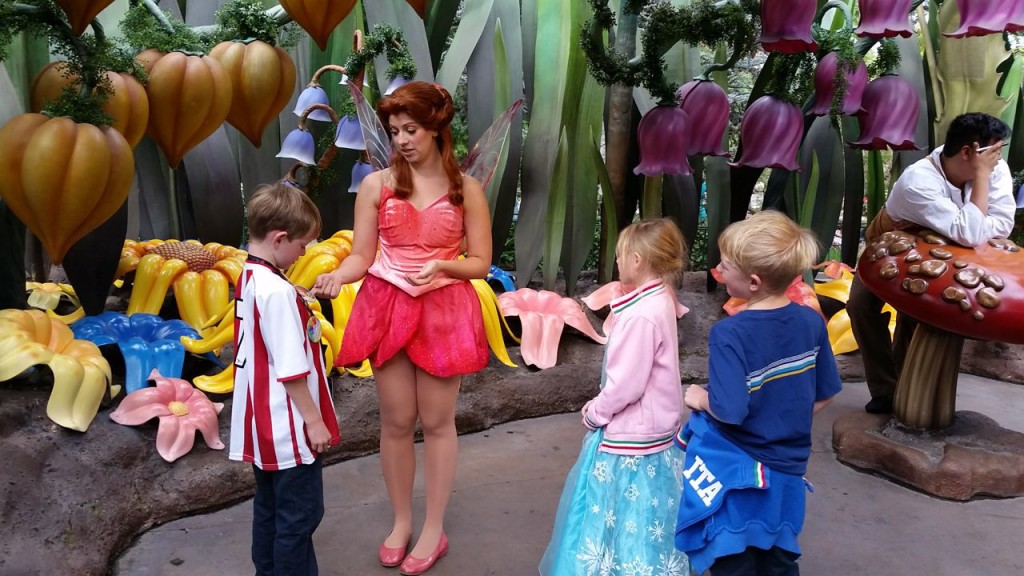 Adam had to run back to the hotel for a call, so we went to Pixie Hollow.
My kids love the Tinkerbell movies. The boys have reached an age that they feel obligated to call her Stinkerbell, thanks to my brother Leo, but they still watch the movies.
And they still blushed when Rosetta hugged them.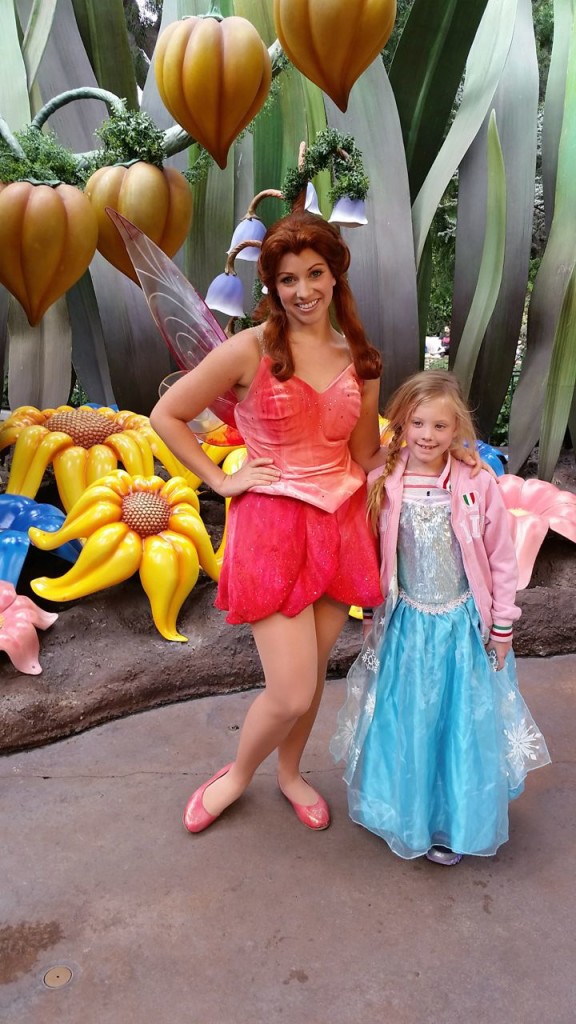 Brinlee was starting to get overheated in her dress and jacket, so I made her take them off. She wanted to wear the whole ensemble.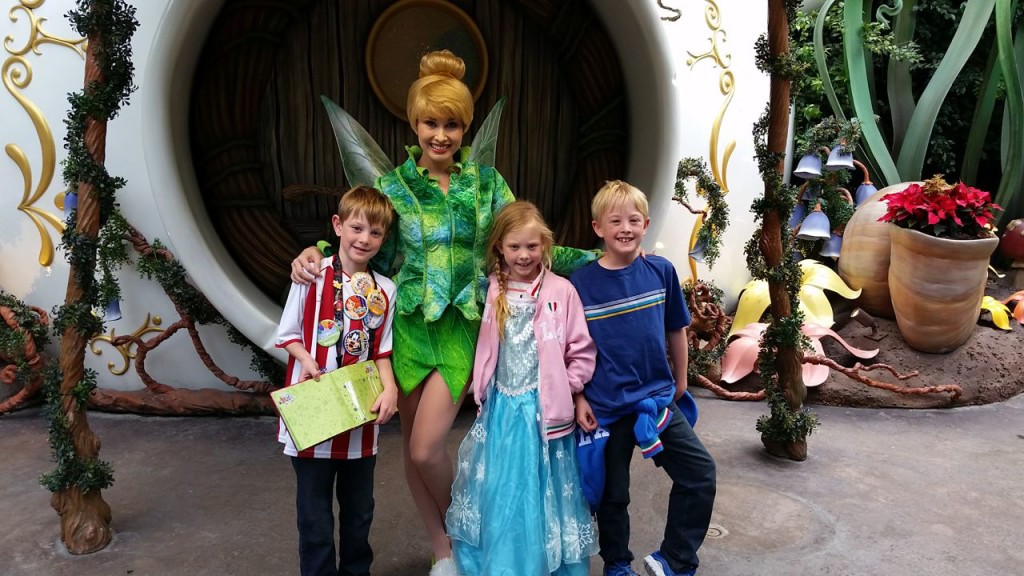 I thought the boys were going to combust when they met Stinkerbell.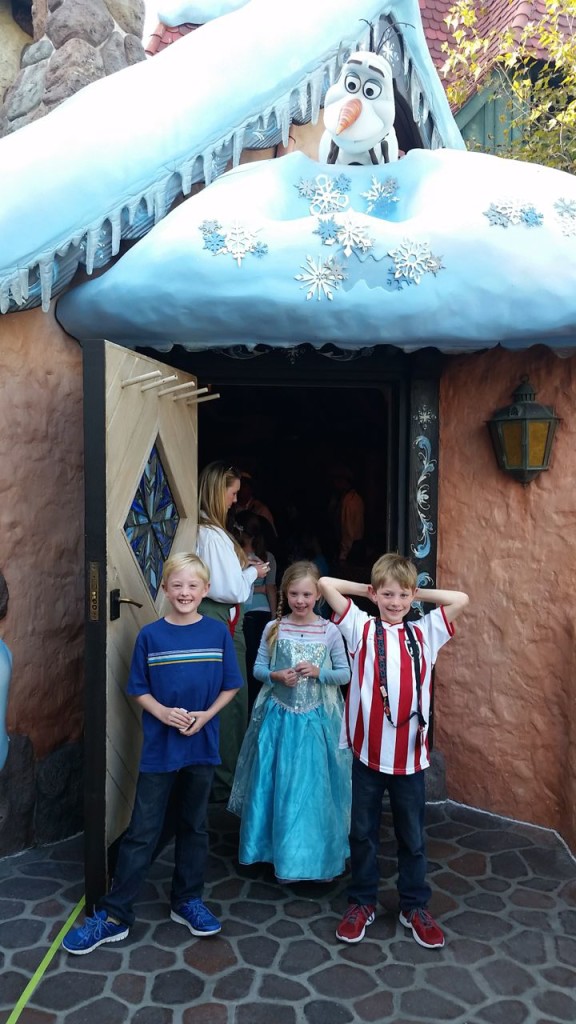 The best character meeting of course was Olaf, Anna and Elsa. Olaf hangs out on the roof talking to everyone.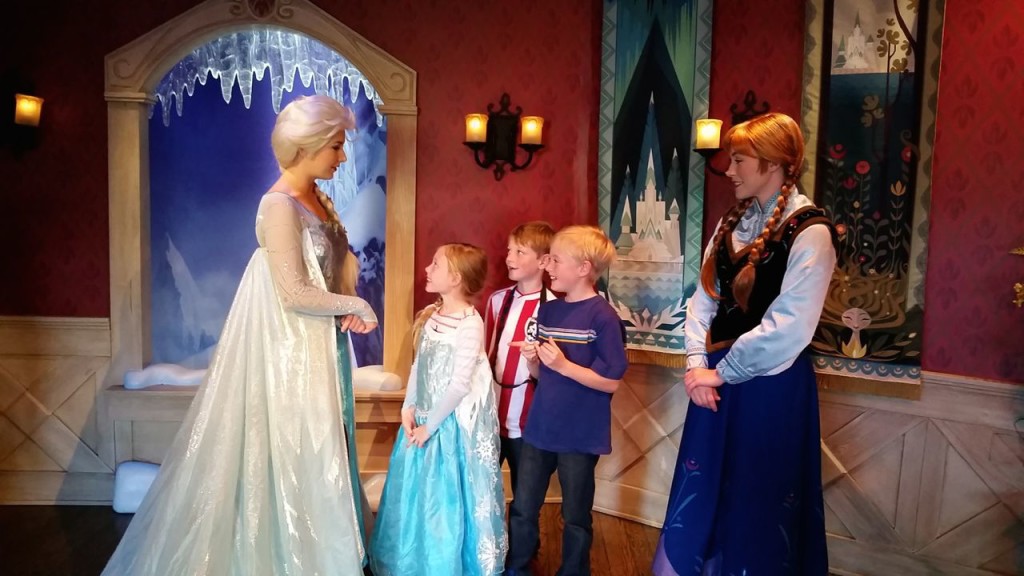 Look at those faces!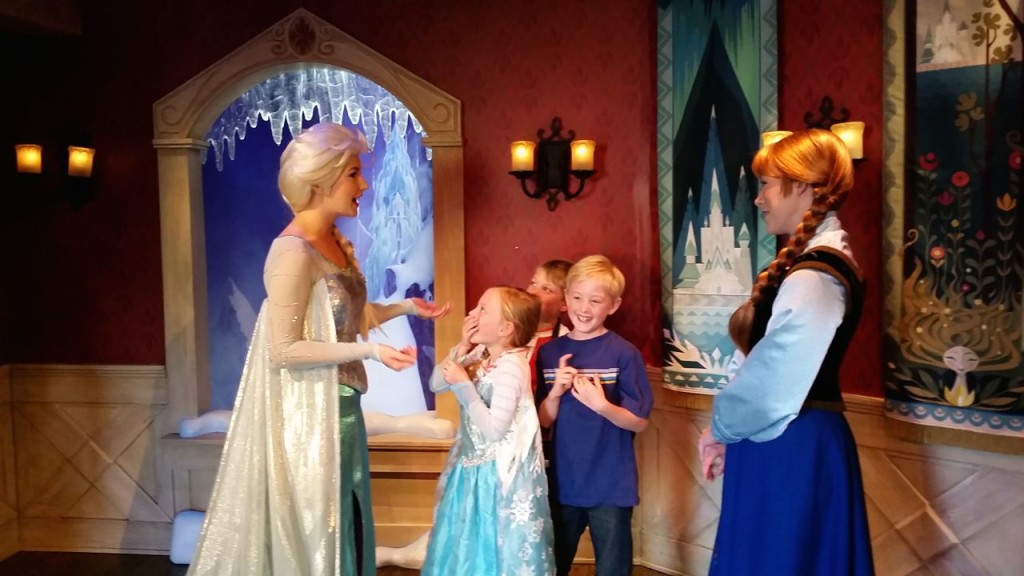 The boys were just as mesmerized as Brinlee. Brinlee chose today to wear her dress because we were going to meet the Queen.
Kimball, you can't keep her.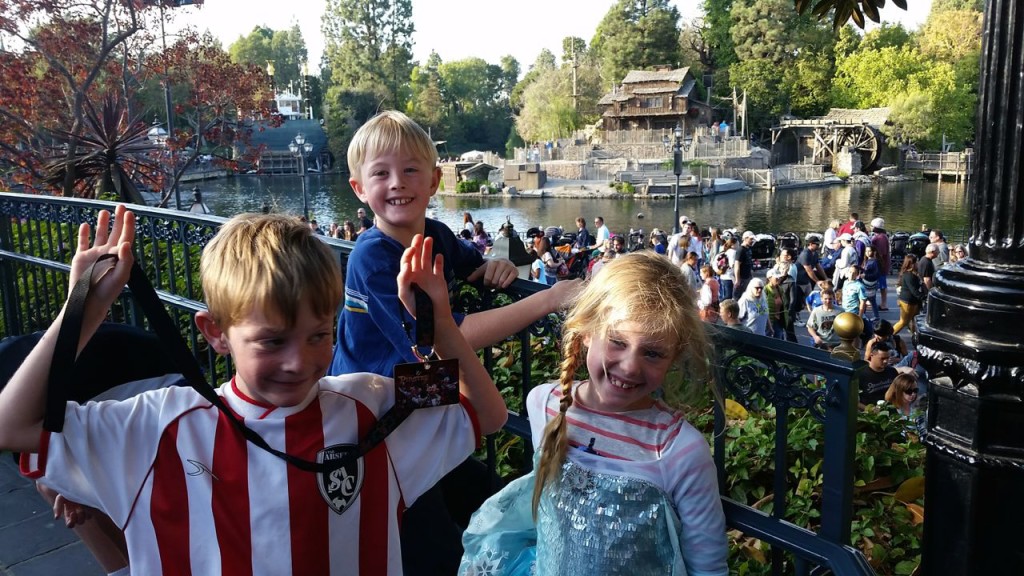 We rode Pirates of the Caribbean twice.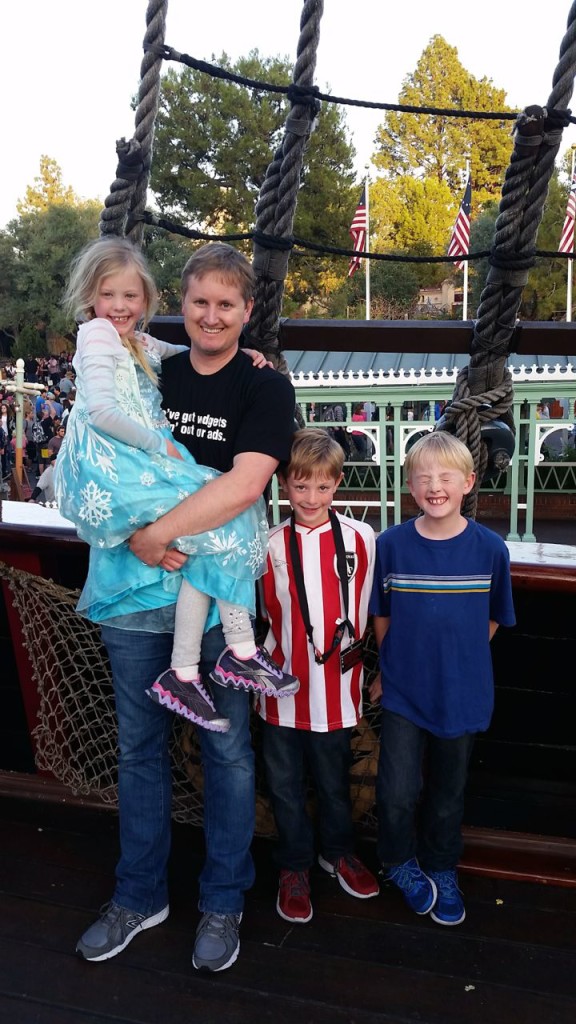 The kids think the Mark Twain boat is the Jolly Rogers. I have no problem with that. I think it should be.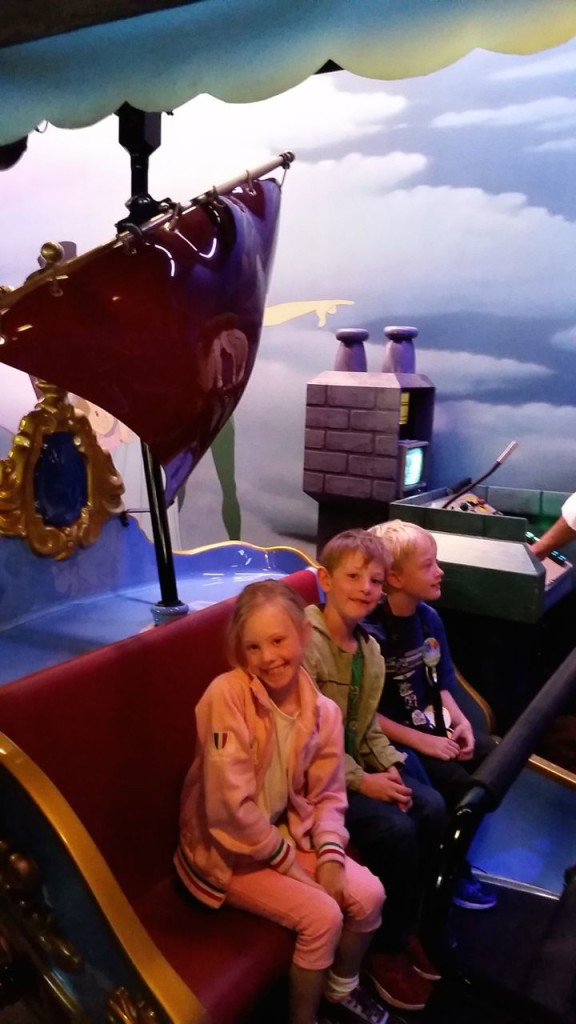 Tuesday was our last day, so we rode our favorites in both parks.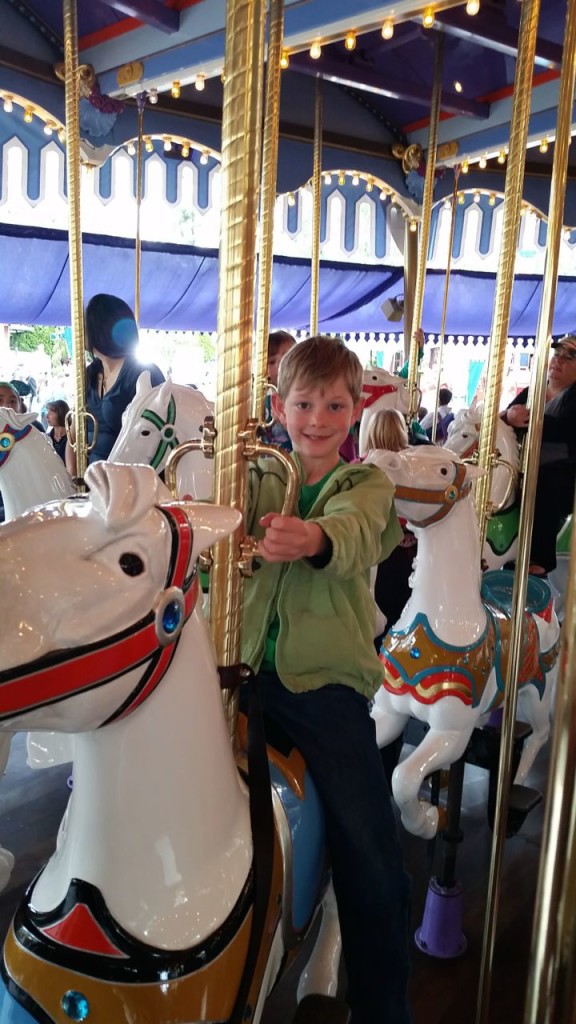 Kimball and I went off by ourselves to ride all the baby rides mild rides. He loved them. The carousel, Mr. Toad's wild ride, Snow White (was a little scary), Dumbo were all just his speed. The others went on the roller coasters.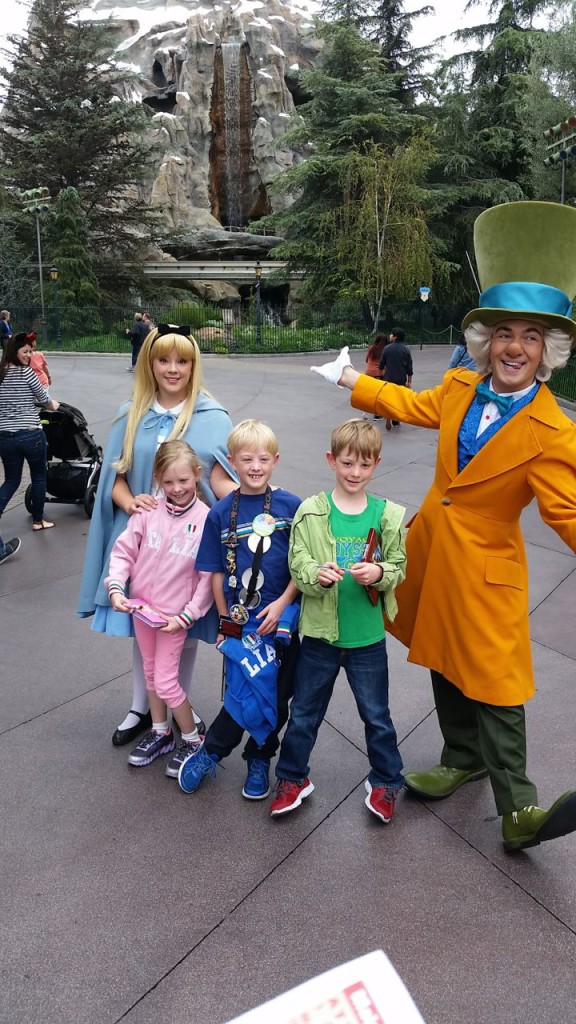 We got a quick photo op with Alice and the Mad Hatter as they skipped through.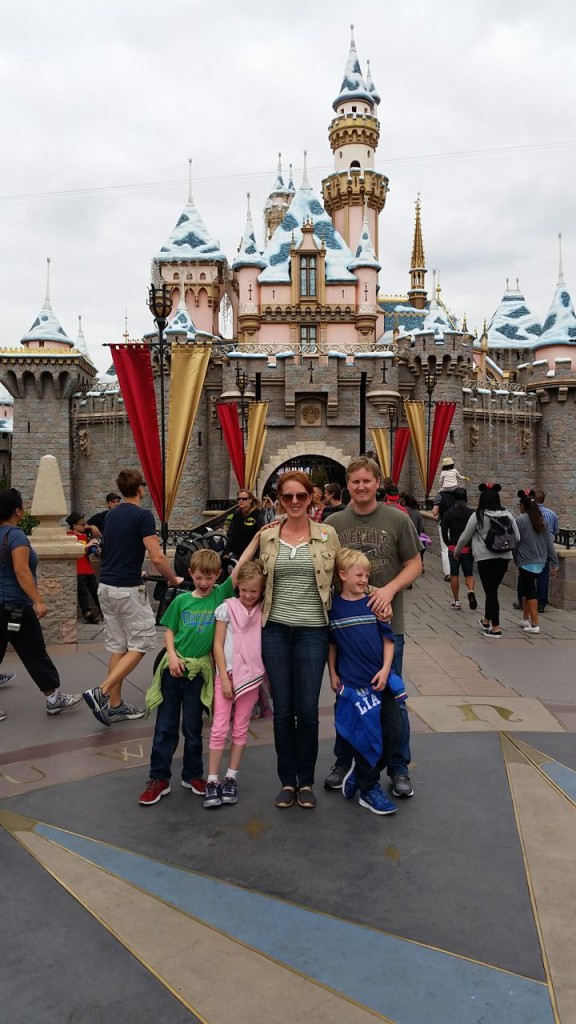 Because they were filming the Christmas Parade that weekend, Sleeping Beauty's castle was covered up by the stage. Today we finally got our iconic picture.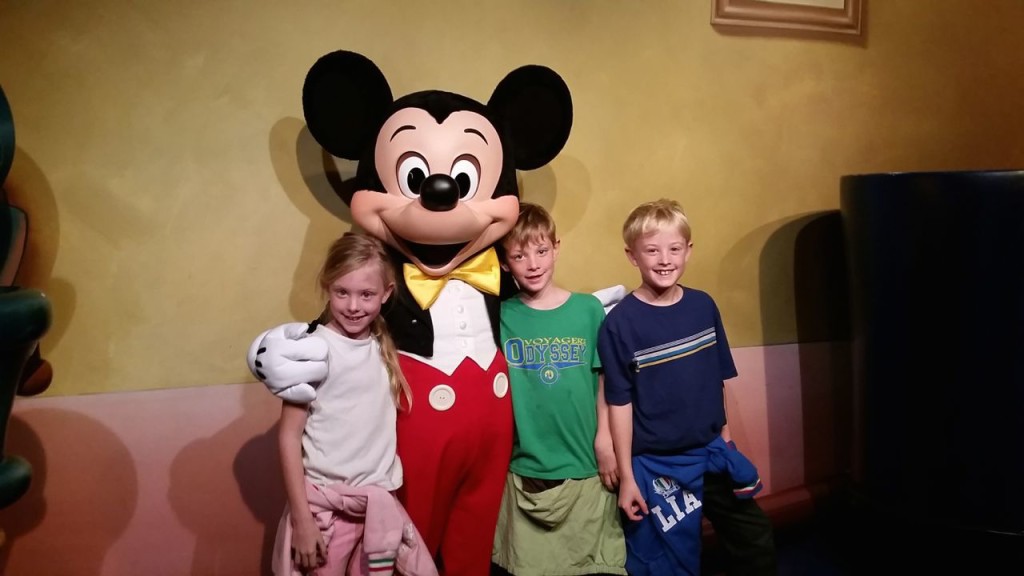 We went to Mickey's House to meet the man.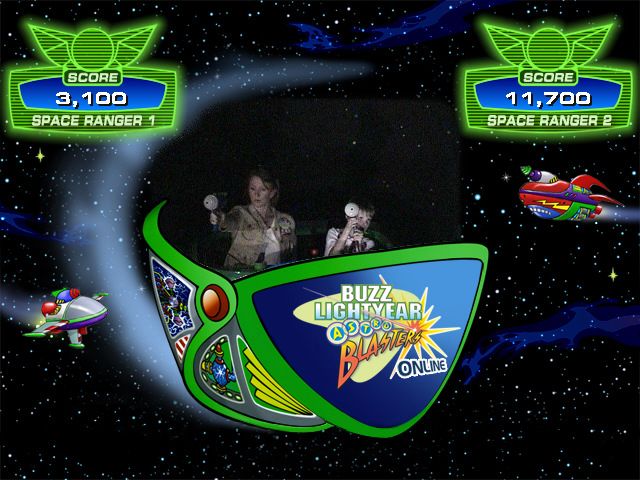 We played Buzz Lightyear Astro Blasters. I'd just like to say that my gun was broken.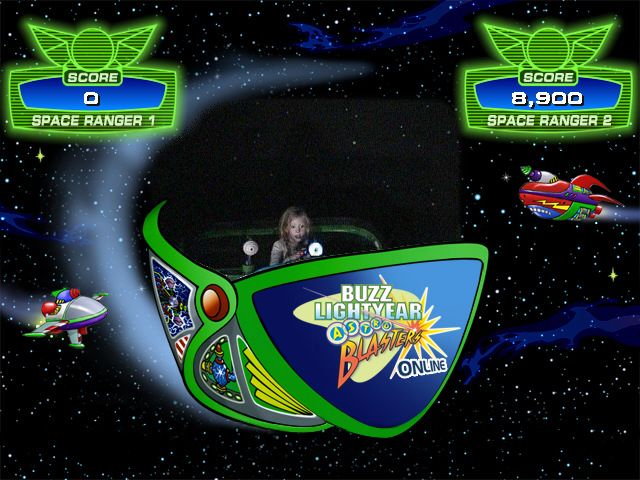 That night Brinlee wasn't feeling so well, so Adam took her to the hotel, and the boys and I went back to Downtown Disney to meet Uncle Jonny and company for dinner.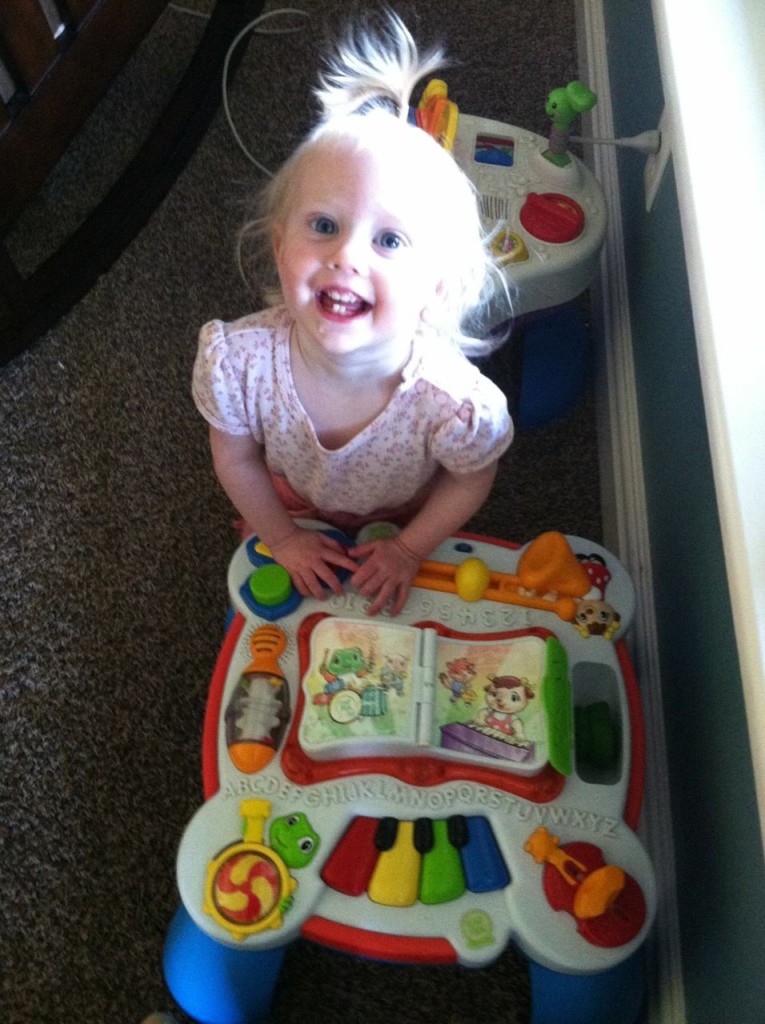 While we were at Disneyland, Caisen, Daisy and Georgia had a great time with Nicole.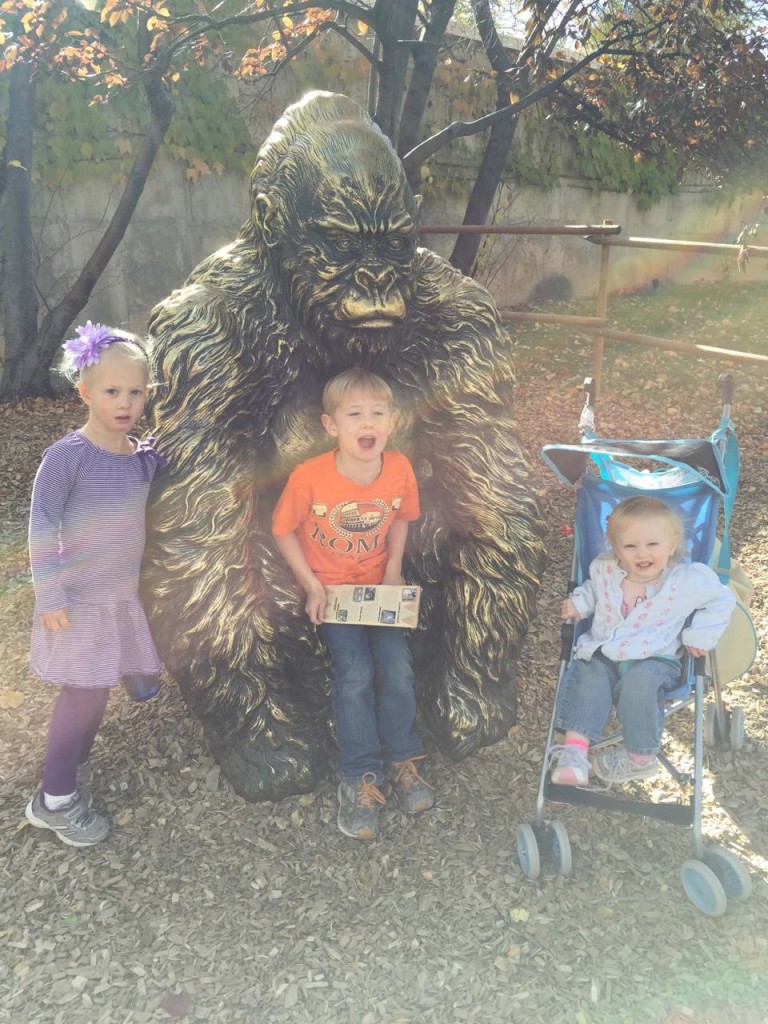 They went to the zoo!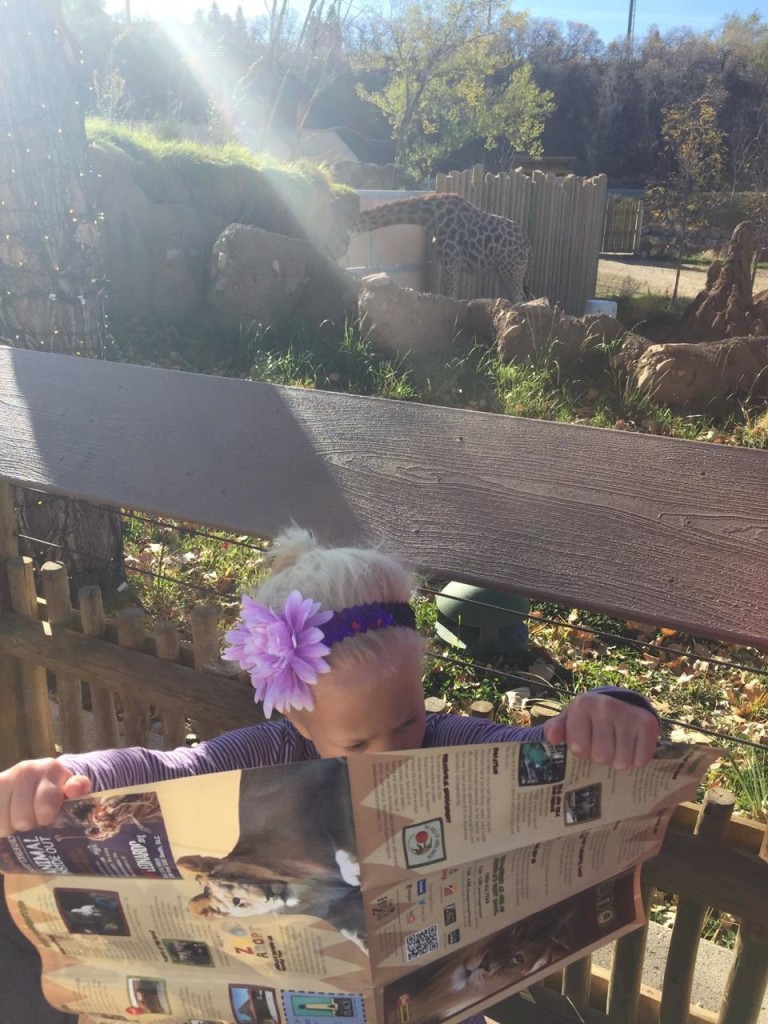 Nicole always manages to make Daisy's hair stay up. When I do her hair, she takes it down.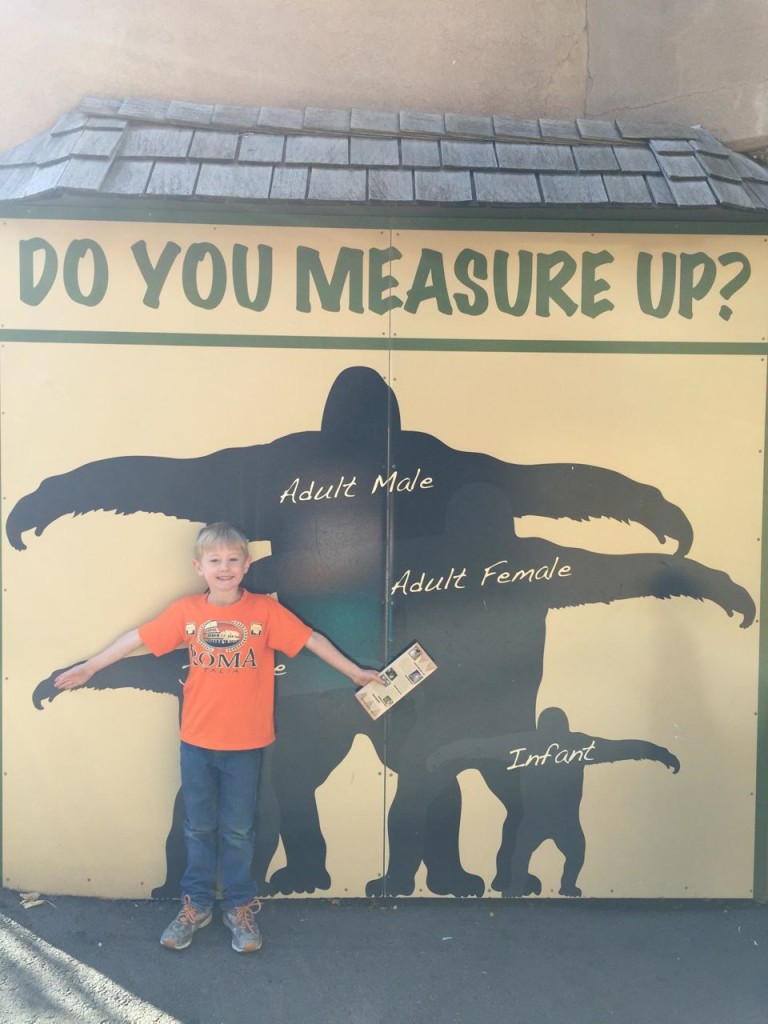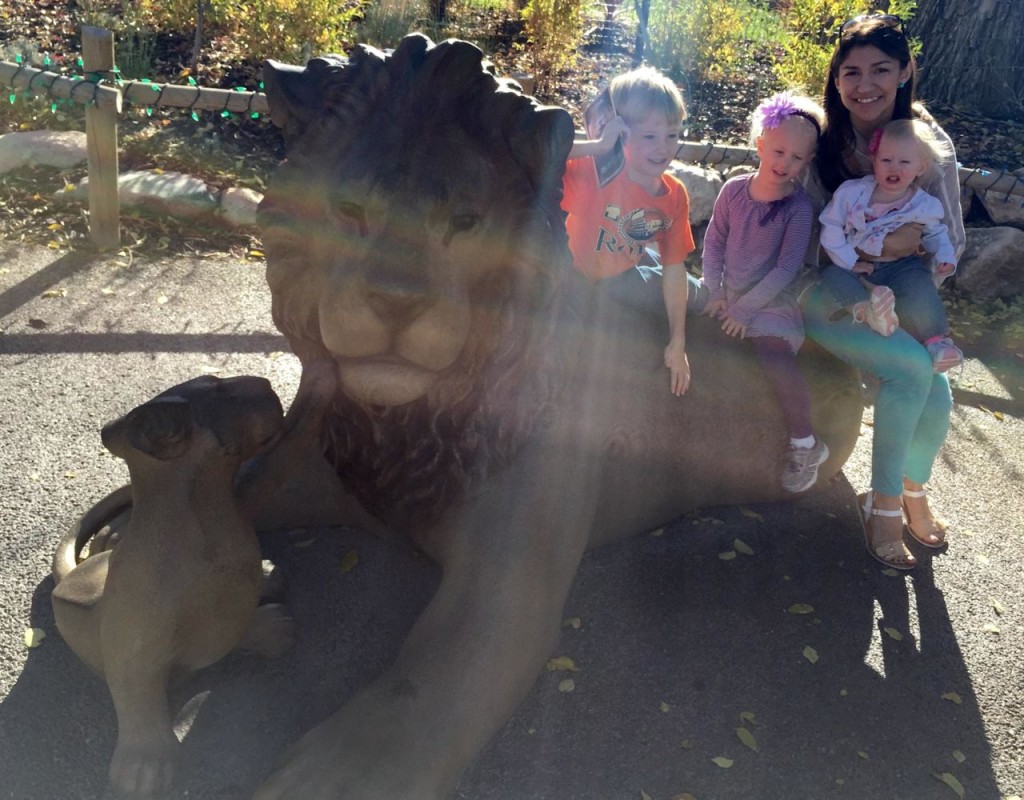 They love Nicole.