Type 4 moment: Type fours are perfectionists, precise, black and white, right and wrong, exact. Type threes are "good enough/you get the idea". I drive my poor type three husband crazy because I am constantly correcting him on things that don't matter. Here's an example. He might say, "We bought this at IFA." And I will automatically pipe up with, "It was actually CAL Ranch Stores." They are both farming supply stores that carry much of the same thing. Does it matter which one we bought it at? To a type four it does, to a type three it doesn't. "We left the house at 6:30." "Actually it was 6:15." I can see why this makes him crazy. Most of the time, the difference doesn't matter. I don't do it on purpose. I don't even realize I'm doing it most of the time until he gets really sick of it and tells me to knock it off. This isn't a court of law. It's something I'm working on. It is part of who I am as a type four, but I can imagine that constantly being told you are wrong, especially about trivial, insignificant things, would get really old, really fast. This is one of those situations where even though it's part of my nature, I don't get to say, "Well, that's just too bad. This is who I am." Why? Because it's hurtful and annoying to him, and not a core part of my identity. This is one of those areas I can work on, and I am. Don't expect miracles overnight. It is something I will likely be working on my entire life. Anyone have a roll of duct tape I could borrow? That might help.


I wasn't the only one feeling super tired from the time change. The kindergartners I volunteer with were too. I couldn't do color today, sorry kids. I love this navy striped button up and my turquoise necklace. It's cooler and supposed to rain today, so I wore my trench. Tan isn't type 4, but it's so classic, I can't part with it yet. I tried my little chevron earrings to go with my necklace. I like studs more and more these days. I realize I was trying to let my bold T4 and fiery S3 out with big earrings back when I was dressing to hide. Big earrings appeal to me less and less. Not to say never, but not as often. Shirt and shoes J. Crew, jeans Express, necklace indigenous people of Mexico, trench Coach, earrings Nordstrom Rack.
Classic Audrey Hepburn and Jackie O. style. I can never go wrong when channeling either of them. I bought this turquoise trench last fall because turquoise is my signature color! The color is most definitely type 1, but it's such a gorgeous coat. I love the fit, the plaid interior, the quality, all of it. Unless I find one I like better or suddenly feel wrong in it, I'm keeping it. When I'm only wearing neutrals, it doesn't bother me. If I'm wearing other type 4 colors, it looks wrong. I love this necklace. Shirt Ann Taylor, jeans Express, necklace Rivka Friedman, shoes Puma, trench E-Land. S3 element is the shape and etched texture of the necklace
How many times can I wear stripes before you all shout, "Enough!" Apparently I have a uniform for spring, striped shirts and skinny pants. No necklace bc the zippers on my shoulders are decorative enough, and small chevron earrings. These aren't the shoes I would choose to wear with this outfit, but they are on tryout all week for my upcoming trip. They are sneaker ballet flats by Puma. I do like that the patent pieces distract from the sporty-looking breathable mesh. I decided to cut off the tab that comes up over my foot. It wasn't uncomfortable. It just looked weird and was functionally obsolete. Shirt J. Crew, pants Express, shoes Puma. S3 element is the zipper detail on the shoulders.
It's St. Patrick's Day, and green isn't my color. Don't have any. Don't want any. #pinchmeandillpunchyou. But THIS is T4 lace. Geometric perfection. This henley came with a built in cami, but it wasn't modest enough for me so I cut it out and put on a navy undershirt. Today I was supposed to get my braces off, but my teeth weren't perfect, and I pointed out every. single. thing. I wanted fixed. 1 more week. It's worth it. I feel so grounded for this very busy day in my column of navy, and I feel fabulous in this top. I can wear it spring, summer and fall. I tried to wear colored flats and couldn't today. Silver is perfect. These blue opal hoops give me all the color I want or need today. No S3 today.

T4 chambray! It exists! It was too blousy so I had it taken in. Still soft and comfy while having a nice tailored fit. I would have preferred black pants today with my mood, but I'm trying to boost my energy with red pants. We'll see if it works. Would I have felt more grounded with black pants or would it have allowed me to sink further into my funk? Will the red lift me or agitate me? Bar necklace and earrings. Love them. Still trying out my black flats for the trip. At the end of the day, the red pants didn't agitate me. I think they lifted me. Shirt Loft, pants H&M, flats Puma, bar necklace and earrings Nordstrom. No S3 today.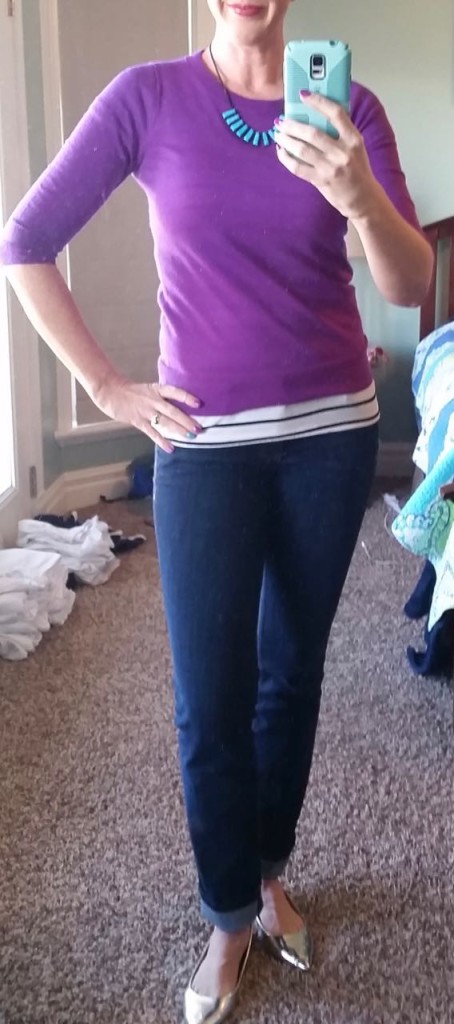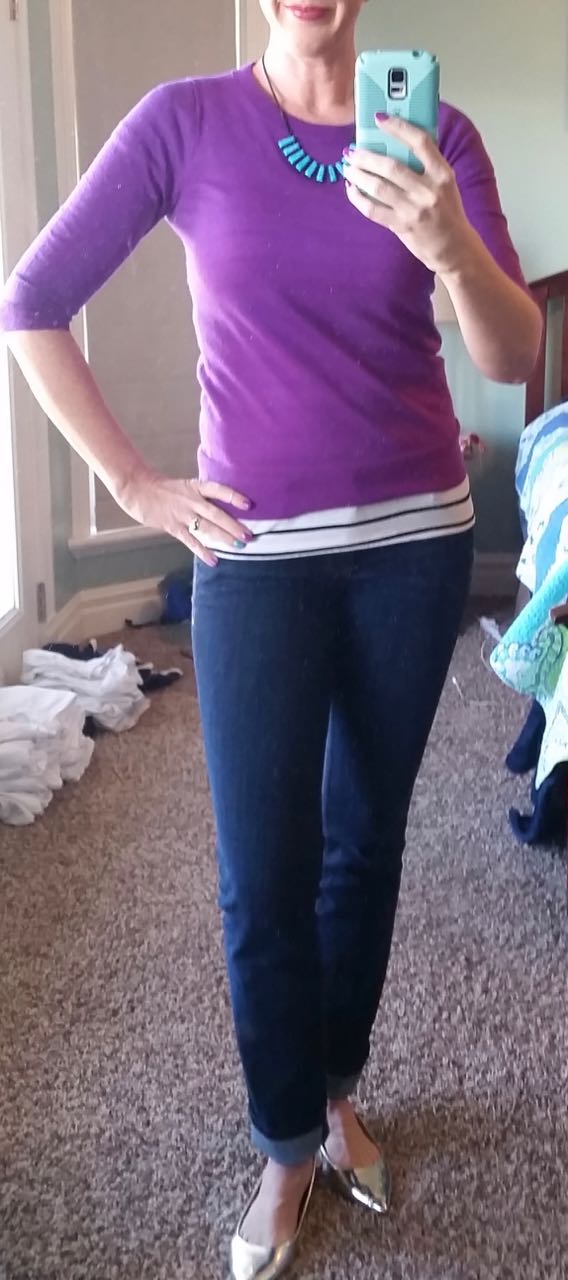 After church we had a family Easter dinner/party at grandma's house bc they will be out of town next weekend. I have to people with a lot of people, 25 kids and 14 adults. Don't I look friendly and approachable and Easter-y without looking like an Easter egg? I even snuck in a little bit of my beloved stripes. I don't especially love purple but this particular hue is a J. Crew specialty that I adore. It's called Fiesta purple, and I have a winter coat, cardigan and this spring sweater in that color. I especially love it paired with turquoise (though I'm sure I say that about all T4 colors paired with turquoise). Happy early Easter! Sweater and shoes J. Crew, jeans Express, necklace Kendra Scott. Ignore the piles of laundry behind me. My husband is packing for a trip. No S3 today.
To experience Dressing Your Truth and find your personal beauty, click here for the free discover your beauty course.
Disclaimer: When you click through my link, I receive a small credit in the Dressing Your Truth store if you choose to sign up for the full course. I'm not a fashion blogger or a Dressing Your Truth expert. I'm just finding my way.