Type 4 moment: I was having a conversation with a type 1, and she dropped this huge word on me that was devastating. She tossed it out very casually, but it was like an atomic bomb to me. This word followed me everywhere. It never left my thoughts and became my new measuring stick. Did that word really apply to me? I cried a lot. I withdrew from her. After a few months she wanted to talk about what was bothering me, so I told her. She said, "Oh that's not what I meant." And I said, "But that's what you said. That was the exact word you used. Why would you say that if you didn't mean it?" She told me what she really meant, which was something absolutely and completely different. "Then why did you use that word? You chose a boulder of a word when you meant to use a pebble." She said she was painting a picture of her feelings, and I said, "Next time don't paint with a sledge hammer." I still can't get that word out of my head. I still measure myself against it. As a type four, I choose my words with intention. Type ones don't do that. They grab any old word out of the bag and spend it carelessly. It doesn't have the weight and value to them that it does to us. She never thought a thing about it after our first conversation, while it was crushing me. With that understanding I'm trying reconcile the difference between us, that just because she says something doesn't mean it's how she really feels or what she really thinks. Although I confess that concept makes my brain circuits fry. It's all part of understanding how the different types function.
I gambled and lost, white jeans and errands with a two year old. She left a nice black streak on my thigh. Ah well. The kindergartners complimented my necklace. Cobalt striped shirt Banana Republic, studded jeans Express, shoes and necklace J. Crew, earrings Nordstrom, (T1 color) trench E-Land. With this outfit the T1 turquoise bothers me against the cobalt. S3 elements include chevron necklace, studs on jeans.

It's a rotten, crummy, rainy, snowy, cold, windy, busy, tired day. I had to be comfortable and cozy and try out my potential travel shoes. Luckily as a T4 I still look put together and not sloppy in a flannel shirt (in my favorite colors) and jeans. Shirt J. Crew, jeans Express, shoes Ecco, bar necklace and earrings Nordstrom Rack. No S3 today.
Since type 4s don't get brown boots for breaking up an outfit, I bought these silver chelsea boots to see how I feel about them. I don't always want black boots with dark wash or black jeans. I love my silver flats so much, but when it's snowy, windy and cold like today, I don't wear them because my feet would freeze. Are these my T4/3 silver winter footwear? Or are they too space age cowboy for me? I'm wearing them around the house to decide. Shirt J. Crew, sweater Ann Taylor, necklace Kendra Scott, jeans Express, boots Steve Madden. S3 element is the texture on the boots.
I tried to wear something with narrower stripes, but it was too much movement today because I am crazy busy all day. I love this snakeskin reflective silver belt. Sweater, no idea on the brand. I cut the tag out because it itched, jeans Express, belt not sure, shoes J. Crew, necklace and earrings Nordstrom Rack. S3 element is snakeskin texture of the belt.

Classic edgy, my perfect combo. Shirt Banana Republic, necklace Kendra Scott, jeans Express, shoes J. Crew. S3 element destroyed jeans.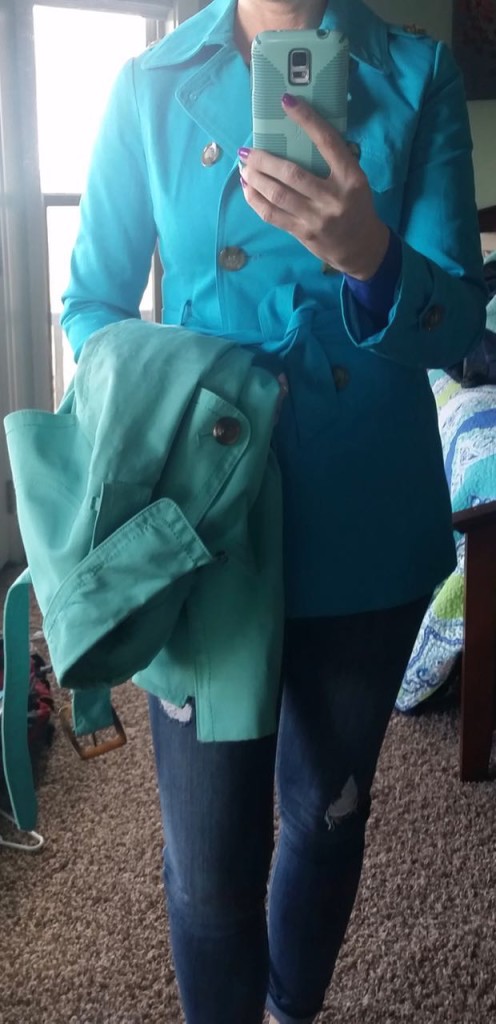 I found a T4 turquoise trench in time for my trip! Gorgeous color, perfect fit. It's not as nice as the lighter one, as far as quality, but the lighter one is exceptionally nice. This one is Kenneth Cole. The quality is fine, but it's not water resistant and doesn't have all the nice details that my T1 coat has. Still, it's a great coat, and the color and fit are spot on. Holding them side by side you can see how off the color is on my lighter one. I will change the buttons for either black or silver, but it might be a while. I hate sewing buttons, and there are 14 on this coat. 14. Buttons.
Tomorrow we leave for Japan, and I'm doing a separate post on what to wear in Japan in the spring.
To experience Dressing Your Truth and find your personal beauty, click here for the free discover your beauty course.
Disclaimer: When you click through my link, I receive a small credit in the Dressing Your Truth store if you choose to sign up for the full course. I'm not a fashion blogger or a Dressing Your Truth expert. I'm just finding my way.