For my birthday, my husband took me to Japan, and it was amazing. We flew into Tokyo and landed around 3:00 p.m. We quickly bought a Japanese SIM card for my phone so we could have data without paying for an international plan. We use my data for emails, google maps, looking things up, etc. His phone has an international plan, but that is very expensive, so we limit that to work stuff.
Then we bought our ticket for the limousine bus that went to our hotel. Japan is an unbelievably clean, orderly country. I love that. After we bought our tickets for the bus, the man showed us where to stand, so we did. He kept gesturing for us to stand in that spot, but we were…-ish. Finally he took us by the shoulders and put us in line behind the one other person who was waiting, and between the two yellow lines on the sidewalk that show EXACTLY where to stand, single file. Yellow lines are everywhere to show you where to line up in an orderly fashion.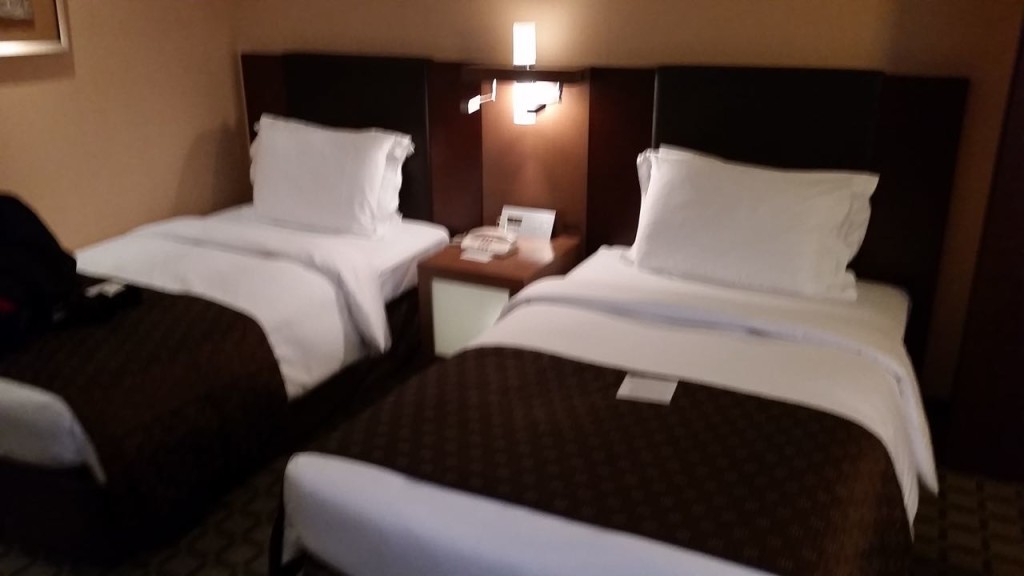 We stayed awake through our whole flight so we'd be ready to sleep when we got there, and by the time we got to the hotel we were starving and exhausted. We were so tired we didn't even care about the twin beds. A little room service and a lot of sleep did wonders for us.
We woke up early and headed to the train station where we were leaving for Nikko. We went to activate our JR train passes, but apparently you can't do that before 7:30 a.m., and you can only do it at a handful of stations around the country. So there we were in the ticket office, which is basically empty, with two employees who were helping no one, but because the clock said 6:43, they refused to activate them. We couldn't wait until the appointed time because we needed to catch an earlier train in order to meet our guide in Nikko. That was the big snafu of our trip and cost us two round trip tickets to Nikko that would have been covered under the cost of the pass.
TRAVEL TIP: If you are going to be moving around the country, do buy a JR Pass. For the one price, you can ride all the trains you want, except for some of the regional trains, but they are very inexpensive. This includes the shinkansen (bullet) trains. It saved us a lot of money because we moved around a lot. Unfortunately we had to pay for our tickets to Nikko and back. Do be aware that once your pass is activated, you still have to go to the ticket office and get actual tickets for the train you want to ride. We bought passes for the green car, which is first class and assigned seats. It was worth it to us. Shop around for your JR Pass. Different vendors have different prices. We bought ours from a company in France.
TRAVEL TIP: Be aware that you can only activate your pass during certain hours and very few stations. The best thing for us would have been to activate it at the airport when we arrived. There is one office in the Tokyo Central station, one in Kyoto, you get the idea, and the hours for that service are more limited than the rest of the ticket office services.
Breakfast in Japan is not like American breakfast. Bento boxes galore. Fish, noodles, rice, tofu, seaweed. Do not expect eggs, bacon and toast.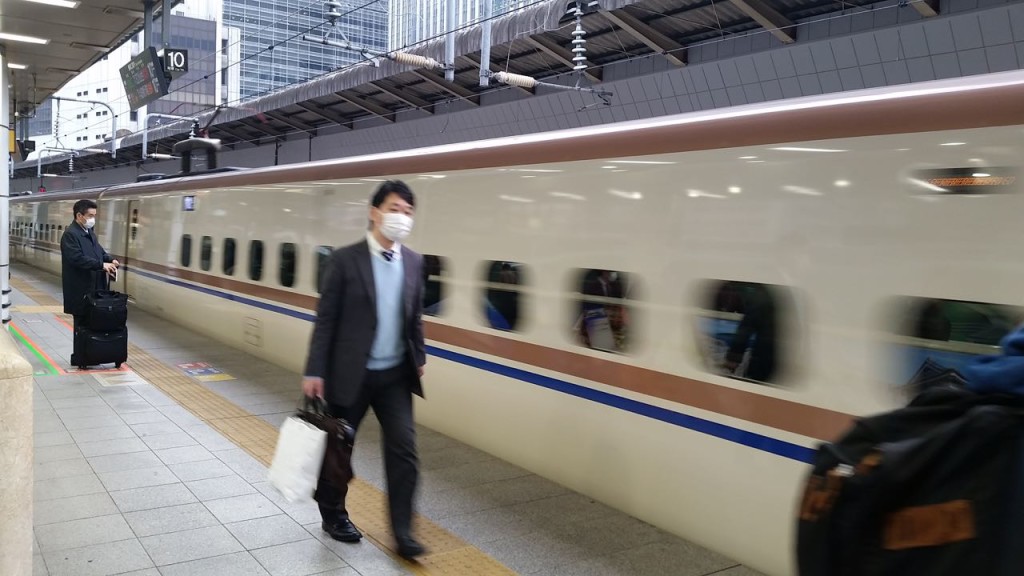 So many people wear surgical masks in Japan I was starting to feel like I was on the set of Outbreak or something. I asked around to find out why they were wearing them, and the reasons are as follows: If you are sick, it is nice manners to wear a mask to keep from infecting others (though not effective). Some people wear them to keep the pollen out of their noses and help with hay fever. I had several women tell me that they wear them if they don't want to take the time to put on make up. Others wear them to avoid contact with others or not be recognized. And in more extreme cases, some people wear them all the time because they are very shy.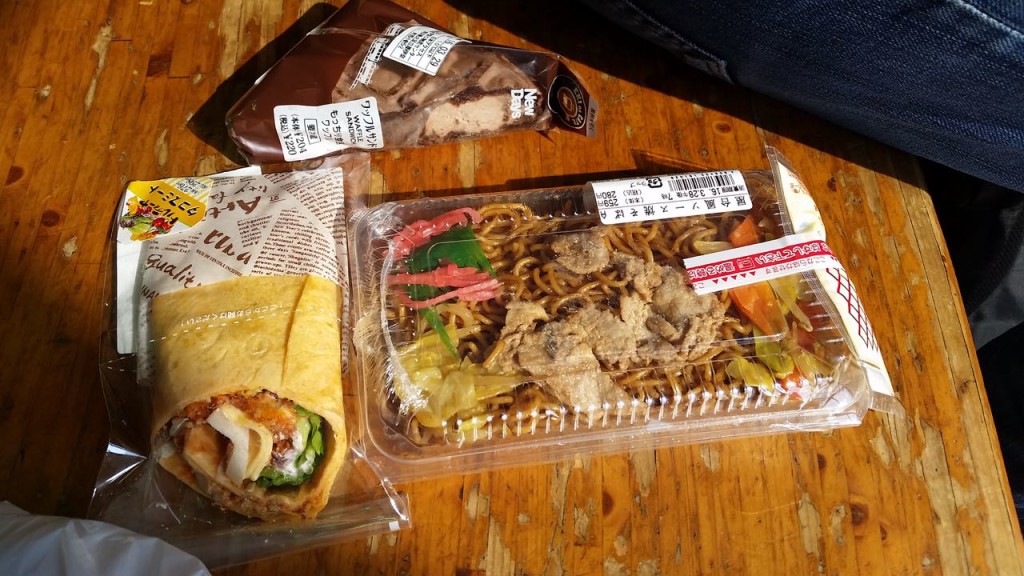 We grabbed a Mexican burrito, some Chinese food and a Belgian waffle for breakfast while we waited for our train. So cosmopolitan.
When we met up with our guide at the train station, we put our luggage in lockers.
TRAVEL TIP: There are lockers in most train stations, but there often aren't many lockers, so getting there early is important if you plan to use them, especially during a busy travel season.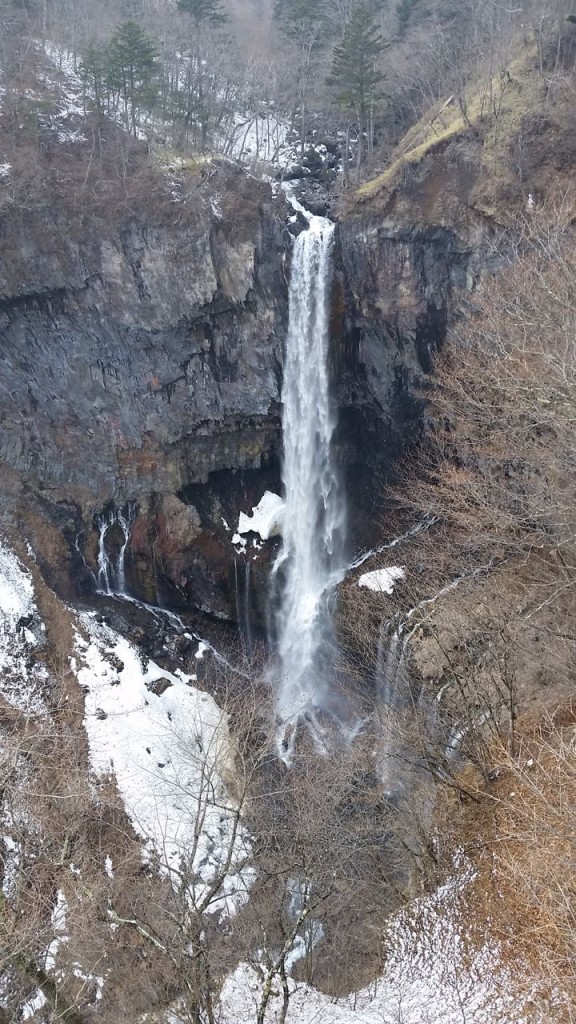 The first place we headed after meeting up with our guide was the Kegon Waterfall. You have to take a bus up to it, and it follows a one-way road called Irohazaka Winding Road with 20+ switchbacks up and again back down .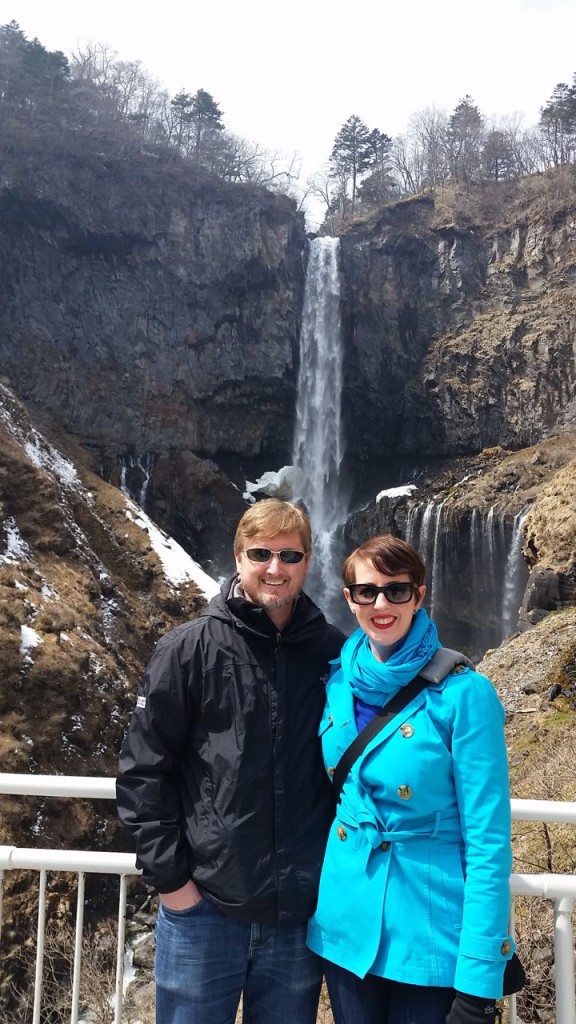 I packed light layers because we were going to encounter a variety of weather situations. Nikko is north of Tokyo, and up in the mountains. It is not uncommon to find snow on the ground there in late March/early April. This was the coldest day of our trip, so I was wearing a camisole, a long-sleeve tee, a flannel button up, a cashmere sweater, a waterproof rain shell, my trench, a scarf and gloves. The rain shell made a big difference because it kept the humidity out. I had also brought a hat, but forgot to get it out of my suitcase. I felt like the Michelin Man that day, but it was better than packing a big coat for this one day, especially because I only packed in a carry on.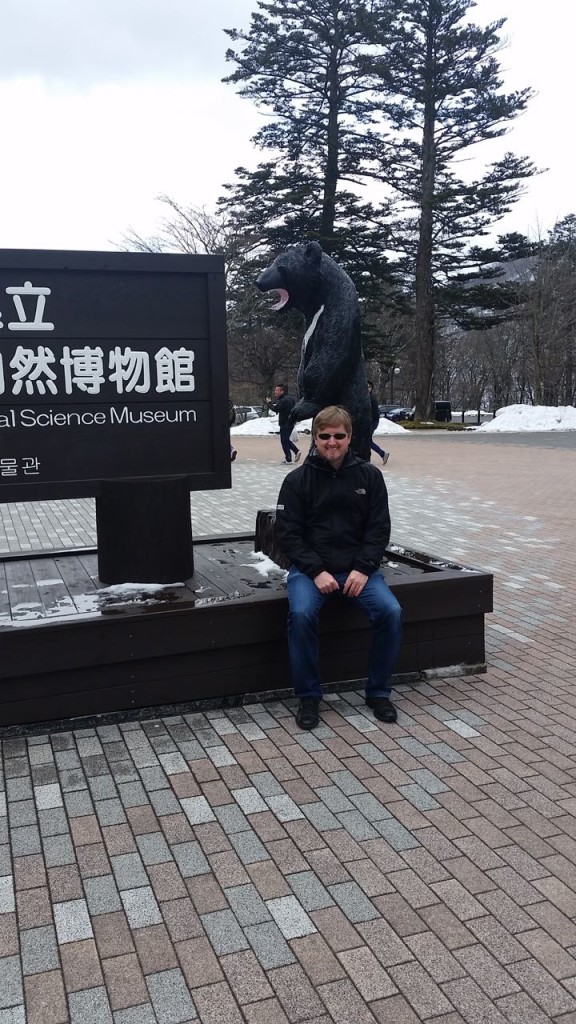 Adam is catnip for bears, so we had to take this picture. He has had several close encounters with bears while hiking. In front of Kegon Waterfall was a man selling fish on a stick. Forget about hot dog on a stick, these were whole fish, on a stick, roasting over a fire. If it had been lunch time, we'd have gotten one, but not to worry, we had another opportunity to try this out.
Just down the road, maybe a quarter mile is Lake Chuzenji. It was created 20,000 years ago when Mount Nantai erupted and blocked the river.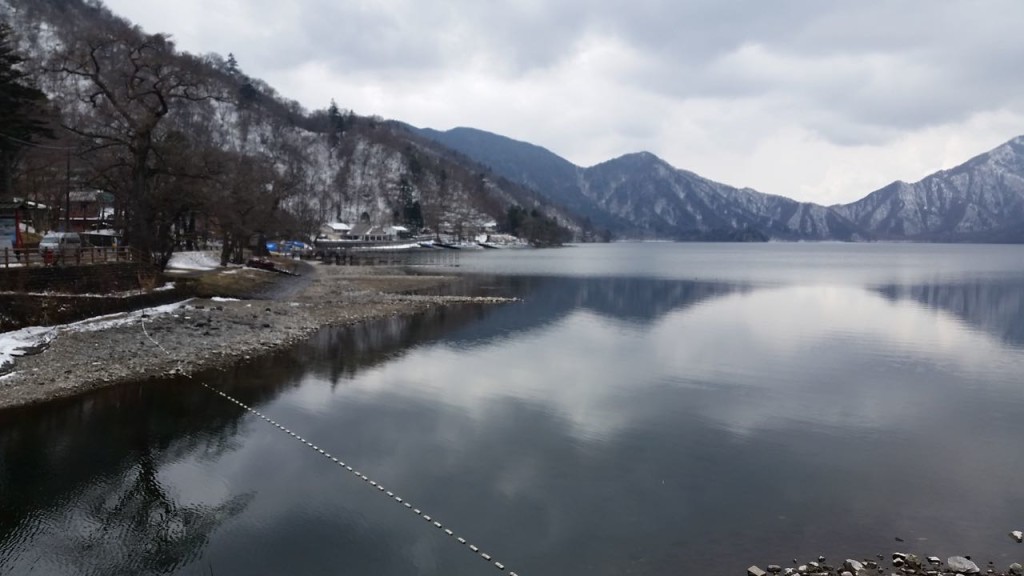 It was so still and beautiful. We would have loved to stay longer and walk around the lake, but we were trying to pack a lot into a short day.
TRAVEL TIP: Just about everything in Japan that you will want to go see closes between 4 and 6. As you are planning your days, find out when each place opens and closes so you don't miss out.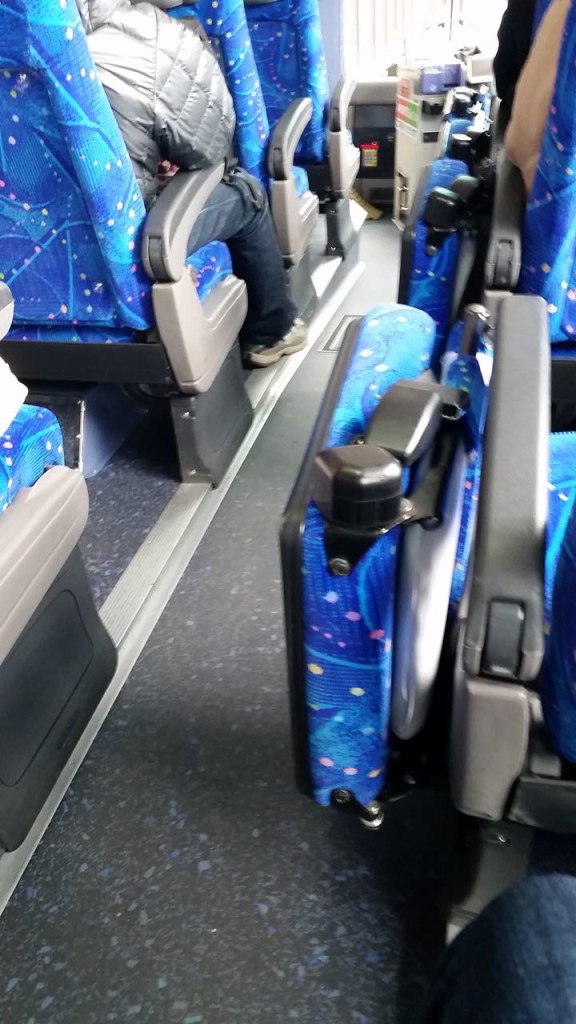 Some of the busses in Japan have these third seats that can drop down into the aisle. Very clever, those Japanese.
We walked past the Shinkyo bridge, leading to the Futurasan Shrine. It's ranked as one of the top three bridges in Japan.
We stopped for lunch and got some tempura shrimp with noodles. It was a perfect hot lunch on a cold, cold day. Do be prepared to be deprived of water and protein. Every restaurant gives water in tiny little glasses that look like juice glasses, and if you want a refill, you have to ask. We bought a lot of bottled water.
After lunch we went to the Toshogu Shrine, which I thought would be one building, but it's a whole campus of beautiful buildings.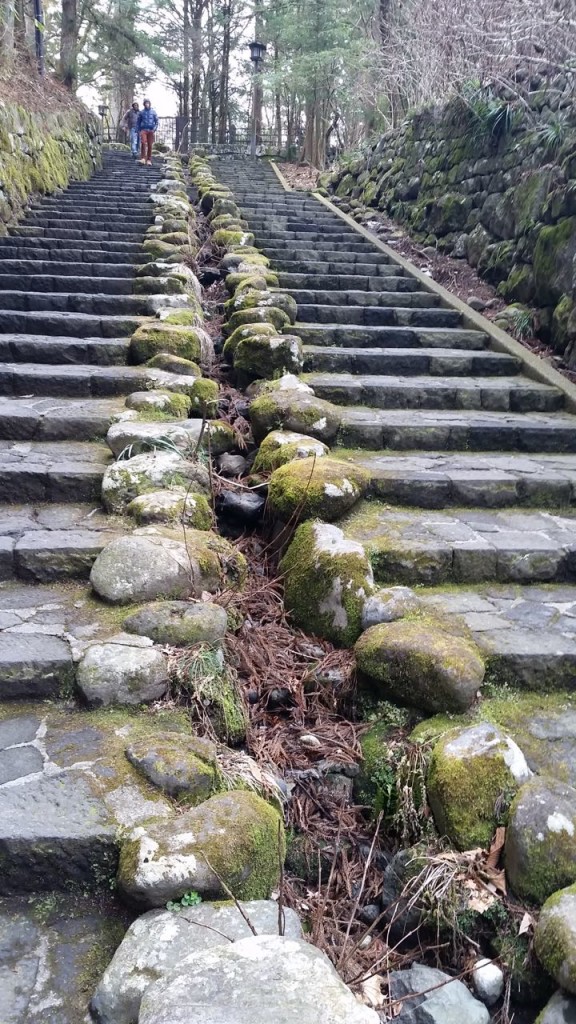 If you plan to go, be aware that there are approximately 1 gazillion stairs to get there and back. It's not for the faint of knees.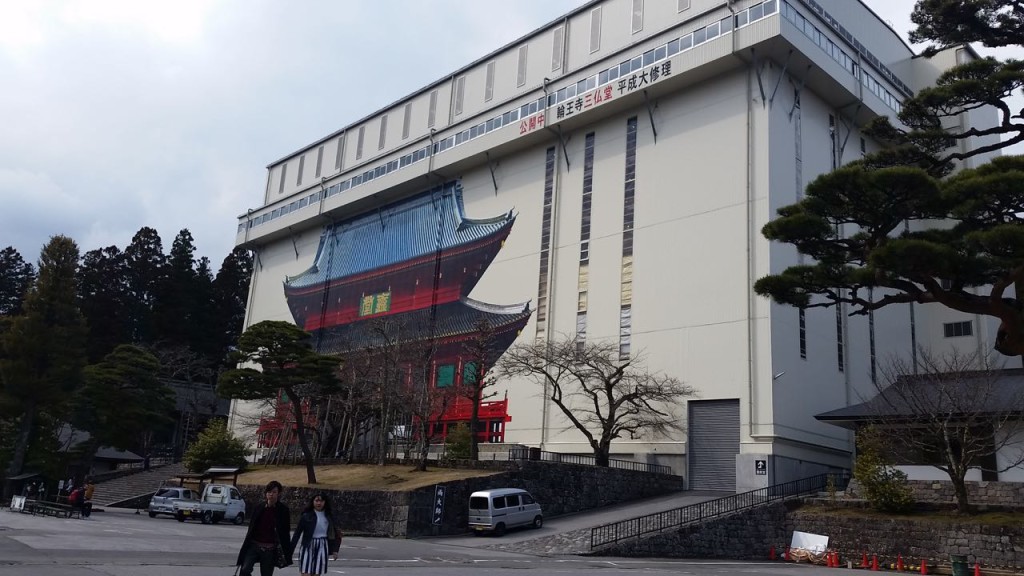 This is a different shrine that we passed. It's being restored so they built an entire building around it for the process.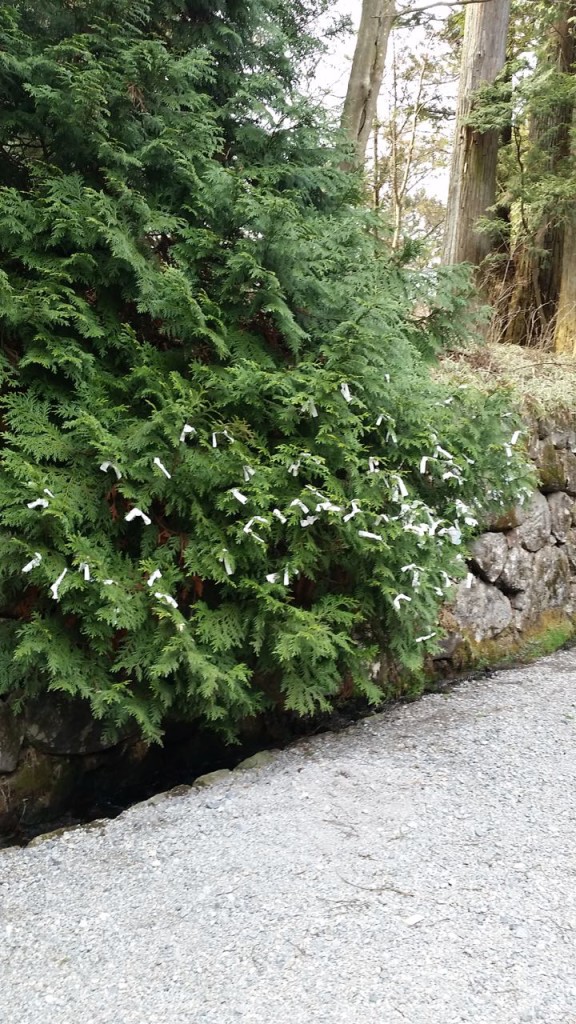 The little pieces of paper tied onto this tree are wishes.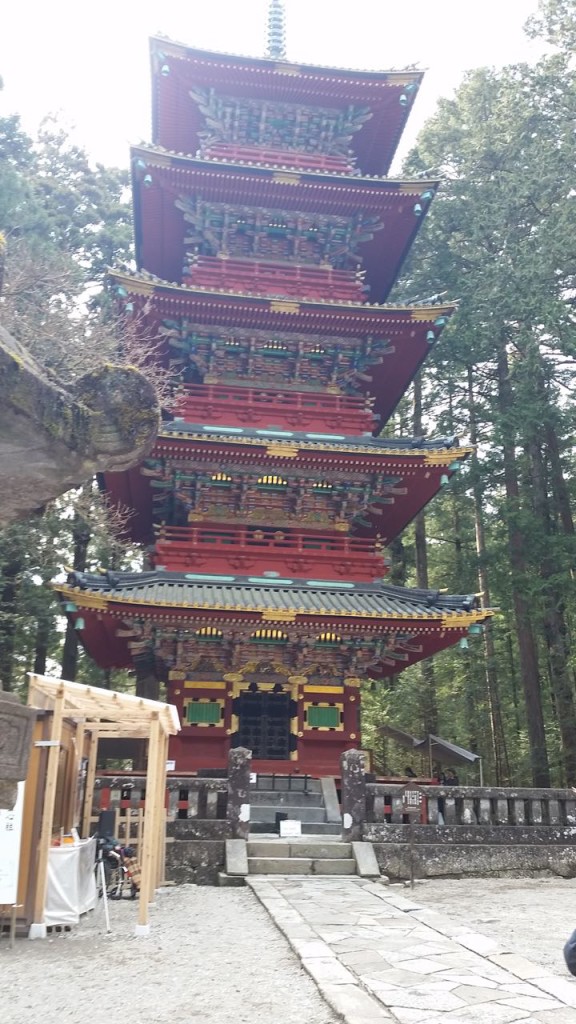 This pagoda has a huge beam suspended from the ceiling, and the floors are loosely connected so that when earthquakes hit the building can shift and sway and not fall. It's never been destroyed.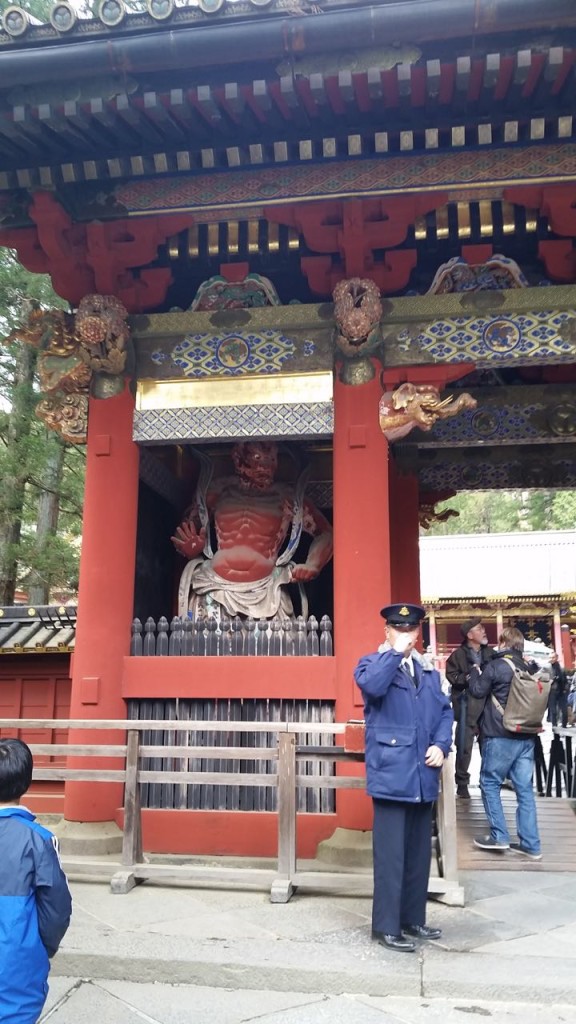 There are 12 buildings, and it's all set in a beautiful forest, so if you can mentally erase the other tourists, it's easy to imagine being here hundreds of years ago.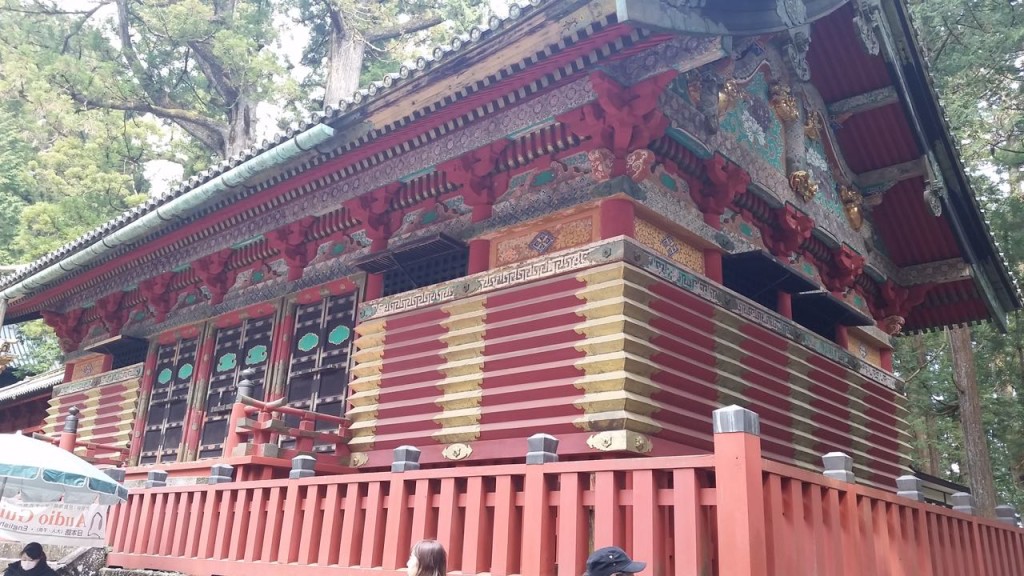 I wish I could tell you more about the buildings, but our guide spoke very minimal English, which we were really annoyed by. We arranged this through our hotel, and they should have vetted her more carefully.
TRAVEL TIP: Usually a hotel concierge is a great resource for booking private guides, and in the past we've had very good success with it. This time was an exception. She was very nice, we just couldn't communicate, and that's a problem.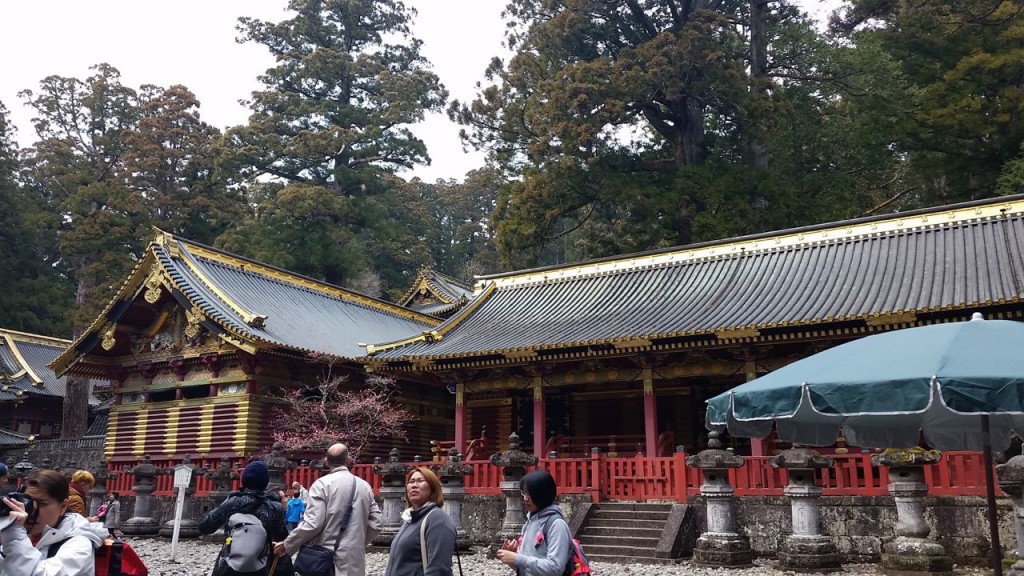 This is the final resting place of Tokugawa Ieyasu, the founder of the Tokugawa Shogunate that ruled Japan for over 250 years until 1868. It was considered the Renaissance period of Japan. Ieyasu was known for being extremely frugal, so it was initially a relatively simple mausoleum. Toshogu was enlarged into the spectacular complex by Ieyasu's grandson Iemitsu during the first half of the 1600s. He had great admiration for his grandfather and wanted to honor him.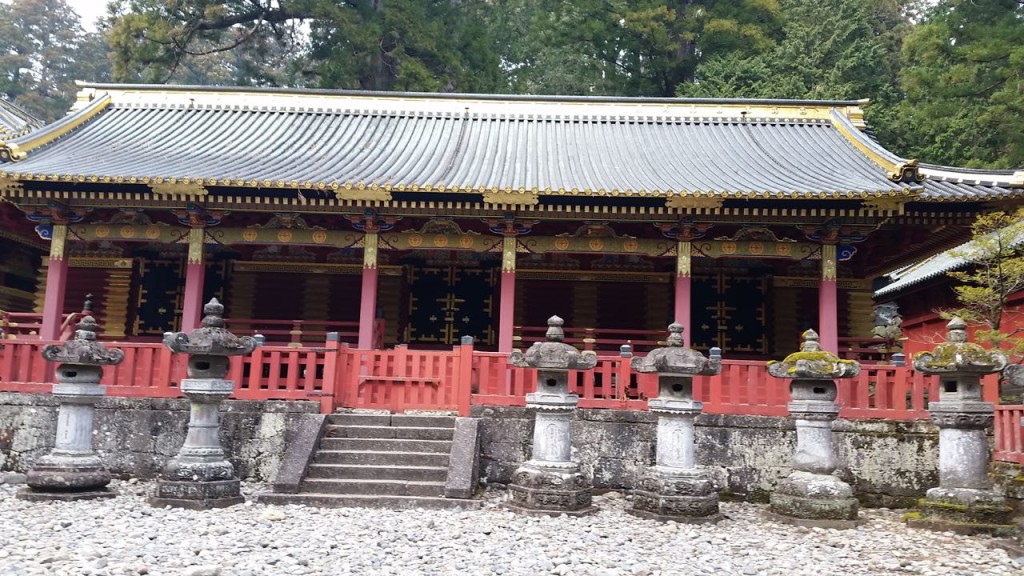 Before the trip I read the historical fiction novel Shogun, and it was a wonderful book. It covers the time period leading up to Tokugawa becoming shogun of Japan. I understand so much more about the Japanese culture and customs because they arere still rooted in the Samurai beliefs, called Bushido, of this period. I got so much more out of this trip because I knew a lot more about the history of Japan during this critical time, and much of what tourists go to see is related to it. I highly recommend reading it, especially if you are heading to Japan. I plan to read the rest of the books in the series, but they jump all over Asia in different time periods, so I didn't read them before my trip. There was a mini series made from this book in the early 80s, but it does no justice to the book. Primarily because none of the conversations in Japanese have subtitles, and the viewers are missing out on hugely important conversations. Major fail.
We went to Japan during cherry blossom season, but this far north we didn't expect to see any in late March, but look! We found one right in front of the shrine! Our first cherry blossoms of the trip. Most of the trees in Nikko bloom in late April.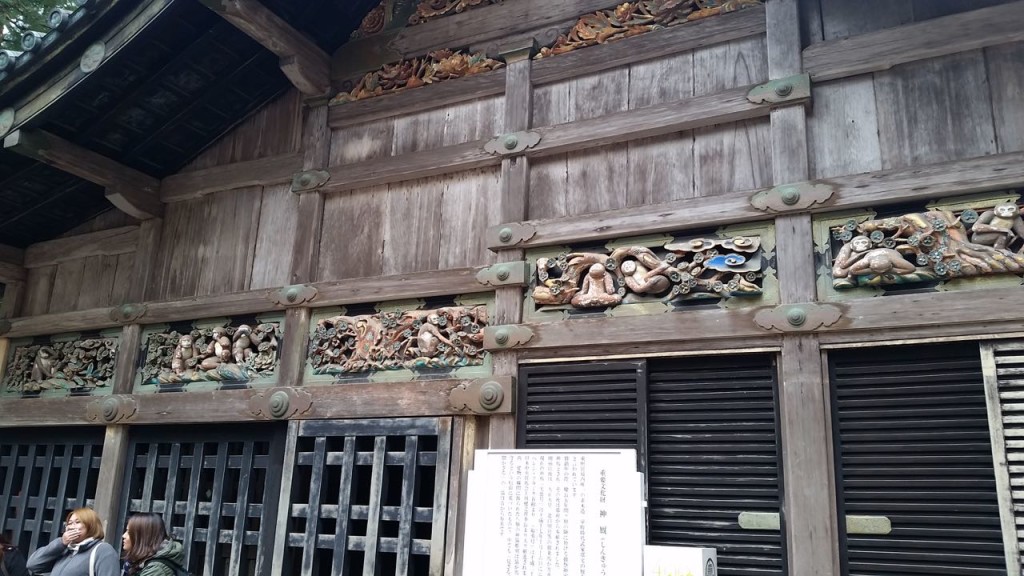 What makes the Tokugawa Shrine so special is because it is extremely ornate with the wood carvings and gold leaf, much more than any other shrines or temples in the country.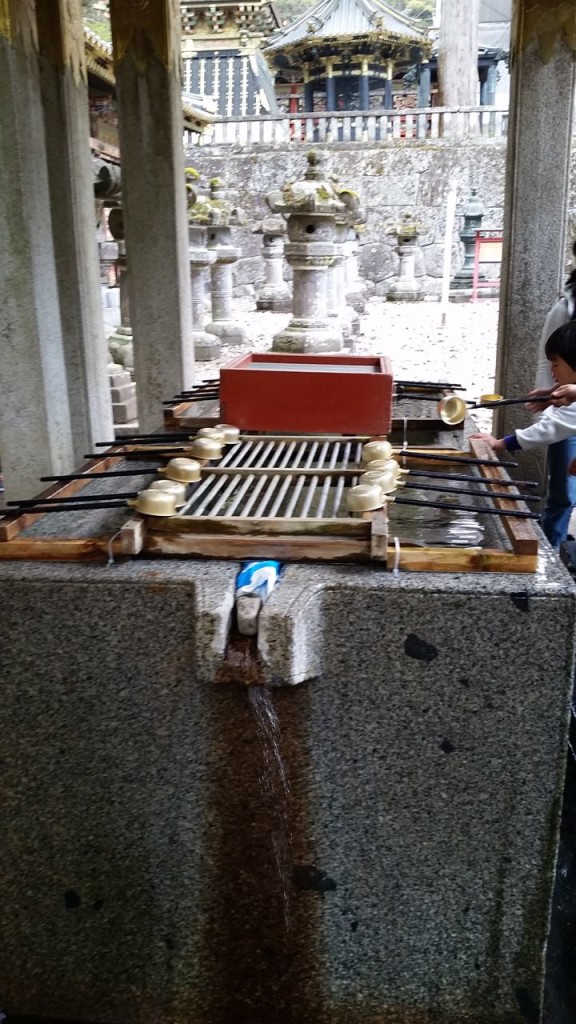 Before entering a shrine there is a hand-washing ritual to make your hands and mouth clean.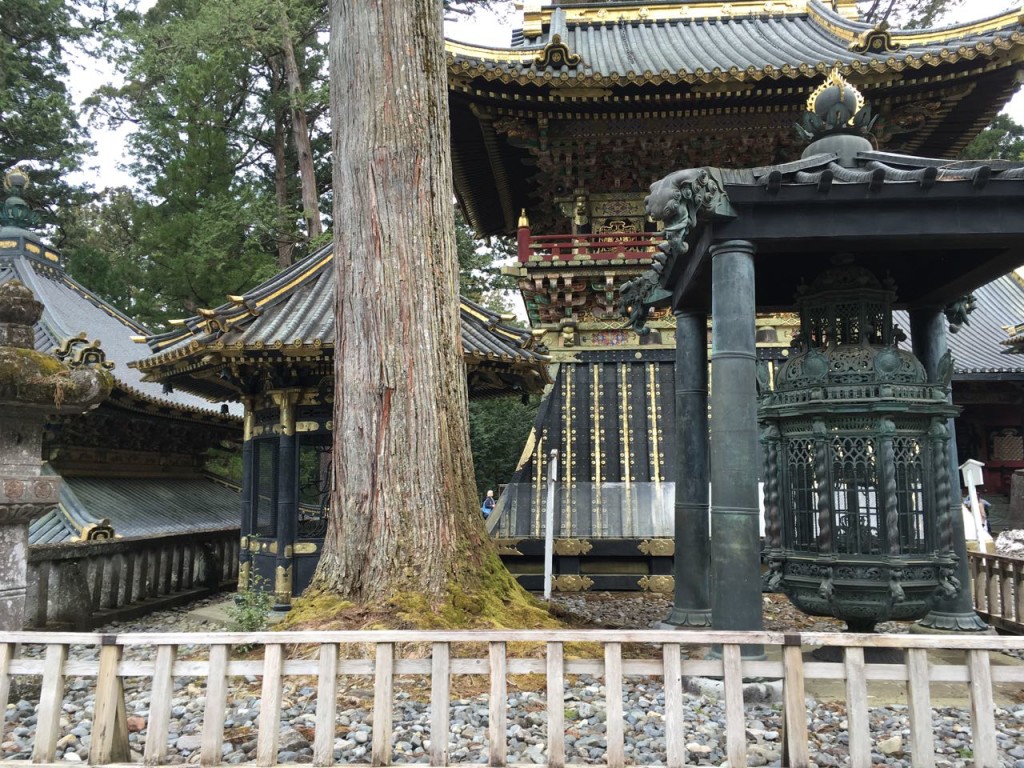 TRAVEL TIP: This is a place where you have to take your shoes off to go into each building, and there are a lot of buildings, so wearing a pair of shoes that you can easily slip on and off is ideal. I knew this before going and intentionally wore my lace up sneakers because it was so, so cold (like 40 degrees and humid/rainy/cloudy/windy), and flats would have been miserable for me. I hate it when my feet are cold. In better weather I would definitely choose a slip on shoe.
While there are temples and shrines all over Japan, Nikko is worth the trip because it is very different from the others. Even aside from the temples the region is breathtakingly beautiful. There are so many hikes and outdoor things to do. I would love to come back and see the foliage in the fall.
So many stairs. This was the finally set of stairs we had to ascend, and there were 207 of them. I can't even tell you how many stairs we climbed that day, but it was A LOT.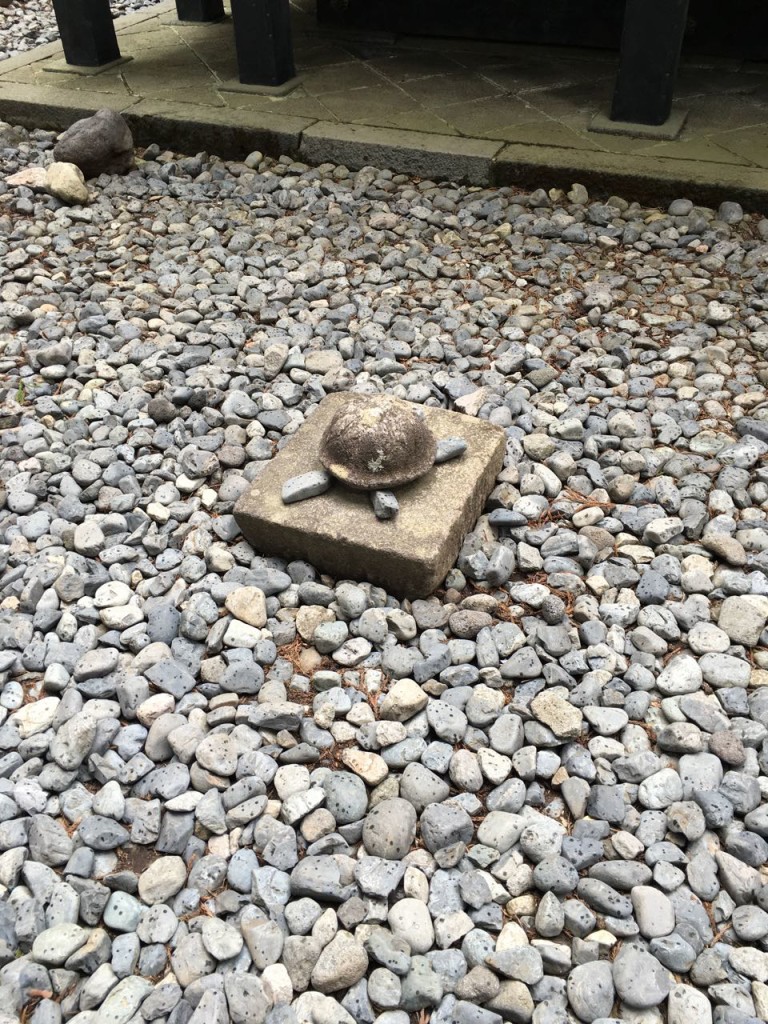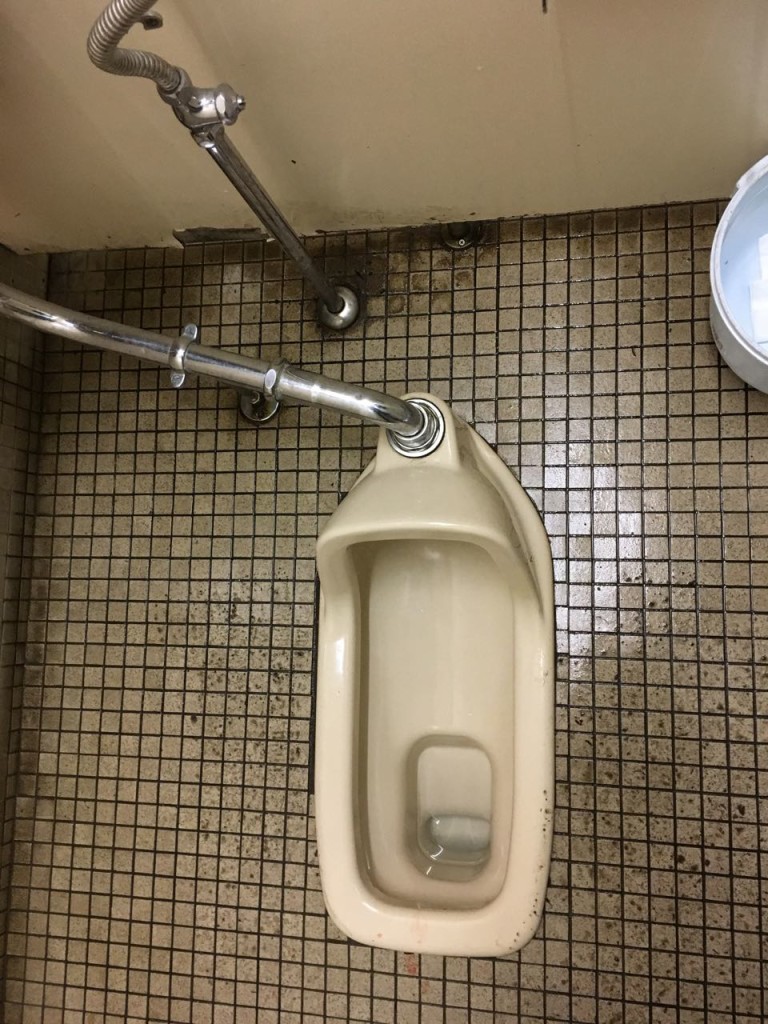 There are three kinds of toilets in Japan. This is a true squatty potty. I won't go into too much detail here, but squatting is the natural bathroom position for the body. Sitting on a throne is not. Many public toilets, especially in places like this are squatty potties. My only complaint was there are no handles or anything to steady yourself if you're not used to this, or if you're balancing a bag because there is nowhere to hang it. Also, not everyone can squat. I have bad knees, and there have been times in my life when squatting like this would not have happened.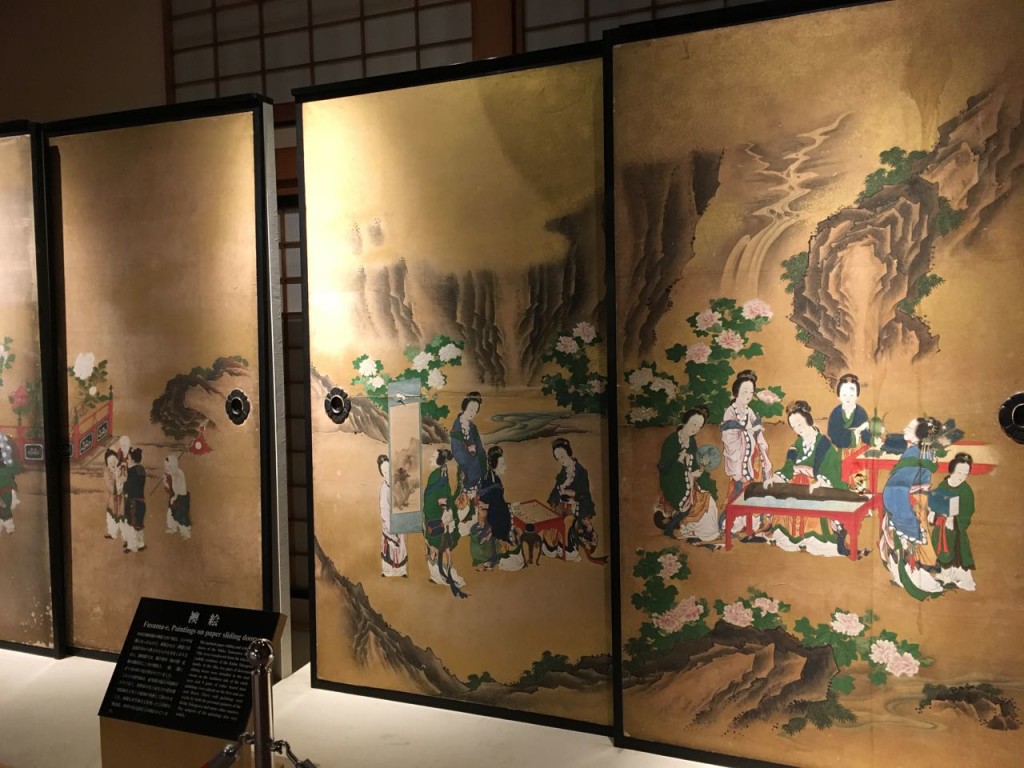 After the Tokugawa Shrine we went to the Imperial Villa and its 106 rooms. The villa was erected in Nikko in 1899, using parts of a residence that originally stood in Tokyo. Before being moved to Nikko, the building served initially as the Tokyo residence of a branch of the Tokugawa family and was later temporarily used as the Imperial Palace.
In Nikko, it was enlarged into a summer residence and retreat for the Imperial Family. During World War II, which they refer to as the Pacific War, the Emperor was kept for a year to keep him safe from bombings. The palace was essentially abandoned after World War II. In the year 2000, the villa was opened to the public after extensive renovation.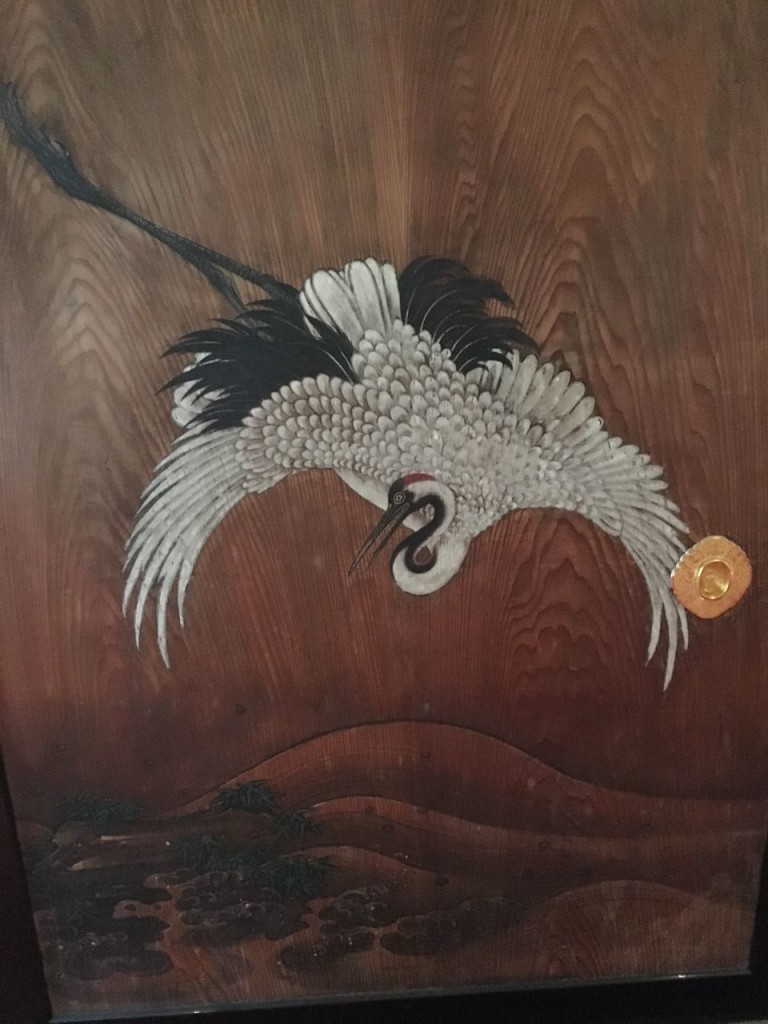 The rooms are mostly empty. After going to Buckingham Palace and former doge palaces, expectations are high when going to an Imperial Palace, but it is very minimal. Even when it was furnished and occupied it was sparse. That is how the Japanese culture was. This palace was only used in the winter because there is no way to heat the building, and even if there were, the walls are made of paper and wood.
I love the twisted trunk of this cherry tree.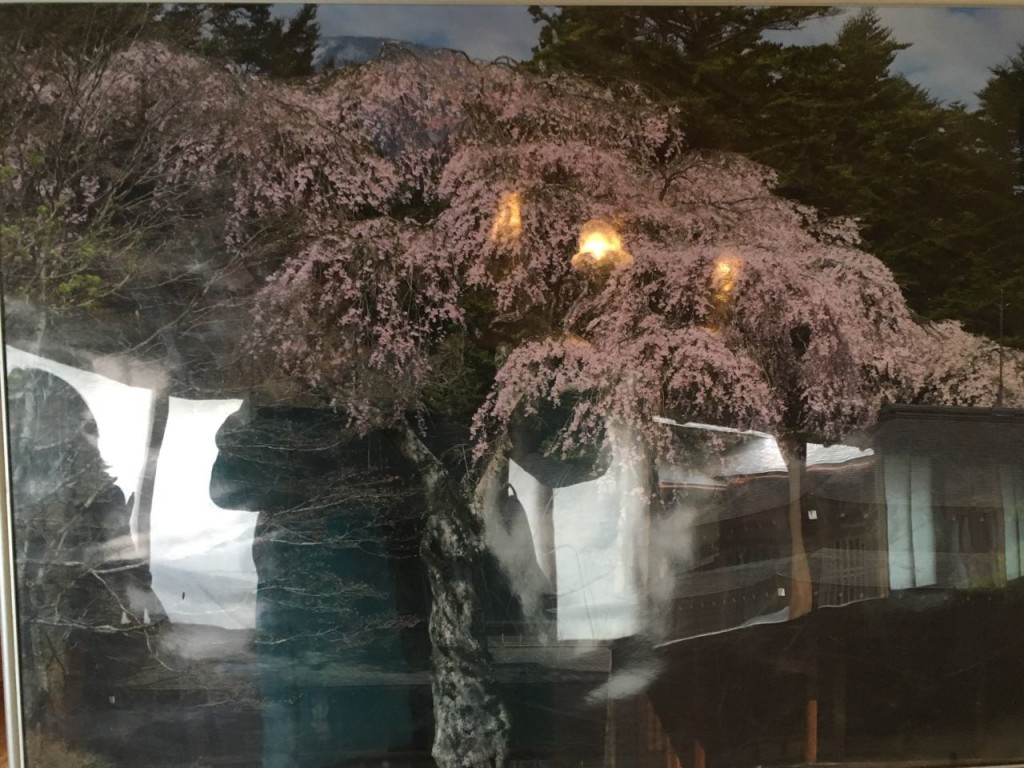 This picture shows what it looks like in bloom.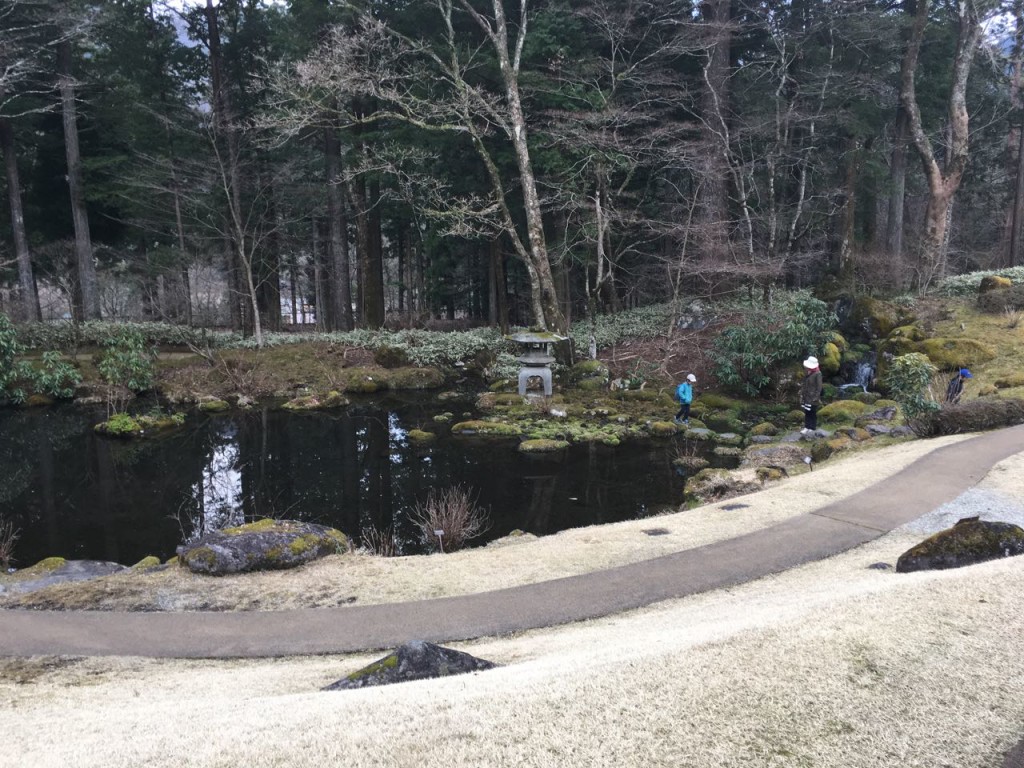 Throughout the trip we noticed that the gardens were also minimal, but soothing. They are the complete opposite of European gardens.
The current imperial palace in Tokyo is not easy to tour. You have to apply and have a background check completed, and the spaces are limited. If you want to see one, see this one.
Our last stop of the day was one of the things I was most looking forward to in Nikko, the Kanmangafuchi Abyss and Narabi-jizo Statues. The abyss (doesn't that sound dramatic?) was formed by an eruption of nearby Mount Nantai. Abyss sounds so dangerous and Lord of the Rings-esque. This abyss is more like a small gorge with a river running through it. I made up my own version of how it was formed and decided that an earthquake opened up the earth, swallowing all within its wake and formed the path that has become this river. That sounds a lot more dramatic.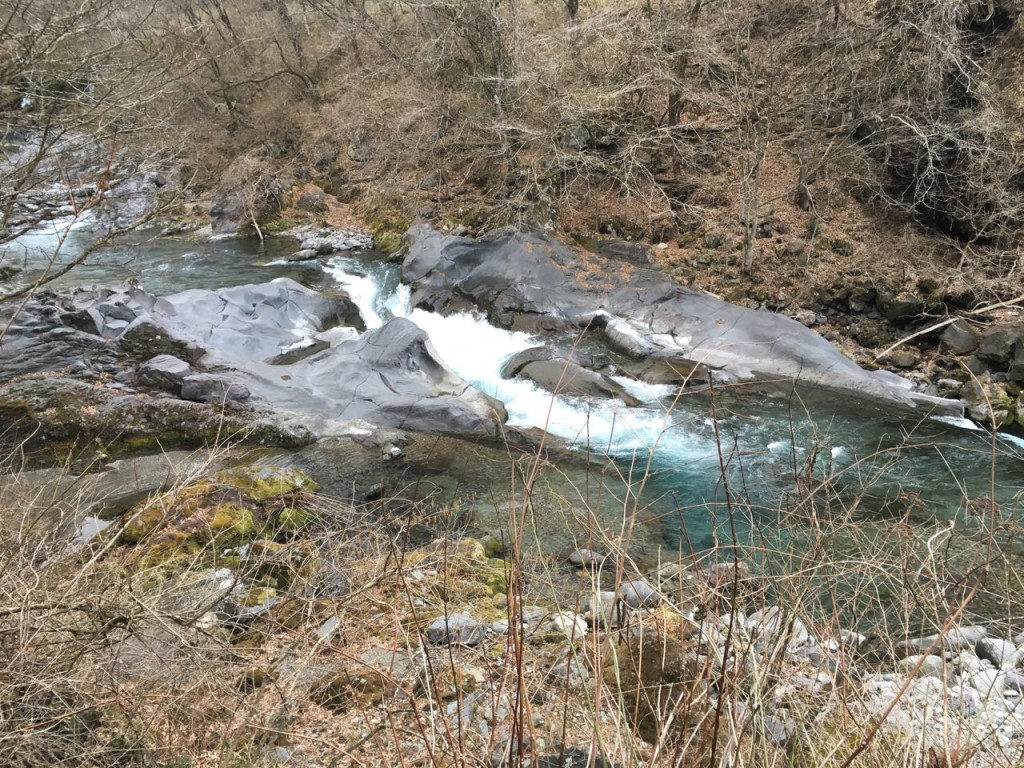 The Kanmangafuchi Abyss is near central Nikko, but not exactly on the beaten path. You're not likely to come upon it accidentally. It is only a few hundred meters long and has a riverside walking trail which leads to a row of about 70 stone statues of Jizo. The statues look out over the river and across to the Nikko Botanical Garden, but the botanical garden cannot be entered from the abyss. The botanical garden is also closed this time of year. If it had been open, it would have been on my list of places to go.
These statues are caretakers of the souls of travelers and deceased children. This group are referred to as ghost statues.
There used to be 100 statues, but in the flood of 1902 several were washed away. Now there are 70-ish. They are called ghost statues because it is said that when you count them you'll never get the same number.
Even though our guide spoke very little English, the one thing she did do was help us see all the things on our list in the very limited time we had. She navigated us from place to place very efficiently. I don't think we could have made it to everything without her.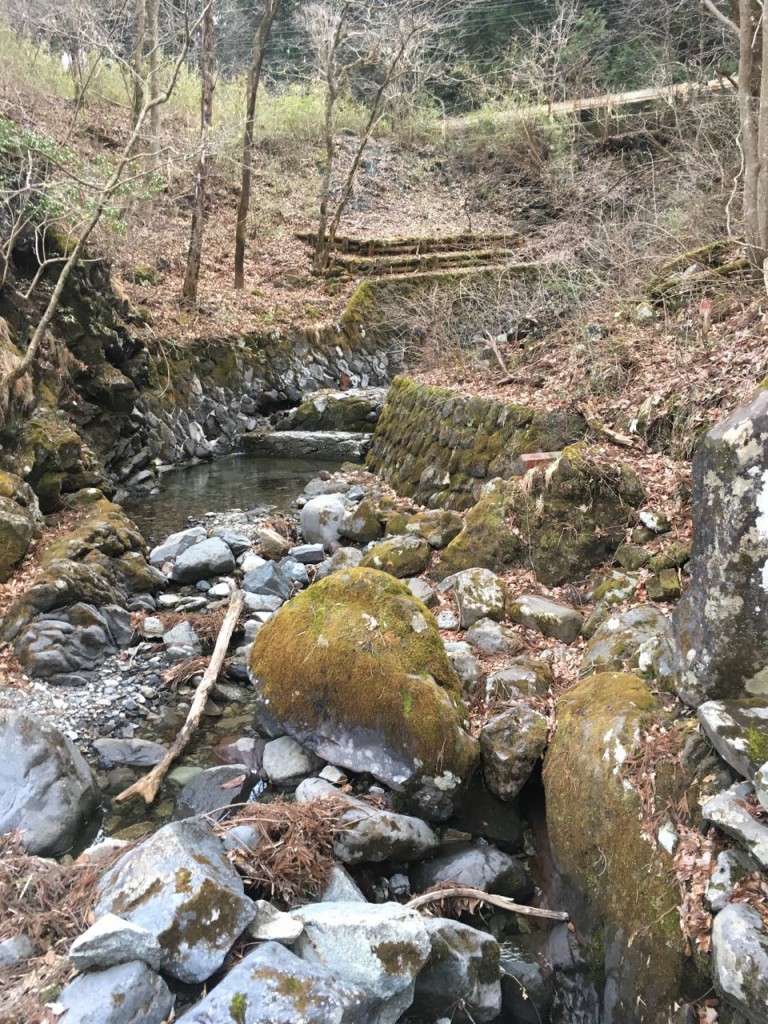 Unlike the other attractions, this one was fairly empty because not as many people know about it or find it. We only saw a few people, while everywhere else we went was packed.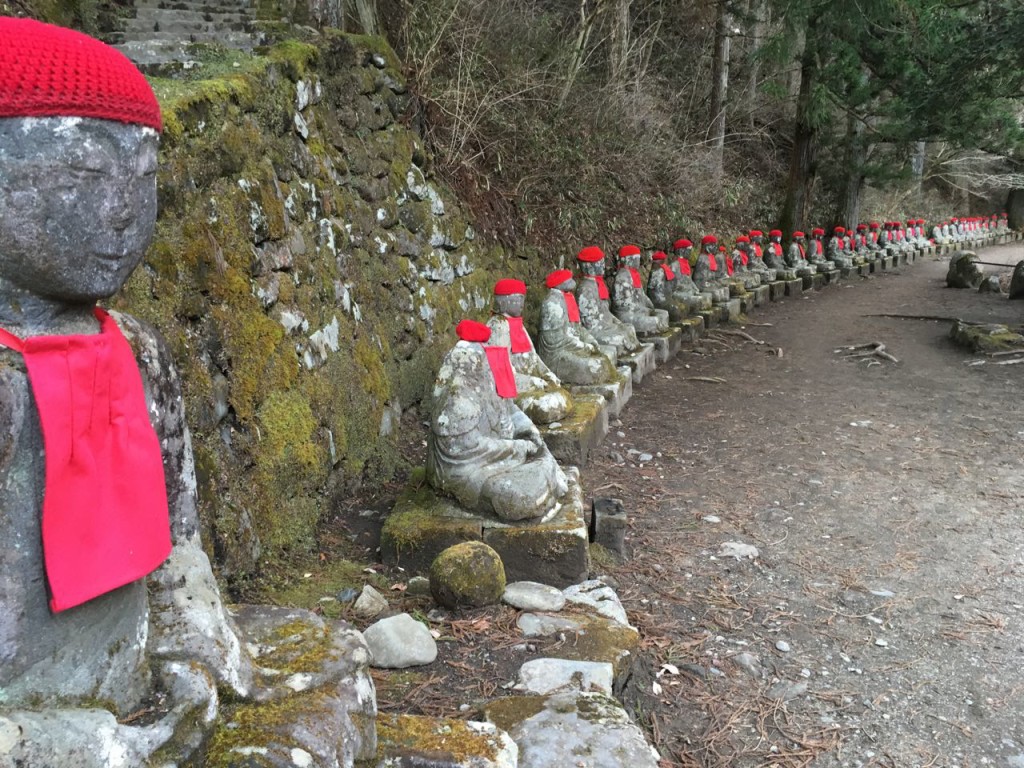 This is the picture taken by all the tourists, including me.
TRAVEL TIP: As you plan your day in Nikko, if it is as packed as ours was, leave this as your last or first stop because it is always open. As I mentioned before, most places are open from 9-4, 5 or 6. If you get an early start come here first. Or come here after everything else closes, as long as it's not after dark and you won't be able to enjoy the beauty.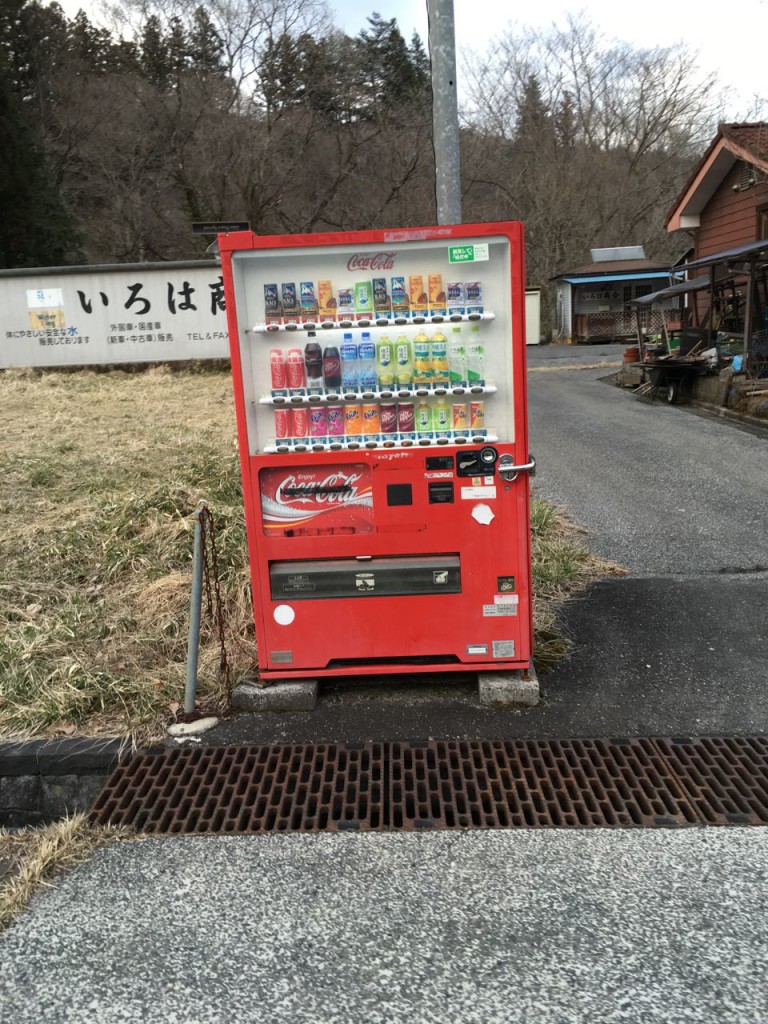 There are random vending machines in the strangest places, but that's good when you are thirsty!
At this point we made a run for the train to take us north to the ryokan and onsen we were staying at. We had a dinner reservation and needed to be there by 6:30, and it was going to take us about an hour.