From Nikko we caught a regional train north to the Ryokan we were staying at. A ryokan is a traditional Japanese inn.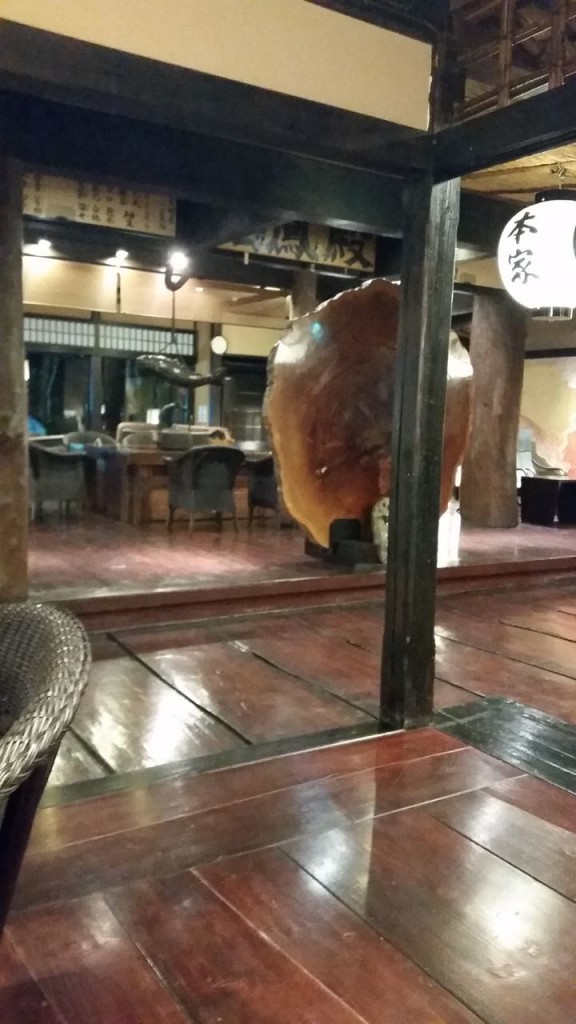 When we got off the train, the entire station was CLOSED. I mean there was not a single soul around. The strip mall it's located in was EMPTY, and most of the lights were off. The street was dark, and there wasn't a car to be seen, much less a taxi or bus, and definitely no Uber service. Uh…it was only 7 pm, not 1 am. Upstairs there was one little office with one man who had stayed late waiting for someone. Adam showed him the printout of our reservation and it had the name of our Ryokan in Japanese, so the man called them, and they sent a car to get us. Sweet mercy that the man was there, because otherwise we would have been spending the night in an empty train station. Above is a picture of the lobby of the ryokan.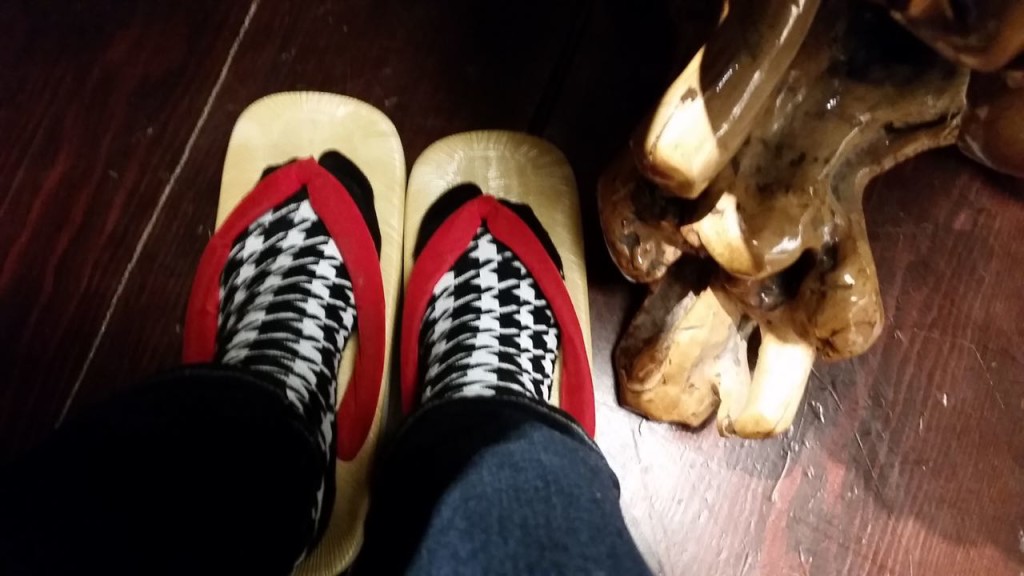 When you arrive at the Honke Bankyu you have to turn over your shoes, and you receive a pair of sandals like this for the duration of your stay. You get your shoes back when you check out.
I'm in love with these stairs in all their wonky crookedness. The entire place it so beautiful.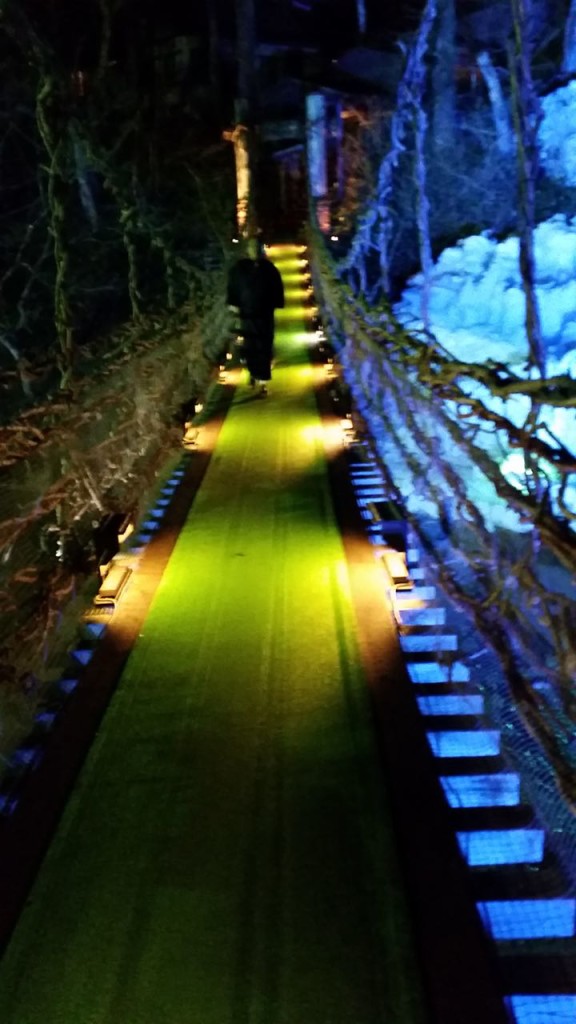 After we checked into our room, we quickly headed to dinner. This was not just any dinner, it was a kaiseki, which is a traditional multi-course meal that would be the Japanese version of haute cuisine. To get to dinner, we walked across this vine bridge.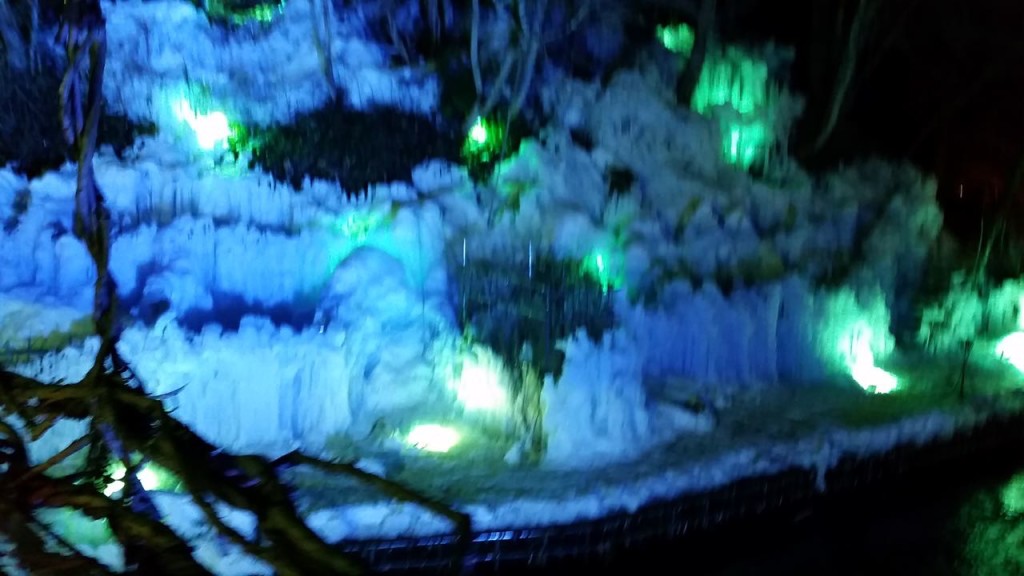 There was still ice on that side of the river.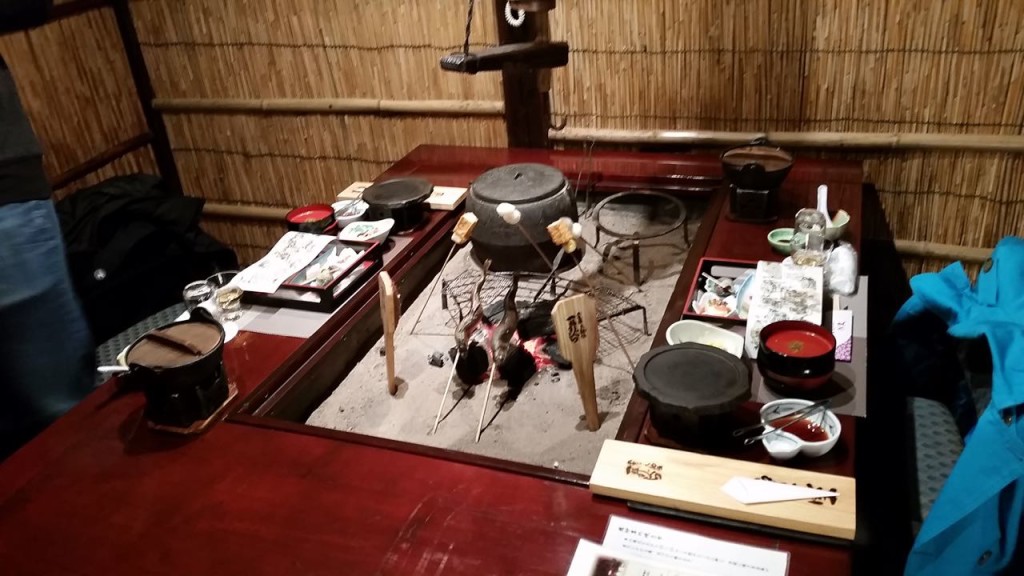 They had a private room already set up for us.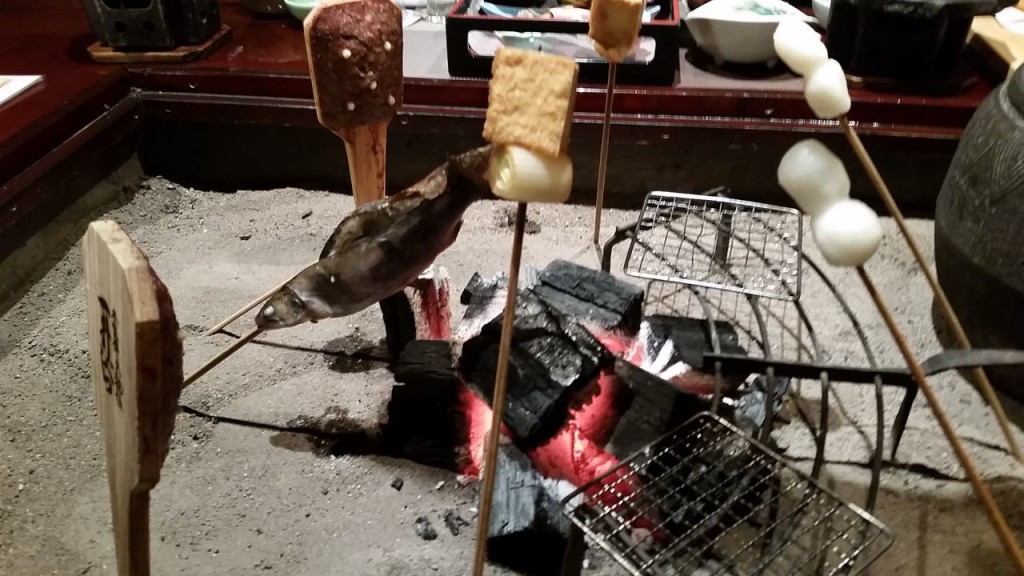 There's that fish on a stick that I promised you. It is actually really tasty. Just bite through the skin into very moist, delicious, tender fish. On the wooden paddles was ground chicken flavored like some kind of sausage. Those aren't marshmallows and graham crackers on the sticks, they are fried tofu and rice balls. Japanese s'mores?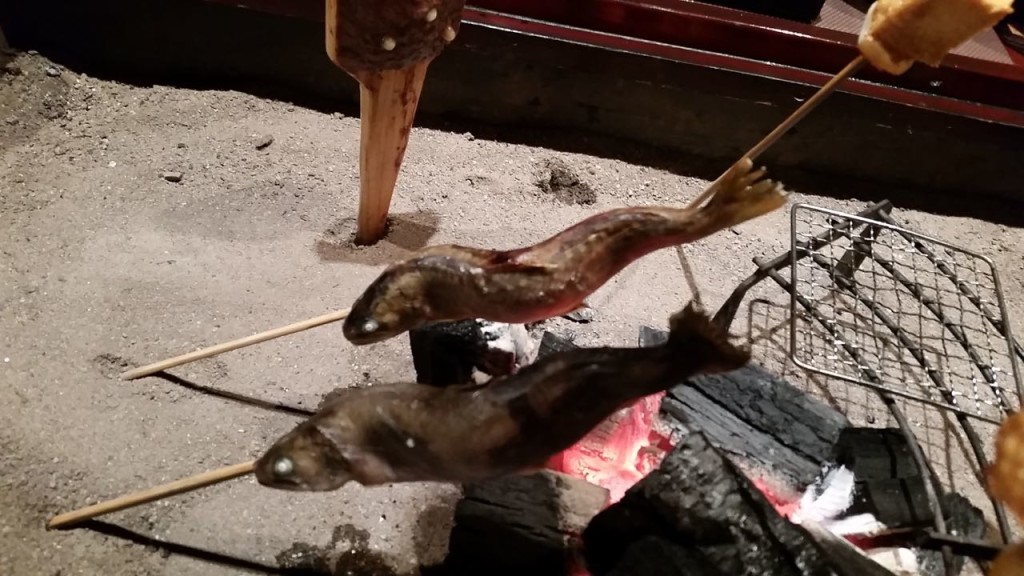 Our hostess came in and out bringing other courses, and she adjusted the items in the fire pit to be closer or farther away, depending on whether we wanted them cooking or staying warm. My vision of the uses of our fire pit have been broadened.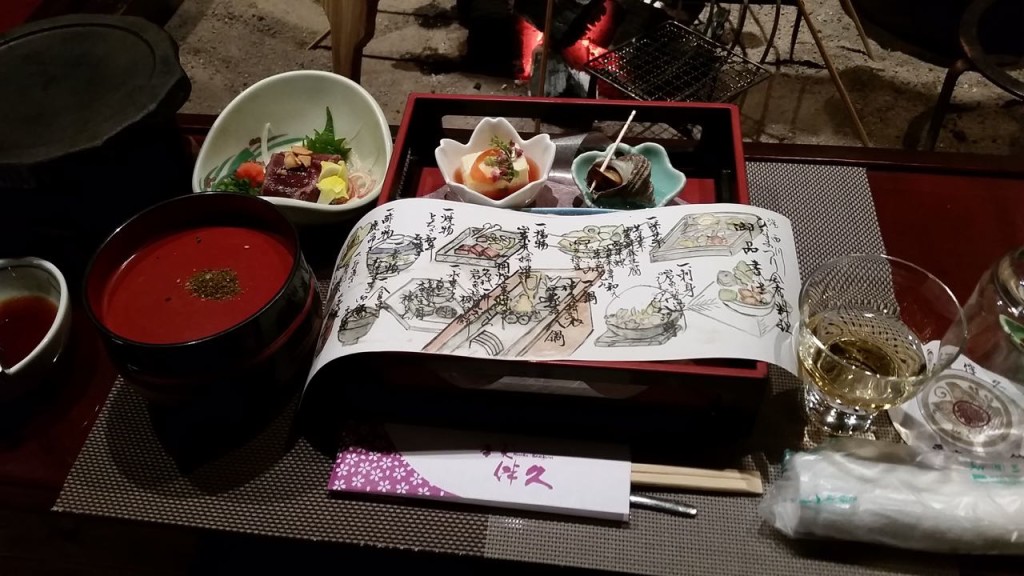 We each had a tray and some bowls with a variety of courses.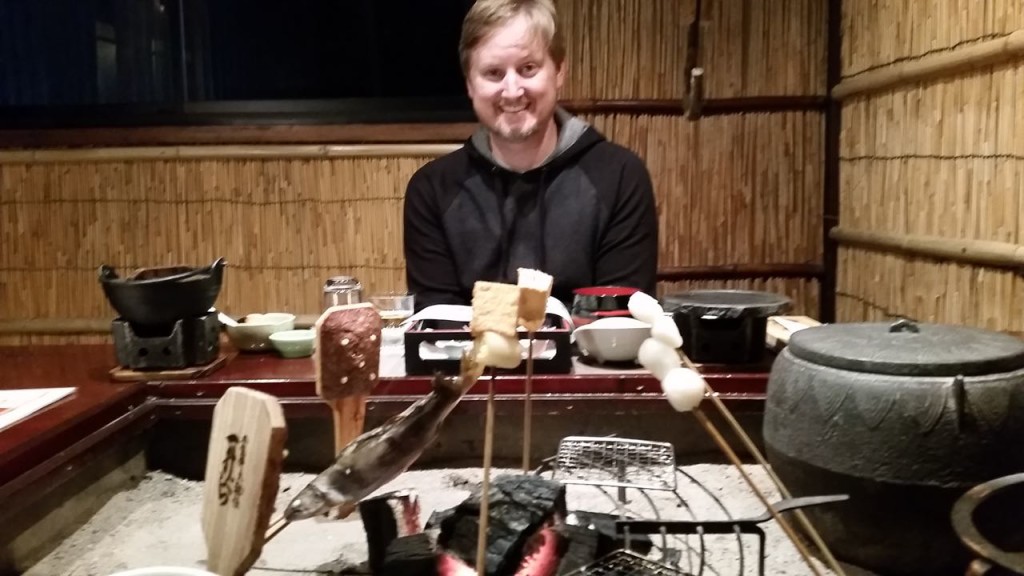 We were starving!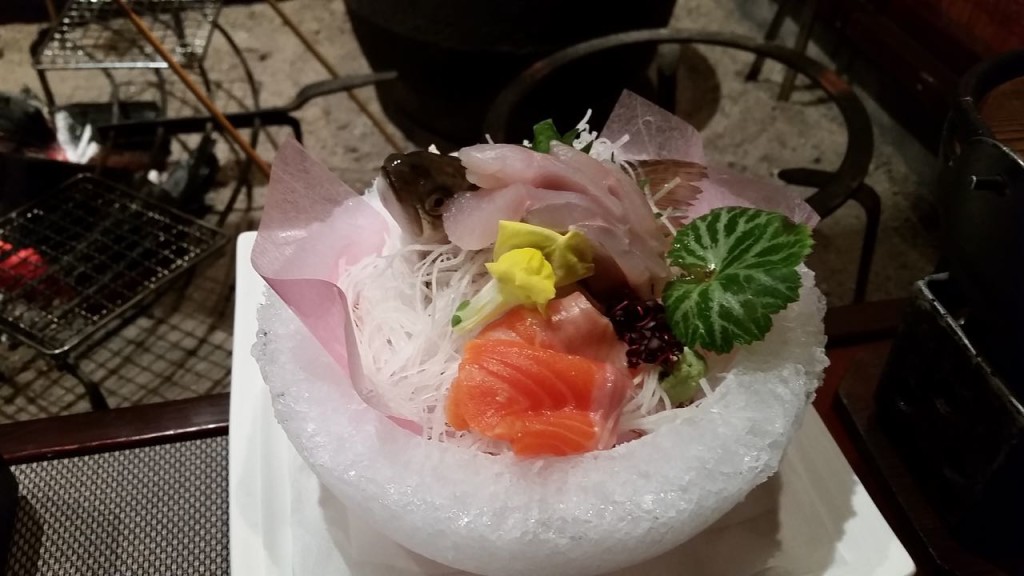 This bowl was made of ice to keep our sashimi perfectly chilled.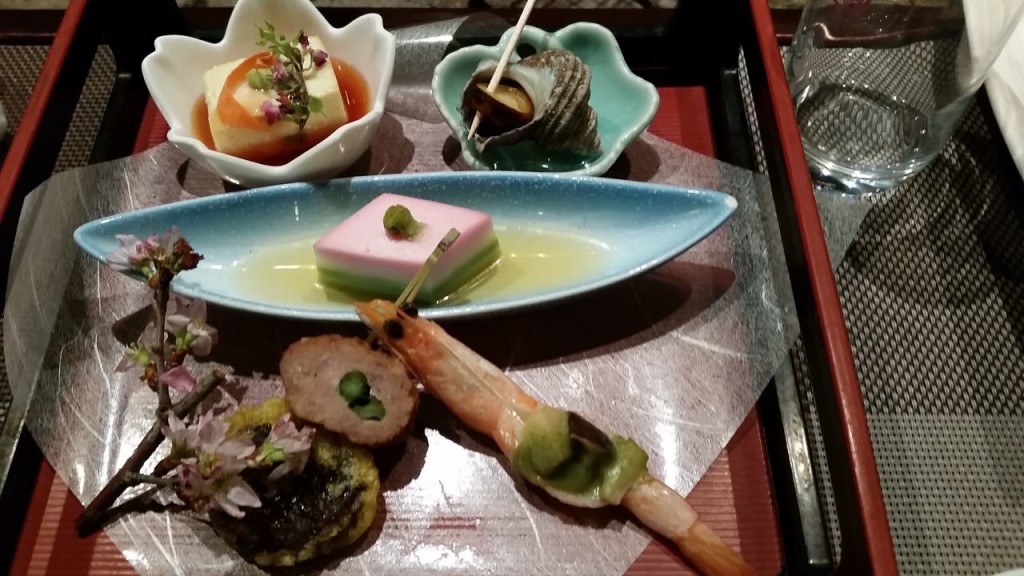 Not a variety of confections here. Tofu, rice stuff, a sausage, a snail, a giant prawn with its eyeballs still attached, and a beautiful cherry blossom stem.
The sausage on the paddle was really tasty.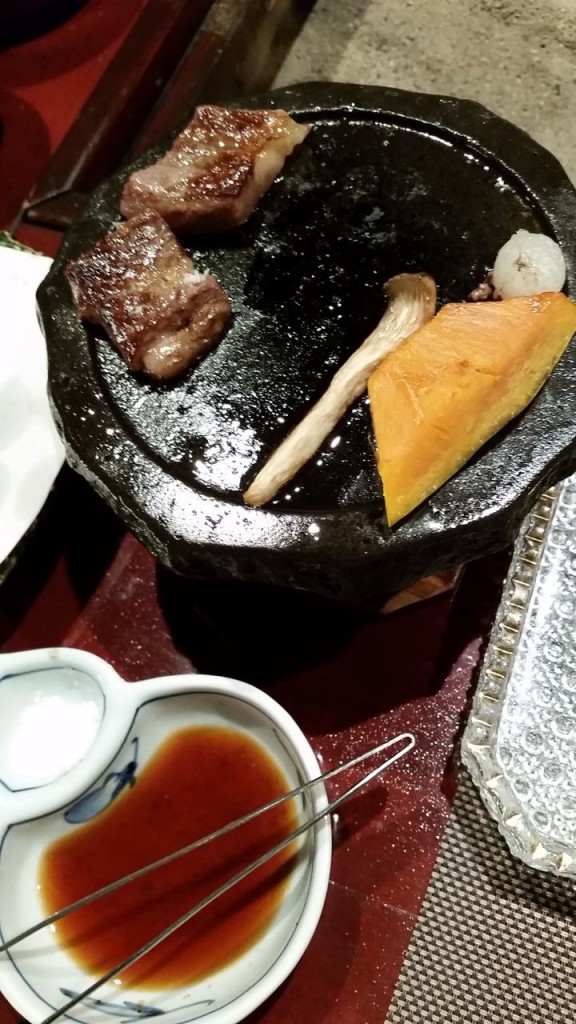 This little cast iron hot plate was for cooking our beef (kobe perhaps?), asparagus and squash. It was really delicious.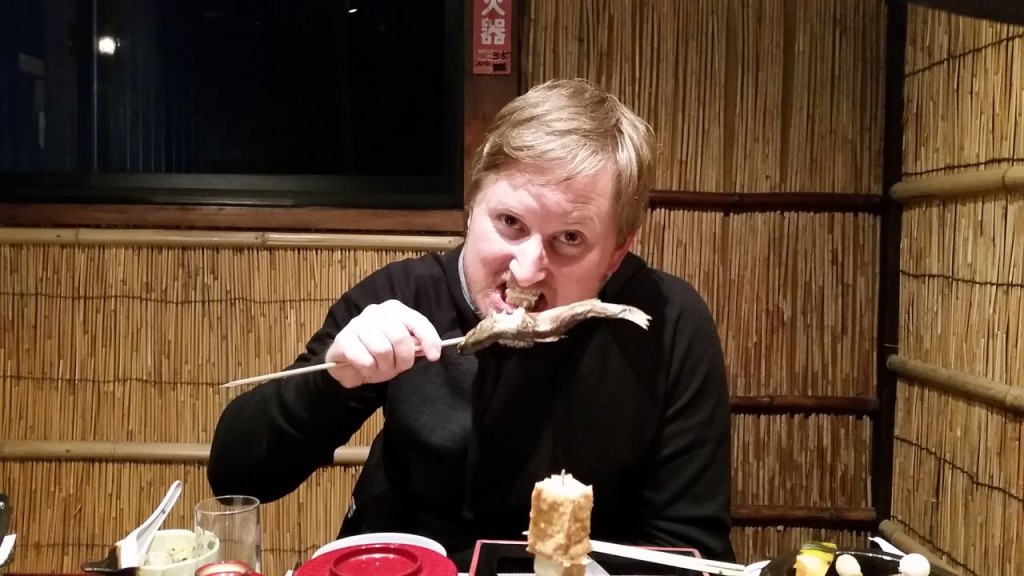 The fish was also super tasty. When we take our kids camping and want to catch dinner, this is the way we're cooking them. No skinning and fileting for us! Fish on a stick, kids!
Dessert was this panna cotta looking thing that didn't taste like panna cotta, and the best honey dew I've ever had.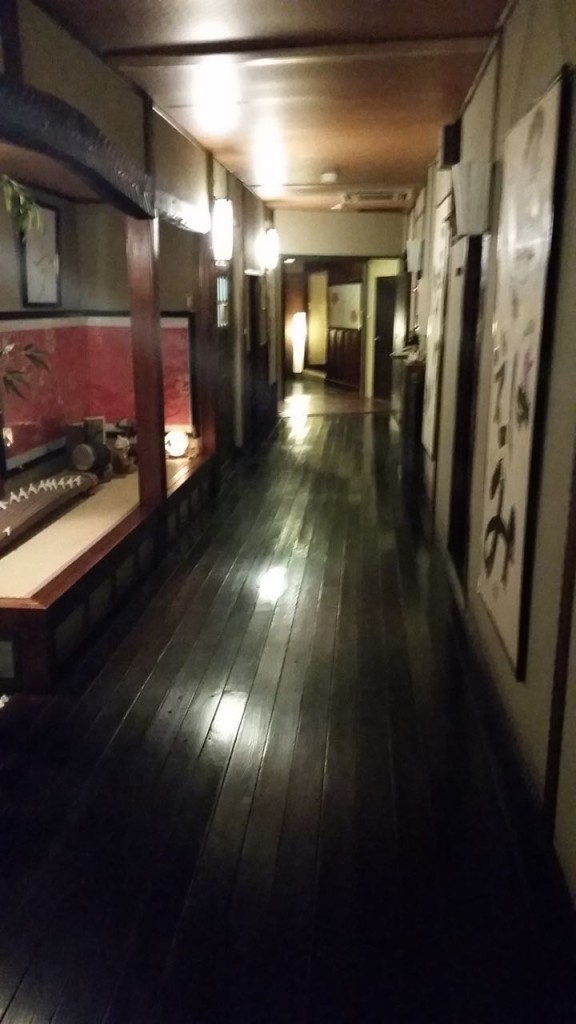 More pictures of the beautiful ryokan.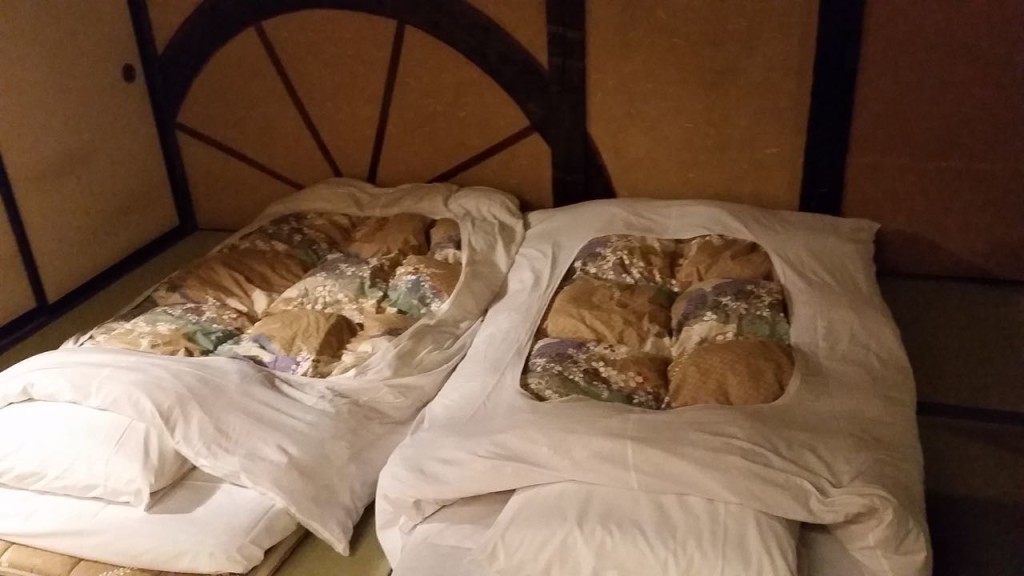 Our beds were traditional futons, and they were unbelievably comfortable, cozy and warm. But once again, twin beds. I was worried I would be uncomfortable, but this is one of the best beds I've ever slept in.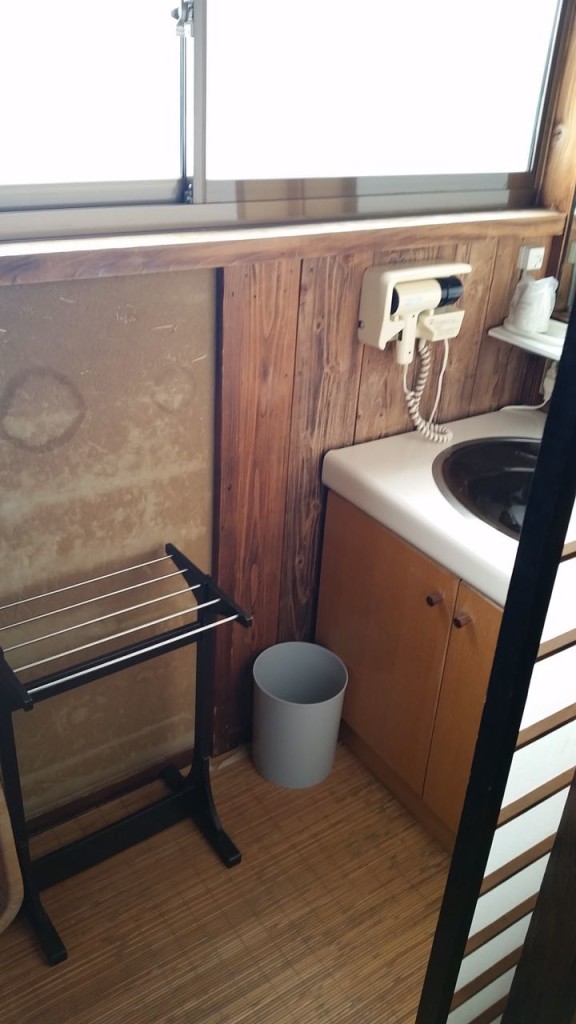 When I first saw the bathroom I panicked because there was NO TOILET. WHERE IS THE TOILET?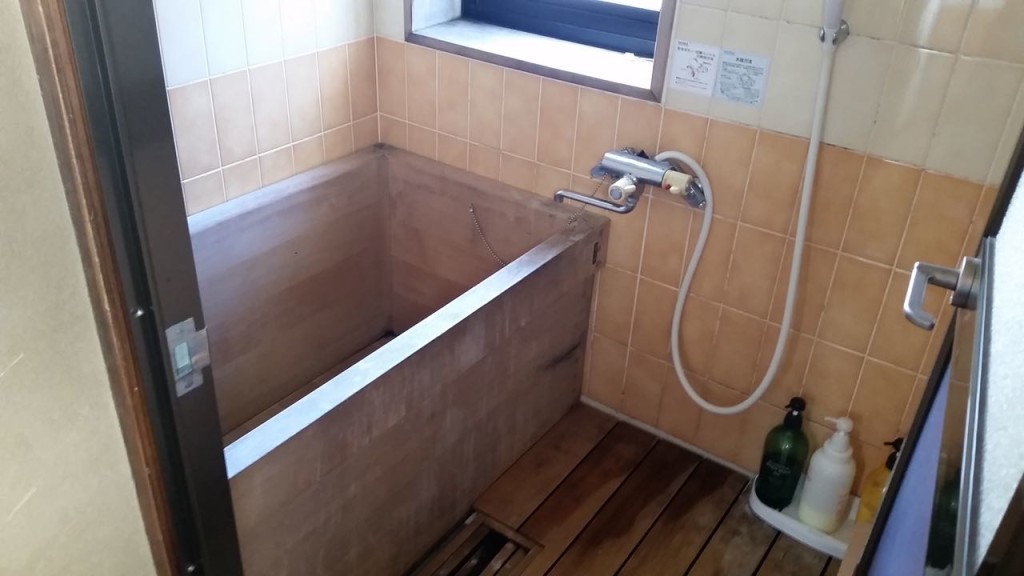 Some ryokans have communal bathrooms, like a dorm, but the Honke Bankyu is a fancy ryokan, and each room has its own bathroom. The toilet room was at the front of the suite in a separate little room. Many Japanese hotels are the same way, the toilet gets its own room, and it's not next to the shower room.
I was a little worried about being cold because Adam had stayed in a ryokan three years before during a business trip to Japan, and it had been very cold, uncomfortable and had a communal bathroom down an outside walkway. He was there in February. I hate being cold. I sure didn't want to freeze going to the bathroom in the middle of the night. Fortunately we chose our ryokan well, and we were very toasty while the temperatures outside were below freezing.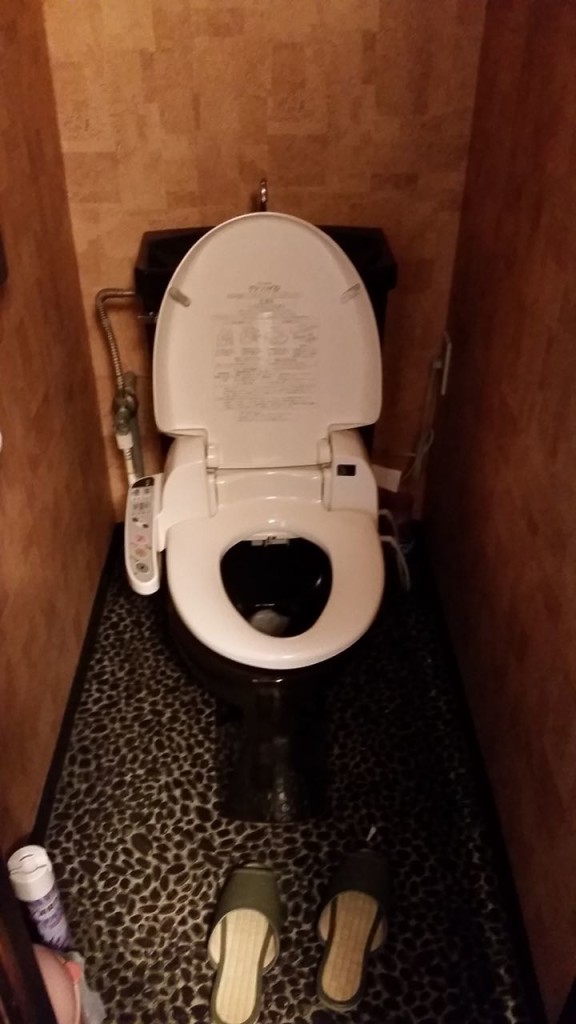 In the Nikko post I mentioned the first of the three types of toilets in Japan. The second type are Japanese Toto toilets, which are the greatest on the planet. Different models boast different features, but my very most favorite feature of all? Heated. Seats. Some of them have automated lids with motion sensors that automatically go up or down when you approach or leave. There is a control panel that might have a button to raise and lower the seat so you don't have to touch it. There might be a sound feature you can turn on so no one can hear you pee. There is the obvious auto flush, and one of the nicest ones I used was lit up from the inside. In the bowl was a light so you could see your target in the night. I WANT A TOTO TOILET. SANTA, DO YOU HEAR ME?
These slippers are for use ONLY IN THE TOILET ROOM. If you come out of the bathroom with those on your feet, or if you wear your shoes in there and come out, they will look at you like Britney Spears when she went in that gas station restroom barefoot. It's that nasty. Conveniently, a lot of toilet rooms have a small step up to leave, and that little lip always reminded me to remove the peepee slippers and step out in my socks to put on my regular slippers or my street shoes.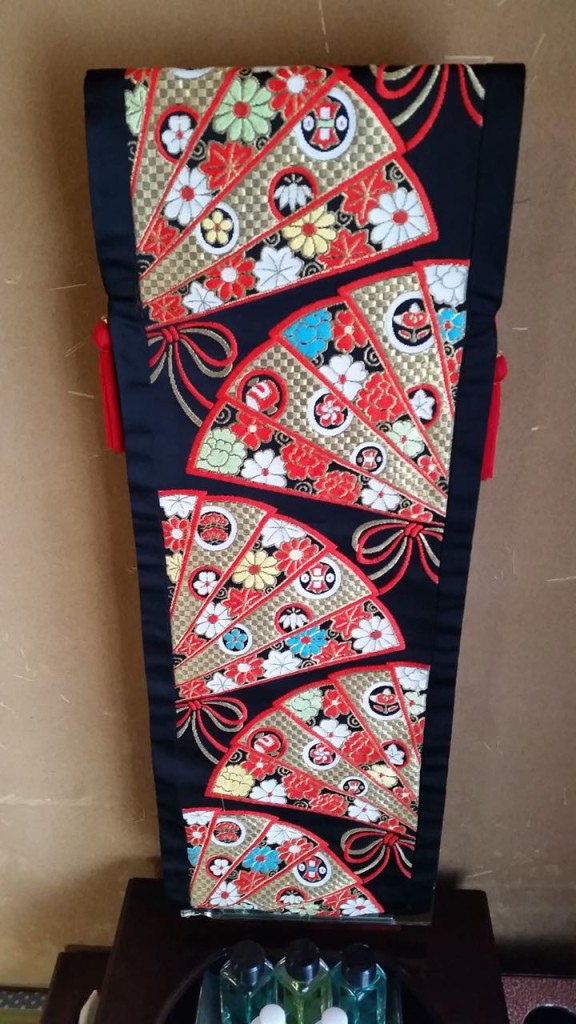 I loved this embroidered mirror cover. So elegant.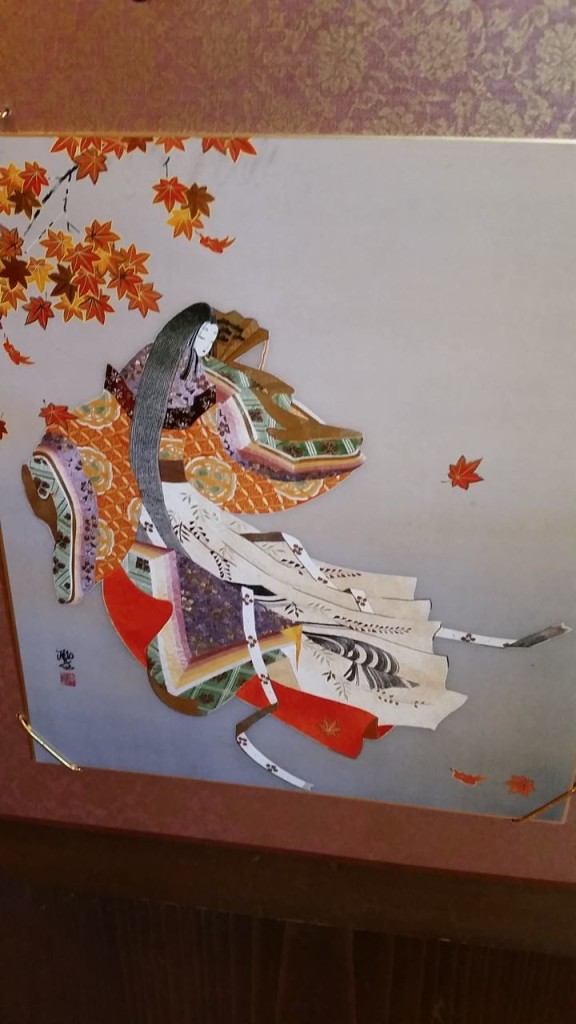 And this wall hanging. Love it.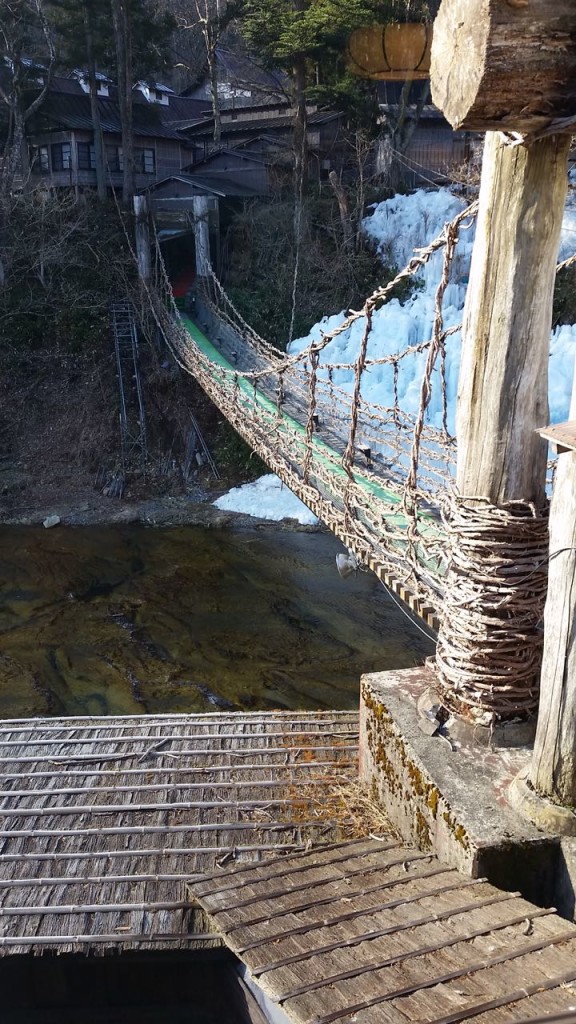 Here's a daytime view of the vine bridge we crossed to dinner.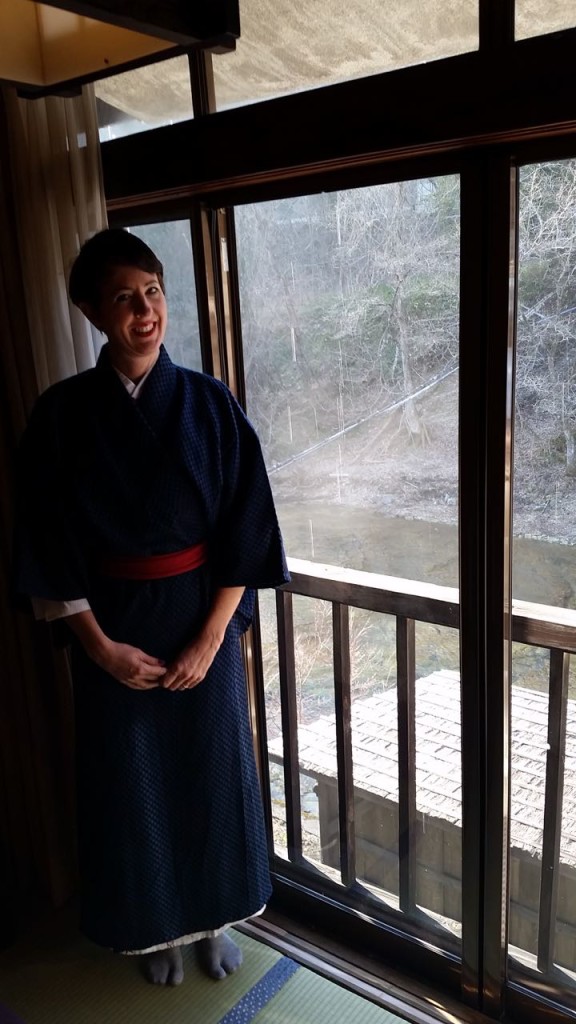 The ryokan provides a yukata (traditional robe) for each guest to walk around in or go down to the mineral baths, as well as toe socks so you can wear your sandals more comfortably. Seriously, I cannot bring myself to force something between my toes when I'm wearing normal socks. It ruins regular socks! Can. Not. Do it.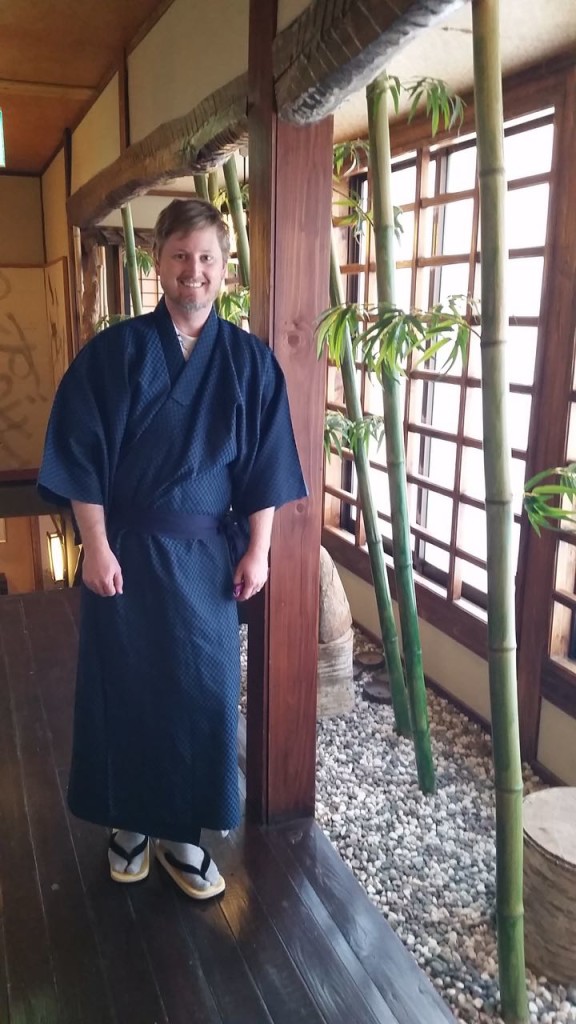 The yukata is two kimono type robes layered over each other, and they are so comfortable.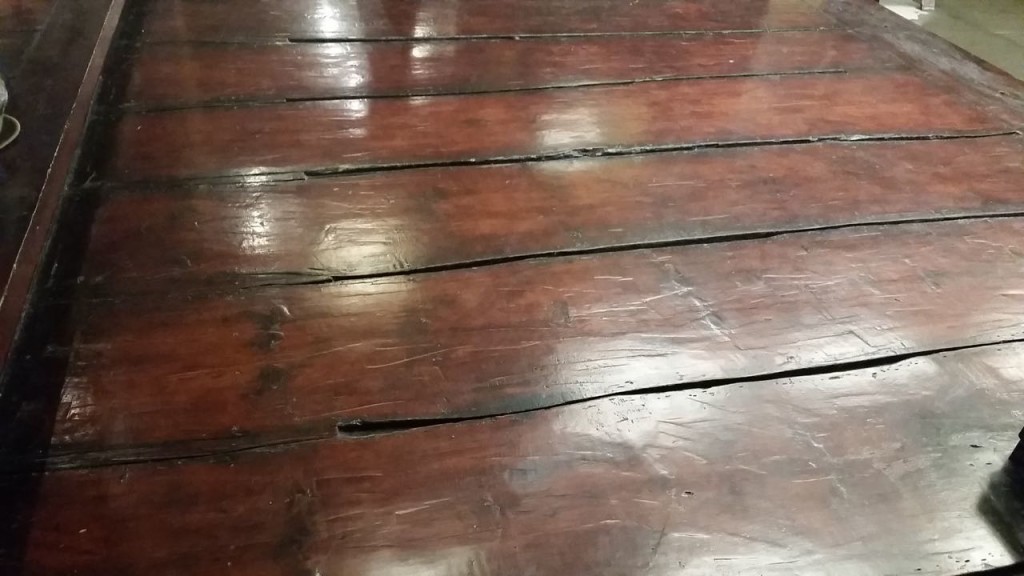 I was dying over these floors.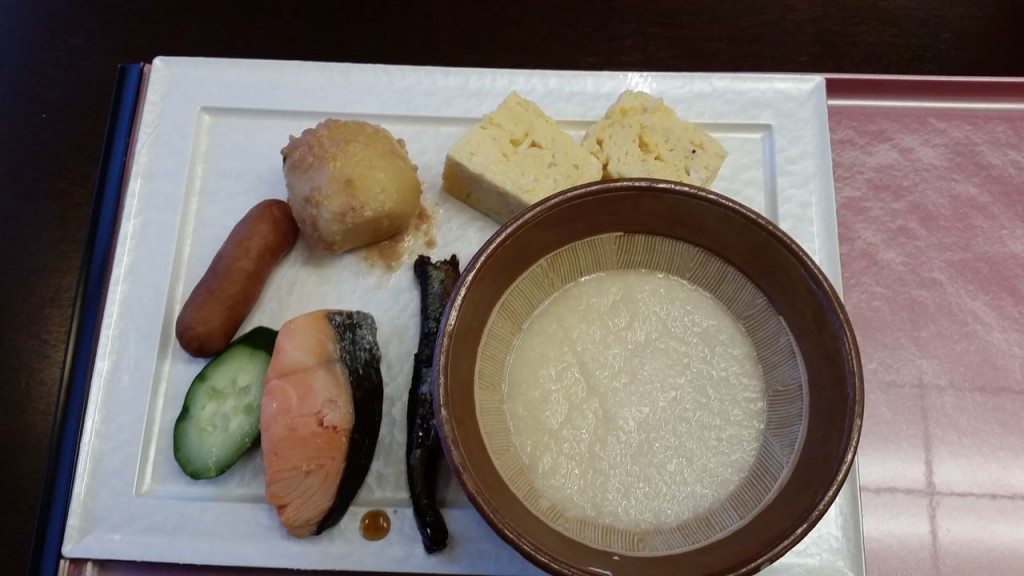 There was a breakfast buffet with fish, rice porridge, steamed eggs, marinated whole fish (surprisingly sweet), pickled vegetables, noodles and soups.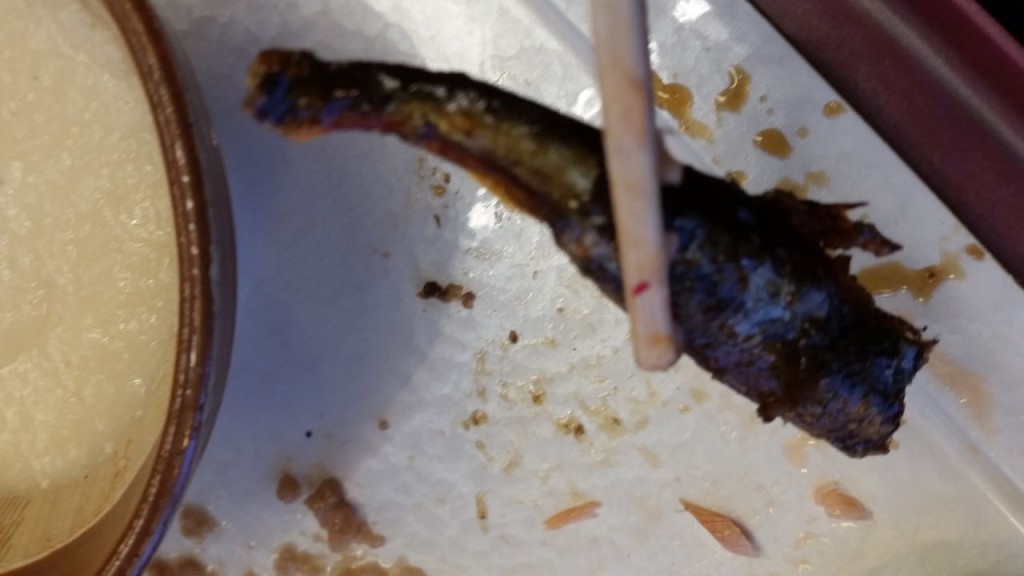 I just bit the head right off. Quite tasty.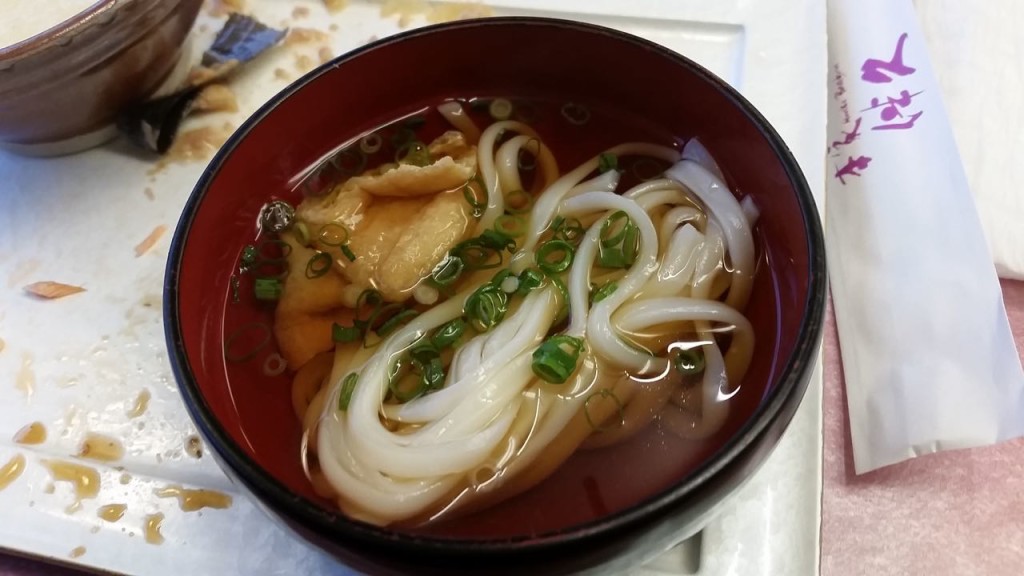 A little ramen with fried tofu.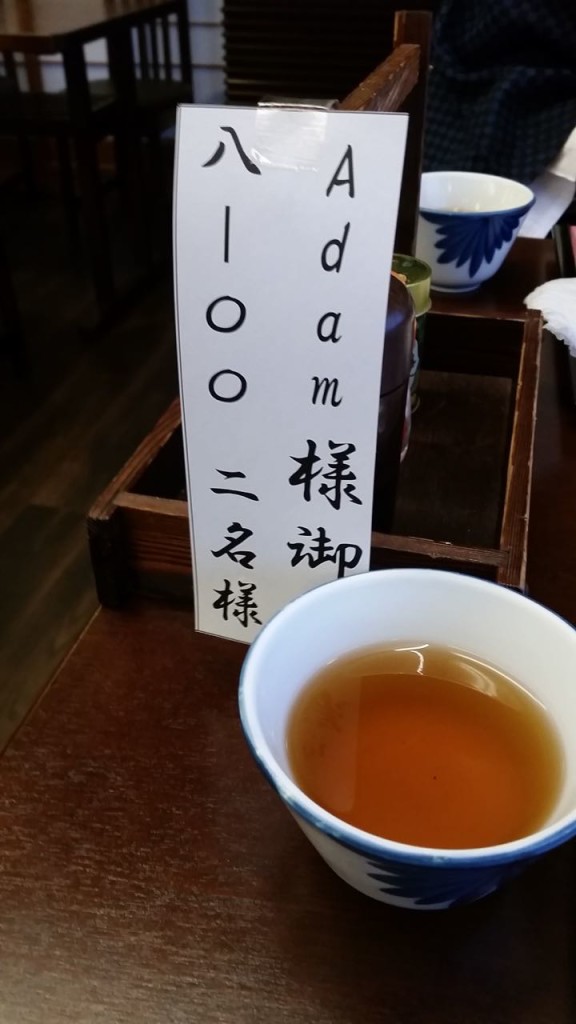 Our table was waiting for us. Everything here was personalized. When the man in the train station called the ryokan for us, he didn't even give our name, but they called us by name when they picked us up because we were the only guests who hadn't checked in. They knew we were missing. The service there is excellent.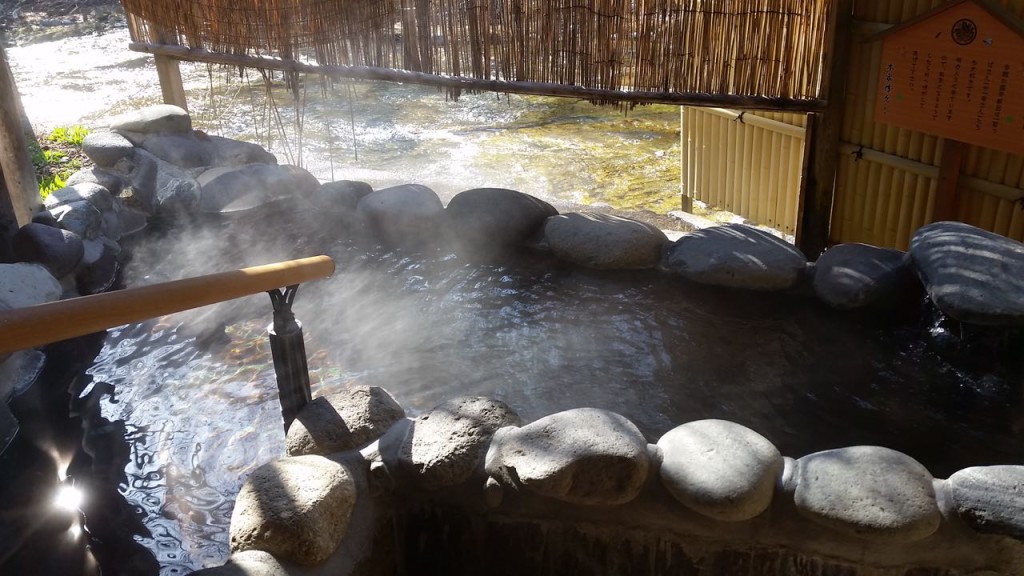 After breakfast we had reserved one of the private onsens, or mineral baths. At the public baths, it's men in one and women in another, but these are private and meant for 2. There is a shower station where you scrub down first. The onsen isn't for getting clean, it's for soaking in the hot mineral waters from the natural springs. You have to be clean BEFORE you get in, and that means NO SWIMSUIT, which is what can make the public ones awkward for foreigners.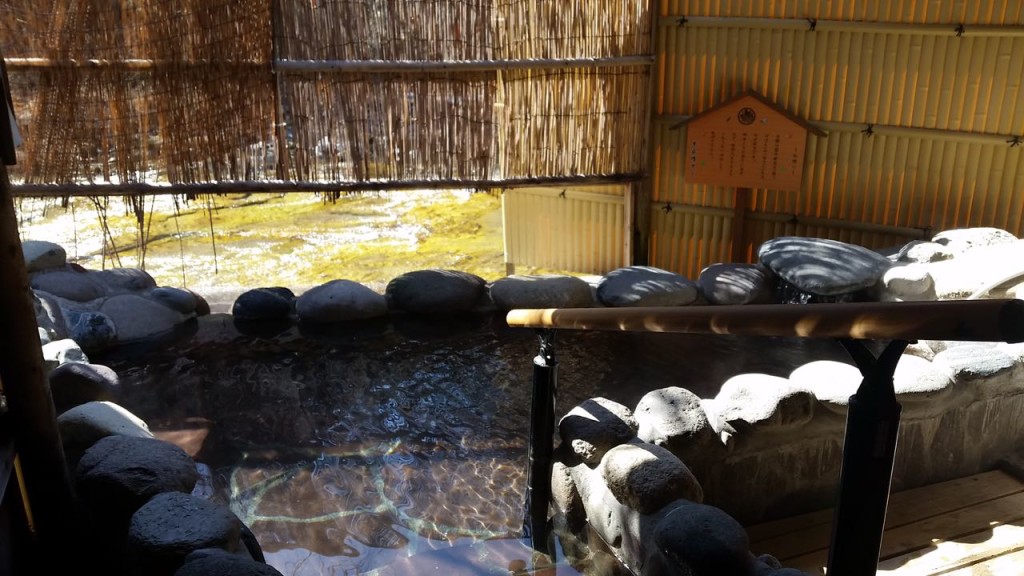 Each bath is right on the river, though made with privacy in mind. It was a wonderful experience to sit and enjoy the beautiful scenery, the sound of the river, and the company (my husband is my favorite company). It was so relaxing and nice. If we hadn't been so exhausted and full from the delicious dinner the night before, it would have been great to do this both days.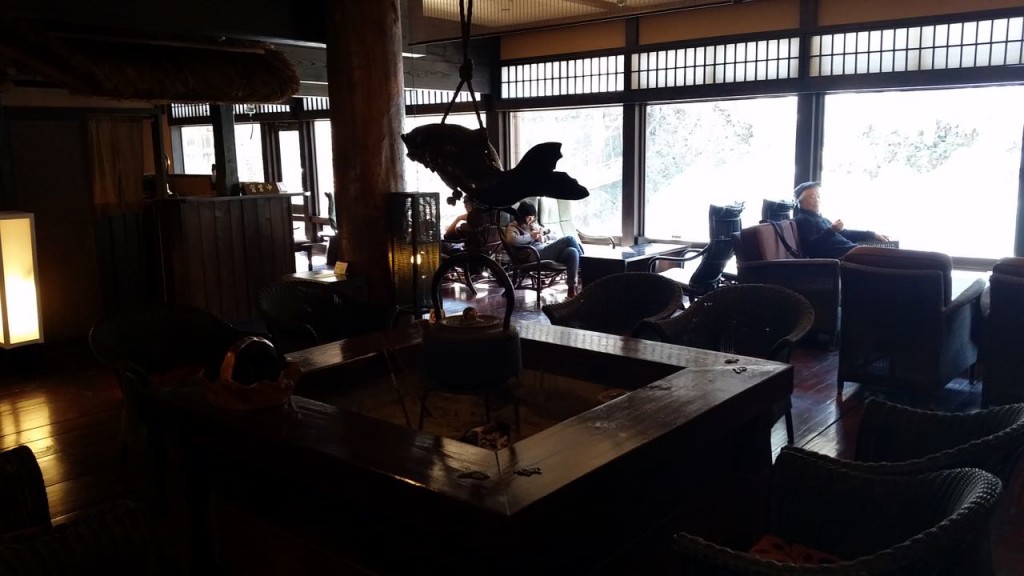 After our bath we went back to the room to get dressed and pack. While Adam checked us out, I snapped a few pictures of the incredible lobby in the daytime.
These windows overlook the river.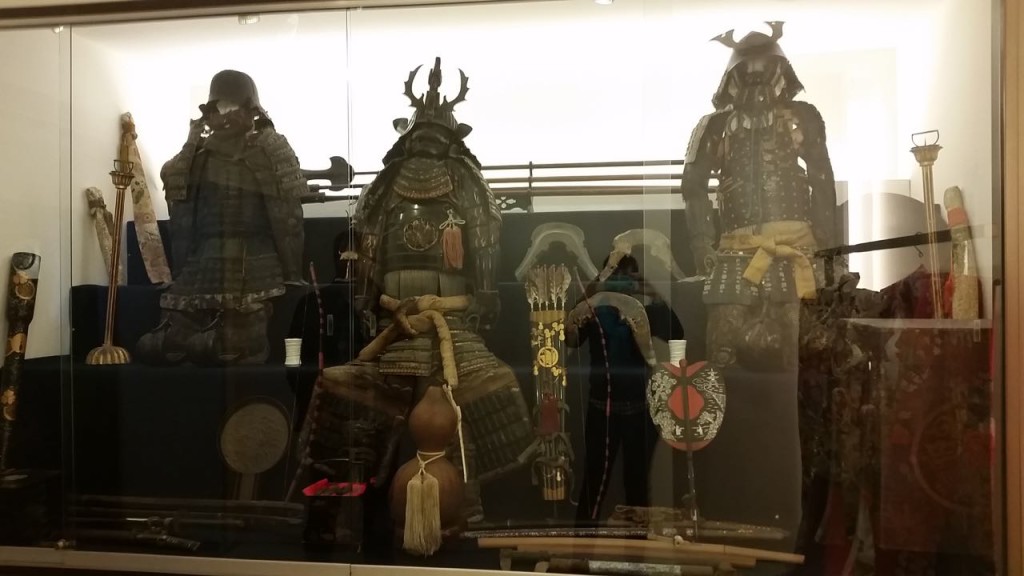 They have a room displaying traditional samurai armor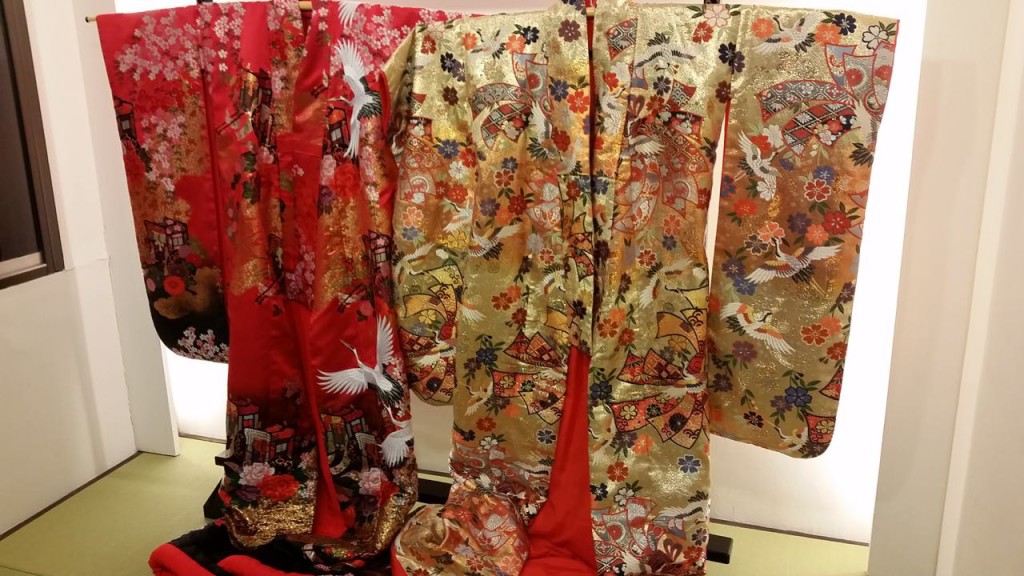 And a couple of exquisite kimonos.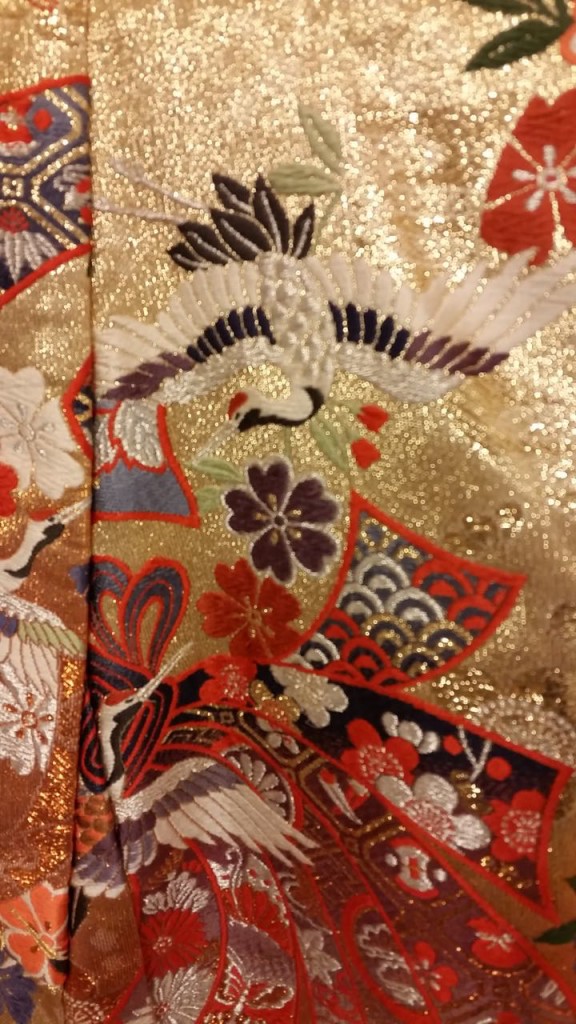 The embroidery and detail are incredible.
I can't imagine having to fight wearing this heavy armor, but I suppose you just get stronger and adjust.
This fire pit is lit at night and people sit around and drink and talk.
Just look at the circumference of this tree!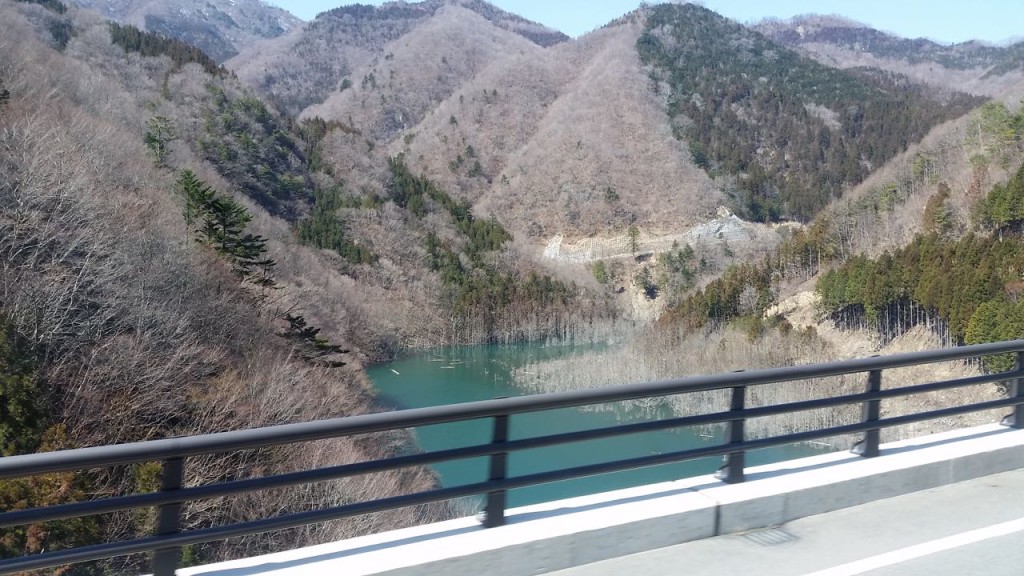 The whole area is unbelievable. I would love to come back here. You could easily spend a week in this area with all of the outdoor activities, and in the fall it's supposed to be spectacular. Look at that water!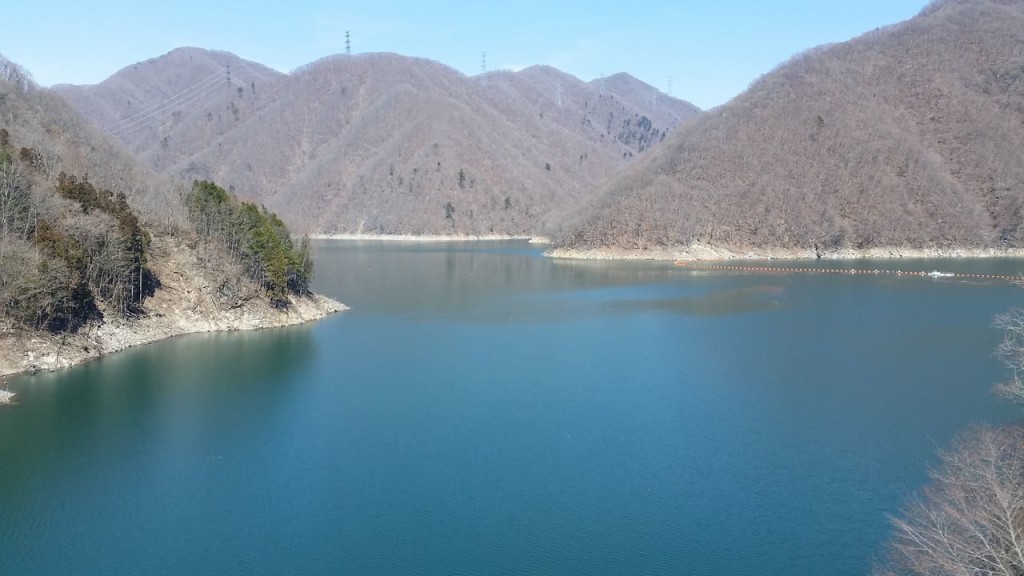 The rest of the day was mostly a travel day. There is a bus stop directly across the road from the ryokan to get back to the train station. We had to go back to Tokyo station to activate our JR Passes then catch another train to Nagoya. The trains in Japan are the nicest I've ever been on. We absolutely loved traveling by train. Shinkansens (bullet trains) are my favorite way to travel. I can truly say my last shinkansen ride of the trip was a sad moment.
Bottle of sweat anyone? No?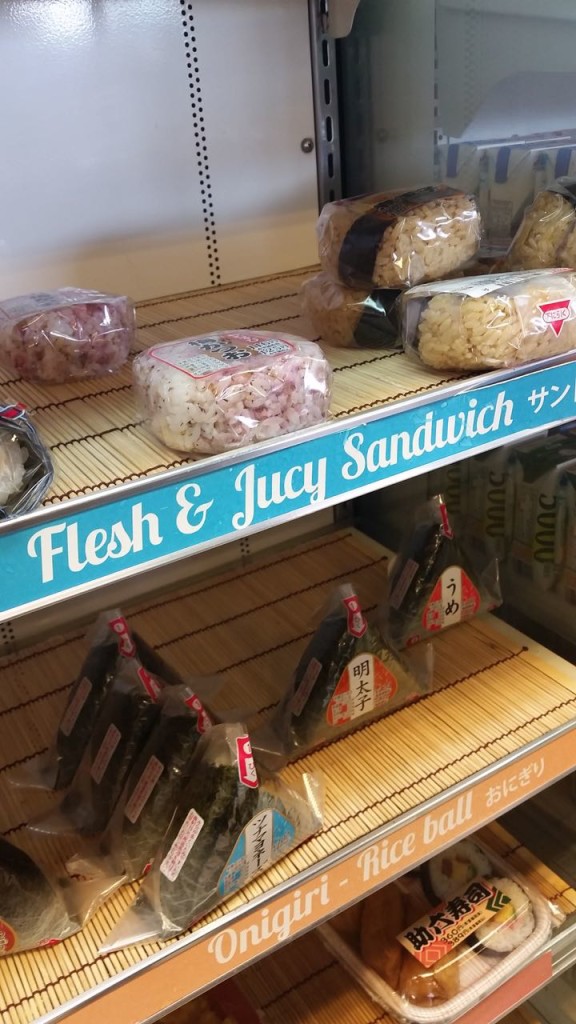 How about a flesh and jucy sandwich? We grabbed some lunch in the train station. Convenience food isn't really that good in Japan. See that triangle? I call that a seaweed sandwich. It's a triangle of rice with canned salmon or tuna and maybe some mayo in the middle, wrapped in seaweed. It tastes exactly like it sounds. It's not bad, it's just not a slice of pizza in Venice or a croissant in France, if you know what I mean. See? Protein deprived.
They do have these steam buns that are filled with sautéed veggies and occasionally meat. I had a hard time getting full on these things.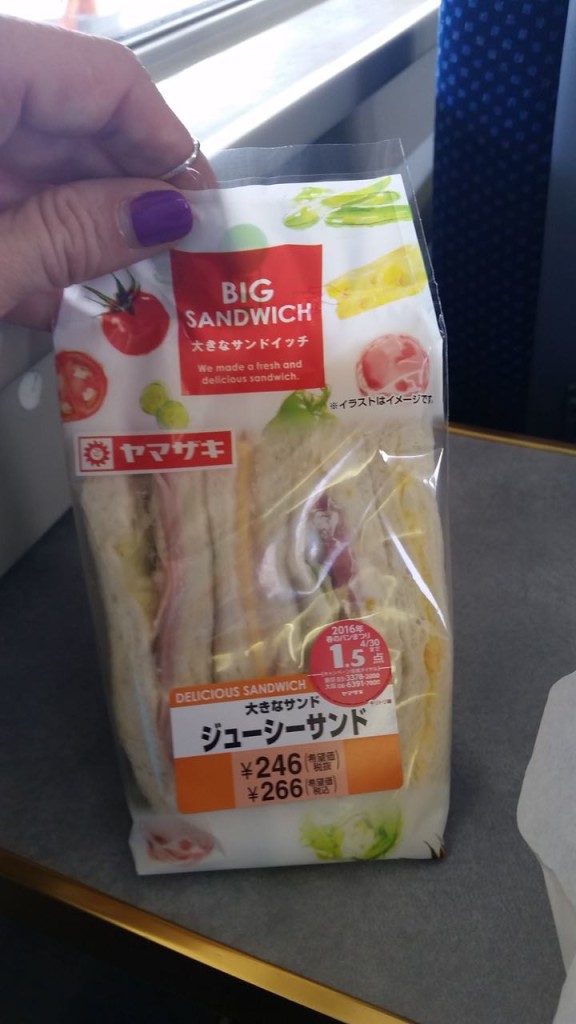 Anyone down for a delicious sandwich? I passed.
When we arrived in Nagoya we asked for a restaurant recommendation and a map. The directions were in Japanese. It was only a few blocks away, but we got lost because all the street signs are in Japanese characters. I stopped a man to ask, and when I showed him the paper, he studied it thoughtfully and said, "Let's go." He walked us all six blocks to the door of the restaurant. It was completely out of his way! He was on his way home from work and simply turned in the direction of our restaurant and led us right to it. I'm telling you, Japanese people are the nicest, most helpful people I've ever encountered. Everyone was exceptionally friendly and helpful.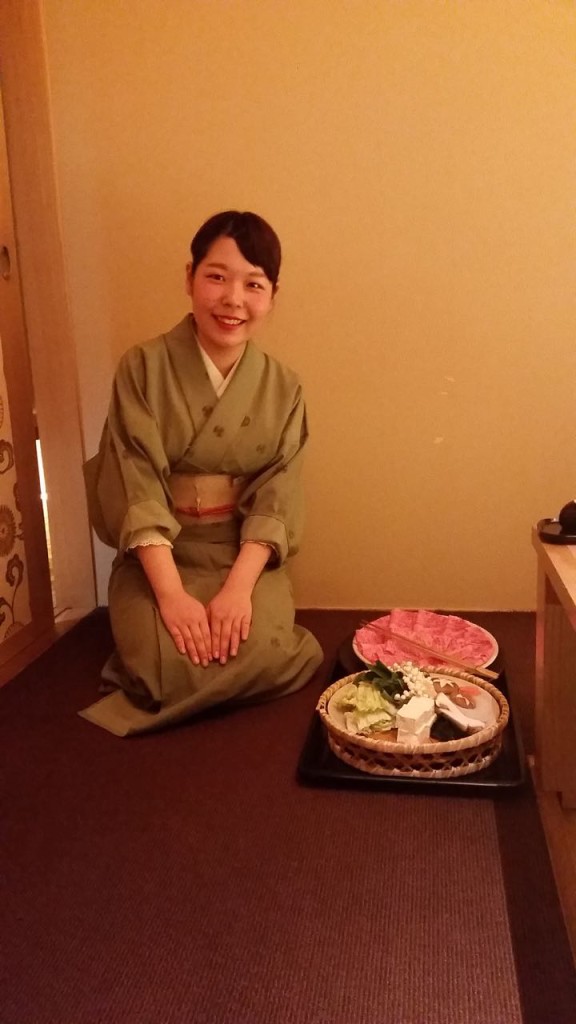 We went out for shabu shabu which is the Japanese version of fondue. Here is our hostess with our food.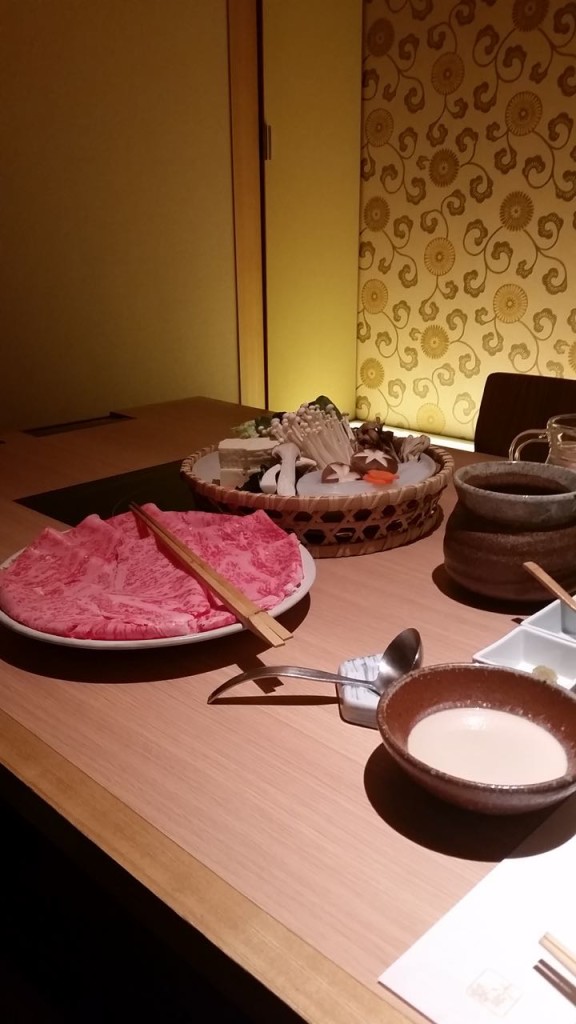 Each of these things gets cooked by the diners in the boiling broth on the table.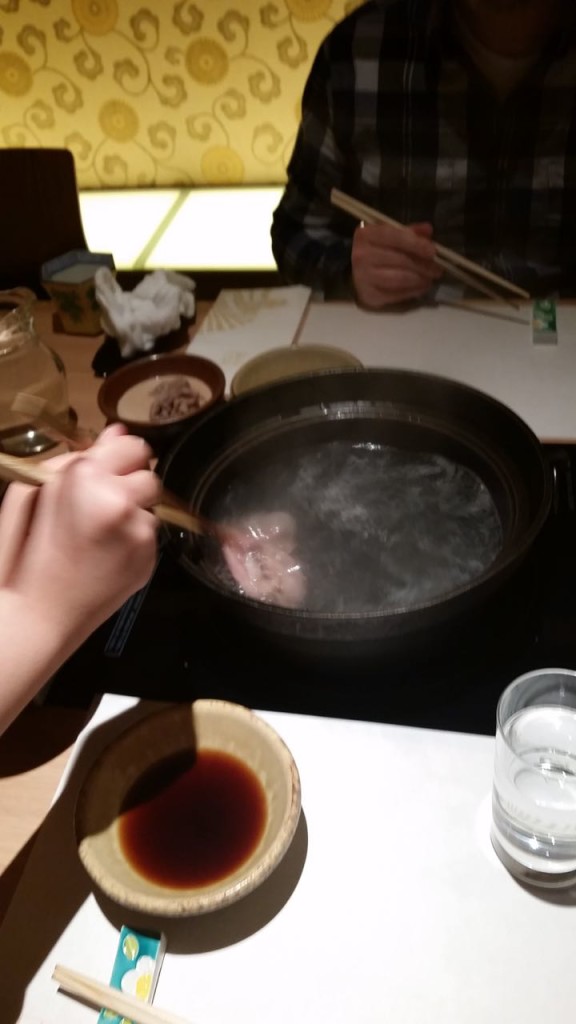 Swirl the thinly sliced beef one slice at a time and it cooks quickly. There are dipping sauces for the meat.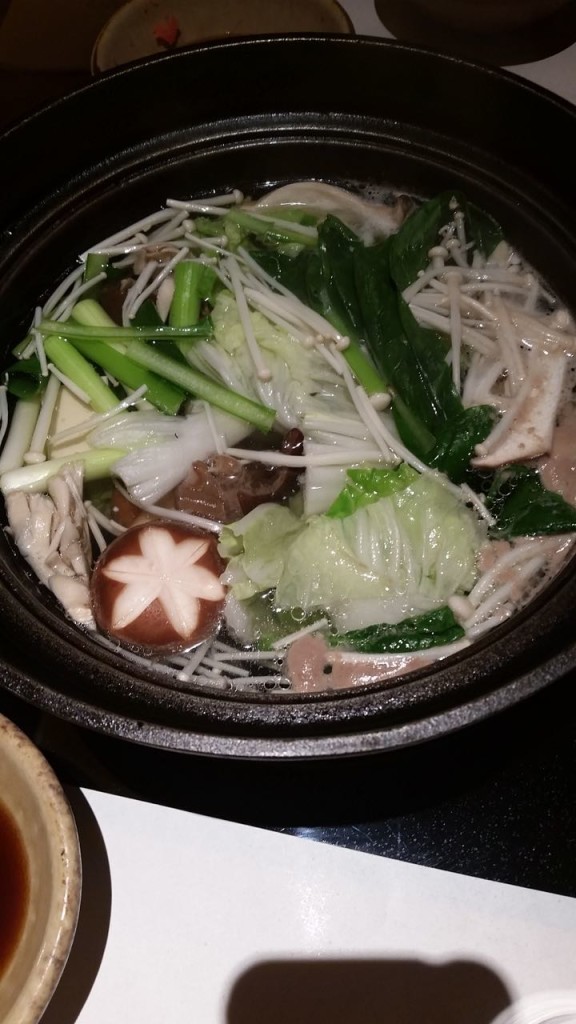 Everything else goes in the pot to make soup. Presentation is very important in Japanese cuisine. I love the star pattern in the mushroom.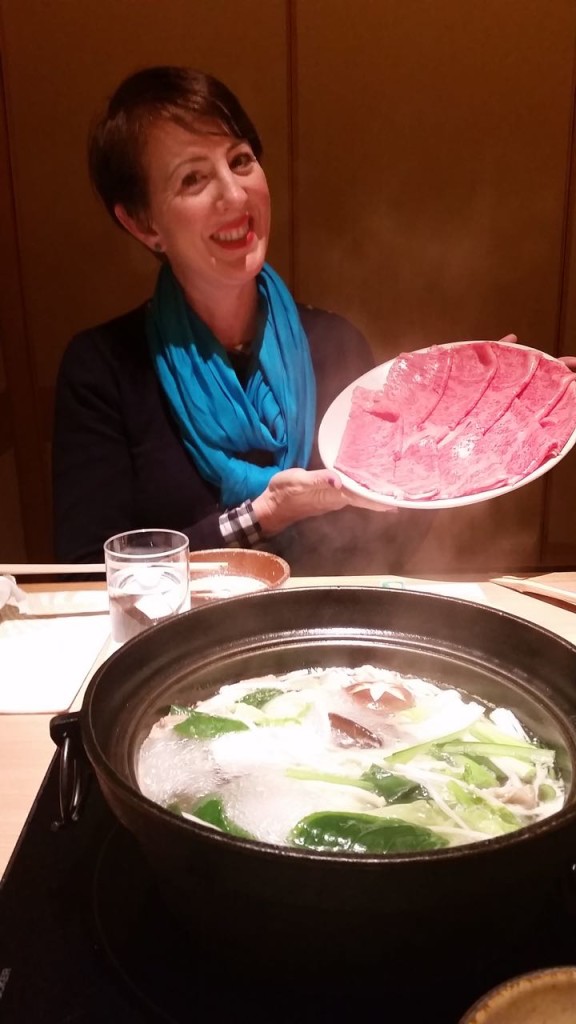 Finally! Meat! Shabu shabu actually originated in China and only came to Japan about 100 years ago.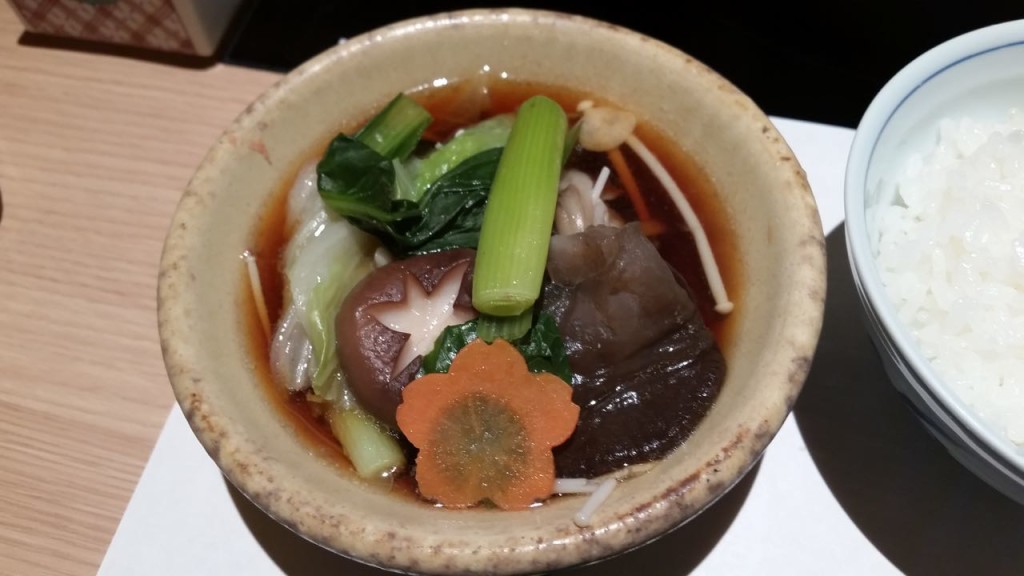 I love that the food is beautiful as well as delicious. Carrots shaped like flowers just taste better.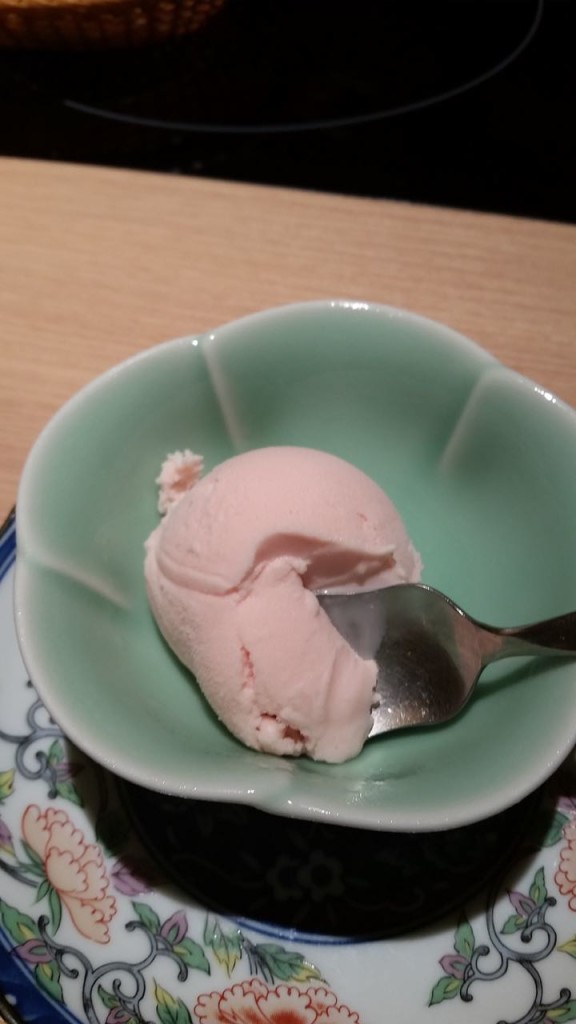 The Japanese aren't known for good desserts. They are actually quite gross most of the time (compared to desserts in the US and Europe), but THIS was cherry blossom ice cream, and it was heavenly. I looked everywhere for the rest of our trip and didn't find it. It's cherry blossom season! It should be everywhere! Maybe I'll make my fortune by living in Japan during cherry blossom season and selling cherry blossom flavored everything.
We actually only stayed in Nagoya as a springboard for the next day's destination: Magome and Tsumago! Stay tuned!