We stayed the night in Nagoya because it's a great place from which to travel to Magome and Tsumago. It was our next stop as we made our way south. We stayed at a beautiful Marriott hotel that is attached to the train station. From the hotel we walked across the street to the bus station to take an hour-long bus ride to Magome. We left our bags with the hotel. We got the 7:00 am bus.
From the bus stop it is a 1 km walk to Magome, but most of the walk is very scenic as well. I have a thing for rocky stairs.
Some of the trail was more modern
But most of it was very rustic.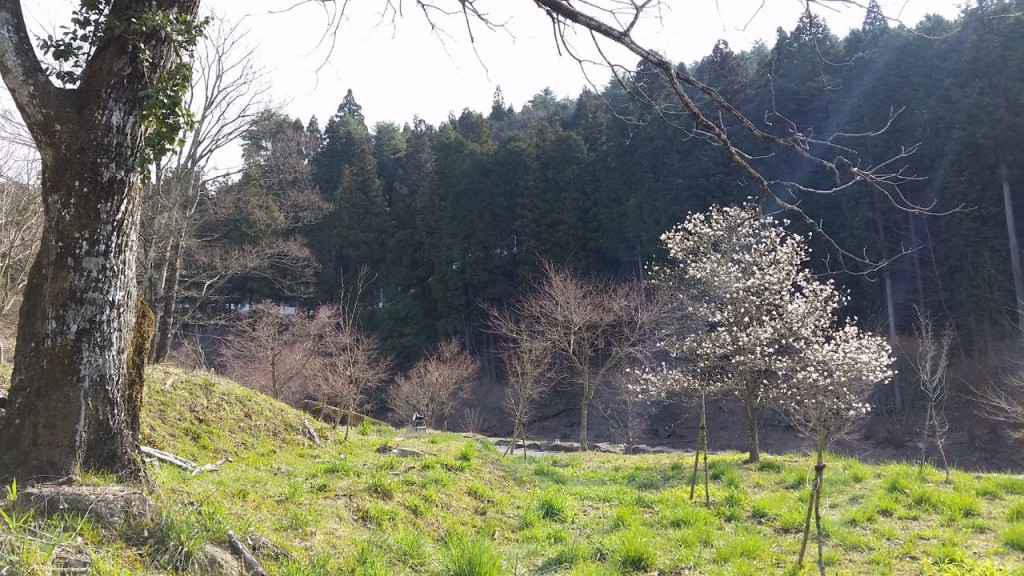 Magome and Tsumago were post towns on the Takasendo Road, which connected Tokyo (Edo) and Kyoto. These post towns were for travelers to be able to stop and sleep or eat. No wheels were allowed on the roads because they ruined the road and left ruts, so the journey was a long one.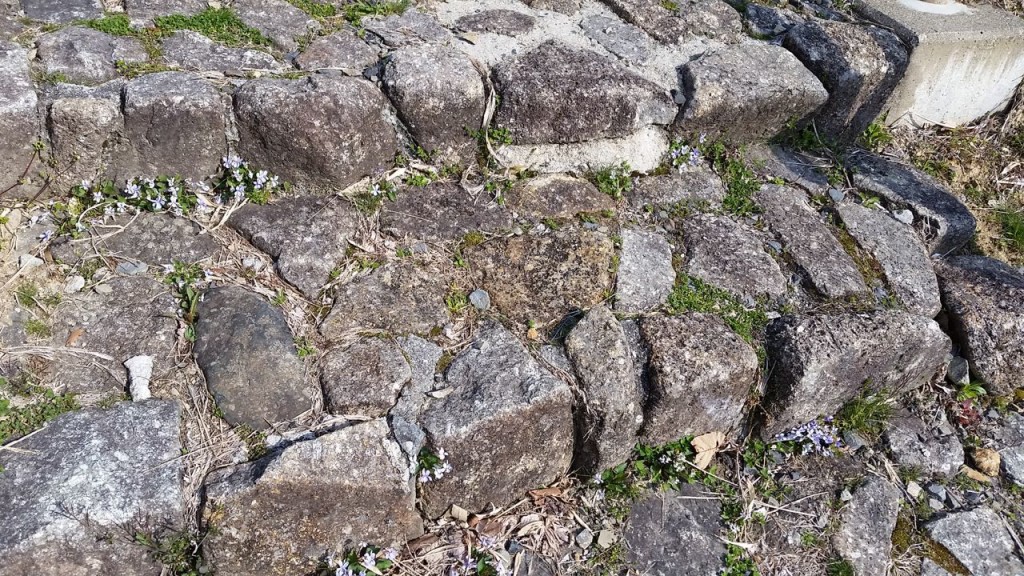 Your options were to walk, ride a horse or be carried (by people) in a palanquin. Legally you had to be of a certain social status to ride a horse or a palanquin. At that time, merchants were below even peasants because to be concerned with gaining financially was considered ugly. Wealthy merchants had to walk like the peasants.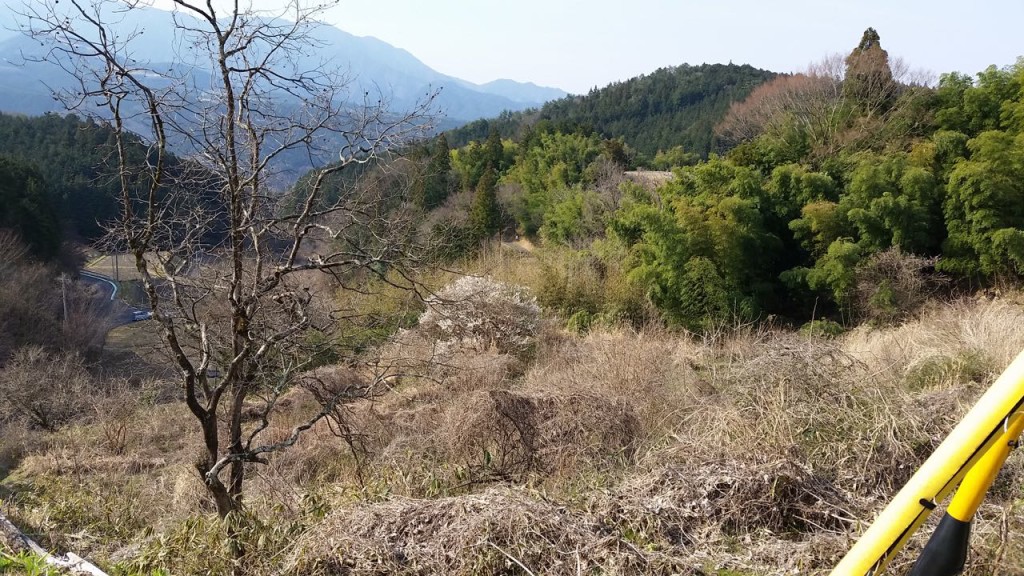 Kyoto was the ancient capital of Japan for hundreds of years, and in the early 1600s the capital was moved to Tokyo (Edo) by the new Shogun. The Emporor remained in Kyoto, so it continued on as the spiritual capital while Edo was the political capital. Connecting these two cities was critical.
We made it to Magome by 8:30, including the walk from the bus stop, and ya'll, if you can do that I HIGHLY recommend it. The town doesn't open/wake up until 10:00. It was EMPTY. The streets were silent. No one else was there. We got to walk up the road (and I do mean up. The road through town is uphill.) ALONE.
I love to be in a place and imagine it is frozen in time. It's still the 1600s and we are weary travelers looking for food and lodging. No souvenir shops were open. No tourists were taking pictures (except for me of course).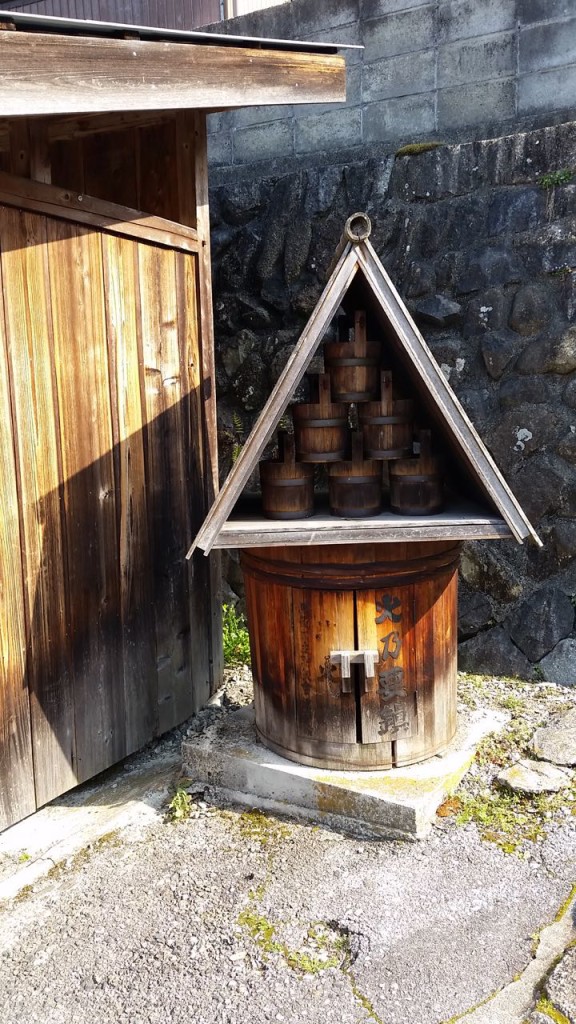 No one was eating an ice cream cone or a seaweed sandwich.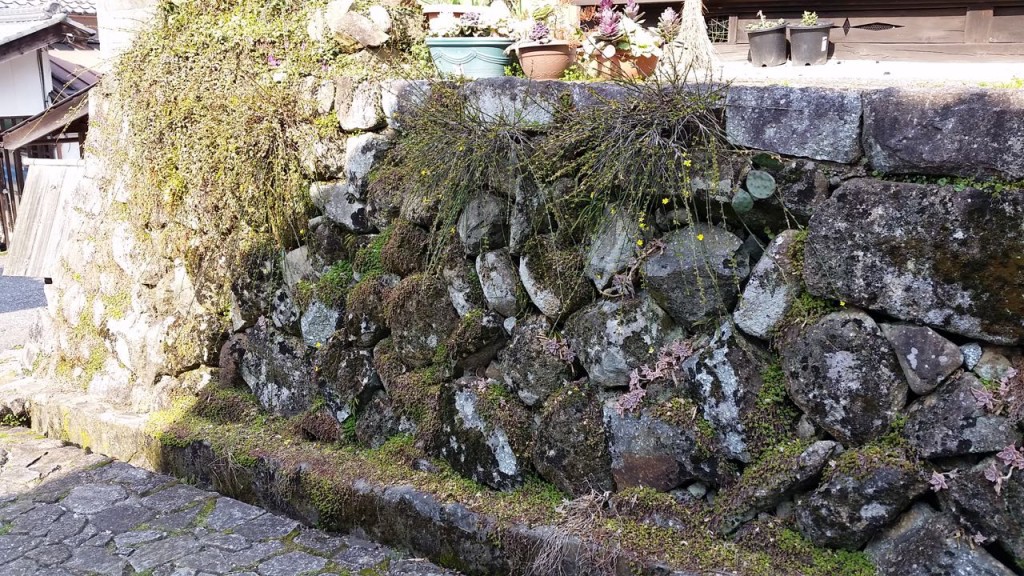 It was just. us.
Just us and this unbelievable beauty frozen in time.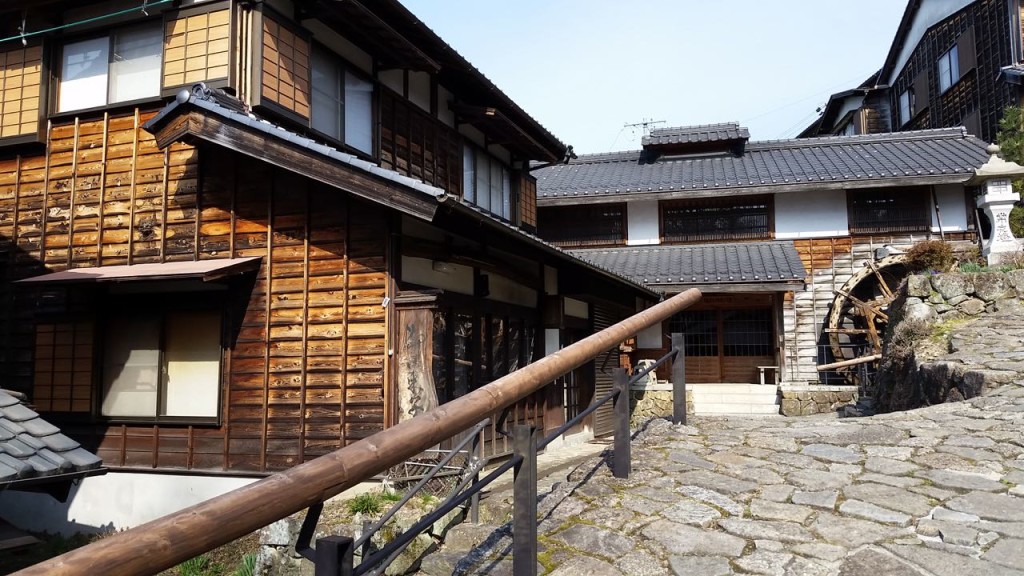 We slowly made our way up the hill and just took in everything. We whispered because it seemed like the right thing to do. We didn't want to break the spell.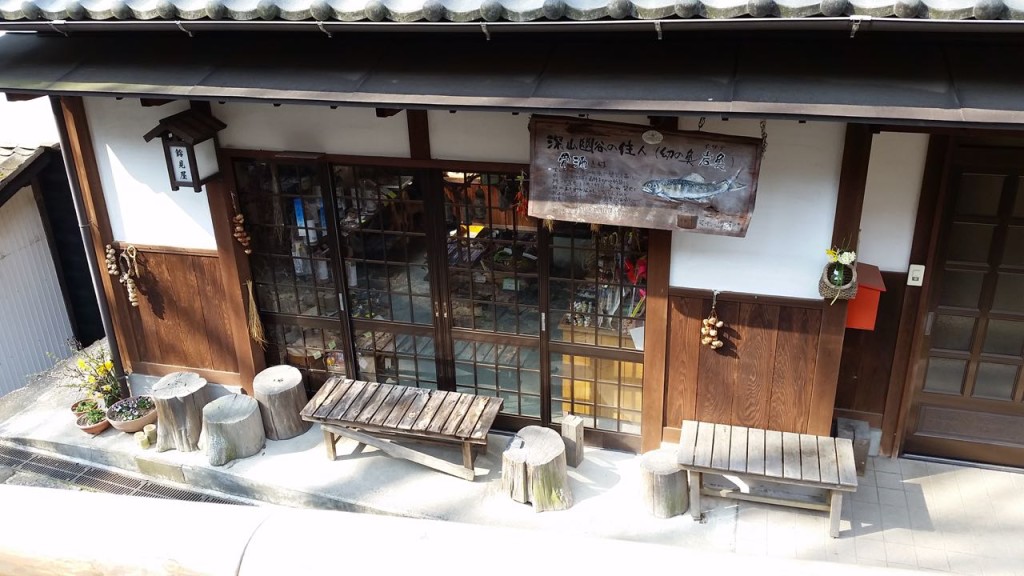 Most structures in Japan were made of wood and paper for a couple of reasons. There are earthquakes fairly often, and if you are inside of a stone structure, you will be crushed. The second reason is that a house made of paper and wood can be rebuilt in a couple of days. Reconstruction was fast. It was usually the fires caused by the earthquakes that did the most damage.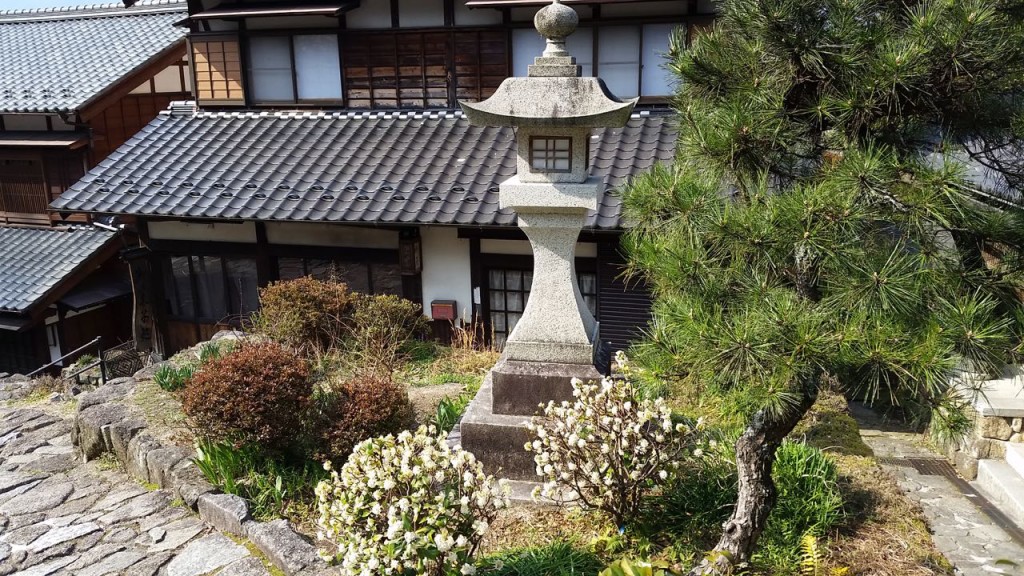 I'm so glad we had the town to ourselves. Around 9:30 other tourists started to trickle in, and the guests of the very few local ryokans emerged.
I've put this in the other posts, but reading the book Shogun before our trip really made the trip so much more interesting because I understood the history and culture of the period of most of what we wanted to see.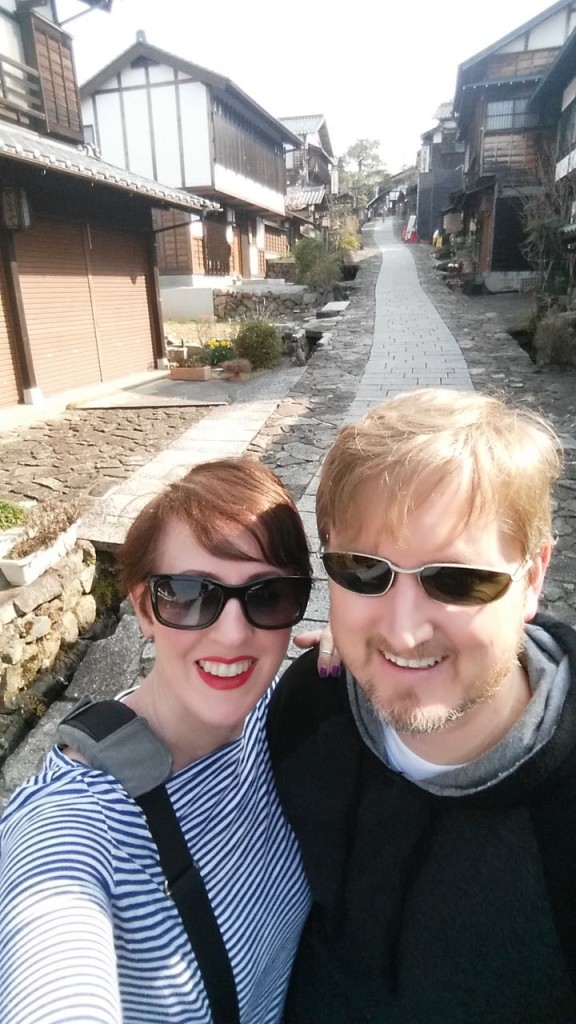 The weather was spectacular. It couldn't have been more beautiful. No photo bombers in our selfie.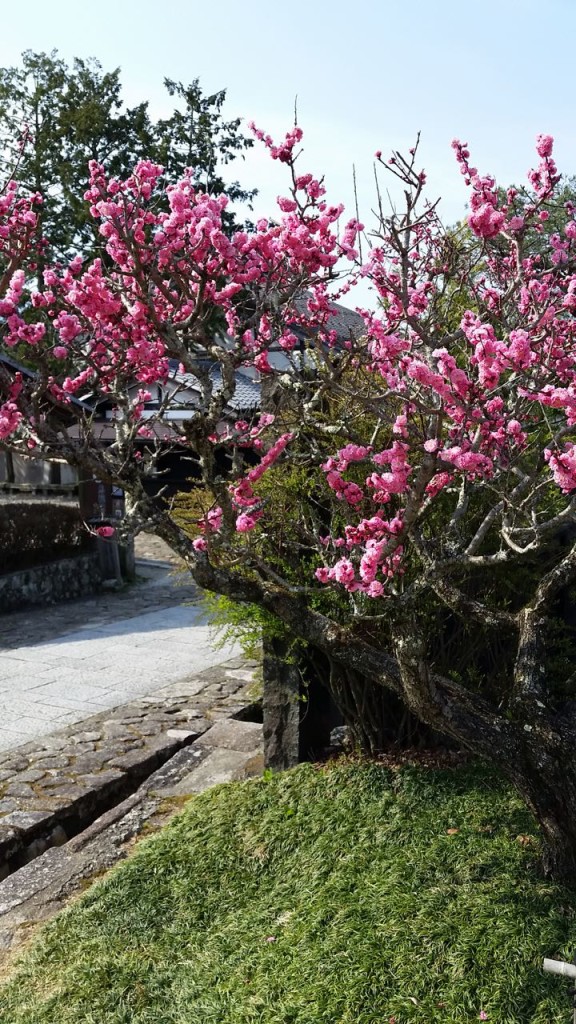 Cherry blossoms. I can't tell you how excited I was to see the cherry blossoms.
The one modern convenience is this little building/room where there is free wifi should you need it, and a place to sit.
There's an old cemetery there.
I also have a thing for rock walls. And old doors.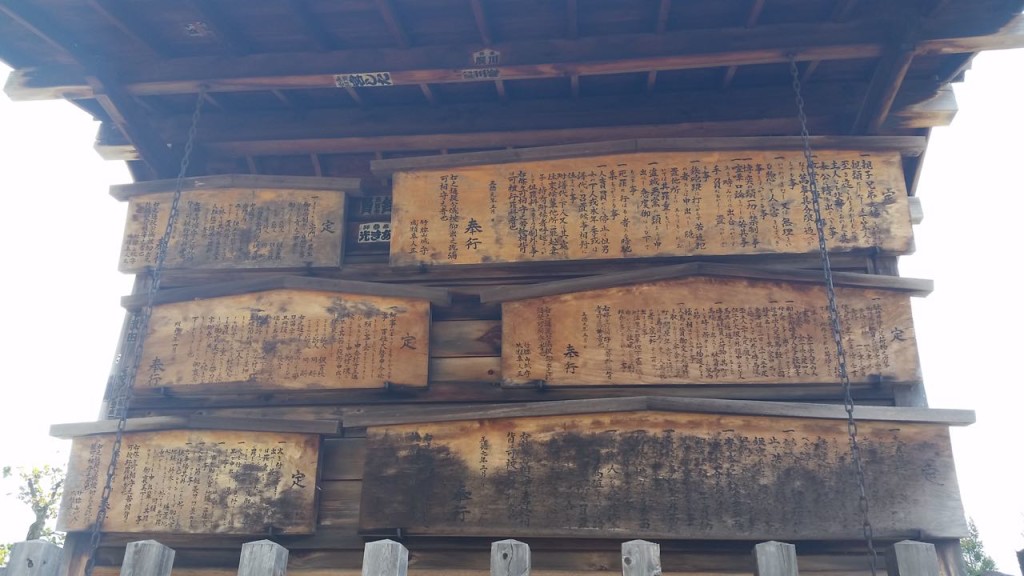 This is an announcement board where important information was posted for locals and travelers.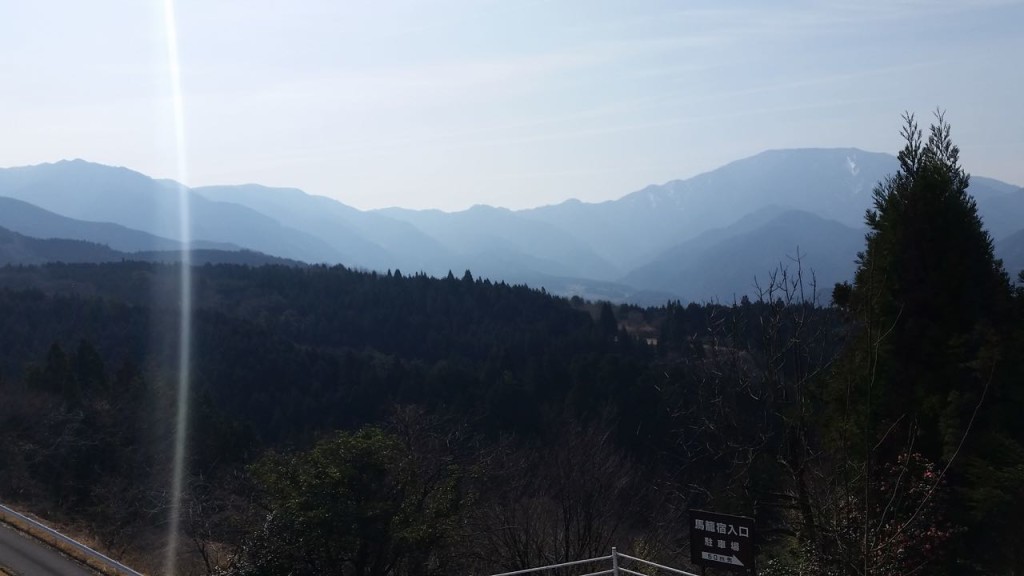 The view from the top!
I have no idea what this symbol means. I pretend it's some ancient pearl of wisdom carved in centuries ago to enlighten future generations hundreds of years later. In truth it's probably some obscenity scratched in by a teenager. I'll stick with my version.
There's also a small museum that's worth stopping by. Bonus, it has a bathroom should you require one. This incense clock is measured in sticks and used to measure time. You could request 1 stick of time, and when the meeting started the incense was lit.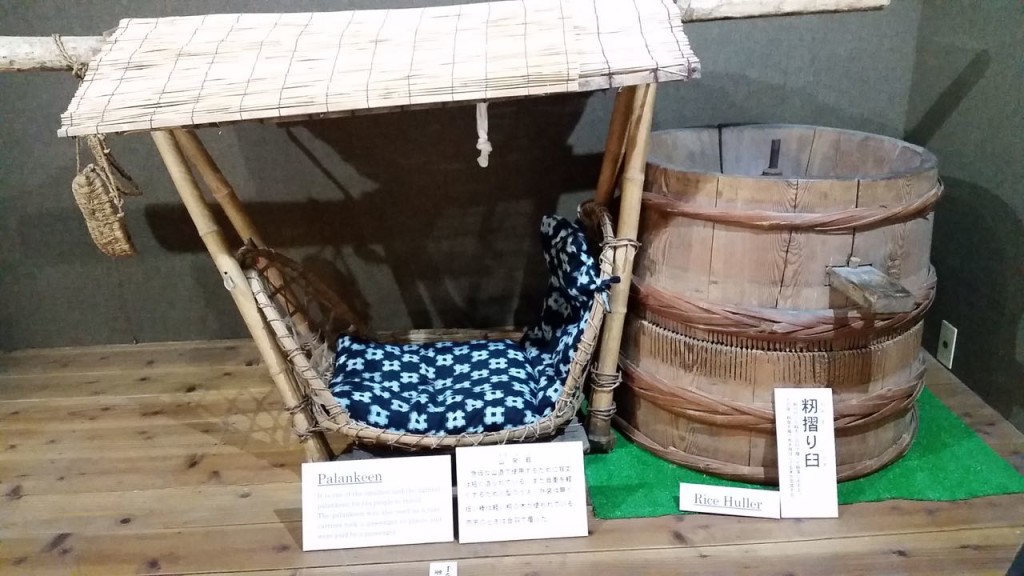 This is the palanquin I mentioned above. Cozy.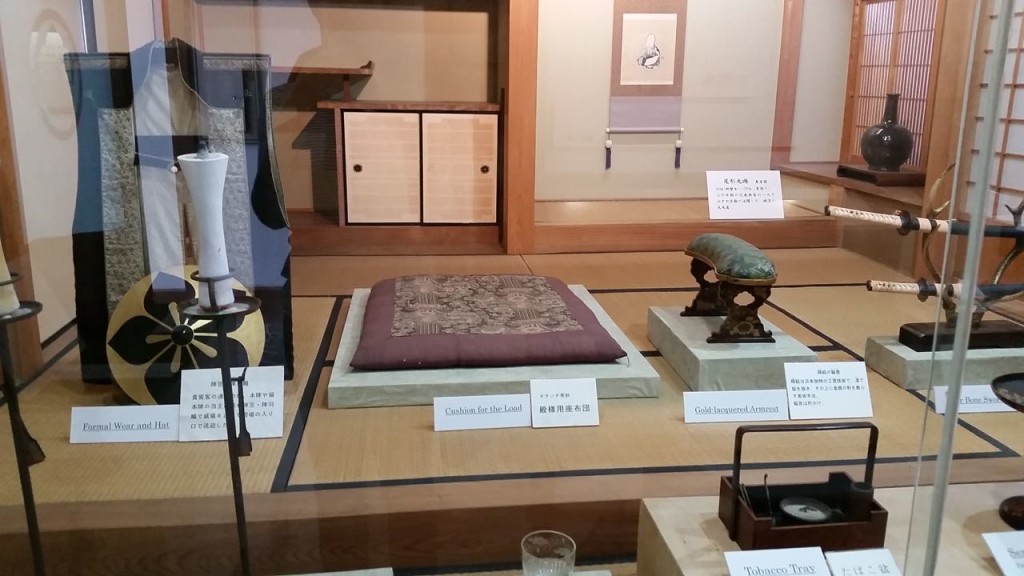 This is a traditional living room. As I mentioned in the first post, the furnishings were sparse, even in a palace.
We had planned to hike the 7 km trail that goes between Magome and Tsumago, but I sprained my knee. We did a lot of running up and down escalators in train stations to make connections, and I twisted it wrong. It really flared up that morning, and by the time we made it to the top of the hill that is Magome, I was in a lot of pain. No way was I making that hike, and I was really, really disappointed. I was looking forward to it. Every time I plan a hike like this, something goes wrong, like mud slides in Cinque Terre. I'm cursed.
Fortunately, there is a bus that runs between the two towns. It only comes every few hours, so if you miss it, you will be waiting a long time for the next one. Our concierge printed out the bus schedule for us but you can find it online here.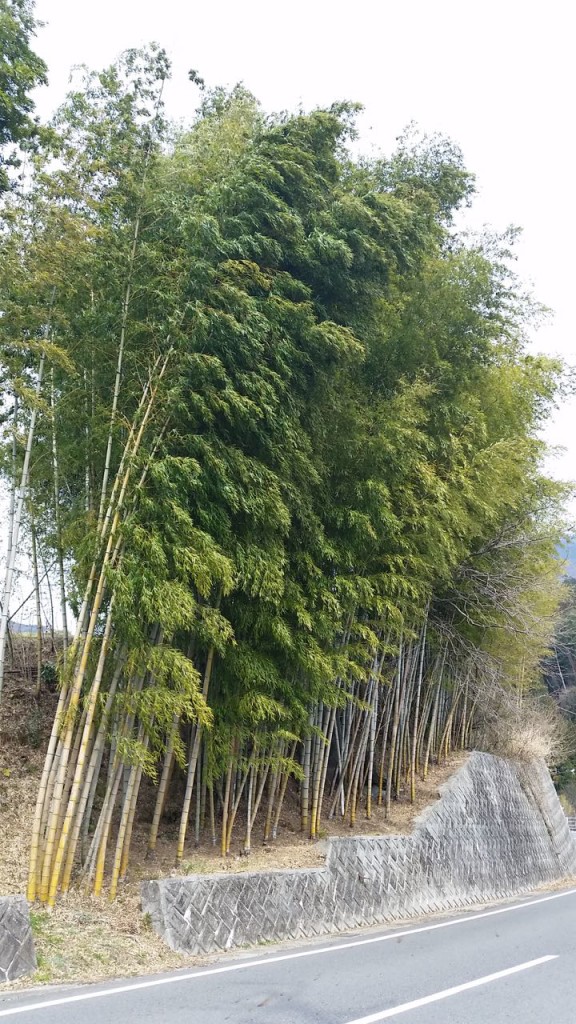 While the bus ride between the two towns isn't nearly as beautiful as the walk, but you do pass sections of the trail, including this bamboo forest. There are a lot of turns in the road, so most of it we passed so quickly I didn't have time to snap a picture.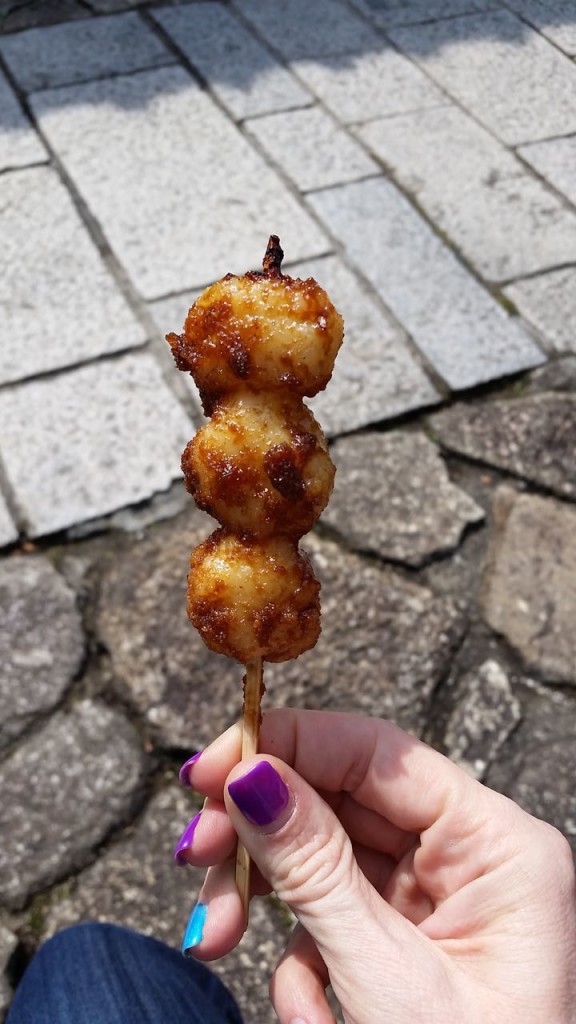 Once we got to Tsumago, we wanted a snack. Looks tasty right? Like some sweet confection or something savory, roasty and crunchy? It's neither. Those are rice balls (as in pulverized and compressed rice gumminess) and some nearly flavorless coating.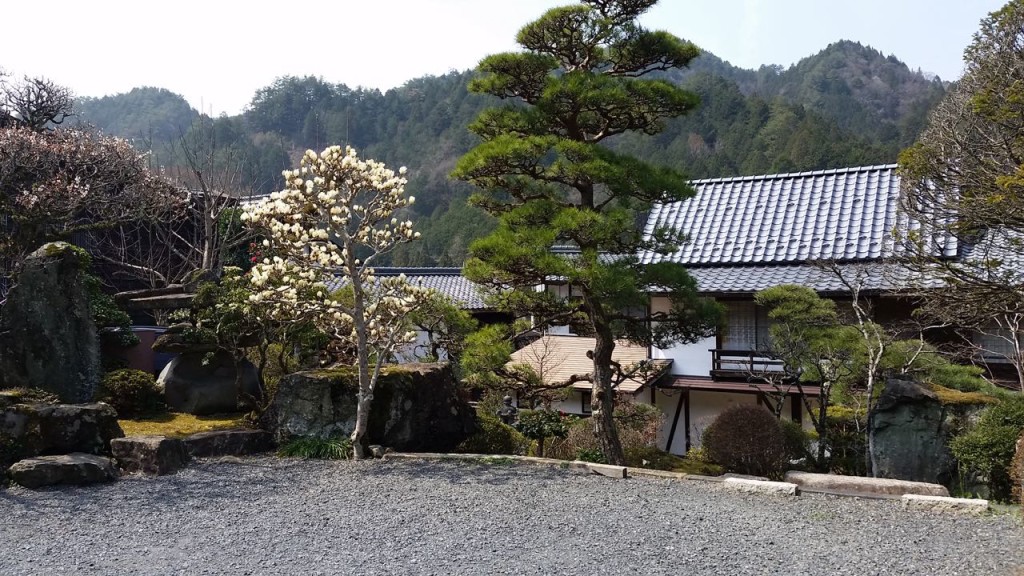 Pine trees don't just grow that way. They are cultivated and pruned that way, all over the country.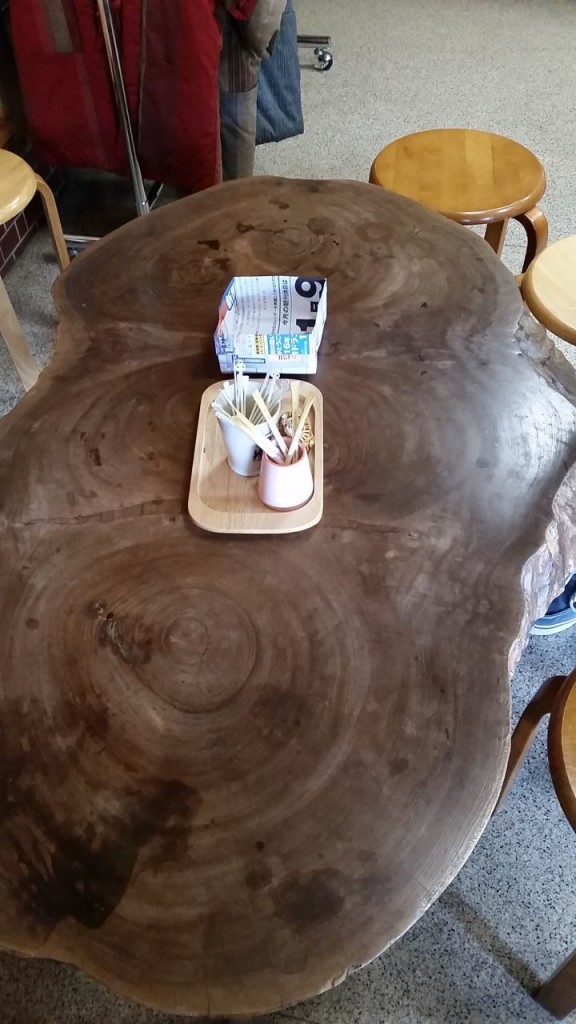 I love the tables in this little house/restaurant.
I also love the view across the street.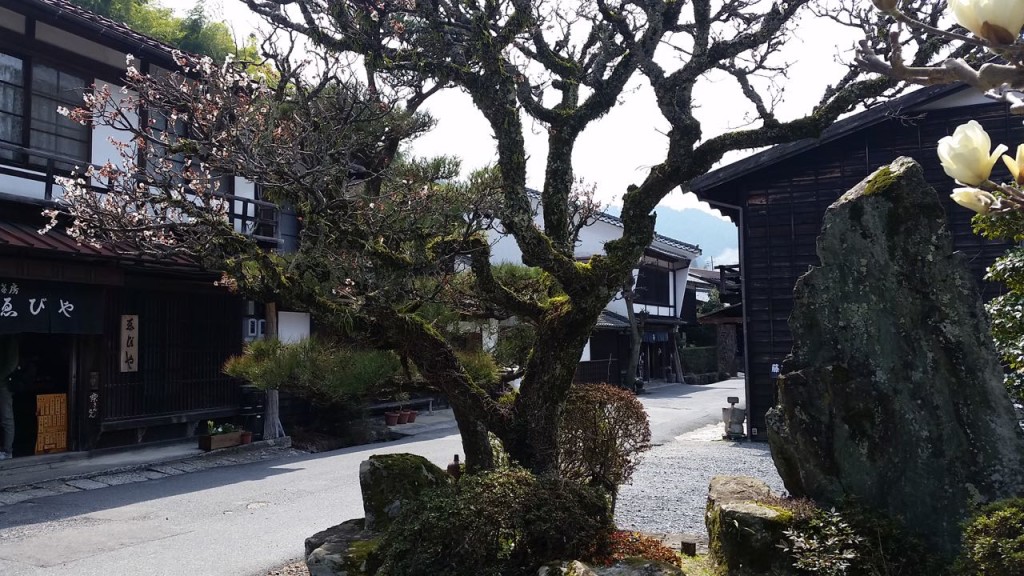 Tsumago was equally picturesque, quaint and glorious.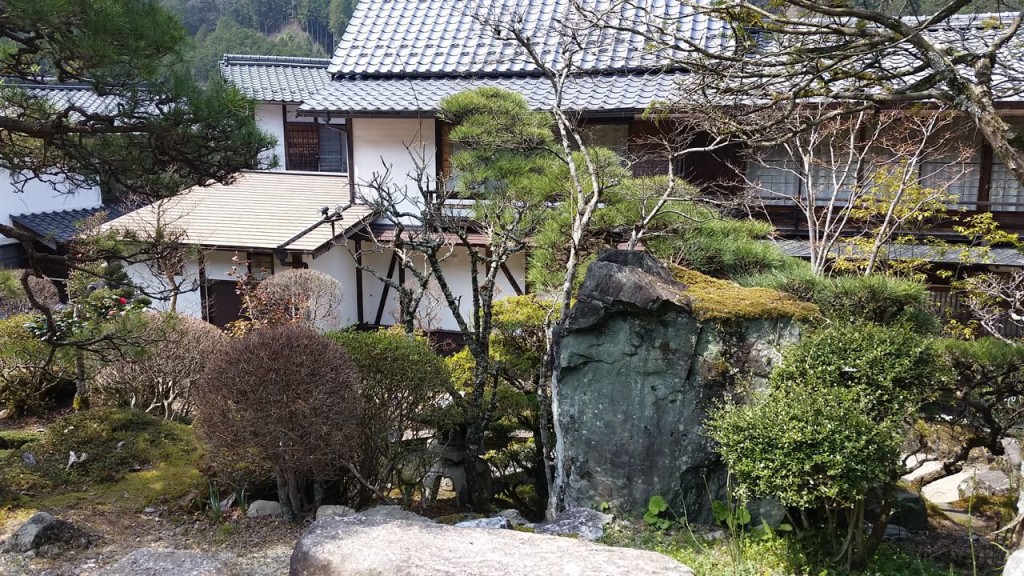 Because we got to Magome so early, and most tourists go there first, we made it to Tsumago before most everyone else. The streets were fairly empty there as well. As we were leaving to go back to Magome more people were arriving, and when we got off the bus from Tsumago, the line at the bus stop to go to Tsumago was really long. We got back to Magome around 1:00, to give you an idea of the timing.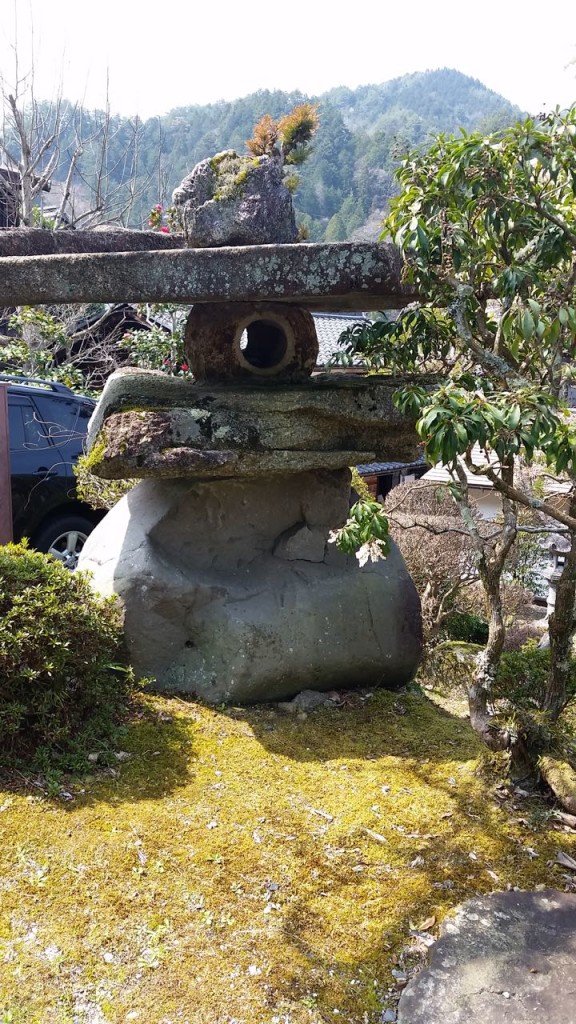 I love gardens, and the thing I noticed about Japanese gardens is they rely heavily on greenery, water and rocks. Trees, both deciduous and evergreen, moss, bushes, rocks and water make up most of the gardens, and they are so peaceful and beautiful. They are also beautiful year-round.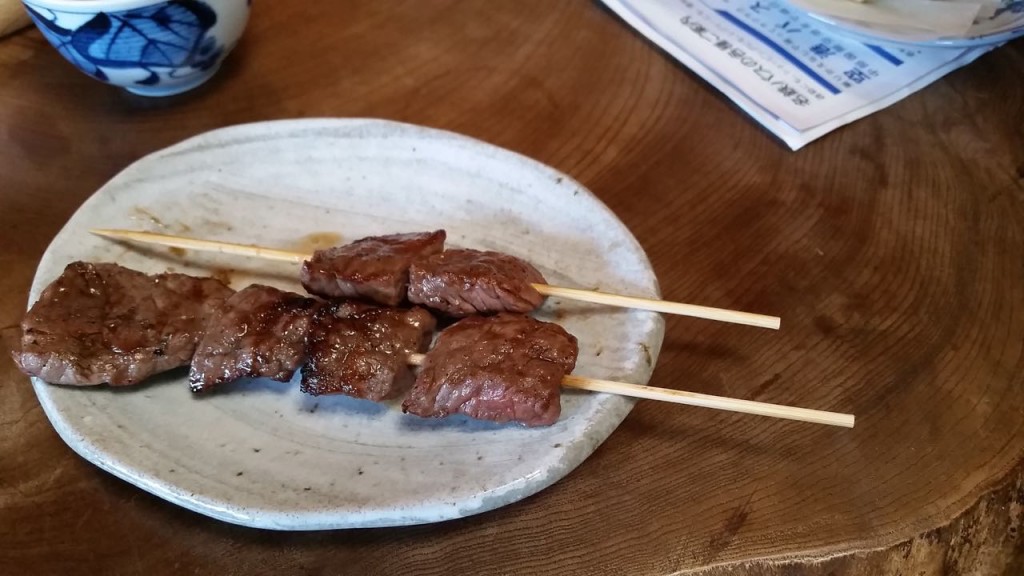 This steak on a stick, or yakitori, was so delicious we came back for a few more and turned our snack into lunch. PROTEIN. STEAK.
These steam buns are delicious. Nikuman have meat or veggies or both inside. The one we ate at the train station was mostly bun and no meat.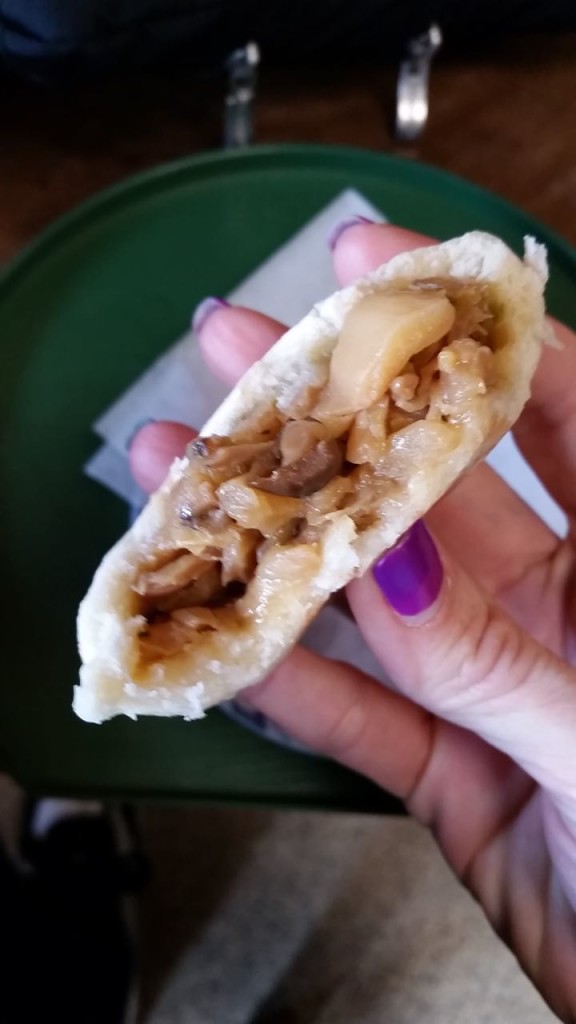 This one was much tastier and had a lot of filling. They are really delicious, and one of the things we enjoyed most as far as convenience food. Because the bun is steamed instead of baked, it is very soft.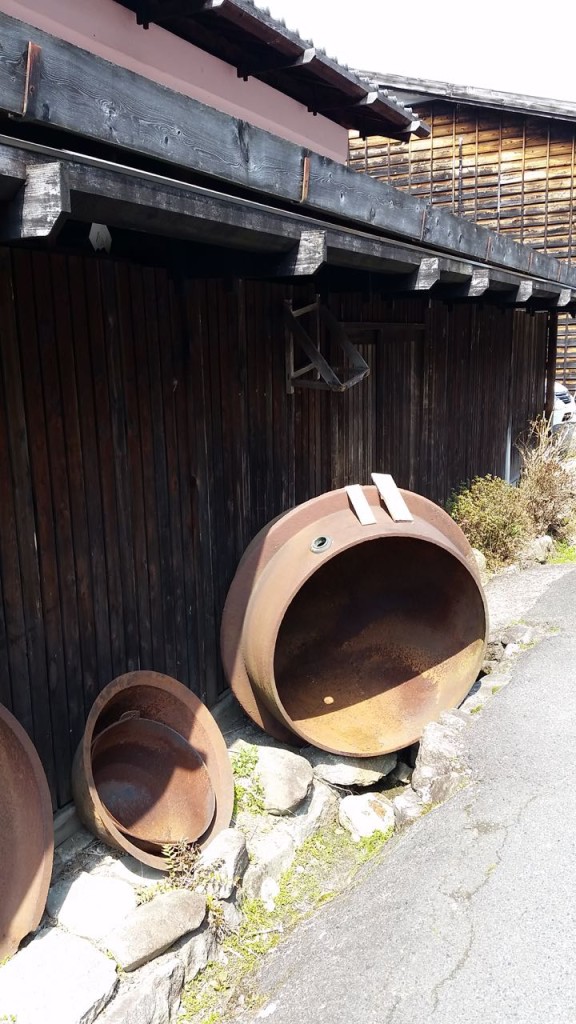 If you are able to make the hike between Magome and Tsumago, allow about 3-4 hours for a leisurely stroll and picture taking. Also, starting in Magome is the less strenuous direction to go as it has the short uphill section.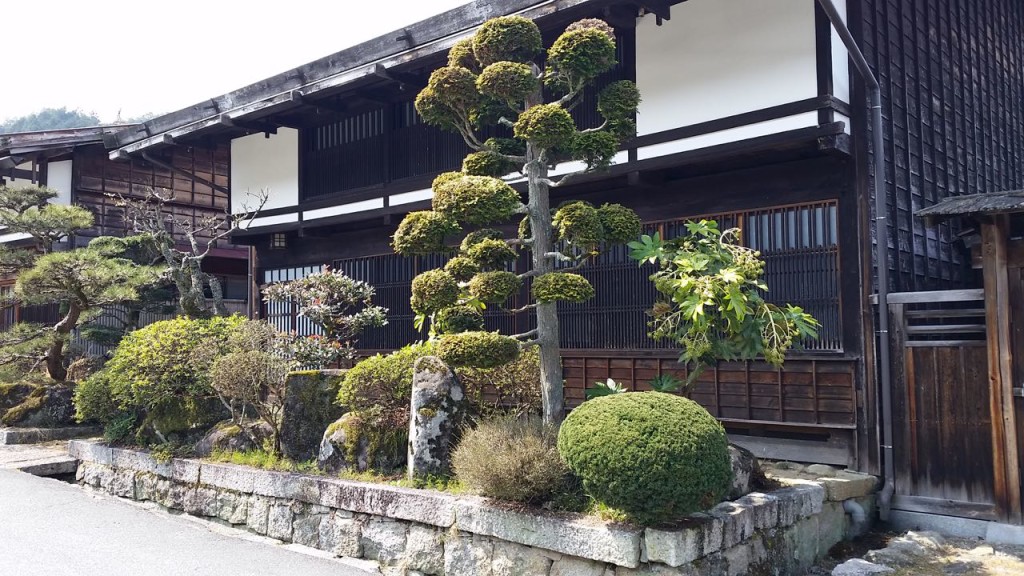 There is nothing, I mean absolutely nothing accidental about a Japanese garden. They are all very thought out and purposeful.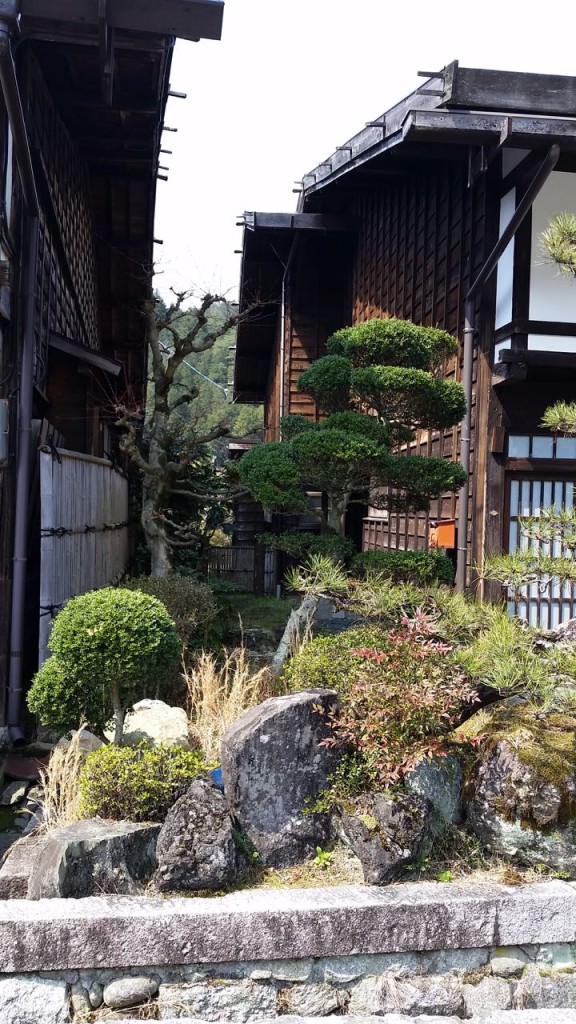 Even the placement and direction of each rock has significance.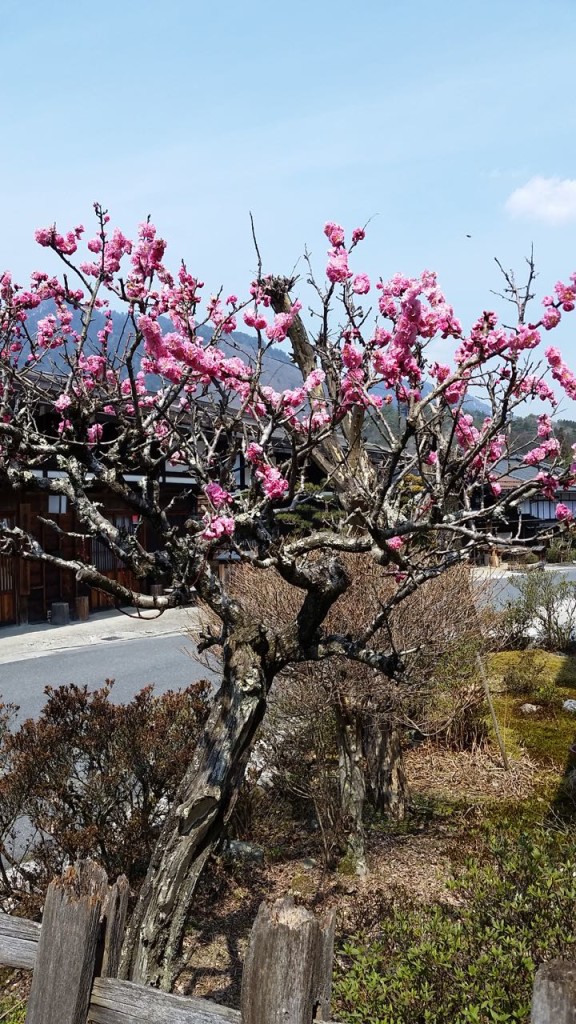 Seeing the cherry trees everywhere was breathtaking. We loved them so much that we are putting a few in our yard to remind of us the spectacular beauty of Japan during its most celebrated season of the year.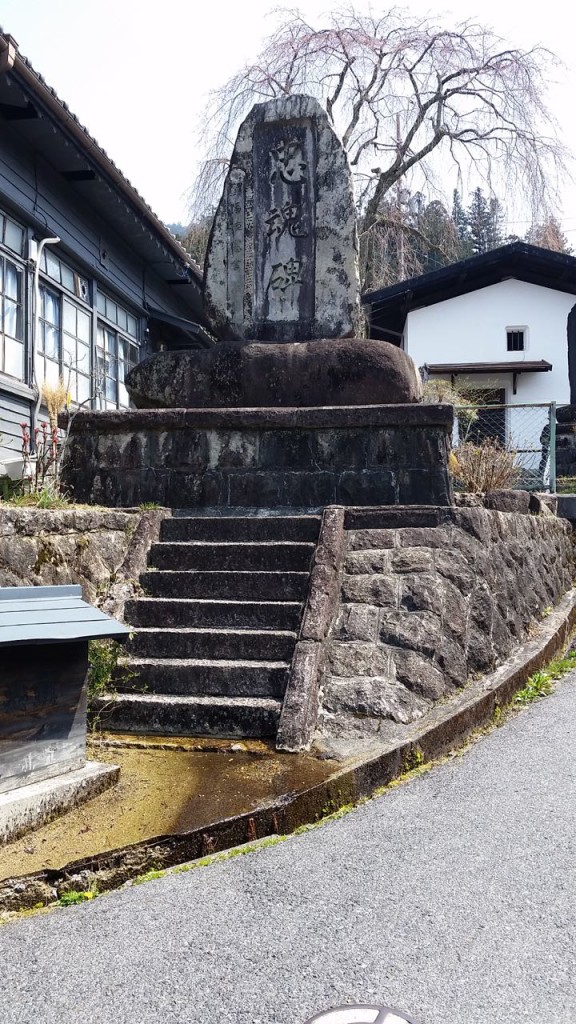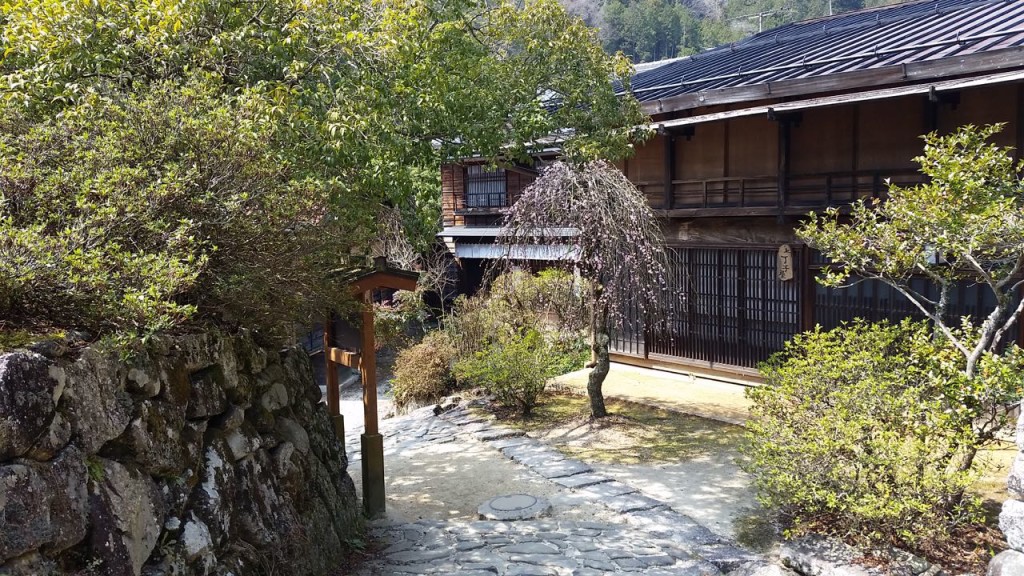 I was so excited to come to Magome and Tsumago. I wanted to see a traditional village from that time period. These two towns are preserved so beautifully. If for some reason you are only able to go to one of them, go to Magome because it is easier to get to and from. Both towns are beautiful and worth seeing, but if you are short on time, Magome makes the most of it.
If you are planning to do the hike between the towns, keep in mind the return bus schedule from Tsumago unless you plan to hike both ways. The bus stops running in late afternoon, and if you get a late start, you could end up walking back whether you want to or not. Rumor has it there are a few taxis, but I never saw one to confirm. Including a hike between the towns, this trip is an all day excursion, and well worth it.
The bus stop to leave Tsumago and return to Magome is in a different spot. Also, the return bus stop to Nagoya is on the opposite side of the freeway, but there is a pedestrian bridge to cross. We only figured it out because we had a printed bus schedule from the concierge, and the timetable listed inside the bus stop didn't match the one we had. The only thing on that sign we could read was the numbers. Adam went into the rest stop next to it to ask about it, and with lots of hand gestures (all polite ones), they communicated that we were on the wrong side. We had to run/hobble to the other side because it was almost time for the bus to come. Adam ran ahead of me so he could tell the driver to wait for me if needed, but fortunately I made it just before the bus, like with 30 seconds to spare.
Back in the Nagoya train station we stopped at the Marriott and collected our bags before catching a train to Himeji. There are no lockers in Magome or Tsumago because there is no station. There is a luggage transport service between the two towns as long as you drop off your bags by 10:00 and collect them after 1:00. Keep in mind that you'll be hauling that luggage 1 km and up and down steps from the bus stop to the town (see the first pictures and mentally paste in your luggage).
Magome and Tsumago were everything I was hoping for, and actually more because we had Magome to ourselves. Sometimes you go to a place you've seen amazing pictures of, and think, "Wow, that photographer got just the right angle because that is the only good thing here." Magome and Tsumago are just spectacular at every turn.