T4 moment: I have never been able to hide my thoughts or feelings. My face shows them ALL, especially when I don't like something. Try as I might, everyone who can see me knows exactly what I'm thinking. My husband teases me that I'm an open book, and I insist there is a shroud of mystery. A girl can dream…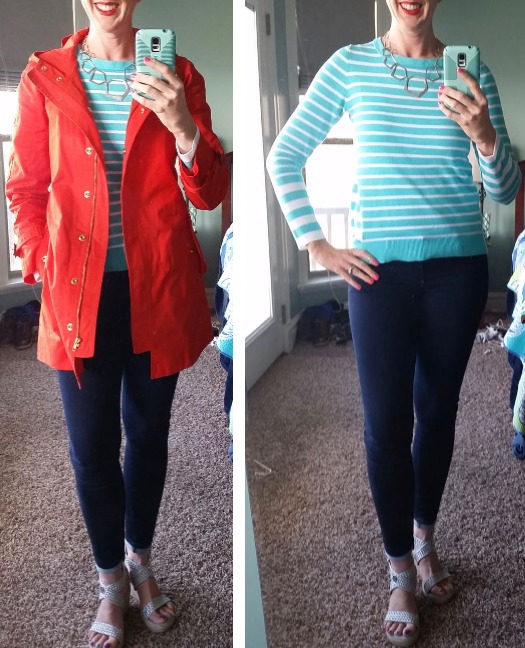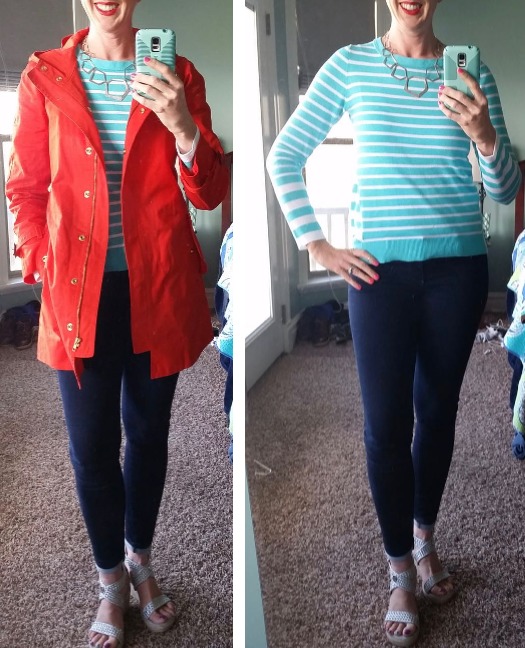 Confessions of a T4 who definitely knows better. I willfully, intentionally, knowingly, recently bought this T1 colored striped sweater because it sparks joy. I love it. And I super love it with the awesome orange hooded trench my friend found for me. I was out all morning and received compliments on my ensemble. Sweater and navy jeans Express, necklace Rivka Frieda, sandals Stuart Weitzman, hooded J. Crew matinee trench. S3 irregular shapes of necklace and texture on the wedges.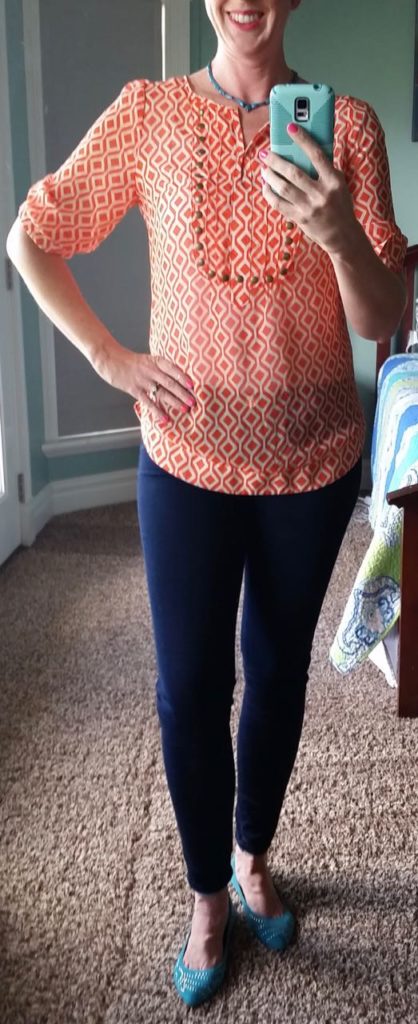 I've decided that if this top is going to be a keeper, the sleeves have to be taken in, and the rivets have to be painted silver. I love the color and pattern and the fit through the body, though. Shirt 41Hawthorn Moni studded blouse, jeans Express, shoes Enzo Angiolini Sahni, necklace indigenous people of Mexico. S3 pattern and studs on the blouse, studs on flats and shape of necklace.

There is absolutely nothing spectacular about my outfit today EXCEPT that it is perfectly still. I'm minimizing the day's activities to recover from the last two super crazy days, but I still have to go to the school 3 times today, a stop at the store, do dance drop offs and pick ups, and all the other after school craziness of a Wednesday. My husband has been gone since Sunday. Life is what it is, and I'm supporting myself by wearing something soothing. Even stripes were too much today, and thanks to DYT I knew exactly what I needed. No S3.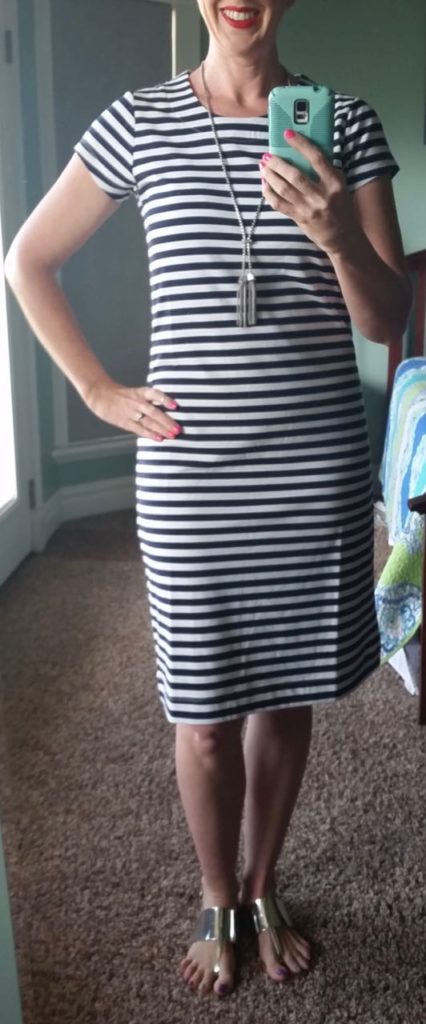 I'm trying a little movement in the form of stripes today. This is another striped t-shirt dress I found. Shorter, a little more fitted without being too snug. A colored cardigan or blazer, belt or sandals would be good on another day, but I can't deal with it today. I'm also trying to decide if this necklace is a keeper. It might be too long and move too much. We shall see. I love the look of it. Dress Coldwater Creek, necklace Banana Republic, sandals Franco Sarto. S3 element necklace.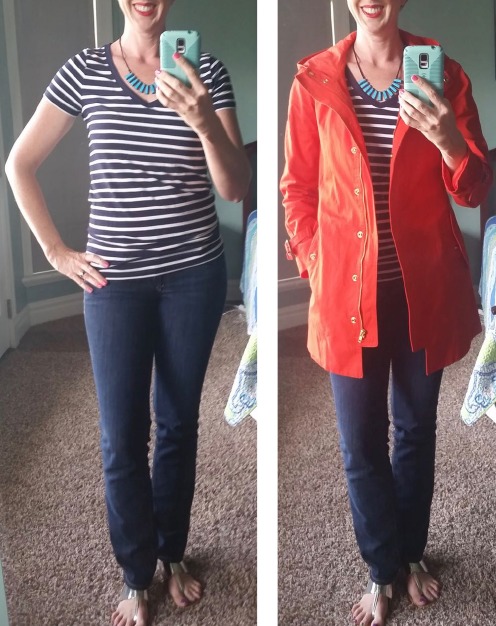 My SIL came over to help me Konmari as my birthday present (what an awesome present!). It's more fun to do it with 2 people, and the project I chose was a huge, overwhelming one I had been dreading. I'm still super comfortable while being presentable to run to my neighbor's house and back and forth to school for carpool. No S3. Necklace Kendra Scott, sandals Franco Sarto, jeans Express, trench J. Crew, shirt Merona.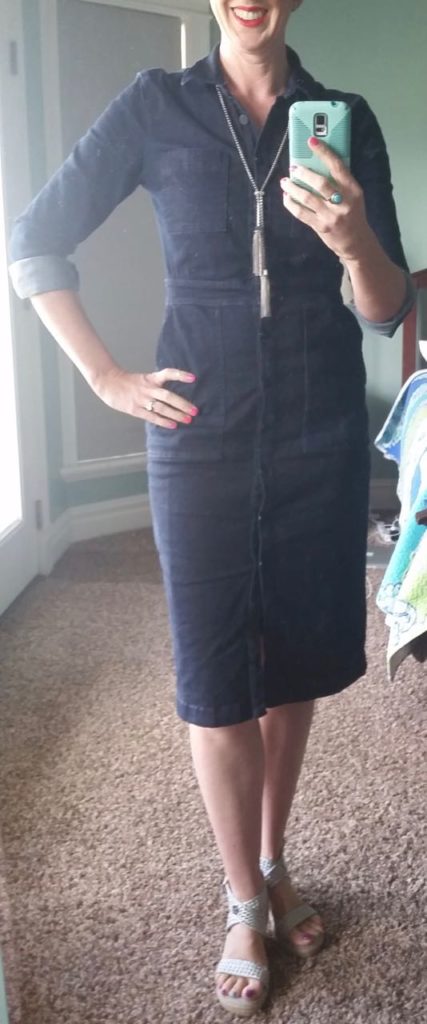 I love this structured denim shirtdress, the tassel necklace and braided wedges. I received several compliments at church. I wanted a denim shirt dress forever, but they were always too short or too baggy. This one is perfect. Dress Ann Taylor, necklace Banana Republic, wedges Stuart Weitzman. S3 element tassel necklace and braided texture of wedges.
To experience Dressing Your Truth and find your personal beauty, click here for the free discover your beauty course.
Disclaimer: When you click through my link, I receive a small credit in the Dressing Your Truth store if you choose to sign up for the full course. I'm not a fashion blogger or a Dressing Your Truth expert. I'm just finding my way.