Type 4 moment: I've mentioned before that I love routines. I've loved them since before I had a name for it. I just knew it gave me peace. One routine in particular is the beginning of the year routine where I take down Christmas decor, reorganize the storage room as I put the decor away, etc. In college it was my before the semester routine. I had to have a completely clean apartment, groceries stocked, books purchased, laundry done, full tank of gas in my car, fresh sheets on the bed, etc. When classes started, I wanted to give it my full attention and not be distracted by the mundane tasks of life. I needed the focus to create my new routine for the new semester of when I was on or off campus, dedicated homework time, work schedule, dance schedule, etc. Now that I have 5 kids in school, I do the cleaning parts of my new year routine after they go back because they can undo it faster than I can do it.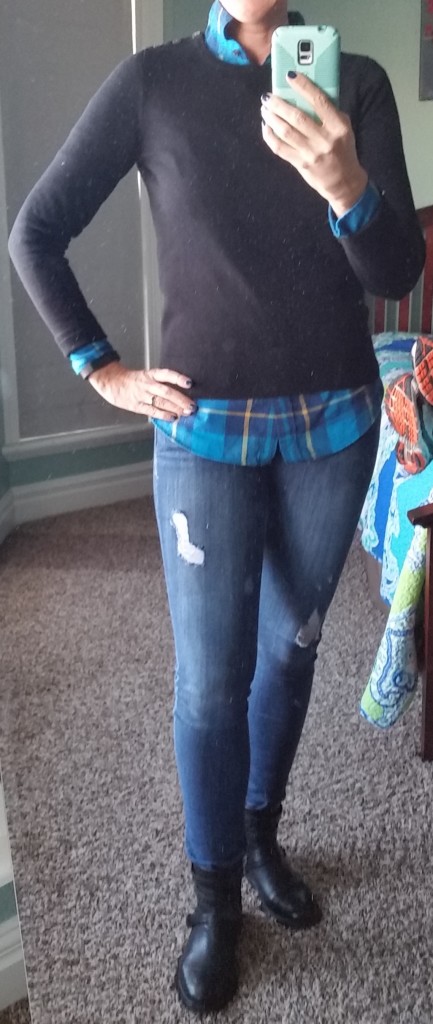 I started the new year off right in a cozy plaid flannel in my favorite turquoise. My previous simple black sweater had seen the end of its days, and it was time to let it go. I love this one. These destroyed jeans are better for me than the boyfriend destroyed jeans I had before. These need to be a darker wash, and I'm considering dying them. I've never done that before, so it is new territory for me. Secondary 3 elements are my ankle boots and destroyed jeans.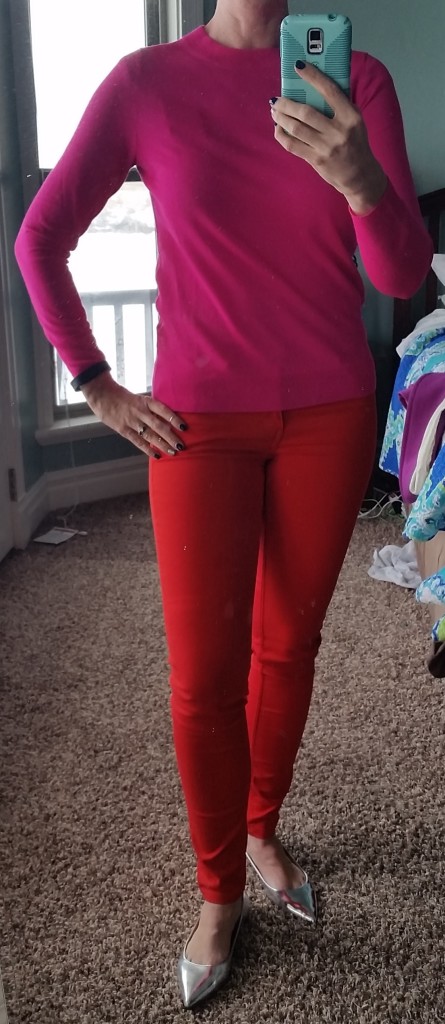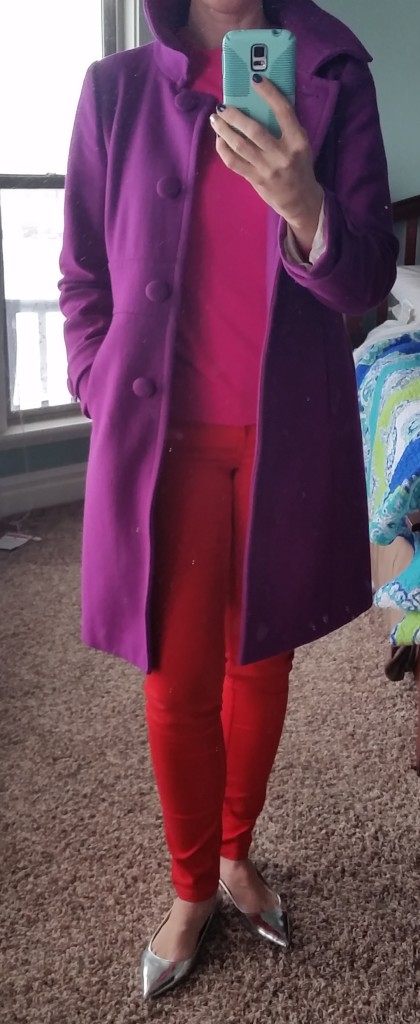 This is not a combination I would ever have felt confident enough to wear previously, but I really like this outfit. Maybe because it is almost monochromatic? I'm using the bright colors to channel better weather and better energy with a combo of bright colors. Besides, it made the kindergartners happy when I volunteered at school. I've been sick and in bed for the last several days. I figured this would give me a boost today since I have to rejoin life. I considered wearing a black coat, but then I decided to embrace the bold all the way. I think I'll be wearing this again on valentine's day. I received several compliments about my style while I was out running errands. I also love these flats. I need to break them in because they are stiff, stiff, stiff, but once they are more comfortable I suspect I will wear them a lot. They are my new neutral shoe instead of nude or brown. No S3 elements today.

The weather is downright nasty today, so I'm wearing what some would call a stereotypical type 4 outfit: all black. I only have a few tops long enough to wear with leggings, and this cozy sweater is one of them. S3 elements include the texture of the sweater, instead of smooth and the pebbled texture of my boots.
I have a love hate relationship with turtlenecks. I love the sleek, classic look. I feel very Audrey Hepburn or Jackie Kennedy or Parisienne in them. I even like the cozy feeling, but after about 8-10 hours it has to come off because cozy becomes strangling. I'm still deciding what I think of this necklace. If it were shiny it would be true love, but it is etched. I LOVE these socks. I have a thing for socks in general, and as a francophile, I 
 these socks so much. I would have liked to wear black or metallic silver flats, but the weather doesn't allow it today, so boots it is. The vibrant red turtleneck has a nice smooth texture, which is all type 4. The shape and etched texture of the necklace is S3, as are the boots.
I love the cobalt blue and turquoise combo. Except for fifth grade when purple was my color of choice, blue has been my favorite color my entire life. I wanted it to be a no black outfit, and I wanted to wear metallic silver flats, but rain and ice = no. The only S3 element is the boots.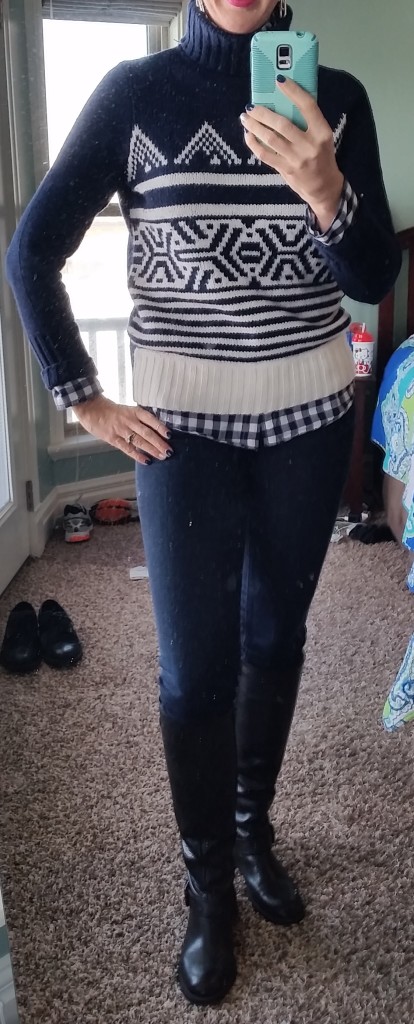 I layered my ever-useful gingham shirt under my fair isle sweater. It is COLD today. I even popped the collar of my shirt inside the turtleneck to get some extra warmth for my neck. All navy and white except the boots. To be honest, I feel so limited in the boot department. Black and black. I really wanted to pull out my dark brown riding boots, which is what I would have done pre-DYT. I resisted, but next time I just might. I'm not parting ways with them yet. They still spark joy, and I enjoy the contrast of brown and navy. Actually I like the contrast of brown and black too. In a year I might not, but for now I do. The pointed, angled shapes on the sweater is S3, as is the pebbled texture of the boots.
I love this tunic top. It's heavier than a t-shirt and lighter than a sweater. I could even layer under it or over it. I also love the side slits so it doesn't grab my hips and feel restrictive. It feels chic and comfortable. Last weekend we were sick, so this weekend we are doing our new year routine of taking down the Christmas tree and reorganizing the storage room. I do the storage room twice a year because with 6 little kids in and out of it, they make a mess of things and put things in the wrong places. I've been very comfortable all day. I love the red flats too. They are perfectly T4. The S3 elements are the necklace and the suede on the shoes. I think I need to dust my mirror…
Off to church. My T2 friend and I did a clothing swap, and I got this gorgeous skirt. It is off white instead of white white, but I love it. I typically don't wear anything high waisted bc I already have such a short torso, but this works. I've had the shirt for years and years. My husband super extra loves this outfit. It is exactly the kind of thing he loves me to wear. Also, I finally found the perfect 4/3 black heels. My others were many, many, many years old, and had seen the end of their days. I have bought and returned several pair in the last month, but none of them sparked joy for one reason or another. They weren't the right style or they were too high. This is a shoe I've been eyeballing since early December and finally ordered it. I think I found THE ONE. Not so over the top that it competes with an outfit that is already attention getting. Not too high. Pointy toe, D'Orsay, shiny, love the parallel lines on the heel and the small triangles at the toe. The heel leather is textured like reptile skin. This might be the perfect T4/3 black heel.
To experience Dressing Your Truth and find your personal beauty, click here for the free discover your beauty course.
Disclaimer: When you click through my link, I receive a small credit in the Dressing Your Truth store if you choose to sign up for the full course. I'm not a fashion blogger or a Dressing Your Truth expert. I'm just finding my way.