I had an epiphany. This week is when I realized that I had been leaning very heavily to the secondary 1 side. Why did I do that? There are a few reasons, but the biggest reason is that most of the examples I saw and found were from type 4/1s. Learning all the elements of dressing your type is like drinking from a fire hose. There is a lot of information. First you start with the colors. That is the biggest element. Then there are patterns, structure, design, fabrics, sheen, shapes. AND THEN, once you nail that, you may need to consider including your secondary elements. The color palette never changes, however, you can include things like shapes, textures and fabrication of your secondary. In my case, that would include things like irregular shapes with pointy edges or triangles instead of parallel lines, rough textures instead of smooth. I can even have textured silver instead of smooth and shiny. Instead of more subtle stripes, wider, bolder stripes would feed into my secondary 3. They are still very much type 4, but go along with my S3. Carol Tuttle says that type 3 accessories need to look like weapons. So I can wear dangerous looking jewelry, as long as it is silver/type 4 colors.
I'm just going to tell you right now, I was mad that I had gone so far astray into cute S1 territory that I went to the opposite extreme.
This was the first day I started focusing on not only including my secondary 3, but consciously EXCLUDING and secondary 1 elements. The color blocking in this outfit is also a type 4 element. The shiny leather blazer is also a type 4 element. The pebbled texture of my boots is S3, as are the very bold, wide stripes. The stripes are type 4, but narrower, finer stripes can be more S1.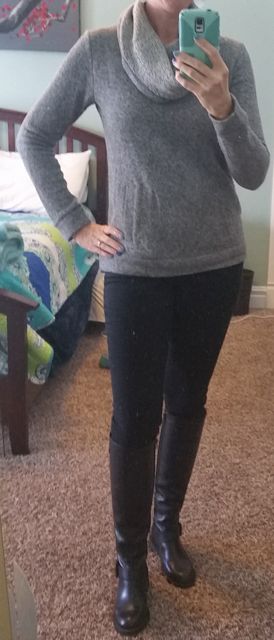 And then I decided on a rebellious outfit. I had horrible nightmares the night before. They are the kind of nightmares that leave you very upset all day the next day. Not only that, but my husband was out of town. This sweater is like wearing a security blanket, and was an old favorite. I decided to indulge and see how I felt, especially because I've always loved gray. As the day went on I realized that it didn't bring me the comfort I was looking for. All black probably would have given me what I needed. Before this day I had said I was not giving up this sweater. I had to wear it to understand how different it feels now. Sometimes you have to do that, and that is ok. Not only that but it makes my face look red.

I needed this shirt. The suede booties are an S3 element because they are textured instead of shiny.

Trying out a leather blazer instead of a cardigan with my stripes. I love(d) cardigans, but they were a key player during my secondary 1 days. I decided to shun them altogether for a while. We'll see if they make an appearance again. The studded bracelet also brings an S3 element.

I love this blouse. I have it in red and blue. I need to paint the zipper silver like I did on the red one. I also love turquoise and cobalt blue. Ok, I love turquoise and any color. Turquoise is my signature color, but it is tricky in the type 4 world. It can very easily go type 1 by having white in it, or type 2 by having gray in it, or type three by going heavy on the teal and black in it. This flats are iffy, but so far, I'm not willing to part with them. I bought them to replace the other flats that always looked green in the pictures. The fact that these are patent helps them look more type 4 because they reflect light. The fact that the others are suede made them clearly the wrong color because suede absorbs light and makes the color look dull.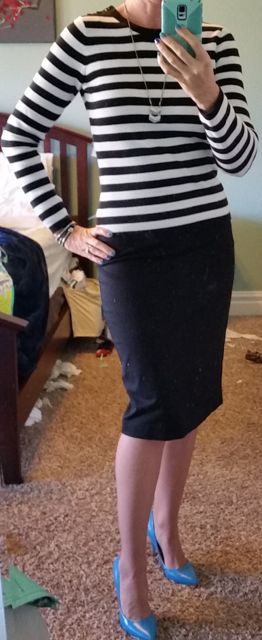 I'll be honest, I love this. Everything is right. I received so many compliments at church this day.
To experience Dressing Your Truth and find your personal beauty, click here for the free discover your beauty course.
Disclaimer: When you click through my link, I receive a small credit in the Dressing Your Truth store if you choose to sign up for the full course. I'm not a fashion blogger or a Dressing Your Truth expert. I'm just finding my way.