I hope these post mortem evaluations of my journey to figure out type 4/3 outfits is helpful. I'm trying to narrow down my style and get this figured out.
Type 4 moment: I thrive on routine and structure, but I didn't have a word for what gave me peace until my husband and I had been married for about 6 months. One day I said, "Have you noticed that since we got married we haven't gotten into a routine?" He said, "Yes! I hate routines! I've been trying to make sure we don't get stuck in one of those!" Sabotage! He was intentionally sabotaging me! I had felt so out of sorts those 6 months, and had realized why. We laugh about this now, and now he'll tell you he thinks my routines are sexy. It's the reason the house stays clean, we have clean clothes, food in the fridge, three nice meals a day, etc.

Love this color combo, and love that monkey on my legs. With more S3 accessories like pointy flats and a different necklace, this would be more appropriate for me. The polka dots on the shirt are the same cobalt blue as the pants.
Still deciding how I feel about these jeans. I love the idea of destroyed jeans bringing some secondary 3 to my outfits, but I'm not sure destroyed + boyfriend style is right for me. I do love the pendant. I bought it on our trip to Thailand.

I would prefer this with flats. Like shiny, reflective silver flats. Unfortunately the weather called for boots. The boots are too visually heavy for this top combo. Also, the necklace is too round for me, and I haven't found an acceptable replacement. I love the color of the necklace, it just took me a while to accept that the shape is wrong.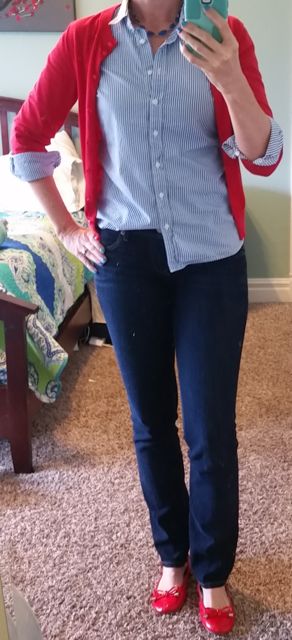 Pointy toed flats and a different necklace would make this just right for me and the cardigan not too cute or S1. The pinstripe shirt is in the iffy category because from a distance the colors blend and look washed out instead of bold..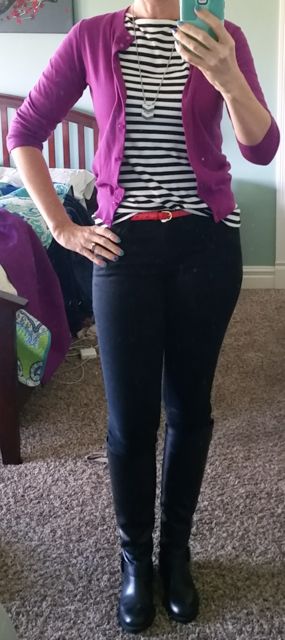 I love plum and red together. Actually I love this bright plum with just about any type 4 color. I do like this outfit. I'm getting closer. S3 elements are the pebbled texture of my boots and the chevron necklace. Again, with this combination the cardigan doesn't read sweet to me.

I've had this skirt and sweater for YEARS. I love the bright plum color, and I love it with turquoise. The necklace conflicts with the keyhole neckline, and I wouldn't wear a necklace with this top again.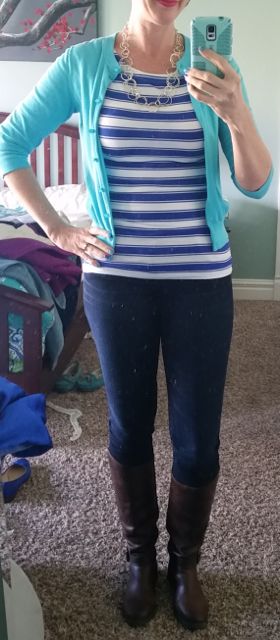 Today I was once again rebellious and wore the brown boots. It is much more balanced than the outfit above, even though brown is a no no for type 4s. However, this necklace is a big no. So many circles, so jangly and noisy, so bulky. So not me. I actually shortened it to try to make it work for me because it was nearly twice as long before. I had this necklace for maybe 10 years and never wore it until Dressing Your Truth. It is shiny, reflective silver, and would work great for a type 4 who is a secondary 1. I passed it along. So a sharper necklace would have been much better. I don't love this outfit though, and I suspect that my beloved turquoise cardigan has some white in it, and is actually a type 1 color. It's not bold enough. Boo.
To experience Dressing Your Truth and find your personal beauty, click here for the free discover your beauty course.
Disclaimer: When you click through my link, I receive a small credit in the Dressing Your Truth store if you choose to sign up for the full course. I'm not a fashion blogger or a Dressing Your Truth expert. I'm just finding my way.