The end of a year is always thought provoking. This has been an intense year, but one full of growth and improvement. I don't have pictures of outfits for all the days because 5 of the days we were gone on a ski vacation, and no one wants to see pictures of my base layer every day. The other reason is I was sick and in bed the last several days of the year.
Happy New Year to all of you! I'm so grateful to be finishing the year finally knowing who I am.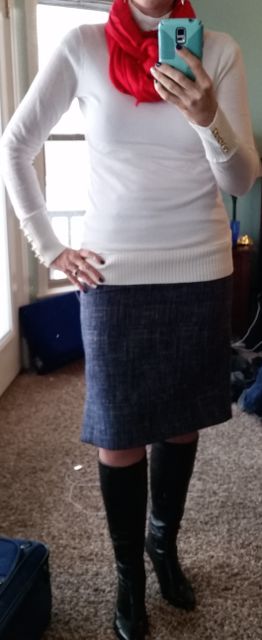 I'v had this outfit for ages. Adam bought me the tweed skirt on a trip to New York City. Tweed is hard for a type 4 because it's not usually bold due to the muted effect of mixing the threads. I think this one is great, and I felt plenty bold in it. I don't think it looks washed out next to the white sweater and the red scarf. I love the studs on the sleeves of this sweater, but they are gold, and I will likely paint them silver.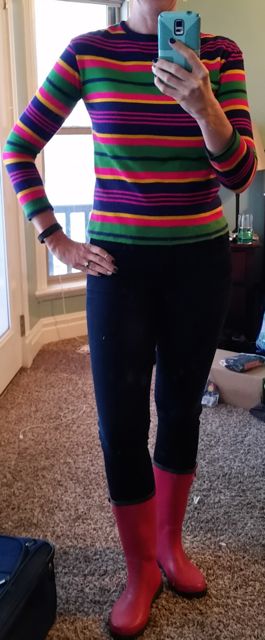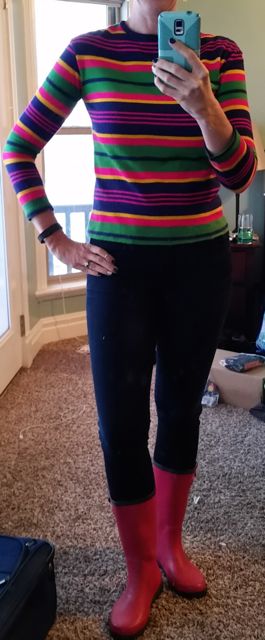 Ya'll, if Bert and Ernie had a female roommate, she would wear this sweater. I found it in a vintage store. It is SO OLD that it was made in the USA. It is a brand from Beverly Hills, CA. I tried it on as a joke (about Bert and Ernie), and ended up loving the vibrant, colorful stripes. I wanted to wear metallic silver flats, but it was raining, so rain boots it is.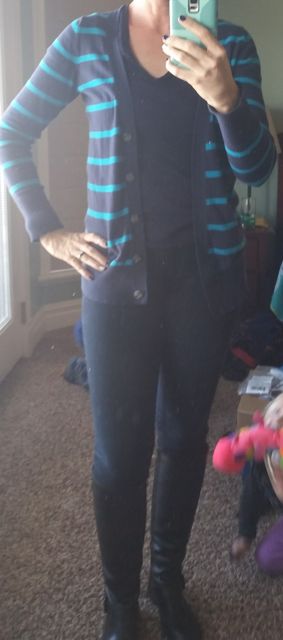 Packing for our trip, cooking up a storm and a small(er) family party call for something comfortable  and soothing. This is a nearly all navy outfit instead of all black, but it had the intended effect. The only S3 element is the pebbled texture of my boots. I don't have to represent my S3 every day, and even if I do, I don't have to punch you in the face with it.
Christmas day we were out of town, so we relaxed in our PJs all day. My darling husband gave me this beautiful black dressing gown for Christmas. I told him I looked like the evil queen, and I love it. It is so elegant, I felt plenty dressed for a relaxing day.
I encountered (I would say ran into, but that could be too close to the truth) one of my kids on the slopes. My ski coat is type 3, my scarf and hat are type 2, but they aren't the kind of thing you replace on a whim. Ski coats are pricey, and the hat and scarf have a lot of sentimental value. I bought them on a trip to Jackson Hole, WY. Let us all be grateful I have the good sense not to do as the many other tourists and buy myself a ridiculous Hollywood version of a cowgirl outfit with $2000 ostrich skin boots in a ridiculous color, a broomstick skirt, turquoise (as in the stone) studded vest and cowboy hat and "authentic" cowgirl shirt with real mother-of-pearl buttons and some metallic threads woven in. It's all true. These couples parade up and down the streets around the square in these ridiculous get ups. I bought a ski hat and scarf. Type 2 though they be, they won't scorch your eyes. You're welcome.

Just one picture of base layer because it is a different type of type 4 color than I've ever worn. This baby pink is actually a type four color because it is icy and reflective and shiny. That is the only time a type 4 can wear tints, when they look shiny and icy. I didn't buy anything new for skiing. I just happened to have these tops in these icy tints.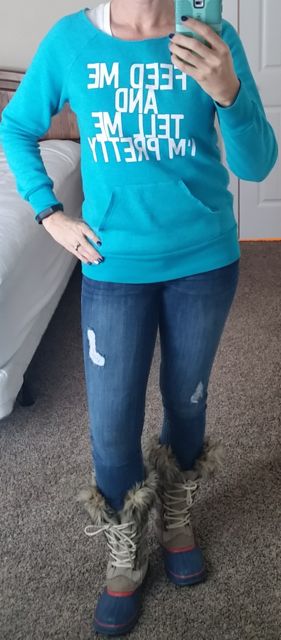 This is the day we packed up and went home. My absolute most favorite sweatshirt, for so many reasons. The Sorels are type 2, but also not the kind of thing you replace on a whim. Or I don't. Most people buy a pair and keep them for years and years.

Ending the year in true type 4/3 style. Bold black and white stripes, bold colored scarf in my favorite color, studded belt and S3 boots that have extra straps.
To experience Dressing Your Truth and find your personal beauty, click here for the free discover your beauty course.
Disclaimer: When you click through my link, I receive a small credit in the Dressing Your Truth store if you choose to sign up for the full course. I'm not a fashion blogger or a Dressing Your Truth expert. I'm just finding my way.