I just love having the mornings home alone with Georgia. She follows me around while I clean up and talks to me or plays near me. She has claimed this chaise as her bed, and if anything is on her bed, she tosses it off so she can climb up and rule from her throne. She put these bloomers on as her underwear. She has been begging to be potty trained, but potty training interrupts naps and causes early morning wakings. I choose diapers and sleep.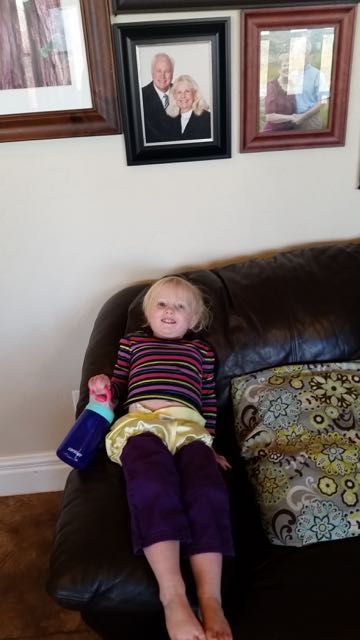 On Jonny and Avery's last day, Leo and Mark's families came over since Mark's family hadn't seen them at all.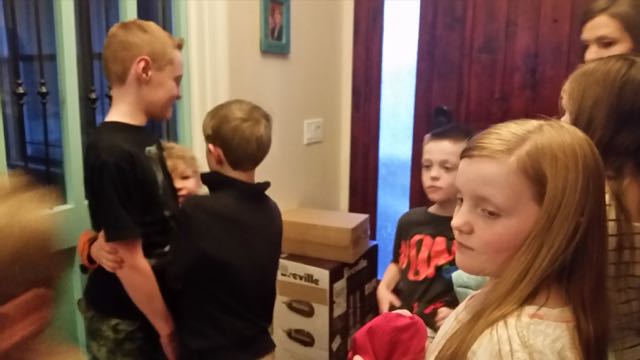 The cousins got to play one last time. Amber and I exchanged our annual/semi-annual hug. Neither of us are huggers, but we do hug at the end of my trip to Tennessee, and if we see each other when they are in Utah. It's become a joke for us.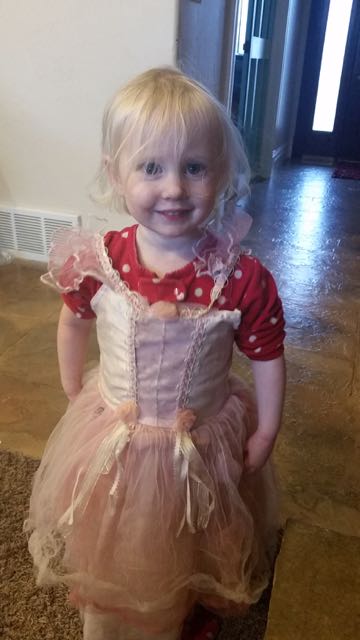 Georgia has taken a liking to princess dresses.
Daisy took some selfies with my phone. When will my kids learn that when they take their own picture they are providing evidence that they were playing with my phone, which is not allowed?
Brinlee's hair is too long for her to manage, so Sawyer volunteered to help her brush it. He was so gentle and got all the many, many tangles out.
This was no small feat. He is such a nice brother.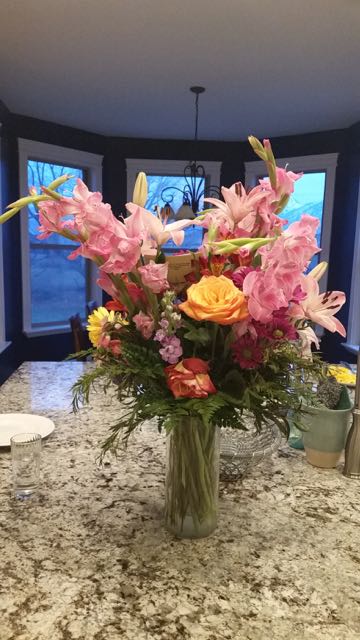 Adam was in London and sent me this gorgeous bouquet. These are the most beautiful flowers I've ever gotten. They definitely made my day.
Brinlee, Kimball and Sawyer had a CET, and I was there helping make macaroni people.
They also had another play, this time it was The Wind in the Willows. They are always great productions.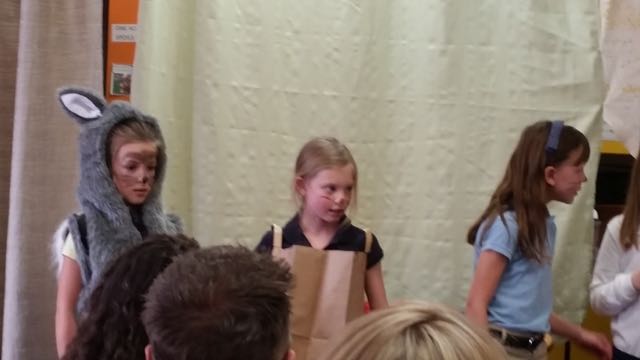 The girls had parent night at dance. I went to Daisy's and Adam went to Brinlee's, and we swapped pictures.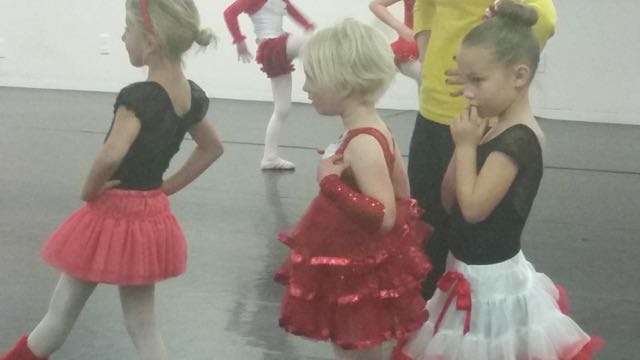 They got to wear whatever Christmasy outfit they wanted, so Daisy chose one of Brinlee's old costumes. Then they did across the floors to show what they are learning.
At the end they got to choose what they wanted to do. Daisy was first and she chose sassy walks (is anyone really surprised?), and boy were they sassy. I mean, she gave Beyonce a run for her money. All the parents were laughing. A few of the girls after her tried the same thing, but no one can sassy walk like Daisy.
Adam took videos of Brinlee's across the floors.
Daisy had her seven continents CET, and I was in charge of her group. 100 kindergartners in the same room. Seven stations. Two hours. There were drums. I deserve a medal.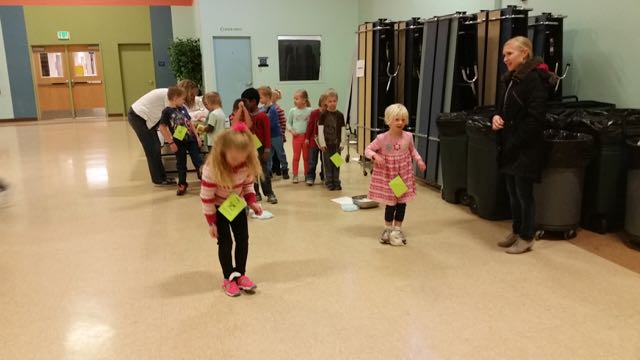 In Antarctica they did a penguin walk to deliver their baby penguins.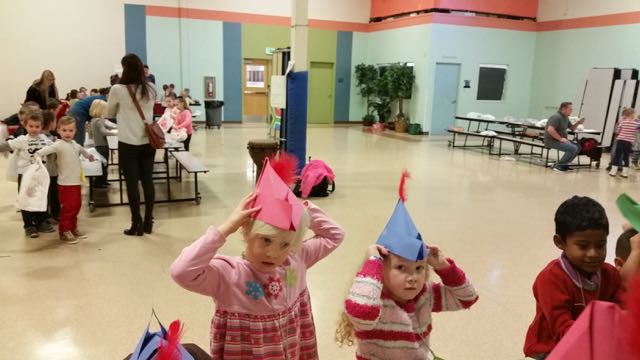 It's always a fun activity for the kids. It was the last day of school before Christmas break, so it was also a free dress day.
We went to Grandma's Christmas party where they did the annual nativity with her huge collection of costumes.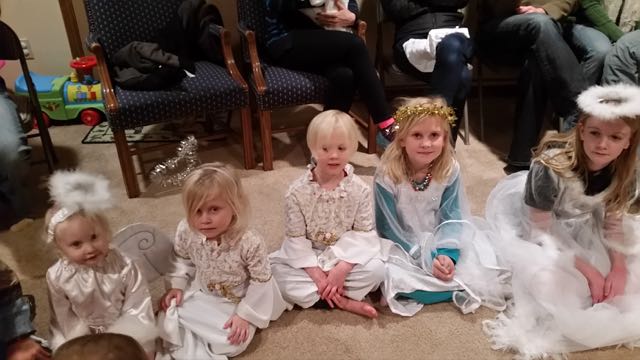 This is the third and final year in a row Georgia has fit in that infant angel costume.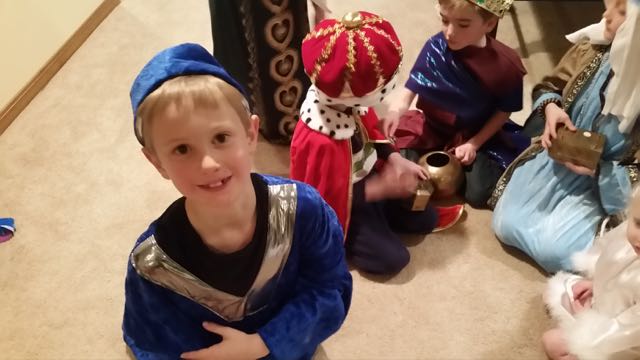 Caisen was a wise man.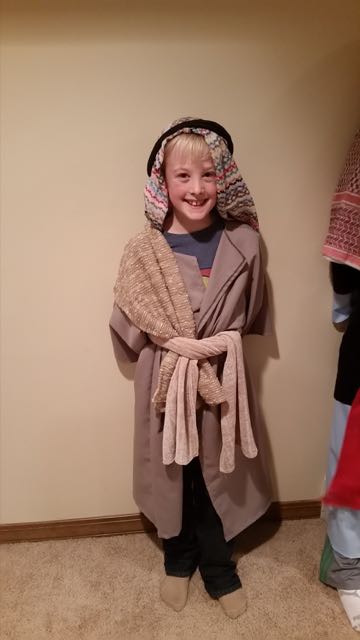 Grandma has a schedule of who gets to be Mary and Joseph, and this year Sawyer got to be Joseph.
He did a great job.
The whole cast of cousins.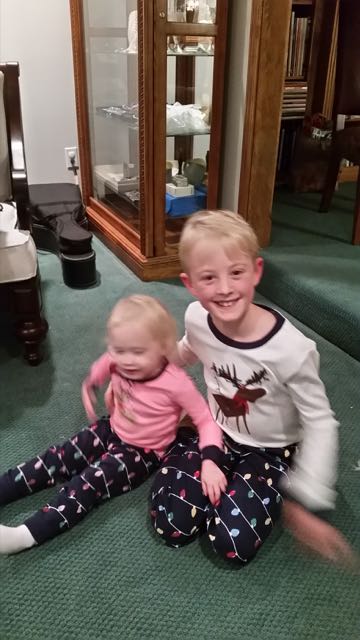 This year's matching pajamas from Grandma.
Then they got to do the cousin gift exchange.
They loved choosing gifts for their cousins, and they loved what their cousins chose for them.
This was our year to spend Christmas at the Bear Lake house. We went up on Christmas Eve because we decided to go skiing at a nearby ski resort the other days.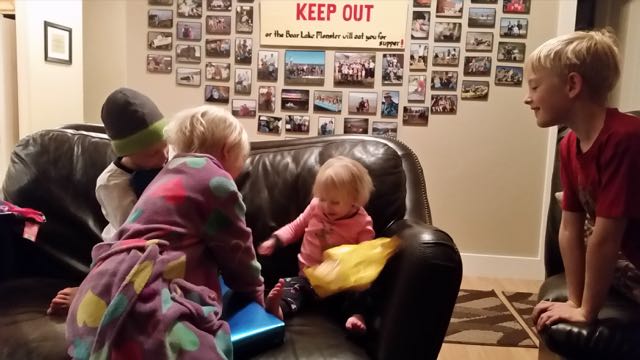 On Christmas Eve we followed a tradition from my family and opened the secret person gifts.
We need to review the concept of secret. By Christmas Eve everyone knew who was giving to whom, and possibly what.
Georgia has become obsessed with too-toots, so she got her very own from Sawyer.
The lake is frozen solid as far as the horizon.
Christmas morning was a big day! The rest of the family wasn't coming until the day after Christmas, so we had the house to ourselves.
Honestly, I love the gifts the kids make me. They are my favorite whether it's Mother's Day, Christmas, anything.
Each of the kids got a book series. They devour books, and it was time to add to the supply. They have a fabulous school librarian who sent me an email full of recommendations.
There's sassy Daisy. Sometimes I call her Daisy Sparklepants.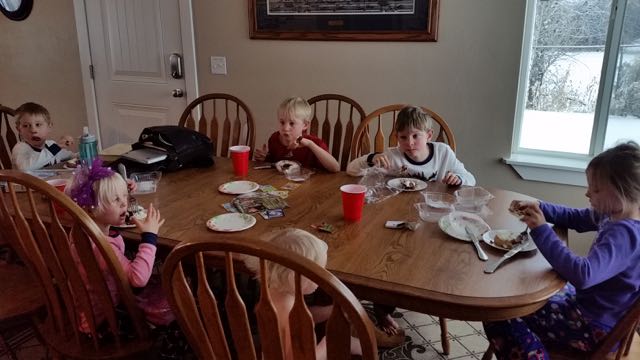 We took a break halfway through gifts and had breakfast.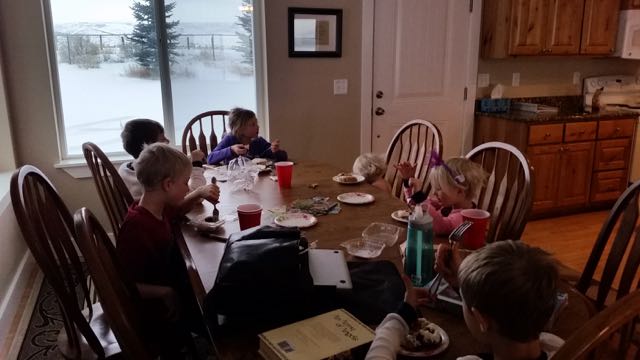 We had gluten free cinnamon rolls and scrambled eggs.
The scenery was breathtaking.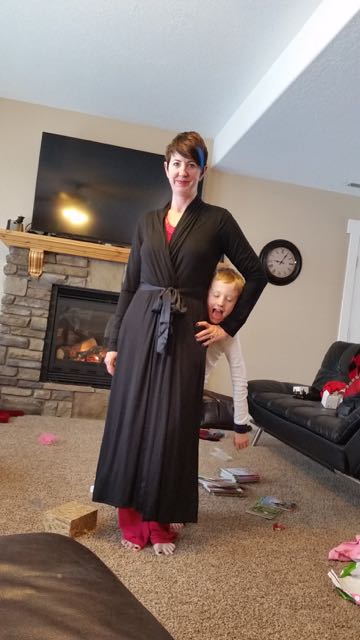 Adam bought me this gorgeous dressing gown. Nice photobomb Caisen.
The kids got Adam this portable car jump starter since there seems to be something wrong with his battery or the connection.
Wait, there's one more thing in the bag. A Daisy! The only flower blooming for miles around.
Georgia went back to polish off any abandoned cinnamon rolls.
The kids each got these amazing, soft, warm blankets in their special colors. It took me months to find them all. My mom has one and when we were there this summer, we were all fighting over it. Now every person in the family has one, and they love them.
Georgia got her apron and this…Christmas wench costume? Adam bought it at a silent auction to benefit his cousin.
For Christmas dinner we kept it simple, but special with a Honey Baked Ham, these amazing green beans that I made ahead of time, gluten free rolls and Adam's famous roasted potatoes. We also had some sparkling cider. I made all of the food before the trip, so it was really easy the whole time we were there.
The next day we went skiing. I had a bad experience two years ago, and never went back because I was so traumatized. Adam sent me with the kids the first day and he stayed at the house with Georgia. We all went in lessons. When I was renting my gear in the ski shop, the girl said, "I love how dressed up you are for skiing! You've got on makeup (it was just mascara and lipstick) and jewelry (stud earrings). You look so great!" I'm glad my minimum effort has impressed you.
I was literally in tears when he dropped me off for my lesson. I was that upset and anxious from the last time.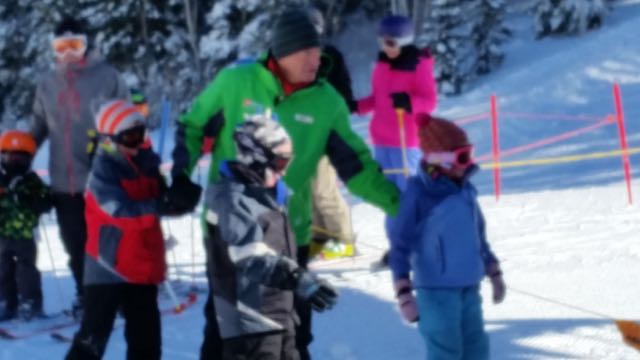 The kids were thrilled. They had been begging to go skiing again for two years.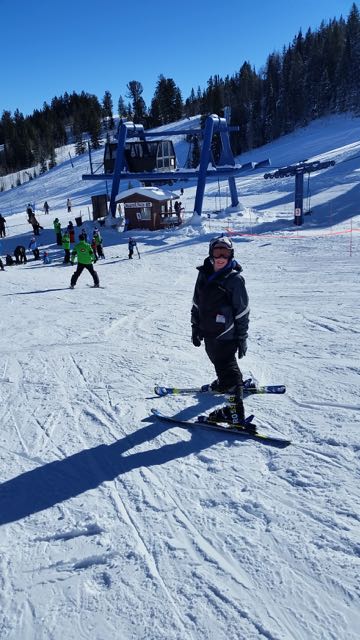 I encountered them several times on the slopes.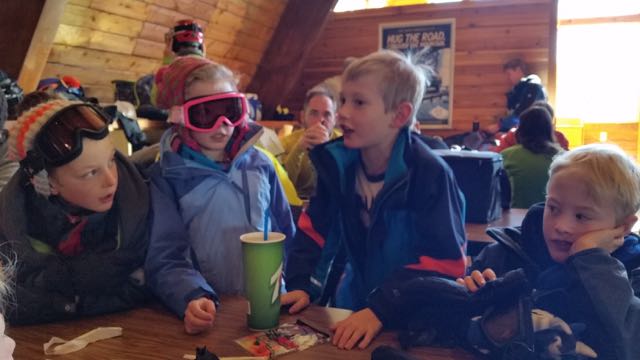 After morning lessons we met in the lodge for lunch.
The kids went back for lessons, and I skied the same hill over and over the rest of the day. Every time I got to the top I would say out loud, "Why on earth did I come up here again?"
Every time they saw me skiing they cheered really loud for me. It was pretty awesome.
Adam came to pick us up just like my knight in shining armor. It was so comforting to have him there waiting for us at the end of the day.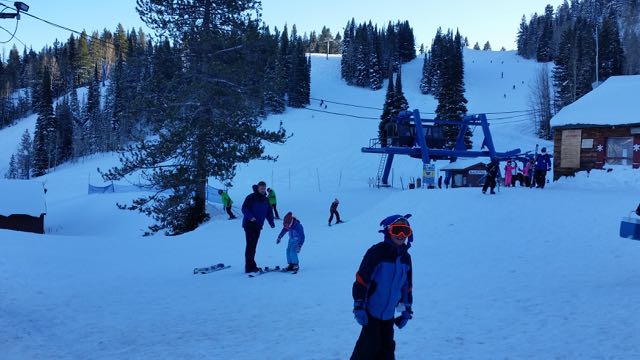 Today was successful, even if not fun for me.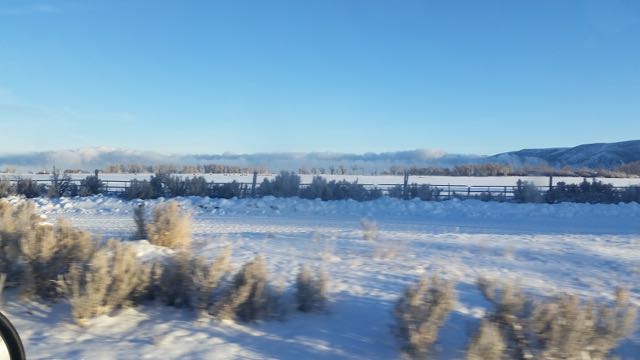 Turns out there was a big snow storm in Salt Lake on Christmas Day and no one else in the family felt confident in making the trip, so we were by ourselves up there the whole time.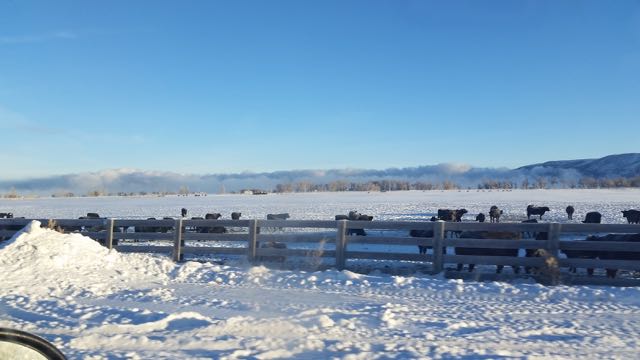 I couldn't stop taking pictures.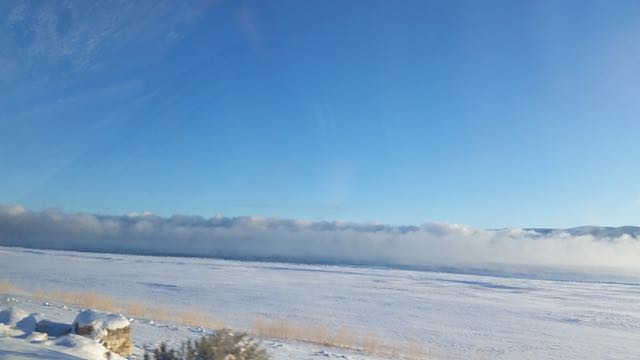 This fog sat over the lake the whole time we were there.
Everywhere we went was so beautiful. I kept snapping pictures the whole drive home.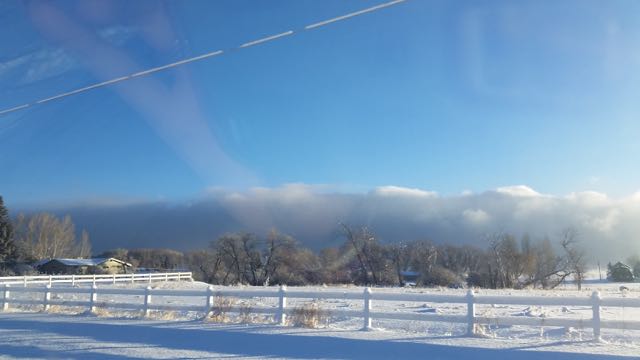 Don't worry, Adam was driving.
We even saw these bull moose right by the road.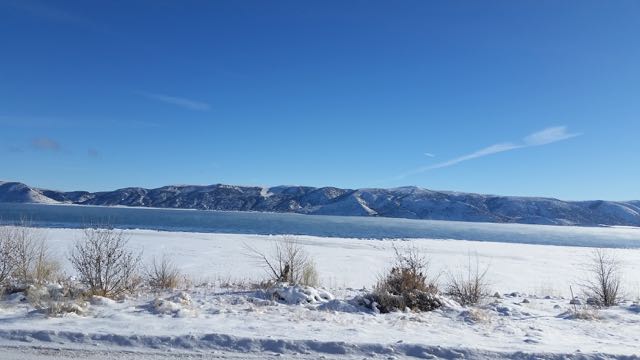 Once we got back to the house we turned on Star Wars episode IV, ate dinner and lights out. Our kids have never seen Star Wars, so that was our routine for three days: ski, dinner, Star Wars, sleep.
The girls got these great fake makeup kits for Christmas and had a lot of fun making each other pretty.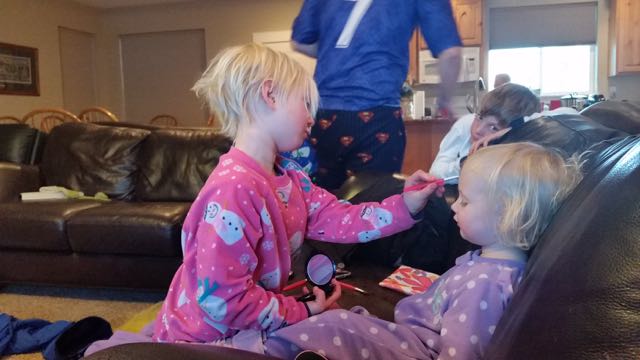 Georgia getting a makeover.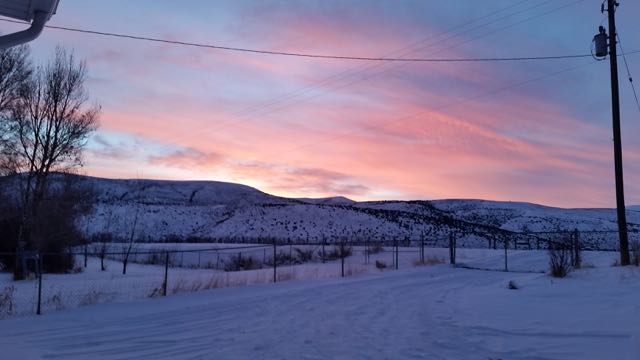 Just look at that!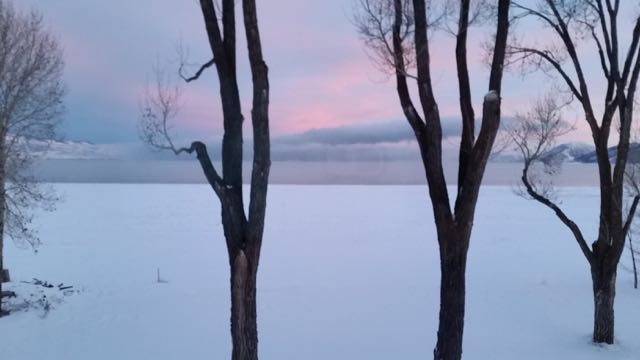 Before the Bear Lake house was built we were only able to enjoy the beauty in the warm months. Look at what we were missing! We are very fortunate and grateful to be able to enjoy it year-round now.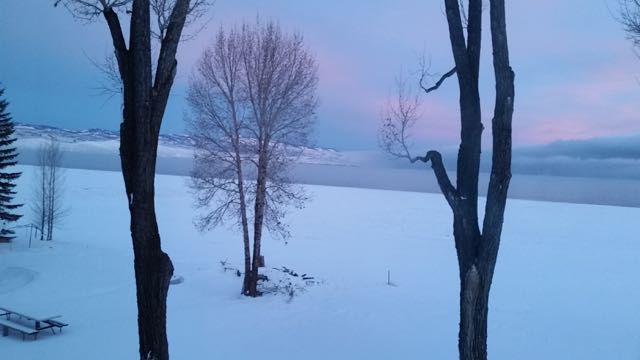 As we drove to and from the ski resort we saw people ice fishing.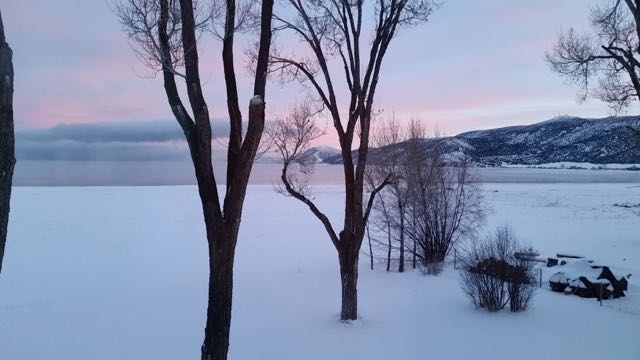 There was over a foot of snow on the ground, and a frozen lake to play on, but our days were taken up by skiing. Other wise we would have been out there playing.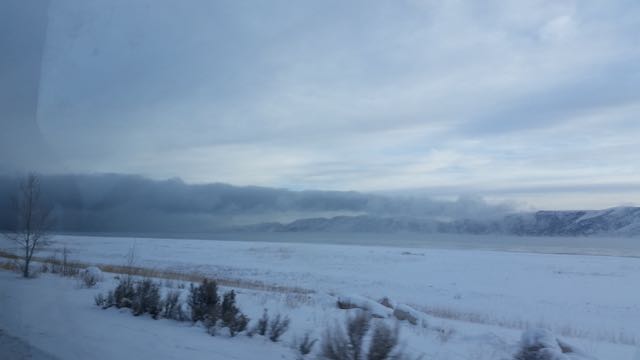 On day 2 of skiing, Adam went skiing while the kids were in lessons, but he didn't take any pictures. I stayed at the house for a quiet day with Miss Georgia.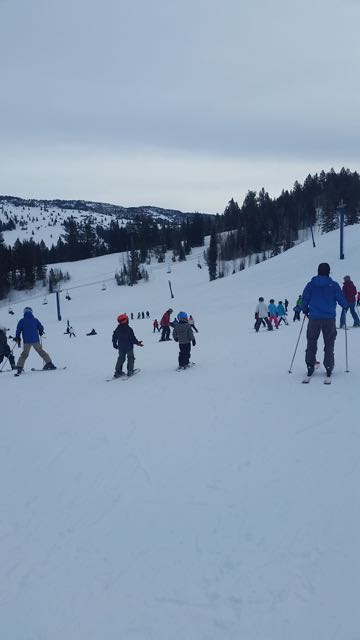 Adam made me go on day three because he said I needed another successful day on the slopes.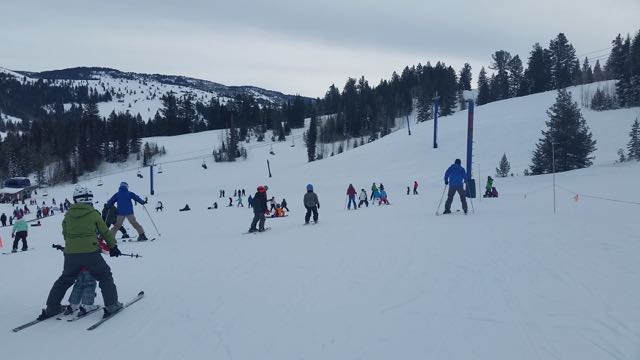 It worked. I did have another successful day on the slopes just skiing the same trail over and over.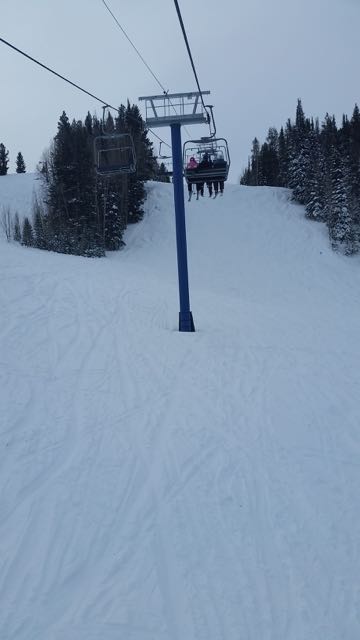 The kids were in lessons all day every day.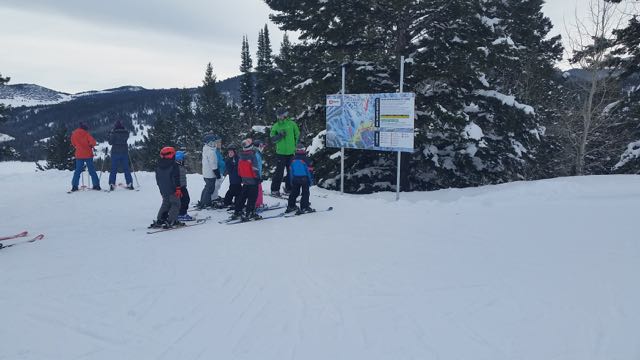 By the end of the day I almost had fun, which I would count as a successful day.
Caisen and Mommy on the slopes.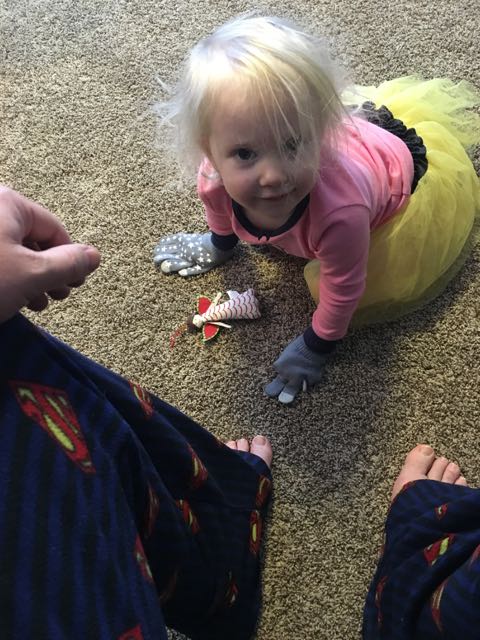 Adam and Georgia had fun together at the house.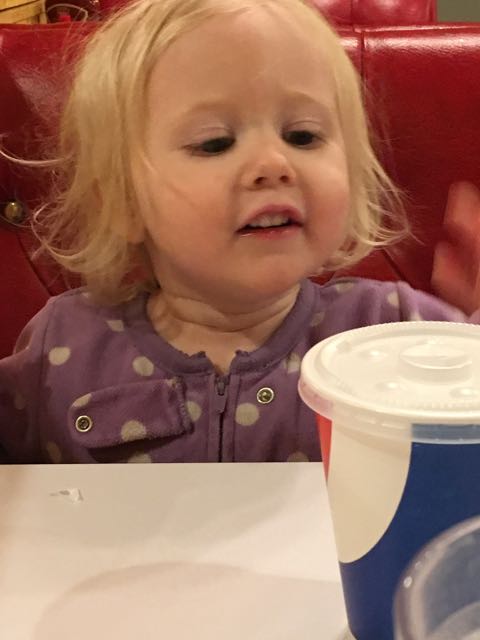 On the last day they went out for lunch after dropping us off, and he bought her a stuffed bear as big as she is. The next morning we headed home. It was a great Christmas vacation for everyone. It was nice to spend time as a family. We are really enjoying this tradition of trips for birthdays and Christmas.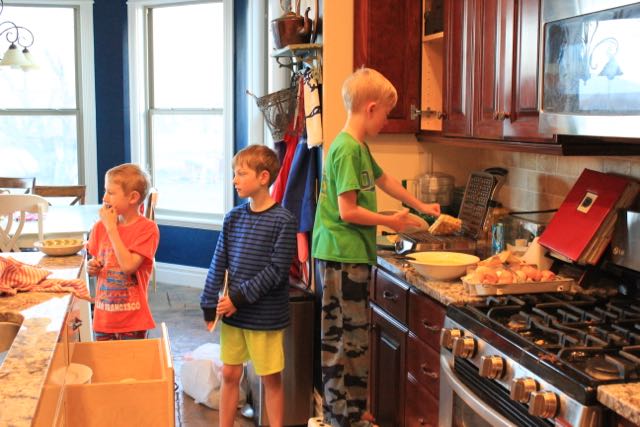 Back at home the kids made egg waffles for breakfast so we could sleep in. They are so sweet.