Type 4 moment: Back in college I realized one day that I had very little color in my wardrobe. I decided that wasn't normal, so I set about intentionally collecting more colors for my wardrobe. What I recognize now is I was dressing my truth and didn't know it. Most of what I had was black, white and blue, which is what I have now, and I love it. It feels good, and the difference is I don't care if it's normal. It's me.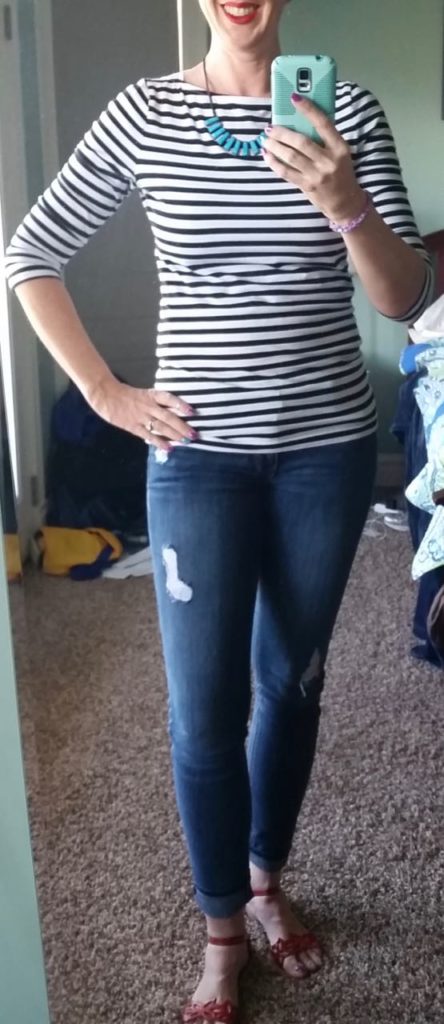 Day one home from our trip to Japan. Jet lag. Tee J. Crew, jeans Express, sandals Rebels, necklace Kendra Scott. S3 elements destroyed jeans, sandals. Bracelet is a rainbow loom creation made especially for my by my daughter while I was away.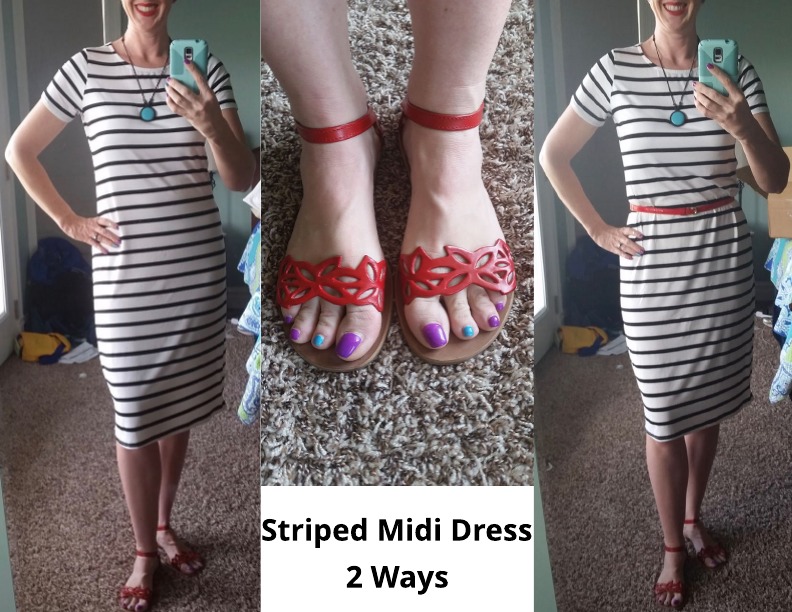 I typically don't wear anything this baggy and loose. I ordered this dress online, but the return process was a huge pain, I would have lost a lot of my money, so I didn't bother. Maybe I just still felt gross from travel and travel food, but the looseness felt great. I'll probably end up taking it in and up a little once I feel normal. Even my husband commented that it was big. He prefers me in tailored clothes, and so do I. The belt does help, but I don't typically wear belts with dresses. I painted these sandals. They were brown before. S3 element shapes in the sandals.

I was up half the night with a noisy brain, and today I feel pretty wiped out. I needed to get a few things done today like, um, unpacking, laundry and taking care of kids. Wonder Woman to the rescue. I never put on my shoes today, so you get a barefoot picture. Pants are darkest navy and from Express. Tee from a friend. S3 element Wonder Woman!!

Re-entry to real life is brutal. I know, boohoo. A super full and busy day, but I feel fantastic in this outfit. Cobalt blue stripes, dark wash jeans and silver belt and wedges. Bar necklace nordstrom, earrings Liz Claiborne, shirt and jeans Express, wedges Stuart Weitzman, belt Banana Republic. S3 element textured sandals.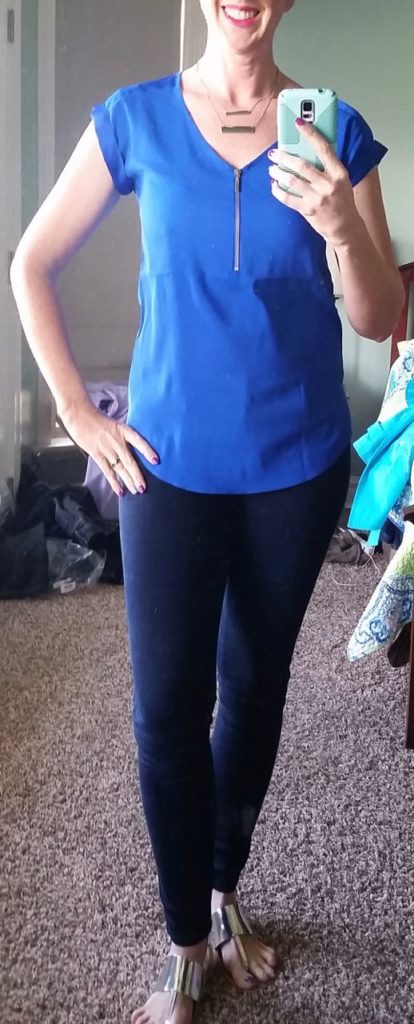 I went on a field trip to the zoo with 100 kindergartners. I lifted each kid in my group over my head to see the tiger. Twice. That and walking 3.5 miles counts as my workout today. I wore my bright turquoise trench and this cobalt top so my group could always find me. Paired with navy skinnies and shiny silver sandals. I love the zipper on my blouse and the bar necklace. Friendly with a little S3 push. S3 element zipper on blouse.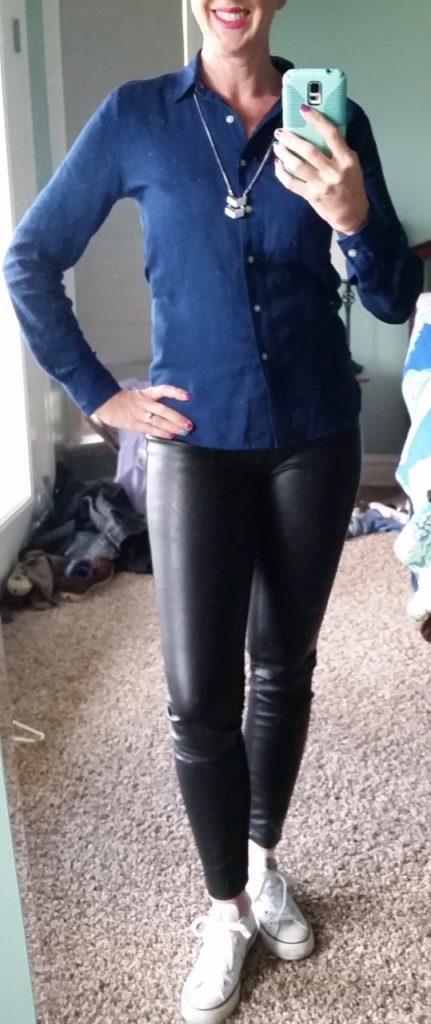 This chambray shirt is so soft and comfortable on a rainy spring day, and I thought I'd get one more wear out of my leather pants this year. I thought I would love the Converse with this, but I didn't. My silver flats would have been more me. Shirt Loft, pants Banana Republic, necklace J. Crew, shoes Converse. S3 element chevron necklace, faux leather pants.
It was a rainy, chilly spring day, so I'm brightening it up with an electric pink sweater, navy jeans and red boots. Love the zippers on my boots. Sweater and necklace J. Crew, jeans Express, boots Pajar. S3 elements zipper on the boots and chevron necklace.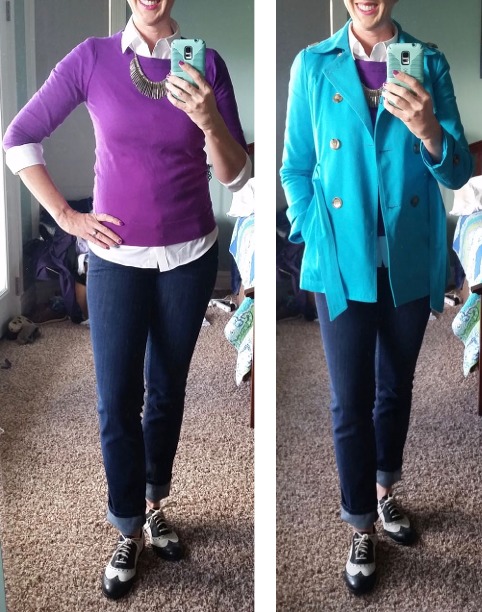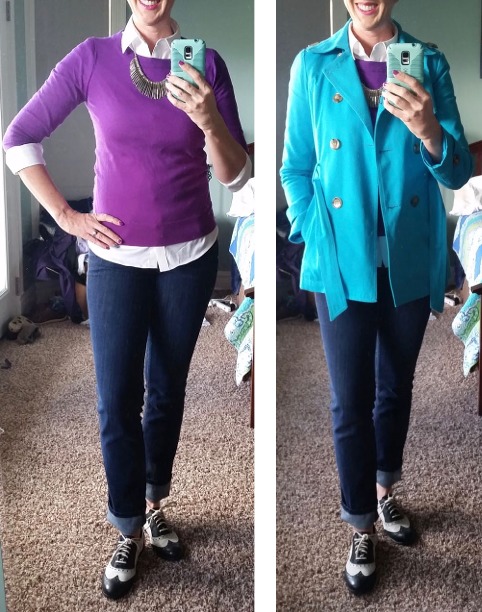 Uber prep with a hint of danger today. Trying to pretend it's not February weather in the middle of April. I just love this color combo. I was out this morning and a woman at Banana Republic said, "Wow you look great! I love what you're wearing! I really want you to come shopping with me next time and pick out all my clothes!" That was quite a compliment! White button up non-iron from Banana Republic, Tippi sweater J. Crew, jeans Express, spectator oxfords Born, necklace Nordstrom (I call it my Edward Scissorhands necklace). S3 element very dangerous necklace.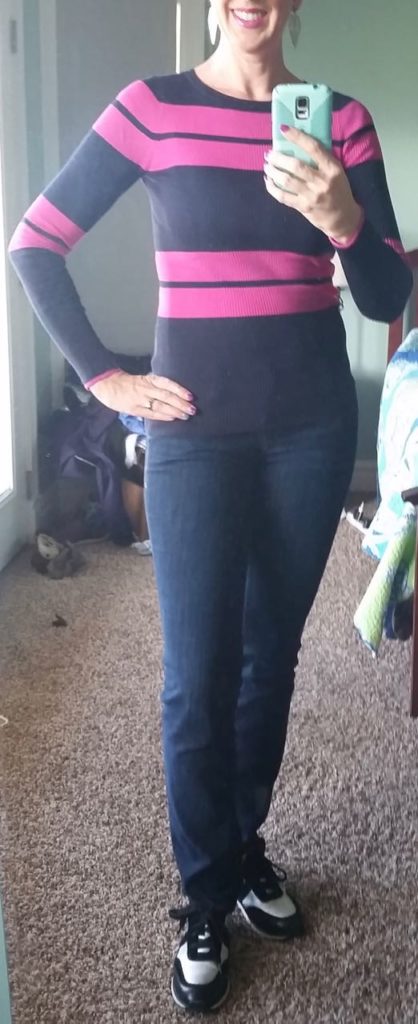 I love this deep navy and pink striped sweater. Super busy Saturday with the family. This is incredibly comfortable and warm enough for this spring freeze. S3 element earrings that could definitely put an eye out and silver mesh on the sneakers.
You know how I love a zipper detail, blue and stripes. The zipper is also the slit, and during church my son closed it all the way without me knowing, so when I got up halfway through to go to the bathroom, I could barely walk. It was so graceful. Stunning, I'm sure. We were sitting on the front row. Thanks son. S3 element exposed zipper.
To experience Dressing Your Truth and find your personal beauty, click here for the free discover your beauty course.
Disclaimer: When you click through my link, I receive a small credit in the Dressing Your Truth store if you choose to sign up for the full course. I'm not a fashion blogger or a Dressing Your Truth expert. I'm just finding my way.