Since we ended up leaving Himeji earlier than planned, we got an extra half day in Kyoto. All the tourist destinations in Japan close between 4 and 6, so ordinarily getting there around 3:30 wouldn't have been much of a gain, but since it was cherry blossom season, there were a few things open until 9 that night, so it really was an extra half day for us.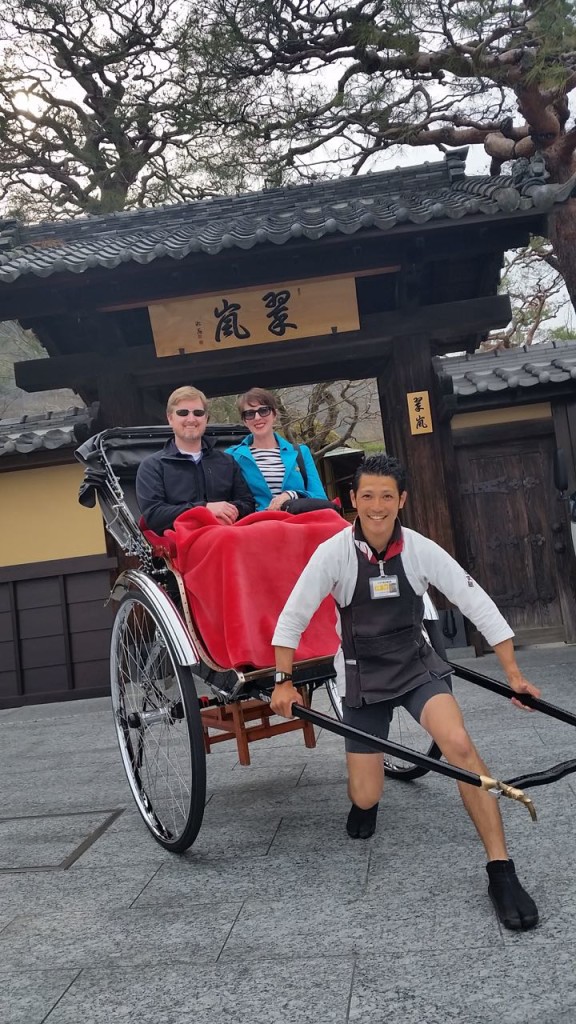 The first thing we did after checking in at the Kyoto Suiran hotel and dropping off our bags was take a rickshaw ride. It was one of the things that I had marked off the list because we had so little time in Kyoto. The concierge arranged it for us, and soon our ride was there. I was so excited!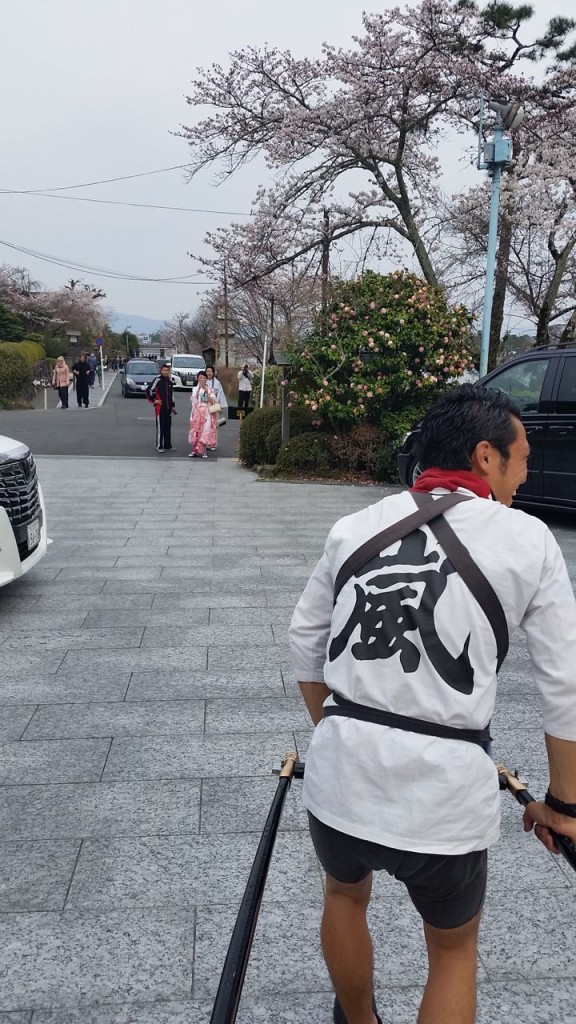 This driver (runner?) was so nice, smiley and happy. The path to the destination we chose was slightly uphill. The whole way. We didn't know that. It quickly started to feel like human abuse, and I felt really guilty! He was huffing and puffing and smiling all the way! He also spoke decent English.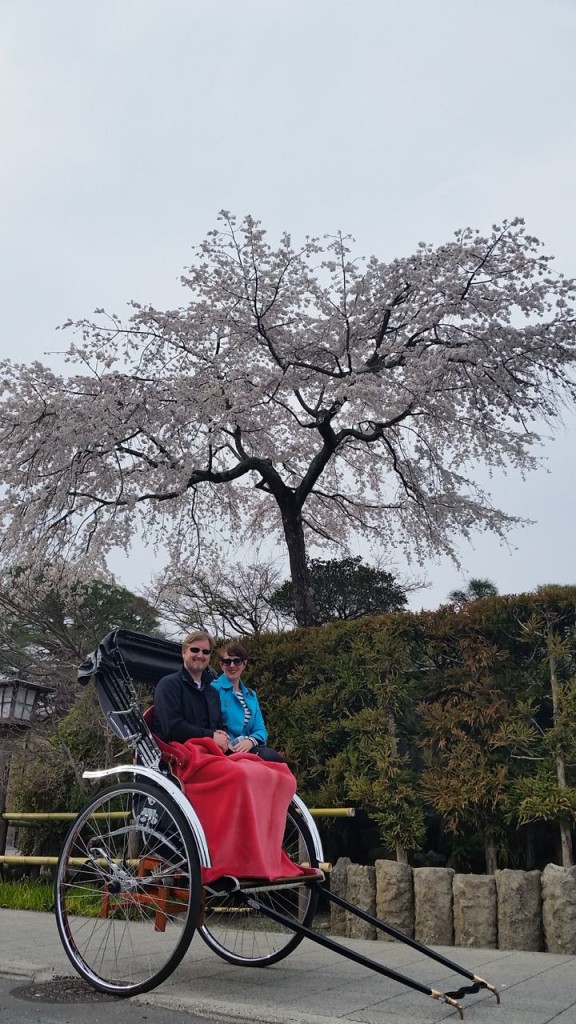 He stopped at strategic points along the way to take our picture in front of something beautiful like this cherry tree. It also gave him a much-needed pause, and I was glad for that.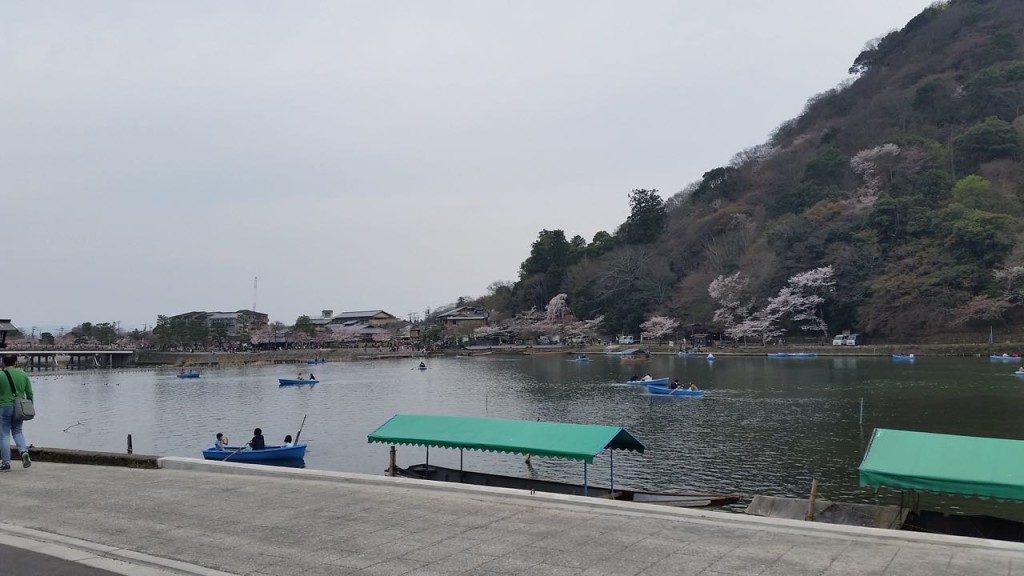 Our hotel was right on the river, and cherry trees dot the hillside. It's extremely picturesque.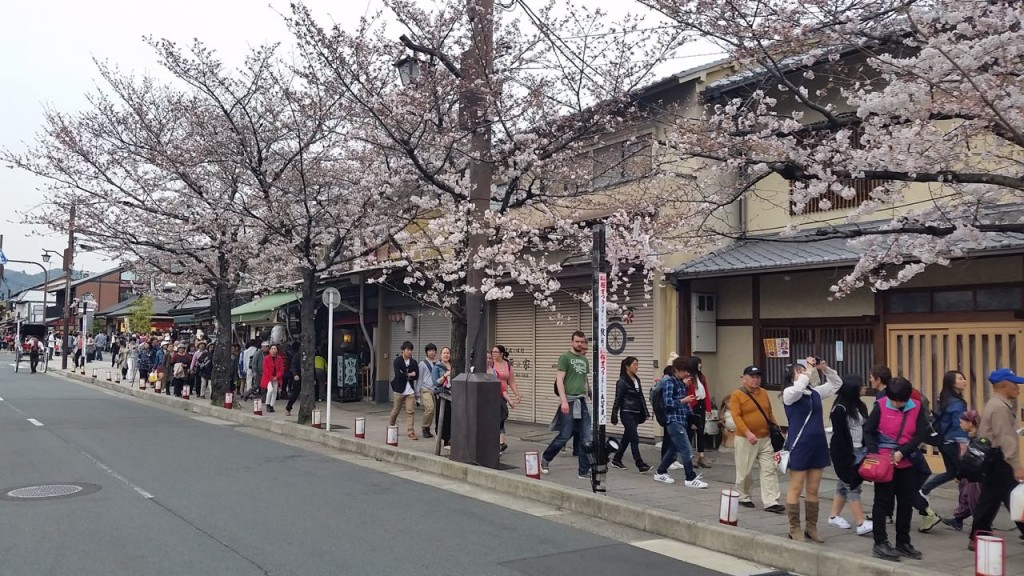 Everything was in full bloom. It was so beautiful!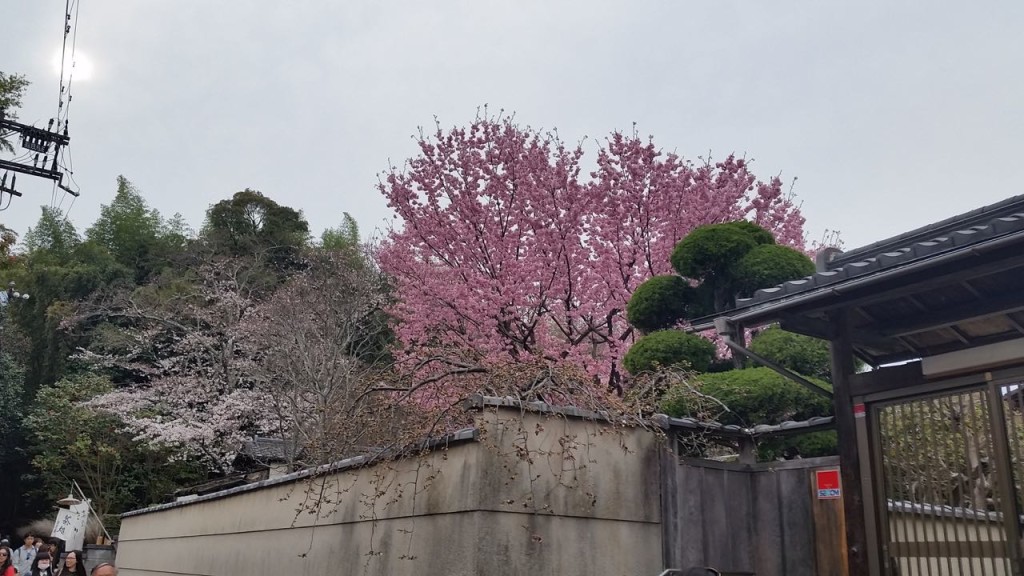 We specifically chose a hotel in the Arashiyama district so that we could see these things before heading into Kyoto to see the rest.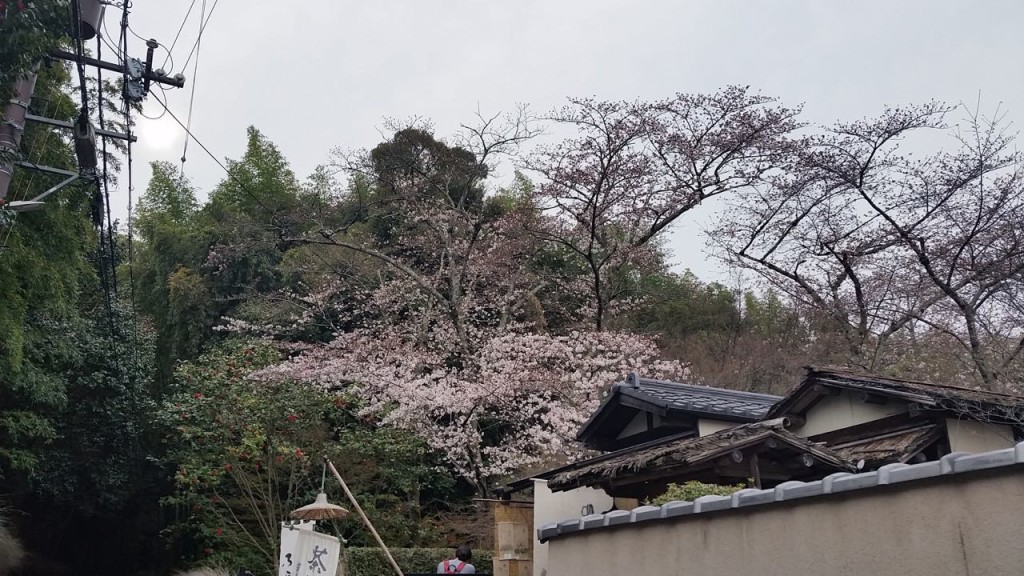 Kyoto is a HUGE city, and the temples and shrines are very spread out, so you need to plot you path accordingly. You can't just walk from one to the next, usually. You have to factor in distance, traffic, transportation, etc.
TRAVEL TIP: I'm going to write a whole separate post about this, but one way to plan your itinerary is geographically. After we listed out all of the places we wanted to see, we mapped them all on Google maps to see which were the outliers, which were clustered, and what made sense with our time table. I do this for all of our trips. This site lists all the temples by which part of town they are in.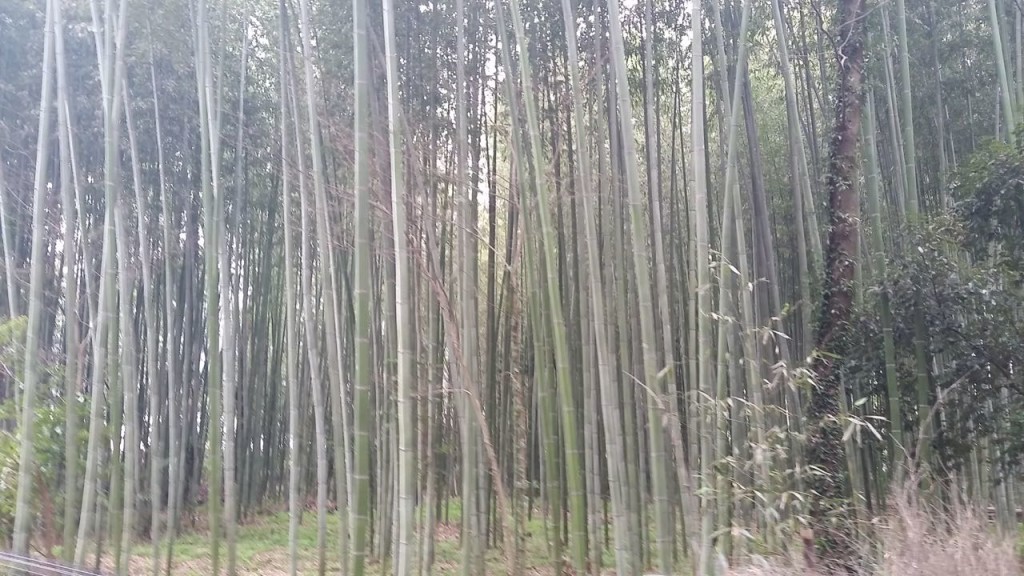 Bonus: he took us through the Arashiyama bamboo forest that I had wanted to see, but wasn't sure we'd have time.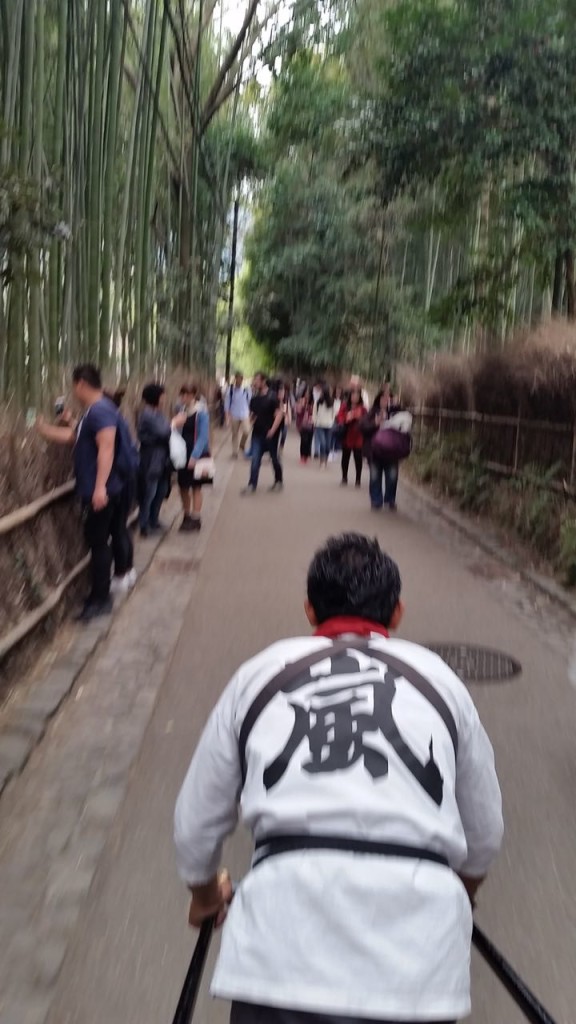 Smiling and panting and pulling. Poor guy.
Being up high was nice because no one got in our pictures.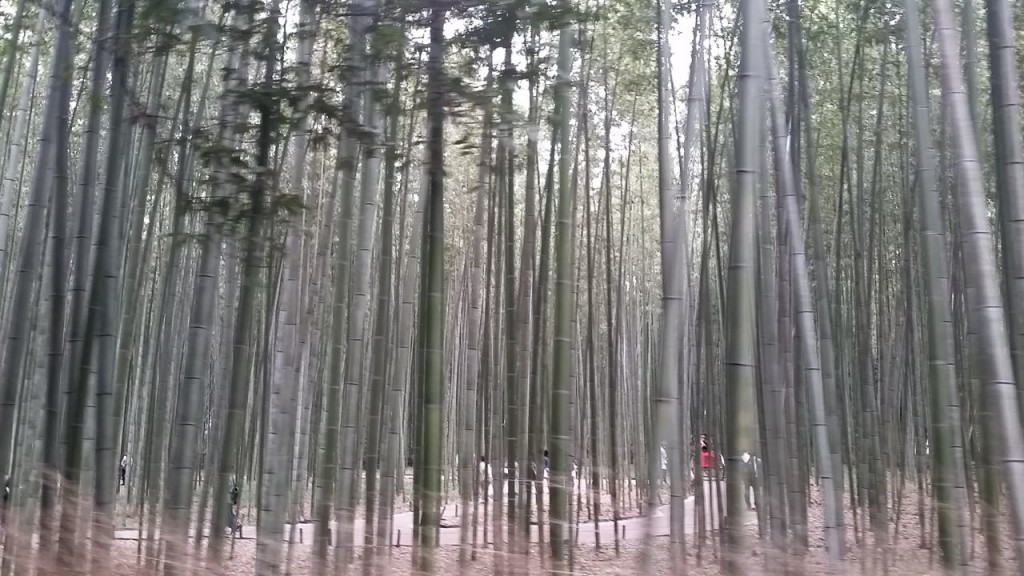 Our plan for the bamboo forest had been to get up extra early and walk through it because it doesn't close. It's a path through the bamboo. I've read that it's lit up at night, and that could also be beautiful.
The 30-minute rickshaw ride cost $80.
He also took us by some of the older Edo-period homes in the area that have been well preserved.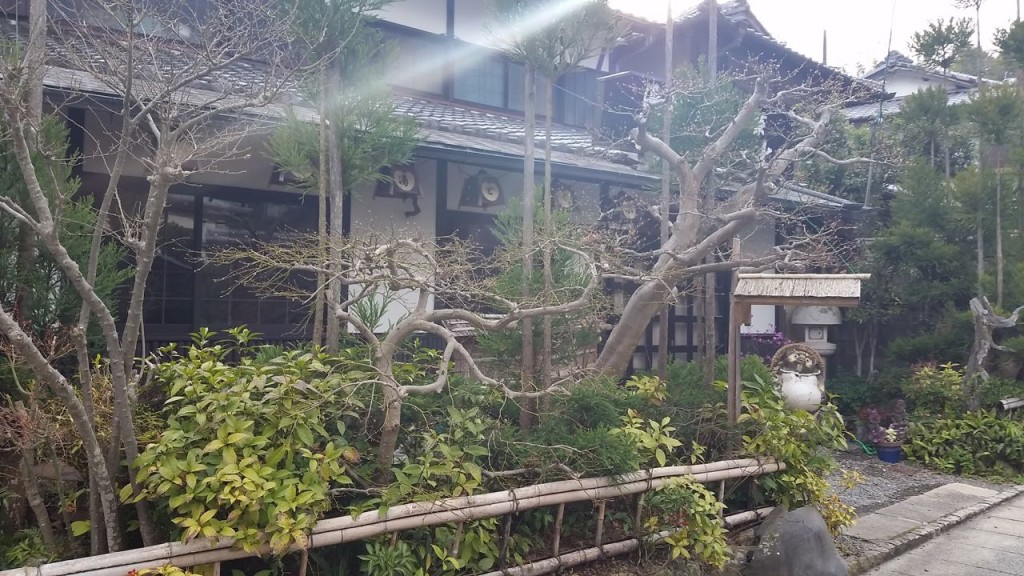 At the end of the rickshaw ride he sprinted to the top of a long staircase to the ticket booth to ensure they weren't going to close before we got there because we were right on the deadline of their last entry, which is 4:30. They let us in. As much as I enjoyed the ride and experience, my conscience was glad it was over. I know we paid, I know it's a job he signed up for, but still, it was obviously a tough job, and this was the end of the day.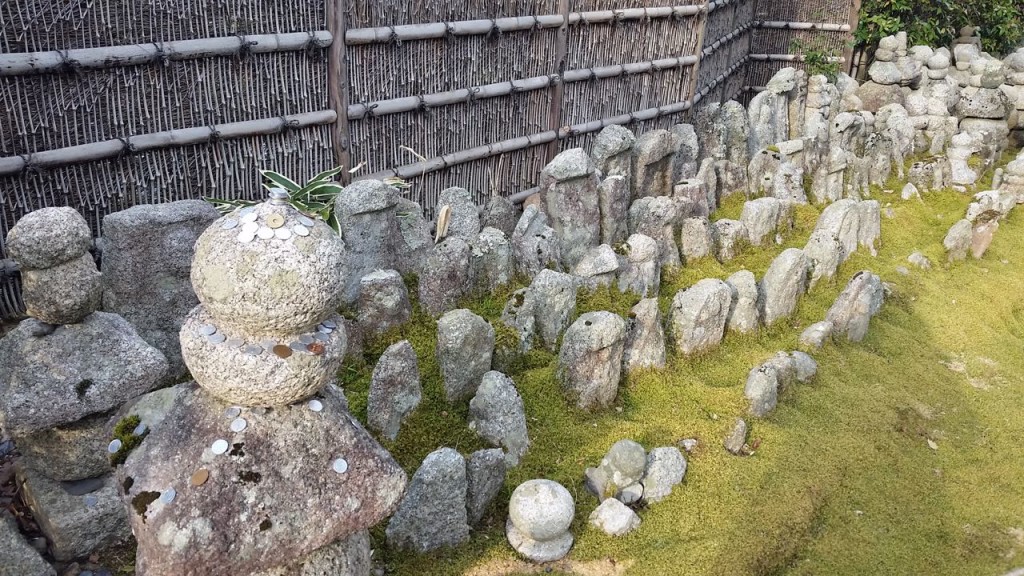 We chose the Adashino Nembutsu-ji Temple. What makes this one different is it's actually a cemetery with 8,000 headstones of those who died without families to remember them. When we asked the concierge if we should go see this or another temple, she recommended the other because this one is sad. We stuck with this one because it's different than the others.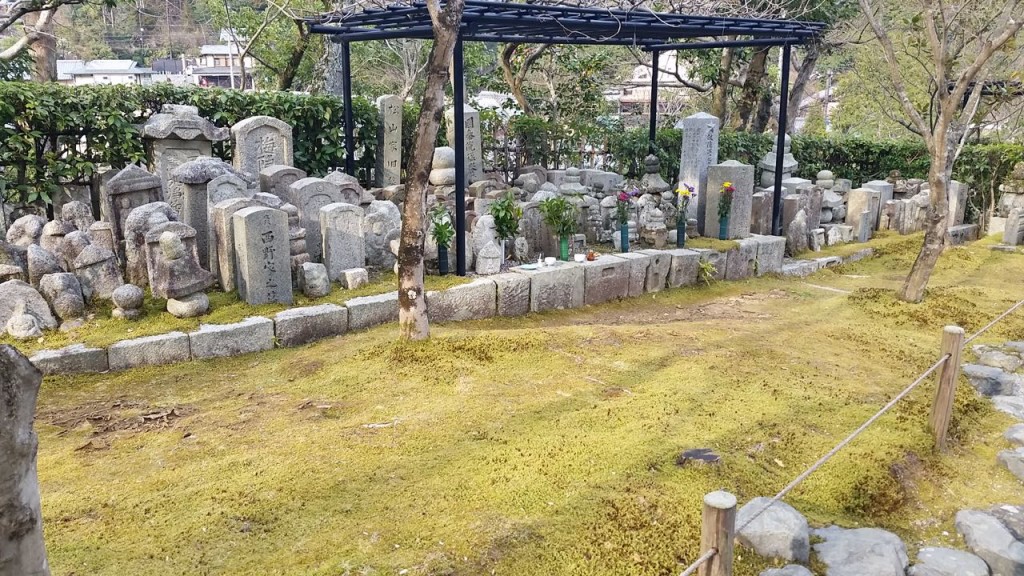 It dates back to the Heian period ((794-1183)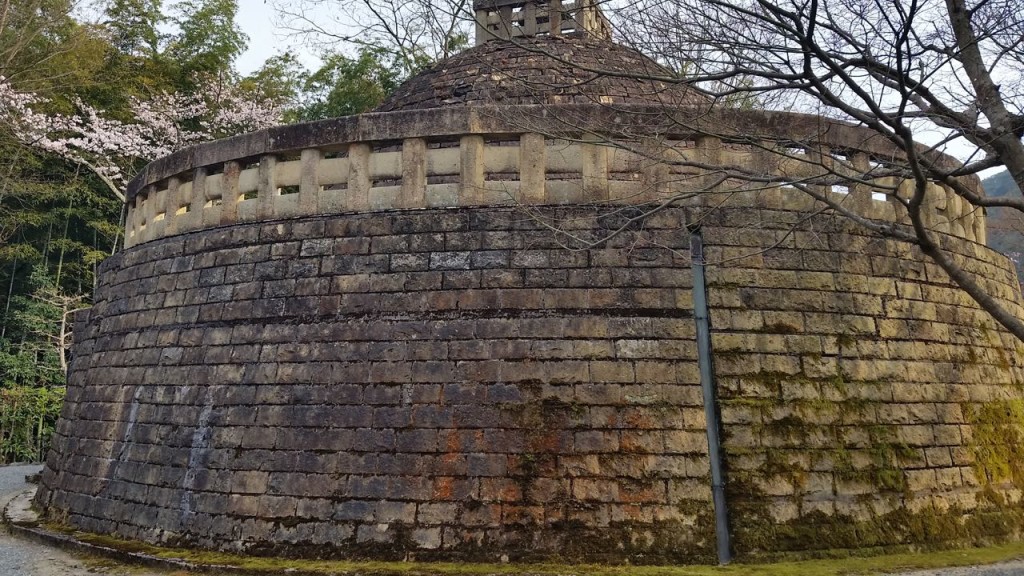 This isn't one of the locations where you'll find lots of tourists, so we were mostly alone. It's not close to any of the other main temples.
The hill it is built on is where people would abandon bodies of the dead during times of war, pestilence or famine. They would later come back when things stabilized and place a gravestone or Buddha to mark the spot.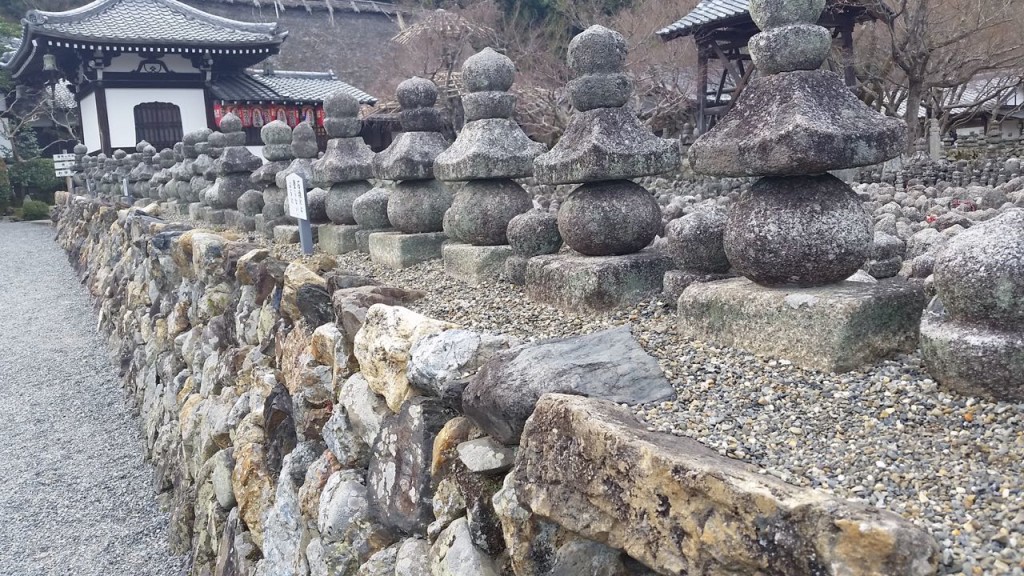 The temple was founded as a place to collect and keep all these grave markers. Each year in August a ceremony is held. Every stone has a candle lit on it to remember the person it represents since no family will ever come visit them.
This one makes me especially sad. I can't imagine the sadness of losing a loved one and then having to leave their body because you couldn't afford to bury it or circumstances were so bad that there was no time.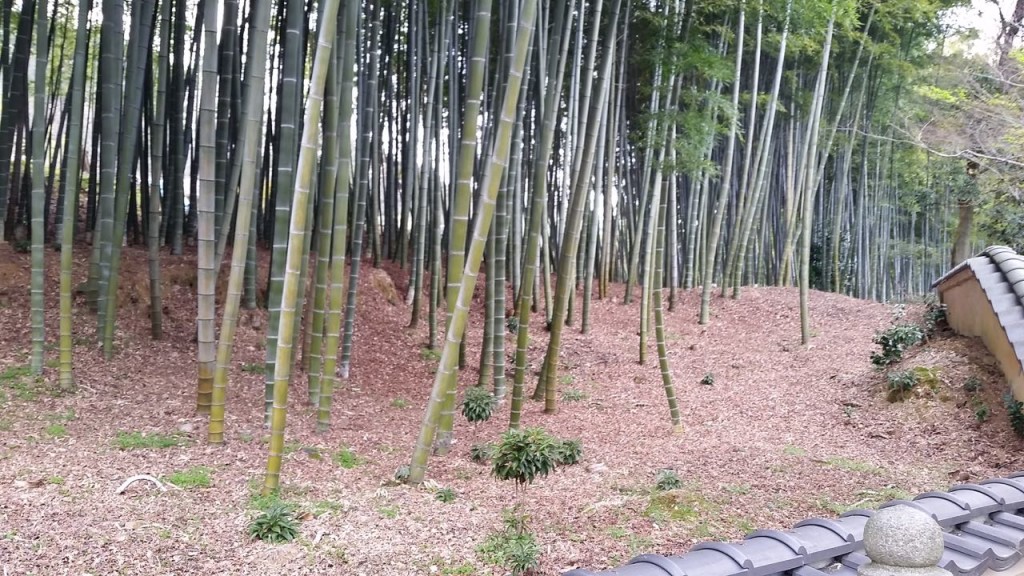 At the back of the temple is another bamboo forest.
We didn't follow those stairs because they were closing, so no idea what they lead to.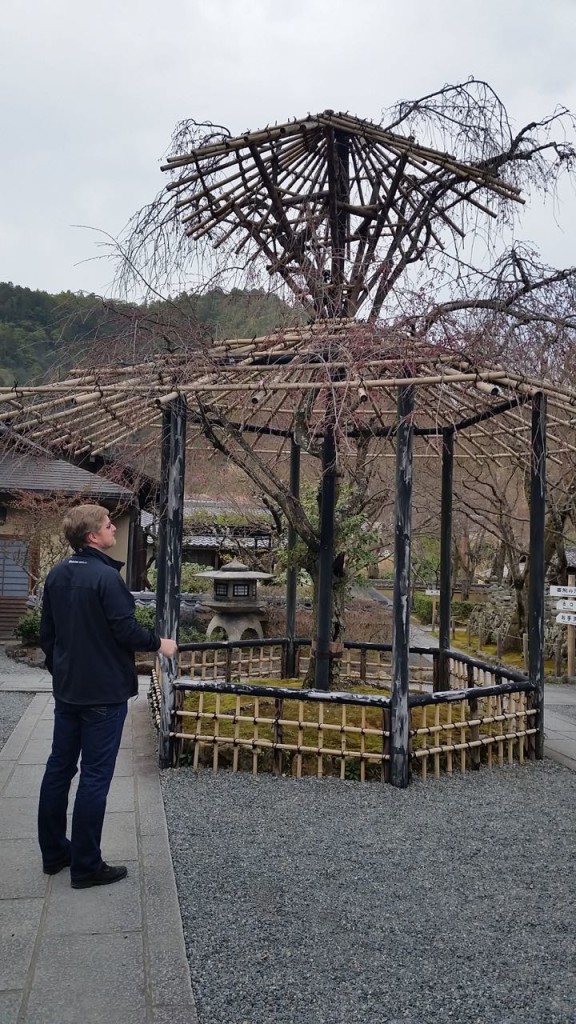 The temple is kind of in the middle of nowhere, so there isn't much traffic on the roads. We walked around and took in the scenery for a bit.
As we walked along this road a taxi happened to come by and whisk us back to more populated areas.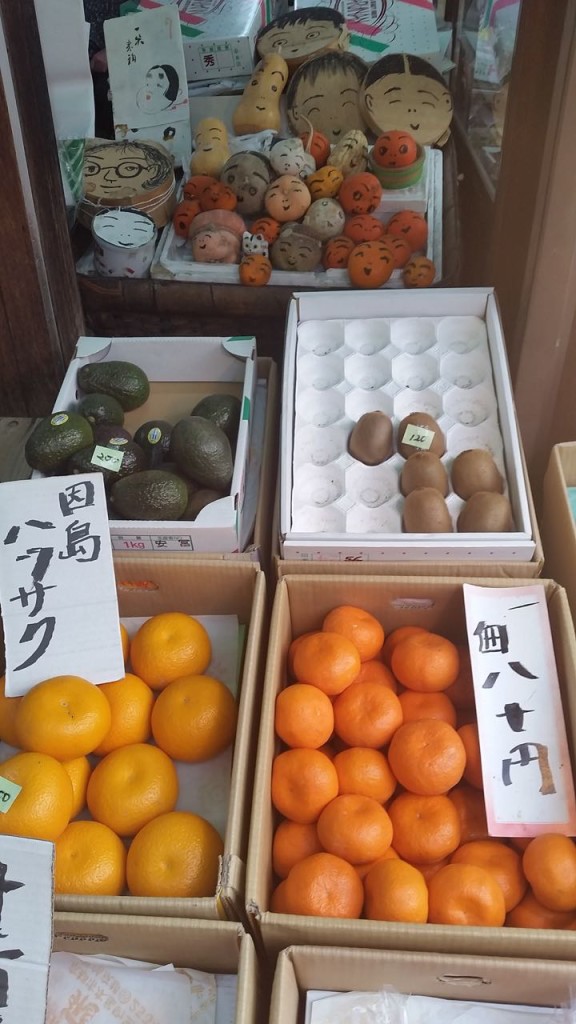 These happy little pumpkins were too cute.
We hadn't planned to eat dinner in Kyoto that night, so we hadn't looked for anything before the trip. We came across this restaurant, and in typical fashion, it had 8 seats at the bar and 3 tables.
TRAVEL TIP: I always look up restaurants in each area we will be visiting and choose two or three well-rated options so that no matter where we end up, we know where we can go and we don't waste time googling options. I hadn't planned on being here that night, so we just picked one.
BEEF. I love fish, I love sushi, but beef was a welcome addition to the diet after several days of just fish and rice.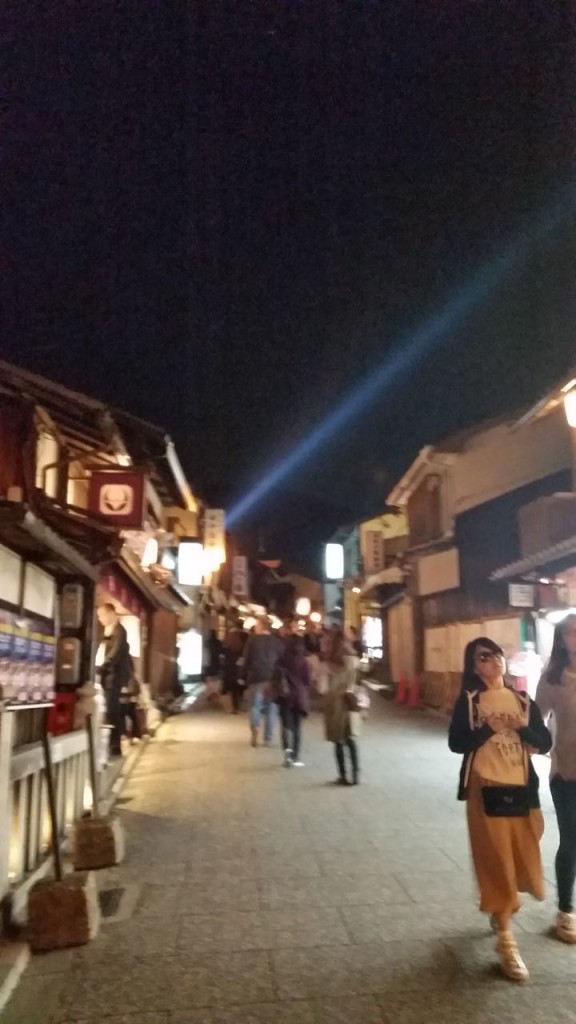 After dinner we made the long walk up to Kiyomizu-dera, the wooden temple. Due to cherry blossom season it was open until 9 that night, and everything was lit up. The street leading up there is called the Higushiyama district and has long been lined with restaurants and shops catering to the pilgrims who made their way up. Now it caters to tourists.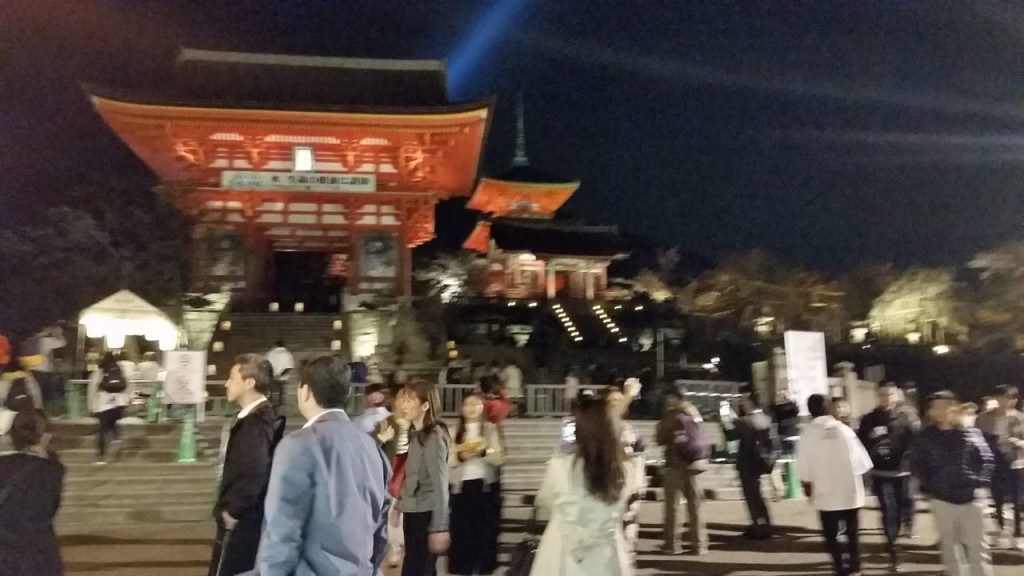 The name Kiyomizu-dera means pure water temple because it was founded at the site of the Otawa waterfall, which is now divided into three separate streams. Each stream's water is said to have a different benefit: longevity, success at school and a fortunate love life. Drinking from all three streams is considered greedy.
Behind the main building is the Jishu shrine, dedicated to the deity of love, and there are two rocks here that are 18 meters apart. If you can walk from one to the other with your eyes closed, you will find love. If someone guides you between the two rocks, it means you will need an intermediary (matchmaker, anyone?) to find love.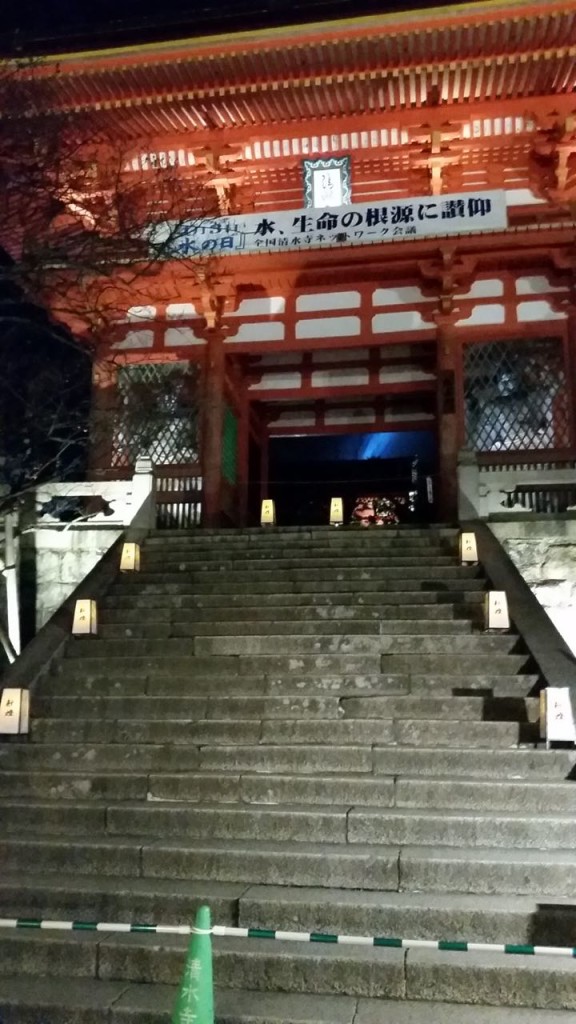 The temple was founded in 778. Like the Tokugawa Shrine, this isn't just one building, but a complex of buildings.
If you follow another path along the hillside you can see the three-story pagoda. The path provides a a great view of the main building.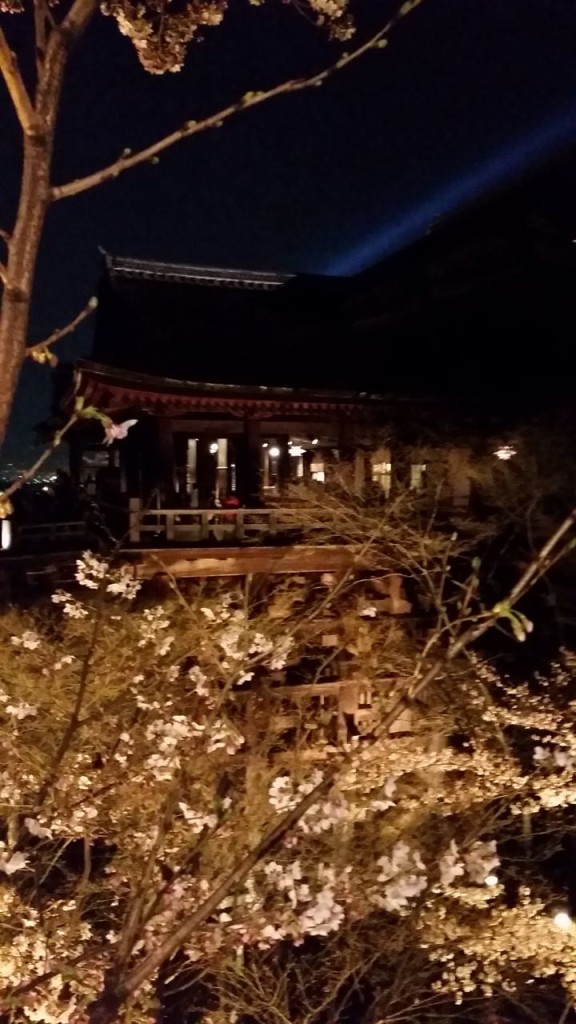 One of the main attractions of the main building is a large wooden deck on the front that is about 40 feet off the ground and offers a beautiful view. If you have time, and it's during this season of night time hours, it would be worth going in the day time and night time, or at dusk to catch both views. We had the stunning night time view of Kyoto, but the daytime view is probably also spectacular. Even if you aren't there at this time, sunset is the prime time to be here during any season.
The view from the bottom of the deck looking up really gives perspective of how tall it really is.
As we were leaving (because it was closing), we saw a line of people, so we got in the line, naturally. At the front we paid 100 yen each (a dollar) and removed our shoes. For what? We had no idea, but everyone else was doing it. We went down the stone steps, and the sign basically said don't let go of the rope rail ever or you'll smack your head. Ok. At the bottom of the stairs there is no light. You continue to walk in the pitch black dark, holding onto this rail as you go down passages and turn corners. The corner turning is where you could smack your head because you would walk into a wall. I made Adam go first and I held onto the rail AND his shoulder. We couldn't for the life of us figure out what we were doing. I whispered that if this was some kind of haunted house I was going to karate chop the guy with the chainsaw or the zombie or whoever was going to grab us. We finally turned a corner to see a stone bathed in light, and people were touching it. Ok, let's touch the rock. After that we were in the pitch black again until we came out. At that point we had the giggles because what was that all about and why did we get in line without knowing what were we in line for (don't worry, we kept the giggles to ourselves. We weren't disrespectful)? So we asked. It's called Tainai-meguri. You are entering the womb of Daizuigu Bosatsu, a female Bodhisattva with the ability to grant wishes. Going into the cave represents being in the mother's womb and being reborn. You rub the stone to make your wish. We didn't know! We didn't make our wish!! Ah well, next time.
On the way down the hill weary travelers can buy all the Hello Kitty, get some ice cream, buy trinkets or souvenirs. The shops close about the time the temple does, so if you really want to browse and shop do it on your way up the hill. If I were them I'd stay open for an extra 45 minutes to catch the traffic coming down the hill.
Back at the hotel I fell in love with this sink. Is this for sale?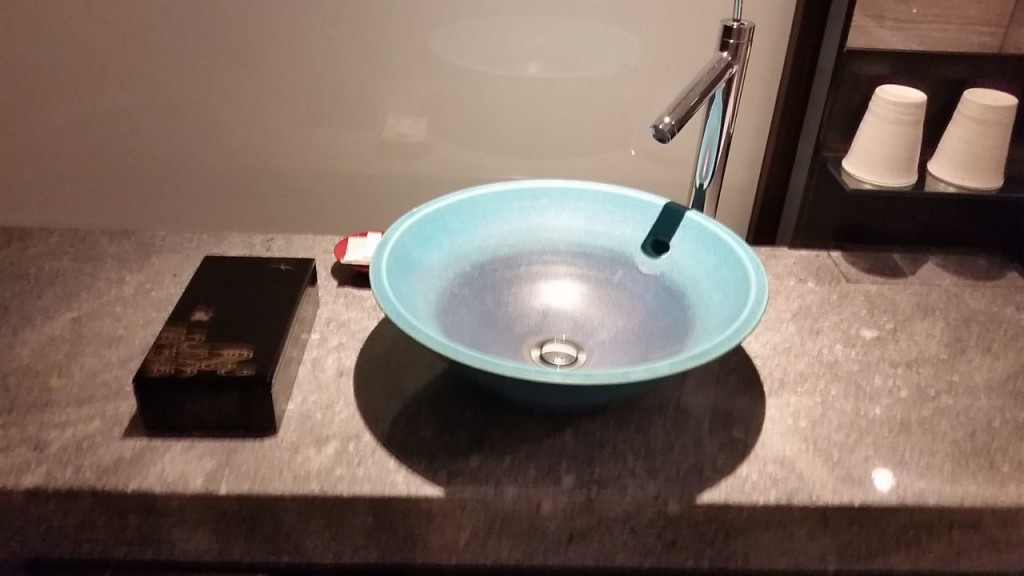 I'll take two, please.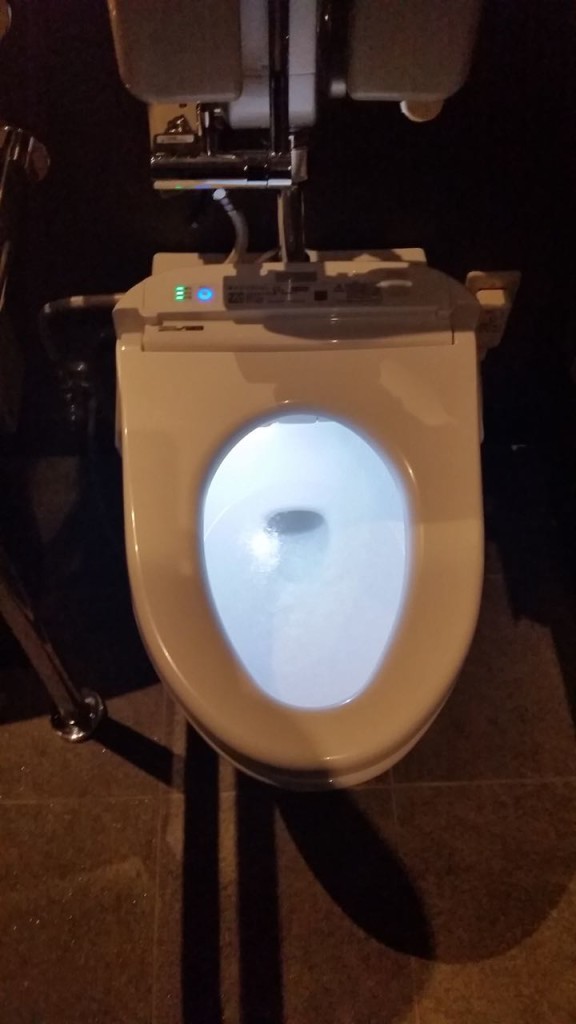 And the toilet. I fell in love with this too. THIS ONE is lit inside so you can see your target in the middle of the night (more important for the boys). It also has a sensor that automatically raises the lid when you approach it. This along with the heated seat, the button to raise and lower the seat, the sound machine to disguise the sound of your pee and all the other wonderful things these Toto toilets do. Someday, Toto, you will be mine. The king of toilets for my throne!
This was the view from our hotel balcony.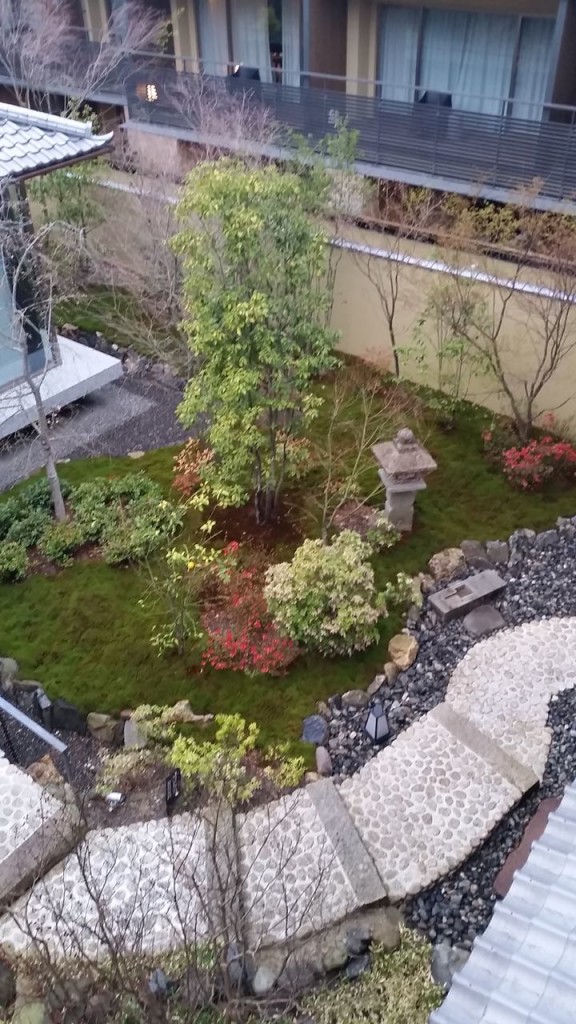 And the garden below.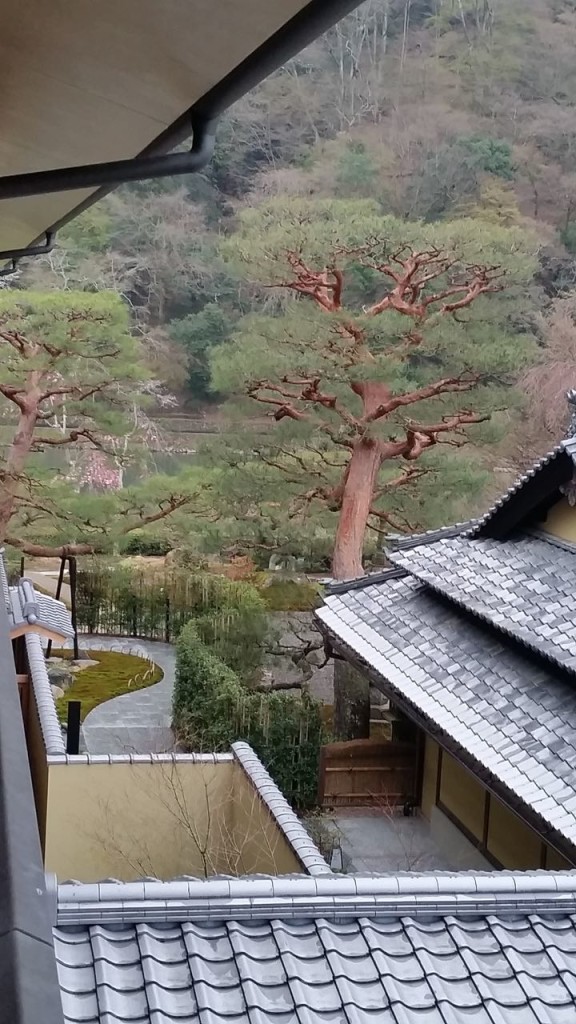 We could also see the river. This was a fabulous hotel with excellent service.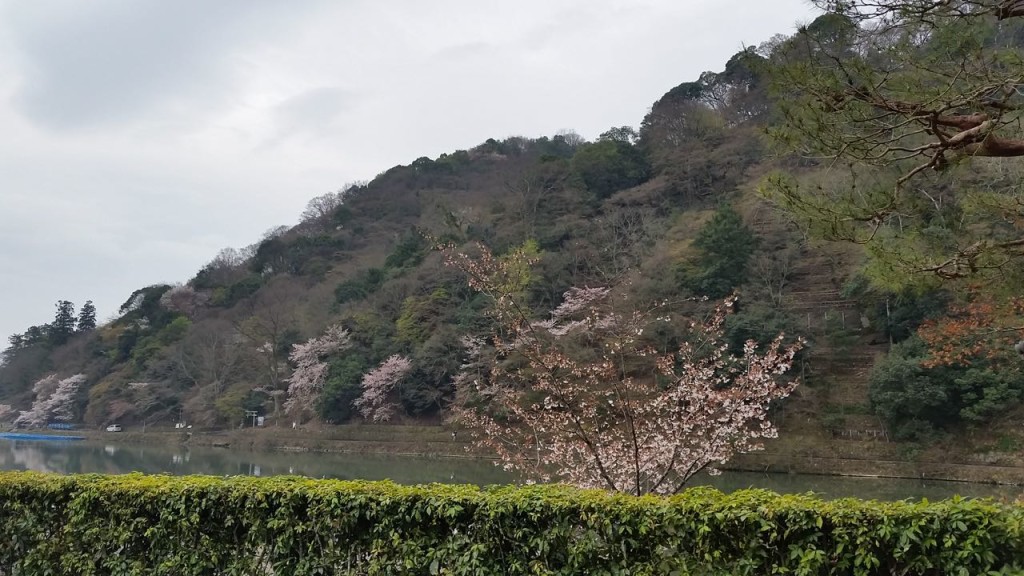 We got up early, and I went and walked along the river before anyone else was there. The afternoon and evening before, it was packed with people.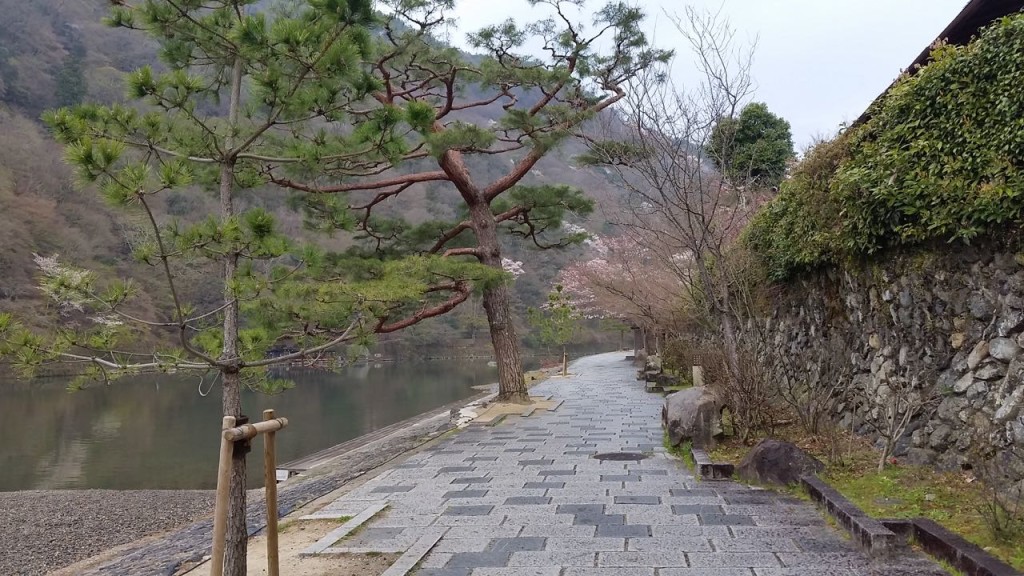 It was so quiet and serene. I loved walking in the silence and enjoying the spring beauty.
Can you imagine how spectacular this will be in the autumn?
First stop of the morning was Kinkaku-ji, the golden pavillion.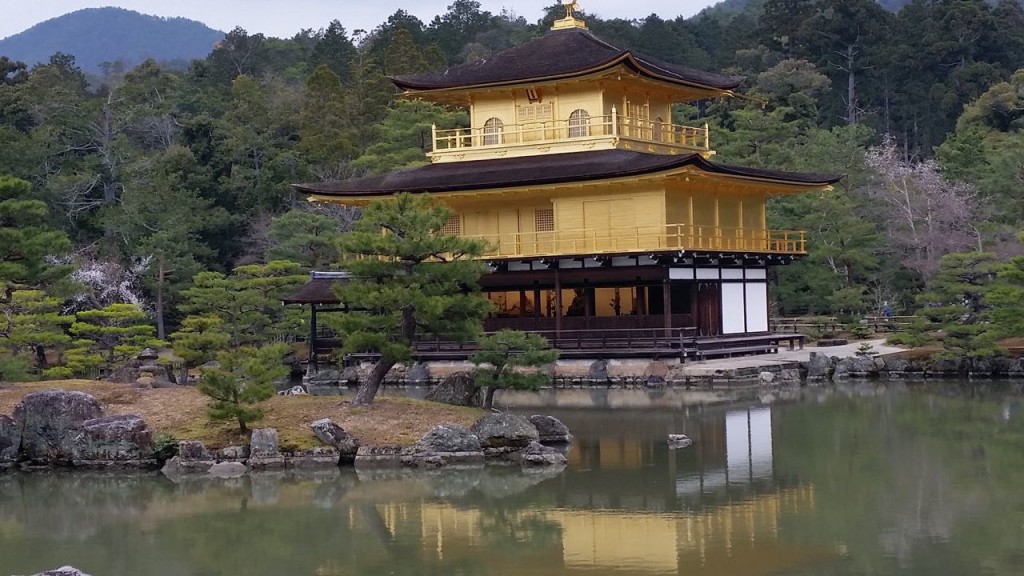 This is THE temple to see in Kyoto.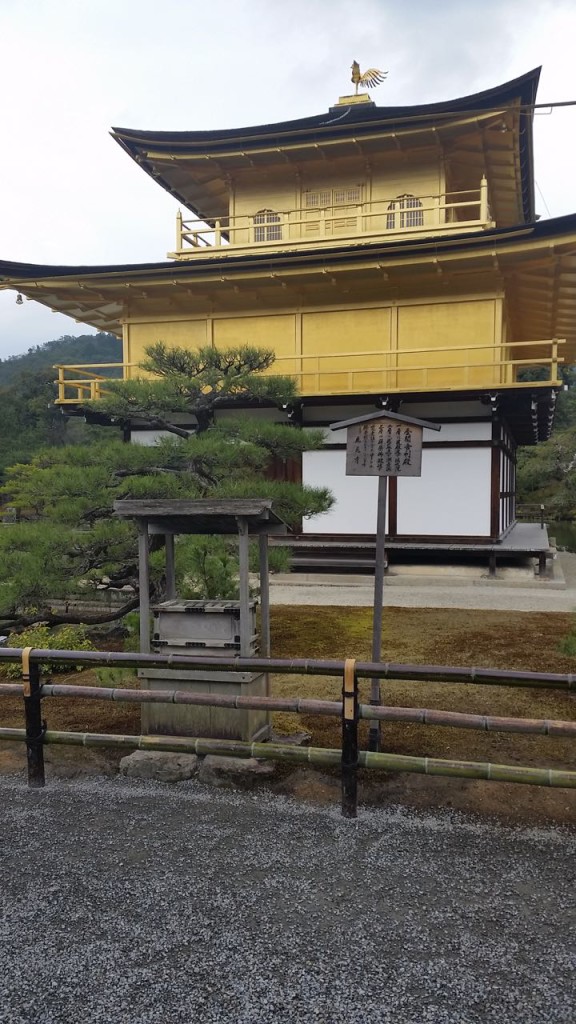 That is real gold leaf, and this is as close as you get to it. Only the Emperor gets to go inside.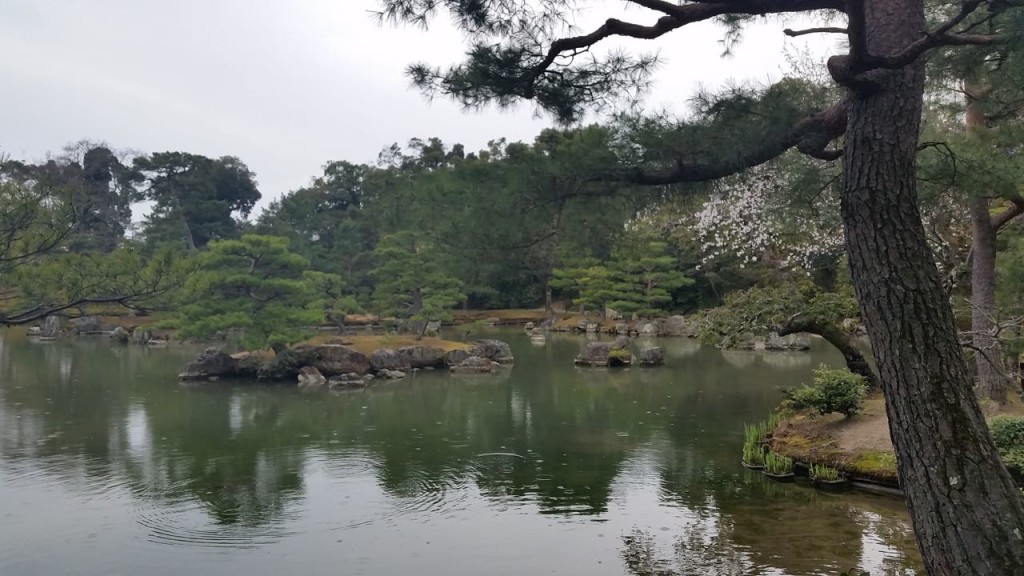 The surrounding gardens are so beautiful.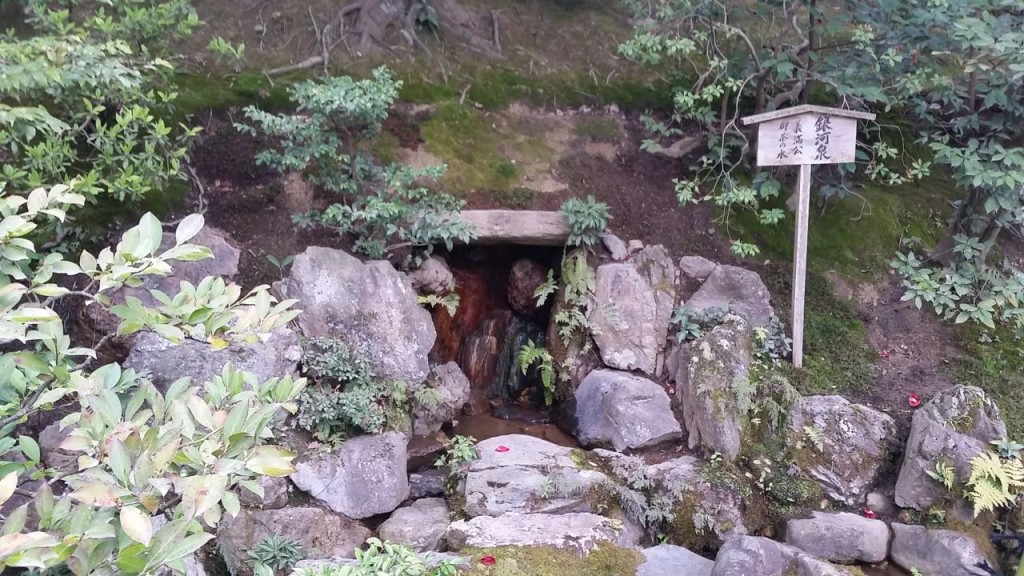 Before Tokyo (Edo) became the capital of Japan in the early 1600s, Kyoto was the capital for several hundred years. After the switch, Kyoto remained the religious capital and seat of the Emperor, who was believed to be deity until after World War II.  That's why there are so many temples and shrines there.
I took this picture to show that these gardens look so natural, but they require a lot of maintenance and upkeep. Sweeping the moss, collecting fallen leaves, pruning, there is a lot of work involved in making it naturally beautiful.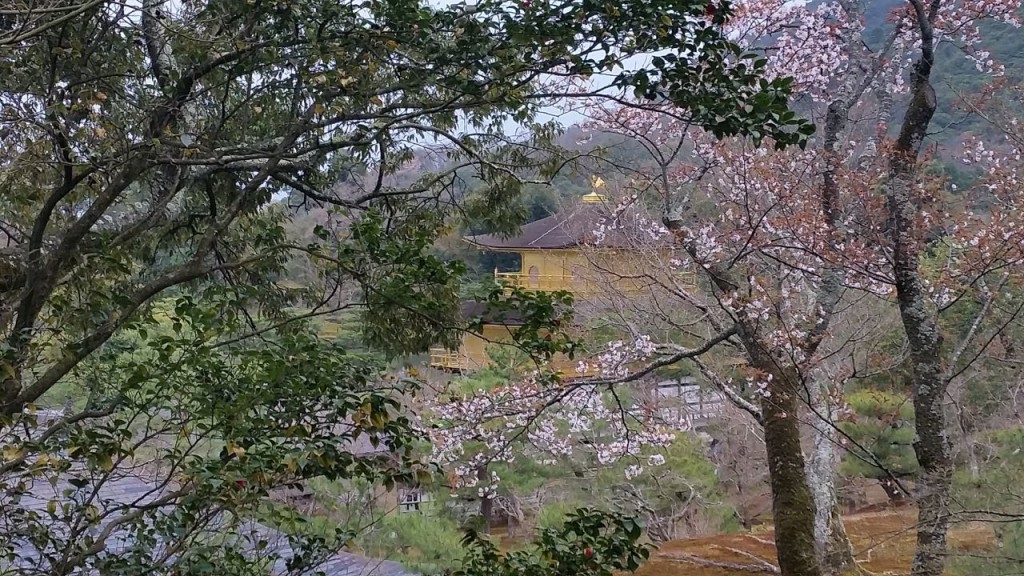 As you plan your Kyoto time, make this one a must see.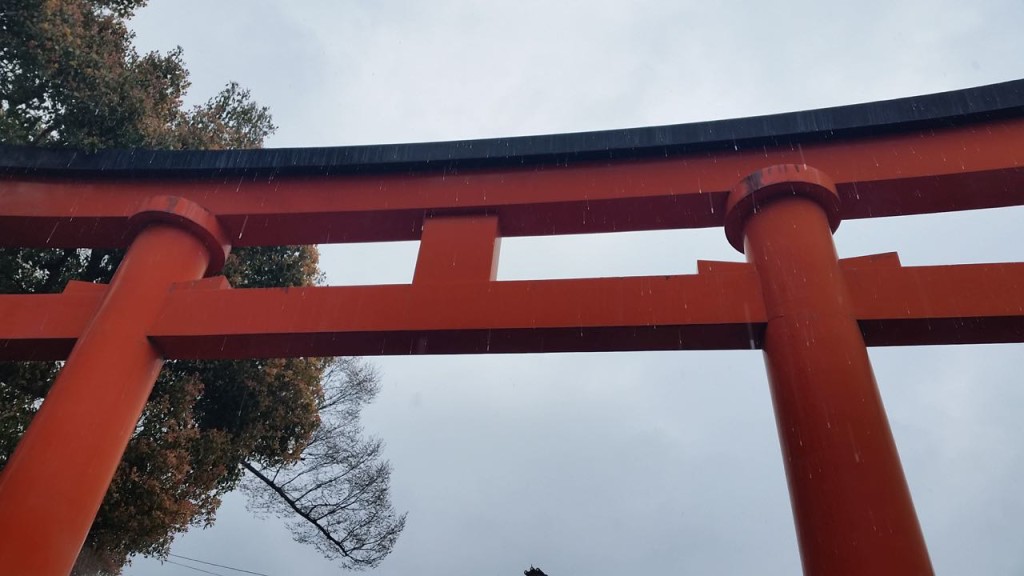 Our next stop was the Fushimi Inari shrine. First you pass through this huge torii gate.
At this point it was starting to rain really hard.
These are the famed 10,000 gates. Each gate has the name of a business that donated the gate. We didn't walk through all of them for several reasons. One, it was pouring rain. Two, it was PACKED. Three, it's a 2-3 hour round trip up the mountain and back. If we hadn't been trying to pack in so much in a short time, I would have hiked up and back. The earlier you get here, the less crowded it will be.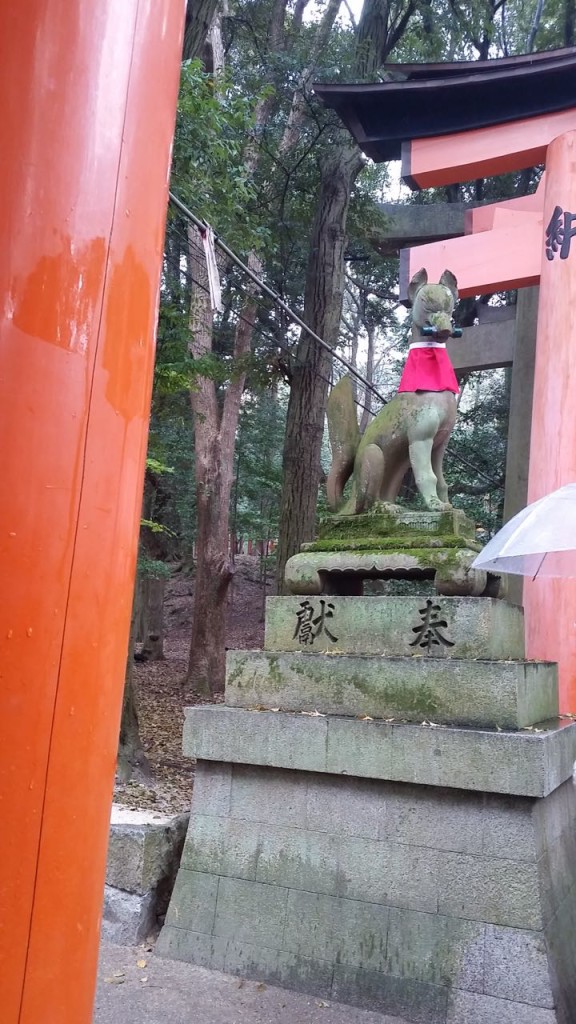 This Shinto shrine is dedicated to the god of rice, whose messenger is the fox. There are several fox statues around.
The gates are really close together, and there is a trail up and a separate trail back down. There are several places along the way to turn around and get on the other trail coming down, so if you have time to only go up part of the way, you won't be trapped. We walked part of the way up and came back.
We actually met up with some friends, Julie and Chad (we went to New York with them last year), at the Fushimi Inari Shrine, and after we finished there we went for some lunch at the Nishiki Market, which is a long row of food stalls and restaurants. You can find any pickled item your heart desires.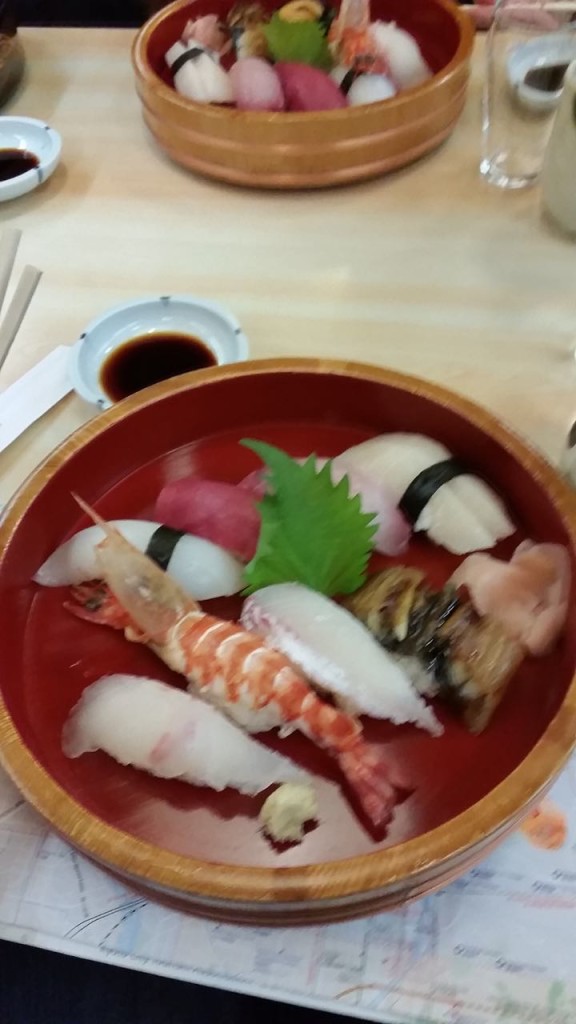 We all got sushi for lunch, and it was as chewy as the plastic food in the window. A very disappointing meal. Don't assume all sushi in Japan is good sushi. For what we paid it should have been good. Also, sushi in Japan is usually Nigiri or sashimi. I think I had two rolls the whole time we were there. Rolls are more of an Americanized version of sushi.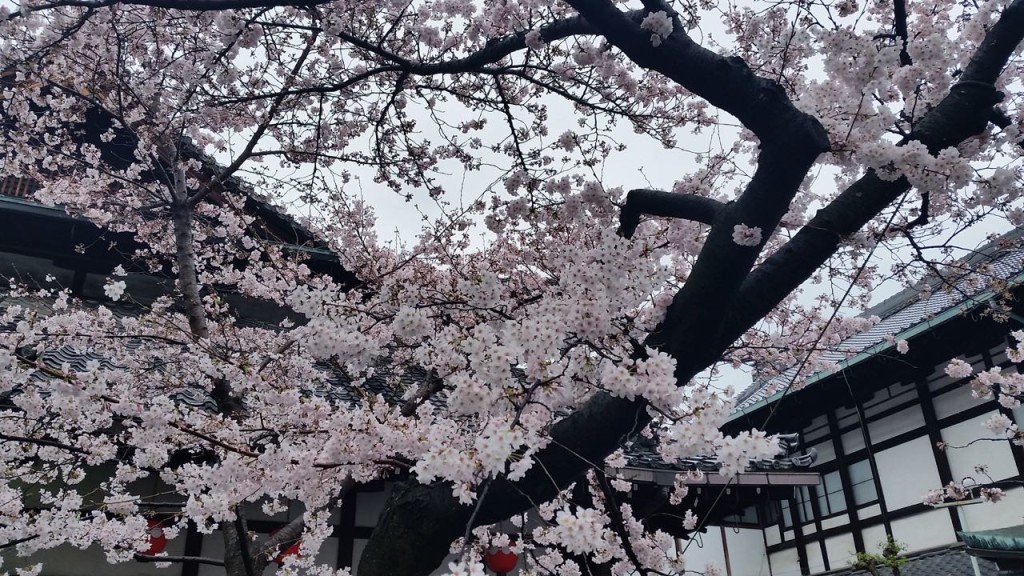 From lunch we went to one of the things I was looking forward to the most: The geisha dances.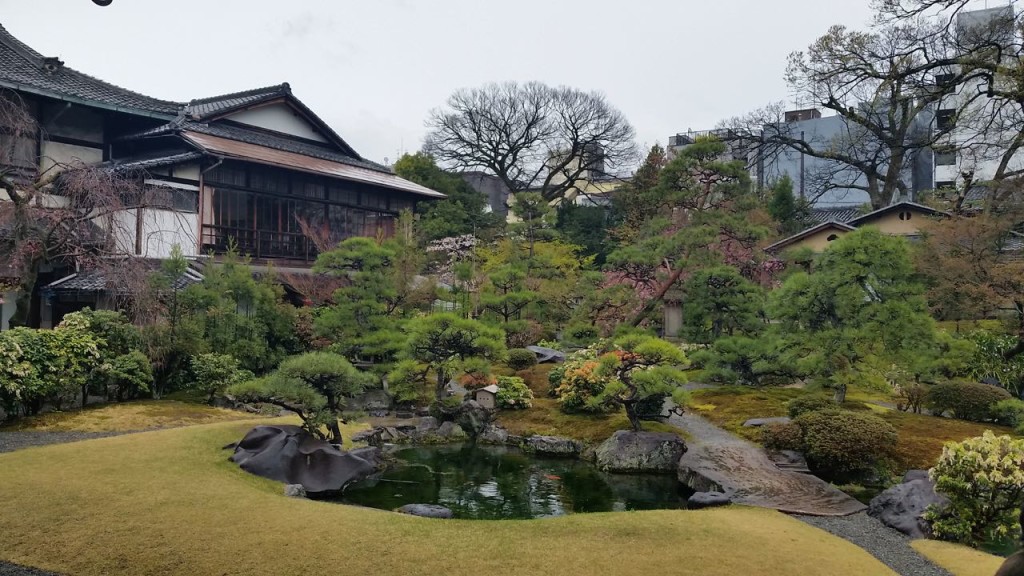 We bought the VIP tickets that include viewing the gardens and a tea ceremony.
The one sitting down is the geisha, and the one helping is the apprentice geisha, called a maiko.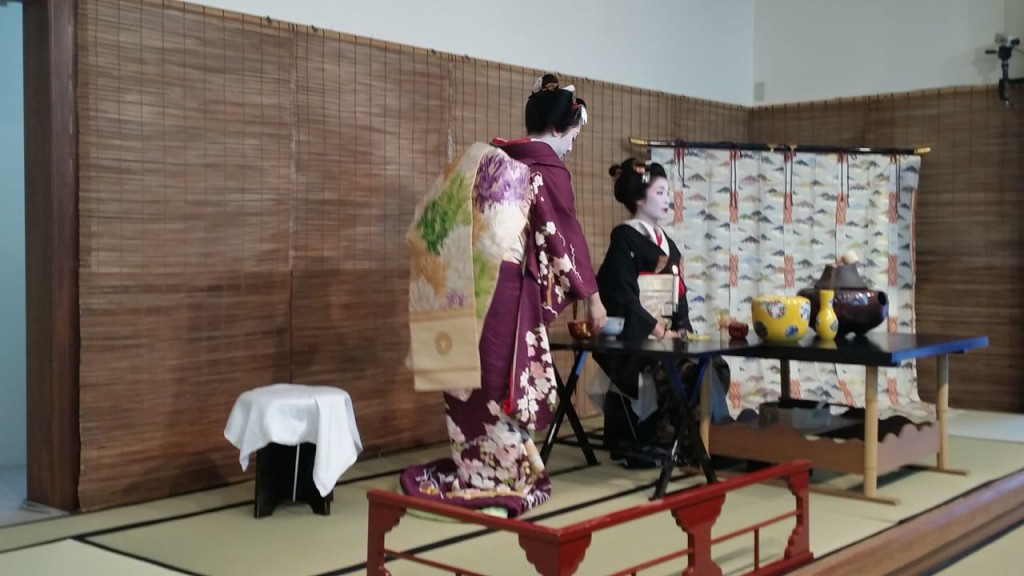 The tea ceremony is short, and they do several sessions before each show. You file into a room and sit. We were lucky and were right up front.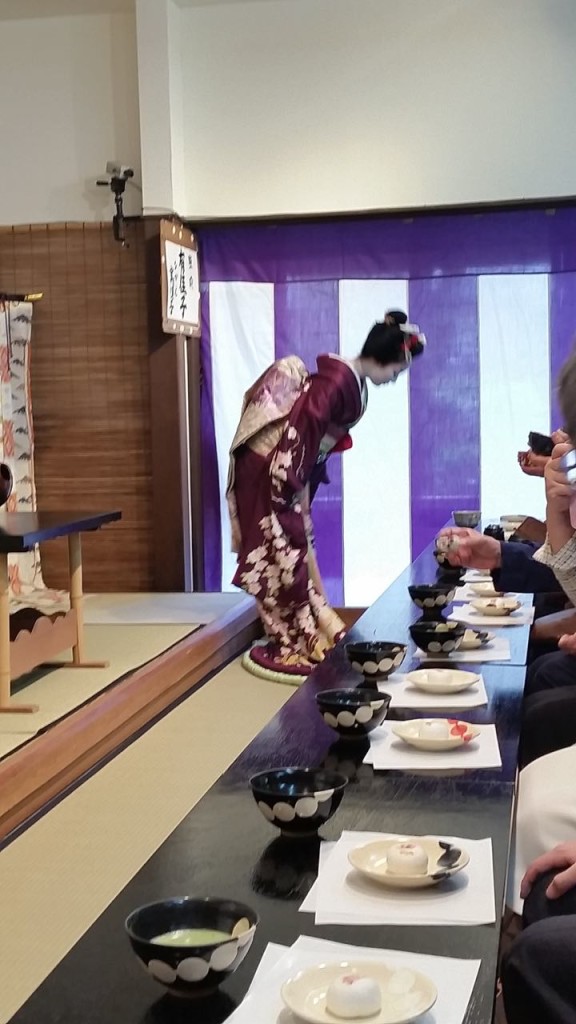 Everyone gets a bowl of green tea and a pastry on a souvenir plate that you get to keep. They do the tea ceremony and serve it to the person at the end of the first row, and that's it. There is no announcement that something is starting. Once the maiko gets up, it's starting. Even before that. As soon as you enter the room keep your eyes on those women because you might miss it. We were a little startled that it was over because we didn't know it had started.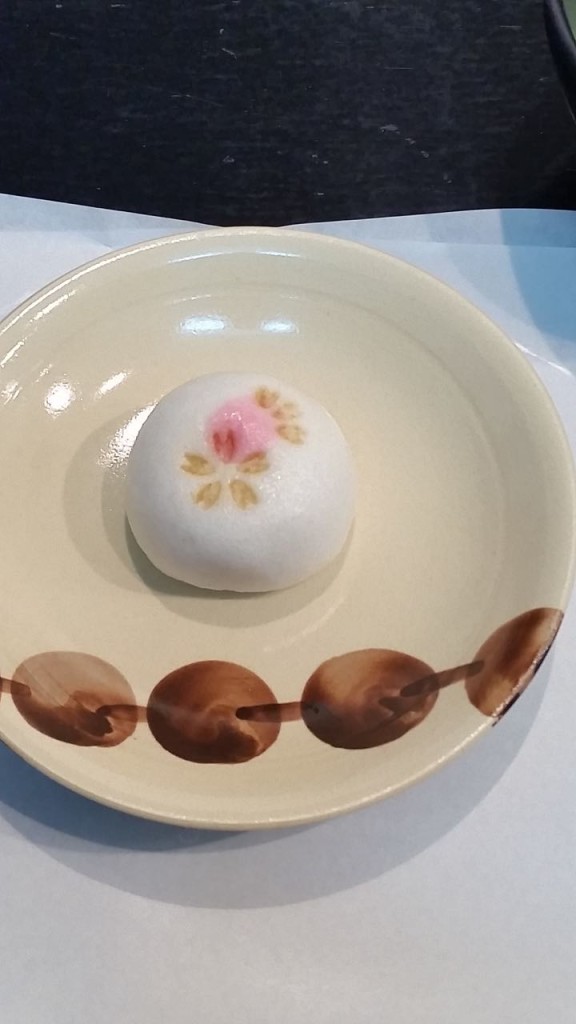 Everyone ate their pastry, which is a steam bun with a sweet red bean paste in it called Anman. It's as tasty as it sounds. Beans and sugar. I thought I had to eat the whole thing. The paper under your plate is for wrapping the plate in to take home. There is nowhere to leave a half-eaten pastry, so I ate it. Adam didn't eat his.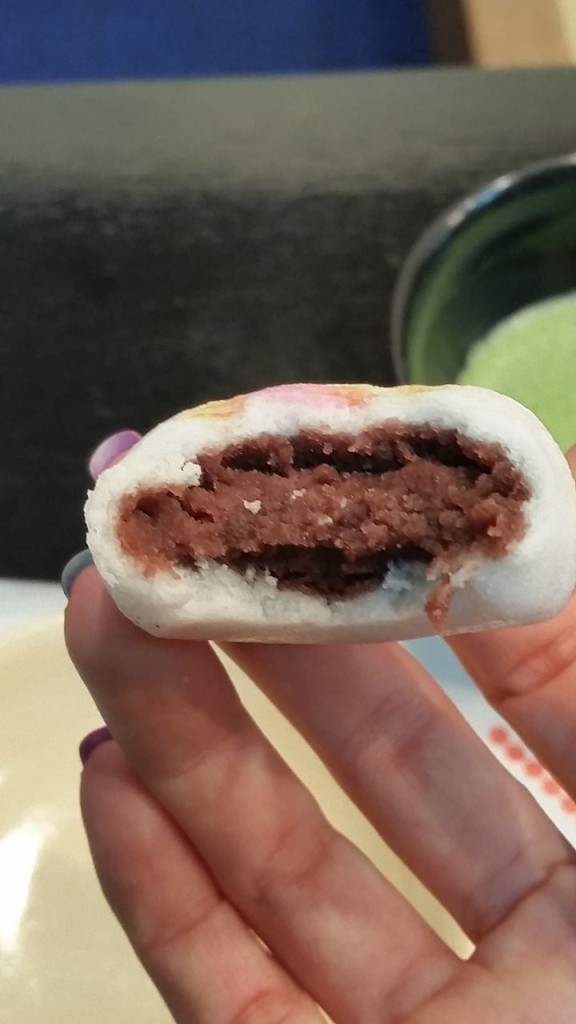 Mmm. Sugary beans.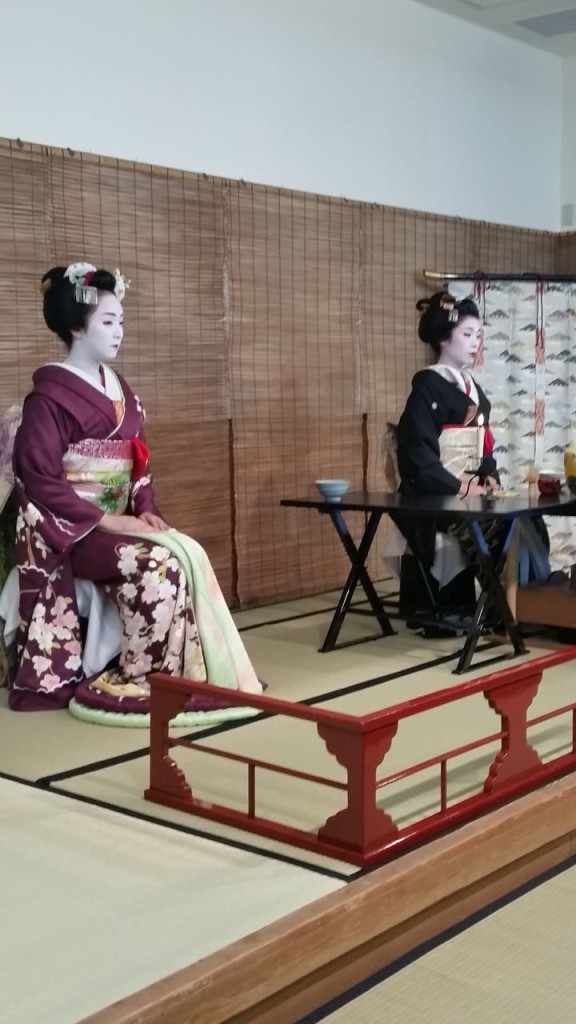 Am I glad I saw the tea ceremony? Yes. Would it be a huge disappointment to miss it? Not really. It wasn't what I hoped it would be. It was short. We were in there for 10 minutes and quickly ushered out. If you don't want to spend the extra money and time, or can't get those tickets, don't sweat it.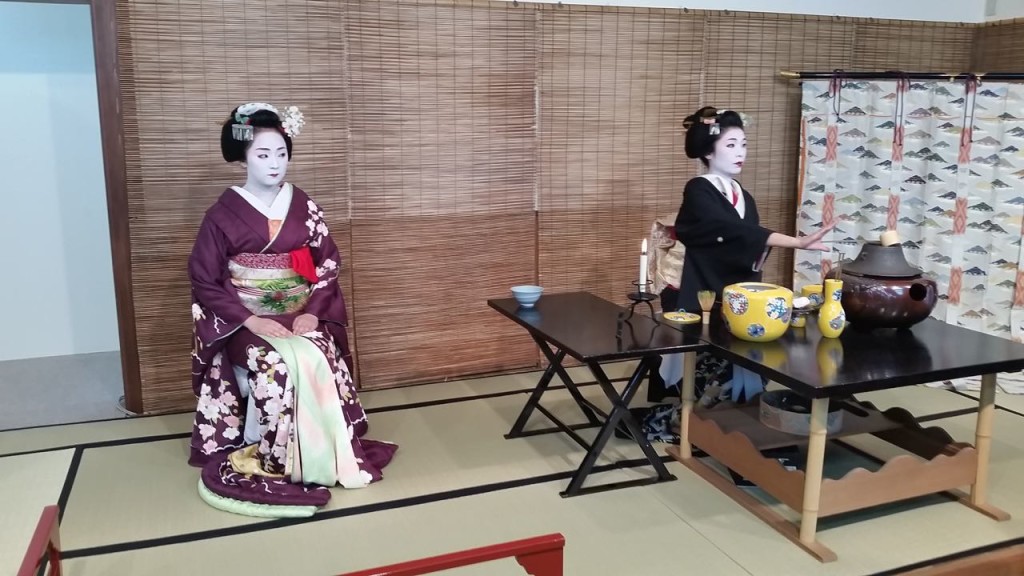 Part of the ceremony is watching the beautiful and elegant movements of the geisha as she serves the tea. Each movement is perfect, precise and graceful.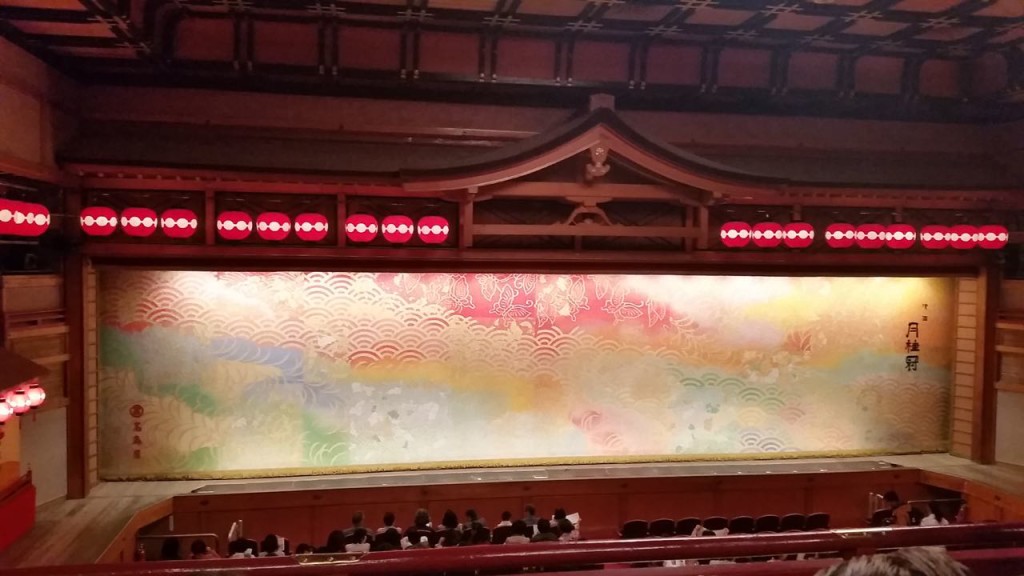 After the tea ceremony we went on to the main attraction, the cherry blossom dances! Once the show started, no photography was allowed. On either side of the audience were two rows of geishas, both current and retired. The current geishas were to the left, and the retired geishas were to the right. They sang and played instruments, providing all of the music for the performance. There are three shows a day for the month of April, and the geishas on the left rotate through with the ones dancing, so everyone has turns dancing and providing the music. The retired geishas only provide music.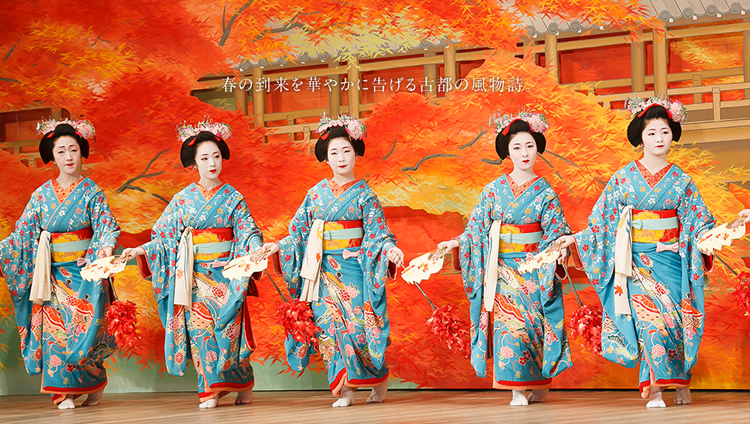 There is an audioguide available for $5, and it's a must. Even before the show it provides really interesting information about the history of the performances, so as soon as you get yours, put your ear buds in and turn it on. During the dances it tells the stories of what the dances represent, as well as what the props mean. You will get so much more out of the performance with these details. It is perfectly timed. This year's theme was the four seasons. Every year the kimonos are custom made for the new show. I would love to see one up close. I did see some up close at the ryokan outside Nikko. The woman who plans and choreographs each show has been named a national treasure. Geishas only perform publicly display this one month of the year, and we were there on the first day of the shows, April 1. Book tickets in advance because they sell out quickly. This was one of my most favorite things we did, and we did a lot of really cool things. If you can do this, I highly recommend it.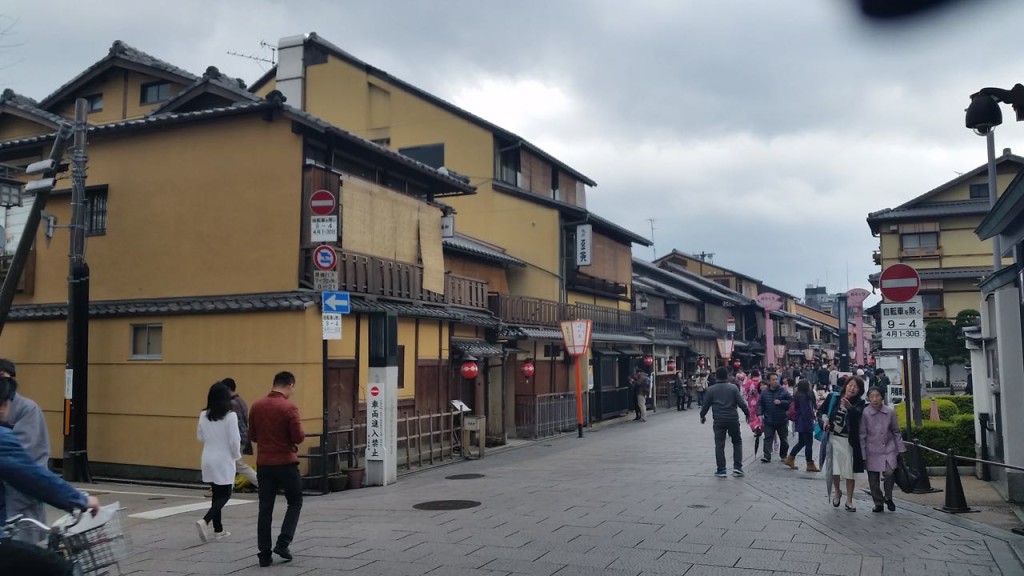 After the show we walked through the Gion district, the geisha district. It's a very historical area.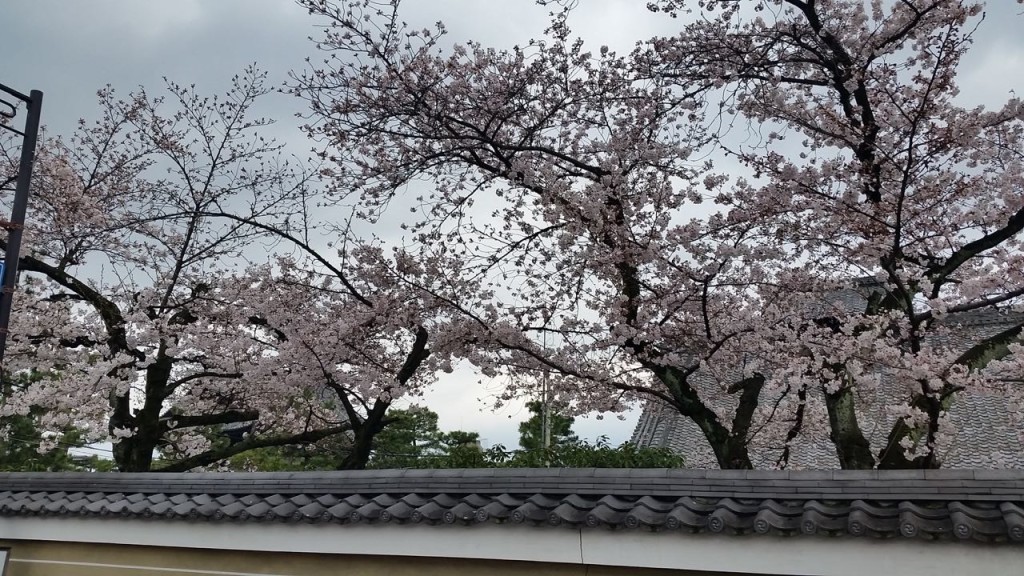 If you won't be able to attend the cherry blossom dances but want to spot a geisha, the Gion district is the place to do it as they walk to the tea houses to perform.
We walked over to the Ryoan-ji temple nearby.
Like everything else, it was mostly empty of furnishings. It was an aristocrat's villa during the Heian period and was converted to a temple in 1450.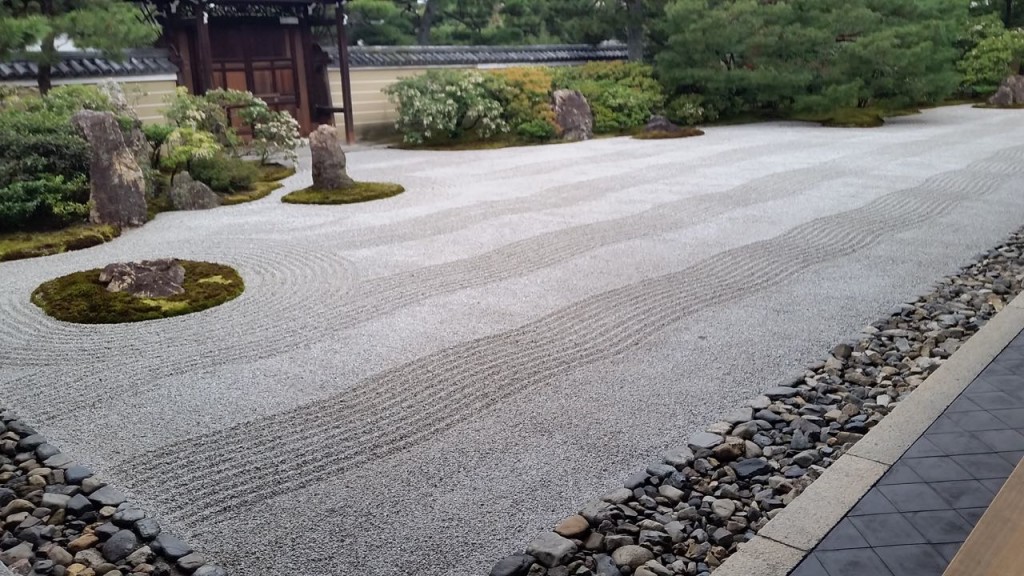 The most famous feature at this temple is the rock garden. The 15 large rocks can never all be seen at the same time, no matter where you stand. It's the most famous rock garden in Japan. There are lots of speculations as to the meaning of the garden, but no one really knows for sure.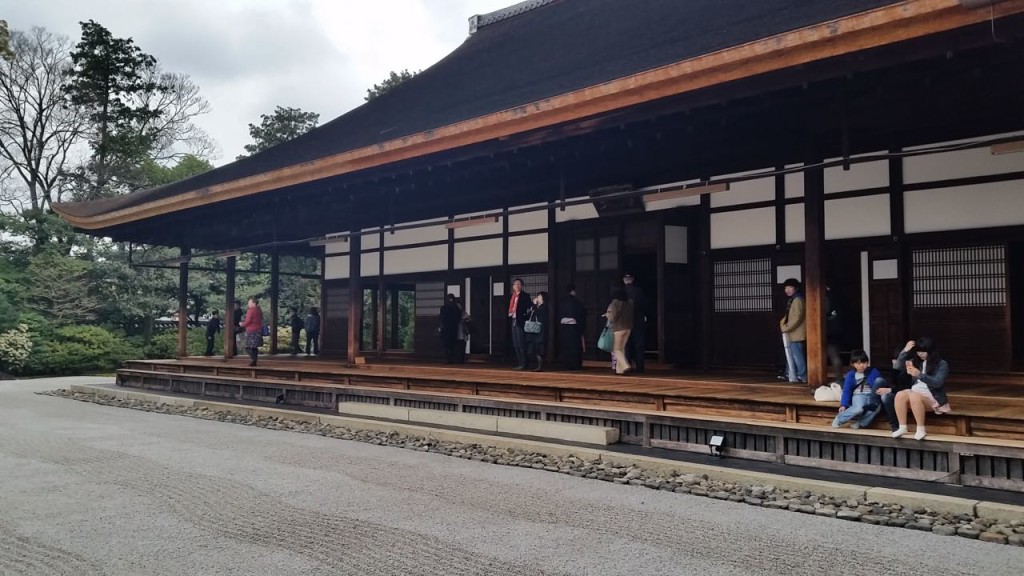 If you want to meditate here on the porch, it's best to get here early before the crowds show up.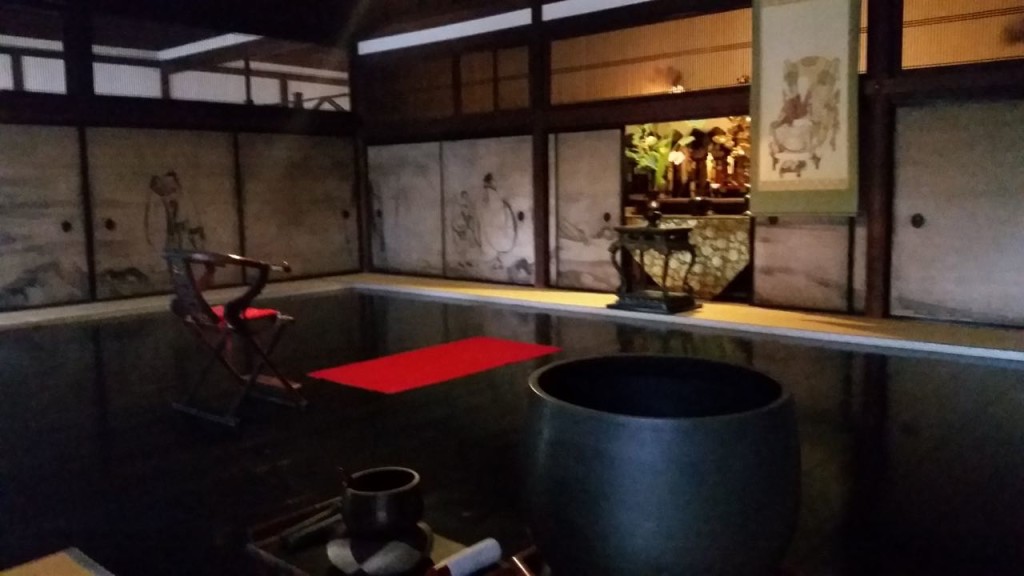 It's similar to the Imperial Villa we saw in Nikko, but it does have some furnished rooms and more decor.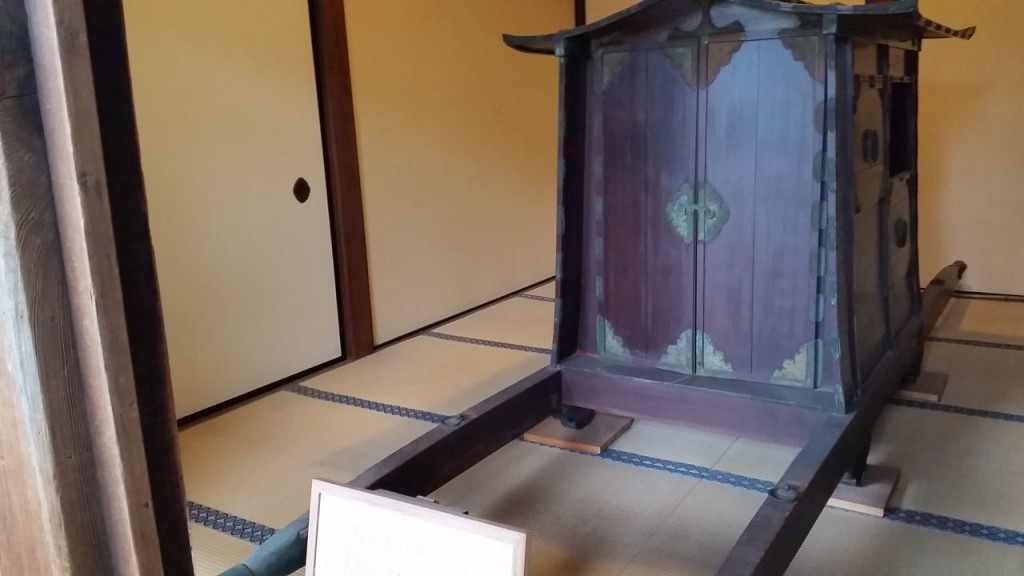 It's not just a small building, but a series of connected buildings.
Some of the rooms feature beautiful paintings on the walls.
I would love to have this in my house.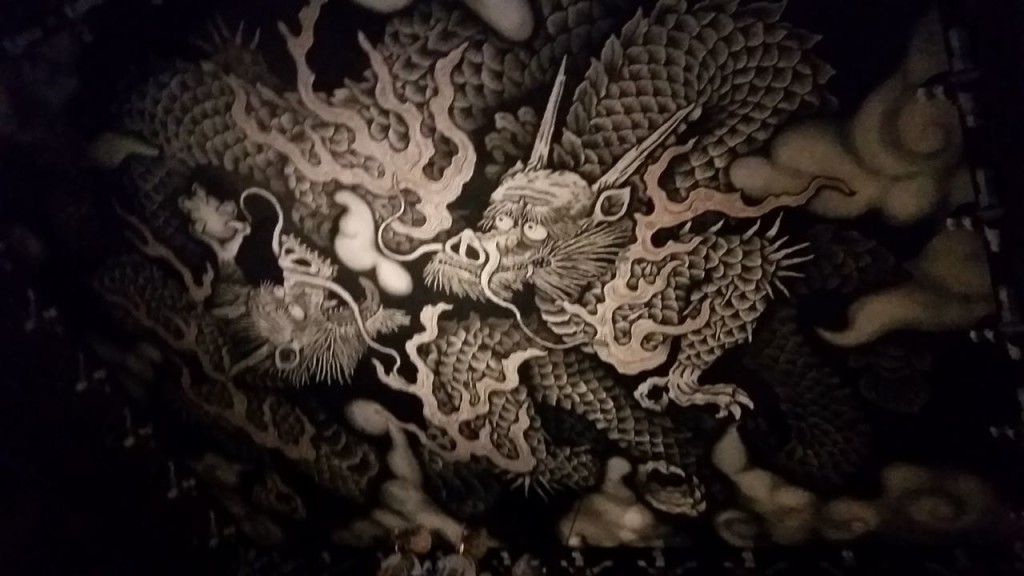 This painting of the twin dragons was installed on the ceiling in 2002 to commemorate the 800th anniversary. It's the size of 108 tatami mats (which is how rooms are measured), and was drawn with ink on traditional Japanese paper. It was created in the gymnasium of an elementary school building and took two years to complete.
The gardens and grounds are very large, and there is a lot to see.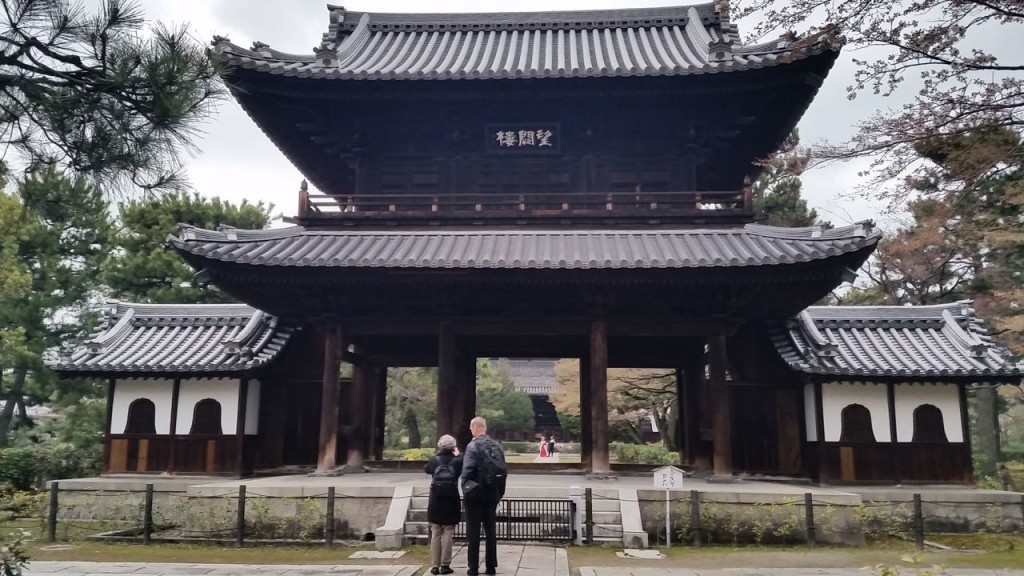 It's also the oldest Zen temple in Kyoto. This was worth the visit, especially if you won't have a chance to visit the imperial villas in Nikko or Tokyo, and for once, it's close to something else you're likely to visit, the Gion district.
We walked through Gion a little more before heading to our next awesome thing.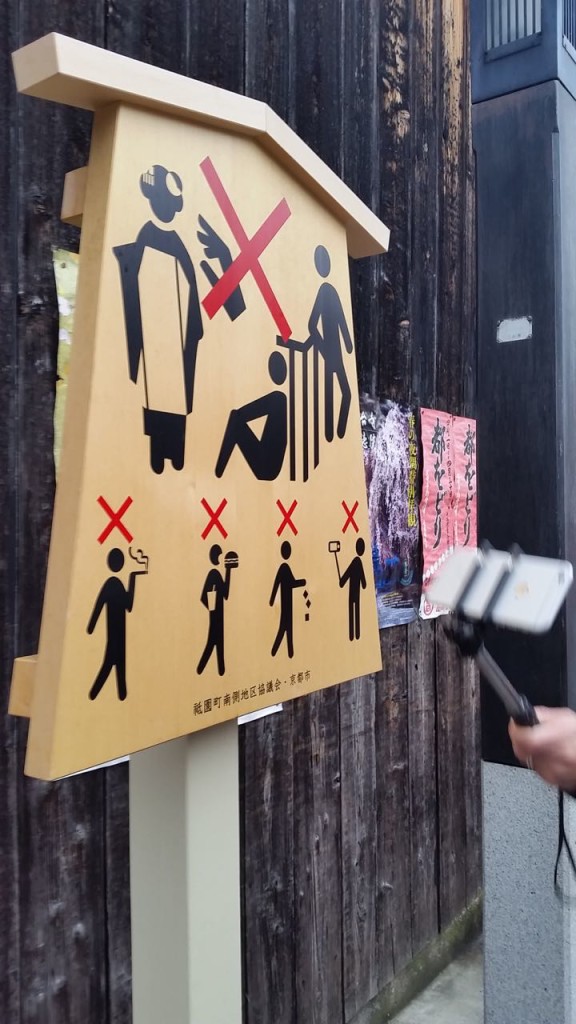 We had a Samurai lesson!!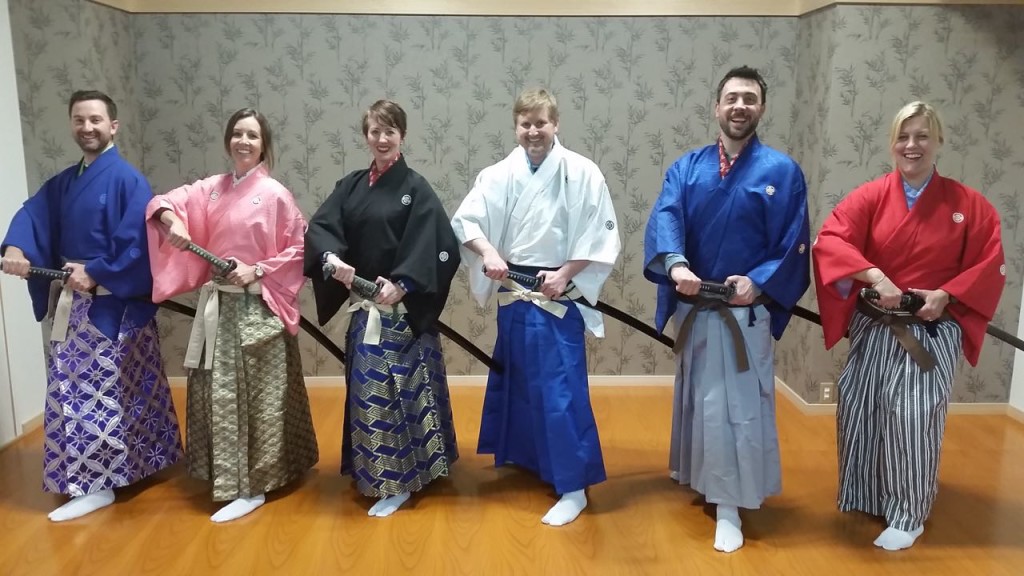 This is our group: Chad, Julie, me, Adam, Danny and Steph (we met up with them after the Geisha performance).
Before the lesson there was a show where they did small performances and explained a lot of things about samurai and bushido, the way of the samurai. You can choose to do just that, but we wanted the lesson as well. We opted for the 1-hour lesson, but there is also a 2-hour lesson option.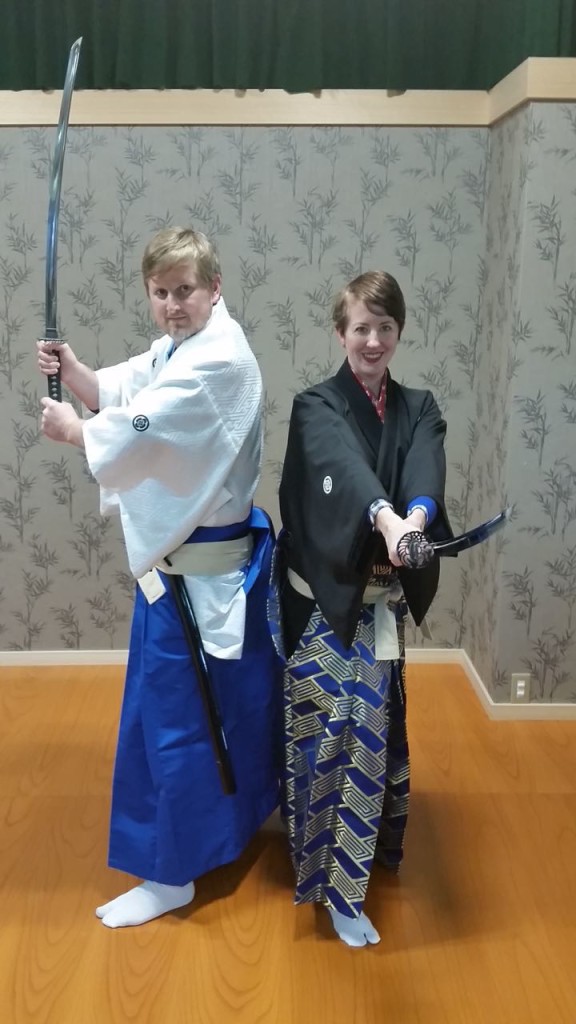 We also chose the costume option. These weren't like the cheap, dirty costumes that have binder clips to hold them on (you know, like when you get a photo done in an old west tourist trap). These were beautiful, quality samurai clothes.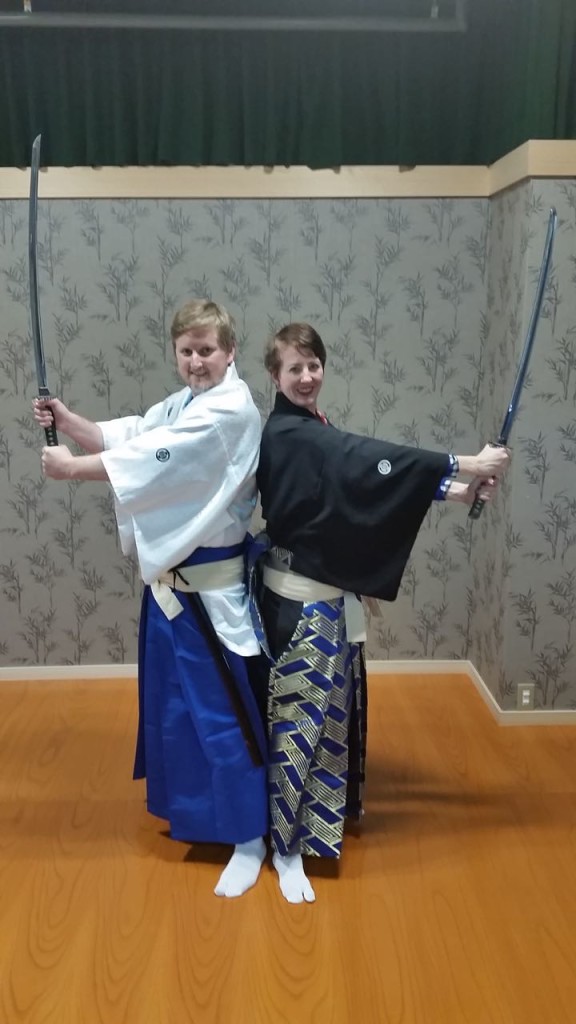 We all had a ball! We chose the 5:15 show, and this is after many other things are closed.
TRAVEL TIP: By finding interesting places/activities to go outside of the normal tourist spot hours, we really maximized our short amount of time in Kyoto.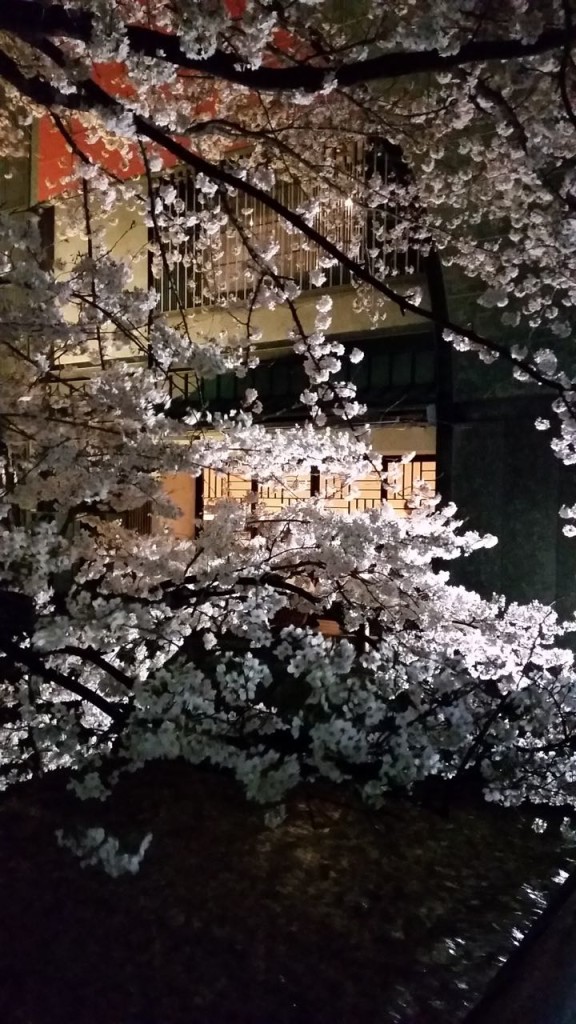 After our samurai experience we walked through the cherry blossoms some more on our way to dinner.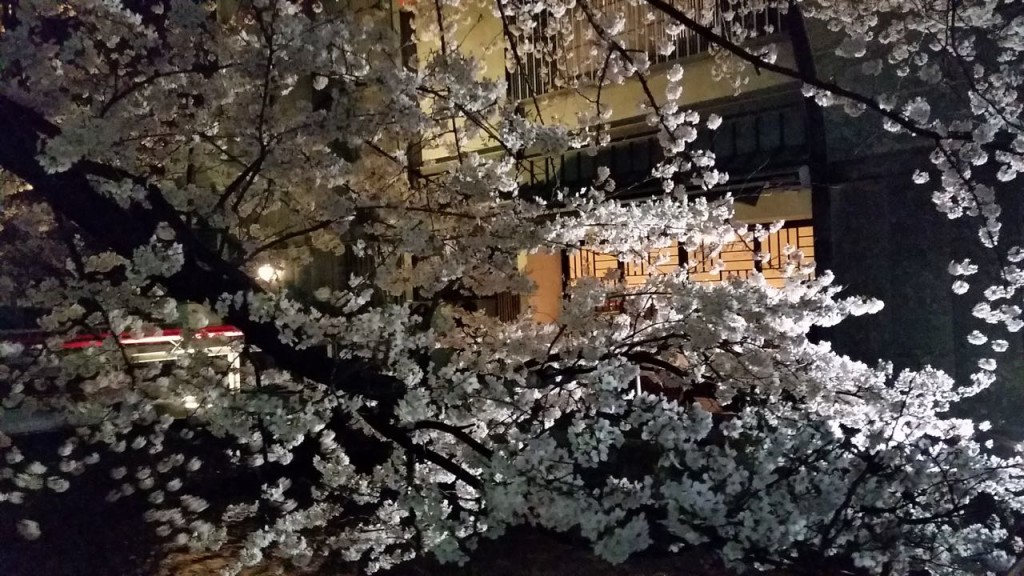 Adam actually left the Samurai class about 15 minutes early. We had used a luggage delivery service to take our bags from the hotel to their holding place at the train station. The counter closes at 7, though, and if we wanted our bags, he had to get there in time. He may or may not have had a police escort running him through the train station to get there on time. Japanese people are the nicest people. Would a police officer anywhere else in the world do that? Not likely. After he collected the bags he put them in a locker at the train station then came to find us at the restaurant.
TRAVEL TIP: If you need to leave your bags at the hotel and it's out of the way for collecting them later, ask about a luggage transfer service. This is when a concierge comes in handy because they can arrange these things. Be aware that they usually pick up by 9 am.
This one path was entirely covered by a ceiling of cherry blossoms.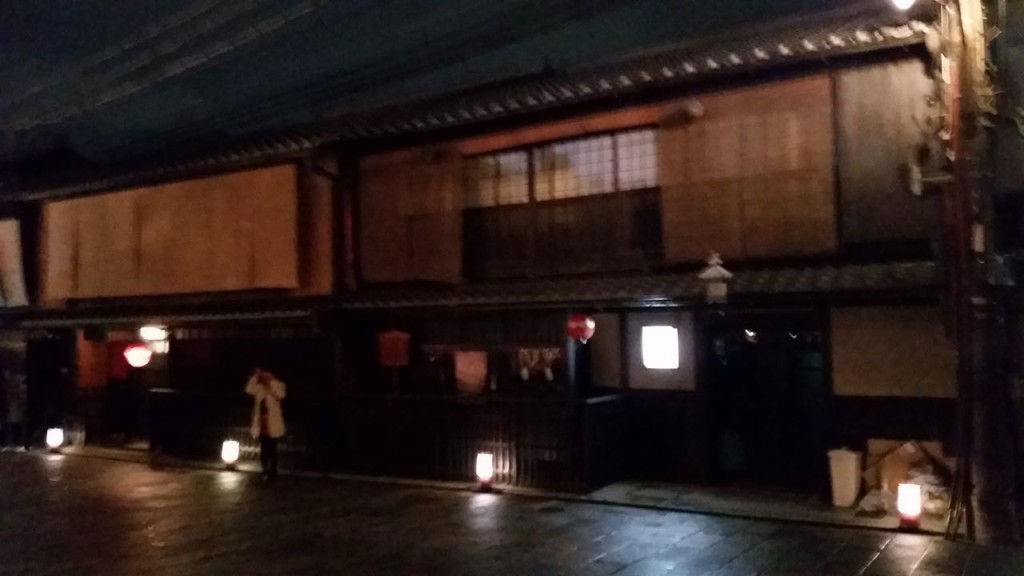 We went for another kaiseki meal. The restaurant is right on the river, and our room had a sliding door that we could open and enjoy the view. Also, the floors were HEATED. I love these people. They know how to do it right. Heated toilet seats, heated floors, order, cleanliness, minimalism.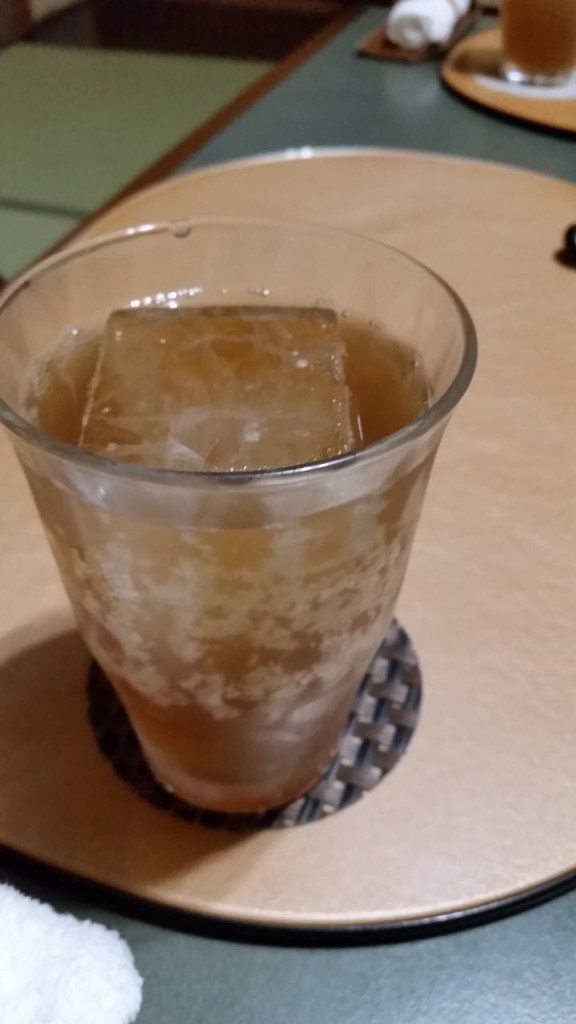 This is real ginger ale. It has a serious bite! It also had the largest ice cube ever.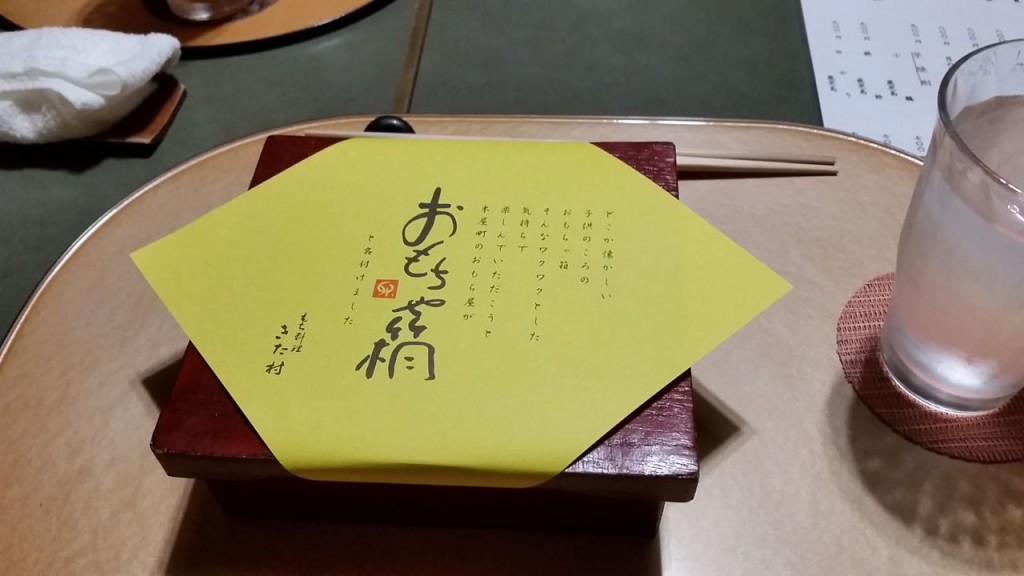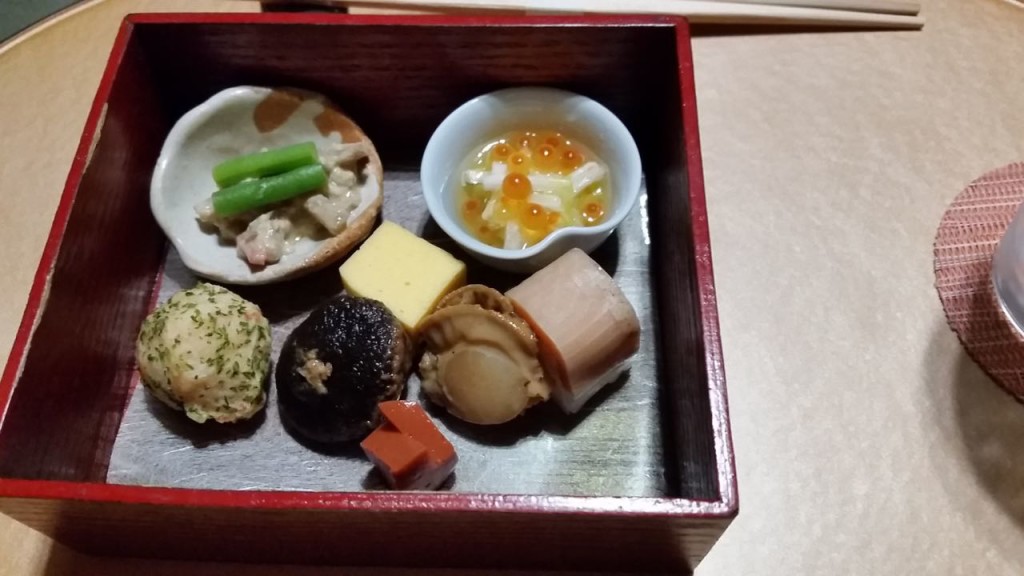 It was so delicious.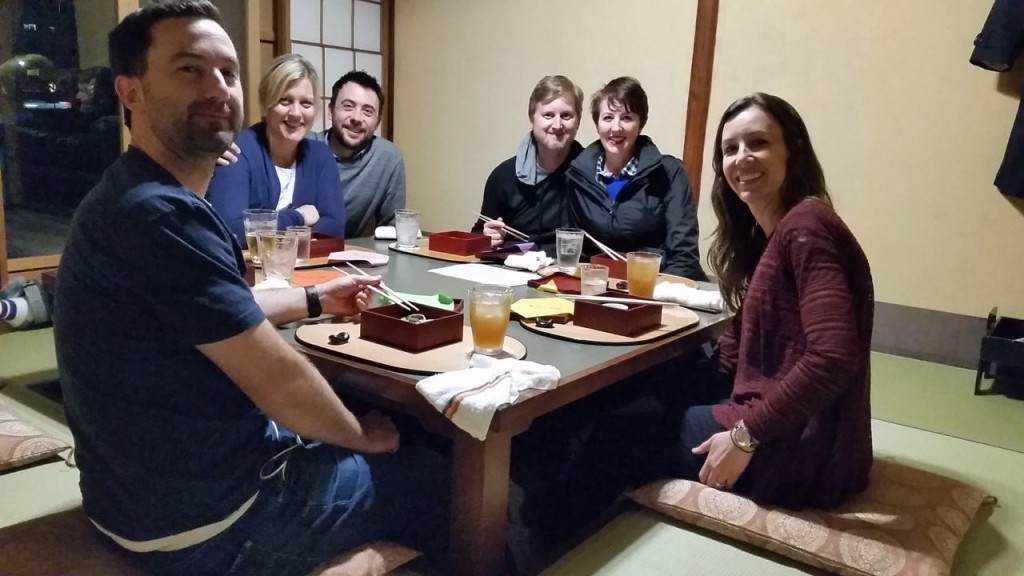 As good as the food was, the company was even better. We laughed a lot.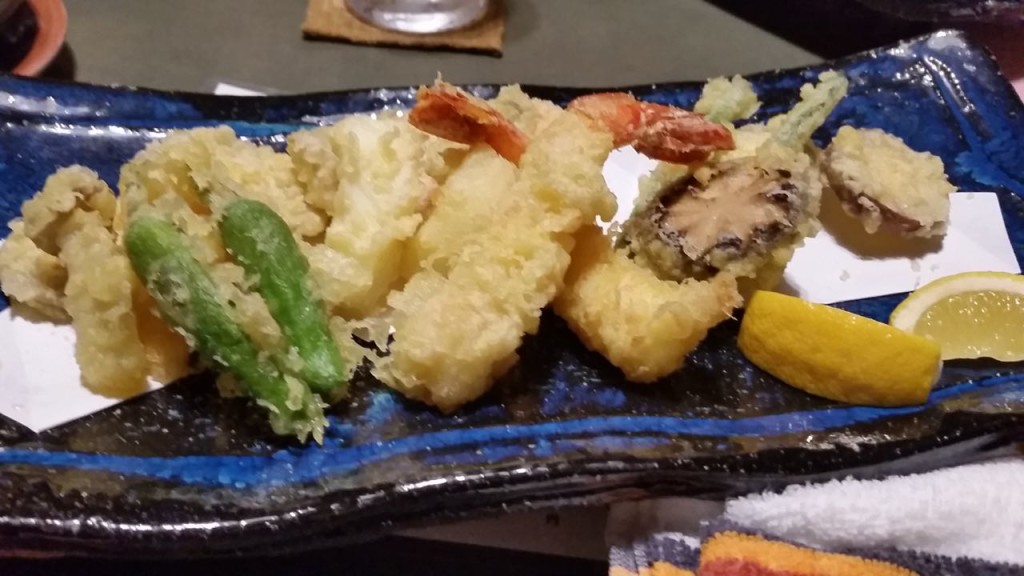 Tempura everything.
Presentation is as important as flavor. This fish was so tender and delicious.
By the end of the meal, we were all so full we could barely stand. We were also really, really tired. We headed to the train station and left for Osaka. Kyoto was incredible, and rightfully the number one tourist destination in Japan. You could spend a week there, easily, but if you only have a day and a half, this will hit the highlights.
TRAVEL TIP: There are several trains from Kyoto to Osaka, even at 11 p.m. There are regional trains and shinkansen trains, and they go to two different train stations, so before you pick a train time, figure out which train station is closest to your hotel and which trains go to that station. With such a short ride, the travel time isn't that different. Also, the ticket office closes at 11. If you have a JR pass, you have to get tickets from the ticket office, not the kiosks.