Last month a very dear friend of mine was in town. I've known and loved her for years. She is always in the fashion know and has impeccable style. We were out shopping, and I held up a cobalt blue scarf and asked what she thought. She examined it carefully, and said, "This color really came in style about three years ago, but it's definitely on its way out." Without hesitation, I blurted, "I don't care. I love this color and it looks amazing on me. I'll wear it until I die. I was wondering more what you thought about the fabric. I typically don't buy acrylic, but I love the weave." Before DYT her statement may have had a different impact on my choices. She gave me her thoughts on the fabric and weave and we moved on. I ended up not getting it because of the acrylic (and the fact that it pills immediately), but not because some mystery council of fashion experts has deemed that this color is on its way out. I am no longer at their mercy.
I will buy what flatters me, what makes me look stunning, and makes me feel confident. Muted, earthy colors and loose baggy shapes are on trend with the current boho thing, but those make me look terrible, so I won't wear them. For others, they are the perfect colors and shapes, and they SHOULD wear them, even when the trends are bold hues and tailored silhouettes are "in style." What is in style for me is what looks best on me. I'm not a clone
It is so liberating to know exactly what I look and feel great in, which is bold true hues, tailored, fitted clothing, classic styles with some edge.  I know exactly what I like and what is right for me. I can tell the difference between what I like on someone else versus what I like for myself, which is a problem I had before. I saw clothes that looked fantastic on other people, and when I tried to wear them, I looked ridiculous. It was frustrating. Now I don't have to care about the trends. I will wear what makes me look and feel my best, and boho ain't it. I am unapologetically dismissing that trend. I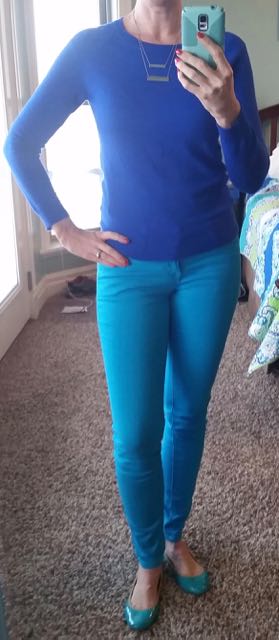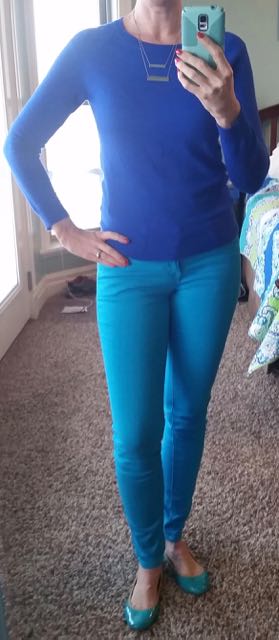 It's kindergarten volunteer day! Don't I look friendly? I'll tell you those kids were wild today. Wearing my favorite colors helped deal with the insanity. It's Monday, ya'll. We all do what we have to do. Why did this work for me? It's quasi-monochromatic. Could I wear something this colorful everyday? No, but I loved it today. It met a need. I still love the bar necklace. No S3 elements today.

I had other plans today, but my wee one woke up with a fever and I'll be holding her most of the day. She needs loves. Tough job. This outfit is as comfortable as pajamas. I know the turquoise on this necklace is borderline type 1, but I don't care. I love it, and I love the S3 it brings, and my little one loves to fiddle with it while we cuddle. S3 elements include the pebbled texture on my boots, distressed jeans, triangles on my necklace, and diamond shape on my earrings.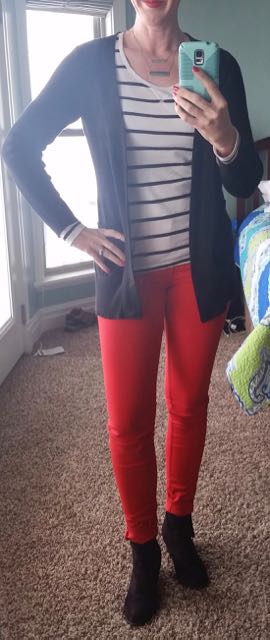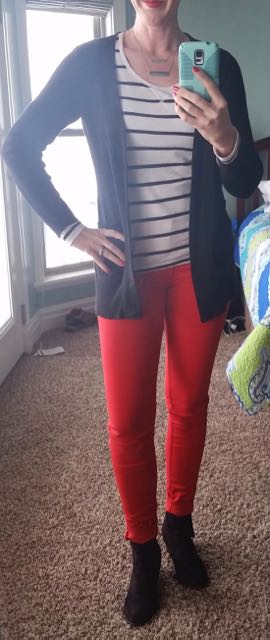 Little one still has a fever, so I'm on chair duty. I was able to sneak away for about 10 seconds before I was called back to the chair to resume holding my patient. I feel very French chic in this, and still very comfortable and appropriate for loving on my sick baby. I love these simple and small bar earrings. They are the everyday earrings I've been looking for. They also go with the bar necklace without being too matchy matchy. S3 element suede texture of my booties.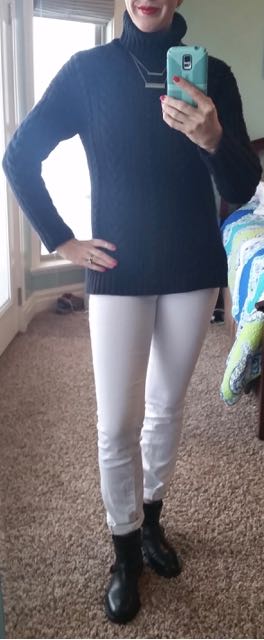 Baby is much better and I get out of the chair! Getting out to do some errands. Three pairs of colored jeans in one week? What? It's so unlike me, but it worked for me this time. I may not wear any for another month, or might wear them next week. I never can tell until I go to get dressed for the day. When my husband got home he made me do a turn and said he couldn't believe I made it through the day without one of the kids getting my pants dirty. S3 elements are the texture of my sweater and the extra straps and zippers on my boots.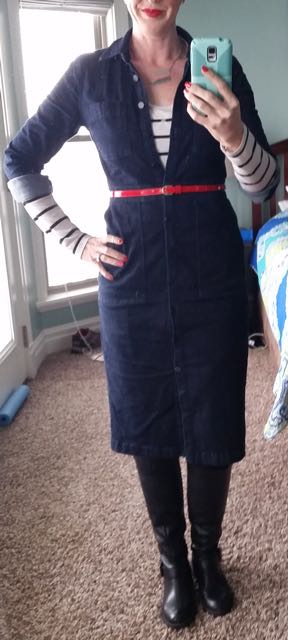 I have wanted a denim shirtdress for years, but they were always too baggy, too short, and too blah in color. I found this one and loved the look. It fits me perfectly. I have a new rule for my closet though, if it's not a 10 out of 10, it's not staying. There is no room for maybes in my closet now. This dress is a heavier fabric, very saturated, structured, and tailored. It is a three-season item (fall/winter/spring). Picture it with sleeves rolled and with red sandals in spring, or a silk scarf, or a colored necklace, other belts, colored flats, silver wedges, etc. This is definitely a T4 dress. The S3 element is the pebbled texture of my boots.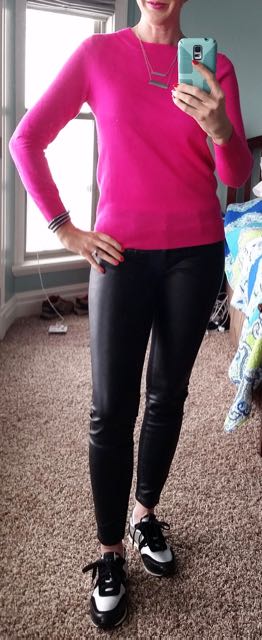 Hello my darling. I'm your bold and fierce valentine. We're doing stuff with the kids today and celebrating as a couple tonight. I am so smitten with these black and metallic silver sneakers. I will be wearing them everywhere. S3 elements include studded bracelet, faux leather pants.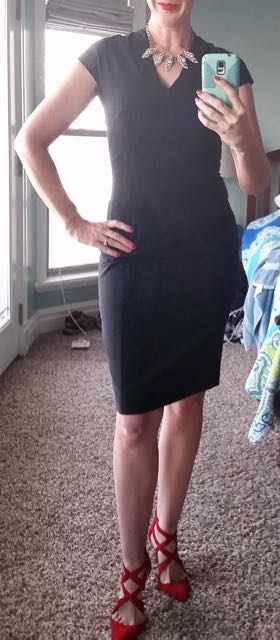 I'm ready for my hot Valentine's date. I've been waiting for an occasion to wear this amazing dress. I love the fabric, the fit and the zipper in the back. A friend fixed the neckline for me because it was too low. It's perfect! Exactly what I asked for. The zipper and necklace are gold, but I'm going to leave them as they are instead of painting them silver. Also…the shoes. I love them. Happy Valentine's! S3 elements include the dagger crystal necklace, zipper detail on the back of the dress and strappy shoes.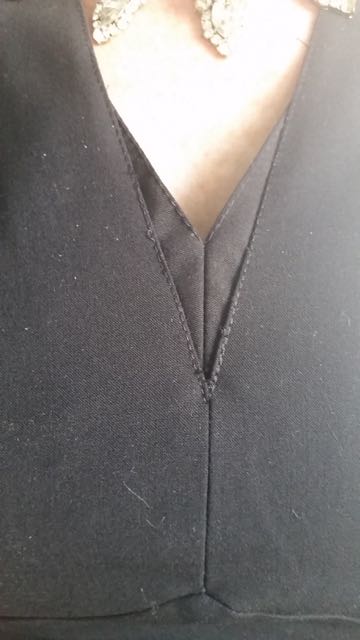 When I took the dress to be altered, I asked her to make a delta symbol with a seam down the middle and layer it underneath. It actually adds depth and interest to the dress, and doesn't look like it was "fixed."
Continuing the Valentine's theme for church today in both color and sentimentality. My husband bought me this shirt on a trip to NYC several years ago, and he gave me the Sapphire pendent for our third wedding anniversary. I love these navy heels. The skirt color is actually putty instead of white, but I'm ok with it. I've seen T4 items at the DYT store this color and even a little creamier. S3 element includes the cutout shapes in the heels. To be honest, this shirt color might be T3, but if it is, I'm not willing to part with it yet. I think this has been my most colorful week in a loooong time. Maybe I needed it to perk me up with all the sickness going through the house.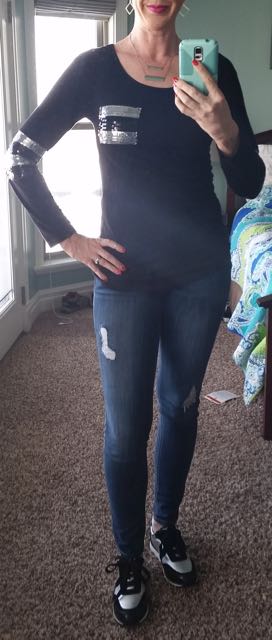 The whole family has the day off so I'm keeping it very casual and relaxed. This is the most accurately I've been able to capture the color of this lipstick. I was looking for something magenta. I wish it were a hair more purple, but since I only wear stay put lipsticks, my options are limited. This is the closest I've found, and I like it.
*I added an extra outfit to this post because this was the last time I got dressed for over a week. I was very, very sick and couldn't get out of bed. No need to post one outfit for a week.
To experience Dressing Your Truth and find your personal beauty, click here for the free discover your beauty course.
Disclaimer: When you click through my link, I receive a small credit in the Dressing Your Truth store if you choose to sign up for the full course. I'm not a fashion blogger or a Dressing Your Truth expert. I'm just finding my way.