I've been toying with capsule wardrobes for almost a year now, and I love it. I read about them for 2 years before I actually tried it. I resisted because I really thought I'd be bored by the limited selection of a capsule wardrobe, but I'm not at all. I'm not as experienced with capsule wardrobes as some out there, and I'm not here to teach you the nitty gritty of how to make one, but I've learned a few things about them.
Myth #1: One of the capsule wardrobe blogs I read recommends taking all of your clothes out and selecting the ones to keep. According to her, once you do this and see your remaining clothes, your style will jump out at you. That may be true for some people who have intuitively gravitated toward dressing according to their type, but there are many of us who are/were unconsciously dressing against our type. In my case, I was dressing and behaving as a type 2 in an effort to disappear. I've been shamed so much for being bold that I was trying to become someone soft and muted, so that is the type of clothing I chose. I wanted to be invisible. When I did my first capsule wardrobe last spring, I loved it. I loved my clothing selections, and I loved the outfits I created from it, but it was a very type 2 wardrobe and fit my need to hide. If I had gone with that recipe, I would never have discovered my type 4/3 nature and style. I would have continued to dress as a type 2, which I most definitely am not.
Dressing Your Truth is what finally helped me accept and embrace my true, bold type 4 nature and my fierce, fiery secondary 3. It gave me the courage to embrace who I am, stop hiding, and be me, in every way. Looking back, the time in my life when I felt the most me was when I was in college. I was dressing as close to type 4/3 as I could without the education I've gotten from Dressing Your Truth. I wore bold hues, tailored lines with some crazy pieces thrown in. Imagine with me blue variegated pants with glitter on them, red vinyl pants, neon orange vinyl pants, and red and black snakeskin pants. I had a collection of crazy pants. It was my secondary 3 trying to get out, but in the wrong ways. There was a guy I passed on campus 3 days a week who called me fancy pants. We never spoke other than his greeting, "Hey, fancy pants." I never knew his name, and I don't think he knew mine, but he noticed my collection of wild pants. I even colored my hair magenta for a few months, just for fun, but was still always, always, always in type four tailored, fitted, no movement clothing lines and bold hues or black. When I was coloring my hair a very bold red, another red head said, "I never knew a red head could wear a hot pink sweater, but it looks so great on you!" I replied, "I love hot pink. Why wouldn't I wear it as a redhead?  It never occurred to me not to."
Myth #2: Most capsule wardrobe planners recommend a wardrobe of neutrals plus two colors to mix and match. I did that with my first two efforts, but with DYT, I don't have to pick colors. Besides teaching me my true nature, DYT makes a capsule wardrobe even easier. All type 4 colors go together. Because of my selfie project, I realized I have unintentionally been dressing in black, white and blue with the occasional splash of red or pink for a couple of months now, but I can pair any of the type 4 colors and they look great. I have an electric purple coat (seen below) that gets compliments everywhere I go, and a bright red purse. You'd have to be a type 4 to wear that bold combination, but they look great together, and they always look great with whatever I'm wearing. I don't have to limit my color palette outside of my own preferences. If I want clothing in every color on the card, I can have it and mix and match to my heart's content.
The combination of Dressing Your Truth, the Konmari method, and the capsule wardrobe concept have changed my wardrobe and look. I've purged all the other types from my closet, as well as anything that doesn't spark joy. Capsule wardrobes are amazing. This is coming from a former clothes horse. More was always better. Now the only clothes in my closet are 10s. If it's not a 10, it's not staying. I have to love it, love wearing it, love how I feel when I'm wearing it, and love how I look when I'm wearing it. With DYT, all of my clothes have the same style, so they go together on that level as well. All of my clothes are classic and/or edgy, and they all mix and match perfectly for my style. It makes the limited number of items I own have even more mix and matchability. I'm still not bored.
The temperatures are downright frigid right now! Mondays are bad for me with the crazy schedule, and on top of it my son had a stomach bug and all the joys that go with that. At least I felt grounded in navy and white, and I get a spark of joy from these bright red rain boots with the zipper! I hate my Sorels bc they are so hard to put on and take off, and they are big and clunky and loud, all the things a type 4 hates. It snowed last night, but I decided these would do the trick! Waterproof is good enough today. My crazy socks also make me smile. Yay for T4 to support my energy and get me through the day. S3 elements include the angular shapes on my sweater and the zipper on my boots.
Another great benefit of reducing to a capsule wardrobe is I'm getting more creative with the clothes I love, and the benefit of a DYT capsule wardrobe is everything in my closet goes together. My sweater goes perfectly with my plaid flannel, and the lapis stone on my Greek key necklace and my bracelet match the royal blue in my flannel. My brown boots still spark joy, and I'm wearing them. I love them with my dark wash skinnies. My black boots wouldn't look as good with this. S3 elements include the Greek Key pattern and the woven texture of the bracelet.
I tried to wear some color today, but I couldn't. I did feel comfortable in my fiesta purple coat though. I tried wearing a silver necklace and even that was too much so I went for this shiny black necklace. The black on black and contrast of shine was perfect. S3 elements include the faux leather pants and the suede texture of the booties.
Still going strong with black white and blue. It's not intentional. It's just what I find myself reaching for. I love the cobalt blue stripes in the shirt and shoes. I love exposing my cuffs from underneath a sweater because it's like wearing the perfect, lightweight, immobile bracelet. My kids have started asking why I wear so much black. Well children, it's been an intense and rough few months, and I need it. I don't do it on purpose. My inner T4 chooses it for grounding. S3 elements include the suede texture of my shoes and the chevron shape of my necklace.
My kids have declared that black must be my new favorite color instead of turquoise. I had to change clothes half way through the day, so I decided to wear the same top half all day. I wanted to wear red flats, but it snowed a few inches last night, so boots it is. My husband received a prestigious award today, so I changed into a skirt and heels for the ceremony. S3 elements in the morning outfit are the destroyed jeans and the suede booties. In the afternoon it's the reptile skin texture of the heel of my shoe, but you can't really see it.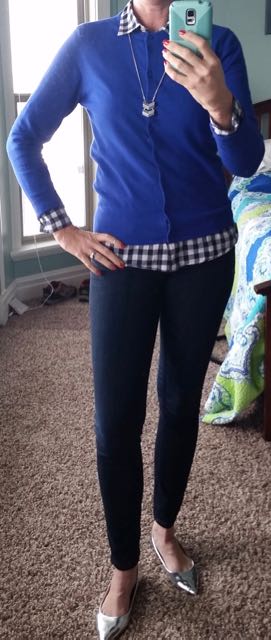 Look kids! No black. But I am wearing navy, which is also soothing. Did they even notice? No. When I pointed it out they said my pupils were still black. That is not likely to change children, and if it does, you should run. Today I wanted to see if I'd be happy wearing my cardigan buttoned up as a full sweater. I love the color, the fabric, but I was annoyed by the buttons. I also don't 100% love the fit. It's a little too big and boxy for my taste as both a cardigan and a sweater, but the fabric is so soft and cozy. It's definitely a winter weight sweater. S3 elements include the chevron necklace.
I've had this outfit since college, which was the time in my life I came closest to dressing my truth. I even wore it on my first Valentine's date with my husband. I bought this amazing coat in college too. I still love it! My husband calls it my Trinity coat, like Trinity from The Matrix. To clarify, the skirt is from college. I've always worn it with a black turtleneck sweater, but this one is a replacement (stupid moths), and I always wore it with tall, sleek, black, high heeled boots. These are about 5 years old, so not the same boots. I wore the others into the ground. S3 elements include the suede texture of the skirt, the coat has some subtle texture to it, and the diamond shaped earrings.
To experience Dressing Your Truth and find your personal beauty, click here for the free discover your beauty course.
Disclaimer: When you click through my link, I receive a small credit in the Dressing Your Truth store if you choose to sign up for the full course. I'm not a fashion blogger or a Dressing Your Truth expert. I'm just finding my way.