Type 4 moment: It's Thanksgiving week, and that means a big meal. I cook a lot. I'm a great cook, actually, but i have to literally press my lips together to keep from announcing to my guests/family what I should have done better with the food so that it would be perfect. "The dressing is really great!" My mental response is, "It needs more sage." My actual response is, "Thank you." It is so hard not to pick it apart out loud.
Starting my third week of focusing on my secondary 3 fierceness and avoiding secondary 1 cuteness.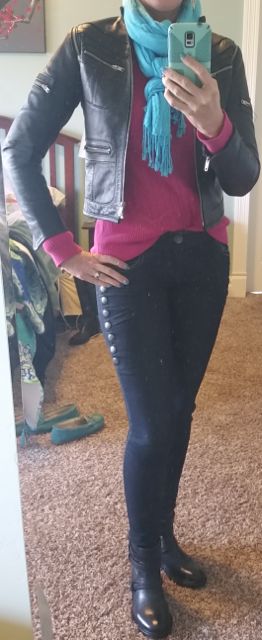 I mostly liked this. There was a little too much going on with the studded jeans and the zippers. I would have worn plain skinnies if I did it again. The rounded studs might actually be more S1 than S3. I do love the straps on the ankle boots though.

Yes. Although the round toe of the shoes is more S1. S3 elements include the zippers on the jacket and blouse, an the chainmail-like bracelets.
First I put on the bright blue pants and tall boots, but I felt too cute, so I changed into the destroyed jeans and short boots felt much better. The first outfit was still very type 4, but it didn't feel right. Still deciding on these destroyed boyfriend jeans.

I like this, but I'm still not sure if I can wear this boyfriend style of jeans.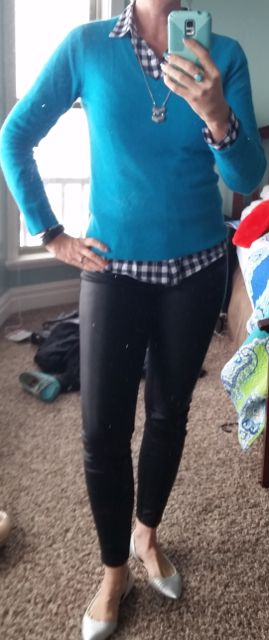 This I like a lot. I love the faux leather pants with it and the silver pointy flats. My ever-favorite gingham shirt goes great with this sweater. the faux leather and the chevron necklace bring S3 elements.

I don't like it. I've decided I don't like this sweater, and I don't like the bright pants paired with a black top and boots. I tried it with short boots to see if I liked it better than the tall boots/bright pants combo, and I don't. The sweater neck is too cowl and the sweater itself is too bulky.
To experience Dressing Your Truth and find your personal beauty, click here for the free discover your beauty course.
Disclaimer: When you click through my link, I receive a small credit in the Dressing Your Truth store if you choose to sign up for the full course. I'm not a fashion blogger or a Dressing Your Truth expert. I'm just finding my way.