November was a very full month, as always.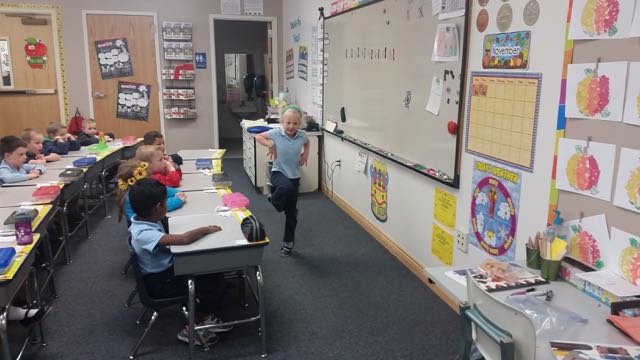 Daisy was the student of the week. One of the days she got to teach the class something to the class. It's called, "My time to teach."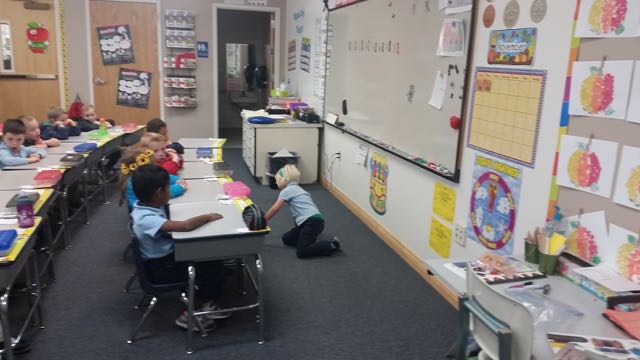 She decided to teach a somersault, which she happens to be very good at.
Brinlee got to go on her birthday dinner date with Mom and Dad. She chose Texas de Brazil.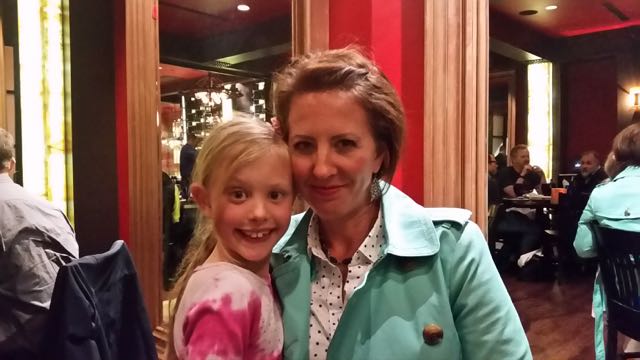 Chewing anything like meat is so hard with my braces, but it was still tasty.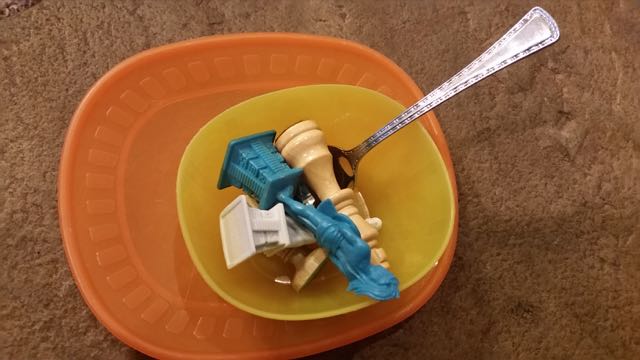 Steak is most definitely easier to chew than this meal that Georgia served me.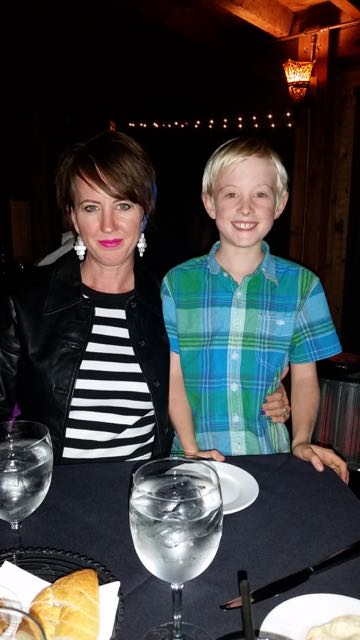 For Sawyer's birthday dinner we took him to one of my favorite restaurants, Tiburon, which is where he was supposed to eat last year, but when we showed up without a reservation on a Thursday night, the whole restaurant was booked out for a wedding, so we detoured. This year we had a reservation, and he really enjoyed his dinner. He is a foodie like me. In fact, Sawyer is a lot like me in many ways.
This is one of the last tomatoes we picked, and Brinlee wanted a picture because it looks like a snowman.
I came down to tuck Sawyer in and found him reading to Georgia. These two are so cute. They love each other so much.
He also gave her a ride up the stairs. So sweet.
Caisen's hair got butchered at our usual hair place, but not our usual girl. Anyway, he had an ancient Greece activity at school. This was at the discus throwing station where I was. In typical Caisen fashion, he did is own unique thing and wore an orange (his favorite color) toga instead of white. I love that he marches to his own beat. I hope that never changes.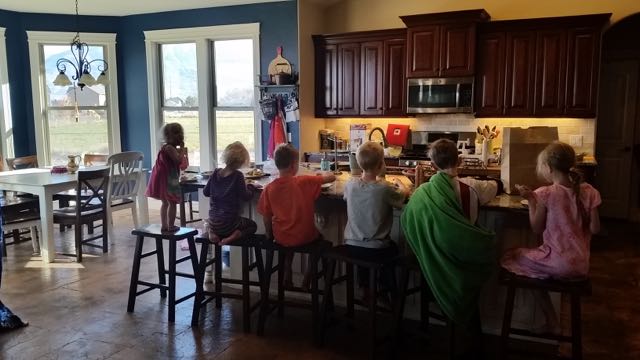 Just a normal breakfast day at home.
I decided that I wanted to go back to a pixie, and after the hair cutting incident the last time I cut my hair, I decided to preemptively plan for Daisy. She had said she wanted her hair shorter, so we picked a picture, and I made an appointment with my stylist. He's amazing. She got her version of a pixie, and it is so perfectly her! She loves it, I love it, everyone loves it. The best part is, we are working with the texture of her hair. Instead of trying to make is smooth and flat like everyone else's hair, we went with the wildness of it. Even when it is crazy, it looks great.
How perfect is this? If you know Daisy, you know how well this suits her.
This is the day before my haircut. Look at my Daisy doll looking perfectly her.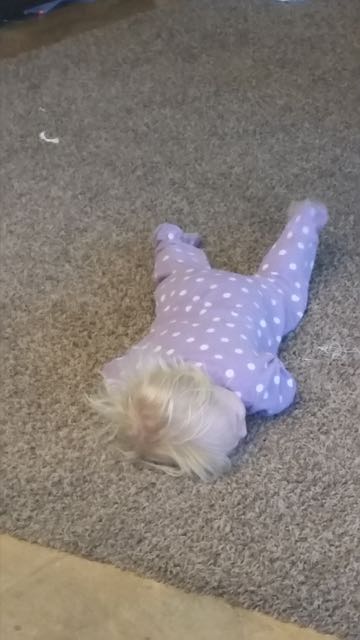 This is Georgia registering an official complaint that Daddy went to work. "My want Daddy hugs." Me too, baby. We all love Daddy hugs.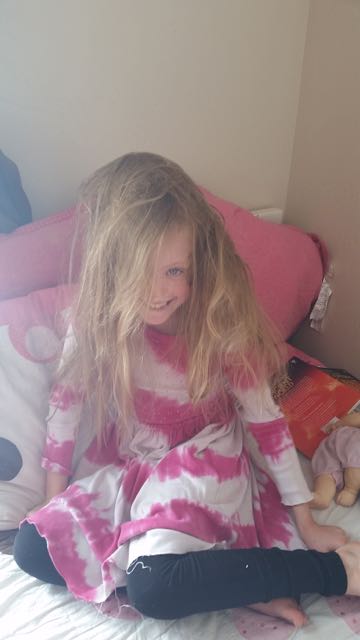 Brinlee's hair is out of control.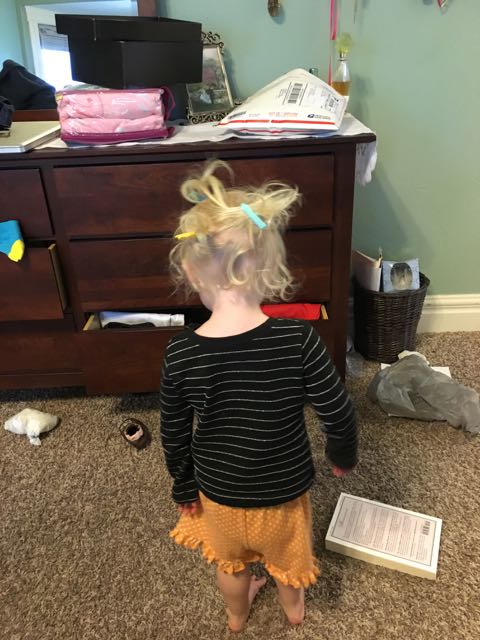 Georgia brought me a handful of barrettes and wanted all of them in her hair.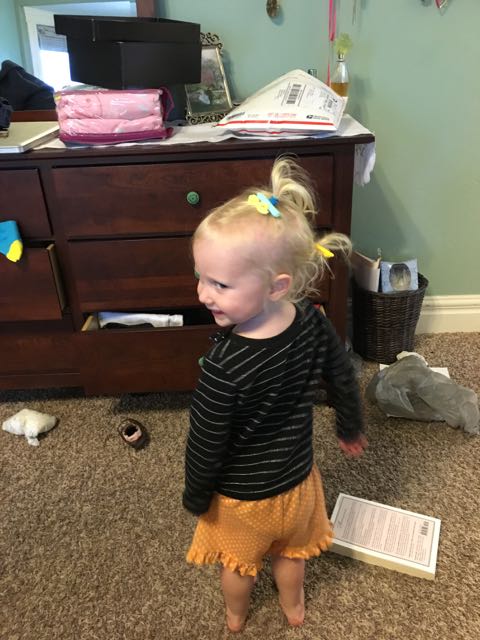 All of them.
Brinlee was in the Nutcracker for the first time, but I don't have any pictures because the costumes are rented by the studio, never come home, parents aren't allowed backstage, pictures during the performance are forbidden, and we have to wait outside the entrance while they change back into street clothes. This is our first year at this studio, so I didn't realize that. I didn't buy the group picture because in the past I haven't been happy with them, but I didn't realize I would have no other opportunity.Lesson learned, I will buy the professional pictures next year, because that is all I get. Very clever of them… Brinlee was a Sugar Plum, and she did a great job! I really like that they do the shows in November before the Christmas craziness commences. She had tech rehearsals Monday, Tuesday and Wednesday, and performances on Thursday, Friday, and Saturday. In December that would have been extra brutal. Our family plus grandma and grandpa went to the Saturday performance and then out to dinner. It was a very high quality performance, very well done.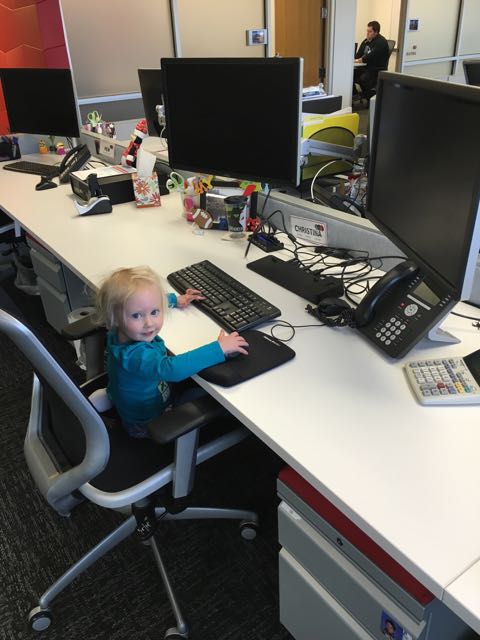 Georgia went to work with daddy for about an hour while I was at the doctor. She loved it, everyone there loved her. She was hard at work, earning her keep.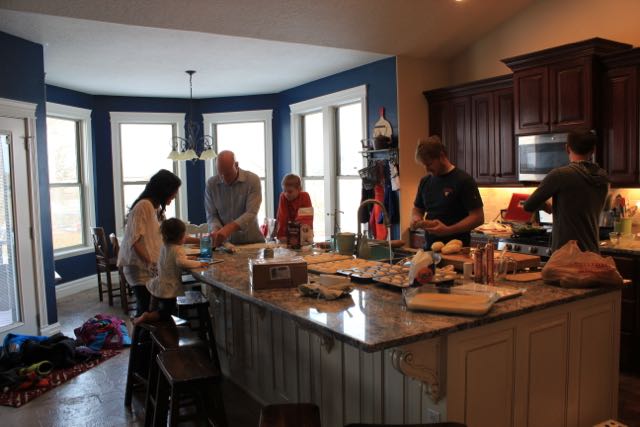 Thanksgiving morning arrived! I was so happy to have Jonny, Vanessa, Avery and Leo there. He brought some of his kids. I haven't had a holiday with my family since we moved here. I technically have every other Christmas and Thanksgiving reserved to spend with them, but no one is ever here. Mark and Cheri spend holidays with her family, and everyone else is far away.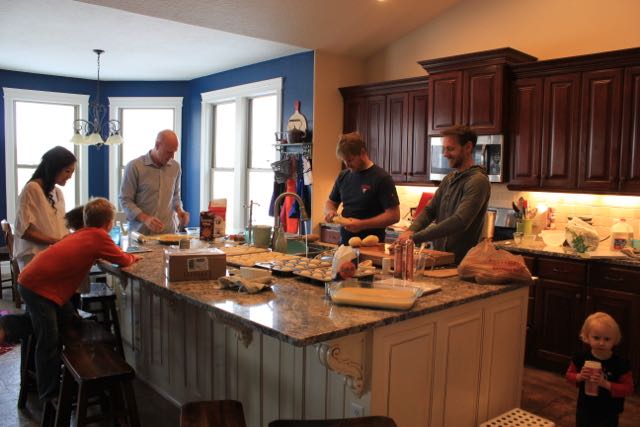 When Leo mentioned that he was coming to to spend Thanksgiving with his in-laws, we called to ask if Jonny and Vanessa wanted to come, and we scheduled our dinner for Saturday. This day meant a lot to me. Having Thanksgiving with some of my family made this a November to remember.
As for a gluten/dairy free meal, my doctor told me not to worry about, to enjoy this meal and then move on with my previous diet. I don't have Celiac's. I'm just intolerant, so it won't land me in the hospital to deviate. It was nice to be able to enjoy the day without stressing about the food meeting my dietary restrictions and adjusting or recreating recipes.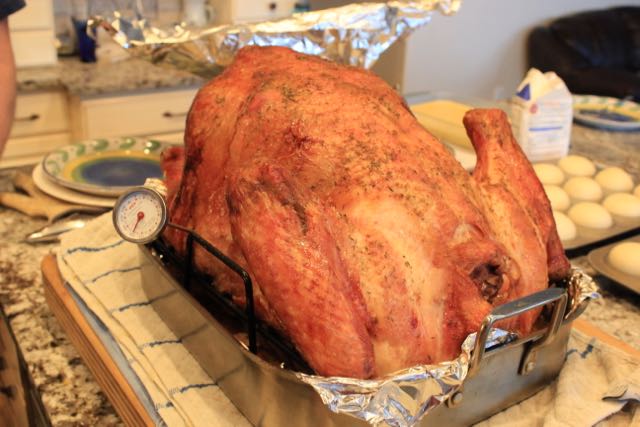 THIS my friends, is a 36-pound turkey. Thirty. Six. Pounds. I couldn't find any chart with a timetable for a bird this big, so I had to guess. I'm kind of famous for my amazing turkeys, and I was worried. It weighed a ton. Just getting it in and out of the oven was back-breaking. I've never roasted a turkey bigger than 24 pounds. Dinner started late because I had to cook it a few hours extra beyond what I calculated.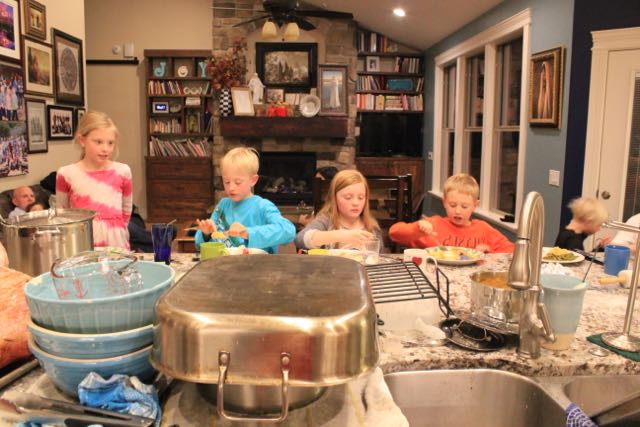 The good news is that it still turned out moist, tender and delicious.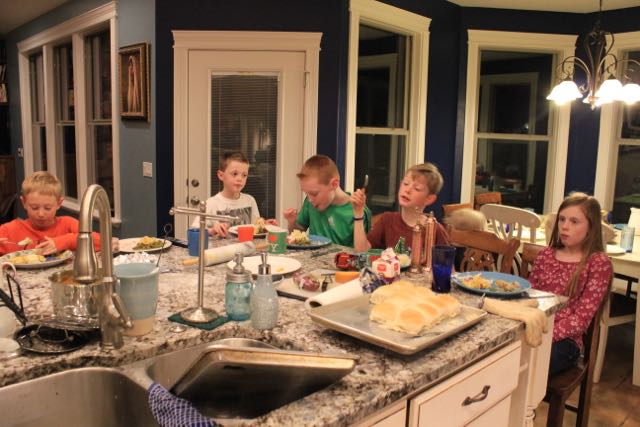 Everything was delicious. I usually don't go to the trouble to cook that meal for my family. It's three days of cooking to do it alone. On the one hand I feel overwhelmed by the idea of making all that food, and on the other hand I feel sad that my kids were missing out on all of my family's holiday traditions because we never see them for holidays. Adam and I have this conversation every year. What do we do?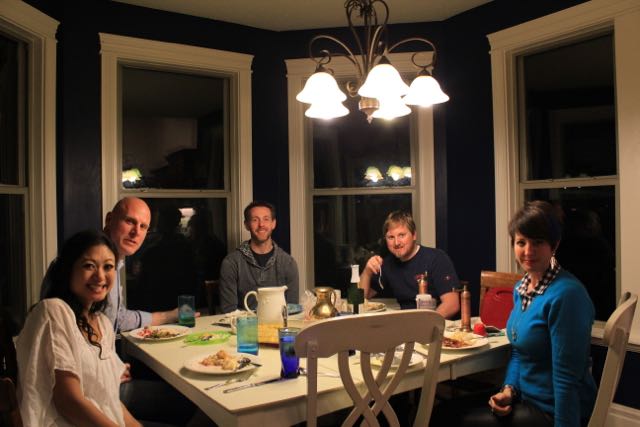 My mom made this meal just for our family of eight every Christmas. Nicki and I helped when we were old enough, but she still did most of it. It's a lot of work, especially for kids who are too young to appreciate it. This year I decided it was worth it for the larger crowd. Leo brought the Jell-O salad (that is not your average Jell-O salad), Adam was in charge of rolls, mashed potatoes and helping me man-handle that monster turkey. Jonny and Vanessa made dessert and the appetizer. That meal was worth the trouble.
Georgia had so much fun with Avery the whole time they were there.
They had fun coloring.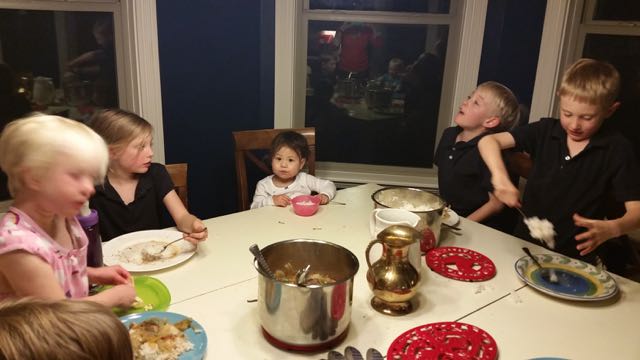 On Monday Jonny, Leo, Mark and I were supposed to go to a Jazz game, but I couldn't find a sitter, so I stayed home and watched Avery. Vanessa had returned home that afternoon because she had to get back to work. We wanted more time with Avery, so she stayed with me the next few days. She had a big time with us.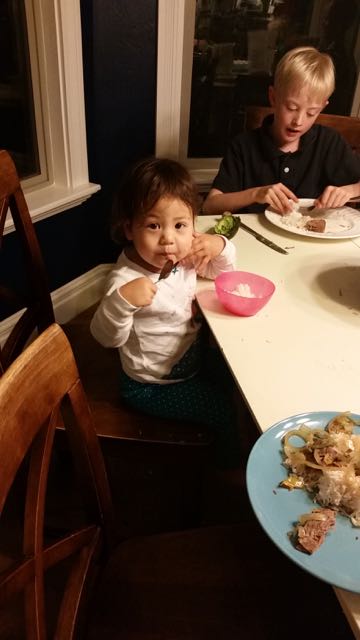 Eating like a big girl with the big kids.
I should just point it out now: I'm Avery's favorite auntie. She always comes right to me, even though that isn't normal for her. Also, here's my pixie. I love it!
She also enjoyed story time with Uncle Adam. She didn't even get upset when her daddy left.
The next day I watched Avery while Jonny went to do his talks at the universities. We had a great day.  She had her first almond butter sandwich, and she loved it. I've got six kids. I've got this down.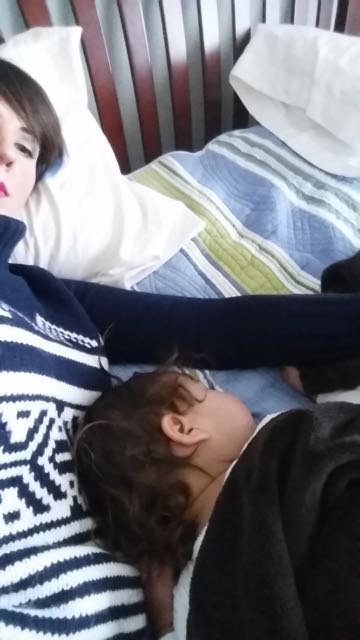 She dropped right off for her nap time. She is such a sweetheart. Love this nugget.