A year ago my friend, who also happens to be my dear friend's husband, was killed while in New Orleans to compete in a half iron man. They were on a practice ride the day before the race when a car ran off the road and hit them both. Frank was killed instantly, and Andrew nearly died on the scene. He was in a wheelchair for 5 months with no idea if he'd ever walk again. Andrew did get out of the wheelchair and started training for the same competition the next year. Kim's world was turned upside down when Frank was killed, and her triplet girls are still wading through the grief. How do 7 (now 8) year olds make sense of death when adults can't? Kim focused her grief on training to compete in this year's half ironman in New Orleans in Frank's memory. Andrew trained to compete in the race he never got to. Adam and I went to cheer them on.
It happened to be my birthday weekend (again), so Adam and I went a few days early to explore New Orleans. Neither of us had ever been, but I've always wanted to go, so I had a birthday trip.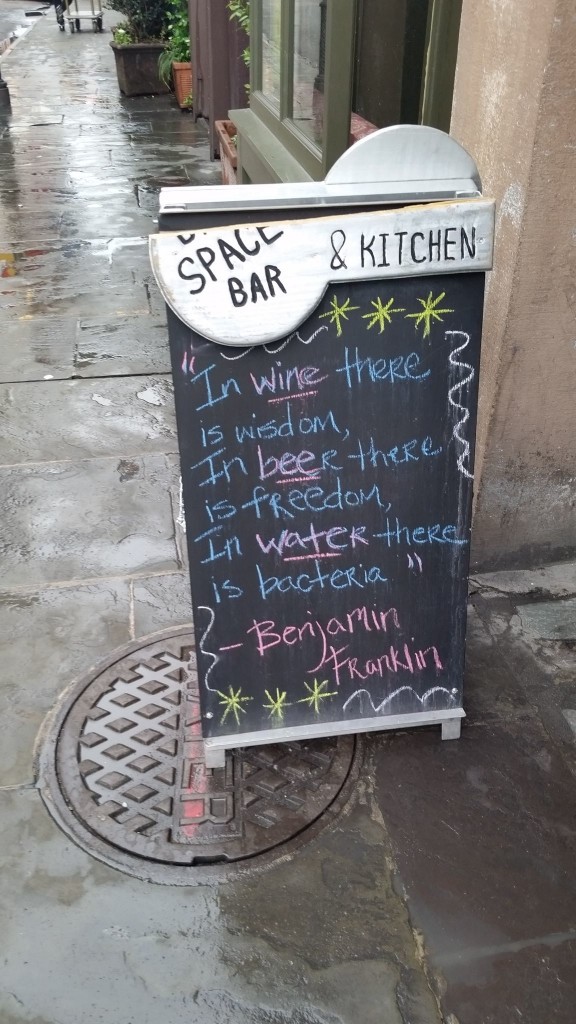 Friday morning it was sprinkling, which was better than what the forecast had predicted. It was supposed to be torrential rains the whole weekend. We were grateful for sprinkles.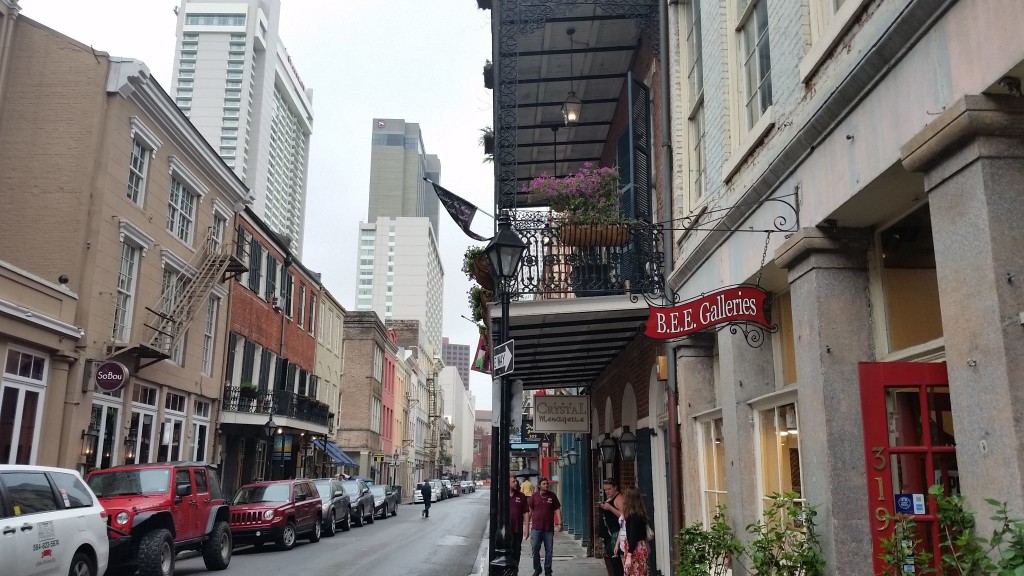 We started out with breakfast. I had an appointment with my GAPS practitioner two days before and she said I was all clear and could eat whatever I wanted as long as I took a few supplements with my meals. Healed! It's a miracle! Great! I had eggs benedict on a BISCUIT with hollandaise and white gravy. It was heavenly. My first gluten and dairy in seven months. Cafe Fleur de Lis is wonderful. Go there. Seriously. But not if you are allergic to gluten.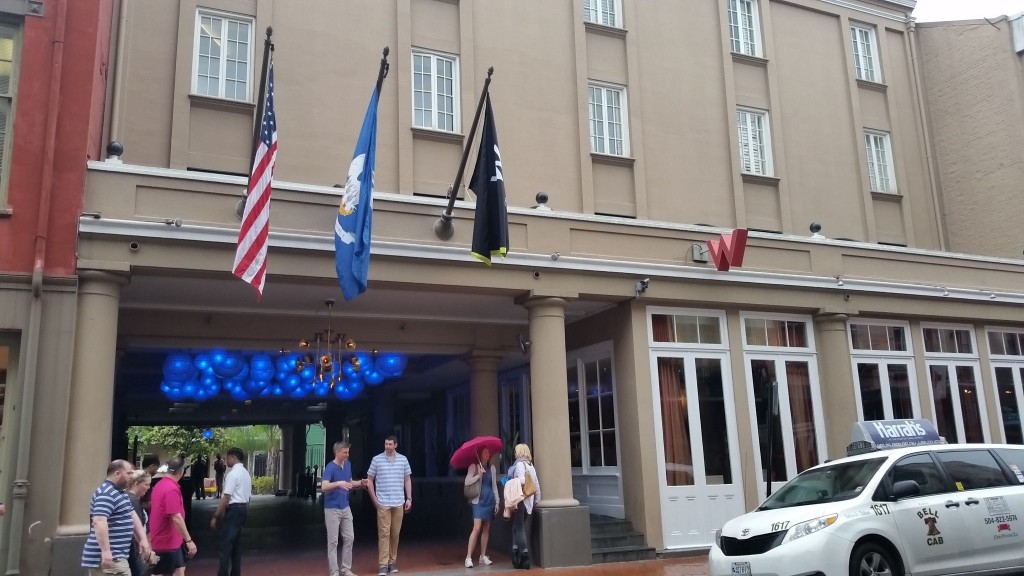 We stayed at the W in the French Quarter, which is right across the street from Fleur de Lis.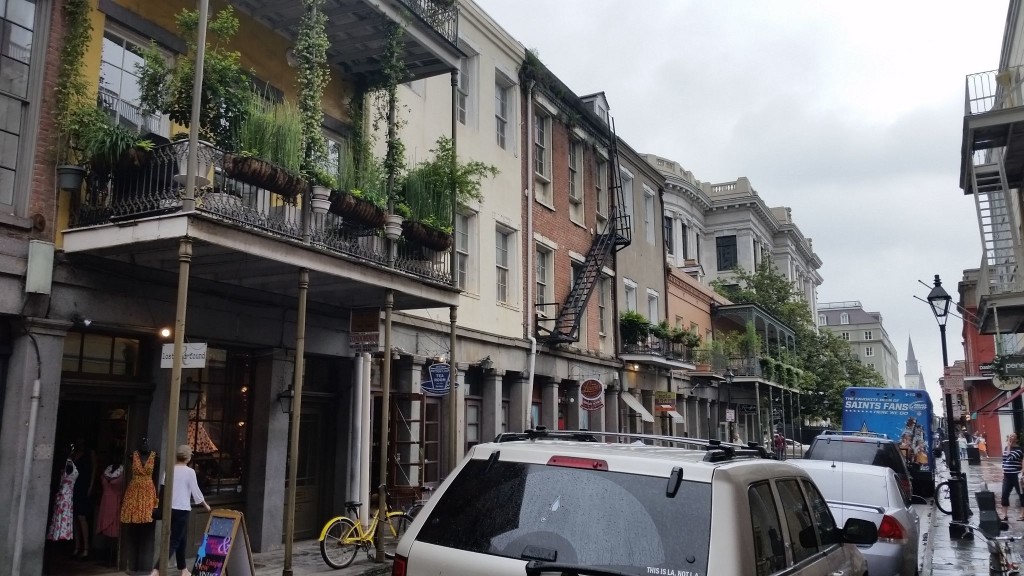 After breakfast we went to explore the famous French Quarter.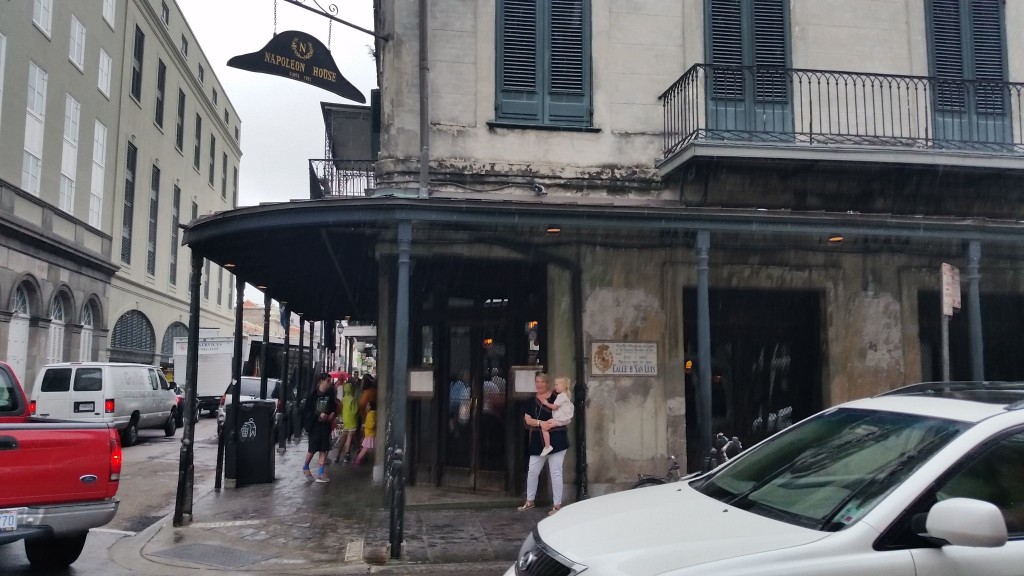 But the time breakfast was over, it wasn't even sprinkling.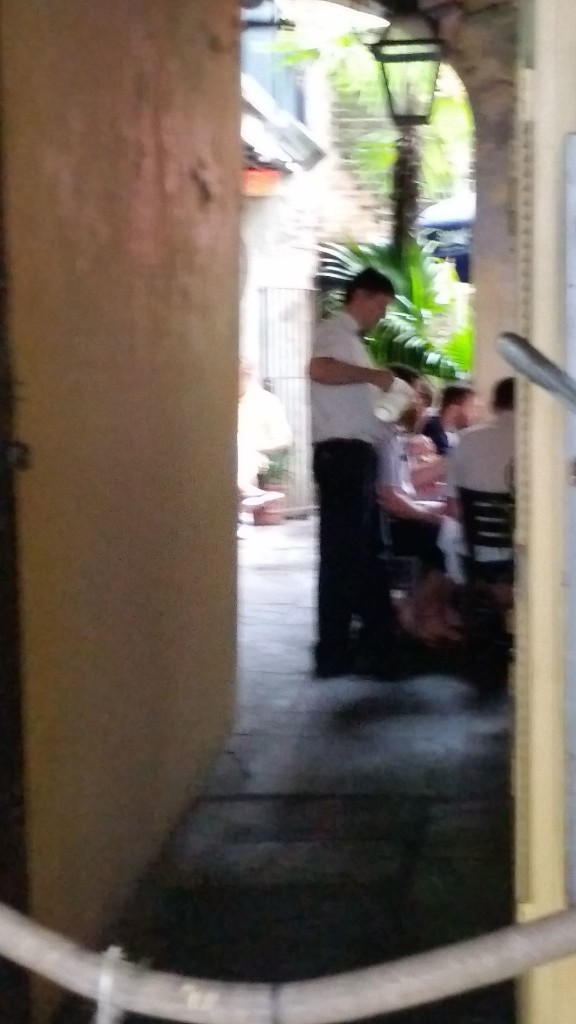 Courtyard dining.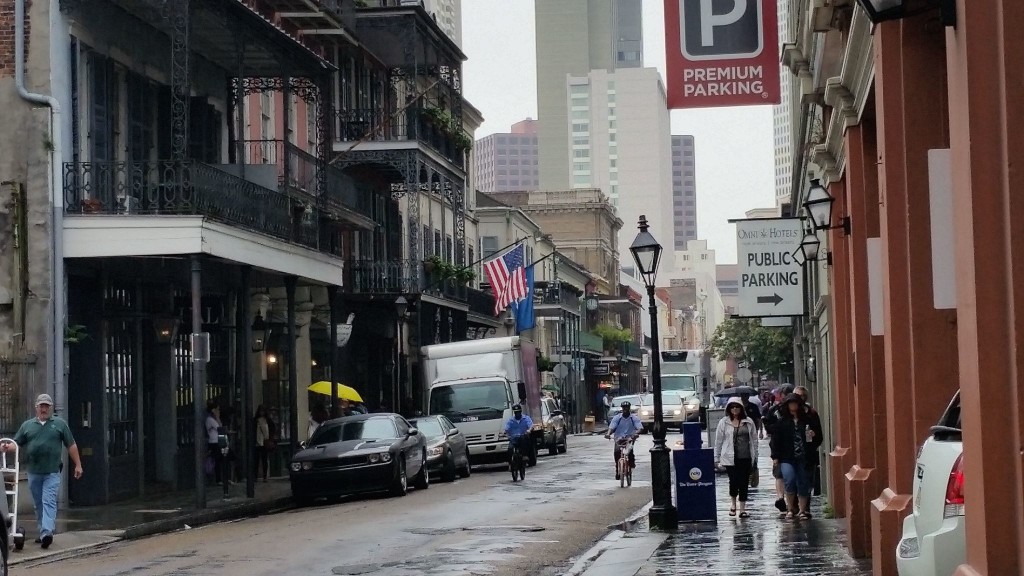 As I researched what to do in New Orleans, everything centered around alcohol and go cups and drinking and watching others drink. Well, we don't drink. So since we weren't interested in spring break for the middle aged, what was there to do? Were we going to be bored? Run out of things to do?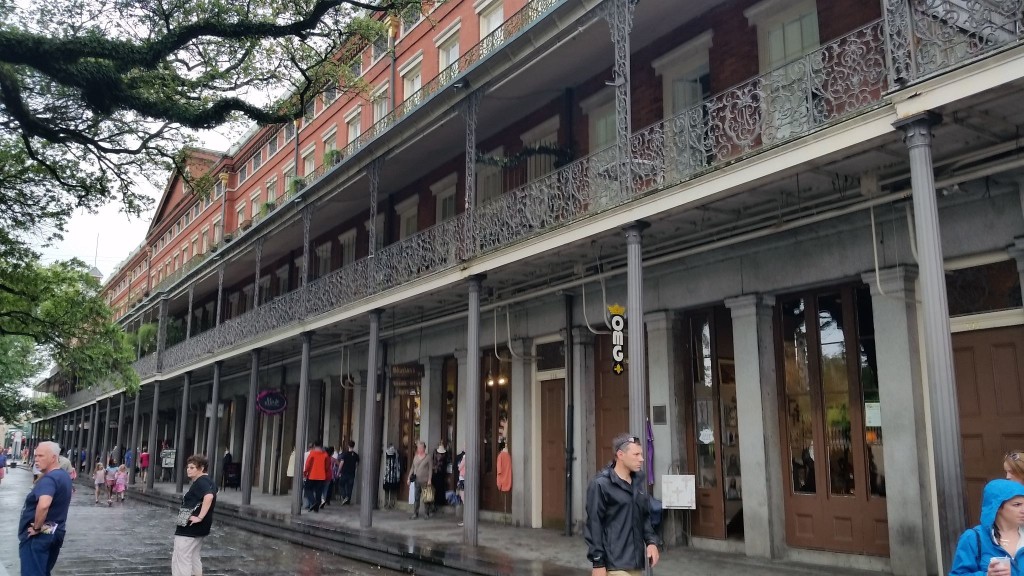 The French Quarter is full of beautiful architecture and historic buildings and history.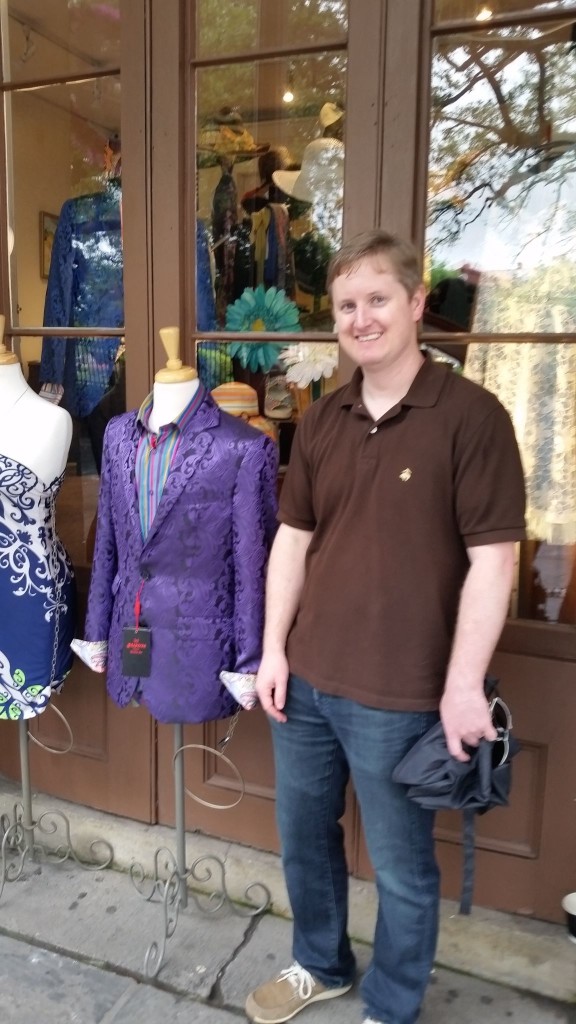 And fancy outfits for all! Wouldn't Adam look festive in that?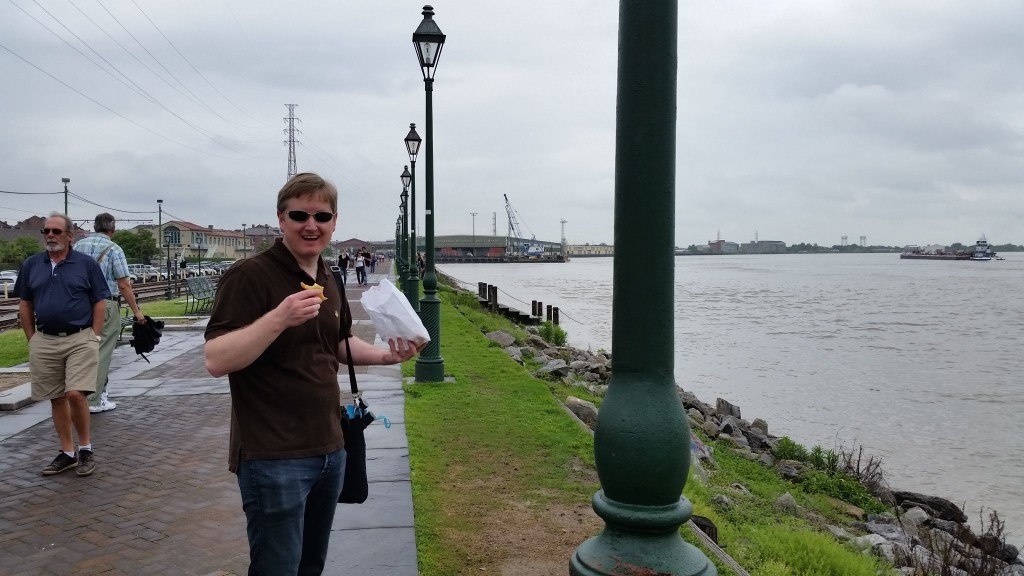 Of course we got beignets from Cafe du Monde and walked along the river while we ate them. Honestly I was so full from breakfast I didn't want more than two bites.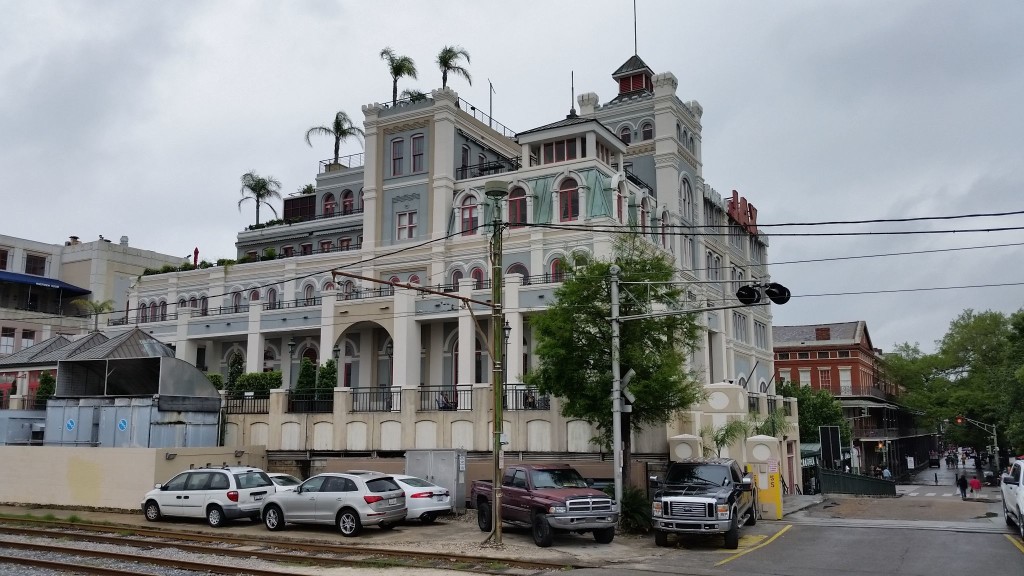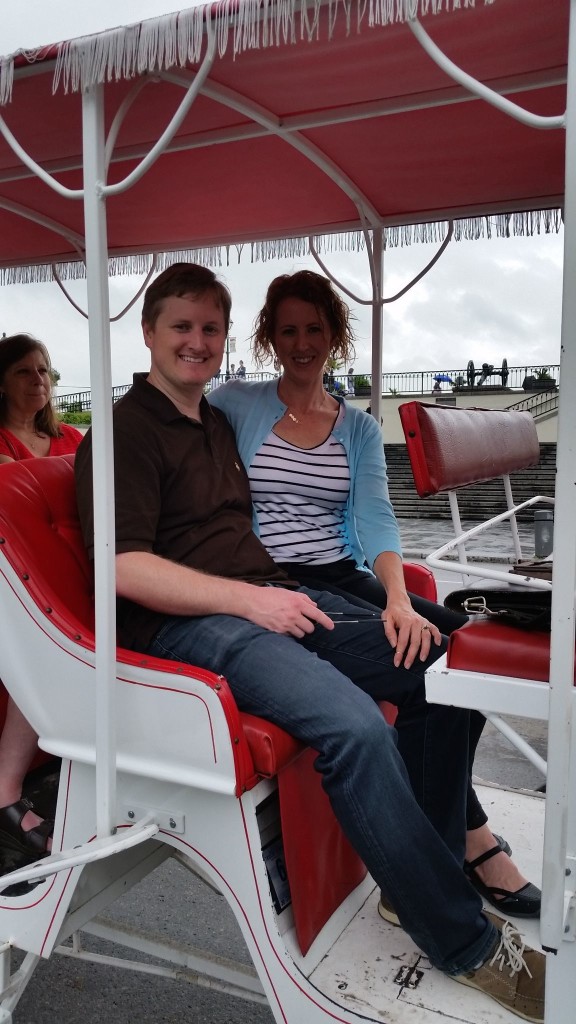 We hopped on a carriage ride for a tour of the area. Our tour guide was very informative and charismatic, but also extremely stinky. As he told us he'd been wearing the same clothes for three days, I wanted to tell him that is not good advertising, and I could smell all three days on him. We sat in the front row because I don't hear well, and I had to keep my head turned to protect my nose.
We left from right in front of Jackson Square.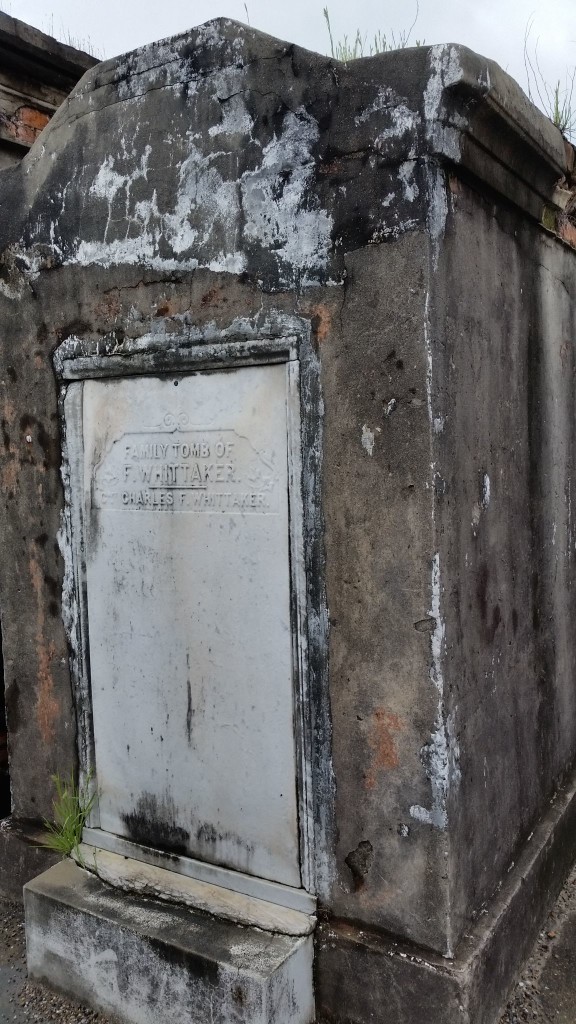 We rode in our horse-drawn carriage to a cemetery (like like a dead person would). We were in St. Louis Cemetery No 1, where Marie Laveau, the voodoo queen, is buried. You can't go in without a tour guide.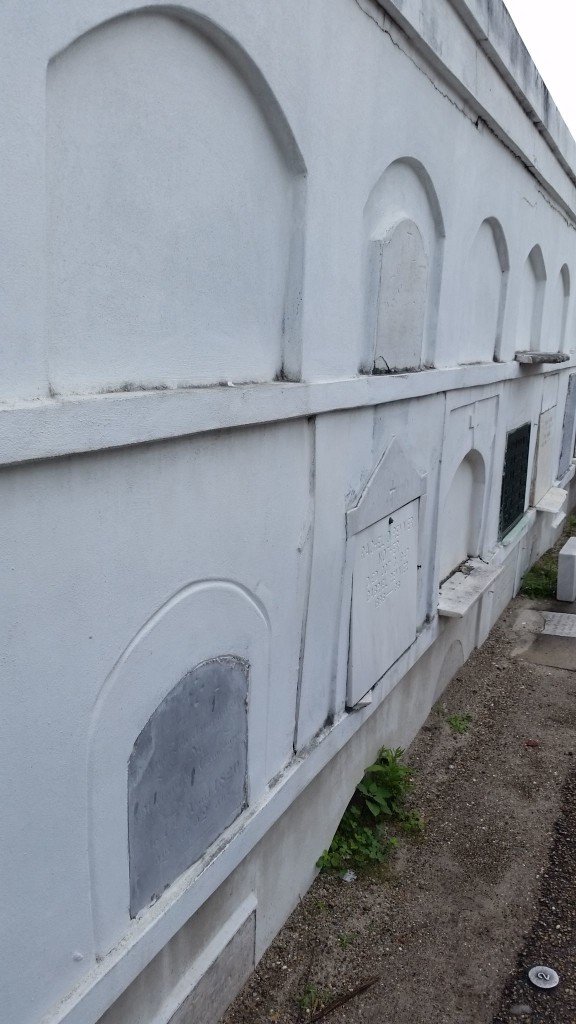 These vaults act like ovens and essentially cremate those buried within. At the end of a year, they are ash, and are often shoved down a pipe in the back to make room for great aunt Ethel. It's more of a lease system. If your family ever stops paying, you are out.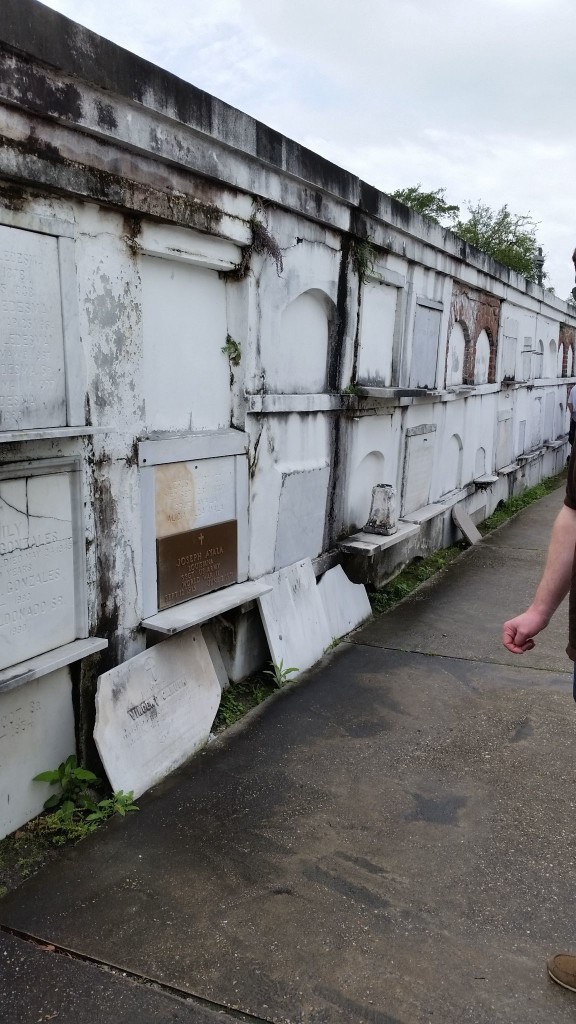 Apparently Nicholas Cage built that weird triangular vault for himself in advance. He has fans who come and kiss it and leave gifts, so he has it power washed and painted once a year. Isn't that gross and weird? Why would you do that? I mean that in reference to building yourself a mini pyramid in which to be buried…someday, as well as kissing someone's future mini pyramid in which they will be buried…someday.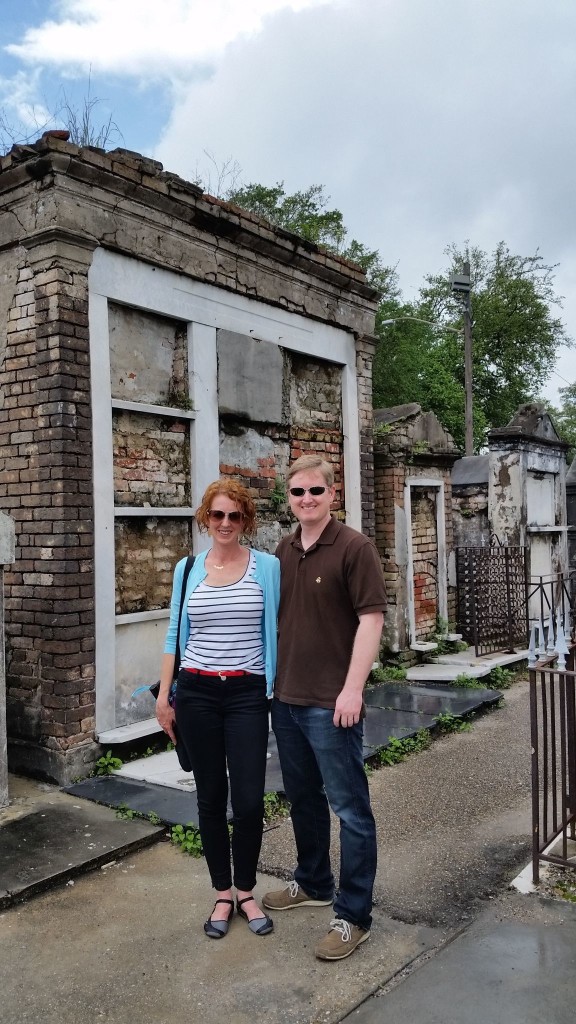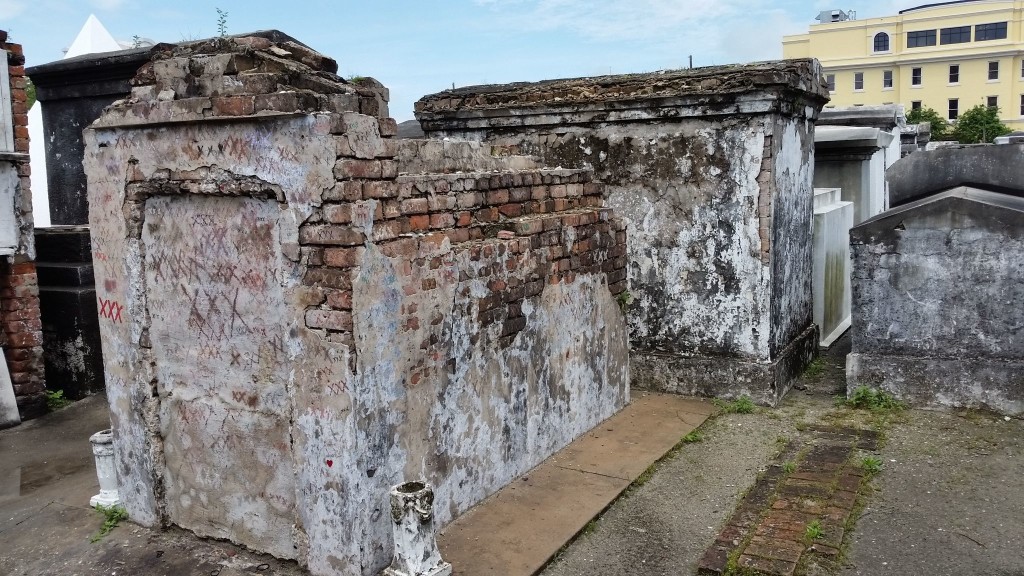 This is Marie Leveau's tomb. Believers and non-believers alike make pilgrimages to her tomb to make offerings to her spirit in return for blessings. The many "X's" scrawled on the tomb attest to the power she is believed to wield, even long after her death. People leave anything from Starbucks drinks (maybe she's a fan in the afterlife) to candles to dolls.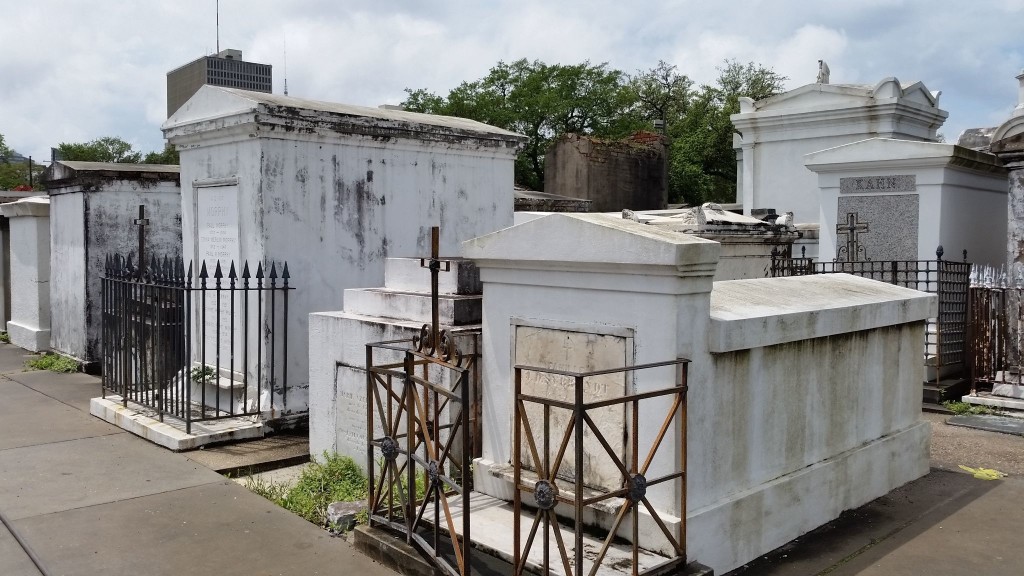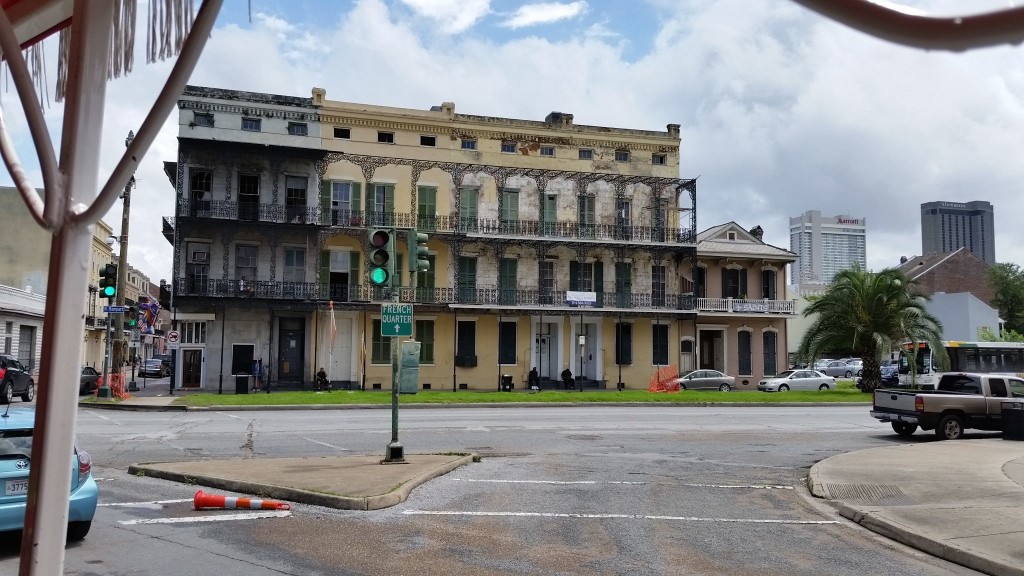 New Orleans homes were taxed on the numbers of windows, hallways, bedrooms, etc., as luxuries, but a few things were not taxed and considered essential instead of luxuries. Courtyards and verandas were counted among those freebies.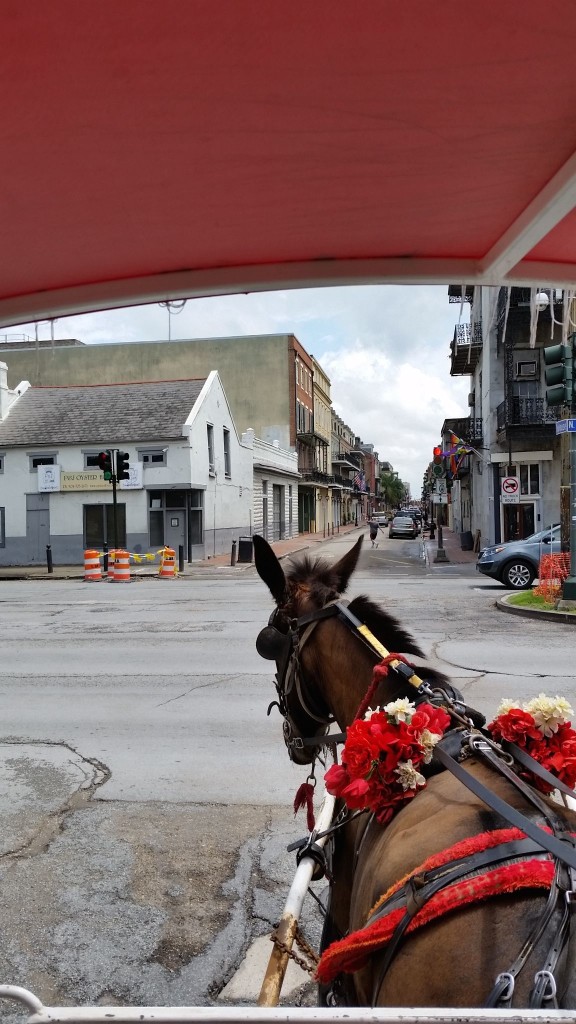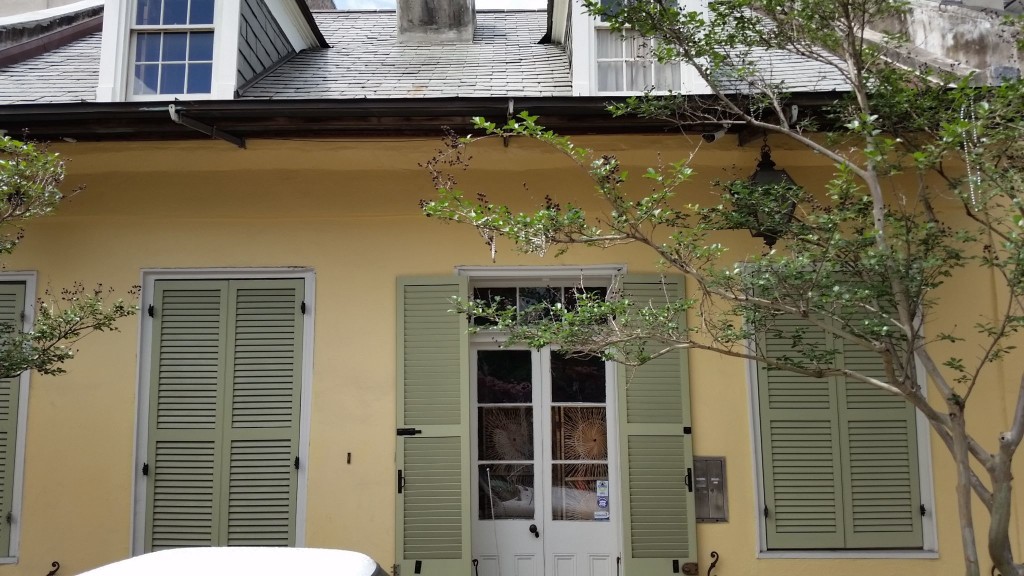 This house is one of the only that is in the original French style before the city burned.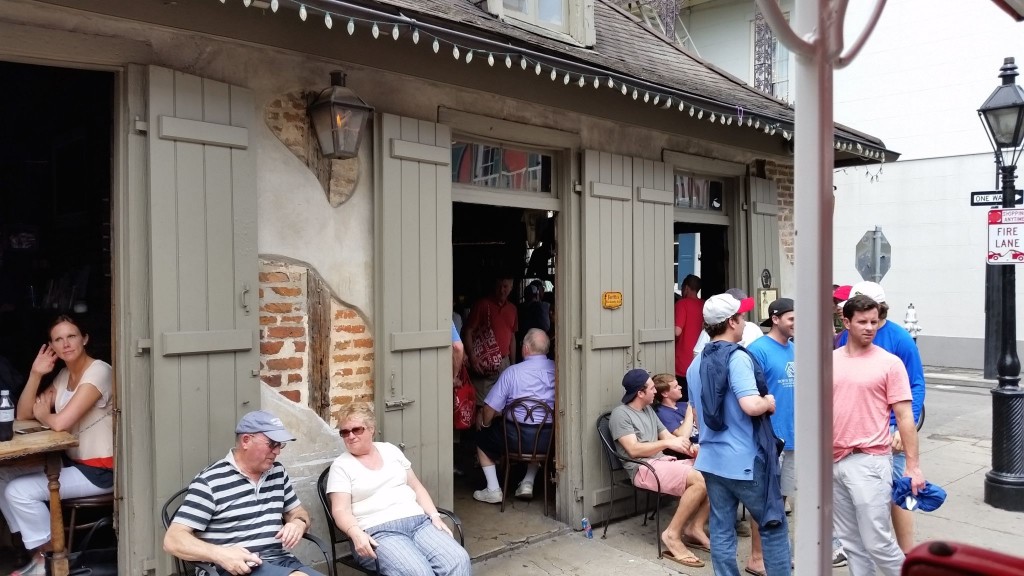 This is Lafitte's Black Smith Bar. It has a variety of rumors attached to its origins, and some guides say it was originally a black smith shop, and some say it never was. It doesn't have any electricity inside.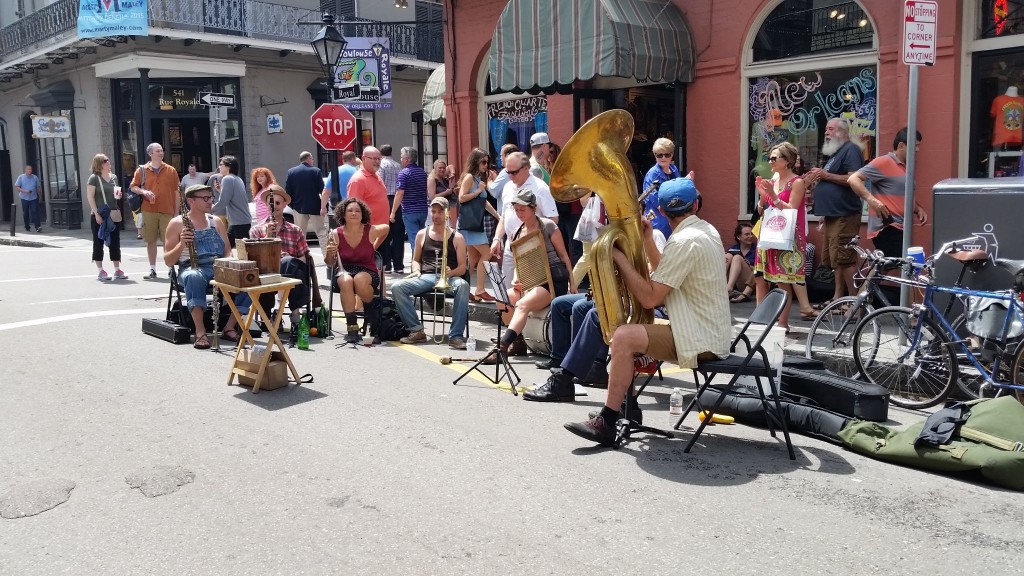 Impromptu performances in the middle of the street are common occurrences. The music was exceptional.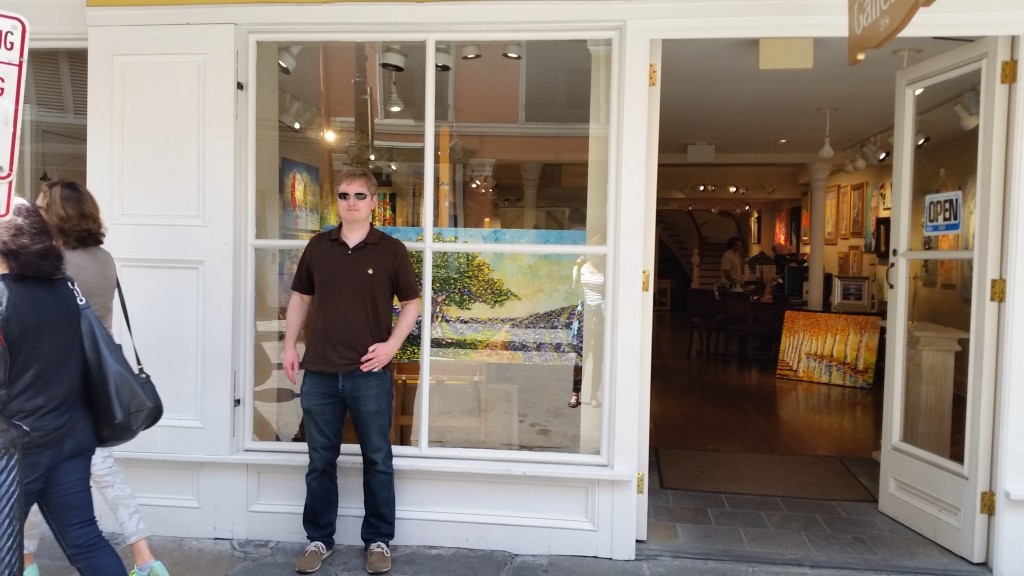 Loved the artwork in this gallery.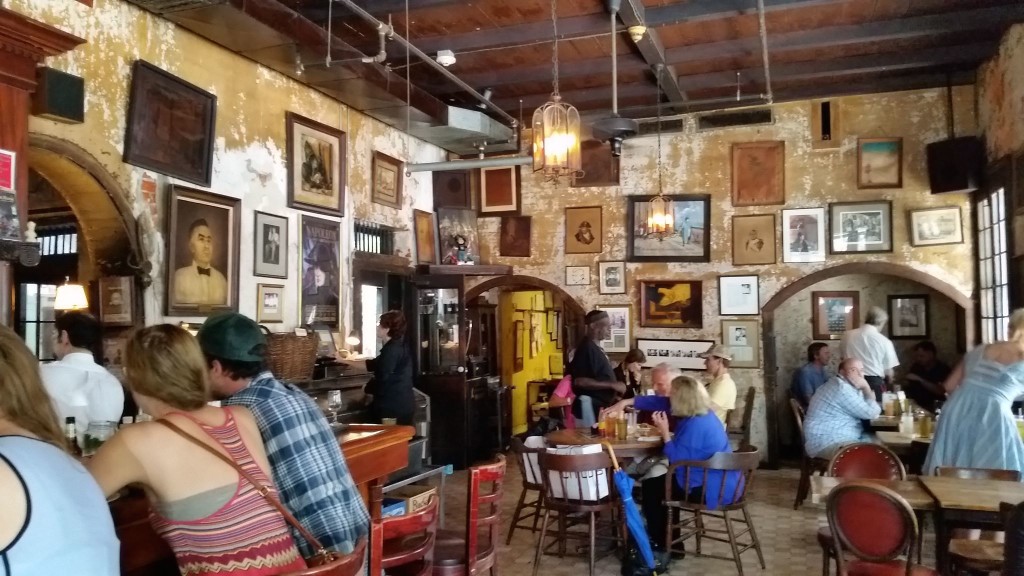 We had lunch at Napolean House. The building's first occupant, Nicholas Girod, was mayor of New Orleans from 1812 to 1815.  He offered his residence to Napoleon in 1821 as a refuge during his exile. Napolean never came, but the name stayed.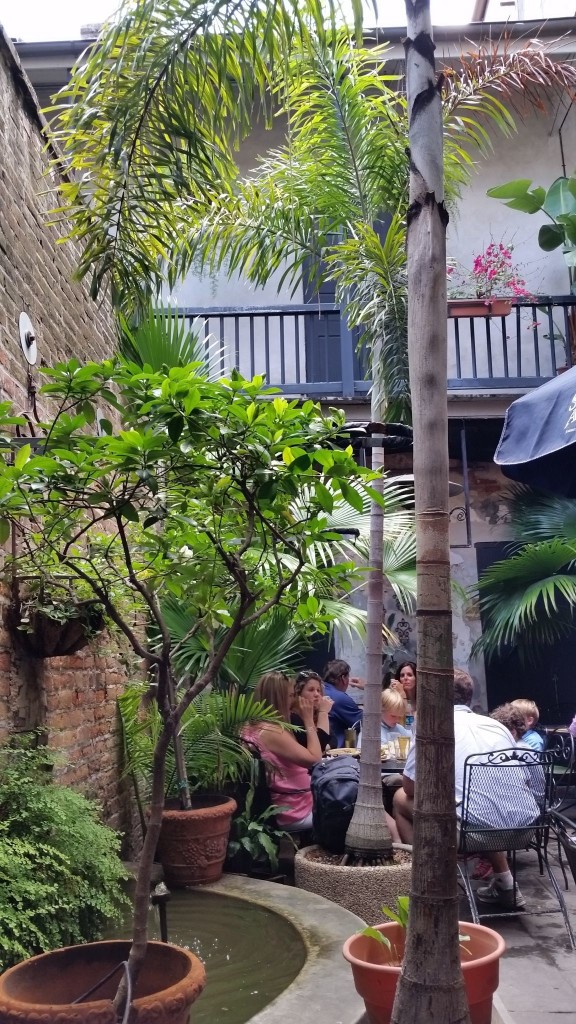 We ate in the courtyard.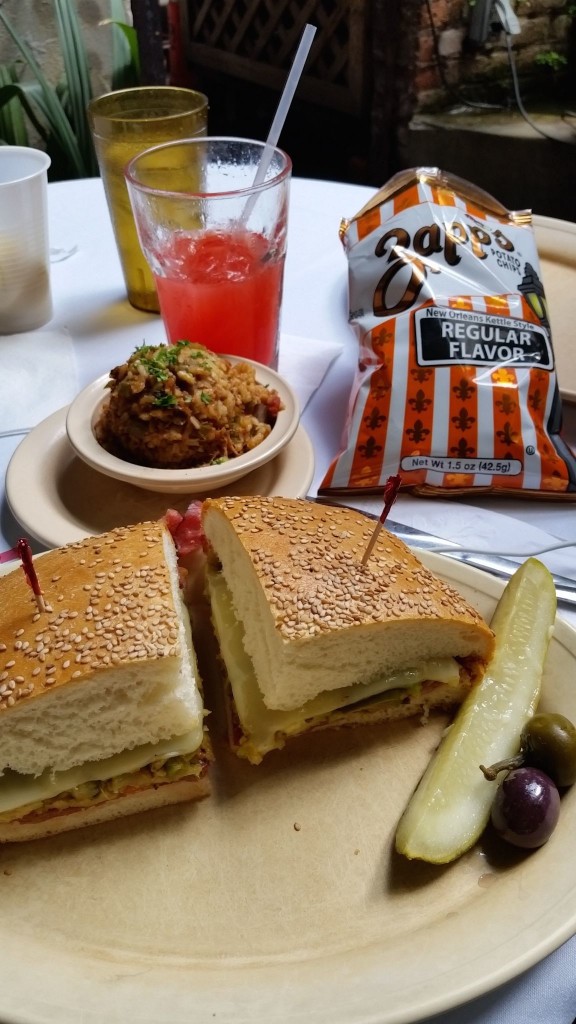 I ordered a muffaleta. Weird fact: I hate olives but love tapenade (a spread made of olive paste). I can't explain myself.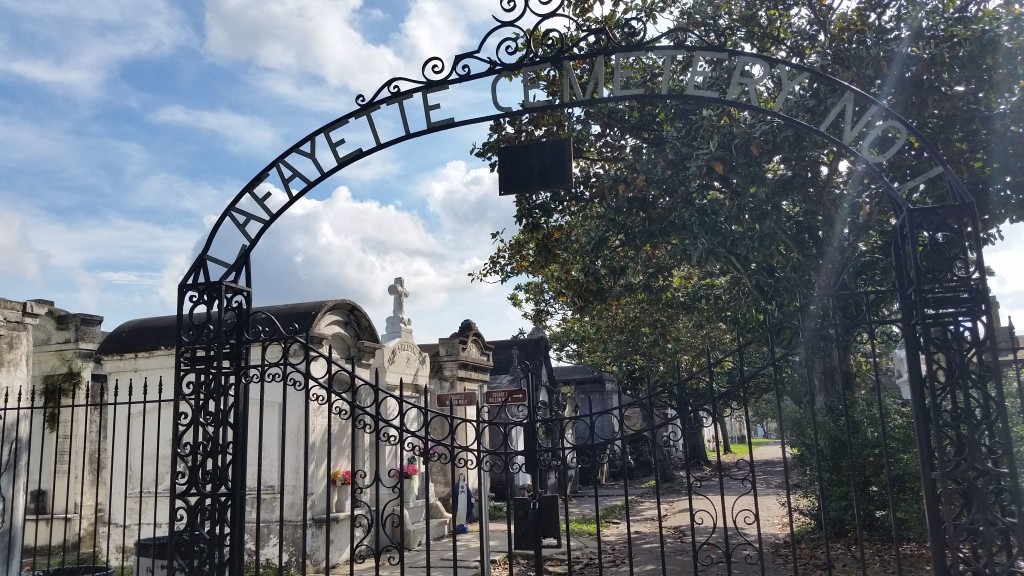 After lunch we caught a streetcar down to the Garden District to see all the beautiful old homes. Lafayette Cemetery No. 1 was closed. They may have been filming in there. There are a few shows filmed in New Orleans including NCIS and The Originals (a vampire show, of course). Both shows film in this cemetery often.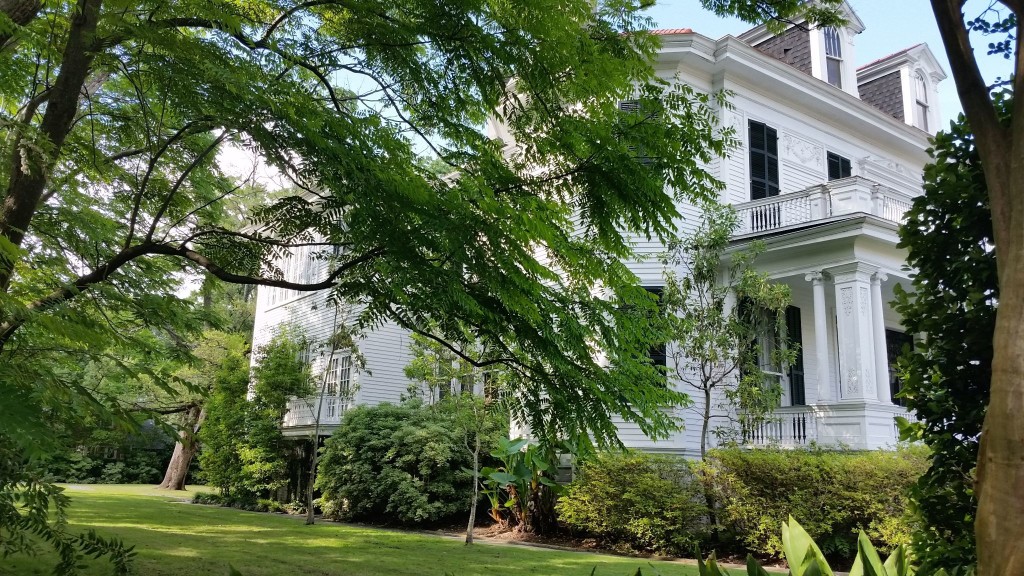 I love old Southern mansions.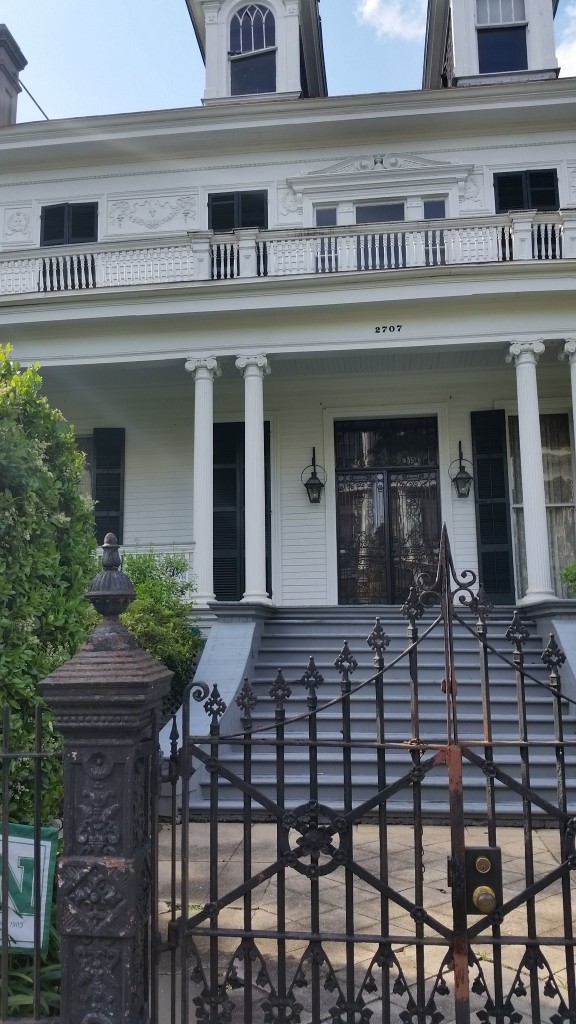 The area was originally plantations that were sold off in parcels to wealthy Americans who did not want to live in the French Quarter with the Creoles. The new neighborhood was first called the Garden District because all the homes were on large pieces of land with large beautiful gardens.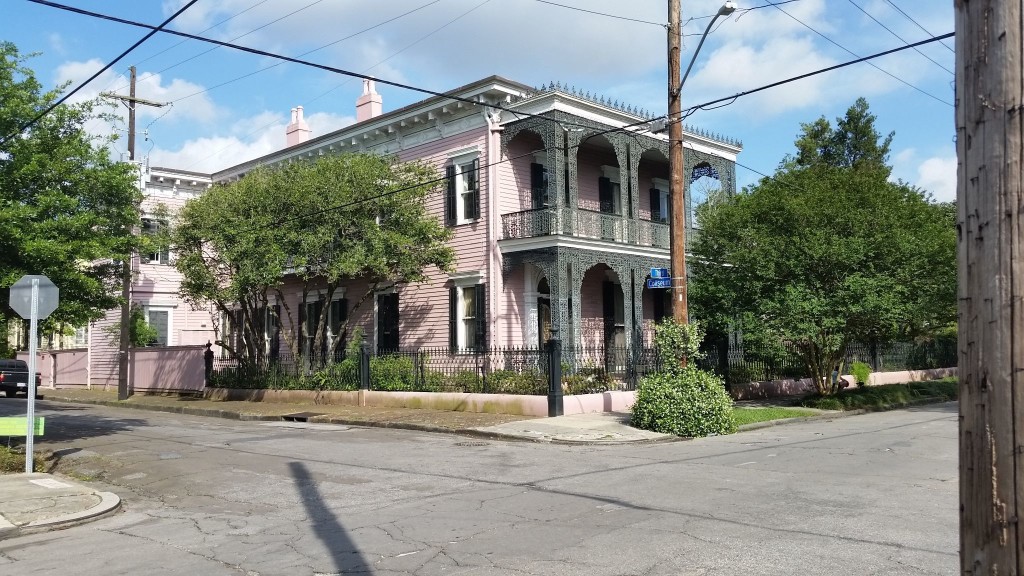 The area was developed with only a couple of houses per block, each surrounded by a large garden, giving the district its name. In the late 19th century, some of these large lots were subdivided and the pattern for much of the neighborhood became having a couple of early 19th-century mansions on each block surrounded by gingerbread-decorated late Victorian period houses.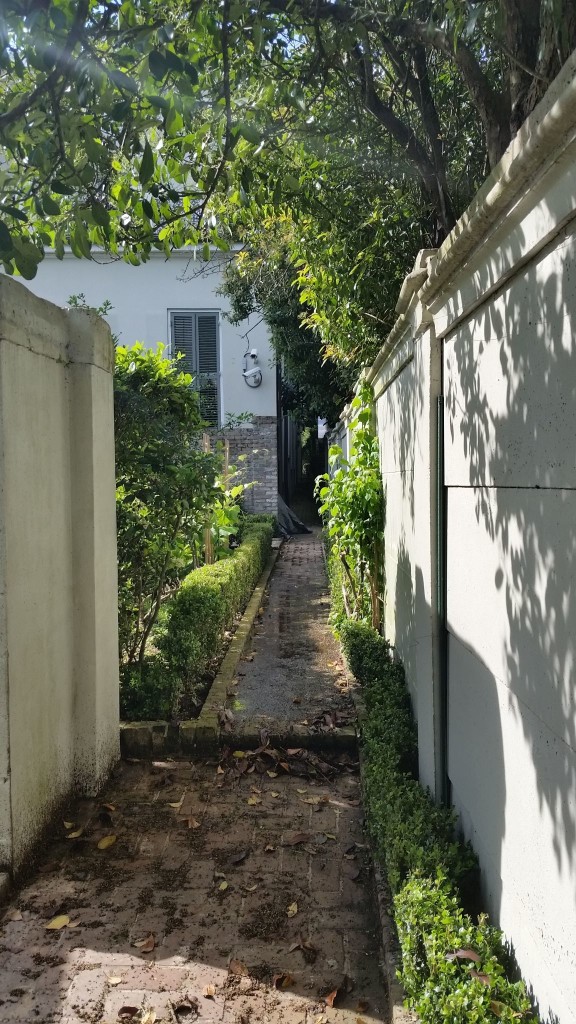 This one is my favorite.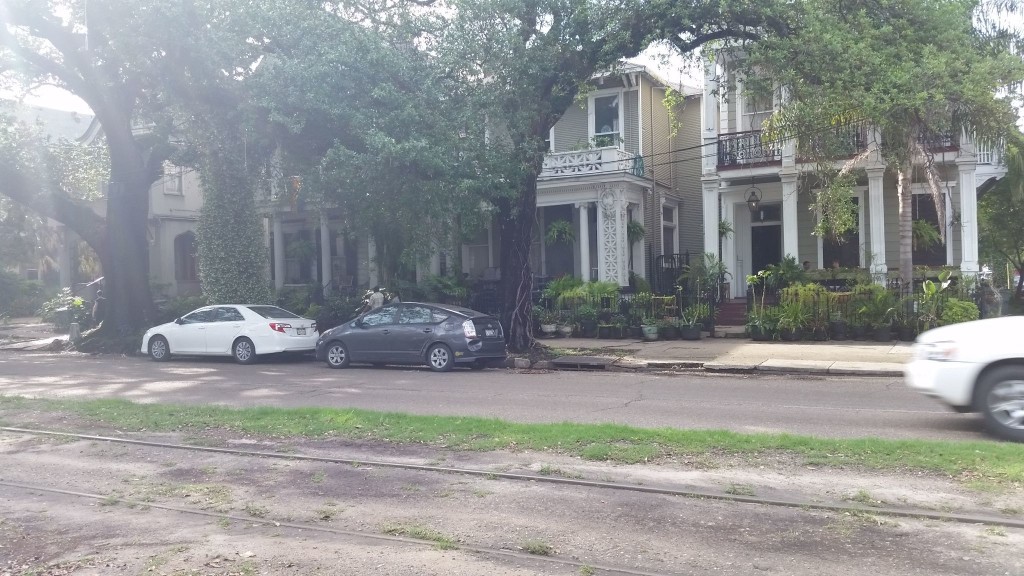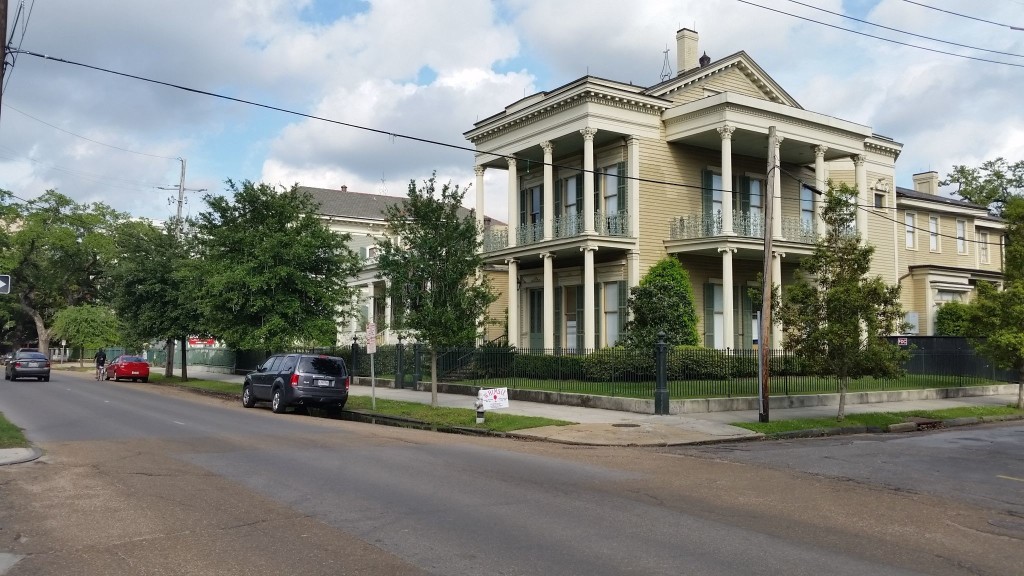 The W is always modern, but it seemed a little strange in such a historic area.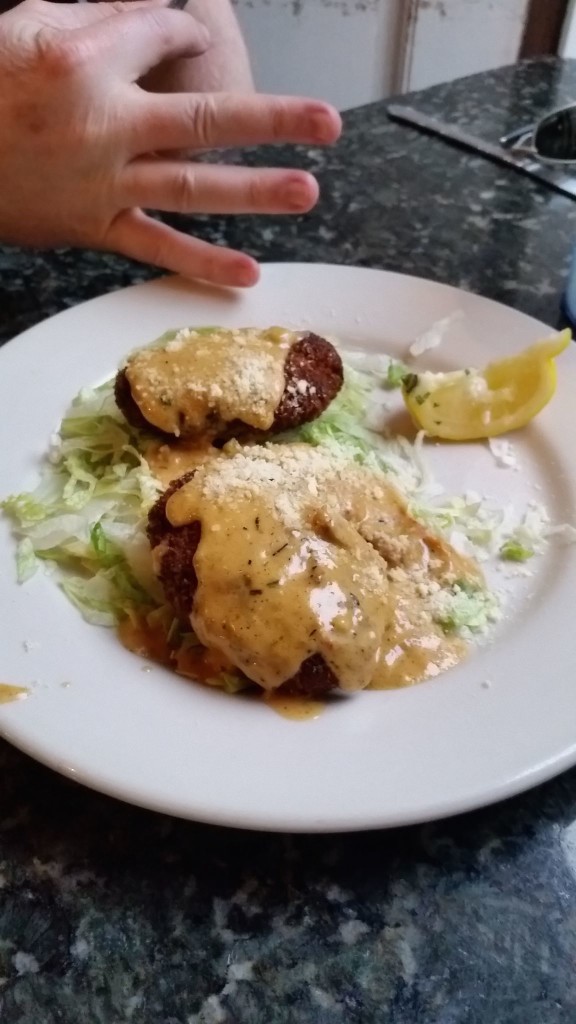 We had crab and crawfish cakes for dinner.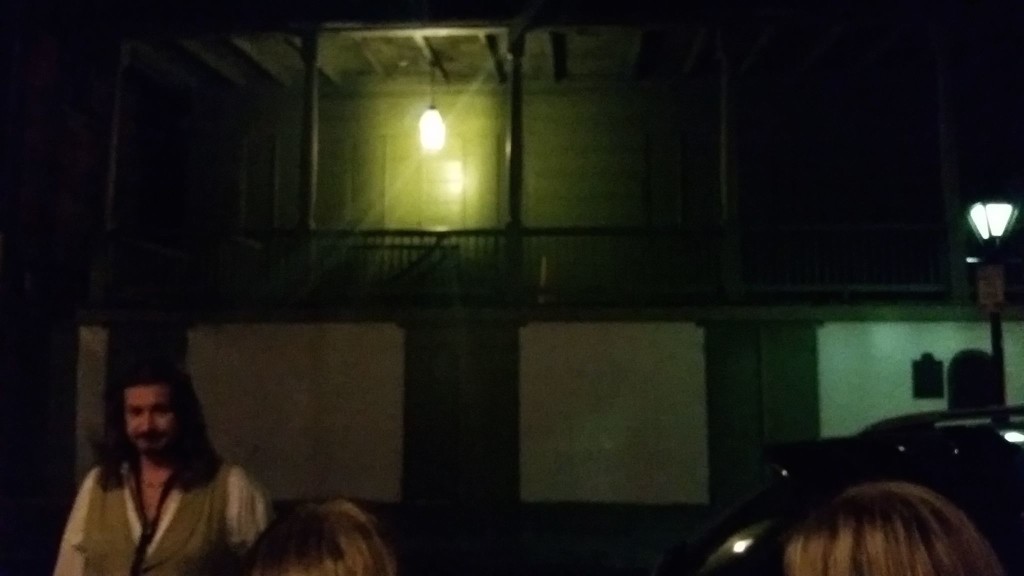 That night we went on a vampire walking tour. It was entertaining. Our tour guide was trying so hard to be spooky. Neither of us are the easily-spooked type. There was this very strange mother/daughter combo on our tour. The daughter looked 12, but may have been 16. Acted 8. She and her mother were clearly trying to make a love connection between the daughter and our weird tour guide. They took his tour the night before too. During the halfway mark break, we stopped at the Black Smith bar and the mom bought an alcoholic beverage for her underage daughter (who also appeared to be anorexic). It was pretty sick. And I mean that in the disgusting sense of the word, not the awesome sense. As we waited in the chairs in front of the bar (because we don't drink) we did get to see some middle aged men drink so much they vomited all over the street. I find that sad. Really.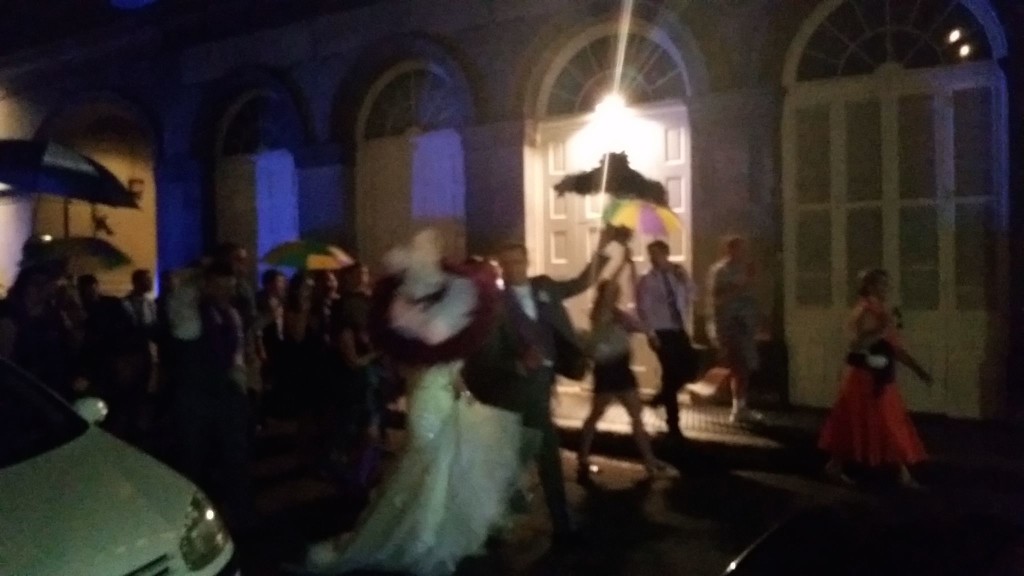 One very weird thing that has become all the rage is doing a funeral procession through the streets after your wedding. Here come the dearly departed newlyweds. It seems so macabre. Same music and procession.
The courtyard of our hotel.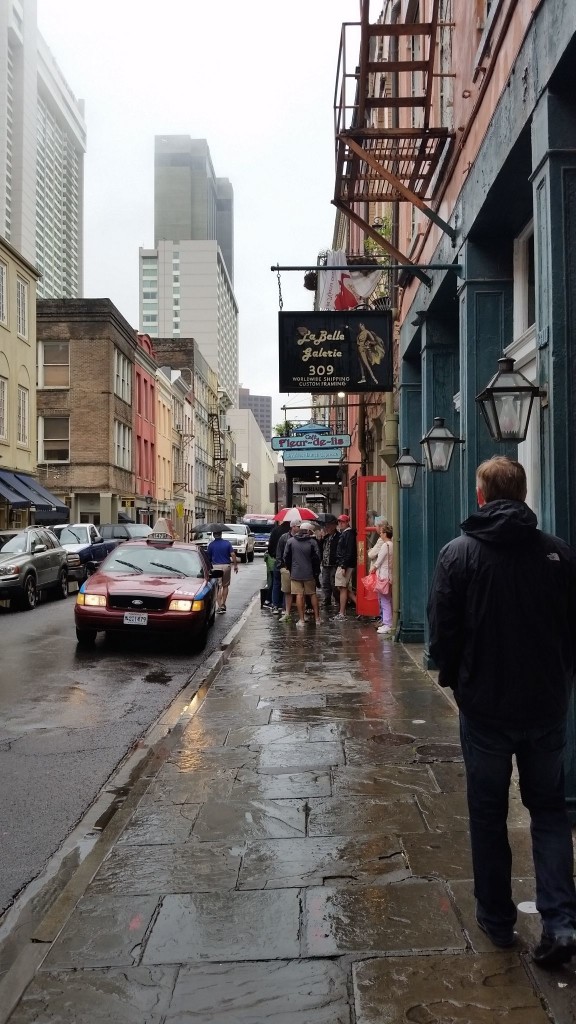 The next morning it was raining again.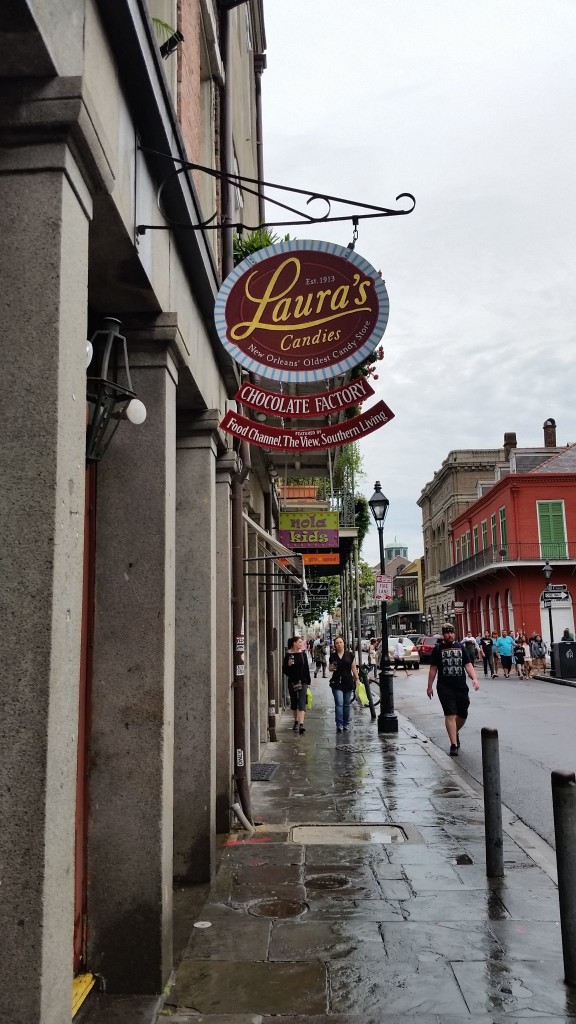 Laura's Candies was across from our hotel, and it was very good. We may have bought a few things. And sampled others.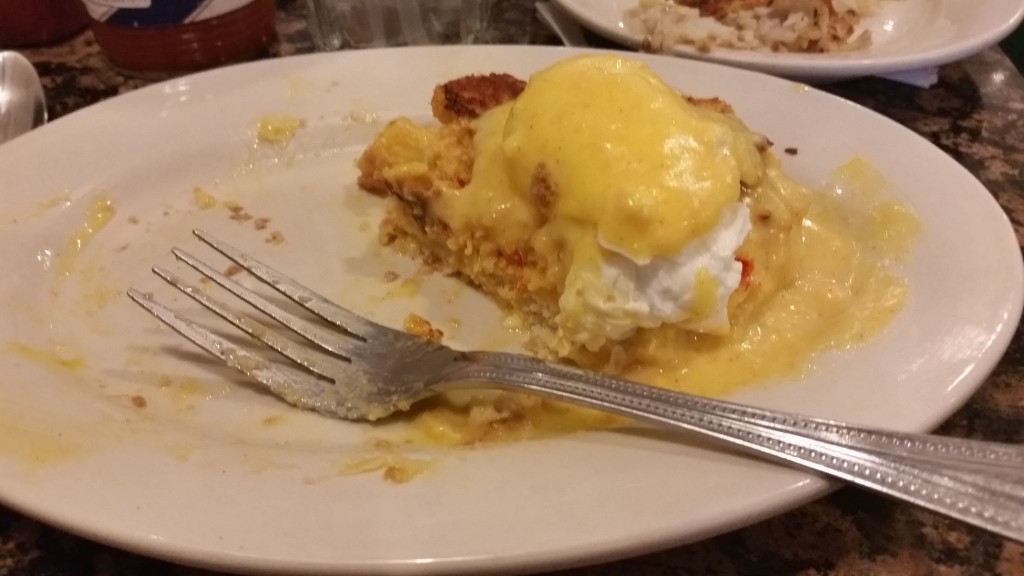 Remember that amazing eggs Benedict on a biscuit I had? I had it again on day two.
Adam had the eggs Benedict Florentine, which also looked amazing.
When we came out of breakfast, it was done raining. I love the verandas and all the plants on them.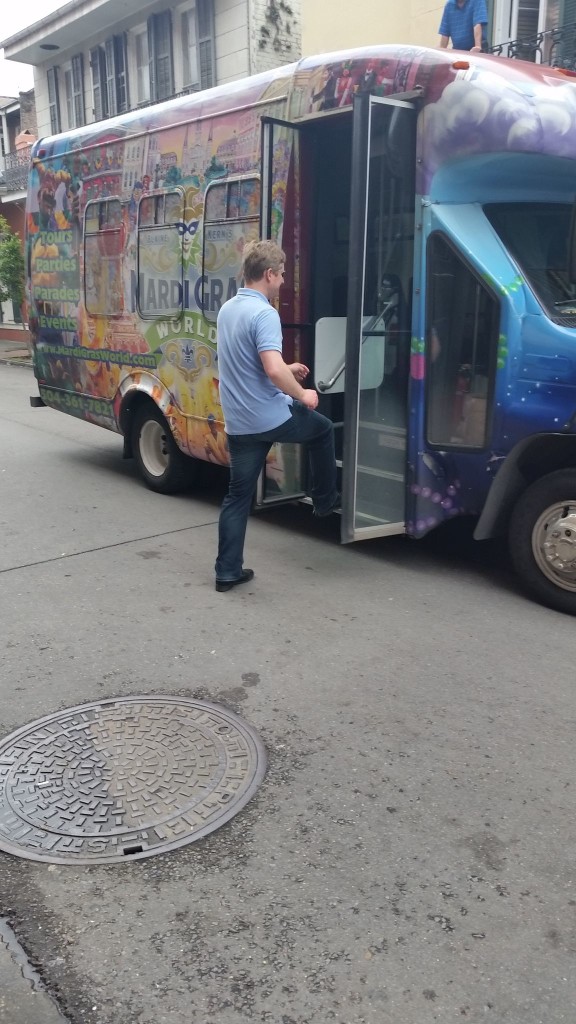 Since we will never be coming for Mardi Gras (honestly, the debauchery of it doesn't appeal to me at all), we went to Mardi Gras World to see where all the magic happens. If you want to go, just call, they will tell you which meeting point you are closest to, and they send a party bus to pick you up. They will also return you to any of the pick up points. All for free.
This is where they make the floats. They start the day after Mardi Gras ends to create all the floats for the next year.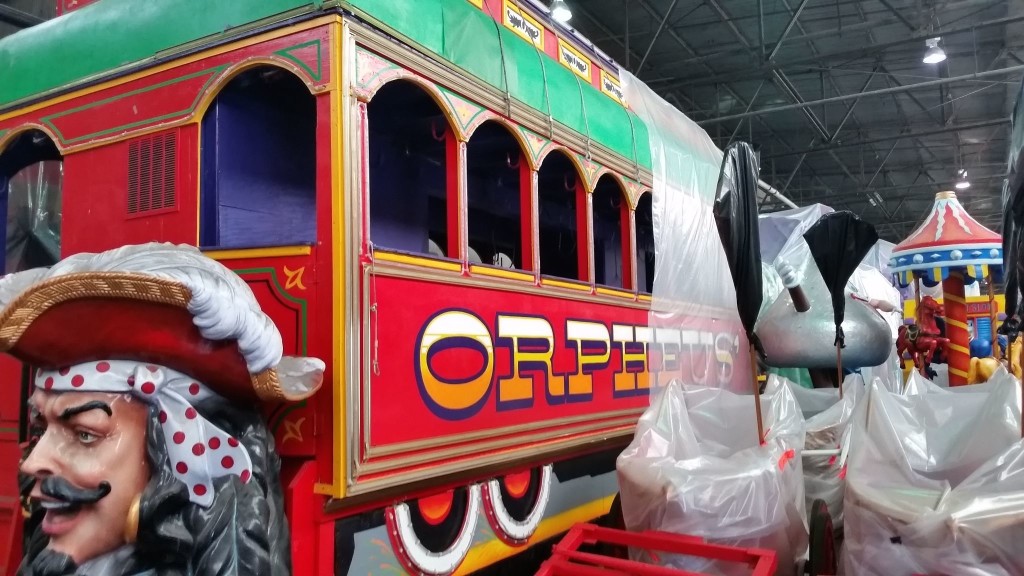 They also make all the Chik-Fil-A cows here.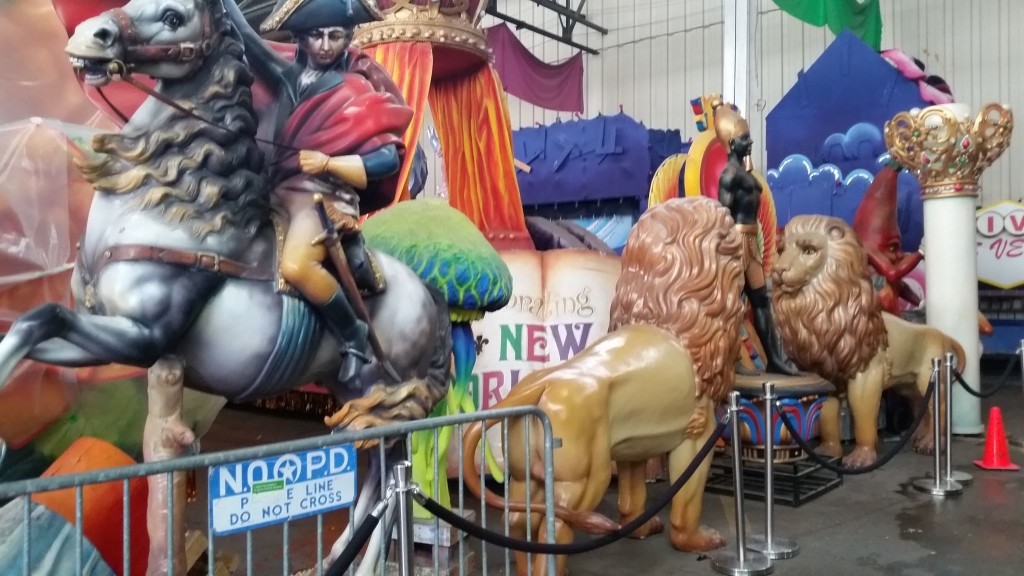 They keep all the old floats and are often able to refashion them into something else. Recycling at its finest.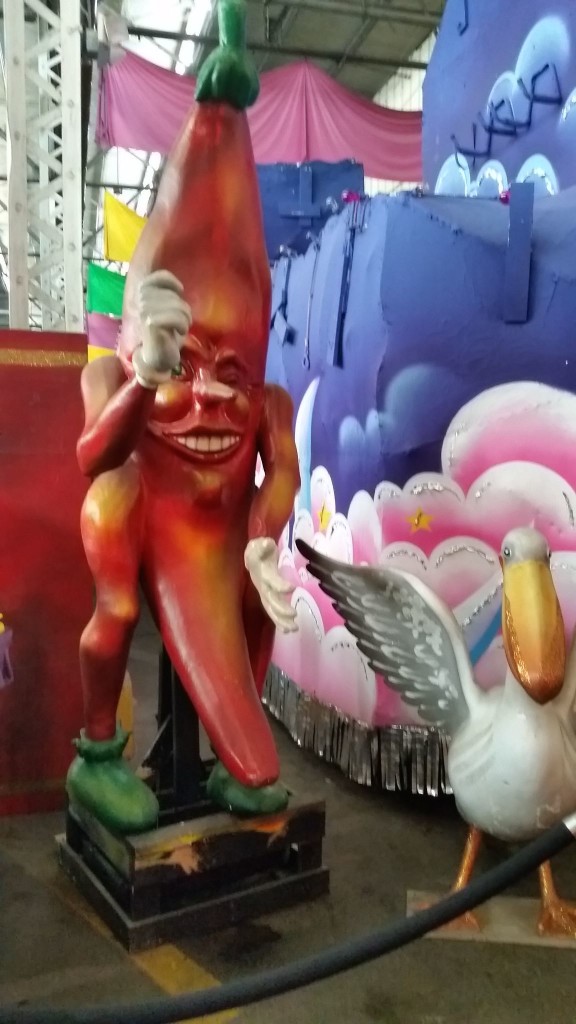 It was really cool to see everything up close and watch the artists work.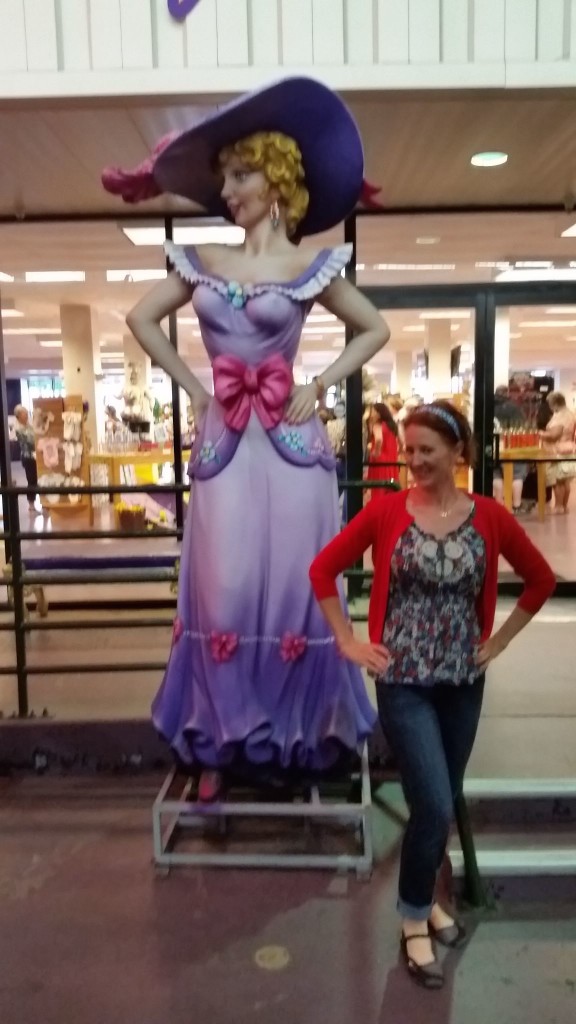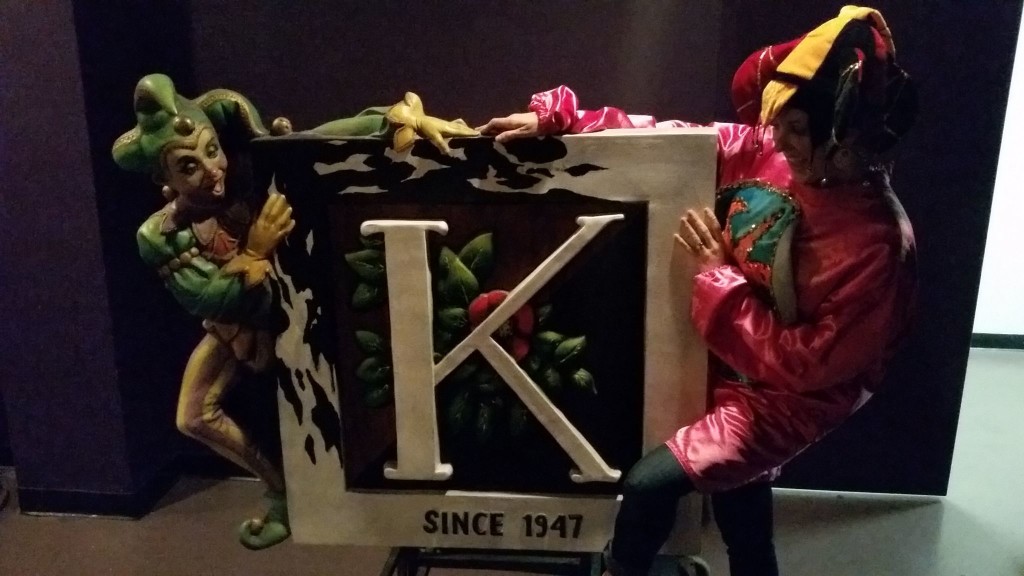 We got to dress up in Mardi Gras costumes.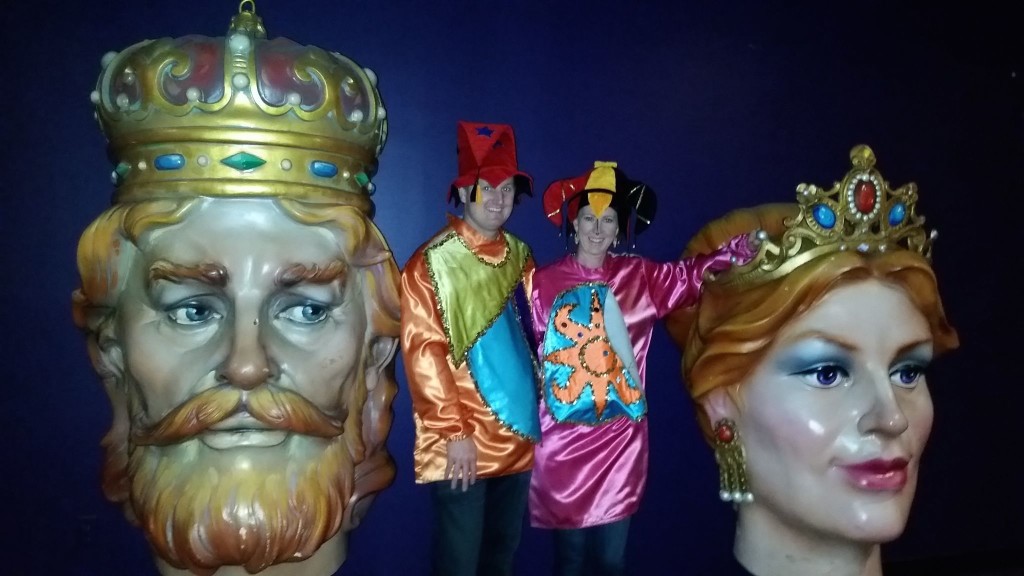 The lighting in the room was horrible though, so the pictures aren't that great.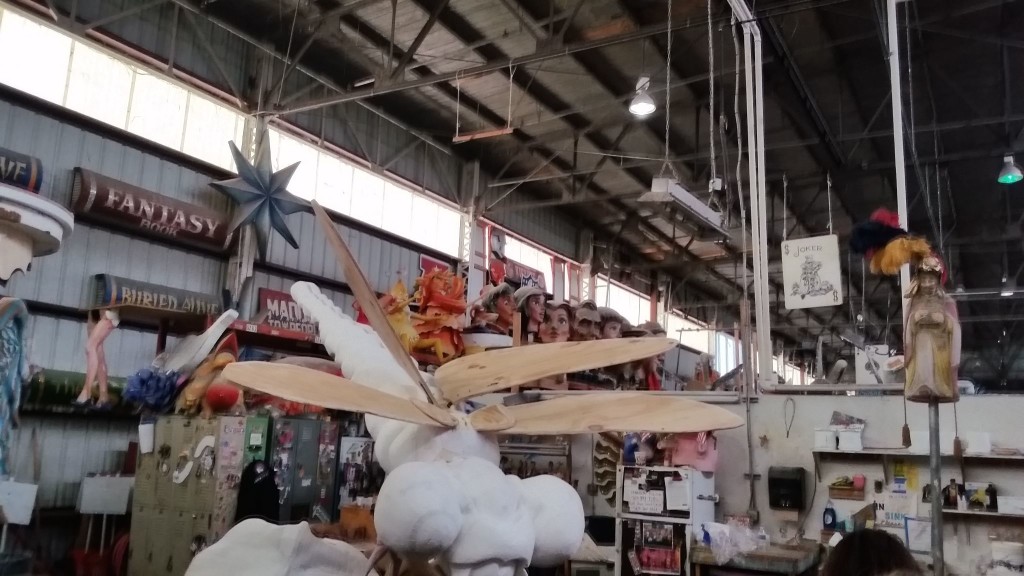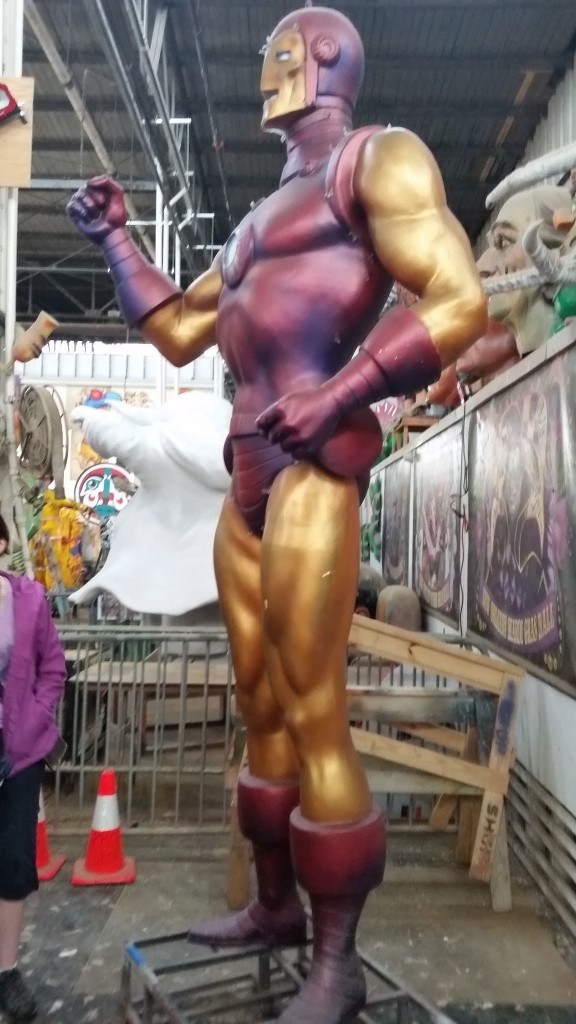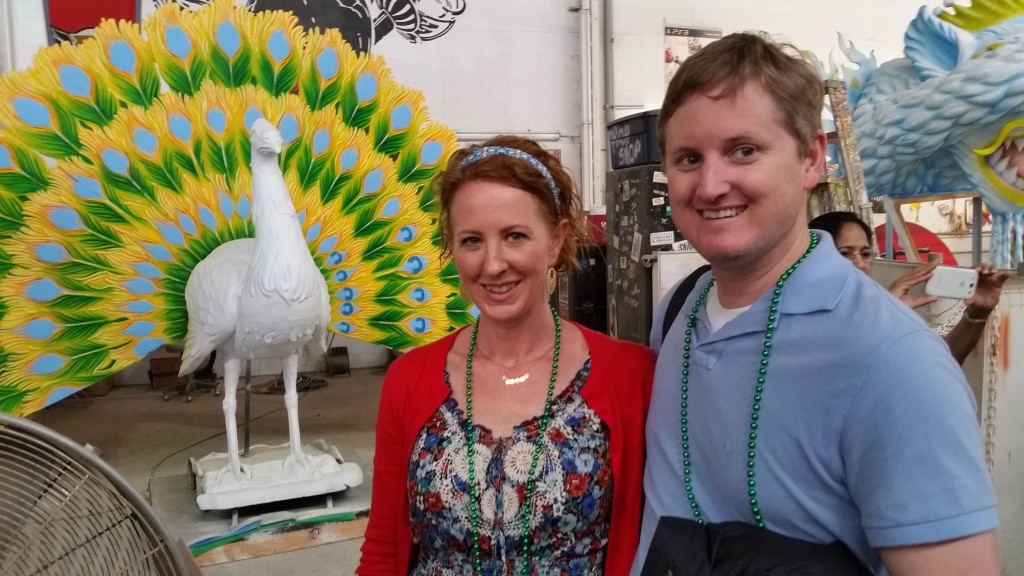 This peacock was one they showed us as partially finished so we could see the stages of progress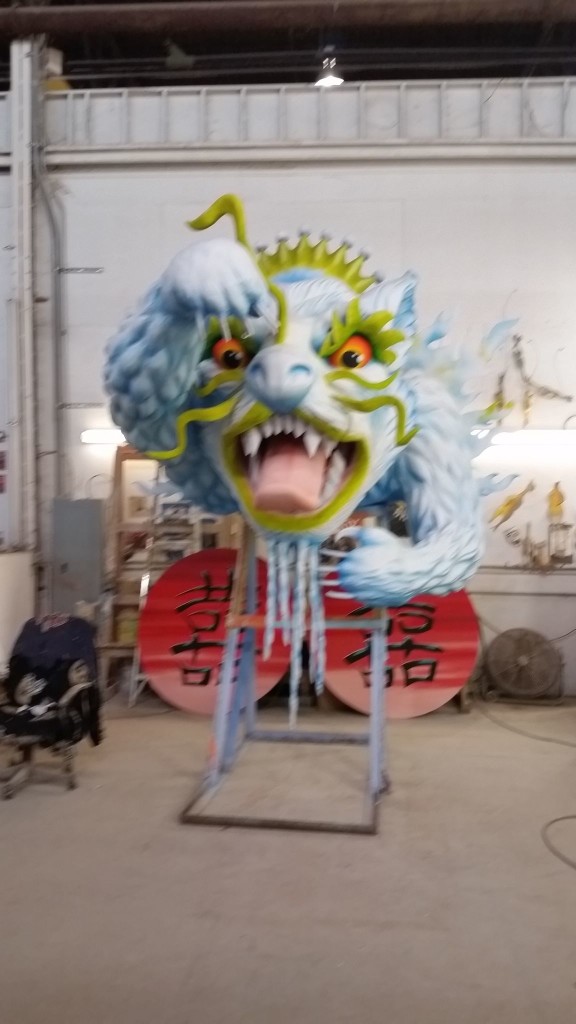 This one reminded me of the Neverending Story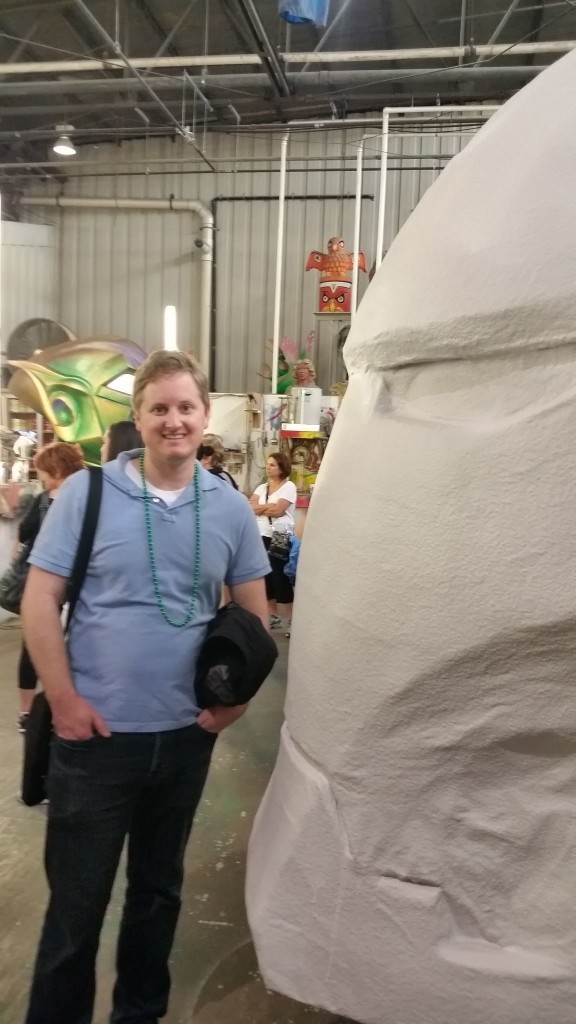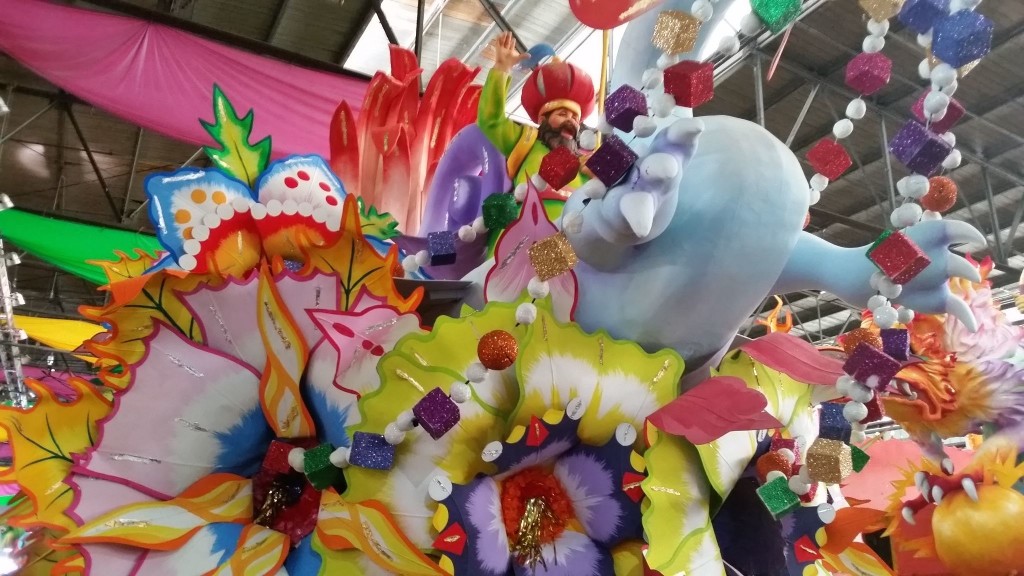 Aren't they amazing?
The floats have bathrooms on board because there are no pit stops during the parade.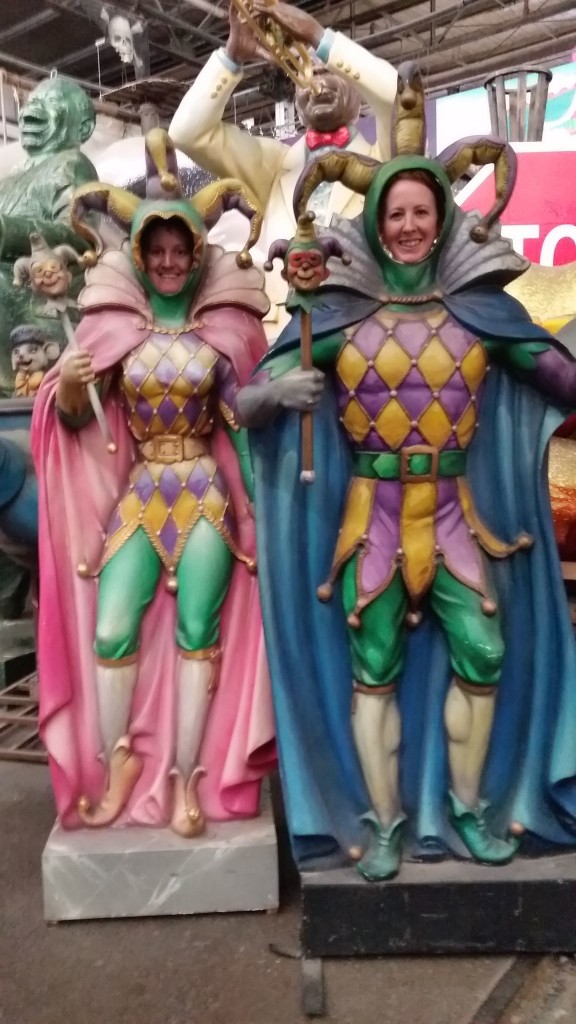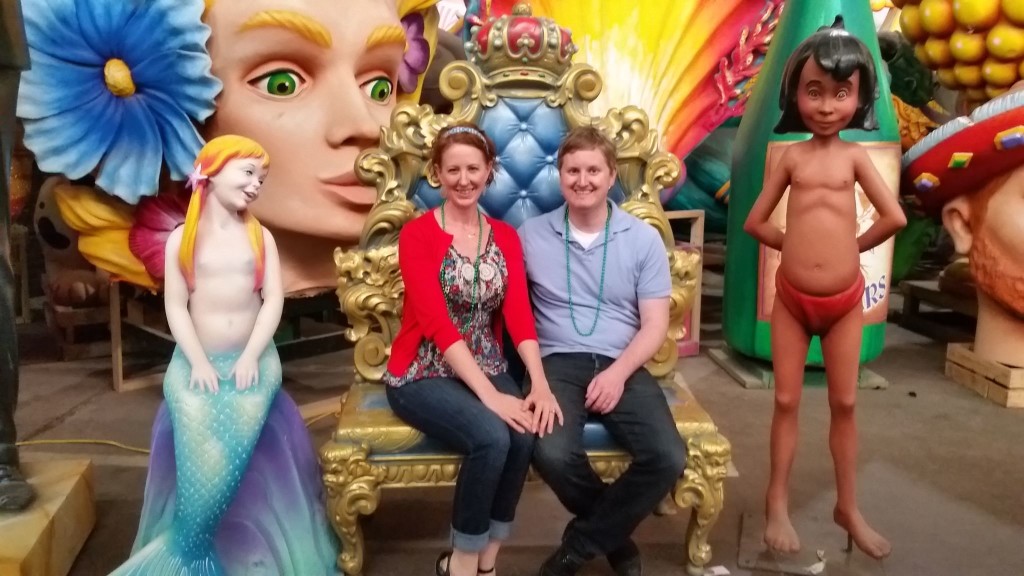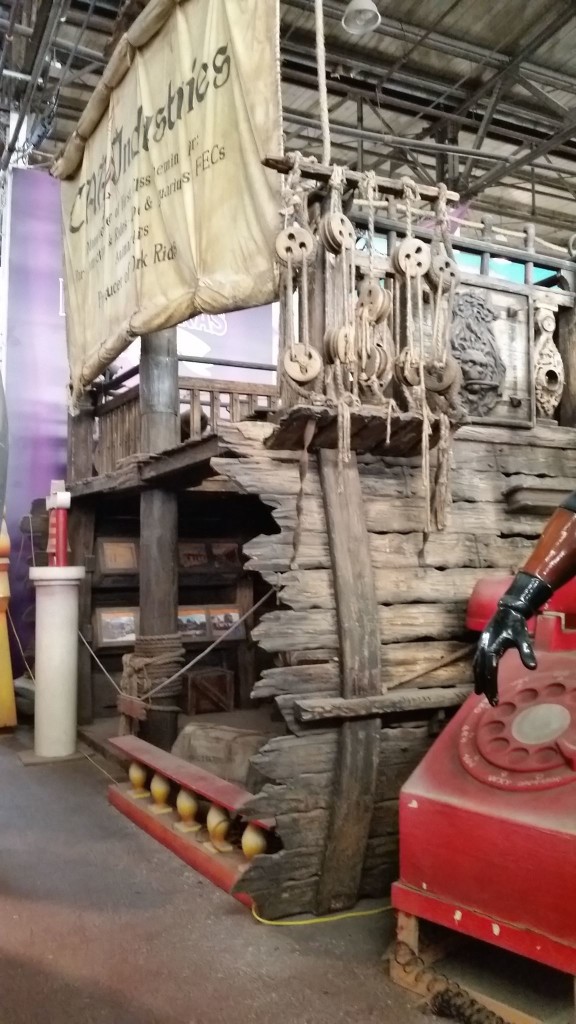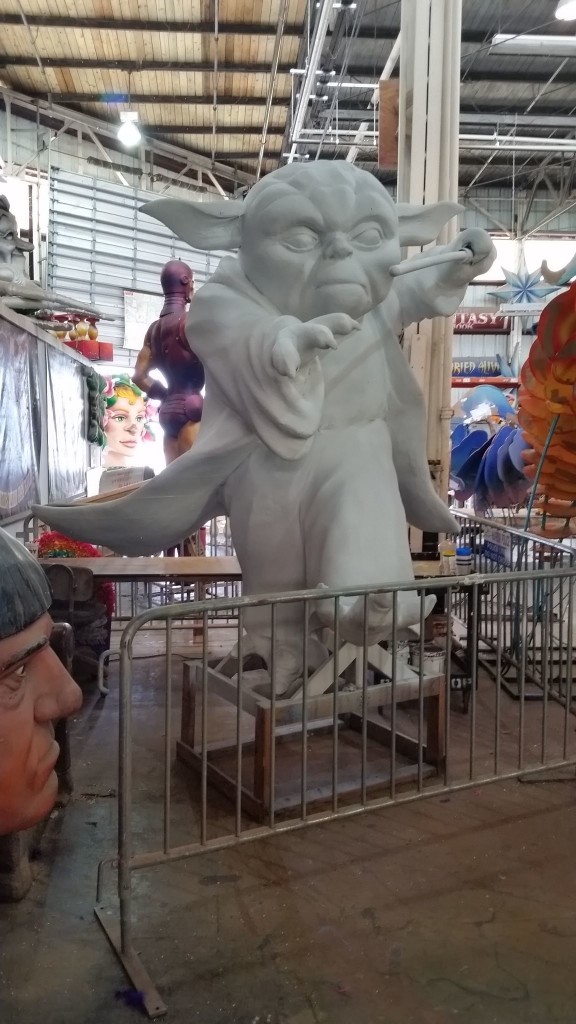 Yoda looks ferocious!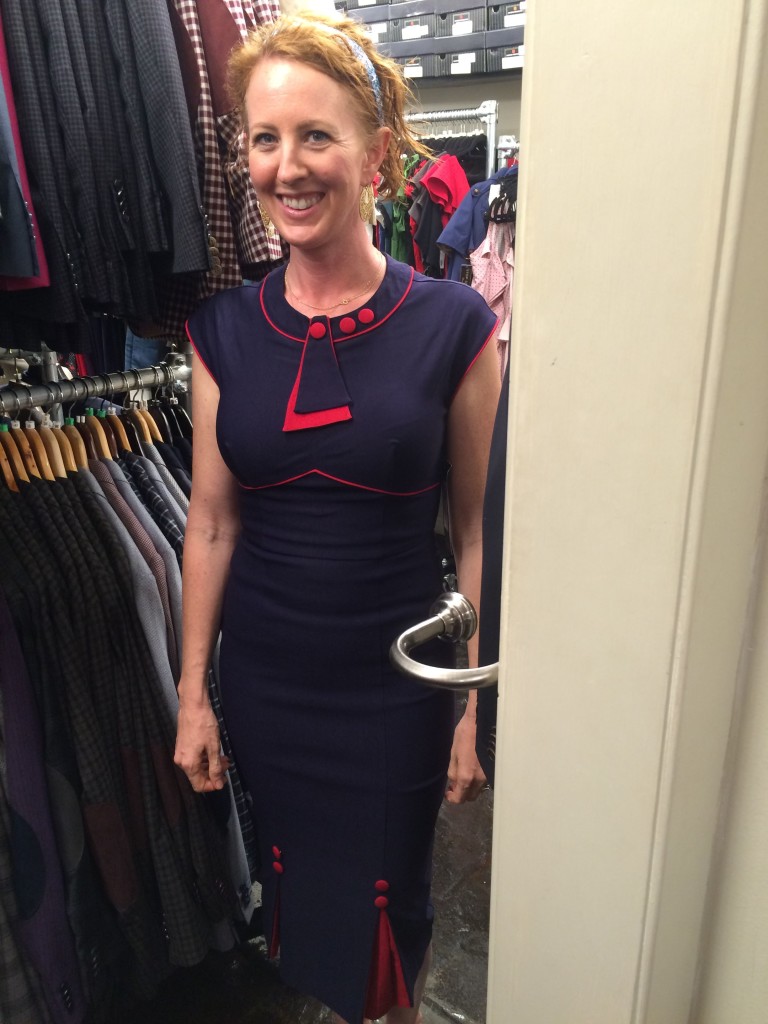 When we came out of the restaurant it was pouring. We got soaked. Adam took me dress shopping. This store had vintage style 40s and 50s dresses. Adam wanted to buy me one, but they are really pricey, like $300, and I said no. Super cute, though right? They had tons. But where would I wear it? It seems too tight for church.
After that we met up with Kim and crew for a snack (for us) and dinner (for them). It was the night before the race, and she had to get in bed early. It was so great to see all of them! The Guinn/Murray clan are some of my favorite people in the world.
It was so nice to talk and visit with just a small group of us.
After that we went to Emeril's for my birthday dinner. Somehow, neither of us has a picture, though we both remember taking some. The food was great. We had a very romantic dinner. After dinner we went to Sucre and had a variety of cupcakes to celebrate my birthday. These aren't just cupcakes, they are more like mini cakes, works of art, and taste every bit as good as they look. I couldn't choose just one, so we got four. Their executive chef was recently recognized as one of the top 10 pastry chefs in the nation by Dessert Professional Magazine. So I'm 100% serious when I say they were WONDERFUL. They also have a variety of macarons, but I was too mesmerized by the mini cakes. Somehow I don't have pictures of that either. I swear I took some, but they aren't on my phone or Adam's. Voodoo.
How cute are all those little pots?
We had an awful time getting a cab to the marina. We had arranged with our concierge to have a taxi waiting for us at 6:45 am, and when we came down and the driver found out we didn't want to go to the airport, he left. With every cab he flagged down, as soon as they knew we weren't going to the airport, they would say no and leave. Some even slowed down, and when they noticed we had no bags would pull away. It's 6:45, people, the streets are dead. People are hung over and passed out or still drunk. Who else are you going to take?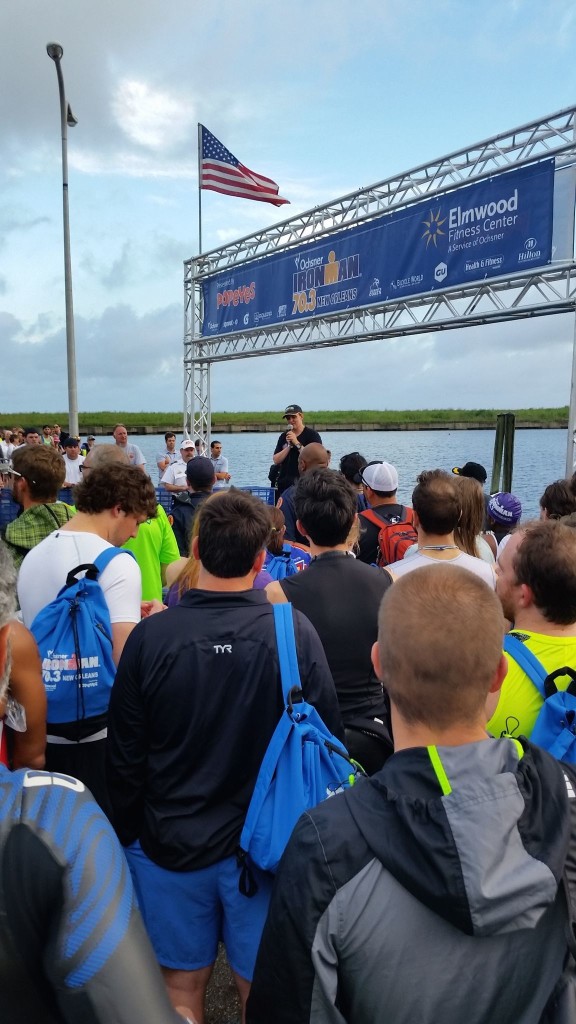 I very nearly missed Kim's speech before the race because this hunt for a taxi took about 30 minutes. The entrance to the marina was blocked, and our taxi driver couldn't figure out how to get in, so he dropped us off a mile away. No, seriously. A MILE. I kept looking at the time and speed walking faster and faster. Finally I started running. Sprinting, actually. And crying. There was no way I was going to miss hearing Kim speak before the race. I got there exactly at the moment she started speaking. She kept it short and sweet. She thanked everyone for all the support and donations over the last year. She wished everyone luck and told them to be safe.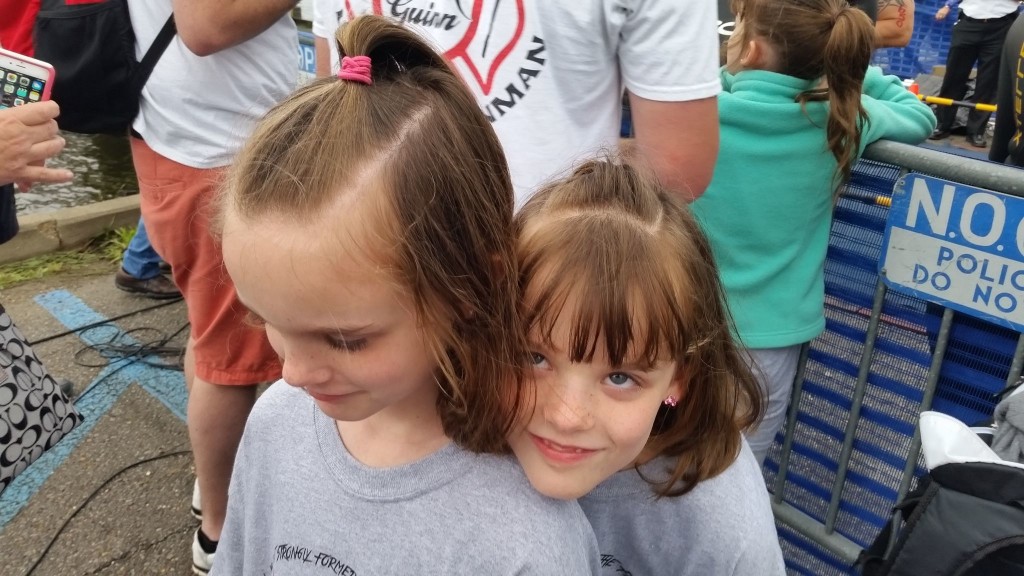 Part of Kim's cheering section. We were so worried about the weather, as thunderstorms were forecast, but the weather was gorgeous.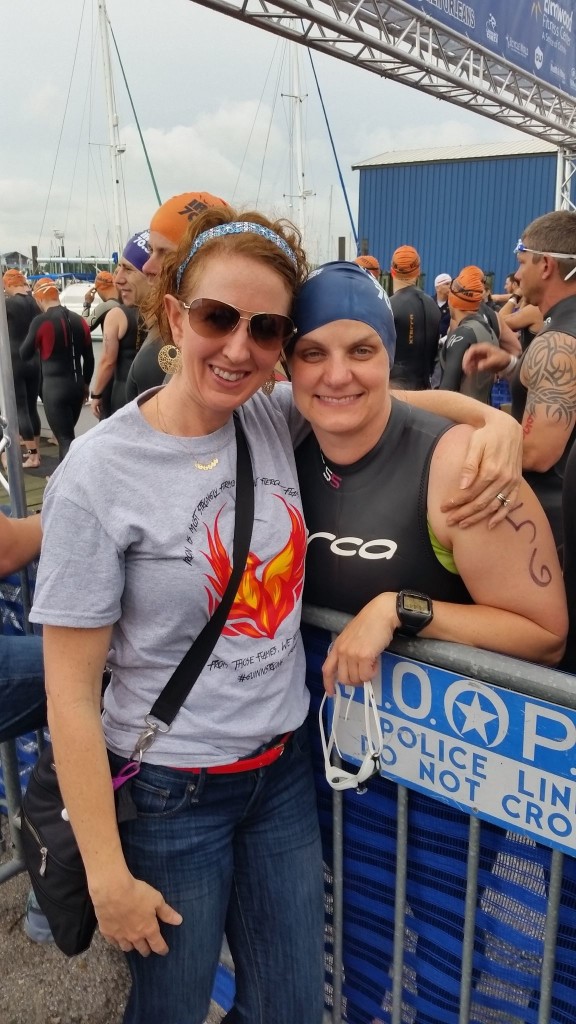 My iron-willed Kim. The organization retired Frank's number. Kim is the only one allowed to use it. I am so proud of her.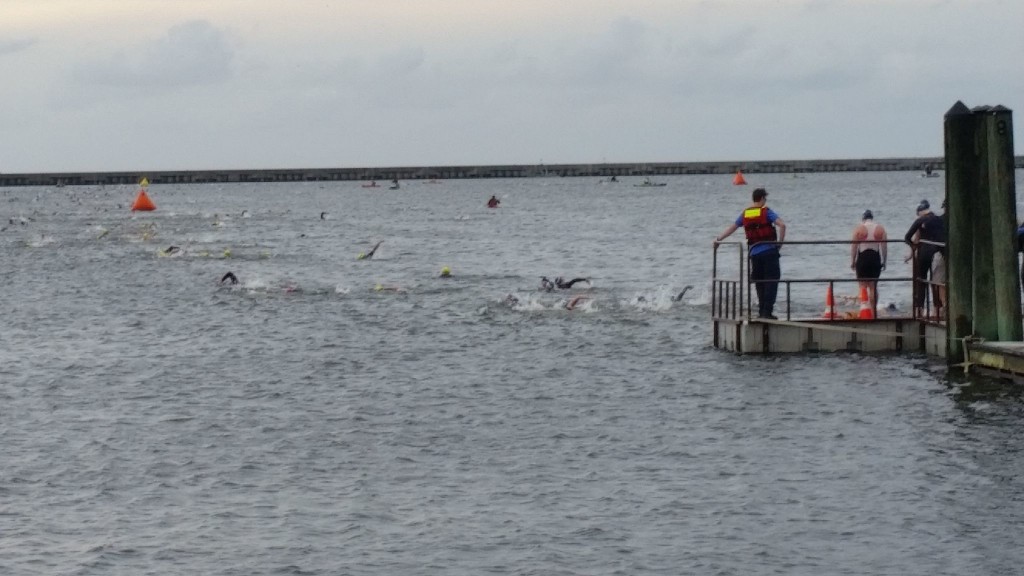 Kim got to go in one of the early waves. What amazed me is that the professionals (who went in the first wave), were out of the water before all the waves of competitors had even gotten in the water. Can you believe that? They swam 1.2 miles before everyone could get in the water. The winner was Andy Potts (again), and he did the whole 70.3 miles in 3h39 minutes. WHAT? He did the race in Frank's memory last year and won.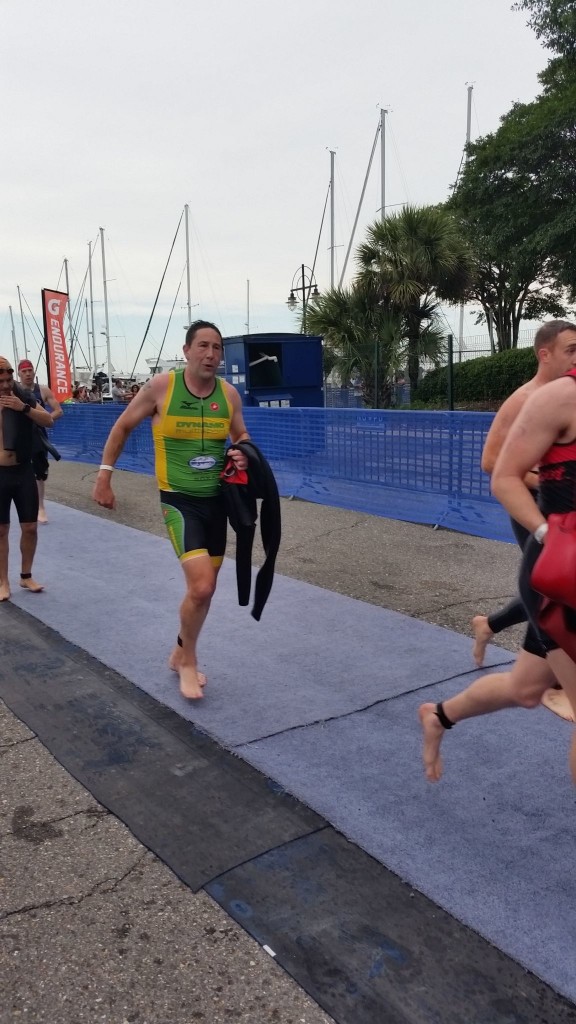 Andrew out of the water and heading for the bikes. Kim and Andrew were really worried about passing the crash site during the race and had originally wanted a cheering section to be there, but they visited it the day before and made peace with it. They decided they didn't need us there. The route was all closed, but Bill had said if they wanted us there, he would get us there.
In the black shorts is Jason, Kim and Frank's neighbor and good friend. He was competing his first half in Frank's memory as well. He caught the bug and wants to start doing more competitions.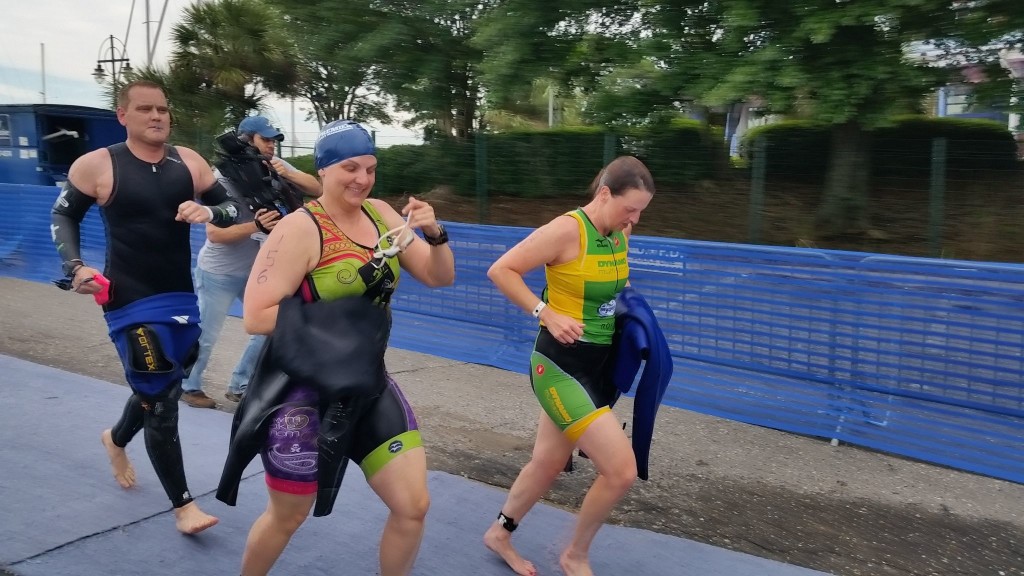 Here come Kim and Sandra out of the water. Kim is a fantastic swimmer, and Sandra is a fantastic runner. Kim stayed with Sandra on the swim, and Sandra stayed with Kim on the bike and run.
Taking off on their bikes. We left to get some breakfast because they had a 56-mile bike ride ahead of them. That's right. And this is a HALF ironman. That was going to take a while.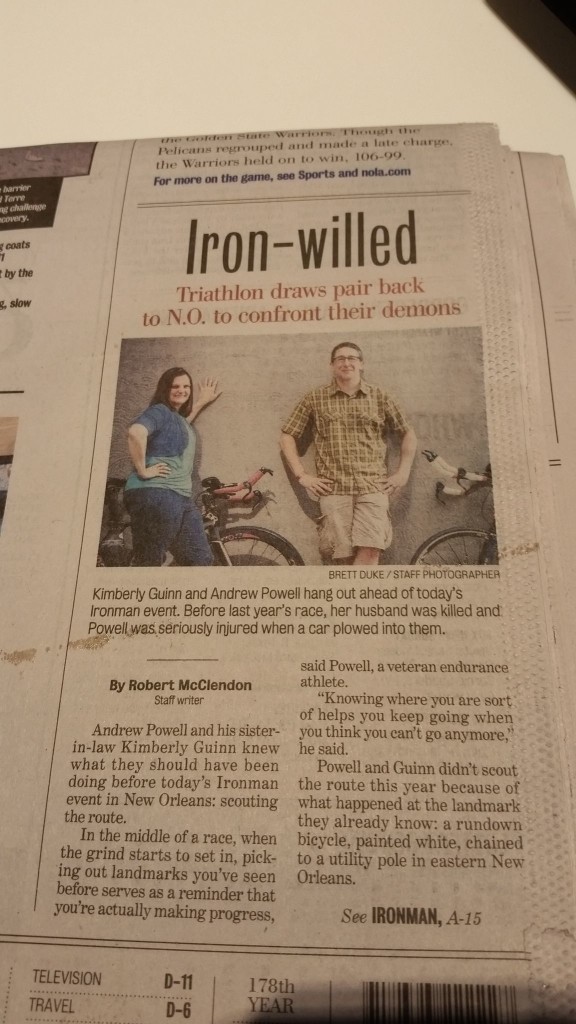 There was an article about Kim and Andrew in the Times-Picayune. I grabbed copies for Kim, her mom and Frank's mom.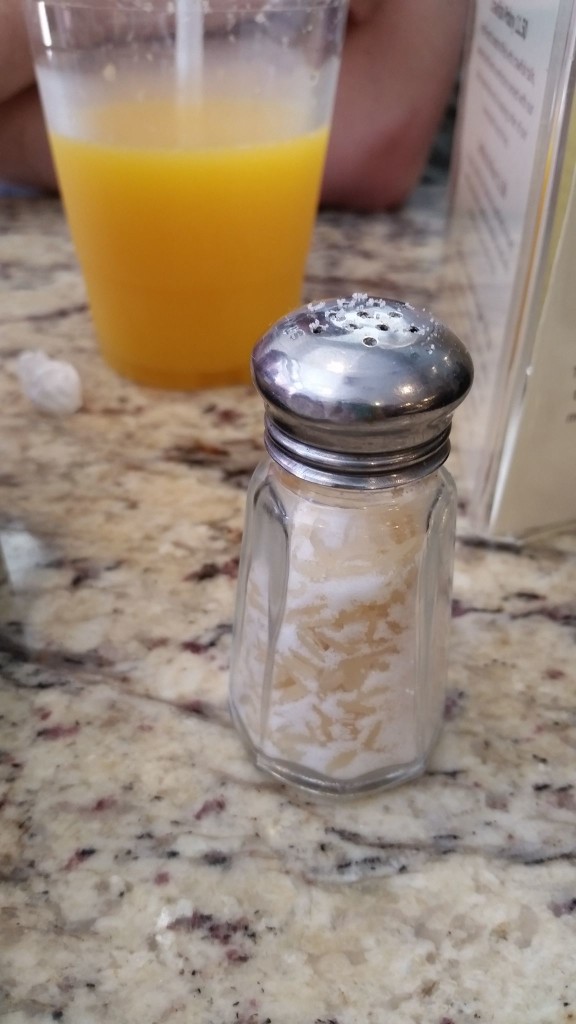 Rice in the salt shakers means home to me. It is so humid in the South they put rice in the shakers to keep the salt from clumping and to absorb moisture.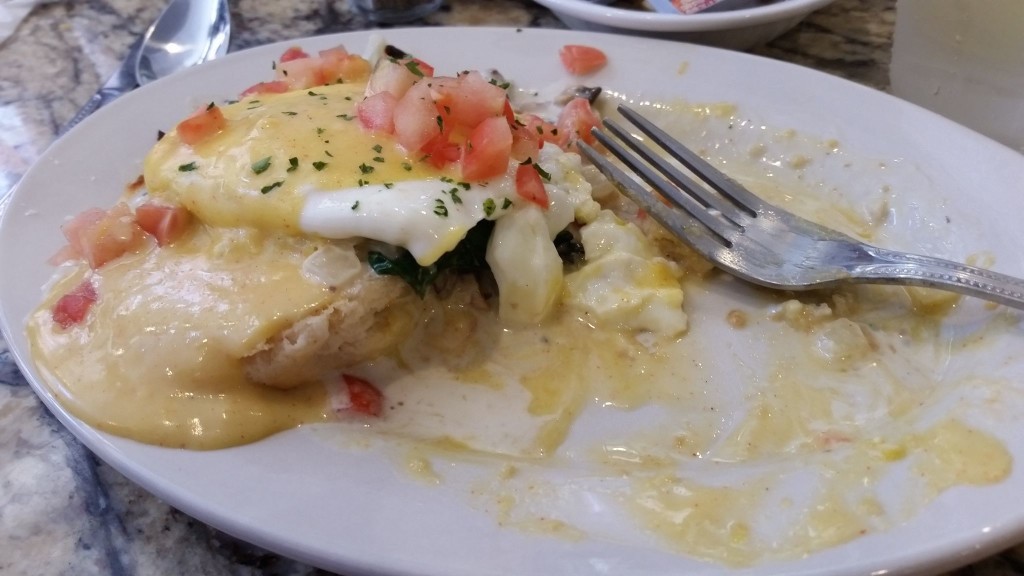 Today I went with the Benedict Florentine and it was excellent. I will add that halfway through day two of my return to gluten and dairy, I started to feel horrible. Clearly she was wrong. I'm not better, I'm still allergic to gluten and dairy and not ready to be done with GAPS. That didn't stop me from finishing the weekend with a bang.
We made it back in P-L-E-N-T-Y of time to see them get back from the bike ride.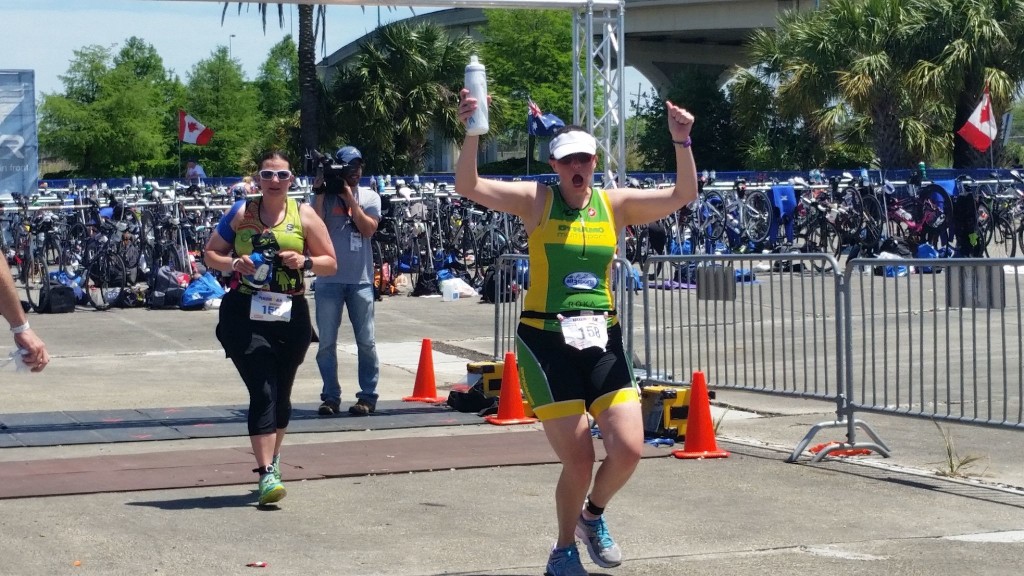 Quick shoe change and they were off on a 13.1 mile run (half marathon, folks). Sandra (Kim's sister and Andrew's wife) looks way too happy and energetic. Of course, she ran a marathon the day before her wedding. She and Andrew actually met in a running club, so running is something they love to do. Before the accident, Kim was already doing half marathons.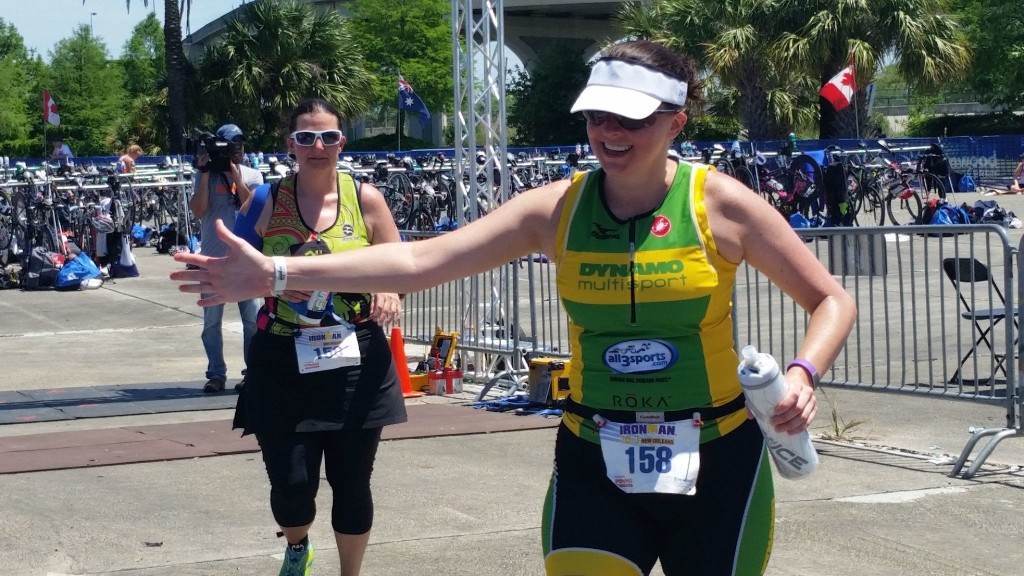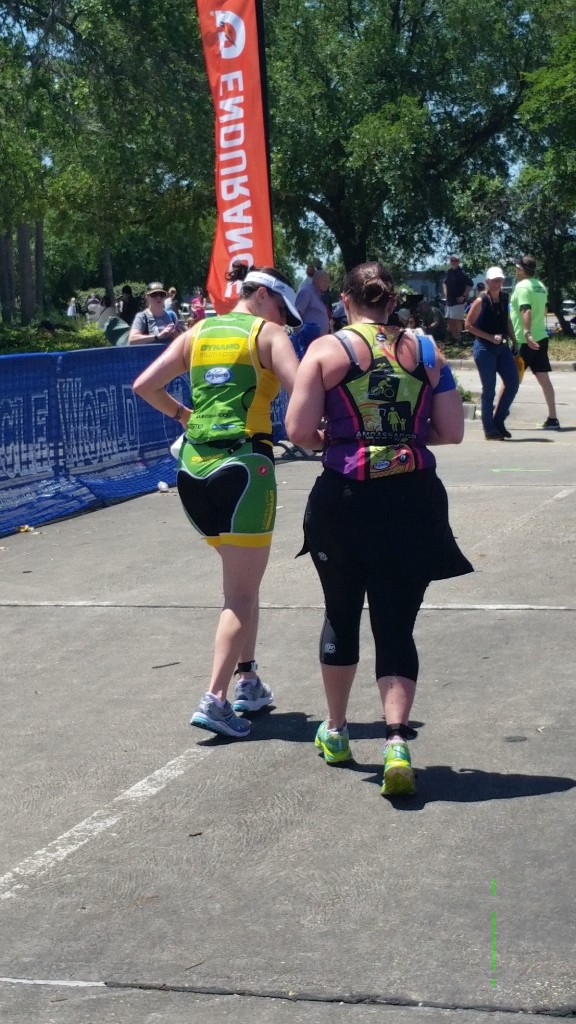 These two sisters love each other fiercely. Talk about a support system.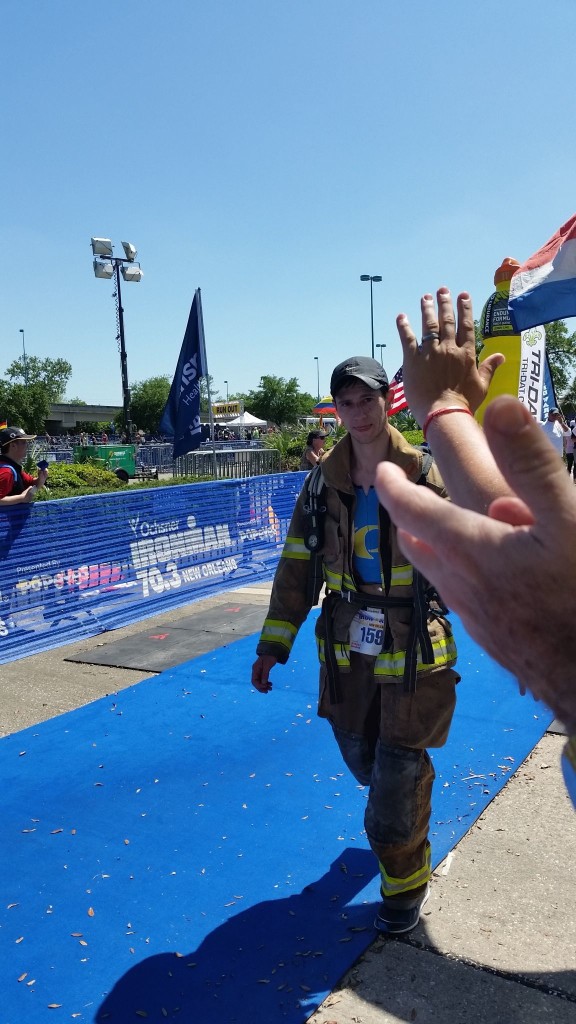 This guy's name was fireman Frank from Atlanta. He did the race in full gear in Frank's memory as a fundraiser for Kim and the girls. It was so hot he had to walk a lot of the run so he didn't get heat stroke. Plus, do you have any idea how heavy that gear is?
My cheer partner.
There are time limits on each portion of the race, and if you don't finish that portion in time, you are done with the race. Andrew completed the race under the time limit, which is 8 hours 30 minutes. Prior to the race, he hadn't run more than eight miles since the accident. Talk about an ironman!  A year ago they didn't know if he would walk again and not only did he walk, he swam, biked and ran 70.3 miles. I am in complete awe. So incredible to see. My camera failed me unfortunately. I thought I was clicking away, but when I looked there was nothing. More camera voodoo in New Orleans.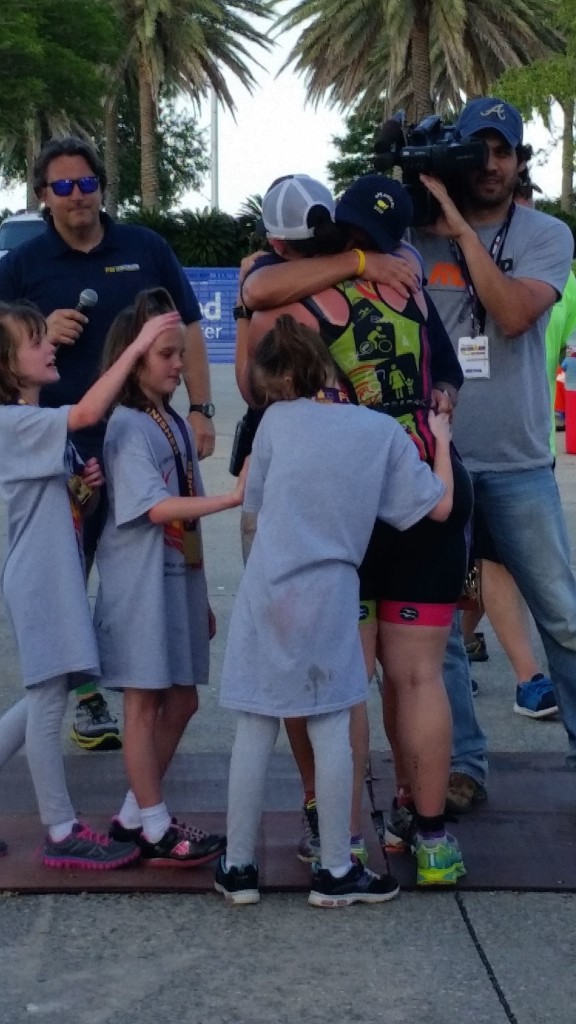 I put the camera down when Kim and Sandra crossed the finish line because I wanted to experience it. I wanted to be in the moment cheering and screaming and jumping up and down, not busy taking pictures. It was incredible and emotional and powerful.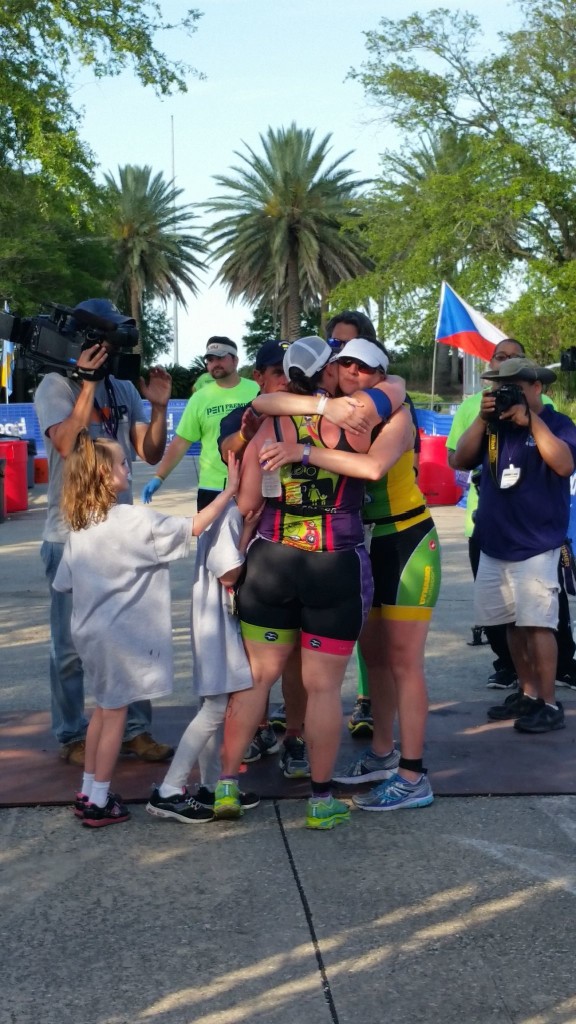 We were all in tears and laughing and cheering and jumping and screaming when they were coming. It was so healing and cathartic and beautiful. I am so proud of all of them.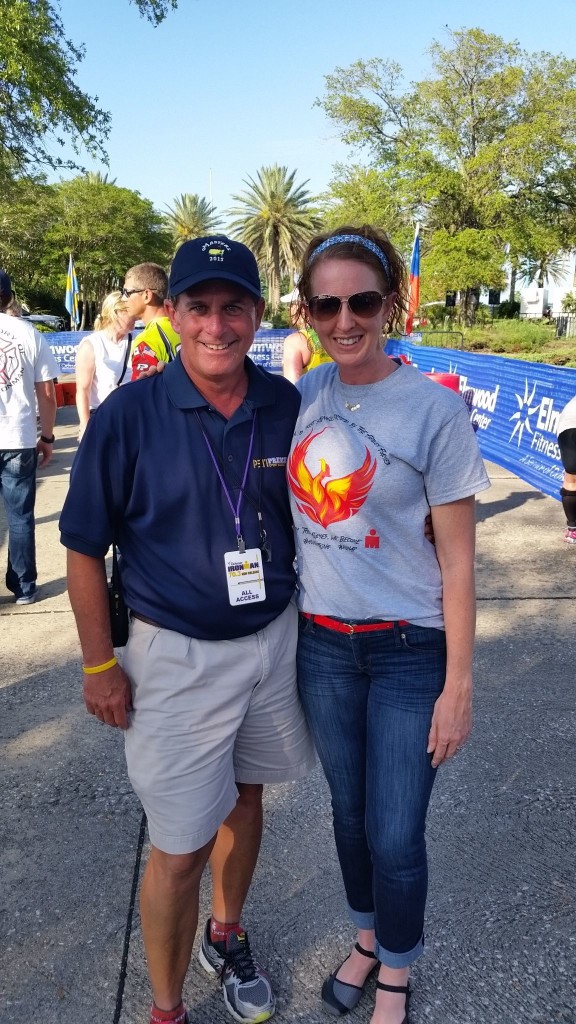 This is Bill Burke. He puts these races on. When I was running the fundraising campaign he reached out to his athletes, who donated a lot, and donated $3,000 himself. I was glad to finally meet him.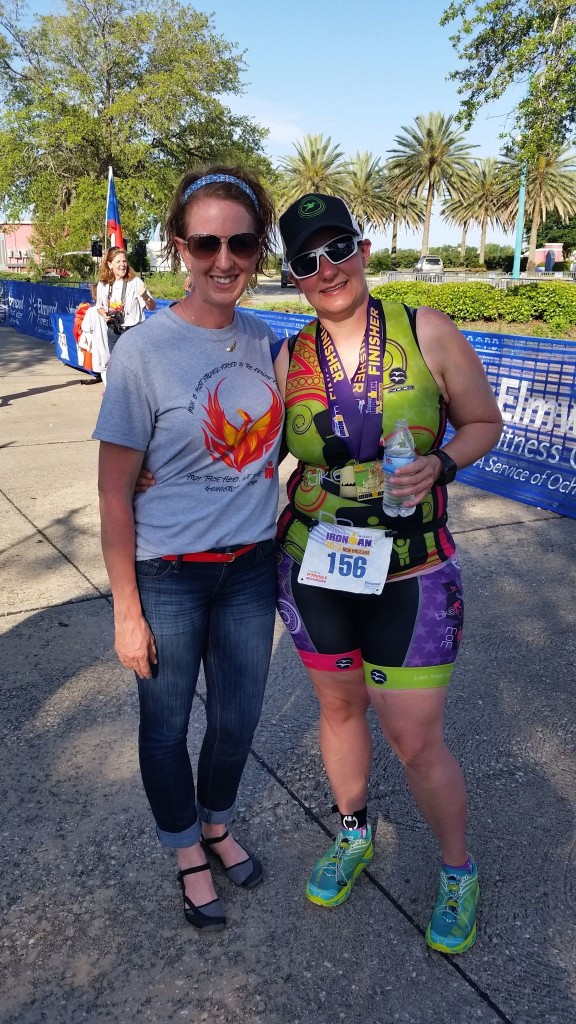 Iron woman Kim. She had to get a few IVs of fluids in the medical tent afterwards, but SHE. DID IT.
There is talking and there is doing. Kim did it! I cannot even express how proud I am of her. I wouldn't have missed this triumph over grief.
After the race they went for ice baths and we went to get a final dinner. The pizza here was SO. GOOD. I was dying of deliciousness in my mouth.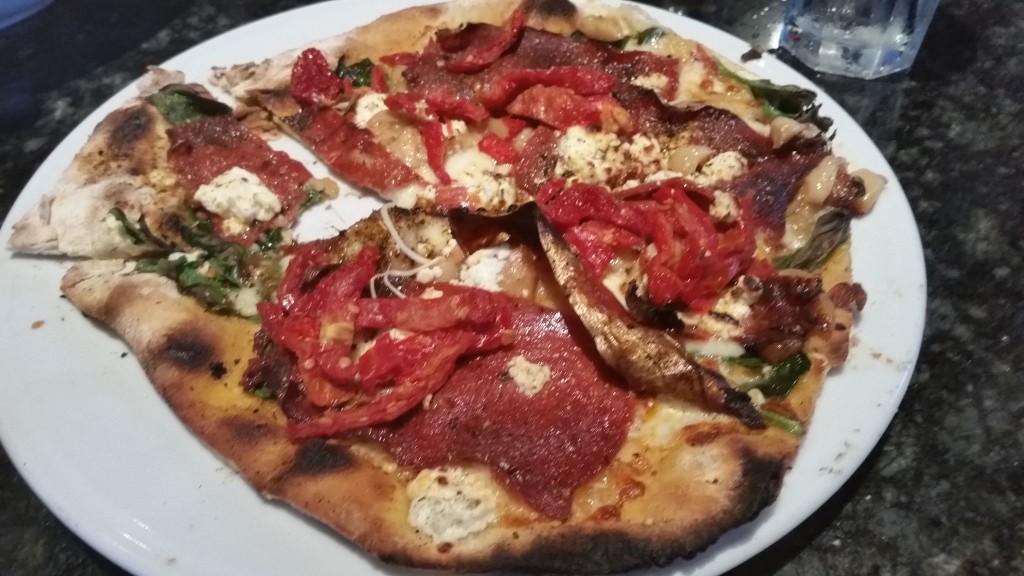 We may have also stopped by Sucre one more time to get a few mini cakes for the road. We caught a flight early Monday morning and were homeward bound, and my gluten and dairy binge was over. I was so miserable from eating my way through New Orleans. We missed the kids and were excited to get to see them. It was a great trip.