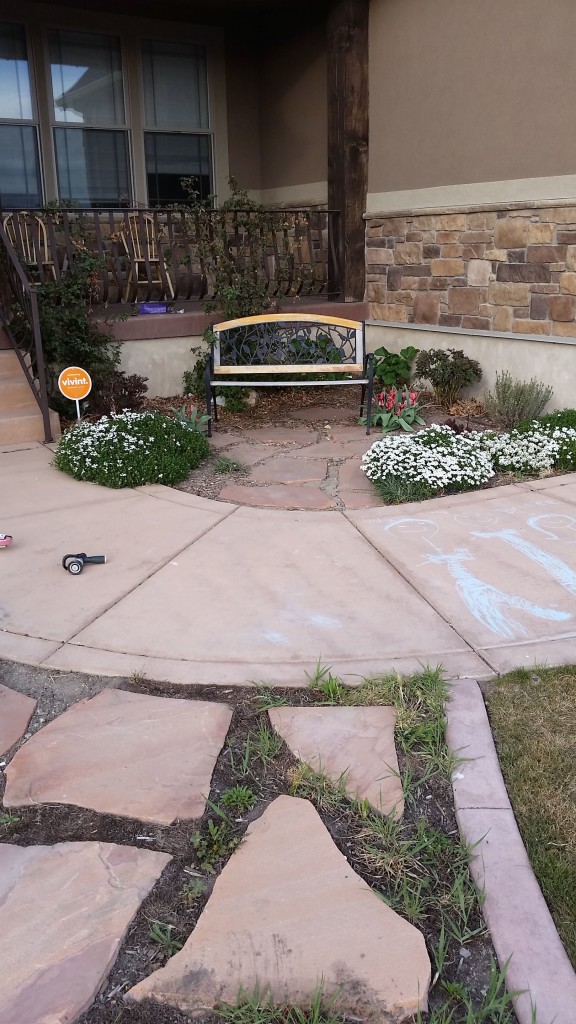 We had an unbelievably warm winter and spring. Everything bloomed early…including the annoying grass that plagues my pathway.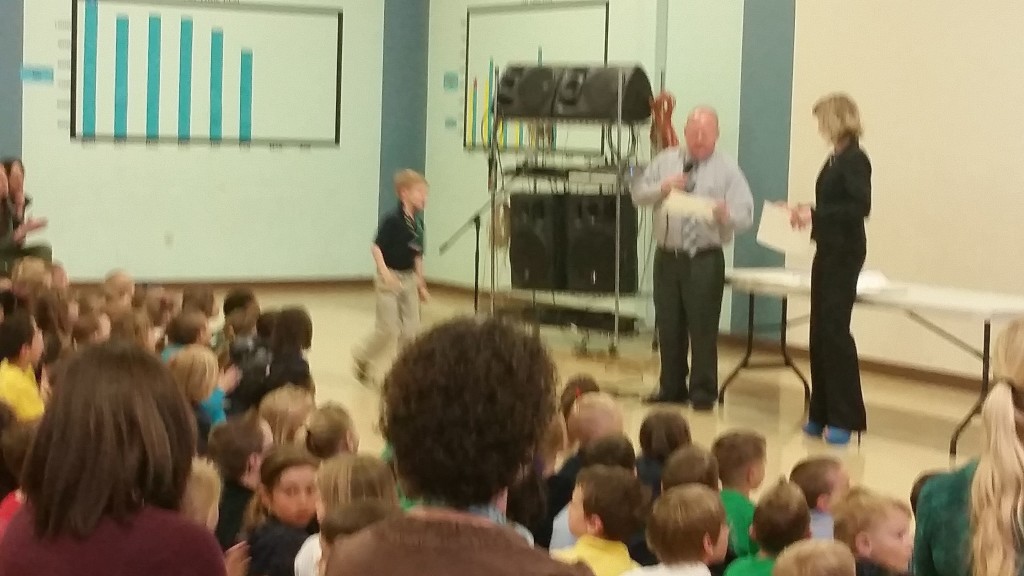 Caisen was awarded an academic achievement award.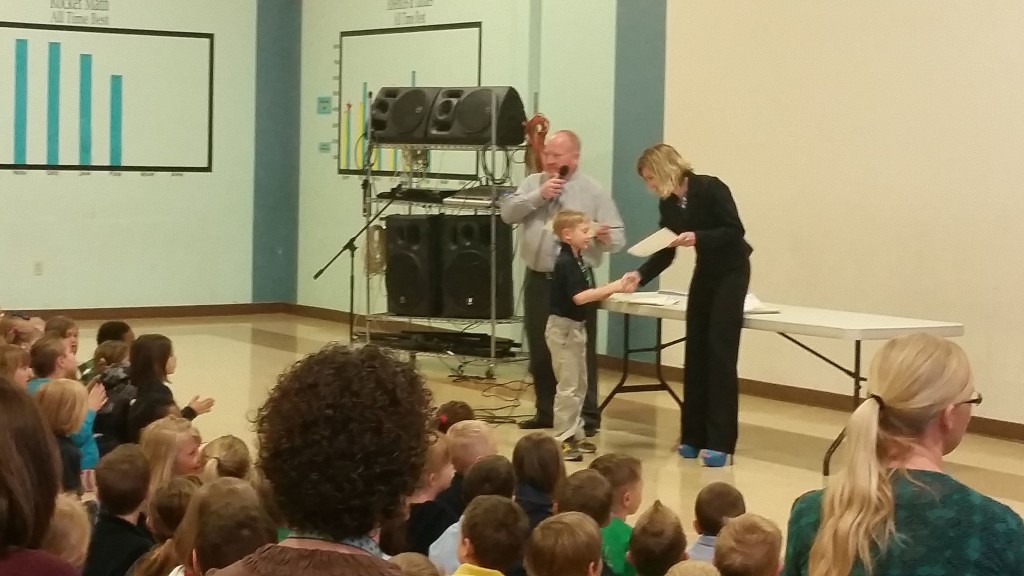 He was so excited.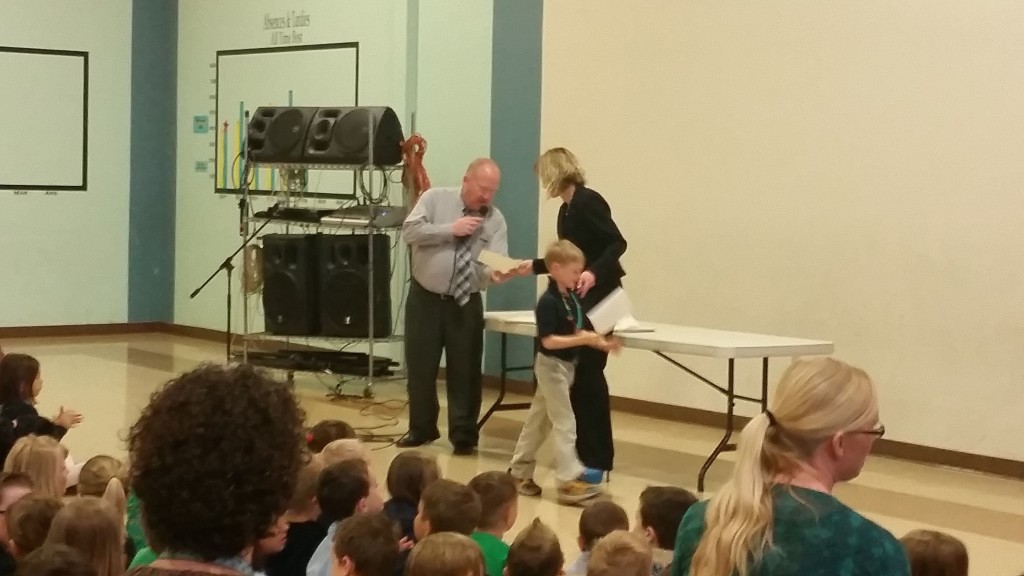 He has worked really hard and made big improvements. This is what his teacher wrote about it, "It means someone who really deserved the award by showing improvement in academics. I have seen a big change in Caisen, both academically and behaviorally. One day he asked me if I saw his phonogram paper. I replied that I hadn't. He pulled it out and showed me a paper that looked like I had written it. He is consistently writing his name with a capital C. I was beginning to wonder if that would ever happen! A few weeks ago, I told him that he was too smart to be writing his name with a lower case C. That was all it took. He isn't trying to correct everyone like he used to. He answers questions with very intelligent answers that others do not understand. He pays attention, sits in learning position, doesn't play with little things in his hands, listens attentively, and has improved with turning in his homework. He is striving to be the best he can be, and that is why he received the academic award." We are so proud of Caisen!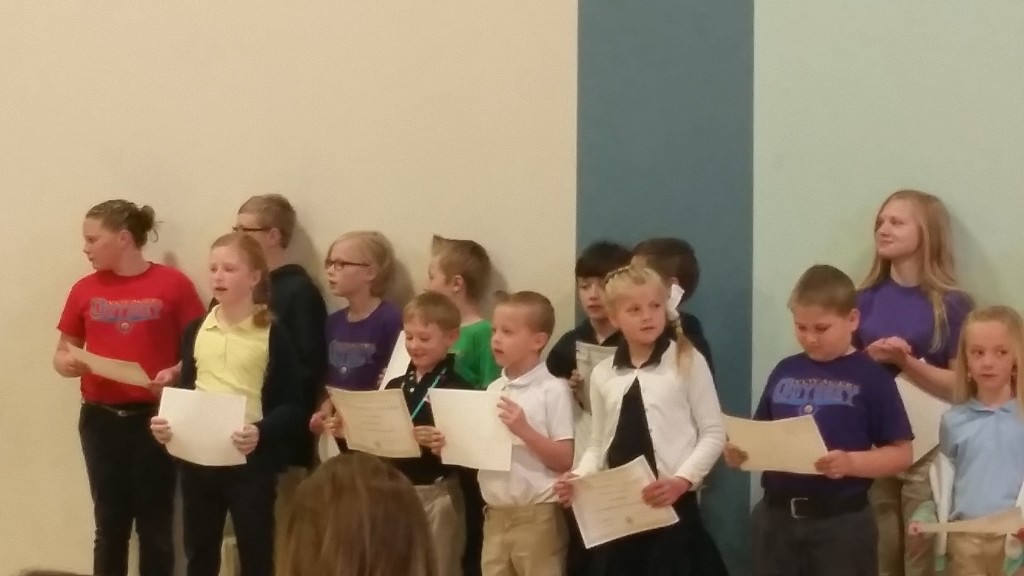 I helped out at the last CET of the year.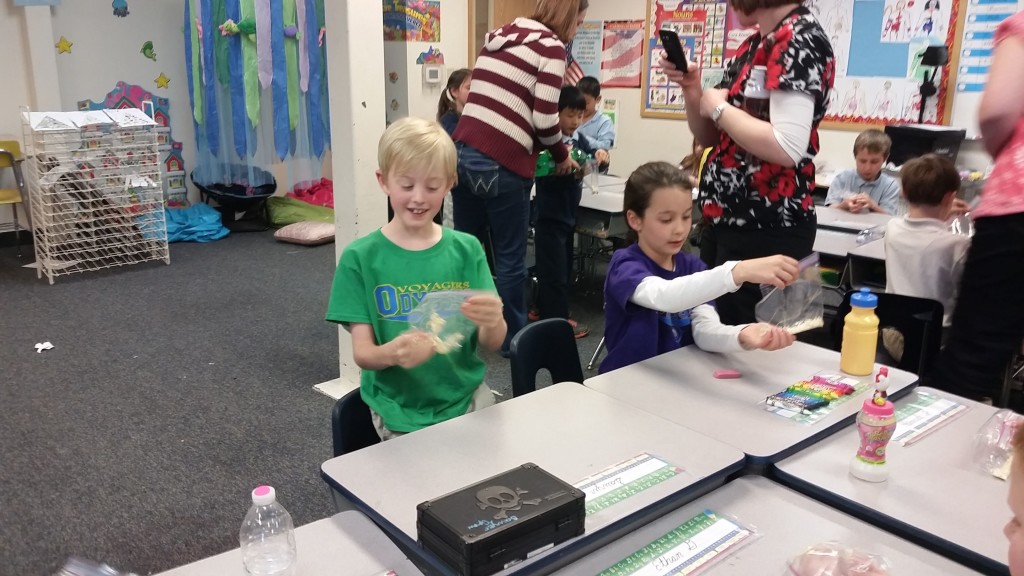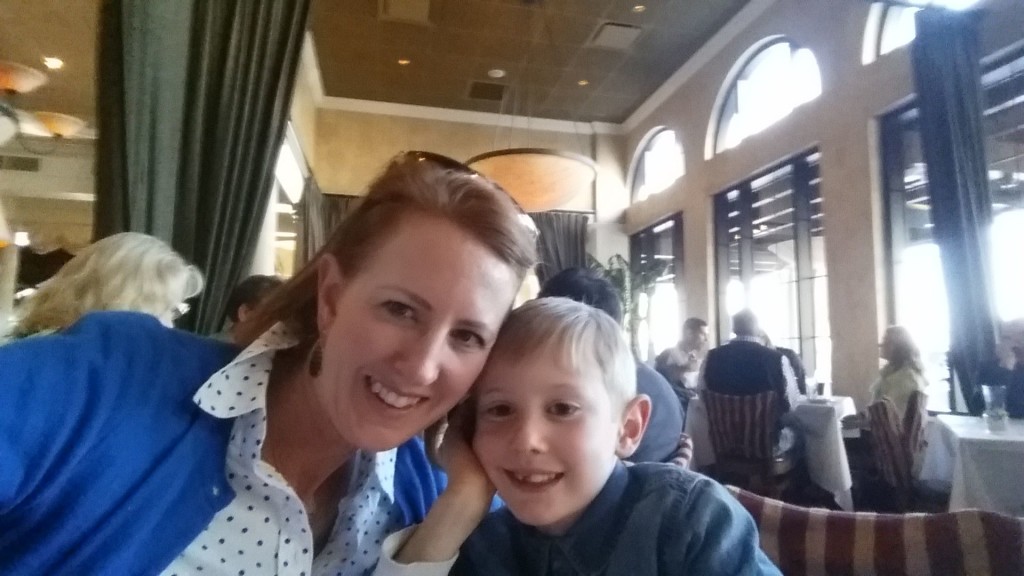 Continuing with the birthday trip tradition, Caisen and I went on his trip. We have 3 spring and 3 fall birthdays. If they kids choose to go together, they get to go for three days. If they go separately, it is 24 hours. Caisen wanted his own trip this year, so he and I went during spring break.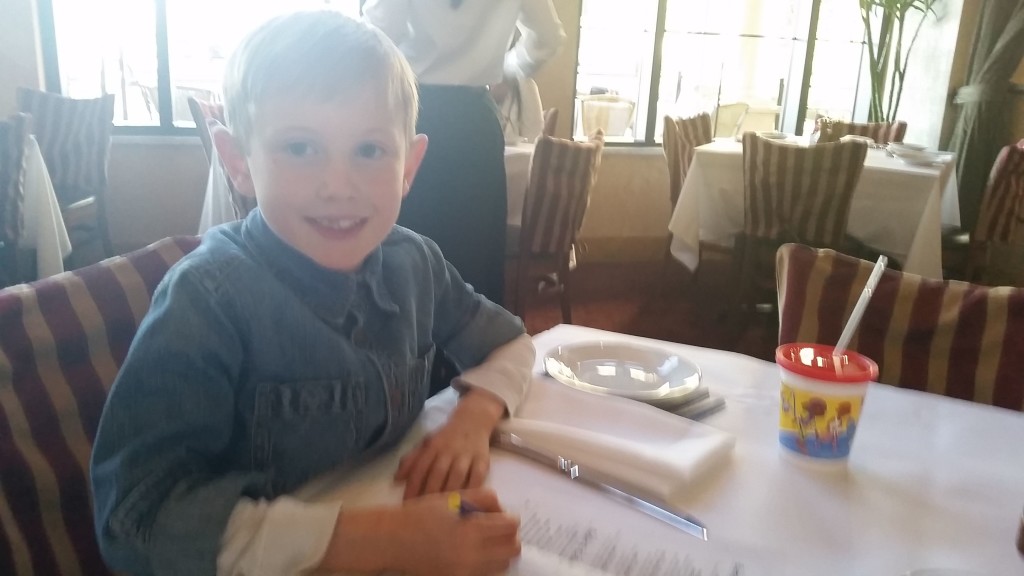 Friday night we went to Brio for his birthday dinner.
He loved his salad. Look at my handsome date!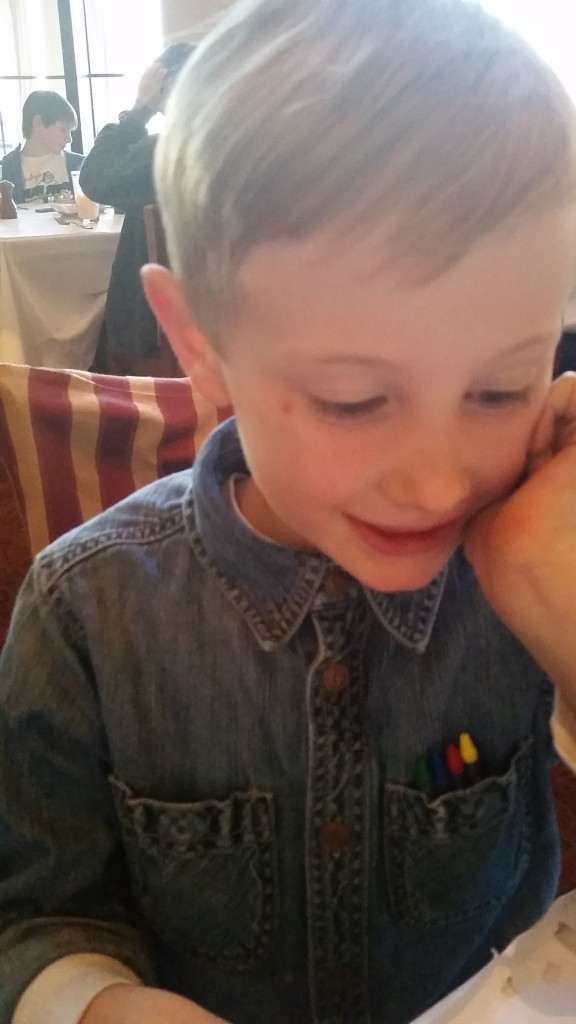 I loved that he kept his crayons in his pocket. We started stage 6 of GAPS that day, and Brio seemed like a good option as somewhere to eat. Although their pesto has gluten in it. Can someone please explain that to me? You really have to be careful and assume nothing when you have food allergies.
We went to our hotel and got some sleep. His next request was breakfast in bed a.k.a. room service, so we had a big breakfast in our room. Then we came down to a giant checker board and played a few games.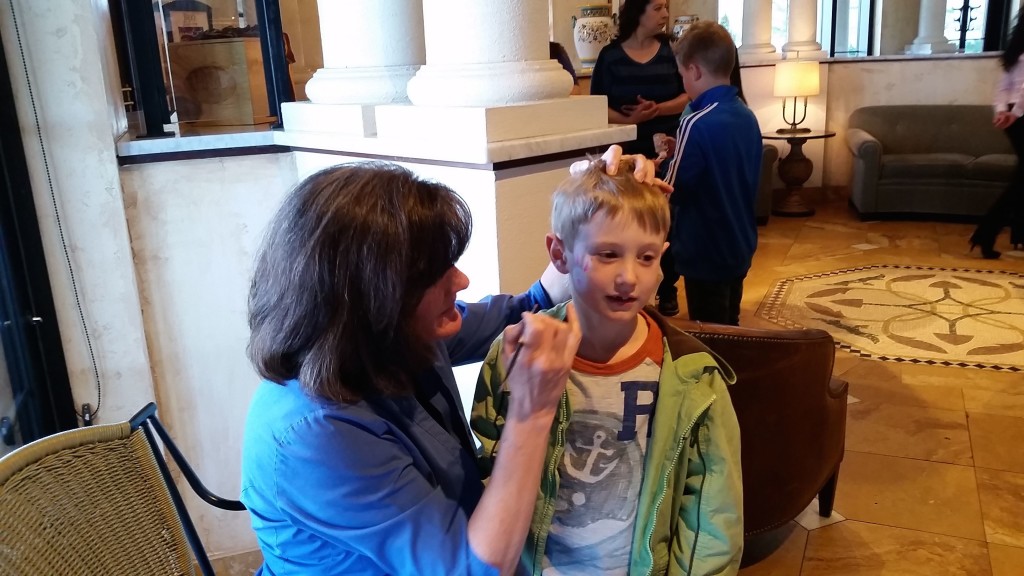 At Brio the night before they told us about their Easter Saturday brunch. There was face painting.
A balloon artist.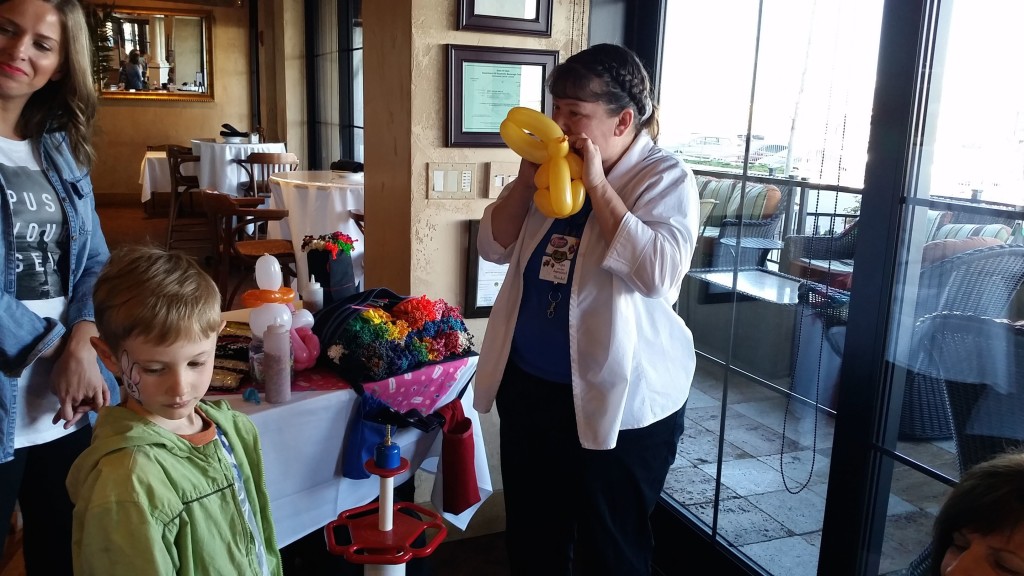 Baby chicks and ducks to hold and pet. It's all fun and games until one of them makes caca in your hand.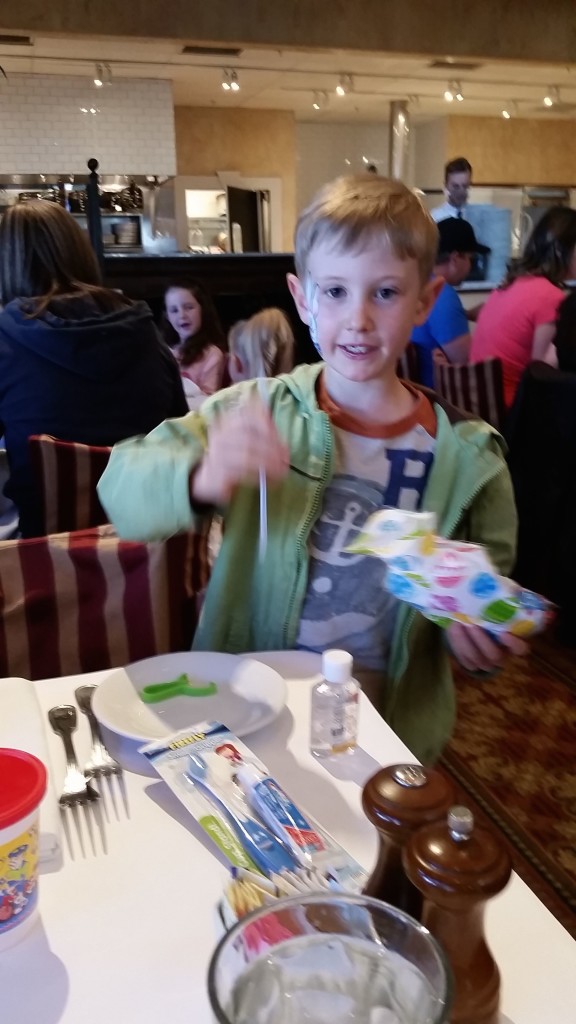 He got a toothbrush, toothpaste and hand sanitizer (maybe for the inevitable caca incidents?)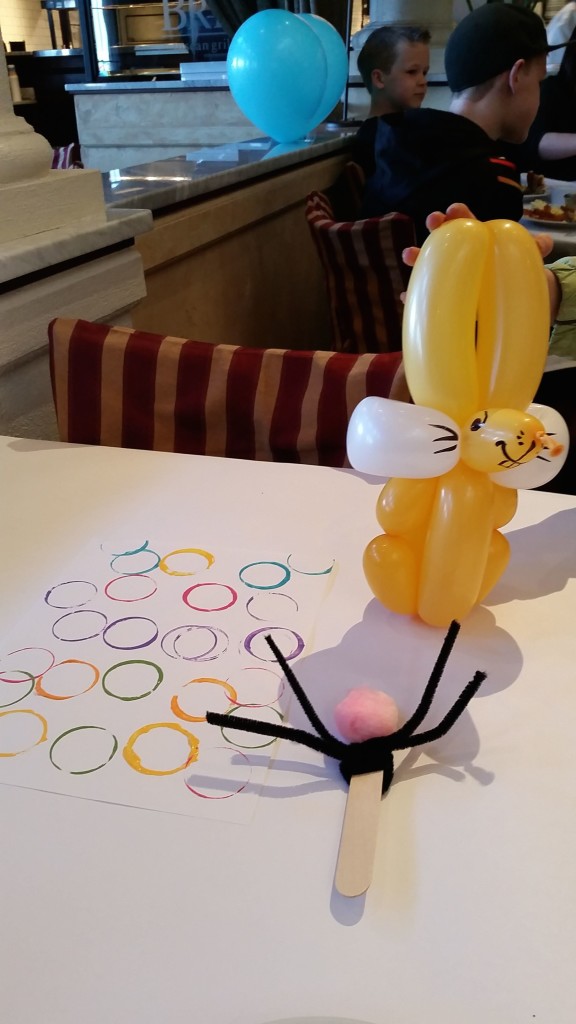 There was a craft station. Apparently that is not s spider eating a popsicle, it is a rabbit neck and head.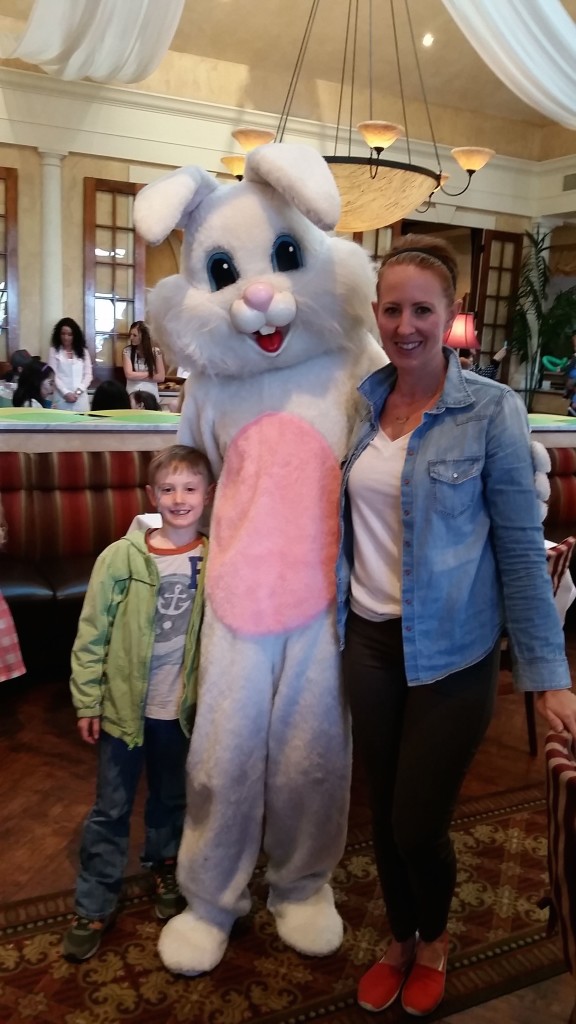 An lucky for us the Easter Bunny paid us a visit.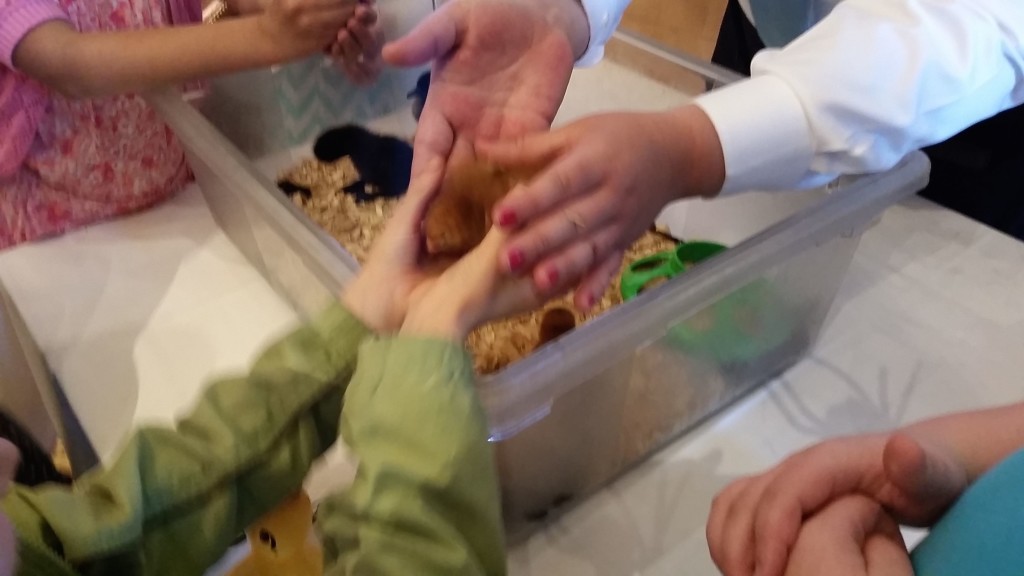 Caca is forgivable, and Caisen went back for another round of chick loving. After eating yet another LARGE breakfast/brunch at brio (that would be two so far), we went to ToysRUs so he could spend his birthday money from gran and granddad. He picked out a LEGO set, of course.
LEGOS in hand, we went to Lagoon, a first for both of us. Caisen had talked about wanting to go on a roller coaster. He just met the height requirement, so I paid the upgraded ticket. We went on the first one we saw. That was a mistake.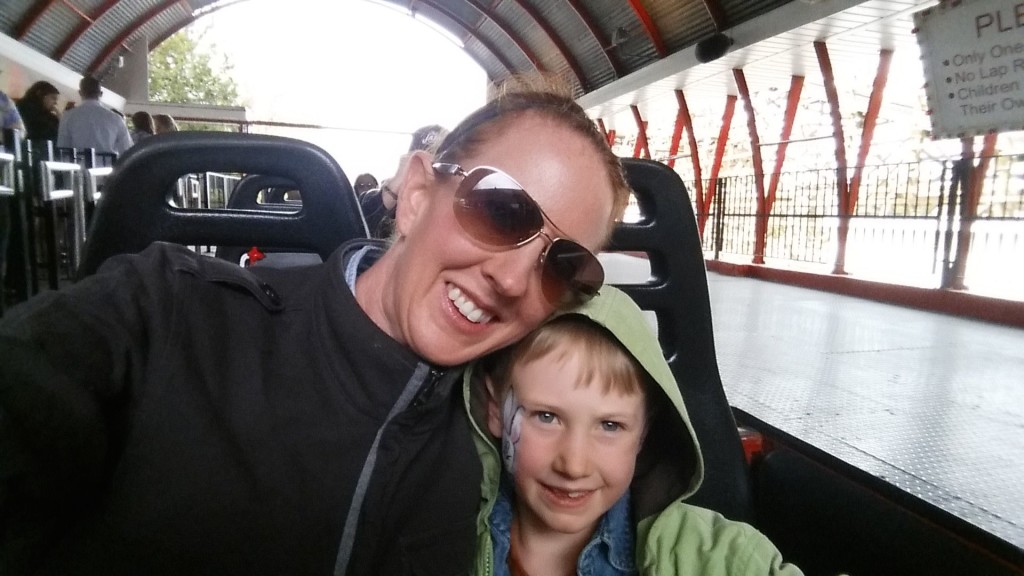 Apparently this rickety old wooden roller coaster is 80 years old (that may be a slight exaggeration, but not by much), and is absolutely painful. I mean it could be used as a punishment instead. Caisen did not enjoy it, and neither did I. He declared he hated roller coasters and never wants to ride another one. But he does want to go on Tower of Terror at Disneyland (clearly he hasn't ridden Tower of Terror). I feel like I ruined it for him, but I had no idea. I'd never been there.
After the roller coaster abuse he wanted nothing but baby rides. As in, you don't even have to be able to walk to ride this ride. The death trap roller coaster was the only one I got to ride. Well, except for the baby swing that he insisted I ride. The chairs were nowhere near deep enough for an adult sized bum, so it was extremely uncomfortable. Caisen pointed out exactly which rides he would go on, and as soon as he rode those rides he was done. We were there less than two hours. It was only 1:00. I asked if he wanted to go to a movie, and he said no. He was done.
Caisen has a threshold of stimulation, and then he needs a break. We realized this at a young age, and we call it his alone time. He really enjoys playing alone for a while each day. He has his own game that he plays with various odds and ends. We've taught him to recognize it and he will tell me when he needs it and go off to his room. When he feels ready to come out, he does. This is why he has his own room. We came home and he went straight to his room to work on his LEGO set ALONE. So our outing was a lot less than 24 hours, but it made him happy, and that is what matters.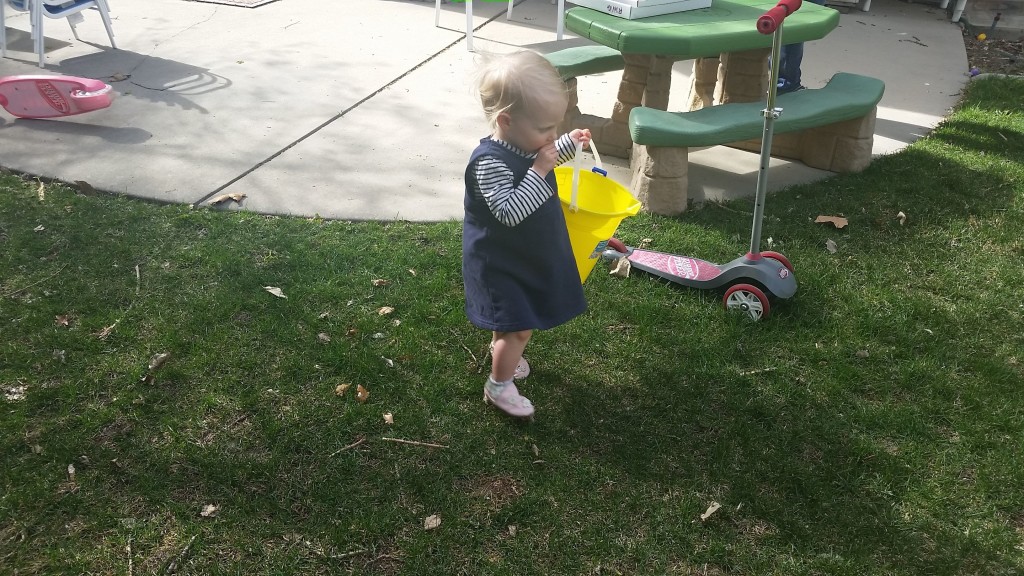 The next day was Easter, and we went for grandma's annual egg hunt.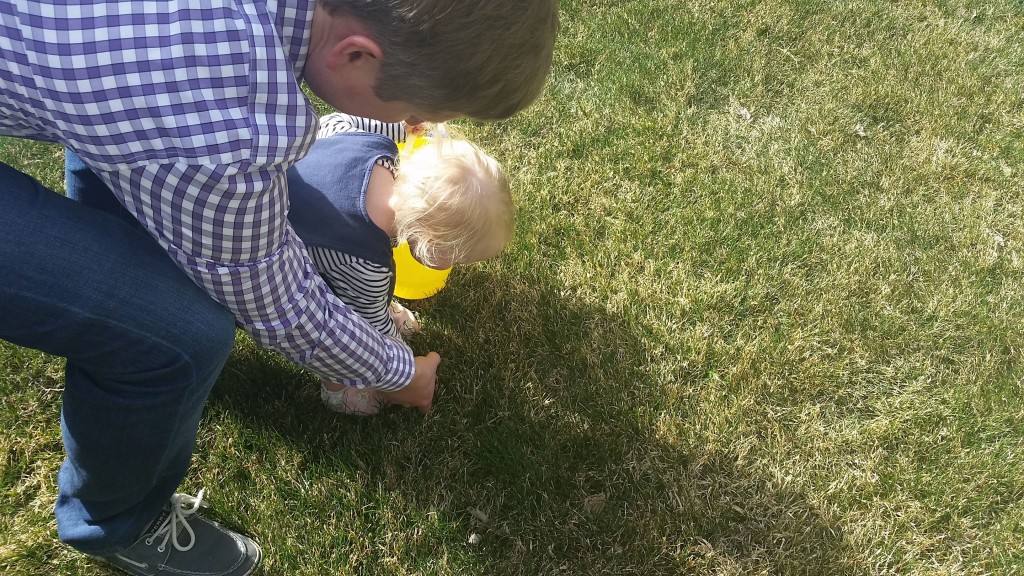 This was the first year Georgia was able to collect eggs.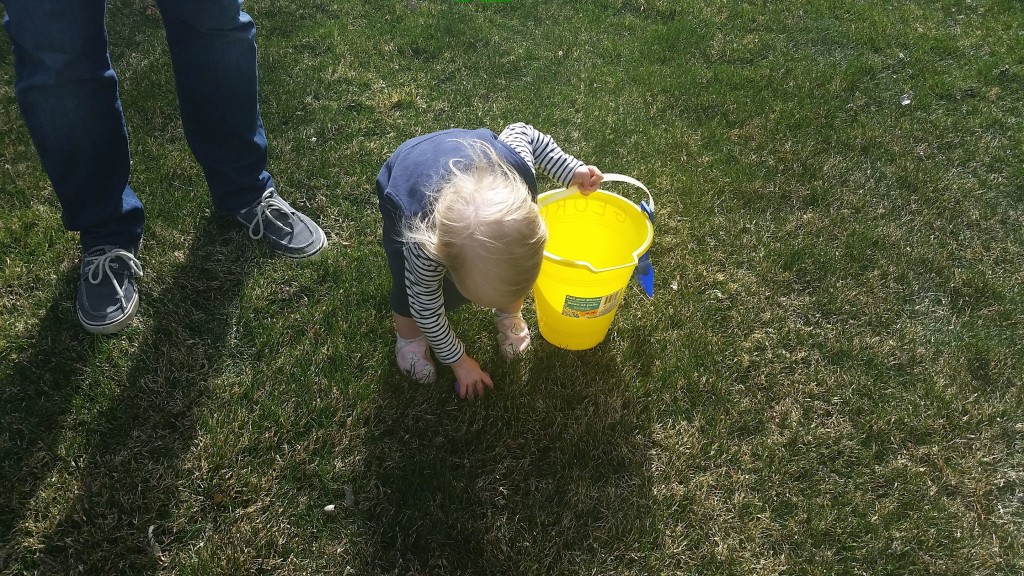 Of course it was adorable.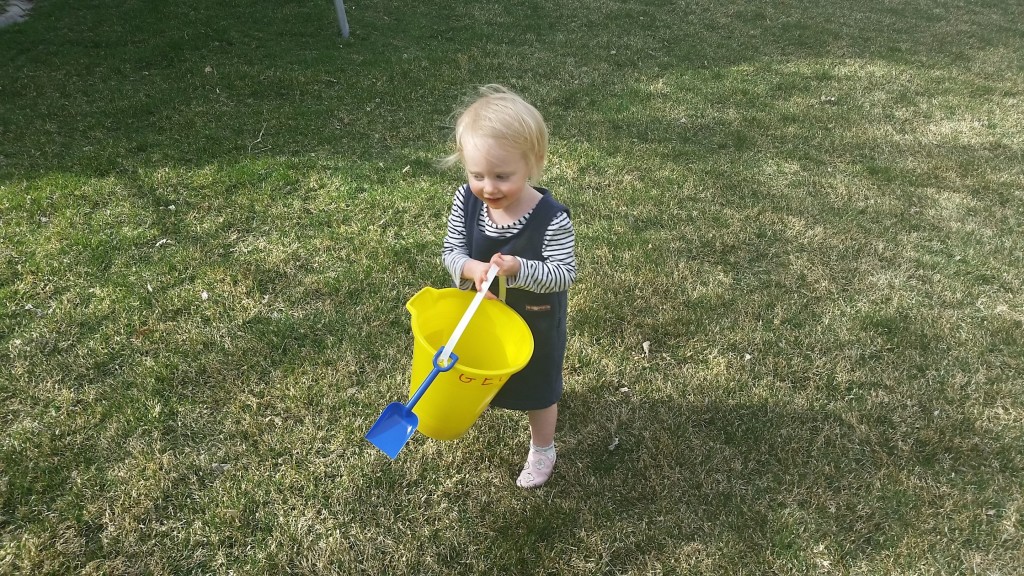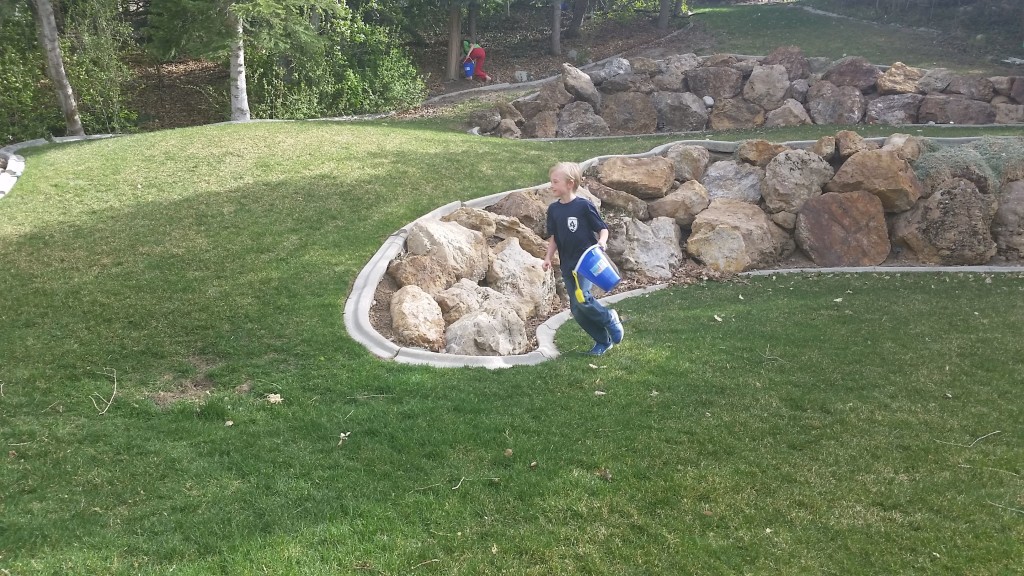 The big kids are well practiced and took off.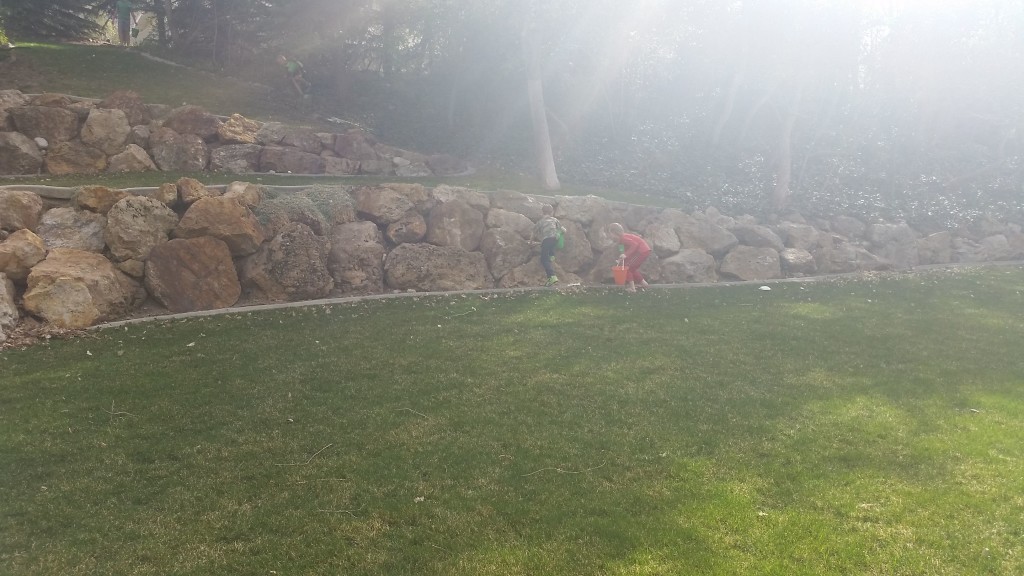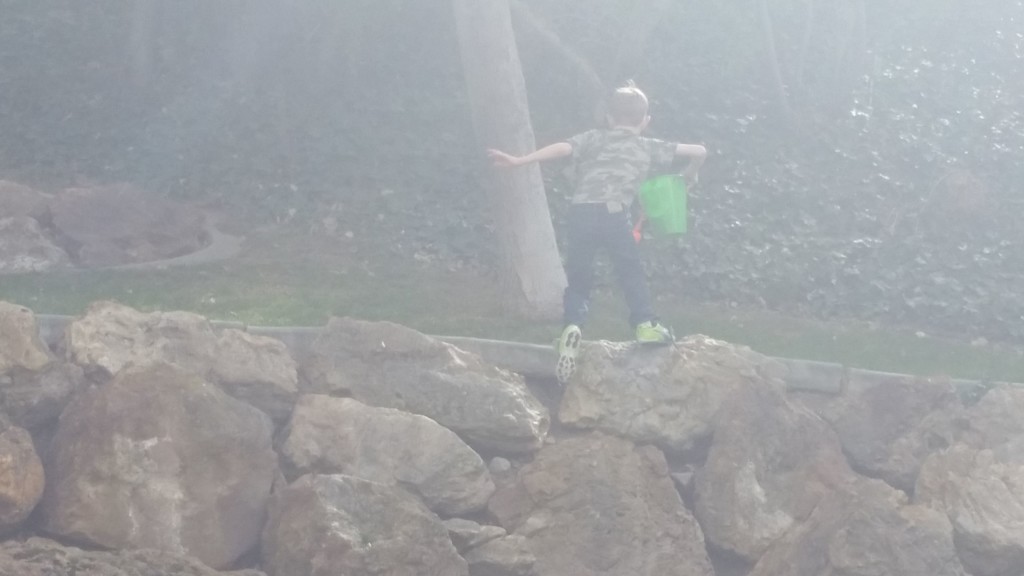 Soccer cleats + climbing boulders = nearly giving me a heart attack.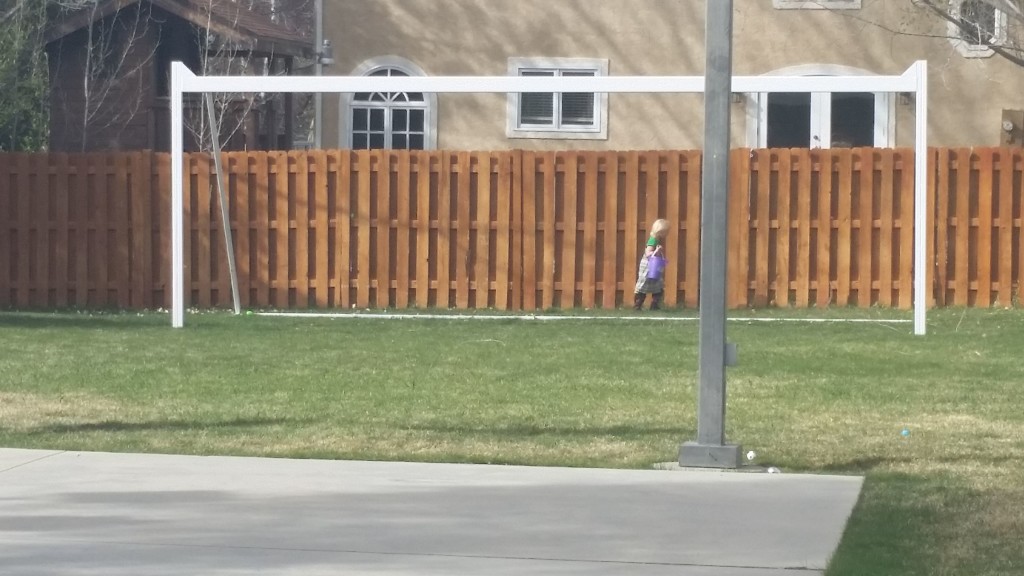 Daisy was off looking in the farthest corners.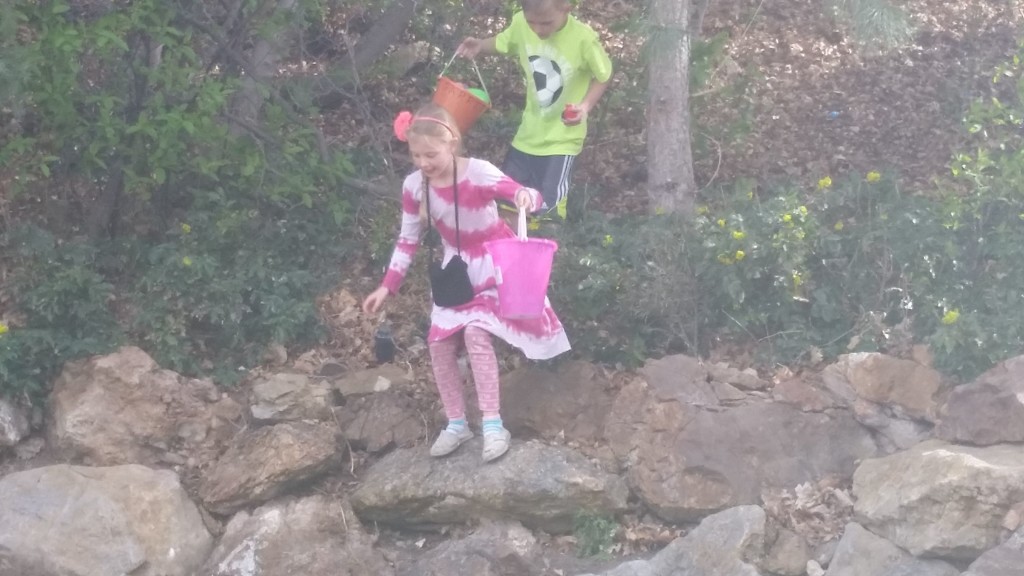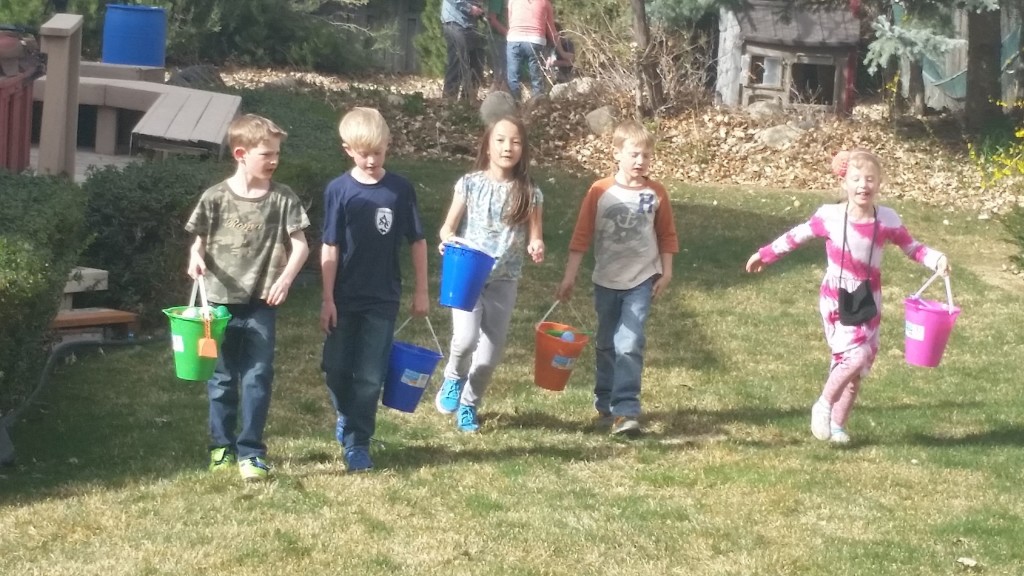 Success.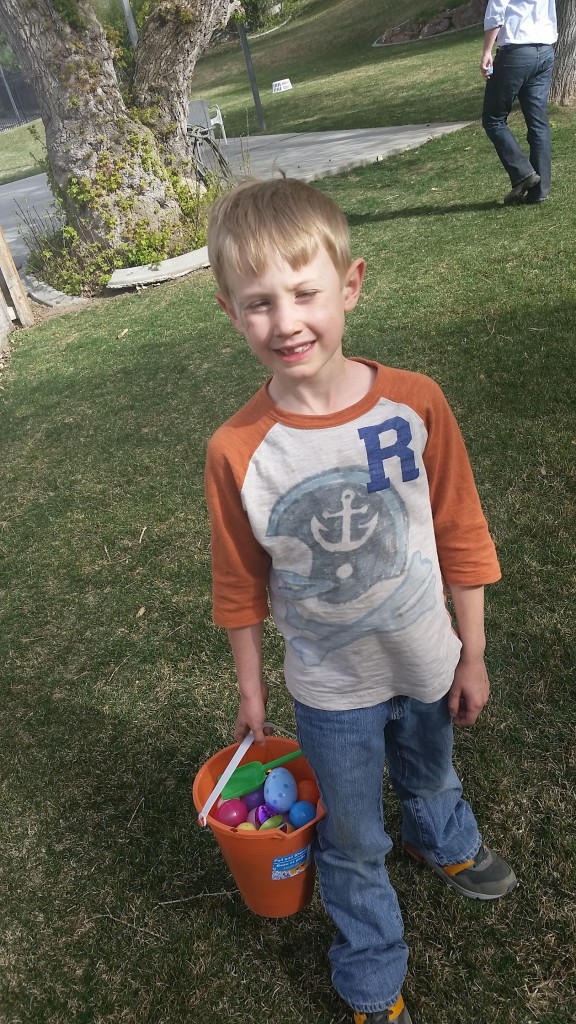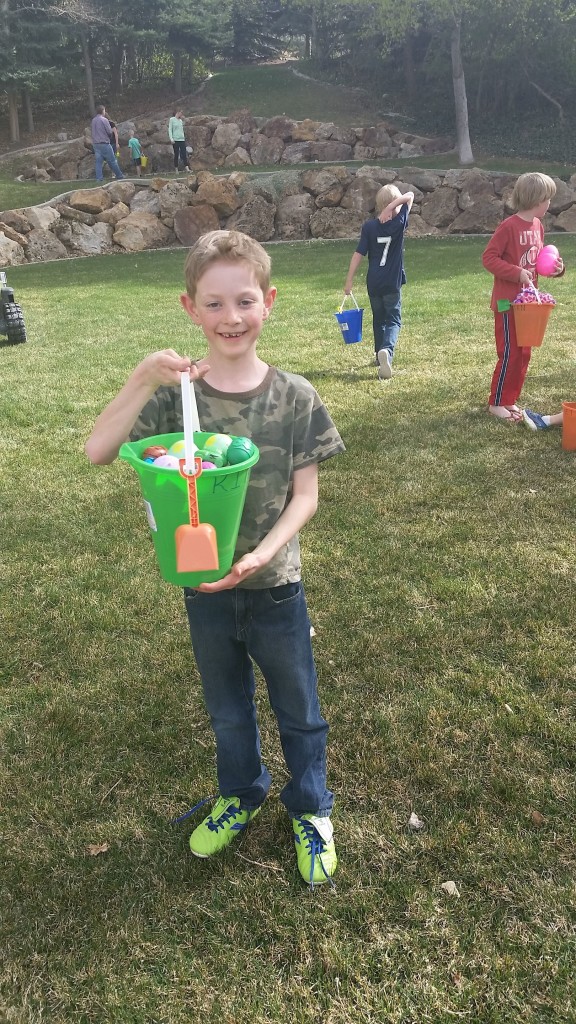 Georgia's favorite activity was taking the eggs apart and having me put them back together.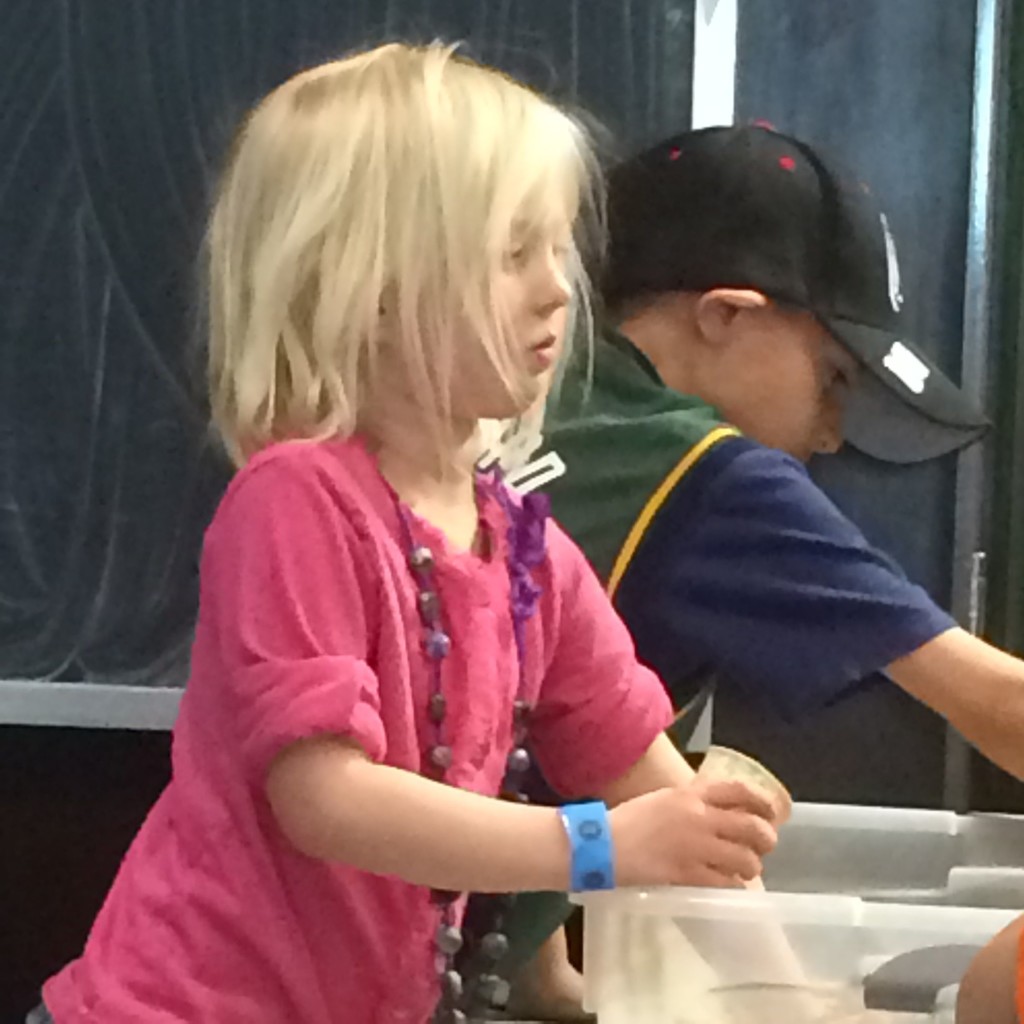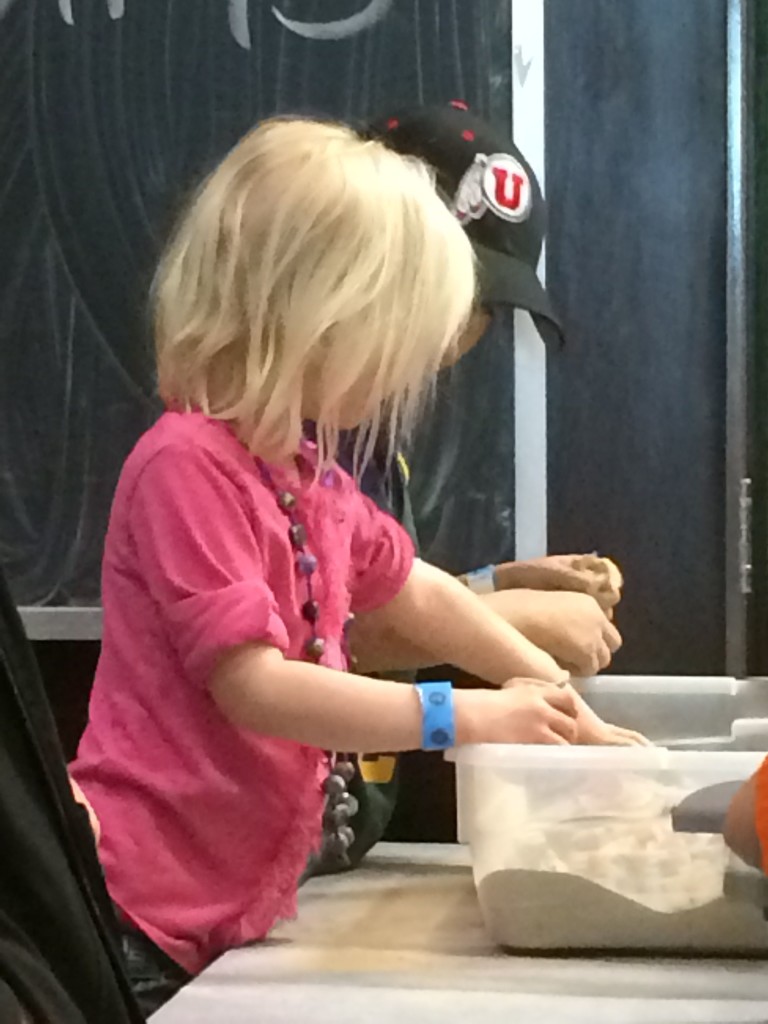 The next day Adam and Daisy went on her birthday trip. She loves her daddy and was so excited to go.
They went to Spencer's for steak. Our kids are definitely carnivores.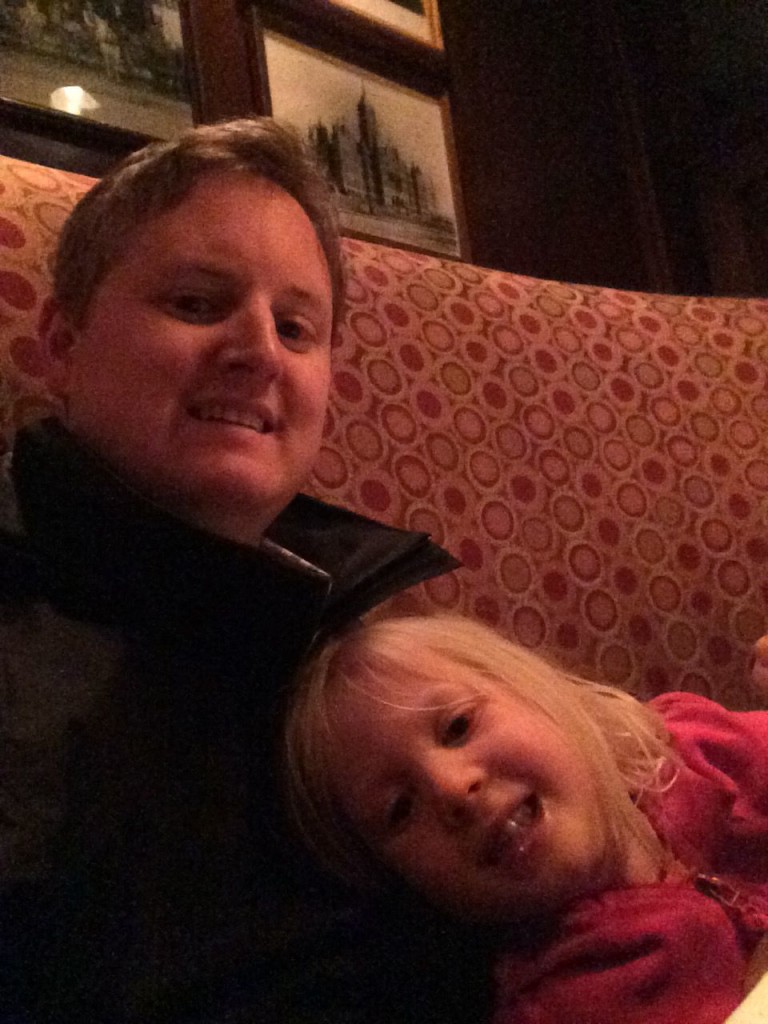 Look at that love.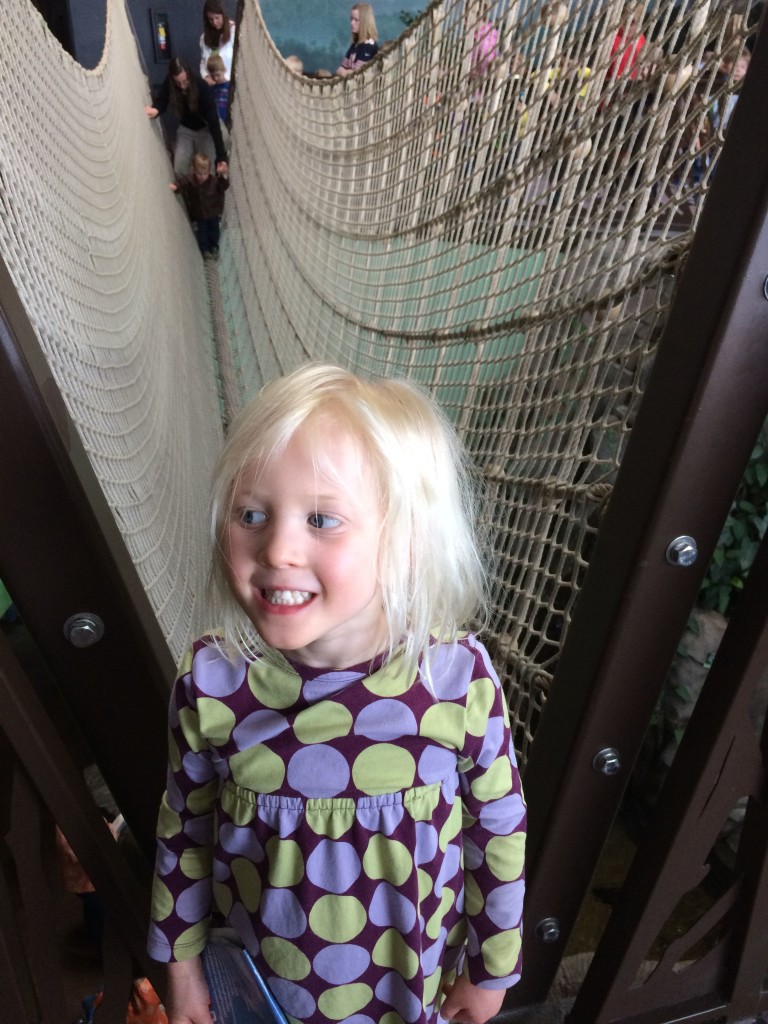 They went to the Museum of Natural Curiosity the next day and spent the day there. Lots for a newly 5-year-old to do!
Cheri and I met up at Thanksgiving Point (kids in tow, of course) to see the annual Tulip Festival. Oh how I love it.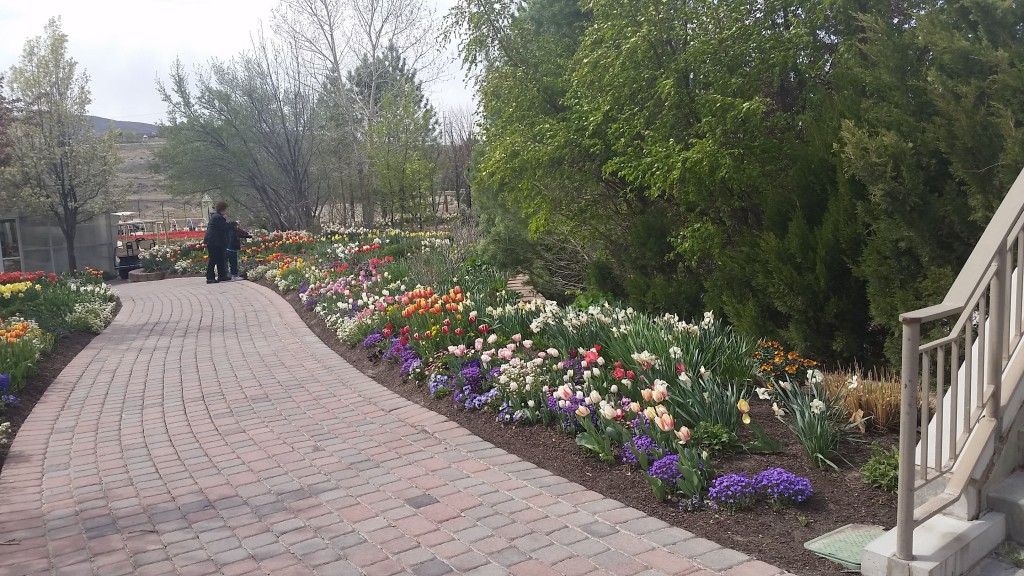 The best part is, the garden and tulips open a few days before the actual festival, which is basically a bunch of vendors. We got there two days before the crowds. I've been there during the festival and you can barely walk because it is so crowded. This time we had it all to ourselves.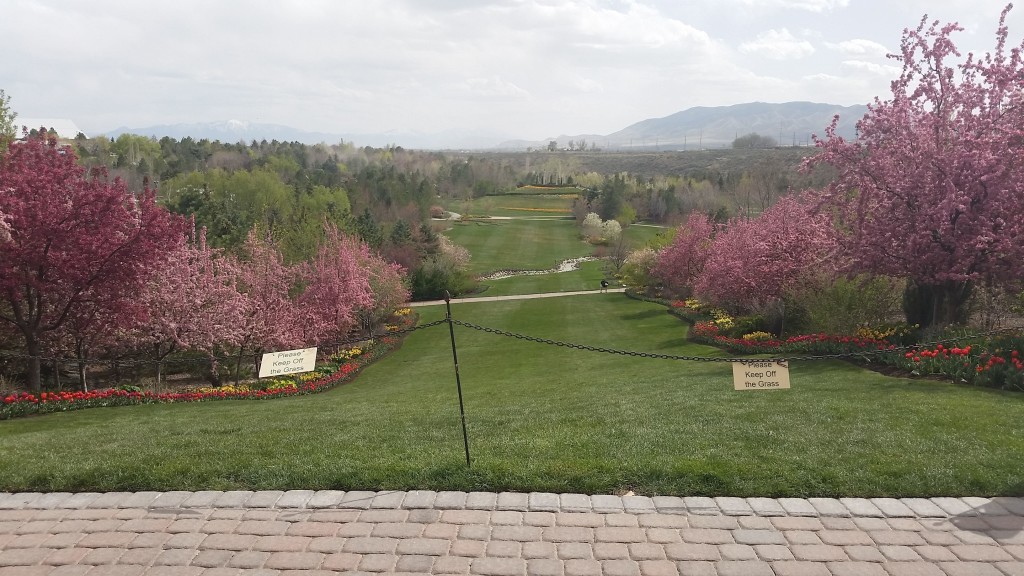 Along with the tulips, the trees were flowering. I love gardens. Have I mentioned that? 🙂
The kids happily rolled down the amphitheater hill while they were erecting a tent pavillion, and long the top you can see white tents set up for vendors.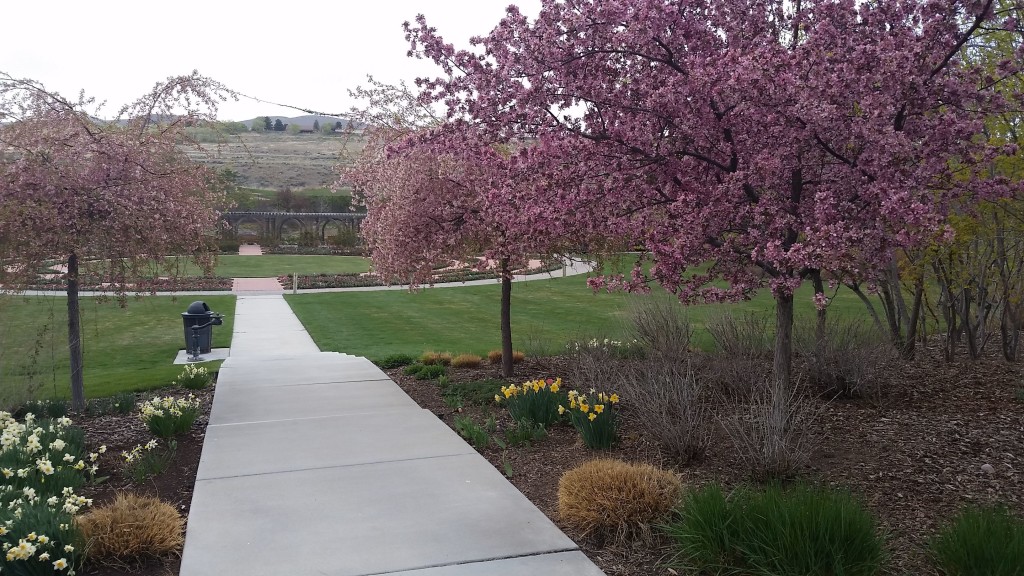 There were even some daffodils. They plant over 100,000 tulips, then once they are done blooming, dig them up and sell them and replant in the fall. Because deer love tulips and come down from the mountains every winter in search of food, there is a super tall fence all the way around this massive place, including gates they close at night on the road leading in. I've taken gardening classes at night in the winter, and they station someone there to open and close the gate for each individual car so the deer don't sneak in.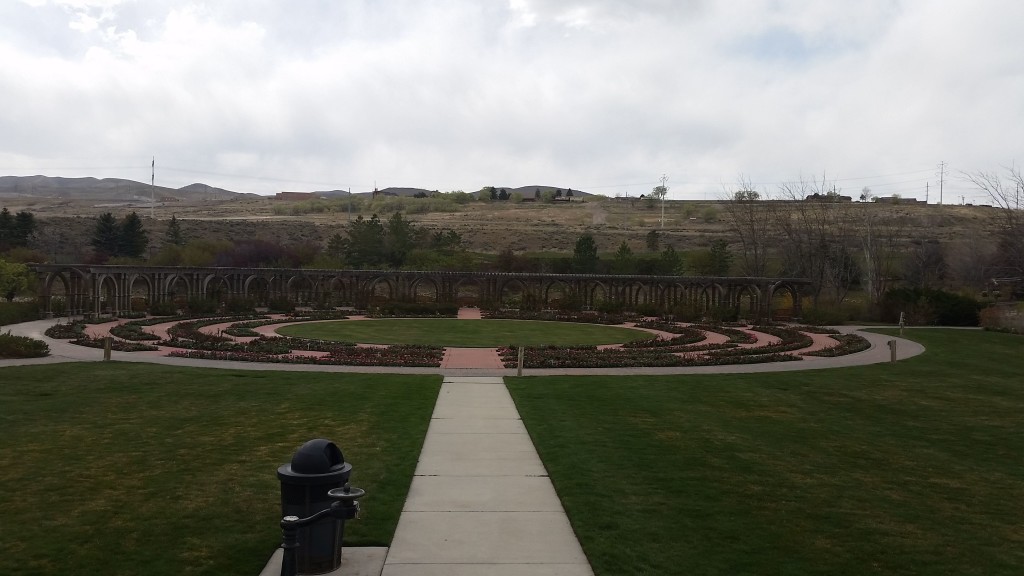 Here is the rose garden, obviously not in bloom, but beautiful even so.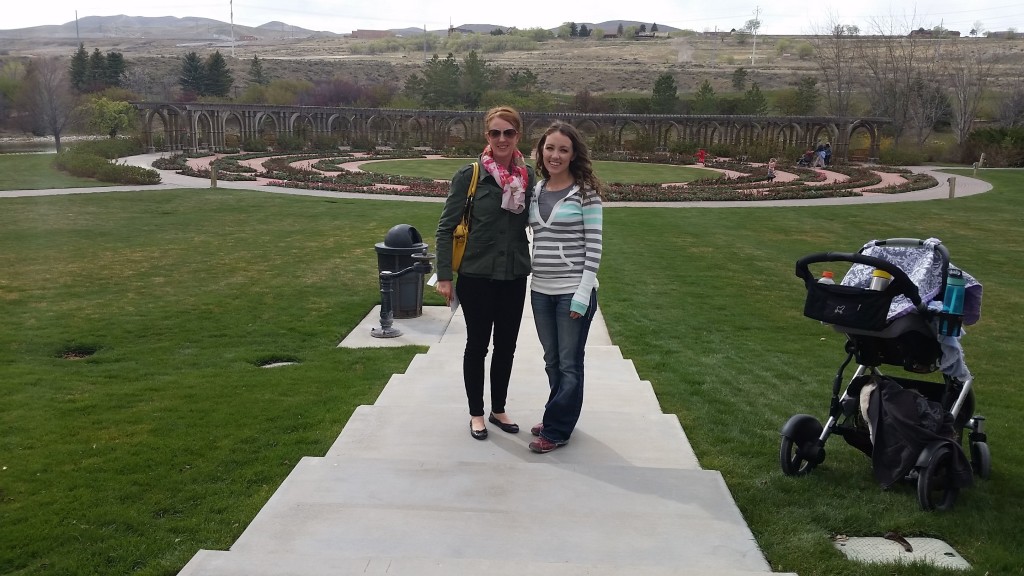 Cheri and me.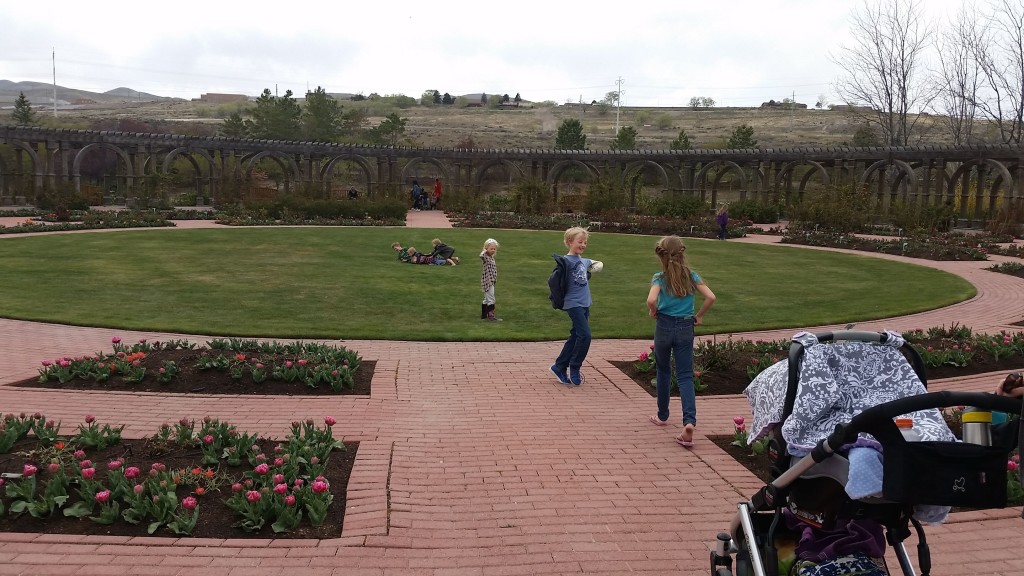 They do surround the cut back roses with tulips though, so it is still very pretty.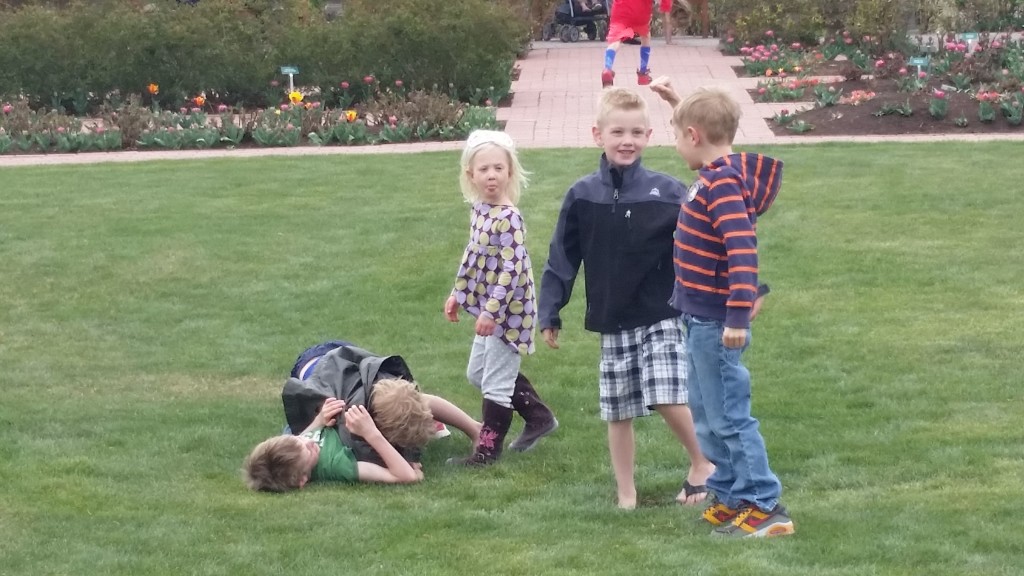 The cousins romped in the grass for a while.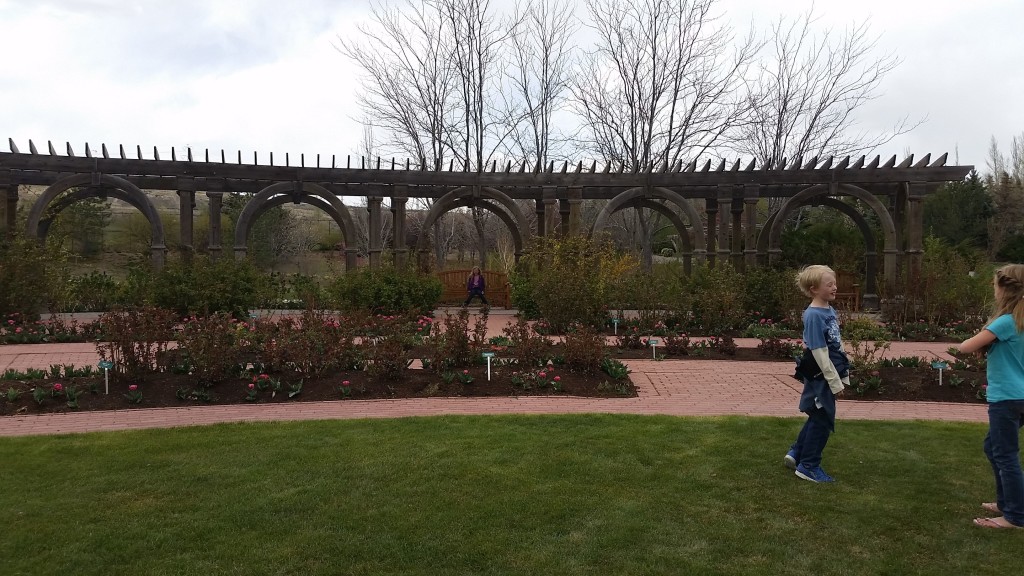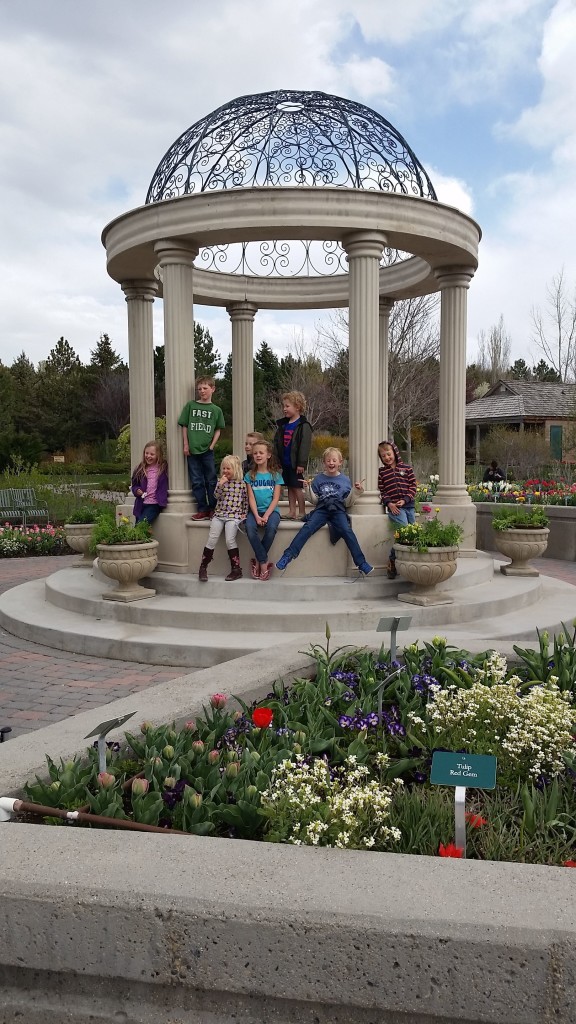 We attempted a group cousin shot.
I really love these gardens. Every year I'm tempted to run the half marathon/5k because it goes through the gardens. HOWEVER, it is a very hilly course, so every year I skip it. It also tends to rain the day of.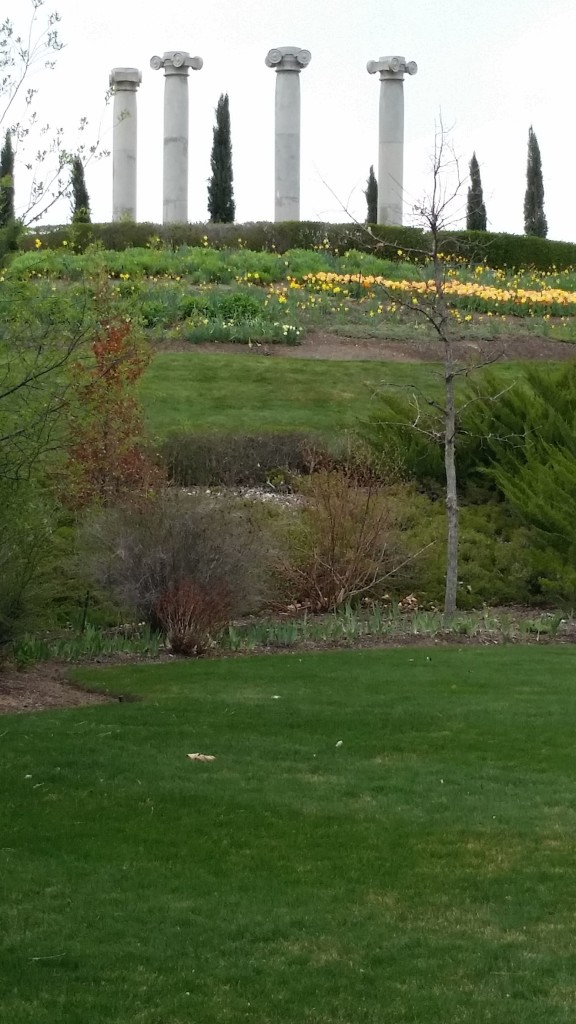 Every year we get an annual pass somewhere different. We haven't had one here in 4 years, so I got one. With the new Museum of Natural Curiosity, the children's garden, Museum of Natural History, farm land and these gardens, there is so much to see and do.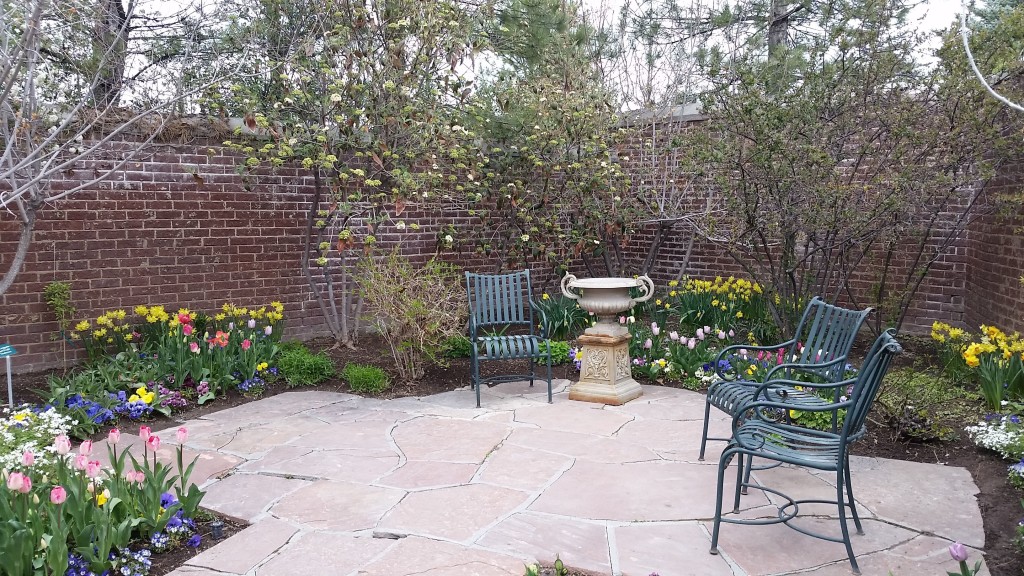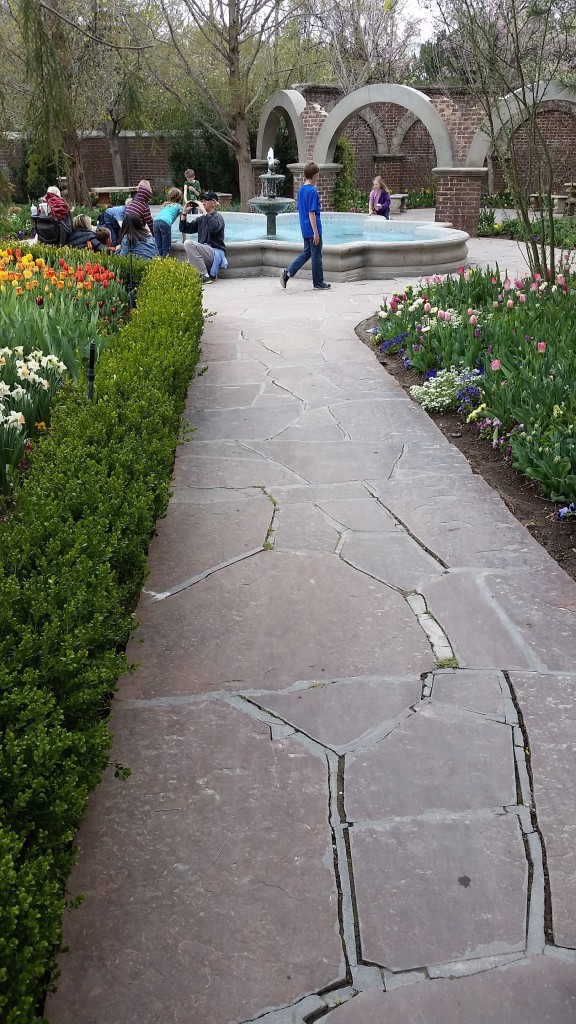 I love this secret garden.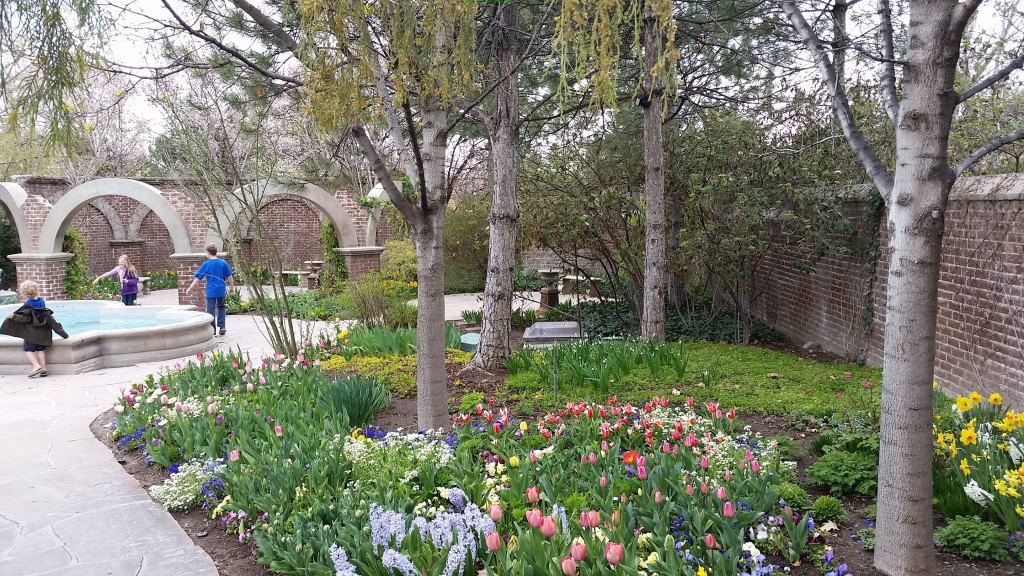 Different tulips come up at different times, so there is always something to see at this month-long festival.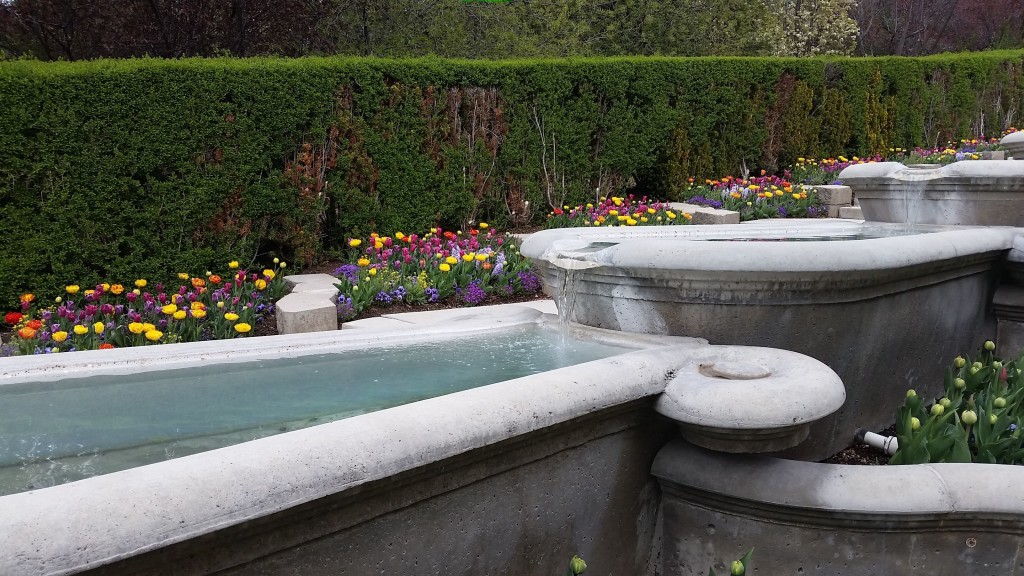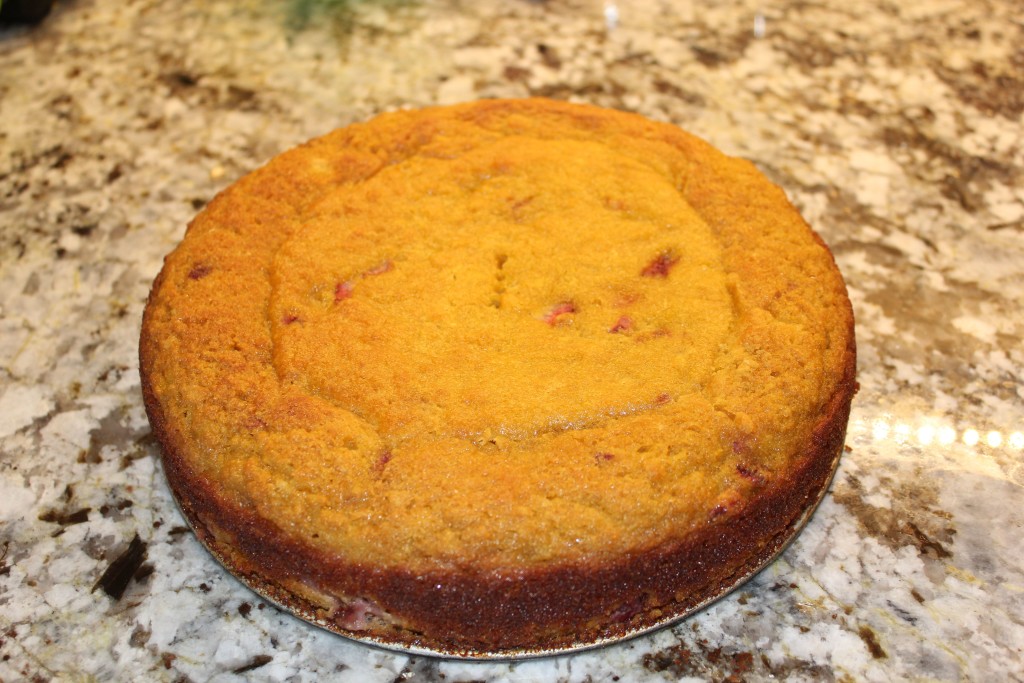 Caisen had his birthday, and we started full GAPS. I made him this GAPS strawberry cake. It was actually pretty tasty.
Notice the 7 made out of strawberries? That's because I'm fancy like that.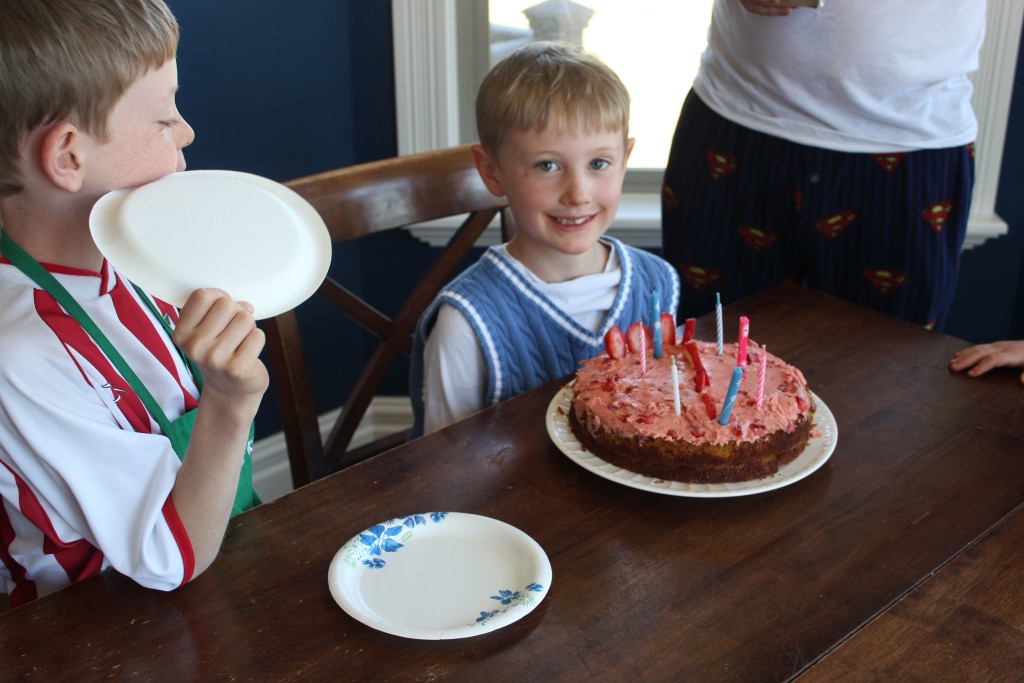 Random note, the kids got haircuts and the boys just got butchered. Especially Kimball. I didn't dare make them fix it because the next stop was a buzz.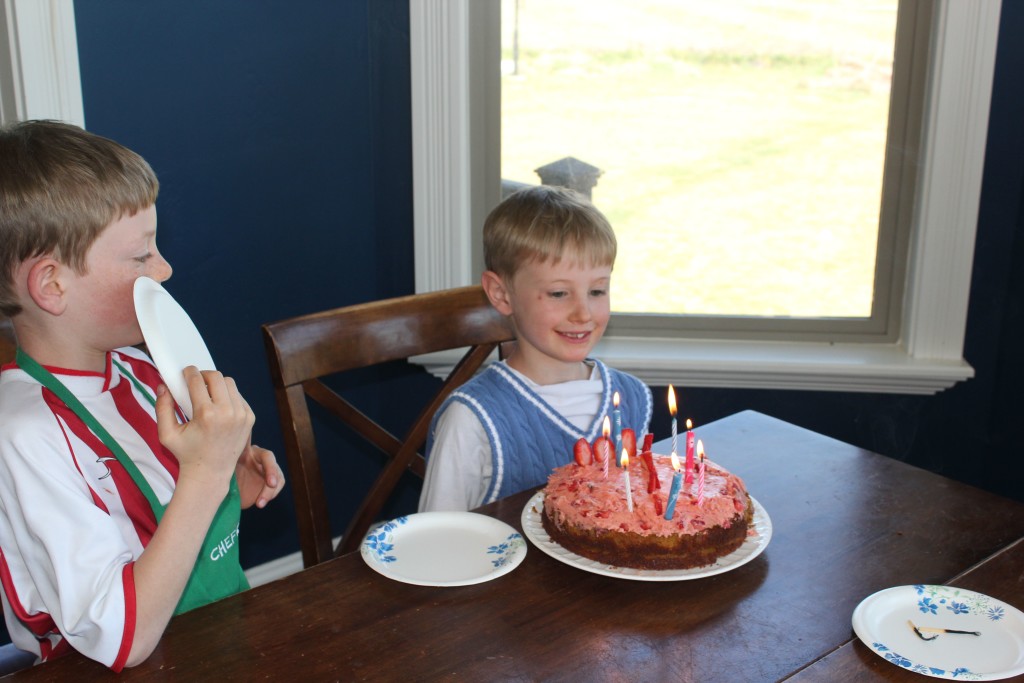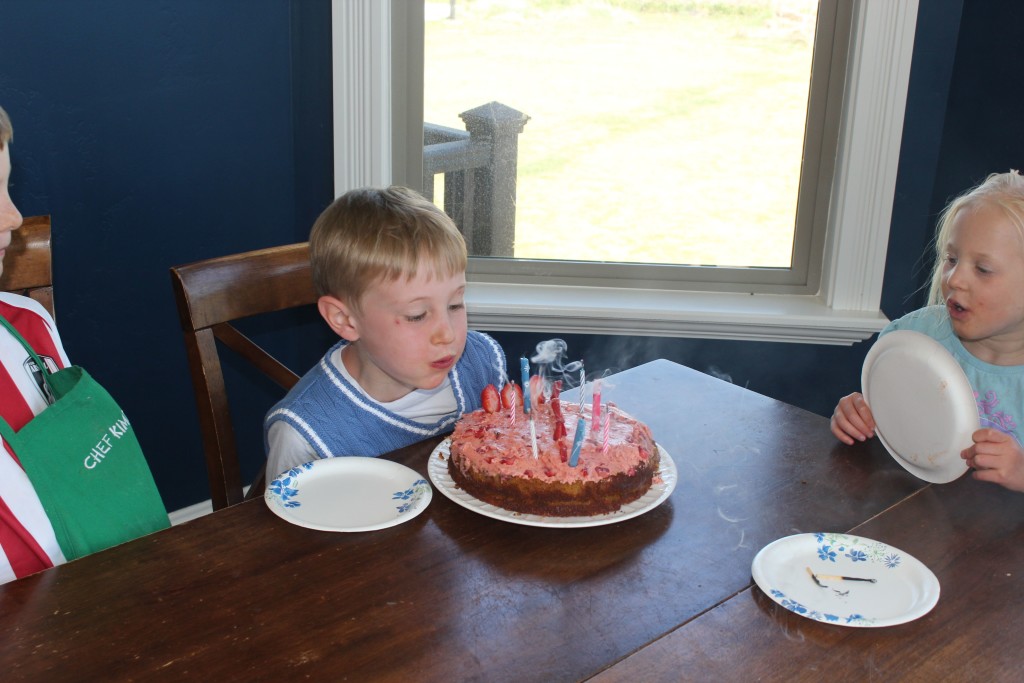 And THEN, for our anniversary Adam took me on a date to…Lagoon! He took me on the real roller coasters. This was us on the ferris wheel. We acted like teenagers all day. It was a beautiful day and really fun. We walked around City Creek for a while before heading to dinner.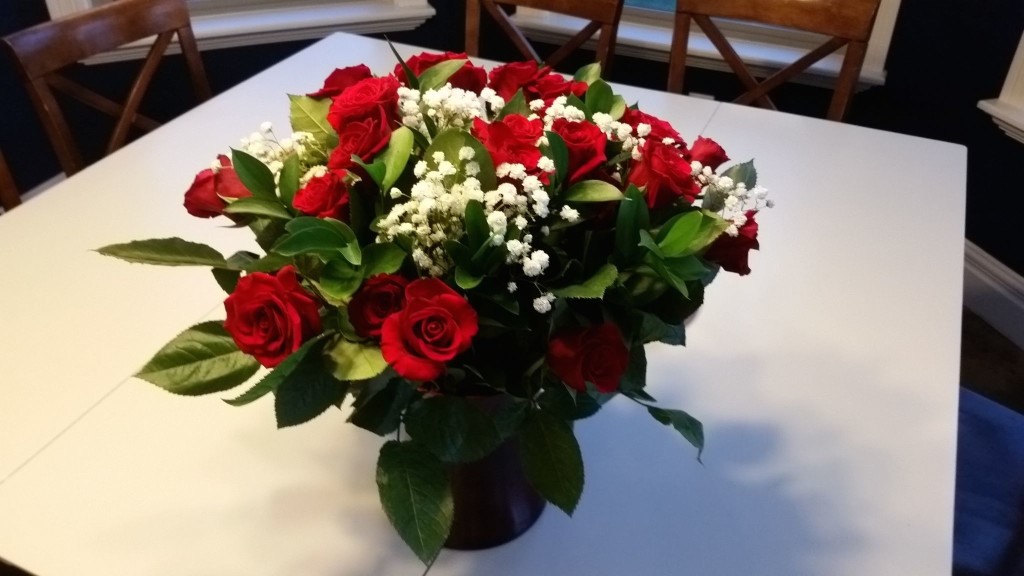 He got me 3 dozen roses for the 12 years we have been married. They were so beautiful and smelled amazing.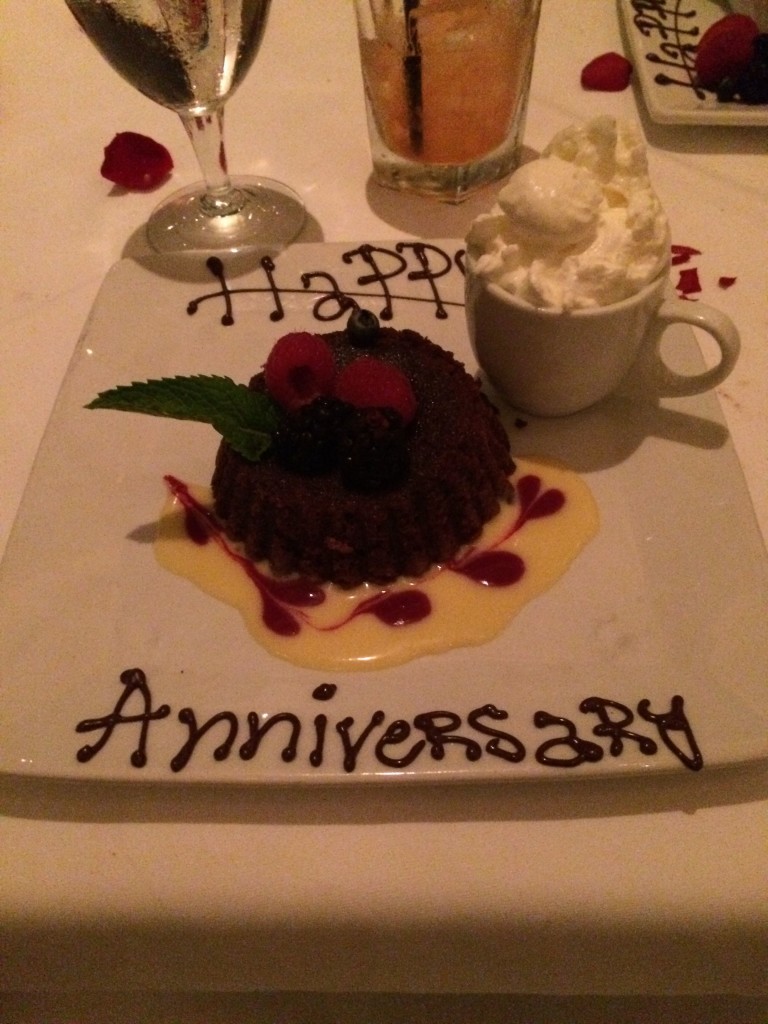 We went to Ruth's Chris. I hadn't been to one in six years because the last one we went to was in Birmingham and was one of the worst meals I've ever had. Awful food, awful service. We gave them a try again, and it was very good. Adam got to eat this lovely anniversary dessert. I didn't want to end the evening sick so I didn't eat it.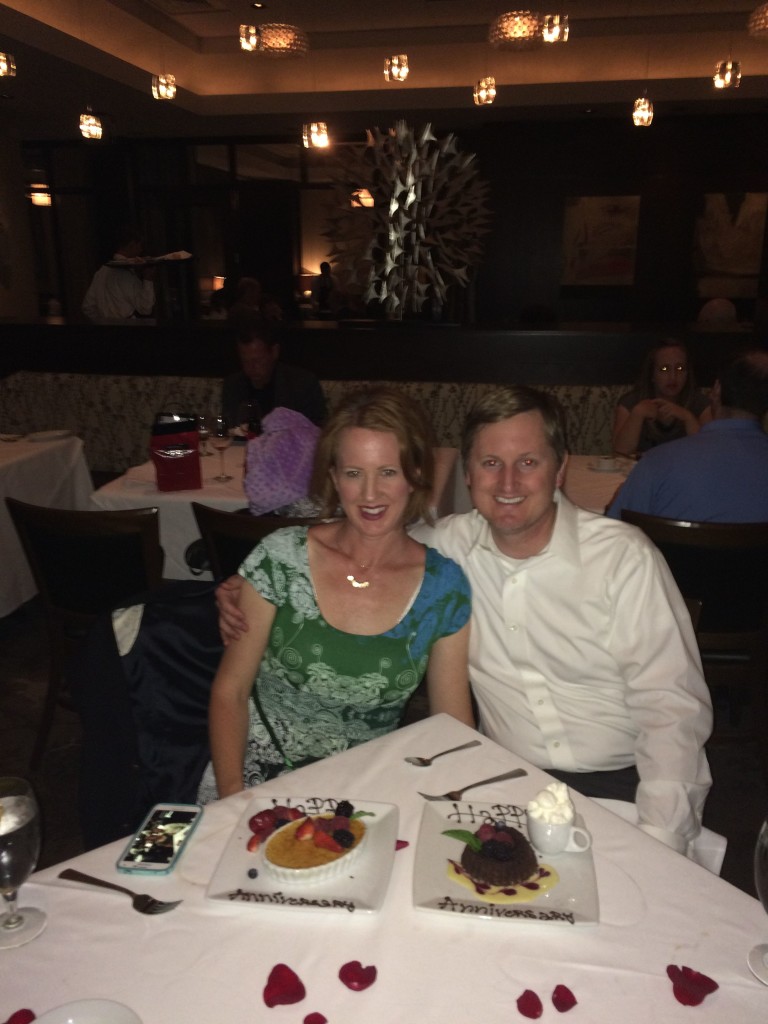 My phone just doesn't take good pictures in low light.
Adam secretly snapped this picture before church. He bought me that skirt and those shoes. He has excellent taste.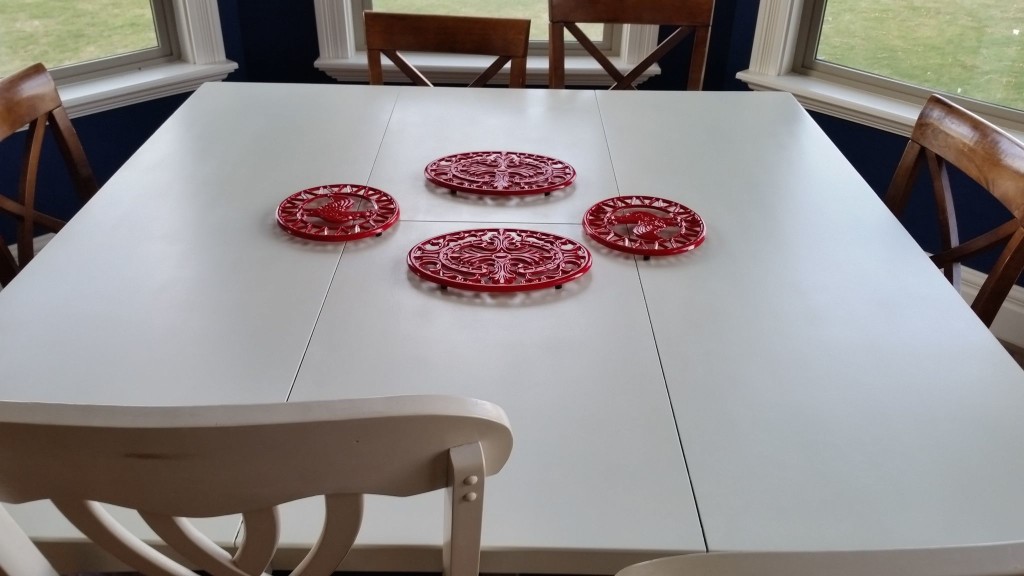 I painted the kitchen table white. I love how it looks. It really brightens up the room. It turned out to be a much more involved project than I anticipated, so I won't be doing the chairs anytime soon.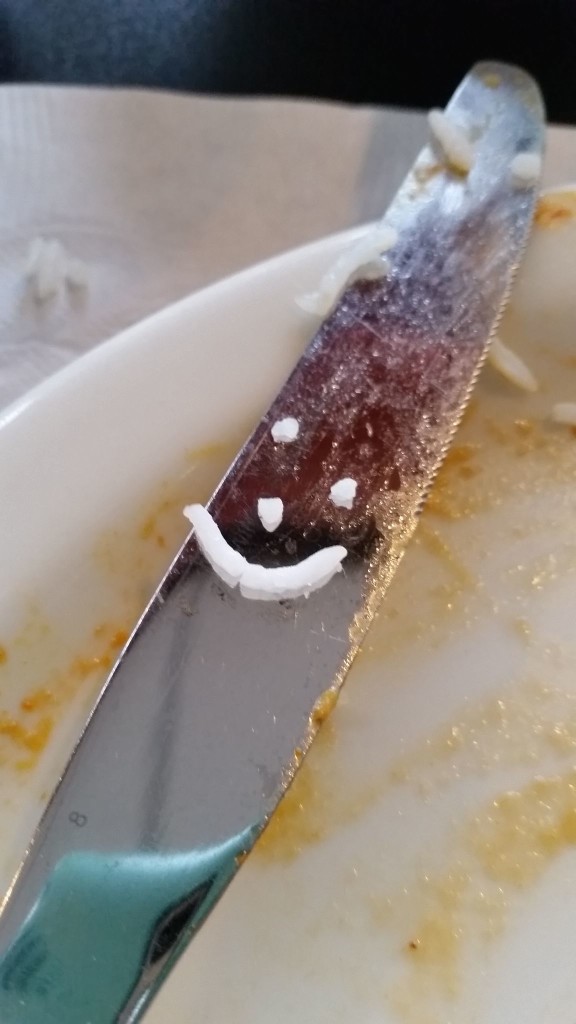 We went out for Indian food at a local restaurant that has a very clearly defined GFDF menu. I tried rice that night (and regretted it. Major tummy ache), and I ended up with this smiley face on my knife.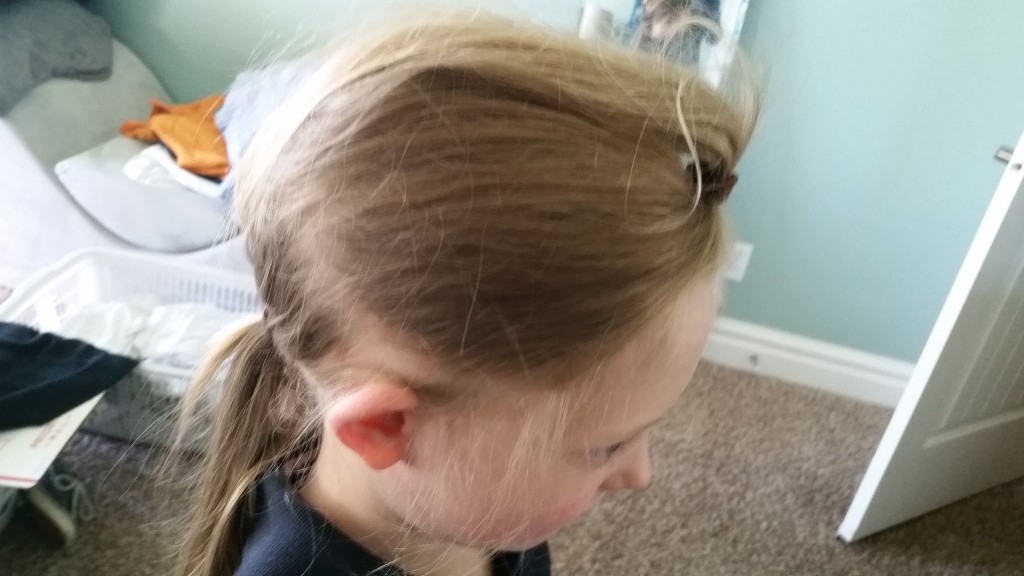 Brinlee made up a new hairstyle, and she was so proud of it. She has been doing her own ponytails all school year.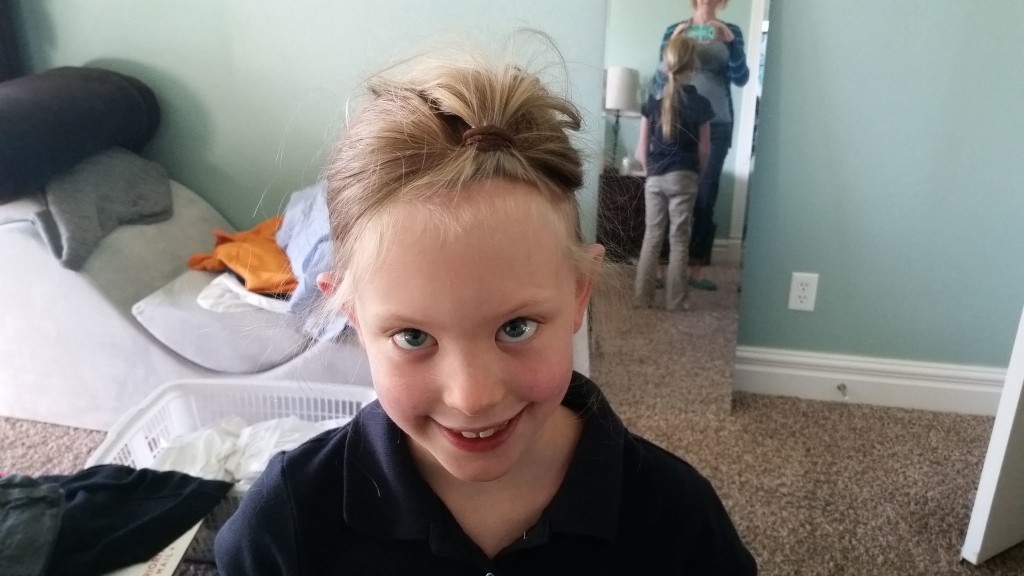 We called it the unicorn. She looks like Georgia in that picture.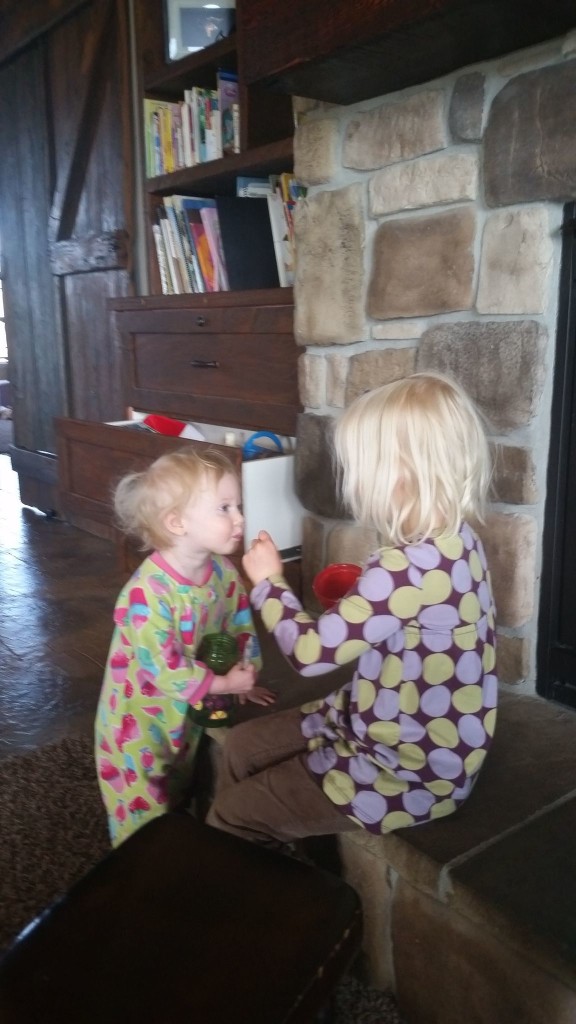 Georgia loves Daisy and Daisy loves Georgia. Her first clear word besides mama and daddy was Daisy. She calls for her the whole time Daisy is at school.
She is feeding her sips of water with a medicine syringe. Yummy.
My birthday was a trip to New Orleans to watch Kim compete in the New Orleans half iron man.
This was such a big and busy month, and more big and busy is coming, so stay tuned!