October 2010 – It was not a smooth exit. I was not ready. I had been up so late packing. Several friends had come to help. The movers were supposed to be there at 8:30 to load the truck. They showed up at 12:30. That's right, four hours late. A crew of my friends showed up to help us pack that day too. Before this I had carefully labeled each box with exactly what was in it, but at this point we were tossing in anything we could find into any box we saw. In the last hour, Caisen tossed one of his brand new sneakers into one of the boxes. We found it 6 months and a new shoe size later when we unpacked.
These movers were ridiculous. They kept trying to leave, telling me they were finished. Um, all of our furniture is still upstairs. We want to take that with us. They finally snuck off, and there was still stuff in the house. We had to pack up what we could in our cars, and leave the rest behind, like our vacuum and steam mop. When we unloaded the truck at our storage unit, we also saw that they broke a pedal off the piano and didn't mention it.
The kids were really sick with sinus infections. They had vomited up mucus a few times the day before. We were supposed to drive to Knoxville that afternoon, but we were four hours behind schedule. A couple of the kids had fallen asleep at 5:00. By the time we were done packing the cars, it was late, the kids were sick and asleep, and we were too tired to make the drive. So we slept on the carpet with no pillows and Adam and I shared a single throw for a blanket. It was a long, uncomfortable night. The next day we took the kids to the pediatrician's office and they all got antibiotics on our way out of town, but not before hitting the Waffle House for a good brunch (um, no).
It was hard to go, but we'll always remember how much we loved it there. Thanks again to all of our friends who helped us!
The trip across the country was actually easier than I could have imagined. The kids did great. We decided to make our first day the long day. We made it all the way to Kansas City. Two of the kids were in Daddy's car, and three were in my car. We stopped for lunch and dinner and let them get out and play and burn off energy. In my car they had some new movies, and they also had their Leapsters. They were very patient and good.
The longest part was our trip across Kansas. The only thing interesting were the wind turbines. Those are huge! A friend offered us some guest rooms at her house, a delicious home-cooked meal, and comfortable beds. That was wonderful, and so much better than a hotel. We made it to our final destination on the third day. Wyoming was every bit as boring and monotonous as Kansas. Those two states take FOREVER.
We had planned to spend more time visiting my family, but the moving truck that was going to take a couple of weeks only took five days, so we were racing our stuff! It was nice get out of the car and start unpacking. Adam's parents offered to let us stay with them while we looked for a house, which was very generous, and not easy on them. We had yet another small birthday party for BKS so grandma and grandpa could give them their gifts. The weather was still nice for a few more days after we got here, which was nice.
It nearly never snows in Georgia, so we had no snow gear for the kids. There was a little snow on the ground when we arrived, so Brinlee put on my boots to go outside.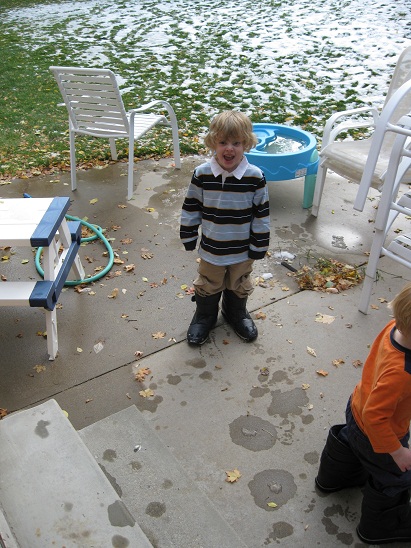 Kimball got out Grandma's moon boots.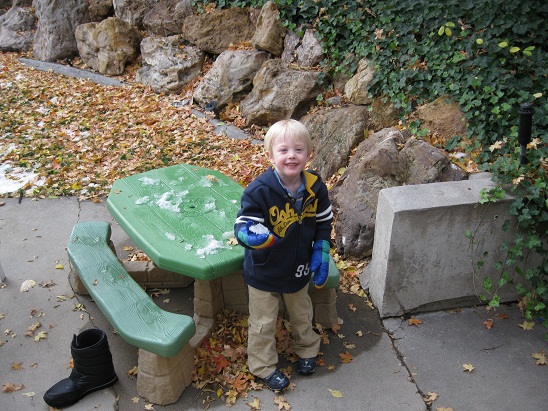 Sawyer decided to stick with his own shoes. They are easier to run and walk in.