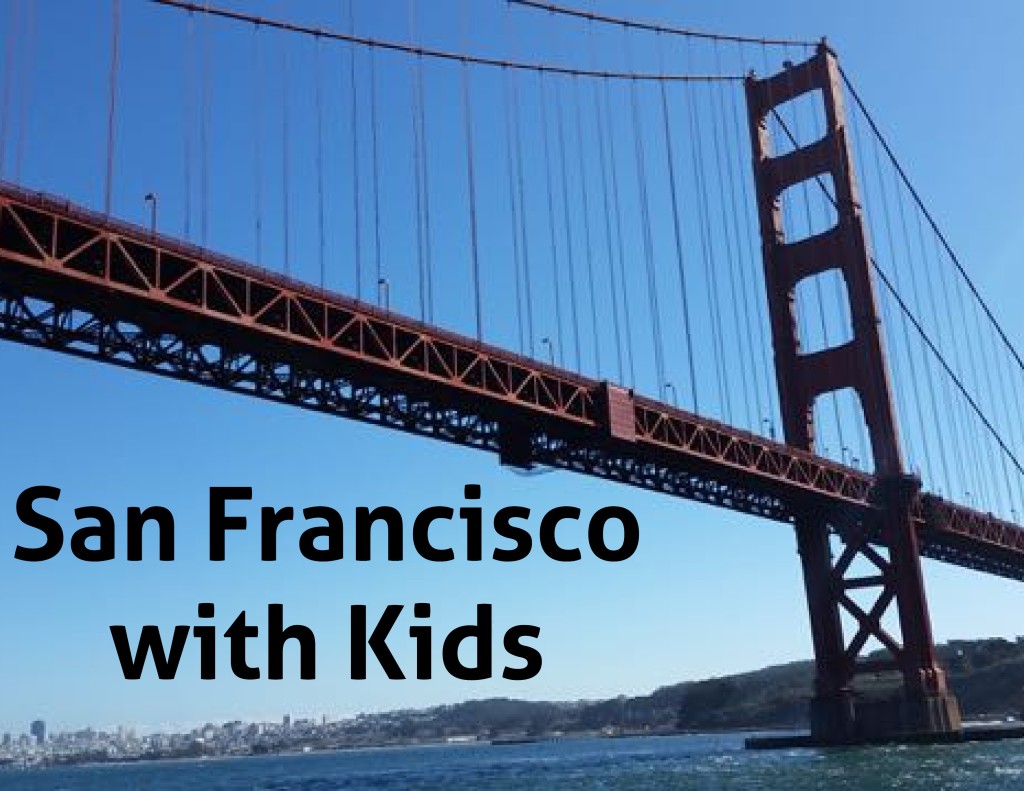 For this year's birthday trip, we offered Brinlee, Kimball and Sawyer three options: Disneyland again, San Diego or San Francisco. We told them they all had to agree. After a couple of days of negotiations they all came back and said San Francisco. Honestly, we were surprised, but excited. They said they wanted to see a new city, and San Francisco is a great one to see. Even better, October is a great weather month to go to San Francisco. I haven't been in eleven years, but Adam goes all the time for work.
Travel tip: Even in the nice month of weather in San Francisco, it can be unpredictable, so wear light layers, and always take a jacket. Summer isn't summer in SF. The last time we went was in July, and packed for July weather in the Northern Hemisphere. That was a mistake. It was freezing and really windy. On this trip the weather forecast read the same every day, but it felt very different each day. I foolishly left my jacket home, and I ended up wearing Adam's all the days but the last, which was technically the same weather as the previous days, but felt much warmer for some reason. The nights will always be cool, so just pack a jacket always. If you will be leaving the bay area, the weather is likely to be much different (i.e. warmer in the summer), so account for that as well.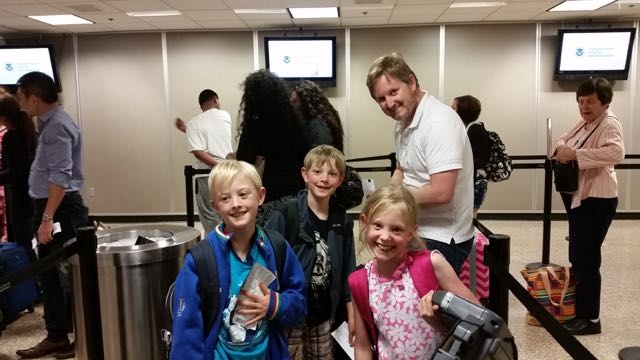 These three have reached an age that they are fun to travel with. Getting through the airport isn't the big deal it was when the were six months old, or 18 months old, or two, or even three.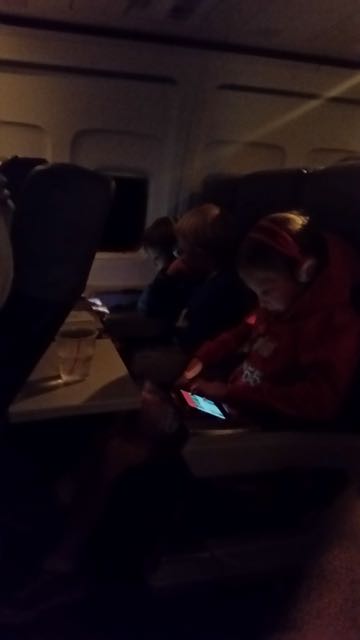 We took a late flight. They kids watched movies on their tablets with headphones and we sat across the aisle. So easy. So nice.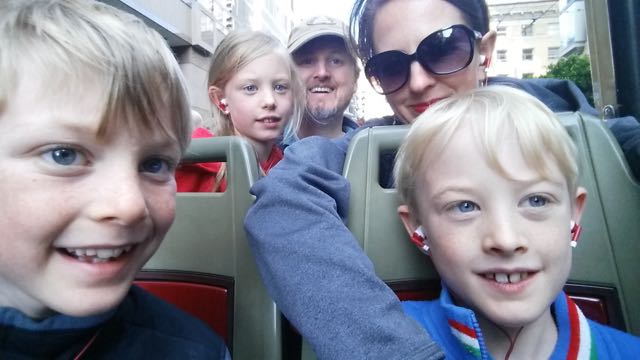 The next morning, after a delicious breakfast we got on a double decker bus for a tour of the city. Of course we sat up top for the best view!
It was a great way to see some of the interesting areas in a faster manner. We wanted the kids to see the different architecture and neighborhoods, see how different this city looks compared to our own, but knew it wouldn't be interesting enough to them to stop and stay.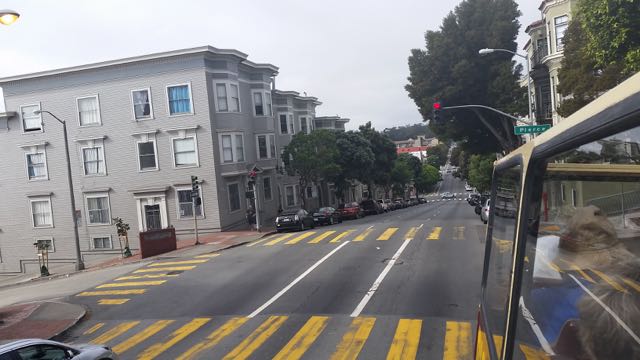 Besides, what kid doesn't want to ride on top of a red open air double decker bus?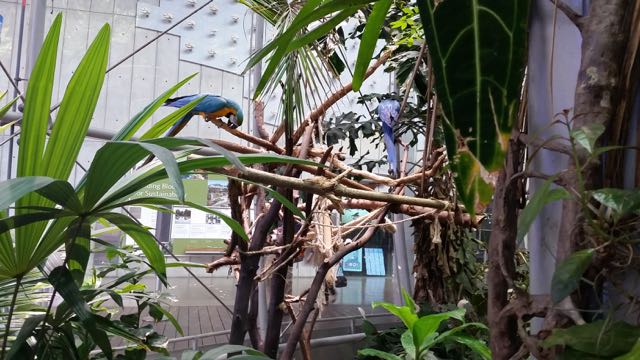 It's also an easy way to get around town with the hop on hop off option. We decided to get off at the California Academy of Sciences stop first. It was really cool. We went through the rainforest first.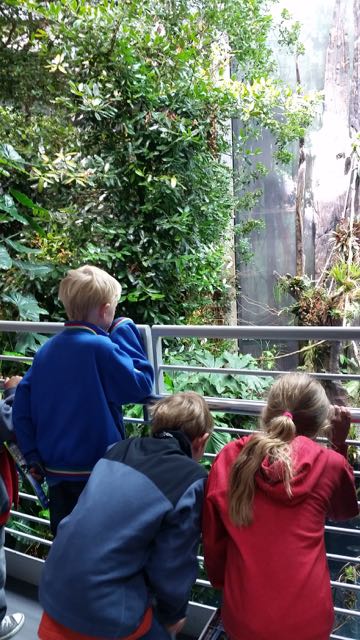 There were butterflies, frogs, hummingbirds, snakes, lizards,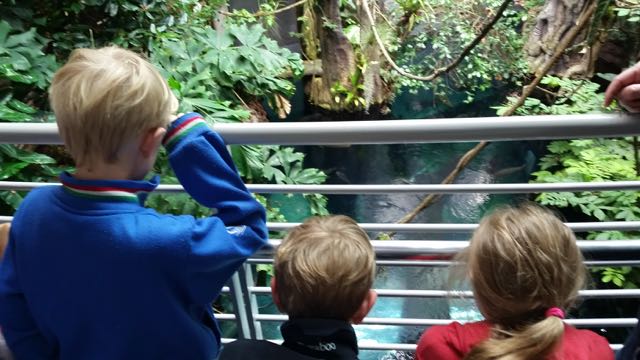 Unnaturally blue/green water.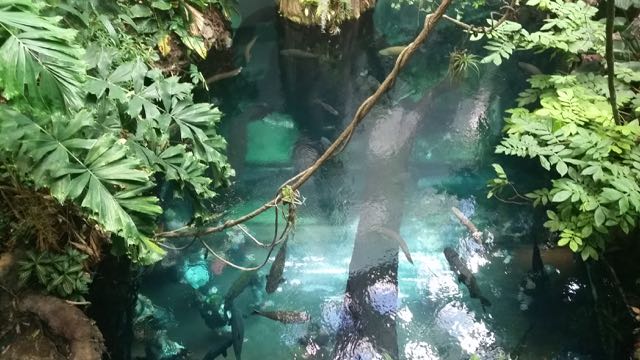 Travel tip: We bought the San Francisco City Pass for entrance into the Exploratorium, California Academy of Sciences, etc. We've done that in other cities around the world like Florence, Italy, New York City, etc. It's not always the best option, but sometimes it can definitely save money. Look at the list of options included and consider the timeline it is valid. Can you see all those things in the 3 days allotted, for example? Are the places you want to visit open on the days you will be there? Then do a little math. Add up what you would spend on the regular entrance fees of the places you'd like to visit, and compare it to the cost of the pass. An added benefit of these passes is sometimes you can skip the ticket line and go straight to the entrance line, like at museums, but at places where there is timed entry, probably not. Always read the fine print on each location.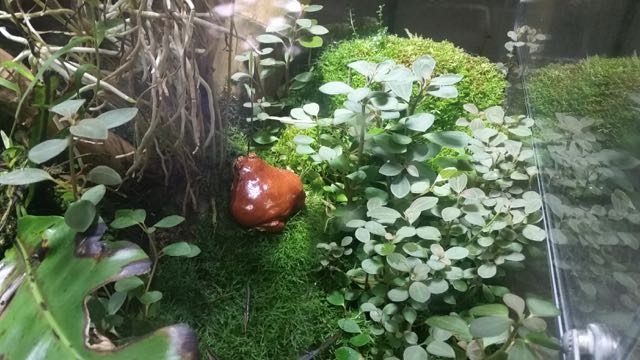 The kids wanted a picture of this orange frog for Caisen. I love that when our kids are on their birthday trips they think of their siblings. Everywhere we went they commented, "Caisen would love this! Mom, I wish Daisy could see this! Should we get a bear for Georgia? We need to come back and bring them!" Brinlee, the chicken connoisseur thinks the orange frog looks like fresh chicken poop. She would know. The chickens have pooped on her more than once.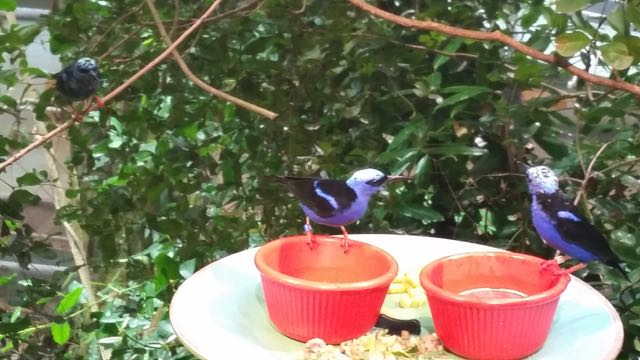 Thanks goodness for the feeding trays so we could get a good look at the hummingbirds.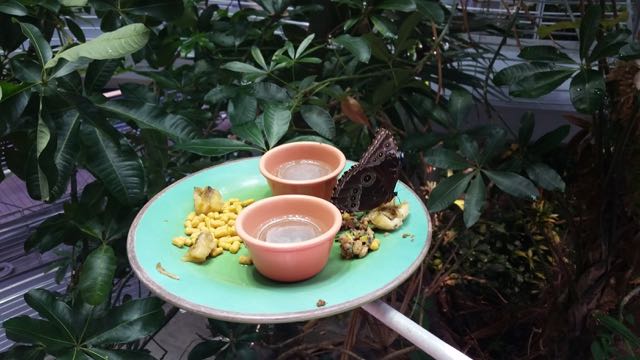 And the butterflies.
We got a chance to touch sea urchins and starfish. I should say they. They got a chance to touch sea urchins and starfish. No way would I touch one of those.
We went into the earthquake room which was really cool.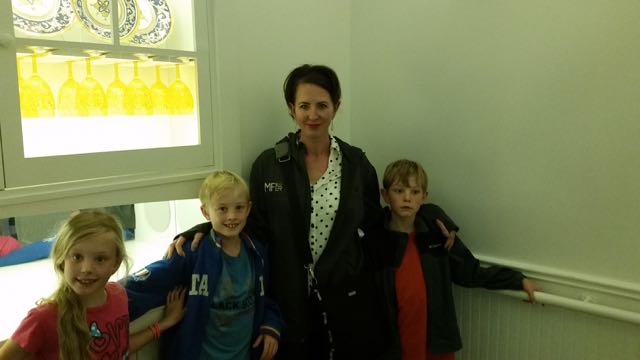 Everything is strapped down, like the dishes in the cabinet, the pictures on the walls, and then they shift those tectonic plates, and the shaking starts! The kids thought it was fun, but that is only because it wasn't real. I hope we never get to compare the real thing to the fake thing. Brinlee said it was her favorite part of the trip.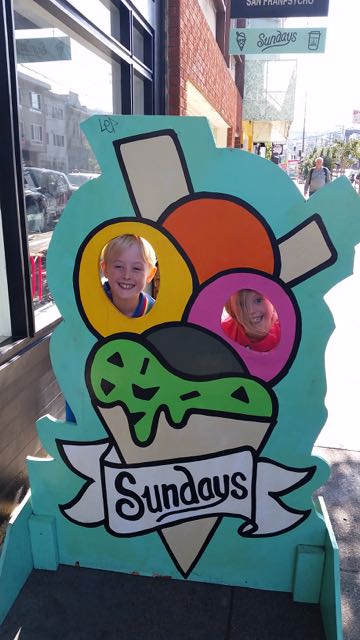 Cute enough to eat!
Adam found us a fabulous gluten free restaurant for lunch.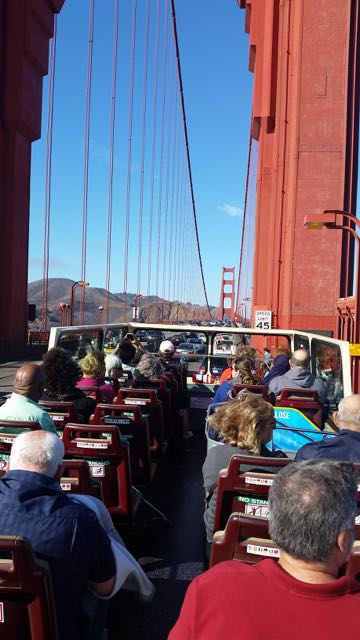 We hopped back on the bus for a ride across the Golden Gate Bridge.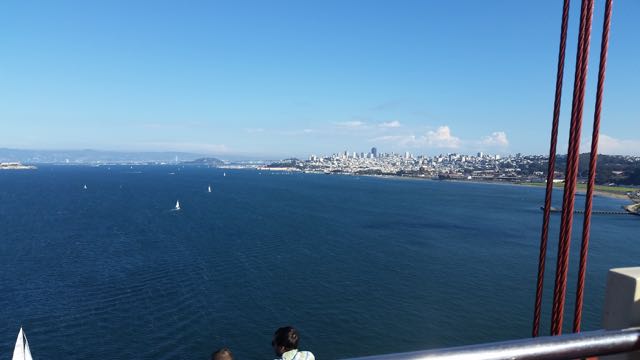 We drove across it later in a car, but the double decker bus is best for really getting to admire the bridge, the view of the bay and the city, all of it. You're up higher, in the open air, you can see more, and you're not driving a car and trying to admire the view without wrecking.
Chinatown in San Francisco is way better than the one in New York. We explained to the kids how San Francisco ended up with such a large Chinese population, and where the term Shanghaied came from. I love to read historical fiction about places we visit, and Daughter of Fortune by Isabel Allende is a great one about the period of time when San Francisco was being established.
I love this picture. Anyone with triplets needs a picture like this. They didn't understand why it was funny, but Adam and I loved it.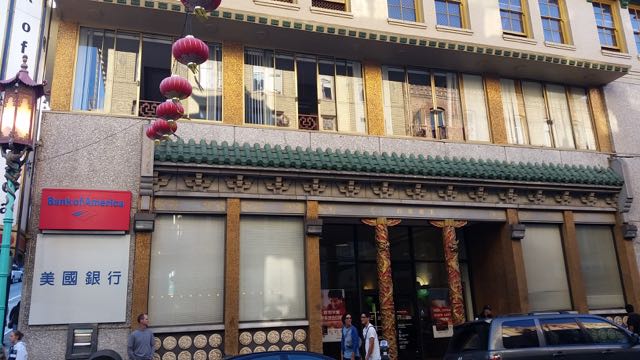 Even the bank is fancy.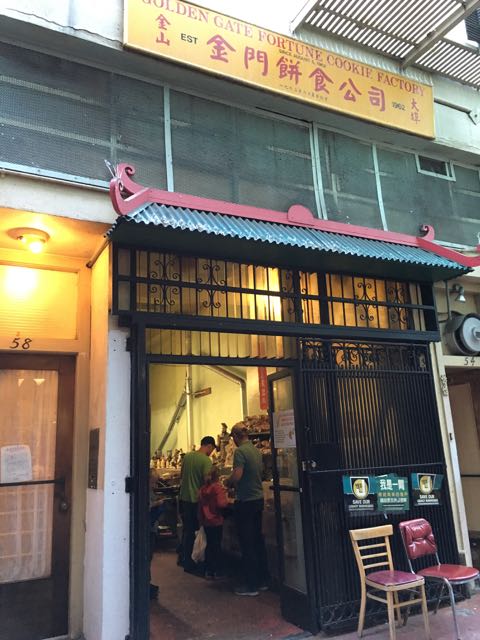 One of the really unique things we did is go to a fortune cookie factory where the kids got to write out fortunes and make their own. They got a big kick out of it.
It is hidden in this random sketchy looking alley that your mother would tell you never to go down, and if we hadn't known about it beforehand, we would never have walked down that alley to find it. Ever.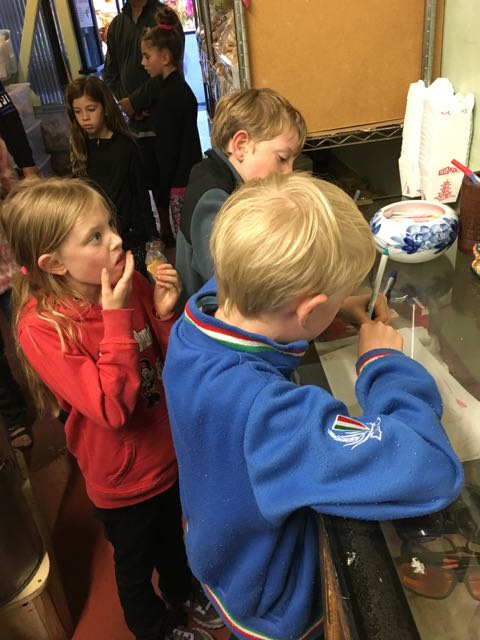 They each got to write their own fortunes on slips of paper.
They hand them to the people making the fortune cookies, and they put them inside the fortune cookies.
If you have zero patience (Kimball), you eat your fortune immediately. Just kidding. That bucket in front of him is full of edible scraps that were too hard to fold and bend, so anyone can grab some to eat, if you like the taste of fresh fortune cookie. These are actually tastier than most, more lemony and less carboard-y. You can also order custom fortune cookies from them online.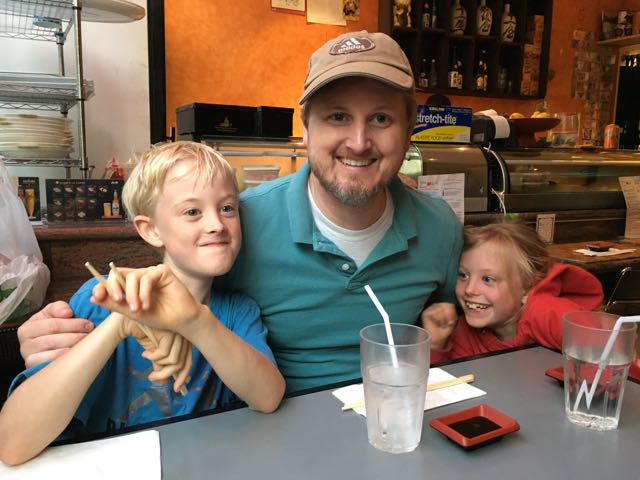 In China Town we stopped for sushi for dinner. I gave the kids a lesson in using chopsticks, and they did great!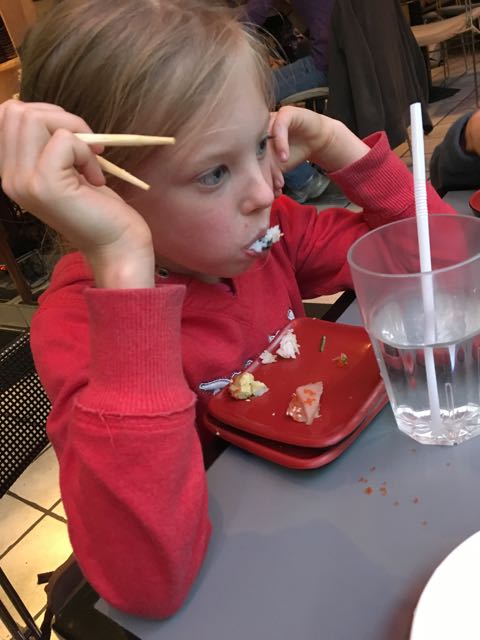 Brinlee seems to be enjoying her dinner.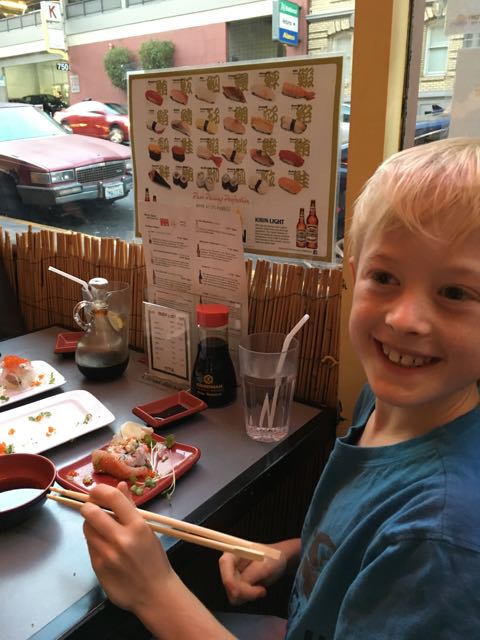 Sawyer is a foodie like his mama. He loves just about everything, and was very excited to try sushi. He loved it, of course.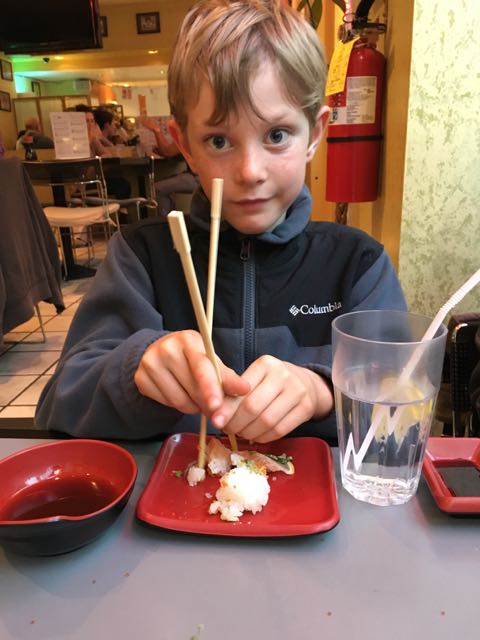 Kimball adjusting his hold on the chopsticks. They all did great with them.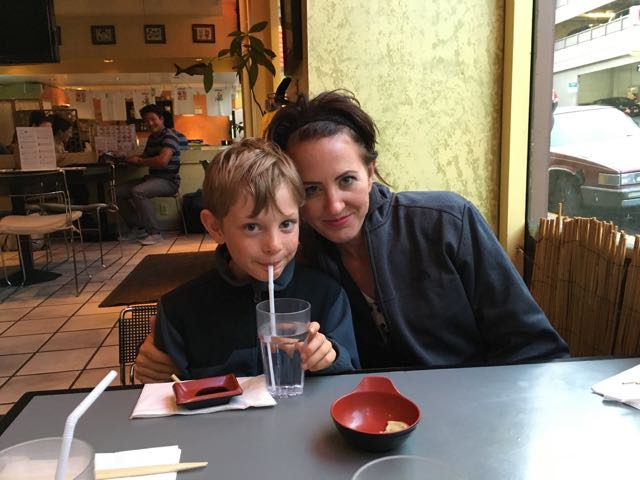 The next morning we walked to the Ferry Plaza Farmer's Market on the pier. There were vendors outside, and little stores inside. There was a gluten free bakery that was fantastic called Mariposa Baking Company. We each picked a dessert to enjoy, and we bought a couple of things to take on our picnic the next day, including a birthday cake for Brinlee, Kimball and Sawyer.
As we walked down past the different piers, we took a few detours and stock of what we wanted to do later. Brinlee, Kimball and Sawyer decided these were battle ships.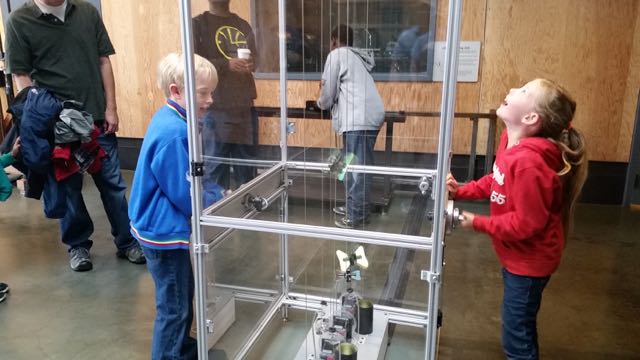 Our next destination was the Exploratorium, and the kids would have spent all day there if we'd had time. There were so many cool mechanical things to experiment with and see how they worked. This is a great place for kids and adults.
Sawyer especially loves putting things together and understanding how things work. He has had the engineer's approach since he was an infant. I remember when they all three were in their bouncy chairs, and while Brinlee and Kimball were busy smacking the toys dangling in front of their faces, Sawyer held his and turned it over and over to figure it out.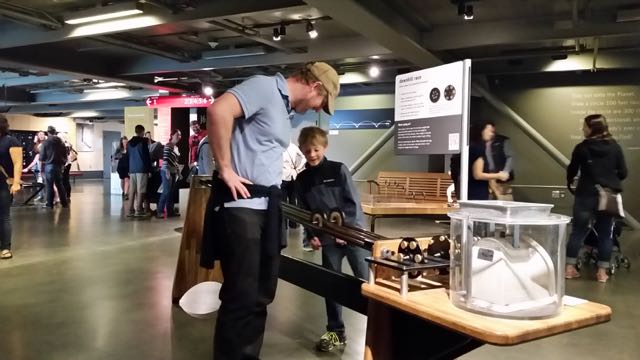 Even Adam and I had a great time there.
Of course we went to Pier 39. It's a crowded, cheesy, tourist trap, but necessary on your first trip.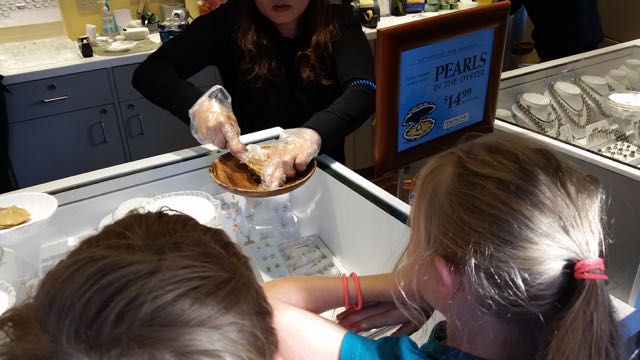 When Adam and I went 11 years ago, he insisted I open two oysters to get pearls. This time he wanted Brinlee to choose an oyster and open it to get a pearl.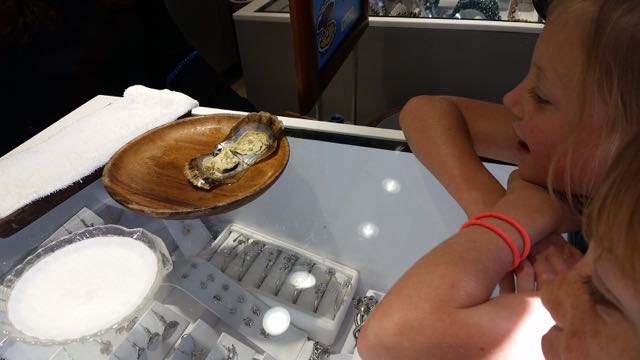 Her pearl was huge! We bought her a necklace and pendant to mount it on as a special birthday gift. She absolutely loves it!
Travel tip: Just so you're clear, that $15 advertised price is how they real you in. That is just for the special experience of opening your oyster and getting a pearl. Then they have a lovely collection of settings you can buy to be able to wear your pearl, because what are you going to do with a loose pearl? We knew this before we did it, so we were expecting the cost, but many aren't. With the pearl, the pendant and the chain, it was close to $100. The two pearls I opened 11 years ago are in a bag in my jewelry box, not set. I already had pearl earrings I wore on my wedding day (and never again). I didn't care for any of the settings they had, so I passed, especially considering the price tag.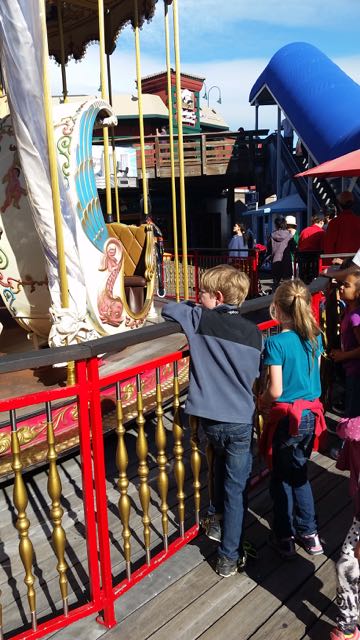 Travel tip: To keep things fair and the souvenir purchasing under control, we gave each of the kids a certain amount of money to spend on souvenirs during the trip. Sawyer chose a hat, a t-shirt and this spinny flying toy thing, Brinlee's necklace cost that and then some, but it was Adam's idea to do the pearl, so we covered the rest. Kimball chose a trolley music box and decided to keep the rest of his money for later because he didn't see anything else he wanted.
Travel tip: I mentioned this in another post, but when buying souvenirs, check Amazon. The toy Sawyer chose at the Exploratorium was also for sale on Amazon, a little less expensive, shipped for free to my house, and we didn't have to carry it around the rest of the day or find room in the suitcase. Obviously some things you can't do that with, but you'd be surprised at what you can do that with. It's always worth checking on your phone.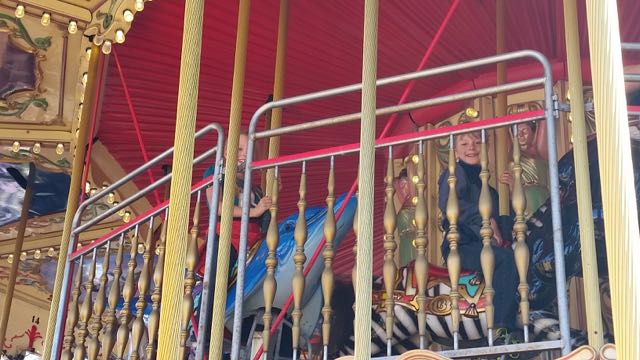 A carousel is just about Kimball's speed. He hates rollercoasters. This is his version of a thrill ride, I mean, he was all the way up on the second story. Death-defying, that's what it was.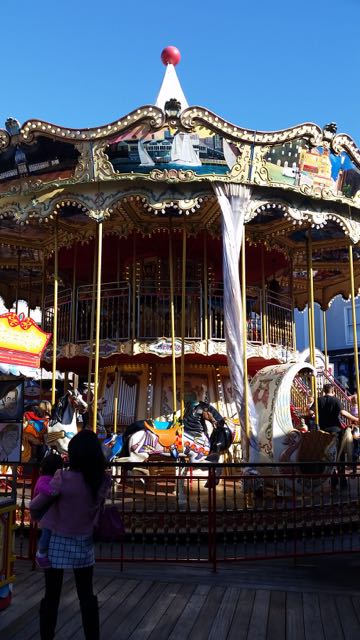 The San Francisco City Pass also included a bay cruise. We got our tickets and had a little time to kill, so Adam got some caramel apples.
Travel tip: Read the fine print on these things. For example, you can't just walk onto the bay cruise ship with your City Pass voucher. You have to get in line and exchange it for a real ticket, which caused problems for some people we saw who were trying to board last minute with the wrong item. They missed the cruise. This will apply to many of the activities on City Passes around the world, so check as you are planning your timeline.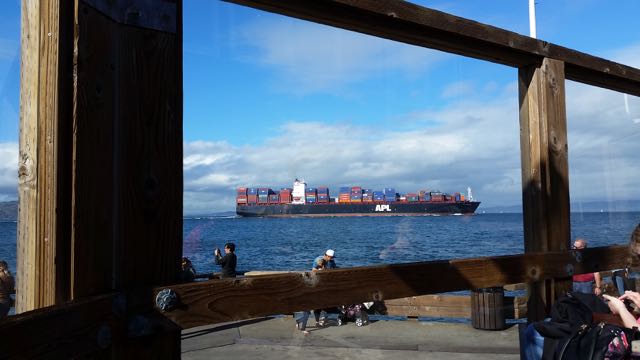 We found a picnic table by the water and behind plexiglass to protect from the wind. The kids were fascinated watching the various ships go by while we ate.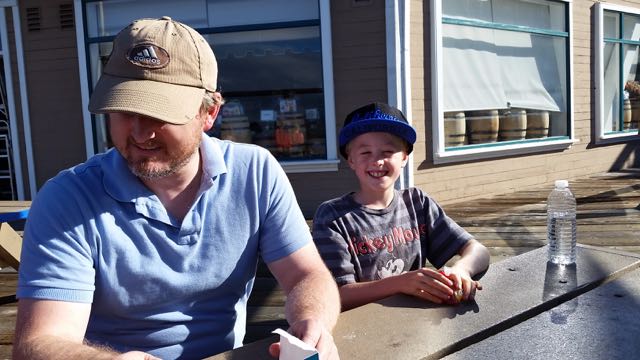 Sawyer sporting his hat.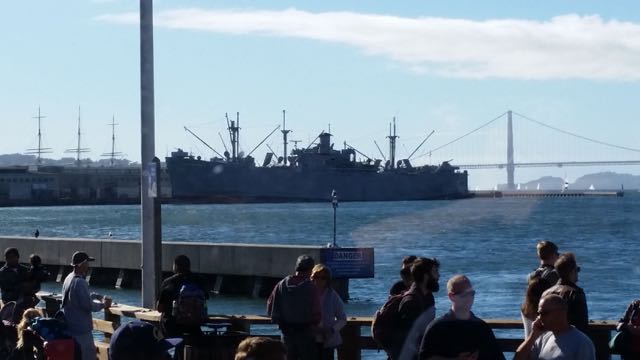 We made our way closer to the ship and stopped to see what was out in the water.
There weren't tons of seals out there that day, but enough, and the weather was so beautiful.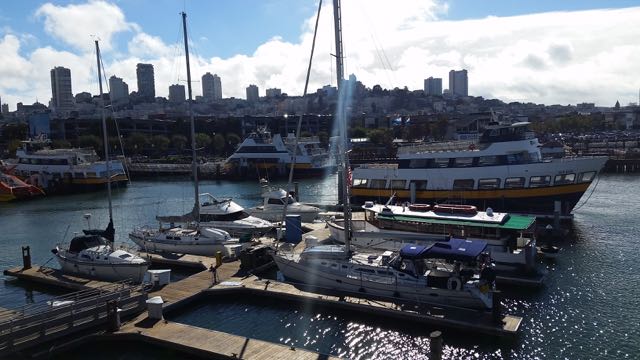 We boarded the ship and sat down. It was so loud with the engines running, all the people moving around, and the water lapping against the boat, but I still heard it. I heard wheezing. I looked over and Brinlee was sucking hard to get air. Her face was red. I leaned down to listen to her chest, and she was really struggling to breathe. She said she felt sick. We got her off the boat as fast as we could. Fortunately, we made it off just as they were about to leave. Once we got off we gave her Benadryl that I carry for these emergencies. On the docks we asked where we could get help. I always pack epi-pens, and that morning when I packed my purse, I grabbed two adult epi-pens instead of an adult and a junior. Then she threw up.
There was a CVS two blocks away. Adam carried Brinlee and we all ran. I scoured the aisles for more Benadryl while Adam ran to the pharmacy, except, THERE WAS NO PHARMACY IN THE PHARMACY. ARE YOU KIDDING ME?????? We gave her two more doses of Benadryl and Adam ran another four blocks with Brinlee in his arms to Walgreen's. I cut in front of about 100 people (who could clearly see we were in a distressed situation) and held out a credit card. "You can take my card now to pay for this or I'm leaving." The boys and I ran four blocks to the Walgreens Adam and Brinlee were at. When we got there Adam was on the phone with 911. The world's most unhelpful pharmacist was just standing there doing absolutely nothing to be of use. Not even, "I'm a human being witnessing a difficult situation" helpful. I said, "We have a prescription for epi-pens for her with Walgreen's. Please look it up. Now." We went through all the information, and he says, "Oh yes, here it is. But I don't have any epi-pen juniors in stock."
I'm usually very calm in a crisis, but in this moment, I nearly leapt across the counter and strangled this man. WHY. WHY did you waste my time going through this whole process when you knew you didn't have any in stock and I could have been doing something useful to help my daughter WHO CAN'T BREATHE? Instead of killing the man, I went outside to flag down the ambulance that was on its way. The EMTs started their magic. Obviously in this picture she is starting to feel better, or I wouldn't have been taking pictures and she wouldn't be smiling.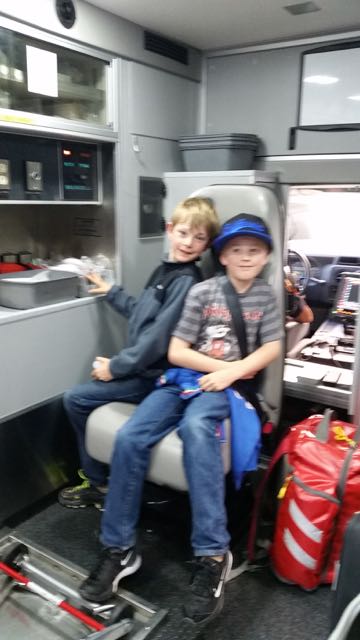 Brinlee, Kimball, Sawyer and I were in the back and Adam was up front.
At the hospital the head nurse reamed the paramedic for not giving her epinephrine. He told her they had a different protocol. They only administer if blood pressure gets over a certain point. The nurse explained that the ER's protocol was that if two or more systems are in distress, give her an epi. She was wheezing (respiratory), she had hives (skin), she vomited (digestive), she was swelling in her face and mouth, she had mucus pouring out down her throat, her blood pressure was up (circulatory). We had been told only to give it if she couldn't breathe at all, as in, turning blue because no air was getting in. She also told us that next time if we don't have an epi junior to give the adult one. She told us it is better to give too much than not enough. DISCLAIMER: I AM NOT A DOCTOR AND THIS ISN'T MEDICAL ADVICE. I'M RELATING AN EVENT. TALK TO YOUR OWN DOCTOR ABOUT YOUR MEDICAL NEEDS.
So what did she react to? We are assuming it was cross contamination from the caramel apple. Brinlee is allergic to tree nuts. She recovered quickly and we were in and out in about an hour and a half. Everyone was very helpful. We all got to practice with the practice epi. Since I've never administered one (though apparently we should have on other occasions), the practice is always good. The kids practiced on themselves. Brinlee got a little stuffed bear from the EMTs, and she said it was her favorite toy. Brinlee, that is the world's most expensive stuffy. I'm glad you like it.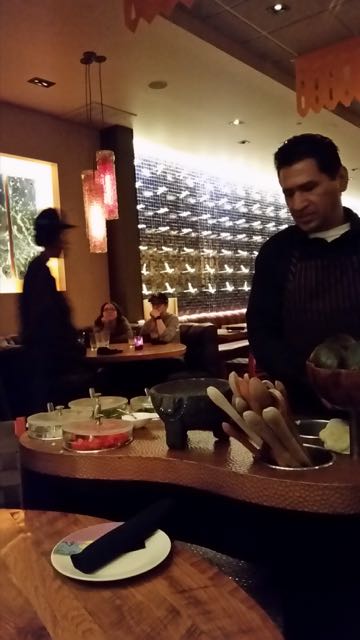 We got an Uber car and went to Rosa's for dinner. We've been to the one in Atlanta and New York, and the best thing is they make your guacamole table side. It's delicious as well as entertaining. They roll a cart up to your table and make everything to your preference of heat. Mild please.
Travel Tip: If you are traveling with four or more, you will only fit in an Uber black car, which is much more expensive. For short distances, it's not a big deal, but when going from somewhere like LAX to a hotel by Disneyland, it's cheaper to split up and get two regular Uber cars, assuming there are two adults to divide between the cars. The price difference will be more significant the farther you go.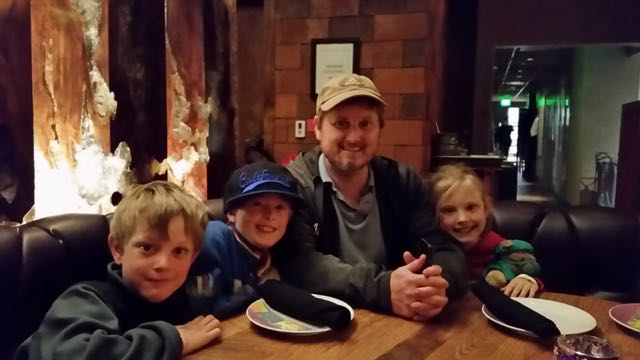 See? Brinlee's good as new, and there she is clutching the most expensive stuffy in the world. At that price, he cost us more than delivering any of our babies in the hospital. That makes him a member of the family. His name is Mr. Bear.
We ended up getting two orders of deliciousness. I'm not sure why I ordered dinner. By the time my entree arrived, I was full. Of guacamole.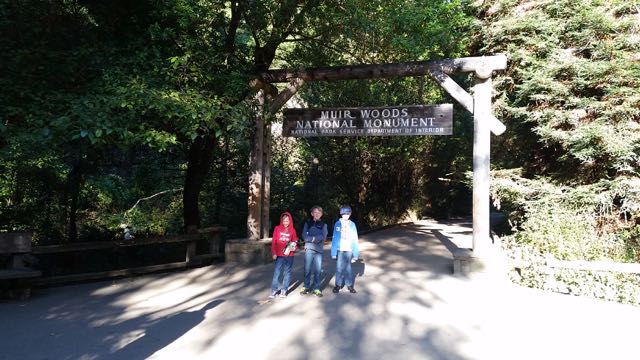 The next morning we rented a car and drove to Muir Woods.
Travel tip: We stayed at Le Meridien, and they took care of getting our rental car and returning it for us. It was such a convenient service. Always ask your concierge what extra services they have. We didn't have to waste any time getting to the rental agency, waiting in line, finding the return location, none of it. The valet had it ready for us that morning at the appointed time, and we drove away.
The Redwood Forest is incredible. I have this fear that some idiot is going to do something really stupid and burn it down. I'm glad we got to show it to some of our kids, and I hope it is still there for centuries more.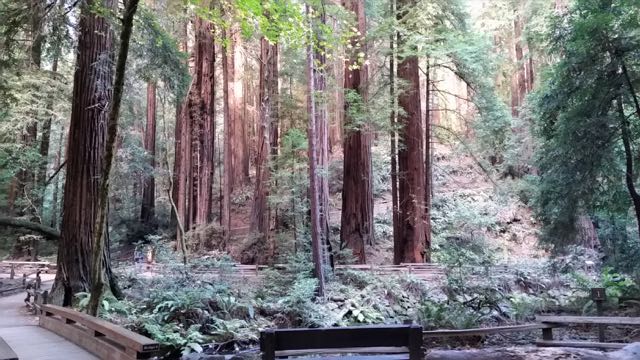 As we walked around I told the kids that it reminds me of The Hobbit and Lord of the Rings. I told them about the different races in the books, what they were like, where they lived. I told them about the Ents and the various forests with their different personalities: friendly, angry, old, chatty.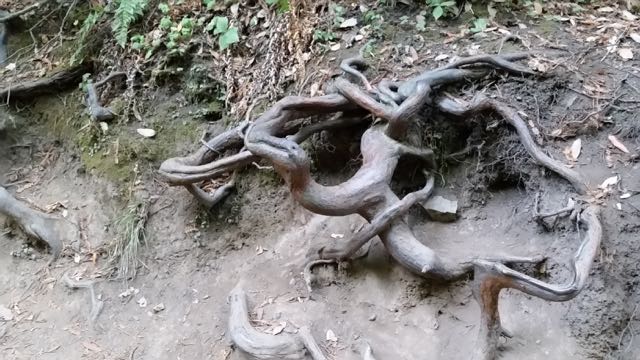 We each decided which race we would have belonged to. Sawyer and I are elves. Kimball decided he was a hobbit. Daisy would be a dwarf, Brinlee is a fairy (we somehow switched to Tinkerbell during this). We need to ask Caisen what he would be. Georgia is undecided, but she might be an elf as well.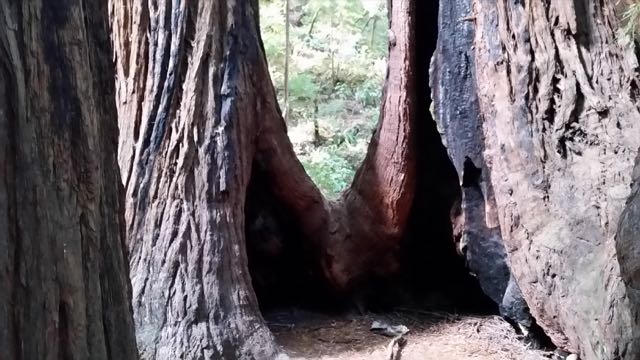 There is something reverent about this forest that makes me want to whisper.
I kept shooshing the kids.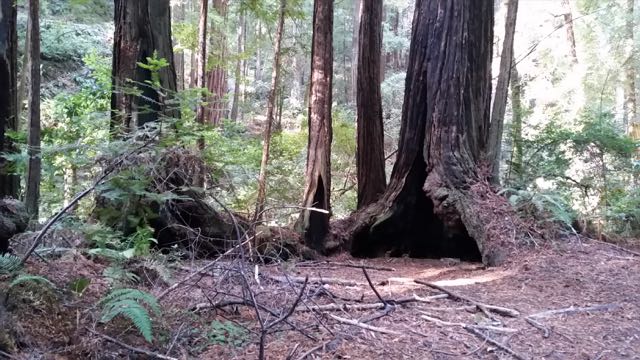 We didn't find any entlings or ent wives.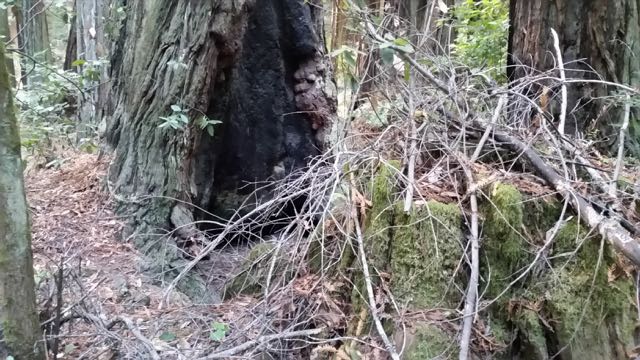 Though we did find some acceptable hobbit holes.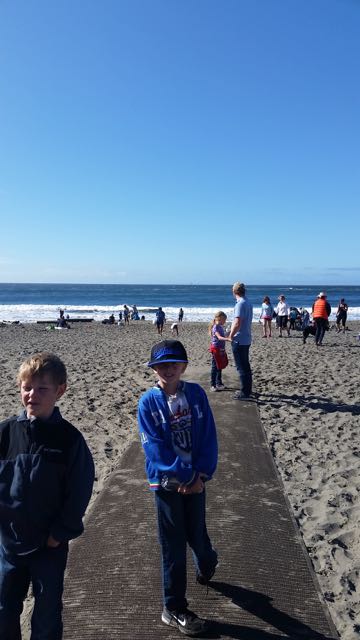 From Muir Woods we went to Stinson Beach.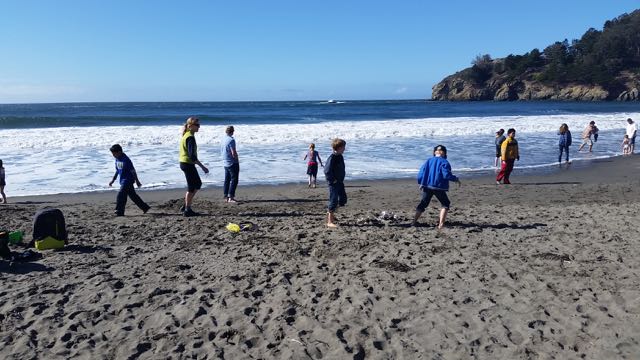 They had such a great time playing in the sand.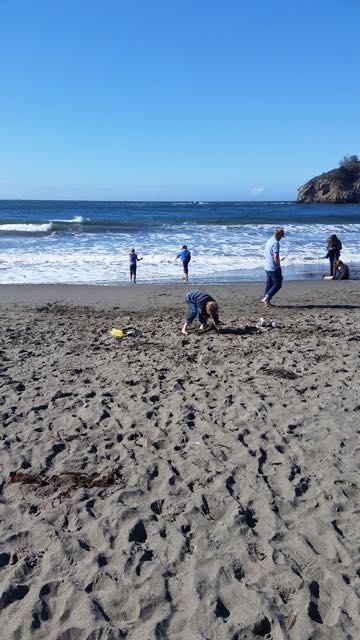 Children are impervious to cold. They even rolled up their pants and got their legs in the water. The ice cold Pacific. I'm not sure I'd do that unless it was 100 degrees, and even then, maybe not.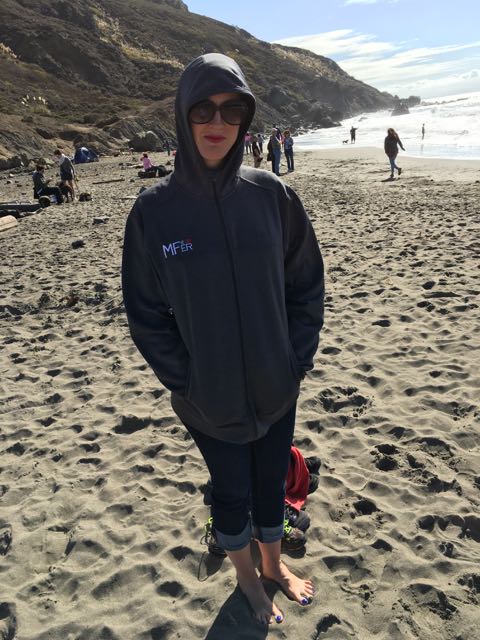 This is how I enjoyed the beach, wrapped up in Adam's jacket.
They wanted to spend the rest of the day here, but we assured them we are going to the beach at least once next summer, maybe twice. This was their first experience with the Pacific. Until now they've only been to the Atlantic and the Gulf of Mexico.
The only way we got them to leave is because we were starving.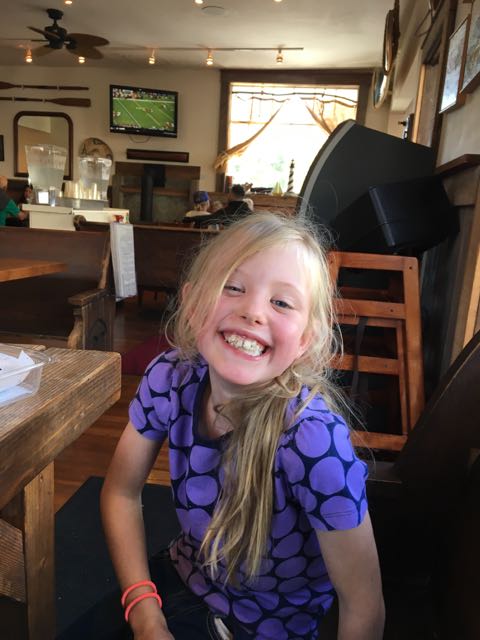 We had some really delicious fish and shrimp tacos at the Breakers Cafe nearby. In small towns like this you are in real danger of truly disgusting food for lack of competition, but we enjoyed our lunch.
They were so worn out. Sawyer never naps.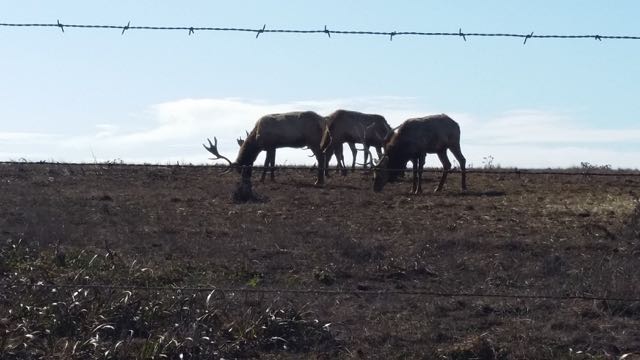 Hey guys, check out the….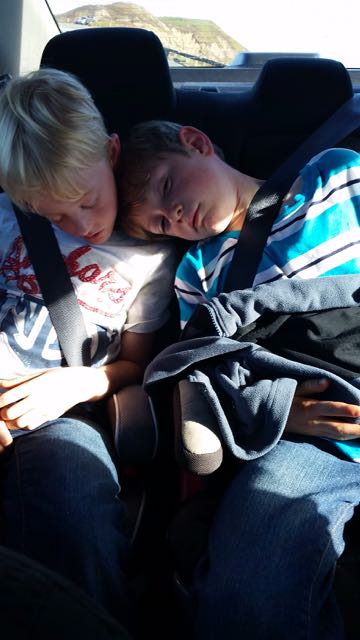 Oh, still sleeping.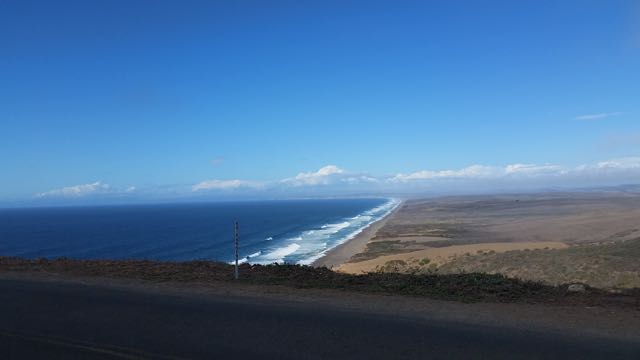 Our last stop of the day was Point Reyes.
Hiking down to the lighthouse is no big deal. 300 steps.
It was a beautiful, clear day, which isn't always the case.
Adam and I came here 11 years ago after buying the picture from Rodney Lough gallery.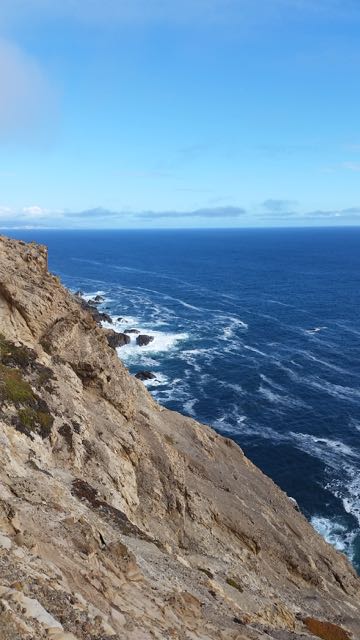 There was much whining and complaining on the climb back up. Kids! You're young! This is nothing.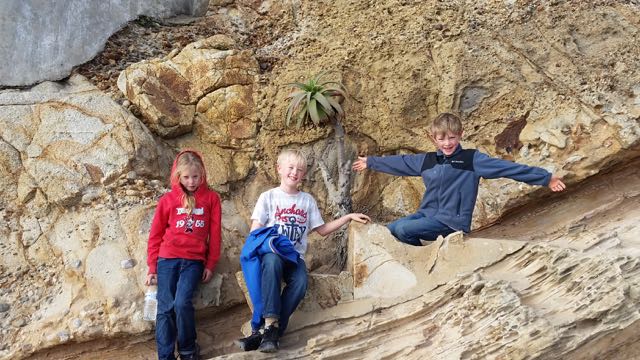 Brinlee especially complained that her legs were killing her. Brinlee you are a dancer, we need to work those muscles if this is a problem. Plus, how am I going to make you climb towers in Europe in a few years if you can't take this?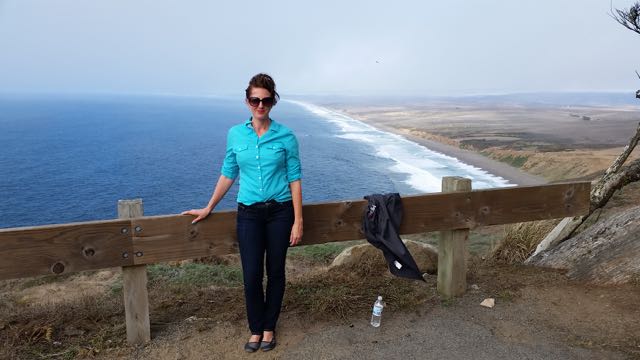 That's right, I also came on this trip. When you're the one behind the camera all the time, sometimes evidence of your presence is missing.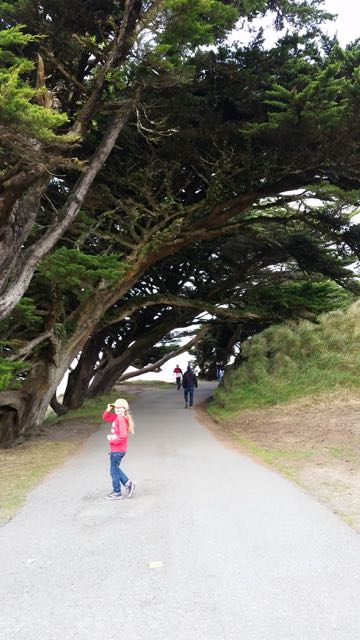 I love how these trees have been shaped by the weather. Bent, but not broken. That is survival 101.
Fog started to roll in. It was so cool to show the kids how quickly the weather can change here.
The stairs down to the lighthouse close at 4:00, and as we were walking back to the car, we saw lots of people hoofing it up the hill from the parking lot. I didn't have the heart to tell them they weren't going to make it, especially the ones taking a leisurely, lazy stroll in 4-inch heels. No, really. 4-inch heels to hike the stairs. I was doing them a favor.
It started raining on the drive back. The view of the bridge isn't nearly as good down here in a car. Definitely do the bus.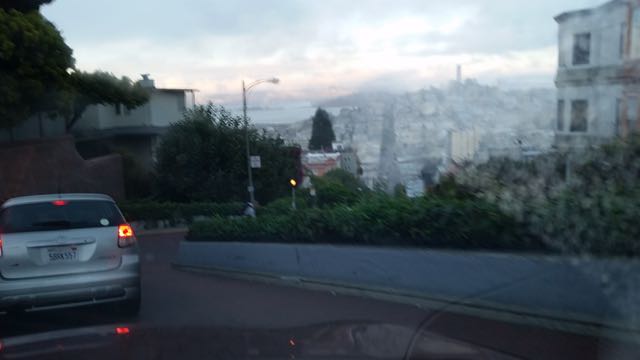 We decided to go back to the hotel via Lombard Street. They thought it was so cool. The residents must get so sick of the traffic because the line of cars is constant, but when you buy a house here, you know what you are getting into.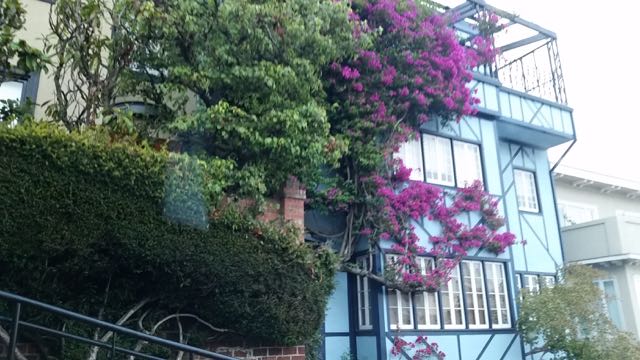 We returned the car at the hotel and walked to a fantastic restaurant called Chaya Brasserie near the water. It's Franco-Japanese, which sounds…iffy, but it was delicious. I had some fabulous sushi, but the favorite item was the roasted Brussels sprouts. The waiter told me how they are made. They were blanched, then dried out, then flash fried as individual leaves, and drizzled in olive oil, lemon juice and sea salt. I swear they tasted like potato chips. They were amazing! We loved the first order so much we got a second for dessert.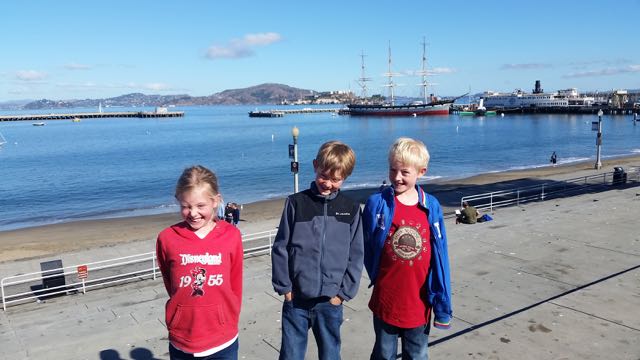 The next morning we were blessed with another beautiful day and a full agenda.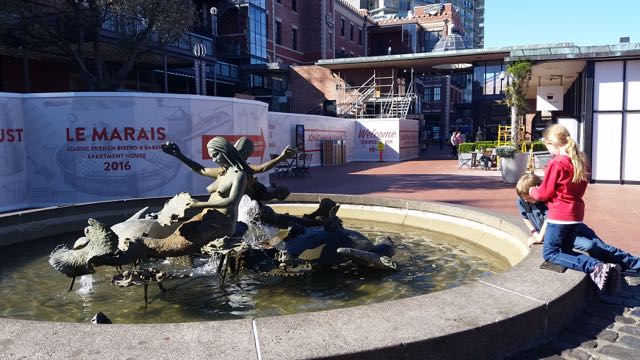 We headed to Ghirardelli Square because…chocolate.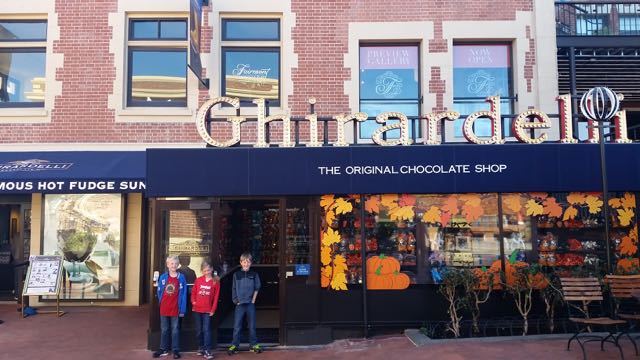 In a family of chocoholics, this is a must.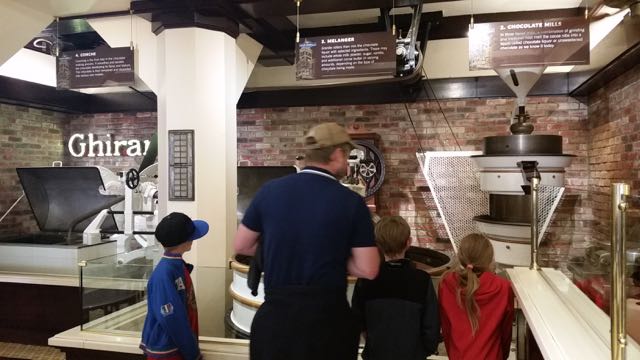 Naturally the kids thought we needed to take home one of everything. We ordered hot chocolate instead to take the chill off the moring.
We got in line to take the street car, but we had the very unfortunate luck to get behind a school group of about 100 kids. It was going to be at least an hour wait.
We opted for the photo op and leaving for something else.
We walked down, carefully avoided being struck by the giant falling seed pods and let the kids do a little shopping with their money, which is what they requested. Brinlee was tapped out, and did her best to hint at how much she wished she had a t-shirt, another stuffy, hat, giant skeleton, you name it. Sorry girl, you got a really nice gift and spent all your money and more on that awesome pearl necklace.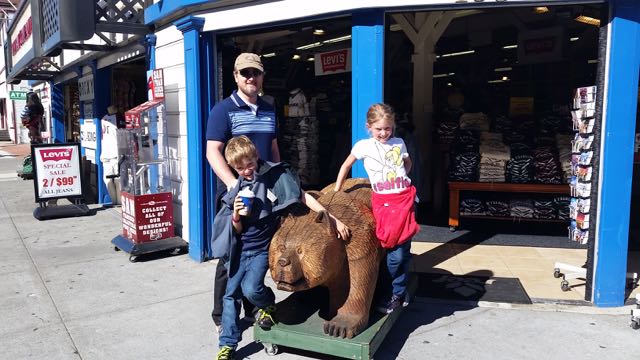 It was a charming tourist trap street.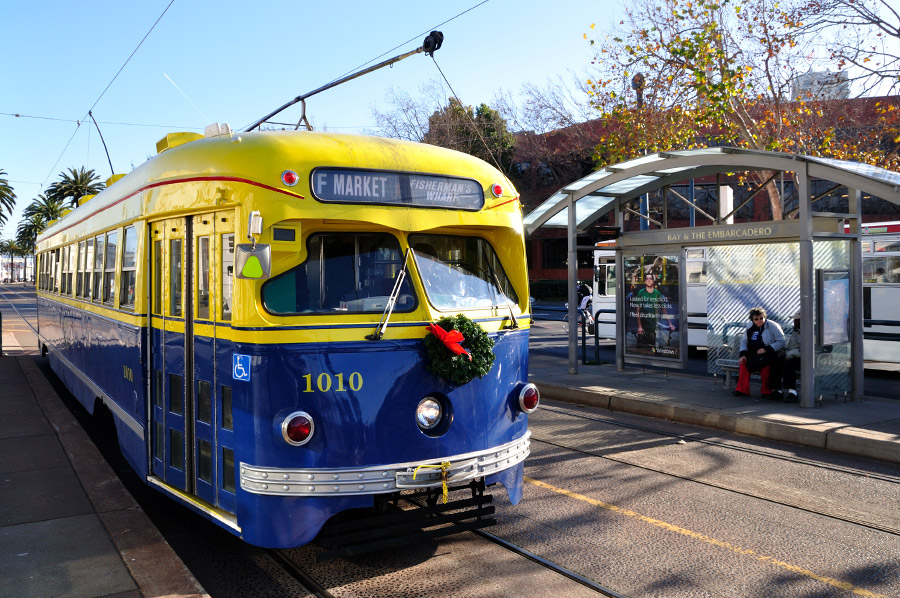 We got on another cable car for a short ride to the pier.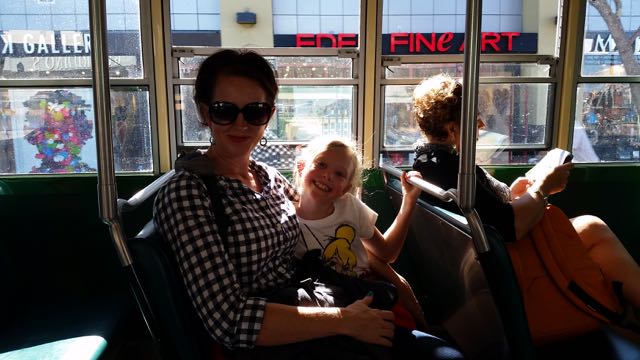 It wasn't exactly the iconic version, but it is definitely retro, and the kids had fun, which is the point.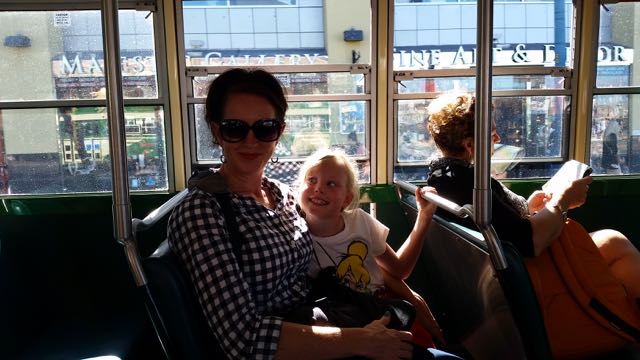 Travel tip: The kids, and honestly anyone, on your trip will adopt your attitude about everything. We acted just as excited about this cable car as the one with the long line, so they weren't disappointed at all. They were thrilled. If we had made a thing about how this isn't the real thing, blah, blah, blah, they would have been disappointed.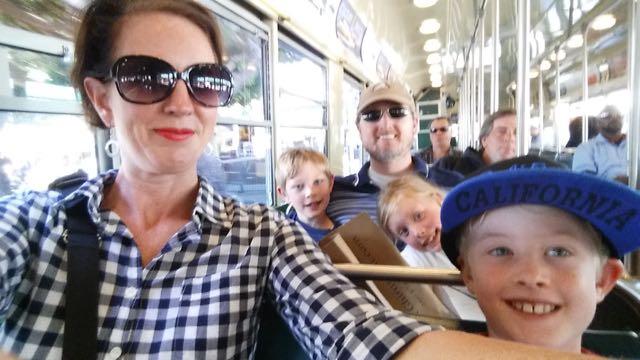 From our stop we headed back to the pier to try that bay cruise one more time.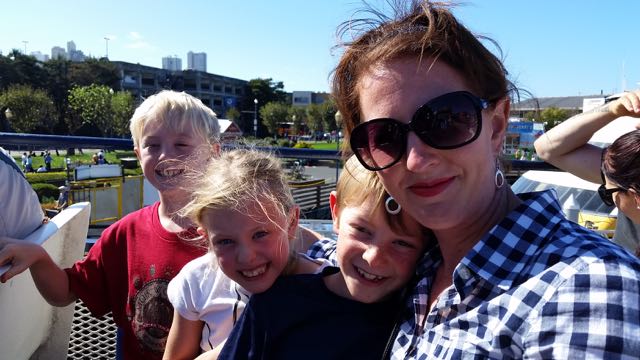 The people at the bay tour remembered us from the night before, as well as our situation, and reissued us tickets since we missed our ride.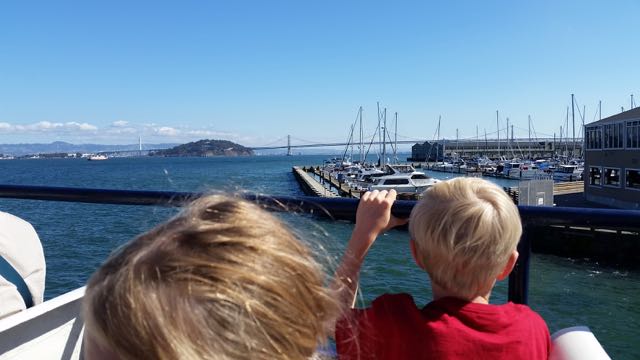 The bay tour was great, and the weather was so nice that sitting up top was perfect.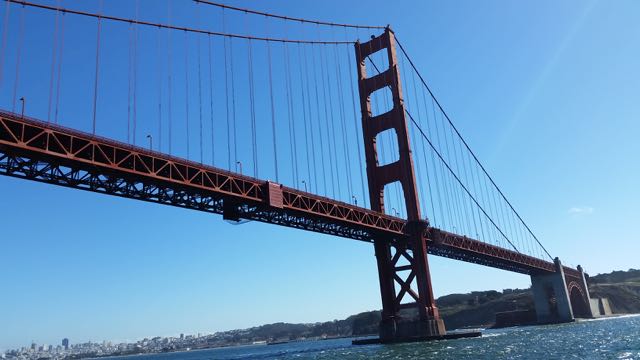 Our third up close and personal view of the bridge.
This is as close as we got to Alcatraz. Remember how I always advocate buying your tickets in advance online? This applies.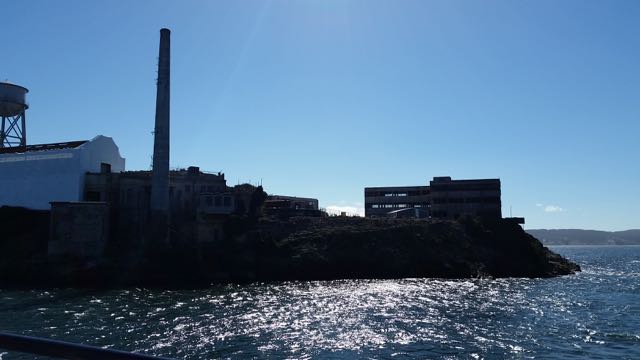 Adam and I discussed it over instant message when he was out of town, picked a day, and then…I thought he bought them. He thought I bought them. No one bought them. Once we realized our mistake, it was too late. If you are a party of 1 or two, sometimes you can get tickets the day of due to cancellations, but we were a party of 5, and no. It was our only disappointment of the trip, but following the tip above, we didn't get the kids riled up about it. We pointed out how cool it was to see if from the ship and talked about its history.
Our last stop of the trip was the SS Jeremiah O' Brien. The SS Jeremiah O'Brien is one of two remaining fully functional Liberty ships of the 2,710 built and launched during World War II. The O'Brien has the distinction of being the last unaltered Liberty ship and remains historically accurate. It's at pier 45.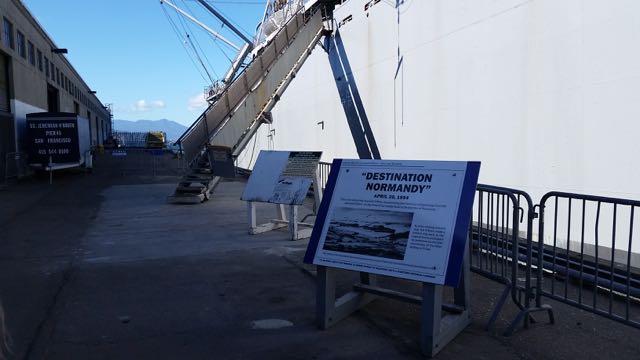 Since Adam and I had just been to the Beaches of Normandy it was especially interesting to us.
This was maybe their favorite thing we did. They wanted to stay a lot longer than we did, but we had a plane to catch.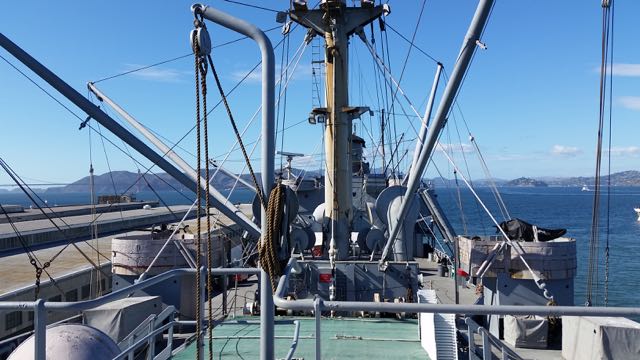 On deck you can climb around on a lot of things, which they loved.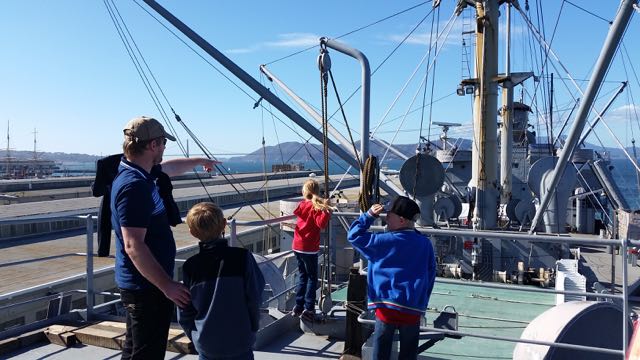 Sawyer and Kimball both said this was their favorite thing of the whole trip and want to go back.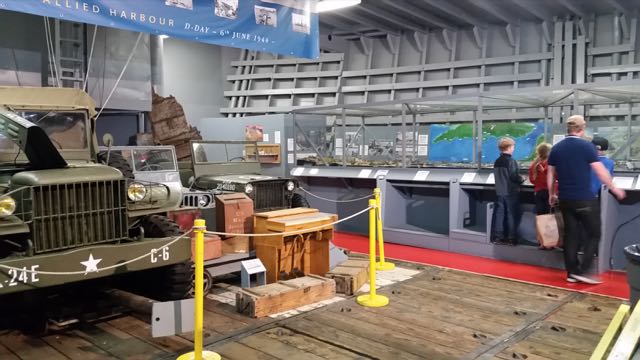 Below deck there were displays about the O'Brien's mission to Normandy Beaches for D-Day, and more about the battles there.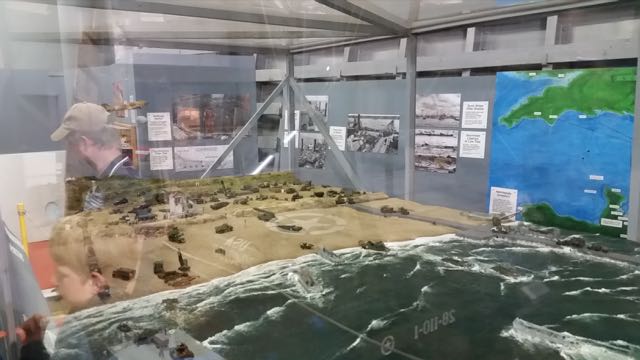 Since Adam and I had recently returned from the Normandy Beaches, it really tied in for us. We've told the kids a lot about our trip, so it meant more to them too. It wasn't their first time hearing about this critical mission and turning point in the war.
We ran into an active crew member who told us more about the ship and his current duties.
I 
 this. Kimball wanted to hold my hand on the way to the airport, and this might have been my favorite part of the trip.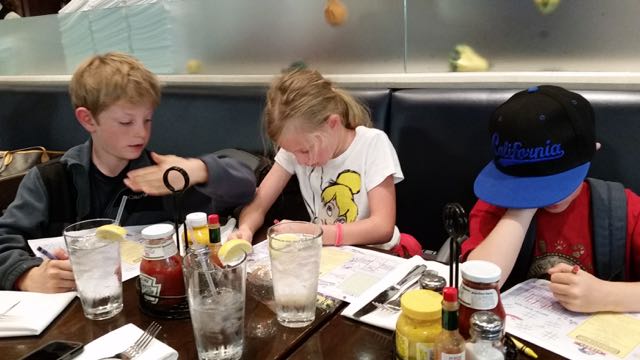 We got some dinner in the airport and headed home. We had so much fun with them. They have definitely caught the travel bug and are already talking about next year's trip.
Brinlee wearing her special pearl necklace. She gets to wear it on Sundays to church.
There is so much to do in San Francisco with or without kids. Here is a list of things to do with kids:
Walt Disney Museum
Rowboats on Stow Lake in Golden Gate Park
Walk or bike across the Golden Gate Bridge
Boudin Sourdough factory + museum
Cable Car museum
California Academy of Sciences
Samples at the Ferry Building Farmers Market (fun to take
the ferry from Oakland)
Exploratorium
Dolores Park and Bi-Rite Ice Cream
Seward Street slides
Baker Beach for a great view of the GG bridge
Bob's Donuts
Alcatraz
Find the house from the tv show "Full House" (or now Fuller House – anyone watching? Yah, me neither. Uncle Joey's jokes were bad enough the first time around.)
Ride the glass elevators in the St. Francis in Union Square
Fortune Cookie factory in China Town
Ghirardelli Square & Chocolate Festival
Picnic and kite flying at Chrissy Field
Sutra Baths at Ocean Beach
Conservatory of Flowers
Japanese Tea Garden
Double Decker bus ride in SF- best way to see the city!
Castro Theatre Events- dress-up sing alongs & old movies
Sea Lions at Peir 39
Musee Mecaniqe- Fishermans Wharf
Randall Museum- creative classes & interactive exhibits
Yerba Buena Gardens- merry go round, Zeum
If you'll be in the East Bay area:
Walk around Lake Merrit
Adventure Playground at the Berkeley Marina
Berkeley Botanical Gardens
Small World Park in Pittsburg (and crawdad fishing)
Steam Train and petting zoo at Tilden Park
Hike the shell ridge open space trails
Lafayette Reservoir paddleboats and playground
Crown Memorial Beach in Alameda- no waves!
Rock City on Mt. Diablo
Jelly Belly Factory in Fairfield
Habitot in Berkeley
Borges Ranch- animals, pond, historic tours
Lindsay Wildlife Museum
Contra Loma- beach entrance pool and reservoir
Children's Fairy Land
Oakland Zoo
USS Potomac- Franklin D. Roosevelt's presidential yacht
Ardenwood Farm- Fremont- Restored Victorian farmhouse, wagon rides
Iron Horse Trail bike riding
Cement Slides at Codornices Park in Berkeley
Berkeley Botanical Gardens
PixieLand in Concord
Family Overnight on, or tour of USS Hornet
Sulphur Creek Nature Center in Hayward (wildlife
education and rehabilitation center)
Pacific Pinball Museum in Alameda
Heather Farm Park in Walnut Creek
We Rock the Spectrum- kids gym in Berkeley
Mocha Museum in Berkeley
Larky Park in Pleasant Hill
If you'll be in the North Bay area:
Walk through Muir Woods and see the giant redwoods
Safari West- jeep rides through wildlife preserve
Point Reyes- elephant seals, lighthouse hike, elk watching (at Tule Elk Preserve)
Bay Area Discovery Museum
Sonoma Cheese Factory
Skunk Train
Mrs. Grossman's Sticker factory in Petaluma- only one in the USA!
West Point Inn in Marin hosts monthly "hike-in pancake
breakfast" for a kid friendly hike and cheap breakfast!
State Rhododendron Preserve
Salt Point Tide Pools
Watch crazy waves at Wrights beach
Harbor seal birthing/feeding grounds at mouth of Russian
River
Black Sands Beach in Sausalito
Fort Ross
Muir Beach (and Slide Ranch nearby)
Sonoma Train Town Railroad
Eplore Angel Island- take Ferry from Tiburon
Charles M. Shultz Museum in Santa Rosa
Ice Skate at Snoopy's home ice near Shultz museum
Nascar races at Sonoma Raceway
Marine Mammal Center – Sausalito
Point Bonita Lighthouse (views and suspension bridge)
If you'll be in the South Bay area:
Winchester Mystery House
Barbie Doll Hall of Fame
Egyptian Museum in San Jose
Filoli historic house and gardens (especially beautiful in the spring!)
Monterey Bay Aquarium/ Cannery Row
The Mystery Spot in Santa Cruz
Hearst Castle
Whale Watching in Monterey
Carmel Mission
Niles Canyon Railway in Sunol
Moss Beach Park (wooden castles and forts) near Half Moon Bay
Montara State Beach- huge kid-friendly beach
Twin Lakes State Beach in Santa Cruz- bonfires allowed, plus restaurants on the beach
Gilroy Gardens Family theme park
Happy Hollow Park and Zoo in San Jose
Vasona Park in Los Gatos- free summer concerts
K1 Speed- go kart racing in south SF
Deer Hollow Farm
Children's Musical Theatre in San Jose
Hicklebee's Children's bookstore in San Jose
It's It Ice Cream Factory
Natural Bridges state beach in Santa Cruz- tidepools and monarch butterfly watching in the winter
Seymour Marine Discovery Center- Santa Cruz
Emma Prusch Farm Park- San Jose
Rosecrutian Museum- Egyptian artifacts
Raging Waters
Roaring Camp Railroad- Felton