October is even busier than December in our family. We have four birthdays, four separate birthday dinners, 2 birthday trips, a birthday party, Halloween, performances, etc.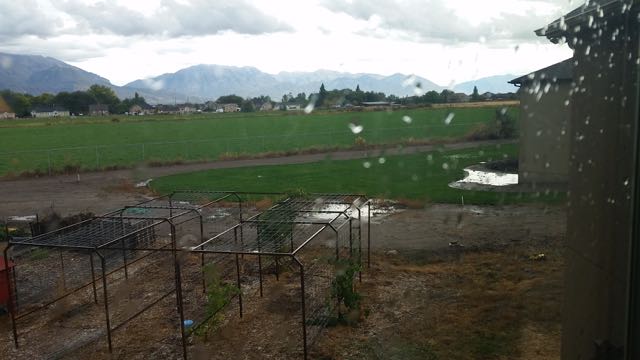 My grapes finally started to grow! For three years they've not grown above ground at all. We even got grapes off the very back vine. The seedless concord grapes turned out to be very tasty and…not seedless. They aren't that big, but there is a whole lot of seed in each and every grape. They'll make great juice. The kids got really good at spitting out the seeds. Georgia just ate them seeds and all.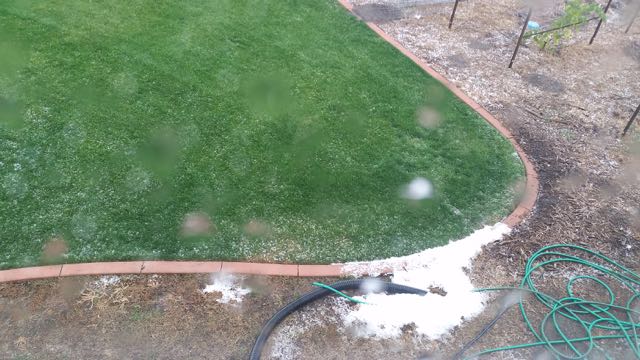 October started with a hail storm, but it didn't damage my tomatoes or peppers, or any of our garden produce, thankfully.
Because Adam's birthday is the day after Brinlee, Kimball and Sawyer's birthday, it gets lost. Nine years ago I had my parents buy a chocolate cake and bring it to the ICU where I was after my emergency c-section. I honestly don't know how I had the mental acuity for that, because I was very sick, on some very nasty medications, and remember very little about that first week. I have the same situation with Caisen's birthday being the day after mine, so I moved my birthday. Adam is low maintenance and doesn't bother. He doesn't care about gifts or parties. He said he wanted to spend time with me, so I planned a trip for the two of us to Park City for the weekend. We stayed in a beautiful suite.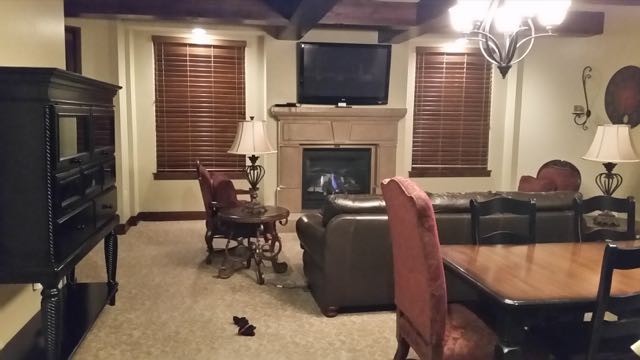 A roaring fire is a must. The only complaint about this hotel is the lack of room service. Not sure what that's about.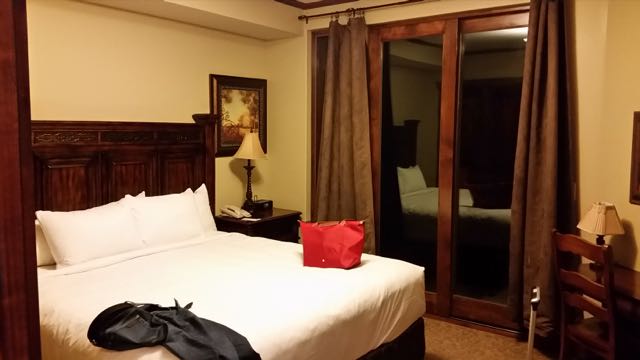 Our suite had a balcony with a table and chairs, but it was too cold and rainy to enjoy it. The whole resort is beautiful, and very quiet this time of year. Strangely, most of the leaves were still green in October. We've had a very warm fall. I had planned hikes with a picnic, a ride on the ski lift to admire the (un)changed leaves, going to a shooting range, bowling, a nice dinner at the St. Regis one one night and sushi the next.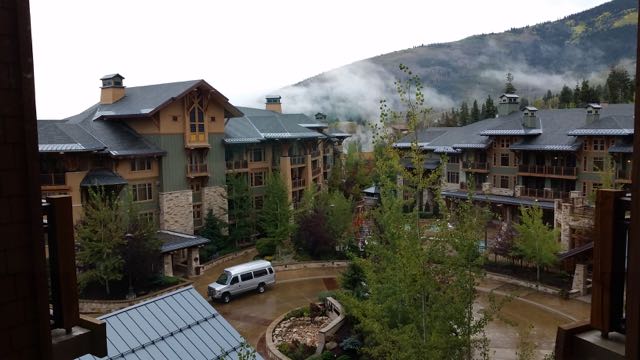 Unfortunately, the weather had other plans. It rained and everything was muddy and cold. After sleeping in as long as we can (the kids have trained us not to be able to sleep later than 8, and that is if we try really hard), we ended up going to the outlets to find some things Adam needed and wandered around. We also went to see The Martian at the movies, then out for sushi and relaxing in the hot tub in the freezing cold night air. What about bowling and shooting guns? Those are excellent rainy-day activities. Well, Adam's neck and arm still weren't back to normal after he woke up with a bulging disc and pinched nerve the day we left for France, and decided it wasn't a good idea.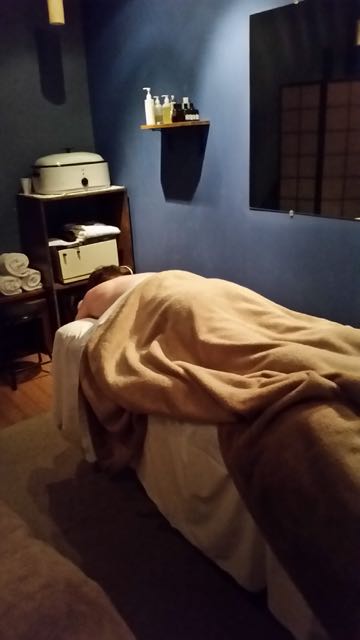 On day two the sun came out, but it had been raining for a few days, and everything was still muddy, so hiking and picnics were still out. I scheduled a couples massage for us, which is always nice. Maybe next year we'll go in late September.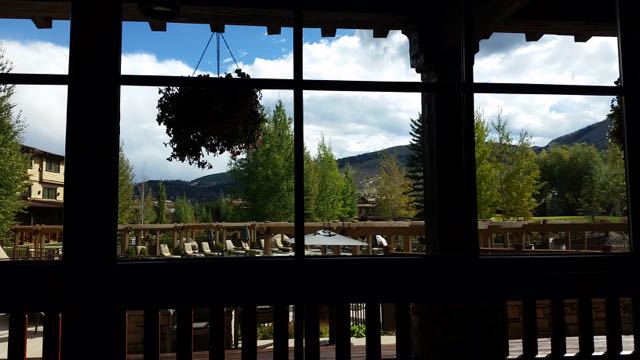 We went to Ruth's Chris for lunch. Isn't that view gorgeous? I had come up with an afternoon plan on the fly, well, I came up with a whole weekend on the fly, but Adam decided that for his birthday, he wanted to spend the rest of the day with the kids since he had to travel the rest of the week. We weren't supposed to come home until that night, but we got there around 2.
For our fun activity we decided to harvest the pumpkins in Adam's pumpkin patch. We had a ton from two vines.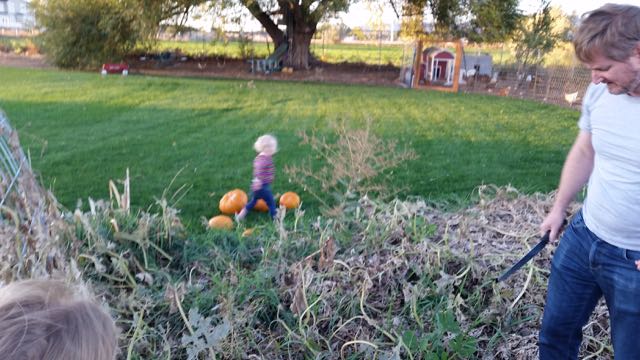 Adam grew pumpkins as a kid, but they didn't do well when we tried in Atlanta. It was too wet, maybe. These grew great!!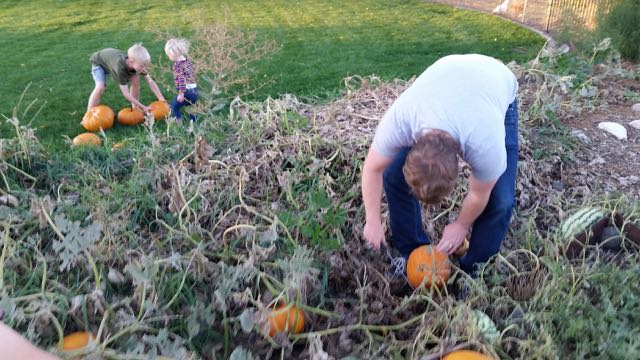 Adam cut them off the vine and the kids carried them off.
Some of them even climbed the trellis the kids help me put in this summer.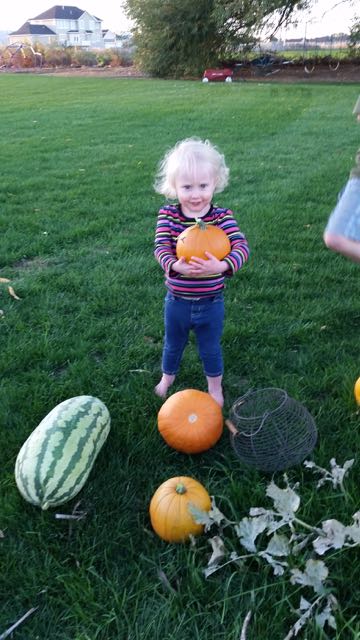 That is the one and only Georgia-sized pumpkin, and she carried it around like a pet for the rest of the month.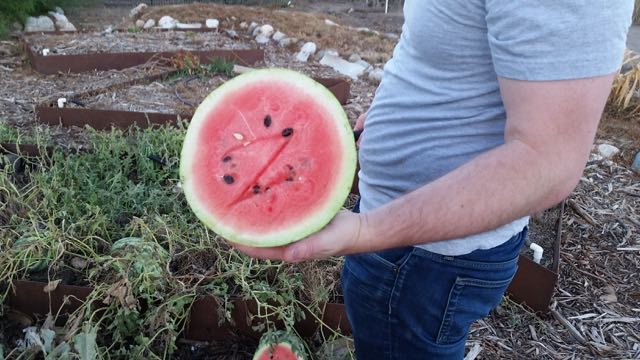 We also harvested the watermelon. Adam cut one open to taste it and it had this Z inside.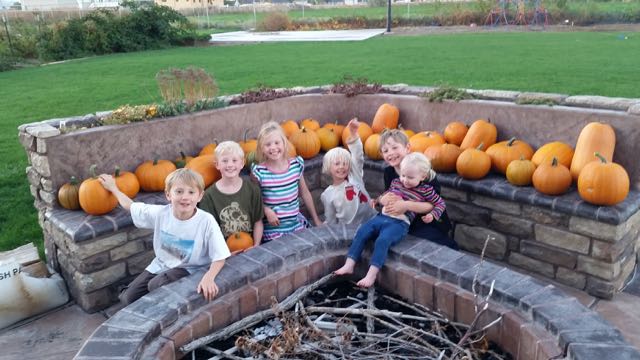 Here's our haul. Over 30 pumpkins.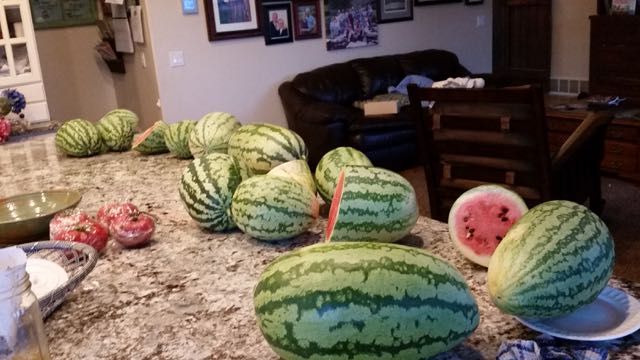 And here are the watermelons. Some of them (*cough* seven of them *cough*) may have accidentally been dropped and split open, so I cut them up and froze them for sorbet next summer.
Of course we ate some watermelon for dinner. Ya'll need to know, seeded watermelons just taste better. They are sweeter and more flavorful, and worth seating around the seeds.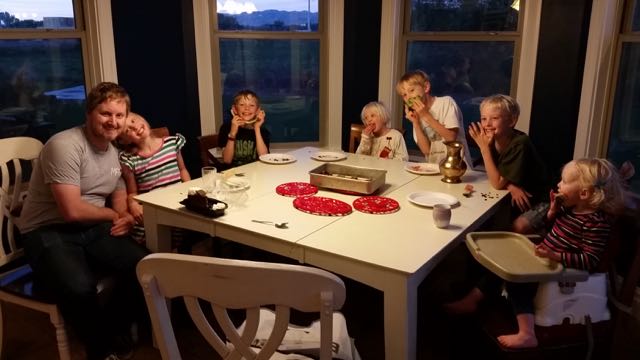 We had brownies for dessert and sang Happy Birthday to daddy.
Adam got to open the presents he'd bought himself in Park City and before.
Some clothes and an iPad. Not a bad birthday overall. Brinlee is super excited about that iPad.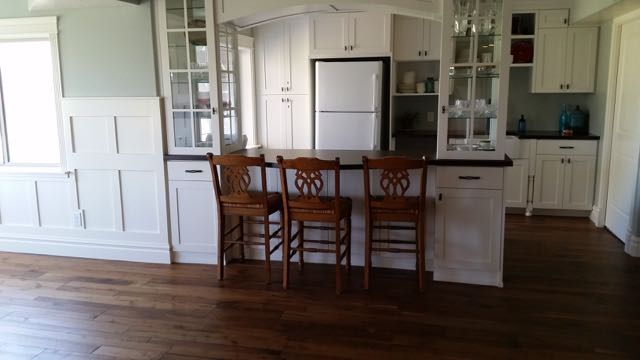 I finally bought some stools to go at the bar in the basement.
Brinlee, Kimball and Sawyer were in some Greek plays at school. Brinlee was a narrator for Jason and the Golden Fleece. There is Kimball in the green toga.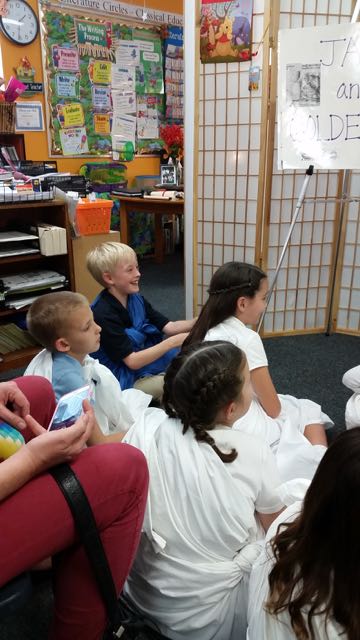 This is Sawyer and his adorable best friend Tallyn. They love each other. He played with her hair the whole time. She looks like a dark haired female version of Sawyer. They get along so perfectly. It's adorable.
The plays were so well done. The kids loved them.
After the plays the kids had the Greek Olympics, and I was there as a volunteer to help.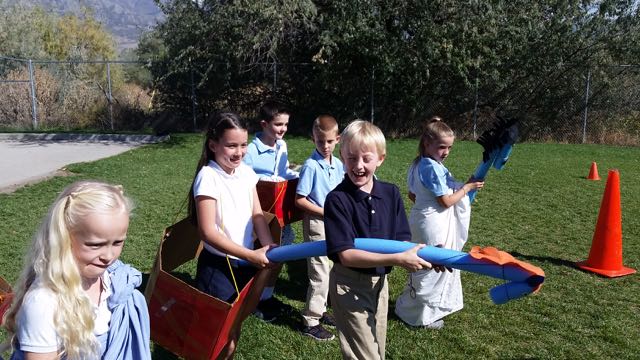 Sawyer and Tallyn paired up to do the chariot race.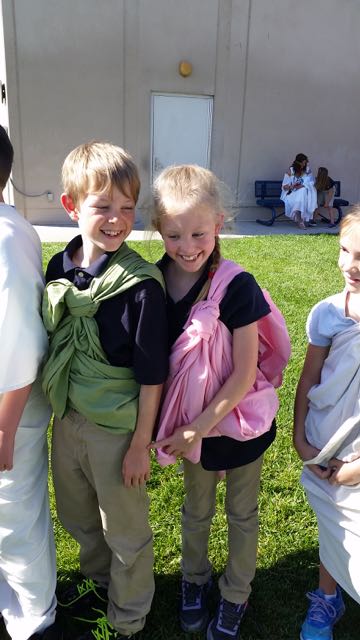 Brinlee and Kimball also paired up to do the race.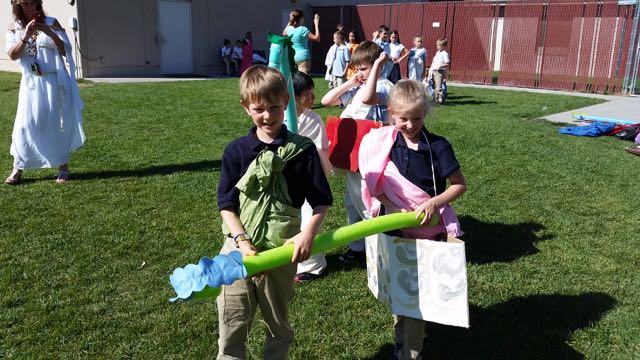 Kimball is the horse (the pool noodle) and Brinlee is in the chariot (the box she is wearing).
Most of the horses nearly lost their chariots.
Georgia's reach is longer than I realized. She got the jar of almond butter off the table and did this.
I also volunteered at a kindergarten activity with Daisy about the five senses.
Some insane person gave these groups of kids a bunch of musical instruments and told them to go crazy making noise. Five groups. Fifteen minutes each. It felt like a plot to destroy my sanity.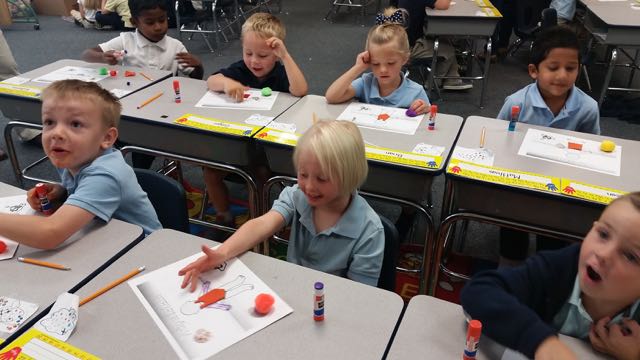 I only had to endure three groups doing this before they moved me to the one where they made a person out of items of different texture, like felt for the swimsuit, a seashell, yarn for hair, etc. Thankfully they needed more adults to cut yarn and glue swimsuits and seashells on the papers and fewer people to listen to the band from hell. A bonus is I got to help Daisy's group twice.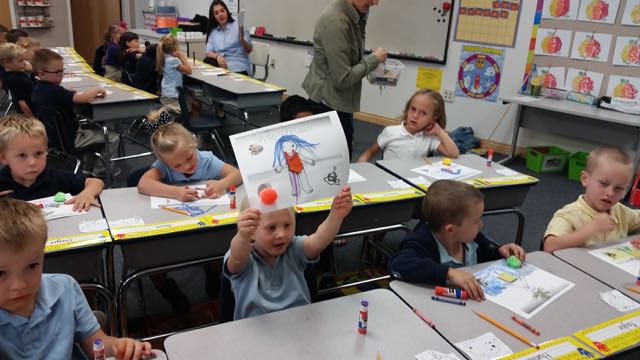 There is her girl at the beach.
Georgia had to come with me because daytime babysitters are nearly impossible to fine, and she was so good. She just played with this cheetah in her stroller while I helped the kids.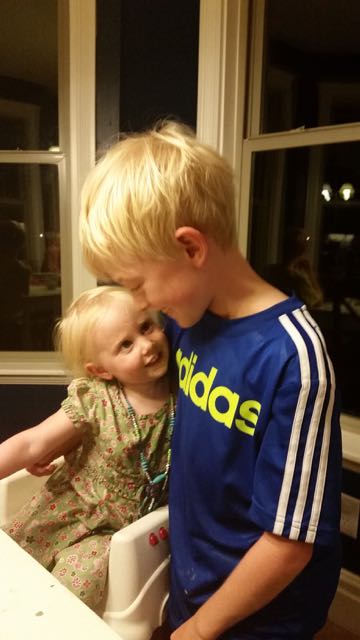 Sawyer and Georgia remind me of Eric and I. He was and is such a great brother to me. Sawyer is so sweet and loving with Georgia. He helps her with anything. They adore each other.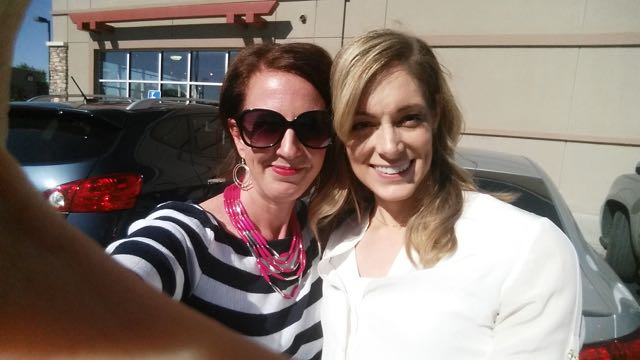 My amazing friend Crystal came to town and we went to lunch. I don't get to see nearly enough of her. We've been friends since college. It was just what I needed! We are always on the same wavelength and always have so much to talk about.
Georgia has a thing about wearing diapers (let's clarify that these are clean diapers) on her head as a hat.
Georgia and Daisy having lunch. They were just playing and having a good time.
Georgia found the (clean) baby potty in her closet and decided to use it as a seat. This child is begging to be potty trained, and has been since at least June, but when potty training happens, sleep interruptions begin. I choose diapers and naps.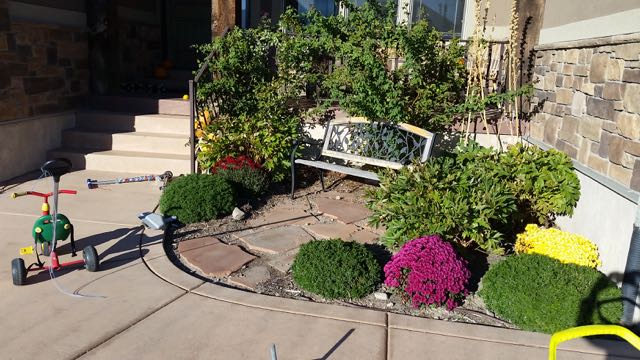 I planted mums in my happy place garden, and I love the fall color it brings. At this point is is spectacular in the spring with a parade of peonies, tulips, and candytuft, gorgeous in the early summer climbing roses and the leftovers from spring, and bright in the fall with the mums. It's the months in between that are meh. The hollyhocks in the back were stunning in June, but by July 4 they were pretty much over. July, August and early September it's just green, and I'm trying to find something that will grow in that back corner to fill in that gap. It has to be tall. Those hollyhocks are 8 feet. Suggestions? I tried to grow clematis back there, but they were bare root and got no sun from the shade of the bench and roses. They never grew. Maybe I can find some bigger plants this year and they will be able to take off.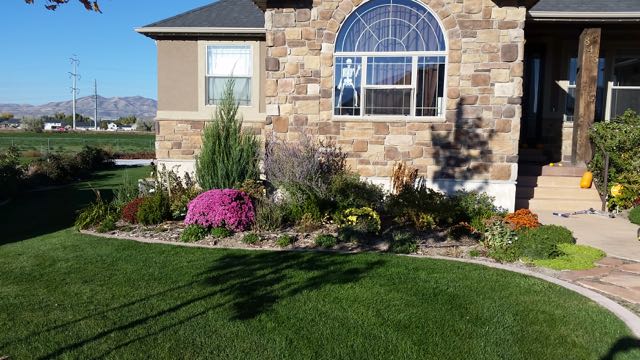 More moms in the front. It's hard to see with the shade, but there are five.
Georgia has discovered the power of stools. Stools are height. Stools are vision. Stools are access. Stools are freedom. Stools. Are. Power!!!!!!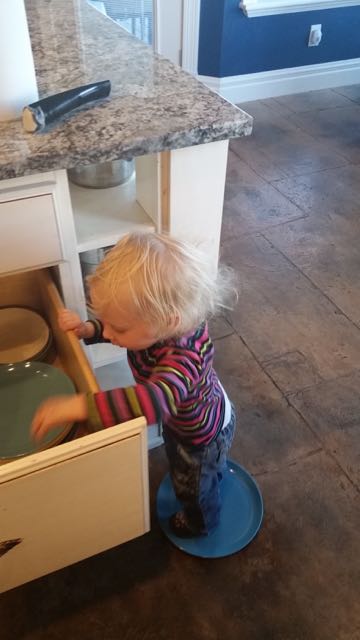 But the stool has to be taller than a plate to be effective, Georgia.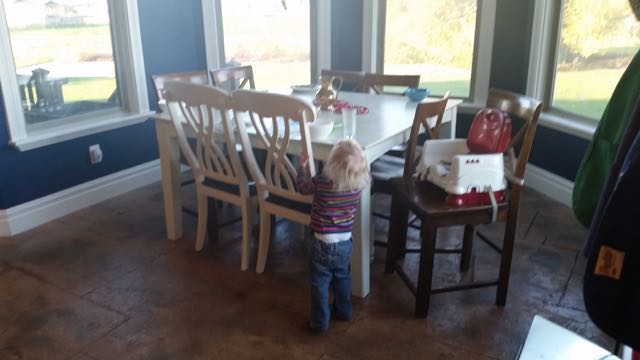 Actually she is setting the table. It was the cutest thing! My sweet little helper!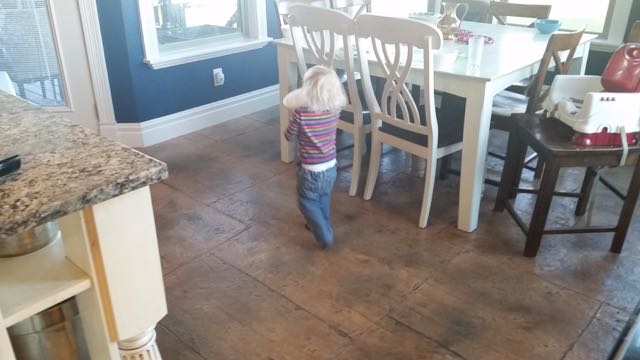 She didn't even drop anything.
We love to use the fire pit to make tin foil dinners in the fall. Adam and I MAY have gone outside after the kids were in bed and made s'mores while the coals were still hot. This is my heating/chocolate melting invention. MMMMM. S'mores.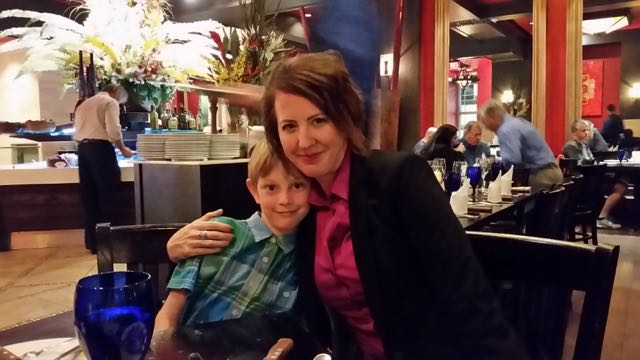 Kimball chose Texas de Brazil for his birthday dinner. I had just gotten my braces tightened, so I called over the head gaucho and told him that I only want picanha because my teeth hurt, and I only had so many chews in me. They completely understood and gave me just what I wanted. Each chew was painful and delicious, all rolled into one.
Georgia went to work with Adam for an hour while I was at the doctor. She had them all charmed.
Georgia wearing her diaper hat.
Adam and the kids came out with me on a beautiful Saturday and we picked all that was left of tomatoes. There were way more than this. I didn't can anything this year, but I panicked when I saw there were few jars of chili and tomato soup left.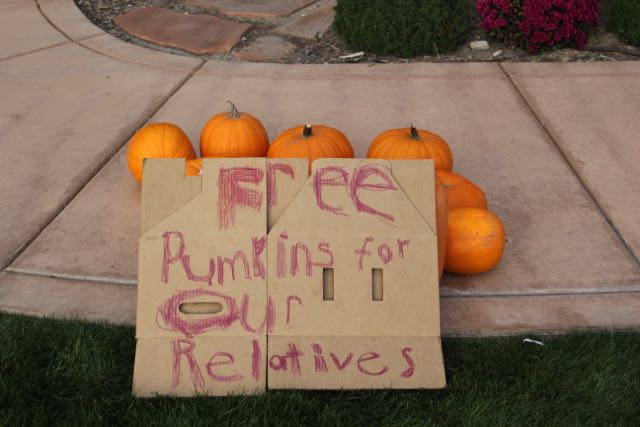 We had a family party for all of our fall birthdays: Brinlee, Kimball, Sawyer and Adam. The kids took the biggest and best pumpkins we grew and put this out front.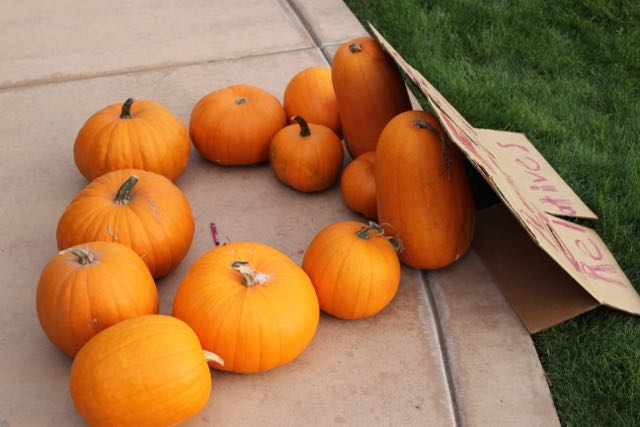 I love that they chose our biggest and best pumpkins to share with their cousins.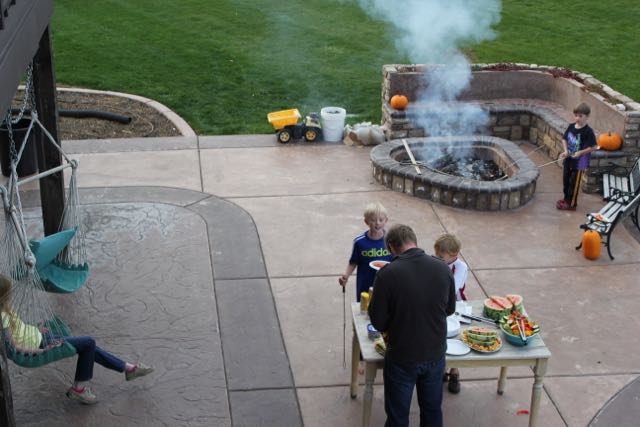 We served tomatoes, peppers, and watermelon from our garden.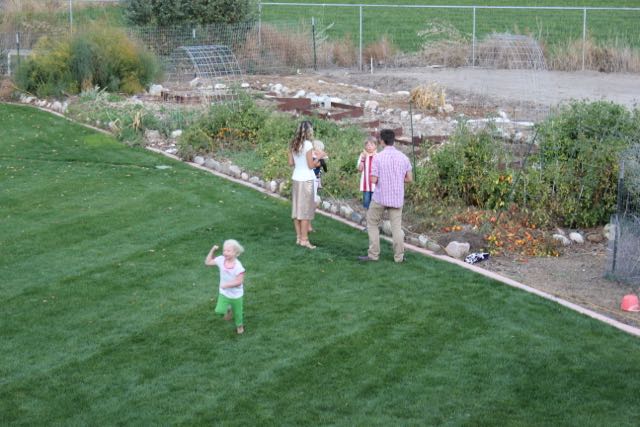 Nicole and her new husband admiring the garden.
The petting zoo was open for business.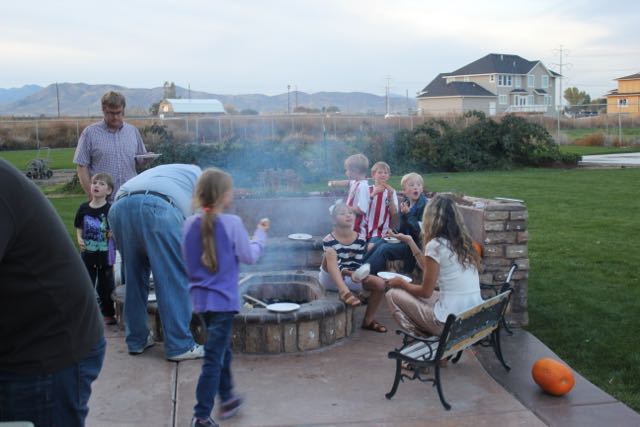 Instead of cake we had smores.
Poor Grandma was really sick and wasn't able to make it, but Grandpa brought Lego sets as peace offerings. Accepted and forgiven.
Adam got a plastic box for his birthday. Ok, he got more, but this is funnier.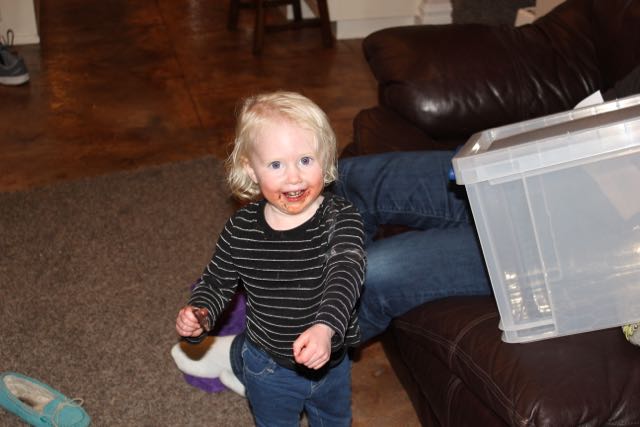 Georgia is still working on her chocolate.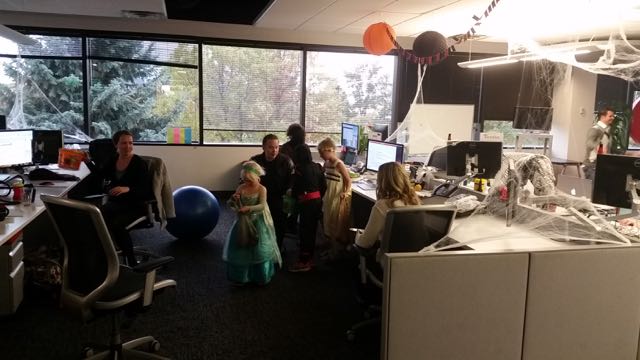 Friday after school we went to Adam's office and trick or treated.
Someone brought an remote control spider. The kids loved/feared it. When Georgia saw this snowman costume she was convinced it was Olaf and wanted to wear it/snuggle it/live inside it. In fact she has slept with it ever since.
We were 3 ninjas, 2 goddesses, an Elsa and an Olaf.
Brinlee asked me to be matching Greek goddesses. At first I groaned (on the inside) because Halloween and dressing up isn't my thing, but then I realized how sweet it was, and I realized these years are coming to an end. How much longer will she want to do something like this? It is really hard to find an adult goddess costume that isn't skanky. Like, practically impossible. This was the best I cold do. We asked Daisy if she wanted to be a goddess with us, and she said she wanted to be Elsa again this year. Of course when our costumes arrived she wanted to change her mind, but it was too late to get her one.
After Aunt Lisa's annual Halloween party we went trick or treating in their neighborhood, which is the neighborhood Adam grew up in.
A good time was had by all.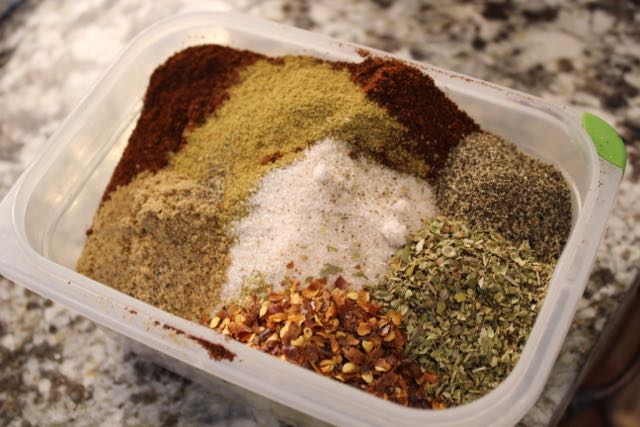 My homemade chili seasoning. I thought it was pretty enough to take a picture of.
With our garden bounty I made a big batch of barbecue sauce to freeze,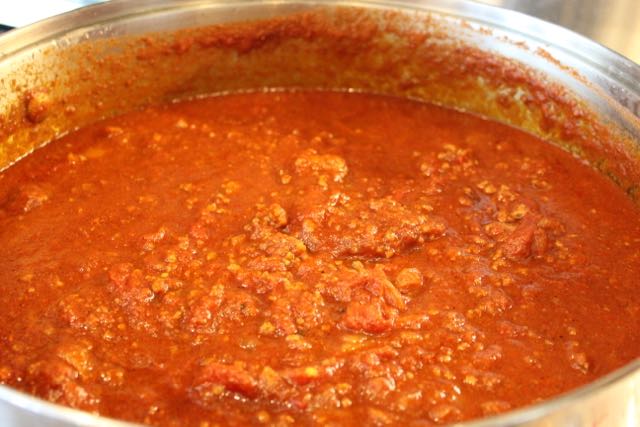 12 quarts of chili to freeze, and 9 quarts of tomato soup to freeze. I just couldn't deal with canning this year, but freezing I could do.
I sliced and froze all the peppers.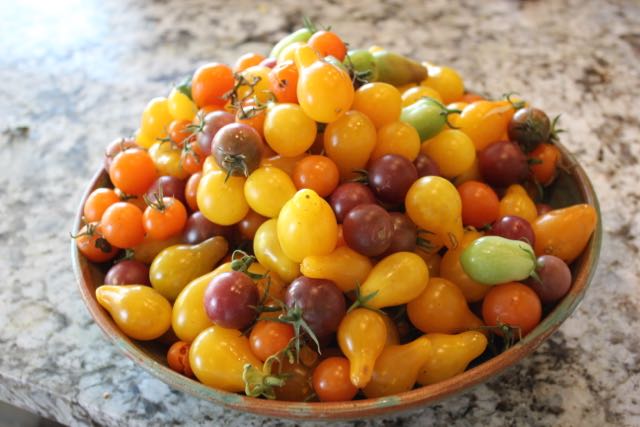 And we devoured the little tomatoes. They are the best part.
This is only part of October. Brinlee, Kimball and Sawyer's birthday trip to San Francisco is up next!