From Hilton Head we stopped in Atlanta to drop Adam at the airport, and decided to stay overnight and visit Sharon. I also saw my old friends from work. We stayed overnight at a hotel, and Sharon volunteered to stay with the kids while I went to lunch with my work friends. I went down to the desk to ask for a late checkout because I had a lunch meeting. She started to tell me that checkout was at noon and asked for my room number. When she pulled up my account she stammered, "I apologize Mrs. Grow, I didn't realize. What time would you LIKE to check out?" I told her 3:00 would be fine, and she said, "I'll make it 4:00." Then she sent up glasses of milk and huge fresh chocolate chip cookies for each of my kids. Nice!
As soon as we got here, my parents left to go to California to visit my brother and visit his new baby for five days. As soon as they walked out the door, my kids started getting sick. Very sick. I had six with fevers. 6! Georgia cried on me for a week. She cried when I held her, and she cried harder when I didn't. It rained every day too. I took them to the doctor and they said it was just a virus. The strep test was negative.
Tristi was a saint. After I told her how sick everyone was (basically just fevers), she said let's hang out anyway because our trip would be over by the time it was all done. Amber was understandably more reluctant but she went along. I gave them all Motrin so they felt pretty good. She has also sent Ashlee, Madelin and Eric over at various times to help or let me leave the house. She has held a crying Georgia so I can just have break. It was such a blessing to have help. It is hard enough to have sick kids, but to have six sick kids in a house that isn't yours is so much harder. There are very few toys to play with here, and nothing much to do. I can't let them go play in the yard because it was raining constantly.They did get over it, and we got to play more.
Adam also got sick after he left. His throat hurt, he had a fever, his eyes got infected. He went to the doctor, and they said it was a virus. He went to Chicago for a trade show, and he just got worse, so he went to an instant care in Chicago. He had all the symptoms of strep, but the test had come back negative, so they tested him for Group B strep. You know, the kind that lives in your butt. The kind they swab you for before you have a baby. The test came back positive. He was the last to get it, and by the time he got the diagnosis, the kids were pretty well done with it. Miraculously, I didn't get it. Our best guess is someone changed a diaper poolside and contaminated the area.
We did a lot of the usual things like the splash pad, going to the local gymnastics place to let the kids run crazy, cookouts, going to the park, etc.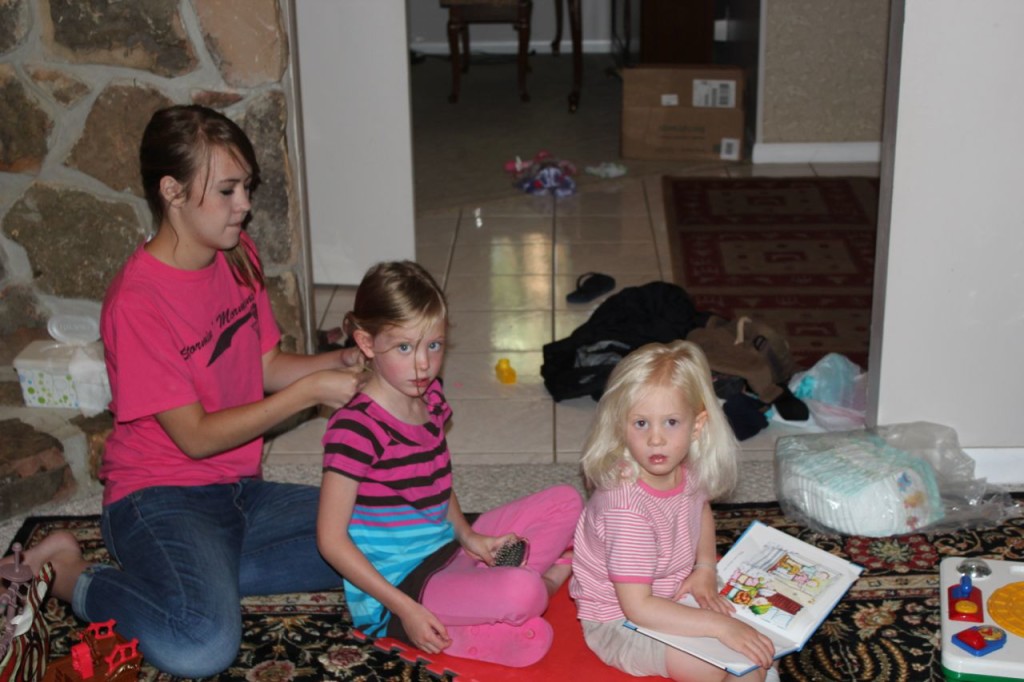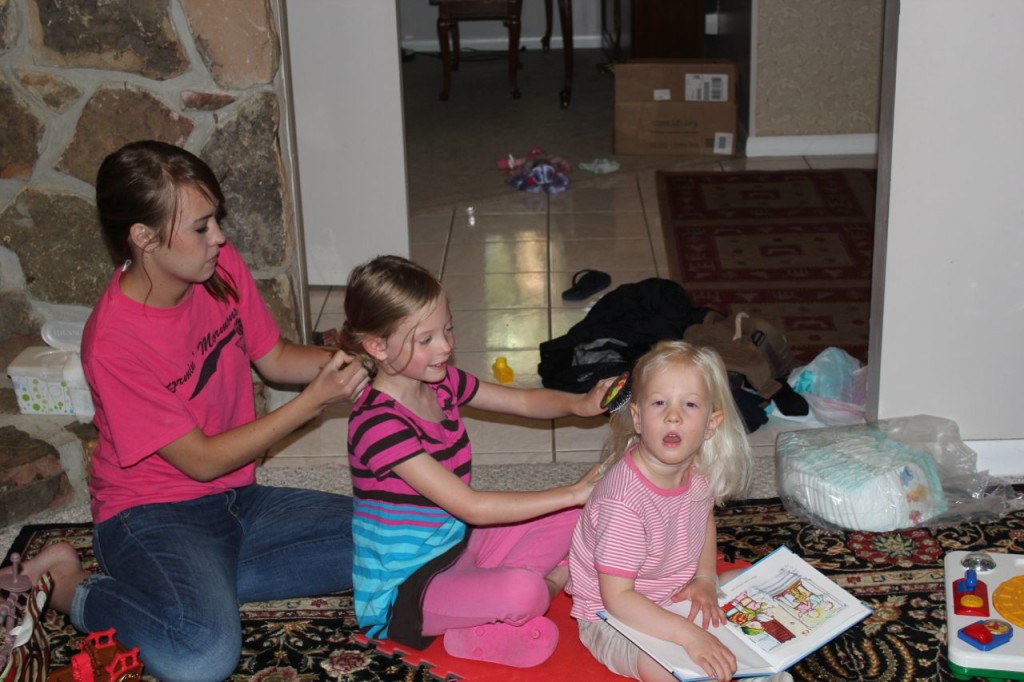 Cousin Ashlee, Brinlee and Daisy working on hair.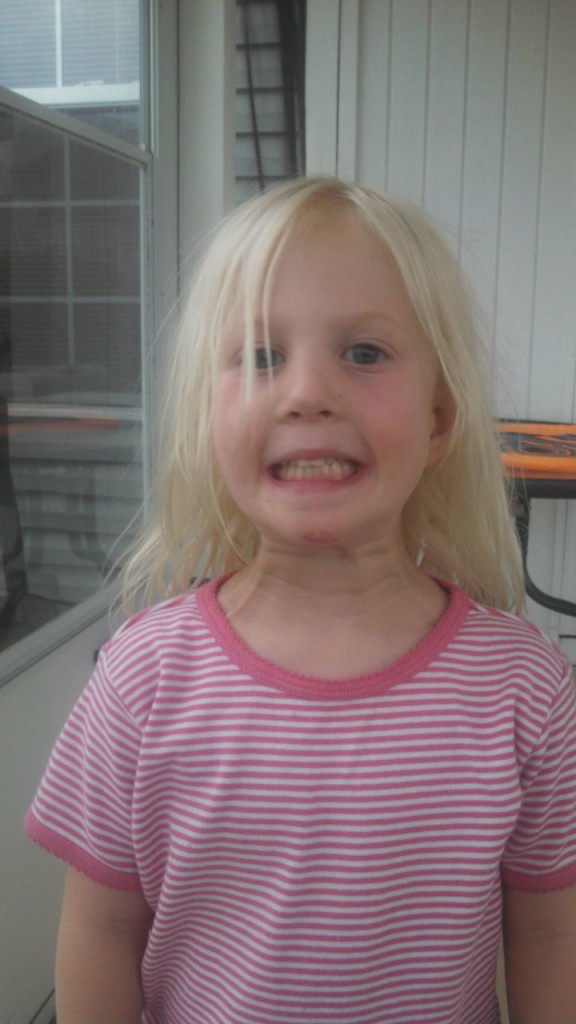 Over at Uncle Leo's house.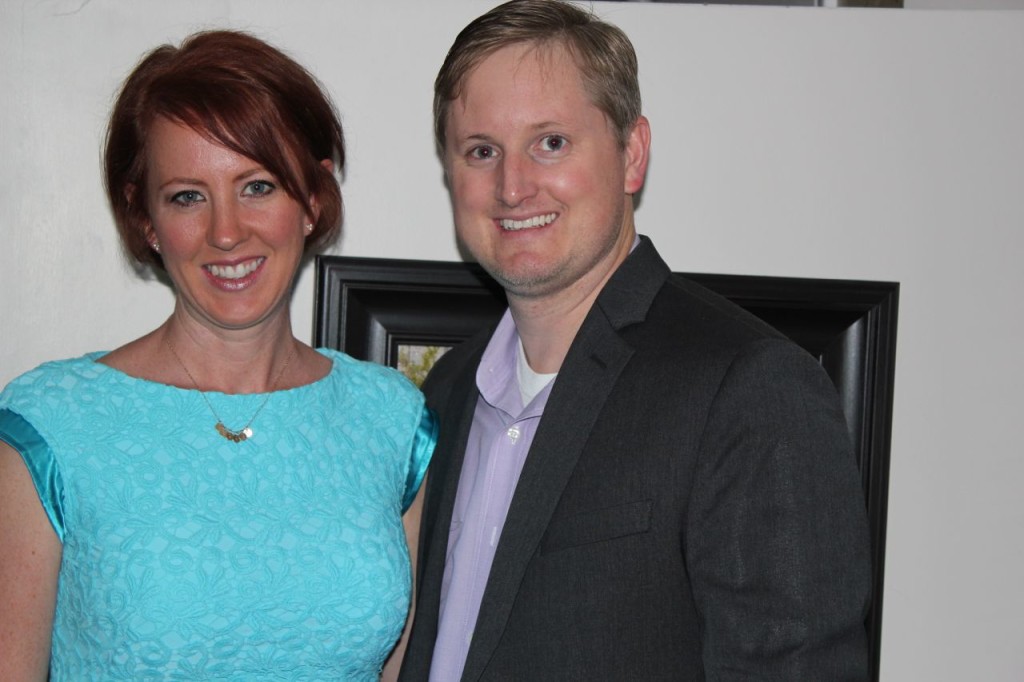 Adam flew in for my high school reunion. Of course he got there right as the kids got over it.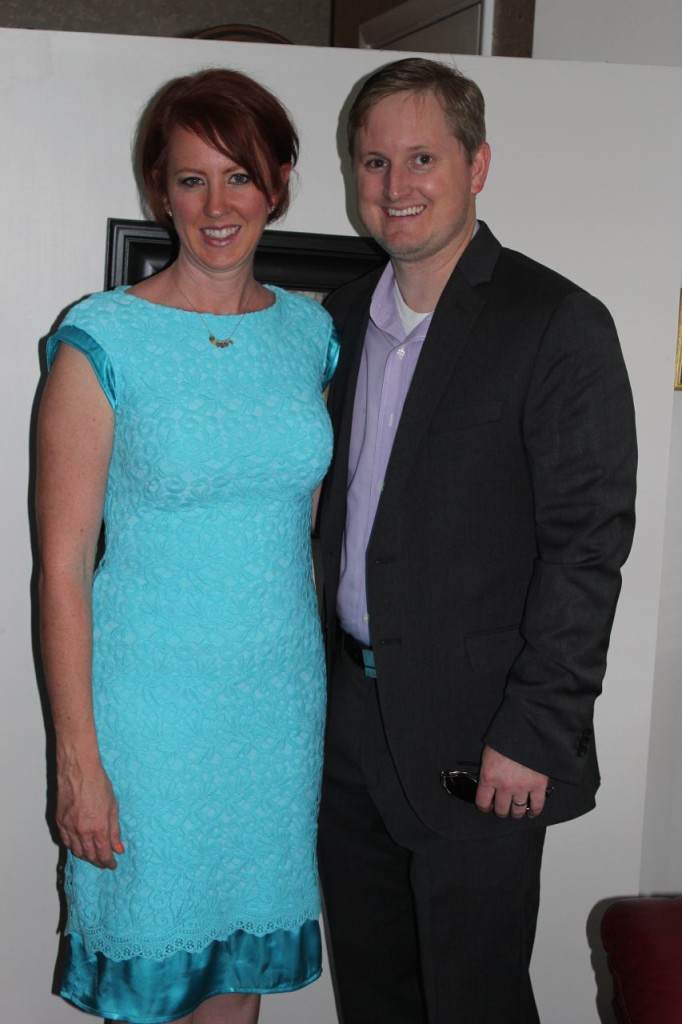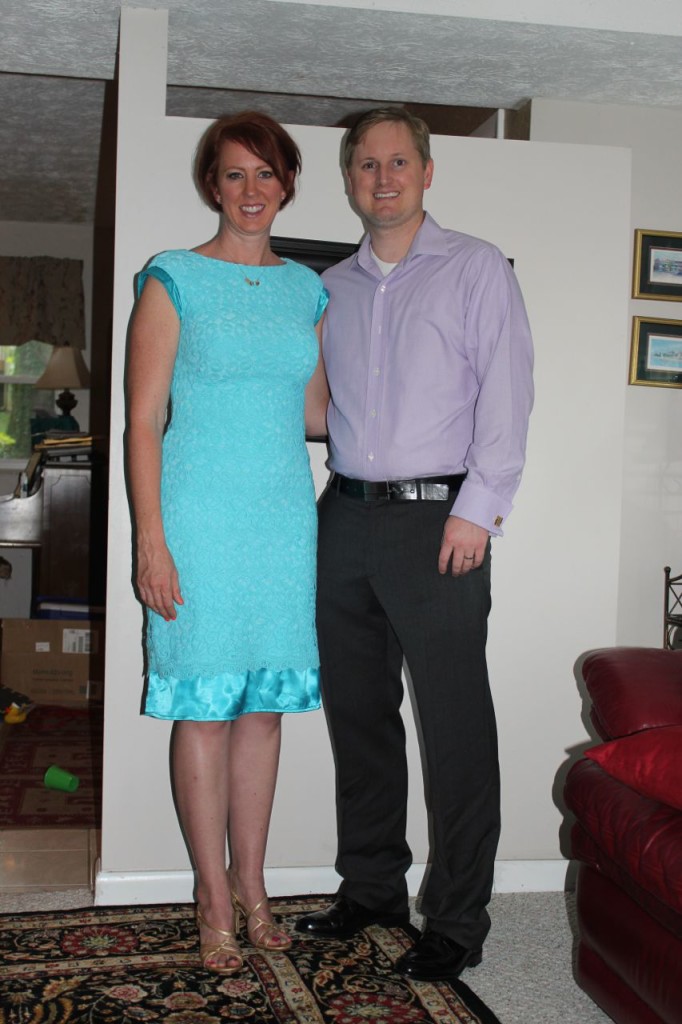 He said, "You just want me to go so your classmates know that all your kids have a baby daddy." I said, "Oh not just that, but the SAME baby daddy."

It was fun to run into some old friends.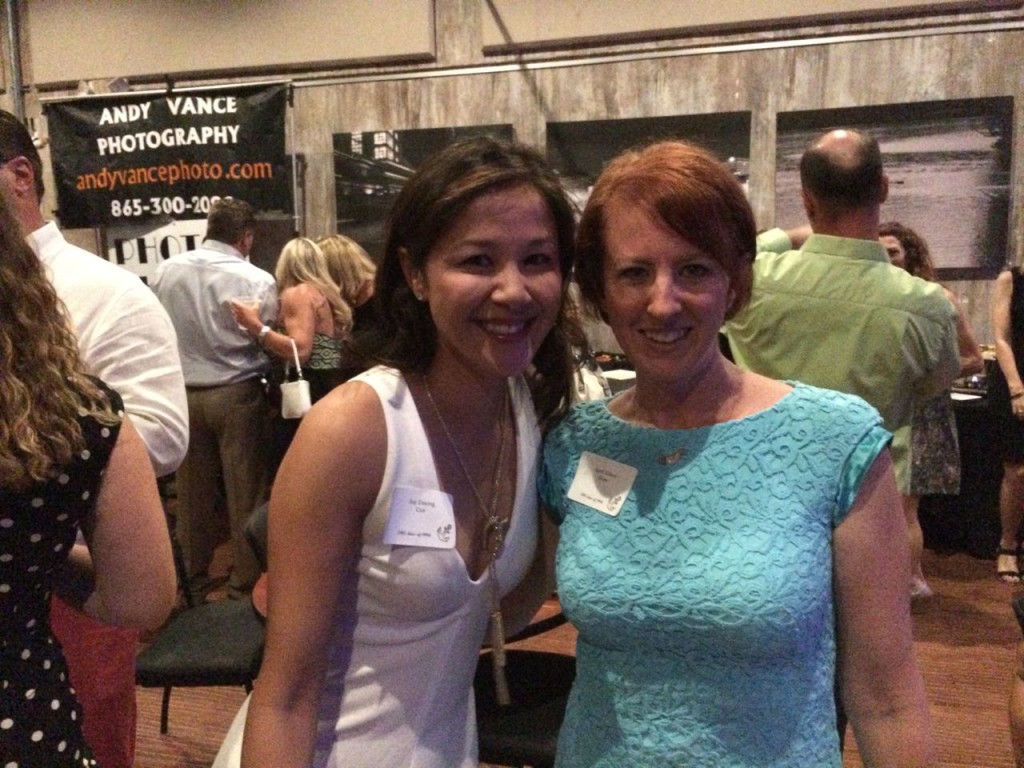 There weren't a ton of people there. Some people were as nice and wonderful as ever, and some were as big of jerks as ever (no one pictured here. Why would I take a picture with a jerk?). Dude (and I do mean a man), you are wearing PINK. PANTS. There is no room for attitude with those things in the room.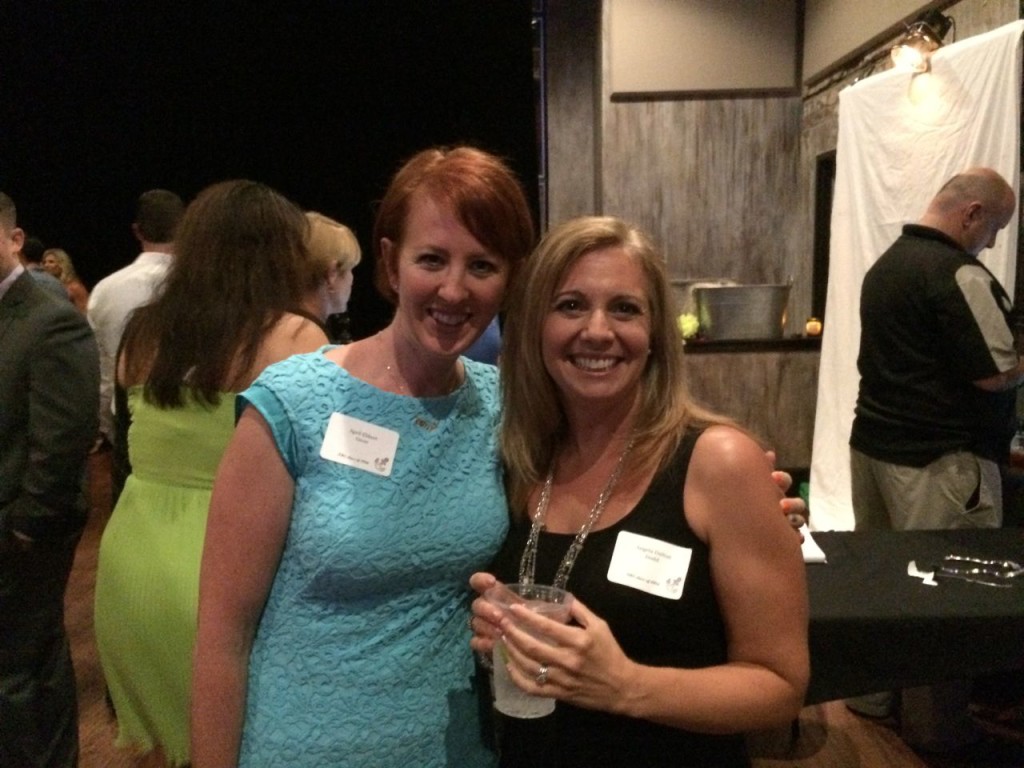 Overall, I'm glad I went, but I only went because I happened to be in town at the time. I wouldn't have made a special trip for it. Honest truth. I never made a special trip for any of the others.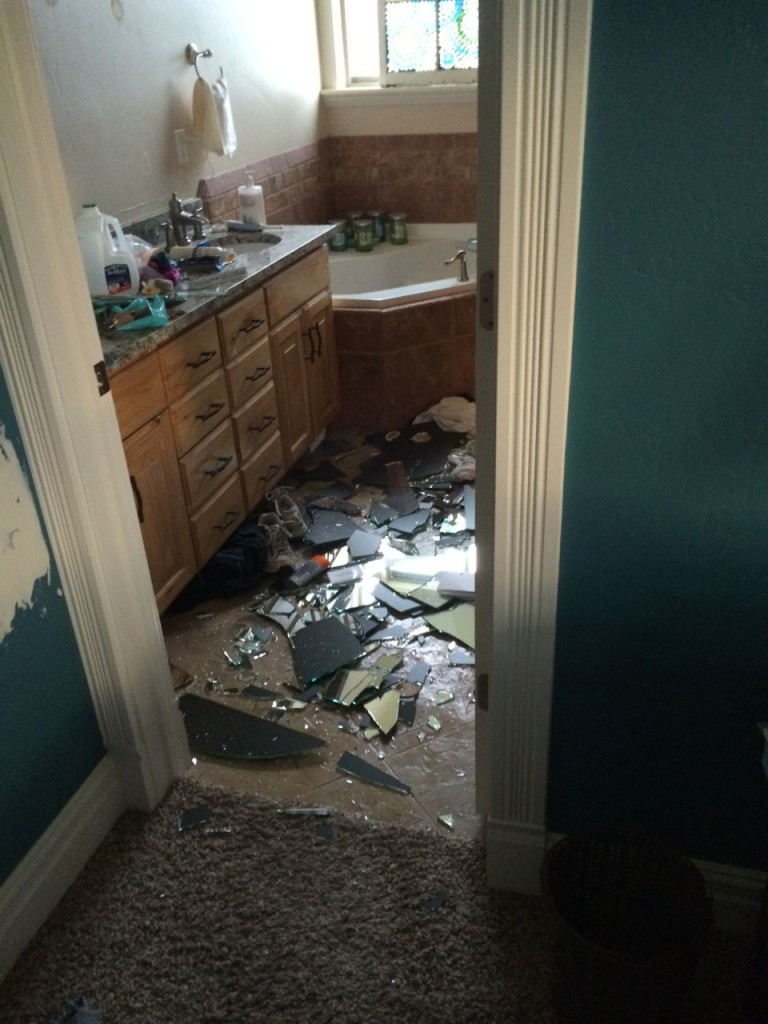 When Adam got home, he was greeted by a shattered mirror in our bathroom. It tore up the door and floor. If someone had been standing there, it would have killed them.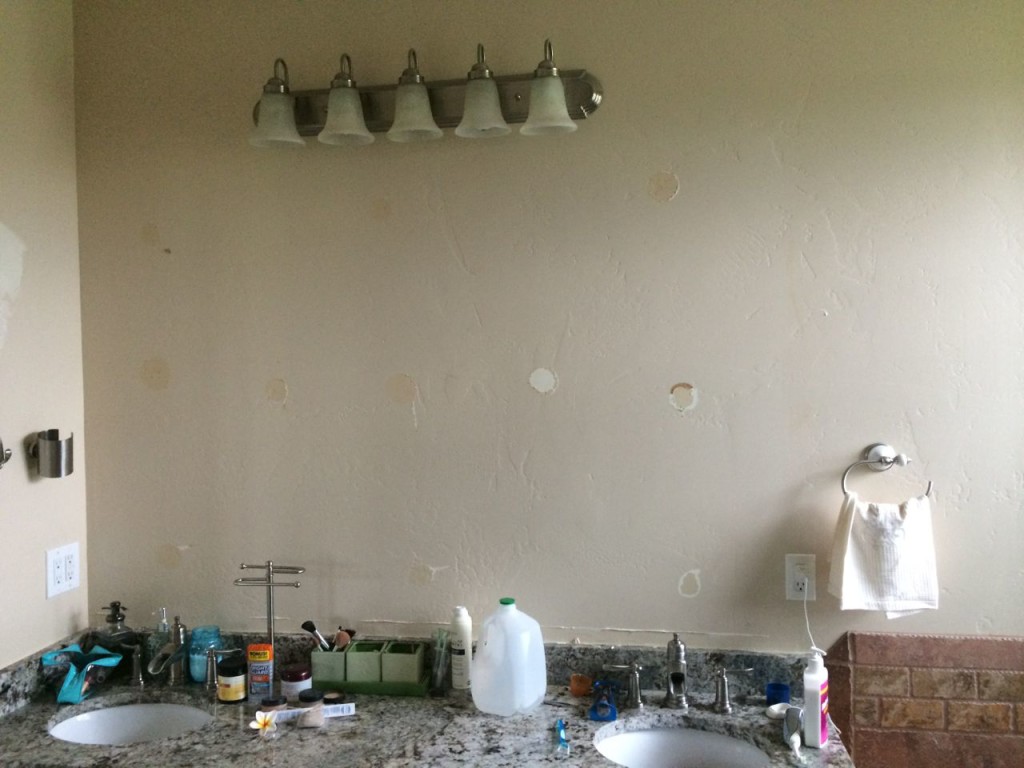 Whomever installed this mirror was super stingy with the glue. I didn't choose that light fixture or tile. It's on the list of changes. Don't judge.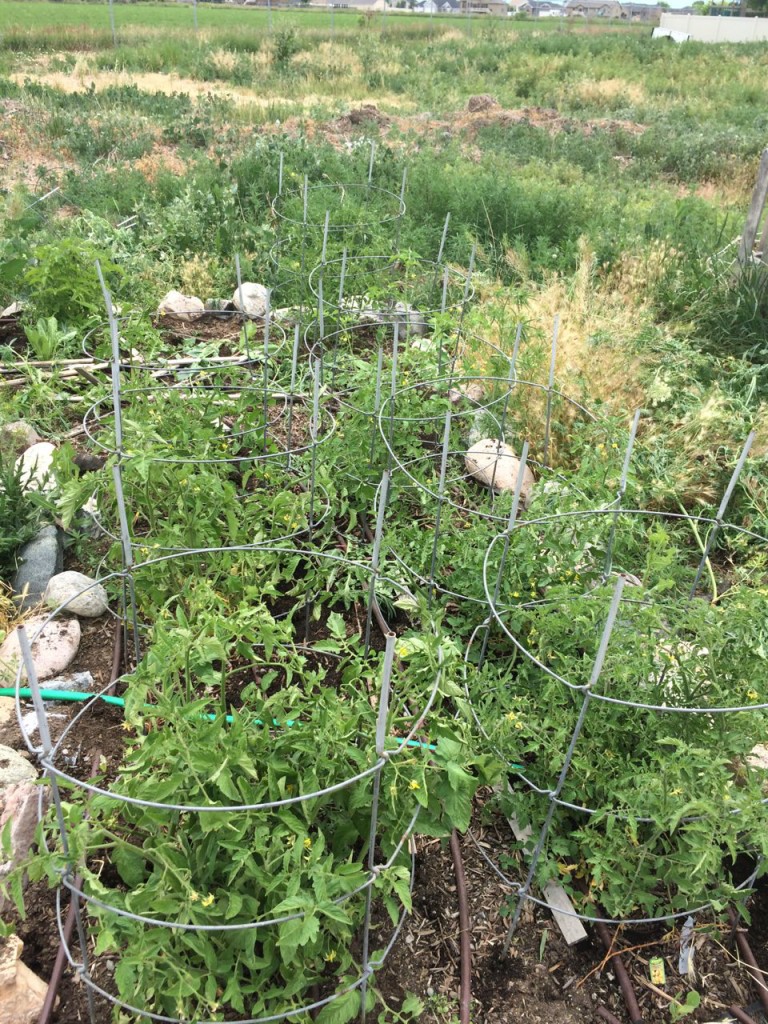 My super hero husband also went through and weeded my garden and caged my out of control tomatoes. He's so great!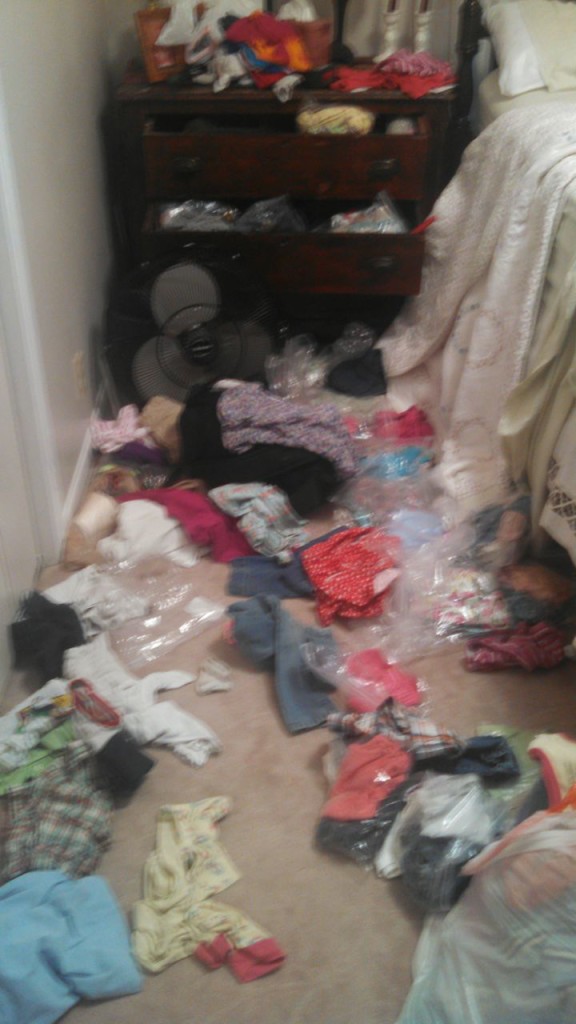 Daisy unpacked the outfit packs I made, not once, but twice!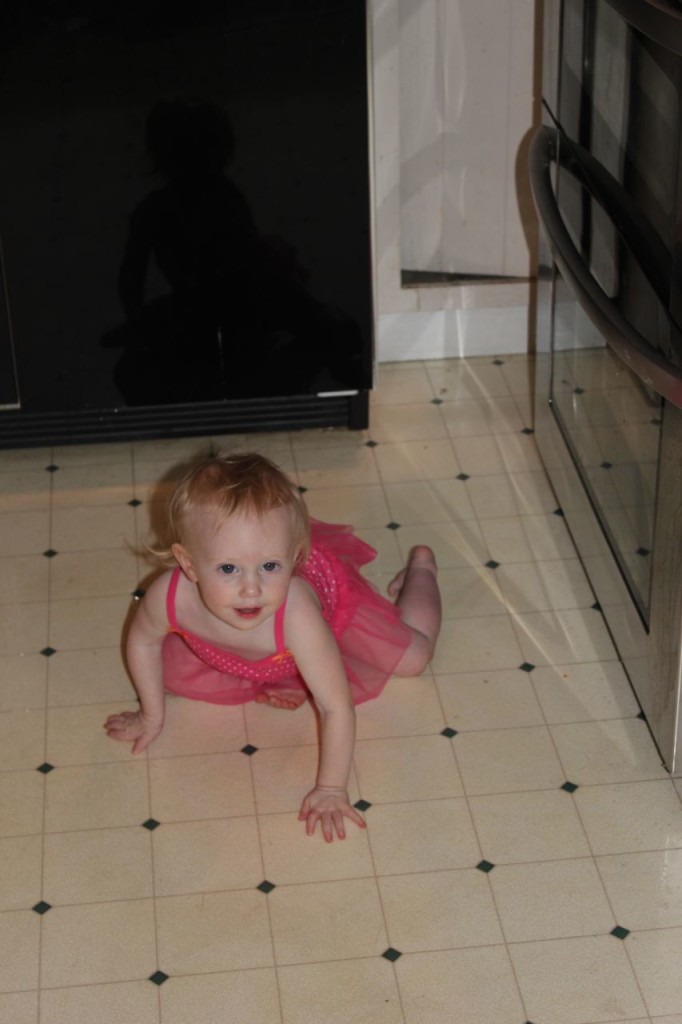 Look at that adorableness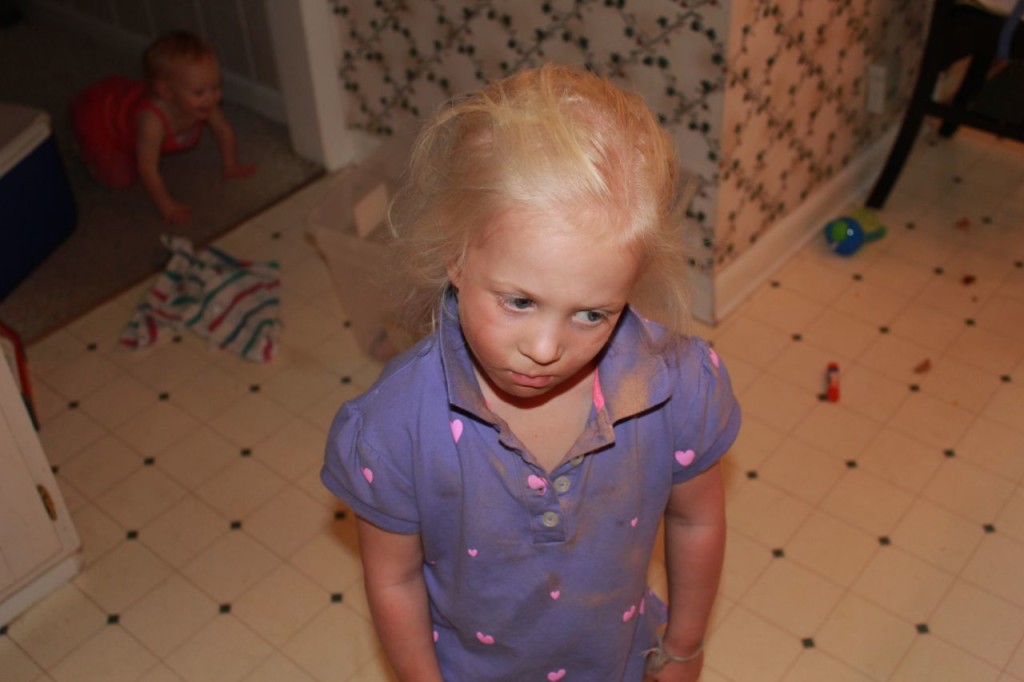 And look at that naughtiness! She got into my bronzer. I tell you what, Daisy is on one!
Granddad getting in on the hair brushing.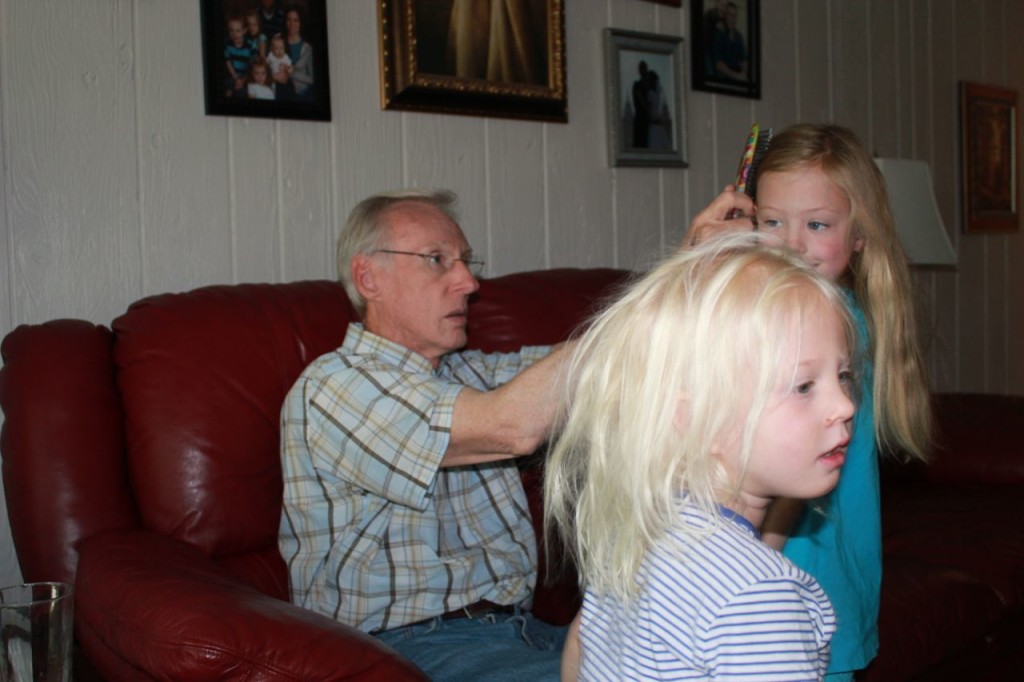 He did a great job.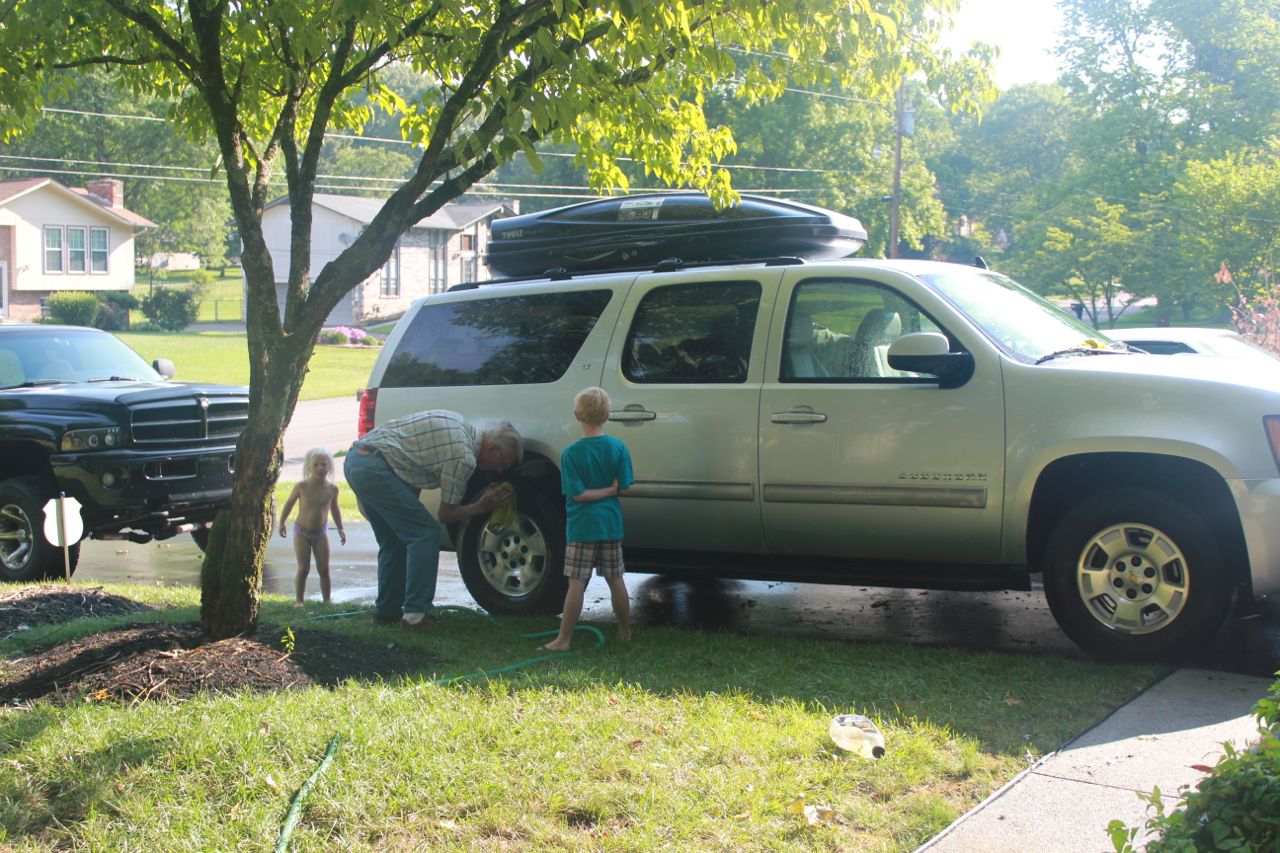 He took the kids out to wash my car.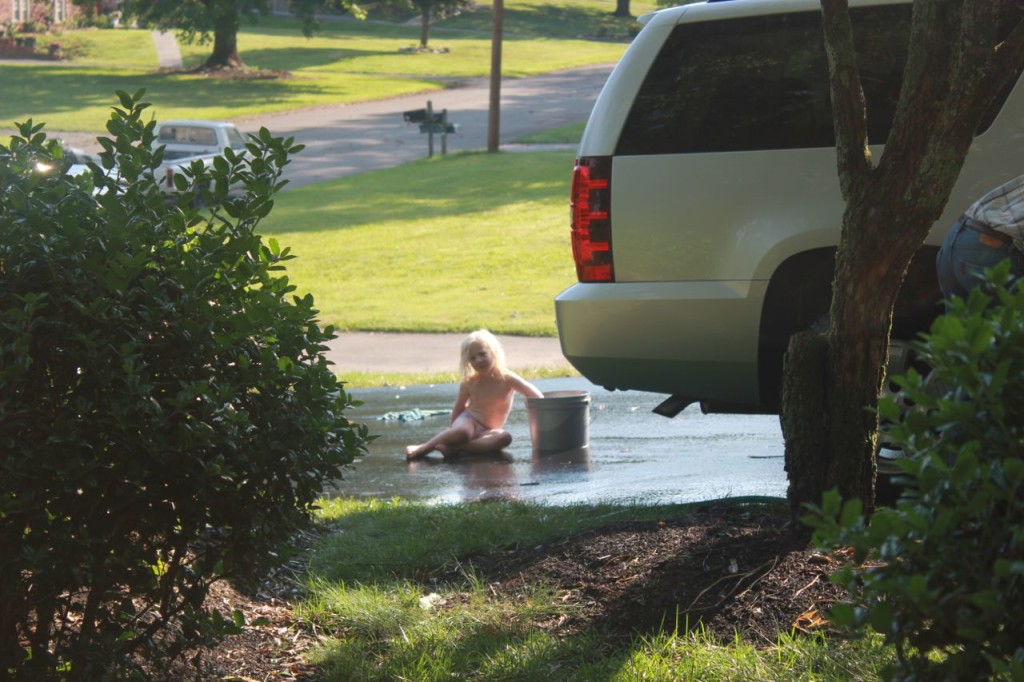 Daisy the mermaid got naked just for the occasion (well, she was wearing underwear or a pullup or something)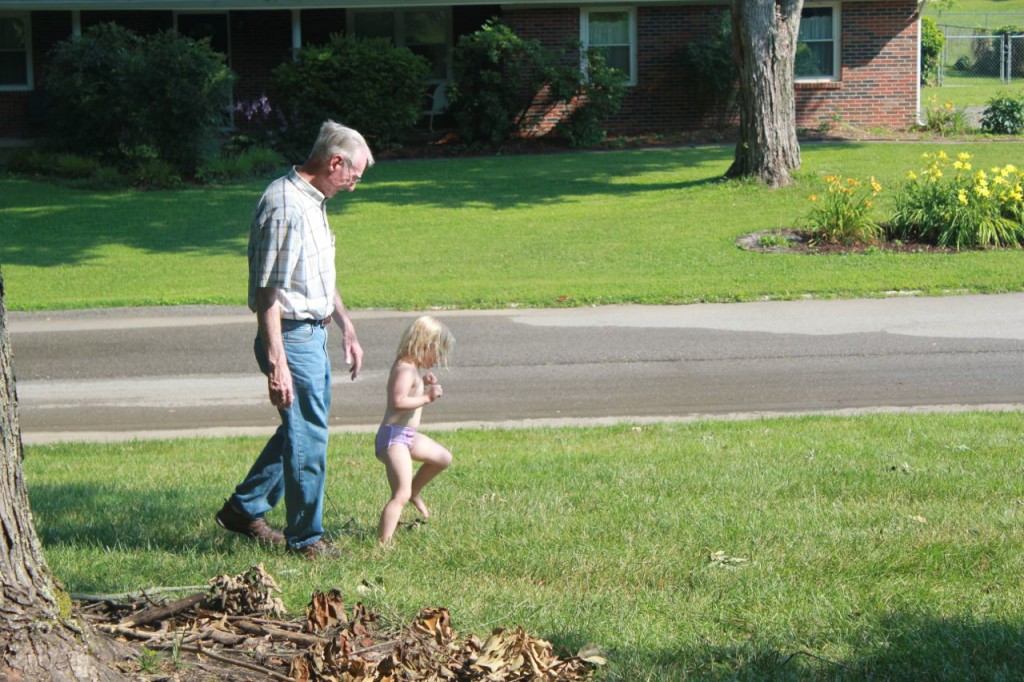 Playing with granddad while they were washing the car.
He loves his Daisy Doll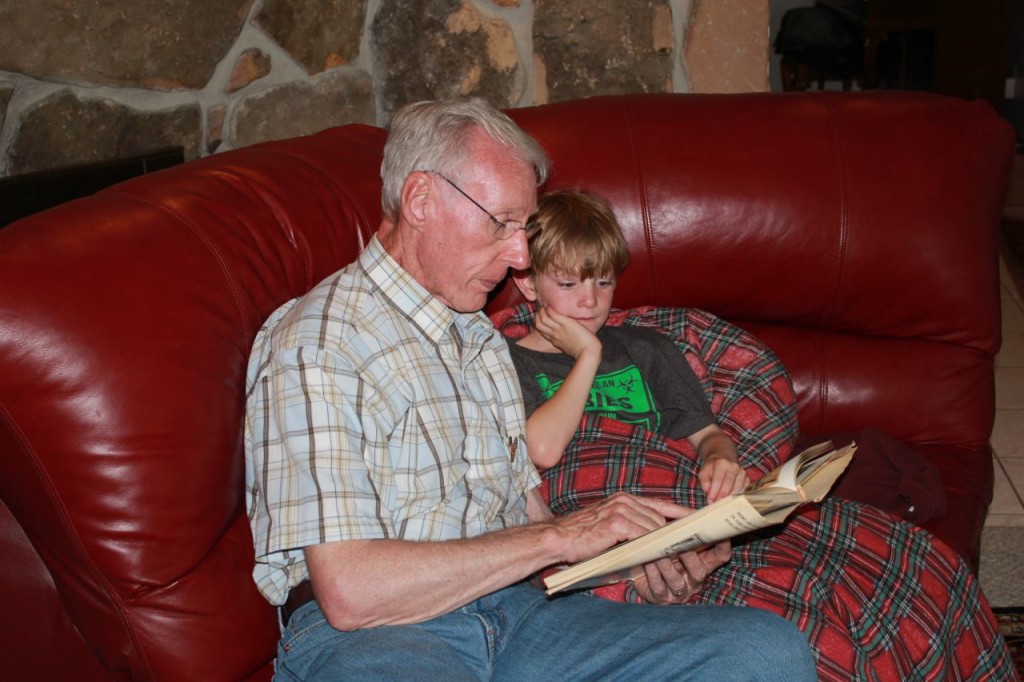 And his Kimball.
Look at what her hair looks like after one night of sleep!
She always looks homeless, no matter what I do. Her hair is always a mess.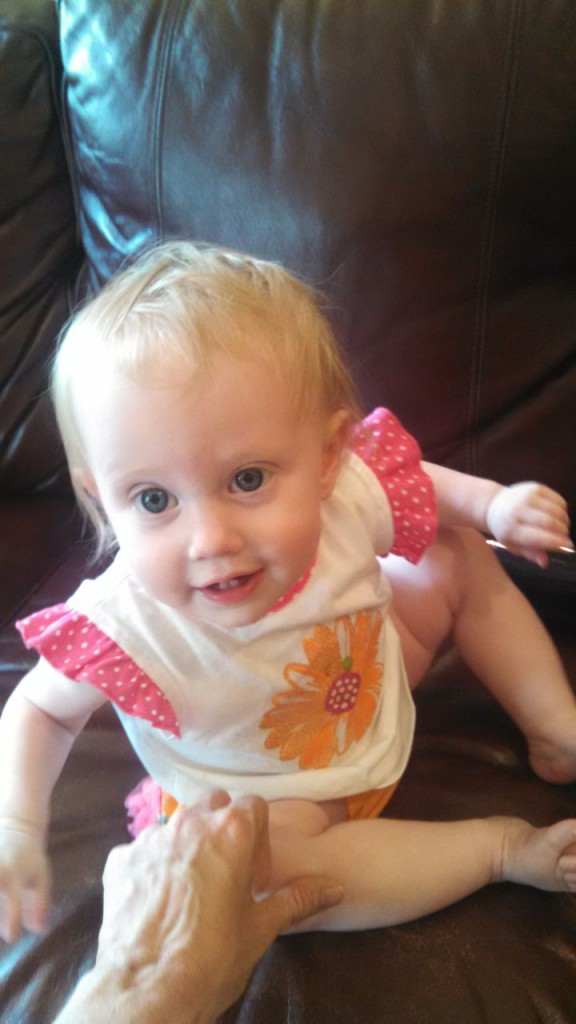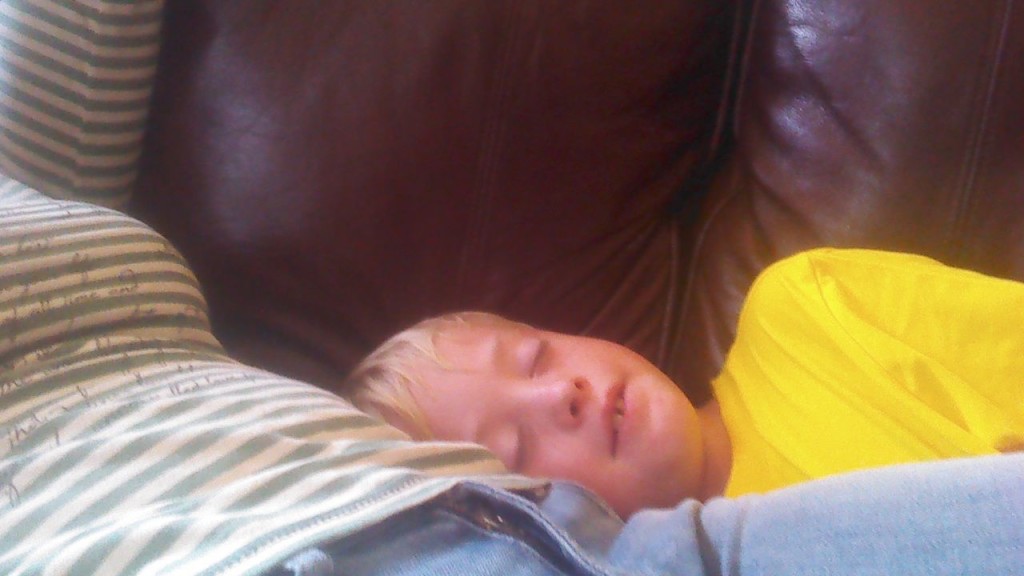 We wound up staying for five. weeks. It was way too long, and we didn't mean to stay that long. We were going to go home after two weeks, but then Adam's travel schedule changed, and he was going to be out of town those two weeks anyway, so I stayed, and then he couldn't come get us for another week, so we stayed some more. I just don't feel safe making a cross-country drive alone with six kids, and Adam would never go for it either.
We've certainly had far more eventful drives, but this one was not our favorite. We found out Georgia gets car sick. I got to clean up a vomit covered baby not once, but twice. It is so very People of Walmart to bathe your baby and wash her clothes in the sink of a gas station in Kentucky. This time we pushed and made the drive in two days, but it is still long. WY is for Wyoming, as in "why does it take an entire day to drive across Wyoming?" NE is for Nebraska because it Never. Ends. It's like a 1,000 mile treadmill to nowhere. Worst part of the drive every time. Trouble is, in either direction, it leads me home.