After six weeks away from home, It was so nice to be home in our own beds. More than nice.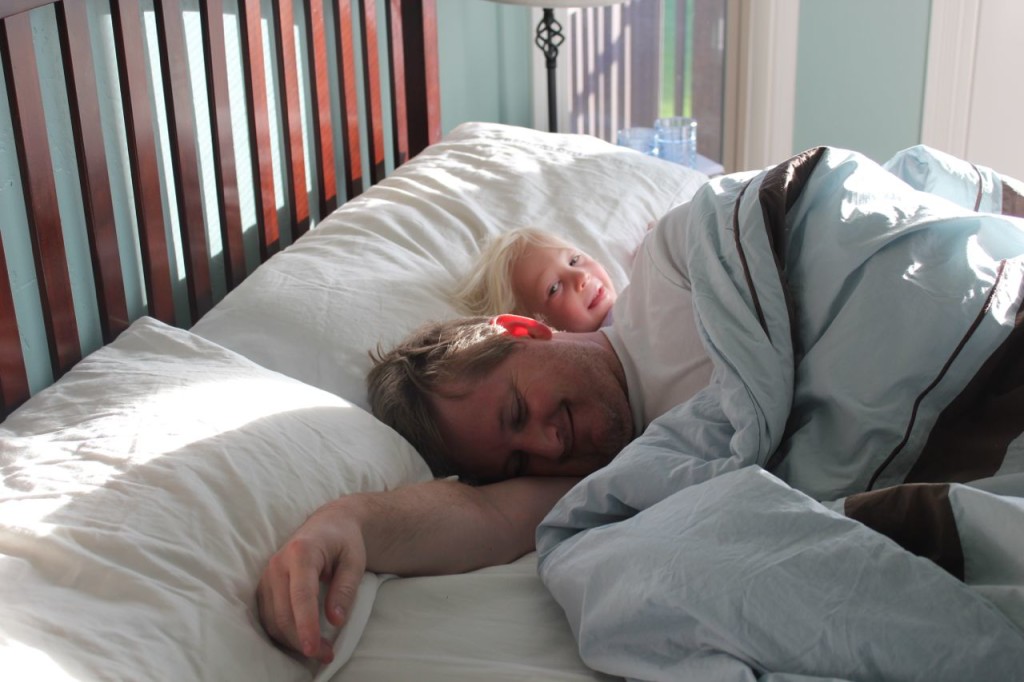 Daisy, I said our OWN beds.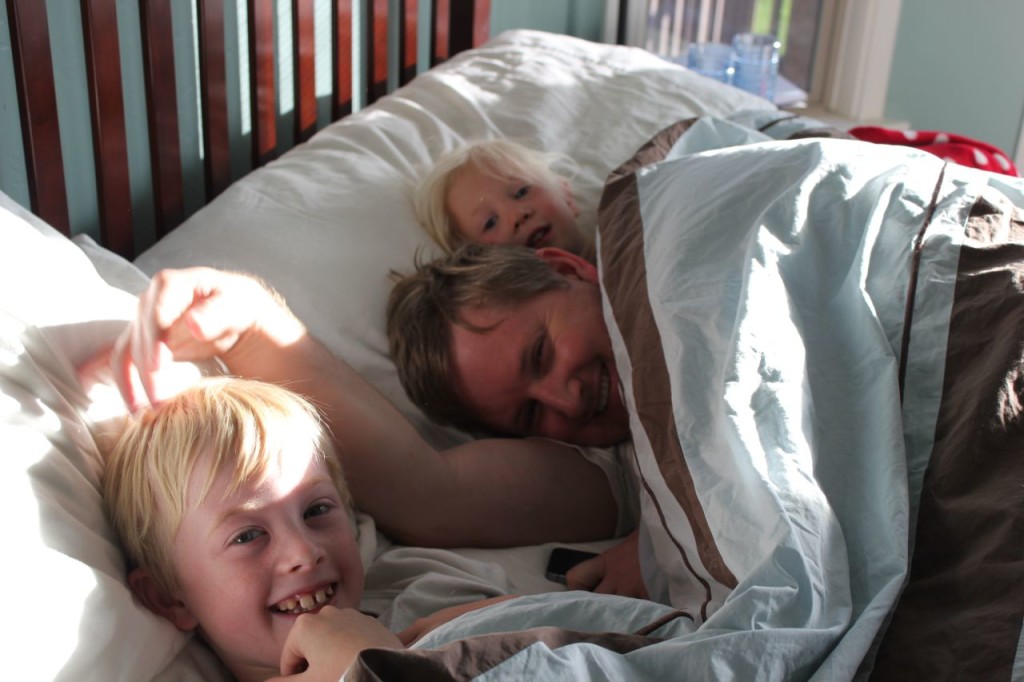 Oh my gosh they are multiplying. Just like tribbles.
Grandma missed us. She came over to give Georgia her birthday present.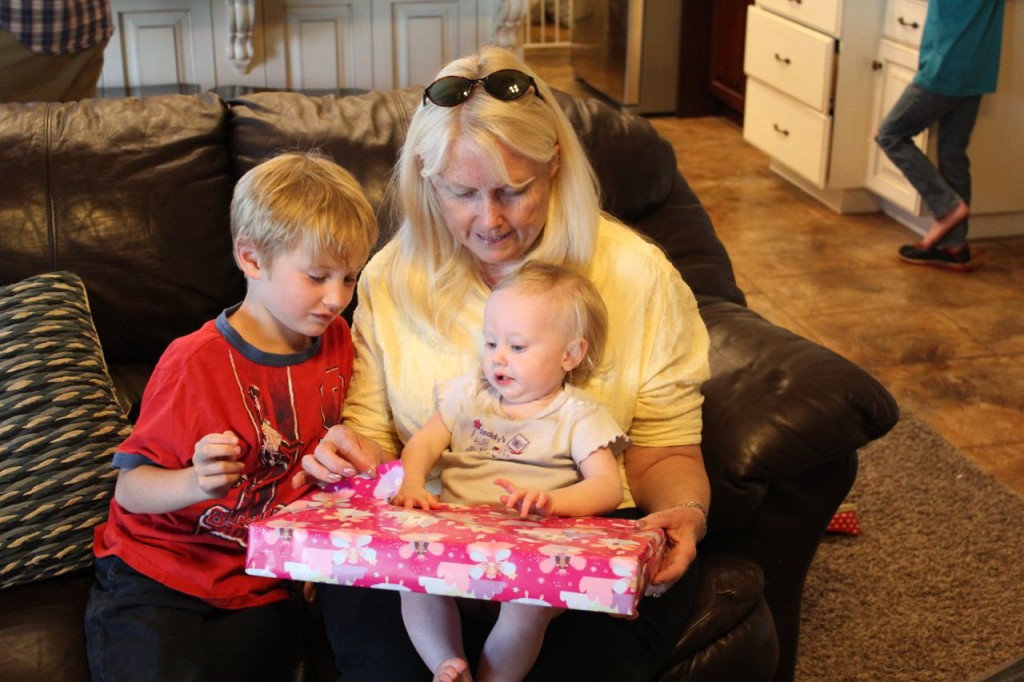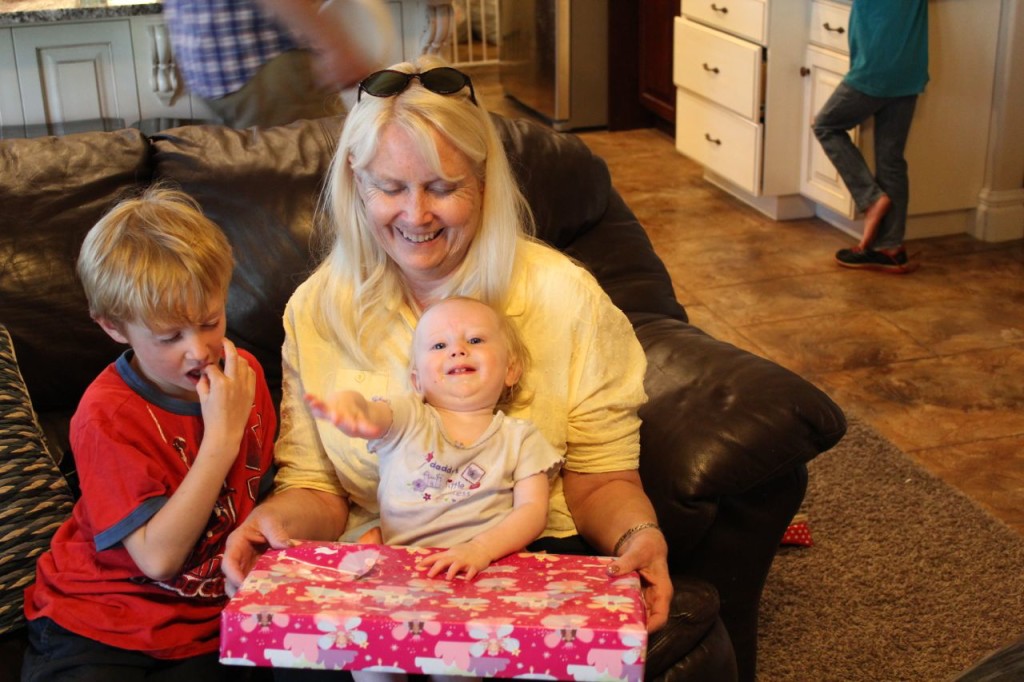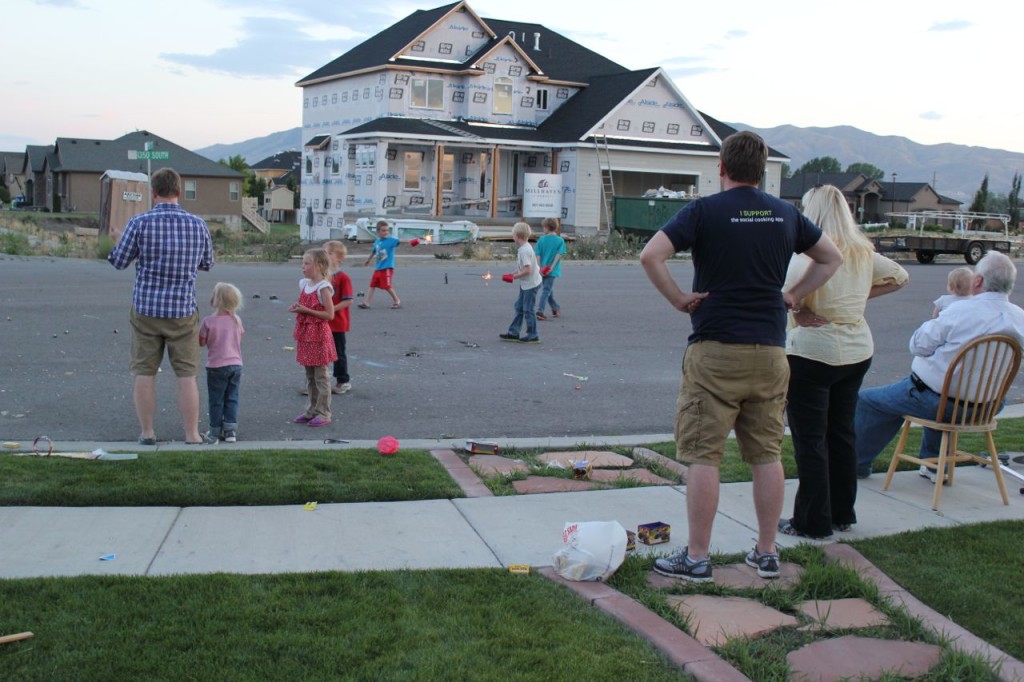 Grandma, grandpa and Uncle Dave joined us for July Fourth festivities (Aunt Lisa and company were sick). We did some fireworks, then sat down to watch our neighbors' spectacular show, and after that we went to our back deck to watch the Thanksgiving Point fireworks.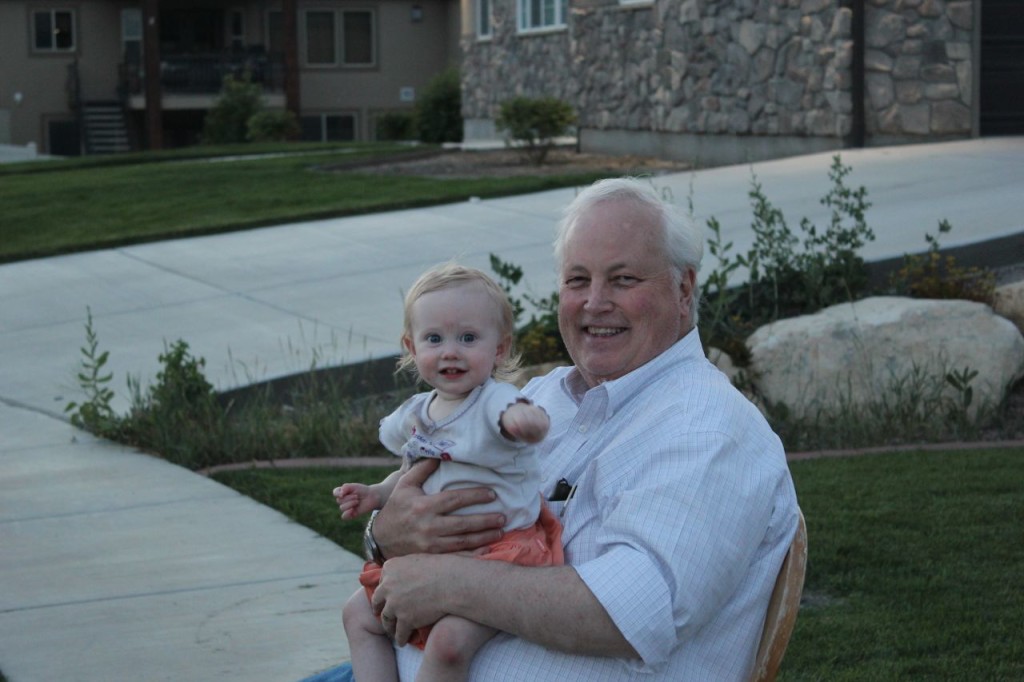 We have the best seats in town right in our own yard.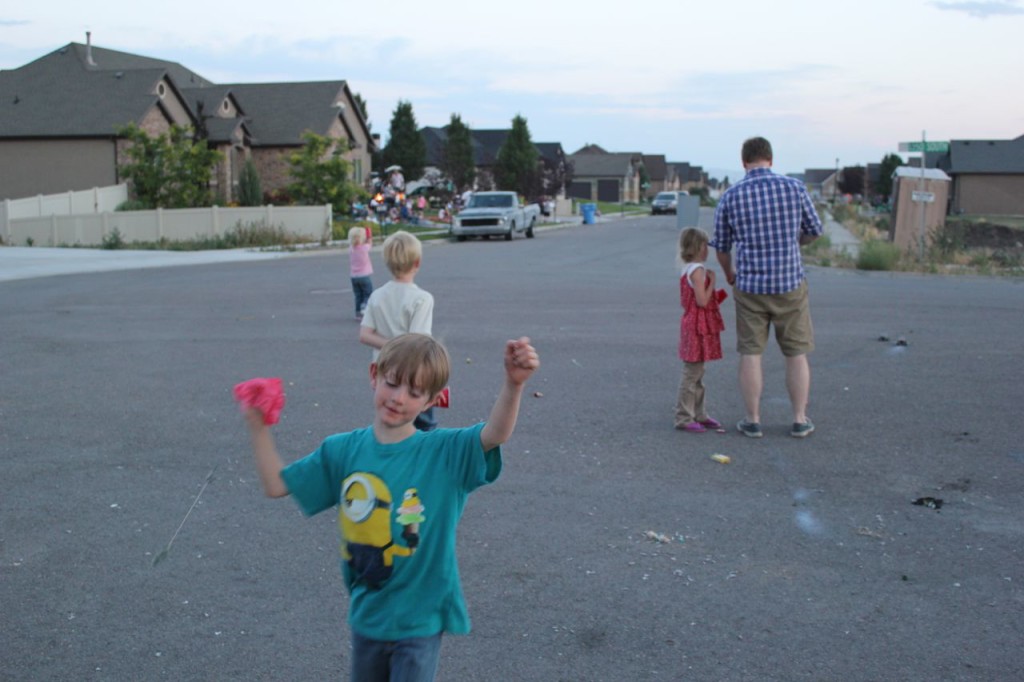 Right after we got back from visiting my family for five weeks, they all came to my house. For the first time in over ten years, we were all together. Here is how it happened. Mark and Cheri welcomed their fourth child to the world, and were going to bless her. Leo and Amber were coming to Utah to visit her family, as they do every year, and decided to do Bridget's baptism during that trip. Eric and Tristi also always come visit her family in the summers. Mom and dad were coming to the baby blessing. Since everyone else was coming, we convinced Jonny and Vanessa to come, and Nicki and Sam to come. Since everyone was going to be together, I (foolishly) agreed to organize a last minute family picture. I also decided we should celebrate Mom and Dad's 50th wedding anniversary while we were all together. Their anniversary is in September, so close enough. What followed was an insane weekend. My goodness.
Most everyone was there by Friday night, so we had a cookout at my house. It was so much fun.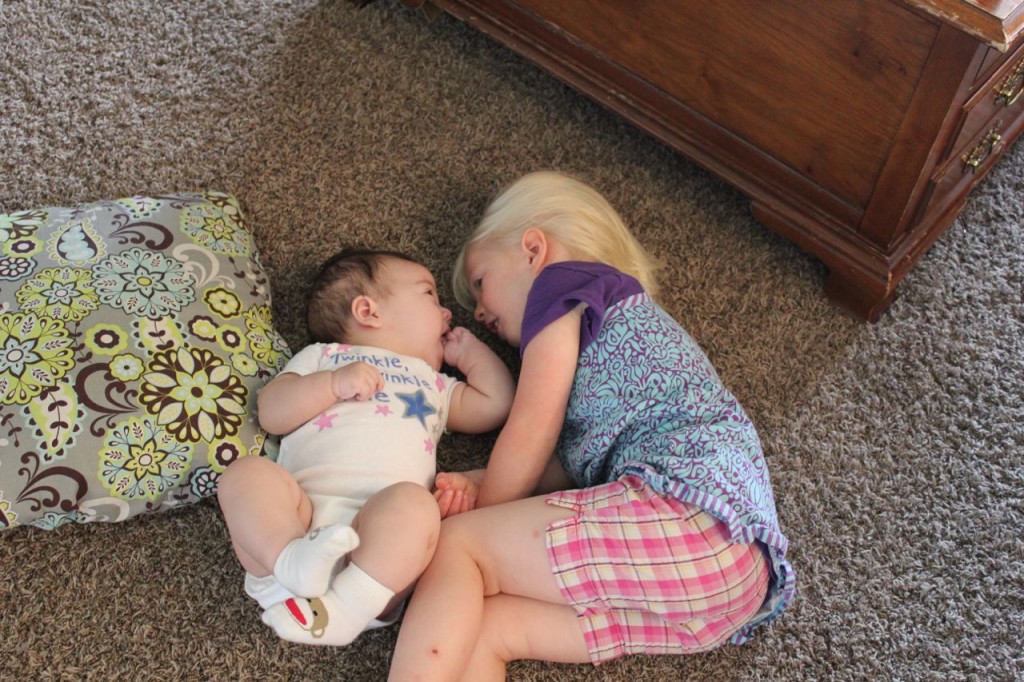 Daisy loved Avery.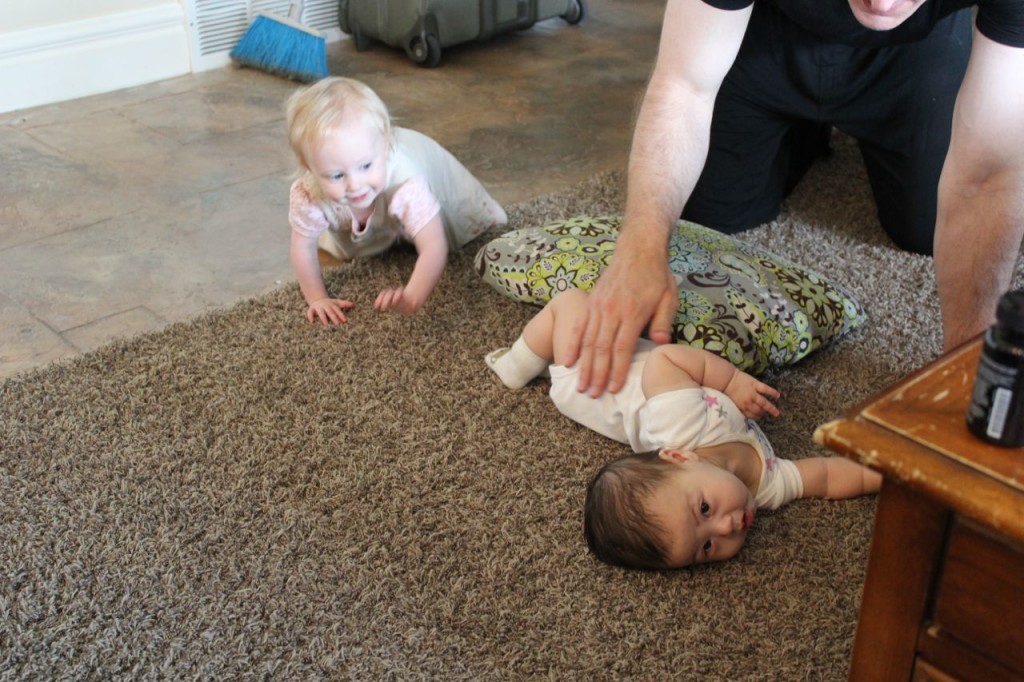 Georgia wanted to inspect this new little person.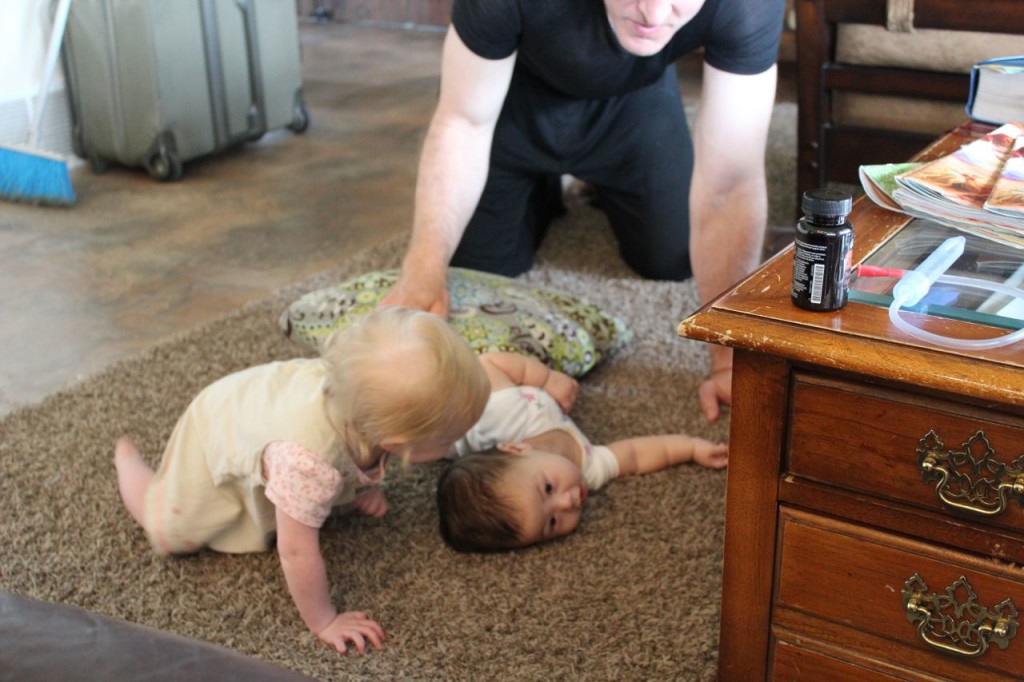 Hey little person.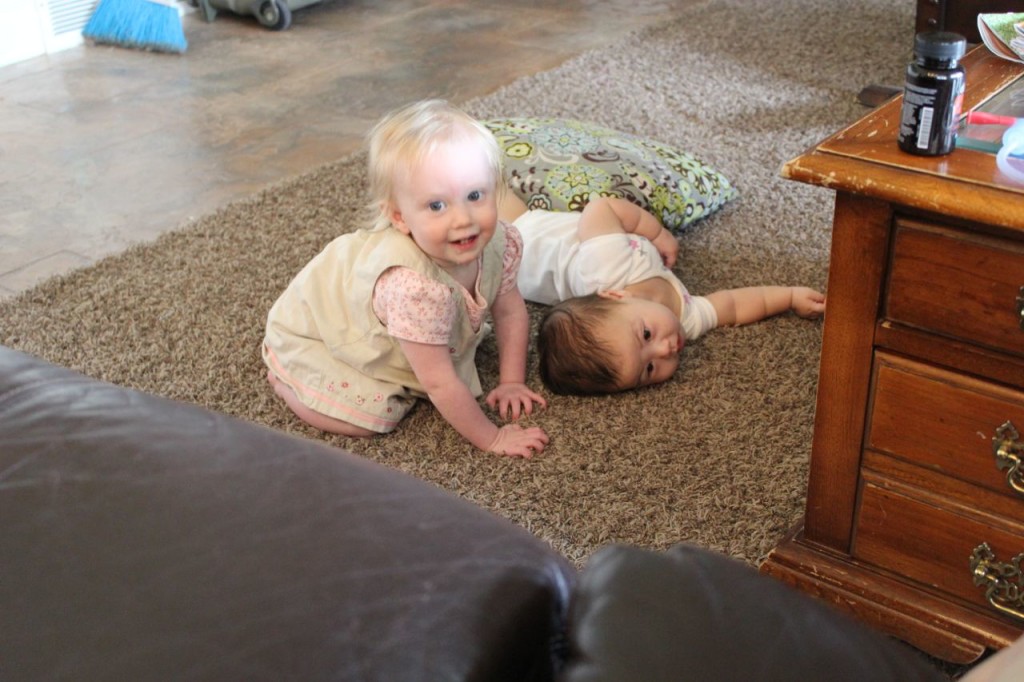 Mom, have you seen this little person?
Uncle Jonny helping them get properly acquainted.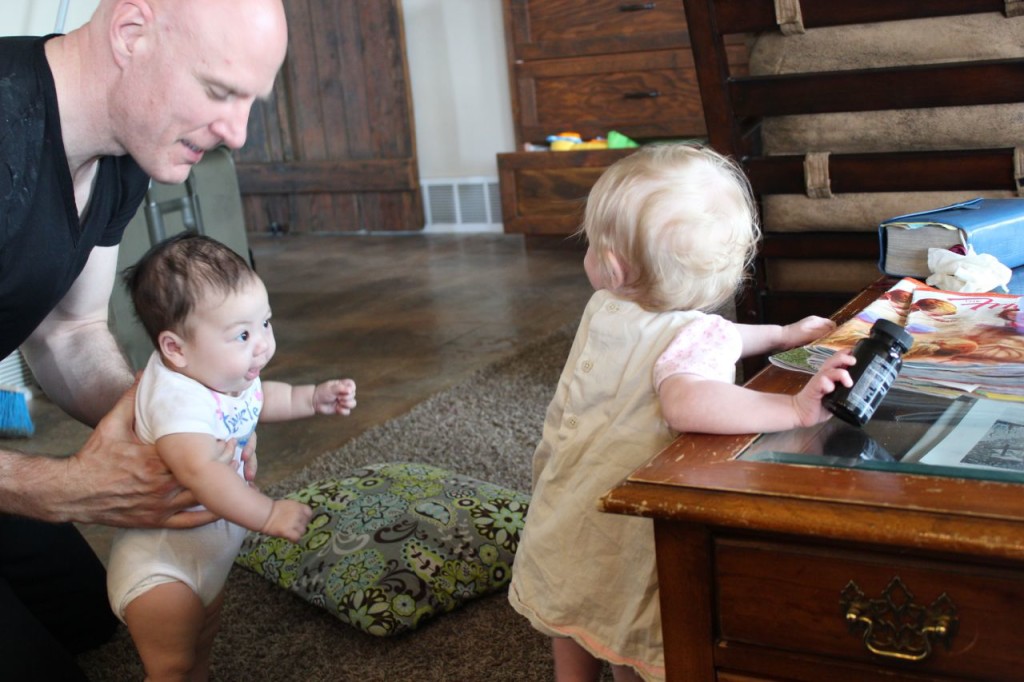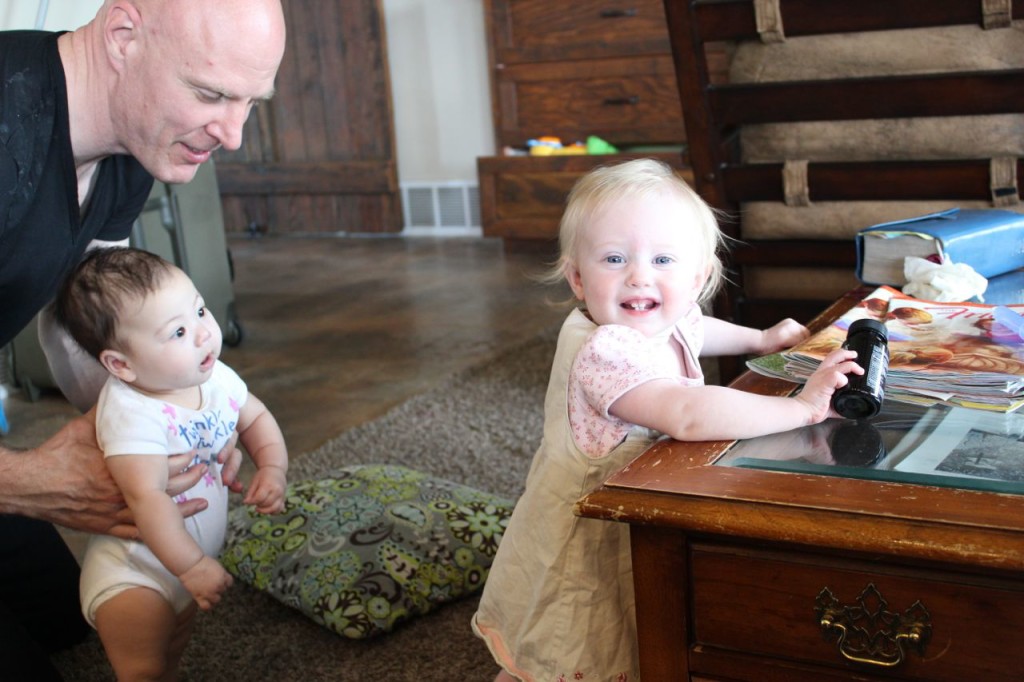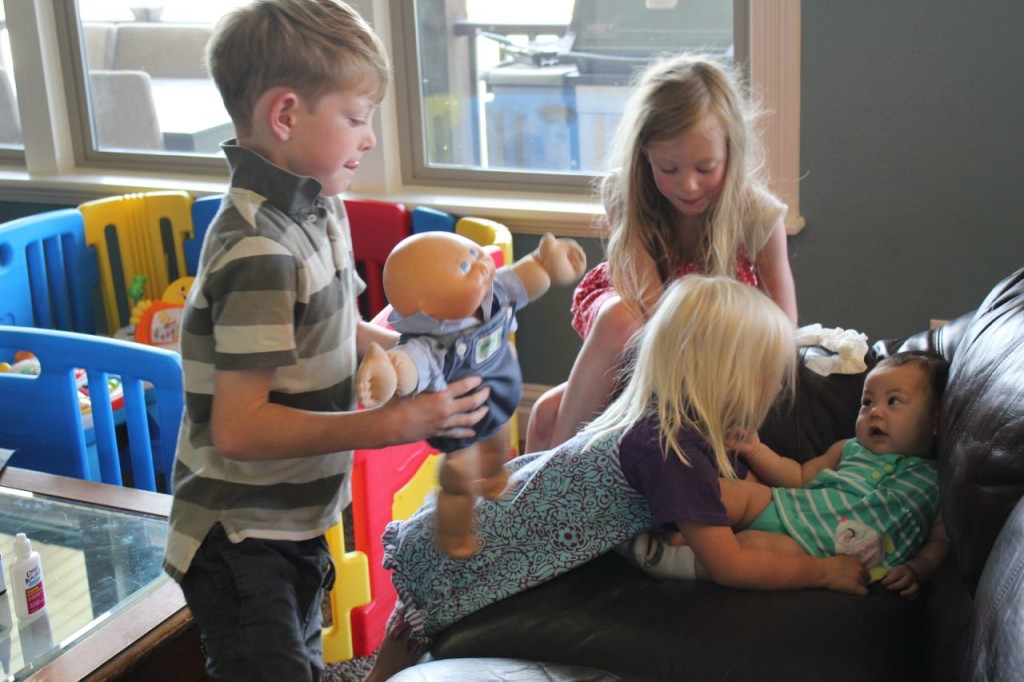 Of course they all wanted to see Avery.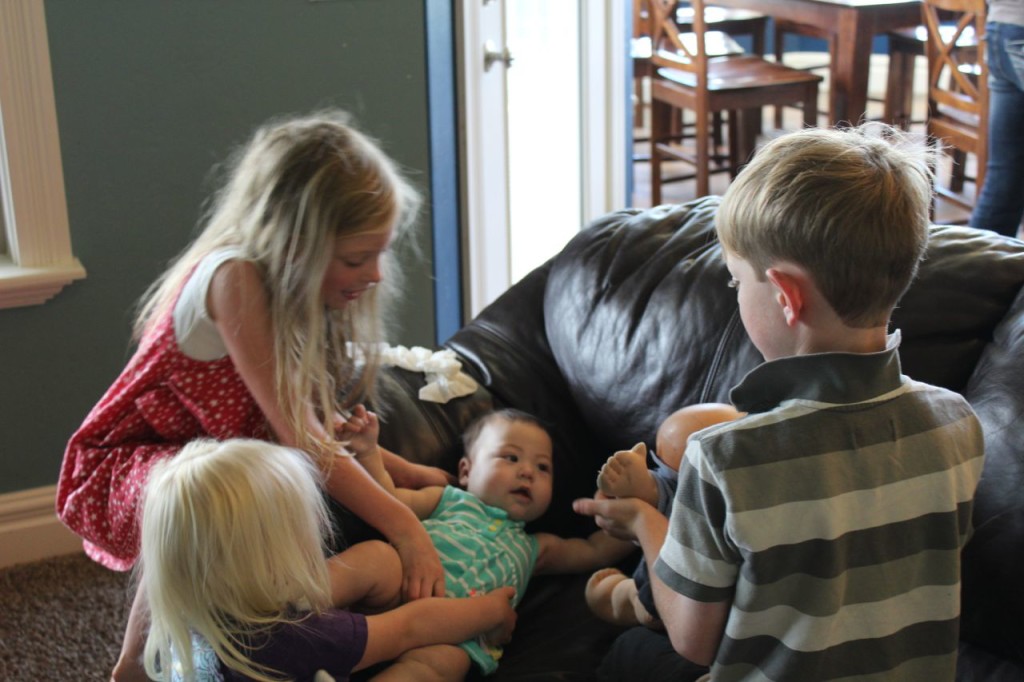 She's soooooo cute!
Pick up soccer game with the guys in our backyard.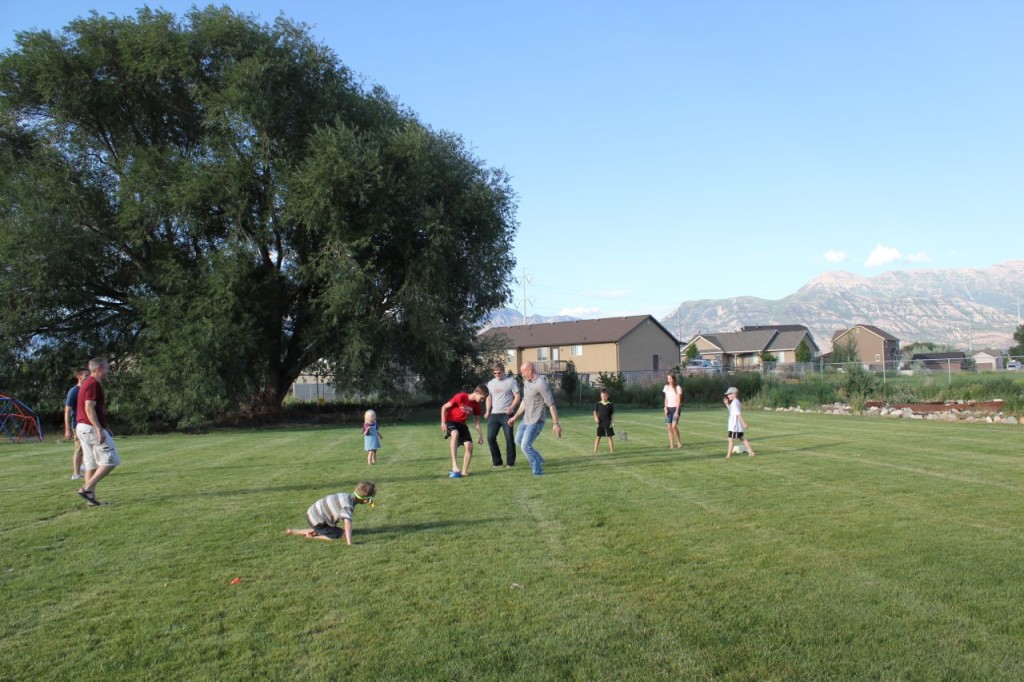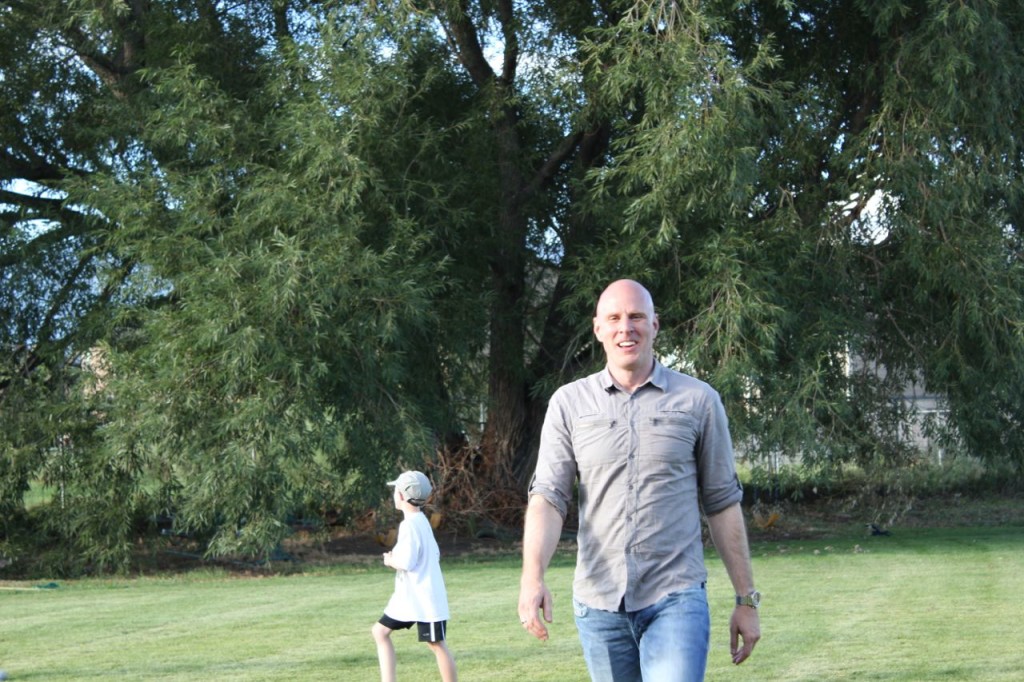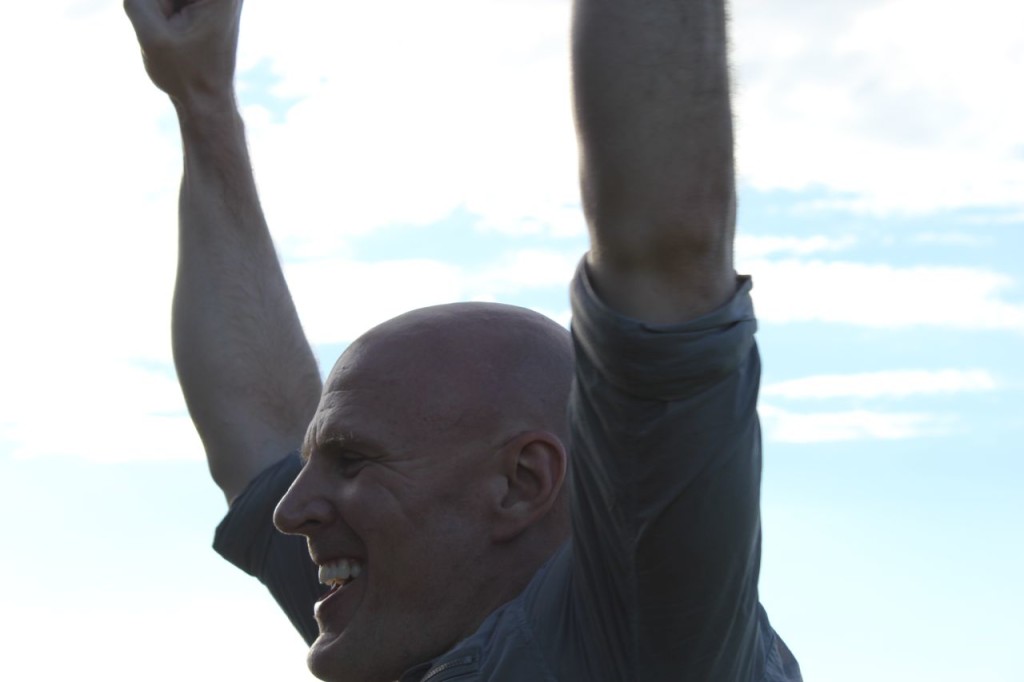 Jonny scored a goal!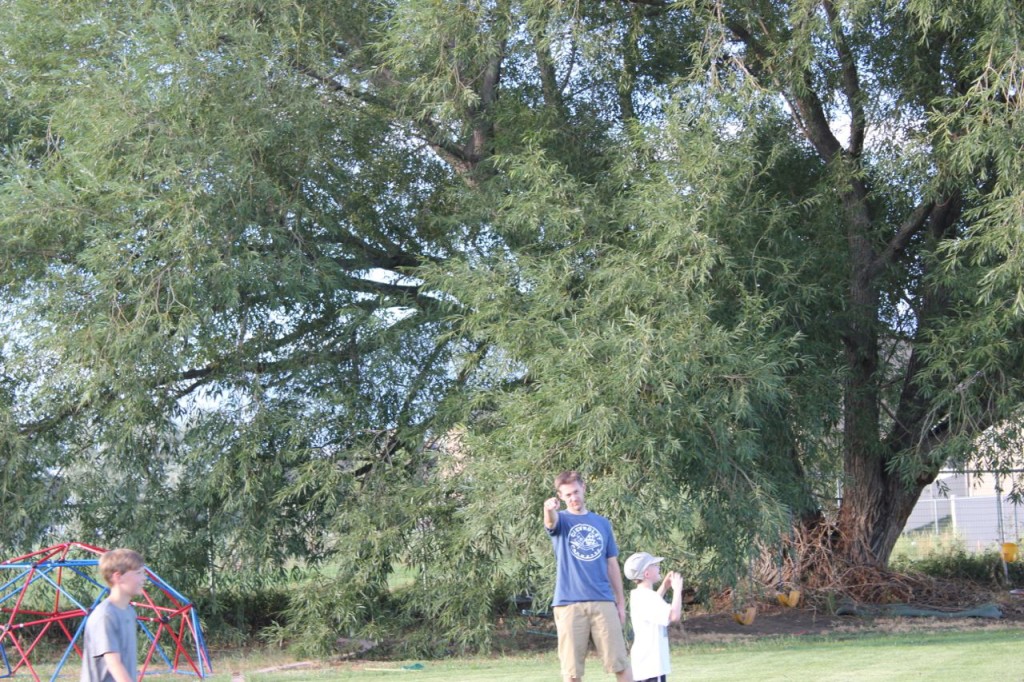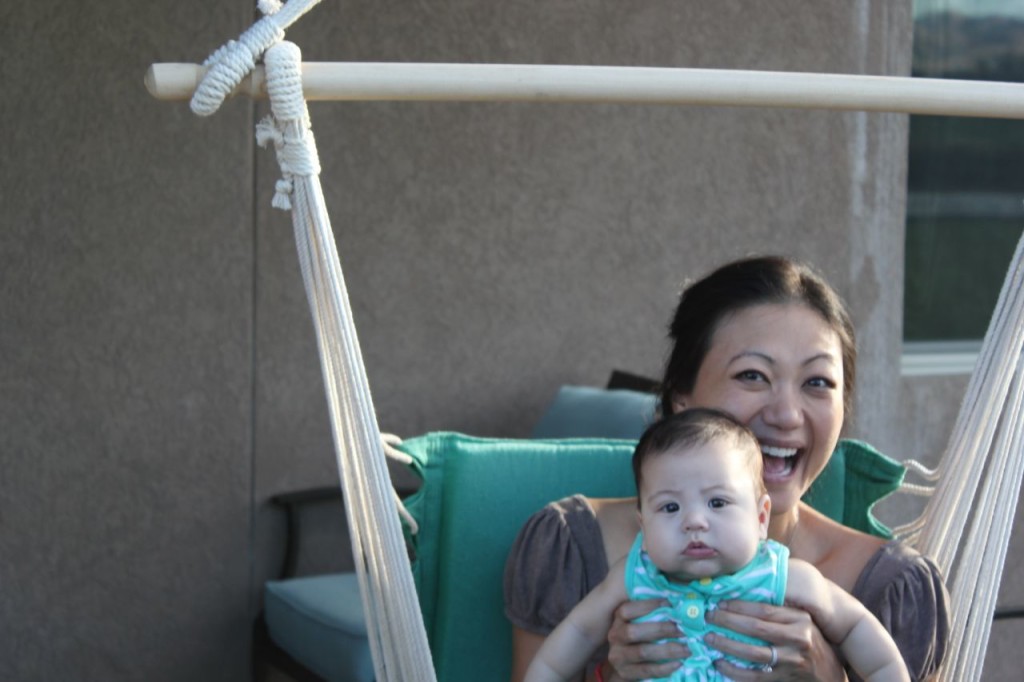 Us lady folk were happy to sit and cheer from the sidelines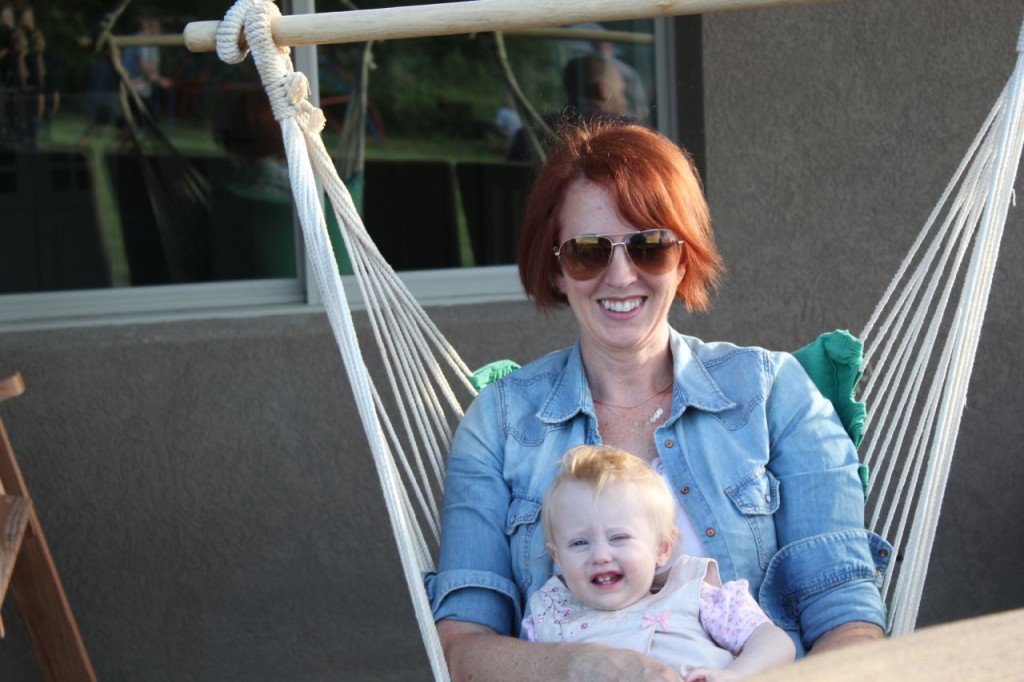 And cushy hammock chairs.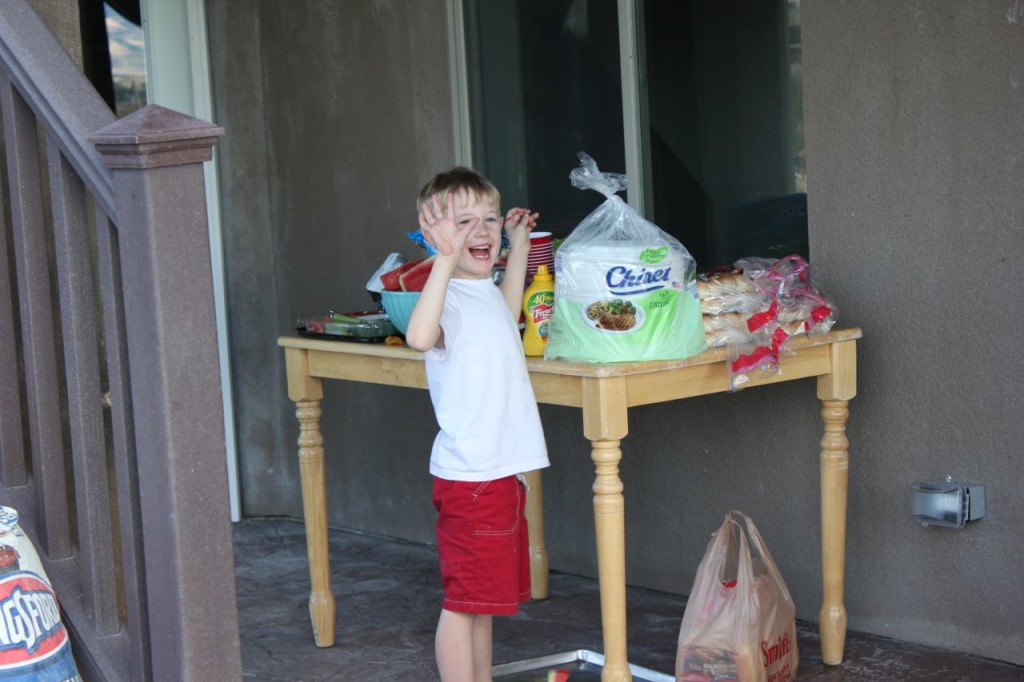 It was also an excellent opportunity to get a head start on the food.
I think Daisy ate an entire watermelon by herself.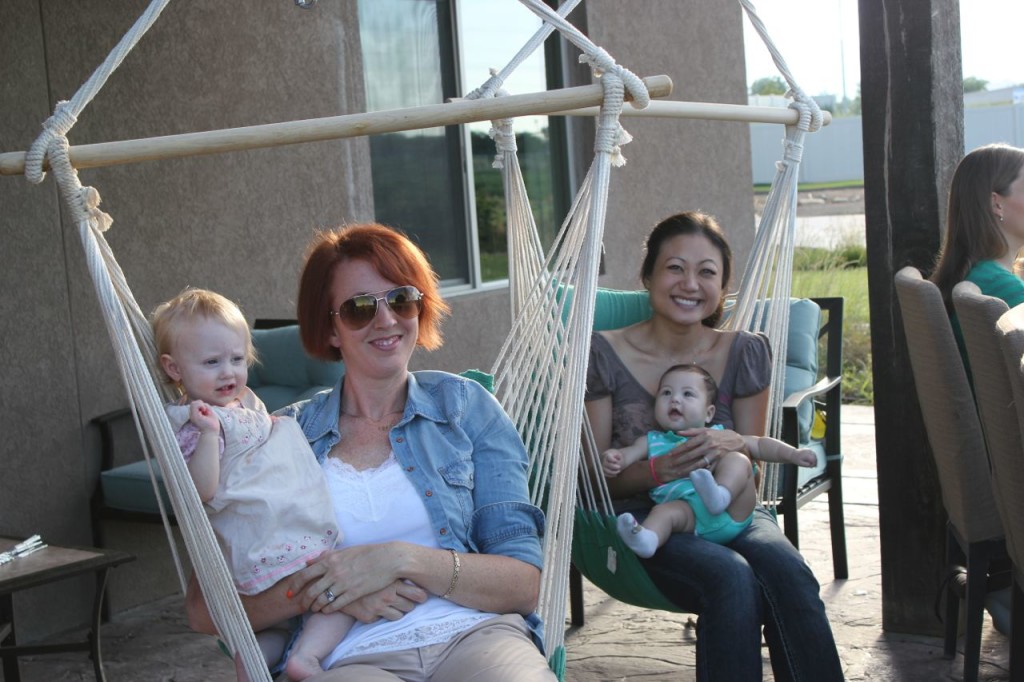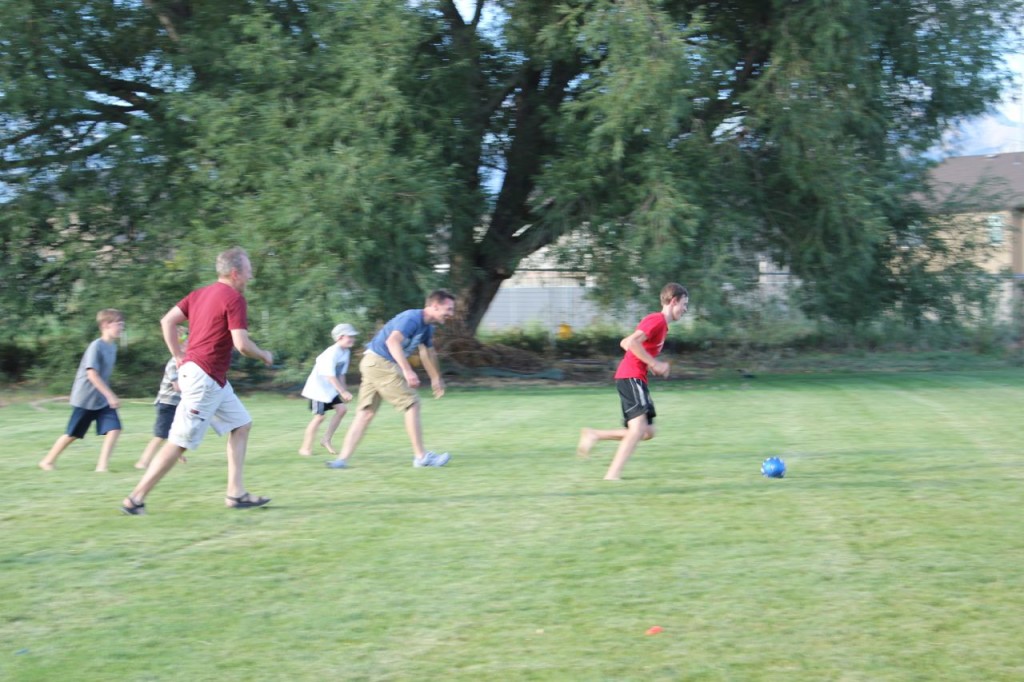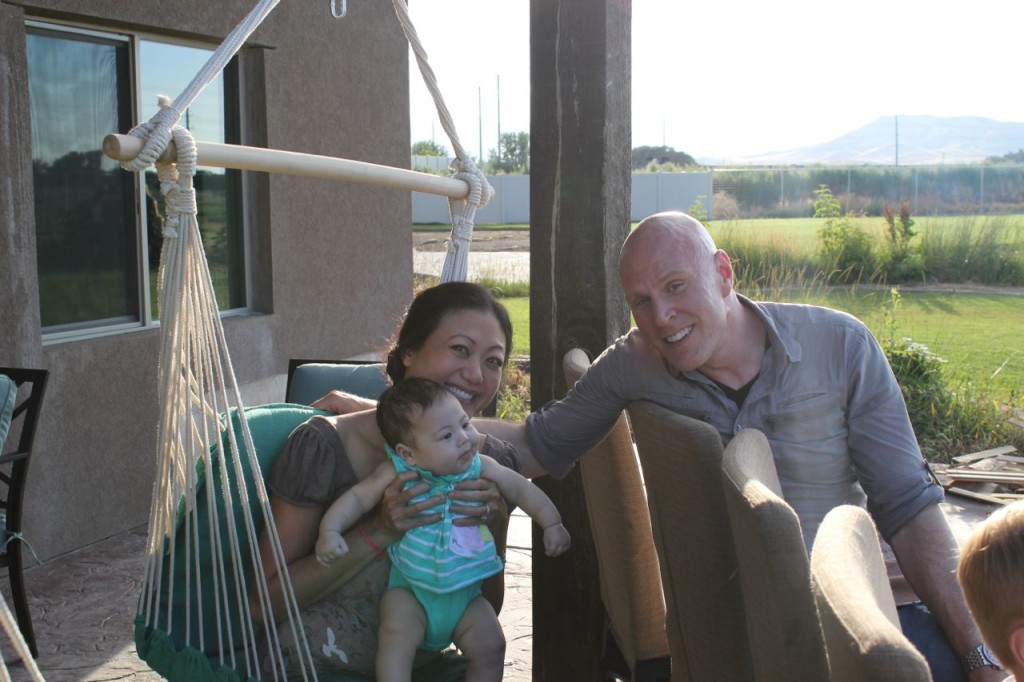 Cute little family! We all got to meet Avery for the first time this weekend. She was born early March. She is so stinking cute and squishy!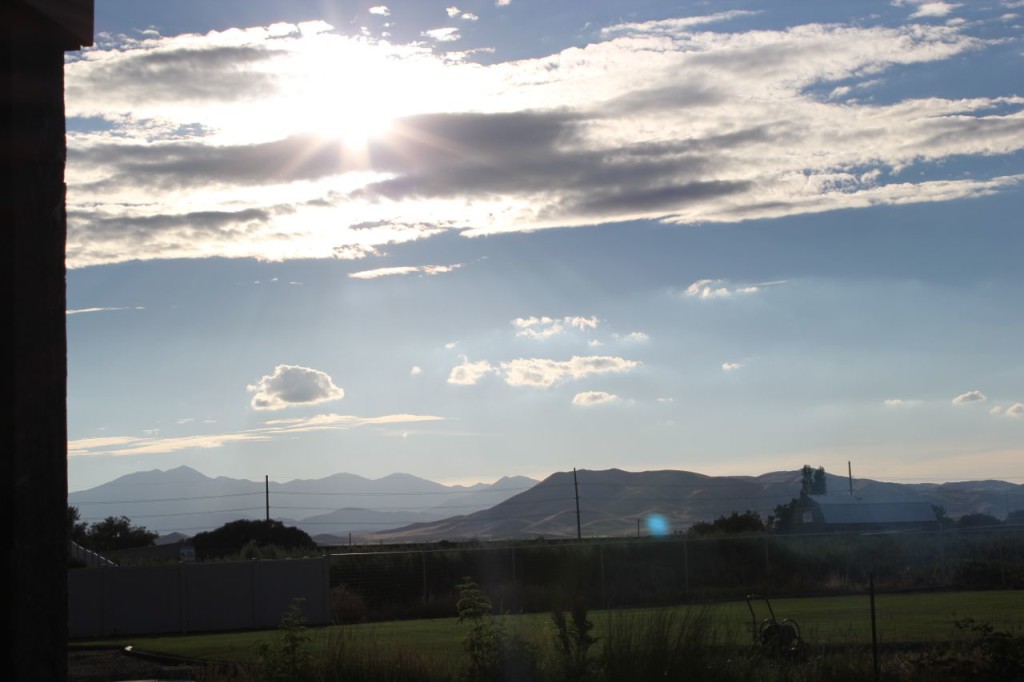 The weather was so gorgeous!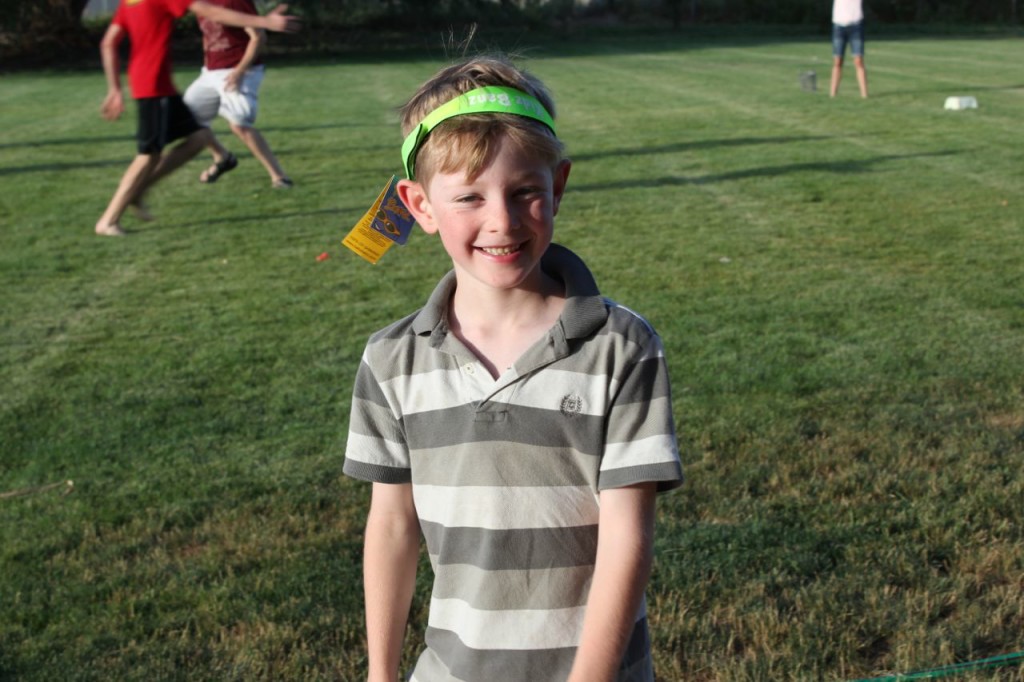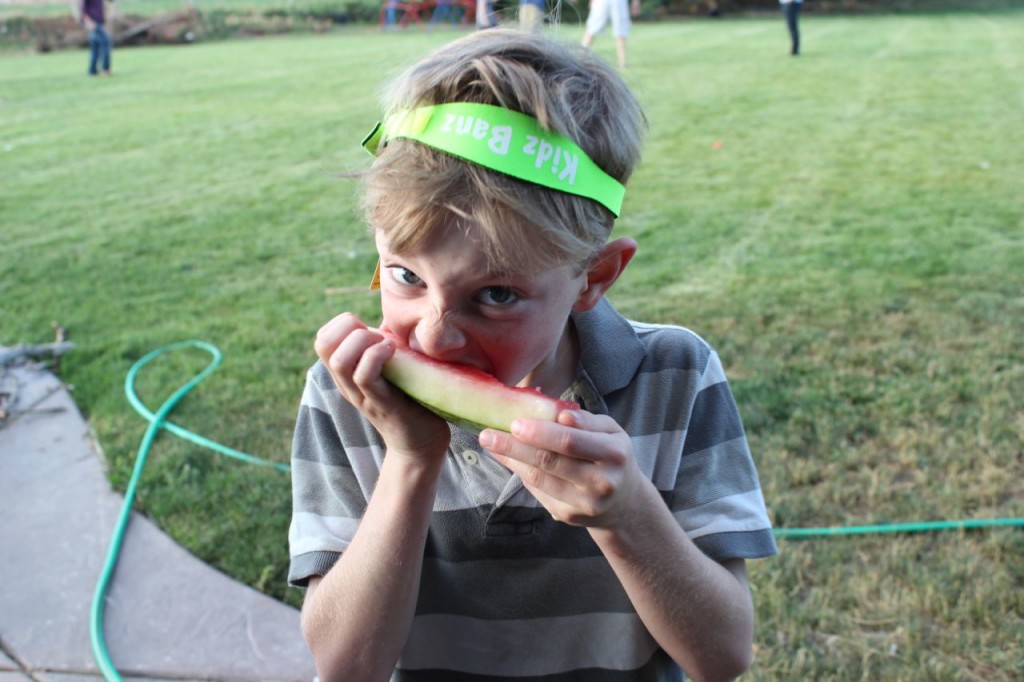 The watermelon was a major hit.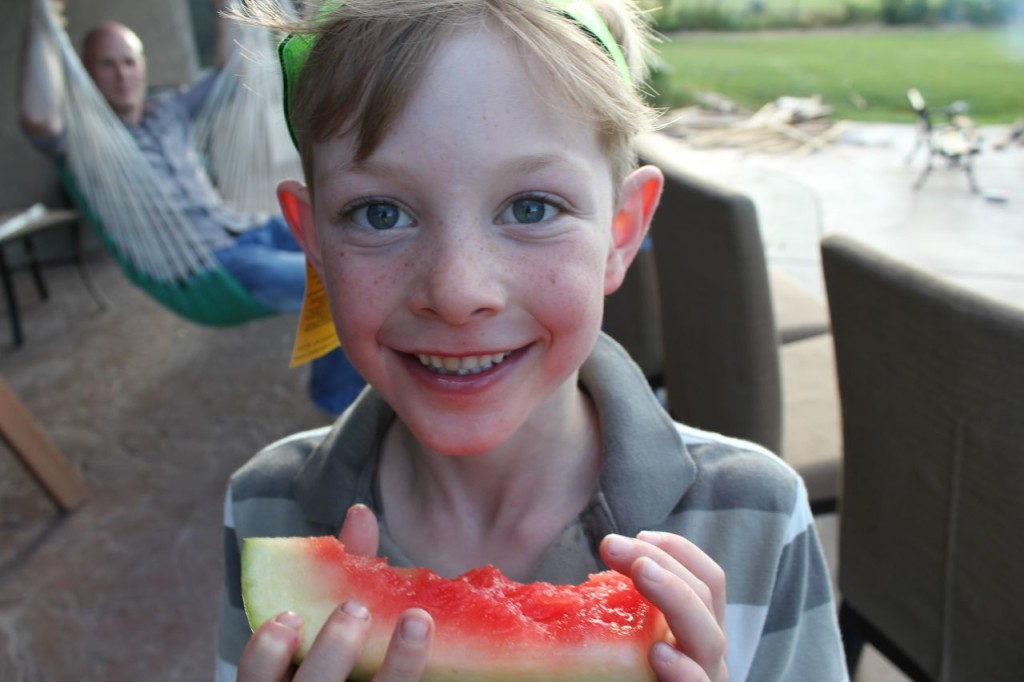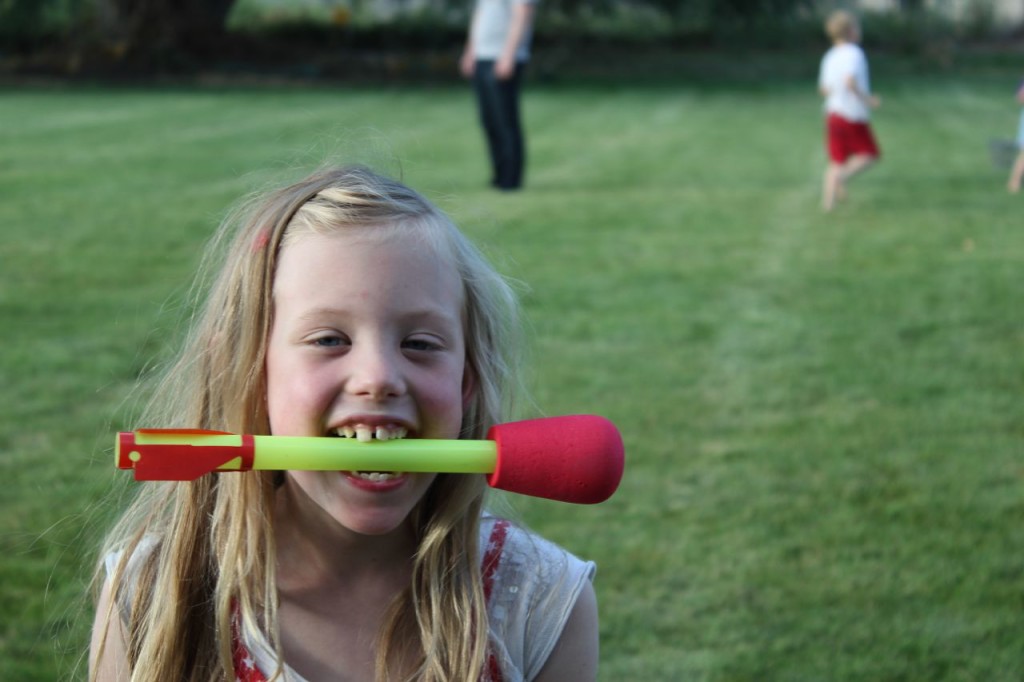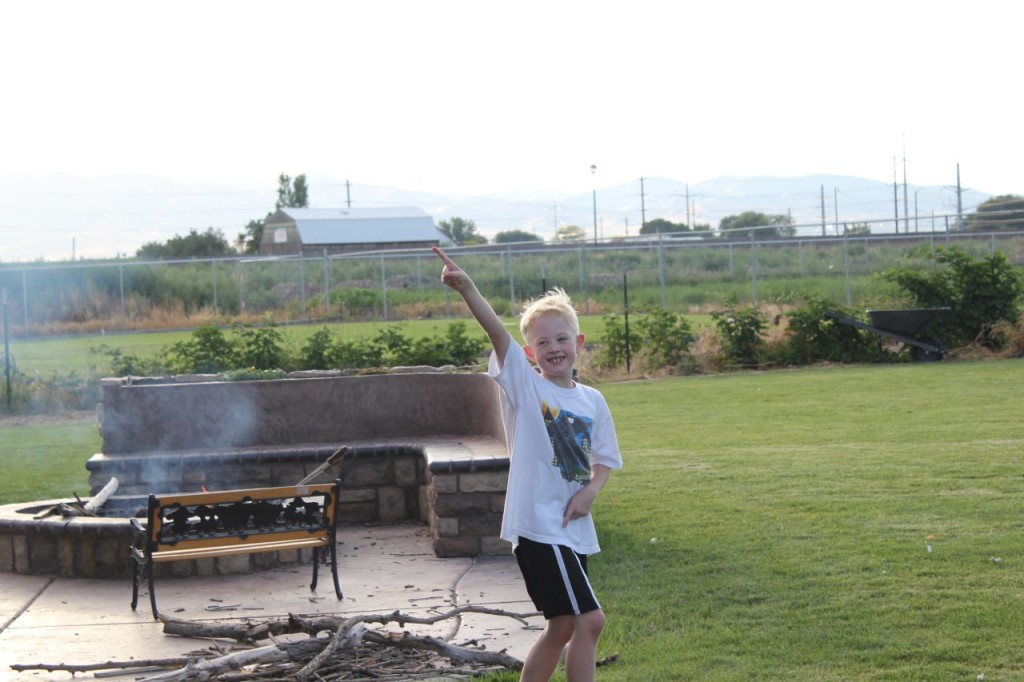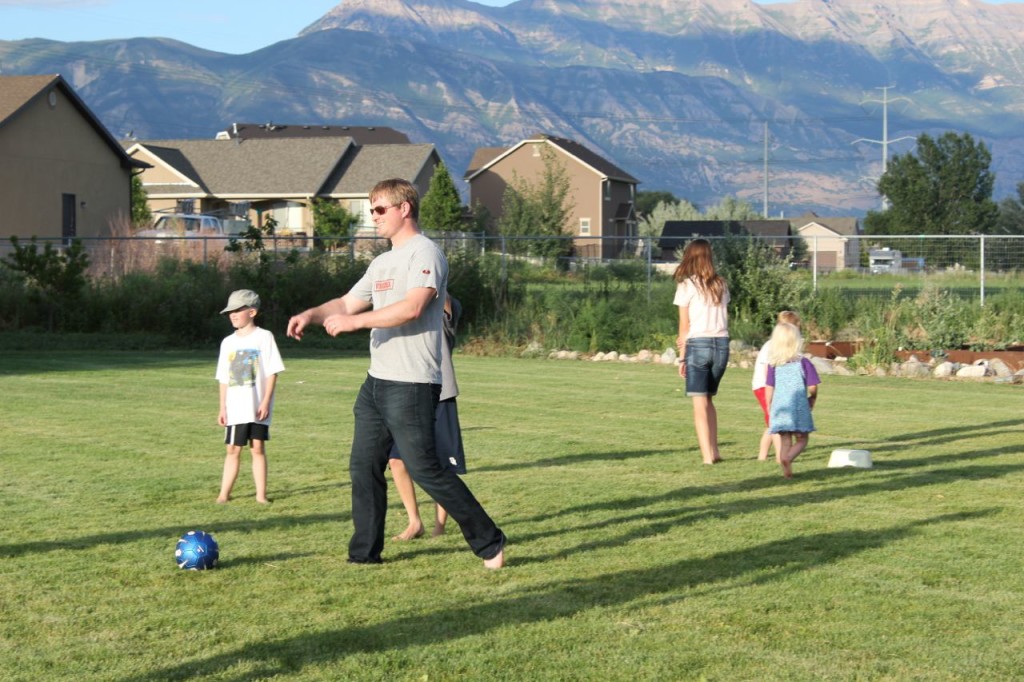 Adam schooling them in soccer.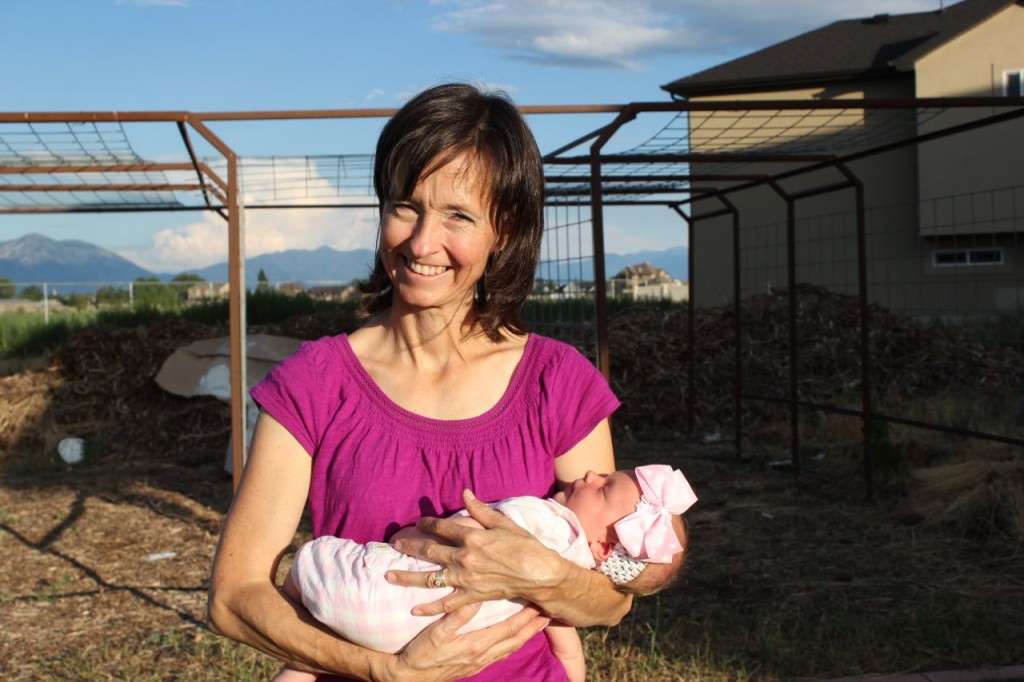 Tristi's niece brought her husband and new baby, so Tristi got some extra baby loves.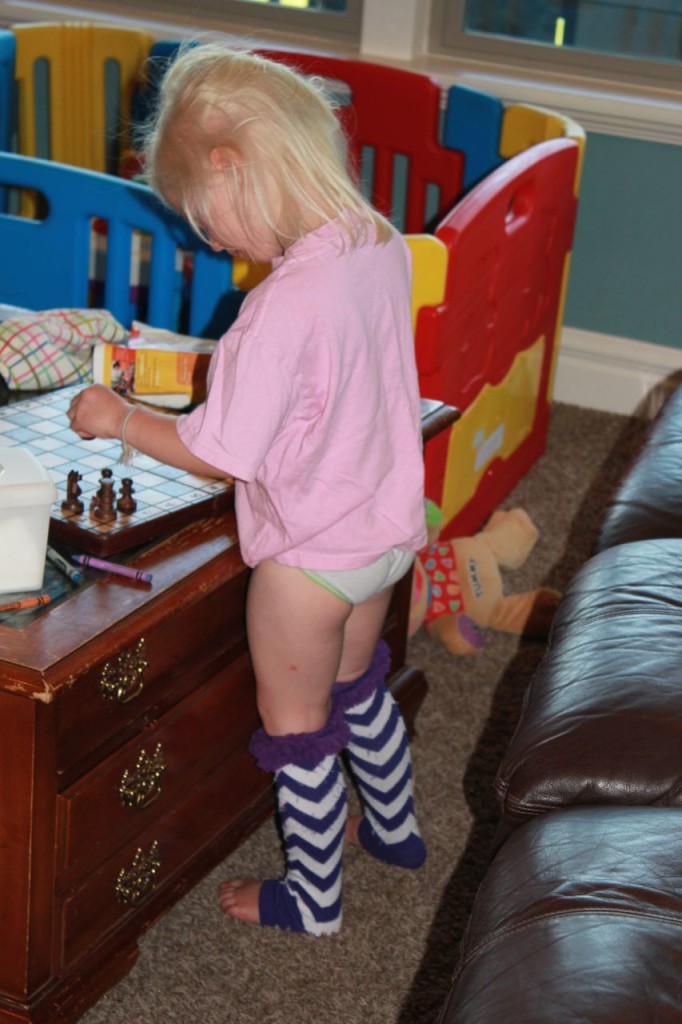 Another special Daisy ensemble.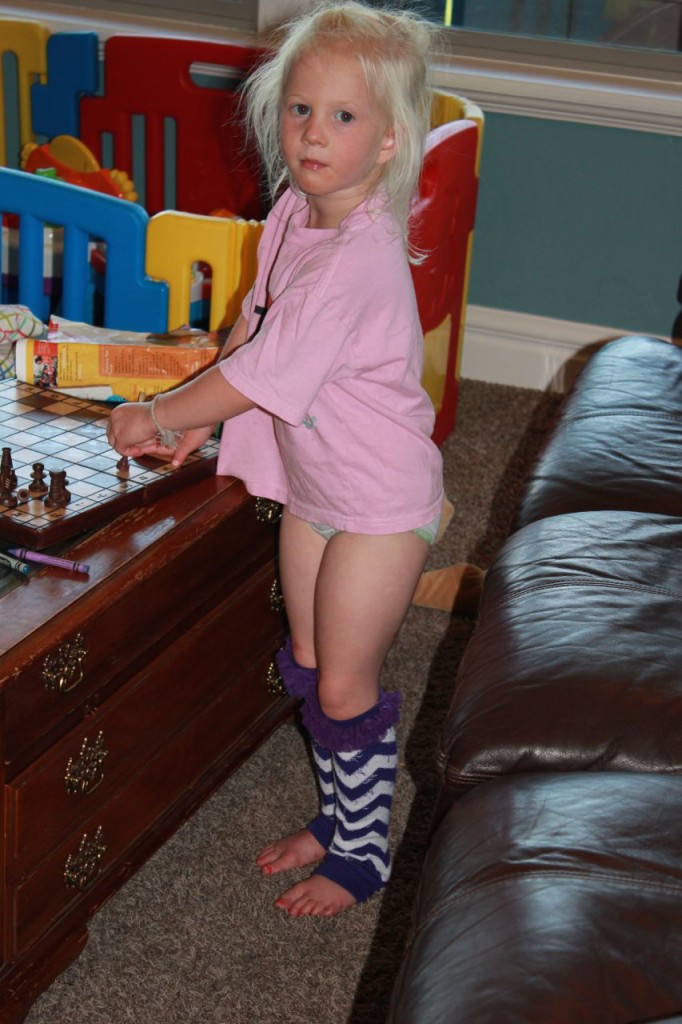 Saturday we all got up early to get to Bridget's baptism.
Kimball and Sawyer help each other with their hair. It's so hard to get the back!
After the baptism we all went to Amber's parents' house for lunch and the kids got to run around with cousins some more. Amber's family is so great. After she married Leo, they included me in all of their family celebrations. I was even included in the month of April birthday celebrations. As a college student far from home, it was so nice to have some family around.
After the lunch, we raced home to get changed for the anniversary dinner. I arranged babysitting for all the kids at my house. We went to Tiburon, which is one of my favorite restaurants. Dinner was so great, the company was so great. We just had a great time together celebrating our parents' achievement of 50 years of marriage! Adam and I are are 1/5 of the way there. So few people make that. No marriage is perfect, and I'm sure my parents had their ups and downs, but they worked through the downs to get back to the ups. I'm so proud of them.
The next morning we drove up to Mark and Cheri's house to attend Sadie's baby blessing. Georgia got car sick and threw up just as we pulled up. I was able to run in to Mark's house and get a change of clothes for her, clean her up quickly and make it to the chapel on time. Afterwards we all went (right across the street) to have a lunch party at their house.
More watermelon deliciousness.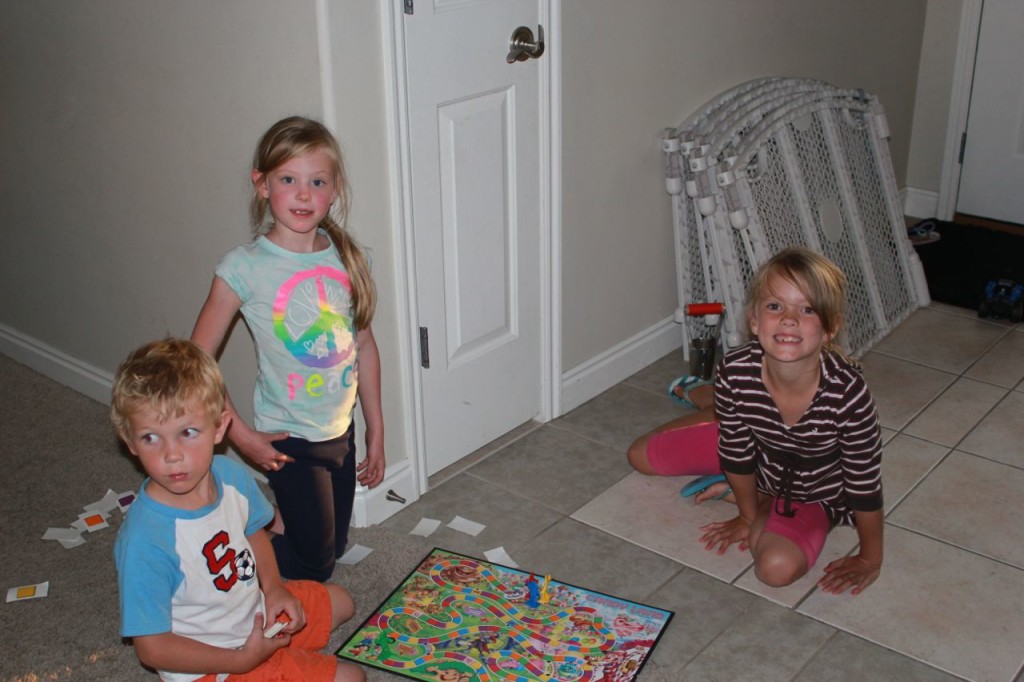 Cousin time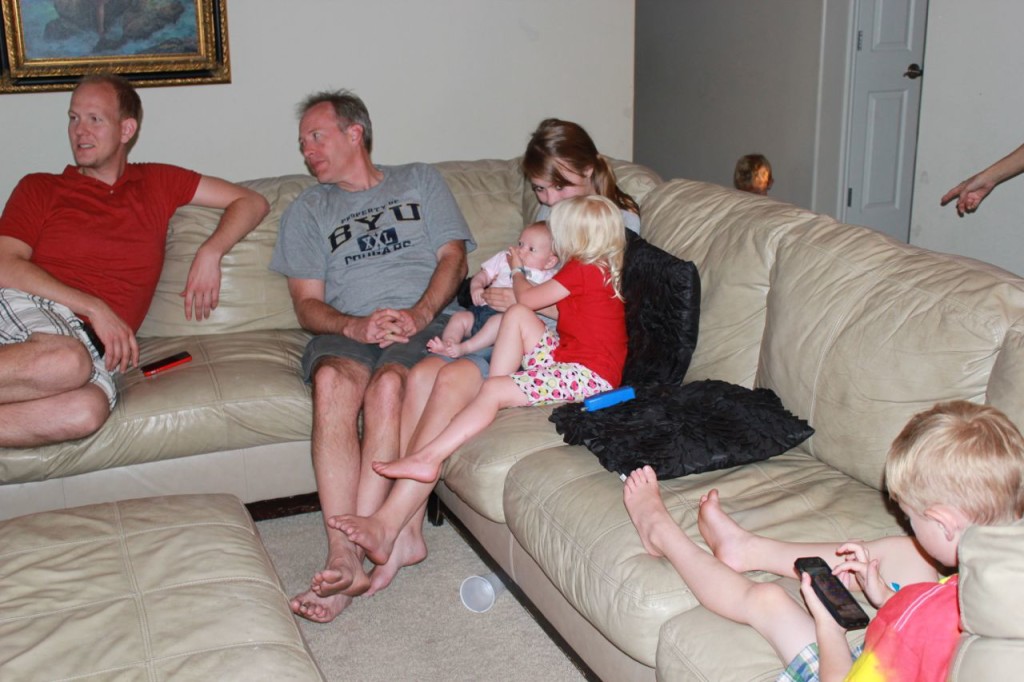 Then we all got changed for the family picture. I'm telling you, this weekend was JAM PACKED with special moments that should have been spread out over at least five weekends. See part two for the family pictures and the awful ending.