Type 4 Moment: I love structure. I love routines. I love order. I hate change, unless it is planned change that I chose. When Adam and I got married, we immediately moved to Virginia for 2.5 months where he was working on his master's degree. Then we moved to Atlanta. Life was a crazy jumbled mess, and I was very unhappy. One day I realized what was bothering me. I had never had a word to identify what made me feel content, but it was routines. Routines give me peace and make me happy. It's how I keep order in my life. So after we'd been married about 6 months and I'd had my epiphany I said, "Have you noticed that since we got married we haven't gotten into a routine?" And my beloved said, "Thank goodness for that! I hate routines, and I've made sure we don't get stuck in one of those!" Sabotage!! He'd been sabotaging me all along! Of course, now we laugh about it, and he says my routines and structure and order are sexy. They are the reason he has clean socks, there is a full meal on the table three times a day, the house gets cleaned, the groceries purchased, and the kids content. We still joke about it.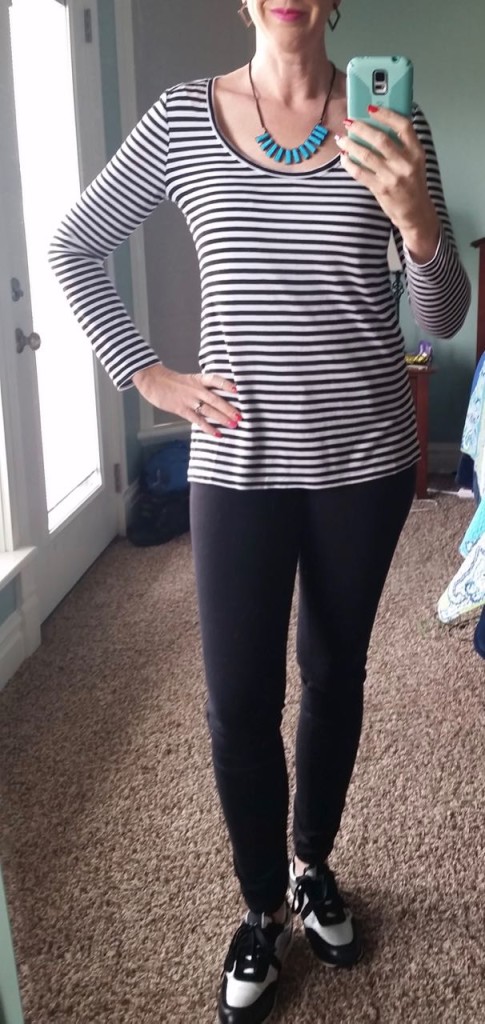 Spending the weekend in bed recovering helped, but I still felt weak and tired. Nothing like my favorite stripes to make me feel better. Still with the stripes. #cantstopwontstop. My energy is so fierce today, and I can't dial it down. That's when I want to tell people, "I woke up this way". I tried to put on some color for the sake of the kindergartners I'm helping today, but I couldn't wear it. These are the gunmetal earrings I ordered to wear with this necklace. They are bigger than I thought they'd be, and they just aren't right. the search continues. I'm going to be wearing this necklace a ton, so I need the perfect earrings to wear with it. Shirt Banana Republic, pants Express, silver and black sneakers Via Spiga, necklace Kendra Scott. S3 elements include the diamond shape of the earrings.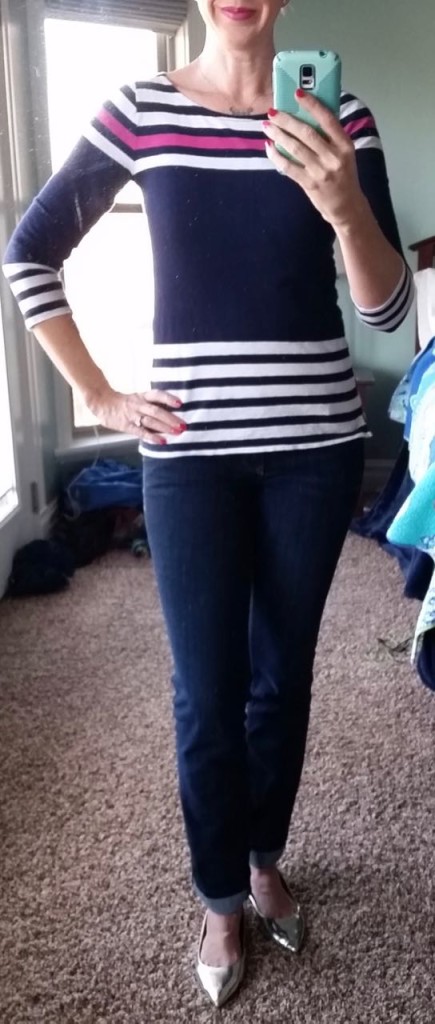 I need simple and easy with my clothes and makeup today. Just mascara and lipstick and yet another striped shirt. Even when I cleaned out my closet for DYT I had tons of stripes. Some I had to purge bc the colors were wrong but I've always loved stripes. This is the most accurate picture I've taken of this lipstick color. It's the same as the stripe in my shirt, ever so slightly magenta. Shirt and shoes J. Crew, jeans Express. No S3 elements today.
I don't wear a lot of purple, but I love purple with turquoise. In fact I chose it for my manicure this month. I couldn't bring myself to put on those big gunmetal earrings today. I tried these genuine turquoise earrings I bought in Mexico 12 years ago instead. What I would really love is if I could remove the lower half of this earring and just have the tiny turquoise rectangles. That requires skills I don't have. Maybe I'll take them to a jeweler to have it done if I decide it's what I really want. I've only worn them a few times ever as they are. I have a necklace I bought them to go with, but I never wear them together. Shirt and shoes J. Crew, pants Express, necklace Kendra Scott, earrings indigenous people of Mexico. No S3 today.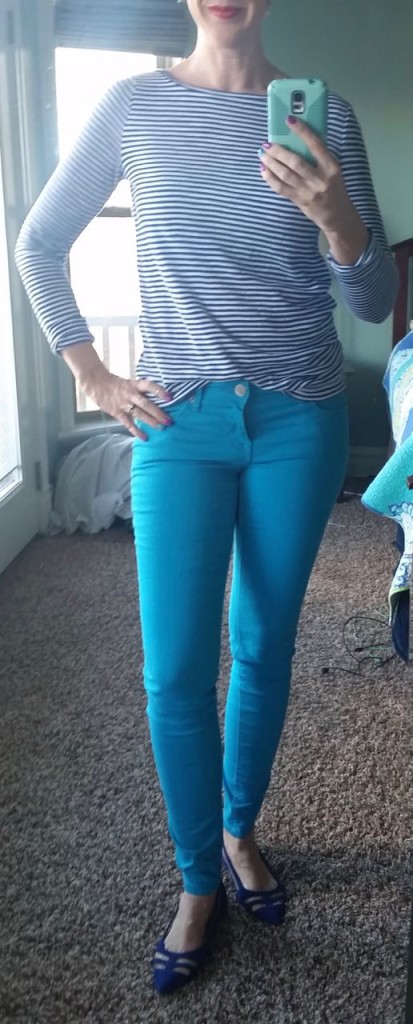 I helped at a 2-hour kindergarten activity this morning. 100 5-year-olds in one room. I felt like a car with a dead battery when I woke up, so color it is! Cobalt stripes and turquoise pants to kick me into kid-helping mode. I can wear this much color occasionally, and only because it is quasi monochromatic. For the rest of the day I have carpool, laundry, packing, back to the school to see the second grade insect museum my son is participating in, and I canceled a haircut today, school pick ups and then taking our T3 soon-to-be 6-year-old on her overnight birthday trip, which starts with dinner tonight, then tomorrow Disney Frozen on Ice, a kiddie manicure, swimming and new shoes for the birthday girl, then a date alone with my husband including dinner and play tickets. I need a nap. Or a jumpstart. Only type 4s would understand the reluctance to have so much fun in 24 hours. It is compounded by the fact that I'm still recovering from all the viruses that hit me at once. Shirt Banana Republic, pants Express, shoes Isola, stud earrings Nordstrom. No necklace bc the kindergartners were providing plenty of movement. S3 element is the suede texture of my shoes.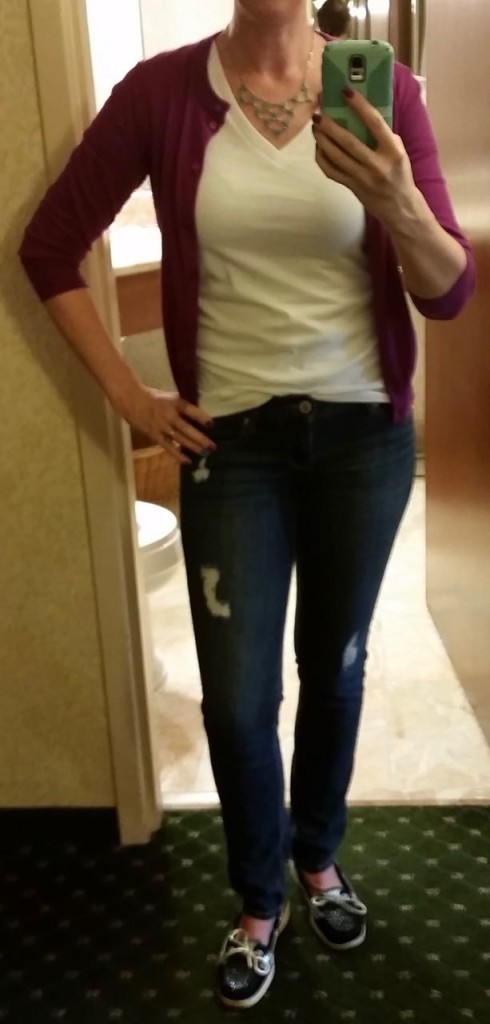 This is really horrible lighting in the hotel room. We are off on the birthday adventure for my T3 6 yo. I tried to wear a striped shirt, and I had to take it off. Can you believe it? That has never happened. After my wild day yesterday, and the wild day ahead of me, I can't handle the movement of my very favorite pattern. Purple is her favorite color so I'm wearing purple too. We ended up coming home early from her trip because after Frozen on Ice she was done and asked to go home. My husband and I canceled our date and I went to bed for the next day and a half.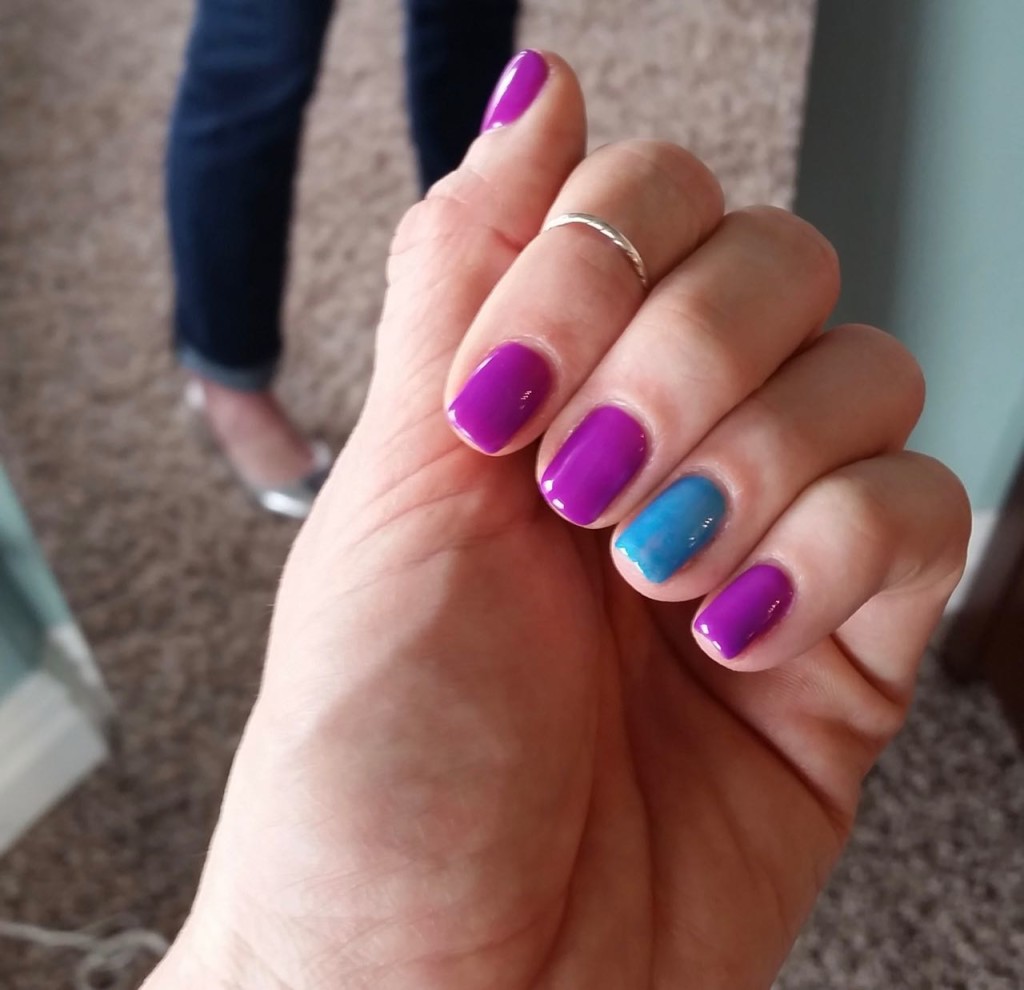 My manicure. Love purple and turquoise.
To experience Dressing Your Truth and find your personal beauty, click here for the free discover your beauty course.
Disclaimer: When you click through my link, I receive a small credit in the Dressing Your Truth store if you choose to sign up for the full course. I'm not a fashion blogger or a Dressing Your Truth expert. I'm just finding my way.