Type 4 moment: For as long as I can remember, my closet was sectionalized, and colorized according to the color wheel. Shirt, then sweaters, skirt, dresses, pants. Shoes are also colorized. I can always find the black shirt or red sweater I need. I just have to go to the black shirt section of my closet. In college my roommates used to amuse themselves by moving an item to see if I'd notice. Of course I noticed. Usually within about 3 seconds.

I wanted to see if I could make this polka dot sweater edgier. I still don't love it.
Simple and easy. I felt good in this. The studded bracelet is the only S3 element.

This is a new dress, and I really like it. The back of it is solid black. I love the zippers, which bring an S3 element. Turns out this dress is very similar to a dress tgat weather girls around the world have been wearing. It is supposed to be universally flattering.
This navy sweater is sprinkled with navy sequins, which my 2-year-old loves. She kept saying, "Oooh! Lights!!" This was so comfortable and perfect for the busy day I had. Unfortunately I think this sweater has seen the end of its days. It is definitely showing its age, so I will have to find another navy sweater to replace it.

This is my favorite international travel or long road trip outfit, except I wear it with a scarf for additional layers and warmth on the refrigerators airplanes. These Express jeans are so comfortable and flattering, the Sperrys are like slippers, and this is my favorite cardigan.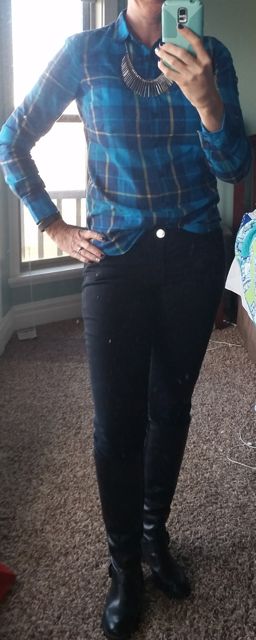 Plaids can be hard for type 4s because they tend to be all about blended colors. I think this one works, and it is *turquoise*.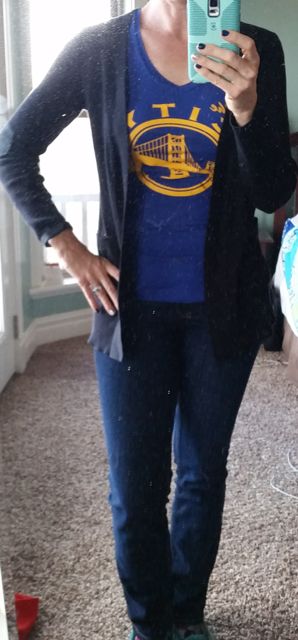 Today is a big day with work around the house. I'm wearing my shirt from San Francisco and my favorite cardigan. Even though these are work around the house clothes, they are put together enough that I have no problem leaving the house or answering the door dressed this way.
To experience Dressing Your Truth and find your personal beauty, click here for the free discover your beauty course.
Disclaimer: When you click through my link, I receive a small credit in the Dressing Your Truth store if you choose to sign up for the full course. I'm not a fashion blogger or a Dressing Your Truth expert. I'm just finding my way.